Are you making your way to Hong Kong anytime soon and want some helpful Hong Kong travel tips for your upcoming trip?
Well you have made it to the right place. From accommodation to weather to logistics this guide has you covered as you prepare for your visit.
* Affiliate Disclosure: This post may contain affiliate links, which means I may receive a commission if you make a purchase through the links provided, at no additional cost to you. Thanks for supporting the work I put into TripTins!
Tip #1: Getting Around the City
​The MTR is the way to go when traveling around Hong Kong. It is fast, reliable and easy to get from place to place. Check out the MTR website where you can find a map of all the stations.
If anything is too far from a walking distance standpoint just find the nearest MTR station and you should easily be able to get to your next destination. Having navigation like Google Maps will make the trips even that much easier.
​Speaking of the MTR, do not forget to get an Octopus Card if you think you will be using the trains frequently. It is a re-loadable card where you can just tap and go as you enter the station.
Not only can you use it for the MTR but you can also use it for other forms of transport such as busses and ferries. In addition many convenience stores also accept it as a form of payment.
You can purchase an Octopus Card at the airport or any MTR station and it will require a $50 HKD ($6 USD) deposit. Once your trip is complete you can return your Octopus Card to receive back any unused funds and the initial deposit (minus a small refund fee).
​Although the MTR is pretty easy and convenient, taxis are also pretty cheap and easy outside of rush hour. So if you are not in the mood to travel by metro don't feel bad to just hop in a cab. It shouldn't hit the wallet too hard.
Also to note is that the MTR does close down later at night so if you are spending a night on the town you will need to grab a taxi to get back to your hotel.
​Getting to and from the airport can also be a breeze using the Airport Express. Trains leave frequently and can get you to Hong Kong Island or Kowloon in less than 25 minutes. You can use your Octopus Card as well on the Airport Express (dark green MTR line below).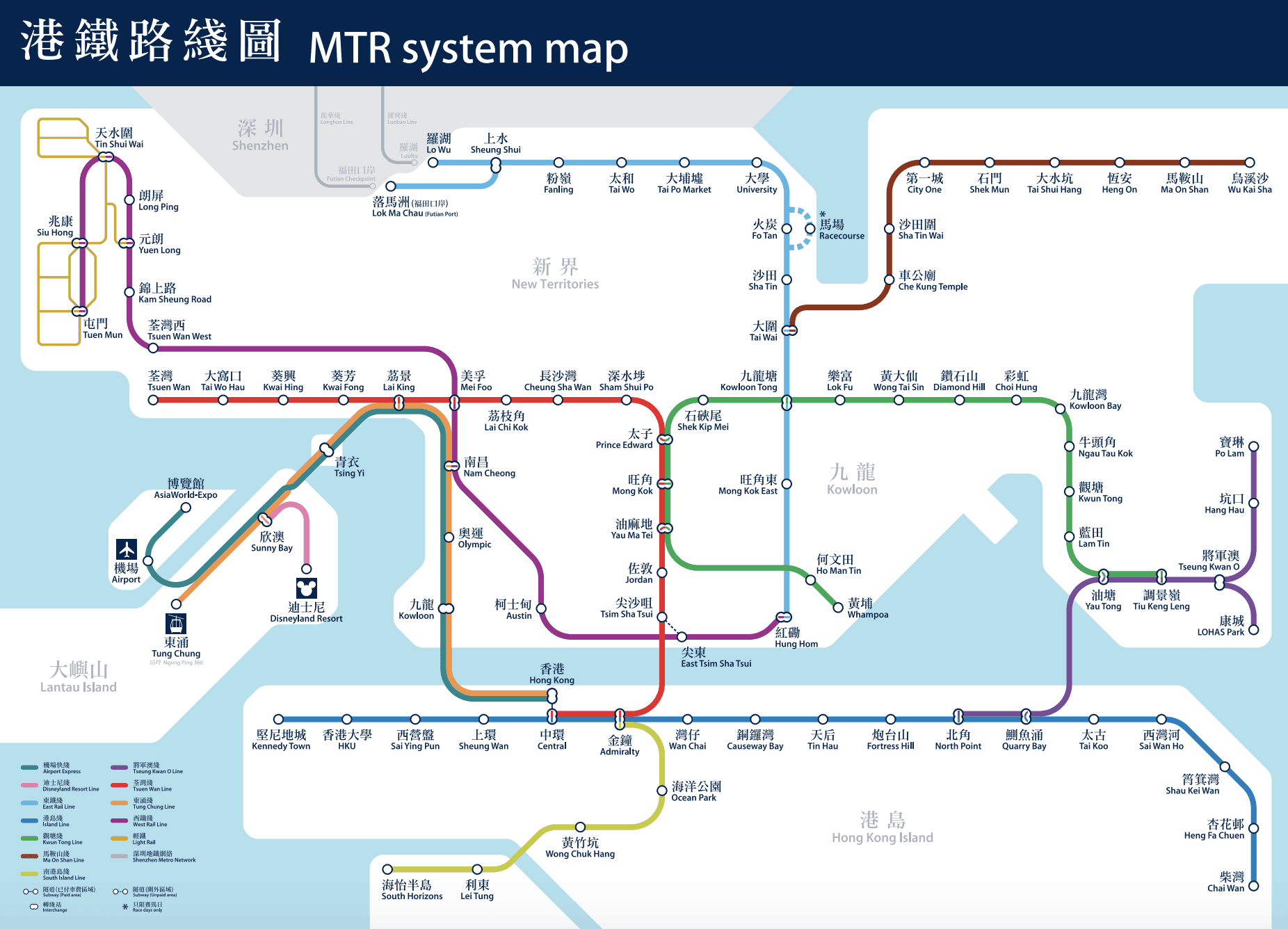 ​
Tip #2: Areas to Stay & Accommodations
​When looking through hotels and accommodations in Hong Kong you will come across two main areas – Hong Kong Island and Kowloon. Hong Kong is made up partly by the mainland on the northern side (Kowloon) and an island on the southern side (Hong Kong Island).
Connecting the two are bridges, the MTR and ferries, so it is very easy getting from one area to the other. Both areas offer great hotel options and you cannot really go wrong with either one.
One piece of advice I would give is to not venture too far away from Victoria Harbour (the body of water in between the two). Most of the restaurants and nightlife are around the area and you don't want to end up somewhere farther out.
On the Hong Kong Island side the Central and Wan Chai area are great walkable spots that are easily accessible to the MTR. On the Kowloon side by staying closer to the Tsim Sha Tsui promenade you cannot go wrong.
If you think you will be using the MTR often then definitely take a look at hotels that are not too far away from the closest MTR station.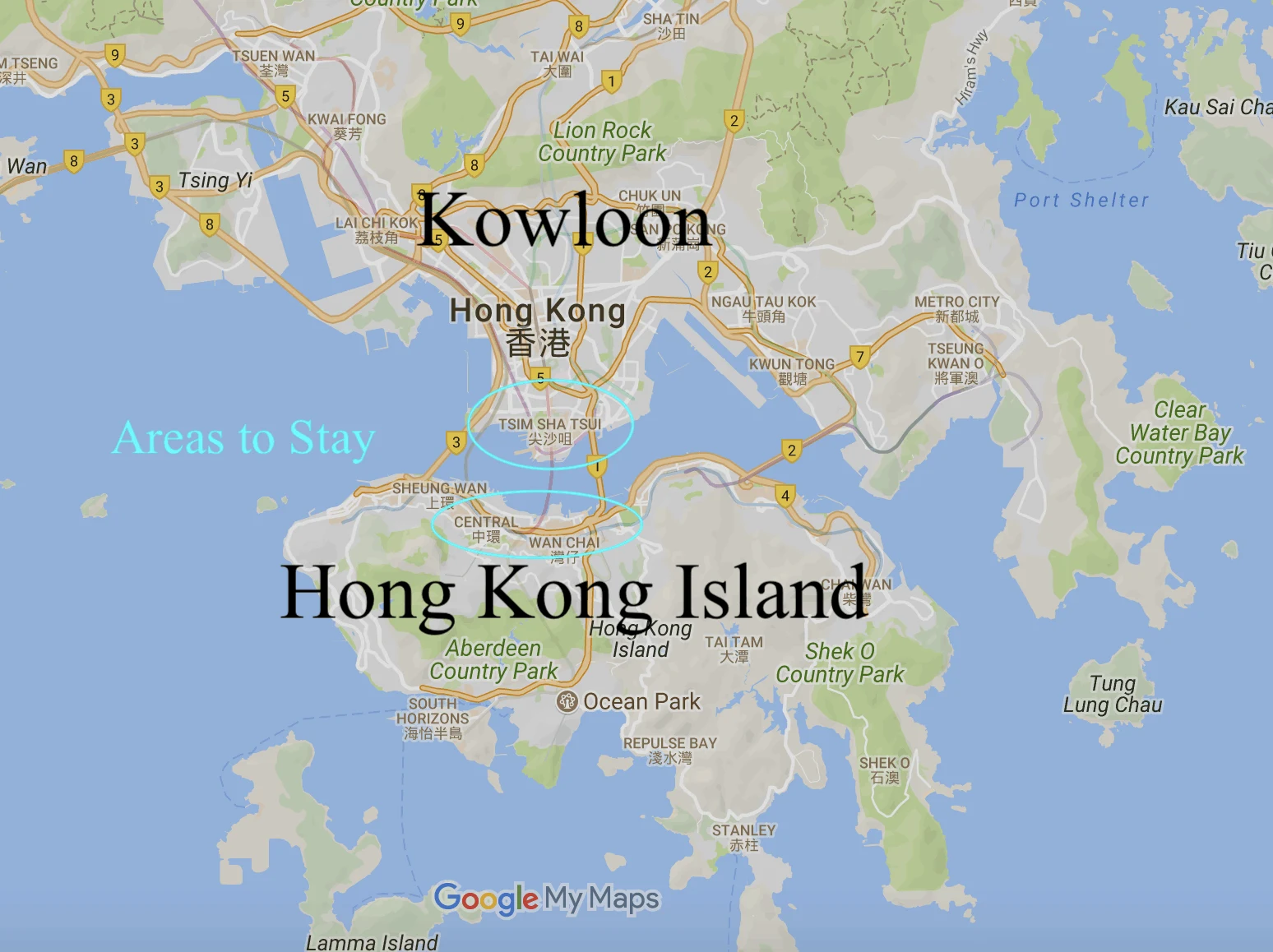 Here are some of the best valued hotels when choosing where to stay in Hong Kong:
Kowloon:
1. New World Millennium Hong Kong Hotel
Hong Kong Island:
1. Ibis Hong Kong Central & Sheung Wan
Tip #3: When to Visit
​Hong Kong can be broken down at a high level into two main seasons – the hot, humid and wet season (May to September) and the dry and cooler season from October to April.
The nice thing about Hong Kong is that it never gets too cold there, so even if heading there in the middle of the winter, it can be quite a nice experience with temperatures in the 50s and 60s (F). However it can get pretty hot there during the peak summer months and you never know when the rain will start or stop.
If I had to choose when to go I would probably aim for the shoulder season in early spring and fall.
Take a look at the temperature and rainfall graphs courtesy of holiday-weather. The first chart shows average temperatures while the second shows the rainfall averages by month.

​
Tip #4: Have an Umbrella or Poncho Handy
Related to the previous tip, during the summer season you will see a good amount of rainfall. However it can be pretty unpredictable at times with the rain starting and stopping at random points of the day.
Because of this I would definitely recommend having an umbrella or poncho handy for when the rain does start to fall.
I can't tell you how many times I was without an umbrella and had to run into a convenience store to pick one up. Yes, it can be inconvenient to carry one but if the forecast is showing rain, better safe than sorry.
Tip #5: Beware of the Clouds
Yet another weather related tip but one that can help during the planning stage of your trip. A couple of the activities that you might want to take part of during your trip such as heading up to Victoria Peak or to the Big Buddha on Lantau Island, will require visibility.
The last thing you want to do is have a whole day planned out and when you get to the attraction all you see is the whiteness of a cloud and no view.
So instead of planning day 1 we must do this, day 2 this – give yourself a little flexibility in your plans, which can easily be done in a place like Hong Kong.
You should have a pretty good idea when you step outside whether the clouds will be a problem or not. Even if the day starts out cloudy does not mean it will be a full day of that!
Tip #6: Don't Be Scared to Venture Out
In Hong Kong it can be pretty easy to just spend your days and nights in the main neighborhoods nearby the river. There is a ton to see and do in those areas but Hong Kong is more than that.
A visit to Lantau Island to see the Big Buddha and Tai O Fishing Village or a bus ride to the beach of Repulse Bay and Stanley Market. These types of activities will show you more than just the city of Hong Kong as you venture further outwards.
All these types of places are very easy to get to whether it be by MTR or bus, and with a quick Google Maps search you will be ready to get to your next destination.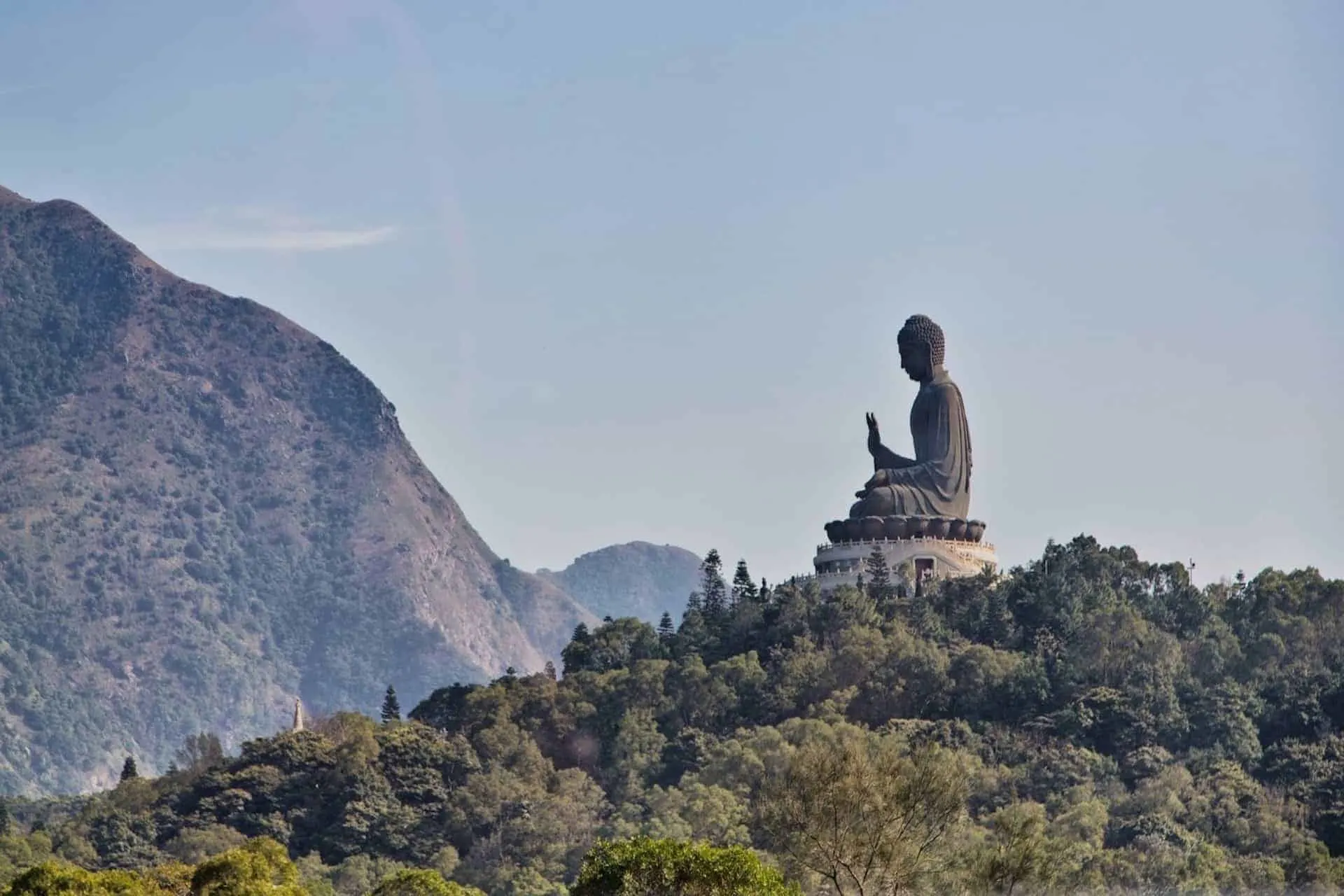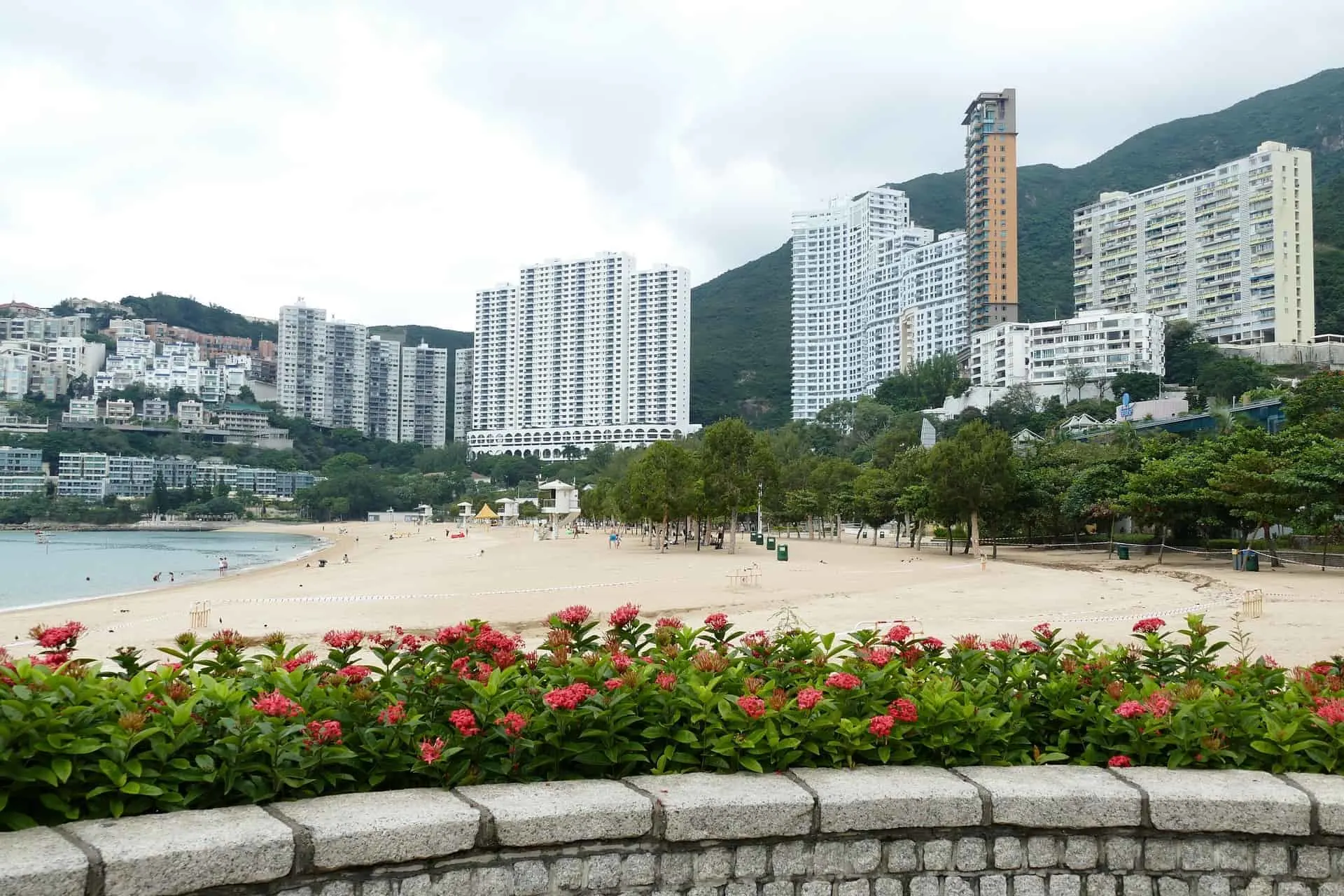 That about does it for some 6 Hong Kong travel tips for your next visit. Whether it is for a quick stopover or a longer trip, I hope these tips can help you out in the planning and execution stages of your Hong Kong itinerary. If you have any questions, comments or additional tips feel free to comment below!