A trip to Hong Kong is not complete without a visit to the one and only Lantau Island.
This one day Lantau Island itinerary will bring you to the famous 100+ foot Big Buddha (Tian Tan), the Po Lin Monastery, some hiking opportunities, and even the Tai O fishing village.
These Lantau Island attractions will give you a sense of what area is all about and help you get going in the right direction. So if you are heading to Hong Kong and want to set aside a half or full day at Lantau read on!
* Affiliate Disclosure: This post may contain affiliate links, which means I may receive a commission if you make a purchase through the links provided, at no additional cost to you. Thanks for supporting the work I put into TripTins!
1) A Lantau Island Overview
A Lantau Island day trip is a must do for anyone who visits Hong Kong.
It is a great way to spend some time outside the city itself and get to experience some amazing things that Hong Kong has to offer.
Depending on how long you want to spend there and what types of activities you want to do, there is plenty to choose from.
After an easy 1 hour train ride from downtown Hong Kong, you will be way outside the city center and surrounded by the mountains, nature, and culture that HK has to offer.
This Lantau Island itinerary will start you off with the one of a kind glass bottomed cable car to get up to Ngong Ping village.
You will then be able to explore the Tian Tan Big Buddha itself along with other sites around the area such as the Po Lin Monastery and Wisdom Path.
Options to hike around the island and visit the Tai O fishing village can also be added to the agenda. The rest of the guide will go over all that and more!
2) Lantau Island Attractions & Map
Below is a list of the Lantau Island attractions alongside a map that shows you the attractions, points of interest, and transportation stops.
As you read along you can reference back to this map to give you an idea of where everything is located as you make your way around the area.
1) Ngong Ping Cable Car
2) Ngong Ping Village
3) Tian Tan Buddha
4) Po Lin Monastery
5) Wisdom Path
6) Lantau Peak Hiking Option
7) Tai O Fishing Village
3) Getting To Lantau Island
Due to Hong Kong's easy to use MTR system, you will be able to take the train directly to Lantau Island from downtown Hong Kong.
In order to do so you just have to get onto the Tung Chung (orange) line and take it all the way to the last stop. From Central station it will take about 45 minutes to get there
​After arriving at the Tung Chung station you will then need to get to Ngong Ping, which is where the Big Buddha is located. Well, thankfully there is a 25 minute cable car that will take you this route.
You can choose from either a regular cable car or a glass bottomed one (standard vs crystal). Once you have arrived up top it is time to do some exploring around.
Ngong Ping Cable Car Info
Hours
10:00AM – 6:00PM (Monday – Friday)
9:00AM – 6:30PM (Saturday & Sunday)
Schedule may change based on time of year
Round Trip Cost
Standard: 235HKD ($30)
Crystal: 315HKD ($40)
One Way Cost
Standard: 145HKD ($19)
Crystal: 200HKD ($26)
Note there is also a bus you can take up/down the winding road – bus #23 from Tung Chung (45 minutes / 17HKD / $2 one way)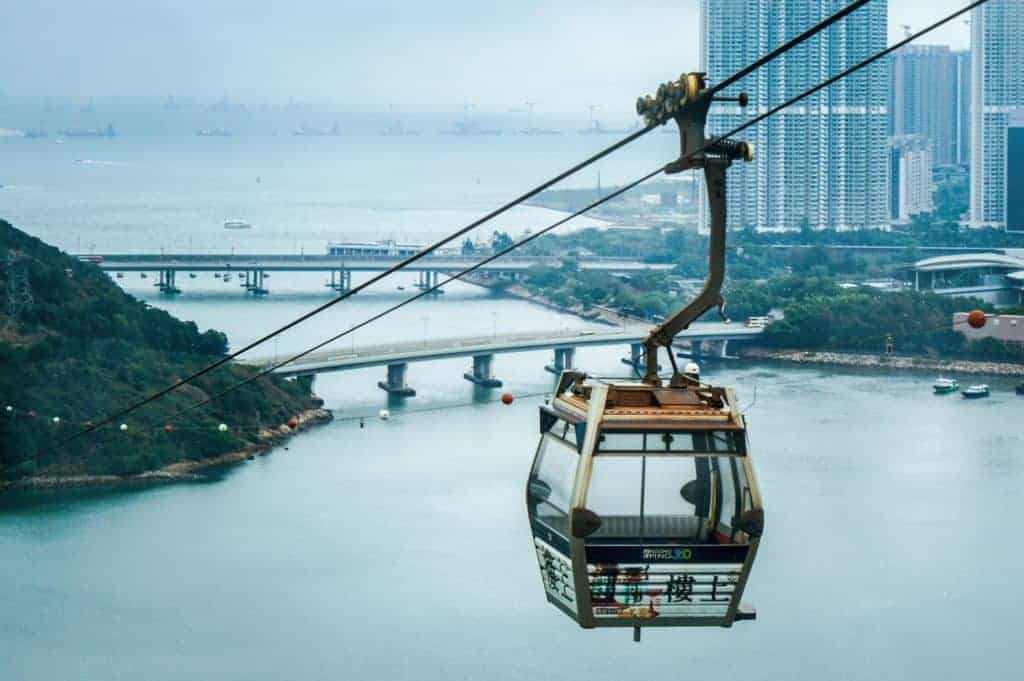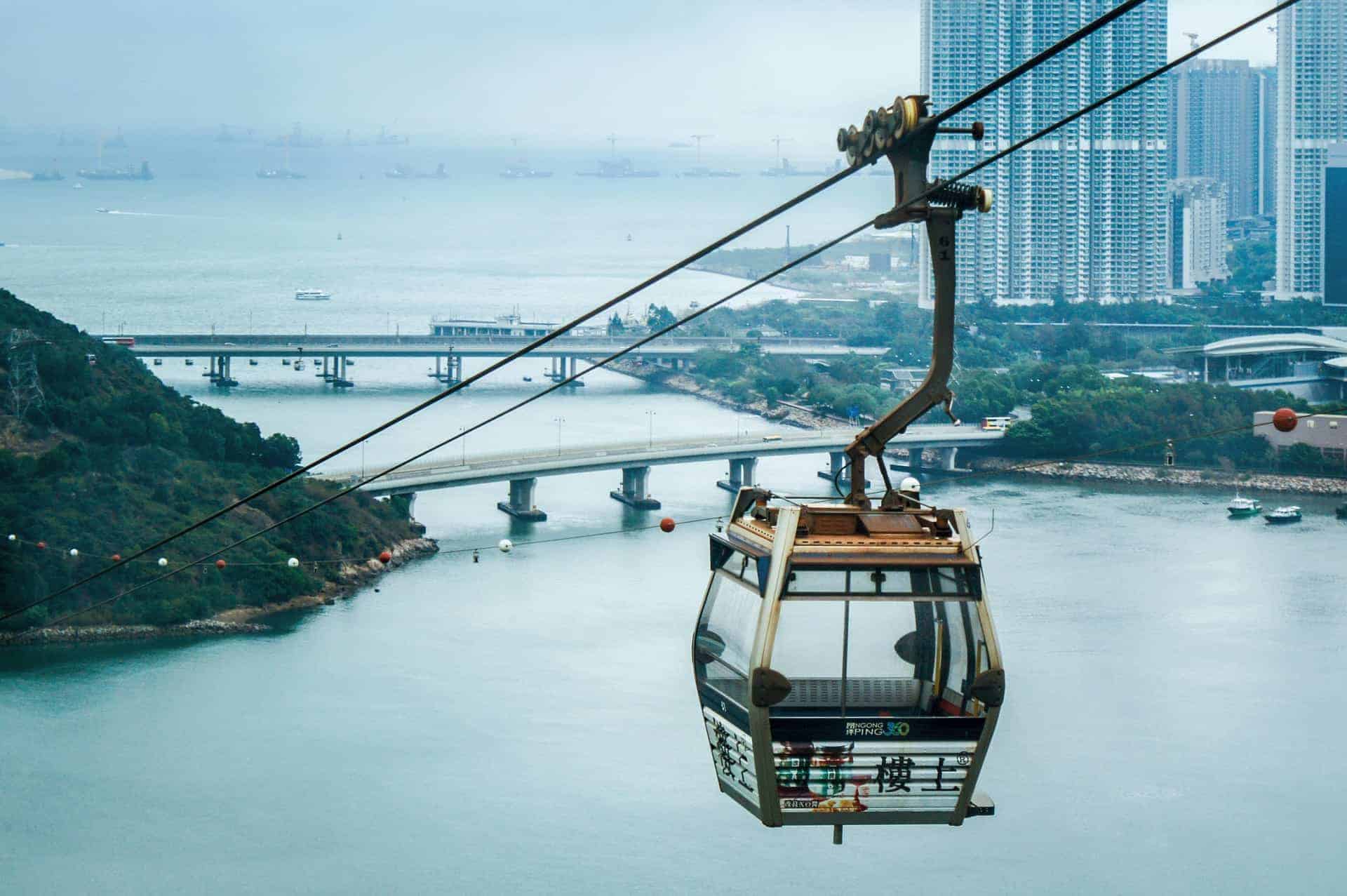 Recommended Hong Kong Hotel | Harbour Grand Kowloon – Book Now!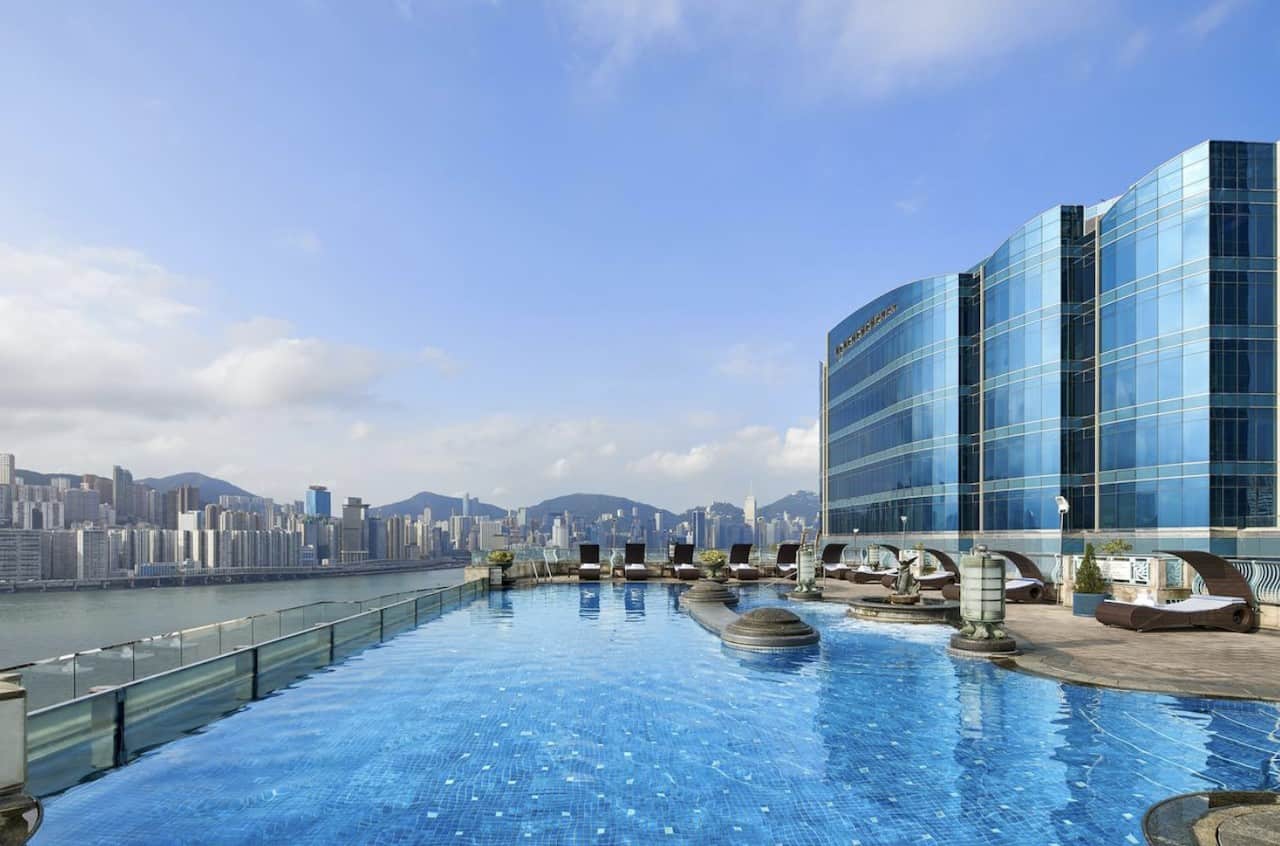 4) Experience Lantau Island Attractions
Now that you have a bit better idea about the logistics of getting to Lantau Island, let's get a bit more into detail about what you can actually do once you arrive there.
We will start off at the Npong Ping Village, right after you get off of the scenic cable car ride up Lantau.
A) Ngong Ping Village
​When you arrive up top you will first walk through the Ngong Ping Village which is mostly filled up with small restaurants and a bunch of souvenir shops.
It is a great spot to grab some food at some point of the day and to do some shopping. As you make your way through the village you will eventually get to Ngong Ping Piazza – the base of your trek up to the Big Buddha itself.
B) Tian Tan Big Buddha
​The main highlight the Lantau Island itinerary will be the Tian Tan Buddha. Standing at over 100 feet tall, this bronze Buddha is one of the largest in the world.
In order to get up close to it though you will have to climb the 268 steps up to the top.
Once you reach the top you can take it all in and enjoy the view. There is also the opportunity to go inside a small museum underneath the Buddha for an extra fee that includes a meal at the Po Lin monastery.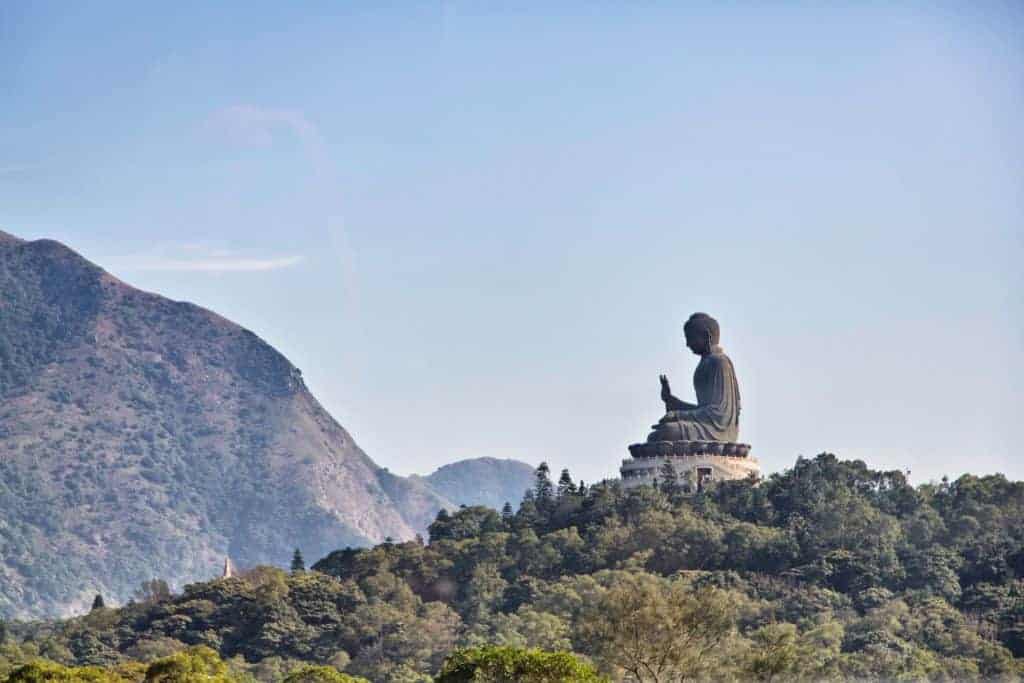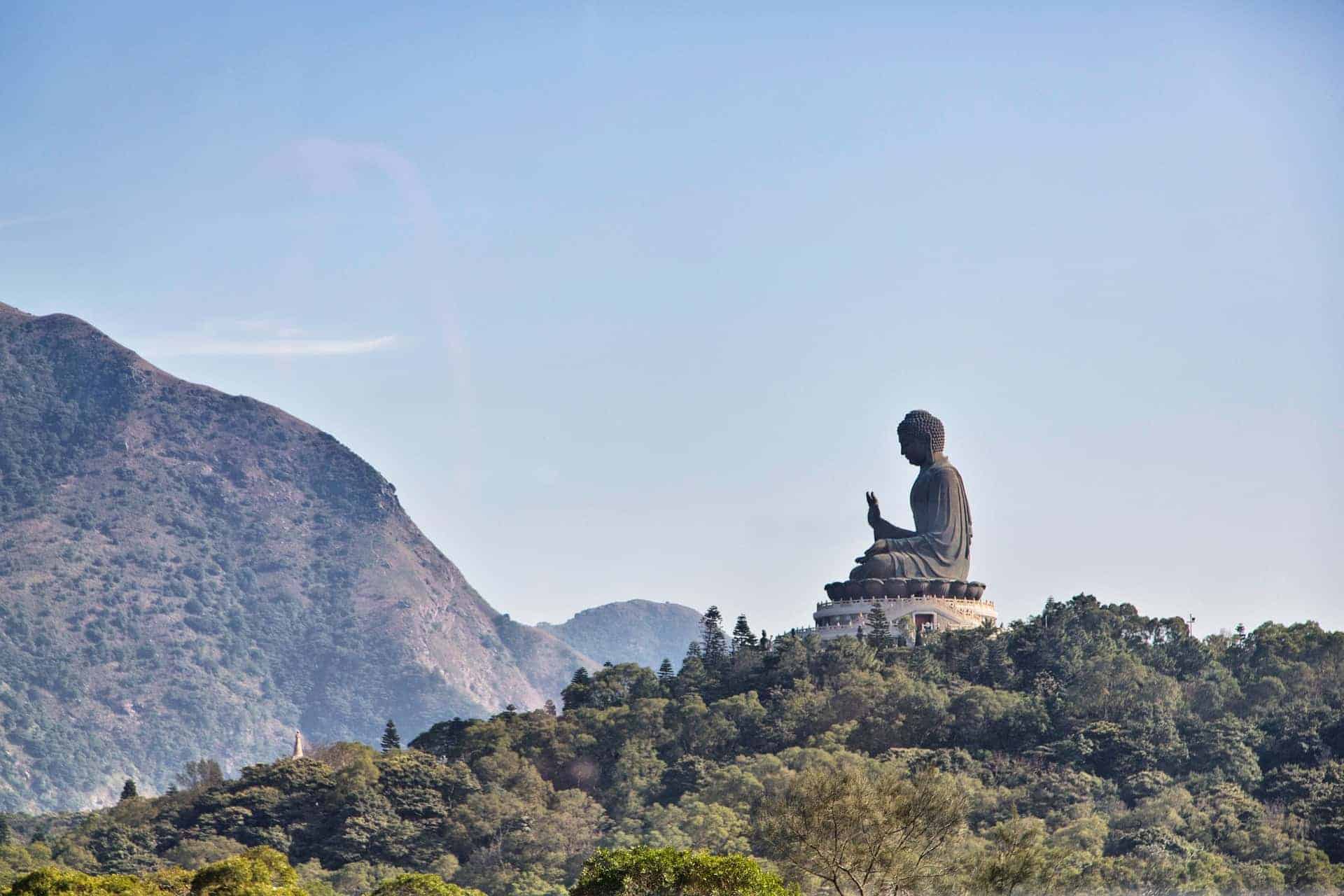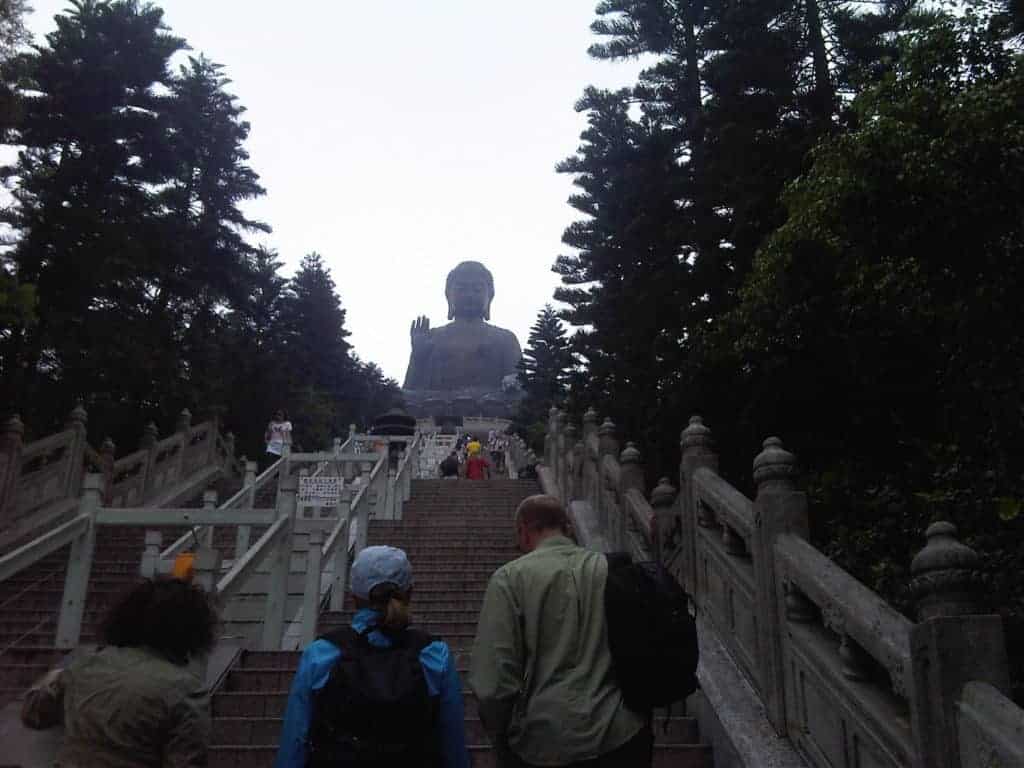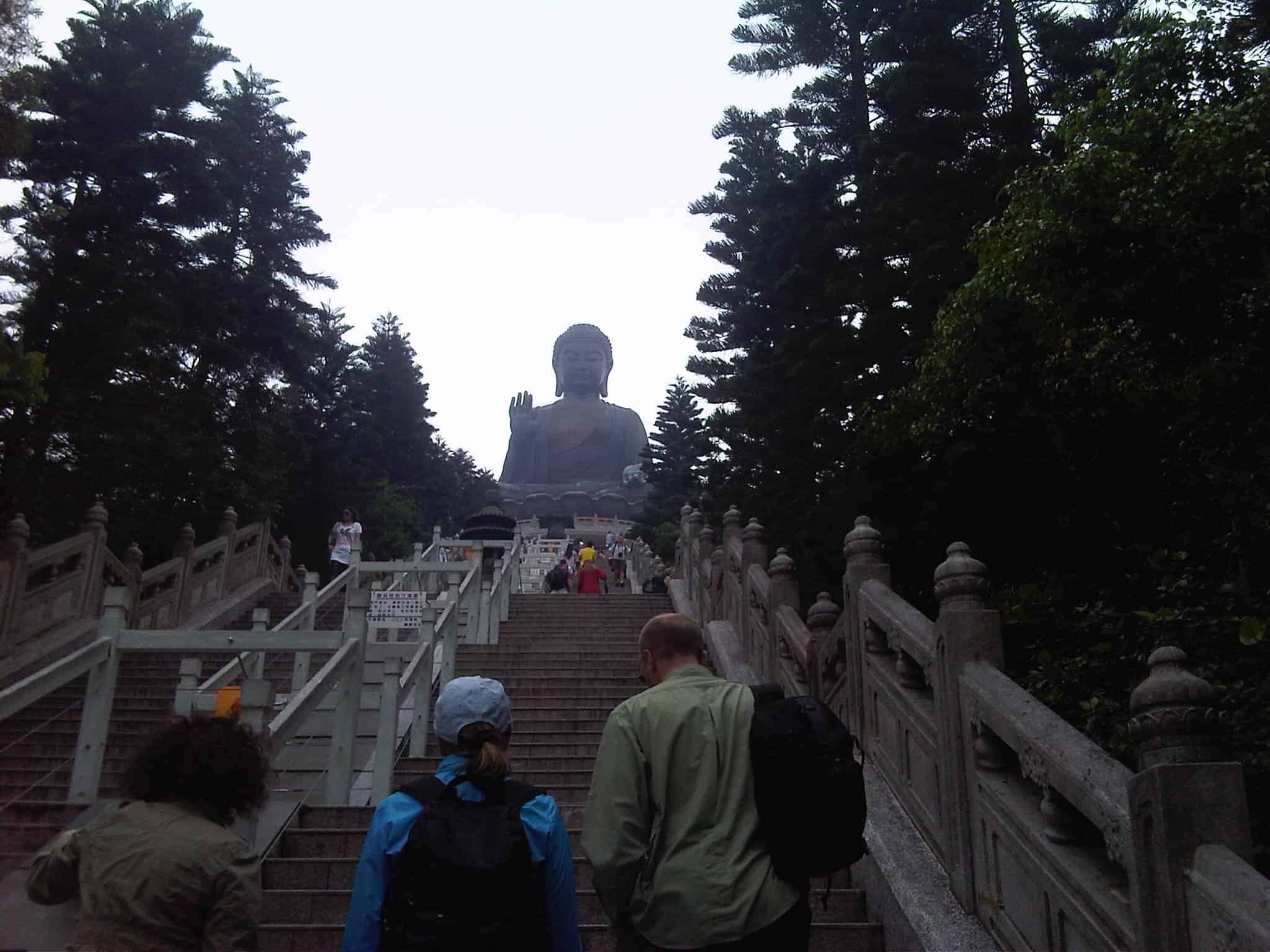 C) Po Lin Monastery
​Once you have completed the climb up and down to the Buddha you can make your way nearby the piazza to the Po Lin Monastery.
Here you can wander the grounds of the beautiful Buddhist temple and can also take the time to light some incense outside.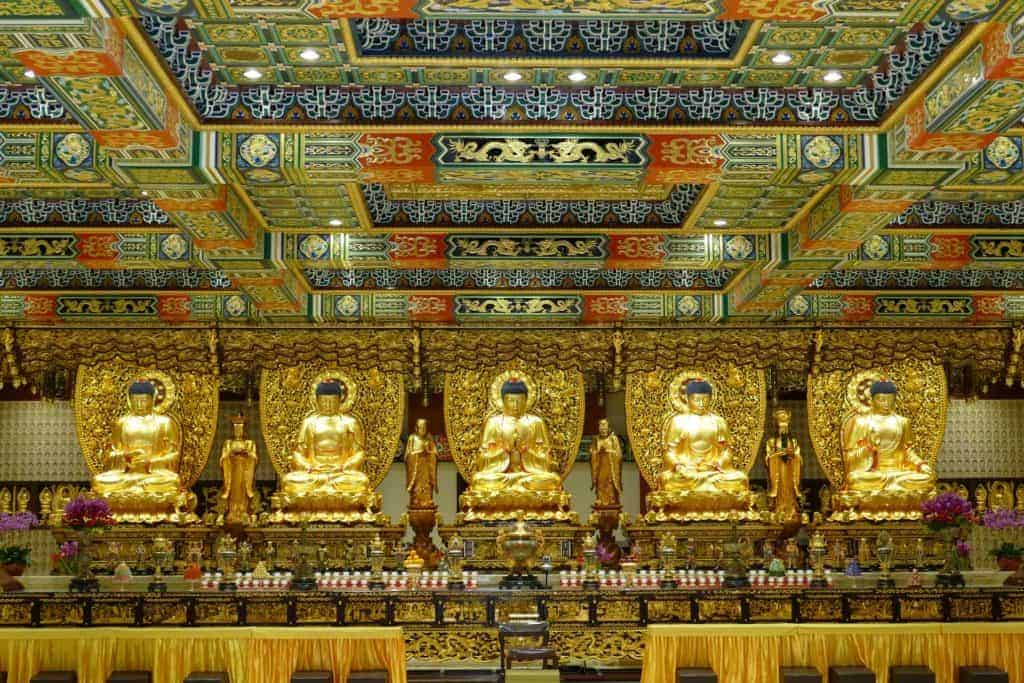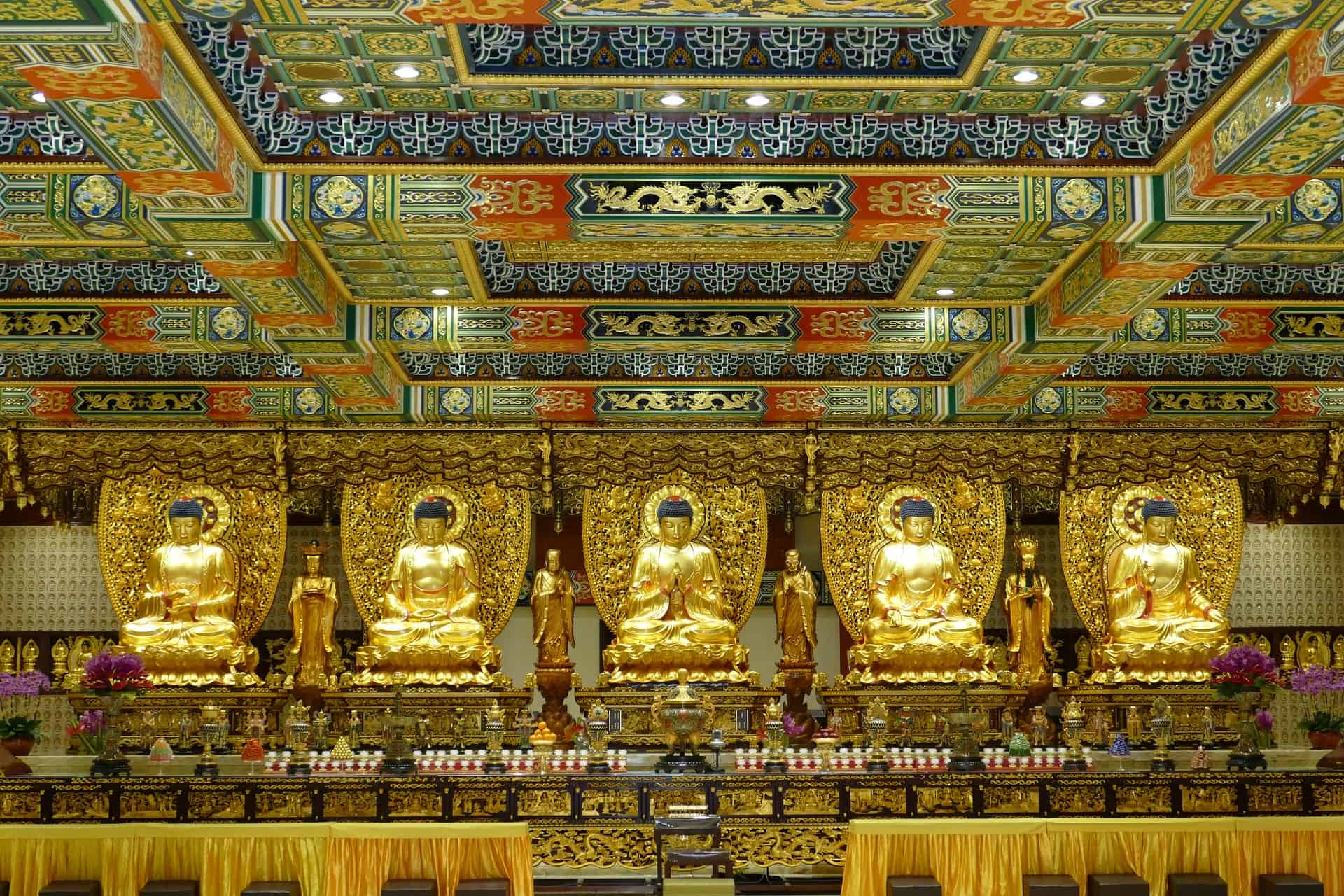 D) Wisdom Path
​A quick 20 minute walk from the Ngong Ping Piazza area is the Wisdom Path. A picturesque path lined with 38 wooden monument columns.
It is a great attraction to see as it is not as touristy as the other areas around Ngong Ping. After enjoying your time around the path, you can make your way back down to the village.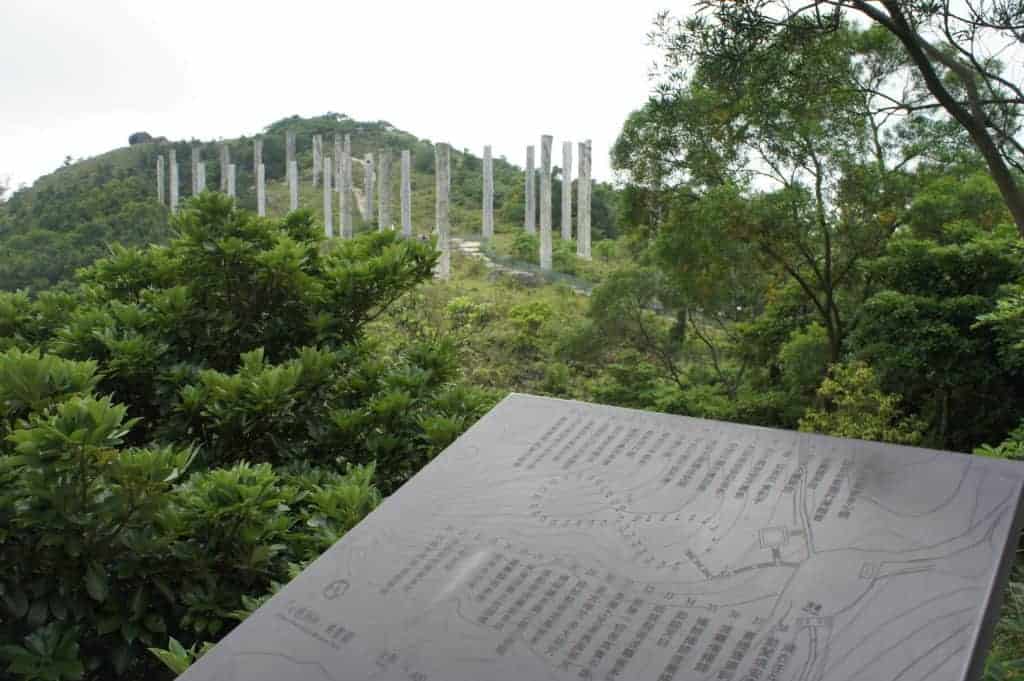 5) Hiking Lantau Peak
All of the Lantau Island attractions mentioned above make for a great fun filled trip to the Ngong Ping area of the island.
However if you get an earlier start/have some more time to spare, you can easily add on some more adventure to your day trip.
As one of Hong Kong's highest points, Lantau Peak makes for a great view and a great hike. If you opt for one of the options below it can take approximately 3 hours to complete depending on fitness level.
You should also be wary of the weather – if it is low cloud coverage or foggy, not only will it make for a more difficult hike but will also ruin any views along the way.
​A)

Option 1: Pak Kung Au – Lantau Peak – Ngong Ping

​The first option here, which is also the more interesting of the two will start at Pak Kung Au, then continue westward to Lantau Peak, and finally ending in Ngong Ping village.

In order to get to Pak Kung Au you will have to take a bus or taxi from the Tung Chung station to the start of the hike (therefore you will not be taking the cable car up – but you can take it down at the end of the day).

To do so you can hop on bus 3M, 11, 21 or 23 and make sure to let the driver you know will want to get off at Pak Kung Au.

​After the 20 minute bus ride you will arrive at the Pak Kung Au stop, where you should see the start of the Section 3 Lantau Trail path across the road.

Continue on this path following the signs for Lantau Peak and then onwards to Ngong Ping (where you will meet up with the Wisdom Path mentioned above).

Once you arrive in Ngong Ping you can grab some food and explore all the attractions around the area.
B) Option 2: Ngong Ping – Lantau Peak – Ngong Ping
​Instead of starting in Pak Kung Au, you could also start the trek right in Ngong Ping as you make your way to the Wisdom Path and along to Lantau Peak and back.
The downside of this option though is it is a more technical climb up from the Wisdom Path to Lantau Peak and you will also be doing the same trail back and forth.
So while the first option is a point to point hike (Pak Kung Au to Ngong Ping), the second option to a back and forth route (start and end in Ngong Ping). If you opt for this option you can see all of the attractions before or after your hike.
​Both options are shown on the map above with the yellow icons the start of each route. Whichever option you choose you, once you end your day you can head back down by bus or cable car from Ngong Ping and back to the MTR station.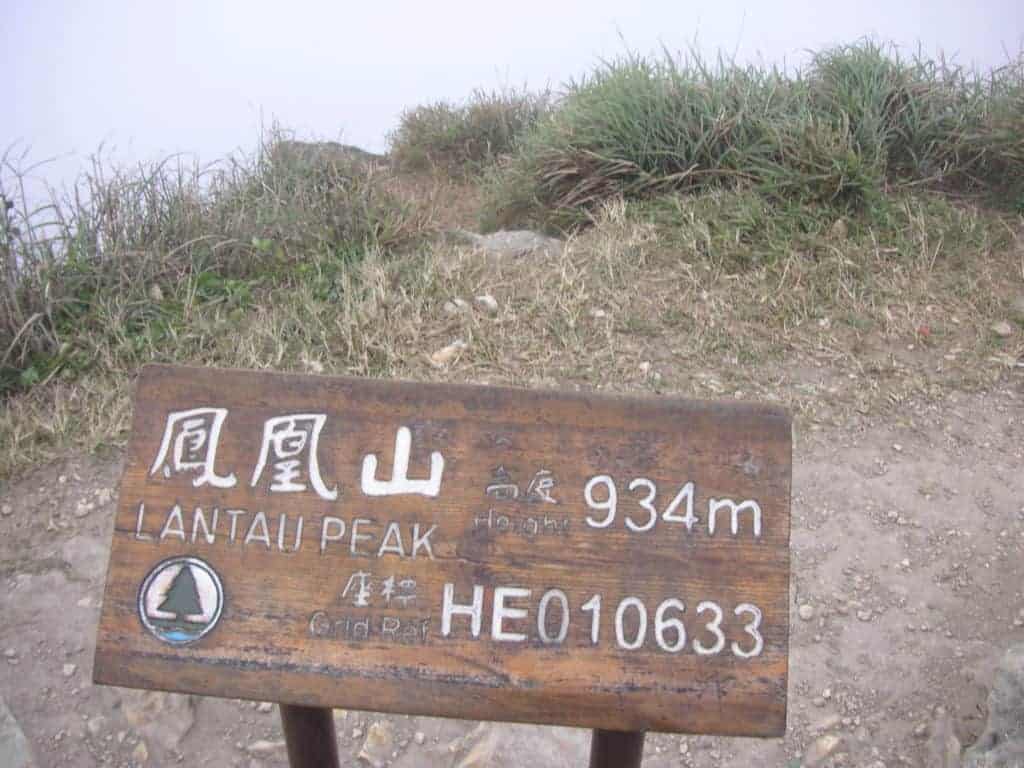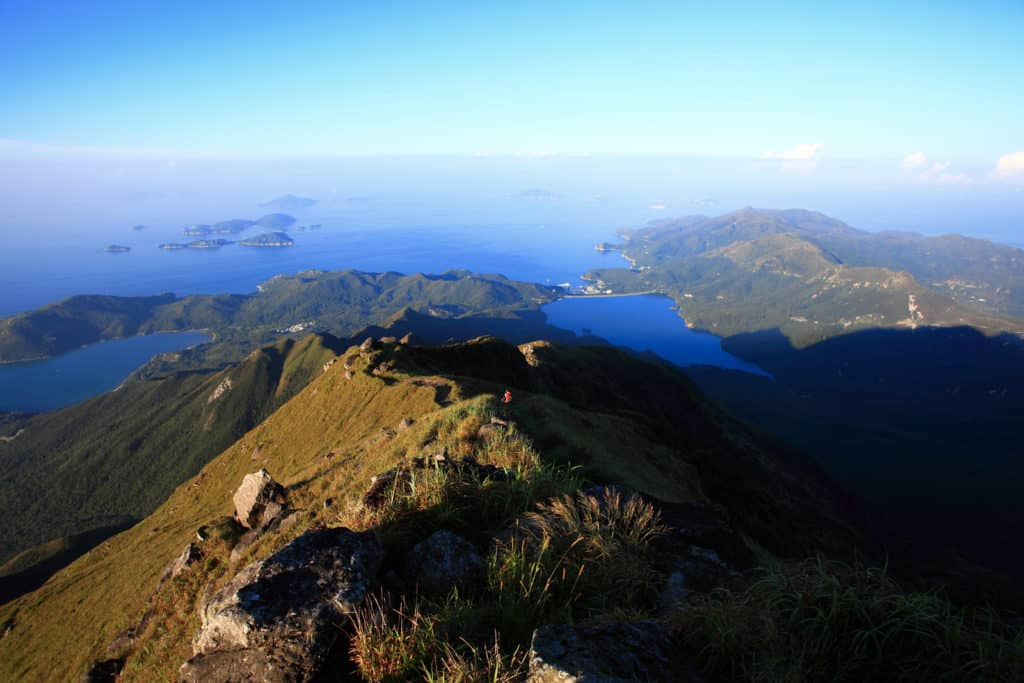 6) Tai O Fishing Village
If you decided a hike is not for you or you still have some time to explore, you can finish up this Lantau Island itinerary at the Tai O Fishing Village, only about 15 minutes away.
To get there you can either take bus #21 from Ngong Ping to Tai O, or taxi over.
Here you will find a village full of tilt houses along the river as well as some great markets to walk through. You can also opt for a quick boat trip around the area, where you might see some pink dolphins.
Once you have had enough time in Tai O you can take the 45 minute #11 bus ride from Tai O to Tung Chung and back on the MTR.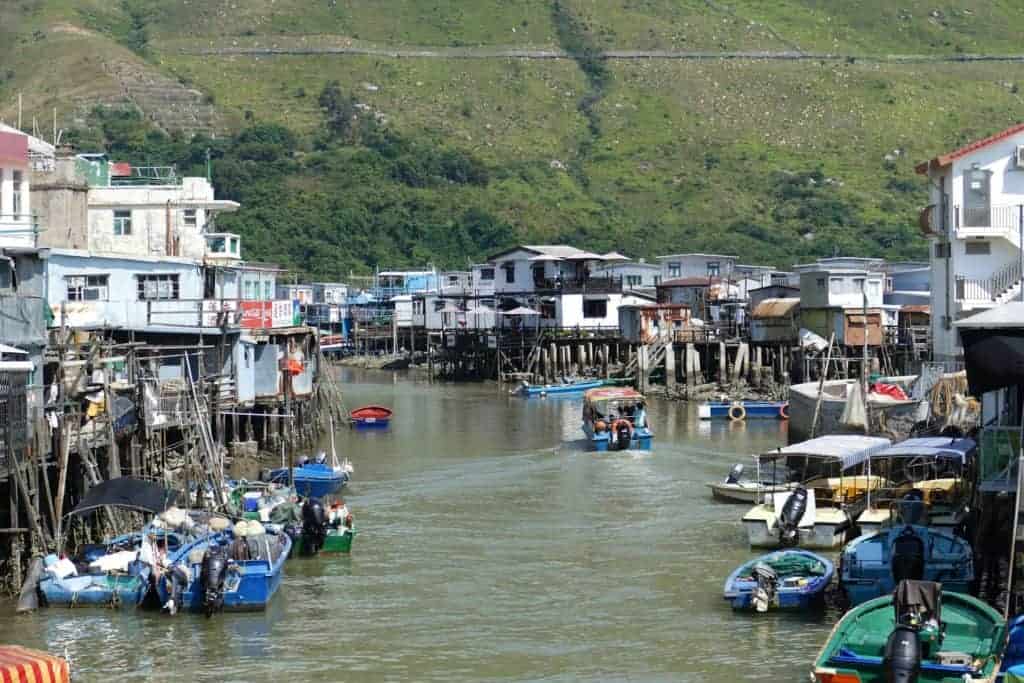 7) Where to Stay in Hong Kong
Hong Kong is made up of two main parts – Kowloon on the northern side of Victoria Harbour and Hong Kong Island in the south.
Staying relatively close by the waterfront in either area should work out well.
Also take into account the distance to MTR stations as I am sure you will be taking some metros during your time in Hong Kong.
Here are some of the best valued hotels when choosing where to stay in Hong Kong:
Kowloon:
1. New World Millennium Hong Kong Hotel
Hong Kong Island:
1. Ibis Hong Kong Central & Sheung Wan
That about wraps up a one day Lantau Island itinerary. Take a look at our other Hong Kong itineraries and guides to help out with any other trip planning.
Hope you enjoy your time in Hong Kong. If you have any questions about the trip please feel free to comment below!