One of the main highlights of Hong Kong that everyone needs to visit during their trip is Victoria Peak, also known as just The Peak.
As the highest point of Hong Kong island, this mountain gives you the opportunity to view the city from above. The daytime and nighttime pictures of the skyline of Hong Kong are just not to be missed.
This guide will walk you through all you need to know about how to get to Victoria Peak and what to expect once you reach the top.
* Affiliate Disclosure: This post may contain affiliate links, which means I may receive a commission if you make a purchase through the links provided, at no additional cost to you. Thanks for supporting the work I put into TripTins!
1) Introduction to Victoria Peak Hong Kong
When doing research into what to do in Hong Kong, I am sure you will consistently see pictures of the vast Hong Kong skyline. Most of these pictures are taken up above from Victoria Peak on Hong Kong Island.
From up top, visitors can take in views of Victoria Harbour, Hong Kong Island, Kowloon, and plenty more out in the distance.
Now, Victoria Peak is not just one single viewpoint. Instead, you can expect to find a whole array of points of interest to visit once you are up there.
These include various viewing platforms, shopping & dining options, a circular hiking trail, and even a Madame Tussauds Museum (and plenty more).
From a logistical standpoint on how to get to Victoria Peak, you should know that there are several different ways to go about it. You can tram, bus, taxi, or even hike up to the top!
Depending on your preferences, you can opt for one or more of those options as you make your way up and down the mountain.
This Victoria Peak guide will go over all those options and will also give some insight into the different viewing opportunities & highlights to visit once you are up there.
I hope this guide helps answers any questions you may have and that you will be on your way to take in the view for yourself!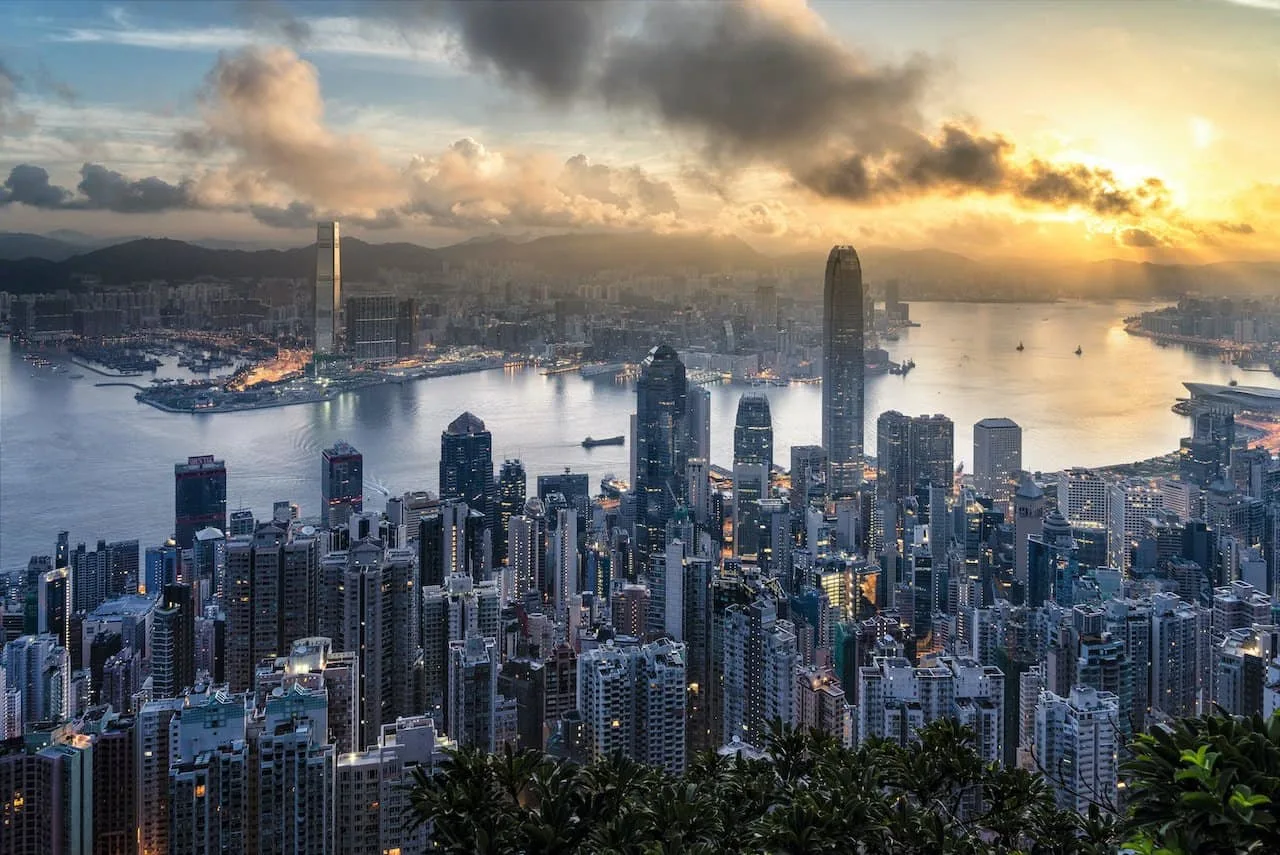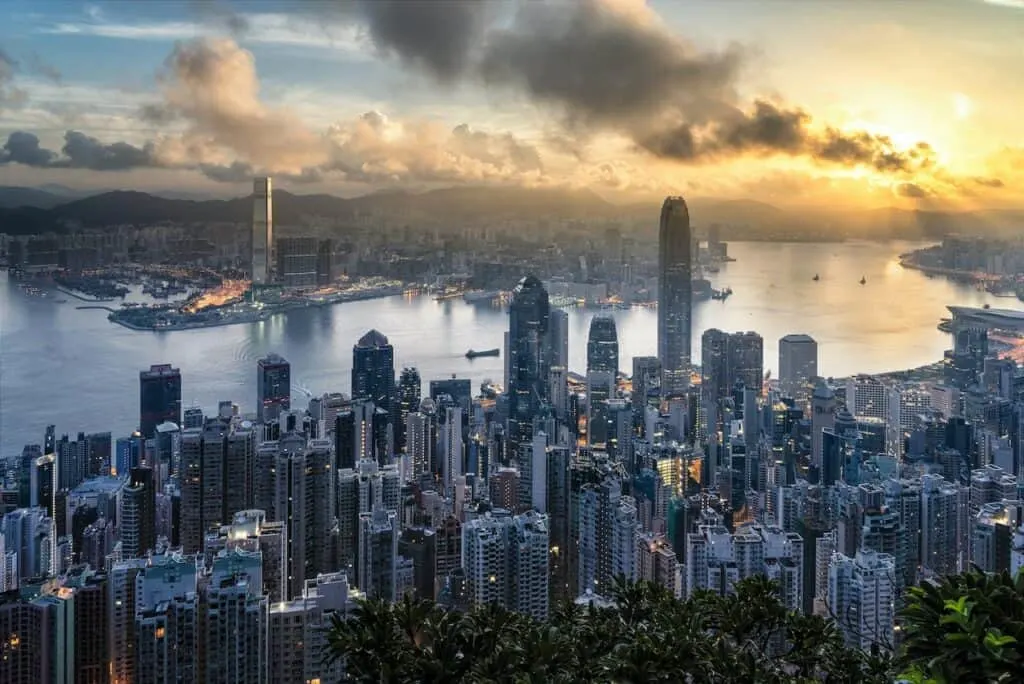 2) The Peak Map & Location
To give you a better sense of the Victoria Peak layout, below is a map that pinpoints the logistics and highlights around the area.
Logistics
Included on the map is the bus terminal and tram station that will take you to the Peak, as well as a hiking option.
Highlights
You can also see I highlighted four lookout points (Sky Terrace 428, Peak Galleria, Lions Pavilion, Lugard Road Lookout). Also included is the circular trail around Victoria Peak.
The rest of the guide will talk about these options and what to expect.
3) Victoria Peak Weather & Webcams
A very important topic to go over before diving deeper into Victoria Peak is the weather. The Hong Kong weather can be hit or miss, sometimes with fog or clouds overcasting the city.
In order to have the best possible view once you reach the top, you should be flexible with your schedule during your Hong Kong visit.
If you see that the weather isn't looking great then don't head up there, and save the Peak for another day. The last thing you want is to spend the time and money to get to the top and be welcomed to a view of clouds.
There are a couple ways to prepare yourself for a visit up to Victoria Peak – checking the weather and looking at the webcams.
This Victoria Peak forecast should give you a good sense of what the weather will be like over Hong Kong. I always like to look at a weather service that shows cloud coverage and hours of sun.
On top of that, I would also take a look at the Victoria Peak webcam. This way, right before you decide to head up, you can see a live view of what to expect once you reach the top of the Peak.
If you utilize both the weather forecast and webcam, you should be better prepared for your trip up to Victoria Peak.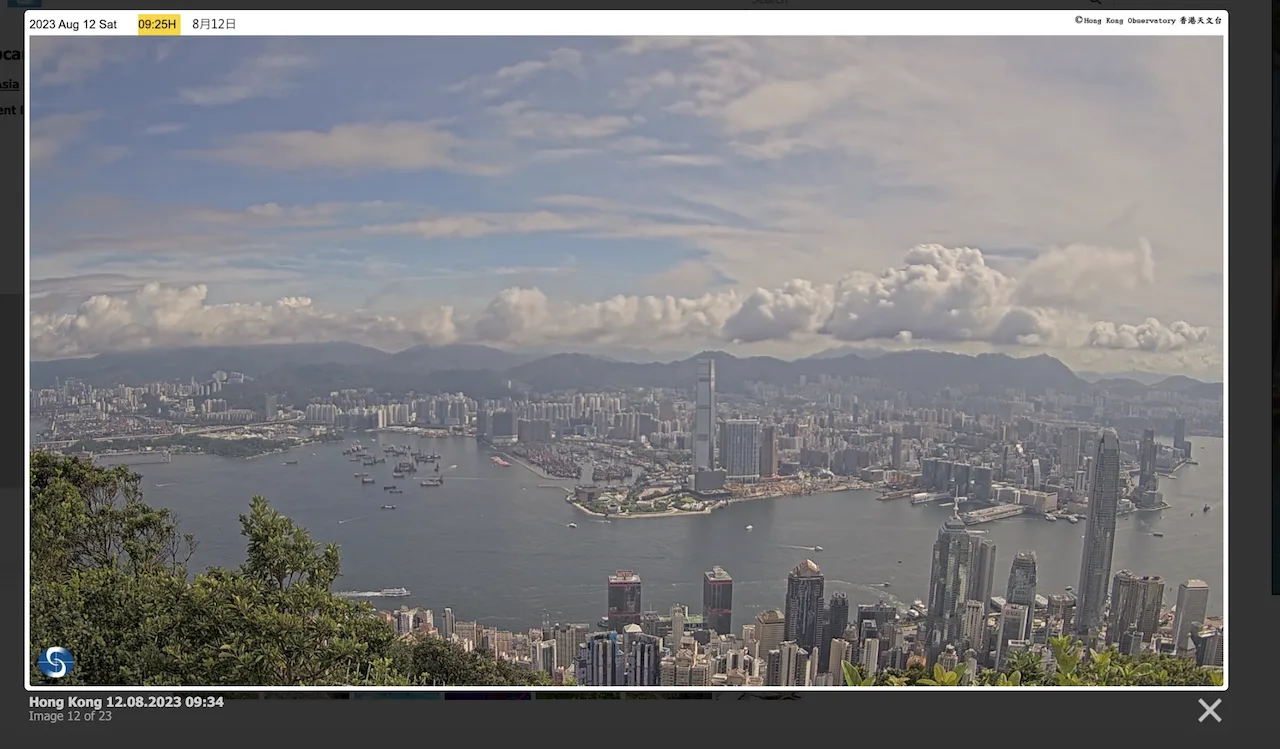 Hong Kong Itinerary: You can add Victoria Peak to this 3 Day Hong Kong Itinerary or 5 Day Hong Kong Itinerary
4) How To Get To Victoria Peak
First things first, you will need to make your way up to The Peak in order to take in the views.
There are four main ways how to get to Victoria Peak depending on your adventure level – tram, bus, taxi, and hike.
Below I will go into more detail with logistics and costs for each one:
A) The Tram
Hours: 7:30AM – 11:00PM (Monday to Sunday)
Cost: 62HKD (~$8) one way / 88HKD (~$11) round trip
Length: 7 minutes (departures every 15-20 minutes)
Capacity: ~120 people
Location: Garden Road Peak Tram Lower Terminus
The most popular way to get up the mountain is by the Peak Tram.
While this is the most iconic way to make the trip up, beware that it is the most crowded option as well.
In order to avoid waiting in ticket lines, I would recommend purchasing your ticket in advance through the official website. As you purchase a ticket, you will be able to choose between various two hour time slots.
By doing so, you will be sent on a priority line once you arrive. However, note that you may still need to wait depending on how busy it is during your arrival.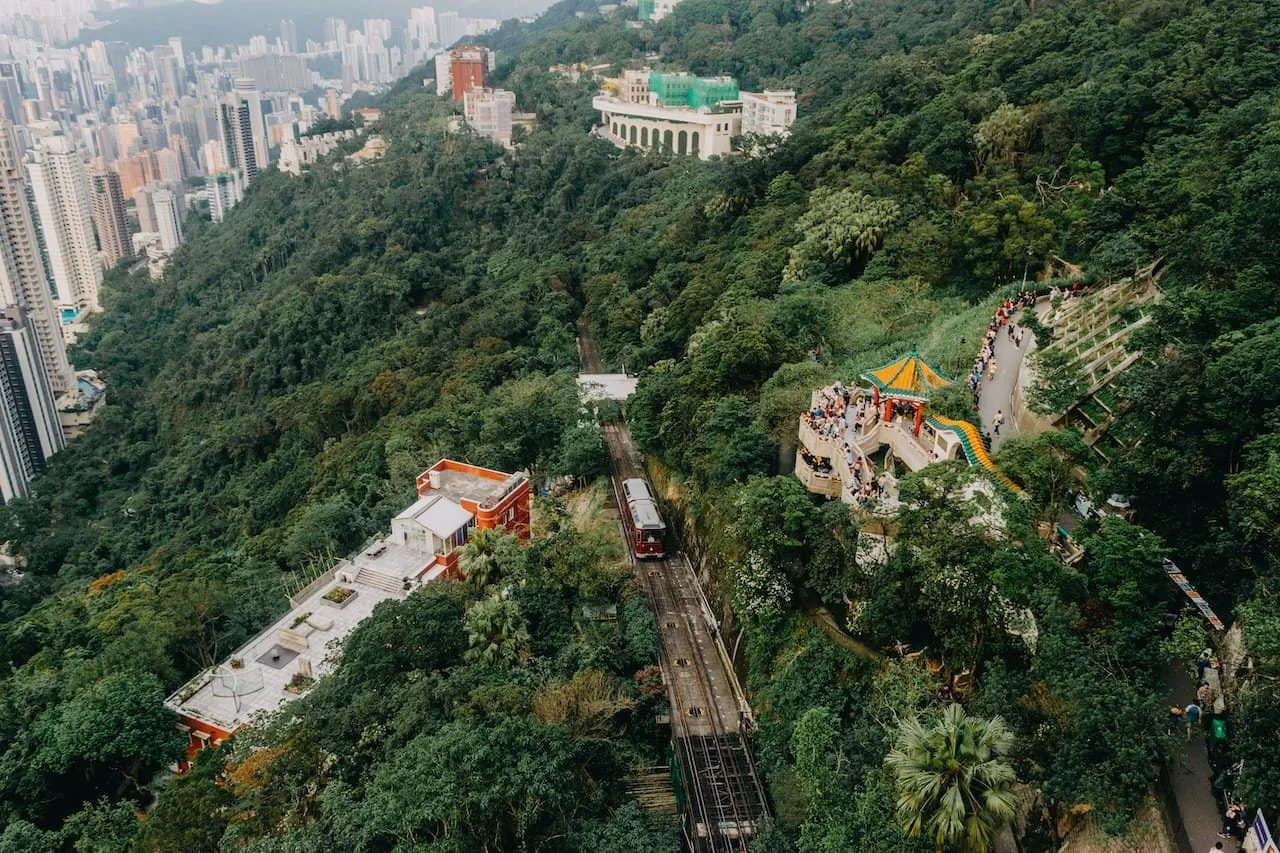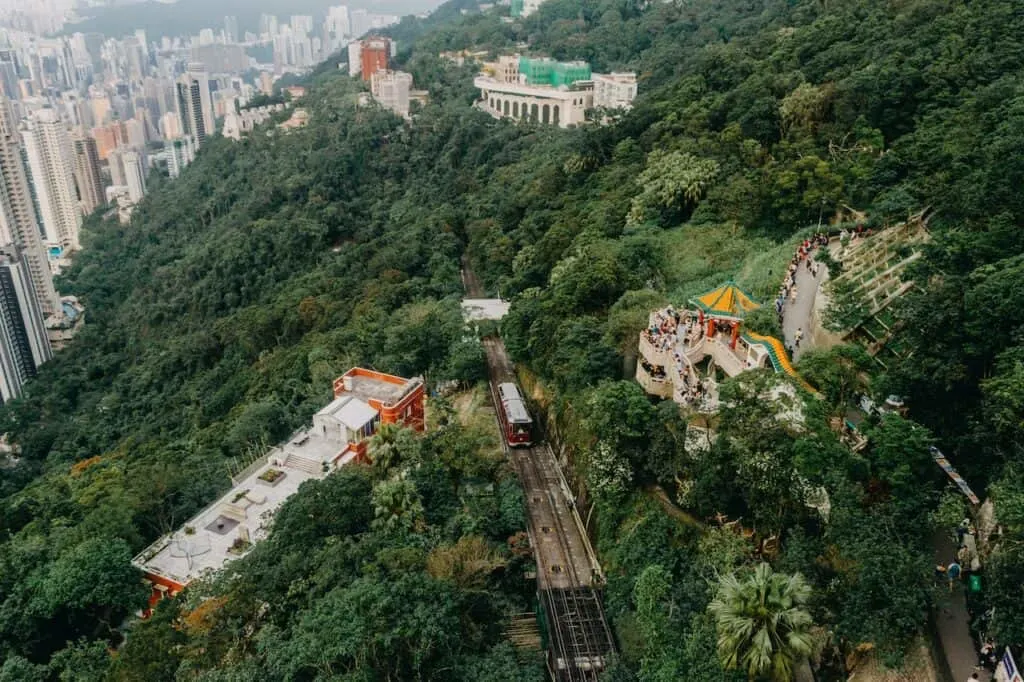 B) Bus
Route: #15
Hours: ~ 6:00AM – 12:00AM
Cost: 11.50HKD (~$1.50) one way
Length: ~30 minutes (departures every 7-15 minutes)
Location: Exchange Square Central Bus Terminus
A second, cheaper way to get to the Peak is by public transportation. You can take the #15 bus up to the Peak from the Exchange Square Central Bus Terminus.
This journey however, can get a bit twisty and turny as you make your way up the mountainside. There will be several stops along the way too, but for the cost, it can be well worth it.
C) Taxi / Ride Share
​The easiest way to head up to The Peak is simply by taking a taxi or ride sharing option up to the top.
Price will all depend from where you are departing from but if you take the MTR to Central Station and then catch a cab from there it should cost around 100HKD (~$13).
Private Guide: You can also visit Victoria Peak and other highlights as part of a highly rated Customized Tour of Hong Kong
D) Hike It
​The last option to get to Victoria Peak would be to walk up to the top. There will be several options to choose from and the hike can get tough since it is an uphill climb.
A popular way to do this route is with a combination of escalators and hiking.
You will want to take the mid level escalators up to Conduit Road, where you can then begin your climb up Old Peak Road (highlighted starting point on map). A route like this would take around 45 minutes to complete.
Alternatively, you could start at Central Station, which would take closer to 1 – 1.5 hours to the top.
Since the uphill climb can be a harder option, you may also consider just walking down from the top as you enjoy the hike in the opposite direction.
Feel free to Combo! You should also feel free to combo any of these options together. For example, if you want to avoid the crowds at the lower tram, you can taxi up and then tram down.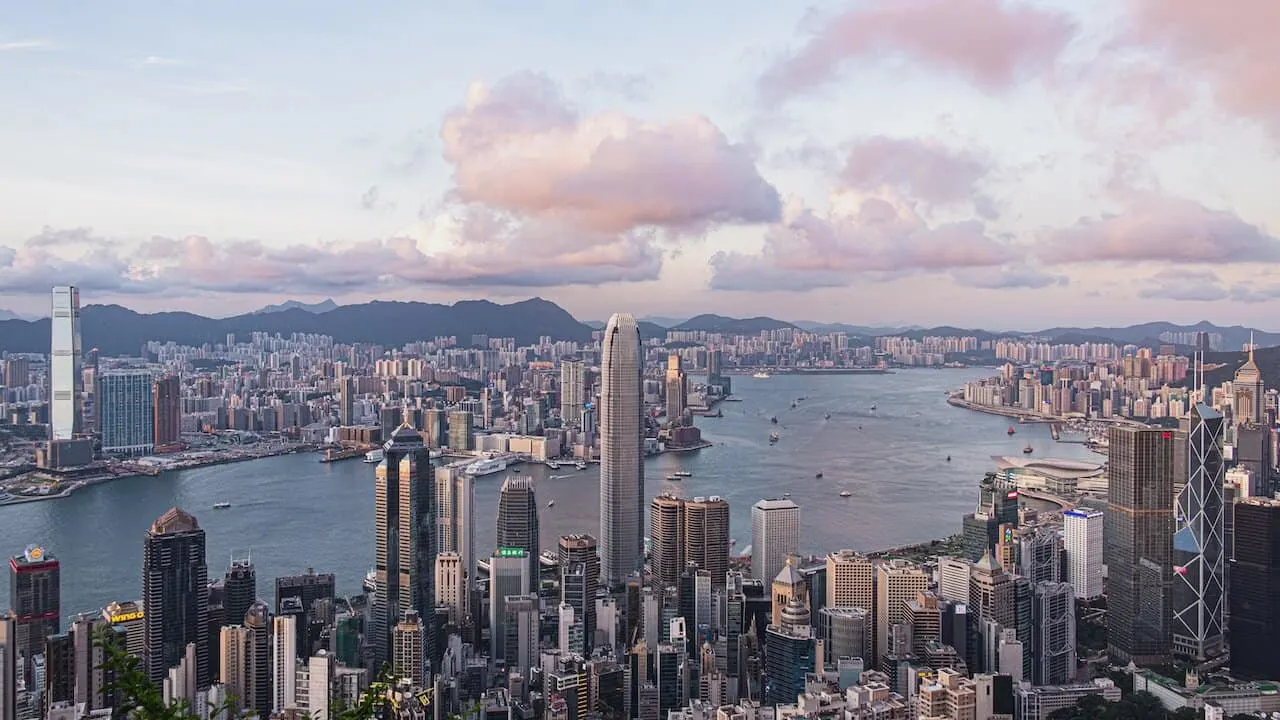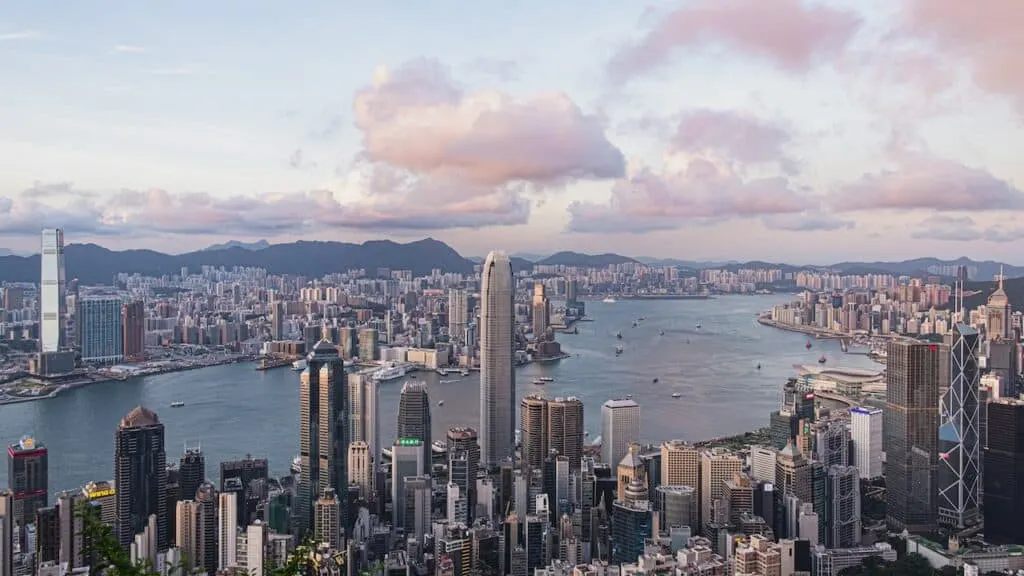 5) Experience Victoria Peak
Once you are up on top it is time to sit back and enjoy the view! There are a few different main viewing areas to choose from so feel free to walk around and choose which ones you want to relax at.
A) Sky Terrace 428 & Peak Tower
Hours: 10:00AM – 10:00PM (Monday to Friday); 8:00AM – 10:00PM (Saturday & Sunday)
Cost: 75HKD ($10) OR
Peak Tram Sky Pass (Tram + Sky Terrace): 148HKD ($19) round trip / 122HKD ($16) one way
​At the Peak Tower you will find Sky Terrace 428, an unobstucted viewing terrace.​ This is the most convenient and best spots to take in the view. The only downside is that you need to pay to get to the terrace.
You can either purchase a ticket to just enter the Sky Terrace area or if you are taking the tram up, you can buy the Peak Tram Sky Pass combo ticket.
Around the area you will find a couple different museums such as Madame Tussauds as well as the Peak Market, where you can buy all sorts of food and souvenirs. If you want to have lunch or dinner with a view there are also four different restaurant options to choose from.
Peak Tower Note: you can still visit the Peak Tower without a ticket. Within the tower is where you will find the shops and restaurants to explore. It is just the Terrace that requires the ticket. The tower itself closes at 11:00PM (whereas just the Sky Terrace viewing platform closes at 10:00PM).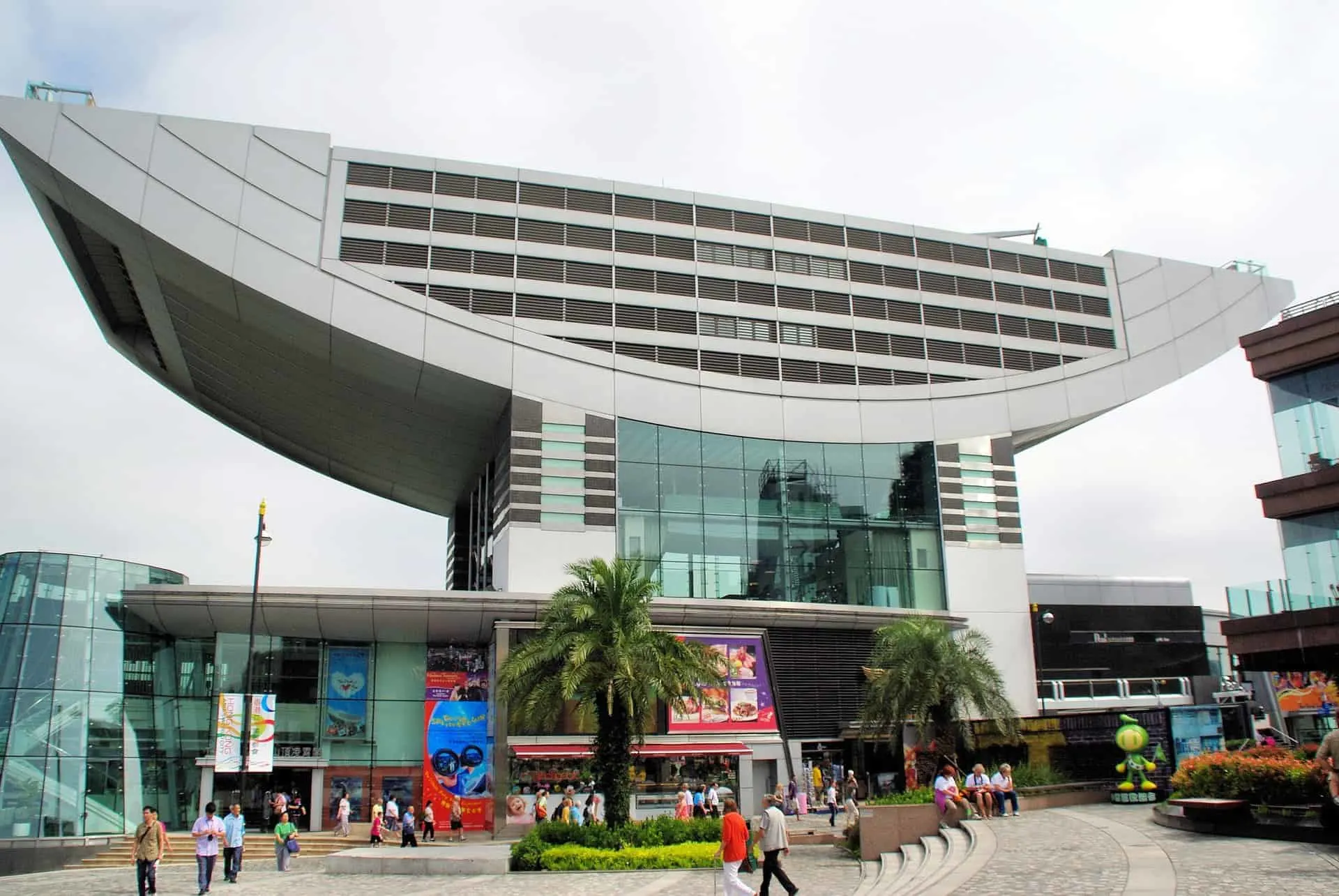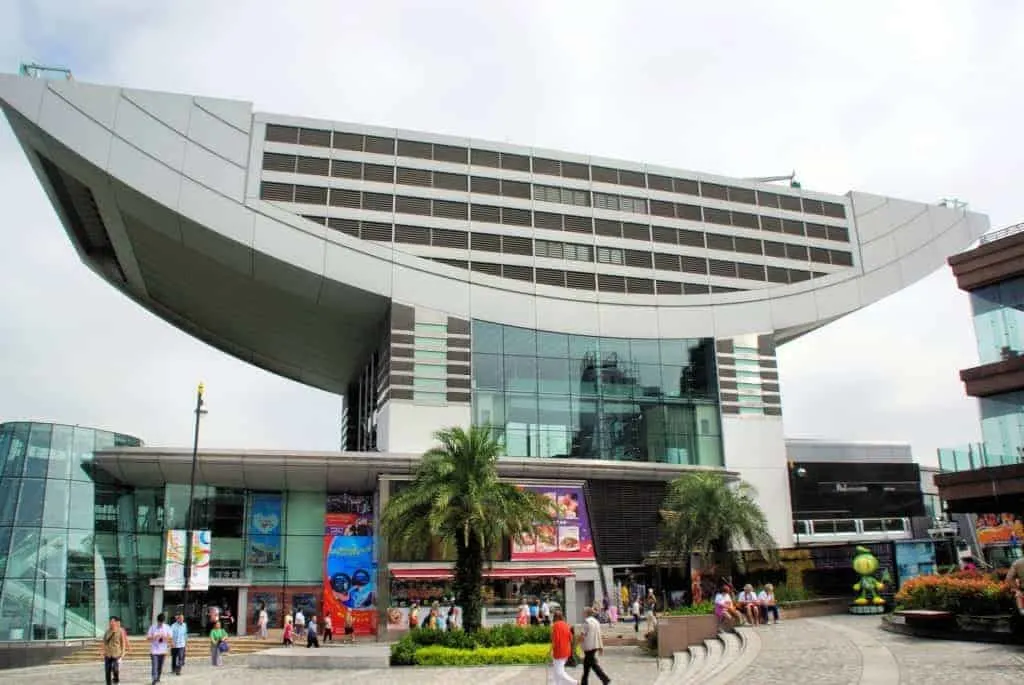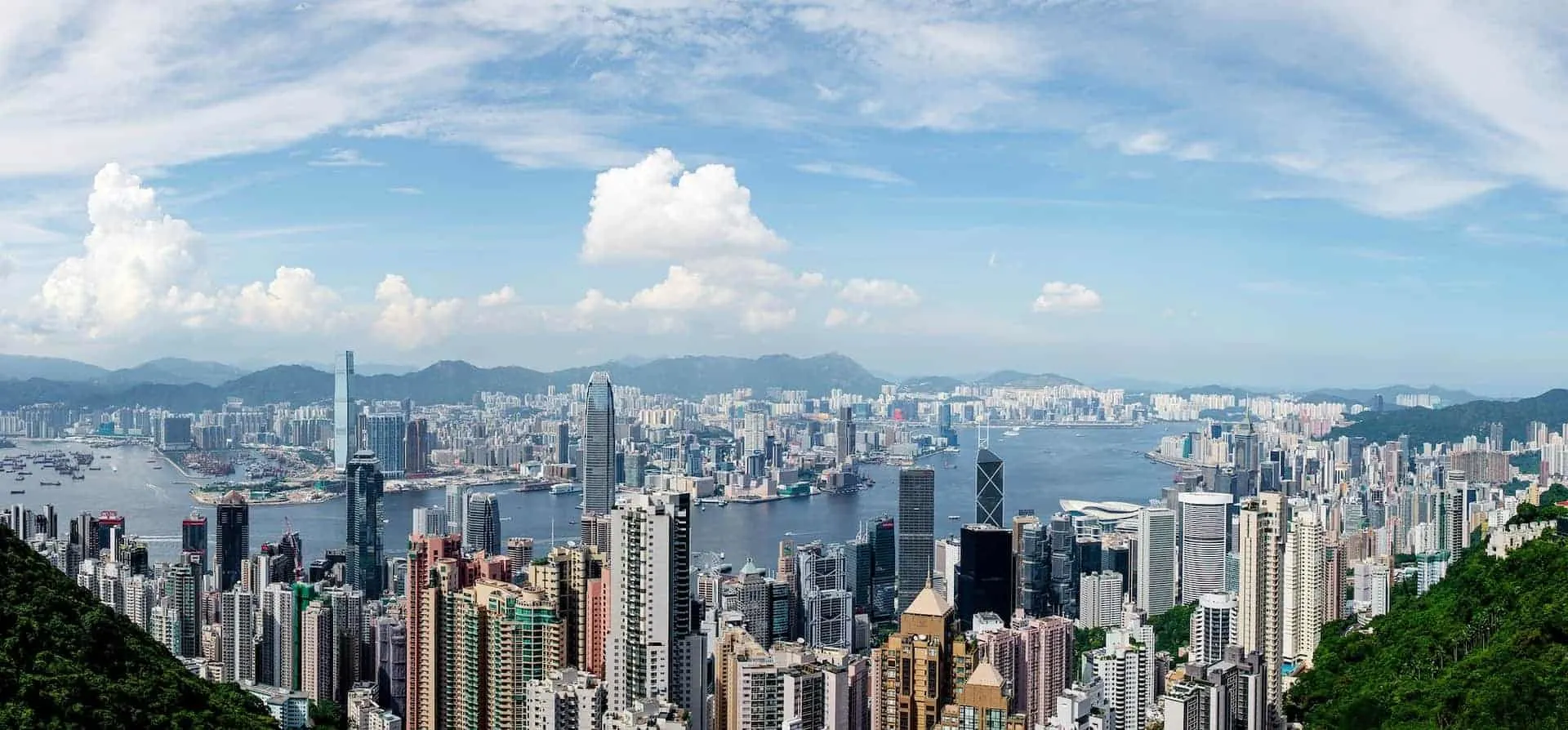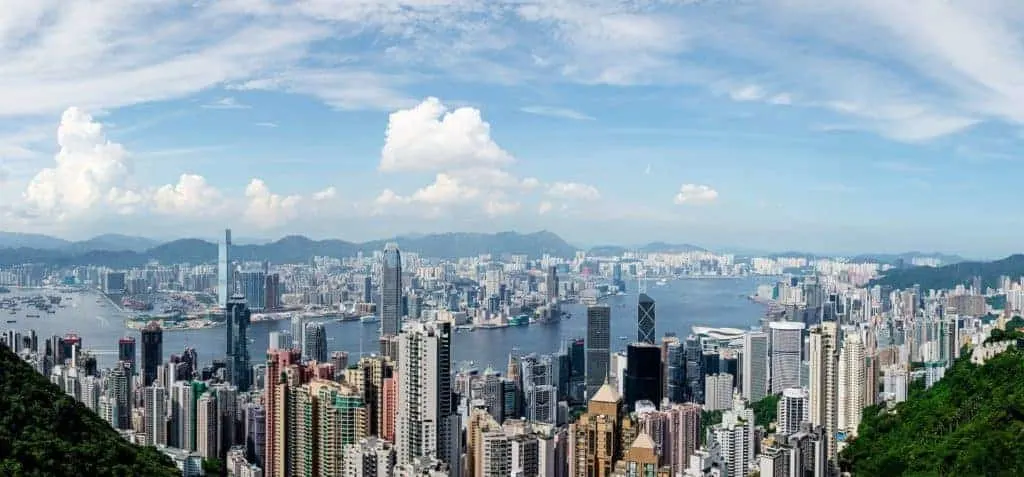 B) ​

Lion's Pavilion

Alternatively you can head over to a free view point area overlooking the city.

As you can see on the map above, just a few minutes away from the top tram station is Lion's Pavilion, which also offers some beautiful views.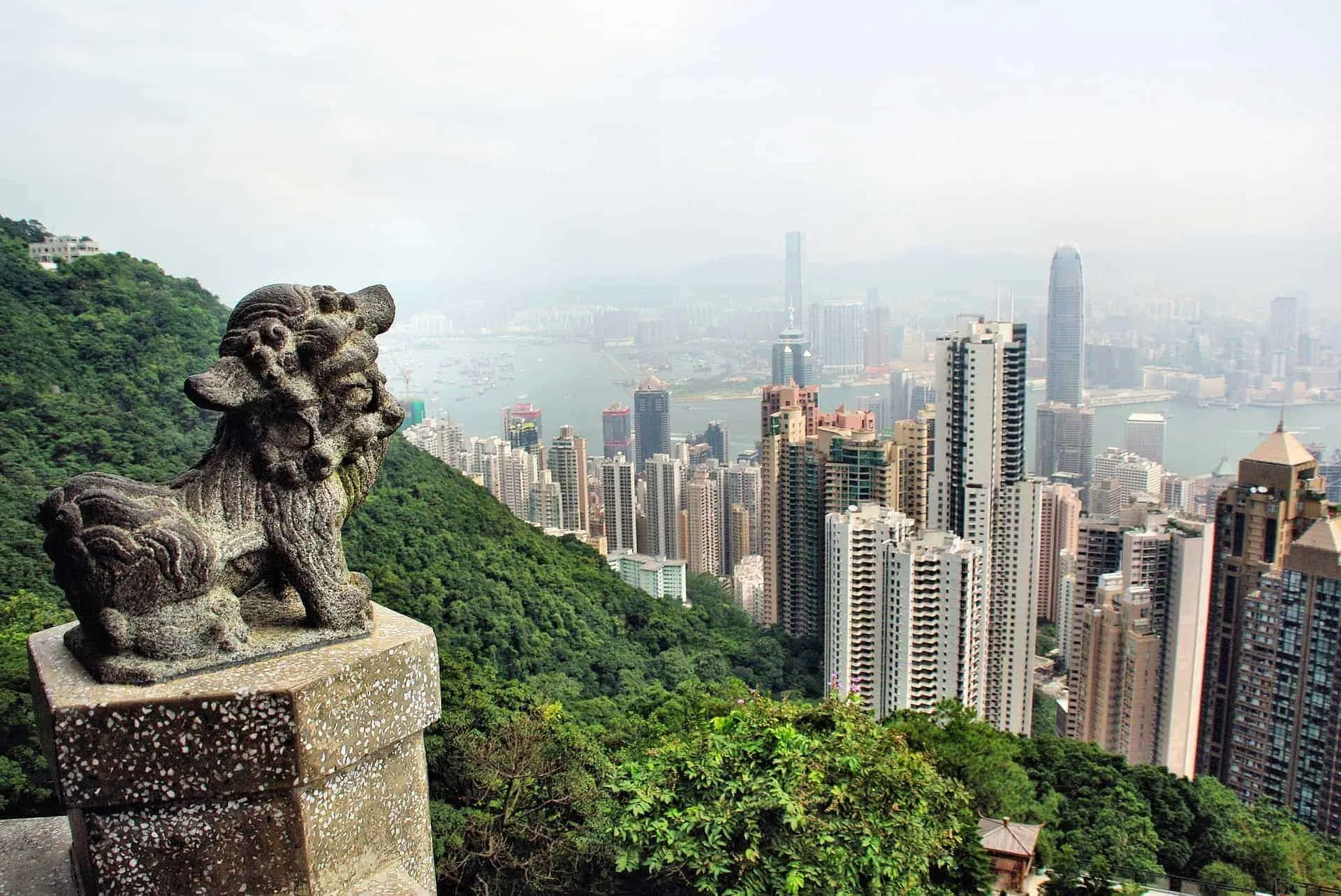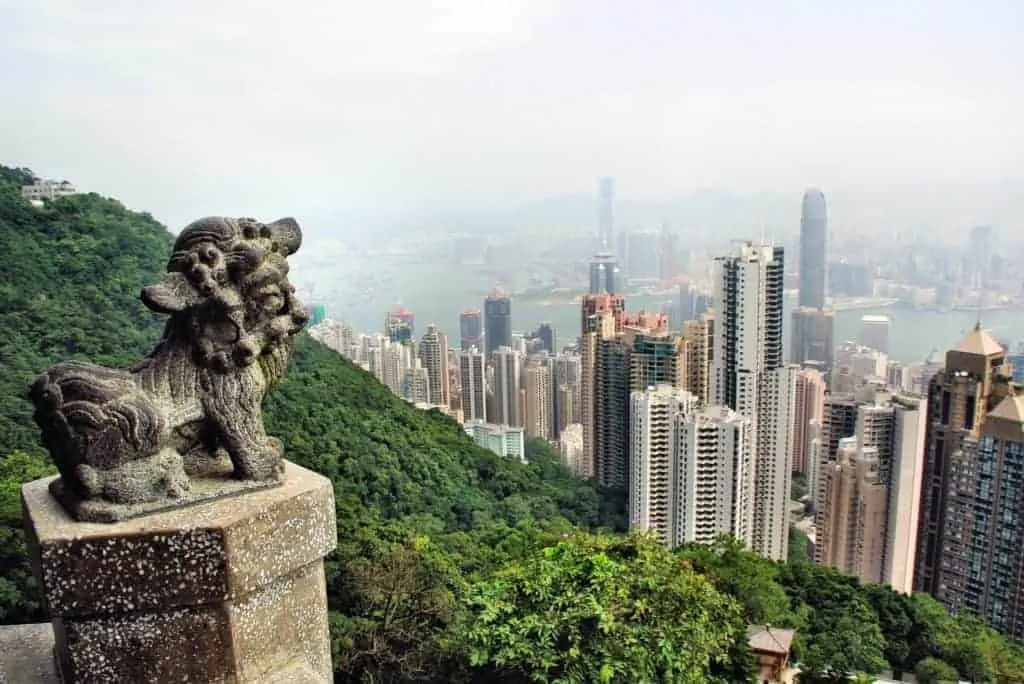 C) Lugard Road Lookout
A second free option would be the Lugard Road Lookout point. This one however, is a fit farther away – about a 20 minute walk along Lugard Road.
The views here though are fantastic so if you are up for a little bit of a walk it is worth it.
If you have another hour or so to spare you can actually can continue on Lugard Road & Harlech Road to take the circular walk around Victoria Peak.
I highlighted this route on the map, which comprises of a 2 mile (3.2 km) walking trail. The trail not only gives you views of the harbour, but also of plenty viewpoints overlooking other parts of Hong Kong.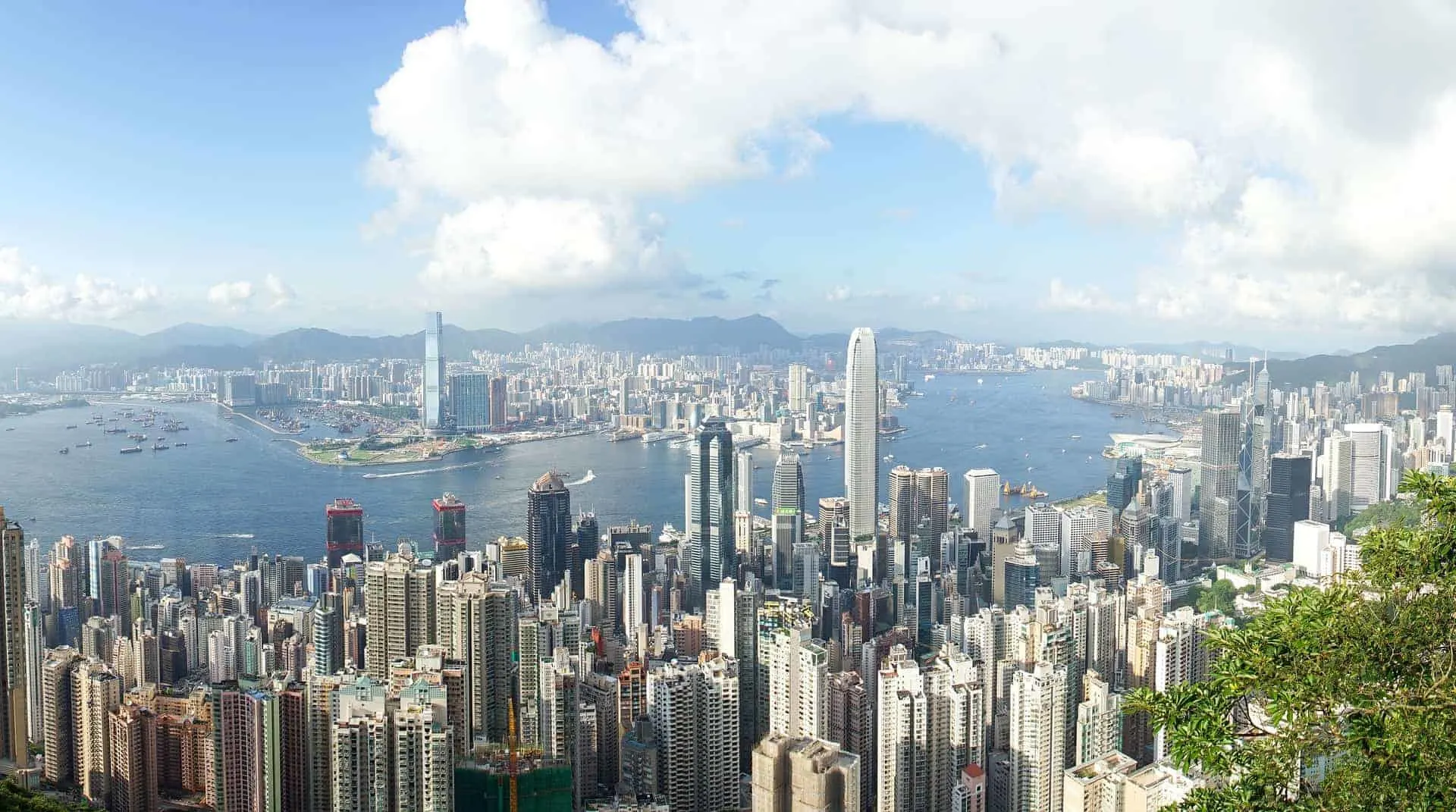 D) Peak Galleria
The final option I will mention here is the Peak Galleria, which is directly across the way from the Peak Tower & Sky Terrace 428.
At the Peak Galleria you will find even more shops and dining options to visit during your time on Victoria Peak.
Not only that, you will also find a viewing platform area too (and it is free!). While the view is a little obstructed by the Peak Tower, it is still a great option to consider when visiting The Peak.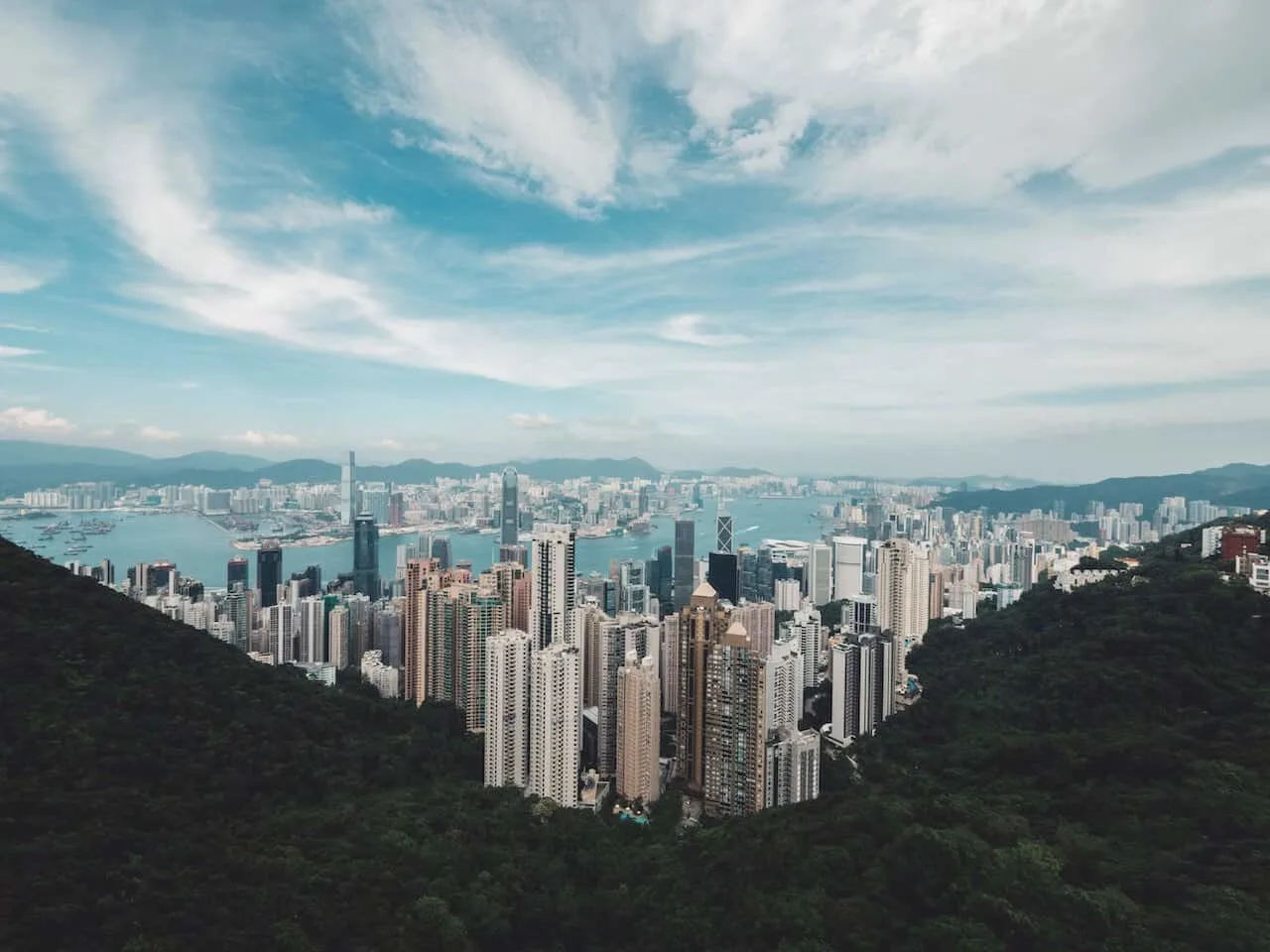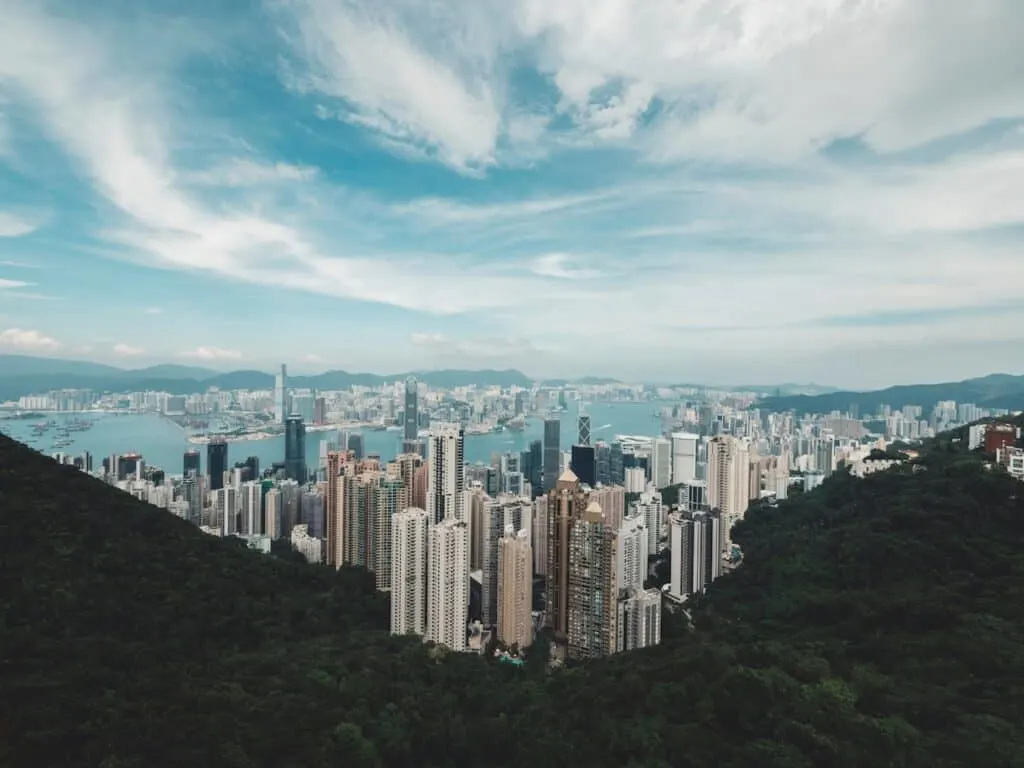 Overall, you can plan to spend a couple hours at Victoria Peak – taking in the viewpoints, checking out the shopping and even going to one of the museums.
Once you have had enough time up top you can make your way down by tram, bus, taxi or by foot.
6) Where to Stay in Hong Kong
Hong Kong is made up of two main parts – Kowloon on the northern side of Victoria Harbour and Hong Kong Island in the south.
Staying relatively close by the waterfront in either area should work out well. Also take into account the distance to MTR stations as I am sure you will be taking some metros during your time in Hong Kong.
Here are some of the best valued hotels when choosing where to stay:
Kowloon Hotels
Hong Kong Island Hotels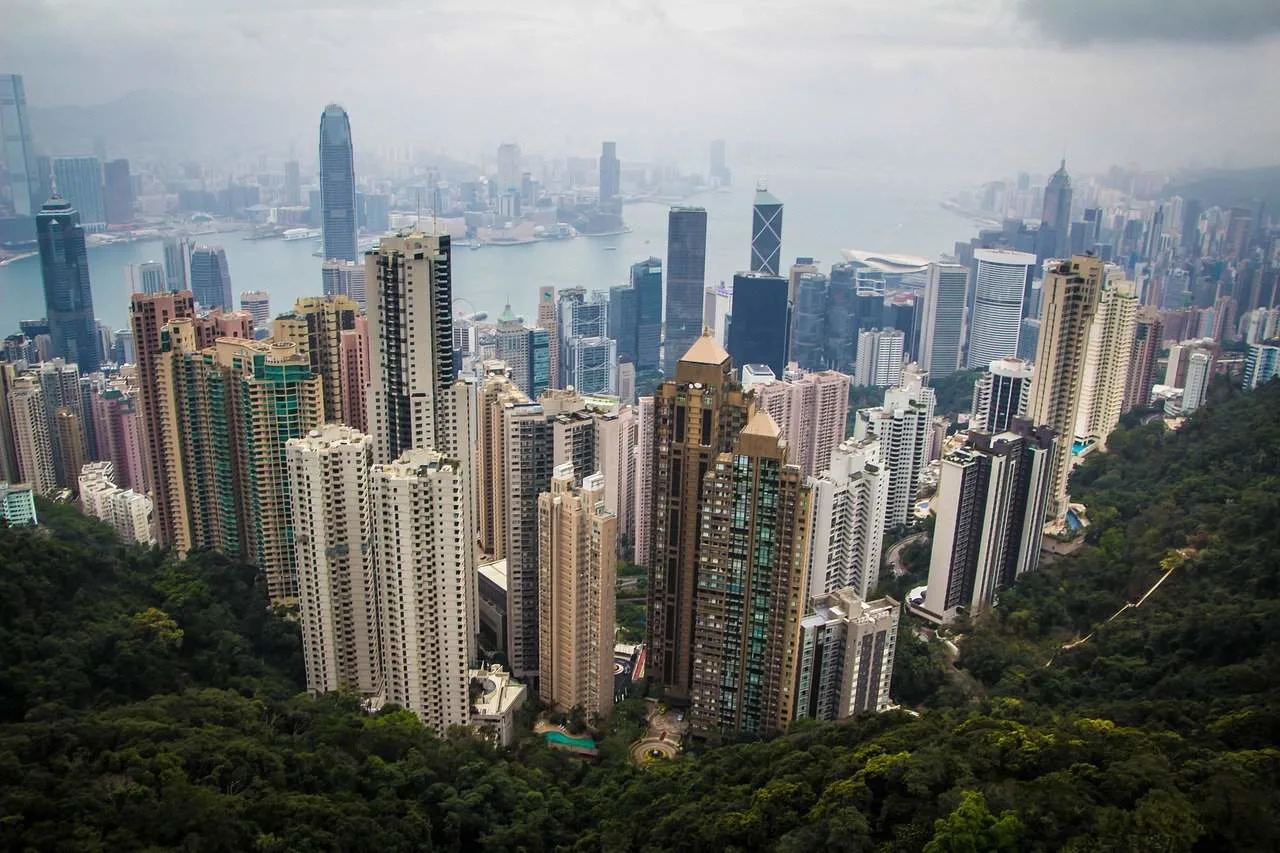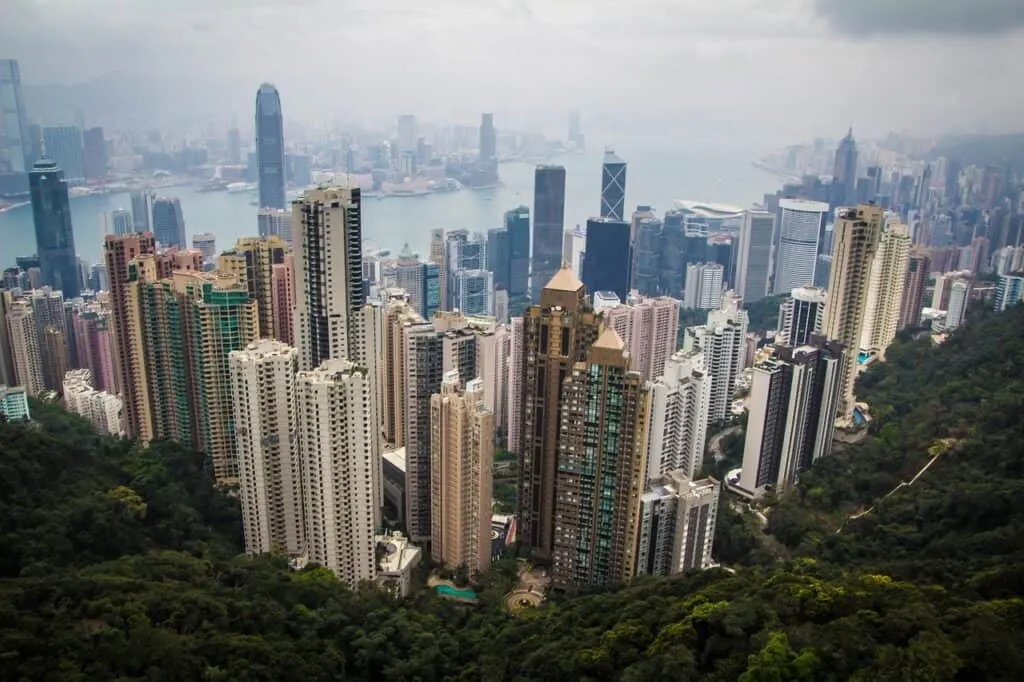 That about wraps up the guide to Victoria Peak. Take a look at our other Hong Kong itineraries and guides to help out with any other trip planning (like a visit to Lantau Island!).
Hope you enjoy your time in Hong Kong. If you have any questions about the trip please feel free to comment below!