Venice, Italy. One of the most well-known cities in the world and one that is full of things to do and sites to see.
While you may come across articles talking about how the city is overrun by tourists and can be left off an Italy itinerary, I would have to disagree. If you are heading to Italy and have the chance to visit this one of kind place, I say go for it!
This guide will go over the best places to visit in Venice Italy, talk about how to avoid the crowds, and provide you with some helpful info to make your trip as memorable as possible.
* Affiliate Disclosure: This post may contain affiliate links, which means I may receive a commission if you make a purchase through the links provided, at no additional cost to you. Thanks for supporting the work I put into TripTins!
1) 14 Best Places to Visit in Venice
I will first go over some of the best places to visit in Venice followed by all logistical info later on in the guide. The following attractions can be seen over a couple of days but feel free to pick and choose based on preference and amount of time you have in the city.
Helpful Tip: be sure to purchase tickets in advance for the top attractions in the city. This will save you valuable time during a visit as you won't need to spend your day just waiting in lines. Also, always check the latest opening hours prior to heading out!
Piazza San Marco
Without a doubt, the most popular square in Venice is Piazza San Marco. All around the square you will find some of the best architecture and most well known buildings that Venice has to offer.
The square has quite a history as it was first built all the way back in the 9th century (although it was smaller back then). Beyond its beautiful architecture and tiled floor, be on the lookout for the hundreds of pigeons who call St Marks home. And don't be surprised if you come across a flooded square either. Piazza San Marco is the lowest point of Venice and it does flood after heavy rainfall.
Some of the main highlights that can be found around the square include St Marks Basilica, the San Marco Campanile, Doge's Palace, and the National Archaeological Museum of Venice.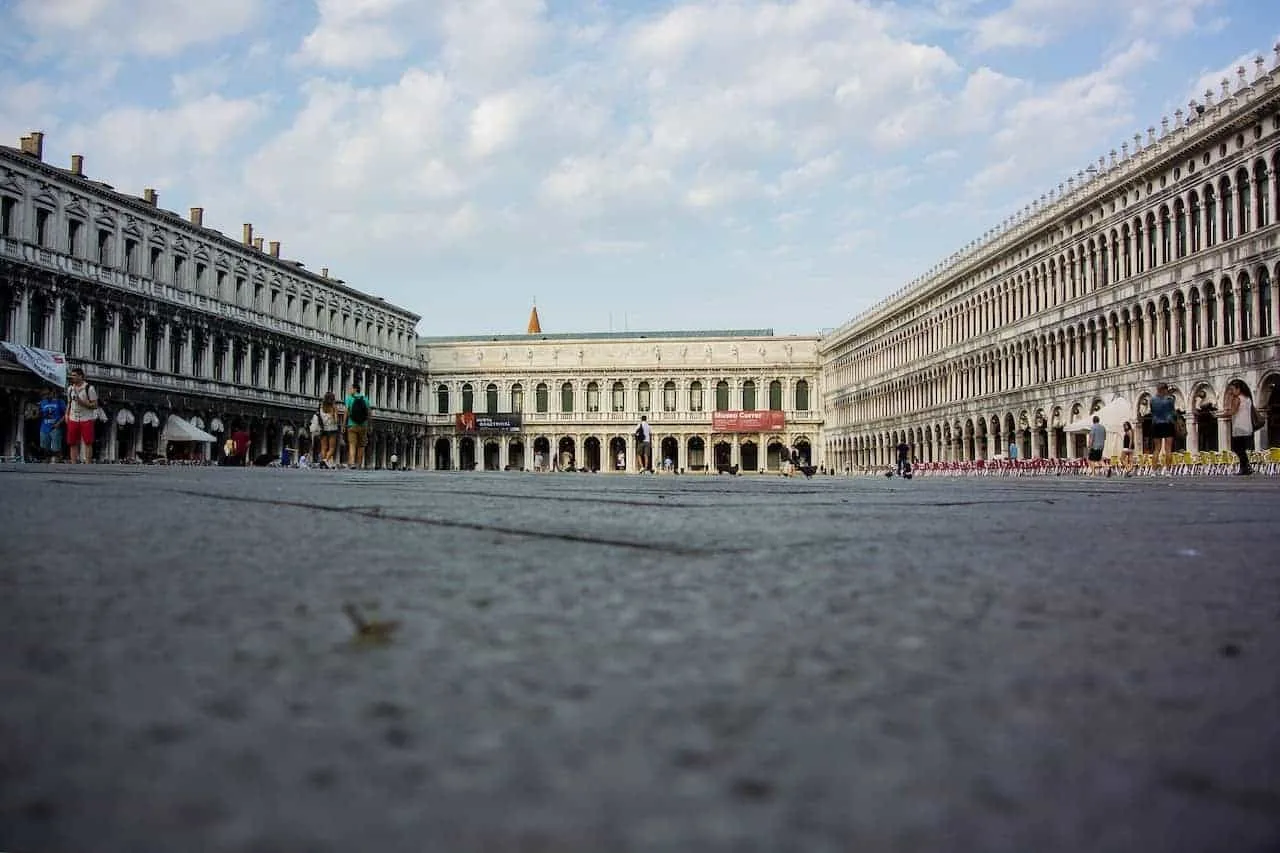 St Mark's Basilica
Opening Hours: 9:30AM – 5:15PM (Sundays & Holidays opens at 2:00PM)
Sunday Mornings: museum can still be visited
Entrance Fee: 3 Euro (+5 Euro for Pala d'Oro & +7 Euro for museum)
Skip the Line Ticket: St Mark's Basilica Fast Track Entry & Audio Guide
Once you have had enough time outside in the piazza, it is time to head indoors to the St Mark's Basilica. Here you will find a magnificent building with huge arched ceilings and detailed artwork all throughout.
During a visit to the St Marks Basilica, you can opt to just head into the basilica, or also add on a visit to the Pala d'Oro (golden alter) and Loggia dei Cavalli museum (both for an extra fee).
You can spend your time in the Basilica taking in the ornate architecture, mosaics and artwork, in addition to visiting the Treasury and the Crypt.
Tip: there is also the opportunity to head out onto the St Marks Basilica terrace overlooking the piazza. In order to do so, you must purchase a museum ticket as that is where it connects from.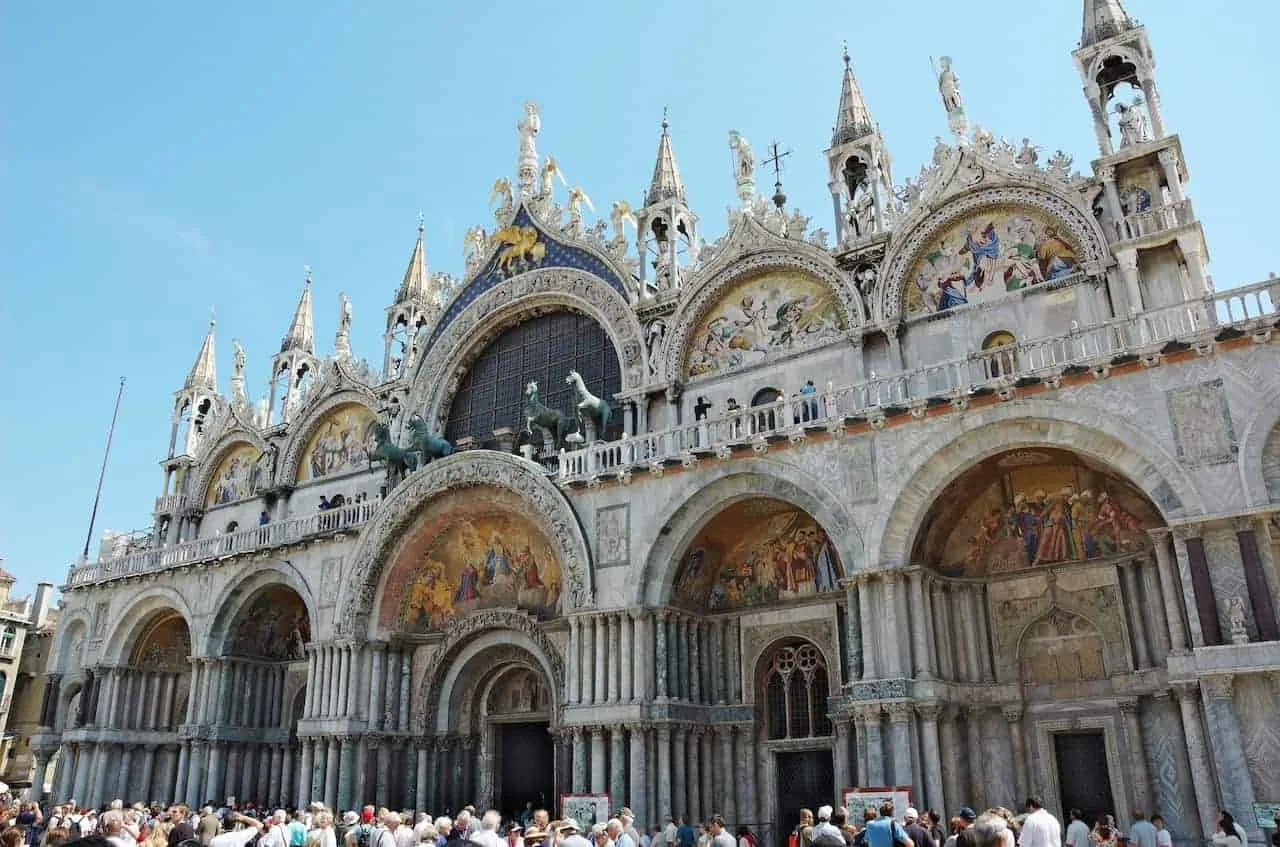 St Mark's Bell Tower
If you are looking to head up the tallest structure in Venice, then the San Marco Campanile is for you. This is the bell tower of the St Marks Basilica, and can be found just next door.
From the top of the 320 foot / 99 meter tall tower, you will be able to enjoy some of the best views of Venice from above. And don't worry, you will not need to climb it yourself. Instead a quick lift will take you right on up.
Be sure to book your tickets online ahead of time to guarantee a spot and lessen any potential waiting times.
Important Note:
During the high season, the lines for both the Basilica and Bell Tower can get very long. To avoid this you can purchase skip the line tickets beforehand on the websites linked above. If you do book ahead of time you will be able to skip the lines when you arrive and walk right in.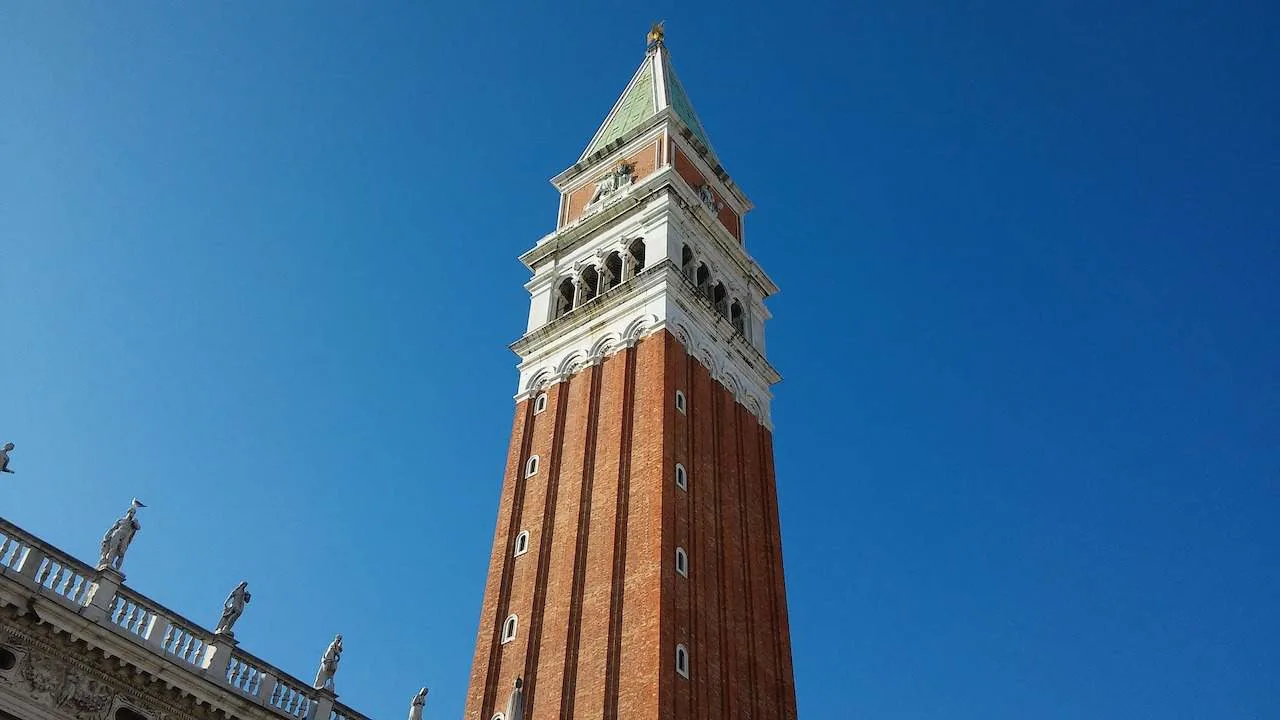 Doge's Palace
Right nearby the square you will find Doge's Palace, a museum filled with numerous chambers, dungeons, and passageways. You can purchase a ticket to the museum and wander around on your own or you can also take part of a guided tour.
One such tour is called "Secret Itineraries", which takes you through hidden passageways and to rooms not available for the public to see.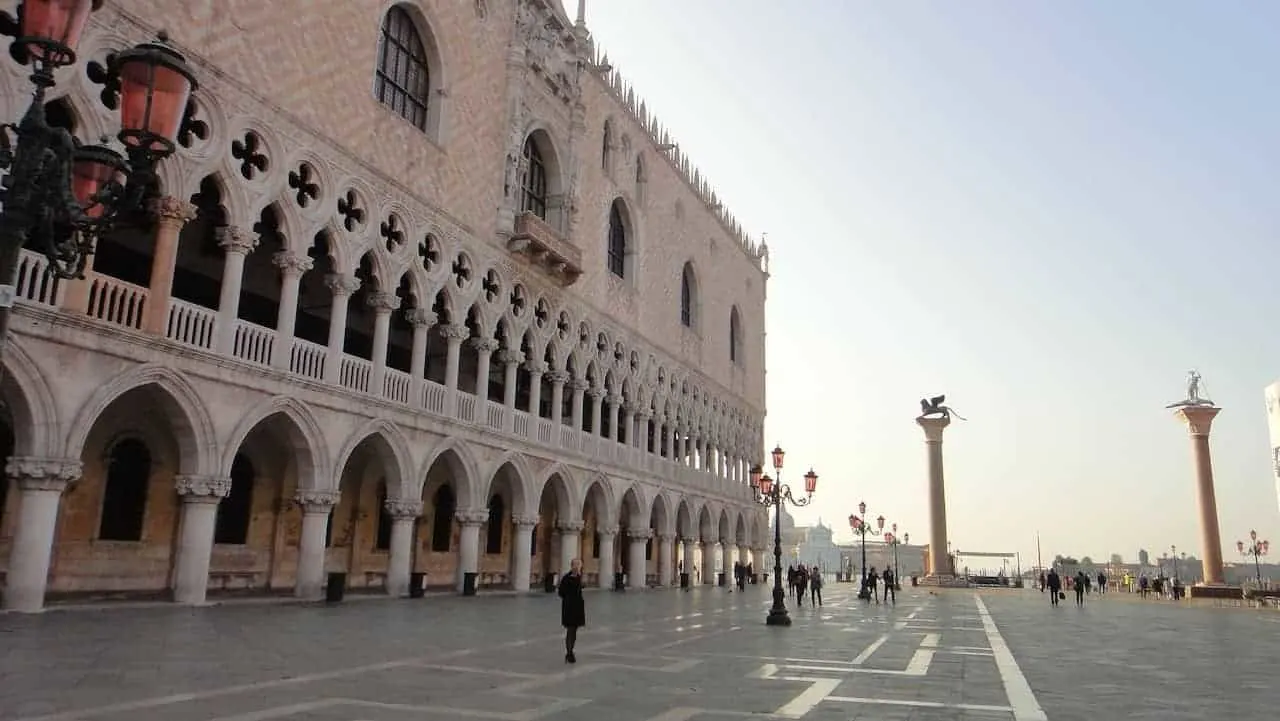 Bridge of Sighs
One of the more unique bridges that can be visited during a trip to Venice is the Bridge of Sighs.
The bridge connects Doge's Palace with Prigioni Nuove (New Prisons), and has quite the history. It was built in 1614 as a way for prisoners to be safely transported from the court at Doge's Palace directly into the prison.
It has been named the Bridge of Sighs due to the sighs that the prisoners would let out, as they came to the realization they would be headed to prison and may not see Venice again.
If you would like to actually head onto the bridge, that can only be done as part of a Doge's Palace guided tour. However, if you just want to view from the bridge from afar, you can head to the nearby Paglia Bridge to get the experience.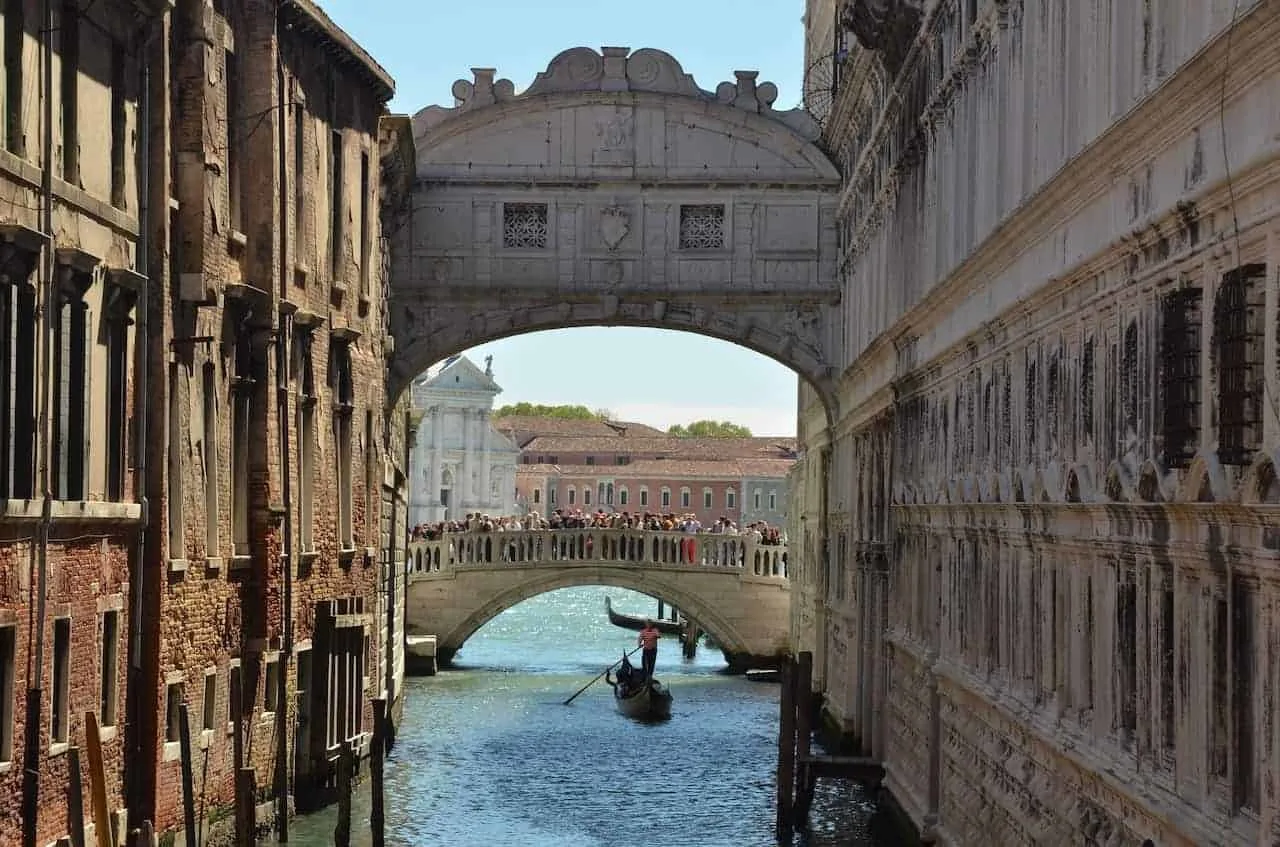 San Giorgio Maggiore
Church Hours: 9:00AM – 7:00PM (closes at 6:00PM in winter)
Entrance Fee: Free (6 Euro for bell tower)
Located just south from the main Venice island, you will find San Giorgio Maggiore. The island is quite small but does have a historic church and bell tower to visit.
Visiting the island is quite simple as you can catch a vaporetto (waterbus) right over. During a ride towards the island, you will be able to enjoy some views all around, both of mainland Venice and of the island.
The main highlight of the island is the Church of San Giorgio Maggiore, where you will find a beautiful piece of architecture highlighted by some paintings of the artist, Tintoretto.
Be sure to also head up the bell tower, where you can get great views of the island, the water, and of the main Venice area.
While the church and bell tower are the main highlights, feel free to walk around the small island too. The gardens, waterfront area, and overall landscape is a peaceful place to explore outside of the hustle & bustle of Venice.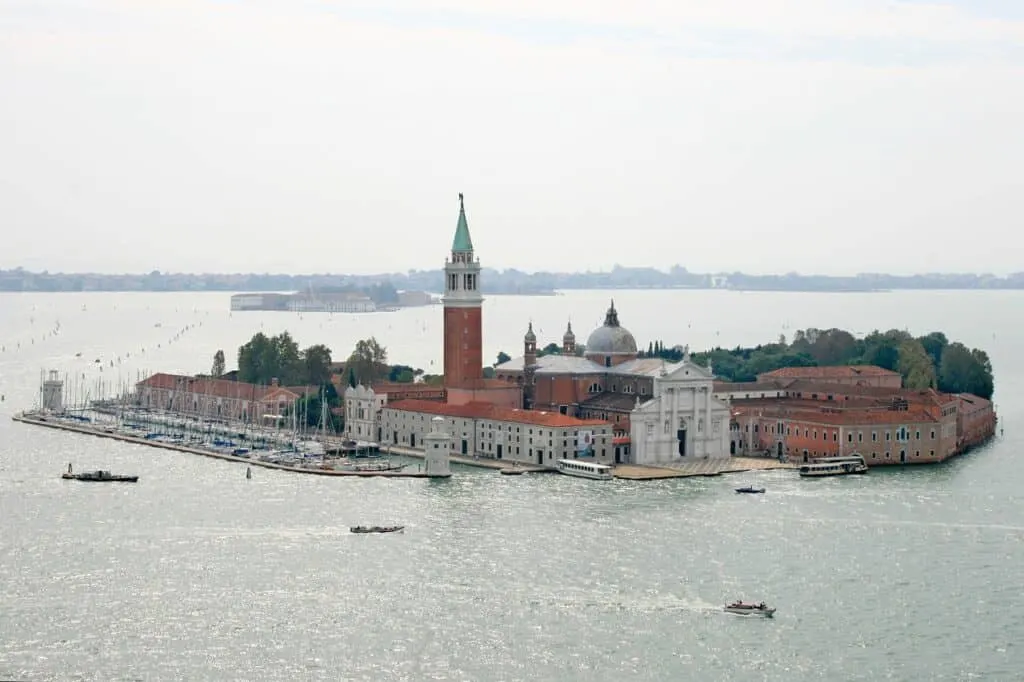 Basilica di Santa Maria della Salute
Opening Hours: 9:30AM – 12:00PM and 3:00PM – 5:30PM
Entrance Fee: Free
Perhaps the most well known basilicas in the city is the Basilica di Santa Maria della Salute, one of the places to visit in Venice.
The basilica began construction in 1631 as tribute to the end of a plague that killed many Venetians. It took over 50 years to build, and was finally completed in 1687.
You can find the octagonal Salute at the southern entrance of the Grand Canal, just opposite from the San Marco Square area.
During a visit to Venice, you can opt to view the Basilica di Santa Maria della Salute from a distance, or you can make your way across the water and head inside to see it for yourself.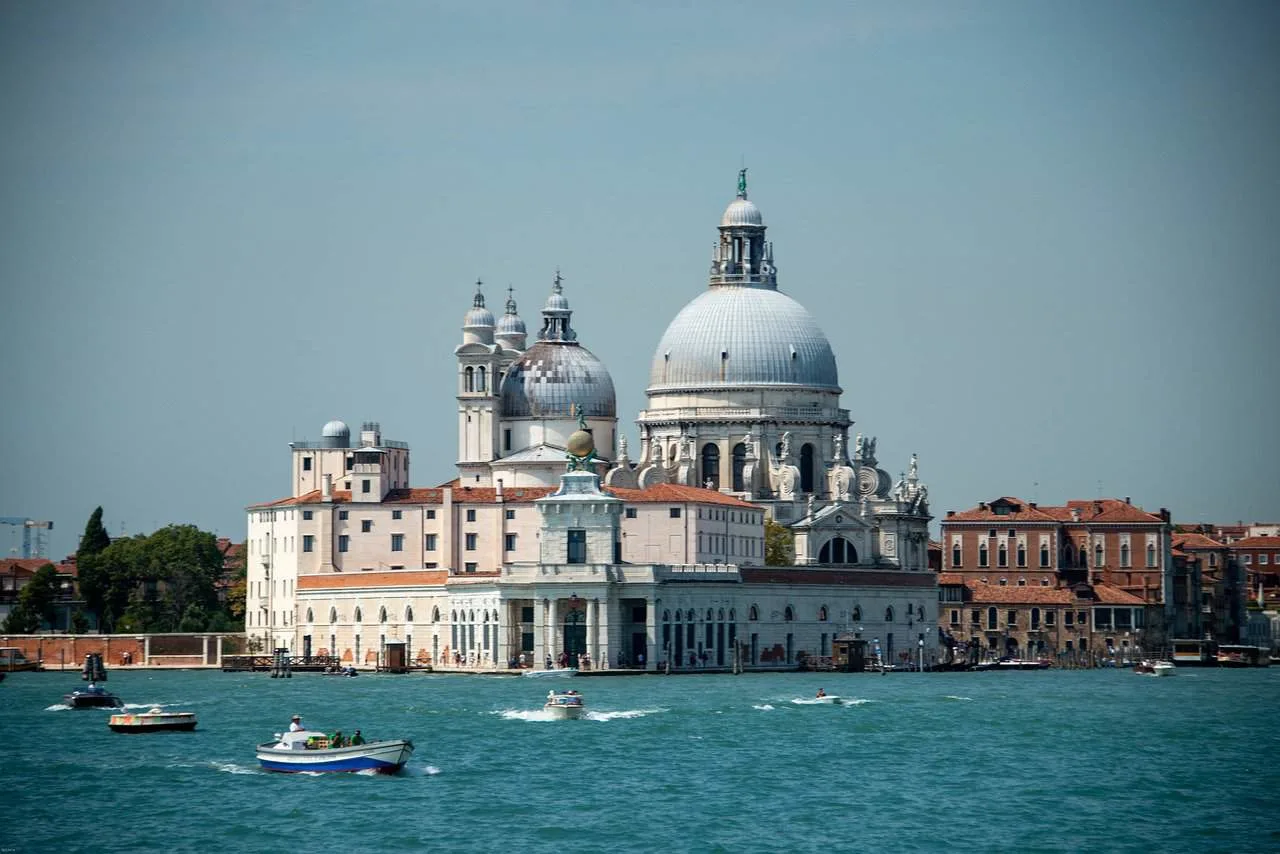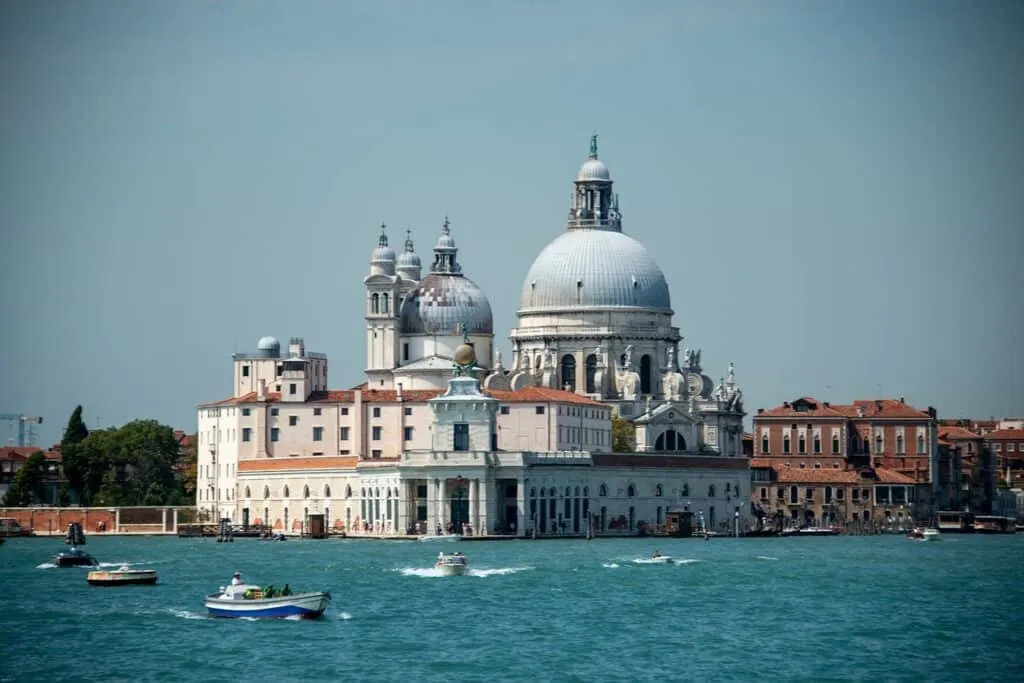 T Fondaco Rooftop Terrace
Opening Hours: 10:15AM – 6:00PM
Entrance Fee: Free
Reserved Tickets: T Fondaco Tickets
As you may imagine, Venice is one of the most picturesque cities to view from above. Taking in views of the canals, churches, and rooftops is going to be a panorama like no other.
One of the best ways to get that elevated view is from a place called the T Fondaco Rooftop Terrace.
Now, this isn't your ordinary rooftop. Instead, it is actually the rooftop of a shopping mall. Since the viewpoint has been popularized over time, you must make a reservation in advance.
These reservations are free of charge and open up 21 days in advance online. It is important to note that visits are subject to a 15 minute duration, but that should still give you enough time to fully enjoy the view.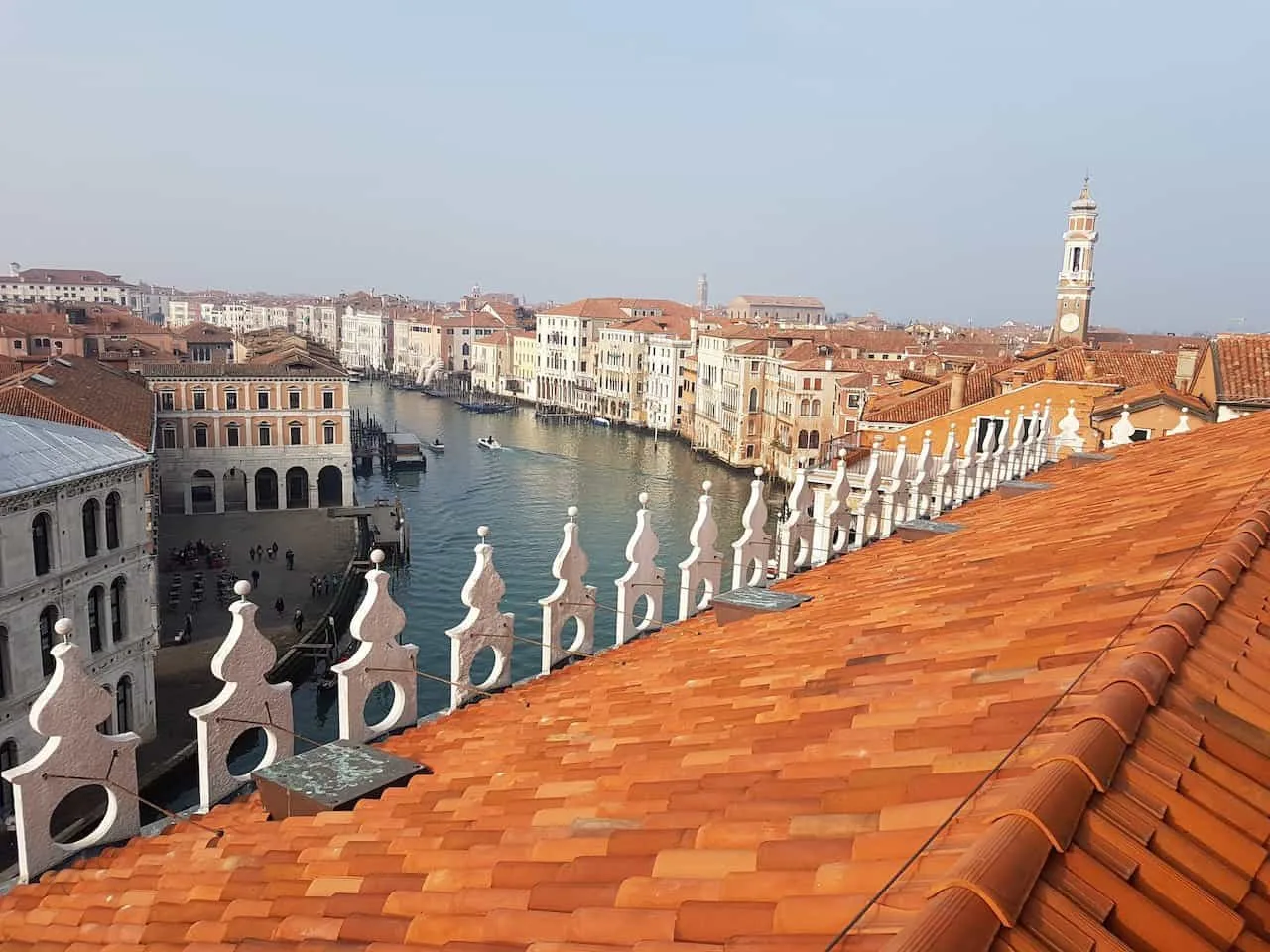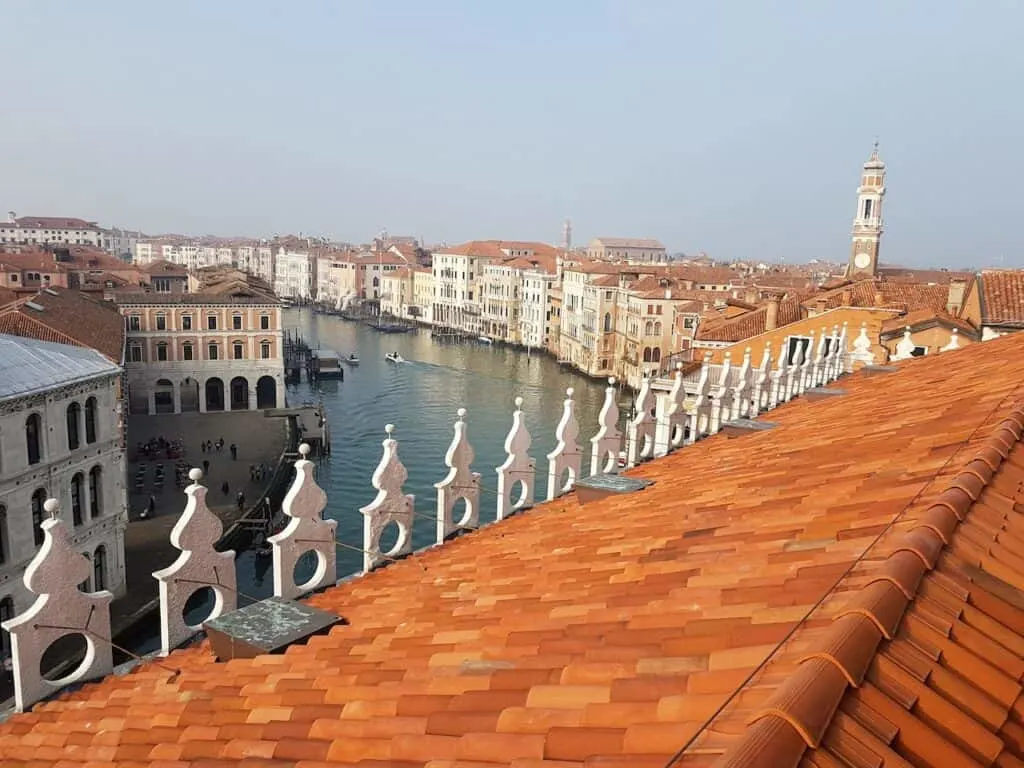 Gallerie dell'Accademia
Opening Hours: 8:15AM – 6:50PM (closed Mondays)
Entrance Fee: 12 Euro
Official Website (for tickets)
The Accademia Gallery Museum is one of the top choices for museum lovers out there. The art collection comprises of pieces that were created between the 14th and 18th centuries.
You will find over 800 individual pieces of art throughout the museum from artists such as Tintoretto, Titian, Bellini, Veneziano, Veronese, among others.
Peggy Guggenheim Collection
If you are interested in the art world, you can check out the Peggy Guggenheim Collection, which is filled with hundreds of art pieces from some well known artists. It is also right nearby many of the attractions mentioned above so it would be easy to add it onto your day.
The Grand Canal
Odds are at one point or another you will come across the Canal Grande of Venice.
This main canal of the city winds it way through from the train station all the way to the area of Piazza San Marco. Walking along the canal or taking a water bus down it will be an experience of its own.
Note: While you cannot walk along the entirety of the canal, you will have the chance to cross over some bridges and stroll a portion of it.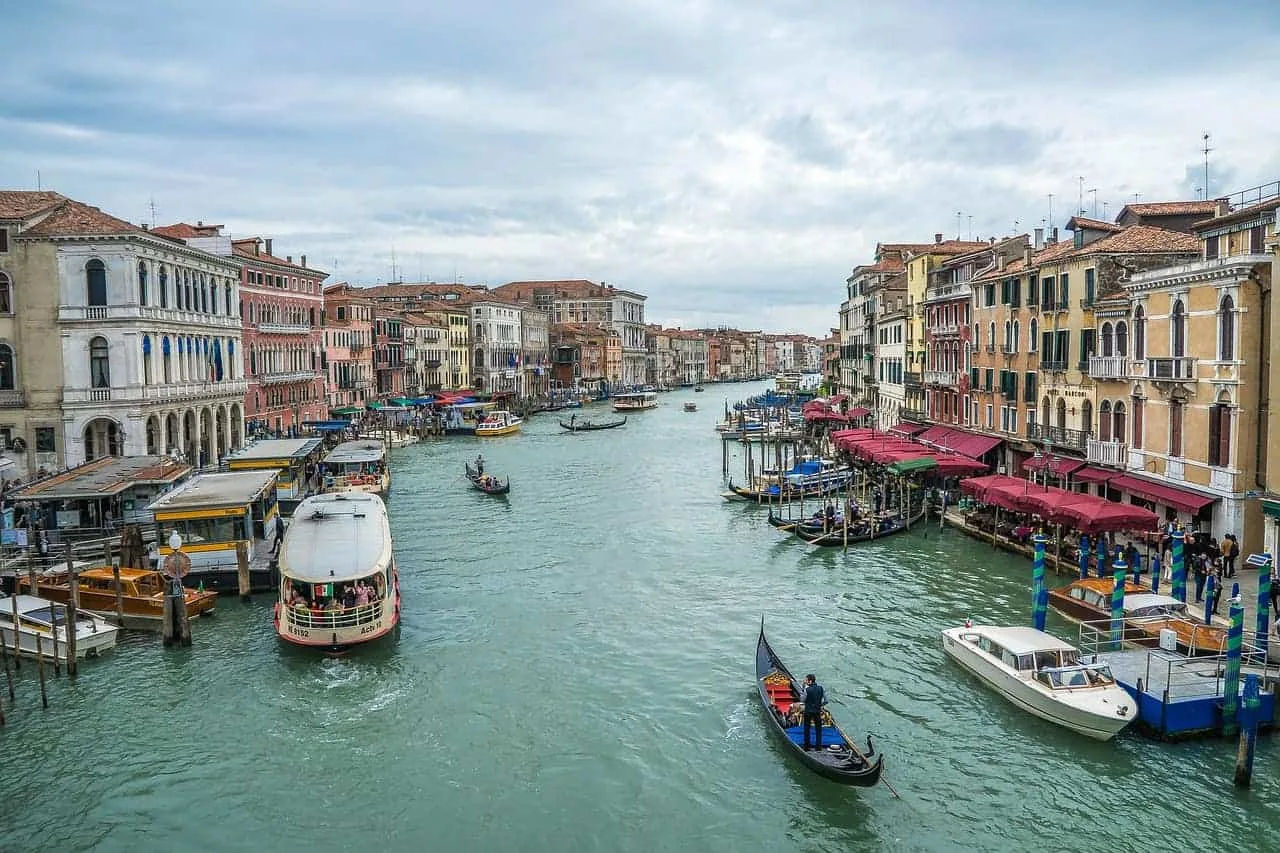 Ponte di Rialto
The most famous of bridges that hangs over the grand canal is the Ponte di Rialto. As you are walking along the canal be sure to head to this bridge for a great vantage point of the city.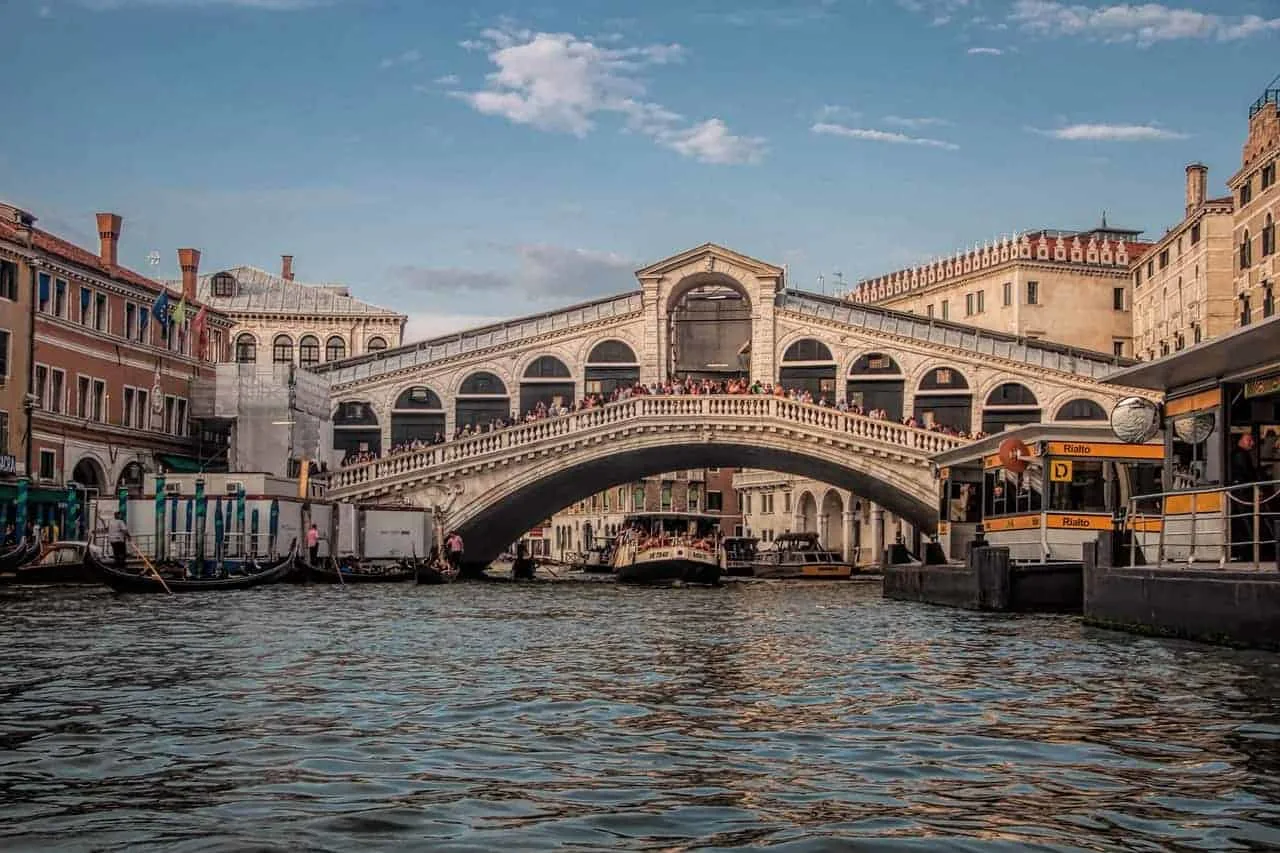 Gondola Ride
A trip to Venice is not complete without the classic gondola ride around the canals right?
If you are interested in taking part, you should have no trouble finding a gondola to take you on a ~40 minute ride all around the city. It won't come cheap – somewhere in the 80-100 Euro range for the boat, but it will be an experience you won't forget.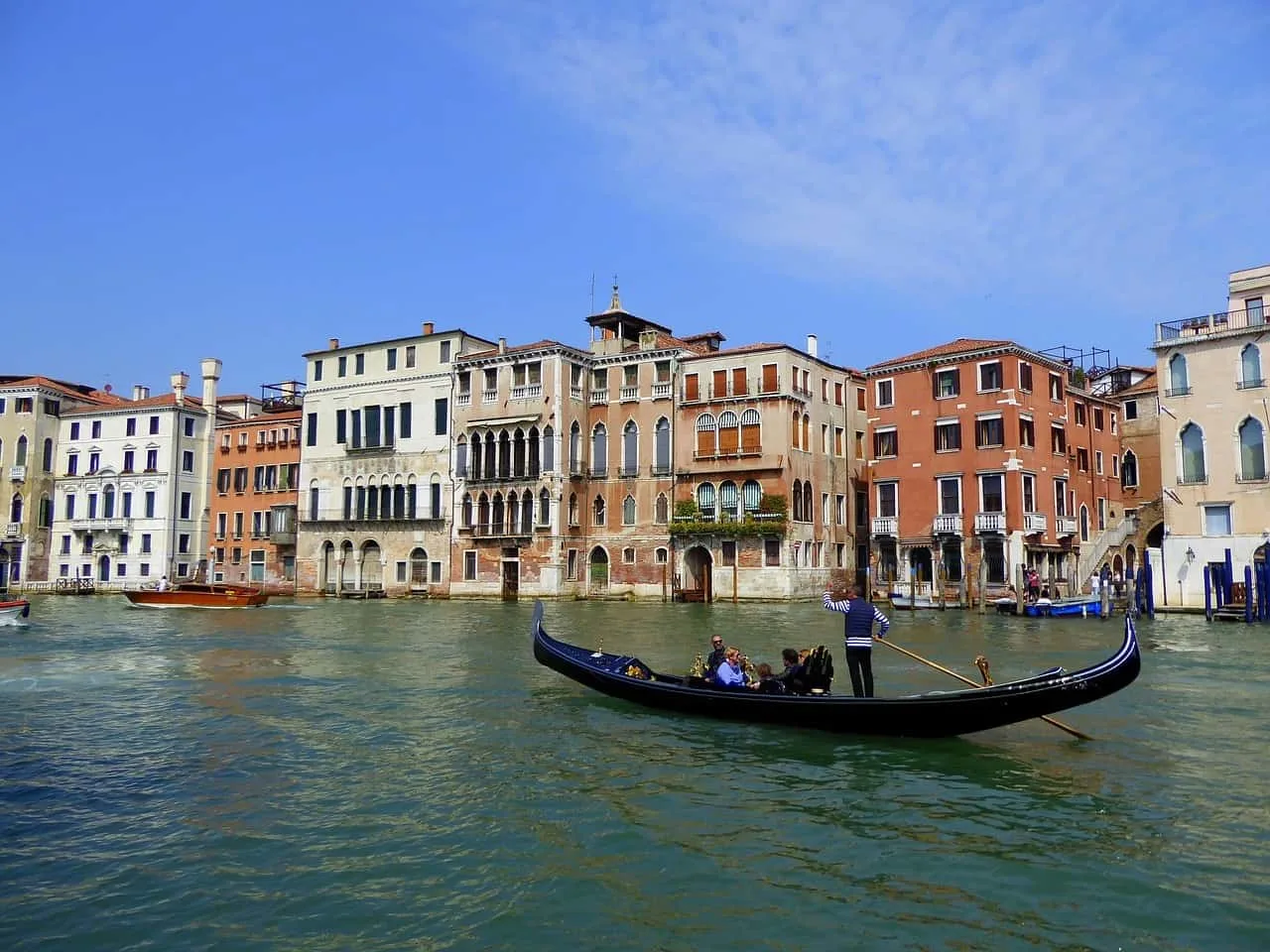 Murano, Burano, Torcello
The last thing I want to mention is a potential day trip outside of the main city of Venice. Throughout the Venetian lagoon you will find several other smaller islands to visit and enjoy.
Three of the main ones are Murano, Burano and Torcello. Murano is known for its exquisite glass making, Burano for its colorful buildings, and Torcello as the original center of Venice.
You can decide to visit them by doing a self guided tour using the waterbus system or join a group (or private) tour. Whatever you decide it is sure to be quite the experience.
If you want to learn more take a look at the Murano, Burano, Torcello overview I have up on the site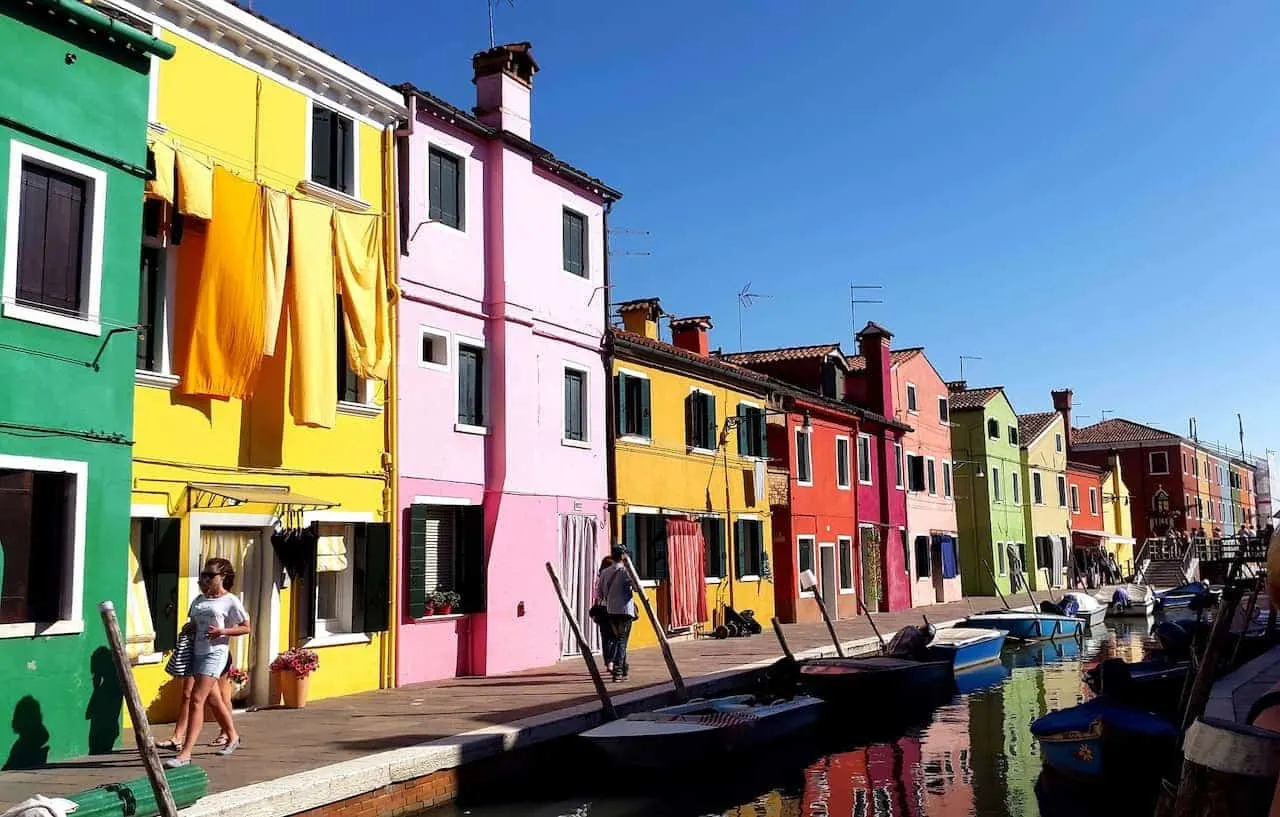 Bonus! – Get Lost
While all the above attractions are great places to visit and enjoy, wandering the streets of Venice is a site within its own right. The entire city is just a huge maze of narrow streets, plazas, bridges, and canals.
Simply just head out on your own and get lost for a bit exploring all that Venice has to offer.
→ Why not add Lake Como to your Italy trip while you are at it! You can find the nearest airport to Lake Como to better plan your trip.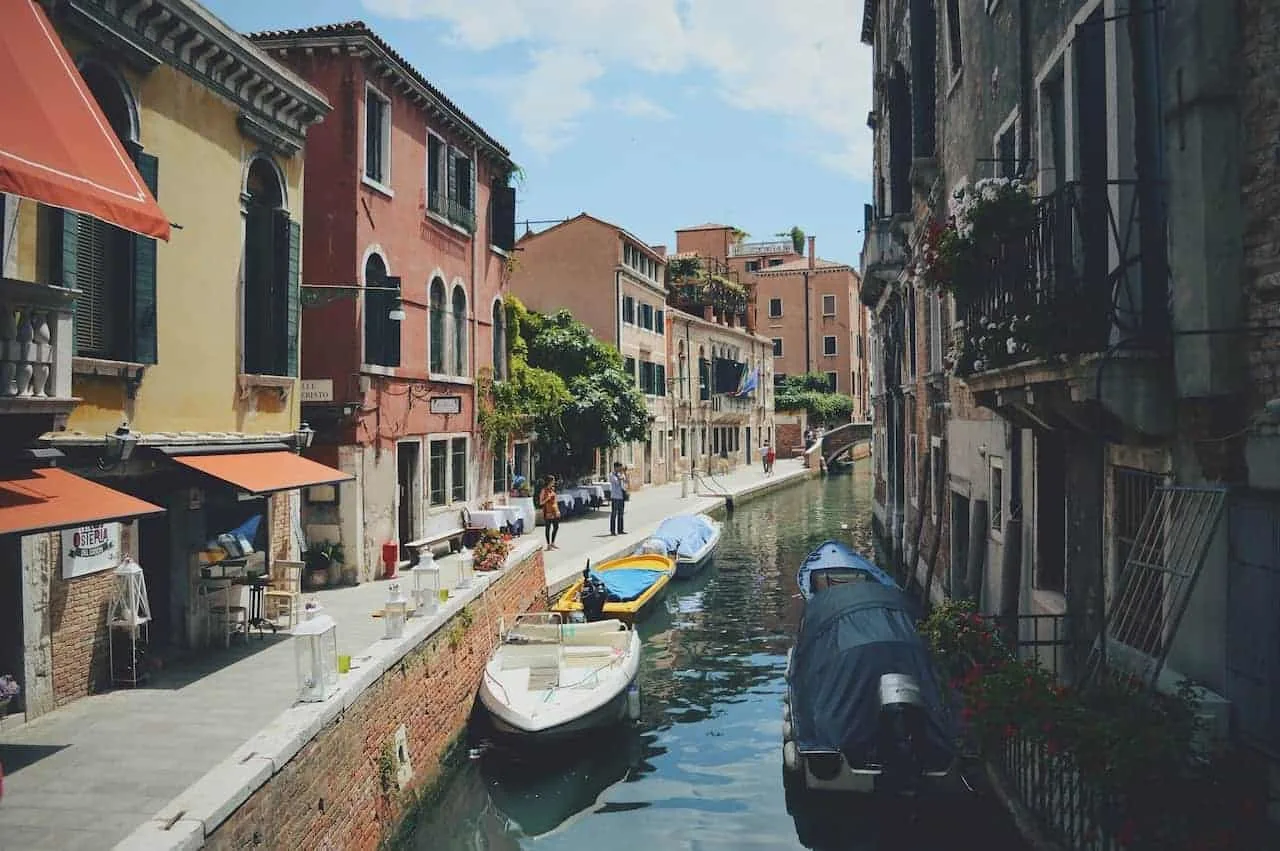 2) Map of Attractions
Below you can find a map of the best places to visit in Venice (not including the day trip islands).
Nothing is further than a 15-20 minute walk from one to another but you could also use public transport down the Canal Grande if you would like.
3) How to Get to Venice
There are a few ways to get into Venice depending on where you are coming from – fly, train or bus.
By Air
If coming from farther out, a flight into the Venice Marco Polo Airport (VCE) is your most likely option. From the airport though you will need to make it to the city center. There are a few ways to get you there.
The easiest and most convenient option is to get a water taxi to take you to your hotel. You can book a shared water taxi over to save a good amount of money.
If you want to get to Venice by land instead of water you can also opt for the bus from the airport to the city center. The ATVO bus goes from the airport to Piazzale Roma, where you can then walk, water taxi or vaporetto to your hotel.
By Train
If you are coming into Venice from another city in Italy or a close by country, odds are you will be taking the train. Note though that there are two train stations when looking at schedules.
One is in the Venice center called Venezia Santa Lucia Station and the other is on the Italian mainland – Venezia Mestre Station. Odds are you will want to train into Santa Lucia since it is right in the city itself.
By Bus
Similar to the train section you can also bus into Venice if coming from nearby. There will also be two different bus stop options – one in the city center called Piazzale Roma and the second on the mainland – Venice Mestre (like the train station).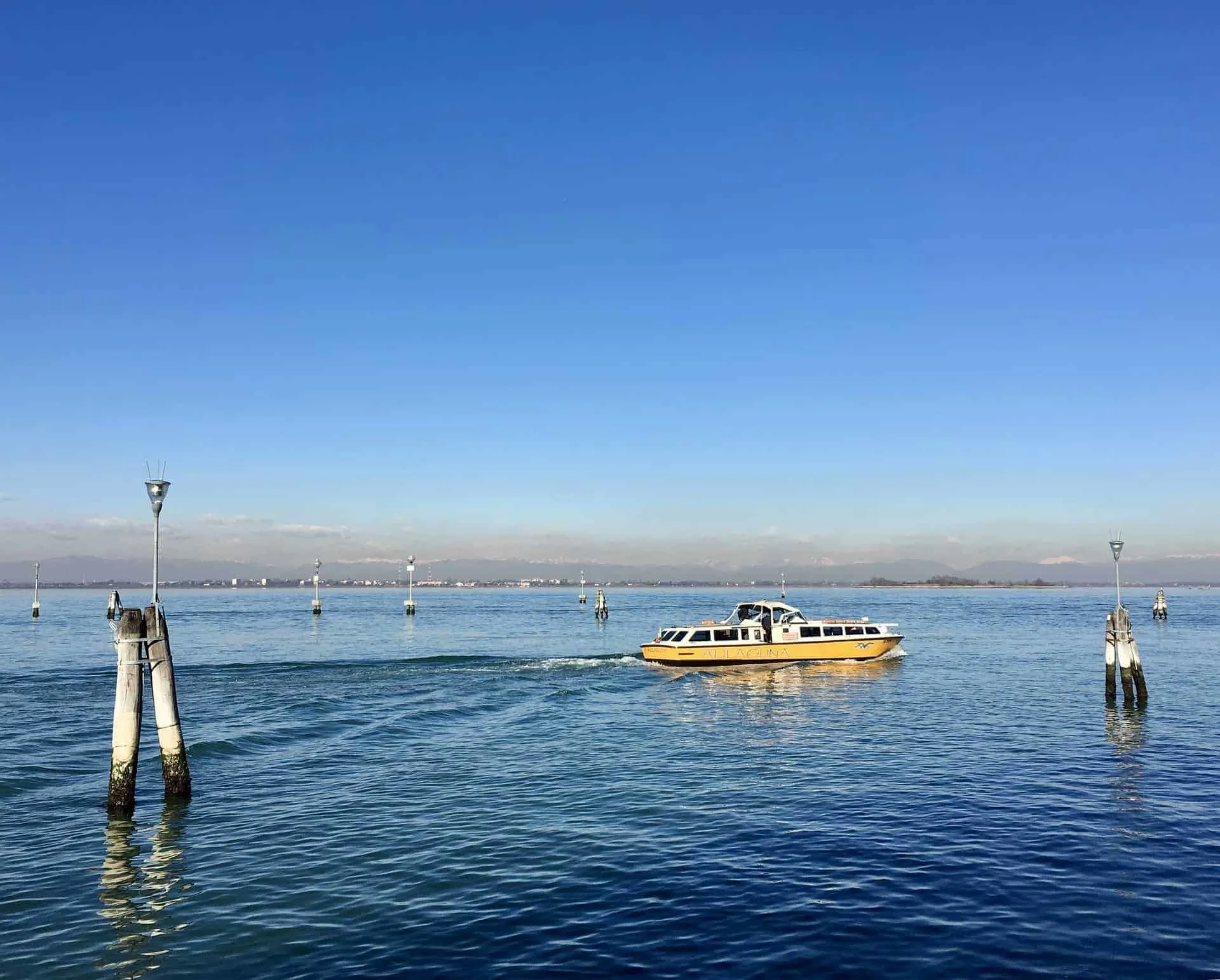 4) How to Get Around Venice
Once you are in Venice, you will want to figure out how to get around the city. This will also depend on where you are staying and what you want to do in the city.
If you are staying close by to the attractions mentioned above then you will not need to worry too much about transportation within the city.
Walking the streets will work out just fine and you will not necessarily need to take public transport.
However, if you want to venture a bit farther out then the waterbus system is your next best bet.
The ACTV water bus company will be your go to when exploring Venice by boat (Vaporetto). There are set timetables and you can hop on and off the boat at your convenience.
Tickets start at 9.50 Euro, so it is not necessarily that cheap to get around. If you feel like you will be taking the boats a bit more frequently you can opt for a 1, 2, 3, or 7 day pass to save some money.
Be sure to check out the ACTV website for the latest schedules and maps.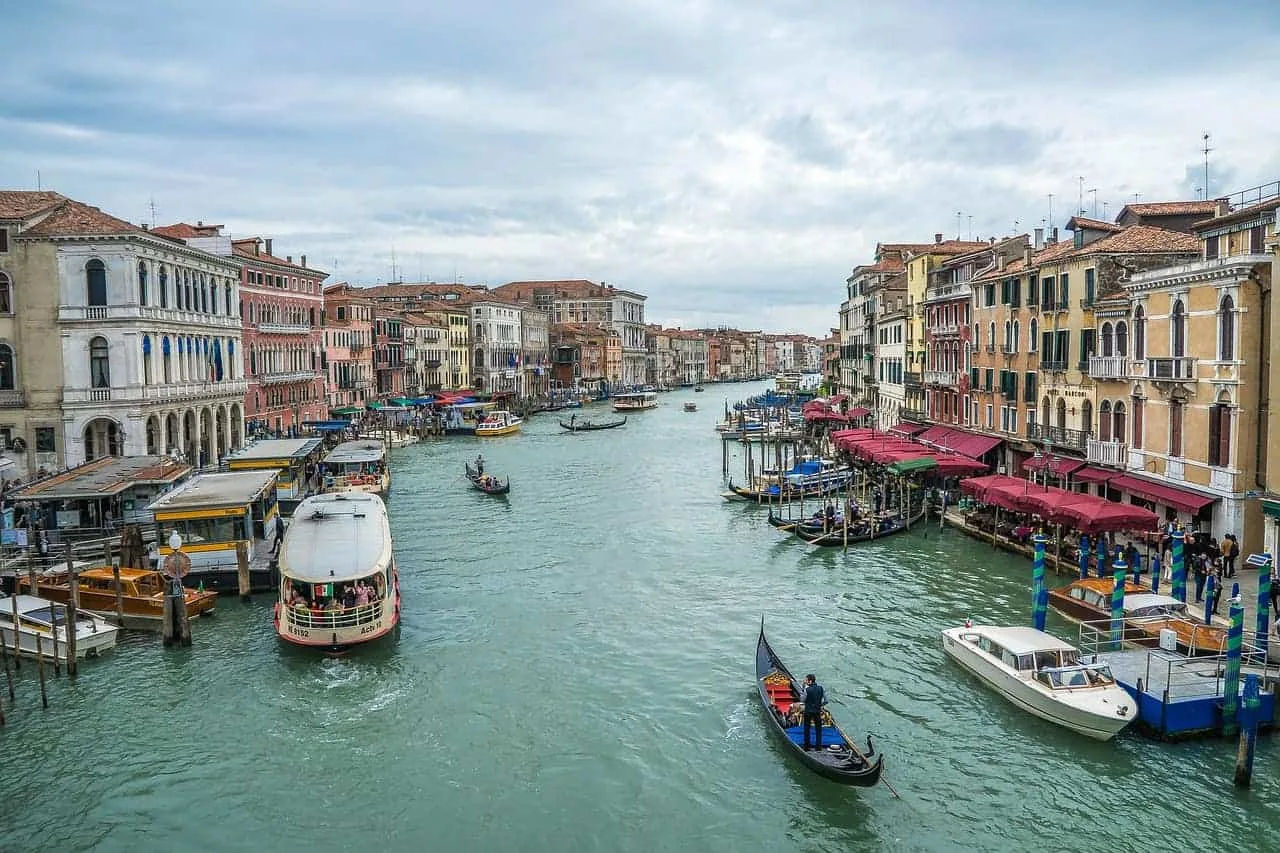 5) When to Go to Venice
One of the biggest questions to ask yourself when planning a trip, is when to go to Venice. There are a few main considerations at play here, mostly to do with the tourist crowds and the weather.
The Crowds
Without a doubt, Venice is one of the most beautiful cities in the world. But it is also not that big of a city as its walkways, bridges, plazas, & canals can be overrun with many people.
For some, being around crowds like this just may not be the type of experience that is enjoyable.
While the crowds can be there throughout the year, you will find that the warmer months between May to September bring the most tourists. This is mostly due to summer holidays and the ability to take advantage of other parts of Italy (such as the Amalfi Coast and Capri).
If you have some flexibility with your trip timing, a visit in the early Spring or late Fall may be a better option altogether when it comes to fewer crowds. And if you want to have the lowest number of tourists around, that usually happens during the colder winter months.
The Weather
When it comes to the weather in Venice, you can expect a Mediterranean climate. The peak summer months can be very hot and uncomfortable for some. Couple that with the peak number of tourists, and it is not the best combo.
Before and after the summer though, the temperatures will be milder & more enjoyable altogether. You can still expect some warm temperatures that are perfect for a comfortable experience altogether.
In the winter, the temperatures will drop further. While it usually doesn't get below freezing cold, it is still a pretty chilly time of year to visit.
Other Considerations
Beyond the crowds & the weather, there are some other considerations you may want to think about.
Venice hosts a few major festivals throughout the year, when locals & tourists descend on the city. Accommodation will be at a premium and more expensive altogether. However, experiencing a festival may be exactly what you want out of a trip.
Lastly, you should also think about holidays in general such as Easter Week or Christmas time. During these times of the year, many people enjoy traveling which can increase prices and the crowds.
So, with all of that said, I would recommend either a mid-Spring or mid Fall trip. During these times of the year, the crowds would have subsided from their summer peaks & the weather will still be comfortable.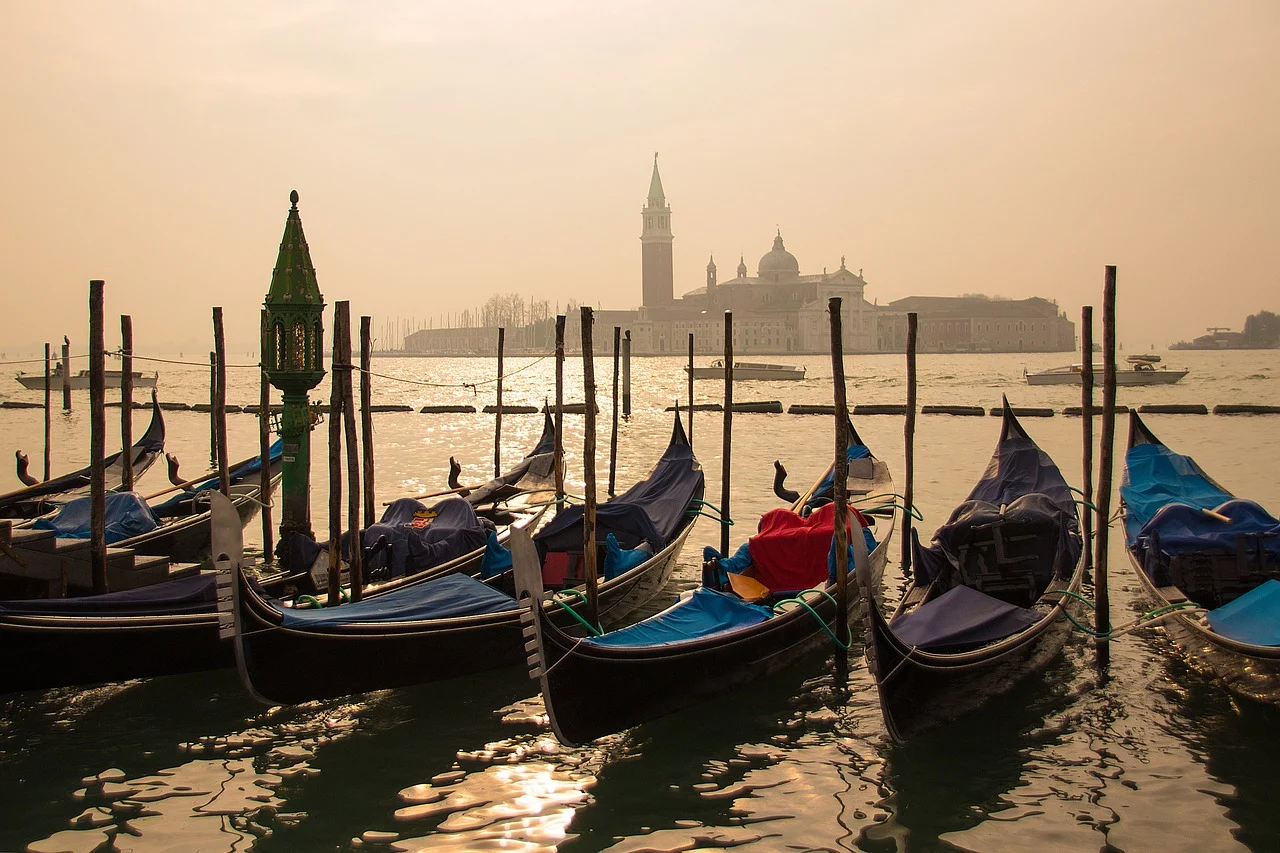 6) Venice Tours
While seeing Venice on your own is one way to go about a visit, taking a guided tour is another option. These tours will give you the chance to see many of the top attractions while having a local guide by your side.
This is a great option for those that really want to learn as they go and have the opportunity to ask questions along the way.
Tours come in all shapes & sizes. You can opt for full day tours visiting several different attractions, or you can opt to just take a tour of a particular place. These usually can be done as both group and private options depending on your overall preference and budget.
Below are some longer half day & full day tour options that come with some very high rated reviews. I have also included in the article tour options for a few particular spots, where having a guide may be more helpful.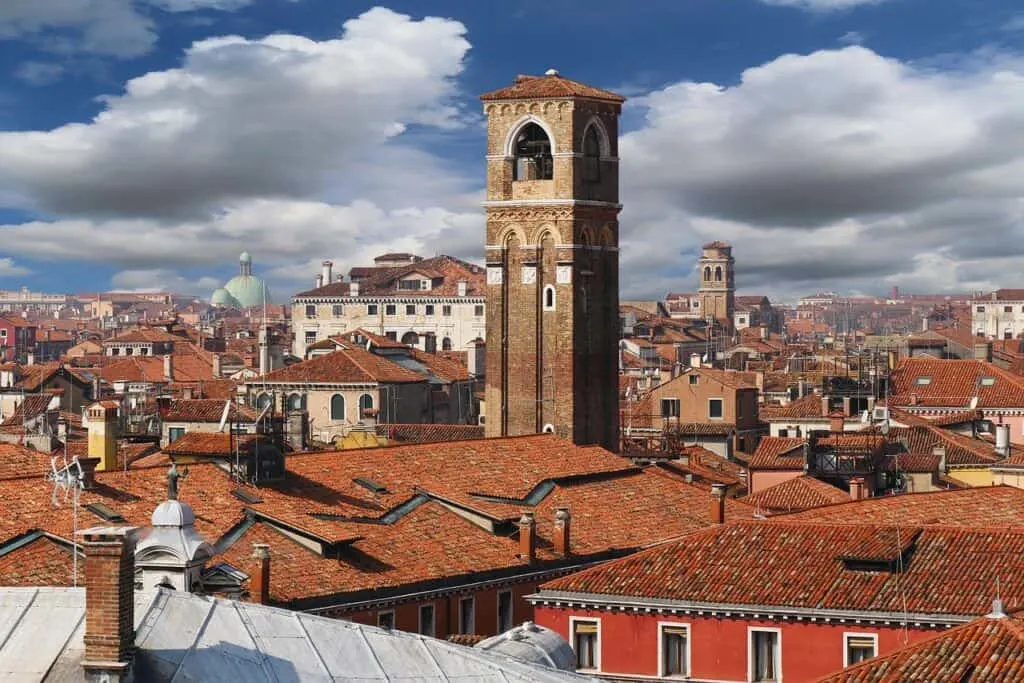 7) How Many Days in Venice
As you are going about planning an Italy itinerary it is always hard to figure out exactly how many days to spend in each place.
When it comes to Venice though, I would recommend at least 2-3 days to fully appreciate all that it has to offer.
Venice is a place full of bridges, canals, plazas, alleys, and more to explore. In addition to the city itself, there are several attractions to visit in Venice as we talked through in this overview.
You want to give yourself enough time to explore it all at a leisurely pace and to fully enjoy your time there. If you to only have a day, you will find yourself rushing through the top spots and not appreciating the city for what it is.
With 2-3 days in Venice, you will have enough time to visit the top sites, wander the streets, take a day trip out into the Venetian Lagoon, and spend time eating some meals along the way.
You can visit Italy as part of this 10 Day Italy Itinerary or 2 Week Italy Itinerary.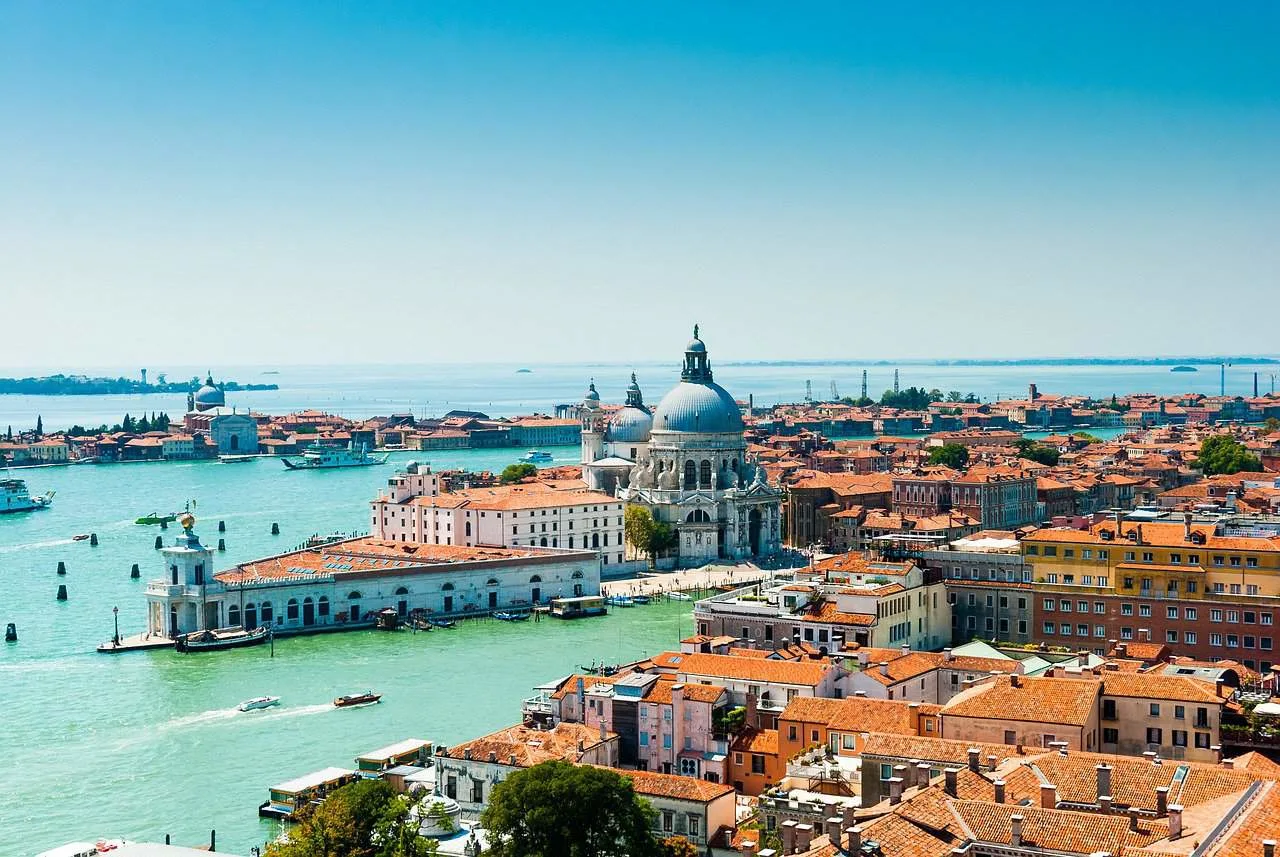 8) Where to Stay in Venice
Venice can get tricky due to the various canals, narrow streets and small bridges all around the city.
I have highlighted below a few hotel options that are close by Piazza San Marco (and many of the other attractions listed). This way, once you are all settled into your hotel, you will not have to be concerned about venturing too far out to start your day.
That about wraps up a guide to the best places to visit in Venice! If you want to learn more about Italy, check out the other Italy itineraries and guides I have up on the site. Also, feel free to ask any questions below!