Venice, Italy. One of the most well-known cities in the world and one that is full of things to do and sites to see. While you may come across articles talking about how the city is overrun by tourists and can be left off an Italian itinerary, I would have to disagree. If you are heading to Italy and have the chance to visit this one of kind place, I say go for it! This guide will go over the best places to visit in Venice Italy, talk about how to avoid the crowds, and provide you with some helpful info to make your trip as memorable as possible.
* Affiliate Disclosure: This post may contain affiliate links, which means I may receive a commission if you make a purchase through the links provided, at no additional cost to you. Thanks for supporting the work I put into TripTins!
A) 9 Best Places to Visit in Venice
I will first go over some of the best places to visit in Venice followed by all logistical info later on in the guide. The following attractions can be seen over a couple of days but feel free to pick and choose based on preference and amount of time you have in the city.
1) Piazza San Marco
The most well known plaza in all of Venice is Piazza San Marco. As you walk around the piazza you will be surrounded by incredible architecture from every which direction (as well as plenty of pigeons!).
It is the most popular of piazzas to visit and is one of the iconic places that Venice is known for. The San Marco area is also where you will find plenty of things to do and see as I will talk about next.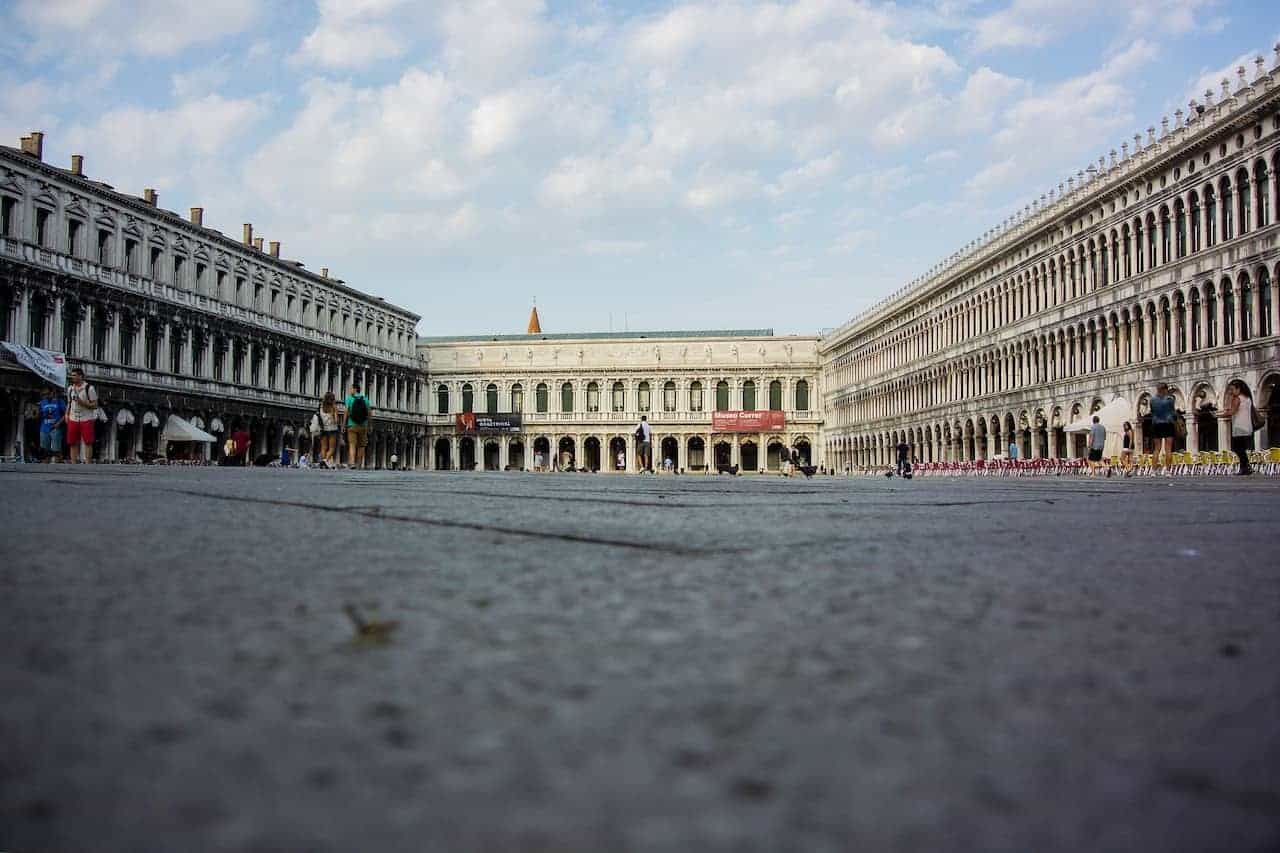 2) St Mark's Basilica
Opening Hours: 9:30AM – 5:00PM; Sundays & Holidays 2:00PM – 4:30PM
Museum Hours: 9:45AM – 4:45PM
Entrance Fee: Free (Skip the Line +3 Euro); Museum Fee: 5 Euro
Skip the Line: Only available April 1 to November 2
Official Website
Once you have had enough time outside in the piazza, it is time to head indoors to the St Mark's Basilica. Here you will find a magnificent building with huge arched ceilings and detailed artwork all throughout.
If interested you could also head into the St Mark's Museum for a small fee. This will also give you the ability to head up to the terrace that overlooks the plaza down below.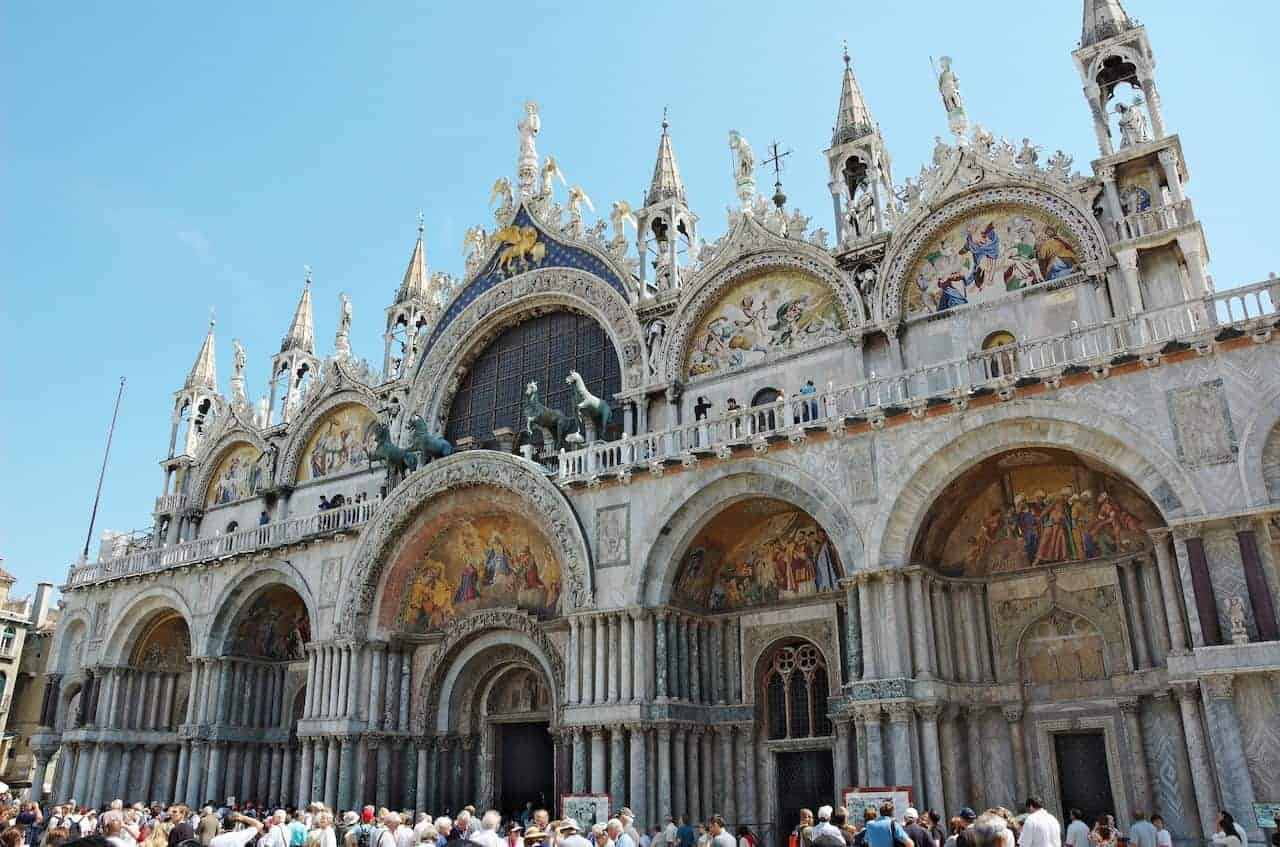 3) St Mark's Bell Tower
Opening Hours: 9:30AM – 9:00PM (mid April to October); until 5:30PM (November to March)
Entrance Fee: 8 Euro (Skip the Line +5 Euro)
Skip the Line: Available April 1 to October 31
Official Website
Another option around the piazza is to go to the top of the St Mark's Bell Tower also known as the St Mark's Campanile right nearby.
From the top of this 300 foot or so building you will get one of the best views that Venice has to offer. Getting to the top of the tower is done so by lift, not by stairs so anyone can head up if they would like.
Important Note:
During the high season, the lines for both the Basilica and Bell Tower can get very long. To avoid this you can easily purchase skip the line tickets beforehand on the websites linked above. If you do book ahead of time you will be able to skip the lines when you arrive and walk right in.
4) Doge's Palace
Opening Hours: 8:30AM – 7:00PM (April to October); until 5:30PM (November to March)
Entrance Fee: 20-24 Euro (only possible to purchase ticket through combined museum ticket offerings)
Official Website
Right nearby the square you will find Doge's Palace, a museum filled with numerous chambers, dungeons, and passageways. You can purchase a ticket to the museum and wander around on your own or you can also take part of a guided tour.
One such tour is called "Secret Itineraries", which takes you through hidden passageways and to rooms not available for the public to see.
Another well known part of the complex that you have to check out is the Bridge of Sighs, which is located behind the building overhanging a canal that connected the courts to the prisons.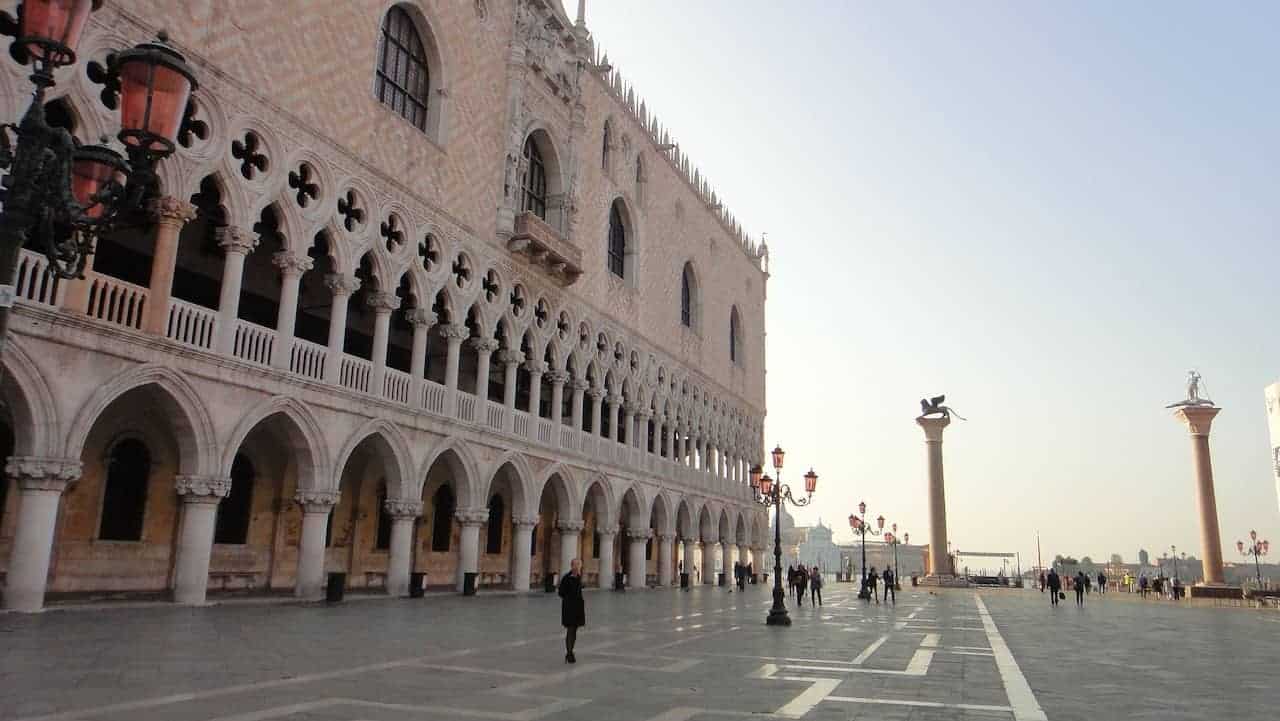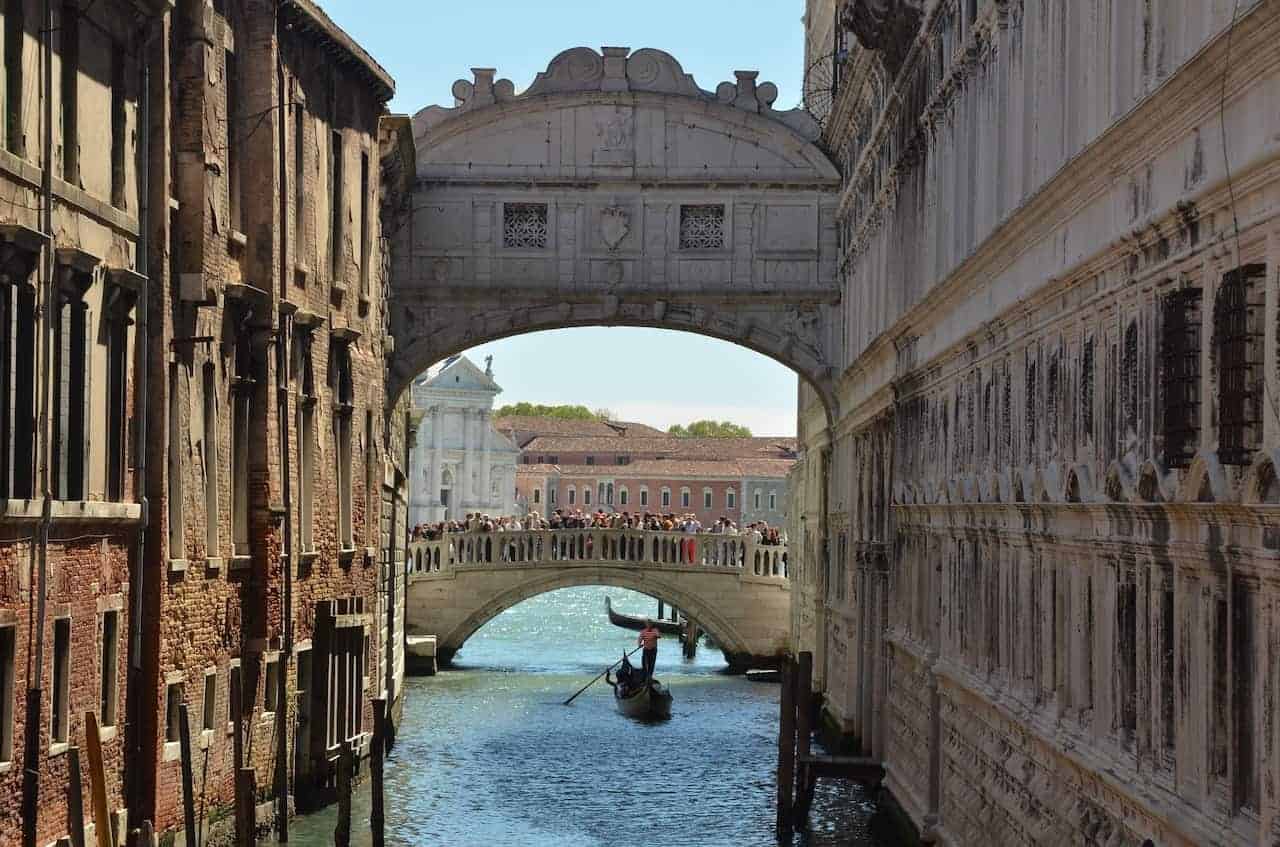 5) Peggy Guggenheim Collection
Opening Hours: 10:00AM – 6:00PM (closed Tuesdays)
Entrance Fee: 15 Euro
Official Website
If you are interested in the art world, you can check out the Peggy Guggenheim Collection, which is filled with hundreds of art pieces from some well known artists. It is also right nearby the attractions mentioned above so would be easy to add on to your day.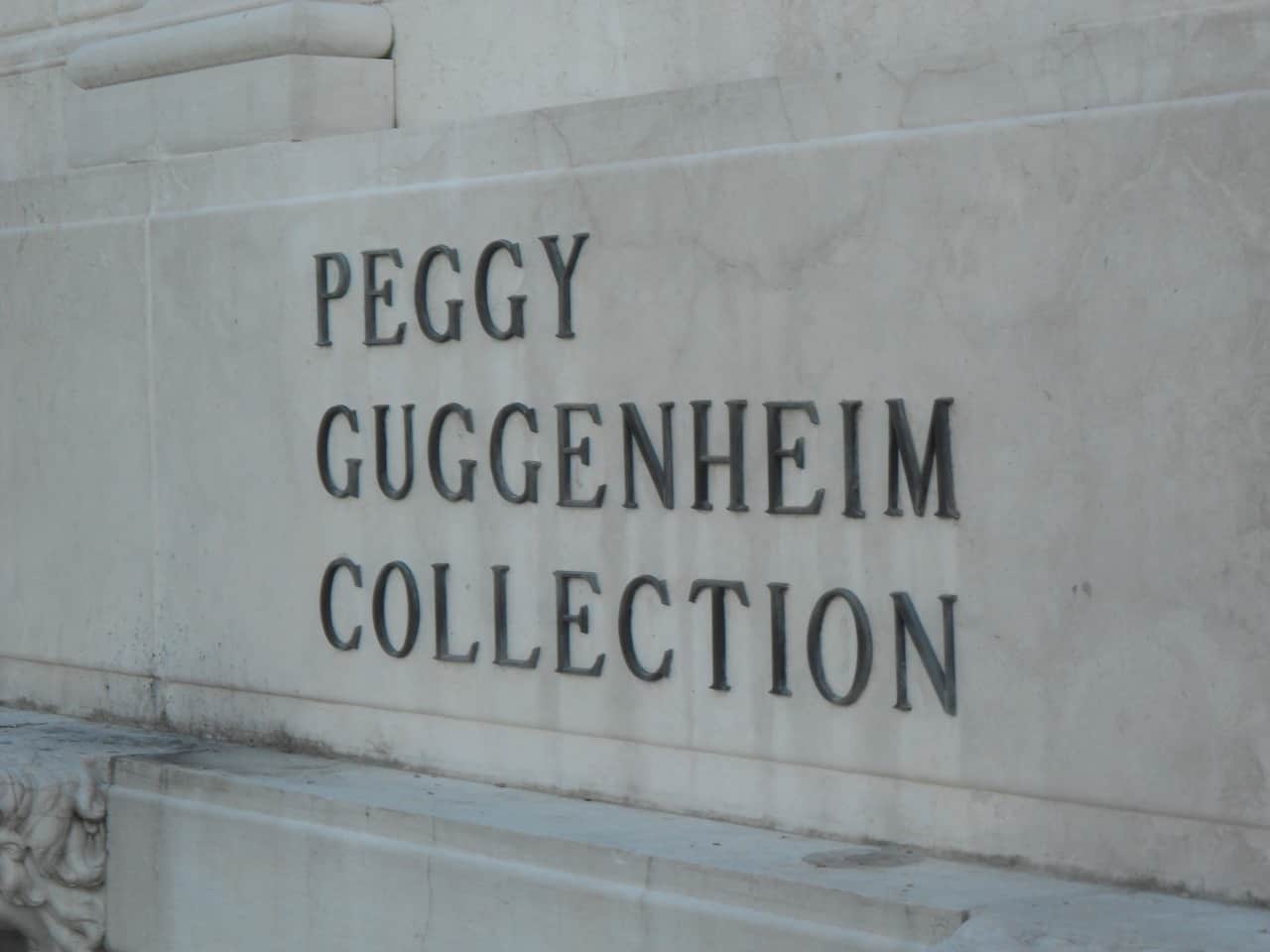 6) The Grand Canal
Odds are at one point or another you will come across the Canal Grande of Venice. This main canal of the city winds it way through from the train station all the way to the area of Piazza San Marco. Walking along the canal or taking a water bus down it will be an experience of its own.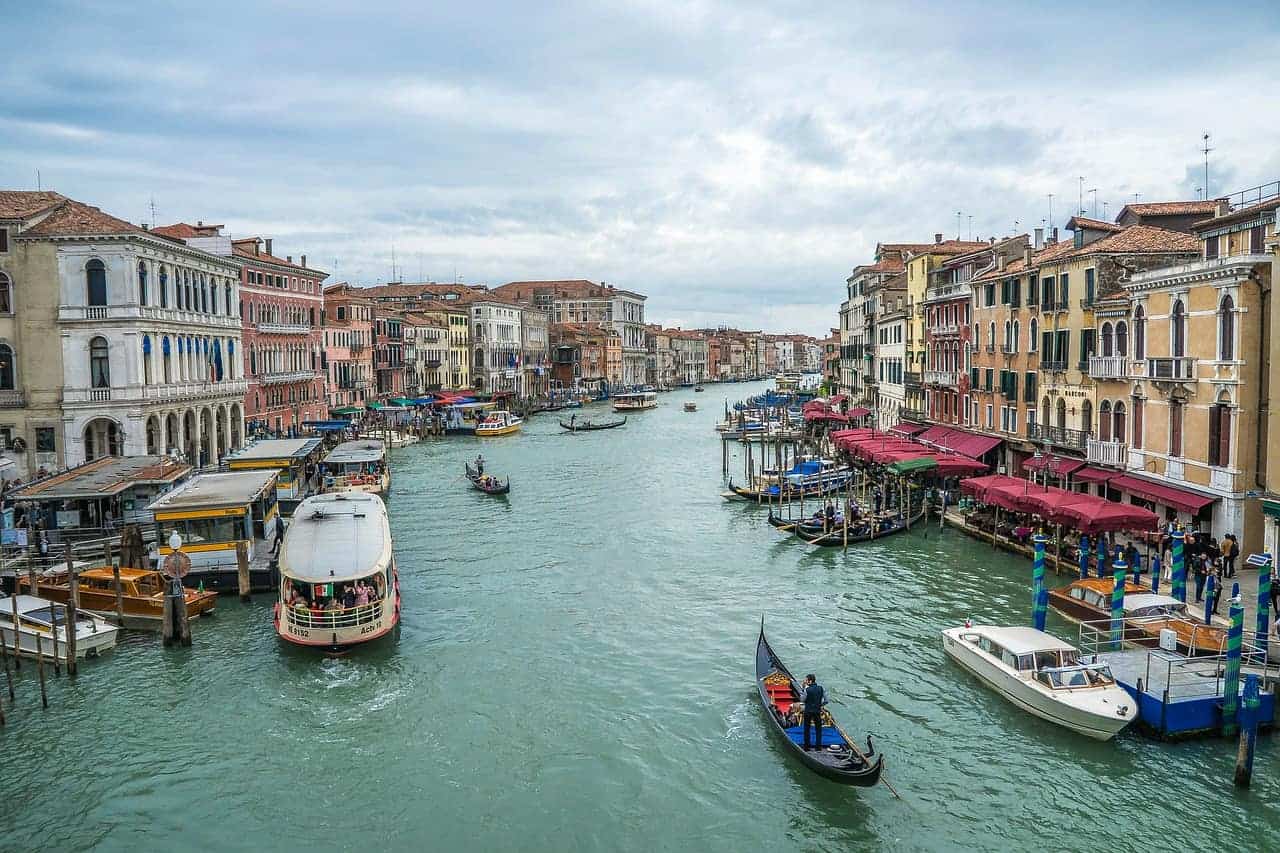 7) Ponte di Rialto
The most famous of bridges that hang over the grand canal is the Ponte di Rialto. As you are walking along the canal be sure to head to this bridge for a great vantage point of the city.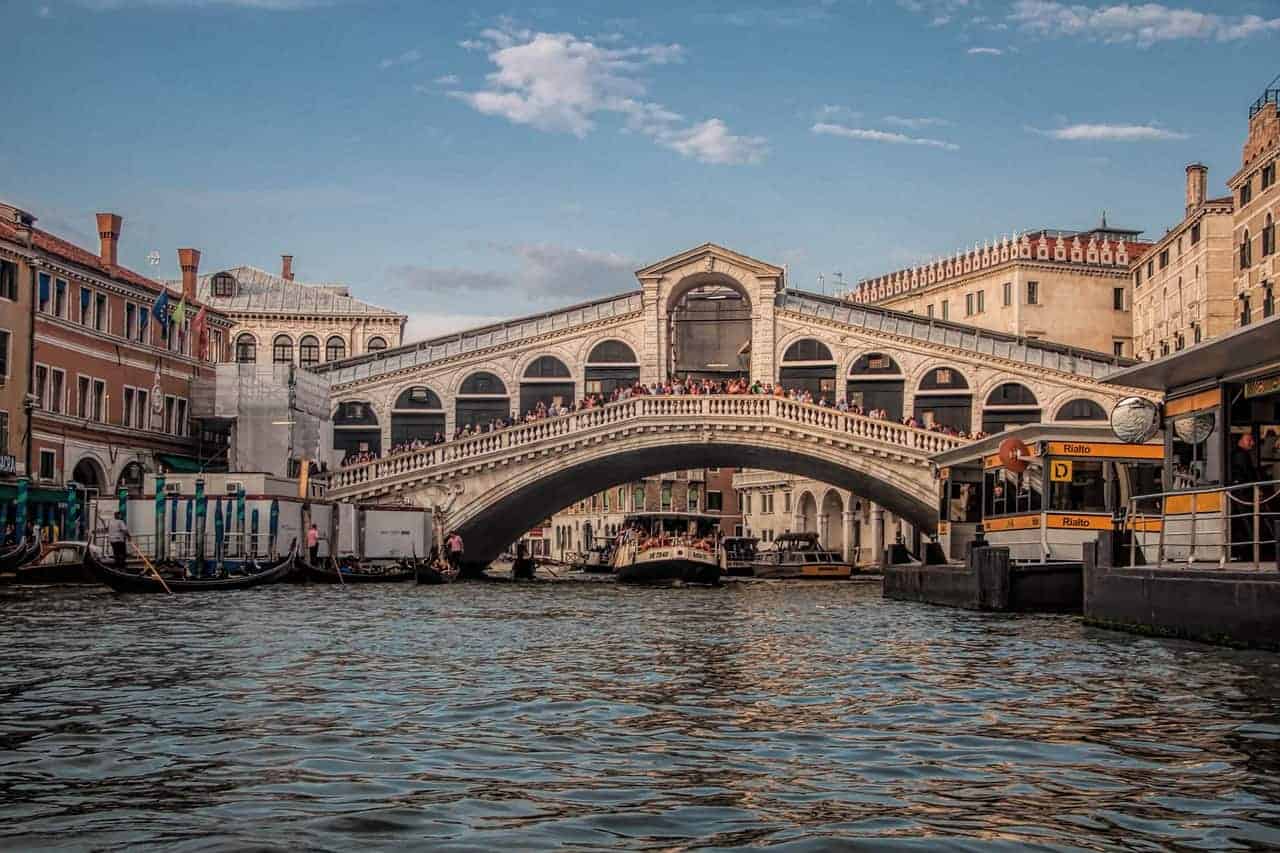 8) Gondola Ride
A trip to Venice is not complete without the classic gondola ride around the canals right? If you are interested in taking part, you should have no trouble finding a gondola to take you on a ~40 minute ride all around the city. It won't come cheap – somewhere in the 80-100 Euro range for the boat, but it will be an experience you won't forget.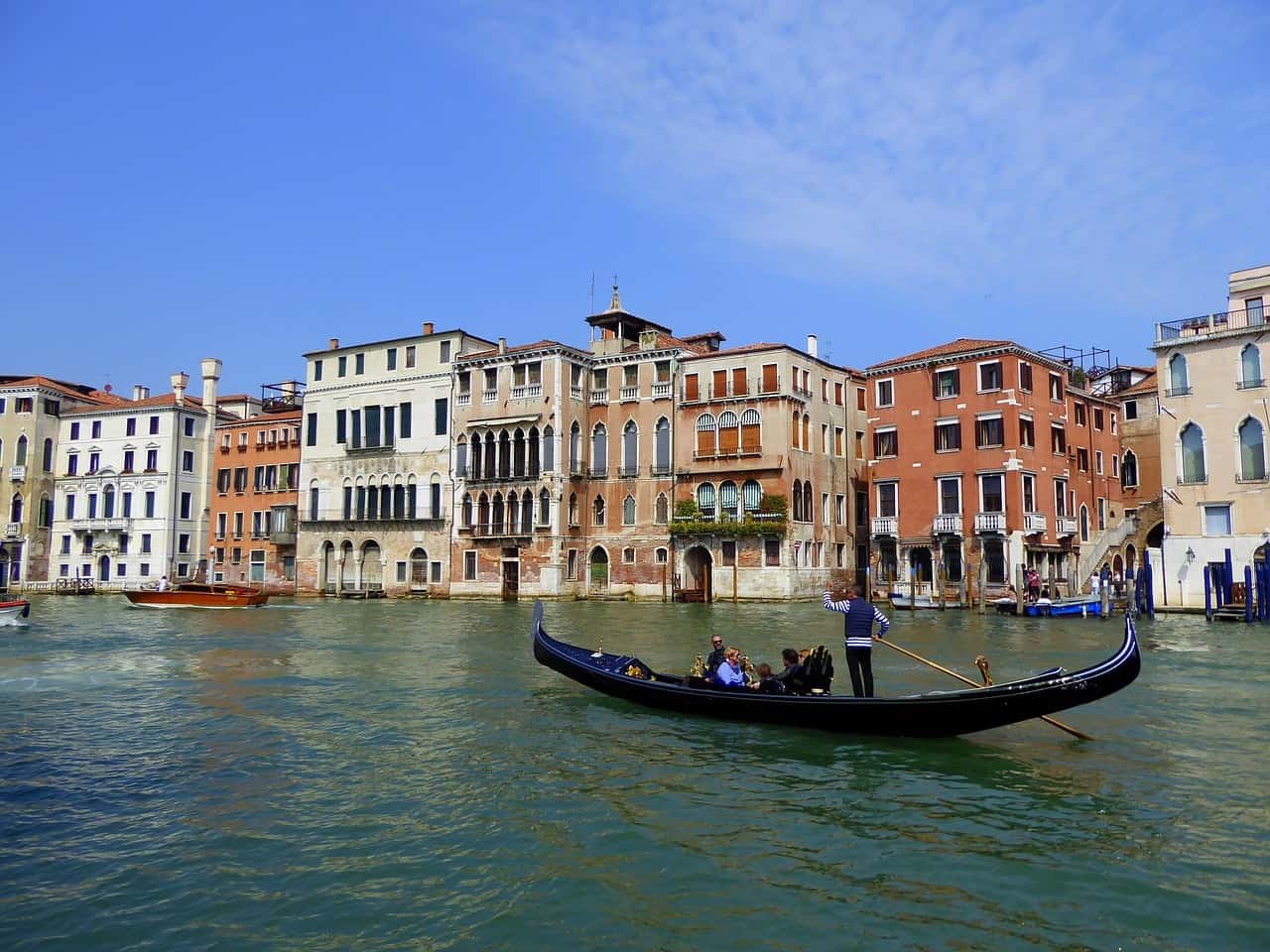 9) Murano, Burano, Torcello
The last thing I want to mention is a potential day trip outside of the main city of Venice. Throughout the Venetian lagoon you will find several other smaller islands to visit and enjoy.
Three of the main ones are Murano, Burano and Torcello. Murano is known for its exquisite glass making, Burano for its colorful buildings, and Torcello as the original center of Venice.
You can decide to visit them by doing a self guided tour using the waterbus system or join a group (or private) tour. Whatever you decide it is sure to be quite the experience.
If you want to learn more take a look at the Murano, Burano, Torcello guide I have up on the site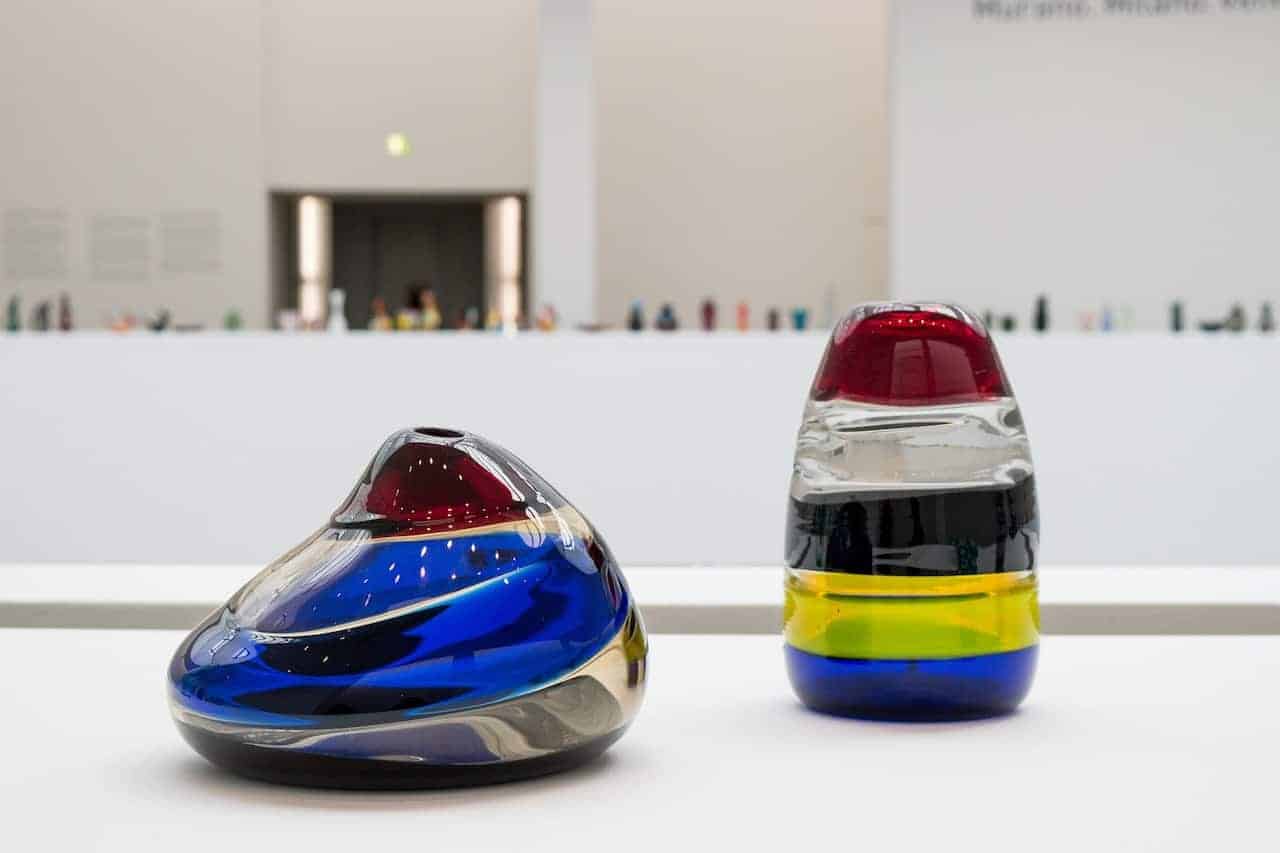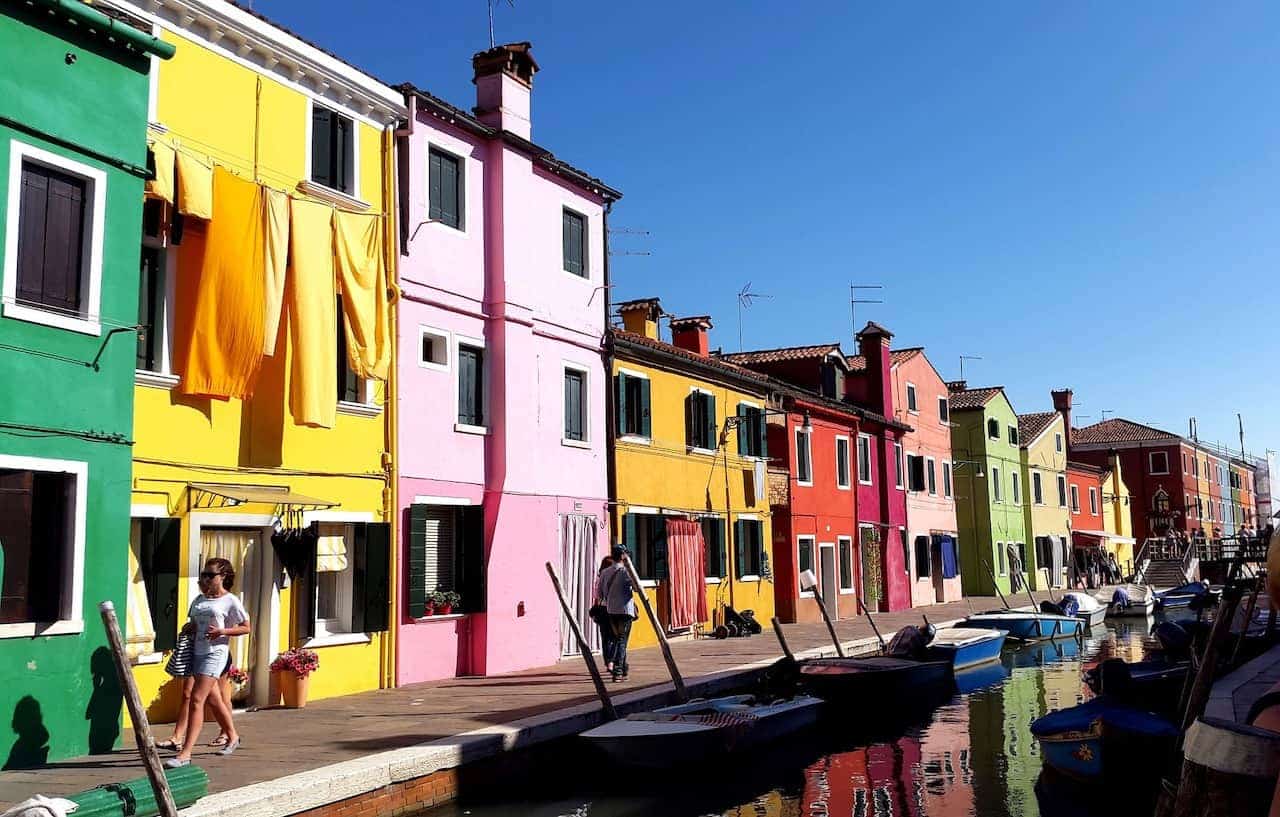 BONUS! – GET LOST
While all the above attractions are great places to visit and enjoy, wandering the streets of Venice is a site within its own right. The entire city is just a huge maze of narrow streets, plazas, bridges, and canals.
Simply just head out on your own and get lost for a bit exploring all that Venice has to offer.
→ Why not add Lake Como to your Italy trip while you are at it! You can find the nearest airport to Lake Como to better plan your trip.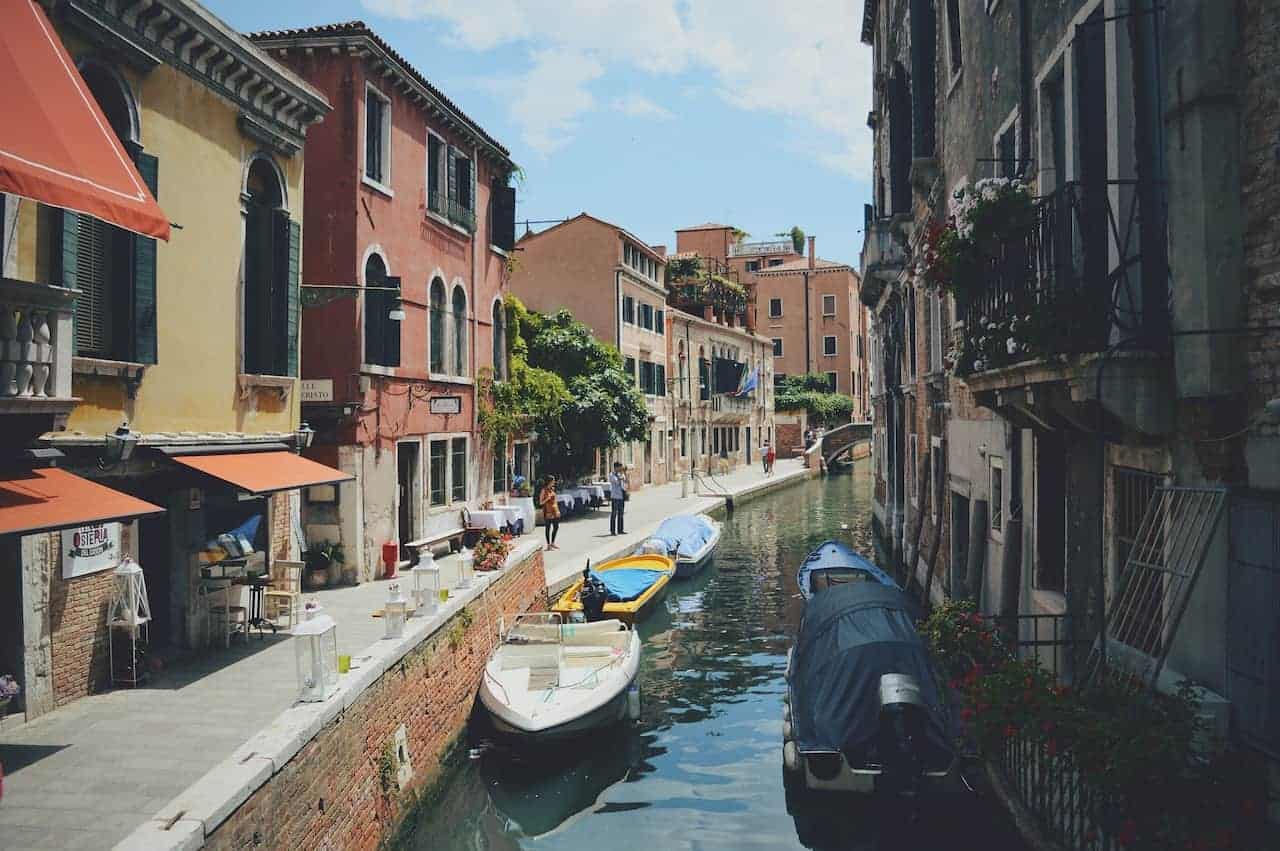 B) Map of Attractions
Below you can find a map of the attractions just mentioned (not including the day trip islands). Nothing is further than a 15-20 minute walk from one to another but you could also use public transport down the Canal Grande if you would like.
C) How to Get to Venice
There are a few ways to get into Venice depending on where you are coming from – fly, train or bus.
By Air: If coming from farther out, a flight into the Venice Marco Polo Airport (VCE) is your most likely option. From the airport though you will need to make it to the city center. There are a few ways to get you there.
The easiest and most convenient option is to get a private water taxi to take you to your hotel (estimated 100 Euro). You can also opt for some shared/public water transport called Alilaguna and Bucintoro Viaggi (learn more about those options here).
If you want to get to Venice by land instead of water you can also opt for the bus from the airport to the city center. The ATVO and ACTV are your two options and you can check out the link mentioned for more info on those too.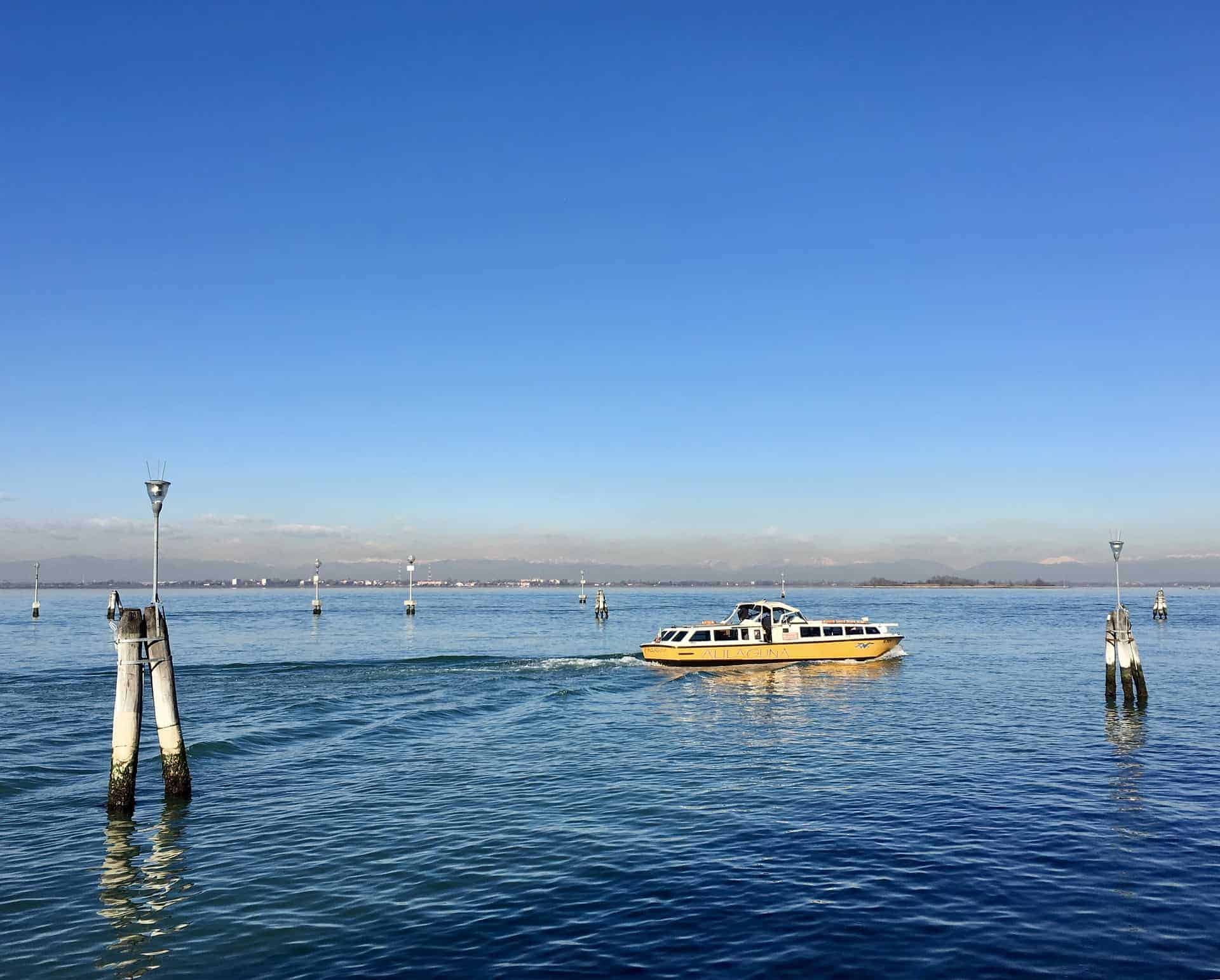 By Train: If you are coming into Venice from another city in Italy or a close by country, odds are you will be taking the train. Note though that there are two train stations when looking at schedules.
One is in the Venice center called Venezia Santa Lucia Station and the other is on the Italian mainland – Venezia Mestre Station. Odds are you will want to train into Santa Lucia since it is right in the city itself.
By Bus: Similar to the train section you can also bus into Venice if coming from nearby. There will also be two different bus stop options – one in the city center called Piazzale Roma and the second on the mainland – Venice Mestre (like the train station).
D) When to Go to Venice
When to go to Venice is an important question to consider. As mentioned at the start, Venice can get overrun by tourists. You will see this more so during the peak months of May to September with less crowds as you get farther away from those months. Not only will it be the most crowded during these times but it will also be the hottest time to visit.
An alternative to those months (if you have the flexibility) is to visit in the edge of the high season (say March-May / September-October) . You will still have the good weather but with less crowds all around.
E) How to Get Around Venice
Once you are in Venice, you will want to figure out how to get around the city. This will also depend on where you are staying and what you want to do in the city. If you are staying close by to the attractions mentioned above then you will not need to worry too much about transportation within the city.
Walking the streets will work out just fine and you will not necessarily need to take public transport.
However, if you want to venture a bit farther out then the waterbus system is your next best bet. The ACTV water bus company will be your go to when exploring Venice by boat (Vaporetto). There are set timetables and you can hop on and off the boat at your convenience.
Tickets start at 7.50 Euro a trip so it is not that cheap to get around. You can check out the ACTV website for the latest schedules and maps.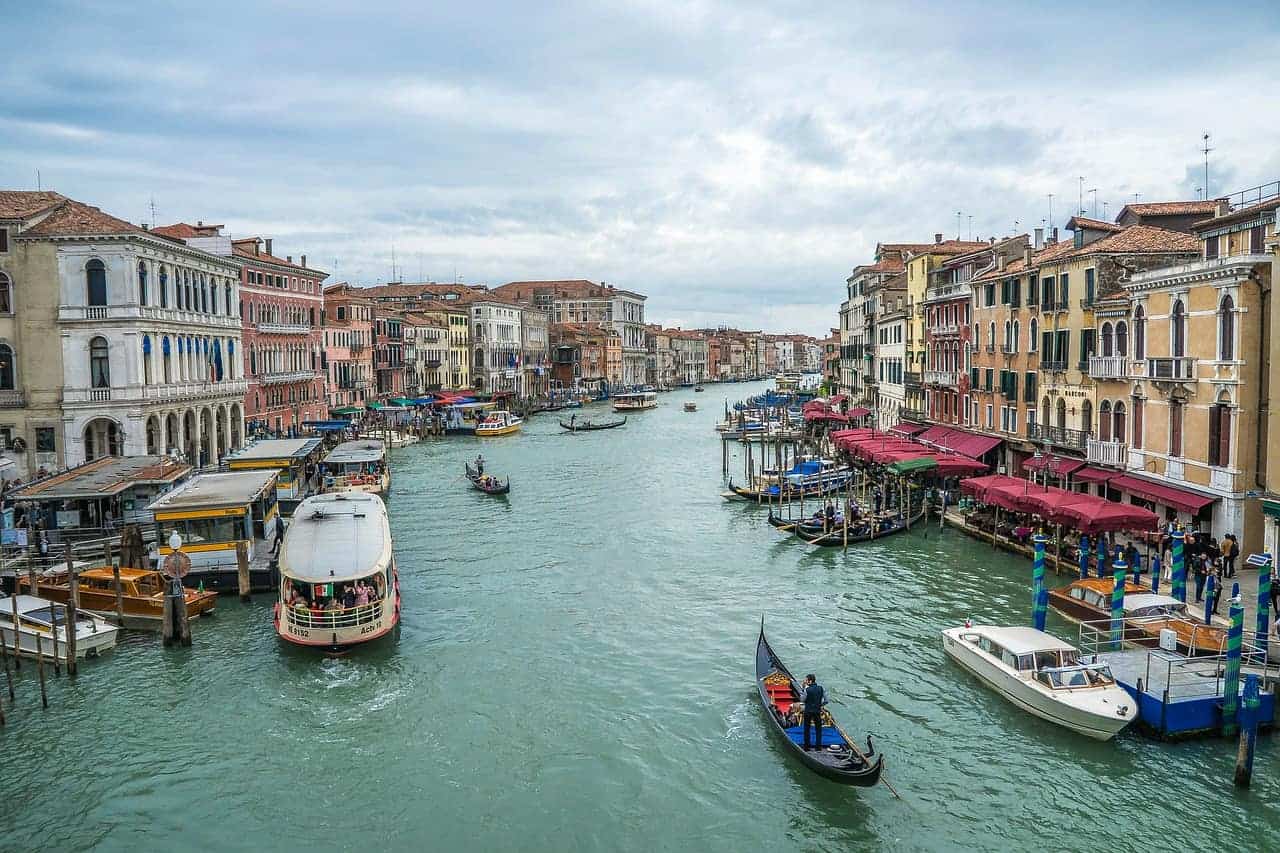 F) Where to Stay in Venice
Venice can get tricky due to the various canals, narrow streets and small bridges all around the city. I have highlighted below a few hotel options that are close by Piazza San Marco (and the rest of the attractions listed). This way once you are all settled into your hotel, you will not have to be concerned about venturing too far out to start your day.
That about wrap up a guide to the best places to visit in Venice! If you want to learn more about Italy, check out the other Italy itineraries and guides I have up on the site. Also feel free to ask any questions below!