Capri is a small, beautiful island off the coast of Italy. It is easy accessible from the towns of the Amalfi coast and you could even get there by boat from Naples.
It is a popular day trip destination for those who are staying on the mainland, however it could also be a great idea to stay on the island itself. T
his guide however, will go over the logistics to get there and what to do as part of a one day Capri itinerary. It is sure to be a day full of fun activities and you will have an incredible time enjoying this one of a kind island.
* Affiliate Disclosure: This post may contain affiliate links, which means I may receive a commission if you make a purchase through the links provided, at no additional cost to you. Thanks for supporting the work I put into TripTins!
1) Introduction to Capri
A day trip to Capri is a must do when visiting the Amalfi Coast of Italy. Located less than an hour by ferry from many of the coast's main towns, Capri is one of the more popular day trips out there to take part of.
The island is full of viewpoints, gardens, small towns, and plenty of opportunities to enjoy the water.
If visiting the island during the peak summer months, do be aware that you will see the crowds during the day since a Capri day trip is on many people's bucket lists.
Even with the crowds though, I would highly recommend spending at least a day on the island. If you want to have a bit more peace and quiet on the island earlier and later on in the day, then an overnight could be for you too.
With that said though, this guide will focus in on a Capri day trip and how to go about enjoying a fun filled day there.
The island itself is not too large and a single day there can get you all around. Be prepared though for an early wakeup as you will want as much time as possible to see what Capri has to offer.
The rest of this guide will go over what to expect during a trip to Capri and help answer any questions along the way.
2) How to Get to Capri
As mentioned before, you can get to Capri from a variety of cities throughout the Amalfi coast. You can take a look at the ferry schedule and check the times based on where you are coming from.
Note that the schedule does change based on time of year (in the summer for example, the first ferries from Positano leave around 9AM and the last boats from Capri leave around 6PM).
Here are a few main places you might be coming from along with approximate ferry lengths and one way prices:
Positano: 30 minutes / ~20 Euro
Amalfi: 50 minutes / ~23 Euro
Sorrento: 20 minutes / ~20 Euro
Naples: 60 minutes / ~22 Euro
Salerno: 120 minutes / ~25 Euro
» If you are going during high season it is a good idea to book in advance. The other option would just book when you arrive and head to the port area to purchase tickets.
Instead of taking a ferry back and forth to Capri, you can also opt for some small group or private boat tours that offer trips from the Amalfi Coast to Capri. Below are some highly rated options to choose from:
» Private Tour: Amalfi Coast to Capri Cruise
» Small-Group Capri Cruise from the Amalfi Coast
» Day Trip to Capri from Positano
3) Capri Day Trip Attractions Location / Map
There is plenty to see on the island and you will use a variety of transportation options throughout the day – ferry, bus, funicular, chairlift and plenty of walking. Below is the map of Capri pinned with the destinations you could visit during your day here:
(1) ​Capri Town / Piazzetta
(2) Augustus Gardens / Faraglioni Rocks
(3) Villa San Michele
(4) Mount Solaro
I have also highlighted the different transportation options – in yellow is the funicular to take you from the ferry into town. In red is the bus to take you from Capri town to Anacapri, and in purple is the chairlift up to Mount Solaro.
A One Day Capri Itinerary
Below you will find the Capri attractions listed out along with some short descriptions and images for each.
I will also touch on the different transportation options to utilize during your time on the island, getting from one attraction to the next.
A) Capri Town / Piazzetta
Once you arrive in Capri you can walk, cab or funicular up to the Capri Town. The funicular is the probably the best option here as it is quick, cheap and convenient (runs every 15 minutes / 2 Euro).
Once up top in the town of Capri you can spend some time exploring the streets, plazas, restaurants and stores. You will be sure to pass by the Piazzetta or Piazza Umberto I, one of the better-known piazzas in Italy.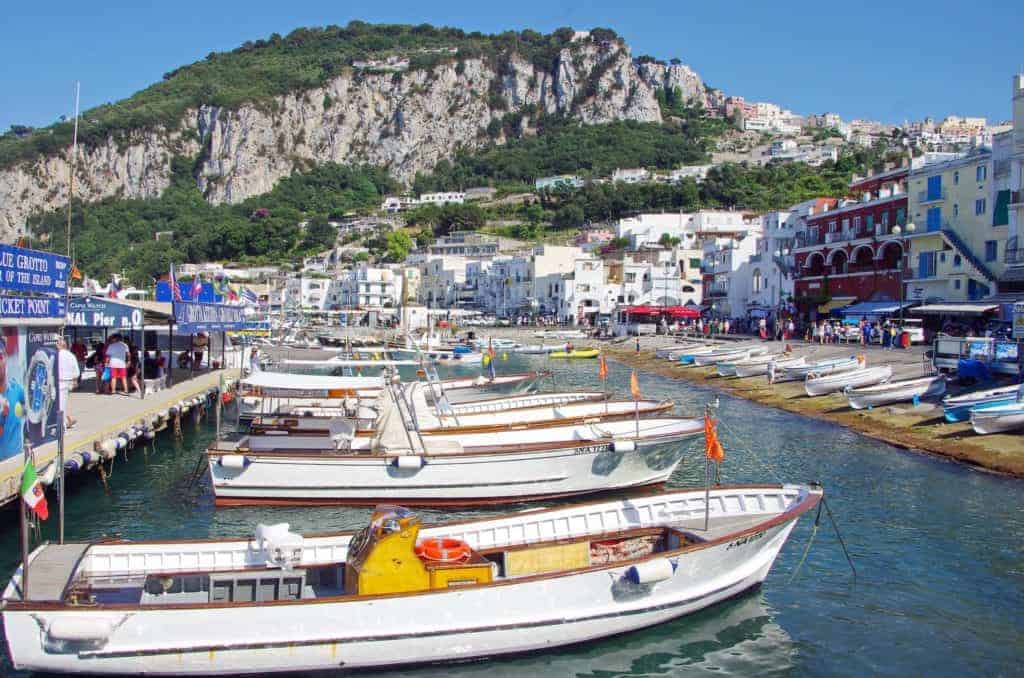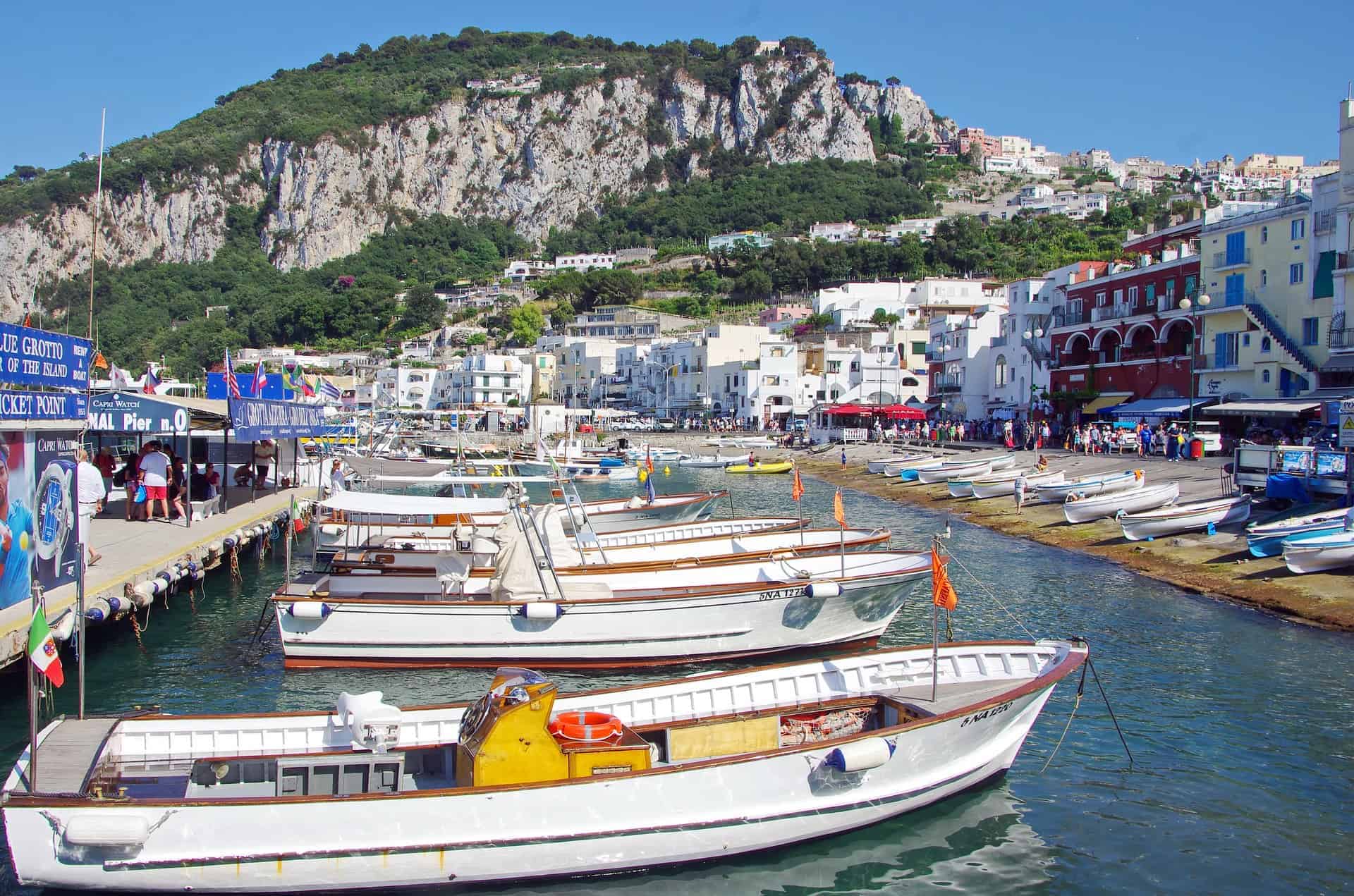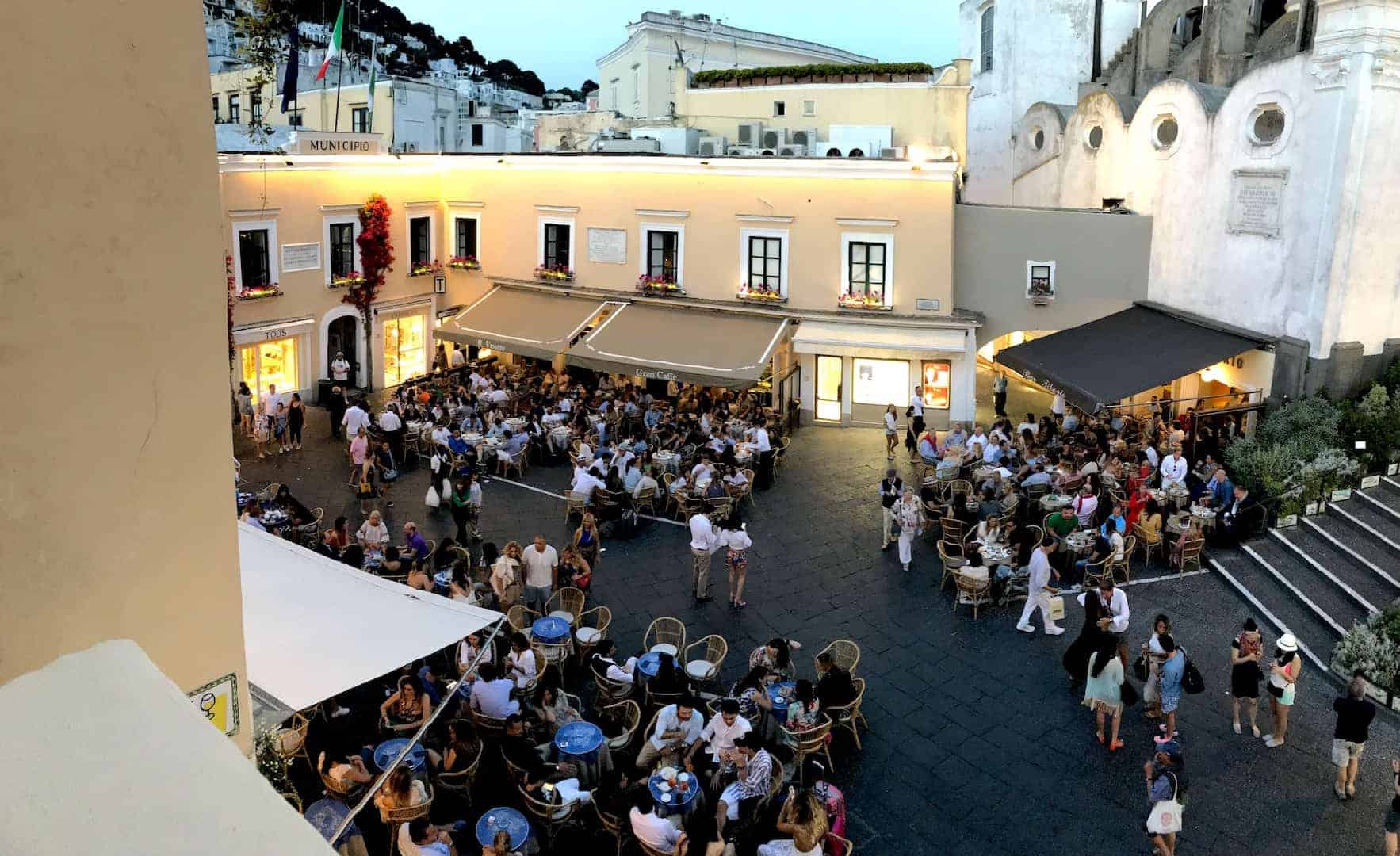 B) Augustus Gardens / Faraglioni Rocks
​After you had enough time wandering around town and getting a feel for Capri it is time to head to a few noteworthy attractions.
First up are the Augustus Gardens. Here you will be able to walk through a garden filled with a variety of different plants and flowers, as well as take in some spectacular water views of the Faraglioni Rocks out in the distance.
It really is just a beautiful place to relax and enjoy. You can also see Via Krupp down below, a winding pathway down the mountain.
Although the road is closed for safety reasons, it still makes for one great picture.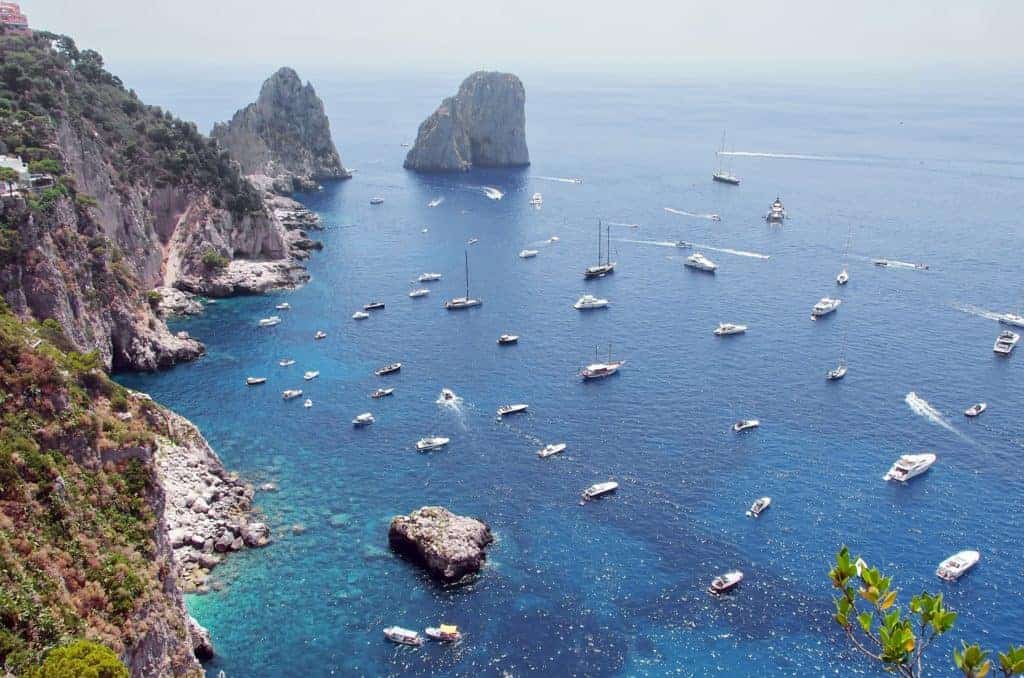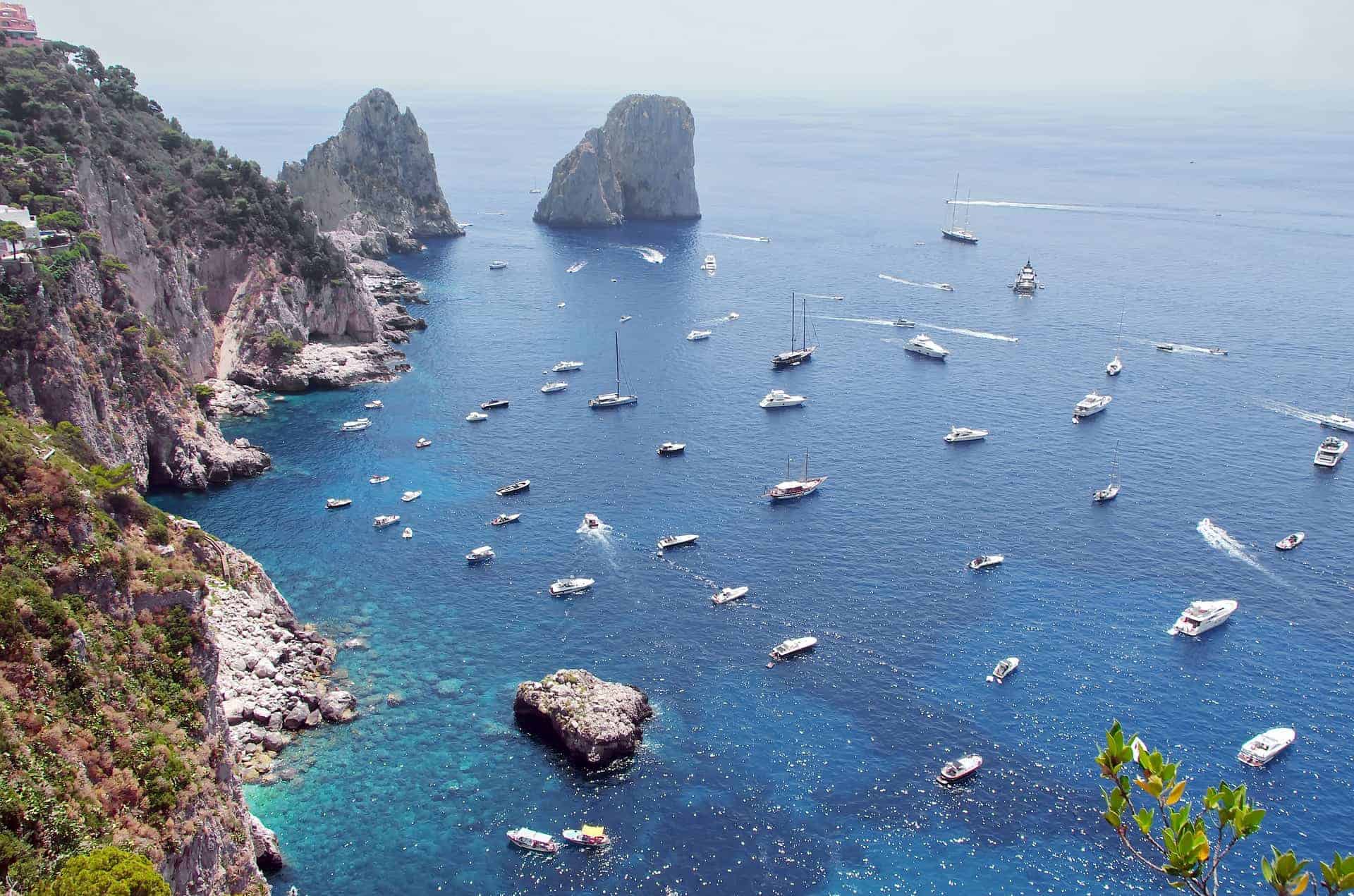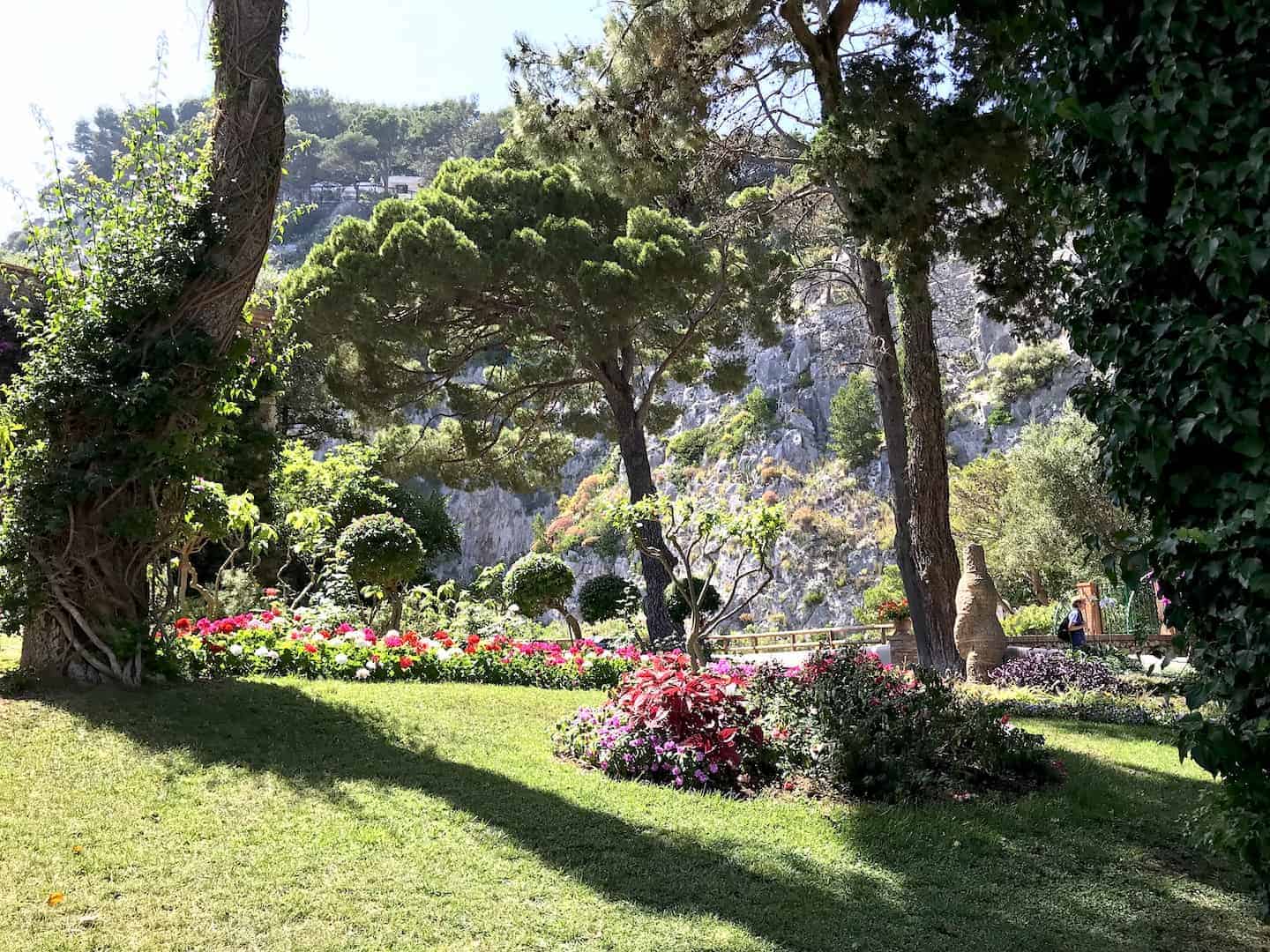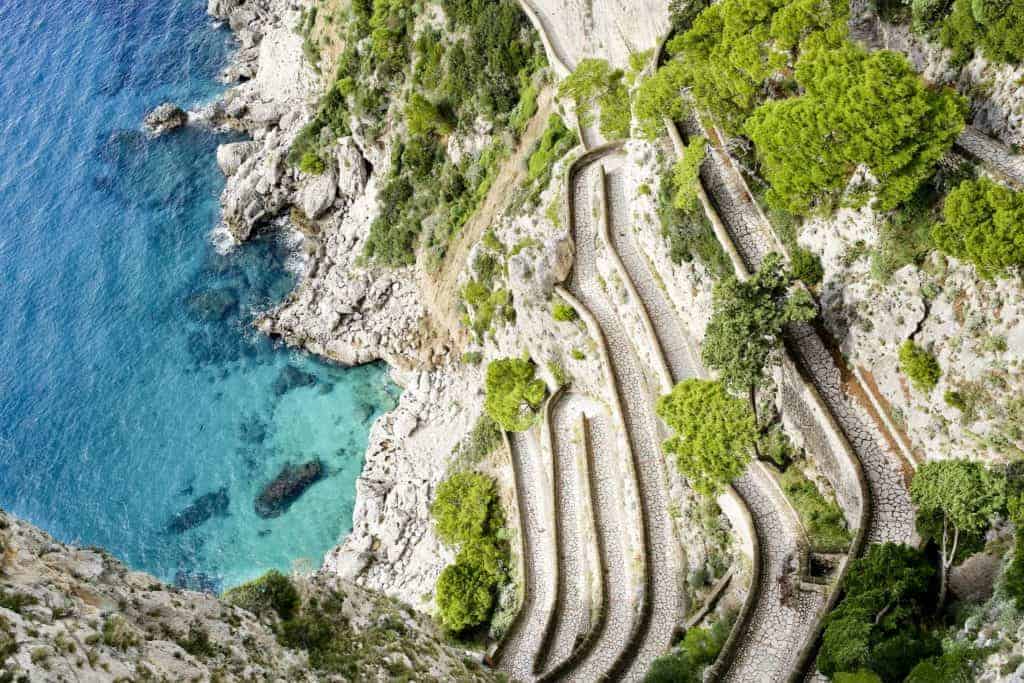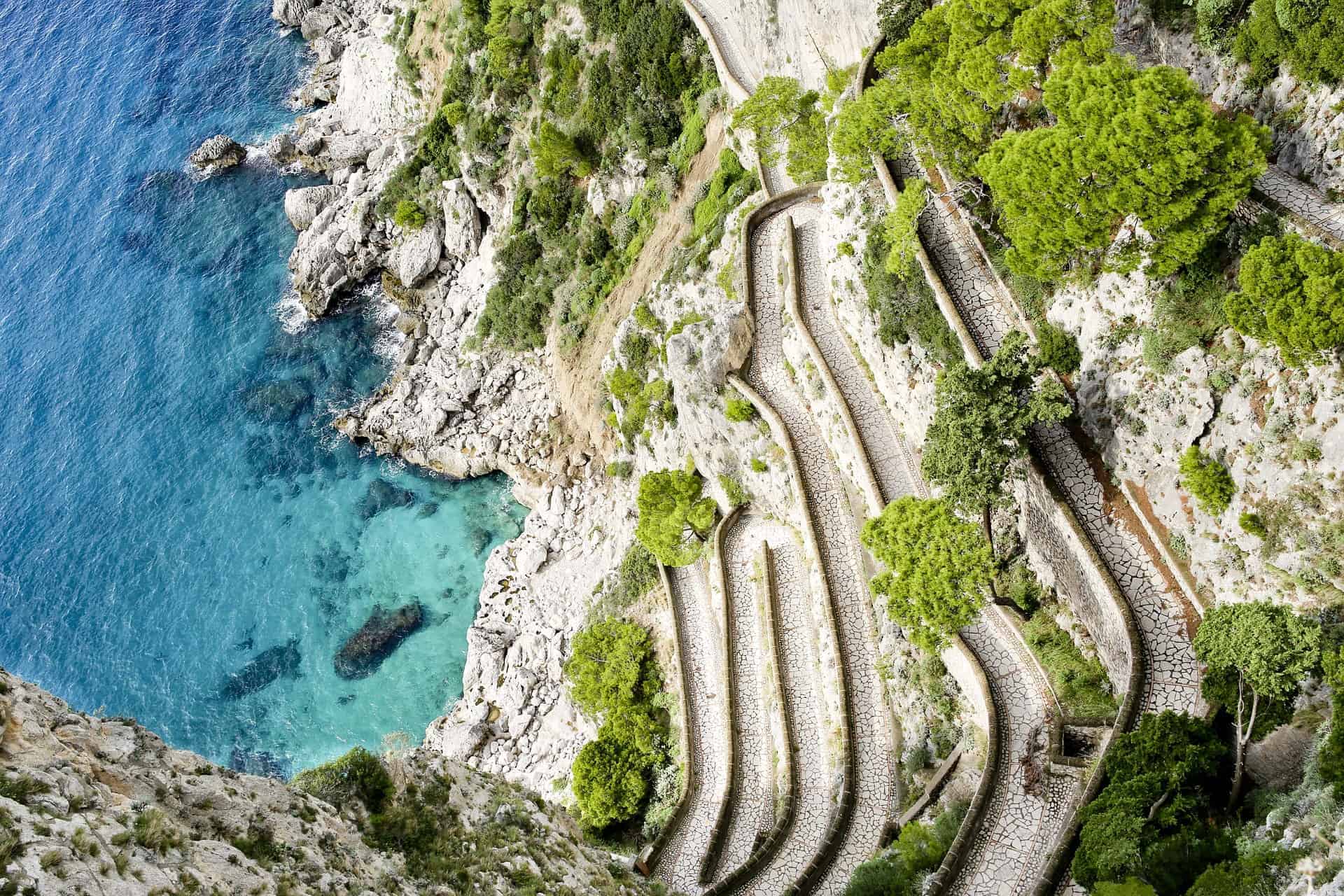 C) Villa San Michele
​After grabbing some lunch around the area next up is Anacapri, a bit west of the Capri town. To get there is pretty simple – you can either hop on a bus from near the Piazzetta or grab a taxi. It should only take about 15 minutes to make the drive.
The first thing you will do when you get to Anacapri is walk to Villa San Michele. Once the home to Swedish physician Axel Munthe, it is now open to the public to explore.
You can spend time roaming around the estate, which includes the main villa, gardens, terraces, artwork and some more great views. It will cost 8 Euro to enter San Michele and it is definitely worth the fee.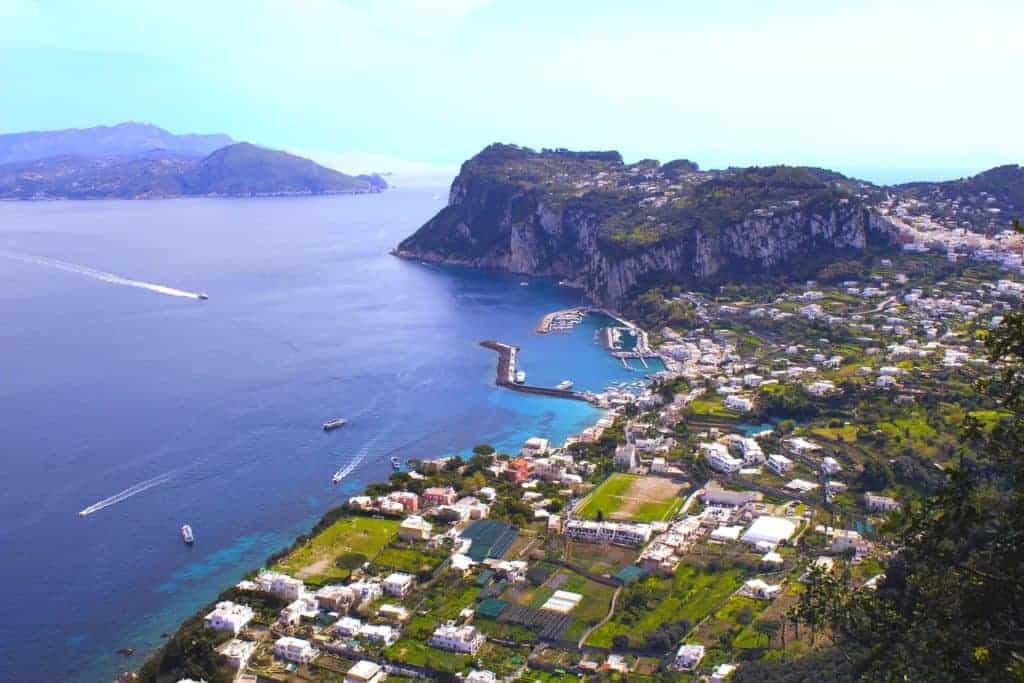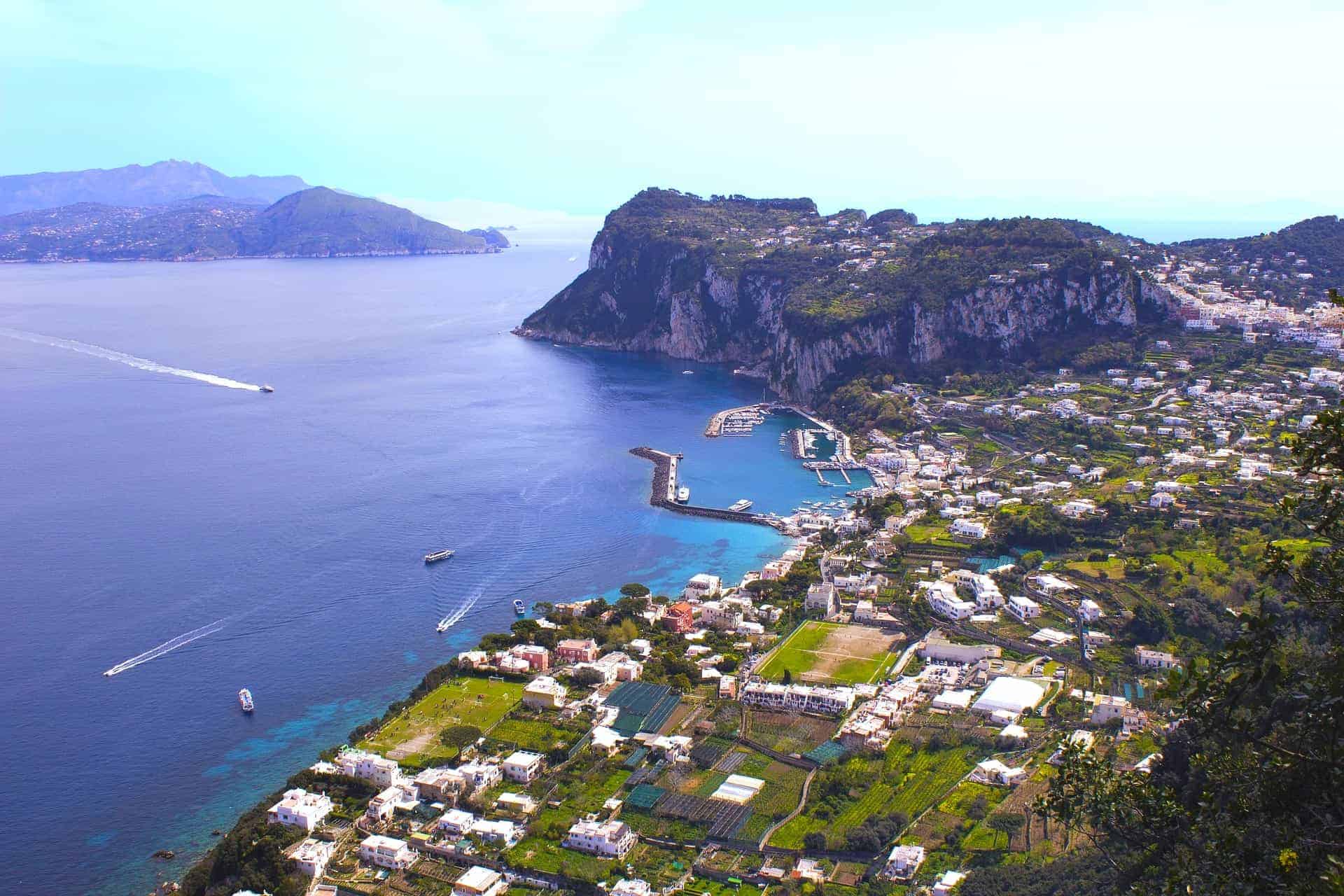 D) Mount Solaro
Cost: 11 Euro / 8 Euro (one way)
Length: 13 minutes
Hours: 9:30AM – 5:00PM (May to October); March to April closes at 4:30PM, November to February 3:30PM
Next up will be a pretty unique experience as you head up to Mount Solaro, the highest point in Capri.
To get there you will have to take a single person chairlift up to the top. If you are afraid of heights this might not be for you but you still should definitely go!
The views from the chairlift are great but the view from up top is even better as you will get to see panoramic views of the entire island. Make your way back down the chairlift after spending some time up top.
You can hop back on a bus that will take you back to the port area in order to catch your boat back to the mainland.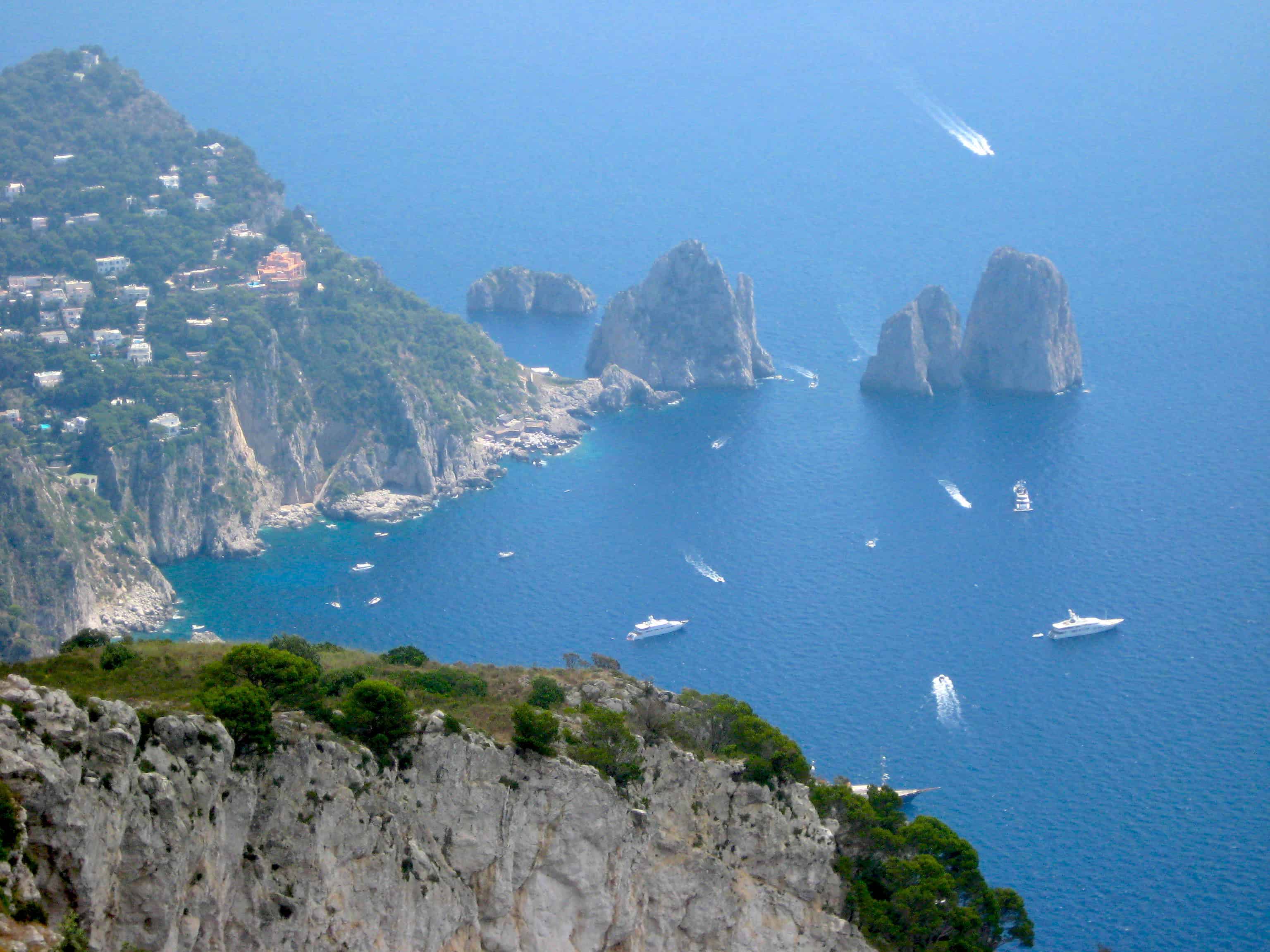 4) Capri Boat Tour Option
One experience that many people like to take part of in Capri is a boat tour around the island, which can include the Blue Grotto as well. If you do want to include this in your itinerary, do so right when you arrive in Capri as that is where many of the boats will depart from.
You will also want to do it as early as possible to avoid the influx of tourist boats at the Blue Grotto if that is part of the itinerary.
The tours below leave from Capri, while the tours mentioned earlier on in the guide leave from the Amalfi Coast towns (i.e. Positano)
Below are some great options to choose from if you are looking to explore the water of Capri:
» Capri Coast to Coast: Discover the Island from the Sea with Blue Grotto Option
» Tour of Capri by Private Boat
» Capri Island Boat Ride with Swimming, Sights, and Limoncello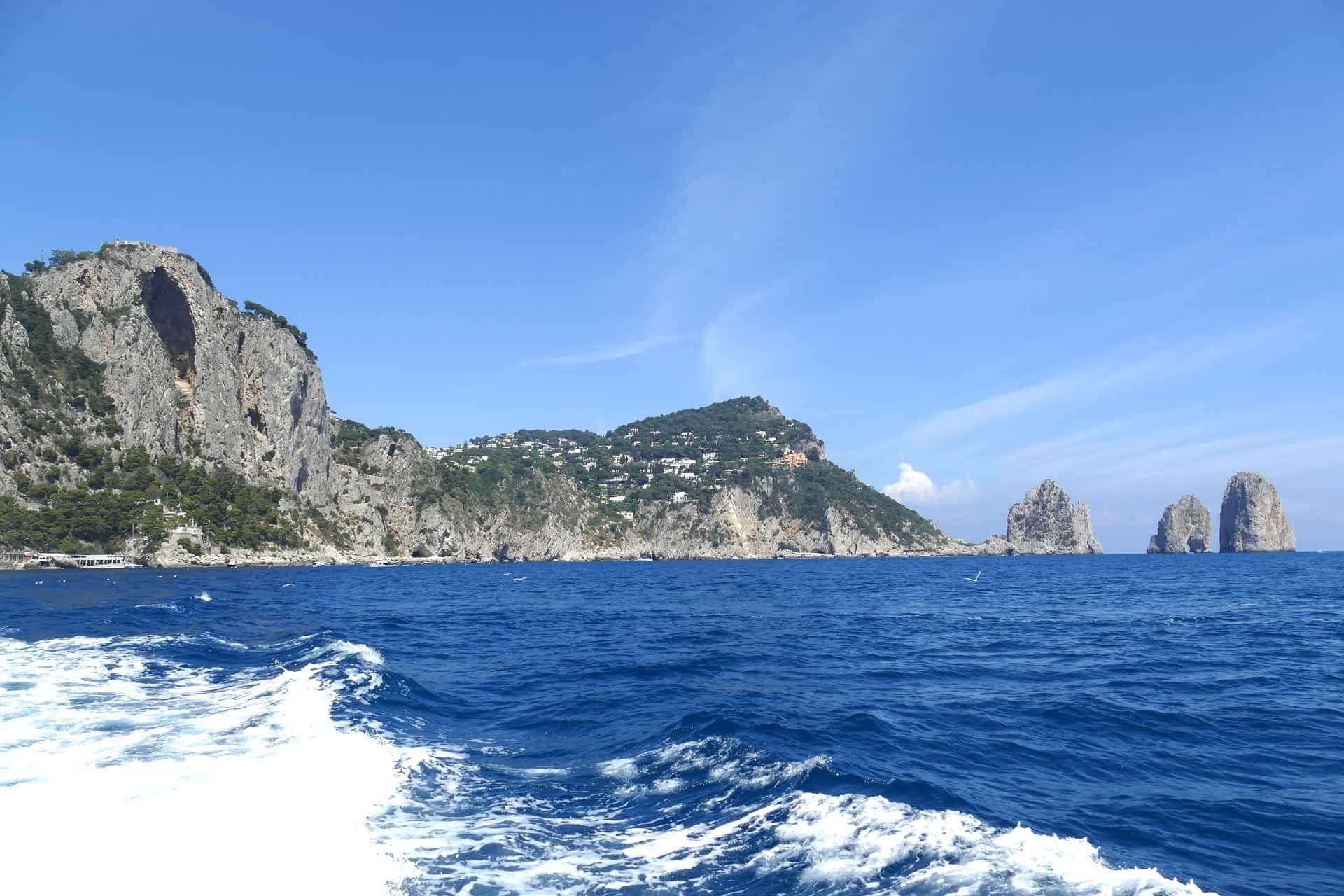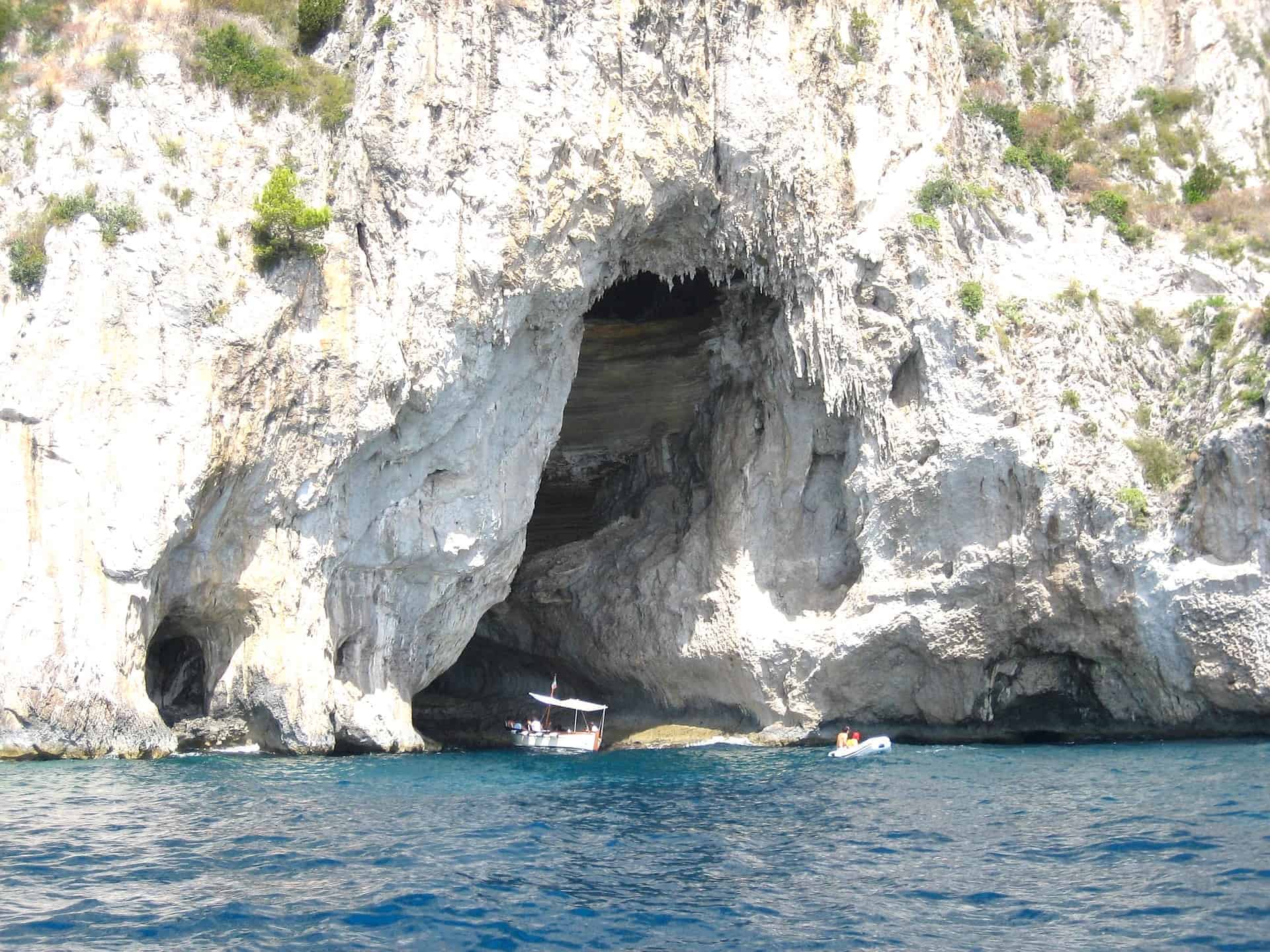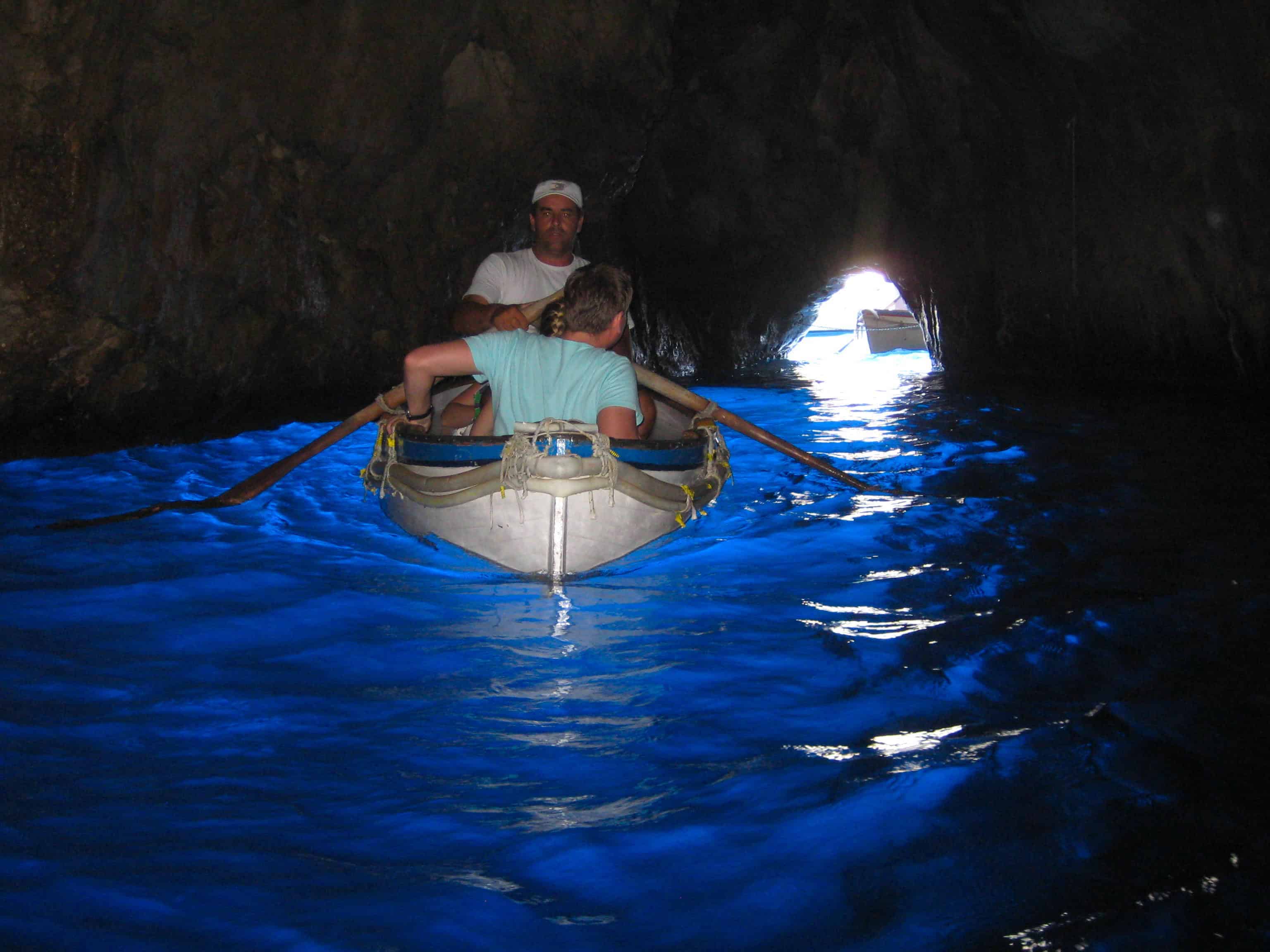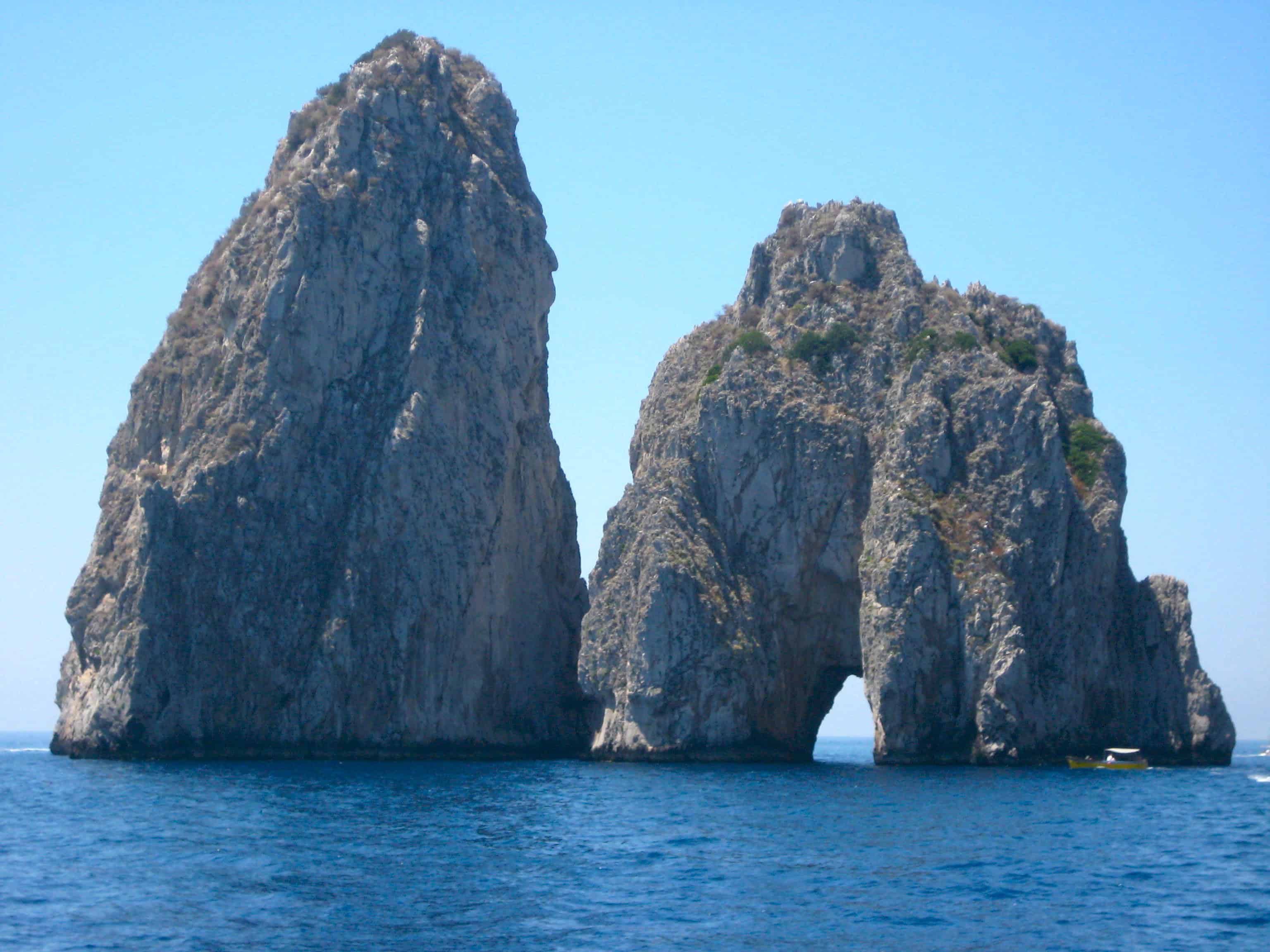 That about wraps up the guide to a one day Capri itinerary. Take a look at the other Italy itineraries and guides to help out with any other trip planning.
Be sure to include this day trip a part of a longer 7 Day Italy Itinerary, 10 Day Italy Itinerary, or 14 Day Italy Itinerary.
Hope you enjoy your time in Italy. If you have any questions about the trip please feel free to comment below!