During my time on Bali, I knew I wanted to explore some of the island's best waterfalls. During my research though, there was one waterfall that stood out to me most – the Aling Aling Waterfall.
Are you looking to cliff jump from 16 feet? How about 33 feet? How about 50, yes 50 feet?! Or maybe you are looking for Bali's best natural waterfall water slide?
Well, Aling Aling offers it all and this guide will go over everything you need to take part of a visit.
* Affiliate Disclosure: This post may contain affiliate links, which means I may receive a commission if you make a purchase through the links provided, at no additional cost to you. Thanks for supporting the work I put into TripTins!
1) Aling Aling Background
While Aling Aling is the name of the main beautiful waterfall here, there are three other waterfalls right nearby where all the more adrenaline options take place.
Just note when someone says Aling Aling, it also includes the area where you will find these other activities.
Unlike some other waterfalls in the region, the walk from the parking lot to the waterfall area is pretty short, so do not worry too much about a long trek or anything like that.
Main Waterfall: Aling Aling
Waterfall Slide*: Kroya Waterfall
33 Feet / 10 Meter Jump Waterfall: Kembar Waterfall
50 Feet / 15 Meter Jump Waterfall: Pucuk Waterfall
Location: Buleleng Regency (map down below)
Ticket Cost: 20.000 IDR / $1.50 USD for visit OR 125.000 IDR / $9 USD to jump into the water
*Across from the Kroya natural waterfall slide, there is a 16 feet / 5 meter jump off of a platform for those that want to test out a shorter jump.
⇒ There are also other trekking options here that will take your further along into the jungle if you are looking to make this a full day activity. Below you can see the different offerings. The "Short Trekking" option is the main one this guide will go over and just includes the waterfalls.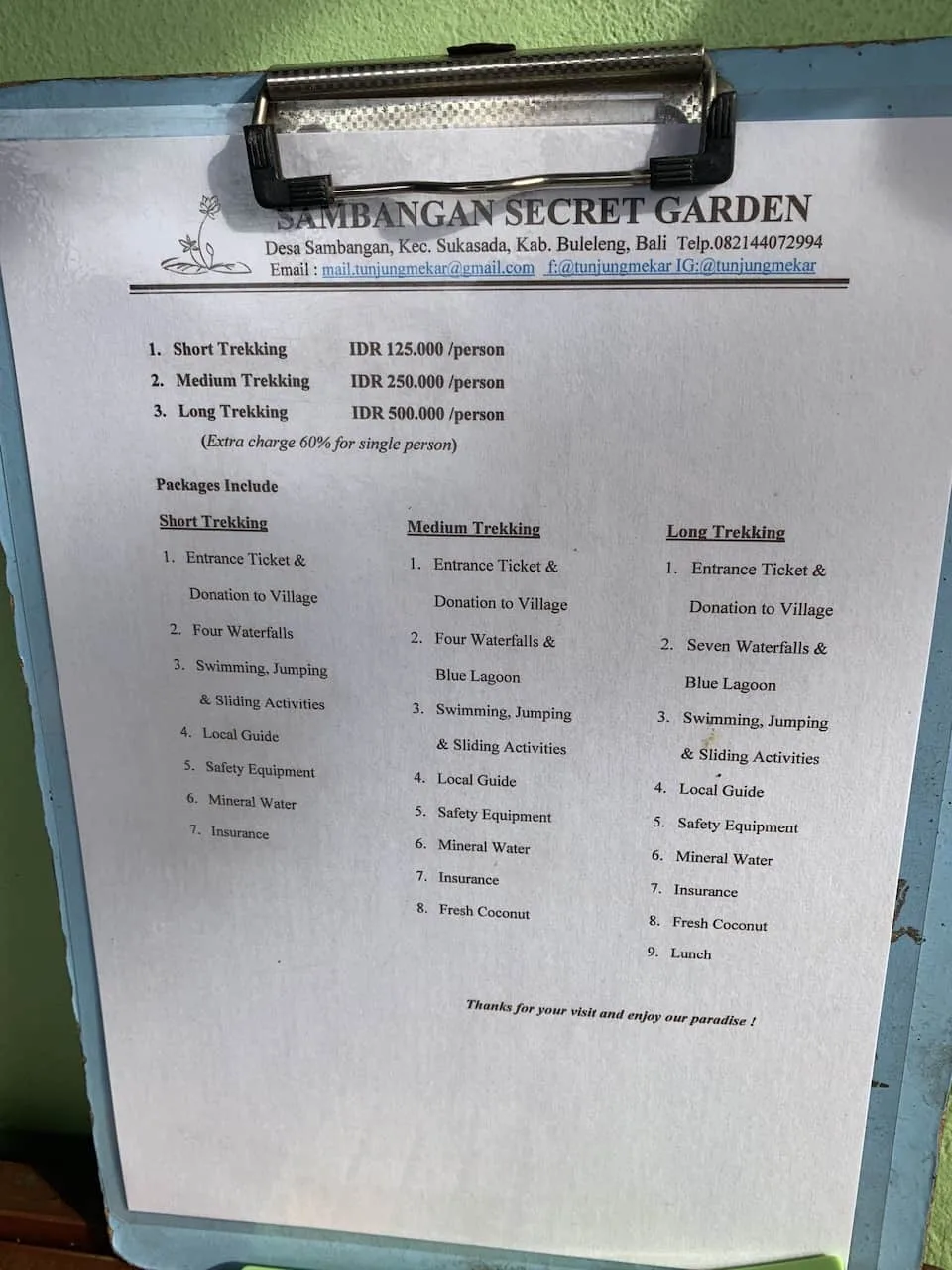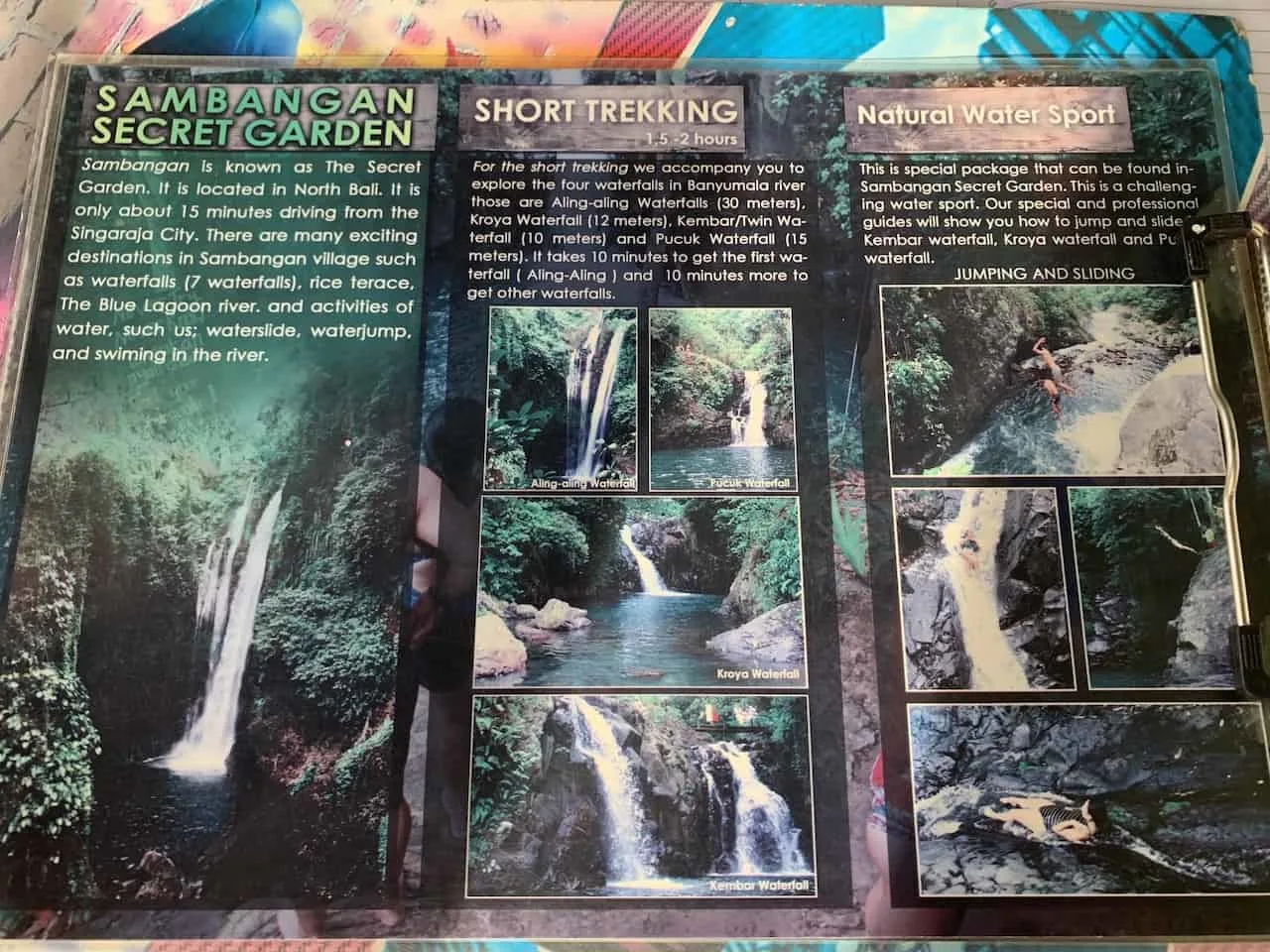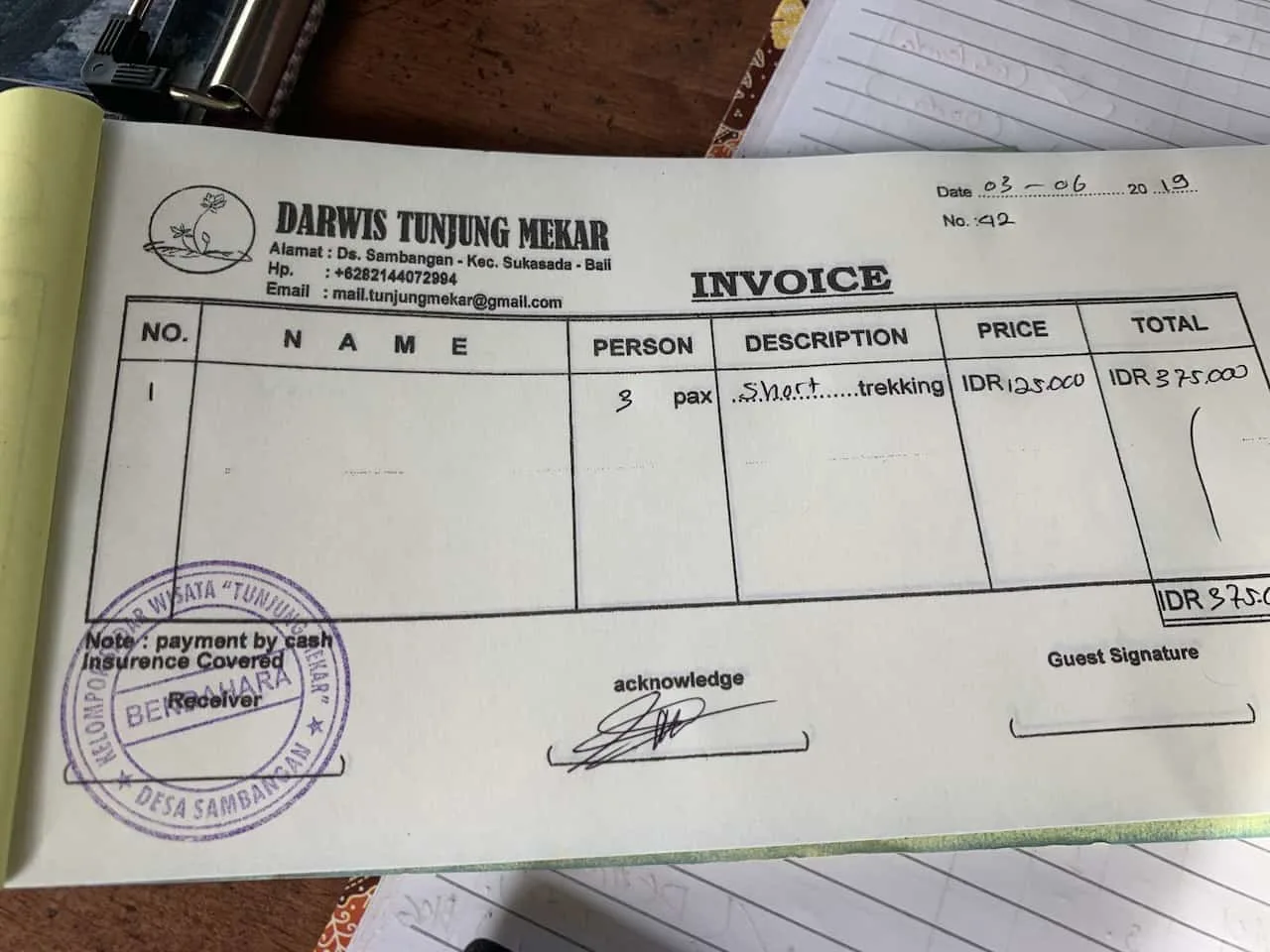 2) Where is Aling Aling Waterfall?
Aling Aling is located in the Buleleng Regency of Bali, which makes up a good portion of the north side of the island.
It is not too close by too many of the tourist spots like Ubud or Seminyak, making it a bit quieter of a destination to visit.
Below are some approximate driving times from some of the more popular places on the island:
Munduk: 1 Hour
Ubud: 2 Hours
Canggu: 2 Hours
Kuta: 2 Hours
Seminyak: 2 Hours
Uluwatu: 2.5 Hours
For the exact location of the entrance to the waterfalls, you will want to input "Aling Aling Waterfall Reception" into Google Maps.
This will take you right to the parking lot, where the short trek begins to the various waterfalls. I have also pinned the waterfalls in the map below, however the locations are just approximate on Google Maps.
3) How to Get to Aling Aling Waterfall
When it comes to visiting places in Bali there are three main options to choose from – a private driver, renting your own motorbike, or a group tour.
Private Driver
Hiring a driver for the day is a pretty common thing to do when visiting Bali. Prices for a full day driver are around $50 USD give or take. If you are traveling with others, splitting that cost among several people is a great way to stay on budget.
You can either go ahead and book a driver ahead of time through a trusted company or you can wait until you arrive and book a driver in Bali.
Motorbike Rental
Renting your own motorbike is the other main option here. I would only advise you doing so though if you are very comfortable driving one. Accidents happen all the time by inexperienced and even experienced drivers so do be cautious on the roads.
Depending on where you are coming from, you may be spending 4+ hours of driving in a day, so that is something you may want to consider as well.
Motorbikes are cheap though ranging from $5 – $10 USD (+gas) per day. So if you can handle the motorbike and want to save some cash then this option is for you.
Group Tour
A third option here is to join a group tour. I am usually not too interested in these situations to join a group tour just because a private driver is basically the same cost.
If traveling with another person, then a private driver would certainly be cheaper. I will say though, if you are a solo traveler and looking to join in with some other like-minded travelers then a group tour is a good way to meet some people.
» One of the highest rated tours that will take you on this day trip is the Bali Waterfall Adventures Package
4) Where to Stay in Munduk
If you decide to spend a few days in Northern Bali exploring the beautiful jungle and waterfall region, I recommend staying in the town of Munduk. Here you will find a variety of different accommodation options at various price points.
You will be much more accessible to waterfalls such as Aling Aling as you will not need to drive hours just to reach it.
During my time in Munduk I was able to visit several waterfalls each day while those arriving from further out cities may only be able to visit 1 or 2 due to the longer driving times.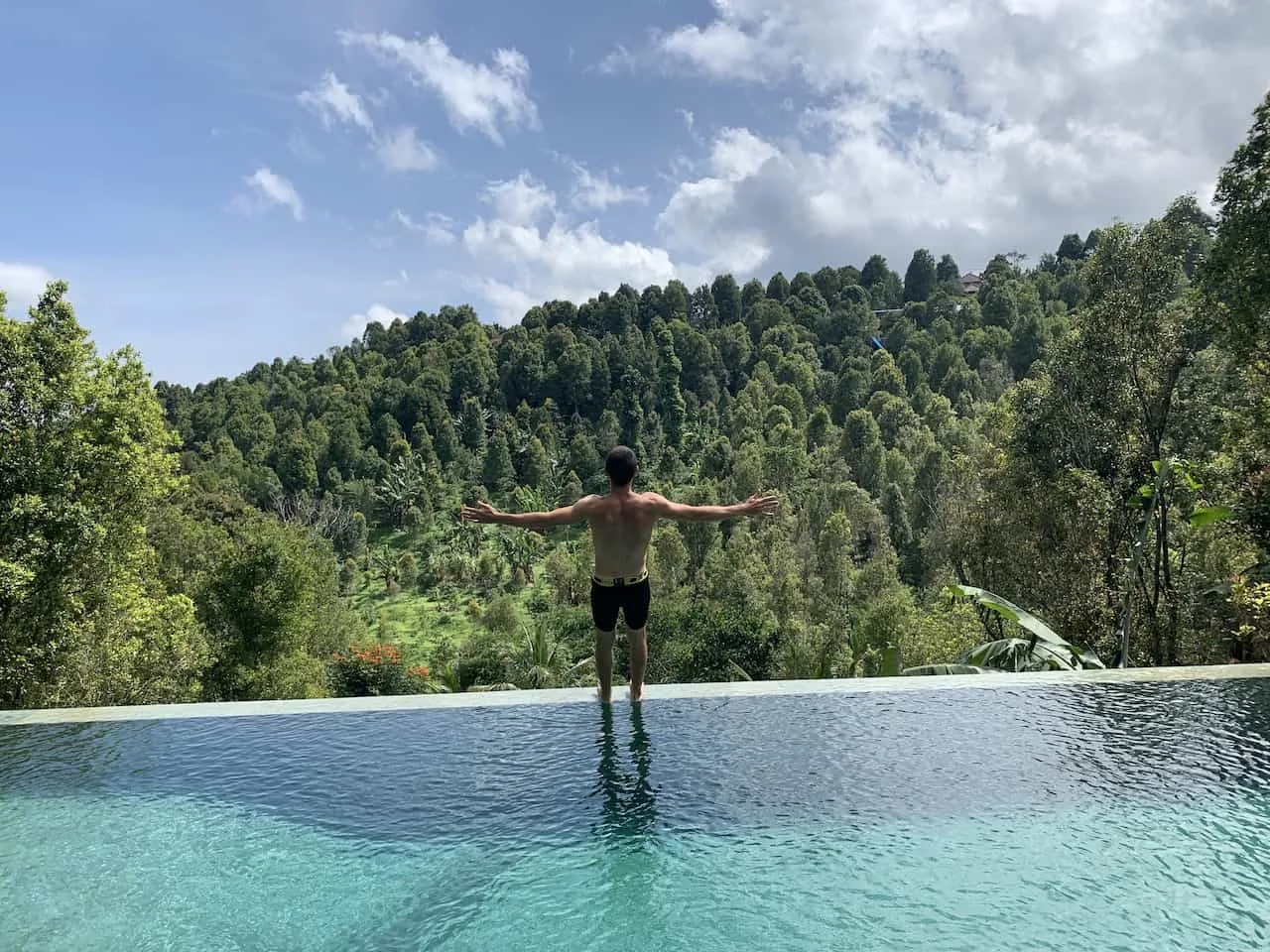 5) What to Bring on the Trek
Since there will be a bunch of water activities involved in your day at Aling Aling I would recommend bringing the following items:
Dry Bag: You will be getting pretty close to the waterfalls and your belongings can easily get wet. Bringing along a waterproof bag will protect your stuff from any potential water. » Take a look at this Earth Park Dry Bag to hold your belongings.
GoPro: Since you will be jumping and sliding off waterfalls, having a GoPro to capture the footage will be your best bet here. Check out the GoPro Hero for your travels.
Bathing Suit: Wearing something that can get wet will be a good idea either way as you will be heading into the water.
Quick Dry Towel: I always like to bring along a quick dry towel to dry off during days like this. Since you can jump into the water, it is always nice to get yourself dry before continuing the day. » This Rainleaf microfiber quick dry towel has been my go to when it comes to traveling.
Tips: Don't forget to tip your local guide! They work hard and a few dollars can go a long way for them.
6) Aling Aling Waterfall Day Trip
After arriving at the parking lot and paying for your ticket (20.000 IDR just to visit the waterfalls or 125.000 IDR to actually go into the water and take part of the various adrenaline options), you will head down the pathway for about 10 minutes.
The more expensive ticket comes with a guide that will take you to the various waterfalls and help you navigate where and how to make your jumps/slides into the water.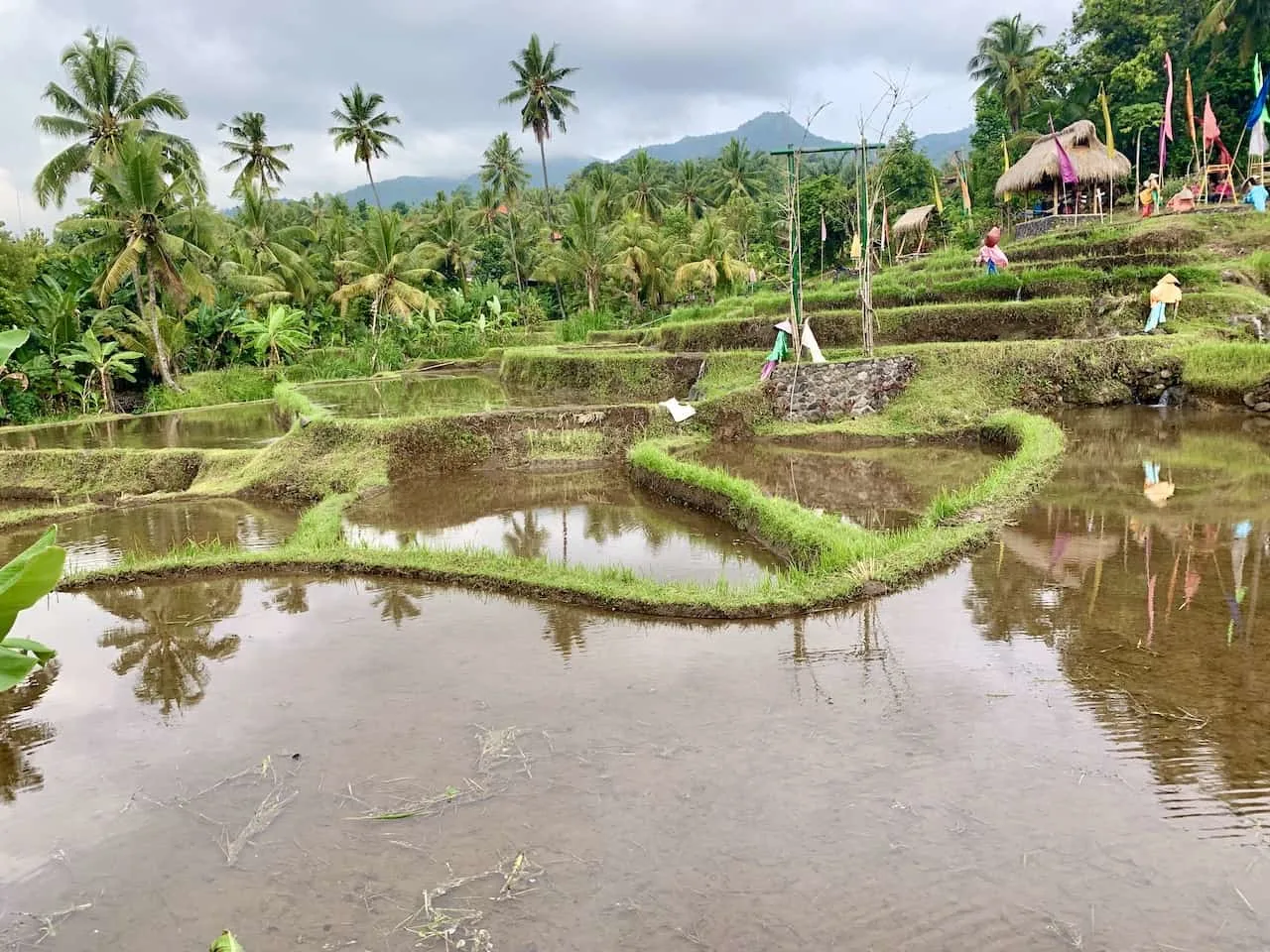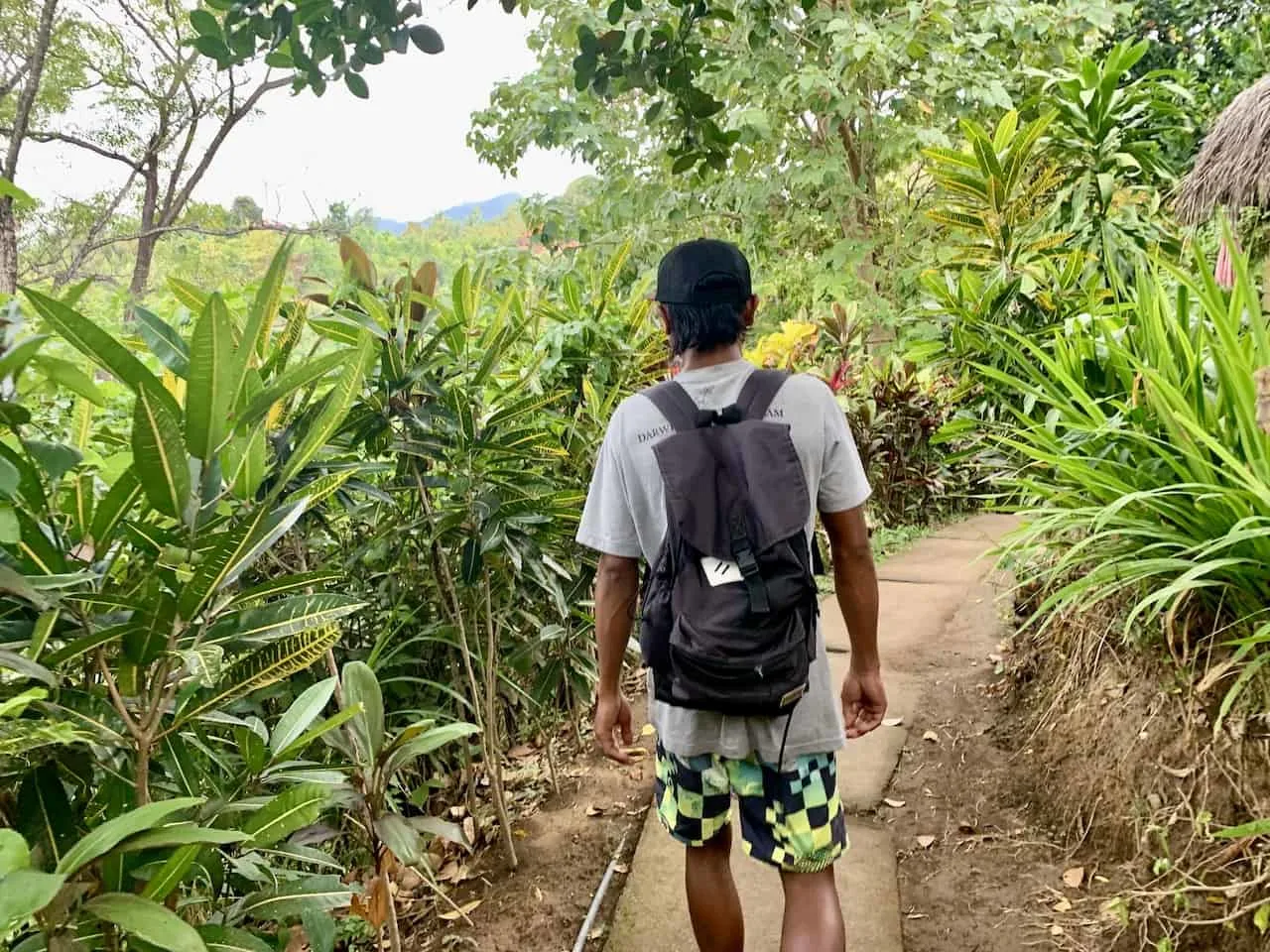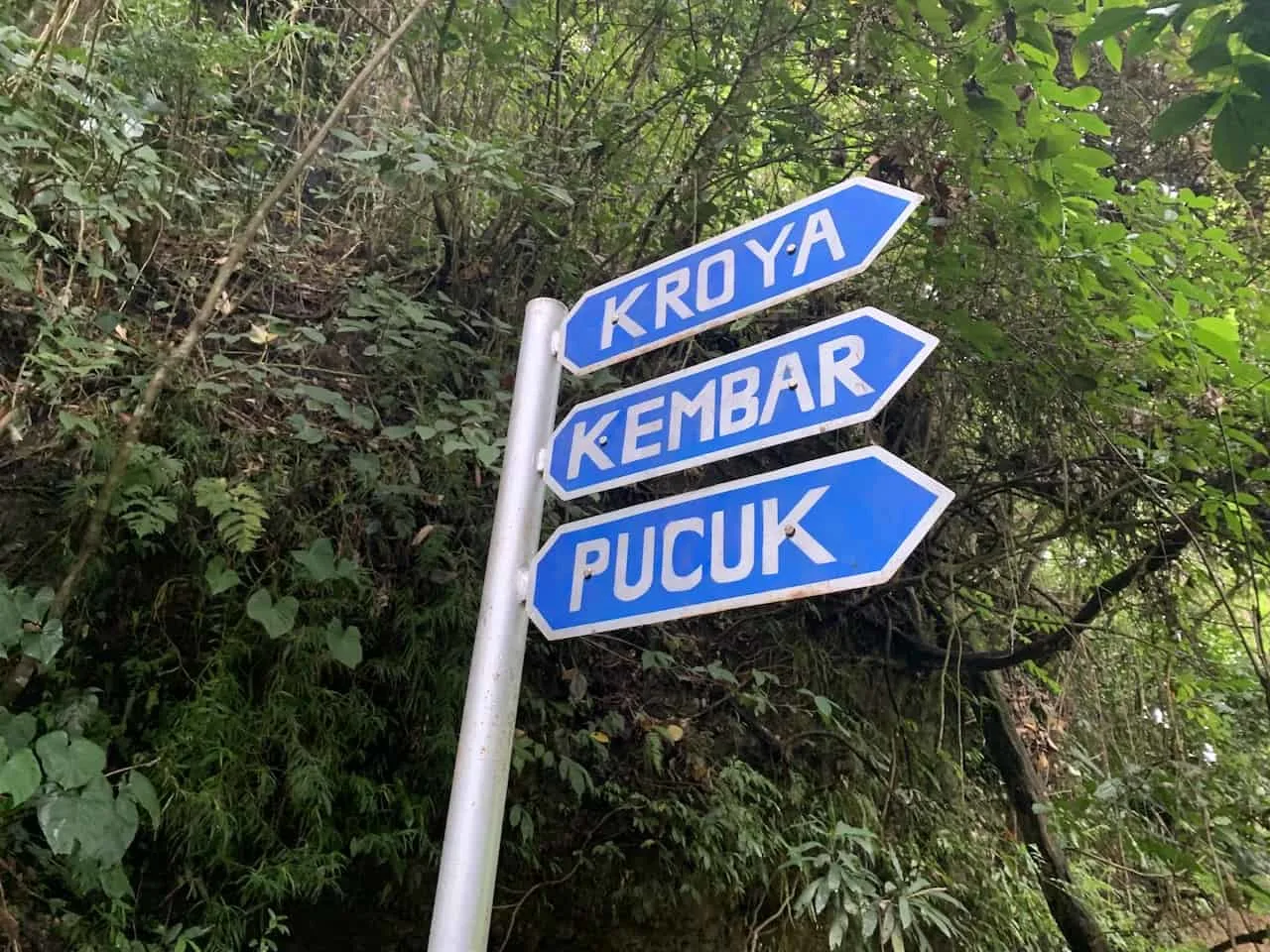 A. Kroya Waterfall
Up first will be Kroya Waterfall. Here you will find two different activities to take part of – a 16 foot jump and a waterfall slide, both very fun to do and should be comfortable enough even for those who may be a bit hesitant for the taller jumps.
The 16 foot jump is located across from the actual waterfall. You wont be jumping off the waterfall for this one, rather there is a concrete platform across from the waterfall, making this a pretty easy entry to make.
It is a very scenic photo op too as you will have Kroya out in the background along with the motivational sign at the jumping point "Never Try, Never Know, Test Your Adrenaline, Light on Your Spirit".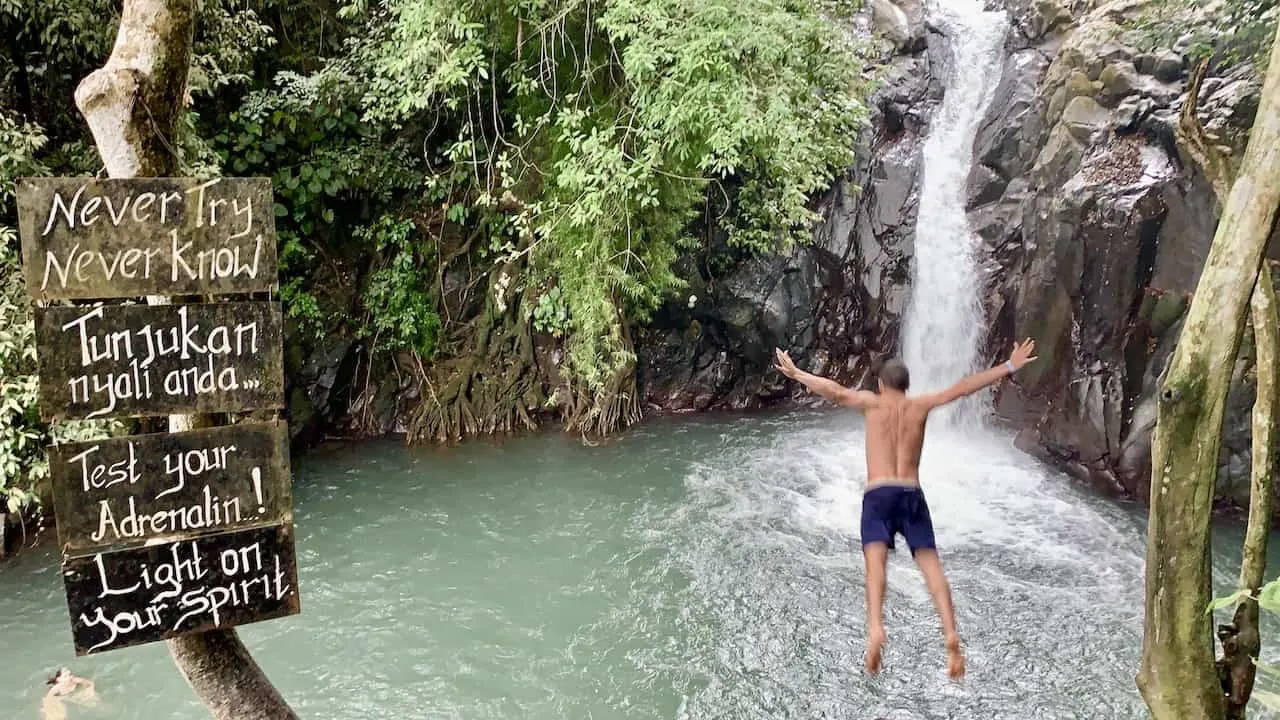 After jumping on into the water you can opt to make your way up the path on the left side of the waterfall. There is an easy path to follow, which your guide will take you through towards the top of Kroya.
Once on top of the waterfall, your guide will help you sit down and position you correctly so you can slide down the waterfall seamlessly. For this one it is also best to have a lifejacket on so you don't hurt your back.
Once seated, just lay back, cross your arms and legs and head down Kroya Waterfall. My guide had mentioned that this is the only major waterfall to actually slide down in all of Bali so why not give it a shot!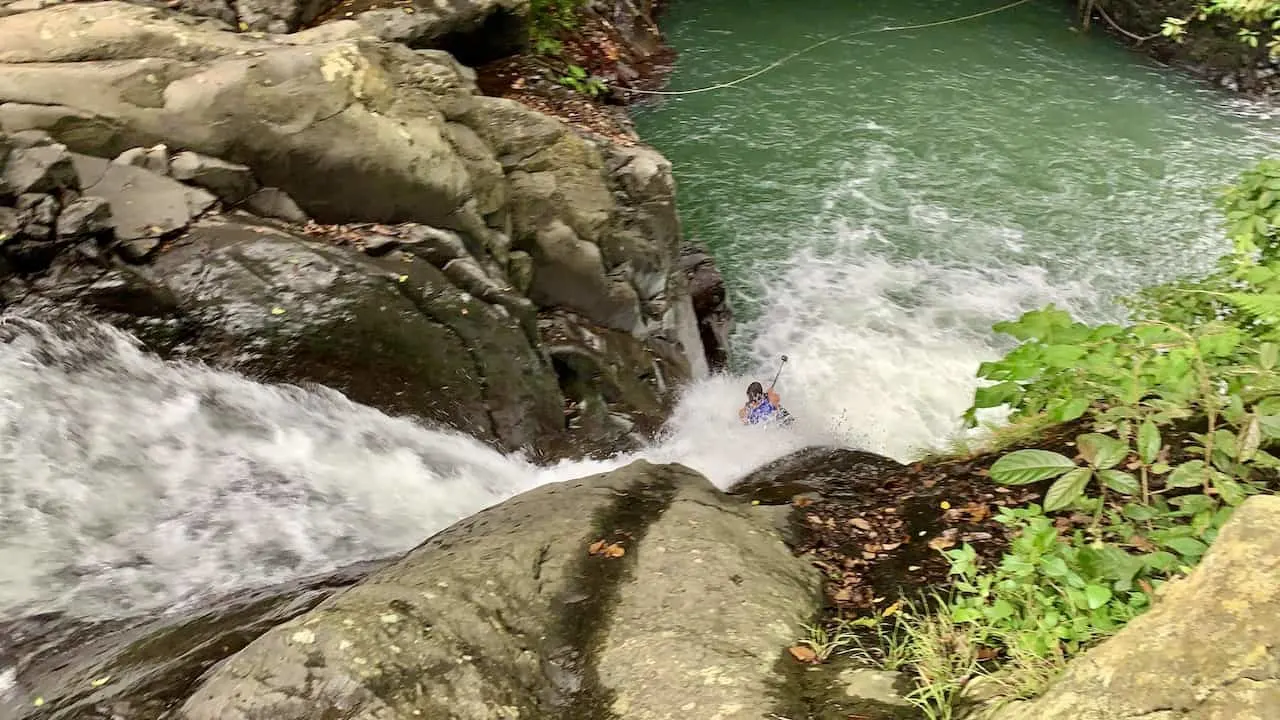 B. Kembar Waterfall
Up next is the 33 foot high Kembar Waterfall. To get to Kembar you can either make the short walk across the rocks/path or you can take a very small waterfall slide from one pool to the next and walk from there.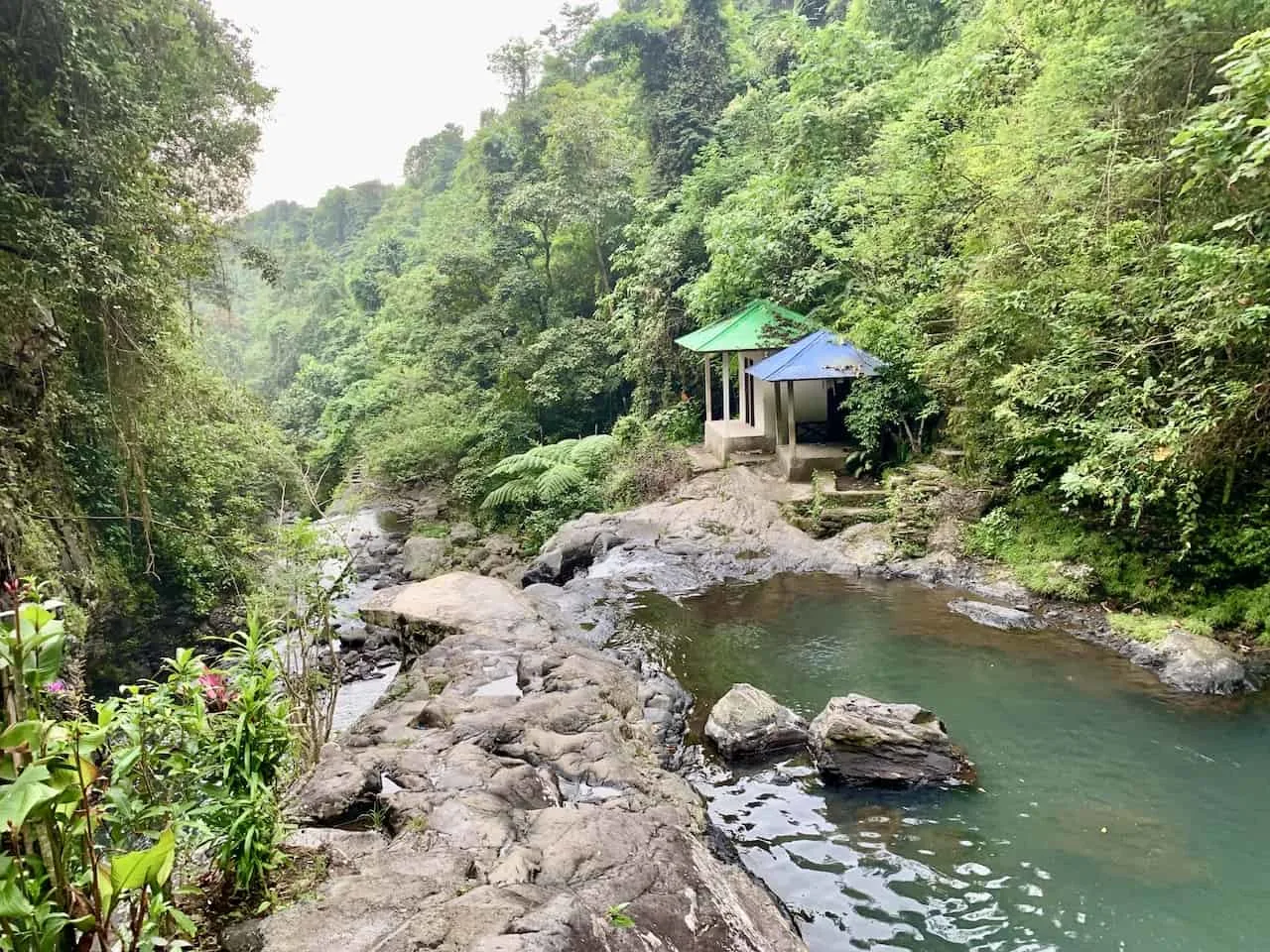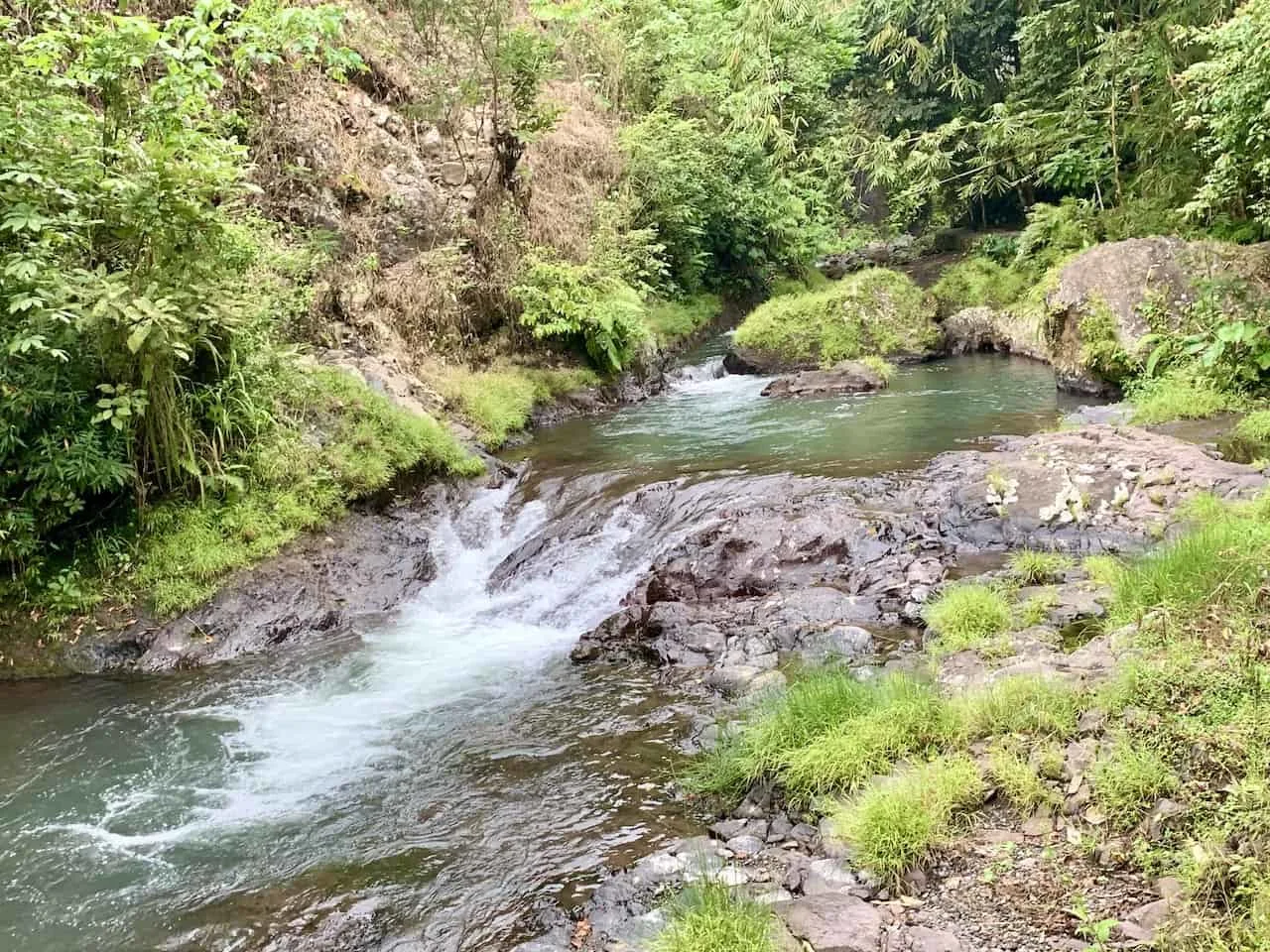 We are now getting higher up so for those that are comfortable enough, it is time to make the second jump of the day. Here you will find a double waterfall with a gap in the middle of the two.
Right on top of the gap you will find a small concrete platform to leap off of. This makes things a bit easier for you as you don't need to clear much as you jump into the water.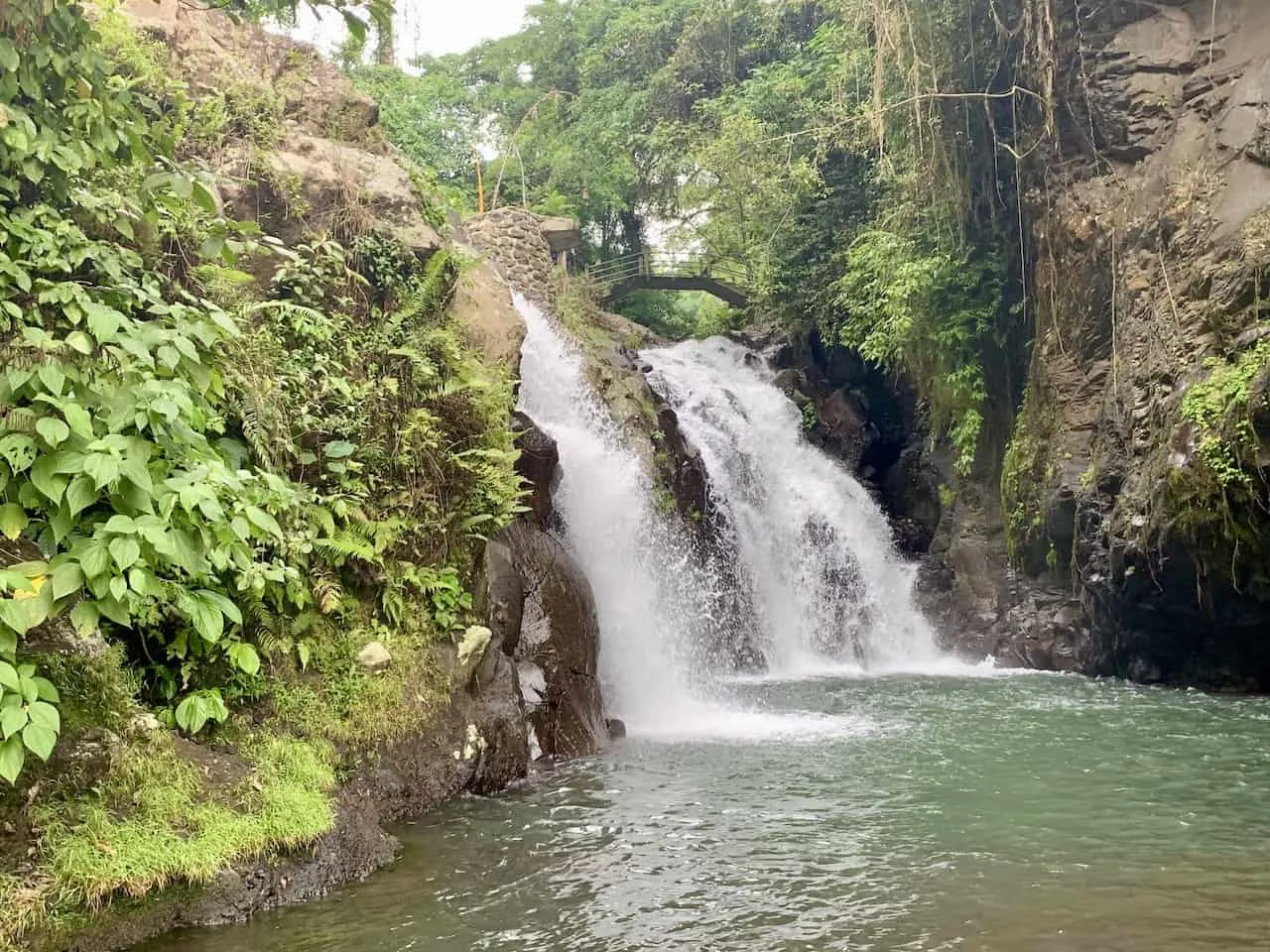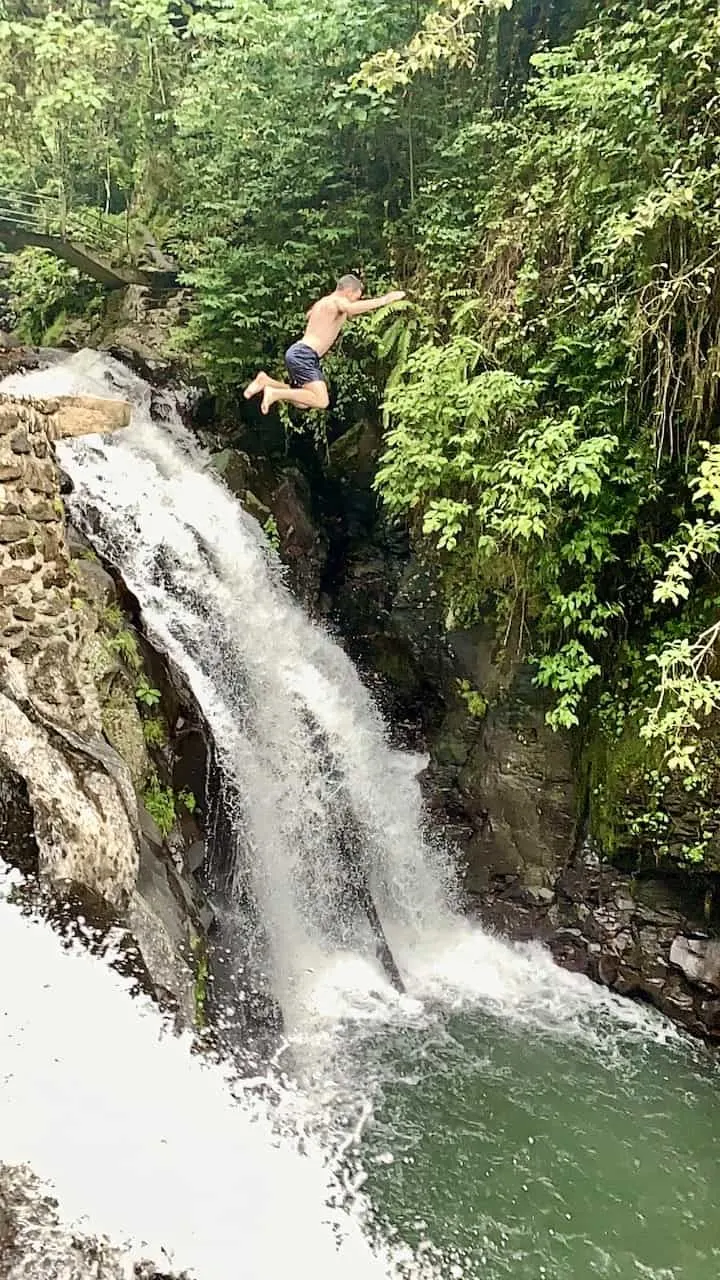 C. Pucuk Waterfall
After leaping off the 33 foot jump, its just a minute to the final jump of the day – a 50 foot plunge off of Pucuk Waterfall. Not only is this the highest of them all, but it did seem to me that you had to clear a bit more off the wall to land cleanly.
If you are confident enough to make the leap go for it! You will also find a bit of a concrete platform here to better position yourself when jumping off.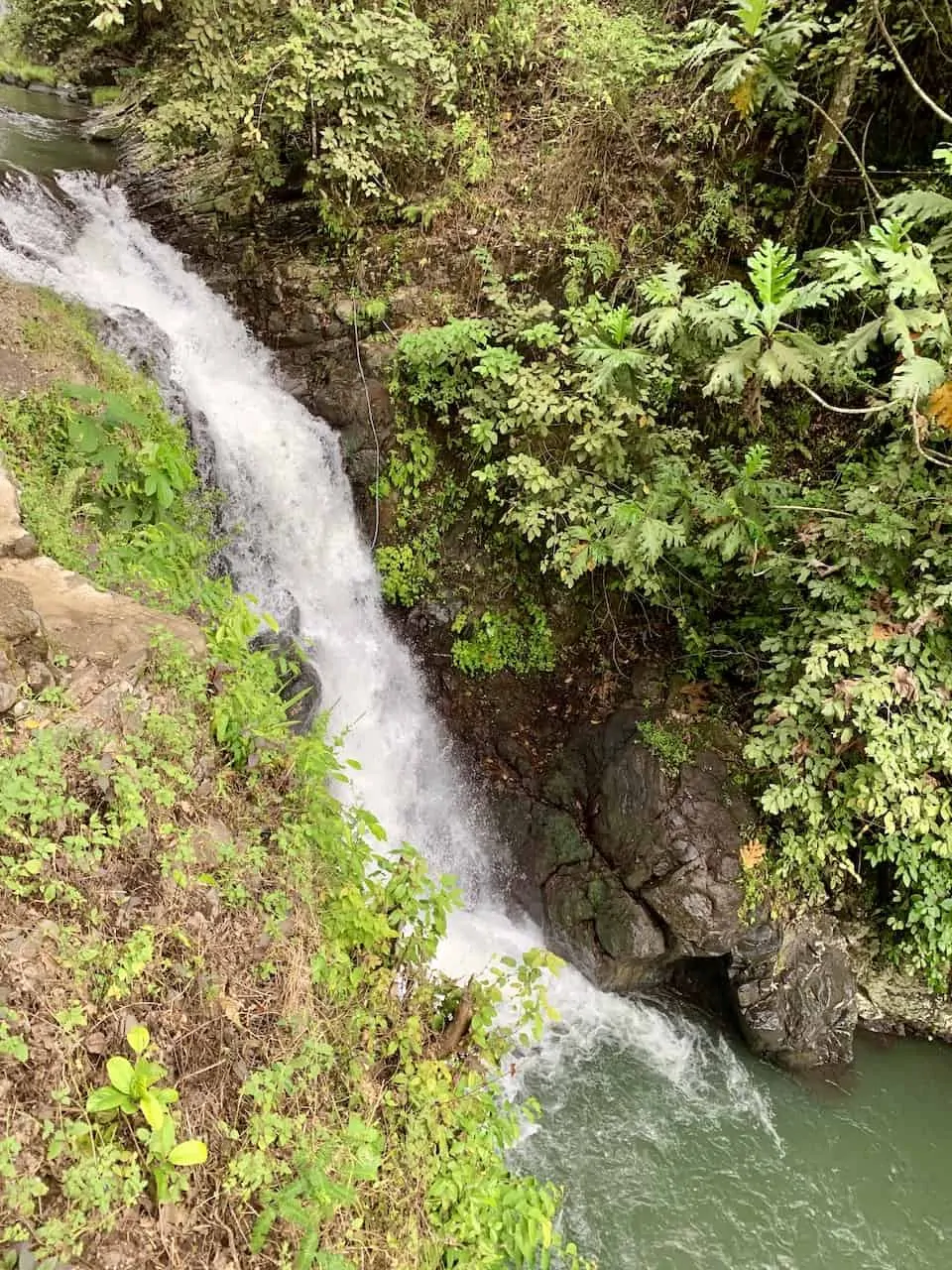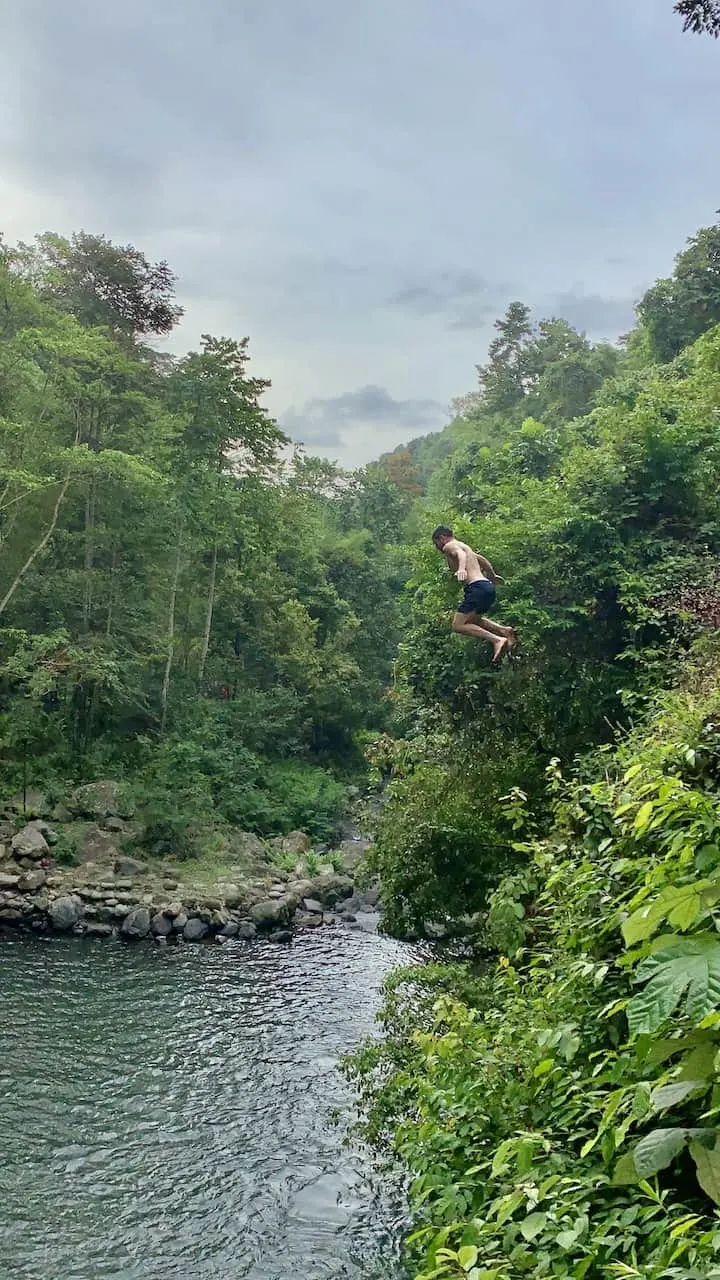 D. Aling Aling Waterfall
Now that you have gotten your adrenaline activities in for the day, it is time to head to the biggest waterfall of them all – Aling Aling Waterfall. The waterfall is just a quick 5 minute walk from the previous waterfall area.
At 115 feet tall you are not allowed to jump off of it. Aling Aling is actually known as a sacred place for locals and legend has it, this is where many Indonesians hid during the Dutch occupation of the country.
Feel free to enjoy the views from a far as you finish up a fun and exhilarating day exploring some of Bali's best waterfalls.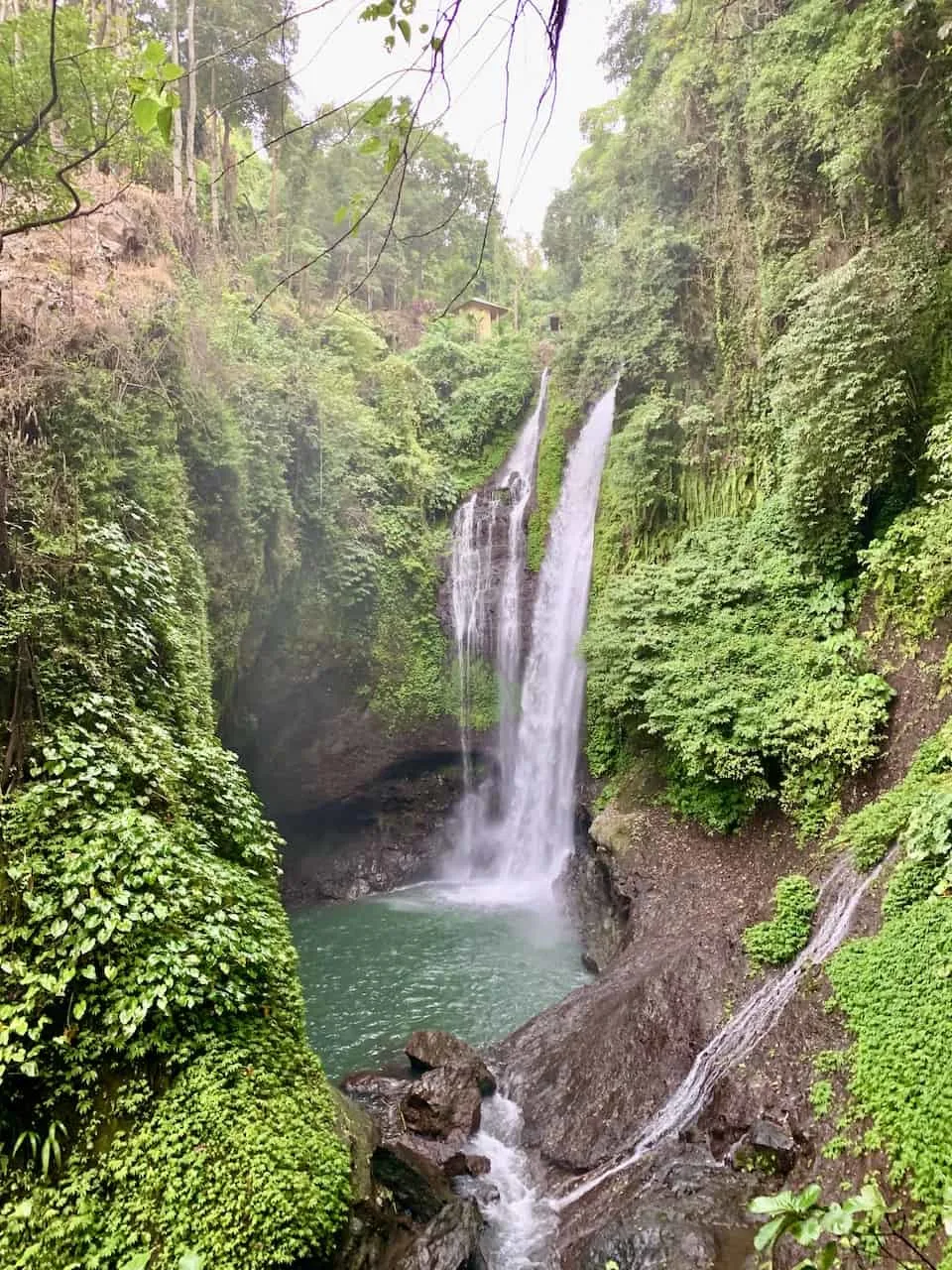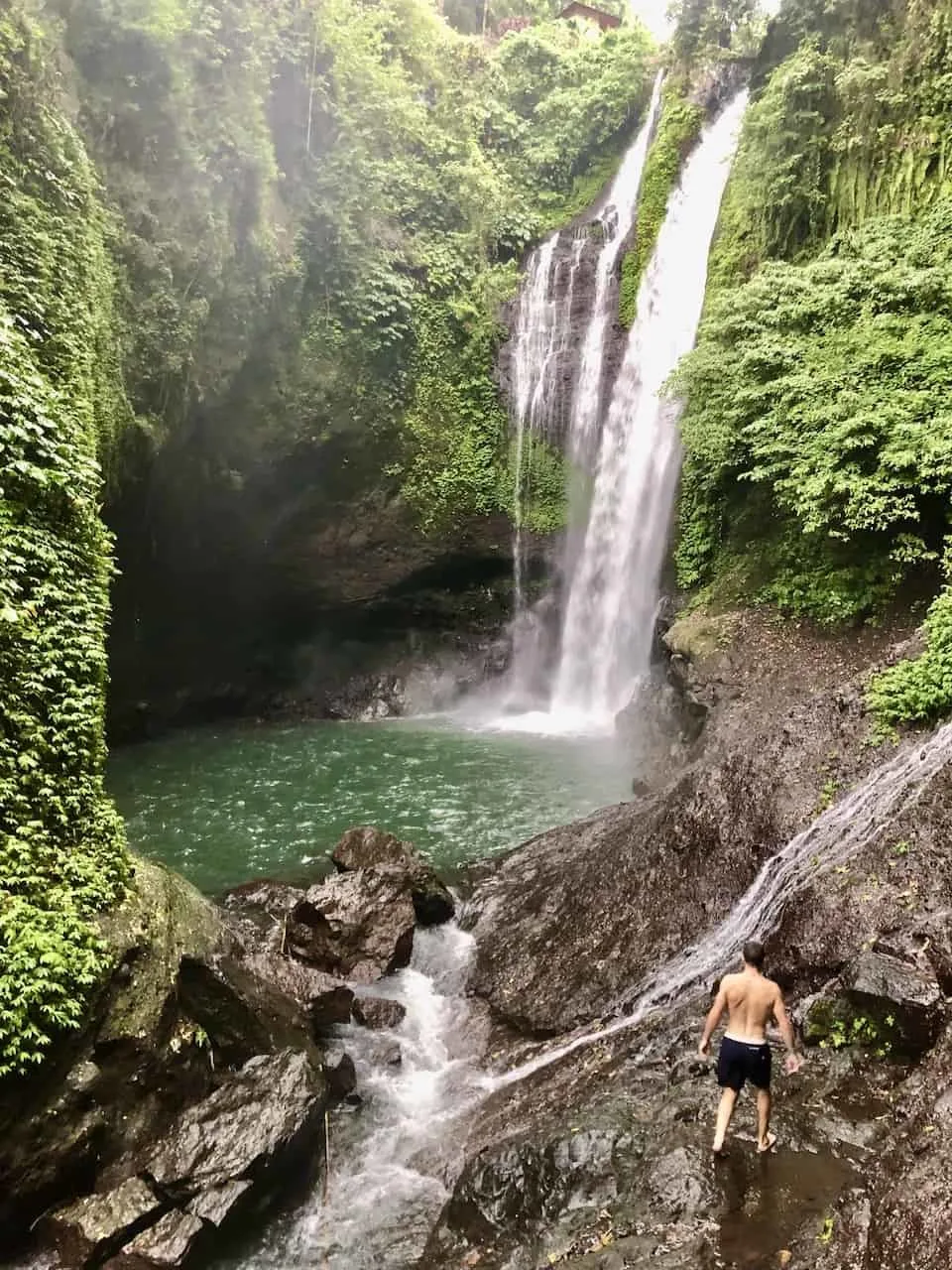 Once all done with the Aling Aling area, you can either head on off to your next waterfall or attraction for the day, or make your way back to your hotel. If you have the time definitely check out Sekumpul Waterfall and Banyumala Twin Waterfalls, which are located not too far away.
» The Sekumpul Waterfall Guide and Banyumala Twin Waterfalls Guide will talk a bit more about what to expect during a visit
» You can also check out the Munduk Waterfall Trek which visits four different waterfalls in the valley
That about wraps up a guide to the Aling Aling Waterfall. Be sure to check out the other Indonesia itineraries and guides up on the site and feel free to ask any questions below. Have fun out there and safe travels!