Bali is full of waterfalls all throughout the beautiful island. There is one waterfall (or should I say 3 waterfalls) that is arguably the best out of them all – Sekumpul Waterfall.
Not only will you find the double falls of Sekumpul, but you will also find the single Hidden Waterfall and the triple Fiji Waterfall. Spending a few hours trekking through the northern Bali jungle exploring these waterfalls is an experience you will not soon forget.
* Affiliate Disclosure: This post may contain affiliate links, which means I may receive a commission if you make a purchase through the links provided, at no additional cost to you. Thanks for supporting the work I put into TripTins!
1) Sekumpul Waterfall Facts
Below are some helpful facts about the waterfall to get you a bit more informed for your visit. The next sections will go over most of these in more detail:
Name: Sekumpul Waterfall
Additional Waterfalls: Hidden Waterfall & Fiji Waterfall
Location: Buleleng Regency
Parking Lot: Central Parking Sekumpul Waterfall/Start Point
Cost: $1.50, $9, or $15 depending on trek length
Duration: ~3 Hours for longest option
Difficulty: Easy/Medium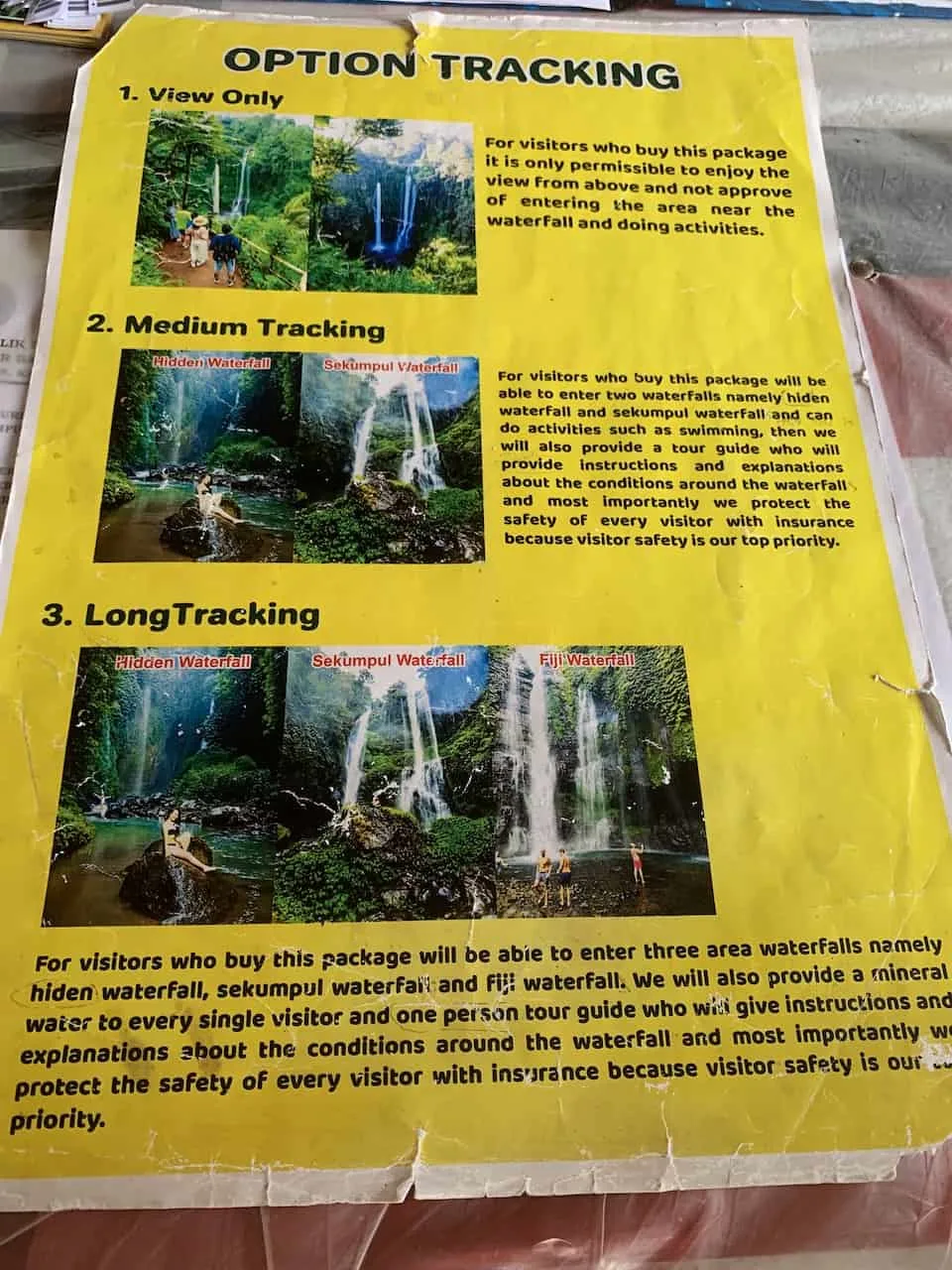 2) Where is Sekumpul Waterfall
The Sekumpul Waterfall along with the Hidden Waterfall and Fiji Waterfall are located in northern Bali about an hour drive away from the town of Munduk.
When searching for the waterfall parking lot on Google Map you may come across several different options. This is because there are many "fake" registration spots, where locals try and get you to purchase overpriced tickets (more on that soon).
For the official parking lot though, you will want to look for the one called "Central Parking Sekumpul Waterfall/Start Point" on Google Maps.
Below is the pinned location of the official parking lot where you will begin the trek to the waterfall as well as the viewpoint and three waterfalls for your reference.
3) How to Get to Sekumpul Waterfall
To get to Sekumpul, you will want to either hire a driver for the day to take you there or head off on a motorbike. It all depends whether or not you are confident enough to drive the Bali roads on your own.
Driver Hire: ~$40 – $50 per day
Scooter Hire: ~$5 – $10 per day (+gas)
While Munduk is one of the easier options to visit from as it is just less than an hour away, you can also base yourself in other areas as well. Below are the approximate driving times from some of the more major hubs in Bali.
Ubud: 2 Hours
Canggu: 2 Hours
Kuta: 2:15 Hours
Seminyak: 2:15 Hours
Uluwatu: 3 Hours
4) Sekumpul Waterfall Ticket Prices & Options
Unfortunately there are many locals running schemes in northern Bali on the roads leading up to the waterfall.
You will see several "checkpoints" where locals will try and stop you to purchase overpriced tickets to visit the waterfall.
GO PAST ALL OF THESE CHECKPOINTS AND DO NOT EVEN BOTHER STOPPING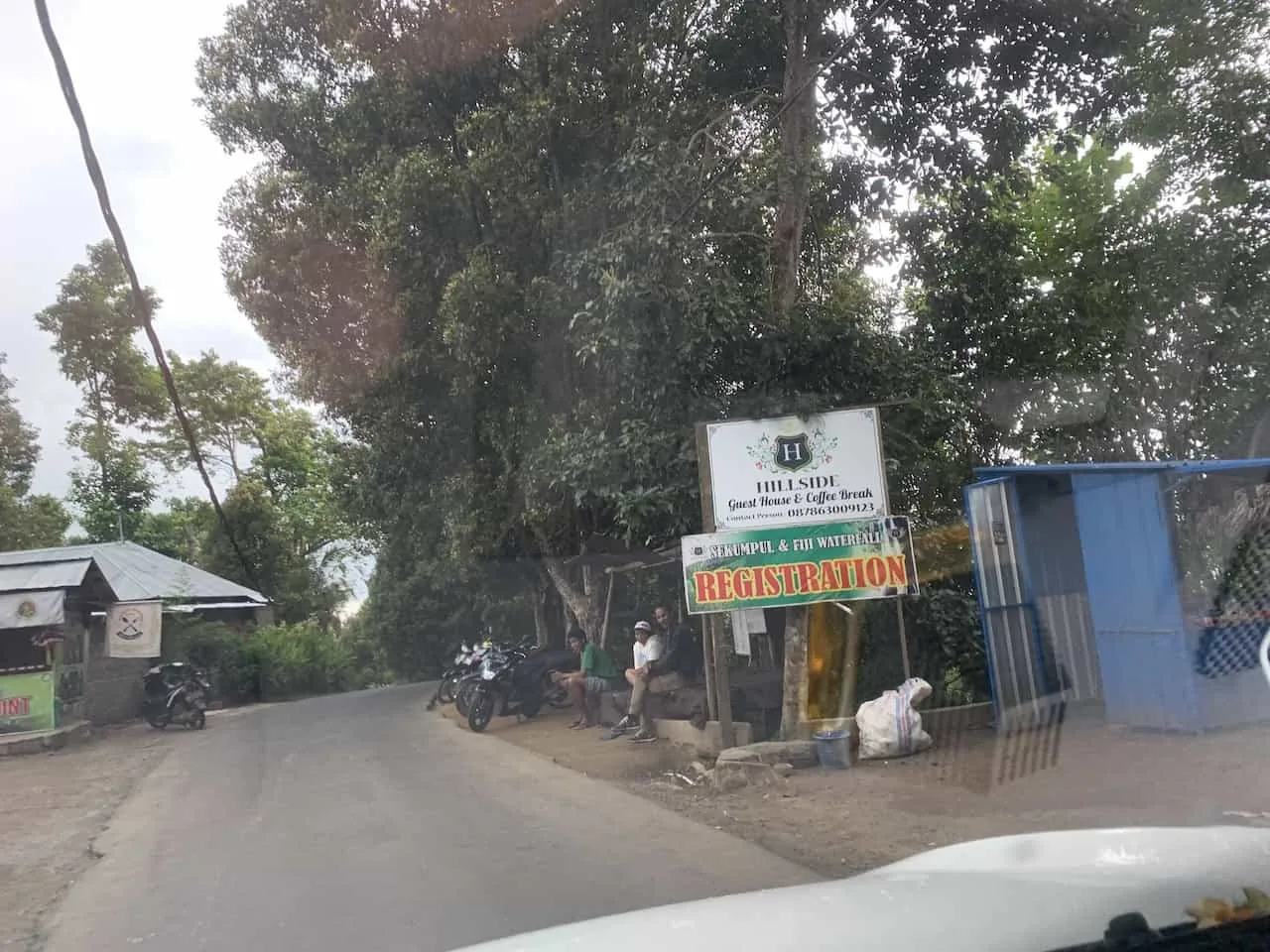 I have heard stories of people paying 2-3 times as much as they should have if they just went straight to the official waterfall parking lot.
With that said, once you reach the parking lot, there will be a tent where you can choose from 3 different options:
Option 1: Sekumpul Viewpoint Only (20.000 IDR / $1.50 USD)
Option 2: Sekumpul Viewpoint + Hidden Waterfall + Sekumpul Waterfall (125.000 IDR / $9 USD)
Option 3: Sekumpul Viewpoint + Hidden Waterfall + Sekumpul Waterfall + Fiji Waterfall (200.000 IDR / $15 USD)
Options 2 & 3 include a local guide & insurance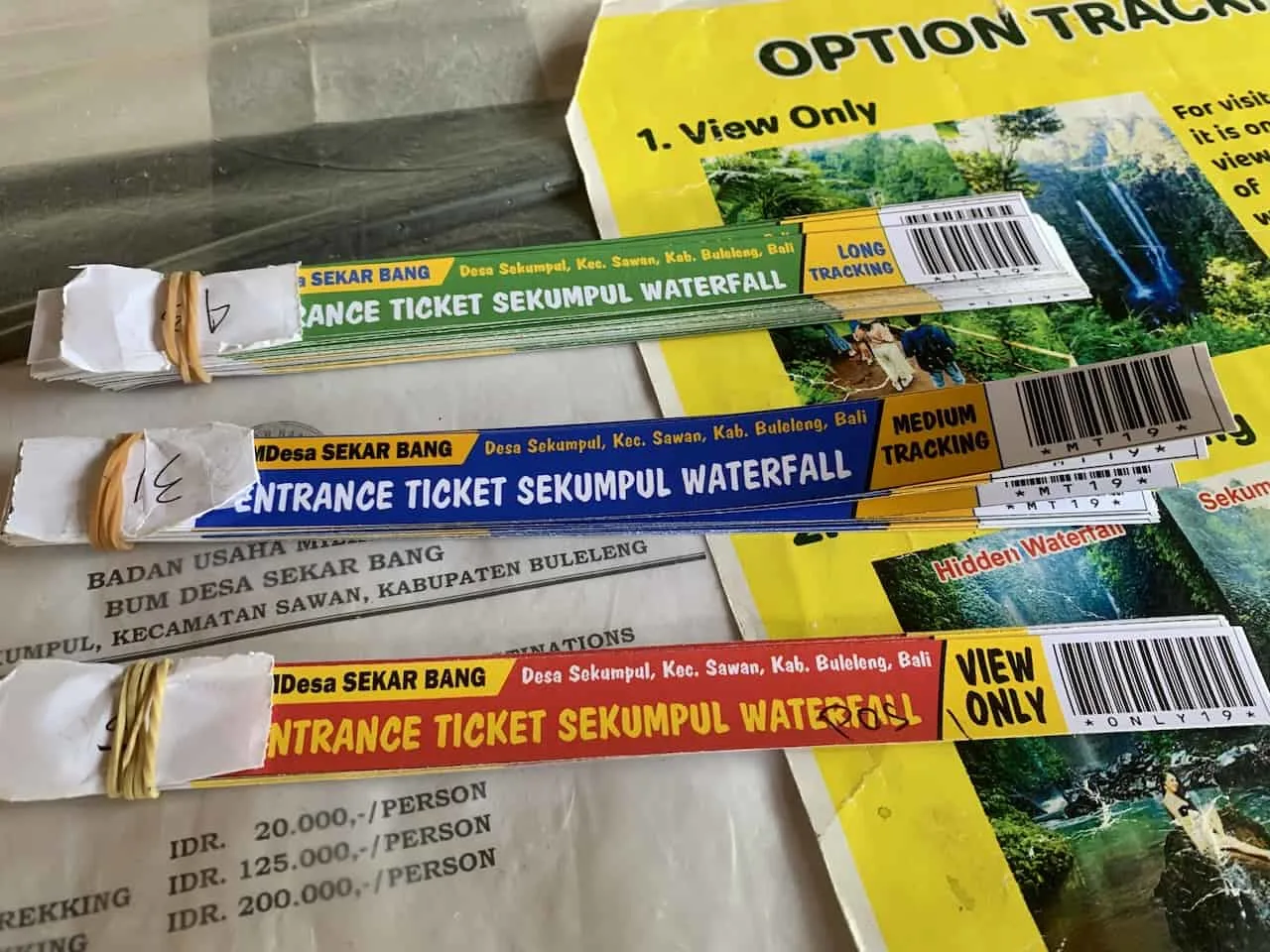 Don't think you can just sneak on by the viewpoint and head down to the waterfalls on your own. You will be given a wristband with a bar code that will get scanned at checkpoint stations making sure you have paid for the appropriate ticket.
If taking part of option 3, plan around 3 hours for your visit and possibly more depending on how long you spend at each waterfall.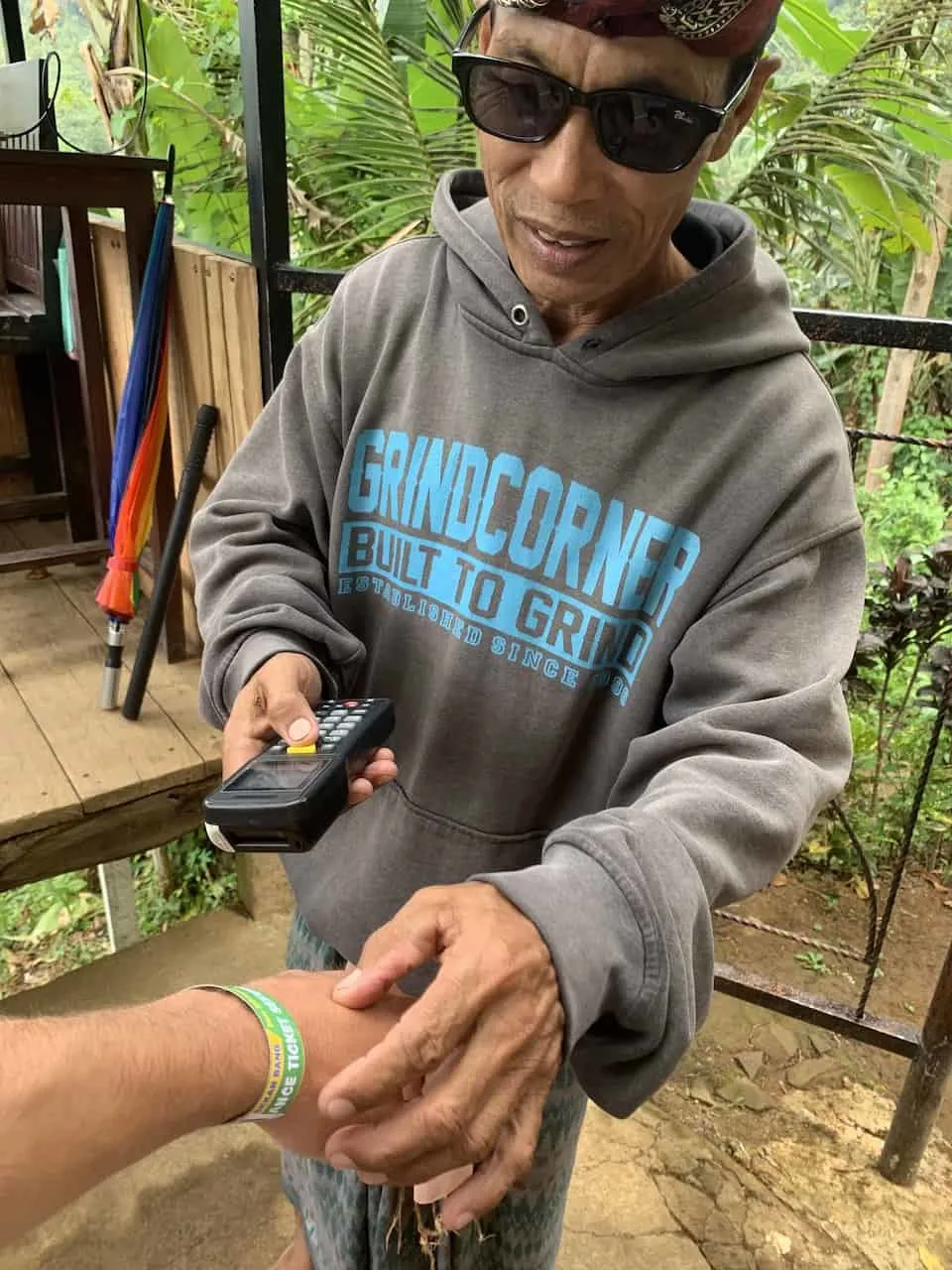 5) What to Bring on the Trek
This is not just a simple stop and see the waterfall type of place (unless you just opt for Option 1). You will actually be hiking around for a few hours as you make your way down to first waterfall and then around the river to the next two. I would recommend bringing the following items:
Dry Bag: You will be getting pretty close to the waterfalls and your belongings can easily get wet. Bringing along a waterproof bag will protect your stuff from any potential water. » Take a look at this Earth Park Dry Bag to hold your belongings.
Waterproof Shoes / Sandals: Along those lines, you will want to wear footwear that is both comfortable and waterproof. If you wear regular sneakers, then plan on those needing some time to dry off afterwards. There are areas where you may have to cross a shallow river or get closer to the waterfalls. » A solid pair of Tevas for example or Keen sandals are good options.
GoPro: You can actually swim in the pools below the waterfall. Bringing along a GoPro to capture the footage of being in the water will not disappoint. » Check out the GoPro Hero for your travels.
Bathing Suit: Wearing something that can get wet will be a good idea either way as the waterfalls can spray their water on you when you get close to them.
Quick Dry Towel: I always like to bring along a quick dry towel to dry off during days like this. Since you can jump into the water, it is always nice to get yourself dry before continuing the trek. » This Rainleaf microfiber quick dry towel has been my go to when it comes to traveling.
Tips: Don't forget to tip your local guide! They work hard and a few dollars can go a long way for them.
6) Sekumpul Waterfall Viewpoint
After parking your car/scooter, buying your tickets, and meeting your guide, you will begin the descent down the valley towards the waterfalls.
The path will be an easy paved walkway to the Sekumpul Waterfall viewpoint and it should take you about 20 minutes to reach that point.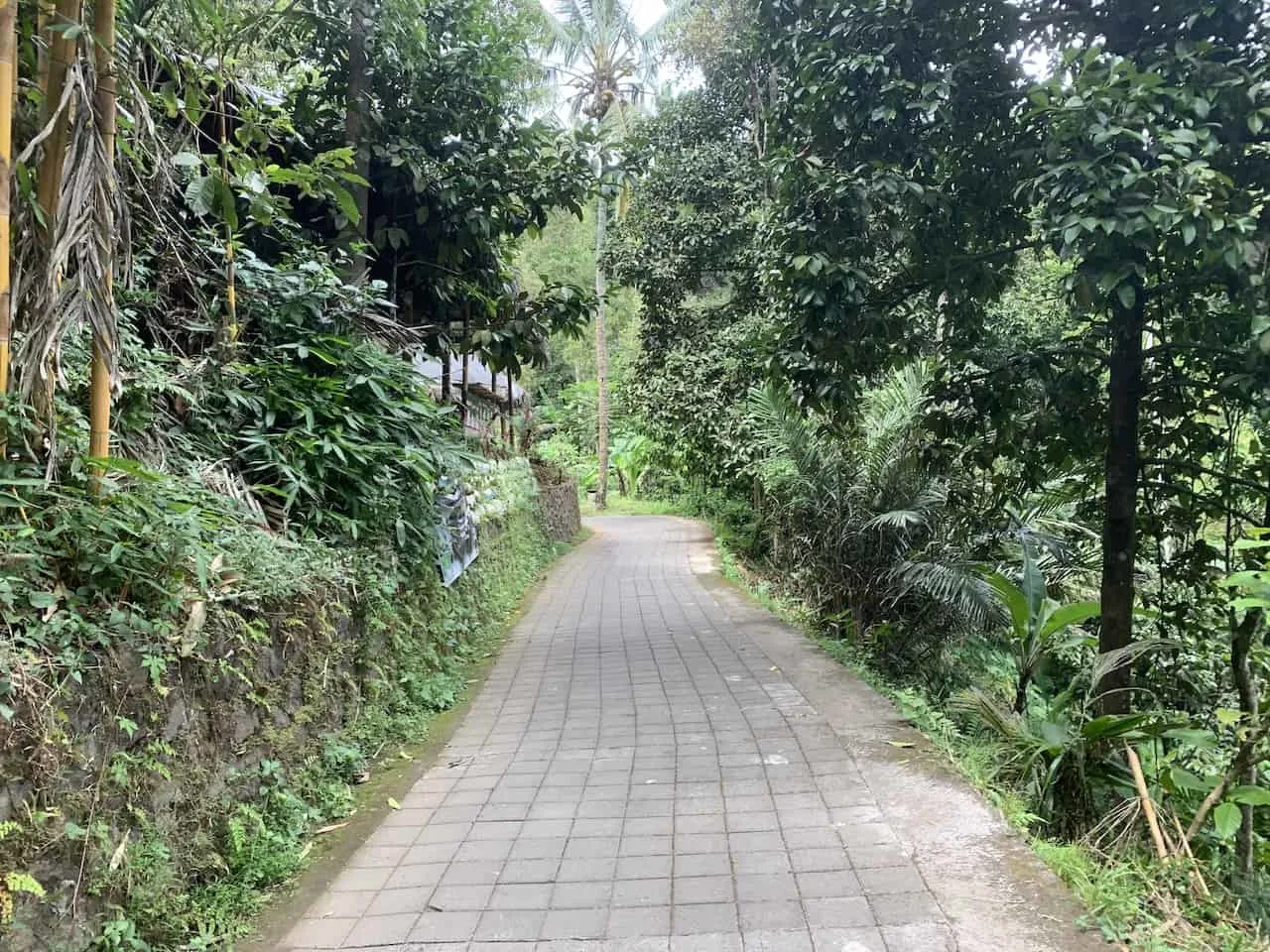 From the viewpoint you will not only be able to see Sekumpul close down below, but you will also be able to see one of the waterfalls that make up the triple Fiji Waterfall, which you will be visiting later on, given you purchased the Option 3 package.
At the viewpoint you will come across one of the checkpoints, where they will scan your wristband before you head down further into the valley.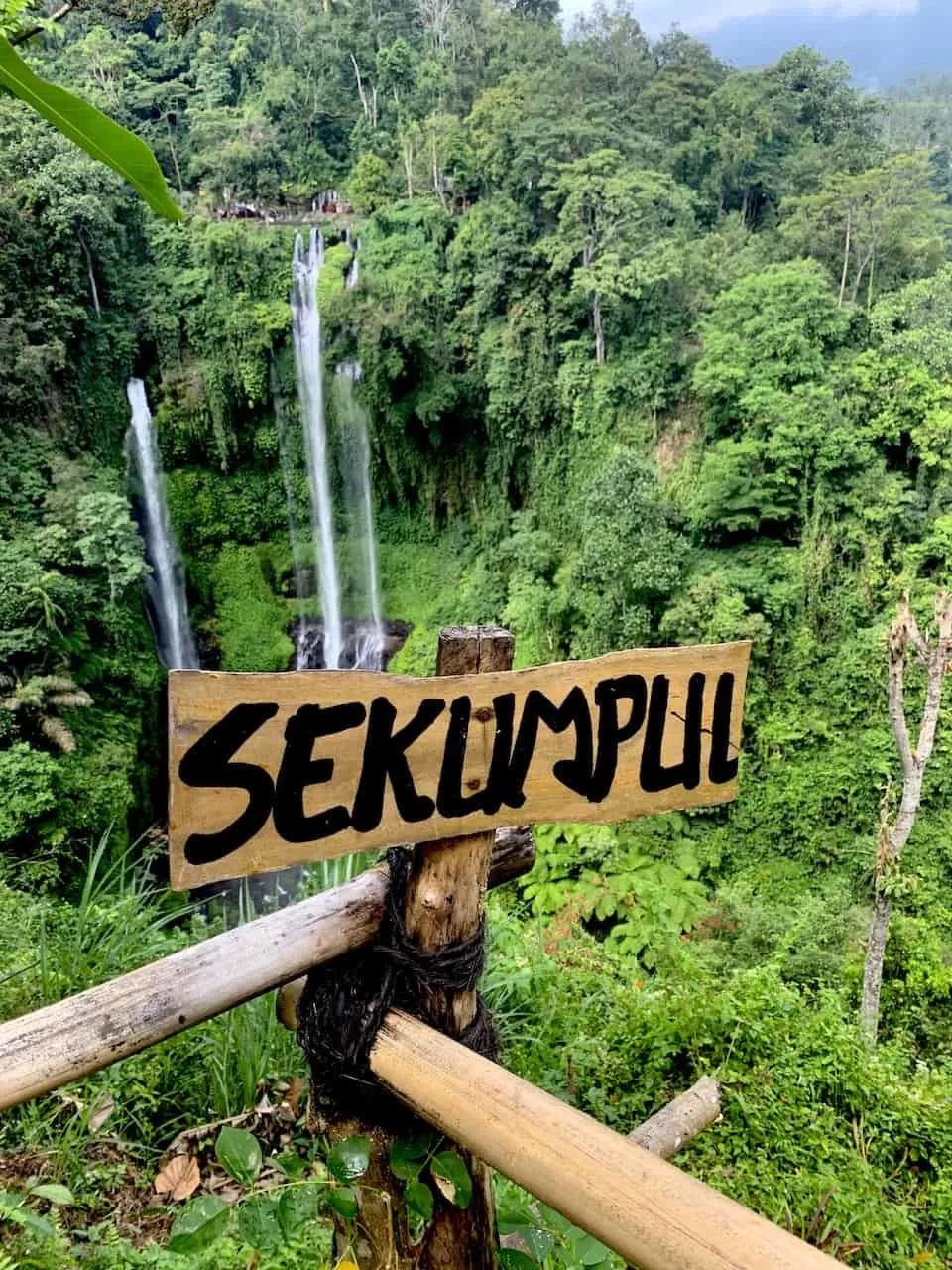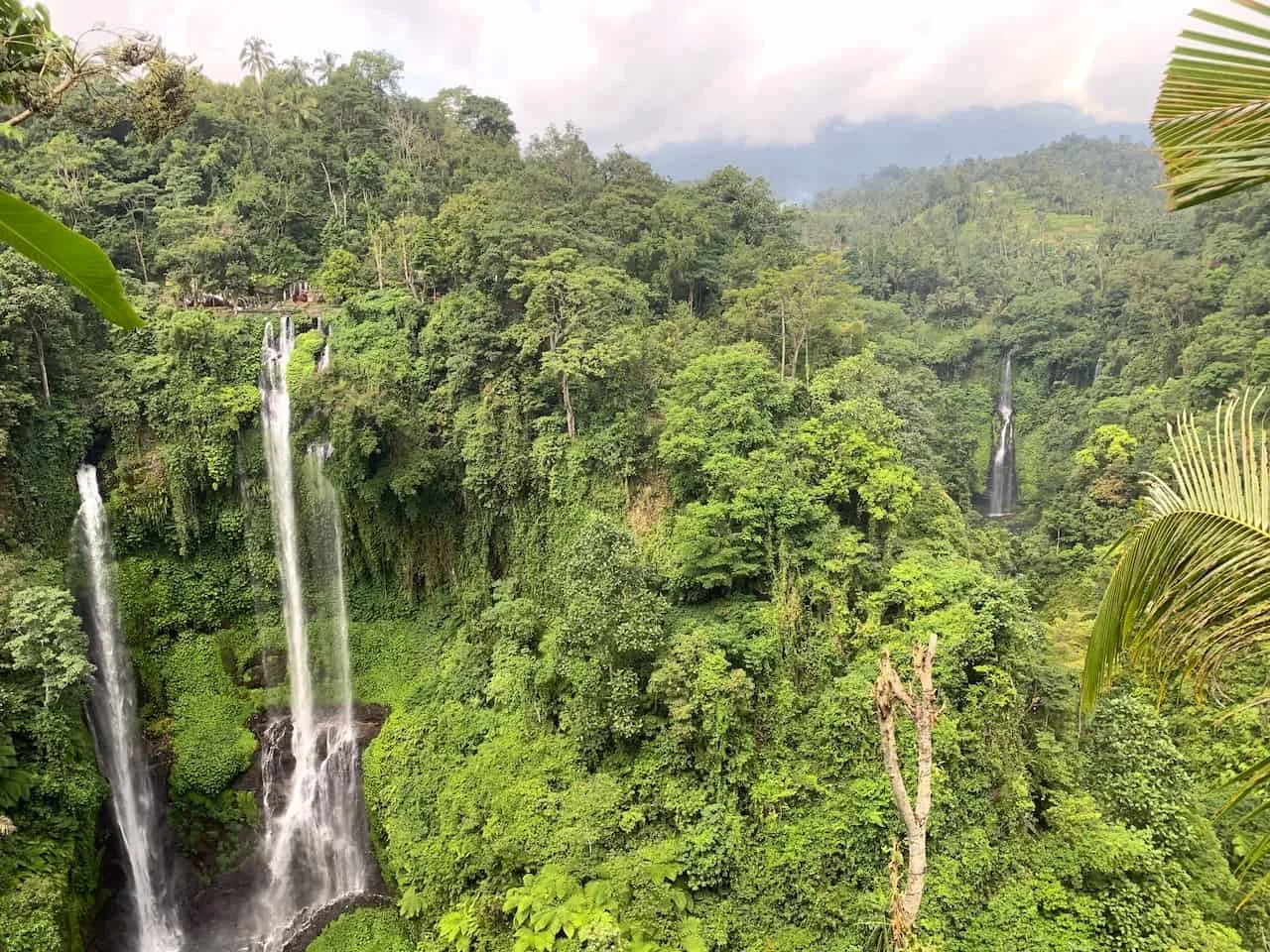 7) Hidden Waterfall
Once all finished up at the viewpoint, continue down the staircase towards the first waterfall – the Hidden Waterfall.
You will also have some more views of Sekumpul as you make your way down to the valley floor. After about 10 minutes or so of walking you will reach the waterfall hidden between valley walls.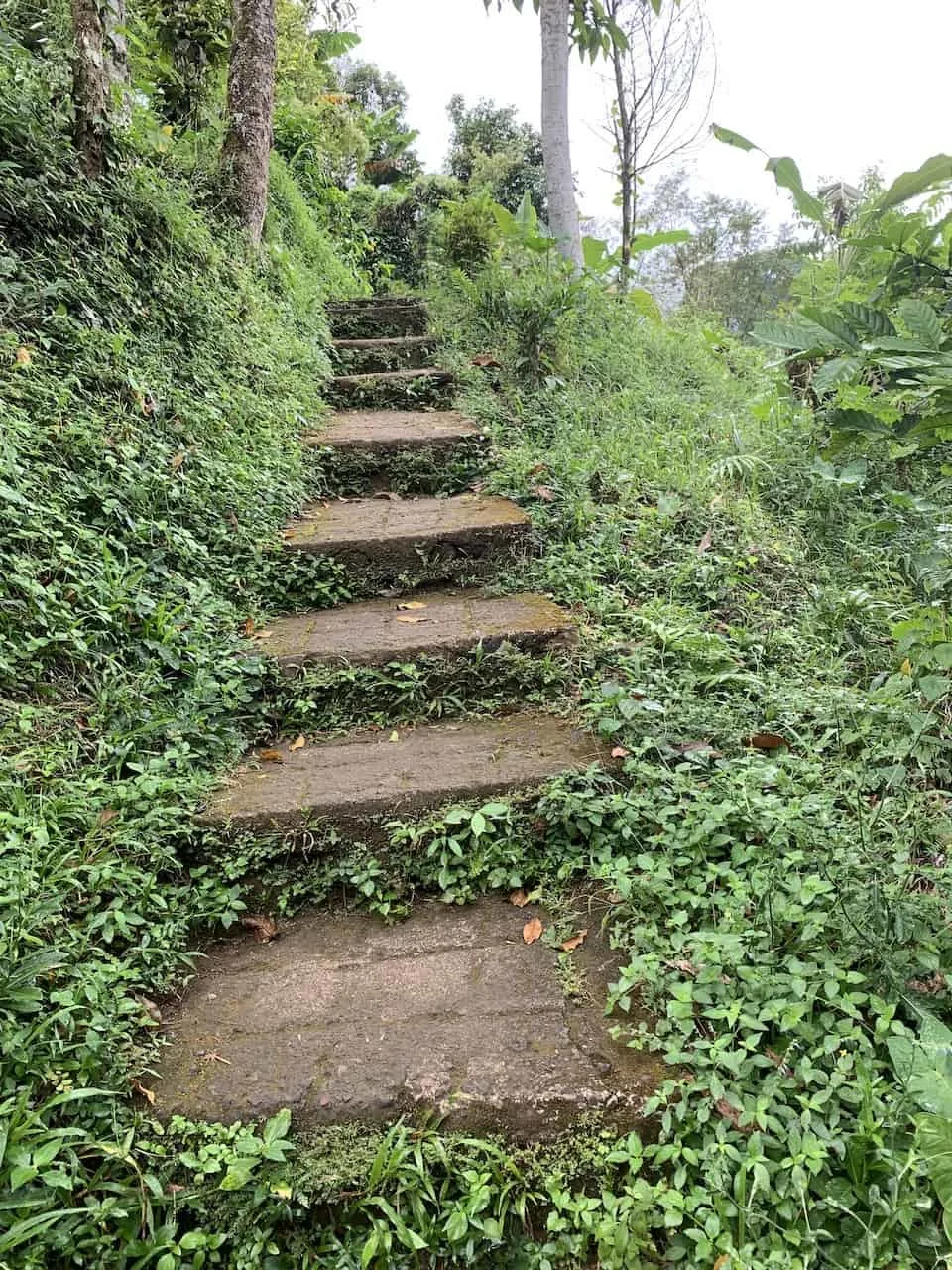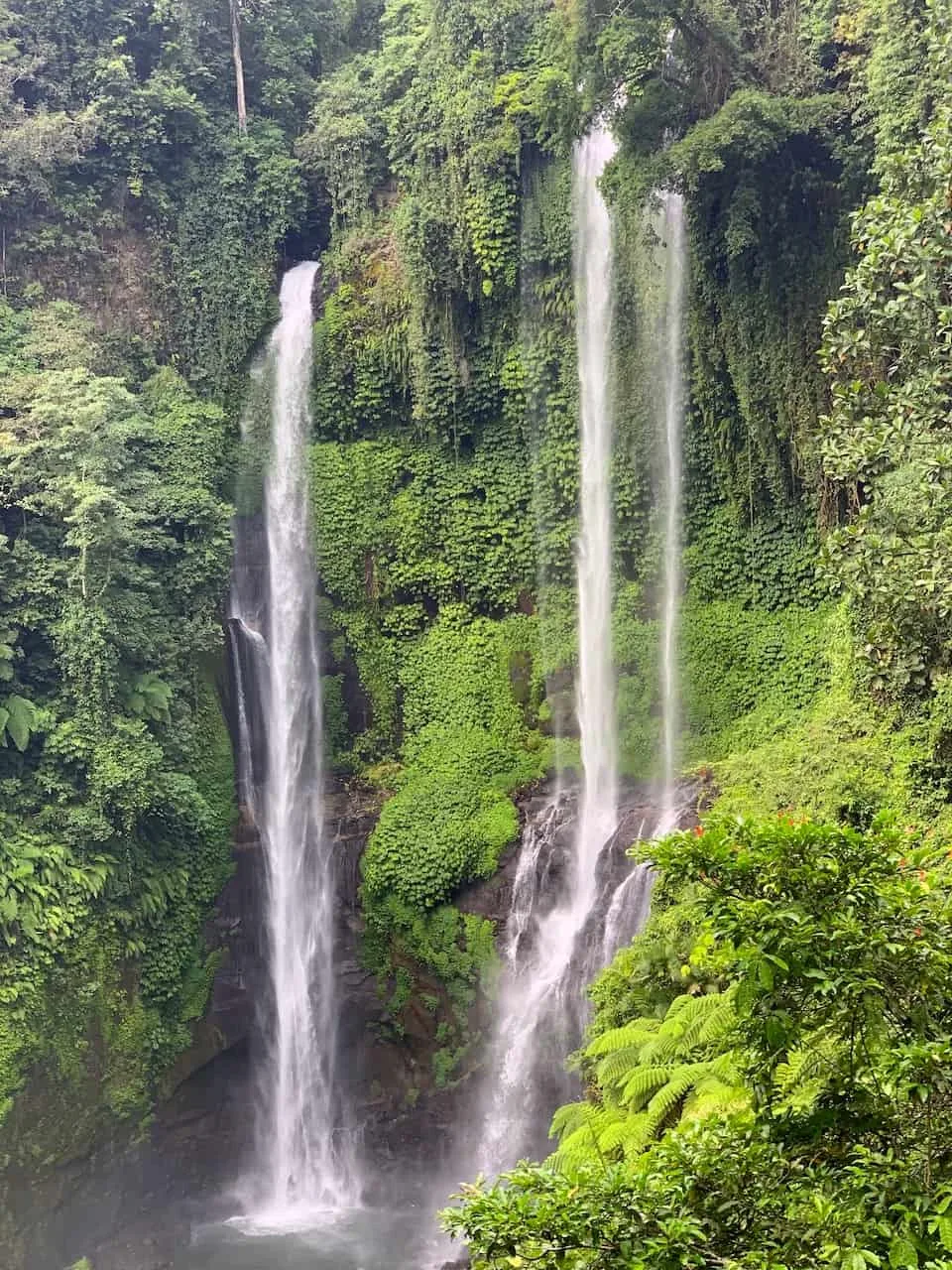 It is a pretty simple waterfall but it still is a very picturesque one to take in. If you are up for a swim, there is a great pool underneath the falls to enjoy and cool down in.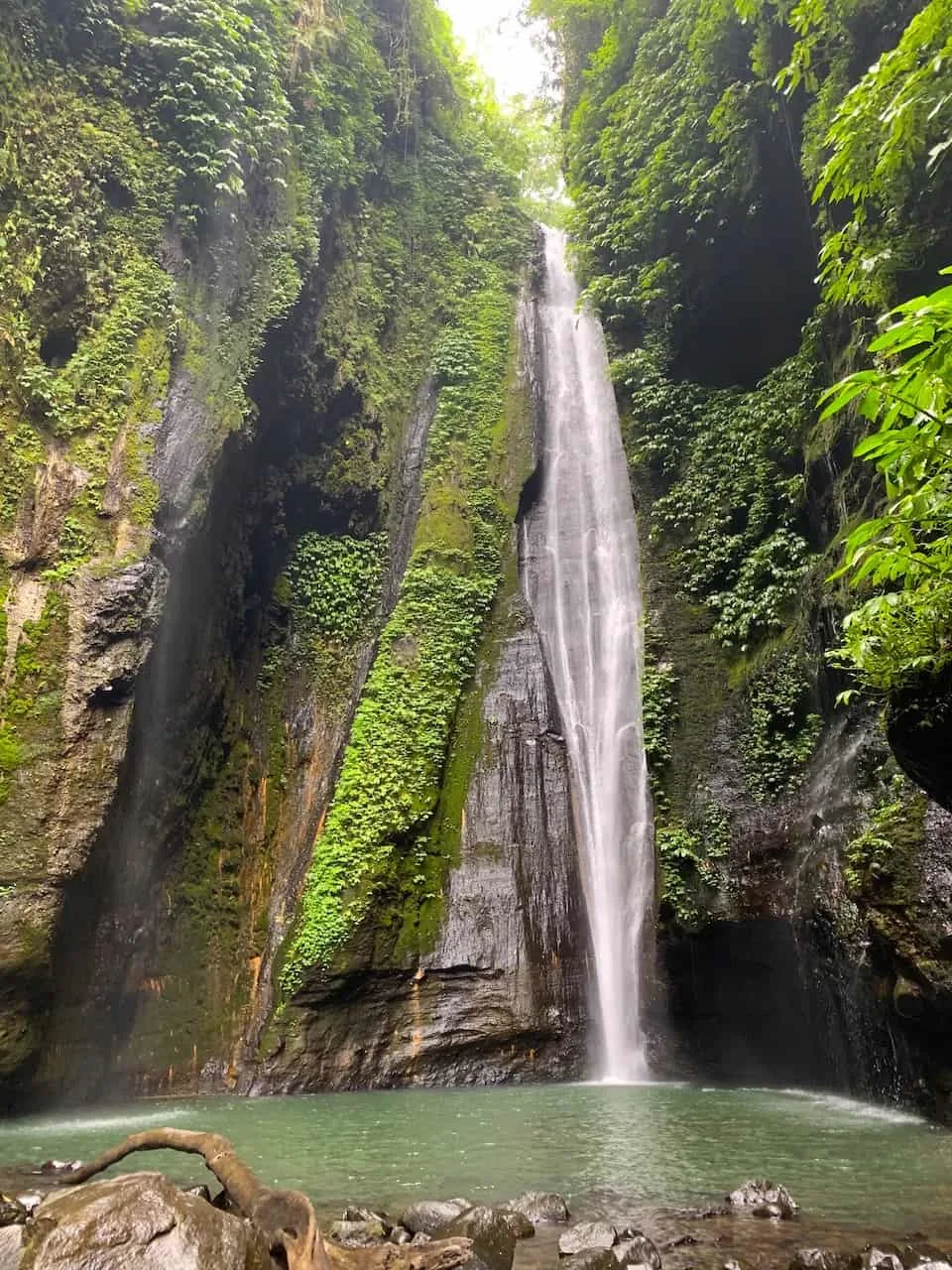 8) Sekumpul Waterfall
It is now time for the main attraction of the day – the Sekumpul Waterfall. Located just a few minutes away, is this massive double waterfall.
As you approach the waterfall, you will get to take in some views from a far. One of the best picture opportunities is on top of the large rock in front of the falls. Be careful though as it can get slippery!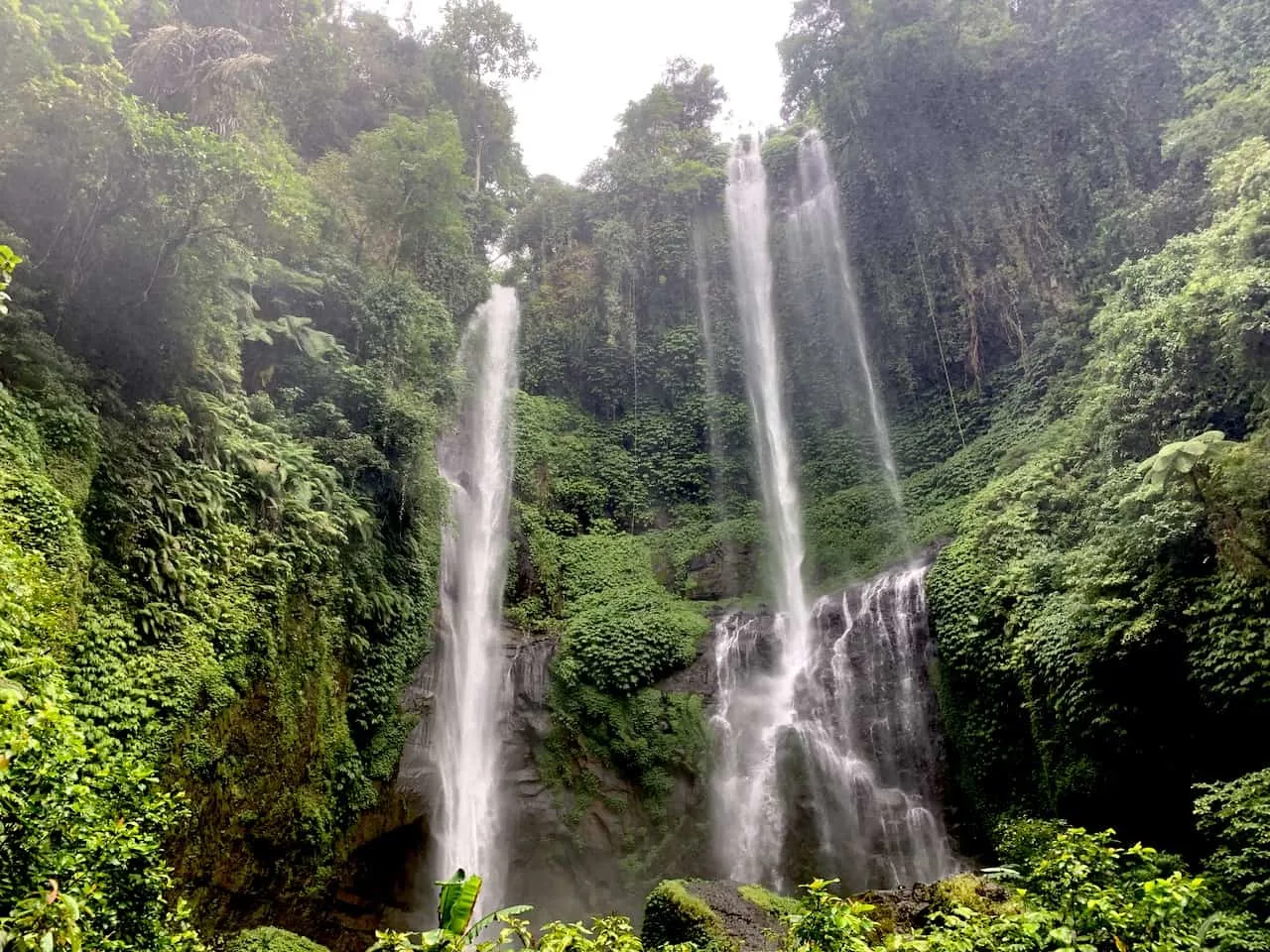 Once you have finished up taking in the views, head on closer to the waterfall itself and feel free to jump in the pools at the bottom of the falls too.
You will feel the sheer force of the water coming down from above as it creates waves pushing you back from the falls. Believe me, the exhilaration is worth it!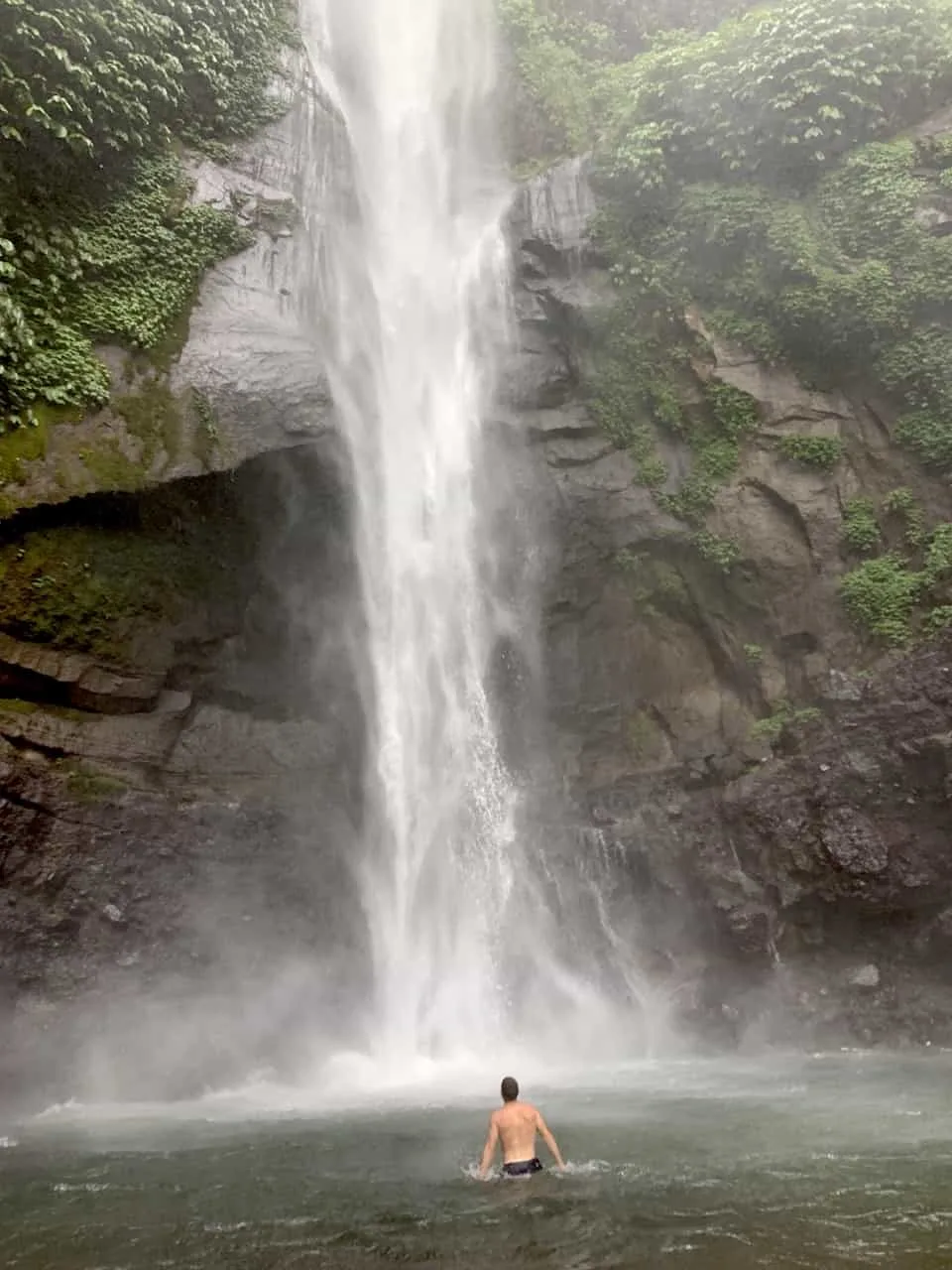 9) Fiji Waterfall
After enough time enjoying Sekumpul, it is another short journey around the valley to the last of the waterfalls – Fiji Waterfall. During this portion expect your footwear to get quite wet as you will be making some shallow river crossings. Just be careful of your step here as it can get quite slippery.
The Fiji waterfall is unique in that it offers three waterfalls to enjoy from one vantage point. Not many waterfalls in Bali can offer the same experience.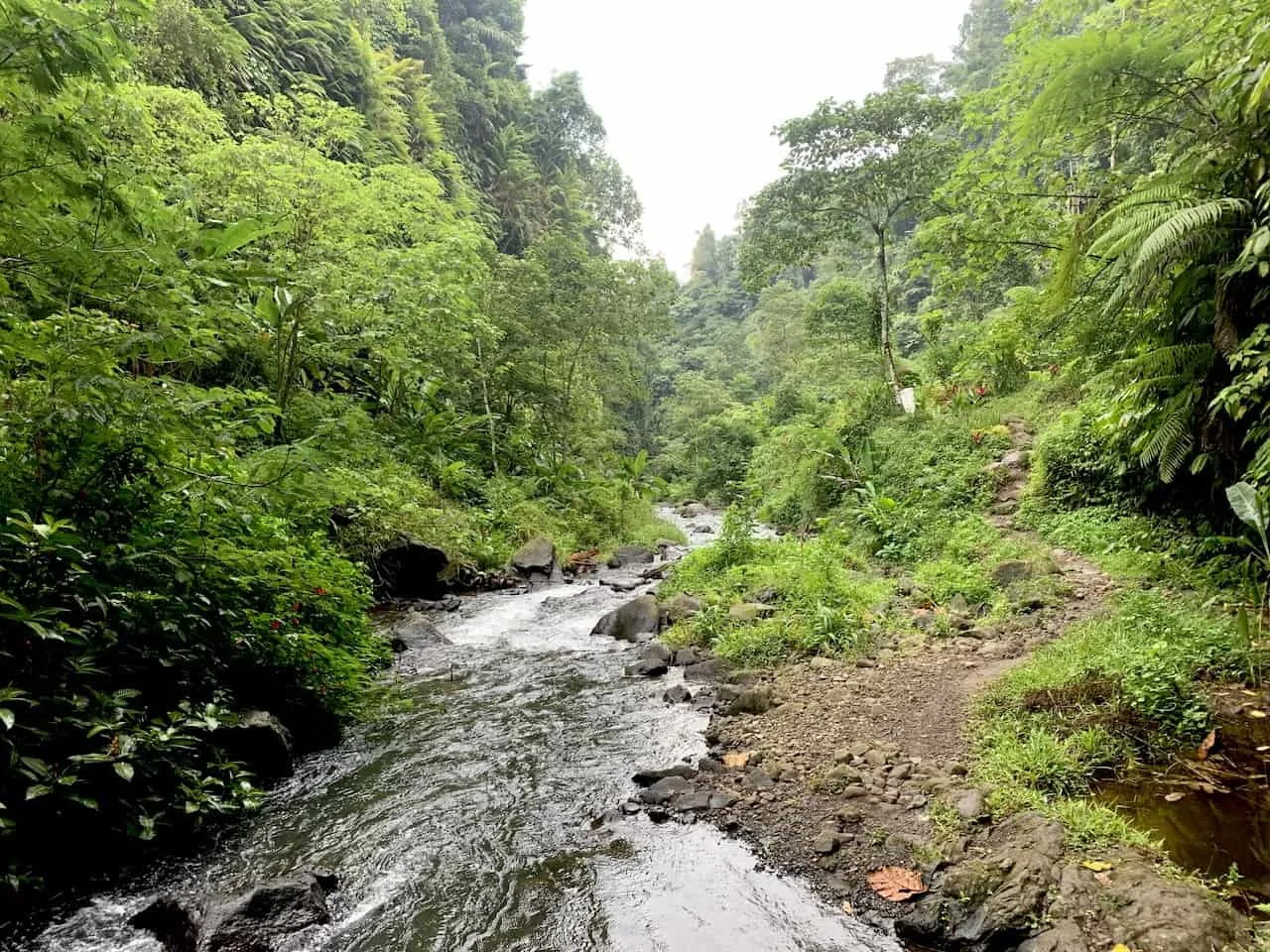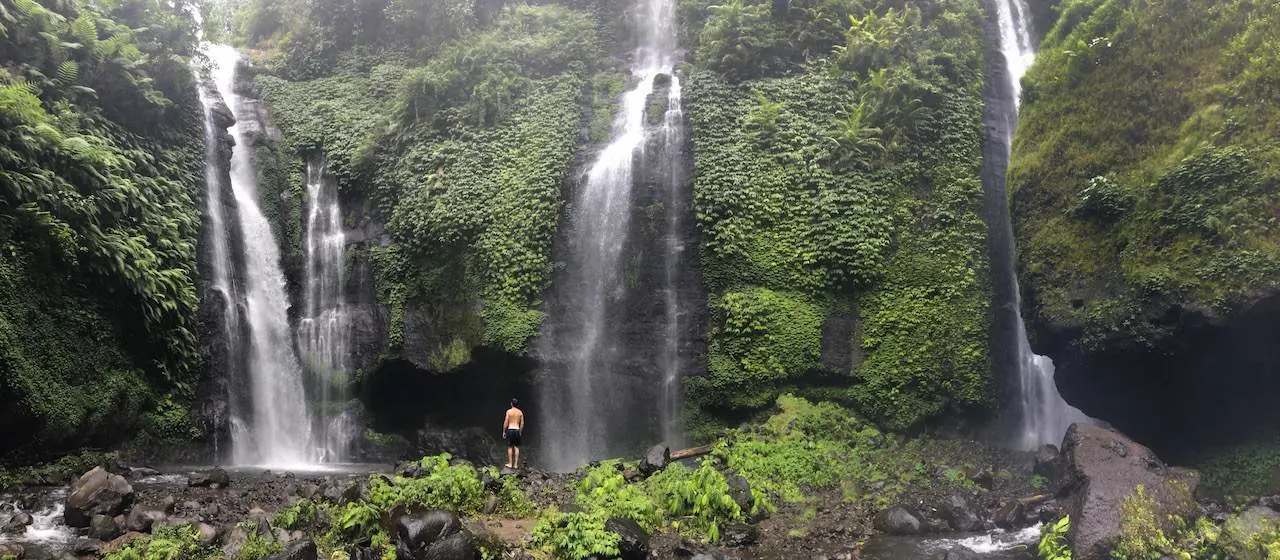 Once again you will have the chance to head on in for a swim underneath the falls if you are up for another. The middle waterfall here is not that strong, so you are really able to get right under it.
While it may sting a little, it is all part of the experience. This will be the last stop of the day so if you haven't gone in yet then now is the time.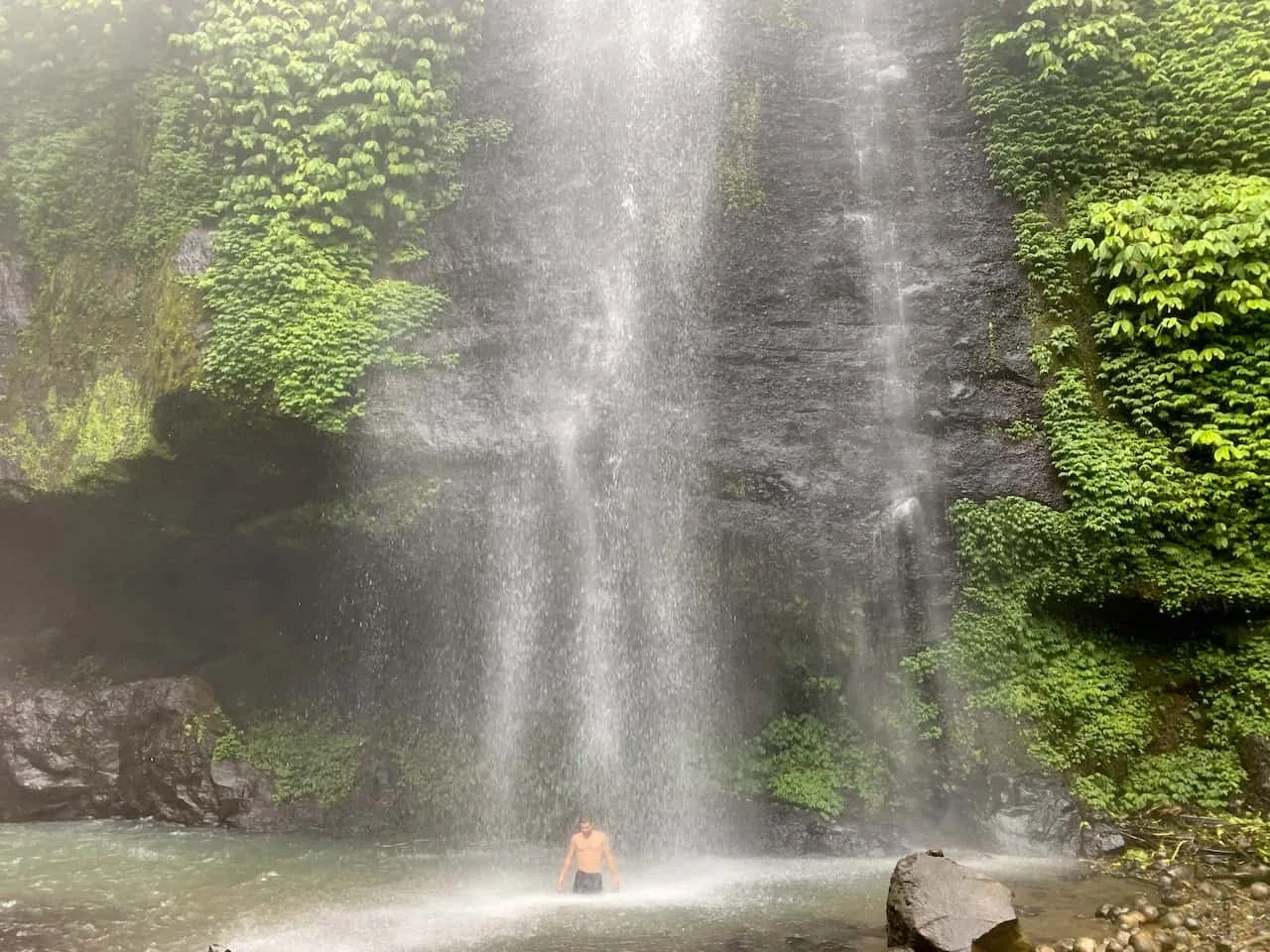 When you leave from the Fiji Waterfall, you will actually take a different path out of the valley. If there is availability, you may be able to get a ride on a motorbike that takes you most of the way up. If not, you will need to climb back out of the valley and back to the starting point.
Overall you should leave around 3 hours or so to take part of the round trip trek and fully enjoy Sekumpul Waterfall alongside Hidden and Fiji Waterfalls too.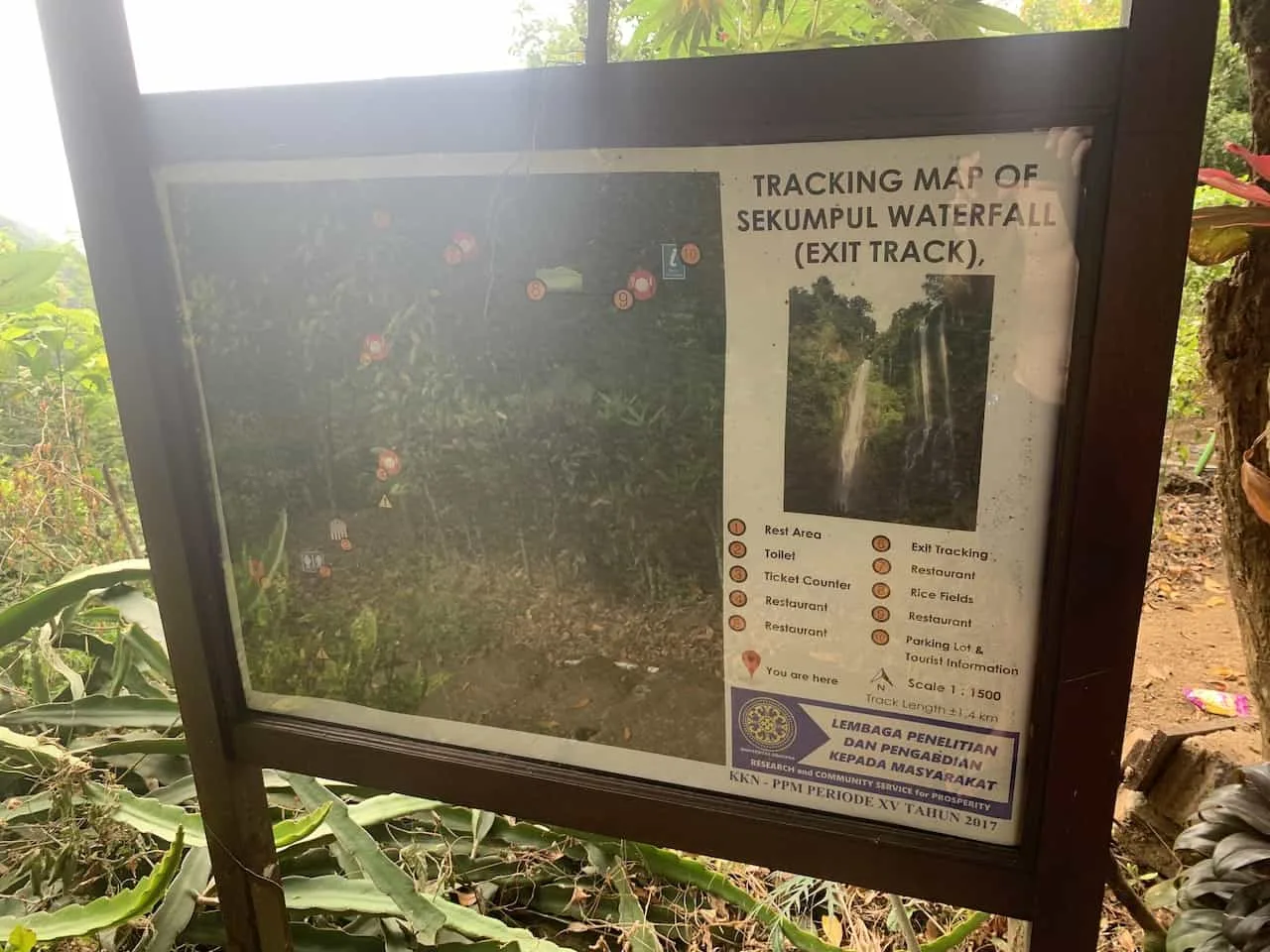 10) Where to Stay in Munduk
When I visited Sekumpul, I based myself in Munduk for a few days to more easily enjoy northern Bali.
Beyond Sekumpul there are several other waterfalls and attractions to visit so spending a couple days up in the jungle is a great add on to a Bali itinerary.
Below are some of the top options to choose from in the area based on budget:
Budget: Bali Bening and Umah De Madya
Mid Tier: Villa Dua Bintang and Lesong Hotel
Luxury: Munduk Moding Plantation and Munduk Menir Villas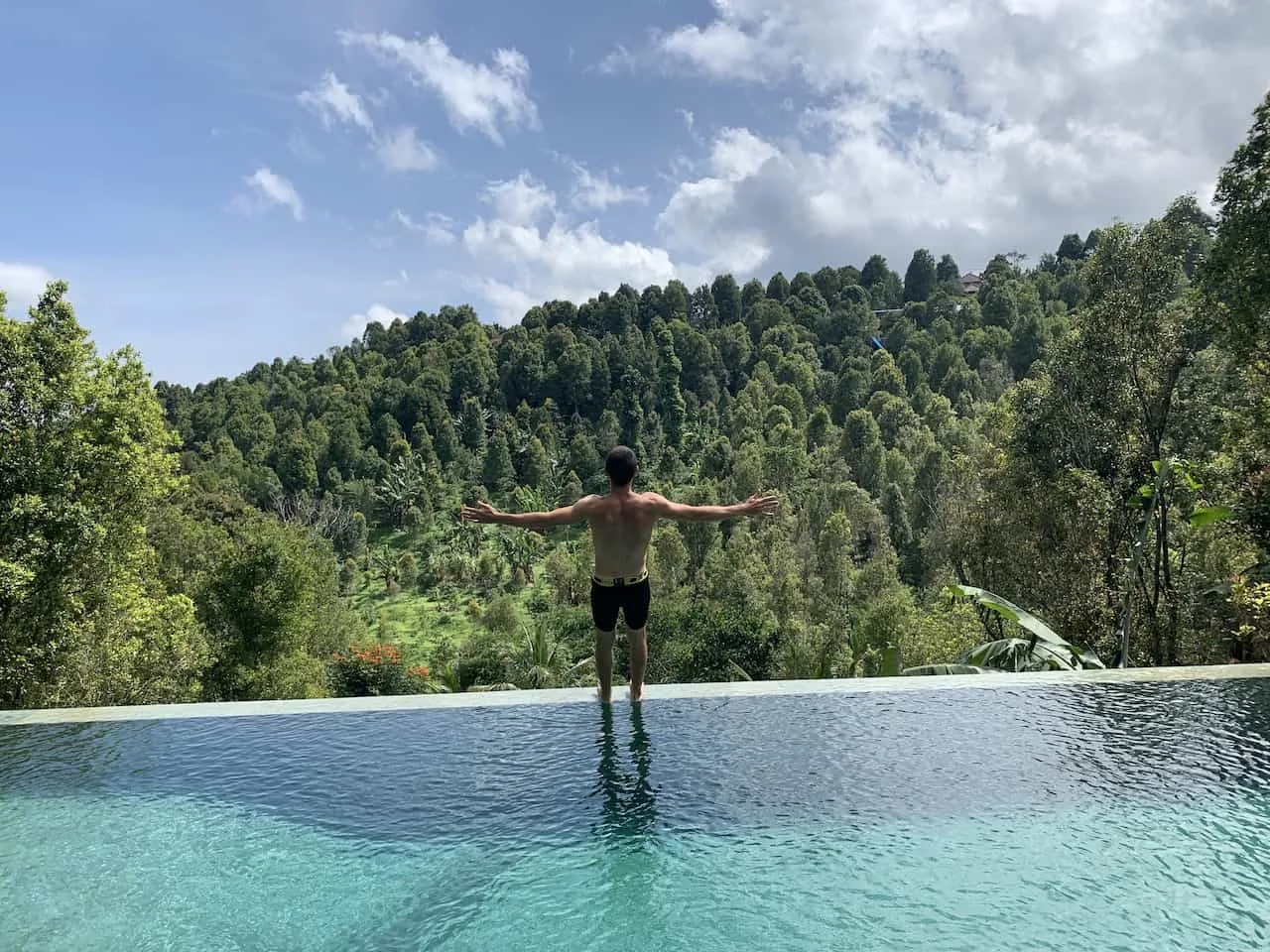 That about does it for a guide to Sekumpul Waterfall! I hope it has better helped you plan your trip to the waterfall and has answered any questions or concerns you may have had. If you are up for another Bali experience, check out the Aling Aling Waterfall and Banyumala Twin Waterfalls too!
Be sure to take a look at the other Indonesia itineraries and guides up on the site and feel free to ask any questions below.
If you are headed to Java be sure to check out some highlights there including the Goa Jomblang Cave, Yogyakarta Temples, Mount Bromo, and Tumpak Sewu Waterfall.
Have fun out there and safe travels!