When it comes to viewpoints, there are few out there that can compete with the one overlooking a Mount Bromo sunrise in Java, Indonesia. But there is much more to the day than just sunrise!
This guide will give you everything you need to know to take part of a Mount Bromo experience – from the hike up King Kong Hill and the sunrise viewpoints to the journey down into the Sea of Sand and the trek to the Mount Bromo crater rim. If you are looking to head to Bromo, you have come to the right place.
* Affiliate Disclosure: This post may contain affiliate links, which means I may receive a commission if you make a purchase through the links provided, at no additional cost to you. Thanks for supporting the work I put into TripTins!
1) Mount Bromo Overview
When you read about the Mount Bromo area, it is not necessarily just one volcano that you are reading about. Rather Mount Bromo is located within the larger Bromo Tengger Semeru National Park, which is home to several other volcanoes that create an incredible vast landscape.
So when you hear the word Bromo – think the National Park, not just the volcano .
Below is an image of the Bromo Tengger Semeru National Park area. You can see that there are actually several different volcanoes/craters within the larger crater itself – Bromo, Batok, Kursi, Watangan, and Widodaren (as well as Semeru further out in the distance).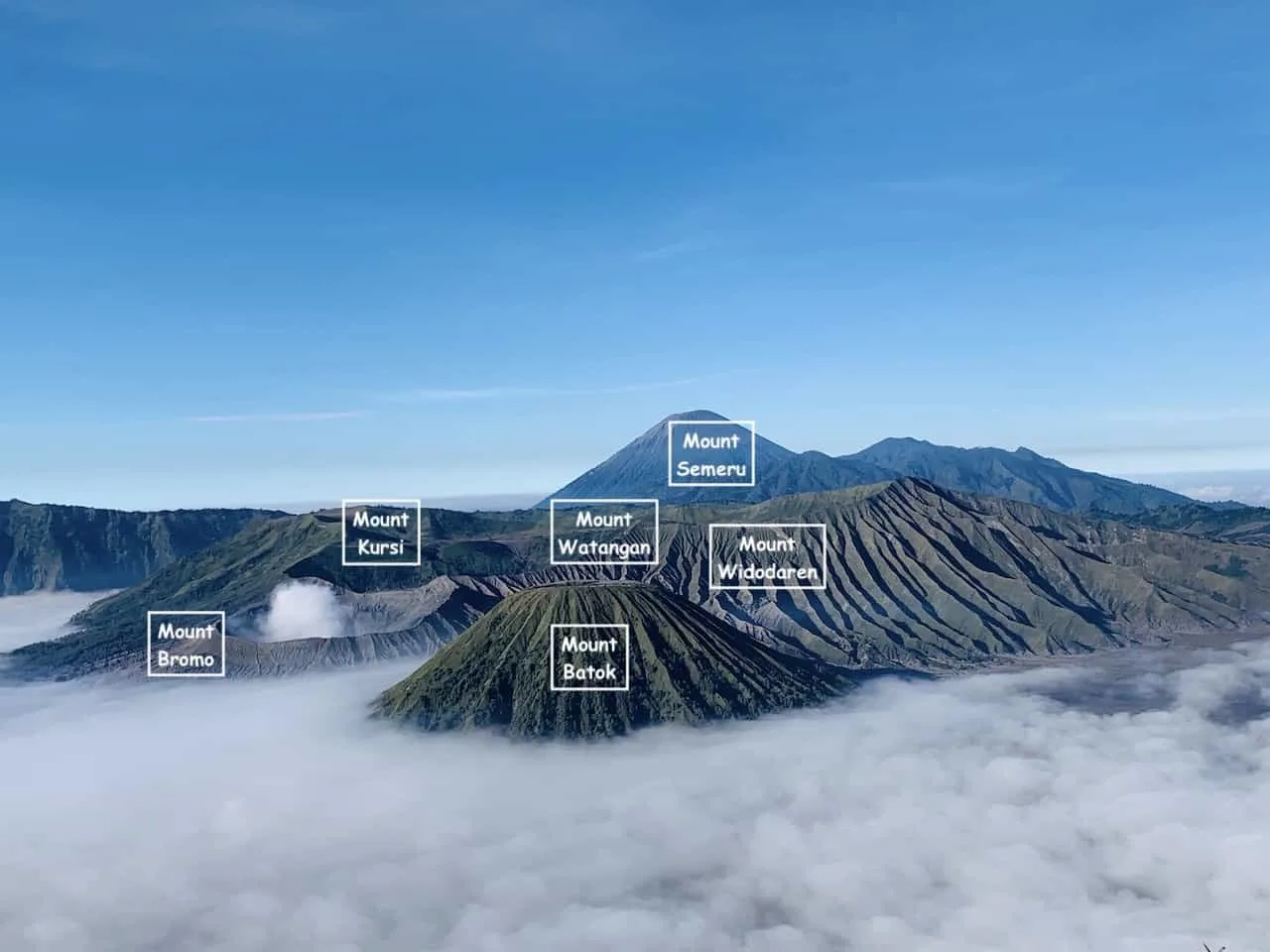 A day visiting the Mount Bromo area is not just a hike up Bromo itself. There is much more to a day than just the crater.
You have the chance to hike up to some sunrise viewpoints overlooking the National Park, walk through (or bike/jeep through) the Sea of Sand, and climb to the edge of the Mount Bromo crater.
This guide will go over everything you need to know on how to take part of a day here, and not just about how to hike Mount Bromo.
Note that while there are a TON of companies offering Mount Bromo tours, you are able to do everything on your own. I will speak through all of that and more throughout the guide.
⇒ Take part of a trip to Mount Bromo as part of a longer 7 Day Java Itinerary
2) Where to Stay Near Mount Bromo
There are two main places you can choose to stay in if visiting Mount Bromo – Cemoro Lawang and Probolinggo.
Cemoro Lawang is located just at the edge of Bromo Tengger Semeru National Park. From the town you are able to visit everything in the area on your own without the need for additional transport (if you choose to do so).
My recommendation would be to stay within Cemoro Lawang itself due to the convenience factor and proximity to all the Bromo activities. Some of the highest rated hotels / home stays include: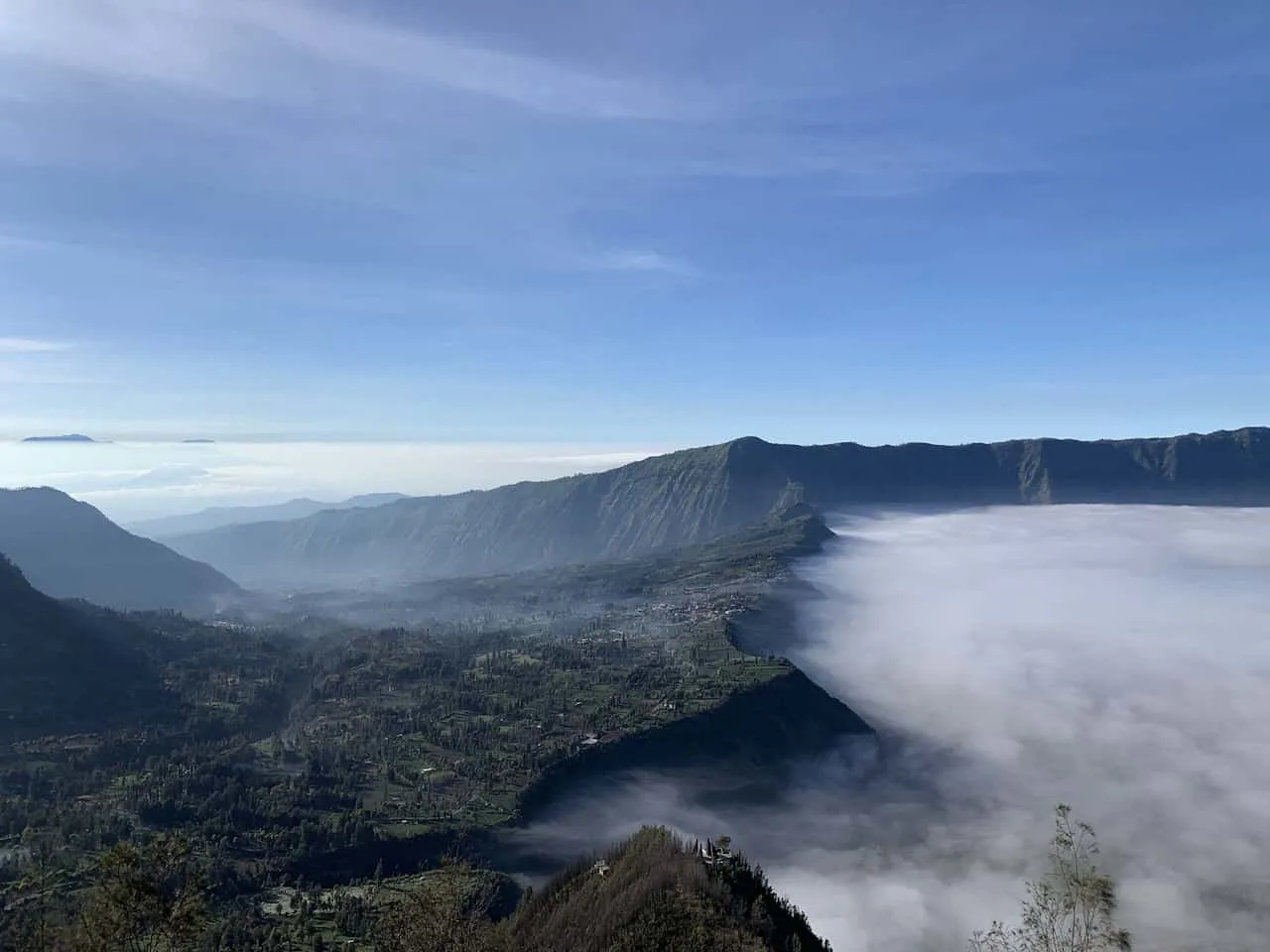 Your other option here is to stay in Probolinggo, a two hour drive from Cemoro Lawang. From Probolinggo you will be able to make the day trip back and forth.
There are other options from plenty other cities around the country (even as far as Bali!). But to truly experience everything that the National Park has to offer, staying closer by will give you more time to enjoy the area.
3) How to Reach Mount Bromo
You may be coming from a variety of places around East Java to reach the Cemoro Lawang area. Most routes however will end up going through Probolinggo at one point or another, which is why some people just use the town as a base for day trips.
The closest major airport to Cemoro Lawang is located in Surubaya (there is a smaller one in Malang as well). If using public transport, you will first need to catch a bus or train to Probolinggo from there.
Similarly, if coming from places like Malang or Banyuwangi, you will still need to make your way to Probolinggo either by bus or train. Once in Probolinggo you can then continue on to Cemoro Lawang.
Once you arrive in Probolinggo, hop in a small minibus (35,000 IDR / $2.50 USD) that will continue on towards Cemoro Lawang. These minibuses leave when full or you can pay to split the total cost of the minibus (~500,000 IDR / $35 USD) to leave earlier with others if it is not full yet.
Alternatively, if you are not on a super tight budget, I would recommend just hiring a driver to get you there and splitting the cost among several people.
The cost to get to Cemoro Lawang from places like Surubaya or Malang, should be anywhere around 700,000 IDR – 900,000 IDR ($50 USD – $65 USD).
This way you will not need to worry about public transport schedules or spend more time than needed to get from place to place. Understandably, if you are a solo traveler / on a tight budget than public transport will be the way to go.
4) Mount Bromo Weather
To truly enjoy your time around Mount Bromo, you will need to have the weather cooperate with you. That doesn't just mean to stay away from the rain, it means to stay away from the clouds too.
What makes a Bromo experience so special is the ability to see that vast Bromo Tengger Semeru National Park landscape for sunrise and then truly be able to experience the crater itself. If the clouds are in the area, all those views will be blocked and you won't enjoy what you came out to see.
Time of Year
Heading to Bromo during dry season will give you a better chance to have clear weather. The season runs from around May to October.
Obviously, outside of those months in the wet season there will still be some good days for a visit. But from a percentage standpoint, you are better off visiting during the dry season.
Time of Day
Some days will be different from others, but after talking to some locals it seemed like the weather worked in a pretty standard fashion during dry season. In the early morning the sky will be clear and if you are lucky you will have a cloud base down in the crater.
Once the afternoon starts to come along, the clouds will start to roll in and begin to ruin those crater views. Below are some pictures from around 4PM during my time there.
If you follow the itinerary below on a clear dry season day, you should have better odds of enjoying your day at Bromo.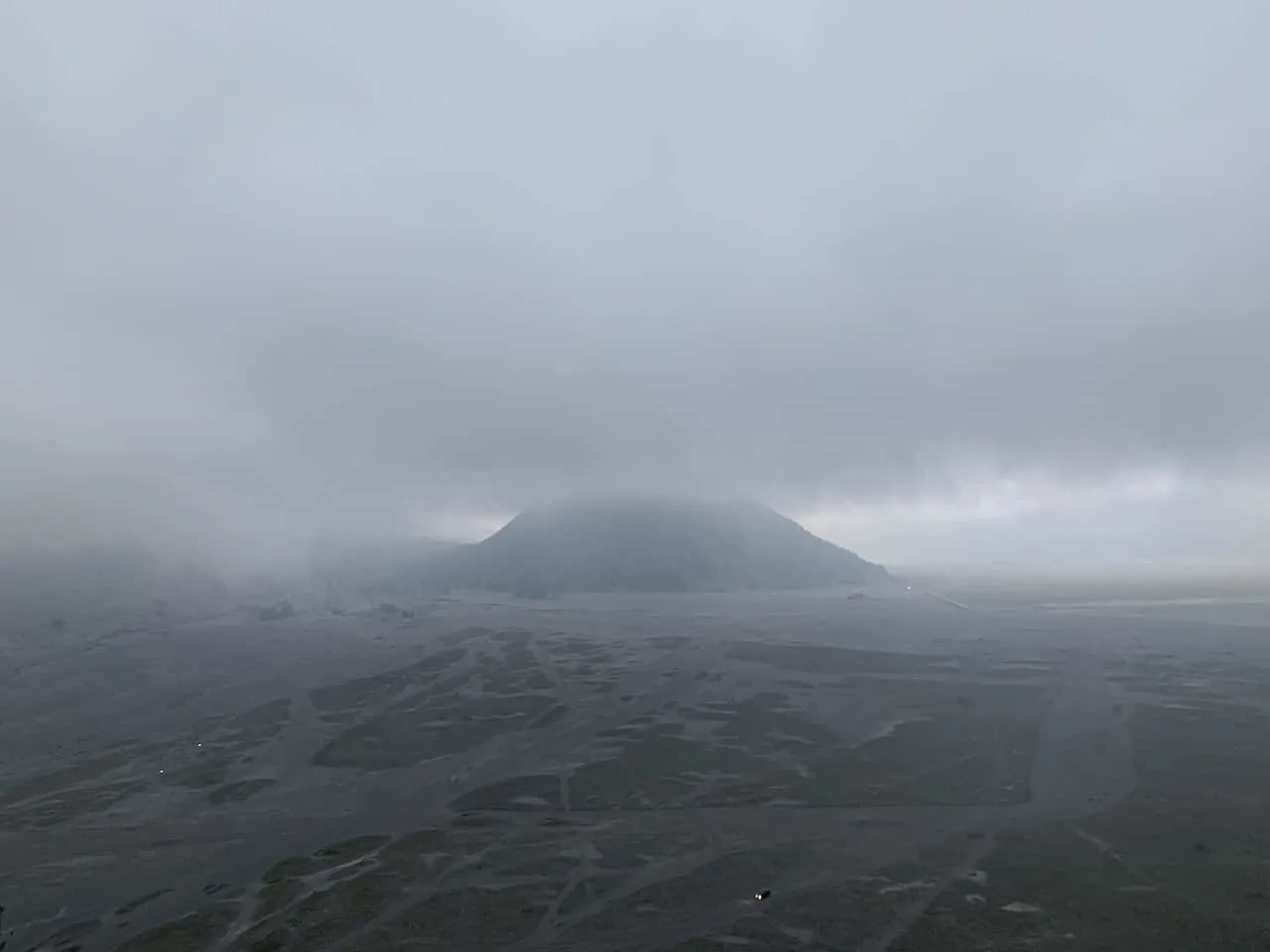 5) What to Wear
While you may be coming from other places in Indonesia that are much hotter, Cemoro Lawang is at a higher elevation and you will definitely feel a temperature drop.
Since this is an early day with some of it being done during the night, you will need to bring layers along with you.
On top of the items below definitely bring along a headlamp for that pre sunrise hike!
Hiking Packing List

In general when it comes to hiking, there are a few main aspects to consider. These includes clothing layers, hiking shoes, hydration & fuel, electronics, and other essentials.

Below in a breakdown of some of the top items, but be sure to check out the Hiking Packing List for a more comprehensive view.

Clothing Layers

Layering is going to be a top consideration when hiking. You will want to be prepared for all sorts of weather so you can be comfortable in different situations. Some items may include:

→ Hiking Shorts
→ Hiking Pants
→ Short Sleeve Shirt
→ Long Sleeve Shirt / Sun Hoodie
→ Mid Layer Fleece
→ Puff Jacket (not always needed)
→ Packable Rain Jacket (Columbia Watertight II)

Note that your layers should be made of moisture wicking material as they are breathable and quick drying.

Footwear

Having appropriate footwear will also be very important. You will want to have shoes with the necessary grip and support to keep you safe on the trail.

→ Hiking Shoes (Keen Targhee)
→ Hiking Socks (Darn Tough)

Other Essentials

Whether it is hiking gear, electronics, or just some miscellaneous items, here are some other essentials to bring along on hikes.

→ Hiking Backpack (Osprey Talon 22) & Rain Cover (Joy Walker Cover)
→ Hiking Poles (Black Diamond Trekking Poles)
→ Water Bottle (CamelBak Chute or Katadyn Filter Bottle)
→ Portable Charger (Anker PowerCore 5000mAh)
→ Action Camera (GoPro Hero)
→ Energy Bars & Snacks
→ Hat & Sunglasses
→ Sunscreen & Bug Spray
6) A Mount Bromo Itinerary
A Mount Bromo itinerary can be broken down in a few main sections. I will list out the exact day itinerary that I took part of when visiting the Mount Bromo area.
I will assume sunrise is at 5:30AM so your timing may change based on time of year.
» Check out the Mount Bromo sunrise times to better plan your trip.
There are a few landmarks to note for your day:
King Kong Hill: this is where you can hike up to (or drive to), to enjoy the one of a kind sunrise over Mount Bromo and the surrounding volcanoes. There are several viewpoints, which I will note later on.
Sea of Sand: this is basically the bottom level of the national park that you can walk, motorbike, or jeep through to get to the Mount Bromo crater.
Mount Bromo: while there are a few other volcanoes around, Mount Bromo is the only one you are allowed to climb. After getting to the other side of the Sea of Sand, simply head up the staircase and onto the Mount Bromo rim.
Arrival Day
Arrive in Cemoro Lawang & check into hotel
Early dinner and get to bed early!
Mount Bromo Day (assumes 5:30 Sunrise)
2:30AM: WAKEUP
3:00AM – 4:30AM: Hike from Cemoro Lawang town to King Kong Hill viewpoints
4:30AM – 6:30AM: Enjoy a full sunrise from darkness to light
6:30AM – 7:30AM: Hike back down to Cemoro Lawang
7:30AM – 8:30AM: Breakfast
8:30AM – 9:30AM: Hike down into Sea of Sand across to the Mount Bromo Crater*
9:30AM – 10:30AM: Enjoy views from the Mount Bromo Crater Rim
10:30AM – 11:30AM: Hike back to Cemoro Lawang through the Sea of Sand*
11:30AM Onwards – REST & RECOVERY
*For the hikes into and out of the Sea of Sand, you can easily jump on the back of a motorbike or jeep that can bring you right to the bottom of Bromo for just a few dollars. From the bottom of Bromo you will still need to climb the few hundred steps to the rim
If you do not want to hike up and down for sunrise (although I do feel like it adds much more to the experience), you can also get a jeep to take you right up. If choosing the vehicle route, you will not need to get up as early on in the day.
Below is a map that shows the hike from Cemoro Lawang up to King Kong Hill, the various viewpoints, the hike/bike down from Cemoro Lawang to Mount Bromo, and the last small trek up to the Bromo crater rim.
7) King Kong Hill Hike
Note: the pictures that depict the hike up King Kong Hill were mostly taken on the way down later on in the morning as it was too dark to capture photos before sunrise.
The first order of business for the day is to hike from Cemoro Lawang up to King Kong Hill, where you will get the best viewpoints of the Bromo Tengger Semeru National Park and its various volcanoes and landscapes.
There is really only one road to take towards King Kong Hill from Cemoro Lawang, and you can just follow it along towards the end. The start of the hike is pretty easy as it is done on the main dirt/paved roads further out of town.
You won't be able to see it in the darkness but you will be surrounded by local farms during this portion of trail (you will be able to see it on the way down though).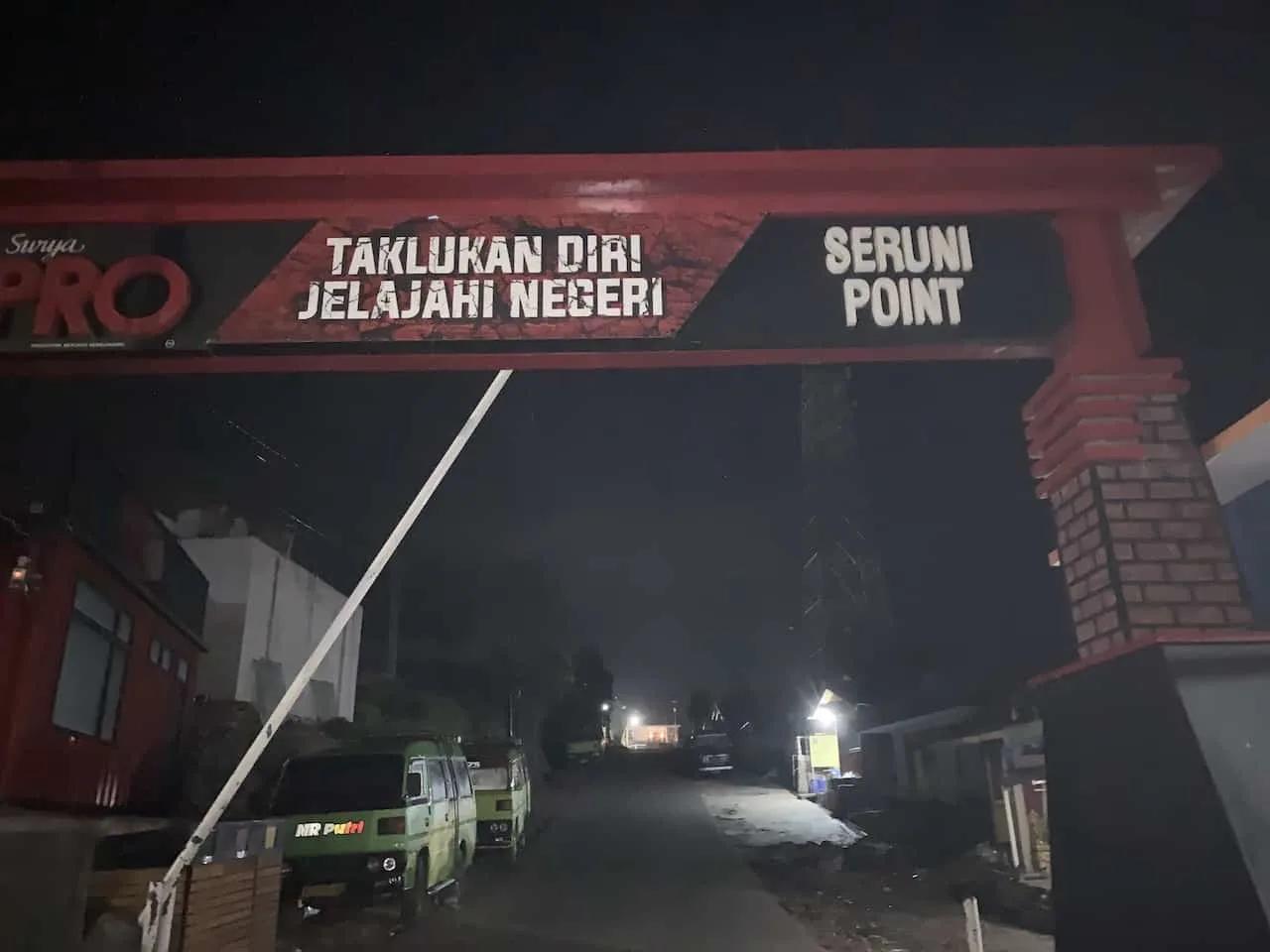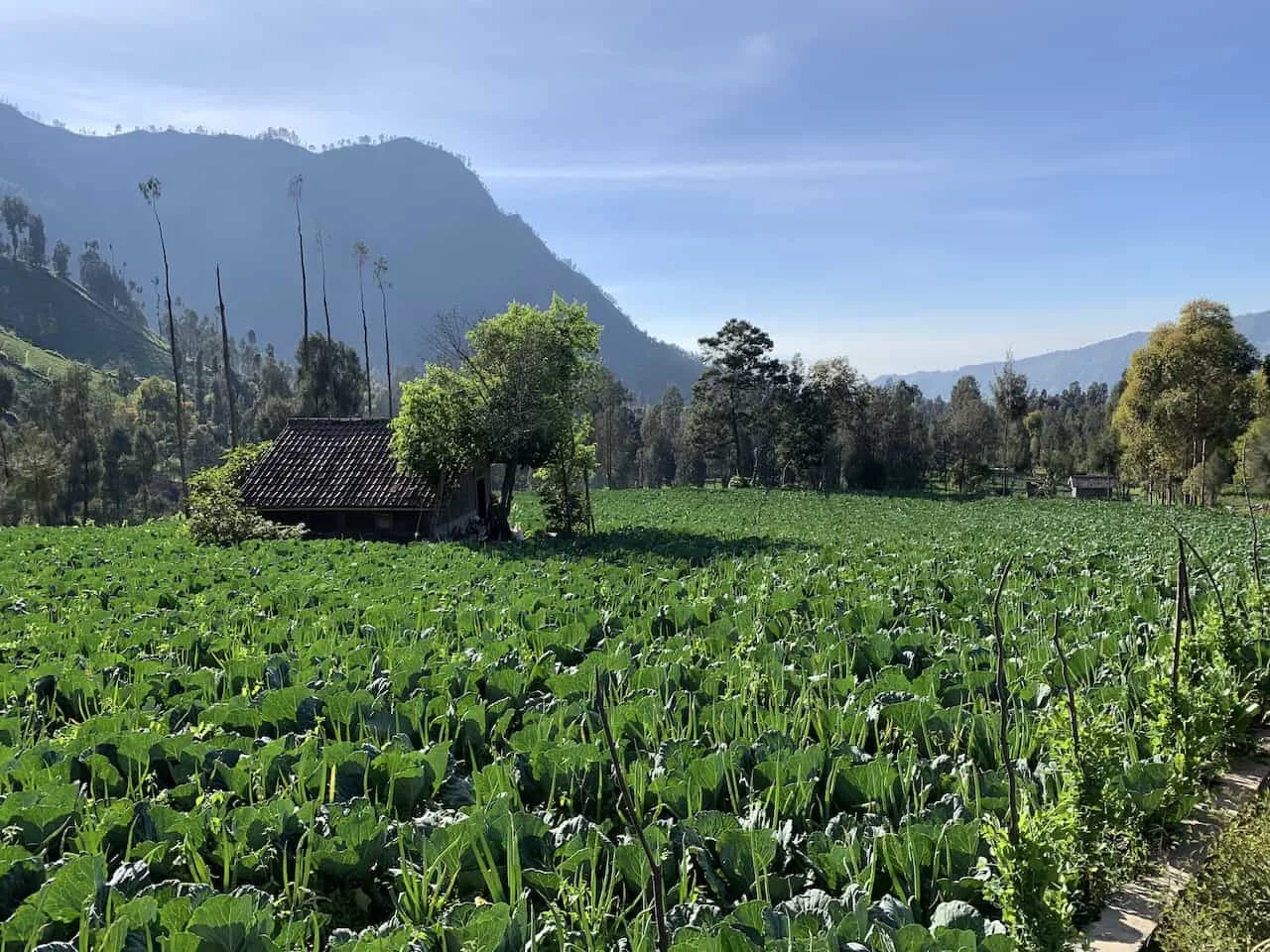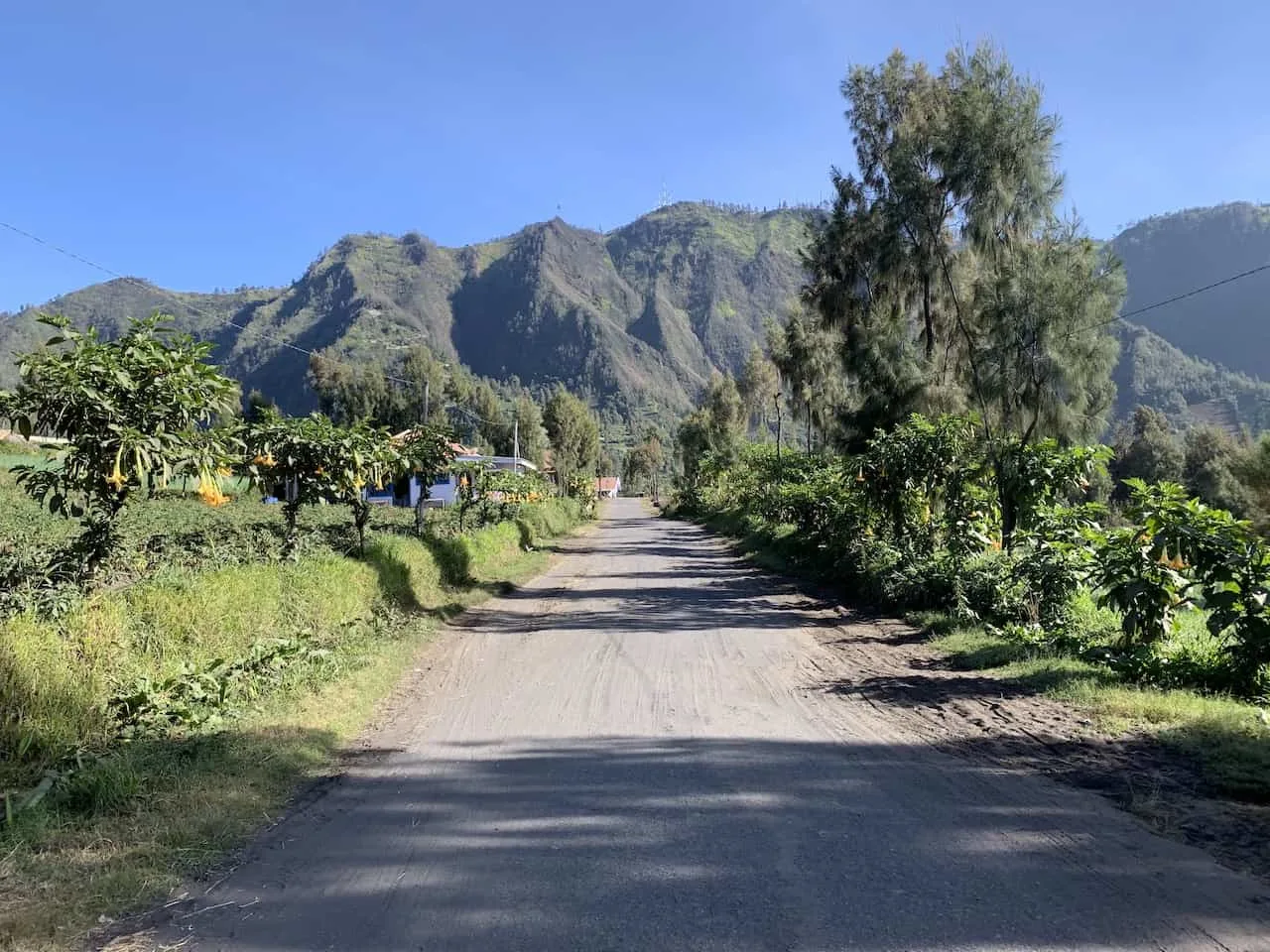 Once you get further along though, the flat path turns more into an uphill ascent with the twisting and turning roads.
This is where the climb begins but you will still be on a pretty stable paved pathway with stairs at some points as well.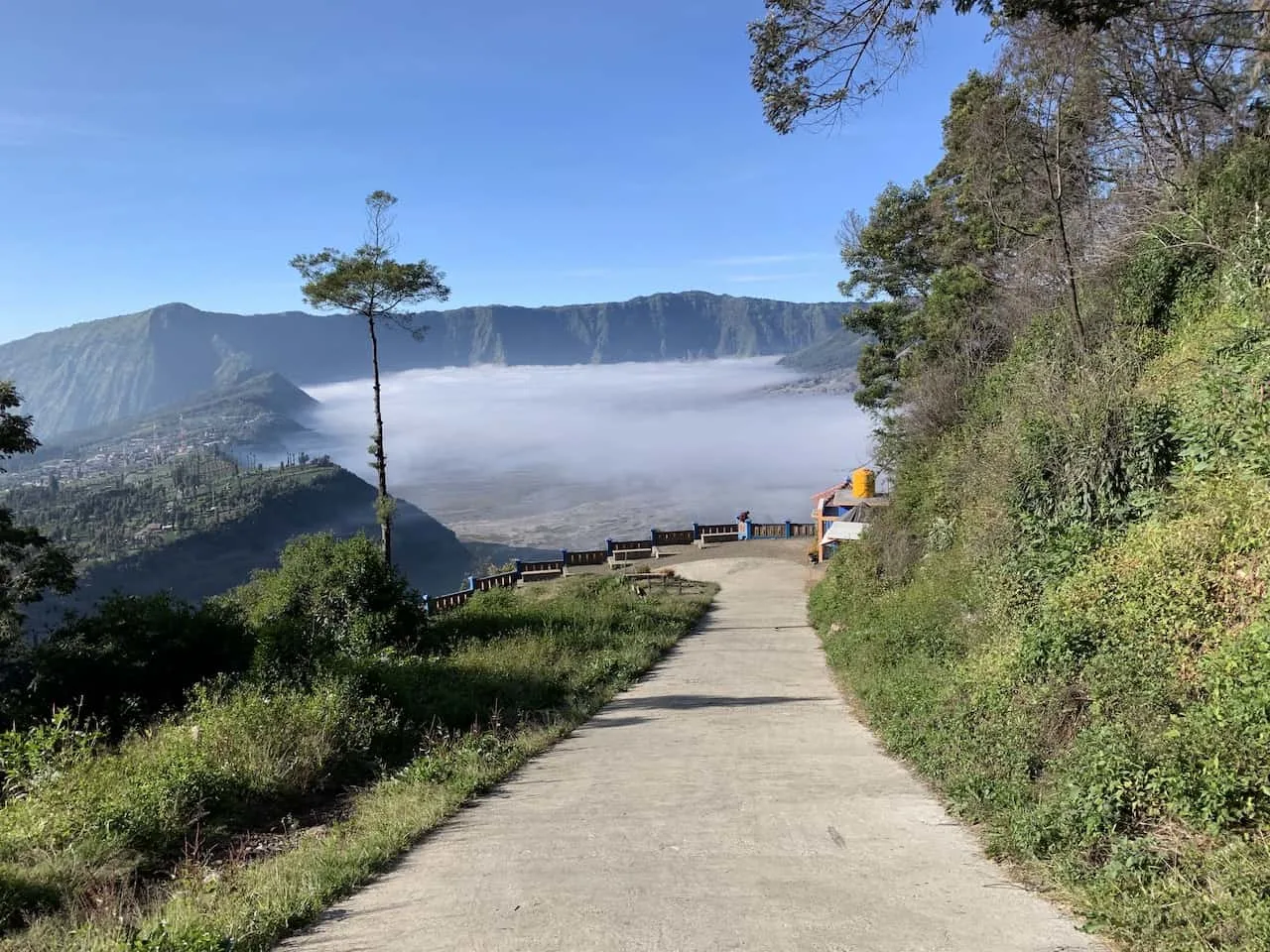 Soon after you will reach a viewpoint called Seruni Point, and here is where the real climb begins.
There will no longer be a nice wide pathway, but rather you will be more so on a narrow hiking path in the dark up on the rocks and through the forest.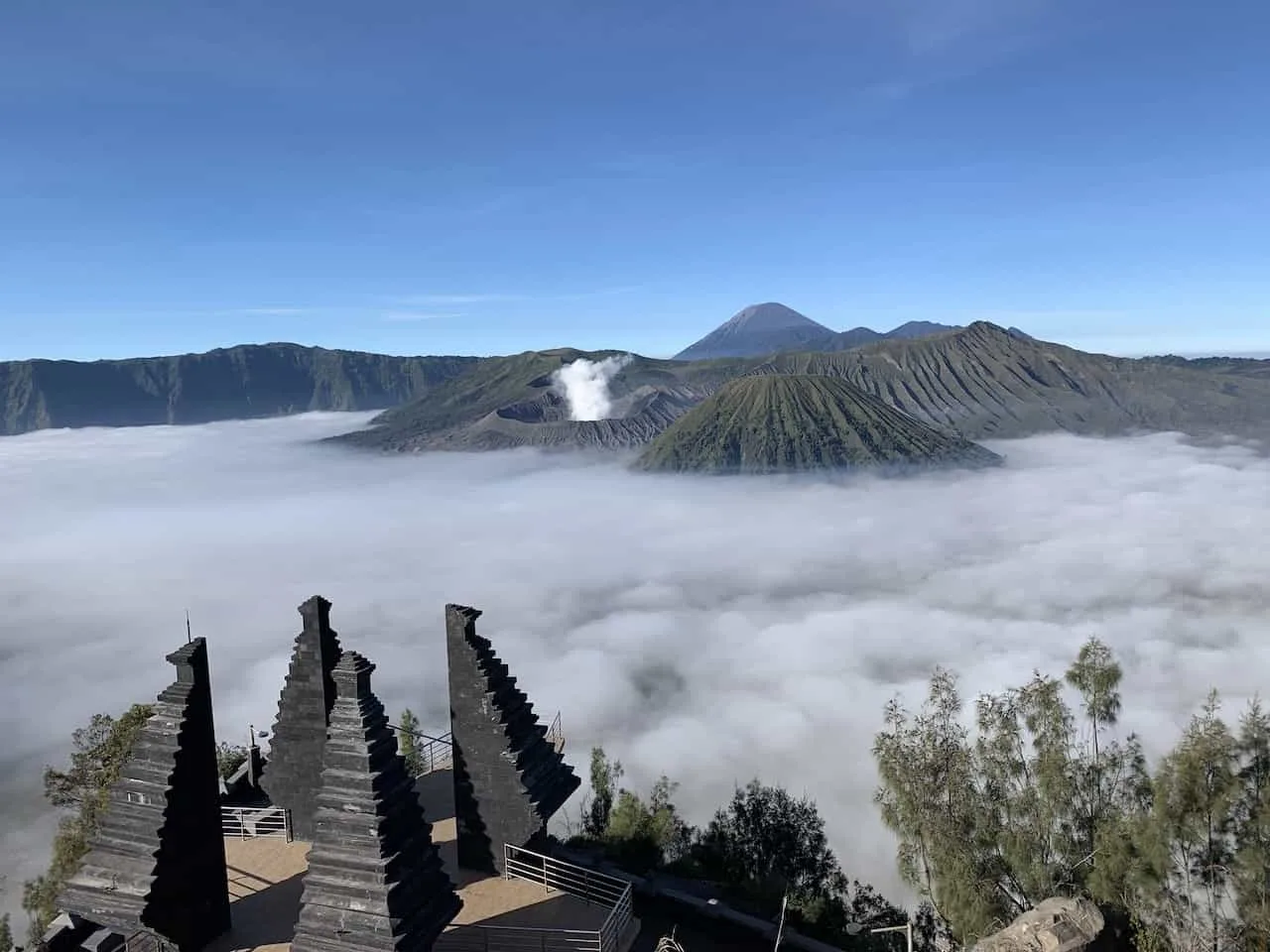 Remember, it will be dark during the ascent so it may be a bit difficult to see. Having that flashlight or headlamp will come in key during this portion of trail.
Since I was not able to take pictures during the climb up in the dark, here are some pictures in the light for what to expect.
Note: when you reach Seruni Point, it may be confusing where to go next in the darkness. There is a path on the right up the mountain over some rocks. You may see others leading the way or be told where to go by the locals there.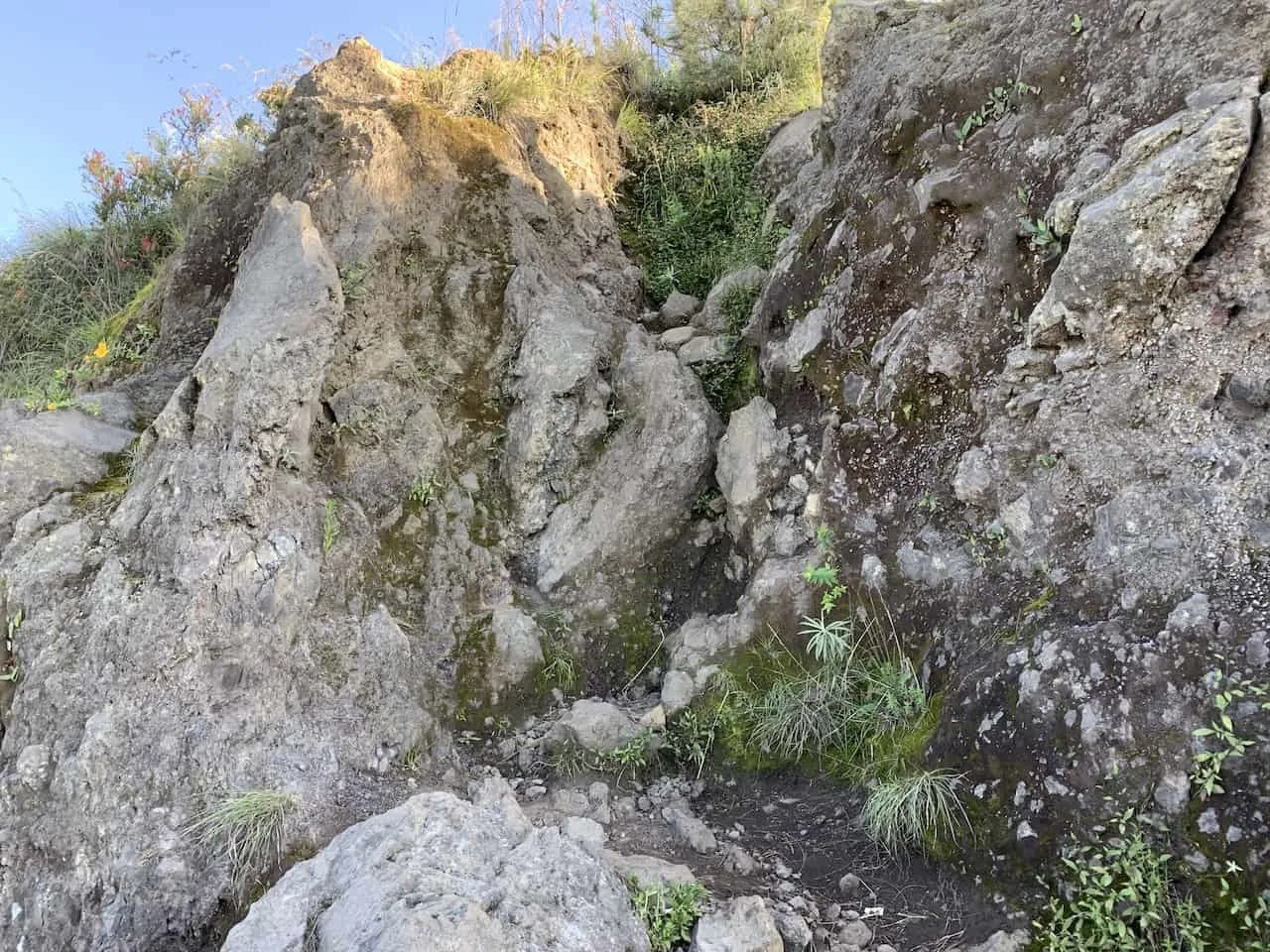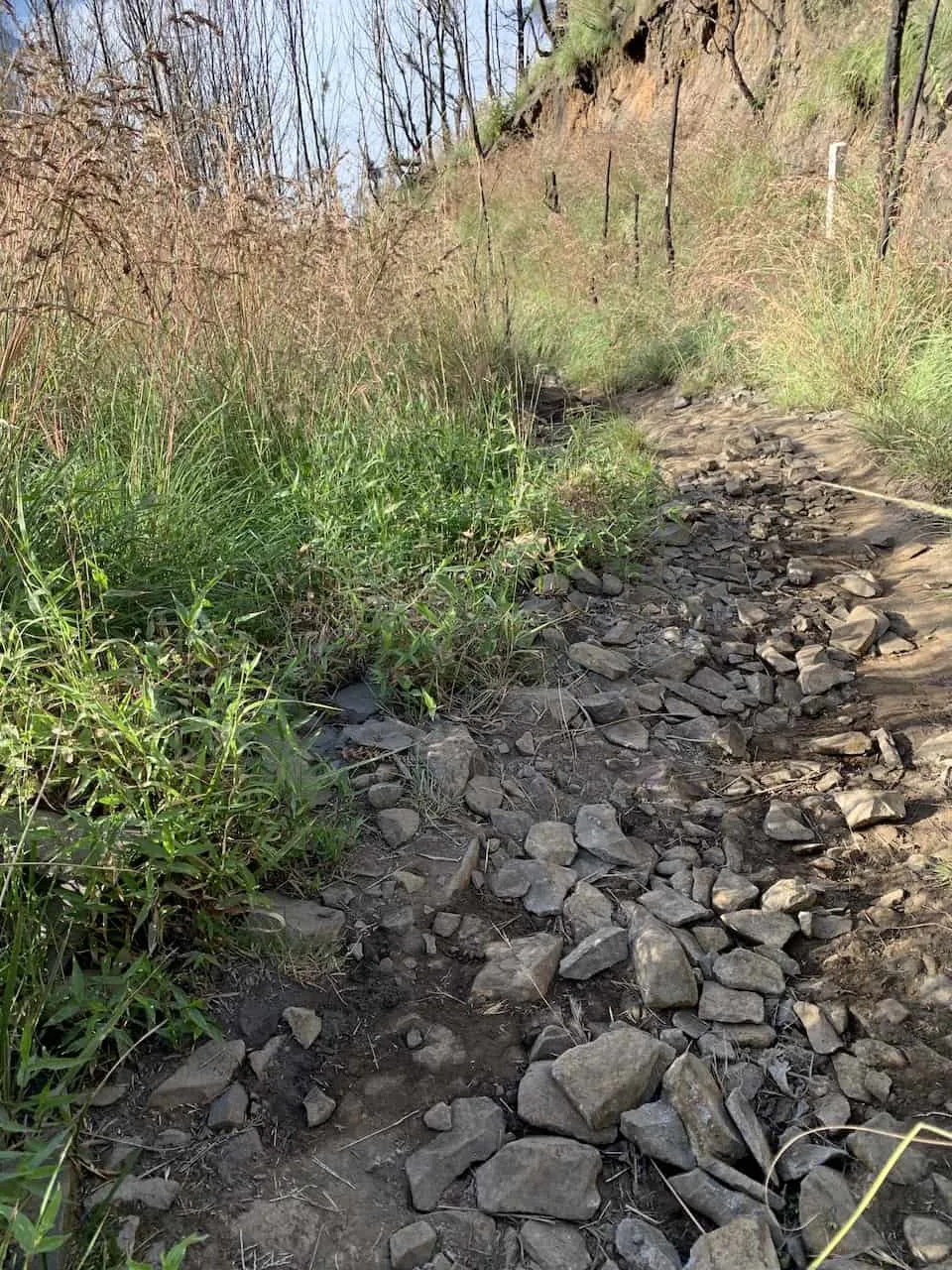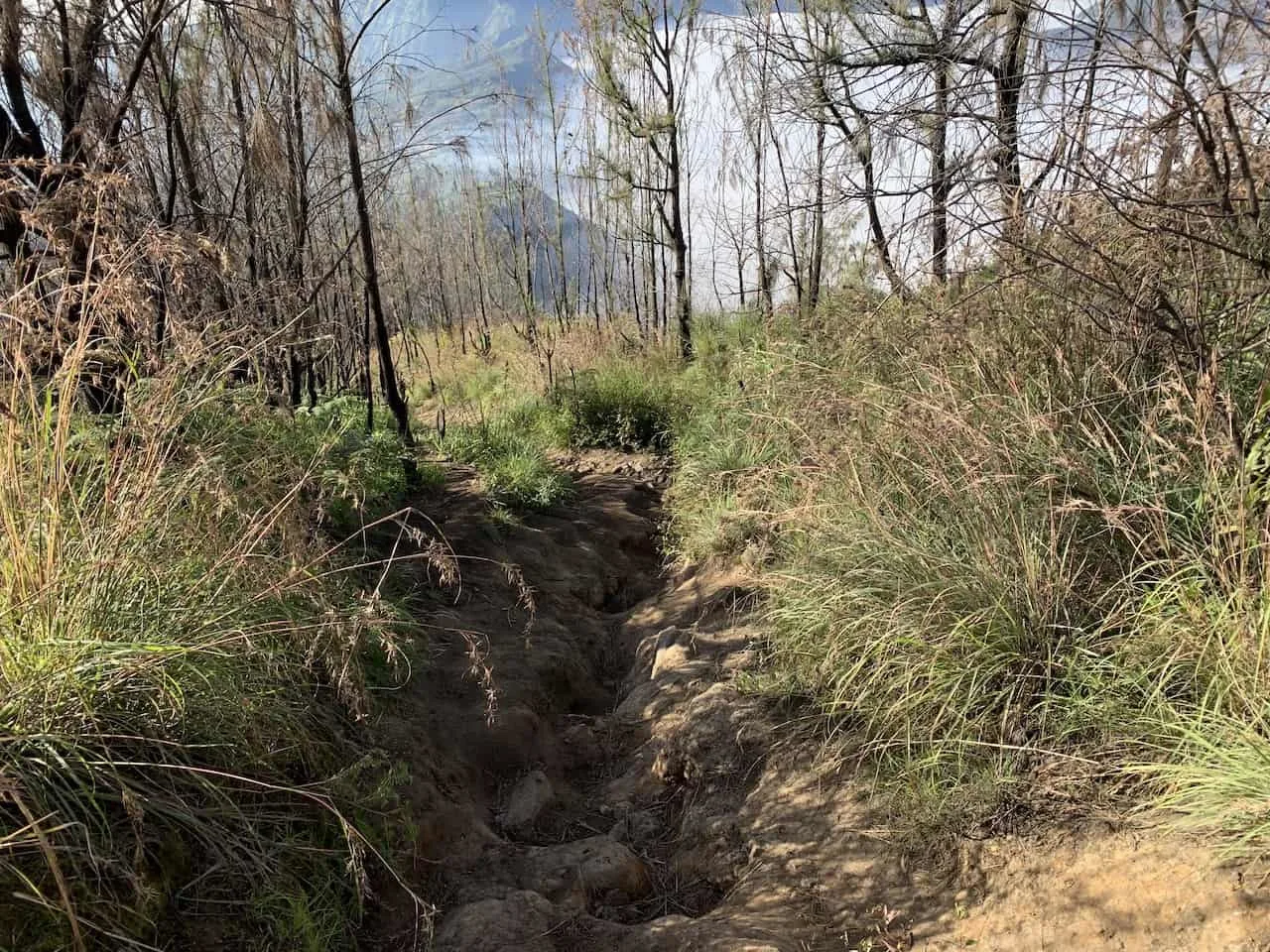 As you continue on up, you should see other people's lights ahead of you up the mountain. As long as you are staying the course, you should be just fine.
While it isn't the best path to hike in the dark, it is easy enough to follow. After about 45 minutes of zig zagging your way up the uneven terrain you will come to the first viewpoint on King Kong Hill.
8) Mount Bromo Sunrise Viewpoints
Now that you have made it to the top of King Kong Hill, it is time to enjoy some viewpoints. The first viewpoint you will come across is marked on the map above as King Kong Hill Viewpoint #1. I didn't stay for sunrise there but did take a picture from it on the way down.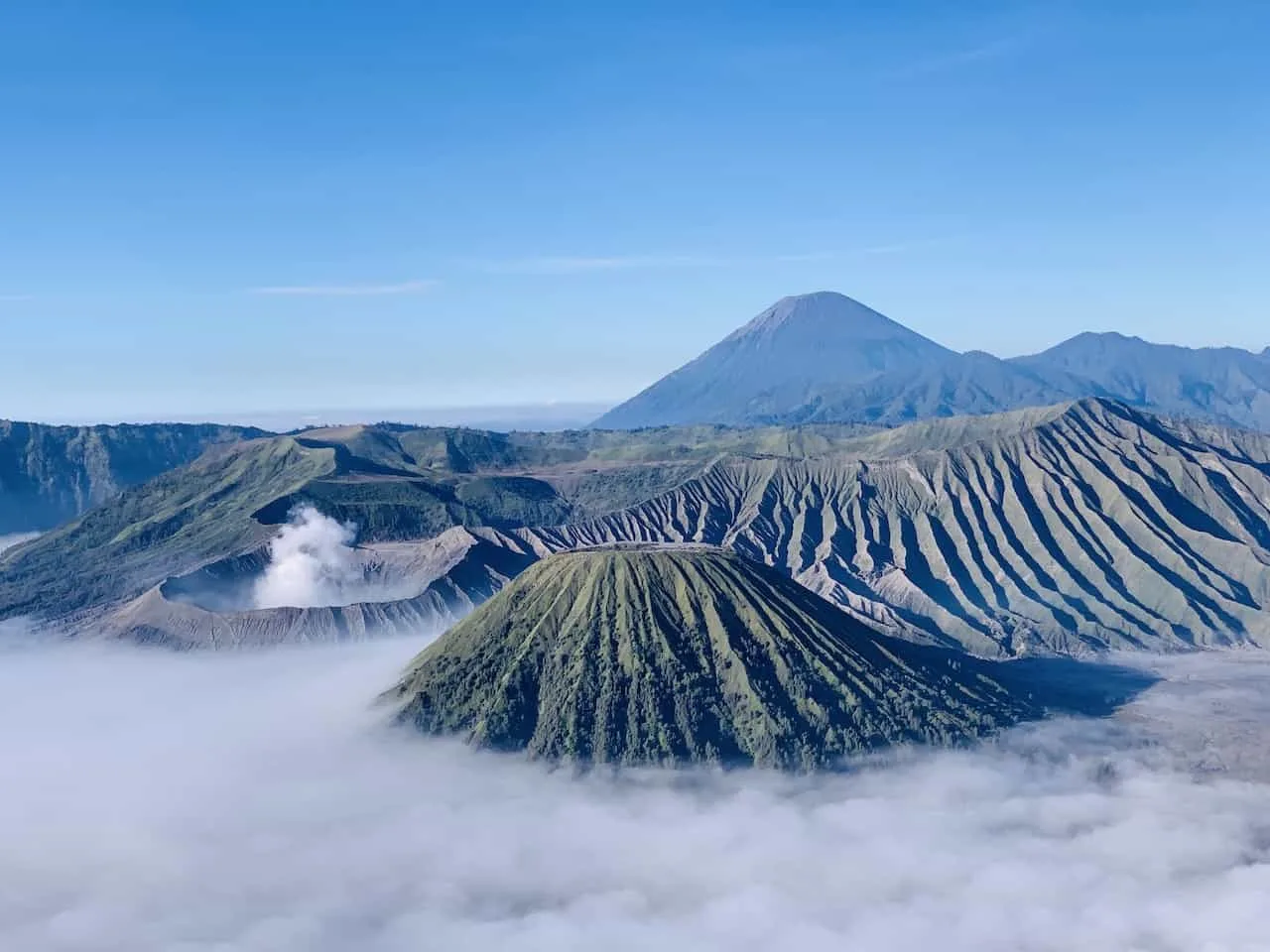 I headed up though to the next "official" viewpoint, which is marked on the map as Bukit Kingkong. Here is where I spent the majority of sunrise along with several other visitors.
While it was a bit crowded, there was still plenty of room to take pictures and enjoy one of the best sunrises in the world.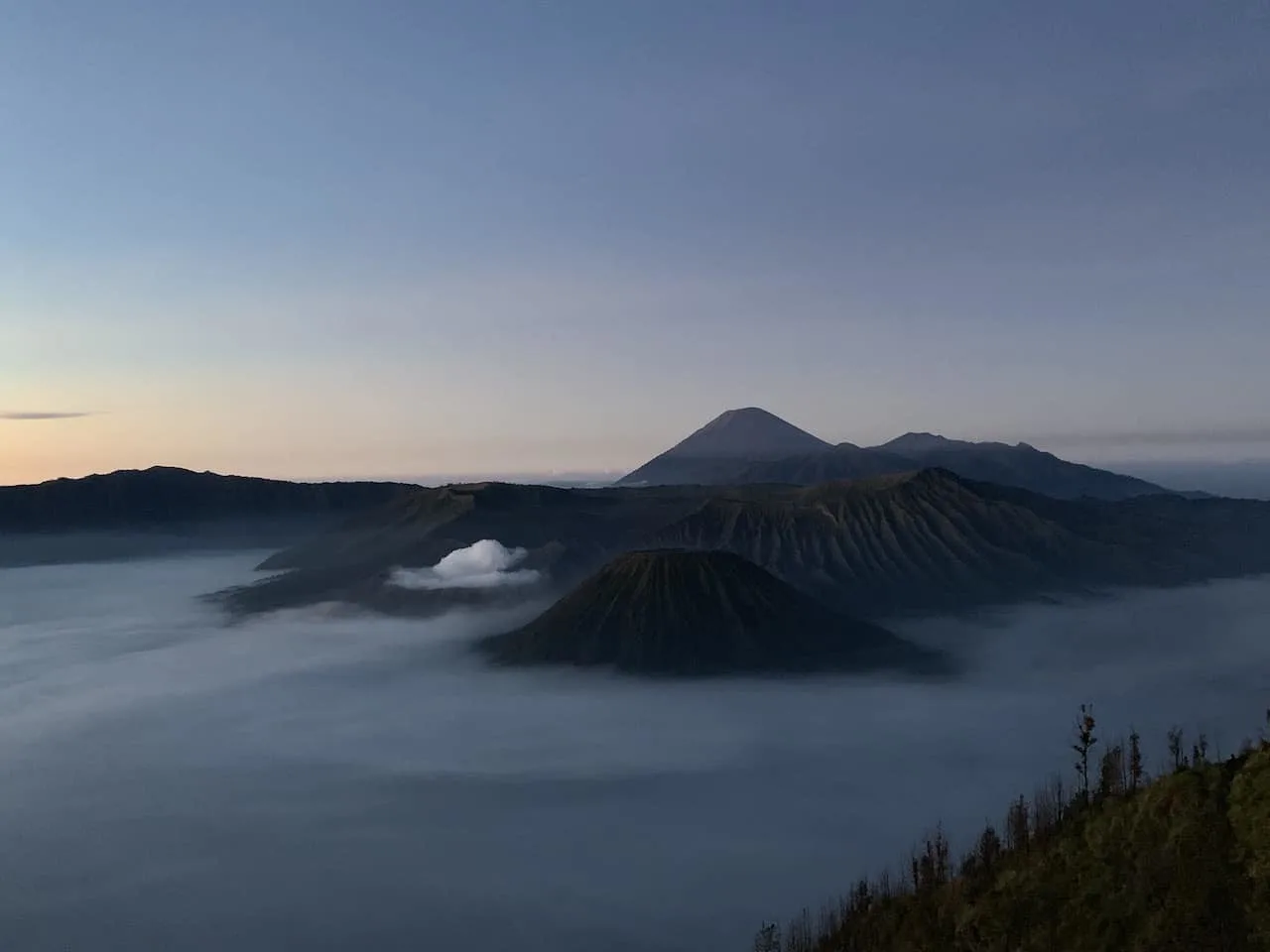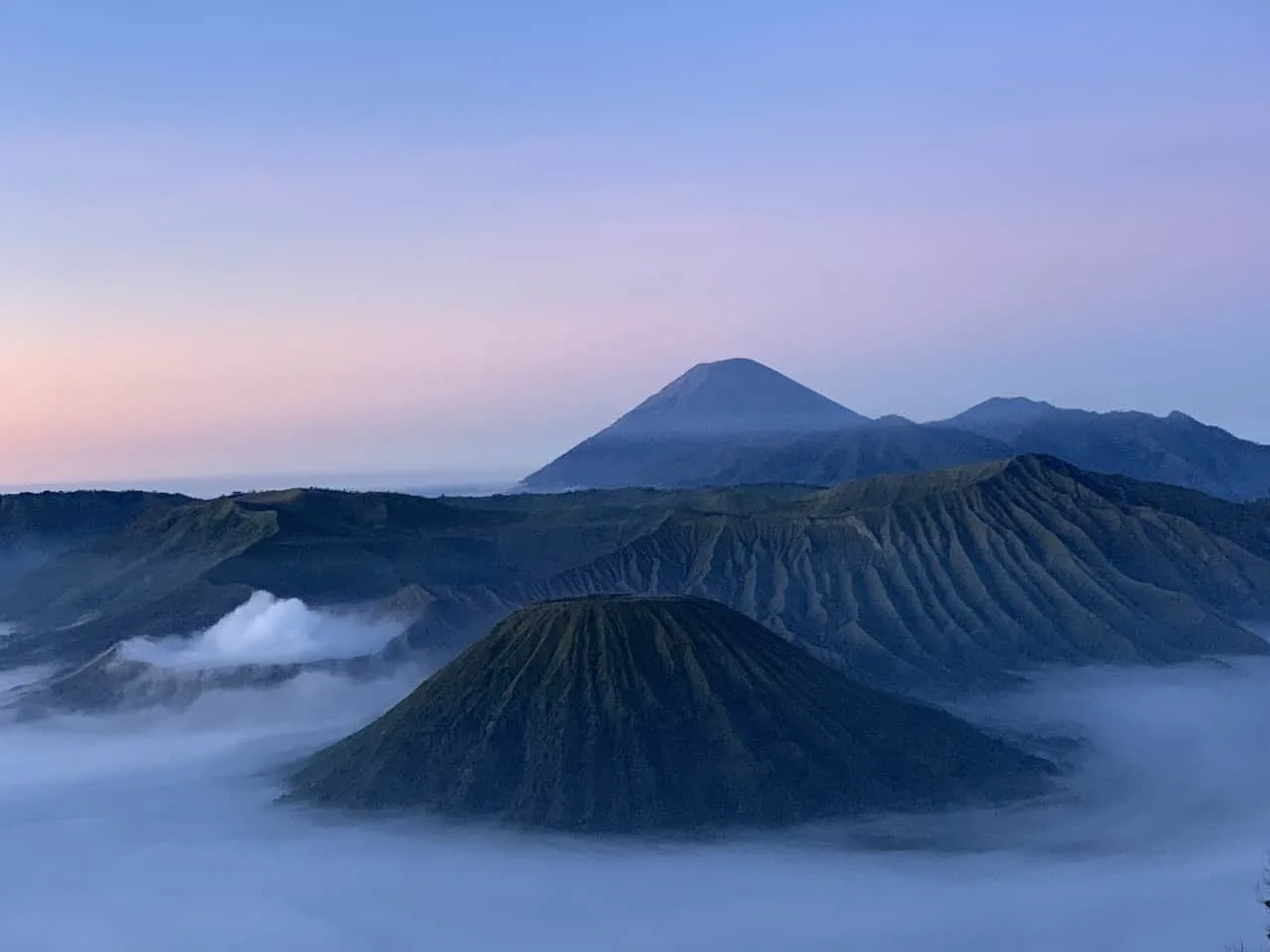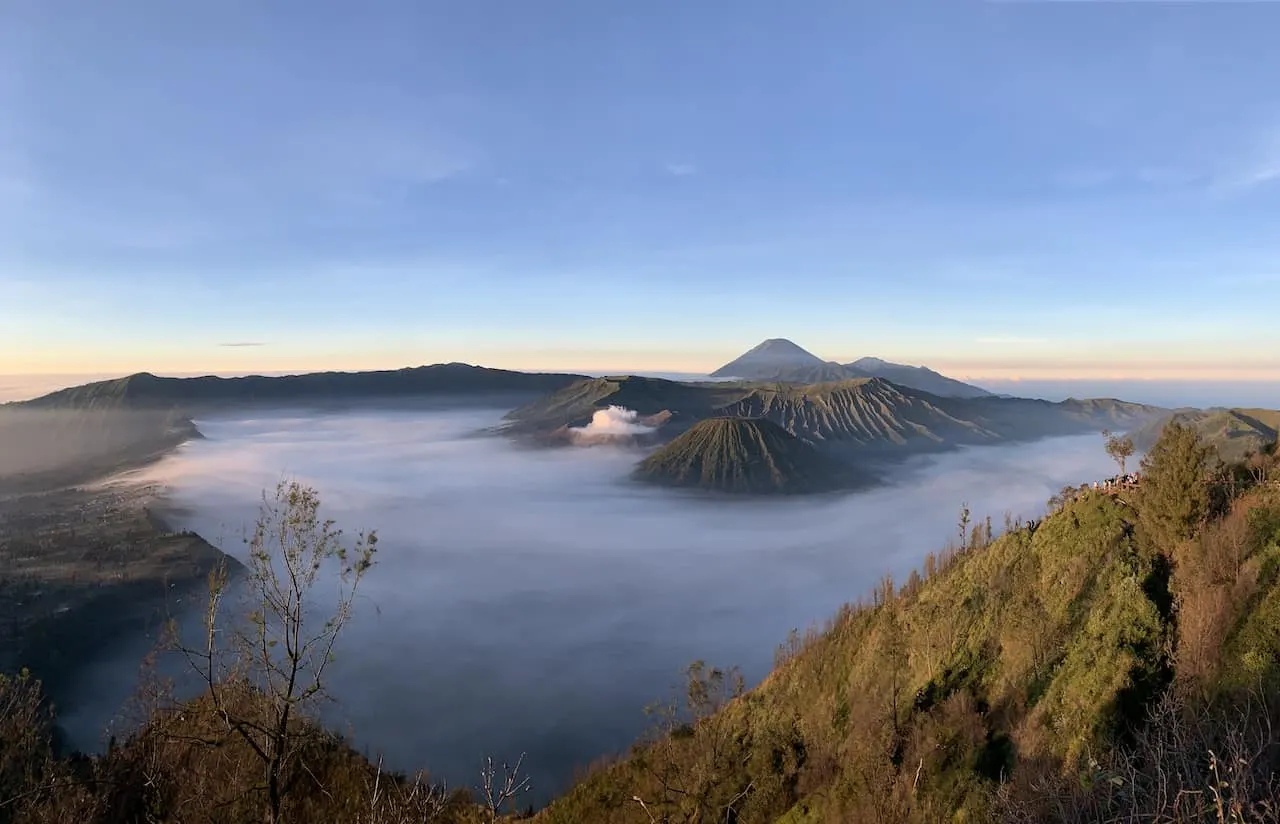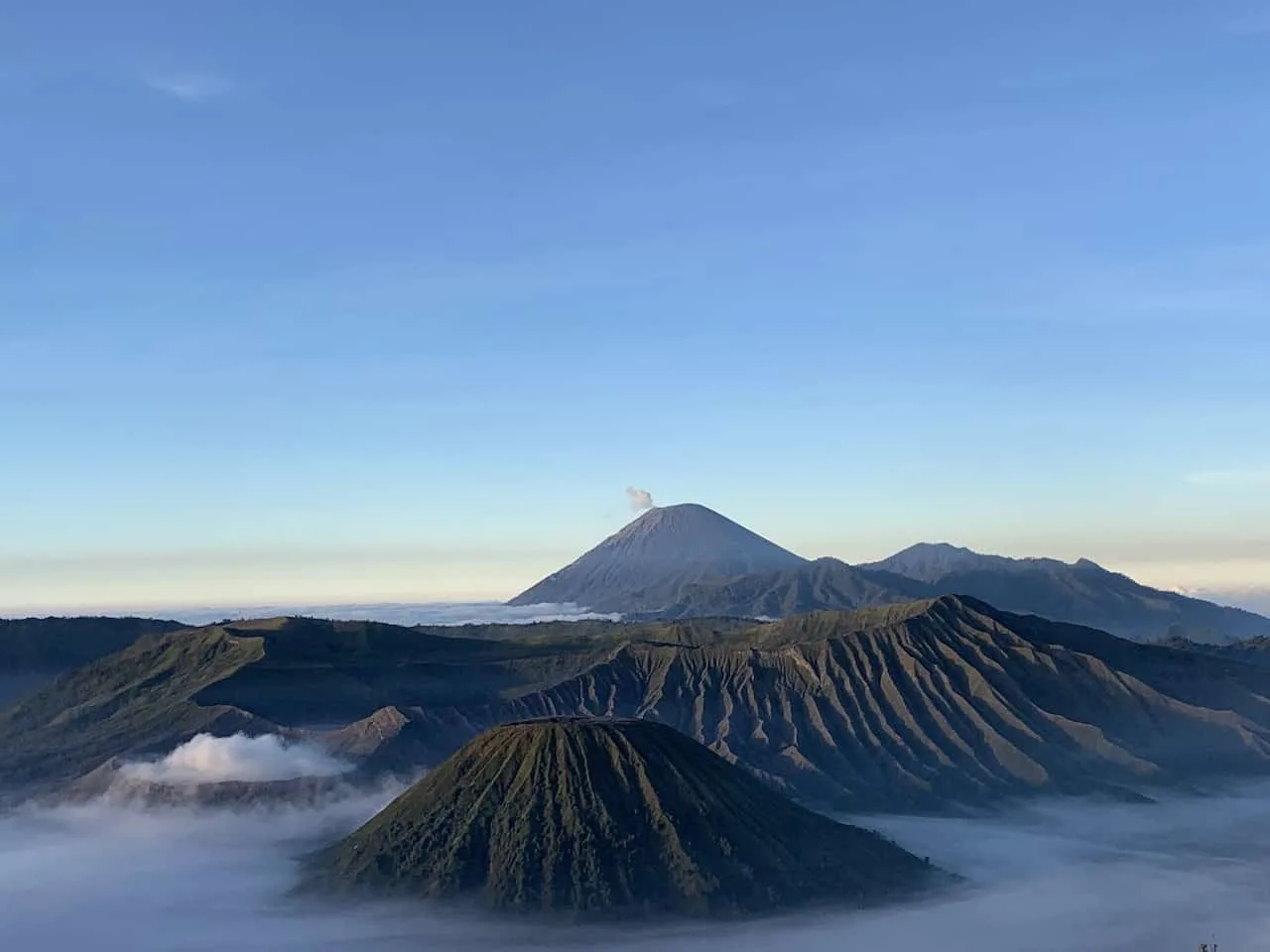 I was then going to head to the further viewpoint (Penanjakan I Bromo Viewpoint) but instead decided to head up a short steep path to a much quieter viewpoint (King Kong Hill Viewpoint #3).
The path is located between the first viewpoint and the Bukit Kingkong viewpoint (everything is pinned on the map for your reference).
I spent a good amount of time up here in a quieter and more relaxing setting once the sun had already raised. Just sitting down and seeing the whole Bromo Tengger Semeru National Park landscape was an incredible moment to experience.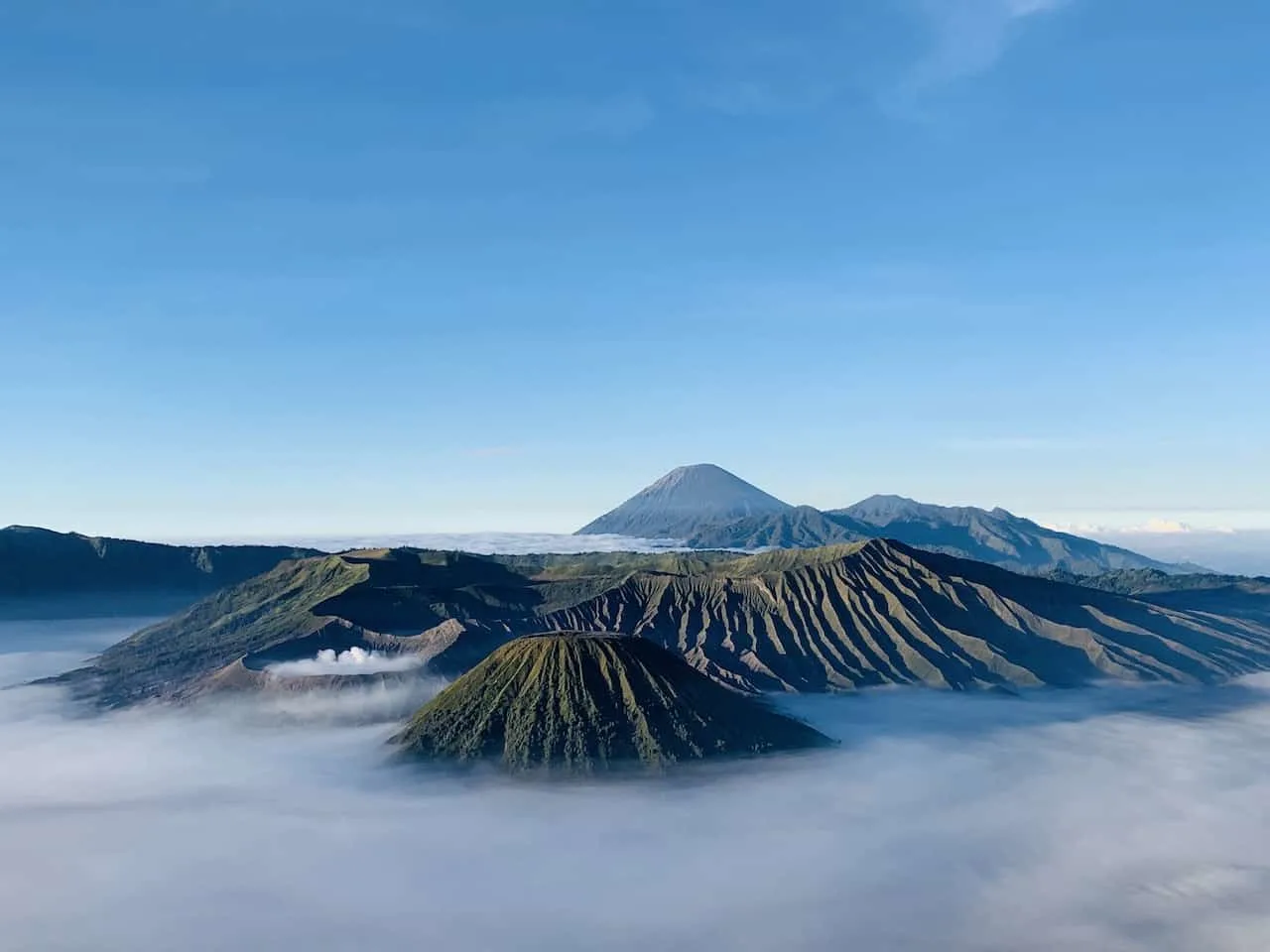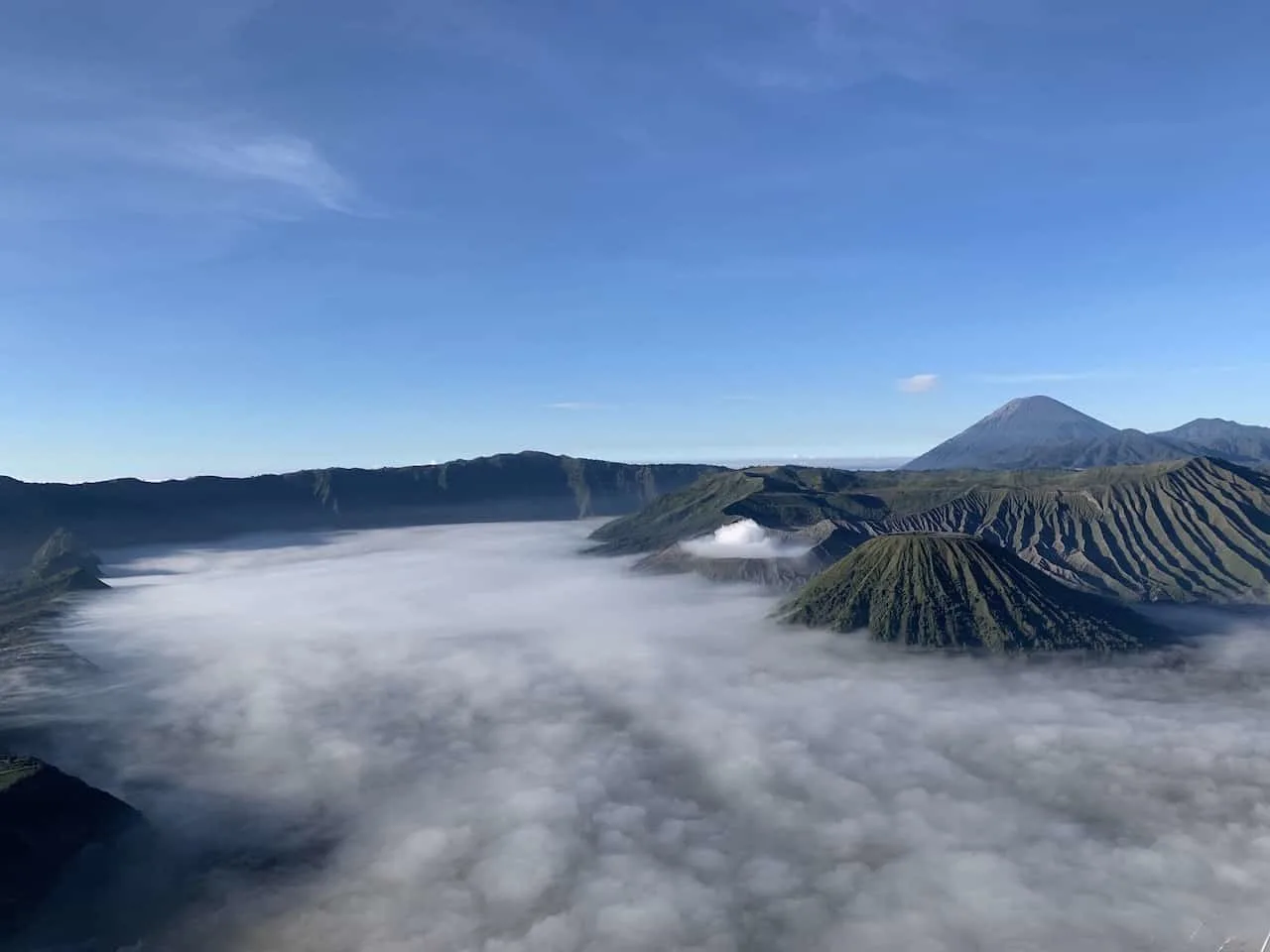 There are several other official and non official viewpoint areas to enjoy. Many people have said they just go off path a bit and find their own quiet spot away from the crowds which seems like a great option too.
At the end of the day though you really cannot go wrong with whatever you choose.
9) Hike Down to Cemoro Lawang
After taking in all the views, it is now time to hike back down to Cemoro Lawang. The hike down will be much quicker than the way up since you will now be doing so in day light and will be going downhill instead of uphill.
You can enjoy some more viewpoints along the way down as you slowly make your way back to Cemoro Lawang town.
Once in town I am sure you will be hungry after an early morning of hiking. Feel free to pick a spot to grab some food and refuel at.
10) The Sea of Sand
Next up on the Bromo itinerary is the Sea of Sand. I decided to take the hike down into the crater and across the Sea of Sand.
Others choose to hop in a jeep or take a motorbike across. From Cemoro Lawang, the journey down and across on foot should take about 45 minutes to the base of Mount Bromo.
Note that once you begin to head down into the Sea of Sand you will be entering the Bromo Tengger Semeru National Park, which is subject to an entrance fee (217,500 IDR / $15 USD weekdays and 317,500 IDR / $23 USD weekends).
There are a few roads to get you down and as of 2019 not all of them have someone collecting fees. It will be up to you to decide which way to go though…
The Sea of Sand though is exactly what you would expect. It is just a massive sanded area between Cemoro Lawang and the volcanoes out in the distance.
You will see plenty of motorbikes and jeeps heading through dusting up the sand in every which direction. I really enjoyed the walk through though and would definitely recommend if you have it in you.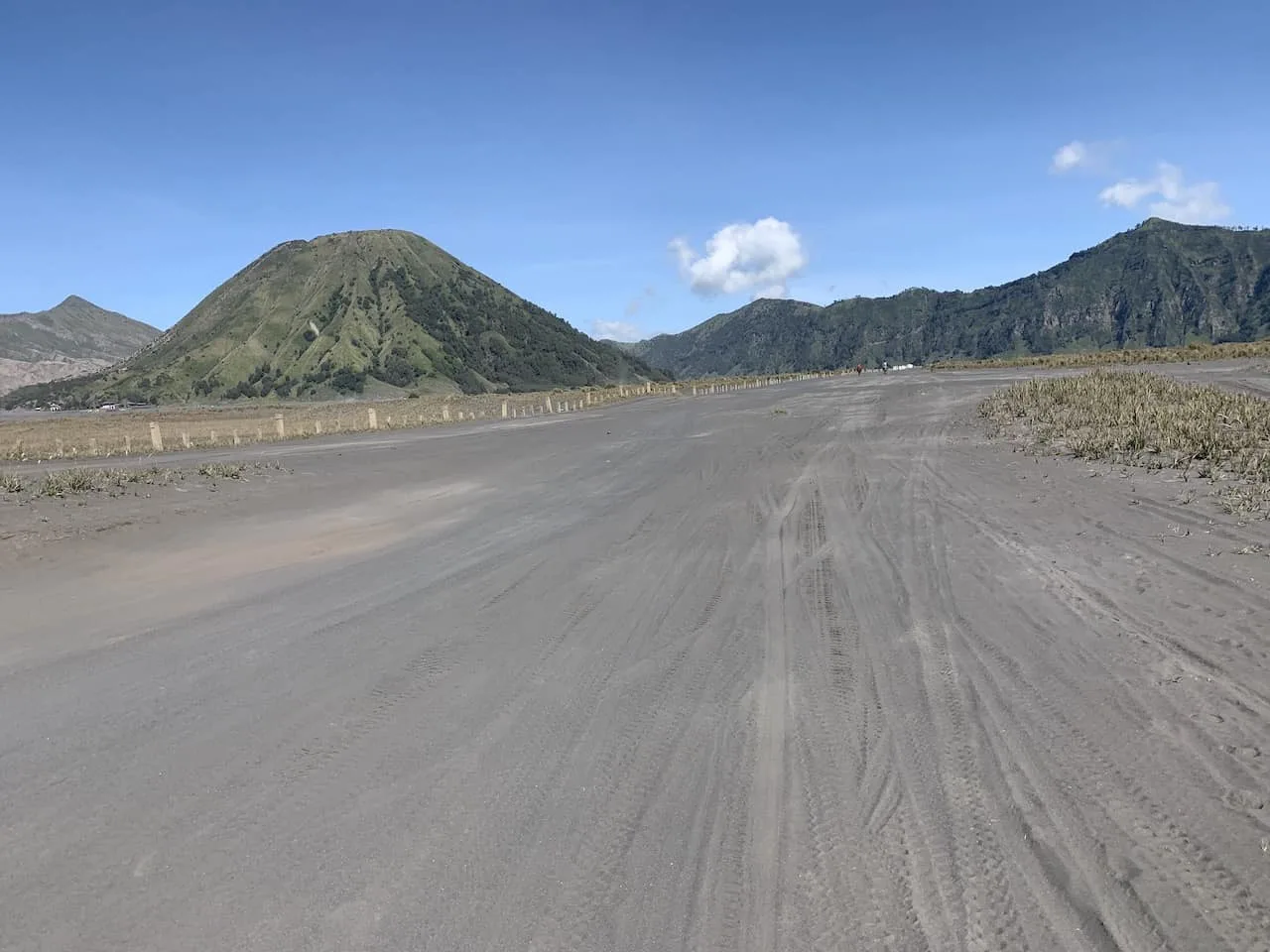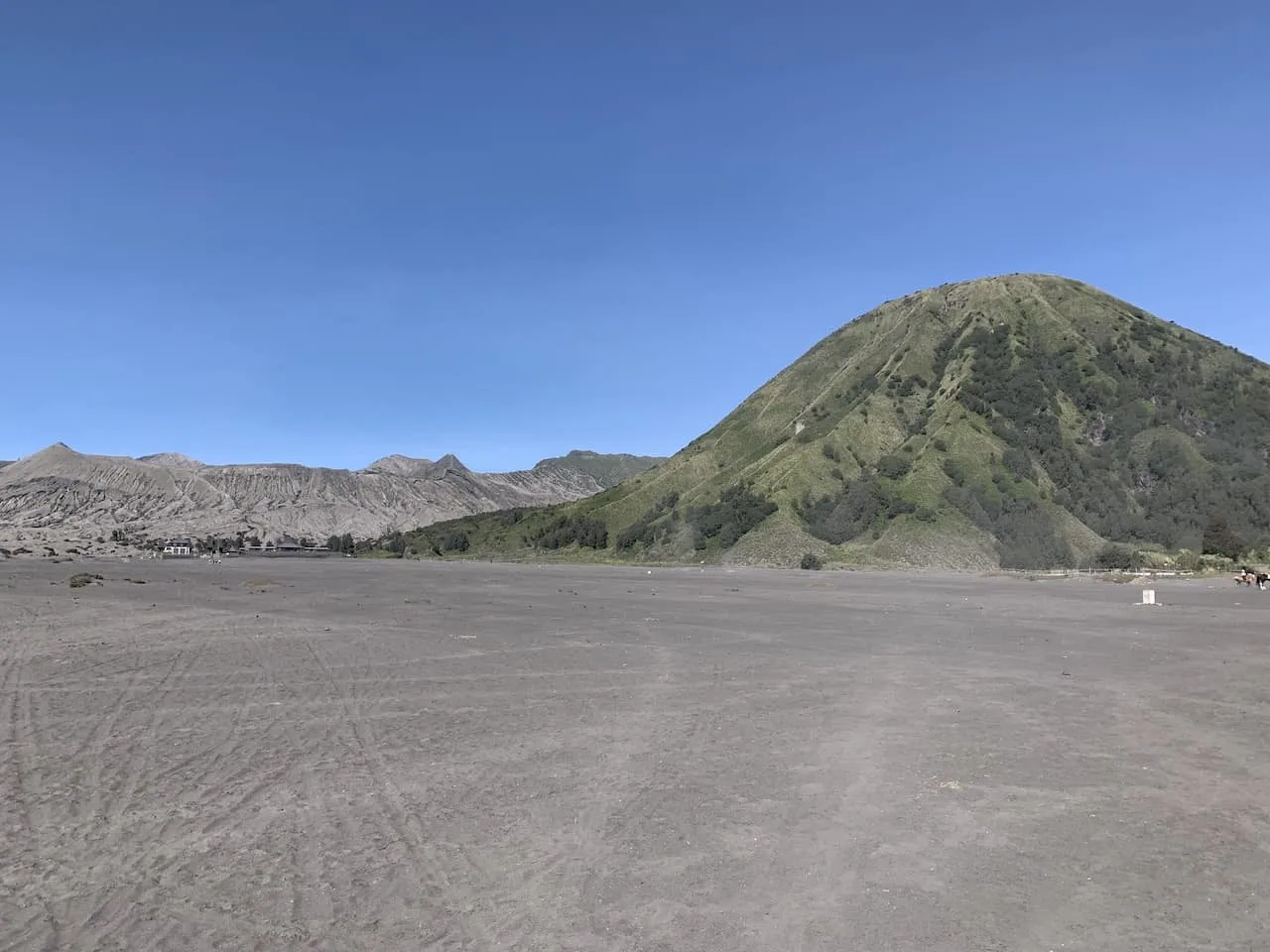 11) Hike Mount Bromo
Now it is time to actually hike Mount Bromo. Once across the Sea of Sand, you will be welcomed to a nice incline and 250 or so steps up the side of Bromo and towards the crater rim.
As you make your way up, you will be welcomed to some incredible mountain landscapes surrounding you.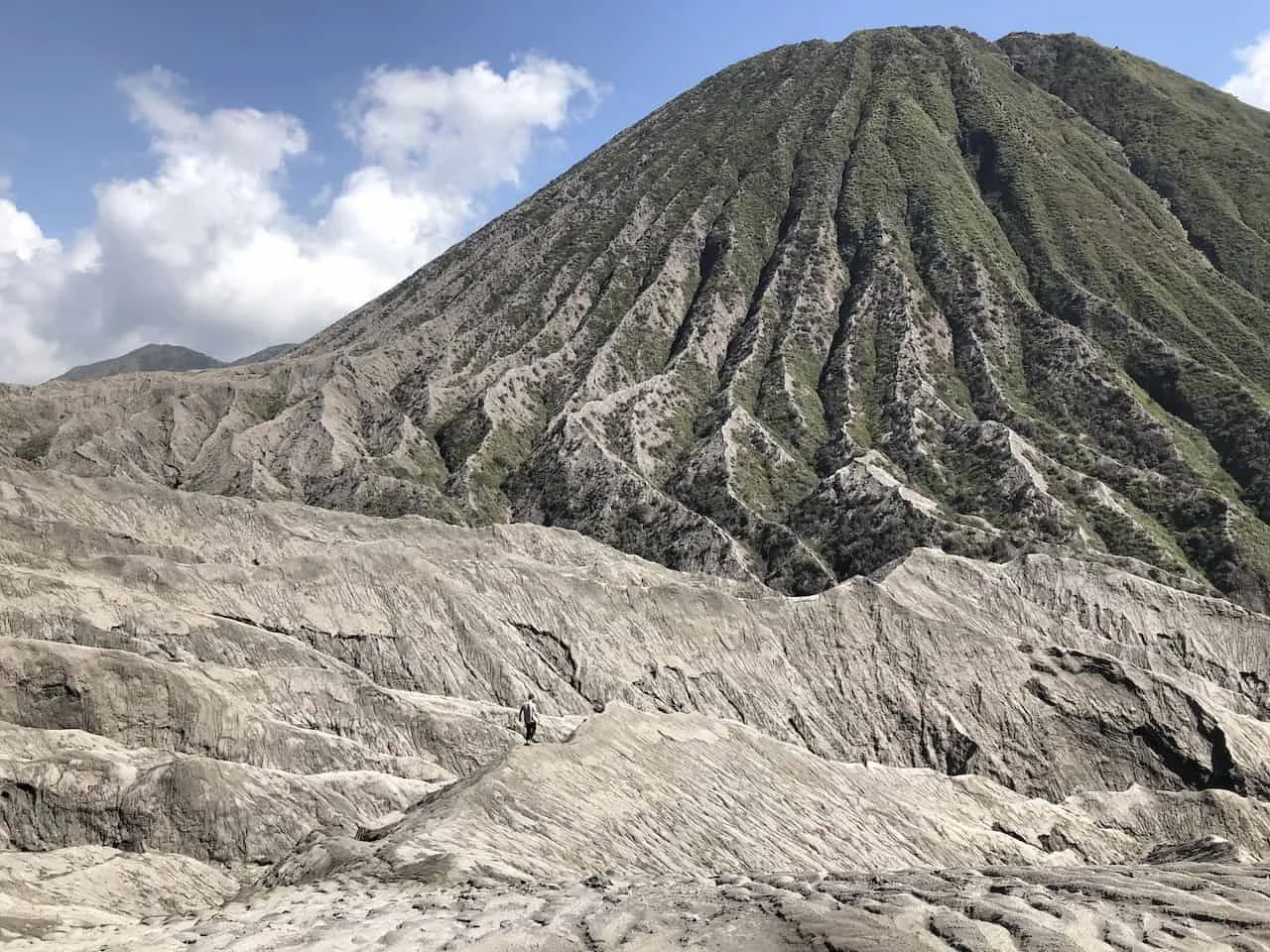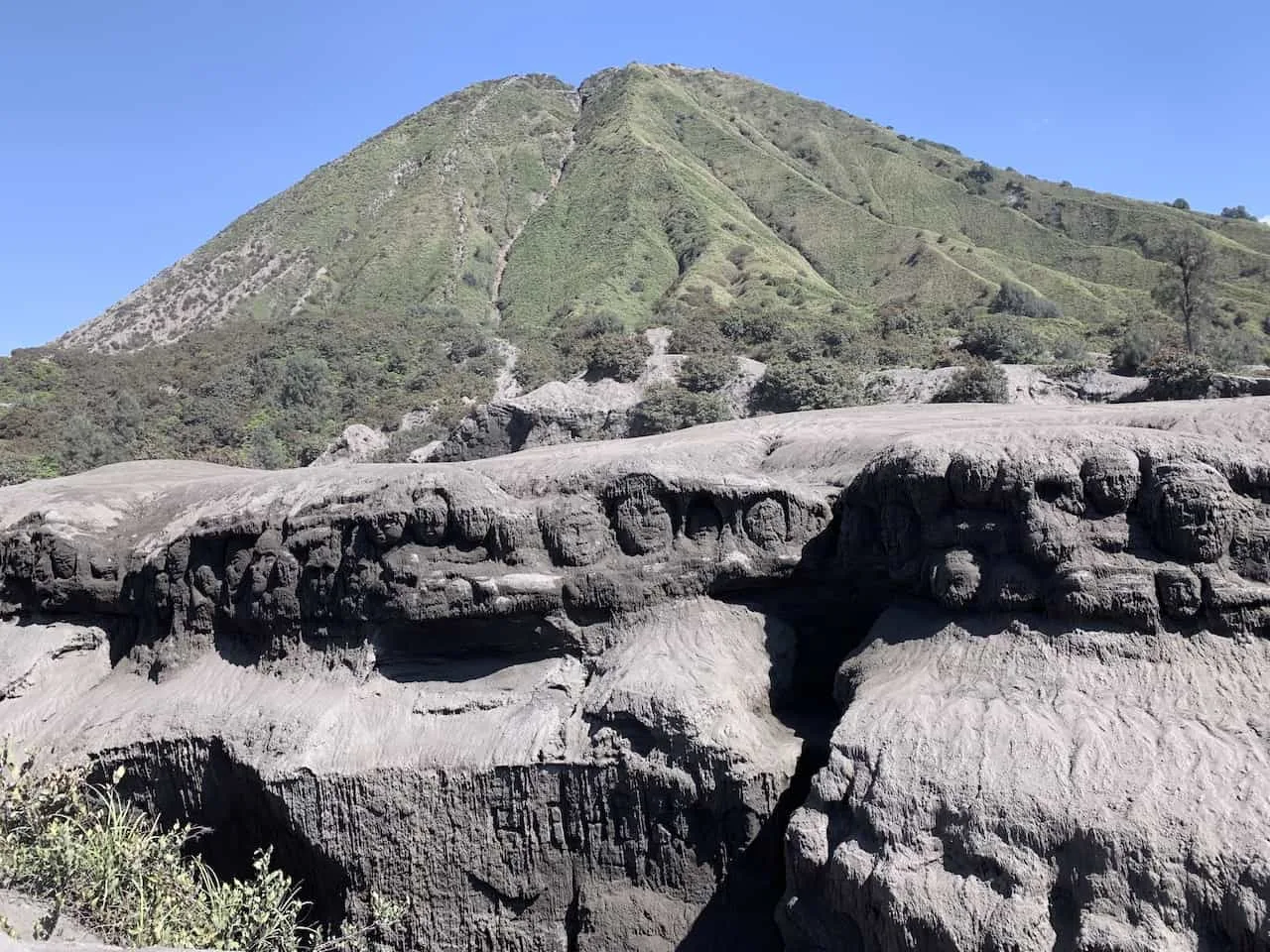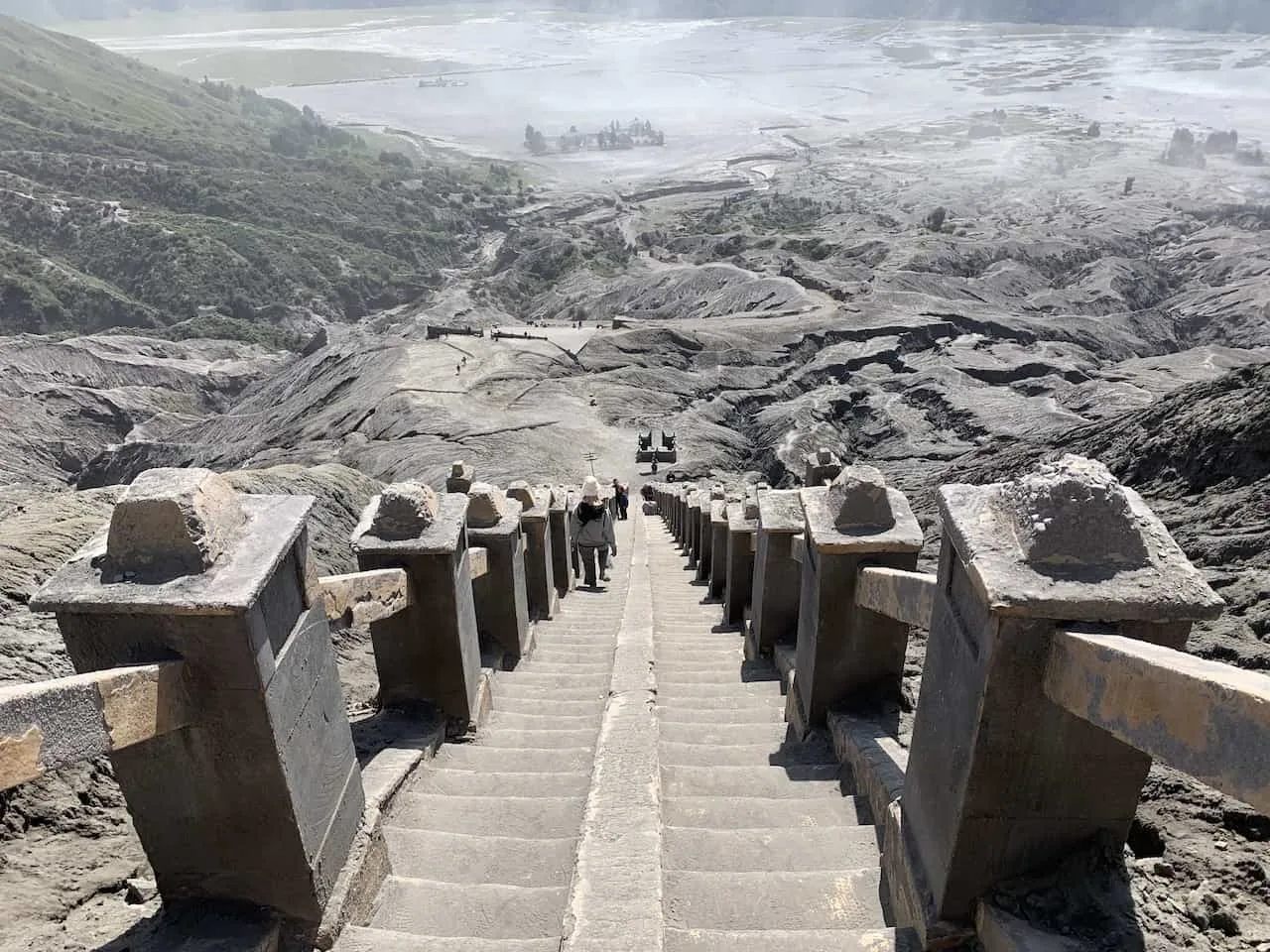 Soon enough you will reach the top of Mount Bromo and its perpetual plume of smoke coming from its crater. What is really unique about Bromo, is that you can actually walk around a good portion of the crater rim.
Definitely be careful though as it can get a bit tricky at times. If you do want to walk some of the rim, I would recommend heading up to your left and walking for 10-15 minutes before turning back around.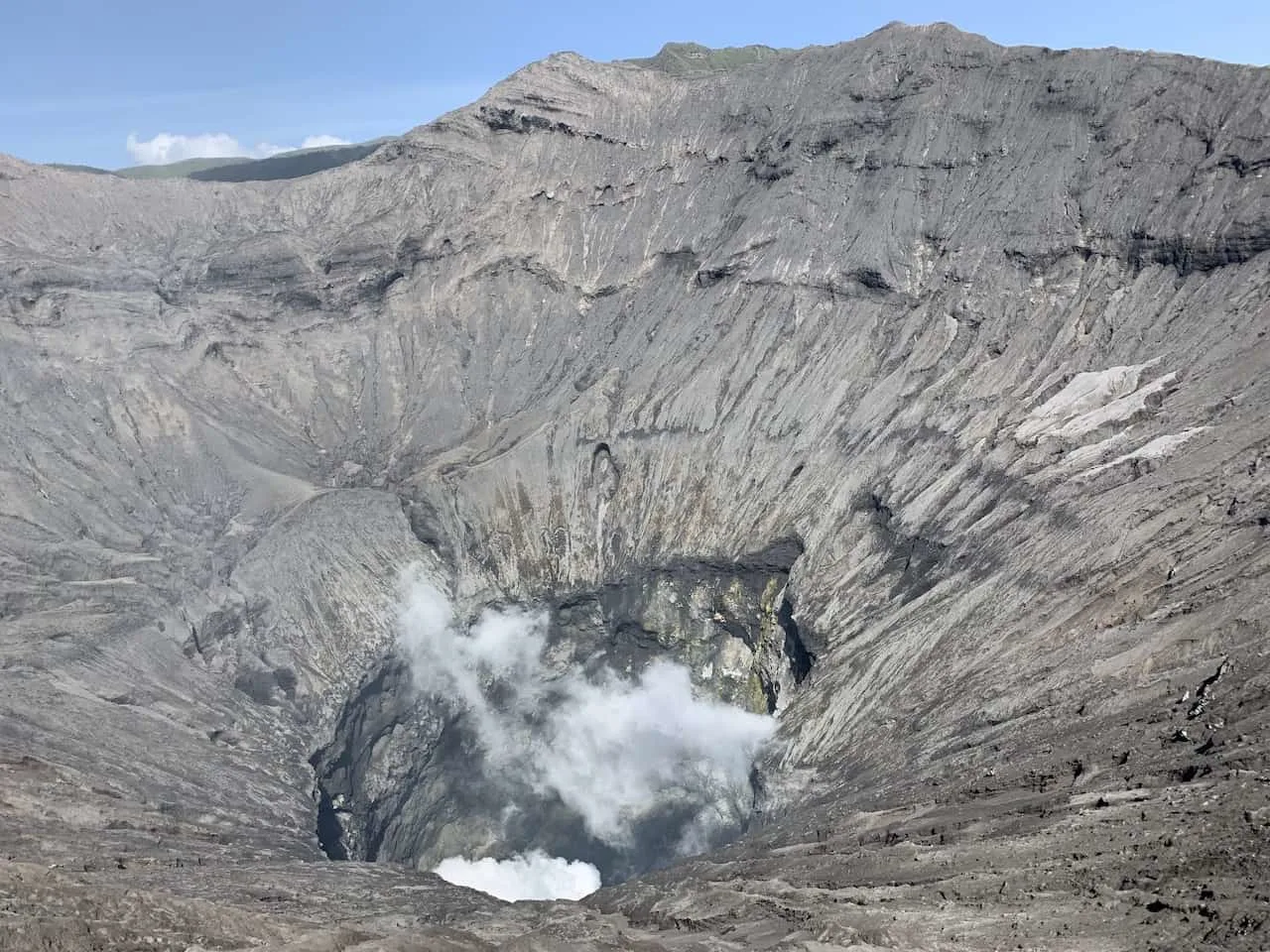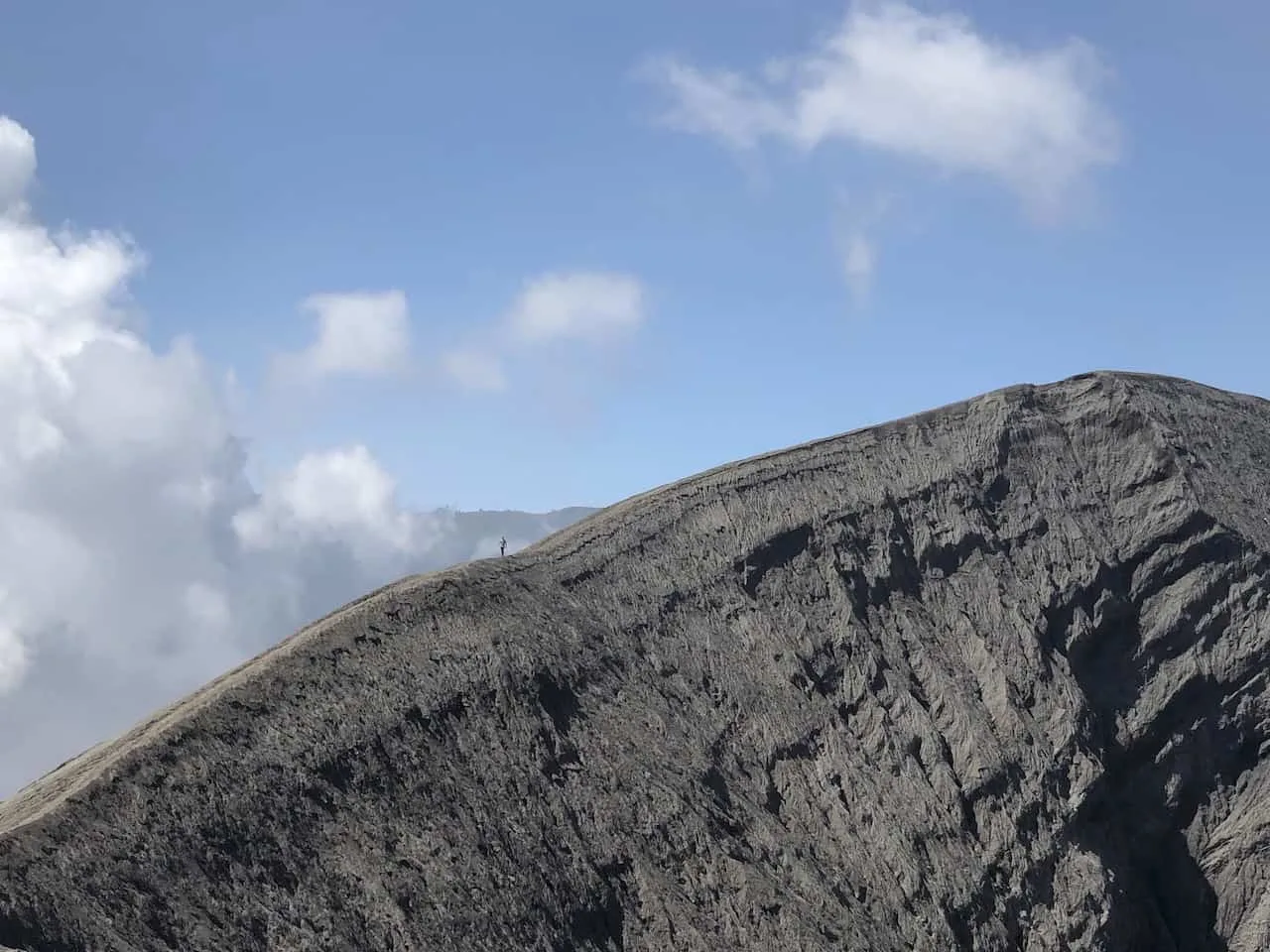 12) Back to Cemoro Lawang
Now that you have hiked up King Kong Hill, experienced sunrise, made your way through the Sea of Sand, and witnessed Mount Bromo from up close, it is time to make your way back to Cemoro Lawang.
You can either hike your way back through the sand and up towards Cemoro Lawang, or you can jump on a motorbike for a few dollars to get you there.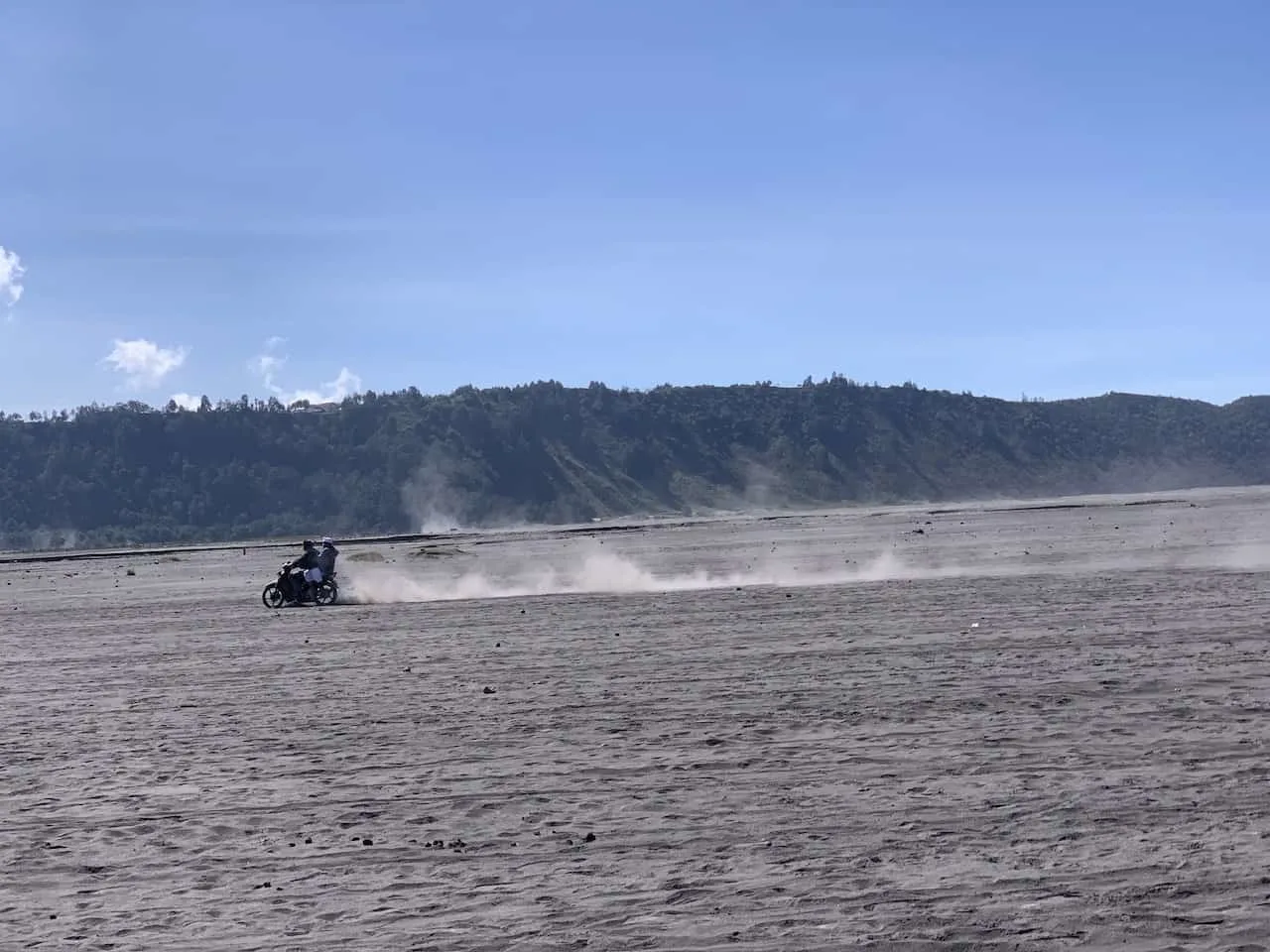 Once back at your hotel in Cemoro Lawang, it is time for a well deserved rest after a long day. From Cemoro Lawang you can then continue along on your Indonesian adventure.
I hope this guide has given you a better sense of what to expect during a trip to the Mount Bromo area and helped answer any questions you may have had along the way.
Feel free to ask any questions below and check out the other Indonesia itineraries and guides up on the site!
Also be sure to check out the Yogyakarta temples tour, the Goa Jomblang Cave, and a guide to the Tumpak Sewu waterfall.