A trip to Yogyakarta is not complete without a visit to the temples of Borobudur and Prambanan. These two Yogyakarta temples are some of the most iconic structures in Indonesia and make for the perfect day trip.
This guide will go over what a one day tour to Borobudur and Prambanan will entail and help answer any and all questions along the way.
* Affiliate Disclosure: This post may contain affiliate links, which means I may receive a commission if you make a purchase through the links provided, at no additional cost to you. Thanks for supporting the work I put into TripTins!
1) How to Get to Borobudur and Prambanan
The most common way to visit both Yogyakarta temples of Borobudur and Prambanan is a day trip from the city. The two temples are located approximately an hour away from each other, making this a fun filled and action packed day.
There are three main ways to go about your visit depending on preference and budget – private driver, guided tour, and renting your own scooter/bike.
Private Driver
Hiring a private driver for the day is a great option if you are with a small group of people. The cost for a full day of driving can be around 400,000 IDR ($30 USD) making this a very affordable option to split among a few people.
The driver will pick you up from your hotel in Yogyakarta, bring you to both Borobudur and Prambanan, and then bring you back at day's end.
You should expect the total driving time for the day to be about 3.5 hours. Taking into account a lunch stop and time exploring the two temples, you are looking at an 8-10 hour day depending on how long you spend at each spot.
A private driver can be arranged by your hotel or you may come across them in town/at the airport.
Guided Tour
The next option here is to go on a guided tour of the two Yogyakarta temples. Not only will this include the transportation and tickets for the day, but it will also include a guide who can help explain many important facts about Borobudur and Prambanan along the way.
This is great for travelers who want a bit more history about the complexes and who don't want to worry about any and all logistics for the day.
If interested in a tour, I would recommend looking through some highly rated Borobudur and Prambanan tour options before heading out.
Rent a Scooter/Bike
Lastly, you also have the option to rent your own scooter or motorbike and make your way to the temples on your own. I would only advise doing so if you are very comfortable driving around on busy streets and have the necessary experience.
This would be the cheapest of options as you can get a scooter for as little as $5 per day.
2) Borobudur and Prambanan Tour Map
Below is a map showing the route from Yogyakarta to Borobudur to Prambanan and back to Yogyakarta.
While the routes may not seem that far in distance, remember that these are not major highways connecting cities. You will just be heading on normal two lane streets.
Yogyakarta to Borobudur: 60 minutes
Borobudur to Prambanan: 75 minutes
Prambanan to Yogyakarta: 30 minutes
3) Yogyakarta Temples Day Trip
Now that you have a better idea of how to go about a day trip to these two Yogyakarta temples, it is time to talk a bit more about each one.
The below sections will go a bit more in depth about both Borobudur and Prambanan, and also talk about the possibility of starting the day very early with a Borobudur sunrise.
» Take part of this day trip during a longer Yogyakarta Itinerary that takes you all throughout the area or a One Week in Java trip
4) Borobudur Sunrise
I want to mention off the bat here that you do not need to take part of this day trip starting with a Borobudur sunrise. You can easily push the day back to start around 7AM/8AM and still have plenty of time to go about your day.
However, if you do want to join in on the Borobudur sunrise, I did want to mention a few important facts to know. These more pertain to a do it yourself option as a guided tour will have these logistics figured out for you.
First you will need to take a look at the Yogyakarta sunrise times so you know what time to leave. Throughout the year sunrise will be somewhere between 5AM – 6AM meaning you should leave Yogyakarta between 3AM – 4AM or potentially even a bit earlier.
The temple opens to all visitors at 6AM, meaning no matter what time of year, you will not be able to enjoy a full sunrise at Borobudur just as a "normal" visitor.
However, there is a hotel on the temple grounds called the Manohara. The hotel offers the chance to enter the complex as early as 4:30AM to enjoy sunrise at a cost of 475,000 IDR or $34 USD.
Head to the hotel to join in on sunrise as this is your only option if you want to enjoy a full sunrise on the temple grounds. You can also stay overnight at the Manohara to avoid an even earlier wakeup.
If sunrise is closer to 6AM, you will have the chance to catch some of the sunrise as part of a regular ticket but again, you probably won't be able to take in the whole thing.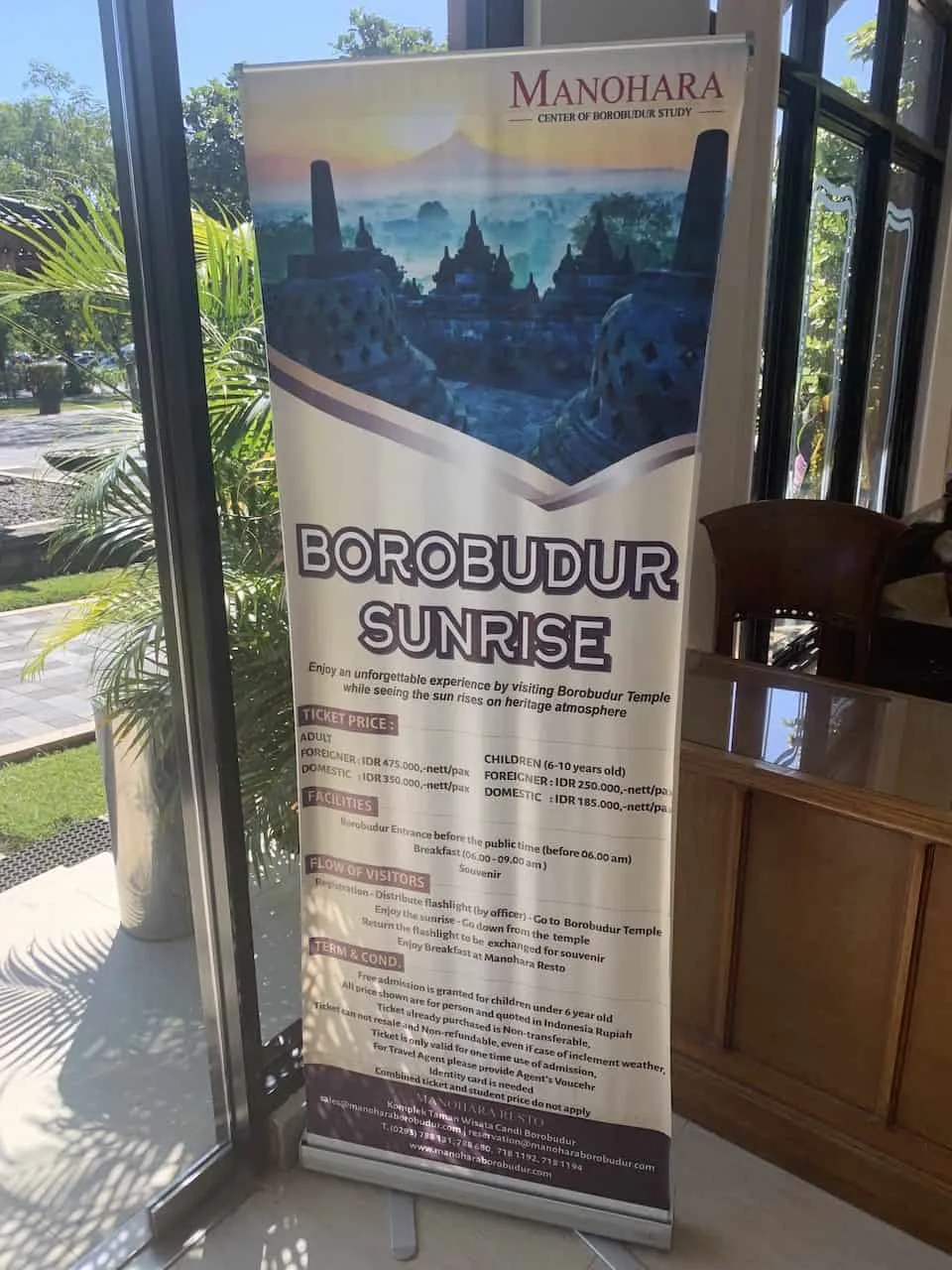 5) Borobudur Tour
Whether or not you decide to see sunrise, you will spend your first couple hours of the day exploring the ins and out of the Borobudur Temple.
The temple's normal hours are 6:00AM – 5:00PM and costs 350,000 IDR ($25 USD) to enter.
You can also purchase the combo Borobudur and Prambanan ticket for 630,000 IDR ($45 USD). Note that the combo ticket does not apply for sunrise tickets.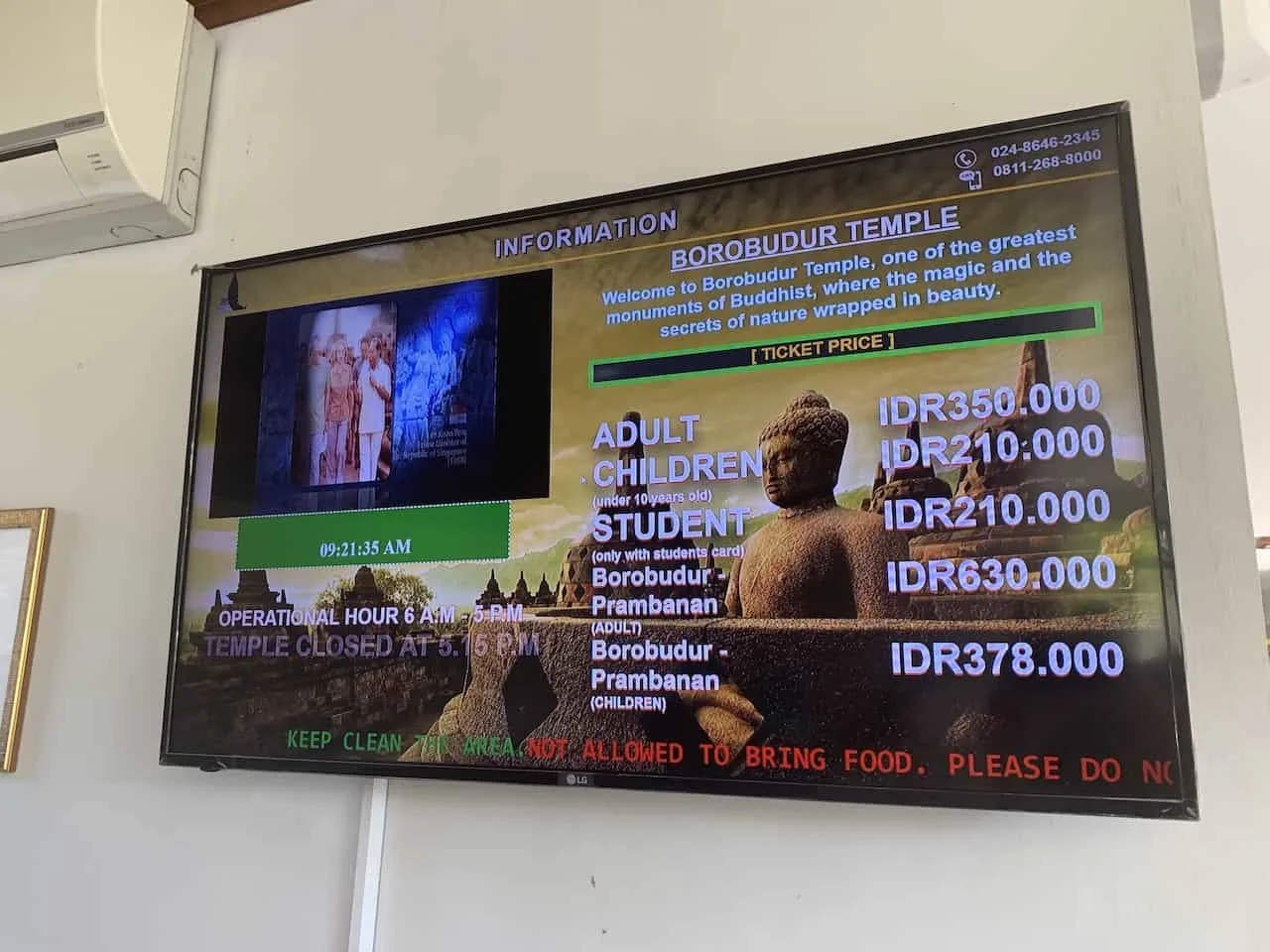 The temple was thought to be built around the year 750 and it is known to be the largest Buddhist monument in the world. It was not until the 1970's though when the temple was fully restored and brought back to its former glory.
The structure itself is very complex with a variety of different levels, platforms, buddhas and stupas all throughout. When I visited, I was in awe of the detail behind some of the artwork that was built into the temple walls and I spent much of my time just walking around all these different sections of the temple.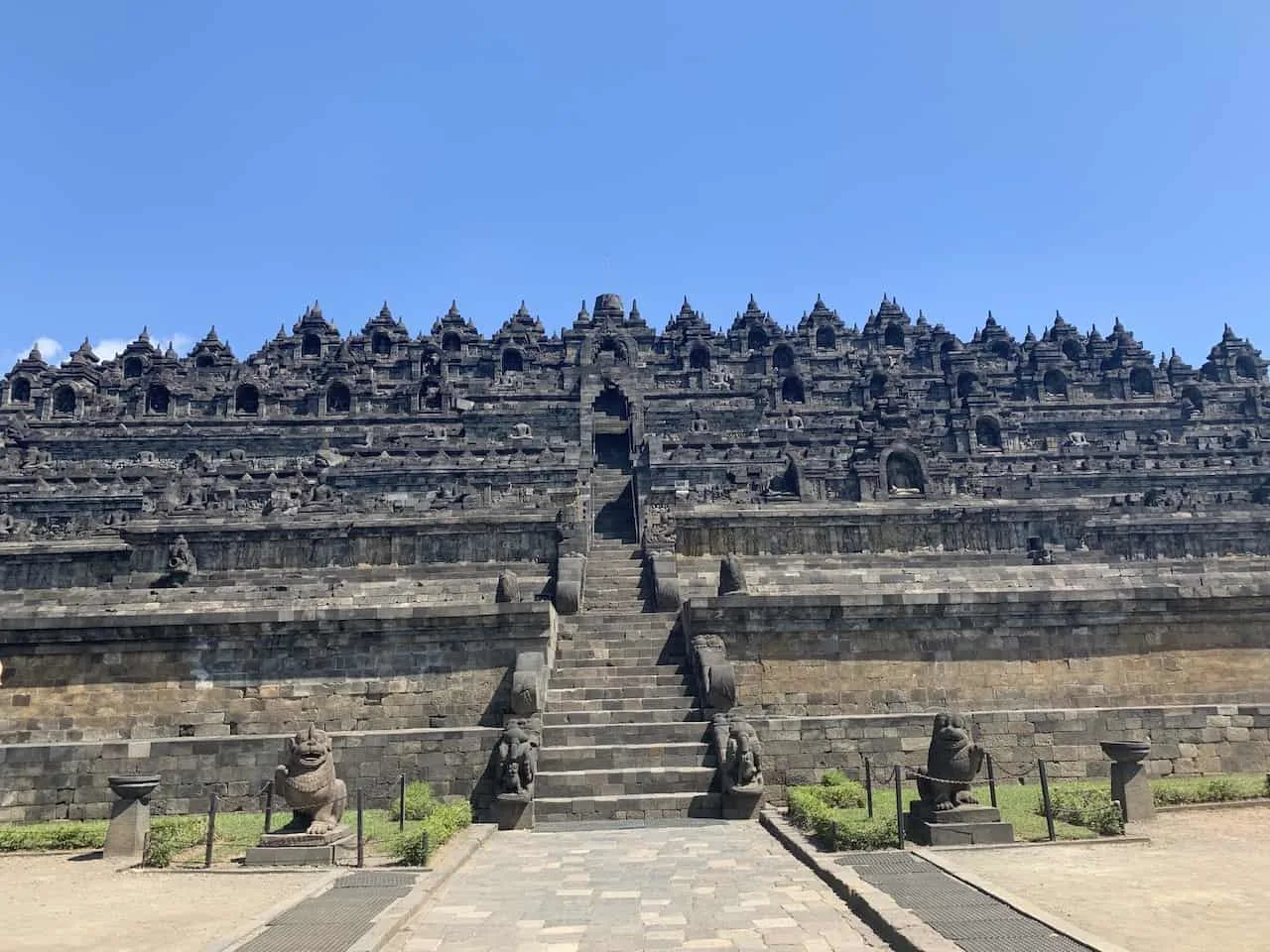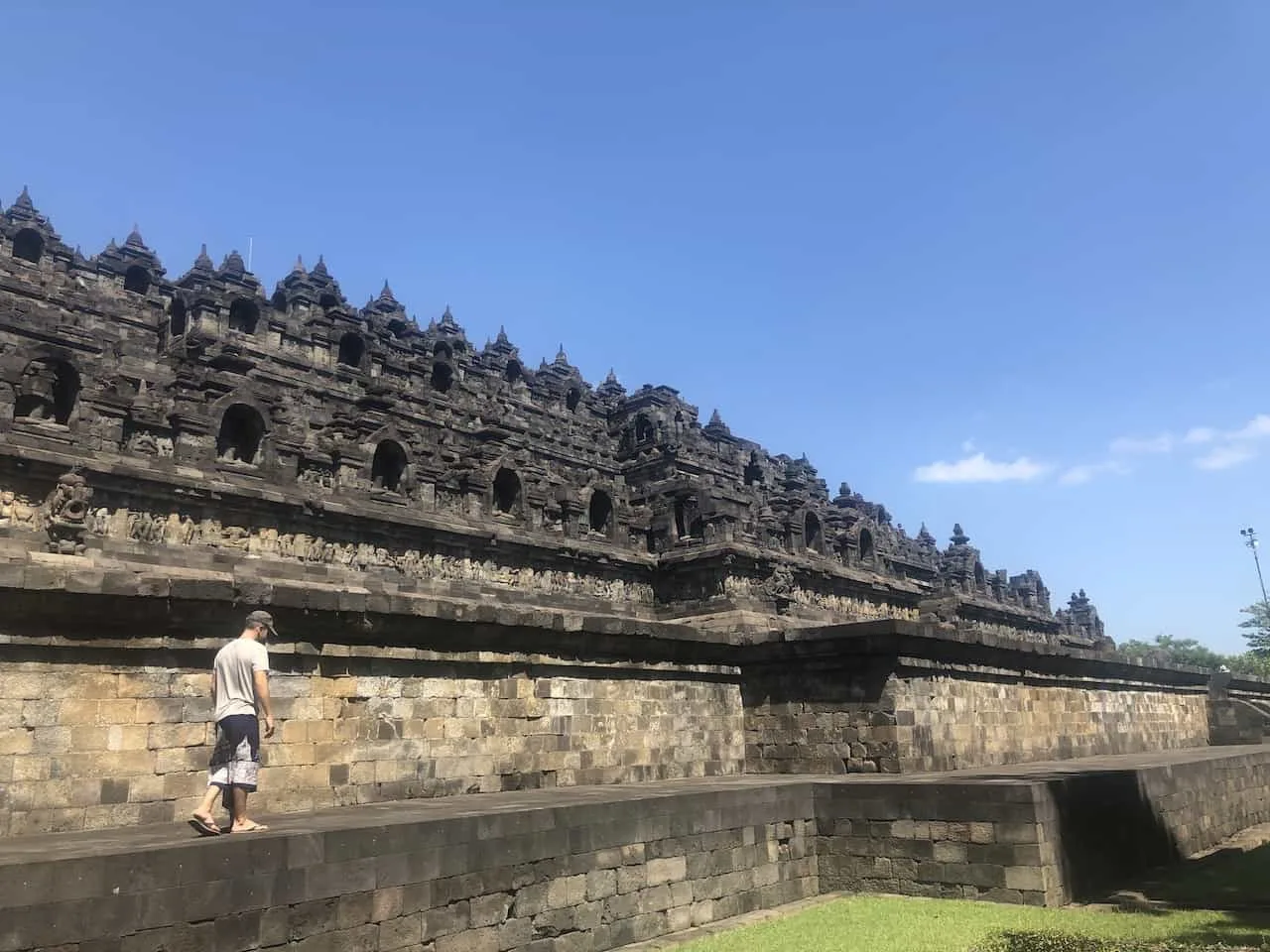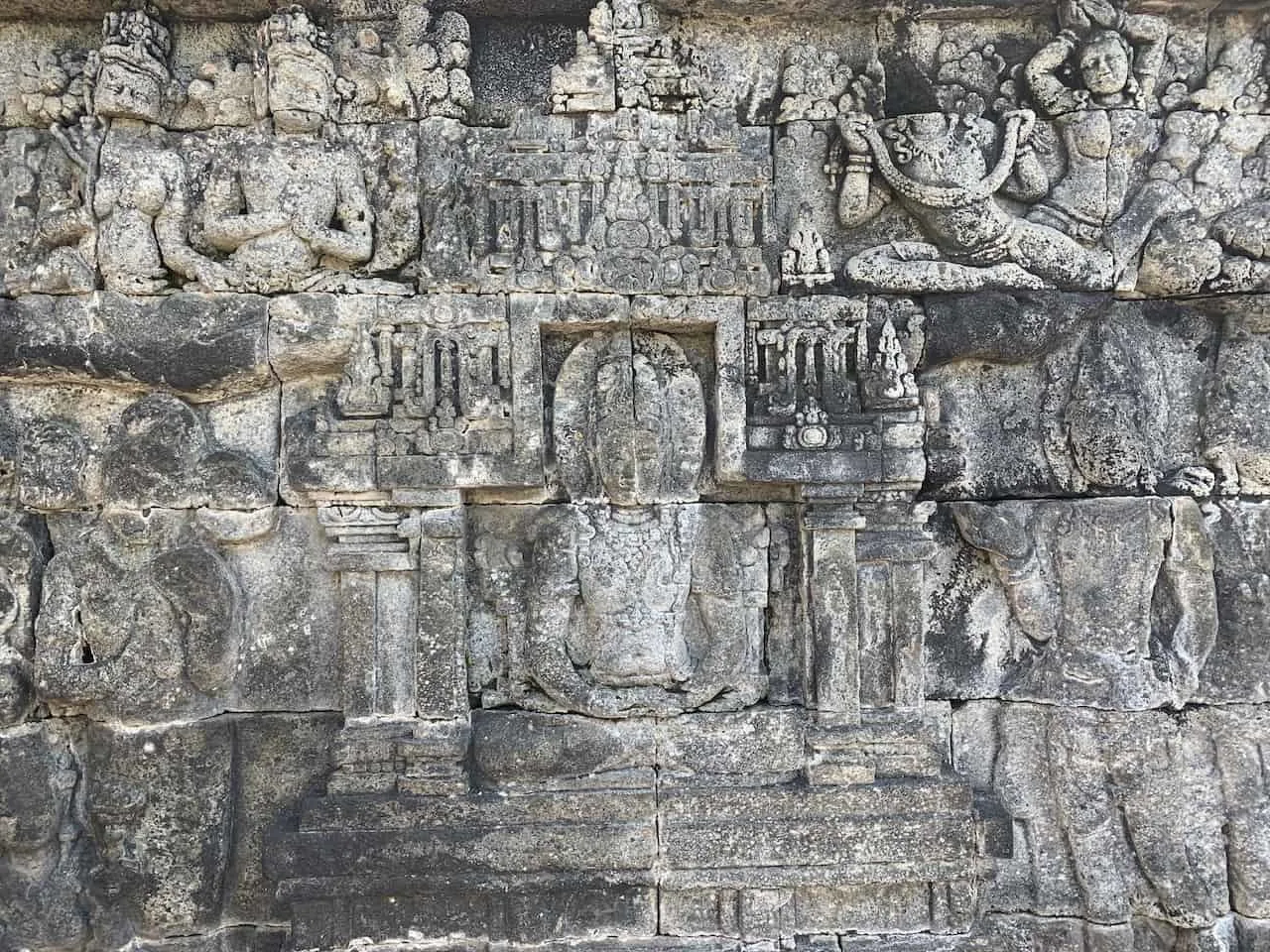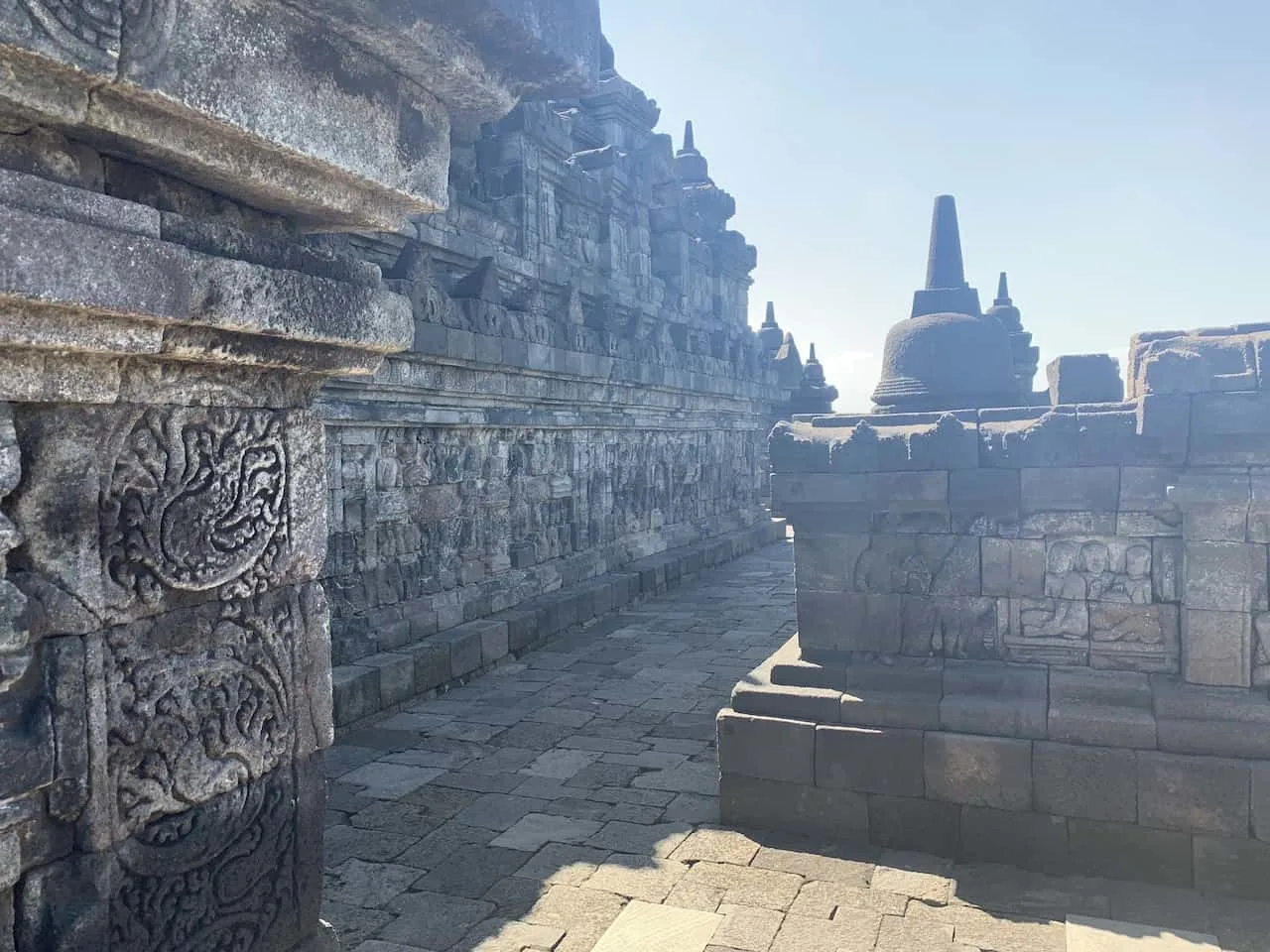 To give you a sense on how complex the temple is – there are 6 large square platforms with 3 circular platforms on top of those, along with 504 Buddha statues, 2,672 panels, and 72 Buddha statues inside stupas surrounding the main dome.
Up on the higher platform, you will be able to take in some of the best views of the surrounding area. On a clear day you should be able to see a variety of volcanoes out in the distance including Merapi and Merbabu.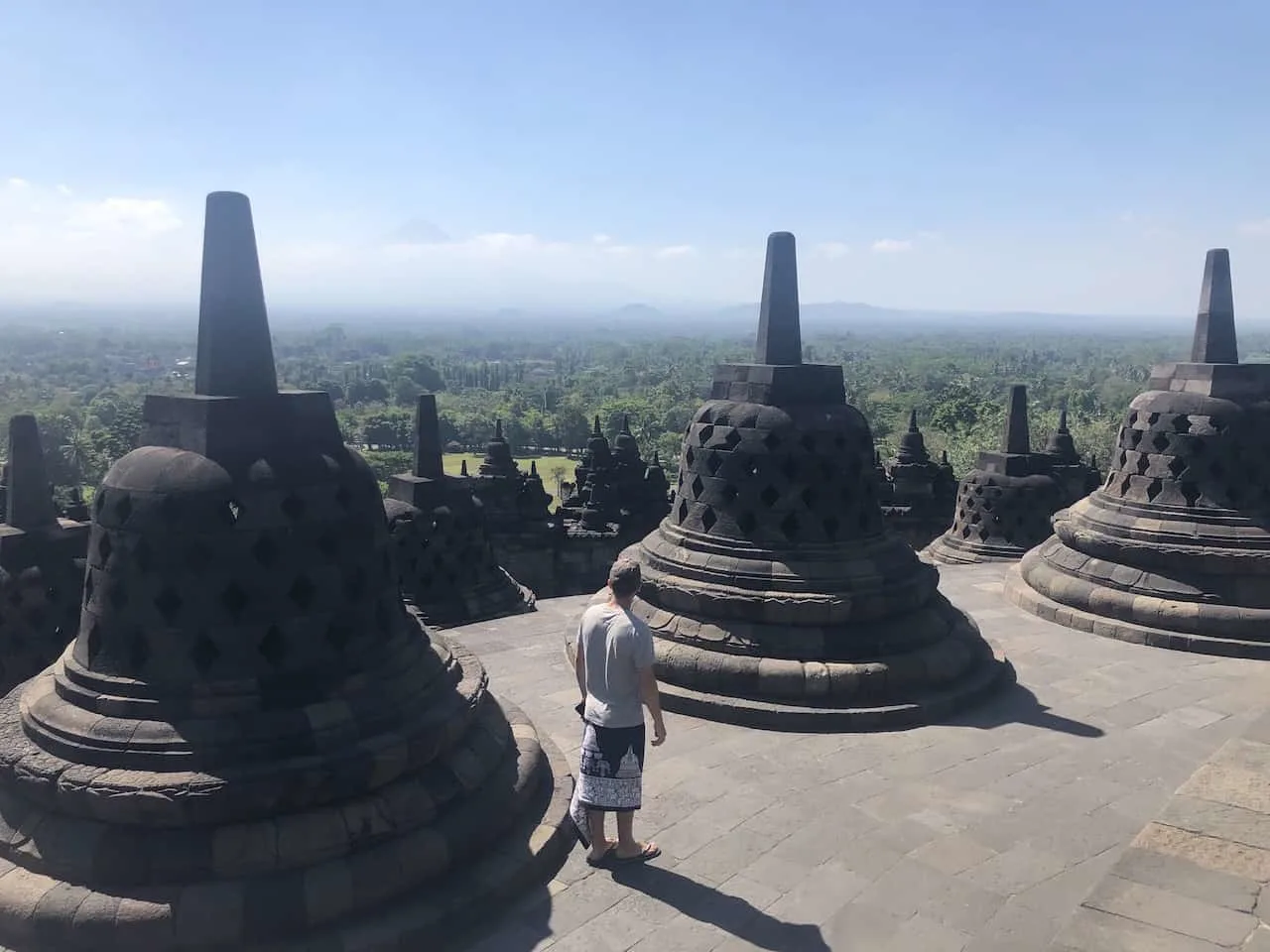 I would recommend spending at least 2 hours exploring the ins and outs of the temple complex to get the most out of the experience. Once done checking out all that Borobudur has to offer, you can make your way back towards the main entrance and continue on to Prambanan.
6) Prambanan Tour
Hop back in the car, where you will then make the 75 minute drive to Prambanan Temple. Along the way you can stop by for some lunch as I am sure you will be a bit hungry after a long morning.
Once at Prambanan head on over to the ticket counter to purchase your tickets. If you bought the combo ticket then no need to worry. If you didn't (/if you did Borobudur sunrise) then a ticket costs 350,000 IDR or $25 USD. The hours for Prambanan are also 6:00AM – 5:00PM.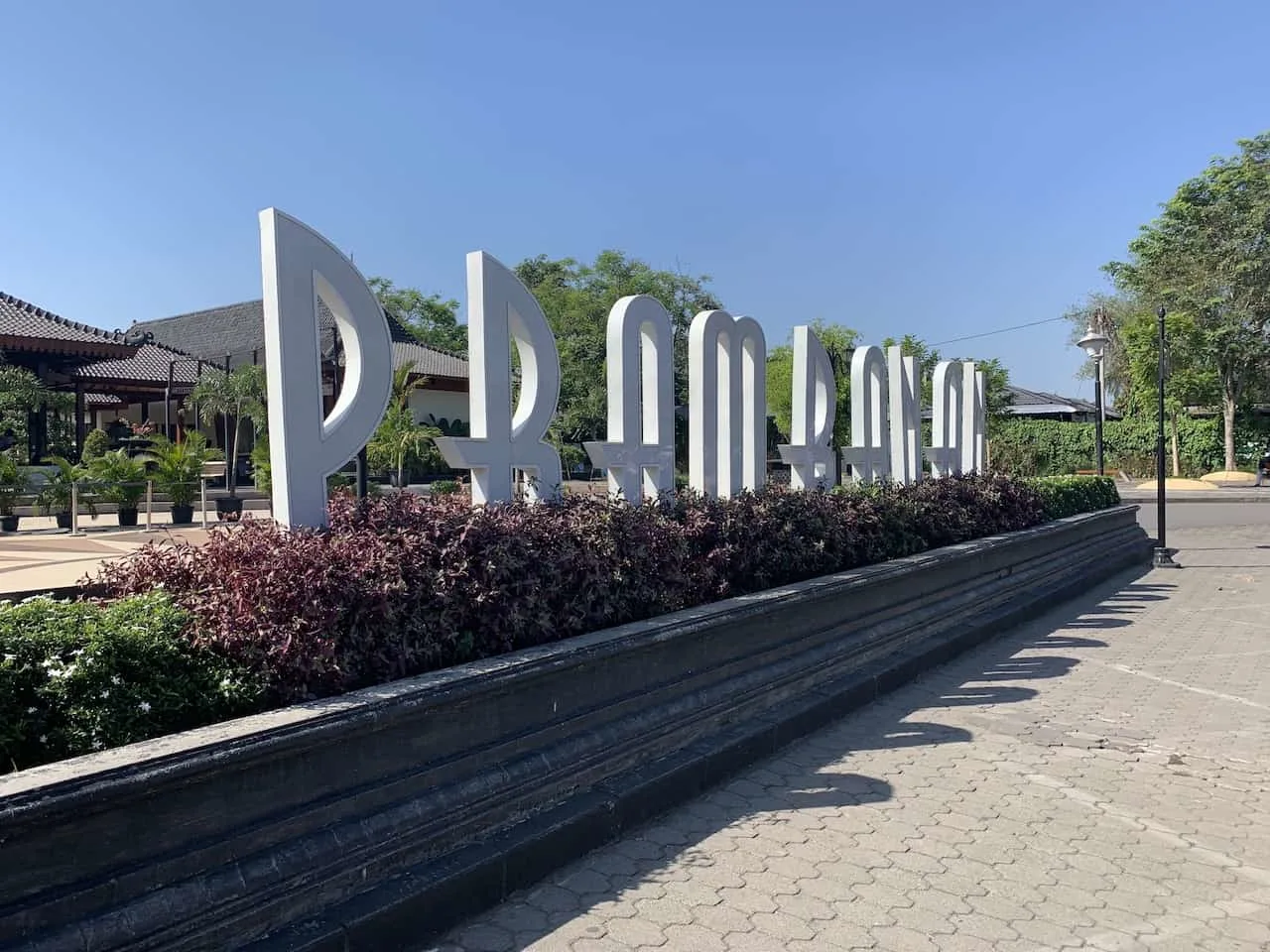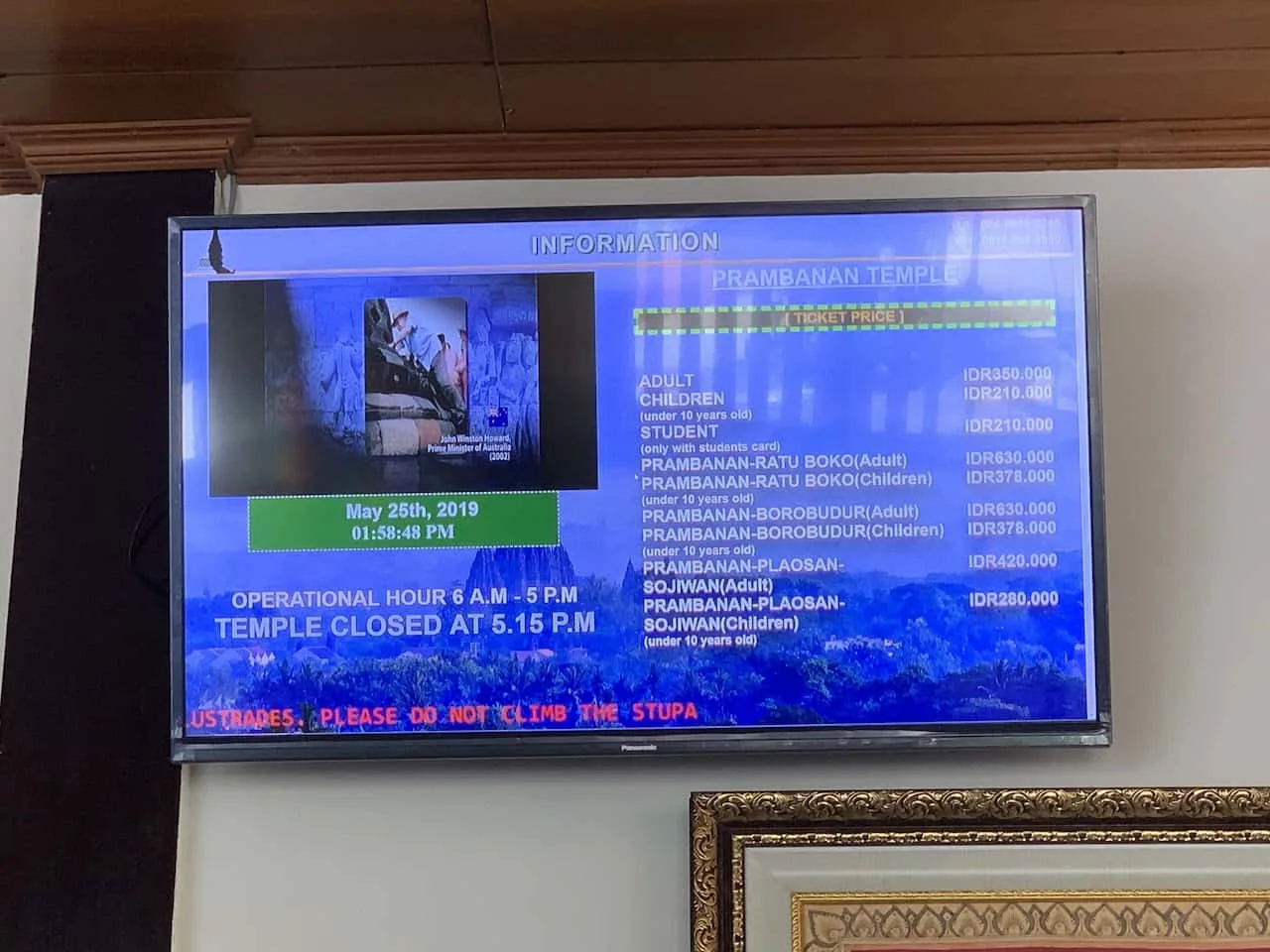 While Borobudur is mainly one massive structure, Prambanan is made up of several different structures along with other smaller temples sprawled throughout the complex. It is also a Hindu temple, opposed to Borobudur being Buddhist.
Prambanan is known to be the largest Hindu temple in Indonesia and was built around the year 850.
Within the main complex you will find 8 temples with ornate designs carved into each one. You will have the chance to walk around the various temples and take in the architecture from all different angles.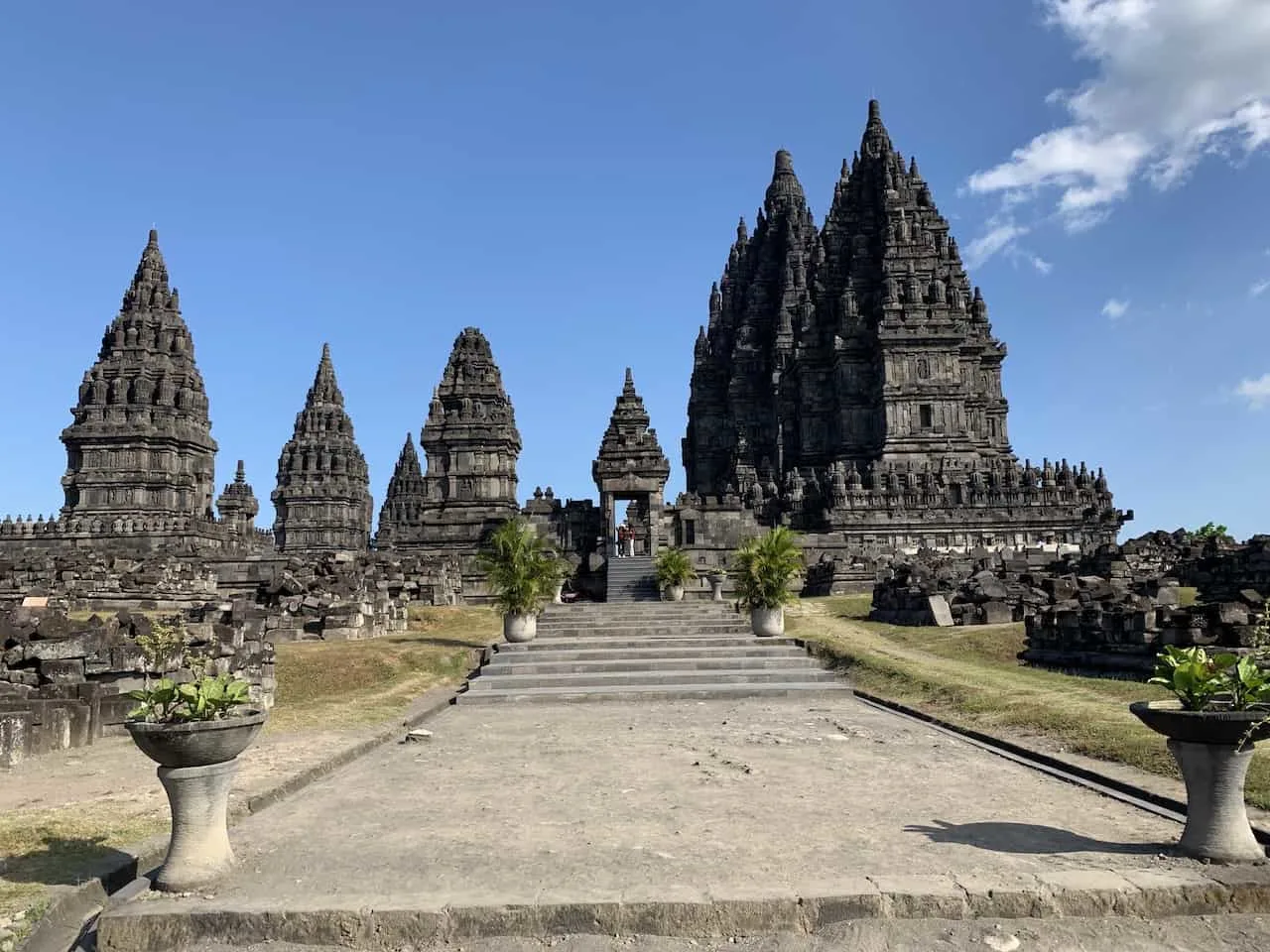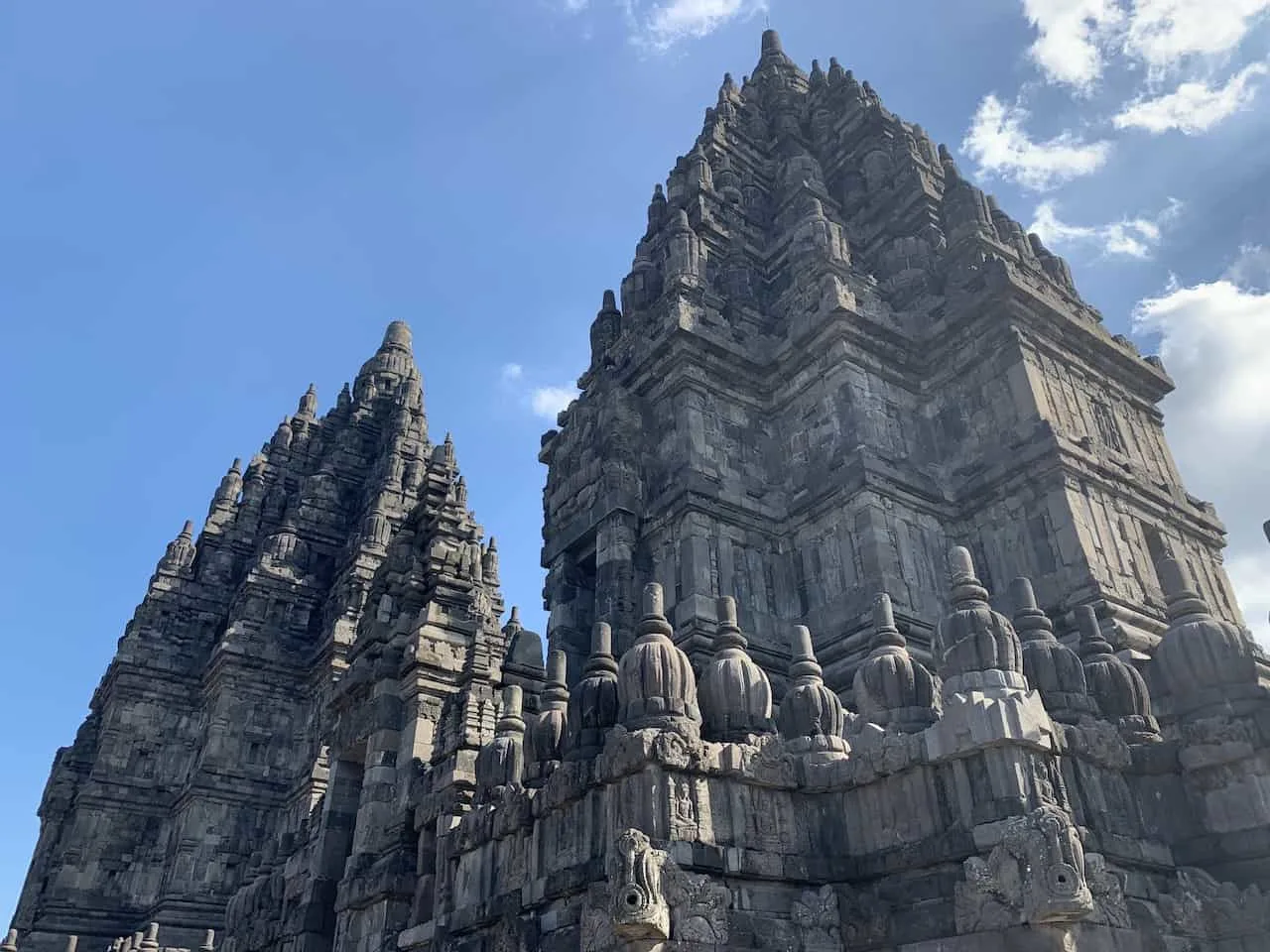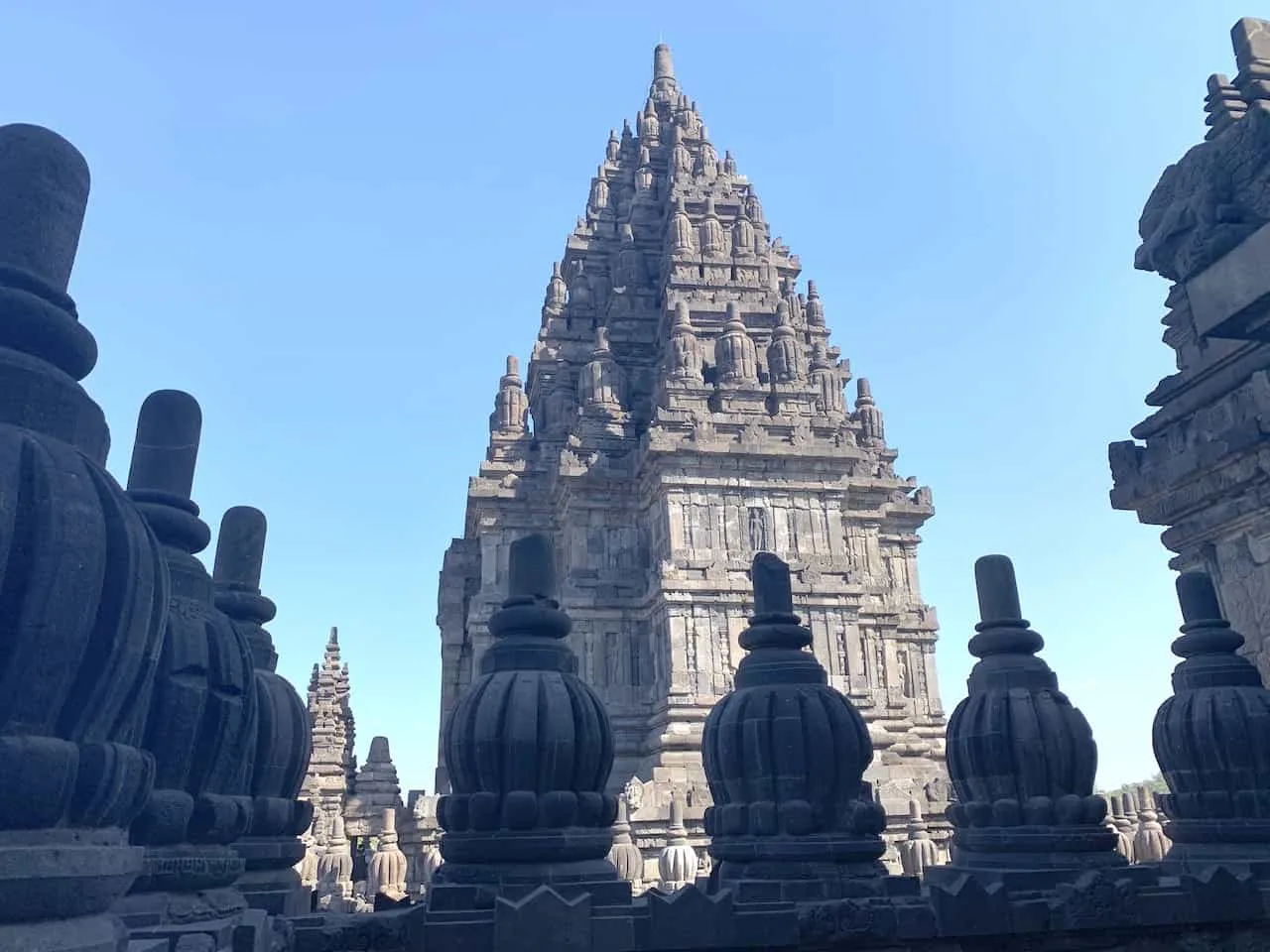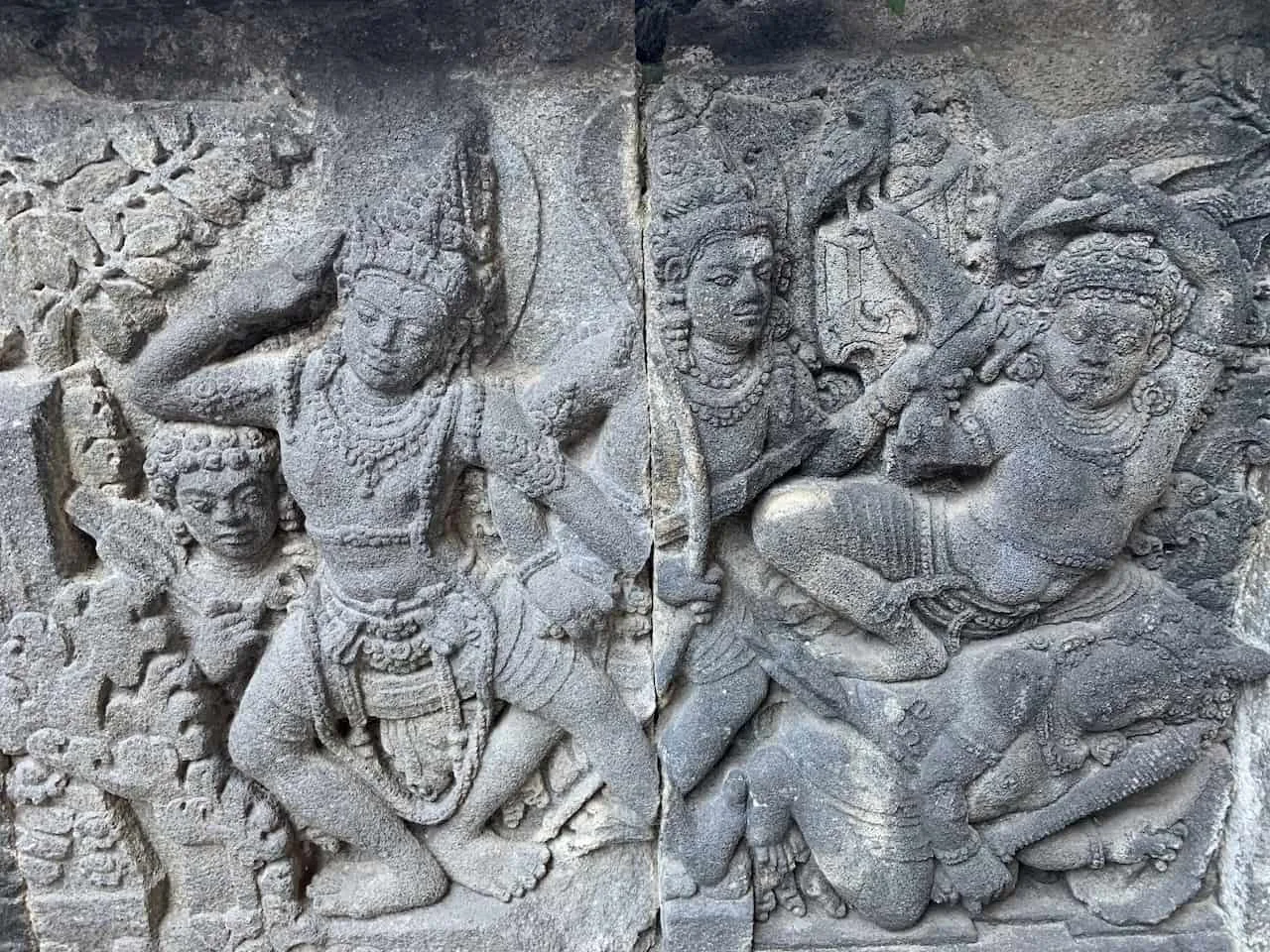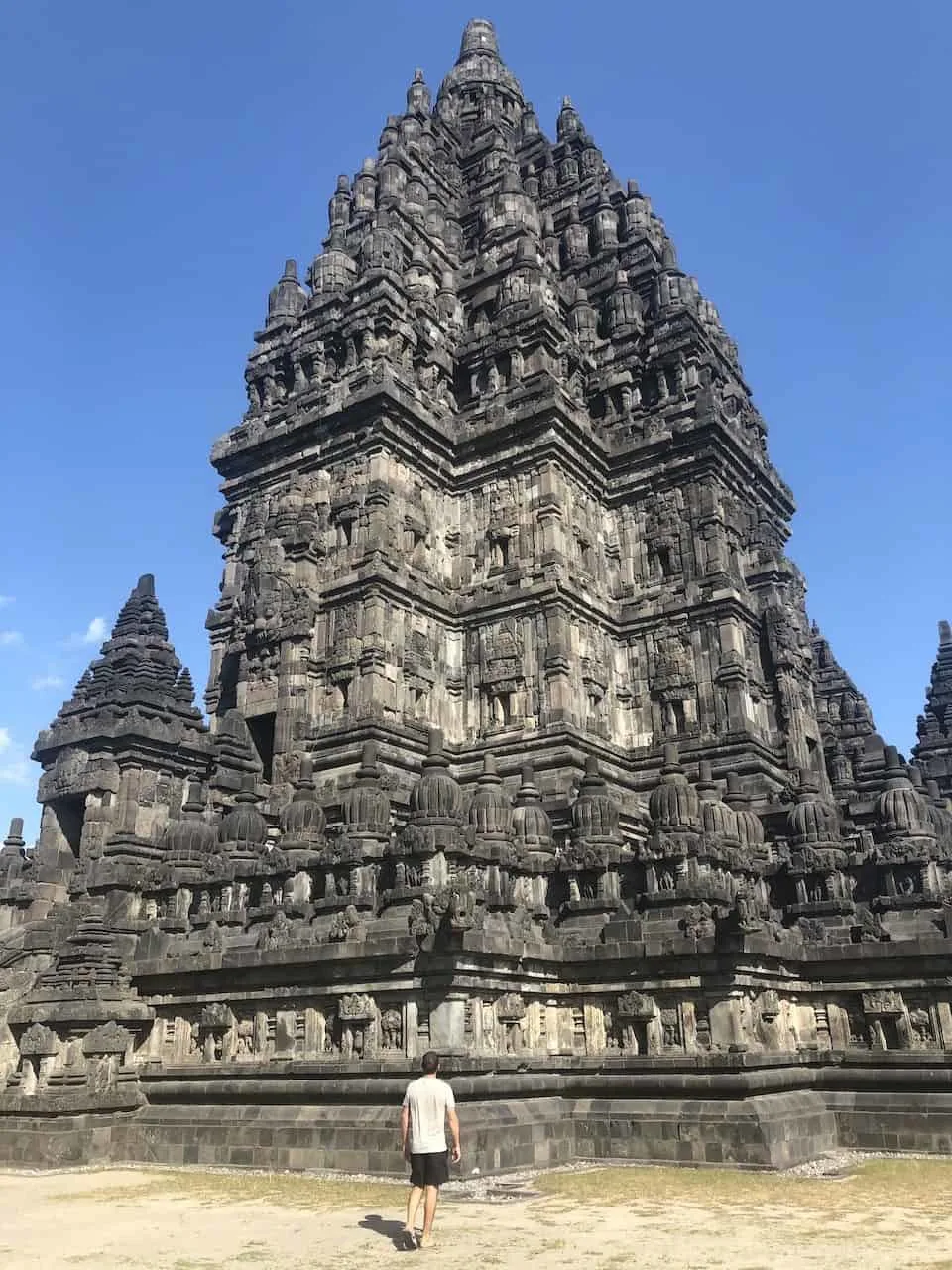 You will see surrounding the main complex, a variety of ruins sprawled all around. Many of these have not been fully restored but you can just imagine how incredible the entire complex must have been when everything was built up.
7) Candi Lumbung, Candi Bubrah, and Candi Sewu
After enjoying what the central Prambanan Temple has to offer, you can make your way to some of the other impressive temples in the complex.
You will see a few transportation options to take you to these other temples including bicycles, golf carts, and even a small train. I decided to just make the walk around as it wasn't that long of a distance to make the loop.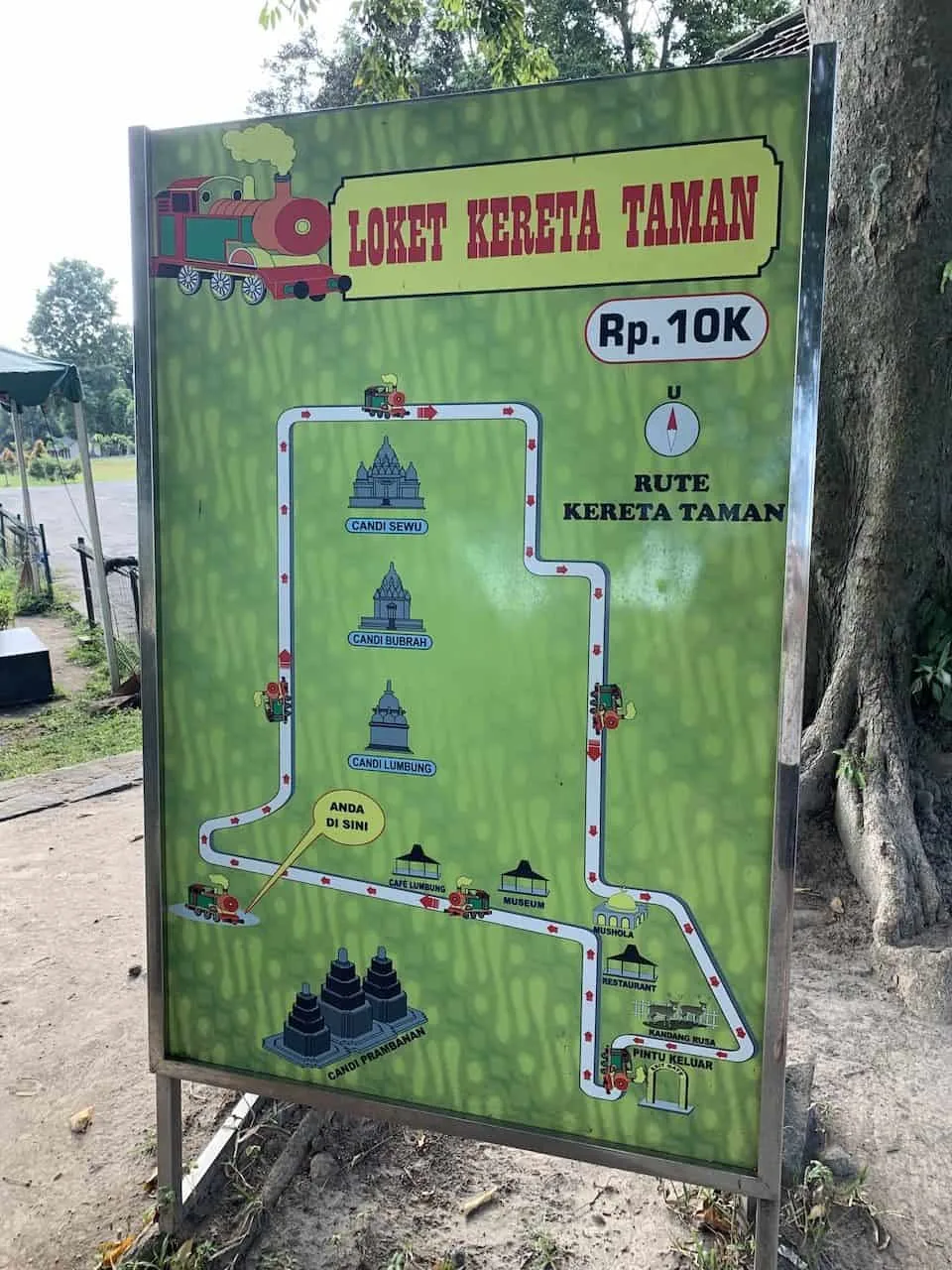 There are three temples along the route that you should check out. These include Candi Lumbung, Candi Bubrah, and Candi Sewu.
Each one of these temples is unique in their own sense and will be much quieter than the main Prambanan Temple. If you have the time, I highly recommend adding in this loop to your day here.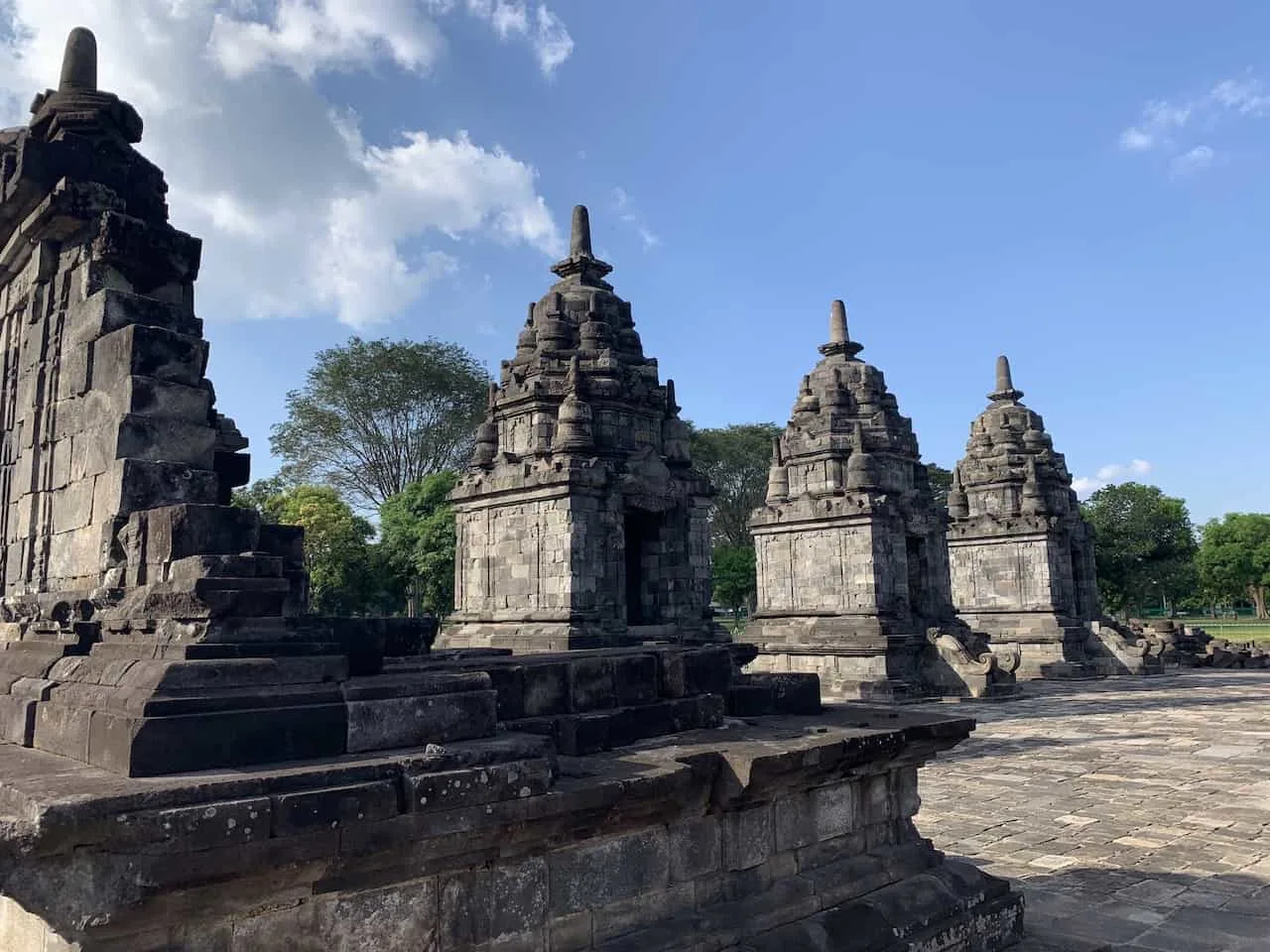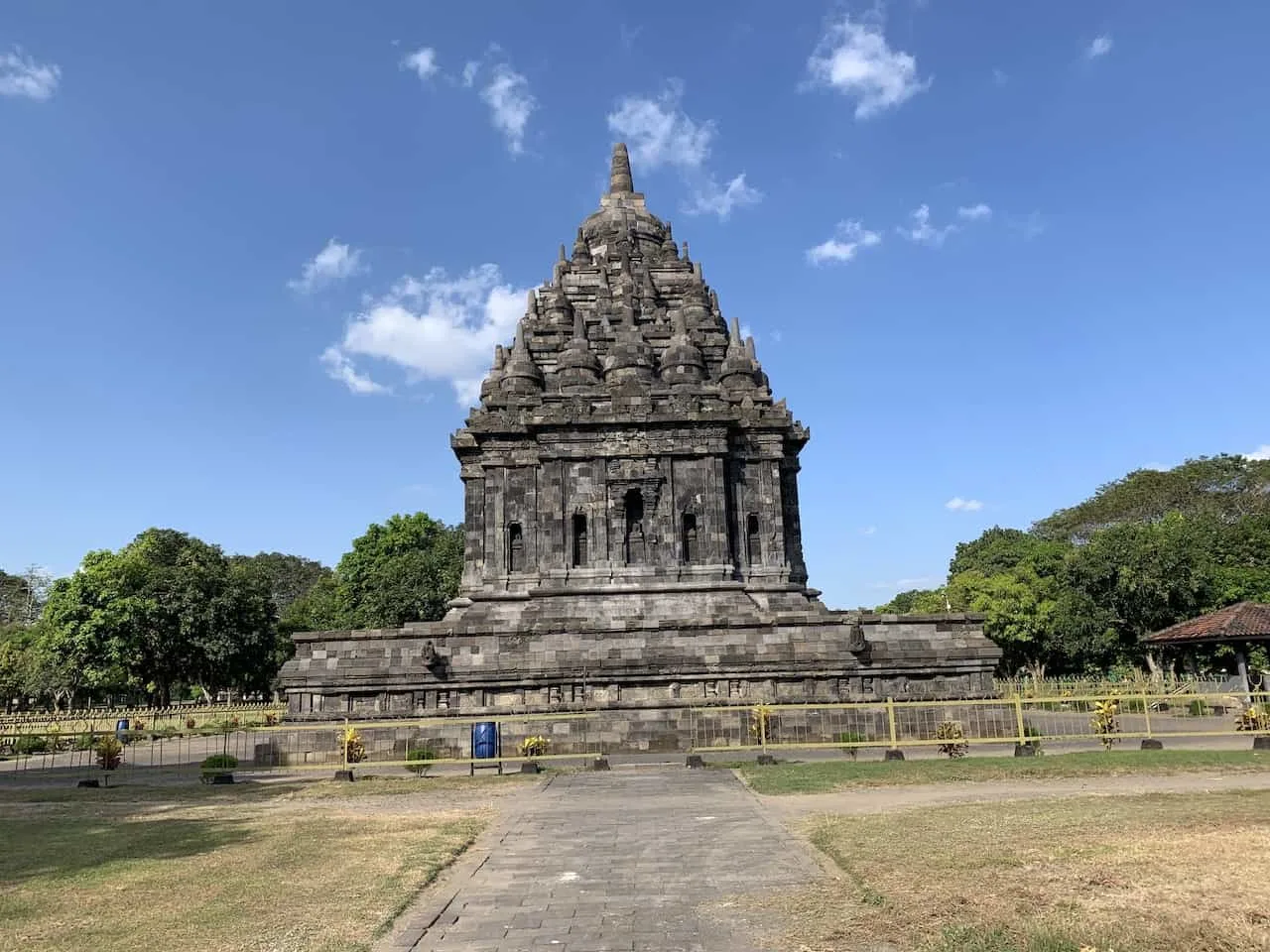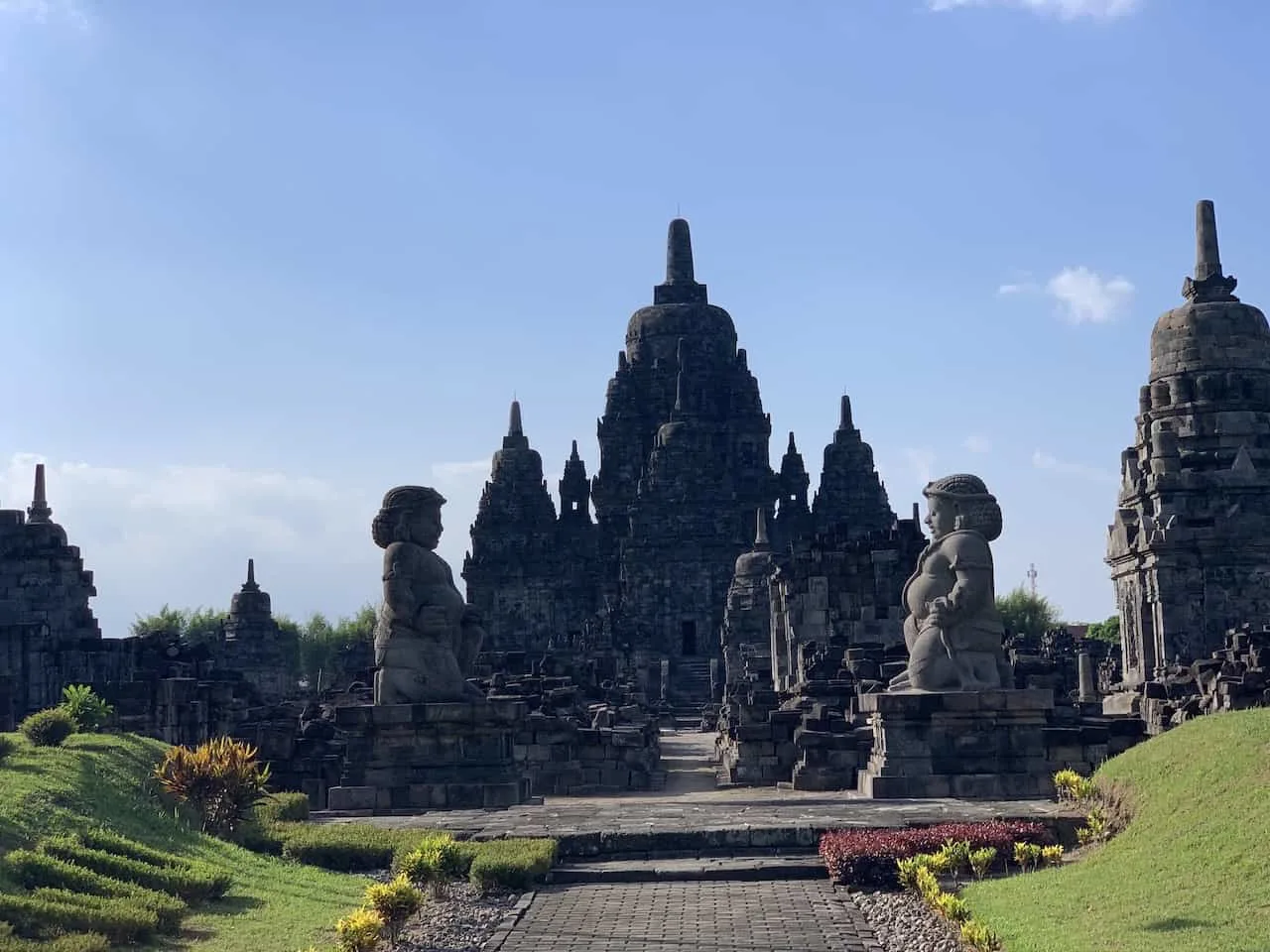 Similar to Borobudur I would say you should spend at least 2 hours walking around the entire Prambanan area.
Once you have seen all that Prambanan has to offer it is back to Yogyakarta for the night to end a successful Yogyakarta Temples day trip to Borobudur and Prambanan.
8) Where to Stay in Yogyakarta
Yogyakarta is full of accommodation options that extremely reasonably priced. Below are several highly rated options that come at a good value:
Now that you have a better idea on how to go about a day trip visiting the Yogyakarta temples of Borobudur and Prambanan it is time to head on out there yourself.
Feel free to ask any questions below and check out the other Indonesia itineraries and guides up on the site! Some of the top ones include:
Have fun out there and safe travels!