A trip to Java is not complete without a stop in the city of Yogyakarta. Also known as Jogjakarta or Jogja for short, the city has plenty of attractions and activities to take part of within the city itself and a bit further away as well.
This Yogyakarta itinerary will go over what 3 days in Jogja can entail and how to go about your trip there.
* Affiliate Disclosure: This post may contain affiliate links, which means I may receive a commission if you make a purchase through the links provided, at no additional cost to you. Thanks for supporting the work I put into TripTins!
1) Getting to Yogyakarta
Before jumping into the attractions and Yogyakarta itinerary, I thought it may be helpful to talk a bit about some logistics when it comes to the city. Your first order of business will be to get yourself to the city center.
This will all depend on where you are coming from within / out of the country. You really have three main options here – plane, train, or car. Below I will dive into each one a bit more:
Plane
Yogyakarta is home to the Adisucipto International Airport (JOG), which has routes from both Singapore and Kuala Lumpur from an international standpoint.
This can be great for those that want to begin their trip in Yogyakarta and skip over a flight into Jakarta.
You can also travel by plane into the city if coming from other parts of Indonesia. Since the country is made up of so many islands and is very spread out, a domestic flight can be a popular option here. You can catch flights from Jakarta, Bali, Lombok, among several other cities..
Once landed, I would recommend just hopping into a taxi (or tuk tuk), to get you to the city center. Expect costs to be around $5 USD to get to the city center.
Train
If traveling to Yogyakarta from other parts of Java, you can choose to hop on a train that will get you into the central train station.
Trains run from all parts of Java – including Jakarta, Surubaya and Malang – all of which will have train lines that run through Yogyakarta.
I would recommend taking a look at a site like Tiket.com to see schedules and prices, and to purchase your tickets once you are ready to book your route. The train station is located in a pretty central spot, so you may be able to just walk to your hotel from there or jump in a quick taxi ride as well.
Car
A popular way to travel around Java is to have your own car and driver. For the duration of your trip on the island, you can roam around at your own pace and pick and choose where/when you would like to go.
This is a great option for people who do not want to rely on public transport schedules and are willing to pay a bit of a premium for the comfort.
While I did not use a car and driver for my entire time in Java, I did find it a very helpful option for certain parts of my trip on the island. It is also pretty cheap all things considered if traveling with other people.
Expect a daily cost to be around $60 USD, although that number can also depend on how far you plan on driving throughout Java.
-> This option can also be very helpful once you are in Yogyakarta. Since some of the top attractions are located outside the city limits, one of the main options here is to hire a driver anyway. Having a driver already set up can remove any worry once you arrive to Yogyakarta.
2) Getting Around Yogyakarta
Once in Jogja, you will need to figure out how to get around to all the different attractions inside and outside of the city.
You will probably want to combo a number of different options here since some things are quite close by while others can be a couple hours drive away.
Inside the City
When you are visiting places within the city itself, I would be comfortable sticking to walking on your own or hopping in a quick tuk tuk ride to get you around. Many of the main places are in or near the city center, so it shouldn't take too long to get there.
Outside the City
On the other hand, you will also want to visit attractions that are further away (i.e. Goa Jomblang Cave or the Yogyakarta Temples). For places like these, I would recommend hiring a driver for the day to get you there.
As mentioned before, hiring a driver can be an easy and economical way to get around. Day trips outside of the city should be around $40 USD for the day.
Your other two options would be to hire your own motorbike or to join a tour. I would only recommend hiring a motorbike if you are 100% confident and comfortable on the Java roads. They can get a bit hectic at times and I can only recommend for an experienced driver.
Joining a tour is also a great option (especially if solo), as they will take care of all logistics for you as you make the day trip outside the city. I will mention some of the top tours to choose from for the different activities down below.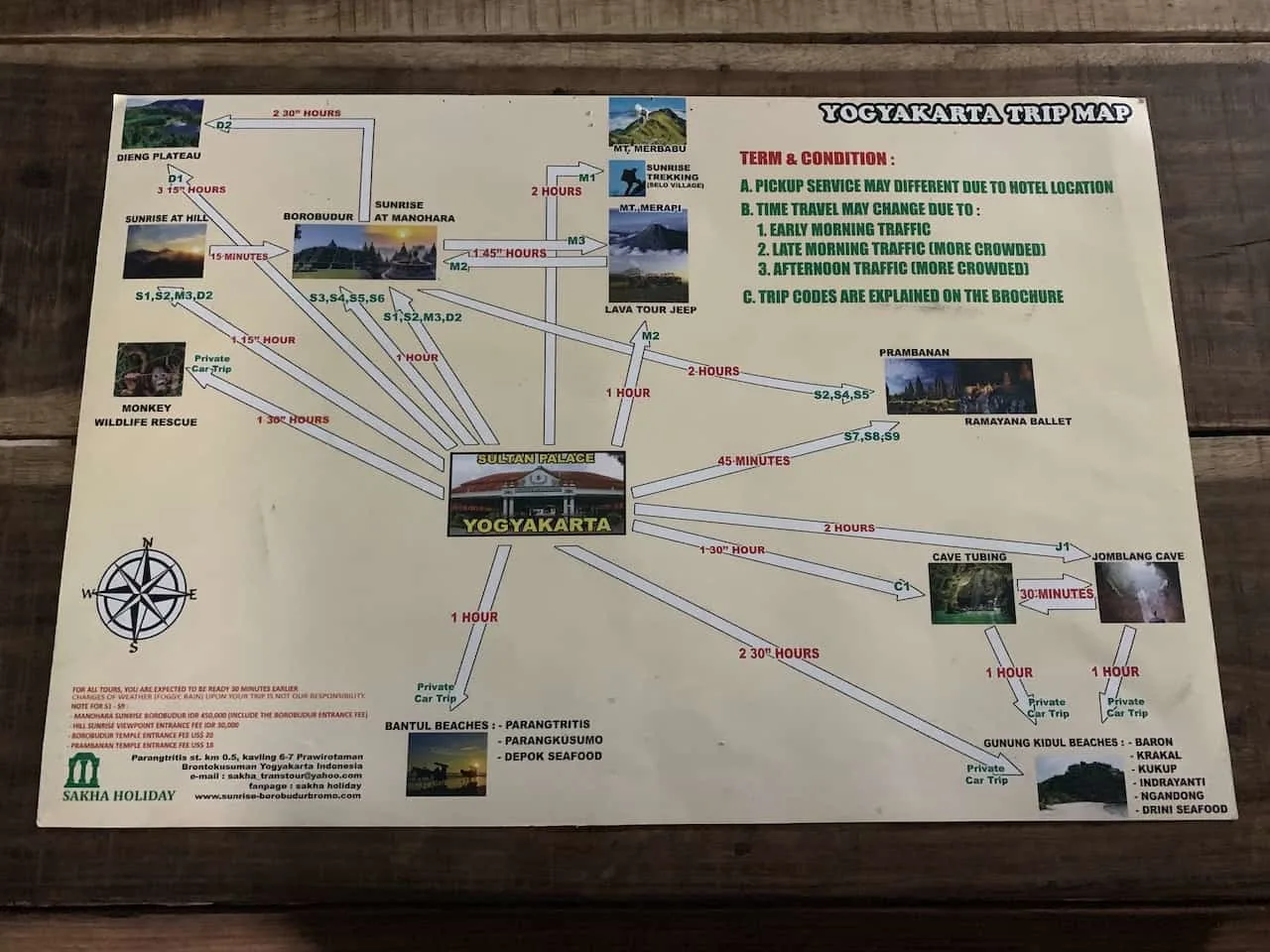 3) Where to Stay in Yogyakarta
The area around Malioboro Street is where you will find the most restaurants, shops, markets, and more. Here you will also be quite close to some of the city attractions as well.
Below are some recommended places to stay either right nearby or within a short drive away: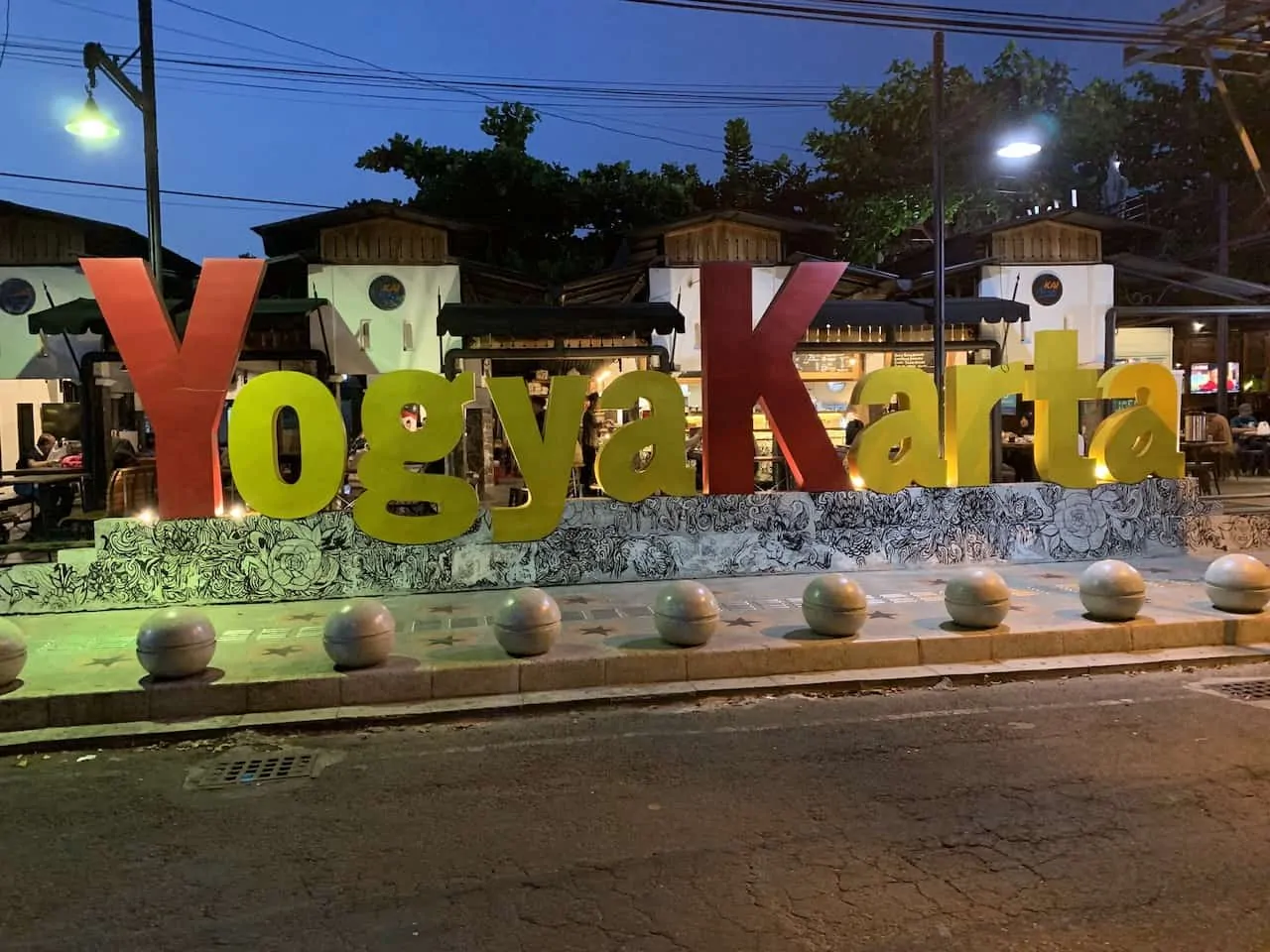 4) List of Attractions and Activities
Below is a quick break out of the 10 activities that you can join in while exploring Yogyakarta for a few days.
One of the days you can spend within the city itself, while the other two will be day trips outside of the city.
In the Yogyakarta itinerary section coming up, I will dive into each one of these a bit more.
Day 1: City Center
Taman Sari Water Castle
Sumur Gumuling Underground Mosque
Batik Factory
Mataram Coffee Factory
Malioboro Street
Day 2: Temple Hopping
Borobudur Temple
Prambanan Temple
Day 3: Cave Exploring
Goa Jomblang Cave
Goa Pindul Cave Tubing
Extra Time: Volcano Climbing
Mount Merapi
5) Yogyakarta Map
Now that we have went over logistics, accommodation and attractions, I thought it may be helpful to outline it all on a map for you to better visualize where everything is.
As you can see below, there is a cluster around Yogyakarta while the temples and caves are located further away. Feel free to zoom into the map to better see where everything is located within the city center.
6) Yogyakarta Itinerary
Let's now dive a bit more into each of the attractions and activities mentioned above, so you have a better idea of what to expect and how to prepare for each place.
You can choose to complete the 3 days in the order mentioned or you can feel free to move the days around as well.
7) Jogja Day 1
The first day of this Yogyakarta itinerary will focus in on the city center itself as you get to visit and experience some of the best that Jogja has to offer.
Taman Sari Water Castle
Up first is the Taman Sari Water Castle, one of the most popular attractions to visit within Jogja. This complex was once used by the Sultan for all types of functions.
Today, the central bathing area is the most preserved part of the complex and you can spend some time exploring the various rooms and pools around the area.
The entrance fee for the water castle is just 15,000 IDR, only about $1 USD. And be sure to keep your ticket when you visit the underground mosque mentioned next.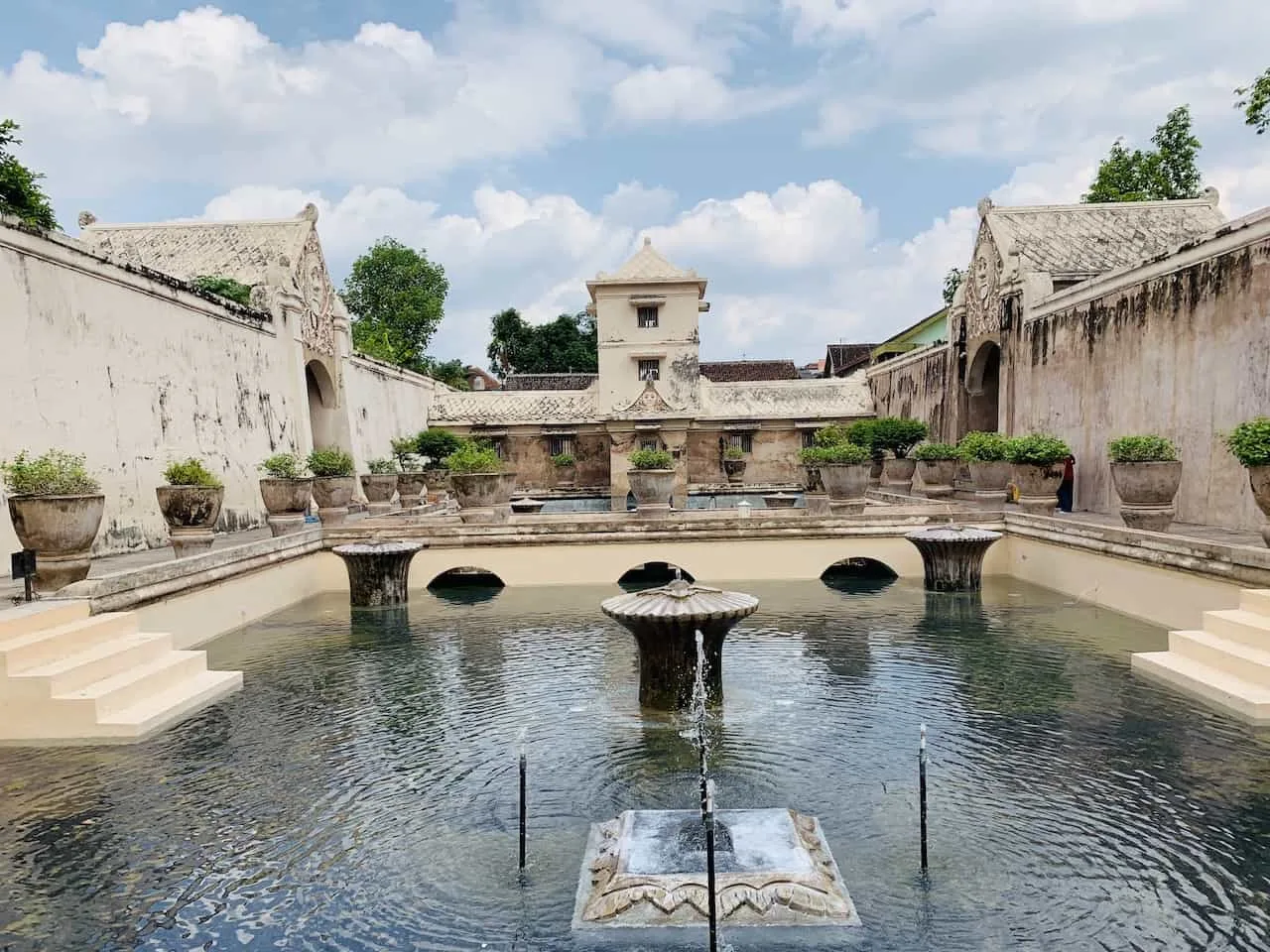 Sumur Gumuling Underground Mosque
Located less than 10 minutes away by foot from Taman Sari is the Sumur Gumuling Underground Mosque. While it is located within the original larger complex, to get to the mosque from the water castle, you will need to make your way through some of the surrounding streets.
I have pin pointed it on the map above, but if you are having trouble finding it, feel free to ask some locals who are sure to point you in the right direction.
While not in operation, the mosque is truly impressive, with its various staircases stretching from the bottom to the top of the complex. There are several hallways and rooms to explore as you make your way through.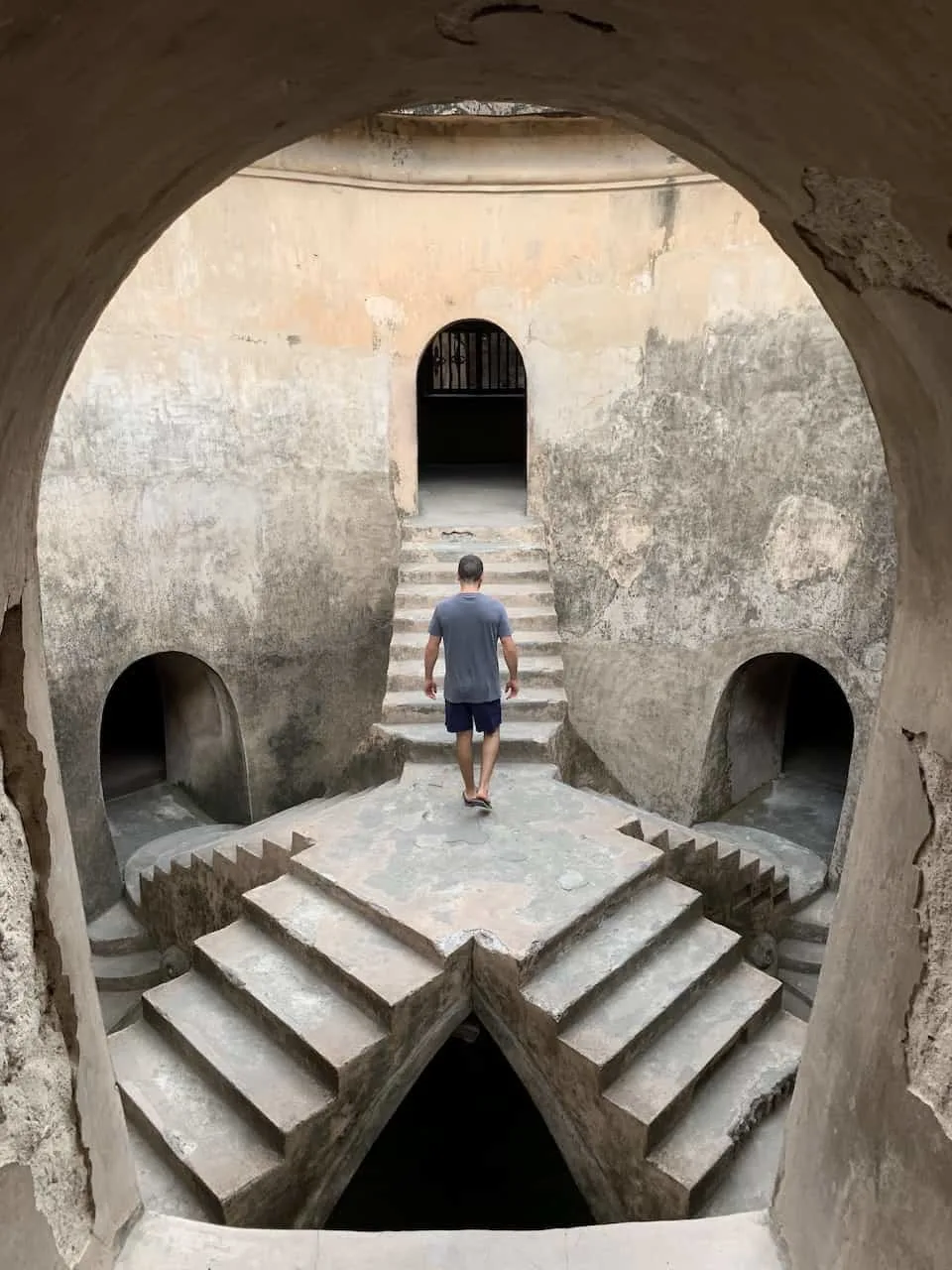 Batik Shop
All around Yogyakarta you will find yourself seeing Batik shops all throughout. Essentially, Batik is a certain technique used to dye cloths. These shops will have plenty to choose from and many also offer the chance to see the process first hand as well.
With the popularity of Batik in Yogyakarta also comes all the scams or tricks along with it.
You may be approached by people on the street wanting to bring you to a certain shop saying that there is a special sale going on or a limited time art show (something along those lines). However, these are merely techniques to push you to purchase the Batik cloth.
At many of the stores, you will also be given a coded price list (i.e. pieces labeled "A" are $5, "B" are $10, etc).
These are greatly negotiable (you can probably get more than 50% off these prices), so if you do want a certain piece, feel free to negotiate a bit.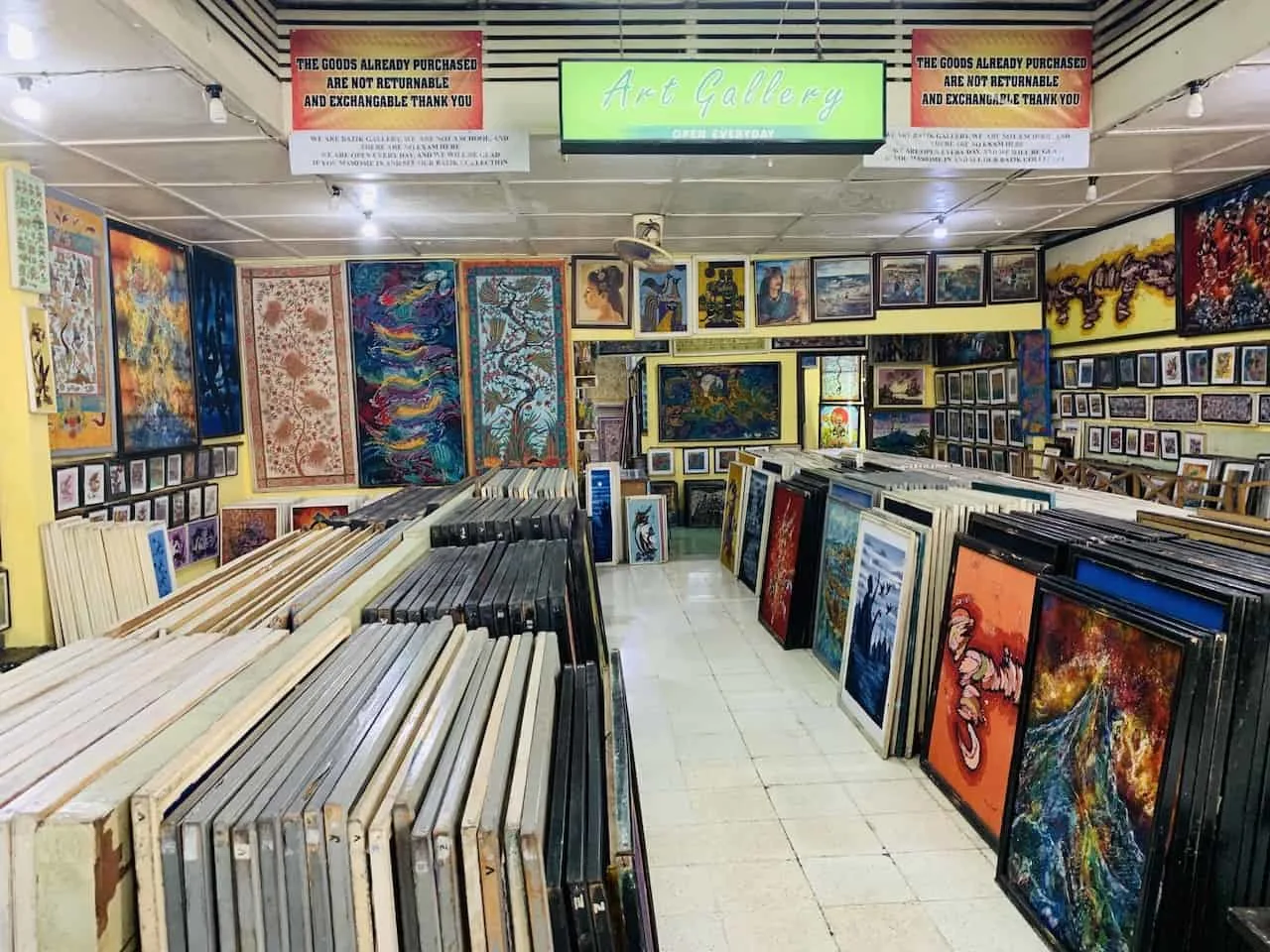 Mataram Coffee Factory
One place that I unexpectedly visited during my time in Yogyakarta was the Mataram Kopi Luwak Factory. If you aren't familiar with Kopi Luwak, I would advise to look it up since I rather not get into the particular details here (you will see why!).
However, as I was wandering the streets of Jogja, I happened to meet one of the owners of the factory, which I then visited later on in the day.
Visiting the factory is free of charge as you get to see the beginning to end process of how the coffee is actually made.
At the end of the tour, you are able to do a bit of a tasting and purchase the coffee if you want to bring some home.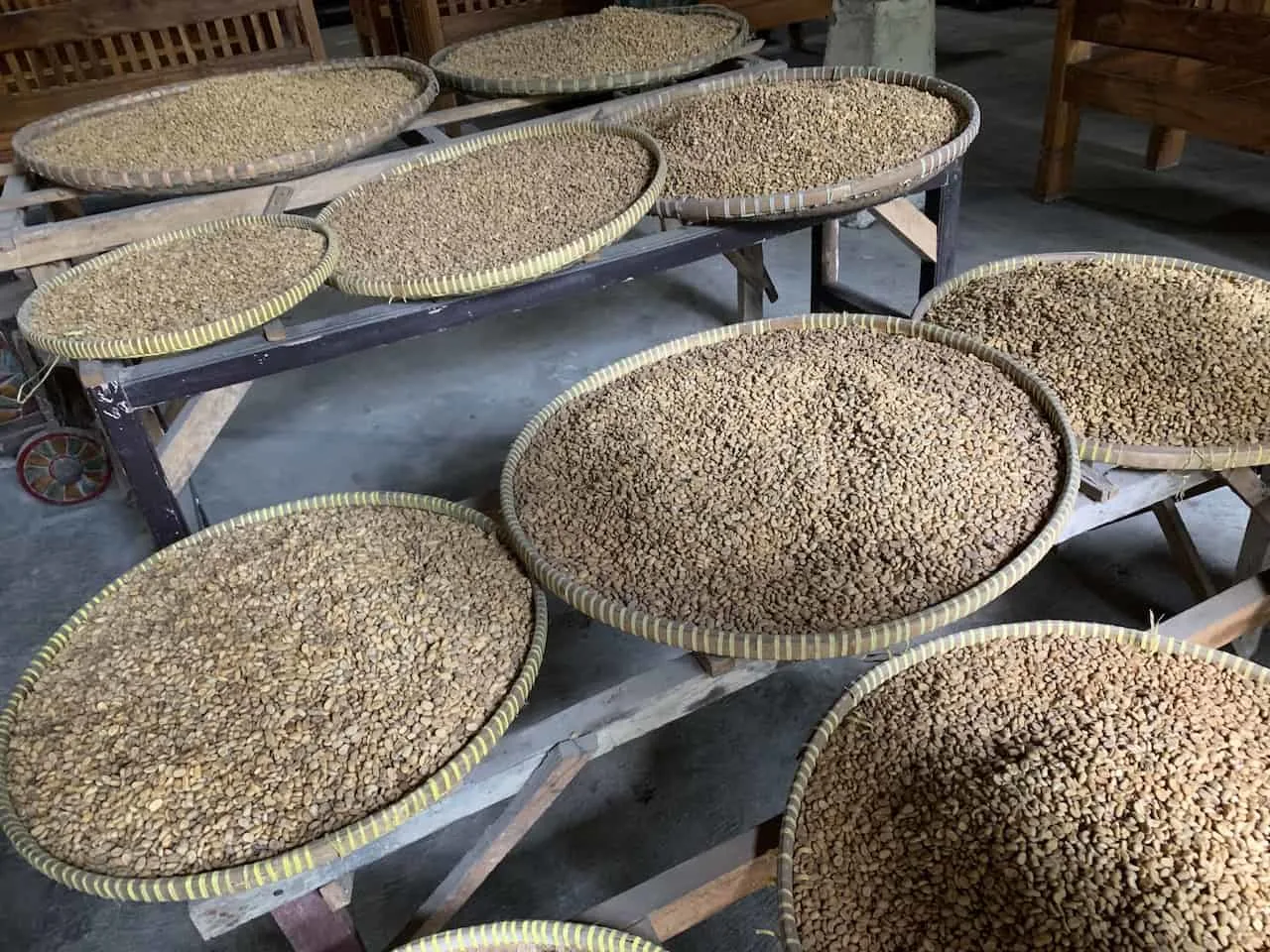 Malioboro Street
At one point or another, you are sure to pass by the main Malioboro Street. As you walk along the street you are sure to find plenty of smaller markets and shops lined up all throughout.
It is a great place to explore during the day and/or night as it is one of the most happening places in the city.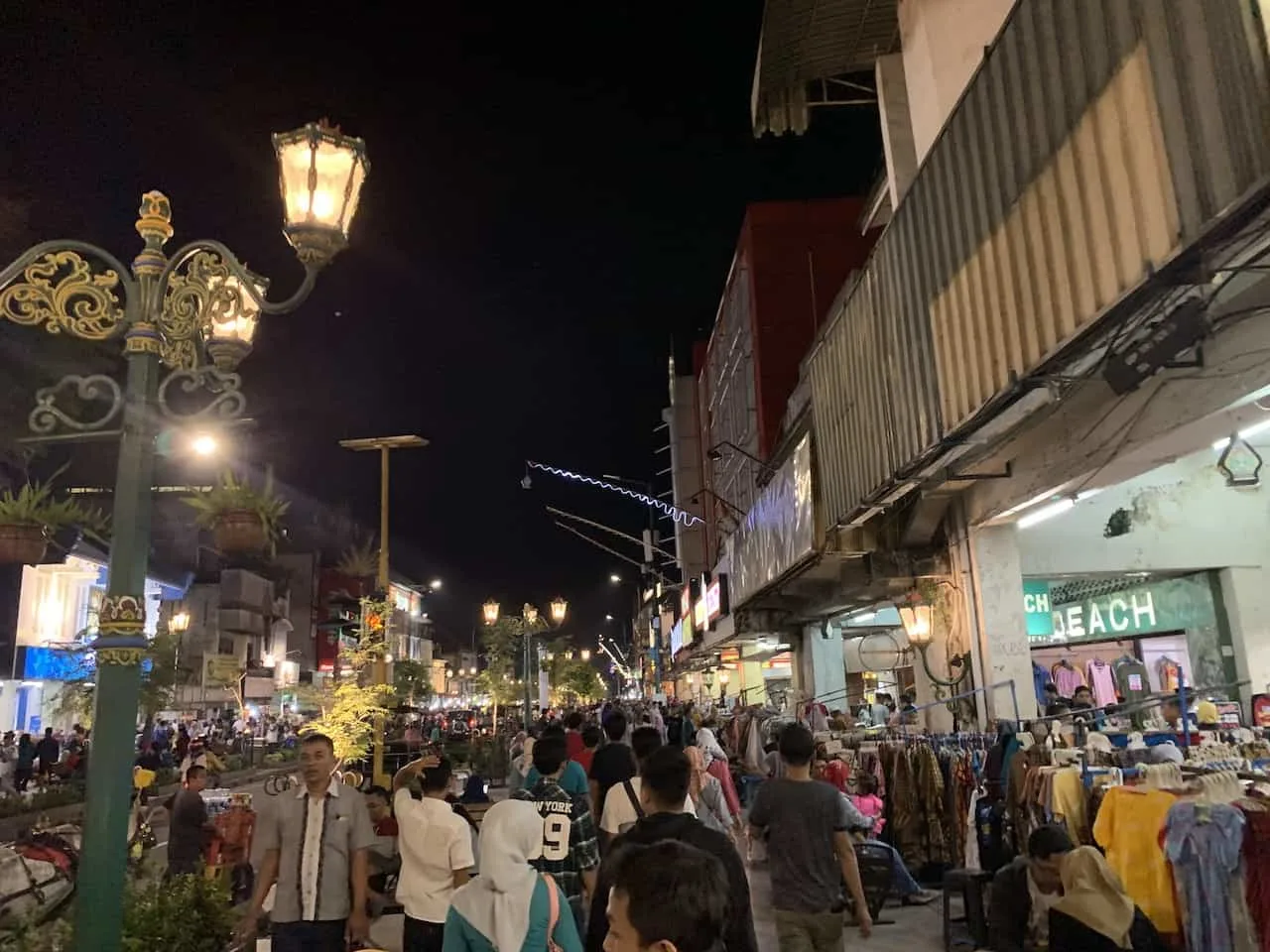 8) Jogja Day 2
Now that you have had some time to explore the city of Yogyakarta itself, it is time to head out of the city to go on a temple hopping tour.
The best way to go about your day is to either hire a driver for the day or a guided tour. I would recommend looking a this highly rated Borobudur and Prambanan tour option before heading out.
Arguably two of the most famous and important temples in all of Indonesia are the Borobudur and Prambanan Temples, both of which are in the vicinity of Jogja and which can be combined into a perfect day trip.
You can start your day heading on the 1 hour drive to Borobudur, where you can explore the vast temple complex with volcanoes peeking out in the distance.
A popular option here too is to head there for sunrise as you get to see the first light of the day hitting the temple.
Once you are all set at Borobudur, make the 1.5 hour trip out to Prambanan, another beautiful temple complex.
Not only will you be able to enjoy the main temples here but you can also make the walk around to three other temples in the larger complex – Candi Lumbung, Candi Bubrah, and Candi Sewu.
The trip will end with the drive back to Yogyakarta, where you can end a successful day exploring some of Indonesia's best temples.
» I would highly recommend that you read the Yogyakarta Temples Guide I put together so you have a better sense on how to go about a day trip there.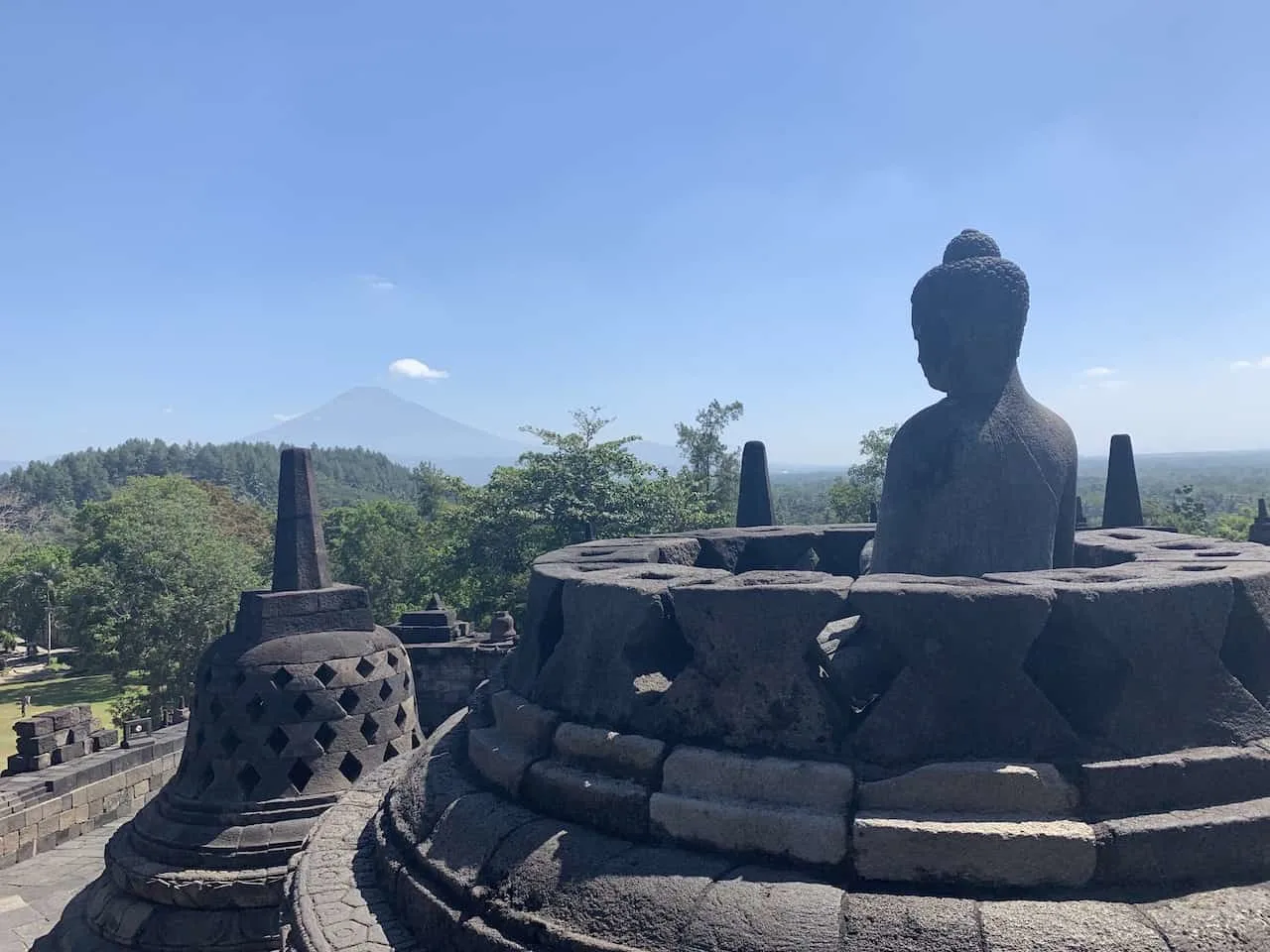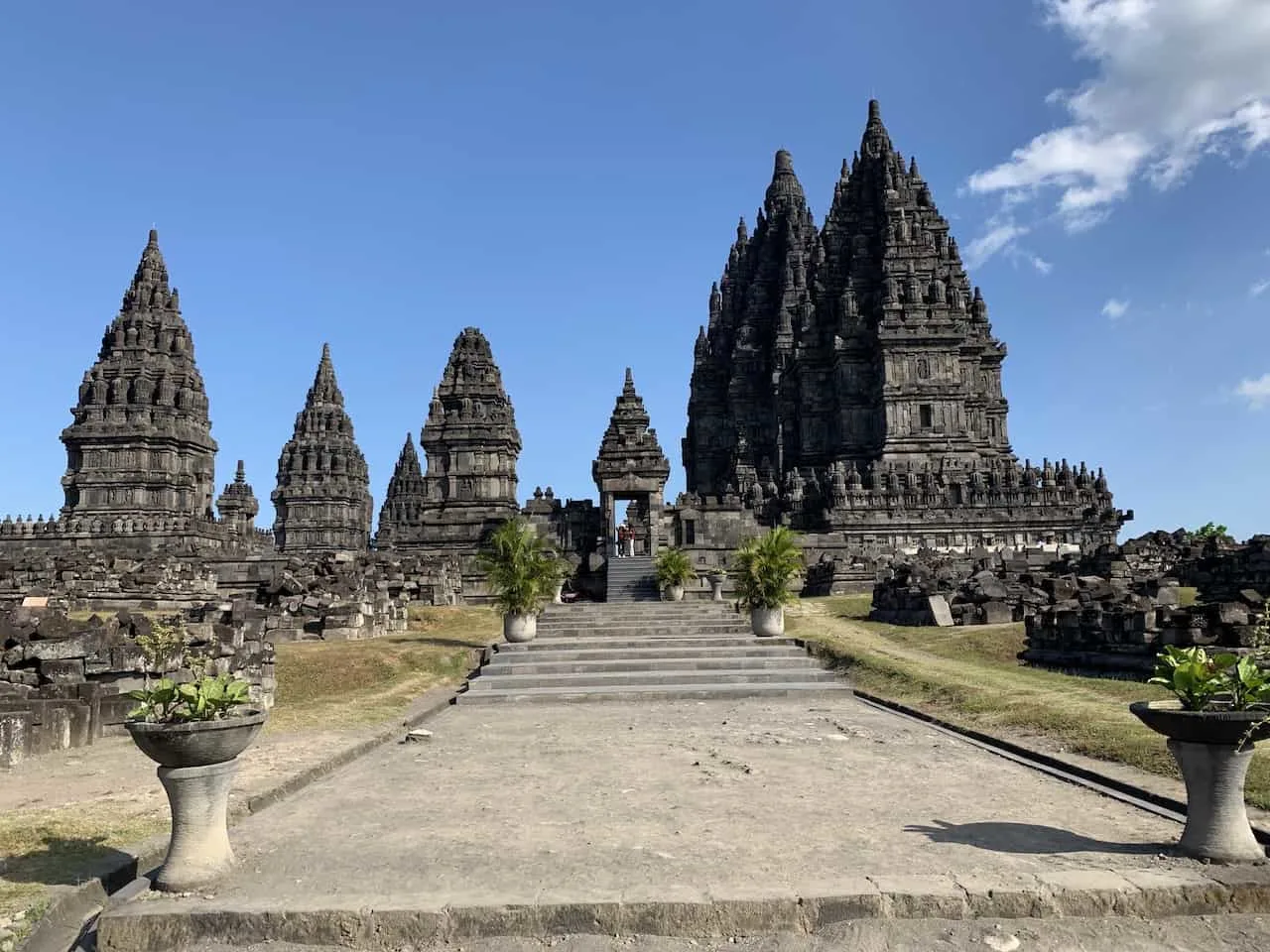 9) Jogja Day 3
For the last day of this Yogyakarta itinerary, it is time to do some cave exploring. A great day trip here is to do a combo trip to the Goa Jomblang Cave and the Goa Pindul Cave tubing experience.
Similar to day 2, you can either hire a driver of your own or join a tour:
Goa Jomblang
Located about 2 hours away from the city, Goa Jomblang is a very unique experience to take part of. Your time there will start with a rappel down into the mouth of cave, where you will then trek through the thick mud to the opening from above.
Once the sun begins to shine through, you will see the famous Light From Heaven streaking through the cave walls.
It is truly one of the most beautiful sites you can ask for. After enjoying the light from above, you then trek back to the start of the cave, where you are then pulleyed back up to the top.
» The Goa Jomblang Cave Guide will walk you through all you need to know about the experience.
If interested in taking part of a tour I would recommend signing up in advance through a highly rated company.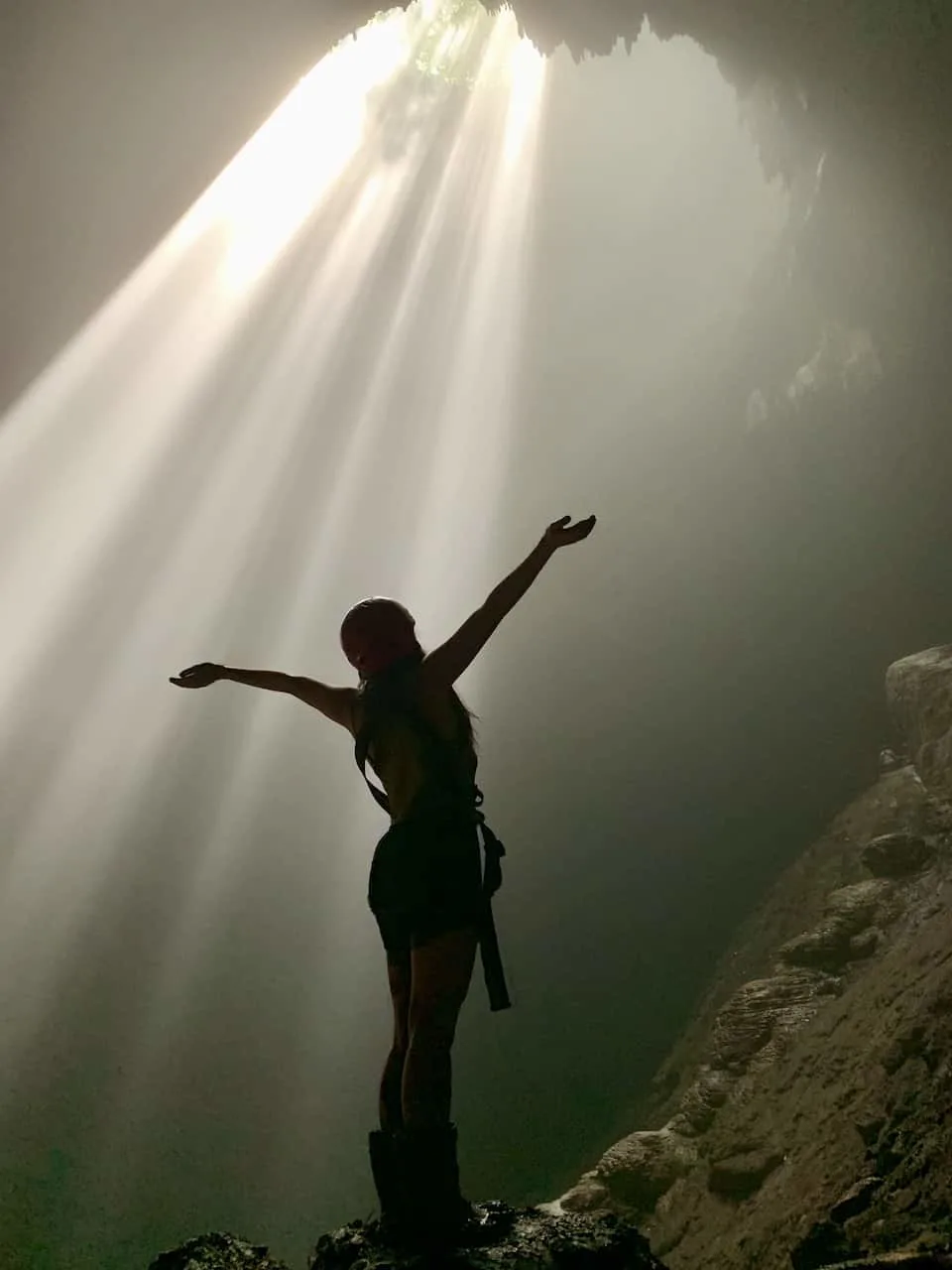 Goa Pindul
Located not too far away from Goa Jomblang, you can enjoy another type of caving experience.
This time you will get to sit down in some tubes and float down a river in a cave as you witness the stalactites and stalagmites all around you.
You then will have the chance to jump into the water and take part of a nice swim in the river outside of the cave to cool down at the end of the day.
Once all done with your caving experiences, you will head back to Yogyakarta to end your time in the city.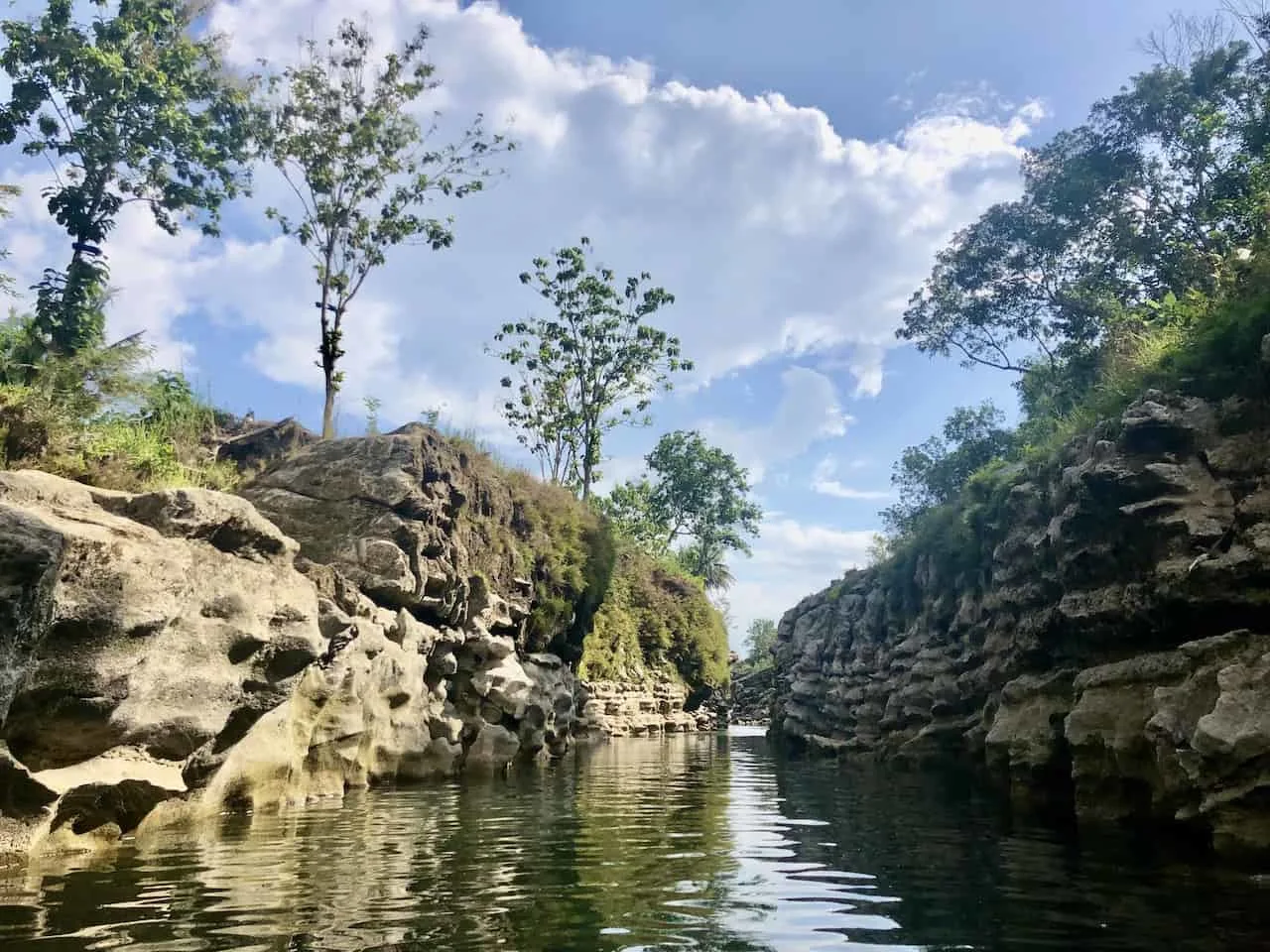 Mount Merapi
» If you have some extra time in the city of if you want to substitute something else out, one of the best trekking experiences you can have is a sunrise hike up Mount Merapi.
A sunrise hike will begin in the middle of the night as you make your way to the base of the mountain and make the dark ascent up.
You will enjoy a beautiful sunrise before heading back down the volcano and then onto Yogyakarta. Do note though that Merapi may be closed due to volcanic activity – check beforehand to see the latest status.
That about does it for a complete Yogyakarta itinerary and how to spend a few days enjoying all that Jogja has to offer.
If you have any questions or comments feel free to write them in below. Also don't forget to check out the other Indonesia itineraries and guides up on the site, like a visit to Gili Trawangan.
Have fun out there and safe travels!