Komodo National Park of Indonesia offers some of the best natural landscapes & activities that you can ask for.
Whether that is scuba diving in its waters, relaxing on a pink beach, or seeing a komodo dragon, there is a lot to enjoy throughout.
One of my favorite experiences though was visiting Padar Island and taking part of the Pulau Padar hike at sunset.
Getting to see this incredible island from above while the sun set in the background is something I will always remember.
Read on to learn more about Padar Island and how to go about a visit during your time in Indonesia.
* Affiliate Disclosure: This post may contain affiliate links, which means I may receive a commission if you make a purchase through the links provided, at no additional cost to you. Thanks for supporting the work I put into TripTins!
1) Where is Padar Island (& Map)
Padar Island is located within the larger Komodo National Park. It is one of the three main islands of the park, with Komodo Island and Rinca Island being the other two.
During a trip out to Padar, you are bound to visit these other islands in addition to several other smaller islands & points of interest throughout.
To reach Padar Island and Komodo National Park, you first must make your way to the main hub of Labuan Bajo, which is located on the island of Flores.
Once you make it to Labuan Bajo, you can then begin the journey to Padar Island and the rest of the National Park.
Below is a map that shows where the island is located in relation to the larger Komodo National Park.
2) How to Get to Labuan Bajo
Since Labuan Bajo is the main departure point for those exploring Komodo, you will first need to get there.
In general, there are two main ways to get to Labuan Bajo – by plane or by boat.
By Plane
Right outside the main city center, is the Labuan Bajo airport (LBJ). The airport has direct flights to/from many of the main cities of Indonesia.
These include Jakarta, Surabaya, Bali, among several others.
Once you arrive at the airport, it is a quick 10 minute taxi drive into the center.
By Boat
While flying is going to the easiest and most practical of options in most scenarios, taking a boat to Labuan Bajo is also an option.
The main option here is to take a 4 day / 3 night boat from Lombok (home of Mount Rinjani) to Flores.
This can be a great option for those that want to enjoy some time out on the water and get to experience the seas of Indonesia along the way.
These sorts of tours will cost around $125 USD give or take.
Note: it is also possible to take a combination of public transport ferries & busses to get between Bali/Lombok & Flores but do expect a long multi leg journey.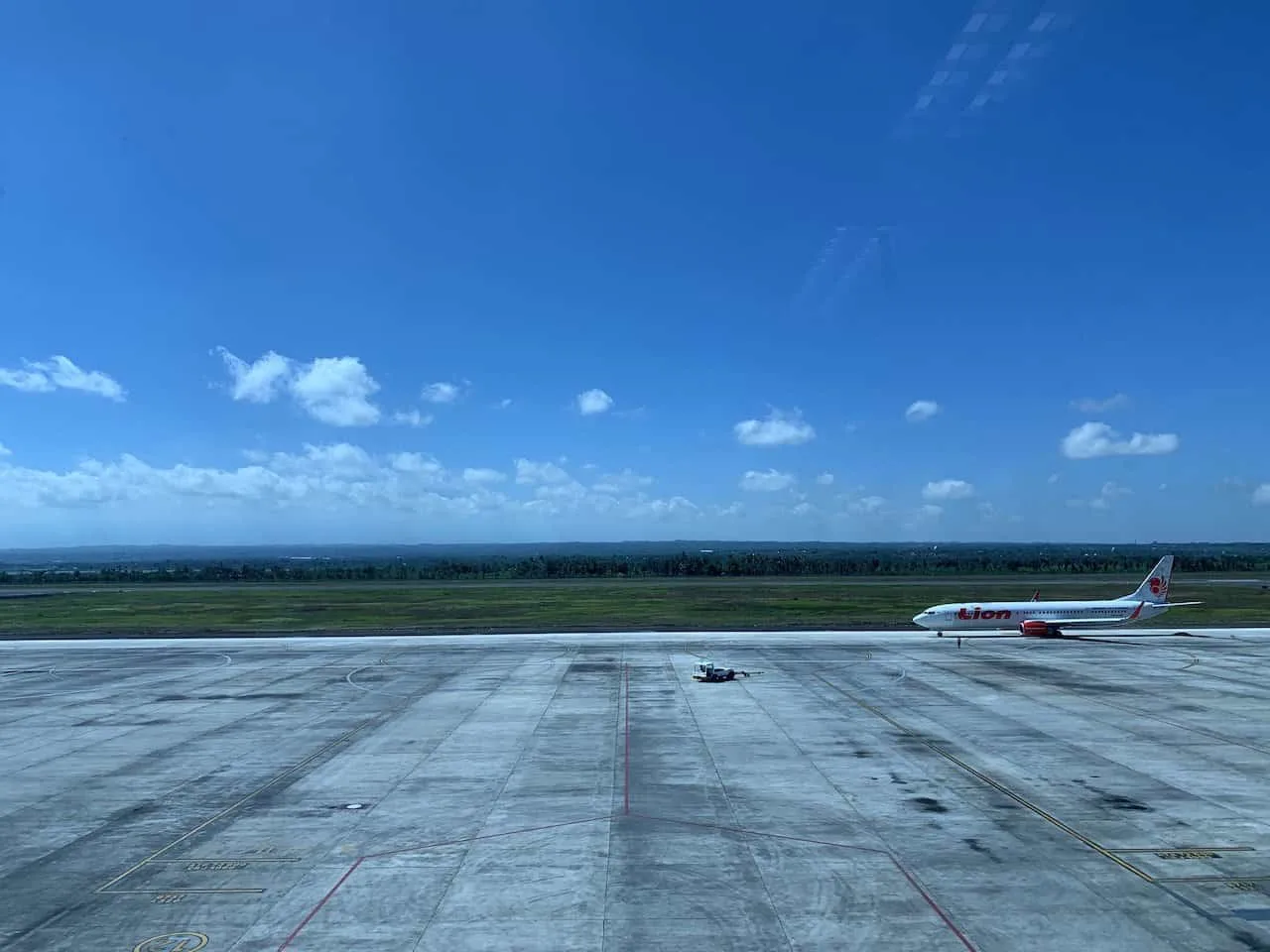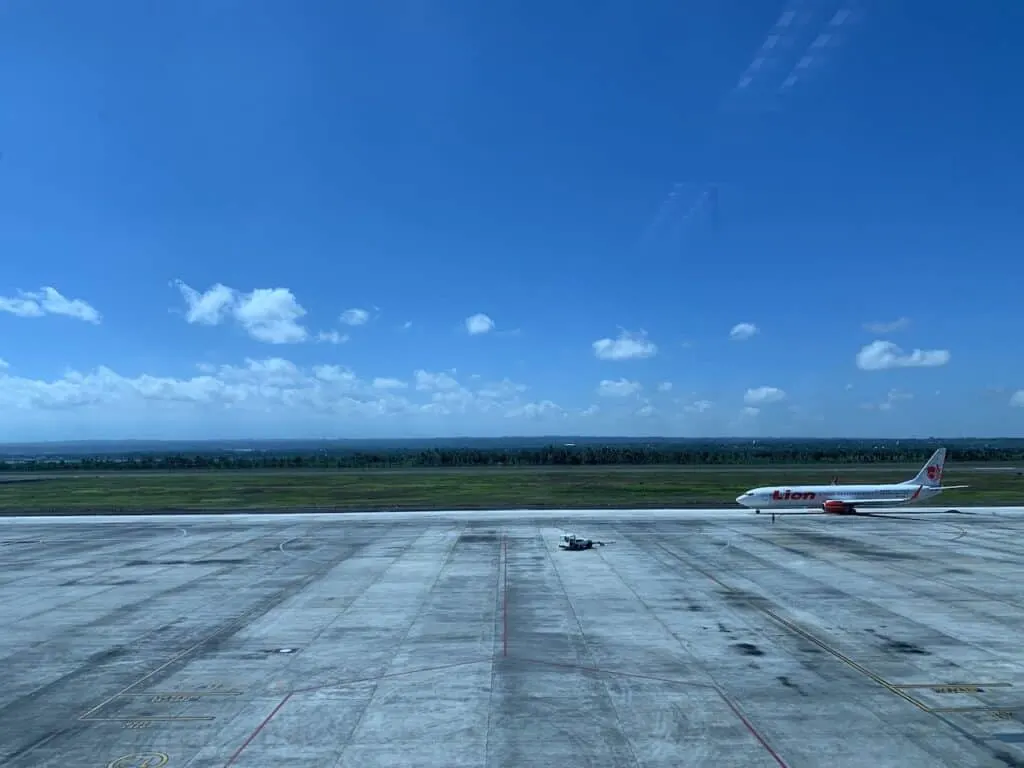 3) Where to Stay in Labuan Bajo
Now, once you have arrived in Labuan Bajo, you will need to figure out a place to stay.
Generally speaking, the main city center is not that large and there are many options to choose from all around.
You can also opt for some more relaxing options further outside of the town center that offer more of a beach experience.
Below are a few of my recommended options when it comes to Labuan Bajo hotels:
The first two hotels are located within the town center, while the second two are further away along the beachside.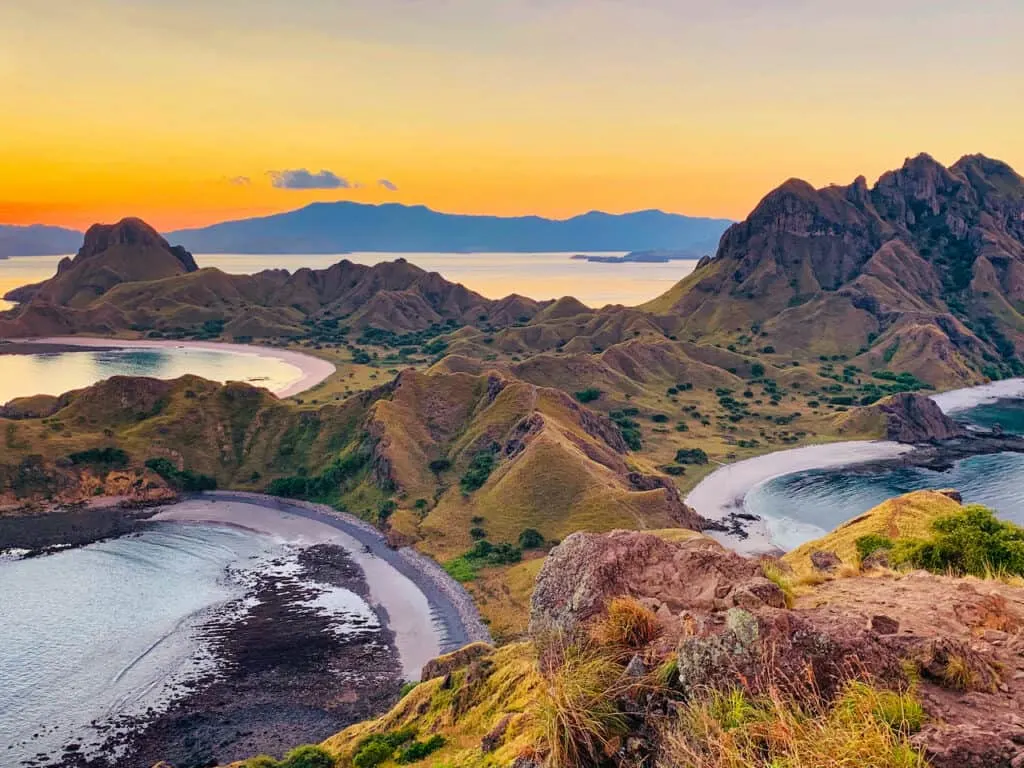 4) How to Get to Padar Island
Once you are all situated in Labuan Bajo on Flores Island, it is then time to head out into Komodo National Park.
Like I mentioned, if you are visiting Padar Island, you are also (most likely) going to be visiting other spots along the way too.
There are two main ways to get to Padar Island – day trip or multi day liveaboard.
Day Trip to Padar Island
If you are short on time (and/or do not want to sleep on a boat), then taking a day trip out to Padar Island is a popular way to go about a visit.
There are day trips run by many different local companies that will take you out on speed boats to Padar Island and other nearby attractions.
Expect this to be a long day trip, as you explore the ins and outs of Komodo National Park (such as the famous Komodo Pink Beach).
Multi Day Liveaboard
For those that want to have more than one day out in the National Park, then you may want to opt for a liveaboard experience.
Liveaboards can last anywhere between 2 days / 1 night to over a week out on the water.
These will give you the chance to explore more of Komodo National Park at a slower pace, while sleeping onboard a boat.
Learn More | Komodo National Park Liveaboard
When it comes to liveaboards, there a few different types you will come across:
Scuba Diving Liveaboard: these tend to be very scuba diving focused, however many do make stops at other non-diving highlights such as Padar Island.
Standard Liveaboard: for those that just want to explore Komodo National Park, there are non-scuba diving liveaboards available too. These will still offer snorkeling opportunities, in addition to various other highlights.
Standard + Scuba Diving Liveaboard: a third type of liveaboard is one that offers scuba diving as an option, and also visits all the main attractions of Komodo National Park along the way. This is great for those that want to see the National Park but don't want it mostly focused on scuba diving.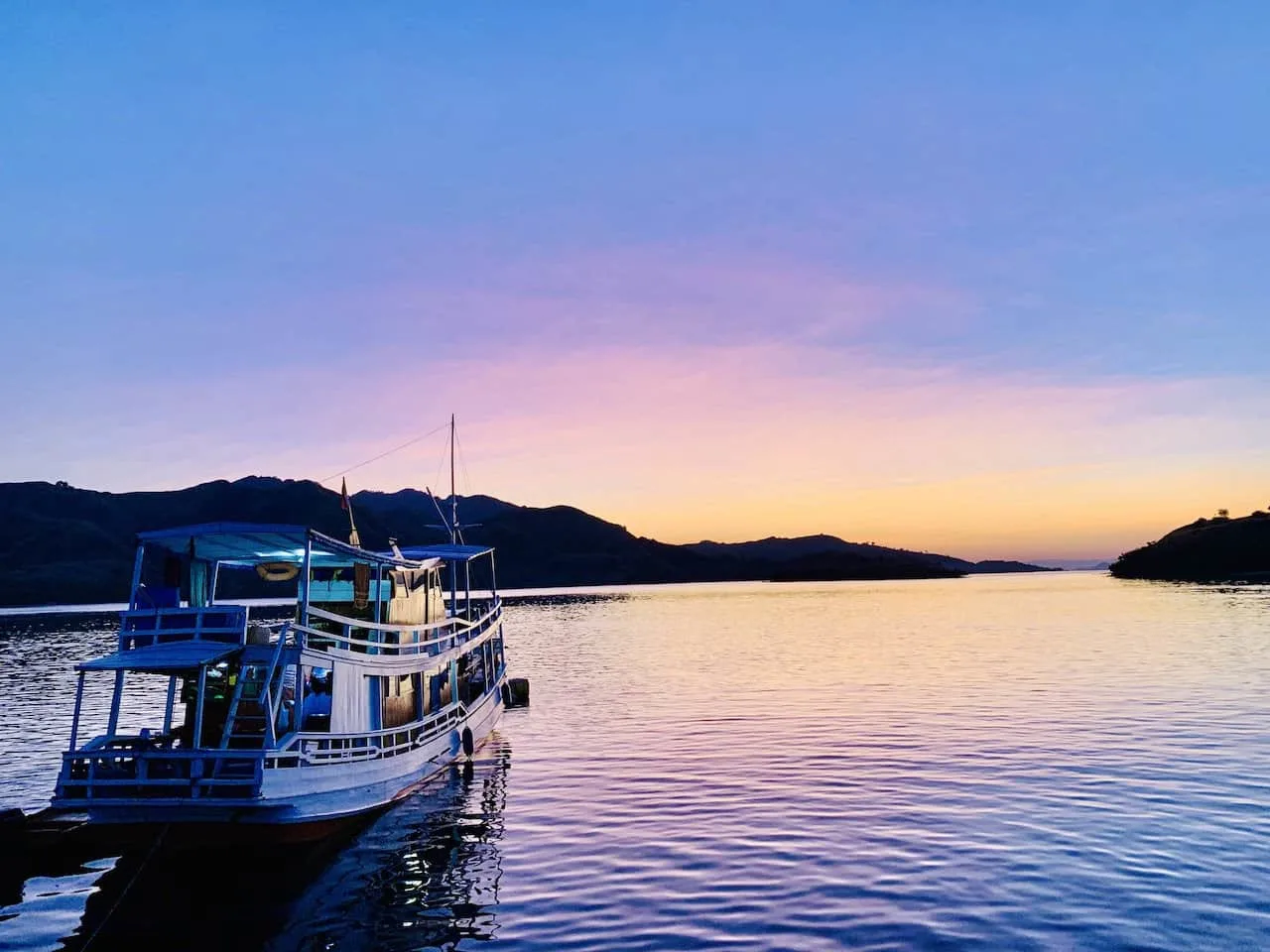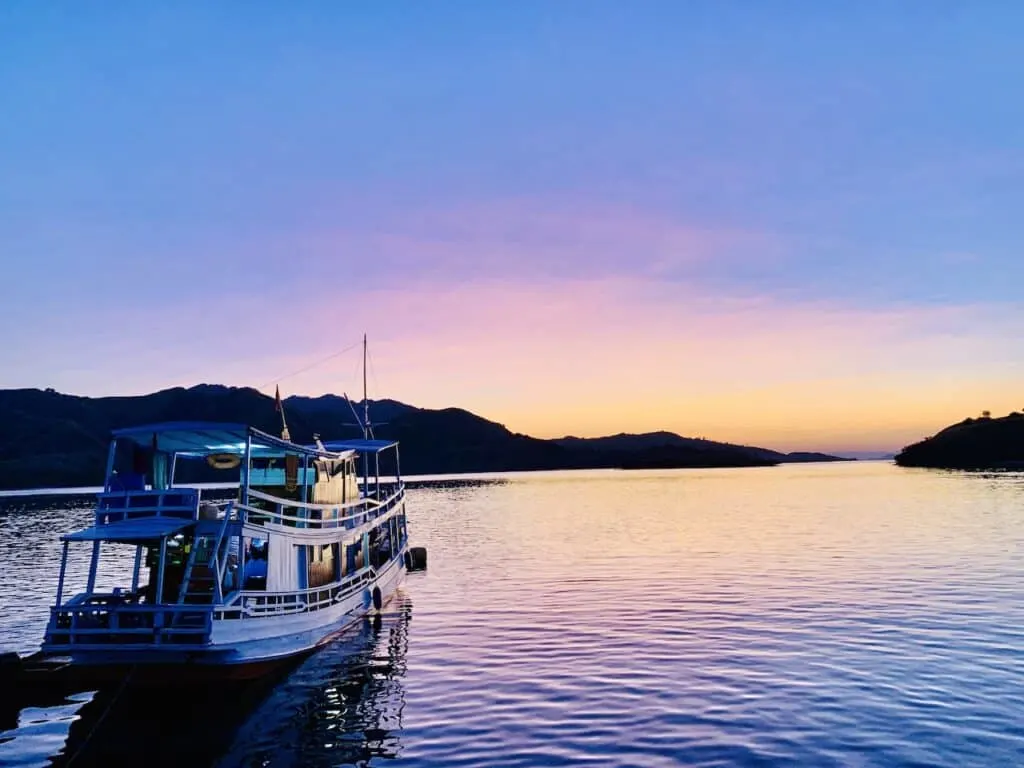 5) Padar Island Tours
Throughout Labuan Bajo there are endless amounts of tours you can choose from.
However, if you are looking to go with some of the top rated companies, below are some options – everything from a day trip to a longer liveaboard experience.
Wunderpus Liveaboard: offers set multi day liveaboard trips that can include scuba diving or snorkeling. It is a great option for those that want to focus both on the underwater aspect and other highlights such as Padar Island.
Anjani Trip: offers 3 day / 2 night liveaboards across several different boat offerings. This is perfect for those that want to explore the ins and outs of Komodo National Park with some snorkeling opportunities (no scuba diving is offered).
Bintang Komodo Tours: Bintang offers single day and multi day excursions into the National Park. If interested, you can book this One Day Komodo National Park Tour that includes Padar Island.
During my time out in Komodo National Park, I opted to go with a company called Flores XP.
Unfortunately, it does not look like the company is still in business today. I really do hope they open up in the future as it was the perfect balance of a liveaboard experience.
This was one of those tours that a mixture between a standard liveaboard but also offered scuba diving for those that wanted to.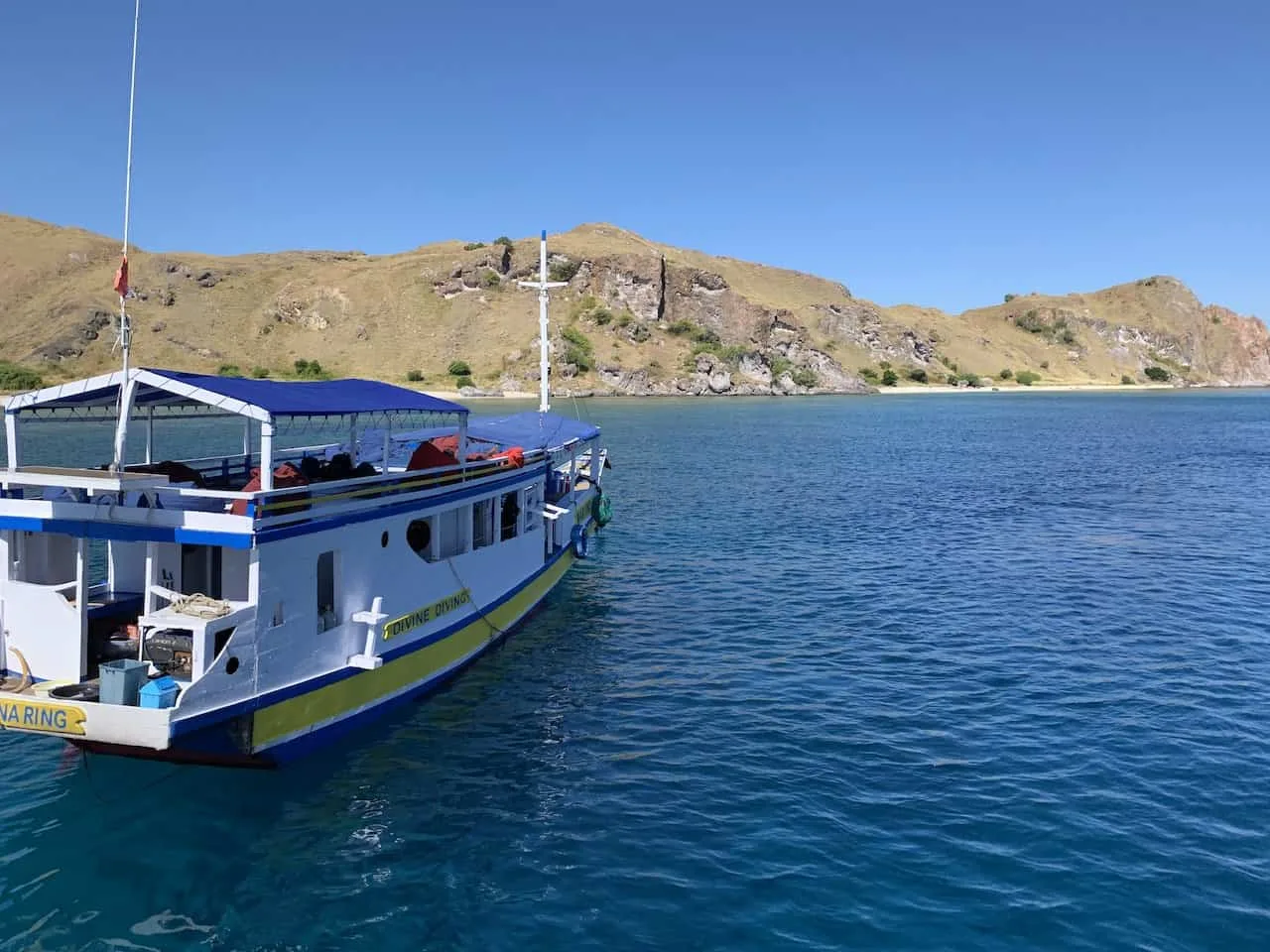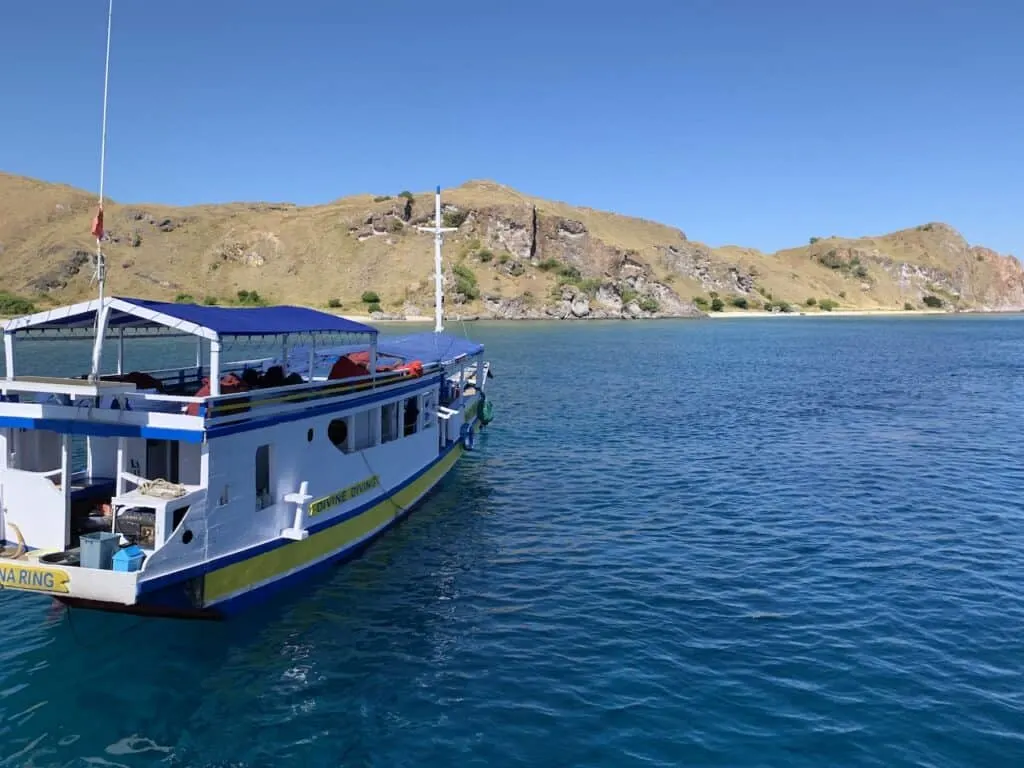 6) How Much is the Entrance Fee for Padar Island?
There has recently been much talk about increasing the entrance fee for Komodo National Park to over $250 USD. For now though, those plans have been put on hold, which is great for those that want to still stick to a budget.
When visiting Komodo National Park, there are several fees to consider (which can make it a bit complicated). Below is the breakdown for a visit:
Komodo National Park Fee: 175,000 IDR (divers) / 165,000 IDR (snorkelers) -> this fee must be paid regardless if you enter the water
Flores Tourist Tax: 100,000 IDR (divers) / 50,000 IDR (snorkelers) -> this fee must be paid regardless if you enter the water
Padar Island Fee: 15,000 IDR
Padar Island Trekking Guide Fee: 120,000 IDR (split between five people per guide)
Expect to pay around 285,000 IDR ($20 USD) for the Padar entrance fee and the other Komodo National Park fees. If also visiting other spots in the National Park, you will need to consider those fees as well.
Note: if visiting on weekends/holidays, the Komodo National Park fee will be about 40% more expensive
7) Best Time to Visit
There are a few different considerations when it comes to the best time to visit Padar Island:
Time of Year
While you can visit Komodo National Park year-round, the most calm and enjoyable weather will be during the dry season.
The dry season runs from April to October (give or take), with the rainy season from November to March.
The high season will be during those peak summer months of June to August as it coincides with summer holidays and dry season.
During my time out in Komodo, I visited during mid-June and thought it was an ideal time to go. There was not one drop of rain and there were rarely many other boats around.
Padar Island Colors
Now, for Padar Island, you can get two completely different landscapes depending on what season you visit.
During the rainy season and just after the rainy season, you will find the island to be full of vibrant greenery.
On the other hand, as you get further into the dry season, the island becomes all dried up and everything turns brown.
You can see in the photos that even in June, the island still was filled with plenty of greenery as some yellow began to show up as well.
Time of Day
I also want to point out the time of day to visit. This is both to avoid the crowds and get the best overall experience.
If possible, try and see if you can visit at sunrise or sunset. Getting to see the sky light up from the viewpoint spot is going to be a beautiful site to see.
During these times, you can also expect fewer crowds, and be able to more fully enjoy the area to yourself.
While it is usually the captain's/company's call on when to visit the various spots in Komodo, it doesn't hurt to ask.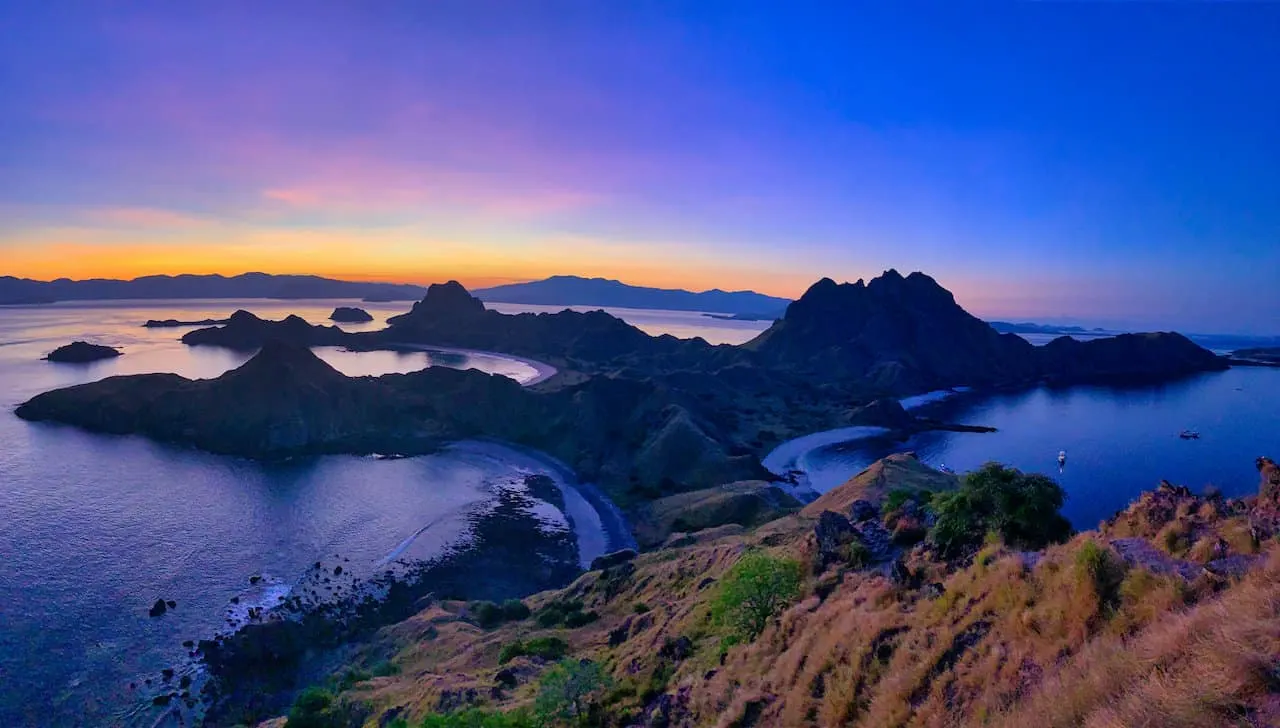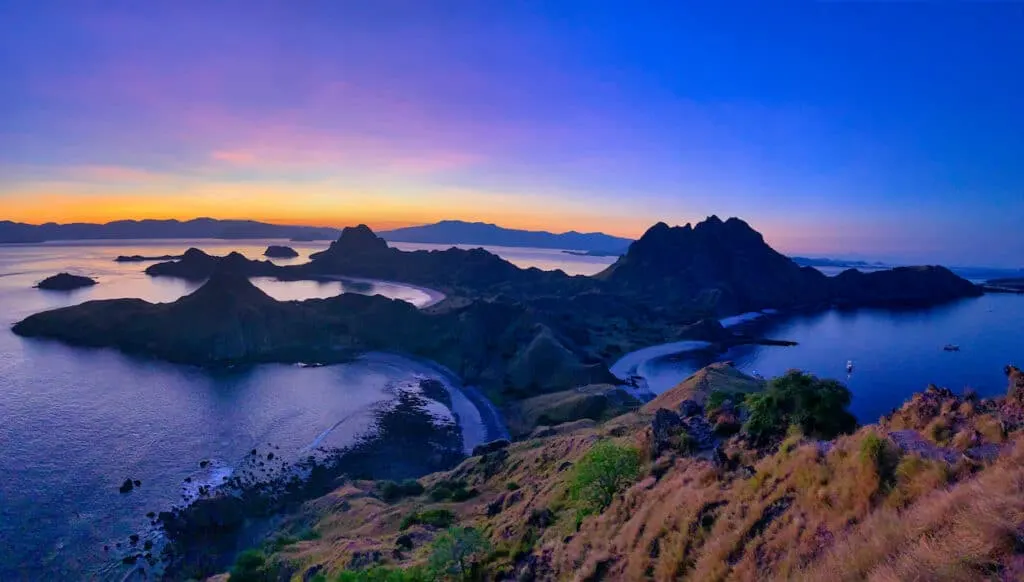 8) A Visit to Padar Island (Pulau Padar Hike)
Now that you have all the background information you need about Padar Island, let's get into the hike up to the famous viewpoint.
Depending on if you are taking part of a day trip or a longer liveaboard experience, will dictate where you will be coming in from.
If going directly from Labuan Bajo to Padar Island, expect the boat ride to be about 2 hours. During my liveaboard trip, we came in from a place called Mawan Island. It ended up being a 1.5 hour ride to reach Padar from there.
Once you reach the shore of the island, you will arrive at one of the beaches. It is then time to begin the hike up to the viewpoint area, which should take around 20-30 minutes.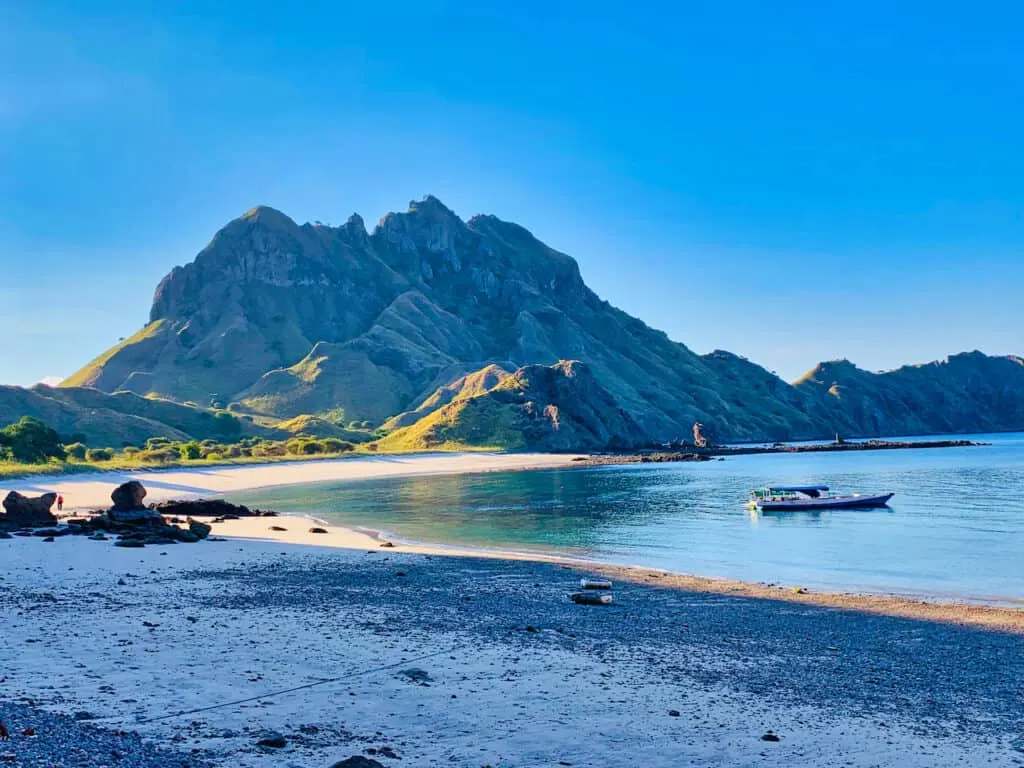 From the beach you will find a staircase that twists up and around the hillside.
The steps are made up of wooden planks, which then turn to a stone path/steps as you get further along the trail.
Towards the main viewpoint area, the paved pathway ends and turns into some dirt/rocky paths. Be sure to just watch your step as you make your way along the final section.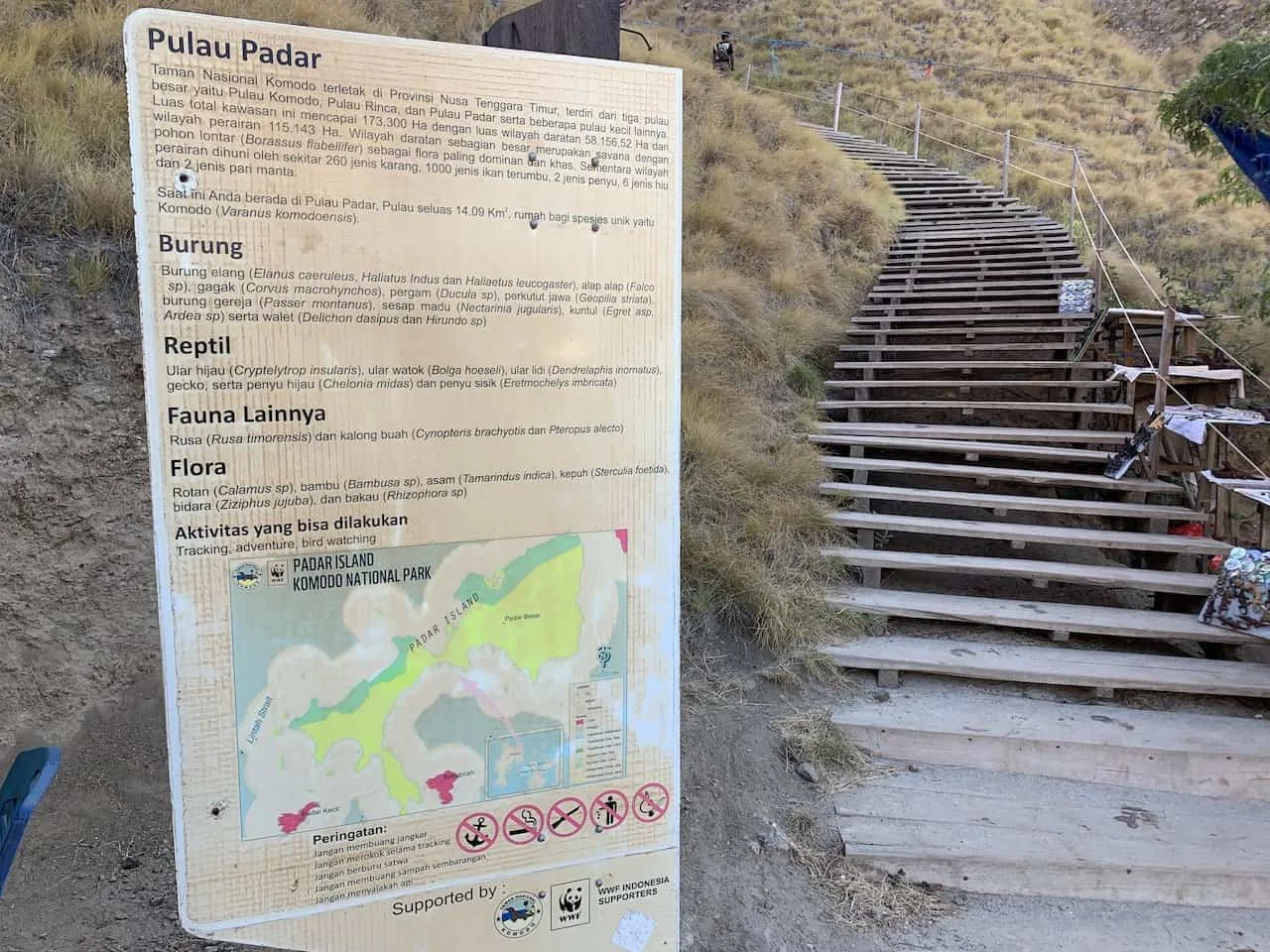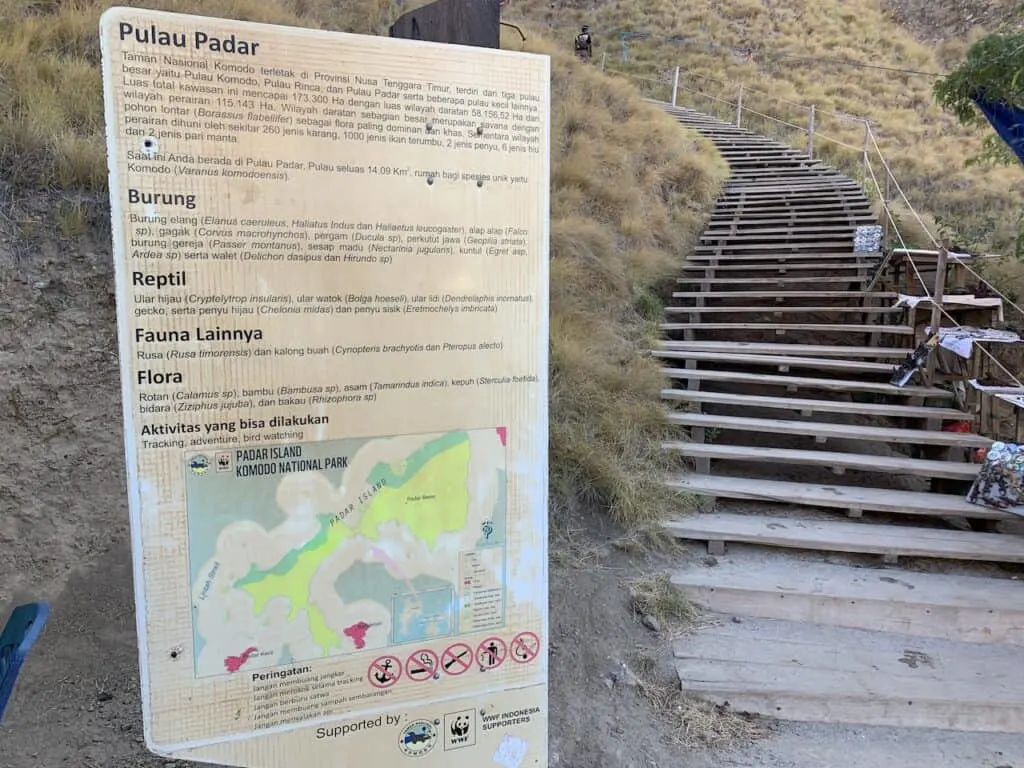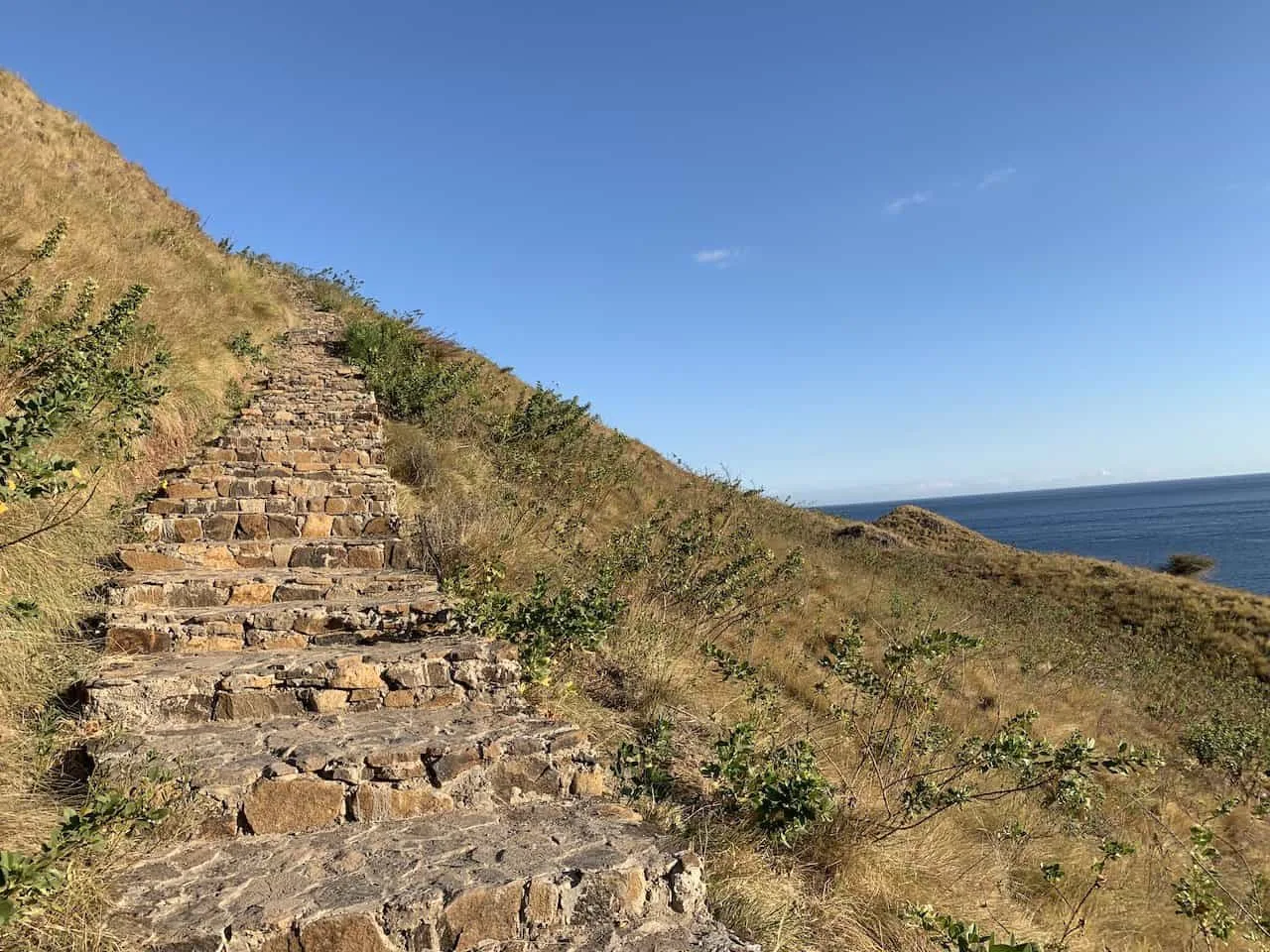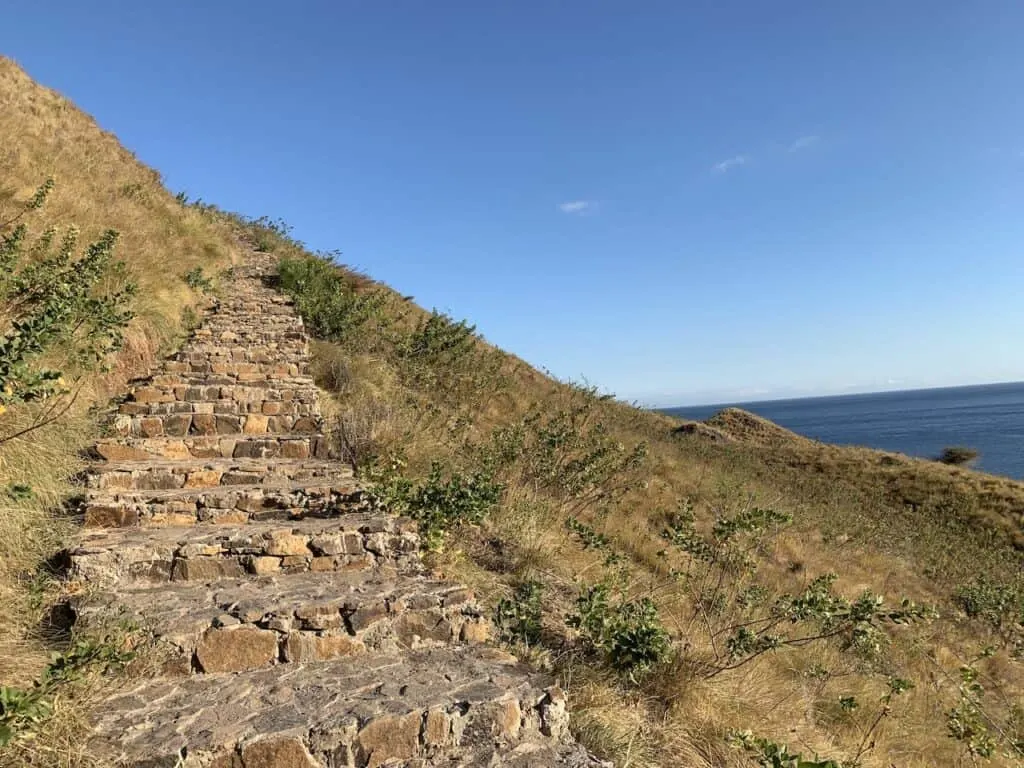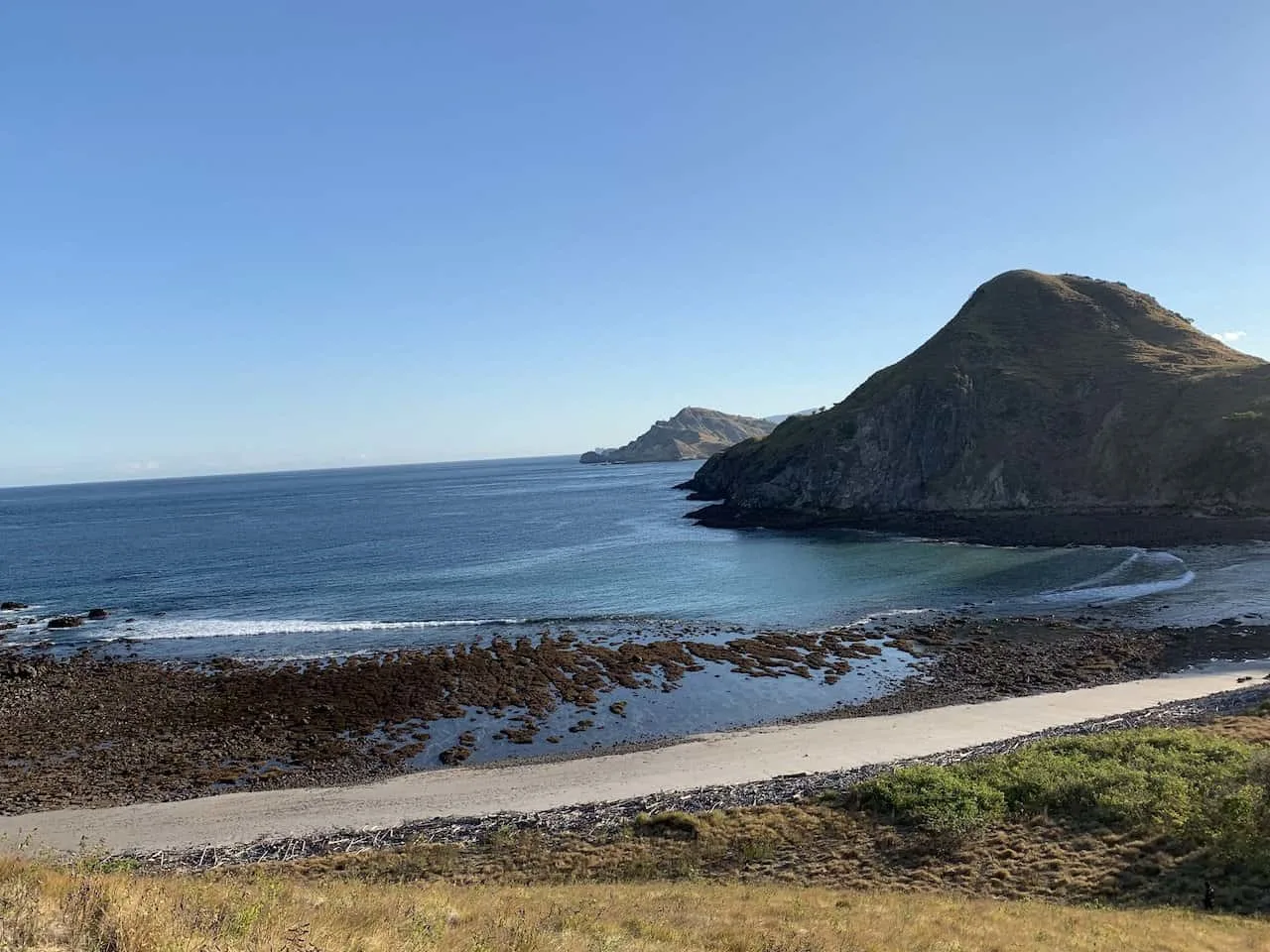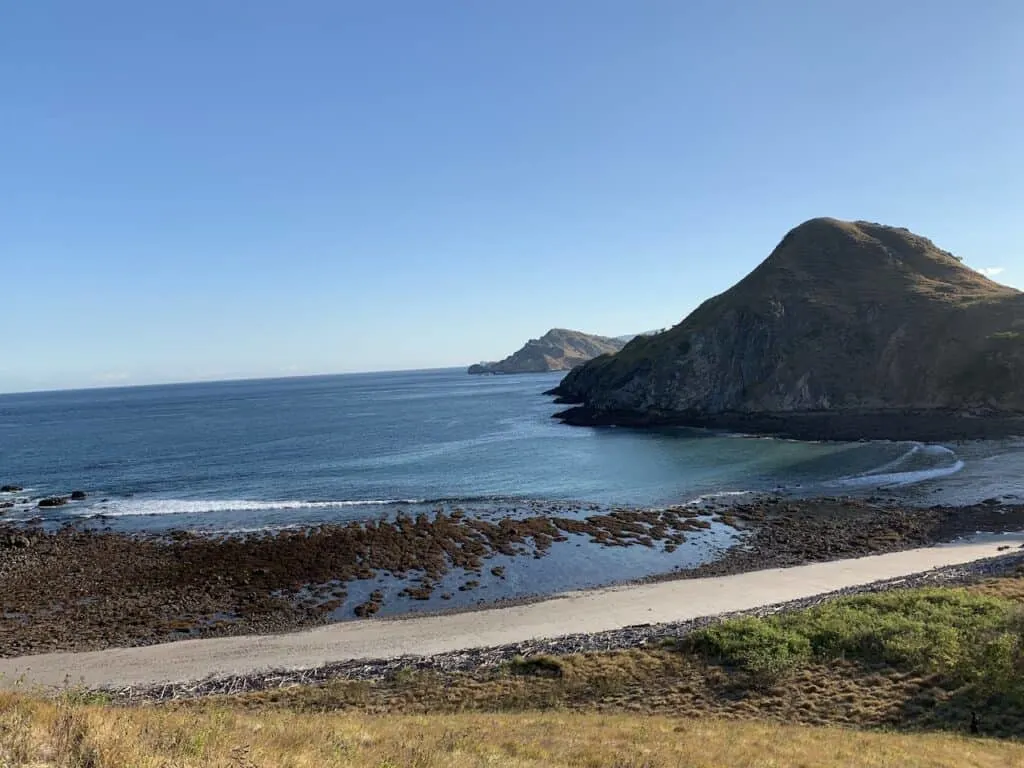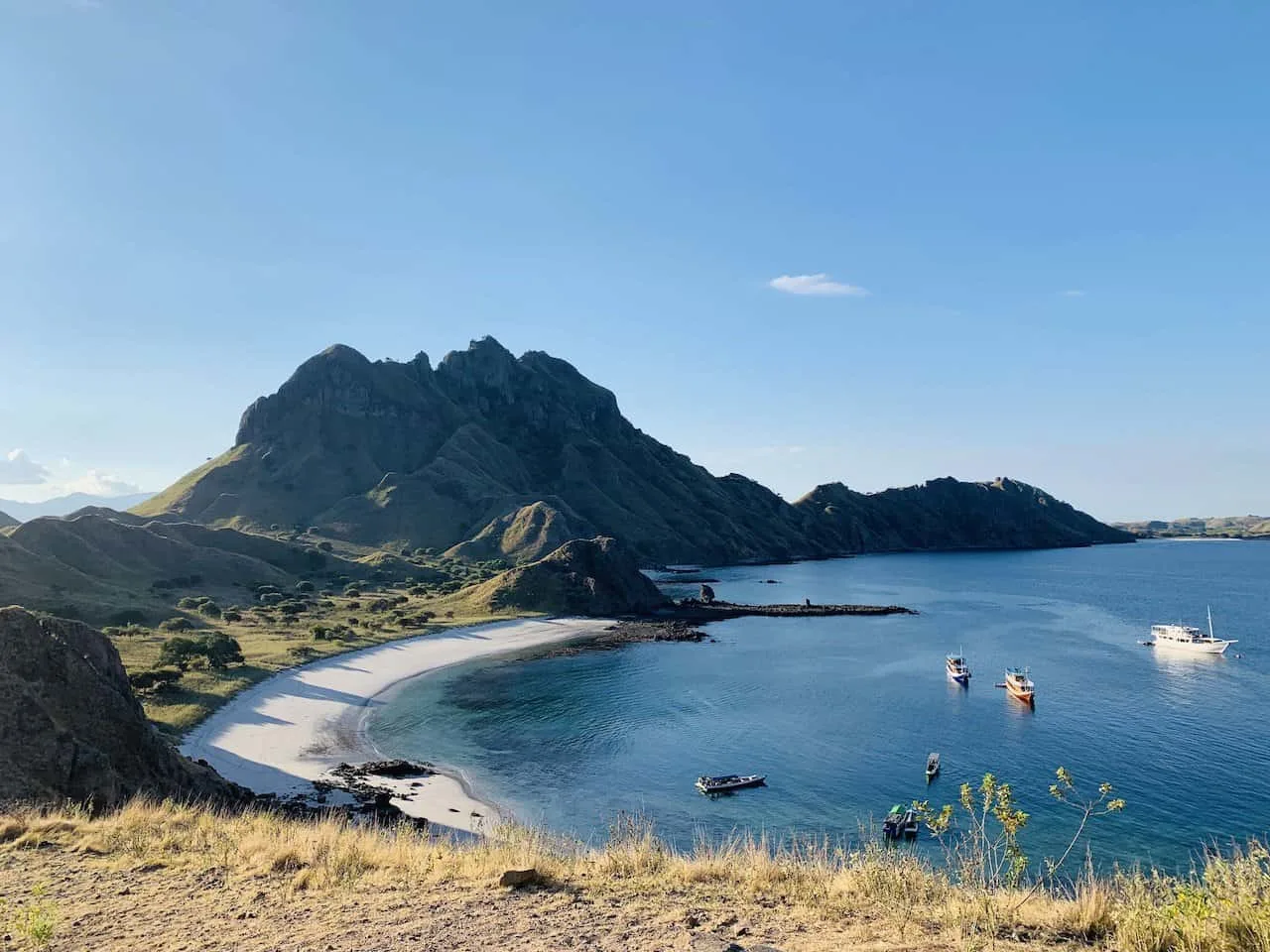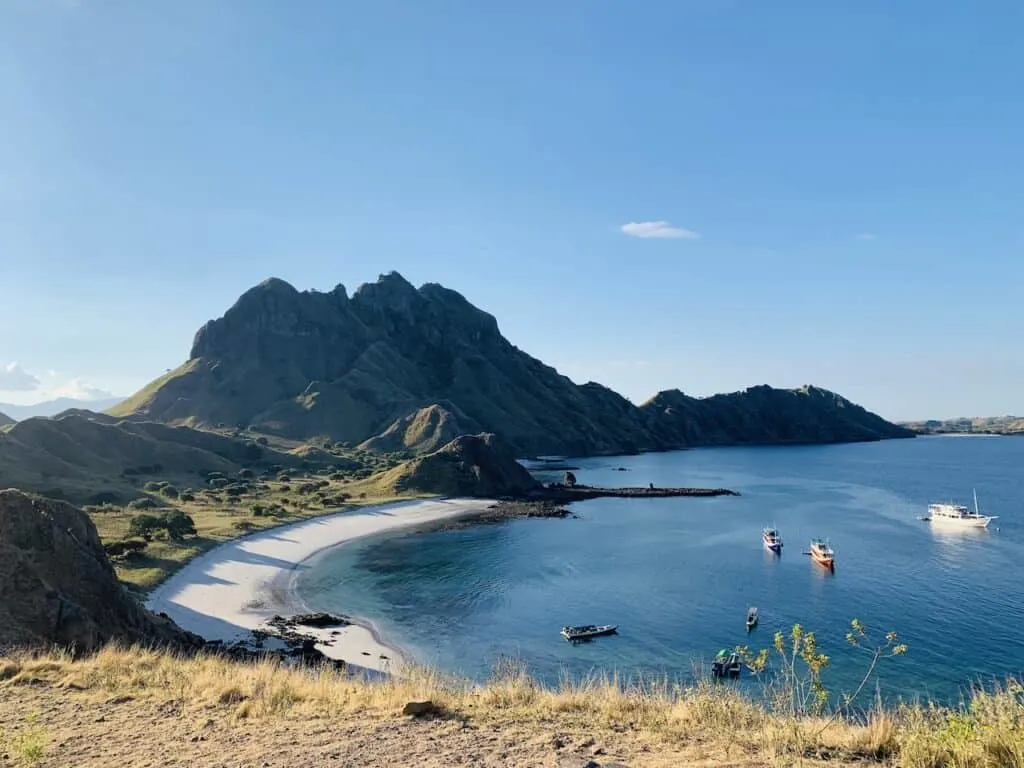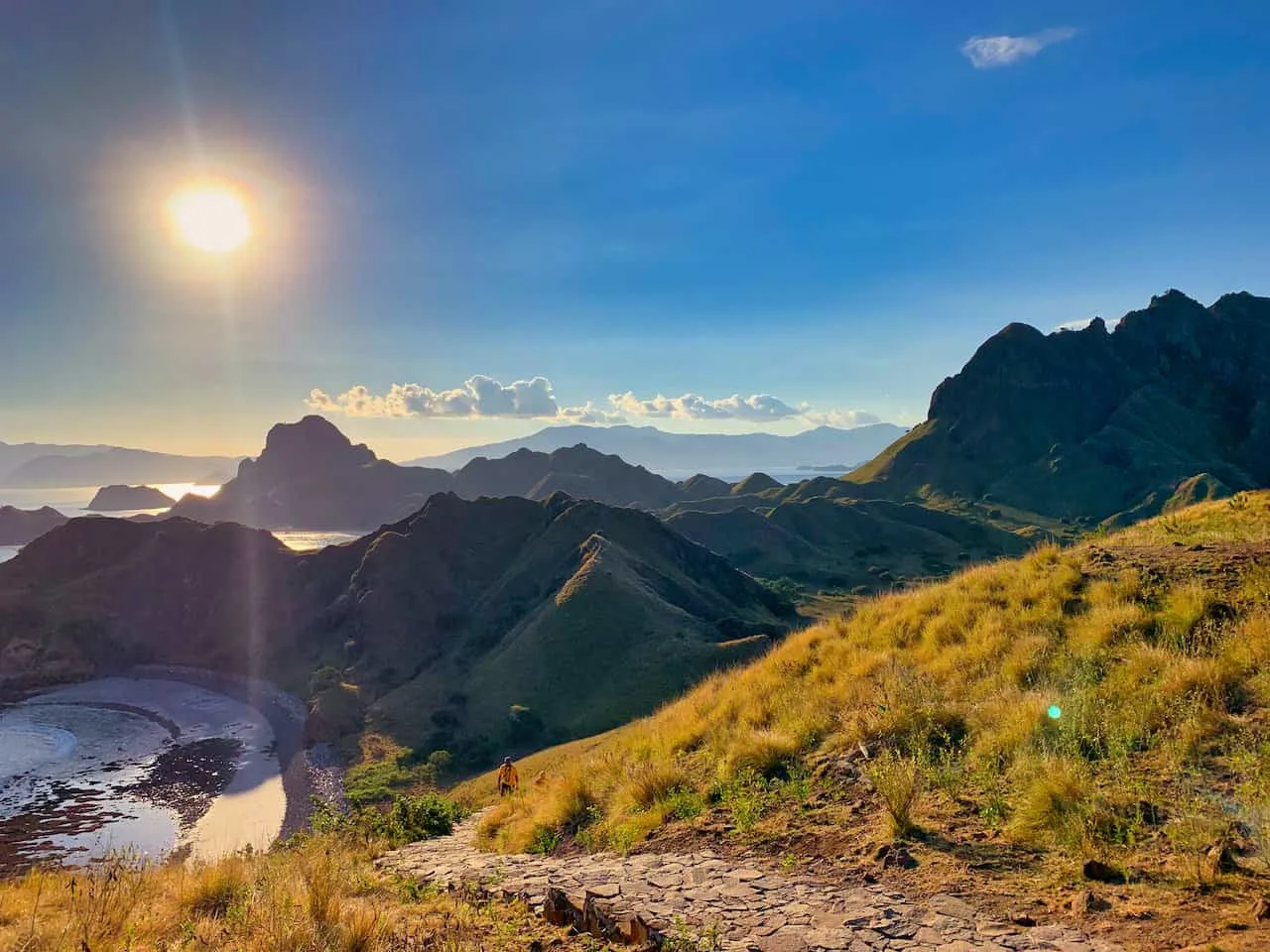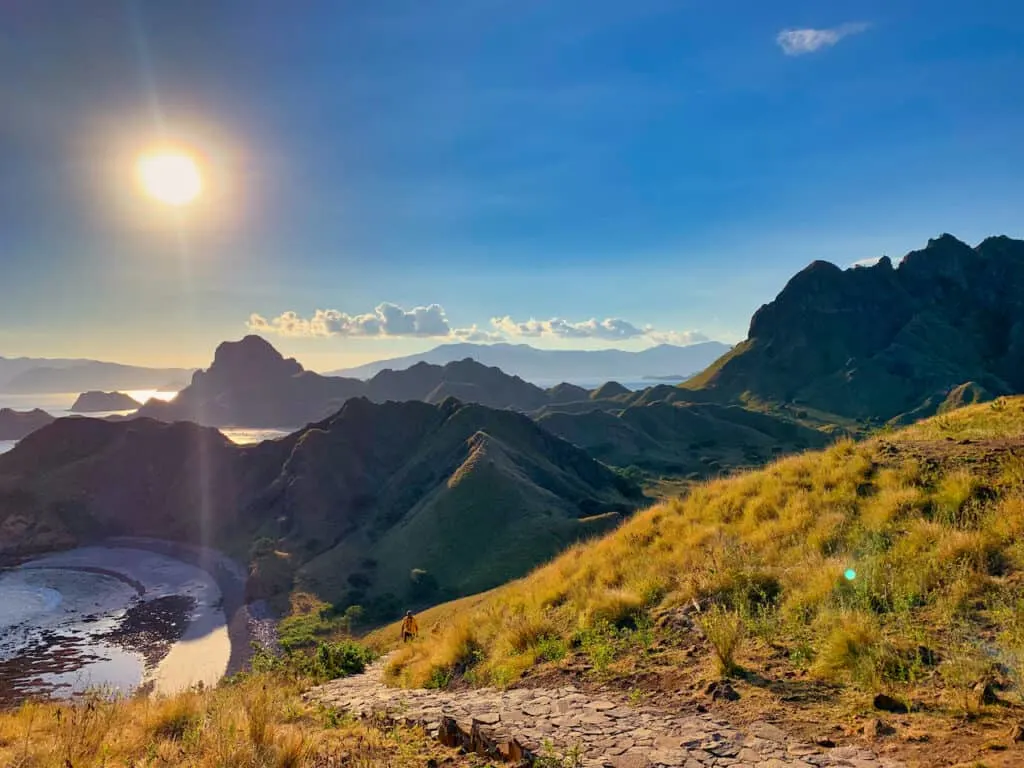 Padar Island Viewpoint
Once up this part of the trail, you will then find a paved platform area, where many people enjoy taking in the view from (see below for a photo of the spot).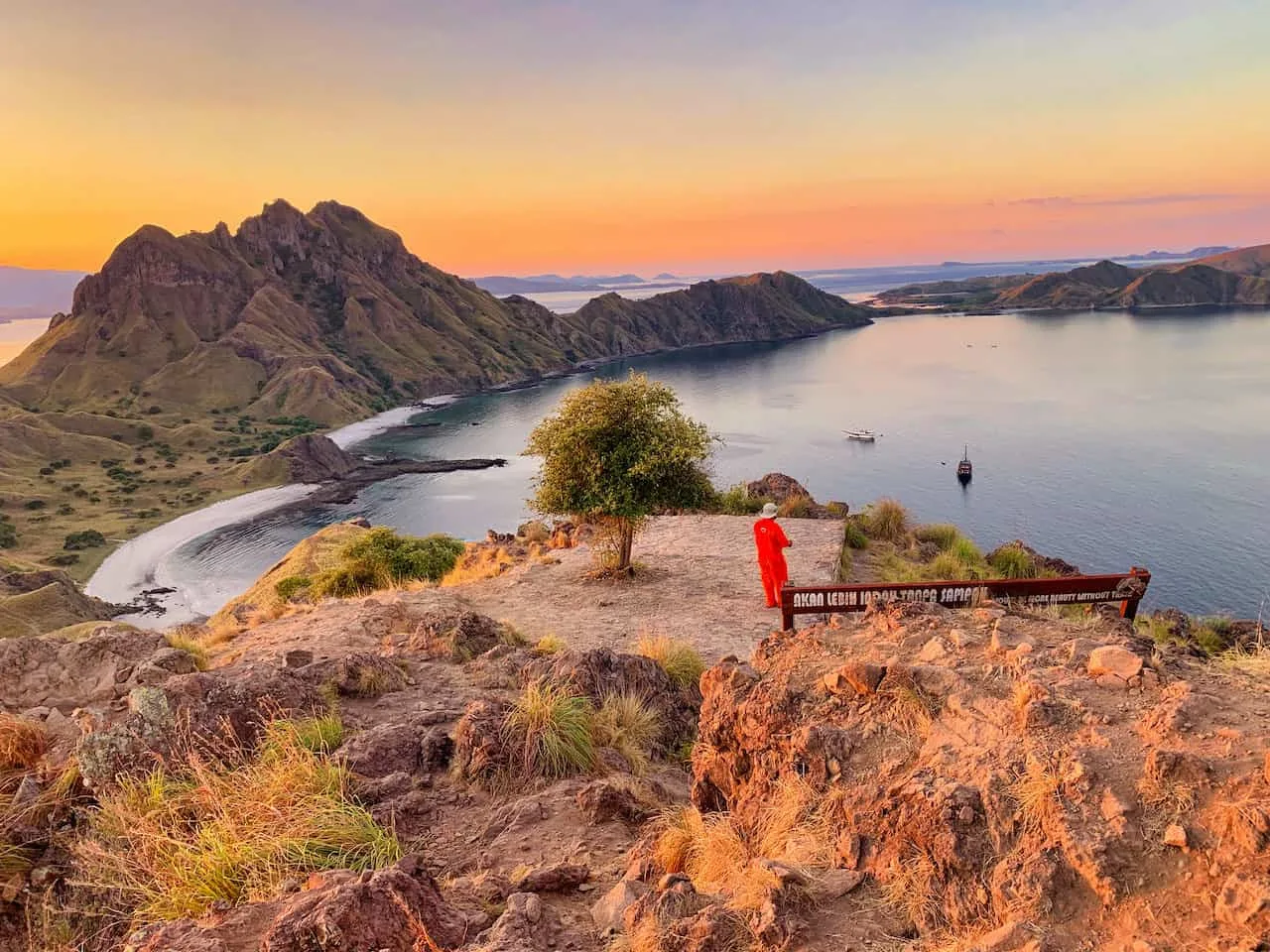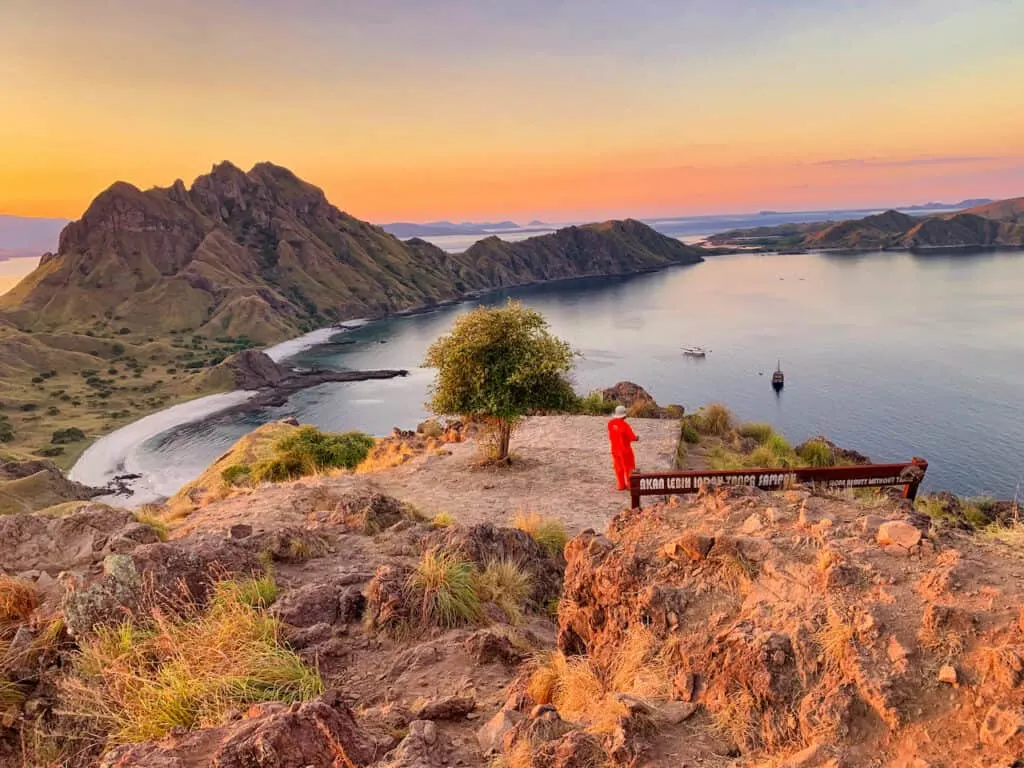 While the views are good around this area, I would recommend heading further along above this section, where you can find some better photo spots to enjoy.
As you make your way around, the views out in front of you will be some of the best you can ask for.
Here is where you will find the uniquely shaped landscape of Padar Island with three beaches in view. Each one of these three beaches have different colored sand – white, black, and pink.
Take some time to just sit back, relax, and enjoy the view.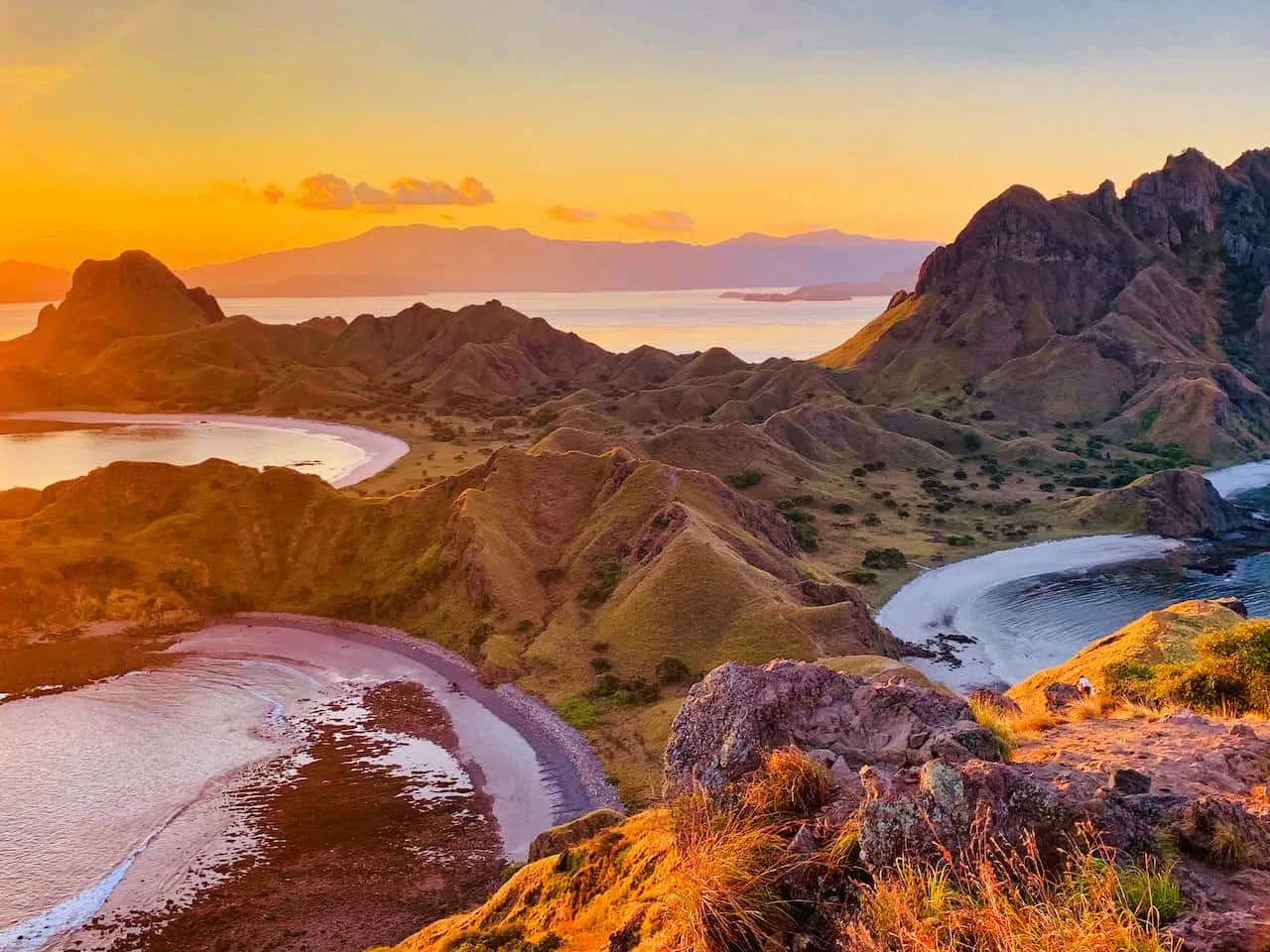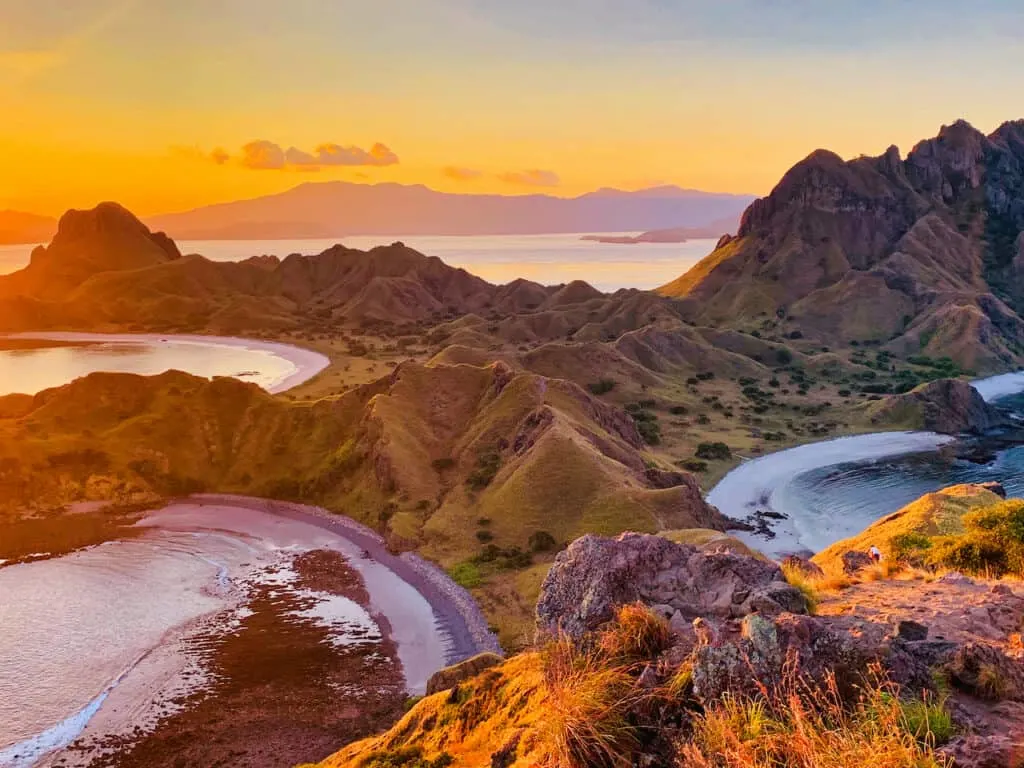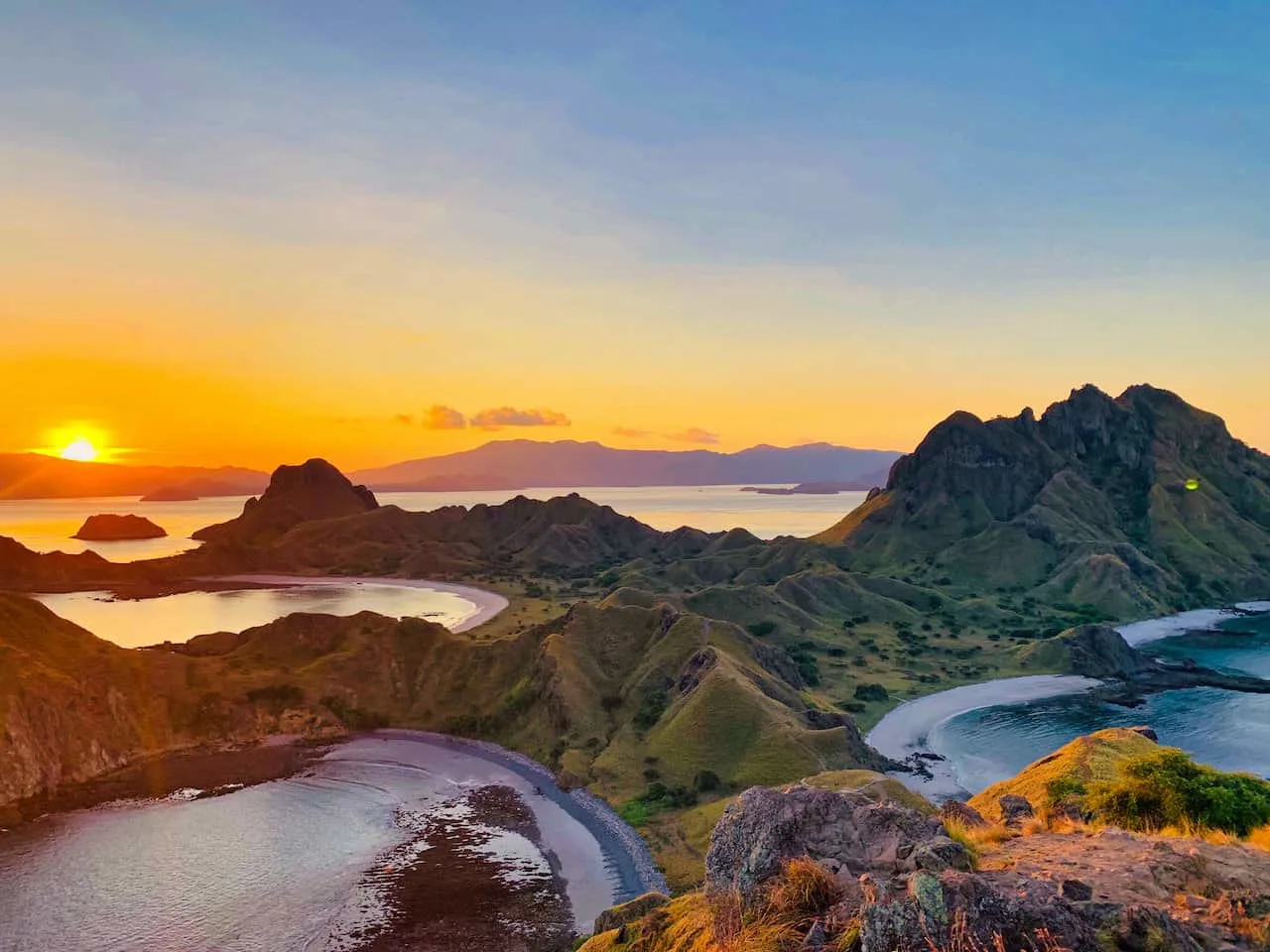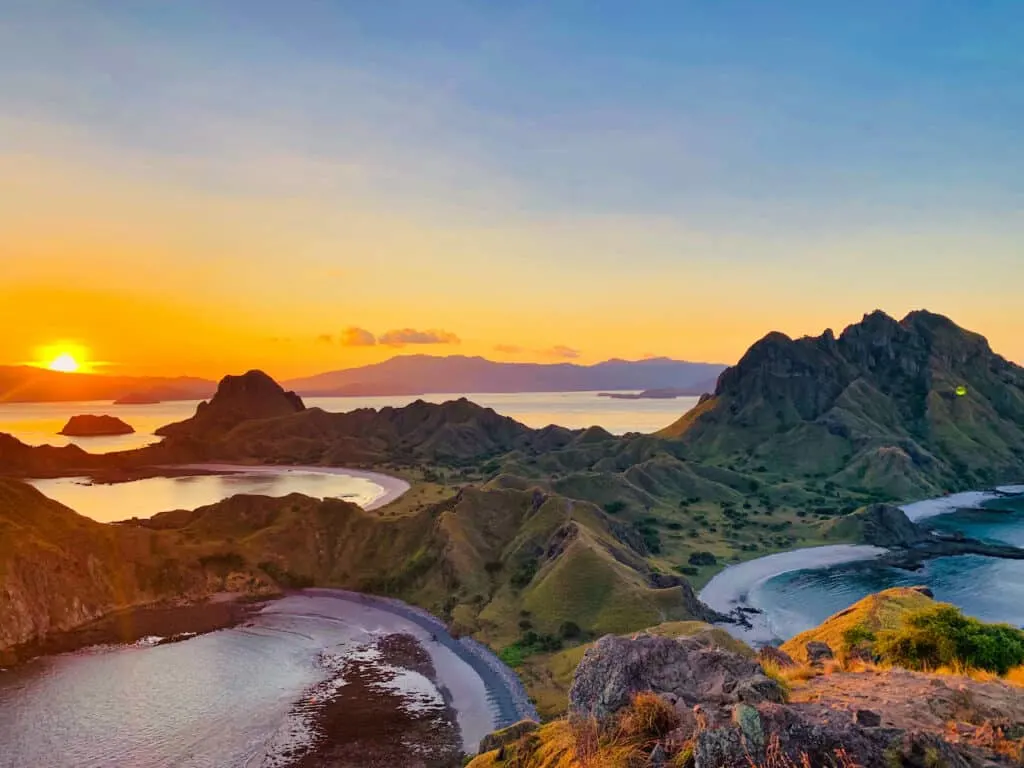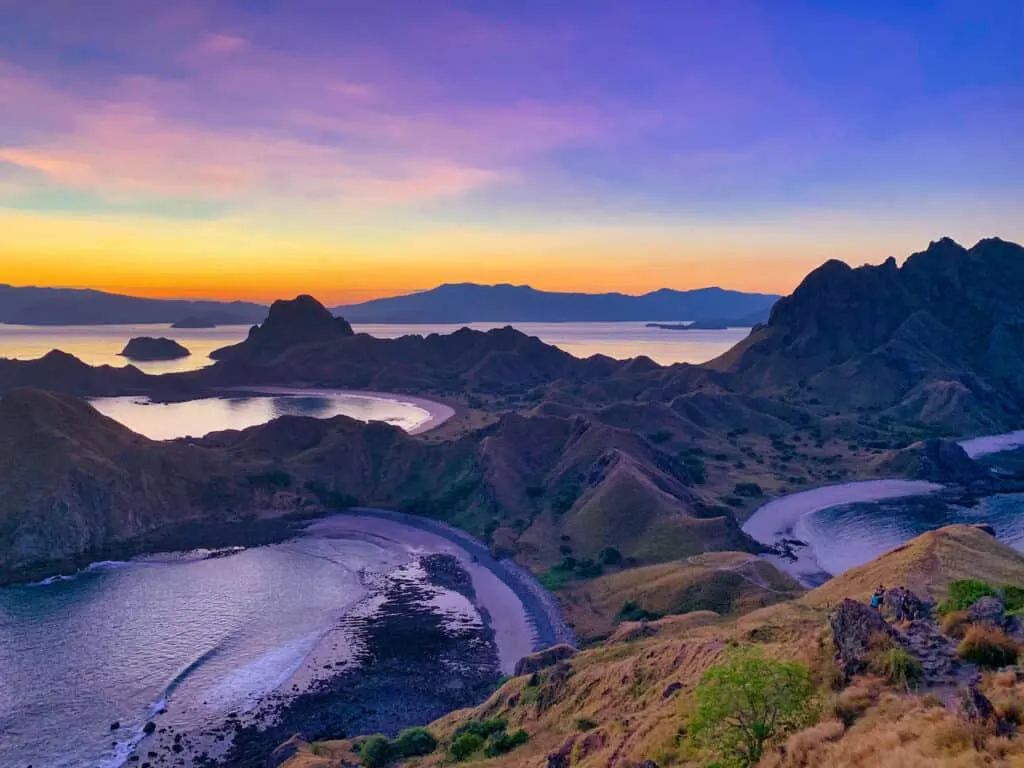 Now, while the best viewpoints are from right around this area, it is possible to continue to hike further up the hillside to the summit.
While you can continue up for some more views, do be aware that if you get too high, the views of the beaches will begin to be obstructed by the island itself (as seen in the second photo below).
You can still head on up if you would like, but just be aware that the better views are not all the way up top.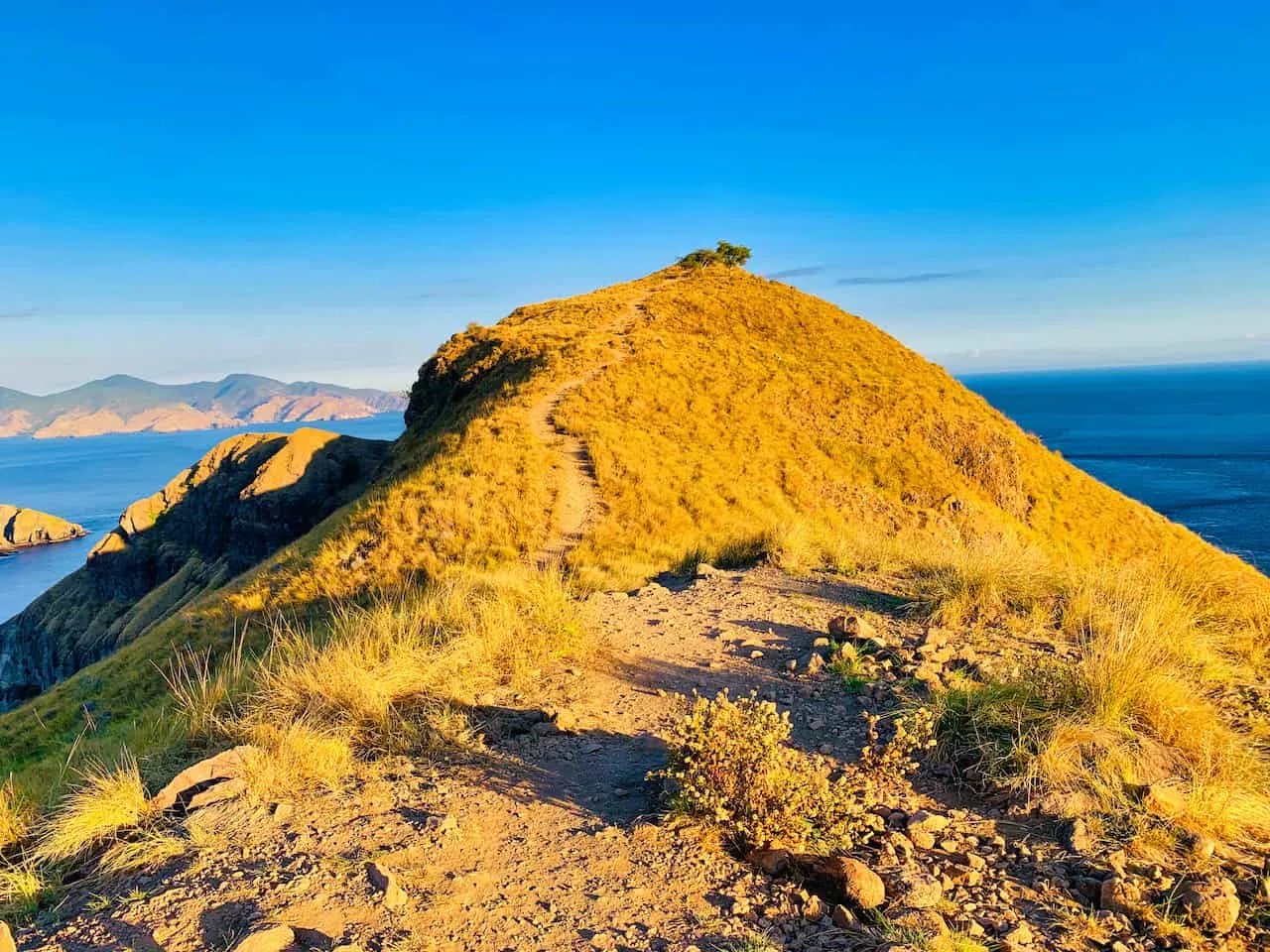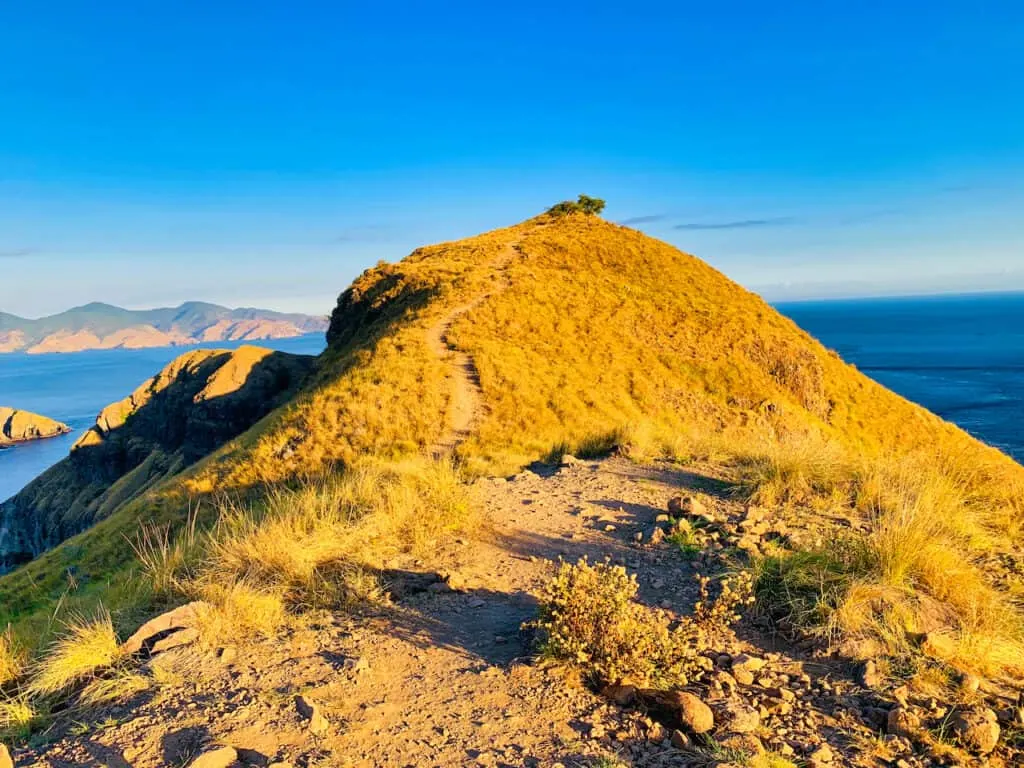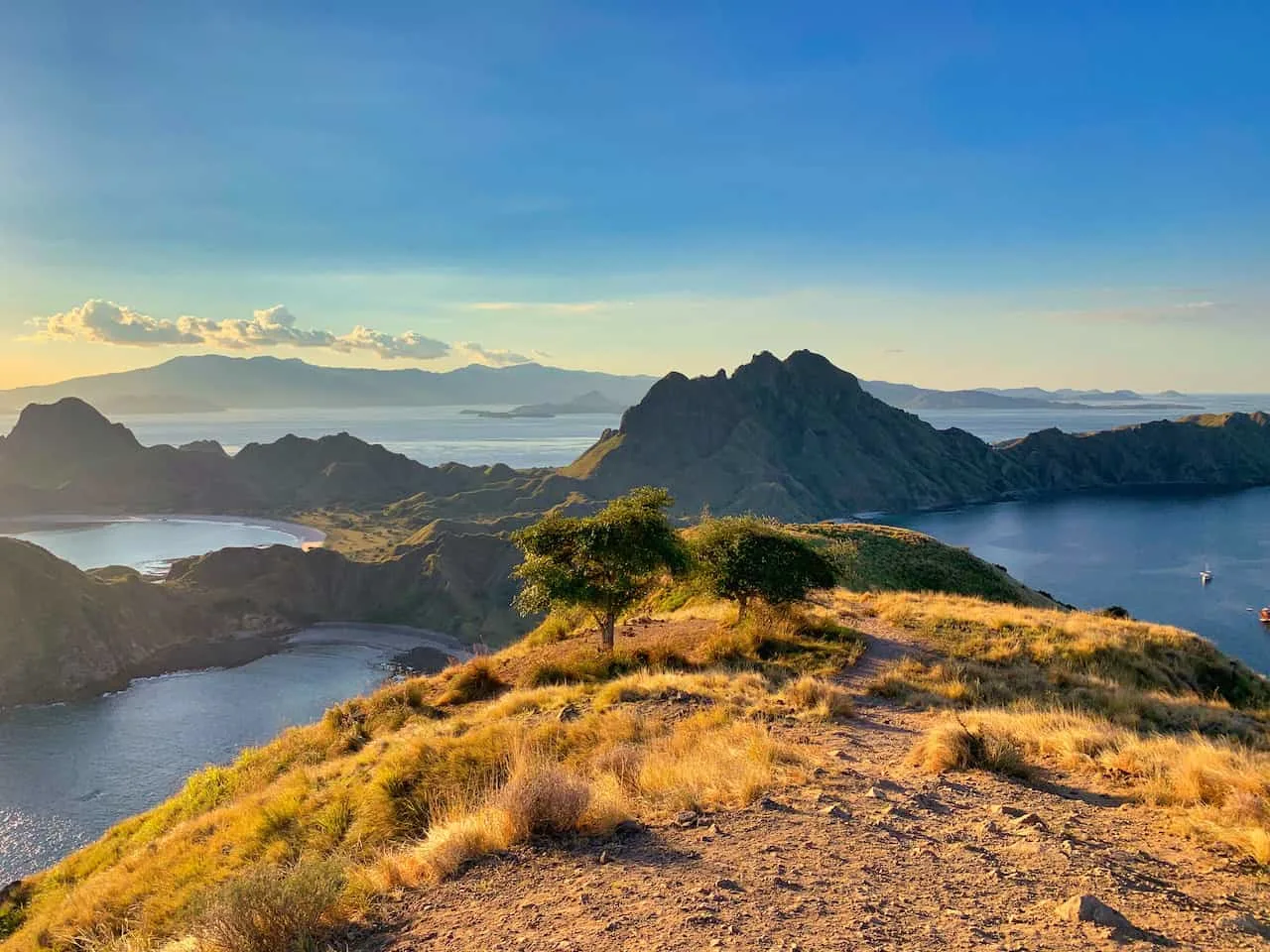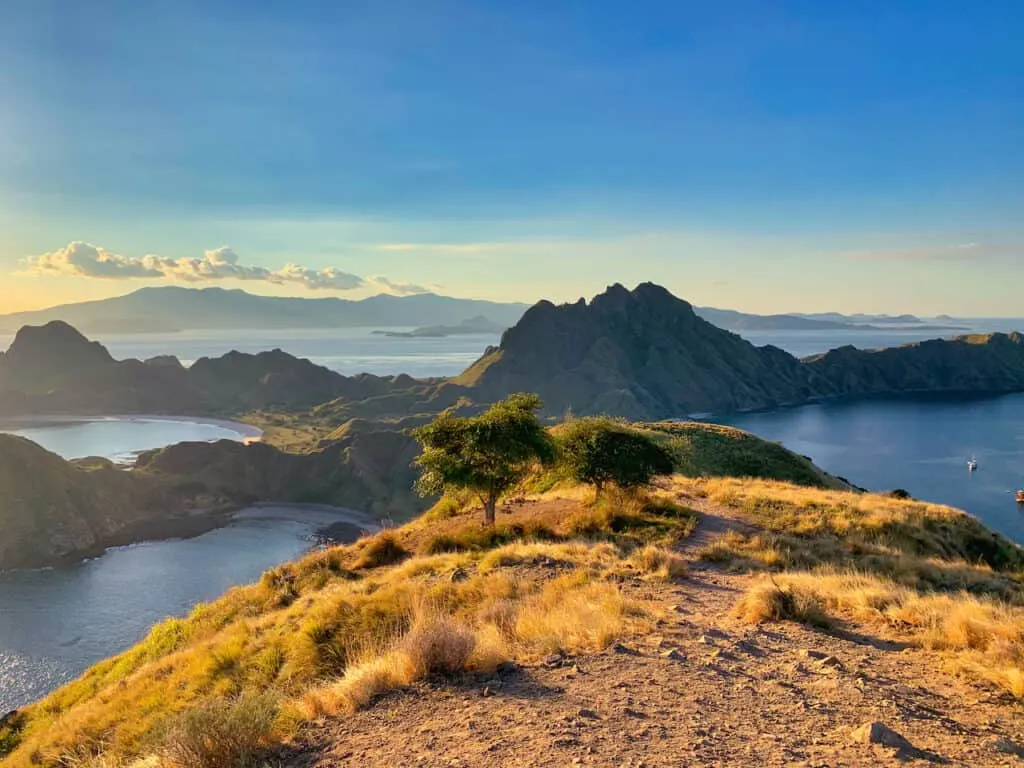 9) Padar Island Frequently Asked Questions
When it comes to Padar Island, there are many frequently asked questions about the trip, Below are some answers to the main ones:
Can You Stay on Padar Island?

No, it is not possible to stay on Padar Island itself. The closest available option is if you are part of a liveaboard and the boat happens to stay overnight in the nearby harbor.
Does Anyone Live on Padar Island?

During my visit, I did see a couple small structures further inland from the beach. This is where I believe some of the park rangers may sleep overnight.

Beyond that though, don't expect to find any sort of local community, village, or shops on the island.
Are Komodo Dragons on Padar Island?

This question seems to always have different answers. However, it is thought that there actually are a few Komodo dragons on Padar Island.

However, these dragons are located on the opposite end of the island, far away from where you will hiking up to the viewpoint.

Most Komodo dragons that are seen during tours are those on the nearby Rinca or Komodo Islands.
Can You Bring a Drone to Padar Island?

While you can bring a drone into Komodo National Park and Padar Island, you will need to purchase a permit prior to your departure.

The cost of the permit is around 1,000,000 IDR ($65 – $70). I would recommend to reach out to your tour company to help you acquire the permit.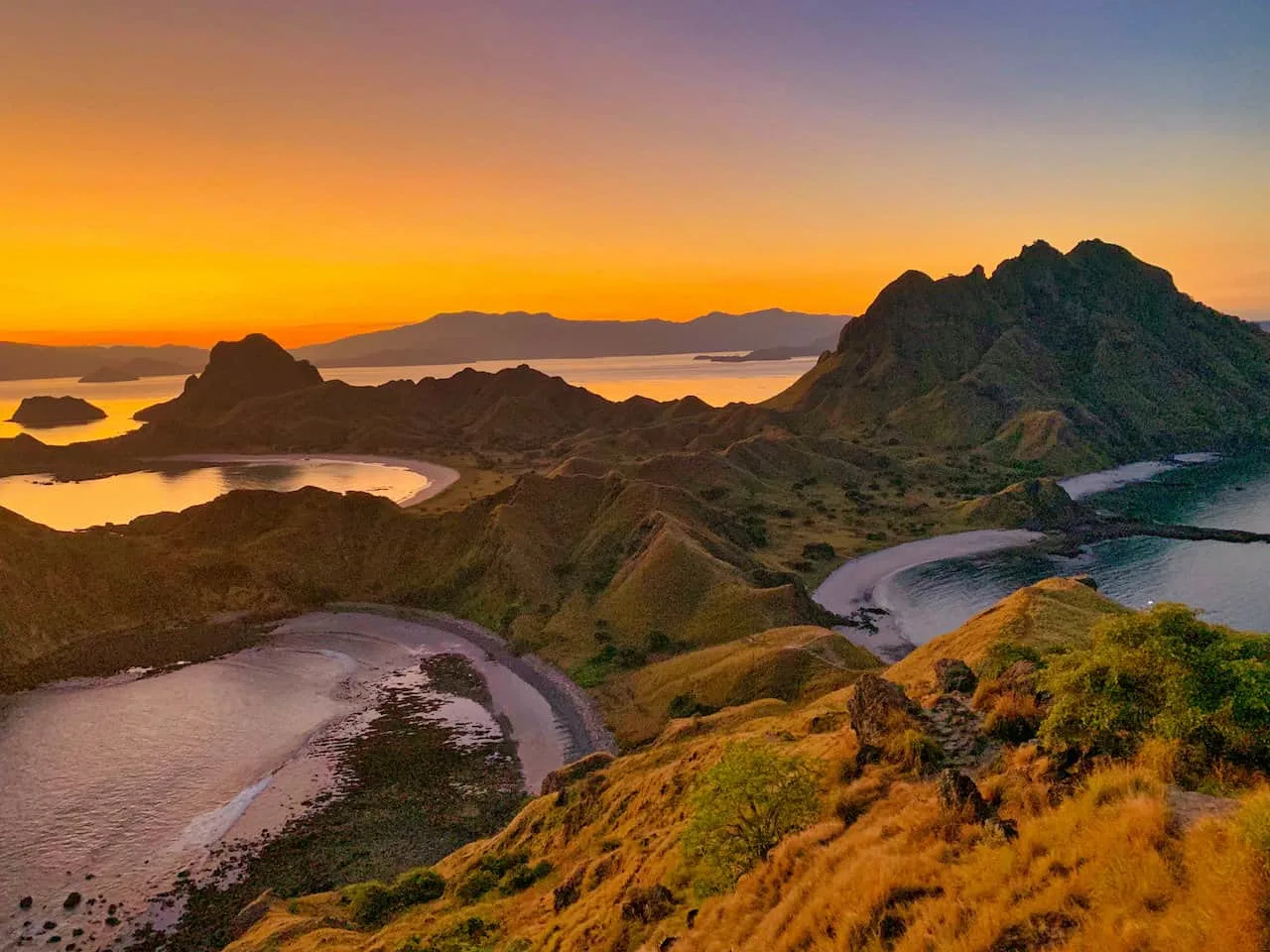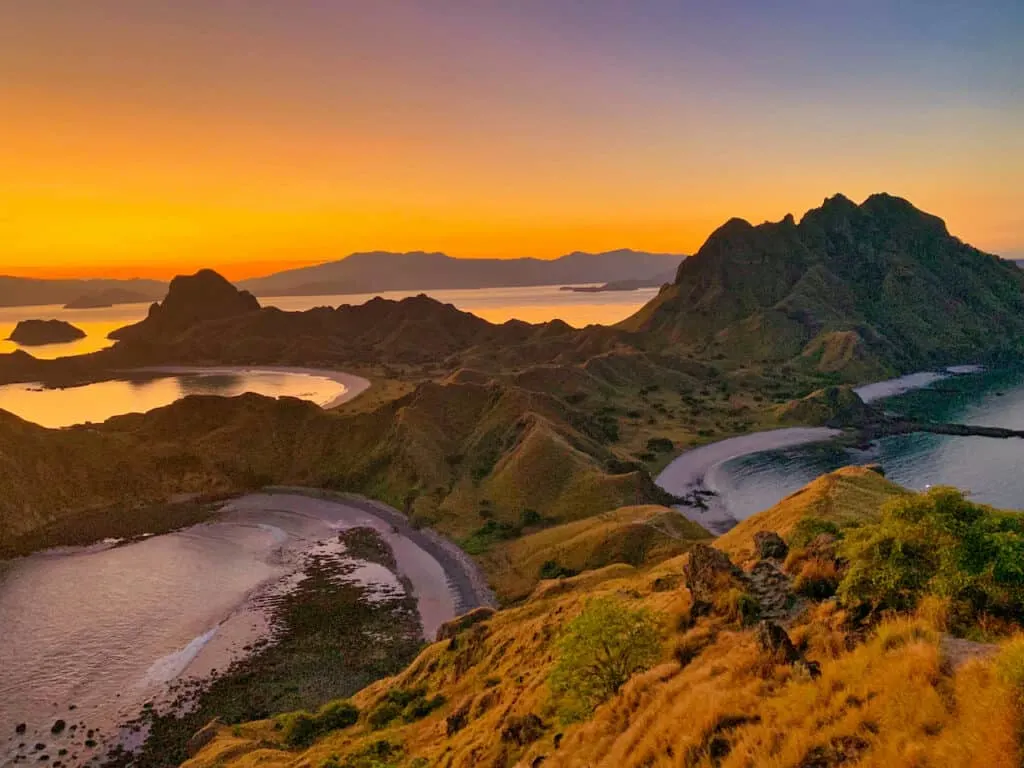 That wraps up a guide to Padar Island of Komodo National Park. If you have any questions or comments, be sure to add them in below.
Also, feel free to check out the other Indonesia itineraries and guides up on the site (such as this Java itinerary and a guide to Tumpak Sewu Waterfall).
Have fun out there and safe travels!