One of my favorite experiences when traveling throughout Indonesia was taking part of a Komodo liveaboard.
Over the course of 3 days and 2 nights, I had the chance to scuba dive in the marine rich waters, trek among the Komodo Dragons, visit a Pink Beach, and take in some of the most beautiful views.
I am hoping that this guide will give you a better idea of what a Komodo liveaboard experience is all about, and how to choose the one that is best for you.
* Affiliate Disclosure: This post may contain affiliate links, which means I may receive a commission if you make a purchase through the links provided, at no additional cost to you. Thanks for supporting the work I put into TripTins!
1) Komodo Liveaboard Overview
If you are not familiar with what a liveaboard is, it is essentially a boat that will take you out on the water for multiple days at a time. Instead of sleeping at a hotel, you will get the chance to sleep on the boat within the waters of Komodo National Park.
By doing so, it is much easier to visit a wider array of spots within the National Park during a certain period of time. Getting to wake up at sea, take in a sunrise, enjoy a whole array of unique activities, and then go to sleep under the Komodo night skies, is a truly beautiful experience to have.
These liveaboards can range from simple single night overnights to over a week out at sea. Depending on how much you want to see in the National Park will dictate what duration of liveaboard you choose.
Now, when it comes to Komodo National Park liveaboards, there really are a whole array of options to select from. No two liveaboards are alike, and you should pick one that best fits your personal preferences & style.
Some liveaboards are focused solely on scuba diving, some are focused more so on the National Park, and some offer a good combination between the two.
I will be talking about all of that and more in the following section.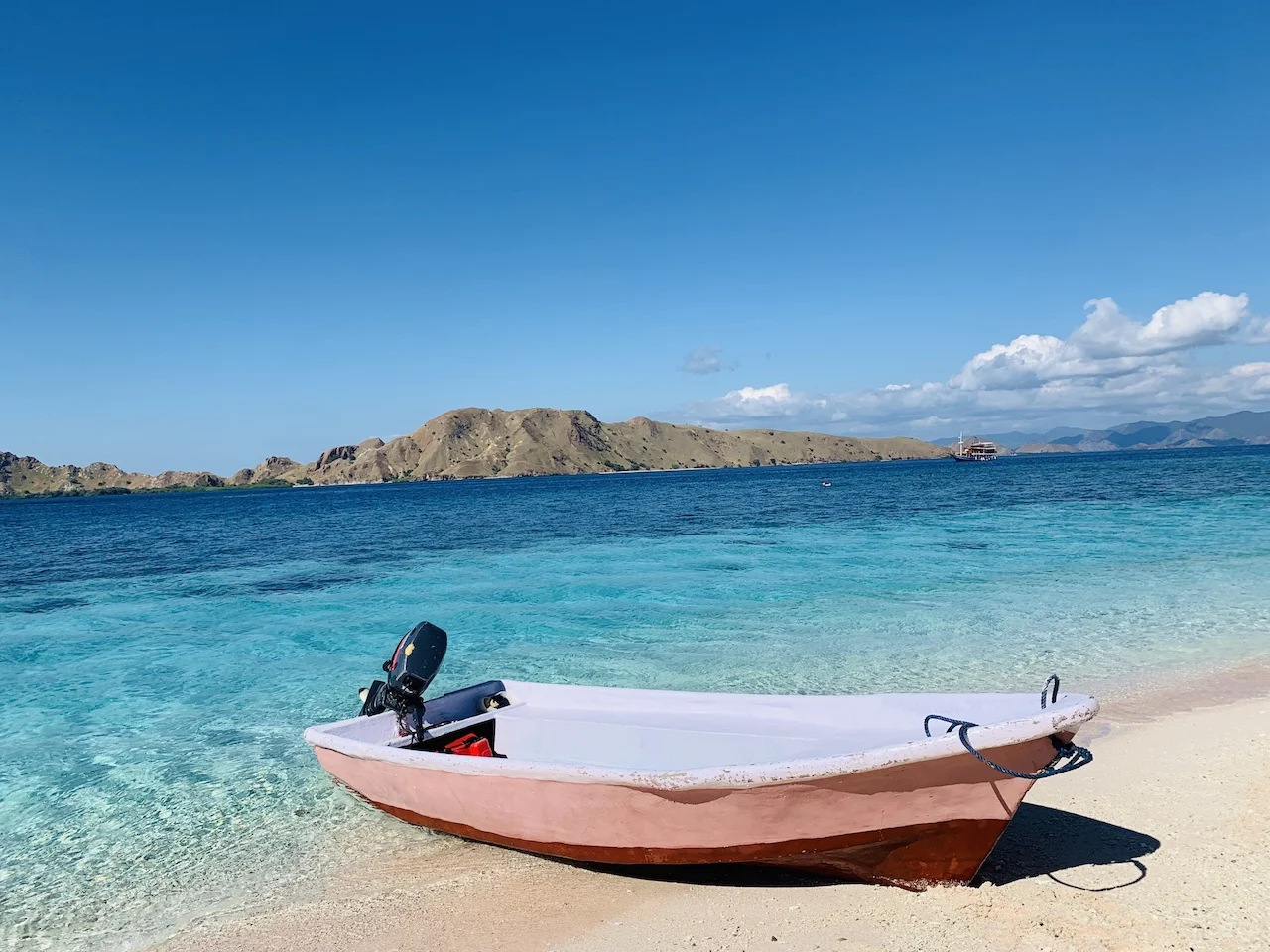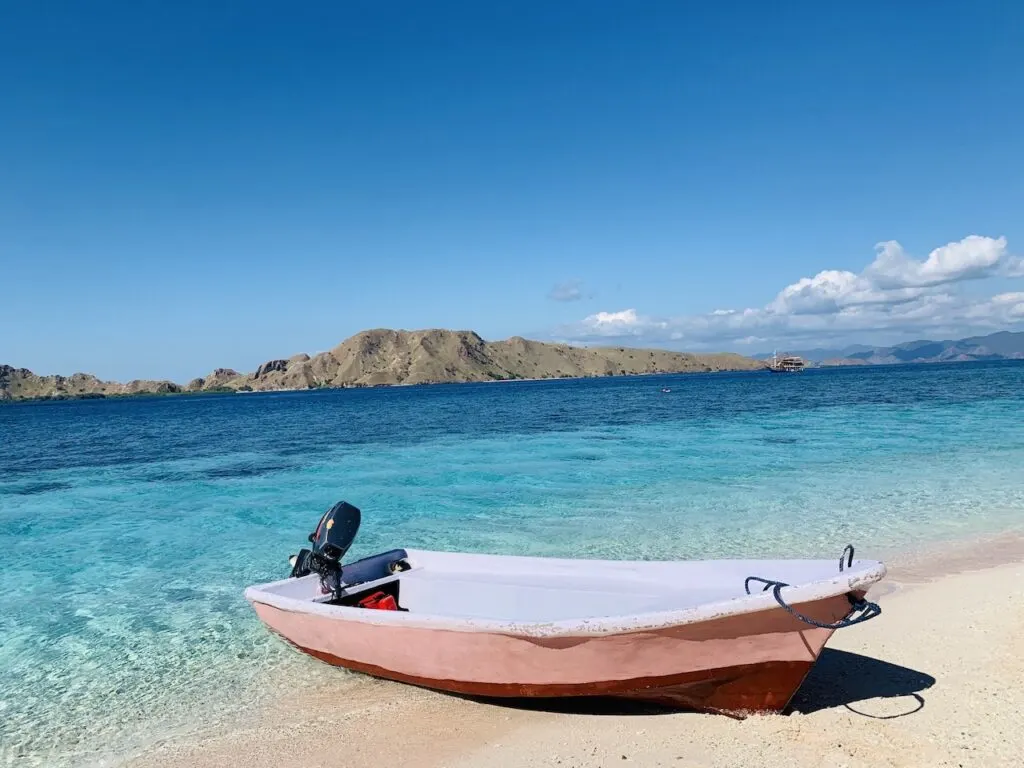 2) Choosing a Komodo Liveaboard
There are a few "main" considerations to think about when choosing a liveaboard. These include the the type of liveaboard, costs, and duration.
Liveaboard Type
As mentioned there are few different types of liveaboard in Komodo. This mostly relies on how important scuba diving is for you.
Since Komodo offers some of the top scuba diving in the world, some liveaboards focus much more on that particular aspect.
Scuba Diving Focused
If you are a big-time scuba diver, then you should pick a liveaboard that focuses in on that feature of Komodo National Park. These liveaboard can range from just a couple days to up to 2 weeks out on the water.
You will find these liveaboards run by scuba diving companies, with dives happening 3-4 times per day.
Note that even with scuba diving focused liveaboard, there will be opportunities to take part of some of the above water activities as well.
National Park Focused
On the other hand, many liveaboards do not offer scuba diving as an option at all. Instead the experience will be focused more on the beaches, hikes, views, and more that Komodo has to offer.
With these liveaboards, snorkeling will always be offered. So, there will still be the opportunity to enjoy the underwater life. These underwater stops just won't be as frequent as the scuba diving focused liveaboards.
All Around Liveaboard
Lastly, there are some liveaboard options that are National Park focused but do offer scuba diving opportunities as an option.
On these liveaboards, you will have a subset of people who choose to scuba dive during the underwater portions of the trip, while others will decide for the snorkeling option.
This is great for those that want the best of both worlds.
During my time in Komodo National Park, this was the type of liveaboard experience I took part of. About half of the people onboard were scuba divers while the other half were snorkelers.
While I did opt to scuba dive during most of the underwater activities, I did snorkel as well when I was not feeling up for another dive.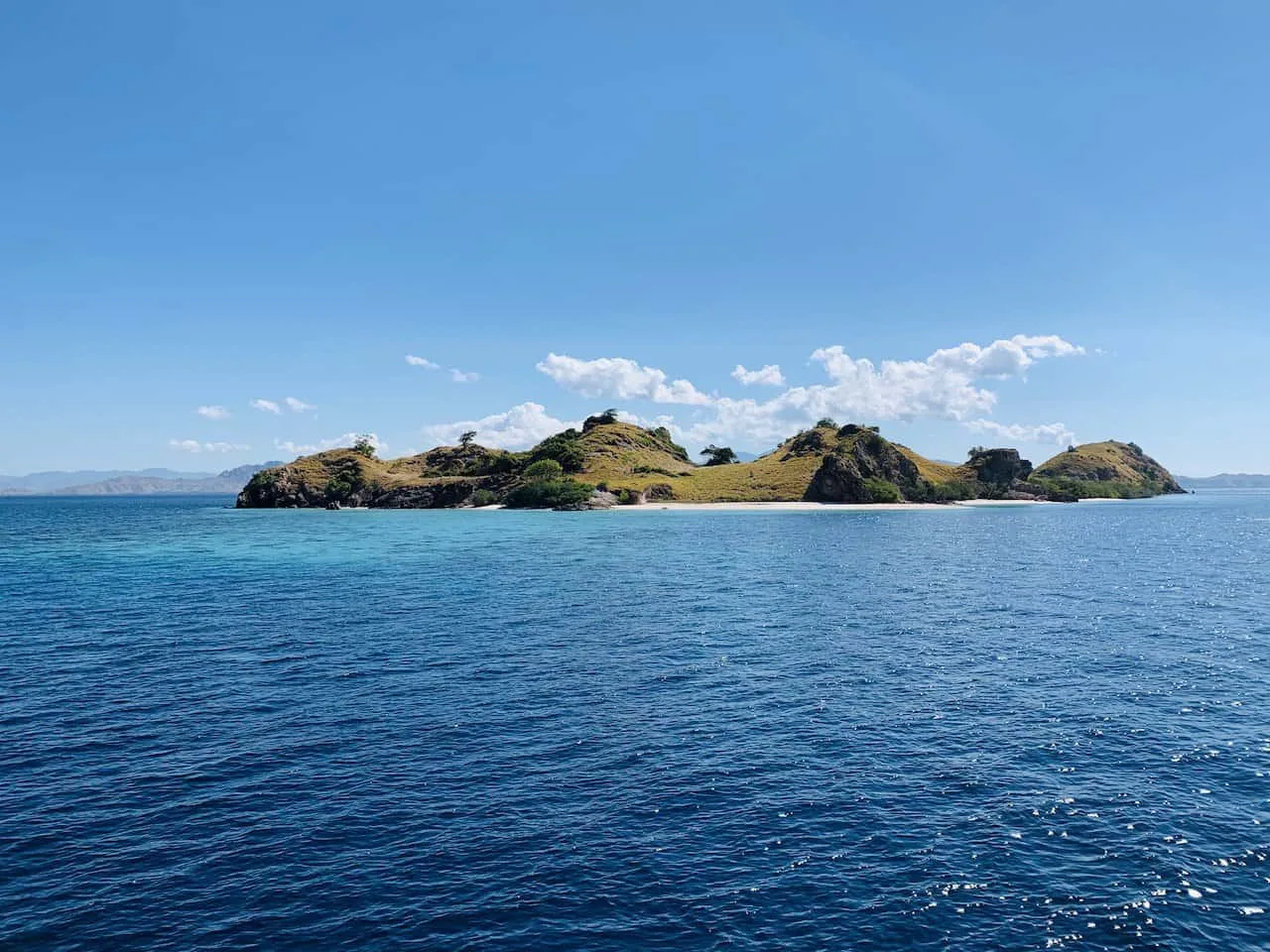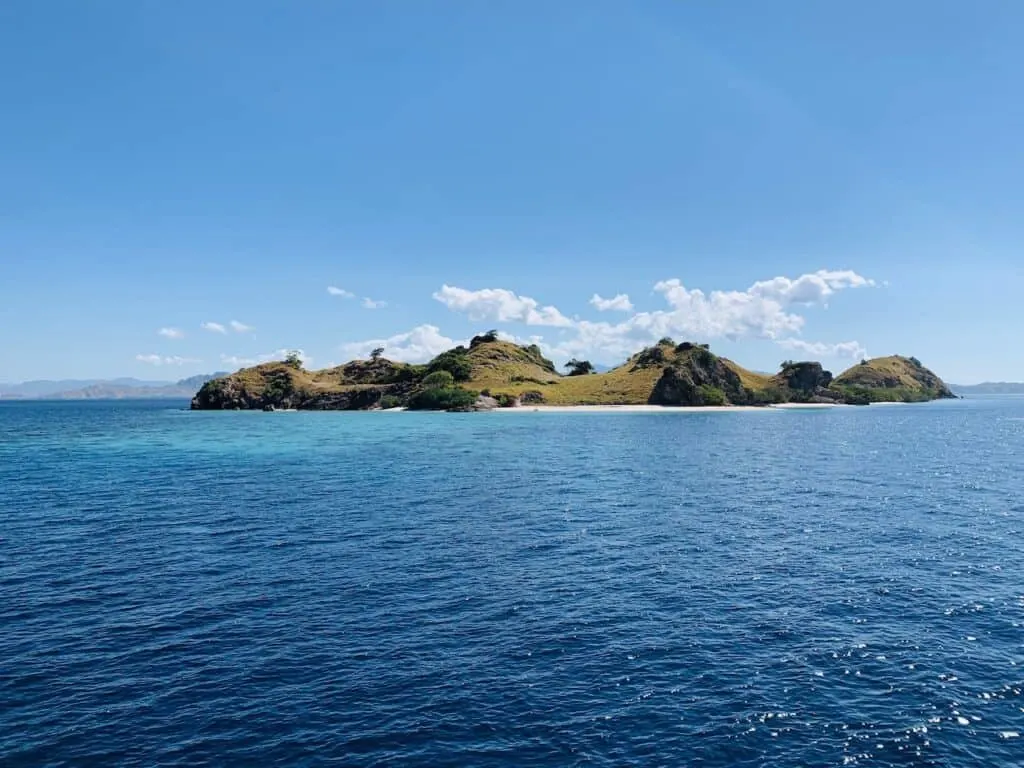 Liveaboard Costs
After figuring out what type of liveaboard you want to join, a second consideration will be the cost of the liveaboard.
When it comes to Komodo liveaboards, they come in all shapes & sizes. Some are more budget friendly while others are more luxurious.
Komodo Liveaboard Budget
These are your lowest tier of liveaboards, which is perfect for your budget traveler. Expect price ranges to be between $150 and $200 per day.
With a budget liveaboard you can expect smaller rooms, more outdated boats, and less of a luxurious type feel to it.
Komodo Liveaboard Luxury
On the highest end are your more luxury liveaboards. These can range between $500 and $700 per day.
With luxury liveaboards, you should expect to have larger more modern rooms, a more amenity filled boat, and just an overall higher class of service.
Komodo Liveaboard Standard
Right in the middle of the two will be your more standard liveaboards. These will range from around $200 to $400 per day.
Expect a high quality of service, comfortable rooms, and a more standard level boat altogether.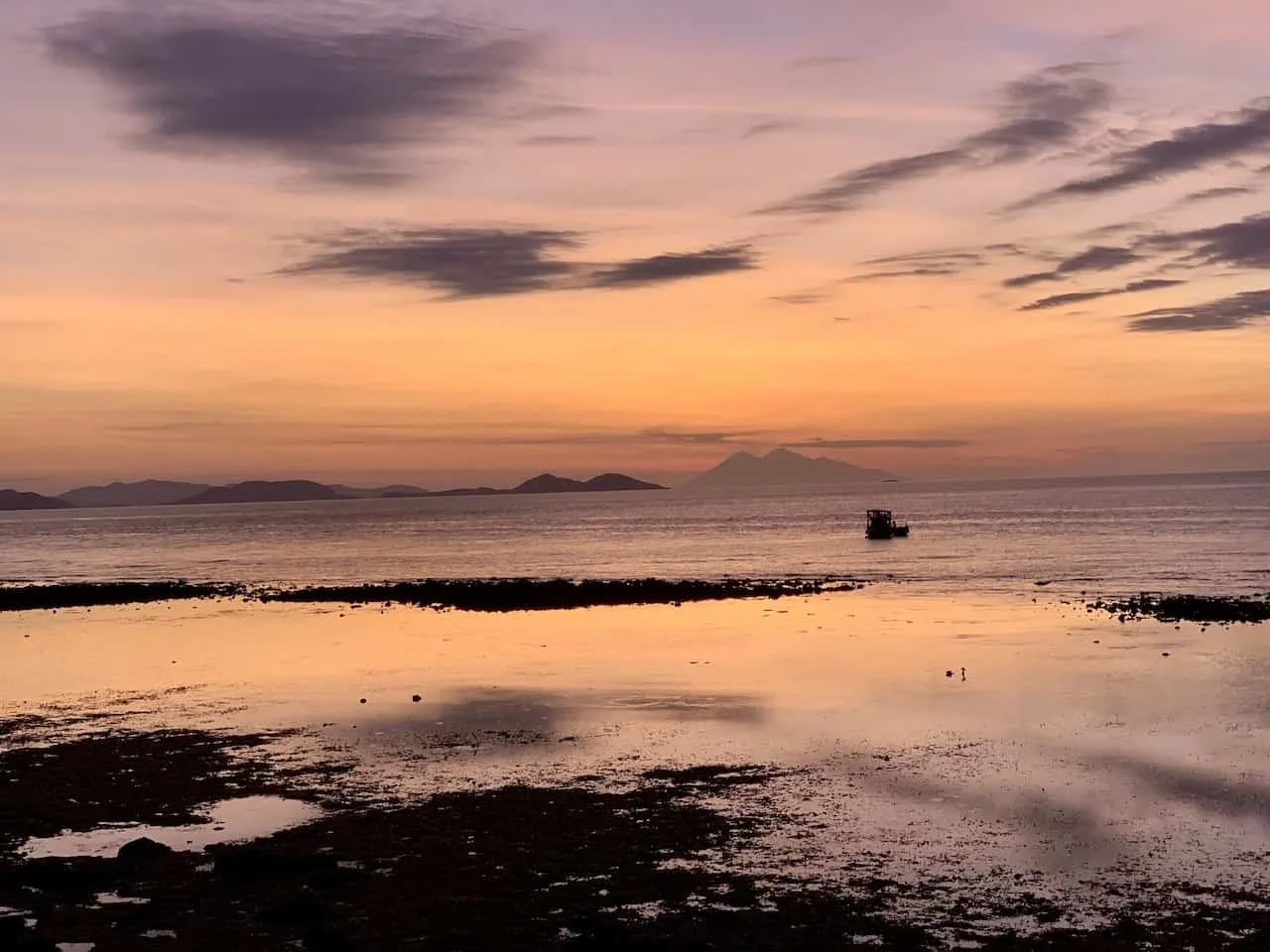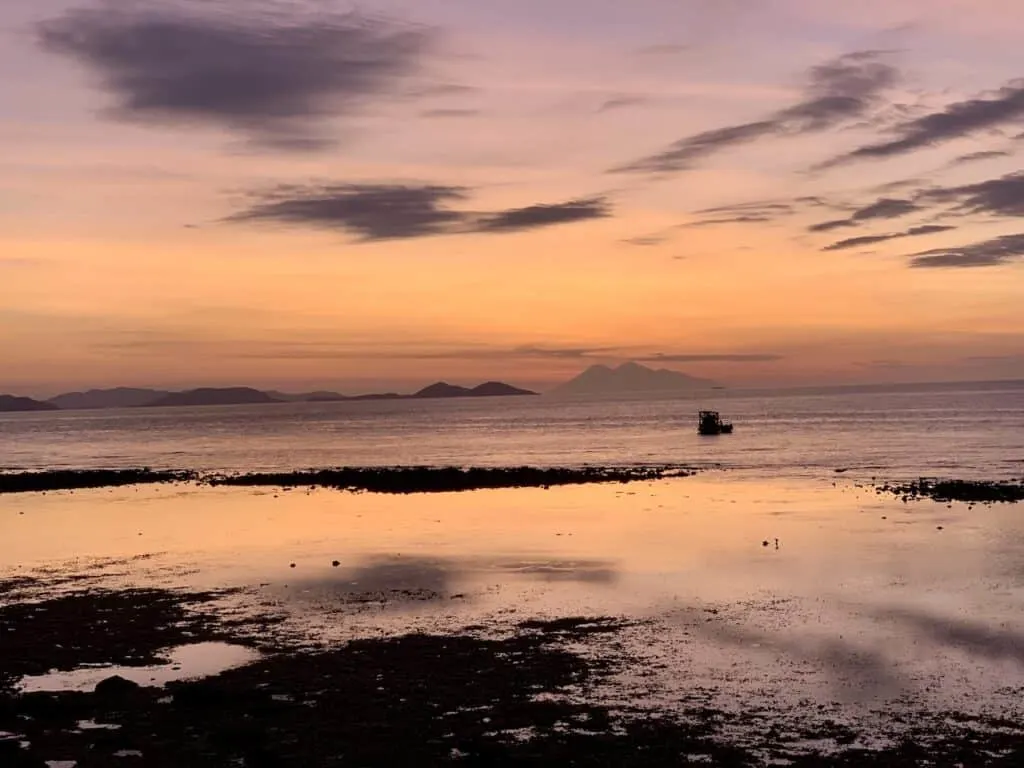 Liveaboard Duration
The last main consideration to think about is simply how long you want to spend on a liveaboard.
These can range from a simple two day trip to well over a week. It just really depends on how long you want to spend out in the water.
The longer the cruise, the more spread out your activities will be. The shorter the cruise, the more jam packed your days will be.
During my time out on the water, I took part of a pretty typical 3 day / 2 night liveaboard. While I certainly could've went longer, I do feel that it is a pretty ideal amount of time for most.
Note: some scuba diving specific liveaboards have a minimum night stay (2-3 nights), and from there you can hop off whenever you would like. This can be done by another boat picking you up or the liveaboard itself making its way back to Labuan Bajo every few days.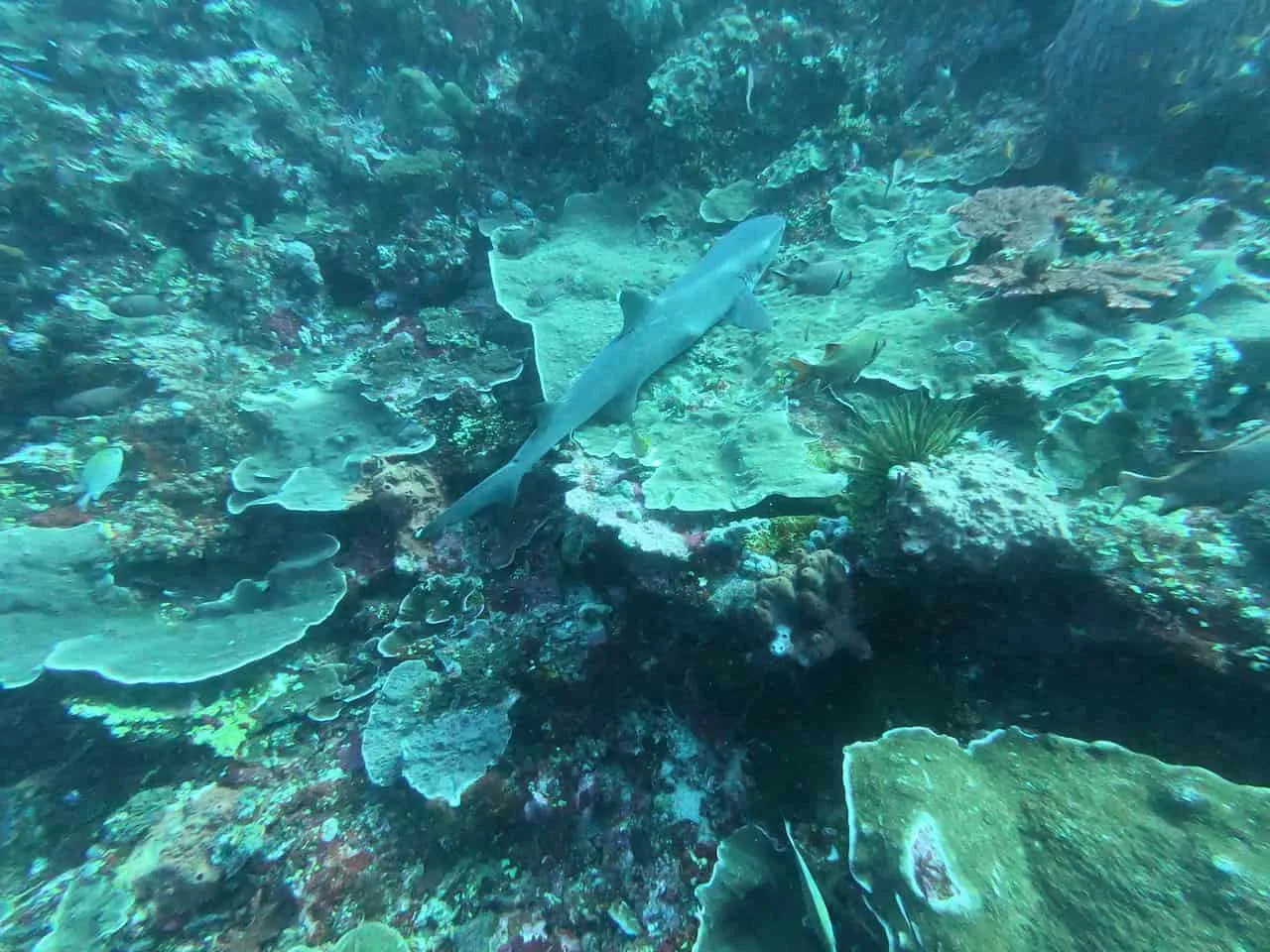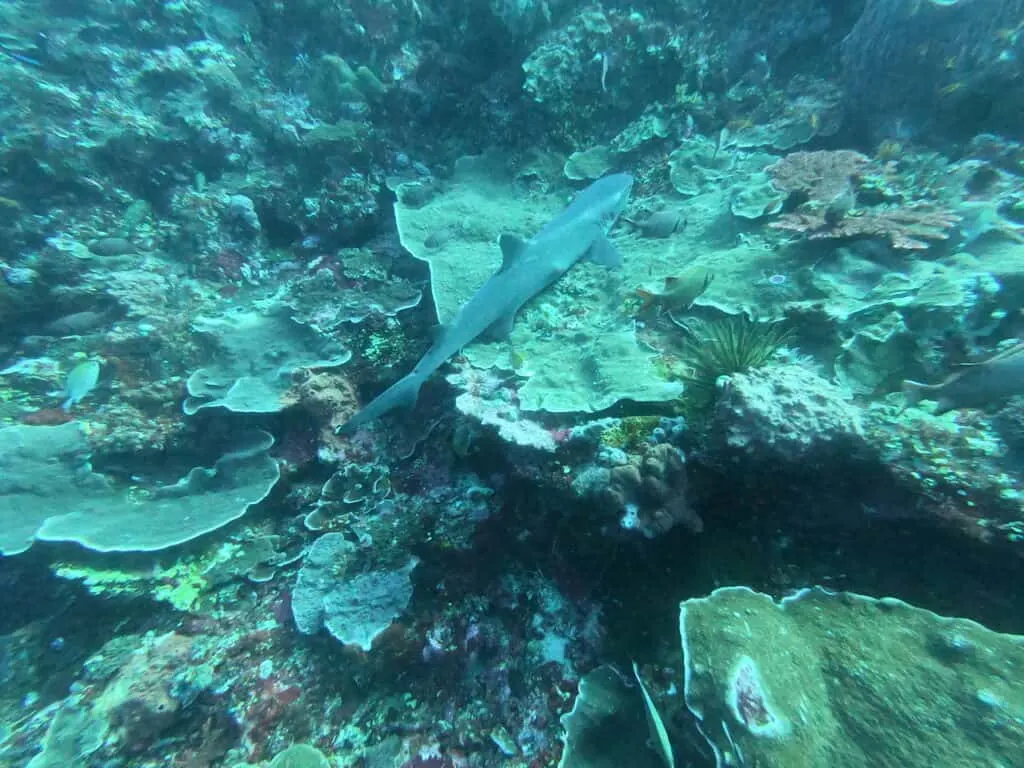 3) Liveaboard Companies
Throughout Labuan Bajo there are many different companies that you can choose from.
However, if you are looking to go with some of the top rated companies, below are some options that offer different types of liveaboards.
Wunderpus Liveaboard: offers set multi day liveaboard trips that can include scuba diving or snorkeling. It is a great option for those that want to focus both on the underwater aspect and other main highlights of the National Park.
Anjani Trip: offers 3 day / 2 night liveaboards across several different boat offerings. This is perfect for those that want to explore the ins and outs of Komodo National Park with some snorkeling opportunities (no scuba diving is offered).
Blue Marlin Dive: if you are looking for a scuba diving specific liveaboard, then check out Blue Marlin Dive. I went scuba diving with them in other parts of Indonesia, and they offer some of the best service out there.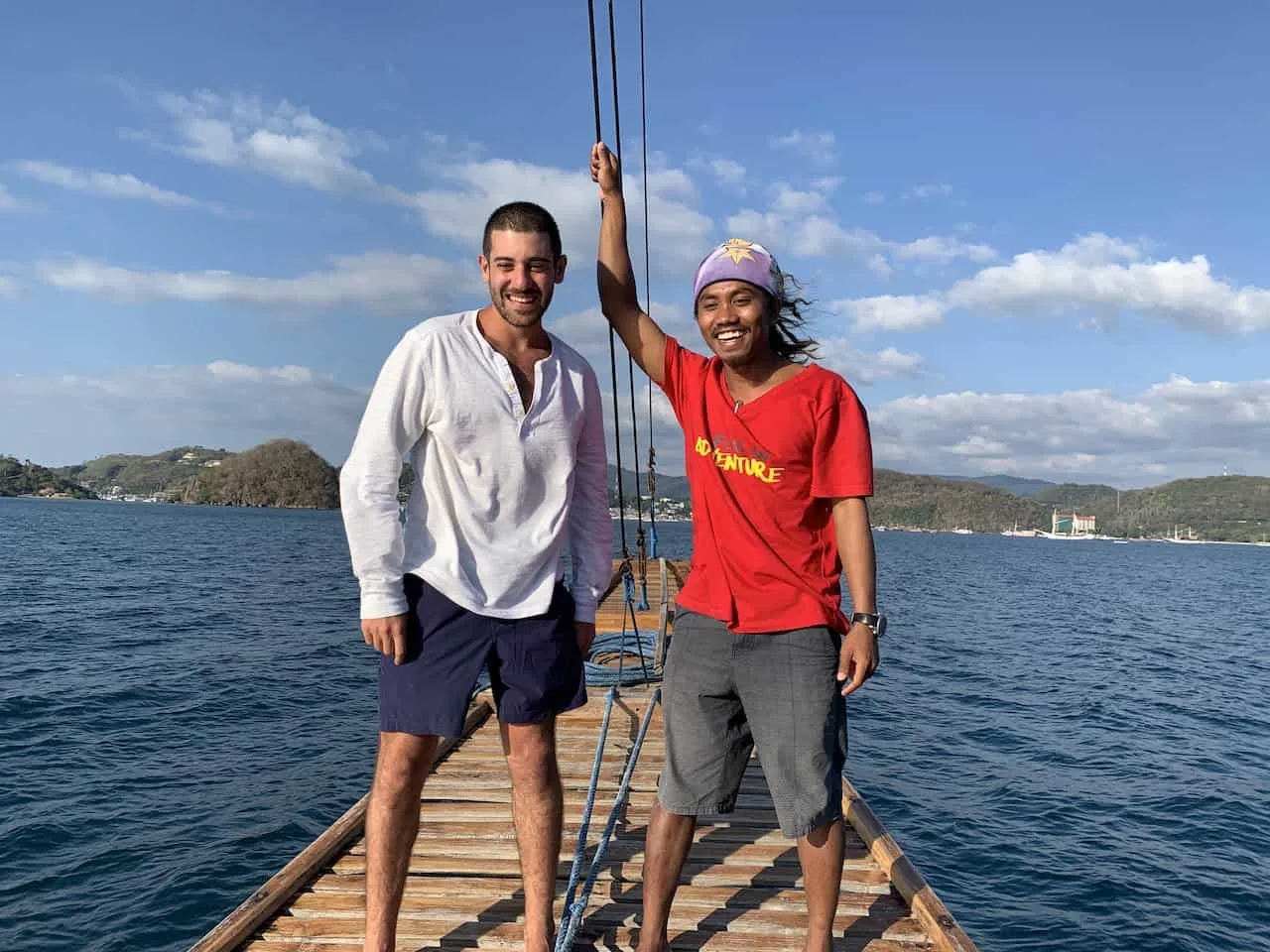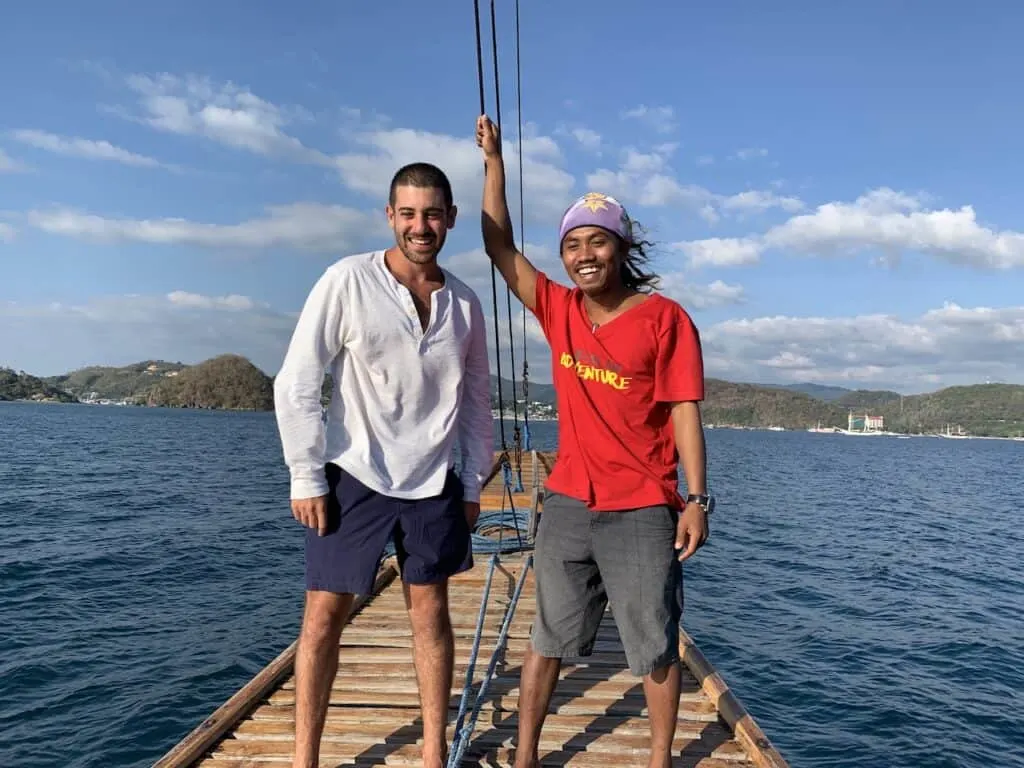 4) A Komodo Liveaboard Experience (3 Days & 2 Nights)
By now you should have a better idea of what a liveaboard is and how to choose one that works for you. Let's now dive into what a Komodo liveaboard experience is all about.
During my time in Komodo, I opted for a 3 day / 2 night liveaboard that focused both on the National Park and offered scuba diving for those interested. I would put it right into that "all around" liveaboard category.
Here is a breakdown of the itinerary & activities that we took part of during our time out exploring Komodo National Park.
Note: not every liveaboard is the same. Take this as directional with what you may expect. Some spots will be found on most itineraries (i.e. Padar Island), while other spots may not be (i.e. a particular beach or snorkeling spot).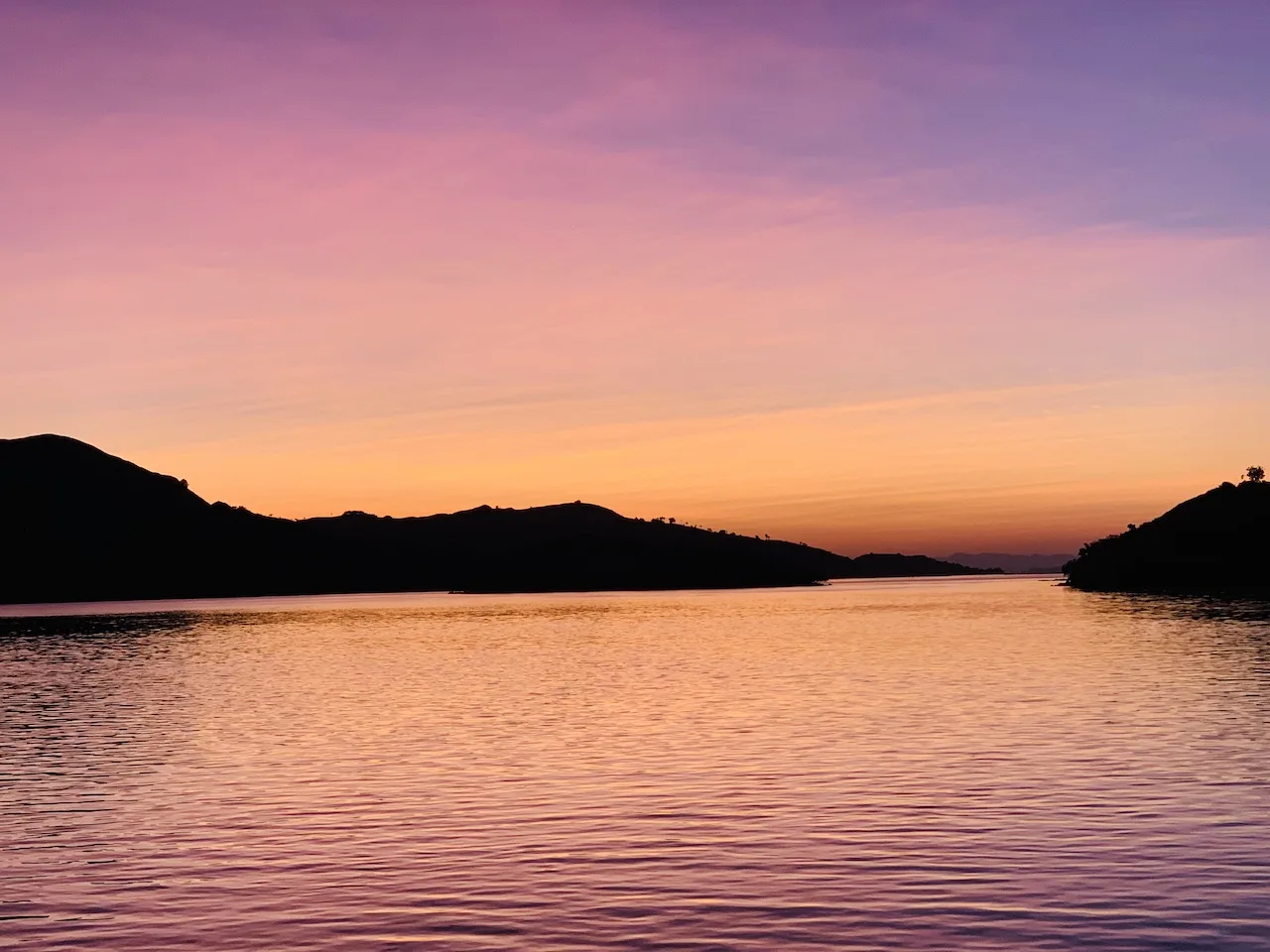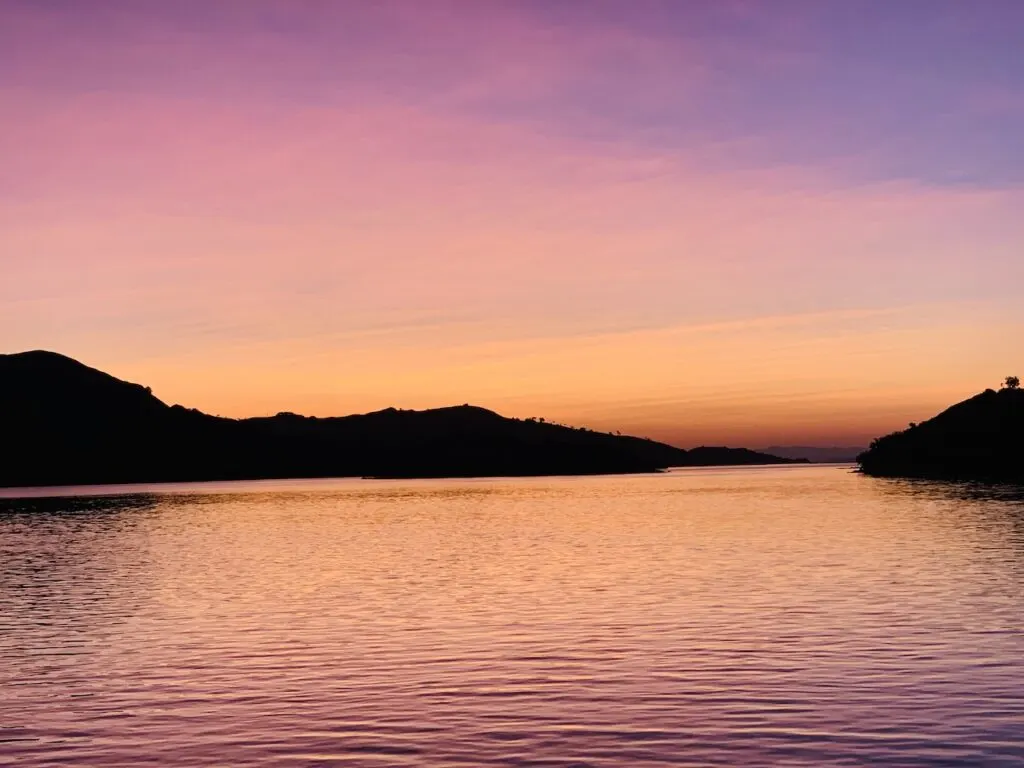 This is written as a first-hand account of how I spent my time out on the liveaboard.
Komodod Liveaboard Day 1
Day one started out in the seaside town of Labuan Bajo, where I stayed the night prior (more on that at the end of this guide).
Check In and Boarding
Check in was at 7:00AM, when final payment and paperwork was filled out, and we were on the boat and heading out on the water by 7:45AM.
The first 90 minutes was spent leaving Labuan Bajo and heading further into the National Park. I put my stuff down in my room, met the rest of the travelers and staff, and had some breakfast.
Sebayur Kecil Scuba Dive
After hanging out on the top deck, we soon arrived at a dive/snorkeling site called Sebayur Kecil – Mini Wall.
The dive lasted 50 minutes as we got the first action of the underwater marine life of Komodo National Park. For those snorkelers out there, no worries. Most dive sites also work well as snorkeling sites.
After the dive, everyone made their way back on the boat, where we had a nice fresh lunch. From there it was a 30 minute ride to the next dive site.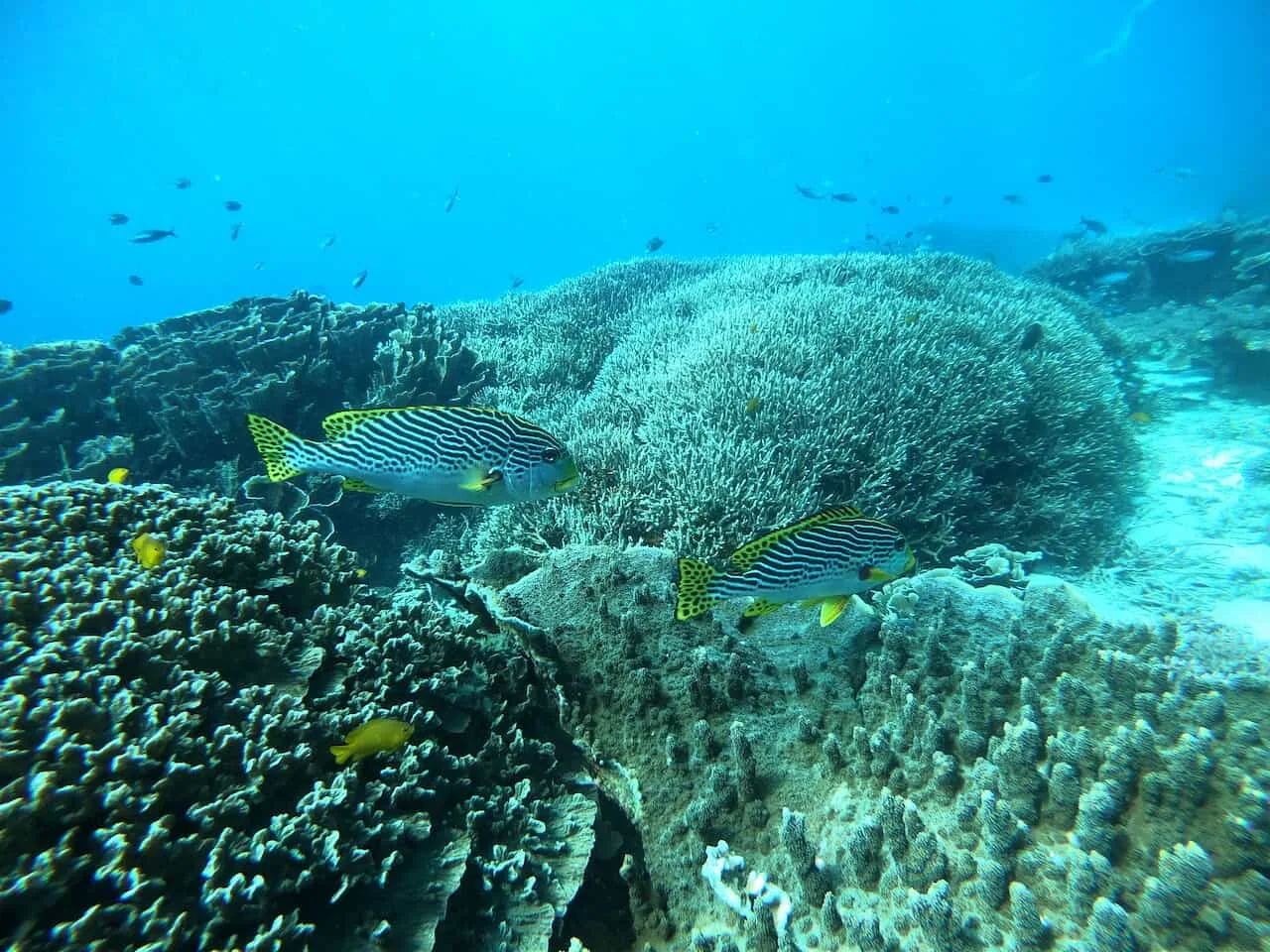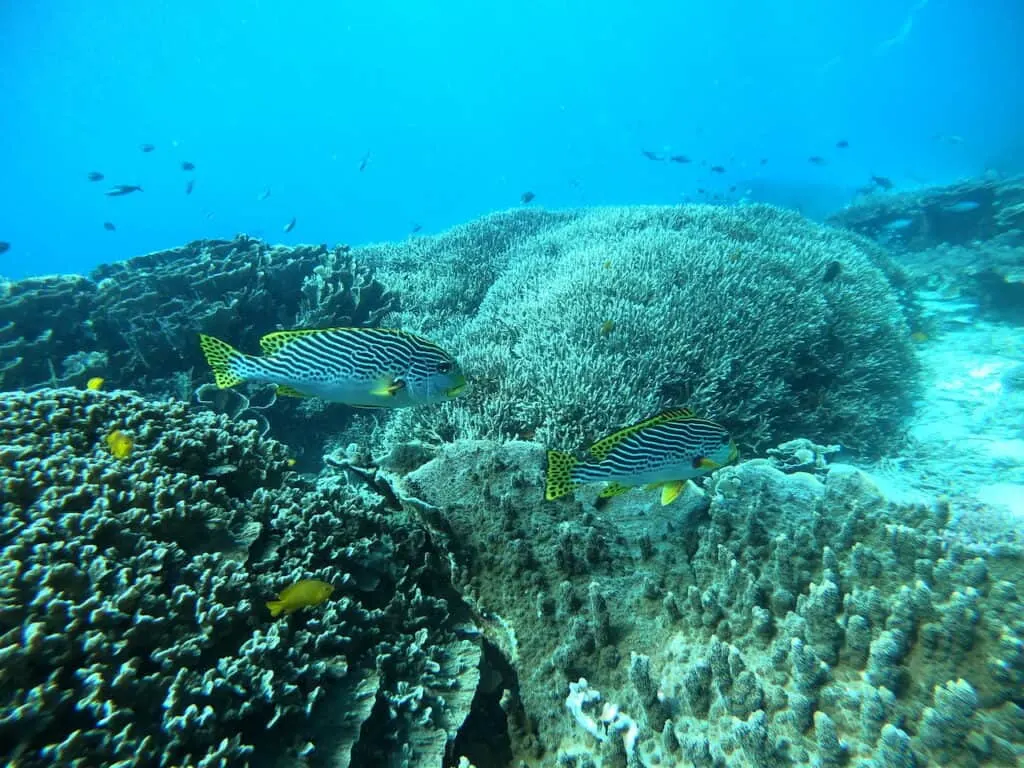 Siaba Besar – Turtle Bay Dive
Next up was a pretty special dive site called Siaba Besar. This is a well known spot where many turtles frequent. During a dive or snorkel, you can expect to see many turtles around the area.
It ended up being another 50 minute dive, with many turtles and other wildlife to enjoy.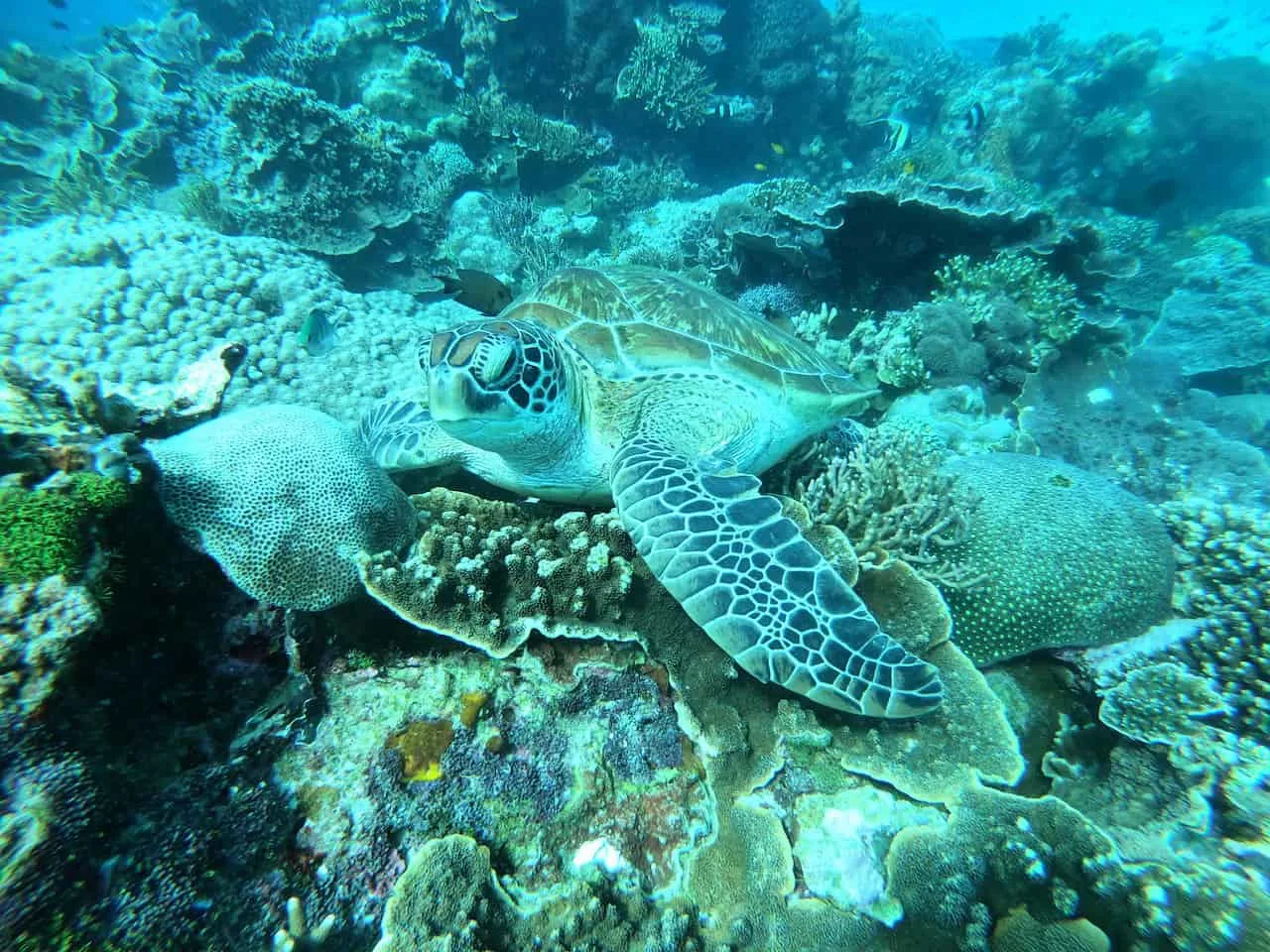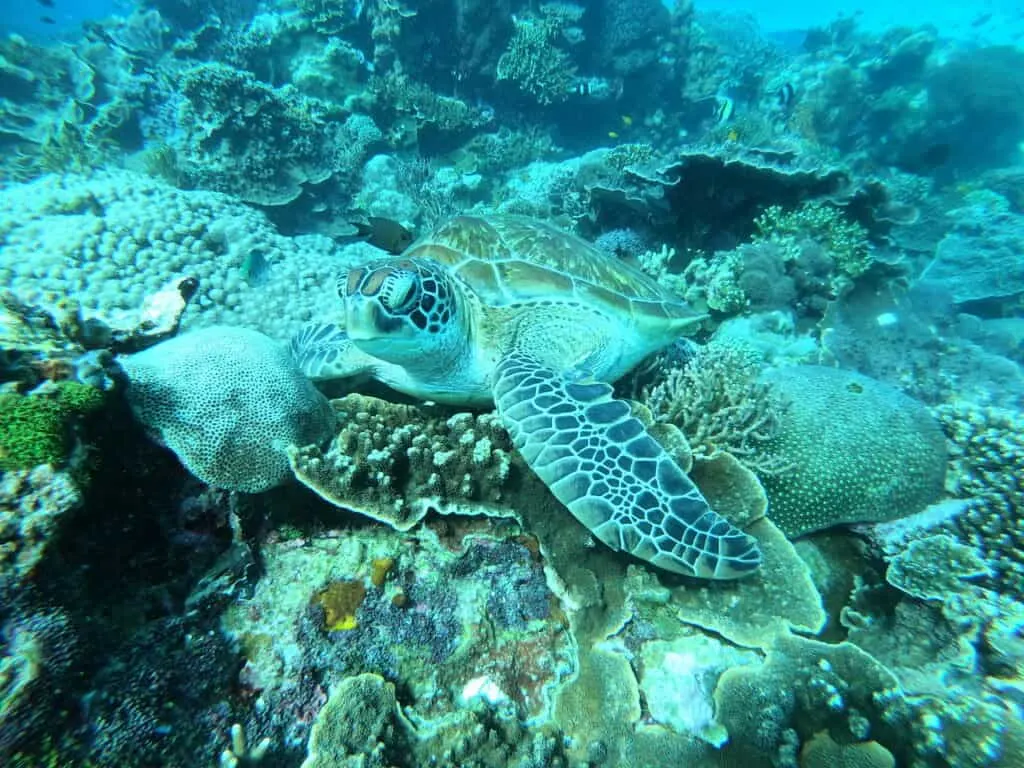 Pulau Mauwang
After a couple of dives in the water, it was time to have some beach time. We made the 10 minute drive over to Mauwang Island.
There we got to relax in the sand, and spend some time snorkeling right off the beach. We were even lucky enough to spot a manta ray here!
The beach itself is just beautiful with soft sand and crystal-clear waters. After an hour or so at the beach it was off to our final highlight of the day.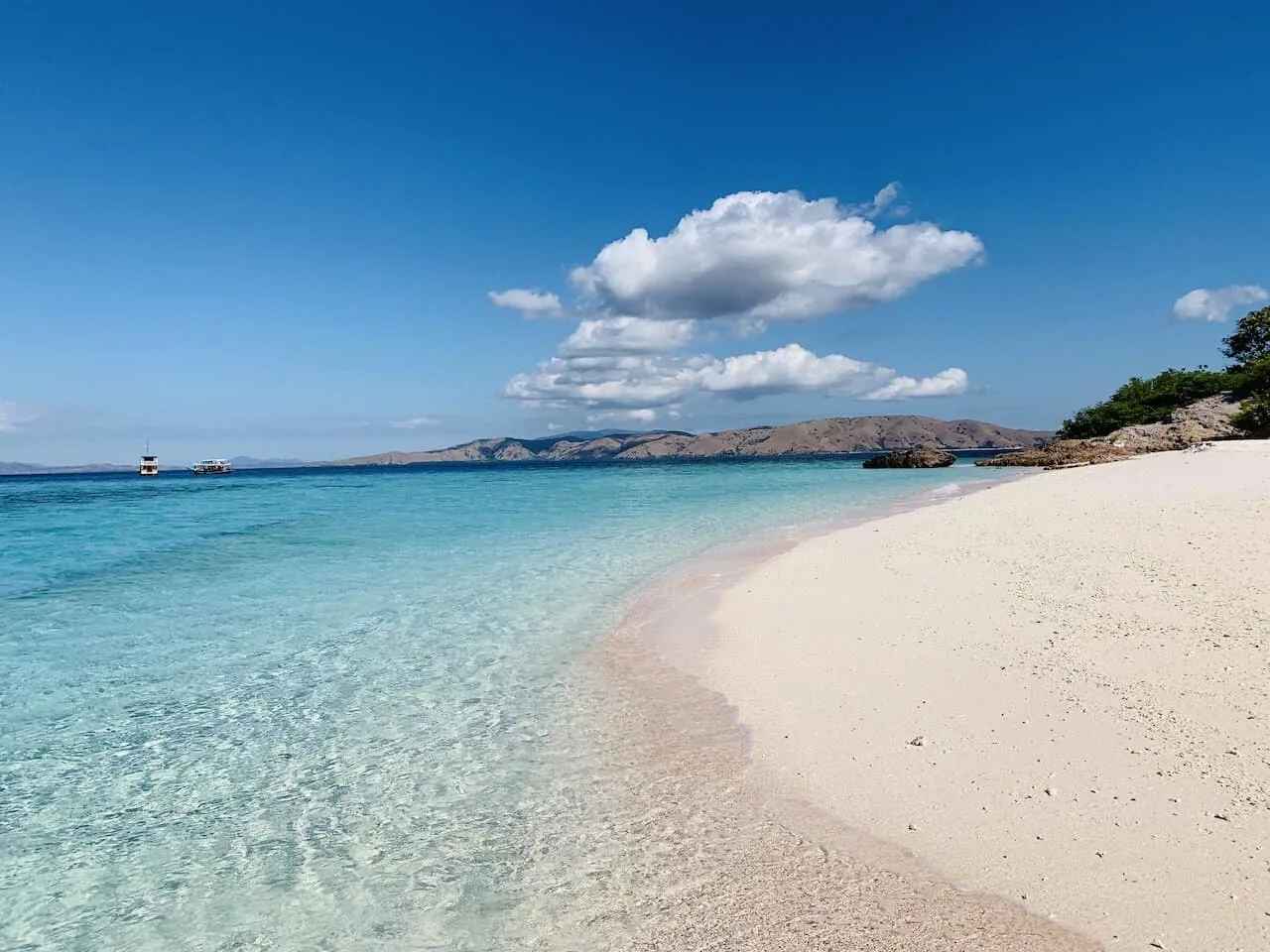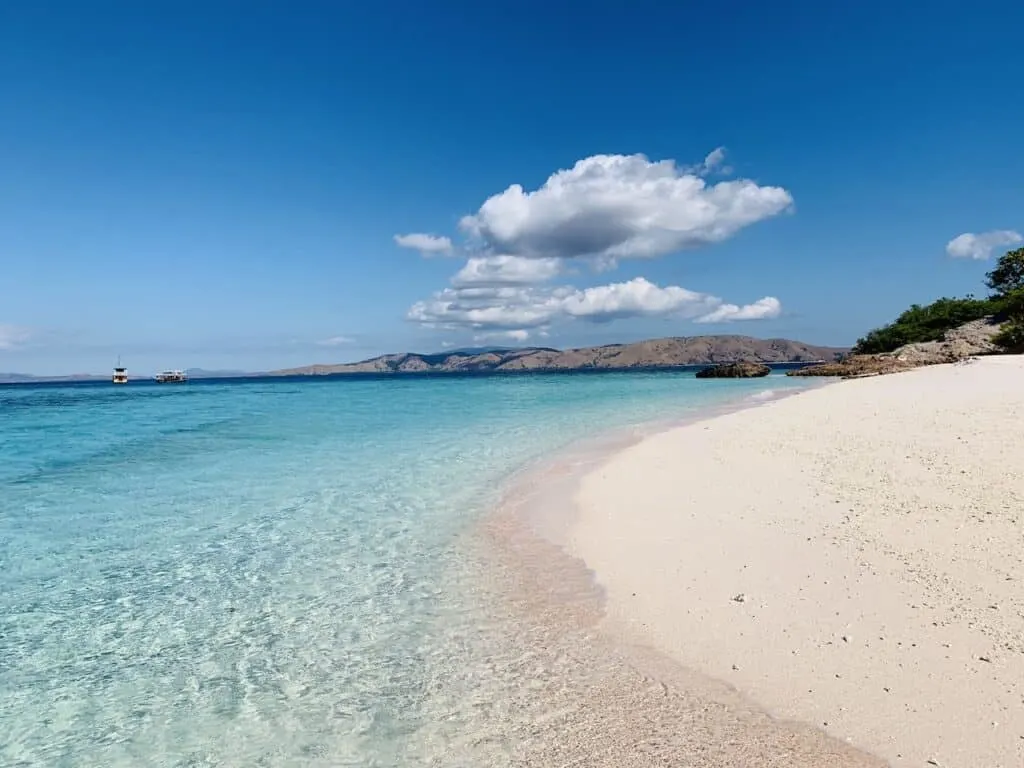 Padar Island Sunset
When it comes to sunsets in Komodo National Park, it does not get much better than a Padar Island sunset.
Learn More | Padar Island Sunset Hike
Getting to hike up the hillside, and take in the views of the island, beaches, and bays, is a truly special experience to have.
The boat ride lasted around 90 minutes, and we soon arrived at the Padar Island dock.
We were lucky enough to have nearly two hours to enjoy Padar Island (and nearly all to ourselves).
The hike up is relatively easy and should take 20-30 minutes altogether as you find a nice spot to sit back and enjoy the view from.
After sunset, it was back down to the beachside, and onto the boat.
Our boat captain decided to drive for one hour right after sunset closer to Komodo Island, where we would be exploring the following day.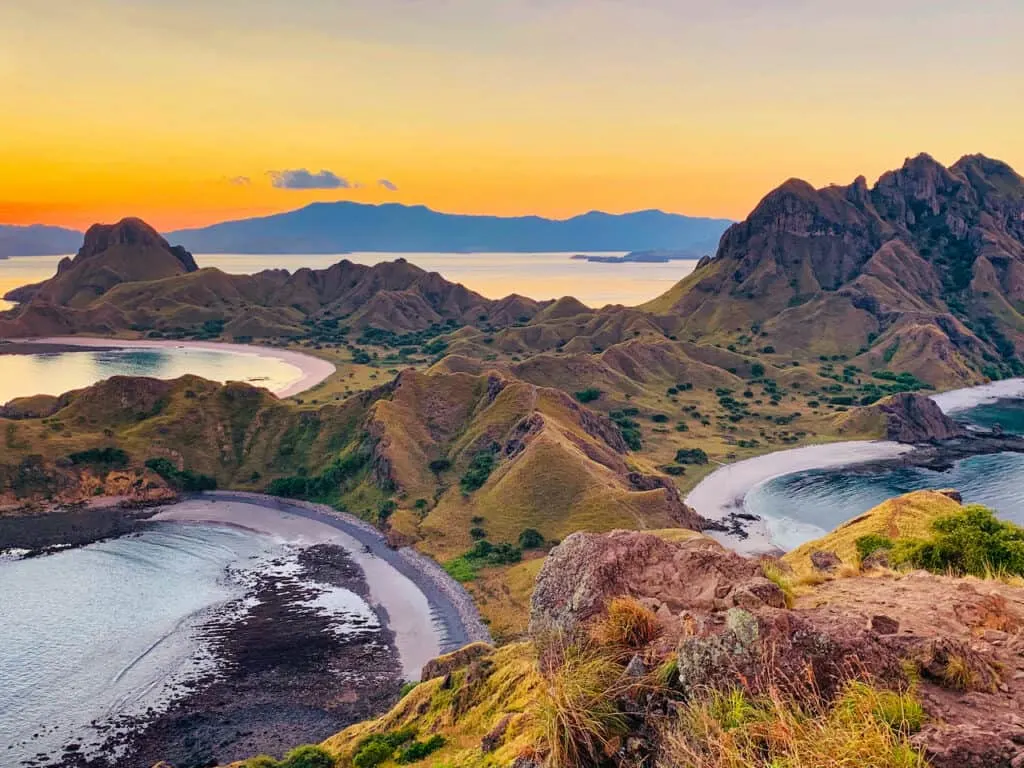 Komodo Liveaboard Day 2
On the second day of the trek, it was off to see some Komodo dragons, hang by a pink beach, and spend some more time in the water.
Komodo Island Dragon Trek
After breakfast and a quick boat ride from our overnight location, we arrived at Komodo Island.
Komodo Island is one of the three main islands that are part of Komodo National Park (Rinca and Padar being the other two).
While all three islands have Komodo dragons present, it is really only on Rinca Island and Komodo Island that you will be able to see them.
On Komodo Island, there a few different guided walking trails that you can take part of. Usually your guide will pick which one they believe a dragon sighting will be most likely to occur.
We took off on what is called the Loh Liang walking trail in search for some dragons.
After about 30 minutes of hiking through the trees and learning about various other wildlife, we stumbled across the first dragon of the day.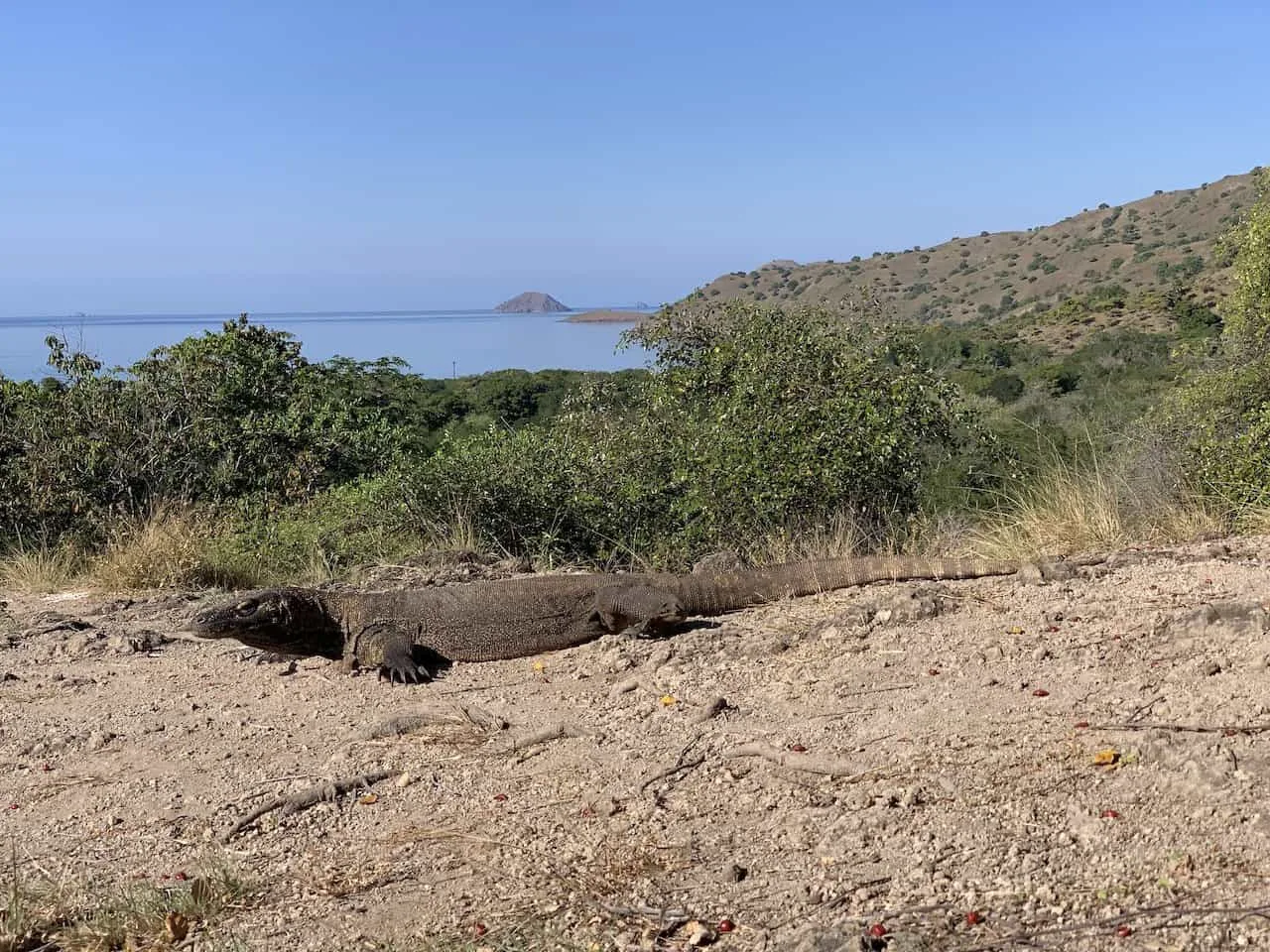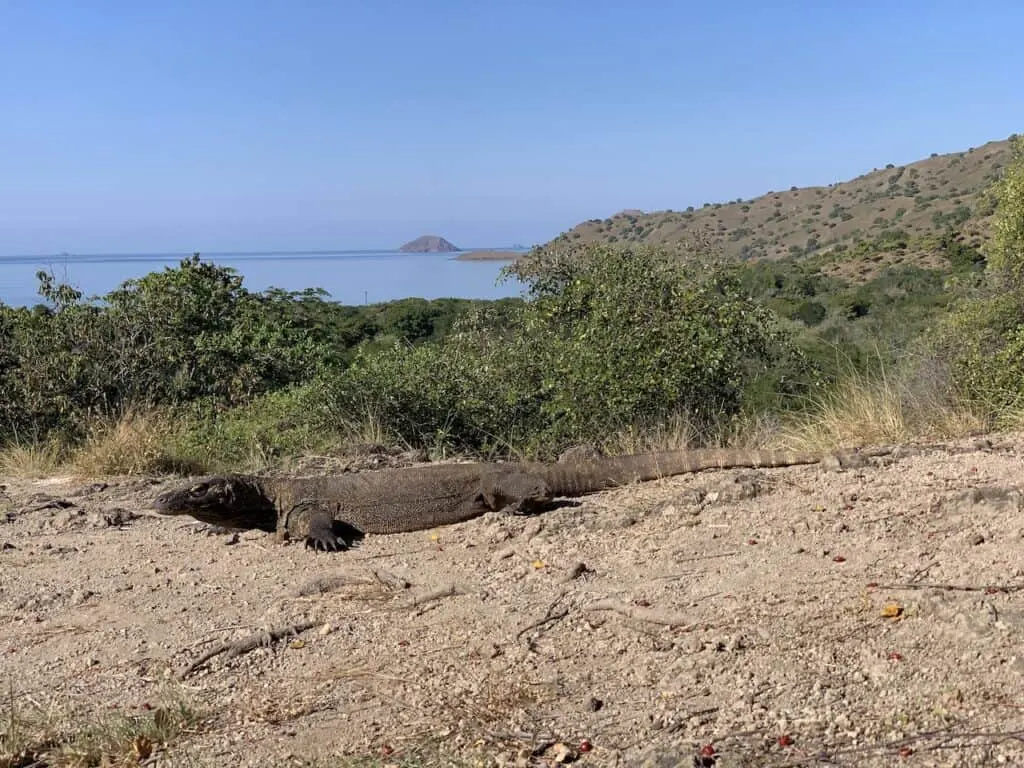 It was a unique sighting with the dragon hanging out on the top of a hill overlooking Komodo National Park in the distance.
On our way back down towards the starting point, a second dragon appeared. This one was much larger than the first, as it was just taking in some sun.
Once we arrived back at the base of the hike, there was a third dragon near the restaurant area. It is normal for 1-2 dragons to be in this area due to the smell of food.
After finishing up with the hike, we walked through the local market before hopping on the boat and towards the next destination for the day.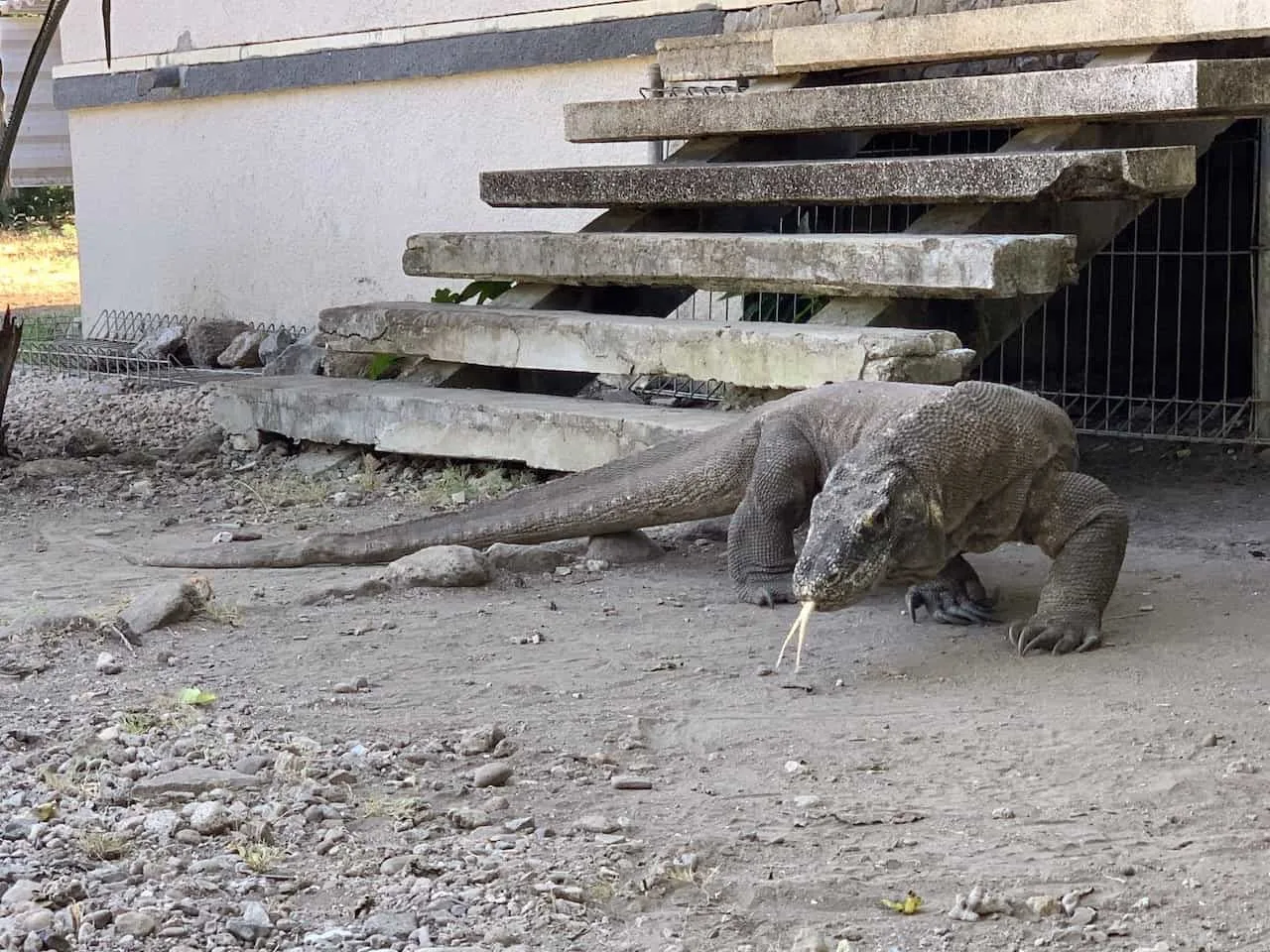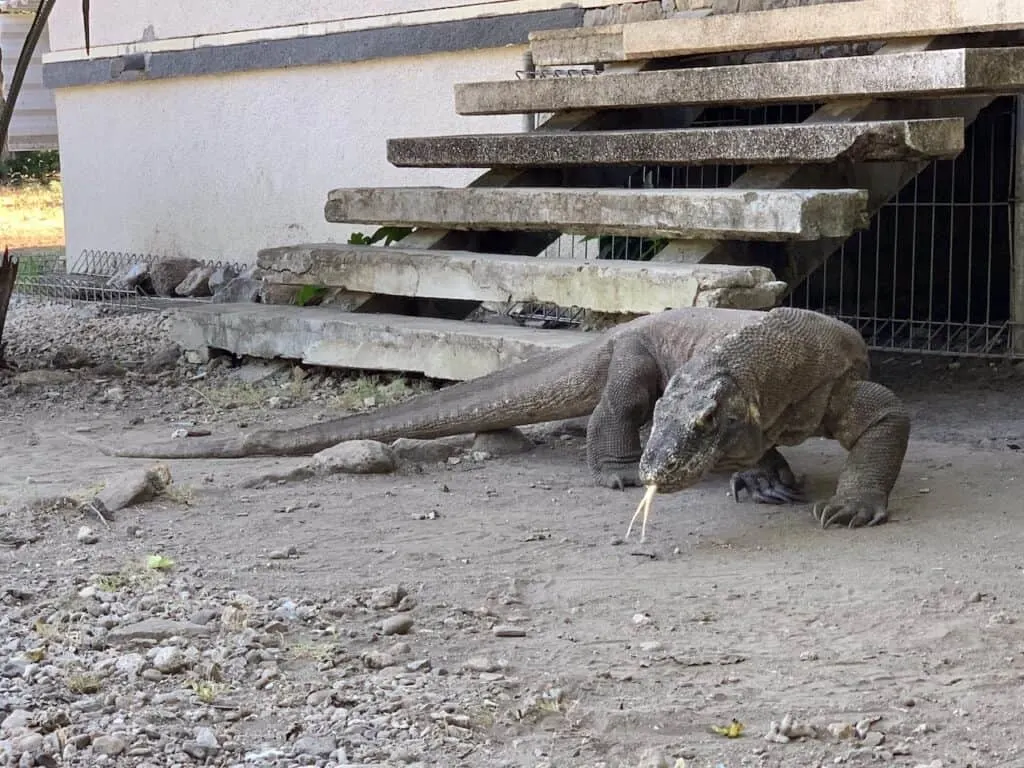 Pink Beach
Next up was the famous Komodo Island Pink Beach, just a few minute boat ride away.
This Pink Beach is one of the few that can be found in Komodo National Park, and it is also the most famous one.
The pink color of the sand is due to microscopic organisms called Foraminifera. These Foraminifera create a red pigment on the coral reefs. The red particles then mix in with the normal sand, which in turn creates a pink like color.
Learn More | Komodo Island Pink Beach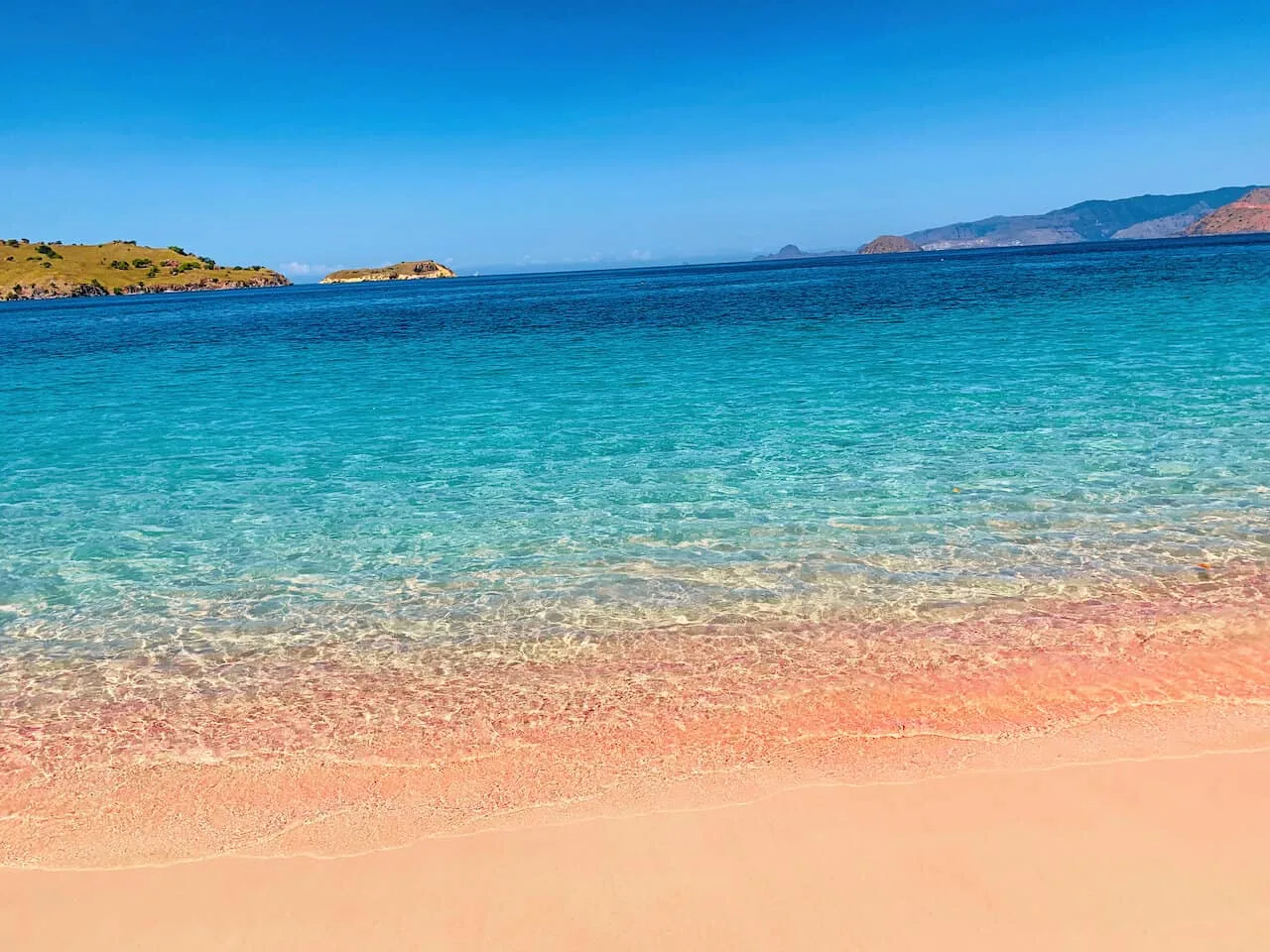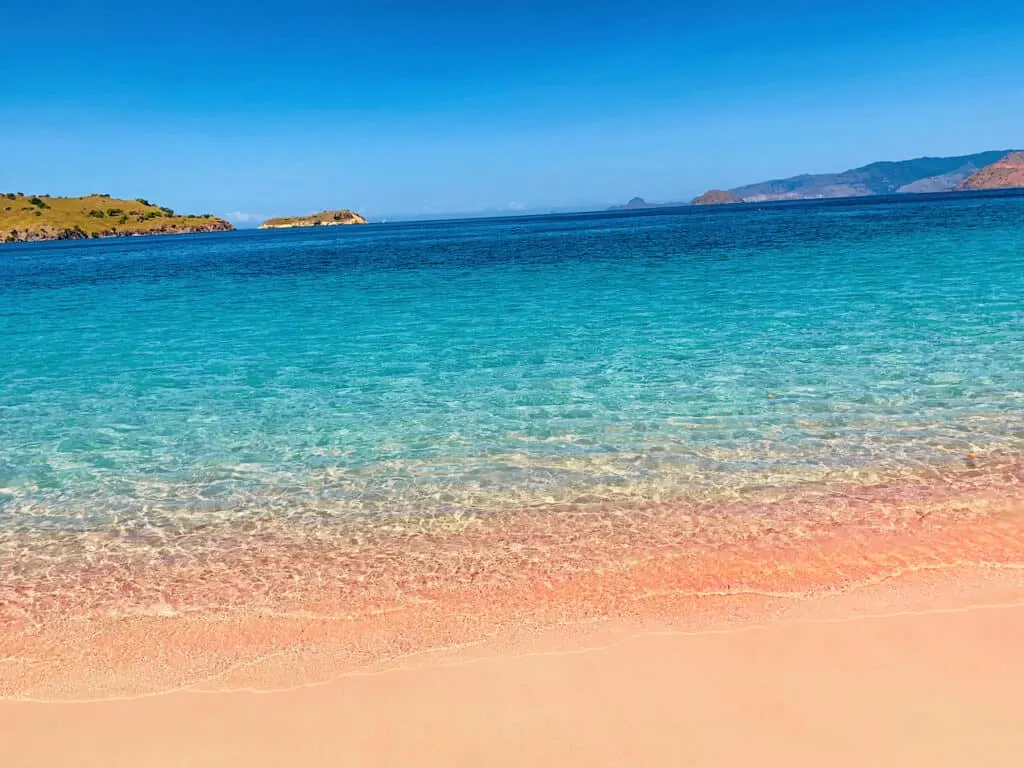 Once at the beach we spent some time in the sand and in the water for some snorkeling. I also made my way up the 5 minute hiking trail to a viewpoint overlooking the beach from above.
It was from up here that I could really enjoy that pink hue contrast with the white sand and turquoise water.
After some lunch, it was then onto our next destination for the day.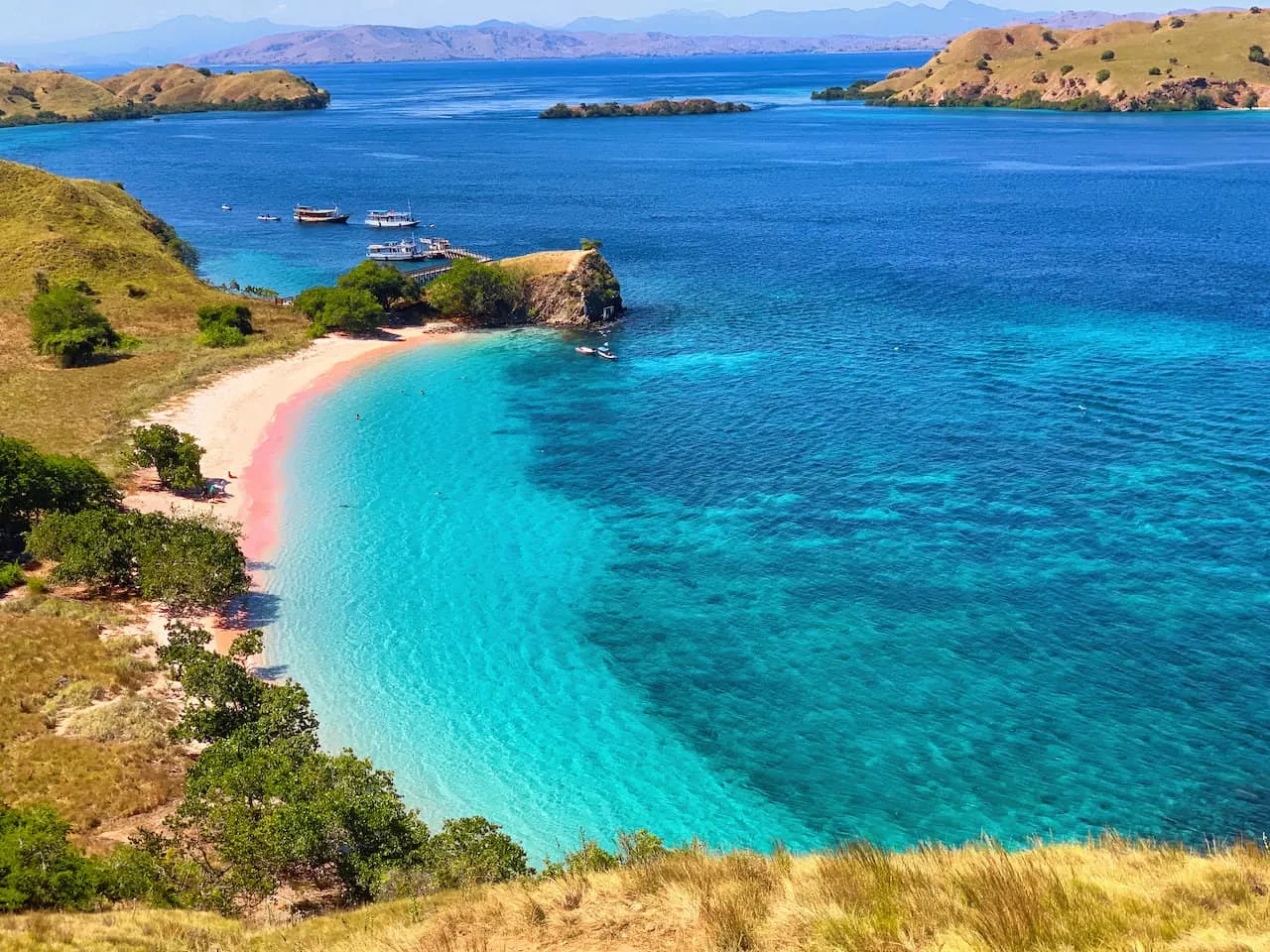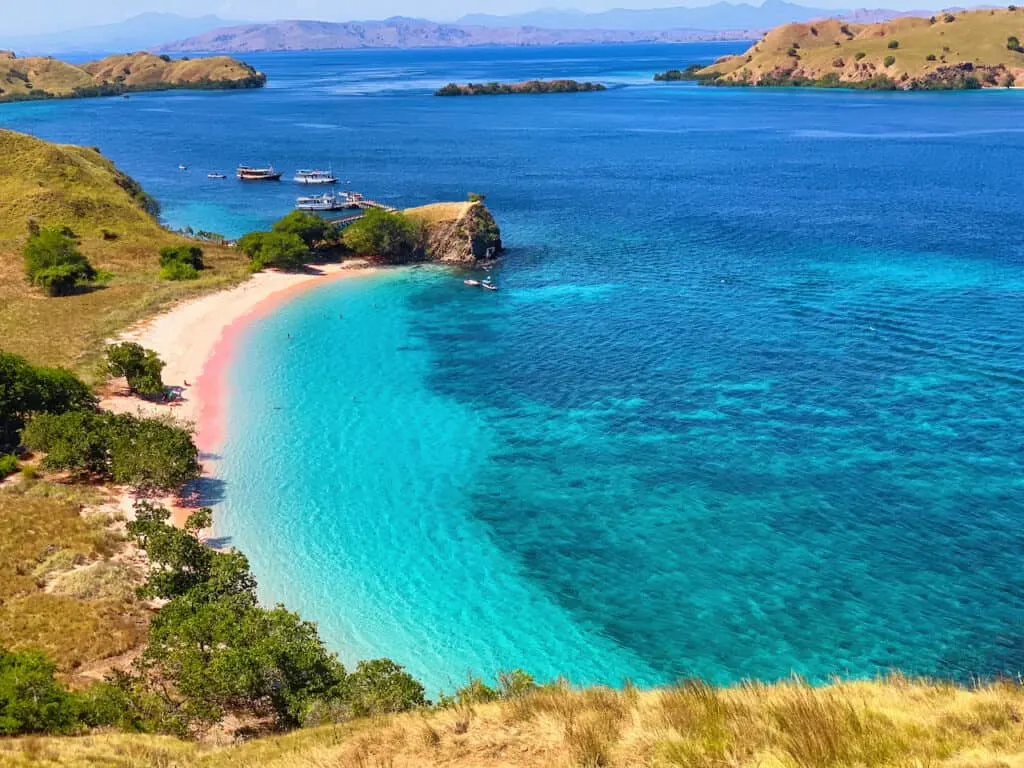 Makassar Reef
An hour boat ride later, we arrived at Makassar Reef.
The reef offered some beautiful snorkeling to take part of (where we saw a small shark), and a sand bar to relax on.
Getting to continuously enjoy these crystal clear waters, both from the sand and underwater, was a special experience to have.
That wrapped up day 2, when we then had some dinner and enjoyed a colorful sunset before calling it a night.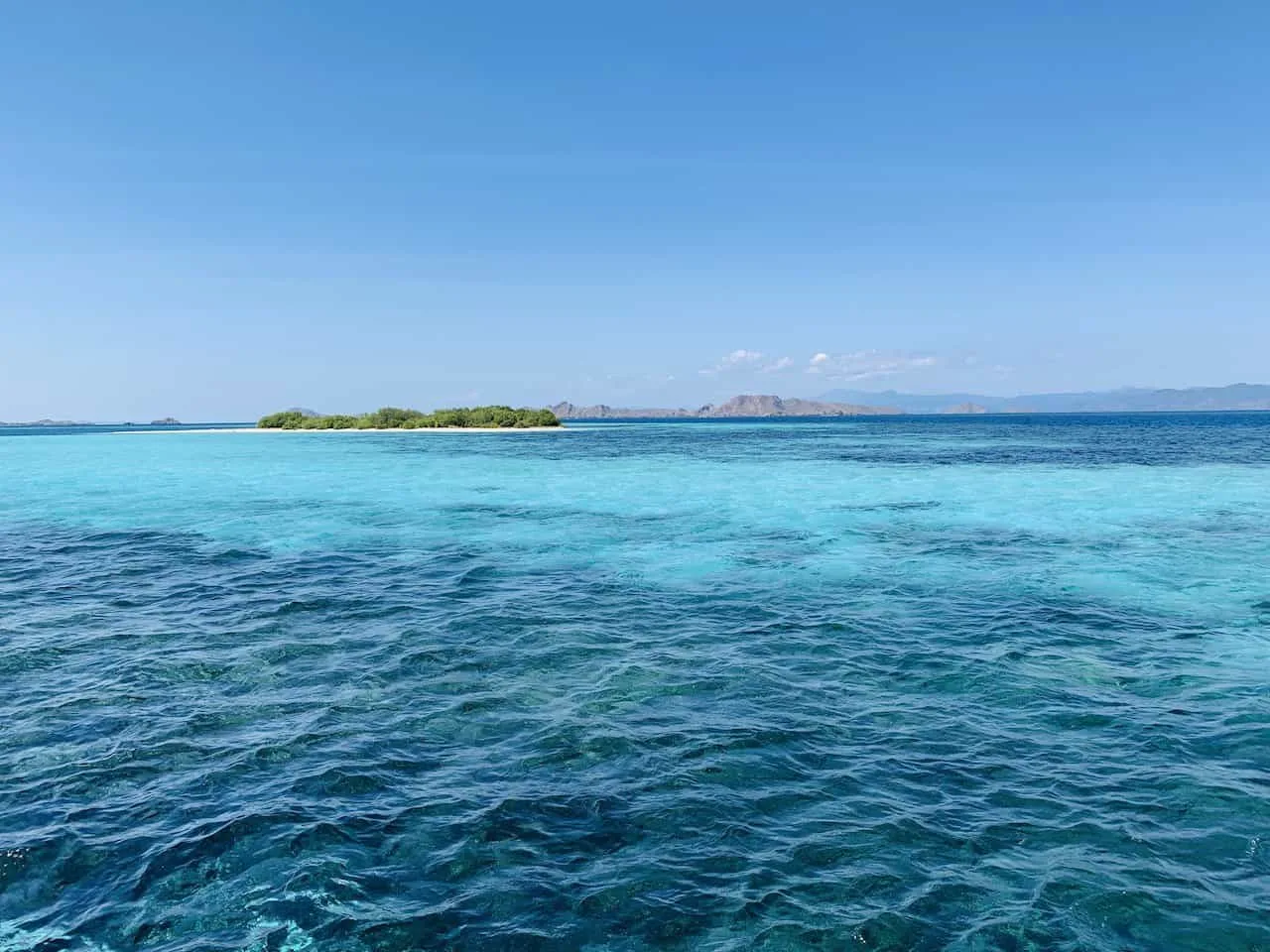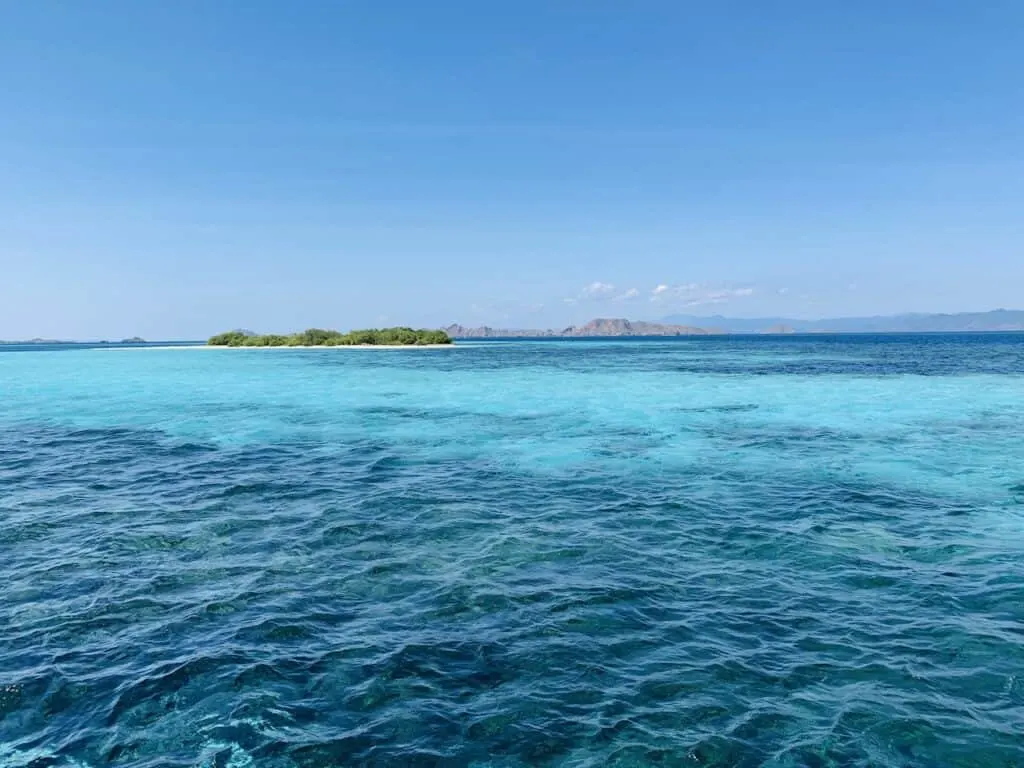 Komodo Liveaboard Day 3
The third day started out with a 30 minute boat ride to perhaps my most favorite dive site of my trip – Batu Balong.
Batu Bolong Dive
From the surface, you may not expect anything too special from Batu Bolong. But surrounding this small rock, is one of the most vibrant underwater places in Komodo (and in the world).
Over the course of the 45-minute dive, we got to see all sorts of underwater life. This included sharks, wrasse, eels, sweet lips, lionfish, turtles, and plenty of colorful coral.
I could've went diving out here all day and not be bored from all the crazy underwater life I was seeing.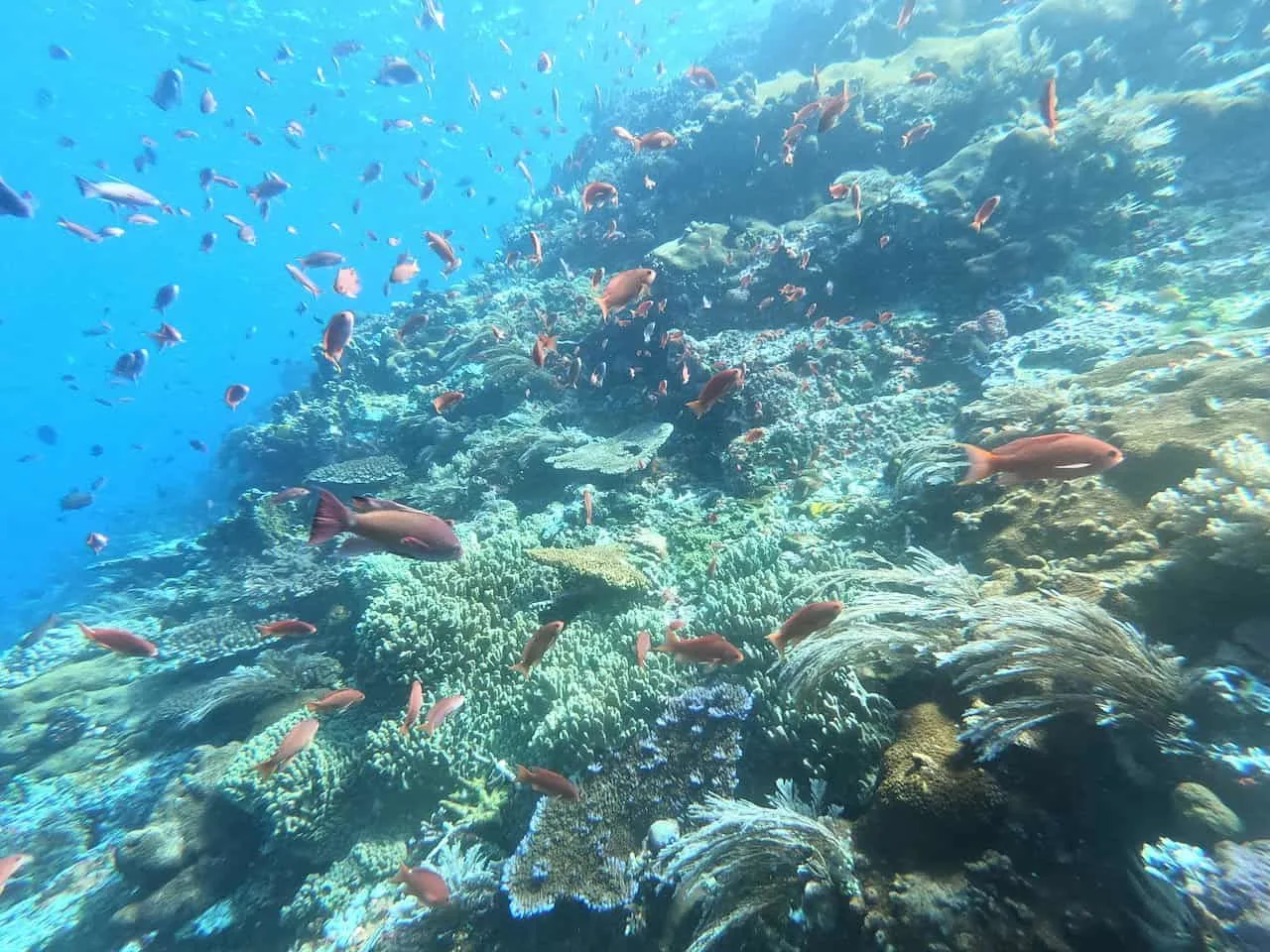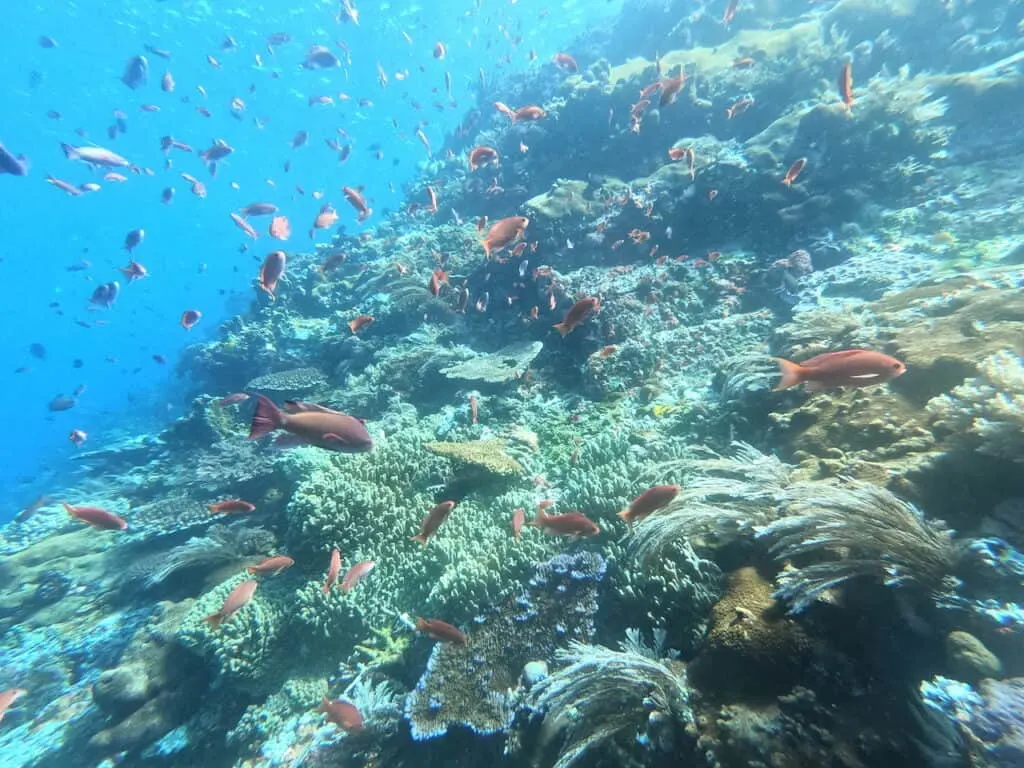 Manta Point Dive
Once we wrapped up at Batu Balong, it was off to another well known underwater spot – Manta Point.
After a quick 15 minute boat ride and a little bit of rest, we put on our dive/snorkeling gear and got right back into the water.
Manta Point is known to have many manta rays roaming its water. Unfortunately, we only got to see one manta during our time here.
However, there was some other underwater life such as eagle rays, trigger fish, and several turtles.
After the dive, we had some lunch, and made our way to the last stop of the day.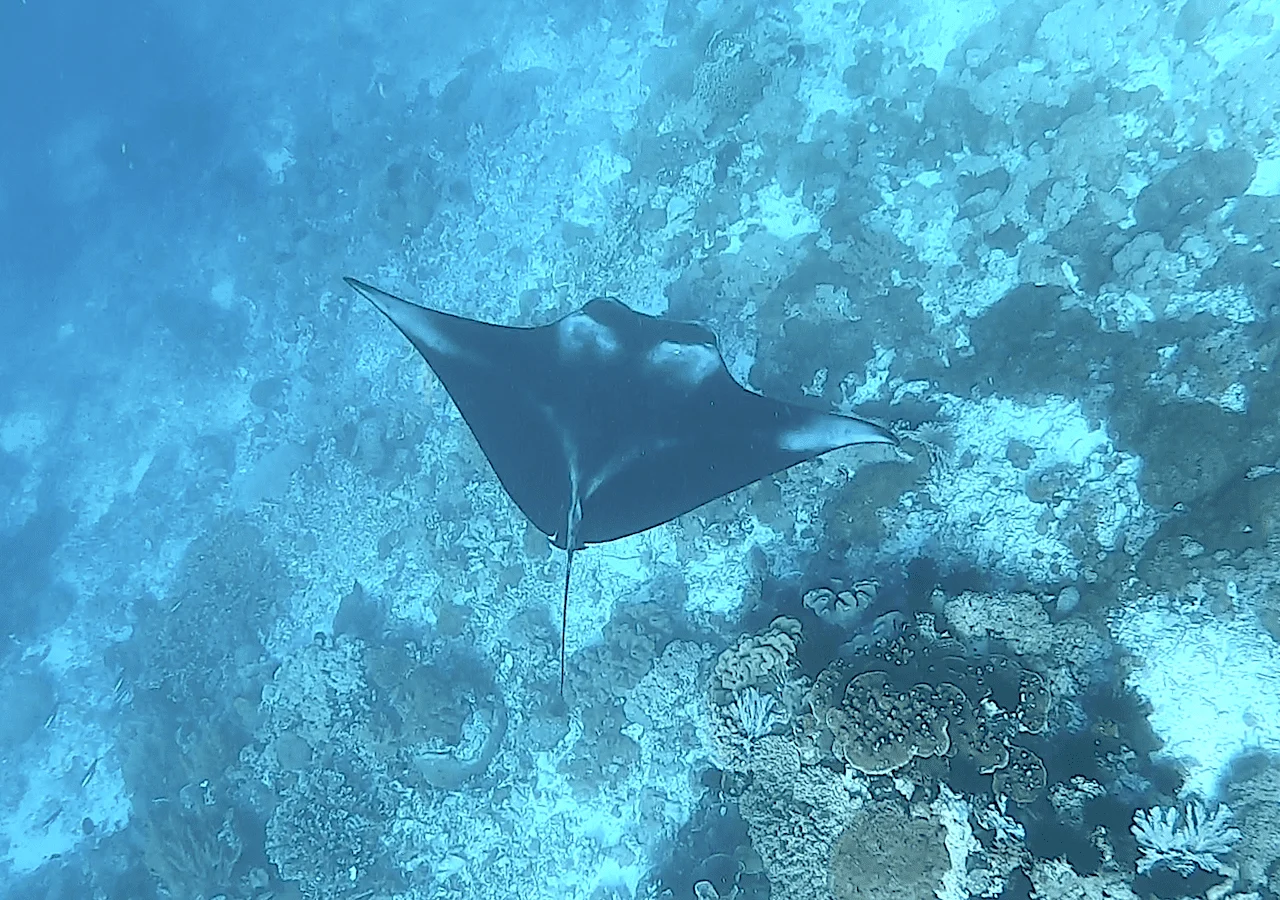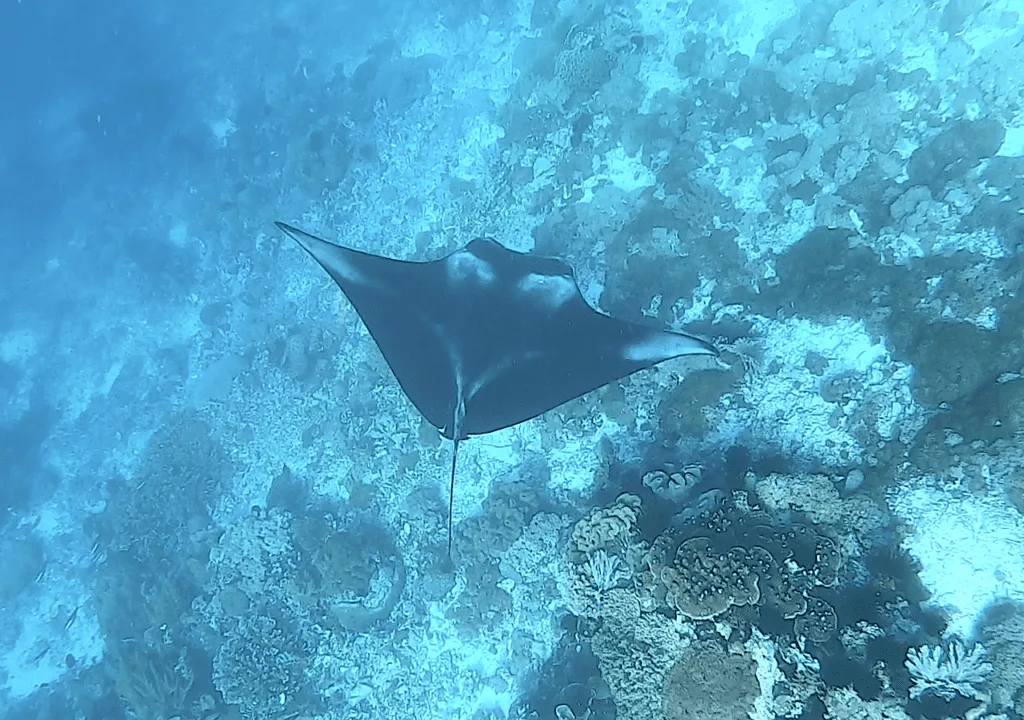 Tatawa Besar Snorkel
To wrap up my time on the Komodo liveaboard, we went for one last snorkel near an island called Tatawa Besar.
Here was a beautiful coral gardens area with plenty of beautiful colors and fish to capture.
After spending 30 minutes in the water, it was time to wrap up my time out in the National Park.
It was then a 2 hour boat ride around Komodo and back to Labuan Bajo, to end a successful Komodo liveaboard experience.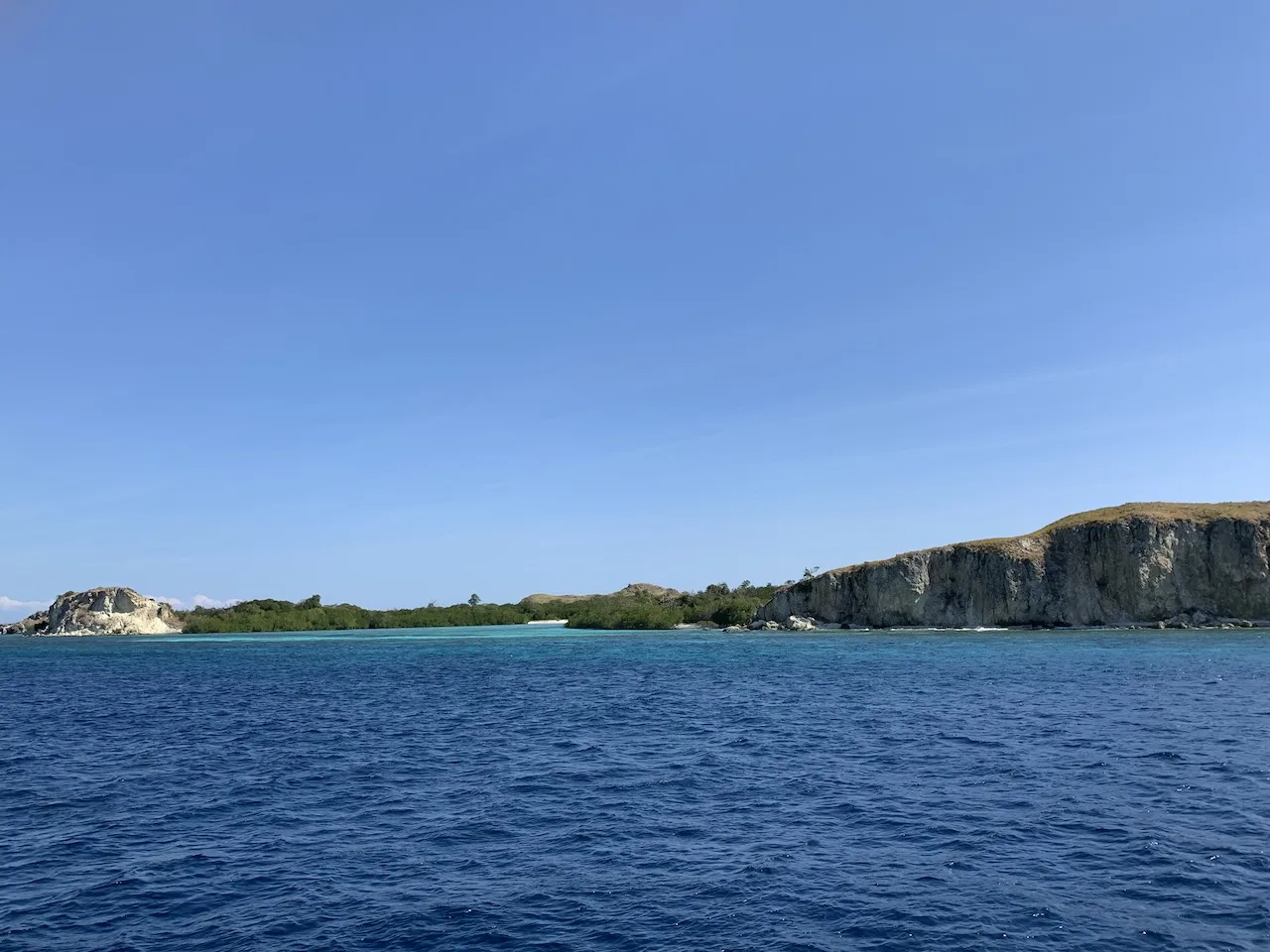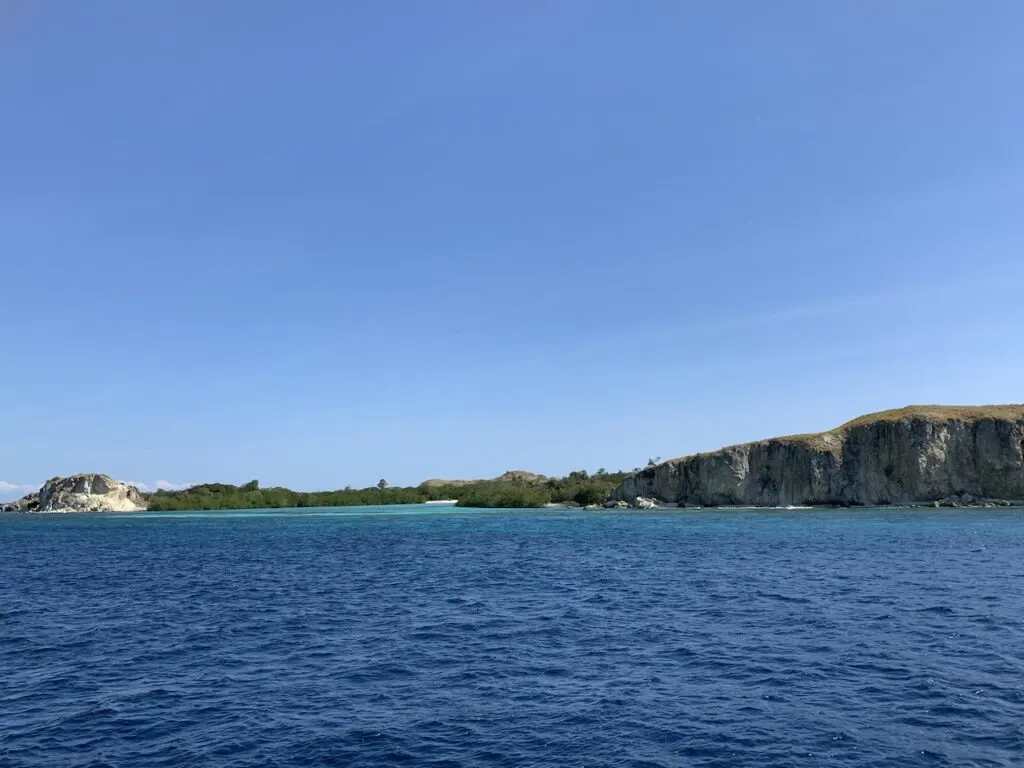 5) Komodo National Park Liveaboard Map
If you wanted to get a better sense of what the itinerary looked like from a visual perspective, here is a map that pinpoints where I went during the 3 days & 2 nights.
6) Entrance Fees
While the price for a Komodo liveaboard includes most essentials, they usually do not include entrance fees.
The entrance fee structure is quite complicated, as there are numerous fees to consider. These include Komodo National Park fees, Flores Tourism Fees, and specific fees for dragon trekking and Padar Island.
It continues to get more complex as there are different fees for divers vs snorkelers, and Sundays/National Holidays are more expensive.
All said and done, expect an average daily entrance fee to be about $18 for snorkelers and $22 for divers.
Below is the breakdown of the Komodo National Park fees for a visit:
Komodo National Park Daily Fee: 175,000 IDR (divers) / 165,000 IDR (snorkelers) -> this fee must be paid regardless if you enter the water
Flores Tourist Daily Tax: 100,000 IDR (divers) / 50,000 IDR (snorkelers) -> this fee must be paid regardless if you enter the water
Komodo Island Trekking: 115,000 IDR plus a guide fee of 120,000 IDR (split between five people per guide)
Rinca Island Trekking: 200,000 IDR plus a guide fee of 120,000 IDR (split between five people per guide)
Padar Island Fee: 15,000 IDR plus a guide fee of 120,000 IDR (split between five people per guide)
Note: if visiting on weekends/holidays, the Komodo National Park fee will be about 40% more expensive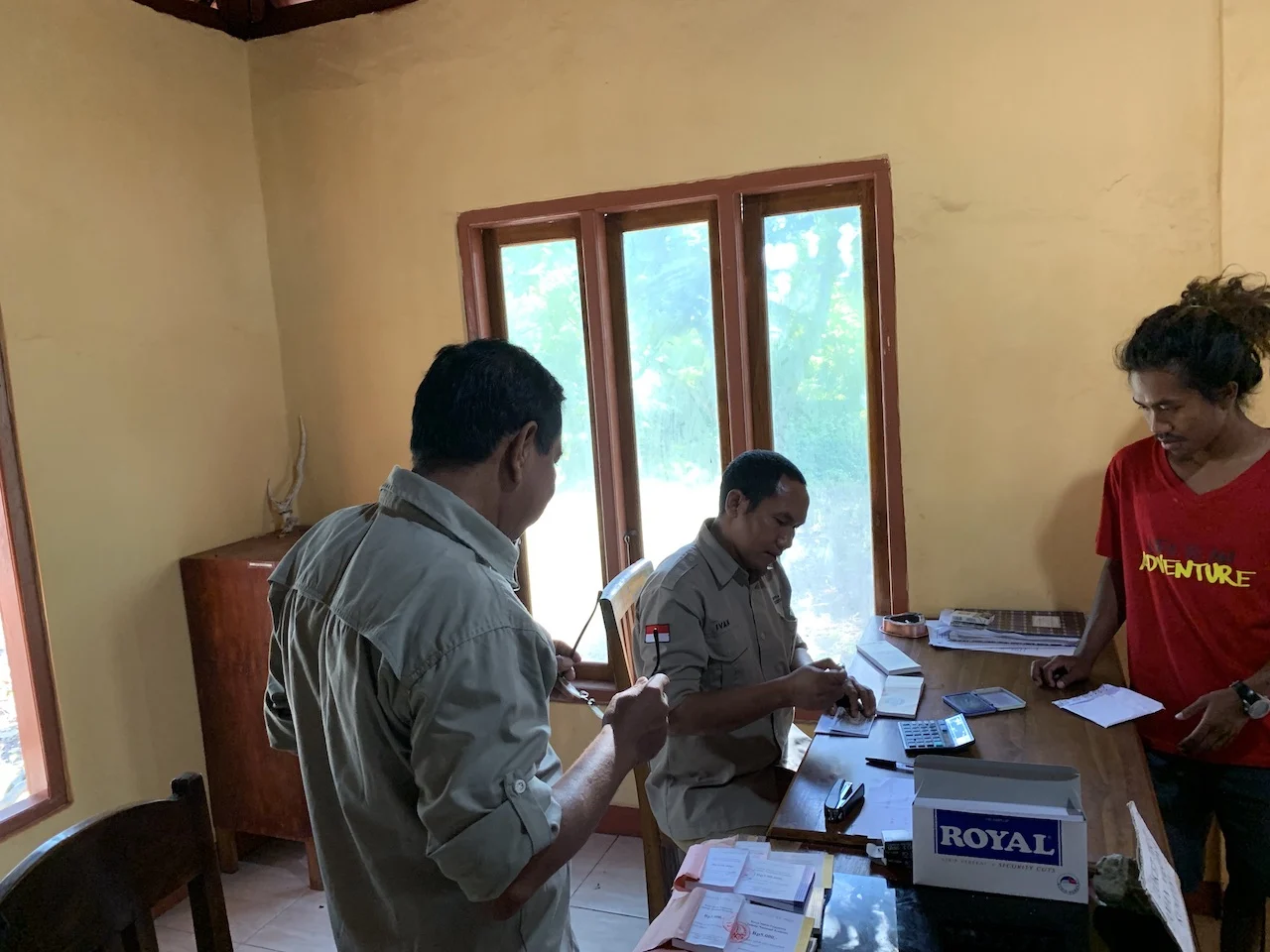 7) How to Get to Labuan Bajo
Since Labuan Bajo is the main departure point for those exploring Komodo, you will first need to get there.
In general, there are two main ways to get to Labuan Bajo – by plane or by boat.
By Plane
Right outside the main city center, is the Labuan Bajo airport (LBJ). The airport has direct flights to/from many of the main cities of Indonesia.
These include Jakarta, Surabaya, Bali, among several others.
Once you arrive at the airport, it is a quick 10 minute taxi drive into the center.
By Boat
While flying is going to the easiest and most practical of options in most scenarios, taking a boat to Labuan Bajo is also an option.
The main option here is to take a 4 day / 3 night boat from Lombok (home of Mount Rinjani) to Flores.
This can be a great option for those that want to enjoy some time out on the water and get to experience the seas of Indonesia along the way.
These sorts of tours will cost around $125 USD give or take.
Note: it is also possible to take a combination of public transport ferries & busses to get between Bali/Lombok & Flores but do expect a long multi leg journey.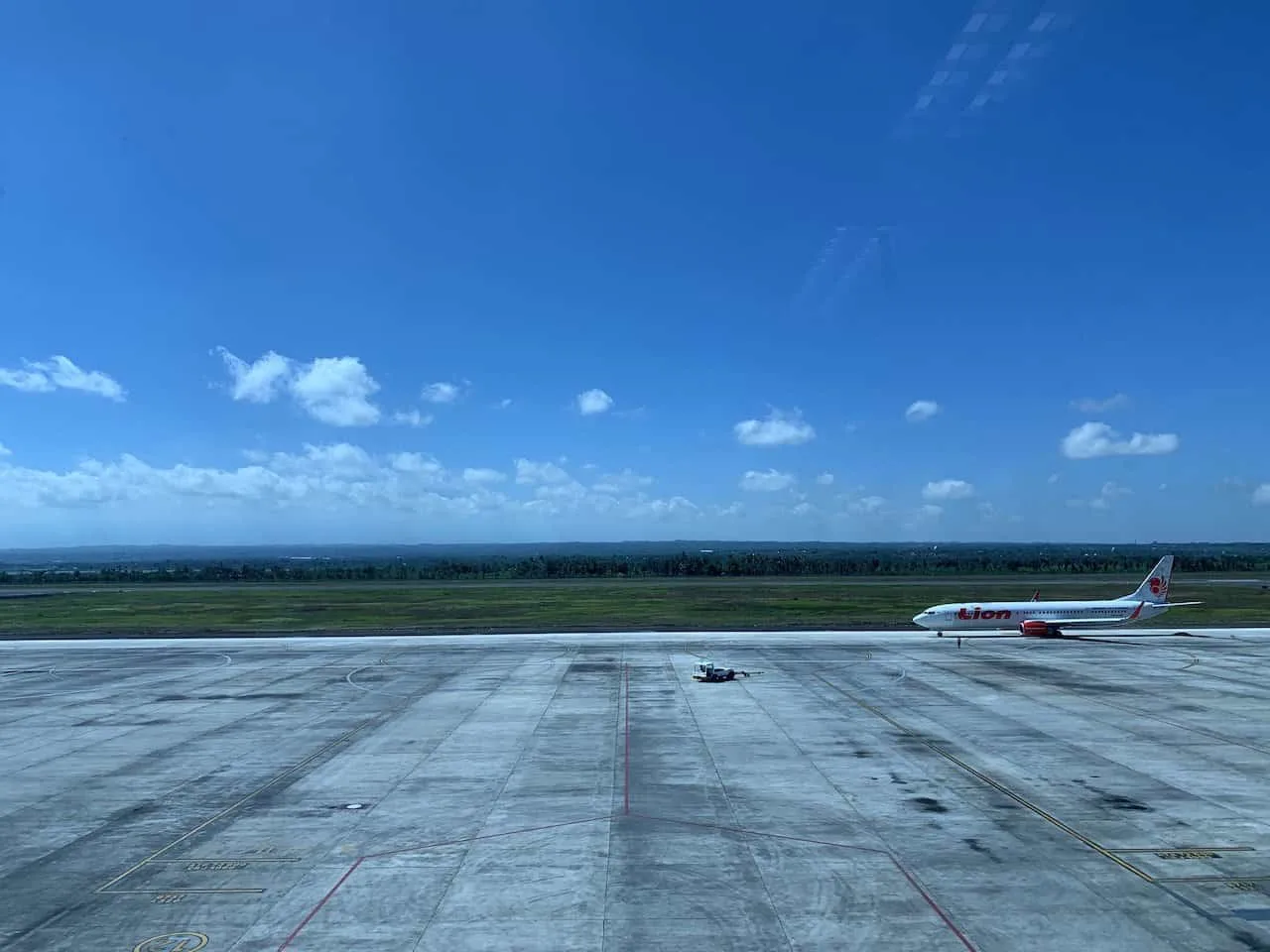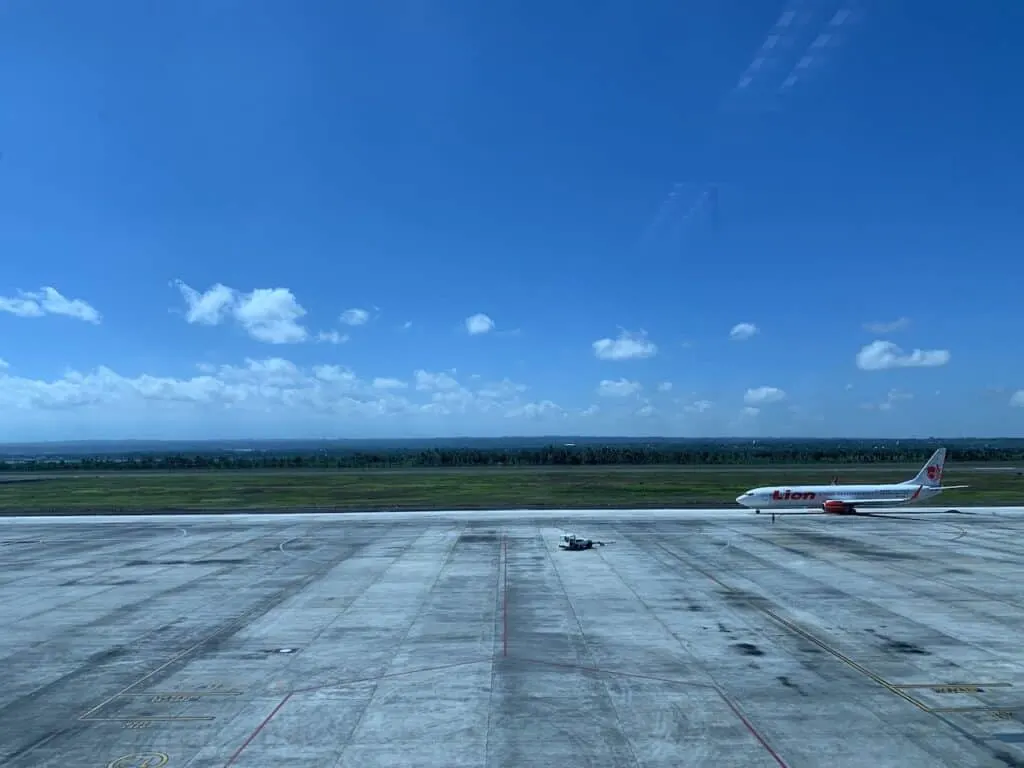 8) Where to Stay
Once you have arrived in Labuan Bajo, you will need to figure out a place to stay.
Generally speaking, the main city center is not that large and there are many options to choose from all around.
You can also opt for some more relaxing options further outside of the town center that offer more of a beach experience.
Below are a few of my recommended options when it comes to Labuan Bajo hotels:
The first two hotels are located within the town center, while the second two are further away along the beachside.
I would recommend booking a hotel for one night prior to your liveaboard, and one night after you are wrapped up. Ideally, you book the same place in case you want to leave some stuff behind.
Feel free to also extend on either end if you want to enjoy a bit more relaxation time during your time there.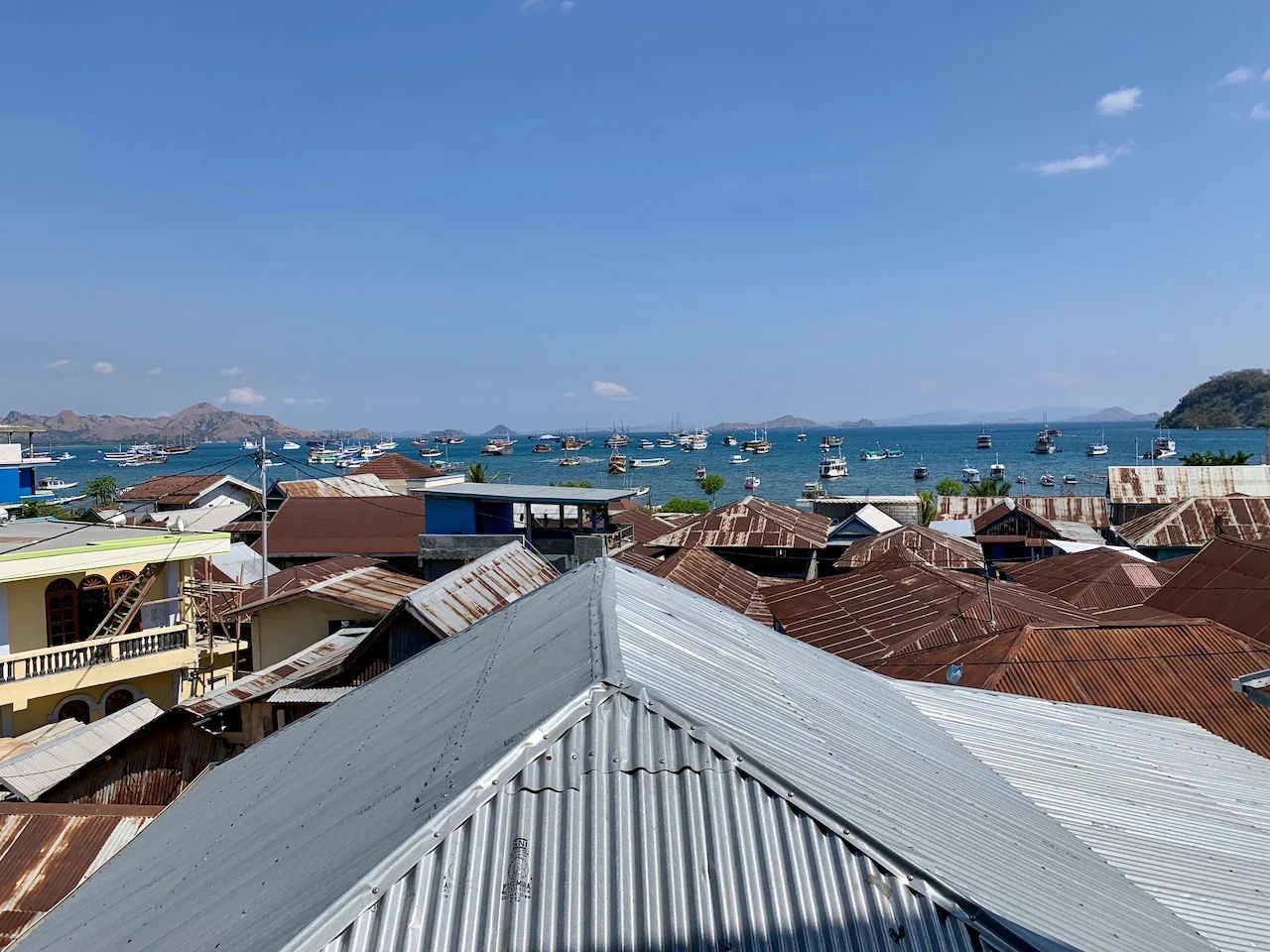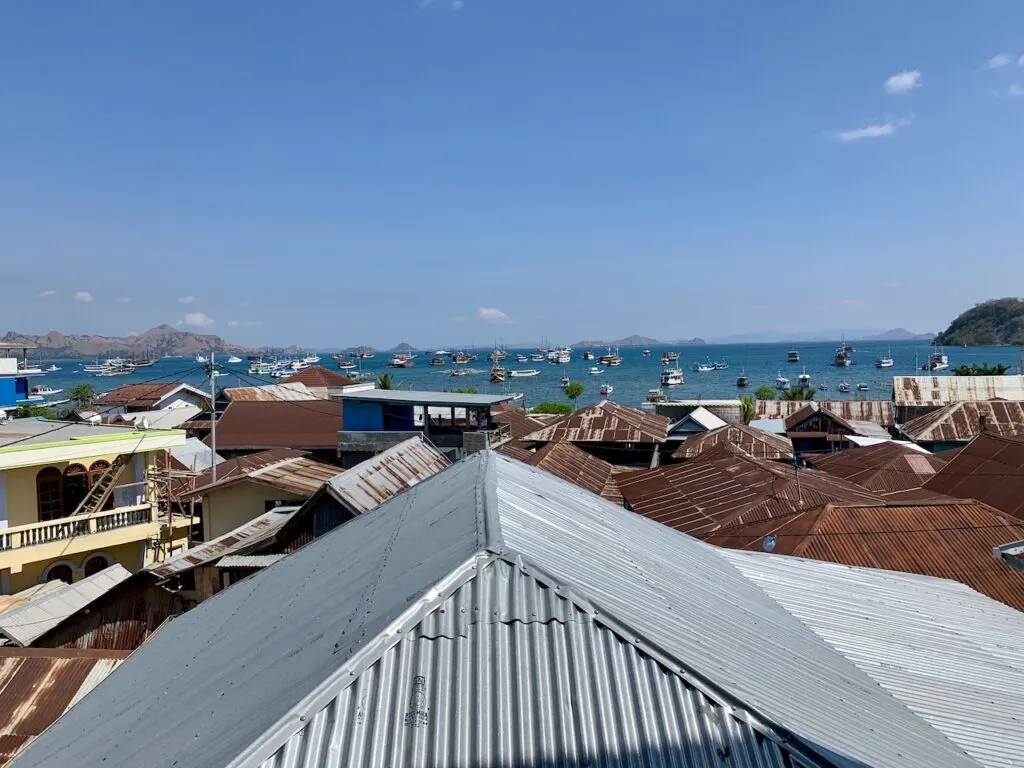 9) When to Go
While you can visit Komodo National Park year-round, the most calm and enjoyable weather will be during the dry season.
The dry season runs from April to October (give or take), with the rainy season from November to March.
The high season will be during those peak summer months of June to August as it coincides with summer holidays and dry season.
During my time out in Komodo, I visited during mid-June and thought it was an ideal time to go. There was not one drop of rain and there were rarely many other boats around.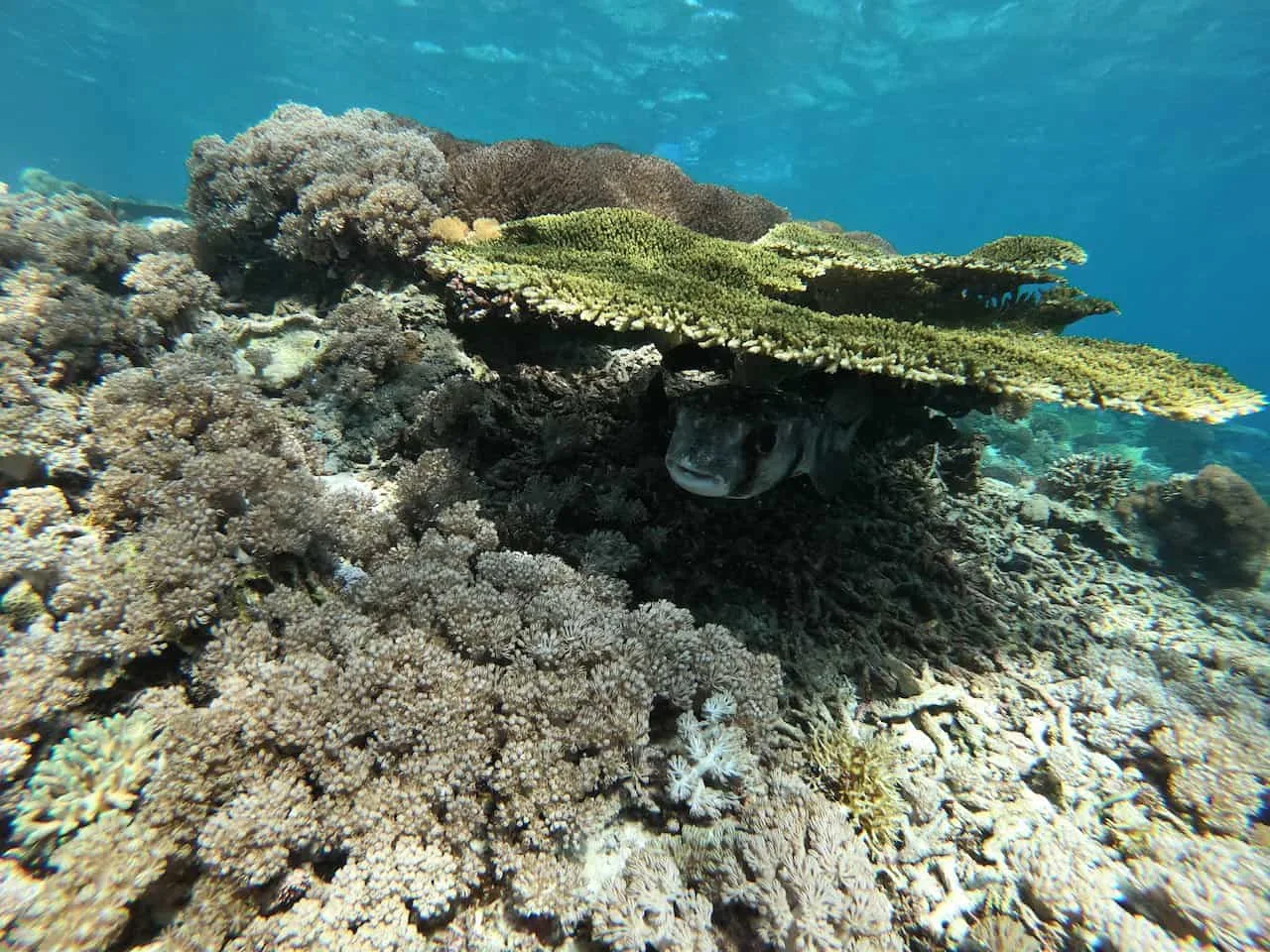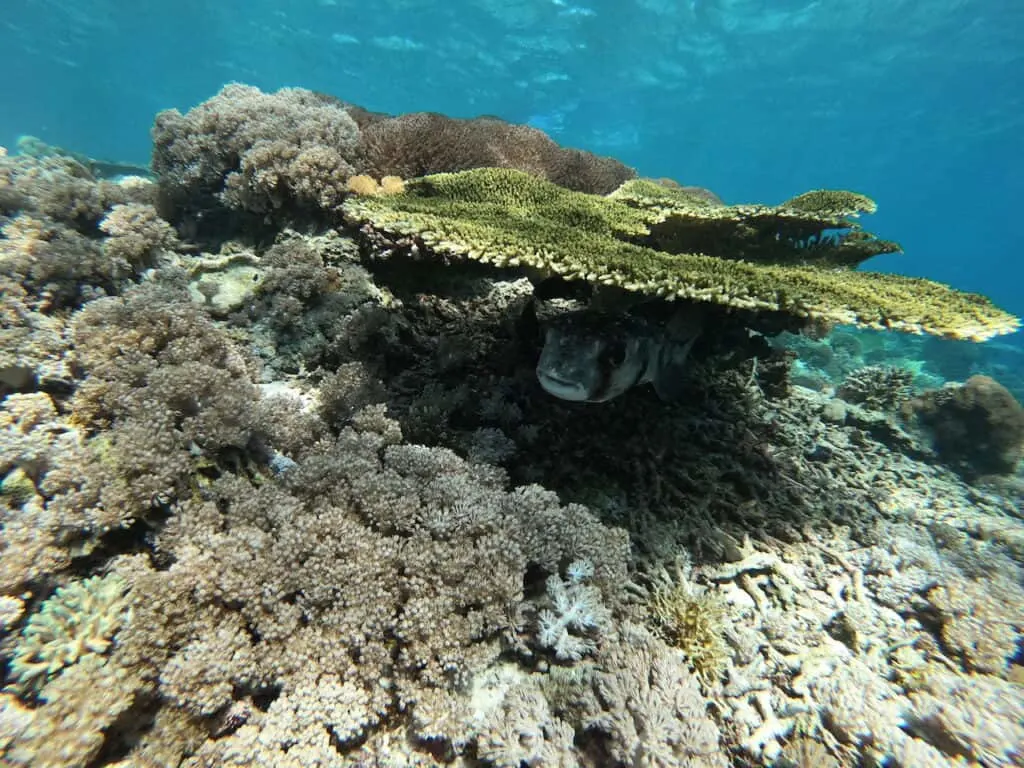 10) What to Pack
To wrap up this guide, I wanted to highlight some of the important gear items to take along with you on a Komodo liveaboard.
Sunscreen: it gets hot & sunny out in Komodo National Park. Bring enough sunscreen to apply each day. Be sure to get a reef safe sunscreen, to keep the underwater life clean.
Sunglasses & Hat: going along with keeping you protected, a hat & sunglasses will be very important as well. Wear them frequently on the boat and beach to protect your face.
Dry Bag: as you hop on and off islands, you may want to bring along some essentials. I would recommend a dry bag that can fit your necessities. This way you won't need to worry about getting anything wet.
Quick Dry Towel: since you will be spending some time in the water (from the boat & on the beach), bringing along a packable quick dry towel will be helpful throughout the liveaboard experience.
Shoes & Sandals: it is recommended to bring both walking shoes & sandals for the trip. You may use your sandals on the beach and on board the boat. However, shoes will be helpful for the trekking portions of the trip.
Medications: there are a few medicines to consider for a Komodo liveaboard. If you get sea sickness, then we sure to bring along motion sickness medications. If you are traveling around wet season, then Malaria pills may be necessary (always consult your doctor ahead of time).
Windbreaker: while the days can be hot, it can get cooler at night and when the sea is windy. Bringing a light windbreaker or sweatshirt for these situations to stay warm.
Cash: be sure to bring along enough cash for the National Park fees & for tips. Fees should come out to around $20 USD per day, while tips to the liveaboard team will be up to you.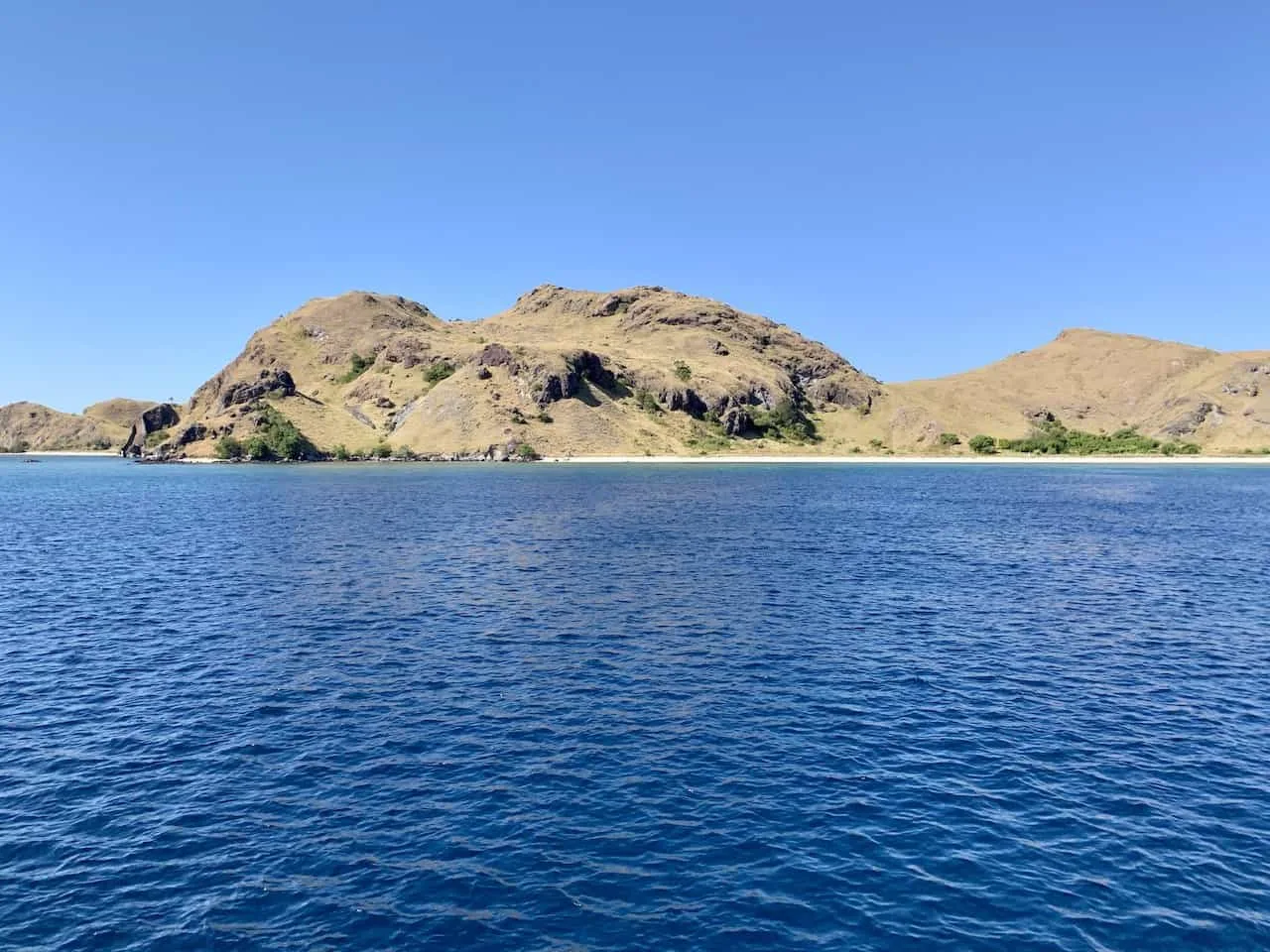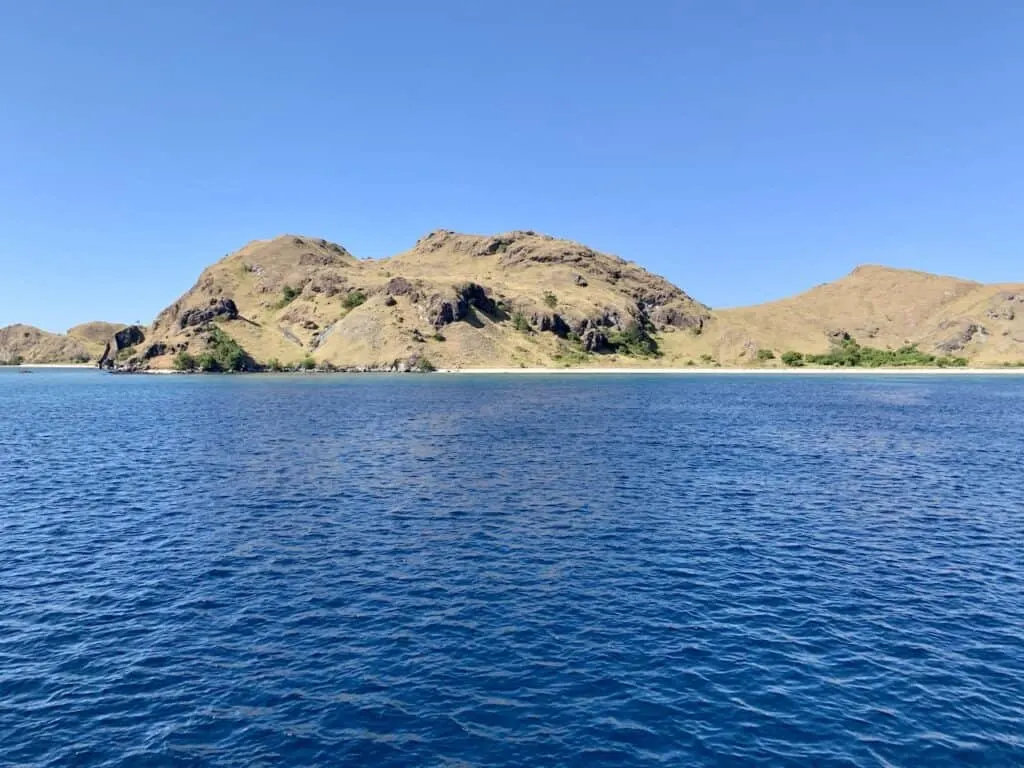 That does it for a Komodo liveaboard overview. If you have any questions or comments, be sure to add them in below.
Also, don't forget to check out the other Indonesia itineraries and guides up on the site.
Have fun out there and safe travels!