One of the top highlights of Indonesia is the famous Komodo Island Pink Beach.
The pink beach offers visitors the chance to relax on the pink sand (yes the sand is actually pink!), swim in the crystal clear water, and hike up to a viewpoint overlooking the beach.
This guide will go over everything there is to know about visiting the Pink Beach of Komodo National Park, and how to prepare for your trip.
* Affiliate Disclosure: This post may contain affiliate links, which means I may receive a commission if you make a purchase through the links provided, at no additional cost to you. Thanks for supporting the work I put into TripTins!
1) Pink Beach Overview
Believe it or not, there are actually several pink beaches around the larger Komodo National Park.
Most tours however (whether they are day tours or overnight liveaboards), usually choose from one of two pink beaches.
These include Pantai Merah Pink Beach on Komodo Island and the Pink Beach on Padar Island.
In addition to these two "main" pink beaches, there are several others including Namo Beach, Long Beach, and Serai Beach.
During my trip out in Komodo National Park, we stopped at the more well-known Pantai Merah Pink Beach. This guide will focus on a visit to that particular beach.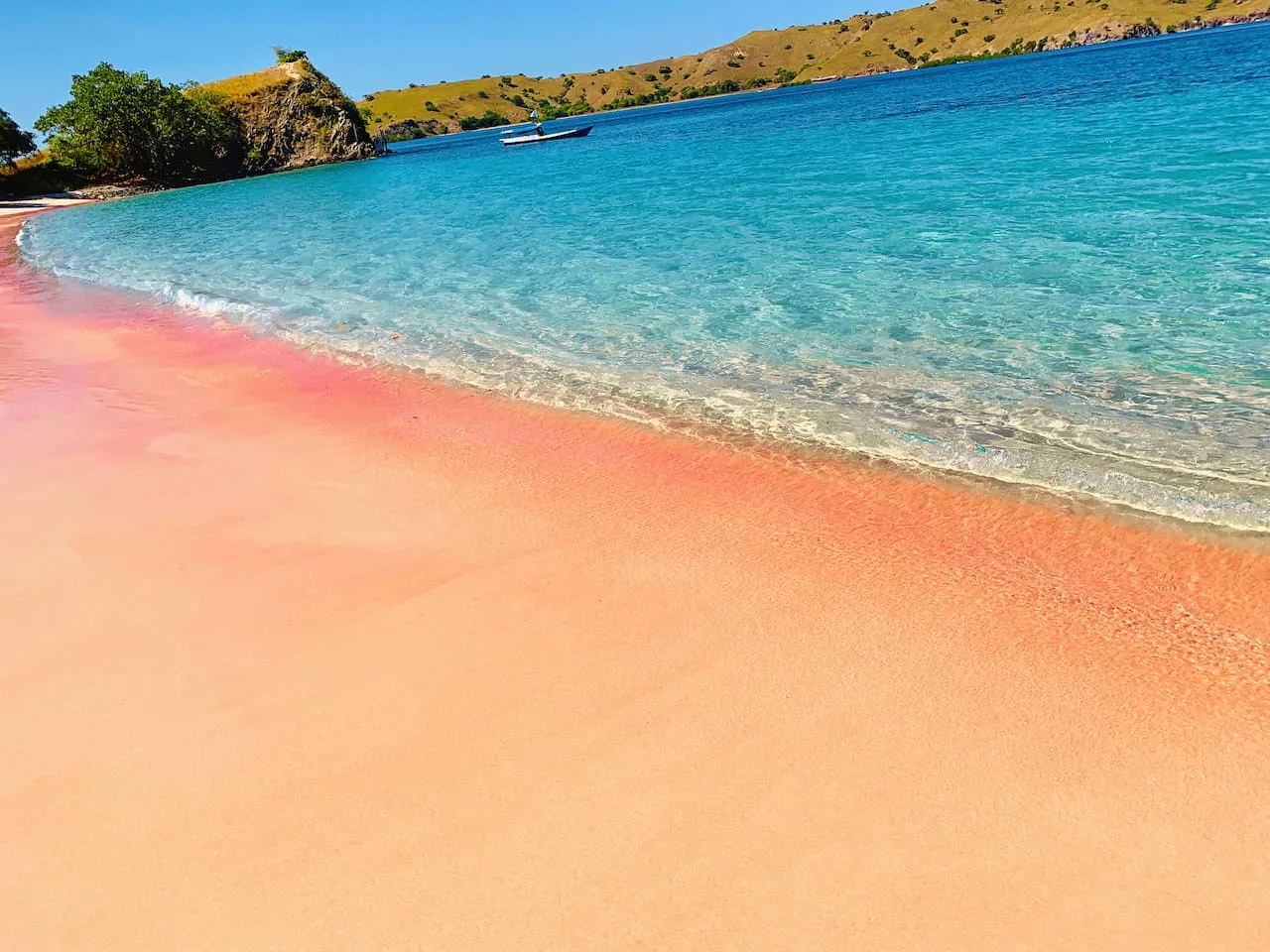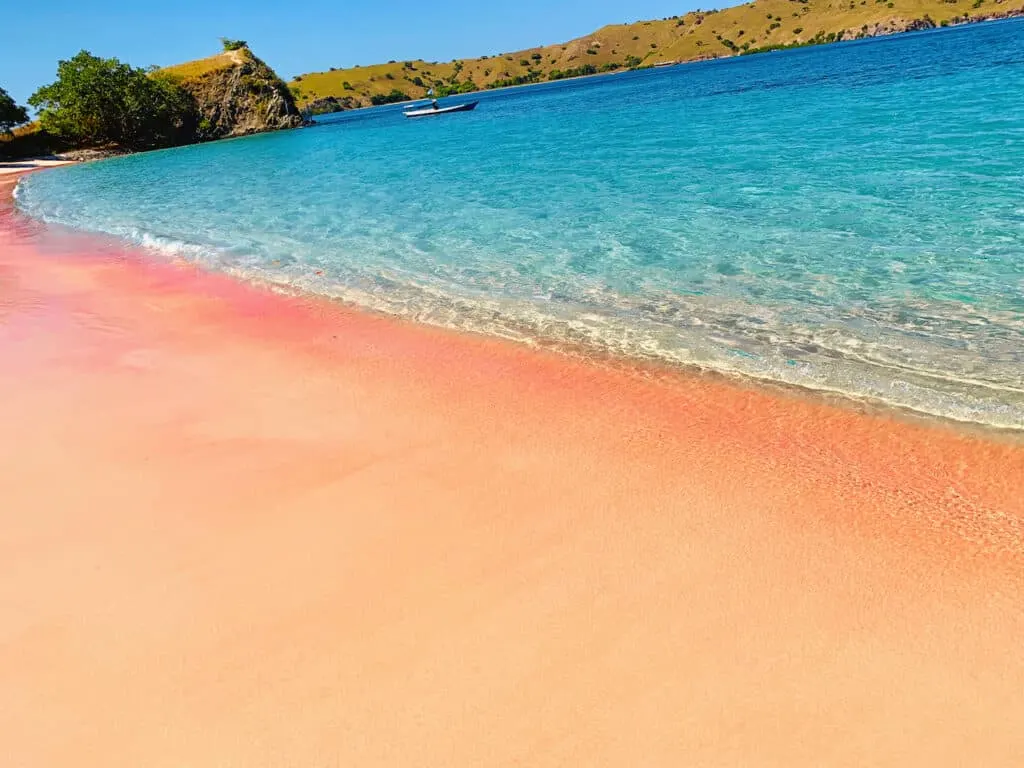 Why is the Beach Pink in Komodo Island?
While you will find beaches around the world that are white, black, or yellow in color, there are a few out there that actually have pink sand.
Now, you may be wondering why that is the case. Well, there is a good reason for that.
This is due to microscopic organisms called Foraminifera. These Foraminifera create a red pigment on the coral reefs. These red particles then mix in with the normal sand, which in turn creates a pink like color.
If you look closely at the sand, you will be able to see the mixture of the pink particles in there. And while you can clearly see the pink color from the beach itself, it is usually more pronounced if you get that bird's eye view.
A fair warning to all – some photos you see on the Internet can be highly edited, showing a much more vast & pronounced pink color. While you may be fortunate and get a much stronger pink color during a visit, don't be surprised if it's not as pink as you anticipated.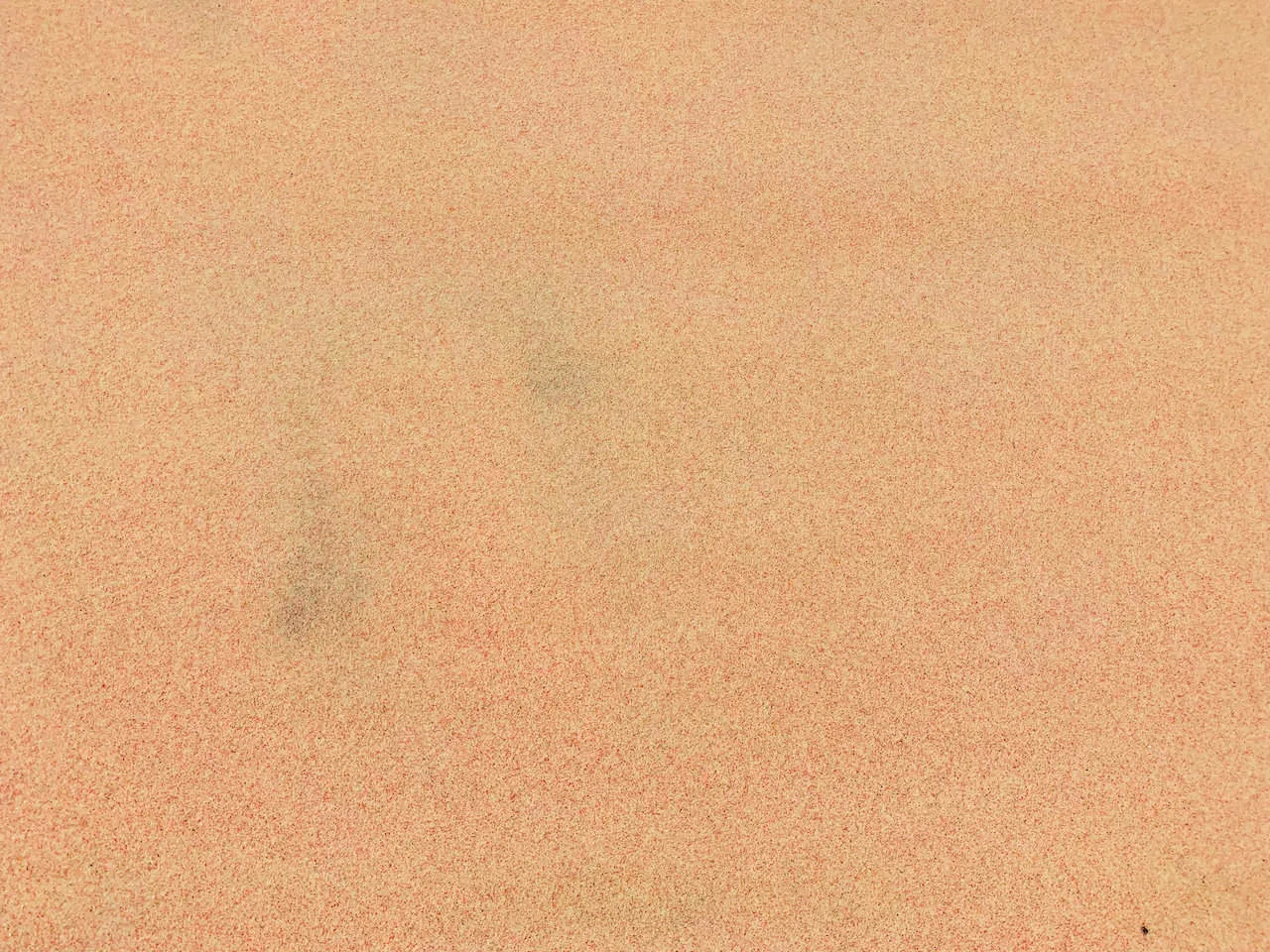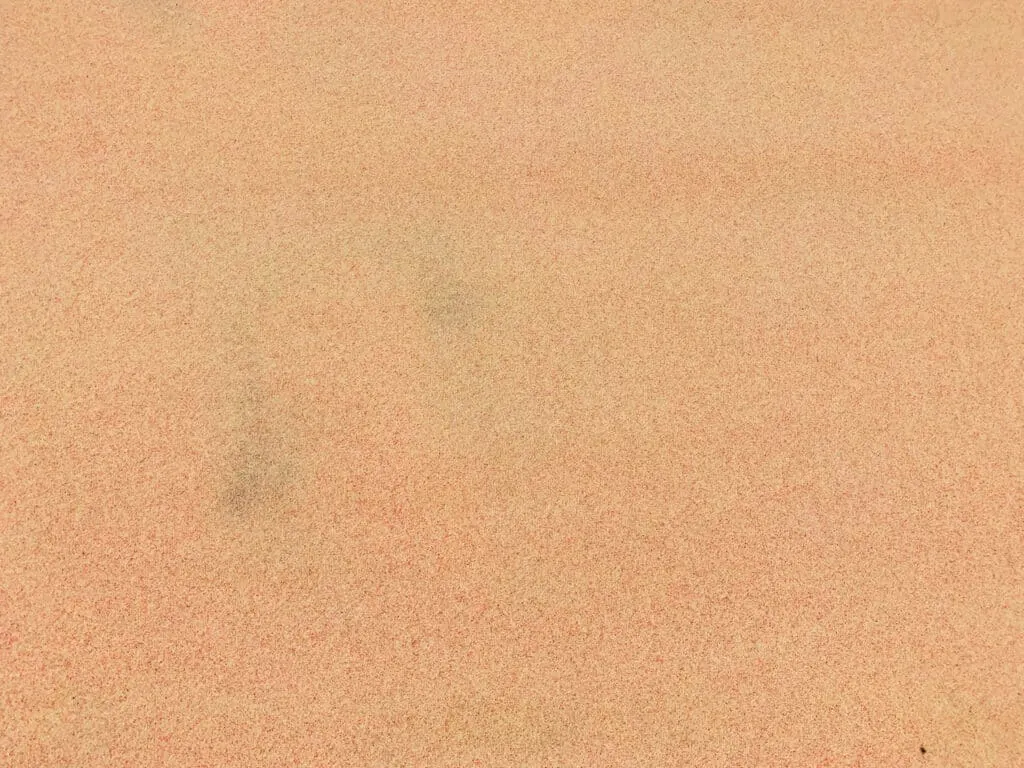 2) Where is Komodo Pink Beach
The Komodo Pink Beach is of course located within the larger Komodo National Park.
The park is an expansive area off of the island of Flores. Within the National Park, there are three main islands – Rinca, Komodo, and Padar, in addition to several smaller islands all throughout.
The Komodo Island Pink Beach is located along the southern coast of the island.
The map below pinpoints the beach's location in relation to island the rest of the National Park.
3) How Do I Get to Pink Beach of Komodo?
In general, there are two main ways to go about a visit to the Pink Beach of Komodo National Park.
You can head out on a single day tour from Labuan Bajo (the main hub on Flores island), or you can take part of a longer overnight liveaboard experience.
Getting to Labuan Bajo
First things first, you will need to get yourself to Labuan Bajo on Flores island. Whether you are taking part of a day trip or liveaboard, most of these tours leave from Labuan Bajo.
By Plane
Right outside the main city center, is the Labuan Bajo airport (LBJ). The airport has direct flights to/from many of the main cities of Indonesia.
These include Jakarta, Surabaya, Bali, among several others.
Once you arrive at the airport, it is a quick 10 minute taxi drive into the center.
By Boat
While flying is going to the easiest and most practical of options in most scenarios, taking a boat to Labuan Bajo is also an option.
The main option here is to take a 4 day / 3 night boat from Lombok (home of Mount Rinjani) to Flores.
This can be a great option for those that want to enjoy some time out on the water and get to experience the seas of Indonesia along the way.
These sorts of tours will cost around $125 USD give or take.
Note: it is also possible to take a combination of public transport ferries & busses to get between Bali/Lombok & Flores but do expect a long multi leg journey.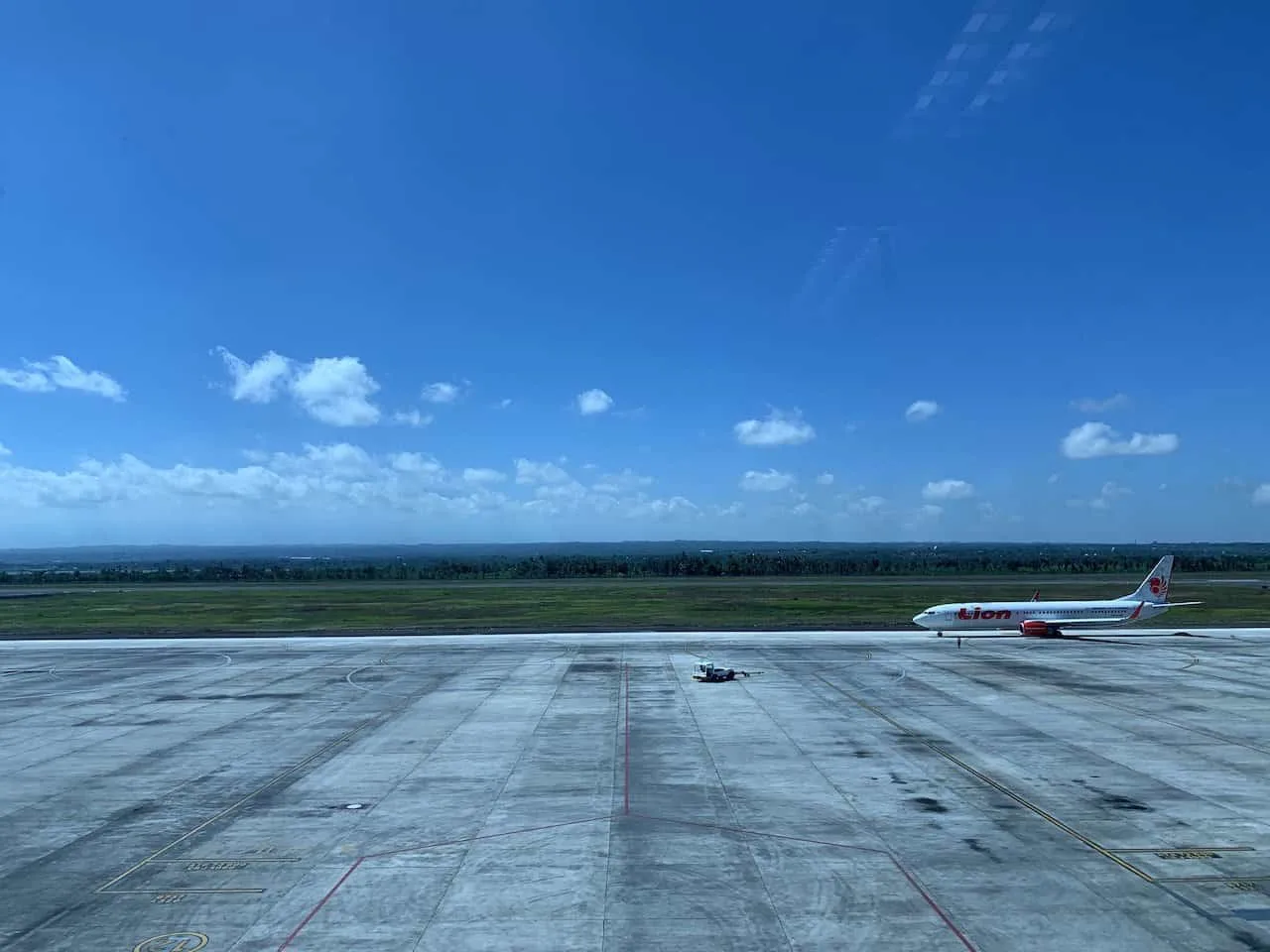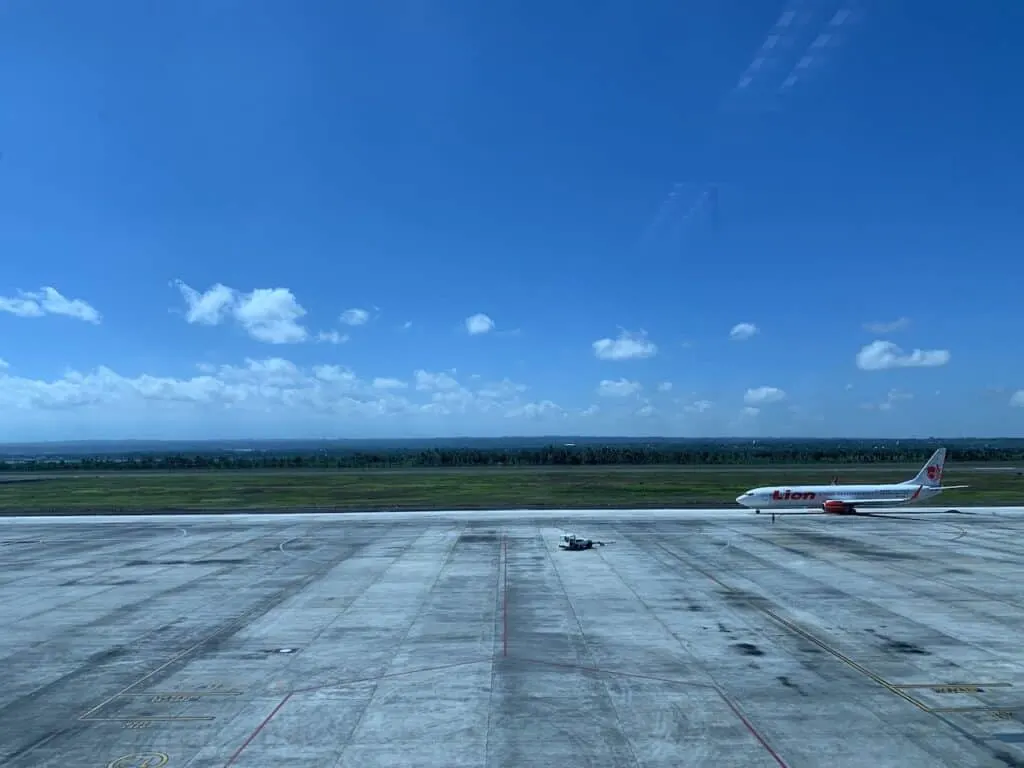 Once you have made it into Labuan Bajo, you can then choose from either a day trip into Komodo National Park or join a liveaboard.
Komodo National Park Day Trip
During a Komodo National Park day trip, you will have the chance to see many of the top highlights all within a day.
Tours leave early in the morning and visit places like Padar Island, Rinca Island, snorkeling spots, & of course a Pink Beach.
Each one of these tours may offer slightly different schedules and itineraries, but should be pretty standard at the end of the day.
Feel free to take a look at this One Day Komodo National Park Tour, which is a highly rated tour of the park.
Komodo National Park Liveaboard
Now for those that want to spend more days exploring Komodo National Park, you can also take part of a liveaboard.
Learn More | Komodo National Park Liveaboard Experience
These boats head out for a longer time out on the water – anywhere from 1 night to well over a week. During a trip, you will be sleeping and eating on the boat as you explore some of the best that the park has to offer.
Liveaboards come in all shapes and sizes – some focus more on scuba diving, while others focus more on just the main highlights of the park. Below are some options to consider:
Wunderpus Liveaboard: offers set multi day liveaboard trips that can include scuba diving or snorkeling. It is a great option for those that want to focus both on the underwater aspect and other highlights such as the Pink Beach.
Anjani Trip: offers 3 day / 2 night liveaboards across several different boat offerings. This is perfect for those that want to explore the ins and outs of Komodo National Park with some snorkeling opportunities (no scuba diving is offered).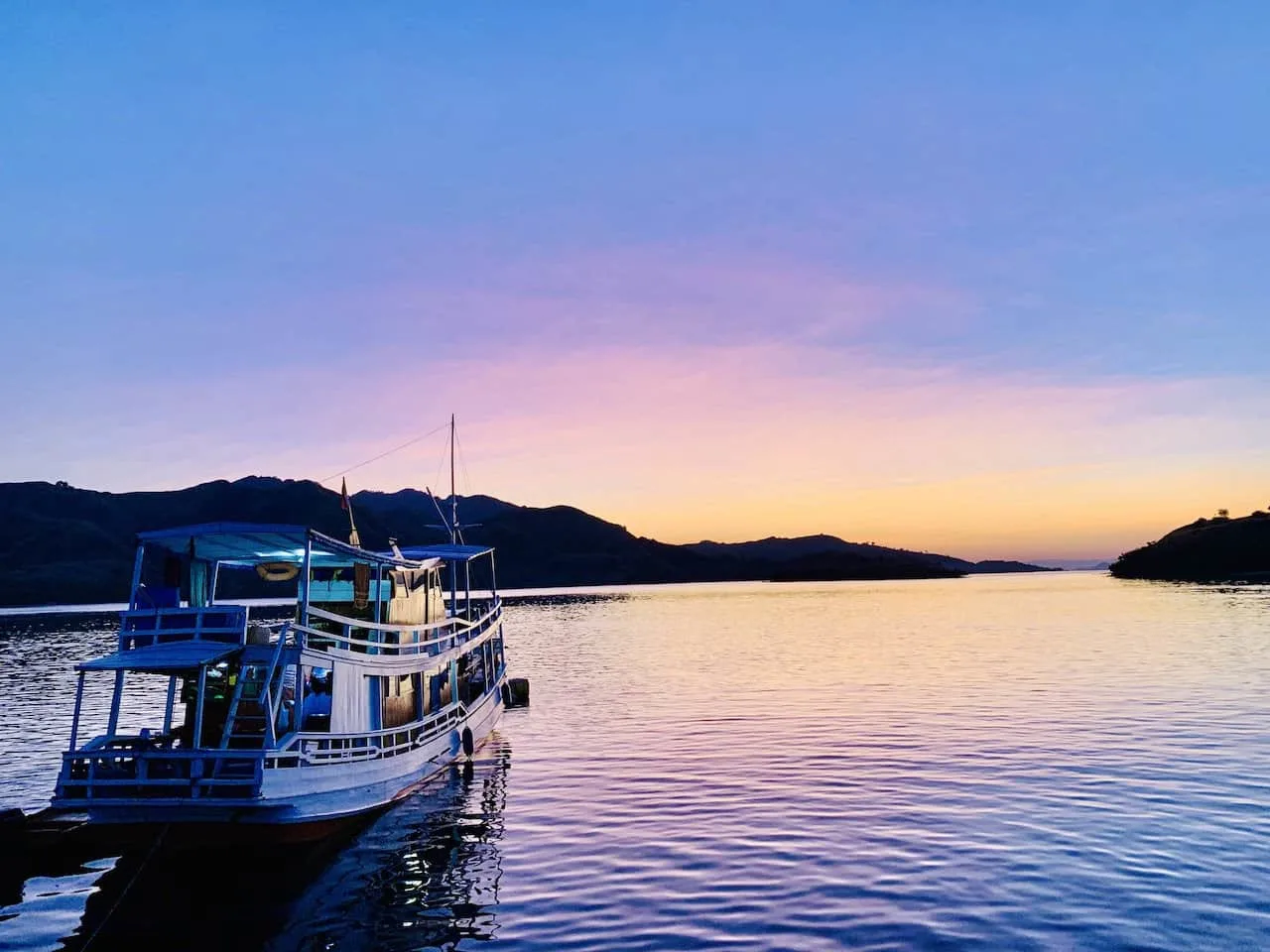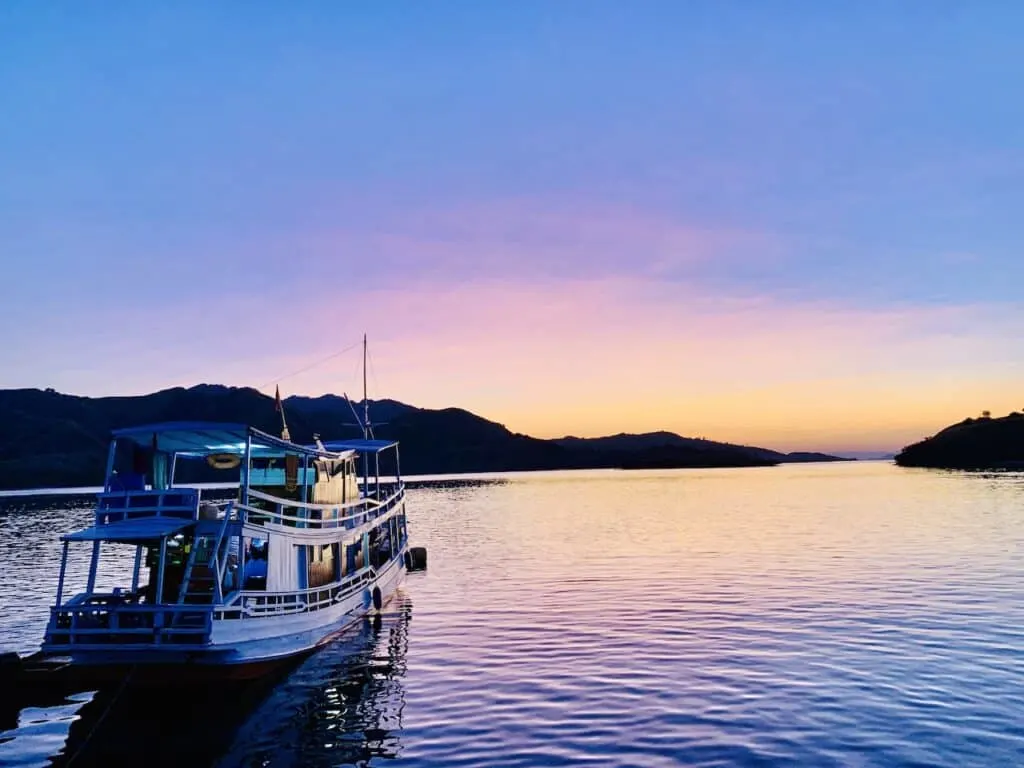 4) Komodo Island Pink Beach Entrance Fee
When visiting Komodo National Park in general, you will need to pay a daily entrance fee in addition to the Flores tourist tax. Below is the fee breakdown:
Komodo National Park Fee: 175,000 IDR (divers) / 165,000 IDR (snorkelers) -> this fee must be paid regardless if you enter the water
Flores Tourist Tax: 100,000 IDR (divers) / 50,000 IDR (snorkelers) -> this fee must be paid regardless if you enter the water
While some other spots around Komodo may have additional fees, the Pink Beach does not.
Expect to pay around 245,000 IDR ($16 USD) for the Komodo National Park fees. If also visiting other spots in the National Park, you will need to consider those fees as well.
As you are signing up for tours, just be certain to ask whether entrance fees are included in the overall cost.
Note: if visiting on weekends/holidays, the Komodo National Park fee will be about 40% more expensive
5) Can You Swim at the Pink Beach Komodo Island?
Yes, of course you can swim at the Komodo Island Pink Beach.
While you may be more intrigued to enjoy the pink sand, don't forget to hop in the water too. As you can see in the photos, the water is crystal clear and offers some beautiful swimming opportunities.
If you head a bit further out in the water, you will also find a coral reef, which is perfect for those that want to snorkel too.
6) How Long to Spend at the Pink Beach
In general, it seems like tours stop for around 1 hour at the Pink Beach. This gives people enough time to enjoy the sand and hop in the water.
Of course, though, each tour's schedule may be a bit different. If you are on a longer liveaboard, then you may spend an afternoon at the beach. If you are on a day tour, you may be rushed through in less than an hour.
During my 3 day liveaboard, we started out that morning on Rinca Island checking out some Komodo Dragons.
We then headed on the quick boat ride to the Komodo Island Pink Beach, where we enjoyed just over an hour around the sand before heading off to the next destination.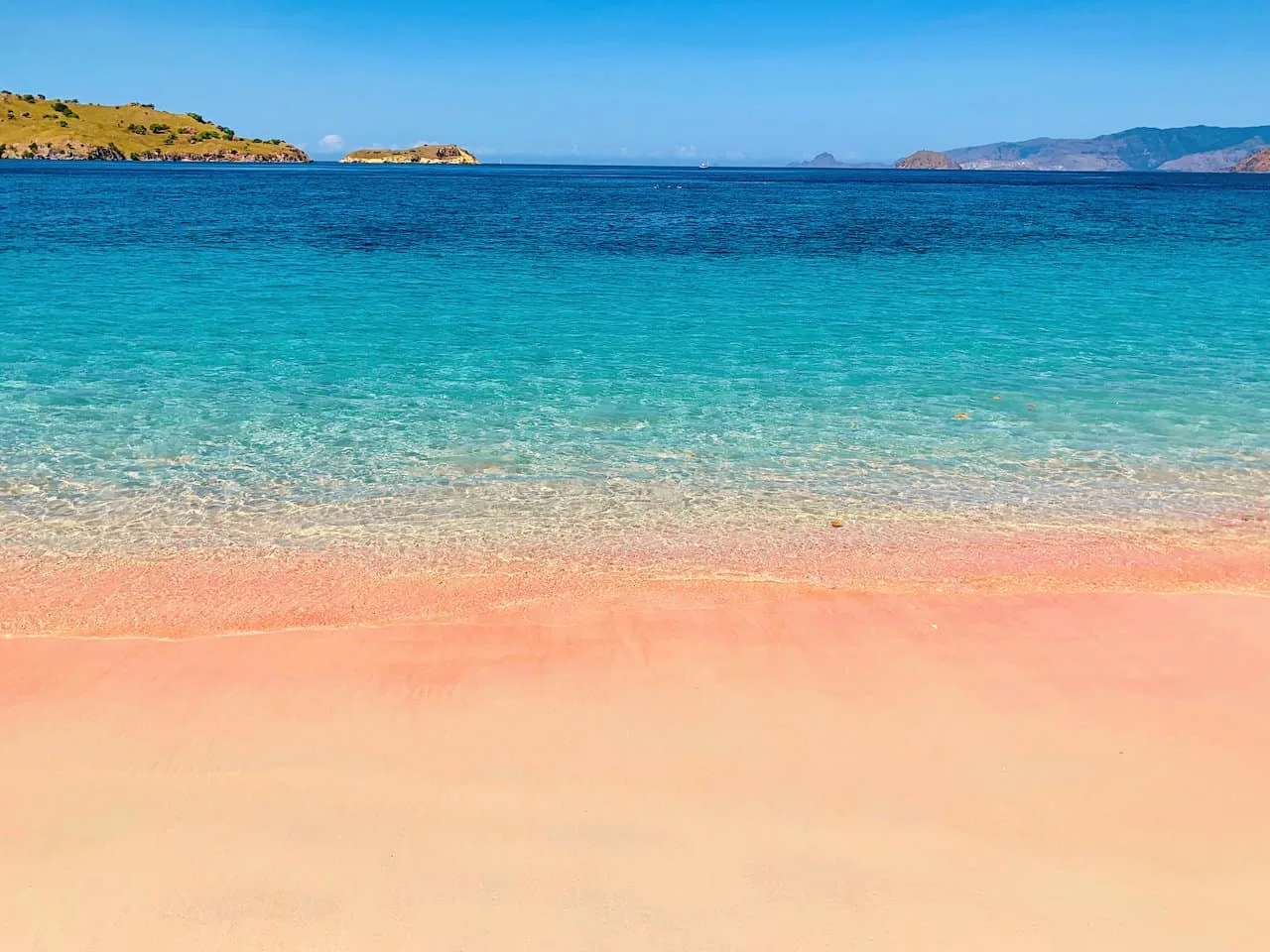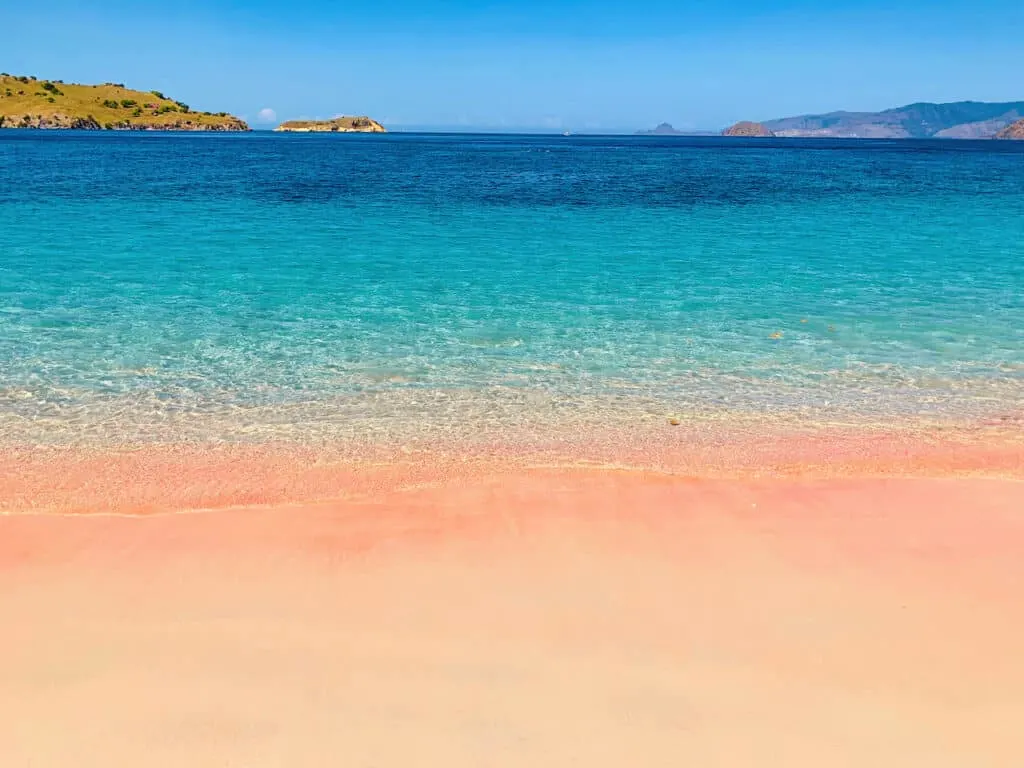 7) A Visit to the Komodo Island Pink Beach
As your boat approaches the Pink Beach, it will head to a small inlet on the other side of the beach itself.
In this small harbor there is a dock that allows people to easily disembark from the boat.
This is great for a couple of reasons. For one, you won't need to disembark right into the water. Secondly, you won't find boats around the water of the Pink Sand beach itself.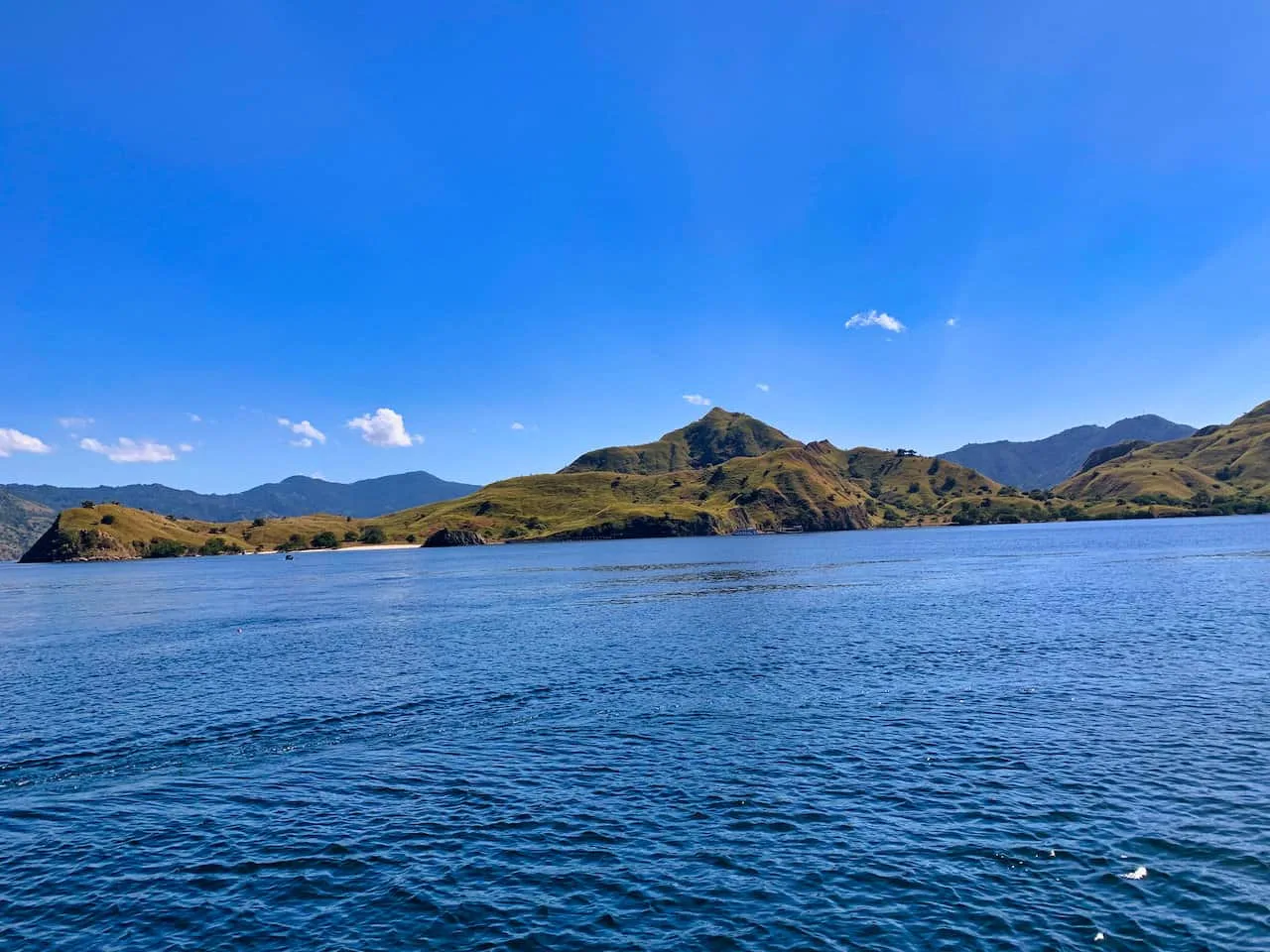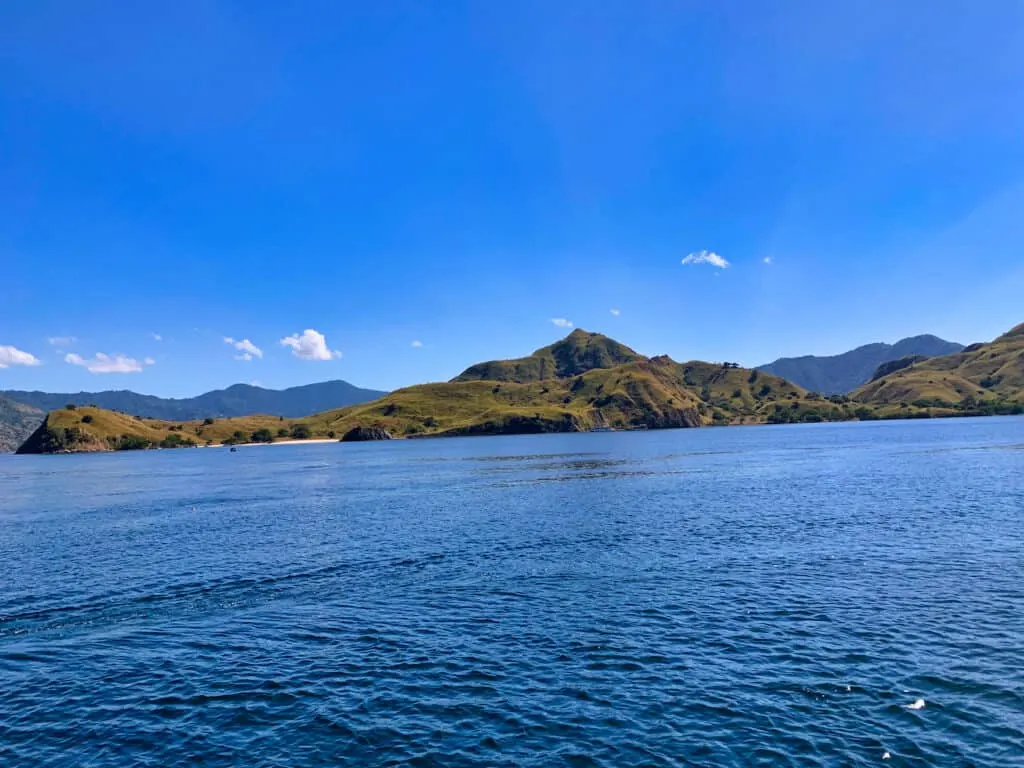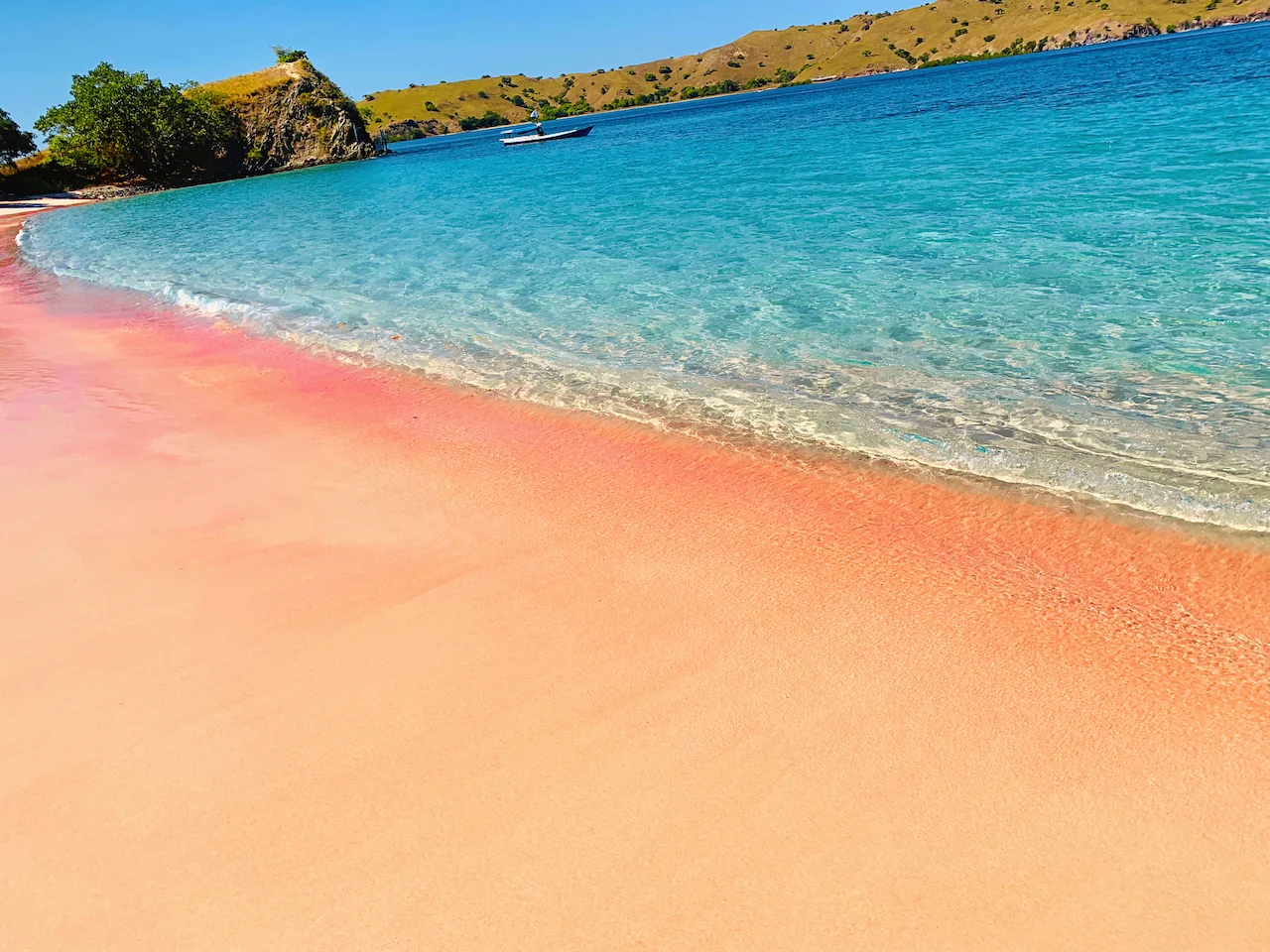 Once off the boat and on the island, it is just a minute's walk until you reach the beautiful pink sand. The beach is around 700 feet in length, so you should have no trouble finding a spot.
If you are looking for some shade, no worries. There are actually some trees along the shores of the beach for those that don't want to be fully in the sun.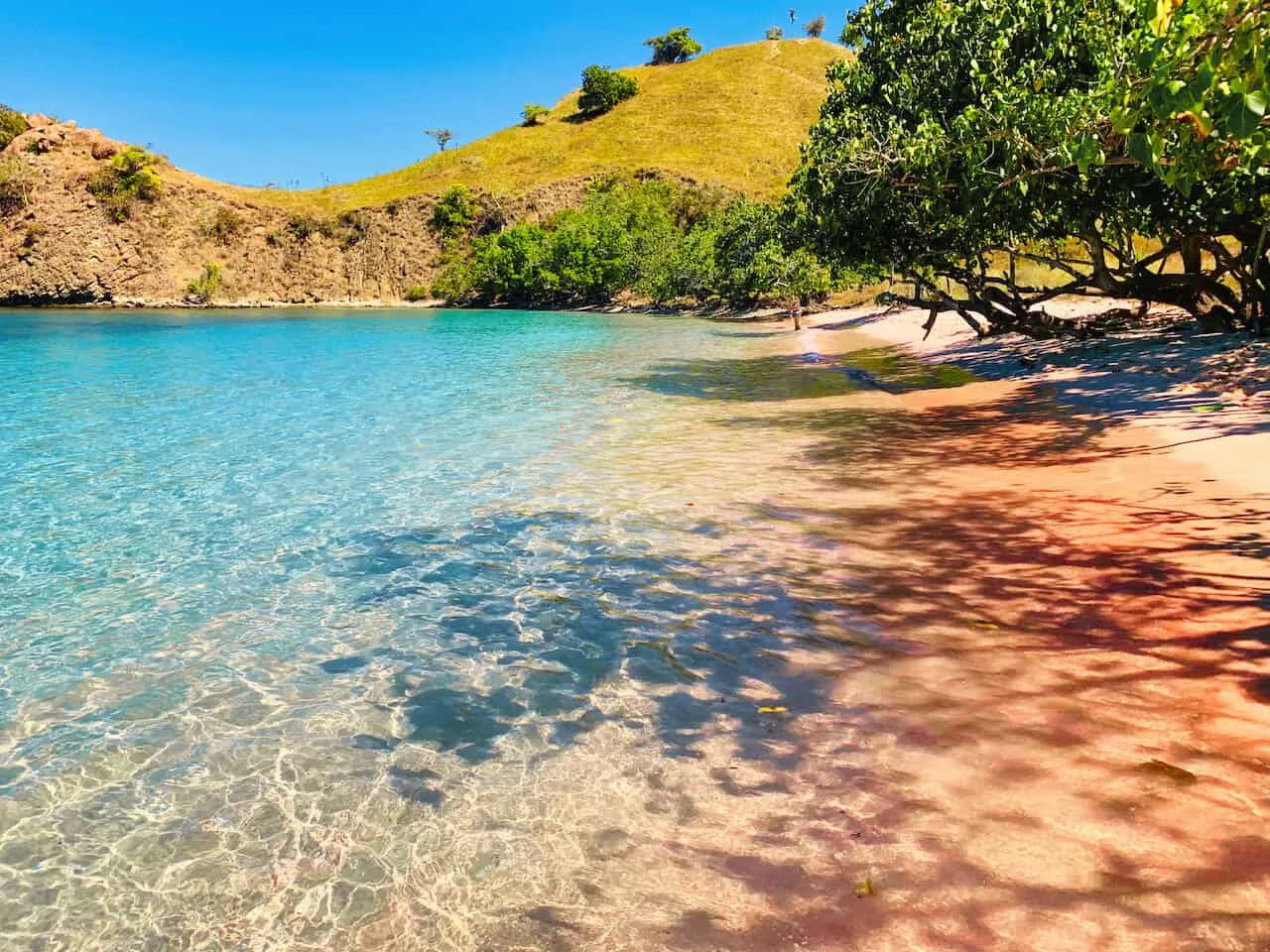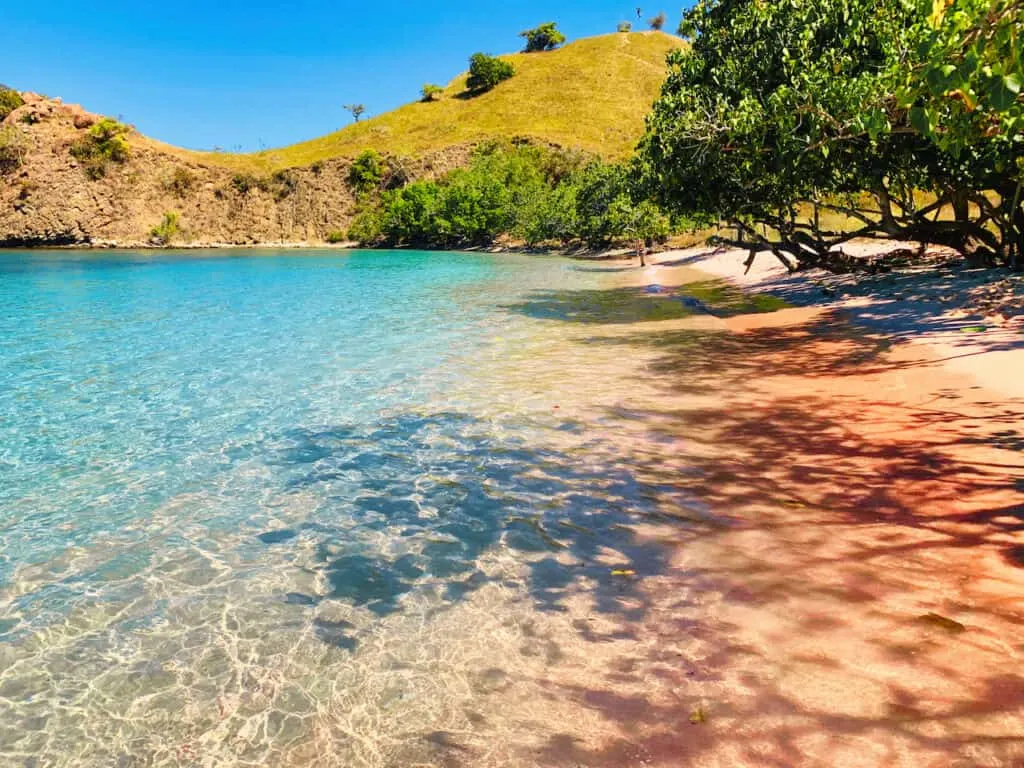 You can then spend the rest of your time, laying out on the sand, taking some photos, and going for a swim.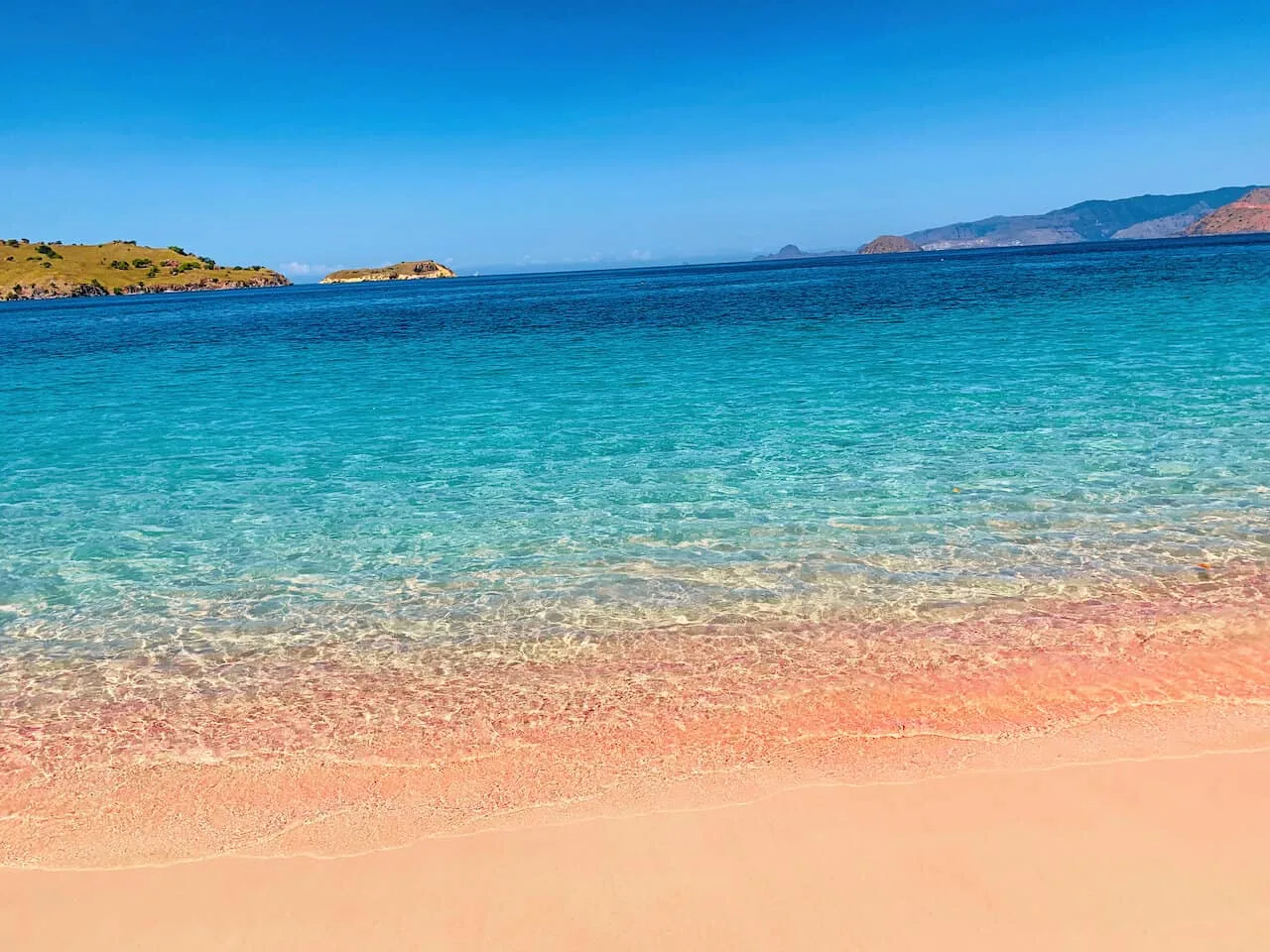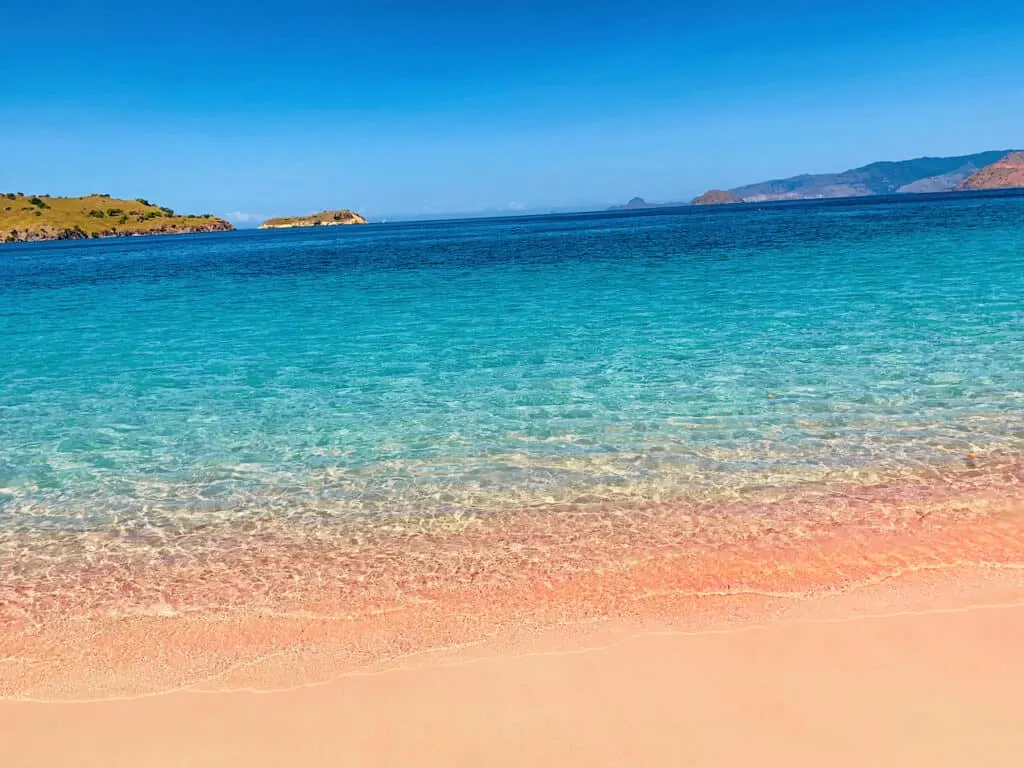 8) Pink Beach Hike
While hanging by the beach is going to be a highlight, the view from above is a special experience too.
Towards the farther end of the beach is a pathway that zigzags up the hillside. It is a short hike – around 500 feet in length with some elevation gain.
From the top, you will get some stunning views of the Pink Beach, the water, and more landscape of Komodo Island.
If that is something you are interested in, then just be aware of your timing so you can still give yourself enough time to complete the hike.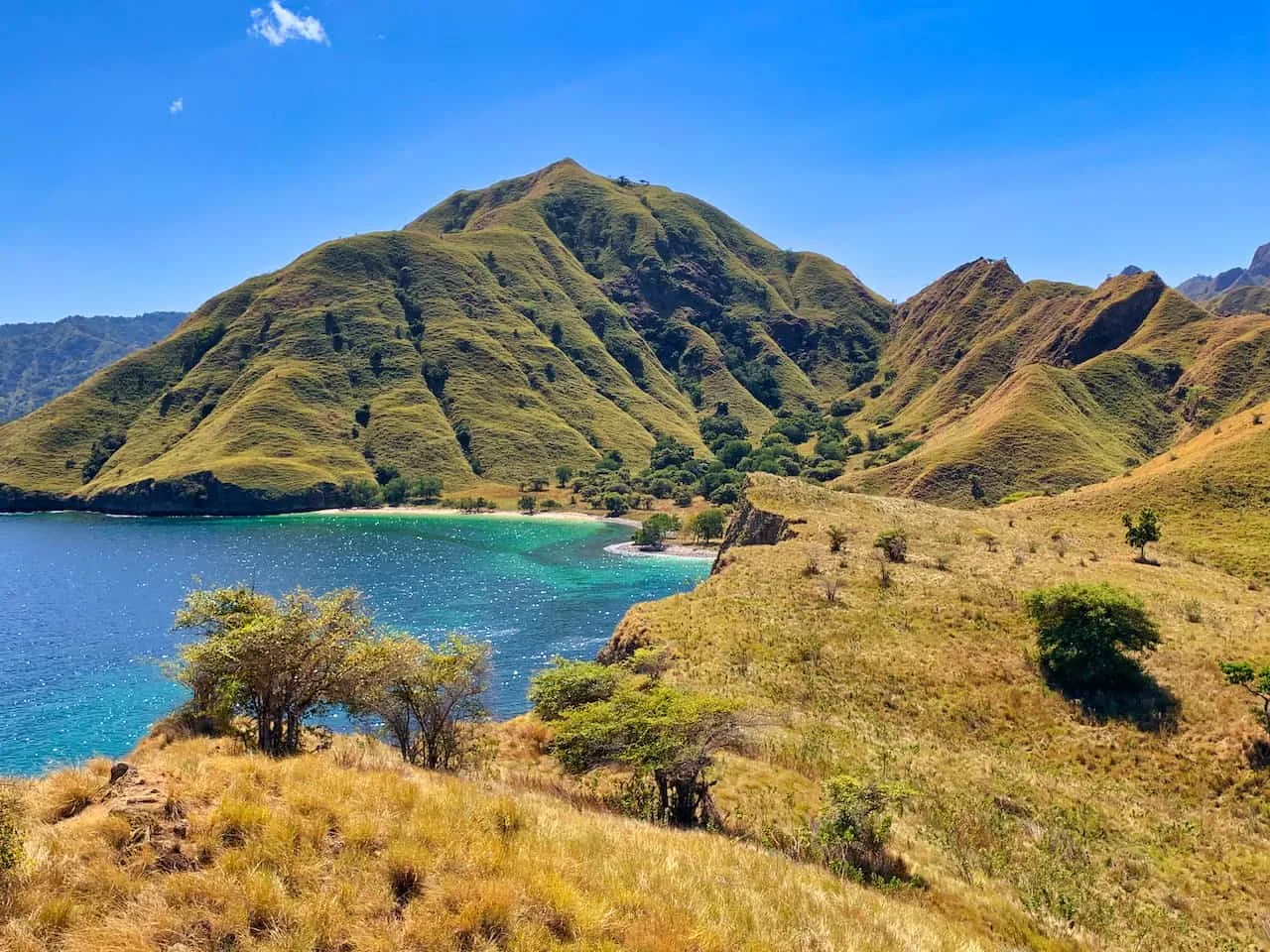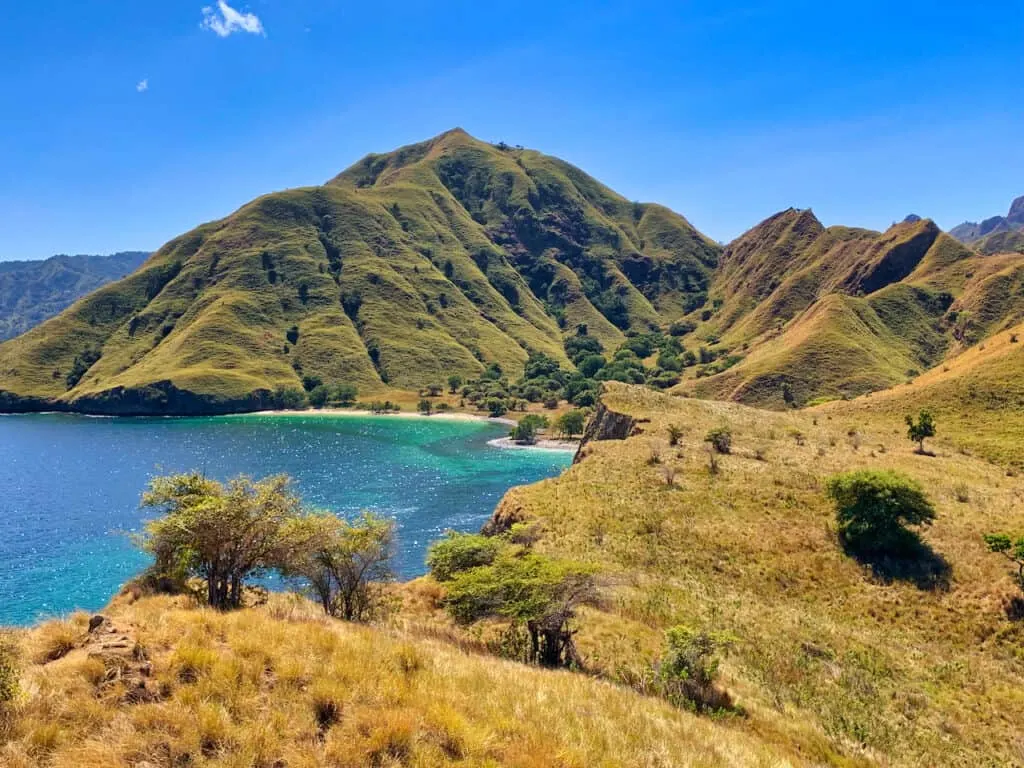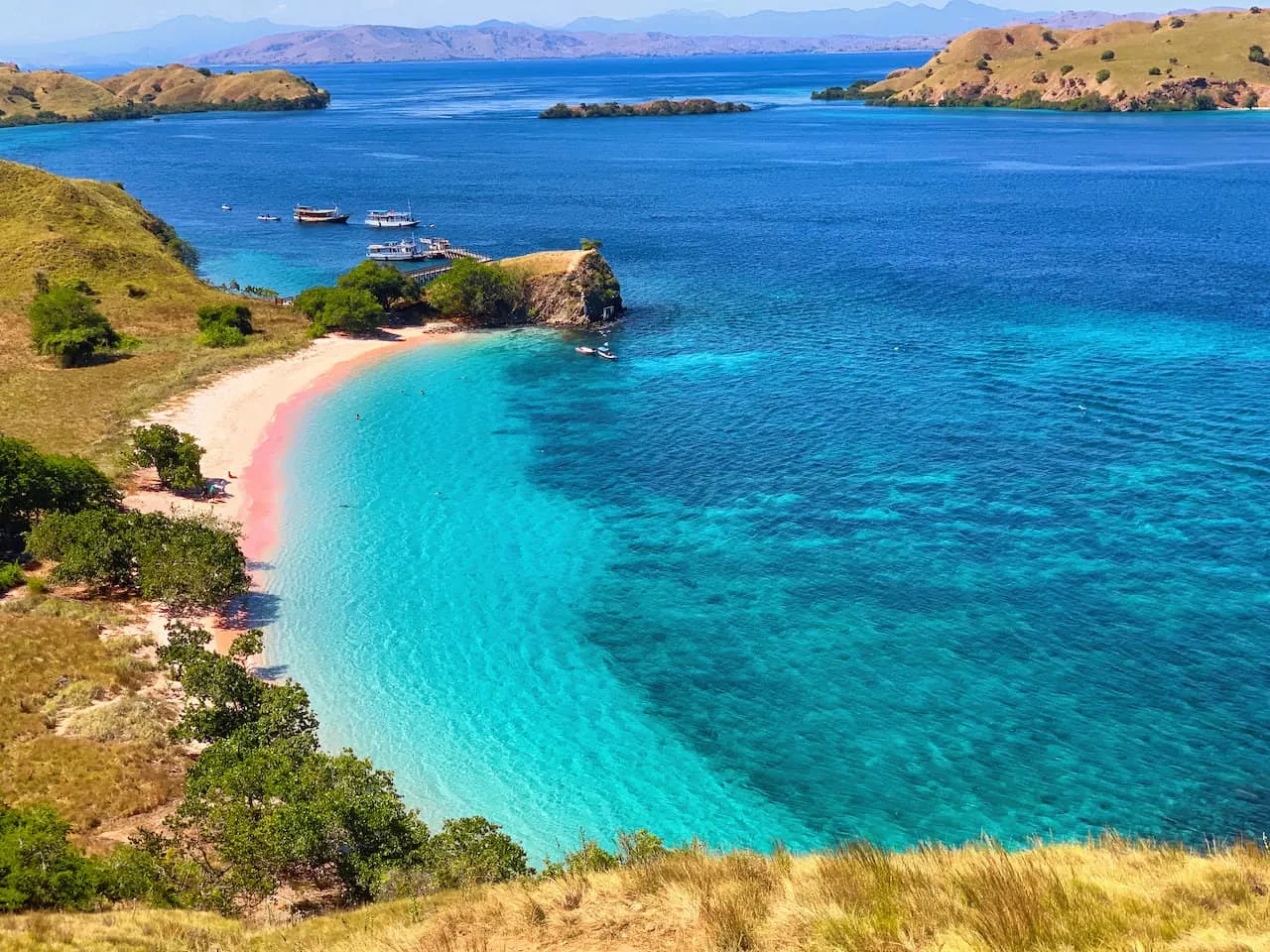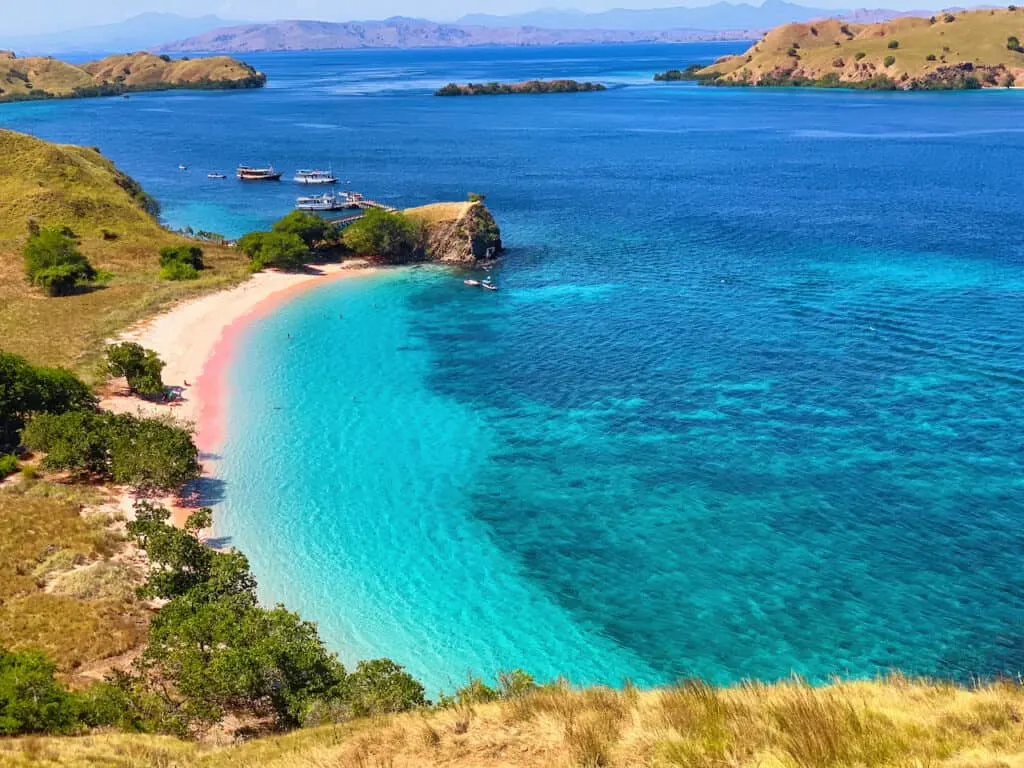 9) Padar Island Pink Beach
While I did not go to the Padar Island Pink Beach, that is another popular pink beach in Komodo National Park to visit.
Padar Island is on most tours, as it does offer one of (if not the best) viewpoint in all of the park. You most likely will still visit Padar Island for the viewpoint hike, but you may just not visit the pink beach.
This pink beach is usually quieter than the Komodo Island beach, and offers just as beautiful sand & water to experience.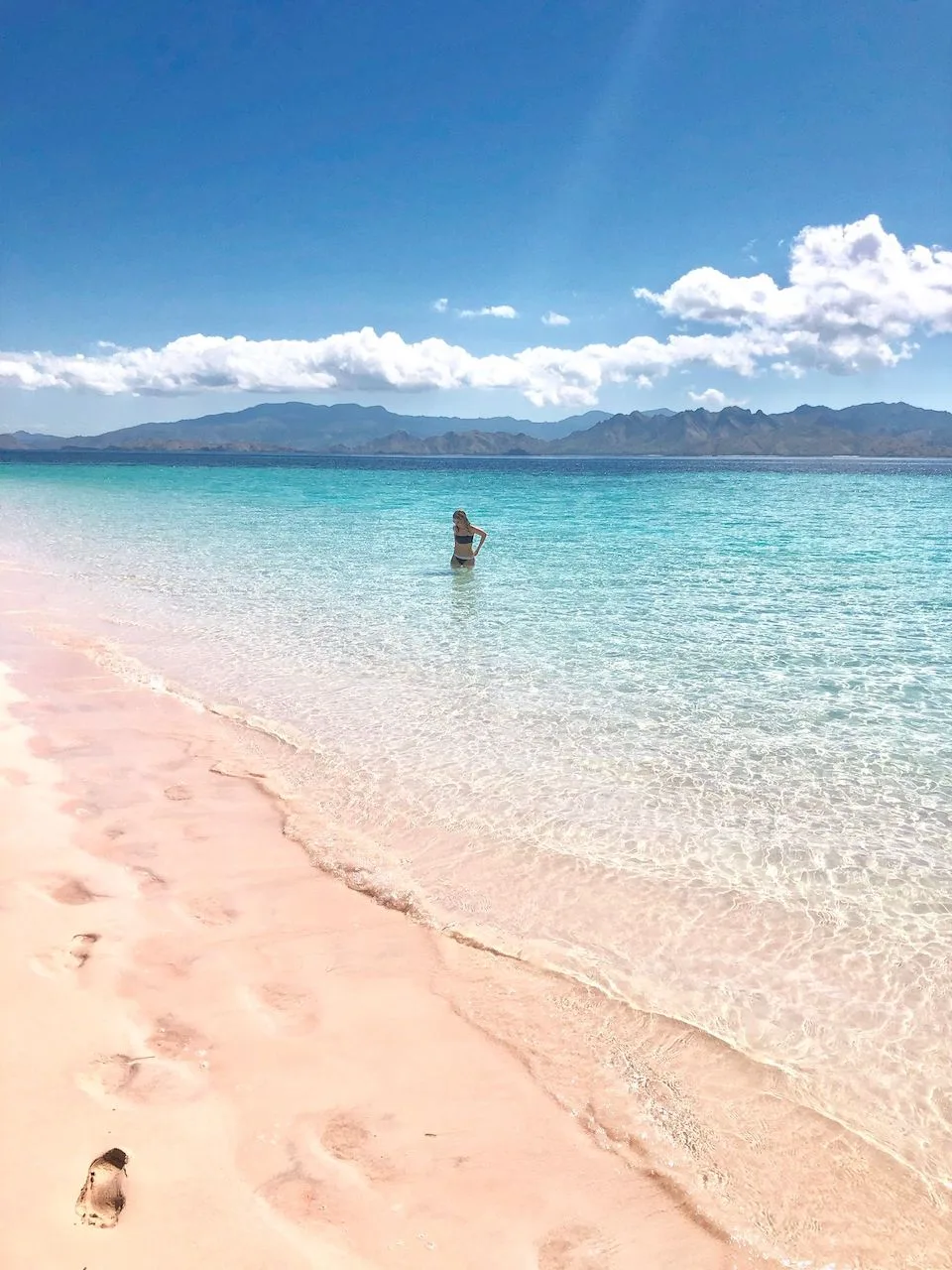 10) Where to Stay in Labuan Bajo
Before & after your time visiting Komodo National Park, you will need a place to stay in Labuan Bajo.
Generally speaking, the main city center is not that large and there are many options to choose from all around.
You can also opt for some more relaxing options further outside of the town center that offer more of a beach experience.
Below are a few of my recommended options when it comes to Labuan Bajo hotels:
The first two hotels are located within the town center, while the second two are further away along the beachside.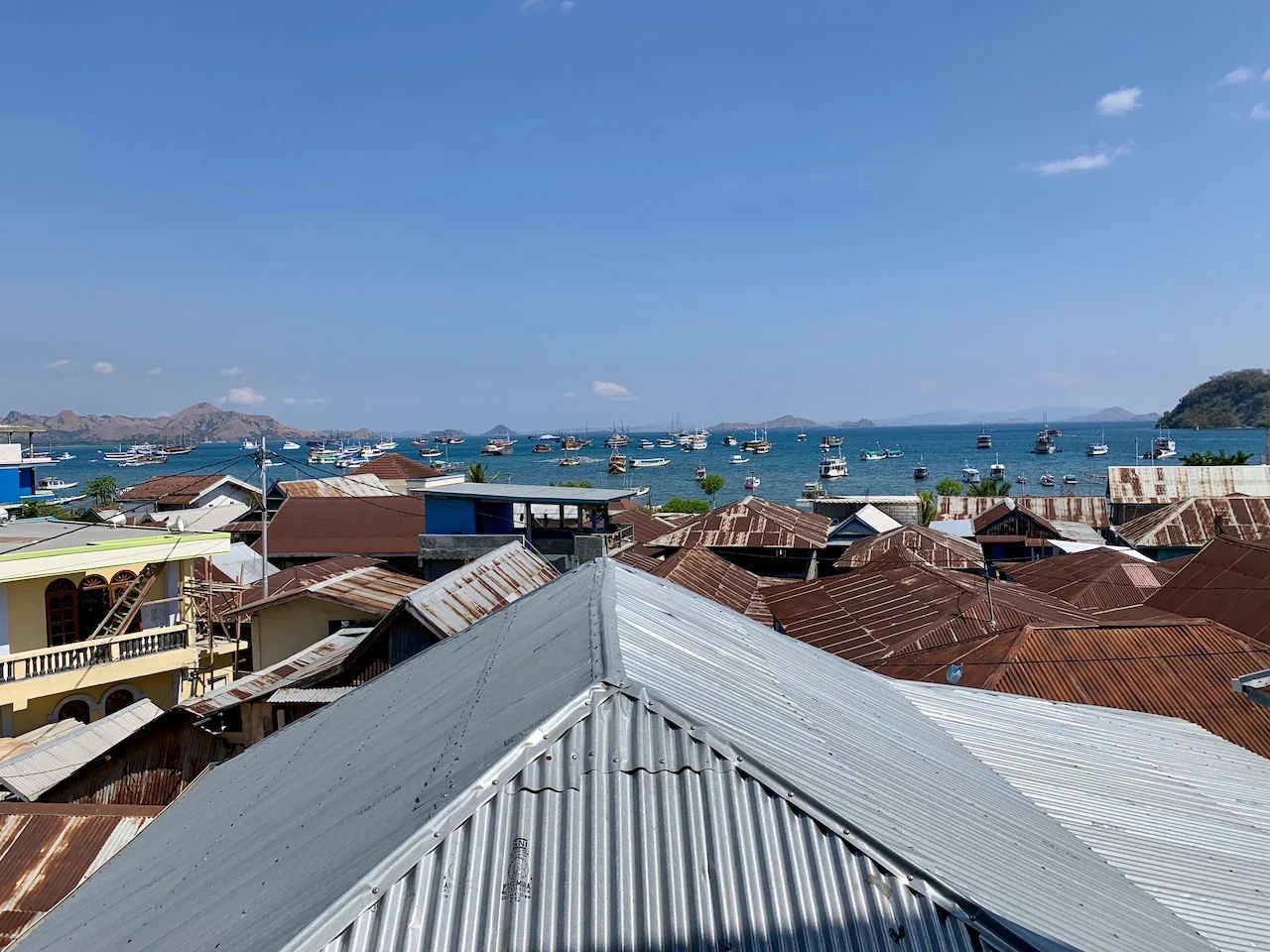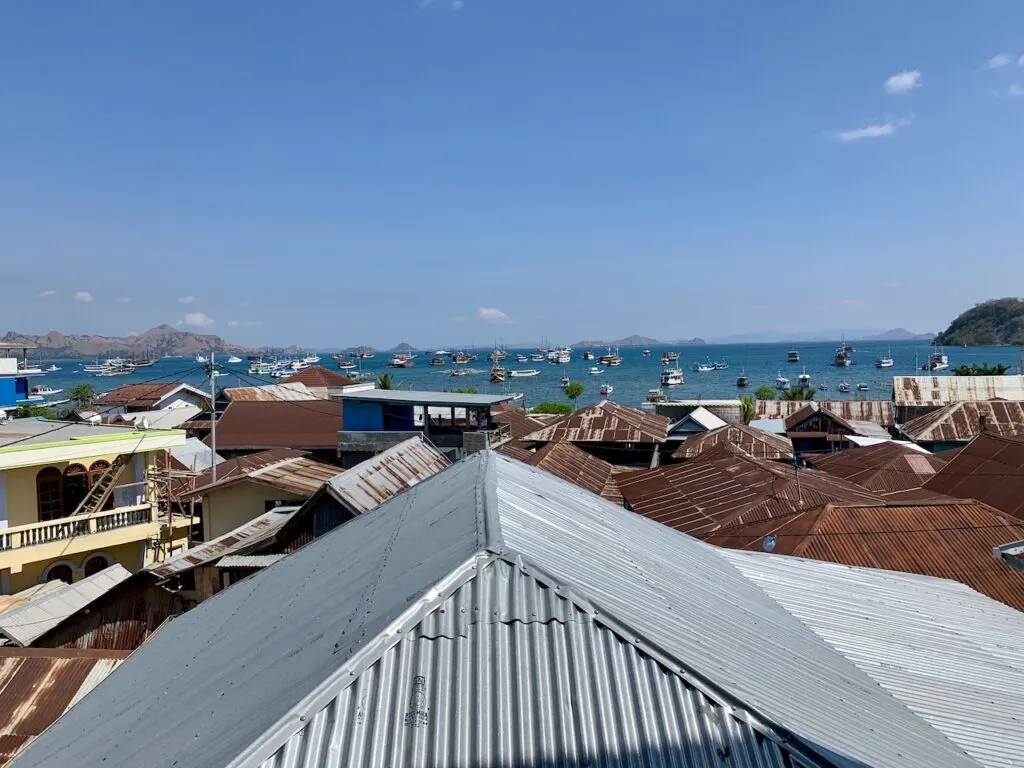 That wraps up a guide to the Komodo Island Pink Beach. If you have any questions or comments, be sure to add them in below.
Feel free to also check out the other Indonesia itineraries and guides up on the site.
Have fun out there and safe travels!