While Nusa Penida is typically known for its beautiful beaches, one of the most unique places to visit on the island is the Goa Giri Putri Cave Temple.
An underground cave has been turned into a Hindu temple and is one of the most surprising attractions that you can go to during your time on Nusa Penida.
This guide will give you an overview of Goa Giri Putri and how to go about a visit.
* Affiliate Disclosure: This post may contain affiliate links, which means I may receive a commission if you make a purchase through the links provided, at no additional cost to you. Thanks for supporting the work I put into TripTins!
1) A Goa Giri Putri History & Background
To give you a bit more insight into the cave temple I thought it may be helpful to give a short history and background about what Goa Giri Putri is all about.
⇔ The word Giri translates to "Hill" and the word Putri translates to "Female". This is because the temple is the holy site for the goddess Siva, who "possesses the nature and power to protect, nurture, and love human beings."
⇔ The temple is a place where Hindus visit as a pilgrimage site to seek spiritual enlightenment, and you will find many locals from nearby Bali visiting the temple grounds
⇔ You will need to wear a sarong (which can be rented outside the temple) as well as pay a small donation fee (20,000 IDR / $1.50 USD) to enter the temple.
⇔ From the parking lot up to the temple are 100+ stairs to get to the main entrance. From there you will squeeze into the cave temple entrance and enter the massive chamber.
⇔ There are 6 different temple structures within the cave itself. As you walk through the main chamber, you will pass by several of them along the way.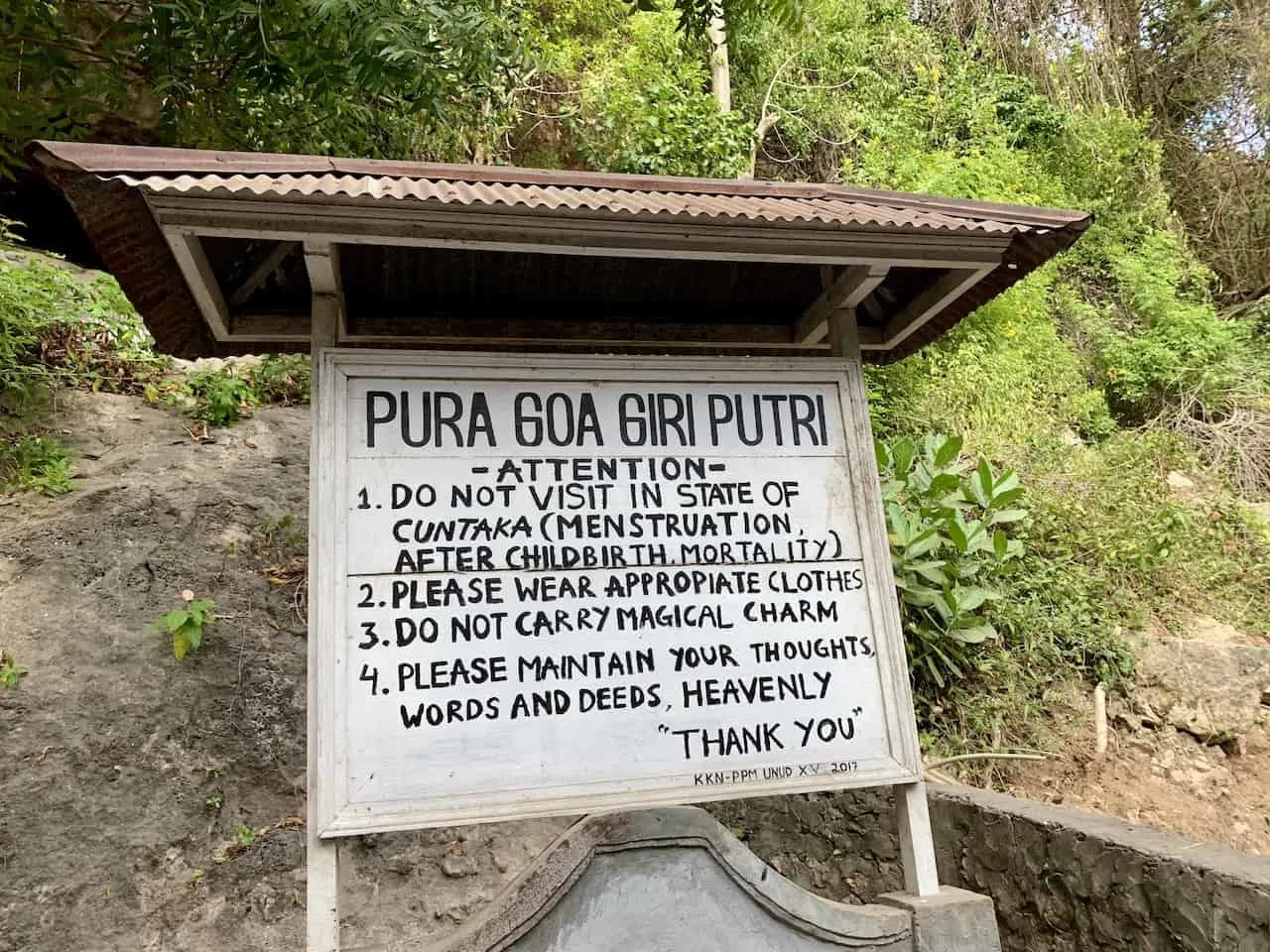 2) Where is the Cave Temple
Goa Giri Putri is located on the northern end of Nusa Penida island. When going about your time on the island, you can choose from a few different transportation options.
You can hire a driver for the day to take you to Goa Giri Putri and other attractions on Nusa Penida, you can rent your own scooter to get around on your own, or you can join a tour.
» If you are comfortable enough on a scooter / motorbike, you can rent one from the harbor area for as little as $5 – $10 USD per day.
Some of the roads of Nusa Penida are in very poor condition, with tons of uneven terrain throughout. I have heard of plenty of accidents happening on the island with those who were not experienced enough – I even saw a crash right in front of me. So please do not rent a scooter if you do not have the expertise.
» If you want to play it safe, I would recommend hiring a driver for the day that can take you to Goa Giri Putri and any other attractions you would like to visit.
Expect to pay around $40 USD for a full day driver on the island. You can either find them at the harbor area or have your hotel help set one up for you.
» Lastly, you could join a tour that will take you around the island, including a stop at Goa Giri Putri.
Check out this Nusa Penida private tour option that includes a driver for the day as you pick & choose the highlight that you are most interested in visiting
3) Where to Stay on Nusa Penida
Nusa Penida is relatively new to the tourism landscape which is why many of the roads throughout the island are just not up to standard.
You also won't find too many tourist hotspot areas like an Ubud or a Seminyak. Many of the accommodation options are just sprawled throughout.
A lot of the popular spots though are more on the western side of the island closer to the harbor area.
Below are some highly rated options based on price point in that area. What is also great about Nusa Penida is that it is budget friendly with the most expensive options not even $100 per night.
» If staying on the island you can take a look at the Nusa Penida Itinerary I put together that goes over 1,2, and 3 day itineraries.
After visiting the cave temple, you can continue on with your day at places like: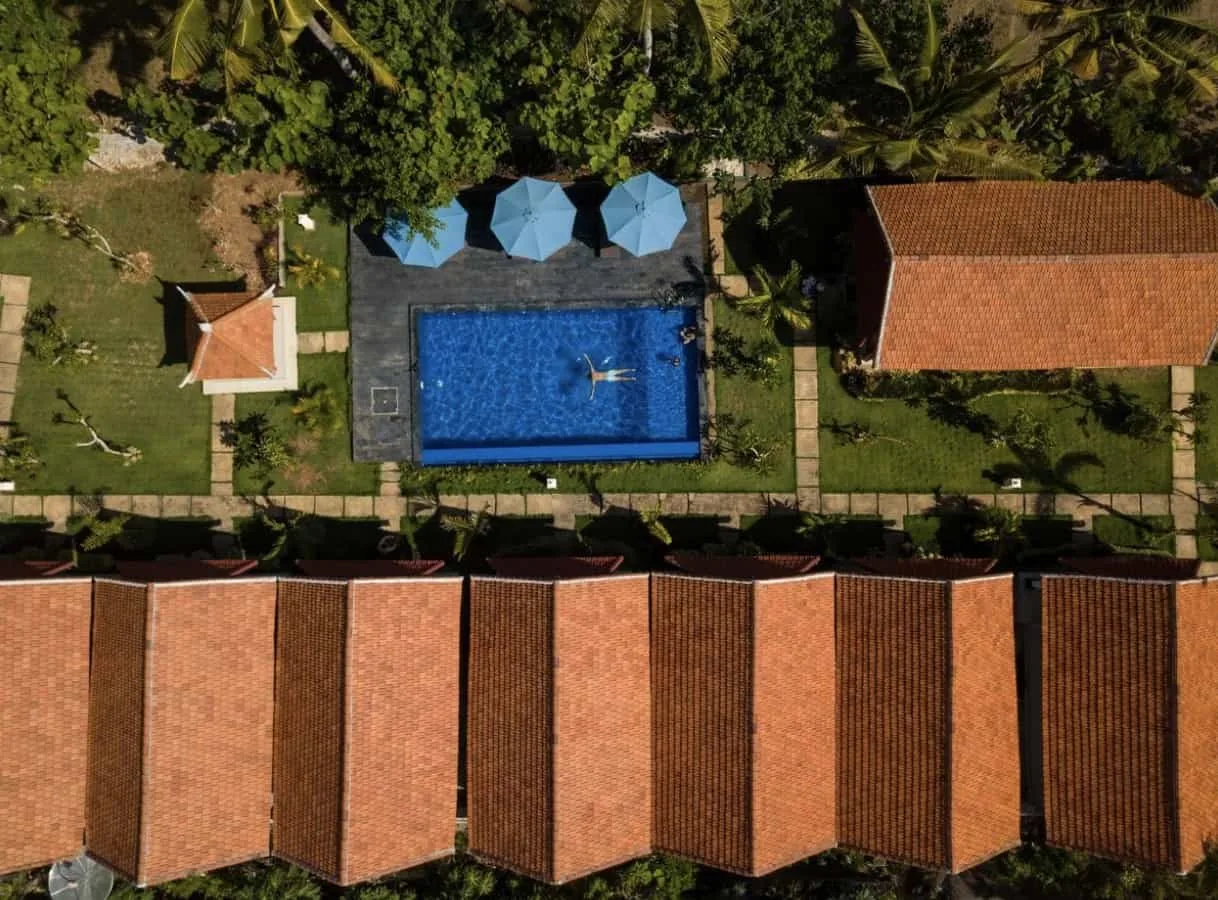 4) A Visit to Goa Giri Putri
Now I cannot speak for every day at the cave temple, but the day I visited it was packed with locals. The day will start by driving the beautiful northern coast of the island.
Once you begin approaching the Goa Giri Putri area, you will have a parking lot on the north side of the road (across the street from the cave entrance).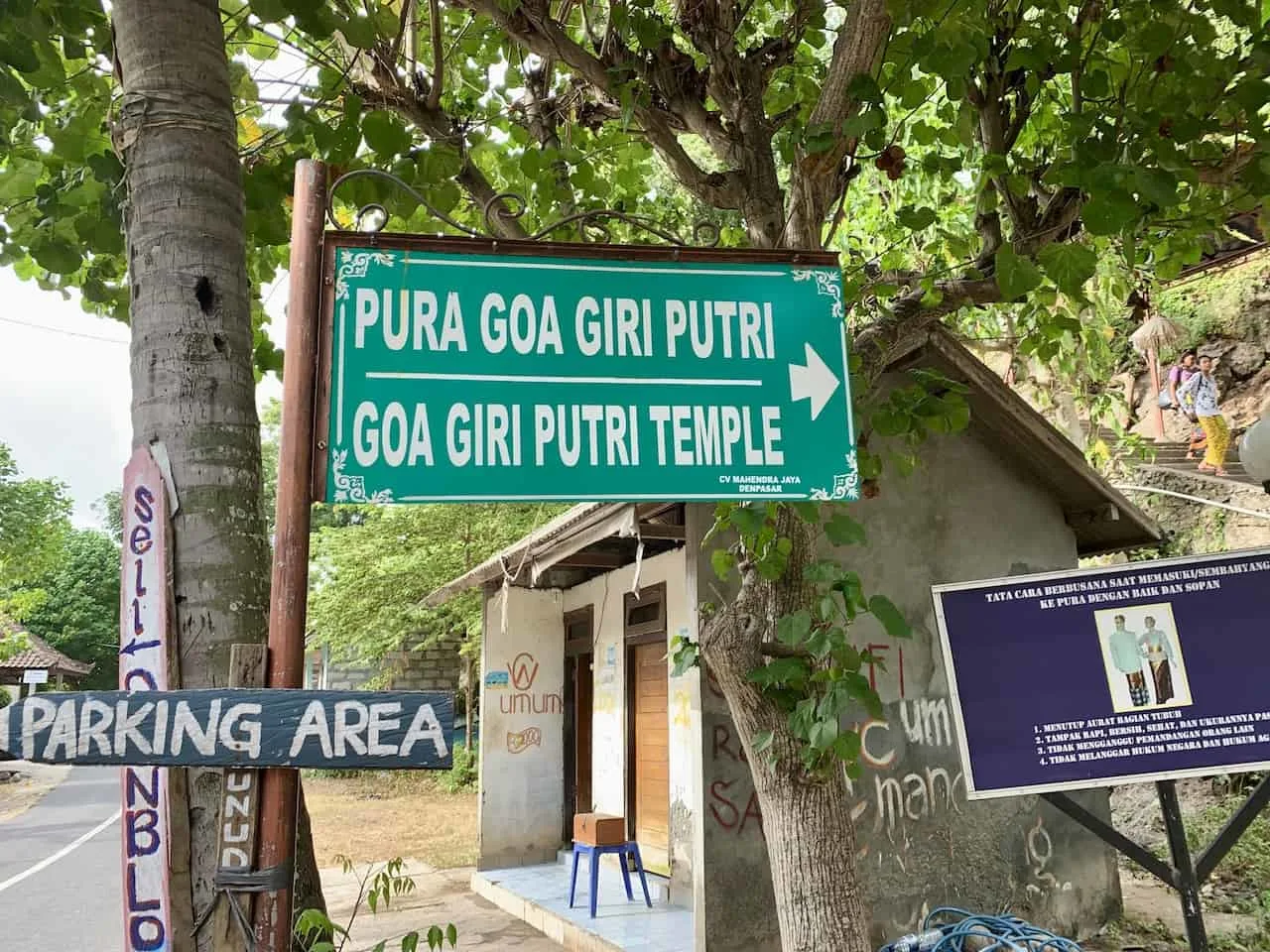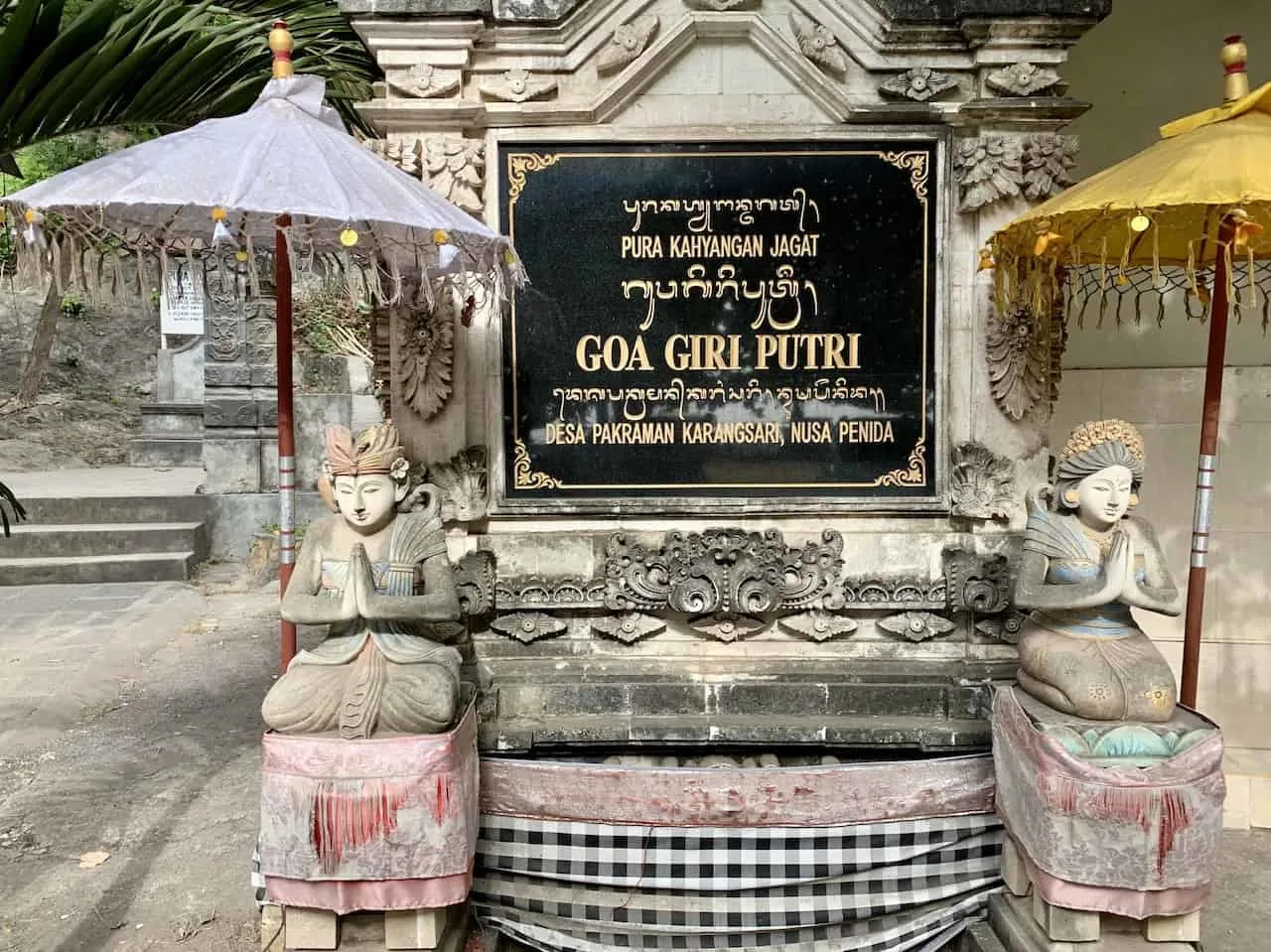 Once you are all parked, make your way across the street, where you will find signs pointing you up the staircase towards the temple.
When I arrived here, there was a ceremony going on outside of the cave temple. Apparently here is where people pray to ask permission before heading into the temple itself
There was a whole group of people chanting prayers and giving various offerings during the ceremony.
Once that ended, all of these people began exiting this outdoor section and made their way towards the rock wall besides it.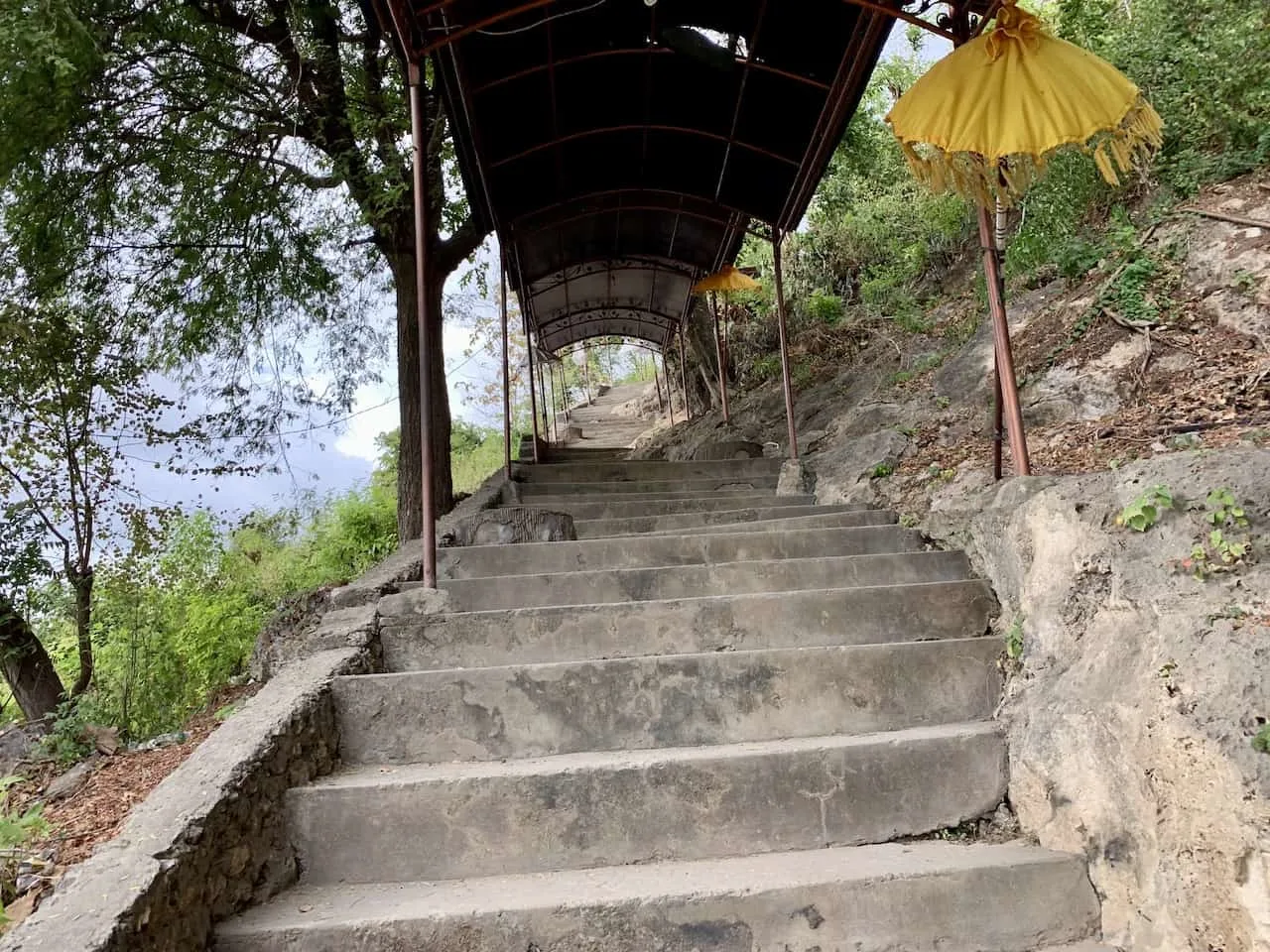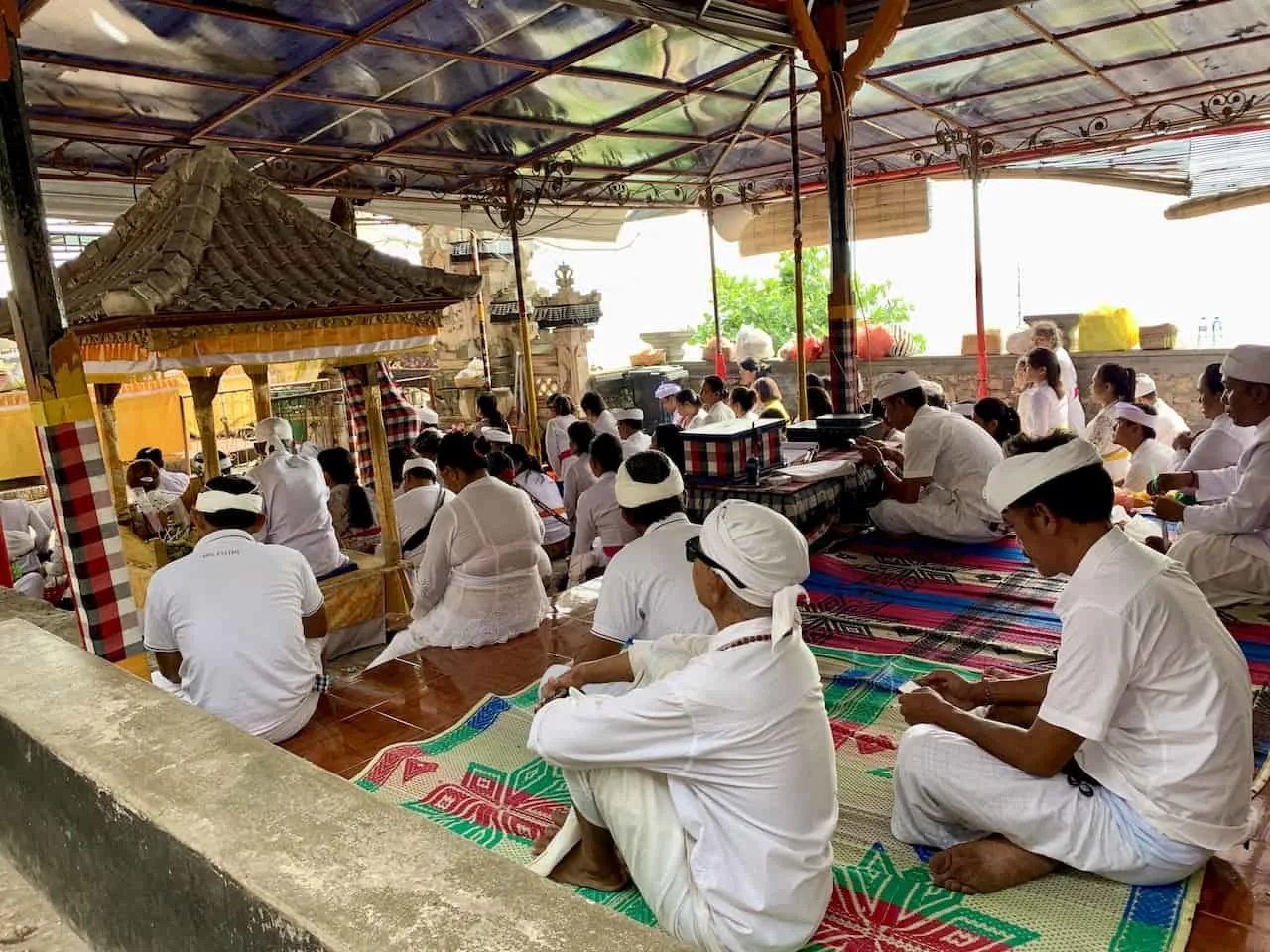 It is hard to notice at first, but there is just this small opening between the rocks that each and every one of these people will be squeezing through to get to the underground temple.
Once all the locals are through, it is time to head down for yourself to see what was going on in the cave.
Right when you go through this small hole, you will be welcomed to this enormous underground temple. Its height, width and length were all impressive and surprising as I would have had no idea such a chamber existed through that small entrance.
Once down in Goa Giri Putri, there may be numerous ceremonies going on throughout the cave. I slowly made the walk through listening and observing the various chants and prayers going on all around me.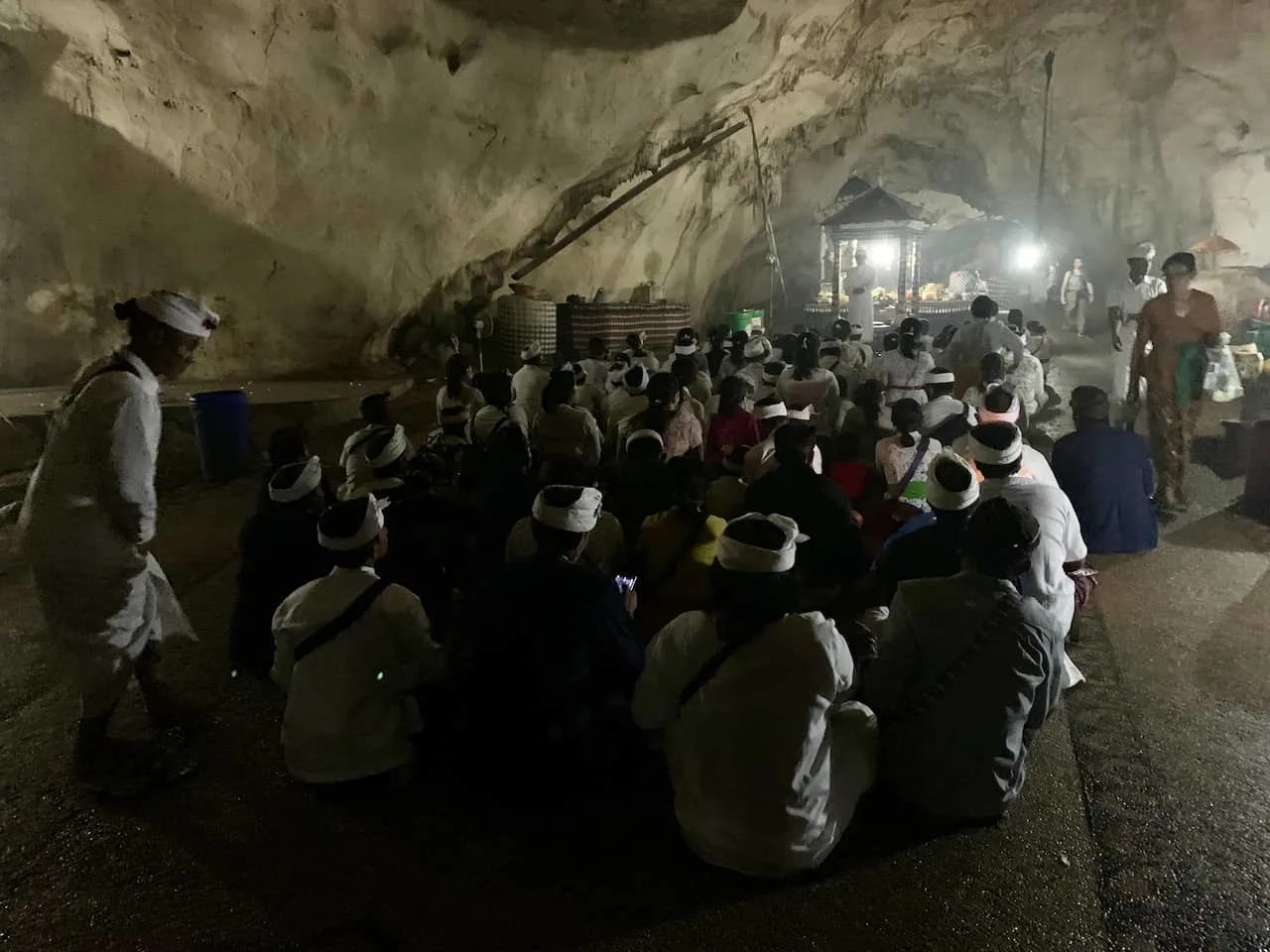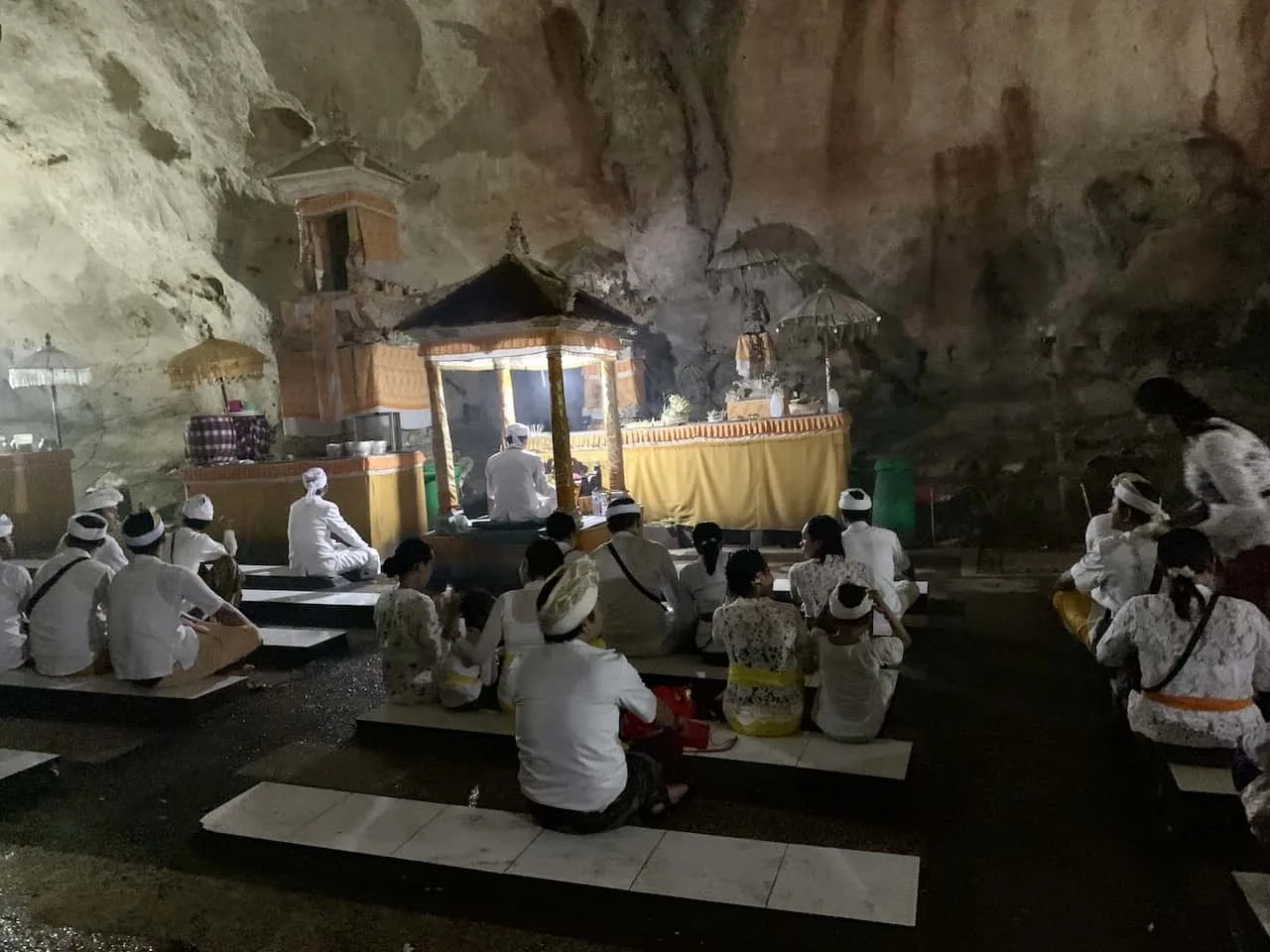 There is only one pathway to follow here as you walk through the cave and its ceremonies. You will then exit the main chamber and enter a smaller ceremony area. During my visit there was a ceremony going on where everyone was lining up for a holy water ritual.
After going through this last room, it is time to exit the cave temple (different exiting point than where you will enter), and head back down to the parking lot from there.
Overall, I couldn't have asked for a more intriguing, beautiful, and surprising visit. I was very happy that I decided to add Goa Giri Putri to the list of things to do and I highly recommend you do the same.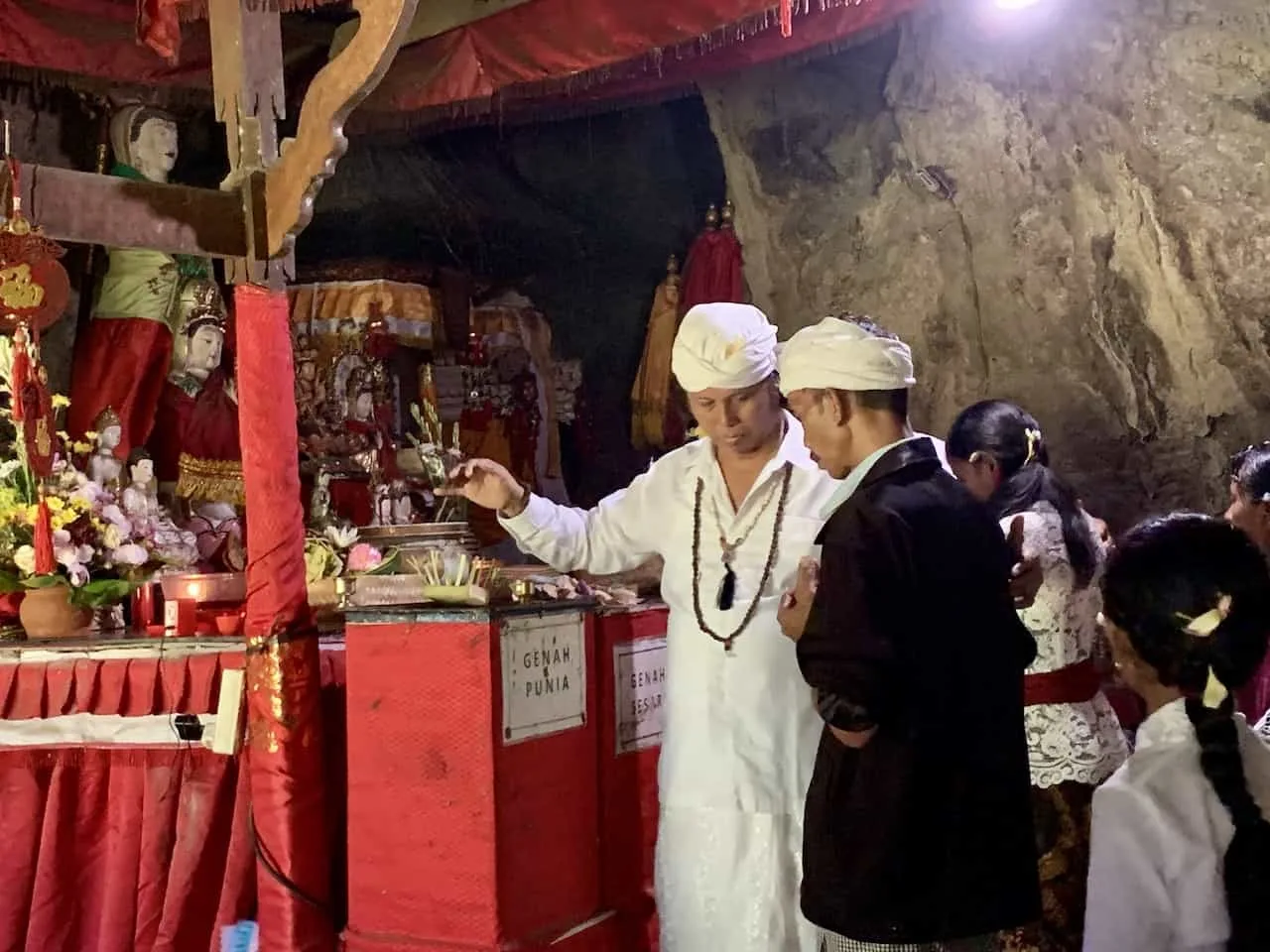 That wraps up your guide to the Goa Giri Putri Cave Temple of Nusa Penida. If you have any additional questions about the experience feel free to write them in below.
Also be sure to check out the other Indonesia itineraries and guides up on the site.
If visiting Bali you may also be interested in a 3 Day Ubud Itinerary, the Munduk Waterfall Trek, the Sekumpul Waterfall, and the Jatiluwih Rice Terraces.
Have fun out there and safe travels!