A trip to Bali isn't complete without spending a few days in the city of Ubud. From rice fields to waterfalls to temples, Ubud has it all and much more.
This 3 day Ubud itinerary will walk you through what a few days in the city can entail as well as give you some information on logistics and accommodation. By the end of the guide, you should be all set to head off to Ubud yourself.
* Affiliate Disclosure: This post may contain affiliate links, which means I may receive a commission if you make a purchase through the links provided, at no additional cost to you. Thanks for supporting the work I put into TripTins!
1) How to Get to Ubud
If you are planning on heading to Ubud, there may be several places where you will be coming from.
You could be coming internationally, from other parts of Indonesia, or just making your way there from another town in Bali. Below I will go over some helpful logistics for some options:
A) Internationally to Bali / Ubud
The great thing about Bali is that it is home to an international airport in the city of Denpasar (DPS).
You can catch direct flights into the airport from cities all over Asia and Australia. These include but are not limited to Sydney, Melbourne, Perth, Singapore, Kuala Lumpur, Bangkok, Manila, Seoul, Tokyo, Hong Kong and Shanghai.
Once you arrive at the airport, the easiest and most efficient way to get to Bali would be by an hour taxi ride. The cost would be anywhere from 300.00 IDR – 400.000 IDR ($20 – $25 USD) depending on driver.
Alternatively, you can use an app like Grab that will probably be a bit cheaper. The only couple things to think about are 1) you need to make sure to get cell service to order the car 2) you must exit the airport area as Grabs are not allowed to come in.
The last and cheapest option here to take the public bus to Batu Bulan and from there take a shared van or taxi/Grab to Ubud. The bus will cost less than $1 and the shared van portion around $3.
The downside here is the bus can take a while – at least an hour to Batu Bulan + 30 minutes to Ubud. Given you can also wait a while for busses, the journey can take well over 2 hours.
» Driver Hire Option: Private Bali Airport Round-Trip Transfer
B) Domestically to Bali / Ubud
If you are already in Indonesia and looking to head to Ubud for your next stop, there are a two main ways to get yourself onto the island of Bali – by plane and by boat.
» If coming from places like Jakarta, Flores, or Sumatra, which are all a bit far from Bali, then you can easily take some domestic flights to get into the Denpasar Airport.
From the airport you can just follow the directions above to get yourself to Ubud. Some of the main airlines that fly domestically within Indonesia include Lion Air, Garuda Indonesia, Wings Air, Citilink, AirAsia, Batik Air among a few others.
On the other hand, if you are coming from places like East Java or Lombok, you can easily take a boat to Bali. These boats however can get you into different ports on Bali depending where you are coming from.
» From East Java there are consistent passenger/car ferries that make the 30 minute journey between Ketapang and Gilimanuk. Simply show up to the ferry terminal, pay the small fee and you will reach Gilimanuk located on the very western end of Bali.
The ride from the ferry terminal to Ubud will be around 3 hours and can cost around 700.000 – 800.000 IDR ($45 – $50 USD). Check out the Java 1 Week Itinerary to learn more about this amazing island!
» From Lombok or any nearby islands like Gili Trawangan, you will want to purchase tickets through a ferry operator. There will be plenty to choose from and all these boats will get you to Sanur (40 minutes to Ubud), Serangan (50 minutes), or Padang Bai (60 minutes).
Feel free to take a look at the different schedules and prices for all routes to Bali from surrounding islands.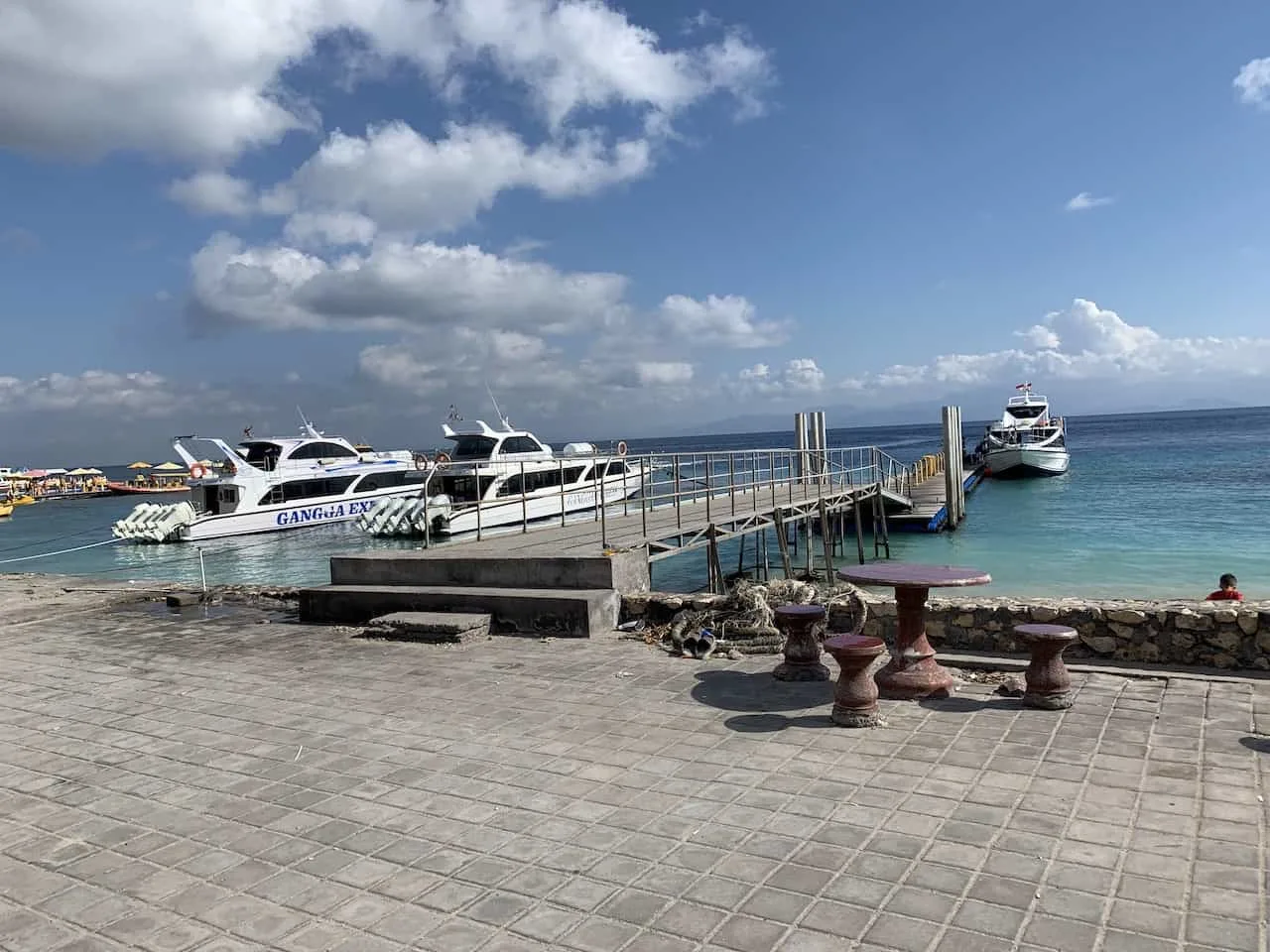 C) Other Bali Cities to Ubud
Lastly, you may already be on the Bali – whether it be Seminyak, Kuta, Munduk, or any other place on the island.
As you can tell from the above, the easiest way to get to Ubud is to simply negotiate with and hire a taxi to get you there. While there is a public bus, it can be quite slow and schedules can be hit or miss.
Your other option is to rent a scooter for your time on the island and return it at the end of your trip. Scooter rentals are relatively cheap (around $5 – $10 per day + gas) and they can get you around to anywhere you would want to go on Bali.
The only thing I would say here is that I can only recommend you doing so if you are 100% confident in your abilities.
I have seen and heard of many accidents on the road by inexperienced drivers so only go ahead with a rental if you have the necessary experience.
2) Getting Around Ubud
Once you have arrived in Ubud, you will need to figure out how to get yourself around to the all the nearby attractions and activities.
Since some of the attractions around Ubud are not located within the city itself, you will want to make your way out of the immediate city to get the most out of your trip.
I will recommend a few main options here – hire a driver for the day, rent that scooter or join some group tours.
If following the itinerary below, day 1 will require a driver, scooter hire, or group tour, day 2 can be just done by walking, and day 3 will require a tour.
A) Driver Hire
If you are with a group of people, an easy and cost efficient way to go about your time in Ubud is to simply hire a driver for a day or two when visiting places further out.
A driver for a full day tour will be pretty affordable – around $40 – $50 USD. Splitting that cost among a few people and you are looking at around $10 – $15 USD per person.
All you would need to do is let your driver know which attractions you are most interested in and you will be on your way from there.
They can also be helpful in regards to answering any questions you may have or recommending other places to visit during your time in the city. You can either hire a driver once you arrive in the city or you can set up a driver beforehand.
Book a Private Driver Before You Go ⇔ Bali Private Car With Driver
B) Scooter Hire
As mentioned earlier, hiring a scooter is another option when visiting Ubud. But only do so if you are 100% confident with your driving abilities.
Within the Ubud city limits, you should see many options to rent a scooter for around $5 – $10 USD per day. It is also possible that your guesthouse can help organize something for you as well.
» A couple recommended scooter places to check out are Ubud Scooter Rental and Darma Putra Bali Rentals.
C) Group Tour Options
If you are a solo traveler, want to save some money and are not comfortable on a scooter, I would recommend joining in on some group tour options. These tours will pick and choose several sites and activities around the Ubud area and give you time to enjoy each one.
It is also a great way to meet other travelers along the way. I will recommend some options further along in the guide when going over the day by day attractions.
3) Where to Stay in Ubud
As Ubud is one of the more popular destinations to visit on Bali, there are a ton of different options to choose from.
You can decide to stay within the city center itself and be in close proximity to all the restaurants and shops or you can decide to stay a bit further out of town in the serenity of the rice fields and surrounding nature.
By doing so you may not be walking distance to the center but you will have quite a relaxing experience. Below are some highly rated recommendations by price point for both options:
City Center
Outside City Center
Ubud Itinerary Overview
Below is a high level overview of the attractions you can see during 3 days in Ubud. I have split up the days with what makes most sense from a logistical standpoint.
In the following sections you can get a better idea of what each attractions entails. Scroll down to the end of the guide for a map view of where everything is located.
Ubud Day 1
1. Goa Gajah
2. Kanto Lampo Waterfall
3. Pura Gunung Kawi
4. Pura Tirta Empul
5. Tegalalang Rice Terraces
Ubud Day 2
1. Sacred Monkey Forest
2. Saraswati Temple
Ubud Day 3
1. Mount Batur Sunrise
2. Relax Ubud
4) Ubud Day 1
For your first day in Ubud, you can head out to 5 main attractions outside the city center. This is the day when it would make the most sense to hire a driver to take you around (or hire your own scooter).
Here are some tour options you can choose from, however note that they may not go to each place mentioned below.
Goa Gajah
Opening Hours: 8:00AM – 4:30PM
Ticket Price: 50.000 IDR
Start off the day by heading to Goa Gajah, also known as the Elephant Cave. Here you find a Hindu archeological site with its main attraction being a unique cave temple.
You will also find some other sections of the site including a pond, waterfall, and garden.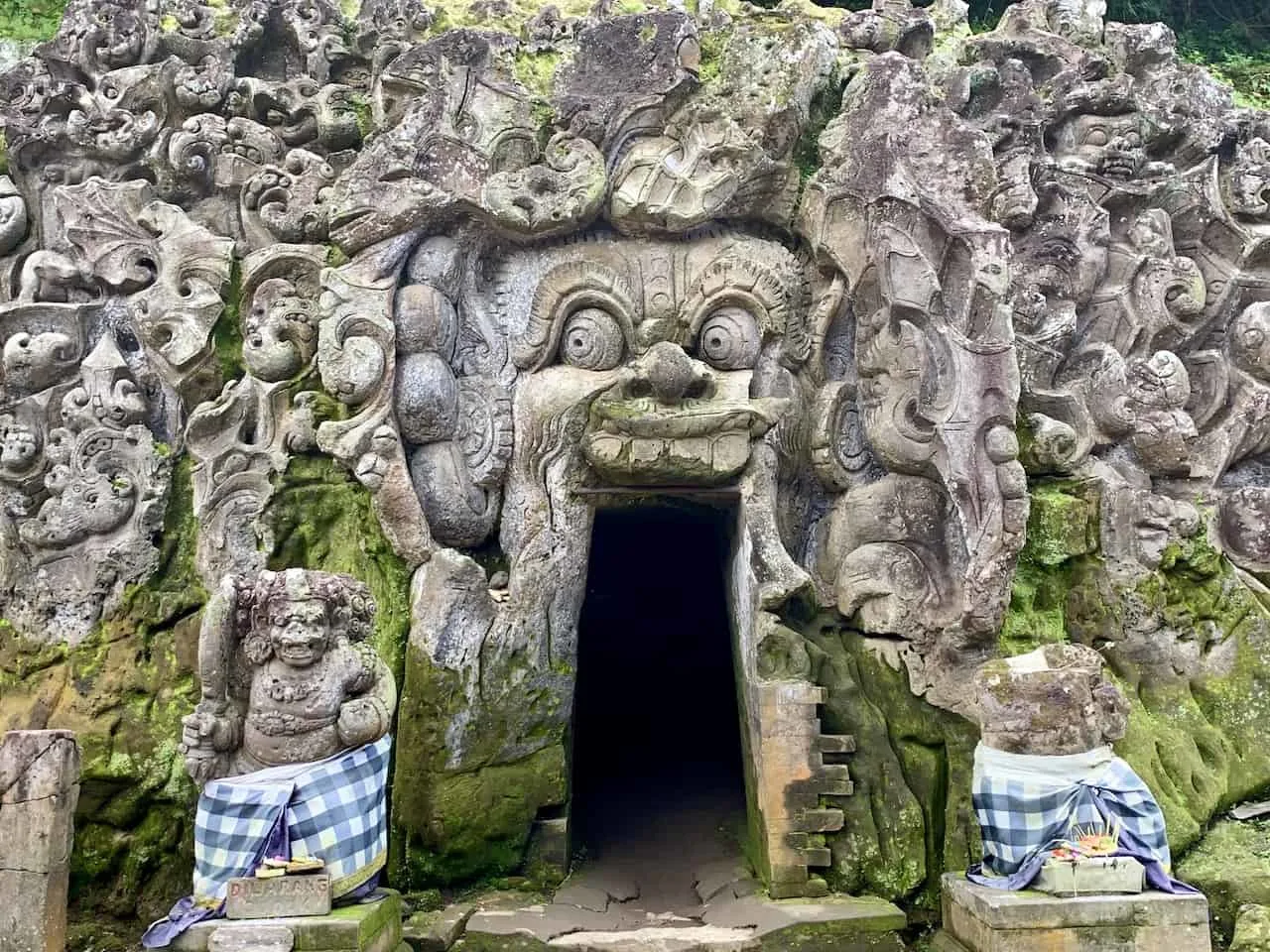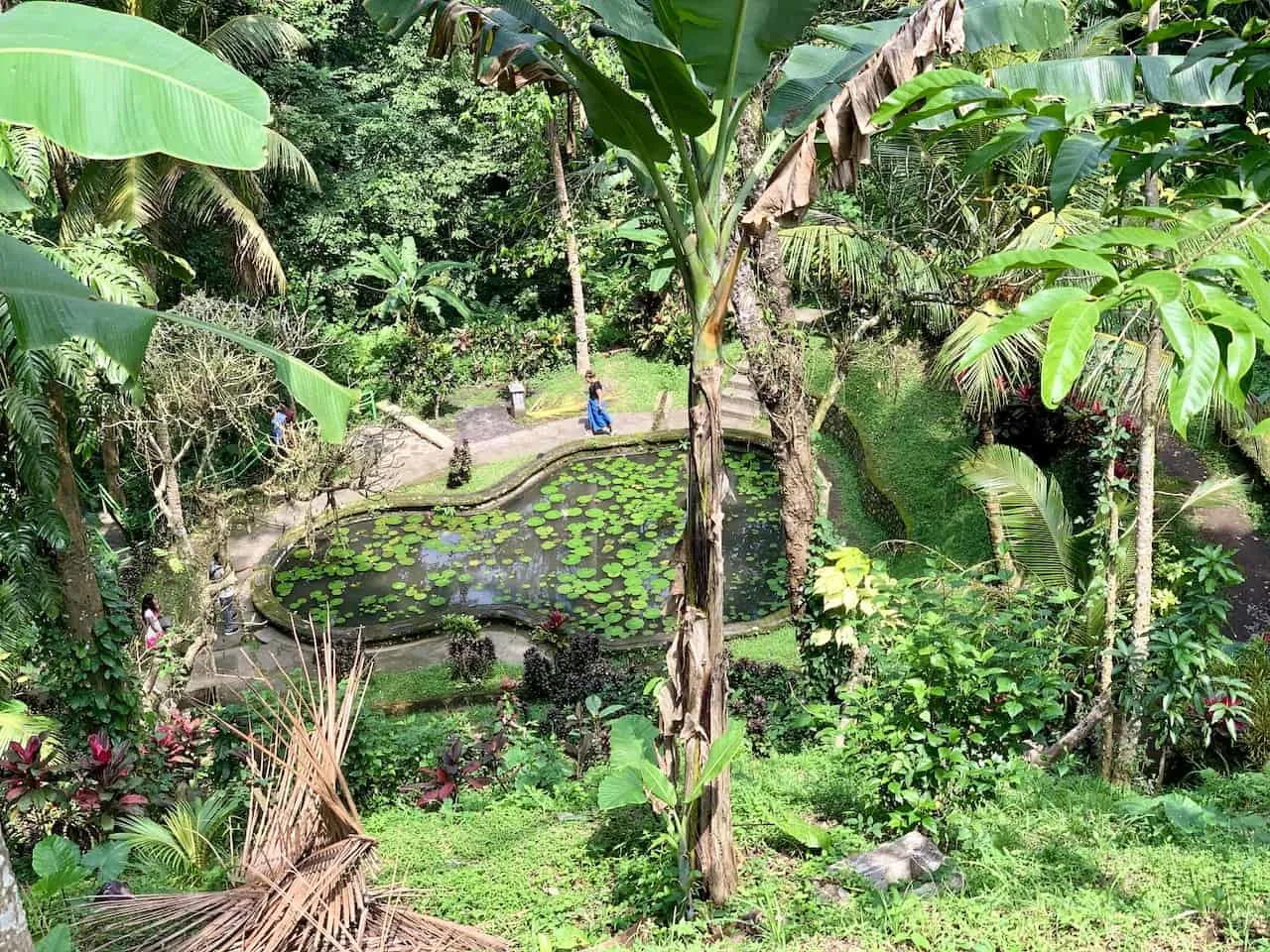 Kanto Lampo Waterfall
Opening Hours: Always Open
Ticket Price: 15.000 IDR
One of the best waterfalls in Bali is the Kanto Lampo waterfall. Heading to the waterfall at the start of the day is your best bet to avoid many of the crowds that are sure to come in later on.
Here you will find a scalable rock face with the water coming down from above. Be careful as you do climb since it is obviously pretty wet up there.
→ Learn more in the Kanto Lampo Waterfall guide up on the site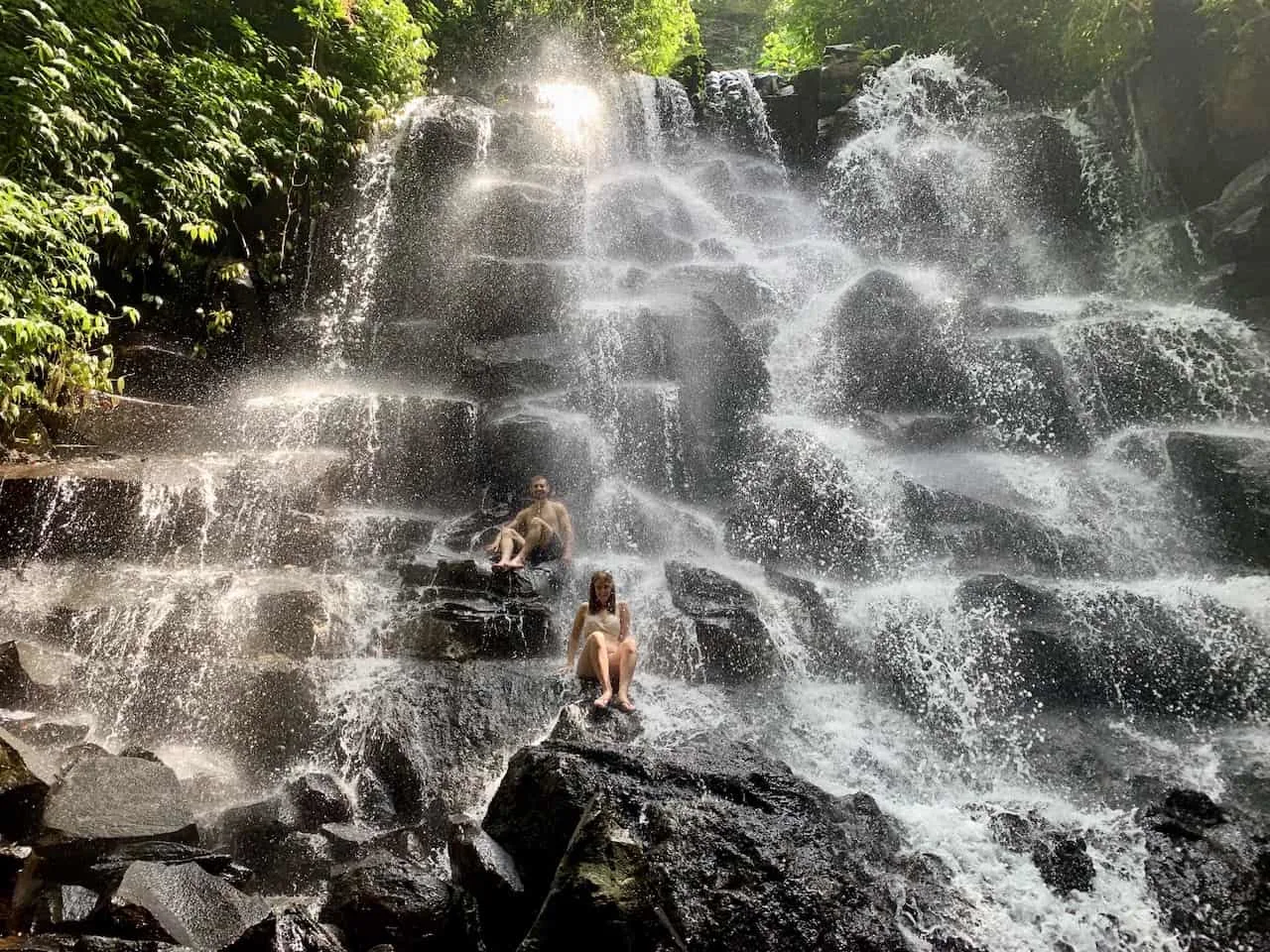 Pura Gunung Kawi
Opening Hours: 8:00AM – 6:00PM
Ticket Price: 50.000 IDR
One of my favorite stops on my Ubud itinerary was the Pura Gunung Kawi temple. Unlike some of the other stops around the area, Pura Gunung Kawi was mostly empty of tourists and it offered a beautiful temple ground.
The highlight were the various massive structures that were built into the wall itself. It was incredible seeing the detail and hard work put into building such a place.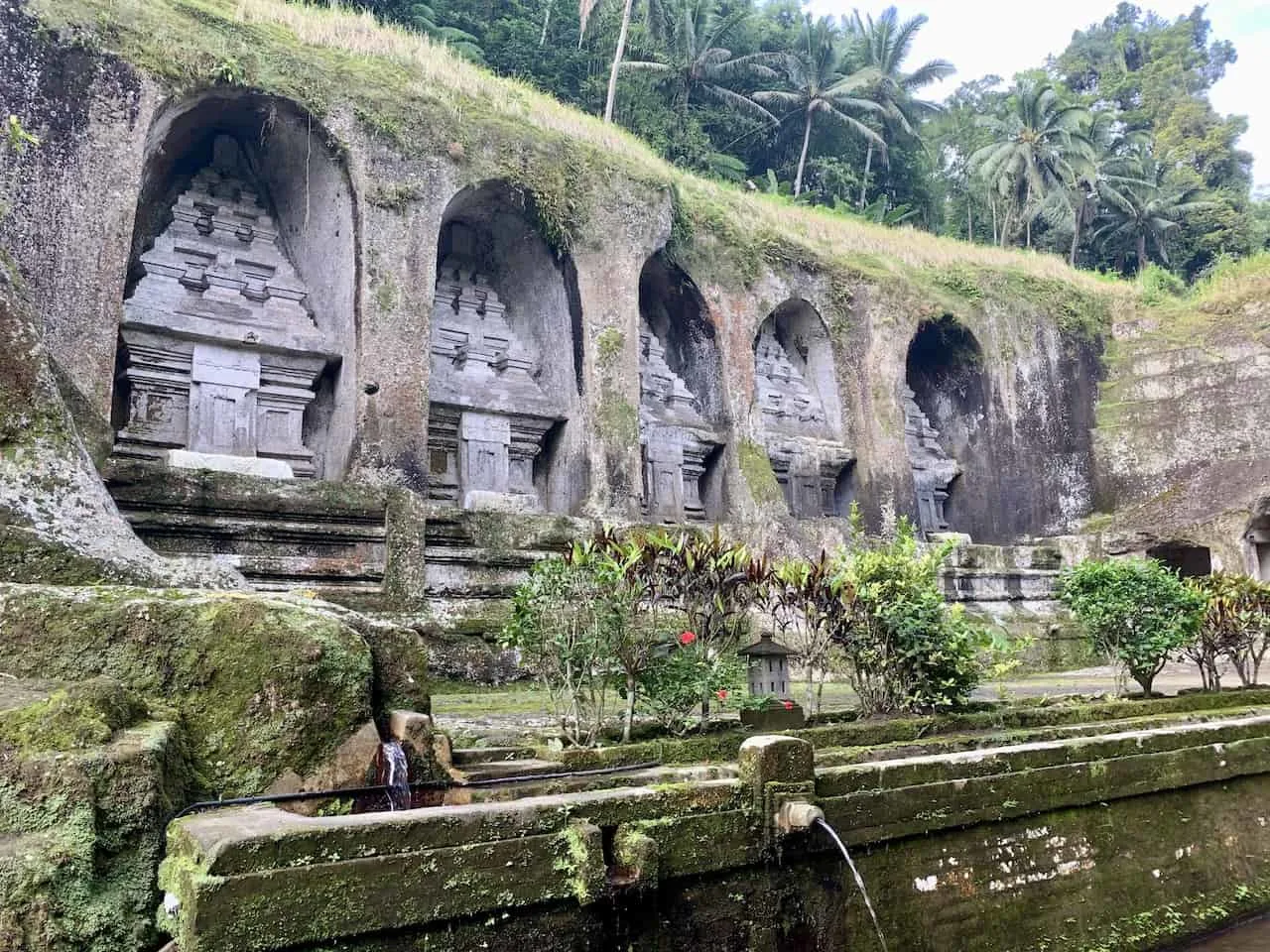 Pura Tirta Empul
Opening Hours: 9:00AM – 5:00PM
Ticket Price: 50.000 IDR
You last temple stop of the day can be at the well-known Pura Tirta Empul water temple. This temple will be unlike any others you have come across, probably anywhere.
At Pura Tirta Empul you will see many people in the main water section of the temple, as they cleanse themselves with the water coming out of the various spouts.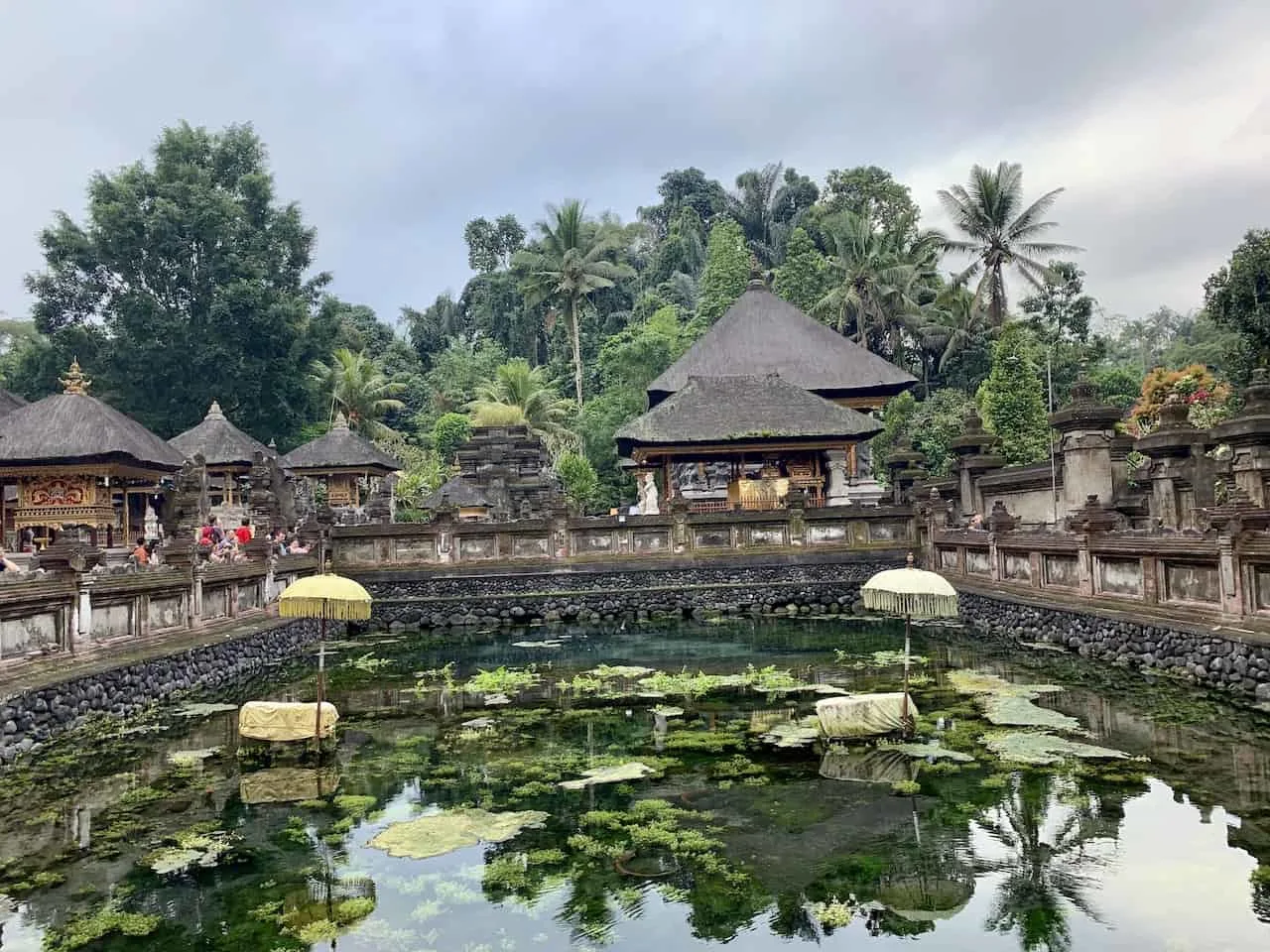 Tegalalang Rice Terraces
Opening Hours: 8:00AM – 6:00PM
Ticket Price: 10.000 IDR
End your day at the Tegalalang Rice Terraces, the most famous in all of Bali. Rather than a large open area of terraces, Tegalalang features more dramatic terraces within a narrow valley.
In order to visit them, you will need to head down from the main road into the terraces, where you can then walk all around, enjoying different angles and viewpoints.
You are also sure to come by all sorts of different swings and picture opportunities as you make your way around. Usually to go on these swings, baskets, etc. you will need to pay a few dollars.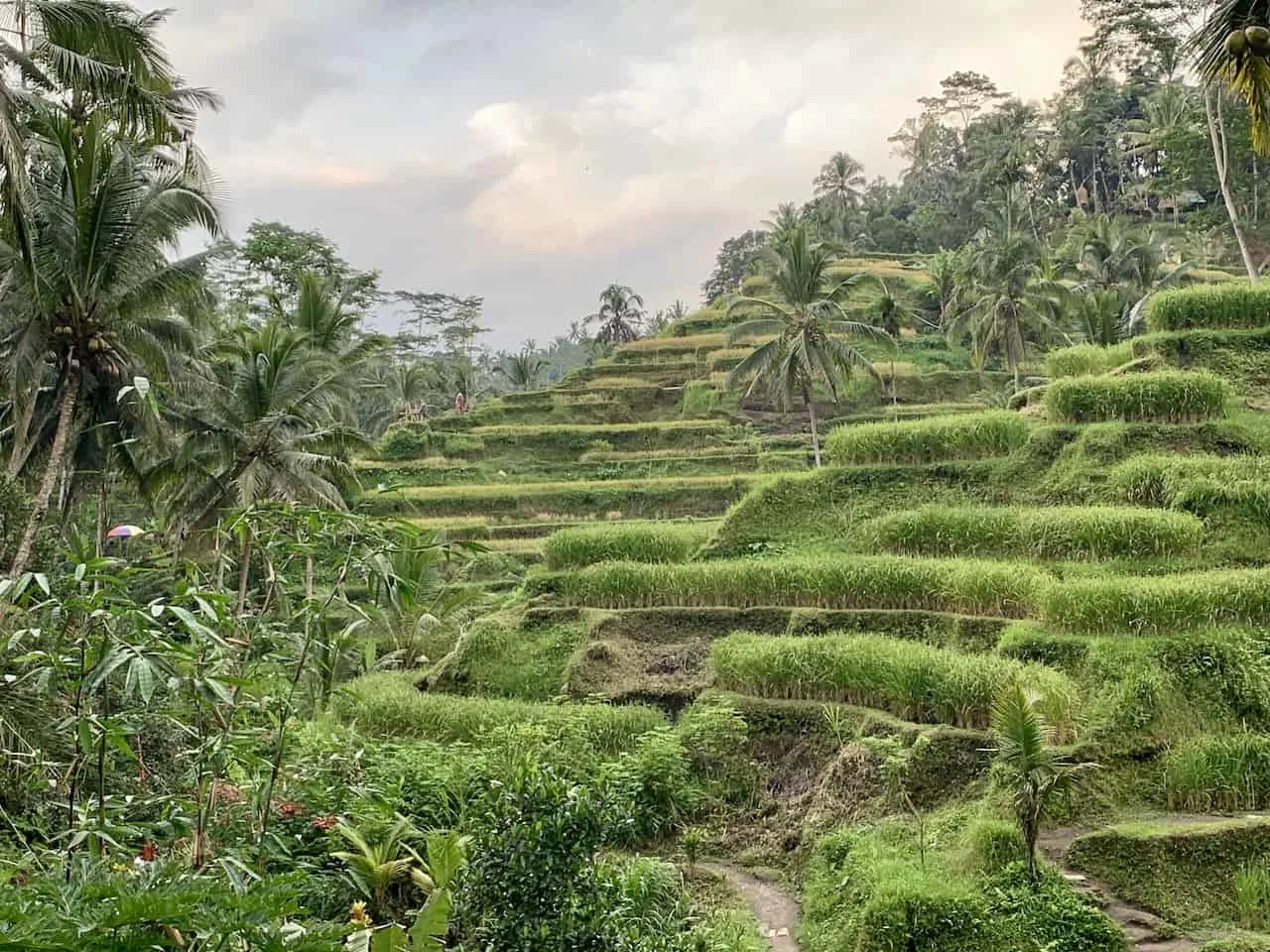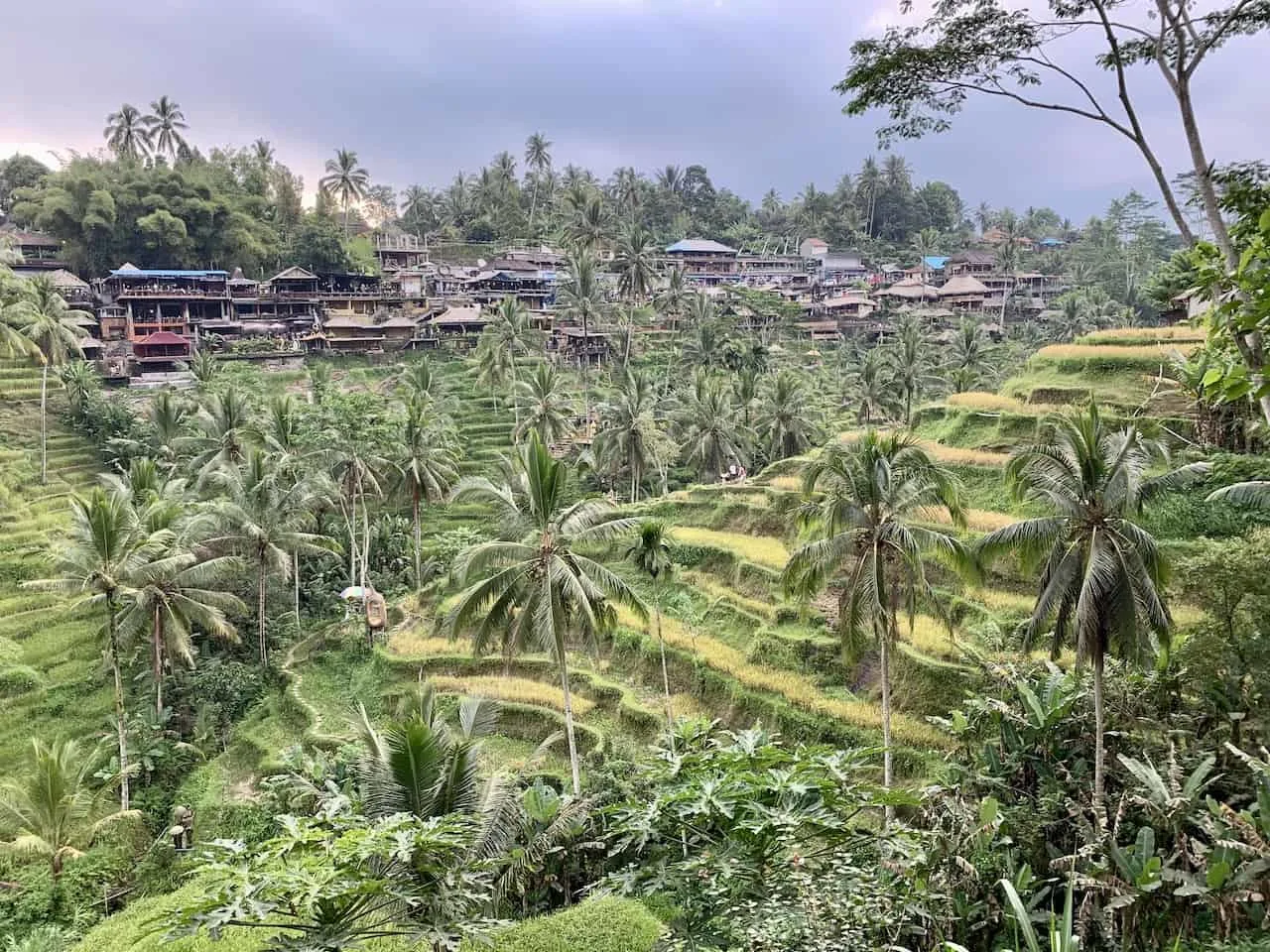 5) Ubud Day 2
On your second day in Ubud, you can take some time to walk around the city itself and enjoy two highlights located in the city limits.
Later on in the day I would recommend getting an earlier bedtime as you will need to wakeup in the middle of the night for your sunrise climb up Mount Batur.
Sacred Monkey Forest
Opening Hours: 8:30AM – 6:00PM
Ticket Price: 80.000 IDR
The Sacred Monkey Forest is one of the most well known and visited sites in Ubud. Here you will find a huge complex with monkeys hanging out in every which direction. Now this is not a zoo whatsoever, the monkeys are not caged.
They are free to roam around as they please into and out of the complex. Walking around the area and enjoying being surrounded by all these monkeys is sure to be an incredible experience to take part of.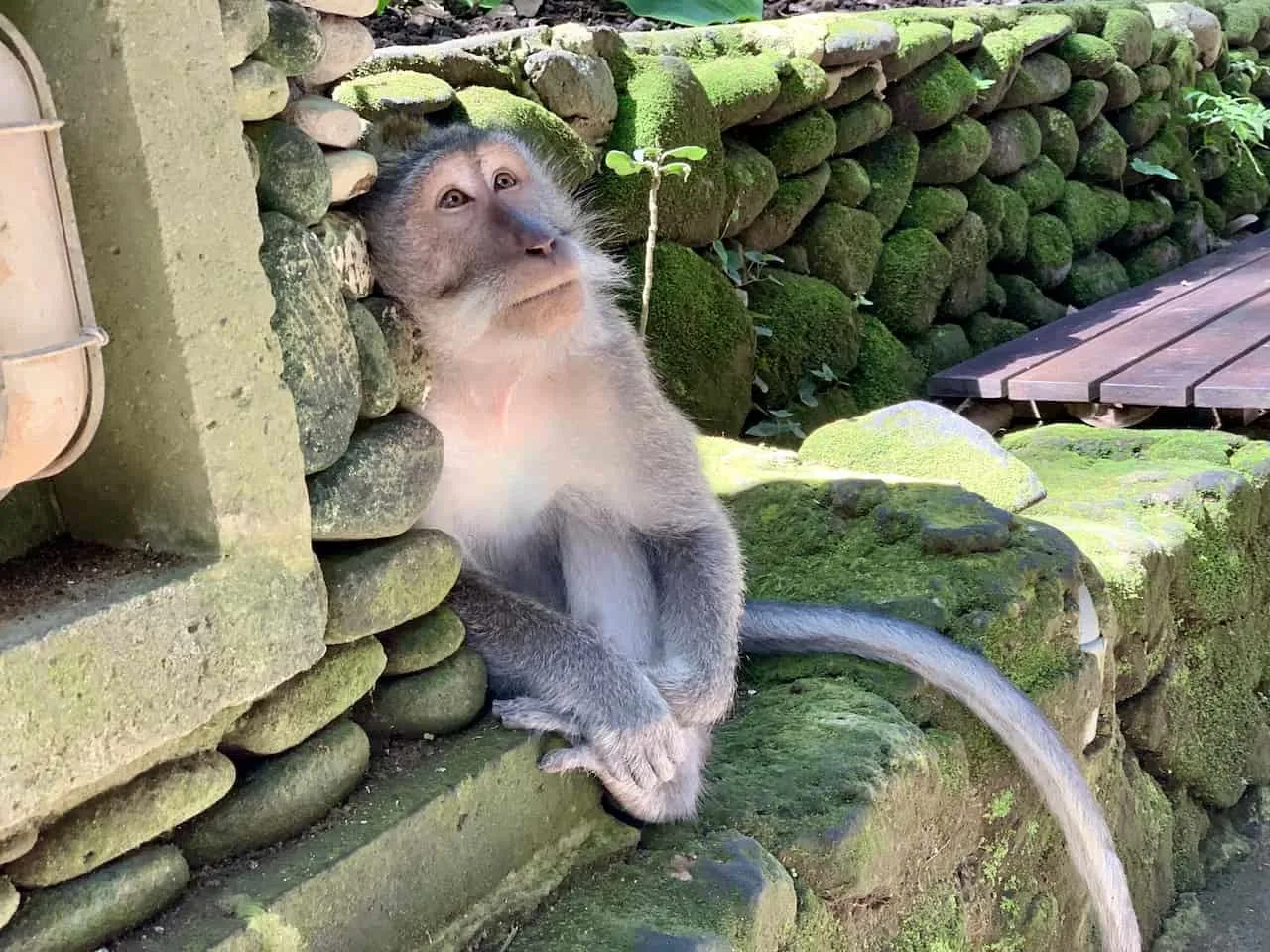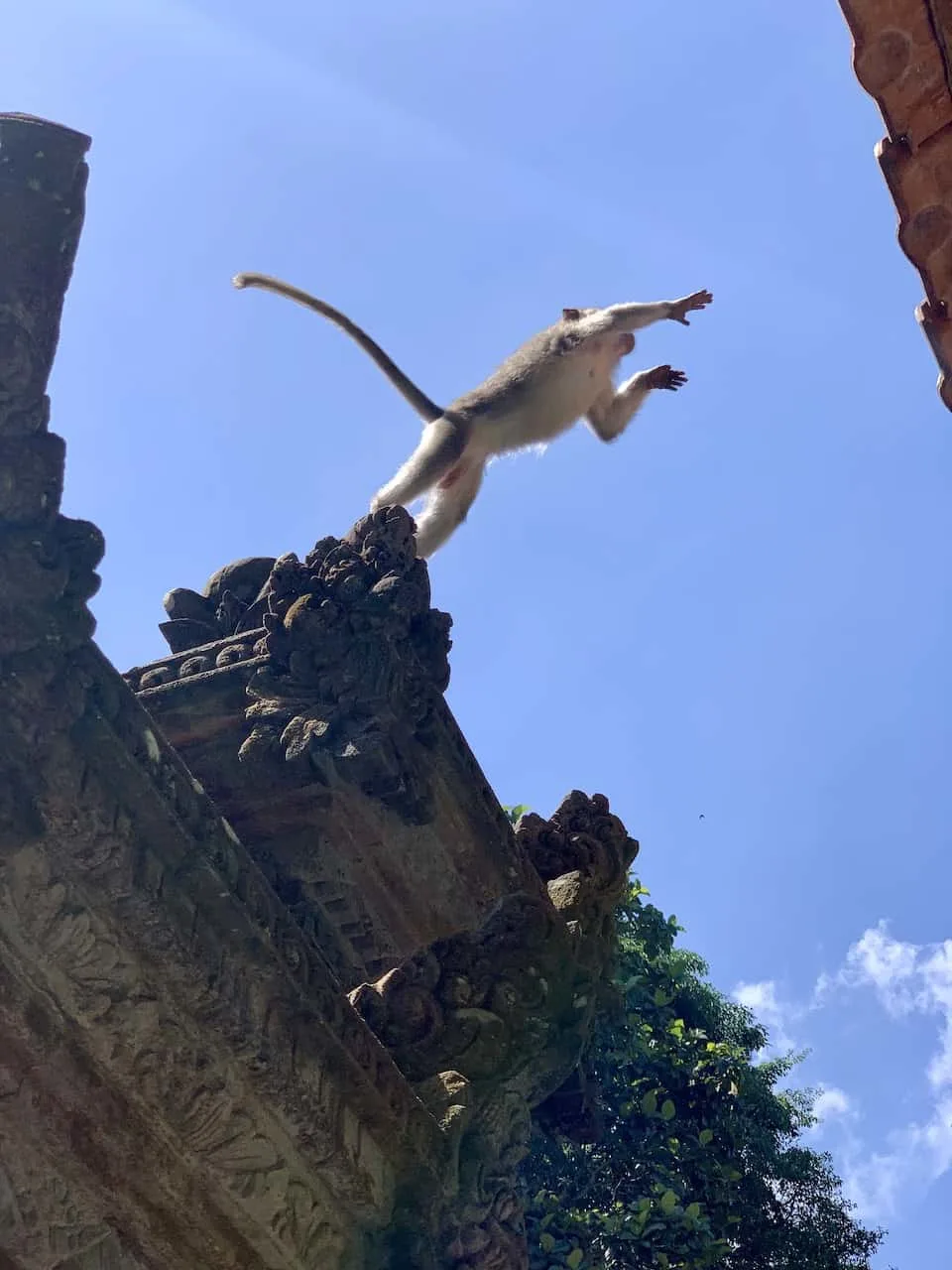 Saraswati Temple
Opening Hours: 7:00AM – 5:00PM
Ticket Price: Free
After enjoying a couple hours with the monkeys, you can make the walk to the Saraswati Temple, which is also located near town. From the monkey forest it is about a 20 minute walk. Here you will find a beautiful temple area with lily pad filled ponds leading up to the main structure.
Another option here is to have drinks or food at one of the restaurants that overlook the temple and ponds, making for a very scenic lunch spot.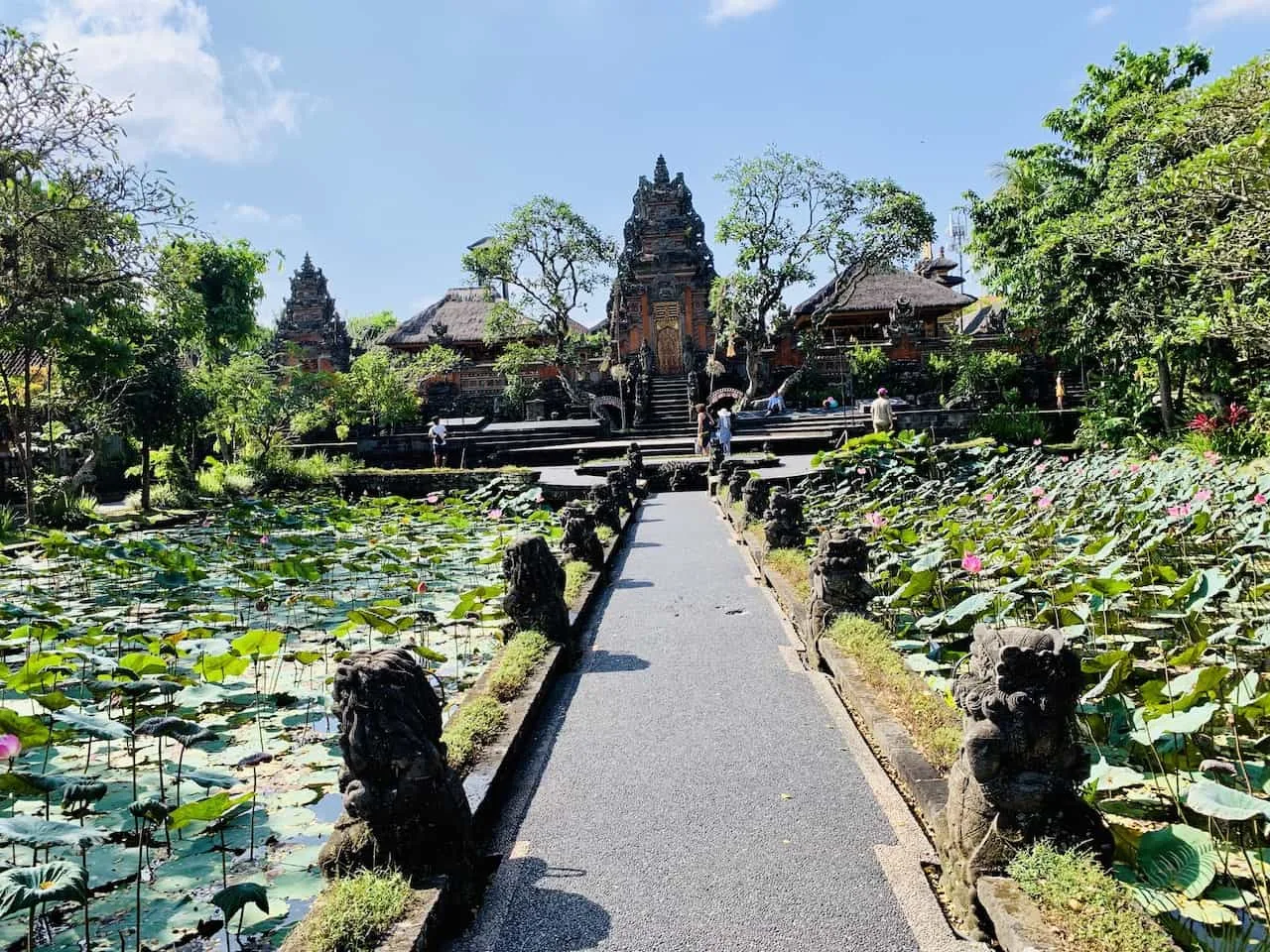 Once all done with the two attractions, feel free to roam around the city center for a bit and end your day on the earlier side. Rest up, as you will have a 2AM wakeup the following day.
6) Ubud Day 3
On your last day in Ubud, you will make the climb up Bali's most famous volcano – Mount Batur.
The volcano is located further towards the north side of the island, around an hour or so drive from Bali to the base of the volcano. In order to take part of the hike, you absolutely must have a guide.
Not because it is difficult or hard to figure out, but because the mountain is basically controlled by the locals.
They simply don't let anyone near the entrances without a local guide. Here are a couple highly recommended tours to join when climbing Batur:
Once you reach the starting point you will start the 2 hour climb up to the top. The climb itself is not too difficult as the path is pretty maintained and not too steep. Once up top, find a nice spot to sit and wait for the sun to rise over Bali.
After sunrise is complete, I would recommend walking the ridge and making the full loop back to the main path. Having the chance to take in these new views will surely not disappoint.
You can then head right back down the main path until you are back at the starting point and will head back to Ubud from there.
Along the way you may have the chance to stop off at a fantastic viewpoint overlooking both Mount Batur and Mount Agung as well as a tea/coffee plantation. You should be back in Ubud by 11AM or so, where you can have some lunch and then rest for the remainder of the day.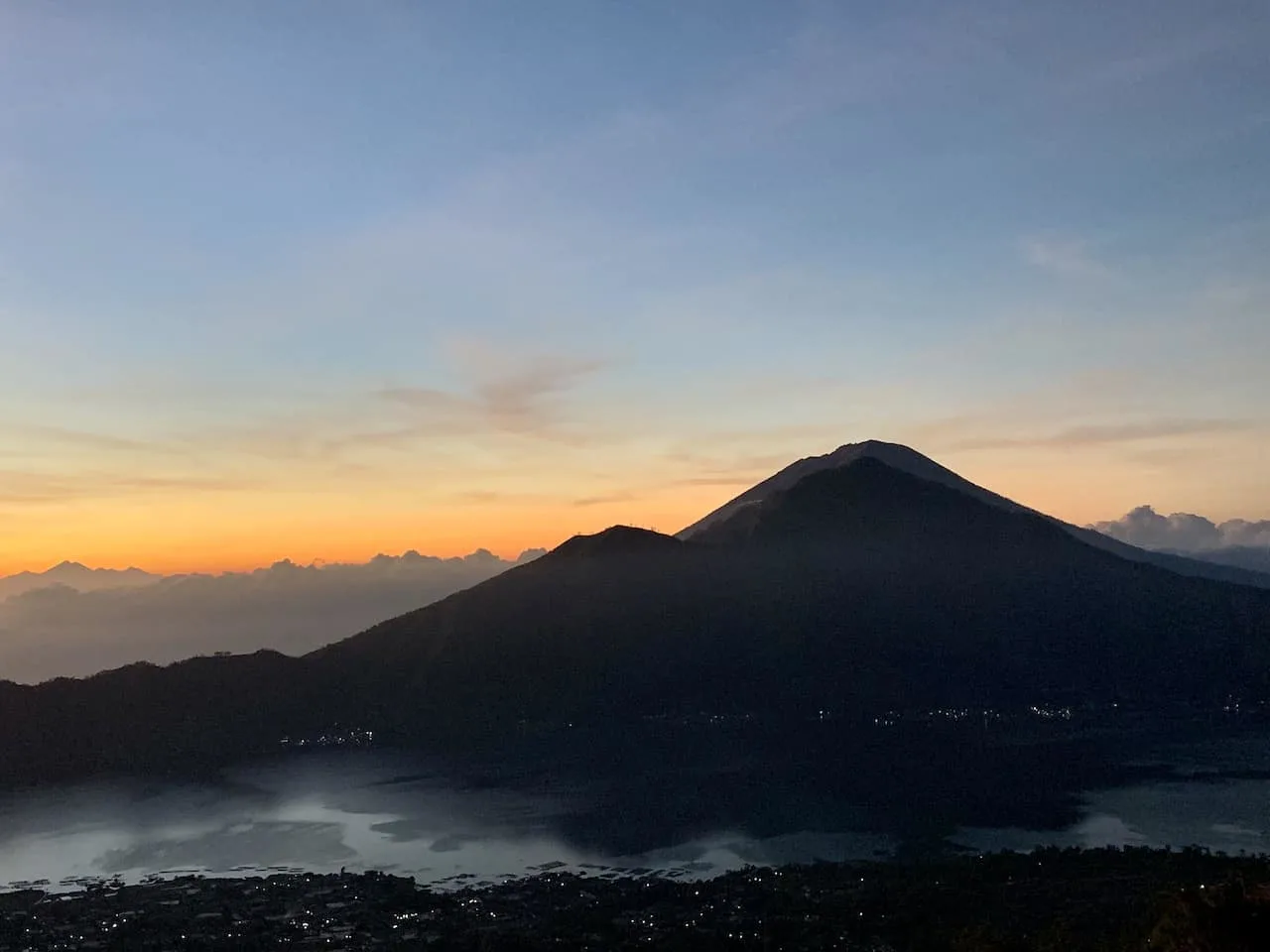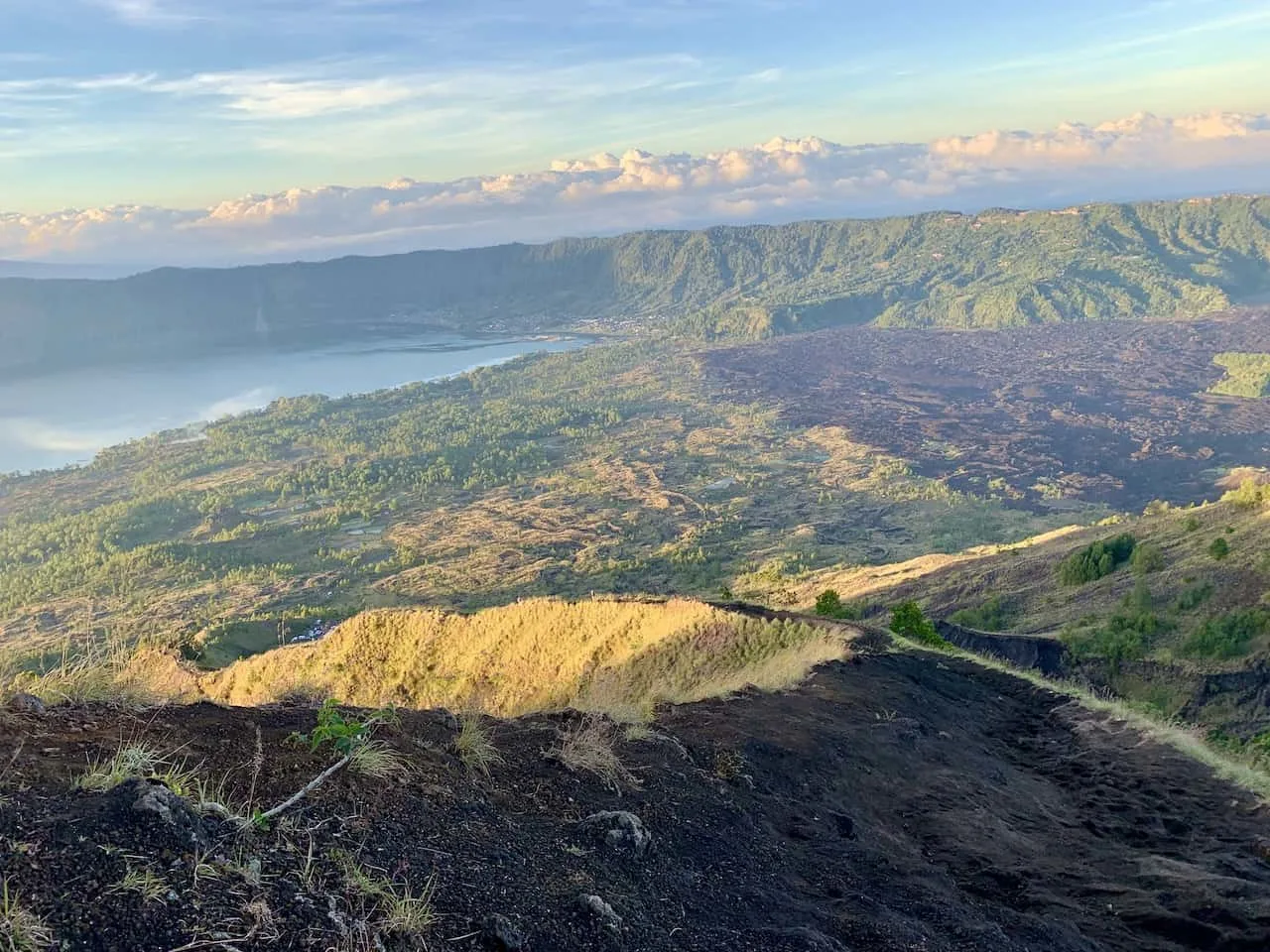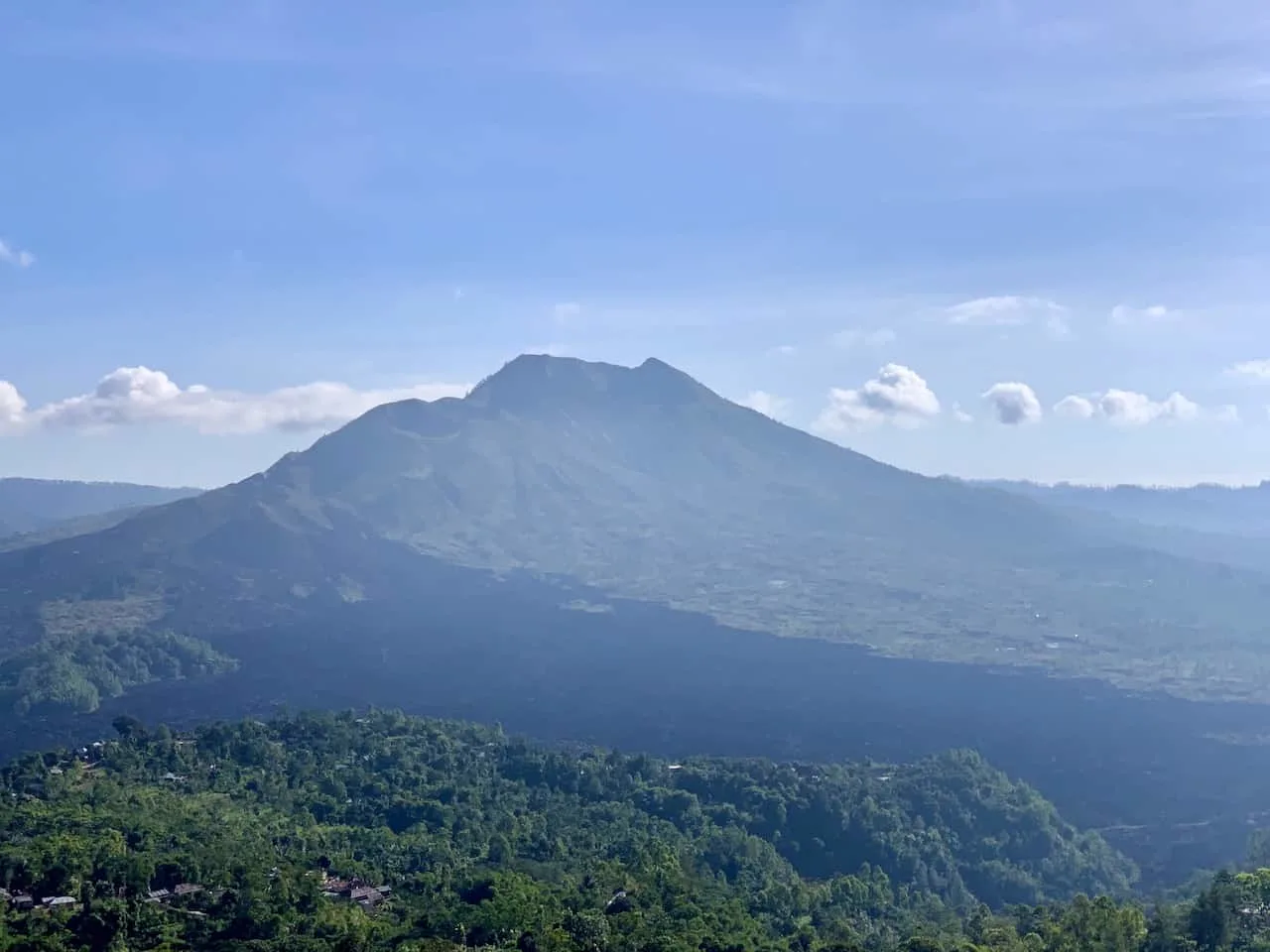 After 3 days in Ubud, you can then decide where to head off to next as part of your time in Indonesia.
You can head to other places on Bali like Munduk or Seminyak or head to other islands like Java, one of the Nusa islands, the Gilis, or further out.
» Feel free to check out some other Indonesia guides such as the Munduk Waterfall Trek, Hiking Mount Rinjani, and the Tumpak Sewu Waterfall.
7) Ubud Map
Now that you have a good idea of everything to expect for a 3 day Ubud itinerary, I wanted to show it all from a map view perspective. Below are all the attractions and activities mentioned above.
That about wraps up your guide to a complete Ubud itinerary. If you have any questions or comments be sure to write them in below.
Also don't forget to check out the other Indonesia itineraries and guides up on the site.
Have fun out there and safe travels!