When it comes to islands in Indonesia, there are few that compare with what Gili Trawangan has to offer.
Beaches, nightlife, sunsets, scuba diving, snorkeling, food markets, and much more can be found all throughout this small but remarkable island near Lombok.
While Gili Trawangan (or Gili T for short) is small in size, there really is so much to do in and around the island.
This guide will go over everything there is to know about Gili Trawangan and how to best plan your trip to this Indonesian island.
* Affiliate Disclosure: This post may contain affiliate links, which means I may receive a commission if you make a purchase through the links provided, at no additional cost to you. Thanks for supporting the work I put into TripTins!
1) Gili Trawangan Overview
To start, I wanted to summarize some helpful facts and things to know about Gili Trawangan. Throughout the remainder of this post, I will be diving deeper into these various topics.
Island Name: Gili Trawangan or Gili T
The name Trawangan is derived from the word Terowongan, which means Tunnel.
That is because there is a tunnel that was built on the island by the Japanese during WWII.
Island Group: Gili Islands
Gili T is part of the larger group of Gili Islands.
This set of islands also includes Gili Meno and Gili Air. Both of these are just a short boat ride away.
Closest Main Island: Lombok
The Gili Islands are located just off of the coast of the northwest part of Lombok island.
Lombok is home to the closest airport (LOP). You can also reach the Gilis from Bali & the Nusa islands (more on all that soon).
Gili Trawangan Size: 3 km (1.9 miles) long & 2 km (1.2 miles) wide
At just 6 square kilometers (2.3 square miles), Gili T is actually the largest of the Gili Islands.
The best part of its size, is that you can really enjoy the full island without much hassle.
Gili Trawangan Transport: Walking, Bicycles, & Cidomos
The Gili Islands are known to have no motorized vehicles on the islands.
This means the main way to get yourself around will be by simply walking, renting bicycles, or taking a cidomo (horse drawn carriage).
Time of Year to Visit: May to September (dry season)
In order to get the most out of a visit, it is recommended to go the island during its dry season.
This usually lasts from May to September. I visited during mid-June, and had picture perfect weather all the way through.
Is Gili Trawangan a Party Island: Yes (and No)
When it comes to nightlife in Indonesia, Gili Trawangan is towards the top of the list. But just because it is known for its nightlife, doesn't mean it is all about the nightlife.
When I visited, I anticipated the nightlife scene to all be very loud and crowded. And while you have those spots, there are also many calmer & more relaxing nightlife options out there too.
This makes it the perfect island for those that want the "party" nightlife and also want that more laid back nightlife – whether that is a beanbag on the beach or a relaxing sunset.
You can really make a trip to Gili T to suit what you want most out of your trip.
Helpful Things To Know
To wrap up this section, here are just a few important things to know about life on Gili T:
There are many ATMs on Gili T, so do not worry too much about bringing enough cash with you. There are plenty in the city center.
While there is no hospital on Gili T, there are some clinics. So, if you do get sick or need medical aid, there are some spots to choose from.
Looking for a haircut? Head to the north shore, where you can find a barber shop on the beach. It was by far my favorite barber shop location when traveling the world.
If you are in need of a massage, you should have no trouble finding some spots in town. Prices are very reasonable and it is of course a relaxing thing to do during your time there.
And finally, go enjoy a sunset every night!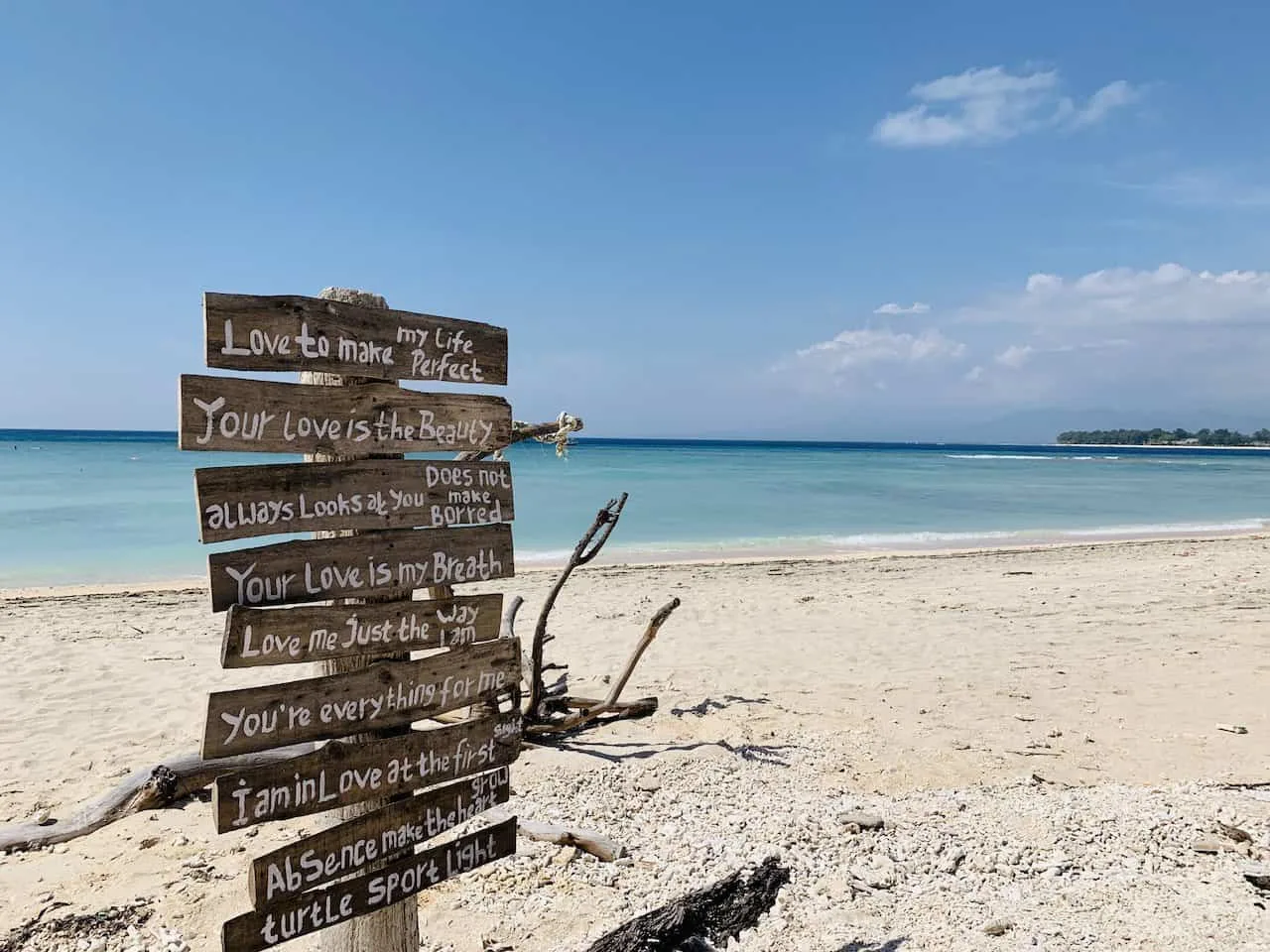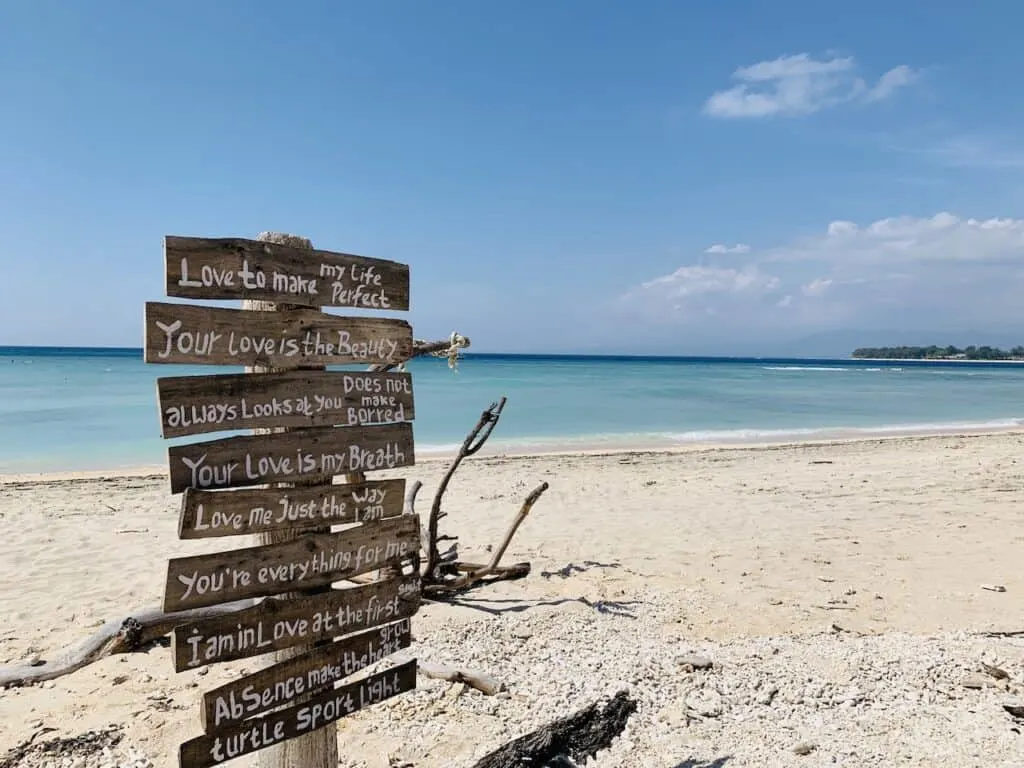 2) How To Get To Gili Trawangan
First things first, you will need to figure out how to get yourself to Gili Trawangan.
This of course will all depend on where you are coming from. Since Gili T does not have an airport, the only way to arrive will be by boat.
In general, there are direct boats from three main places: Lombok, Bali, & the Nusa Islands.
If you are coming from other places in Indonesia (or abroad), you will first need to make your way to Bali or Lombok and go from there.
Below are the high level logistics for getting to Gili T from these three spots:
Lombok to Gili Trawangan
If you are looking for the closest airport, that will be located on the nearby island of Lombok (LOP).
You can fly into Lombok from other major cities throughout Indonesia (such as Bali, Surubaya, & Jakarta), as well as international locations like Singapore and Kuala Lumpur.
Once you arrive at the airport, you will want to make your way to the Bangsai port area. The drive from the airport to the port should take between 1.5 – 2 hours.
At the port, you can hop on a public boat that depart a few times throughout the day. While these boats are cheaper (just a couple dollars), they are slower and take around 30 – 40 minutes.
Alternatively, you can take a more expensive speed boat from the nearby Teluk Kode/Nare port. These can be more expensive ($10+) but take just 10 or so minutes.
Bali to Gili Trawangan
If you are planning to visit Gili T after some time on Bali, you should have no trouble taking a ferry over.
There are ferries all throughout the day that connect various piers on Bali with Gili T. Many of the fast boats leave from Padang Bai and Ahmed. Other ports include Serangan and Sanur.
Some of the main ferry companies include BlueWater Express, Marlin, Ekajaya Fast Boat, Sugriwa Express, Golden Queen Fast Boat, and Starfish Fast Cruise.
These routes can take anywhere between 1.5 and 3 hours depending on what boat/route you choose, with prices starting around $20 USD.
Nusa Islands to Gili Trawangan
While you can make your way over to Gili T from mainland Bali, you can also do so directly from the Nusa Islands.
Both Nusa Penida and Nusa Lembongan offers direct ferries from their ports to Gili T.
These will be less frequent than the boats from Bali, but you can certainly grab a ferry from either one of the two islands.
During my time in Indonesia, I made my way over to Gili Trawangan from Nusa Penida. The ride took about 2 hours and was an easy and convenient process altogether.
Important Ferry Notes
It is not uncommon for there to be rough seas between Bali and the Gili Islands. When rough seas happen, boats can get cancelled. If this happens to you, then the best immediate solution would be to fly to Lombok and take the much shorter boat ride from there.
There is no dock at the harbor on Gili T. You will need to take your shoes off and walk into the water depending on tide levels.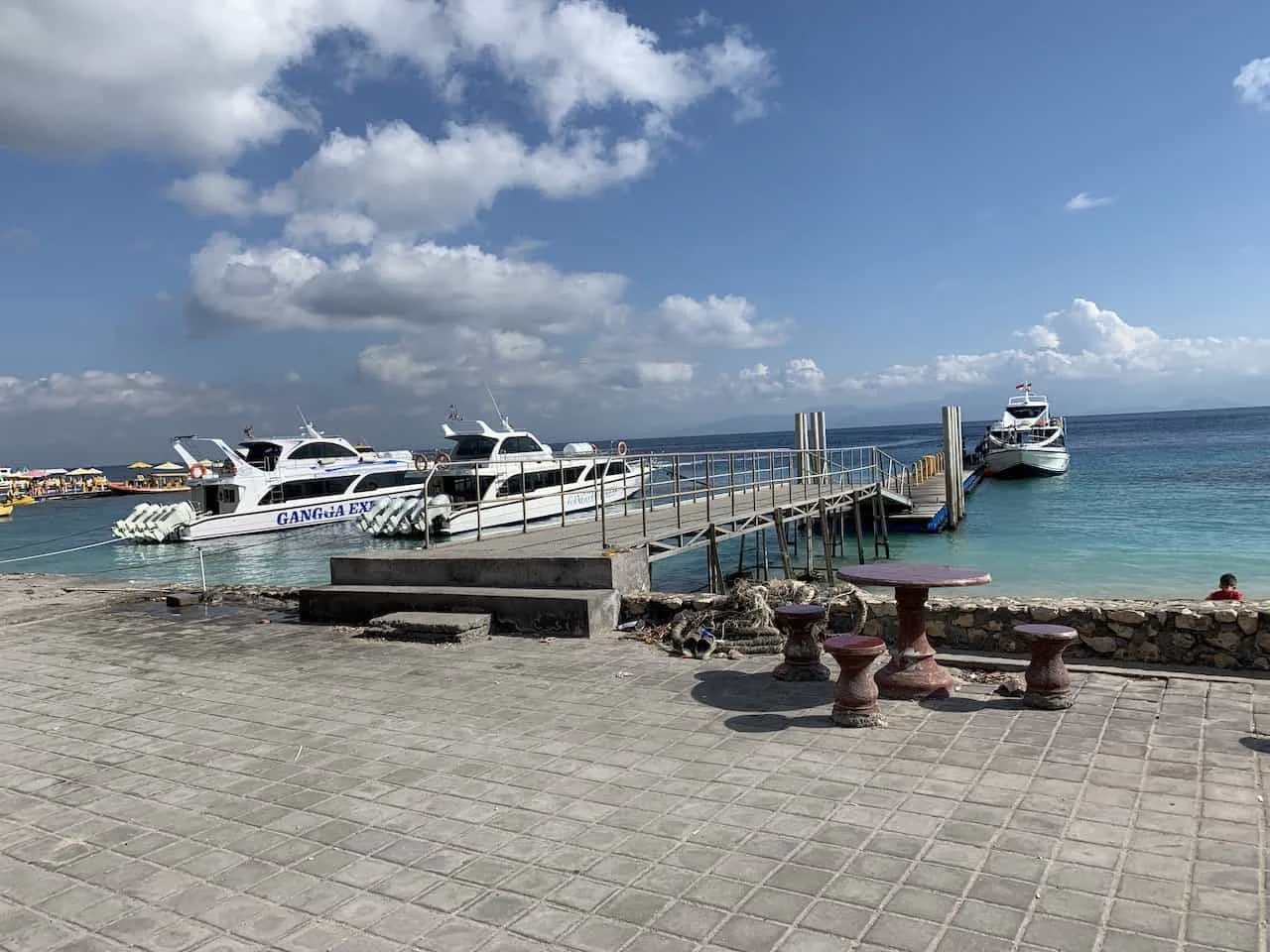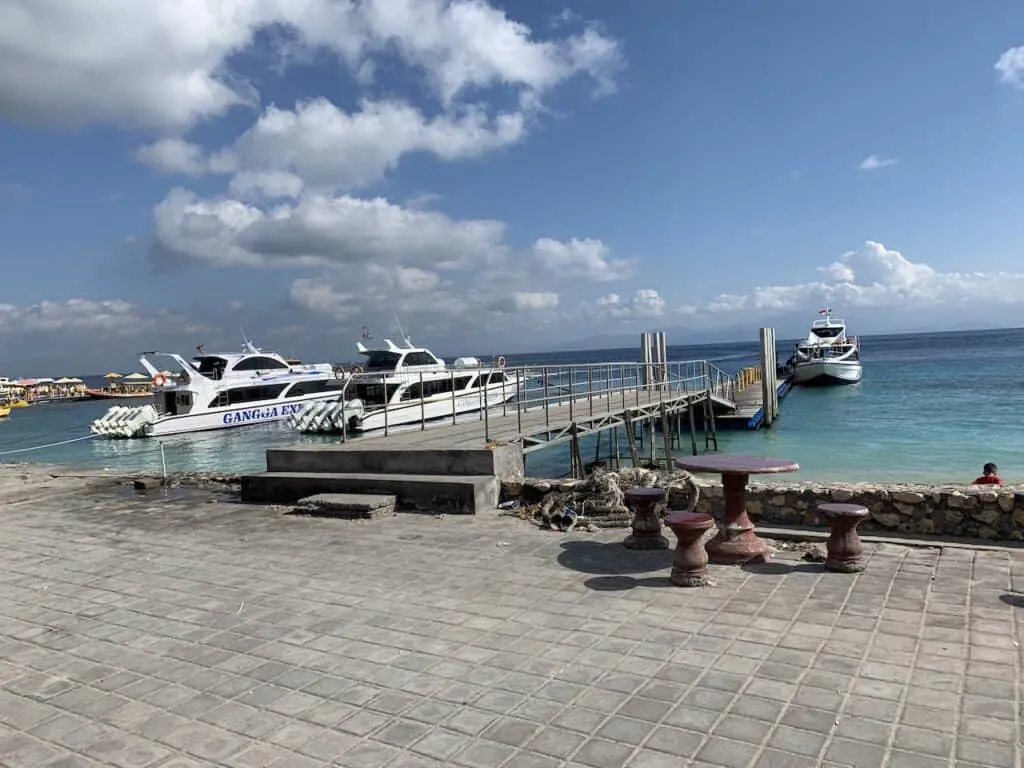 3) How To Get Around Gili T
Once on Gili T, you will need to make your way around the island. There are really just three main ways of transport – walking, bicycling, or cidomos.
The Gilis are known to have no motorized vehicles on the islands, which makes a visit even that much more relaxing and enjoyable.
Walking
You can easily get anywhere on Gili T by foot. There is a pathway that wraps around the entirety of the island that is about 7 km / 4.3 miles in length.
In addition to the circular pathway, there are also a few paths that cut through the center of the island.
Bicycling
While walking is a great way to go about your time around Gili T, renting a bicycle for the day is the more popular option.
Although the island is quite small, it can still take 30+ minutes by foot to get from the eastern side to the western side.
To solve this issue, bicycles can get you from point A to point B in just a fraction of the time.
Most people do rent bicycles when exploring Gili T, as it is a faster and more convenient option compared to walking everywhere.
Expect to pay around $3 per day for a bicycle. These can be rented from your hotel or from one of the many shops in town.
Bicycle Note: although there is a pathway around the island, some of it can be a made up of sand. This in turn makes it more difficult to bicycle on. During these portions you will be better off just walking the bicycle until the path flattens out.
Cidomos
The last main transport option is to take a cidomo around the island. A cidomo is essentially a small horse & carriage ride.
These are mostly used by those that are not staying within walking distance to their hotel from the harbor area.
As many people note though, you should try to refrain from taking these if possible. The horses are not known to be treated well, and it can be considered frowned upon to take a ride on one.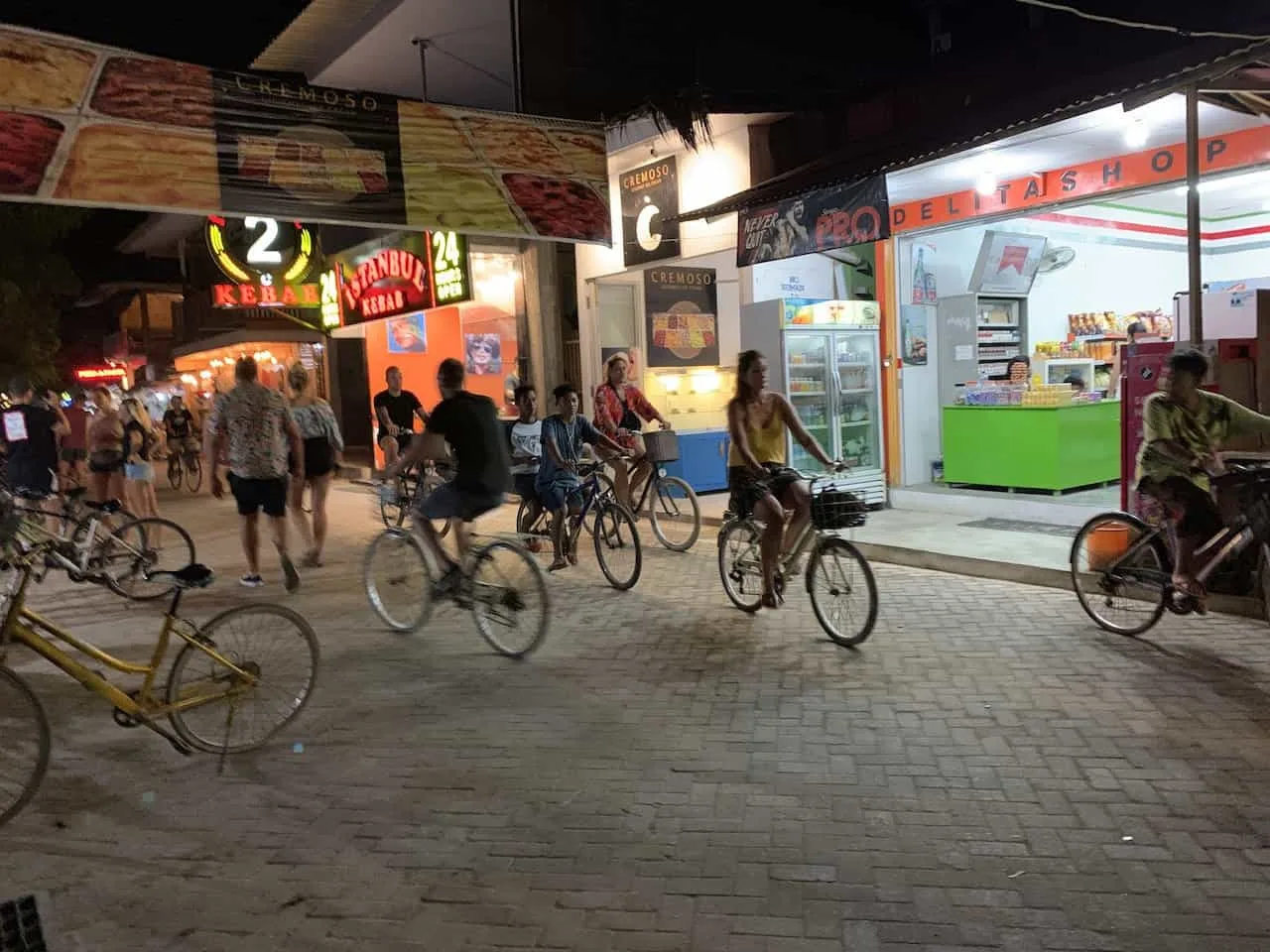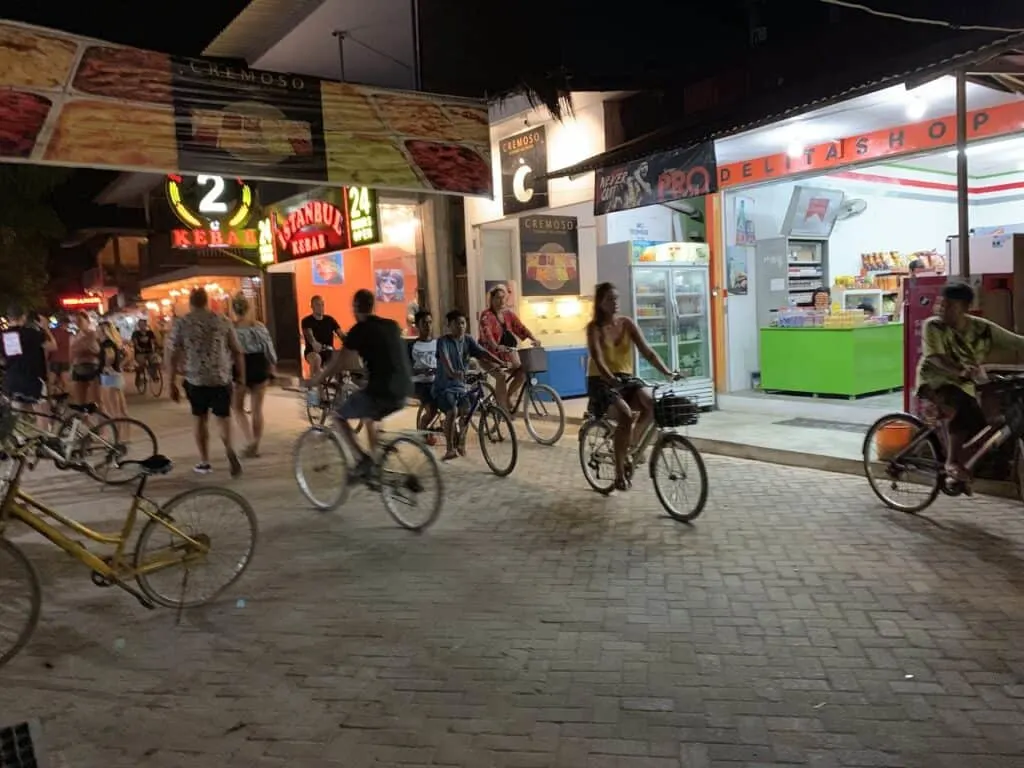 4) When to Visit Gili Trawangan
Another main consideration to think about is when to visit Gili Trawangan.
The weather of the Gili Islands can be broken down into two distinct seasons. There is the dry season that runs from May to September and the rainy season from October to April.
Since Gili T is a sunny beach getaway destination, the ideal time to visit will be during that dry time period.
You will have a better chance for clear and sunny days as you fully get to take advantage of the island.
Much of Indonesia also lays right near the equator. This in turn creates a constant warm, tropical climate year-round.
You can expect daily temperatures around 80 F / 27 C and nighttime temperatures around 65 F / 18 C year-round.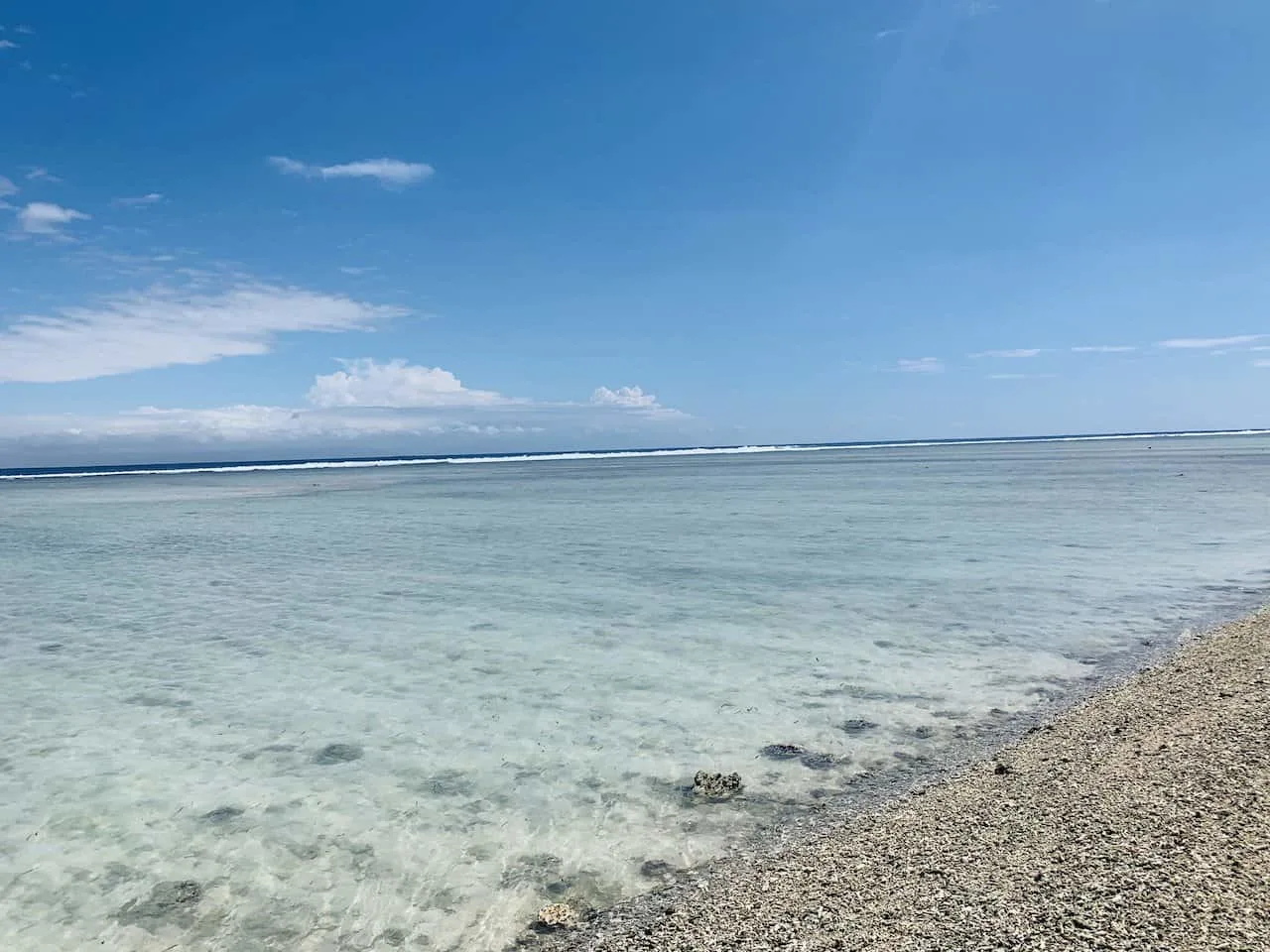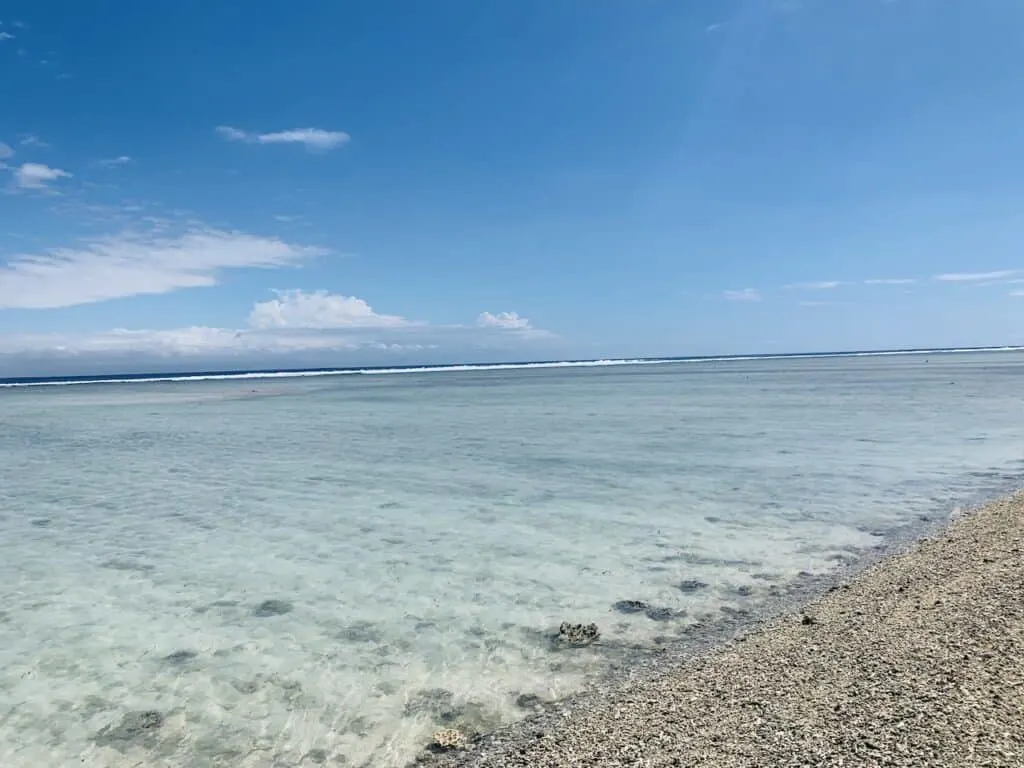 5) Gili T Packing List
As you think about your packing list for Indonesia and Gili T, be sure to consider the following items:
Bathing Suit: your normal day to day outfit is going to be a t-shirt / tank top and bathing suit. Since so much of the island focuses on the water, you will want to be prepared with a few of them for your trip.
Sunglasses & Hat: Gili T can get sunny & hot. To protect yourself from the sun, you will want to wear sunglasses and a hat. Don't leave your hotel without them!
Sunscreen & Bug Spray: bringing along sunscreen and bug spray will also help to protect your skin from the sun and the mosquitoes.
Flip Flops: the footwear of choice on Gili T will certainly be flip flops (or no shoes at all). Bring along a comfortable pair to walk, bike, and lounge around in.
Dry Bag: when going on boats or just hanging by the beach, having a dry bag will be helpful to keep your valuables protected.
Nightlife Outfits: be sure to also bring along some nightlife outfits. These should not be fancy or anything. Rather just comfortable nighttime beachwear type of clothes.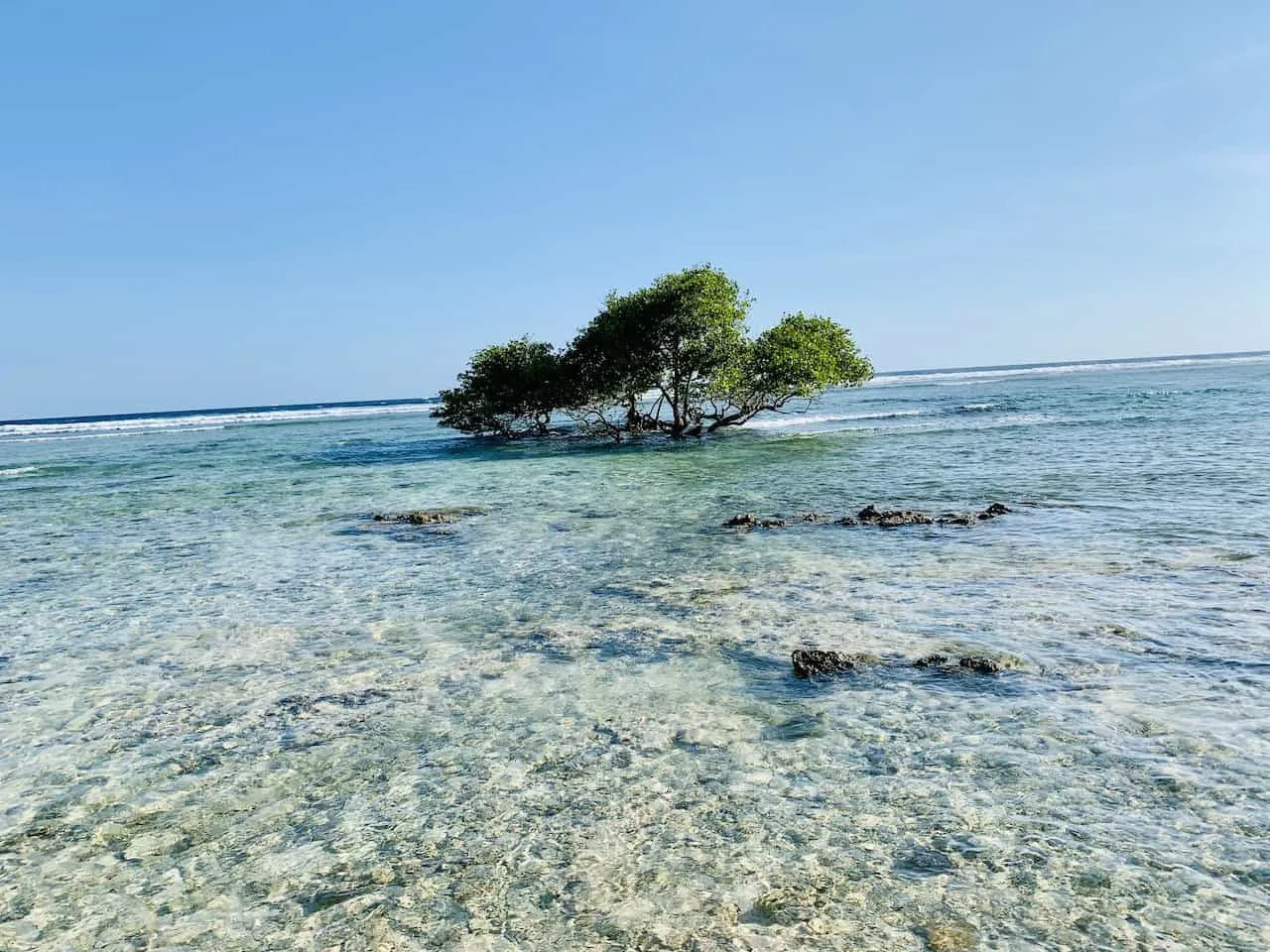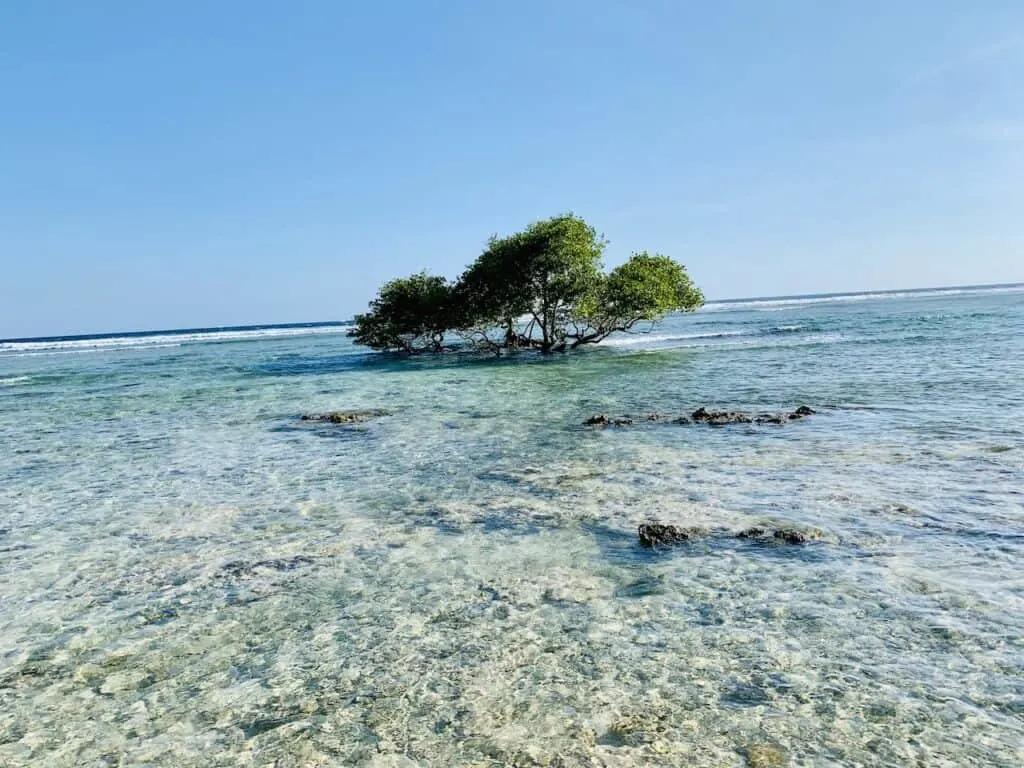 6) Gili T Map Layout
Before continuing on with the rest of the guide, I wanted to layout a map with all the various things to do, highlights, attractions, restaurants, and more.
Be sure to look back at the map to get an idea where everything is located throughout Gili T.
Below is a high level overview of the Gili Trawangan layout:
Eastern Side
The eastern side of the island is where you can find most of the action on Gili T.
Here is where the ferries arrive and depart from, in addition to the most hotels, restaurants, bars, and shops.
Northern Side
As you head further north, you will begin to leave the hustle & bustle of downtown behind and begin to see several "turtle snorkeling spots".
I spent several mornings on the northern side swimming with turtles throughout my stay.
Southern Side
Heading south from town center, there will be more beach areas to enjoy. These were some of my favorite beaches on the island, where you can find nice soft sand.
This is also where some of the best surfing can be found around Gili T.
Western Side
The western side of Gili T is best known for one thing – its epic sunsets. Every evening, hundreds of visitors begin the walk/bike to the western side of the island to take in the sunset.
There are also several beach bars and more resort like hotels located on the western side.
7) Gili Trawangan Hotels
Gili Trawangan is full of all types of accommodation. Everything from low budget hostels to more luxurious resorts can be found along its paths.
Remember, most of the nightlife & restaurant action is happening on the eastern side of the island. This makes it the more convenient place to stay in general.
If you are someone who just wants some peace and quiet, then the western side may be just perfect for you.
To better help guide you in the right direction, below are some of the top places to consider for a visit.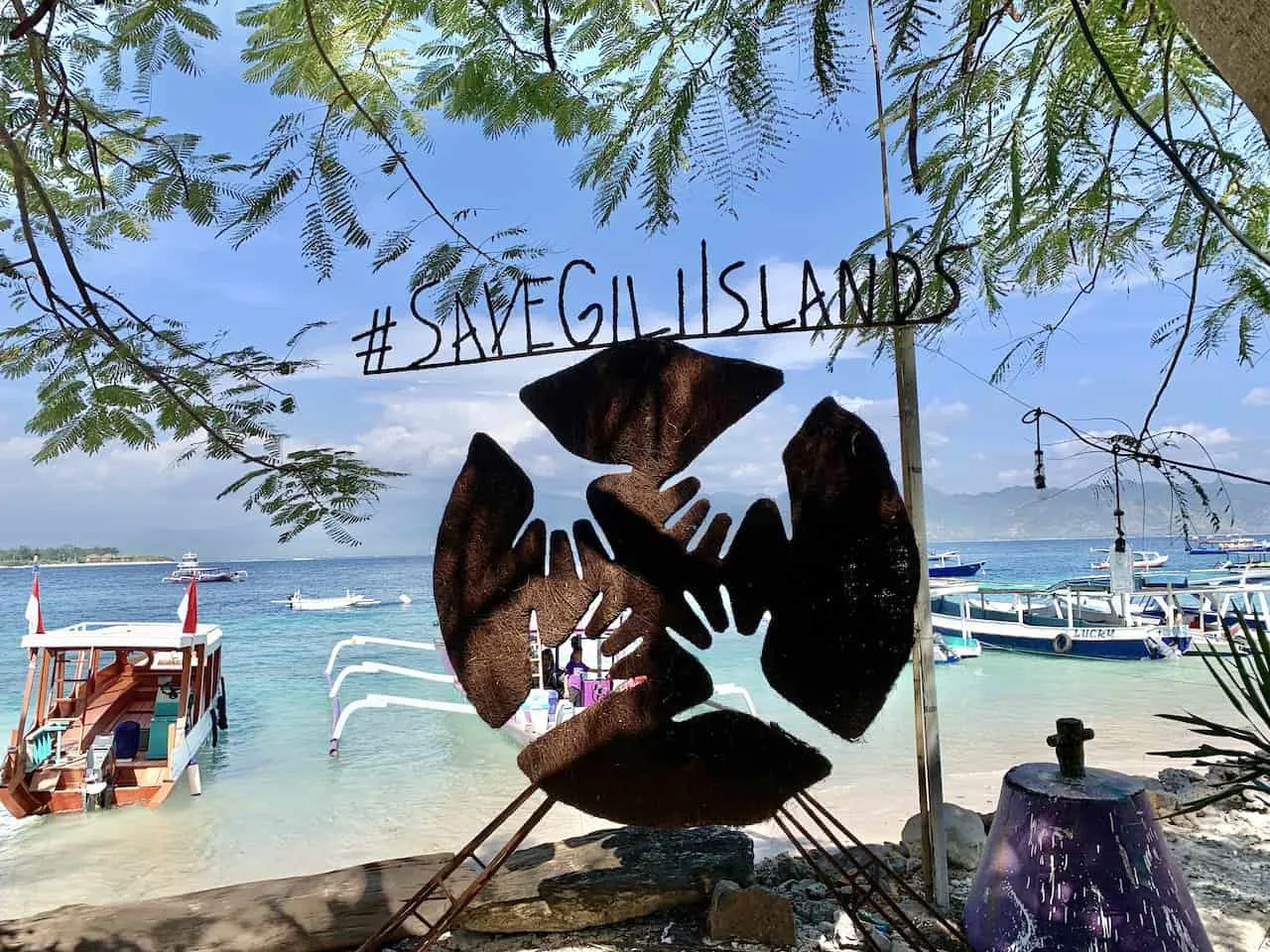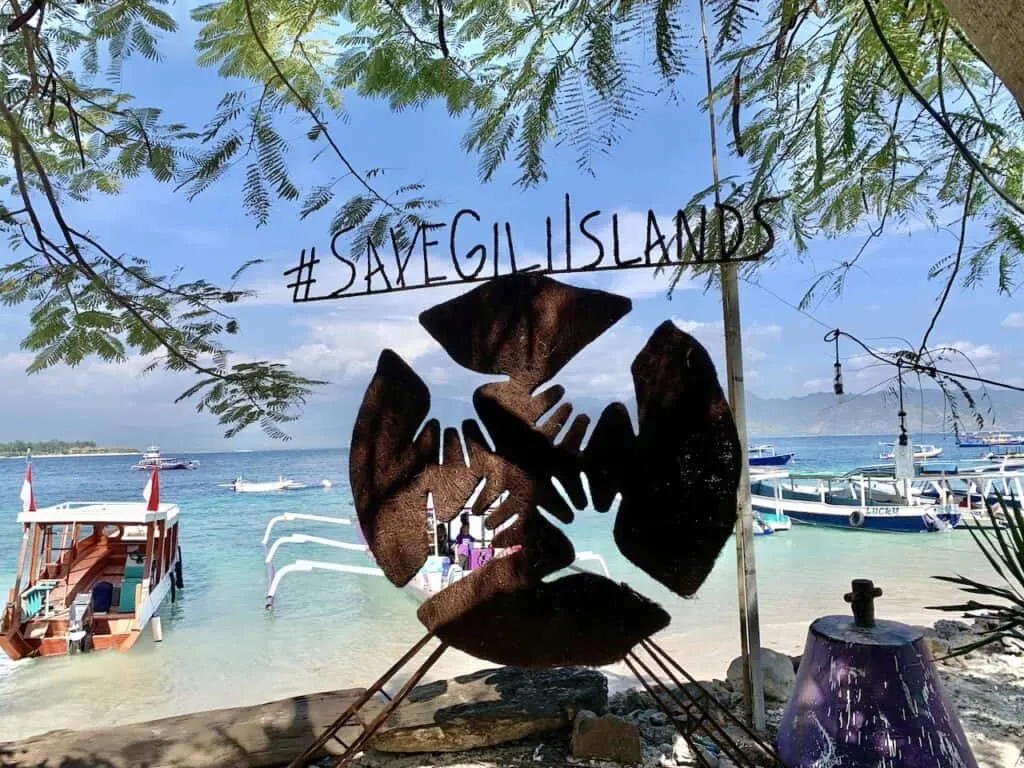 8) Thing To Do in Gili Trawangan
Although small in size, there is so much to do during a visit to Gili T. I spent 5 days on the island, and found it the perfect amount of time to both relax & take part of activities.
Here are some of the top things to do on Gili T during a visit:
Gili T Beaches
Since Gili Trawangan is an island, beaches will be plentiful all around. There simply is no shortage of beaches to choose from.
In general, there really aren't specific names for beaches on the island. Rather, it is more so just directional.
I will talk through the Gili T beaches starting on the eastern side and going clockwise.
On the eastern side of the island, you will be met with the harbor area, so the beaches directly on that end aren't the best for swimming or relaxing.
Instead, you will want to make your way further south along the eastern coast. As you head further south, the beach area will begin to get more enjoyable and peaceful.
This was one of my favorite areas to enjoy some time on the beach as the water is crystal clear and the sand is as good as it gets.
You may also find some beach resorts here, where you can rent one of the beach chairs & umbrellas if interested.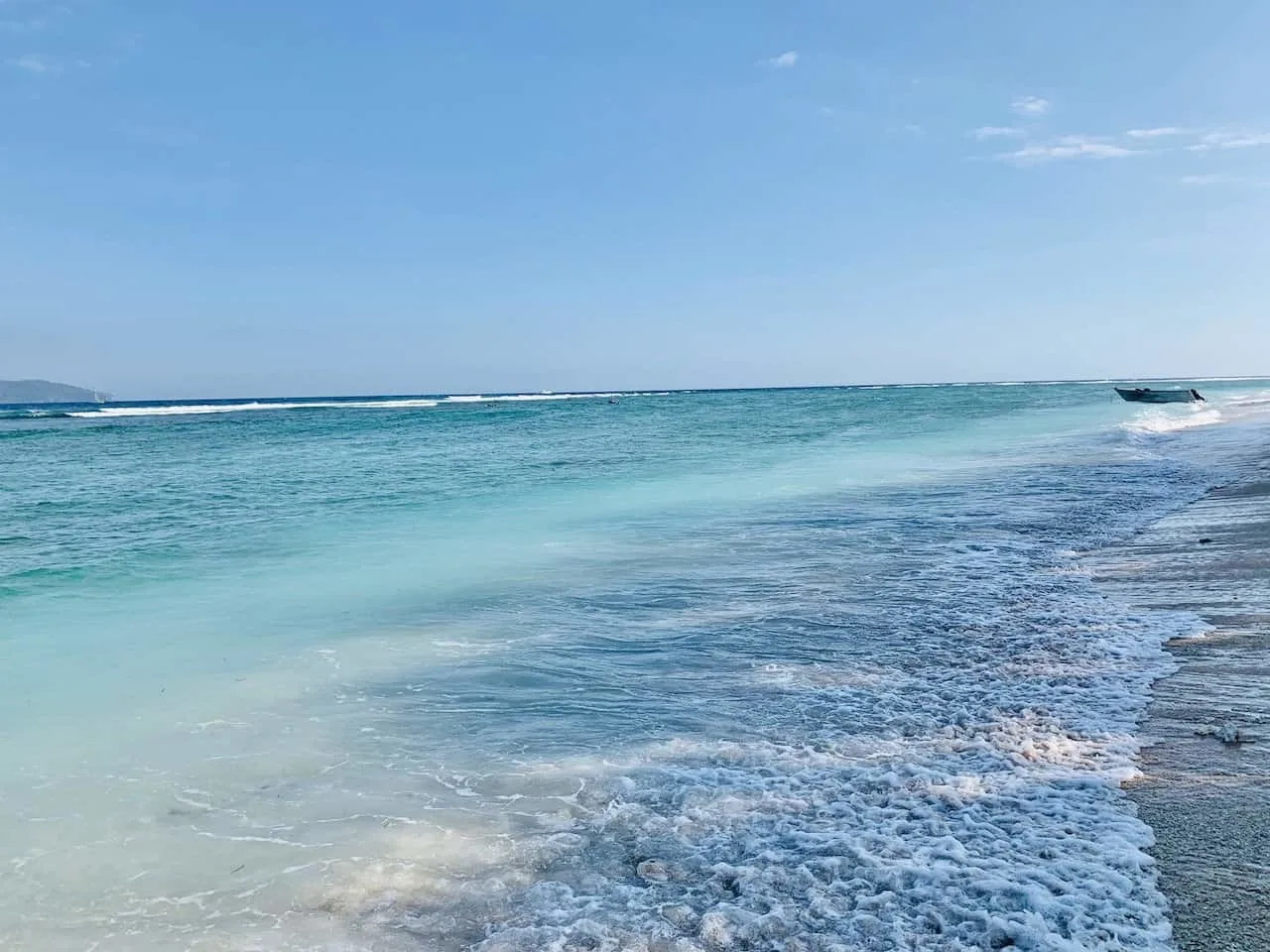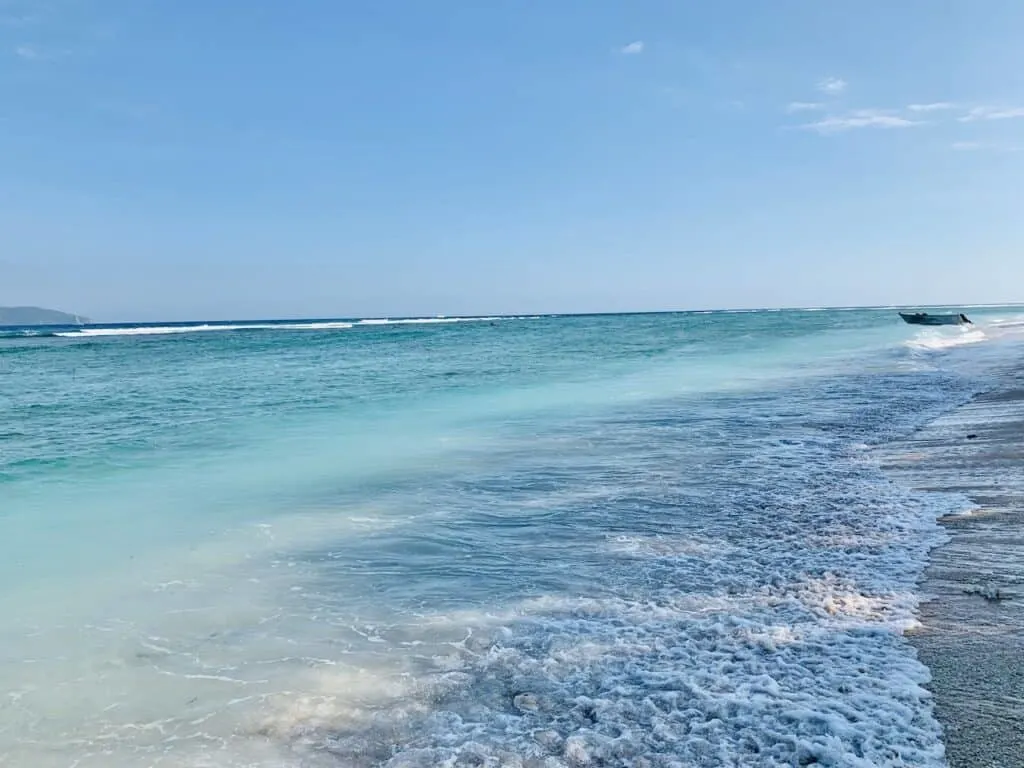 As you wrap around the southern end of the island, you will get to the western coast. The western coast is more populated with resorts and plenty of relaxing beaches.
This is the spot you want to visit during sunset, as the beach bars fill up and you get to see the sun dip below the horizon.
Here is also where you will find many of those famous Gili T swings and hammocks out in the water.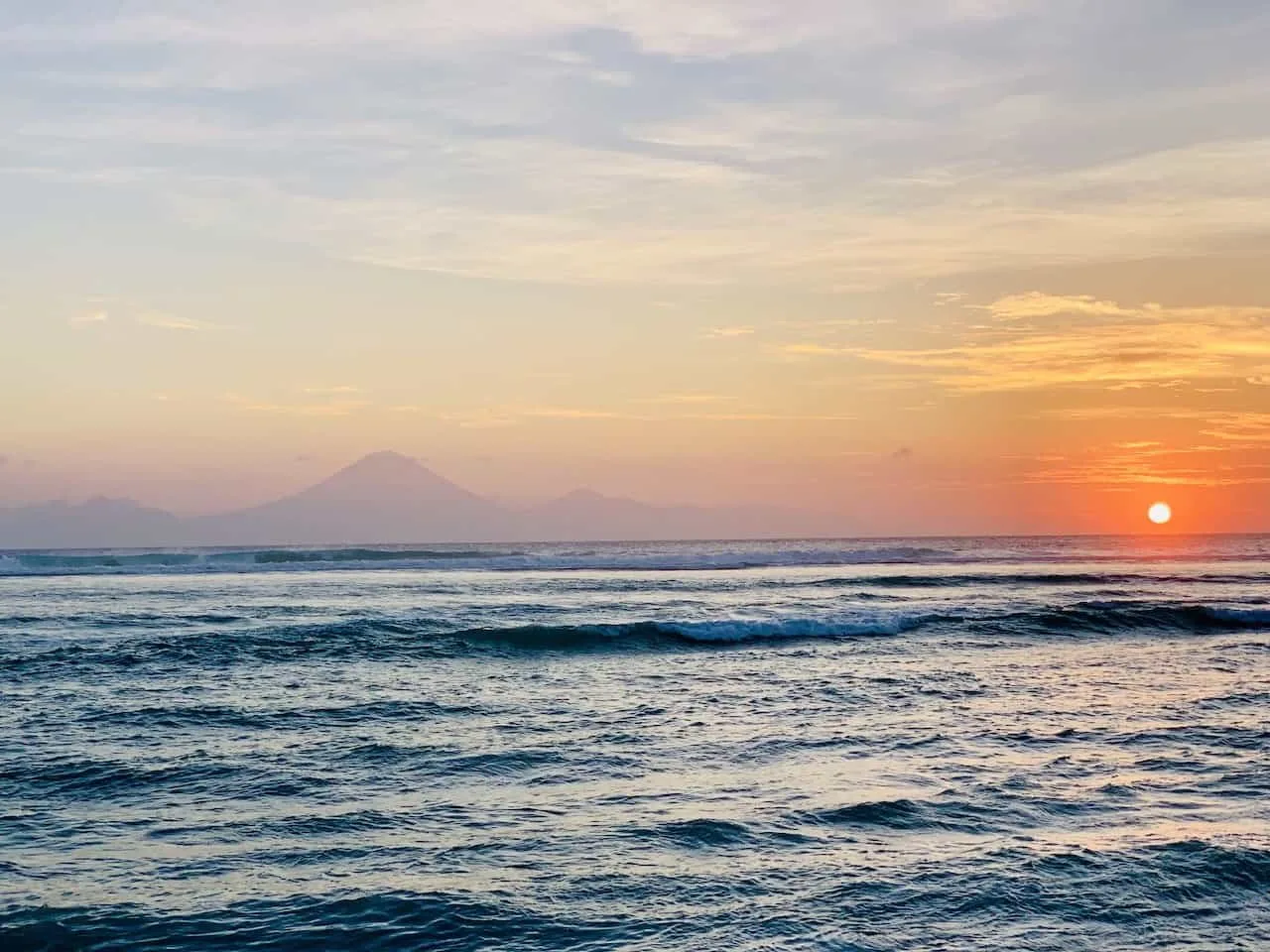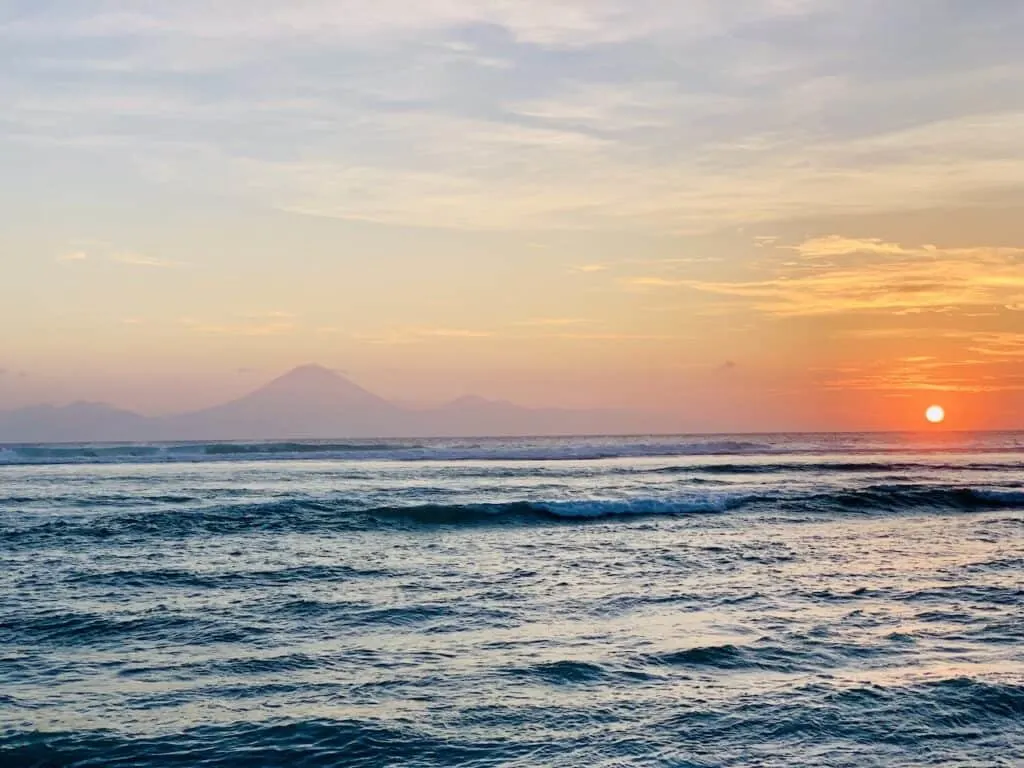 Continuing up to the northern side is where you will find the best snorkeling opportunities. If you are interested in the beach and snorkeling, then this is going to be for you.
Beach Notes
The tides can really affect the water levels around Gili T. During low tide, you will find much more shallow coral to walk through. During high tides, many of those water swings may be fully covered.
Don't expect so much soft sand in the water. Since there is a reef around the island, you will find a lot of rockier terrain out in the sea. If you look closely at the photos throughout, you can get a better idea of what to expect.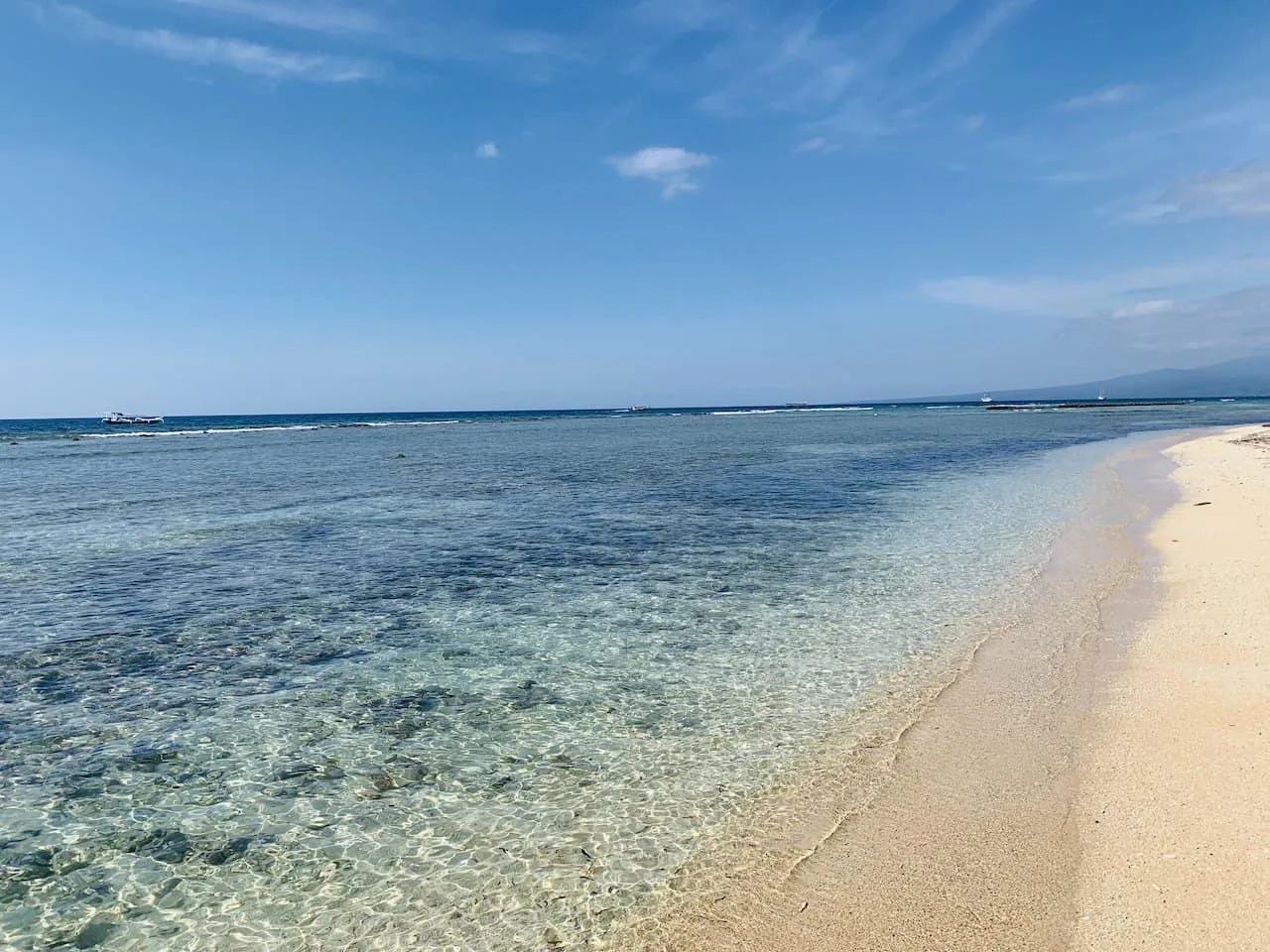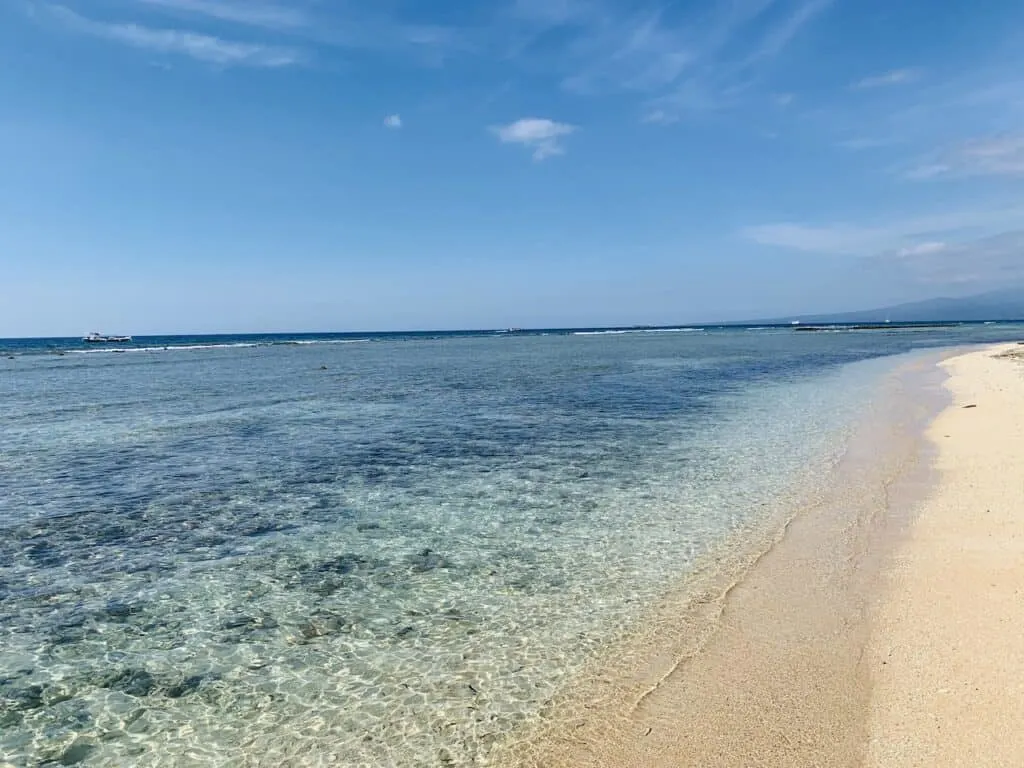 Scuba Diving
When it comes to water activities around Gili T, scuba diving is near the top of the list.
All around the town center you will find dive shops that take people out on small dive boats and to the surrounding reefs.
Scuba diving comes in all shapes and sizes. You can head out on an introductory dive, sign up for a full PADI course, or just take part of a day diving package if you are already certified.
The great thing about diving around Gili T is that many of the dive sites are all within a ~10-20 minute boat ride.
This gives people the chance to go out on a dive, head to the mainland for a quick break, and then back into the water for some more diving. You wont be subject to sitting on a boat all day.
Some of the top dive spots around Gili T include: Shark Point, Halik, Simon's Reef, Meno Wall, Air Wall, and Manta Point.
While there are many companies on the island, feel free to check out some of the more highly rated ones such as Blue Marlin, Trawangan Dive Centre, and Gili Divers.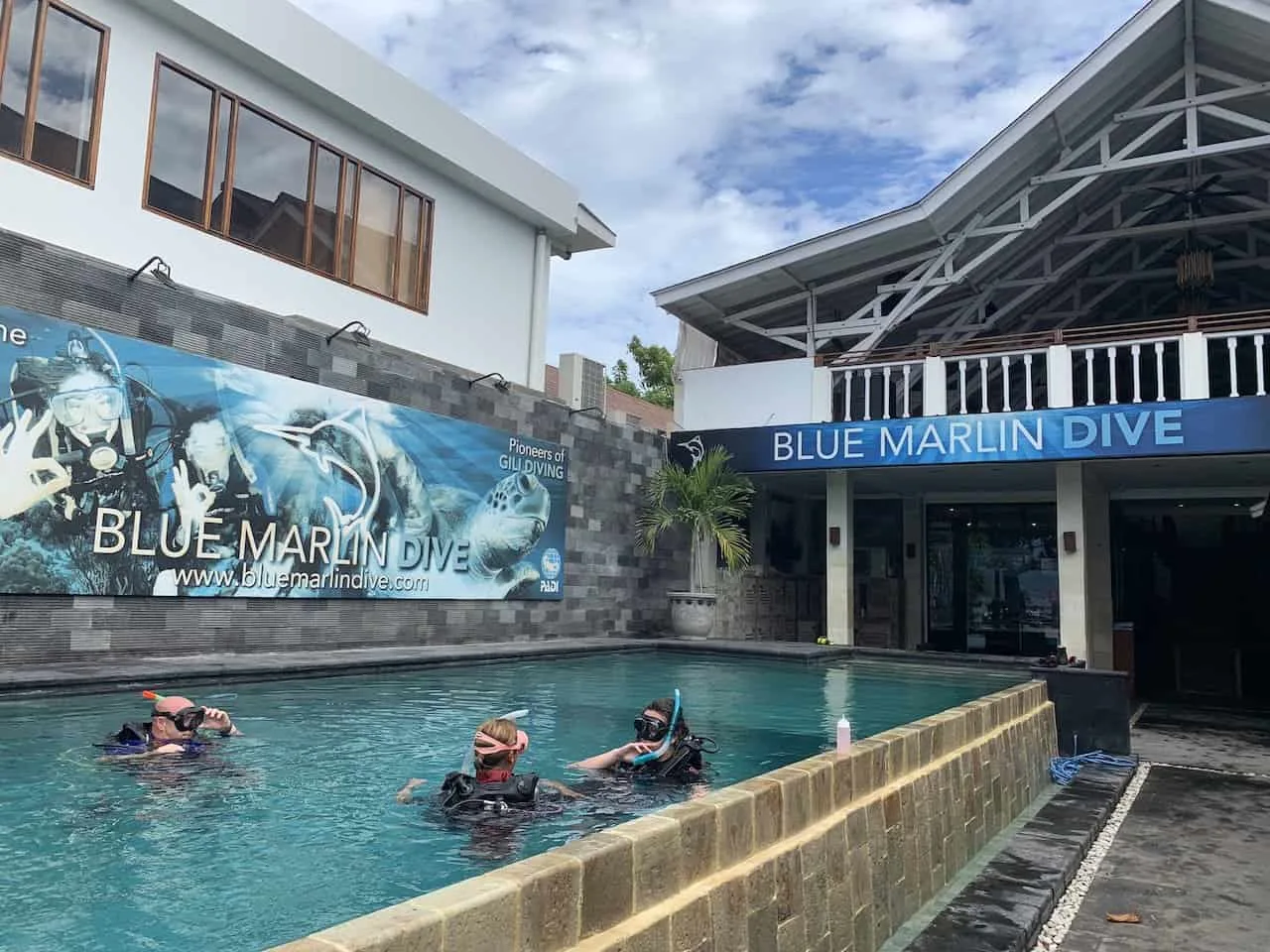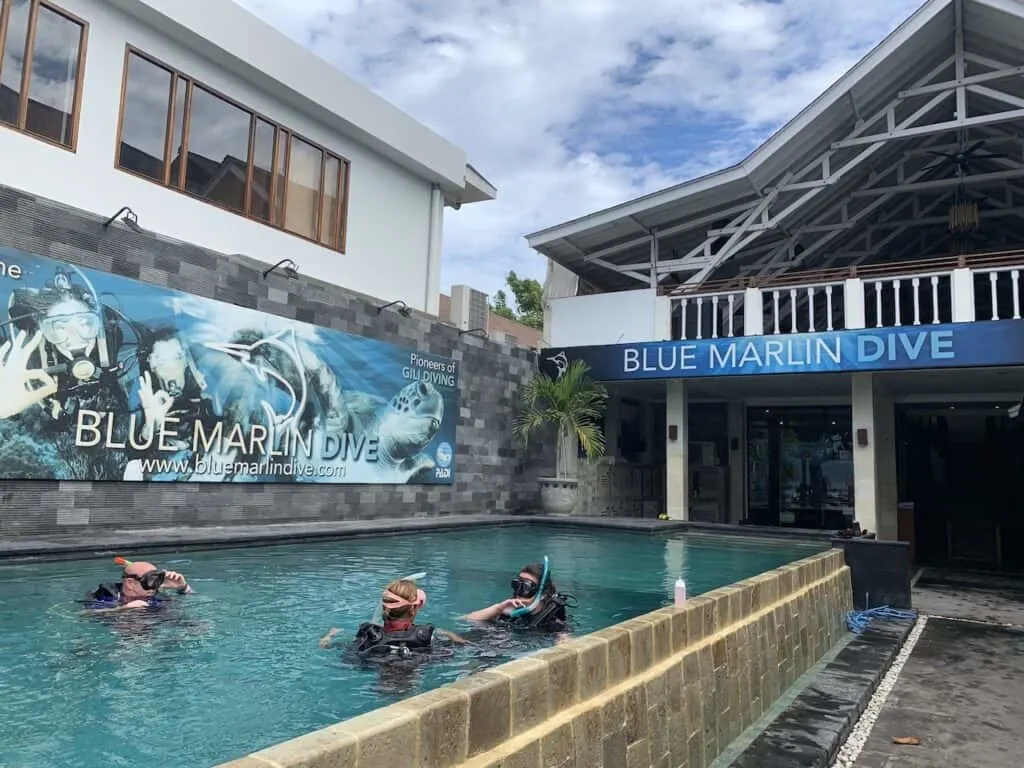 Snorkeling
Understandingly, scuba diving is not meant for everyone. Luckily, there are also many snorkeling opportunities around Gili T too.
And the best part about it is that you do not even need to join a tour. Instead you can just rent some gear and walk right into the water from the shore.
The best snorkeling can be found along the northeastern and northern shores of the island.
As you head to those areas, you will see several spots mentioning turtles & snorkeling.
Simply rent your gear from one of the guys on the beach, and then make your way into the water. Hopefully for you, it won't be long until some turtles make their way through.
During my time on Gili T, I spent several mornings snorkeling the coasts and just hanging out with some turtles.
Expect to pay around $3 for a snorkel, mask, and fins.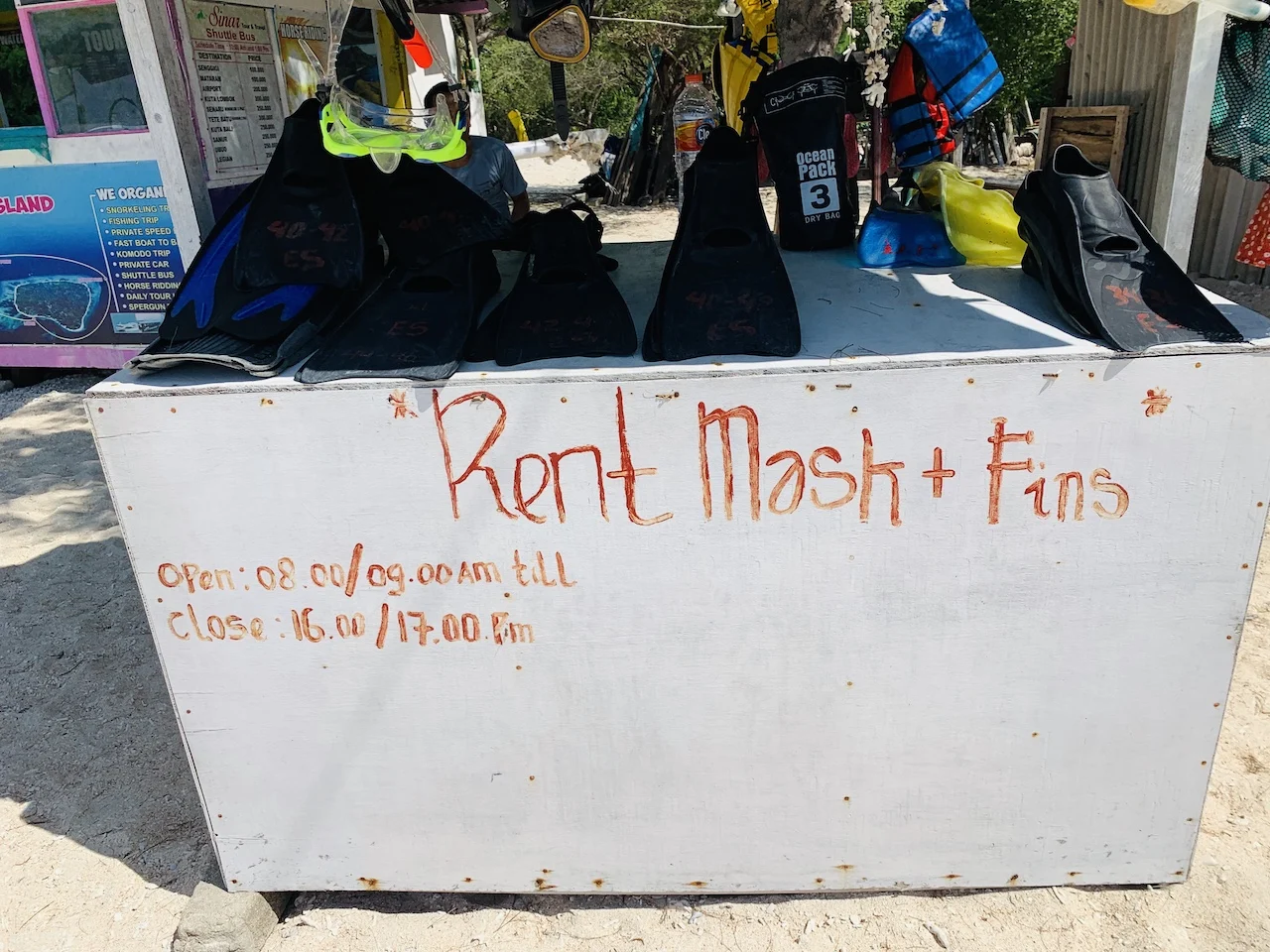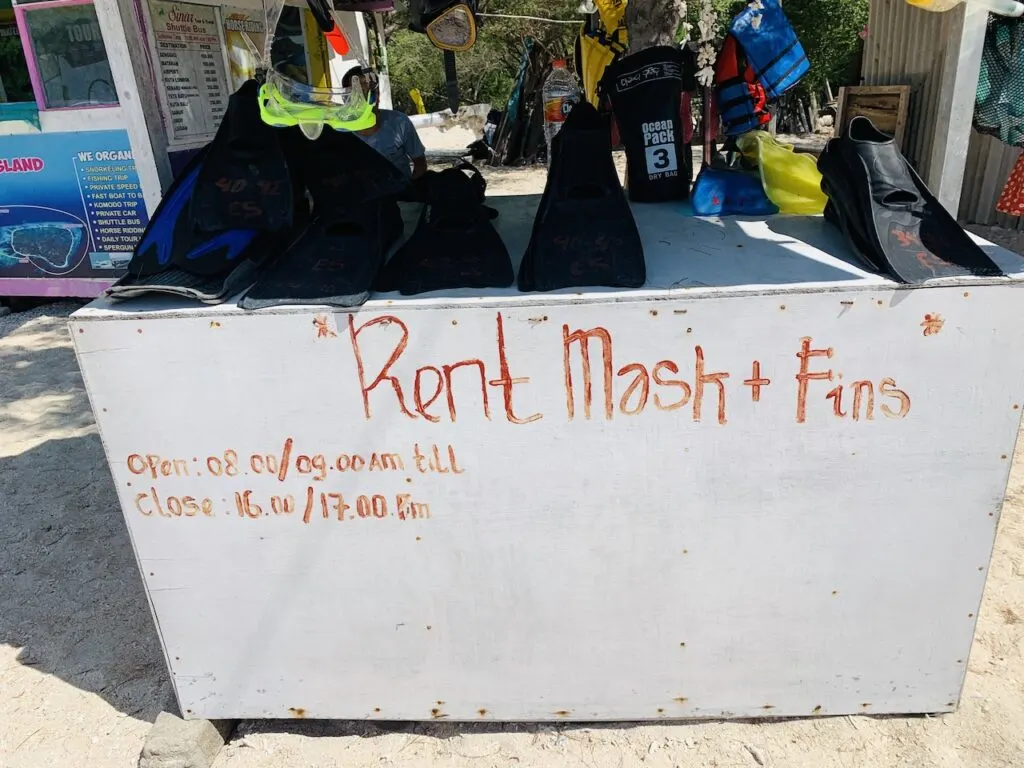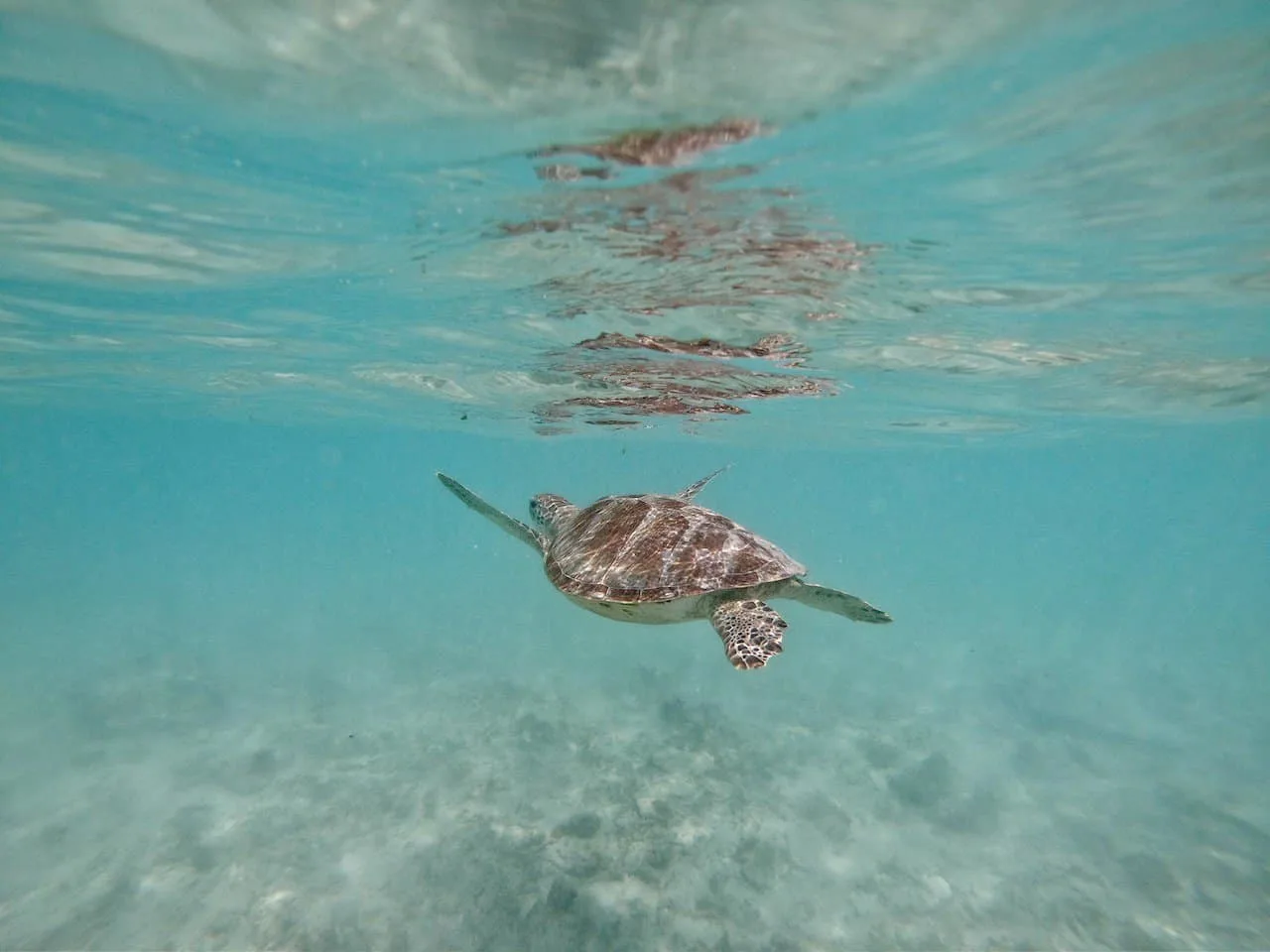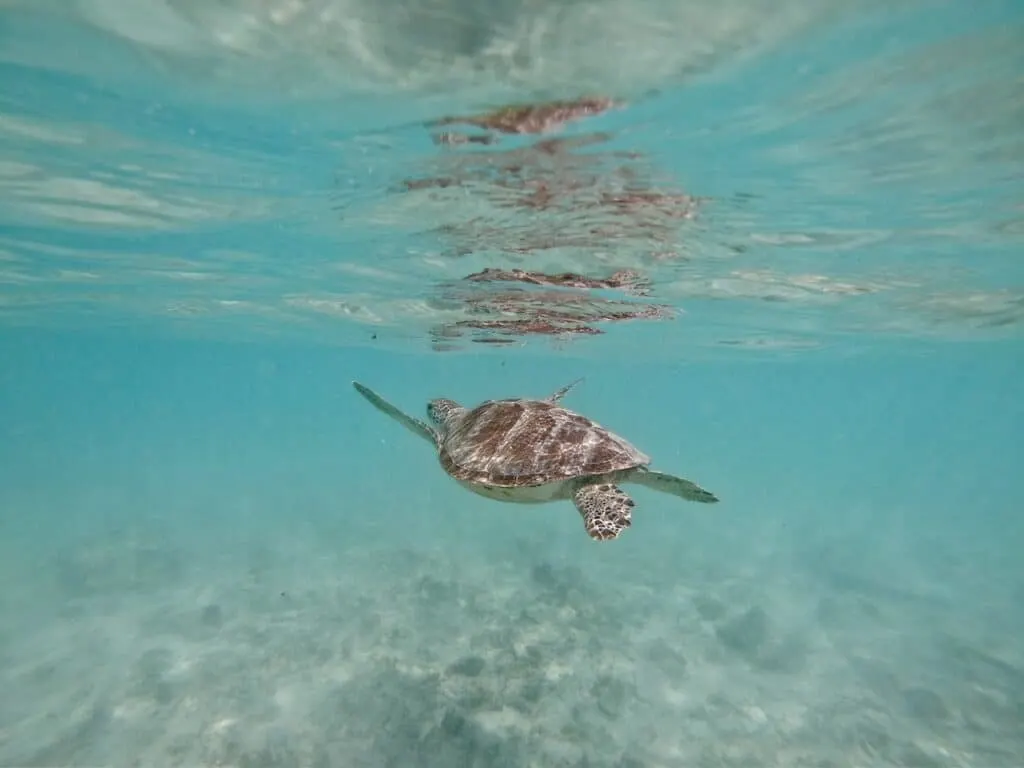 Bicycling Around Gili T
I touched upon this a bit earlier, but bicycling around the island is a popular thing to do during a visit.
You can rent bikes from your hotel or within the town center to more easily get yourself all around.
Circling the whole island can be a day on its own as you bike from one beach to the next, take part of some snorkeling, grab some lunch, and just enjoy some time on the sand.
As you are renting bicycles, try and choose one that is in better condition. Many of the bikes can be quite old and can easily break. I saw plenty of people trying to reattach their chains during my stay.
You can either decide to just rent a bike for the duration of your entire trip or rent one on a daily basis.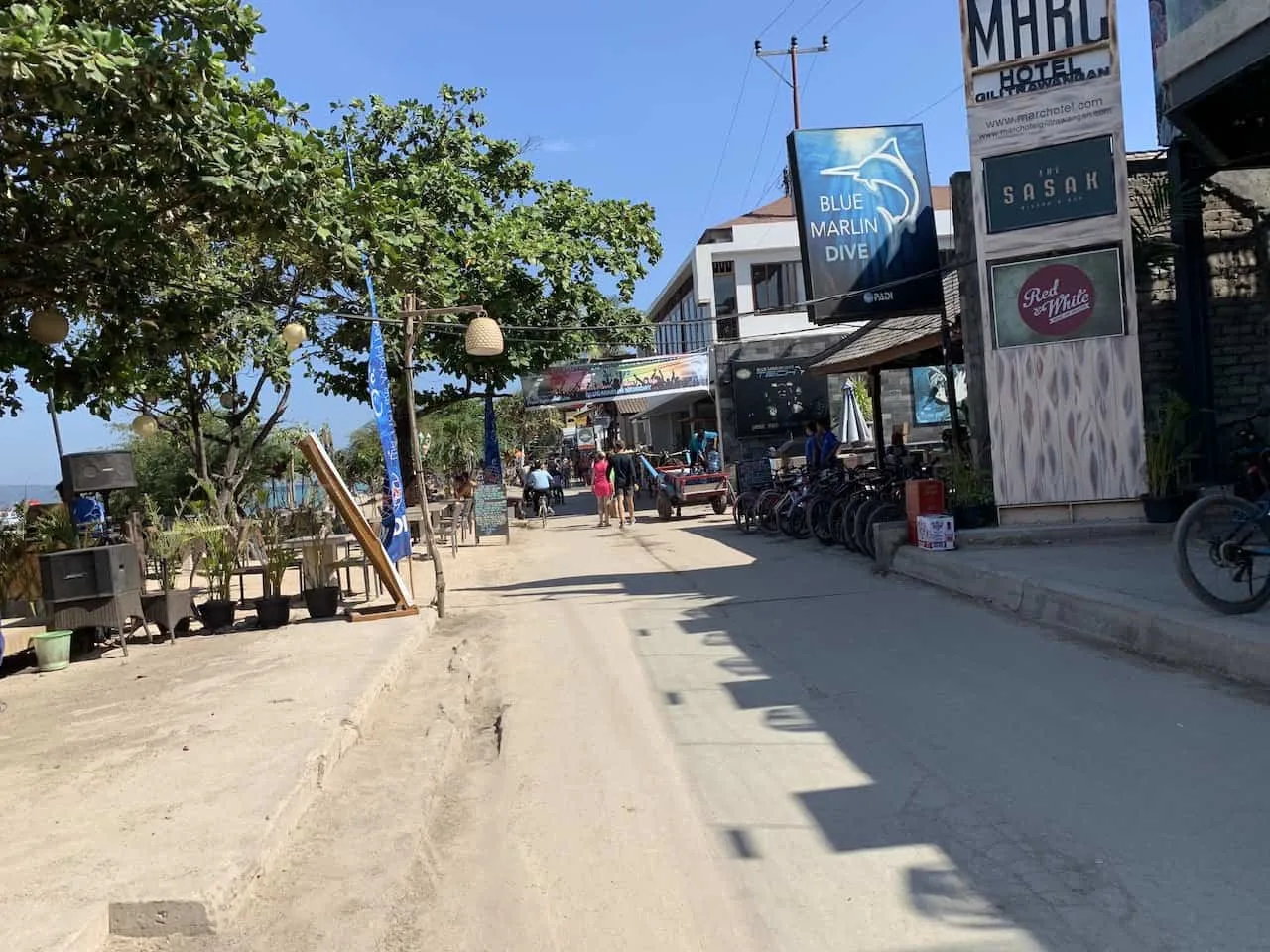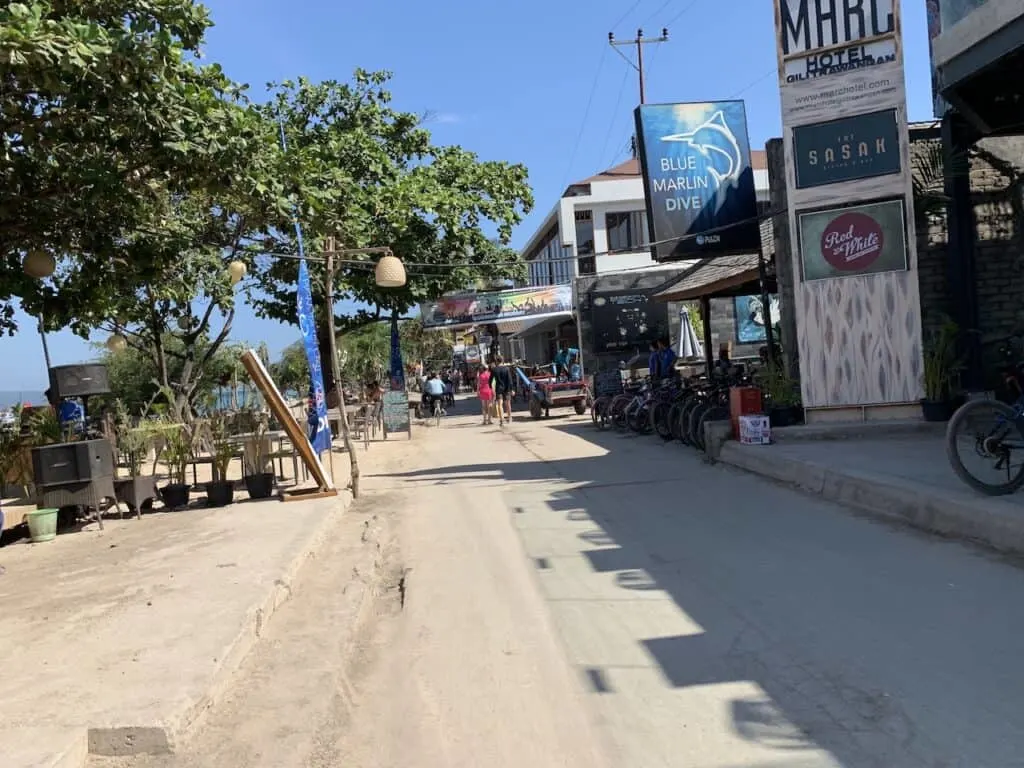 Take in a Sunset
Perhaps the most famous aspect of Gili T is its epic sunset on the western side of the island.
All along the western shores you will come across beach bars that have lounge chairs and bean bags out in the sand.
Grabbing a drink and sitting down on the beach is the perfect way to end any day on Gili T.
Out in the distance you will be able to see the island of Bali and Mount Agung on a clear day. Getting to have that beautiful view as the sun sets on the horizon is a tough panorama to beat.
There are many spots to choose from along the coast. Some of these include Pink Coco Beach Club, Sunset Bar, Hotel Ombak, Aston Sunset Beach, Window Bar, among others.
If you want a more low key vibe, just find a spot in the sand away from the beach bars. You shouldn't have any trouble getting away from the crowds if that is what you are interested in.
Helpful Tip: if bicycling back, you may find it helpful to have a headlamp as you bike in the dark to town.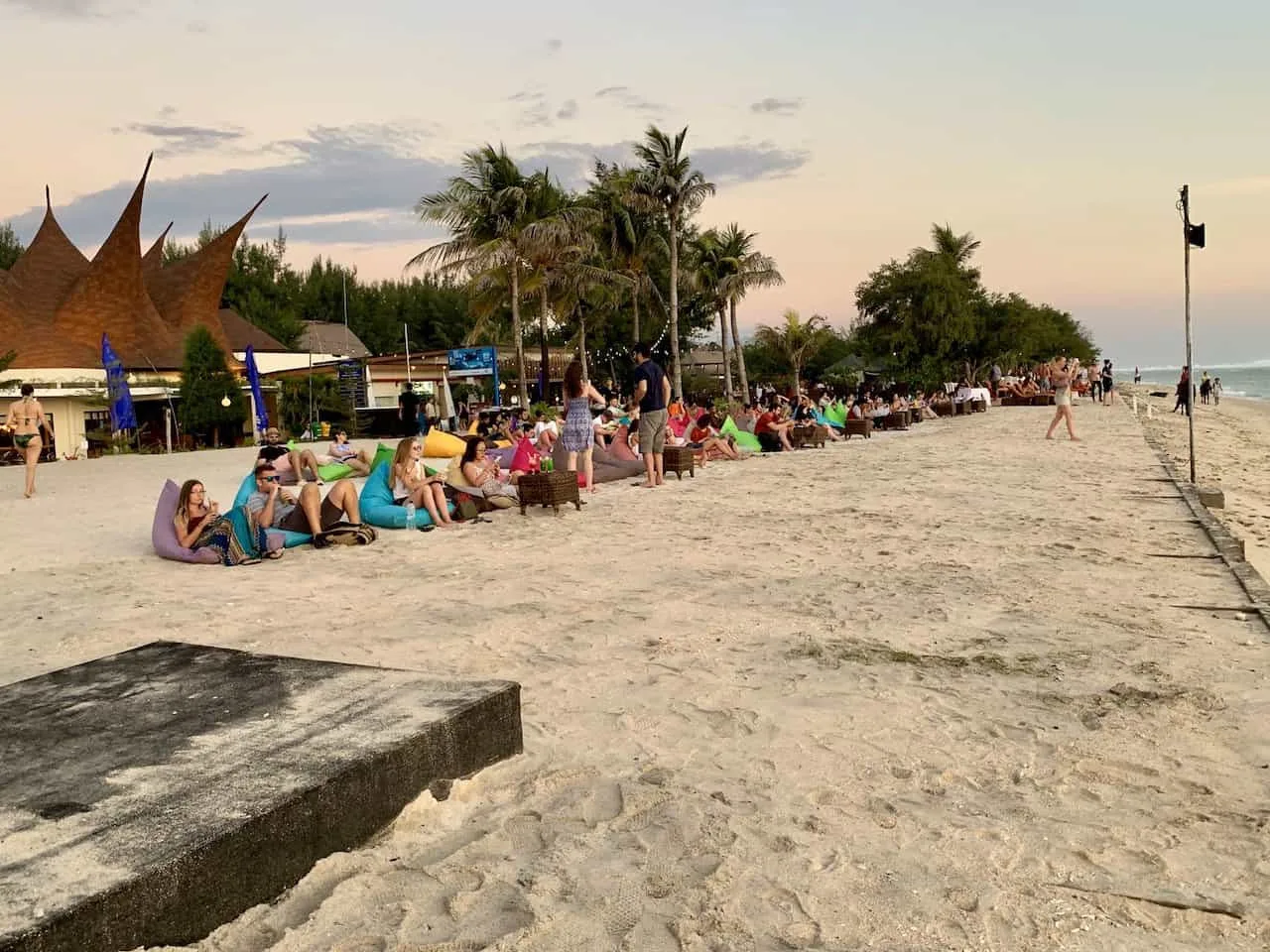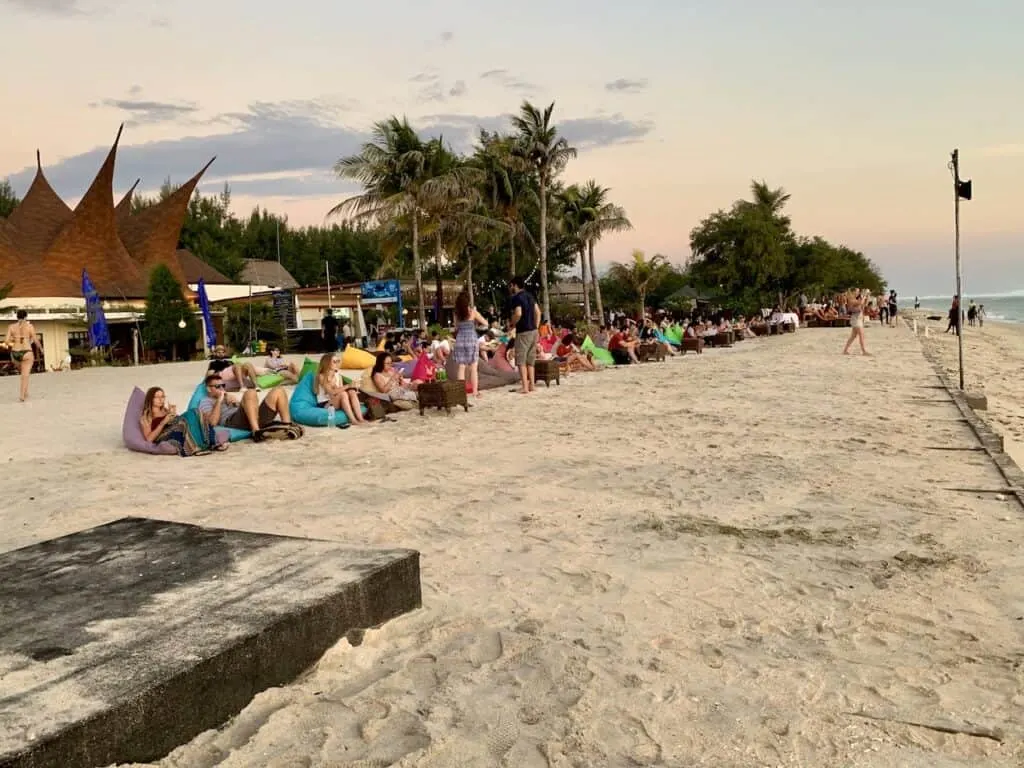 Hop on a Gili T Swing
When it comes to the most photographed spots on Gili T, the famous water swings are on the top of the list.
The swings are built on manmade wooden contraptions set up near the beach in the water. When the tides are right, people can head out on the swings and get that perfect photo op.
Not only will you find swings, but there are also hammocks as well.
While the main swing that made Gili T famous can be found at Hotel Ombak, there are several more swings that are situated throughout its waters.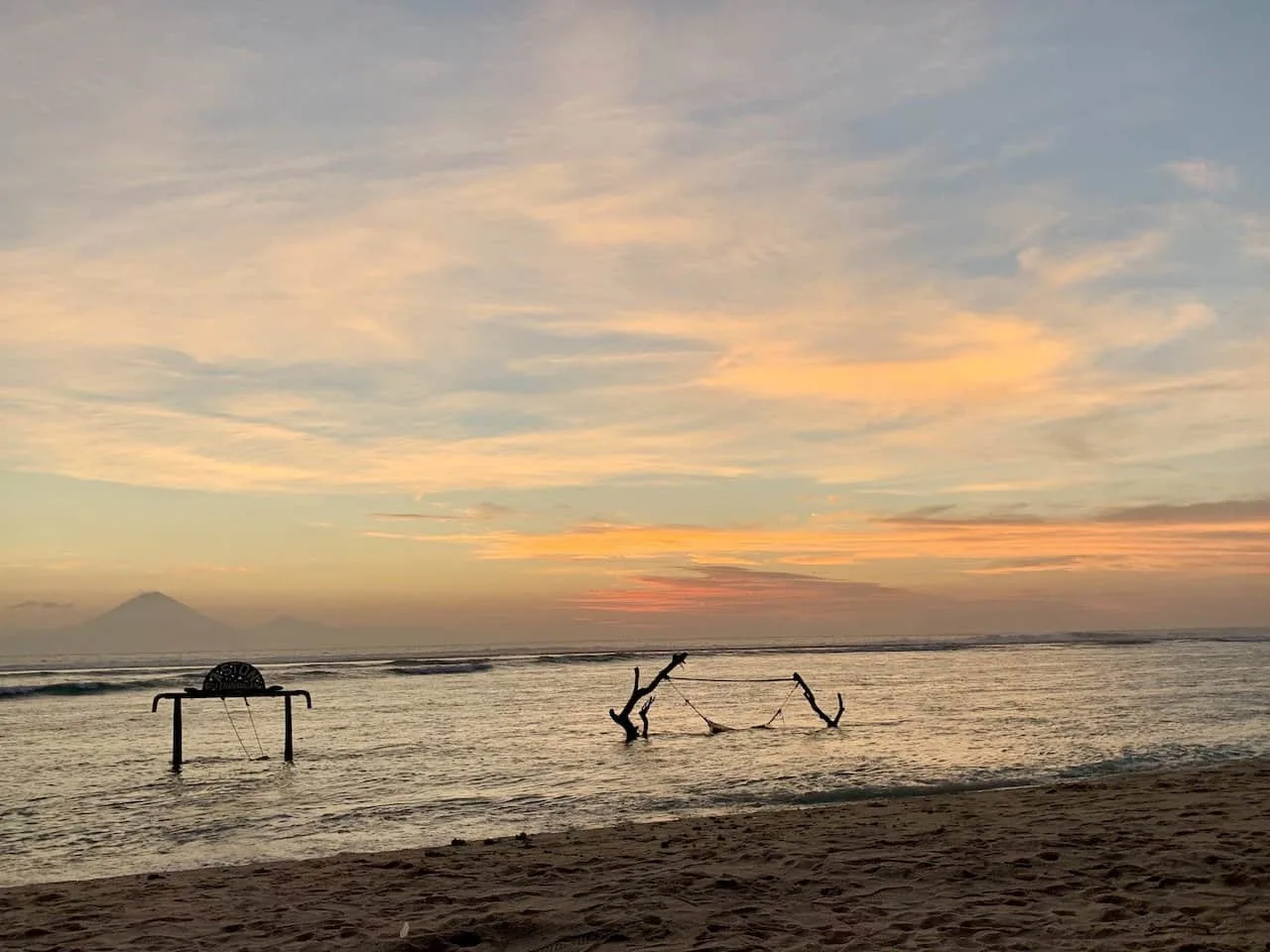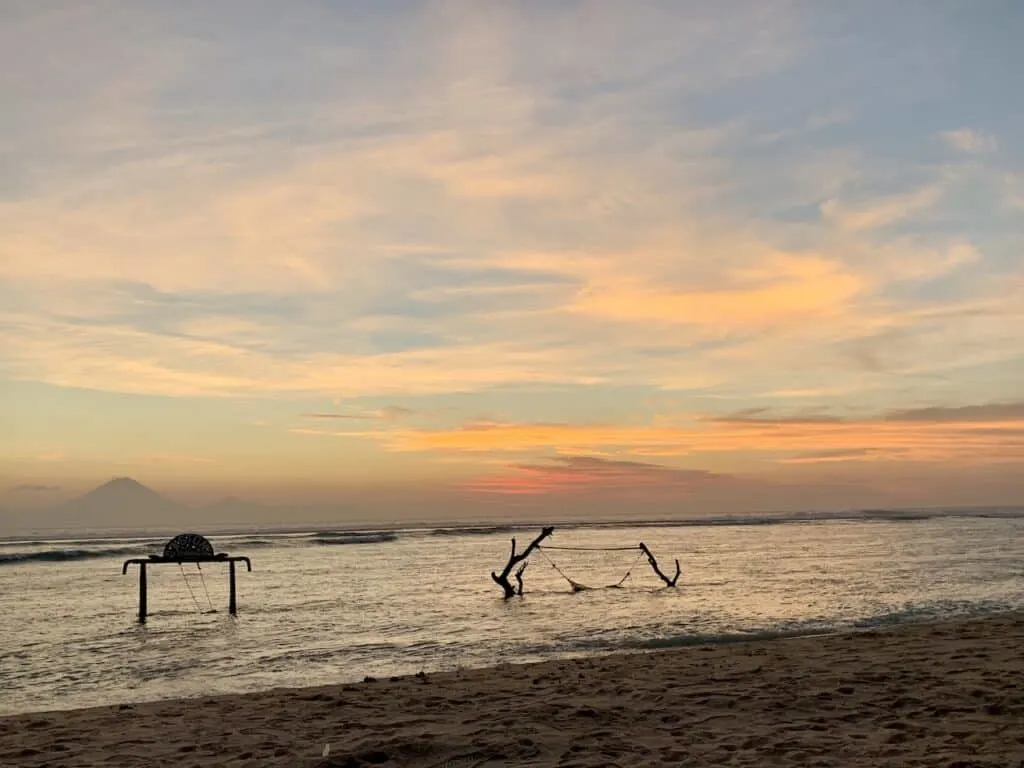 Hilltop Viewpoint
Speaking of sunsets, you can also enjoy one from the highest point of Gili T.
Instead of taking in a sunset by the beach, you can instead walk up to an elevated viewpoint spot.
On Google Maps (and pinpointed on the map above), you will Gili Trawangan Sunset Beach, where the Sunset Bar is located.
From there, you should see a staircase heading up into the trees. This will just be a quick 5-minute hike up until you reach the viewpoint spot.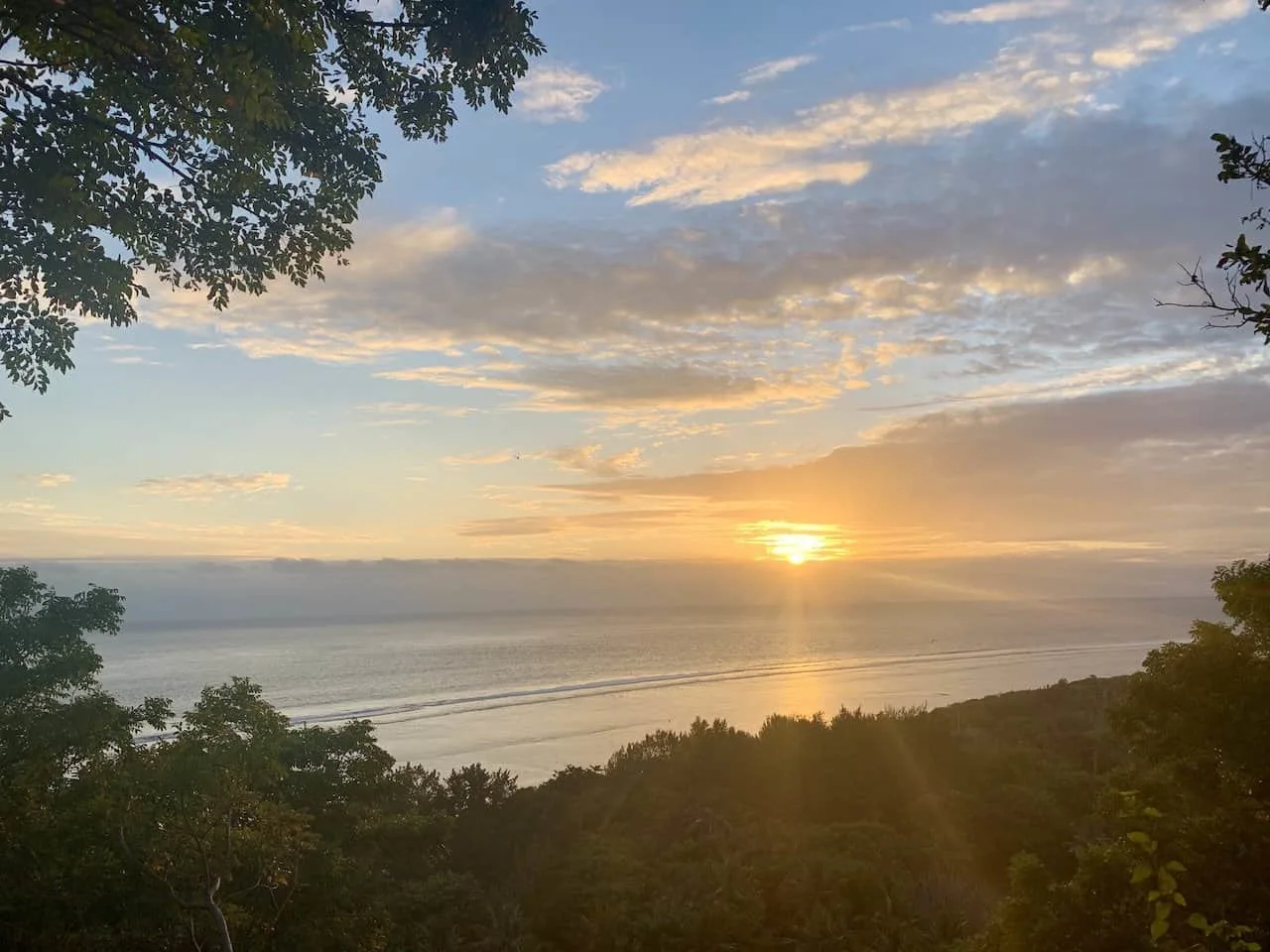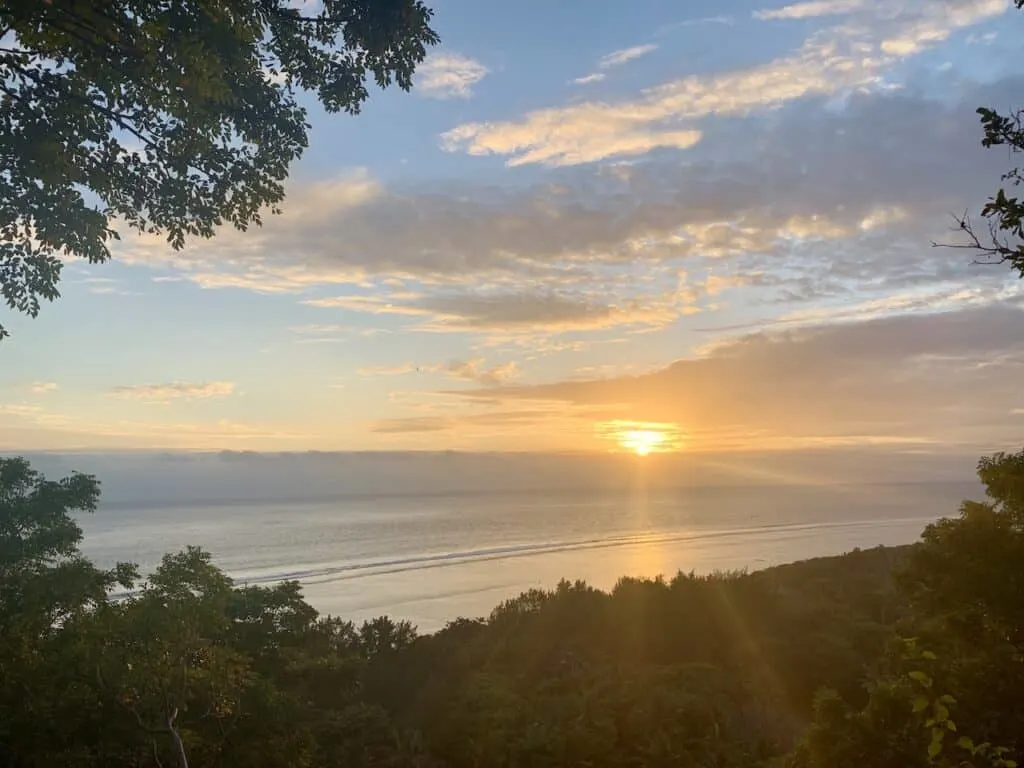 Island Hopping Cruise
While Gili T is a highlight on its own, why not also take some time to visit the nearby islands of Gili Meno and Gili Air.
This can be done as part of a standard island-hopping cruise from Gili T. All around the town center, you will find stalls marketing this type of cruise.
You can easily sign up for one of these the day before, so there isn't too much planning to worry about.
If interested, you may be more inclined to find a group of friends to do it with and rent out a whole boat (or simply just to a private tour).
During an island-hopping tour, you will be able to visit places like Bay Rock Reef, Turtle Reef, Garden Fish, among others.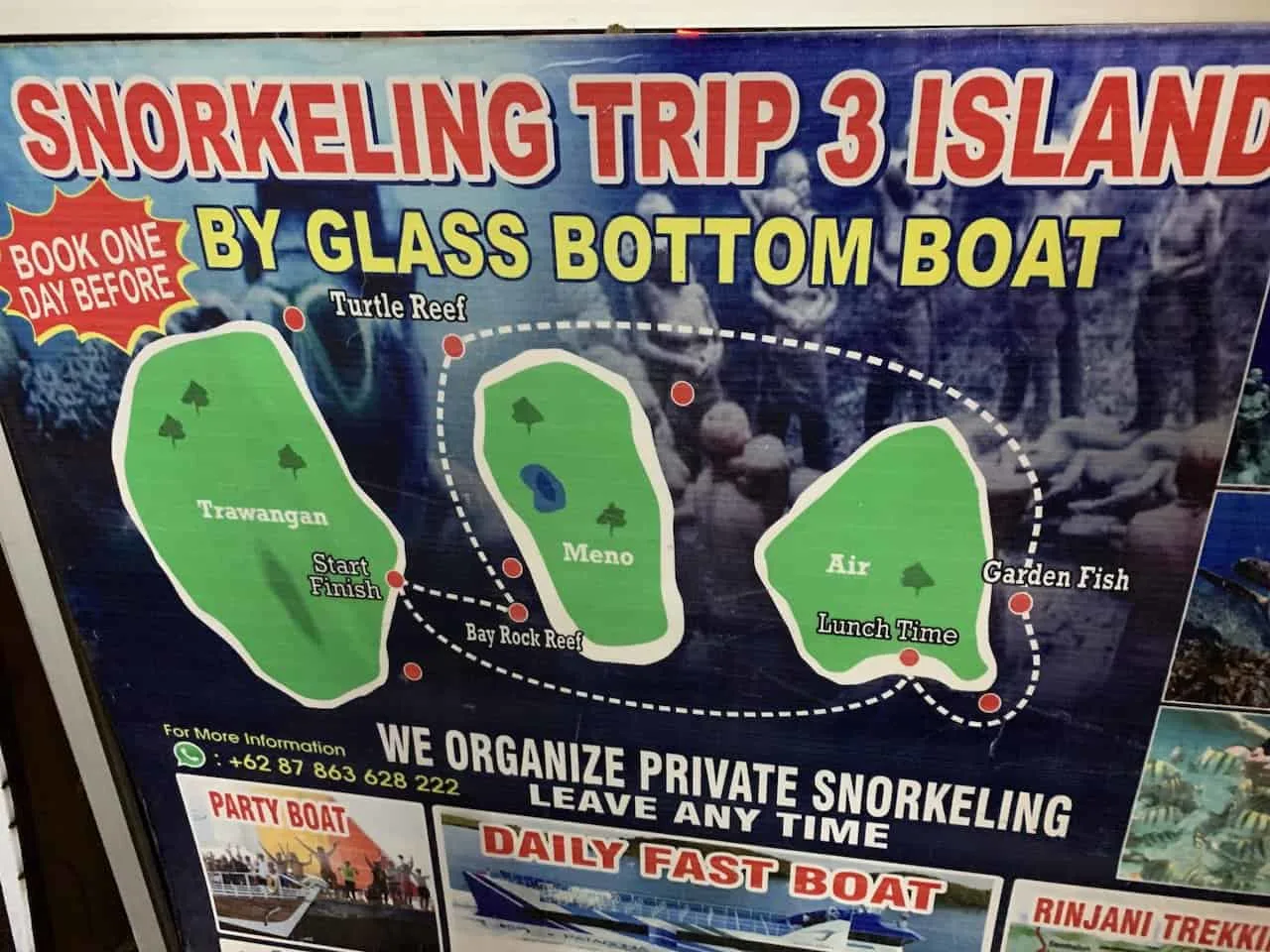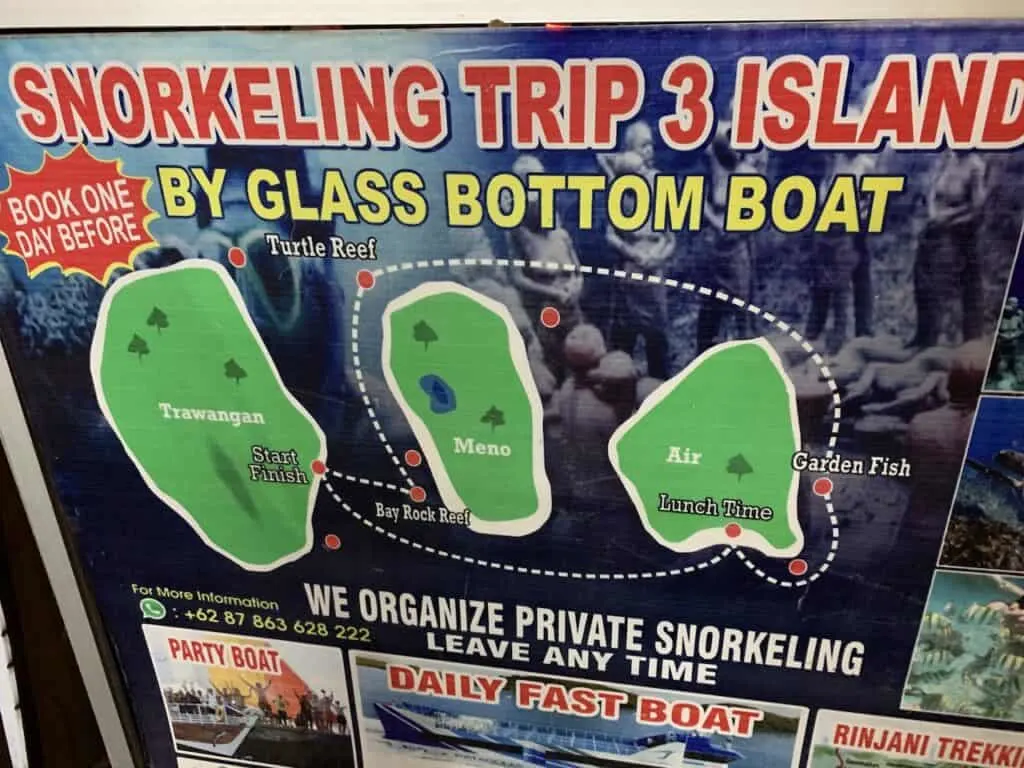 Gili T Nightlife
When it comes to nightlife among the Gili Islands (and Indonesia in general), Gili T is towards the top of the list.
All throughout the city center, you will find plenty of bars and nightlife option to enjoy.
What I like about Gili Trawangan, is that you can really get a whole array of options depending on what you are looking for.
Just because Gili T is known to be more of a party island, doesn't mean its all about partying.
While there are some louder and crowded bars, there are also some more laid-back beach bars too.
You can really find a wide nightlife spectrum on Gili T, and head somewhere that has an atmosphere that works for you.
Drug Note: in the past, Gili T has had a really bad image of being just a drug island. Over the years, things have calmed down. While you will find plenty of "magic mushroom" shakes & people offering some type of drugs to you, it is very easy to avoid that crowd.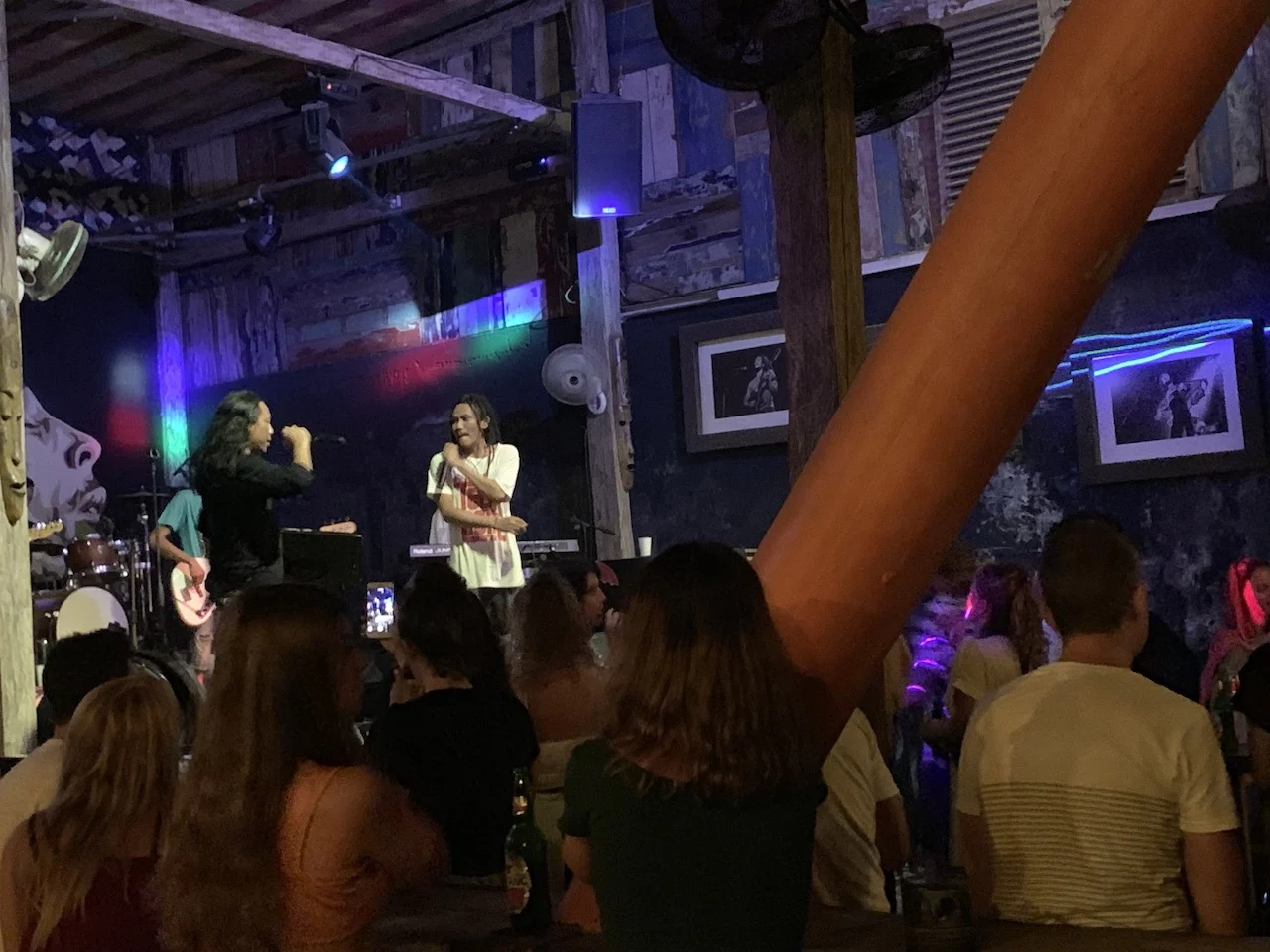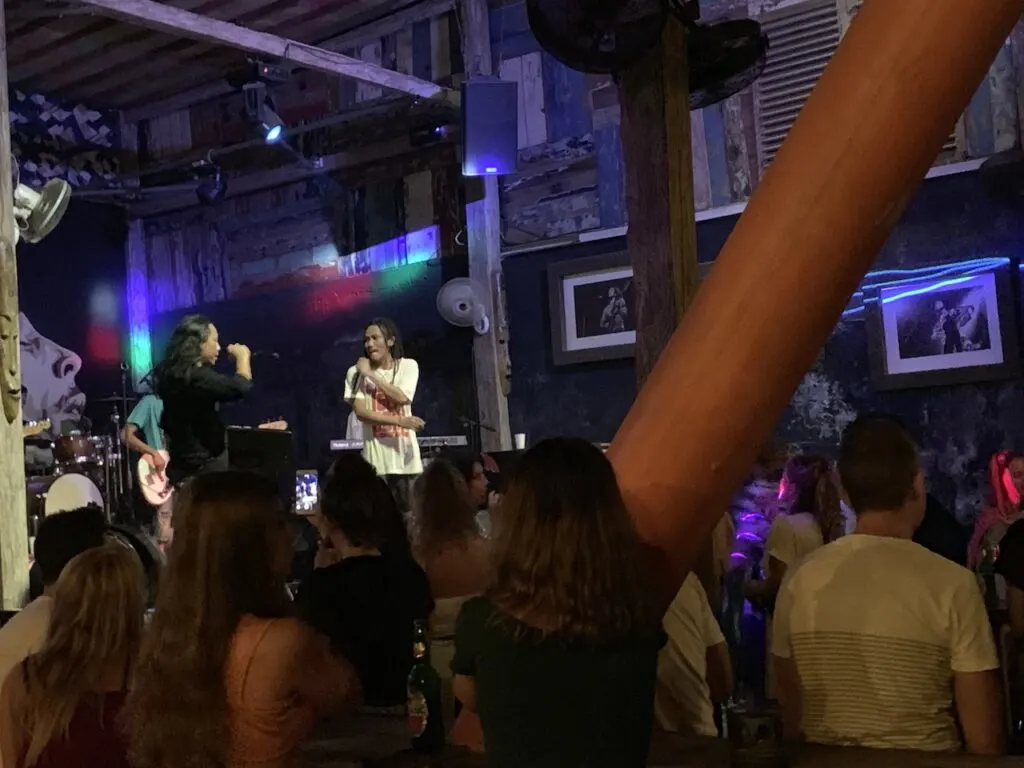 Night Market
While there are many restaurant options to choose from on the island, why not spend an evening checking out the famous Night Market.
The market is full of all types of fresh seafood, meats, salads, rice, and side dishes. Make the walk around to the different stalls & warungs as you find something that looks good to you.
You simply choose what you want and they will go ahead and cook it right there on the spot.
Cooking Class
While a night market is one way to experience the local cuisine, why not try a cooking class too.
Taking part of a cooking class will give you the chance to learn from the locals as you make your own dishes.
Over the course of 2-3 hours you will be able to make a handful of Indonesian dishes, learn from local chefs, and eat your way through your final product.
The great thing about cooking classes is that you can then use your newly found skills to take back home. That way, you wont be too far off from having some Indonesian cuisine thousands of miles away.
Gili Air & Gili Meno
On one hand you can take one of those day trip boat cruises around Gili Air and Gili Meno, but those boats will not focus much time on the islands themselves.
Instead, you can opt to take a quick ferry ride to one or both of the islands and spend a day exploring them.
Both of these islands will offer much different vibes that Gili Trawangan. So, it will feel like a change of pace getting to experience another one of the Gili Islands during a visit.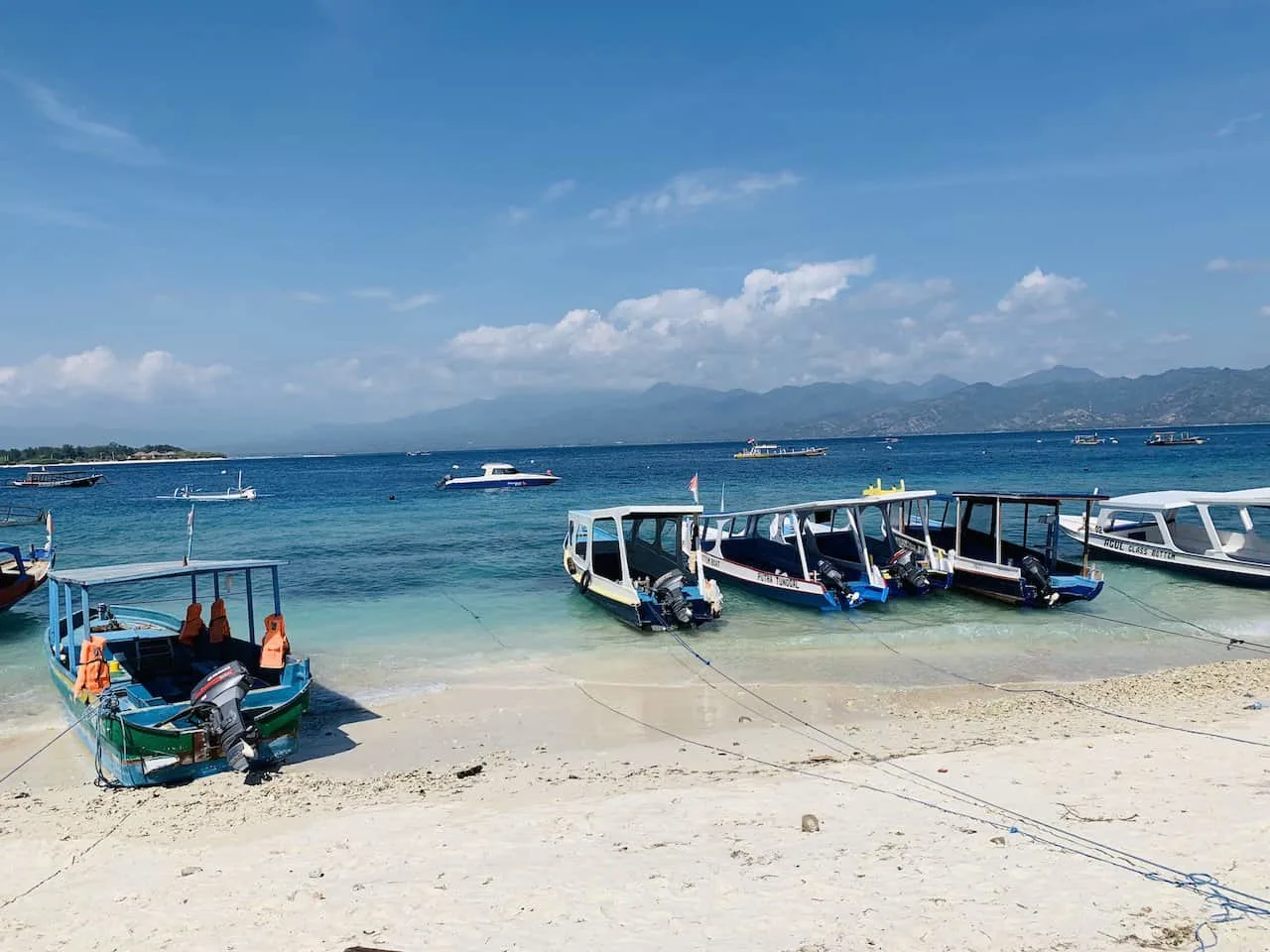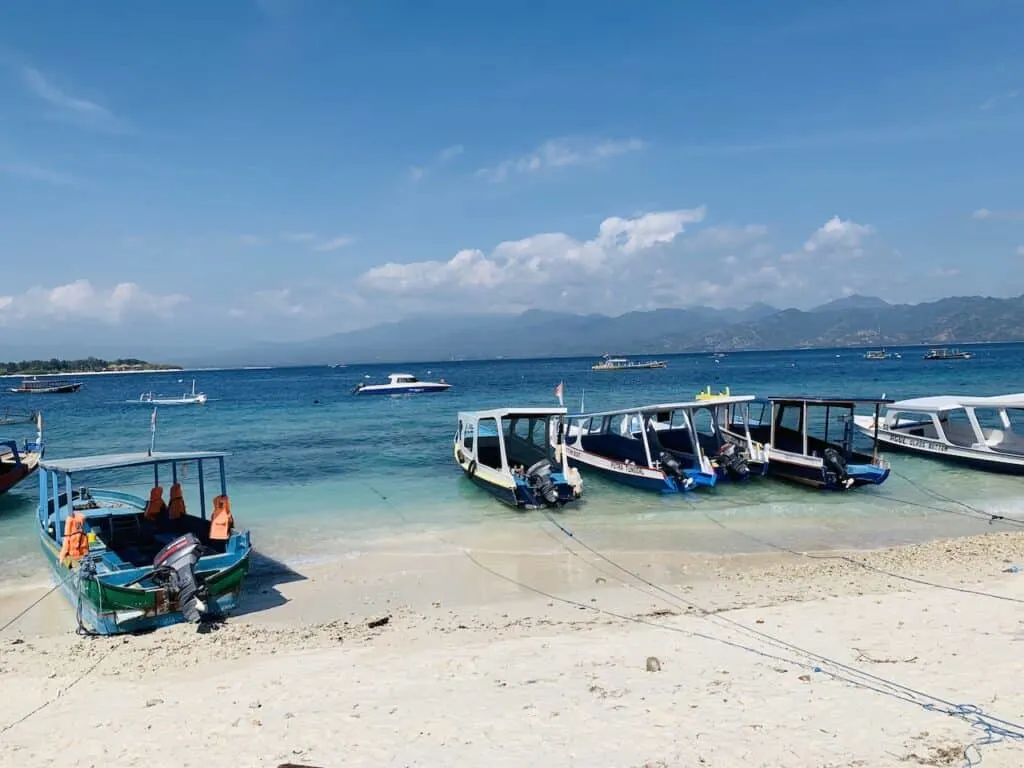 9) Restaurants & Food Options
All around Gili T you will find plenty of food options. Whether that is at a restaurant, night market, or a hotel's beach, there is no shortage of choices.
To better help point out some of the top spots, here is a short list of the best restaurants out on Gili Trawangan:
Jali Kitchen: Ausion Fushion Cuisine
The Banyan Tree: Cafe, Breakfast Bowls, & Brunch
Pearl Beach Lounge: Healthy Food by the Beach
Regina Pizzeria: Gili T's Best Pizza
Hellocapitano Lifestyle Café: Healthy Breakfast & Brunch
Tiki Grove: Tiki Bar with Tacos
Ego Beachfront: Perfect for Seafood & BBQ
Casa Vintage Beach: Jamaican & Caribbean Cuisine
Ko Ko Mo: Beachside Restaurant with All Day Options
Scallywags: Fresh Seafood on the Beach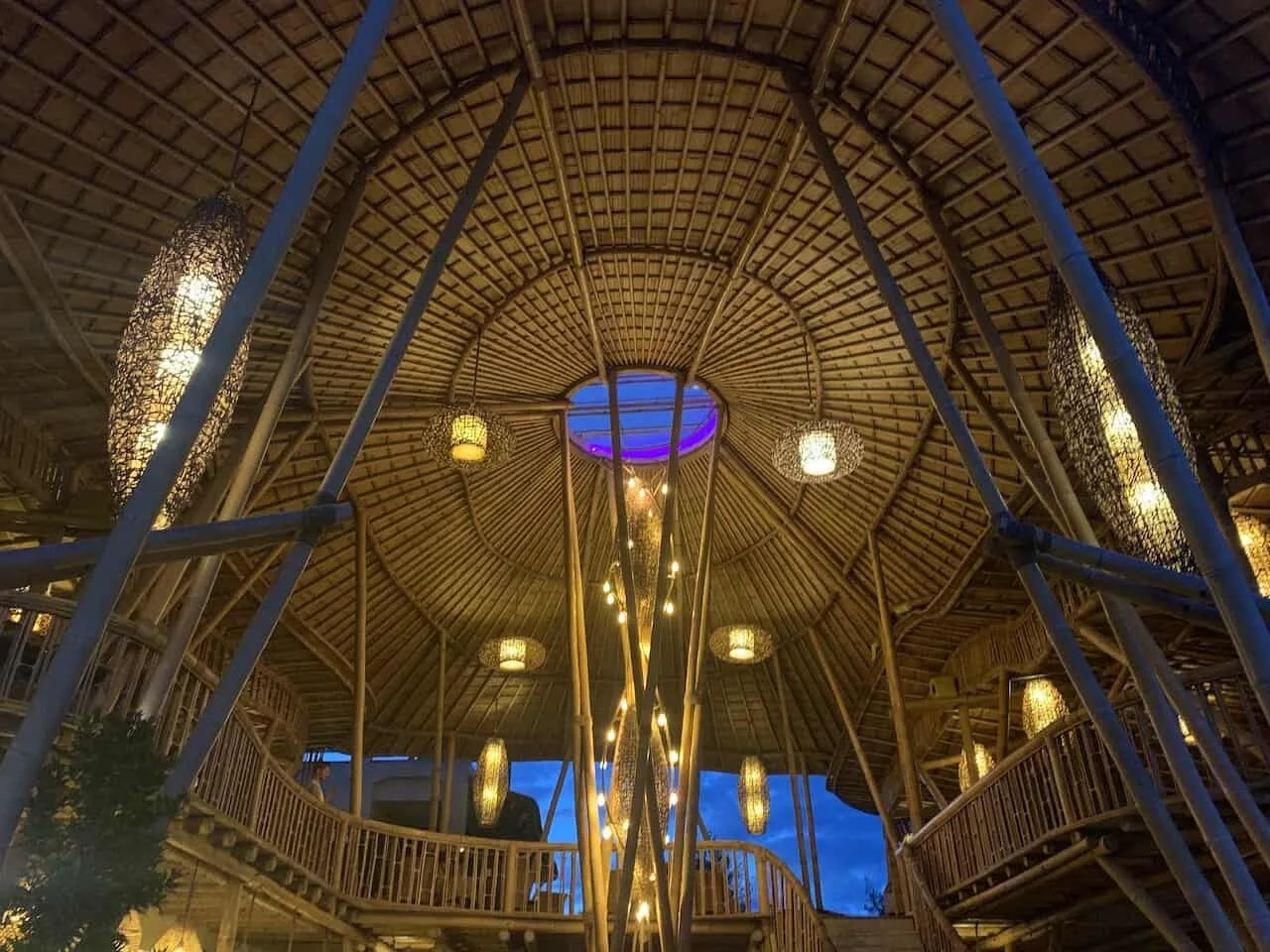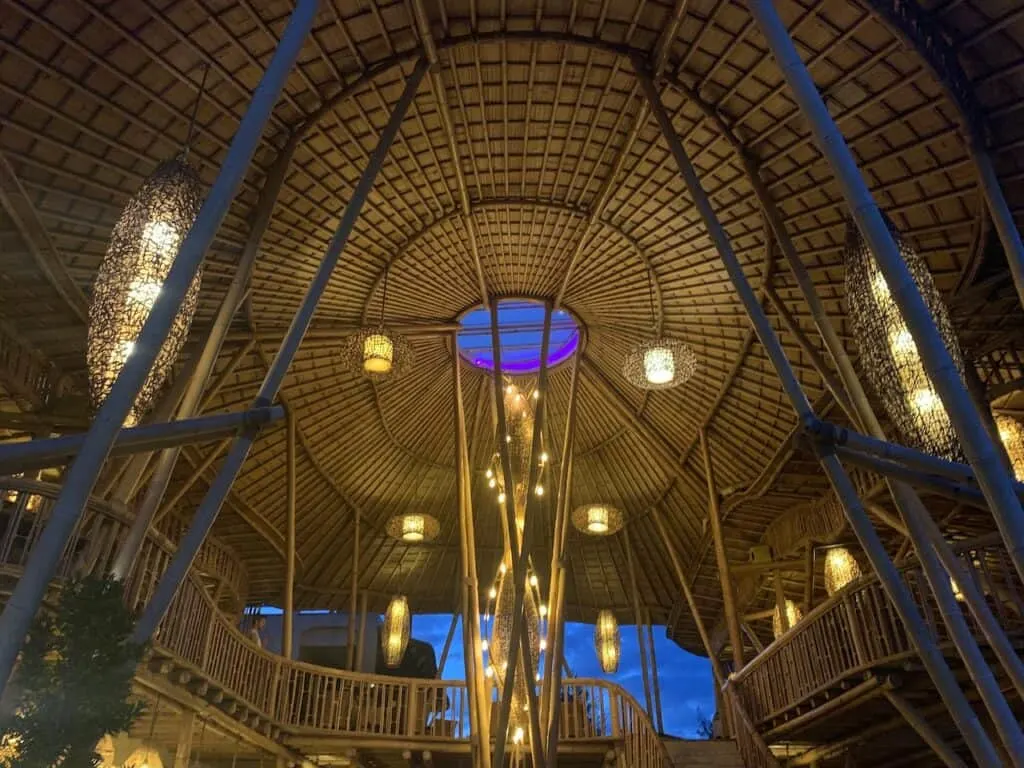 10) Is It Worth Going to Gili Trawangan
With all of that said, you may be asking yourself is it worth going to Gili Trawangan.
And without a doubt, my answer would be yes you should!
After traveling all throughout Indonesia, visiting places like Java, Bali, among others, I found that Gili T was a much-needed stop for me.
I love the idea that everything is within walking & bicycling distance, and you can really get exactly what you are looking for from the island.
The beautiful sunsets, various nightlife options, off the beach snorkeling, and one of kind scuba diving spots, really made Gili T a place I will always remember.
If you are looking for a unique, fun, and activity filled island in Indonesia, then Gili T is for you.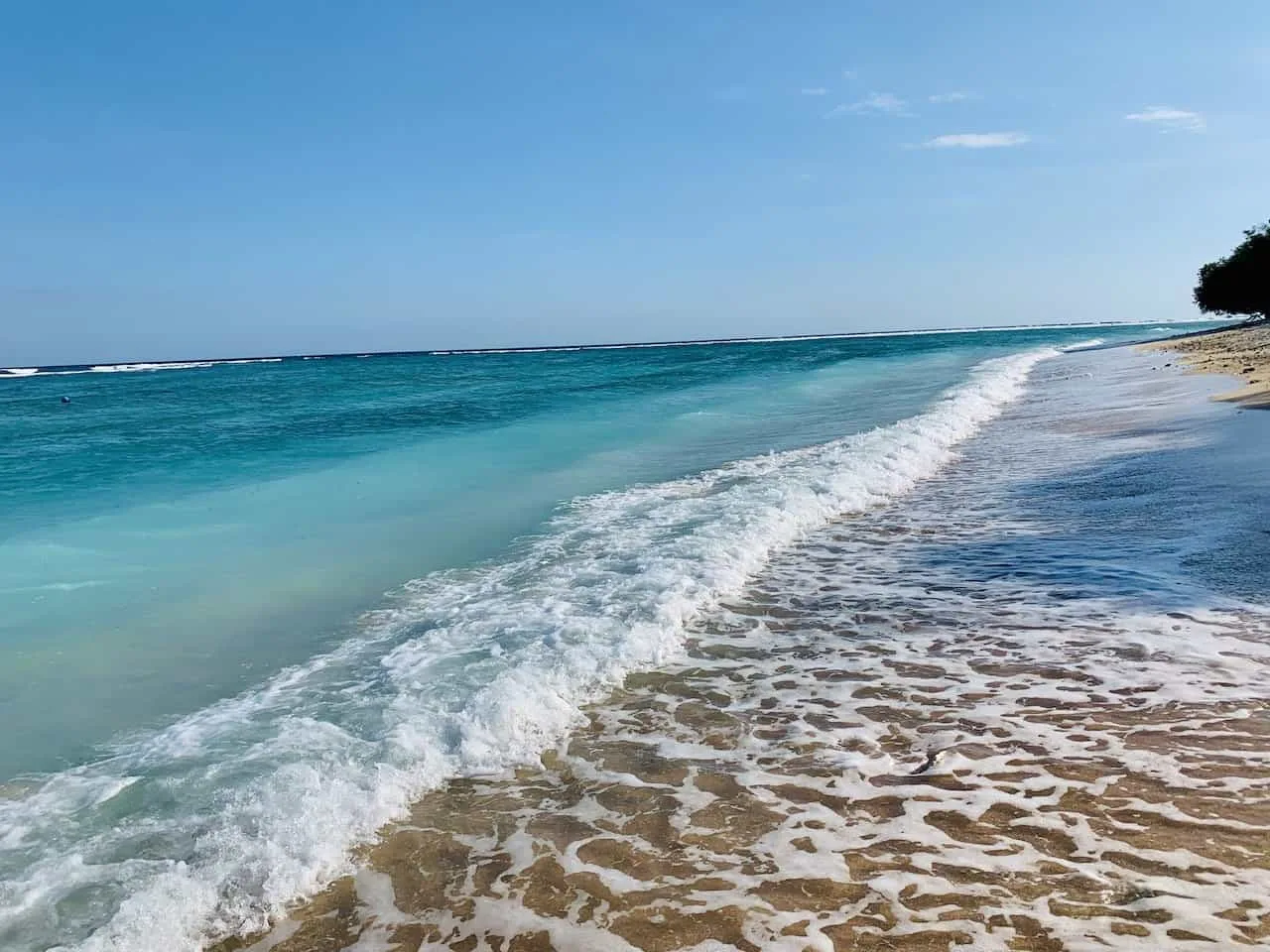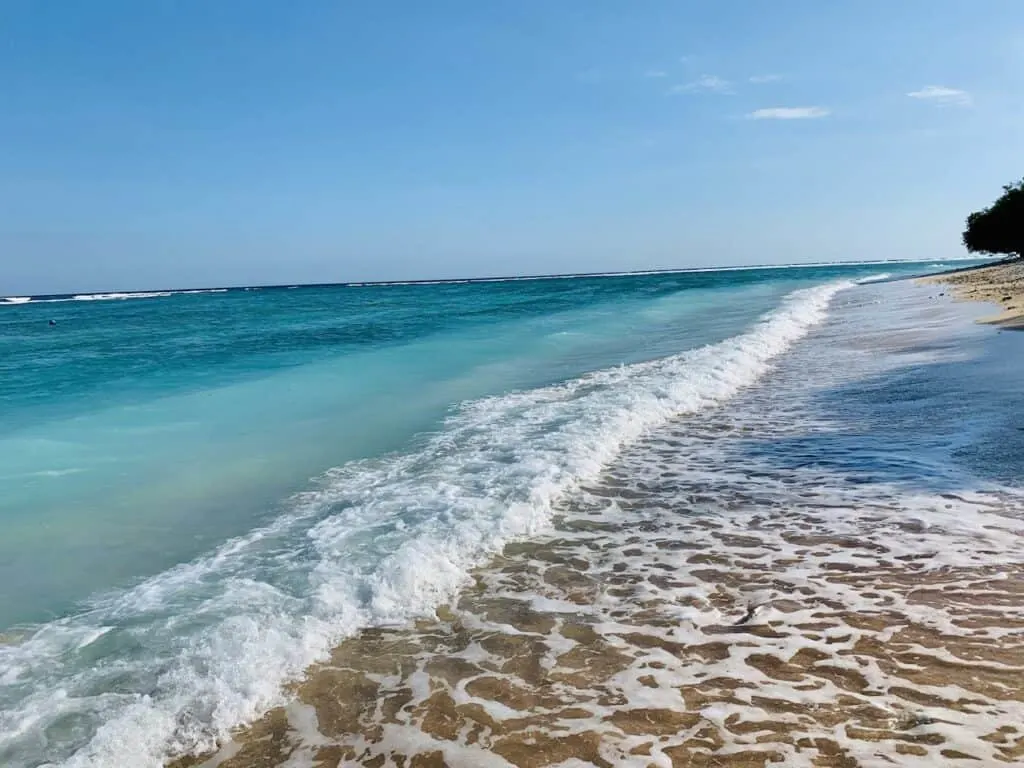 11) How Many Days Do You Need in Gili Trawangan?
I would recommend spending around 3 days in Gili Trawangan to fully take advantage of a visit.
Three days (and two nights) will give you enough time to take part of activities, relax on the beach, and of course view a couple of magical sunsets.
During my time on Gili T, I actually spent 5 days there. But that was during my around the world itinerary. So, it was nice to have some additional days of relaxation.
A 3-day itinerary to Gili T can look something like this:
Day 1: Rent Bicycles, Snorkel with Turtles, Relax on the Beach & Enjoy a Sunset
Day 2: Head out Scuba Diving or on the Island-Hopping Tour (and another sunset!)
Day 3: Take a Cooking Class, More Beach & Snorkeling, and Depart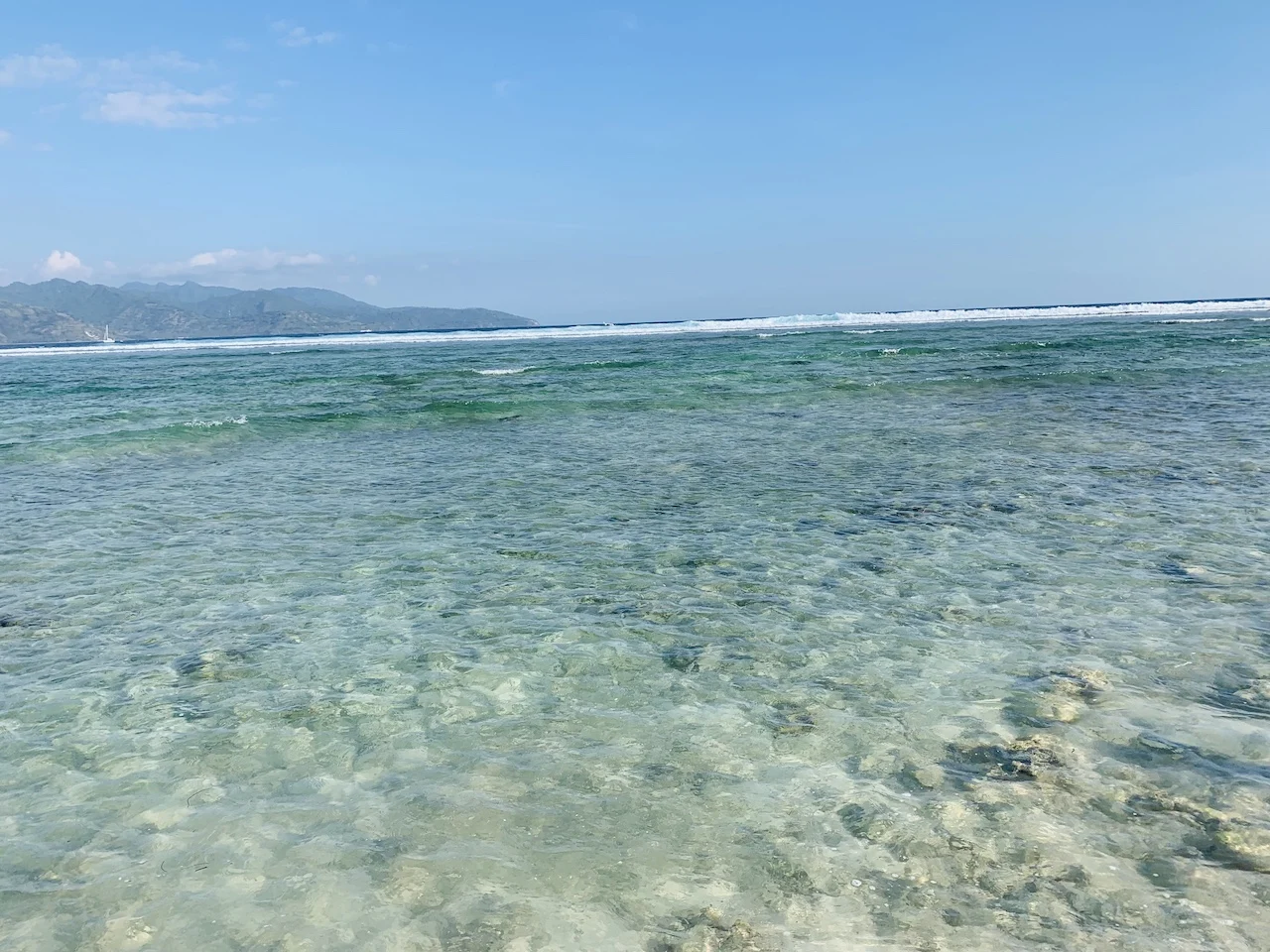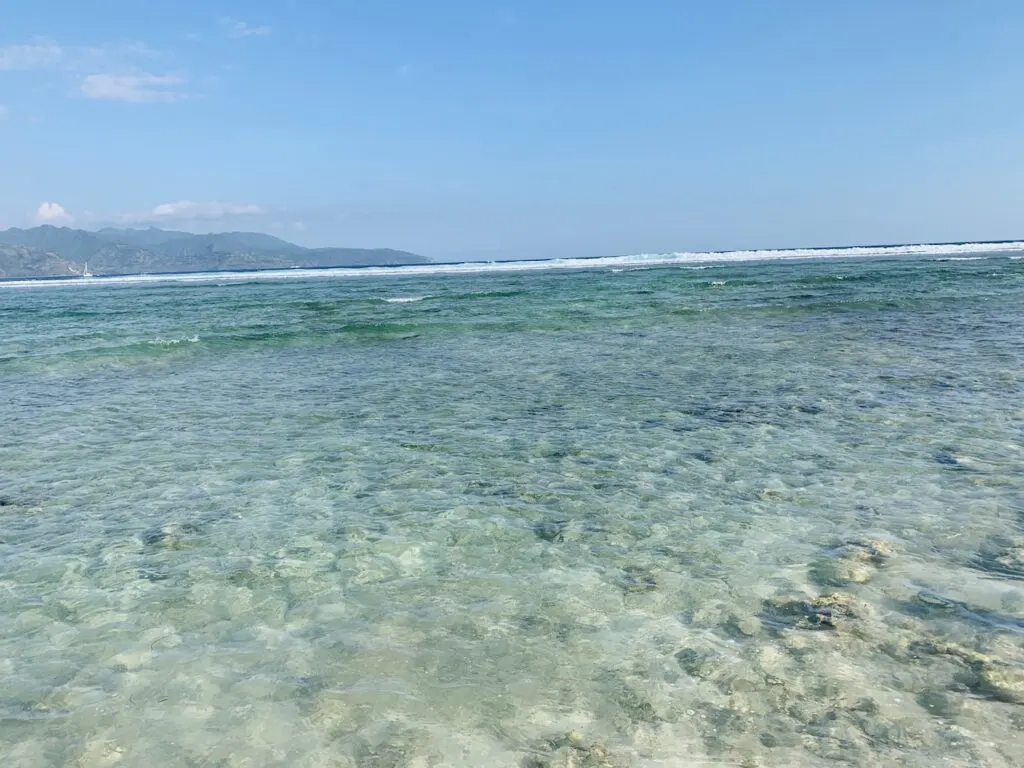 12) Is Gili Trawangan Expensive?
When comparing Gili Trawangan to the rest of the world, no, it is not expensive. However, it can be on the more expansive side when comparing against other places in Indonesia.
Even with that said though, your money can go a long way when visiting Gili T.
For a mid-range budget, you can expect to spend around $75 per day. This will mostly depend on what type of accommodation you choose.
A normal meal will cost around $10 USD ($20-$30 for all meals), a bicycle rental around $5 per day, and private rooms in hotels start at less than $10 (the average mid-range hotel is probably closer to $50 per night).
If you are on a tighter budget, you can easily get away with having a $25 USD daily budget and live just fine on the island.
Of course, costs can start adding up if you are going on each night, scuba diving, or taking part of other activities.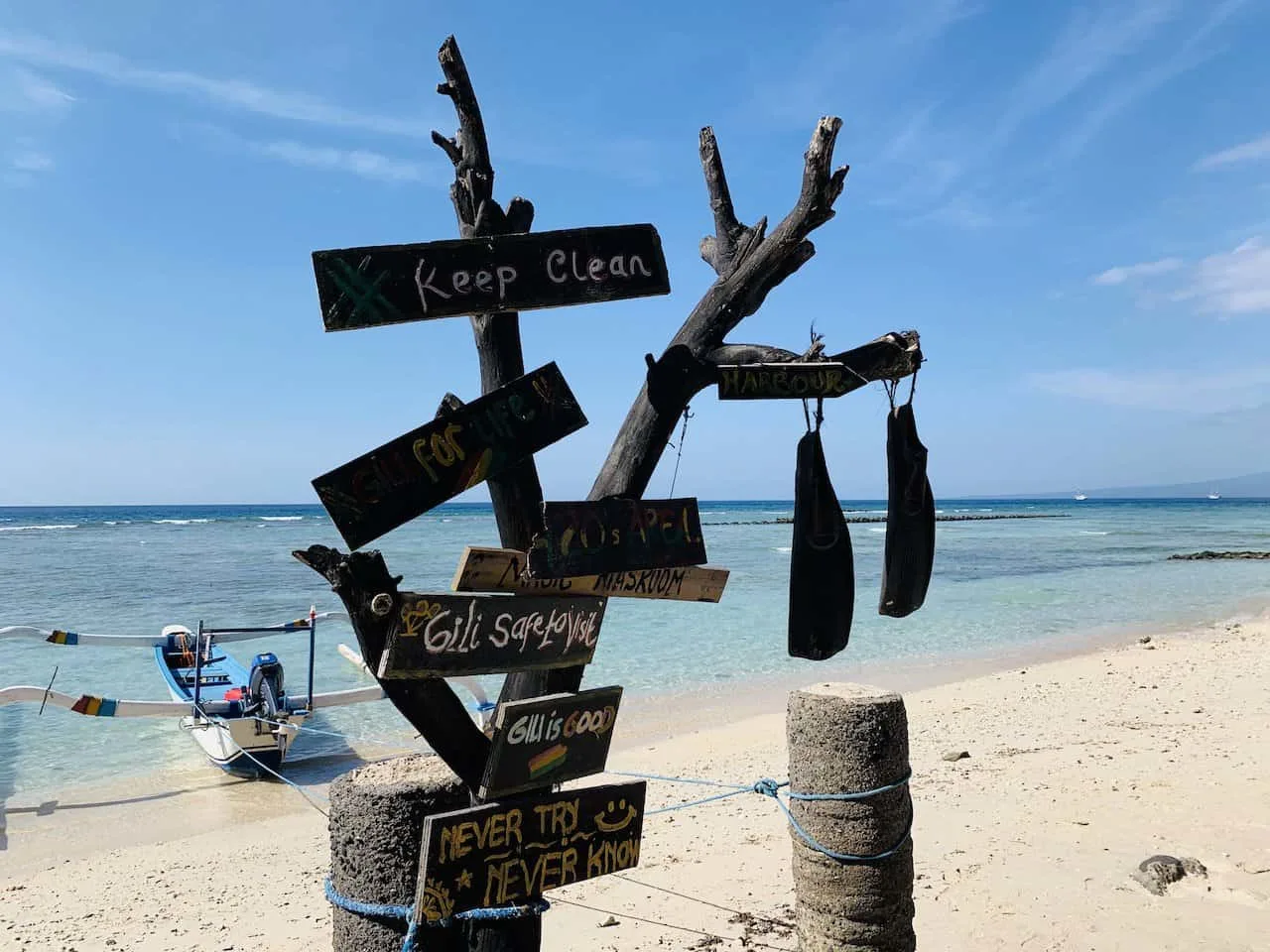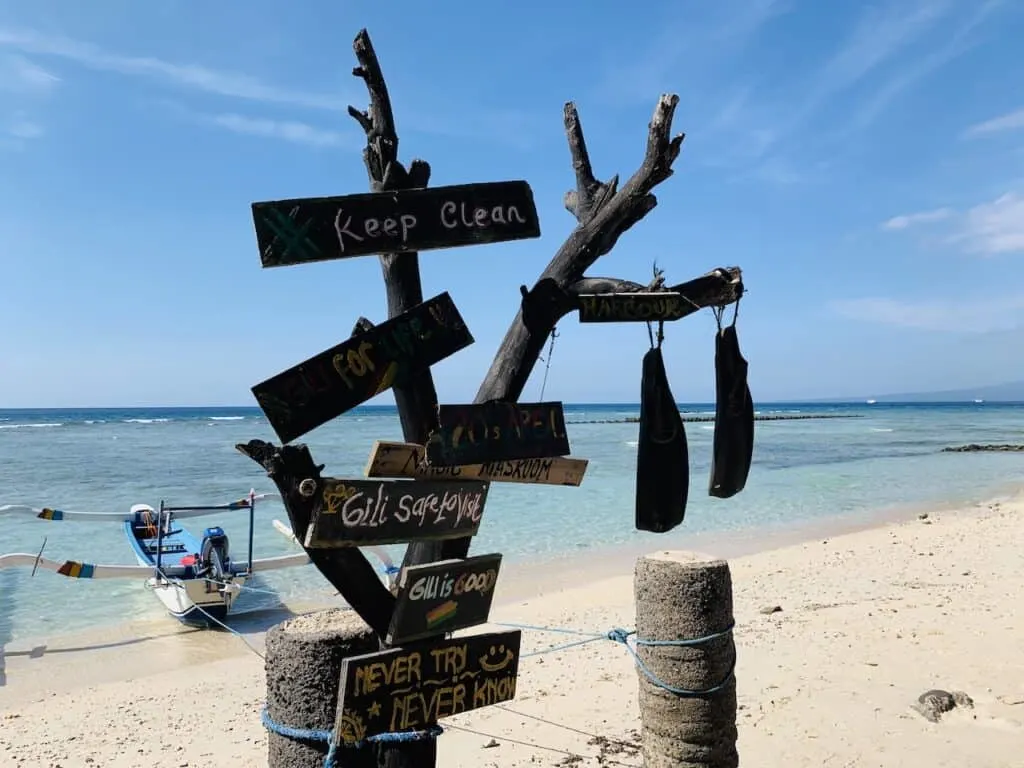 That does it for a travel guide to Gili Trawangan. If you have any questions or comments, be sure to add them in below.
Also, don't forget to check out the other Indonesia itineraries and guides up on the site (like hiking Mt Rinjani and Mt Batur).
Have fun out there and safe travels!