When visiting Bali, one of the must do activities is to visit the rice terraces that can be found all around the island.
While there are many to choose from, few are better than the Jatiluwih Rice Terraces in central Bali. This guide will go over what you need to know about the rice terraces and what to expect during a visit there.
* Affiliate Disclosure: This post may contain affiliate links, which means I may receive a commission if you make a purchase through the links provided, at no additional cost to you. Thanks for supporting the work I put into TripTins!
1) Background of Jatiluwih
The Jatiluwih Rice Terraces also known as the Jatiluwih Green Land are located in the Tabanan Regency of Bali.
They make up over 600 hectares of land near the Batukaru Mountain Range, giving visitors the chance to really get away from the crowds.
Throughout the rice fields you will find several trekking routes, viewpoints, and even an opportunity to bike ride through the fields.
What I really enjoyed most about Jatiluwih is the sheer size of the area and how open it is. There are other well known rice fields such as Tegalalang that are incredibly beautiful but they are just much smaller and narrower in size.
Jatiluwih offers that openness to it, with views that just go on and on, making the rice fields much less cramped.
As you walk through Jatiluwih you are sure to see farmers harvesting rice, historic temples, and the all important irrigation system that makes its way through the fields.
The communal water system is maintained by a Bali farmer cooperative known as subak, dating back all the way to the 9th century.
Overall, a trip to Bali is just not complete without a stop at some rice fields, and a visit to Jatiluwih is the perfect place to enjoy all that this beautiful landscape has to offer.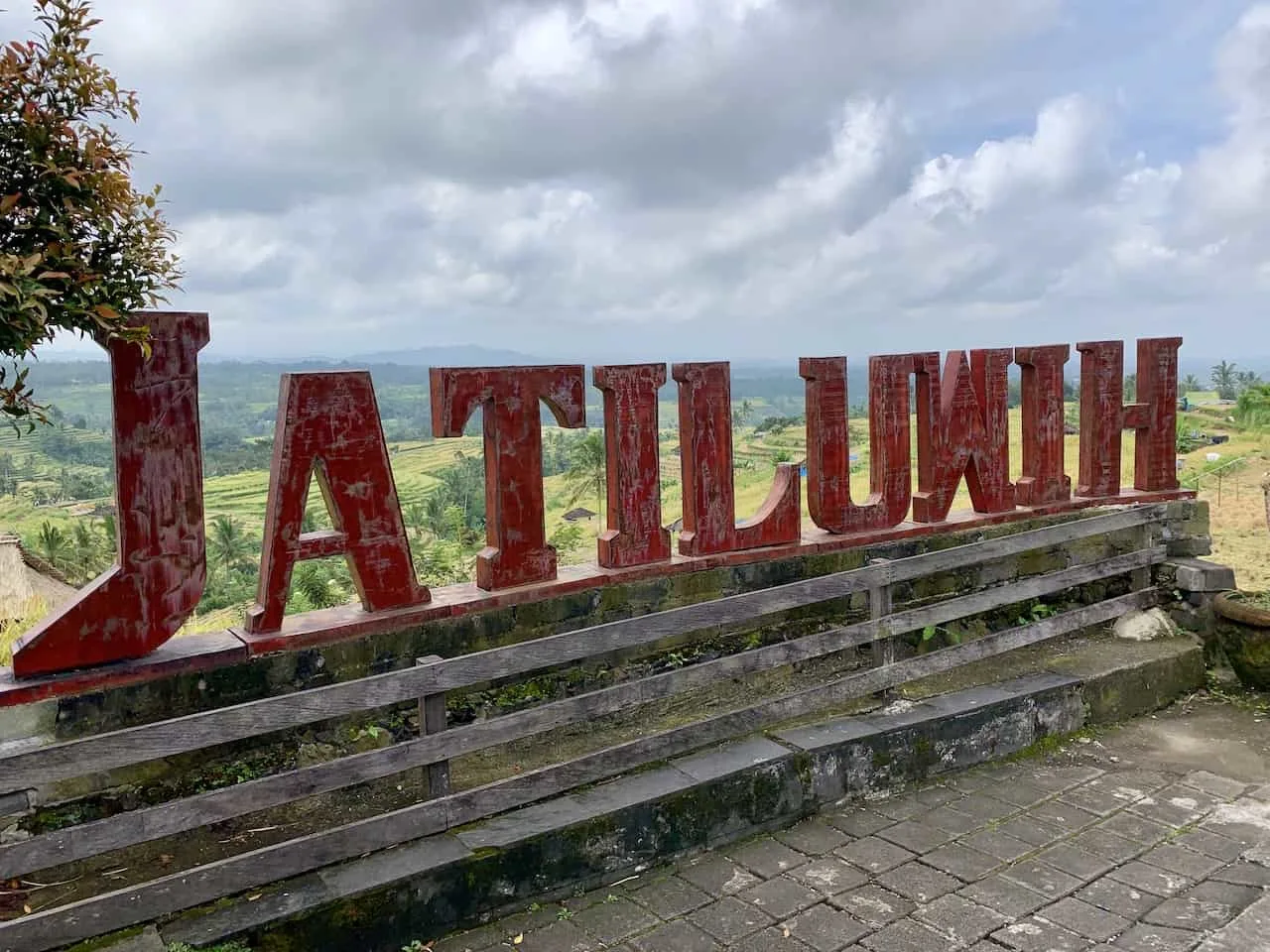 2) Jatiluwih Rice Terraces Location
The Jatiluwih Rice Terraces are pretty centrally located when looking at the whole island of Bali. While they are in the center though, there really isn't a major city nearby the Jatiluwih. Due to this fact, Jatiluwih is not overcrowded with tourists packing the rice terraces.
A visit to Jatiluwih offers a peaceful and beautiful experience away from the crowds and it give you the chance to really explore the ins and outs of the rice terraces without the touristy feel to it.
Visiting the Jatiluwih Rice Terraces can really be done from anywhere on Bali and would most likely comprise of a day trip from wherever you are coming from.
No matter where you base yourself, you can easily add other nearby attractions to your day trip as you explore more of what Bali has to offer (such as some top Bali waterfalls).
Another option here is to add a visit to Jatiluwih as you make your way between cities. For example, during my time on Bali I visited Munduk up north and Ubud, which is a bit more central. Jatiluwih lays right in between the two, so it made sense to make it a stop during the drive.
Below you can see a map with the Jatiluwih Rice Terraces location along with the routes from a few of the main areas where you may be coming from – the Seminyak area down south (1.5 hours), Ubud located more central (1:15 hours), or Munduk up north (1:15 hours).
Of course there are other places you may be coming from, so simply just input your location into Google Maps to see the route for yourself.
3) How to Get to Jatiluwih
Now that you know where the Jatiluwih Rice Terraces are located, you will want to figure out how to visit the rice terraces on your own.
There are three main ways to go about a visit there – hire a driver for the day, ride your own scooter, or join a guided tour. There are pros and cons to each option which I will talk about below:
Hire a Driver
One of the more popular ways to explore Bali is to hire a driver for the day as you head from one attraction to the next.
The cost to hire a driver is around $50 USD, which can be a relatively inexpensive way to see the island in comfort when splitting the cost among a few people.
You can easily set up a driver when you get to whatever town you are staying in, either through your hotel or finding one in the streets.
Hire a Scooter
The second option here is to hire a scooter for your time on Bali. Scooters are the cheapest option if going solo or with one other person. You should expect to pay around $5 – $10 USD per day plus gas costs.
I will say though, that you should only rent a scooter if you are 100% confident in your abilities to maneuver the roads. Accidents happen frequently among the inexperienced drivers so only rent a scooter if you have done so before.
Join A Tour
Lastly, you can join a guided tour that will include the Jatiluwih Rice Terraces among other attractions during a full day around the island.
This is a great option for solo travelers to meet other people as well as have everything taken care of during a full day of touring. Below are some great options to choose from when deciding between options: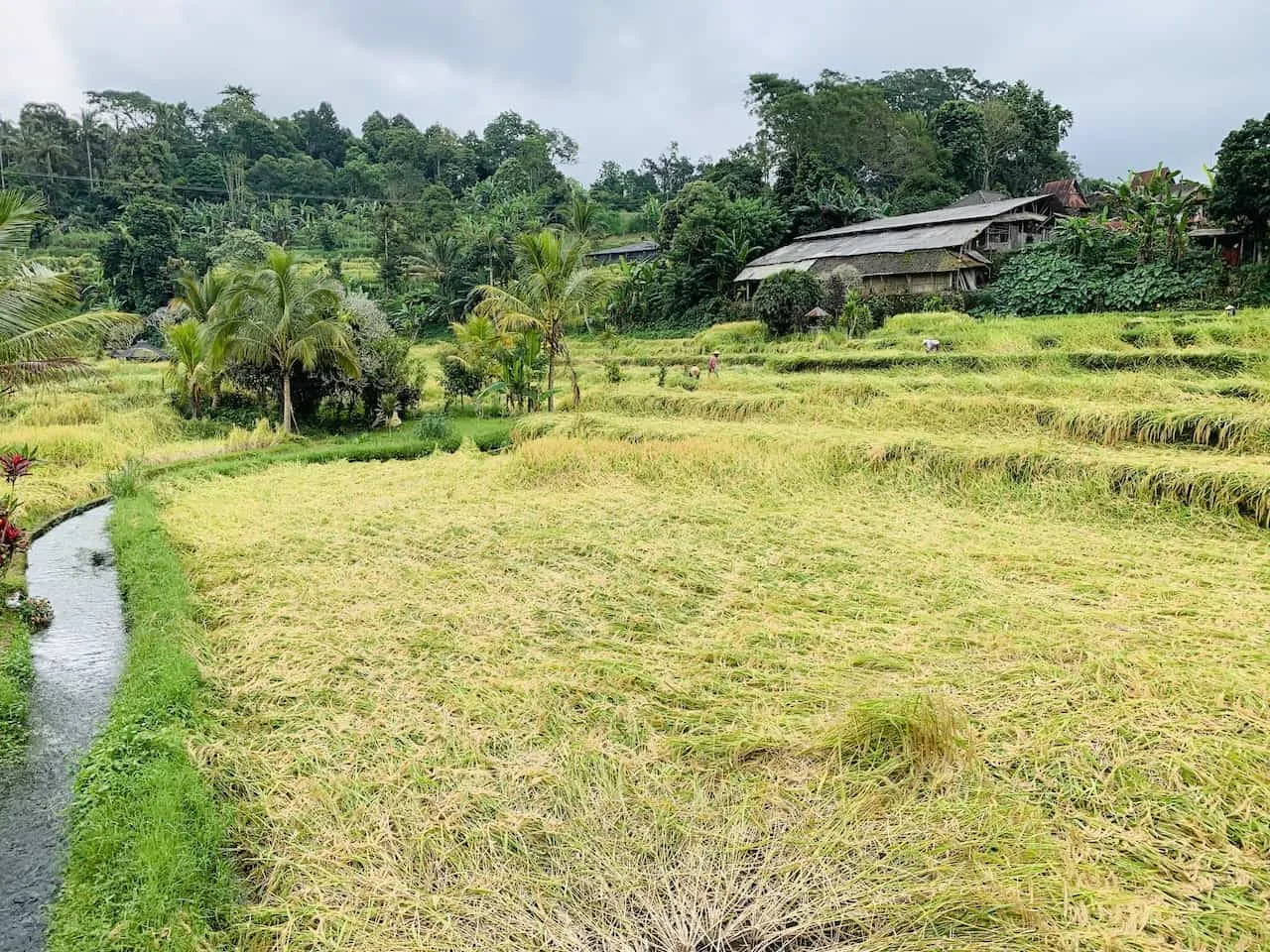 4) Jatiluwih Hours and Prices
When entering the road towards the main entrance of the rice terraces, you will come across a toll booth of sorts where you will purchase your tickets.
Once purchased, you can continue along in the car towards the entrance.
Ticket Prices: 40.000 IDR Adult | 30.000 IDR Child
Parking Prices: 5.000 IDR Car | 10.000 IDR Microbus/Bus
The rice terraces are open from 8:30AM – 6:00PM every day. The earlier you arrive in the day (or later on in the afternoon) the less crowds you will come by but like I mentioned before, it is not an overcrowded attraction to begin with.
5) Jatiluwih Rice Terraces Map
What I loved most about visiting Jatiluwih, is that it does not solely offer beautiful views of the rice terraces. You can actually head into the rice terraces along a variety of different colored routes.
These routes last anywhere from 30 minutes to 4 hours. Depending on your schedule for the day, you can pick and choose what is best for you.
Red Line Short Track

: 30-45 Minutes / 1.5KM

Purple Line Medium Track

: 1-1.5 Hours / 2KM

Yellow Line Medium Track

: 1-2 Hours / 2.3KM

Blue Line Long Track

: 1.5-2 Hours / 3.1KM

White Line Extra Track

: 3.5-4 Hours / 5.5KM (cycling option too!)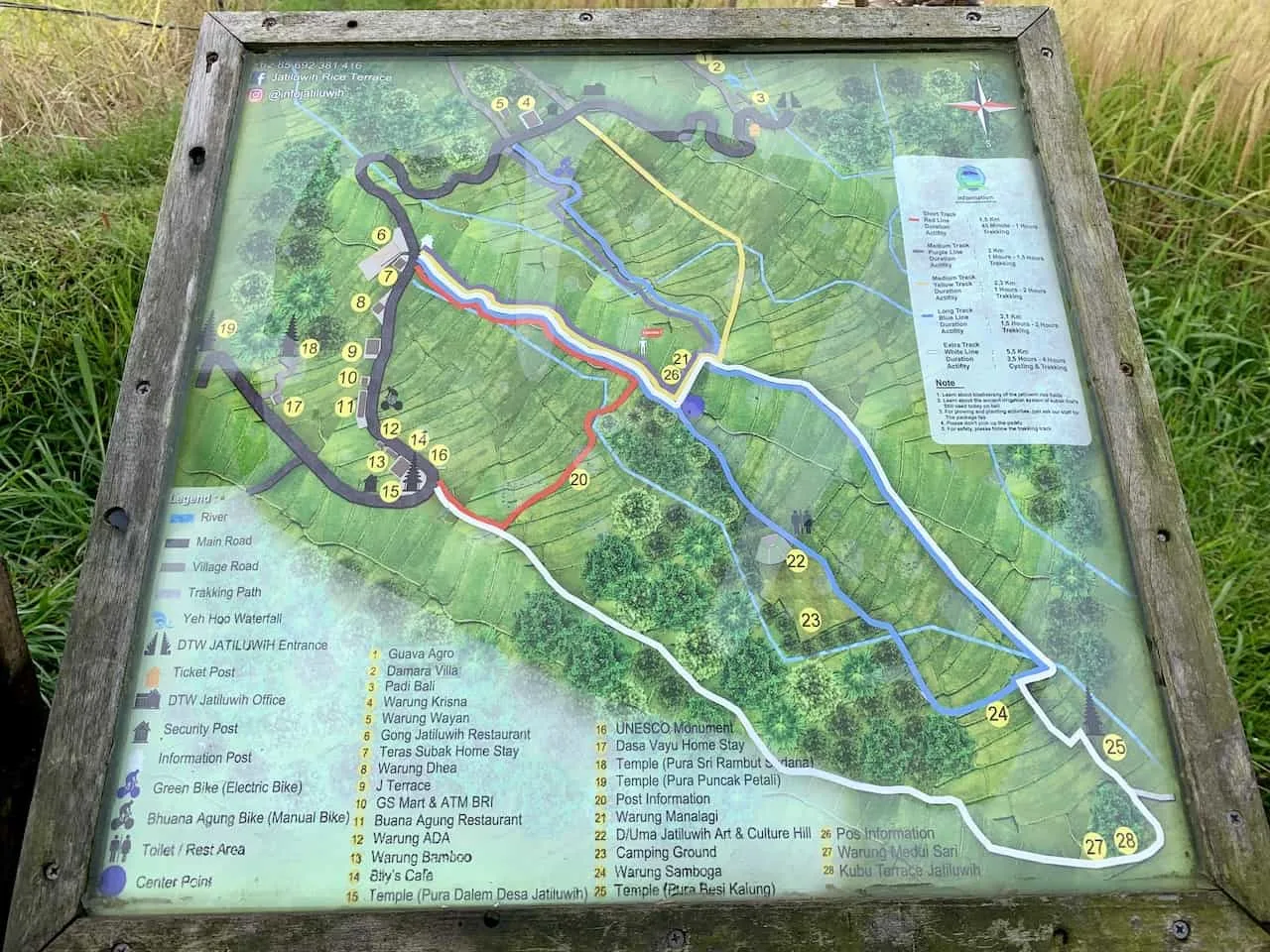 The main entrance point to the rice fields is by #16 on the map above. From there you can head on the red/white route and decide where to go from there.
If you head further down into the rice fields, you eventually need to come back up which will require a bit of elevation gain.
It is nothing too bad, as the rice fields aren't that steep but just wanted to give the heads up there especially if headed on the blue or white routes.
When I headed into the rice terraces I did a combo of a couple different routes. I started on the red route, headed across the fields, and then continued along on the yellow route, ending up by #4 on the main road.
6) The Jatiluwih Rice Terraces
After paying the entrance fee and arriving at the Jatiluwih Rice Terraces entrance, all you need to do is find a parking spot and head on into the terraces for yourself. Now, you don't necessarily need to hike through the terraces.
You can enjoy the views from the top of the road and by the entrance of the never ending rice fields. However, if you want to change up the views and get into the rice fields, I couldn't recommend it enough.
At the entrance of the rice fields you will see the gigantic Jatiluwih sign and the nearby maps with the different walking routes. As mentioned there are 5 different routes to choose from depending on preference.
Although not touristy at all, I was pleasantly surprised by the constant maps and colored coded signs located throughout the trails.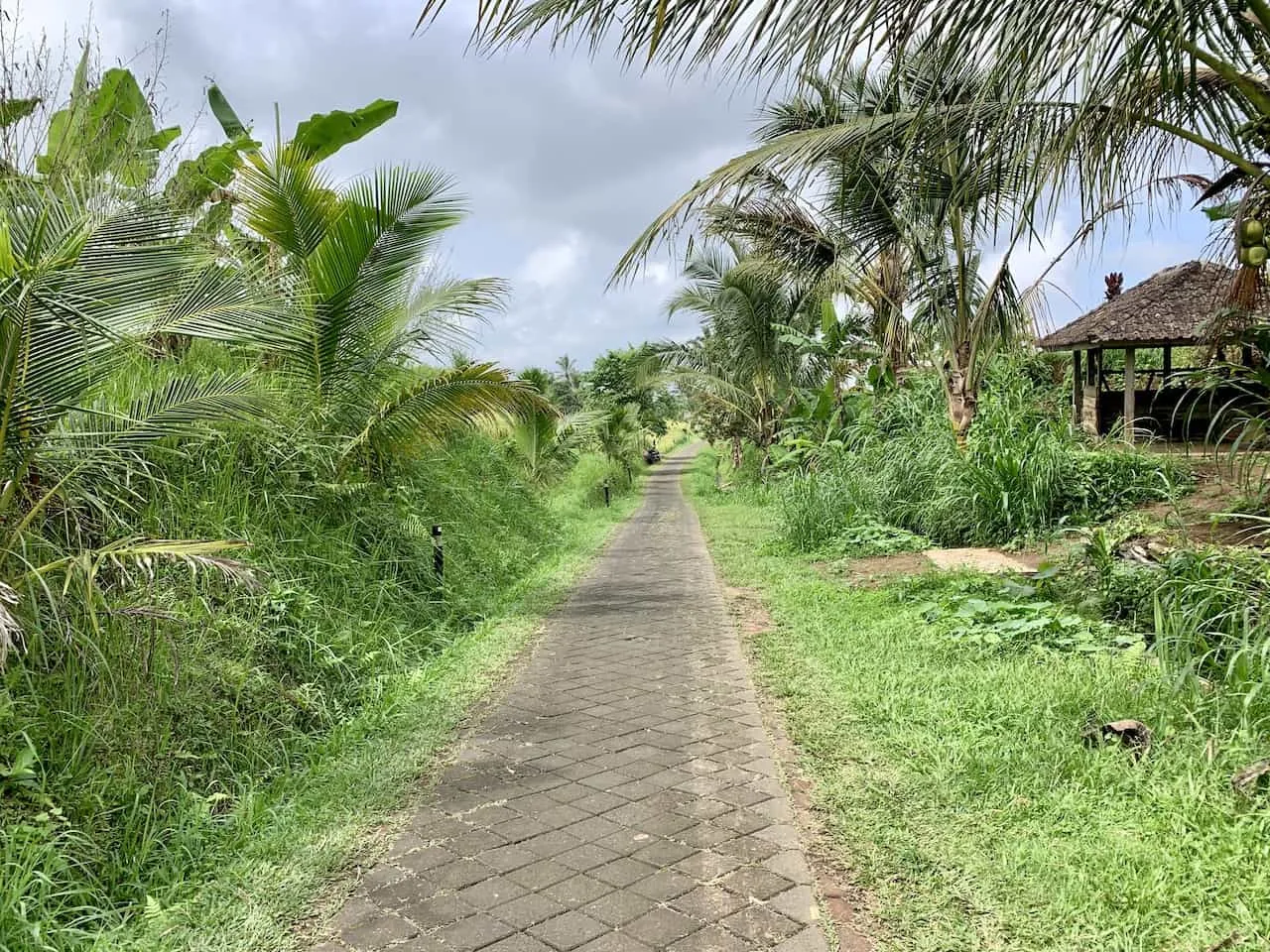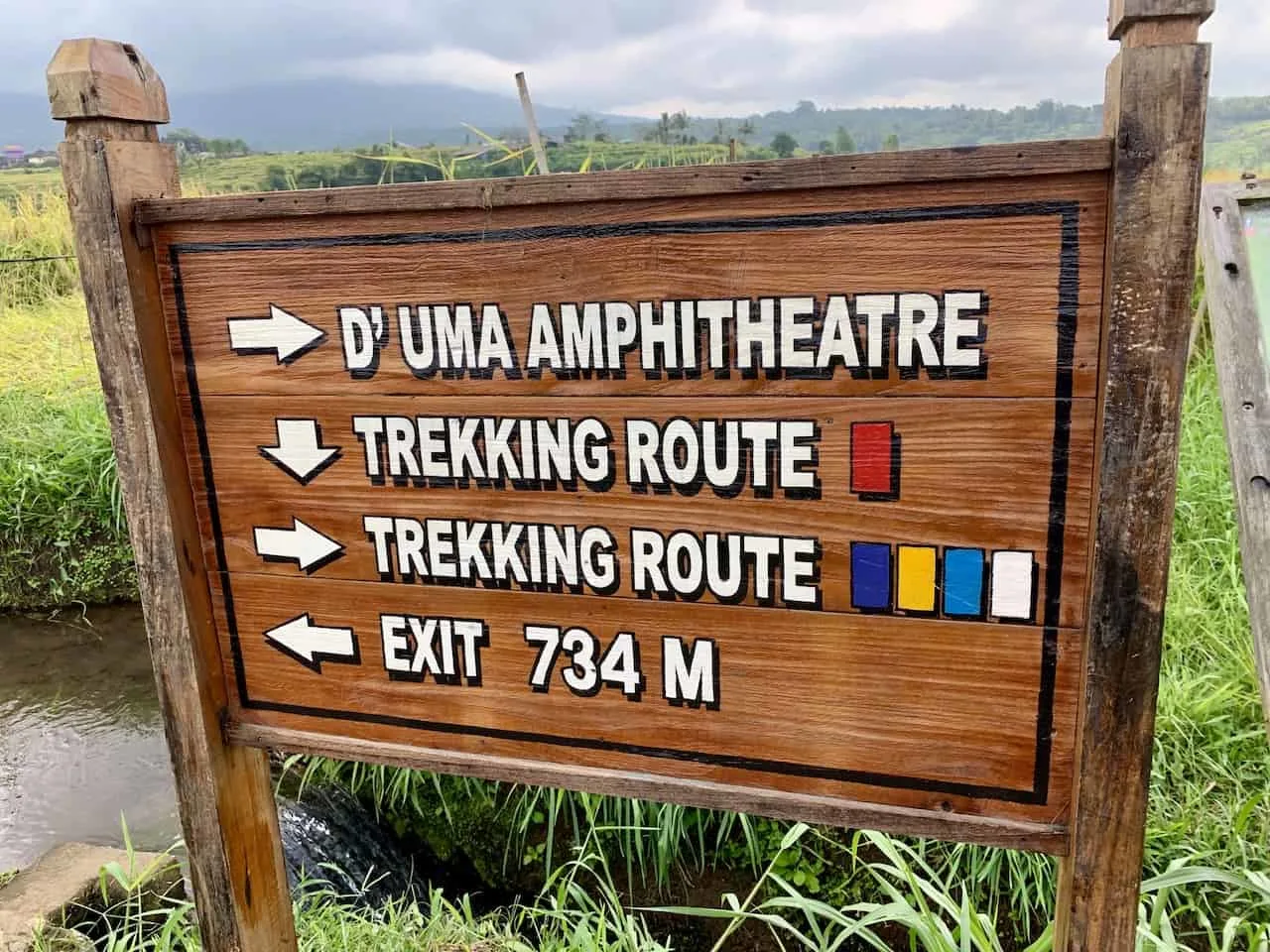 No matter where you are in the fields, you won't get lost and you can easily figure out which direction to go in next.
You will come across intersections at one point or another so just pay attention to those signs so you don't end up on a different trail than expected.
Throughout your time out in the rice fields you will obviously come across a ton of rice, but you will also most likely see rice farmers out there in the fields as well.
Depending on time of year, some of the rice fields may already be harvested or the rice fields may be completely flooded. No matter what though, you will still get to enjoy those incredible rice terrace views all around.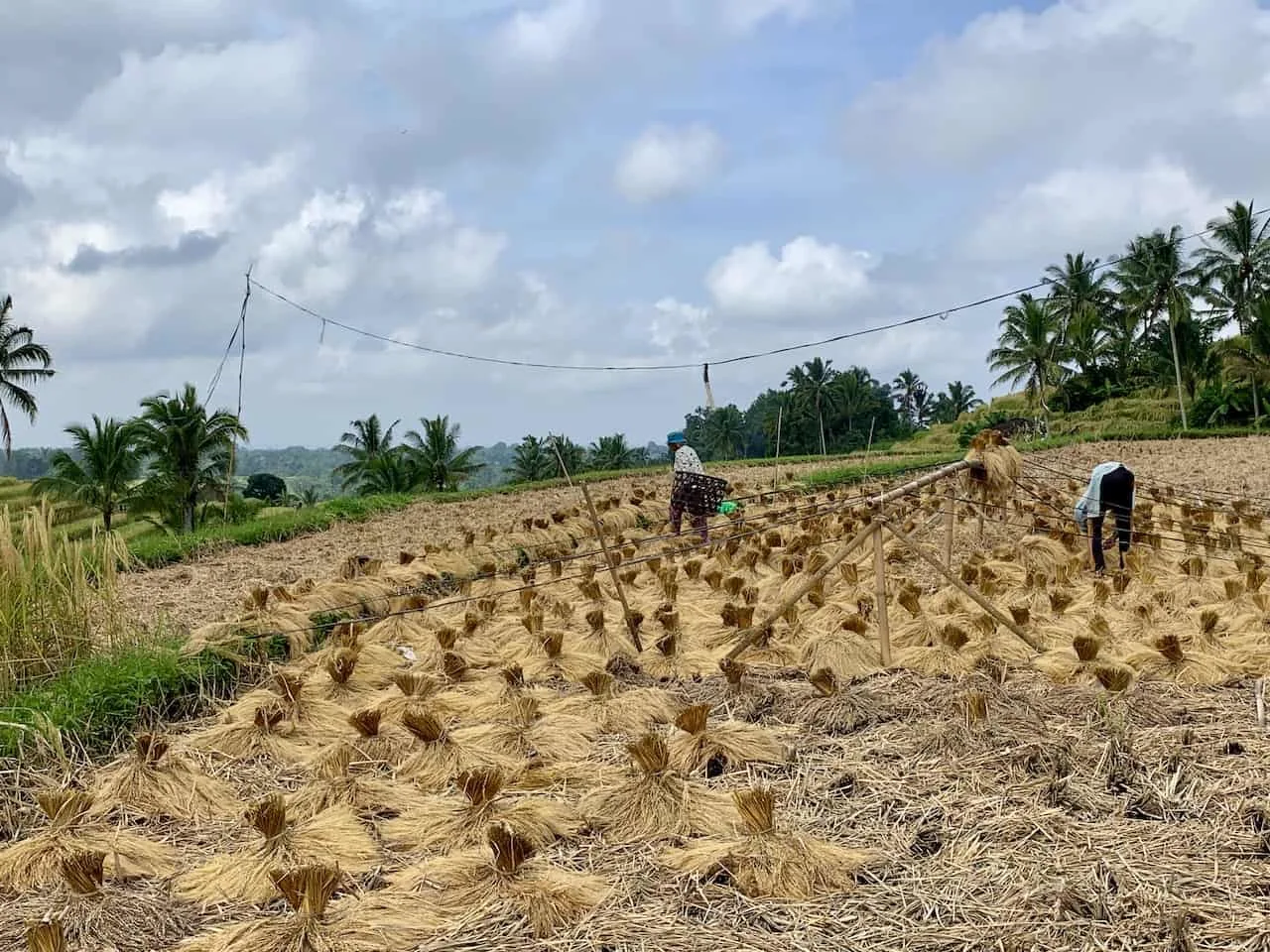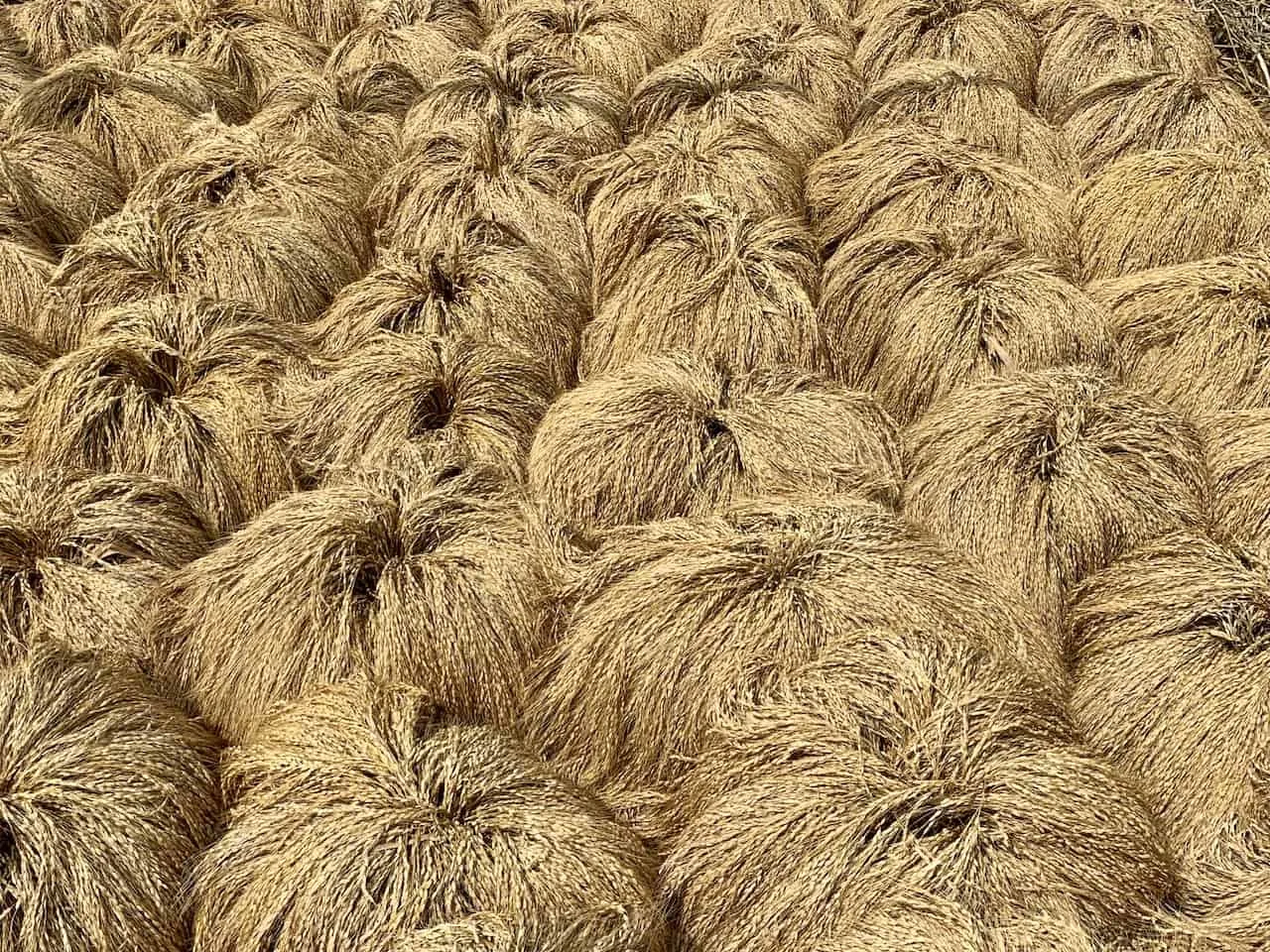 Take your time walking the rice fields, enjoying the views, and getting those photos in. At some point or another towards the end of the trail, you will most likely exit back onto the main road (seen on the map above).
Wherever you end up exiting, you will need to walk back on the main road to the entrance of Jatiluwih.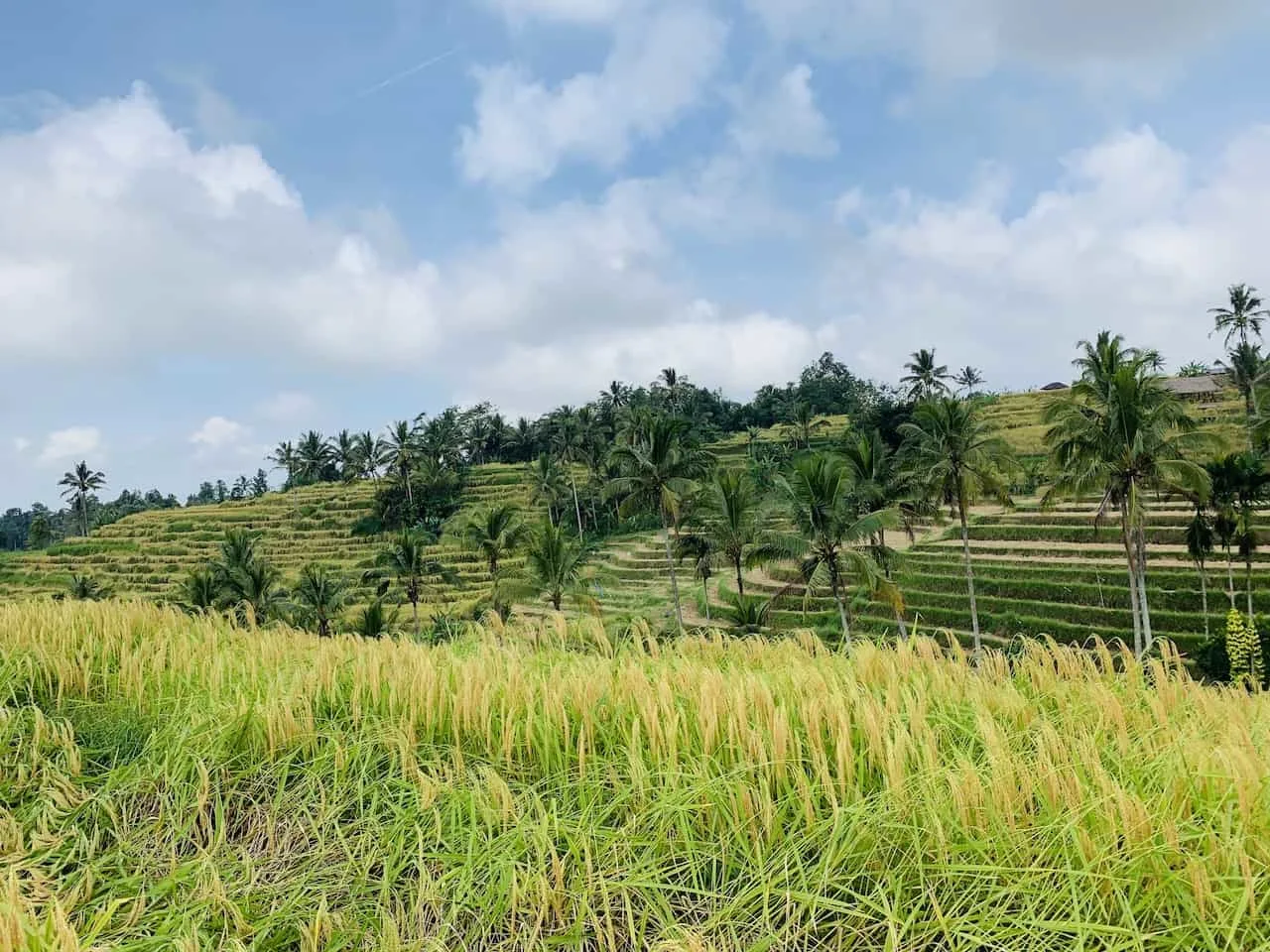 Once you are back at the entrance you can hop back into your car or scooter to continue on with your day.
You can also enjoy some lunch and/or drinks at one of the several restaurants that line the road overlooking the rice fields.
I would highly suggest doing so if interested, and heading up to one of the outdoor balconies to enjoy the view from above.
I hope this guide has helped you out with planning your own trip to the Jatiluwih Rice Terraces. If you have any questions or comments feel free to write them in below.
Also don't forget to check out the other Indonesia itineraries and guides up on the site.
If you are exploring more of Bali, definitely take a look at ⇒ 3 Day Ubud Itinerary, Munduk Waterfall Trek, Aling Aling Waterfall, Banyumala Twin Waterfalls, and Sekumpul Waterfall.
Have fun out there and safe travels!