While Tumpak Sewu is the main attraction when it comes to East Java waterfalls, there is another incredible waterfall just down the valley – Goa Tetes.
With the Goa Tetes waterfall you are able to get right up close and personal to it as you climb its walls and explore its caves. It is sure to be a different type of waterfall experience than the other waterfalls in the region, and is a definite must do in my book.
* Affiliate Disclosure: This post may contain affiliate links, which means I may receive a commission if you make a purchase through the links provided, at no additional cost to you. Thanks for supporting the work I put into TripTins!
1) Goa Tetes Background
Name: Goa Tetes
Location: Lumajang Regency, East Java, Indonesia
Nearest Major City: Malang
Where to Stay: Dear Traveller Guest House & Glamping
Cost: 5,000 IDR / $0.40 USD
Hours: 7:00AM – 5:00PM
How Long to Spend: 2-3 Hours (+time at Tumpak Sewu)
» Since Goa Tetes is just a 15 minute walk down the valley from Tumpak Sewu, it is very common to combine these two waterfalls into one trip. If you go to both together, expect to spend around 4-5 hours to truly enjoy everything that these waterfalls have to offer.
» Learn more in the Tumpak Sewu Waterfall Guide «
2) Where is Goa Tetes
The Tumpak Sewu / Goa Tetes area has become more and more frequented over the last few years but it is still very much so an up and coming spot. Since it is not too close to the major cities, it can be quite inconvenient to get to.
The Java waterfall is located 2 hours southeast of Malang, 3.5 hours southeast of Surabaya, and 3.5 hours south of Cemoro Lawang.
If you are looking for the exact address of Goa Tetes, here is the official entrance from Google Maps (marked as Tumpak Sewu entrance since it is one of the same):
Jl. Raya Dampit-Lumajang No.16, Besukcukit, Sidomulyo, Pronojiwo, Kabupaten Lumajang, Jawa Timur 67374, Indonesia
The below map shows the location of the waterfall entrance and highlighted is the waterfall itself:
3) How to Get to Goa Tetes
There are a few steps in actually reaching Goa Tetes Waterfall since it is located a bit off the beaten path.
First you will need to make it to one of the cities mentioned above. My recommendation would to start out in Malang and head off from there.
Of course, you can also reach the waterfall from anywhere else in the country but for simplicity sake I just wanted to list out some of the major cities.
The easiest way to get to the area around Goa Tetes would be to either have your own car/scooter or have a driver take you there. I opted for the hiring a driver route as the roads in Indonesia can get very hectic with two lane streets turning into four lane streets and many drivers ignoring the rules of the road.
From Malang expect the cost of a driver to be anywhere around 500,000 IDR or $35 USD. If you are traveling with multiple people it is well worth the cost and removes any other logistic issues.
Your other option here is to go by public transportation, however after speaking with a few people who did so, I would not really recommend it due to the bus transfers and much longer journey time.
If you do go with a private driver you may be wondering how to go about getting in contact with one.
You have a couple options here – book one through a reputable tour company beforehand, ask around in Malang once you arrive there (or any other city you may be coming from), or get in contact with your accommodation near Goa Tetes who can help arrange a car.
I went with the last option as the guest house I stayed in was one of the friendliest and helpful places I could ask for. Are you wondering which place that may be? Well take a look in the next section…
4) Where to Stay in Lumajang
When it comes to accommodation options near Goa Tetes and the other waterfalls in the area, there really aren't too many out there. Thankfully though, there is one place that I seriously cannot recommend enough – Dear Traveller Guest House and Glamping.
From beginning to end these guys will take care of it all for you. Drivers, accommodation, food, guides – whatever you need, the owners and workers at Dear Traveller will have it covered.
After making my booking with them, I got in contact with the owners through WhatsApp, and they helped arrange a driver to pick me up from the Malang train station and take me right to the guest house.
It could not have been an easier process and it was a fantastic stay overall.
» If you would like to head there yourself feel free to book your room at Dear Traveller Guest House and Glamping ahead of time.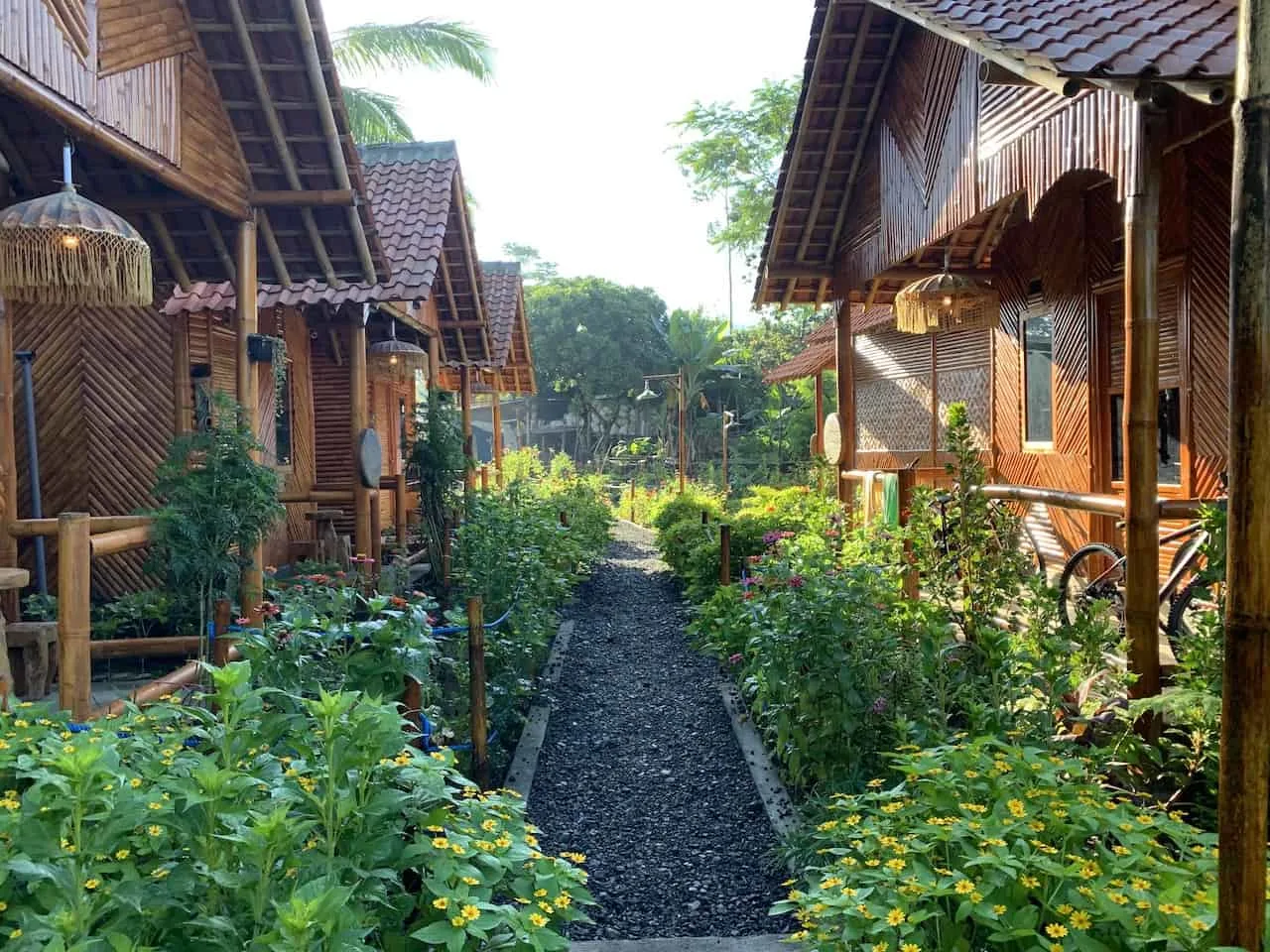 5) Goa Tetes Waterfall Day Trip
If you are not looking to stay overnight near Goa Tetes / Tumpak Sewu you can easily do a day trip from Malang as well. Since it is a 2 hour drive, you can make your way there early in the morning, spend a few hours by the waterfall, and then make the drive back at day's end.
Similarly, you will want to either book a full day driver/tour ahead of time, hire a driver once you arrive in Malang or rent your own car/scooter.
I would not advise a day trip from any of the other cities just because of the very long driving times back and forth.
One reason not to do the day trip though is because there are several more waterfalls right around the vicinity to visit. These include Kapas Biru, Coban Sriti, and Kabut Pelangi.
If you would like to visit the other three though, I would recommend at least 2 days exploring the area.
If you are just interested in Goa Tetes / Tumpak Sewu, then a day trip could work out just fine, and you probably will be able to add in one more waterfall if interested.
6) Packing List
Although you may just be visiting a waterfall, there are a few essentials that I would bring along with you to better prepare yourself for the trek down to Goa Tetes.
1) Dry Bag: since you will be getting wet during this experience I would highly recommend a dry bag to keep all your valuables safe. Take a look at this Earth Park Dry Bag to hold your belongings.
2) Hiking Shoes or Closed Toe Sandals: you will want to watch your step as you go down the slippery path into the valley. Having hiking shoes or closed toe sandals will be your best bet here. I would not recommend going down with flip flops. Take a look at the Keen Targhee III that I have been wearing recently or these Keen Newport H2 Sandals.
3) GoPro: if you want to get up and close to Goa Tetes (and some of the other waterfalls in the valley) you will get wet. With that said, your camera equipment may get wet as well. Having a GoPro will solve some of those camera issues when dealing with water. Check out the GoPro Hero for your travels.
4) Quick Dry Towel: after getting all wet down in the bottom of the valley, it is nice to have a towel to dry off. This Rainleaf microfiber quick dry towel has been my go to when it comes to traveling.
7) A Visit to Goa Tetes Waterfall
Now that you have a good background on Goa Tetes, let's talk a bit about the waterfall itself.
If you are staying at Dear Traveller or another accommodation nearby, they will be able to arrange transportation + guide for the day. This should cost somewhere around 200,000 IDR / $15 USD for your group (as of 2019).
If you are driving yourself or have a driver on a day trip, then once you arrive at the Goa Tetes / Tumpak Sewu parking lot, they should be able to connect you with a guide to take you down there.
While you can head down without a guide, having a local with you will help out tremendously. They know the routes, the tricky sections and all the spots to enjoy the views.
A) The Trek Down
For all of the major waterfalls in the area, you will basically need to make it from street level down to the valley floor and trek your way towards these massive forces of water. The descent down to the valley floor was one of the most exhilarating ones to take part of.
You will be dealing with rickety wooden/bamboo planks and stairs, plenty of uneven terrain, and will also need to hold on to some rope as you "rappel" down a section of small waterfall. Believe me here – this is not your normal trek. You will get that heart going and you will get wet too!
During this descent you will need to watch each and every step you make. It certainly is not for everyone to take part of and you need to be comfortable with the variety of terrain. You can see from the images below how technical this climb down can be.
The whole climb down should take the better part of 20-30 minutes.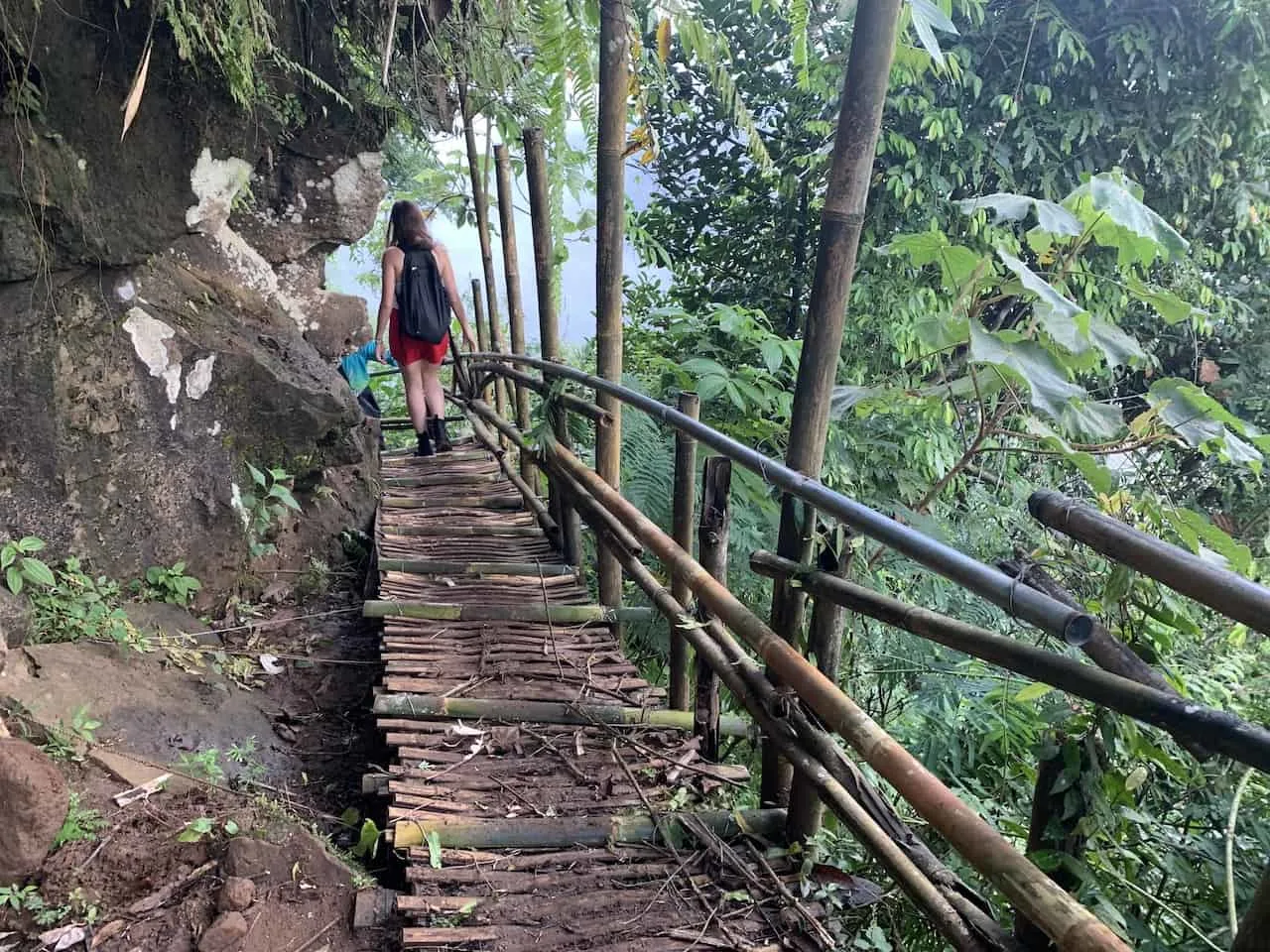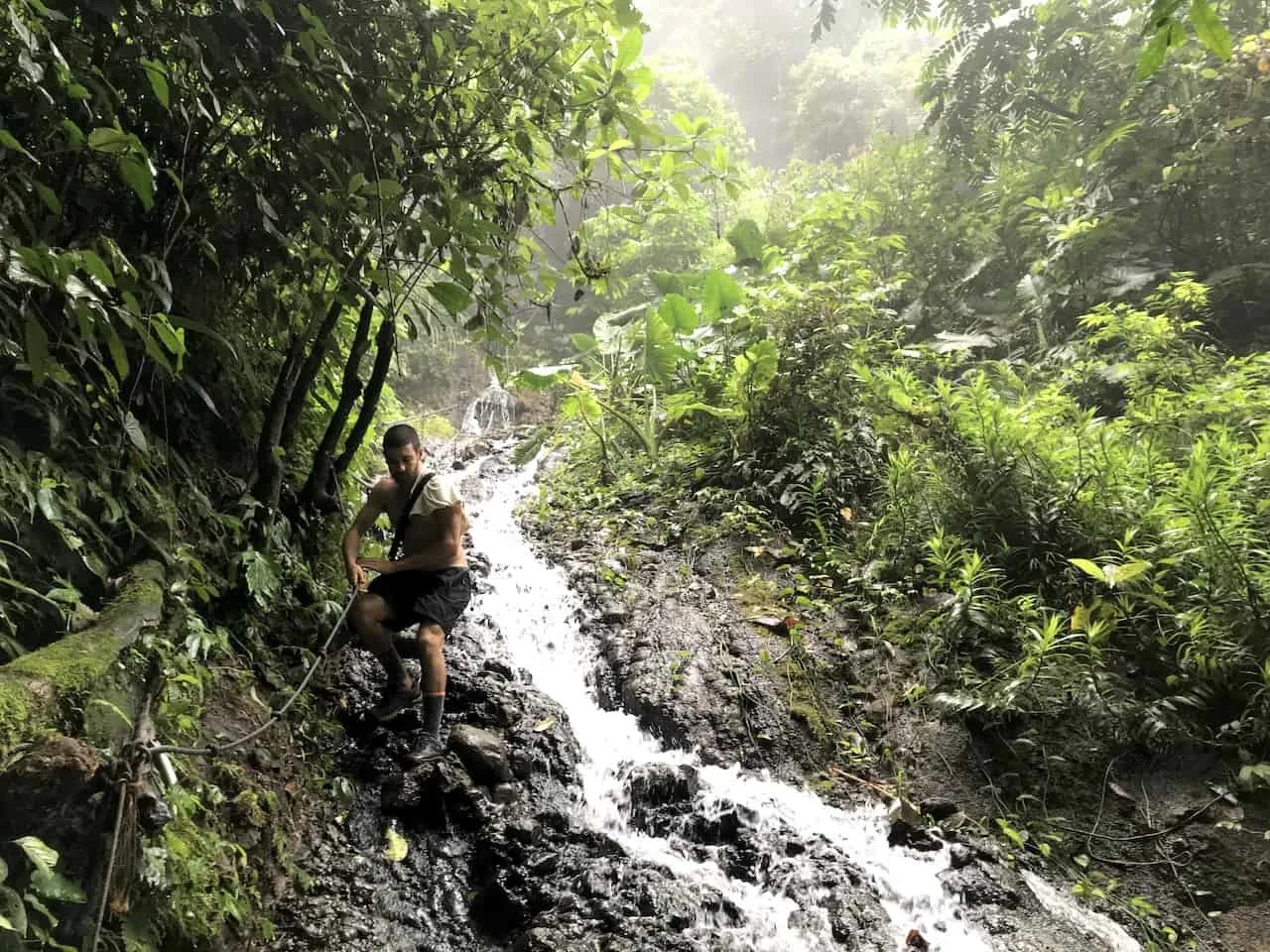 B) The Valley Trek
Once at the bottom of the valley things will start to get much easier. You will continue to the left down the valley and towards Goa Tetes (to your right will be Tumpak Sewu, which you can visit before or after.
As you walk along the valley floor you will be walking along the river with waterfalls coming down all along the trek.
There will be a couple bigger ones that will be pointed out by your guide, but overall it is just an incredible walk towards Goa Tetes.
There is also sure to be some waterfalls at one point or another where you can get right underneath them and cool down for a bit. After a 20 or so minute walk you will arrive at the orange colored rock section, where Goa Tetes lays.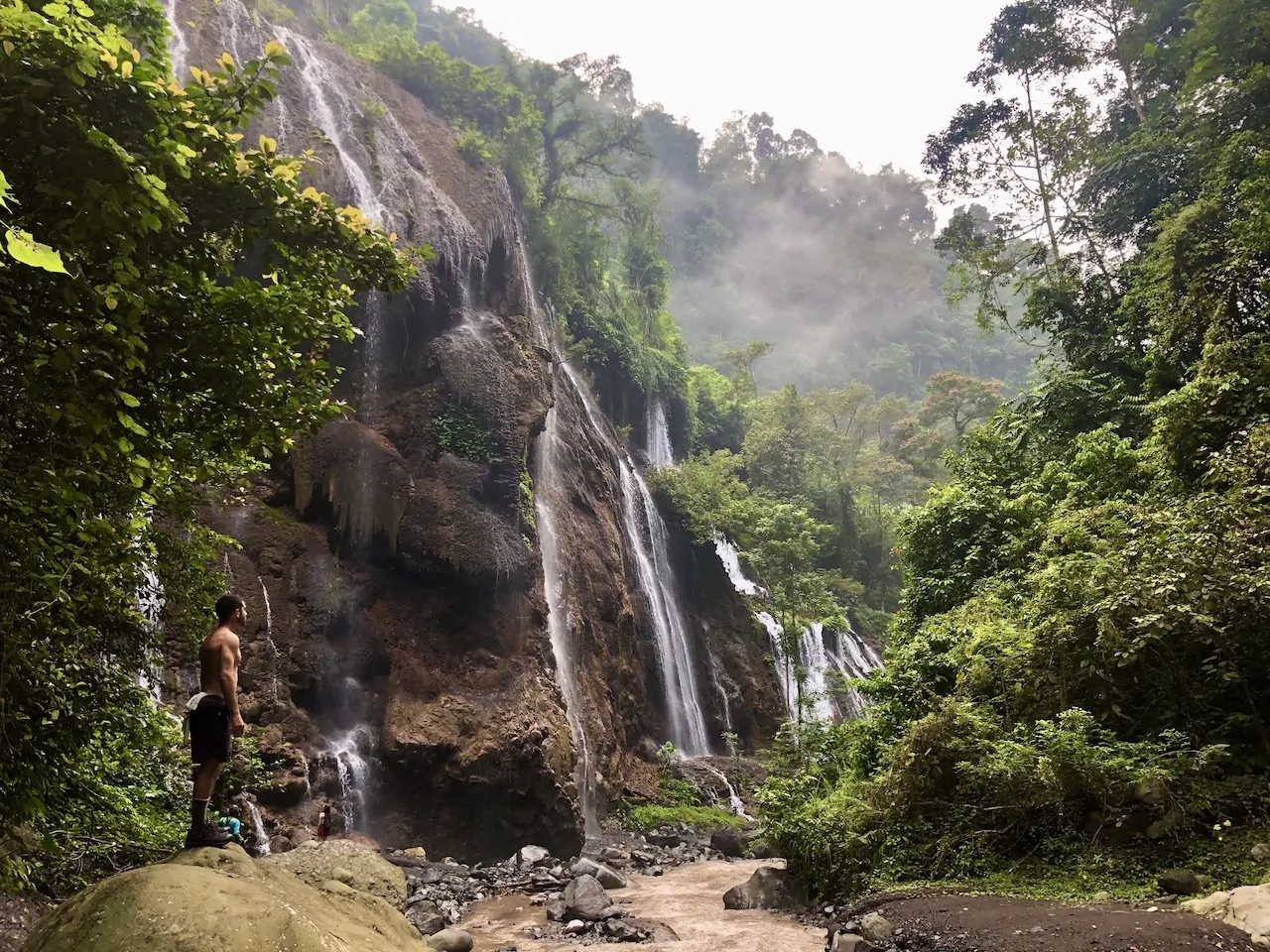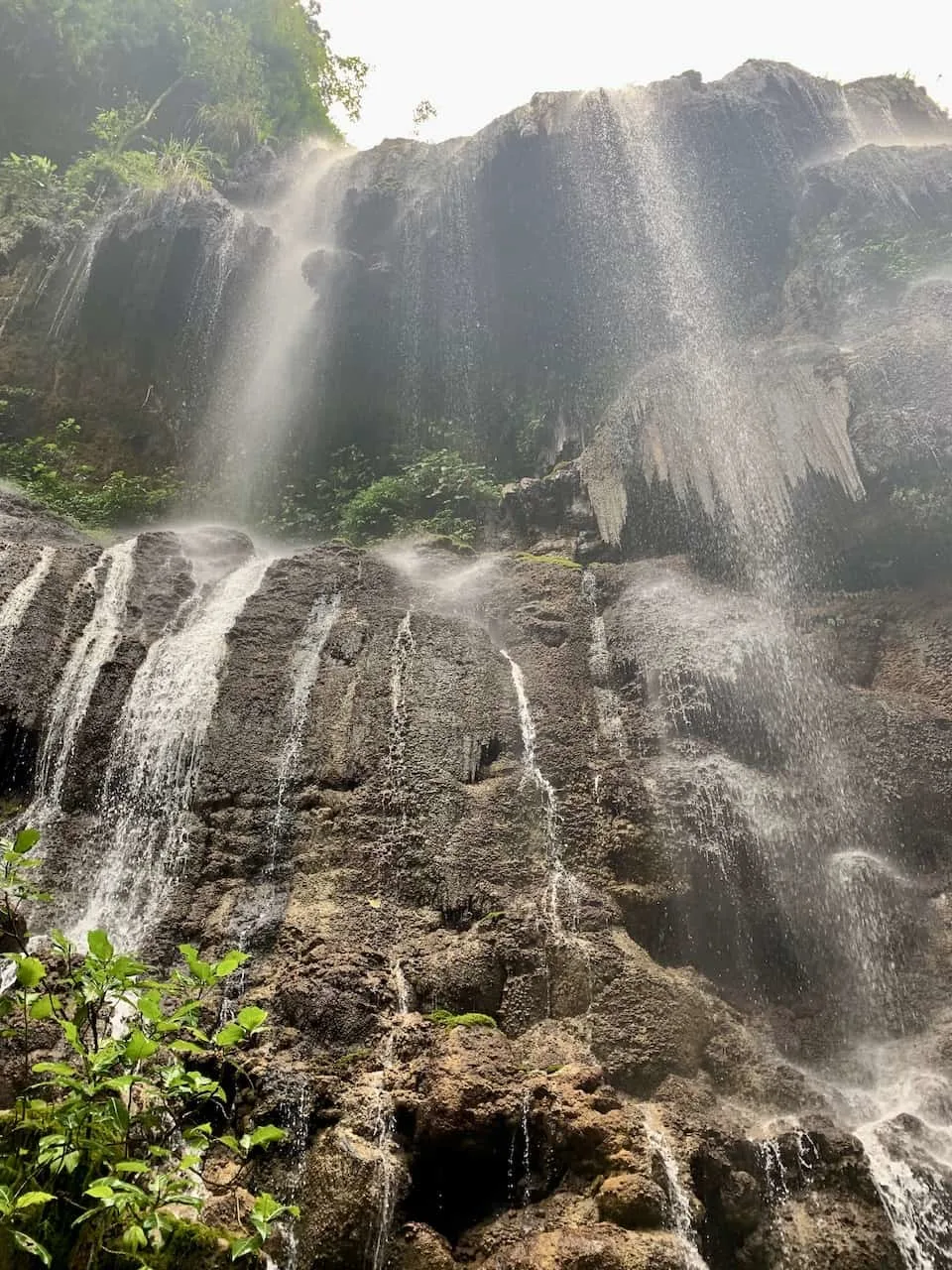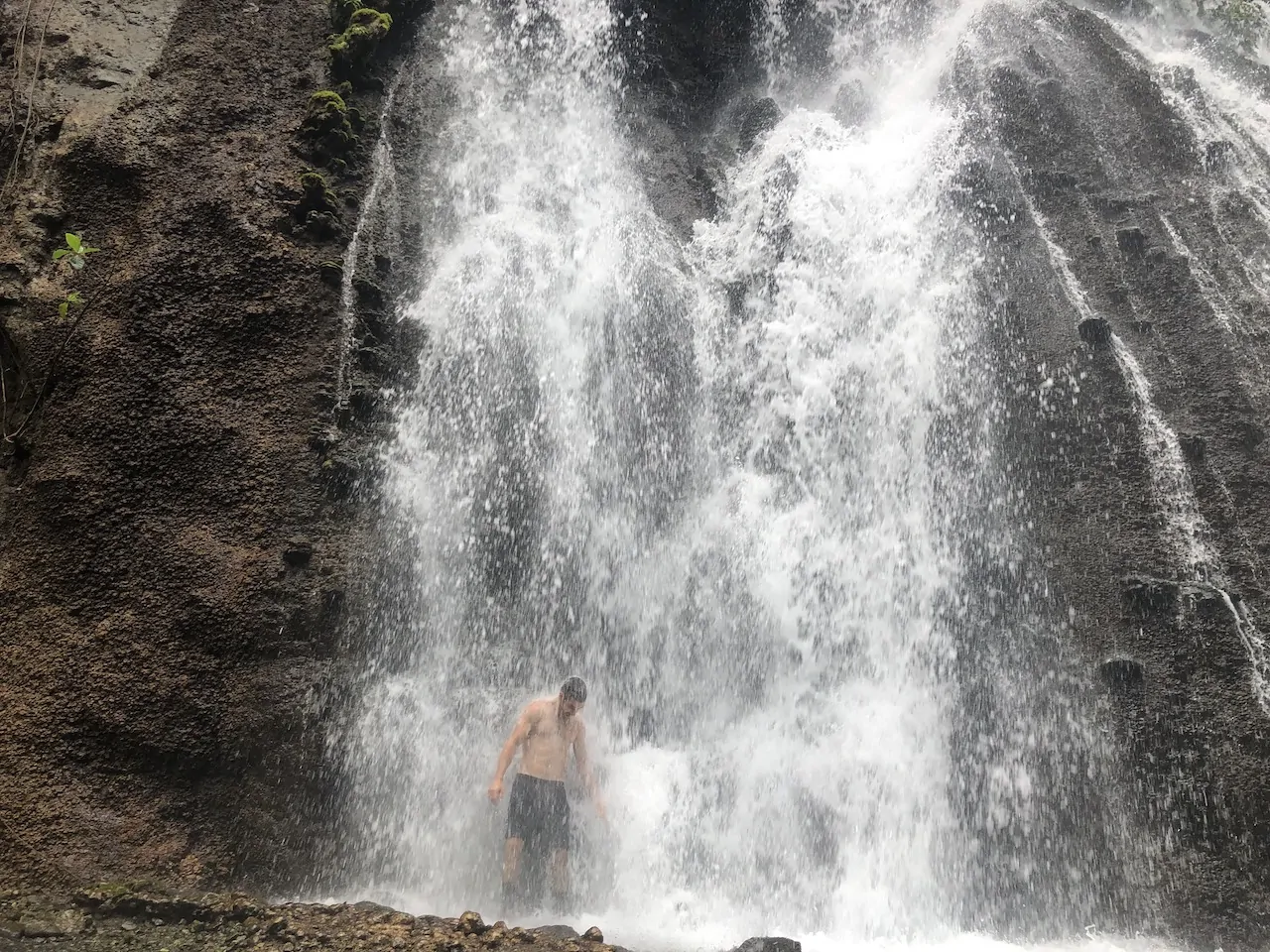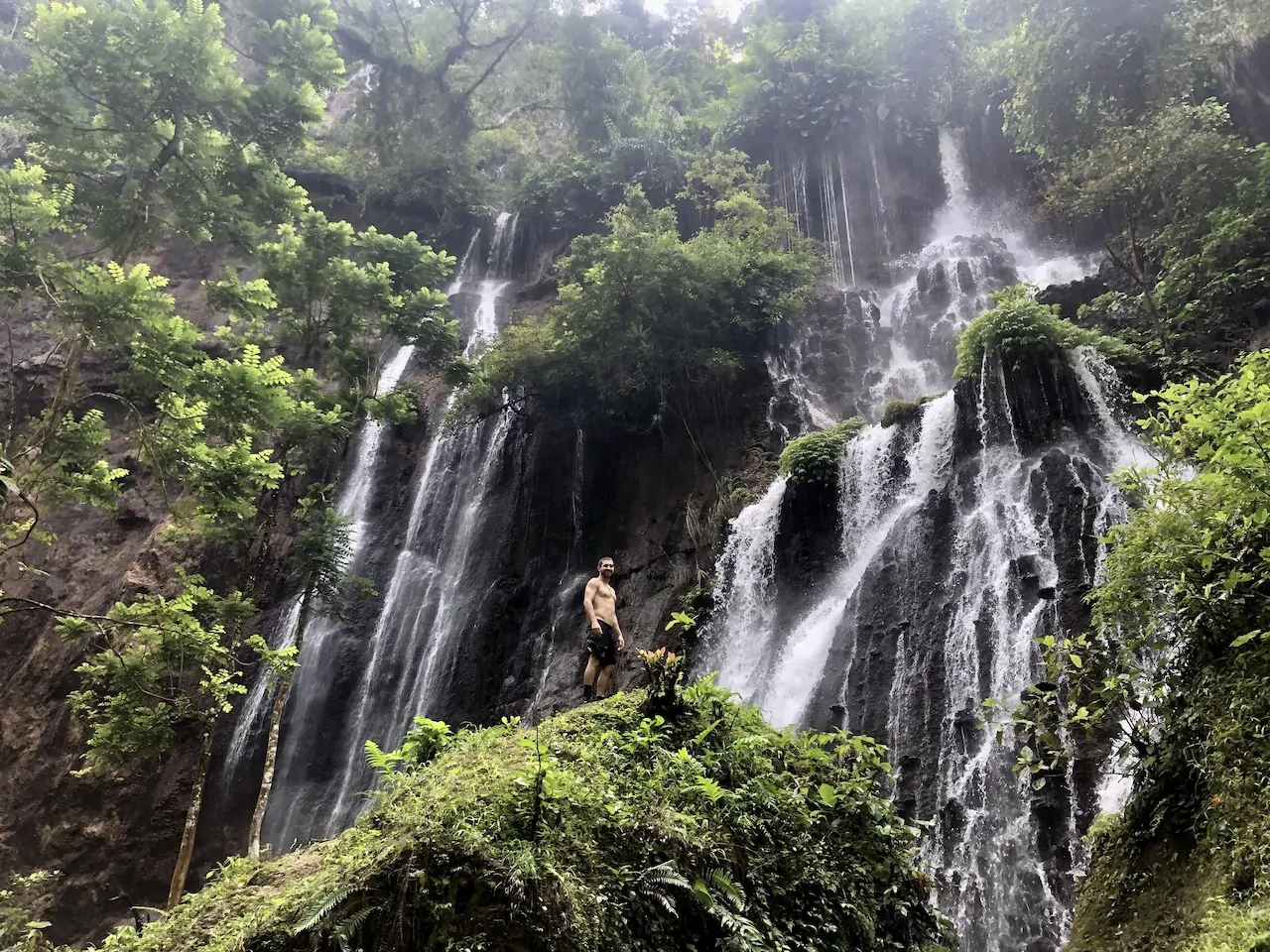 C) Goa Tetes
As you arrive at Goa Tetes you will be welcomed to this labyrinth of waterfalls and rock. The most unique part of Goa Tetes though, is that you can actually climb up the waterfall and into the open aired cave up top.
You will definitely need to watch your step here as it can get a bit precarious heading up the wet rock.
At the top of Goa Tetes you can enjoy some time inside the cave and take in some views from above. Once all set up top, you can slowly make your way back down the waterfall and to the valley floor.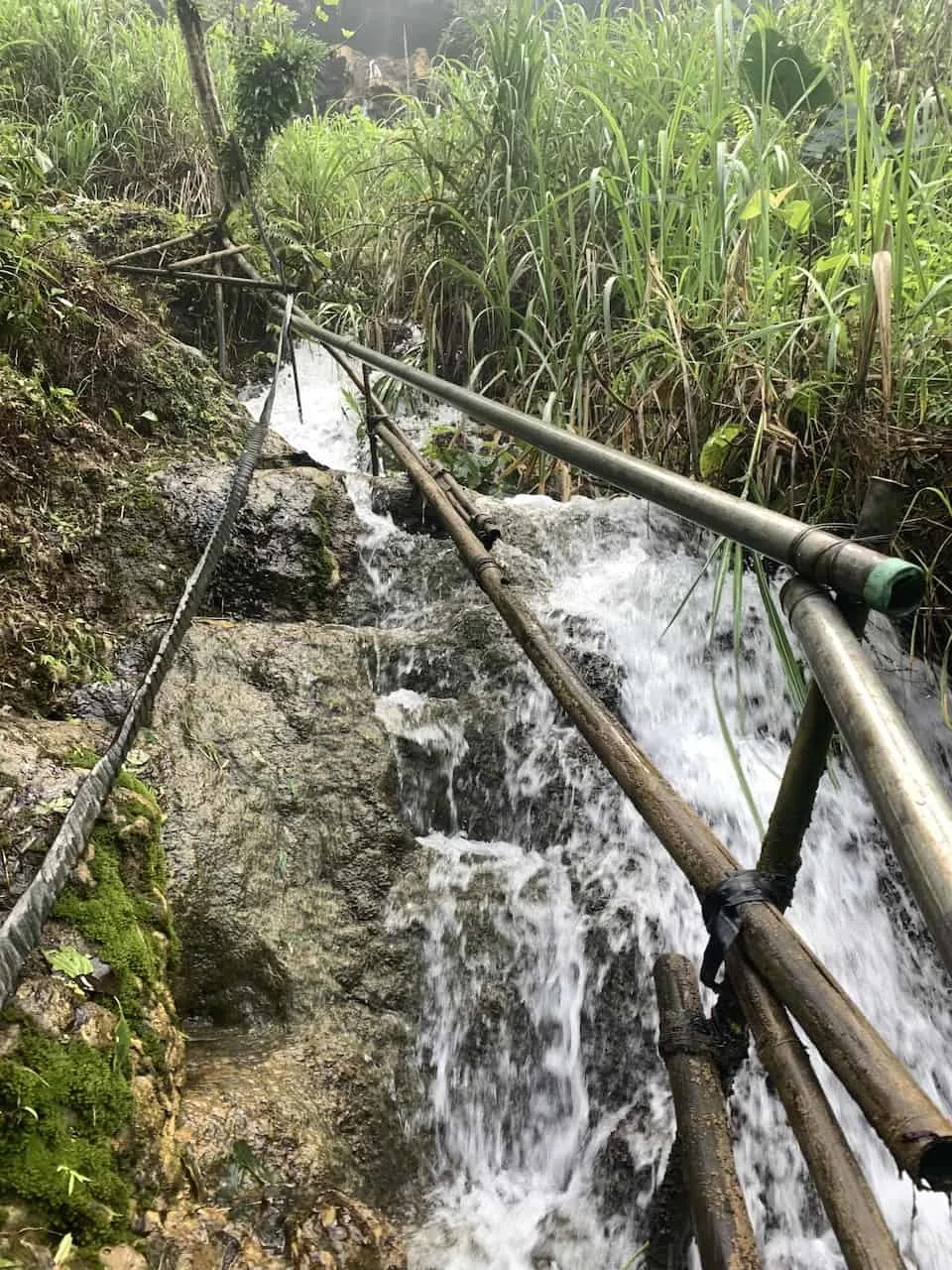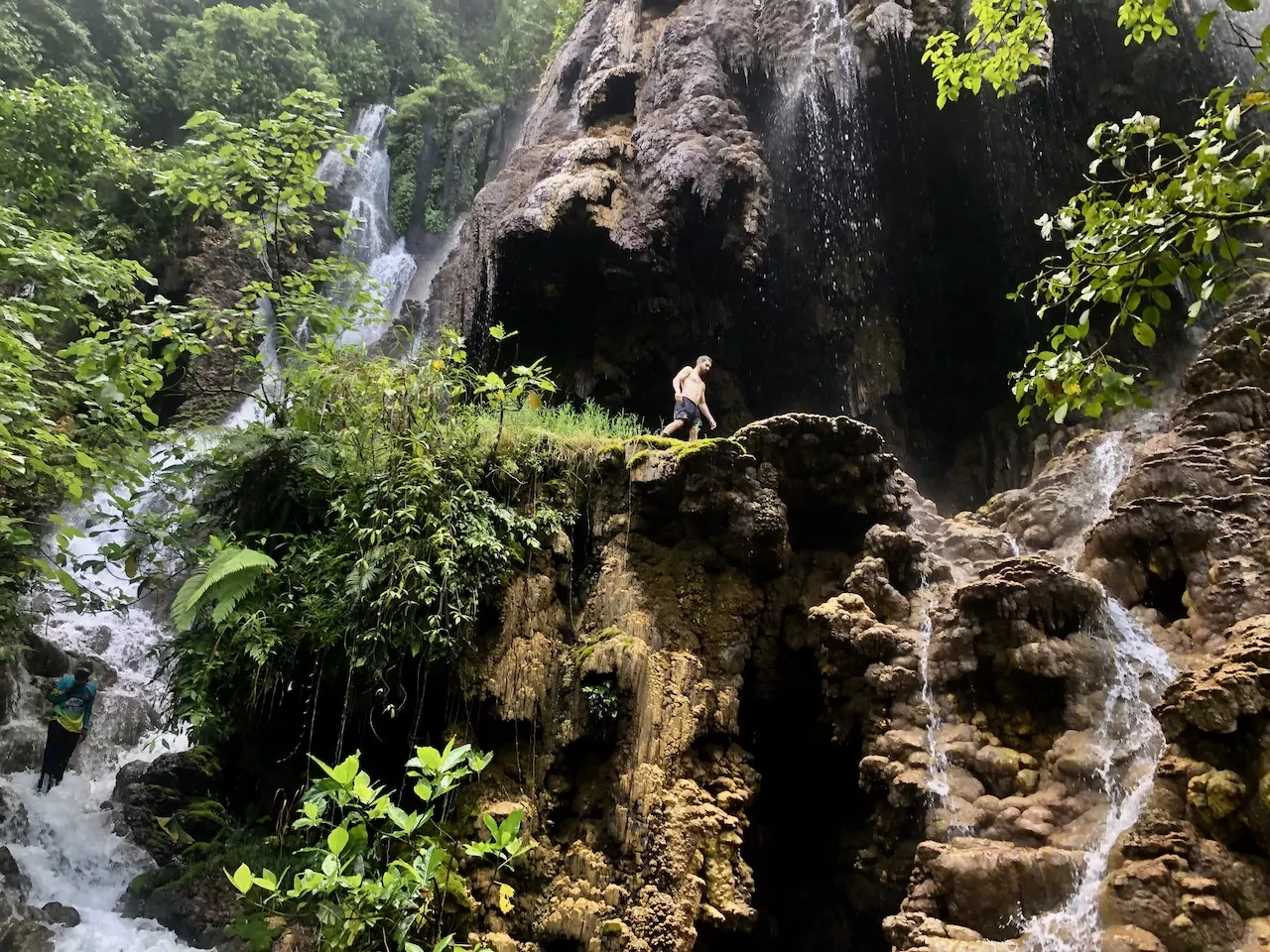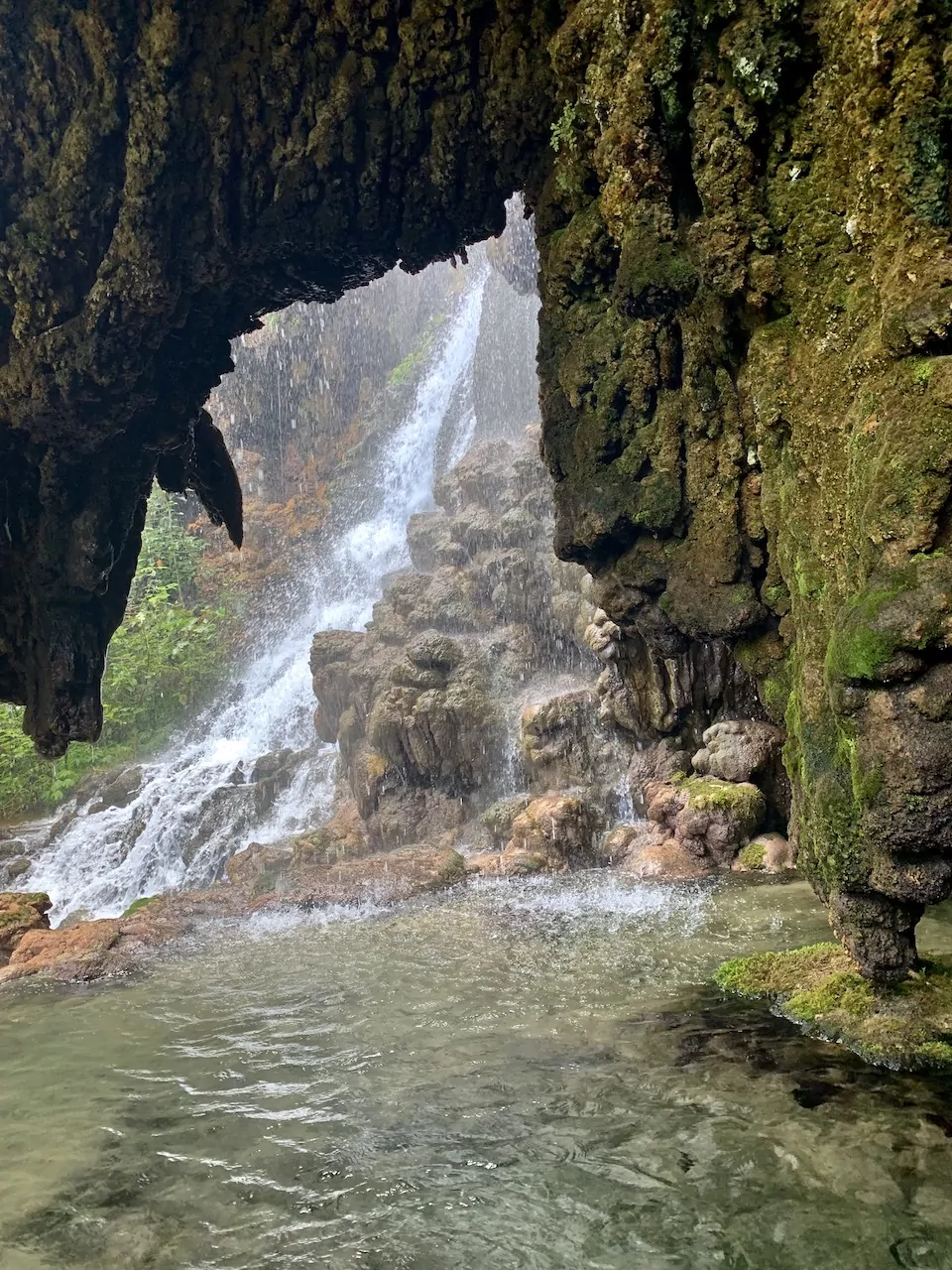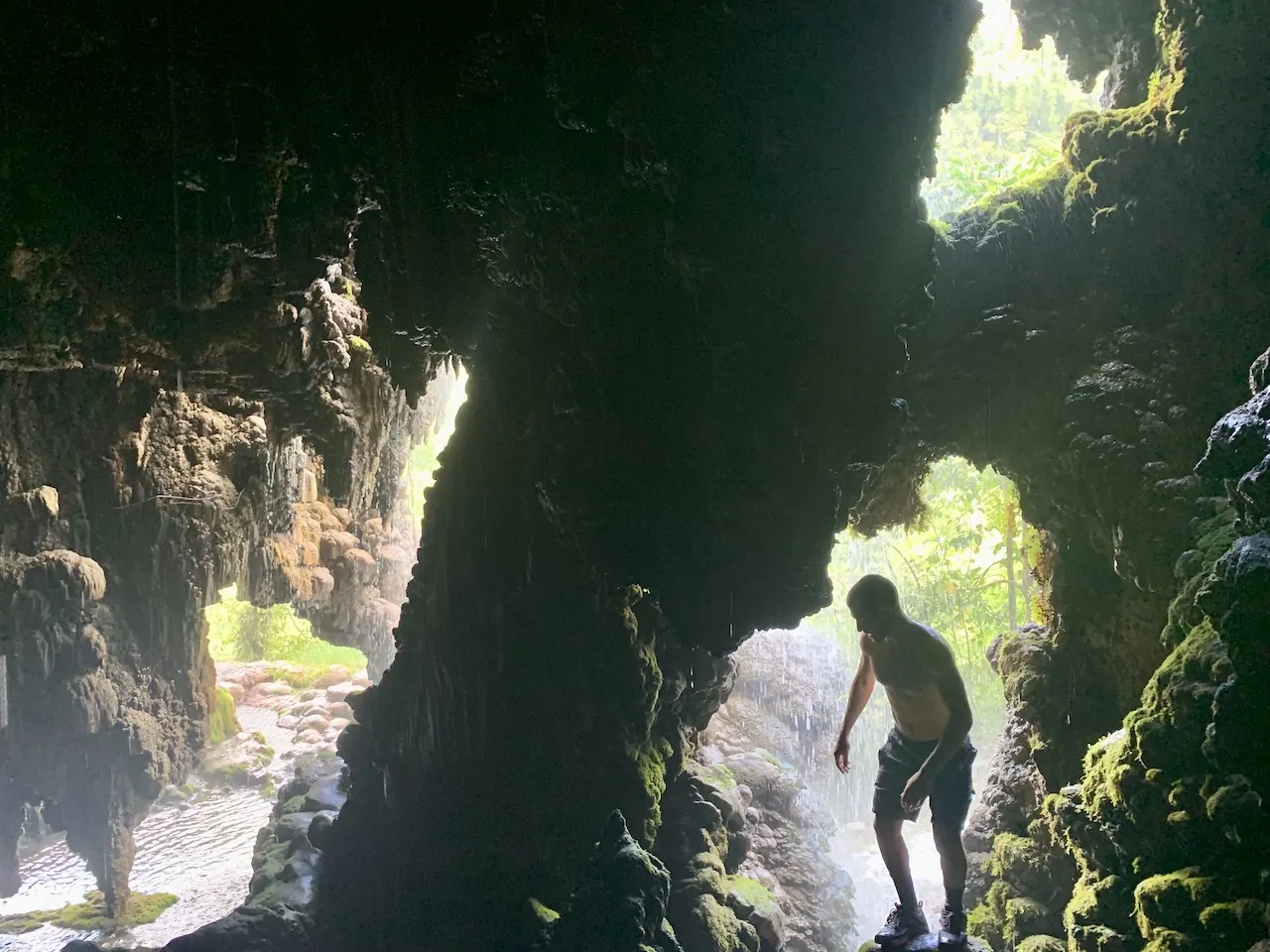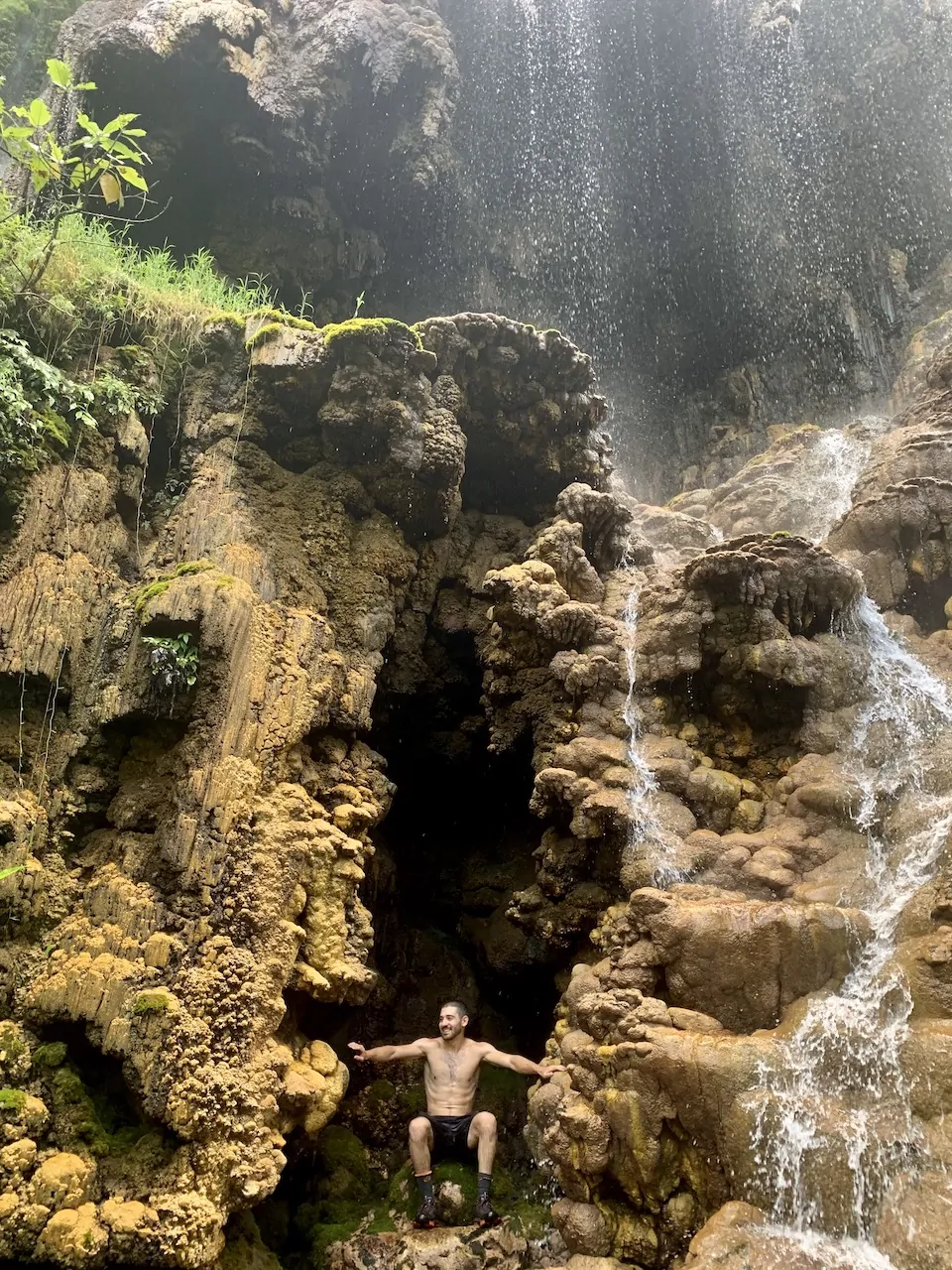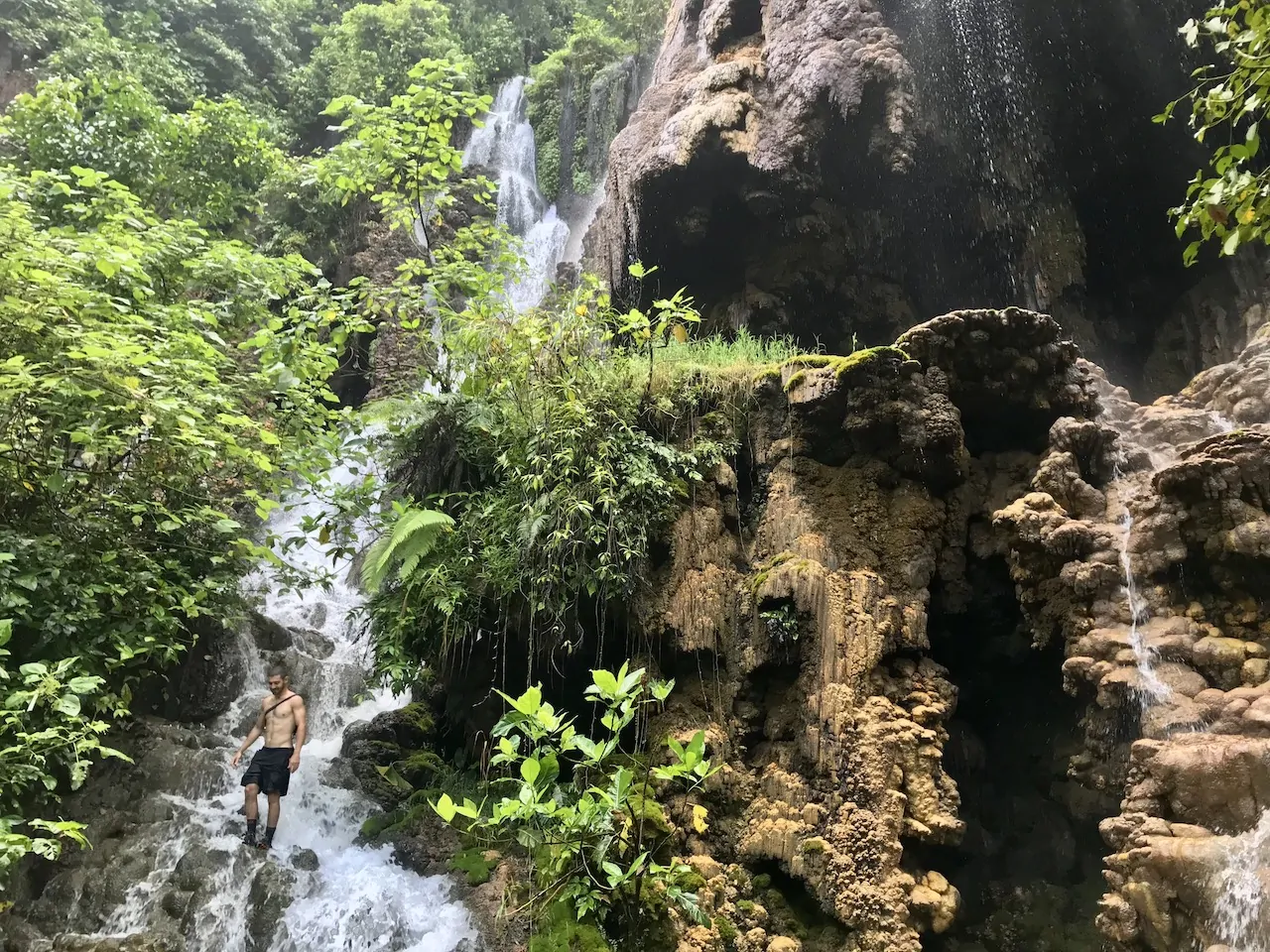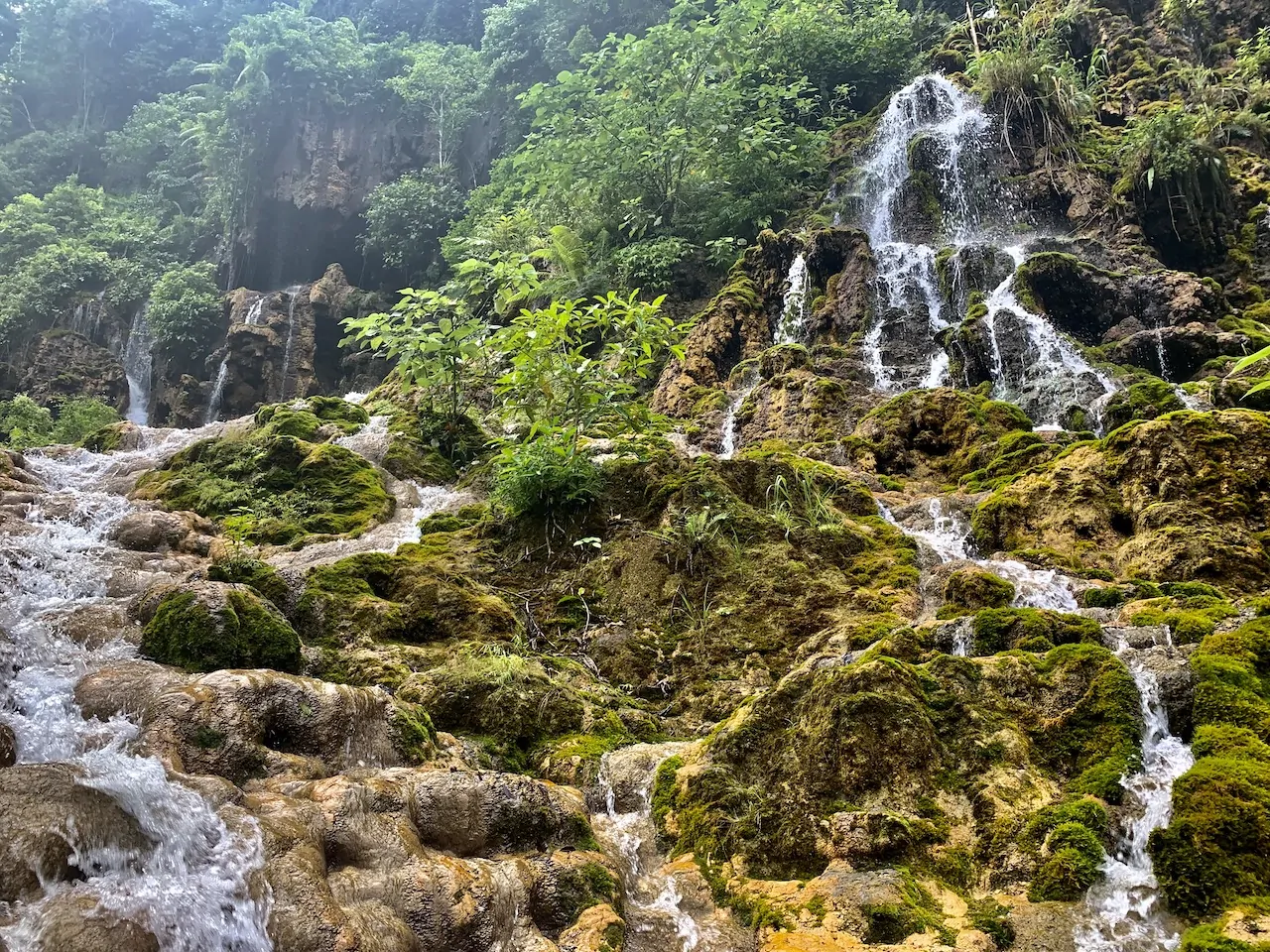 D) Tumpak Sewu
Either before or after you head to Goa Tetes you can make your way to the most famous of East Java waterfalls – Tumpak Sewu.
Here you will be able to take in some incredibly vast views of the semi circled waterfall from the valley floor.
Also to note – before you head down at the beginning of trek near the parking lot, there is a great viewpoint of Tumpak Sewu from up top.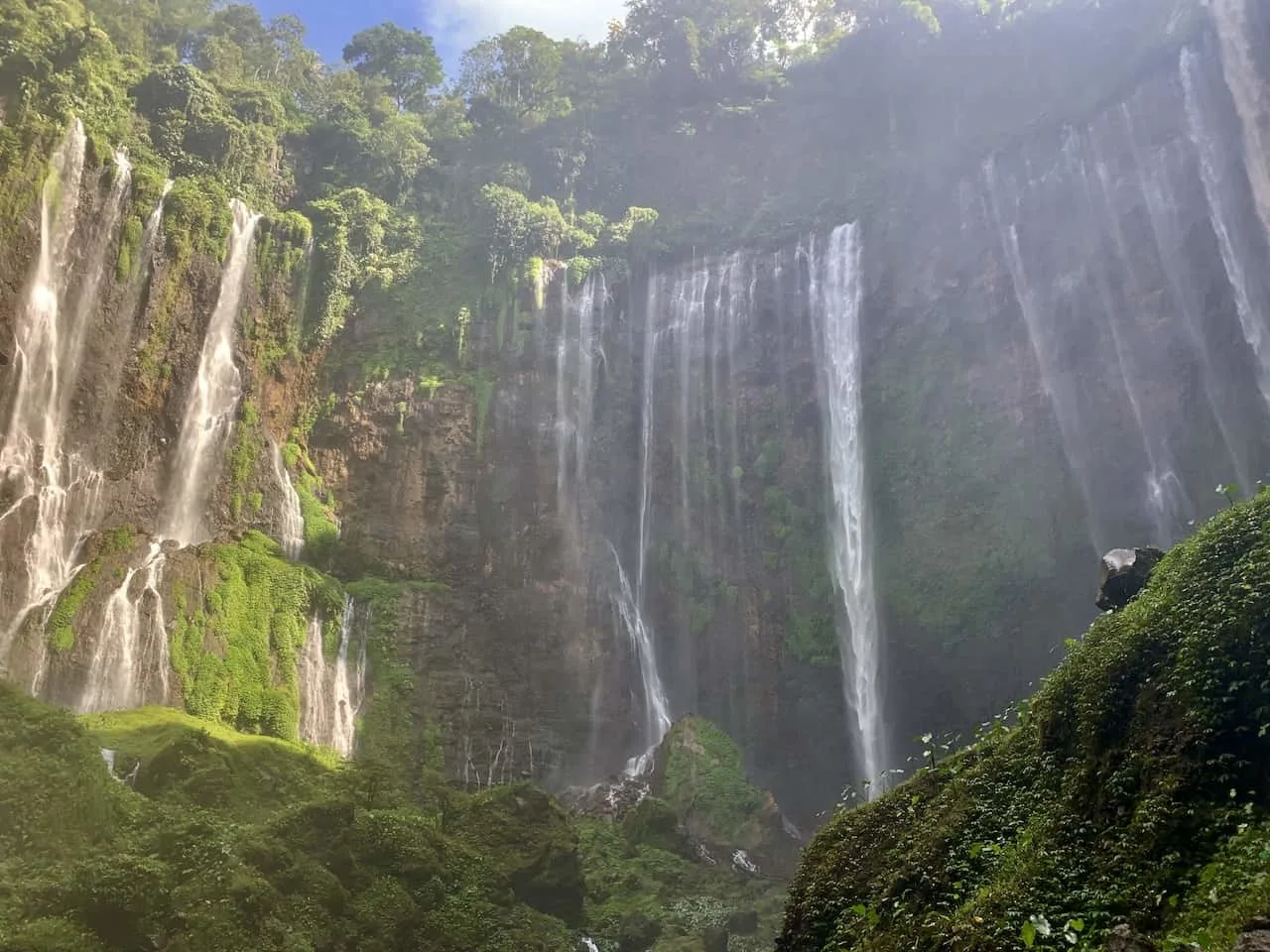 E) Trekking Back Up
After spending time at Goa Tetes and Tumpak Sewu (if you choose to), it is time to head back towards the path out of the valley.
Again, here you will need to be careful and watch your step as you make your way back up and towards the entrance of the park.
Once you are back up to safety, you can head back to the parking lot and onto your next destination – whether it be another waterfall, Dear Traveller, or back to Malang.
Your whole time around Goa Tetes should last about 4 hours if you are also adding in Tumpuk Sewu. If only heading to Goa Tetes, plan around 3 hours or so, which would also depend on how long you would like to stay just enjoying the views.
Now that you have all the information you need about the Goa Tetes waterfall experience, it is time to make your way to it on your own.
If you have any other questions or comments about your time around the area please let me know below. Also be sure to check out the other Indonesia itineraries and guides up on the site.
Be sure to check out the Goa Jomblang Cave, a Yogyakarta Temples Tour, and a Mount Bromo Sunrise Hike.
Have fun out there and safe travels!