After an overnight train ride from Yogyakarta to Malang and a few hour drive from Malang, I finally reached the Lumajang Regency of East Java, Indonesia. A region that is known for its jaw dropping waterfalls that can be hiked to and enjoyed up close.
The first waterfall I trekked to when I arrived was the beautiful double falls of the Coban Sriti waterfall. This guide will give you some helpful things to note when visiting Coban Sriti and how to best prepare for a visit.
* Affiliate Disclosure: This post may contain affiliate links, which means I may receive a commission if you make a purchase through the links provided, at no additional cost to you. Thanks for supporting the work I put into TripTins!
1) Coban Sriti Waterfall Details
Below are a few helpful details to note about Coban Sriti waterfall as you prepare for your visit:
Name: Coban Sriti
Location: Lumjang Regency, East Java, Indonesia
Nearest Major City: Malang
Where to Stay: Dear Traveller Guest House
Parking Lot Coordinates: -8.219543, 112.945352
Cost: 10.000 IDR ($0.75 USD) / 5.000 IDR for parking ($0.35 USD)
Time Spent: 1.5 hours
It should take you around 30 minutes to head down to the waterfall and just a bit shorter to head back up. I spent around another half hour just enjoying the waterfall once I arrived at it.
Remember, there are several other waterfalls to visit right around the same area here. You can easily fit in 2-3 waterfalls in one day if you are up for it.

During my first day in the region I visited Coban Sriti, Kapas Biru, and Kabut Pelangi. On the second day I visited Goa Tetes and the famous Tumpak Sewu waterfall.

If you would like to learn more about those experiences, I would highly recommend checking out the guides linked.
2) How to Get to Lumajang
There are a few steps in actually reaching Coban Sriti Waterfall since it is located a bit off the beaten path. My recommendation would be to first get yourself to the city of Malang (home to a train station and airport).
From Malang I would recommend hiring a driver to take you the remaining route to Lumajang.
Expect the cost of a driver to be anywhere around 500,000 IDR or $35 USD. If you are traveling with multiple people it is well worth the cost and removes any other logistic issues.
Your other option here is to go by public transportation, however after speaking with a few people who did so, I would not really recommend it due to the bus transfers and much longer journey time.
If you do go with a private driver you may be wondering how to go about getting in contact with one.
You have a couple options here – book one through a reputable tour company beforehand, ask around in Malang once you arrive there (or any other city you may be coming from), or get in contact with your accommodation near Coban Sriti who can help arrange a car.
I went with the last option as the guest house I stayed in was one of the friendliest and helpful places I could ask for. Are you wondering which place that may be? Well take a look in the next section…
3) Where to Stay in Lumajang
When it comes to accommodation options near Coban Sriti, there really aren't too many out there. Thankfully though, there is one place that I seriously cannot recommend enough – Dear Traveller Guest House and Glamping.
From beginning to end these guys will take care of it all for you. Drivers, accommodation, food, guides – whatever you need, the owners and workers at Dear Traveller will have it covered.
After making my booking with them, I got in contact with the owners through Whatsapp, and they helped arrange a driver to pick me up from the Malang train station and take me right to the guest house.
It could not have been an easier process and it was a fantastic stay overall.
» If you would like to head there yourself feel free to book your room at Dear Traveller Guest House and Glamping ahead of time.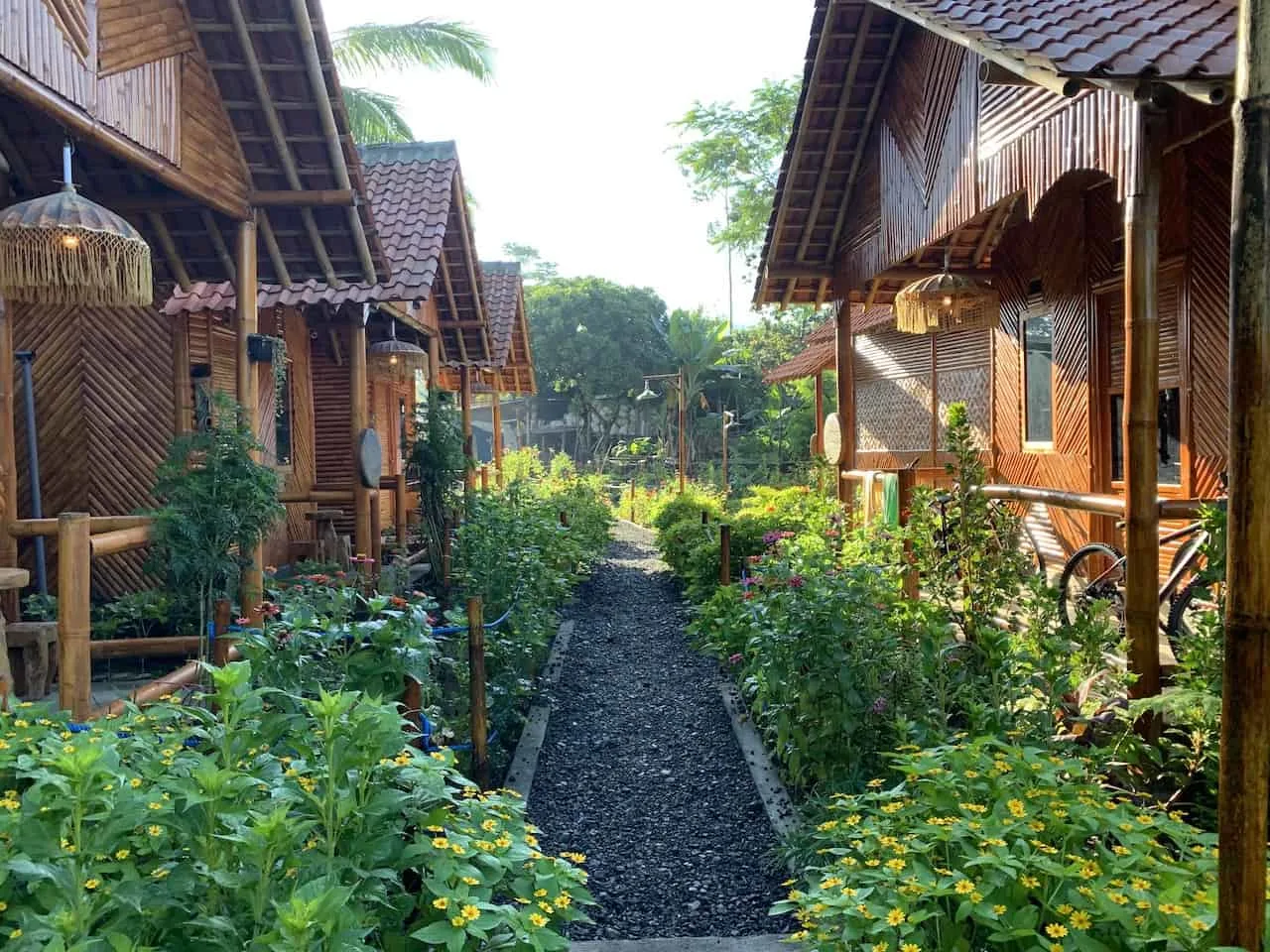 4) Coban Sriti Directions
Once you are in Lumajang, you now are set to start exploring the waterfalls of the region including Coban Sriti.
The main option here is to have a local take you around on their motorbike to the various waterfalls and guide you down to the waterfalls themselves.
A full day driver and guide here can cost as little as $15 USD for your group – a price well worth it to avoid any confusion on where to go (and supporting the locals along the way).
If you did end up driving your own car or scooter around, you can head directly to the Coban Sriti parking lot. The GPS coordinates for the lot are 8.219543, 112.945352.
Parking costs less than $0.50 USD, so no need to worry about too much of an added cost here. Note that you must pay for your guide's parking too if you went with that option.
Once you are at the parking lot and pay for your ticket (~$1 USD), it is time to head right across the street and down on the path towards the waterfall itself.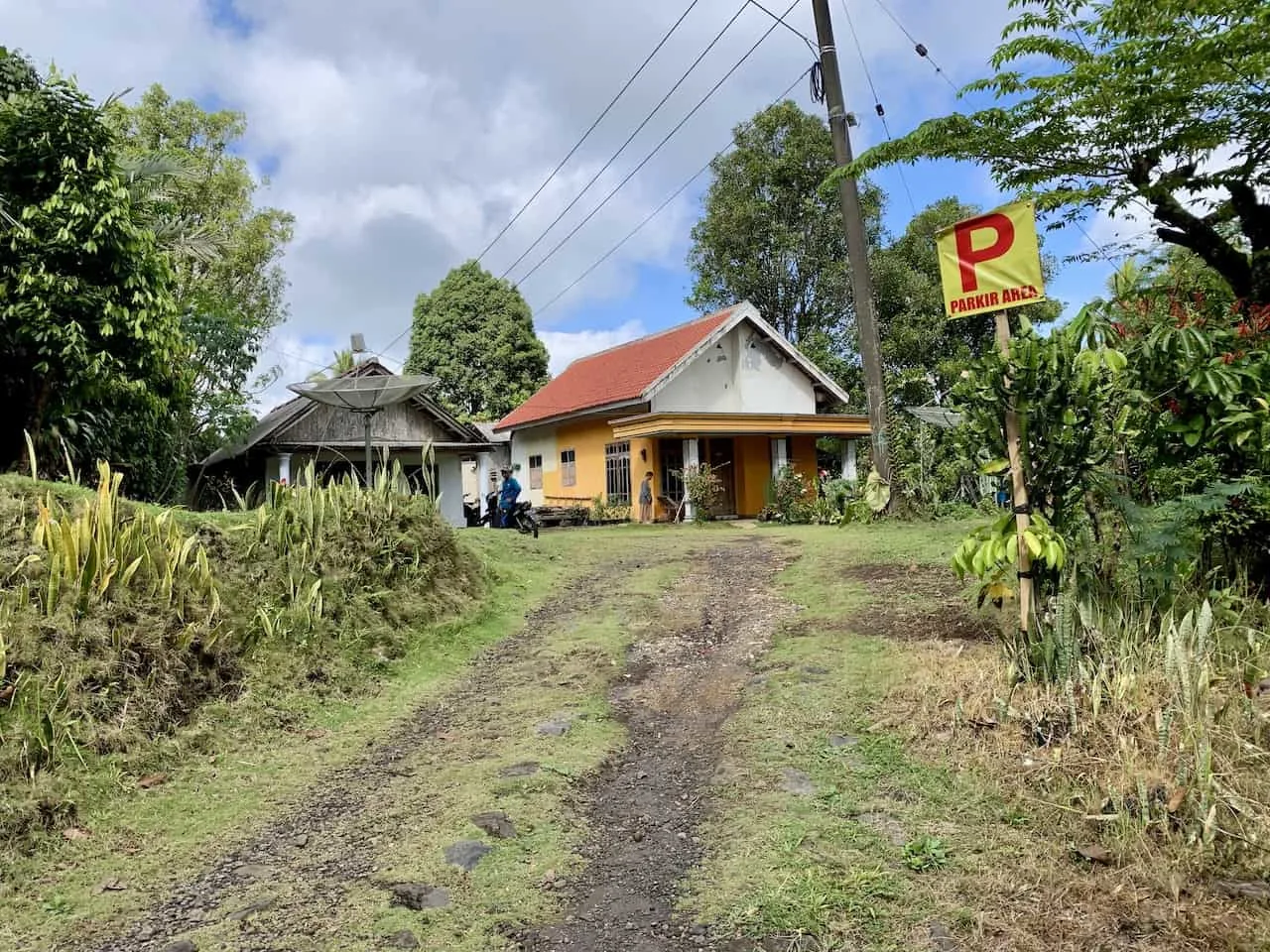 5) Waterfall Packing List
Although you may just be visiting a waterfall, there are a few essentials that I would bring along with you to better prepare yourself for the trek down to Coban Sriti.
1) Dry Bag: since you will be getting wet during this experience I would highly recommend a dry bag to keep all your valuables safe. Take a look at this Earth Park Dry Bag to hold your belongings.
2) Hiking Shoes or Closed Toe Sandals: you will want to watch your step as you go down the slippery path into the valley. Having hiking shoes or closed toe sandals will be your best bet here.
I would not recommend going down with flip flops. Take a look at the Keen Targhee III that I have been wearing recently or these Keen Newport H2 Sandals.
3) GoPro: if you want to get up and close to Coban Sriti (and some of the other waterfalls in the valley) you will get wet. With that said, your camera equipment may get wet as well.
Having a GoPro will solve some of those camera issues when dealing with water. Check out the GoPro Hero for your travels.
4) Quick Dry Towel: after getting all wet down in the bottom of the valley, it is nice to have a towel to dry off. This Rainleaf microfiber quick dry towel has been my go to when it comes to traveling.
→ Check out some of the other top Indonesia waterfalls to add to your trip
6) Visiting Coban Sriti Waterfall
You will begin the journey to Coban Sriti by following the path down towards the valley floor. Depending on conditions you may be walking on dry dirt, slippery mud, or a mixture of both.
Be sure to watch your step either way as you are heading down since the terrain can be a bit tricky from time to time as well. It is easy to slip if you aren't paying attention so just be careful!
As you are heading further down, you are sure to be surrounded by immense greenery in every which direction. Various trees and foliage will be on either side of the path etched into the land.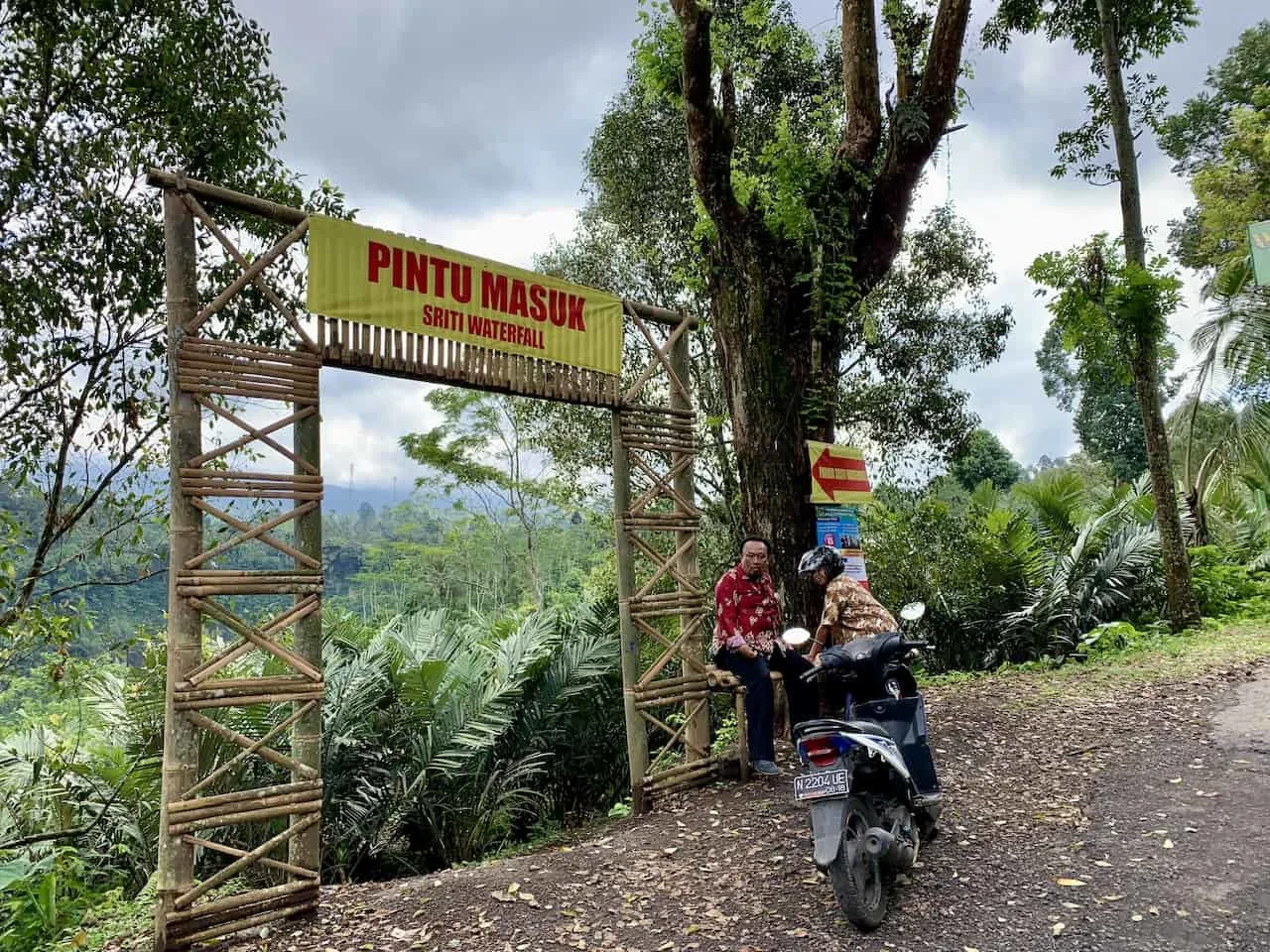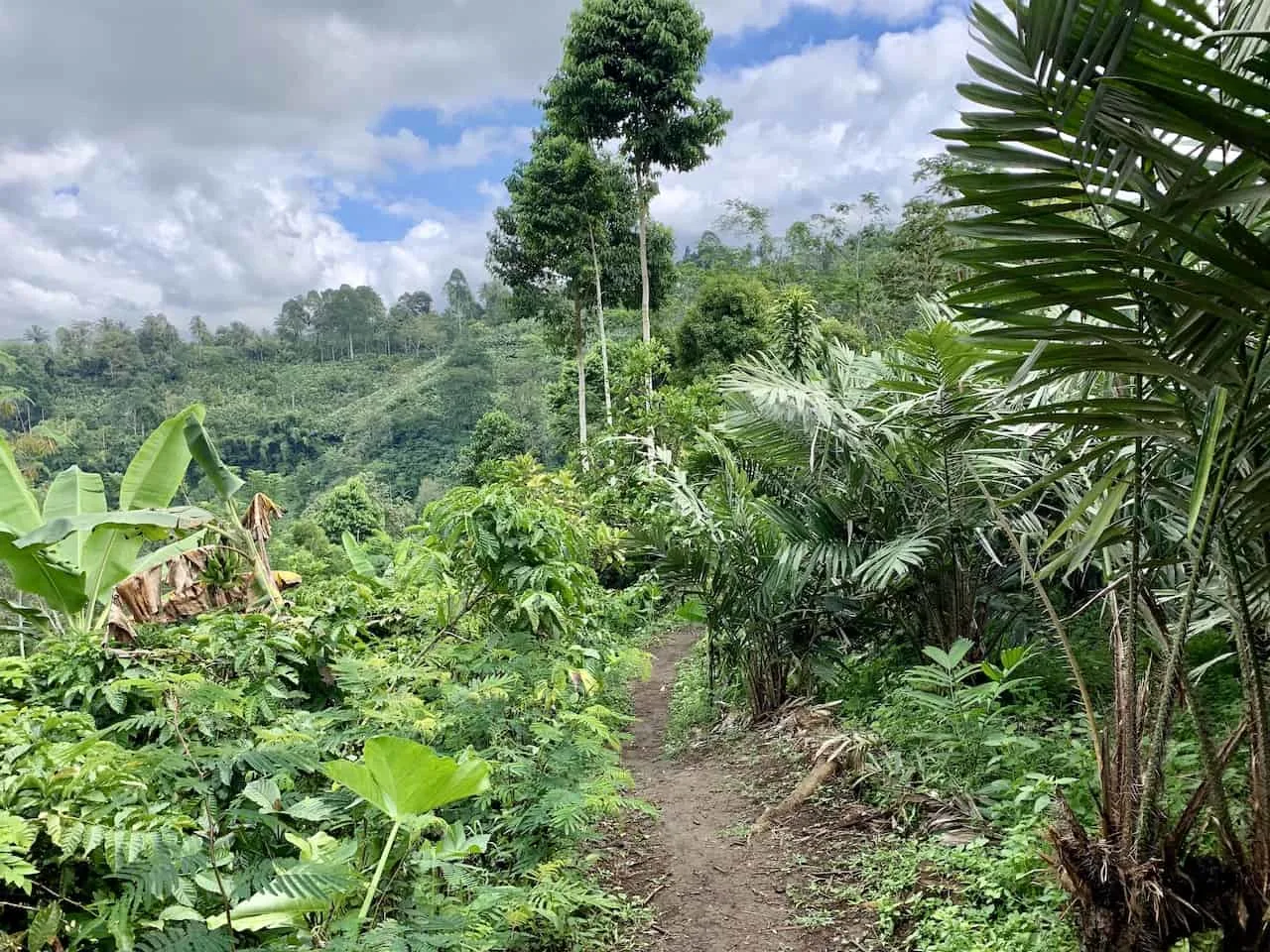 You will soon come across a man made bamboo bridge to help get you over some of the trickier parts of terrain here.
It goes to show you how much effort the locals put in over the years to make Coban Sriti (and the other waterfalls) as accessible as can be. Now, while I would not consider it all too much up to standard, it is impressive for the region.
After crossing the bamboo bridge, you will begin to get some stunning views into the valley itself. The towering greenery filled cliff sides will be in either direction, and you will be able to see just the mist of the waterfall, which is further around the bend.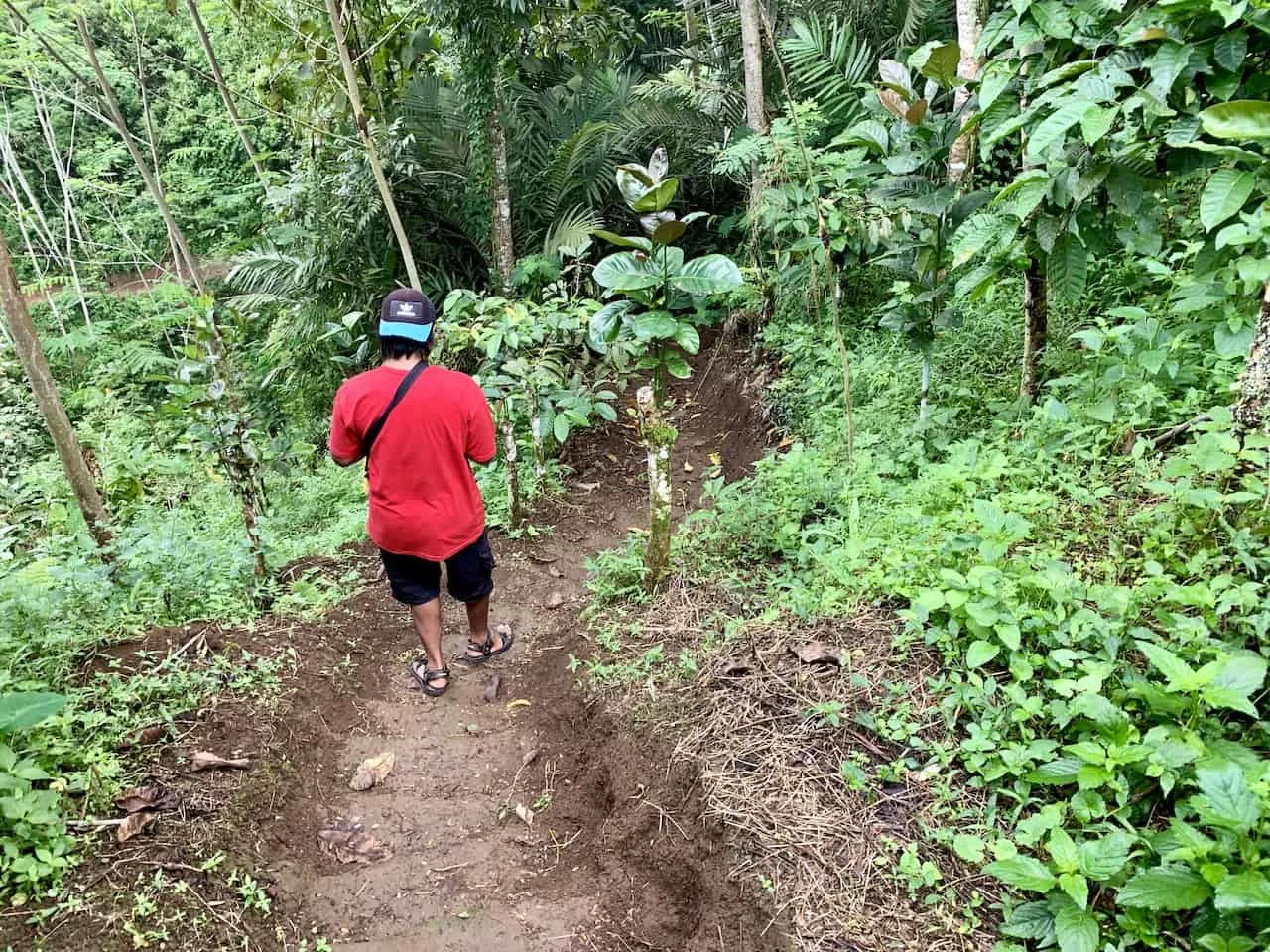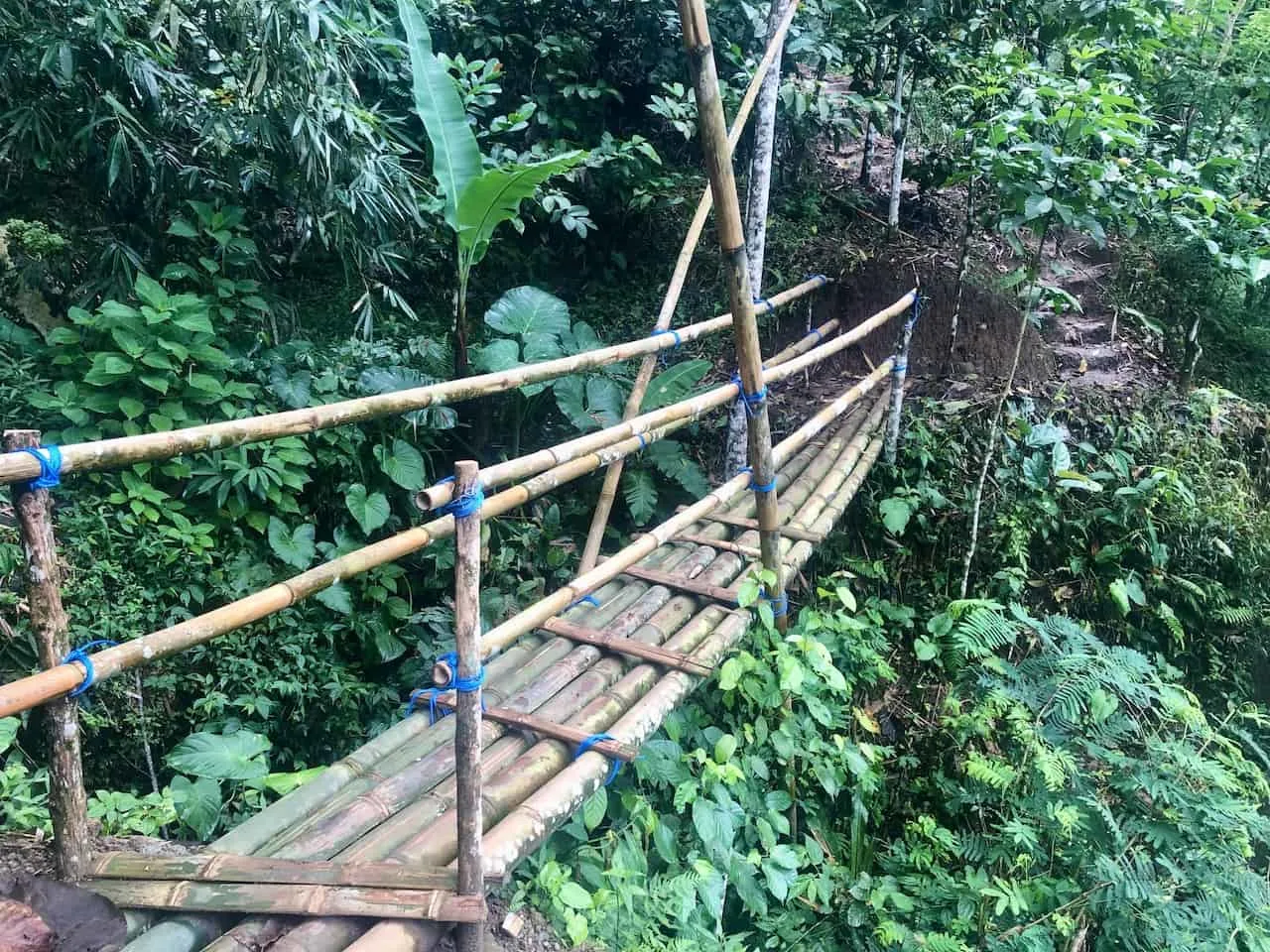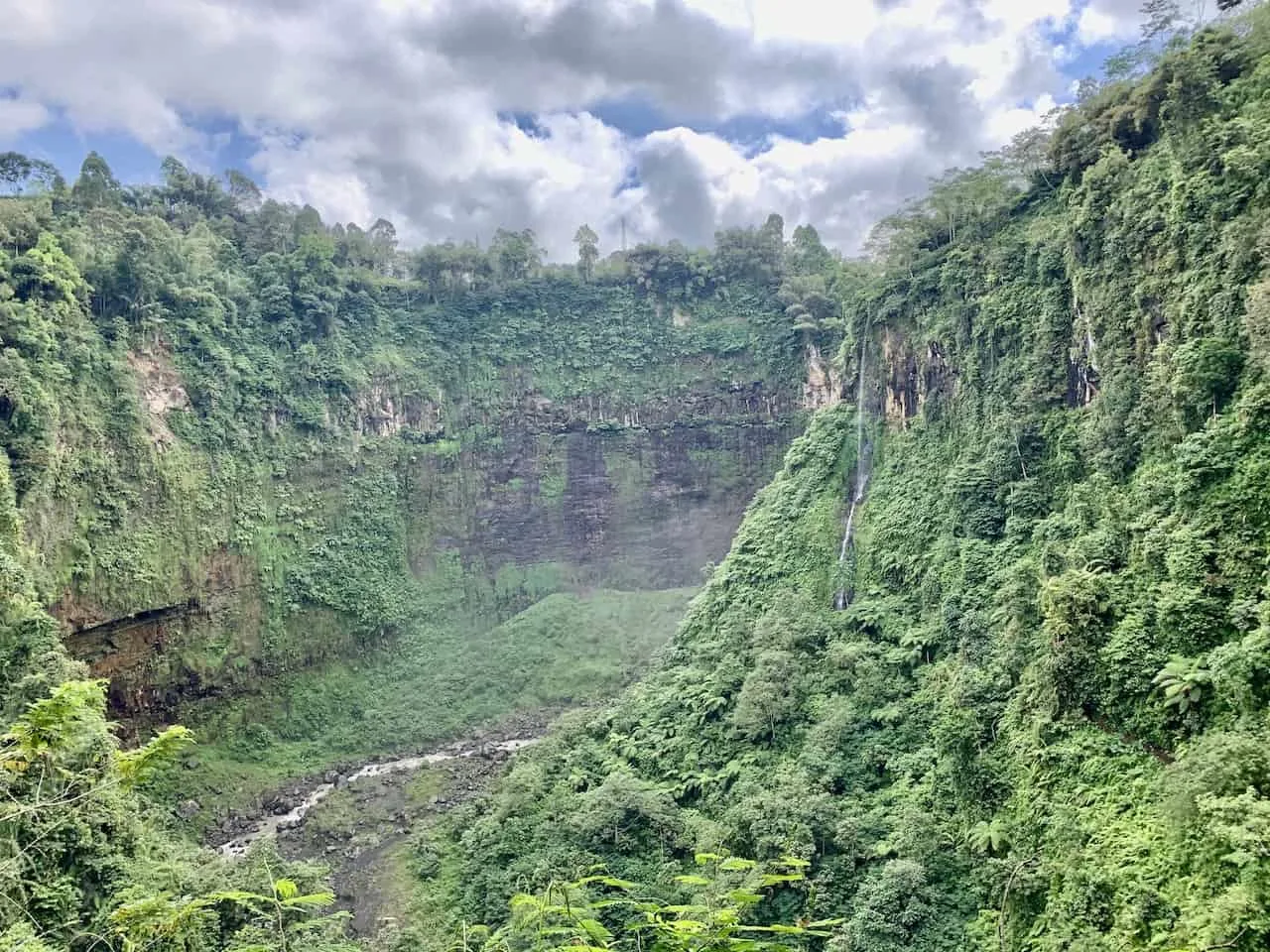 As you get closer to the valley floor, you are sure to also come across some smaller and larger waterfalls above you.
Things can get muddy around these parts as you may imagine so just be careful when the track turns a bit more slippery.
You will also come across some parts from time to time where there is a rope to help guide you down the mountainside.
Since it can be slippery heading down, by holding onto these ropes it will better help with your balance.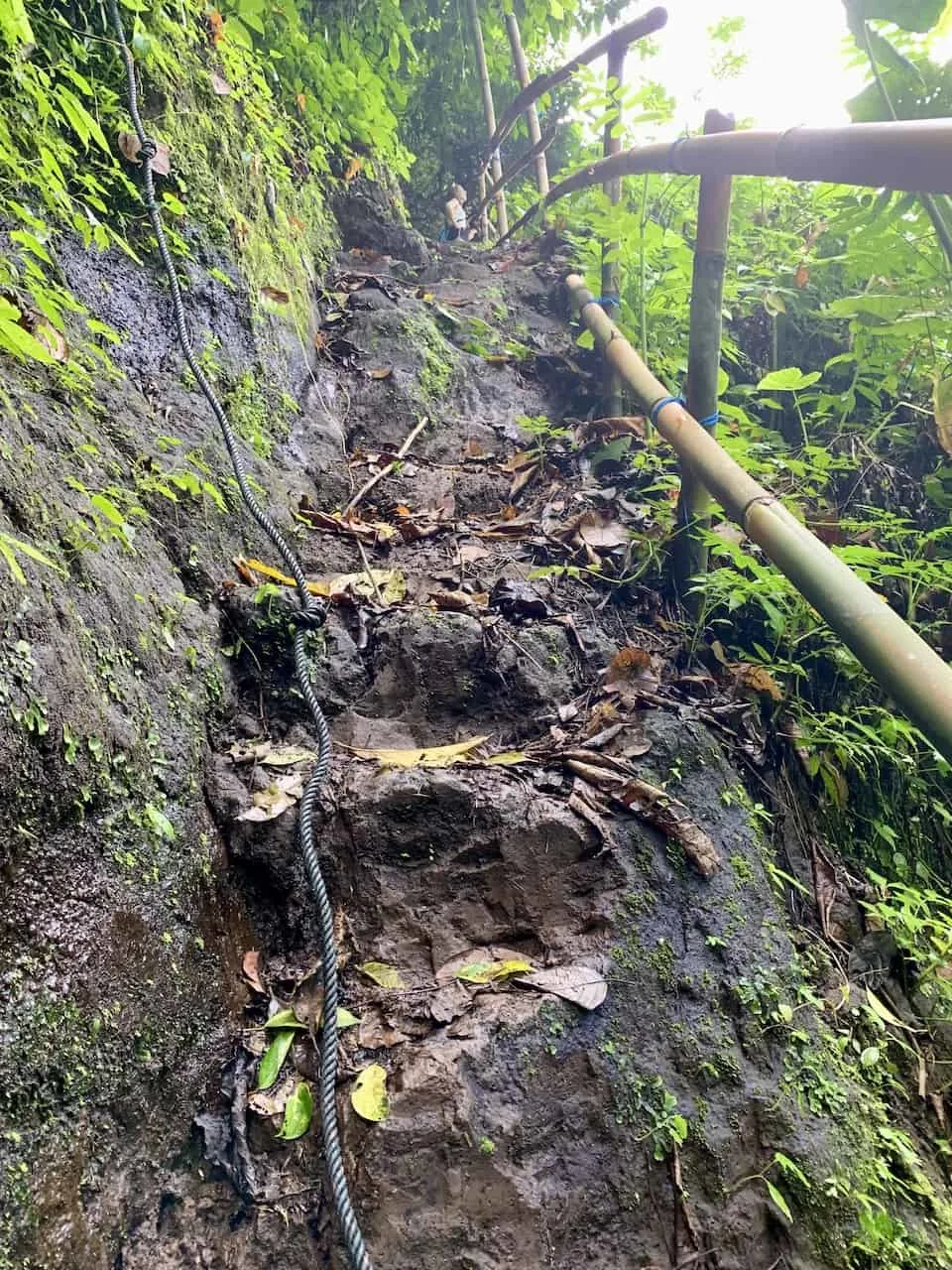 Soon enough you will reach the valley floor and you will be just minutes away from the Coban Sriti waterfall.
You should already be seeing the powerful mist of the waterfall as you slowly make your way around the corner.
As you turn the corner, the double falls of Coban Sriti will come into view. During my visit, there was certainly a lot of mist, which made the whole experience that much more scenic (and wet).
You can't get too close to the waterfall here as there is a fast moving river and a lot of slippery rocks around the area. You can simply enjoy the view from a far and take in the beautiful Coban Sriti.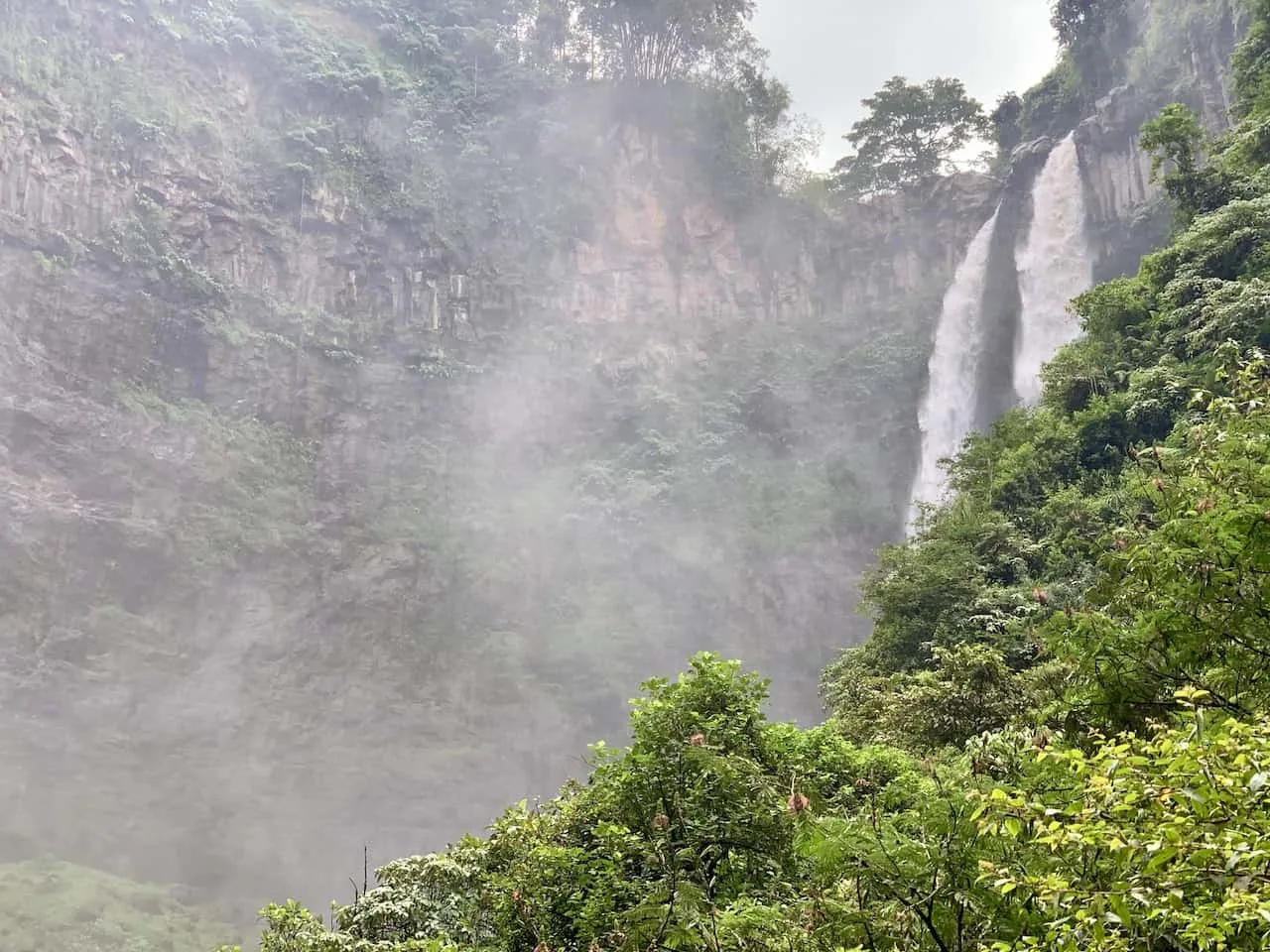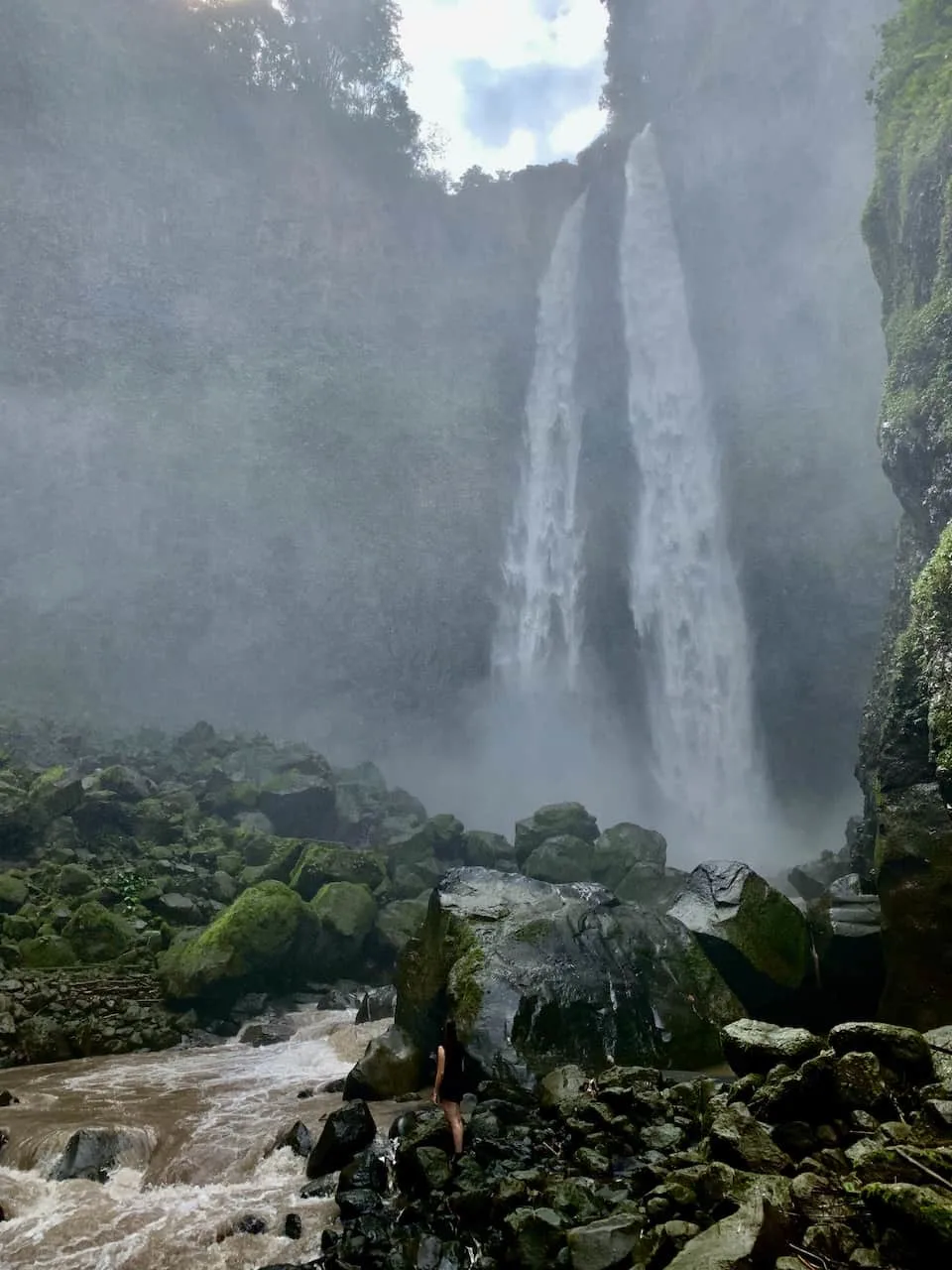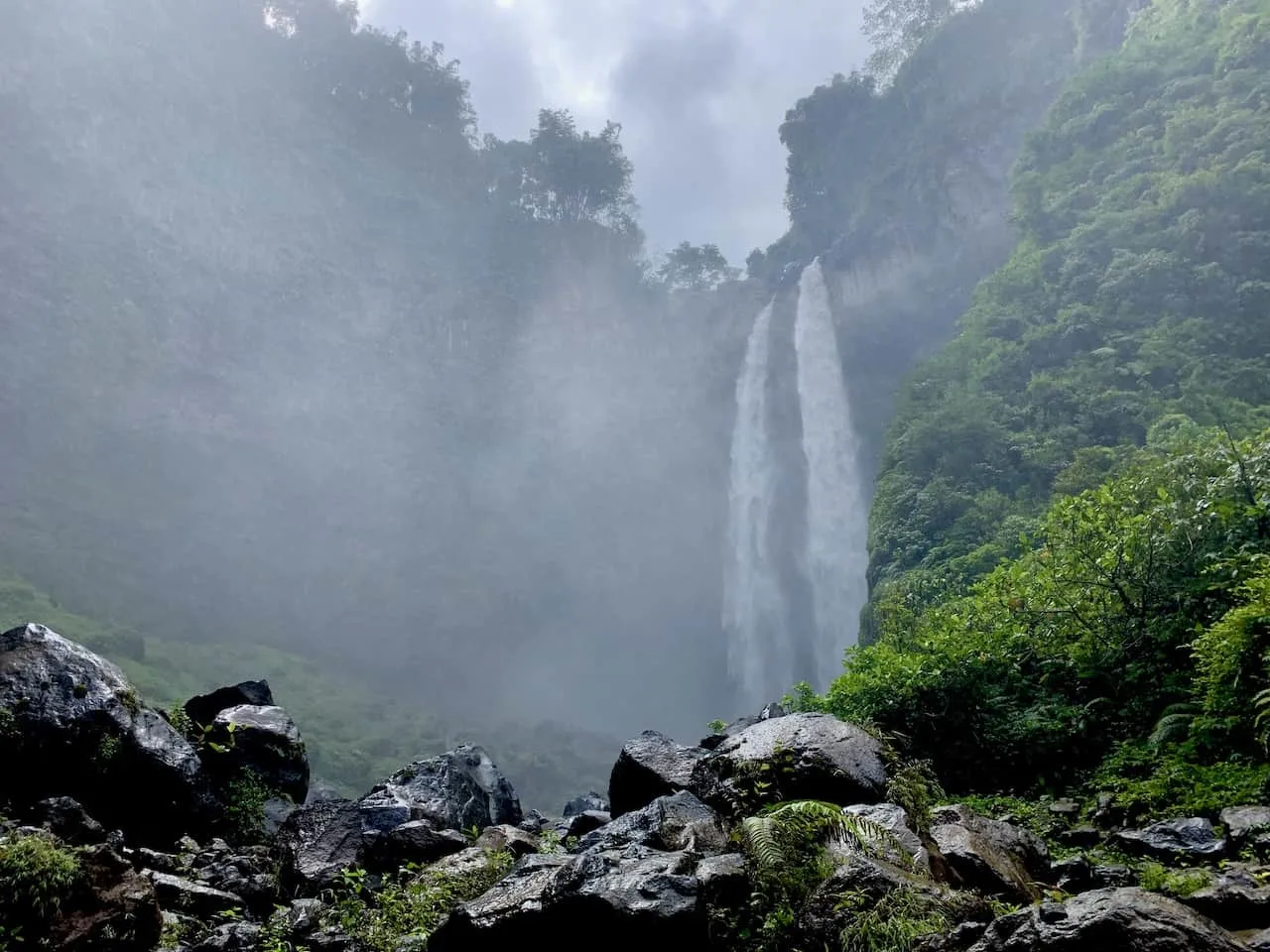 Once all done down below, it is time to head back up in the same direction you came. While the trek down took me around 30 minutes, the trek up was a bit shorter. Although you are now going uphill, it is actually easier to navigate and keep your balance.
You can take a nice break once you reach the parking lot and then get yourself ready for the next waterfall of the day!
If you enjoyed reading about Coban Sriti, you are sure to enjoy the rest that East Java has to offer. Take a look at this One Week East Java Itinerary for more!
After visiting some waterfalls, you should take in a Mount Bromo Sunrise and a Mount Ijen Hike.
Also be sure to check out the remaining Indonesia itineraries and guides up on the site. If you have any questions or comments feel free to add them in below.
Have fun out there and safe travels!