Midnight Wakeup. 2+ Hour Hike. Blue Flames. Gas Mask. Crater Sunrise. If that all sounds of interest to you then the Kawah Ijen Crater Sunrise Hike is the perfect add on to your Indonesian itinerary.
Trekking Ijen and experiencing that sunrise firsthand was one of the most unique travel experiences I have had and I am sure it will be something you enjoy too. This guide will go over how to take part of the hike yourself and what to expect along the way.
* Affiliate Disclosure: This post may contain affiliate links, which means I may receive a commission if you make a purchase through the links provided, at no additional cost to you. Thanks for supporting the work I put into TripTins!
1) Kawah Ijen Hike Overview
Name: Kawah Ijen / Ijen Volcano / Gunung Ijen
Location: East Java, Indonesia
Closest Accommodation: Banyuwangi (1 Hour) or Bondowoso (2 Hours)
Hike Duration: ~4 Hours (with Blue Flame descent) / 3 Hours (without descent)
Length: ~7KM / 4.3 Miles Round Trip
Trail Type: Dirt
Cost: 100.000 IDR / $7 USD Weekday | 150.000 IDR / $11 USD Weekend
Difficulty: Intermediate
Must Need Accessory: Gas Mask
The Kawah Ijen Crater Hike starts in the parking lot and soon ascends at a nearly constant incline upwards for 2 hours until you reach to the crater rim sunrise viewing area.
Before you reach the viewing area though, you will have the option to hike down to the bottom of the crater to better see the famous blue flames.
Once finished with the blue flames, you can head back up to the crater rim and towards the sunrise viewing area.
⇒ Take part of a trip to Kawah Ijen as part of a longer Java Backpacking Itinerary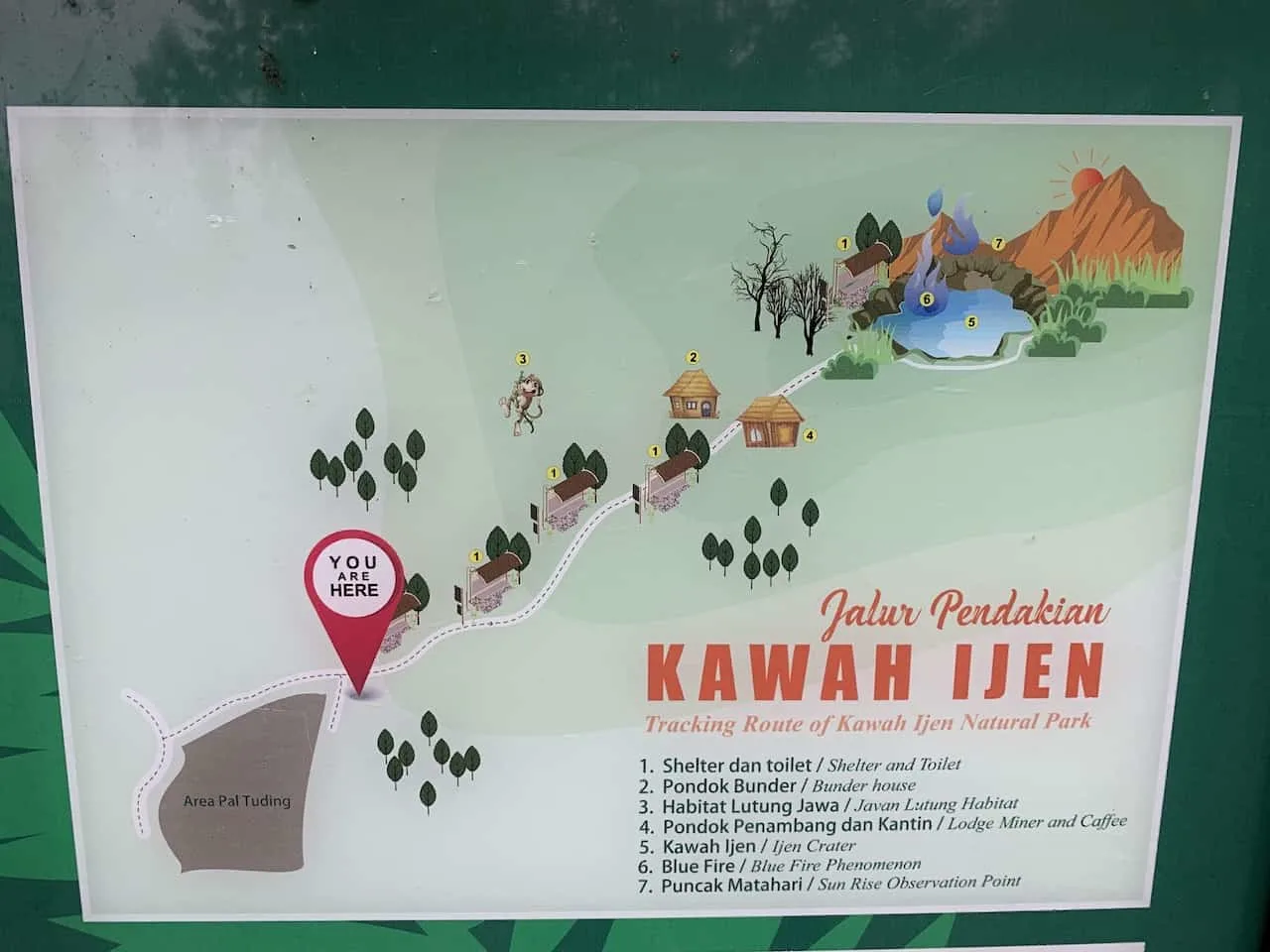 2) What is Kawah Ijen
Kawah Ijen also known as the Ijen Volcano or Gunung Ijen, is a dormant volcano at the very end of the island of Java in Indonesia.
What makes it super unique though is that it houses the largest crater acidic lake in the world! Seeing this turquoise colored crater lake at sunrise will be one beautiful site to take in.
It also is known for its vast amount of sulphur that gets mined every day. As you make your way closer to the crater, you will begin to see the extremely hard working miners that dig up the sulphur and bring it up from the bottom of the crater and then all the way up to the rim and back down to the starting point.
Not only is it extremely dangerous for these miners to be working in hazardous conditions, but they also make a very minimal wage – around $10 per day.
Since there is sulphur gas making its way out of the crater, the air can be dangerous to breathe in. That is why it is extremely necessary to have a gas mask with you. These can be rented in the parking lot or if you have a guide, they will provide for you.
As you get closer to the crater itself, you will see the famous electric blue flames lighting up the dark night.
These flames are created due to the combustion of the sulfuric gasses, and when these gasses come into contact with the outside air through the cracks of the volcano, the blue flames are created.
Note though that these blue flames are not always seen, so don't get too disappointed – the sunrise is still worth it!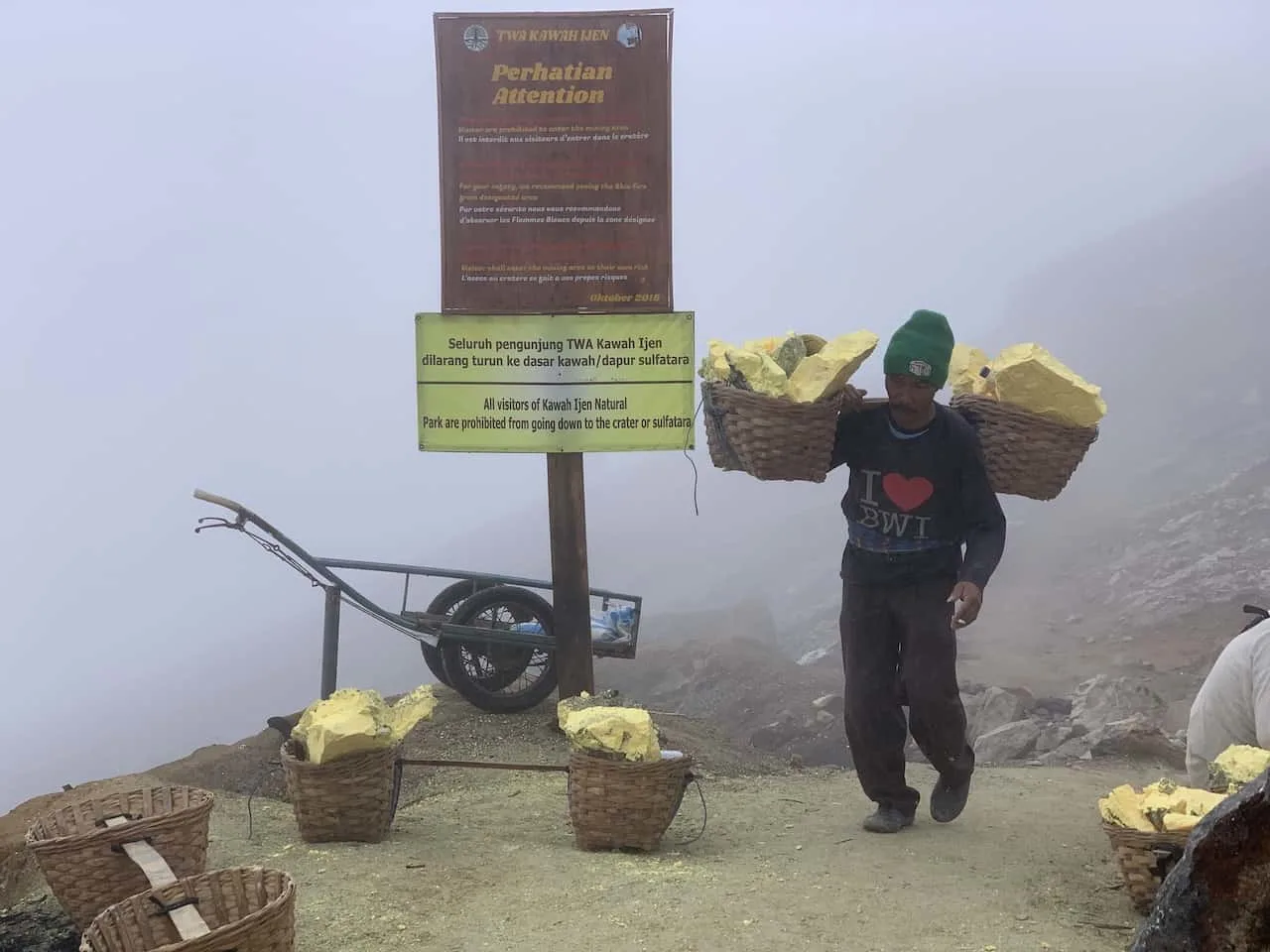 3) Where is Ijen Volcano
The Ijen Volcano is located on the far east end of the island of Java. It is the last major volcano on the east end of the island before moving on to Bali.
The two closest major cities to Ijen would be Banyuwangi (1 Hour) or Bondowoso (2 Hours), depending on where you are coming from beforehand and where you are planning on heading next.
See below for a map view with Ijen pin pointed down along with the two routes from Banyuwangi and Bondowoso.
4) Where to Stay in Banyuwangi and Bondowoso
Speaking of Banyuwangi and Bondowoso, I wanted to list out a few highly recommended and well priced options to choose from when deciding where to stay when visiting Ijen.
Since you will most likely just be staying the night, you don't need to worry too much about many amenities you may want during a longer stay. Below are some solid options to choose from though:
Another option here is to stay at Arabica Homestay. Although the not highest rated of places to stay, it is mere minutes away from the Ijen parking lot. By staying at Arabica, you will be able to sleep in a bit longer and not set that alarm for 12AM.
5) How to Get to Ijen
There are three main ways to go about getting to Ijen – private driver, on your own, or by tour.
Private Driver
Since I was with a couple other people at the time, we opted to go with a private driver to get us from Banyuwangi to Ijen.
You can assume the cost of a private driver to take you there, wait for you to complete the hike, and then take you to your next destination to be around $50 USD (although this will also depend where you are going next).
On Your Own
Your second option here is to hire your own scooter or car during your time on Java. This will come at a cheaper cost – just $5 – $10 per day, however you will need to be super confident managing the roads on your own.
Not only will you need to deal with the Indonesian roads, but you will also need to do so at night. Please do not opt for this unless you are 100% comfortable and able to do so.
Tour
The last option I wanted to list out was doing Ijen with a tour. By signing up for a tour you will not need to worry about logistics altogether.
You simply will be picked up at a certain time from your hotel, be brought to Ijen, guided up and down the volcano and then be brought back (or potentially onwards to your next destination).
If that sounds up your alley, then a fully organized tour is for you. Below are some solid options that can leave from Banyuwangi or even Bali:
6) Guide or No Guide
If you are either taking your own private driver to Ijen or you are planning on heading there on your own, you will need to decide whether or not you will want to hire a guide to take you up and down the volcano (a tour option will have one included already for you).
For a trek like this, I do not think it is completely necessary to hire a guide due to the pretty obvious path to follow all the way to the sunrise viewing area.
A guide will come in handy though when it comes to knowing when to put on your gas mask and also can be very helpful as you make your way down and up into the crater.
A guide can either be arranged ahead of time by your driver (as he did for my group) or you can simply hire one once you arrive there. Expect to pay around 300.000 IDR / $22 USD for a guide (which can be split among your group).
7) What to Bring
This is more of a unique hike to take part of since you are both hiking in the dark on the way up and dealing with toxic gasses.
To solve those two issues, you will want to have a gas mask (either given to you by a guide or rented in the parking lot) and also a headlamp (my go to is the Foxelli Headlamp).
On top of those two items, you can check out this hiking packing list:
Hiking Packing List

In general when it comes to hiking, there are a few main aspects to consider. These includes clothing layers, hiking shoes, hydration & fuel, electronics, and other essentials.

Below in a breakdown of some of the top items, but be sure to check out the Hiking Packing List for a more comprehensive view.

Clothing Layers

Layering is going to be a top consideration when hiking. You will want to be prepared for all sorts of weather so you can be comfortable in different situations. Some items may include:

→ Hiking Shorts
→ Hiking Pants
→ Short Sleeve Shirt
→ Long Sleeve Shirt / Sun Hoodie
→ Mid Layer Fleece
→ Puff Jacket (not always needed)
→ Packable Rain Jacket (Columbia Watertight II)

Note that your layers should be made of moisture wicking material as they are breathable and quick drying.

Footwear

Having appropriate footwear will also be very important. You will want to have shoes with the necessary grip and support to keep you safe on the trail.

→ Hiking Shoes (Keen Targhee)
→ Hiking Socks (Darn Tough)

Other Essentials

Whether it is hiking gear, electronics, or just some miscellaneous items, here are some other essentials to bring along on hikes.

→ Hiking Backpack (Osprey Talon 22) & Rain Cover (Joy Walker Cover)
→ Hiking Poles (Black Diamond Trekking Poles)
→ Water Bottle (CamelBak Chute or Katadyn Filter Bottle)
→ Portable Charger (Anker PowerCore 5000mAh)
→ Action Camera (GoPro Hero)
→ Energy Bars & Snacks
→ Hat & Sunglasses
→ Sunscreen & Bug Spray
8) Ijen Itinerary Overview
See below for a high level layout of what to expect during a morning hiking the Ijen Crater for sunrise.
Assume a 5:30AM sunrise for the below and leaving from Banyuwangi (note sunrise will always be somewhere between 5AM – 6AM depending on time of year).
12:00AM | Wake Up!
12:30AM | Drive to Ijen
2:00AM | Begin Hike
3:15AM | Hike Down & Up Crater for Blue Flame (optional)*
4:00AM | Continue to Sunrise Viewing Area
4:30AM | Arrive at Sunrise Viewing Area
5:00AM – 6:00AM | Enjoy Sunrise & Crater Views**
6:00AM | Hike Down Ijen
7:30AM | Depart
*You can sleep in a bit more if you decide not to head down the crater
**Feel free to stay past sunrise as well to take in some more views from other angles along the crater rim. You can continue walking a good portion of it before it gets a bit sketchy.
9) Kawah Ijen Crater Sunrise Hike
Now that you have a better idea of how to prepare for the hike lets talk a bit more about what to expect on the hike itself.
A) Parking Lot to Crater Rim
The first 1-1.5 hours of the hike will take you from the parking lot of Kawah Ijen and take you right up alongside the crater rim of the volcano. Since this is a sunrise hike, you will not be able to take in the scenery around you too much.
Instead, you will be trekking up in the darkness as you head up on the near constant incline towards the crater. While the hike is uphill to the crater, it is not too steep. Rather, it is just on a moderate incline along the packed dirt path.
Below you will find some pictures that I took on the way down (since it was lighter outside).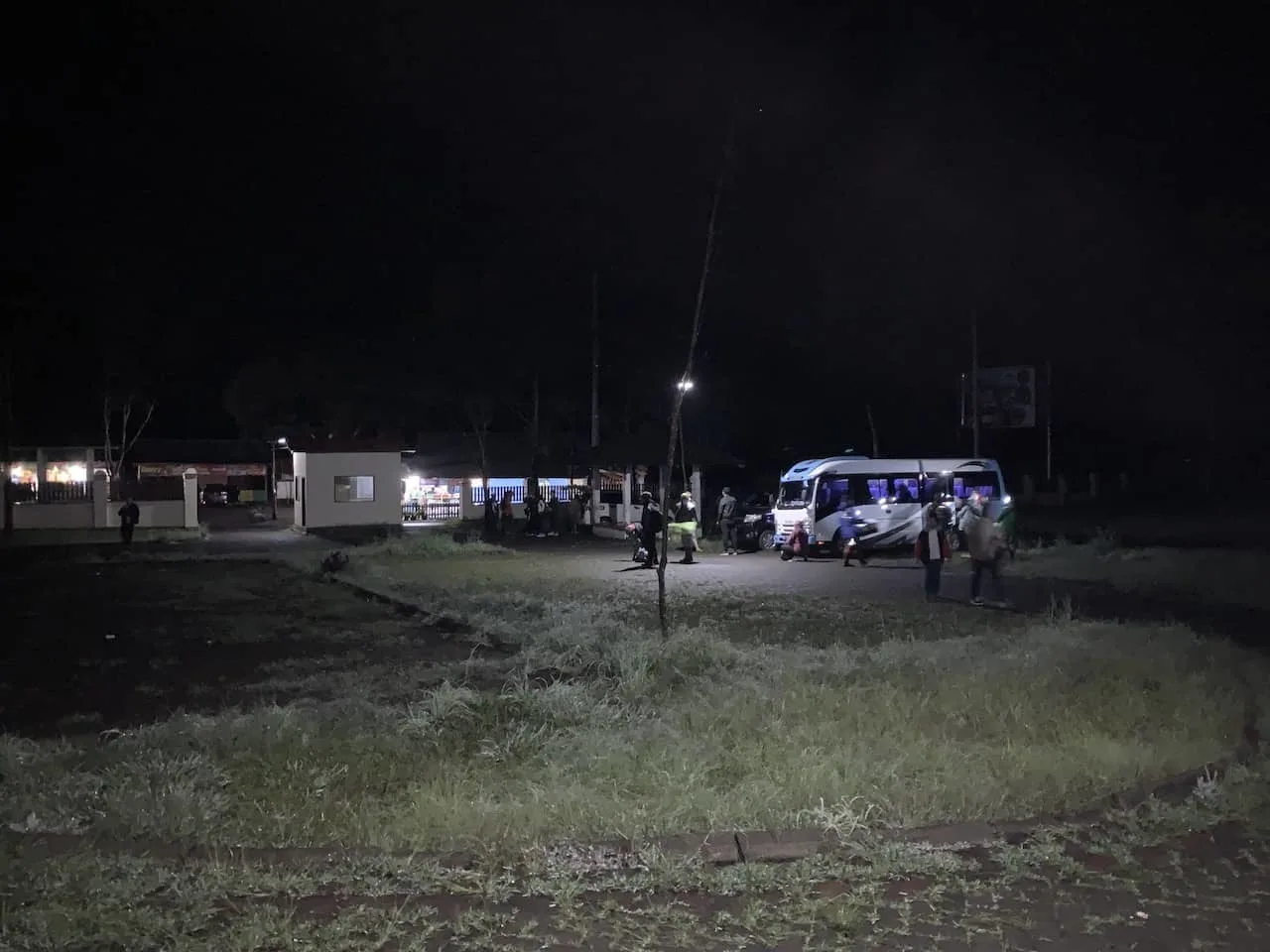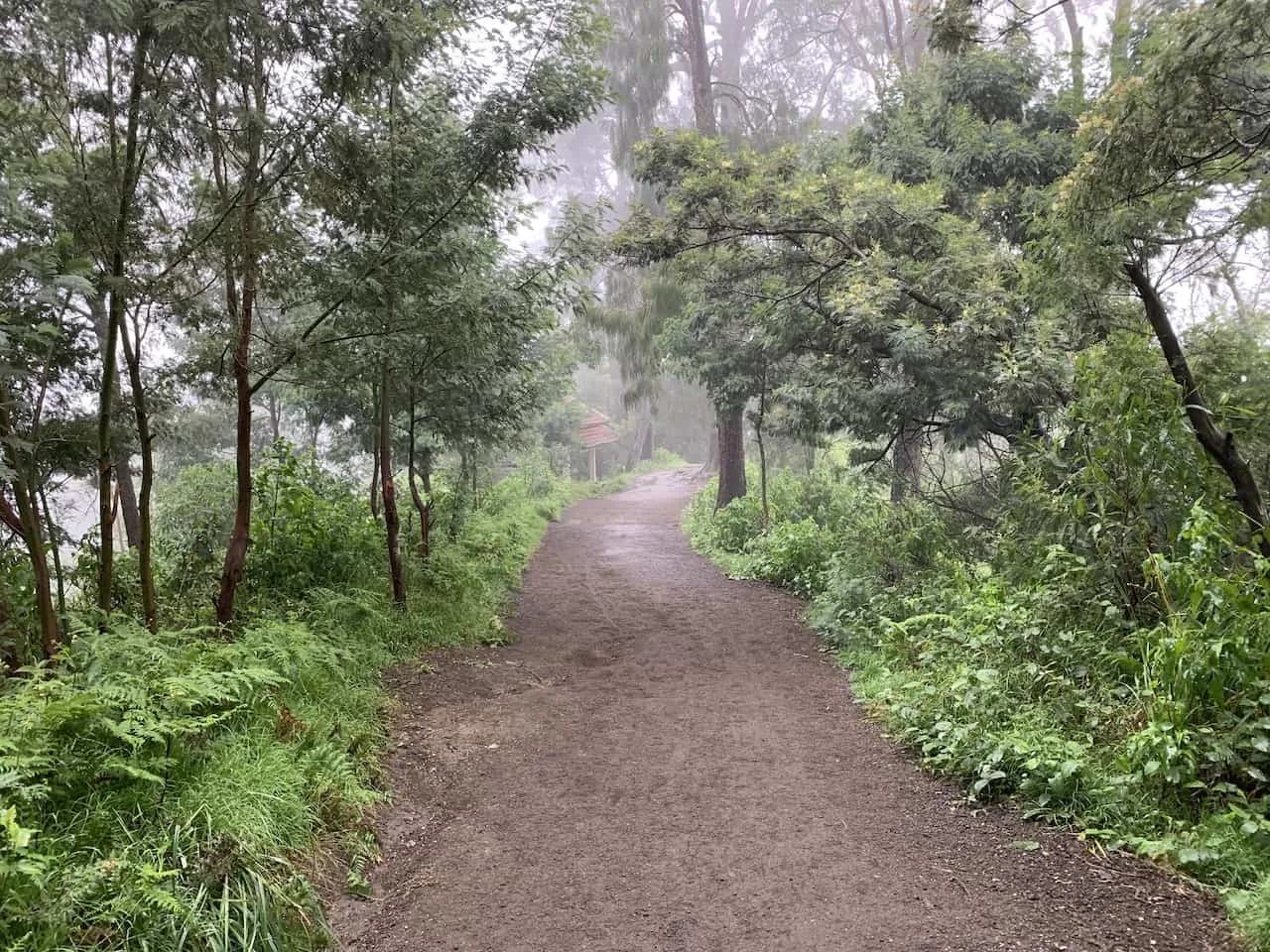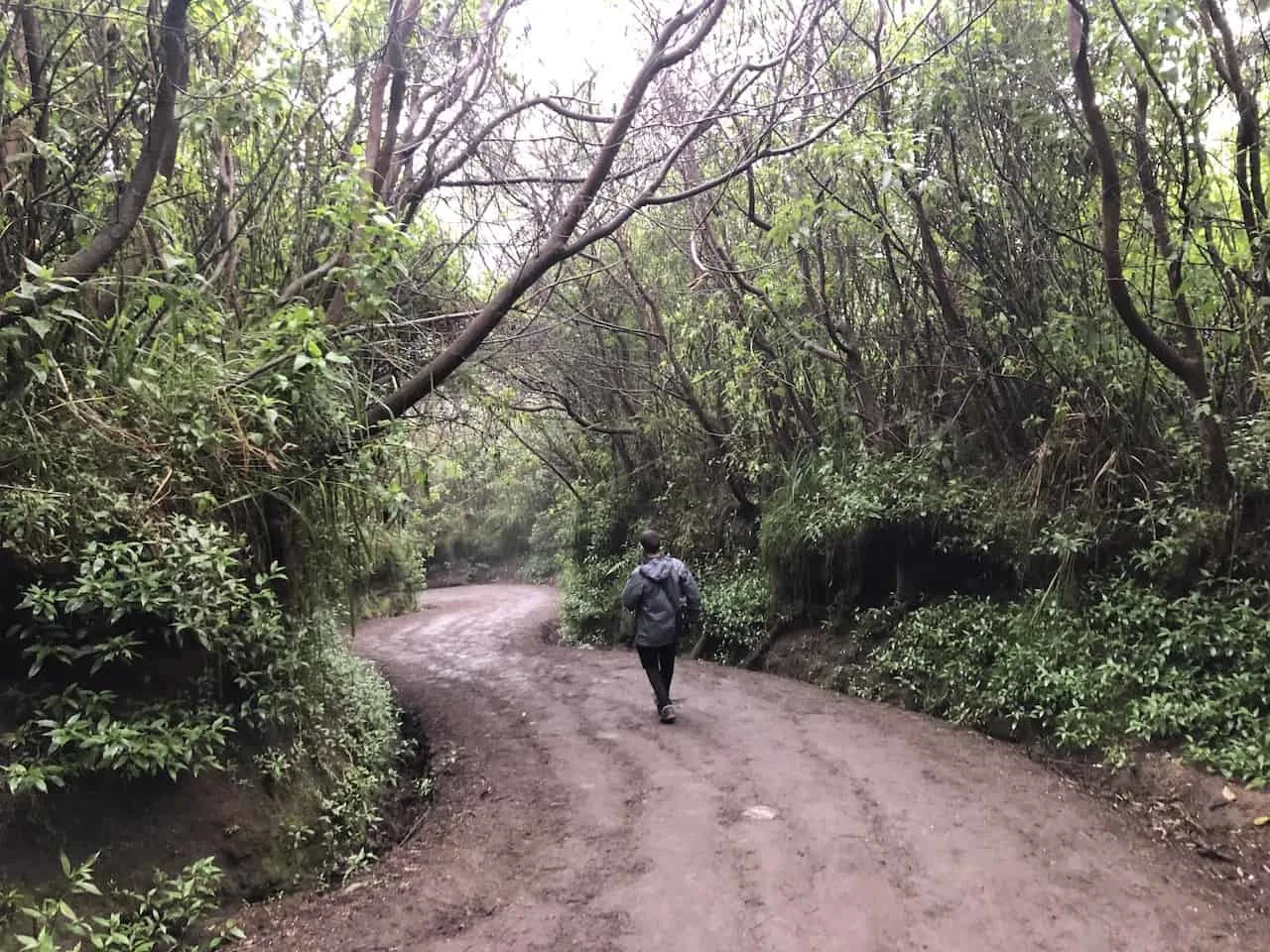 B) Hike Down / Up Crater
Once you arrive on top of the crater, the path will begin to flatten out a bit. Just another 15 minutes away you will have the option to hike down into the crater to get a better view of the blue flames.
Now is also the time to put on those gas masks (if you have not already done so), as the sulfur gasses are at their strongest.
The hike down and up the crater will take somewhere around 45-60 minutes but that will also depend on how crowded the path is. Since it will be in the dark and the path is rocky/uneven, you will also want to take it slower than usual.
As you are making your way down to the bottom you may pass by some sulfur miners until you reach a viewpoint where you can better see the blue flames.
Unfortunately, the blue flames will not always be nice and bright to see (and sometimes you won't be able to see them at all).
When I visited, they were not strong at all and I couldn't even get a picture in the dark. If you would like to see what they look like, check out some Google images of the Ijen Blue Flames.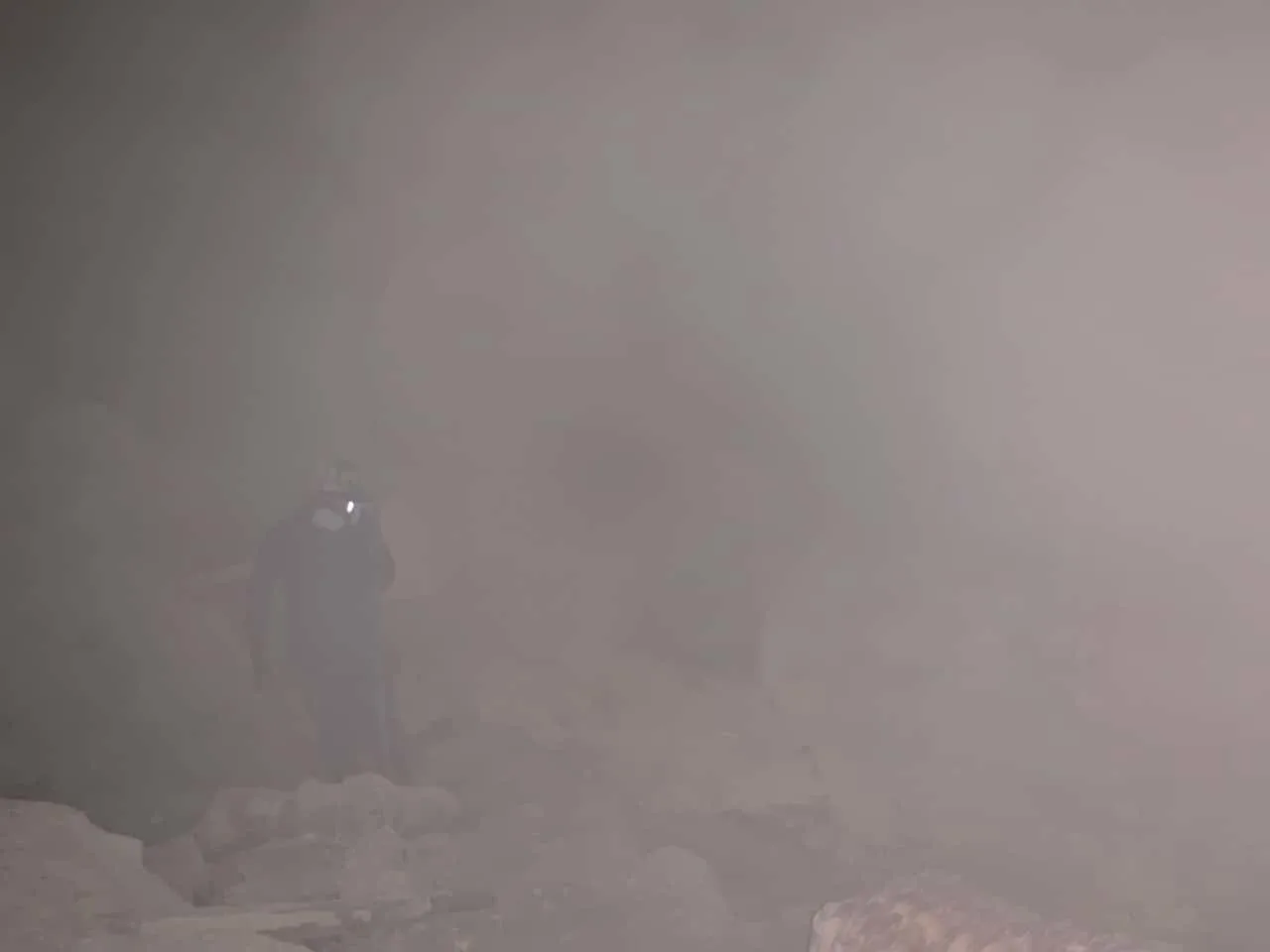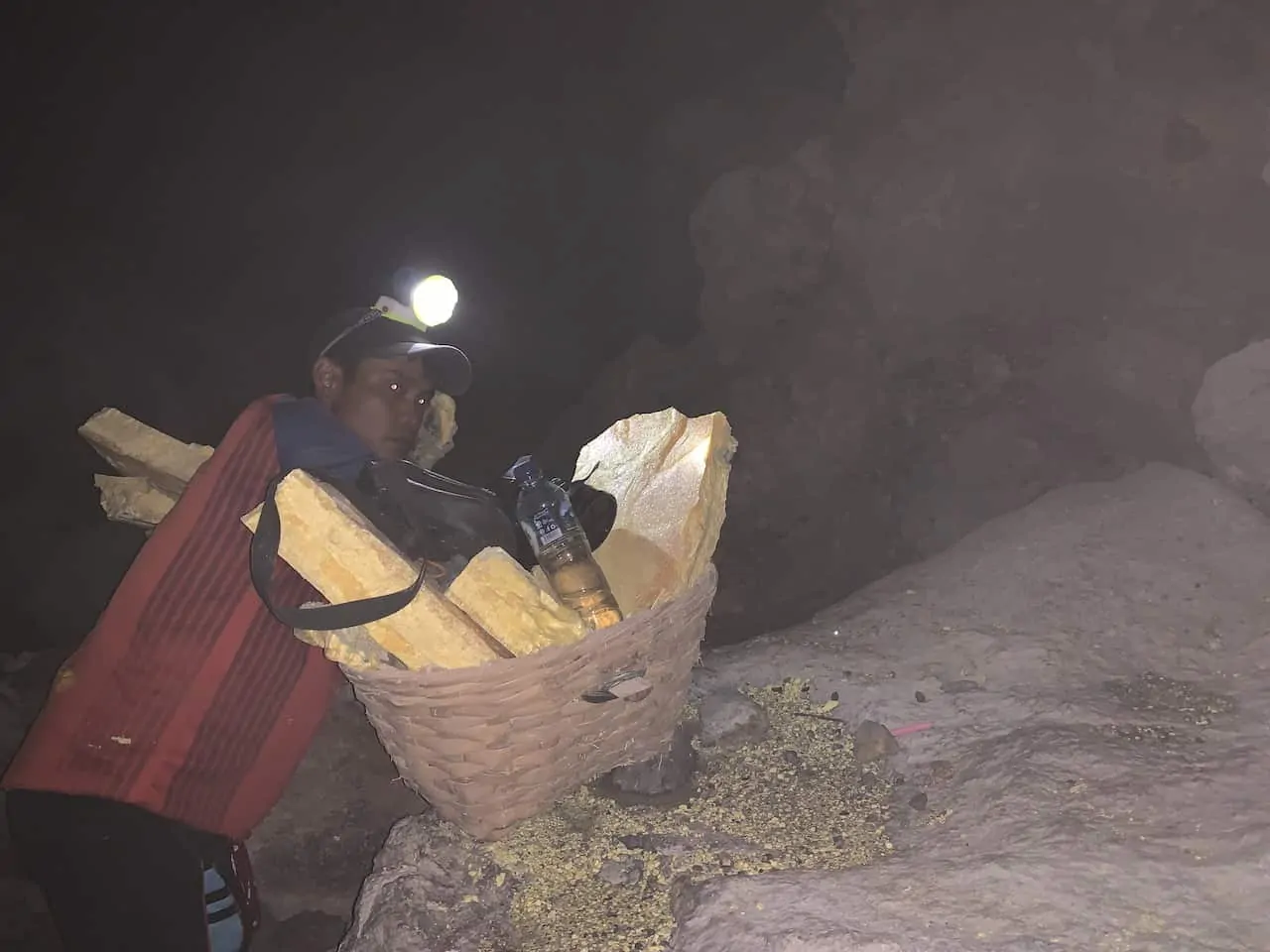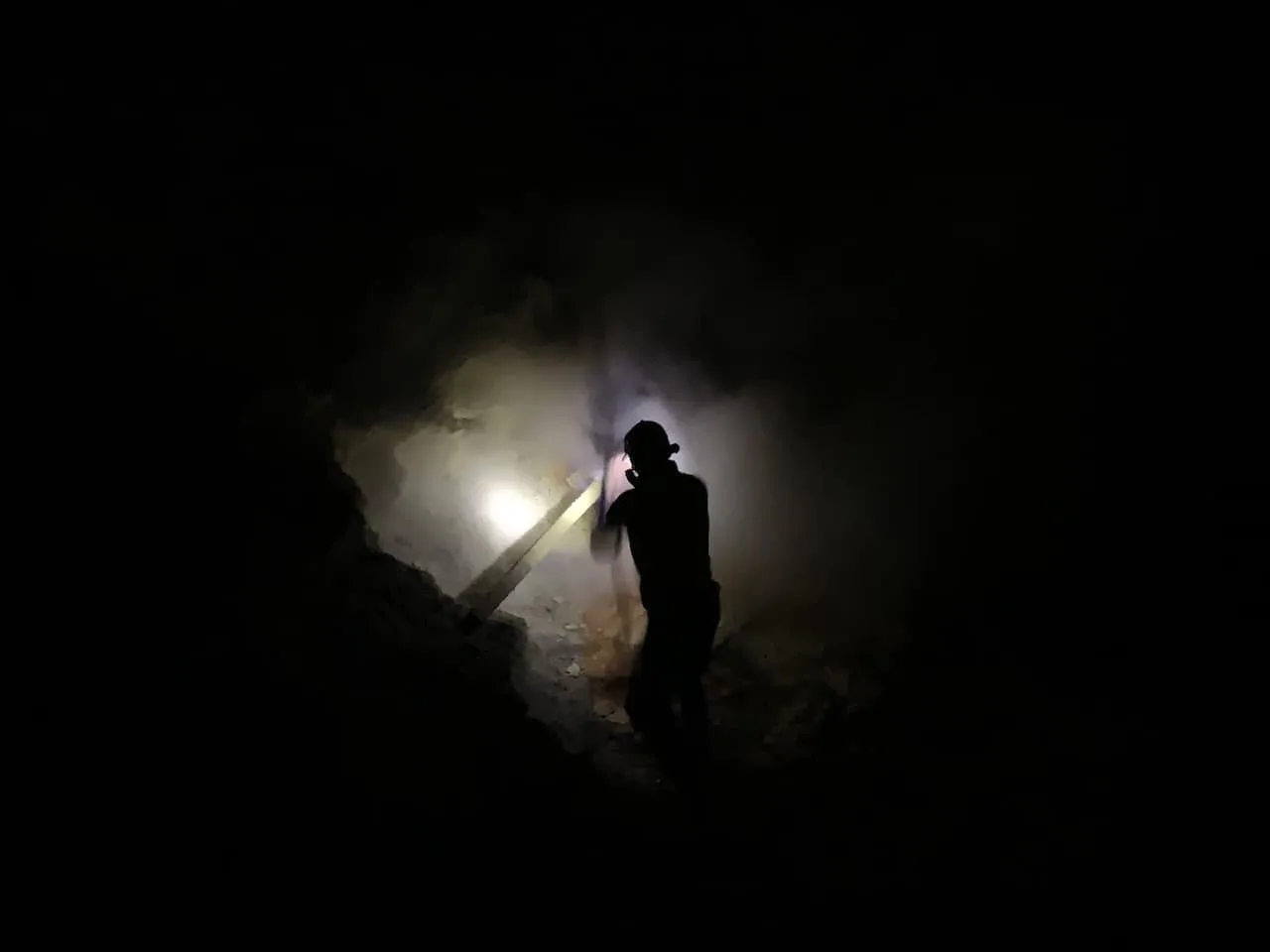 C) Ijen Volcano Sunrise
After taking in the blue flames from below, head back up and around the crater rim to the sunrise viewing area. Depending on what time you set off and how quick you made your way up the crater, you may need to wait a bit until the sun begins to rise.
When it does rise though, you will start to see the volcano's surroundings begin to light up. On one side (towards the sun) you will see the vast landscape around Ijen, and right behind you will be the Ijen crater itself.
As it gets brighter and brighter you will begin to see the turquoise crater lake, sulfur fumes, and the entirety of Ijen come into view. Getting those views in were some of the best I could ask for.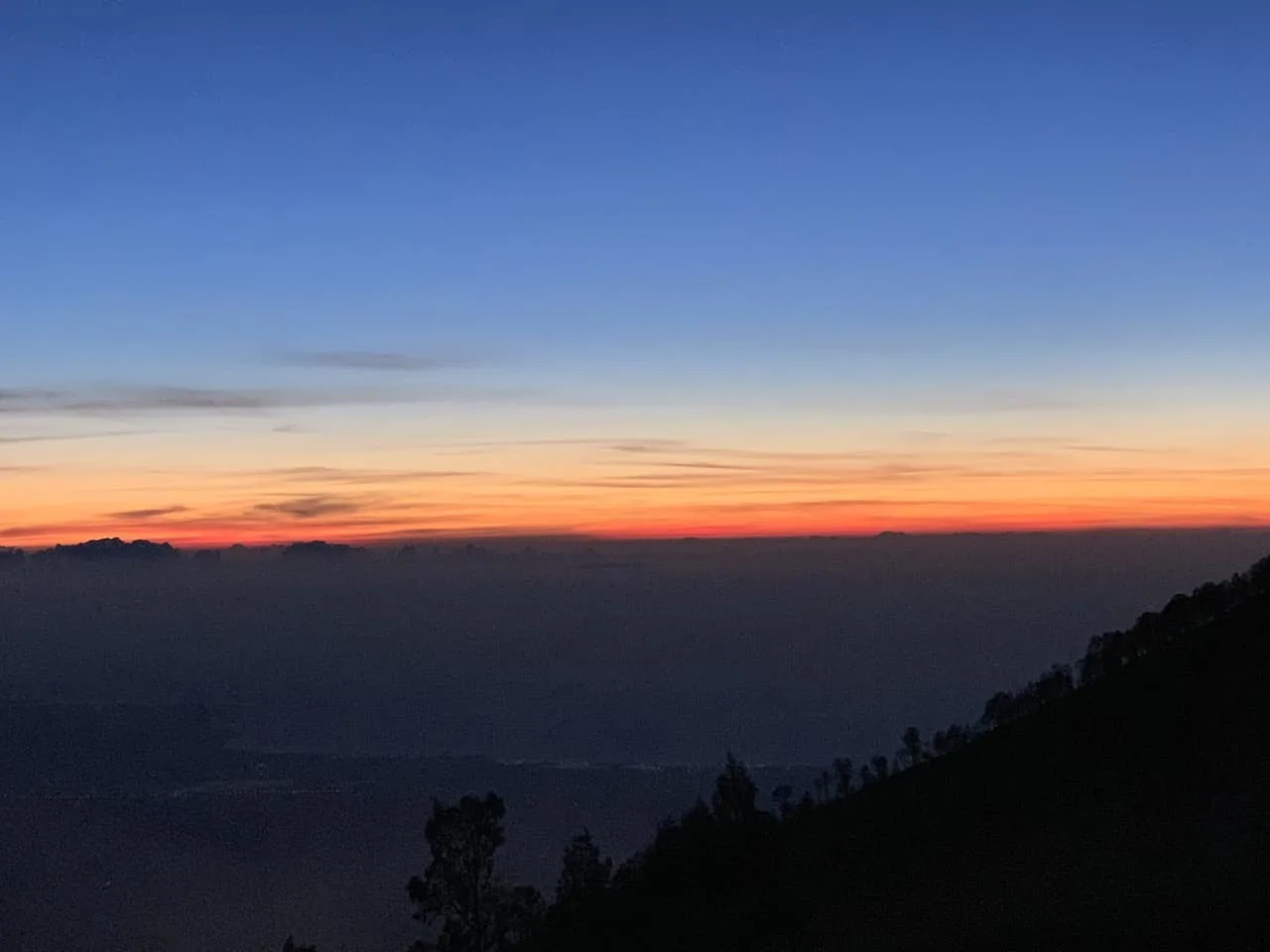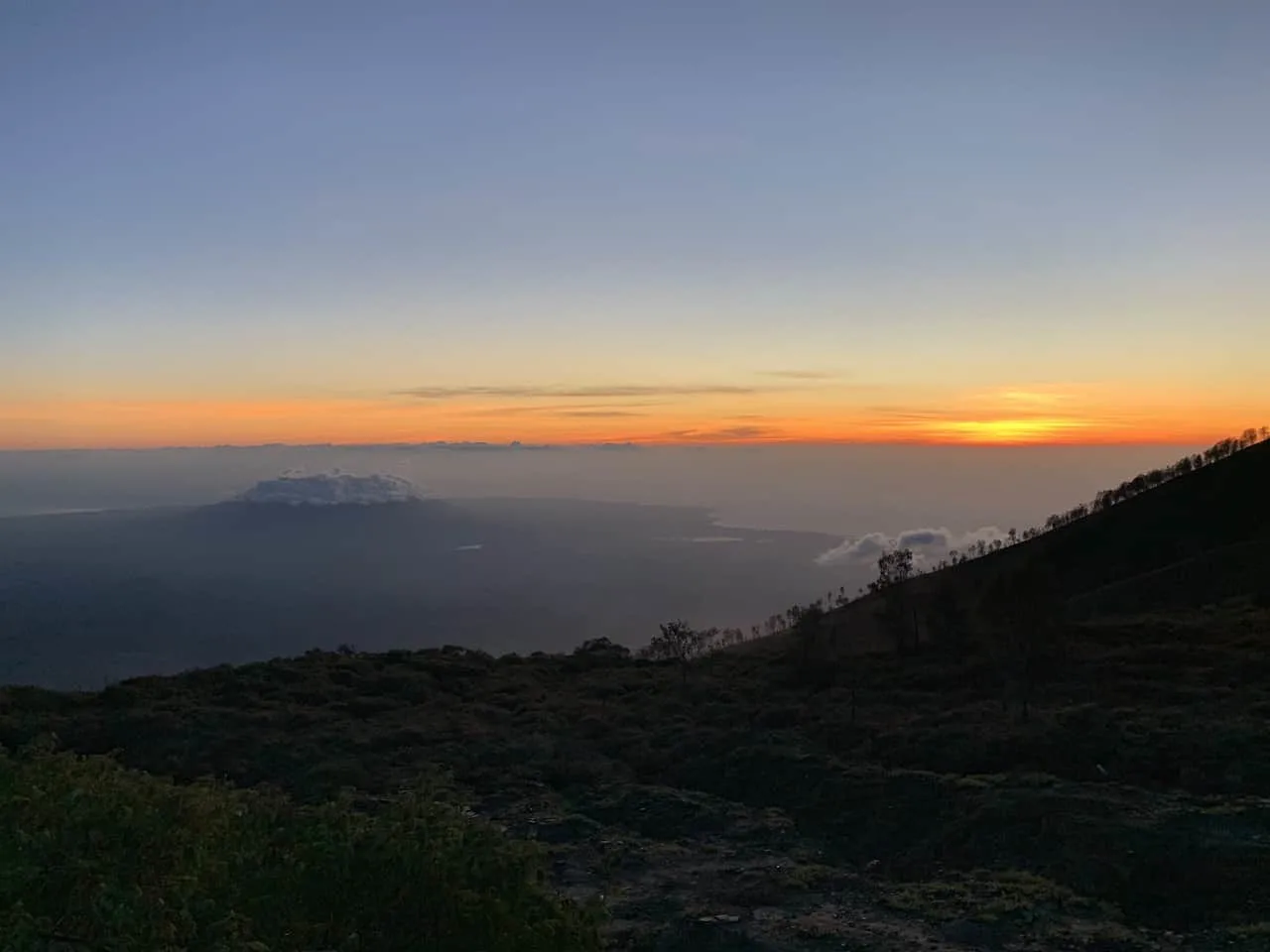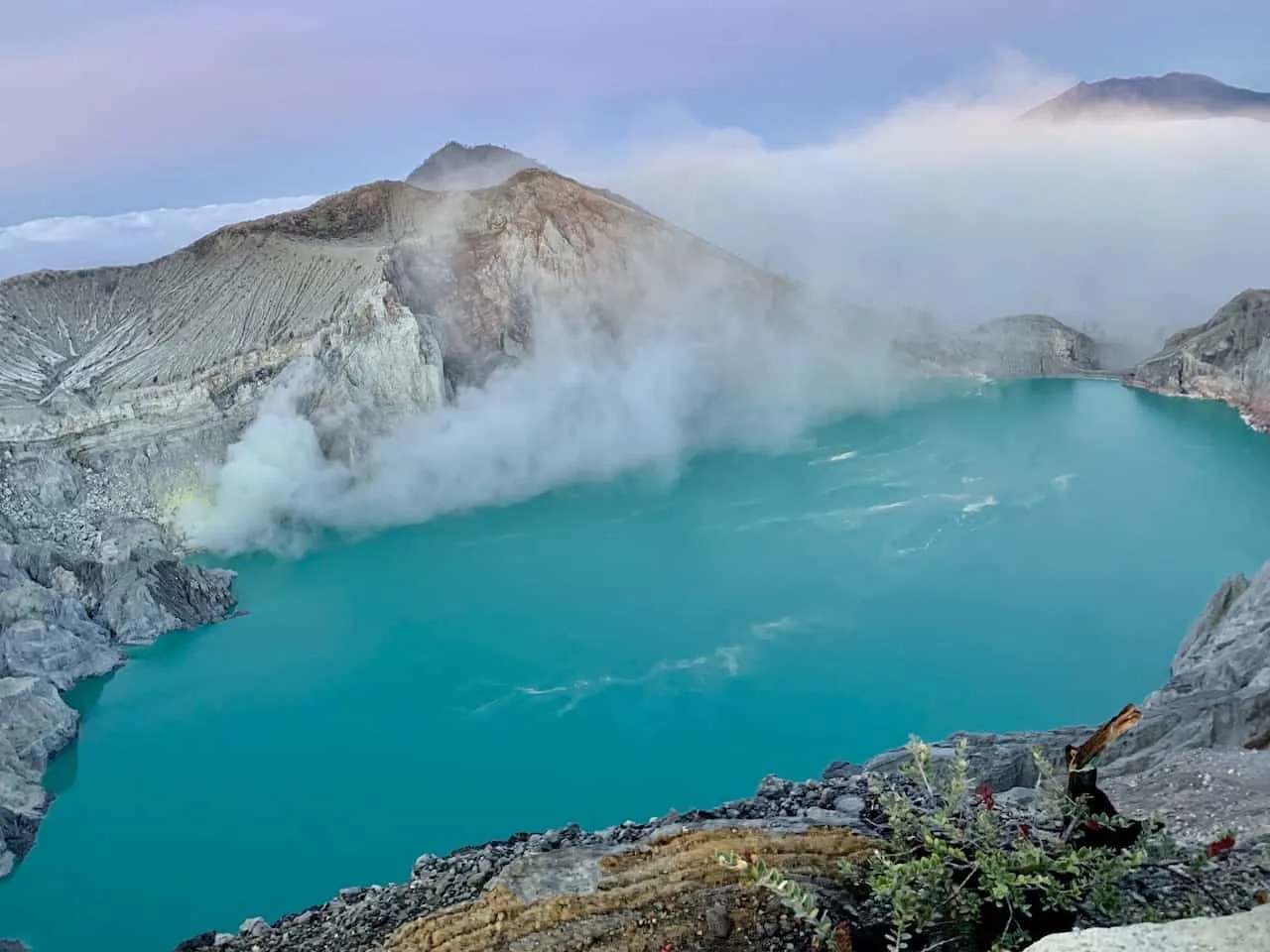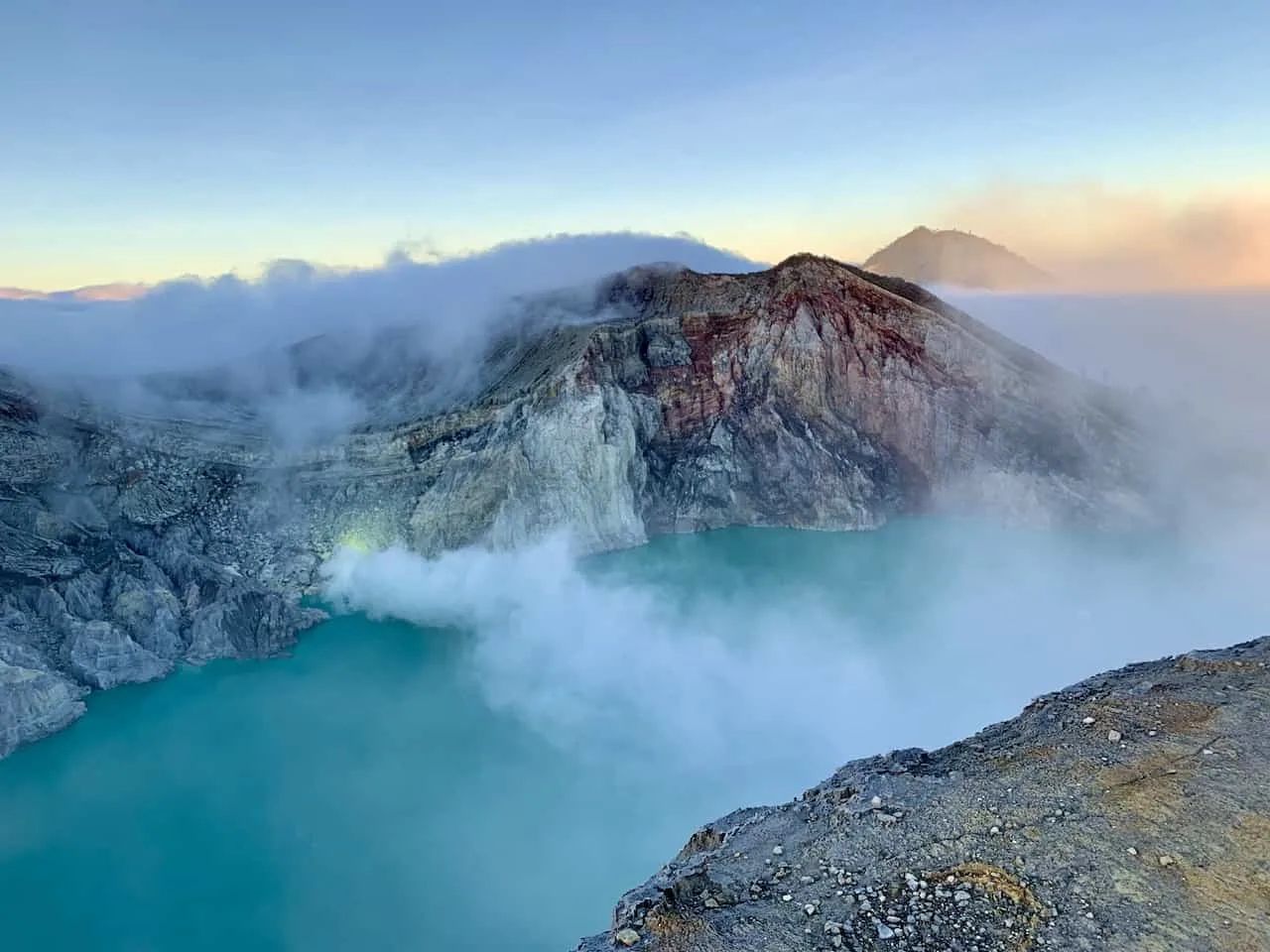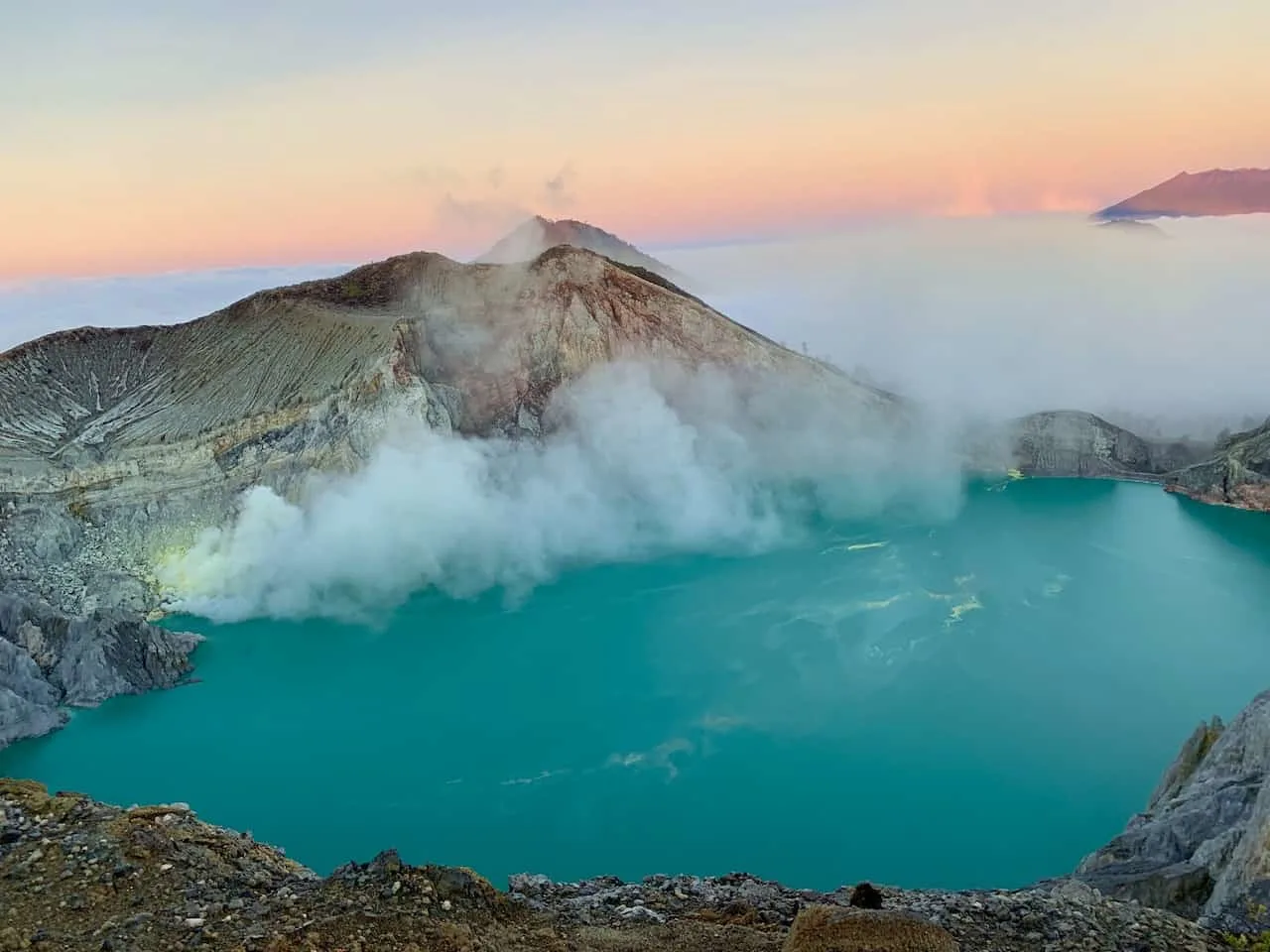 After enjoying sunrise for a bit, feel free to walk a bit more around the crater rim of Ijen. You can continue counter clockwise as you take in additional views of the lake and crater rim.
Do be careful though as it can get a bit more dangerous as you continue along. You can then head back towards the sunrise viewing area for one last view of Ijen.
Once all done taking in a Kawah Ijen sunrise it is time to make your way back down to the parking lot. It should be much easier and quicker now that it is downhill and no longer in the dark.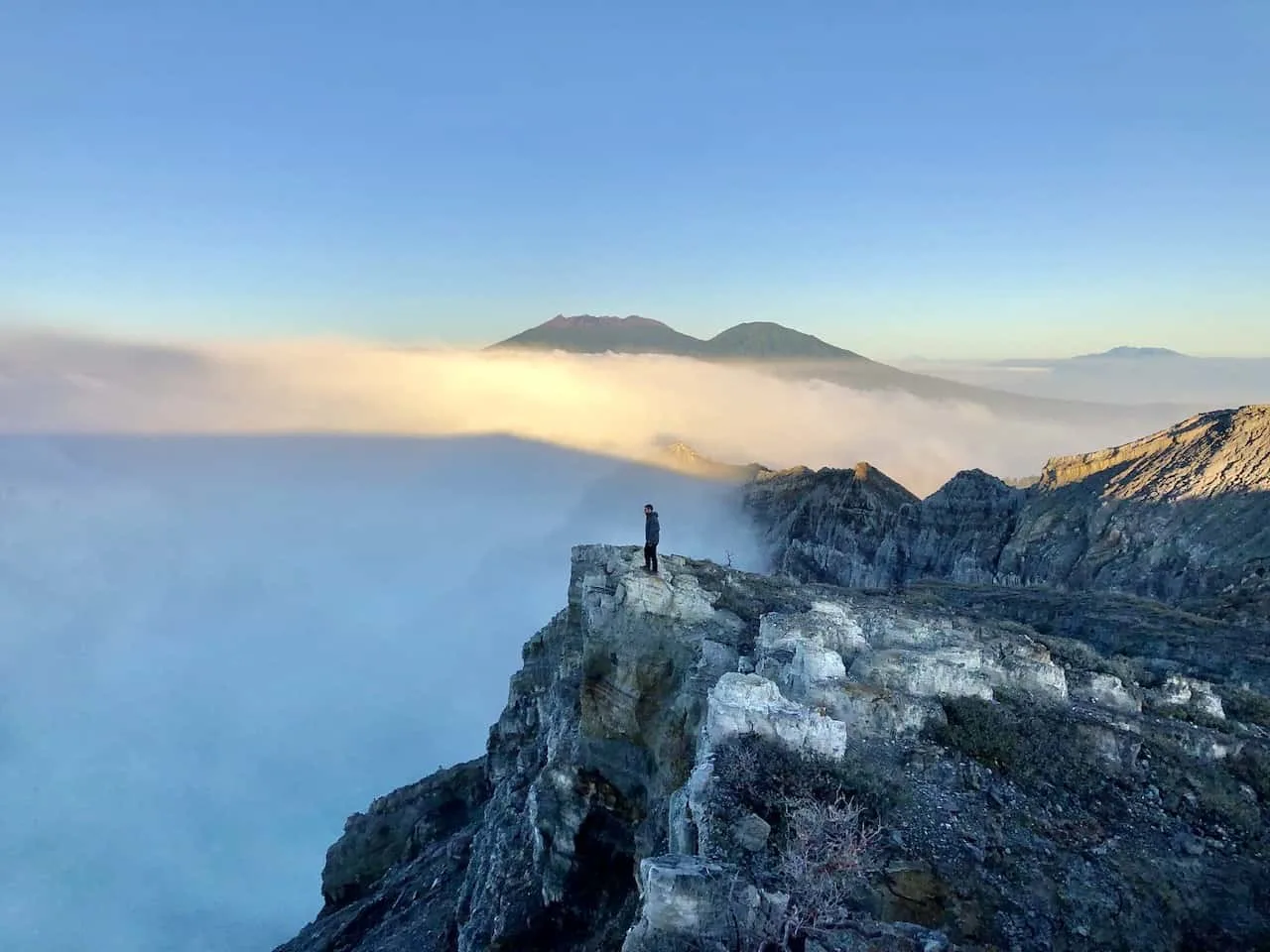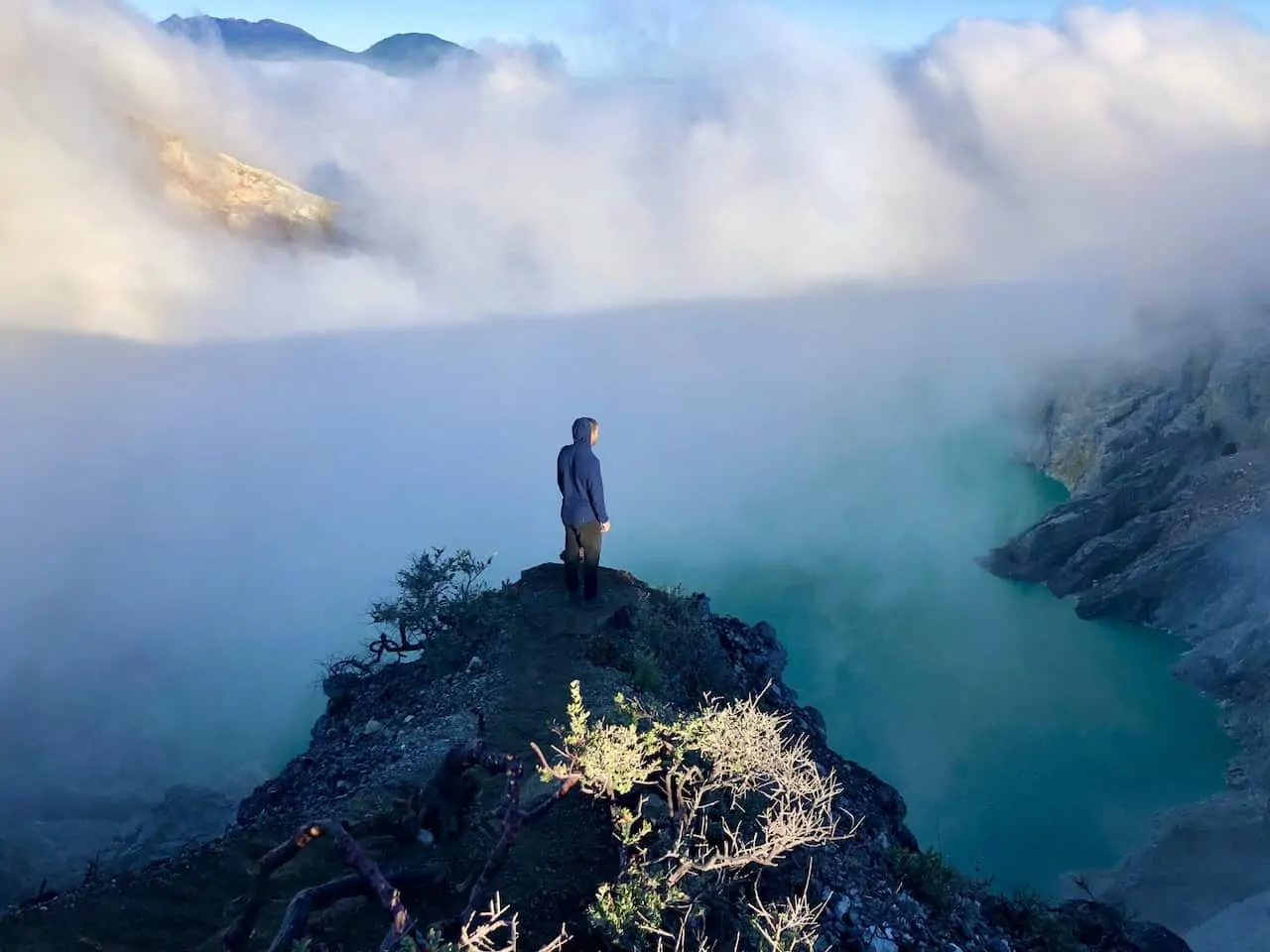 10) Where to Next
After completing Ijen it is time to head off to your next destination. That means you are either headed to Bali or you are continuing on in Java.
If you are headed to Bali, you will need to make your way back to Banyuwangi (by private driver, tour, or your own wheels) and catch the quick ferry that will take you to the Bali mainland.
If you are continuing on in Java, you will most likely be heading to the Mount Bromo area right after.
To get there, you can continue on with your private driver, drive on your own, or if you opted for a tour of Ijen – head back to Banyuwangi and then continue to Bromo from there (train/bus to Probolinggo and then minibus to Cemoro Lawang).
Feel free to check out the Hiking Mount Bromo Guide for more!
Some more Indonesian attractions include Tumpak Sewu Waterfall, Sekumpul Waterfall, Goa Jomblang Cave, and Yogyakarta Temples.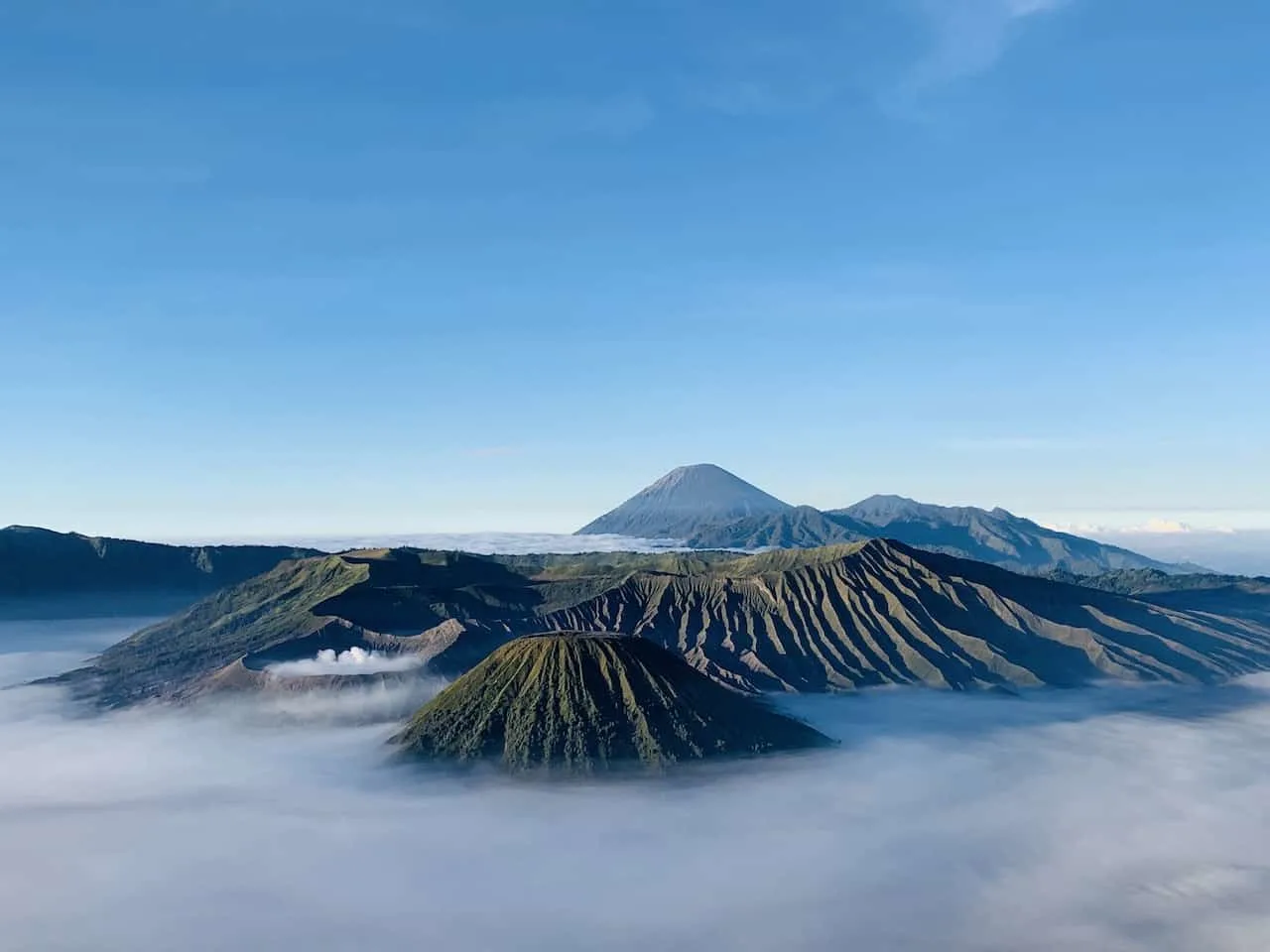 That about wraps up a guide to hiking Kawah Ijen. If you have any questions or comments write them in below.
Also don't forget to check out the other Indonesia itineraries and guides up on the site. Have fun out there and safe travels!