A visit to Nusa Penida is not complete without a stop at the famous Rumah Pohon Tree House.
Here you will be able to enjoy some fantastic views of the Nusa Penida coastline with its beaches, massive cliffs and variety of rock formations out in the water.
This guide will go over how to visit the Rumah Pohon Tree House and what to expect on a visit.
* Affiliate Disclosure: This post may contain affiliate links, which means I may receive a commission if you make a purchase through the links provided, at no additional cost to you. Thanks for supporting the work I put into TripTins!
1) How to Reach Rumah Pohon Tree House
The Rumah Pohon Tree House is located way out on the eastern end of Nusa Penida. It is the perfect addition to a day visiting a variety of attractions on that side of the island (more on that later!).
Since many day trippers from Bali don't usually make it to the eastern side of the island, you will also find it a bit more relaxed and enjoyable than the western side of the island.
I should say though that the eastern side has started to get more and more popular recently, as more people opt to stay overnight on Nusa Penida. Either way though, a visit to this side of the island is a must do in my book!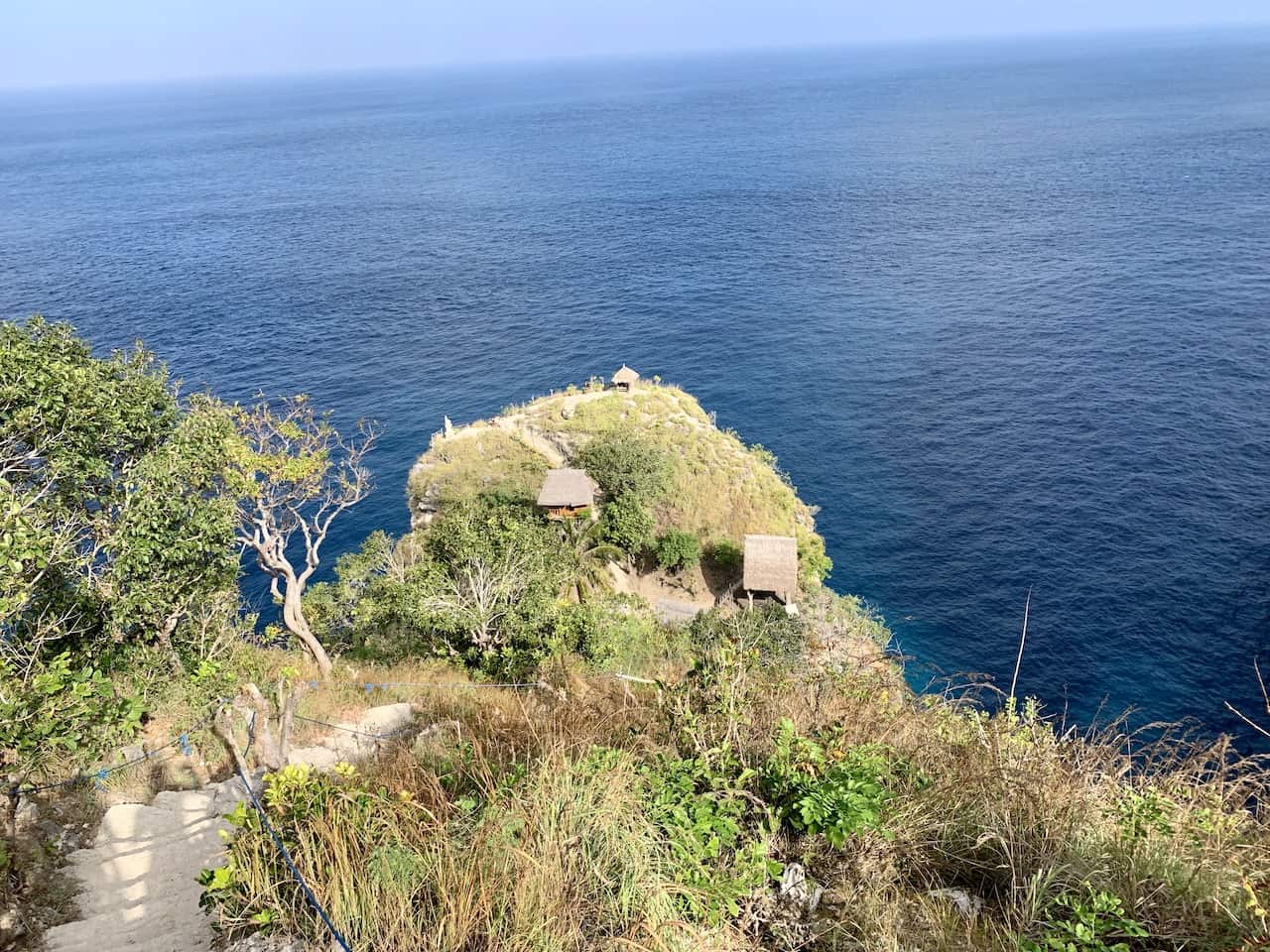 To get yourself around though, you can choose to hire a driver for the day, rent your own scooters, or join an eastern Nusa Penida tour.
» If you are comfortable enough on a scooter / motorbike, you can rent one from the harbor area for as little as $5 – $10 USD per day.
Some of the roads of Nusa Penida are in very poor condition, with tons of uneven terrain throughout. I have heard of plenty of accidents happening on the island with those who were not experienced enough – I even saw a crash right in front of me. So please do not rent a scooter if you do not have the expertise.
» If you want to play it safe, I would recommend hiring a driver for the day that can take you to the Rumah Pohon Tree House and any other attractions you would like to visit.
Expect to pay around $40 USD for a full day driver on the island. You can either find them at the harbor area or have your hotel help set one up for you.
» Lastly, you could join a tour that will take you around the island, including a stop at Rumah Pohon.
This Nusa Penida East Tour is a day trip from Bali and includes a visit to Goa Giri Putri, Teletubbies Hill, Atuh Beach, and the Thousand Islands / Rumah Pohon Viewpoint area, before heading back to Bali at day's end.
2) What to Expect During a Visit
The Rumah Pohon Tree House is made up of three different treehouses (that you are able to stay overnight in) overlooking the coastline of Nusa Penida. Even if you don't stay at the treehouse though, you can still visit the area and take some pictures from the staircases and other viewpoint areas nearby.
The area of Rumah Pohon is also home to the Thousand Islands viewpoint. So, essentially if you are visiting Rumah Pohon, you are also visiting the Thousand Islands viewpoint.
After reaching the parking lot area, you will need to just pay a small 10,000 IDR fee (less than $1 USD) in order to head down to the Rumah Pohon Tree House as well as the other viewpoint spots.
Out in front of you will be a staircase that will lead to the Rumah Pohon Tree House as well as the Thousand Islands viewpoint out in the distance.
The staircase here is easy to navigate as you continue along and make a few stops along the way and towards the end of the peninsula.
As you can see in the image below I have highlighted a few different photography spots to expect during a visit.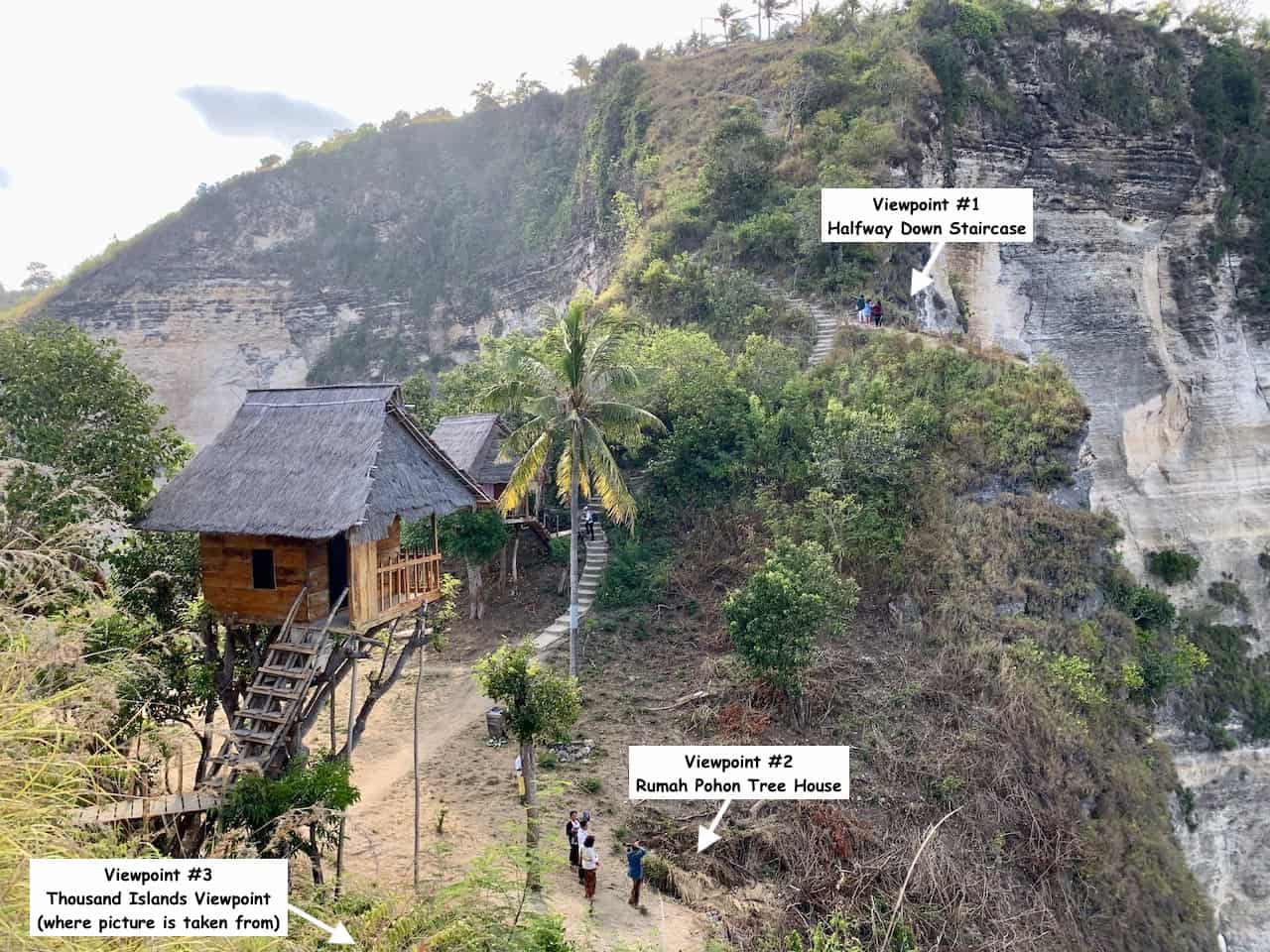 All these viewpoints will give you slightly different angles of the landscape out in front of you. Expect to see some large and small rock formations jutting out of the water, with Diamond Beach sitting below the massive cliff walls.
Even further out you will be able to see even more rock formations that are in front of the Atuh Beach area.
The first spot is located about half way down the staircase, with a small patch of land to the side of the stairs and roped off for safety reasons.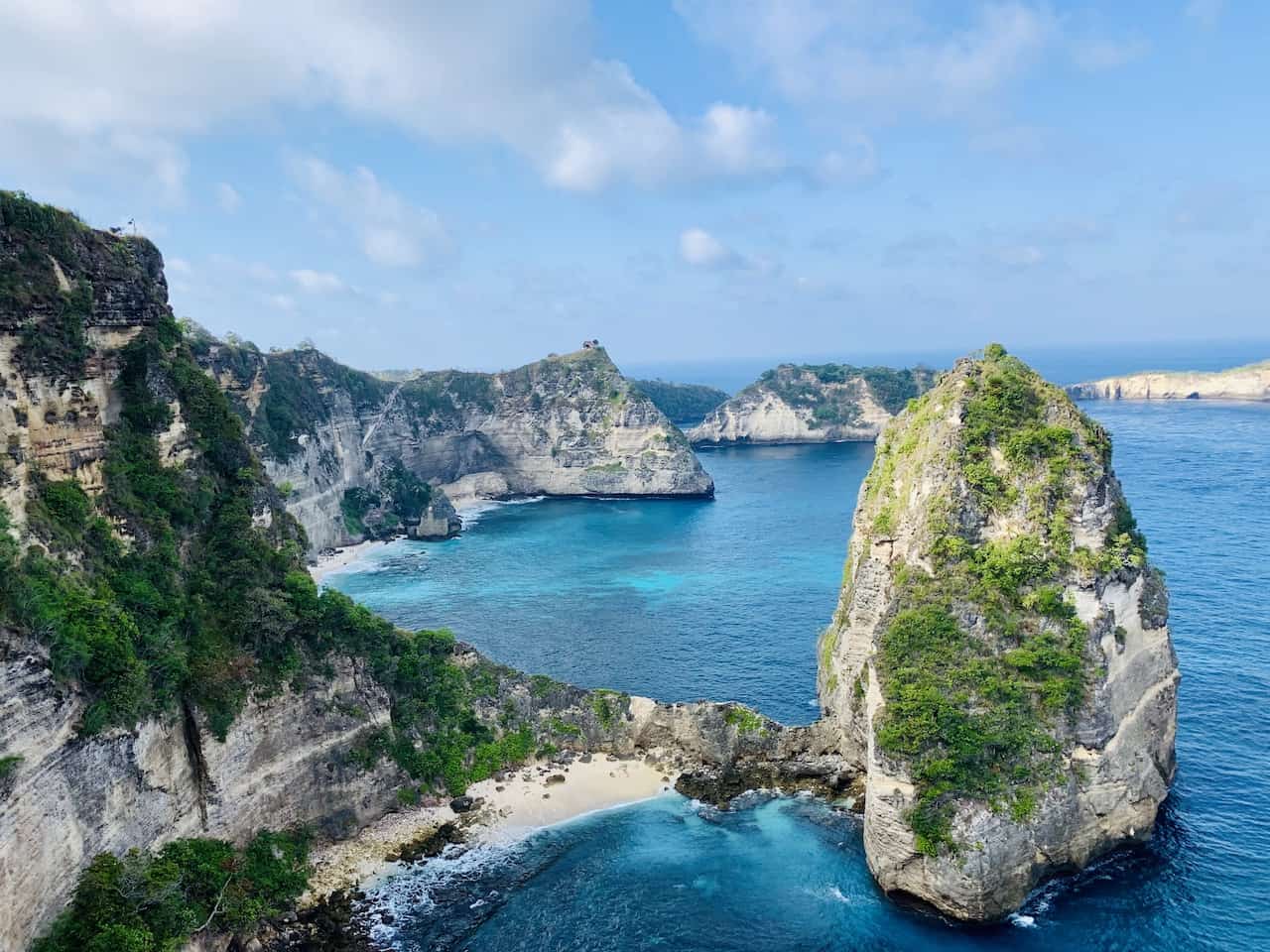 After continuing down the stairs, you can enjoy the views from the Rumah Pohon Tree House area, which is home to three treehouses that are available for booking.
While you should respect the privacy of those staying in the treehouse, if they are empty when you visit, feel free to head up on the staircases and balcony to snap some photos from up above.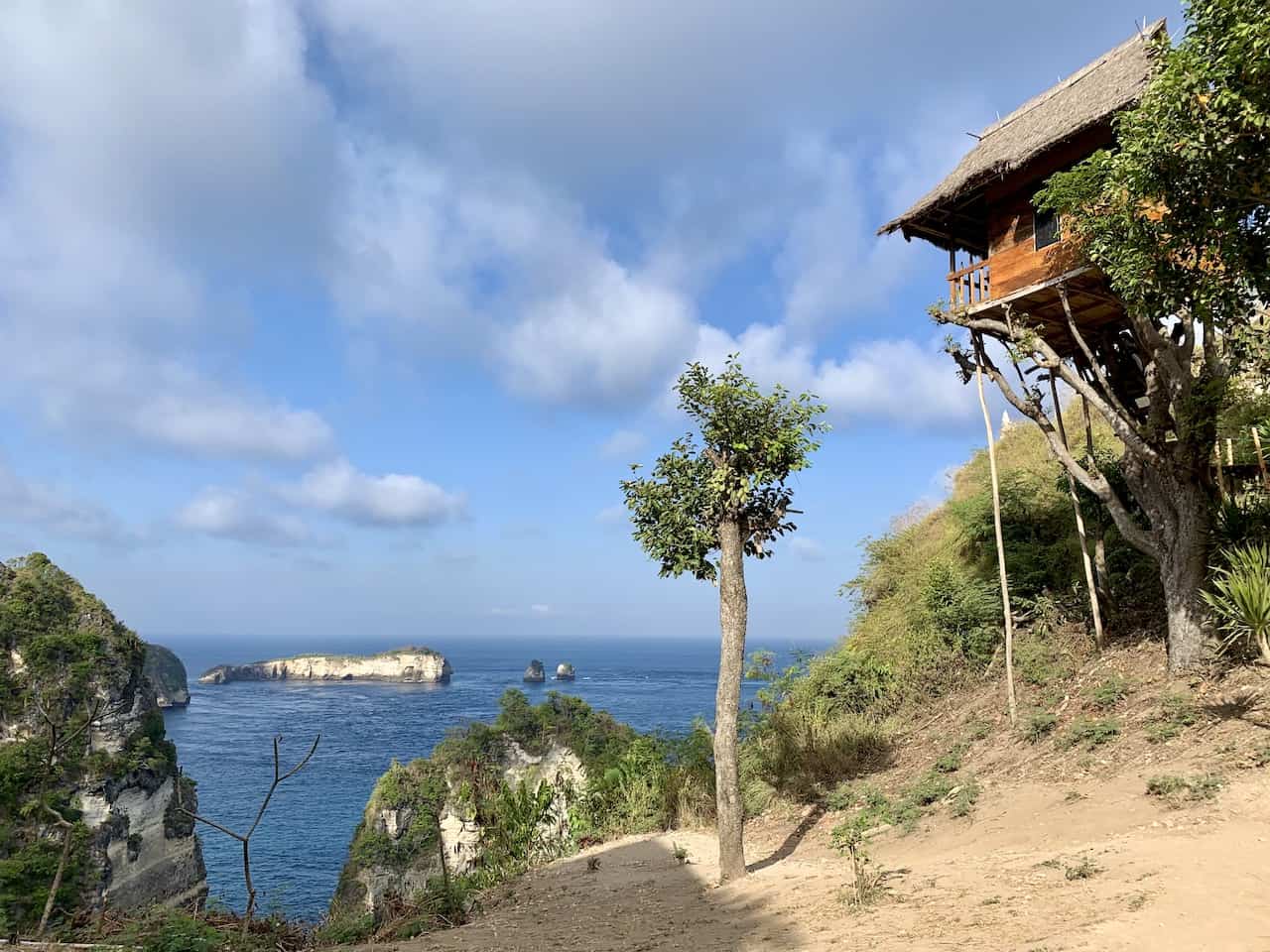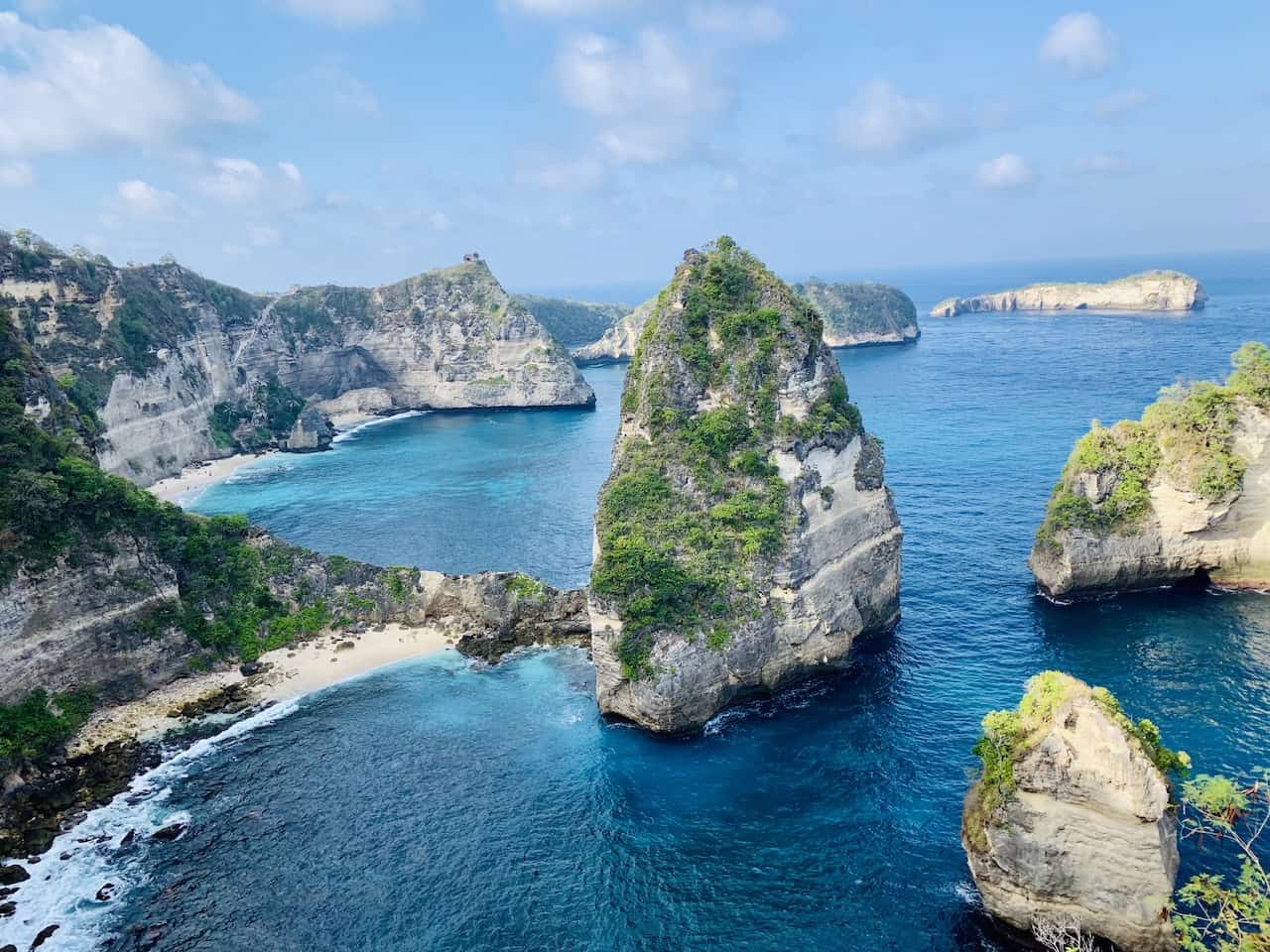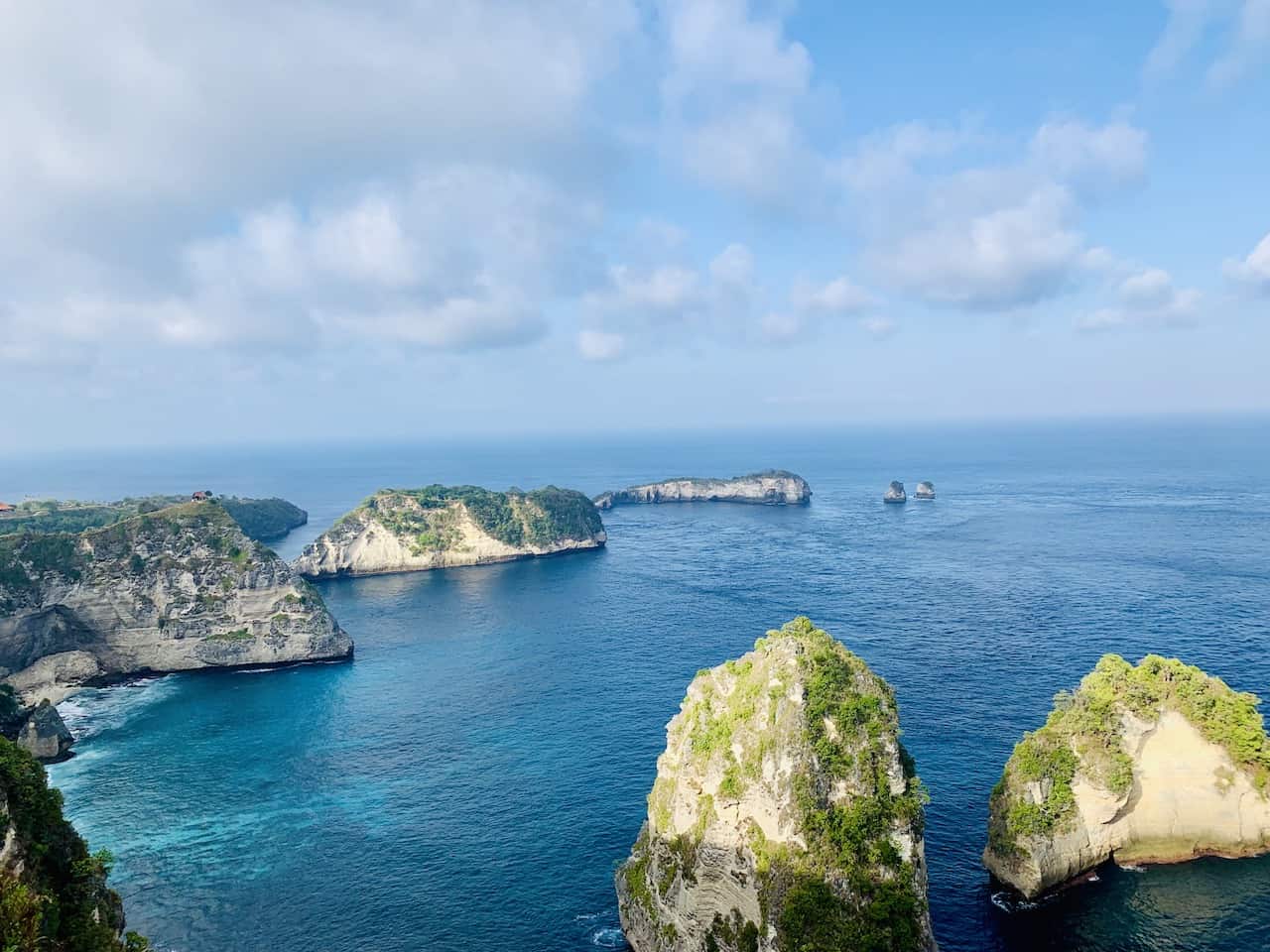 After enough time enjoying the view from the treehouse, it is just a few more minutes until you reach the end of the trail at the Thousand Islands viewpoint spot, where you see a bit more of Diamond Beach as well as the ocean out in front of you.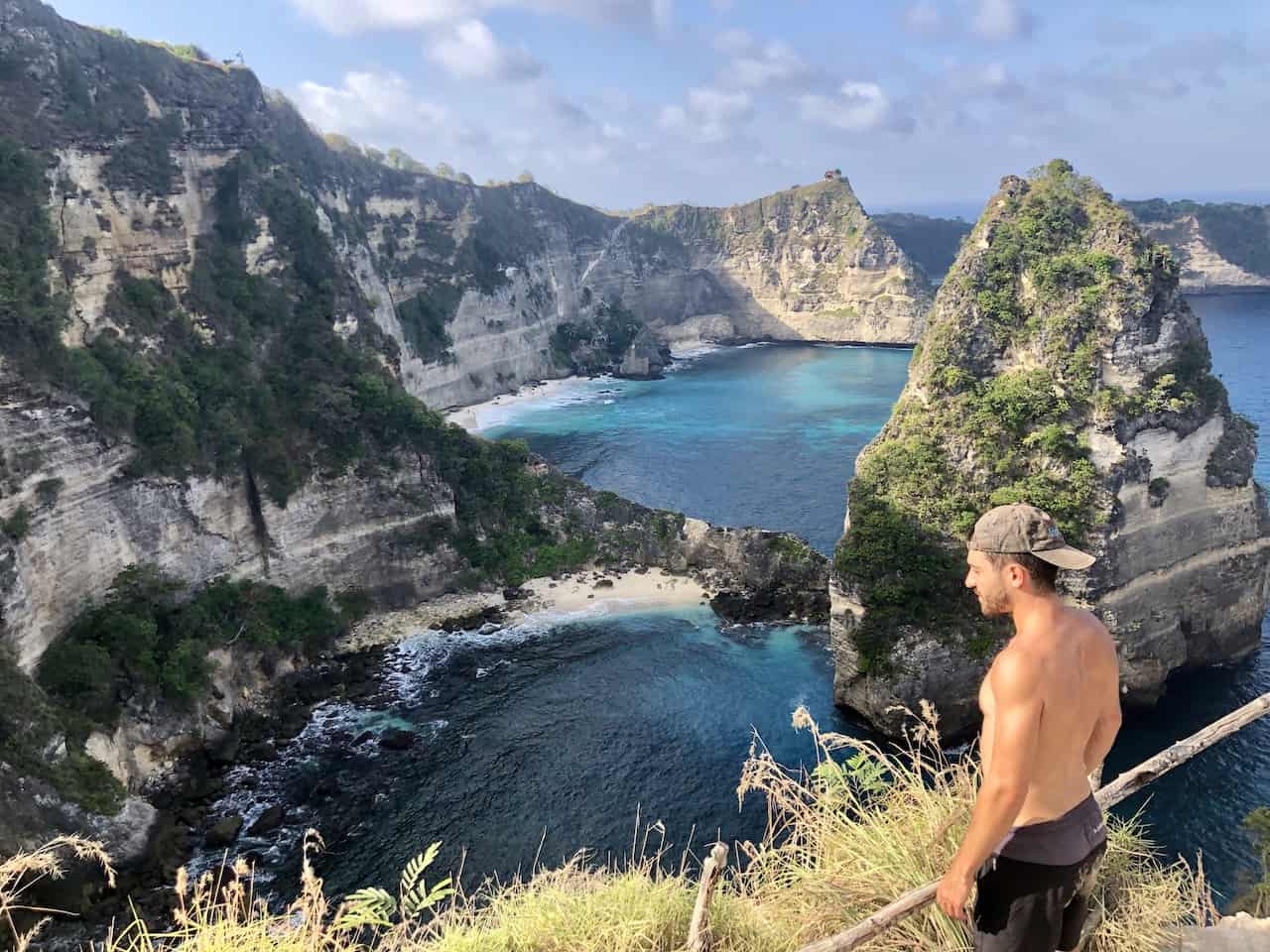 It is hard to go wrong here as all the spots along the Rumah Pohon Tree House area offer some fantastic views of the Nusa Penida coastline.
Overall it is really just a beautiful little spot to enjoy and relax at during a visit to the island.
3) How to Book Rumah Pohon Tree House
If you want to stay in one of the tree houses, you can do so by booking online through Booking.com. The cost of an overnight stay is right around $40 USD.
» Book Your Stay at the Rumah Pohon Tree House Today!
While I did not stay overnight in the treehouse itself, I would recommend booking well in advance to secure your spot. There are only three available so as you may imagine, they can book up quickly.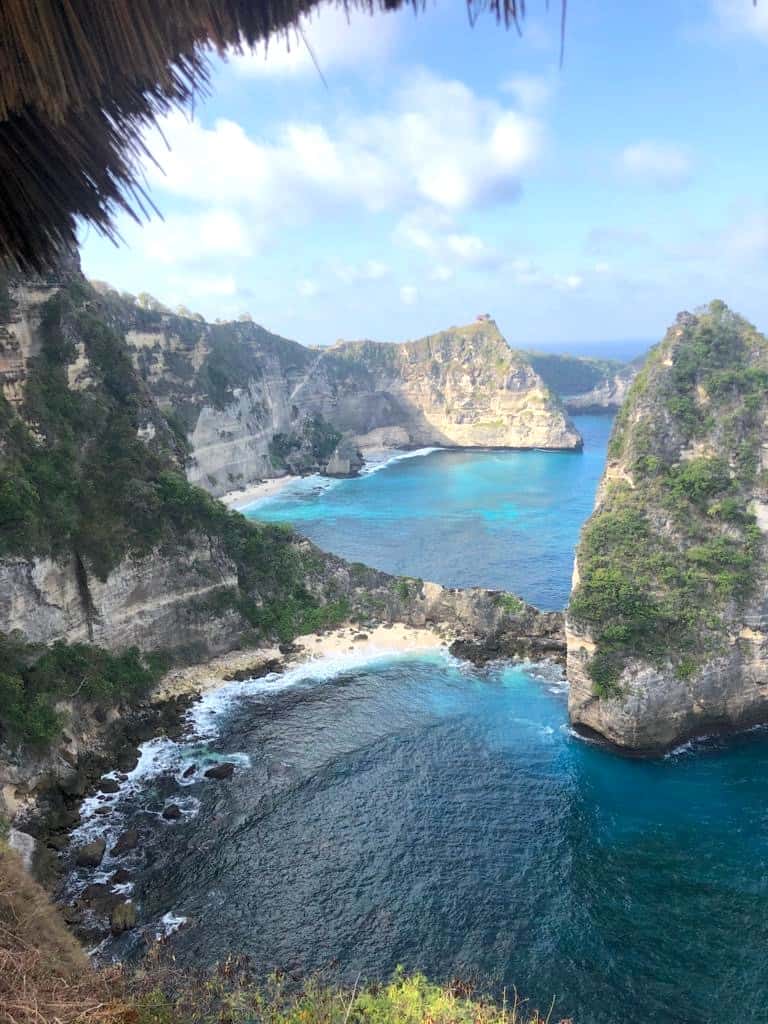 4) What Else to Visit in Eastern Nusa Penida
Since you are already in the area, there are several other places (some of which I already mentioned), which can be added to a full day itinerary of the eastern end of Nusa Penida.
I would start the day out with a visit to the Goa Giri Putri Cave, where you can visit this famous cave temple.
You can then head off to both Diamond Beach and Atuh Beach, where you can spend most of the rest of your day as you relax at the beach, and spend some time in the sand and water.
Finally, you can make the quick drive around to the Rumah Pohon Tree House and the Thousand Islands Viewpoint, where you can take in the views of the beautiful coastline.
At day's end it is back to your hotel on Nusa Penida to end a successful trip on the eastern end of the island.
Feel free to click on the links above to learn more about each one of these attractions and be sure to check out the helpful Nusa Penida Itinerary to help plan your trip.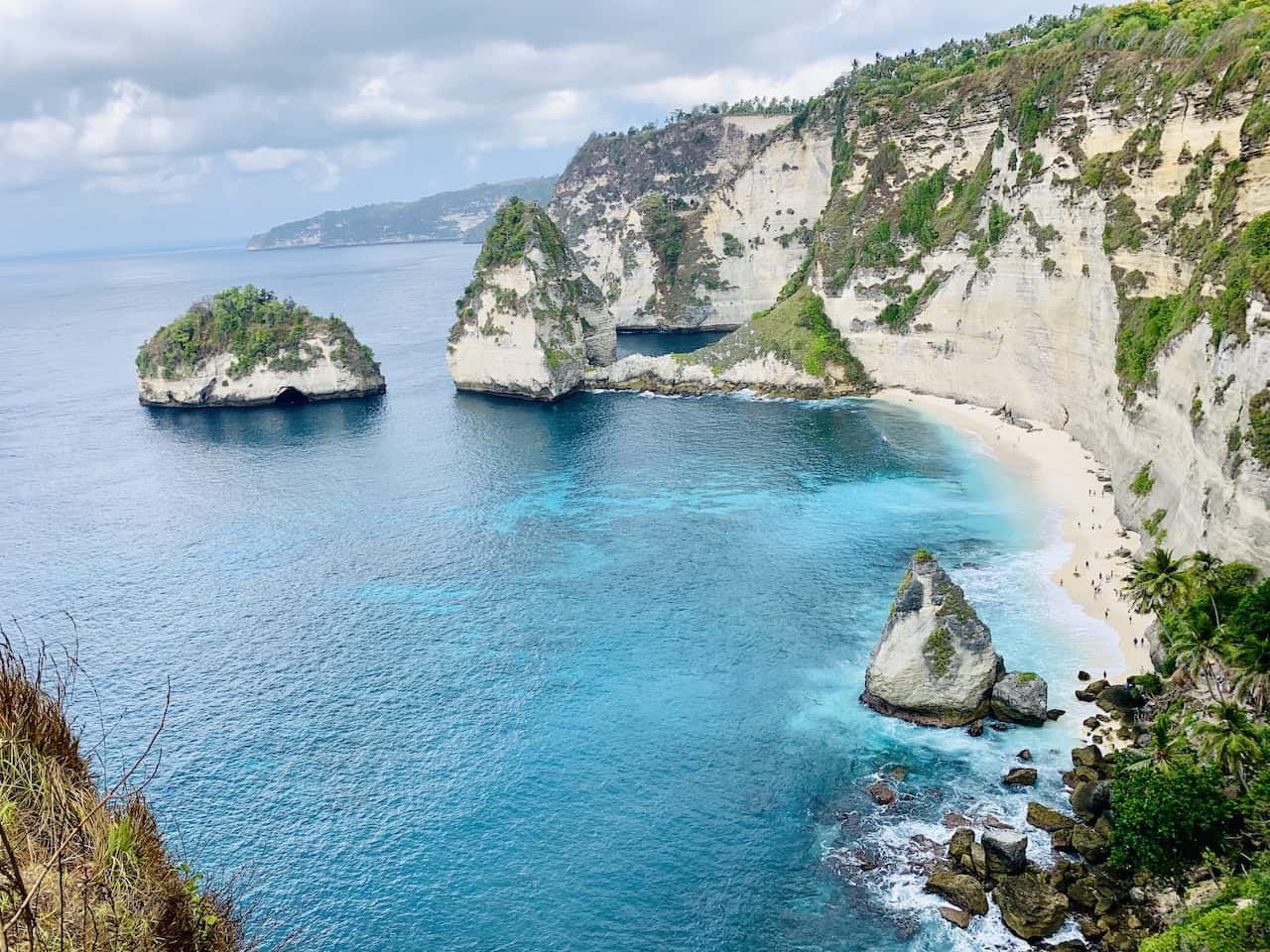 5) Where to Stay on Nusa Penida
If you aren't staying in one of the treehouses, then you will need to find somewhere to stay on the island.
Nusa Penida is relatively new to the tourism landscape which is why many of the roads throughout the island are just not up to standard. Y
ou also won't find too many tourist hotspot areas like an Ubud or a Seminyak. Many of the accommodation options are just sprawled throughout.
A lot of the popular spots though are more on the western side of the island closer to the harbor area.
Below are some highly rated options based on price point in that area. What is also great about Nusa Penida is that it is budget friendly with the most expensive options not even $100 per night.
Luxury: Semabu Hills Hotel Nusa Penida | Daphila Cottage
Mid Range: Singabu Bungalows | Sawit Garden Cottages | Crystal Bay Bungalows
Budget: Miko Bali Bungalow | Prasi Sunset Bungalows
That about does it for a guide to the Romah Pohon Tree House. If you have any questions or comments, feel free to write them in below.
Also be sure to check out the other Indonesia itineraries and guides up on the site. Have fun out there and safe travels!