One of the most beautiful places in all of Indonesia is Kelingking Beach located on Nusa Penida island just off of Bali.
Also known as Secret Point or T Rex Beach, Kelingking is known for its one of a kind viewpoint from above, the precipitous staircase down to the beach, and its powerful waves.
This guide will go over everything you will need to know about the beach and how to best visit on your own.
* Affiliate Disclosure: This post may contain affiliate links, which means I may receive a commission if you make a purchase through the links provided, at no additional cost to you. Thanks for supporting the work I put into TripTins!
1) How to Visit Kelingking Beach
When visiting Nusa Penida, you can decide to either stay overnight on the island itself, or you can take a day trip from Bali.
Kelingking Beach is one of, if not the most popular spot on the island, so if you would like to visit without the crowds I would highly recommend staying on Nusa Penida for a night or two (and be sure to take a look at the Nusa Penida Itinerary I put together to help plan your visit).
You can go about visiting the beach in a couple of ways – either by renting your own scooter or by hiring a driver for the day.
» If you are comfortable enough on a scooter / motorbike, you can rent one from the harbor area for as little as $5 – $10 USD per day. Some of the roads of Nusa Penida are in very poor condition, with tons of uneven terrain throughout.
I have heard of plenty of accidents happening on the island with those who were not experienced enough – I even saw a crash right in front of me. So please do not rent a scooter if you do not have the expertise.
» If you want to play it safe, I would recommend hiring a driver for the day that can take you to Kelingking Beach and any other attractions you would like to visit.
Expect to pay around $40 USD for a full day driver on the island. You can either find them at the harbor area or have your hotel help set one up for you.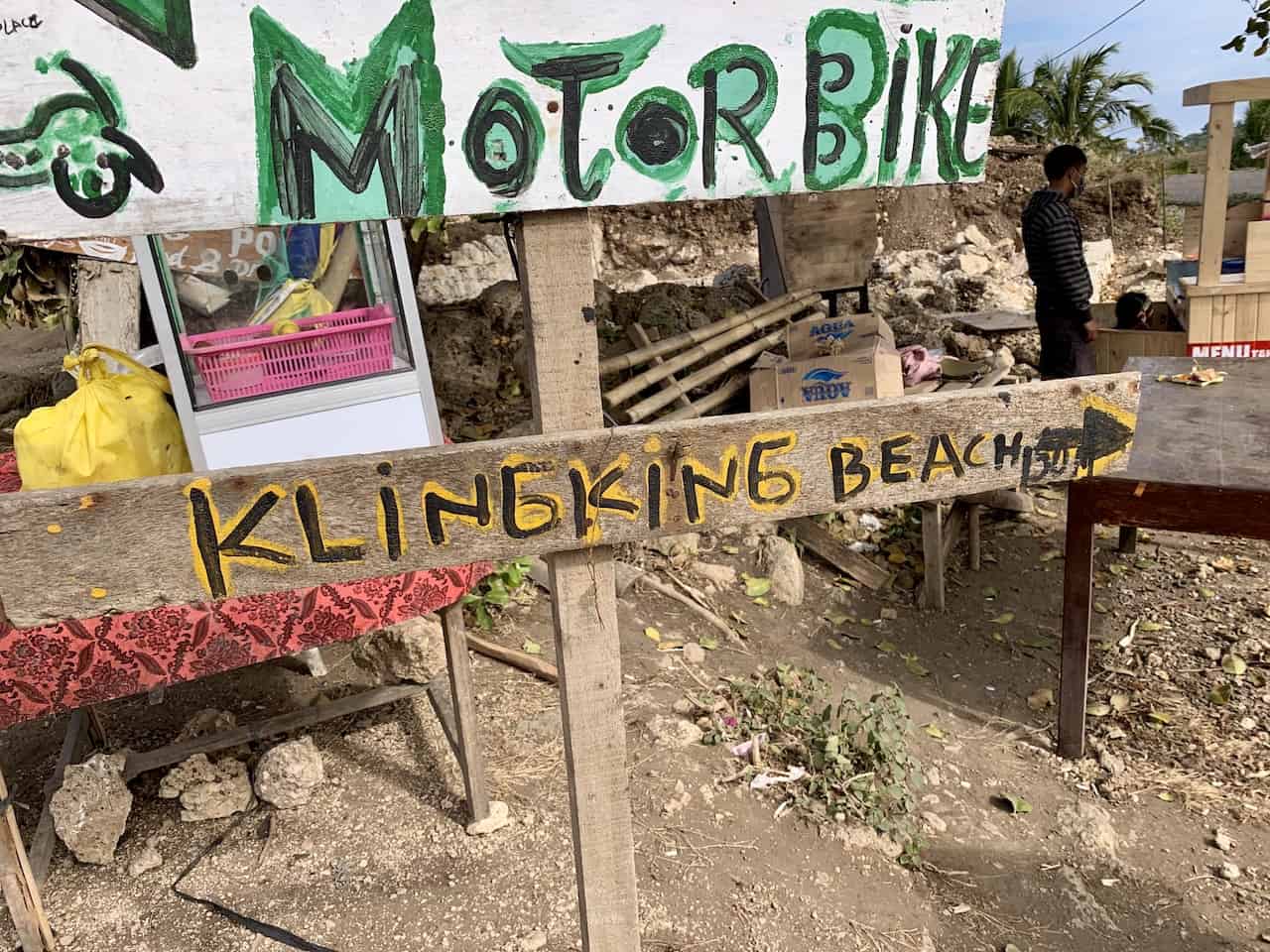 If you do not have the time to stay overnight on Nusa Penida but still would like to visit Kelingking, then you can decide to join one of several day tours that are offered.
Below are three different highly rated options to choose from (note that some tours just go to the viewpoint area as there may not be enough time to go down to the beach itself):
» Nusa Penida Island Beach Tour
» One Day Nusa Penida Island West
» One Day Nusa Penida Island West with Snorkeling
While a tour is one option for a day trip, you can also just simply take the day trip on your own. Simply grab an early morning ferry from Bali to Nusa Penida, rent scooters or hire a driver, visit some of the attractions on the island, and then head back to Bali at day's end.
2) Where is T Rex Beach
The beach itself is located on the southwest side of the island. It is about a 35-40 minute drive from the ferry harbor area to the parking lot of the beach, with some bumpy sections all throughout.
Once you arrive at the parking lot, you will be able to enjoy the views of the beach from above. To actually visit the beach itself though, you must head down a steep staircase that makes its way down the cliff wall.
Below is a Google Maps view of where the beach is located and the route from the harbor area.
3) Best Time to Visit Kelingking Beach
As mentioned earlier, this is one of the most visited spots on the island with hundreds visiting each day.
Around midday is when you will find the huge influx of day trippers from Bali make their way to the beach. Some of the day trippers may just be enjoying the view from above while others will head down to the beach too.
For this reason, I would recommend going to Kelingking either early on in the morning, when you can enjoy the viewpoint and beach before the crowds come, or later in the afternoon once many visitors would have already left.
During my visit in early June, I arrived around 9AM and there were just a few people up by the viewpoint area. By the time I got down to the beach, there were probably no more than 20 people spread out on the sand.
When I got back up from the beach around 12:30PM, the viewpoint area was absolutely packed with people. It was honestly hard to even move around up there. Check out the photo below which was taken on my way out: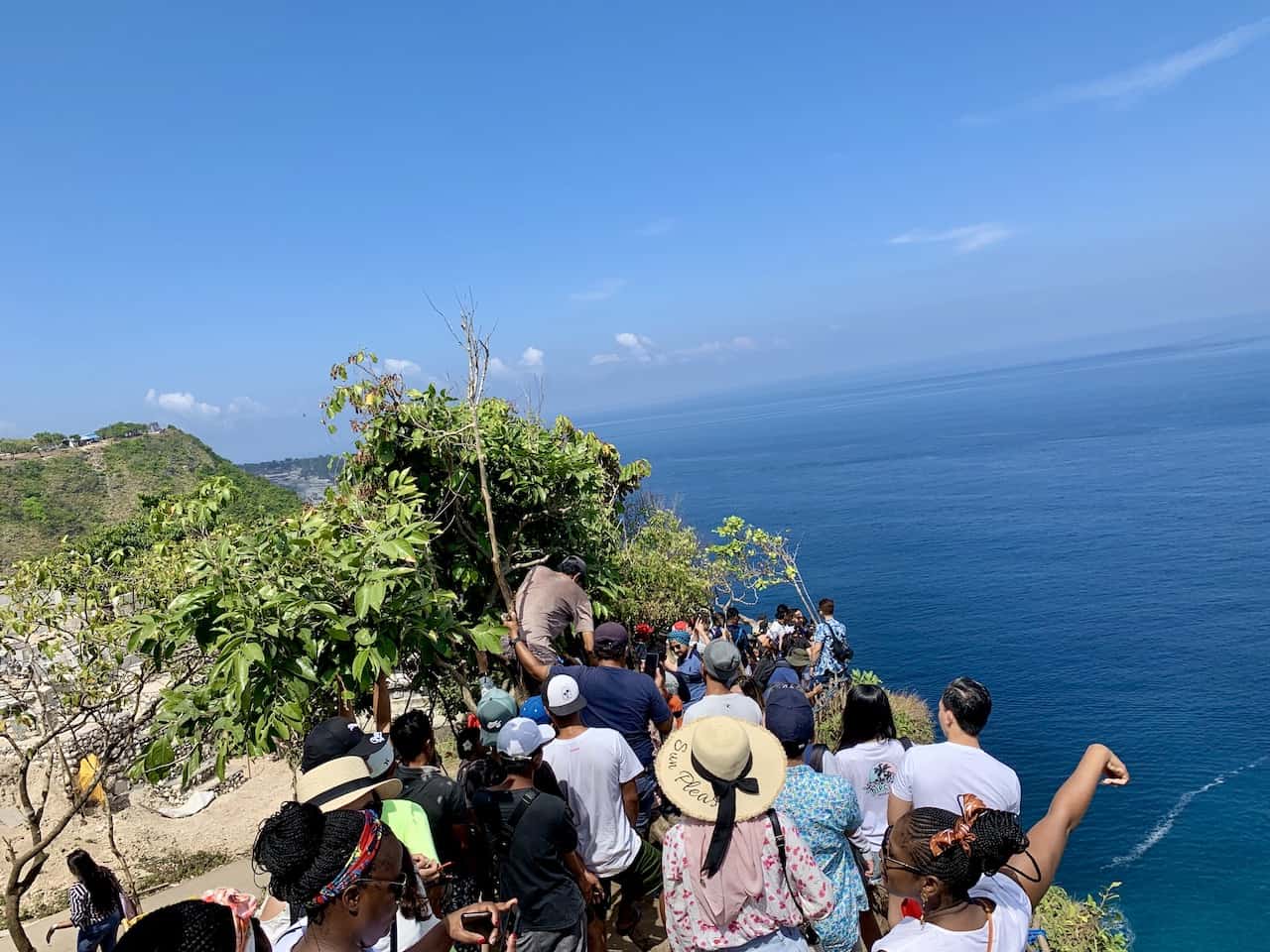 4) Kelingking Hours and Cost
Technically the beach and viewpoint area is open 24 hours a day so you can visit as early or as late as you would like.
However, I would highly recommend against heading on the staircase after dark. It can get quite technical and dangerous so be sure to wait until sunrise and get back up before sunset.
Like many other attractions on the island, you will just need to pay a small fee to visit the beach – 10.000 IDR (less than $1 USD). If you are there early or late enough, you may not need to pay at all.
Recommended Nusa Penida Hotel Option | Sawit Garden Cottages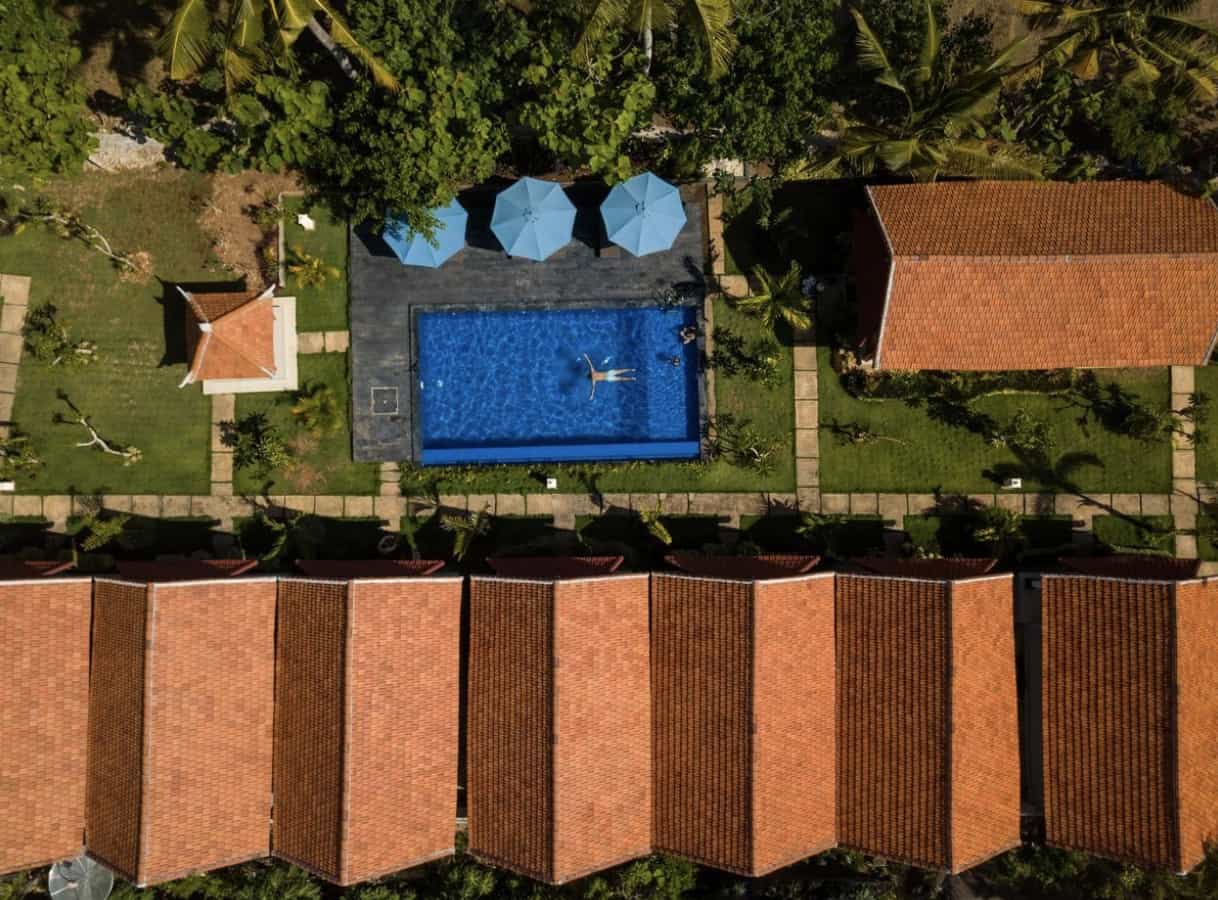 5) A Trip to Kelingking Beach Overview
Once you get past that winding road and make your way to the parking lot, it is time to enjoy all that Kelingking has to offer. Below are some of the highlights of the day.
A) The Viewpoint from Above
After arriving in the parking lot and paying the small fee, it is time to make your way to the viewpoint area, where you can take in the famous views from above.
The beach will be down below and the T rex shaped cliff peninsula will be out in front of you. Along this pathway (before heading down the stairs), you can take some photos from a few different angles.
You will also find some great spots where you can sit down on the ledge and enjoy those views.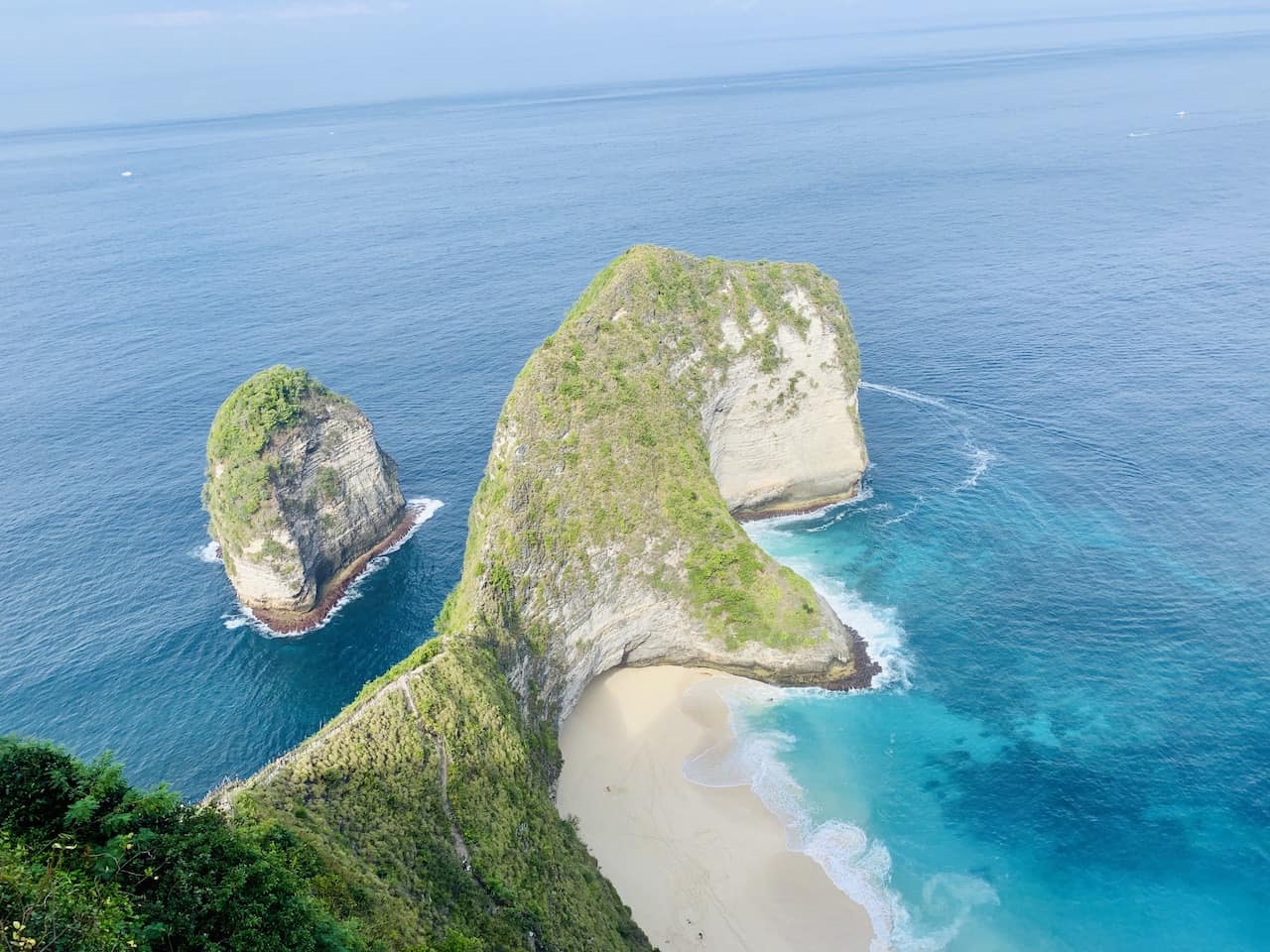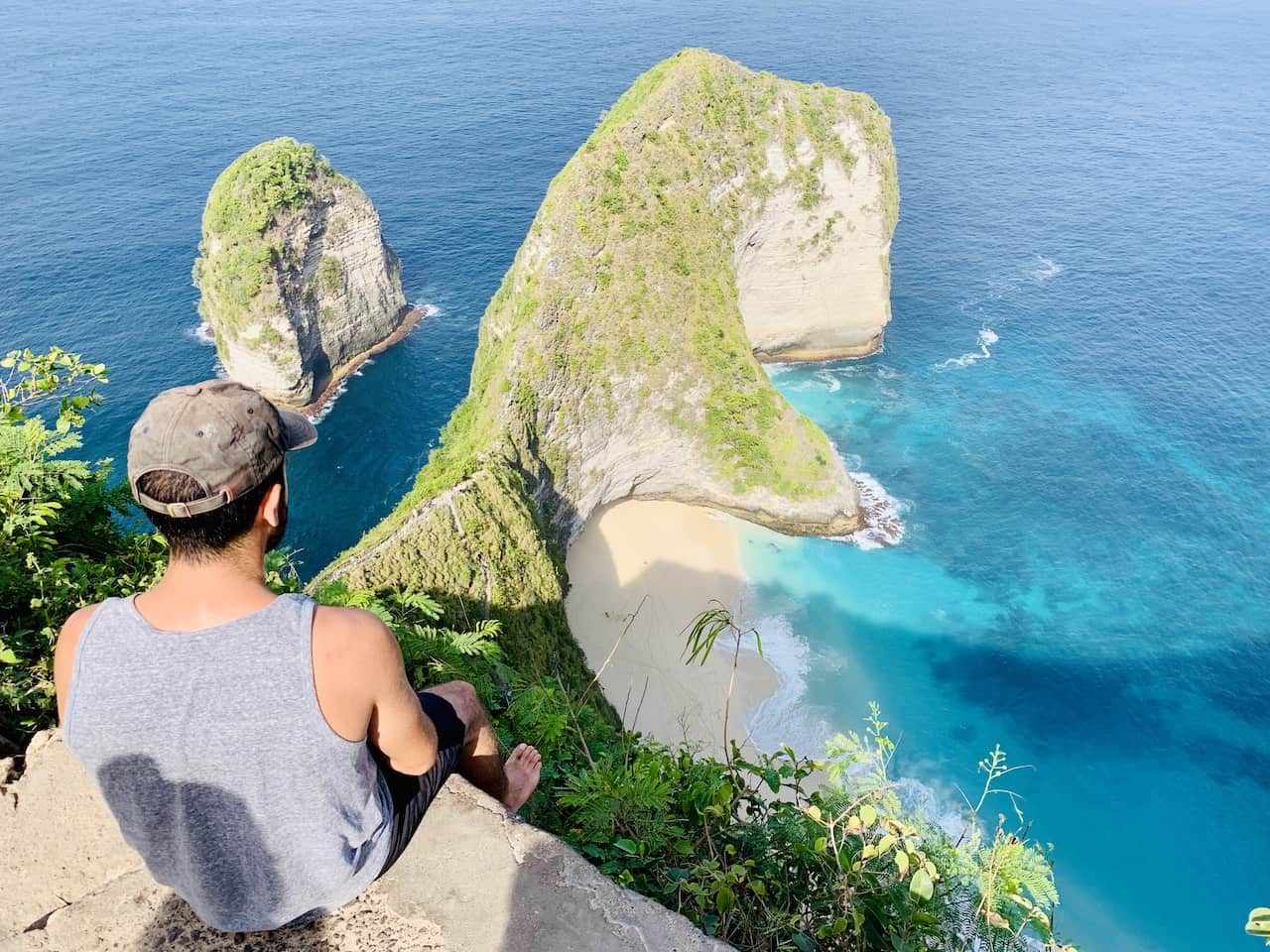 B) The Kelingking Beach Stairs
It is now time to head down from the viewpoint area and onto the beach itself. This is done by a makeshift staircase built into the cliffside walls.
The staircase is made of rocky, steep and uneven steps with wooden handrails throughout the trail down. Believe me when I say this staircase is not meant for everyone and you can certainly hurt yourself with a misstep.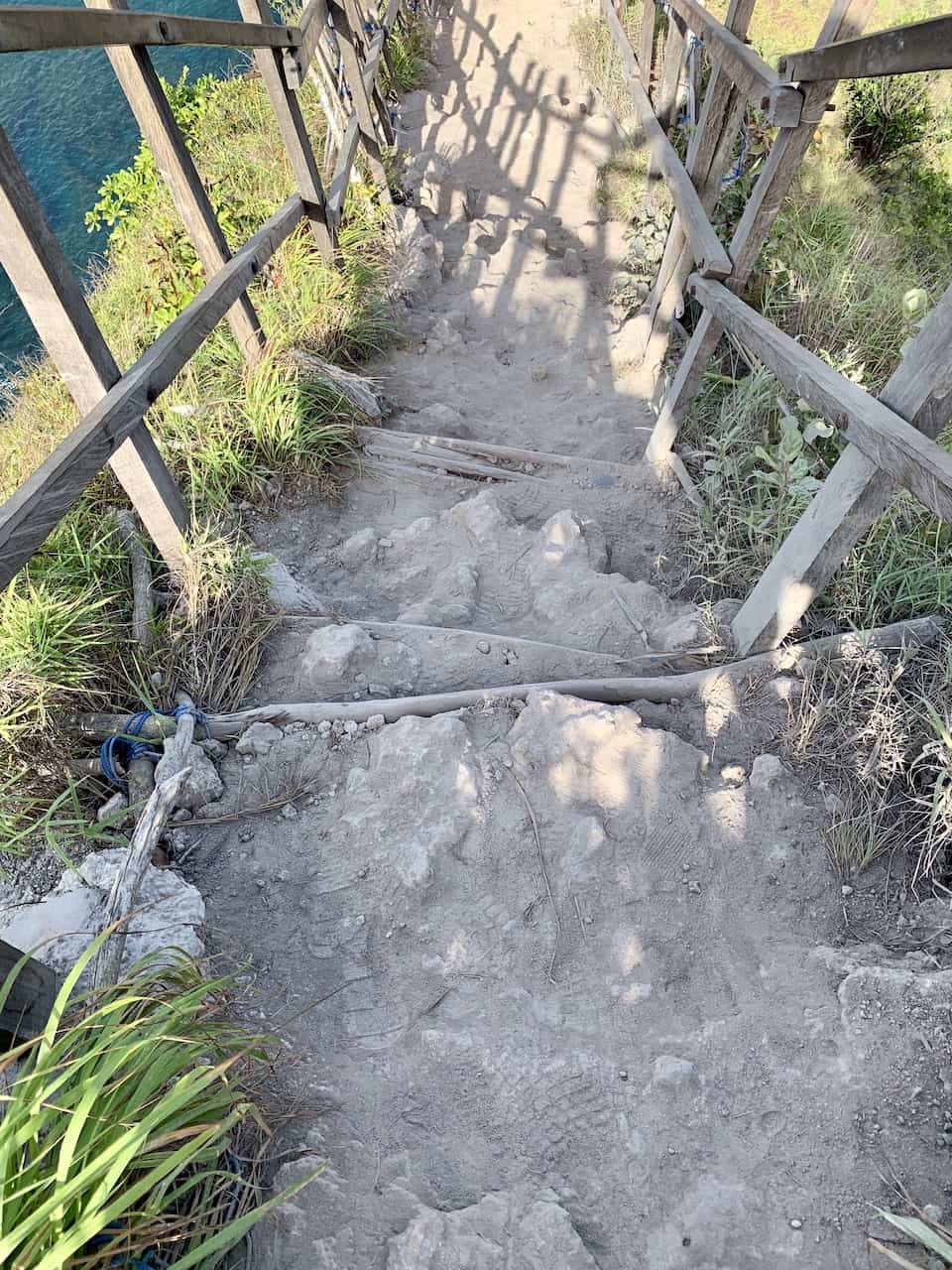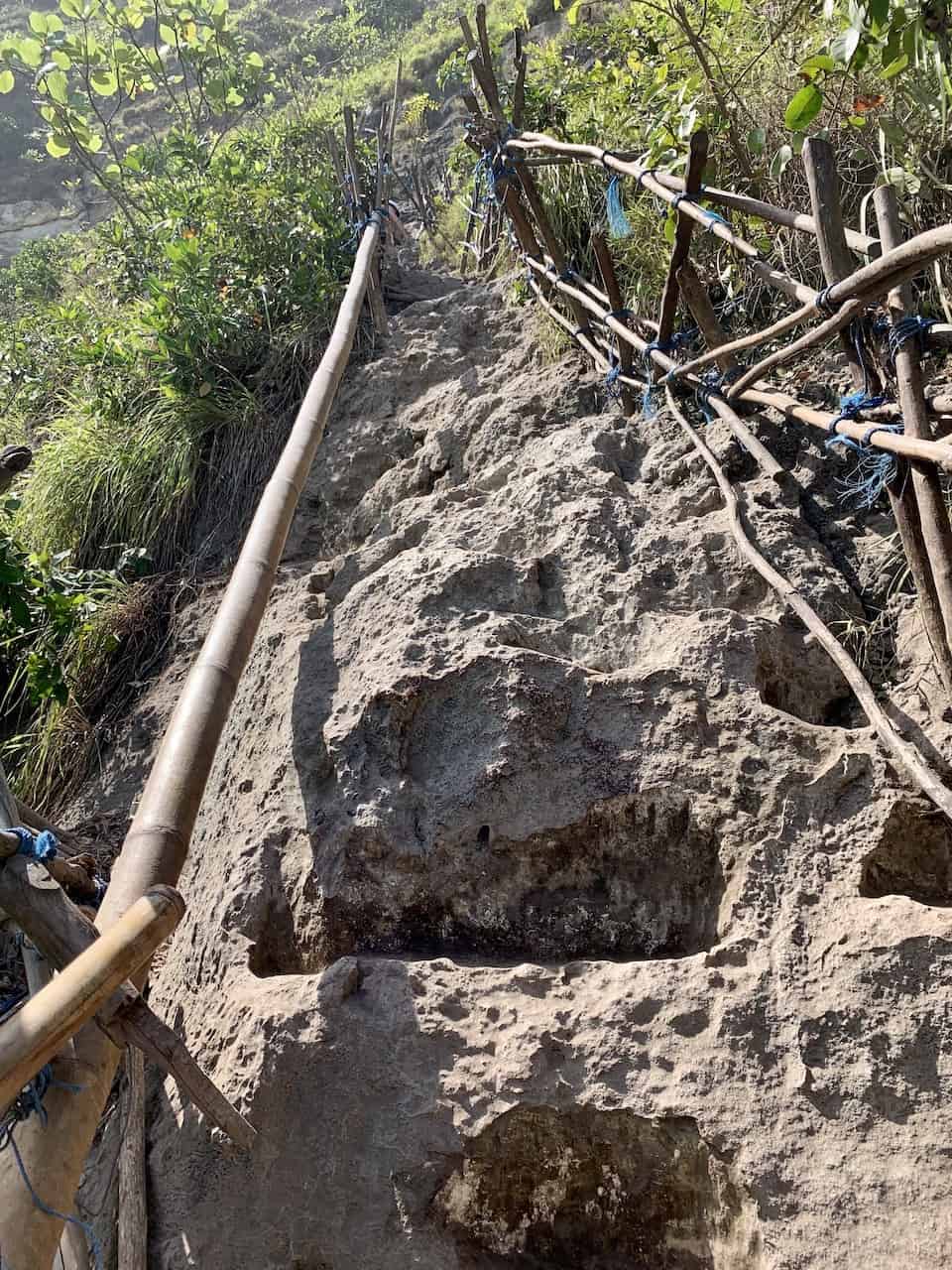 While many head down in sandals, it will be much easier if you a solid pair of shoes that can get a better grip as you make your way up and down.
Since there are some pretty sketchy steep sections throughout, you may also find it easier to head down backwards as you hold onto the handrails and take your steps down.
The stairs down should take the better portion of 30 minutes until you are at beach level, where you can then find a nice spot in the sand.
C) The Beach
The beach itself is pretty big and you should have no trouble finding a nice spot to enjoy for yourself. If you get there earlier in the morning like I did, you will find most of the beach in shadows as the sun slowly begins to rise.
The left hand side of the beach will be hit with sun first and then the rest of the beach will follow suit as the days goes on.
While you can go in the water here, I would not go more than just several feet out. The rip tide is very strong here and people have died in the water. So please do be careful here as the water can be quite dangerous if you venture too far.
After spending a few hours at the beach, relaxing in the sand and enjoying the water for a bit, it is time to head back on up.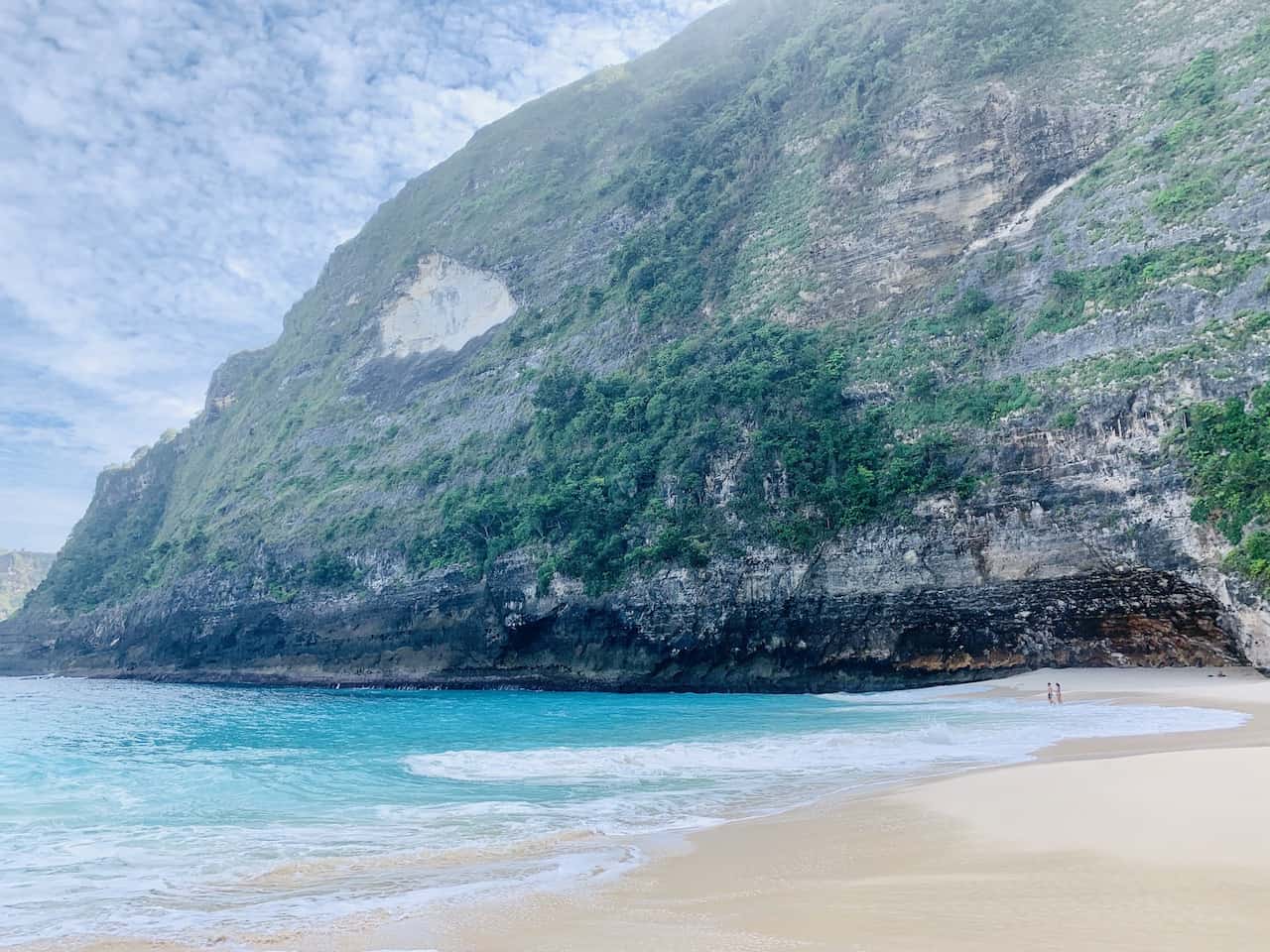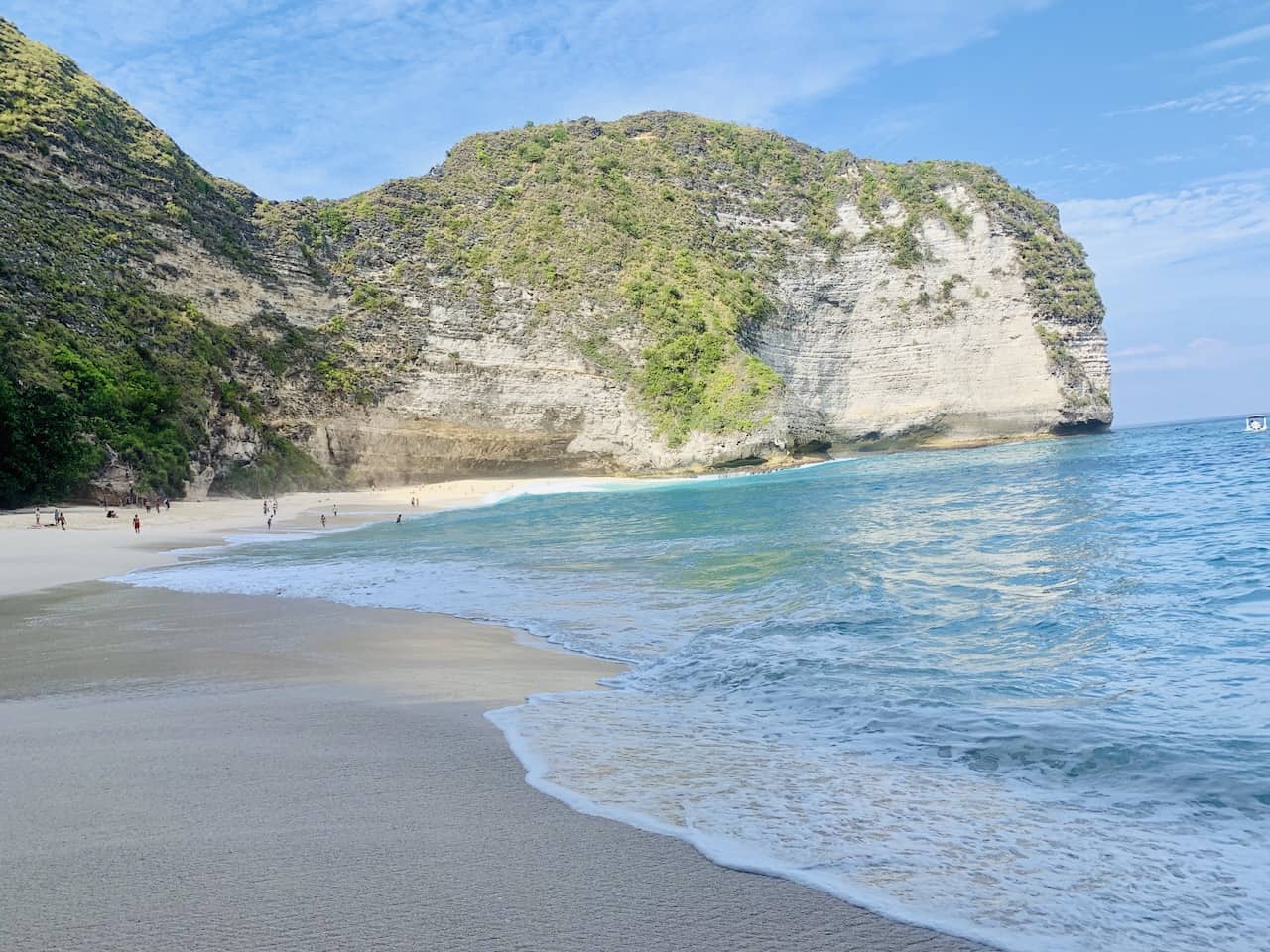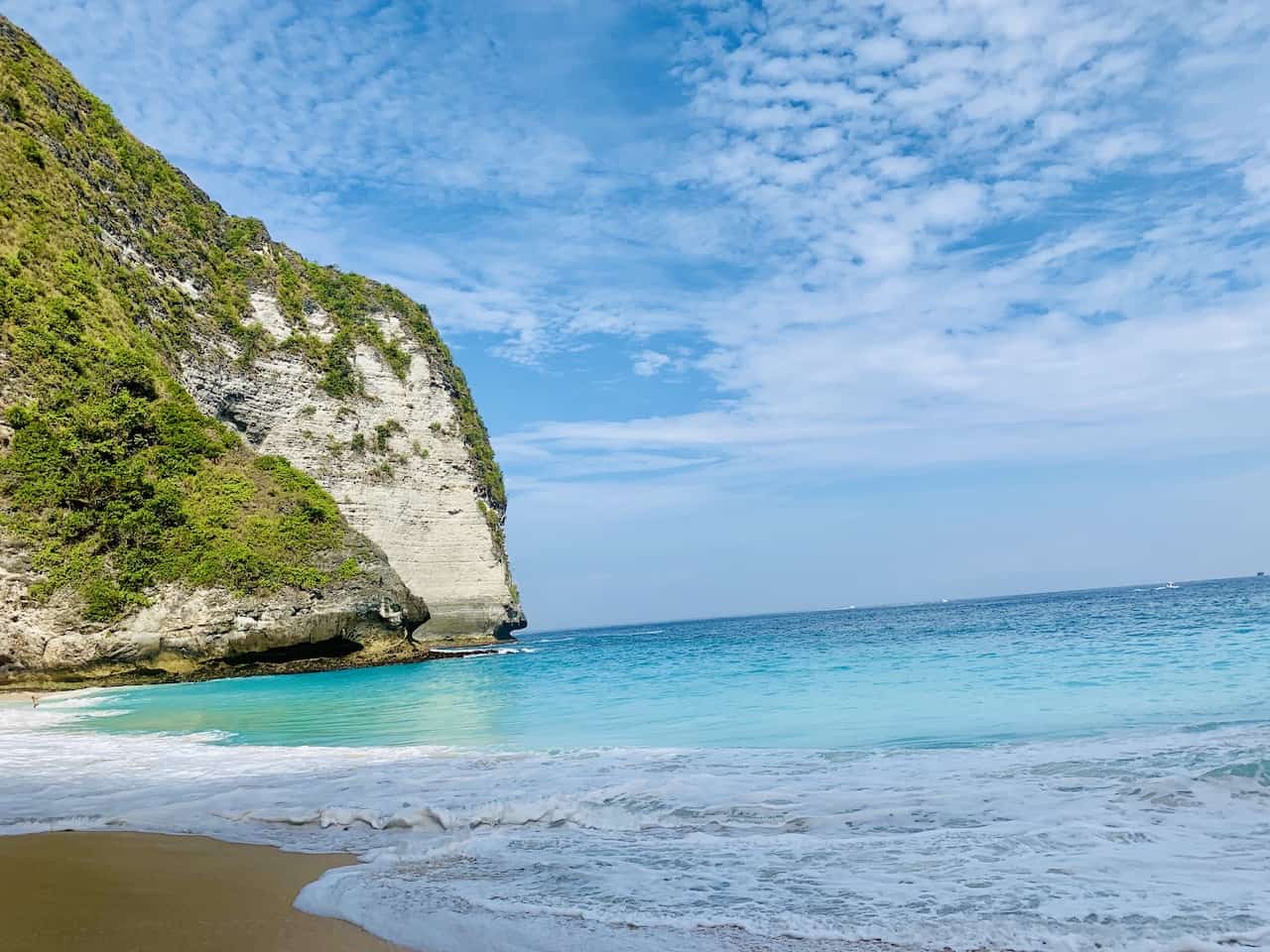 D) The Staircase Up
All those stairs that you took down, it is now time to head back up. Although this was uphill, I did find this portion to be easier than the way down due to the steepness.
You should still watch each and every step you make and be careful as you probably will have many people heading down past you.
Once you make yourself up to the viewing area, you can enjoy the landscape from above once more and head off to your next attraction for the day.
If it is lunchtime for you, I would recommend just grabbing some food at one of the nearby warungs. There are several to choose from around the parking lot area.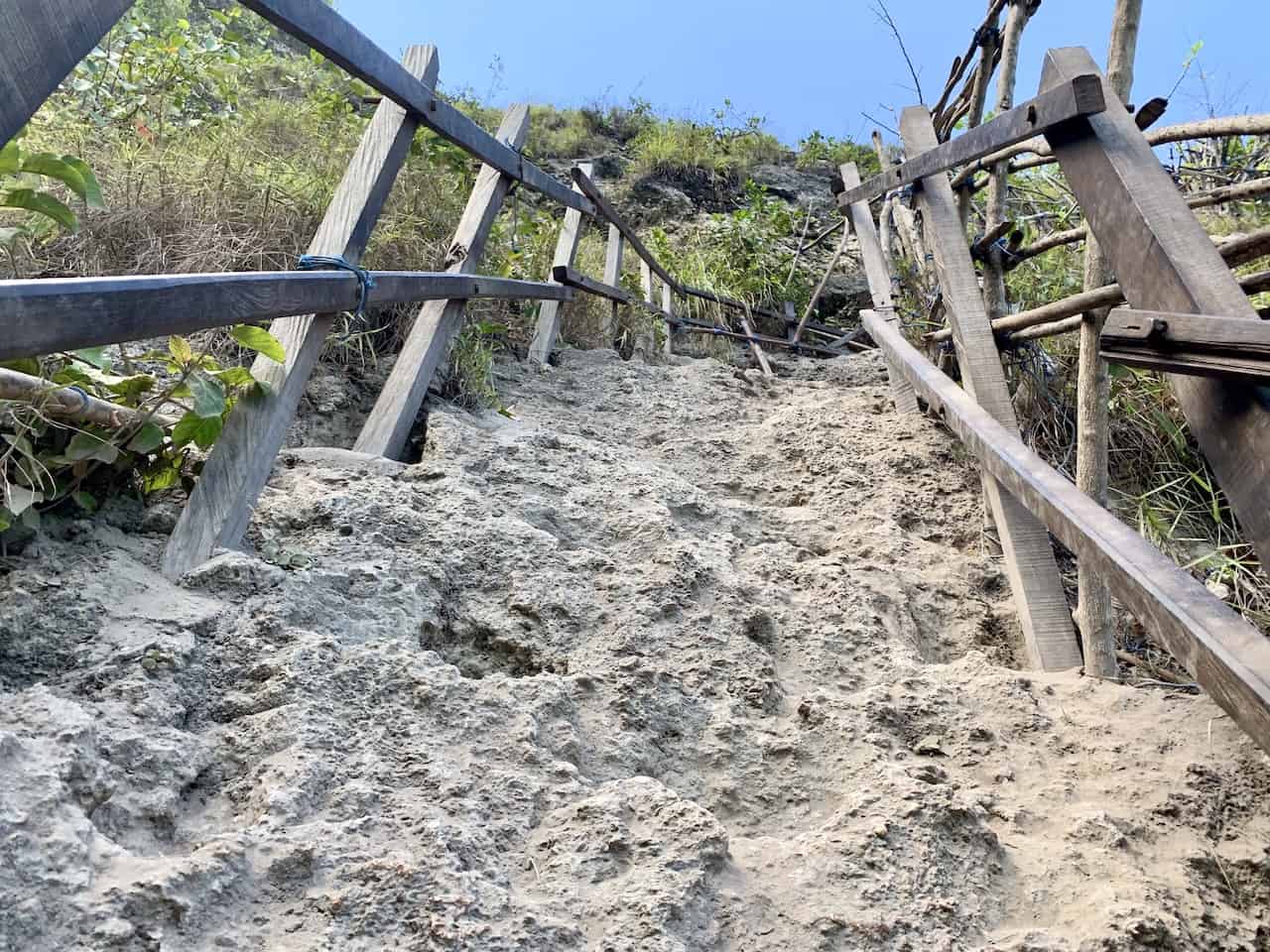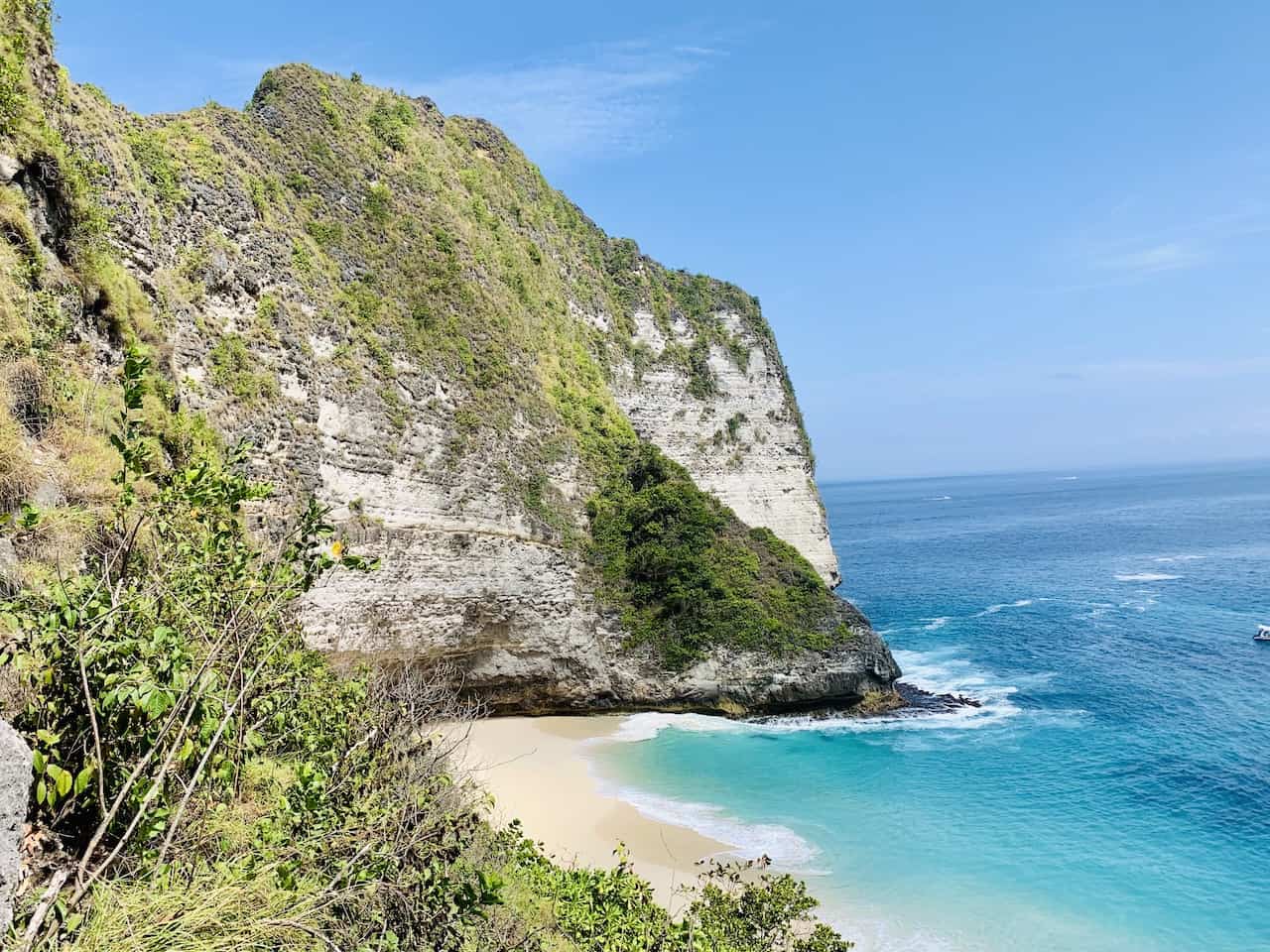 6) Where to Stay on Nusa Penida
Nusa Penida is relatively new to the tourism landscape which is why many of the roads throughout the island are just not up to standard.
You also won't find too many tourist hotspot areas like an Ubud or a Seminyak. Many of the accommodation options are just sprawled throughout.
A lot of the popular spots though are more on the western side of the island closer to the harbor area.
Below are some highly rated options based on price point in that area. What is also great about Nusa Penida is that it is budget friendly with the most expensive options not even $100 per night.
Luxury: Semabu Hills Hotel Nusa Penida | Daphila Cottage
Mid Range: Singabu Bungalows | Sawit Garden Cottages | Crystal Bay Bungalows
Budget: Miko Bali Bungalow | Prasi Sunset Bungalows
7) Nusa Penida Itinerary
If you are planning a visit to Kelingking Beach, odds are you will want to visit other attractions nearby. I would recommend the following itinerary for the day when going about your visit.
Note: you will want to go to Angel's Billabong around low tide. Below is an itinerary based on a low tide opportunity earlier in the morning
Stop 1 | Angel's Billabong
The first stop of the day will be Angel's Billabong. This is a beautiful natural rock pool that has crystal clear and calm water during low tide.
If not visiting during low tide, you will experience the waves crashing down from ocean and spilling into the tide pool.
» Learn more in the Angel's Billabong Guide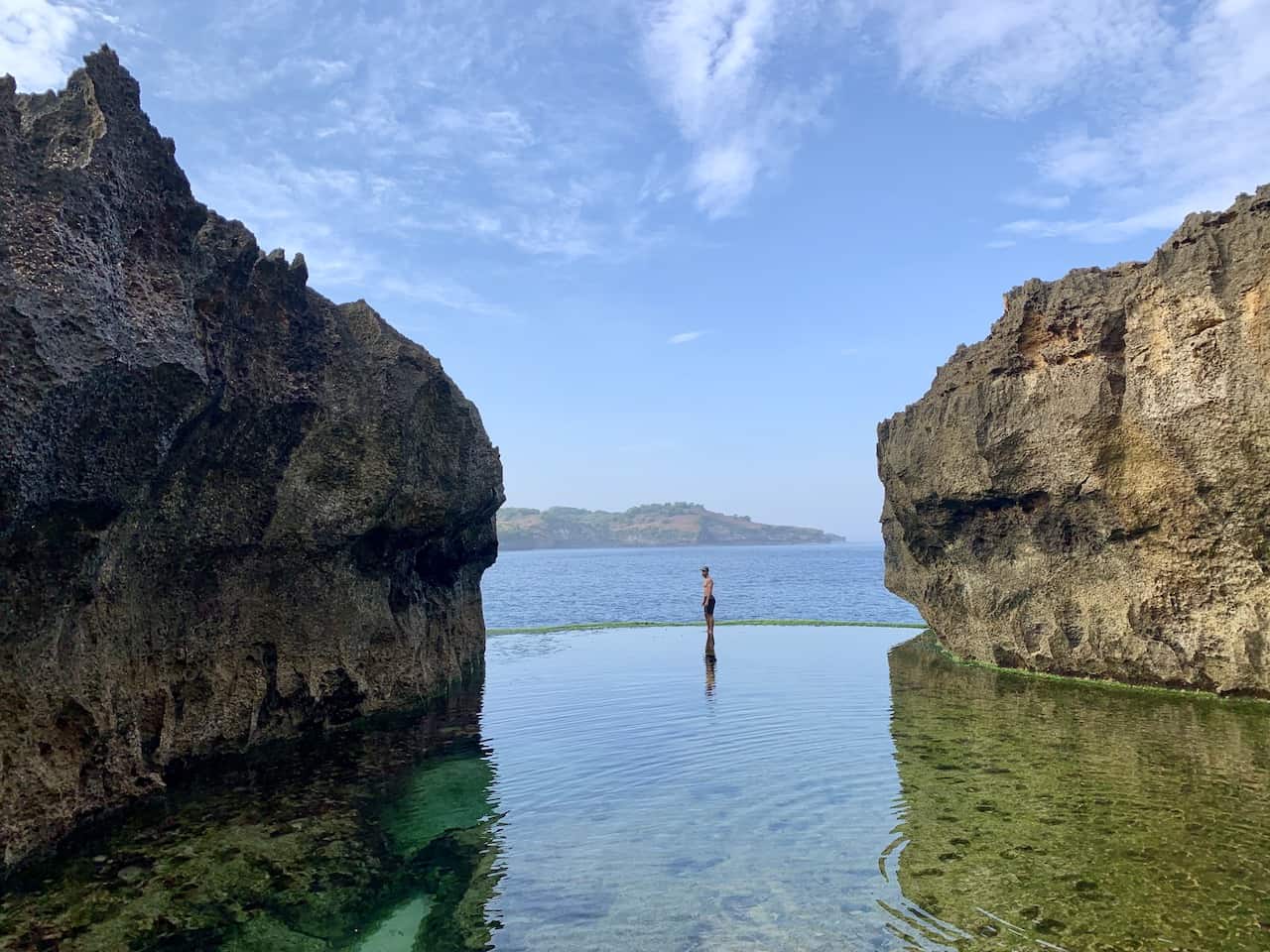 Stop 2 | Broken Beach
Right nearby Angel's Billabong, you will find Broken Beach. The beach is not accessible, rather you will get to enjoy the view from above as the water from the ocean makes its way through the rock arch.
» Learn more in the Broken Beach Guide
Stop 3 | Kelingking Beach
Stop 4 | Tembeling Beach & Forest
Tembeling is a mixture of several different unique aspects of the island. You will first make your way through the Tembeling forest, be welcomed to two natural swimming pools, and finally the beach itself.
» Learn more in the Tembeling Beach & Forest Guide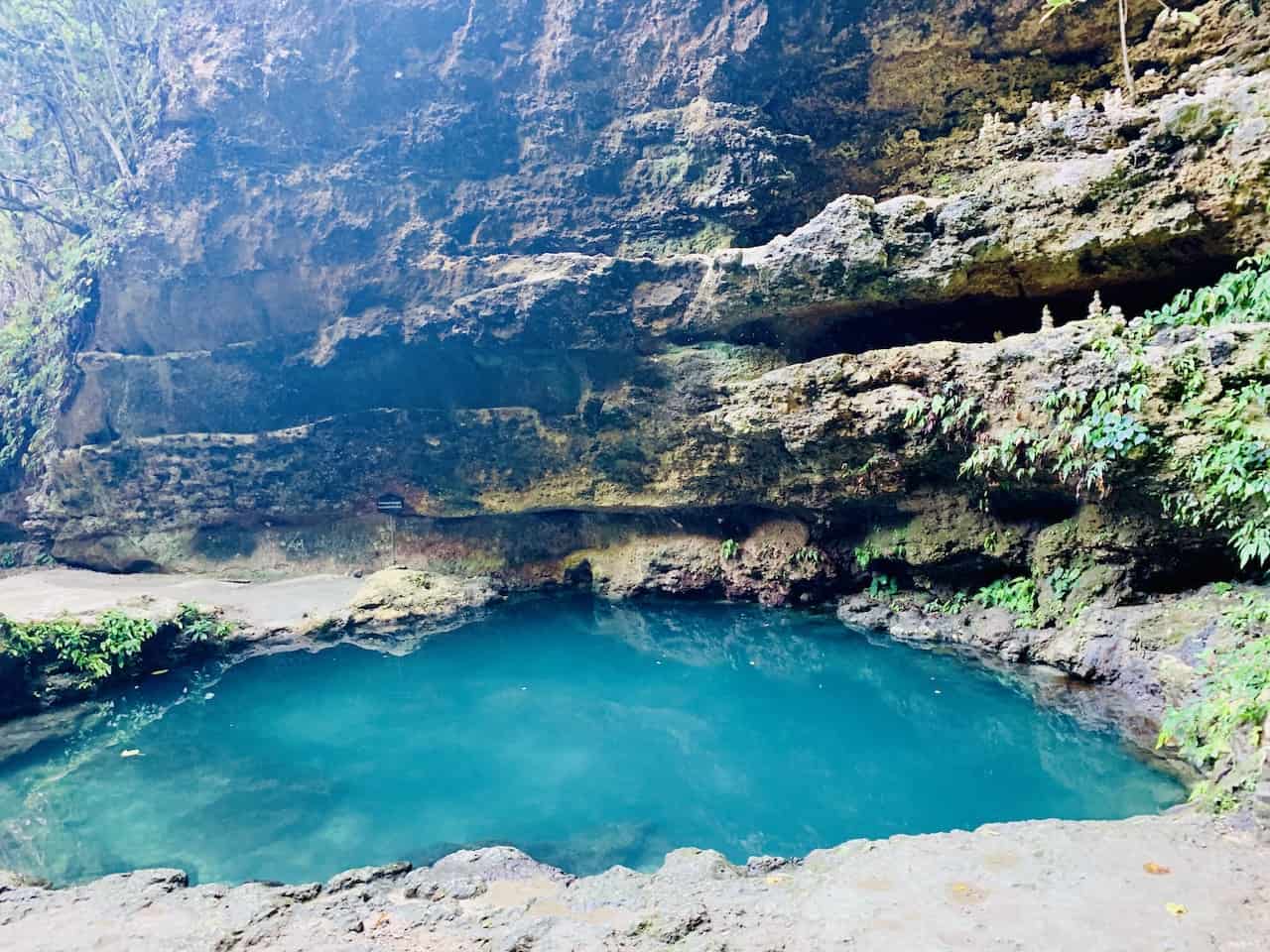 Stop 5 | Crystal Bay
You can then complete your day with a perfect sunset at Crystal Bay Beach. Located on the western side of the island, you will be able to enjoy the final hours of the day as the sun goes down out in the distance.
» Learn more in the Crystal Bay Beach Guide up on the site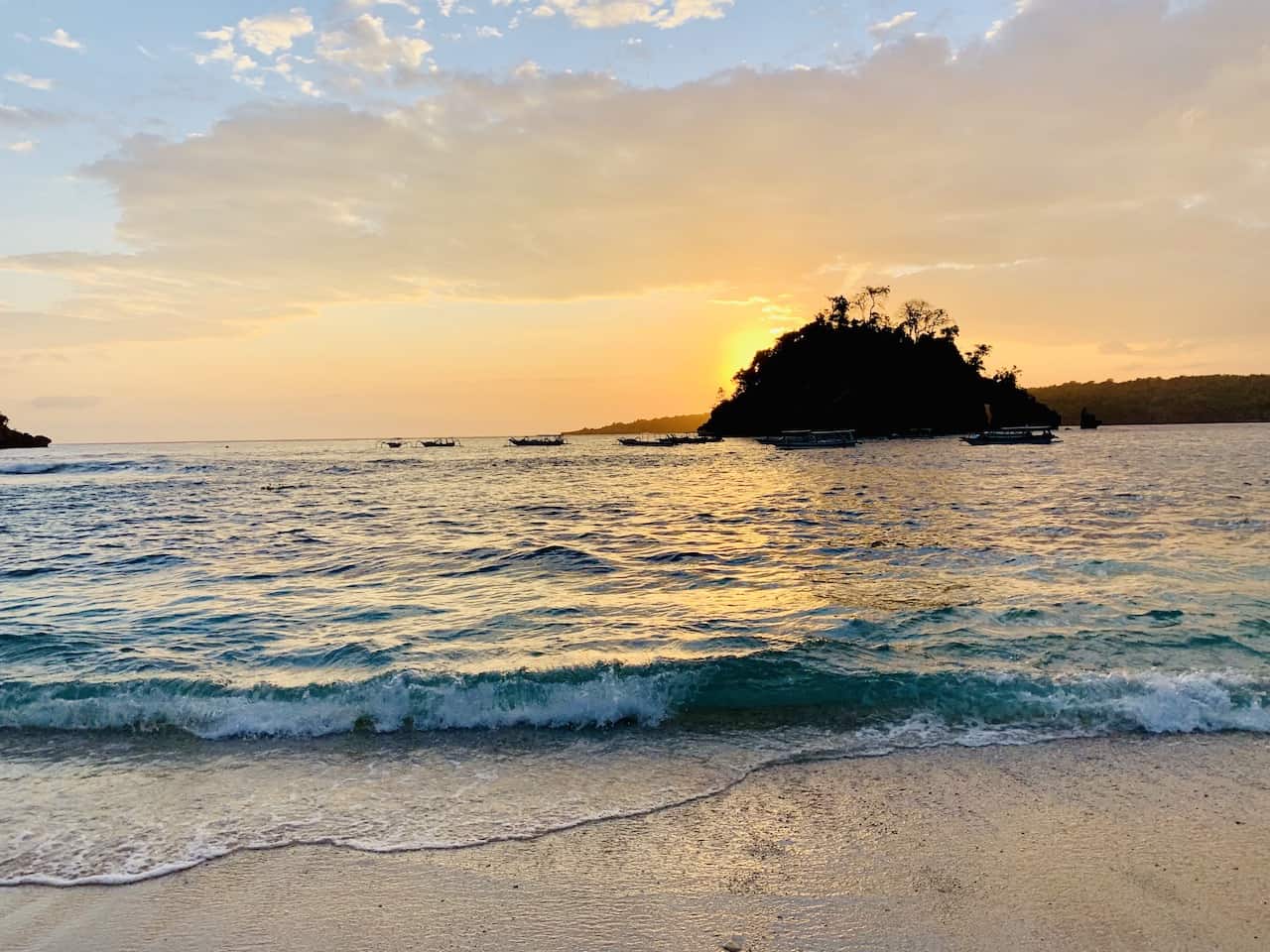 That about wraps up an overview to the famous Kelingking Beach of Nusa Penida. If you do have any additional questions or comments, feel free to write them in below.
Also be sure to check out the other Indonesia itineraries and guides up on the site. Have fun out there and safe travels!