There is no better way to end a day of exploring Nusa Penida than enjoying a sunset at Crystal Bay Beach on the western side of the island.
When it comes to sunset spots on Nusa Penida, this is one to choose.
Whether or not you head over to Crystal Bay for sunset though, this guide will give you all the helpful information you will need to know when planning a visit to this beautiful beach.
* Affiliate Disclosure: This post may contain affiliate links, which means I may receive a commission if you make a purchase through the links provided, at no additional cost to you. Thanks for supporting the work I put into TripTins!
1) How to Get to Crystal Bay
When visiting Nusa Penida, you can decide to either stay overnight on the island itself, or you can take a day trip from Bali.
If you are looking to stay on Nusa Penida for a couple of nights (as part of a multi day Nusa Penida Itinerary), then you will also have the chance to visit Crystal Bay Beach for sunset (something day trippers wont be able to enjoy).
Below are your two main options for exploring the island, either if staying overnight or taking part of a day trip from Bali (and you don't want to opt for a tour).
» If you are comfortable enough on a scooter / motorbike, you can rent one from the harbor area for as little as $5 – $10 USD per day. Some of the roads of Nusa Penida are in very poor condition, with tons of uneven terrain throughout.
I have heard of plenty of accidents happening on the island with those who were not experienced enough – I even saw a crash right in front of me. So please do not rent a scooter if you do not have the expertise.
» If you want to play it safe, I would recommend hiring a driver for the day that can take you to Crystal Bay and any other attractions you would like to visit. Expect to pay around $40 USD for a full day driver on the island. You can either find them at the harbor area or have your hotel help set one up for you.
Tour Option ↔ If you do opt for a visit from Bali, this highly rated Nusa Penida day tour visits many of the top highlights.
Check out this Nusa Penida private tour option that includes a driver for the day as you pick & choose the highlight that you are most interested in visiting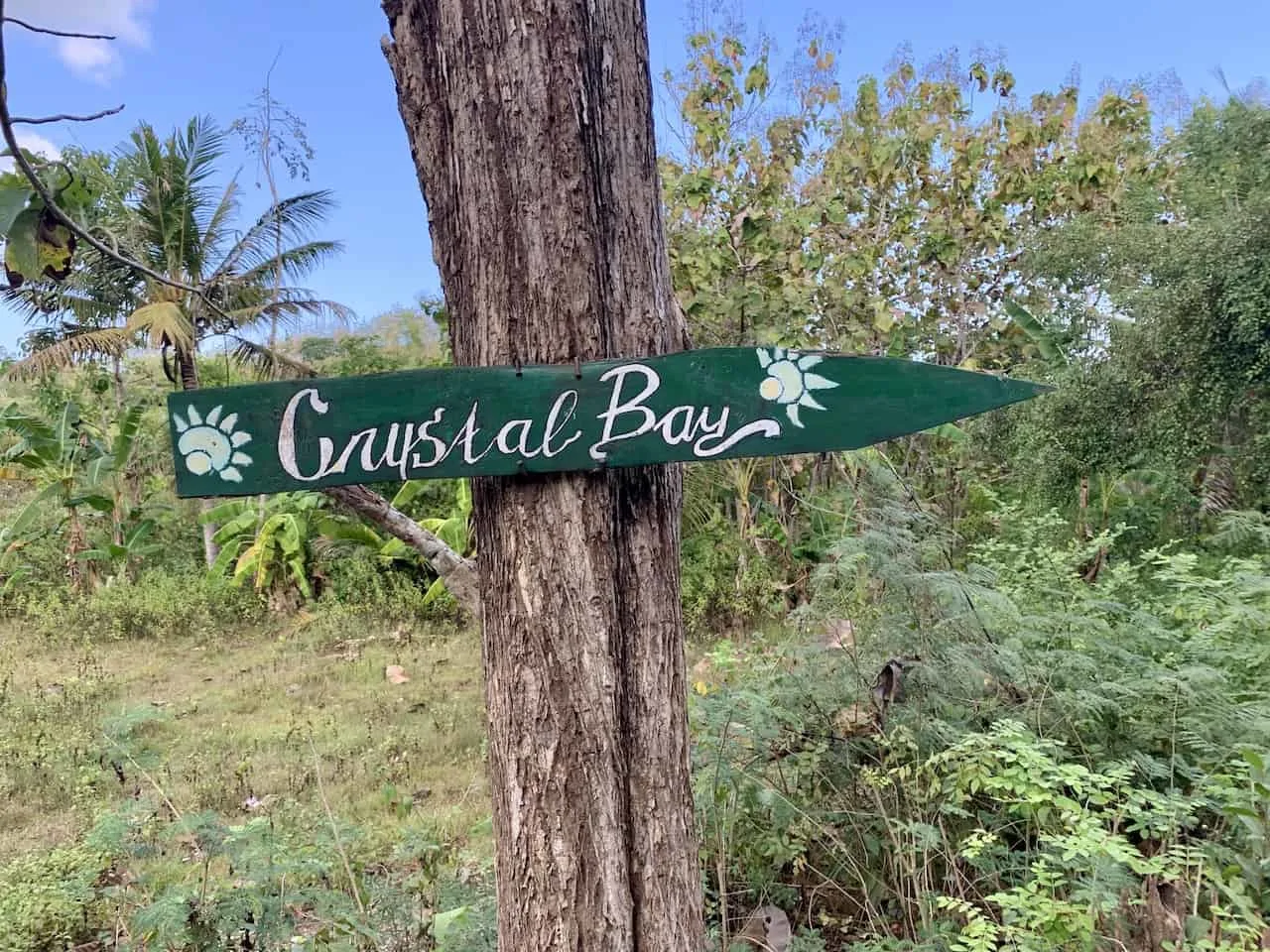 2) Crystal Bay Location
Crystal Bay is one of the more accessible places on Nusa Penida and can easily be reached by car or scooter on paved roads. It is a quick 15 minute ride from the harbor area (where many accommodation options are located).
Below you will find a Google Maps view of the route and where Crystal Bay is located in relation to the rest of the island.
3) Where to Stay on Nusa Penida
Nusa Penida is relatively new to the tourism landscape which is why many of the roads throughout the island are just not up to standard.
You also won't find too many tourist hotspot areas like an Ubud or a Seminyak. Many of the accommodation options are just sprawled throughout.
A lot of the popular spots though are more on the western side of the island. Below are some highly rated options based on price point in that area.
What is also great about Nusa Penida is that it is budget friendly with the most expensive options not even $100 per night.
Book Your Stay at Crystal Bay Bungalows | Located Just Minutes Away From Crystal Bay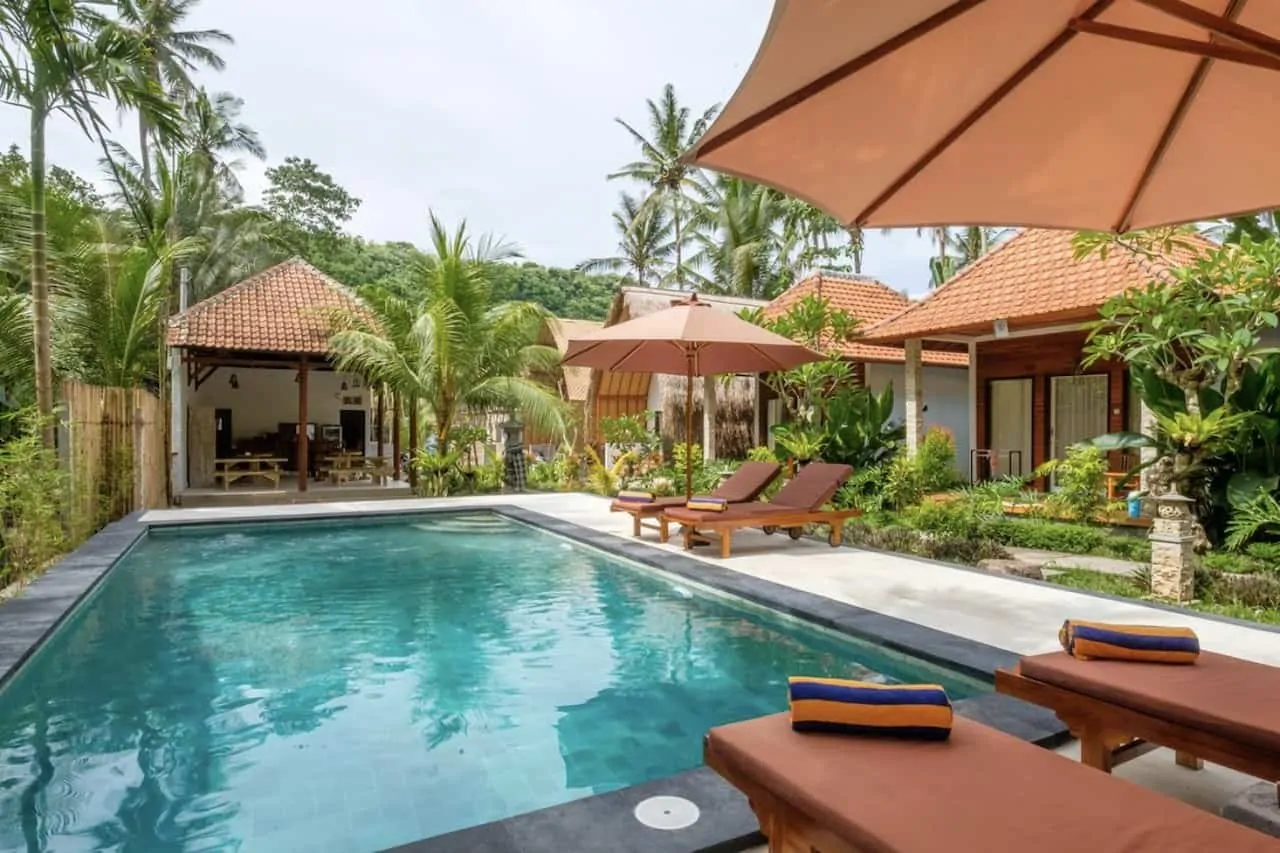 4) Crystal Bay Beach
After making your way on the narrow winding roads of Nusa Penida you will arrive at the Crystal Bay Beach parking lot.
While visiting the beach is free of charge, you will need to pay 5,000 IDR / 2,000 IDR for car / scooter parking (less than $0.50 USD). A pretty good deal if you ask me!
You will then be welcomed to the vast sandy beach out in front of you, where you can find a spot on the sand to relax at.
There are also numerous lounge chairs with umbrellas that you could rent during your time there for just a few dollars.
The water here is also pretty safe to swim in since it is a bay, unlike the eastern/southern side of the island where the waters are much rougher and more dangerous.
Out in front of the beach you will see a small island called Pulau Batumejinong and further out in the distance will be the island of Nusa Ceningan (the smallest of the 3 Nusa islands).
If you are hungry or thirsty, well Crystal Bay has you covered as you will find several small warungs spread out along the beach.
They have all sorts of alcoholic and non alcoholic drinks as well as pretty extensive menu options – fried nice/noodles, chicken, fish, soups, curries and more.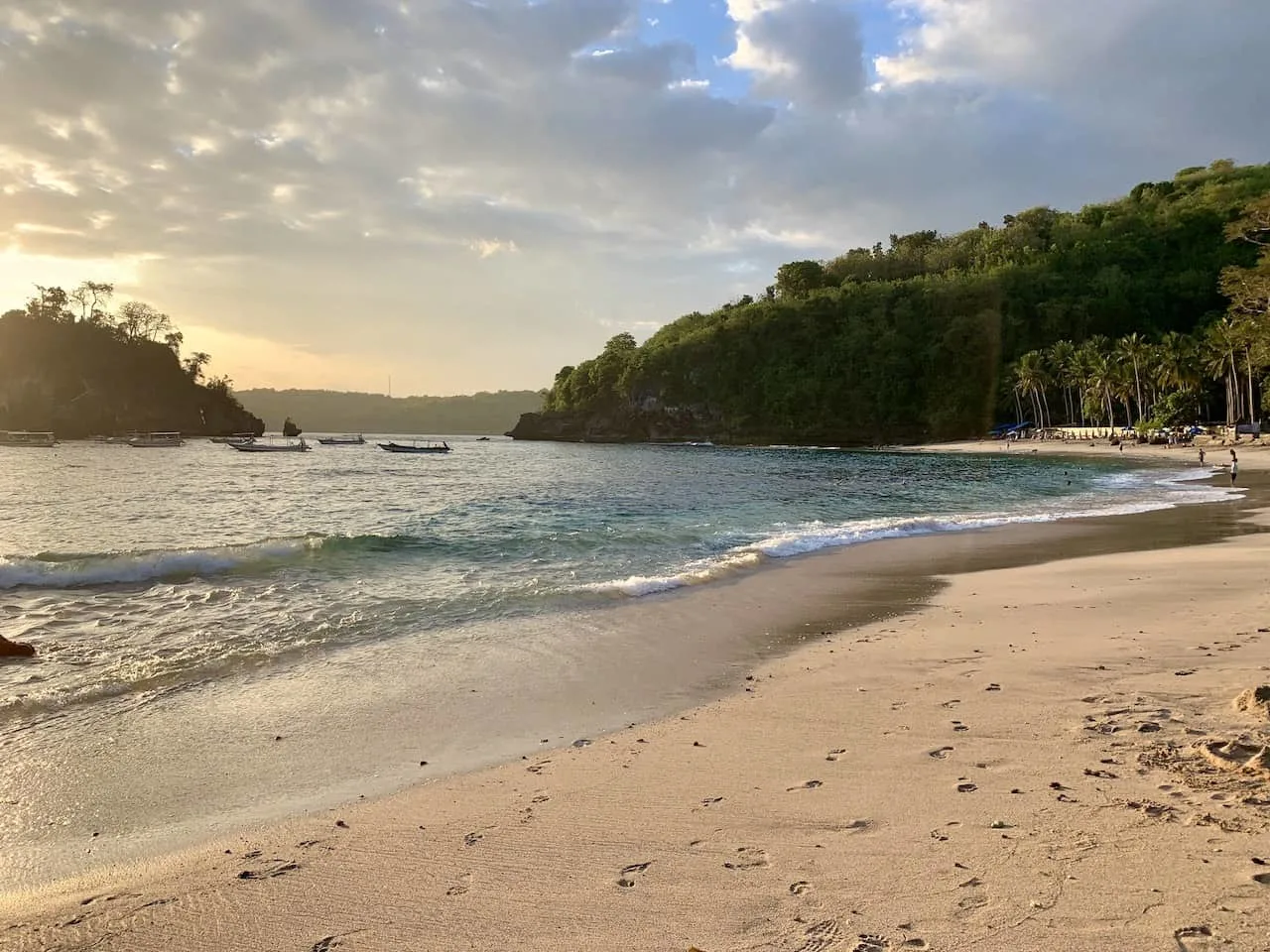 5) Crystal Bay Sunset
As it gets later in the day, you will see the sun beginning to set behind Pulau Batumejinong and Nusa Ceningan.
Depending where you are sitting on the beach, Batumejinong may block your view of the sunset but you can easily move to one side to get a better view.
Enjoy the last moments of sunlight as the sky turns to all sorts of orange/yellow/red colors and then head back to your hotel to end the day.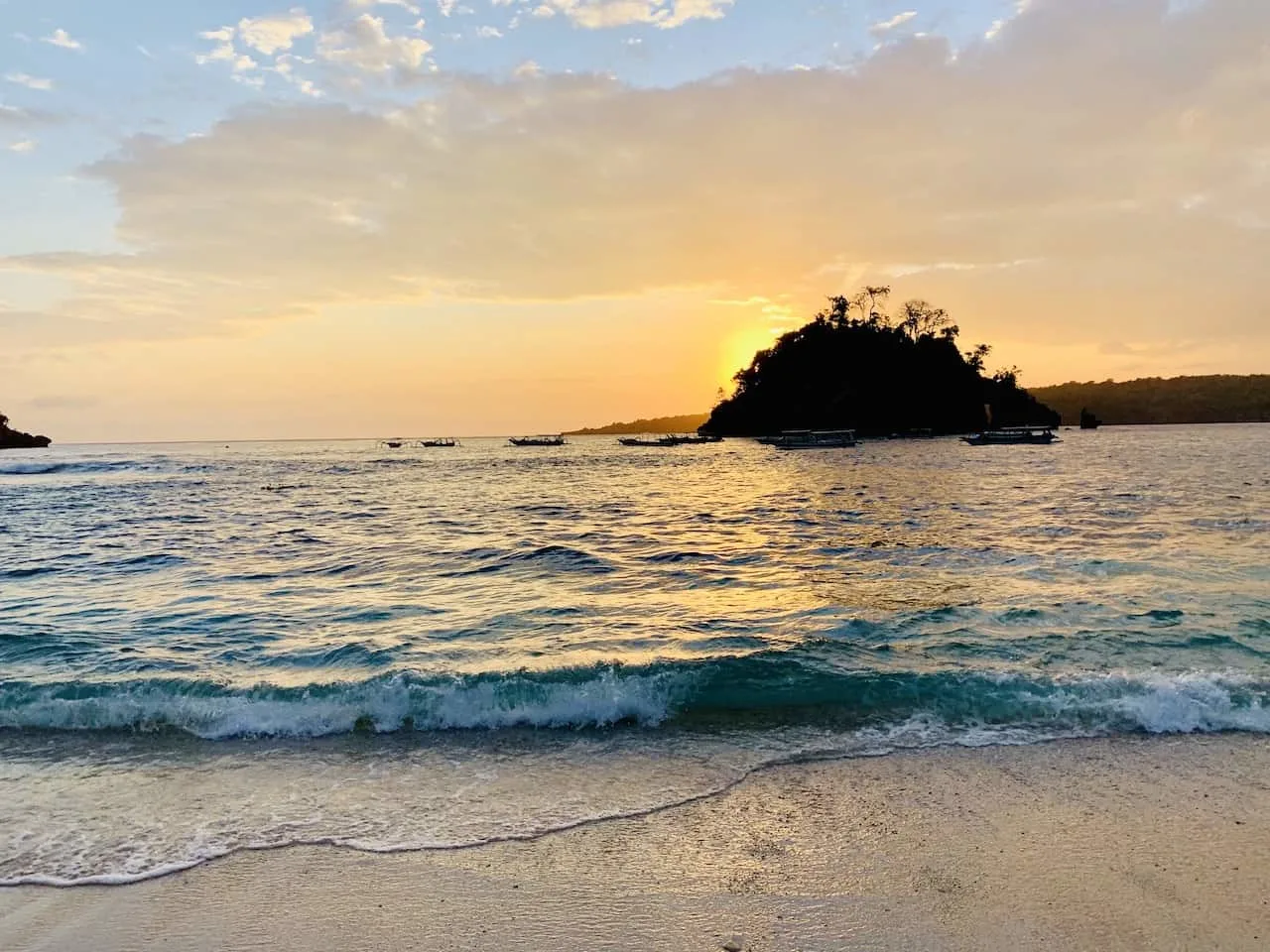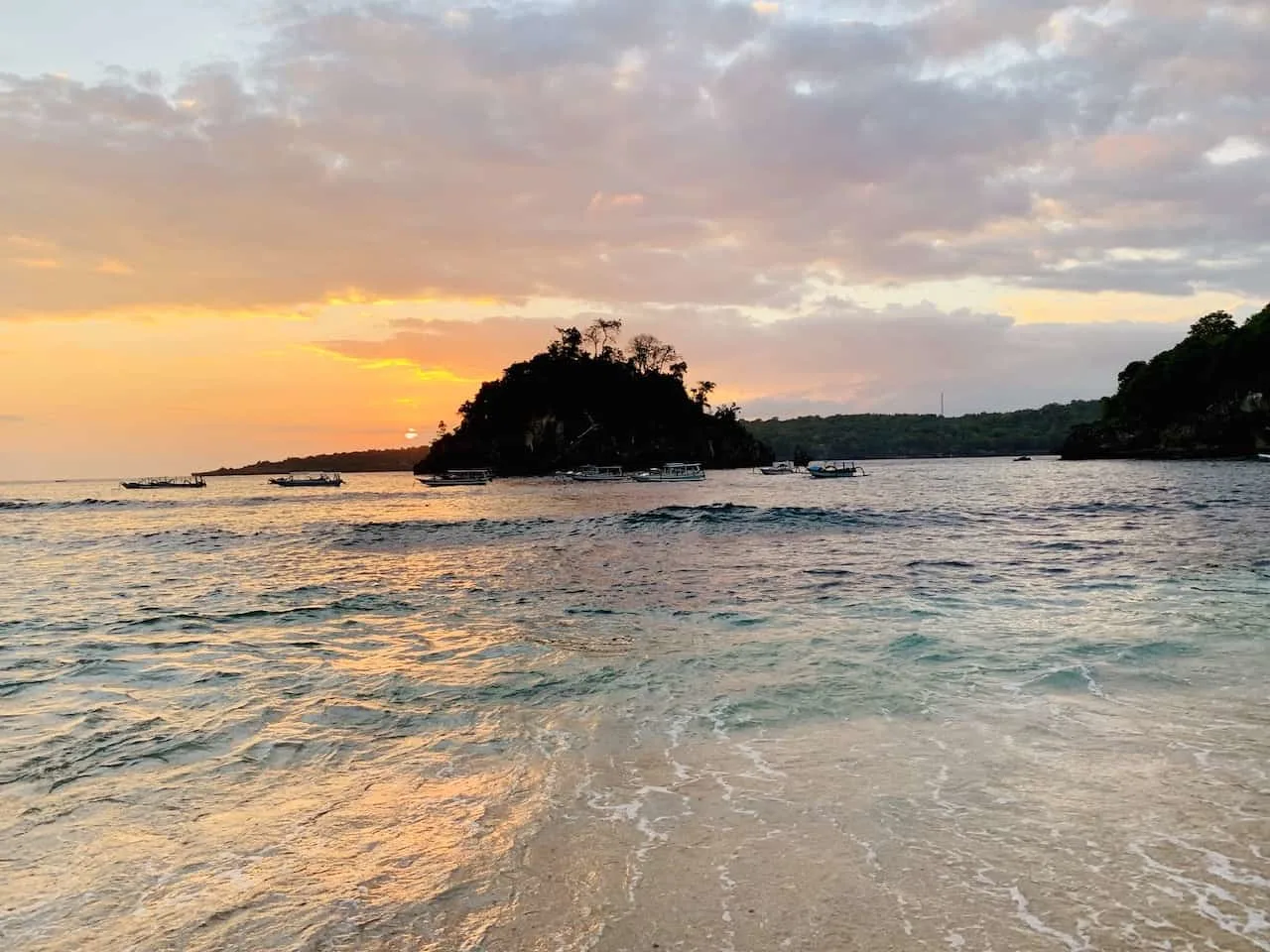 6) Pandan Beach
If you have the time and are looking for a little bit of an adventure, you can head to the neighboring Pandan Beach around the corner.
If you are looking at the water from Crystal Bay, you will want to head to the far left hand side of the beach, where you will see a path that heads up the mountainside.
If you follow this path, you not only will get to enjoy the view of Crystal Beach from above, but you also will be on your way to a much more secluded beach on the island.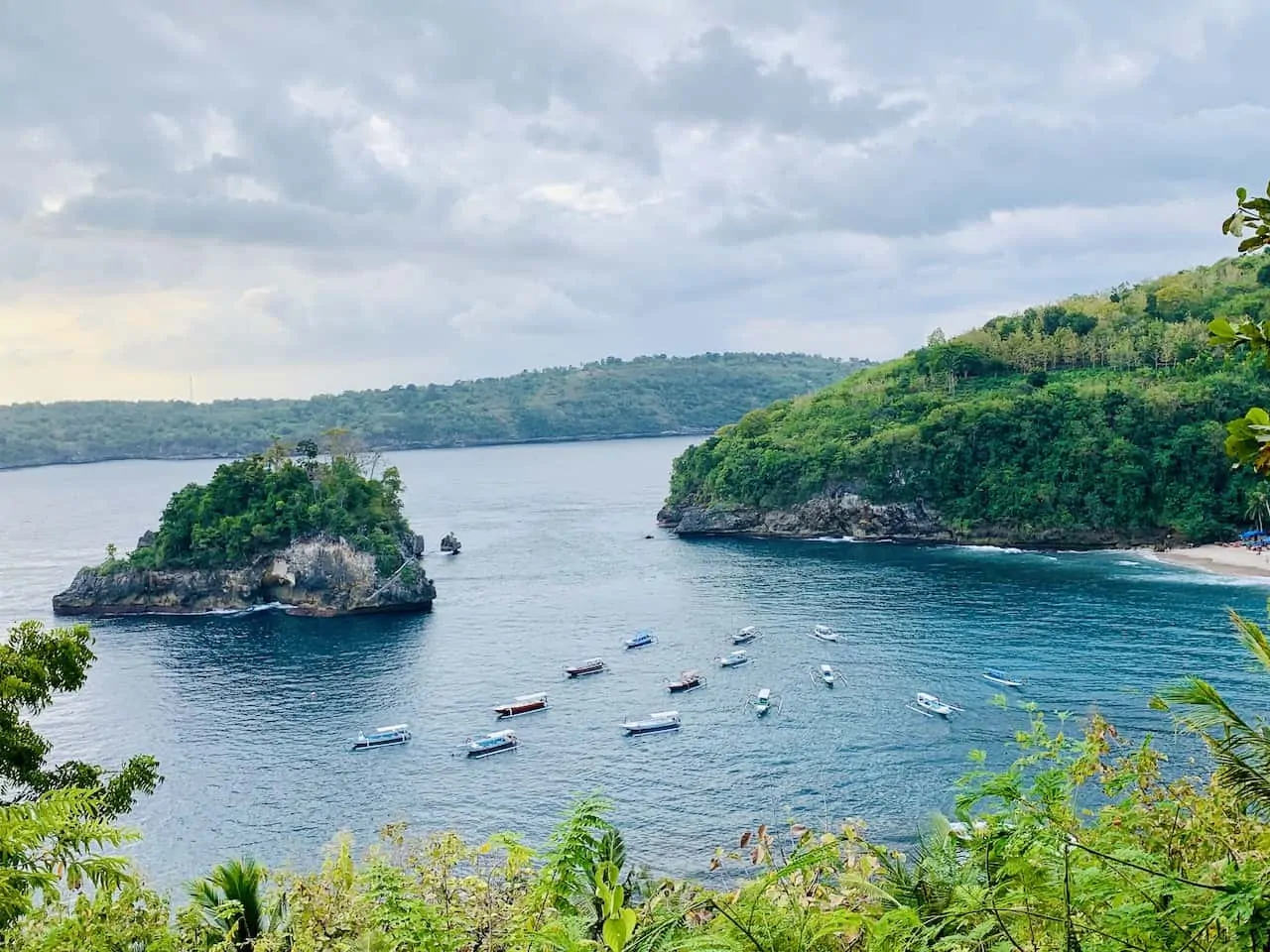 The trail is easy to follow and is a mix of concrete stairs and a dirt path as you head up to the top of the hillside, across the top of it, and then down the other side to Pandan Beach.
If you are not trying to go up/down stairs then this probably isn't for you, but if you don't mind some exercise then why not give it a try!
Once you reach Pandan, you will be welcomed to a small, peaceful strip of sand with a small warung and some chairs/umbrellas on the beach. After enjoying the beach for a bit, you will just want to continue on the same path you came in on and head back to Crystal Bay.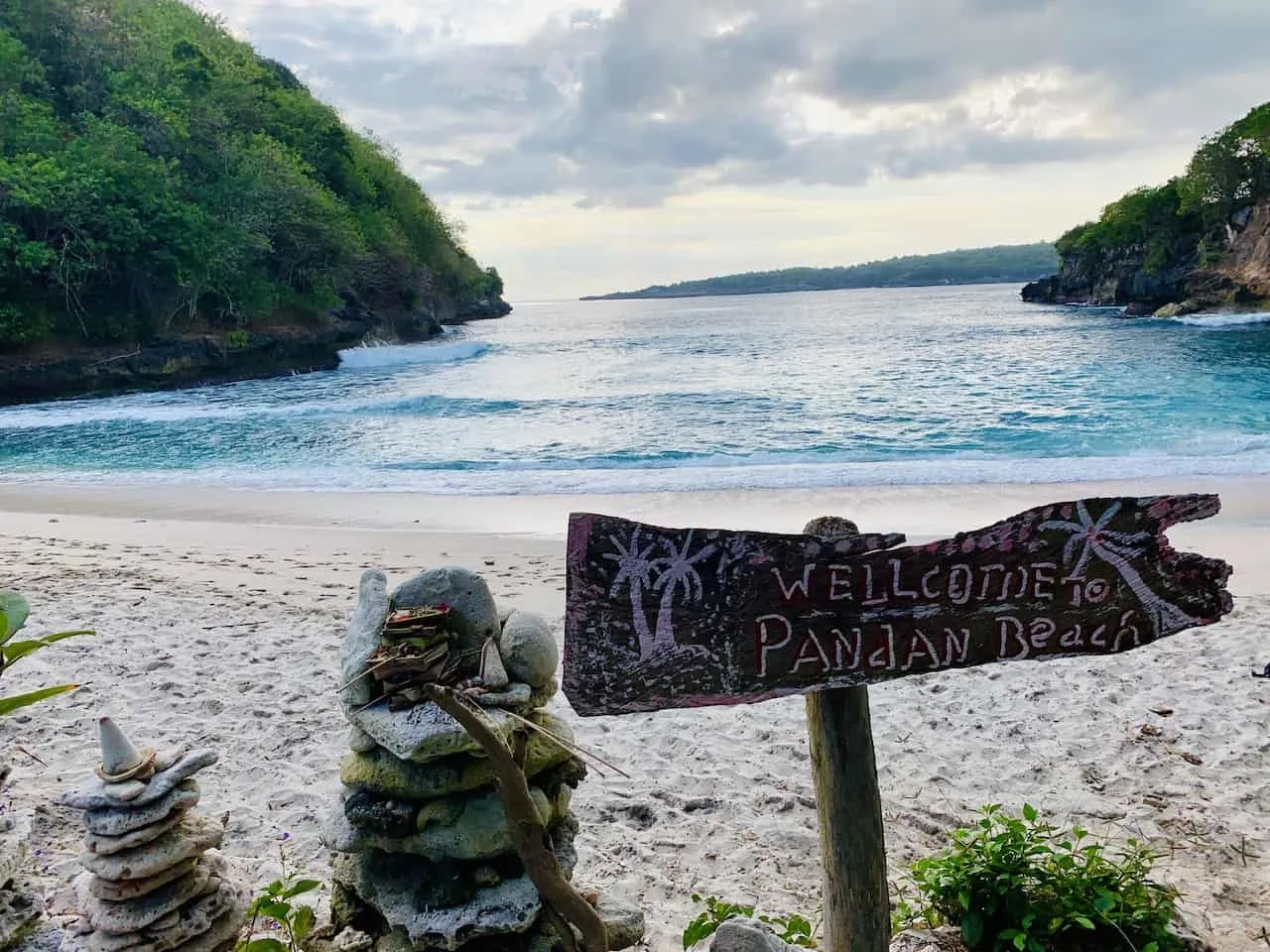 7) Western Nusa Penida Itinerary
If you are planning a visit to Crystal Bay, odds are you will want to visit other attractions on the western side of Nusa Penida. I would recommend the following itinerary for the day when going about your visit.
Note: you will want to go to Angel's Billabong around low tide. Below is an itinerary based on a low tide opportunity earlier in the morning
Stop 1 | Angel's Billabong
The first stop of the day will be Angel's Billabong. This is a beautiful natural rock pool that has crystal clear and calm water during low tide. If not visiting during low tide, you will experience the waves crashing down from ocean and spilling into the tide pool.
» Learn more in the Angel's Billabong Guide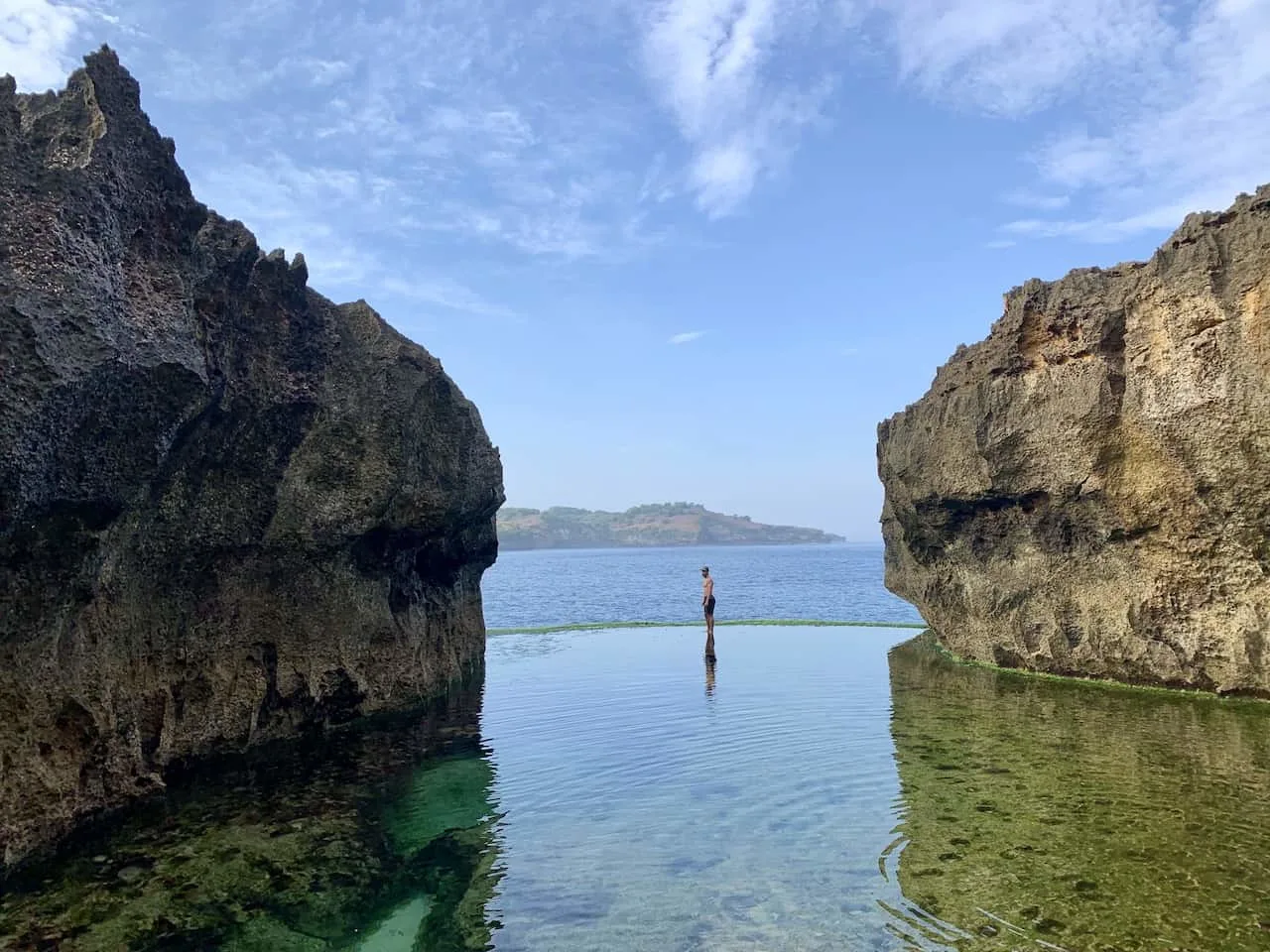 Stop 2 | Broken Beach
Right nearby Angel's Billabong, you will find Broken Beach. The beach is not accessible, rather you will get to enjoy the view from above as the water from the ocean makes its way through the rock arch.
» Learn more in the Broken Beach Guide
Stop 3 | Kelingking Beach
One of the most famous of places in all of Indonesia is Kelingking Beach. From the viewpoint up top, you will take in the landscape of the t-rex rock formation jutting out from the island, alongside the beautiful beach. A treacherous climb down to the beach will give you a chance to enjoy your time down below.
» Learn more in the Kelingking Beach Guide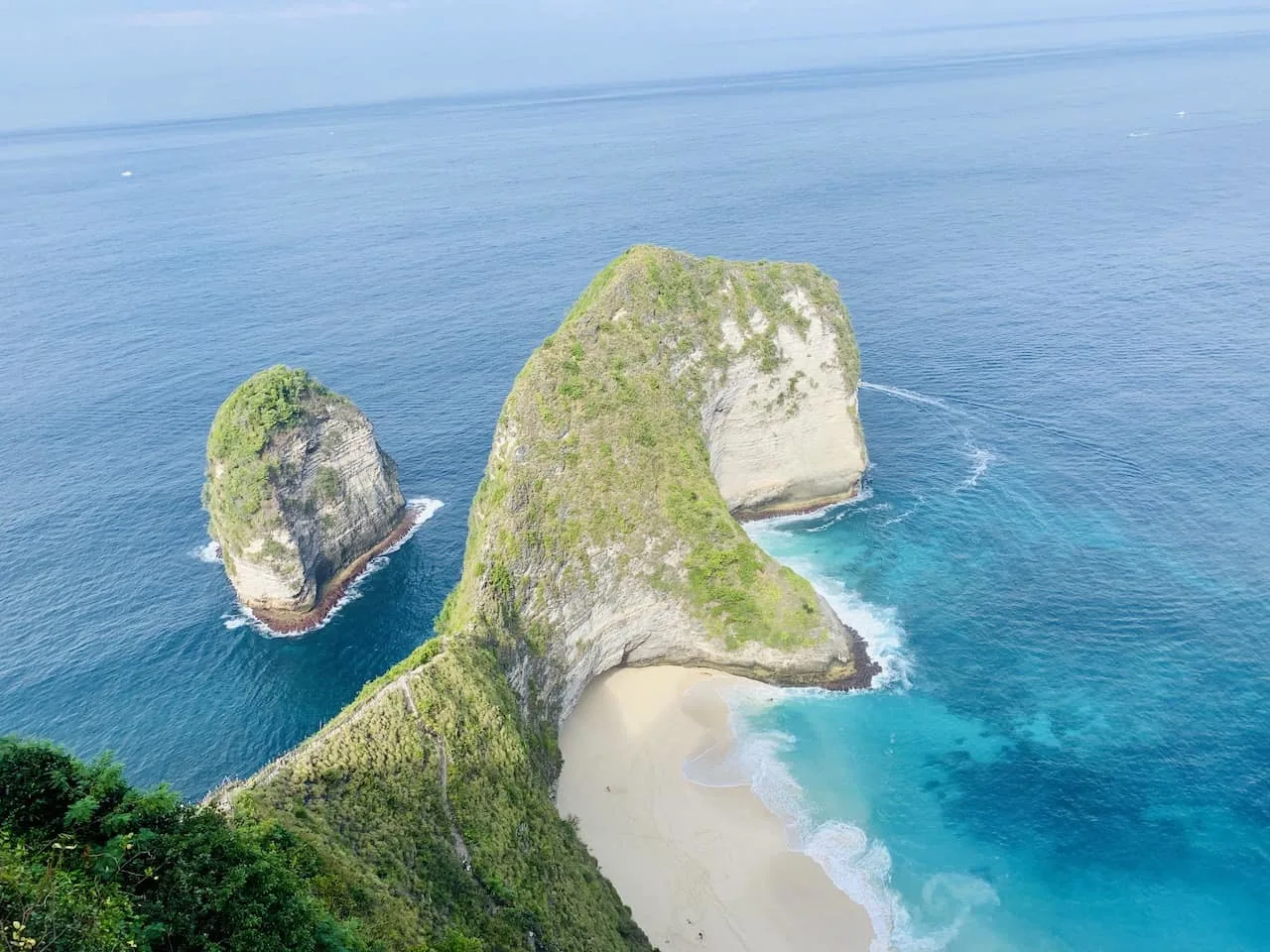 Stop 4 | Crystal Bay
Optional Stop: Tembeling Beach & Forest (before Crystal Bay if time permits)
Tembeling is a mixture of several different unique aspects of the island. You will first make your way through the Tembeling forest, be welcomed to two natural swimming pools, and finally the beach itself.
» Learn more in the Tembeling Beach & Forest Guide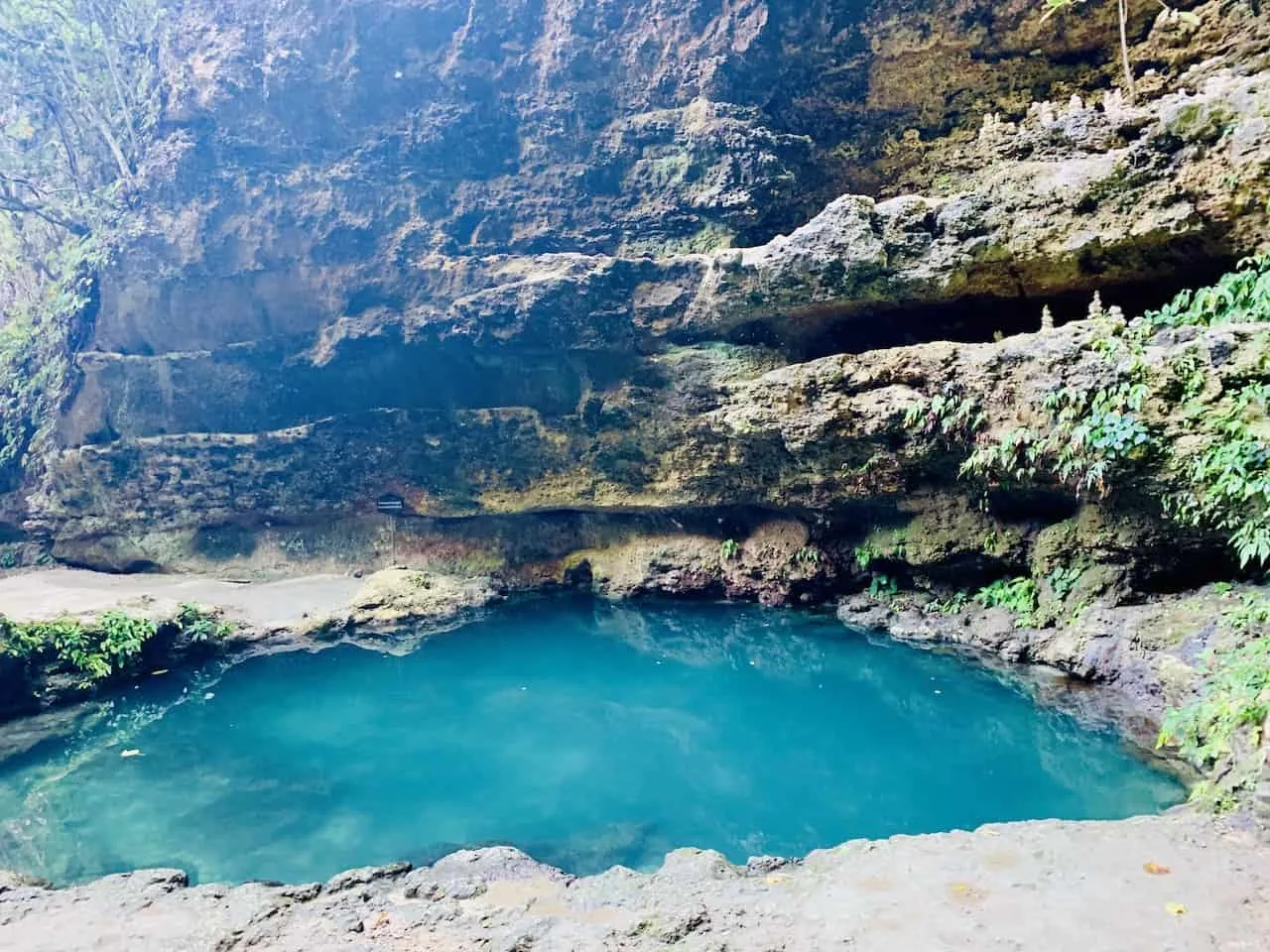 That about wraps up a guide to Crystal Bay Beach of Nusa Penida. If you have any questions about it all, feel free to add them in below.
Also be sure to check out the other Indonesia itineraries and guides up on the site.
Have fun out there and safe travels!