Broken Beach Nusa Penida | Everything You Need to Know
One of my favorite stops when exploring Nusa Penida was the visit to Broken Beach. It is different than any of the other beaches on the island, as this one doesn't exactly offer you the chance to sit back and relax on the sand. Instead you will have the opportunity to view the beach from above as the water makes its way through the rock arch and onto the beach down below. Read on for all you need to know about a visit to Broken Beach and how to plan your visit.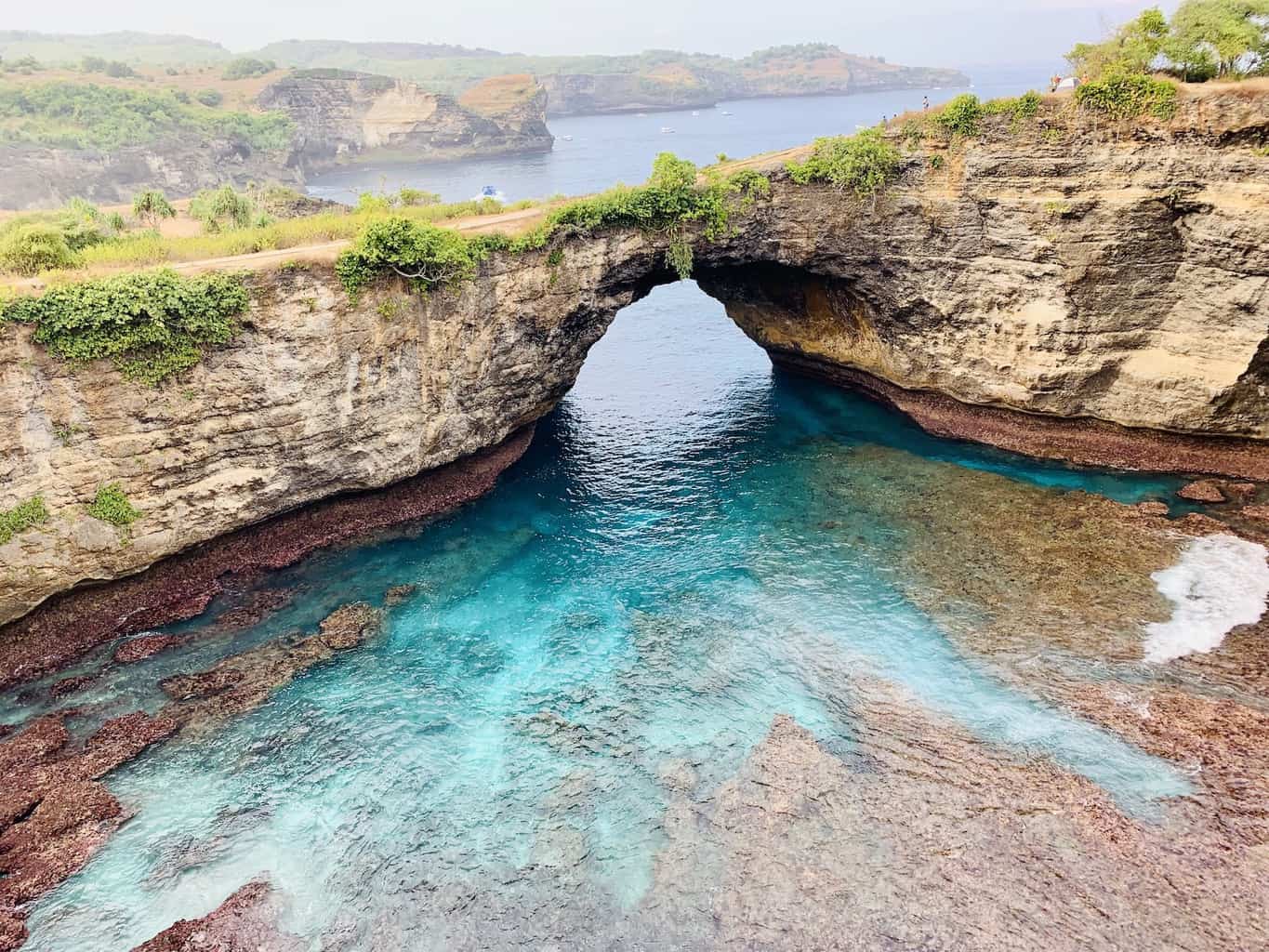 *Affiliate Disclosure

:
This post may contain affiliate links, which means I may receive a commission if you make a purchase through the links provided, at no additional cost to you. Thanks for supporting the work I put into TripTins!
1) How to Visit Broken Beach
There are a few ways to go about a visit to Broken Beach depending on your travel plans. While many people just take a day trip from Bali (either guided or DIY), I would highly recommend you spend at least 1-2 nights on the island of Nusa Penida itself.
This way you can have more flexibility with your day and visit some of the more popular attractions (like this one!), without the crowds. If you are staying the night on the island you can either head to Broken Beach with a scooter rental or private driver hire.
Scooter Rental » If you are comfortable enough on a scooter / motorbike, you can rent one from the harbor area for as little as $5 – $10 USD per day. Some of the roads of Nusa Penida are in very poor condition, with tons of uneven terrain throughout. I have heard of plenty of accidents happening on the island with those who were not experienced enough – I even saw a crash right in front of me. So please do not rent a scooter if you do not have the expertise.
Driver Hire » If you want to play it safe, I would recommend hiring a driver for the day that can take you to Broken Beach and any other attractions you would like to visit. Expect to pay around $40 USD for a full day driver on the island. You can either find them at the harbor area or have your hotel help set one up for you.
Tour Option ↔ Broken Beach is one of the most visited destinations on Nusa Penida and is frequented by almost all tour groups taking the day trip from Bali. If you do opt for a tour from Bali, below are some of the top options to choose from:
» Nusa Penida Island Beach Tour
» One Day Nusa Penida Island West
» One Day Nusa Penida Island West with Snorkeling
2) When to Visit Broken Beach
While it doesn't make such a huge difference, I would recommend a visit to Broken Beach closer to low tide. As you will see in the images throughout the article, the beach is scattered with these various rock formations jutting out of the water.
During low tide, these come into view nicely and the beach isn't overrun with water. During high tide though, the water can get much rougher here and the dramatic landscape seen in the pictures won't be the same.
Another important reason for visiting during low tide is because of its neighboring attraction, Angel's Billabong. During a visit to Angel's Billabong, you will be able to see the serene and crystal-clear tidal pools overlooking the ocean. But that is really only the case during low tide. You simply will not get the same views and experience if you head there when the tide is high.
Since Broken Beach and Angels Billabong are just a couple minutes' walk between the two, you might as well visit both at the same time.
» Read up on everything you need to know in the Angel's Billabong Guide up on the site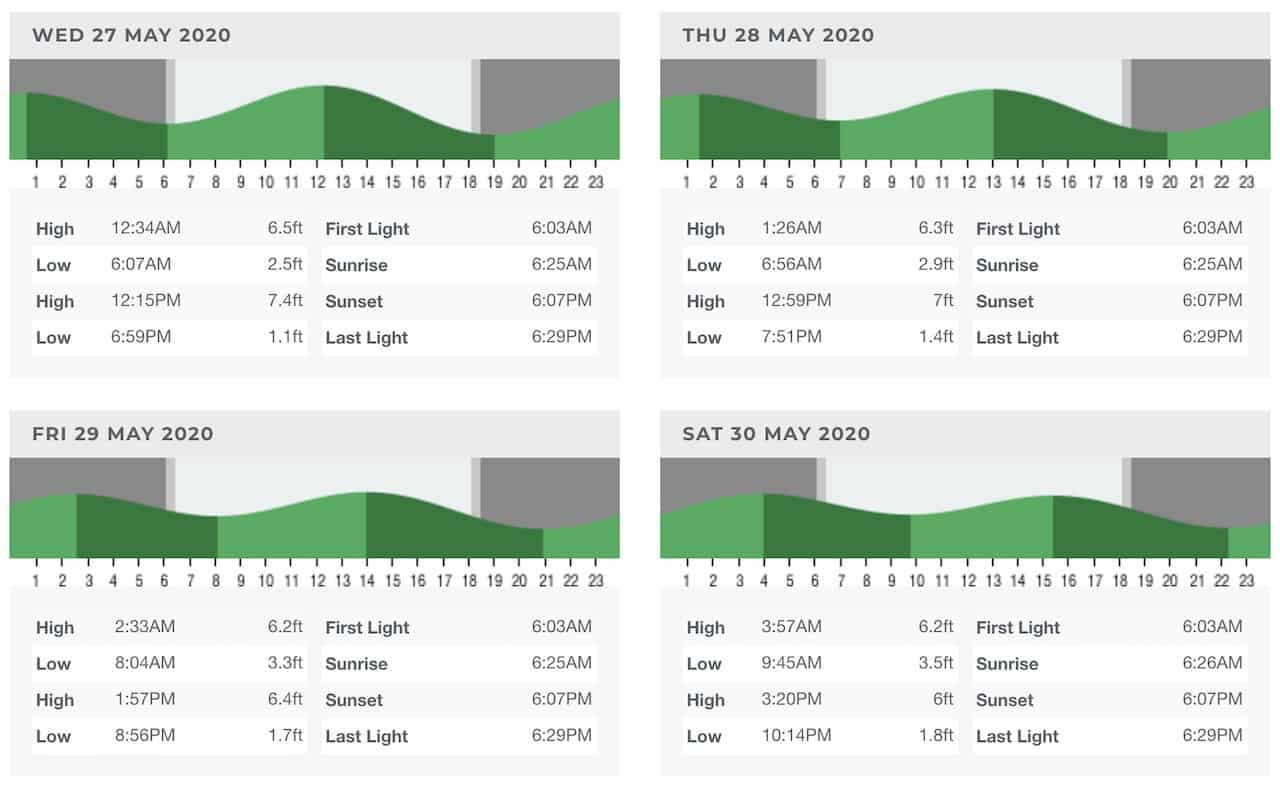 Avoiding the Crowds Tip: this may be a bit more difficult to do but I thought it may be helpful info either way…
Having a very early low tide (pre 8AM) or late low tide (just prior to sunset), is your best bet for low crowds around Broken Beach & Angel's Billabong. The worst time to have low tide during your visit is around 10AM or so when many group tours from Bali will be arriving in the area.
3) Map & Directions
Below is a map of Nusa Penida with Broken Beach starred on the bottom. I have also highlighted the 40 minute route from the harbor area to the parking lot (helpful for those taking a day trip or staying in a hotel nearby the harbor).
While the roads are slowly improving throughout Nusa Penida, the road to Broken Beach was one of the most bumpy rides during my time on the island. So, whether you are driving yourself or not, just be ready for quite the drive to the parking lot area.
4) Where to Stay in Nusa Penida
Nusa Penida is relatively new to the tourism landscape which is why many of the roads throughout the island are just not up to standard. You also won't find too many tourist hotspot areas like an Ubud or a Seminyak. Many of the accommodation options are just sprawled throughout.
A lot of the popular spots though are more on the western side of the island closer to the harbor area. Below are some highly rated options based on price point in that area. What is also great about Nusa Penida is that it is budget friendly with the most expensive options not even $100 per night.
Luxury: Semabu Hills Hotel Nusa Penida | Daphila Cottage
Mid Range: Singabu Bungalows | Sawit Garden Cottages | Crystal Bay Bungalows
Budget: Miko Bali Bungalow | Prasi Sunset Bungalows
Recommended Nusa Penida Hotel Option | Sawit Garden Cottages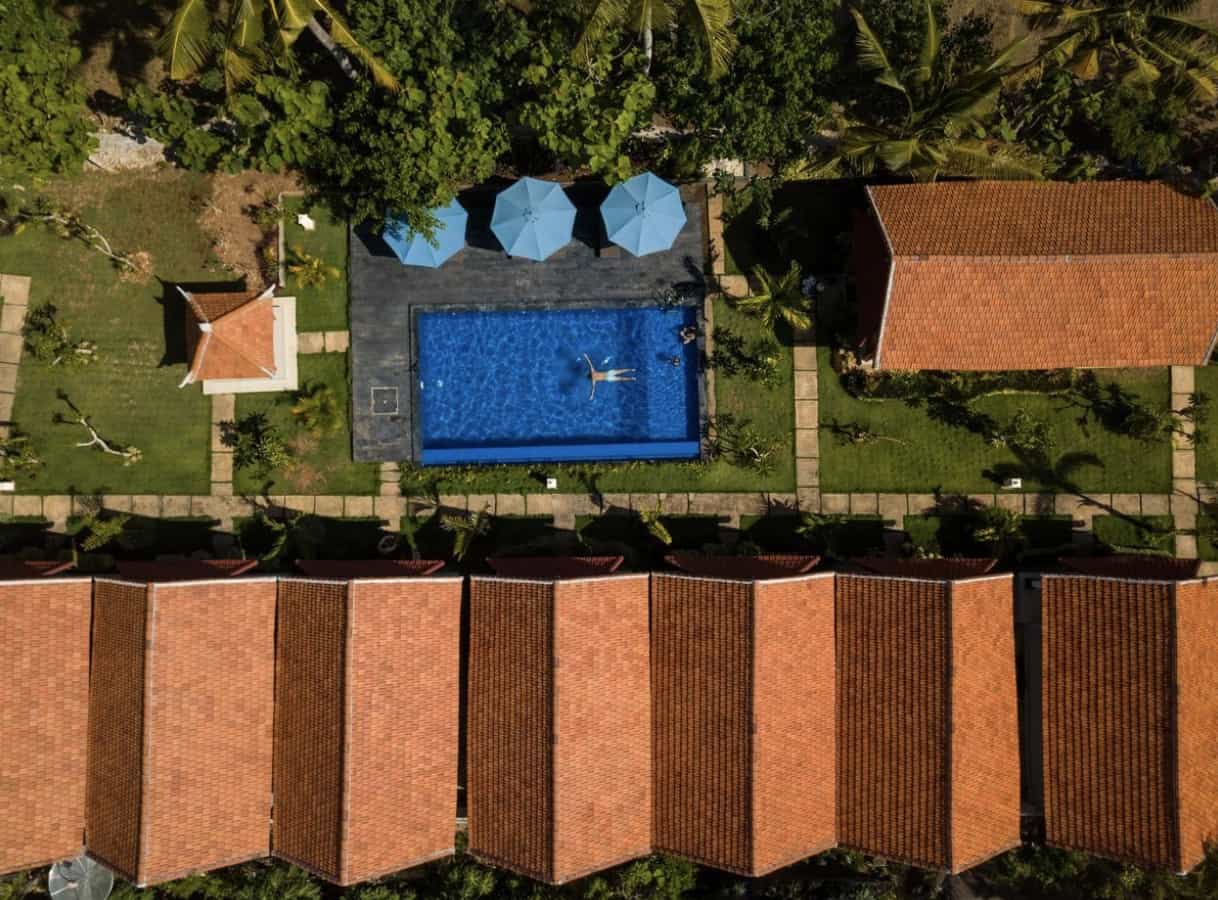 5) What to Expect at Broken Beach
After heading along the windy and bumpy road to Broken Beach, you will just need to pay a small 10.000 IDR (less than $1 USD) fee and be on your way. To your left hand side will be a staircase down to Angel's Billabong, which you can visit first before continuing on to Broken Beach.
Once you have enjoyed Angel's Billabong, continue along the path until you reach the circular cliff walls overlooking Broken Beach down below.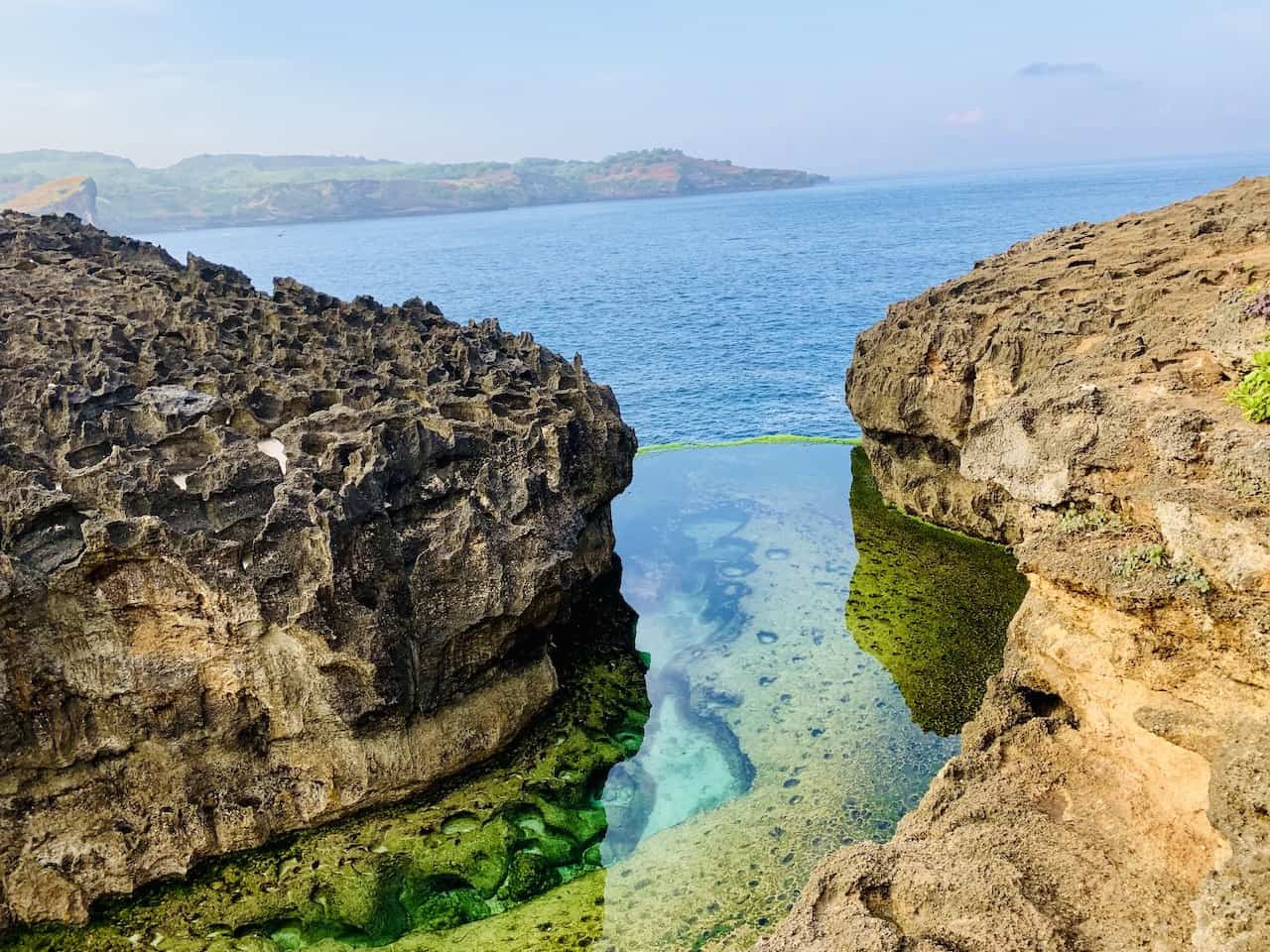 What I loved about Broken Beach is that you are not contained to just one spot to enjoy the view and take pictures. You can walk the 360 degree circle around the beach and over the rock arch to get in the landscape from all different angles.
The view from the base of the beach looking towards the arch was one of my favorite shots as you can really see the rocky bottom, turquoise water and the arch all in one photo.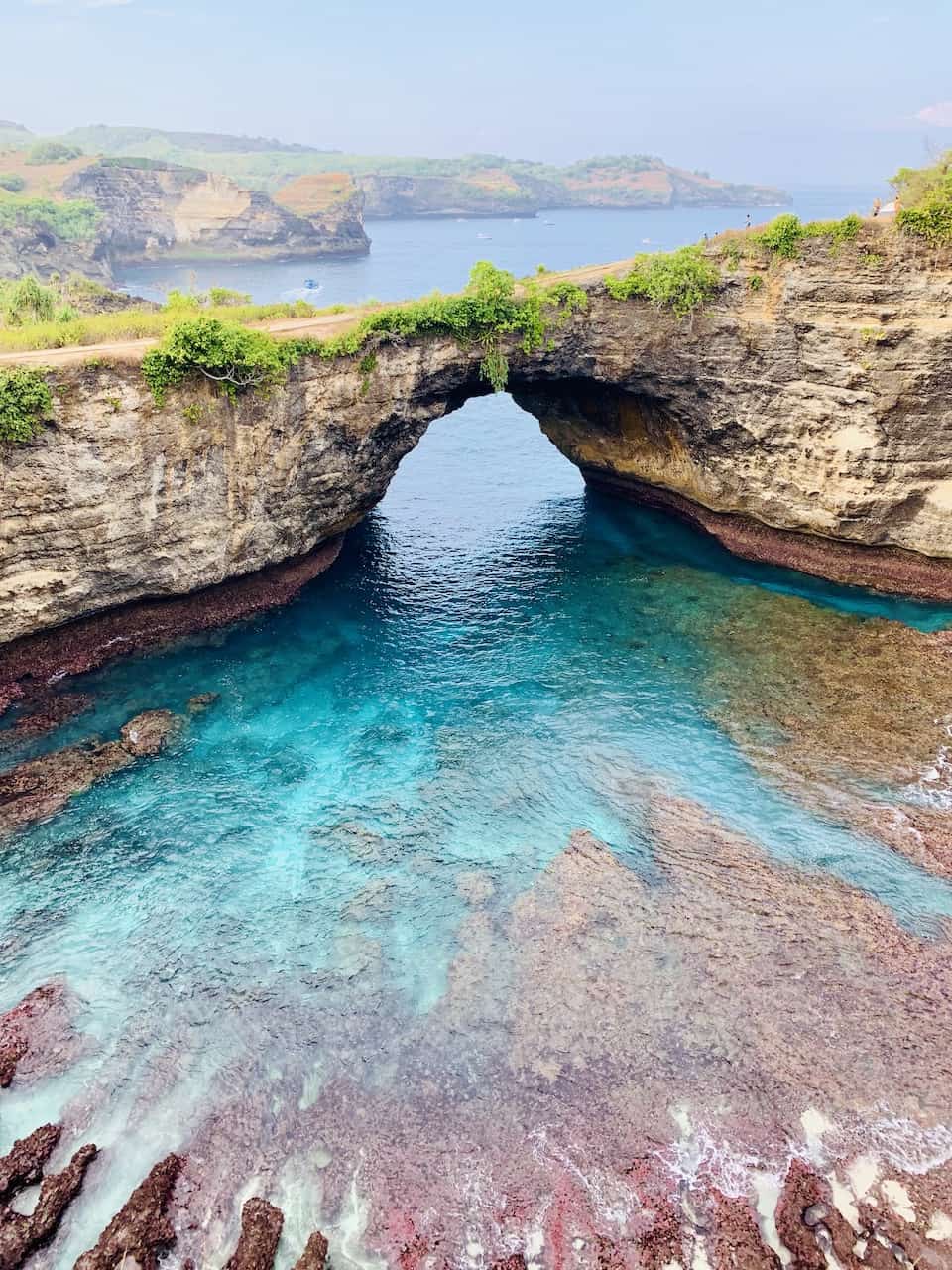 You can start making your way around to the rock arch as you get those views from the sides in. Below are perspectives from both the right and left hand side of the beach when walking the cliff's edge.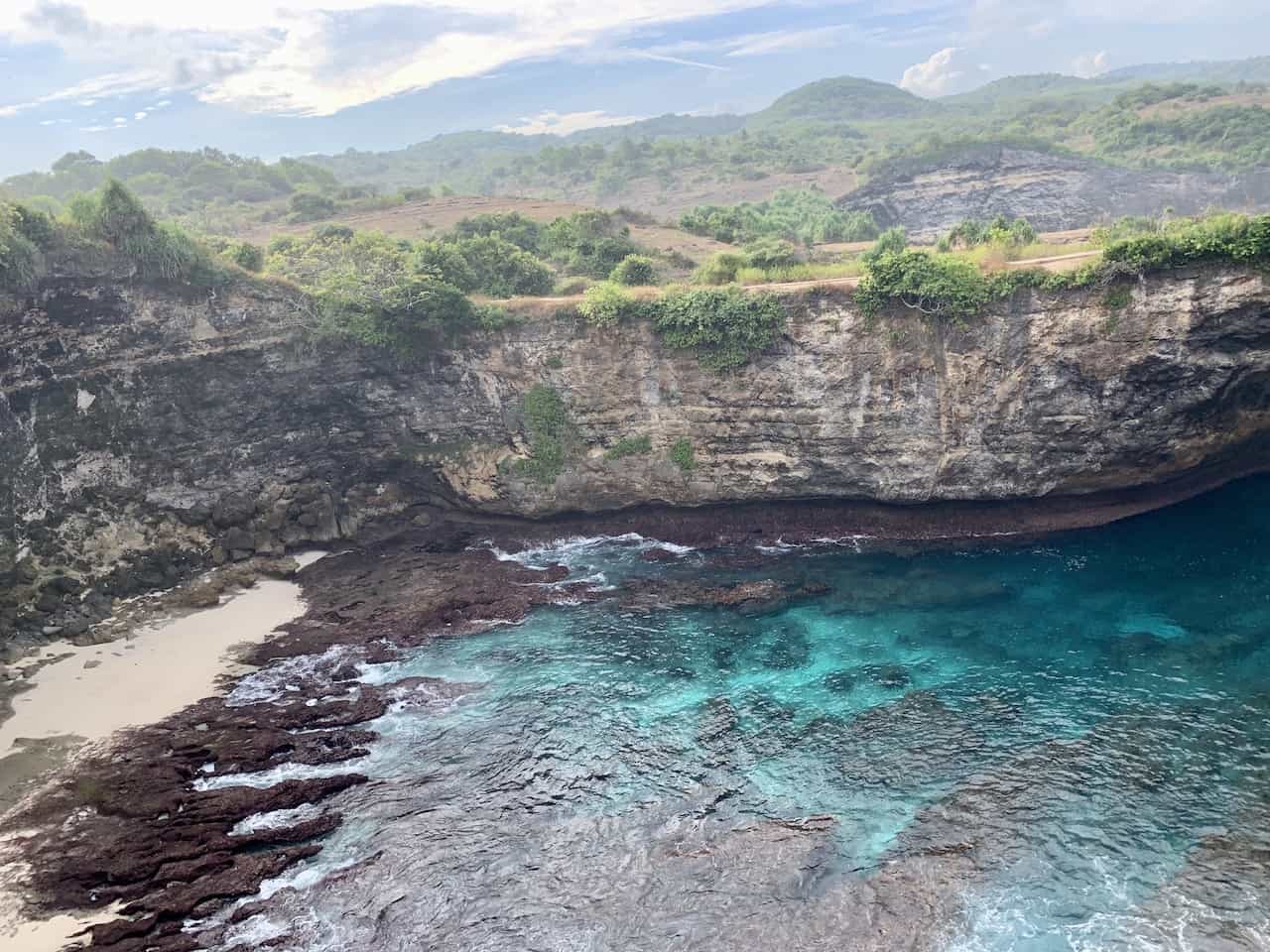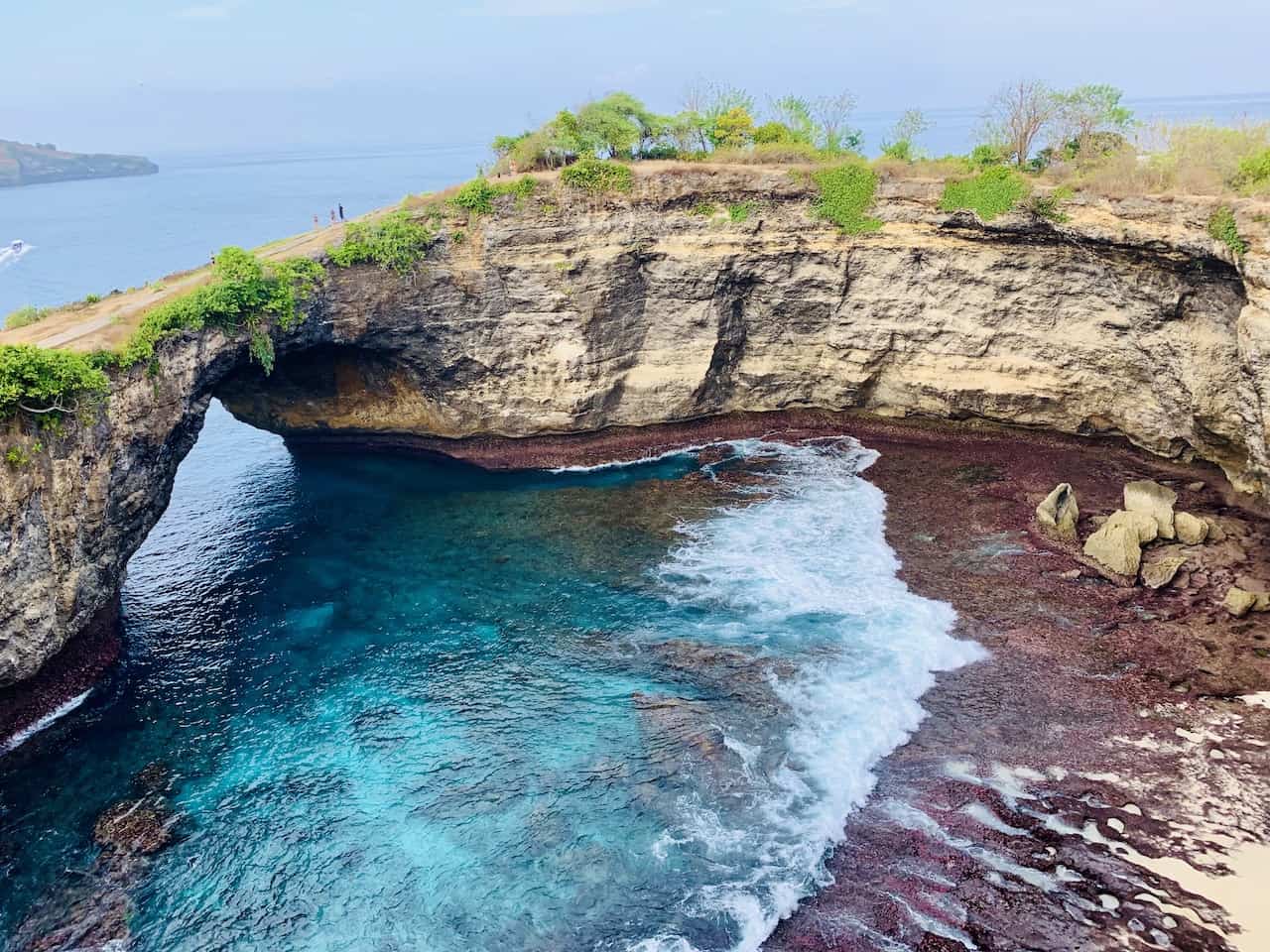 As you head closer to the arch, you will be able to take in the views from the other side looking down at the beach and also get some views of the ocean out in the distance.
Like I mentioned before, unfortunately you can't head down to the beach itself as it would just be too dangerous given the tides and the surrounding rocks. But that shouldn't stop you from visiting one of Nusa Penida's top natural attractions.
Once you are all done with your time around Angel's Billabong and Broken Beach, you can spend the rest of the day exploring some of the other top natural attractions of Nusa Penida.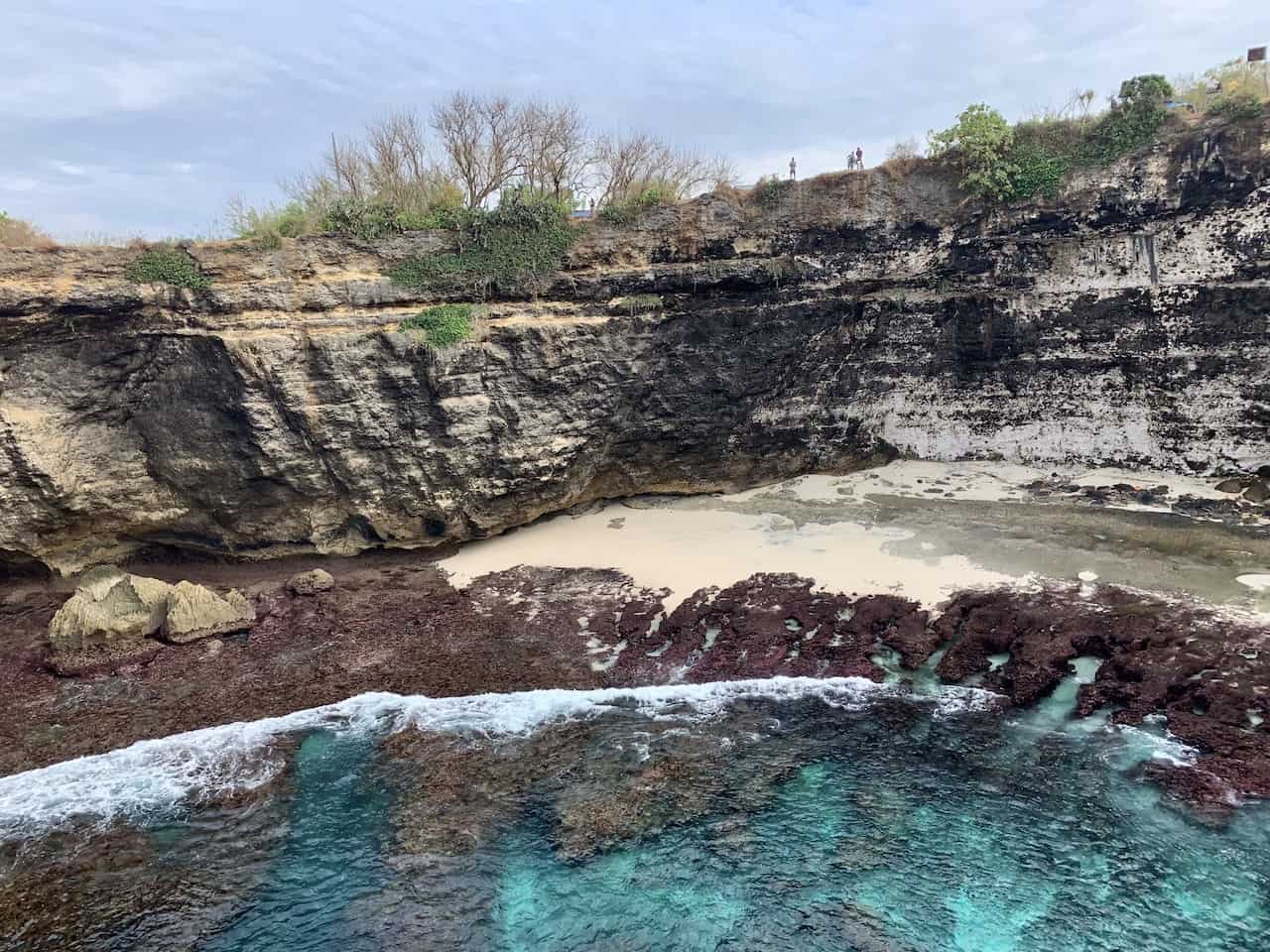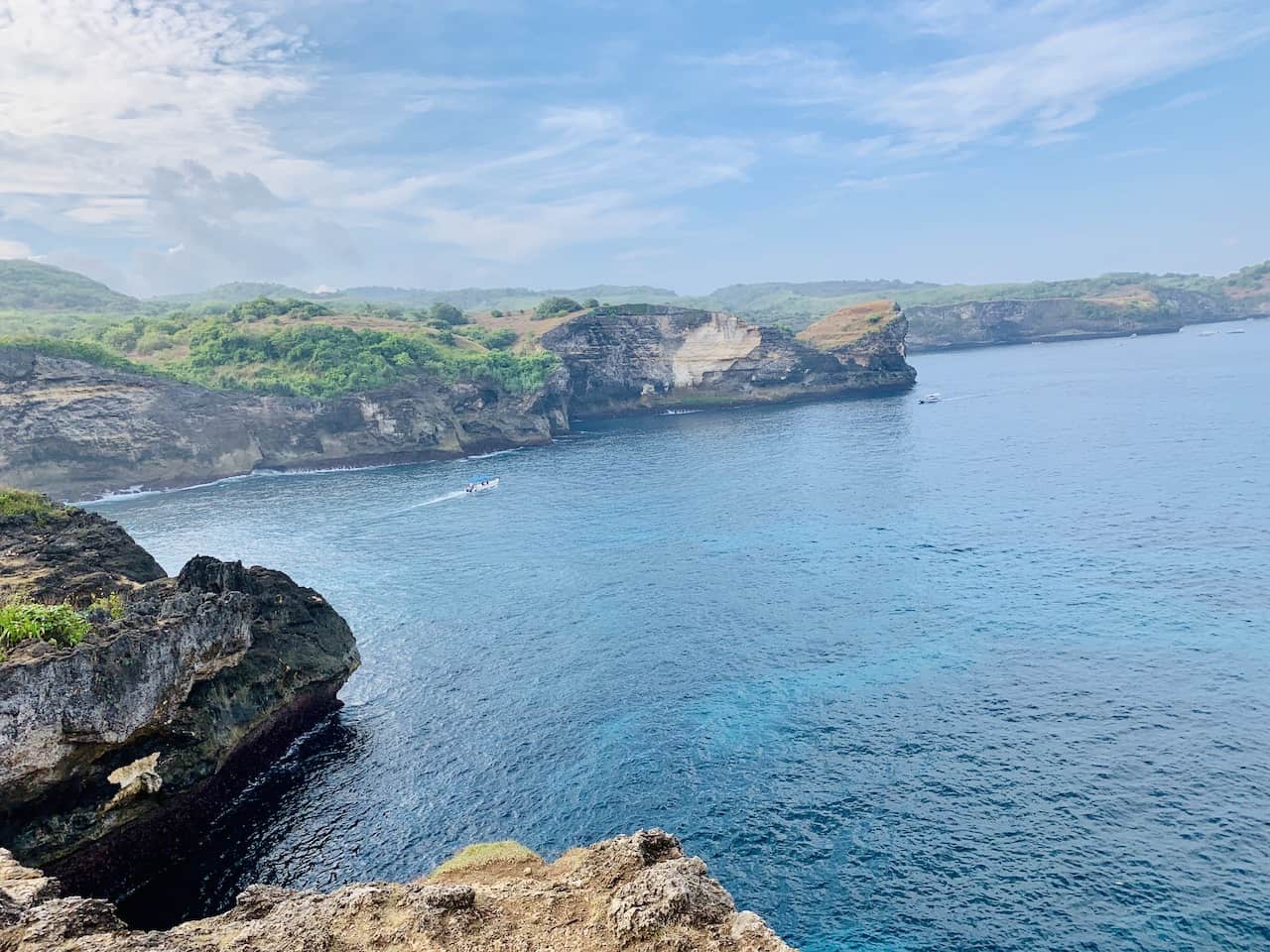 That about wraps up a guide to Broken Beach of Nusa Penida. If you have any questions or comments about a visit to Broken Beach on Nusa Penida, feel free to add them in below. Also don't forget to check out the other Indonesia itineraries and guides up on the site.
Have fun out there and safe travels!