When it comes to the holiday time in New York, the city comes to life with bright lights, big Christmas trees, and plenty of decorations all throughout. One of the best ways to experience the season is to have a meal at one of the holiday themed Christmas restaurants in NYC.
The local restaurant scene recognizes the city's connection to Christmas. Consequently, it's very easy to find an eatery that goes all out for the season.
So if you are looking for a great New York City Christmas restaurant, check out the list below that goes over the best holiday themed dining options in the city.
* Affiliate Disclosure: This post may contain affiliate links, which means I may receive a commission if you make a purchase through the links provided, at no additional cost to you. Thanks for supporting the work I put into TripTins!
1) Rolf's
German mainstay Rolf's doesn't register on most native New Yorkers' radars for eleven months out of the year. But when the Christmas season rolls around, Rolf's becomes the most famous traditional Christmas restaurant in New York. It's as iconic to New York City's festive scene as the Rockefeller Center tree.
Diners can enjoy strings of fairy lights, evergreen trees with tinsel and baubles, and a collection of German dolls. Raise your eyes to the ceiling, too, and be astounded by the gorgeous decorations.
Rolf's is an incredibly popular holiday-themed restaurant in NYC. This is true, in fact, for tourists as well as native New Yorkers.
It's so popular, in fact, that you'll have to reserve a table as early as possible. Reserving one around the festive period is hard to get so be sure to prepare accordingly!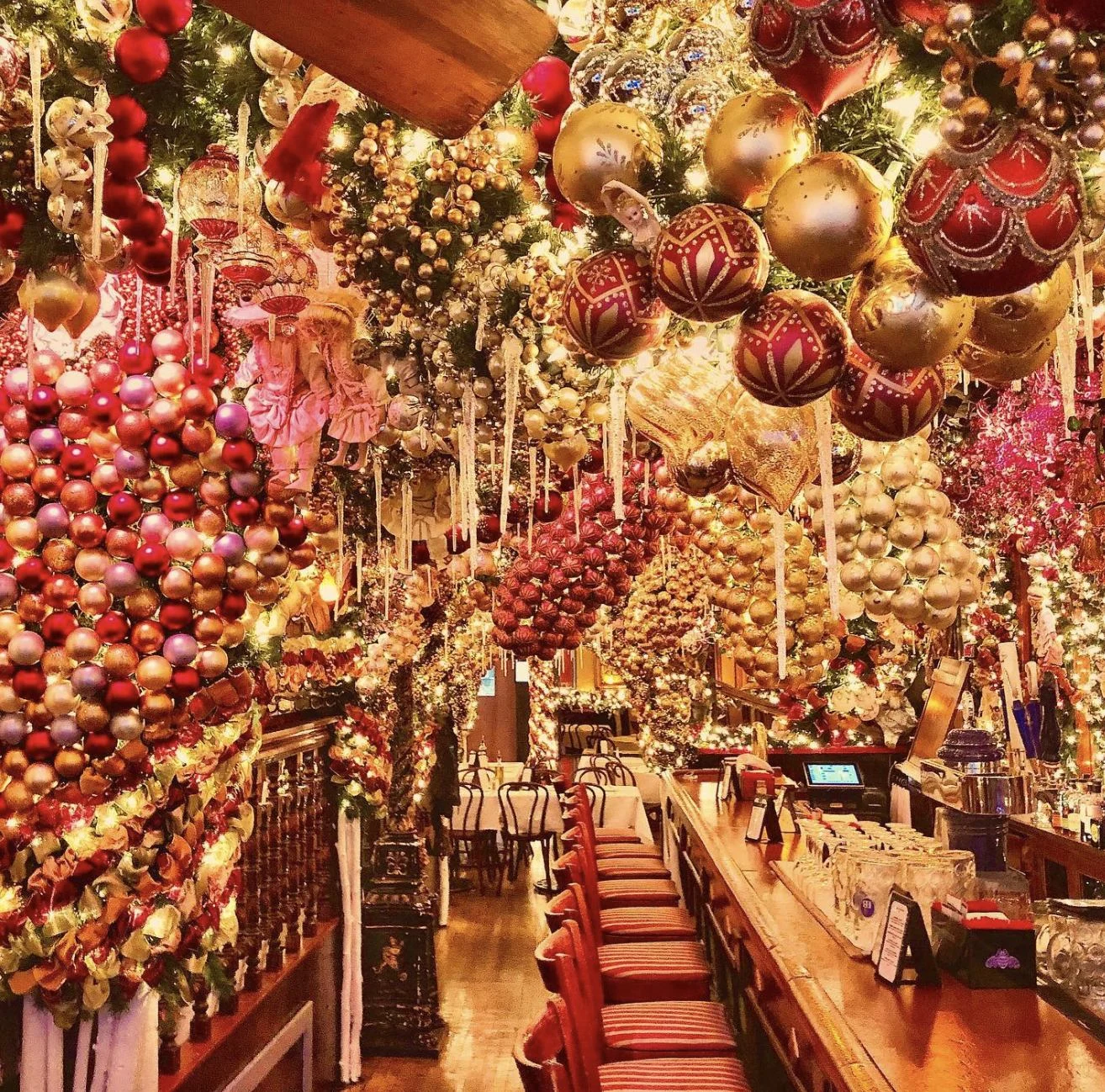 2) Serra By Birreria
Italian powerhouse Serra By Birreria (roughly translated to English: 'Greenhouse Brewery') is part of Eataly, the building described by its owner as an "Italian village in the middle of Manhattan".
Serra is found on the rooftop of Eataly. It's renowned for its rustic seasonal Italian menu and spectacular array of cocktails.
It's at Christmas, however, that the restaurant comes to life. Because it's located in a greenhouse, it's completely closed off to the elements. But Serra By Birreria still embraces the Christmas spirit with a beautifully-decorated ceiling themed around snowy tree boughs.
Despite the frosty theme, guests needn't freeze as the whole area is heated. They can also enjoy the very best of Alpine Italian cuisine. Raclette and panna cotta are on hand to provide a hearty Italian take on Christmas food.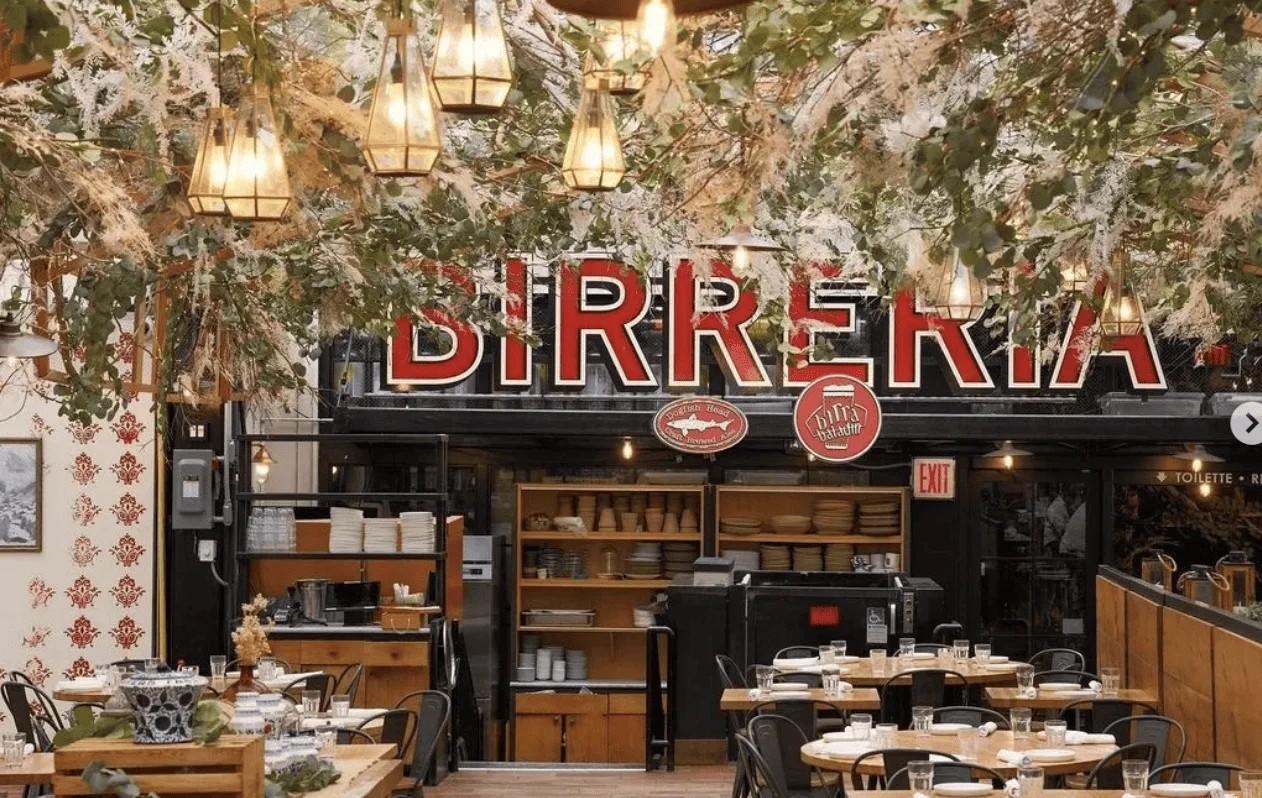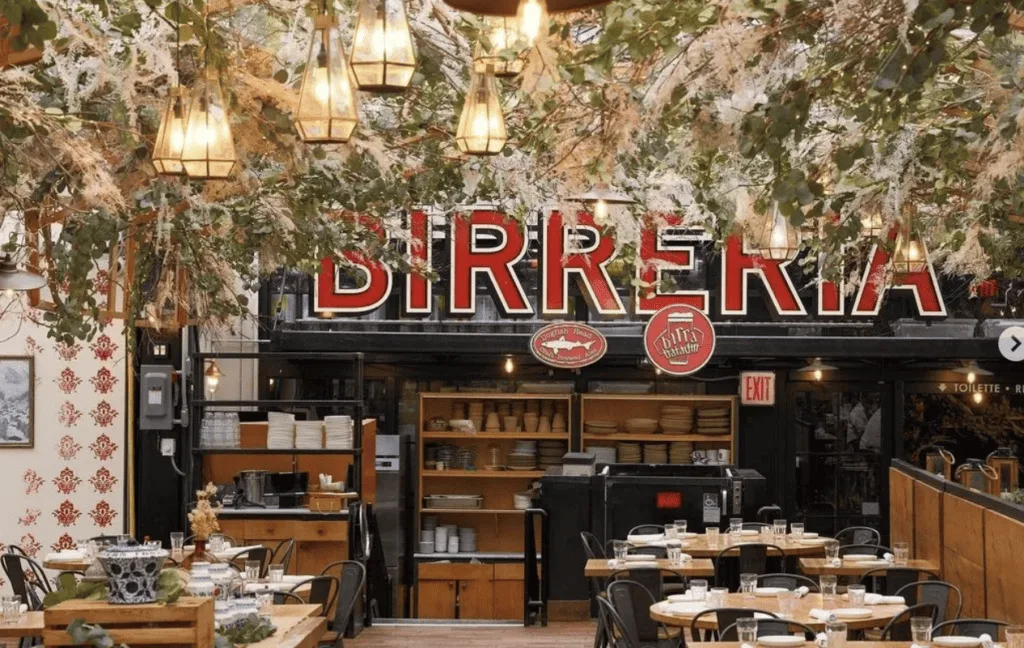 3) Tavern On The Green
The Tavern on the Green is the quintessential Central Park bar/restaurant even outside of Christmas. But when December rolls around, it becomes a magical NYC Christmas restaurant experience.
The Tavern on the Green got its start as a humble sheep pen. It wasn't converted into a bar/restaurant until 1934. Its posh décor and immaculate interiors belie its humble origins, and it's often featured in movies and TV shows.
The Tavern on the Green goes all out during Christmas. A huge tree is erected and decorated with elaborate fairy lights and glittering decorations. The courtyard area is also festive with colorful lights. Diners can also enjoy their meals against the backdrop of the Manhattan skyline.
The Christmas menu at the Tavern is an eclectic mix of western dishes. It's a fixed price and four courses are on offer (including dessert). Diners can choose from such specialties as grilled Maine lobster risotto, wildflower honey-roasted fig salad, and spiced eggnog crème brûlée.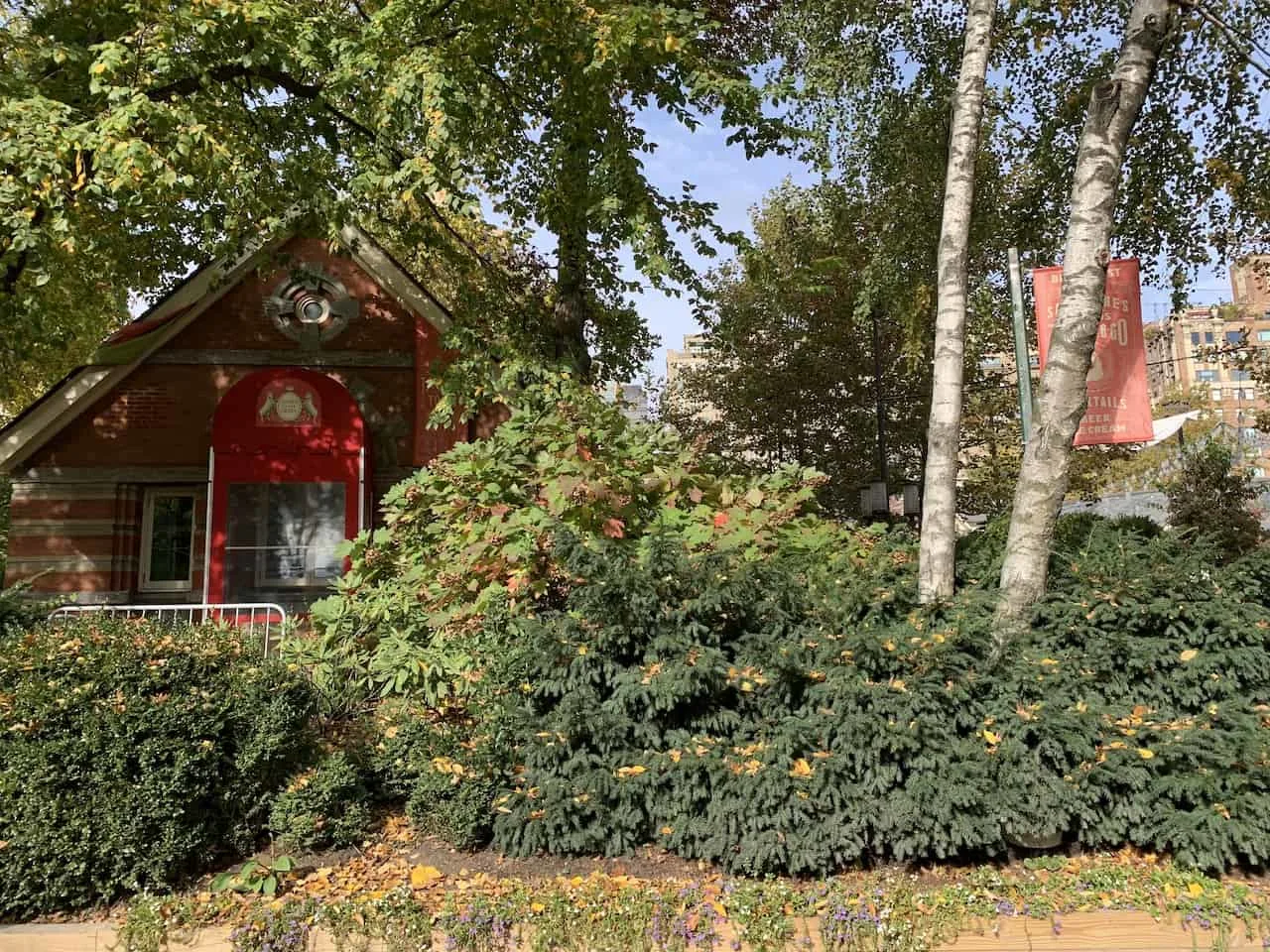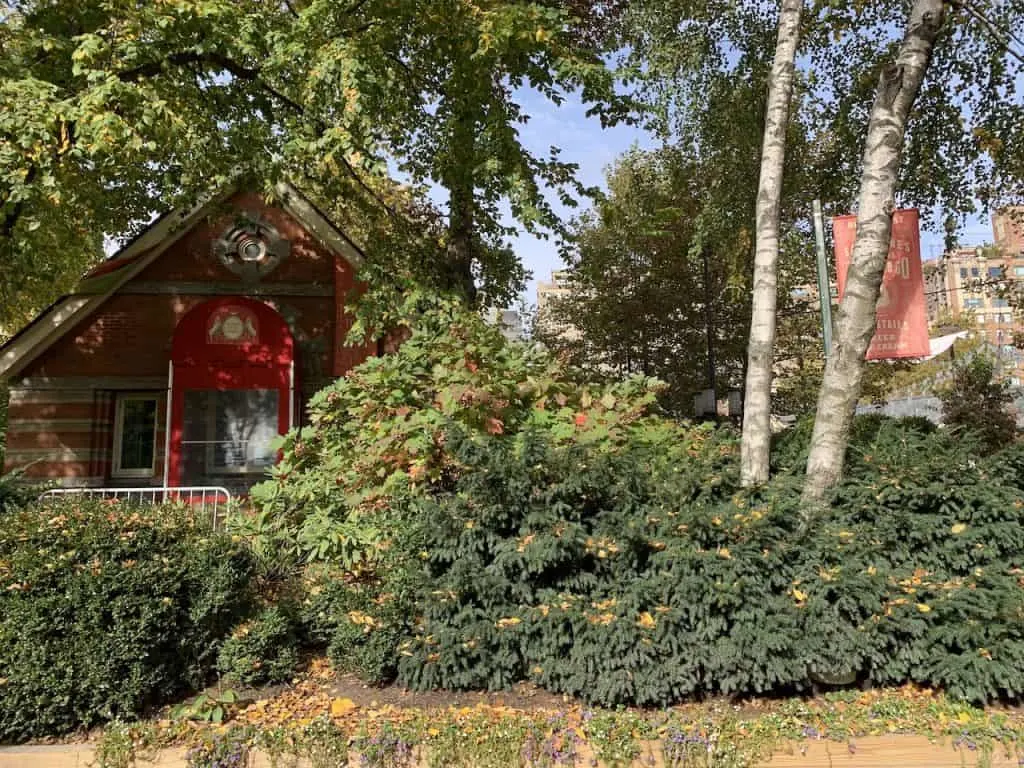 4) The Winter Wonderland At Watermark
This waterfront wonderland near the South Street Seaport is renowned for its prime location along Lower Manhattan's eastern side. It provides prime views of opposing Brooklyn, but without the frosty winter temperatures. The Winter Wonderland is another Christmas restaurant in NYC that leans heavily into the greenhouse theme.
It doesn't get much more festive than the Winter Wonderland experience. From a private, heated mini-greenhouse you'll get to experience all the joys of Christmas on the waterfront.
Drinks are served in Christmas ornaments, and old Christmas movies are projected onto huge screens outside. In addition, Santa's grotto will sometimes be a fixture throughout November and December.
All of this is without even mentioning the glorious light displays. You can also find a forest of candy canes and pine trees all around the greenhouses.
The Winter Wonderland's menu is a perfect example of festive food done right. Every dish has an appropriately Christmassy name. These include 'Tis the Season Salmon' to 'Prancer's Pigs in a Blanket'.
This is complemented by a fine array of beverages, including – of course – egg nog. All in all, the Winter Wonderland is the perfect holiday-themed NYC restaurant.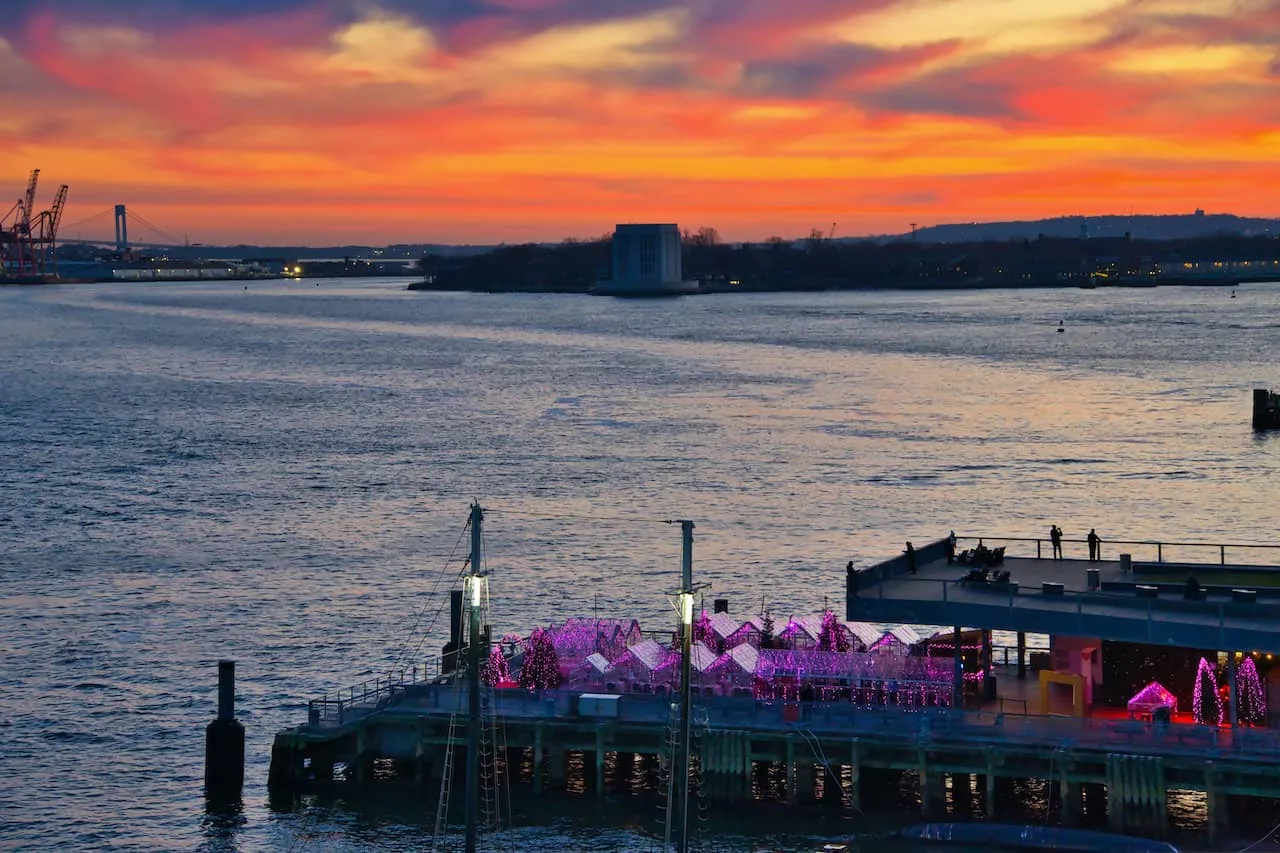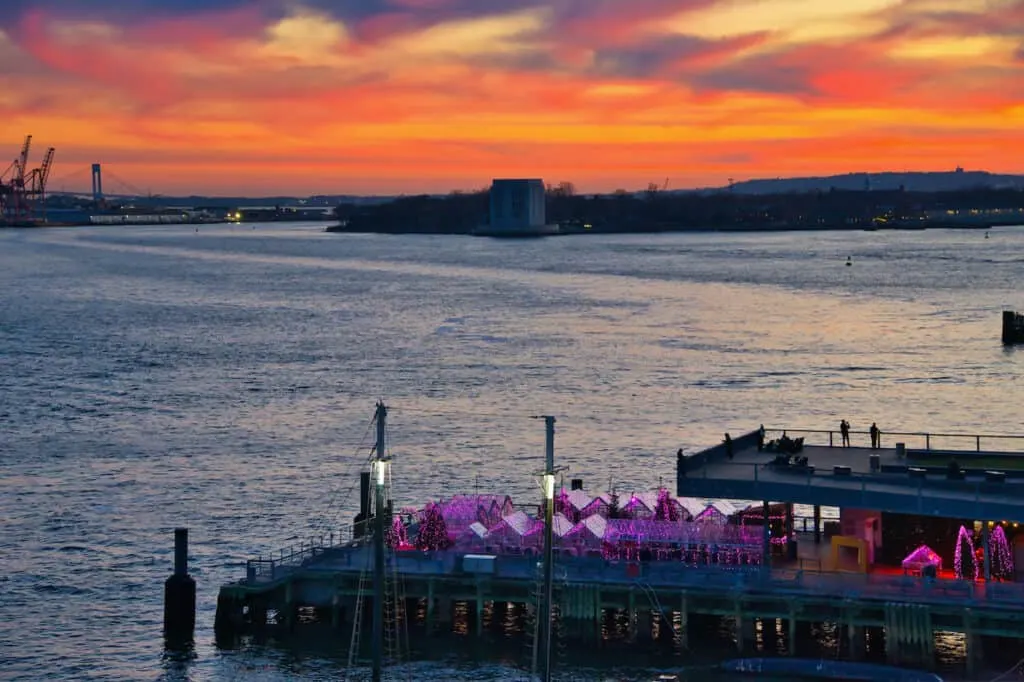 5) The Oscar Wilde
This Victorian-style restaurant is named for the famous Irish writer and playwright of the same name. It's described, with the same dry wit as its namesake, as 'a public place for private affairs'.
The Oscar Wilde doesn't spare over the Christmas period. It goes all out with vintage decorations that cover every conceivable surface.
Oscar Wilde's restaurant menu is a diverse mix of western/American favorites (often with a Gaelic twist). It features such dishes as Wilde mac & cheese, chicken pot pie, and the Wilde bacon cheeseburger.
Over the festive period the restaurant adds a number of Christmas favorites to the menu, so be on the lookout for what's the latest!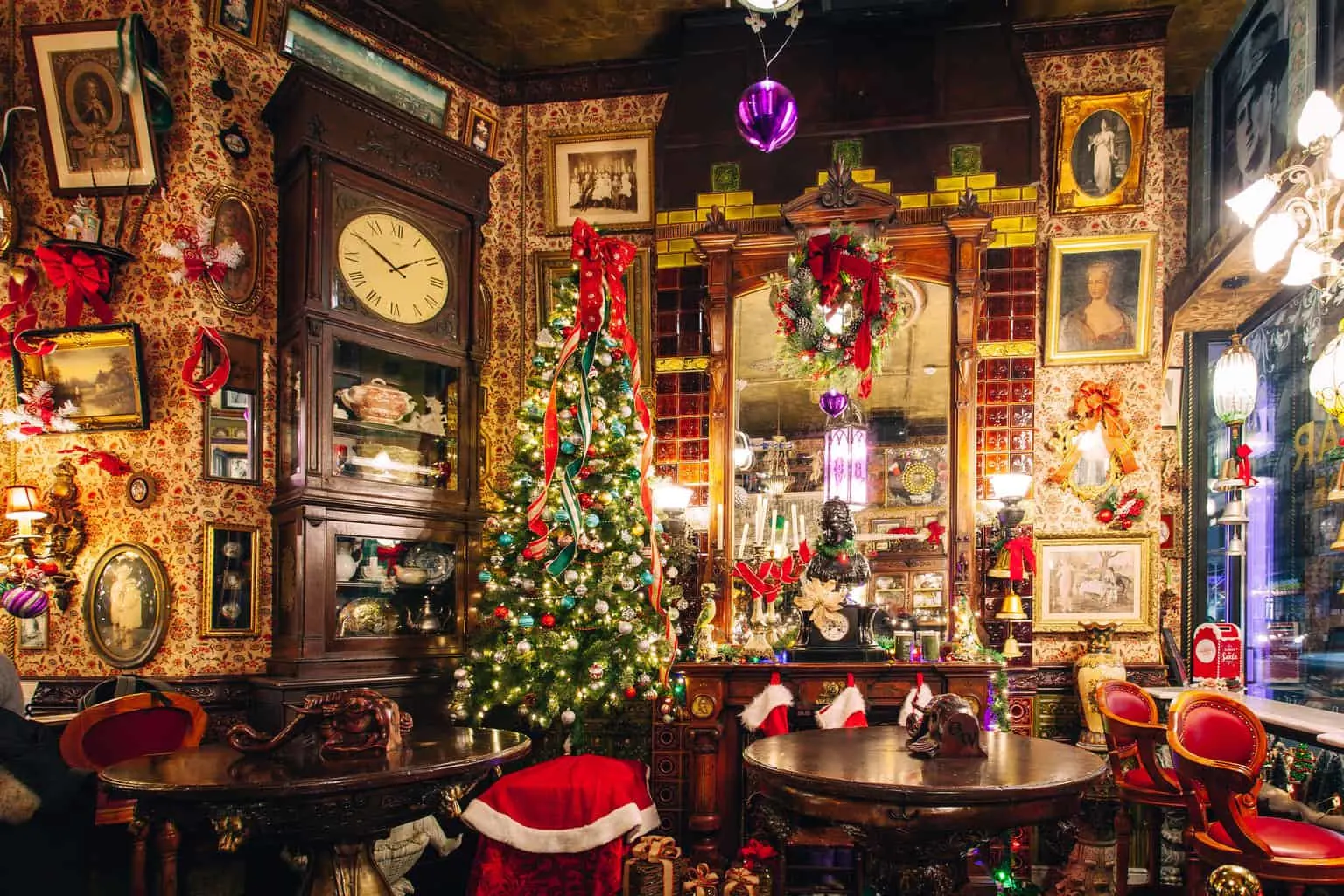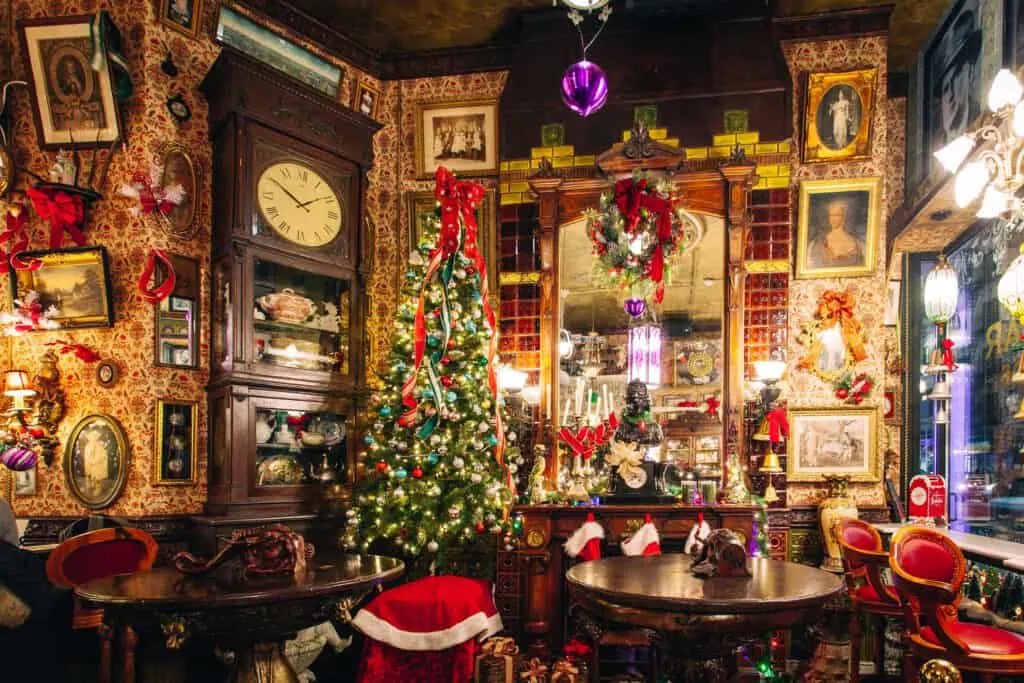 6) The Magic Hour
The Magic Hour is the Moxy Times Square's rooftop bar and restaurant. It's always an amazing sight, no matter what time of year you visit. But it's during Christmas that the rooftop venue goes all out. It transforms into a pastel-pink wonderland themed like a kitschy Swiss ski resort.
Once it's become the 'Pink Winter Lodge', you'll have some great opportunities to snap a picture with friends and family.
Sit among the vibrant Christmas trees and mini-carousels. Be sure to get a photo in the ski gondola, too. This centerpiece is framed on either side with faux Christmas gifts and skiing accouterments.
The Magic Hour continues with a visually striking and mouthwatering range of food and drinks. The bar's cocktails are, of course, legendary. But they go equally well with the appealingly garish 'Pink Bling' donuts and S'mores topped off with cotton candy.
All of this festive goodness goes nicely with the best views of the Empire State Building in the city. What's not to love about this holiday-themed Christmas NYC restaurant?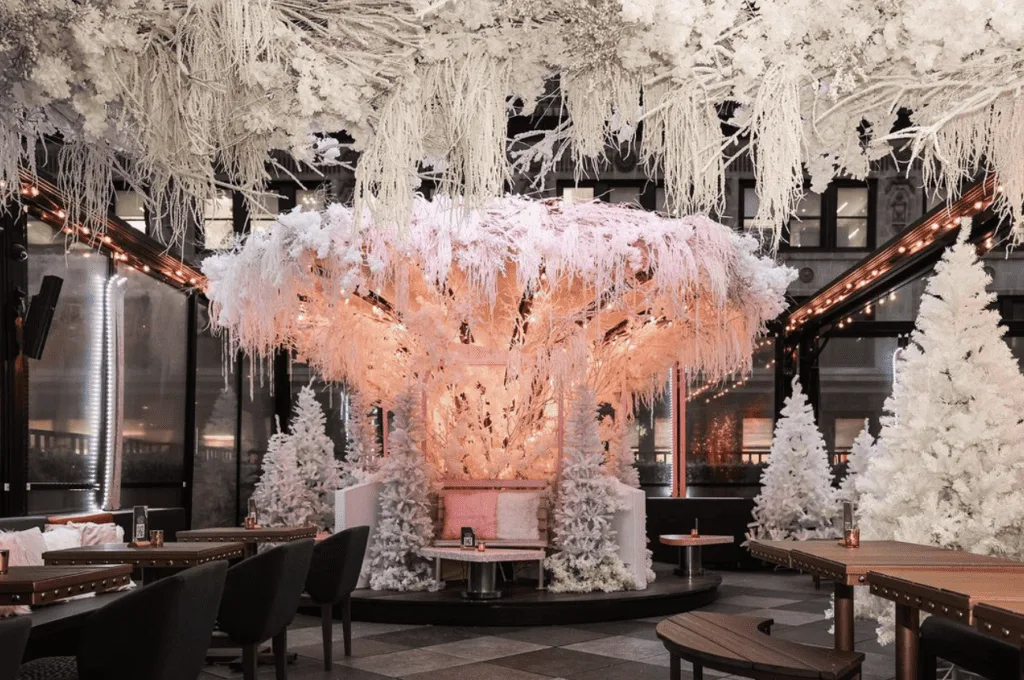 7) La Grande Boucherie
For a Gallic take on Christmas, look no further than La Grande Boucherie. Its vaulting walls and arched glass ceiling are dotted with festive fairy lights.
The pièce de resistance is without a doubt the towering Christmas tree at the center of the main room. This gigantic evergreen is bedecked with enough baubles, lights and decorations to compete with the Rockefeller Center tree.
The menu at La Grande Boucherie is no slouch, either. Diners can expect to feast on French-influenced cuisine of every description. This includes steaks cooked to your liking and an entire section of egg-based dishes.
Follow these up with something from the Viennoiseries sub-section, which offers a host of deliciously fluffy pastries.
With the delicious food and the amazing backdrop, you'll feel as if you're in France itself.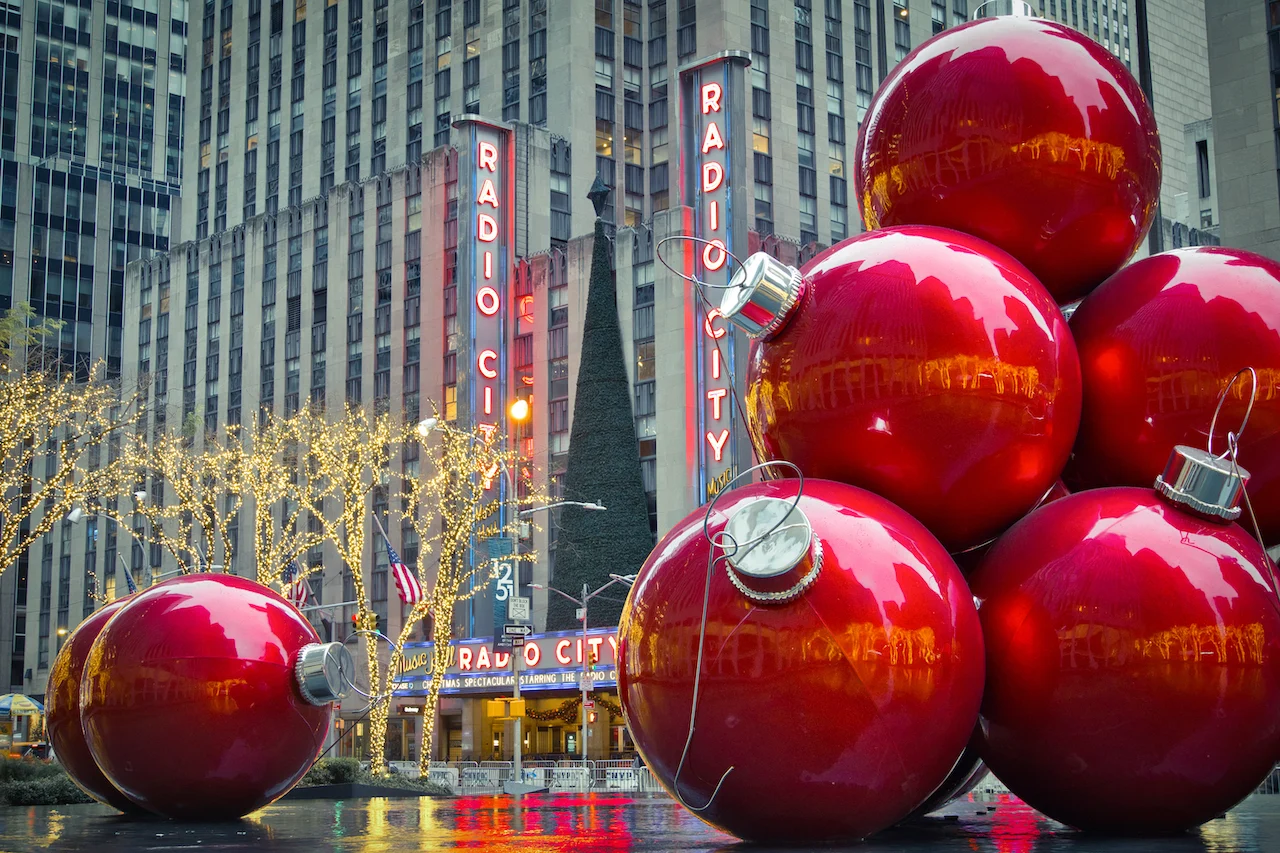 8) Papillon Bistro
This French-themed restaurant is owned by the same people who run the Oscar Wilde. If you're expecting eye-opening Christmas decorations, then, you won't be disappointed.
The Papillon's impressive decorations include a life-sized Santa, brightly-lit angels and a staggering number of baubles and ornaments. If nothing else, the festive set-up makes for some truly amazing photo opportunities. It's certainly one of the best Christmas restaurants in NYC.
The Papillon's menu demonstrates a marked French influence, but it does not predominate. It's perfectly possible to find a good number of American comfort foods on the expansive menu. Favorites such as steak sandwiches and Buffalo wings can be found, for instance.
Of course, those with a taste for French dishes will not be disappointed. Old favorites such as croques monsieurs and risotto croquettes can be ordered at this NYC Christmas restaurant.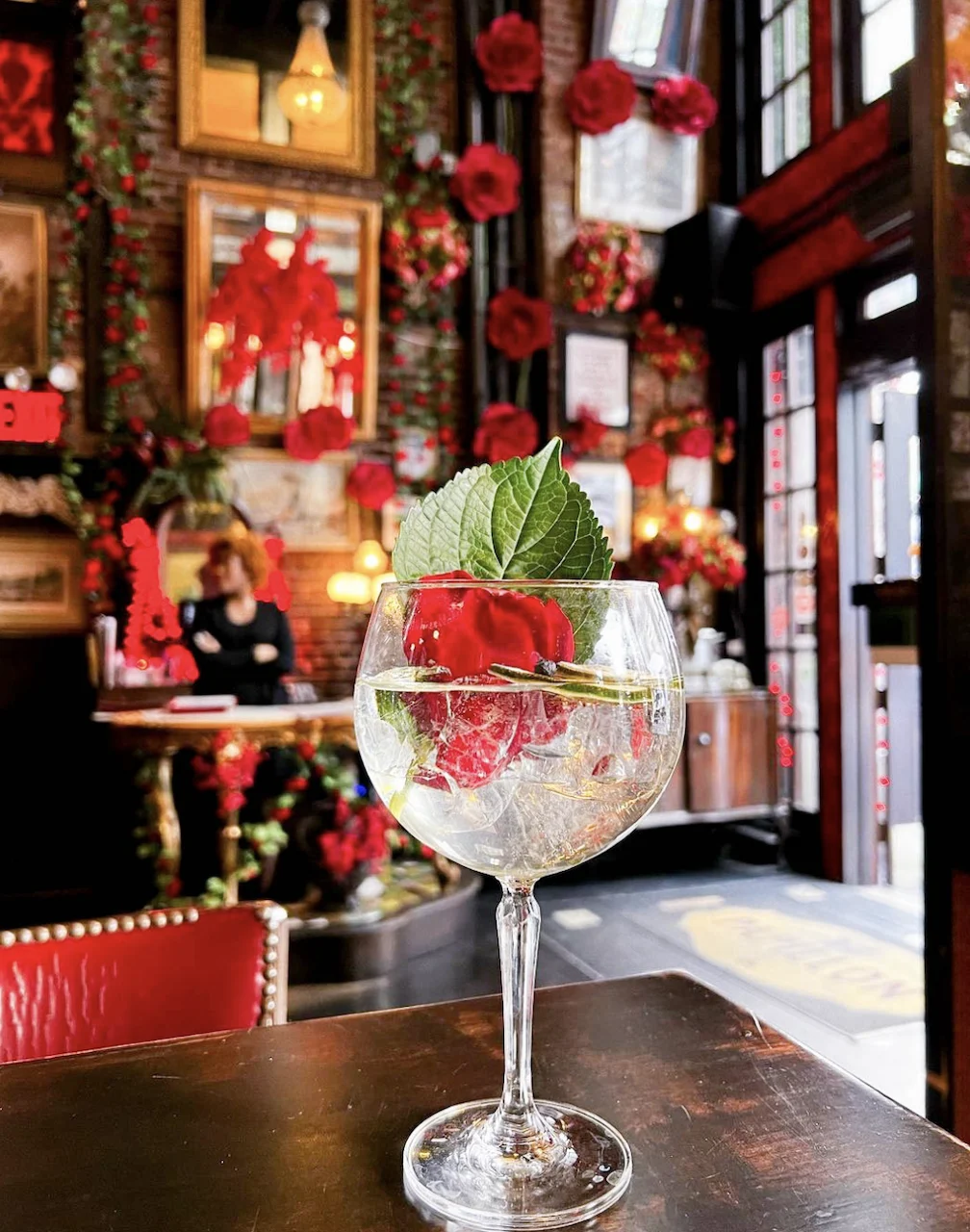 9) Lillie's Victorian Establishment
Both venues of Lillie's Victorian Establishment are more frequently compared to ornate churches than viewed as simple restaurants.
The opulent, high-ceilinged interiors are complemented perfectly by festive flourishes like huge garlands and glittering Christmas trees.
Lillie's plays entirely into the Victorian angle. They use quaint turns of phrase like "libations await" and "laughter and mirth" throughout their promotional literature and menus.
The restaurants offer a menu filled with upmarket western options. Mussels frites appear alongside Black Sea Bass and Lobster ravioli. Festive diners will find a lot of Christmas favorites on the seasonal menu.
Both branches of this holiday-themed Christmas NYC restaurant are in very high demand over the festive period. It's therefore recommended that you book well ahead of time, so you won't be disappointed in December.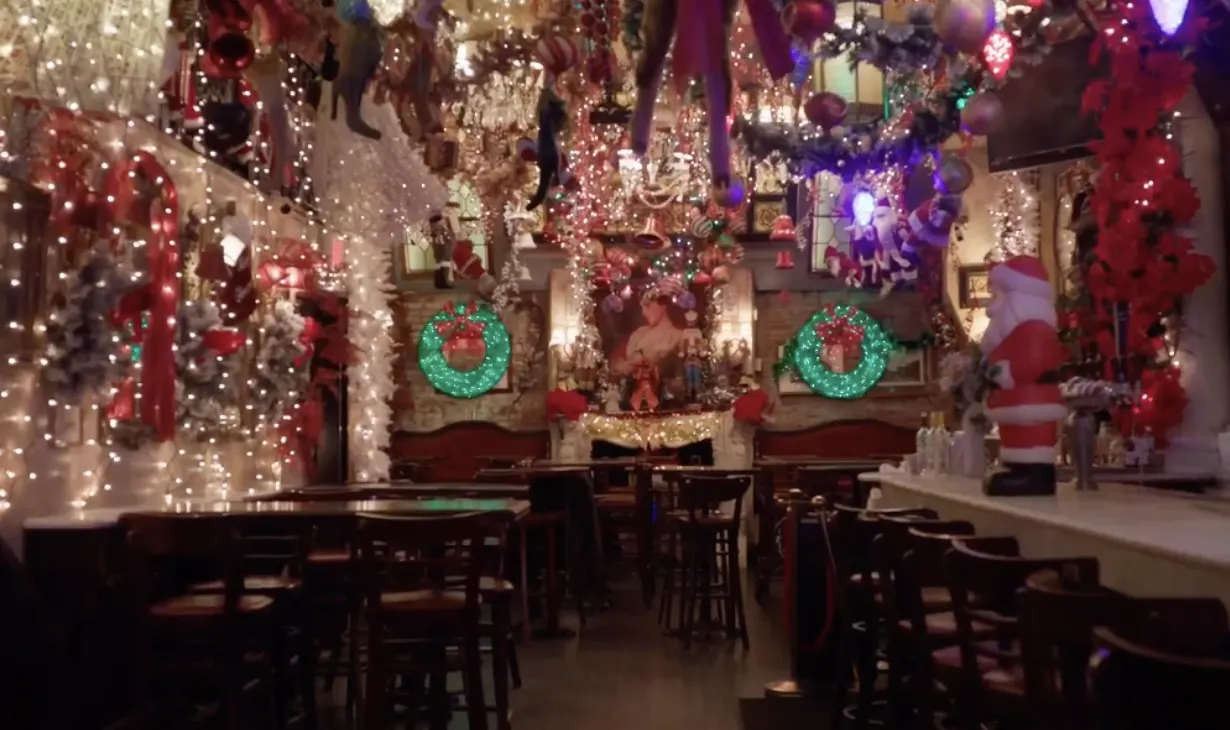 10) Pete's Tavern
Pete's Tavern has a history as storied as any in the city. It opened way back in 1864, making it one of the city's oldest extant bars/restaurants. It even managed to operate throughout Prohibition, masquerading as a humble flower store.
During the Christmas period, this charming restaurant gets transformed. The ceiling is completely covered with tiny fairy lights, which creates a cozy, homespun feel that not many other restaurants in the city can match.
This inverted ocean of stars is complemented beautifully by tinsel and traditional Christmas ornaments all over the bar. The atmosphere Pete's conjures is not dissimilar to that of a relative's home when visiting over the festive period. It's refreshingly quaint for something found in the middle of NYC.
Furthermore, Pete's menu is – for a place that's more known as a pub than a restaurant – astonishingly diverse. You could spend hours simply poring over the menu before making a decision. Christmas specials are on offer through November and December.
Remember, however, that Pete's is a very popular location. You can expect it to be very busy at any time of the year – let alone Christmas.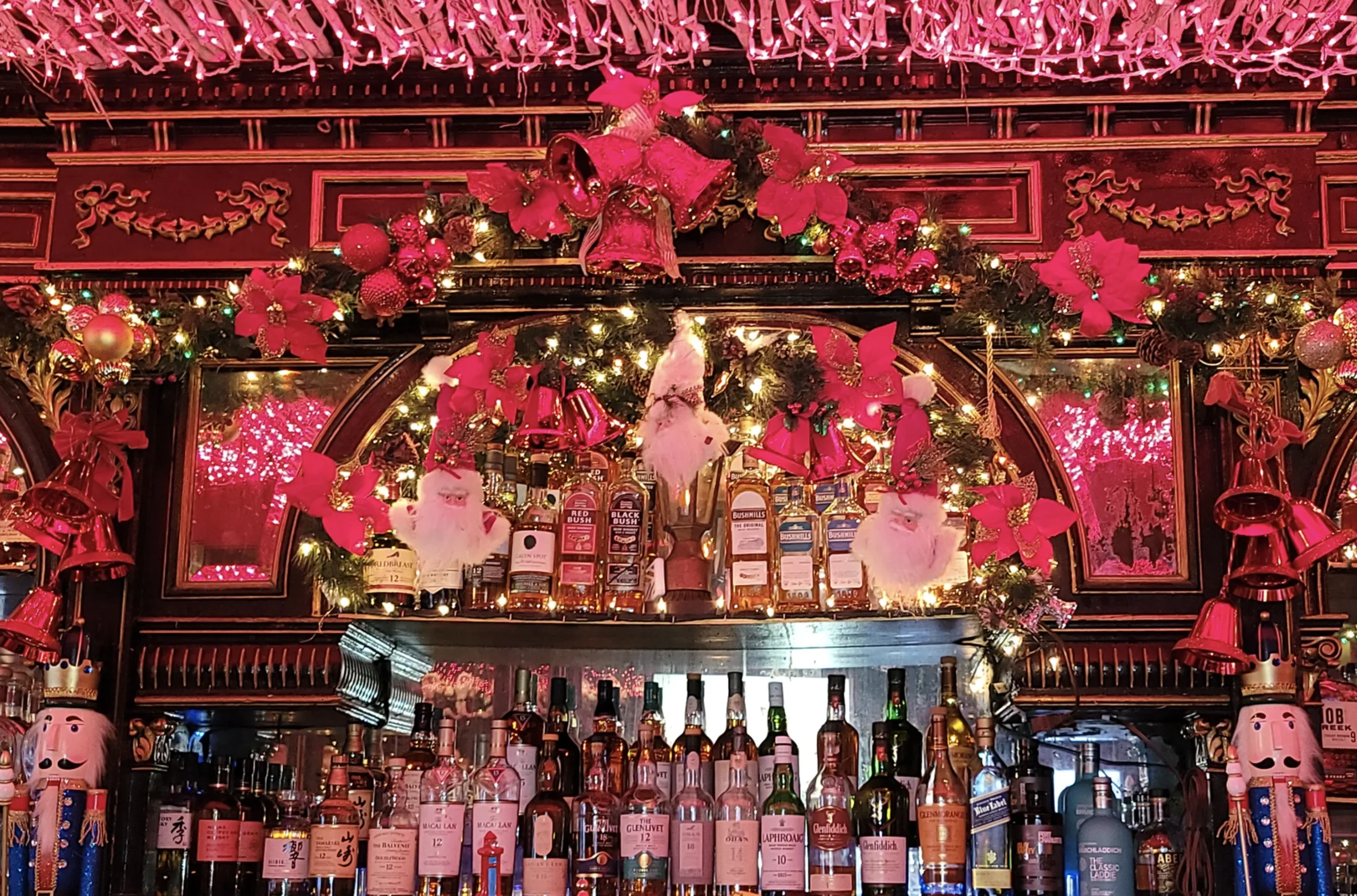 11) Rosemary's
Rosemary's is the perfect example of an intimate NYC Christmas restaurant. This family-run Italian joint is wonderfully cozy and small-scale. It looks every inch the traditional Italian eatery from the outside.
At Christmas, Rosemary's delights with understated but beautiful decorations. It features wreaths, dimmed lighting, and a gorgeous Christmas tree on the restaurant's roof.
For those looking for something slightly smaller in scale, Rosemary's makes for a quiet yet delicious Christmas meal.
Rosemary's makes no concessions to a more diverse menu wither. You can expect to find strictly traditional Italian food. There are plenty of home-cooked pasta dishes and antipasti. These are complemented by a robust selection of wines both imported (from Italy, naturally) and bearing the house label.
If you're looking for a homey and cozy Christmas restaurant in NYC, you can't go wrong with Rosemary's.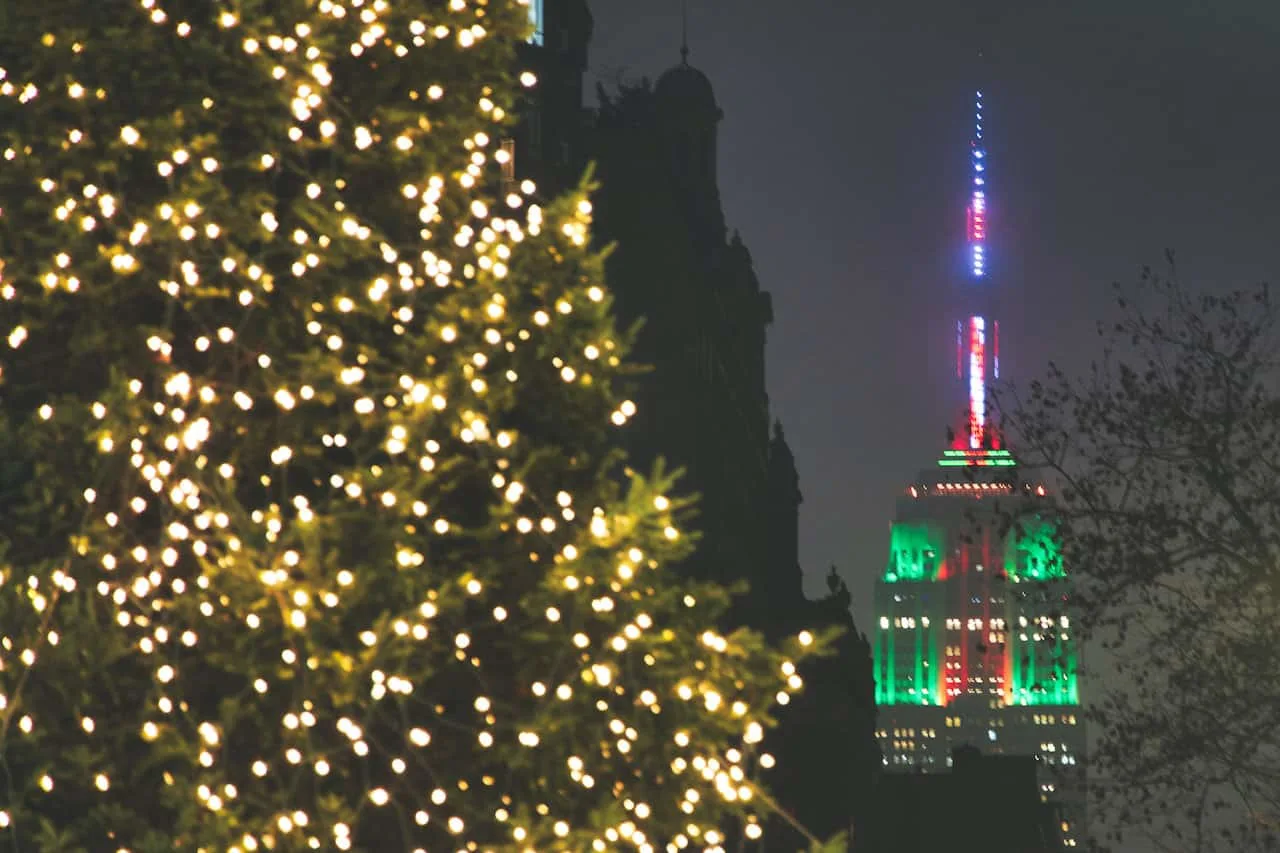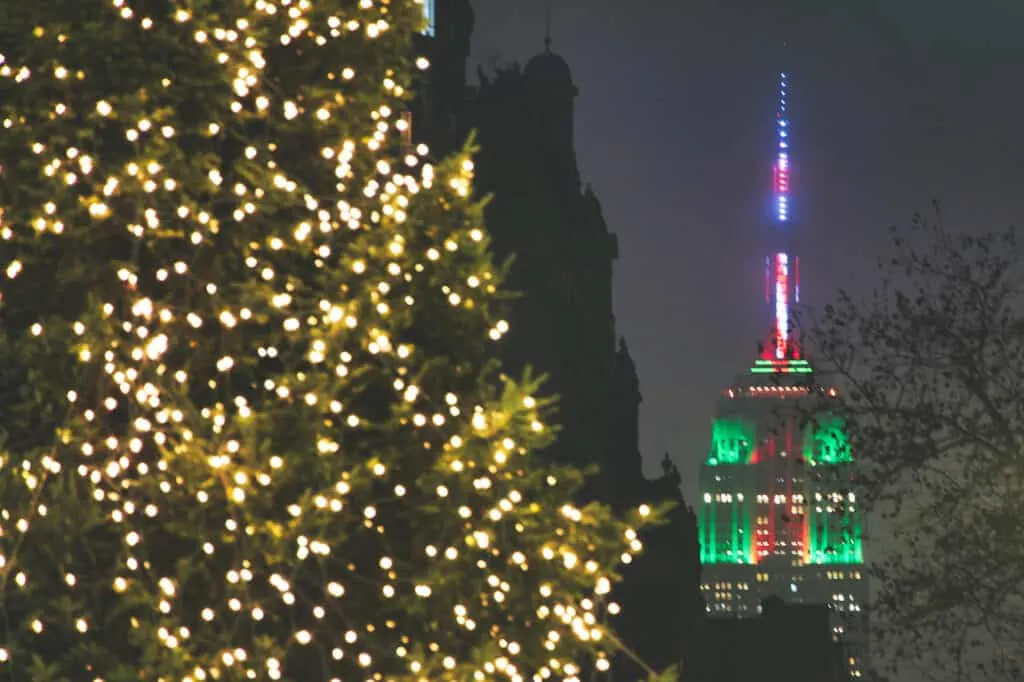 12) Bryant Park Winter Village (The Lodge)
The Lodge sits right on Bryant Park's winter ice rinks. This makes it a great place to watch the skaters while relaxing with a hot meal or a beverage.
The temperature-controlled hall at The Lodge is more like a food hall than an individual restaurant. There are plenty of stalls on hand to cater to your culinary desires.
German treats abound, with a fantastic variety of sausages and jumbo pretzels to choose from. You can sit back with a stein of German hefeweizen beer while the ice-skaters zip past.
There is also the option to pay a little more to curl up inside a private igloo. And a stone's throw away are the Christmas market stalls, where you can buy your fill of bric-a-brac and festive trinkets.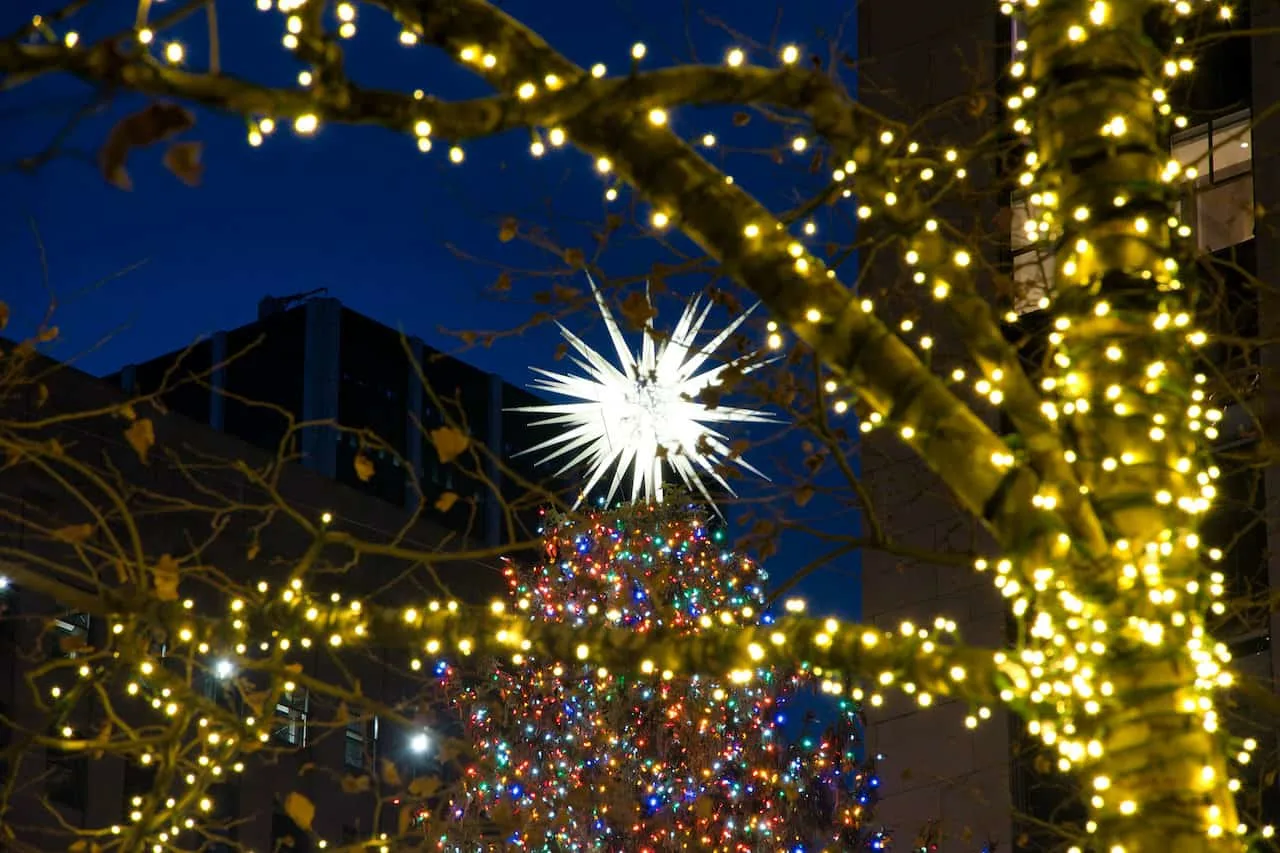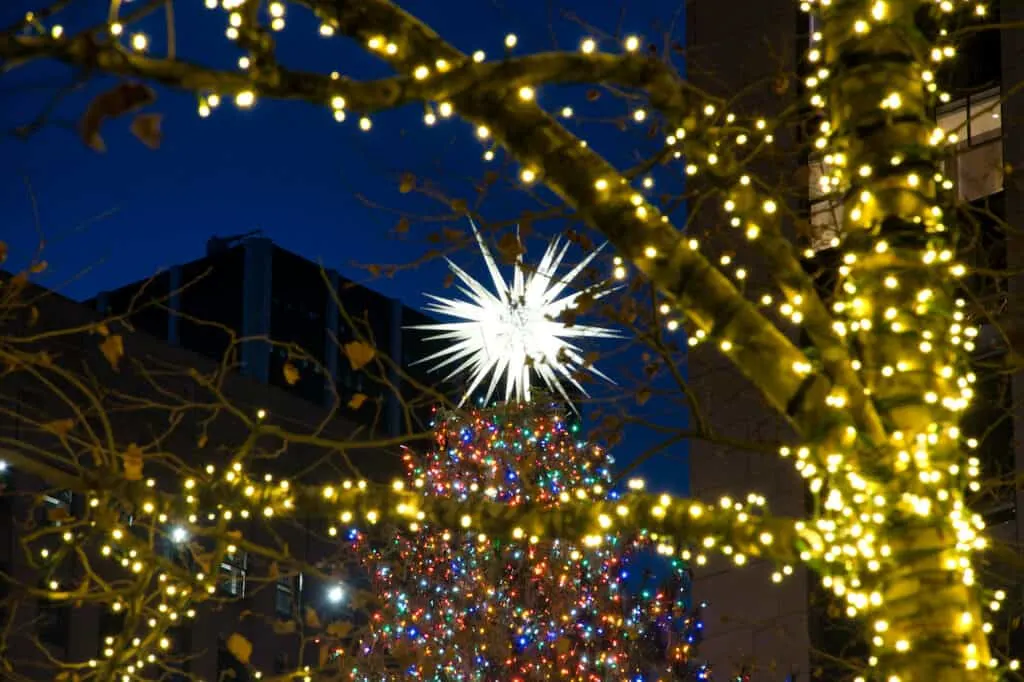 13) City Winery Rockefeller Center
It doesn't get much more Christmassy than at the Rockefeller Center's City Winery. This NYC holiday-themed restaurant sits in the shadow of the world's most famous Christmas tree right below the Top of the Rock.
At the winery you can relax in a private heated 'igloo' (a pop-up tent shaped like the iconic Eskimo dwellings). From there you'll enjoy table service.
The City Winery offers a host of wines (naturally). You'll also be able to order festive favorites such as mulled wine, spiked cider, and egg nog.
You won't be disappointed with the Winery's superb food menu, either. Snack on steak salad or the Winery's staple hummus. After you've finished, wash your meal down with a signature hot cocktail.
For a light bite and a warming Christmas drink overlooking the iconic Rockefeller Christmas tree, the City Winery really is the best (and perhaps only) option.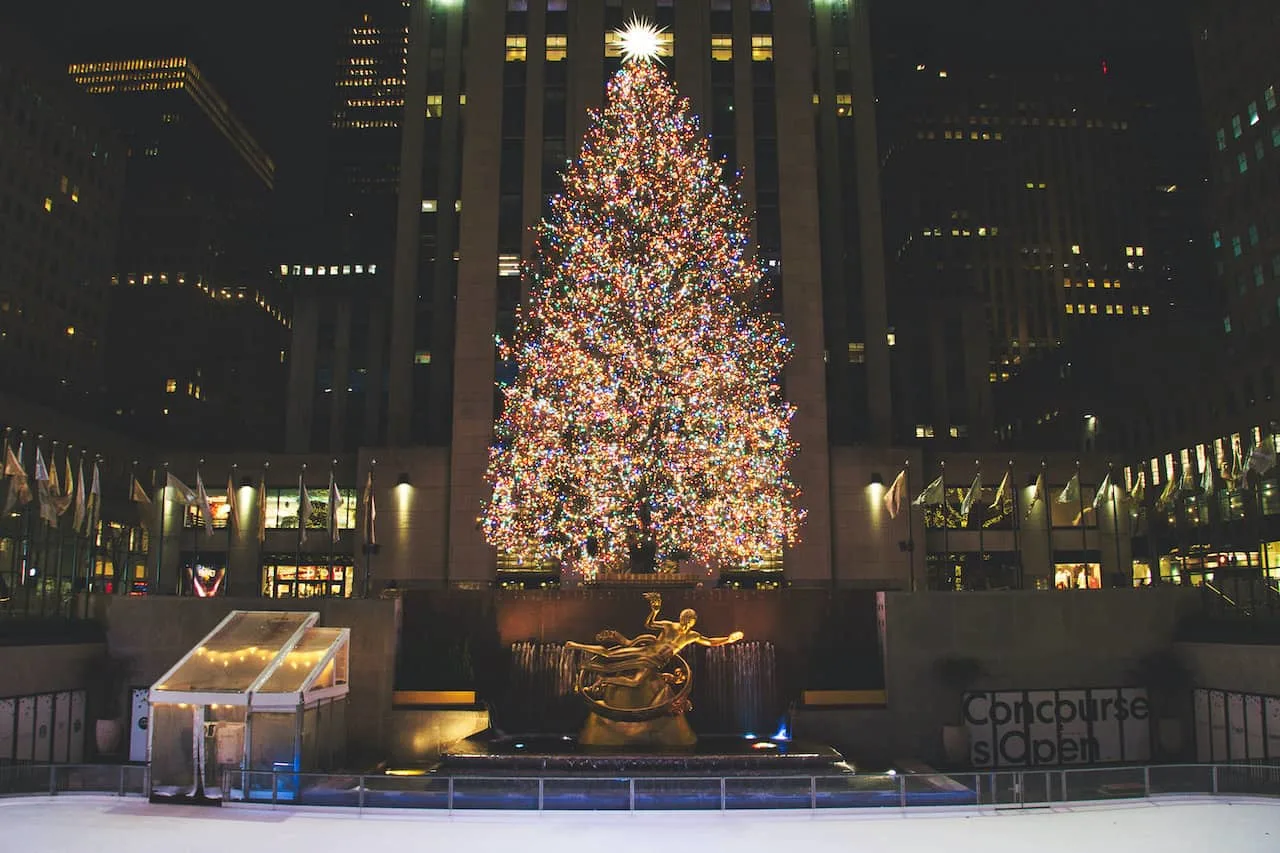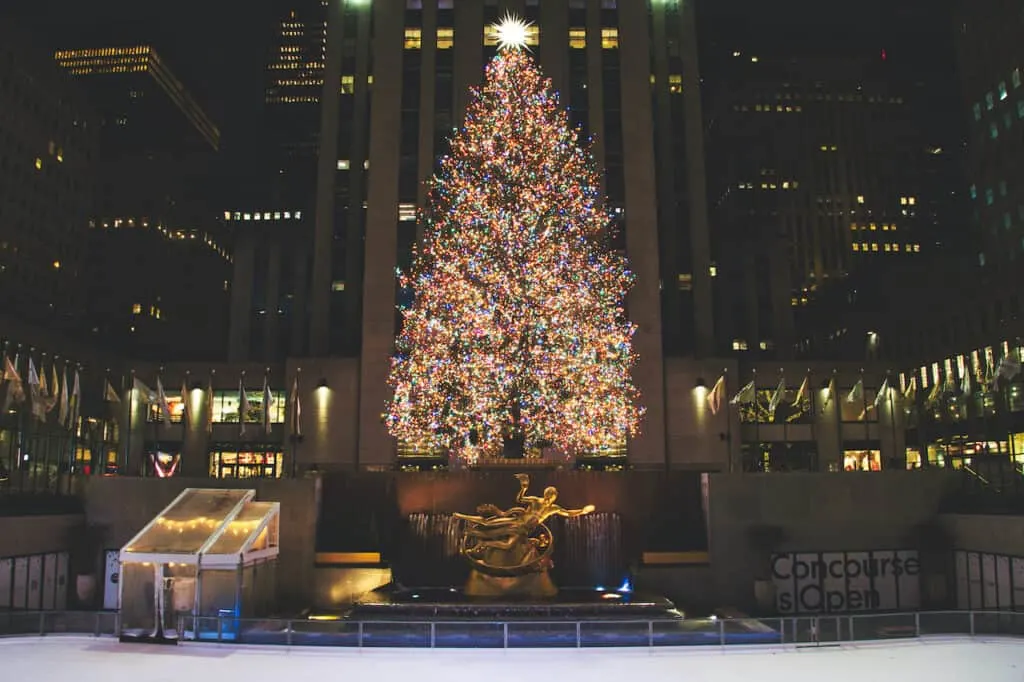 14) 230 Fifth
230 5th is, for most of the year, an iconic rooftop bar. But from November through April, they offer heated private igloos. These combine the stunning views with the coziness of being cocooned in your own slice of warmth.
Despite the prime real estate, 230 Fifth's Christmas buffet menu is reasonably priced, and offers many Christmas specialties. Dine on oven-roasted turkey breast, roasted yams, and garlic mashed potatoes to your heart's content.
So, if you are looking for a great Christmas themed restaurant and bar in NYC, then add 230 Fifth to the list.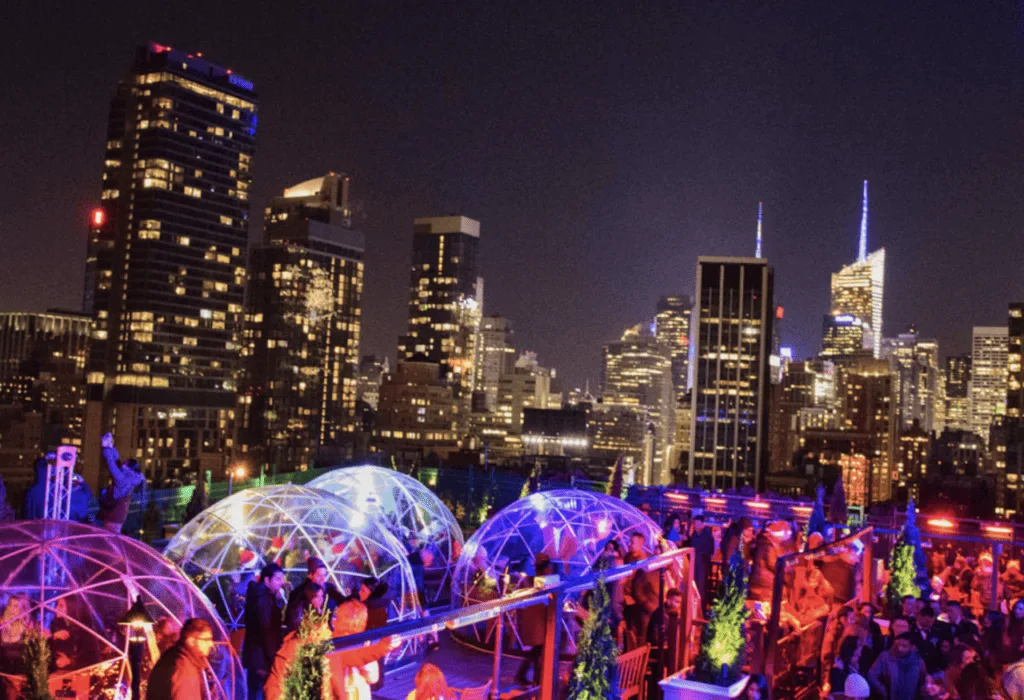 Christmas Holiday Theme Restaurant Recap
As we've seen, there are a great many holiday themed restaurants in NYC that offer a fantastic experience when looking for that special Christmas meal. There are almost too many to choose from.
You can dine in the shadow of the world's most famous Christmas tree, or relax in a down-home eatery.
To recap the best Christmas restaurants in NYC, here is the list from top to bottom:
Rolfs
Serra by Birreria
Tavern on the Green
Winter Wonderland at Watermark
Oscar Wilde
Magic Hour
La Grande Boucherie
Papillon Bistro
Lillie's Victorian Establishment
Pete's Tavern
Rosemary's
Bryant Park Winter Village
City Winery Rockefeller Center
230 Fifth
Do remember, however, that NYC restaurants can be extremely busy during holiday time (much more than usual). It's therefore well worth booking ahead of time in order to avoid disappointment.
This is especially true of some of the smaller venues on the list, such as Pete's Tavern or Rosemary's, where seating is at a premium.
However, once you've made your booking, you're guaranteed a magical experience that the whole family will remember. Season's greetings and enjoy your Christmas in NYC!
Feel free to check out the rest of the New York itineraries and guides up on the site to help plan your holiday trip!