Welcome to New York!
For the last 10+ years, I have called NYC home. Over that time, I have had the chance to enjoy some of the best things to do in New York City.
From exploring the ins and outs of Central Park to heading across the Brooklyn Bridge, there are so many fun activities & attractions to take part of during a trip.
Throughout this page, you will find plenty of New York travel guides & itineraries to better help you put together the best trip possible.
New York
Travel Guides
To start though, here are all of the New York travel guides to browse through. Feel free to check out the latest and get a sense of what NYC is all about.
New York
Itineraries
If you are looking to put together a longer trip, these New York itineraries have you covered. Choose the ideal number of days for your trip and see what type of activities you can take part of.
When To
Visit
One of the first decisions you will need to make when planning a trip to NYC, is deciding exactly when to visit. New York is a year round destination and each season offers something different. Here are some considerations at play when it comes to time of year.
Fall: one of my favorite times to be in NYC is when the temperature begins to cool down from those hot summer months and the leaves begin to change colors. As you get closer to mid October, peak foliage begins to come into play and the surrounding trees will turn to shades of yellow, orange, and red. Overall, the Fall time period is a very comfortable time to come in for a visit to enjoy what the city has to offer.
Winter: slowly but surely, the temperatures will continue to drop as NYC turns to its Winter months. During the holiday time in particular, you will get the chance to see the city in a whole new way. All throughout will be festive lights, Christmas trees, holiday markets, and plenty more. During the season, there is also the chance to see some snowfall. Seeing the city coated in white is a special experience to be part of.
Spring: as the warmer months come back, the city will begin to brighten up again. All the flowers will begin to bloom, and create a colorful landscape throughout the streets and park. Cherry blossoms in particular are a highlight in Central Park and several other areas throughout the city. Temperatures begin to get more comfortable and you will get to see some more vibrancy all around.
Summer: as the hotter months come along, the summer holiday crowd makes its way to NYC. Since it can get very hot & humid during the peak Summer, I would recommend visiting just before and after those months of July & August to avoid that heat. But no matter how your itinerary lines up, you are still in for a trip of a lifetime.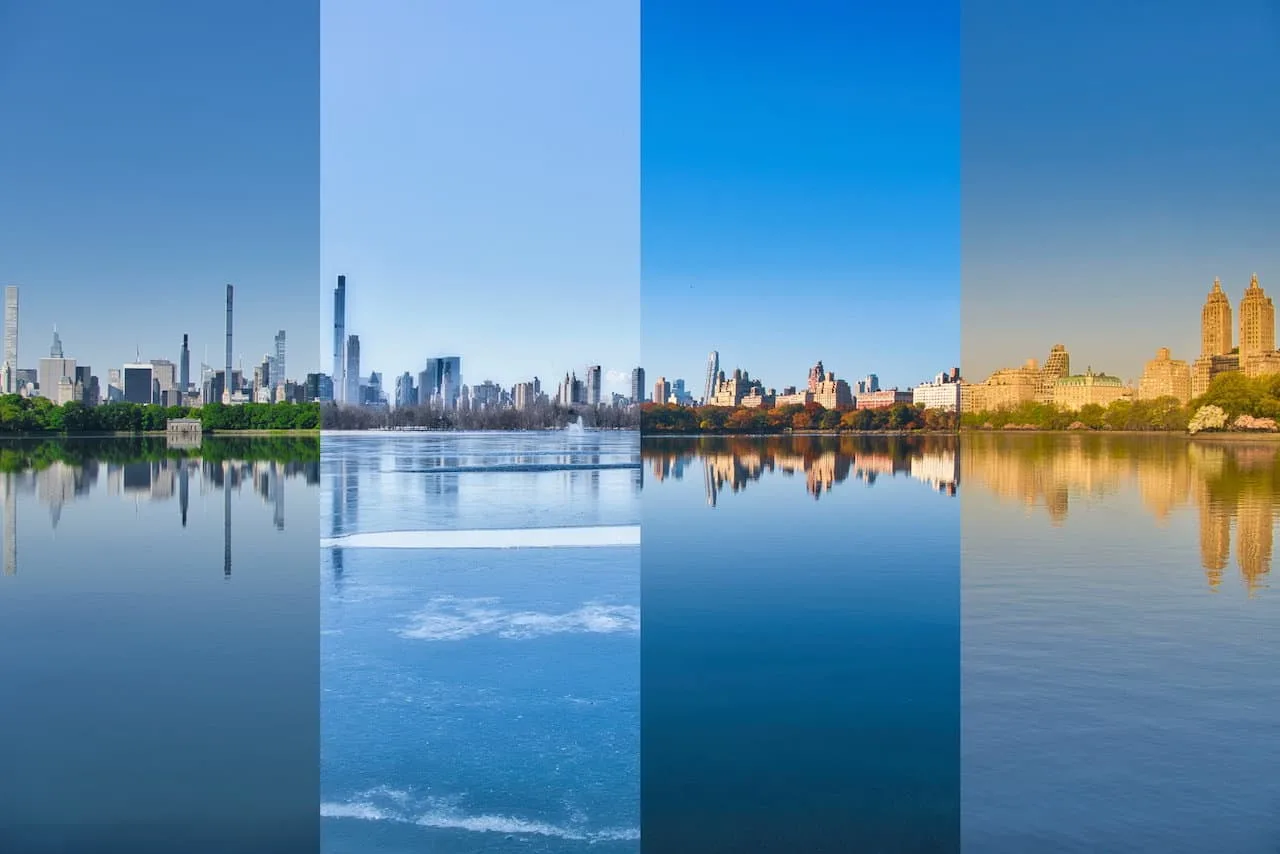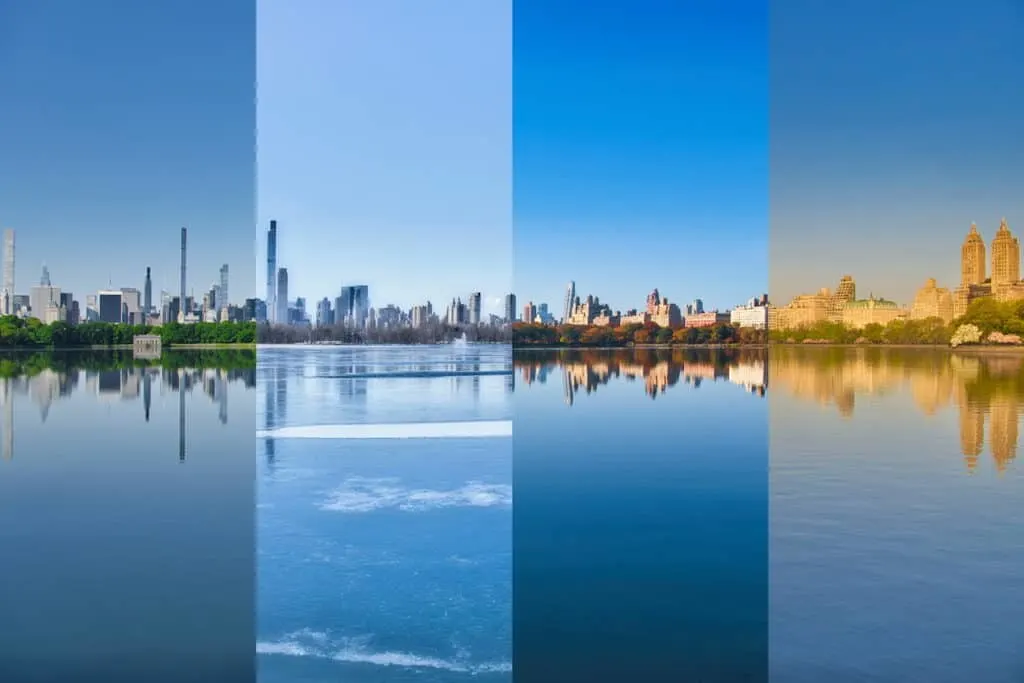 Getting Into
NYC
New York City is home to three major airports (as well as some smaller airports in Westchester and Long Island). However, for the majority of visitors, it will be JFK, LGA, or EWR as airport destinations.
Once you arrive, it is time to make your way into the heart of the city itself. A lot will depend on exactly where you are staying, but below are the high level logistics of getting yourself in from the airport by using public transport.
LGA: the public transport option will entail a bus (Q70, M60, Q48, among others) to one of the nearby subway/train stations. From there you can continue on with your journey into NYC.
JFK: if an expensive Uber or taxi is not for you, then make your way onto the AirTrain that connects to Jamaica Station or Howard Beach. From those stations, subways & trains continue the route into the city for an affordable overall cost.
EWR: the main two options to consider include the Newark Airport Express bus which heads straight into midtown Manhattan, or the AirTrain + NJ Transit train into Penn Station.
Taxis & Ubers: Of course, taxis and Ubers will be plentiful if you are looking for the most convenient of options.
Airport to NYC Overview: feel free to read through this article about how to get from the airport to NYC during a visit.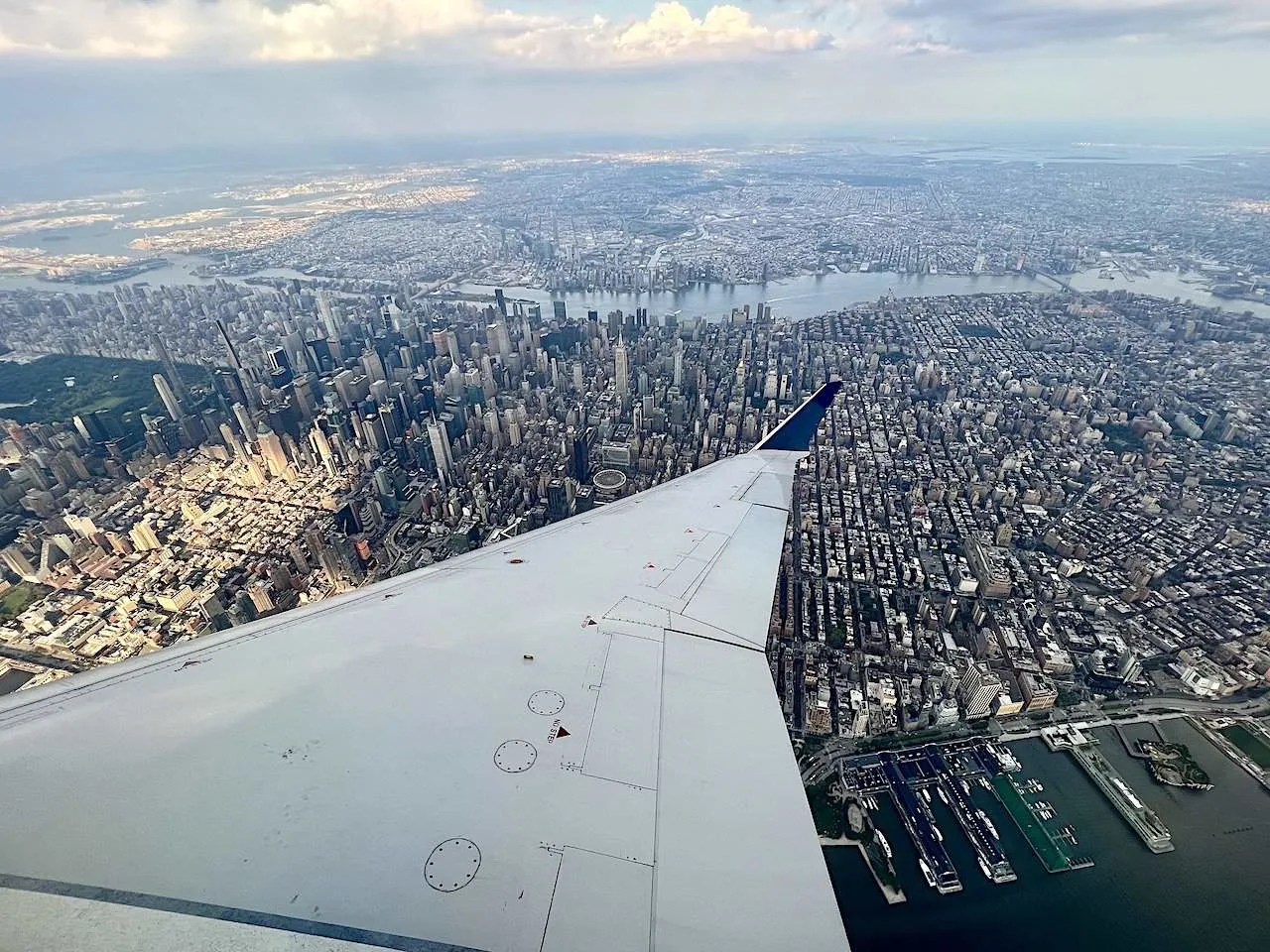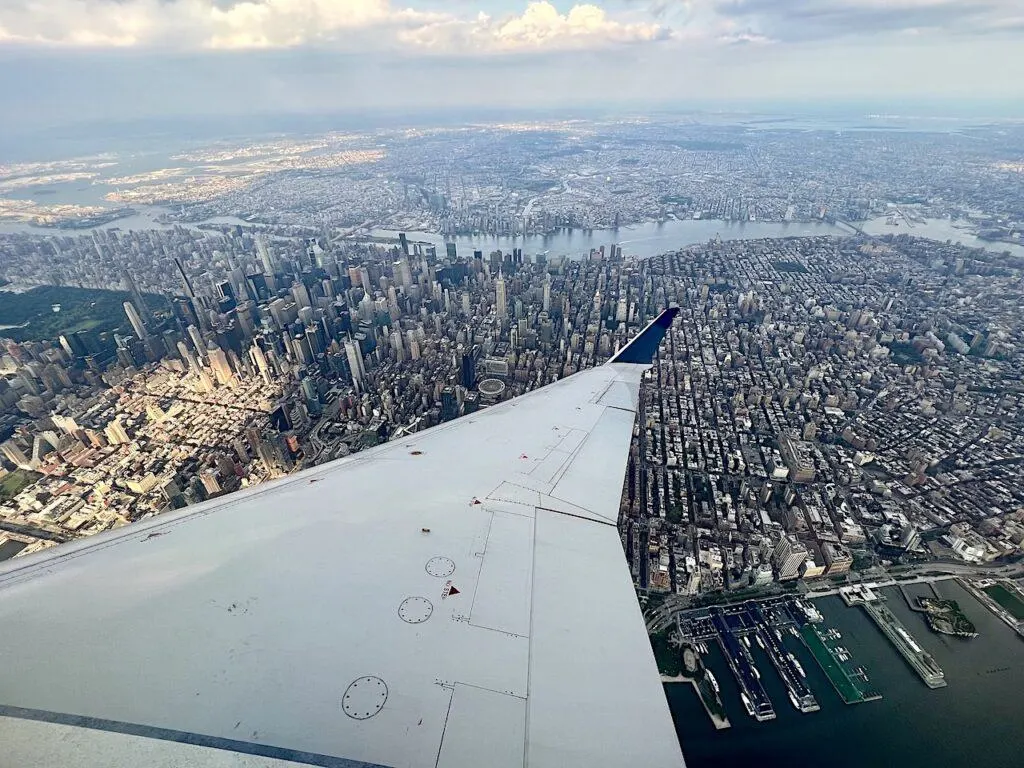 Getting
Around
As you think about how to get around NYC, there are various options to consider. Pricing, convenience, flexibility, and overall preference will help you decide when it is best to choose which option.
Subway: without a doubt, the subway is going to be the most used public transportation option. With a simple tap or swipe, you can make your way onto the subway and go wherever you want for a single price. There are 36 different subway lines, meaning you will have no trouble connecting to where you have to be.
Bus: if the underground option is not for you, then maybe the bus will work. Whether you want to go uptown, downtown, or crosstown, the NYC busses are found all throughout the city streets. They work just as the subways do, with one flat fare per ride.
Ferry: for those that are heading across the rivers, the NYC Ferry can get you from point A to point B. This is also a great option for those that want to experience a little waterway action along the way. Ferries connect various parts of Manhattan, Queens, Brooklyn and The Bronx. There is a separate Staten Island Ferry that will take you to that route as well.
Citi Bike: for a little bit of a workout, Citi Bikes are a great way to get around. These bicycle stations can be found all throughout NYC, and you simply just need to purchase a single ride (or day pass), and be on your way.
Taxi/Ride Share: getting around by taxi or ride share is another option. These will be on the more expensive side but are usually more convenient than other options. But don't be surprised if you sometimes see public transport being faster than taking a taxi!
Walking: last but not least is using your own two feet to get around NYC. By doing so, you can also explore various neighborhoods throughout your walk. It is always my go to option whenever I get the chance.
Overview: the NYC Transportation guide goes into all of these various logistical options as you figure out your way around the city.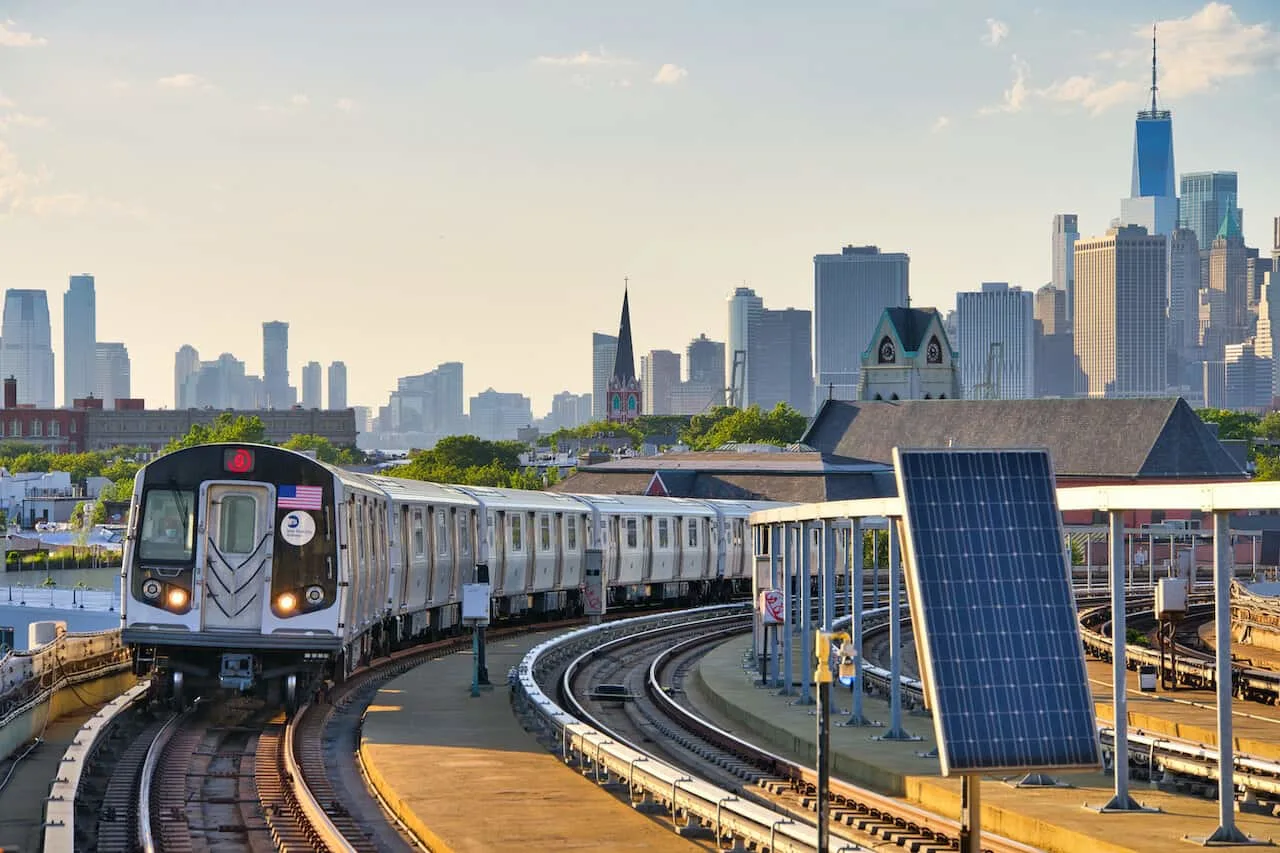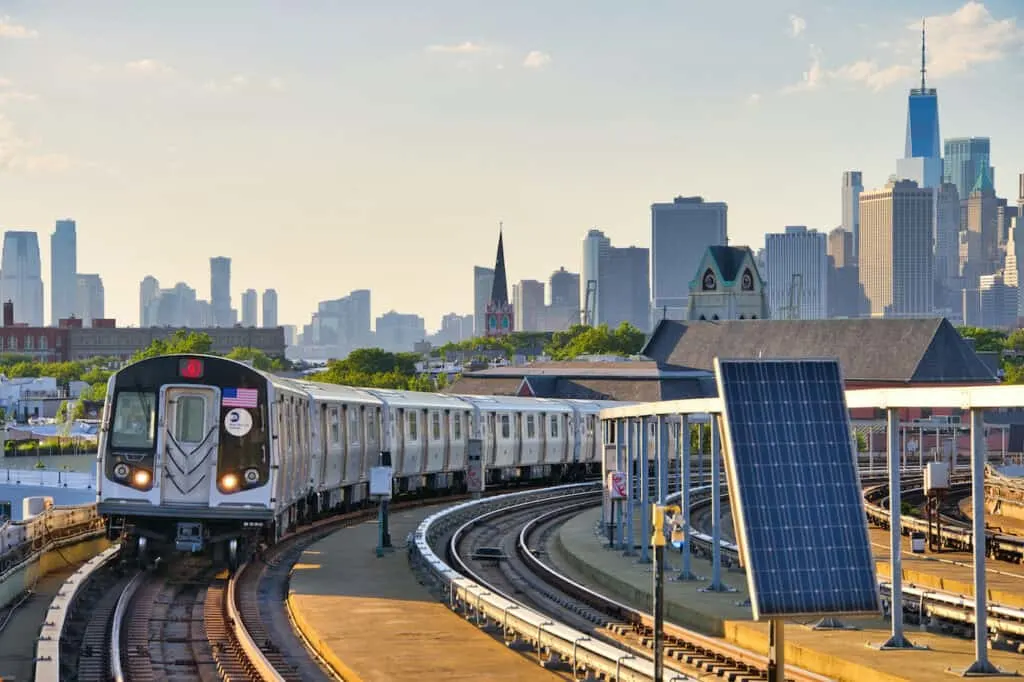 Where To
Stay
It can be an overwhelming decision on where to stay in New York during a visit. There are just so many various neighborhoods to choose from. I put together a guide to the best places to stay in NYC, if you want to dive deeper. As a quick overview though to get you started:
Midtown: while Midtown Manhattan is one of the most popular places to stay in, it can also feel the most overcrowded. It is centrally located and easy to get to various areas around the city making it a top option. Right nearby are also places like the Theater District, Bryant Park, and Times Square.
Chelsea & Flatiron: in my opinion, a great alternative to the Midtown area would be around Chelsea and Flatiron. The vibe around the neighborhoods is great at night and you won't feel overwhelmed with office high-rises and other tourists right outside your doorstep.
Greenwich & East Village: if you are looking for an even more fun and enjoyable option, head further down into the Greenwich Village and East Village neighborhoods. There is a never ending list of top NYC food options here, if that is important to you.
SoHo: for those trendy folks out there, who want to be in the center of the shopping & fashion, then SoHo is the way to go. Plenty of shops, restaurants, bars, and galleries will be just outside your doorstep as you enjoy another side of NYC.
Tribeca: a great downtown option that gives you a little bit of everything is Tribeca. It is closely located to many top attractions, and nearly every subway line is within walking distance. Having the Hudson River right nearby is never a bad thing either!
Looking for Views? Check out some of the best hotels in NYC with a view as well as some hotels with views overlooking Central Park.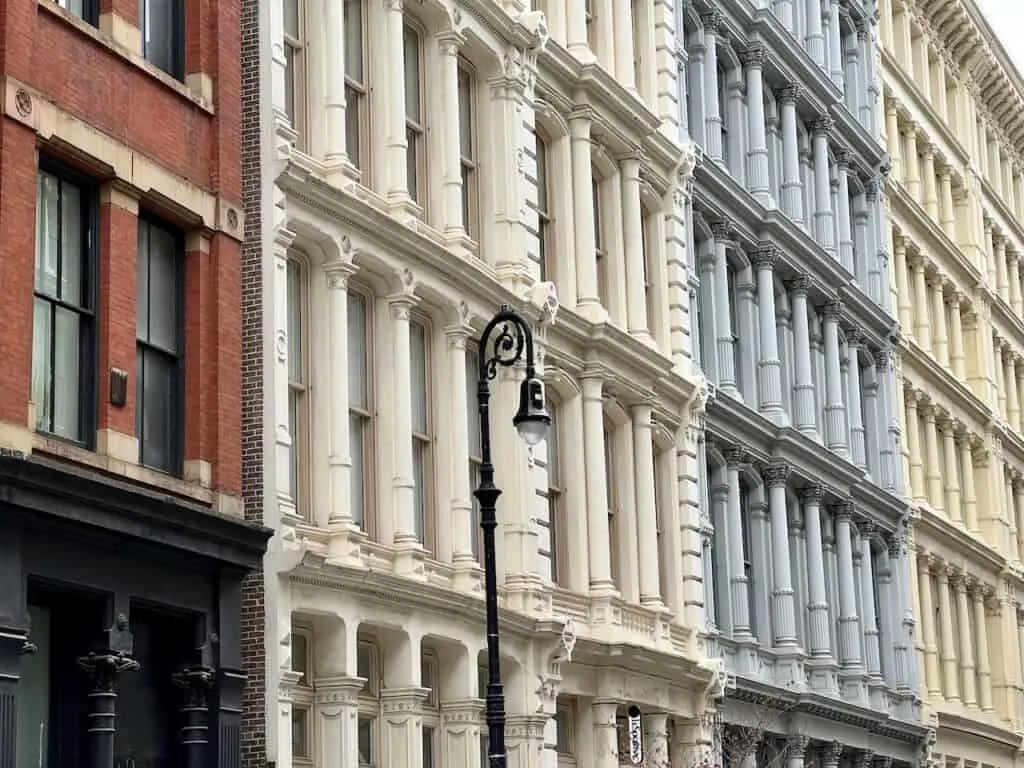 What
To Do
The opportunities are endless throughout New York City. All throughout its 5 boroughs, you will find so many unique, fun, and exciting things to do. While the below are just a handful, feel free to scroll further down for all the travel guides I have up for NYC.
Central Park: at 843 acres in size, Central Park is without a top a must do highlight during a visit to the city. The park is packed with views, walking paths, fields, water features, woodland areas, and so much more. Get started with the top things to do in Central Park and go from there!
Observation Decks: there is nothing like seeing the skyline from above. While there are plenty of free viewpoints of NYC around, there are also 5 observation decks. Feel free to check out the Empire State Building, The Edge, Top of the Rock, SUMMIT One Vanderbilt, or One World Observatory.
Bridges: believe it or not, there are 21 bridges that connect Manhattan with the neighboring boroughs (and states). Walking across some of these bridges can give you a new perspective over NYC as you see the skyline in a different way. Whether it is the iconic Brooklyn Bridge, or the more underrated Manhattan Bridge, there are plenty to choose from throughout the city.
Parks & Waterfronts: when it comes to greenery in NYC, it is not just about Central Park. There are many other parks and waterfront areas that offer some of the best things to do in NYC. Be sure to check out places like Hudson River Park on the west side of Manhattan, the East River Greenway on the eastern side, or Brooklyn Bridge Park out in Dumbo.
Other Things To Do: there is a never ending list of activities & attractions in the city. Whether you are looking for the best things to do at night in NYC, figuring out what to do in the city on a rainy day, hoping to enjoy some non touristy things to do, or deciding where to catch the best New York City sunset spots, there is plenty of that and much more.
Tours: don't forget about the top guided tours that can give you a little more insight into what NYC is all about (while having fun at the same time!). Throughout NYC there are bus tours to take you around, dinner cruises that head out in the water, helicopter tours to fly you above the skyline, Central Park tours that guide you around the park, among plenty of others.
Learn More: Check out the top 100 things to do in NYC that goes through all of it and so much more!