While there are several observation decks in New York City, none of them are taller than the one at One World Observatory.
At 1,268 feet in height, the three floored observation deck (100th, 101st, 102nd floors), offer some of the best views you can ask for.
In addition to it being the tallest, One World Observatory is also the only observatory located in downtown Manhattan. This in turn will give you a whole new perspective of the NYC skyline that you won't get from the others.
Read on to learn all about the One World Observatory and how to go about a visit to one of NYC's most iconic landmarks.
* Affiliate Disclosure: This post may contain affiliate links, which means I may receive a commission if you make a purchase through the links provided, at no additional cost to you. Thanks for supporting the work I put into TripTins!
1) World Trade Center History
The One World Observatory (abbreviated to OWO) stands atop One World Trade Center, aka the Freedom Tower. Now, One World Trade has not always been a part of the NYC skyline. It is a relatively new construction opened up in 2014.
→ Prior to the tragedies of September 11, 2001, there were two "Twin Towers" of the World Trade Center located right next to the current Freedom Tower.
→ The original two World Trade Center buildings were built in the 1960's, and opened in 1973. At the time, the North Tower was the highest building in the world at 1,254 feet in height.
→ Over the next ~30 years, the Twin Towers stood as two of the main highlights of the NYC skyline.
→ Right after 9/11 occurred, there were immediate plans to rebuild the World Trade Center area. While it took some years to develop and agree on a plan, on April 27, 2006 construction began on One World Trade Center.
→ While One World Trade would be the center of the plans, it was just one piece of the wider World Trade Center area. Several other buildings would be built including the Oculus, Performing Arts Center, 9/11 Museum & Memorial, among others.
→ After 8+ years of non-stop construction, One World Trade Center was opened on November 3, 2014. The One World Observatory opened shortly after on May 29, 2015.
→ I would highly recommend reading through a much more detailed overview of the WTC history if you have the time.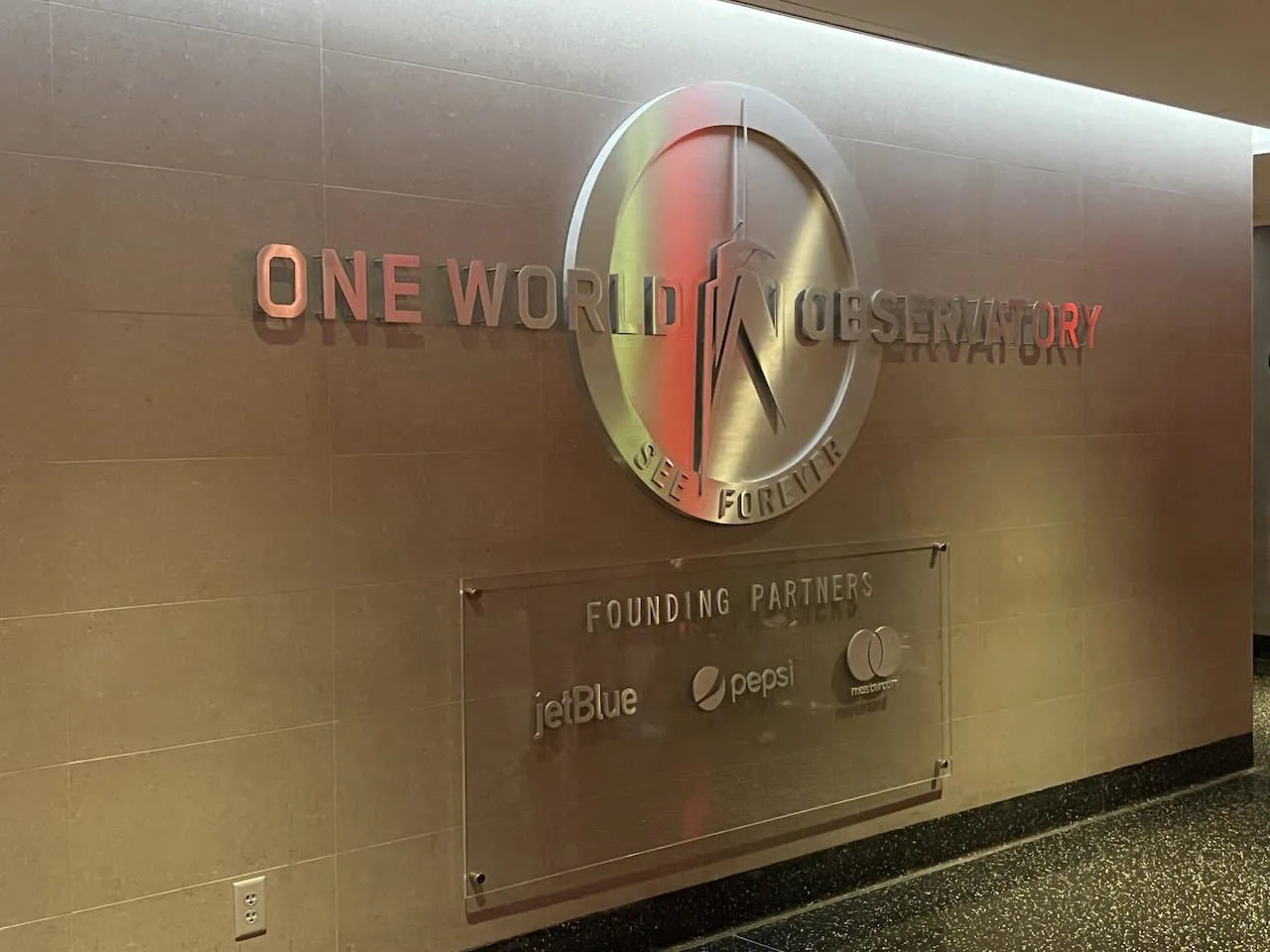 2) Fast Facts & Things to Know
Below are some quick facts about the One World Observatory and what to expect on a visit. The remainder of the guide will dive into plenty more detail:
One World Trade Center Height
Total Architectural Height: 1,776 feet
Roof Height (without spire): 1,392 feet
Observatory Height: 1,268 feet
One World Observatory
# of Floors: Three
102nd Floor: Horizon Level (See Forever Theater)
101st Floor: Dining Level (Restaurant, Bar, & Cafe)
100th Floor: Discovery Level (Main 360 Degree Observatory)
Other OWO Highlights
Global Welcome Center
Horizon Grid
Foundations Room
SkyPod Elevator
See Forever Theater
City Pulse
Sky Portal
As you can see, while the 360 degree views from the observatory are the highlight, there is plenty more to enjoy during a visit. Read on to learn all about it!
→ Visit One World Observatory as part of a 4 Day NYC Itinerary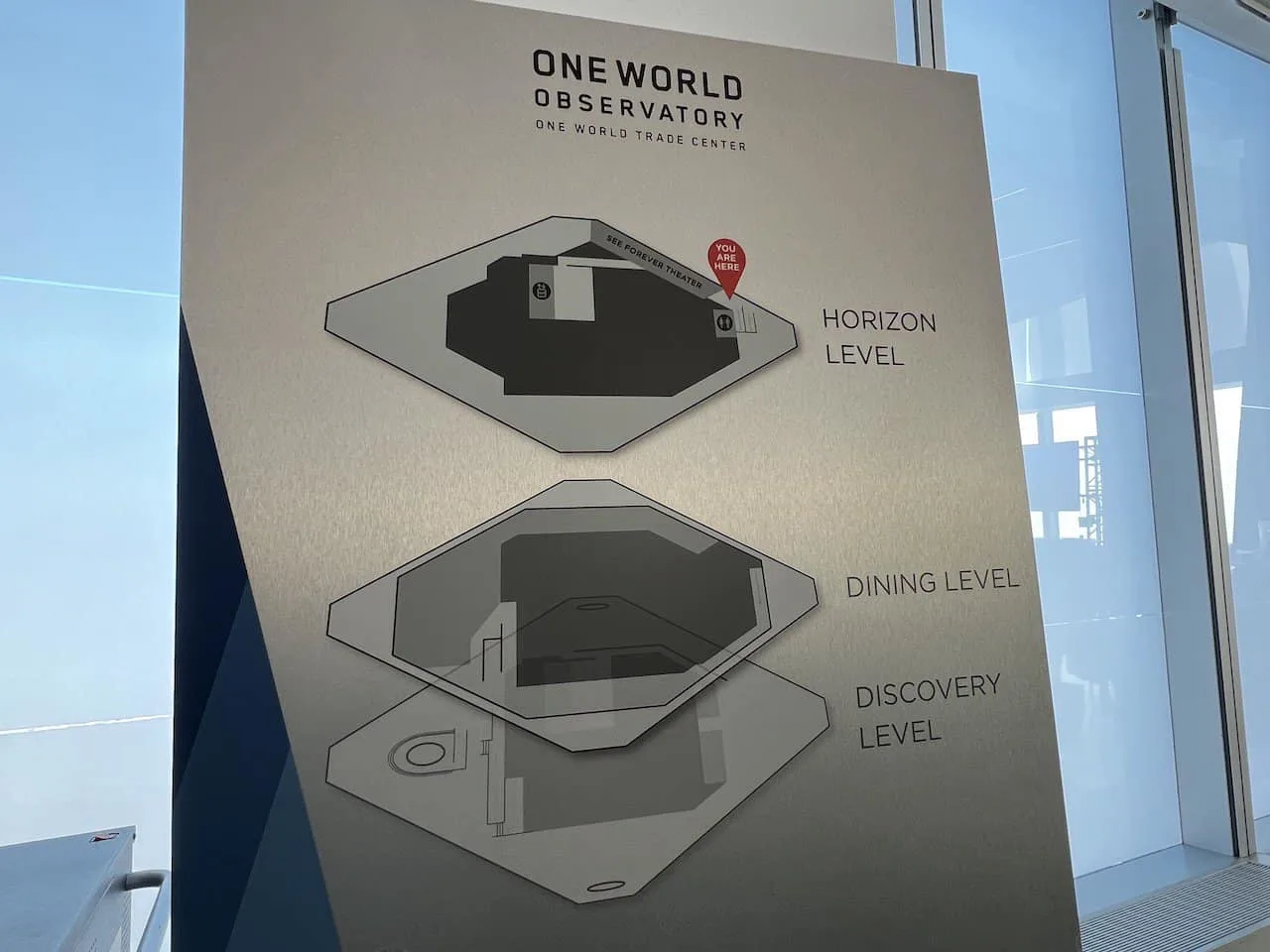 3) One World Observatory Entrance
The One World Observatory entrance is located at 117 West Street, NY, NY, 10007. This is the outdoor entrance that will take you directly to the ticket counter for the OWO.
Now, there is also a way to enter from a secondary entrance directly from the Oculus.
You will need to make your way to the second floor of the Oculus and head westbound down the concourse towards Brookfield Place.
Here you will find an entrance of the right hand side that meets up with the main outdoor entrance (pictures of the two entrances shown below).
How to Get There
Getting yourself to the entrance will depend on where you are coming from in NYC. In general, below are some of the most popular ways to get to the OWO entrance:
Subway
One of the best ways to get yourself around NYC is to take the subway. No matter where you are in the city, the subway system can get you from point A to point B for an affordable cost ($2.75 per trip). The closest stations to One World Trade are:
World Trade Center: E Train
Cortlandt Street: N/R/W Train
Park Place: 2/3 Train
Fulton Street: 4/5 | 2/3 | J/Z Trains
Chambers Street: A/C Train
Rector Street: 1 Train
Note: if getting off at the Fulton, WTC, or Cortlandt stops, you can walk to the secondary entrance below ground through the Oculus.
Taxi/Uber
You can also easily taxi or Uber right to the entrance of OWO. While this is going to be the more expensive option, it will also be the most convenient door to door option.
CitiBike
Throughout NYC you can find shared CitiBike stations. For just $4.49 a ride you can bicycle your way between different attractions in the city. Just nearby the area you will find plenty of stations to dock your bike at.
Walk
Of course, walking to OWO is a great option to go about a visit and sightsee along the way.
There are plenty of things to do nearby before or after heading up (OWO is one of the best things to do near the Brooklyn Bridge). I will dive into those at the end of this guide.
One World Observatory Parking
If you are driving on your own to the observatory, you can either find street parking (which could be tough) or park at a nearby garage.
You will find several including an SP+ Parking at 250 Vesey Street right across the way.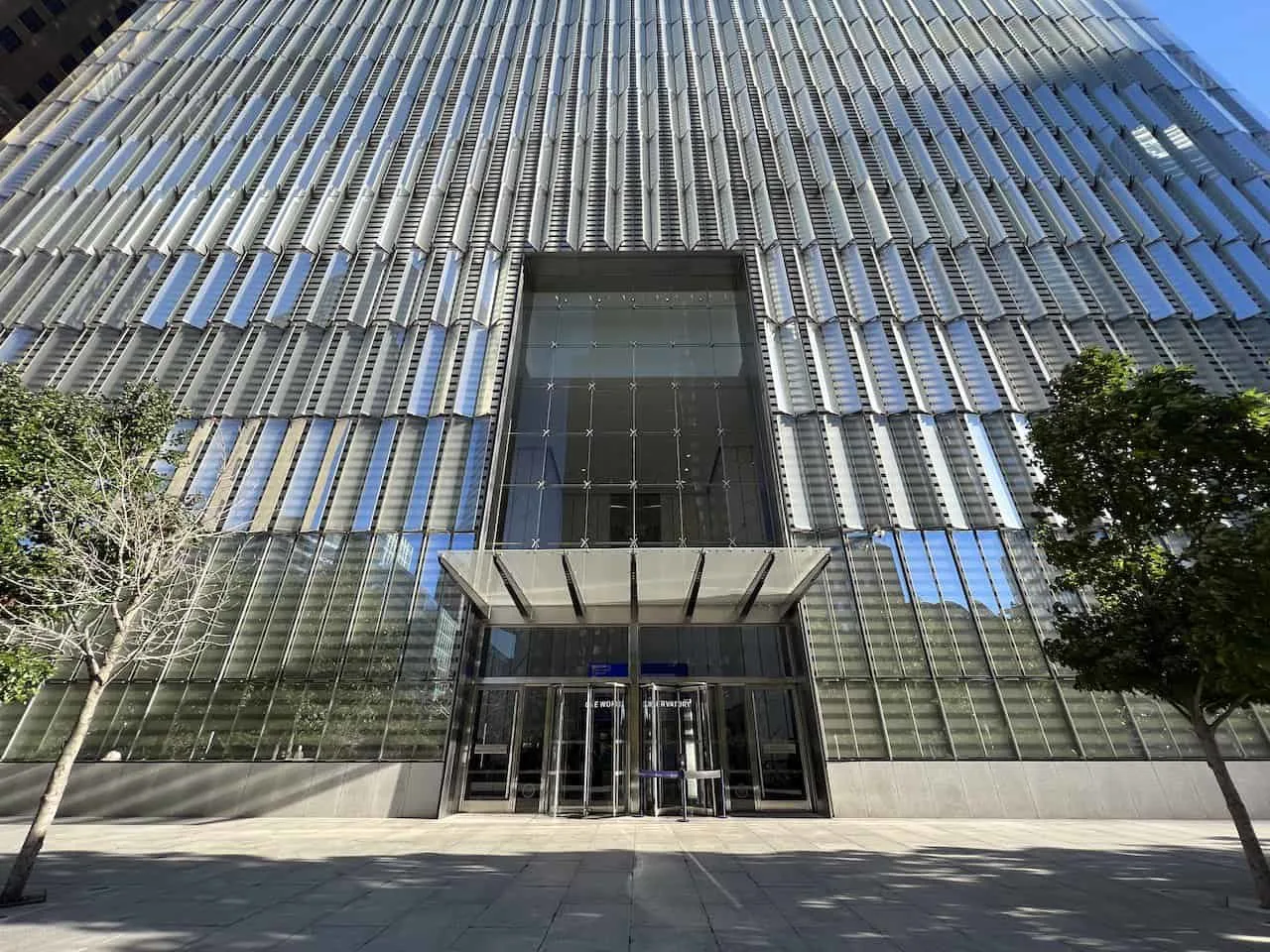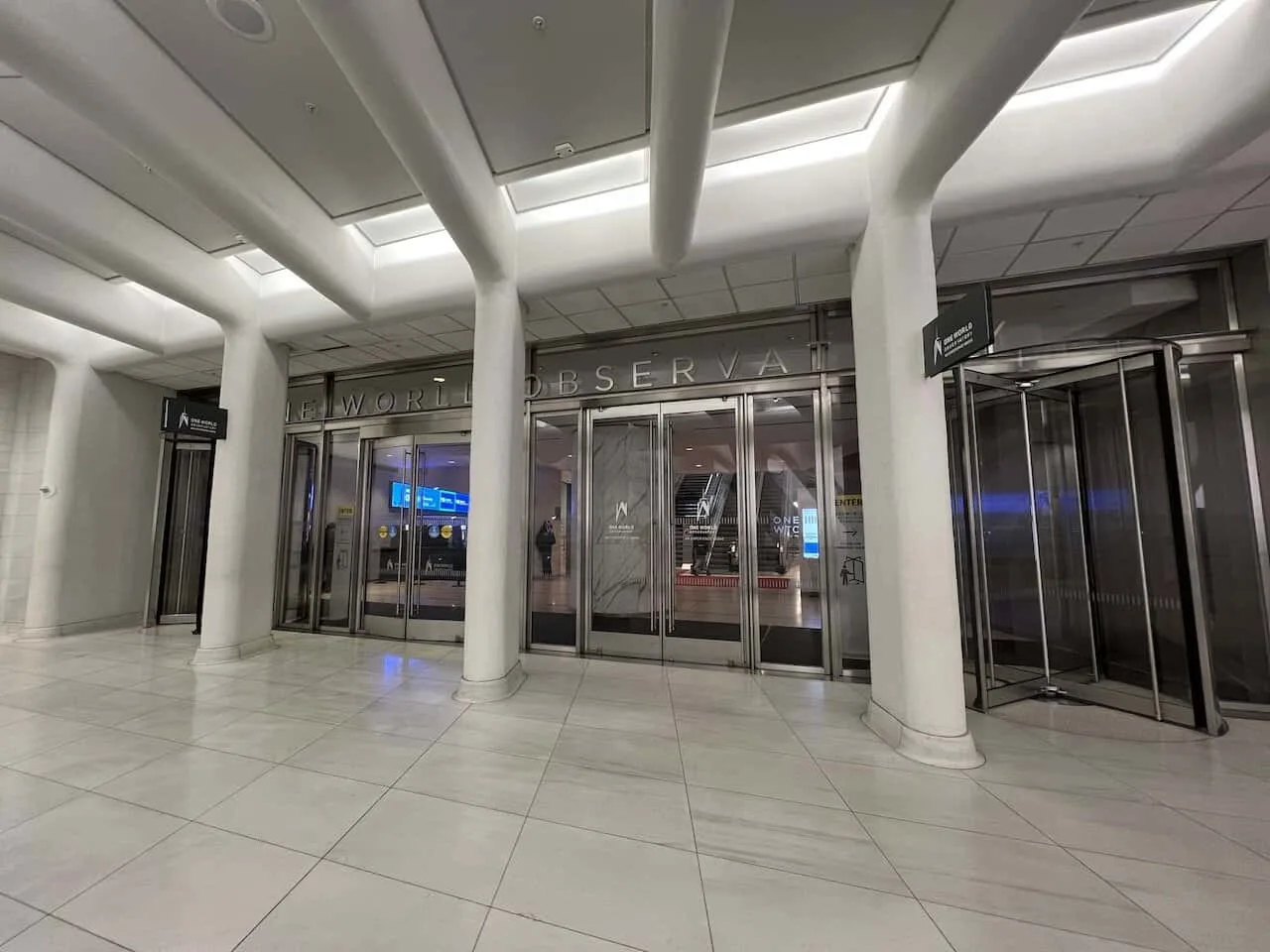 4) One World Observatory Tickets & Prices
Tickets for the OWO can be bought online through their reservation system or through a provider like GetYourGuide. You can choose an entrance time slot for 10 minute increments throughout the day.
If you don't buy ahead of time, you can also purchase directly at the entrance instead once you arrive. I would not worry too much if you decide to do a last minute trip there and need to purchase tickets on site.
There are four main tickets to choose from when going about your purchase (prices include $5 processing fee):
Standard Ticket ($43)
A standard ticket will be the most basic of options to choose from. You will make your way through the exhibitions, up the elevator, and be able to enjoy the 360 degree views from the observatory floors.
Combination Ticket ($53)
The combination ticket will give you a couple additional benefits vs. the standard ticket. You will get to go through a priority lane (security, elevator, and exit), and have access to the One World Explorer.
The One World Explorer is a digital guide on an iPad that is given to you to enhance the visit (more on that soon). There is also a 20% discount at the retail shop with the ticket.
All- Inclusive Ticket ($63)
Lastly is the All-Inclusive ticket, which includes everything on the combination ticket and then some.
You will have the ability for flexible arrival, meaning you do not need to choose a time slot when buying a ticket. In addition, you will get a $15 drink or shop voucher.
→ Feel free to purchase all of the three tickets ahead of time by booking through GetYourGuide
VIP Tour ($73)
A fourth option is a VIP Tour that includes a 60 minute guided tour of the observatory. Currently, this is only offered to Mastercard cardholders.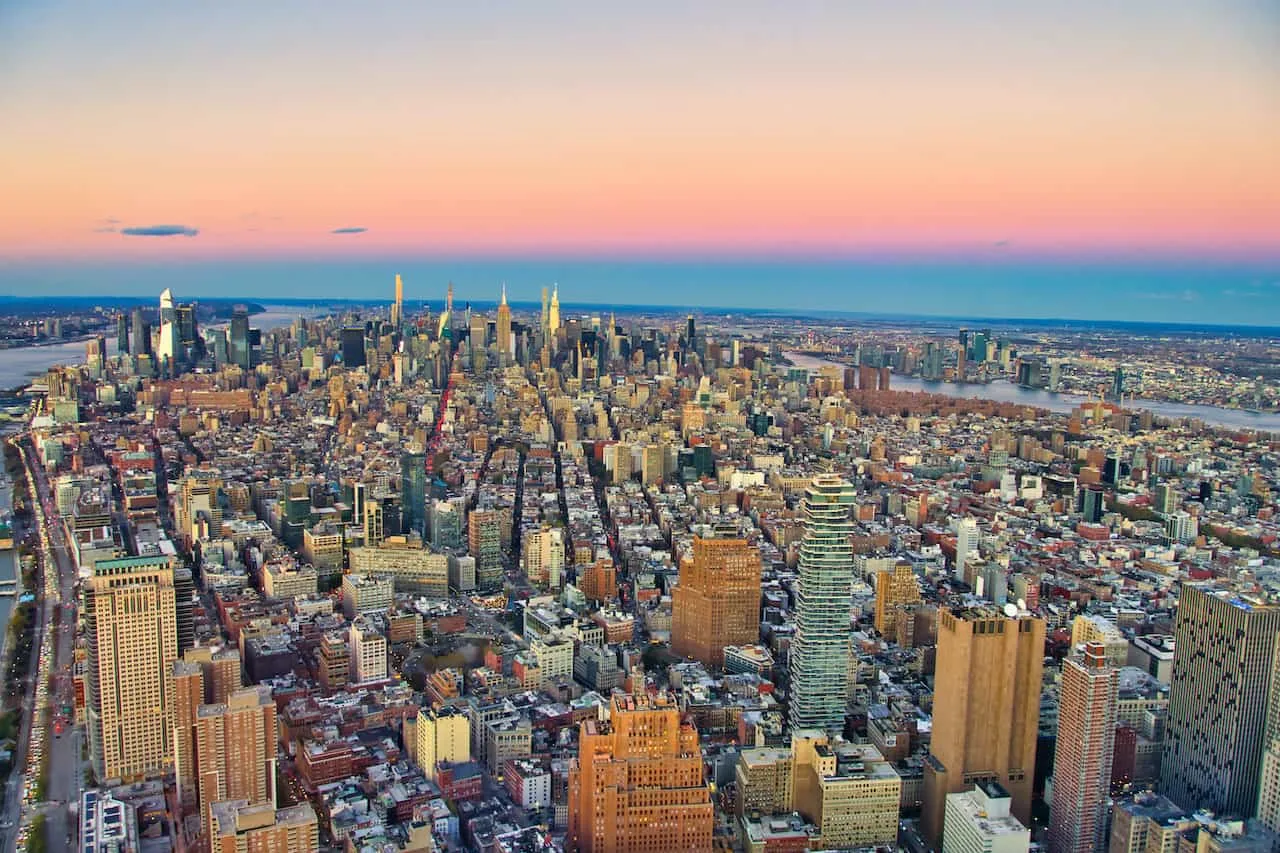 5) One World Observatory Hours
One World Observatory has different hours throughout the year. However, for the most part you can expect the opening hours to be between 9:00AM – 9:00PM.
In the winter months, the observatory closes at 8:00PM and during peak Christmas/NYE holiday time, it closes at 11:00PM.
I would recommend checking the OWO's hours as you are booking your tickets for the latest.
How Long Can You Stay at One World Observatory
While you do need to book an entrance time (for some tickets at least), you can stay as long as you want at One World Observatory. So, if you want to enjoy the views, have some lunch, and just take your time up top, that is definitely possible.
In general, most people need around 2 hours to fully enjoy the experience.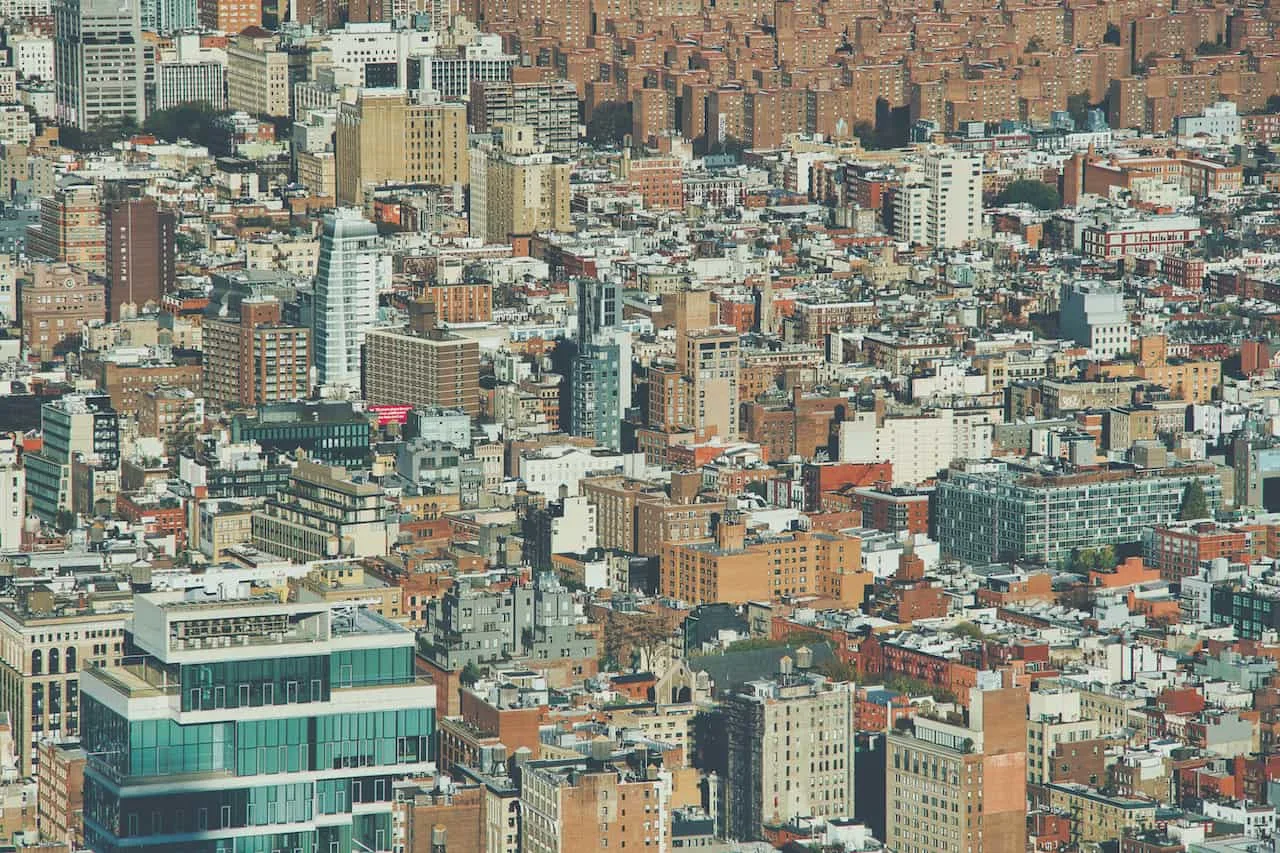 What is the Best Time to go to One World Observatory
In my opinion, there are two best times to go to One World Observatory – at opening or at sunset.
If you are one that wants to avoid the crowds, and enjoy the observatory to yourself, then head there directly at opening time. It will be nice and peaceful without hundreds of people circling around you.
On the other hand, if you want to get the chance for the best photos, then sunset will be the way to go. Depending on the weather and the sky, you may be able to enjoy some colorful views of the NYC skyline all around you. This is not always guaranteed but it is your best bet.
During my time at OWO, I made my way there around 90 minutes prior to sunset. This gave me enough time to enjoy the observatory, walk around, and then get those nice colorful photos of the skyline.
→ Be sure to check out some of the other top photo spots in NYC during a visit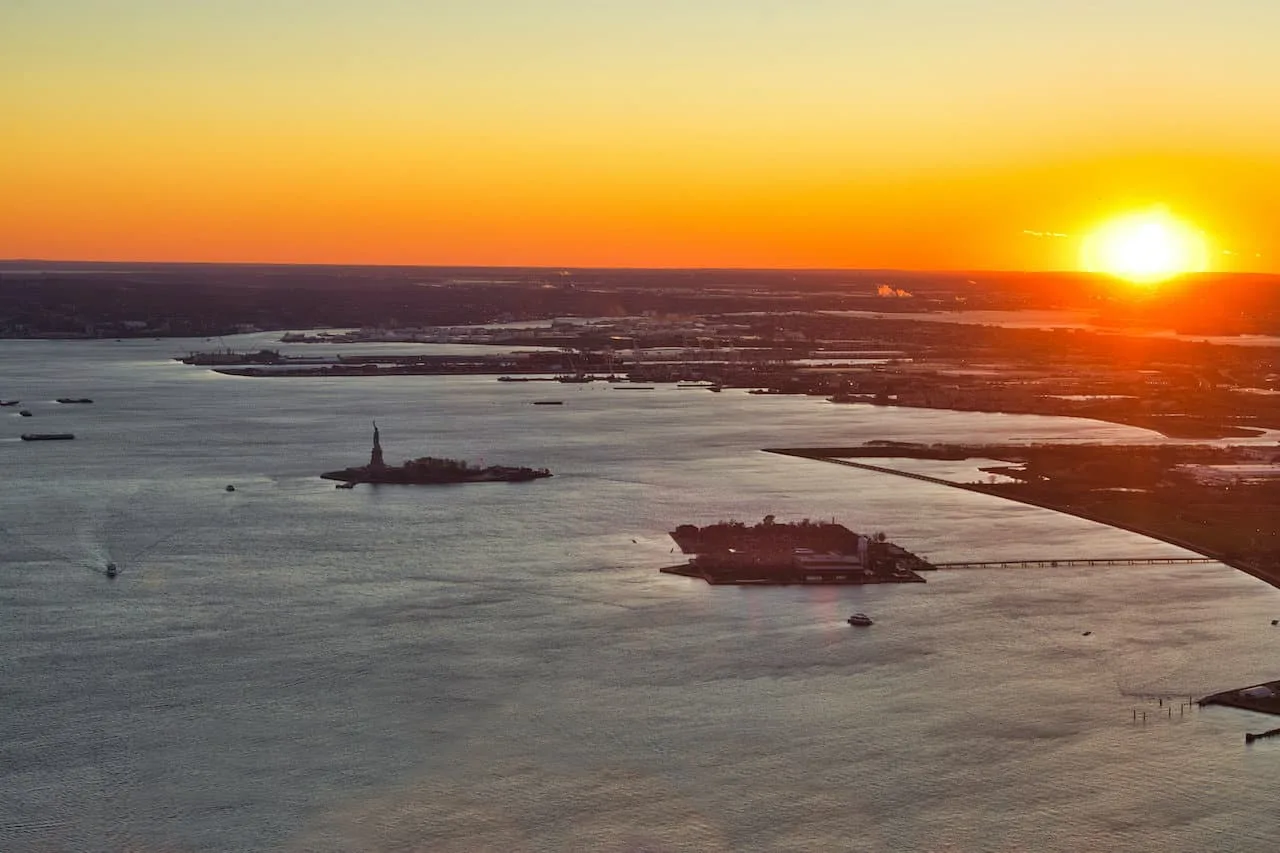 6) One World Trade Center Observation Deck
Now that you have some background about the observatory, let's get into what to expect throughout an experience.
Once you arrive at the main entrance, you will be directed downstairs to the security checkpoint. Your ticket will be scanned, and any bags will need to go through the security belt.
Note: you are not allowed to bring tripods or selfie sticks up to OWO. At security, they will take them from your bag, and put them aside for you to pick up when you leave.
After getting through security, it is then time to enjoy the various offerings prior to making it up to the observatory.
One World Observatory is on the list of the 100 best things to do in NYC & the best things to do in New York City at night.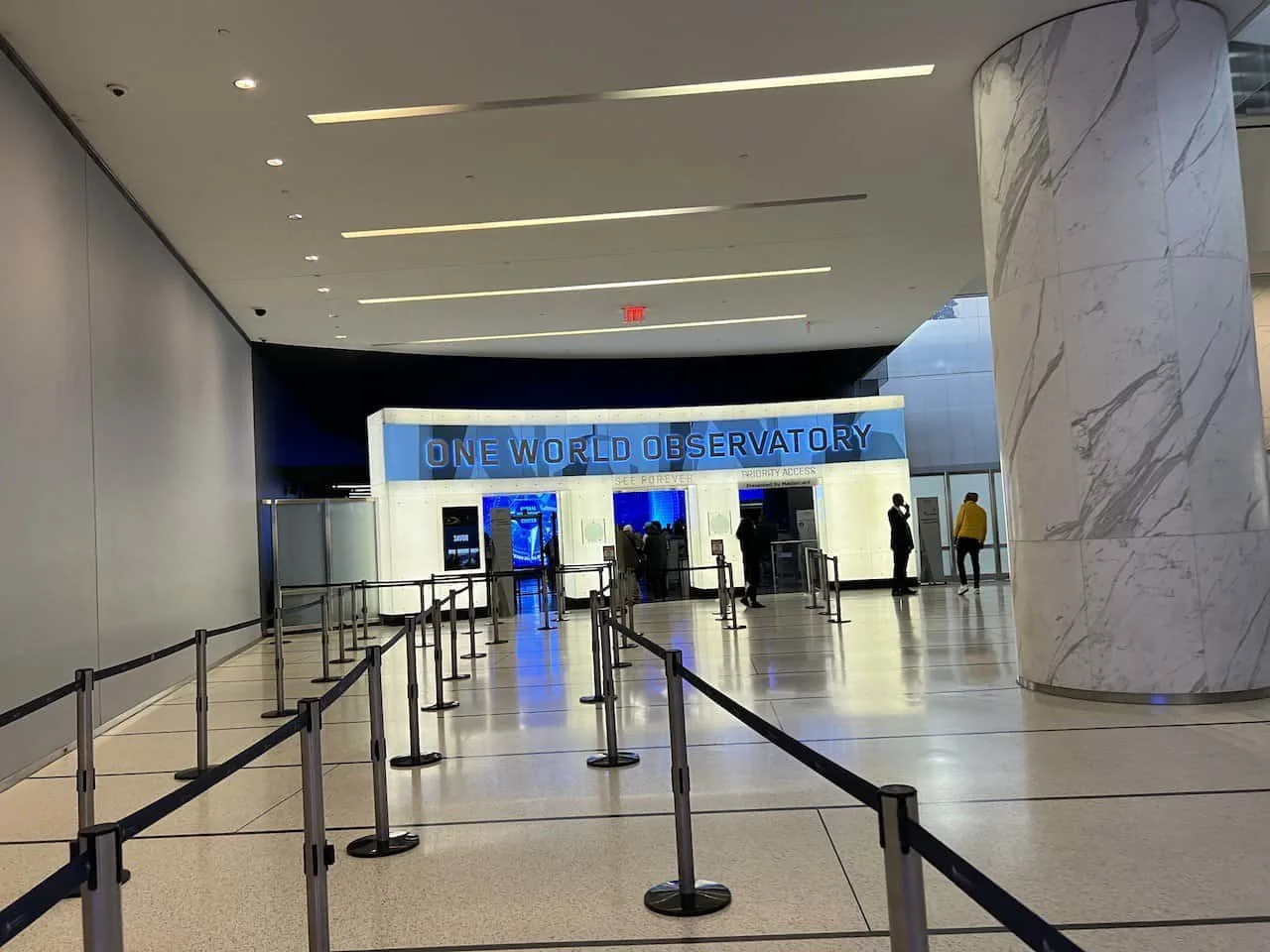 Global Welcome Center, Horizon Grid & Foundations Room
Right after the security checkpoint you will see the large Global Welcome Center screen. At the screen you will be able to see the country of origin for people currently visiting OWO.
Just past the screen, you will come across the Horizon Grid. This will be the first multimedia presentation to watch (if you decide to). There are 145 screens that go through a 14 minute highlight reel of building One World Trade.
After watching the presentation, you will walk through the Foundations Room. Here you can see the resemblance of the bedrock foundation that One World Trade was built on top of.
SkyPod Elevator
Next up comes the famous SkyPod Elevator, which takes you up 102 floors in just 47 seconds.
It is quite remarkable how fast the elevator ride is. Not to mention you will hardly notice that you are flying up the building.
The elevator involves an interactive screen on all sides of it. There you will get to see the transformation of NYC from bare lands to a city full of buildings and famous skyscrapers.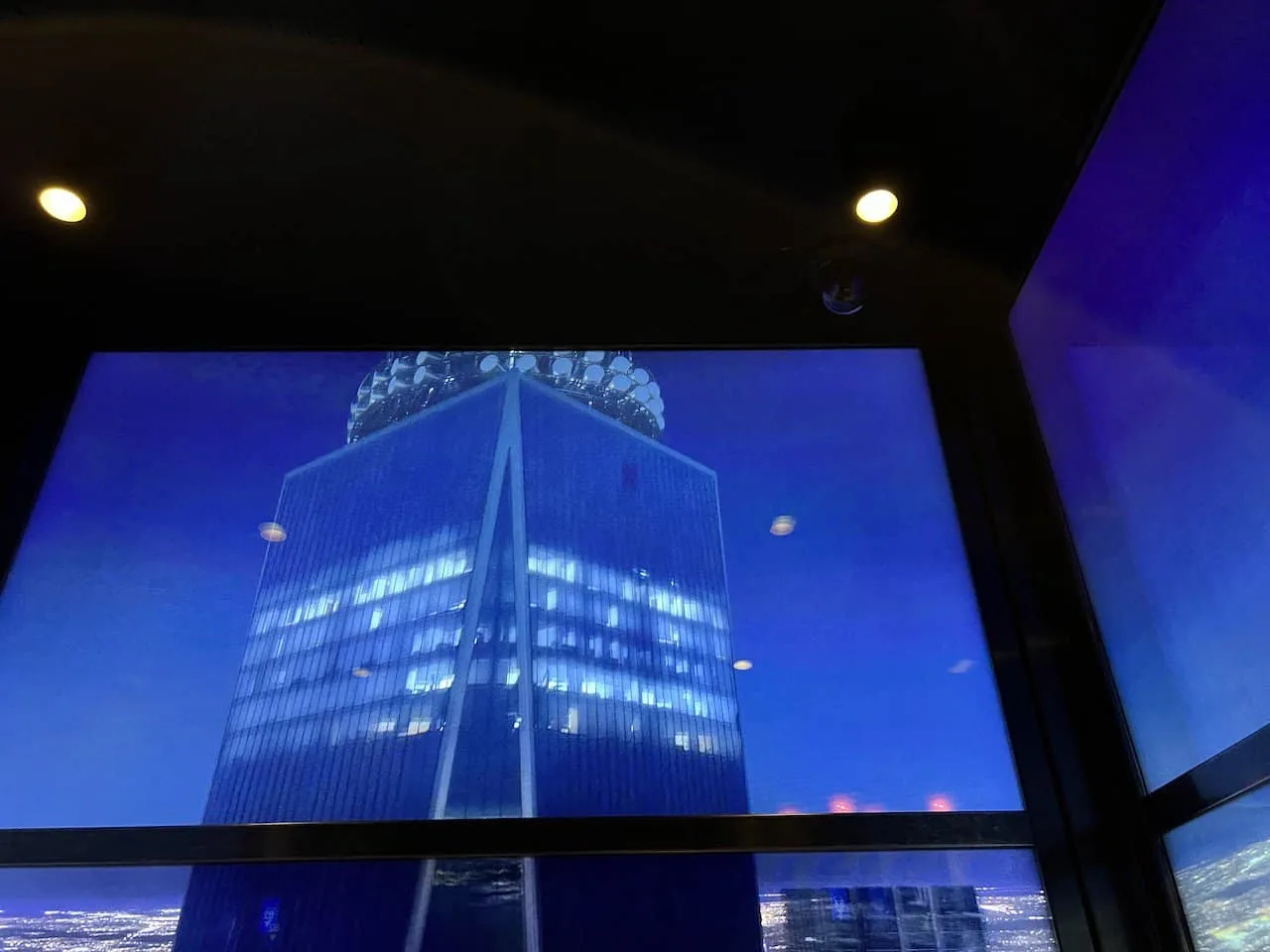 See Forever Theater (102nd Floor)
Once off the elevator, you will be in front of the See Forever Theater – a massive screen showing a short presentation of NYC's top landmarks & highlights.
Now, once the presentation is over, the screen will slowly begin to rise and the you will get your initial views from the observation deck.
After enjoying these initial views, continue along the hallway, where you will come across the One World Explorer station. For those with Combination or All Inclusive tickets, you will be given an iPad at this station.
The iPad can be used as a helpful guide to understand the various buildings and structures that you will be viewing all around you. Simply hold the iPad up, and you will now be able to understand which buildings are which and learn more about the history.
From the One World Explorer pickup, you will continue along to the photography station. You will have the chance to snap some photos that can be purchased on the main level.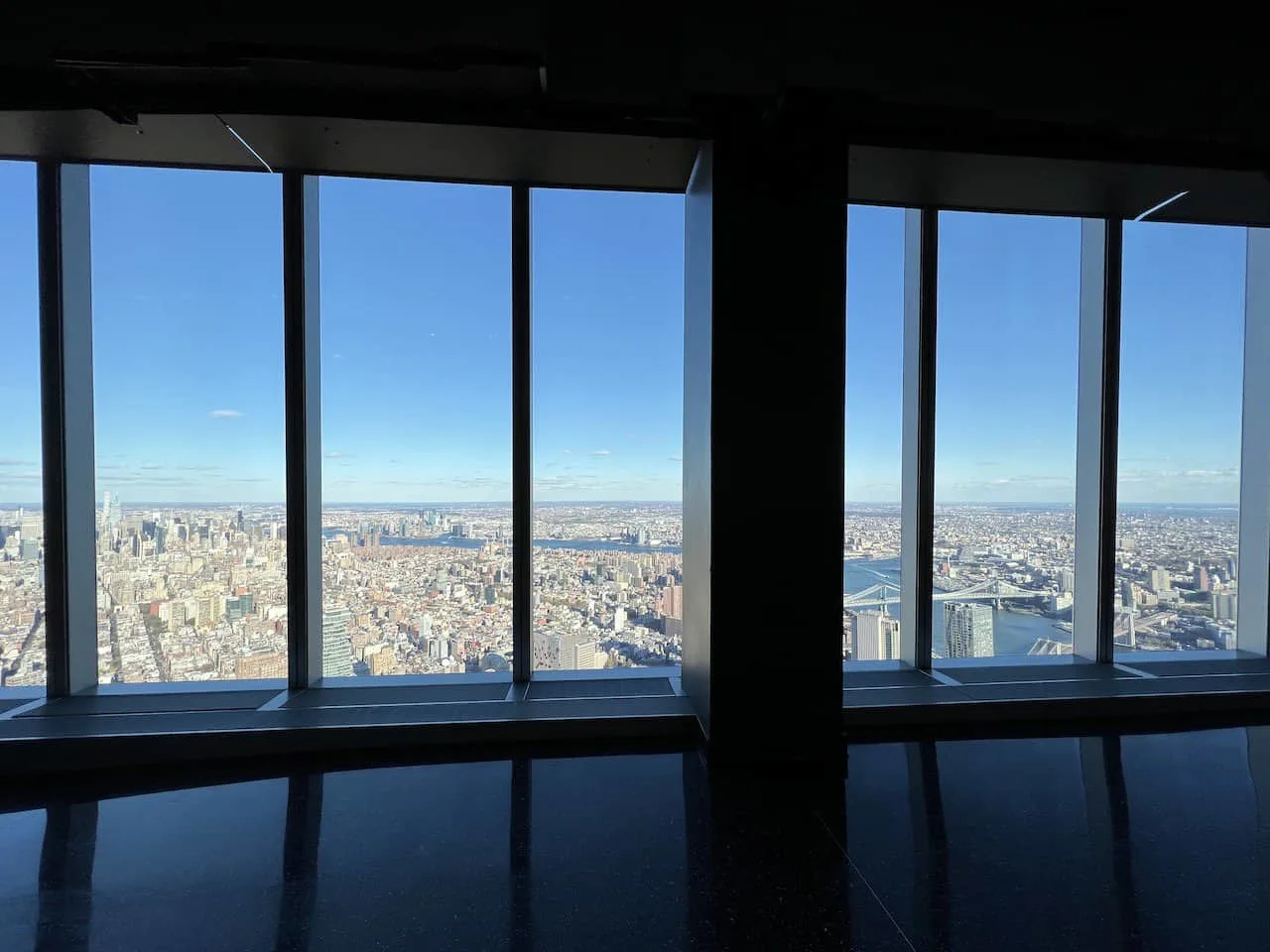 Dining Level (101st Floor)
As you leave behind the See Forever Theater and the 102nd , you will make your way down one floor to the dining level. On this level you will come across the various food & beverage options that OWO has to offer.
You can just choose for some quick bites and drinks at the Illy Caffe & Gelateria or head on over to the more formal sit-down restaurant.
One World Observatory Restaurant
Here you will find ONE Dine (restaurant) and ONE Mix (bar). These give you the perfect opportunity to have a meal or drink with one of the best views you could ask for.
There is a whole array of options to choose from including salads, entrees (chicken, salmon, steak, etc), sides, and desserts. Not to mention their extensive wine and cocktail list as well.
It is recommended to book a reservation in advance through OpenTable. Note that you need an entrance ticket to go to the restaurant (you cannot just go for a meal without purchasing the OWO ticket).
How Much Does it Cost to Eat at One World Observatory
Eating at the ONE Dine restaurant will be a bit geared towards the more expensive side not surprisingly. Expect starters to be between $15-$25, and main courses to be between $25-$50. Cocktails and wines will also start around $15 or so.
Note that you can also purchase dining packages through the OWO website. These range from $85 – $175 per person options, which include the entrance ticket + various food/drink choices.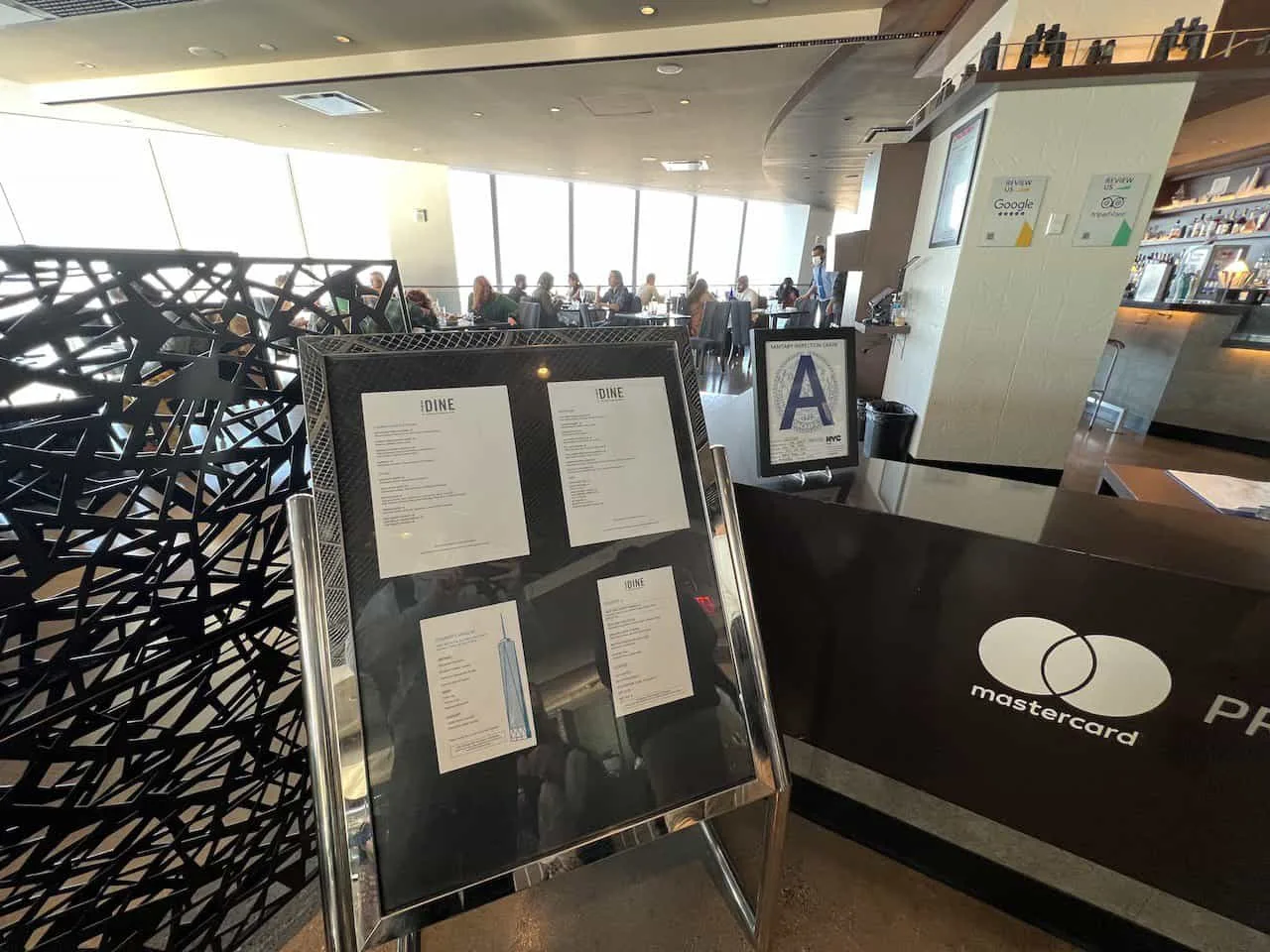 Observatory Level (100th Floor)
One floor down from the dining level is the main observatory level. On this level you will get to experience true 360 degree views of the NYC skyline and beyond.
You will find floor to ceiling windows that offer unparalleled and uninterrupted views of everything that New York City has to offer.
I would highly recommend making the full loop (multiple times even) to get to see all these various viewpoints.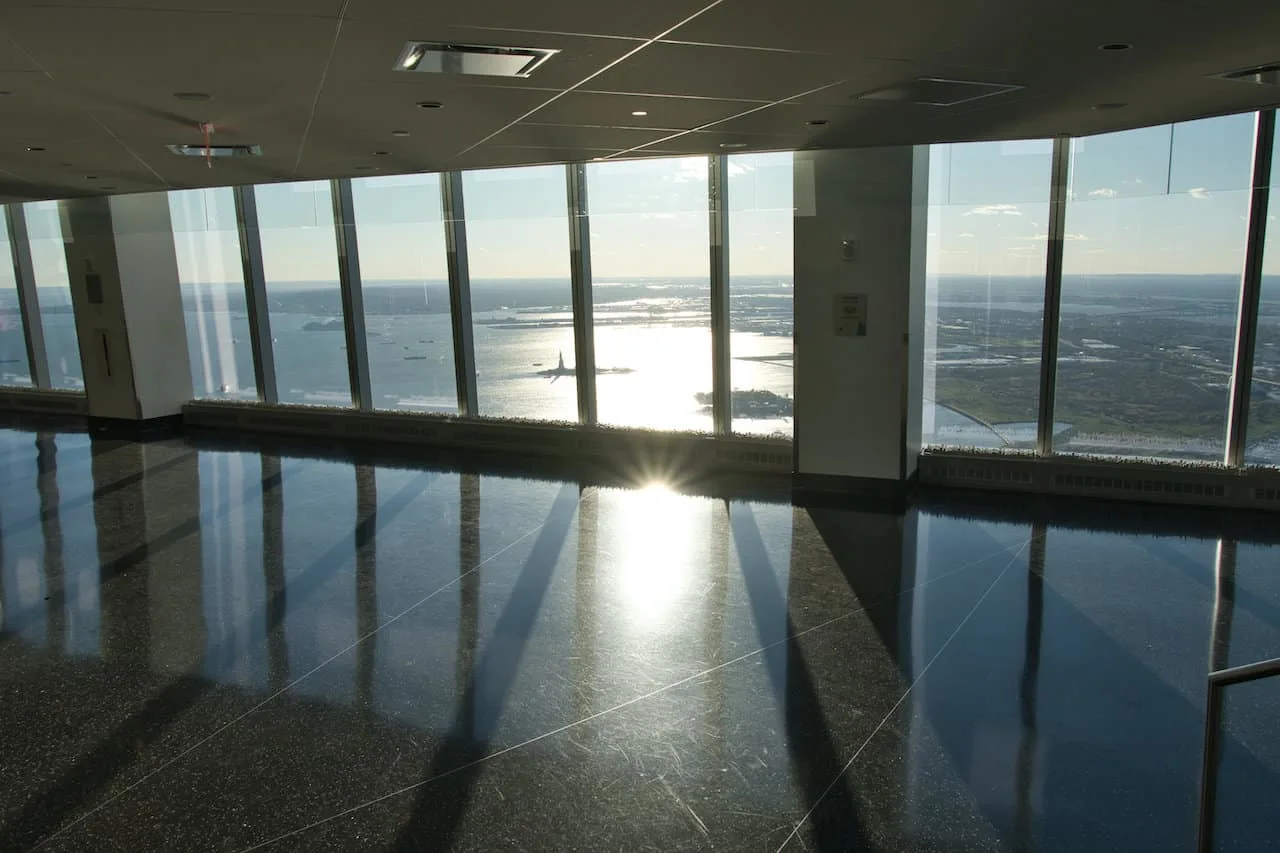 One World Observatory Views
In each direction (noted on the floor of the observatory), you will come across different NYC landmarks. Just some of these include:
North (Manhattan skyline): Empire State Building, Chrysler Building. One Vanderbilt, The Edge, MetLife Building. Washington Square Park, Times Square, Hudson Yards & much more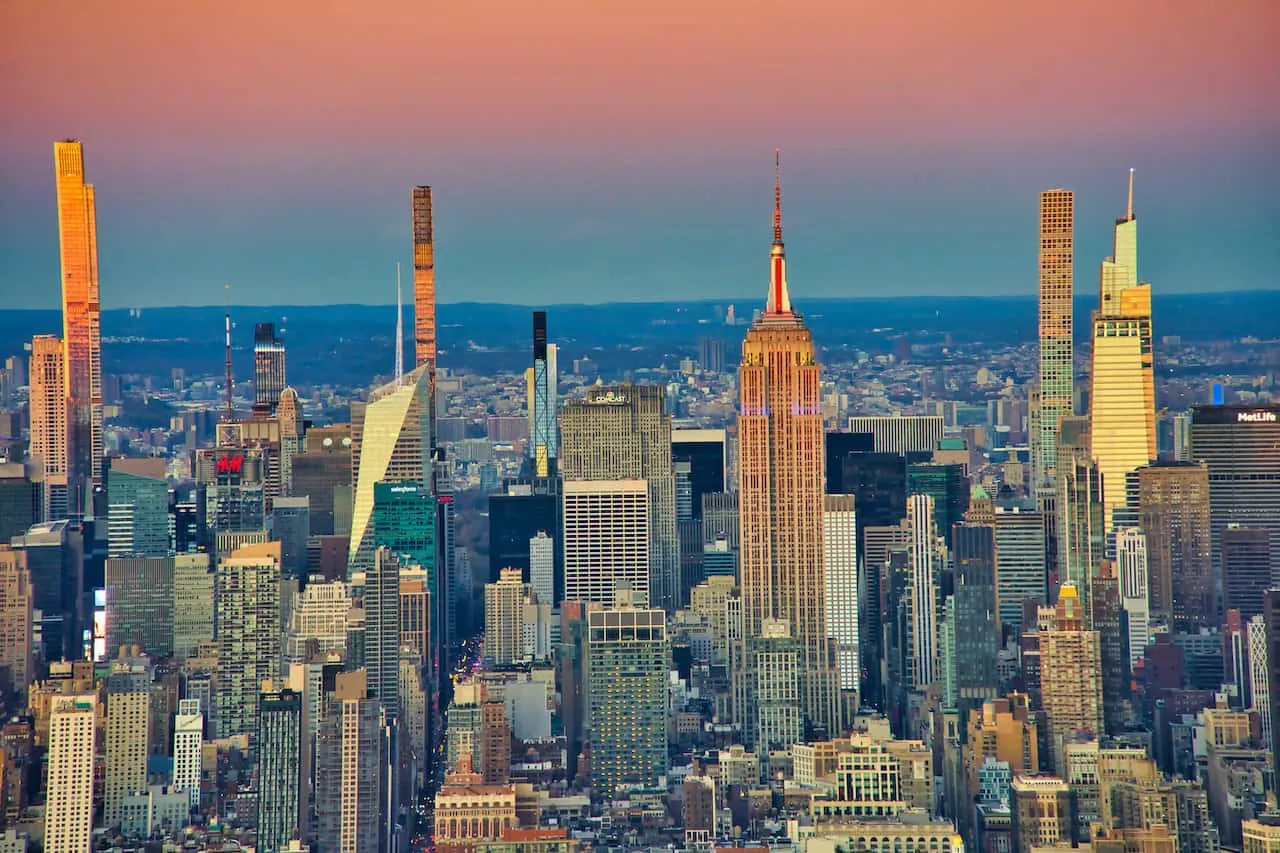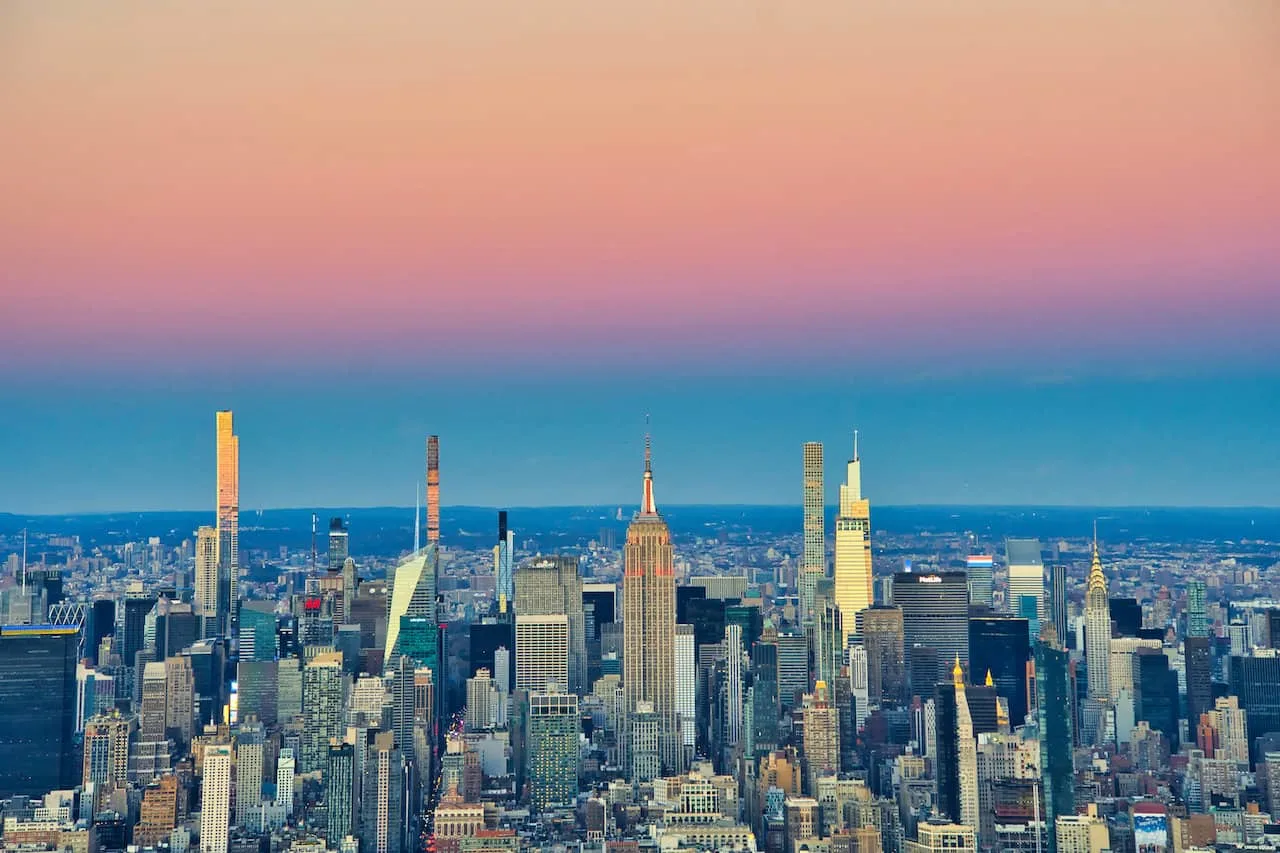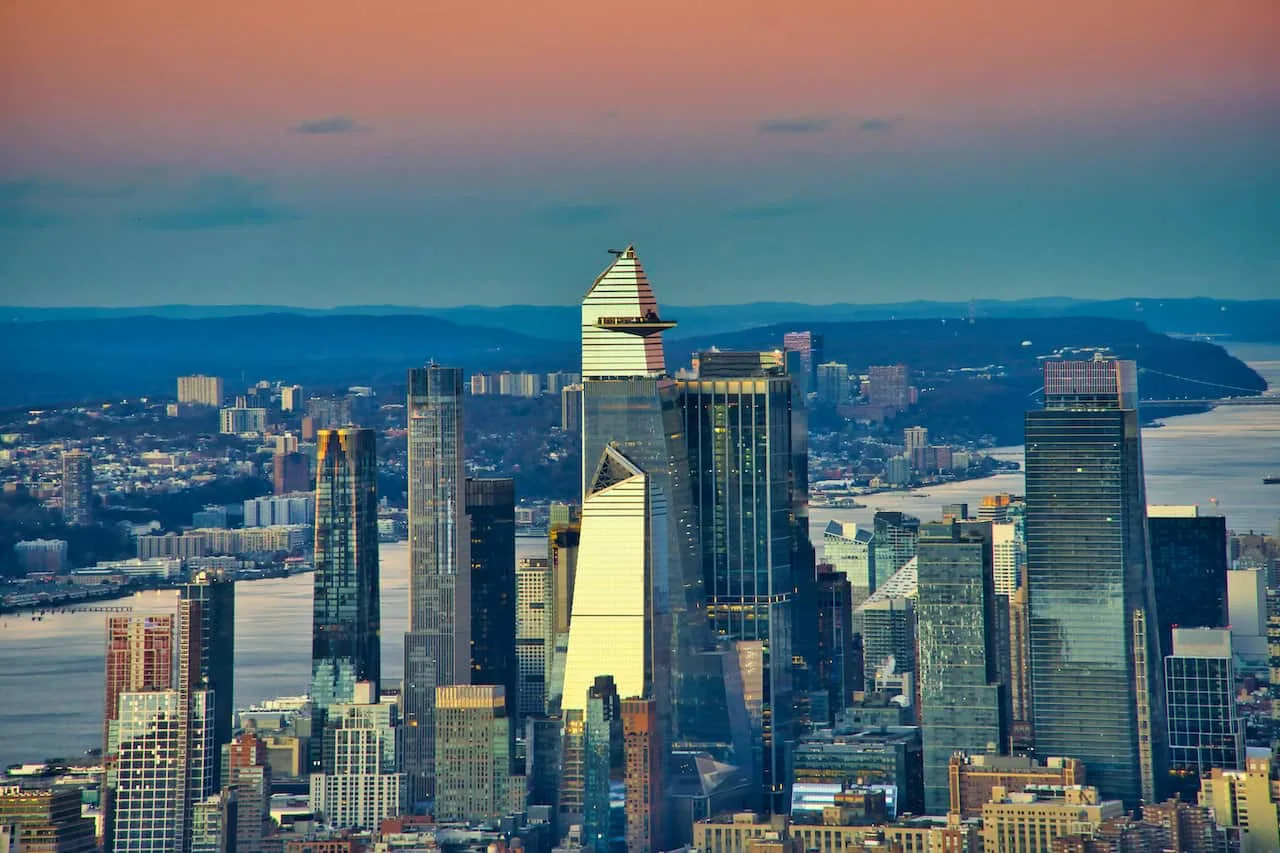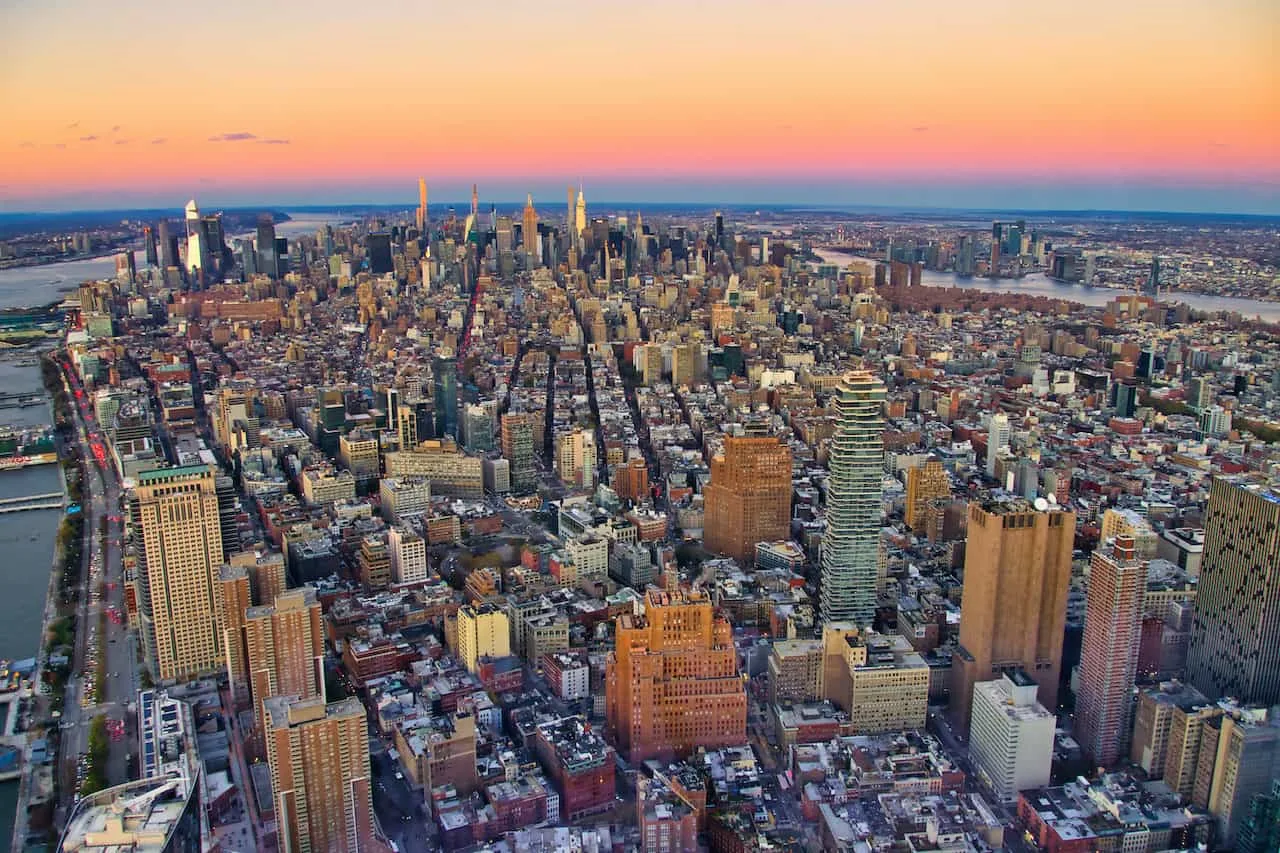 East (Brooklyn skyline): East River, Brooklyn Bridge, Manhattan Bridge, Williamsburg Bridge, Brooklyn Bridge Park, Downtown Brooklyn & more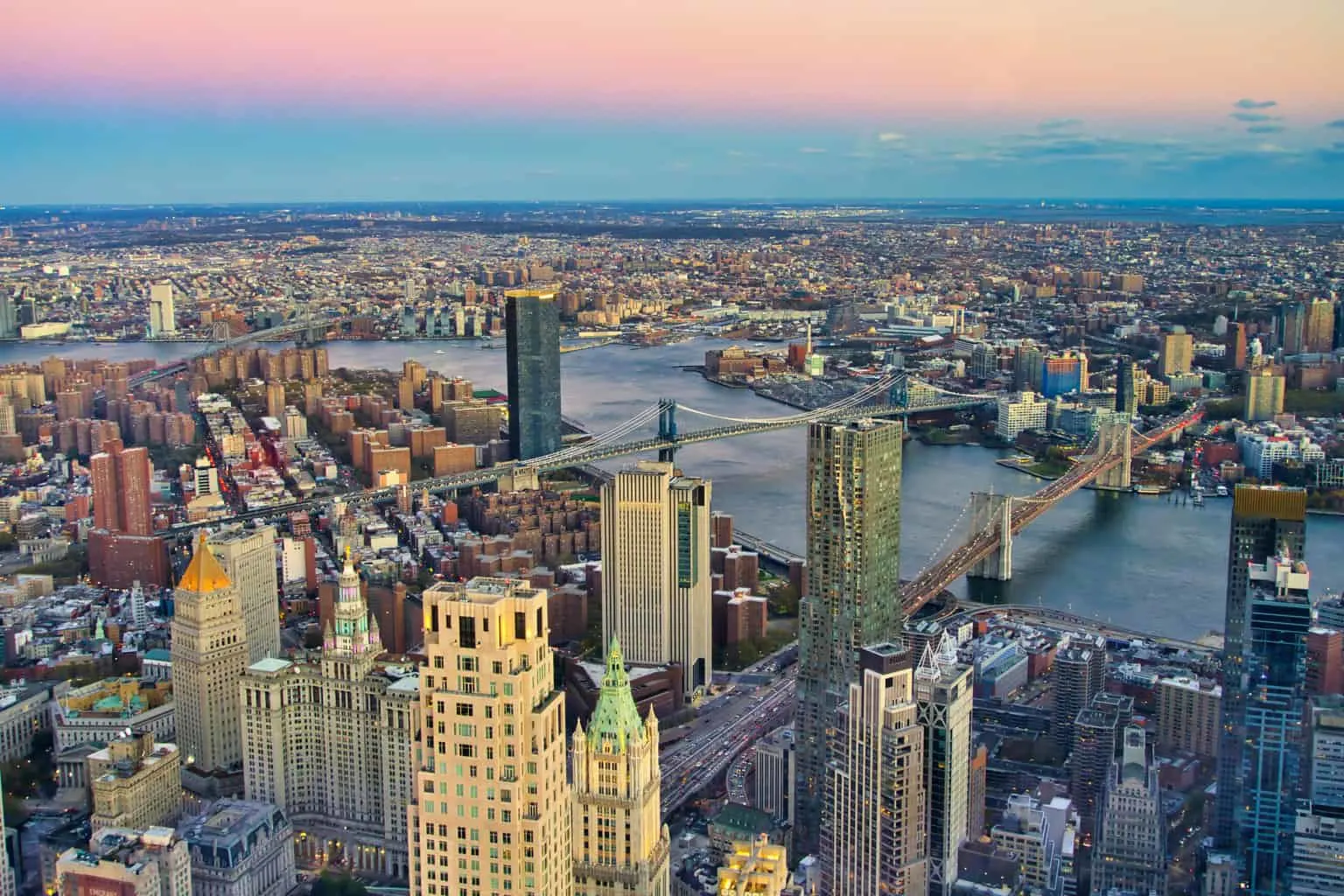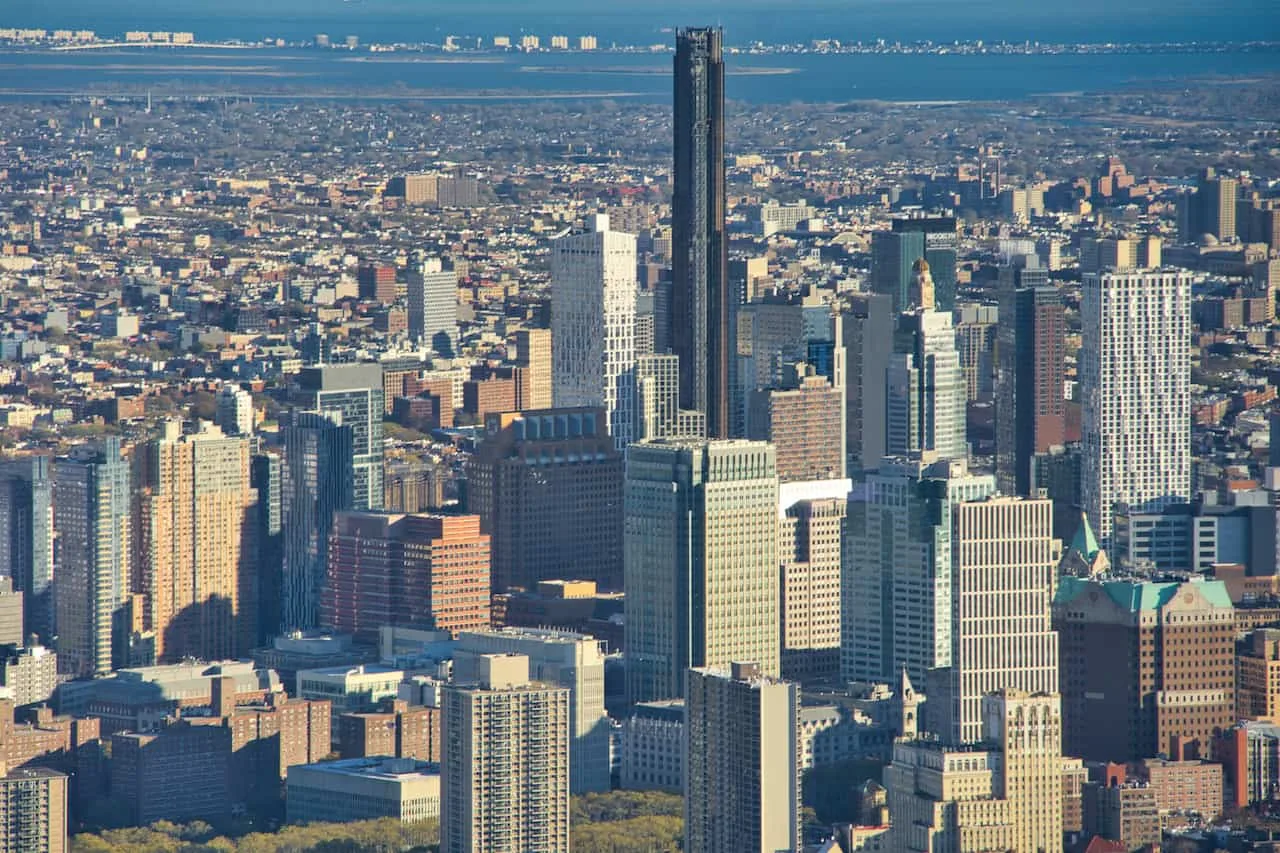 South: Staten Island, Statue of Liberty, Ellis Island, Governors Island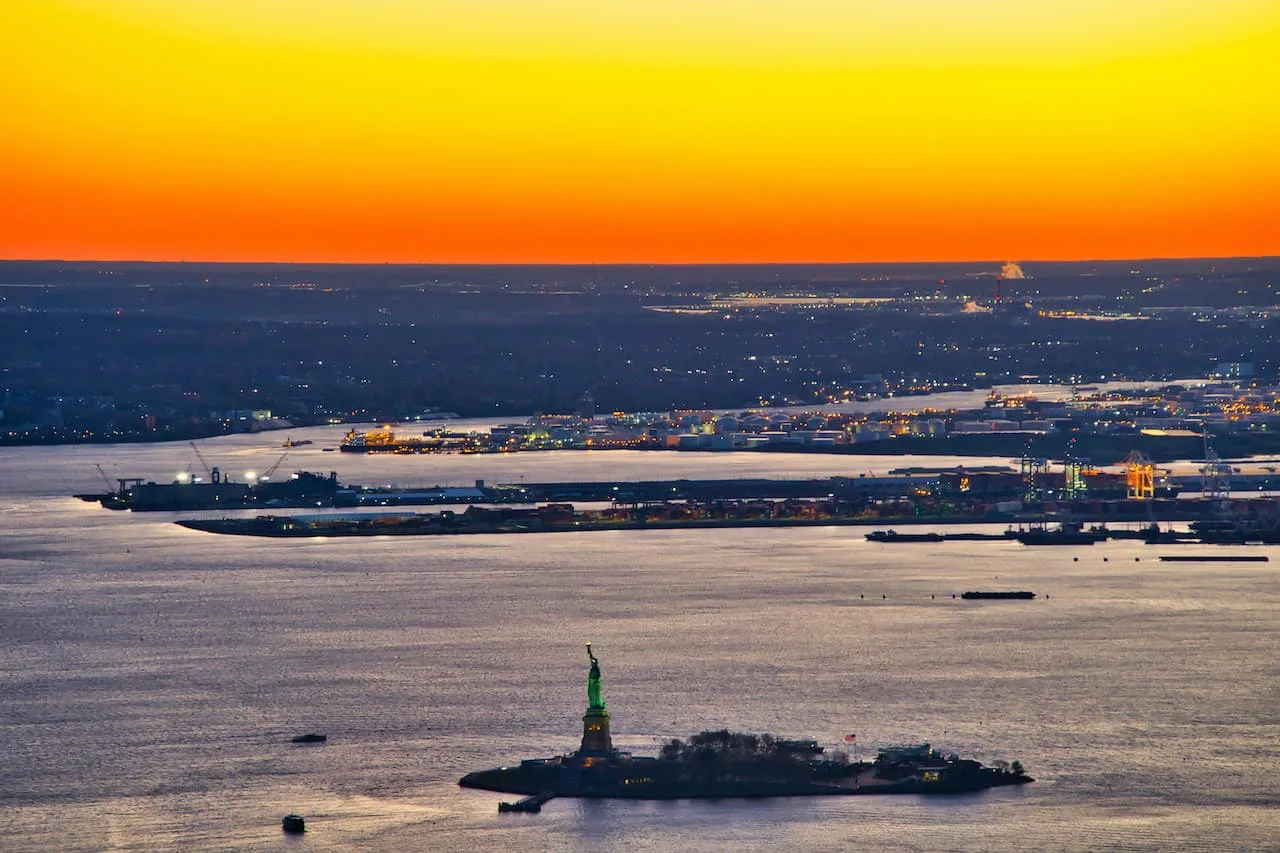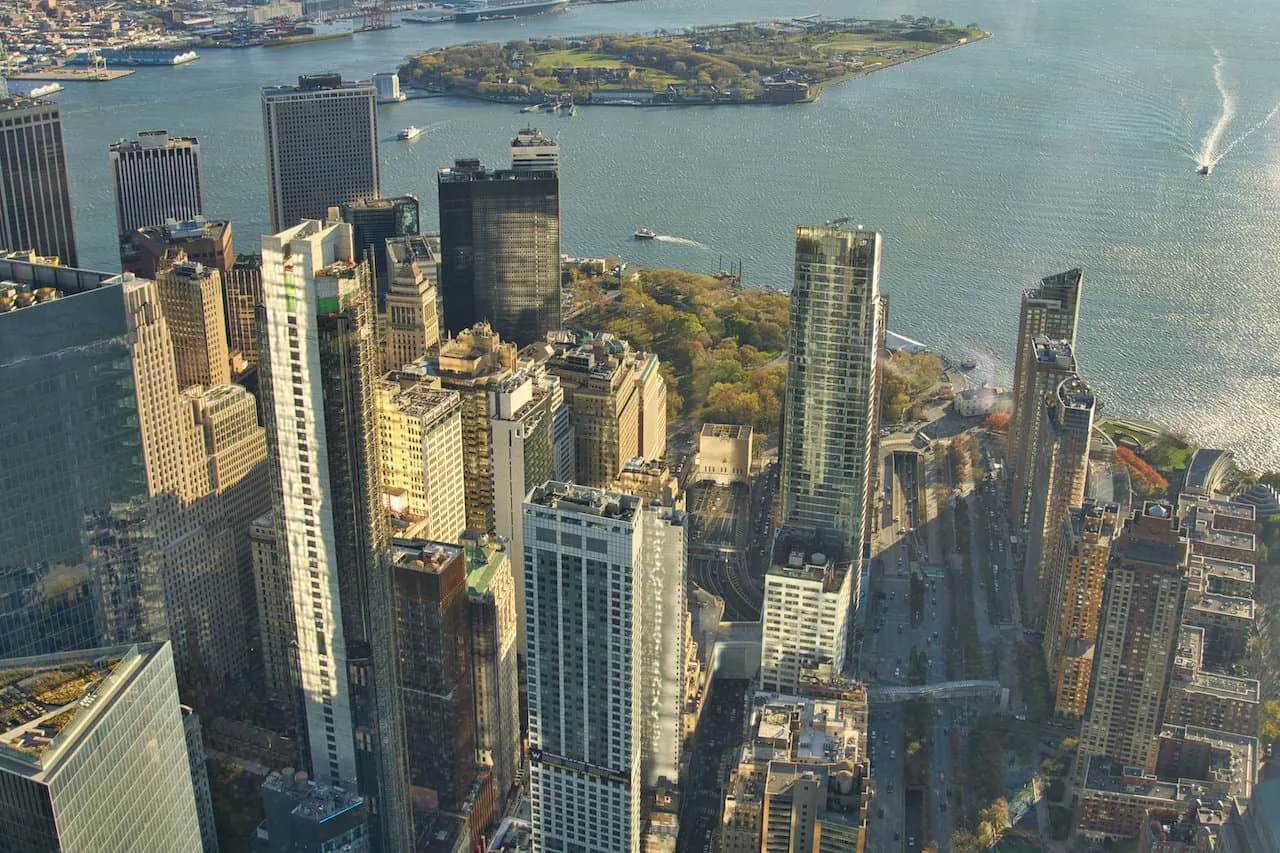 West (New Jersey): Hudson River, Jersey City, Hoboken, Liberty State Park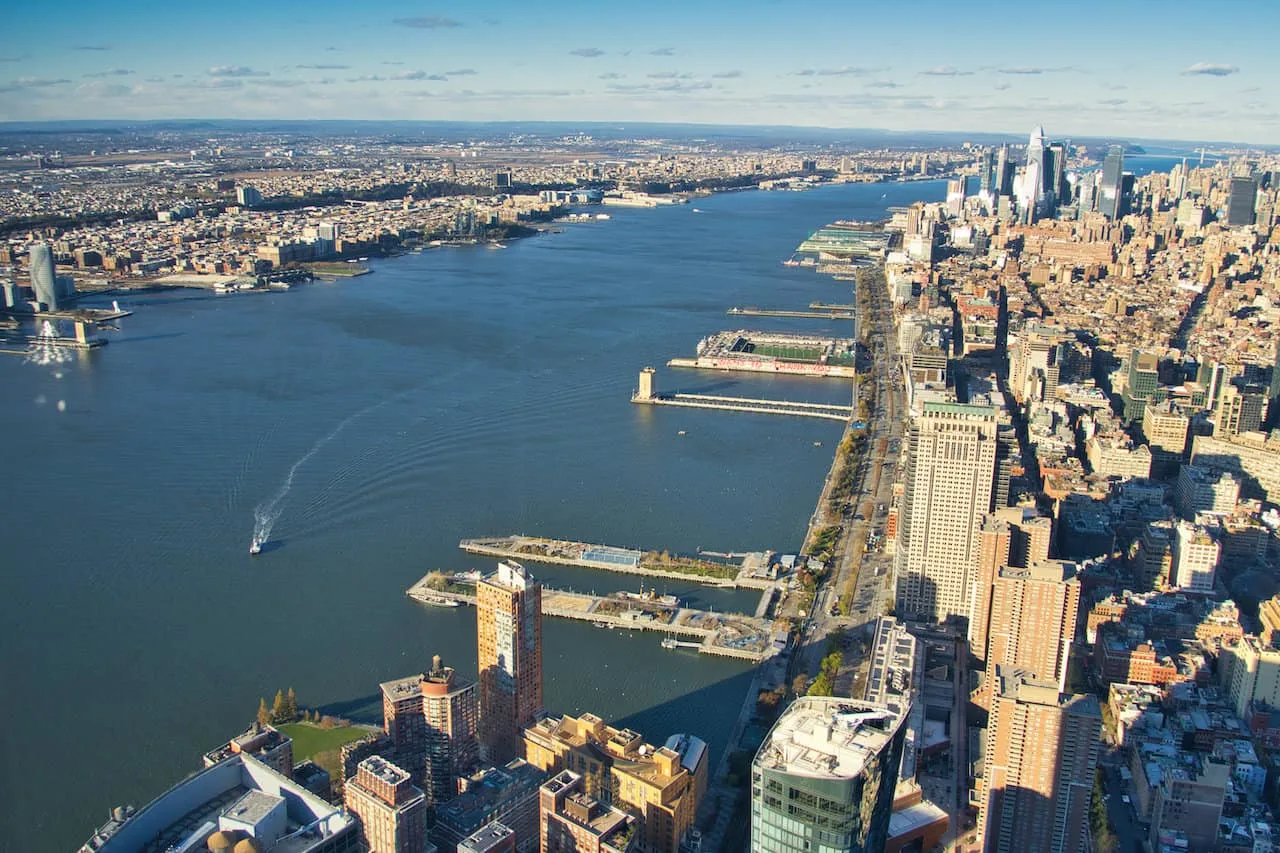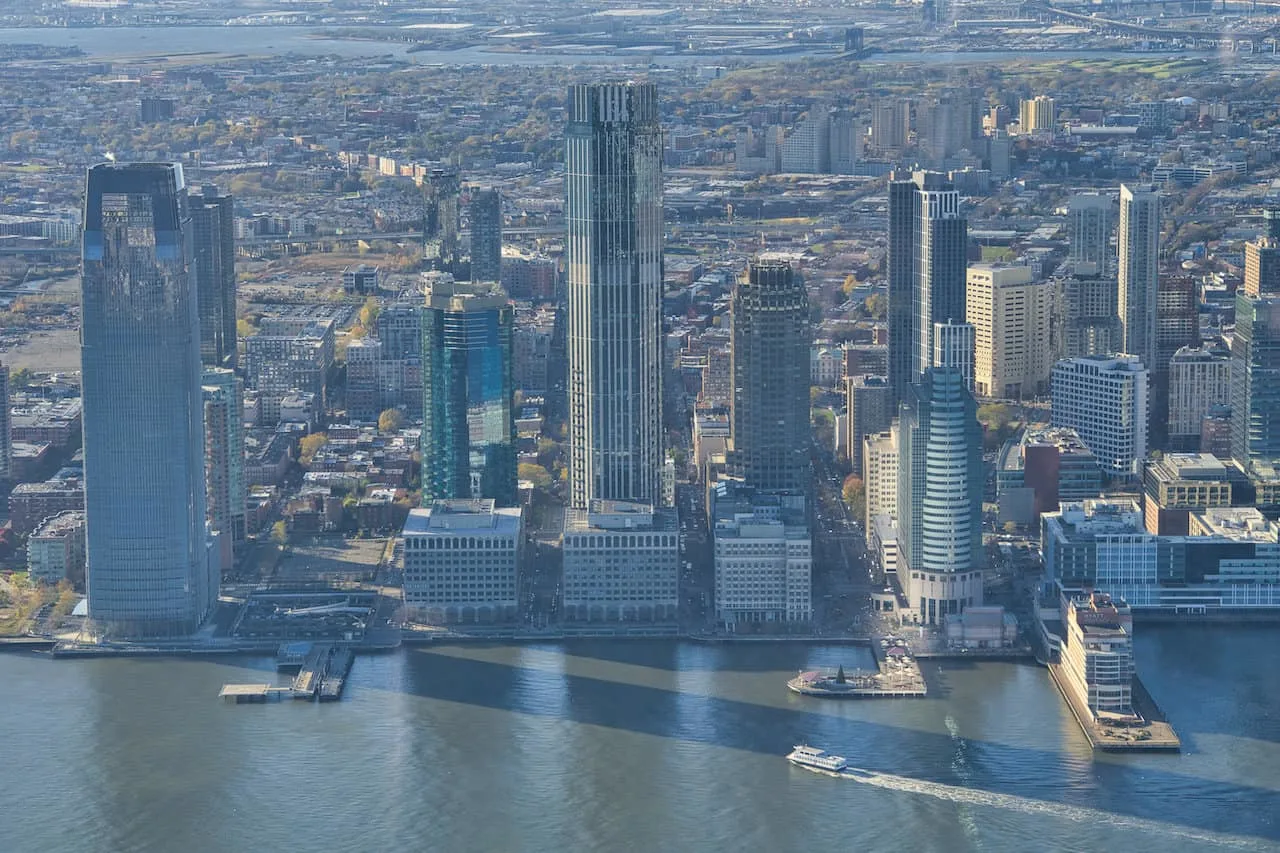 The list just goes on and on. Since you are at such a high vantage point in NYC, you are literally going to see it all from up there.
Photography Tip: you will be taking photos through glass, meaning reflections can occur depending on the angle. While most of the windows are angled, there is one section that is not. The photo below points to the windows that are looking directly north, offering in my opinion the best views of the city.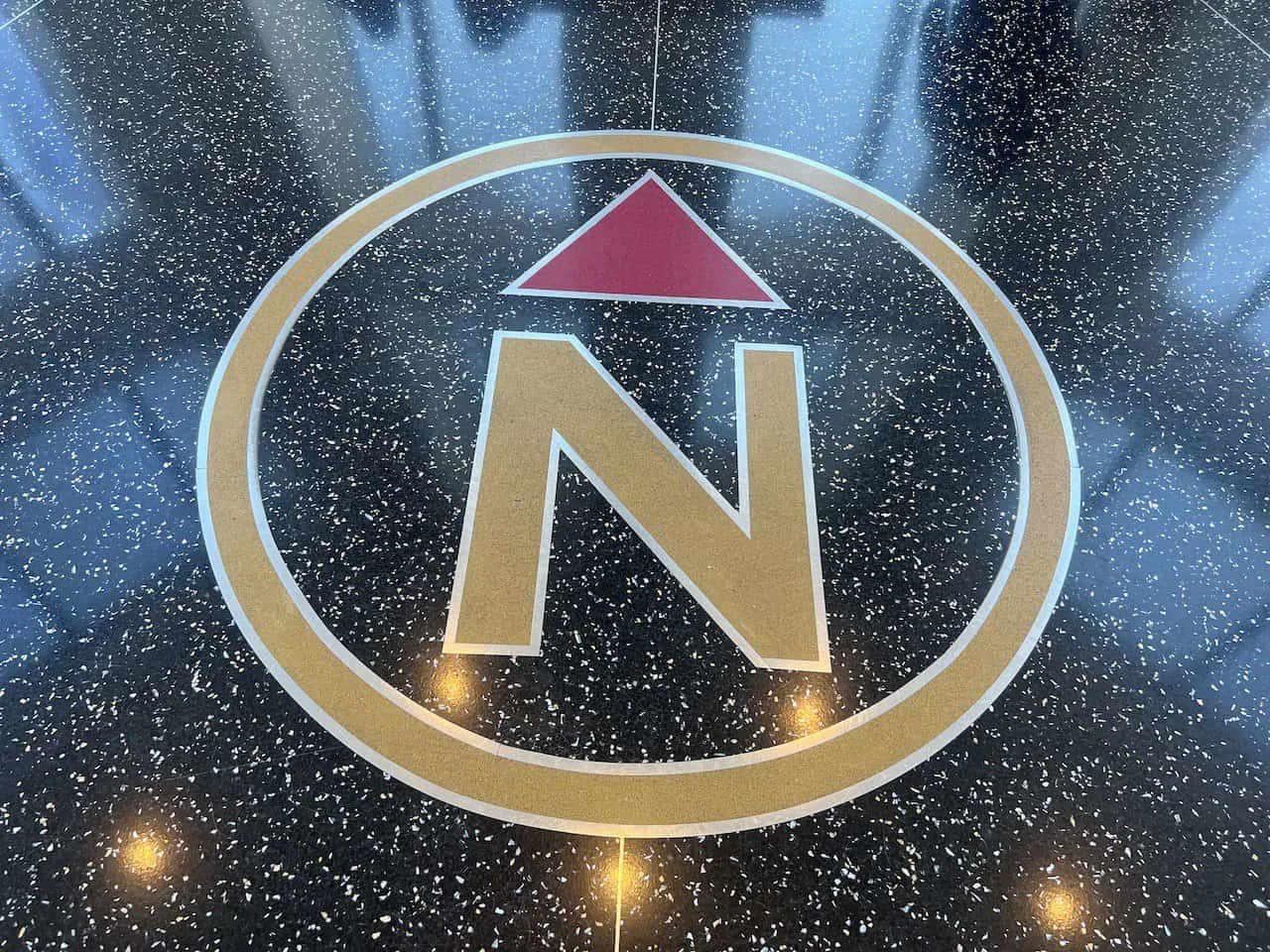 In addition to the views, there are some other highlights you will come across on the 100th floor:
Sky Portal
While most of the 100th floor will just be 360 degree views, you will also come across the Sky Portal. Here you will find a 14 foot wide circular screen on the floor.
While it is not an actual glass floor that shows all the way down to street level, it does offer a live view of the traffic and cars down below.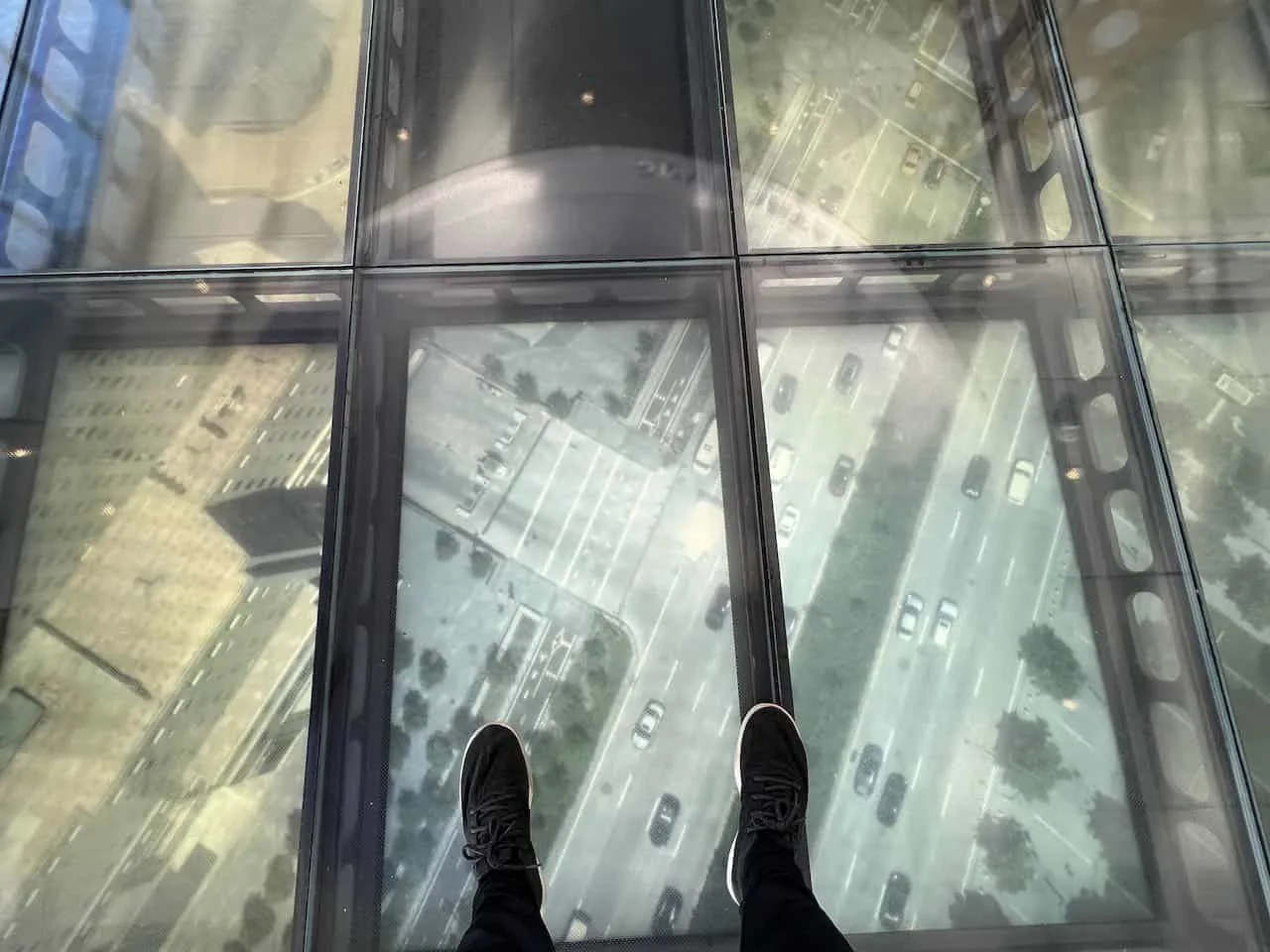 City Pulse
Once every hour or so, you can sit in on an informative session called City Pulse. A guide will talk through NYC's top landmarks and neighborhoods through this interactive technology experience.
In addition, you will find a gift shop and secondary bar on the 100th floor as well.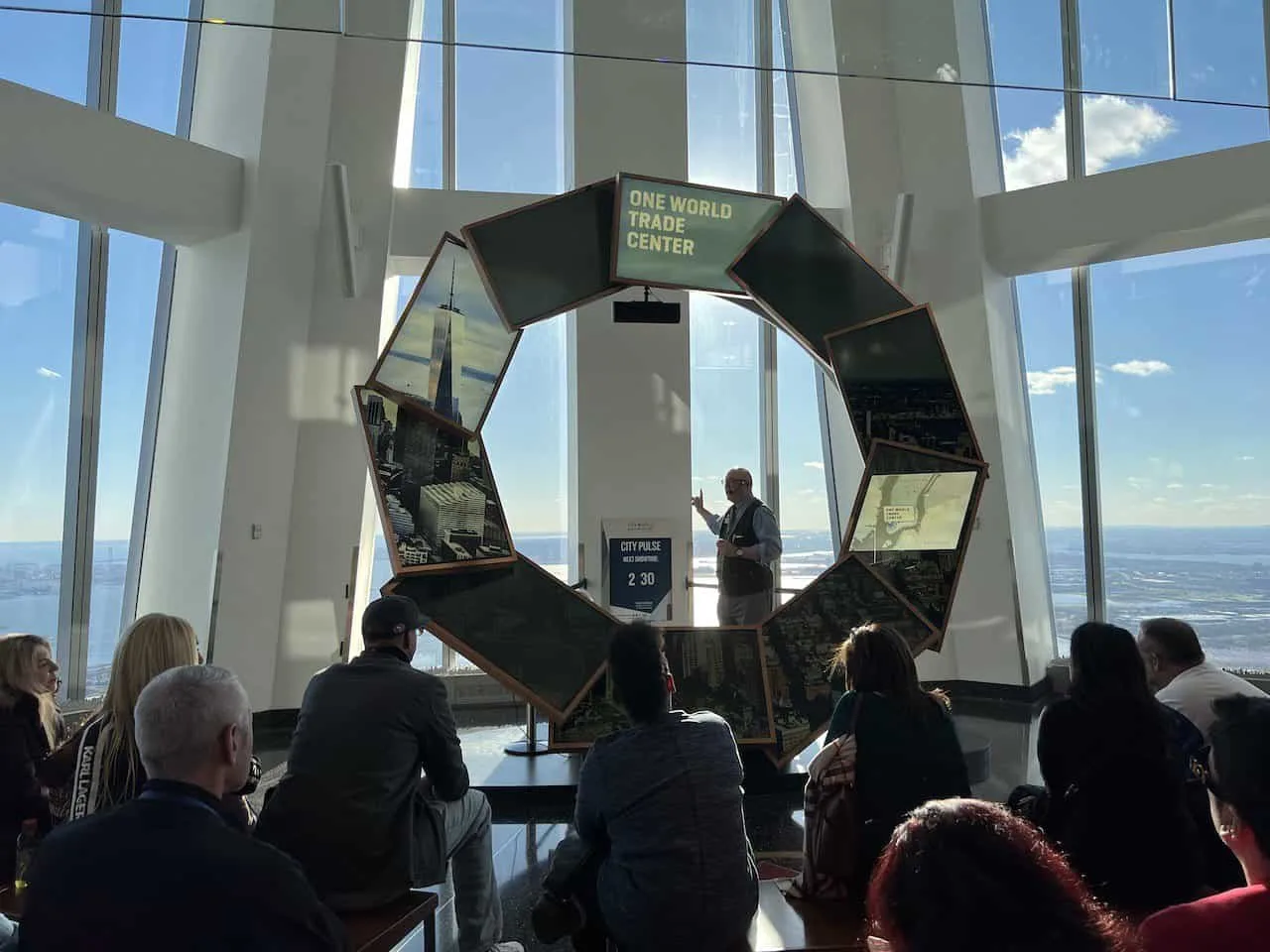 7) One World Observatory vs Top of the Rock
When visiting NYC, odds are you will want to visit one of the city's observation decks. While there are several of them to choose from, I don't think it is necessary to visit them all.
However, one of the main questions that comes about is the comparison between One World Observatory vs Top of the Rock.
As I mentioned at the very beginning, OWO is the only observatory located in downtown Manhattan. The remainder of them (including Top of the Rock) are located 34th Street and above.
Due to this, the views that you will get from One World Trade will be vastly different than the ones you will get from Top of the Rock.
I loved that from OWO, you get to see landmarks such as the Statue of Liberty and the Brooklyn Bridge, from up close. You also get a full Manhattan view from south to north (including both rivers in one frame).
On the other hand, Top of the Rock gives you a beautiful perspective looking southbound with the Empire State Building nearby and One World Trade at the tip of the city. In addition, you get great views of Central Park and the famous Billionaire's Row skyline.
Beyond the differing views, the other main thought to consider is the indoor vs outdoor experience. At the Top of the Rock, you will have an outdoor observation deck to enjoy over three levels (with the top level having no glass in front of you). OWO is completely indoors with glass panels all around.
At the end of the day, it is tough to go wrong with either. I would say, go with the views that look best to you (unless of course you can fit both in on one trip!).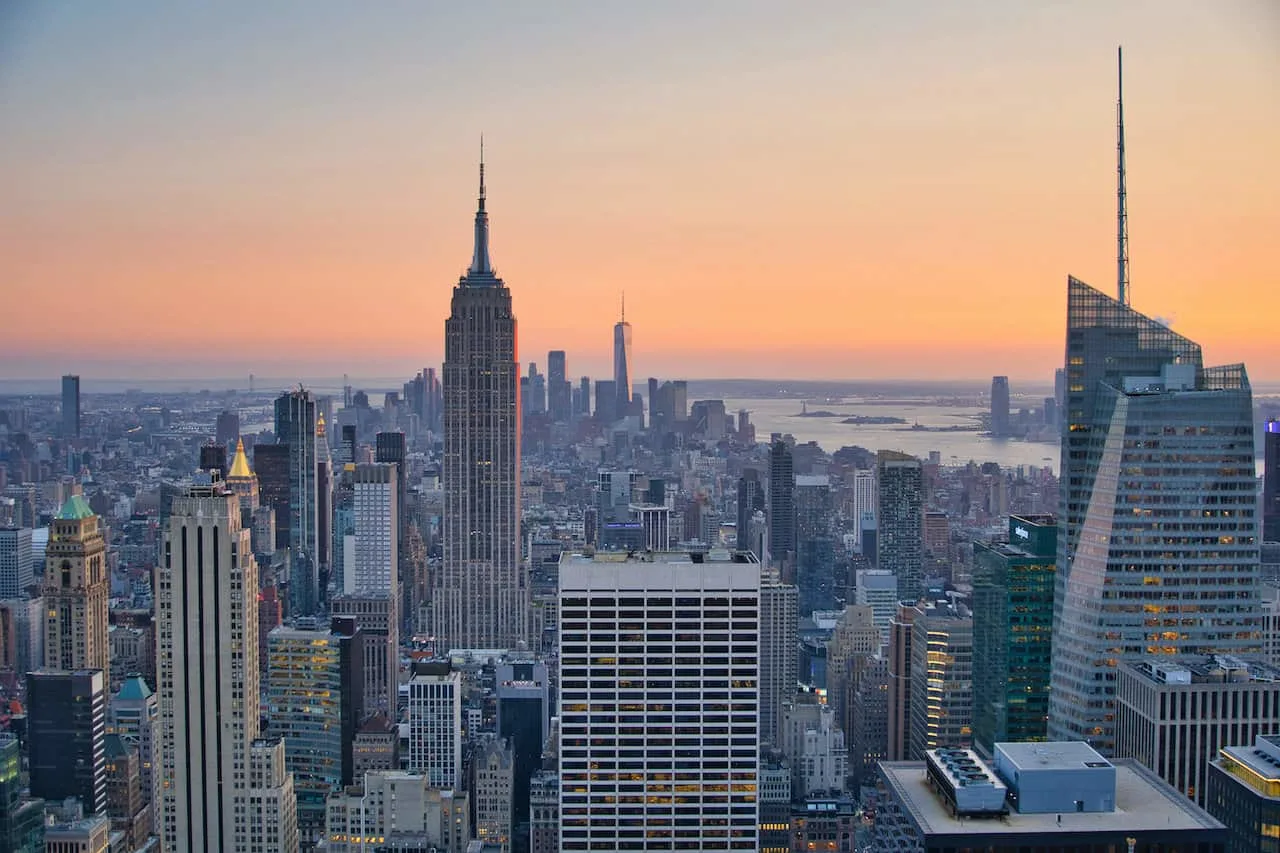 8) What To Do After
With its location at the southern end of Manhattan, One World Trade Center offers plenty of other attractions and activities nearby. Before or after your time at the observatory, you can take part of some of these:
9/11 Memorial & Museum: just next to the Freedom Tower you will find the two memorial pools, where the original Twin Towers were. In addition, the 9/11 Museum is a great place to learn more about the history of the area.
Hudson River Park: if you walk westbound from the building, you will come across the southern entrance point of Hudson River Park. The park runs from here up to 59th Street, and offers plenty of highlights along the way. Some of my favorite spots include Pier 26, Pier 57 Rooftop, and Little Island.
The Oculus: below One World Trade you will find the Oculus. This is a transportation hub and mall in a very unique looking building. Grab some photos from the top levels for the best view.
Battery Park: you can also make your way to the tip of Manhattan, where you will find Battery Park. This is a great area for views of the Statue of Liberty out in the distance. If you are up for it, this is also where you can hop on a Statue of Liberty cruise to the statue itself.
Brooklyn Bridge: walking just 10 minutes eastbound, you will come across the Manhattan entrance to the Brooklyn Bridge. This bridge is the most famous of bridges in NYC and makes for the perfect addition to the day. After walking across the bridge you can enjoy Brooklyn Bridge Park and the Brooklyn Heights Promenade.
South Street Seaport: not too far from the Brooklyn Bridge entrance, you will find the South Street Seaport area. You can stroll around the cobblestone streets and visit the nearby Pier 17.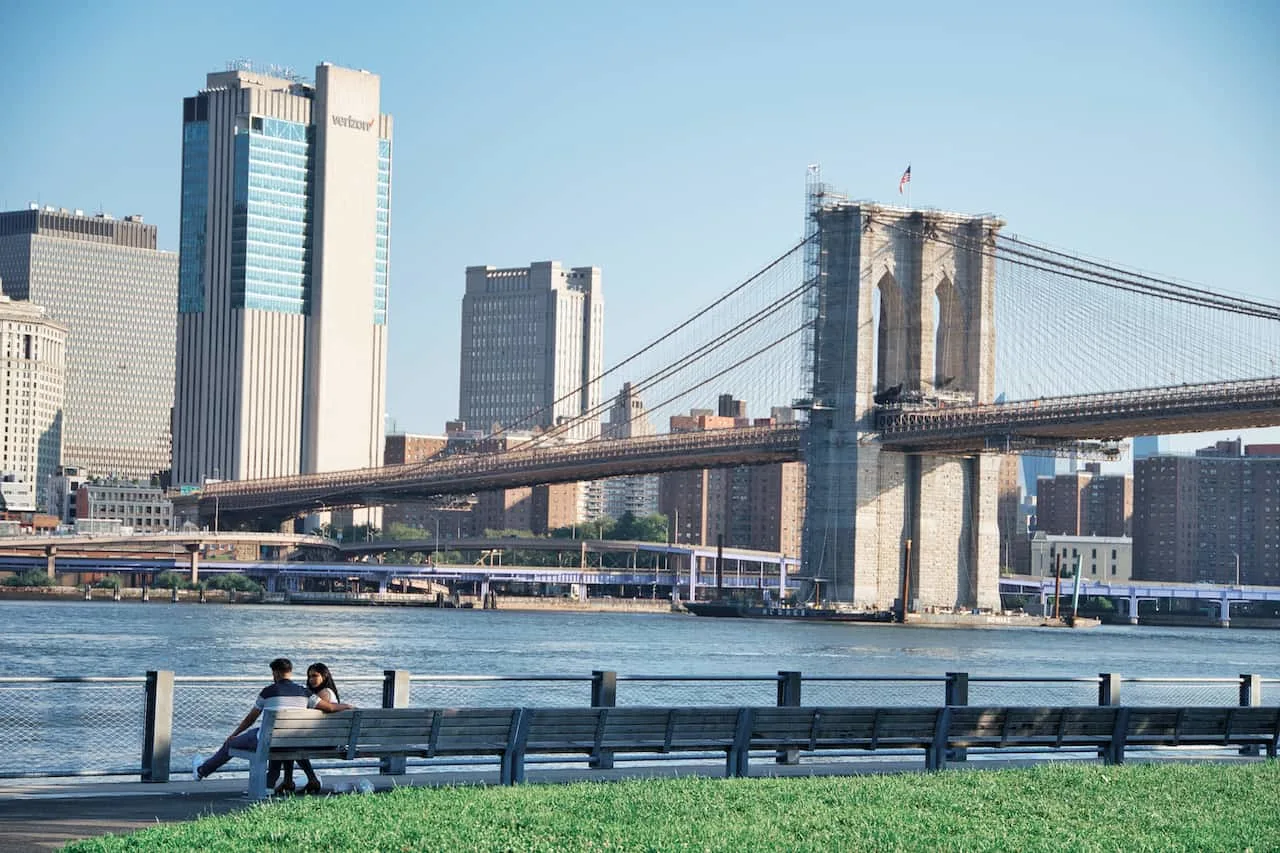 9) Where to Stay in NYC
There are so many different neighborhoods to choose from when visiting Manhattan. Below are some of my top choices for a few of my recommended locations in the city:
Chelsea: If you are looking to be well situated between uptown, midtown, and downtown, then Chelsea can be a great option for you. You have highlights such as the High Line, Little Island, the Vessel, and the Hudson River right nearby.
And if you are looking to head to Central Park uptown or the World Trade Center area further downtown, then you are just a quick subway ride away. Recommended Chelsea hotels:
Cambria Hotel | Hyatt House | Moxy NYC
Midtown: Right in the middle of the action is the midtown area, where you have the one and only Times Square, and all Broadway shows right at your doorstep.
You are also within walking distance to the southern end of Central Park. Almost all subway lines connect at Times Square so getting around should not be an issue. Recommended Midtown hotels:
LUMA Hotel | citizenM Hotel | Aliz Hotel
Tribeca: If you are trying to stay in downtown Manhattan, then I would recommend looking into some Tribeca hotels. Staying here and you will be just a stone's throw away from the World Trade Center area, 9/11 Memorial Pools & Museum, and the hop on point for the Statue of Liberty. You will also be able to be walking distance from the start of the Brooklyn Bridge walkway. Recommended Tribeca Hotels:
The Roxy Hotel | Sheraton Tribeca | Four Seasons Hotel
» Check out this helpful guide that talks all about the best places to stay in New York during a visit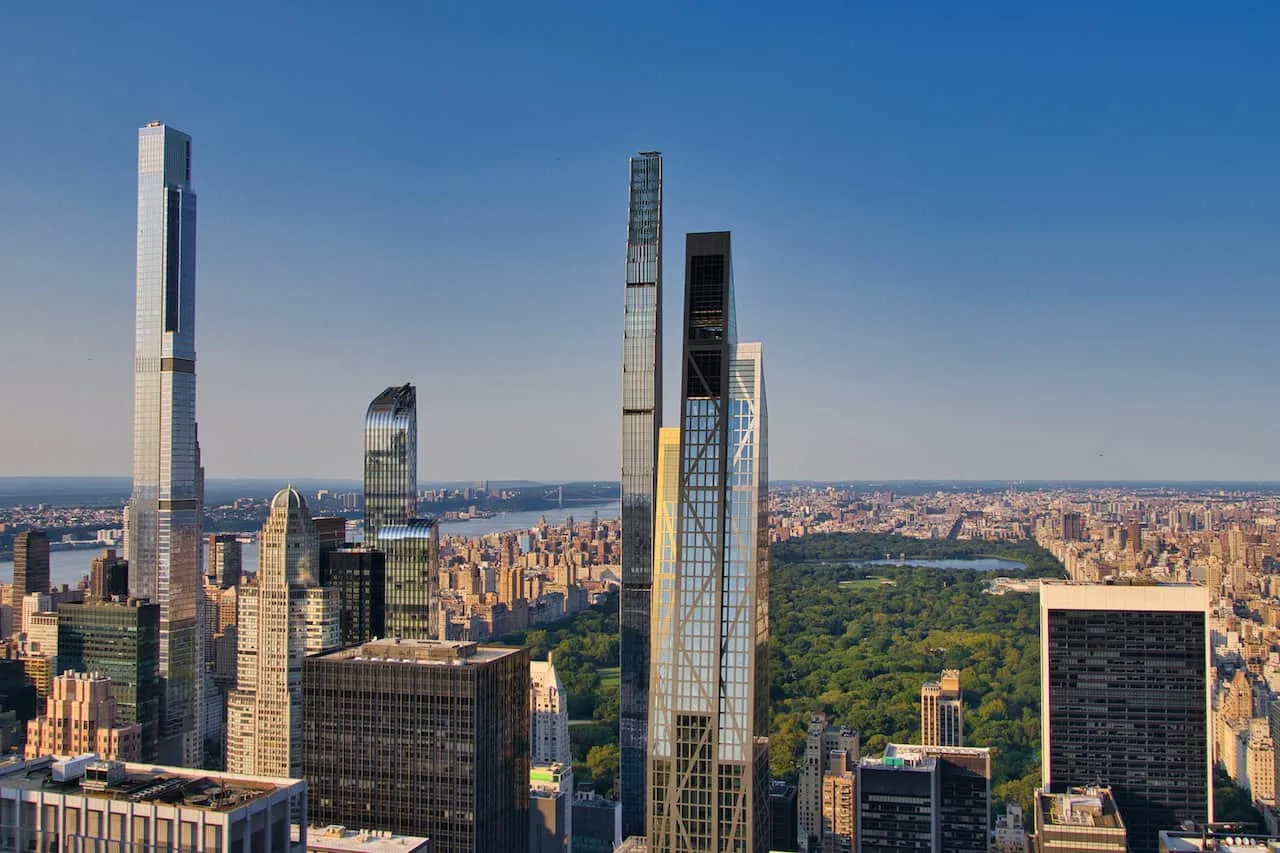 So, is the One World Observatory worth it? Absolutely! It is a great addition to a trip to NYC and it will give you a whole new perspective of what the city is all about.
If you have any questions or comments, feel free to add them in below. Also don't forget to check out the other New York itineraries and guides up on the site.
Have fun out there and safe travels!