Welcome to one of New York City's newest attractions – Little Island! Located at Pier 55 on Manhattan's Hudson River Park, Little Island is a floating park full of greenery, open spaces, viewpoints, and more.
This Little Island guide will go through the most frequently asked questions about Little Island and help better explain what this park is all about. From hours and reservations to finding the best photography spots, this guide will have it all.
I hope you enjoy this guide and have a great time visiting Little Island of NYC!
* Affiliate Disclosure: This post may contain affiliate links, which means I may receive a commission if you make a purchase through the links provided, at no additional cost to you. Thanks for supporting the work I put into TripTins!
1) Background & Facts
Before jumping into some more specific questions about Little Island, I thought it may be helpful to start out with a quick history and background about the space.
» In the early 20th century, Pier 54 (what it was known prior to Pier 55), was the home of the British Cunard White Star line. This was a point of departure for voyages between the US and Europe. At the base of Little Island, you will see a massive steel arch. This was the original arch from the building.
» Once the Hudson was no longer used for trade and transport, the pier was turned into a big open space used for events throughout the years. There were dances, events, and concerts that called Pier 54 home.
» It was then in 2012 that Hurricane Sandy hit and damaged much of the pier. Instead of repairing it back to normal, the process of bringing Little Island to life was born.
» From 2014 to 2021 the design and construction of Little Island took place. On May 21, 2021 it was officially opened to the public.
» The island covers 2.4 acres and is held up by 132 pot shaped structures called Tulips. These tulips vary in height, anywhere between 15 and 62 feet above the water.
→ Visit Little Island as part of a longer New York City 4 day itinerary that takes you throughout the city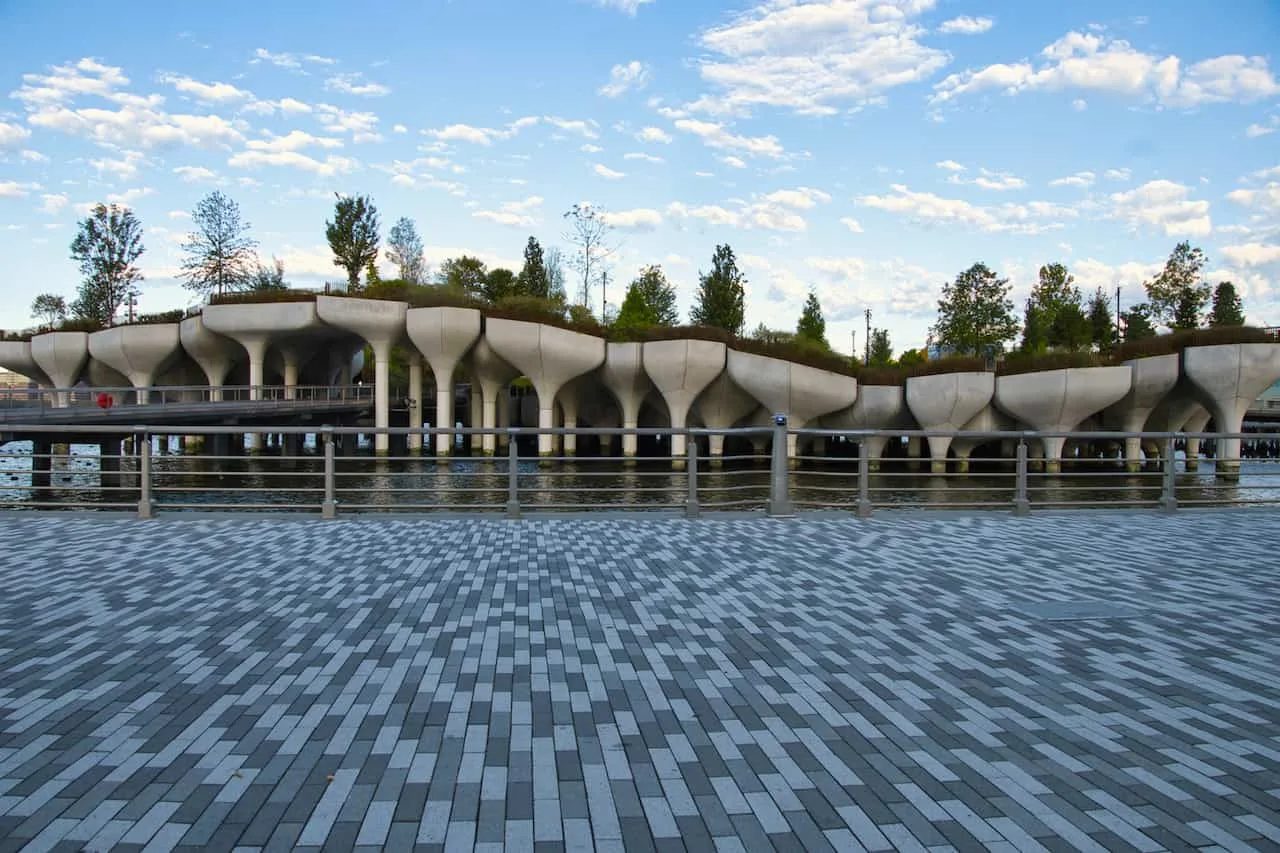 Who Paid for Little Island?
Barry Diller and Diane von Furstenberg's foundation was the main benefactor of Little Island. Diller is the founder and executive chairman of the media conglomerate IAC, and his wife von Furstenberg is a well known fashion designer.
How Much Did it Cost to Build Little Island?
Barry Diller and Diane von Fursternberg's family foundation donated $260 million to build Little Island. They have also committed another $120 million over the next 10 years for maintenance and theatrical performances.
The city itself contributed $17 million for the esplanade and the state gave in $4 million.
2) How Do You Get to Little Island?
Now for a few logistics about Little Island and how to make your way there.
Little Island is located within Hudson River Park. The overall park expands all the way from Pier 97 in the north, down to Battery Park in the south. The island is located more towards the southern end of the park where West 13th Street intersects with the river.
There are several ways to make your way to Little Island depending on where you are staying within NYC (and if walking is out of the question).
Subway
The closest subway line to Little Island is located on the corner of 14th Street and 8th Avenue. This is approximately an 8 minute walk. The A/C/E/L trains stop at the station.
The next closest subway is located at 14th Street and 7th Avenue, where the 1,2,3 lines would stop at. This would be about a 10 minute walk to Little Island.
Finally there is the F and M lines at 14th Street and 6th Avenue. All three subway stations can be found on the map below.
If you aren't staying near one of those lines, you are able to transfer to them at several stations throughout the city.
Citi Bike
Bicycling to Little Island is also an option with the availability of Citi Bike stations located all around NYC. Within a 5 minute walk from Little Island you will find at least 3 docking stations. If you have your own bicycle, there are docking stations to lock your bike up right at the entrance of the park.
Car / Uber
The last main option here would be to take a taxi or Uber to Little Island. This is going to be the most expensive option but you will be dropped off right near the entrance. You should aim to get dropped off on 10th Avenue and not the West Side Highway itself. Just cross the street and you will be right there.
Note: Be careful getting across the street as it is a fast moving highway. Luckily there are traffic lights at 14th Street and 13th Street that will safely take you across. Do not cross the highway at any point other than the crosswalks.
To help put all of the above in perspective, I have included I Google Maps of the area below. You will see the location of Little Island, the subways, Citi Bike stations, and crosswalks on the map.
What Pier is Little Island NYC?
Little Island sits on Pier 55 on the Hudson River. Prior to Little Island though, the area had another pier, Pier 54.
To the north of Little Island is Pier 57, home to the Pier 57 Rooftop Park (a great place to see Little Island from above). To the south is Pier 53, another pier under construction that is planning to include Manhattan's first public beach.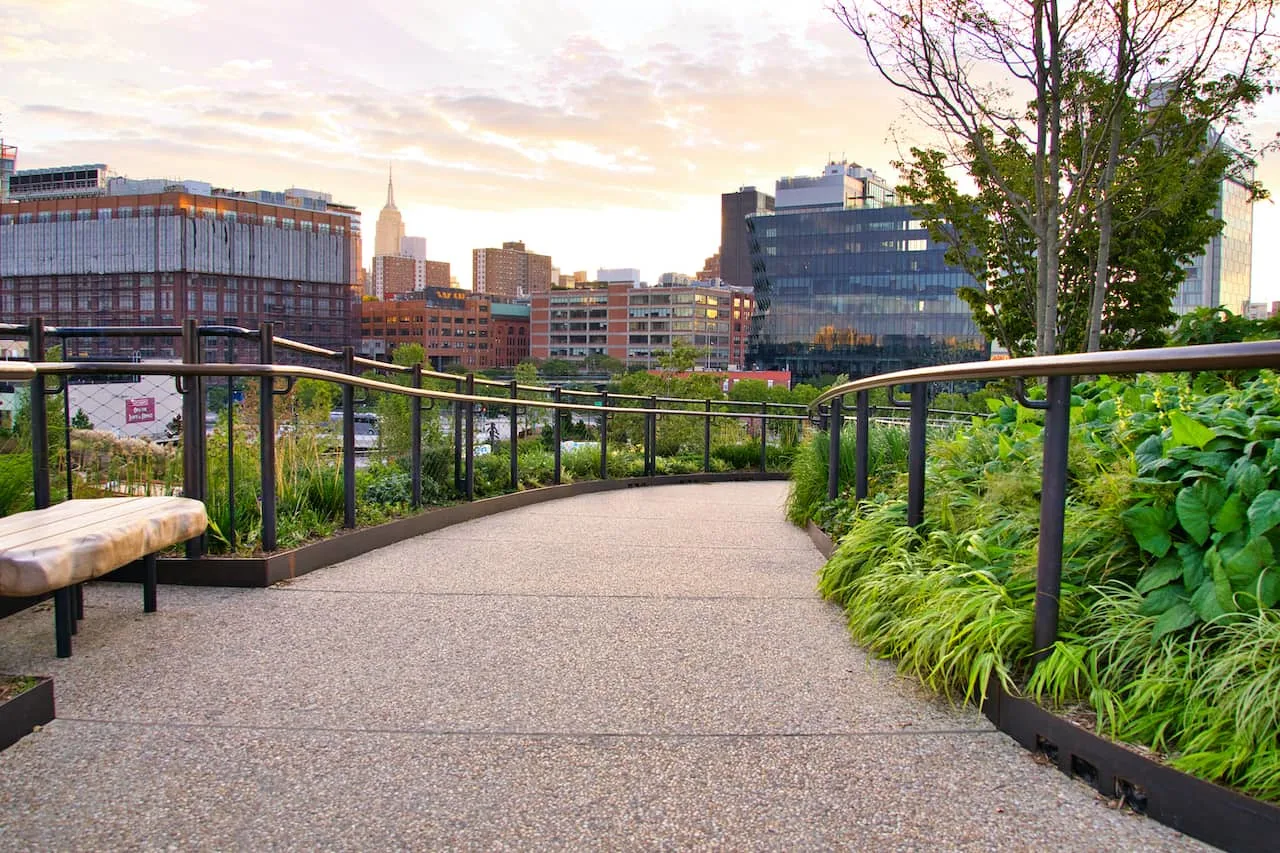 3) Where to Stay in NYC
There are so many different neighborhoods to choose from when visiting Manhattan. Below are some articles to help you make the best choice for your trip.
Looking for the top hotels & neighborhoods in NYC? Check out some helpful accommodation resources when it comes to picking the best spot for you!

Neighborhood Overview: Best Places to Stay in NYC
Best Skyline Views: NYC Hotels with a View
Times Square: Top Times Square Hotels with a View
Theater District: Hotels in Broadway Theater District
Central Park: Best Hotels with Central Park Views
Tribeca: Best Tribeca Hotels
SoHo: Where to Stay in SoHo
Greenwich Village: Top Greenwich Village Hotels
Brooklyn Bridge: Hotels with Brooklyn Bridge Views
Best Panoramas: Hotels in NYC with Floor to Ceiling Windows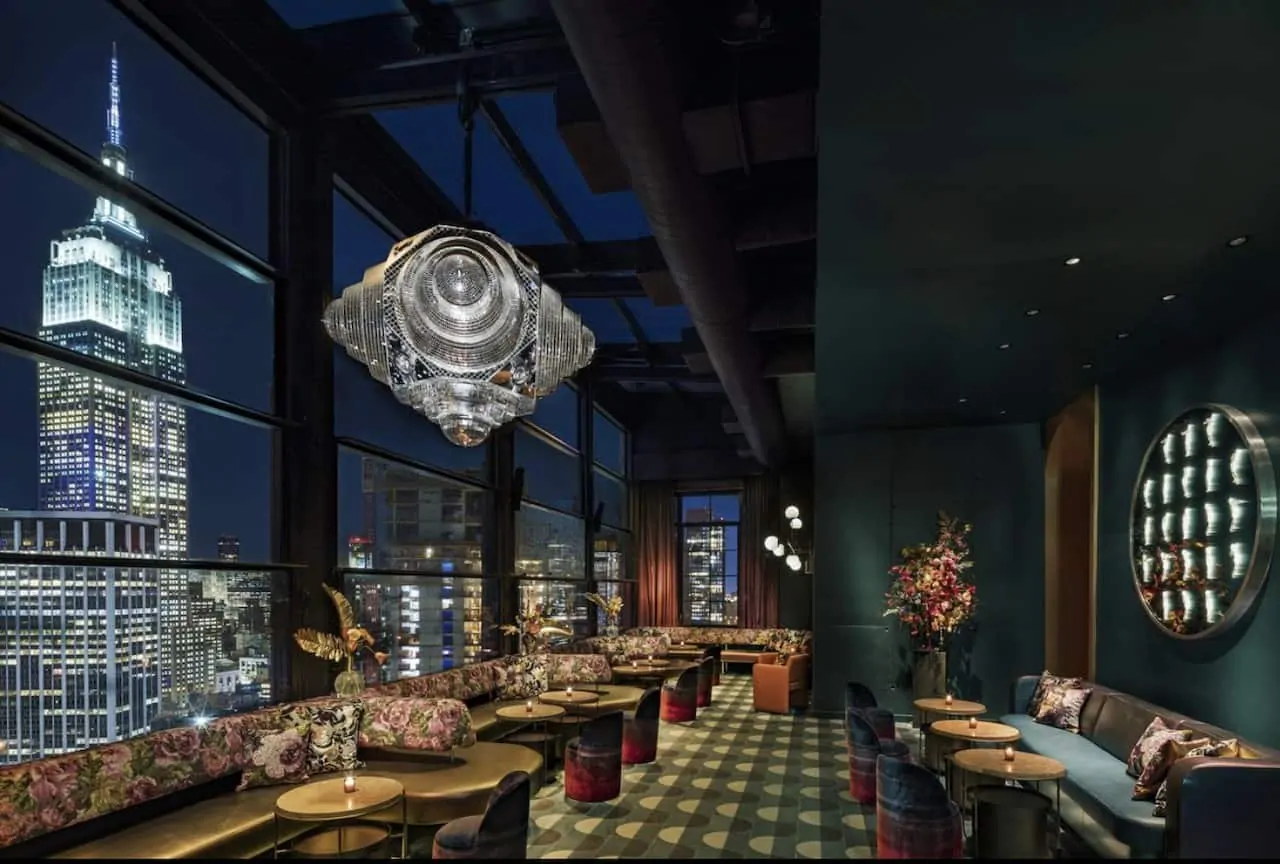 4) Little Island Hours and Reservations
Now that the logistics are down, below are some of the most frequently asked questions about hours, fees, and reservations.
Is Little Island Open to the Public?
Yes, as of May 21 2021 Little Island is officially opened to the public. However, there are rules in place regarding opening times and reservations that you can find below.
Little Island Hours: Depending on the time of year Little Island has different opening hours as shown below:
May 29, 2023 – September 3, 2023: 6:00AM – 12:00AM
September 4, 2023 – November 12, 2023: 6:00AM – 11:00PM
November 13, 2023 – March 10, 2024: 6:00AM – 9:00PM
The park is open 365 days a year unless there are significant adverse weather conditions.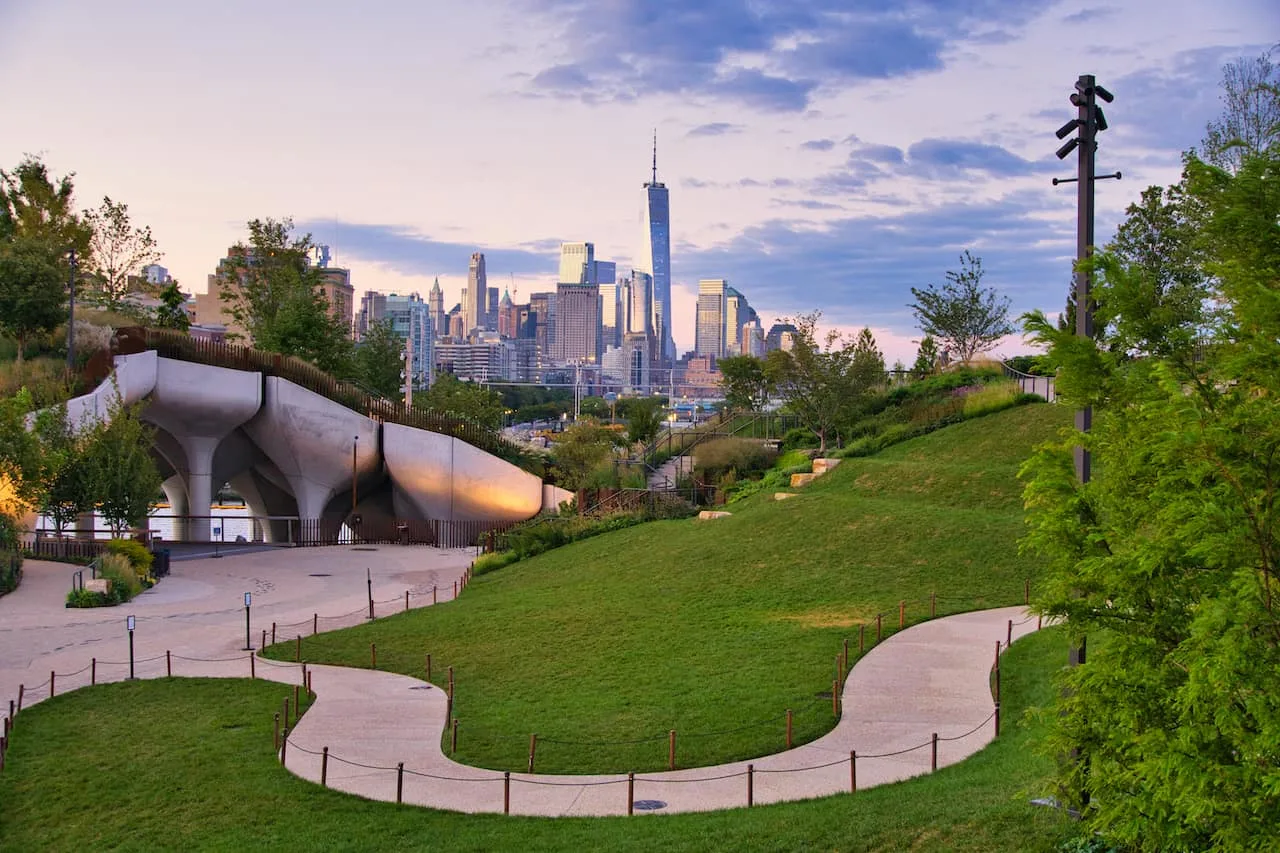 Is Little Island NYC Free?
The great thing about Little Island that it is completely free to visit. While there are certain performances at the amphitheater that may have an admission fee, all other parts of the park are free to enjoy.
Can You Go to Little Island Without a Reservation?
Note that reservations for Little Island are no longer required. You can simply show up at any time during opening hours and enjoy the park.
The only time you would need tickets, is if you are going to a show in The Amph.
Note that Little Island can get busy! If you are not one for the crowds, check out the very end of this guide to get an idea on how to avoid those crowds!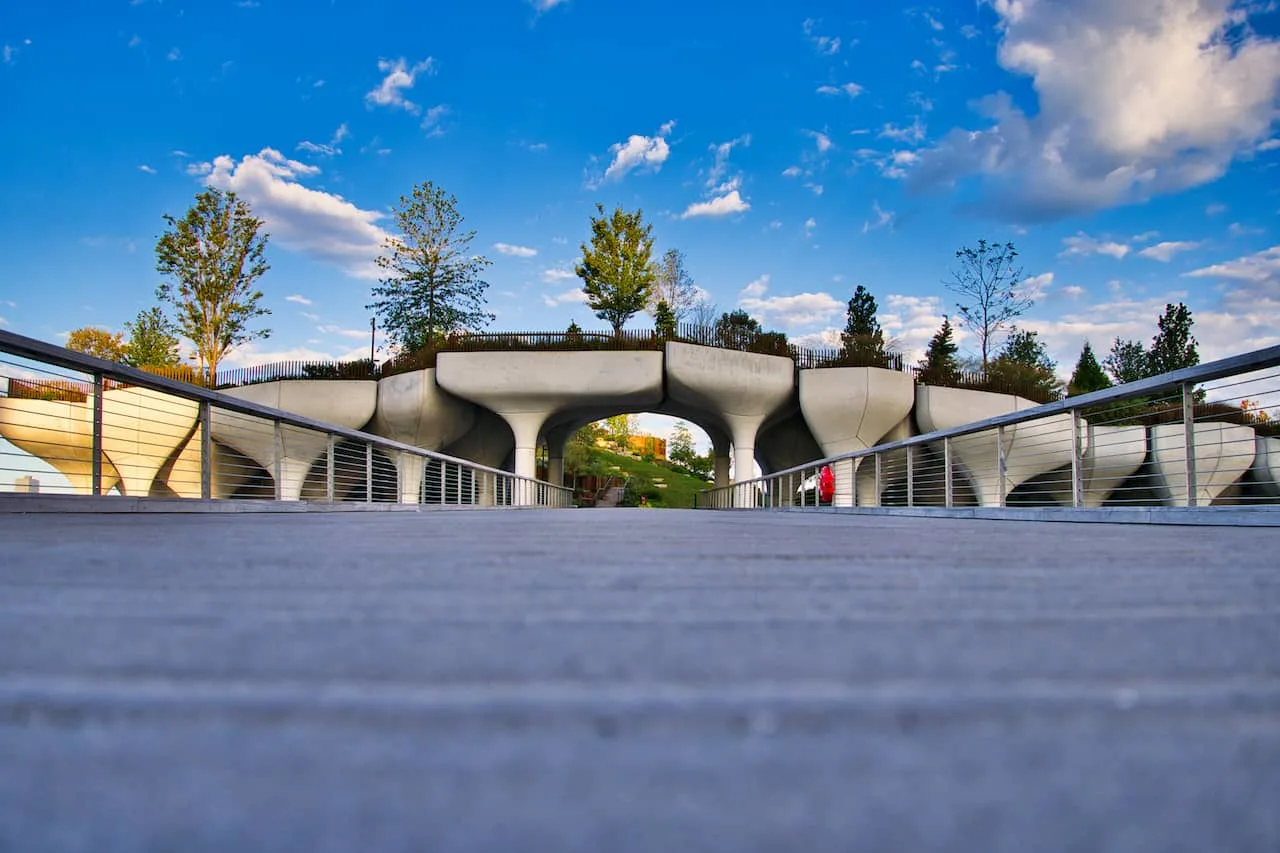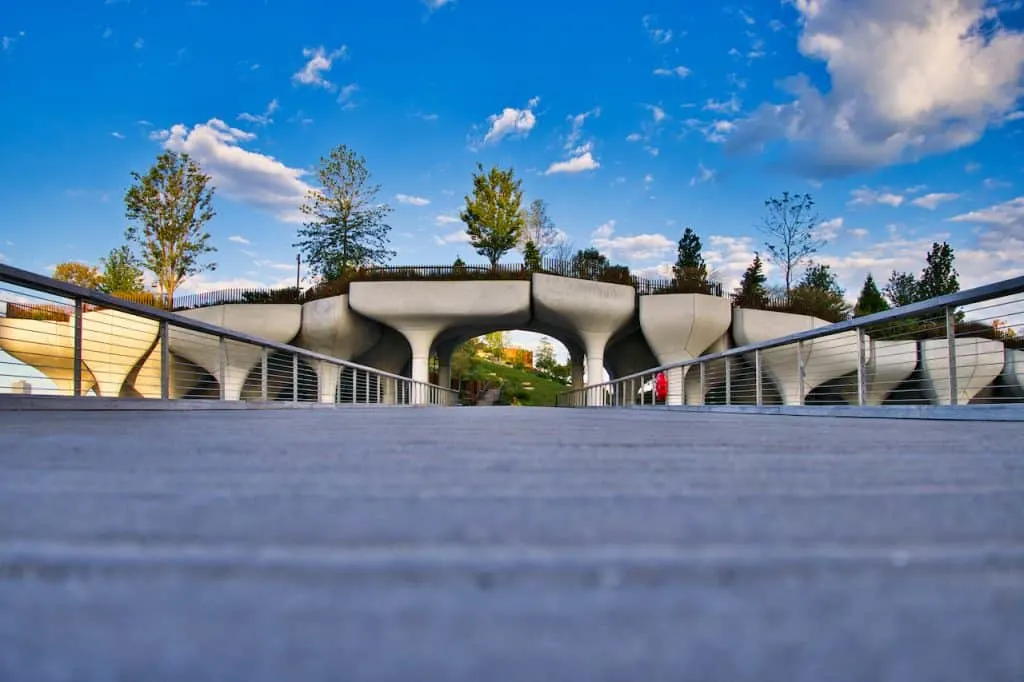 5) Little Island Map
I thought it may be helpful here to give you a sense of what the area of Little Island looks like from a map view perspective.
Below is a map courtesy of Little Island that breaks down the park into different sections.
Entrance / Exit
There are two walkway bridges that make their way onto the island from the Hudson Park walkway. The South Bridge is the main entrance point while the North Bridge is the main exit point.
The Play Ground
As you enter into the park itself, you will be on the ground level where "The Play Ground" is located on the right hand side. To clear up any confusion here, this is not a children's playground. Here is where you will find a seating area with umbrellas as well as various food stalls.
The Glade
Instead of turning right after entering the park, to your left you will find The Glade (as well as the restrooms). The Glade is a mini performance area where various music, dance, poetry, and comedy shows take place.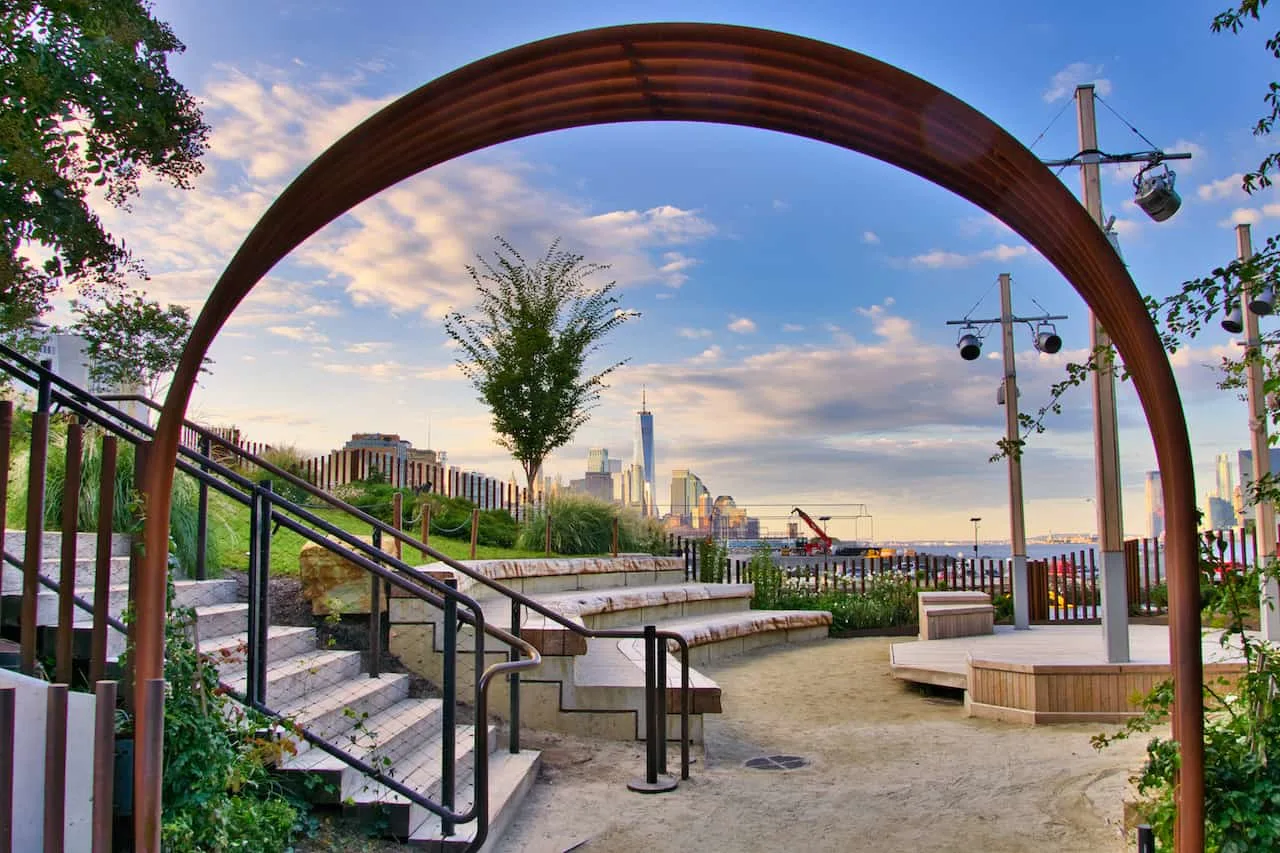 Main Lawn
Also on the ground level here is the Main Lawn, where you can sit back and relax as you enjoy Little Island. Note that the lawn areas are not open year round.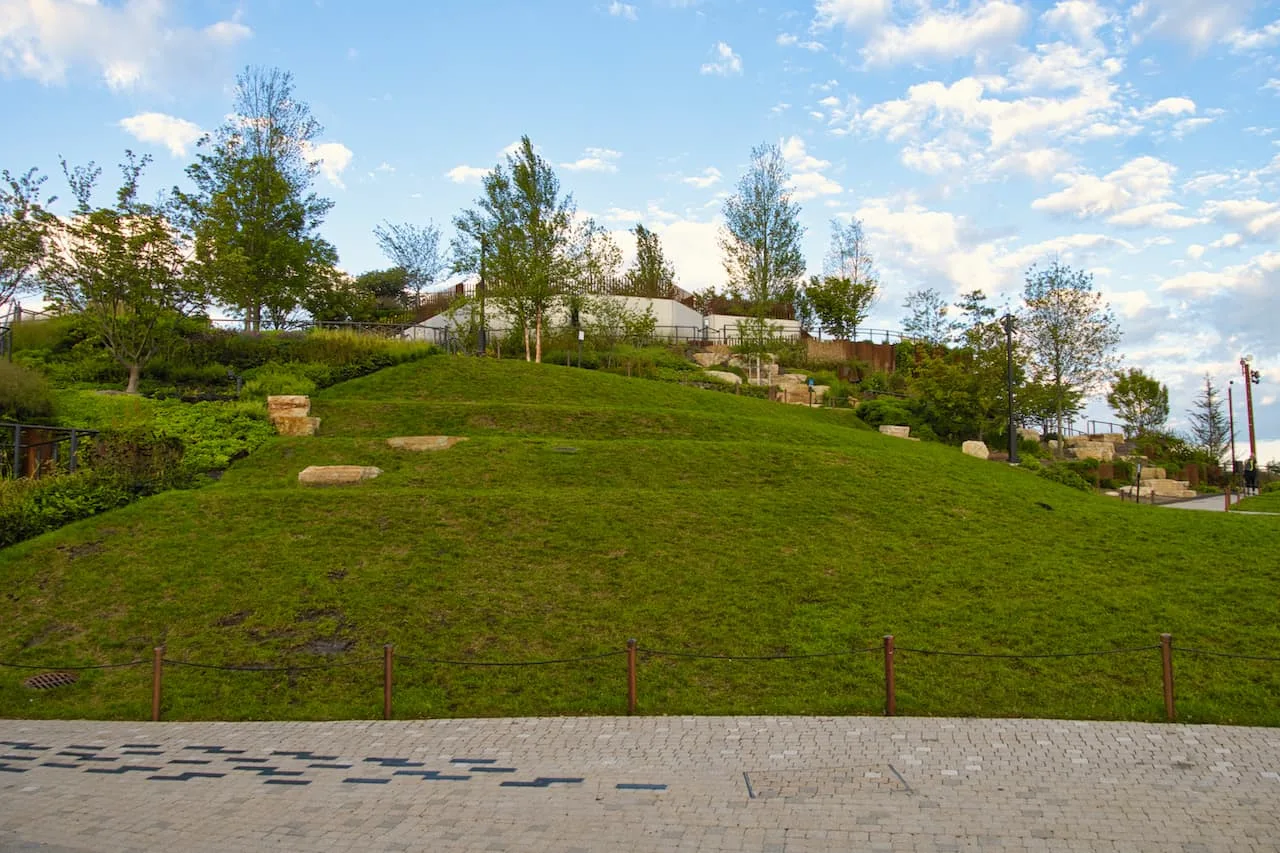 The Amph
The main performing area of Little Island is The Amph, where you can find free and paid performances happening. These will require advance tickets so please be sure to reserve your spot ahead of time.
If there is no performance taking place, then you can feel free to sit back and enjoy the view.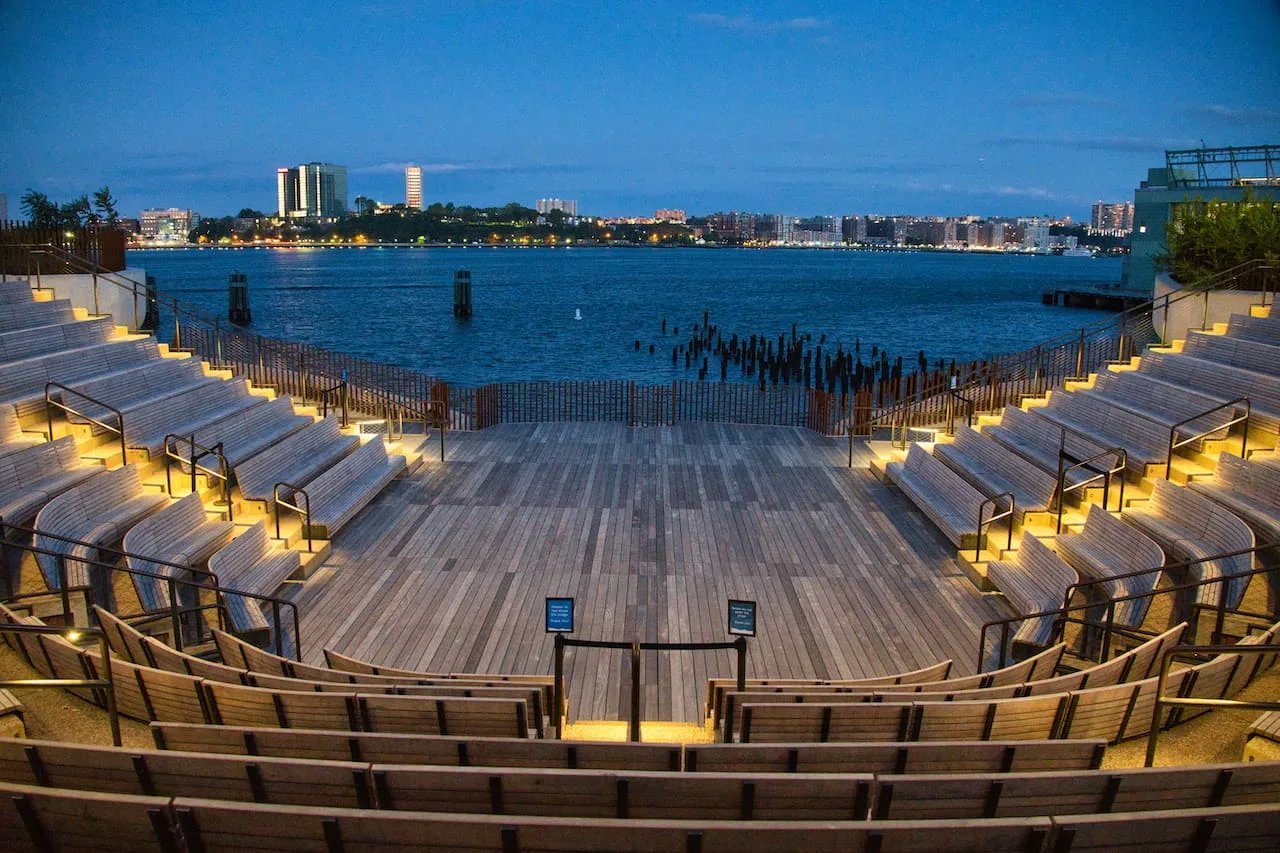 Overlooks
There are three overlook sections of the park – Northwest, Southwest, and Southeast. Each one of these is elevated from ground level and you will take a combination of walkways/stairs to get to each one.
You will find views of Little Island itself, the Hudson River, New Jersey, Empire State Building, One World Trade and plenty more. Check out the end of the guide for photos of each one of these overlooks.
Learn More: Read about some other viewpoints around the area in the guide to the best views in NYC and consider a visit during NYC Fall Foliage!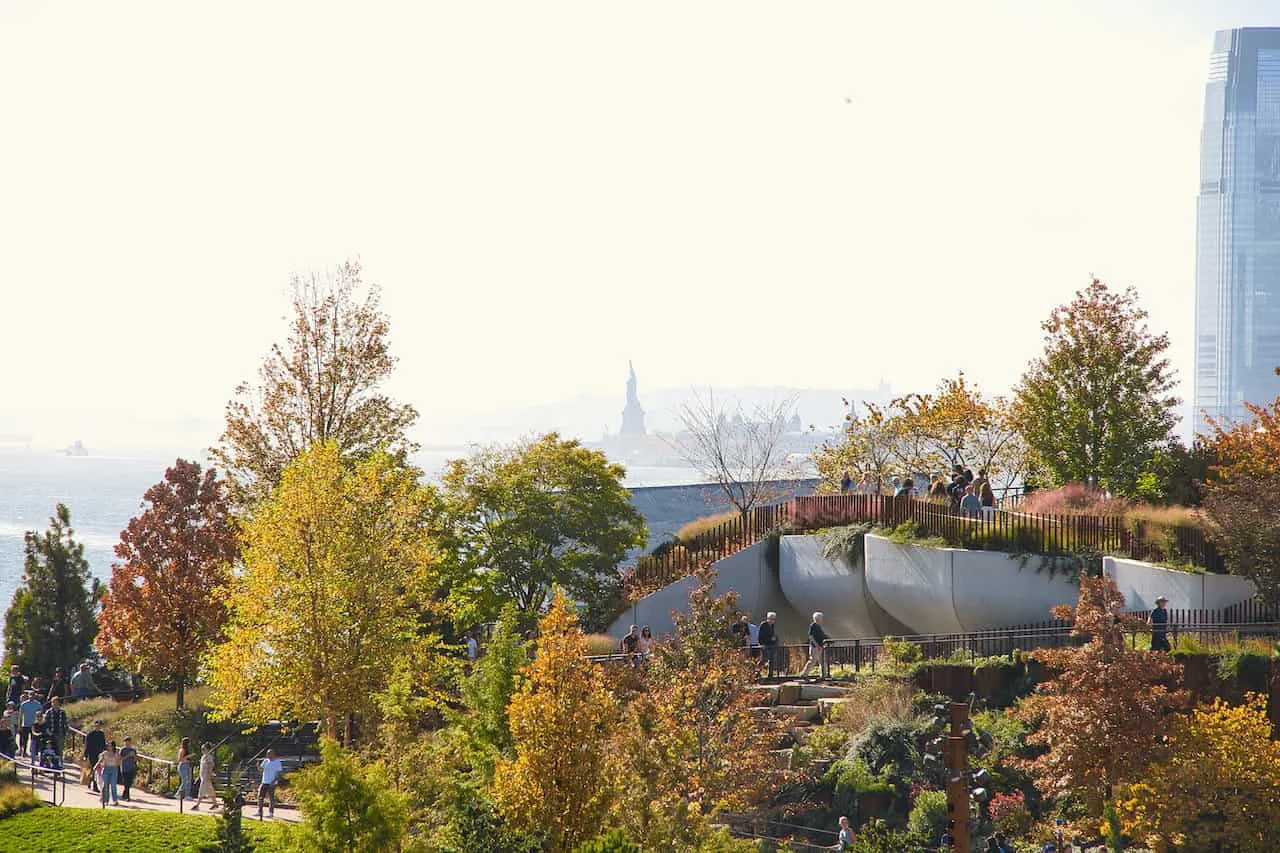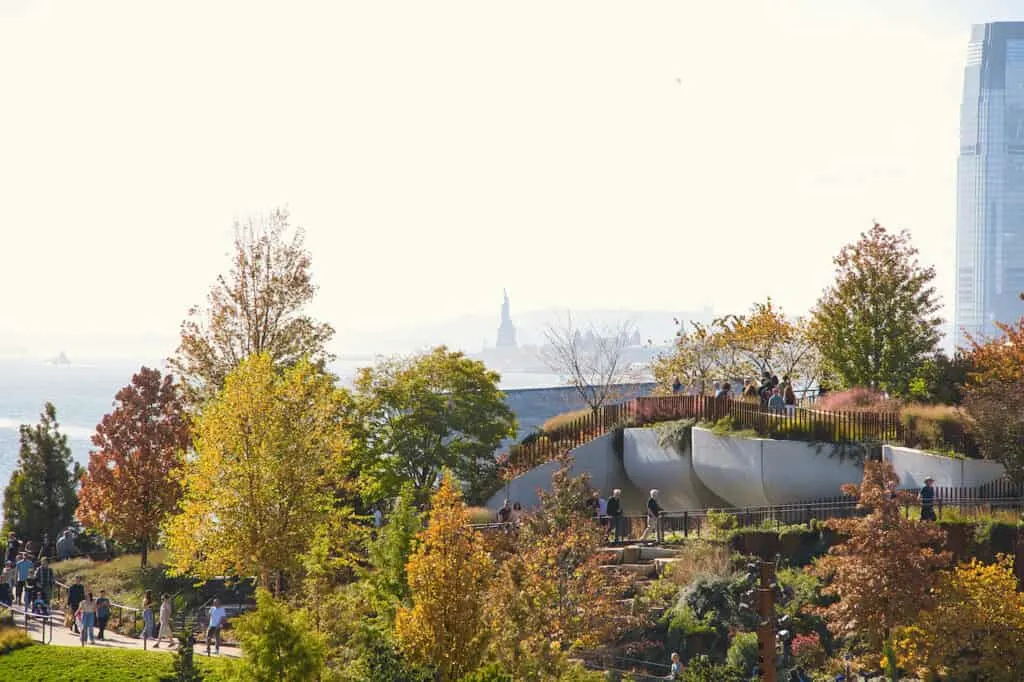 6) Little Island NYC
During a visit you can choose to do a few different activities. Whether it is just hanging out in the open spaces, walking the paths, or taking in the viewpoints, there are several options during a visit.
Here are some helpful things to know for your visit to Little Island of NYC.
What is There To Do at Little Island?
Overlooks – My favorite part of Little Island was simply walking the pathways of the park and getting to take in various views. Whether it was downtown Manhattan, the Hudson River, or the park itself, these overlook sections give you great observations points of NYC.
Park & Lawn – if you are looking for a more relaxing activity, feel free to use the open lawn space that Little Island has to offer. Remember that the lawn is not open year round though.
Little Island Events & Concerts – whether it be a small performance in the Glade or a bigger performance in the Amph, there is always some sort of event going on in Little Island. Some of these require advance tickets so be sure to reserve your spot!
Eat & Drink – there are food options surrounding the Play Ground area. If you are looking to have drink or snack, there is a great selection to choose from here. You will also have many tables in the area to sit down at.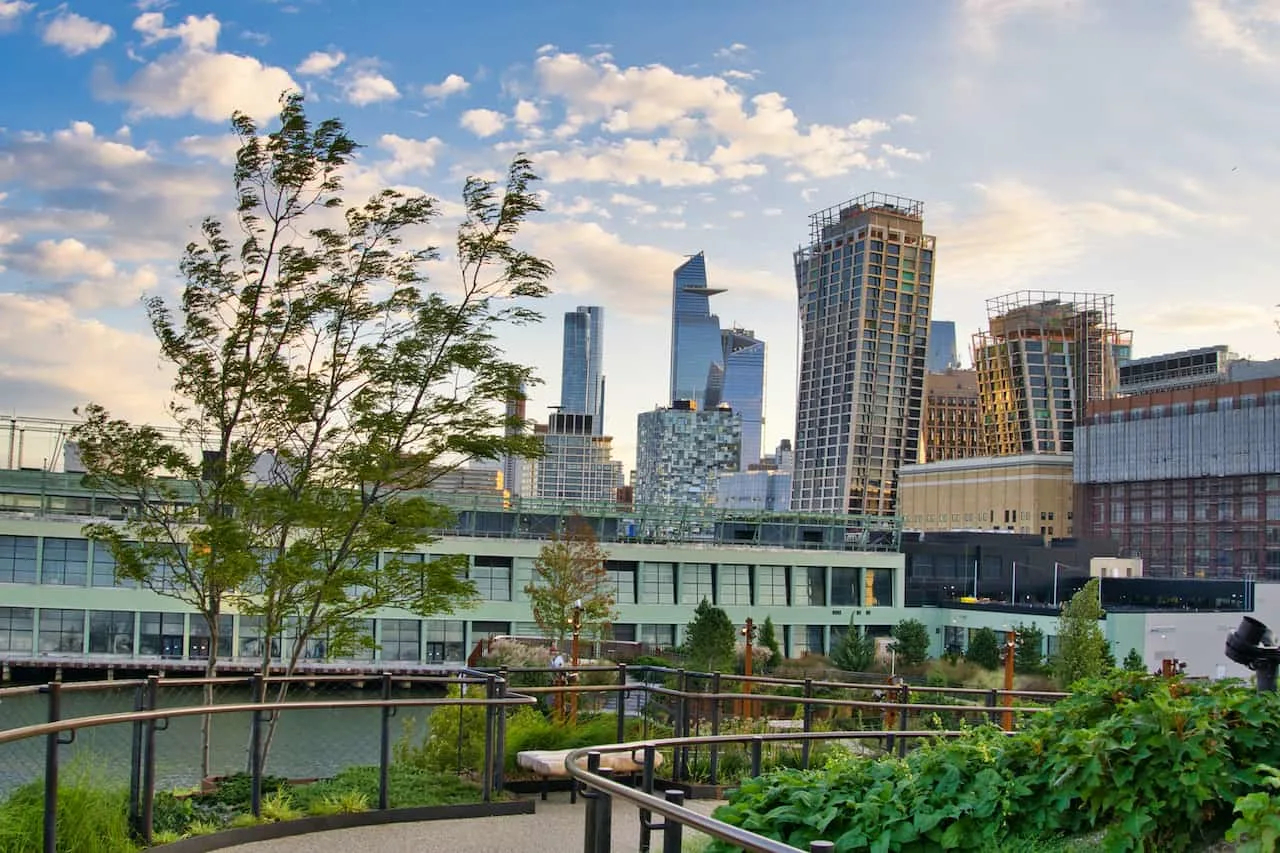 How Long Does it Take to Walk Little Island?
If you are simply just trying to walk all the various pathways of the park and head to each one of the overlook sections, I would say that 30 minutes would get you around to each area of Little Island.
Now, you of course can spend more time at the overlooks or find a seat in the park along the way, but Little Island itself is not too big.
This may also depend on what time you end up going. I headed there early in the morning before the walkways filled up. Having many people walking the paths at once can slow things up too.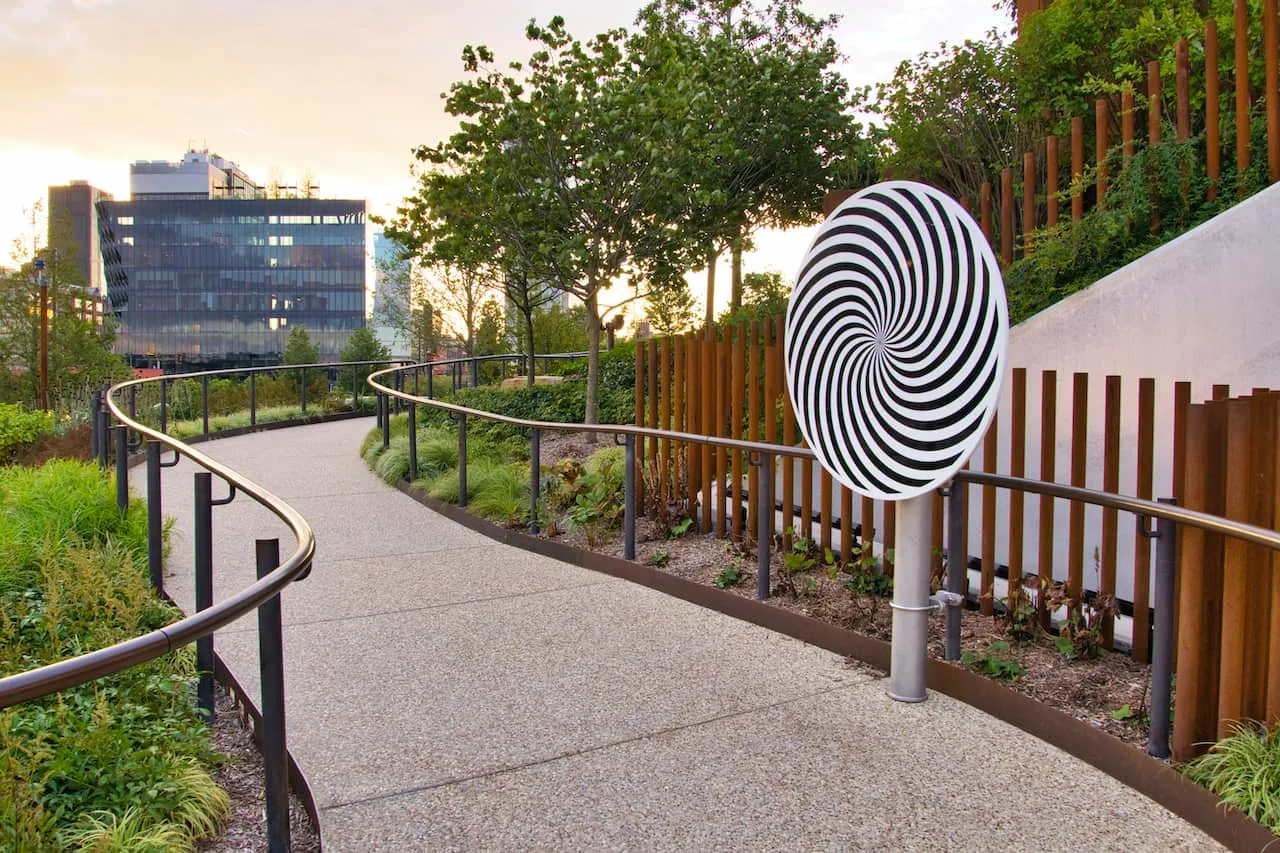 Does Little Island Have Food?
Yes, Little Island does have food options that are located in the Play Ground. Note that food and drinks are not served year round and usually stop by end of October.
Menus may change over time but below is a menu to get an idea of what to expect.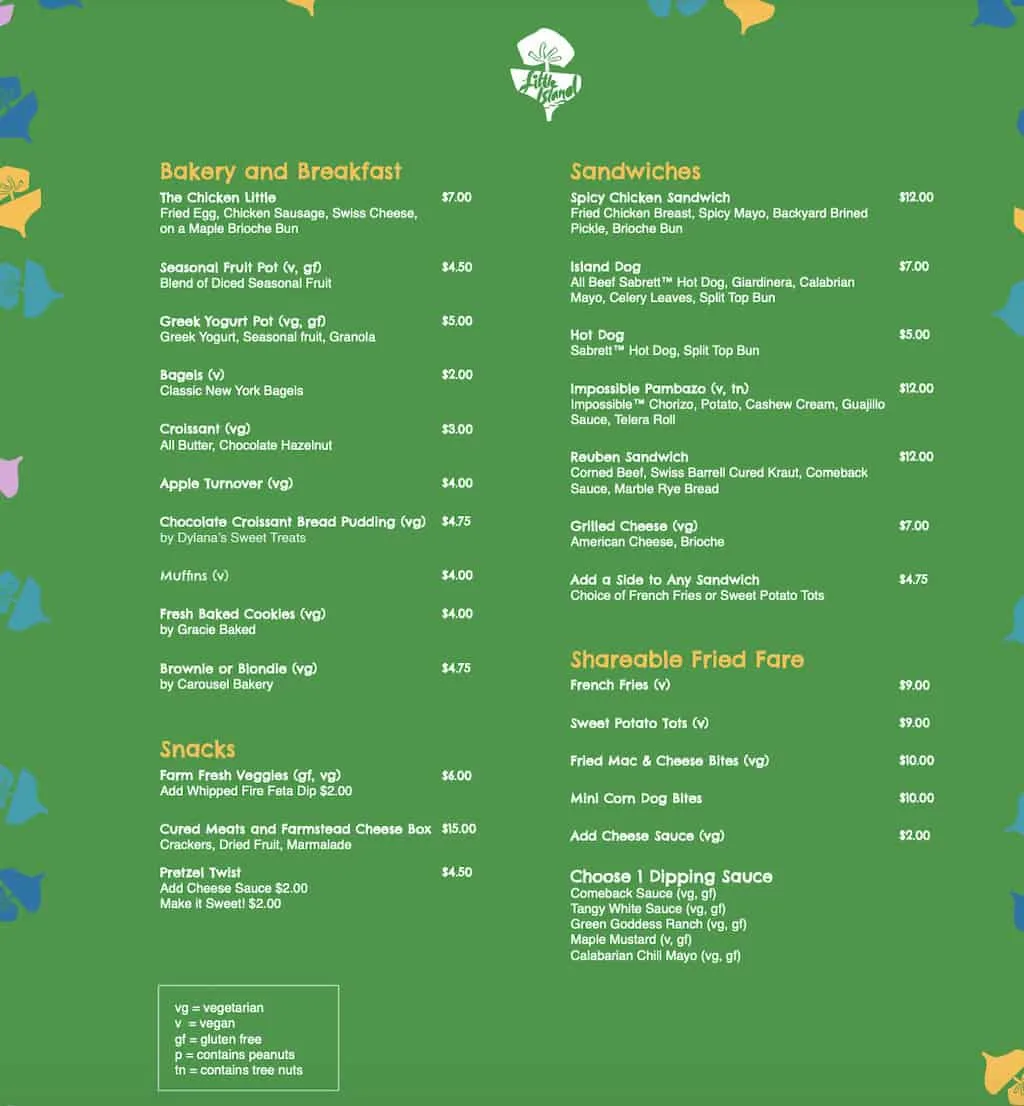 Does Little Island Have a Playground?
While there is a section of the park called the Play Ground, there is not an actual playground located there. Don't worry though, Hudson River Park is full of various playgrounds, so you won't be too far from one if you are looking for some swings.
Other helpful things to know for a visit:
Dogs – no dogs are allowed to enter Little Island, so please be aware of that before you visit.
ADA Accessible – the great thing about Little Island is that it is all ADA compliant. While there are some stairs in certain places of the park, there is also a ramped pathway that will get you to those same spots.
Restrooms – there are public restrooms located in the park.
-> Be sure to also check out some of the other top things to do in New York City during a visit!
7) Little Island Photos
While I have included several Little Island photos above, I wanted to just list out some additional ones located throughout the park.
I have included a short description of where these photos were taken to give you a better idea of the views from different areas.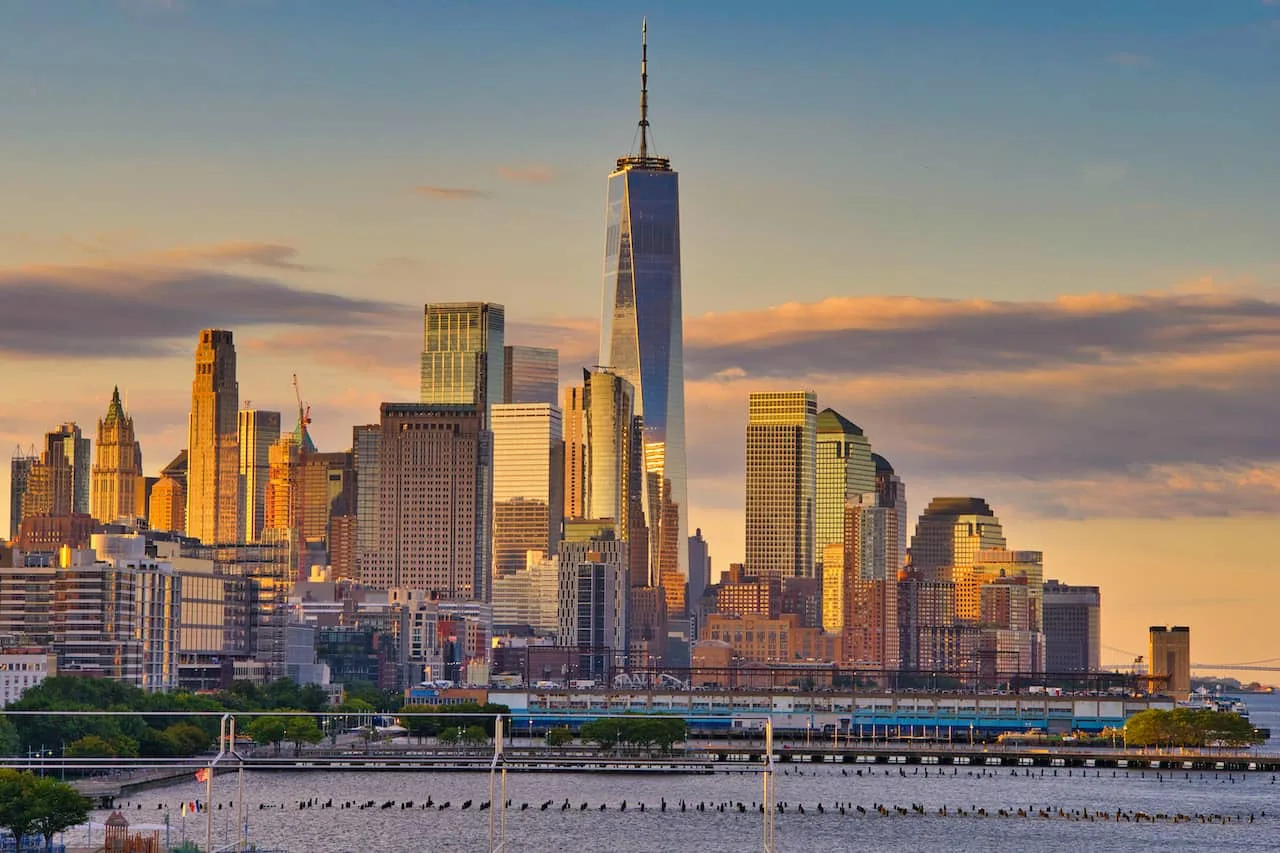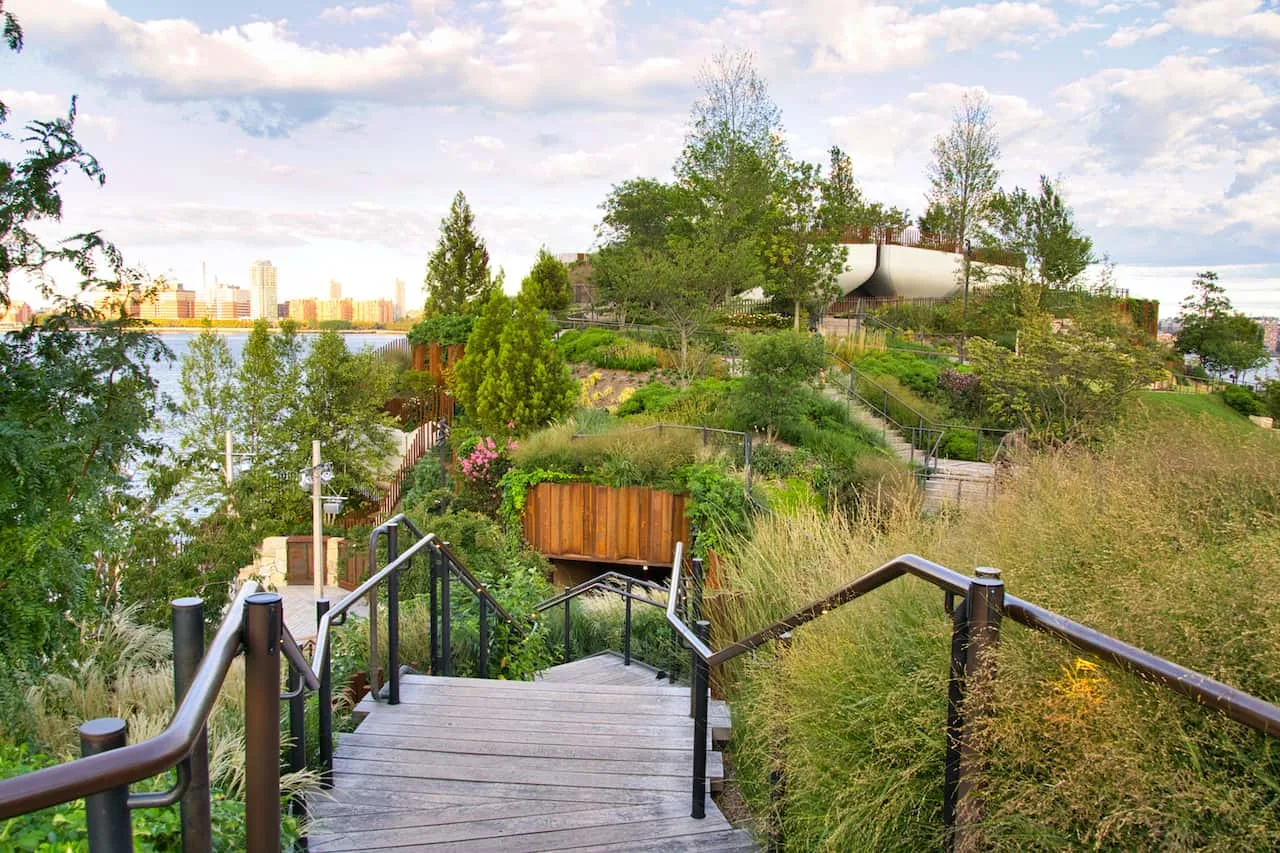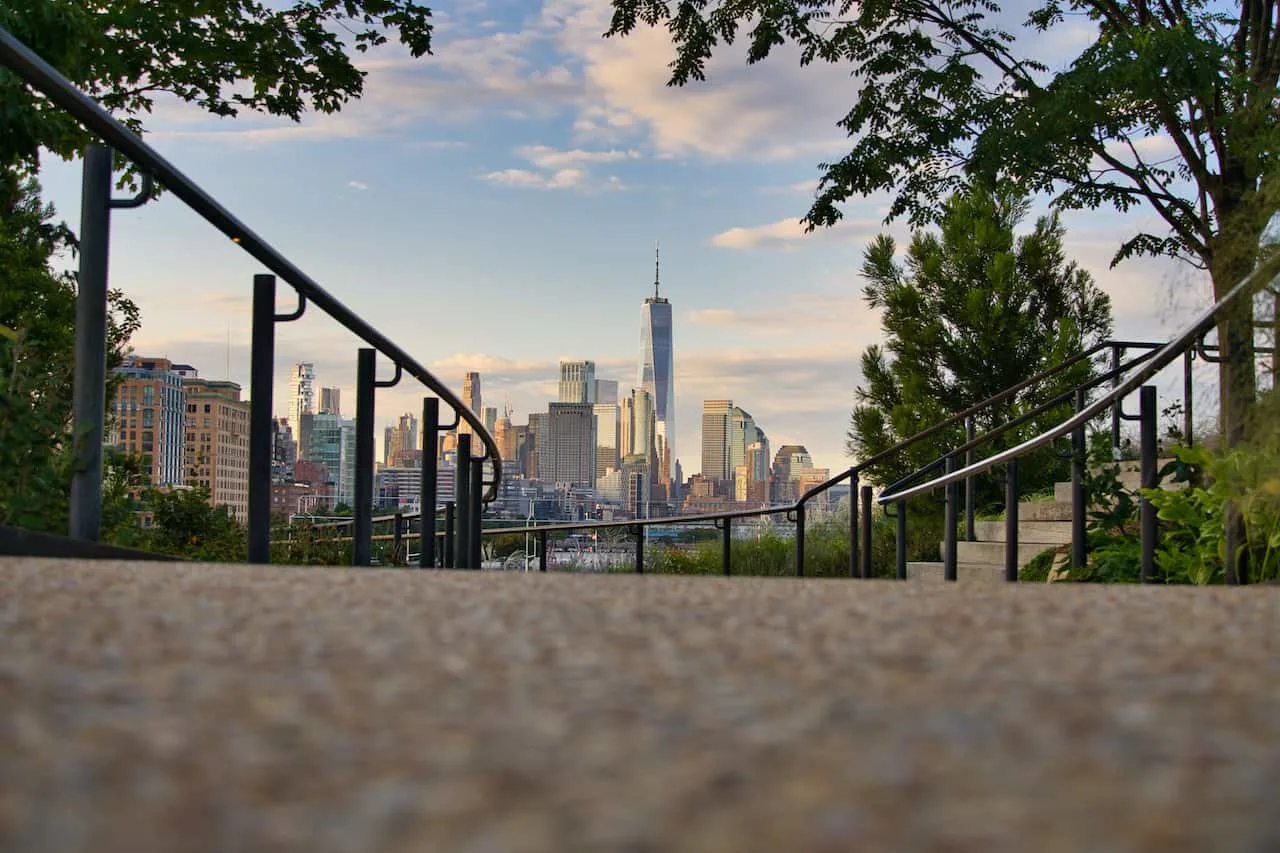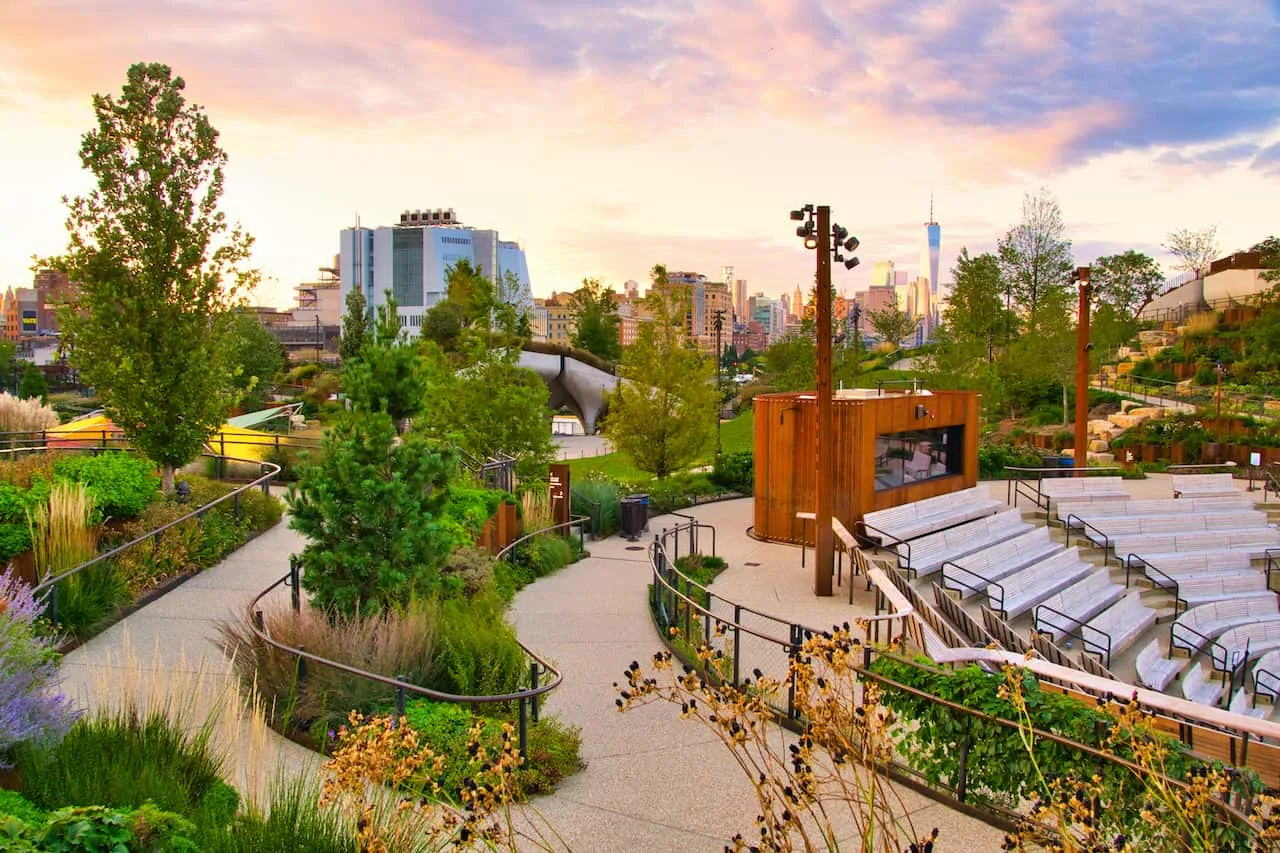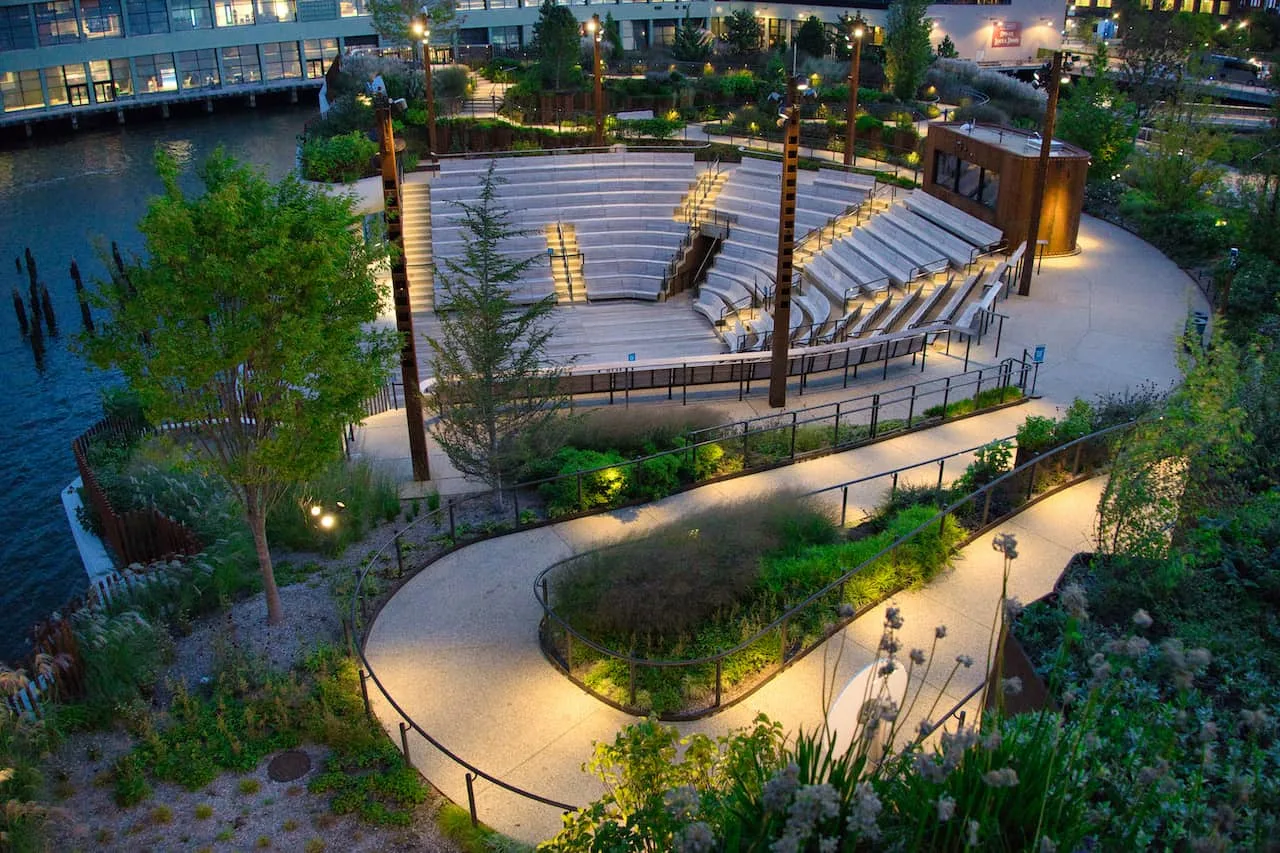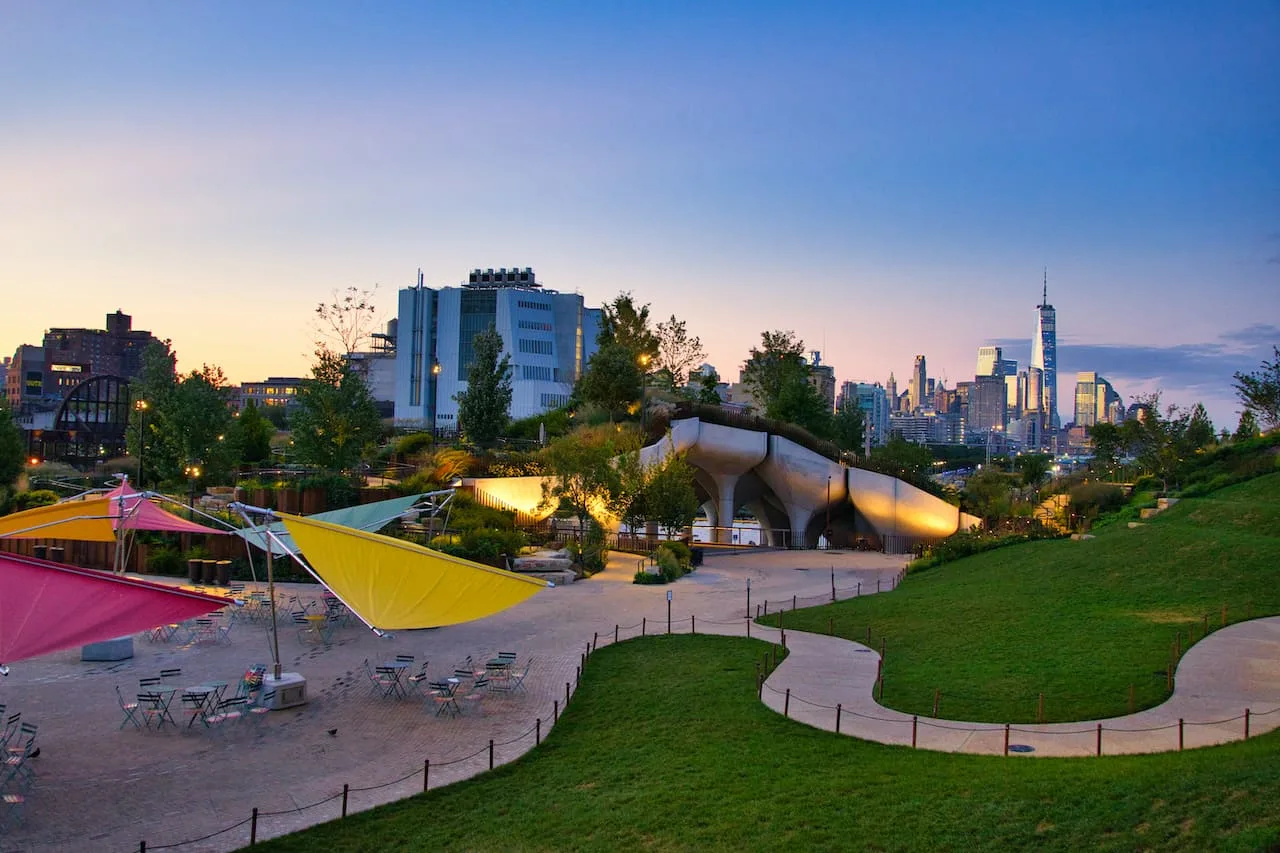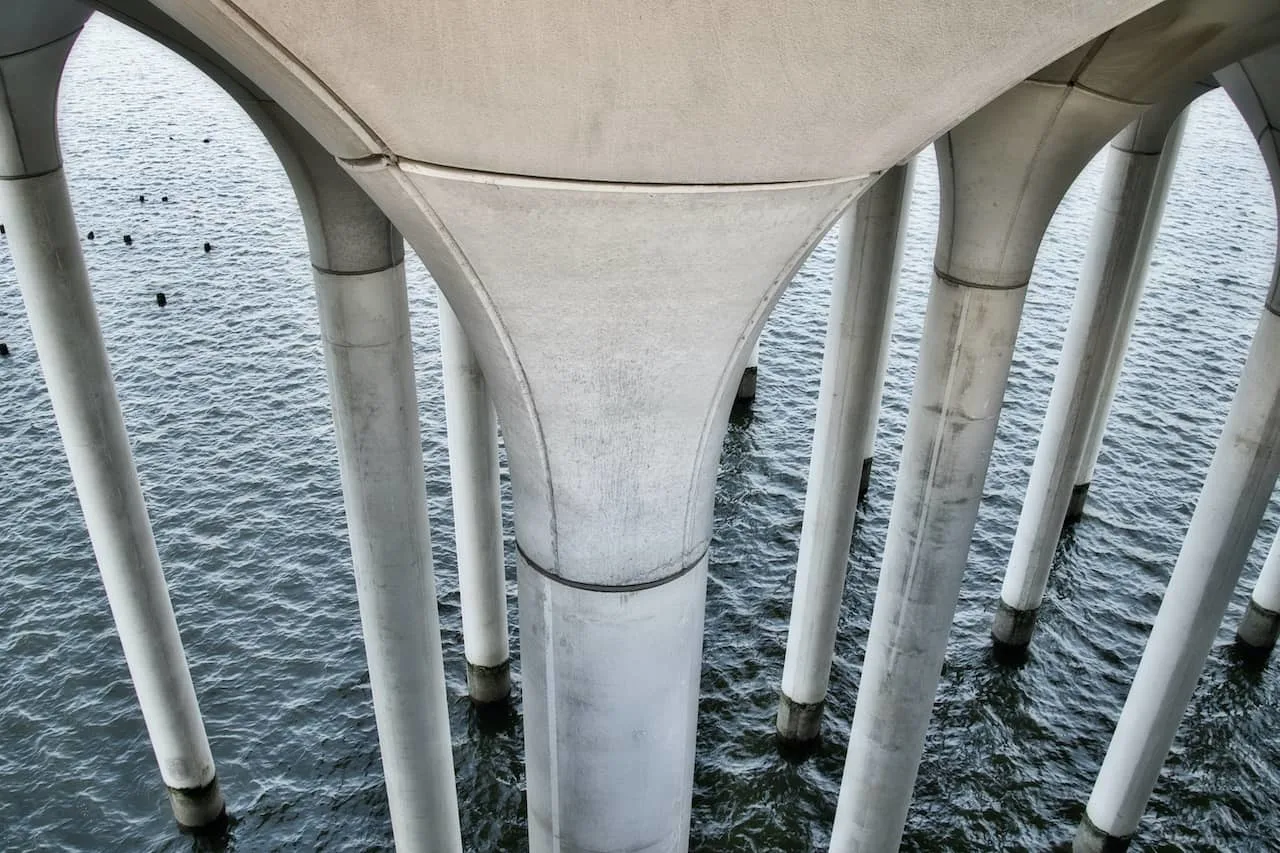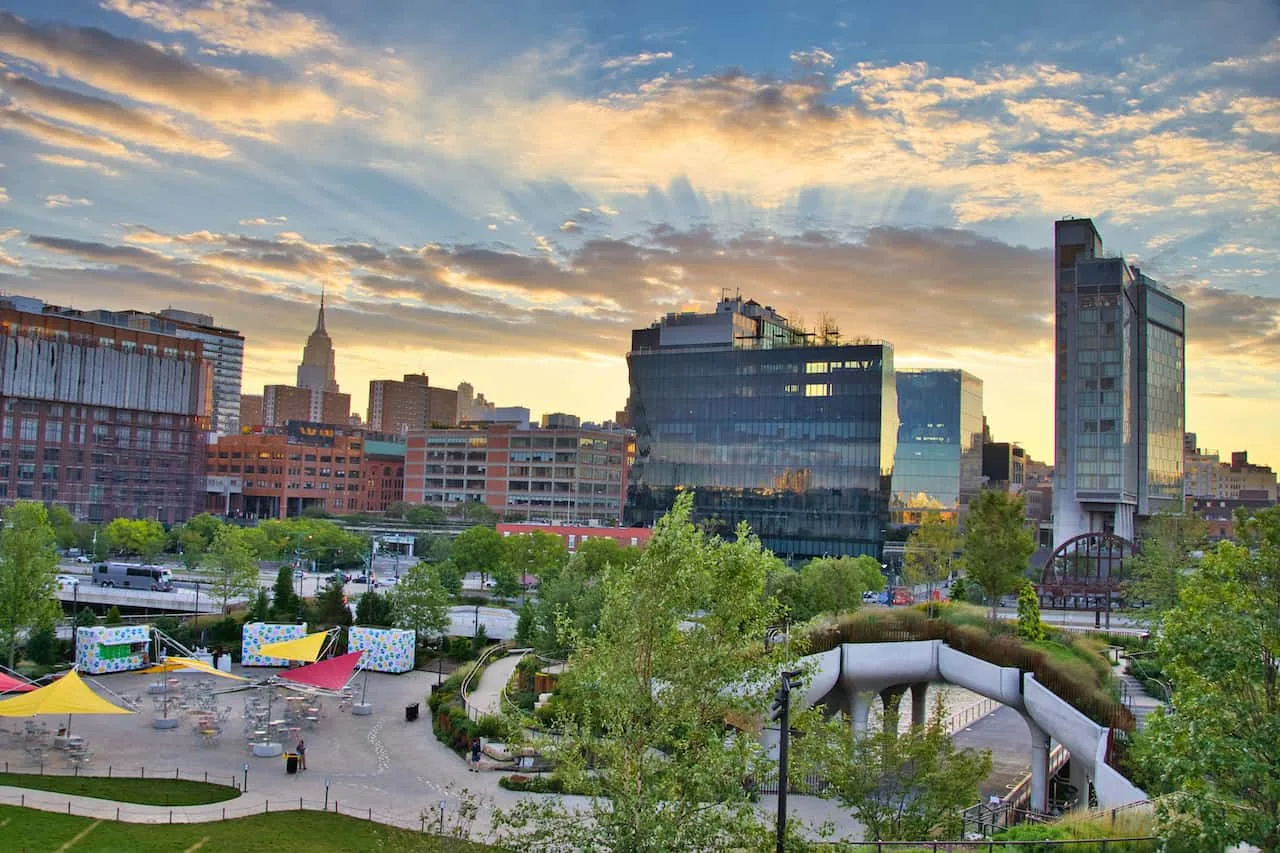 If you have not realized by now, the way I avoided the crowds was arriving just at sunrise. I basically had the entire place to myself beyond a few other visitors.
Spending a couple hours just exploring the various corners of the park without the worry of the crowds is something I would recommend.
Now, you do not need to come at sunrise, but making it the first stop of your day early on is your best bet to have a crowd free experience.
Learn More: Be sure to check out some of the other best photo spots in NYC during a visit to the city
I hope this guide has helped you better prepare for your trip to Little Island! If you have any questions or comments feel free to add them in below.
And also do not forget to check out the other New York itineraries and guides up on the site such as the nearby Pier 26 at Hudson River Park.
Have fun out there and safe travels!