Are you looking for the best hotels with Central Park views in New York City? Well, you have come to the right place!
As a local New Yorker, Central Park has become one of my favorite places to explore in the city. In my opinion, having the chance to stay in a hotel overlooking the park would be an absolutely amazing experience to take part of.
If you are thinking about booking one of these hotels with a view, take a look through this overview that will go over the best of the best.
* Affiliate Disclosure: This post may contain affiliate links, which means I may receive a commission if you make a purchase through the links provided, at no additional cost to you. Thanks for supporting the work I put into TripTins!
Need to make a quick decision? Below are three of the top hotels with Central Park views that are my top picks based on what type of experience & pricing you are looking for: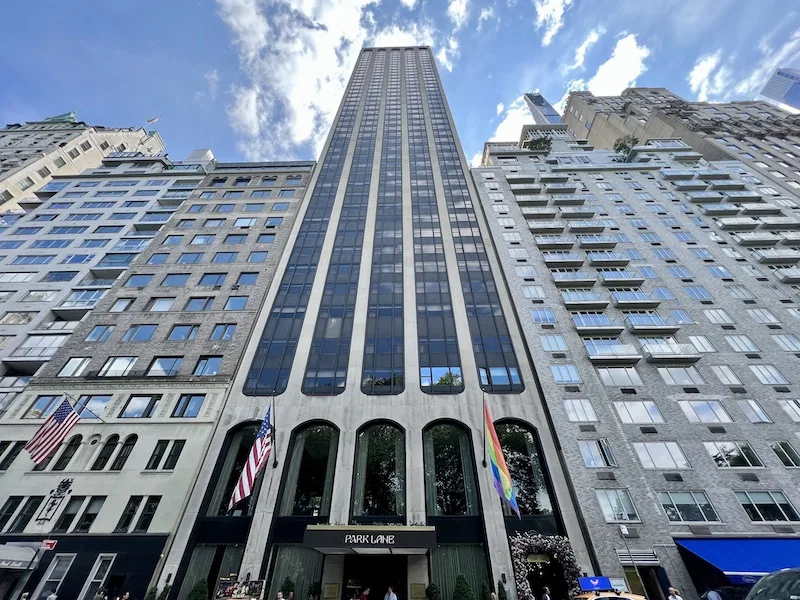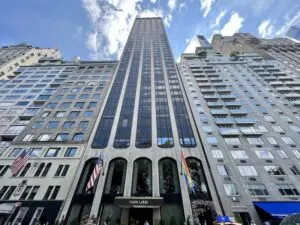 Best Value: Park Lane
If you need a balance between perfect Central Park views and price, then the Park Lane is your best bet!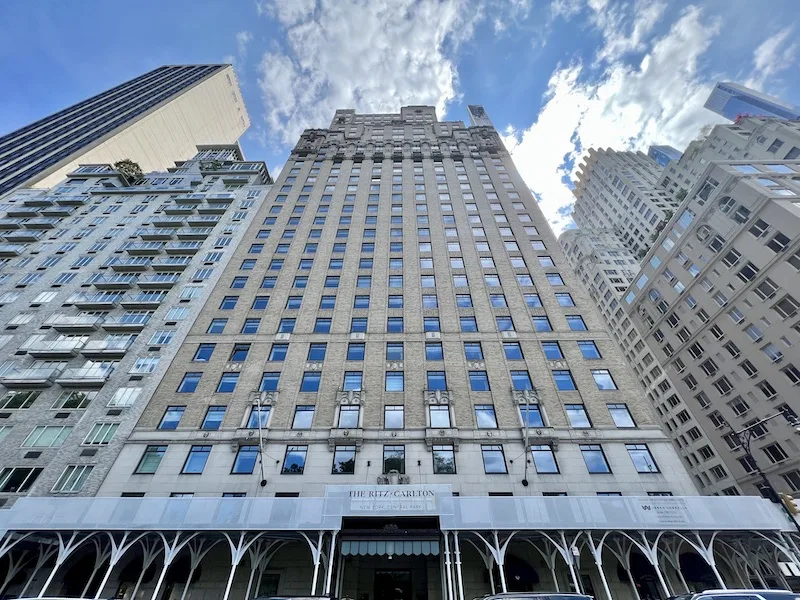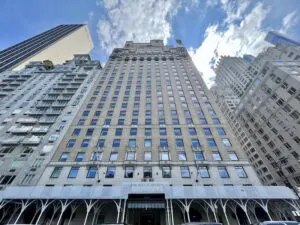 Luxury Option: Ritz Carlton
When it comes to luxury, there are several choices. However, the Ritz on Central Park South is tough to beat.
Affordable Option: Residence Inn Central Park
It is tough to find a budget friendly option, but the Residence Inn just off of Central Park is the best that's offered.
Hotels with Central Park Views Overview
To start off, here is a list of the hotels that I will cover in this article. I broke it down by location & category to better help you make your choice.
Central Park South
On the southern end of the park you will find Central Park South (59th Street). By staying directly on Central Park South, you are bound to have some of the most unobstructed and clear views of the park.
There are four hotels that line the street, all of which are tough to beat when it comes to location.
Central Park West / Columbus Circle
Moving towards the western side of the park, you will find Columbus Circle and Central Park West. Columbus Circle sits directly on the southwest corner of the park, and Central Park West is the street that lines the western side of it.
Here you will still have some unobstructed views of the park from a slight angle looking northbound and eastbound.
All Around Option: Trump International
Luxury Option: Mandarin Oriental
5th Avenue / Grand Army Plaza
On the southeast corner of the park is the Grand Army Plaza Central Park entrance, which meets up with 5th Avenue. Here you will find two more hotels to choose from that offer perfect views of the park looking northbound and eastbound (note that the Plaza also sits nearby, but I included that in the Central Park South section).
All Around Option: The Sherry Netherland
Luxury Option: The Pierre
Upper Midtown Central Park Hotels
In addition to the hotels that sit around the direct perimeter of the park, there are some additional hotels with Central Park views that are located 2-3 blocks away from the park itself.
However, given their height and angles, many rooms in these hotels still offer some beautiful views of the park. Some of these can be more affordable compared to staying on the park itself.
Central Park Hotel View Notes

Specific Room Bookings: Not every room at these hotels will have a view of Central Park. I will mention some of the best rooms to book as you make your reservation.

Pricing & Budget: without a doubt, hotel rooms with Central Park views are going to be some of the most expensive in NYC. Just a heads up as you go about searching through the hotels mentioned on the list.

Time of Year: while I did include average pricing, just note that these prices can vary depending on the time of the year that you travel to NYC.
1) JW Marriott Essex Hotel
The JW Marriott Essex might be the best hotel with a view of Central Park in the whole city.
It occupies an enviable position south of the famous park, and its views are nothing short of spectacular. But the location lends itself to more than fantastic views – it's also a perfect base for exploring NYC.
The hotel is found at the intersection between Midtown and the Upper West Side, with Central Park directly in front. Lincoln Center is a stone's throw away, and convenient subway access makes the rest of the city your playground.
The hotel is found in a building that dates back to the 1920s. It oozes Art Deco chic, and acts as a window into a bygone era. That's not to say the fixtures and fittings are dated, however. The lobby is a grand affair, decked out in golds and beiges. Guests are guaranteed a luxury stay at the JW Marriott Essex.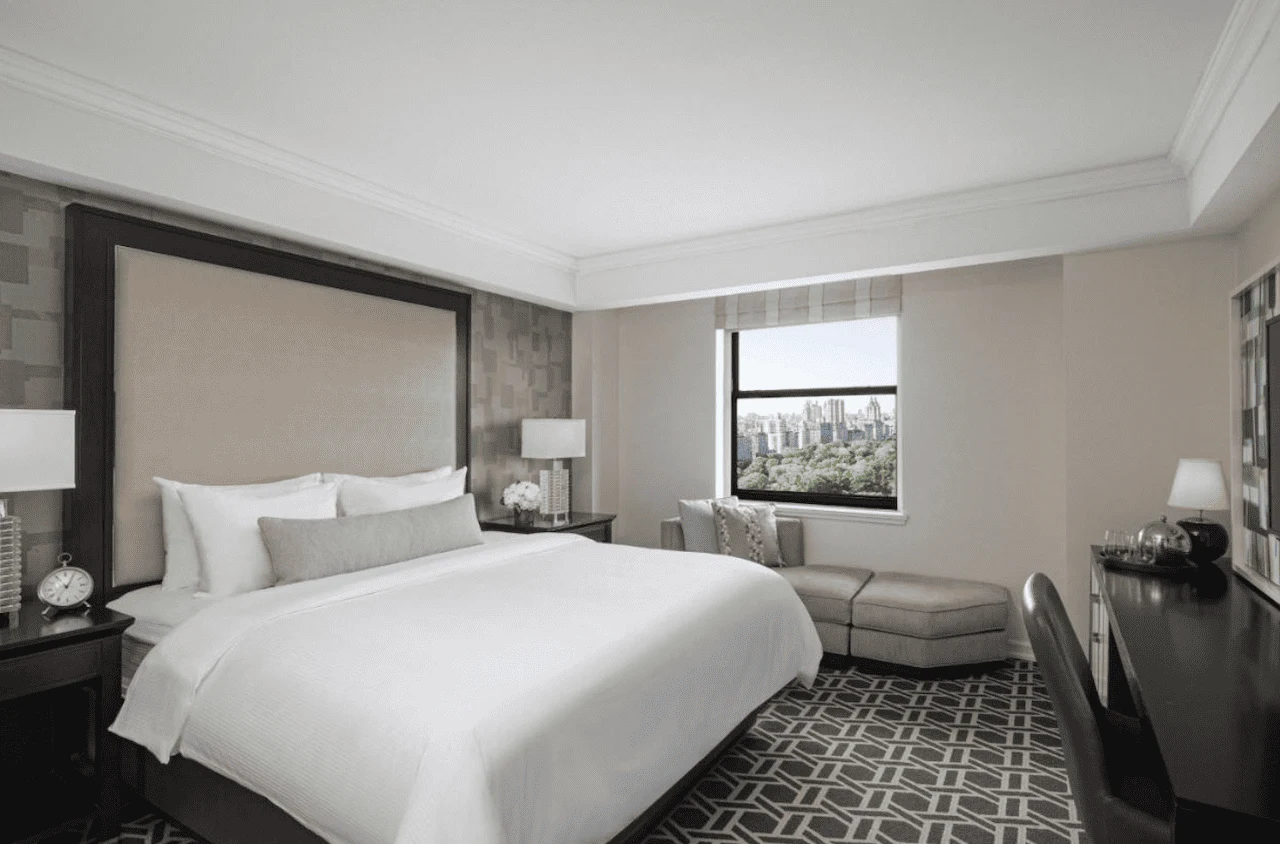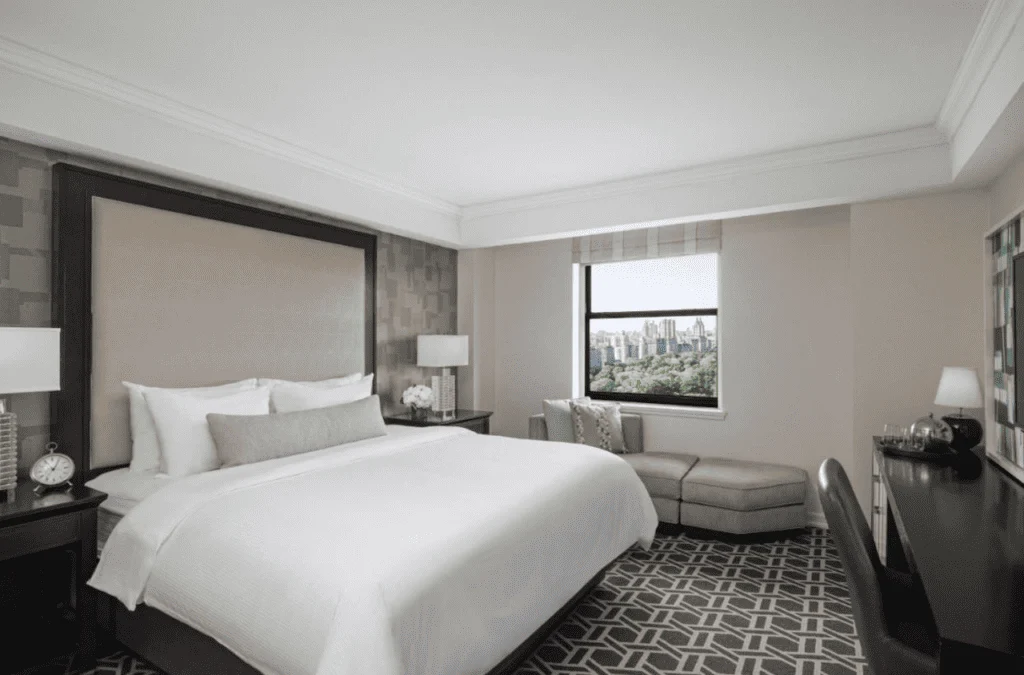 2) Park Lane
As you might expect the Park Lane Hotel has stunning panoramas of the world-famous park.
The hotel towers over Central Park at a staggering 47 stories. If you snag a park-view room, then, you're guaranteed some of the finest views on the prestigious Central Park South row.
It's very close to a host of tourist draws, including Times Square and Carnegie Hall. Nearby subway connections, meanwhile, make the rest of NYC easily accessible.
Park Lane sets itself apart from its grandiose neighbors with a more down-to-earth and whimsical feel. It's been recently renovated, with some delightful touches added to the old-school design.
And don't forget to head up up to the Darling Rooftop bar to get one of the best views of the park from above while having a meal or drink.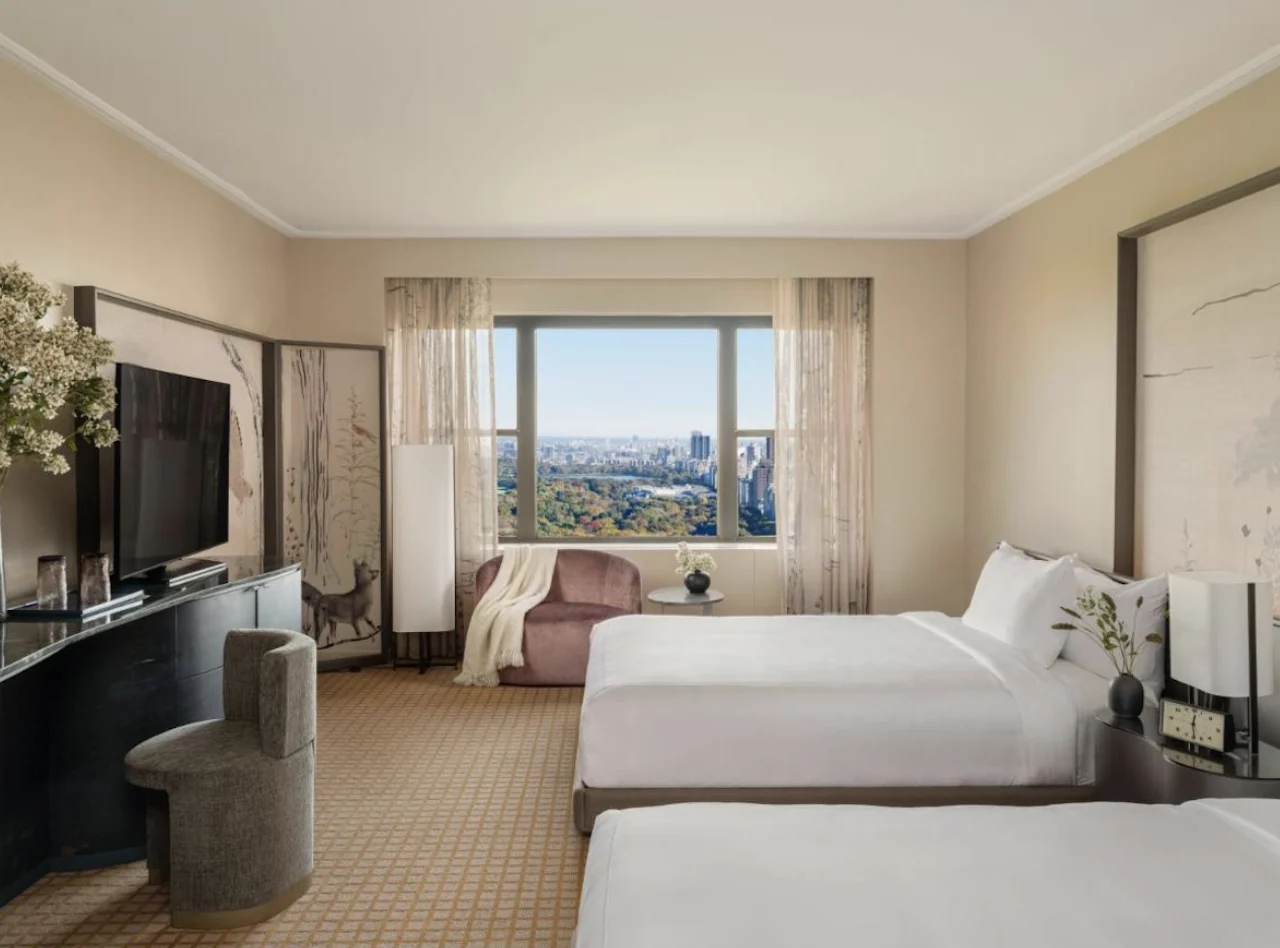 3) Ritz-Carlton Central Park
The iconic Ritz-Carlton Central Park is an elegant, comfortable space found on the swanky Central Park South row. And if Central Park is your front yard, then Midtown and all its offerings are your backyard.
A few years back there were some renovations that have injected a sense of freshness and vibrancy into the Ritz-Carlton. The limestone exterior hides the gold-and-marble extravagance of the updated interior. The rooms, meanwhile, are large, comfortable, and quiet despite their prime location.
As is always the case, make sure to select a park-view room. There are many to choose from the list above.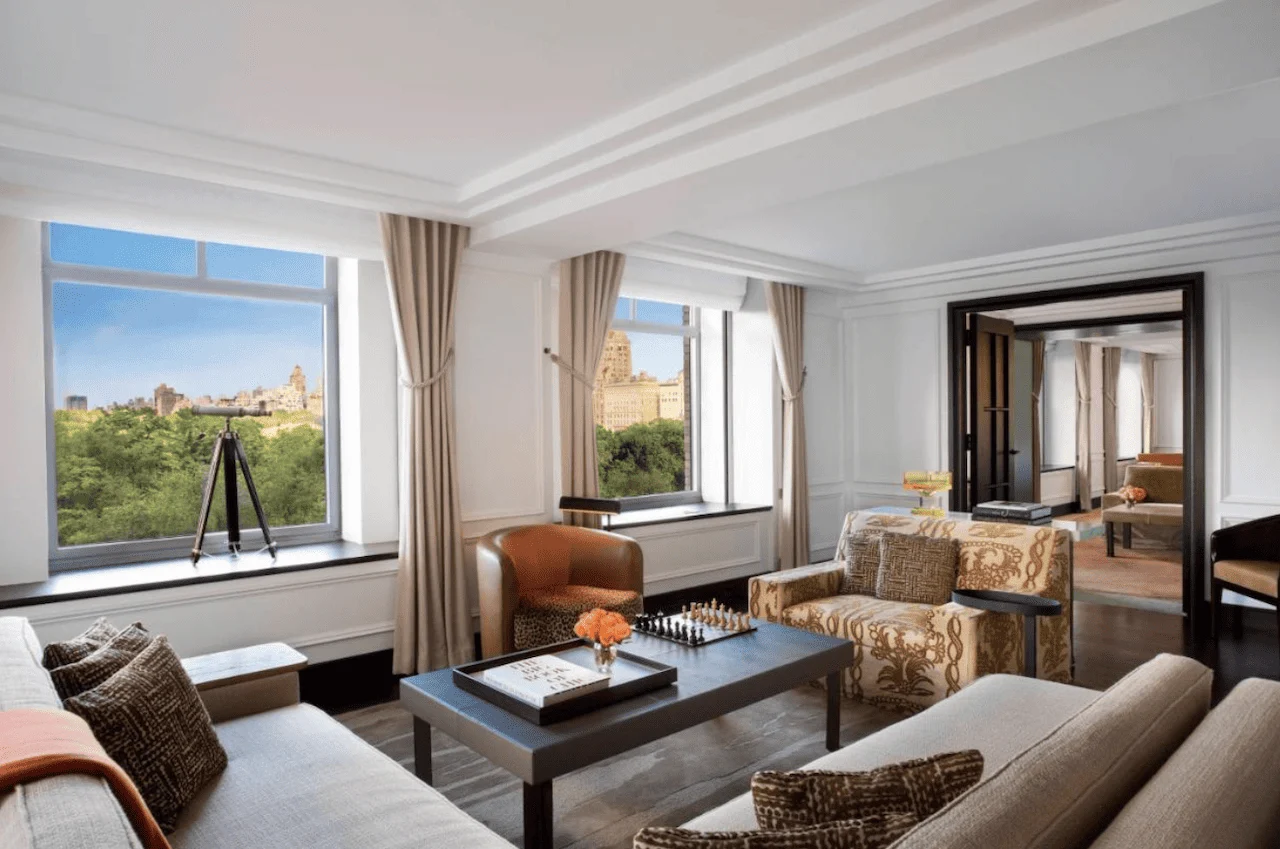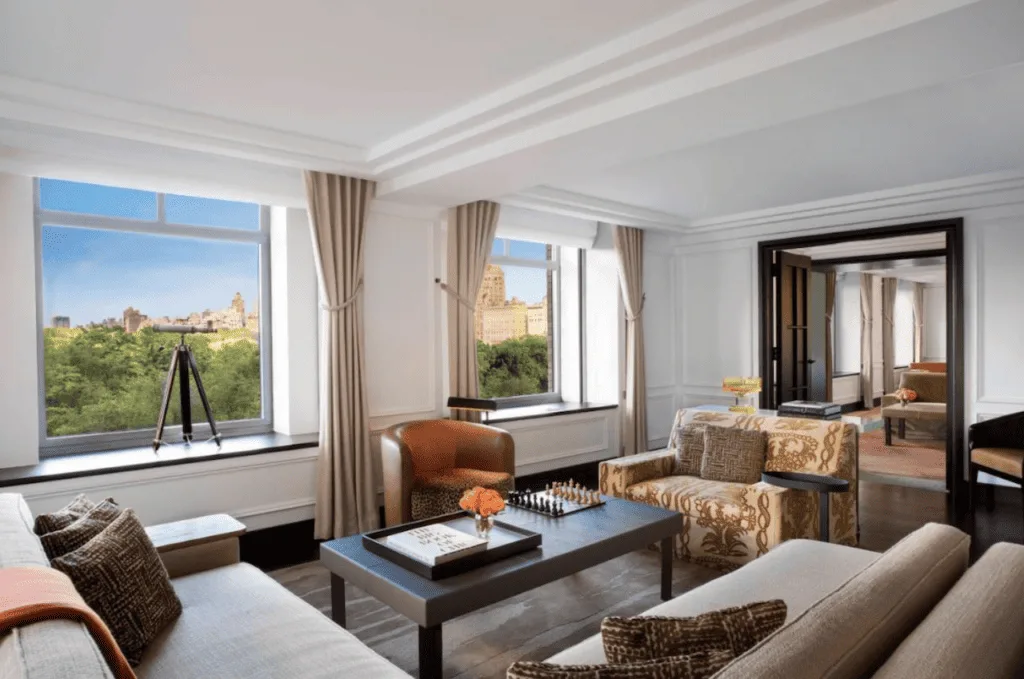 4) The Plaza
The Plaza is located on the south-east corner of Central Park, and might be the most iconic hotel in the world.
This pedigree is proudly displayed as soon as you enter the lobby, which is sweeping and majestic. Fresh flower arrangements dot the soaring marble archways, and crystal chandeliers complete the look.
The hotel has something of a resort feel to it – you could never set foot outside and still be happy. Onsite you'll find a salon, a fitness center and spa, two bars, and a restaurant. The rooms, meanwhile, reflect the grandeur of the rest of the hotel. With huge windows and beautifully intricate upholstering, there's really nowhere else like it.
Not all rooms feature views of Central Park, however, and it's necessary to specify that you'd like a view of the park when booking. If you do this, and you'll be enjoying some of the finest views of Central Park possible.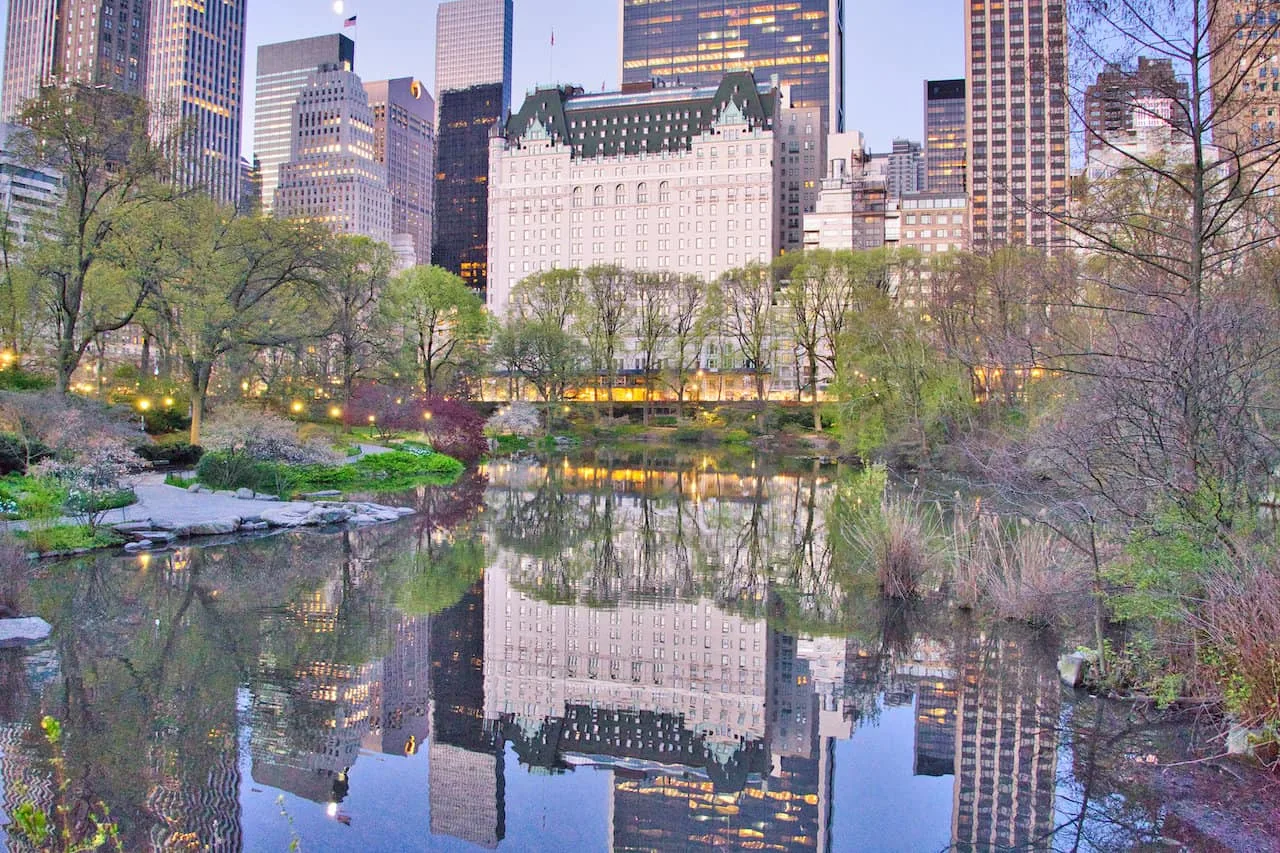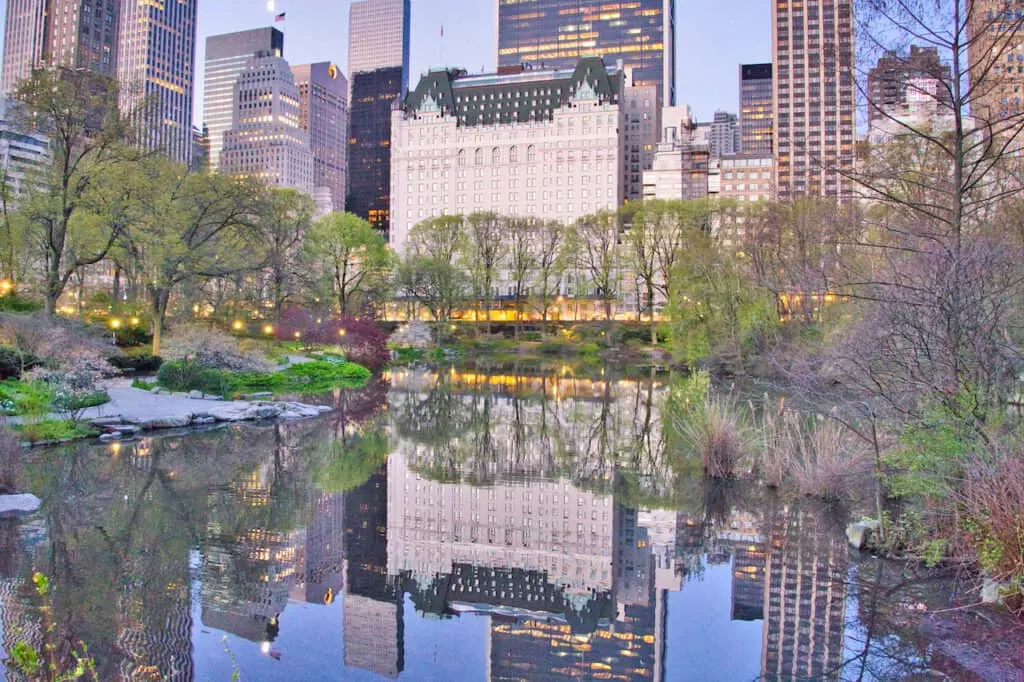 5) Trump International
Trump International is the height of New York opulence. It sits on Columbus Circle, and is a NYC landmark in its own right. Its position on the southwest corner of Central Park also means it offers some of the best views around.
The hotel's new look marries NYC swagger with a few understated European touches, creating something wholly unique. Floor-to-ceiling windows even in the public spaces afford excellent views, and the staff is friendly and attentive.
Amazing views of Central Park can be found in many of the hotel's rooms. Getting that view across the park and along Central Park South is one that just will not disappoint.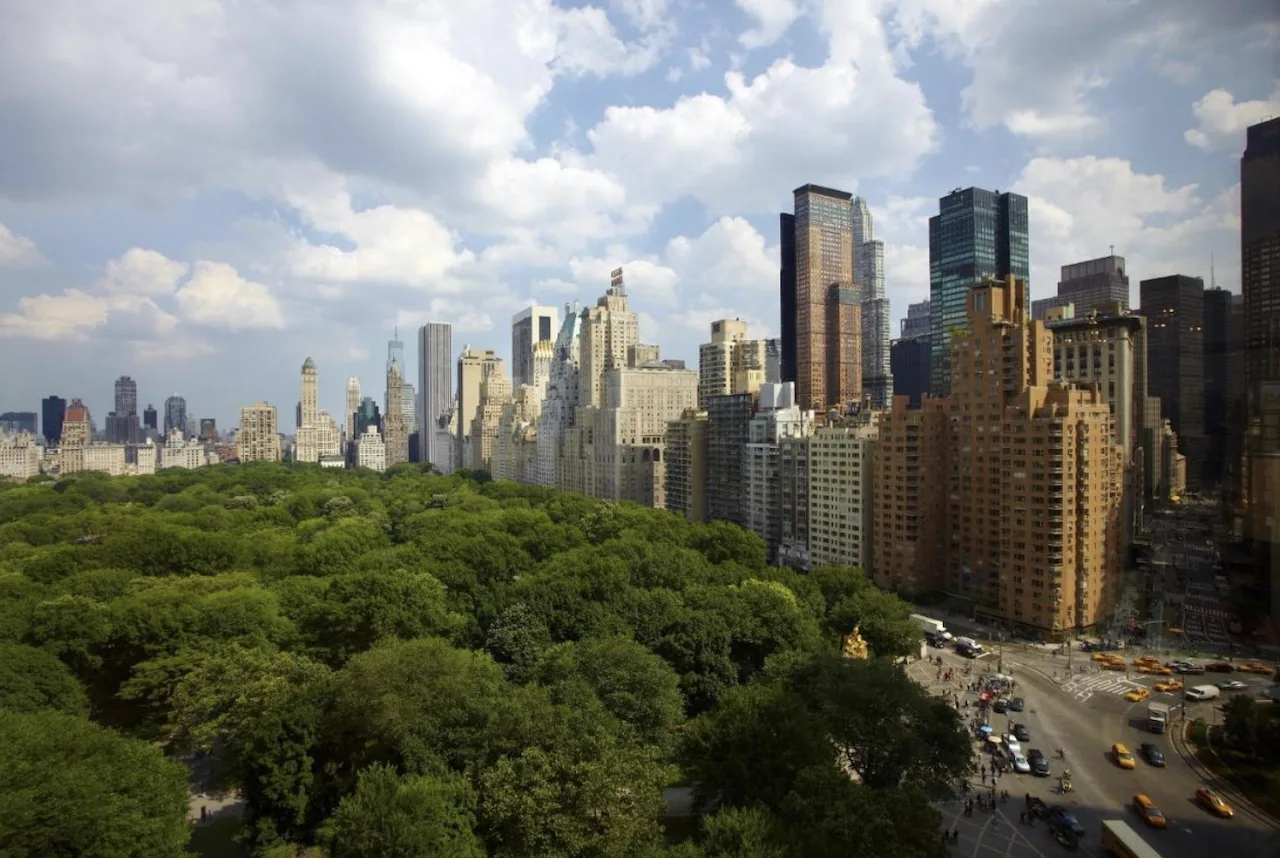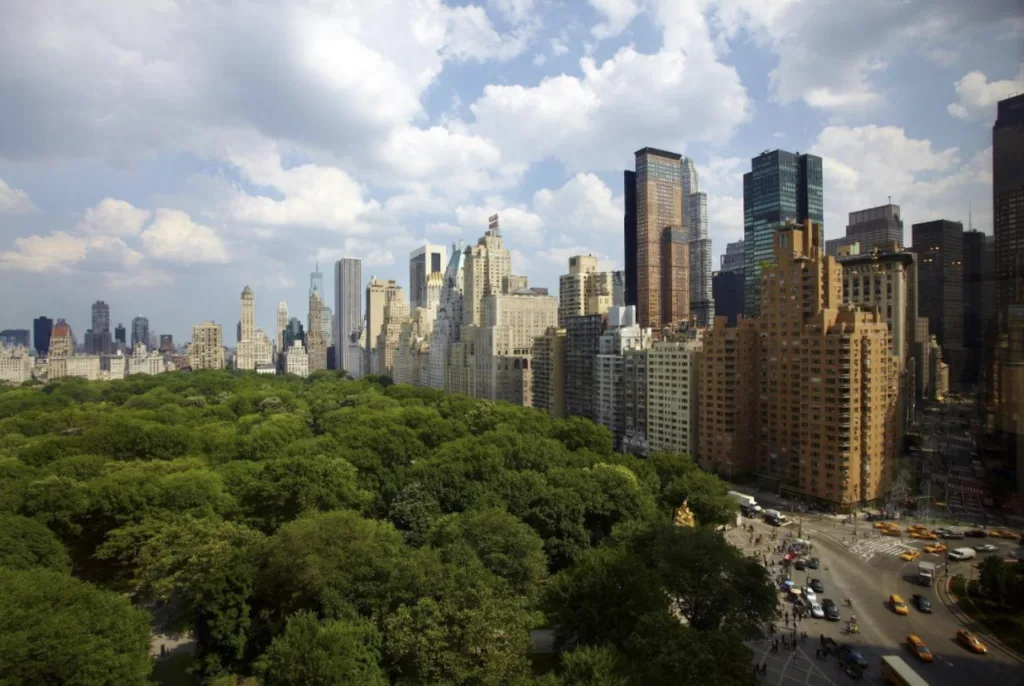 6) Mandarin Oriental
The Mandarin Oriental bills itself as a "sky-high oasis" offering spectacular views of NYC. These include, depending on where your room is, the Hudson River, the Manhattan skyline, and Central Park itself.
The hotel is – as you might have guessed from the name – heavily inspired by Asian culture. Natural stone pervades the hotel's design, with soft greens and purples to drive home the East Asian feel. This is complemented with fresh flowers found throughout the hotel.
The Mandarin Oriental has several different types of rooms and suites, each with different views on offer. If you're looking to enjoy a great view of Central Park, then, it's important to select the right room.
'Central Park view' rooms and suites are both available. Make sure, then, to choose one of these when making your reservation.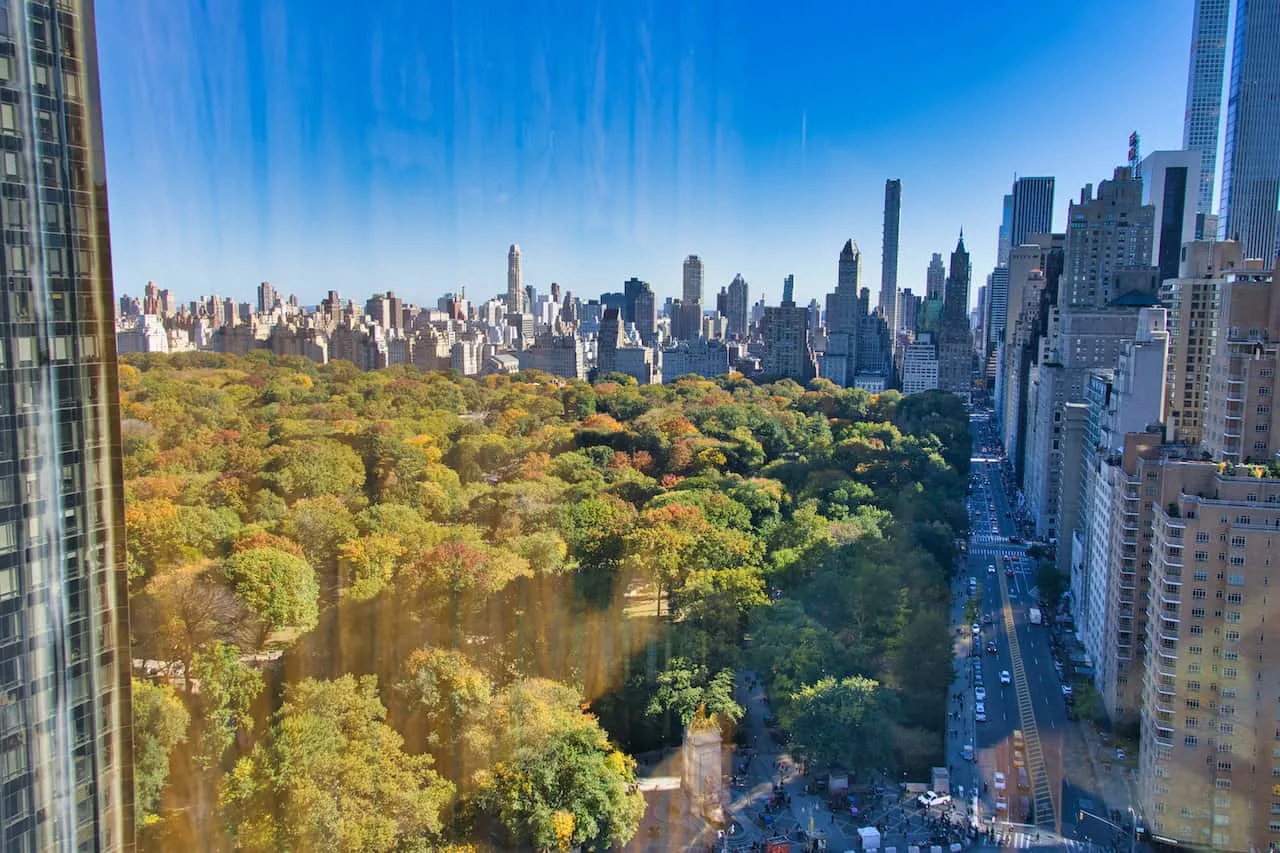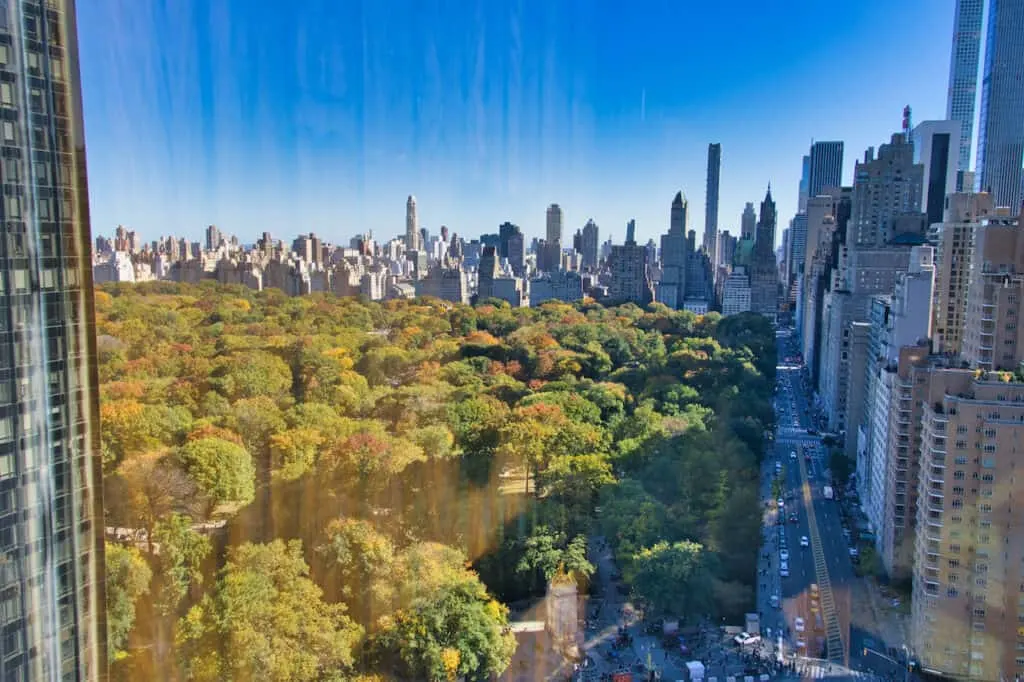 7) The Sherry Netherland
The Sherry Netherland occupies a much-coveted 5th Avenue address. It is also, without a doubt, one of the grandest hotels with a view of Central Park.
The hotel's classiness hits you as soon as you cross the threshold, with sweeping arches and lots of marble. This is polished off with amazing murals that speak to the hotel's elegance and sophistication.
The rooms continue this class and elegance, and are surprisingly large by 5th-Avenue standards. The ceilings are high and the décor is classical and showy.
But it's in the park views where the rooms really shine, with unimpeded views over the park. Rooms are divided into Park View, City View, and Interior options – pick the former to make sure you can see the park itself.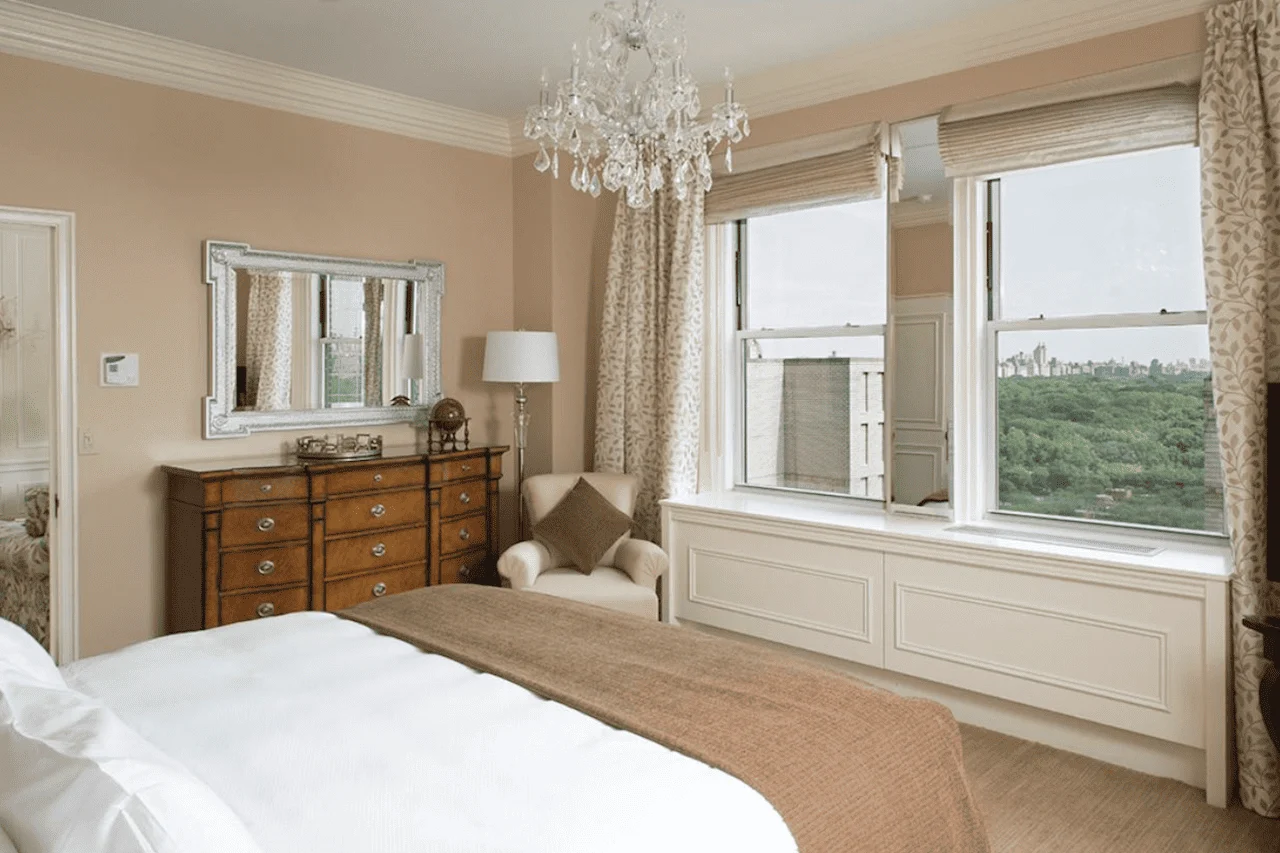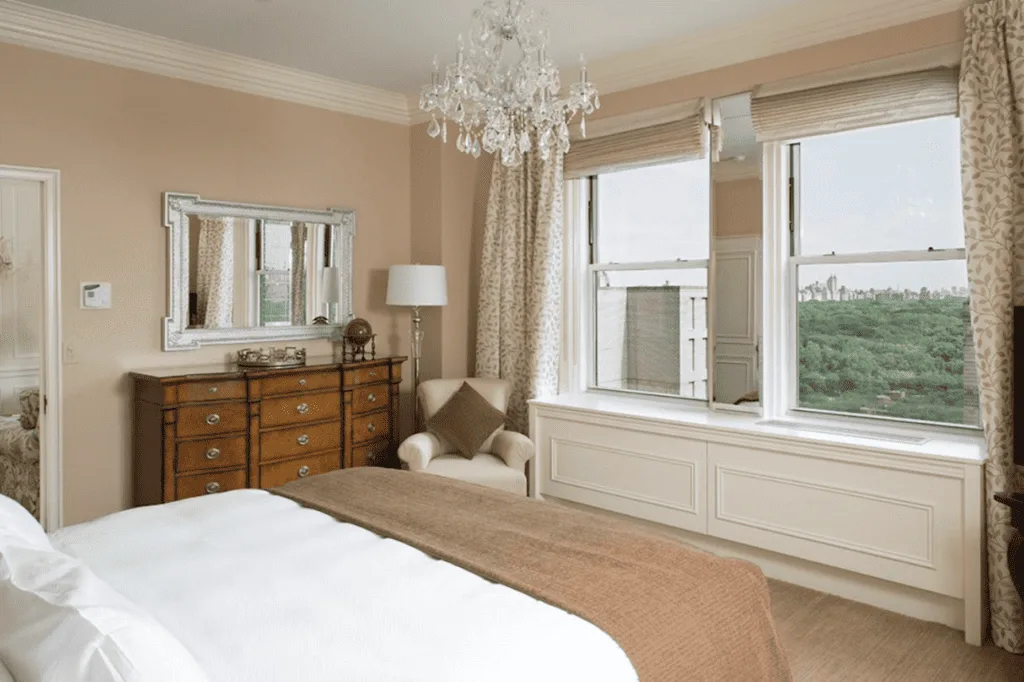 8) The Pierre
The luxurious Pierre occupies a 41-story building towards the southeast corner of Central Park. In addition to sweeping panoramas of the park, it's one of the most luxurious hotels in the area.
The Pulitzer Foundation and Grand Army Plaza await just outside the hotel doors – in addition to the park itself. There is also no shortage of retail therapy in the vicinity. Enjoy an afternoon window shopping at Prada, Gucci, or Tiffany & Co.
The Pierre is a Taj hotel, and its design acknowledges this in a subtle but distinct way. Indian touches accentuate the classical gold-and-marble design found throughout. The rooms themselves feature plenty of South Asian paintings and ornaments, which makes for a refreshingly different stay.
If you're dead set on a Central Park view, you'll want to book an appropriate room. The Pierre offers two kinds of room with views of Central Park – 'Park View' and 'Signature Park View' rooms. If you wish to enjoy the spectacular sprawl of greenery, you ought to choose one of these.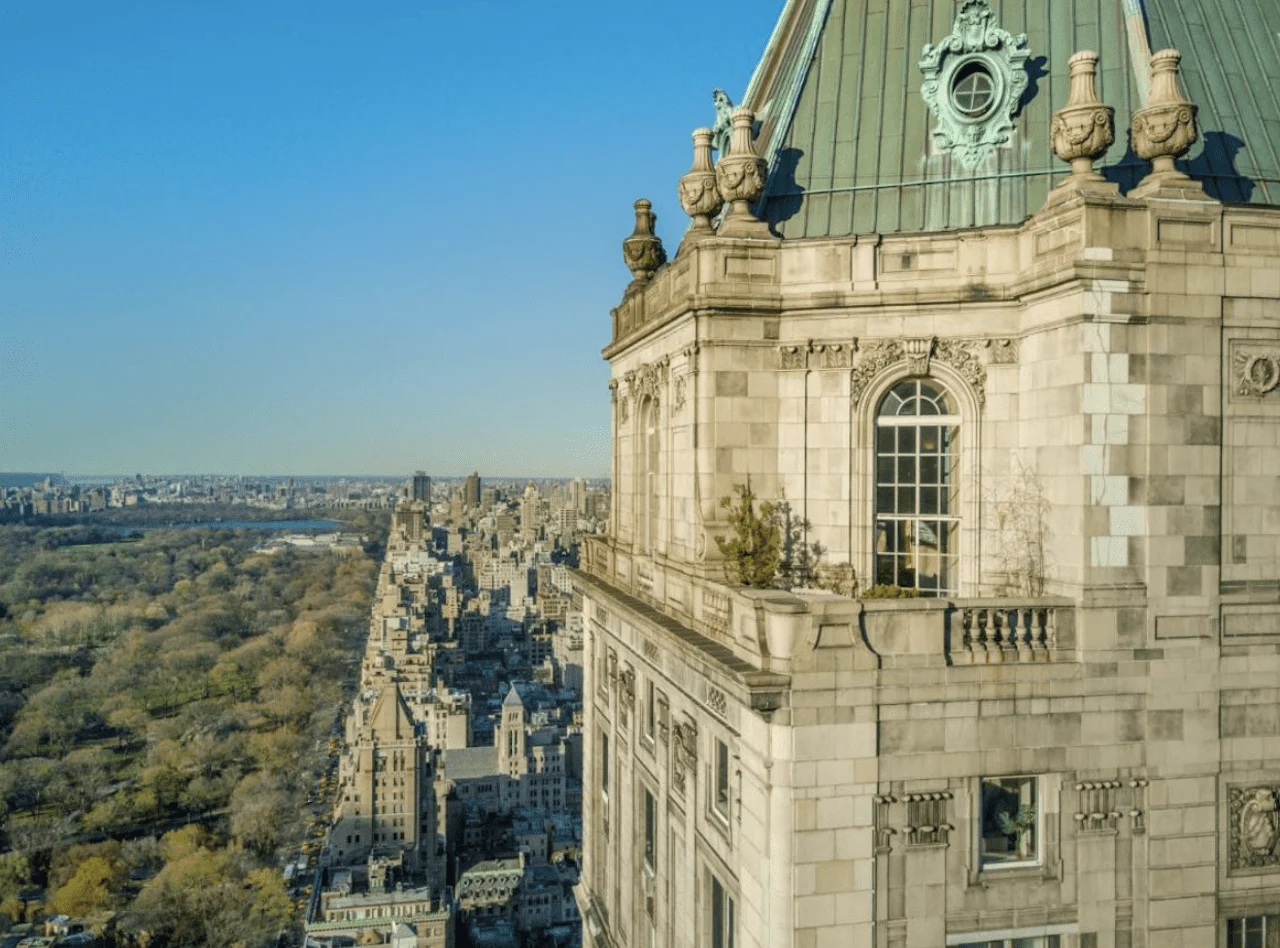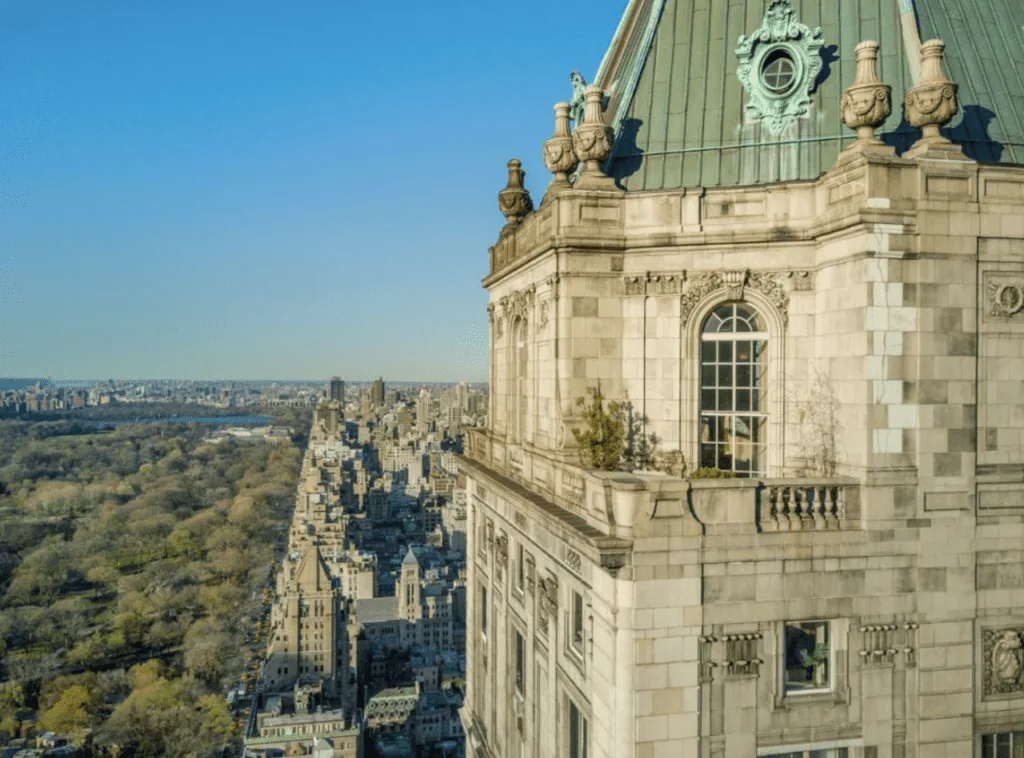 9) 1 Hotel Central Park
1 Hotel Central Park prides itself on its eco-friendliness as much as its great views of Central Park. In addition, its location just south of the park makes it a great staging point for checking out the rest of the city.
1 Hotel wears its environmental consciousness on its sleeve from the outset. The exterior is clad in living ivy, and the lobby is full of art inspired by nature. The furniture is, additionally, fashioned mostly from reclaimed materials, and terrariums and potted plants abound.
But it's for the wonderful Central Park views that most will check into this hotel. The hotel offers a host of room options that overlook the park itself. When reserving your room, then, try to choose from one of the many 'Park' options. There are rooms with king-sized beds available, and also several suite options.
Top Pick Alert! While not on the park itself, 1 Hotel Central Park may very well just be the most underrated option when it comes to hotels with Central Park views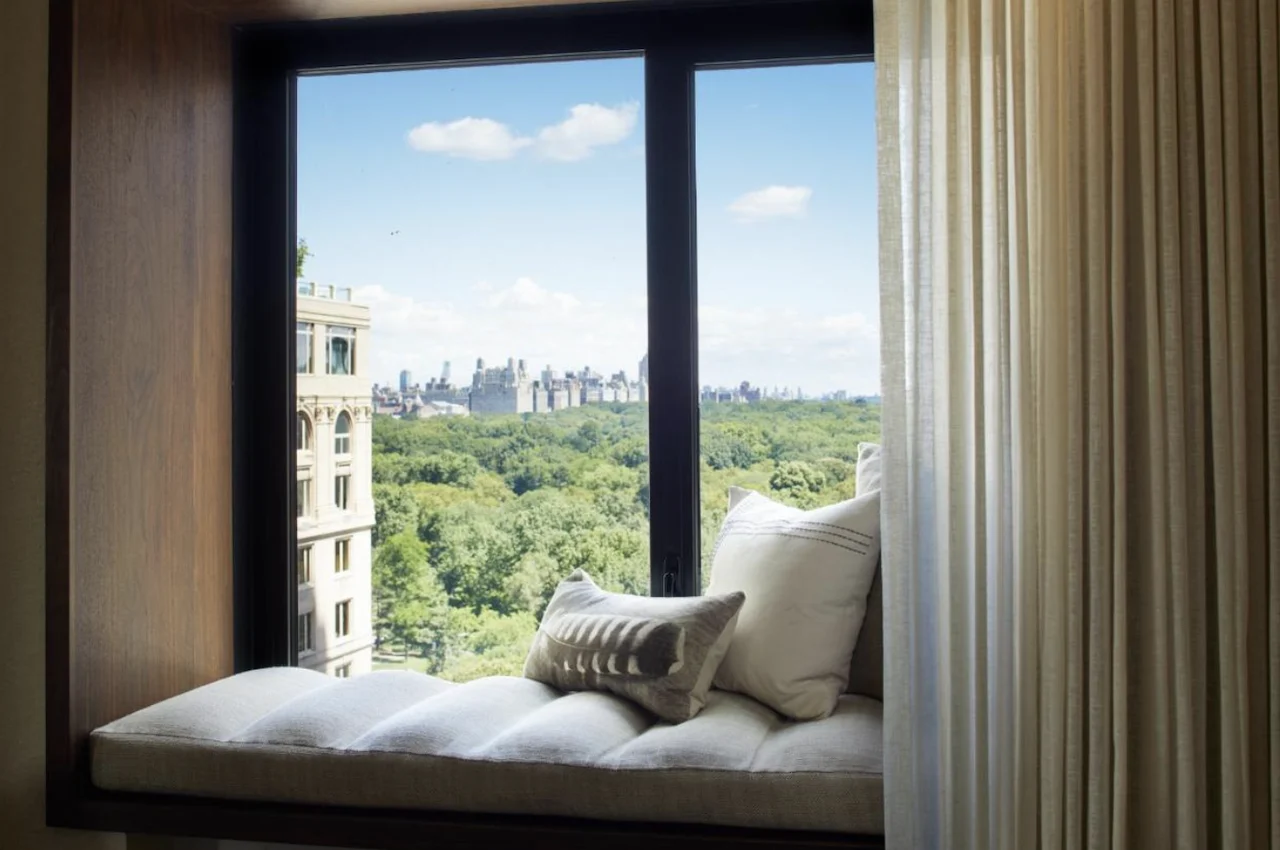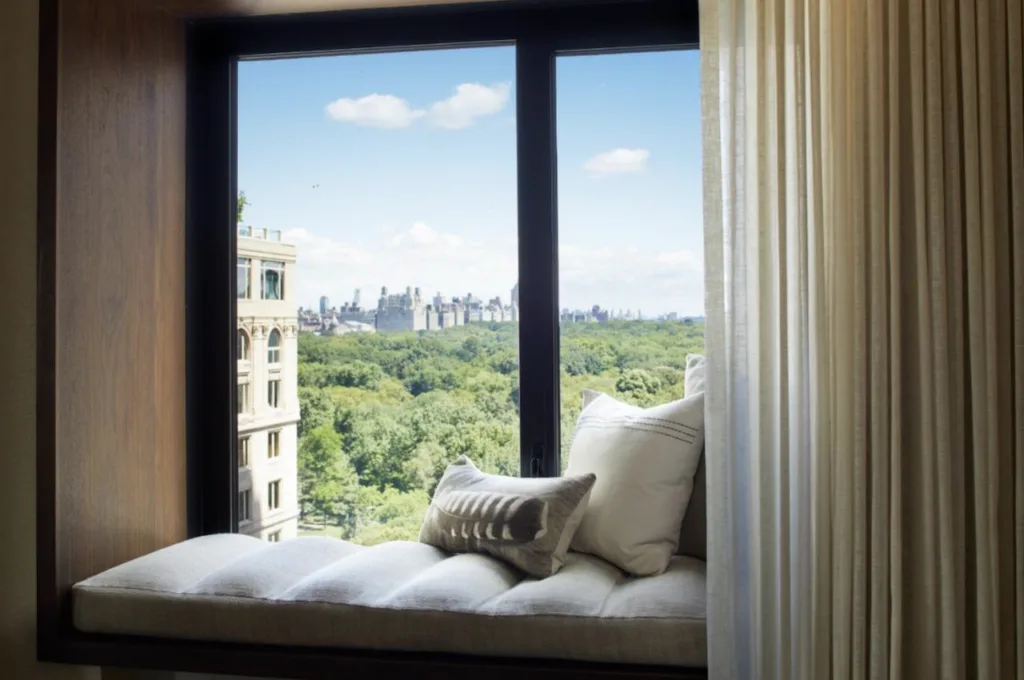 10) Residence Inn Central Park
Residence Inns conjure a certain cookie-cutter image. Thankfully, the Central Park Residence Inn breaks the mold, with exquisite furnishings and some amazing views.
Do be warned, however, that it's on Broadway, and thus not directly on Central Park. However, there are rooms available that look out onto the park itself (in addition to city views and Times Square views).
This slight remove from Central Park certainly works in the hotel's favor, however, when it comes to bars and restaurants. There is a great selection of both nearby, making it perfect for exploring the food scene.
If you are looking for an affordable hotel with a view of Central Park, this is the one to go with!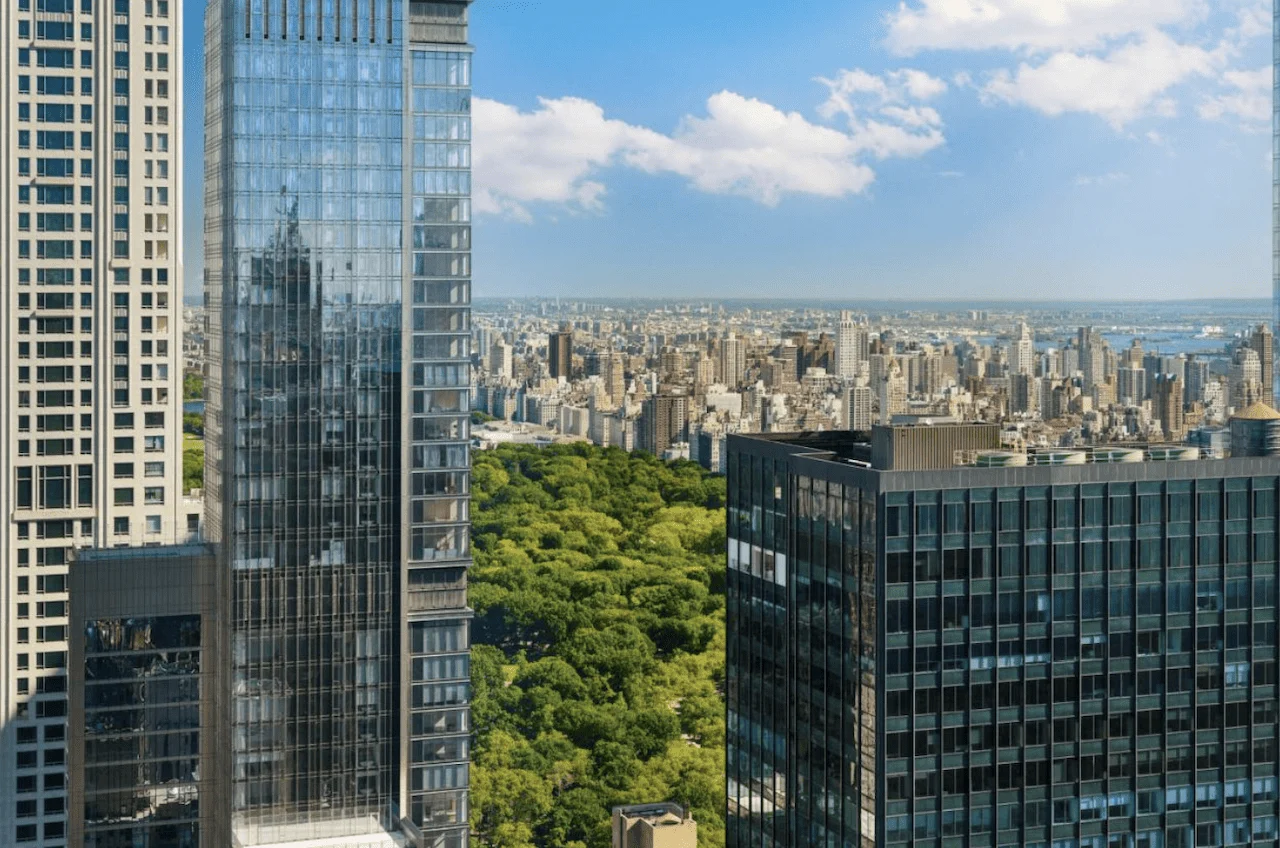 11) Le Méridien
The glitzy Le Meridien Central Park hotel recalls all the glamor of Roaring Twenties NYC. The hotel itself is a stunning work of art, and, of course, it's a hotel with great Central Park views.
The hotel has a unique feel that distinguishes it from other Midtown competitors. The lobby is brash and colorful, with a large fresco set behind a long white sofa. The rooms themselves are charmingly vintage, but a word of warning – not all feature views of the park. To be sure of a view, make sure that you specify when booking.
The hotel's rooms and views, aside, it's in a great location for exploring Midtown. There are three subway stations under ten minutes' walk away too, so you can easily reach anywhere in the city.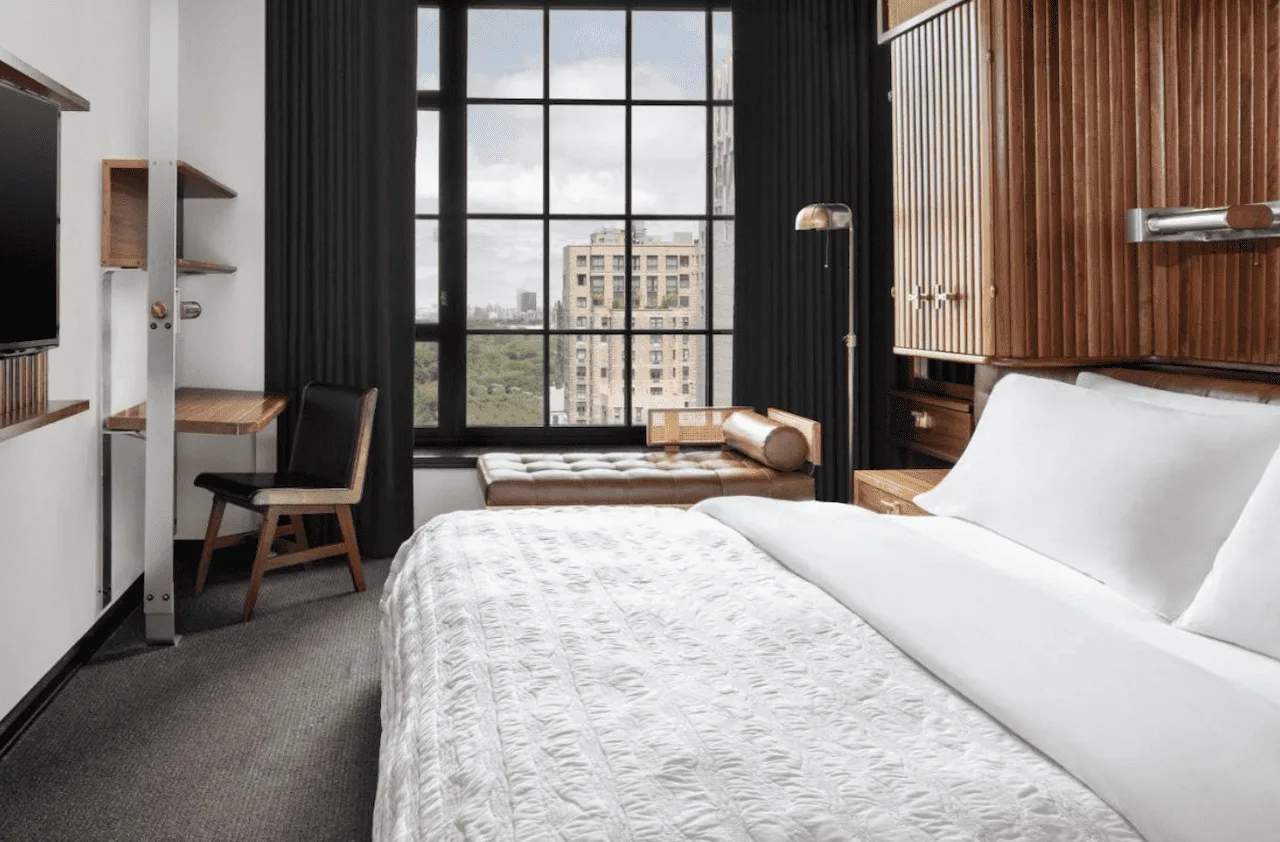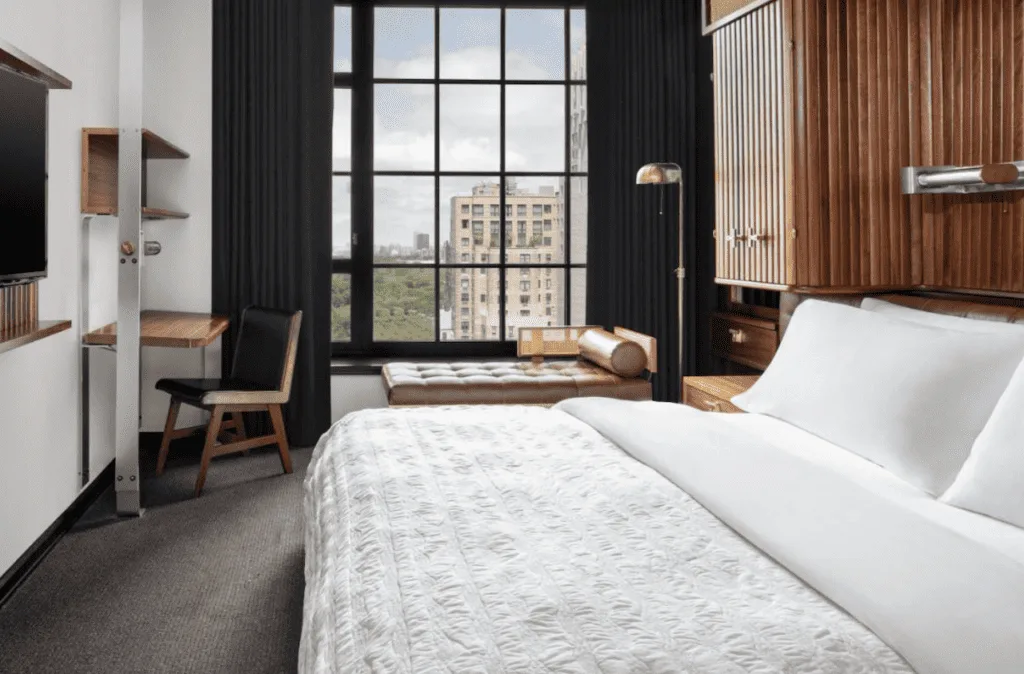 12) Thompson Central Park
Thompson Central Park may not impress outside, as it looks like just another office block. But once inside, its five-star credentials are proudly on display, with a resort-like experience that's second to none. It's also one of the best hotels with a Central Park view.
The interior and rooms lean heavily into minimalist decorations, lending it an almost Scandinavian feel. Plenty of welcoming public spaces make the hotel a relaxing place to hang at after a day of exploring the various things to do in NYC.
There are also several restaurants to choose from within the hotel, so you will never be too far away from some top food options.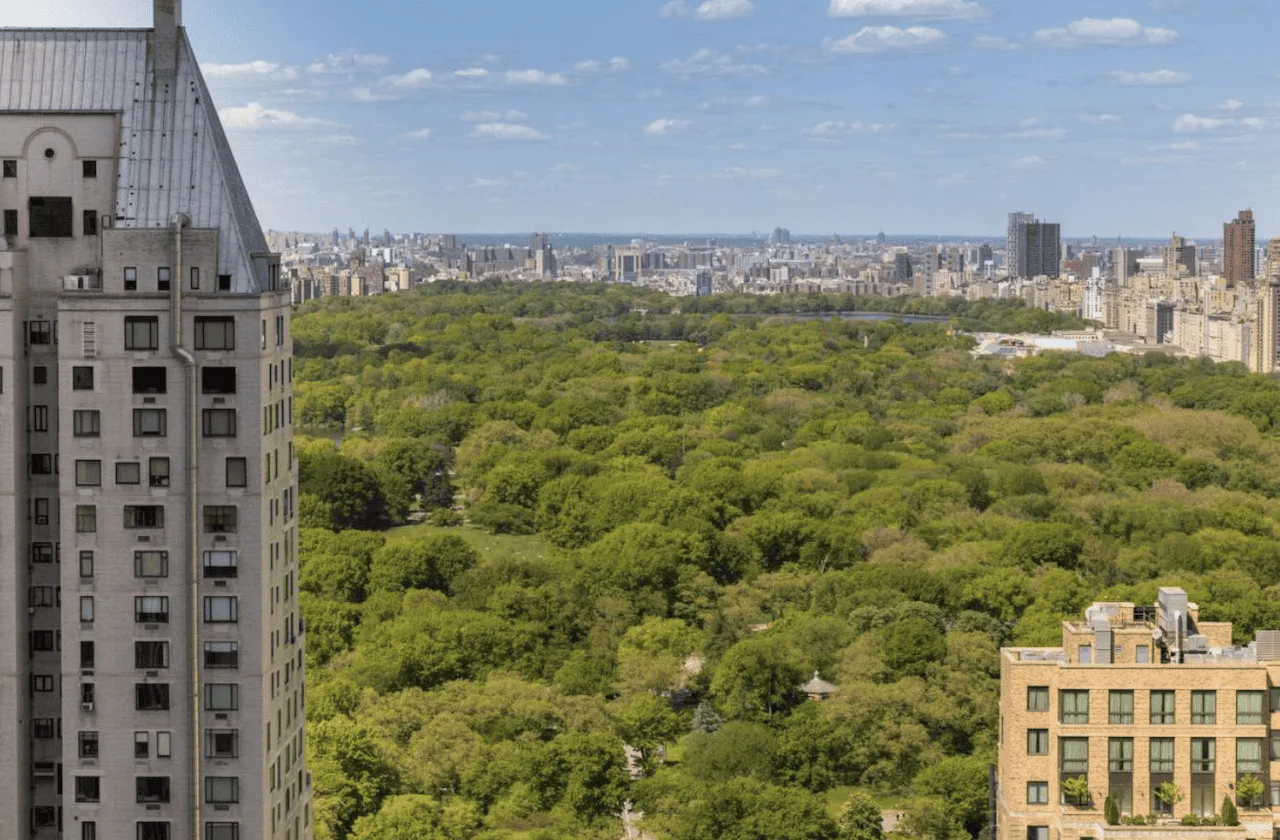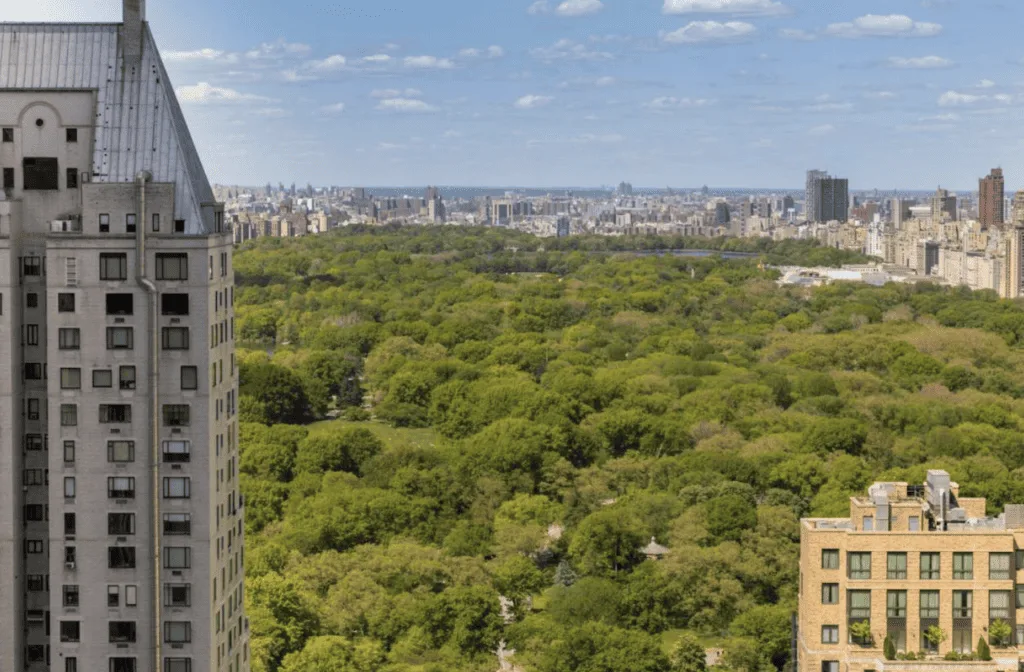 13) West Side YMCA
The West Side YMCA is perfect for budget & backpacker travelers to NYC who want a hotel with a Central Park view. It's very close to Columbus Circle, making it a perfect start off point for exploring.
The YMCA has a long and storied history, and many American luminaries have stayed there. It counts among previous guests Martin Luther King Jr., Malcolm X, and Tennessee Williams. Despite this pedigree, the hotel remains charmingly humble, with an unassuming exterior and modest furnishings.
The rooms are equally modest, and look more like college dorm rooms than anything else. Expect simple bed frames with cheap but serviceable mattresses, and the bare minimum of furniture.
You may – if you're lucky – get a room with a view over Central Park, but these are quite rare and in high demand. Simply ask for one when you book your room, and cross your fingers that you get one.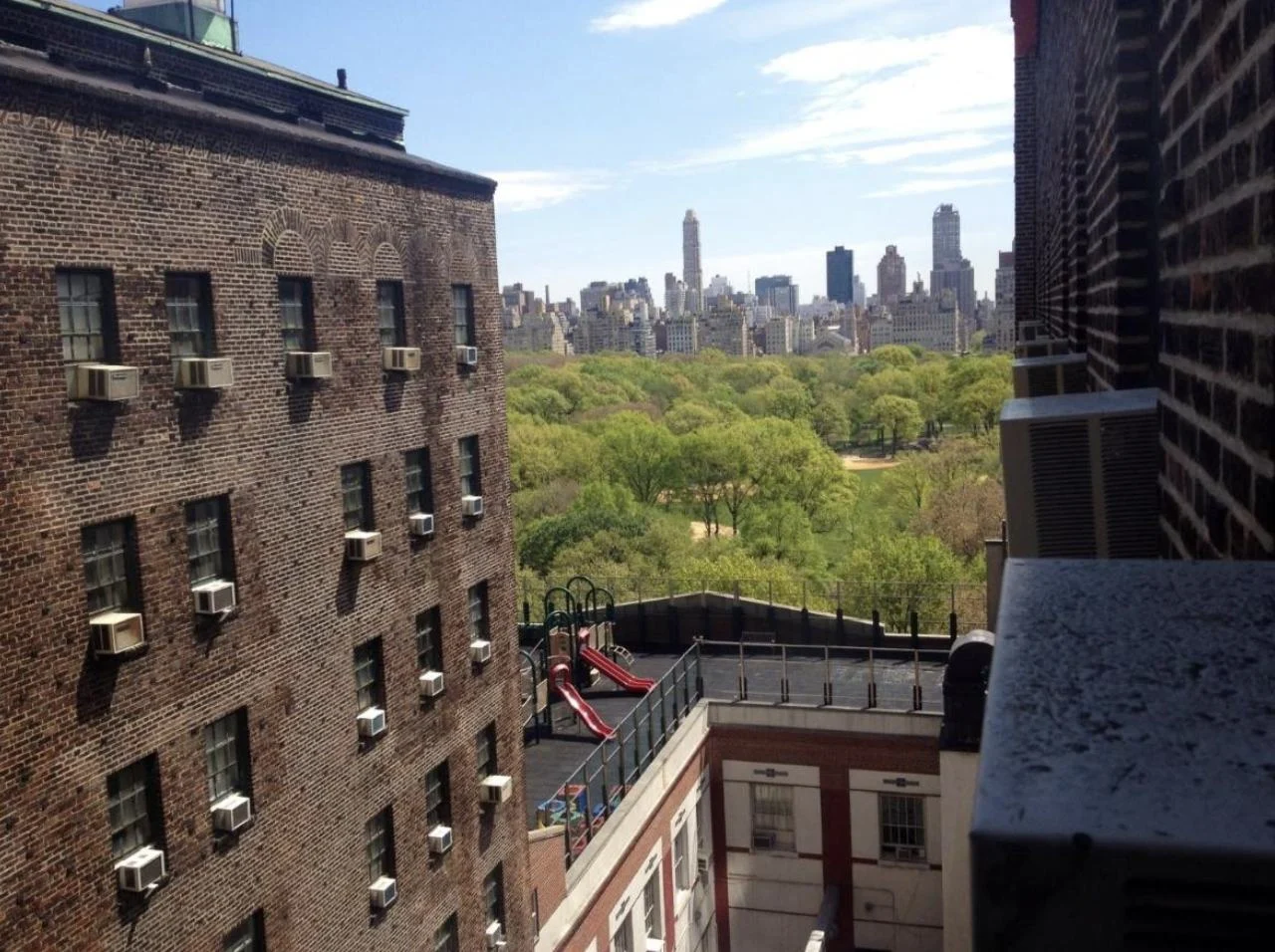 Learn More: If you enjoyed reading through these hotels, you may also want to check out some other great hotels in the city that offer views:

NYC Skyline: Best Hotels with Views in NYC
Times Square: Hotels with Views of Times Square
Brooklyn Bridge: Hotels with Brooklyn Bridge Views
Where to Stay: Places to Stay in NYC
Best Views of Central Park
While waking up to Central Park views from your hotel room is going to be tough to beat, there are plenty of other spots to grab a view during your time around the area.
Here is a list of some of my favorite locations within/around the park to get a view of the park itself and/or the NYC skyline.
Learn More: Check out the overview about the best views of Central Park to get a better idea about each one of these locations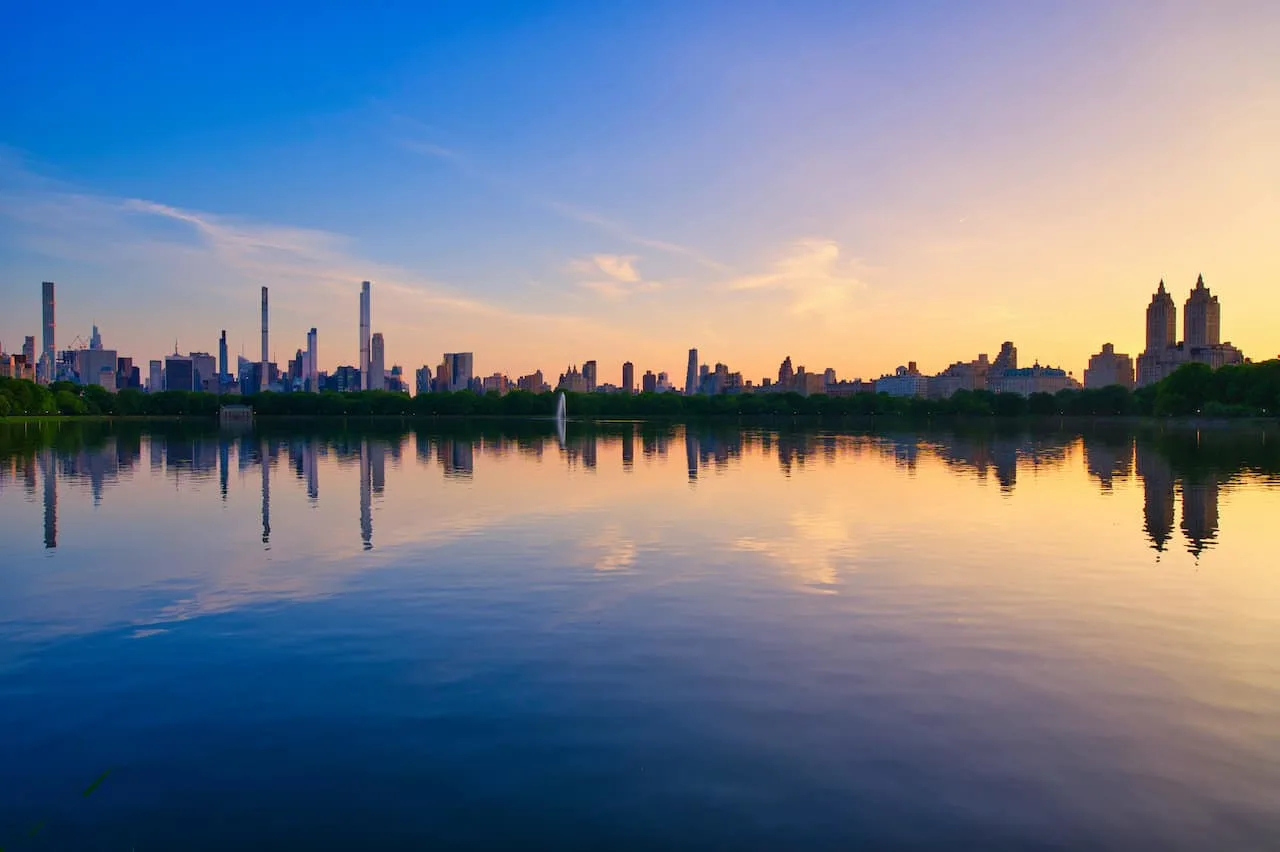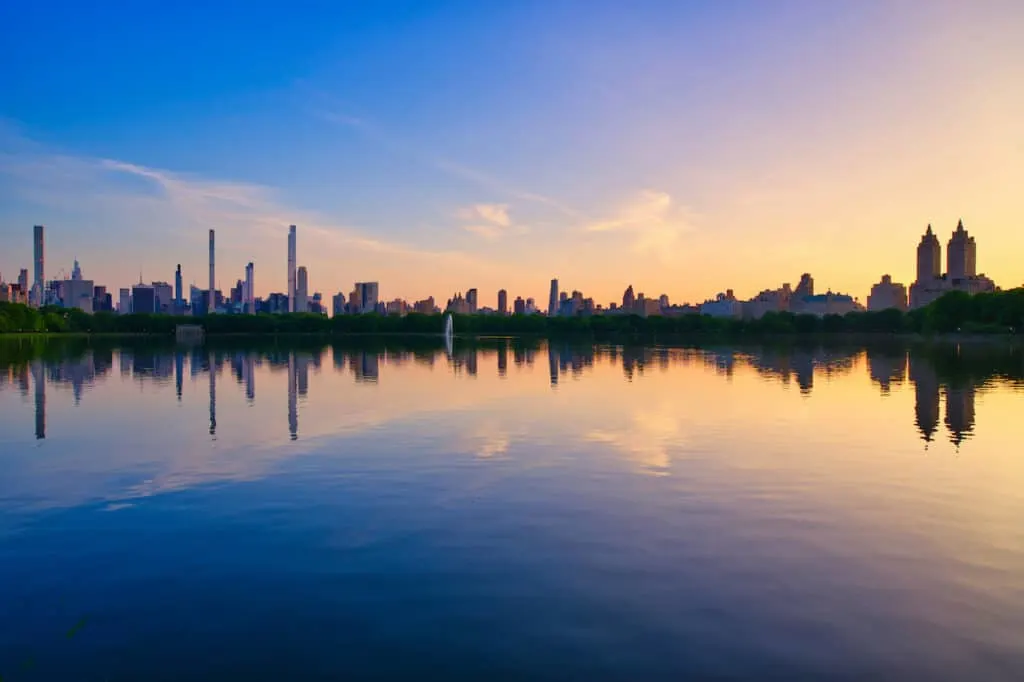 Restaurants with a Central Park View
Not only can you enjoy some views of the park, but there is also the chance to have a meal or drink with a view. Surrounding Central Park there are several restaurants & bars that offer views from above.
Here is a list of some of the top spots to choose from when visiting the area:
Bluebird London | 10 Columbus Circle
Porter House Bar & Grill | 10 Columbus Circle
Ascent Lounge New York | 10 Columbus Circle
Center Bar | 10 Columbus Circle
Per Se | 10 Columbus Circle
Tartinery | 10 Columbus Circle
MO Lounge – Mandarin Oriental | 80 Columbus Circle
Robert Restaurant | 2 Columbus Circle
Darling Bar – Park Lane Rooftop | 36 Central Park South
Tavern on the Green | in Central Park
Loeb Boathouse | in Central Park
Learn More: Check out the overview about the best restaurants with a Central Park view for more info about each spot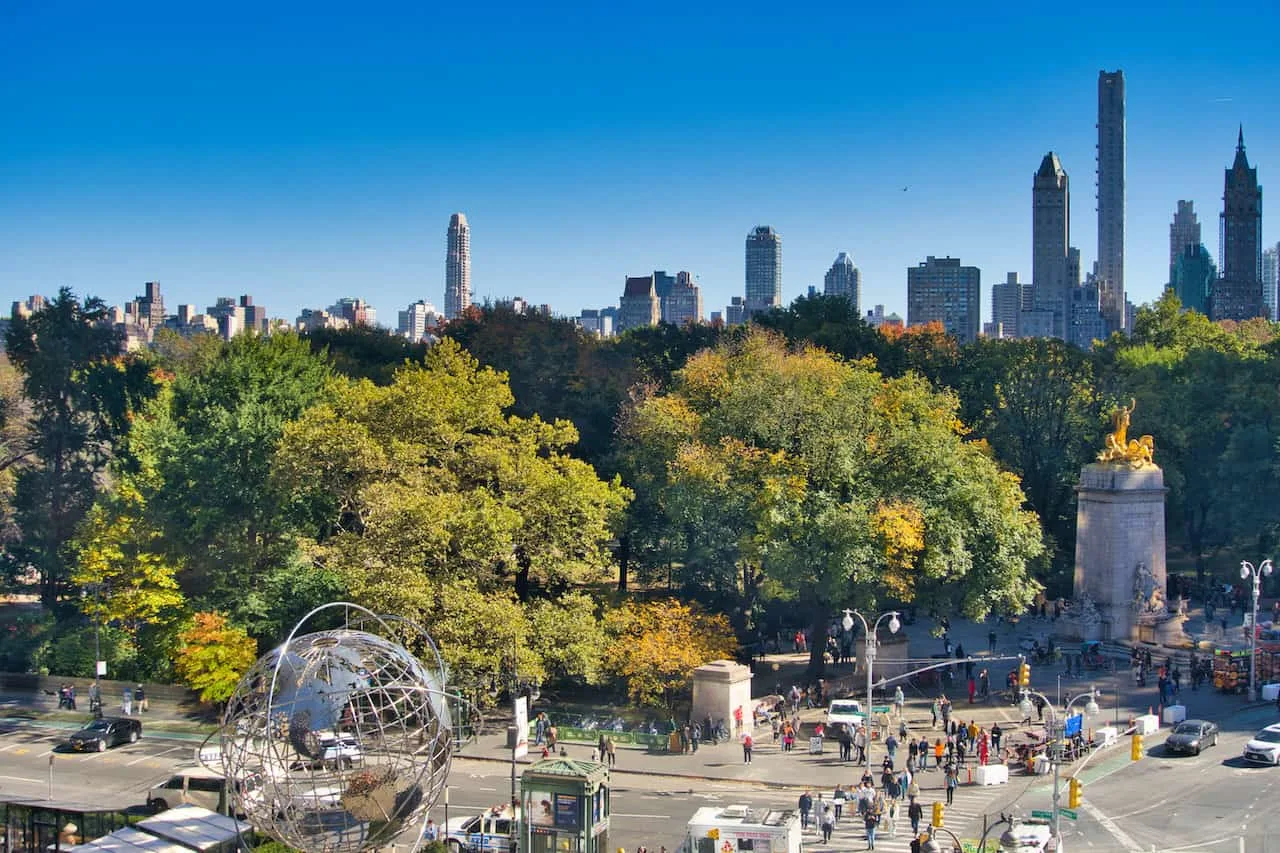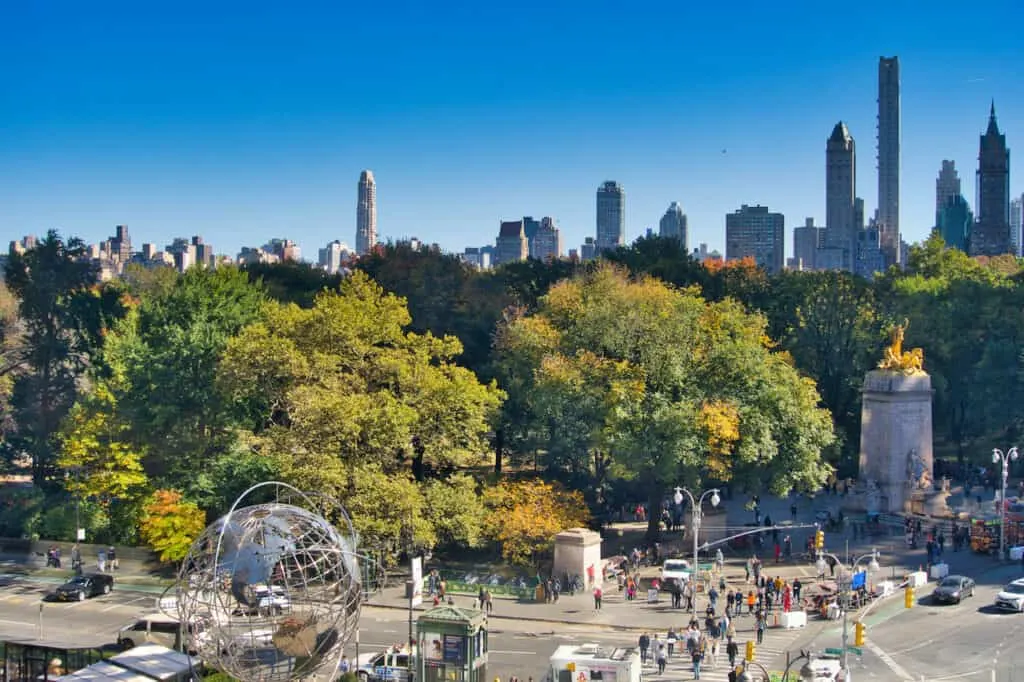 That about does it for the best hotels with Central Park views. If you have any questions or comments, be sure to add them in below.
Feel free to also check out the other New York itineraries and guides up on the site (like this one week NYC itinerary). Have fun out there and safe travels!