When it comes to iconic bridges in the world, few can compare to the Brooklyn Bridge of New York City. With its two granite towers and its vast array of suspension cables hovering over the East River, the bridge is as photogenic as it gets.
What better way to experience the bridge day in and day out during your time in New York City, than to stay at one of the hotels with views of the Brooklyn Bridge.
Getting to wake up and go to sleep to those views is going to add a whole new experience level for your trip.
Read on to learn about the best hotels with a view of the Brooklyn Bridge, in addition to some other hotels near the Brooklyn Bridge.
* Affiliate Disclosure: This post may contain affiliate links, which means I may receive a commission if you make a purchase through the links provided, at no additional cost to you. Thanks for supporting the work I put into TripTins!
Hotels with Views of Brooklyn Bridge Overview
To start, below you can find a list of the 13 hotels that I will be talking through during the remainder of this overview.
As I put together my research for this list I realized that there are not too many hotels with views of the Brooklyn Bridge. After visiting a whole bunch of hotels in the downtown NYC and Brooklyn areas, I was only able to find 7 that actually had a view.
So, while I will be deep diving into those 7 (laid out first down below), I will also mention 6 additional hotels near the Brooklyn Bridge (but don't have views). This way you will still be steps away from taking in those views of the Brooklyn Bridge.
Room Booking Note: not every room at these hotels (the first 7 listed) will have views of the Brooklyn Bridge. Since only certain rooms will have the perfect angle, you will need to request the room after booking.

I have included booking links throughout to make the reservation process that much easier for you.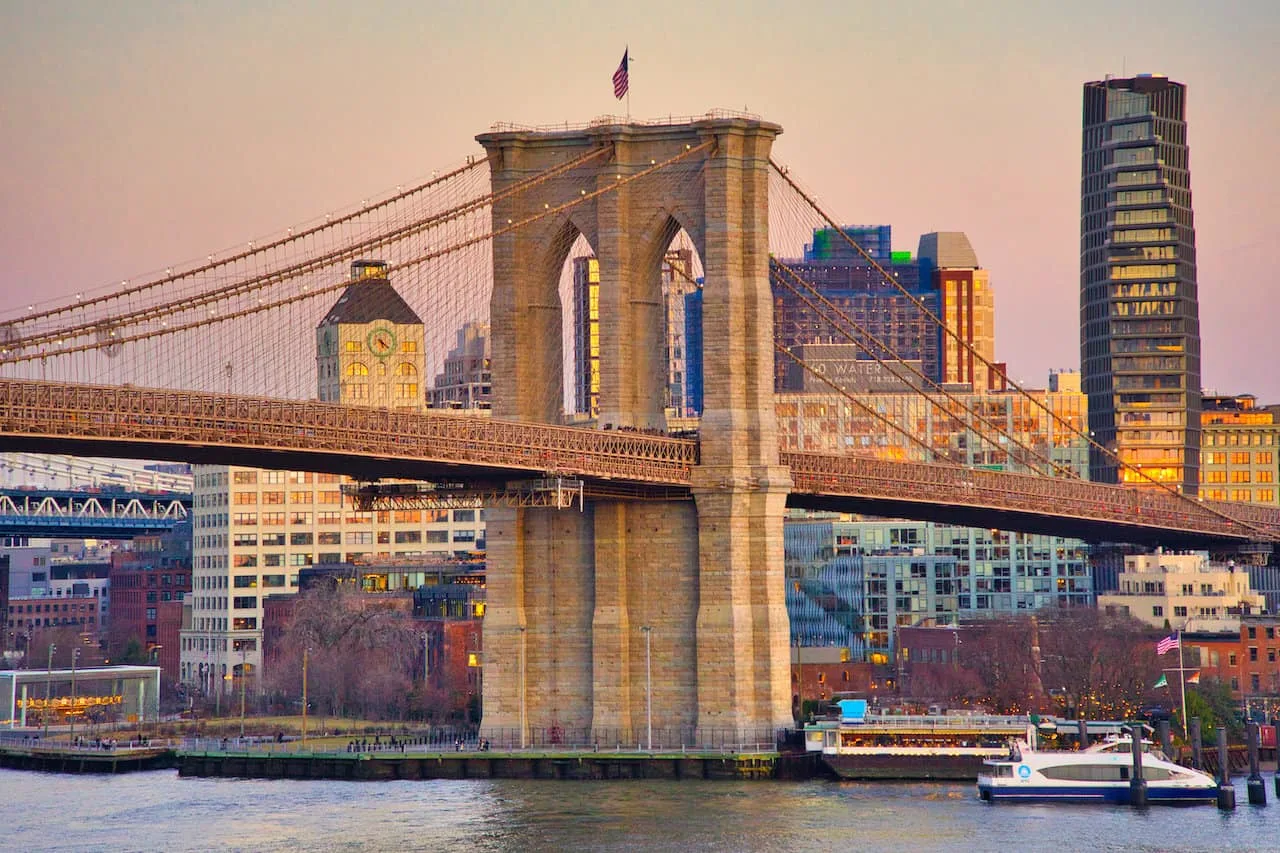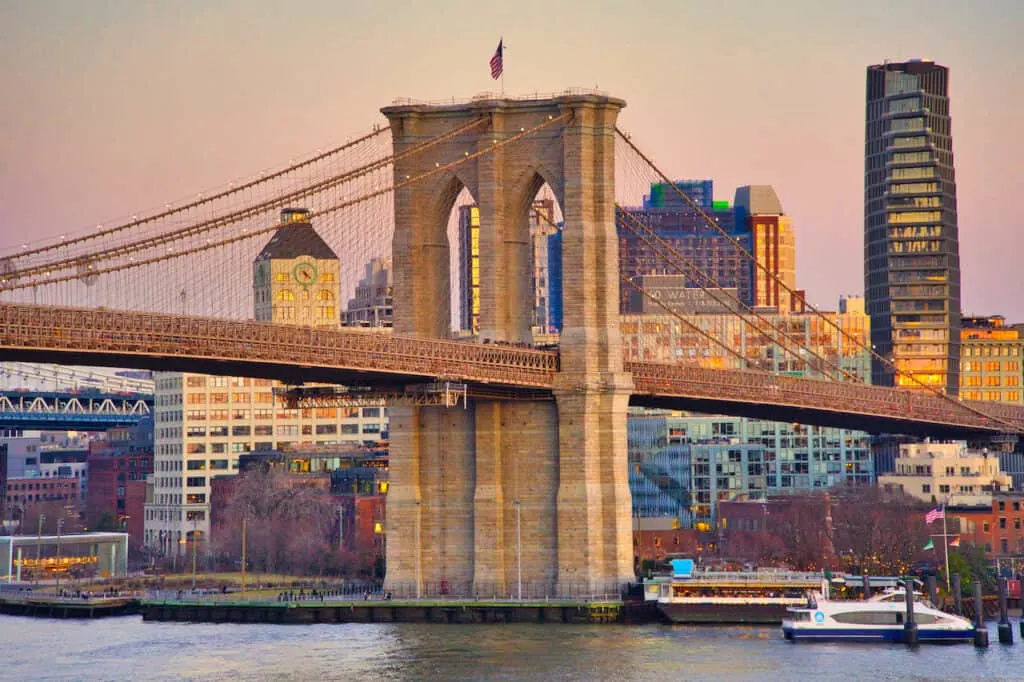 1) 33 Seaport Hotel
The 33 Seaport Hotel is one of lower Manahattan's most charming. It's found in South Street Seaport, very close to the Financial District. Though it was once a Best Western, the new owners have transformed it into something quite glamorous.
When checking into the hotel, guests are given a complimentary cocktail. There is also free transport provided by the hotel – provided the destination is within 20 blocks.
The rooms are charming and well-furnished. The best ones have terraces that look out onto the Seaport, or command views of Brooklyn Bridge. If you'd like a Brooklyn Bridge view, you will need to specify that when booking (check out the "Loft King" room).
The onsite East Asian restaurant, Restaurant Pearl, will dazzle with its mouthwatering Asian cuisine. It offers everything from humble comfort foods like Korean fried chicken, to more sophisticated offerings like wagyu steak. Whatever you're craving, the Pearl is sure to be able to take care of it.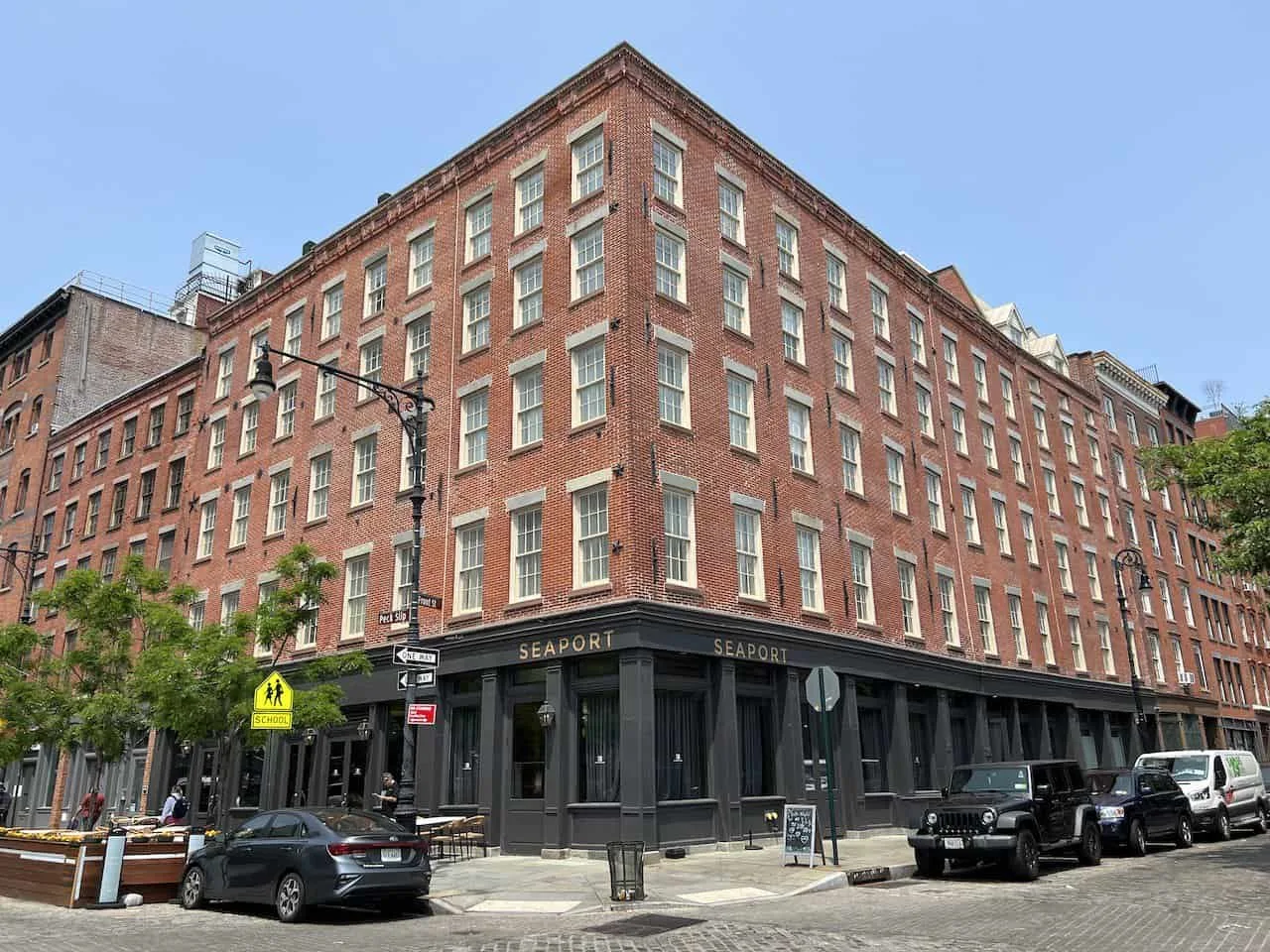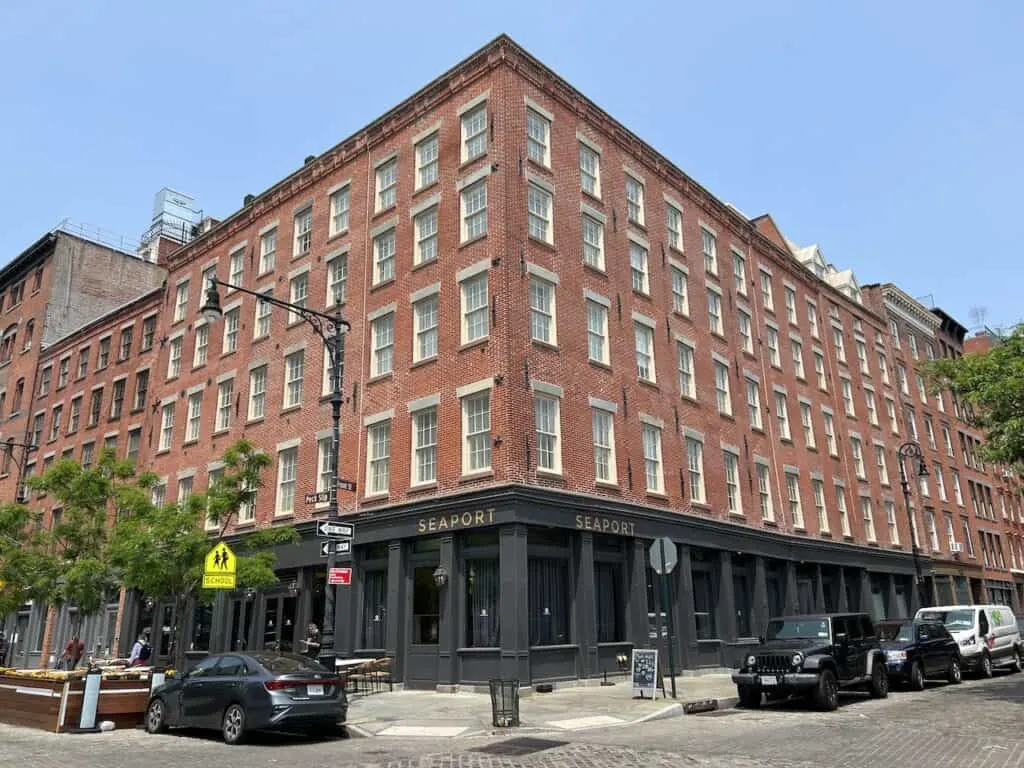 2) Moxy New York Downtown
The first of two Moxy hotels on this list is the downtown location in Manhattan. Not only do some of the rooms at the Moxy Downtown offer views of the Brooklyn Bridge, but it is also one of the coolest hotels in the city (right on brand with the rest of them).
Within the hotel you will find a huge bar & lounge area coupled with arcade games and even a basketball court. It doesn't get better from an amenities perspective! After a day out exploring NYC, you can hang out, play some games, and grab some drinks.
If you are looking for a hotel that is easily connected by foot & subway to the top things to do in NYC, and want a fun vibe, the Moxy Downtown is for you.
Note that you will need to book a King Room for those Brooklyn Bridge views. Not all of them have it, but you can request after booking!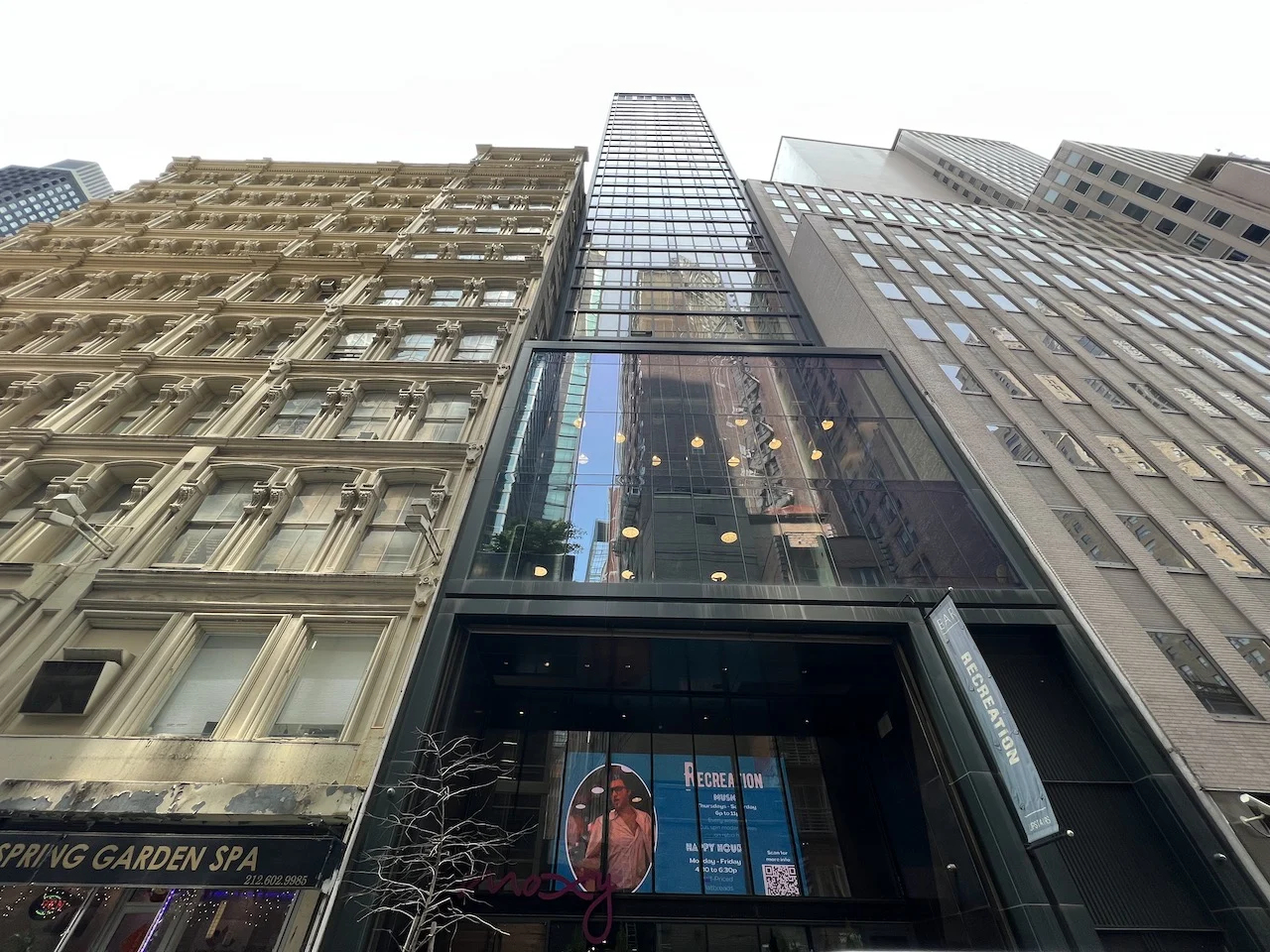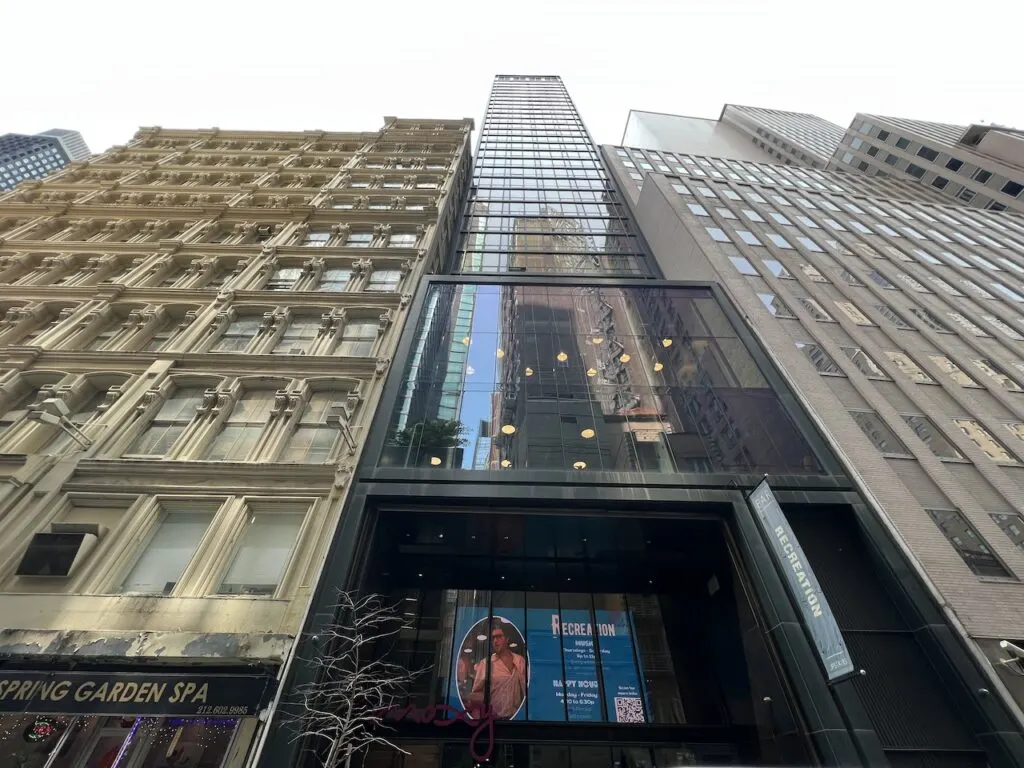 3) Millennium Downtown
This Financial District landmark quite simply cannot be missed. The Millennium Downtown is across the street from One World Trade Center and its observation deck. After being forced to close its doors following 9/11, it underwent a $32 million renovation. The result is a glossy 55-story giant that towers over the district.
Its location makes it perfect for exploring the Financial District and, beyond that, Manhattan as a whole. Tribeca and South Street Seaport are both a ten-minute walk away, and even SoHo is only twenty minutes away.
When it comes to views of the Brooklyn Bridge: the higher your room, the better the view. But most of the rooms have great views, in actuality. With floor-to-ceiling windows as standard, you can drink in the NYC skyline.
In addition to the Brooklyn Bridge, many rooms also offer unobstructed views of the Empire State Building.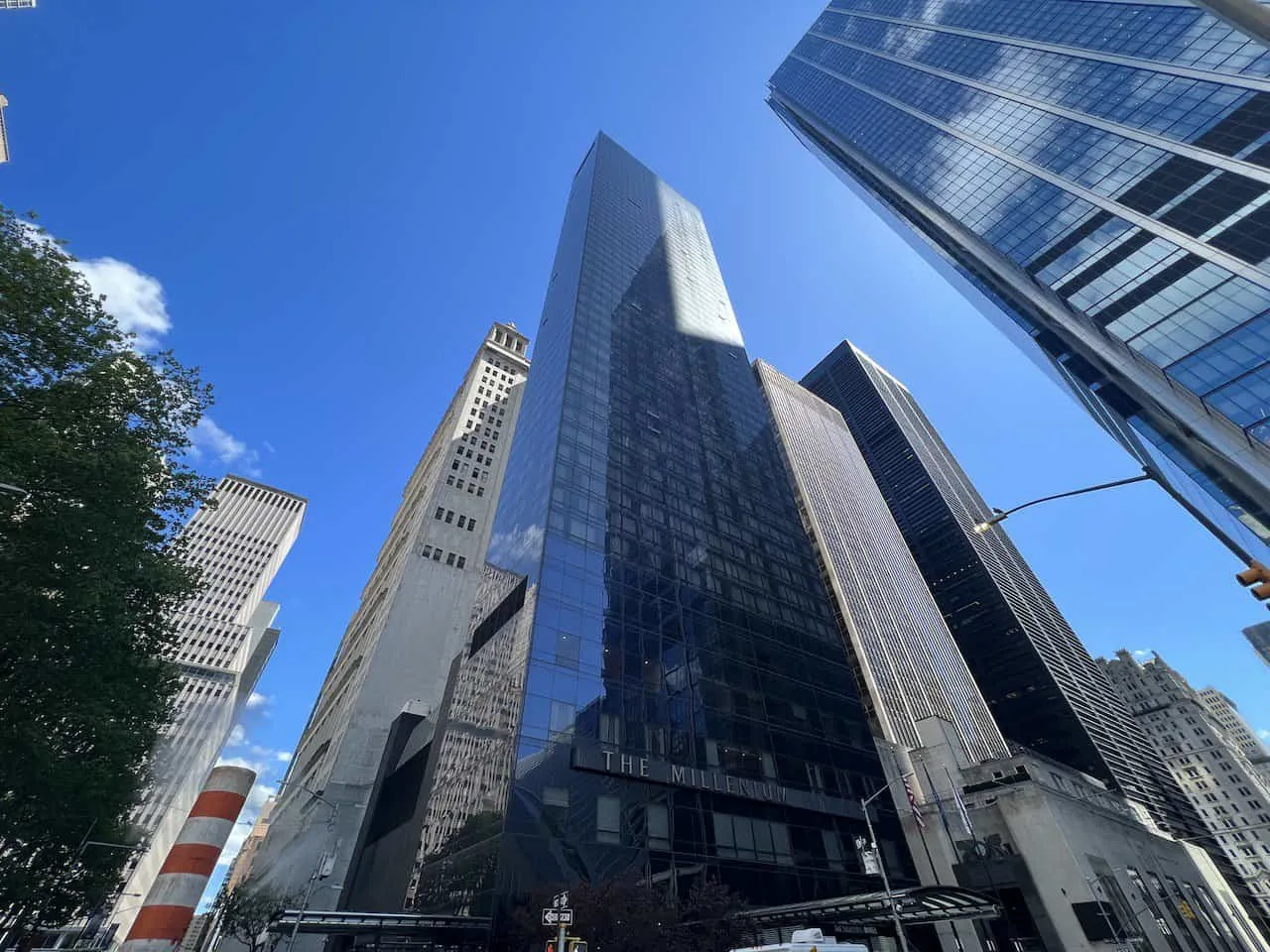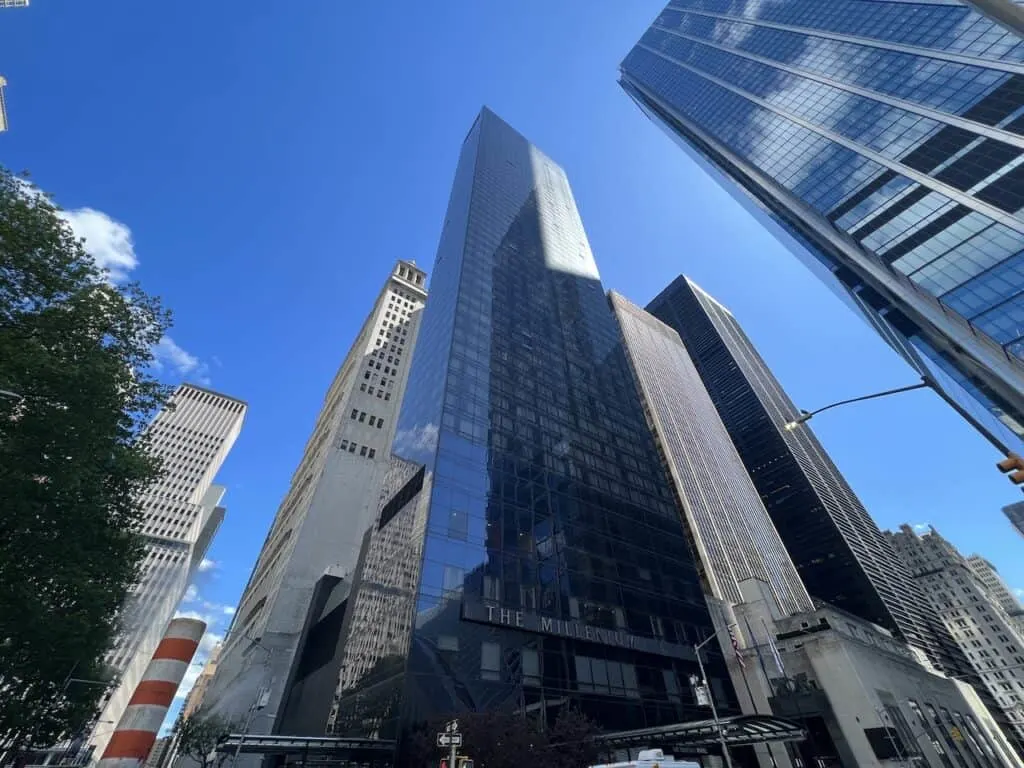 4) 1 Hotel Brooklyn Bridge
1 Hotel Brooklyn Bridge boasts an amazing view of Brooklyn Bridge. It is, in fact, often lauded as the best hotel with views of Brooklyn Bridge in New York City.
The hotel is found on the East River waterfront, which makes for a peaceful environment. In addition to its unparalleled views of the titular bridge, the Manhattan skyline sits just across the water.
Furthermore, a ferry terminal and two subway stops are within 10 minutes' walking distance. This makes it easy to visit anywhere else in the city you'd like.
The location and views may be what put this hotel on the map, but its character is a close second.
1 Hotel sports a sort of raw industrial chic. It's furnished with a lot of exposed pipes and heavy metal lamps. This is complemented by a very eco-friendly approach throughout the hotel. Coupled with the rooftop pool & bar, and it is hard to beat.
It is also one of the best hotels in NYC with floor to ceiling windows!
In the photo below (taken from Manhattan) you can see the hotel just to the right of the Brooklyn Bridge.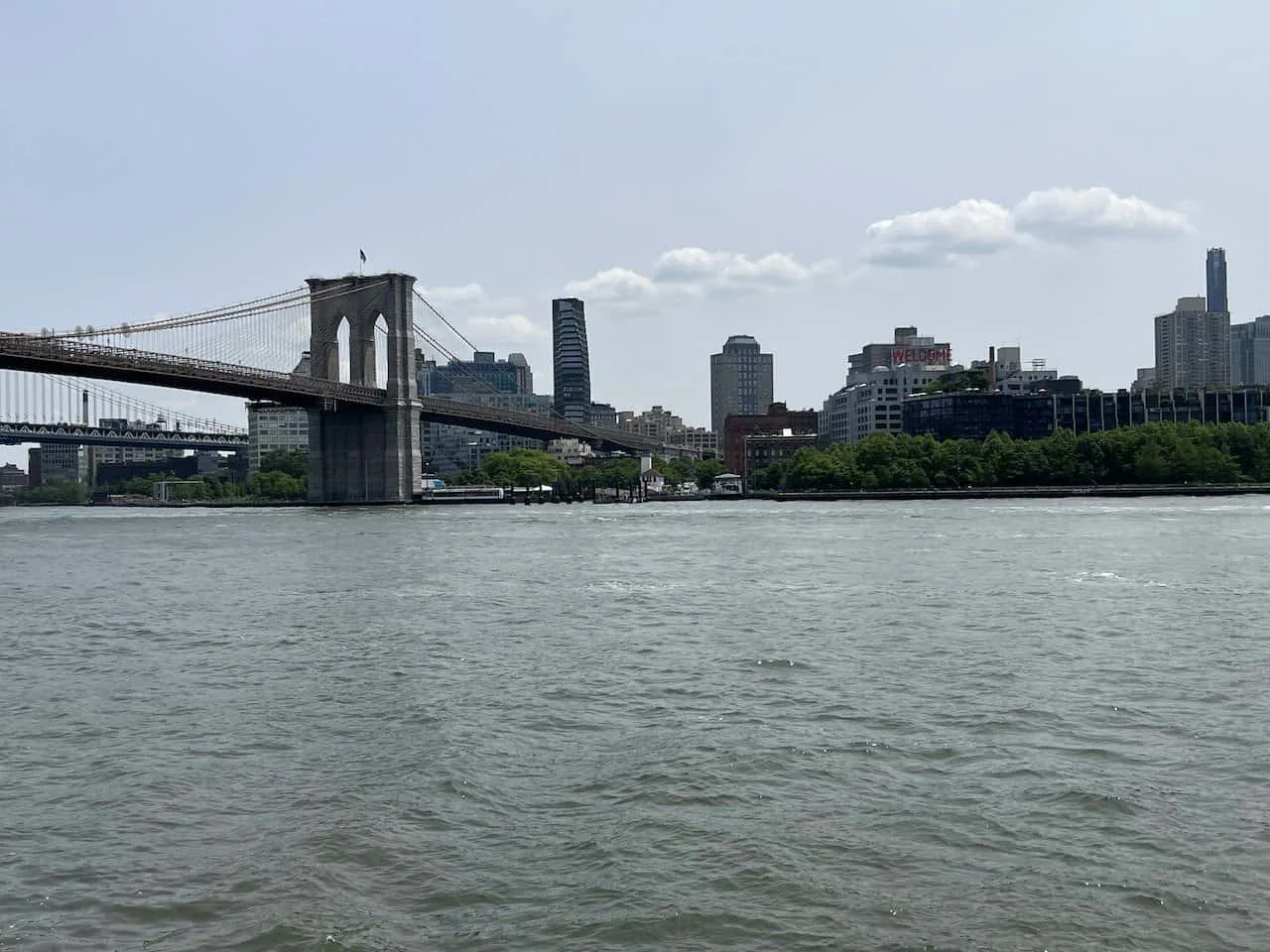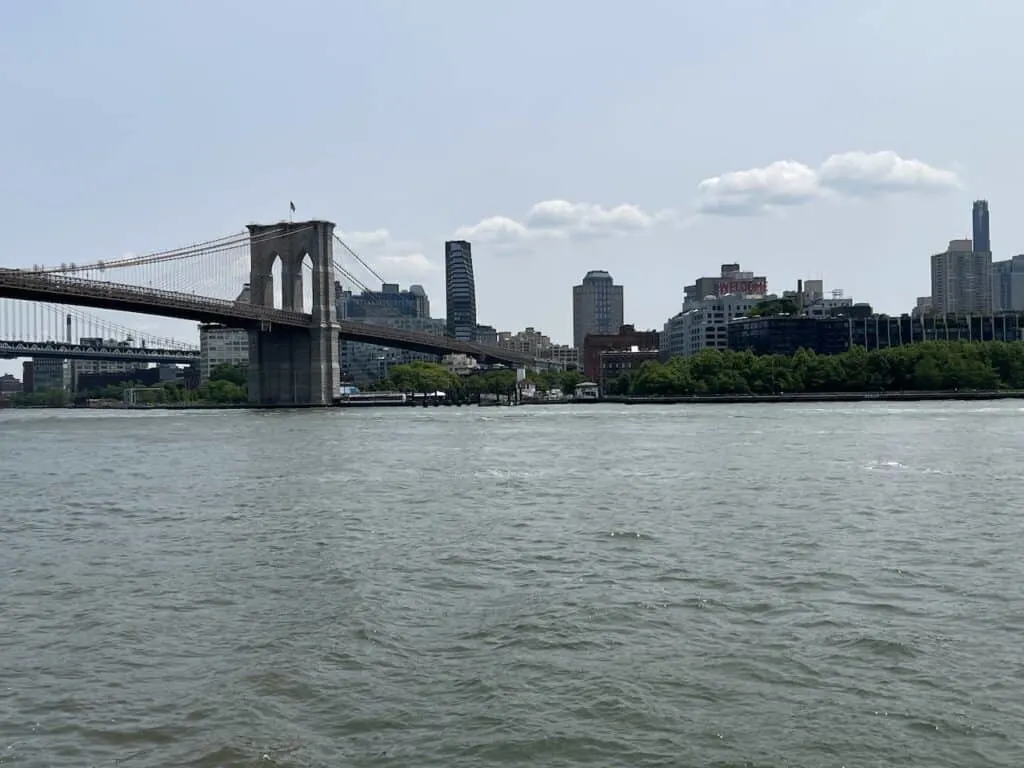 5) New York Marriott At The Brooklyn Bridge
The New York Marriott at the Brooklyn Bridge is another Brooklyn hotel that has some amazing views of the Brooklyn Bridge.
The hotel works for both out of town business folks and those that just want to come spend some time on vacation. Its Brooklyn location near the waterfront & nearby transport connections are also excellent.
One area in which the hotel is talked about frequently is its wonderful pool. It's large and indoors, with plenty of natural light spilling in. It's often said to be one of the best indoor pools in the city.
The rooms are uniform and comfortable. Be sure to request a view of the Brooklyn Bridge, and you'll enjoy the finest views in the hotel. Some rooms also have views of the Manhattan Bridge!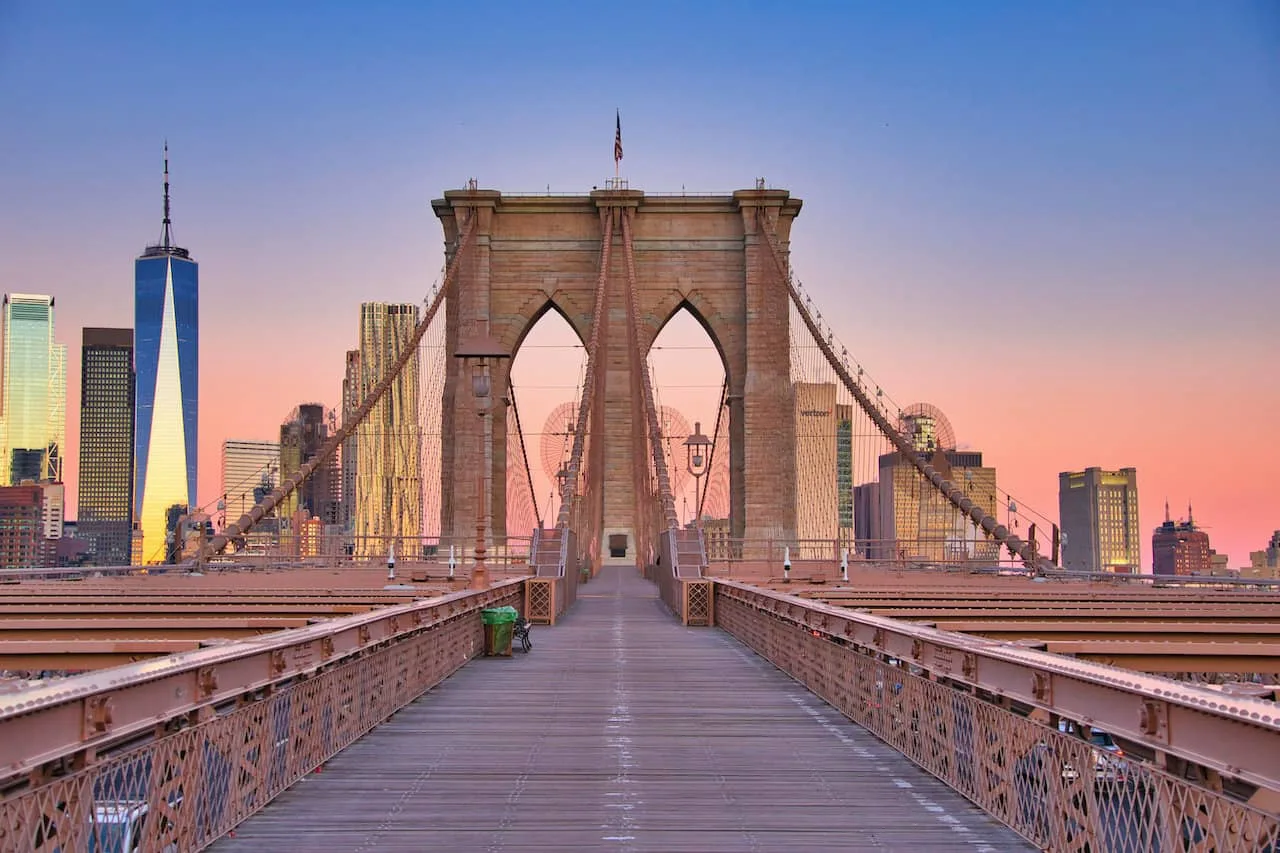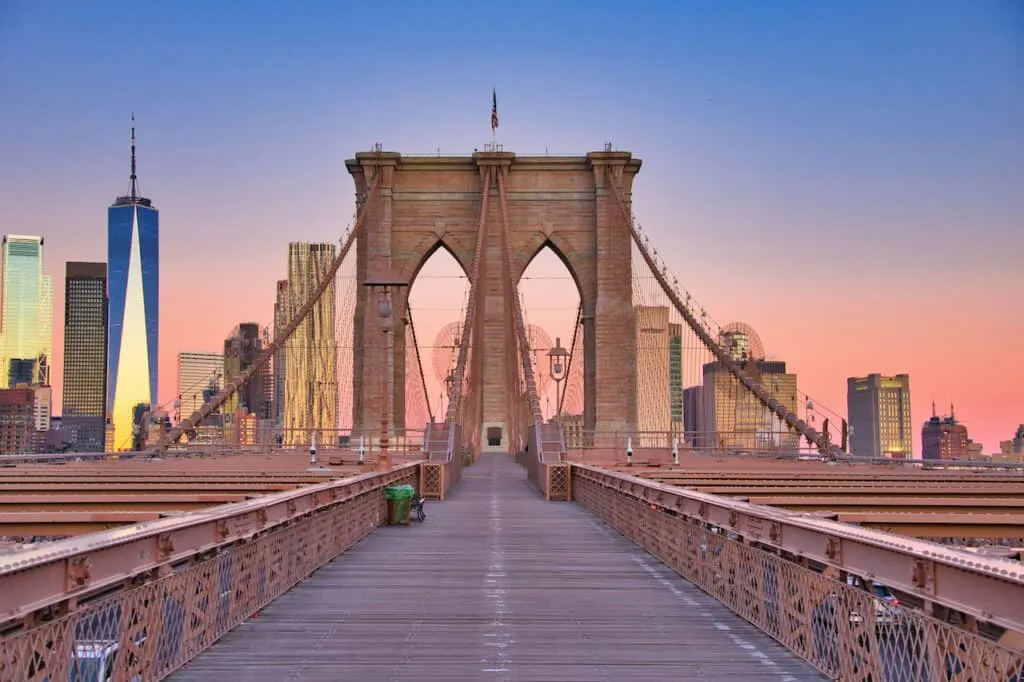 6) The Moxy Brooklyn Williamsburg
The Moxy is a stylish yet affordable hotel sitting in Williamsburg Brooklyn. Though not every room has a view of the Brooklyn Bridge, you may be able to snag one.
The Moxy is very much a trend-setter, with unconventionality the order of the day. The hotel's onsite restaurant is inspired by Tel Aviv, and has some of the best Levantine food in NYC. The Moxy also has no less than three bars onsite. These are Bar Bedford, Jolene Sound Room, and Lillistar.
Bar Bedford doubles as an all-day café, and offers a mean custom cocktail. Jolene Sound Room, meanwhile, is a happening lounge with a custom sound system. Finally, Lillistar is a rooftop bar that offers amazing views of Manhattan and several bridges (seen below!).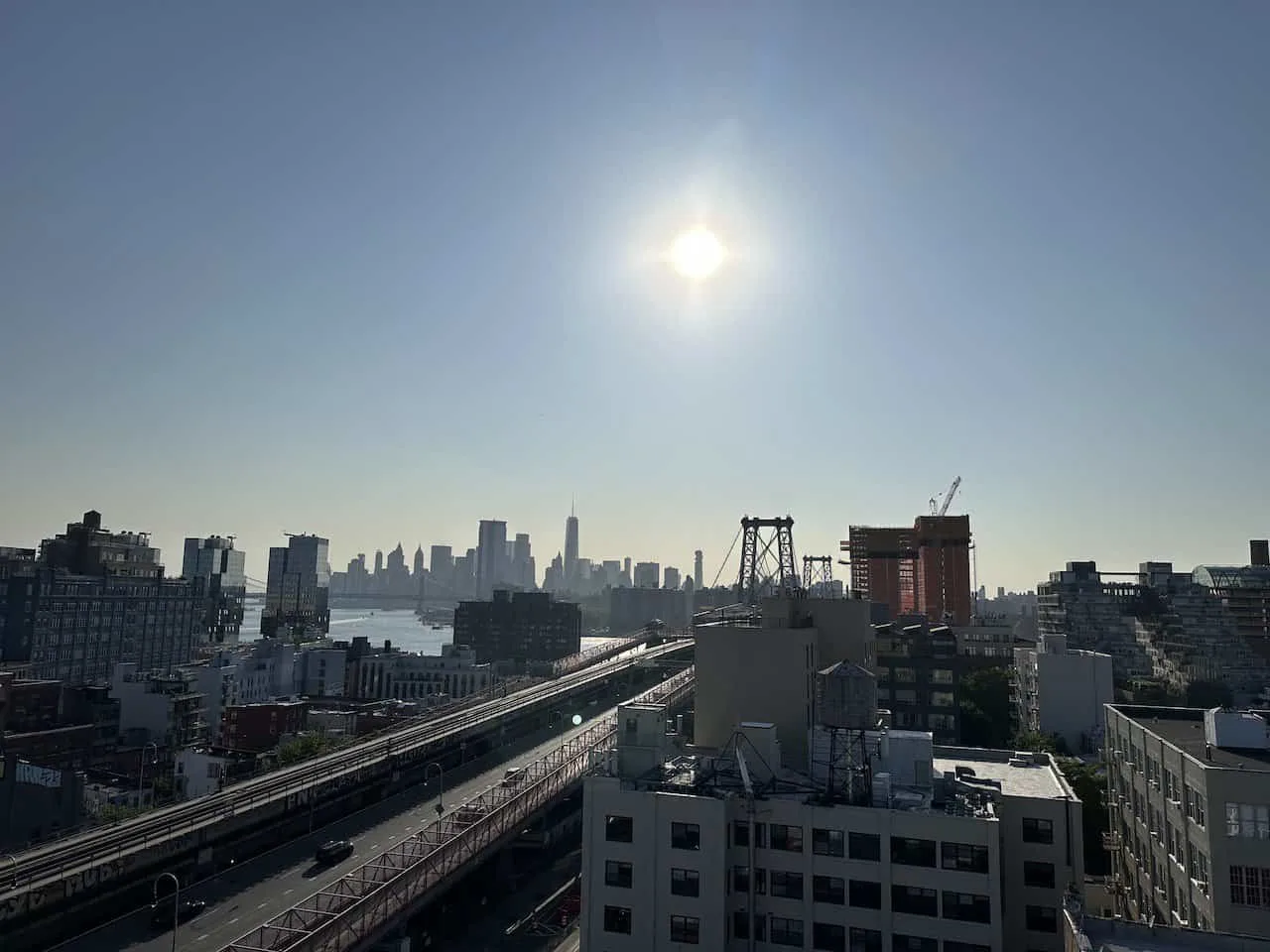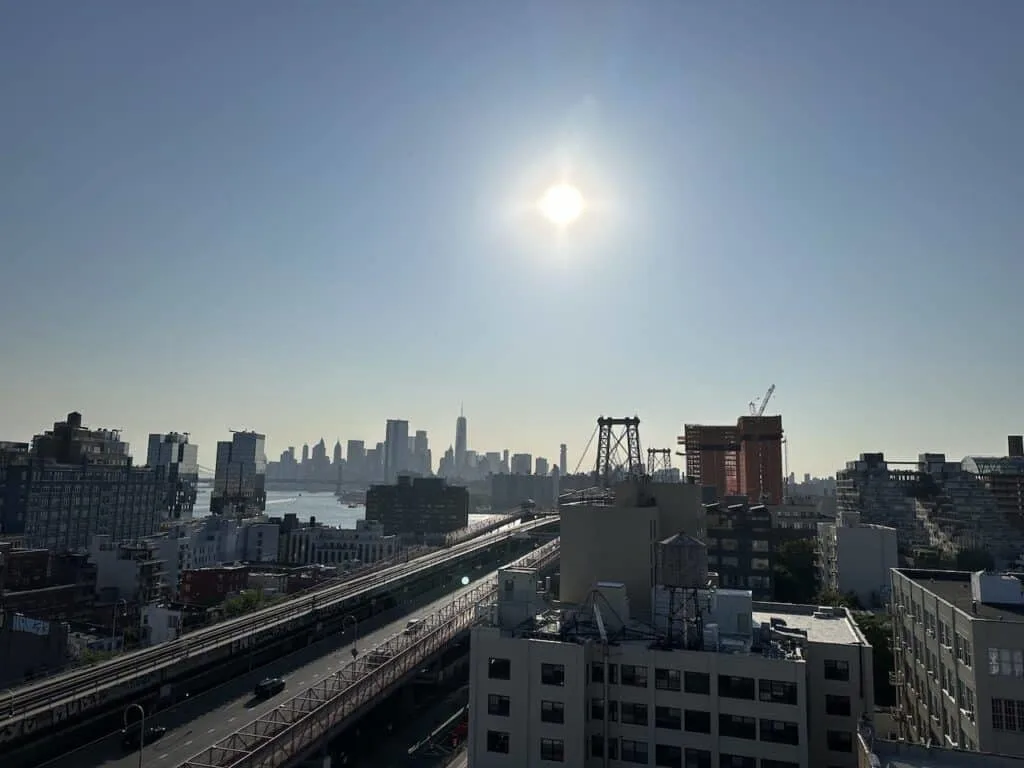 7) The Tillary Hotel
The Tillary Hotel isn't the fanciest hotel on this list, but it's affordable and convenient. Located within a 10-minute walk of two major subway stations, it's a great base from which to explore Brooklyn. And while it's not the best hotel with views of Brooklyn Bridge, it does offer some opportunities to glimpse it.
Despite the convenience of its location, the Tillary is a surprisingly quiet hotel. You're unlikely to be bothered by the hustle and bustle outside – a rarity in NYC. It's also got a fantastic rooftop terrace where you can enjoy a drink or snack and watch Brooklyn go by.
The hotel has great public areas that are a pleasure to relax in. The décor was designed by the renowned local Cl-oth Interiors. They have mixed mid-20th-century art deco with modern sensibilities to create something truly unique.
Some of the rooms at the Tillary have views of the Brooklyn Bridge, but only a handful. Though it is worth requesting one of these when booking, it's unfortunately not guaranteed. Do be aware of this if you're planning to stay here.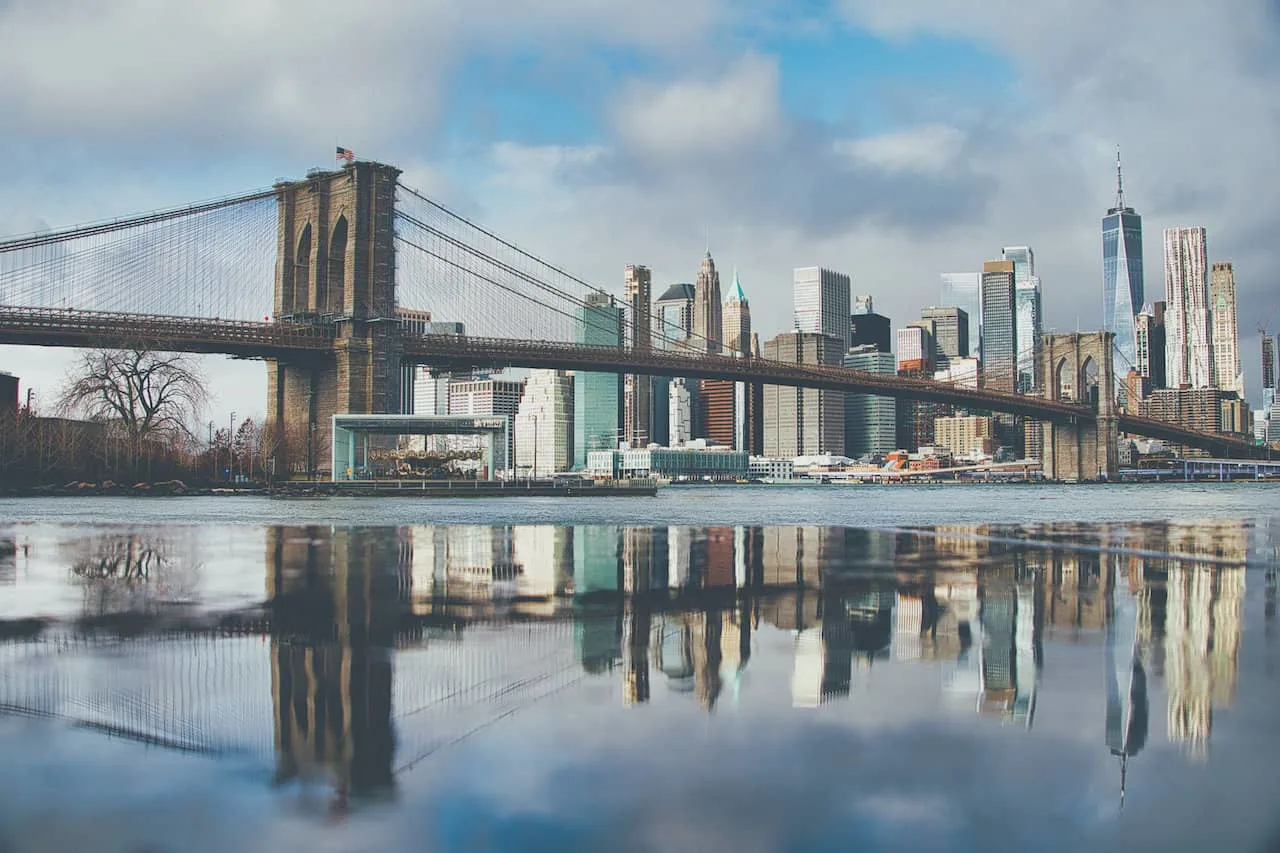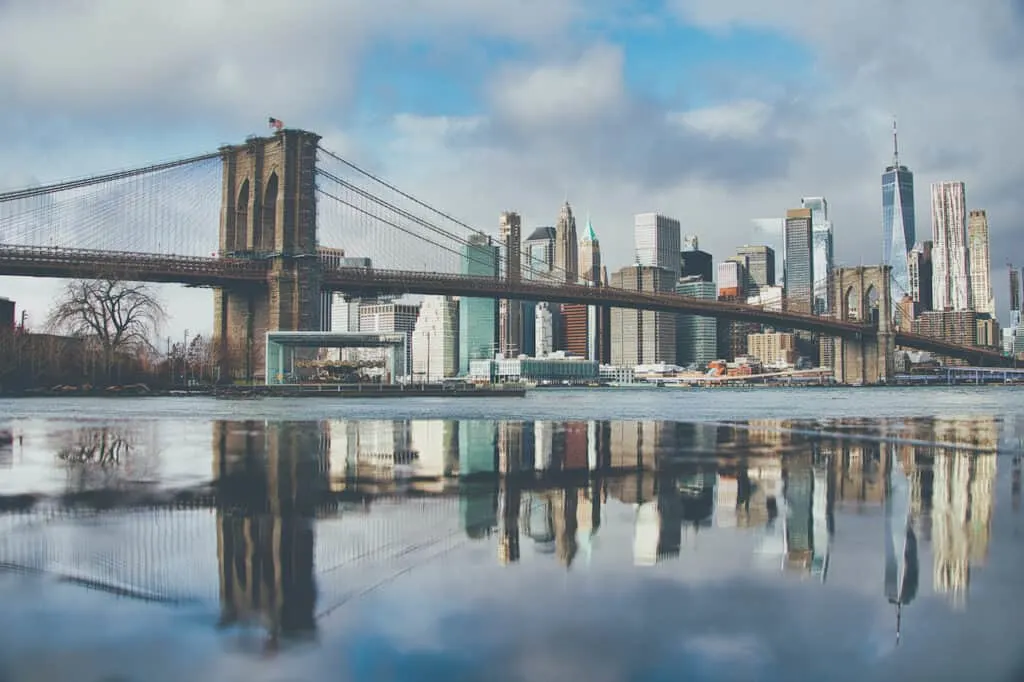 Note: the following hotels do not offer views of the Brooklyn Bridge, but are located very near the Brooklyn Bridge.
8) The Wall Street Hotel New York City
For a central location that still keeps the NYC noise out, it's hard to beat the Wall Street Hotel. It's a boutique hotel that, uniquely, caters to as many tourists as it does business travelers.
The hotel was founded by an Australian family who made their fortune in pearling. This history is reflected throughout the hotel, where mother-of-pearl predominates. The hotel's location – on the corner of Wall Street and Pearl Street – further reinforces its connections to the industry.
The hotel has 180 rooms, and a great many of them boast excellent views of NYC and its surroundings. Do be warned, however, that this is not a hotel with views of the Brooklyn Bridge. That said, it is very close to the iconic bridge, and you can walk there in around 15 minutes.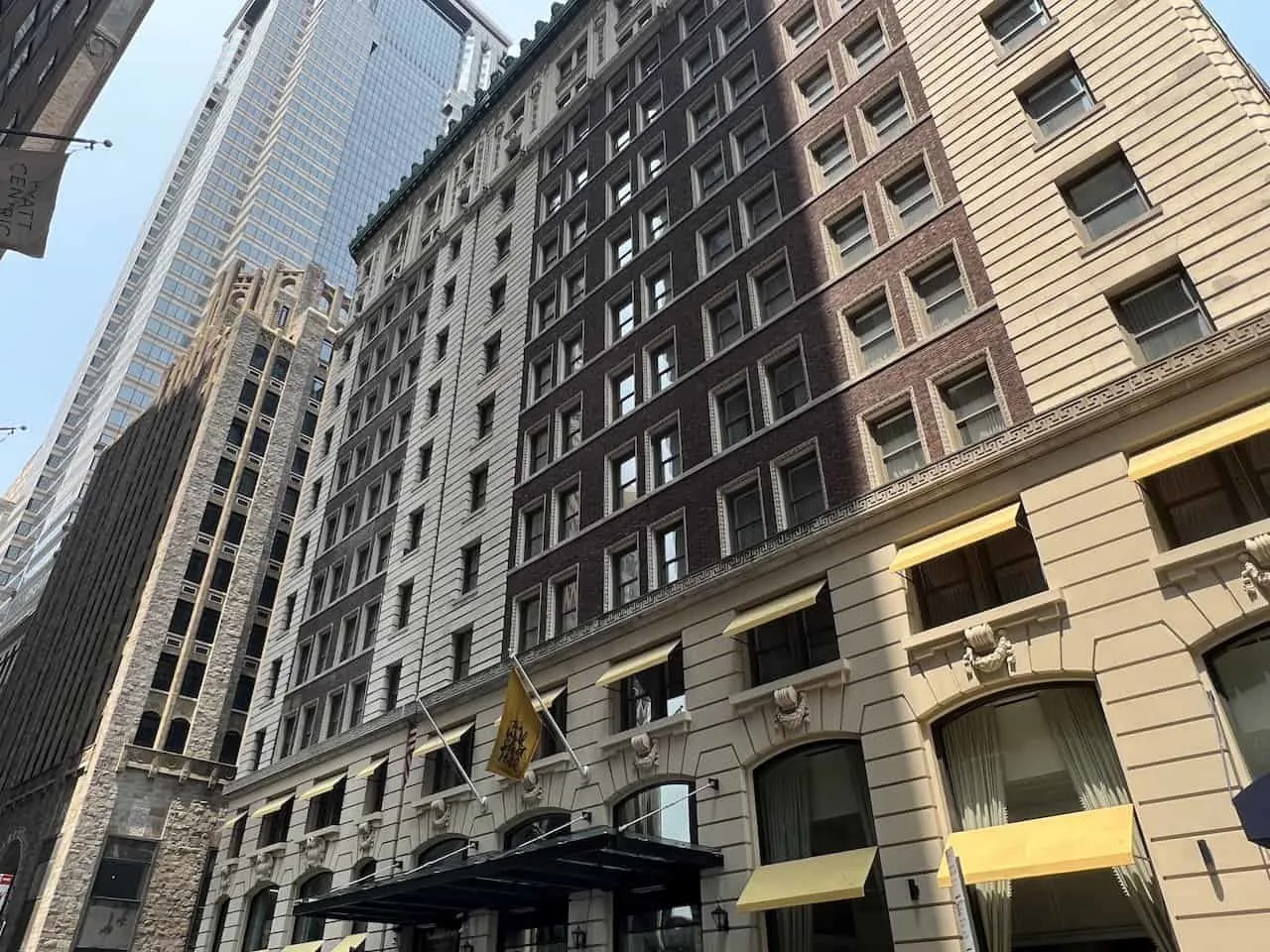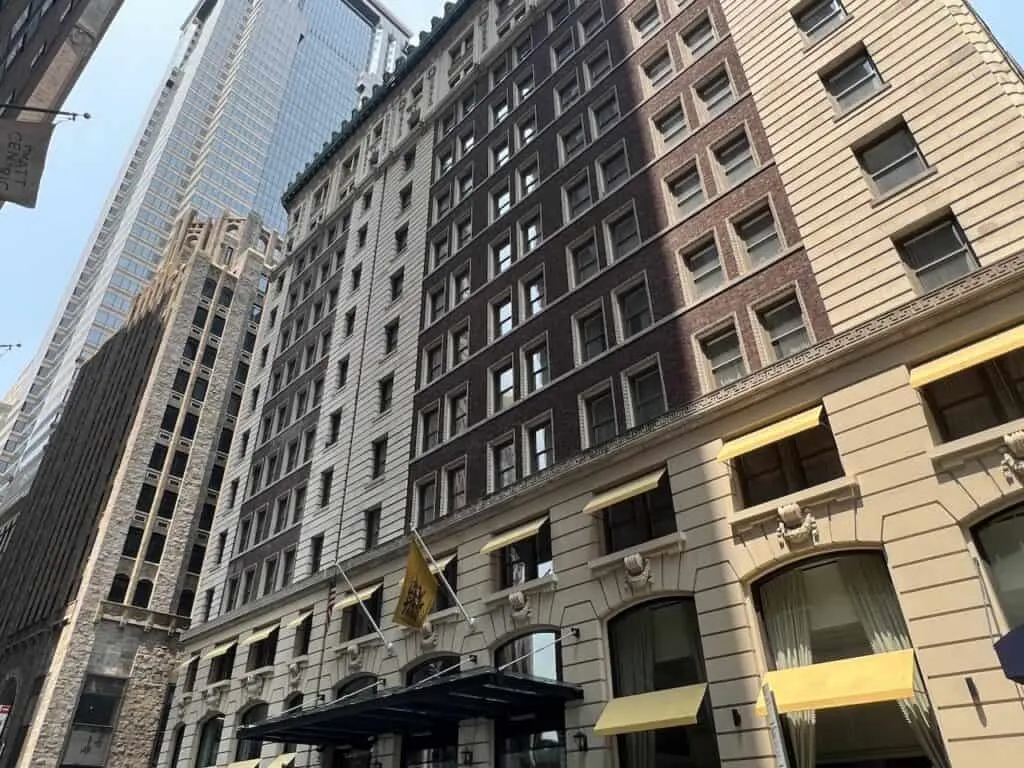 9) AC Hotel By Marriott Downtown
The AC Hotel is one of the newer Marriott hotels in the city. While it doesn't offer direct views of Brooklyn Bridge, it's a great base for exploration.
The AC is also a very affordable hotel in comparison to some of the other nearby options. This makes it perfect for the budget-conscious traveler to NYC. Furthermore, it's located very near to the Financial District's waterfront. Although it's not a hotel with views of Brooklyn Bridge, it's only a couple of minutes away.
The Wall Street subway station is around a five-minute walk from the hotel, which makes it very easy to reach the rest of Manhattan and NYC.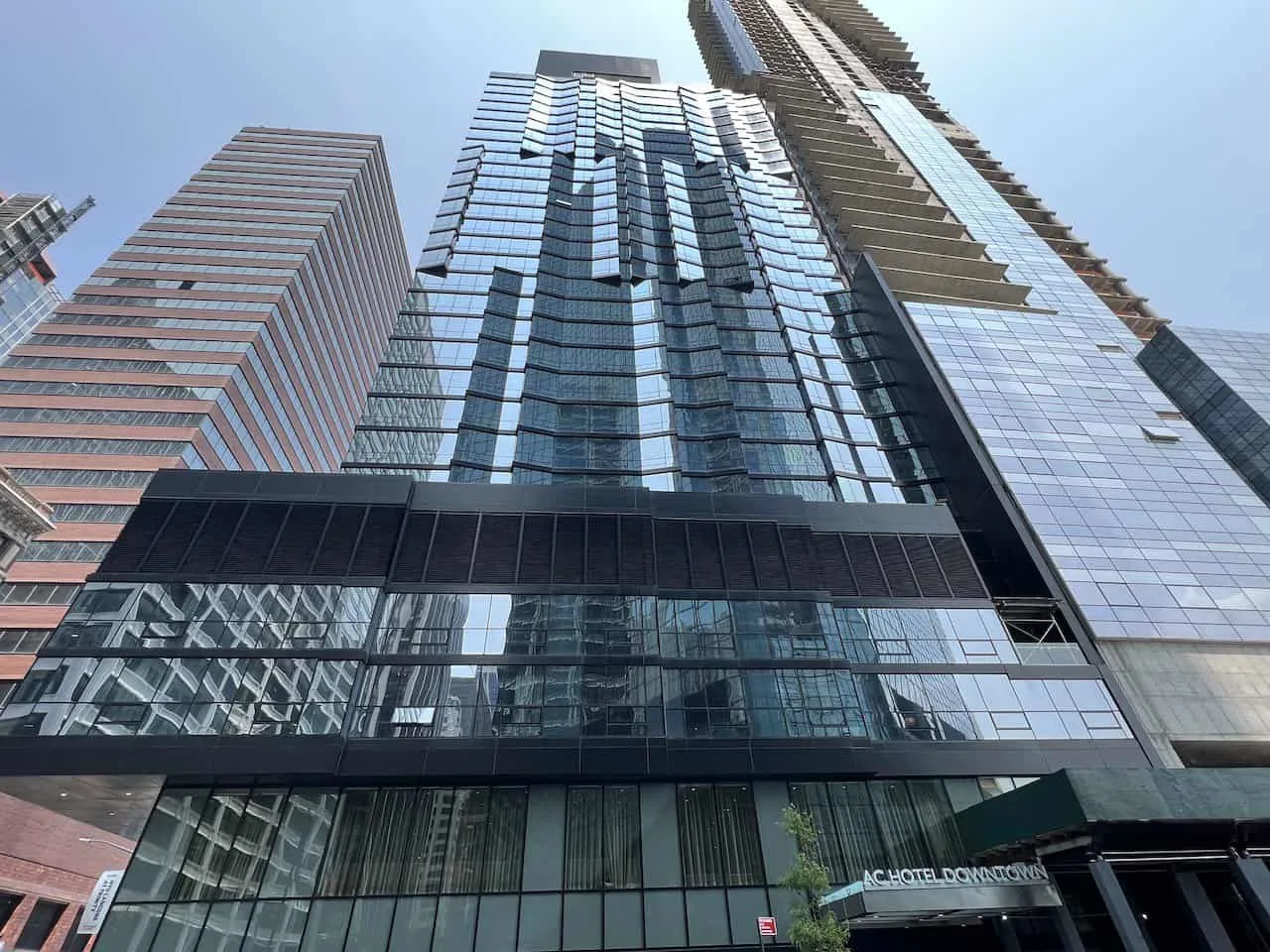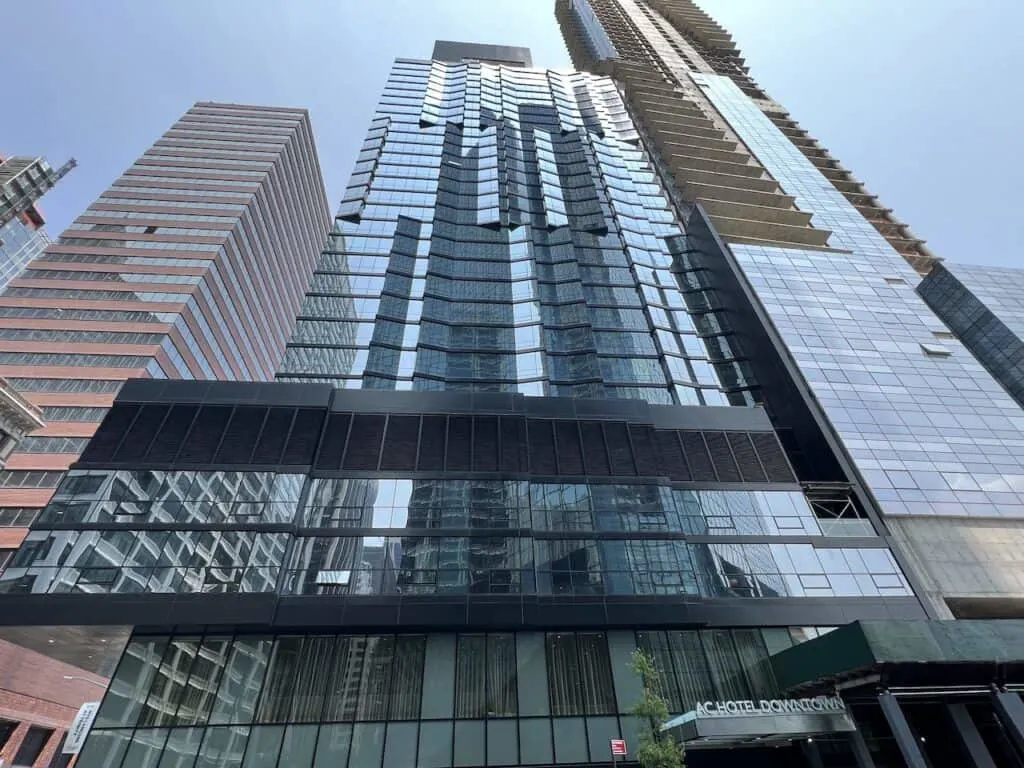 10) Artezen Hotel
The Artezen is a modern hotel found right in the center of Lower Manhattan. It's close to Fulton Street Station, meaning that the whole of the Five Boroughs is easily accessible. The rooms and suites are, additionally, extremely well-furnished.
Artezen is reasonably priced given its location, and frequently offers promotions and discounts. It's also relatively quiet despite the New York hubbub. You'll thus be able to relax in peace and quiet whenever you're back at the hotel.
Though the Artezen does not have views of the bridge, it is one of the best hotels near the Brooklyn Bridge.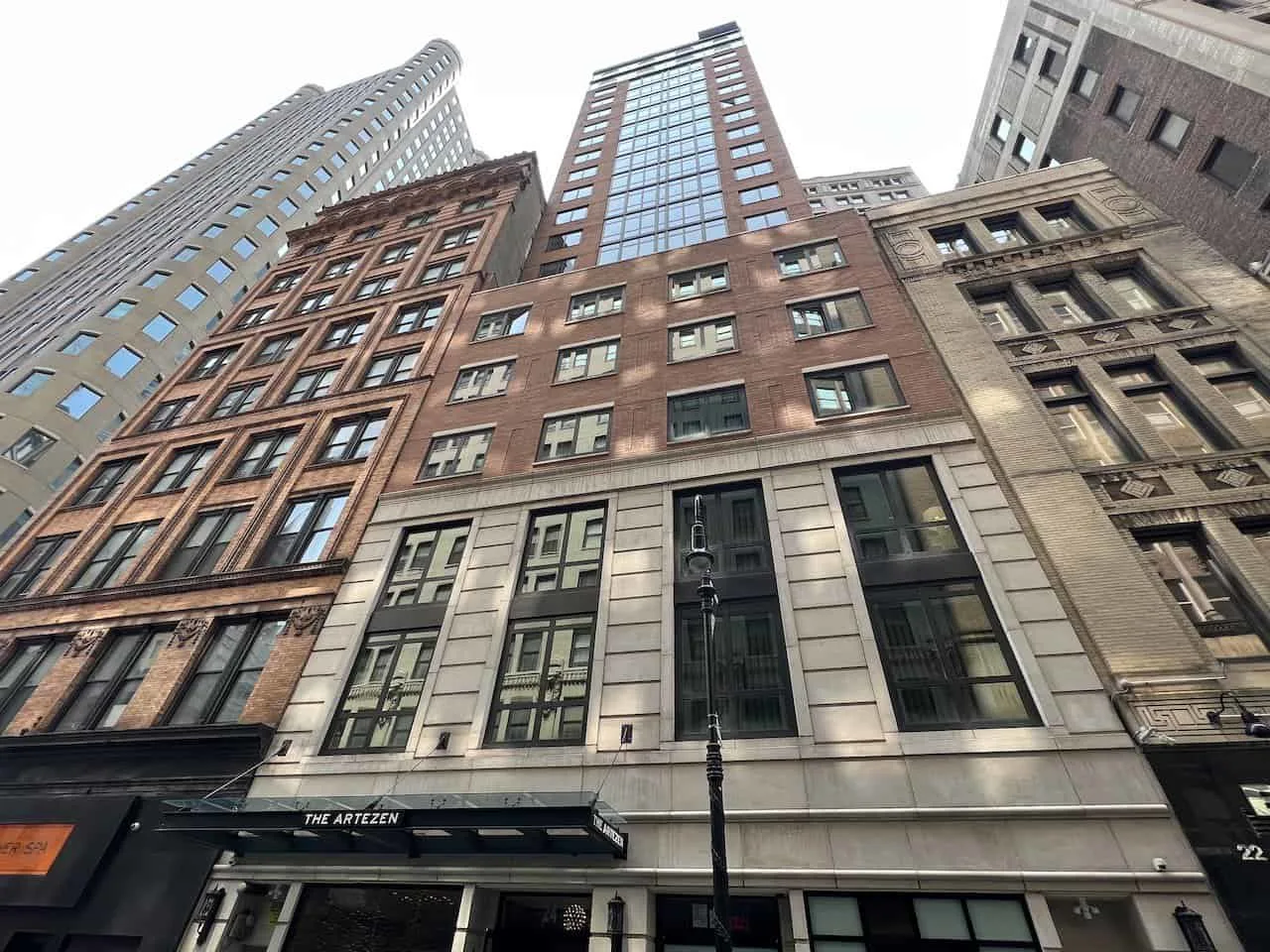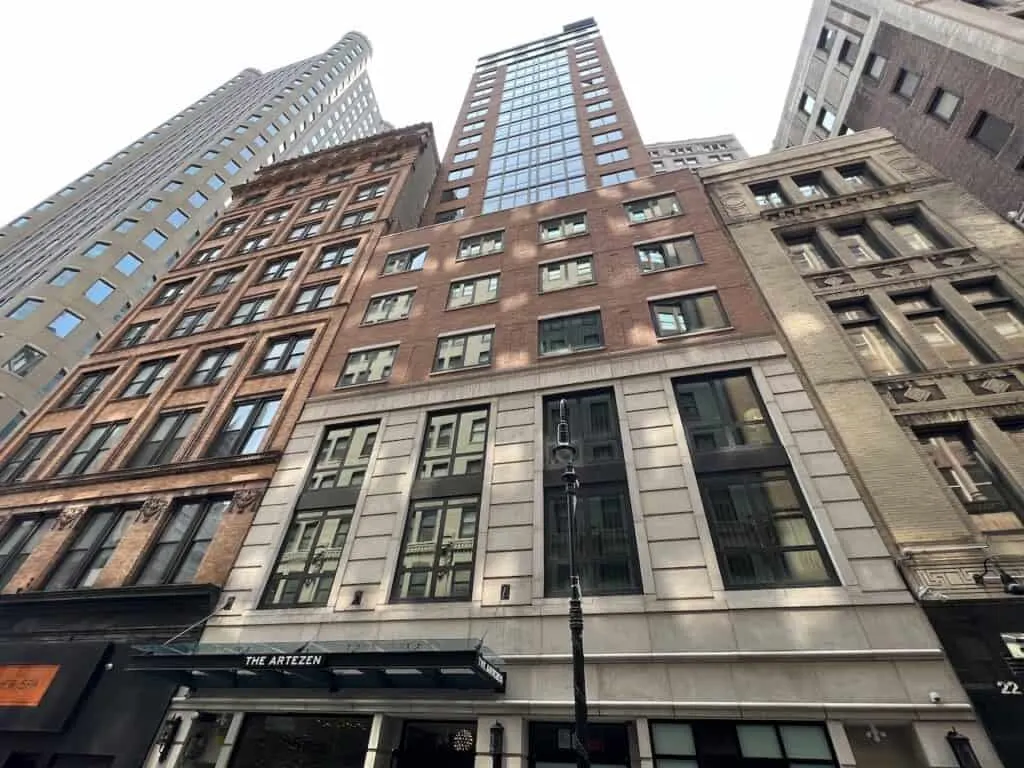 11) Mint House At 70 Pine
Mint House is a little different from your standard hotel experience. It's more akin to apartment living, which makes for a refreshing change in the heart of NYC.
Mint House prides itself on offering apartments for any occasion. Whether you're a business traveler or a tourist, you'll be able to find a space perfect for your needs. All apartments have large living areas and fully-equipped kitchens. But unlike regular apartments, you'll have access to a concierge and a fitness center.
The facilities don't end there. There is also a bowling alley, a coffee shop, a golf simulator, and a Michelin-starred restaurant. The restaurant in question is named 'Crown Shy' and is a huge draw for non-guests. The head chef, James Kent, is a native New Yorker critically acclaimed for the sumptuous meals he creates.
12) Hyatt Centric Wall Street New York
Hyatt Centric Wall Street promises its guests a 'loft living' experience. This quintessential NYC experience involves spacious rooms and soaring ceilings, and the Hyatt Centric doesn't disappoint.
The Hyatt Centric is on the corner of Water Street and Wall Street with the New York Stock Exchange mere steps away from the hotel. A host of Manhattan landmarks are within easy walking distance, too. These include Battery Park, South Street Seaport, and the World Financial Center. It's also easy to hop onto the ferry to check out the Statue of Liberty.
There is an American-style bistro onsite for dinner or cocktails, and it's very reasonably priced. Many guests will want to head up to the Beer Garden. Here you can choose from a range of craft beers and enjoy small-plate menu fare.
The views are not quite those of some of the other hotels on this list. However, it is a hotel near the Brooklyn Bridge, and you can be there in no time.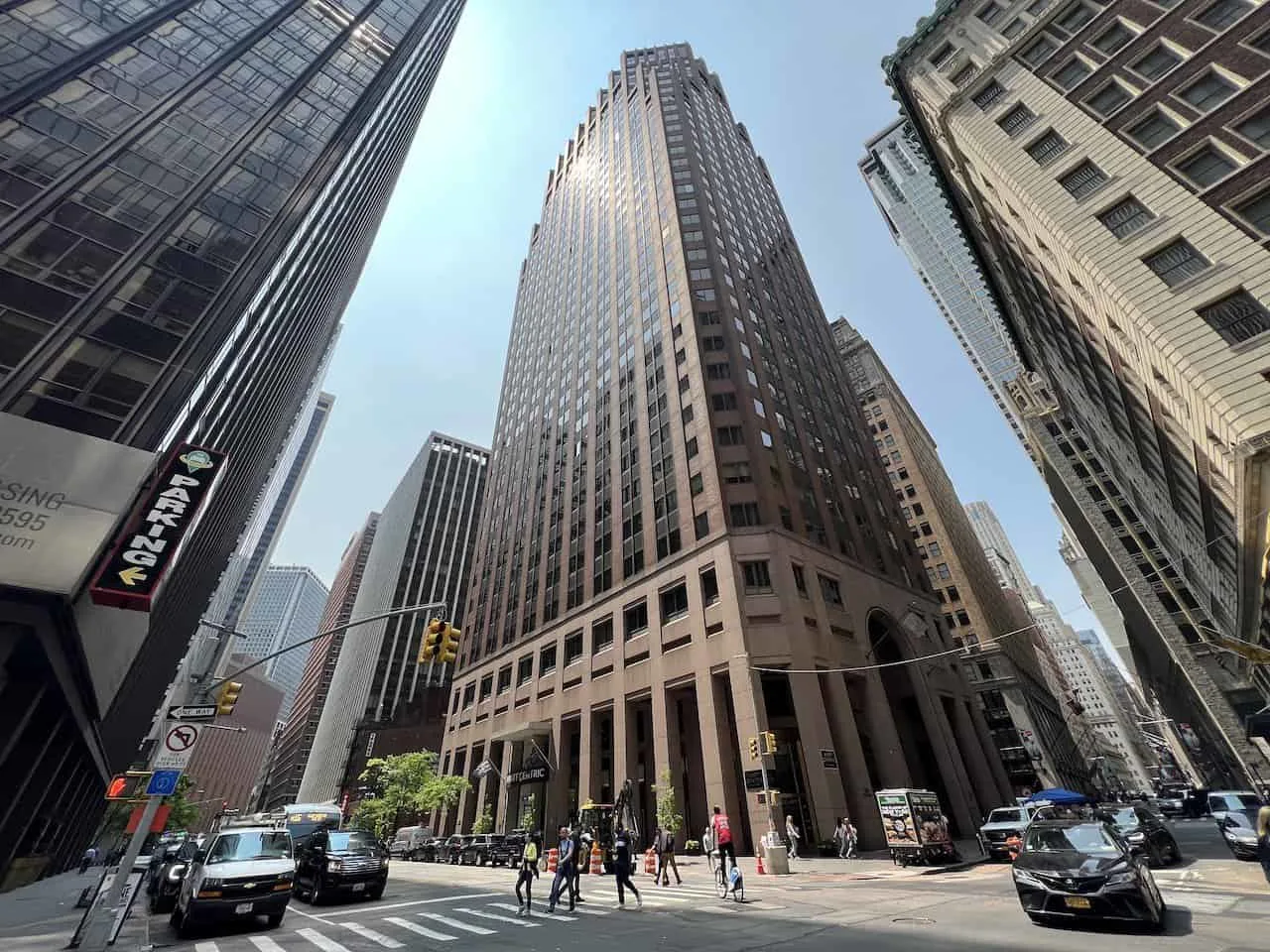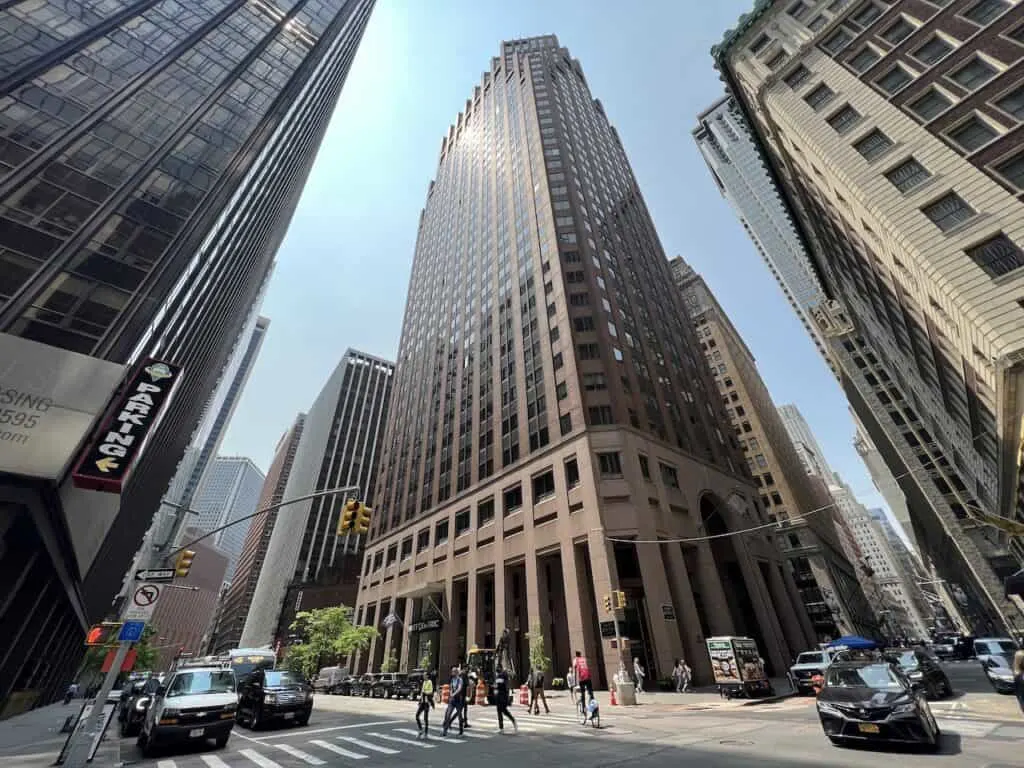 13) Residence Inn By Marriott New York Downtown
The Residence Inn is located in the heart of the Financial District. This makes it a fantastic staging point for exploring Lower Manhattan and, beyond that, the rest of New York.
The 20-story building that the hotel occupies has been a Financial District staple since 1903. It's since been fully renovated, and has a modern gym, laundry room, and a hot buffet breakfast for all guests. While there is no onsite restaurant, room service can be ordered from the nearby Malt House.
The New York Stock Exchange is less than five minutes' walk away, and One World Observatory less than ten. Though the Brooklyn Bridge cannot be viewed from the hotel, it is a mere 20-minute walk to the iconic landmark.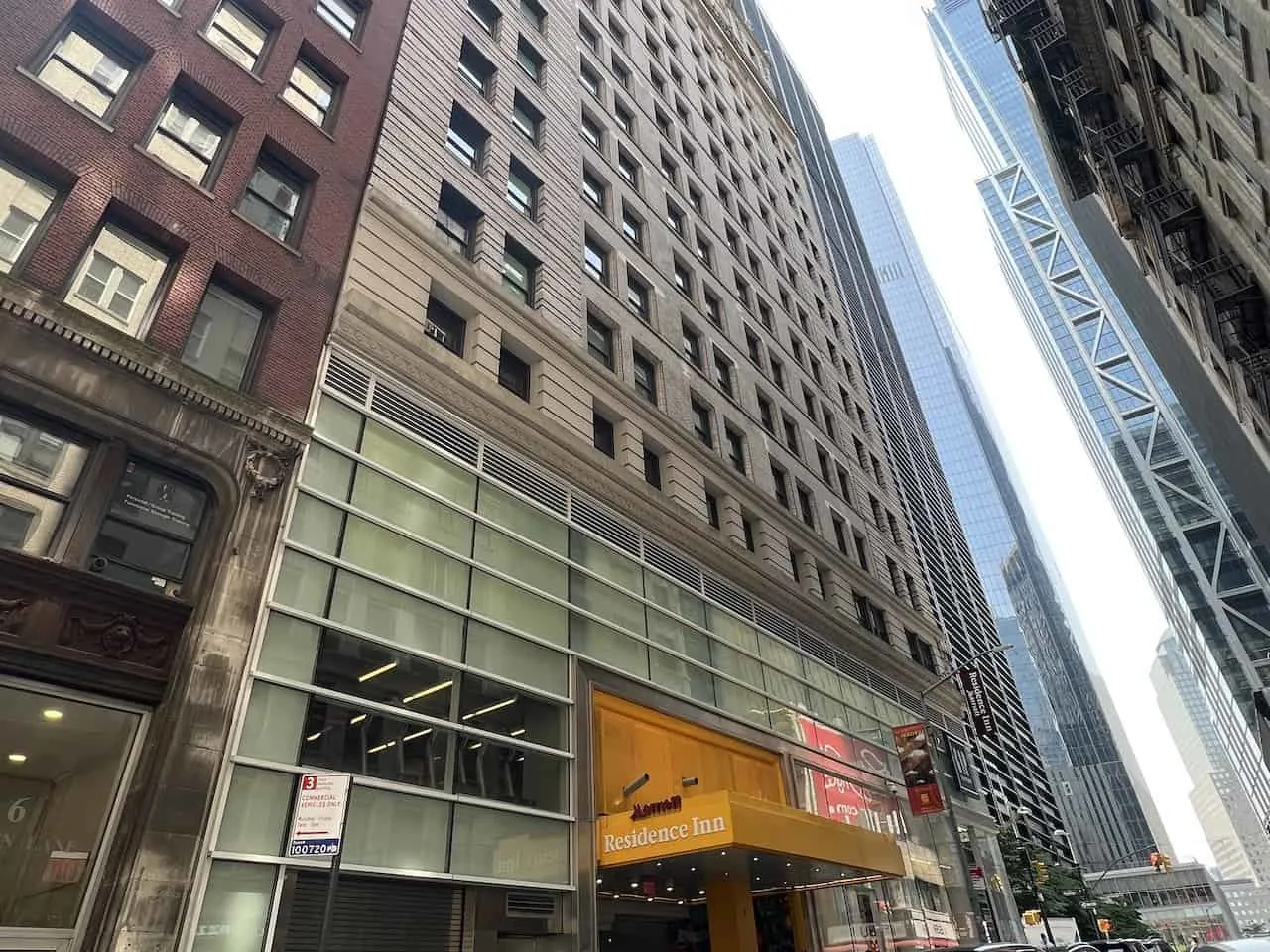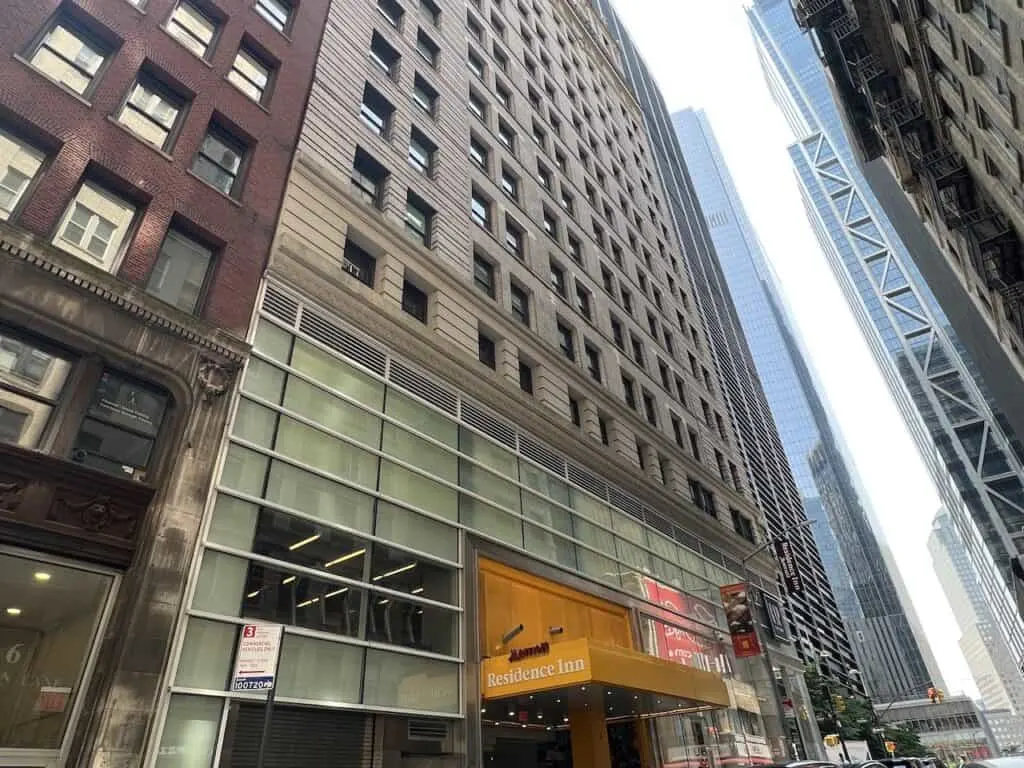 Map of Hotels Near the Brooklyn Bridge
To get a better idea of where each of these hotels are situated, check out the map below that lays out the location of them all.
That wraps up a guide to the best hotels with views of the Brooklyn Bridge along with the best hotels near the Brooklyn Bridge.
If you have any questions or comments, be sure to add them in below. Also, be sure to check out the other New York itineraries and guides up on the site.
Have fun out there and safe travels!