If you are looking to enjoy some time on the waterfront during a visit to Manhattan, then walking, running, or biking along Hudson River Park is a must do activity.
This 4.5 mile trail takes you between 59th Street and Battery Park City, as you get to enjoy parks, piers, and plenty of views along the way.
So whether you are looking to take part of just of portion of the pathway, or want to enjoy the entire thing, this guide will walk you through it all.
* Affiliate Disclosure: This post may contain affiliate links, which means I may receive a commission if you make a purchase through the links provided, at no additional cost to you. Thanks for supporting the work I put into TripTins!
1) What is the Hudson River Park
Hudson River Park is much more than just a simple pathway. Instead, all along this 4.5-mile riverfront you will find renovated piers, playgrounds, greenery filled parks, the Intrepid museum, restaurants and bars, a floating park island, activities, and much more.
During the duration of the pathway you will find separate pedestrian and biking lines that continue uninterrupted for the entire length of the park. So, whether you are biking, walking, or running the pathways, you will have the chance to do so from top to bottom.
Since there is just so much to do all along the riverfront, you can honestly spend days exploring the park and taking part of the various offerings overlooking the Hudson.
In the next section I list out just some of the main highlights that you can enjoy along the way.
» It is also good to note that the Hudson River Park is part of the longer Hudson River Greenway. While Hudson River Park just runs from Battery Park City to 59th Street, the entire Greenway runs further north along Riverside Park all the way past the George Washington Bridge (178th Street).
→ Visit Hudson River Park as part of a longer New York City 4 day itinerary that takes you throughout the city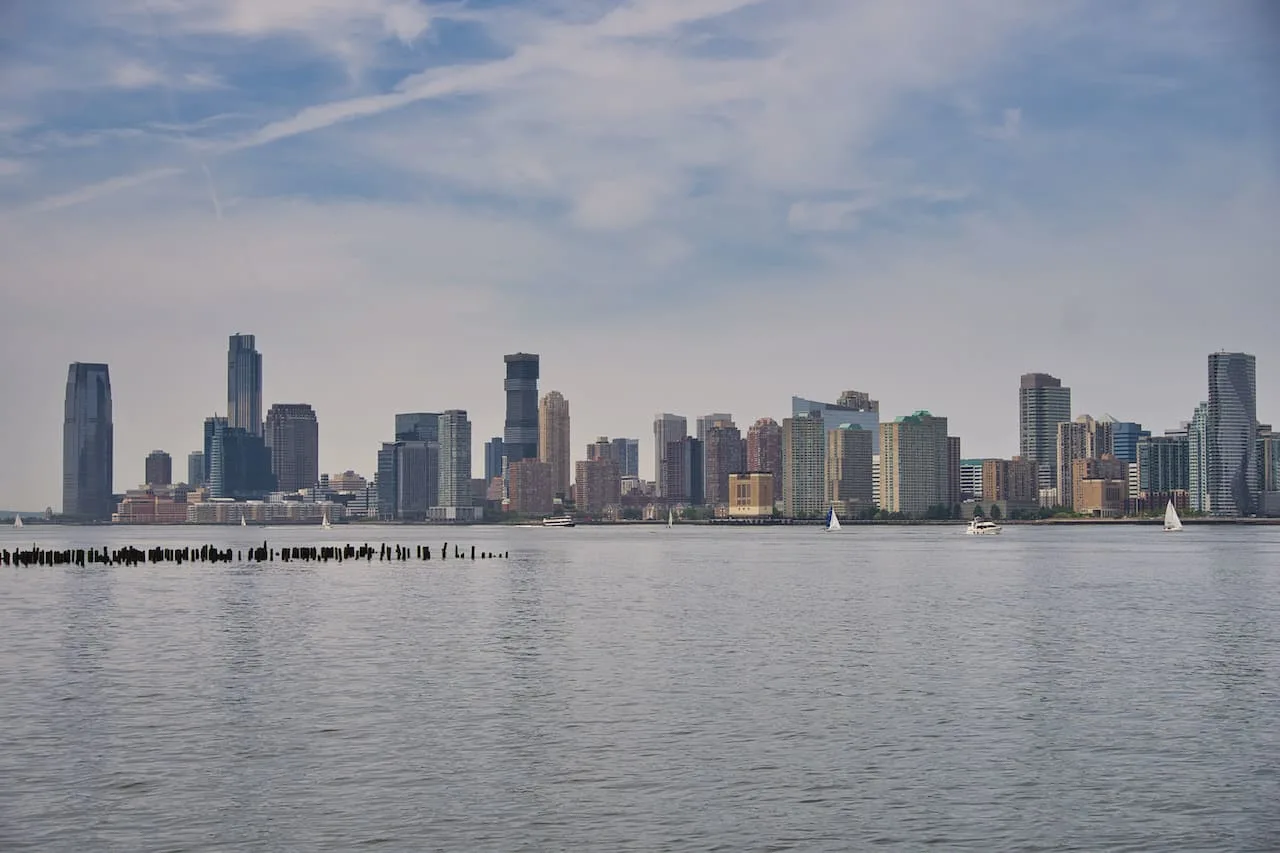 2) Hudson River Park Map & Highlights
Below are just some of the main highlights along the Hudson River Park that you can stop and visit as you are making your way down the Hudson (north to south):
Clinton Cove
Intrepid Sea, Air, and Space Museum
Circle Line Sightseeing Cruises
The Vessel & Hudson Yards (5 minute walk off the pathway)
Frying Pan
Chelsea Piers
Pier 57 Rooftop Park
Little Island
Pier 51 Park
Pier 46 Park
Christopher Street Pier
Pier 34 Viewpoint
City Vineyard & Pier 26 Tide Deck
Pier 25
Throughout this guide I will go into more detail about each and every one of these piers and attractions that you can visit along the way. The map below gives a good visual view where each place mentioned is located along Hudson River Park:
3) Hudson River Park Entrance
As mentioned, the park runs from 59th Street all the way down to Battery Park City.
If you are looking to walk, run or bike the entirety of the pathway, I would highly recommend doing so from north to south as you will mostly have the better views out in front of you.
You can enter the northern part of the park starting point at 59th Street and the river. You will simply need to walk under the West Side Highway overpass at the corner of 59th Street and 12th Avenue, and will see the entrance sign welcoming you to Hudson River Park.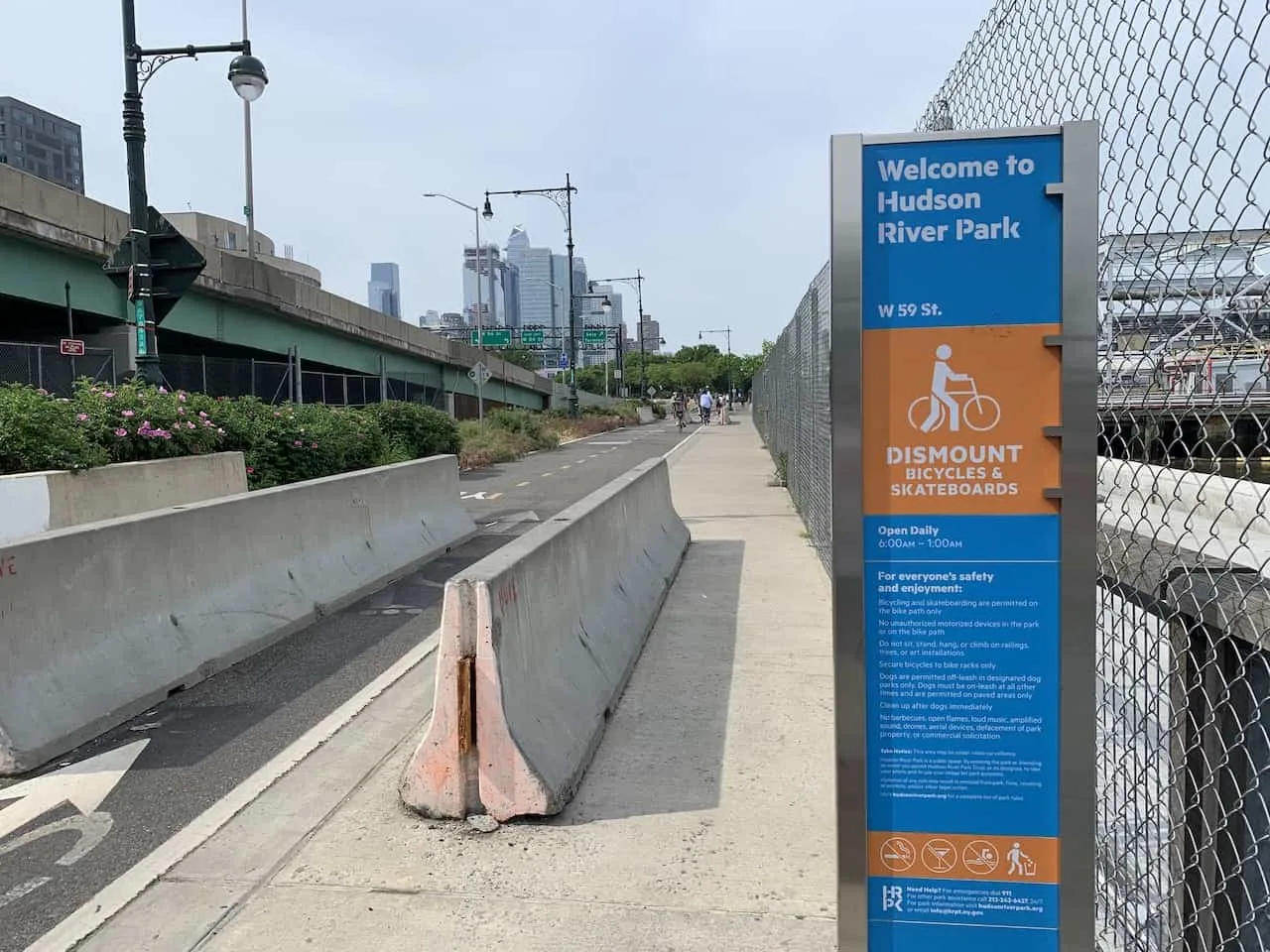 Subway Directions
If you are not staying within walking distance to 59th Street and 12th Avenue, the closest subway stop would be 59th Street at Columbus Circle. Here you will find the A, B, C, D lines.
Alternatively, you could also take the subway to 57th Street and 7th Avenue on the N, Q, R, W lines.
Now, while this is technically the main entrance starting point, all throughout the 4.5 mile walk there are probably 50+ different entrances to the park's pathway.
Since people are visiting the park from all parts of Manhattan, having entrances set up every couple of blocks is ideal for all visitors.
So, even if you do not want to start of 59th Street, you can still begin your walk nearby any cross street you may be coming from.
Below you can see an example of one of these entrances that crosses on over the West Side Highway.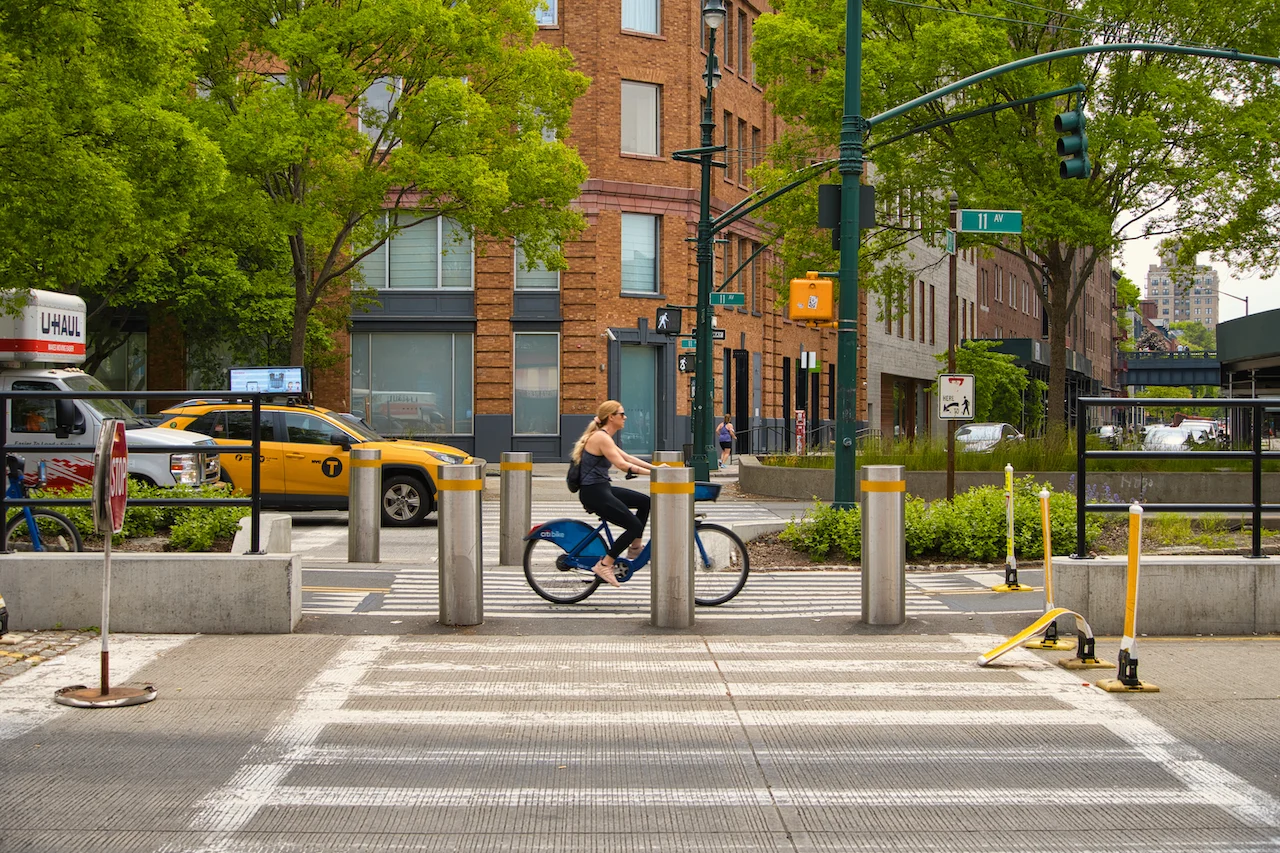 4) Tips & Things to Know
Here are just a few helpful tips and things to know as you head out on your day exploring Hudson River Park:
1) There are bathrooms are along the route. Some of these are public restrooms, while others may be part of a private establishment like a restaurant or Chelsea Piers
2) I will mention a few restaurant pit stops later on, but there is no shortage of places to sit down and enjoy some food and drinks along the way. So whether you just want a relaxing drink or a full meal, there will be options for you
3) You will always see a separate pedestrian path and bicycle path during the duration of the pathway. For the most part, the pedestrian pathway is closer to the water while the bicycle path is closer to the highway.
4) At some points, the pedestrian path can have a couple routes to choose from that will eventually take you back to the same spot. This usually occurs when there is a park or a pier, that you can decide to walk through. Don't worry, you can't go wrong here!
5) Speaking of piers, most of these are renovated areas that have been turned into parks jutting out of the water. While you certainly don't need to head down each one, I would recommend checking out a couple as you do get some great views further out into the Hudson.
6) Hudson River Park can get crowded (especially on the weekends). To avoid the crowds, think about heading there during the week or earlier/later in the day.
» The run along Hudson River Park is featured in the top running routes in NYC guide!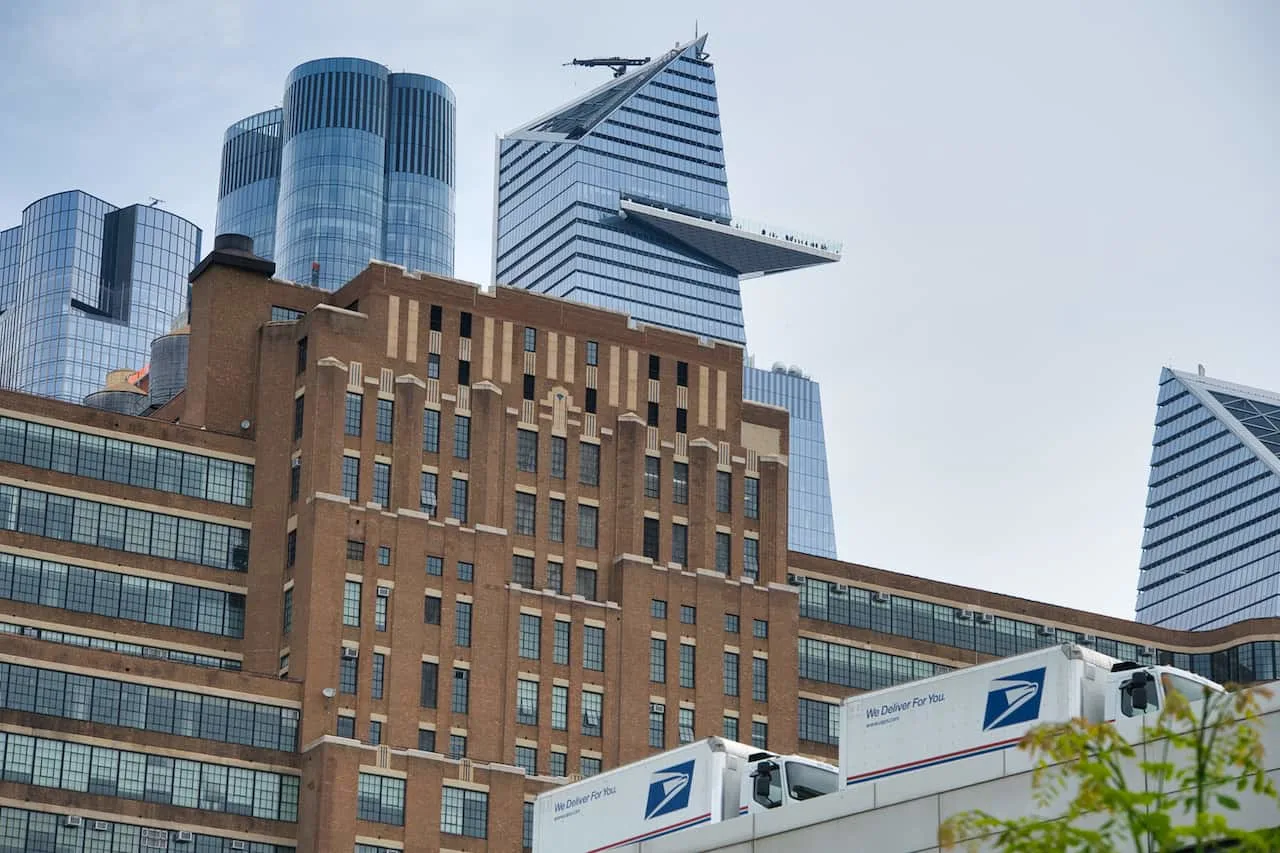 5) Where to Stay in Manhattan
There are so many different neighborhoods to choose from when visiting NYC. Below are some articles to help you make the best choice for your trip.
Looking for the top hotels & neighborhoods in NYC? Check out some helpful accommodation resources when it comes to picking the best spot for you!

Neighborhood Overview: Best Places to Stay in NYC
Best Skyline Views: NYC Hotels with a View
Times Square: Top Times Square Hotels with a View
Theater District: Hotels in Broadway Theater District
Central Park: Best Hotels with Central Park Views
Tribeca: Best Tribeca Hotels
SoHo: Where to Stay in SoHo
Greenwich Village: Top Greenwich Village Hotels
Brooklyn Bridge: Hotels with Brooklyn Bridge Views
Best Panoramas: Hotels in NYC with Floor to Ceiling Windows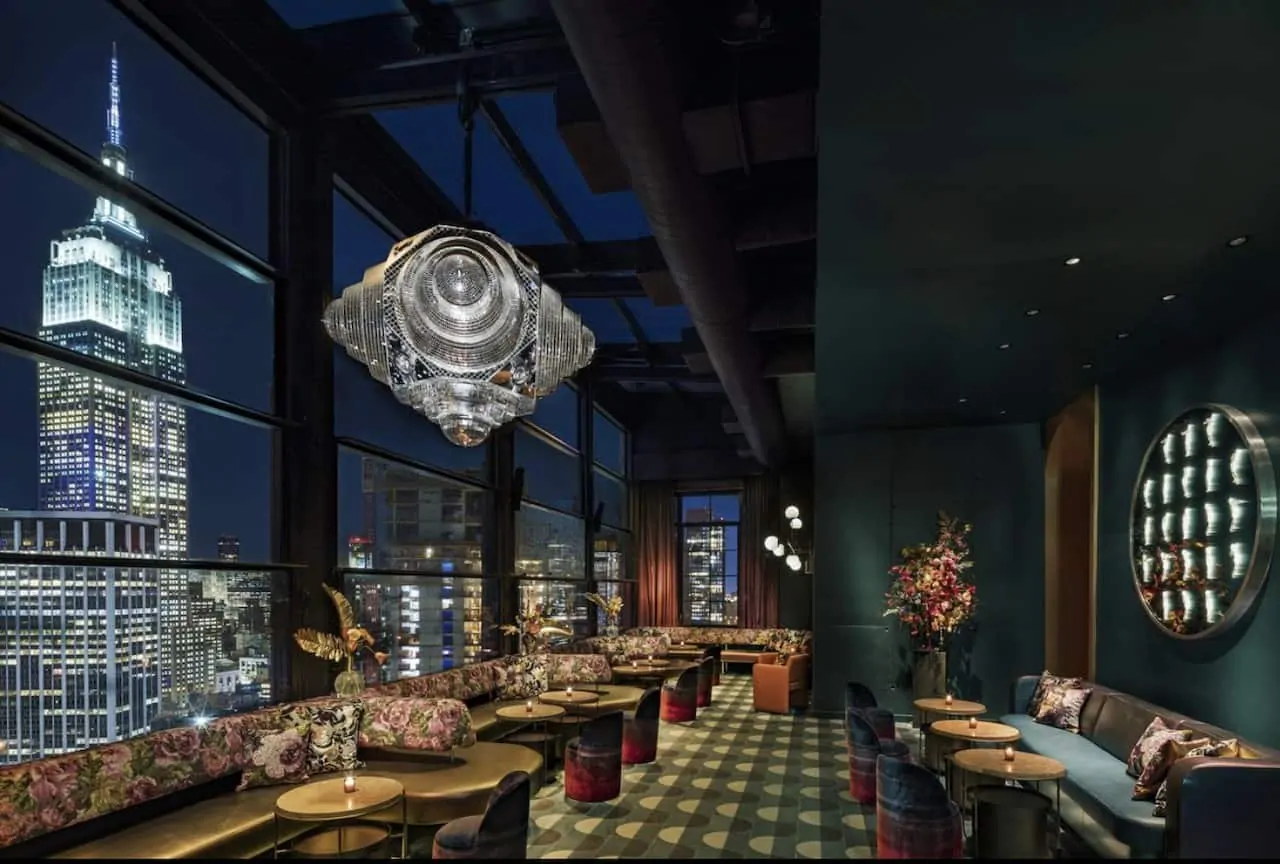 6) Walking Hudson River Park of Manhattan
Now that you have a bit of background about the Hudson River Park, let's get into some pictures and descriptions of what to expect along the way.
Once you have made it to 59th Street and the Hudson, you will be welcomed to the official sign welcoming you to Hudson River Park.
To your right will be the Hudson River, to your left you will see the famous Via 57 West triangular shaped building, and out in the distance you will be able to see the glass buildings of Hudson Yards.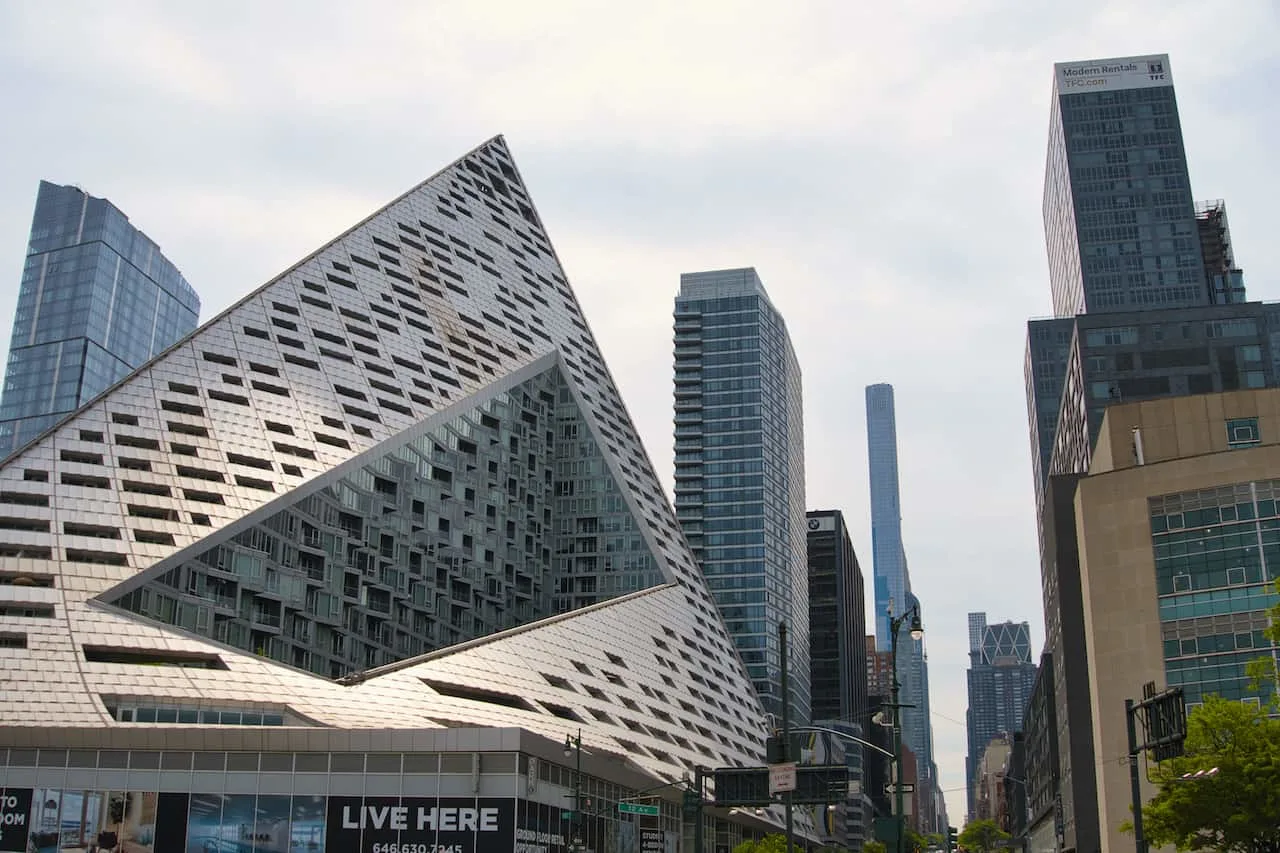 Clinton Cove Pier 96
Right off the bat, you will enter the first park of the walk at Pier 96. Here is Clinton Cove, a nice open greenery filled space right alongside a boathouse.
As mentioned before, you will come across various pathways, including here at Clinton Cove -> some of these taking you closer to the waterfront while others are a bit more inland.
In the summer time you can even enjoy some kayaking off of Clinton Cove as volunteers run a free kayak rental business.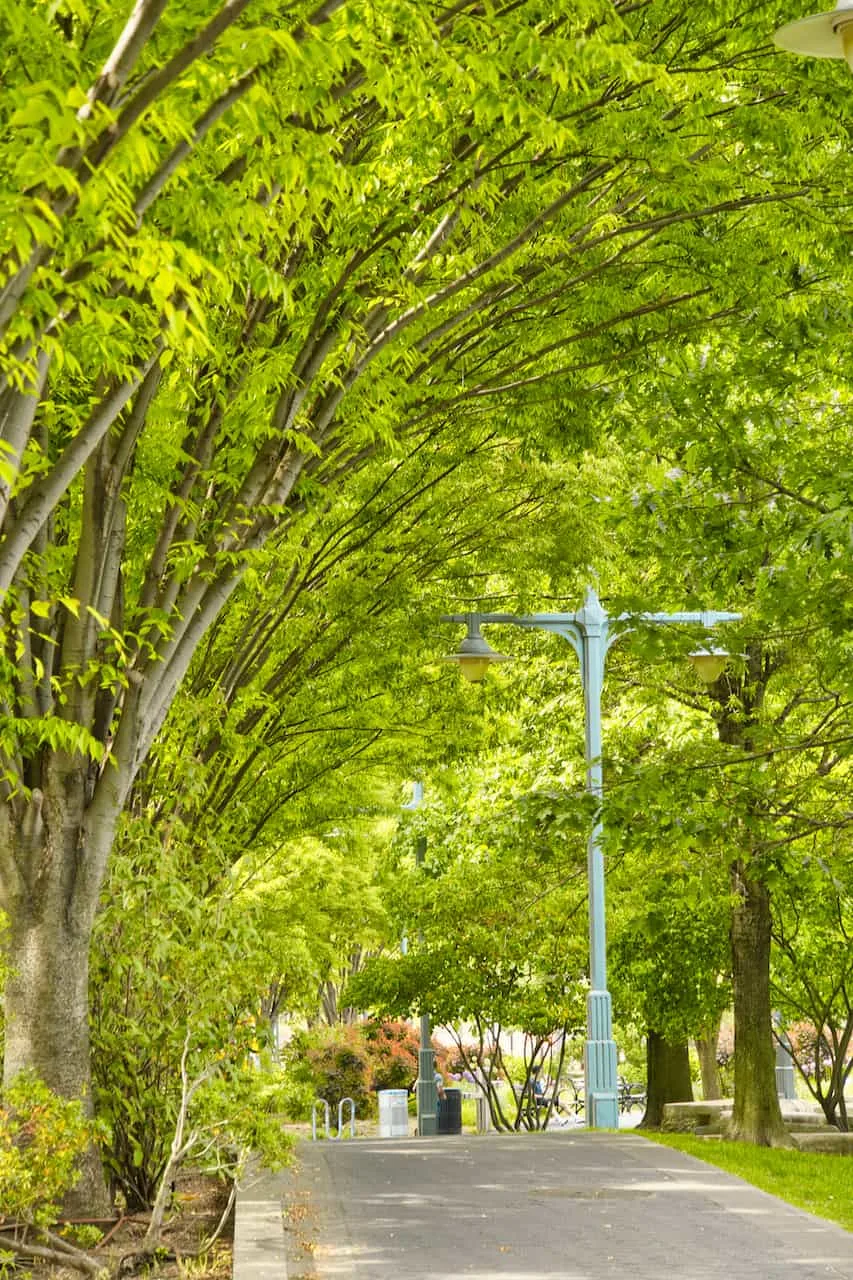 Intrepid Sea, Air, and Space Museum
From Clinton Cove you will pass by a few more closed off piers before soon arriving at the Intrepid Sea, Air, and Space Museum. This is one museum that is quite unique as it is on an actual aircraft carrier ship!
If you are interested, you can spend time visiting the museum and walking the decks of the ship before continuing on with your day. If not, you can still enjoy some great views of the ship from the walkway (as well as from the pedestrian overpass).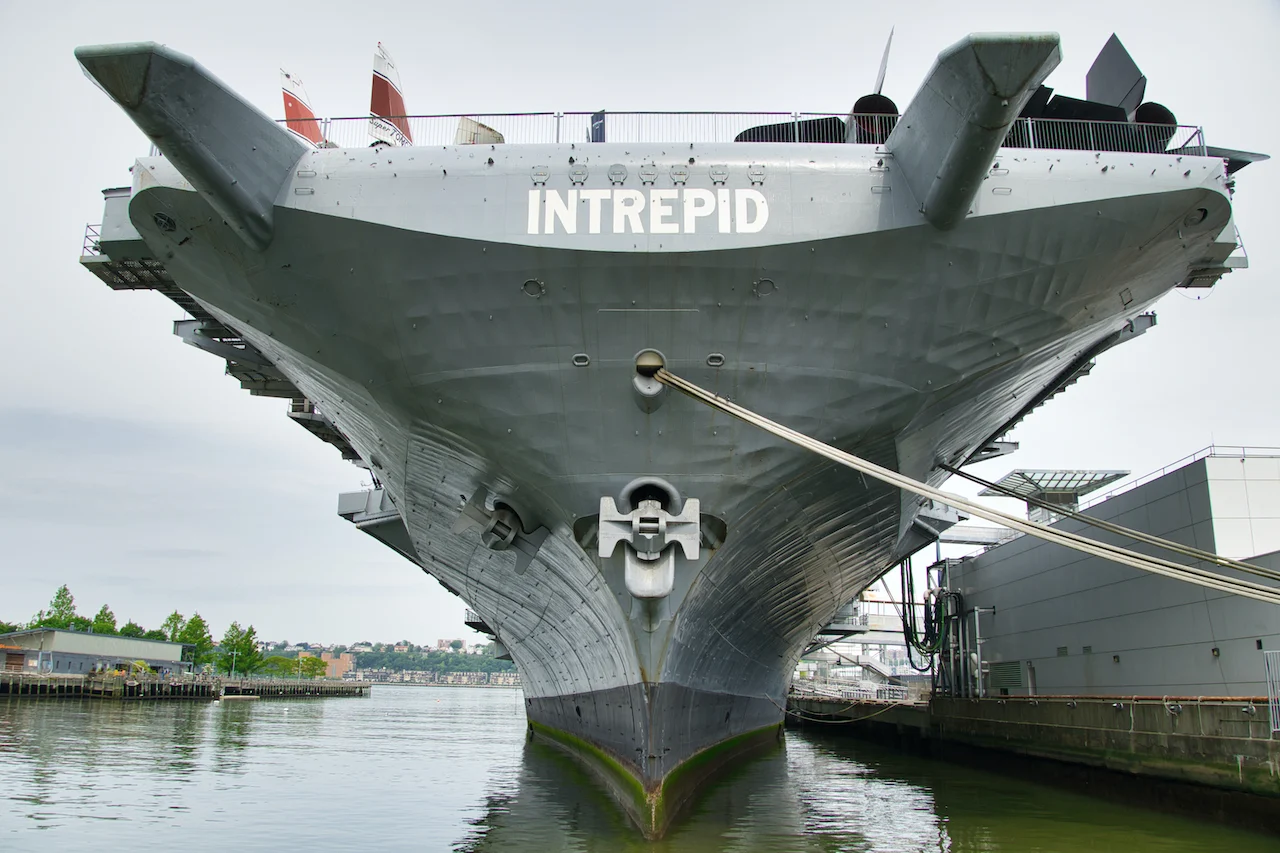 Circle Line Cruises
Right next to the Intrepid you will find Pier 84 – a walkway, park and kayaking point overlooking the Intrepid itself.
And just after the Intrepid and Pier 84, you will pass by Circle Line Cruises, home to some of the best sightseeing cruises around Manhattan.
Most of these cruises are around 1.5-2.5 hours. You could technically fit this into your day if you start early enough and still want to continue the walk down Hudson River Park. If not, you can always save a cruise for another day during your trip to Manhattan.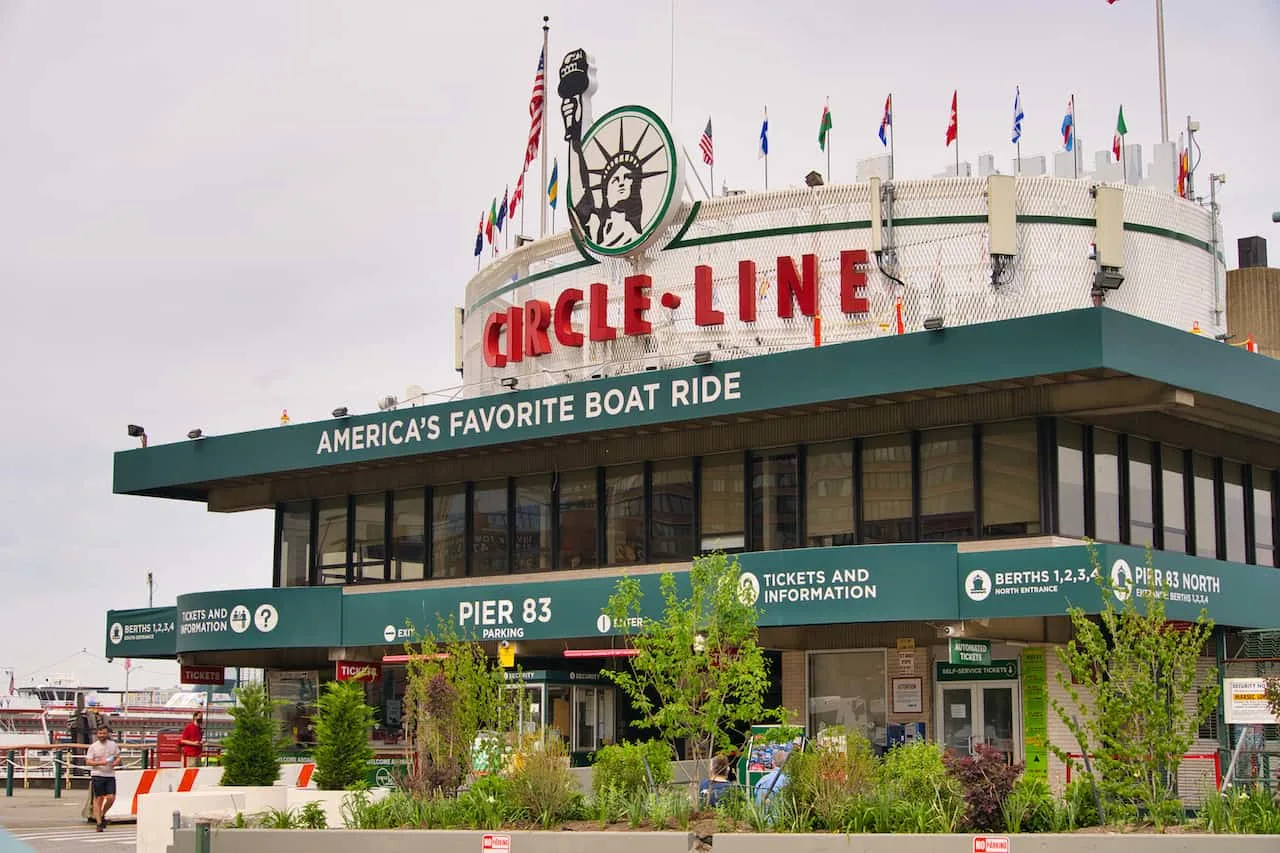 After Circle Line you will pass by the North River Lobster Company at Pier 81 if you want to grab something to eat, followed by the Ferry Terminal that connects Manhattan with New Jersey.
Hudson Yards
By now you should certainly see the tall glass buildings (many of which are still under construction) that make up Hudson Yards. At Hudson Yards, you will find one of the newest additions to Manhattan – The Vessel.
Now while Hudson Yards and The Vessel are not on the Hudson River Park pathway, you can take the quick detour inland (~5-minute walk) to get there.
It is quickly becoming one of the hot spots of Manhattan and you can certainly spend some time climbing the Vessel and enjoying the surrounding area.
Note: here is also where the northern end of the High Line starts. I highly recommend taking part during your time in the city.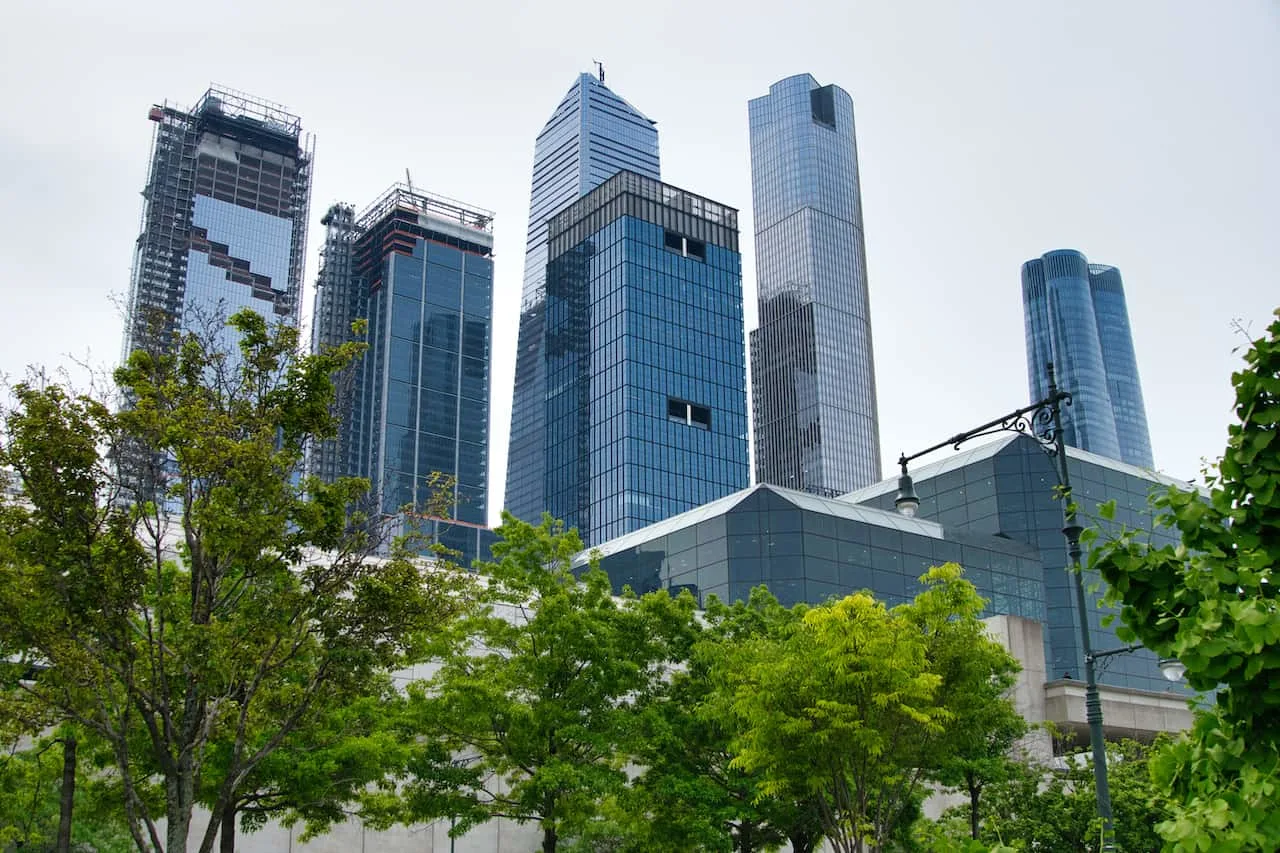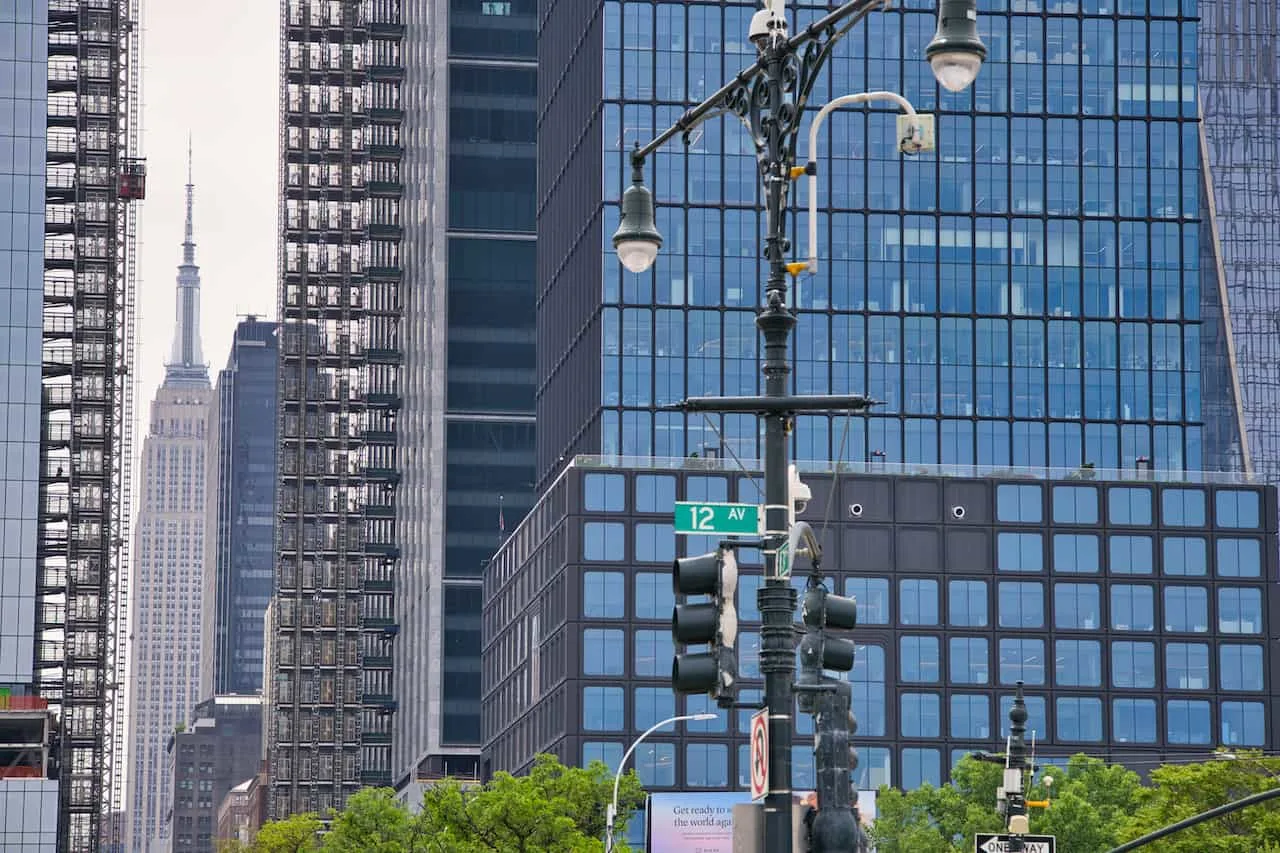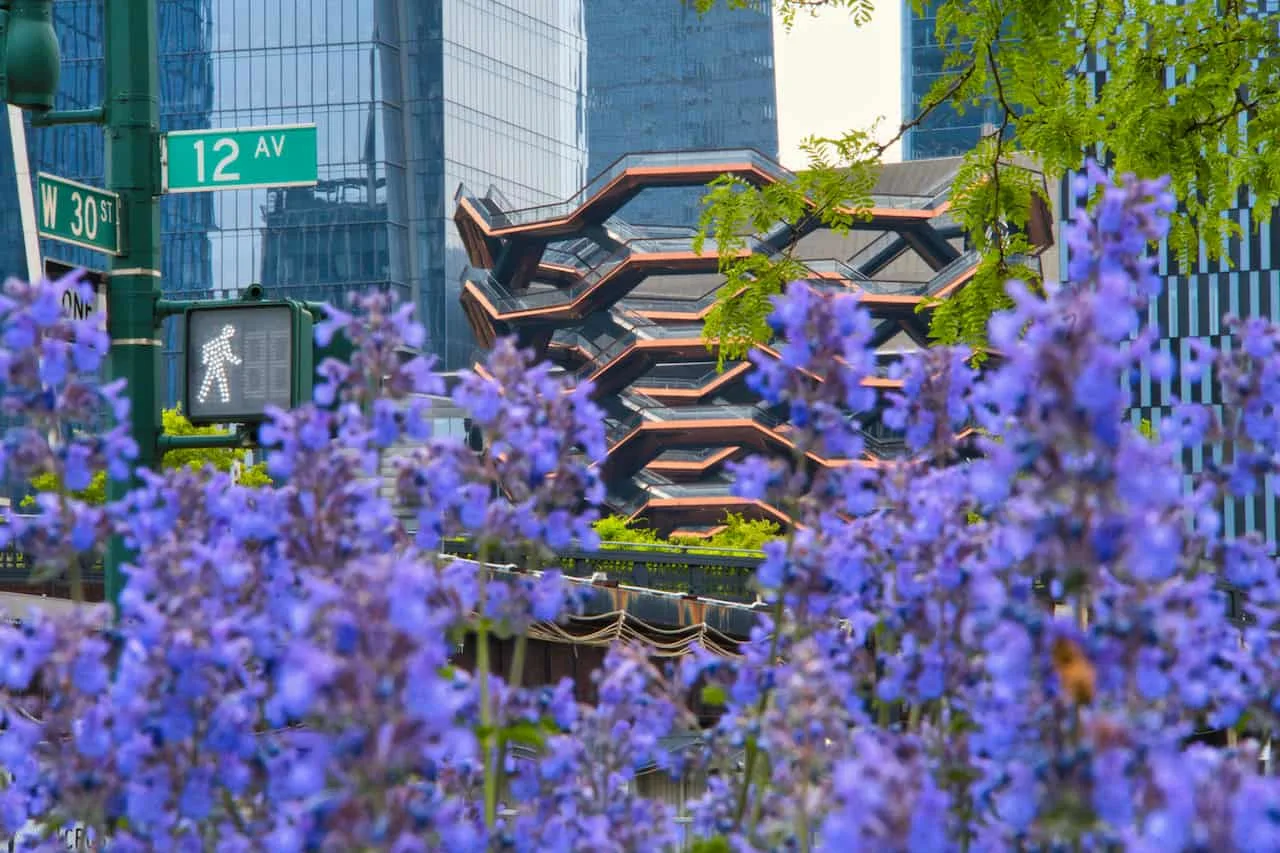 The walk along the river then continues southbound as you pass the Frying Pan on Pier 66, which is a bar and restaurant on a boat! This is one of my favorite spots to hang out at when the weather is warm.
Chelsea Piers
Up next is another potential activity spot as you pass by Chelsea Piers. First you will come across the beautiful parks at Piers 64 and 63 followed by the many piers full of activities.
Whether you are looking for bowling, golfing, ice skating, or rock climbing, Chelsea Piers has it all for you. These activities are sprawled between several spaces and buildings and you can easily spend a day just enjoying what Chelsea Piers has to offer.
Also be on the lookout for some pretty cool architecture right across the street from Chelsea Piers as you walk by several glass inspired buildings.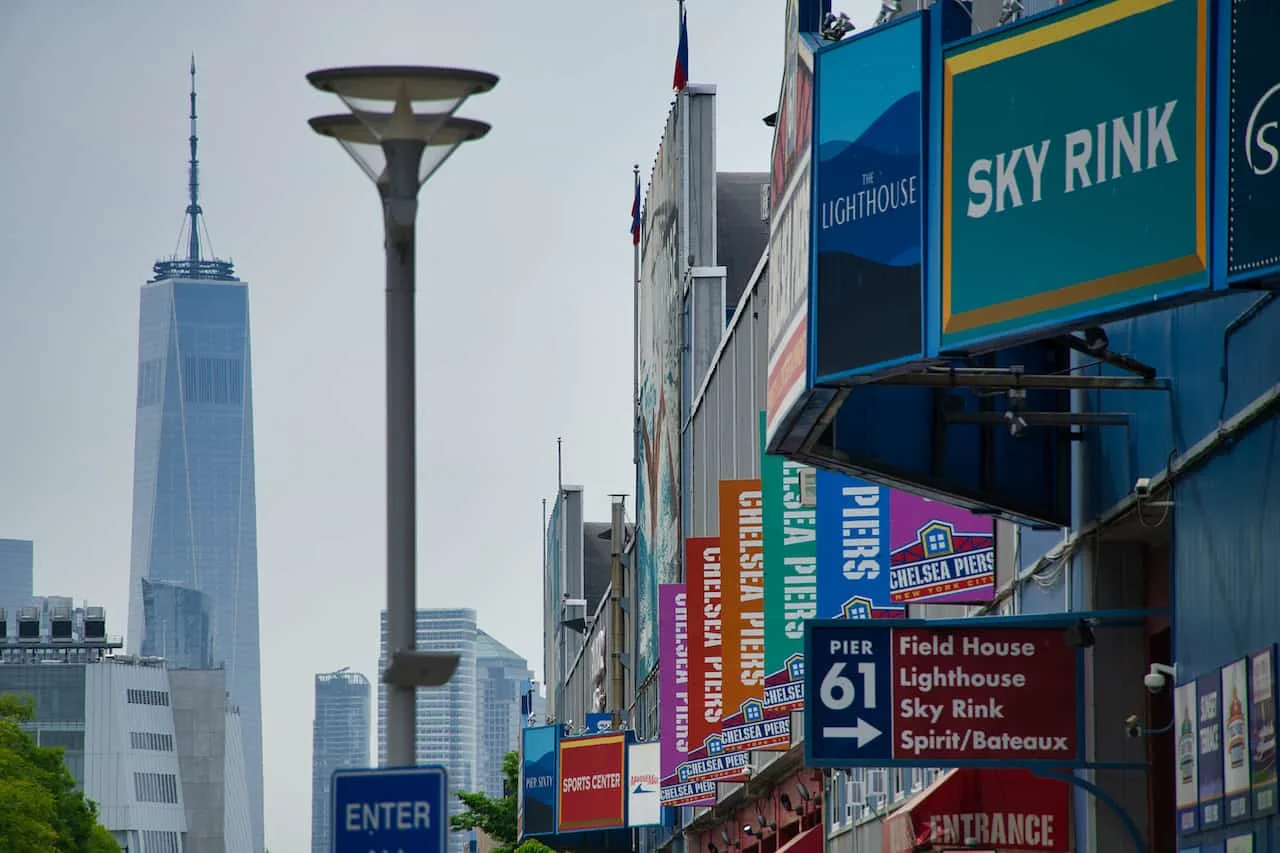 Pier 57 Rooftop Park
Once past Chelsea Piers, you will be welcomed by Hudson River Park's newest addition – the Pier 57 Rooftop Park. Here you will find a two level outdoor rooftop, making it the largest of its kind in NYC. It is the perfect place to relax at and enjoy the view.
From the bi-level rooftop, you will be able to see all the way down Hudson River Park towards downtown Manhattan. Little Island will be right below with One World Trade further out in the distance.
Learn More | Pier 57 Rooftop Park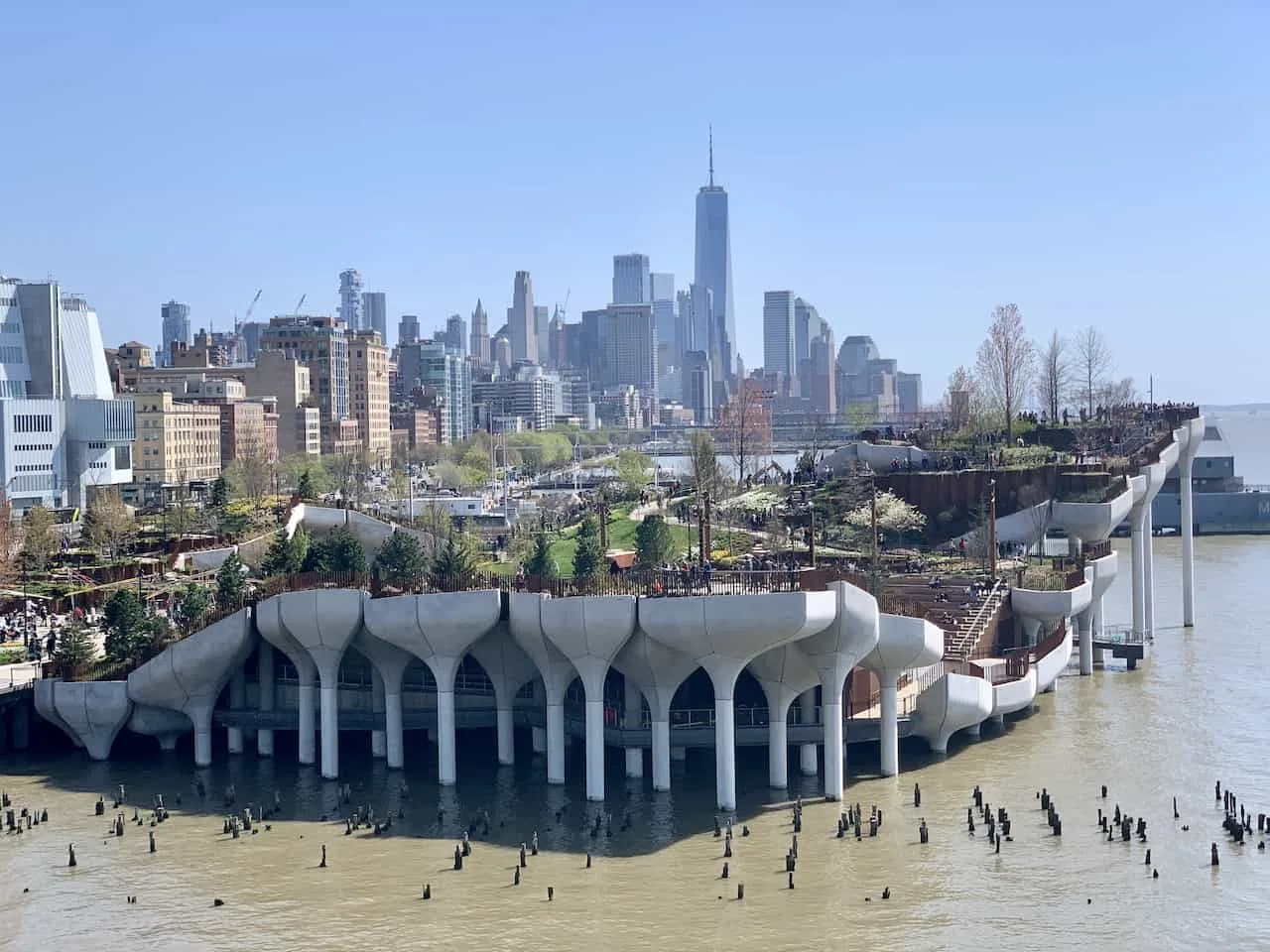 Little Island
Next up is Pier 55, home to another beautifully built park – Little Island. This man made multi story island hovers over the Hudson and offers a unique place to visit.
You will find open lawns to sit down on, a dining area to eat, walkways that head up to viewpoints, and even an amphitheater.
Since this is one spot in NYC that can get crowded (due to its size), I would recommend trying to get here earlier on in the day.
Learn More | Little Island NYC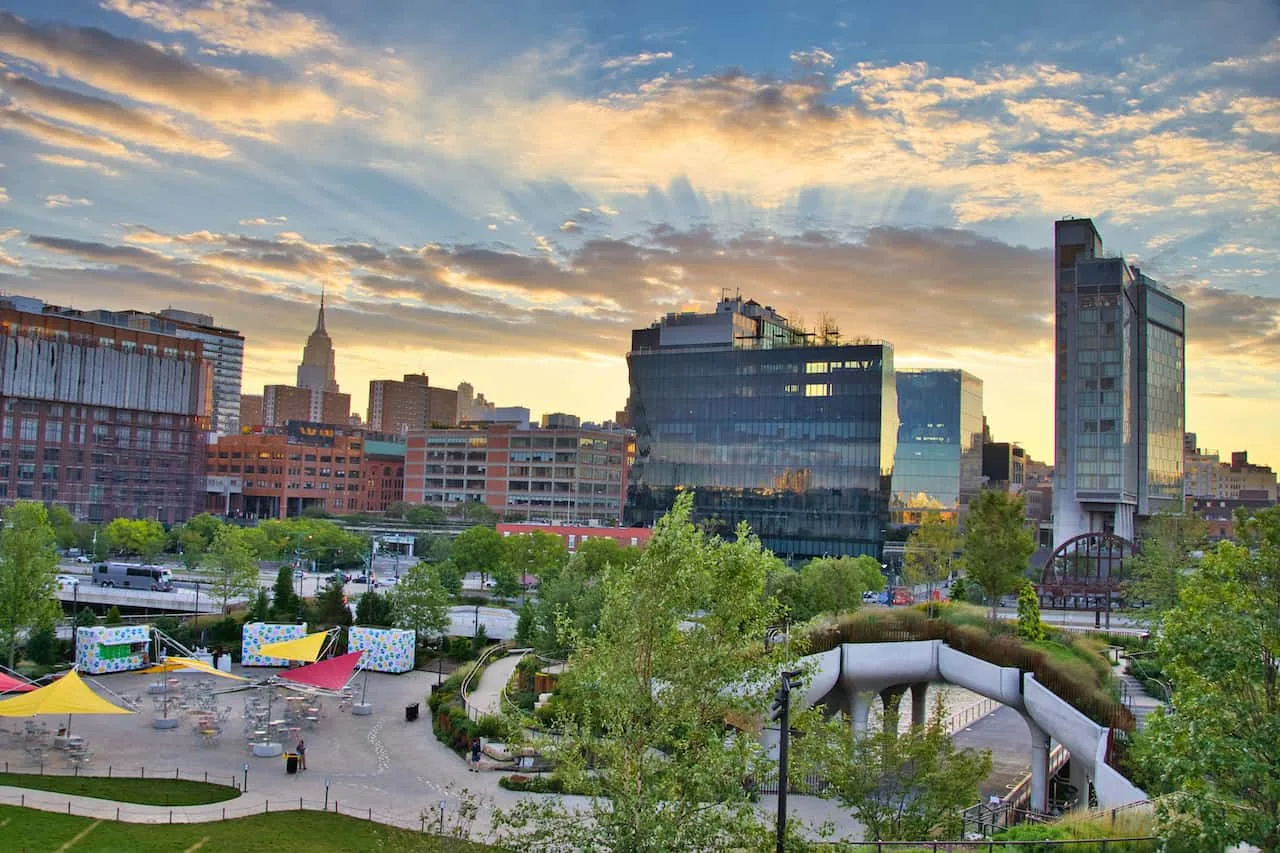 More Hudson River Park Piers
Between the Little Island area and Battery Park is where you will find the foot traffic pick up a bit as the walkways can feel more crowded. You will have more folks walking up from Battery Park and down from Chelsea Piers.
You will come across some more piers that have been transformed into parks and workout spaces, as well as some nice greenery areas on the Manhattan side of the path.
Some of these piers include Pier 51 (park & playground), Pier 46 (open lawn), Pier 45 / Christopher Street Pier (seating areas, grass lawn, summer concerts), and Pier 40 (sports fields).
The walking path here is going to be right alongside the Hudson for the remainder of the park, while the biking path will closer to the West Side Highway separated by the greenery divider.
All throughout the walk down you will have perfect views towards Battery Park City and One World Trade Center (Freedom Tower).
→ Check out some other viewpoints around the area in the guide to the top views of New York City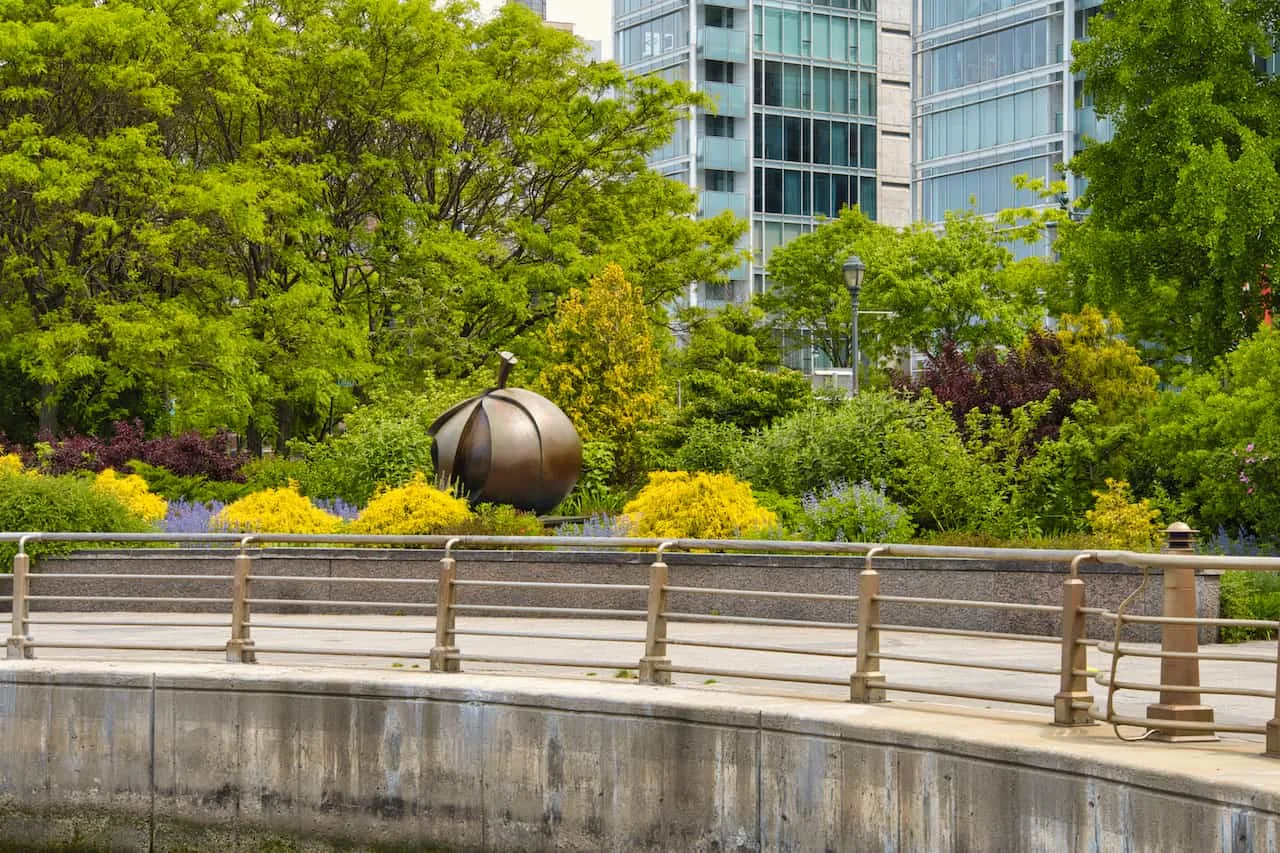 Pier 34
Once past the tennis court area, you will see a boardwalk off to your right. This is Pier 34, where a Holland Tunnel Ventilation Shaft sits at the end.
Although there is no park at this pier, I do think it's one of the best downtown city views you can get during the walk. If you head all the way to the end of it, you will get some great views of Battery Park City and downtown Manhattan.
You will also get some great views of the Statue of Liberty further out in the distance (which you should see from time to time on the walk itself). Spend some time sitting on one of the benches here and enjoying the view out on the Hudson.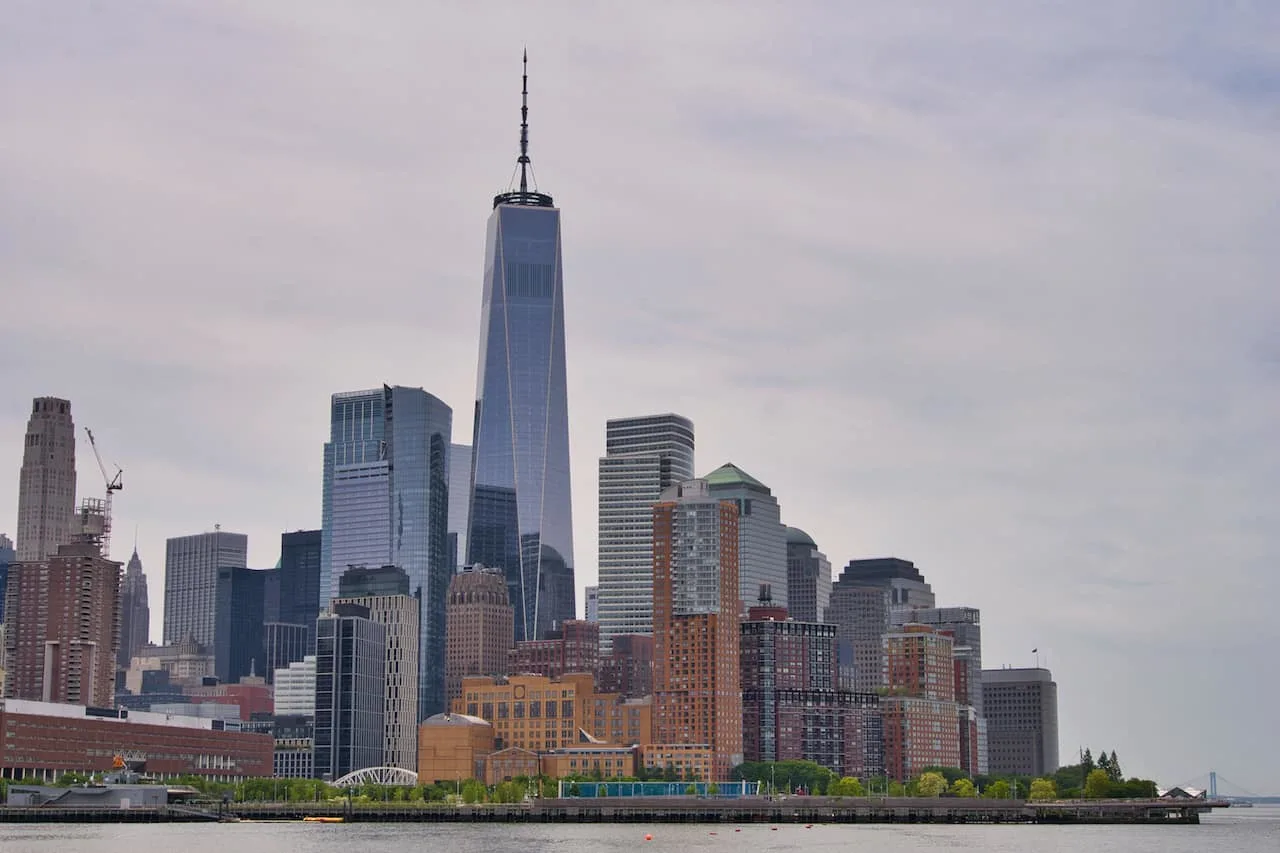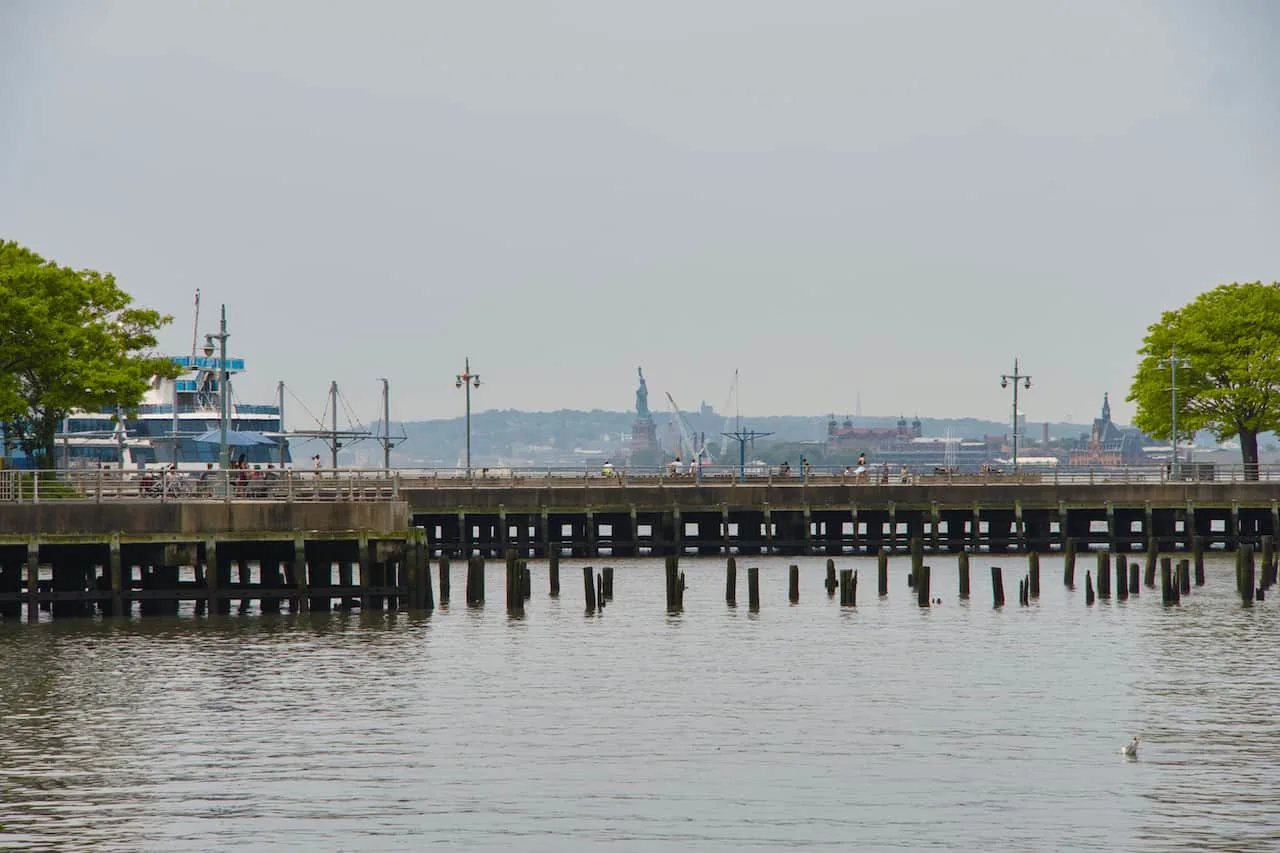 After a few more minutes of walking, you should also see a wooden boardwalk that wraps between the greenery divider. It only lasts for a few blocks but if you want to switch things up for a bit, go for it!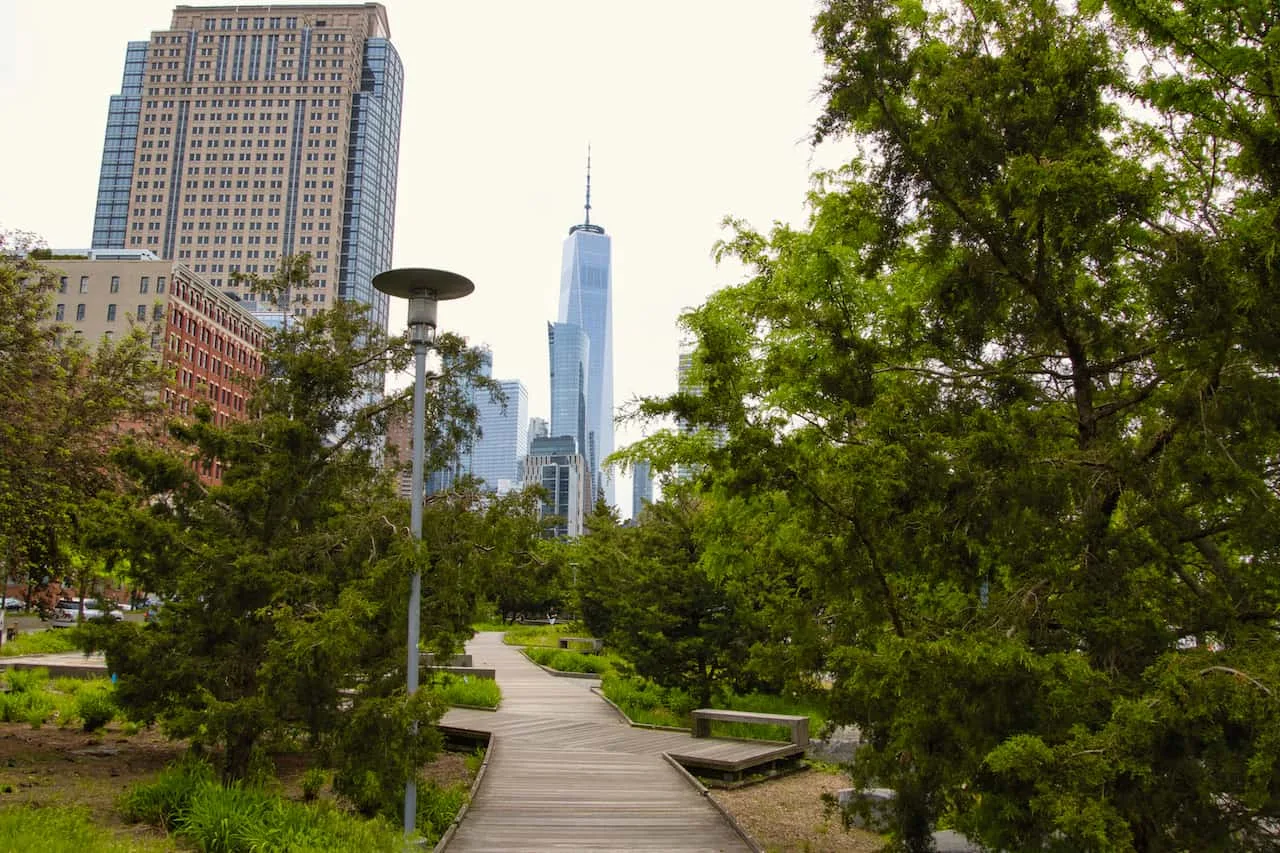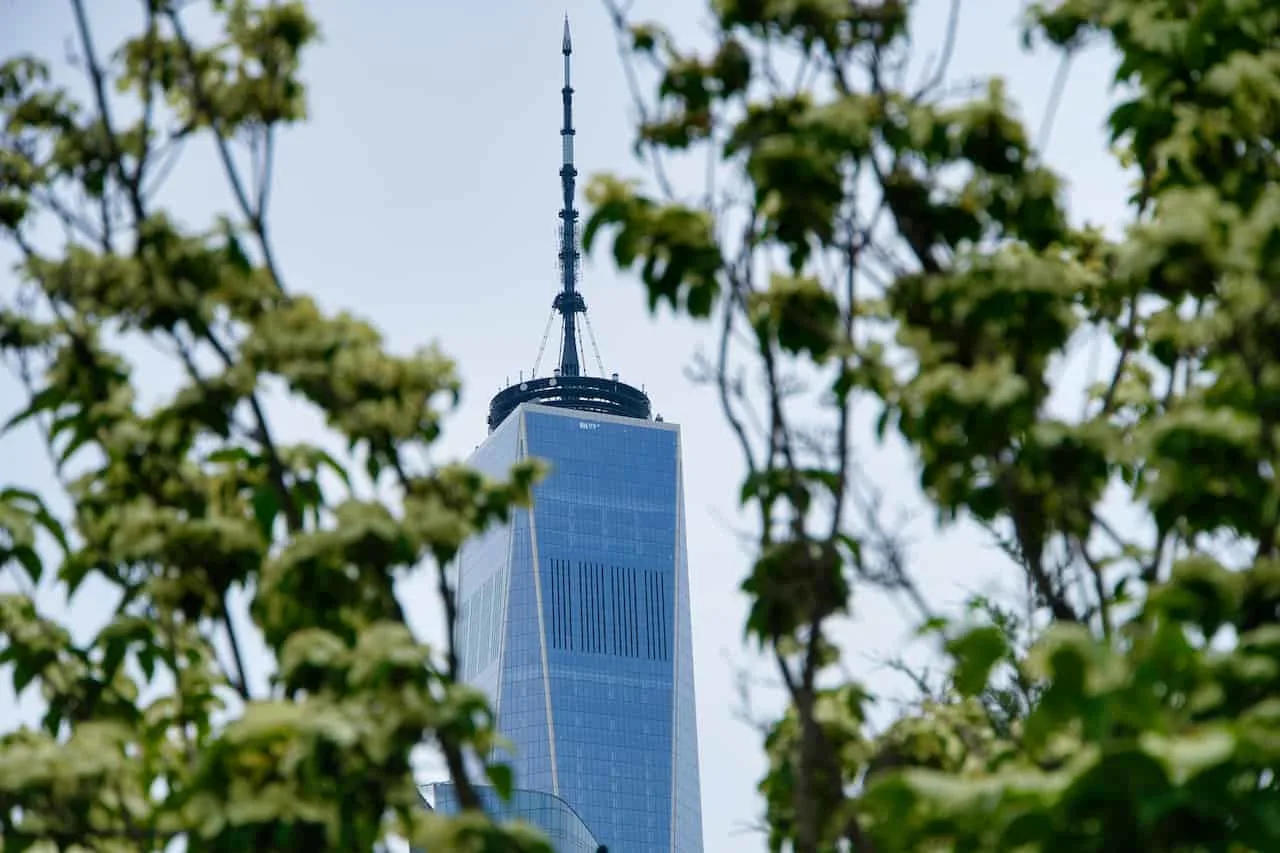 Pier 26
Towards the southern end of Hudson River Park you will find Pier 26 and its famous tide deck. The pier itself includes many various aspects that can be perfect for all visitors.
Some highlights include a City Vineyard, sports field, elevated walkways, Tide Deck, and a boathouse that offers free summer kayaking.
Learn More | Pier 26 at Hudson River Park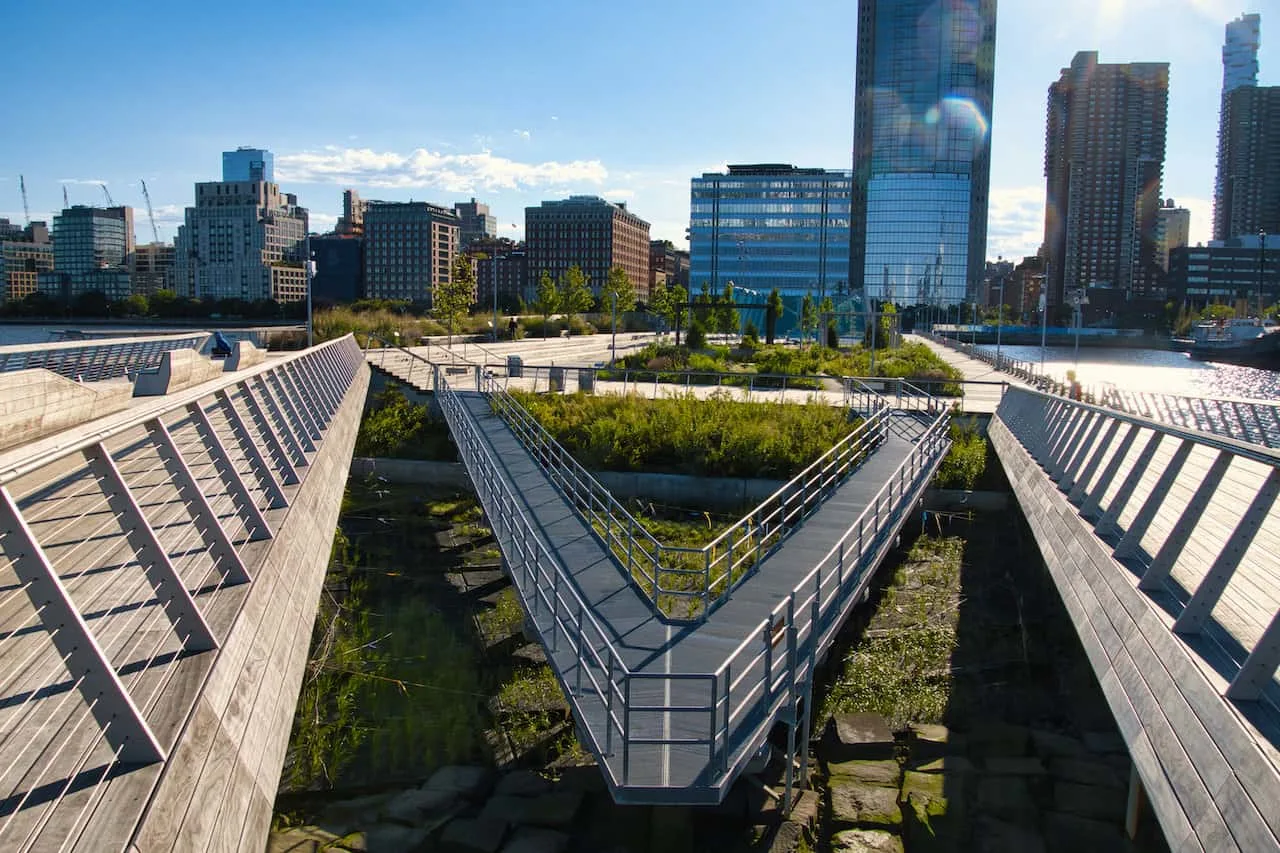 The walk will now be slowly coming to an end as you pass by Pier 25, which has a playground, mini golf course, and volleyball courts. The path then reaches its endpoint as you hit the first buildings of Battery Park.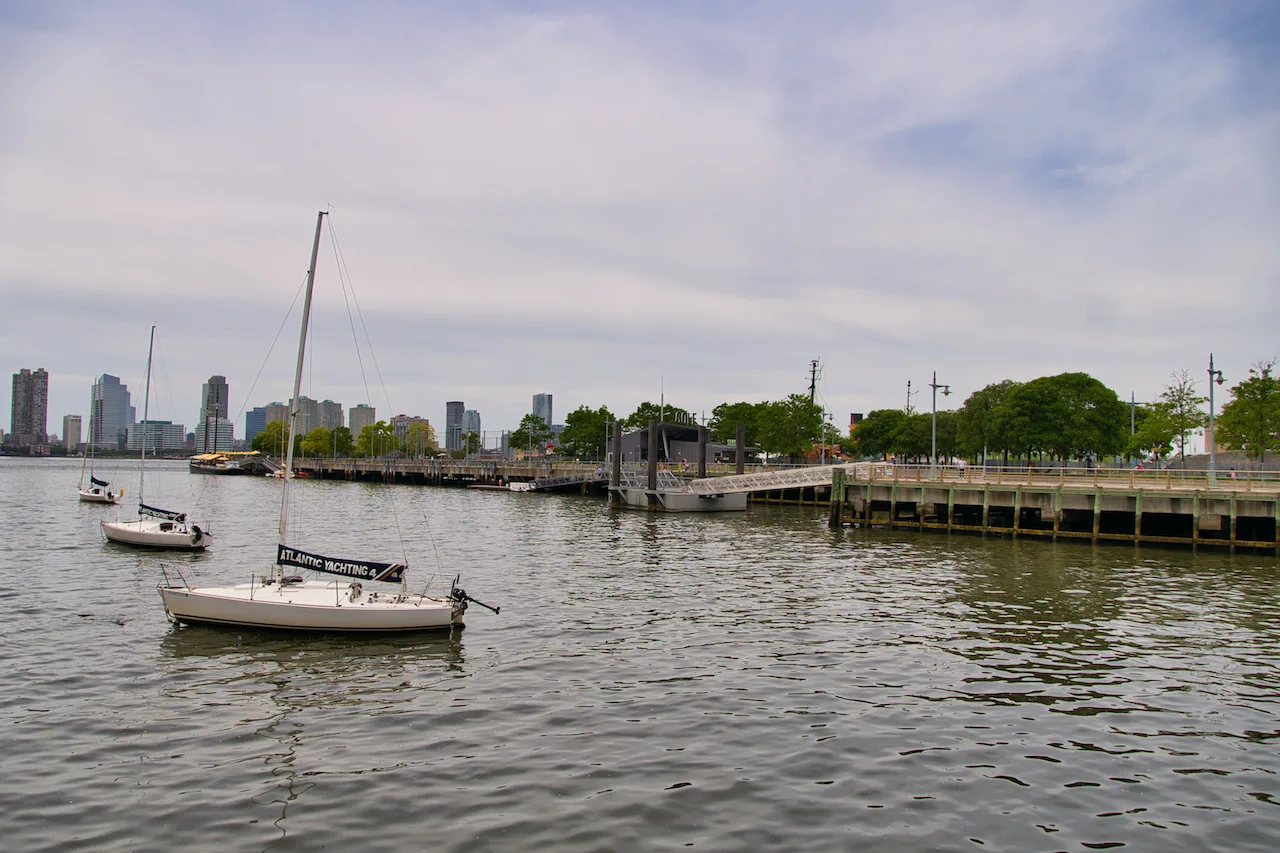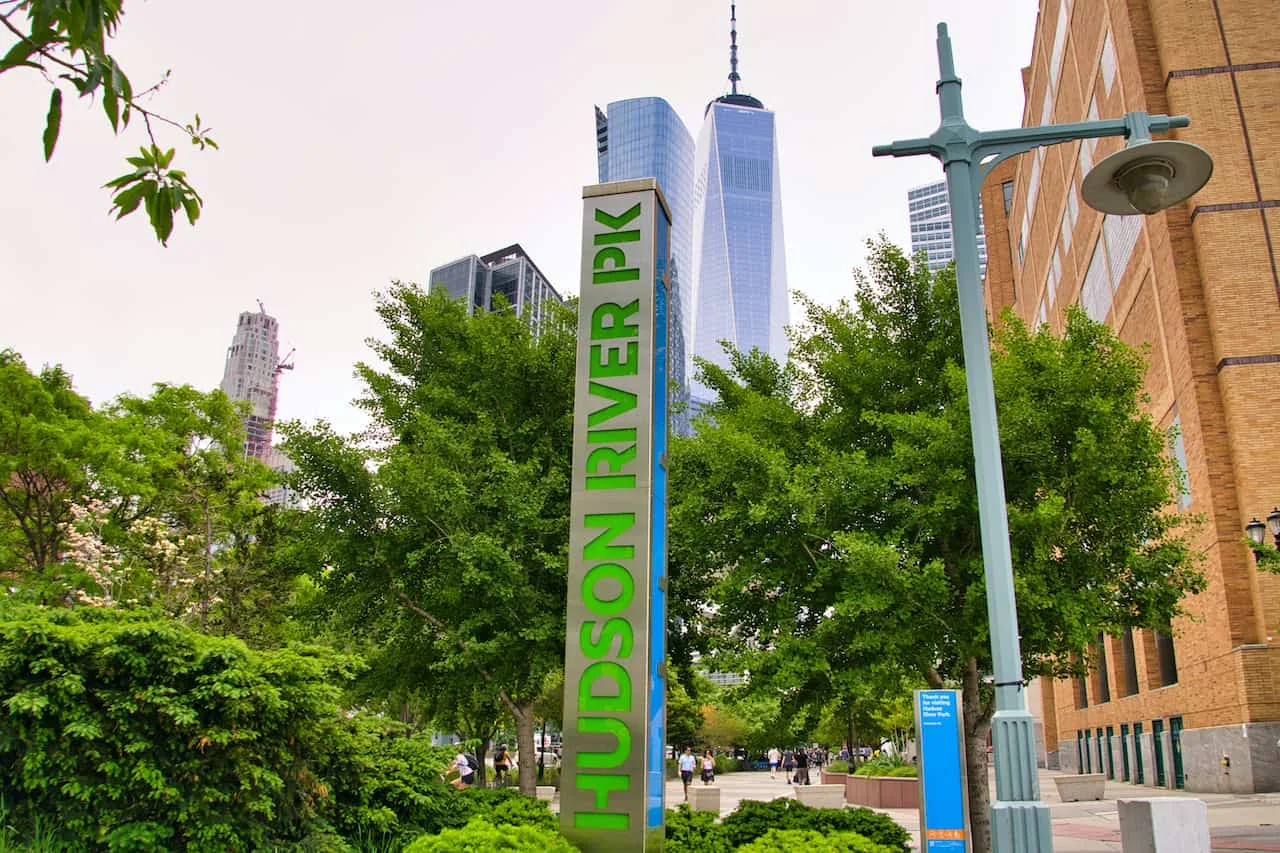 Now, while the official Hudson River Park walk ends here, that doesn't mean you cant continue on into Battery Park itself!
If you make a right hand turn at this building, you will have even more Hudson waterfront to enjoy as you head closer to the tip of Manhattan.
Along the way you will pass by Rockefeller Park, Brookfield Place, the North Cove Yacht Harbour, and ultimately to The Battery.
You will have Statue of Liberty views all the way through until the southern point of Manhattan.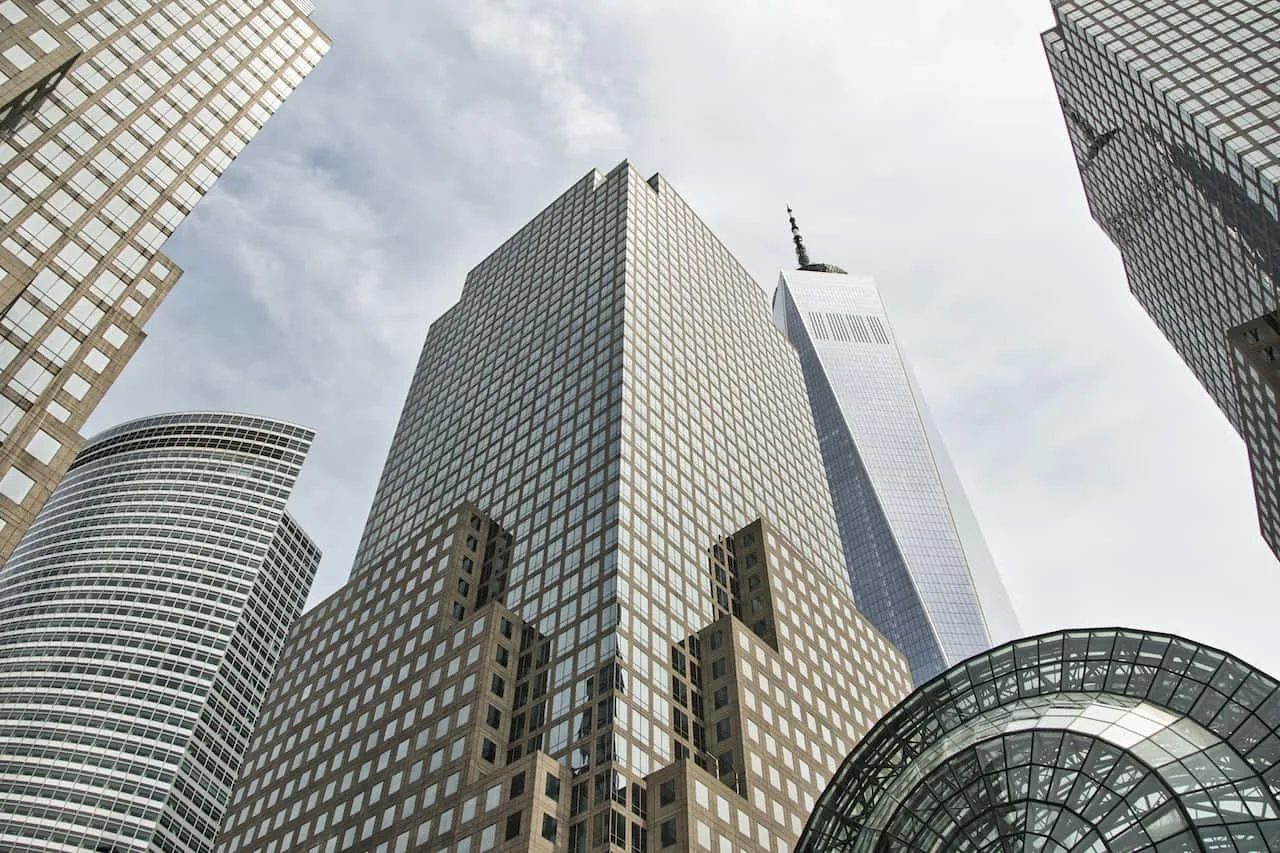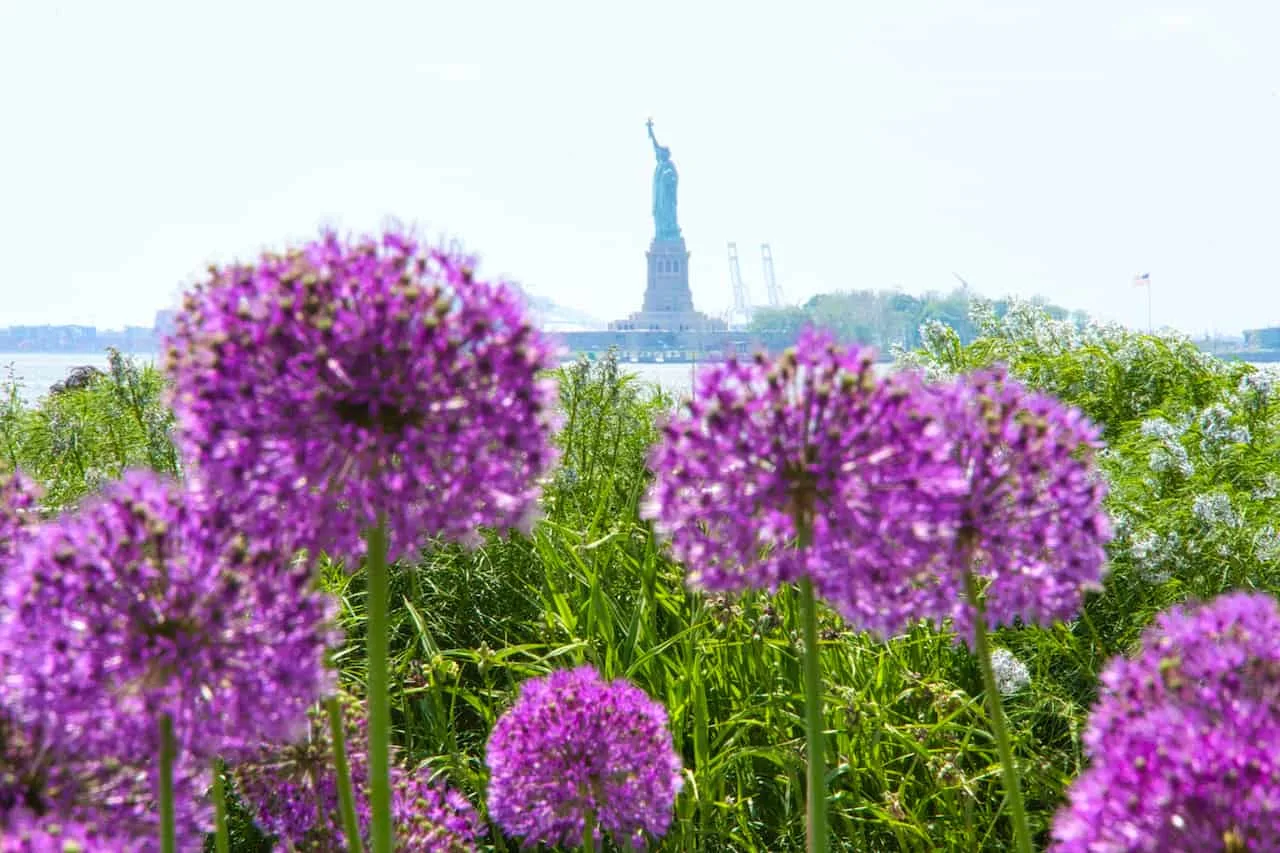 And it gets even better! You can continue around the tip of Manhattan and onto the east side of the city, where you will now be on the East River. To learn more about that walk, take a look at the East River Greenway guide I put together.
That about wraps up your guide to the 4.5 mile Hudson River Park of Manhattan. If you have any questions or comments, feel free to add them in below.
Also don't forget to check out the remaining New York itineraries and guides up on the site.
Have fun out there and safe travels!