Tribeca is one of the most fashionable districts in New York City, and as such is always in high demand from holiday-makers looking for a perfect hotel in the city.
The district does not limit itself to high-end luxury hotels, however. There are plenty of affordable budget and boutique hotels to be found in Tribeca. It's therefore perfect for travelers of any budget.
The issue when staying in Tribeca, in fact, is not its affordability, but the wealth of options on display.
With so many potential hotels, it can be difficult to narrow the playing field in the first place – let alone choose the perfect Tribeca hotel for you.
That's where this guide comes in. Let's take a look at the best hotels in Tribeca, New York City.
* Affiliate Disclosure: This post may contain affiliate links, which means I may receive a commission if you make a purchase through the links provided, at no additional cost to you. Thanks for supporting the work I put into TripTins!
Hotels in Tribeca Overview
This guide will focus on the very 10 best hotels in Tribeca across a variety of accommodation types & budgets.
From name brands to boutique options and budget friendly to high end luxury, there will be something for you in Tribeca.
To better help you make your decision, below is a quick summary of the top hotels for some of the main categories you may be interested in.
Throughout this guide, you will find in depth overviews of each one of these hotel options.
These Tribeca hotels include: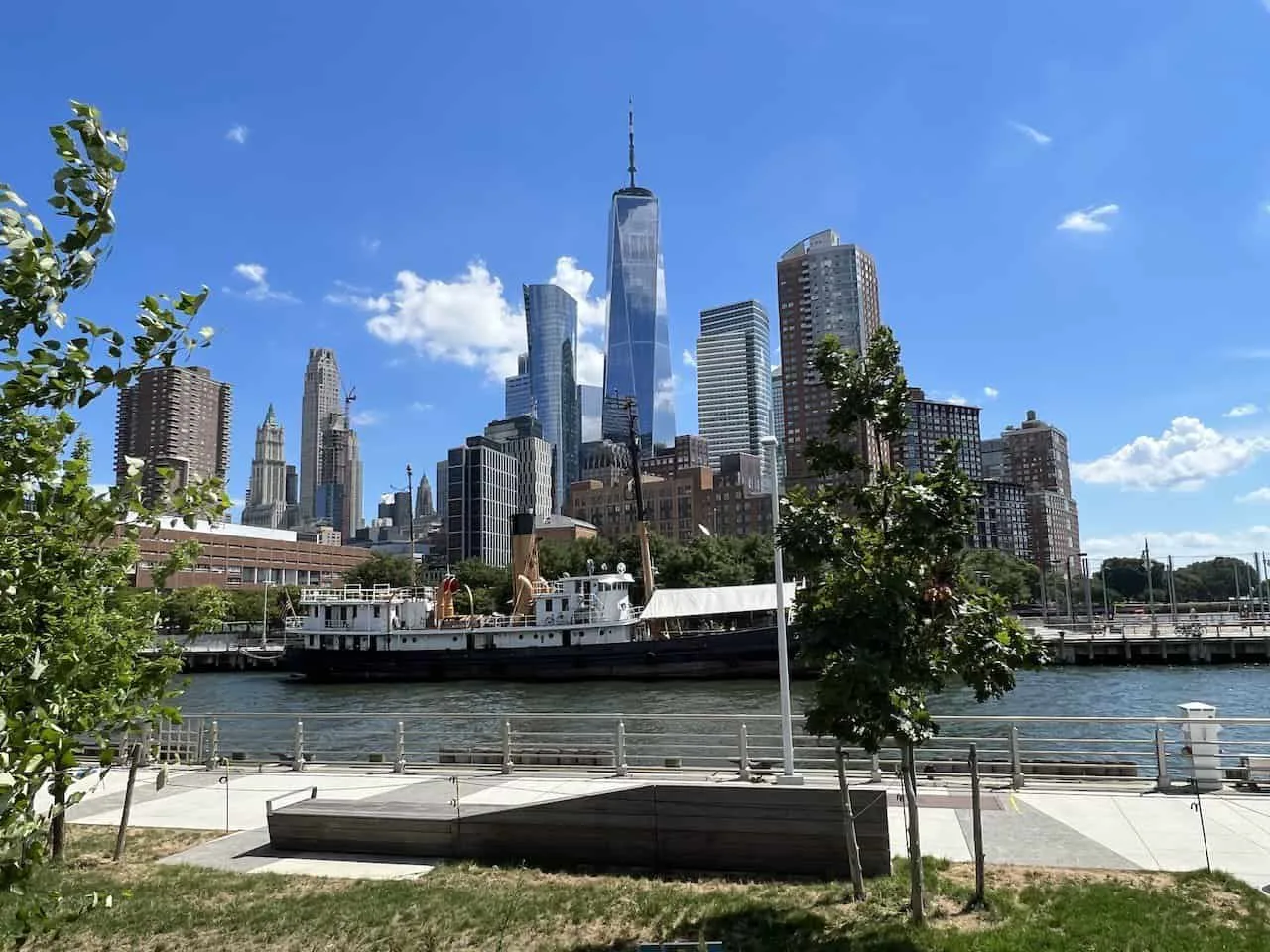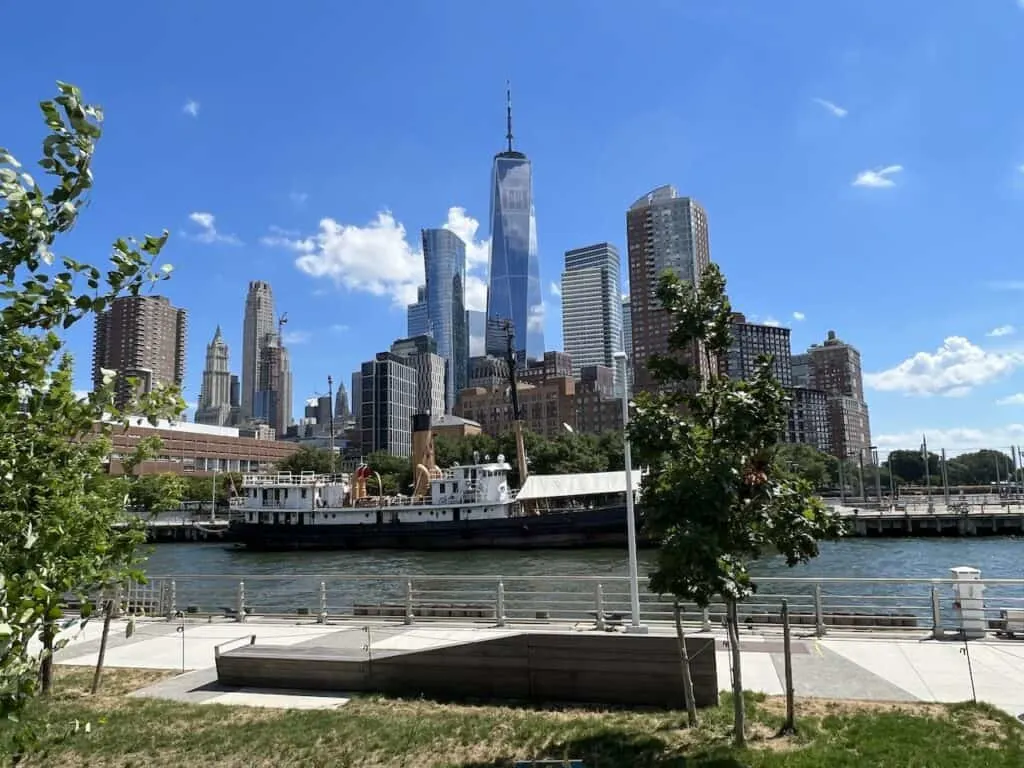 Tribeca Hotels Map
To better layout where each one of these hotels are located, I have included a map that pinpoints them all.
I have also highlighted the Tribeca neighborhood in general. If you did not know, Tribeca stands for "Triangle Below Canal". The map gives you a good sense of the triangular area.
Note: the Conrad Downtown and Millennium Downtown are just on the outside border of the triangle.
Explore More | 4 Day New York City Itinerary & Top Things To Do in NYC
1) Roxy Hotel
Named for an iconic Roaring Twenties movie theater, the Roxy Hotel is steeped in Manhattan history. It oozes style and vintage class from every pore, and combines its impressive pedigree with great access to local amenities.
The Roxy boasts easy access to nearby SoHo and the Hudson River. Guests will also find the 9/11 Museum just a short walk away, and the Battery Park ferry to the Statue of Liberty isn't far.
If you'd like to speed things up even more, there are multiple subway stops in the vicinity, and cabs are ubiquitous.
The hotel wears its retro, Prohibition-era inspirations on its sleeve. Intentions are announced early on with the vintage marquee sign over the lobby.
The bare-brick bar on the ground floor recalls 1920s speakeasies, with tiered seating arrangements and live jazz numbers.
The rooms continue this theme, with old-fashioned fixtures throughout and rich leather couches that seem more Boardwalk Empire than 2020s New York City.
A rich and indulgent experience for those who want to experience a slice of old-school Americana.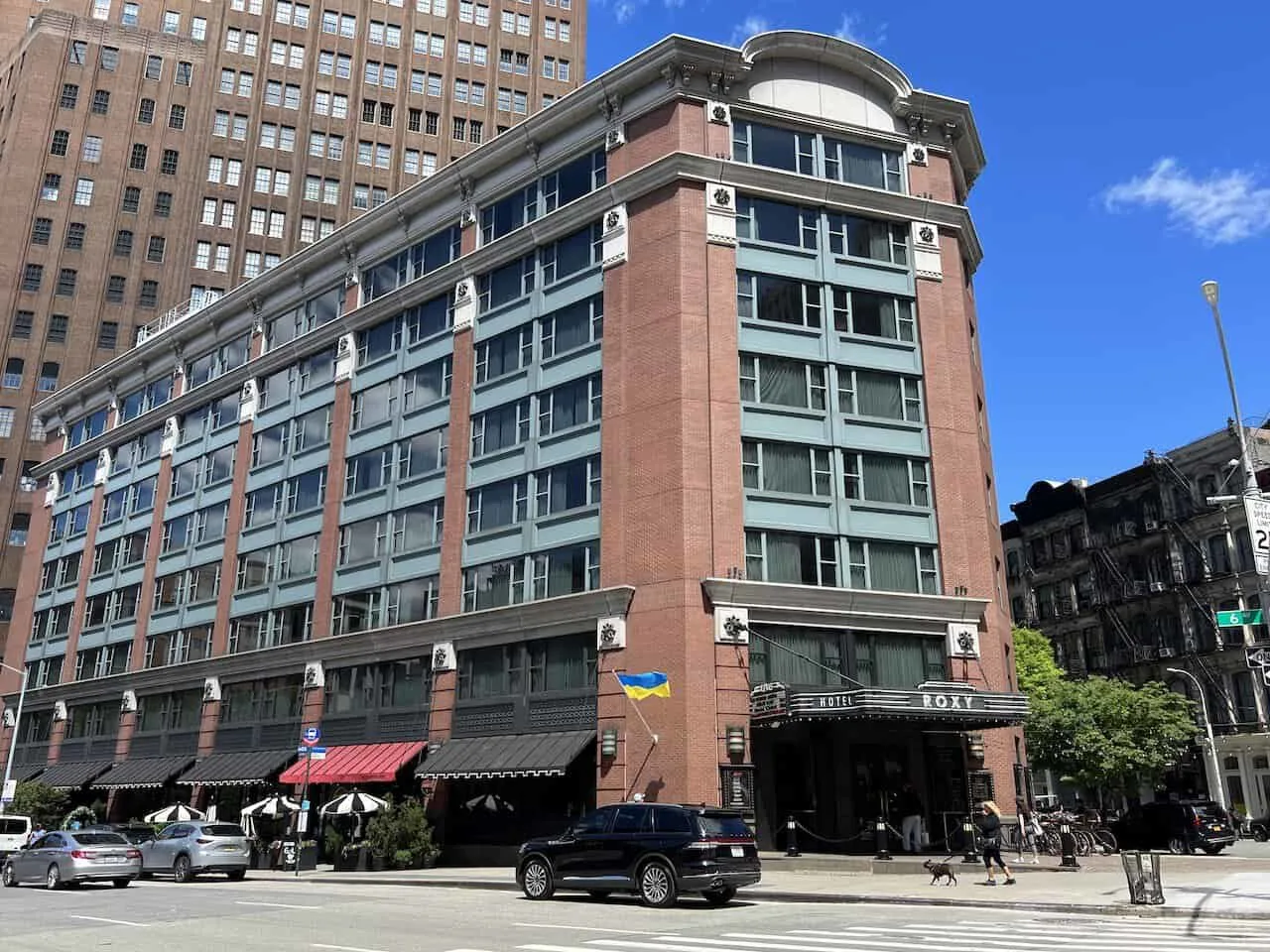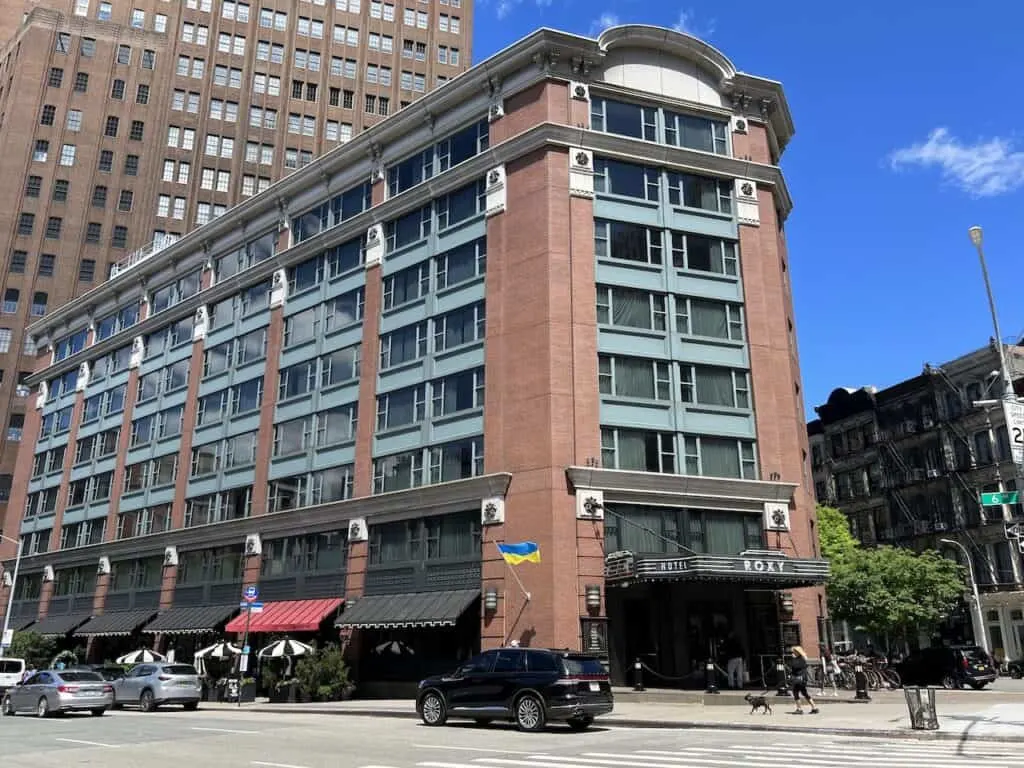 2) Greenwich Hotel
The Greenwich Hotel is an amazingly intimate and personalized experience for its size. Its unique medley of influences – English furniture, Tibetan rugs, Italian marble – shouldn't really work, yet it does.
The result is an exercise in understated luxury that makes for the perfect Tribeca hotel.
One of the biggest draws of the Greenwich is its wonderfully opulent rooms.
More like stylish studio apartments than hotel guest rooms, each one has been decorated independently of the others. Oriental rugs and leather sofas abound, and French windows open out onto private courtyard views.
But it's not just the guest rooms that delight in this Robert-DeNiro-owned hotel. It sports what might be the best swimming pool in the entire city, found in the sprawling Japanese-themed spa facility.
This Shibui wellness center has five treatment rooms and a huge fitness area. The aforementioned lantern-lit swimming pool, meanwhile, is perfect for a relaxing swim.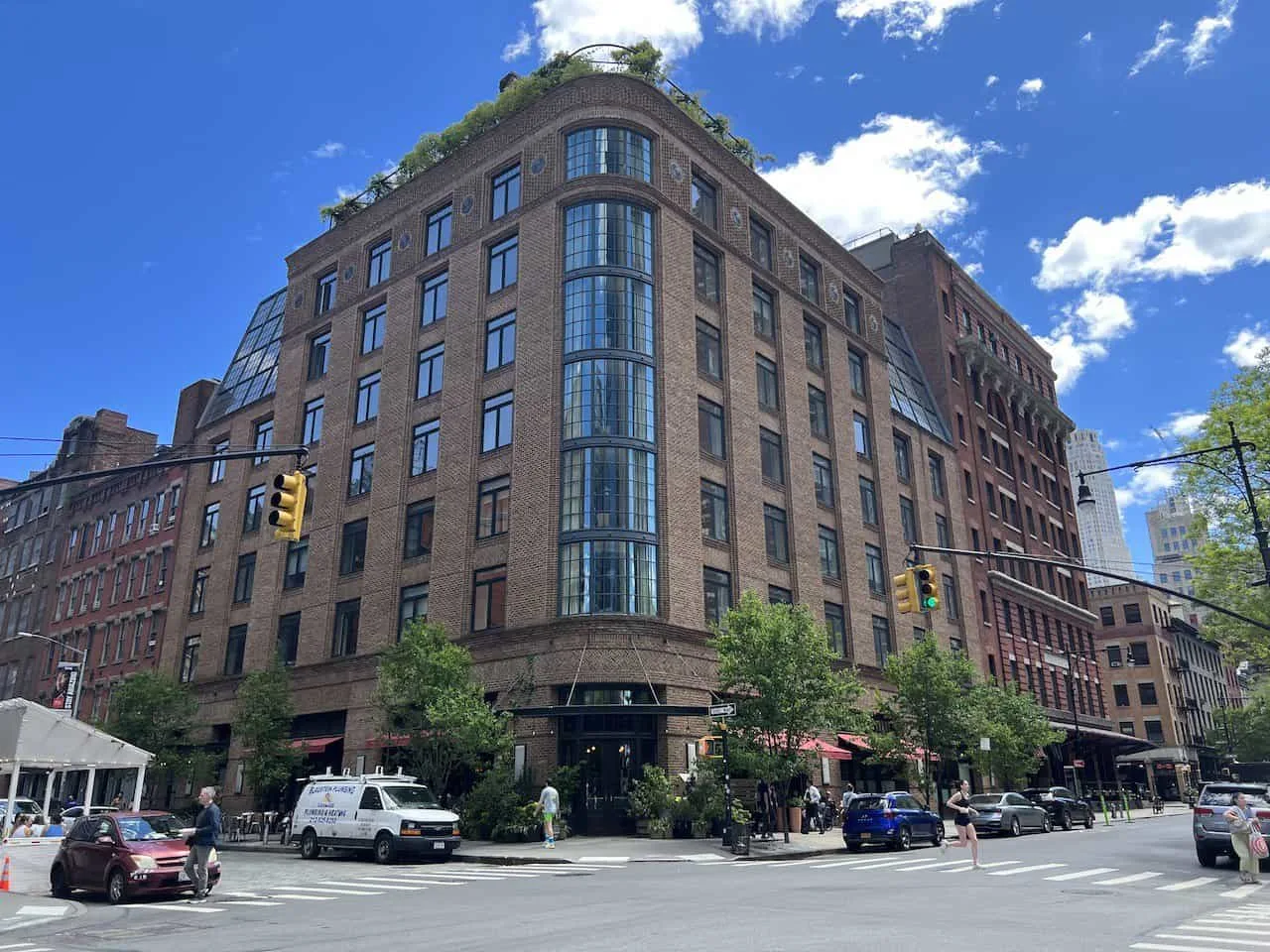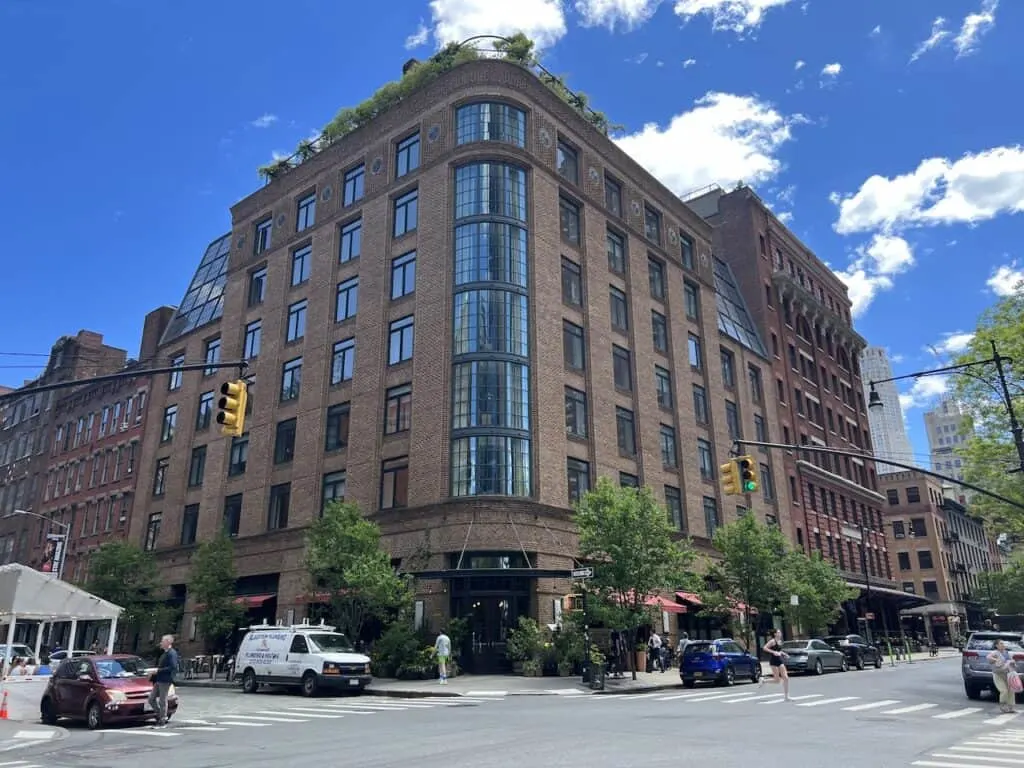 3) Frederick Hotel
The Frederick Hotel is a mid-range boutique hotel great for travelers who want to stay in Tribeca without breaking the bank.
It's right next to the Financial District, and within walking distance of the 9/11 Memorial and its accompanying museum. There are also a number of free walking tours that are operated in conjunction with five other hotels.
As a functional and affordable boutique hotel, the Frederick doesn't really go in for luxury. However, its tranquil and serene lobby is a great place to rest and recharge at the end of a busy day.
The hotel's location on the border of the Financial District makes it fantastic for exploring Wall Street and the New York Stock Exchange. Nearby you'll also find Brookfield Place, the stylish stores of SoHo, and the iconic Brooklyn Bridge.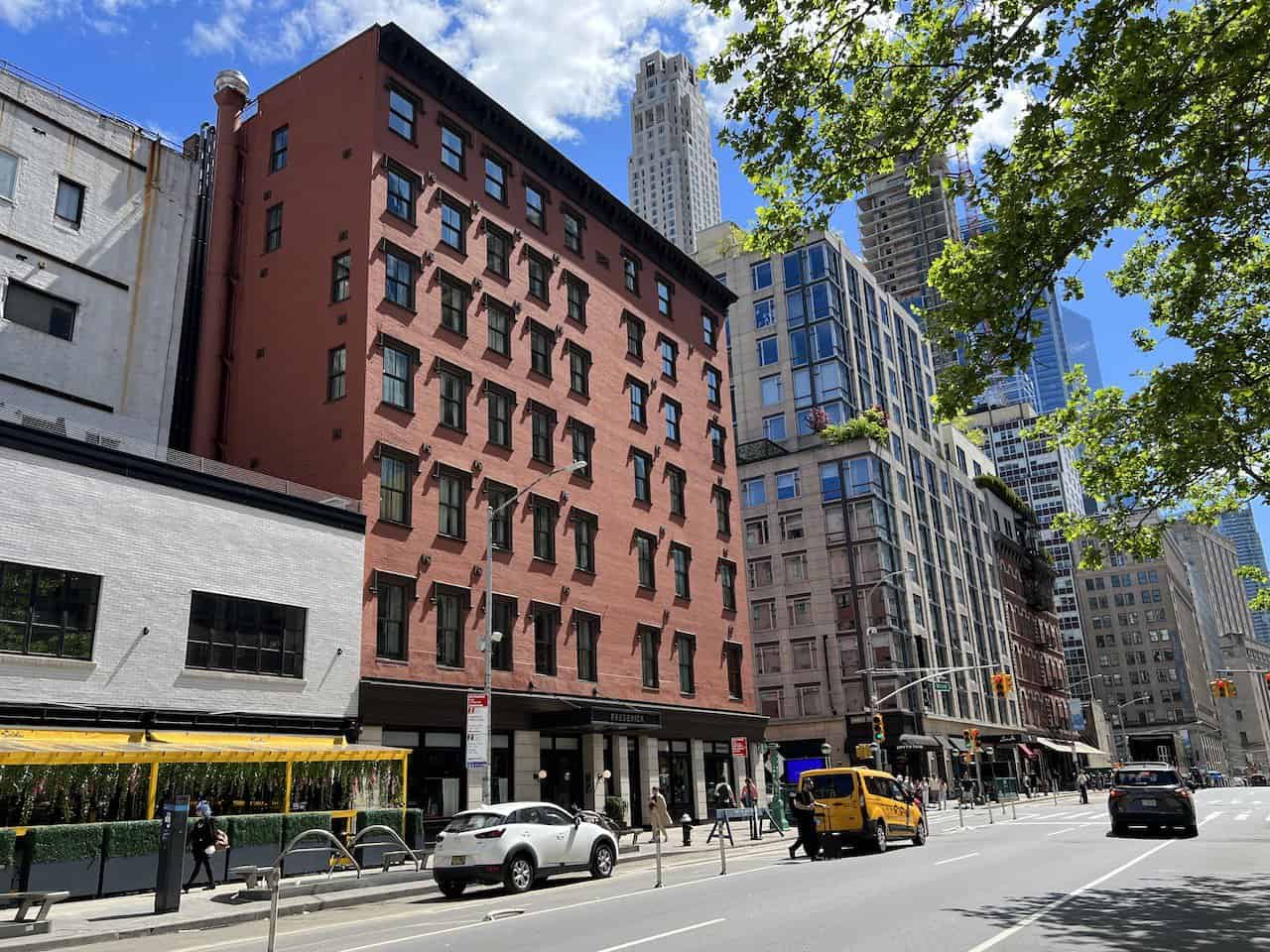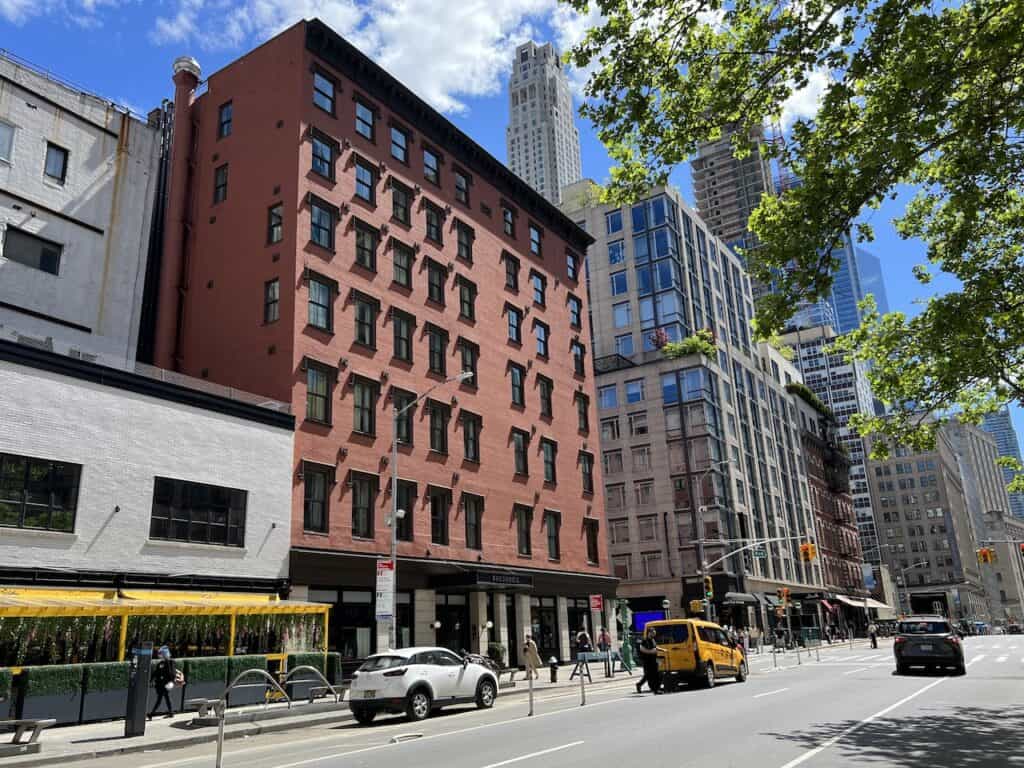 4) The Conrad Downtown
This all-suite slice of luxury is perfectly placed for guests who want to explore Lower Manhattan, as well as places further away.
The Conrad Downtown may be a hotel first and foremost, but it's also one of the city's finest showcases of modern art.
The labyrinthine loops and wires hanging over the lobby are a feast for the eyes, and there are several works of art by renowned modern artists found throughout the property.
The rooftop bar, the 'Loopy Doopy', is named after a Sol DeWitt painting, and offers 'poptails' – cocktails made with popsicles.
The hotel's suites are all huge – a product of the Conrad's legacy as an Embassy Suites establishment.
Each room is more like a luxury New York City apartment, with sizes of 700-1000 square feet. Although views are dominated by the surrounding skyscrapers, some rooms feature views of One World Trade Center.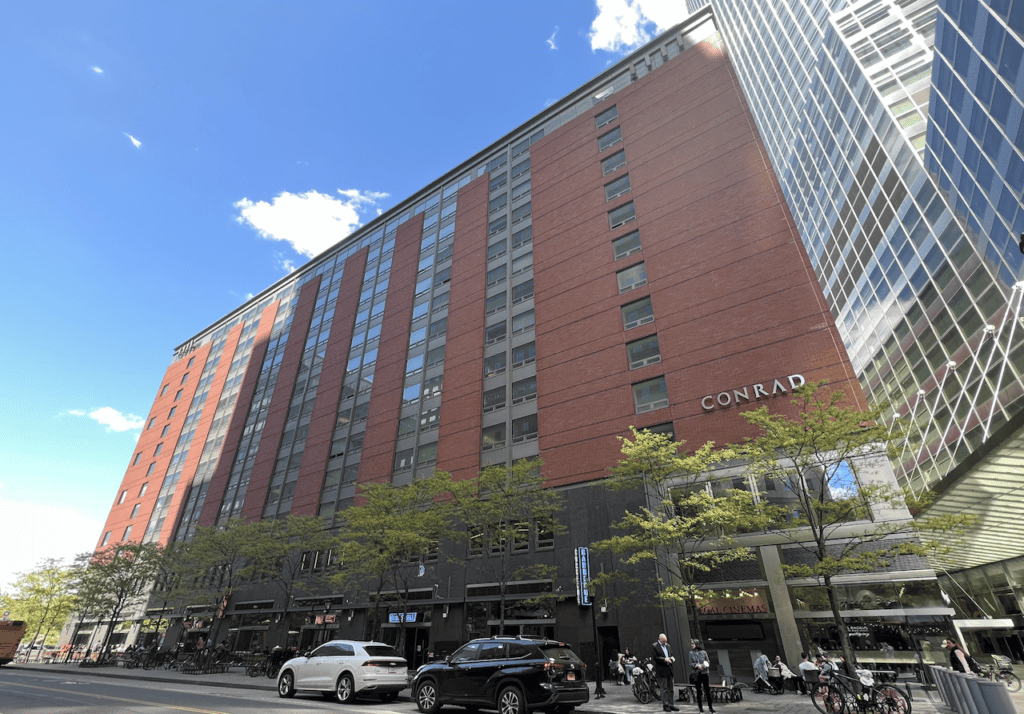 5) Sheraton Tribeca New York
The Sheraton Tribeca isn't the most extravagant Sheraton to be found in New York City, but it offers convenient access to lower Manhattan and affordable prices.
It straddles the Tribeca and SoHo border, offering quick and easy access to both.
The Sheraton Tribeca sits right next to the Canal Street subway station. This makes it easy to reach the rest of Manhattan (and New York City in general), and getting to JFK International Airport is simple and straightforward.
Within walking distance are Wall Street, the 9/11 Memorial and the Staten Island Ferry (if you want a great free view of the Statue of Liberty).
One of the highlights of the Sheraton is its lounge club, where you can enjoy amazing views of the Manhattan skyline.
These sorts of views from a hotel terrace are usually only found in high-end luxury hotels, so it's a rare treat you should take advantage of.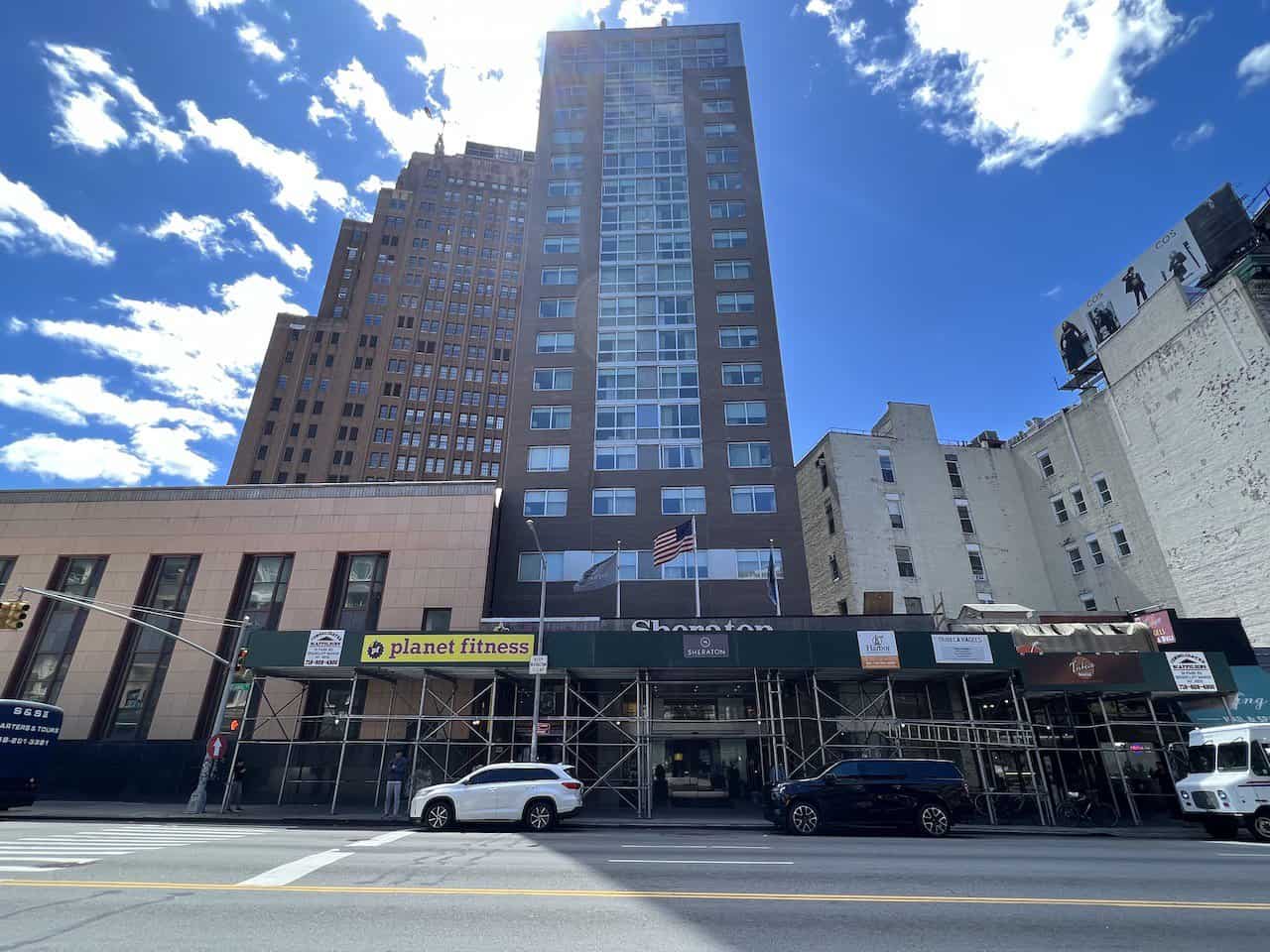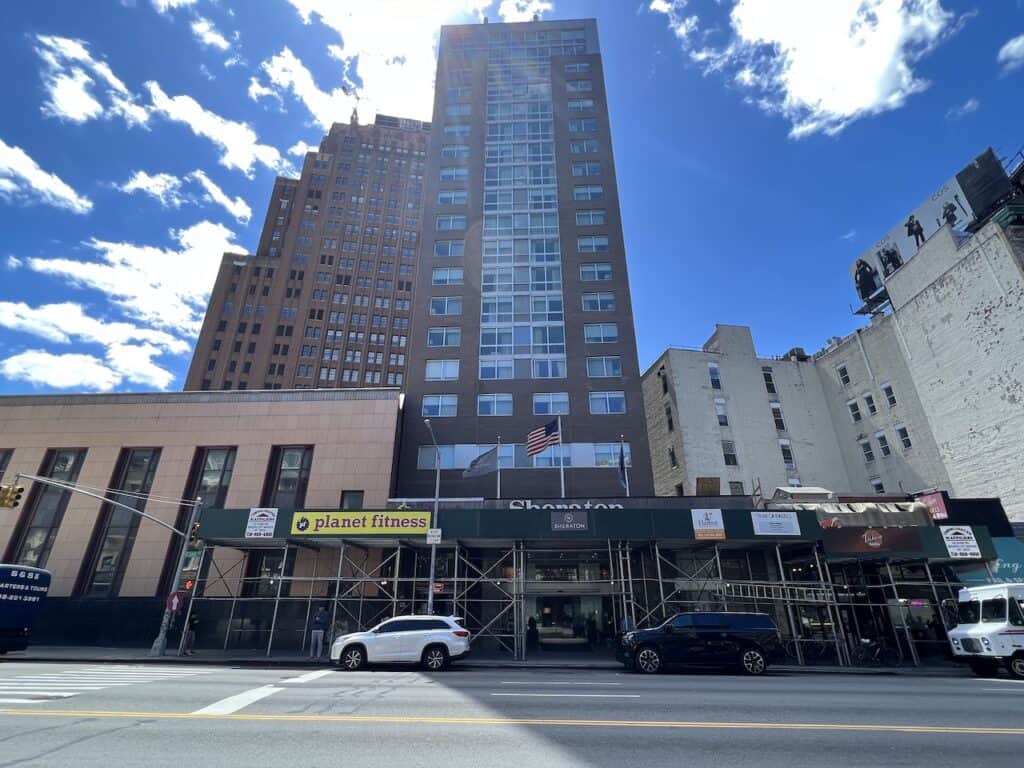 6) Walker Hotel Tribeca
A one-time button factory, the Walker Hotel Tribeca captures everything that is vibrant and unique about the district.
The hotel reflects its humble beginnings with bare whitewashed brickwork and simple, utilitarian fittings in each room. In the basement, the Walker recalls Prohibition-era discretion with an onsite speakeasy.
The Walker Hotel is in a fantastic location for travelers wishing to explore downtown Manhattan. It's a mere block from Canal Street (from which Tribeca takes its name – Triangle Below Canal) and just off Broadway.
The West Village, The Financial District and SoHo are all within walking distance. The nearby Canal St subway station means that the rest of the city isn't too far away, either.
Many hotels don't sport lobbies that guests actively want to hang out in, but the Walker is different. At once sprawling and cozy, the lobby is perpetually peopled with hip young artists.
At night it changes from intimate coffee spot to a bar/club, with a live DJ spinning the decks. Below ground is the aforementioned speakeasy – a hidden room that was only discovered during renovations.
The cellar bar offers a stripped-down cocktail menu and nightly live music, and is open to outsiders as well as guests.
Feel free to check out the other Walker Hotel, as part of the best Greenwich Village hotels.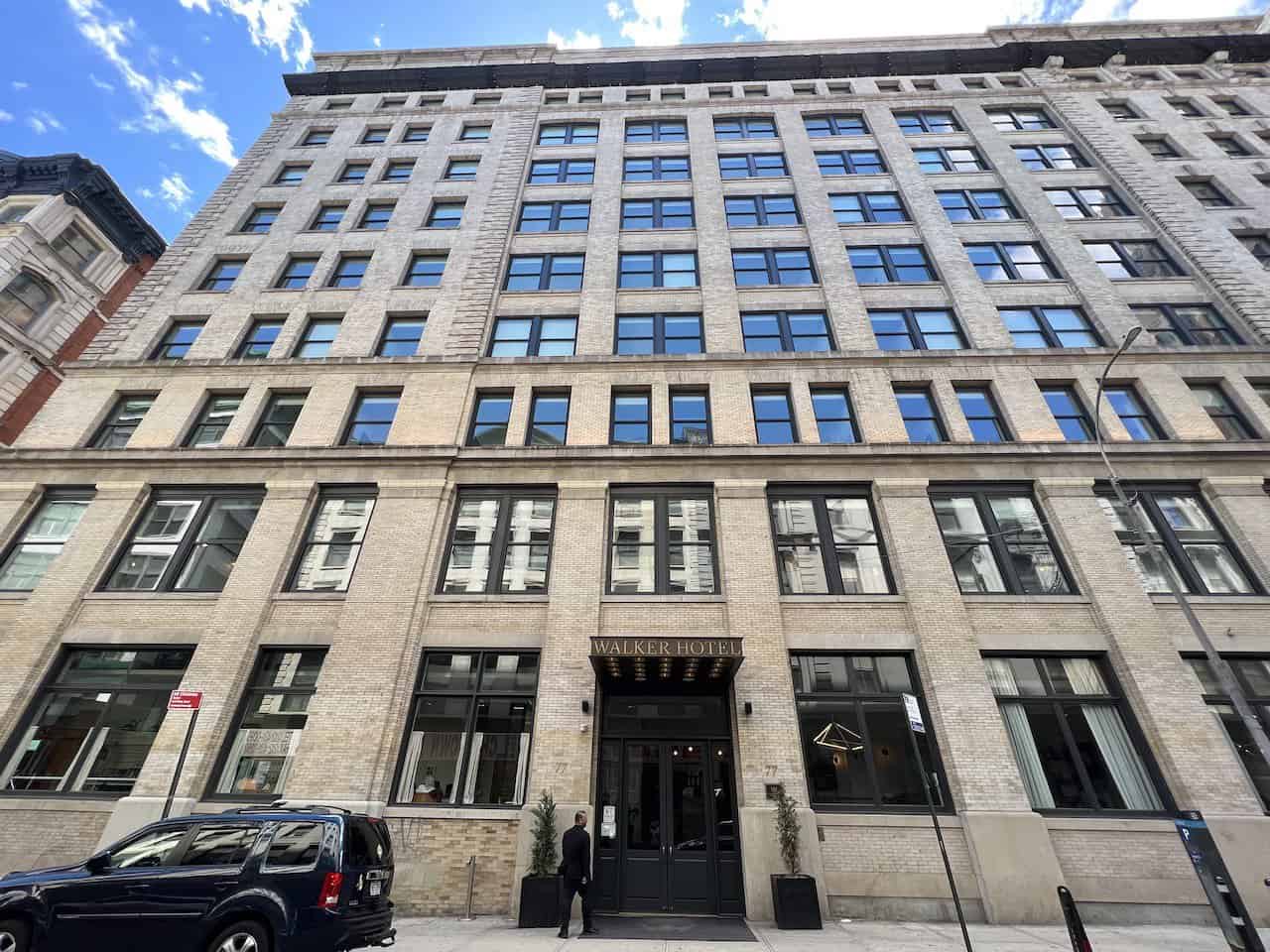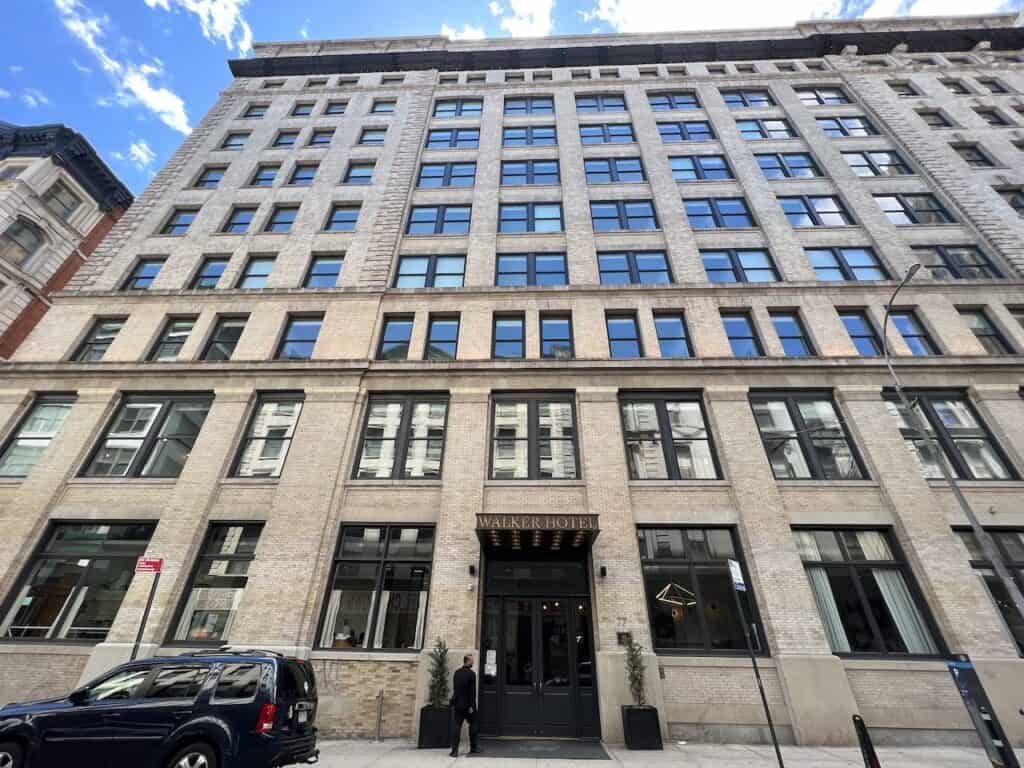 7) Four Seasons NY Downtown
The opulent Tribeca branch of the Four Seasons is certainly one for travelers who don't mind loosening the wallett.
The hotel radiates luxury from the moment guests set foot in the lobby, with a jaw-dropping suspended sculpture of mirrored and gold rods over the staircase.
An exclusive Wolfgang Puck steak restaurant named, simply enough, 'CUT' is nestled away in the corner of the first floor. Steak is the order of the day, naturally, although vegetarians and pescatarians will not be left out by the extensive menu.
An eye-catching lounge bar sits at the entrance to CUT, and is the perfect place for a drink after dinner.
If you're looking to escape all the grandeur and luxury of the Four Seasons, there's plenty to do in the vicinity.
The Oculus – downtown NYC's transit hub – is within walking distance and is the confluence of a whopping nine different subway lines. The 9/11 Memorial and One World Trade Center are also close by, as is Brookfield Place.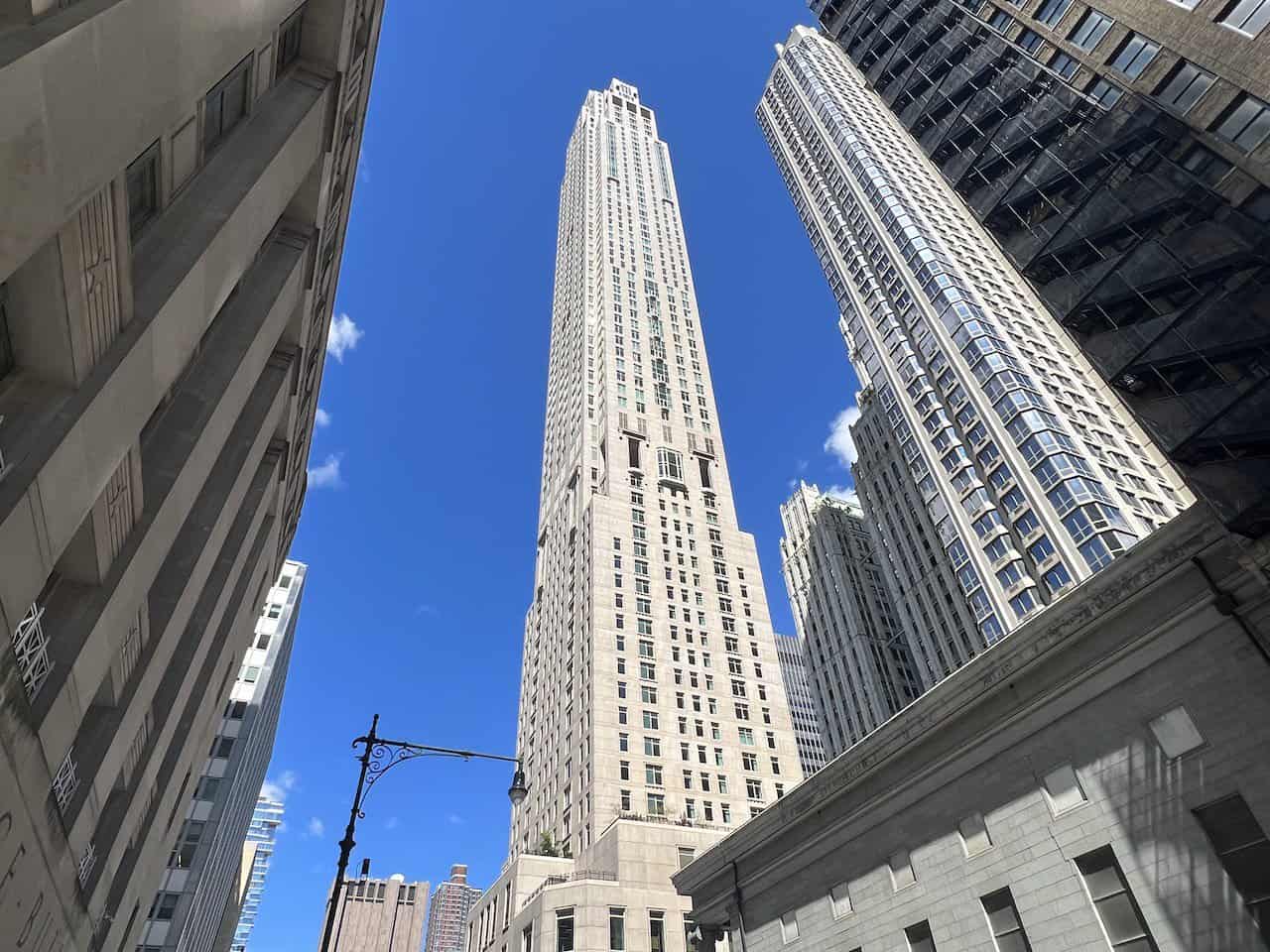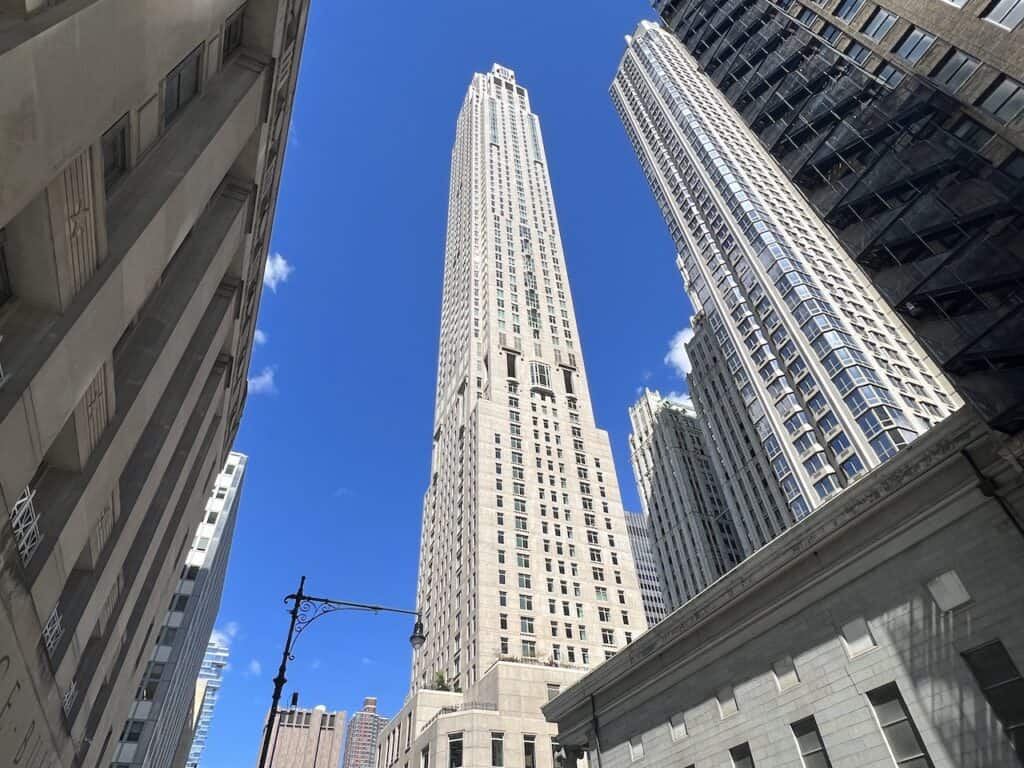 8) Hotel Barrière Fouquet's New York
The ultra-hip Franco-American Hotel Barriere Fouquet's exudes class and luxury, and is one of the most exclusive places to stay in Tribeca.
An eclectic mix of southern French chic and Tribeca's redbrick industrial roots, the Hotel Barrière fuses these two seemingly irreconcilable elements into something fresh and exciting.
The hotel houses not one, but three different Gallic-themed restaurants.
Each offers a different perspective on France's legendary cuisine, from steak tartare and escargots at the extravagant Bistro, to subdued vegetarian dishes at Par Ici. For light snacks there is the Titsou Lounge, a stone's throw away from Par Ici.
The hotel's location has been perfectly picked. Away from the frenetic bustle of downtown Manhattan, the Barrière is located among broad cobblestone roads that keep things nice and peaceful.
Despite its tucked-away serenity, it's still remarkably easy to access the rest of Lower Manhattan.
The Barrière is close to multiple riverside parks, and the 9/11 Memorial and One World Trade Center are both within walking distance. The Canal St subway station is mere blocks away, ready to transport travelers to the rest of the city (such as to Central Park).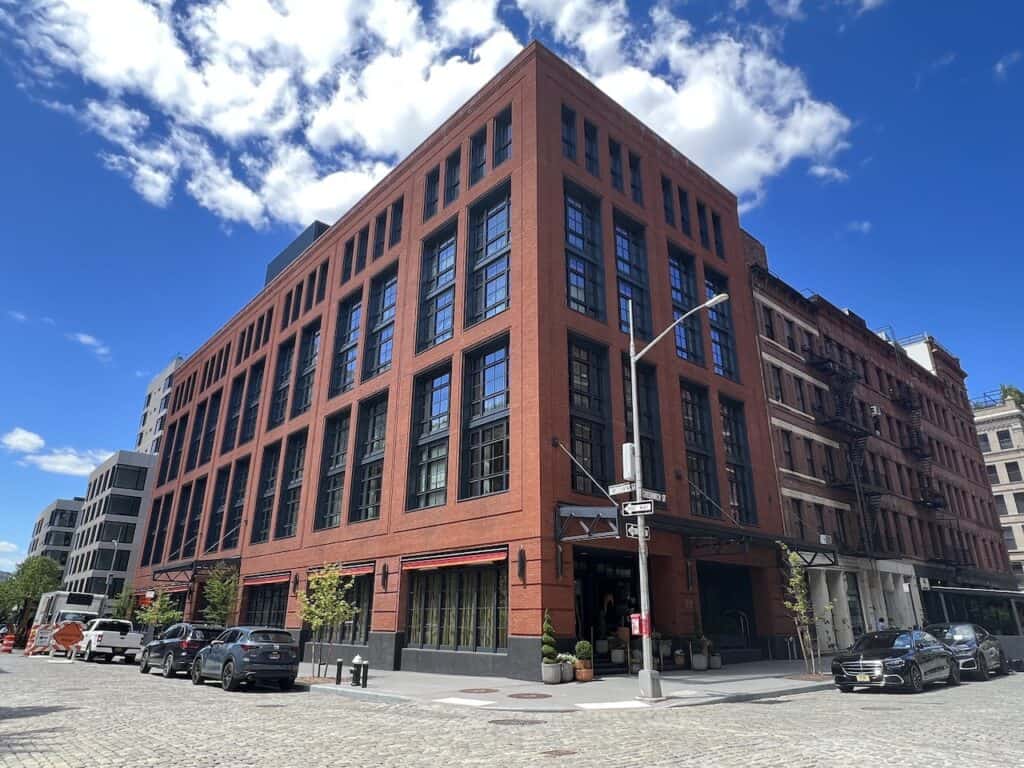 9) Hilton Garden Inn Tribeca
The Hilton Garden Inn Tribeca is a great budget option if you're looking for a well-placed Tribeca hotel from which to explore the area.
It's less than a block away from the Canal St subway station, and it's a short walk to One World Trade Center, the 9/11 Memorial, SoHo, and the Hudson River. It's also less than 15 minutes to Little Italy and Chinatown, for those looking to broaden their culinary horizons.
If you'd prefer to limit your dining to the restaurant, onsite eatery AOA (which stands for "Avenue of the Americas, where the hotel is found) is located on the first floor.
A variety of comfort food like wood-fired pizzas, burgers and triple-cheese macaroni can be found on the restaurant's menu. It's also something of a craft beer haven, with an astonishing 25 craft beers available.
The Hilton Garden Inn's lobby is much more appealing than you'd expect from a hotel of its budget.
Huge ceiling-to-floor windows let in plenty of natural light, and a double-sided fireplace help to make the sprawling area feel much more intimate than it is.
It is a solid choice for travelers who don't want to spend a fortune on their accommodation.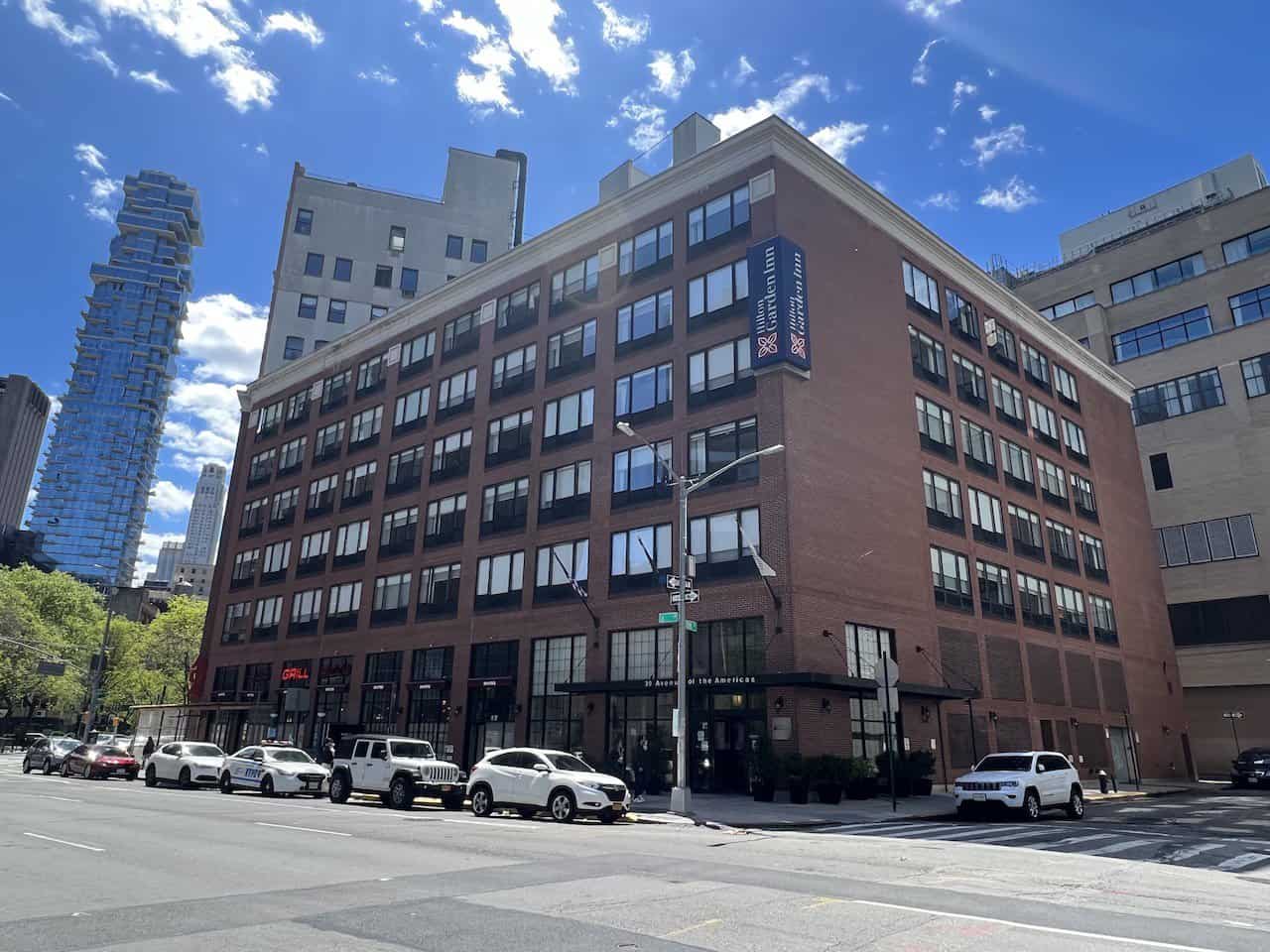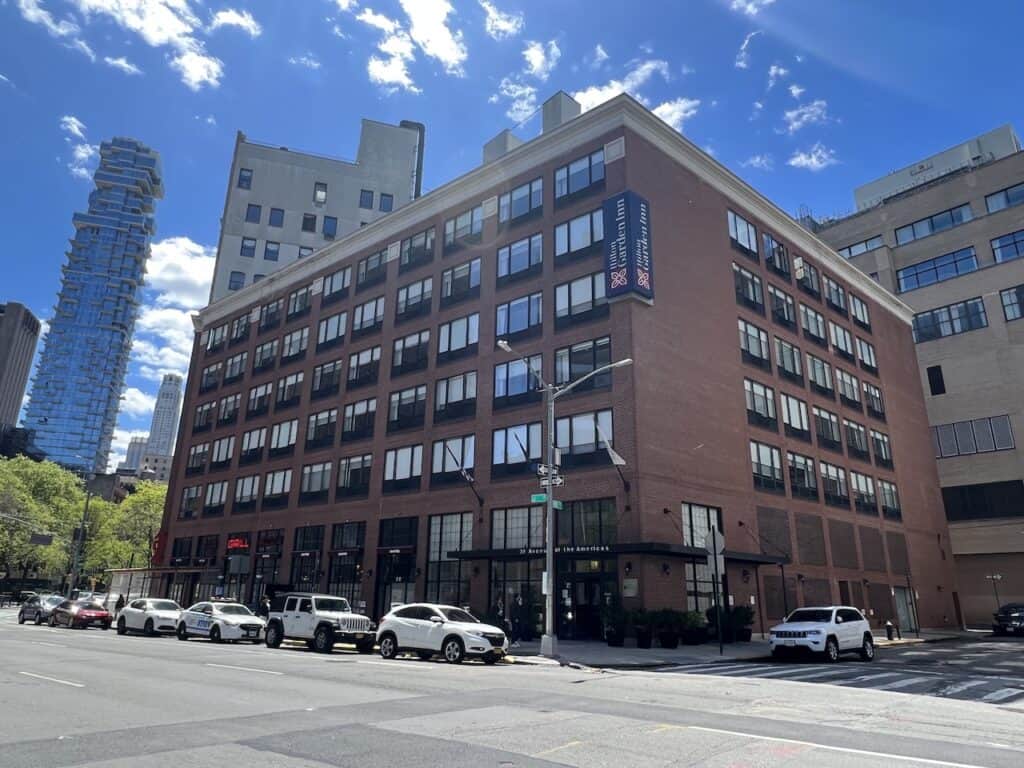 10) Millennium Downtown New York
If you're looking to explore the Financial District, there is no hotel better located than the Millennium Downtown.
It offers fantastic views of the nearby Oculus transport hub, and you're a matter of minutes away from One World Trade Center, Wall Street and the 9/11 Memorial Museum.
The Millennium is also much closer to Battery Park than the other hotels listed here, which makes taking a ferry over to Liberty Island much easier.
Be sure to request a City View room to make the most out of that Manhattan skyline. Certain rooms (though not all) also offer vistas of the Brooklyn Bridge, Manhattan Bridge, Hudson River and the Freedom Tower.
The Millennium Downtown may be a little farther away from some of the other NYC sights, but its proximity to the Oculus building renders this irrelevant.
With access to many different subway lines less than a block away, there's nowhere in the city you can't reach in minimal time.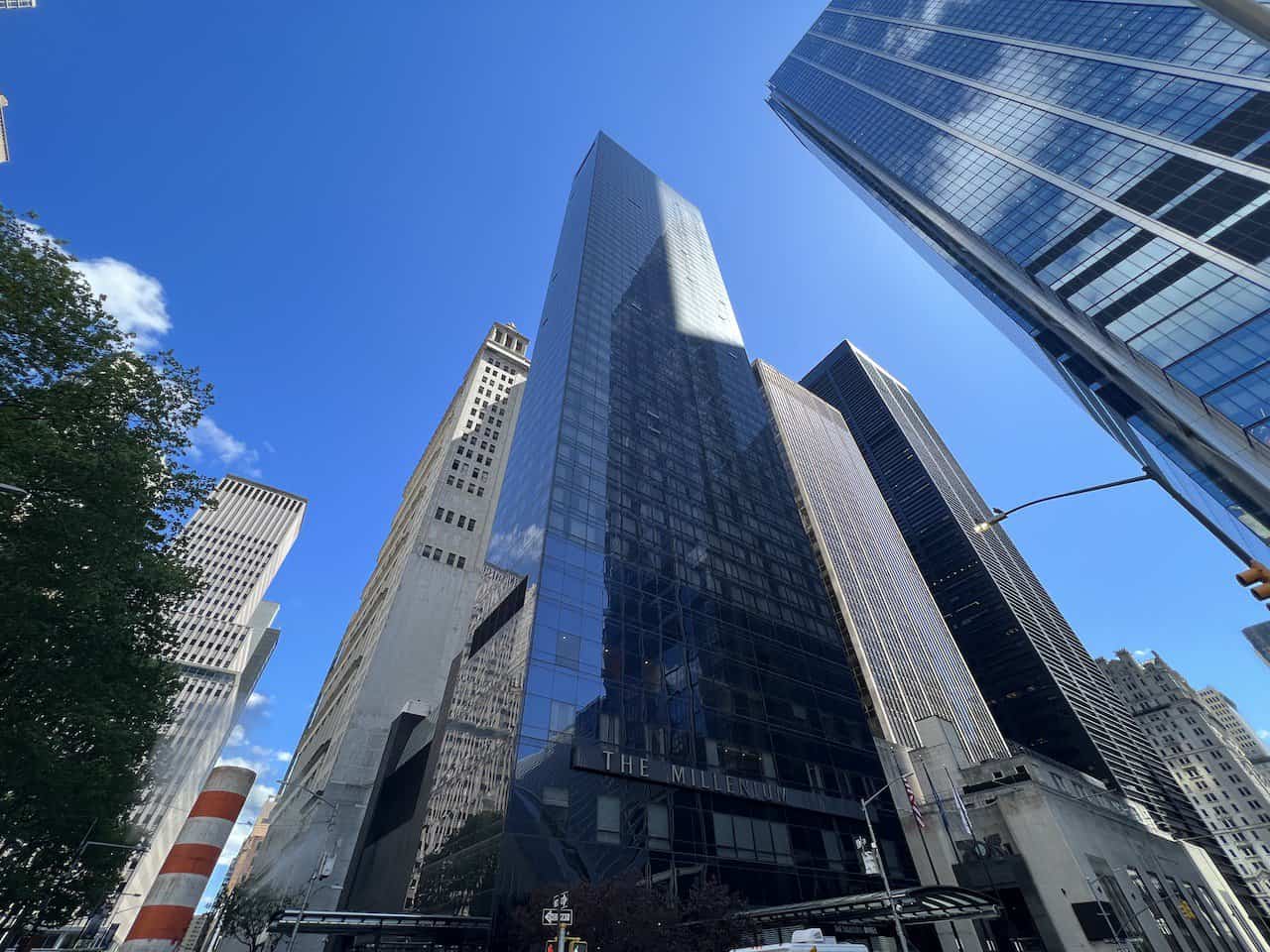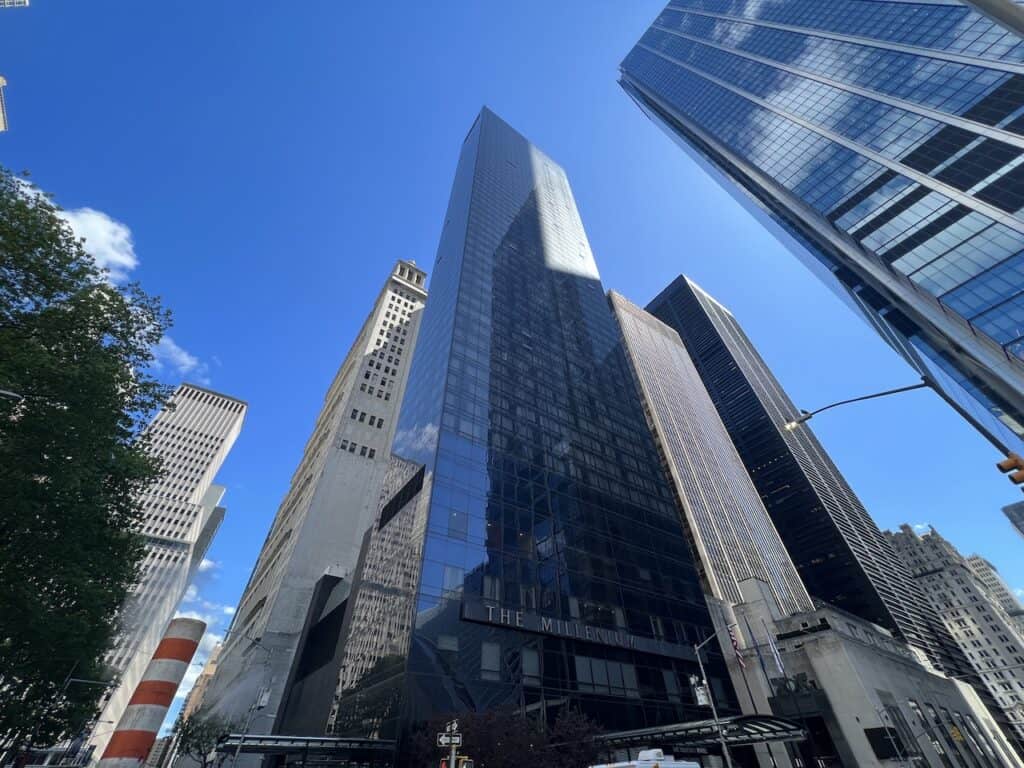 Tribeca is the perfect place for an off-the-beaten-path hotel to satisfy your NYC home-base needs, and the characterful collection of options on display reflects this.
Go ultra-luxe with the Barrière or the Four Seasons, or keep things cheap with the Hilton Garden Inn or the Frederick.
It's a testament to the eclectic nature of the Triangle that there's a little something for all travelers, no matter what they're looking for.
Ultimately, this district is the best place if you're planning to explore lower Manhattan and all that it has to offer. It's simply a question of picking out the right Tribeca hotel for you.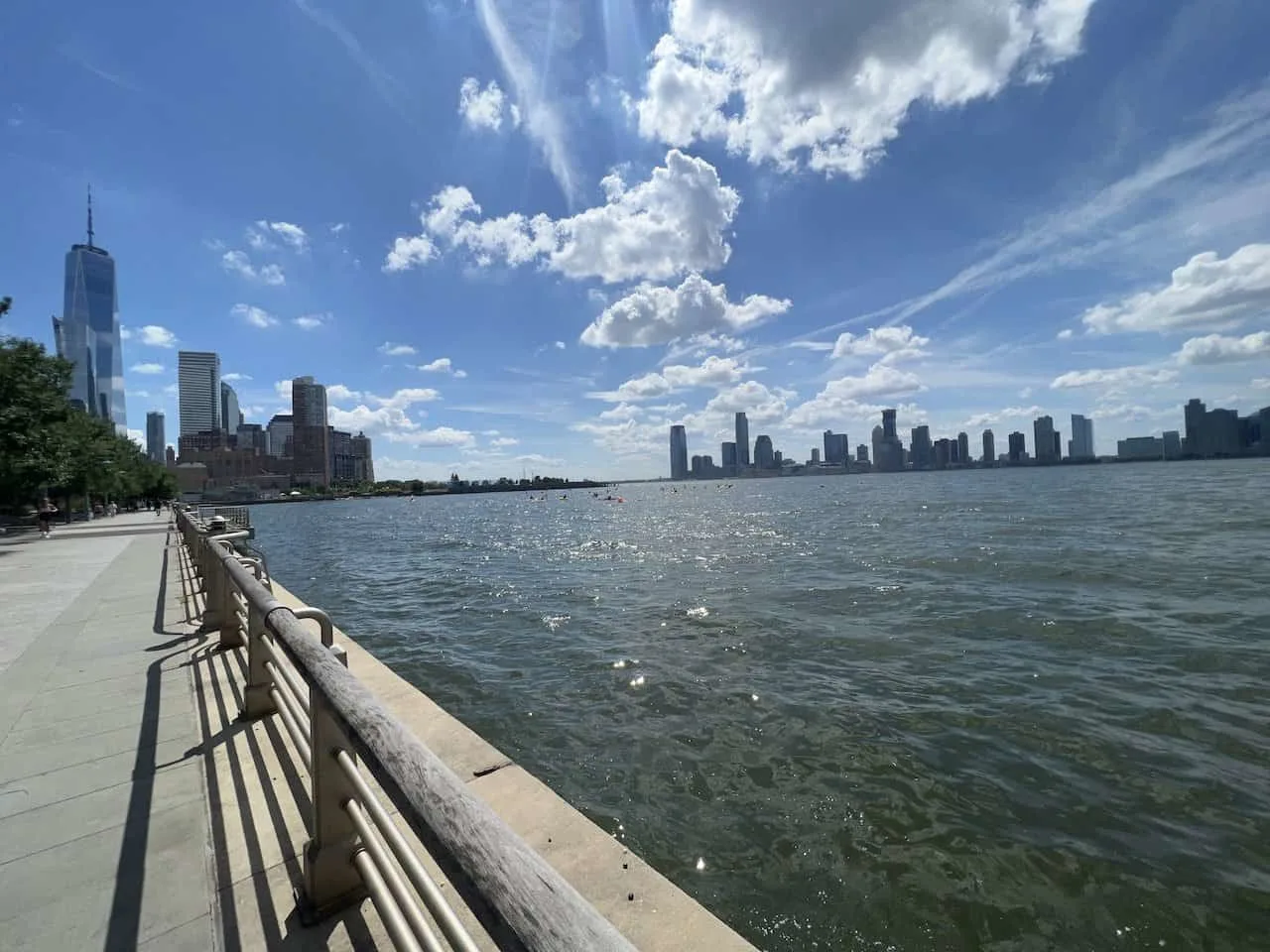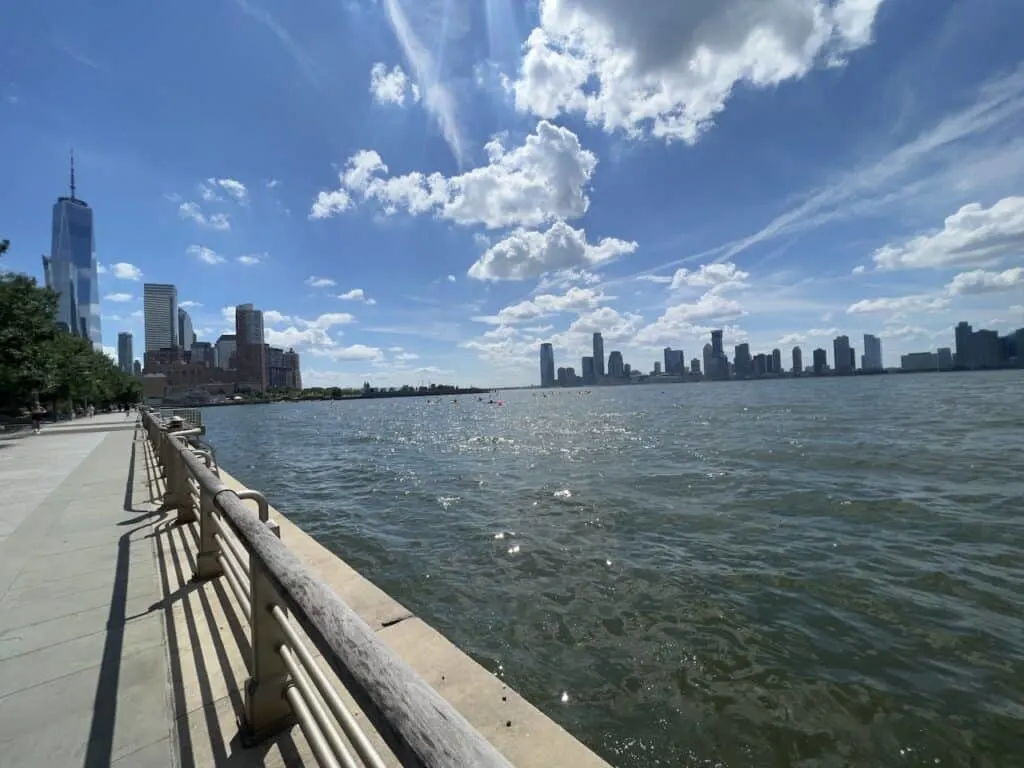 Be sure to also check out the other New York itineraries and guides up on the site (like the best hotels in NYC with a view).
Have fun out there and safe travels!