One thing that you can always count on in New York City is finding a beautiful sunset to take in. Whether it be the NYC skyline, numerous bridges, or the Statue of Liberty, the landscape opportunities are endless.
While there are many spots all around Manhattan to enjoy a sunset, taking in a view of a Brooklyn Bridge sunset is on the top of my list.
This guide will go through some of my top choices on where to experience a sunset of the Brooklyn Bridge, along with some helpful tips and tricks along the way.
* Affiliate Disclosure: This post may contain affiliate links, which means I may receive a commission if you make a purchase through the links provided, at no additional cost to you. Thanks for supporting the work I put into TripTins!
1) Brooklyn Bridge Sunset Locations
In my experience, there are three main areas to enjoy a Brooklyn Bridge sunset from. These would include:
Brooklyn Bridge Park
The Manhattan Bridge
The Brooklyn Bridge
Note that the first two locations are best if you want to photograph the Brooklyn Bridge from afar, while going on the Brooklyn Bridge itself would give you a different type of experience. I will dive into each one of these locations throughout the remainder of this guide.
→ Visit the Brooklyn Bridge at sunset as part of a longer 4 days in NYC itinerary that takes you throughout the city
Below is a map that shows the three spots pinpointed so you have an idea of where they are in relation to one another.
2) Manhattan Sunset Time
Before you actually head out for sunset, you must first understand the timing of when the sun will actually be setting.
The sun is continuously setting at different times and locations throughout the year, so you will need to plan accordingly for your visit.
Below are average times of sunset in Manhattan by month:
January: 4:40PM – 5:15PM
February: 5:15PM – 5:45PM
March: 5:45PM – 7:20PM (note daylight savings switch)
April: 7:20PM – 7:50PM
May: 7:50PM – 8:20PM
June: 8:20PM – 8:30PM
July: 8:30PM – 8:10PM
August: 8:10PM – 7:30PM
September: 7:30PM – 6:40PM
October: 6:40PM – 5:50PM
November: 5:50PM – 4:30PM (note daylight savings switch)
December: 4:30PM
Another thing to note is that sun does set in different locations through the year.
To best understand the exact locations of sunset given your positioning, you can take a look at apps like suncalc that help determine those types of things.
In general though, you should have good enough sunset angles from all three locations throughout the year.
→ If you are taking in a sunset, why not also experience a walk across the Brooklyn Bridge at night
3) Enjoying a Brooklyn Bridge Sunset
Now that you have a bit more background on locations and times, let's talk about the three Brooklyn Bridge sunset spots I mentioned earlier on.
Brooklyn Bridge Park
One question that comes up a bunch is can you see the sunset from Brooklyn Bridge Park. The answer is yes you can, but remember that the sun setting location will vary by time of year.
In the fall/winter time you can see the sunset happening in the vicinity of the Statue of Liberty, whereas in the spring/summer time the sun sets further to west behind the downtown Manhattan skyline.
As for a Brooklyn Bridge sunset view though, you should always get a great shot from Brooklyn Bridge Park as the sun is always setting in that general direction.
Now, Brooklyn Bridge Park is not a small park. It actually makes up nearly 1.5 mile of shoreline on the East River. When it comes to viewpoints of the Brooklyn Bridge + sunset, you will want to situate yourself to the north of the Brooklyn Bridge.
By doing so you will get to take in views of the Brooklyn Bridge with the downtown Manhattan skyline out in the background, and (hopefully) a nice colorful sky to complete the view.
There are a few spots to choose from that are north of the Brooklyn Bridge within the park. One of my favorite Brooklyn Bridge views is from a place called Pebble Beach (what I pinpointed on the map above).
From the beach you will get that perfect Brooklyn Bridge view with downtown Manhattan in the background and with Jane's Carousel in the foreground. There is also a very large multi leveled seating area here making it a perfect spot to sit down and enjoy the view.
Other potential spots include: Empire Fulton Ferry (closer to the bridge itself), the rooftop of Empire Stores (check it out either way for the view), or John Street Park (although it is further away, you will get both the Manhattan and Brooklyn Bridge in view).
Scroll to the end of the article for PLENTY more sunset pictures to enjoy.
Manhattan Bridge
Now this is a bit of a lesser known location to take in that Brooklyn Bridge sunset. By actually walking across the Manhattan Bridge, you will get a considerable elevated view of the East River, Brooklyn Bridge Park, downtown Manhattan, the Statue of Liberty, and of course the Brooklyn Bridge itself.
The downside of this location is that there is no seating area, it can get cold up there, loud subway cars are consistently running through, and you have a fence blocking the view.
Now, if you can get through the first three cons listed (standing, cold, and loud), I would highly recommend heading up there yourself.
While there is a fence blocking the view for photographs, you will find many holes cut out in the fence, where you can snap some photos with your camera or phone. You have to work for it a bit more but it is certainly worth it in my opinion.
I would recommend heading closer to the Brooklyn side of the bridge so you can get the best angle of the Brooklyn Bridge with the sunset and downtown NYC skyline behind it.
→ Check out some other viewpoints around the area in the guide to the top views in New York City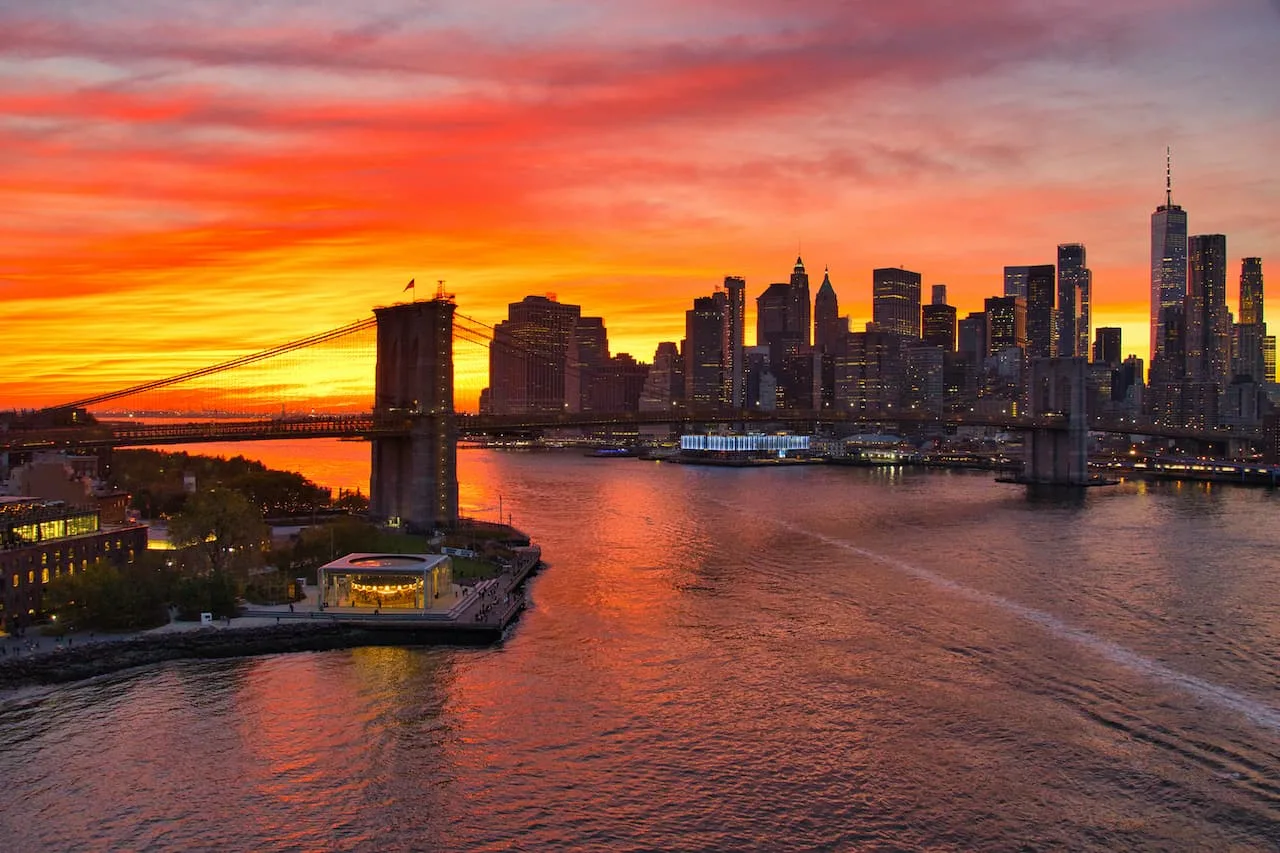 Helpful Sunset Tip: Do not just show up at the exact sunset time and leave right after. The best sunset colors can happen before and after sunset itself. I would recommend waiting up to 30 minutes after sunset to fully appreciate the sky's changing colors.
Brooklyn Bridge
The final place that I would recommend visiting for a Brooklyn Bridge sunset would be the Brooklyn Bridge itself.
This would be a very different experience and viewpoint all things considered. While the first two locations were more so about the view of the Brooklyn Bridge from afar, being on the bridge itself is another type of endeavor to take part of.
While on the bridge you can get different types of photos of the bridge itself with its massive pylons and suspension cables up above. The views of NYC will also be some of the best you can ask for as you walk down the wooden plank walkway.
One thing to take into consideration here is the sheer amount of people who walk across the bridge as an activity in its own right. Since the Brooklyn Bridge is one of New York's most popular attractions, it can get very busy.
From an experience standpoint some may even call it unenjoyable during those peak weekend hours, when hundreds will congregate along the walkway.
So, while you will get some great views, it may also come with the crowds too. My recommendation here is to actually visit the Brooklyn Bridge during sunrise. Although the sun rises in the opposite direction, the colors of the sky can still change color depending on weather conditions (see picture below).
Not only do you still get some nice colors going, but this also solves the worry of being surrounded by the crowds. Very few tourists are waking up early for sunrise, so you may very well have the entire place to yourself.
» Learn more about the bridge in general by reading this Brooklyn Bridge helpful guide up on the site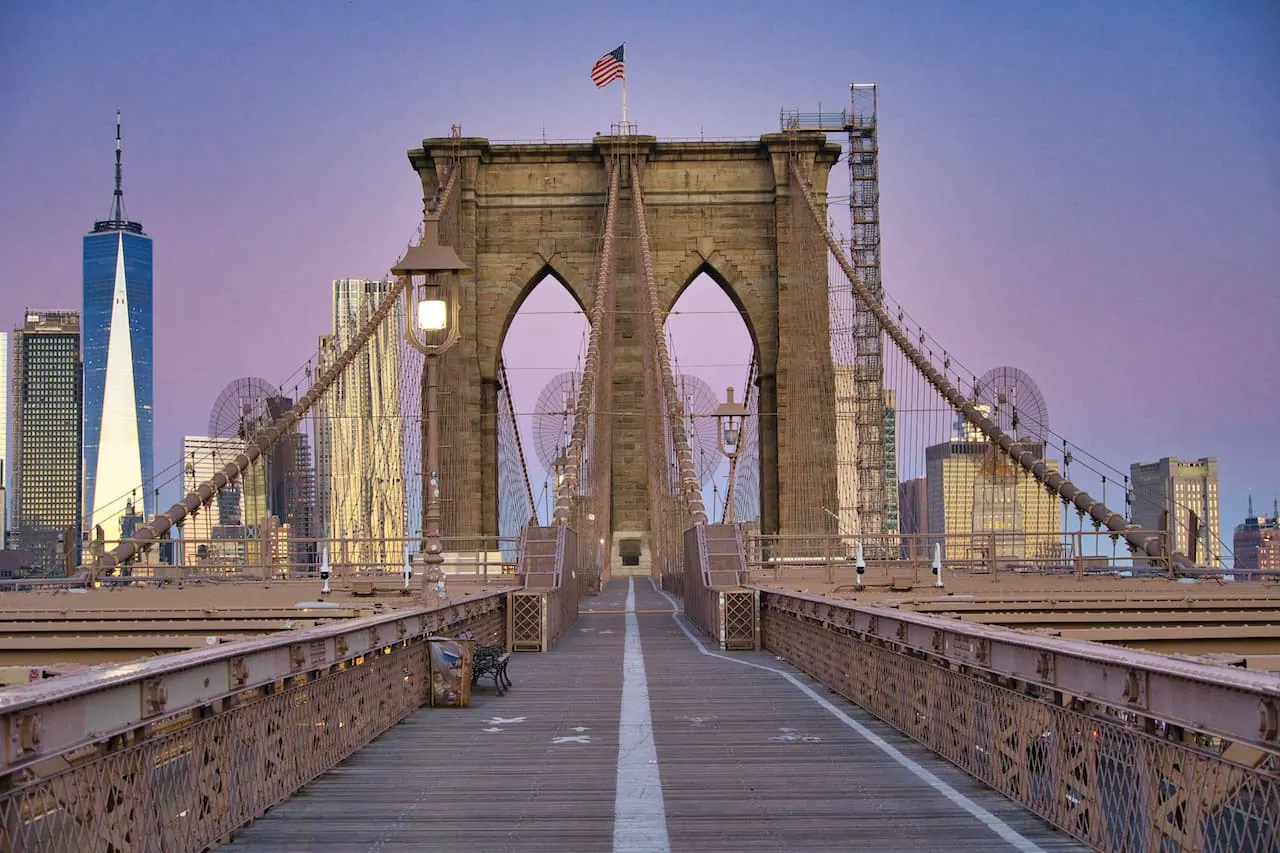 4) Brooklyn Bridge Sunrise or Sunset
Now, comes the question of a what is better – a Brooklyn Bridge sunset or sunrise. And my answer would be, well it depends.
If you are trying to take photos of the Brooklyn Bridge from afar (from Brooklyn Bridge Park or the Manhattan Bridge as examples), then I would recommend heading there for sunset.
You will get some of the best pictures of the Brooklyn Bridge during sunset with the sun going down behind the bridge and lower Manhattan. You will also not need to deal with the crowds in this situation.
Now, if you are trying to actually be on the Brooklyn Bridge and walk across it, then I would recommend going for sunrise.
The main reason here is simply to enjoy a crowd free walkway. You still may get some colorful skies and the bridge will be at its emptiest.
Either way though you really cannot go wrong depending on what type of experience you are trying to have.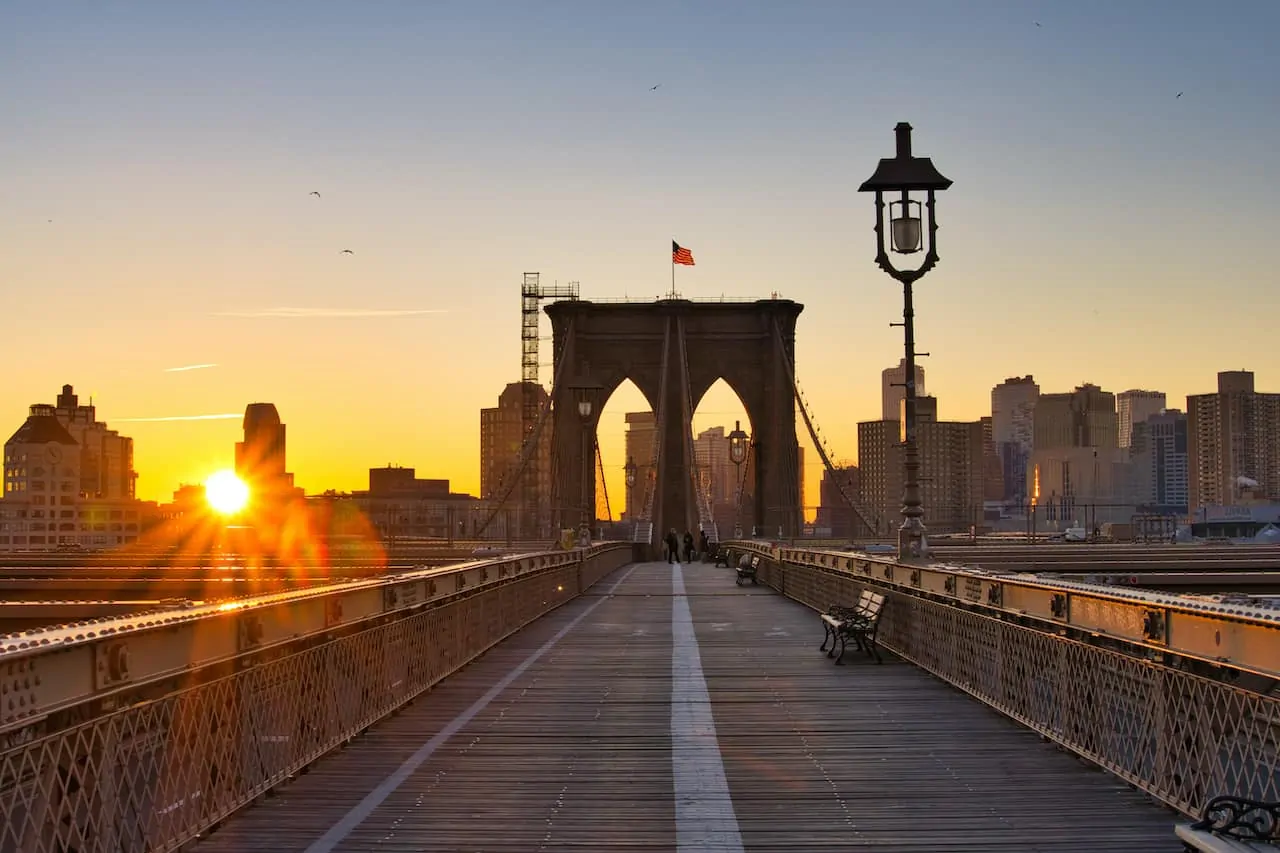 Learn More: Check out the other top NYC sunset spots during your time in the city
5) Where to Stay in NYC
There are so many different neighborhoods to choose from when visiting Manhattan. Below are some articles to help you make the best choice for your trip.
Looking for the top hotels & neighborhoods in NYC? Check out some helpful accommodation resources when it comes to picking the best spot for you!

Neighborhood Overview: Best Places to Stay in NYC
Best Skyline Views: NYC Hotels with a View
Times Square: Top Times Square Hotels with a View
Theater District: Hotels in Broadway Theater District
Central Park: Best Hotels with Central Park Views
Tribeca: Best Tribeca Hotels
SoHo: Where to Stay in SoHo
Greenwich Village: Top Greenwich Village Hotels
Brooklyn Bridge: Hotels with Brooklyn Bridge Views
Best Panoramas: Hotels in NYC with Floor to Ceiling Windows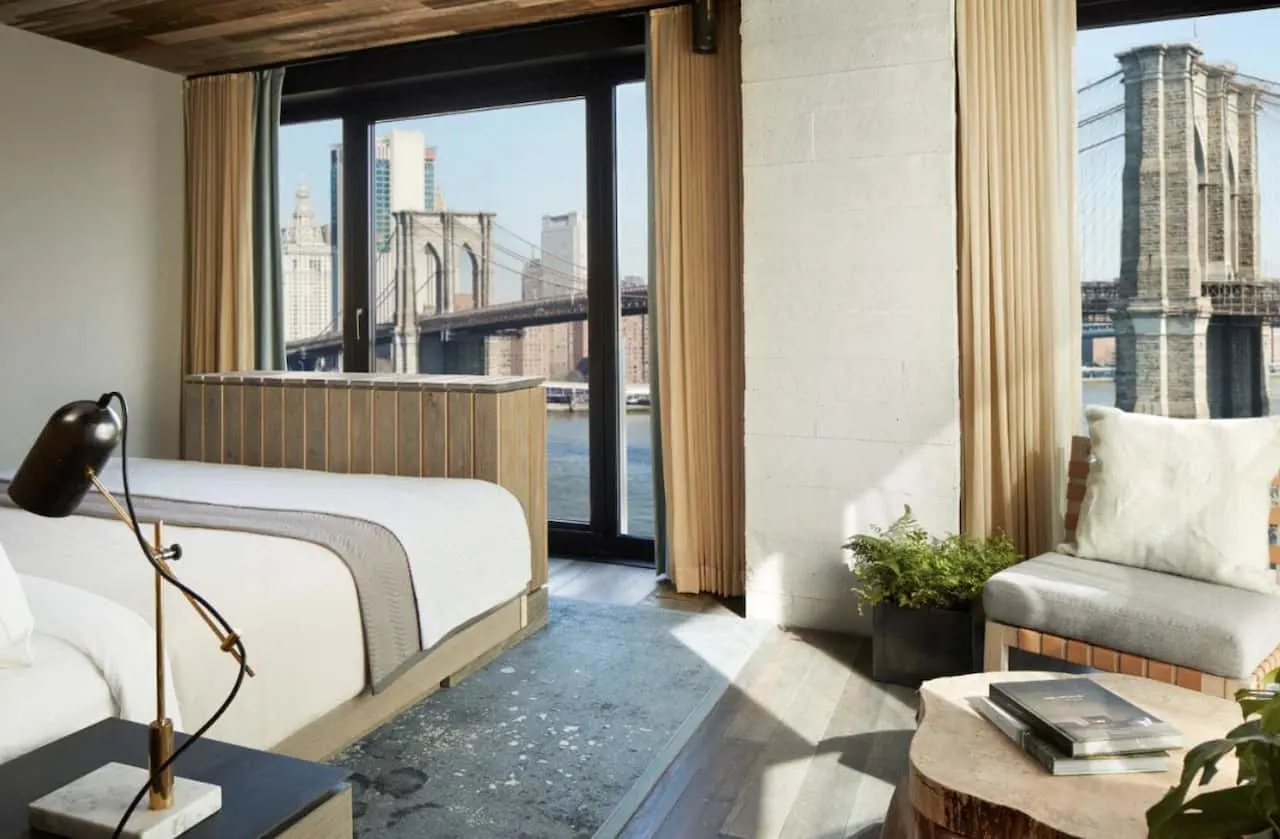 6) Brooklyn Bridge Sunset Photos
While I included some photos above, I did want to just insert several more Brooklyn Bridge sunset photos for you to enjoy.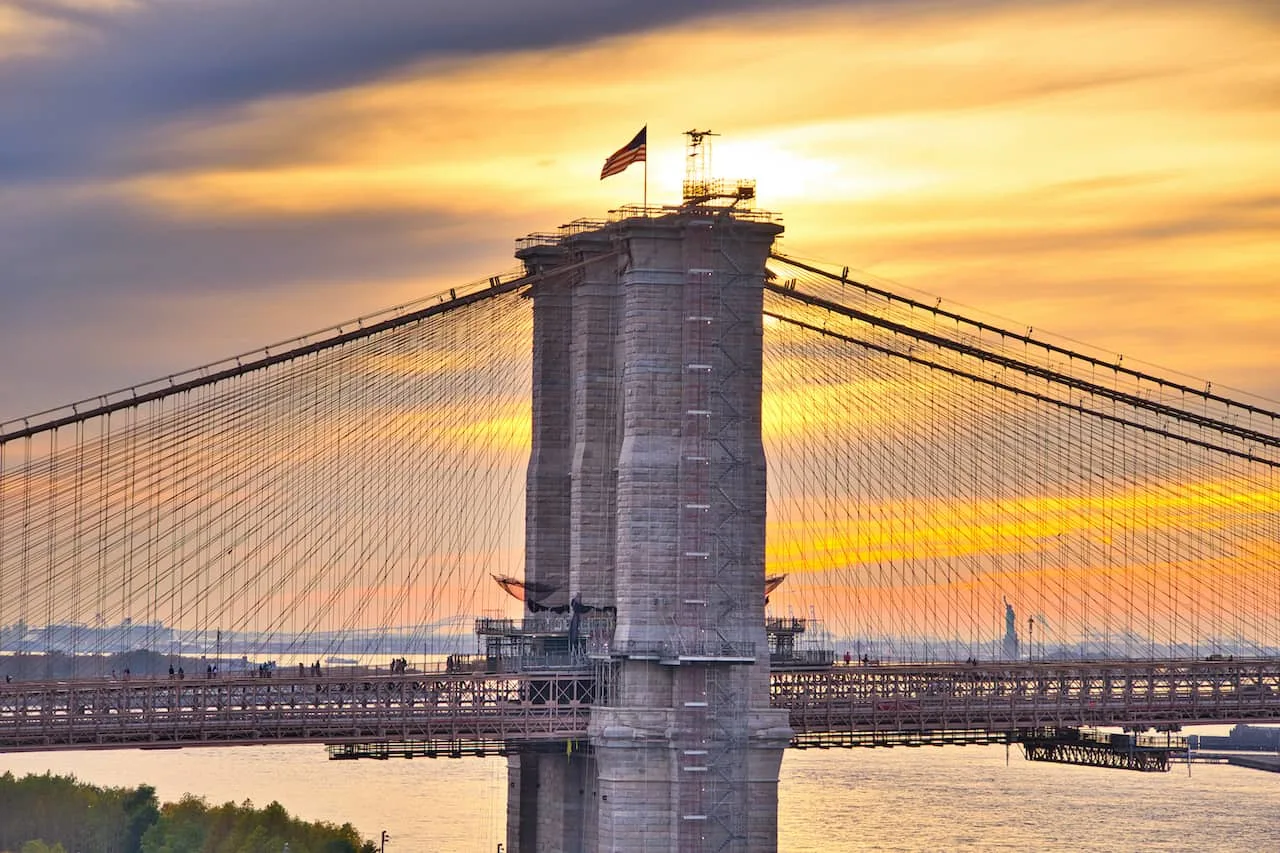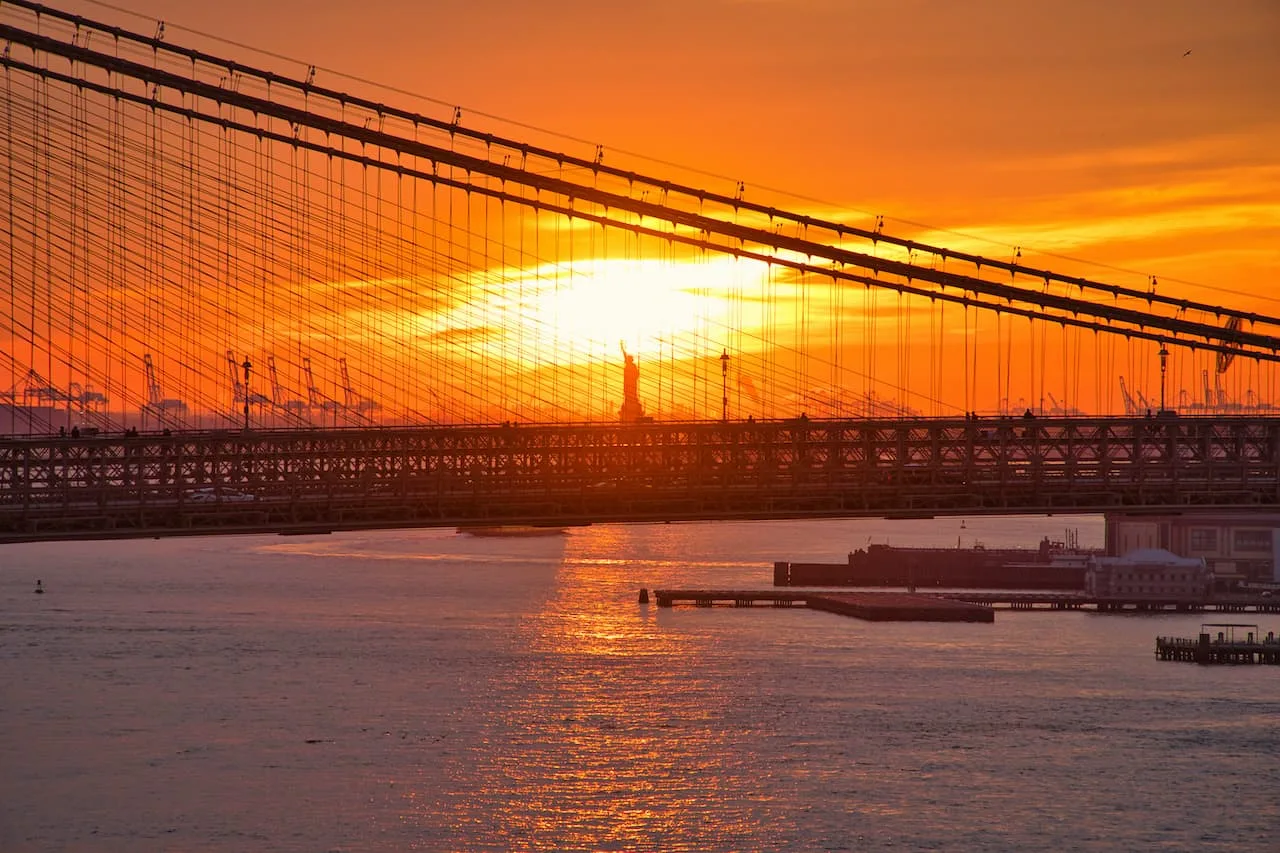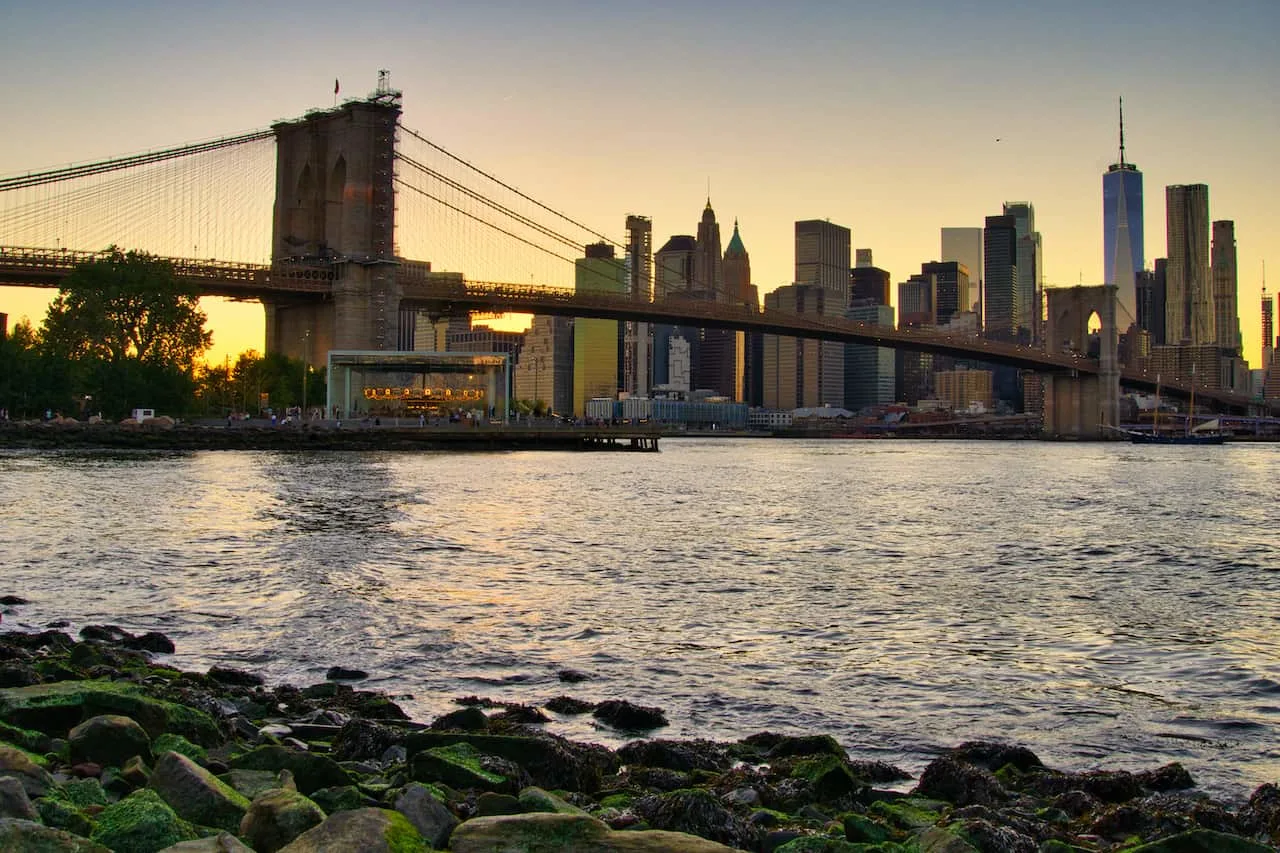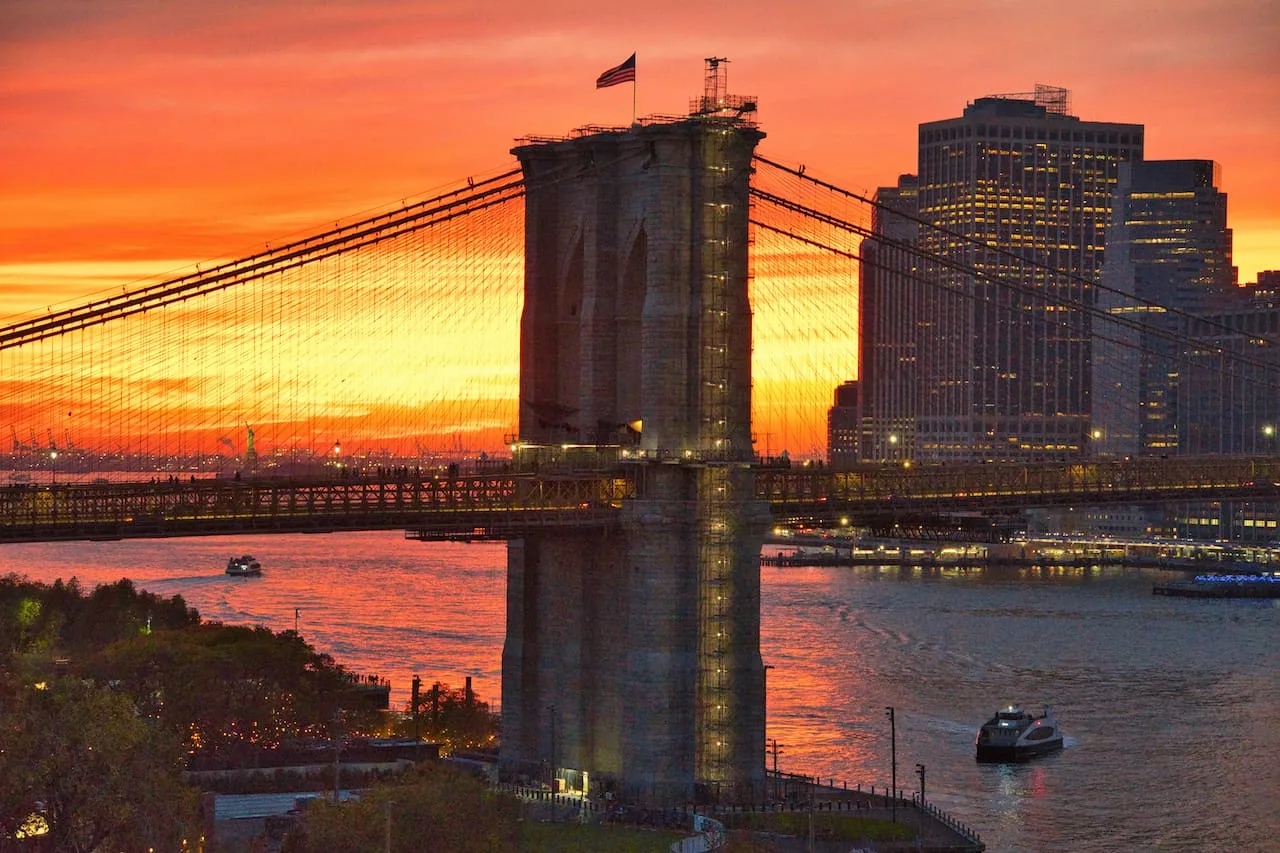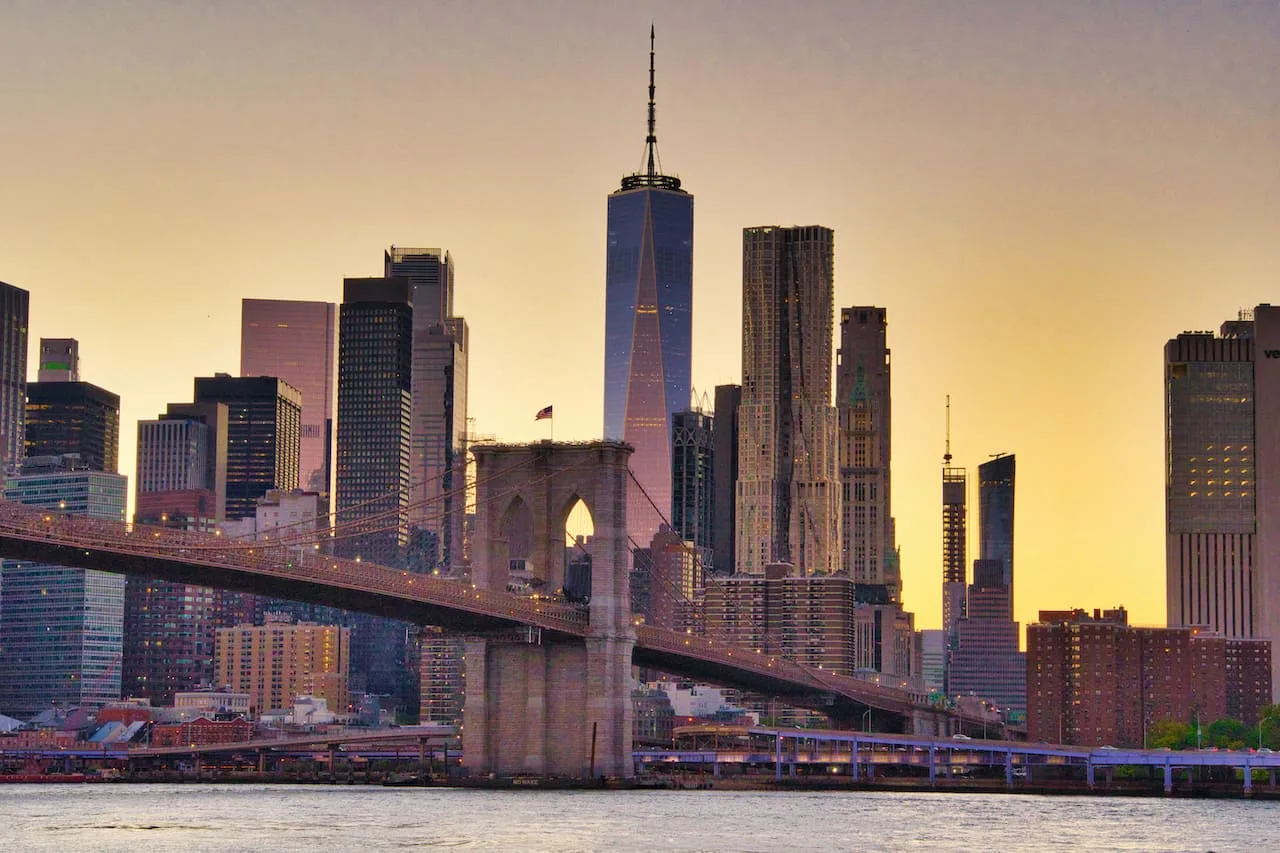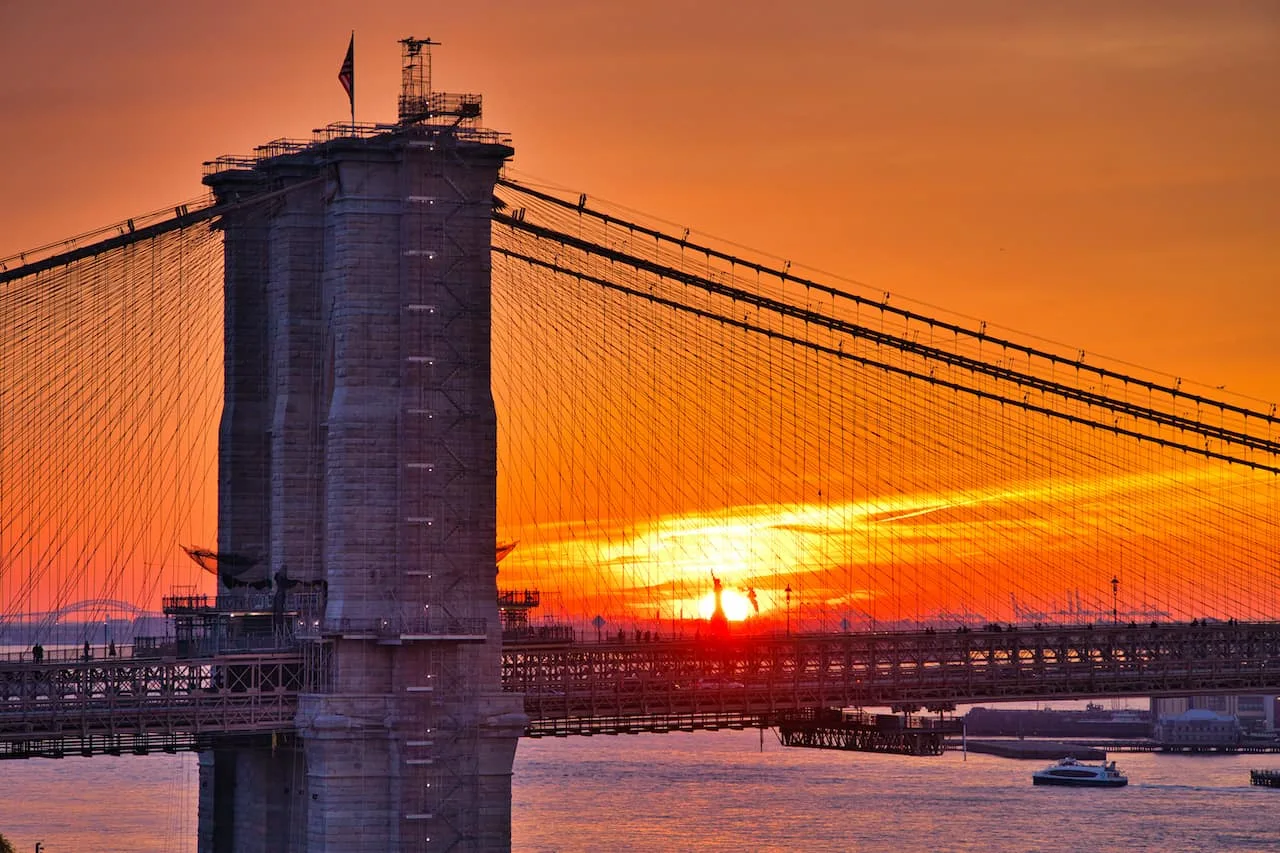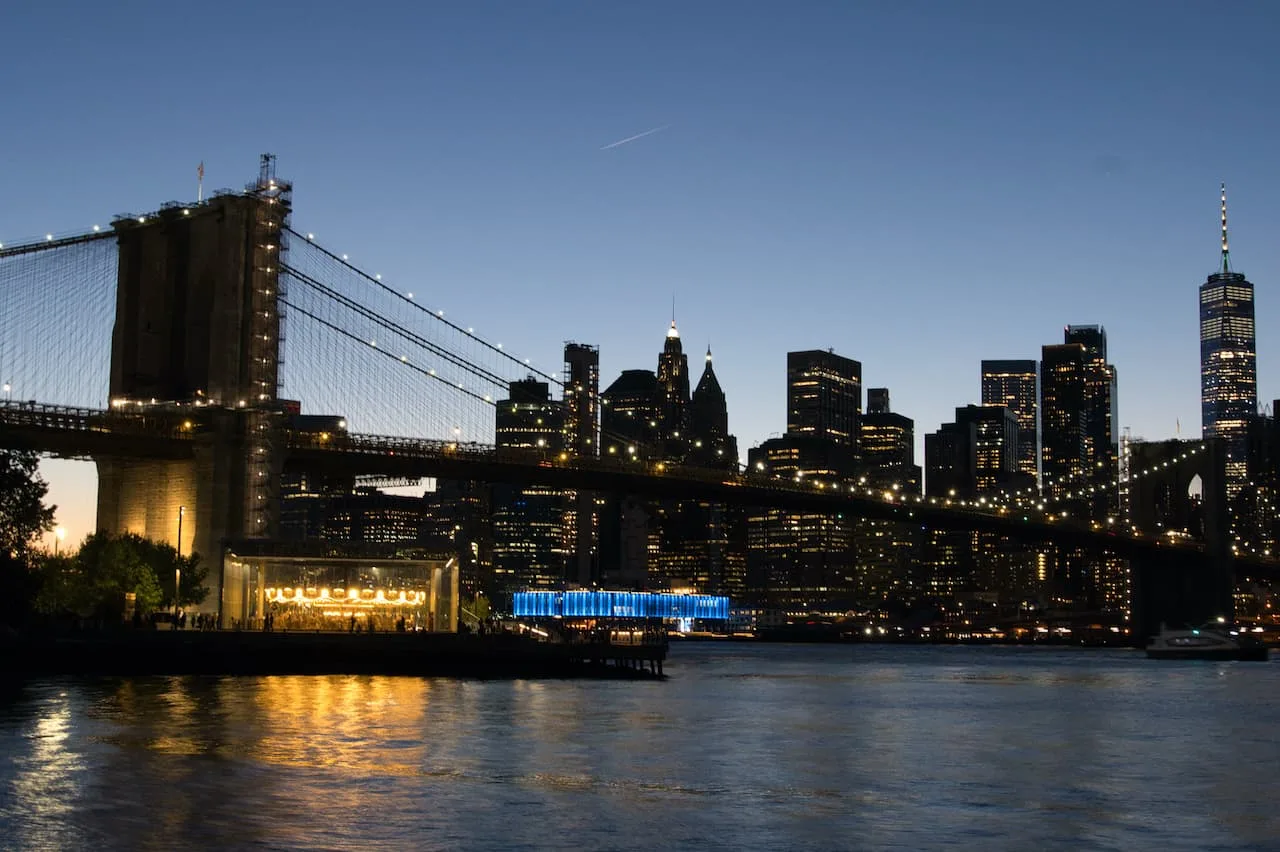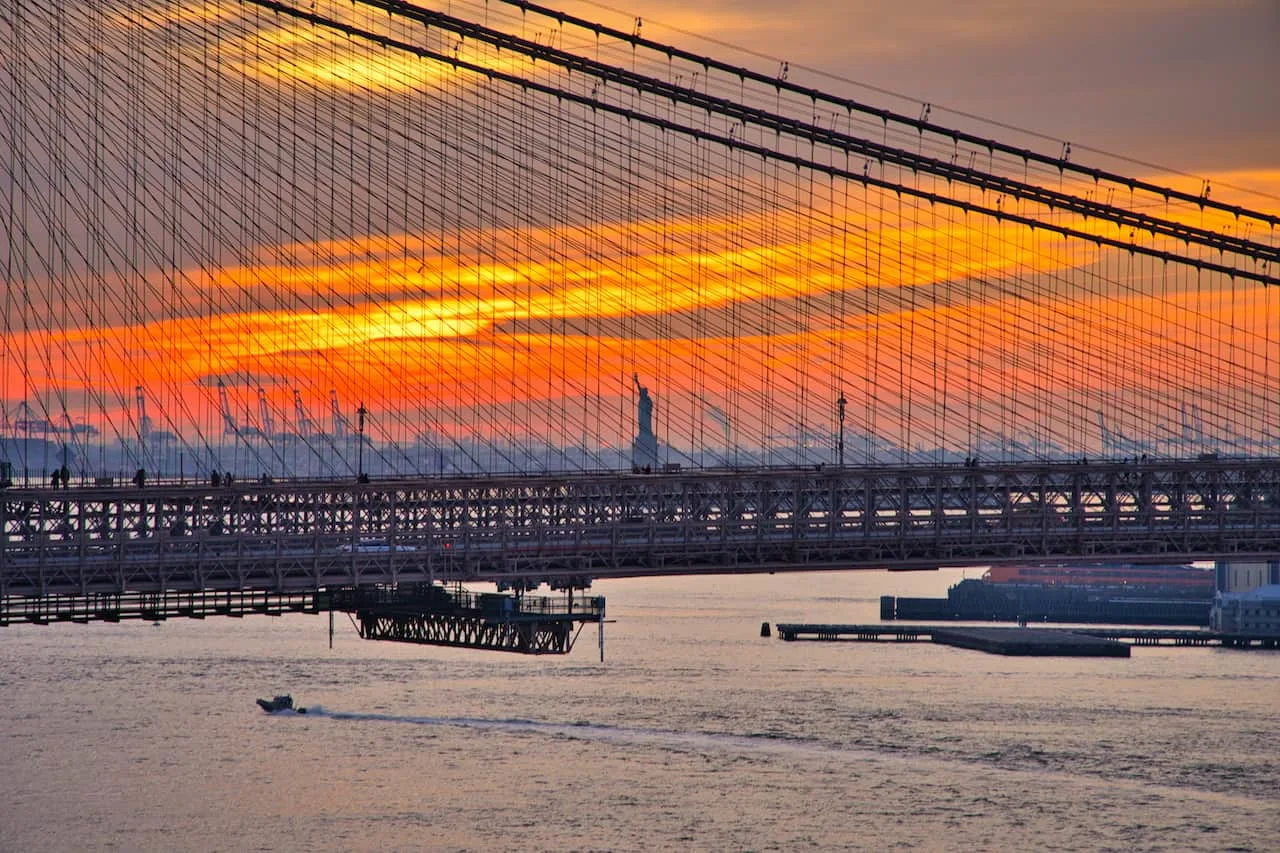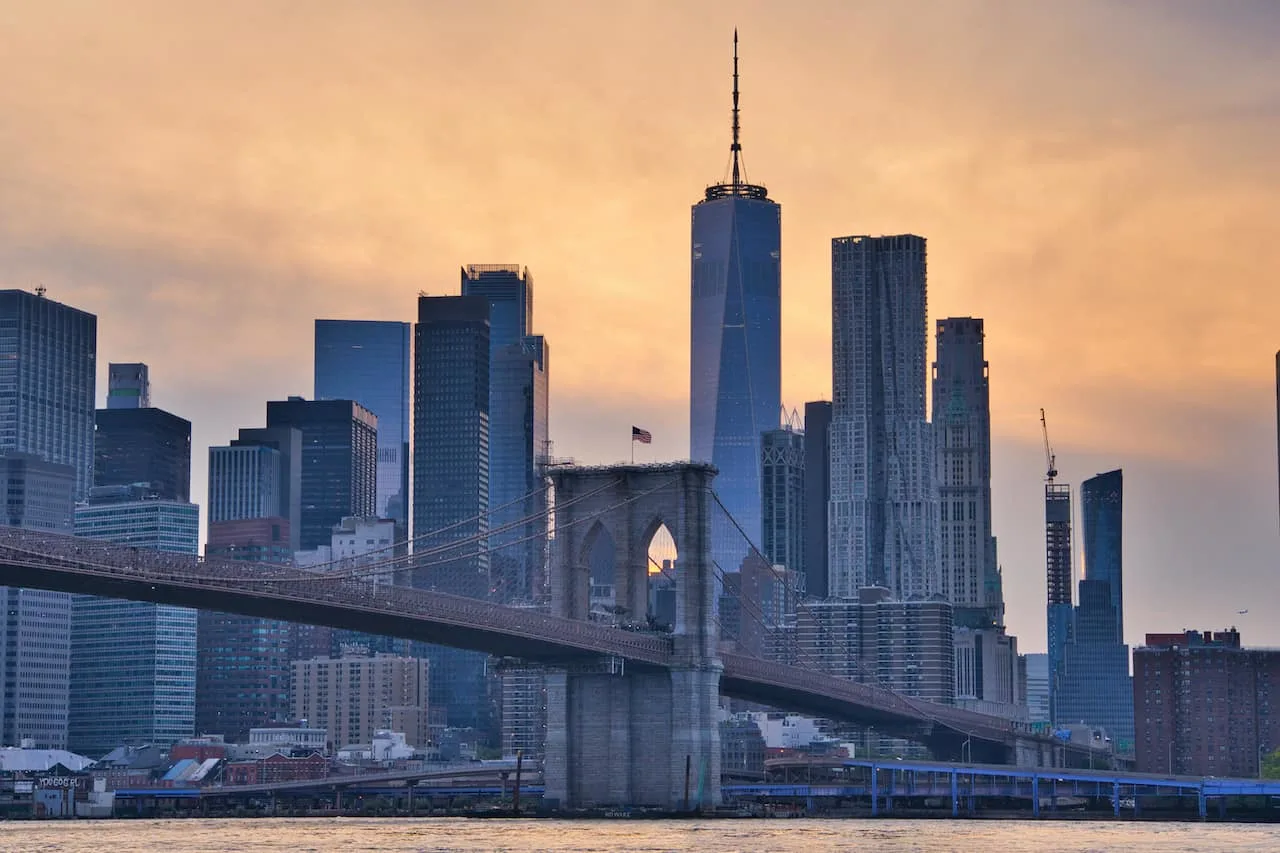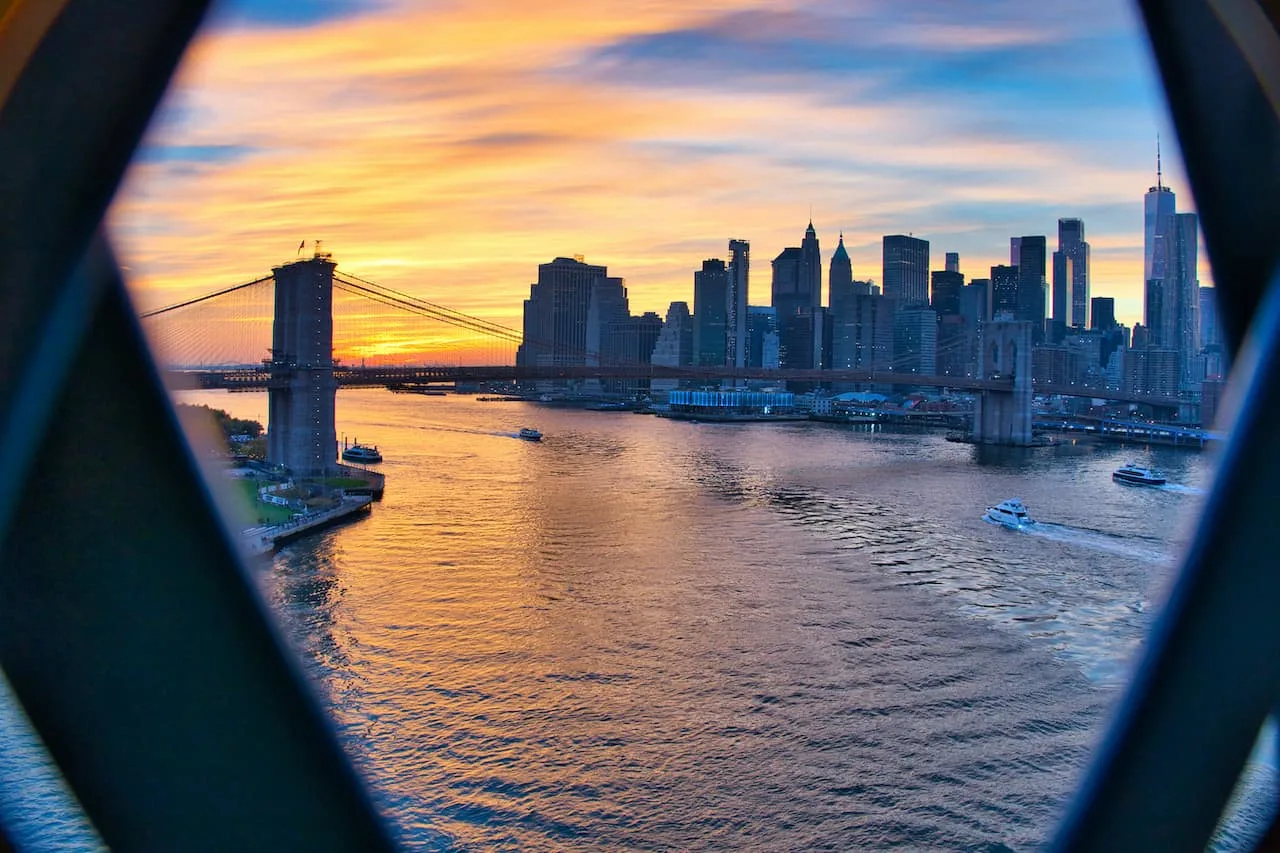 That about does it for a guide to a Brooklyn Bridge sunset. If you have any questions or comments, feel free to add them in below.
Also be sure to check out the other New York guides up on the site like some helpful Brooklyn Bridge facts, and some others such as:
Have fun out there and safe travels!