While beaches aren't the first things that come to mind when visiting New York City, Pebble Beach at Brooklyn Bridge Park will be well worth the visit.
Now this is not a normal beach that you may think of. You won't find beach umbrellas, soft sand, or swimmable water. But what you will find at Pebble Beach, are some of the best views of NYC that you can ask for.
Whether it is downtown Manhattan, the Brooklyn Bridge, or the Manhattan Bridge, you will have a view of them all from Pebble Beach. It is the perfect spot to take a seat and enjoy the view from afar.
This guide will give you some insight into how to visit Pebble Beach on your own and what to expect along the way.
* Affiliate Disclosure: This post may contain affiliate links, which means I may receive a commission if you make a purchase through the links provided, at no additional cost to you. Thanks for supporting the work I put into TripTins!
1) Where is Pebble Beach
If you would like to first learn a bit more about Brooklyn Bridge Park, feel free to follow the link and dive into a guide that goes into detail about it.
There are 6 Piers in the overall park, and north of the piers you can find three additional parks on the water. Empire Fulton Ferry is the park next to Jane's Carousel, and John Street Park is the northernmost portion of Brooklyn Bridge Park just on the other side of the Manhattan Bridge.
Situated between these two parks along the river you will find Main Street Park, where Pebble beach is found (also named Bridge Park on maps).
Main Street Park is located just south of the Manhattan Bridge (the bridge actually goes over a portion of the park).
At the park you can find the Brooklyn Bridge Park Education Center, the Main St Playground, a dog run, and an open field of grass to enjoy.
→ Visit Pebble Beach as part of a longer 4 days in NYC itinerary that takes you throughout the city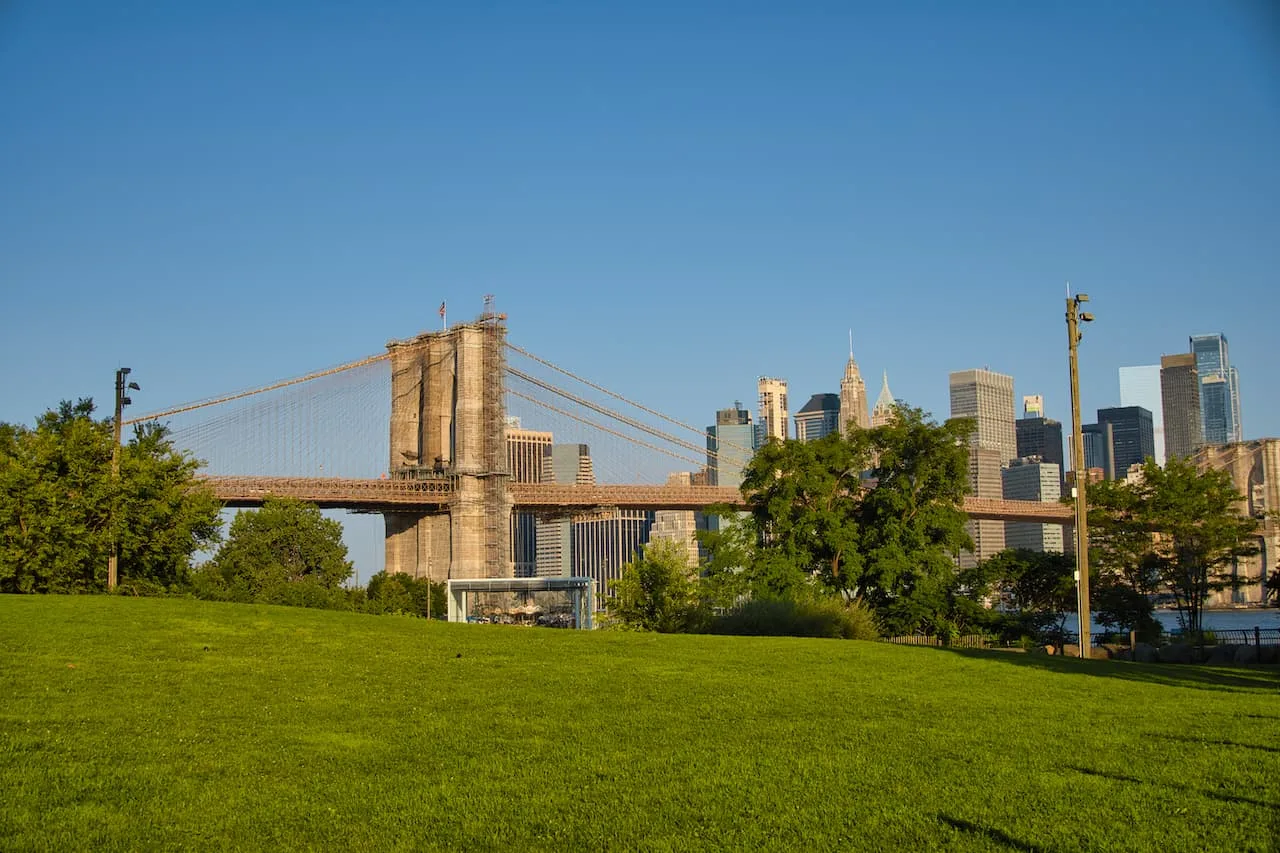 On the south side of the park you can find the famous Pebble Beach right along the waterfront area.
You will have the beach itself with large rocks surrounding it on either side, and a multi tiered sitting section where you can sit back and enjoy the view.
Below is a map of the Pebble Beach location for your reference. You can see that Main Street, Washington Street, and Adams Street all connect to the Main Street Park entrances perpendicular to Plymouth Street.
You of course can also enter the park if just walking along the Brooklyn Bridge Park promenade from either direction (John Street Park in the north or Empire Fulton Ferry in the south).
2) How Get There
Getting yourself to Brooklyn Bridge Park and Pebble Beach in particular should not be an issue no matter where you are staying in NYC.
There are several ways to get yourself there, but that will also depend on where you are coming from in the first place.
Subway
The main way to get around NYC will be by its vast subway system. In the vicinity of Brooklyn Bridge Park there are at least 5 different subway stations. York, High and Clark Street stations will be your closest option to Pebble Beach in particular.
York Street | F Train
High Street | A & C Train
Clark Street | 2 & 3 Train
Court Street | N, R & W Train
Borough Hall | 4 & 5 ; 2 & 3 Train
Ferry
There are two ferry terminals at Brooklyn Bridge Park -> the DUMBO/Fulton Ferry Terminal and the Pier 6 Ferry Terminal.
These are great options for you if coming from Manhattan or even other parts of Brooklyn and Queens. There are two routes that include these stops:
East River Ferry: Wall Street Pier 11, DUMBO/Fulton Ferry, North Williamsburg, East 34th Street, Hunters Point South. There are also stops at South Williamsburg and Greenpoint but they may be temporarily closed.
South Brooklyn Ferry: Bay Ridge, Sunset Park, Red Hook, Atlantic Avenue Brooklyn Bridge Park Pier 6, Wall Street Pier 11, DUMBO/Fulton Ferry, Corlears Hook
Be sure to take a look at the latest NYC ferry schedules for up to date information
Walk
If coming from nearby parts of Brooklyn, walking over to the park can be an option for you depending on how much walking you are trying to do.
If coming from Manhattan and are trying to walk over, you have two main options here: a walk over the Manhattan Bridge or the Brooklyn Bridge.
Manhattan Bridge: the Manhattan Bridge Walk entrance point in Manhattan is at the corner of Bowery and Canal Street. Once there you can get onto the pedestrian pathway and make your way along the bridge as you take in some beautiful views of the river, Brooklyn Bridge and skyline.
Brooklyn Bridge: the Brooklyn Bridge Walk entrance point in Manhattan is located on the east side of City Hall Park on Park Row. Once there, the pedestrian path is impossible to miss as you experience one of the most iconic bridges in the world. Visiting Pebble Beach is one of the best things to do near the Brooklyn Bridge.
Citi Bike
Another option to get there without public transportation is to utilize the NYC Citi Bike system. You will find Citi Bike docking stations all around the city. One ride is just $4.49 and a day pass is $19.
You will find a docking station right near the Pier 6 entrance and several options if trying to drop off/pick up in DUMBO (the northern end of the park)
Uber/Taxi
Your last main option here is to simply grab a yellow taxi or Uber ride to get you to Pebble Beach. The cost and time will all depend on where you are coming from, but this will be the most convenient option (although not always the fastest!).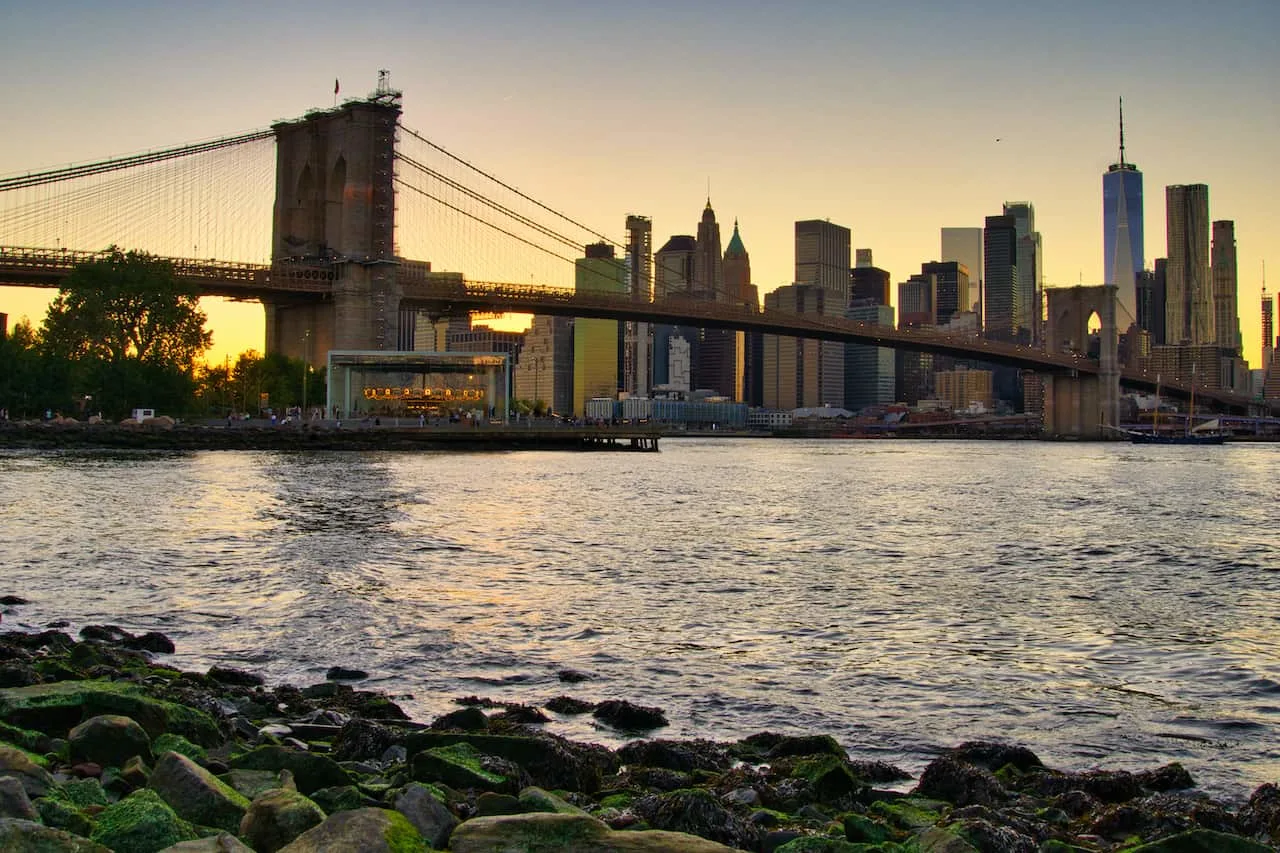 3) Where to Stay in NYC
There are so many different neighborhoods to choose from when visiting Manhattan. Below are some articles to help you make the best choice for your trip.
Looking for the top hotels & neighborhoods in NYC? Check out some helpful accommodation resources when it comes to picking the best spot for you!

Neighborhood Overview: Best Places to Stay in NYC
Best Skyline Views: NYC Hotels with a View
Times Square: Top Times Square Hotels with a View
Theater District: Hotels in Broadway Theater District
Central Park: Best Hotels with Central Park Views
Tribeca: Best Tribeca Hotels
SoHo: Where to Stay in SoHo
Greenwich Village: Top Greenwich Village Hotels
Brooklyn Bridge: Hotels with Brooklyn Bridge Views
Best Panoramas: Hotels in NYC with Floor to Ceiling Windows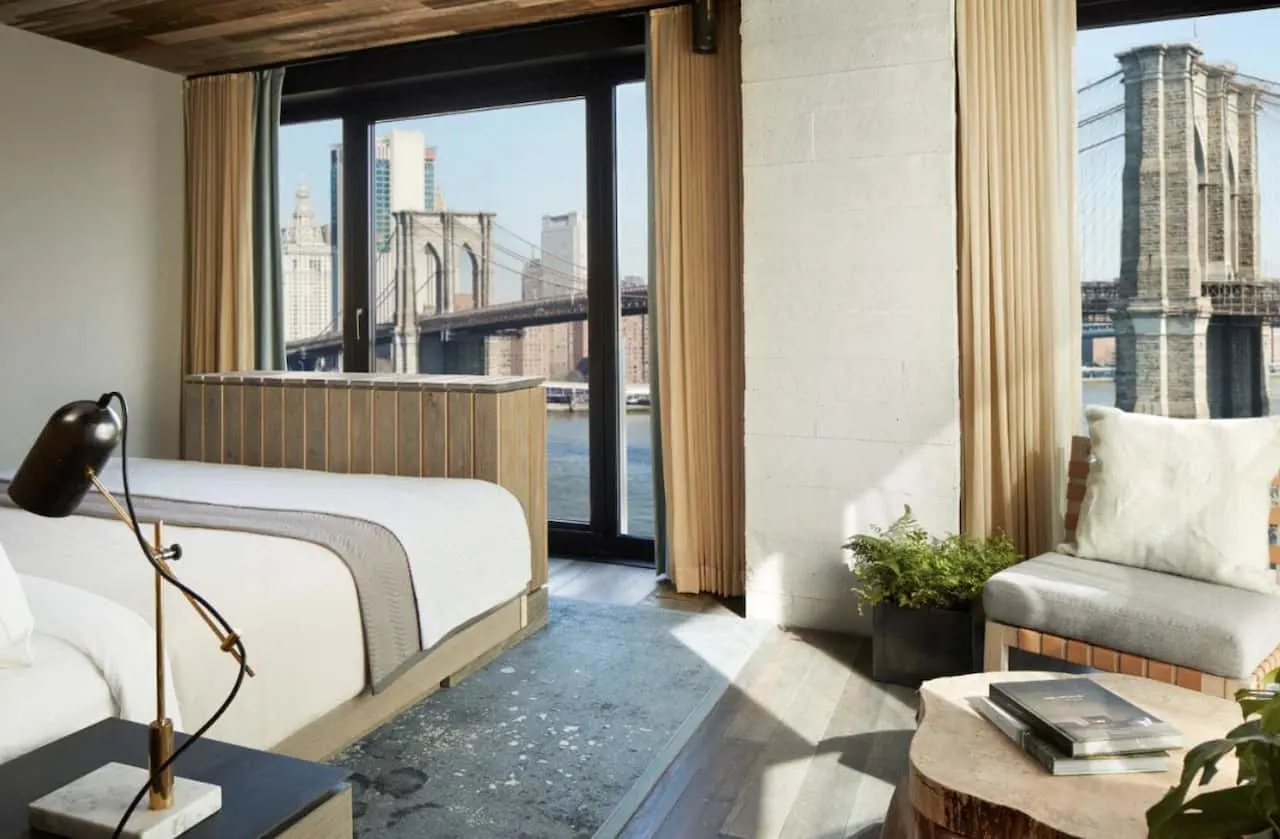 4) Visiting Pebble Beach
While most beaches in the world are visited for their sand and/or water, Pebble Beach is visited solely for its views.
Unfortunately, the East River is not the cleanest of rivers out there, and swimming in it is not something you will want to do (although people certainly have done it!).
Instead of swimming though, you do have one of my favorite views in all of New York City. To your right hand side is the Manhattan Bridge and to your left hand side is Brooklyn Bridge with Jane's Carousel in the foreground.
Then sprawled out behind and on either side of the Brooklyn Bridge you will enjoy the downtown Manhattan skyline with the Freedom Tower rising above the rest.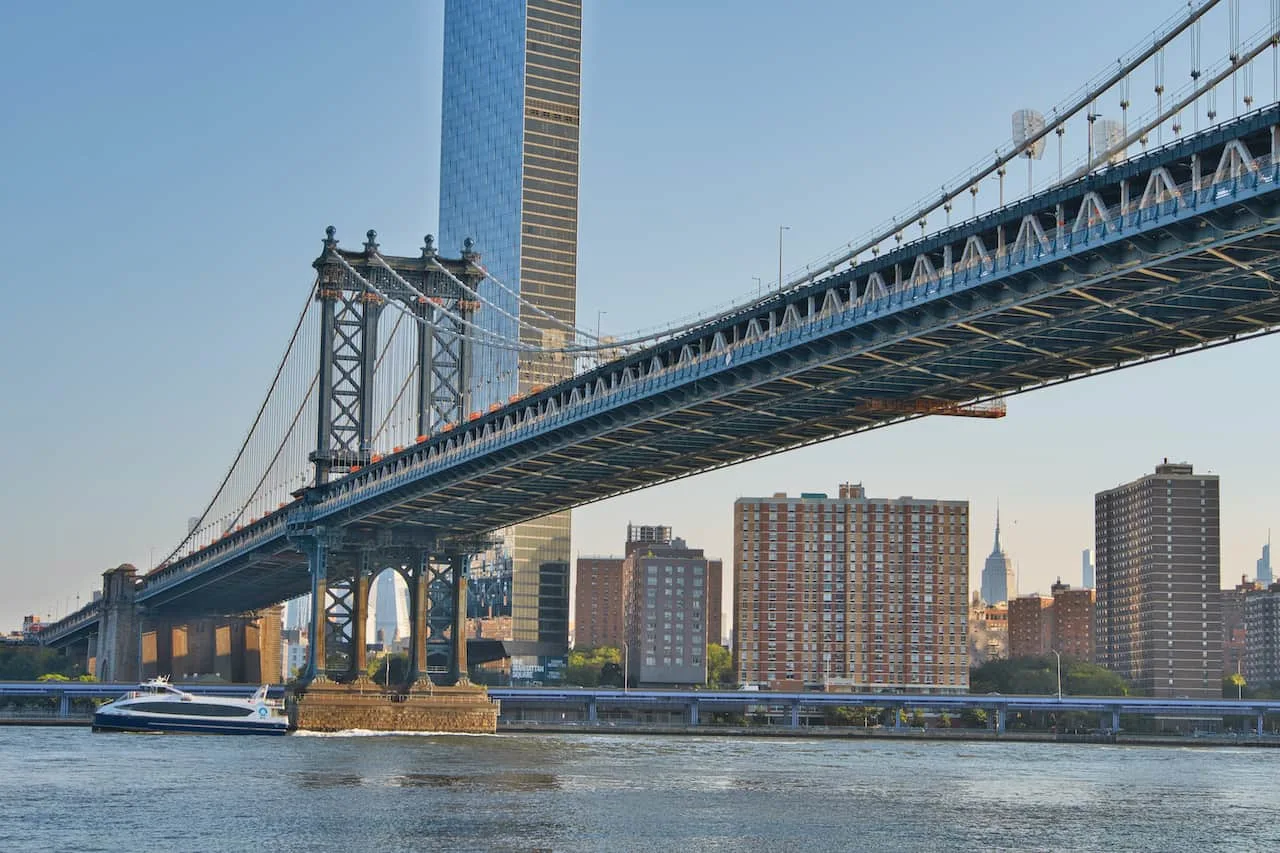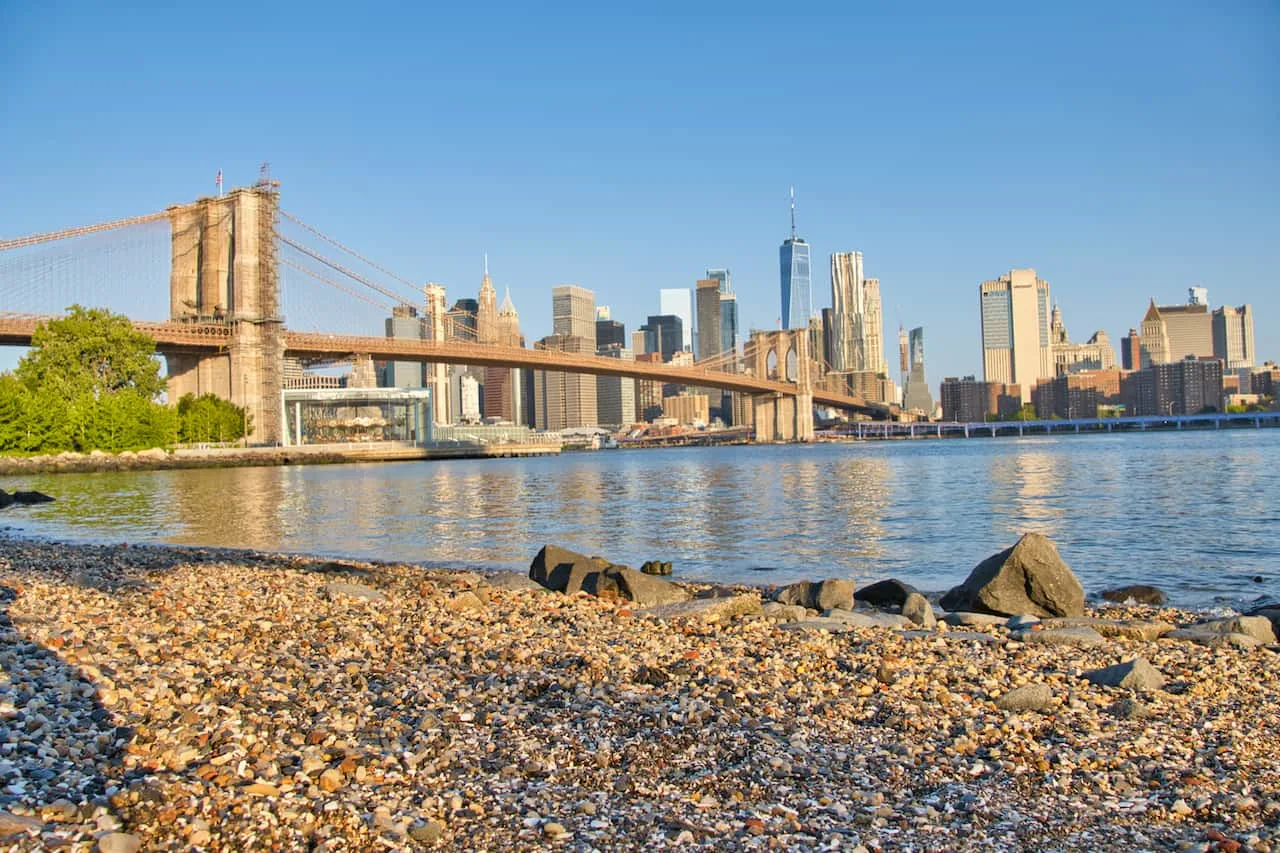 When it comes to seating options here you have a few to choose from. The first and most popular option would be the 4-5 level staircase from the pathway level down to the beach. This staircase is meant to be a seating section and is about half of the beach in length.
Tip: be careful sitting on the lowest level as the waves from the water can splash you down there.
Your second option here is to head to the rocks on the southern end of the beach. Here you will find some larger rocks that can be used as temporary seating. While not as comfortable, it is an option.
Lastly, you can choose to take a seat on the beach itself. It is a mixture of rocks and sand just a heads up here. My advice would be to bring along a small towel to keep yourself clean.
→ Check out some other viewpoints around the area in the guide to the top free views in New York City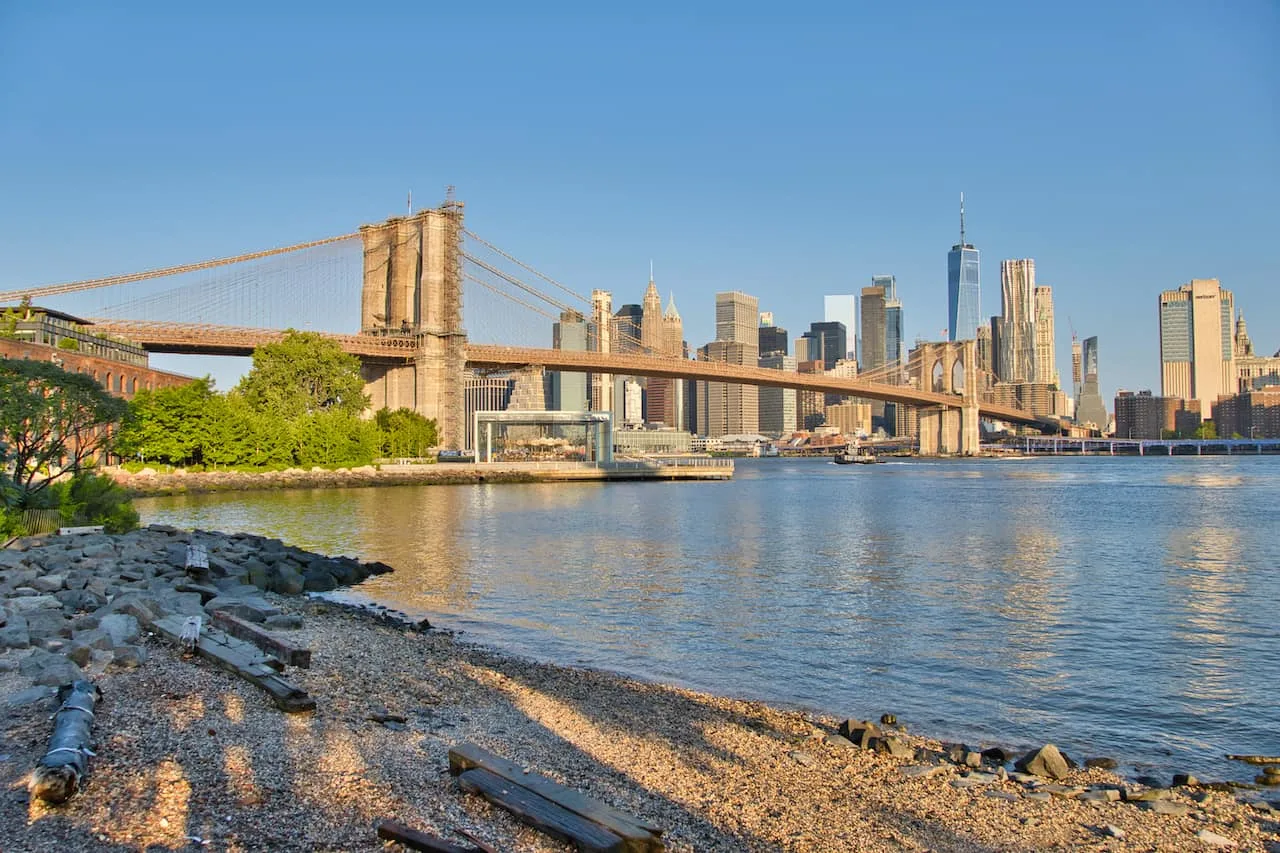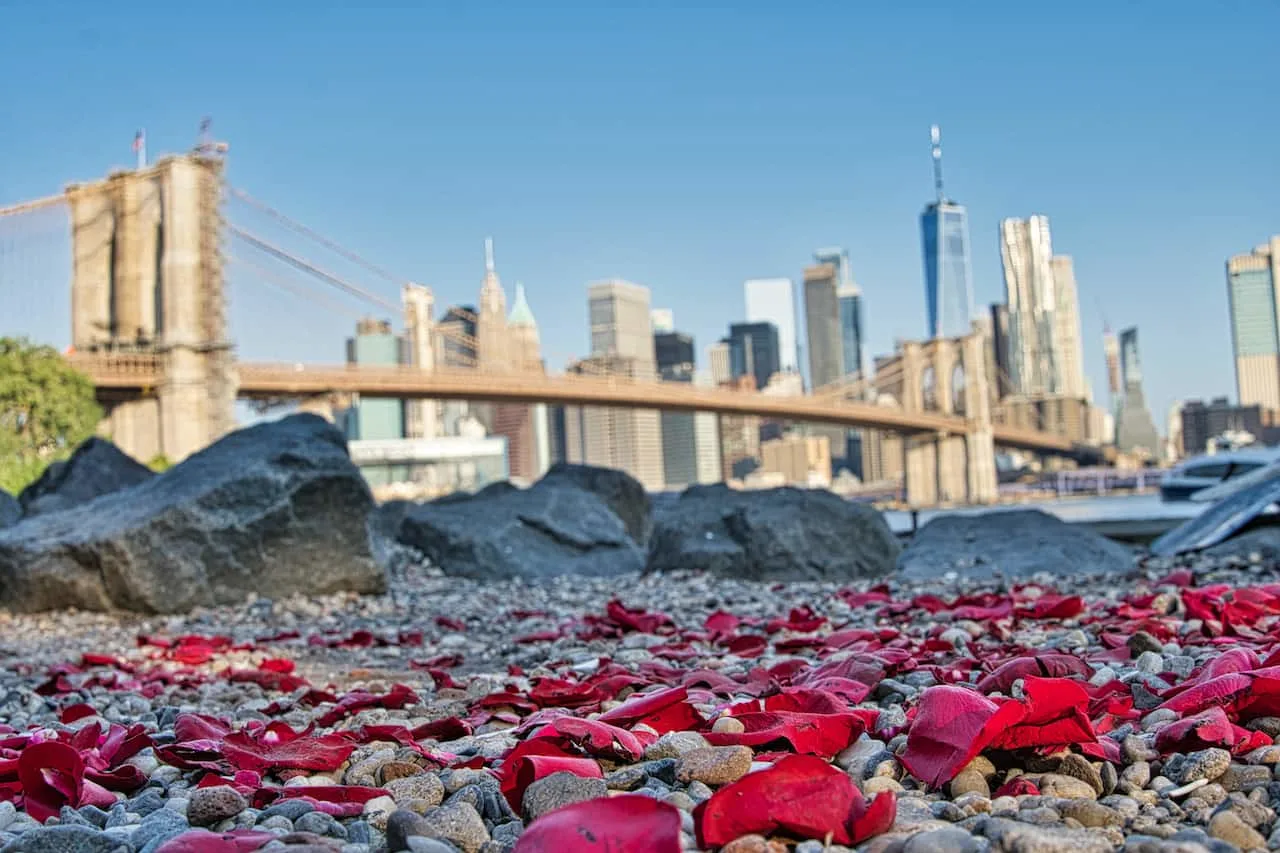 5) A Pebble Beach Sunset
While you can certainly visit Pebble Beach at any time of day, in my mind sunset is your best option. Not only do you get the views, but you are also facing the direction of the sunset.
So, if the odds are in your favor, don't be surprised if you get some magnificent colors lighting up the sky as the sun goes down.
If you do decide to visit for sunset, I would recommend getting there around 30 minutes before, and staying around 15-30 minutes after. This way you get the full experience and the colors in the sky are usual best after the sun sets.
Depending on time of year, the sun can set anywhere from 4:30PM until 8:30PM. Be sure to look it up beforehand so you know when to get there.
Tip: spend the afternoon wandering Brooklyn Bridge Park before ending your walk at Pebble Beach in time for sunset overlooking the Brooklyn Bridge. You can then walk across the Brooklyn Bridge at night if you are up for it.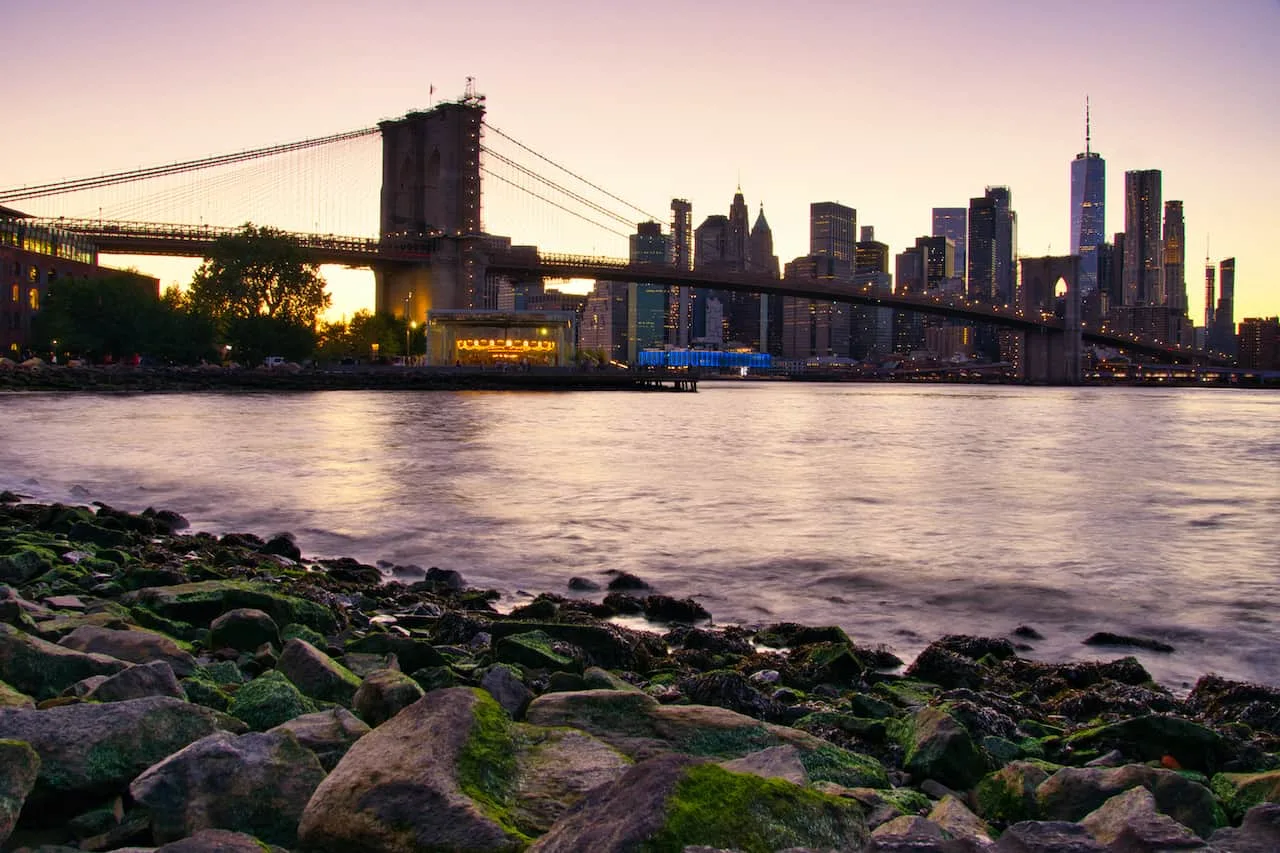 6) Can You Swim at Pebble Beach NY?
While you technically can swim at Pebble Beach, it is not something I would recommend on doing. Although they say the East River water is the cleanest it has been in years, that doesn't mean it is actually clean.
Some people dip their feet in the water and I have seen some kids play right at the water's edge, but in general I would not plan on bringing a bathing suit along here.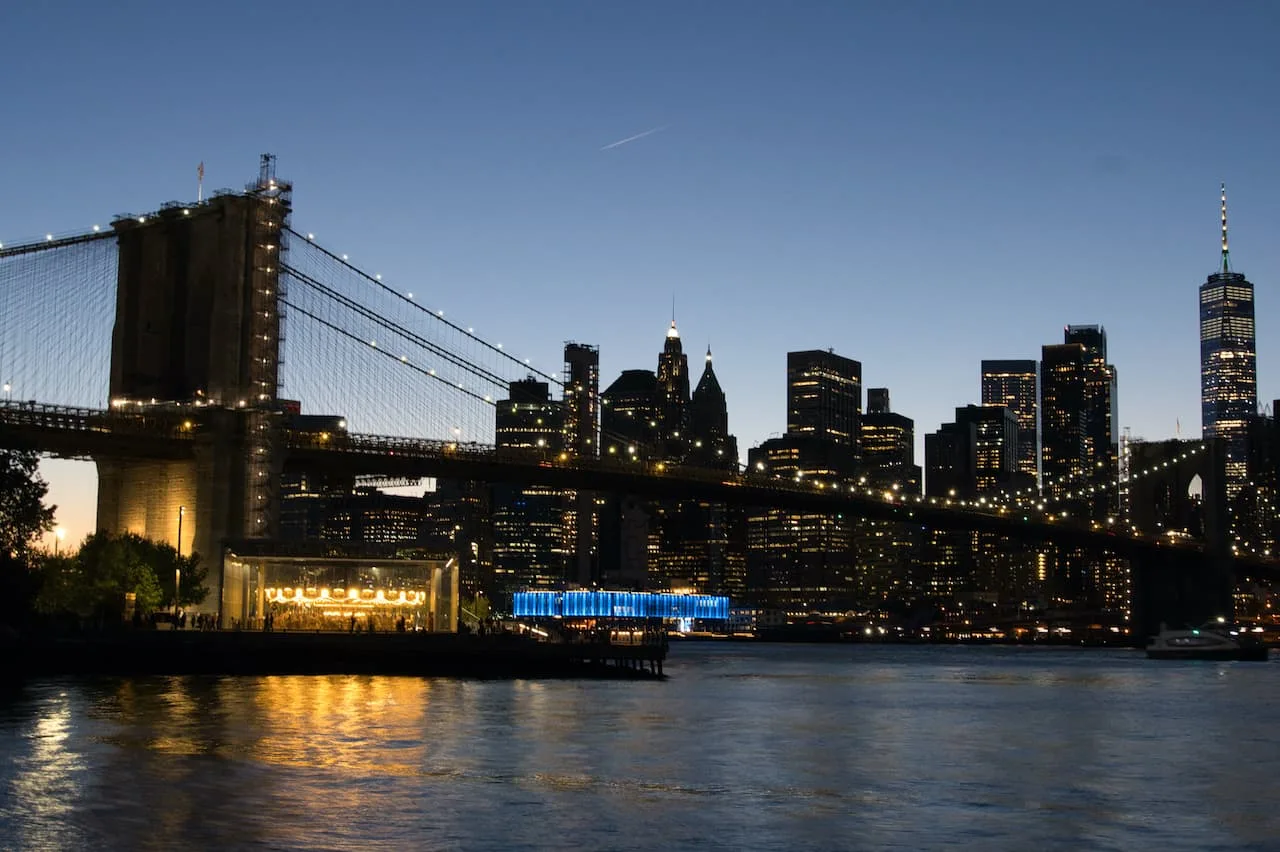 7) Restaurants Near Pebble Beach Brooklyn
Below are some of the top restaurant and food options to choose from within Brooklyn Bridge Park. Note that some of these are up to a 20+ minute walk away as the park is quite long.
Pier 6
Pilot -> this is one of the more unique restaurant spots along Brooklyn Bridge Park as it sits on a schooner sailing boat. The boat itself has a rich history but today it stands docked at Pier 6, where it has been turned into a seasonal oyster bar.
Fornino -> if you are looking for an authentic Italian pizzeria, then Fornino is your best bet. Located at the base of Pier 6 is this Naples inspired restaurant. The space has both a ground level terrace and a rooftop, where you can take in some great views of the surrounding park.
Kaigo Coffee Room -> located just next to Pier 6 on Brooklyn Park Drive (parallel to the walking path) is the Kaigo Coffee Room, a specialty coffee spot that also has a location in SoHo.
Pier 5
Ebb & Flow Bakery & Estuary -> if you are looking for a grab and go type of place then Ebb & Flow is an option for you. They serve everything from breakfast sandwiches and baked goods to burgers and paninis.
Oddfellows Ice Cream Co. -> nothing is better than a nice cold ice cream on a hot summer day. Oddfellows has a whole variety of unique flavors to choose from, and if you happen to fall in love with it, they also ship nationwide!
Pier 1
Lizzmonade -> a small stand on Pier 1, Lizzmonade offers custom lemonades, coffee, juices and other beverages to quench your thirst.
Ample Hills Creamery -> another ice cream option sits right near Pier 1 of the park. Ample Hills has taken over an old fireboat station, and serves its ice cream overlooking the iconic Brooklyn Bridge nearby.
The River Café -> the River Café is one of the fancier options to choose from during a visit to Brooklyn Bridge Park. This highly rated Michelin starred restaurant sits right on the water's edge with some of the best views of the Manhattan skyline that you can ask for. Be sure to make reservations ahead of time and don't forget that there is a strict dress code as well!
Luke's Lobster -> right below the Brooklyn Bridge you will also find a lobster shack, Luke's Lobster. Whether you are looking for lobster rolls, crab rolls, or shrimp rolls, Luke's has you covered.
Empire Stores -> the Empire Stores complex, located just besides the Jane's Carousel area, is a massive refurbished warehouse space full of restaurant, retail, office, and event space. The main tenants here include Cecconi's, Dumbo House, Feed, J Crew, Schott, Time Out Market, and West Elm.
» Some other nearby restaurant options from Pebble Beach include Seamore's Dumbo, Westville Dumbo, Atrium Dumbo, and Celestine.
8) Other Things To Do
While Pebble Beach is certainly a place that deserves a visit on its own, there is also plenty more to do around the area.
Below are some of my top options to choose from to fit into your overall itinerary. You can also check out some of these free things to do in New York City while you are at it.
Manhattan Bridge View Spot
One of the most popular photo spots in NYC is on Washington Street in DUMBO. Here you will get a view of the Manhattan Bridge and Empire State Building with the cobble stoned streets and Brooklyn buildings on either side of you.
Luckily, this view point is literally a one minute walk away from the Pebble Beach area.
» Learn more about it in the Manhattan Bridge Photo Spot guide up on the site
Brooklyn Bridge Park
You can't really visit Pebble Beach without visiting Brooklyn Bridge Park. While Pebble Beach is just a small section of it, you can also spend your time visiting the 6 piers, parks, pathways, and viewpoints along the way.
You can easily spend a day or more here and not get bored of the activities (and views) that the park has to offer.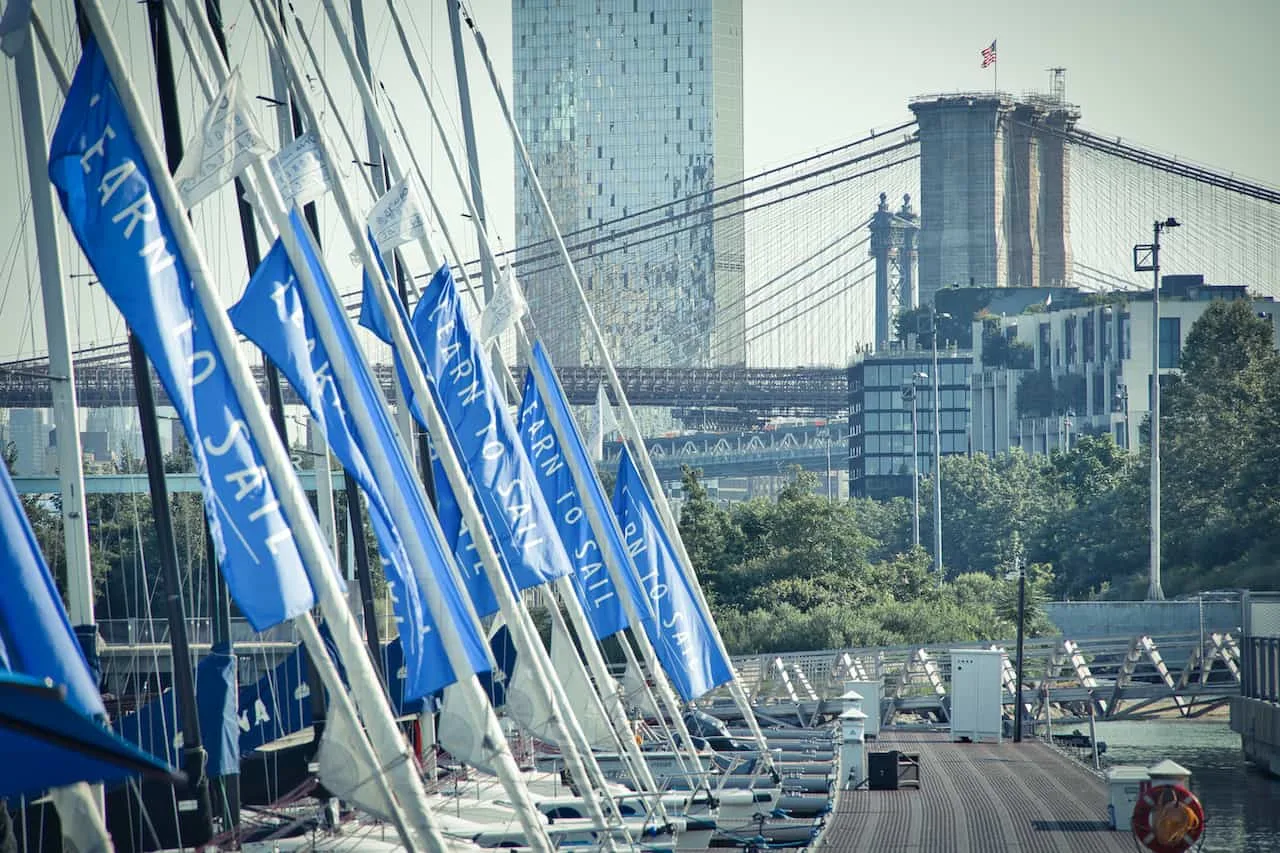 Brooklyn Bridge
The most famous of bridge walks in NYC has to be the Brooklyn Bridge. This walk can be started in either Manhattan or Brooklyn -> I recommend the later, so you have the Manhattan skyline out in front of you for the duration of the walk.
Throughout the bridge walk, you will get views of the skyline, the Statue of Liberty, and the iconic bridge itself.
Manhattan Bridge
The other nearby bridge to walk over would be the Manhattan Bridge. While the bridge itself is not as memorable as the Brooklyn Bridge, you do get some great views of downtown Manhattan as well as the Brooklyn Bridge itself.
» Feel free to check out the Manhattan Bridge Walk guide to learn more about this experience.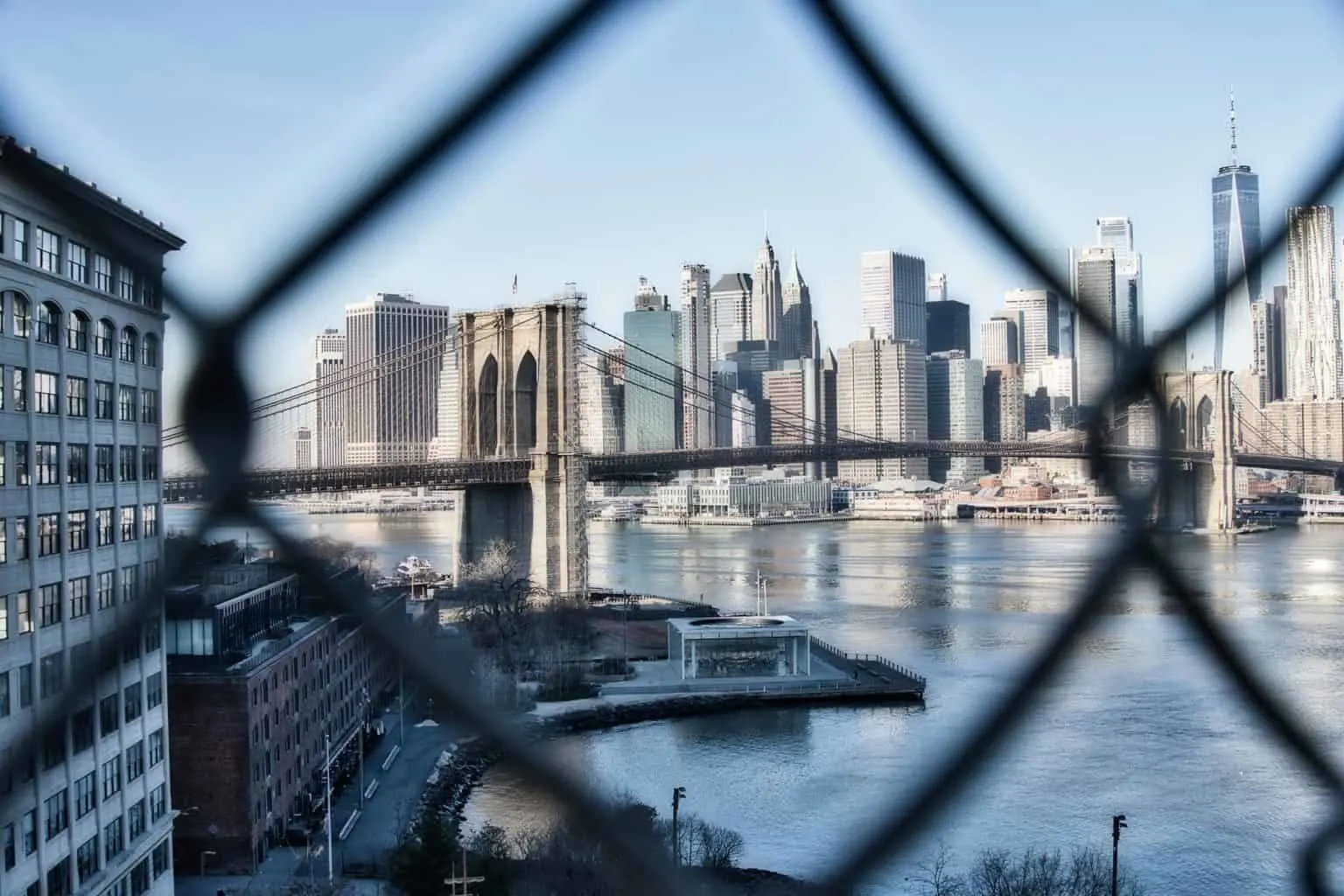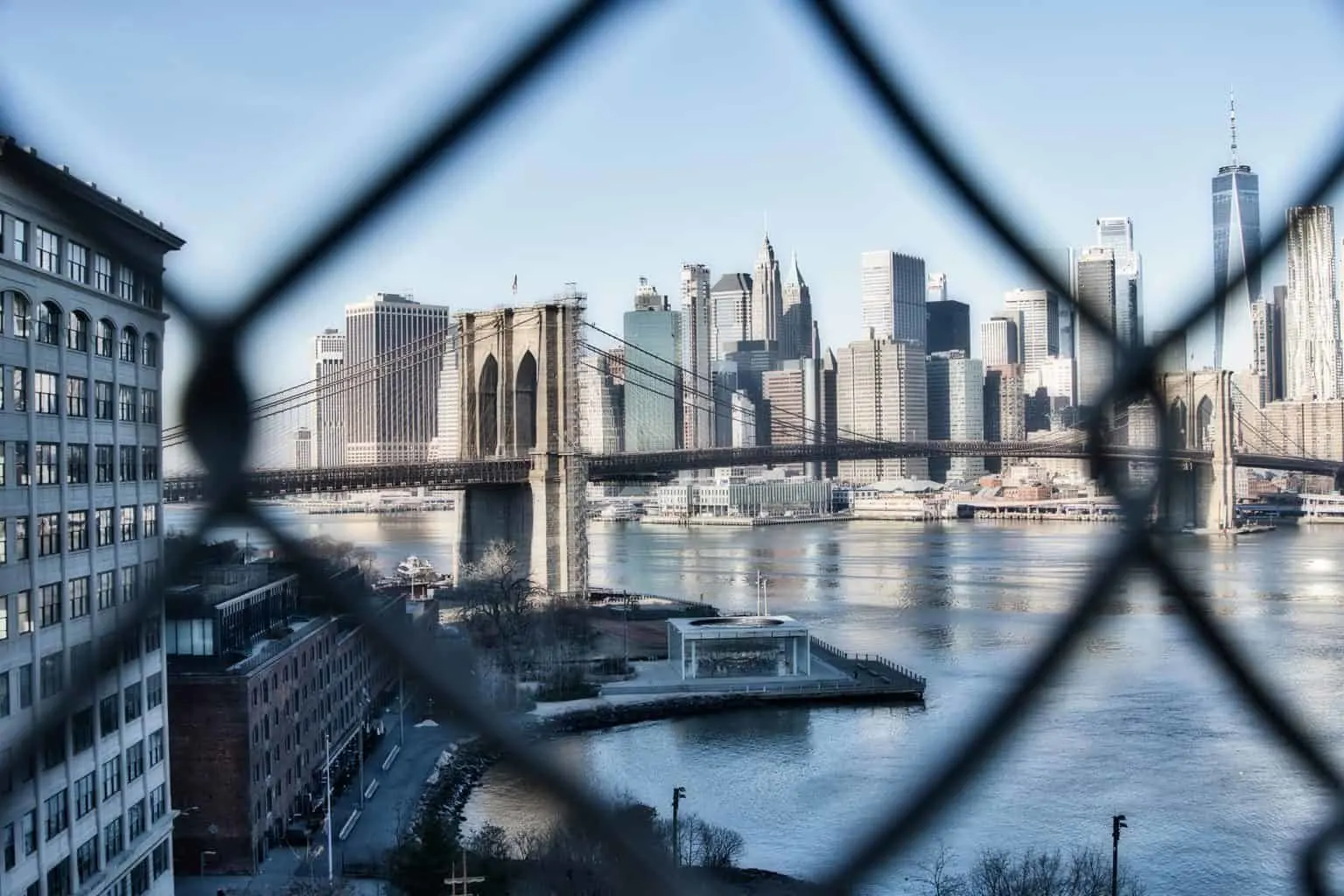 That about does it for a guide to Pebble Beach of Brooklyn Bridge Park. If you have any questions or comments about the beach, feel free to add them in below.
Also don't forget to check out the other New York itineraries and guides up on the site. Have fun out there and safe travels!