When it comes to iconic locations in New York City, Times Square is near the top of the list.
Whether you are visiting to see the ball drop on New Year's Eve, or just wandering the bright lights of the square at night, you will always find something to do in Times Square.
For those that want to stay in the area, why not choose one of the best hotels in Times Square with a view!
This way you will not only be steps away from the action, but you also will be able enjoy the views of Times Square & NYC from your room, the hotel's restaurants & bars, or even their pools!
Choosing such a hotel can be difficult, which is where this guide comes in. Let's look at the best hotels with a view in Times Square.
* Affiliate Disclosure: This post may contain affiliate links, which means I may receive a commission if you make a purchase through the links provided, at no additional cost to you. Thanks for supporting the work I put into TripTins!
Hotels in Times Square with a View
When it comes to hotels around Times Square, there are A LOT of choices out there.
The purpose of this list is to give you an idea of the highest rated & reviewed hotels with a view of Times Square and the rest of the city.
With each one of these spots, you are bound to find views of Times Square & NYC somewhere within the hotel. Some of them offer rooms with a view, while others may offer views from the bars, restaurants, rooftops, pools, or fitness centers.
To summarize the list of hotels, below you can find the best overall category each one fits into. Depending on your preferences, you can go ahead and book the one that sounds best to you!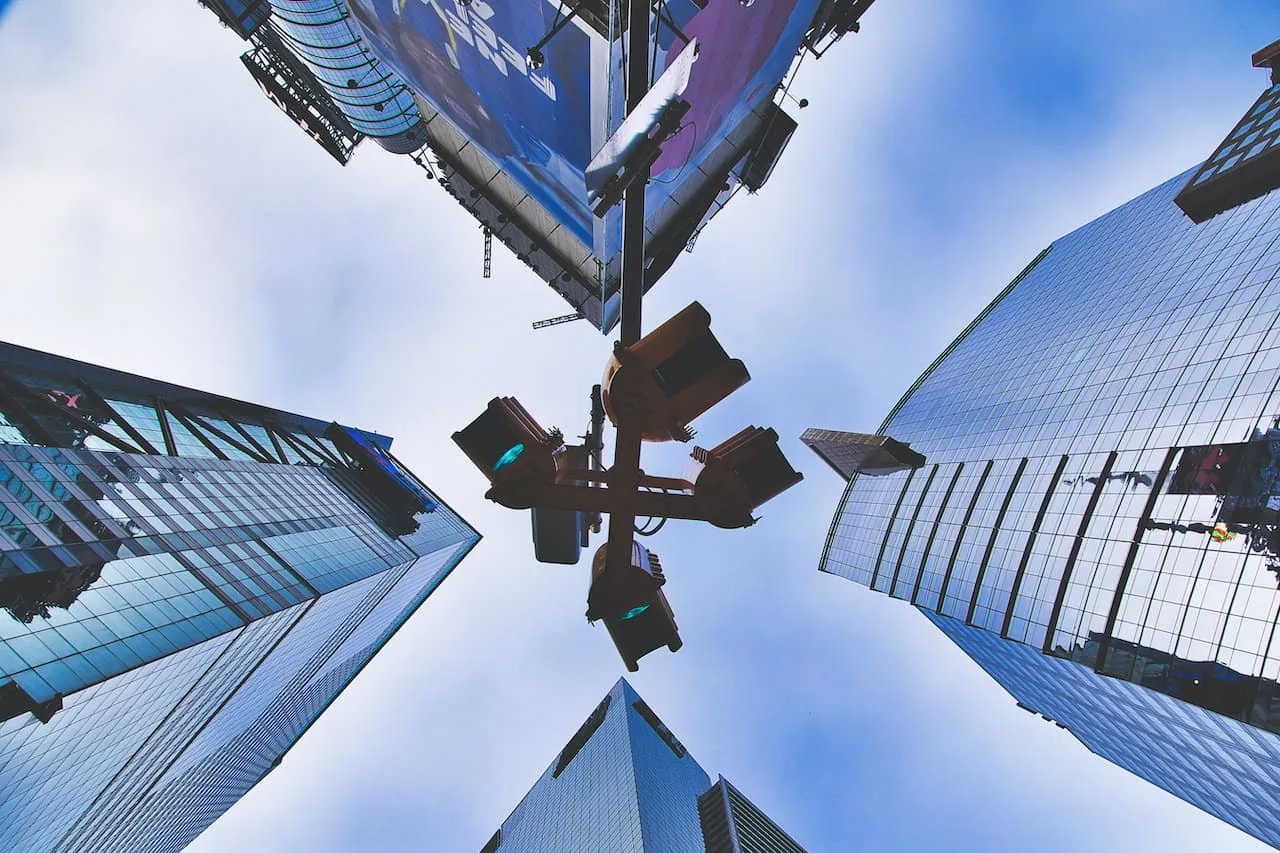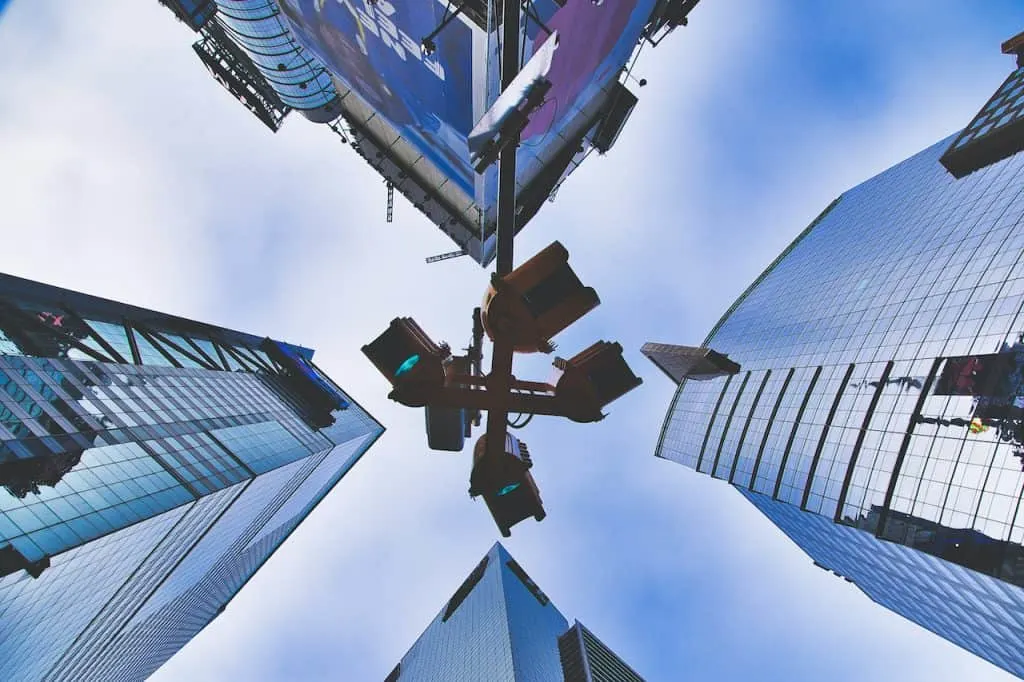 As you go about booking your hotel, I want to be sure to point out that not every room will have views of Times Square & NYC. You must book specific rooms (or request) rooms that will have the view.
1) New York Marriott Marquis
It's virtually impossible to find a Times Square hotel that's more centrally located than the New York Marriott Marquis.
What's more, the views of the iconic square are second to none, so be sure to request a room that is overlooking Times Square itself.
Despite being right in the middle of the square, the Marriott Marquis is amazingly spacious. After finding the somewhat tucked-away entrance, you'll take an elevator up to the sprawling lobby. The guest rooms themselves are also expansive given their prestigious location.
On the 48th floor is The View Restaurant and Lounge. The View is the only revolving restaurant in New York, and as such offers the very finest views of Times Square.
On the floor below is a cocktail bar that's perfect for relaxing with a drink and taking in the amazing panorama. There's also a map on the cocktail napkins that point out exactly what sights you can see at what point.
If you'd like a slightly more grounded view of Times Square, there is also a bar on the lobby floor. This lacks the dizzying panoramas offered by the View, but it does give you a slightly different perspective on the world-famous square.
Book New York Marriott Marquis Today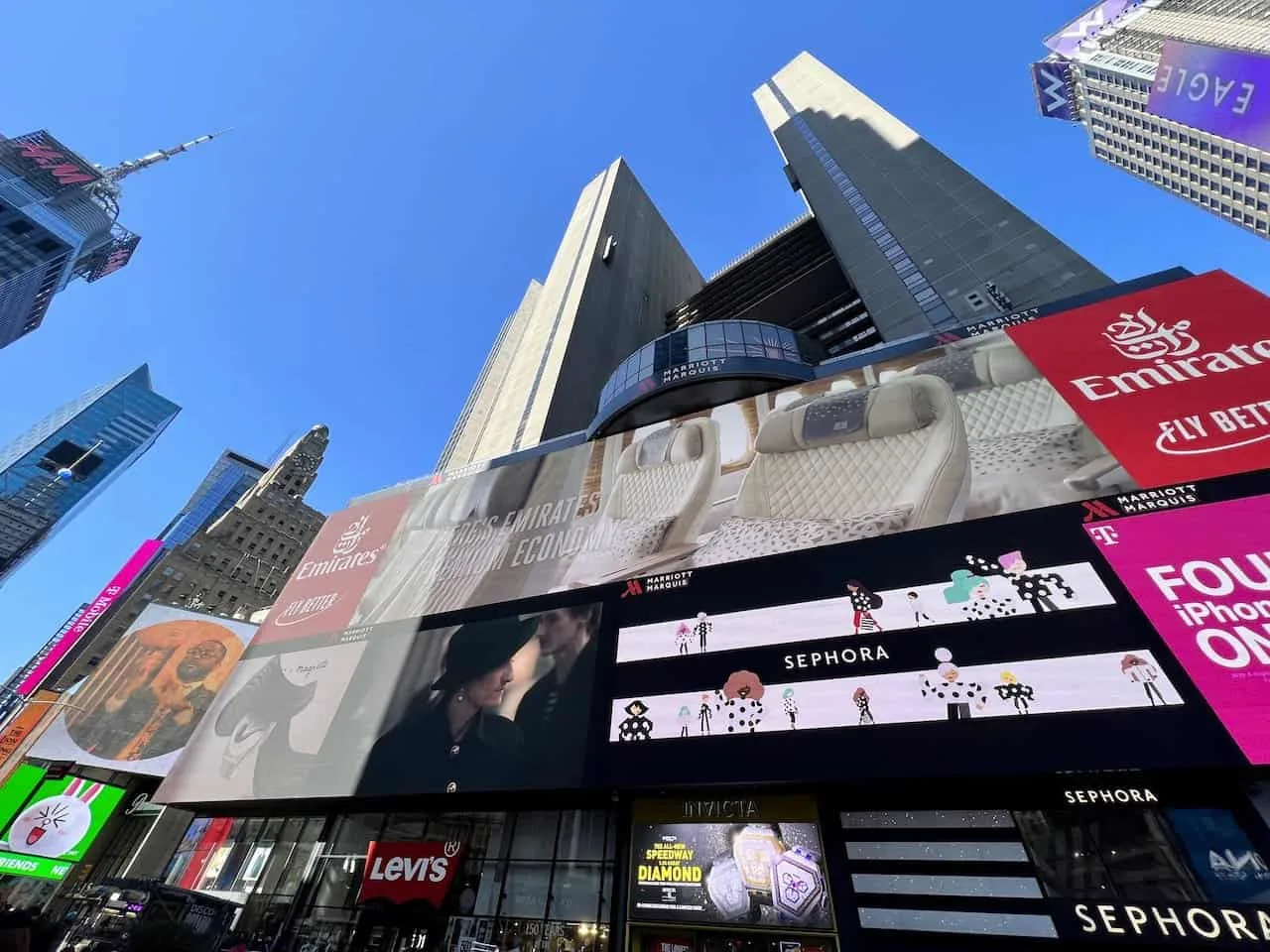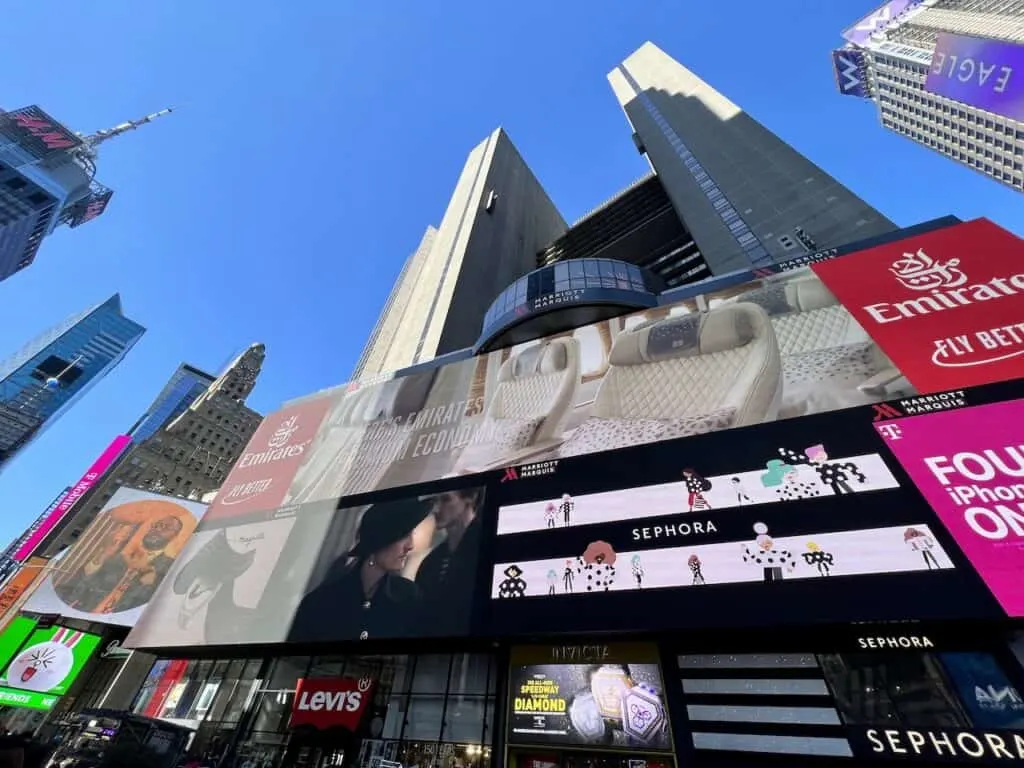 2) Times Square Edition
Times Square Edition is another hotel with a great view of the titular square. Be sure to request a room with a view of Times Square when staying here, and you're guaranteed an amazing cityscape throughout your stay.
The Edition rooms are minimalist, yet stylish and offer amazing views just outside your window.
Most rooms that look out onto Times Square are high enough that you can take in the whole square, but low enough so you can see the hustle and bustle of the crowds below.
Aside from your room, the best place for magnificent views of Times Square is just outside the hotel gym on the 12th floor. The gym itself looks out onto the square with floor-to-ceiling windows, and the view while using the exercise bikes is great.
There is also an outside deck that is simply fantastic if you want a few pictures of Times Square before leaving.
Book Times Square Edition Today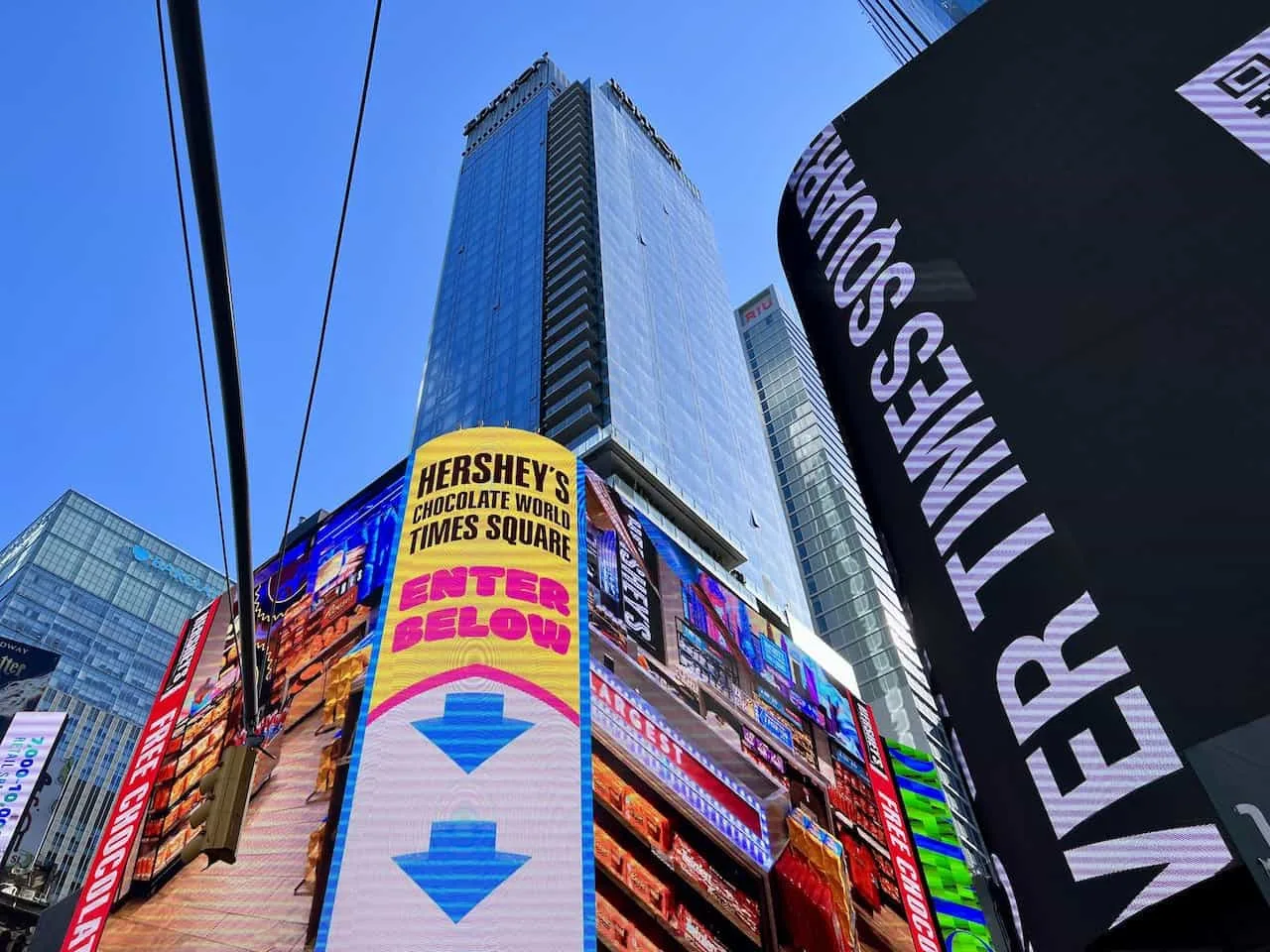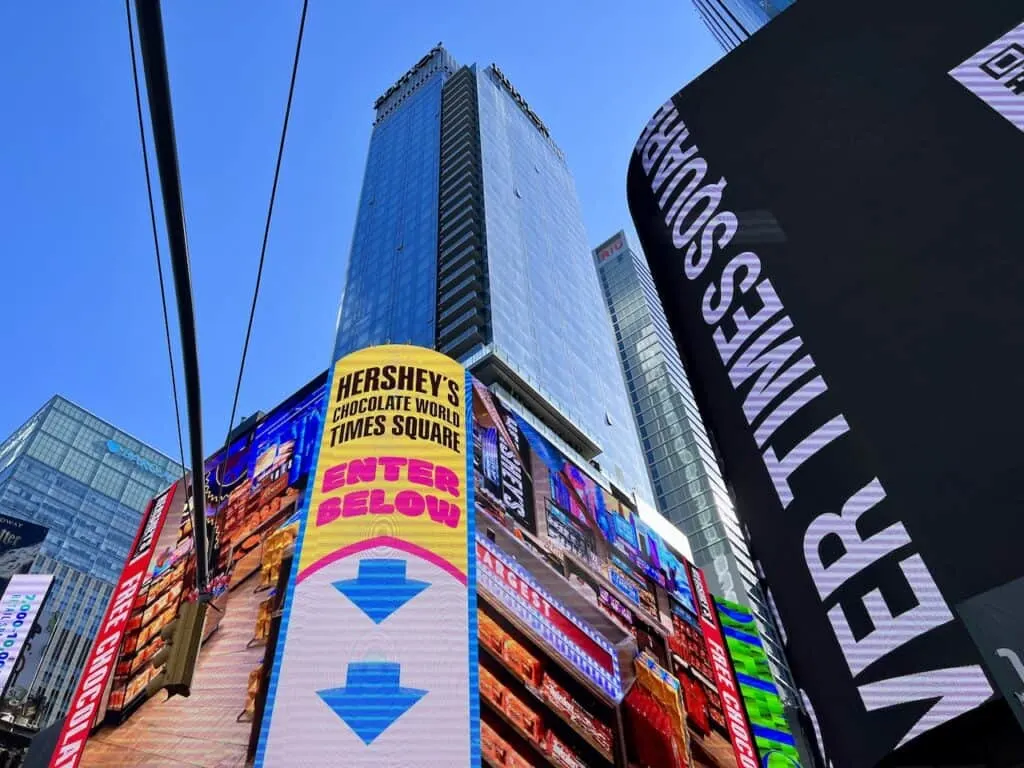 3) Crowne Plaza Times Square
The Crowne Plaza Times Square is a mere block away from the center of the action. This means it offers the same great views as the other hotels on this list, but that its surroundings are a little less frenetic.
As always, make sure that you request a room with a view of Times Square upon booking.
In addition to its easy access to Times Square, the Crowne Plaza is great for guests who'd like to take in dinner and a show. The central location makes it easy to reach the rest of Manhattan and NYC, too.
If you'd like a more down-to-earth view of Times Square, the onsite restaurant – Brasserie 1605 – can be found in the hotel's lobby. Enjoy some hearty American fare while looking out onto the legendary square (and Broadway) through its large windows.
Book Crowne Plaza Times Square Today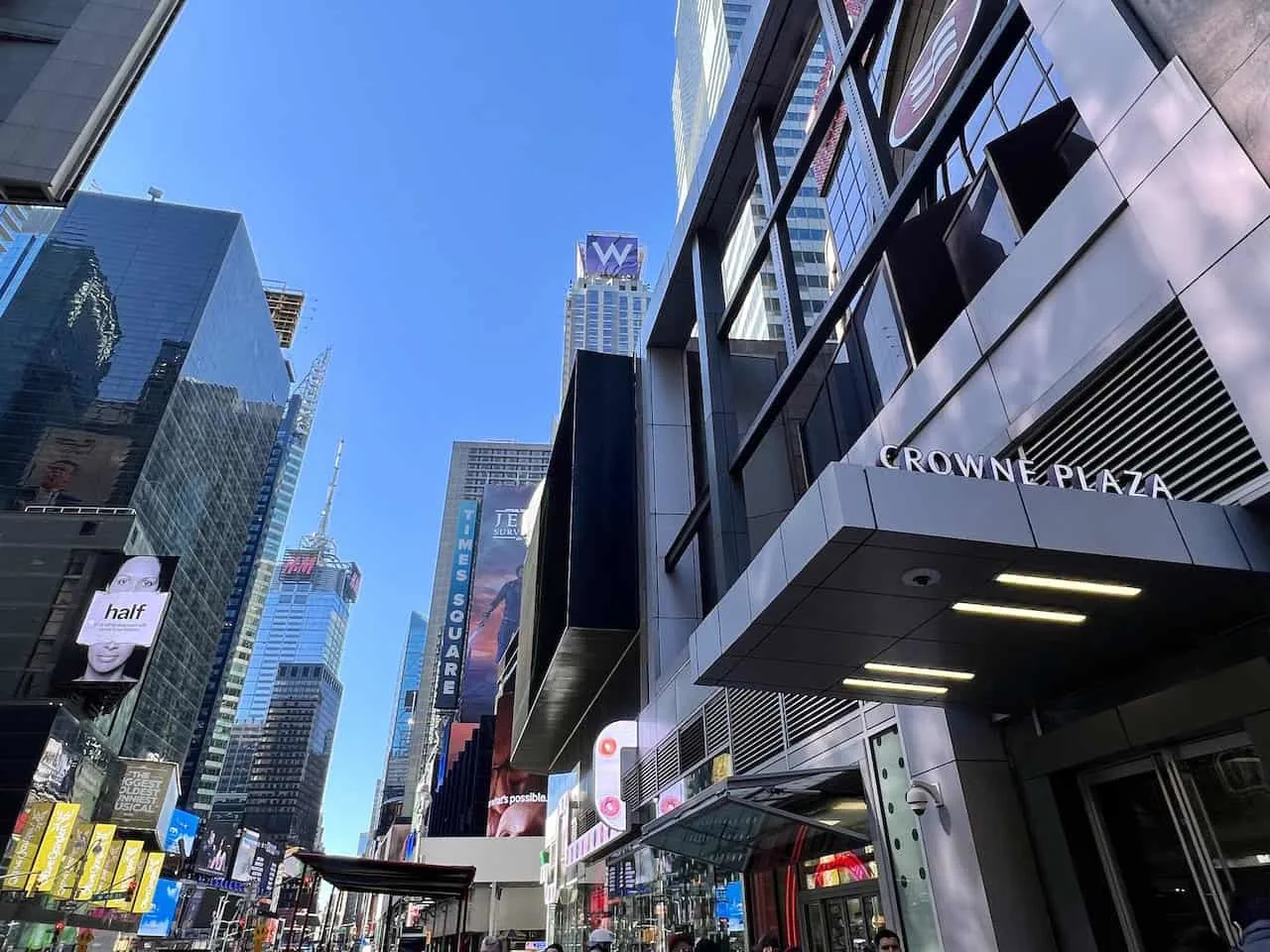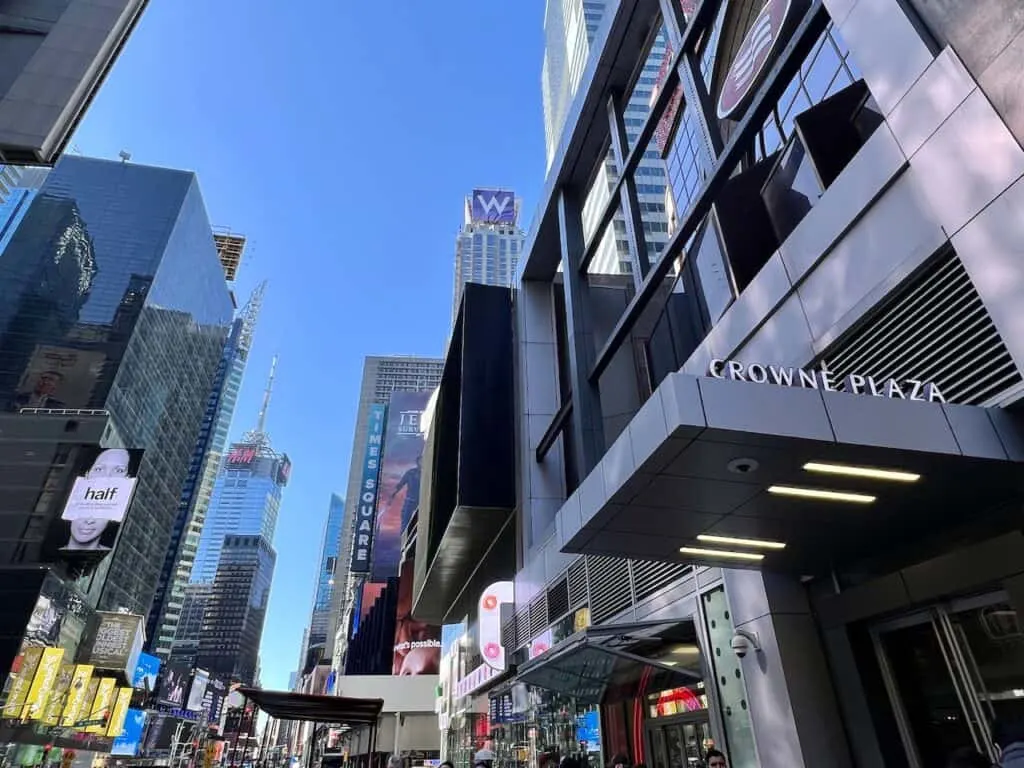 4) Margaritaville
The very center of New York is an unlikely place to find an 'island paradise'. With the Margaritaville Times Square resort, however, that's exactly what you'll find.
As always, insist upon a view of Times Square when booking your room to ensure you're not disappointed.
Margaritaville is perfectly placed on the corner of 7th Avenue and West 40th Street. It's only a couple of blocks away from the heart of the action. There are also plenty of eateries around the hotel, for those who'd rather take their meals offsite.
It can seem a little strange to be staying in a tropical-themed resort in NYC, but the hotel makes it work. A beach-holiday vibe abounds, with neat NYC touches like the print of Lady Liberty holding a Margarita instead of a torch.
The rooms have floor-to-ceiling windows and thus can offer great views of Times Square. Despite its location and the expansive windows, though, you won't be bothered by the frantic crowds below.
This makes Margaritaville a great place for guests who want to enjoy Times Square views without being bothered by the noise.
There are two other places in the hotel where you can drink in the vista of Times Square. The first is in the hotel's rooftop bar, which is on the 32nd floor and is the perfect place to relax with a beverage.
The second – and one of the biggest draws of the hotel – is the pool. It's the only outdoor pool in Times Square, and is heated so you can enjoy a swim all year round.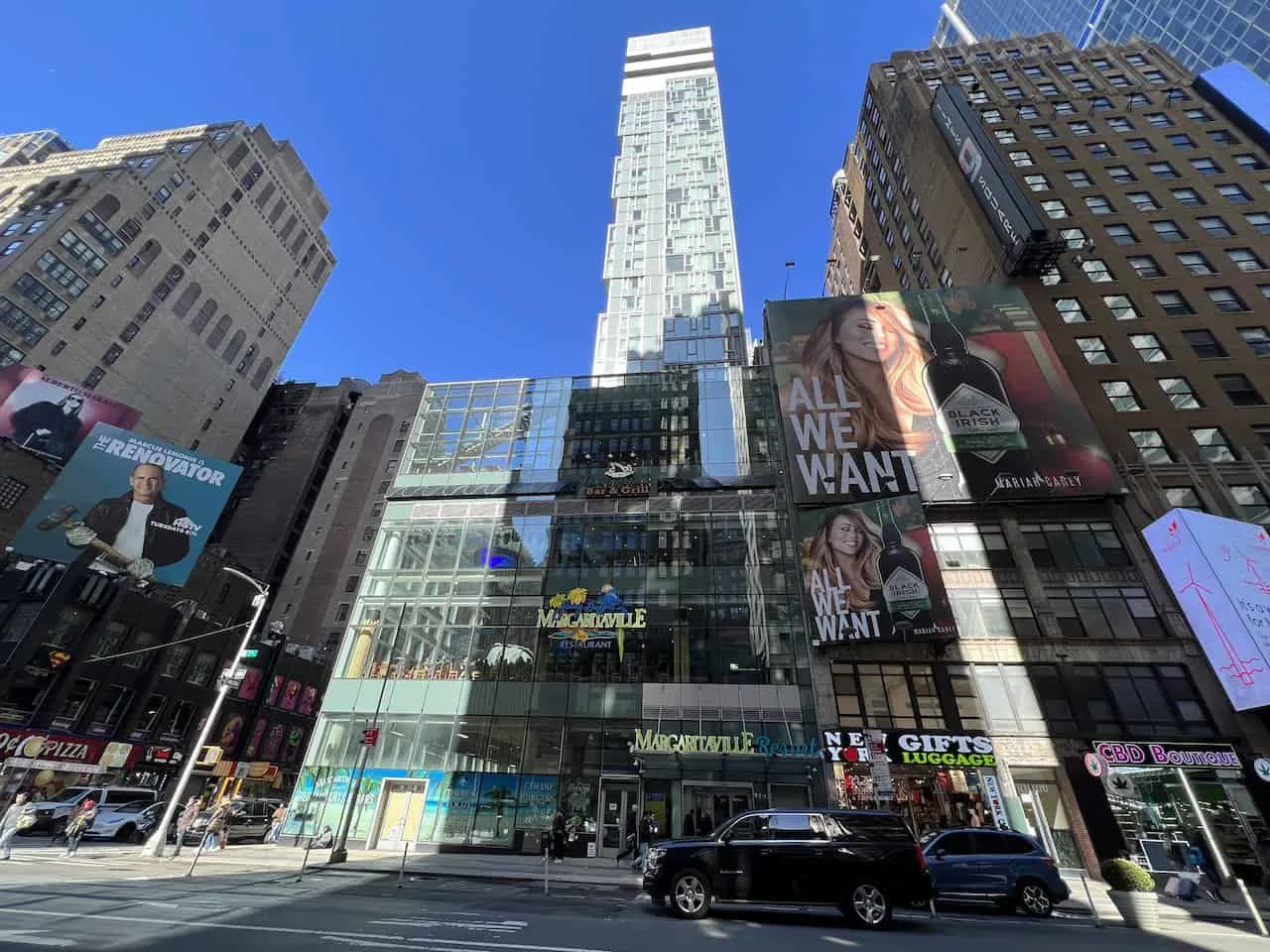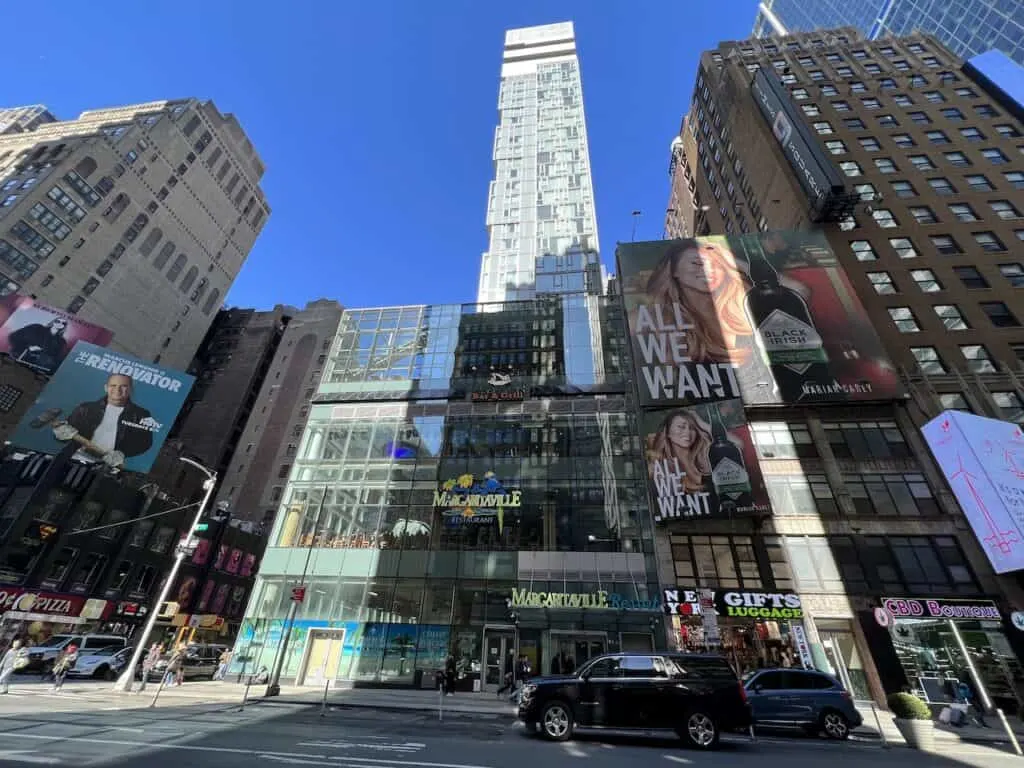 5) The Knickerbocker
The Knickerbocker is a high-end hotel sits right in the thick of the action in Times Square. To avoid any let-downs, do ensure that you request a room with a view of the Square upon booking.
Hotel locations don't get any better than here. Found at the corner of Broadway and West 42nd Street, there is no Midtown landmark that's too far if you're staying here.
From Times Square itself to the various theaters of Broadway and beyond, you're well-located at the Knickerbocker.
The guestroom views are second to none. Guests can relax in their rooms and take in the colorful sights of Times Square and the ever-moving crowds below. Despite the great views, however, the rooms are completely silent, and you'll never be bothered by the noise outside.
St. Clouds, the hotel's rooftop bar, is also a great place for a nightcap against the stunning backdrop of the Square.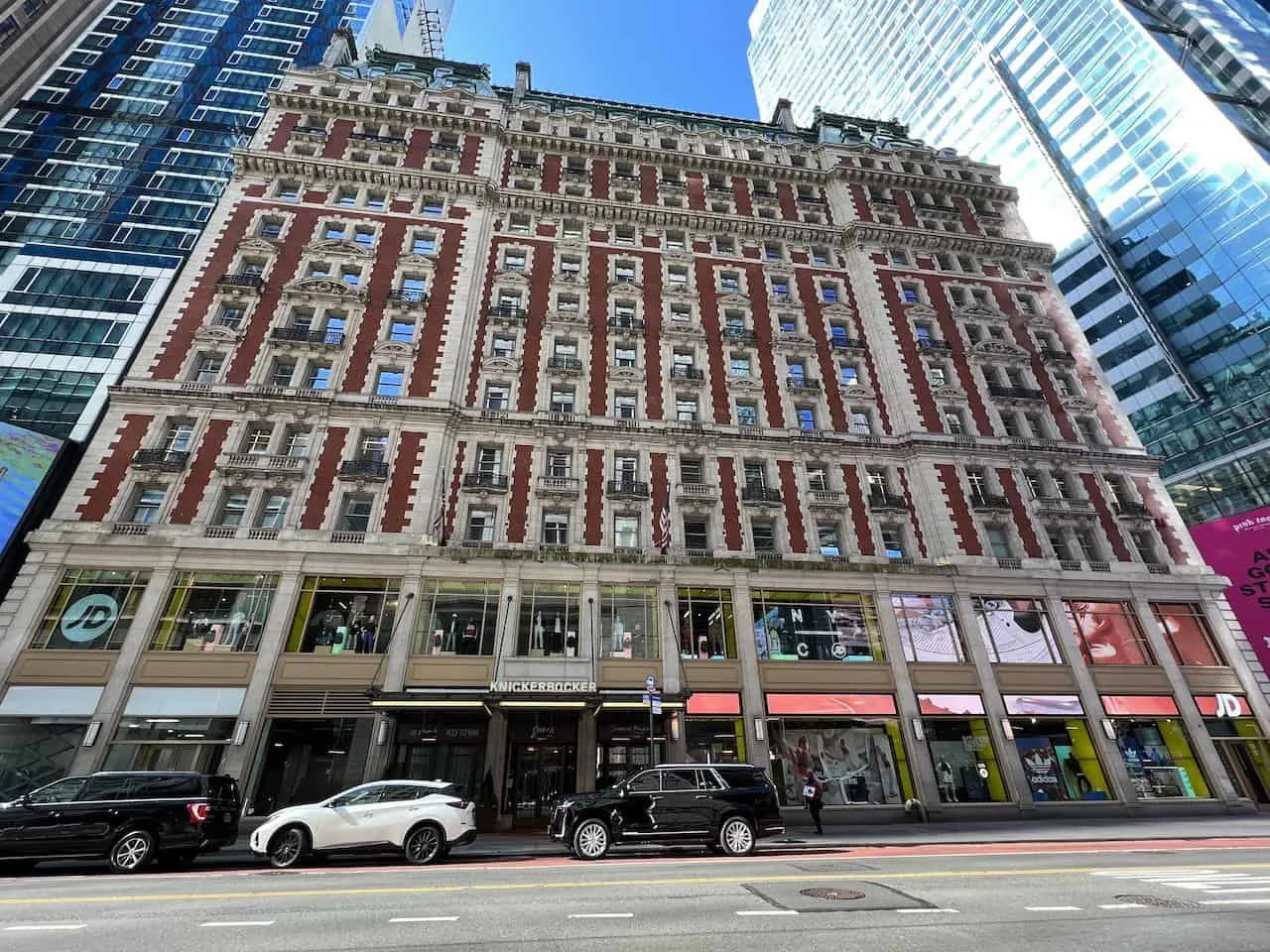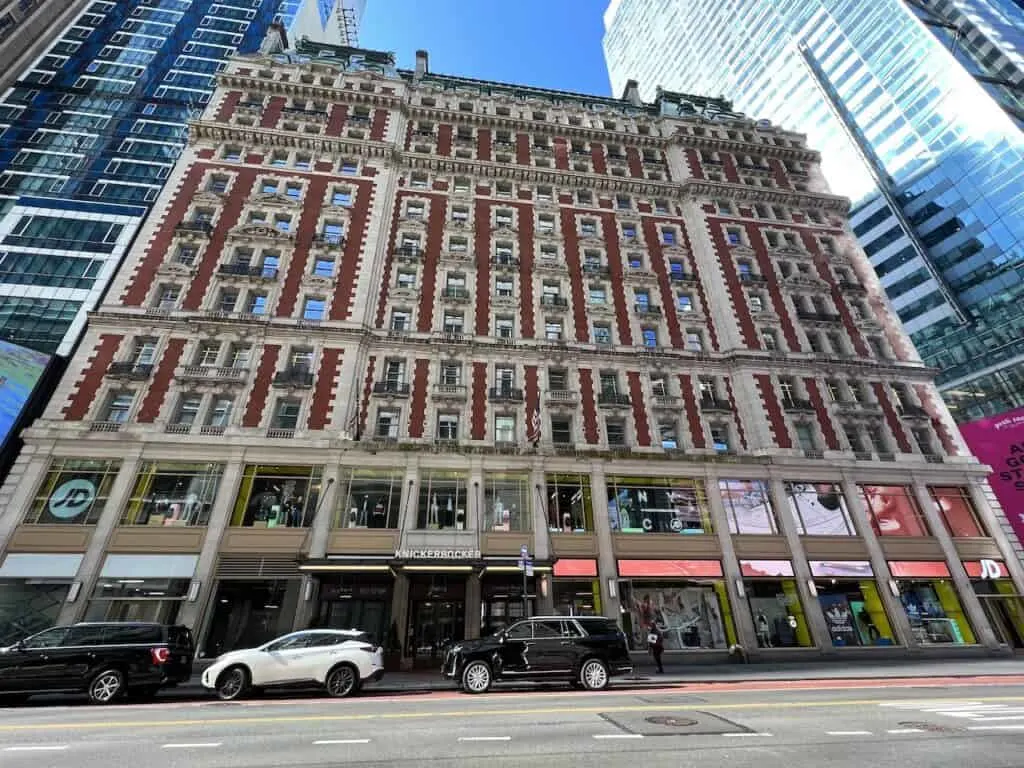 6) Luma Hotel Times Square
Luma Hotel Times Square is perfect if you'd like somewhere a little removed from the crowds, but that still offers views of Times Square.
Luma is located on West 41st Street, located just south of the main Times Square action. This makes it atypically quiet and tranquil for a Times Square hotel.
Since it is slightly removed from Timed Square, mention you'd like a skyline room when booking to make sure you get the best views possible.
The restaurant in the lobby offers Spanish-influenced food like tapas and garlic prawns, paired with French or Spanish wines to wash them down.
Refreshing and reasonably-priced house cocktails complete the appeal of the restaurant, but do be warned – there are unfortunately no views of Times Square from here.
Book Luma Hotel Times Square Today
7) Renaissance NY Times Square
The Renaissance NY Times Square is the perfect hotel for those who have to be at the heart of the action.
No other hotel puts Broadway and Times Square right on your doorstep quite like this one. For the best views possible, request a City View or High Floor room.
The 24-hour neon signs and endless crowds can be a little much for some. If you're a first-timer to NYC, though, this hotel is highly recommended. Besides Times Square, Rockefeller Center, Central Park and Bryant Park are all within easy walking distance.
If you'd like to enjoy the views from somewhere other than your room, head to the hotel's R Lounge.
From here you can enjoy classic American staples while Times Square's iconic billboards flash right outside the huge windows. It doesn't get more NYC than this.
Book Renaissance NY Times Square Today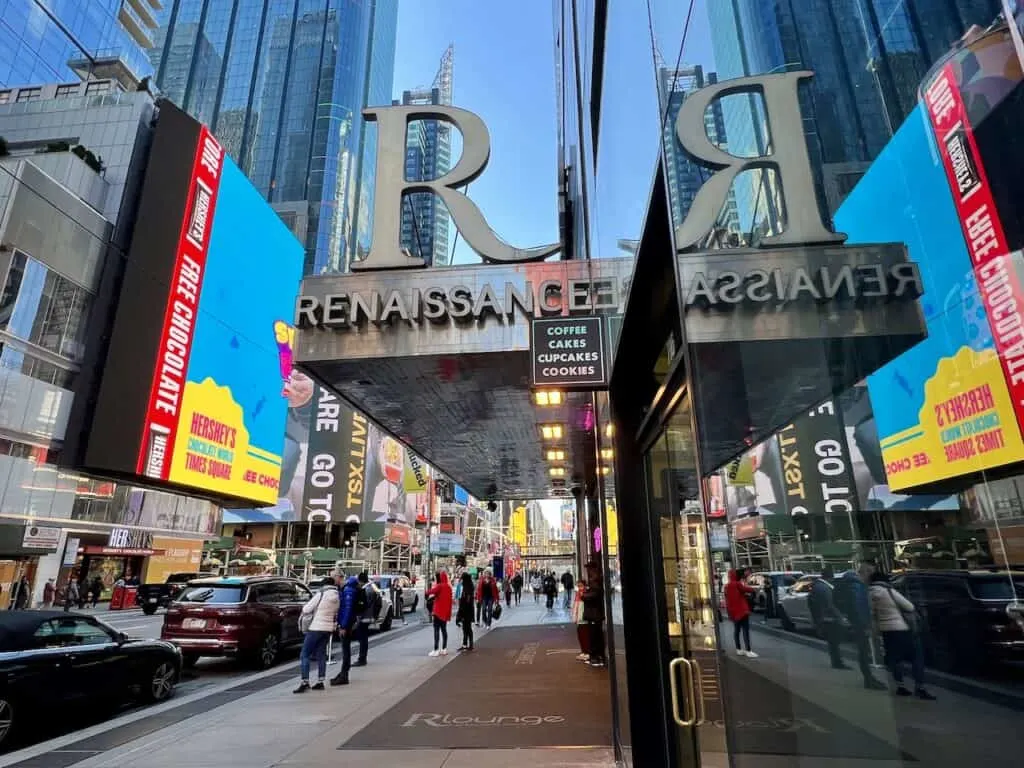 8) W NY Times Square
The W NY is a great choice if you'd like to balance the hectic nature of Times Square with some quiet time. Despite being on the corner of Broadway and West 47th Street, it's the perfect place to take a step back and relax.
Be sure to book a Times Square View room specifically when staying here, as the hotel also has Broadway, Hudson River and Skyline View rooms.
The hotel has a number of onsite restaurants and bars. Dos Caminos, the first-floor Mexican restaurant, won't win any awards for its views of Times Square, but makes up for this with delicious dishes inspired by south-of-the-border recipes.
The seafood-heavy Bluefin Restaurant also doubles as the hotel's breakfast option, and has many options beyond seafood. Unfortunately, as it's also located on the first floor, there isn't much of a view here either.
The hotel bar is called the "Living Room Bar" and features a neon display behind the bar that pays homage to Broadway. It's the perfect place to enjoy a pre-show cocktail before you head down to the real thing.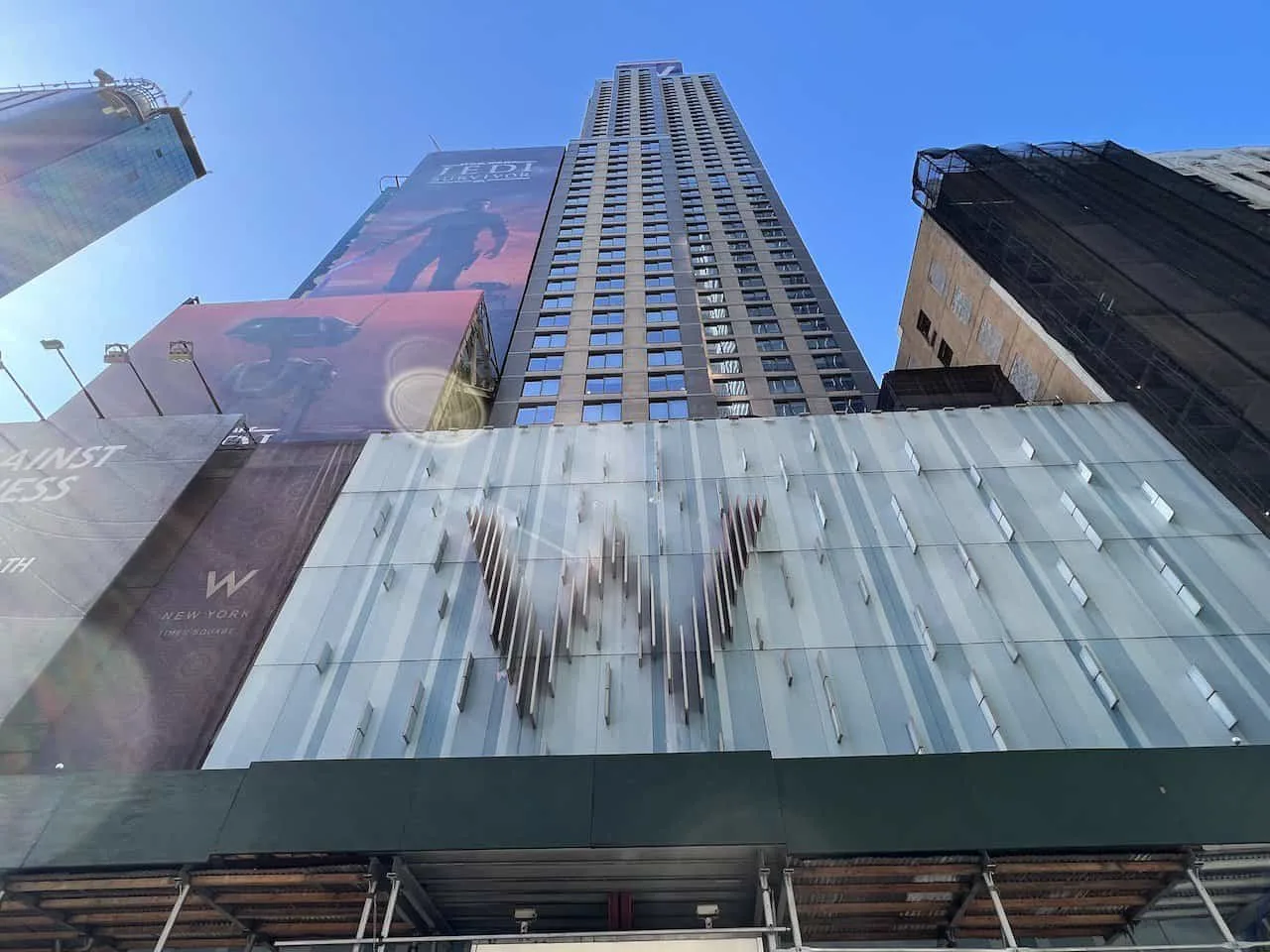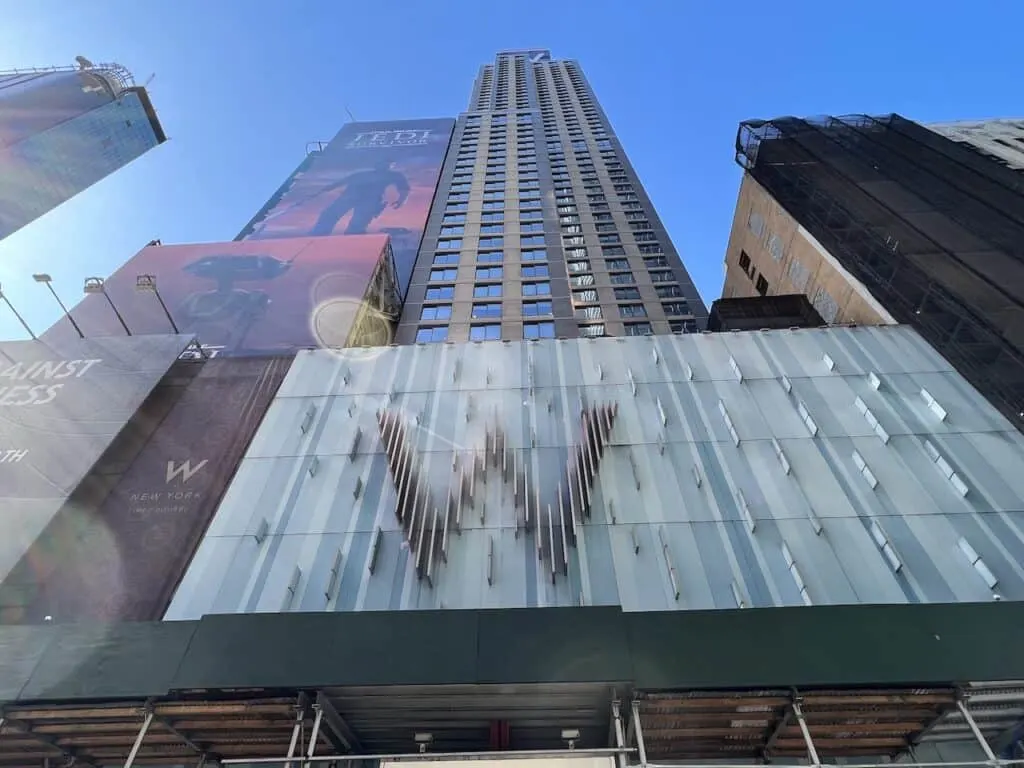 9) Hard Rock Hotel
The Hard Rock franchise is world-famous for its music-themed restaurants and hotels. The Times Square hotel branch combines this with ease of access to Midtown and spectacular views throughout.
Though it's not possible to directly book a room with a view of Times Square, it's worth requesting one when booking.
The Hard Rock's emphasis on music abounds. Items of clothing from Alicia Keys and Jay Z (famous for their ode to the city, 'Empire State of Mind') are found in the lobby, and the Sessions Restaurant found on the first floor boasts many more music mementos.
If you're in the mood for a show, descend to The Venue on Music Row, which hosts intimate concerts with big names.
Take a trip up to RT60 – the bar and lounge on the 34th floor – and you'll be amazed at the views on the outdoor terrace.
From here you can take in not just Times Square, but Manhattan's many astonishing landmarks.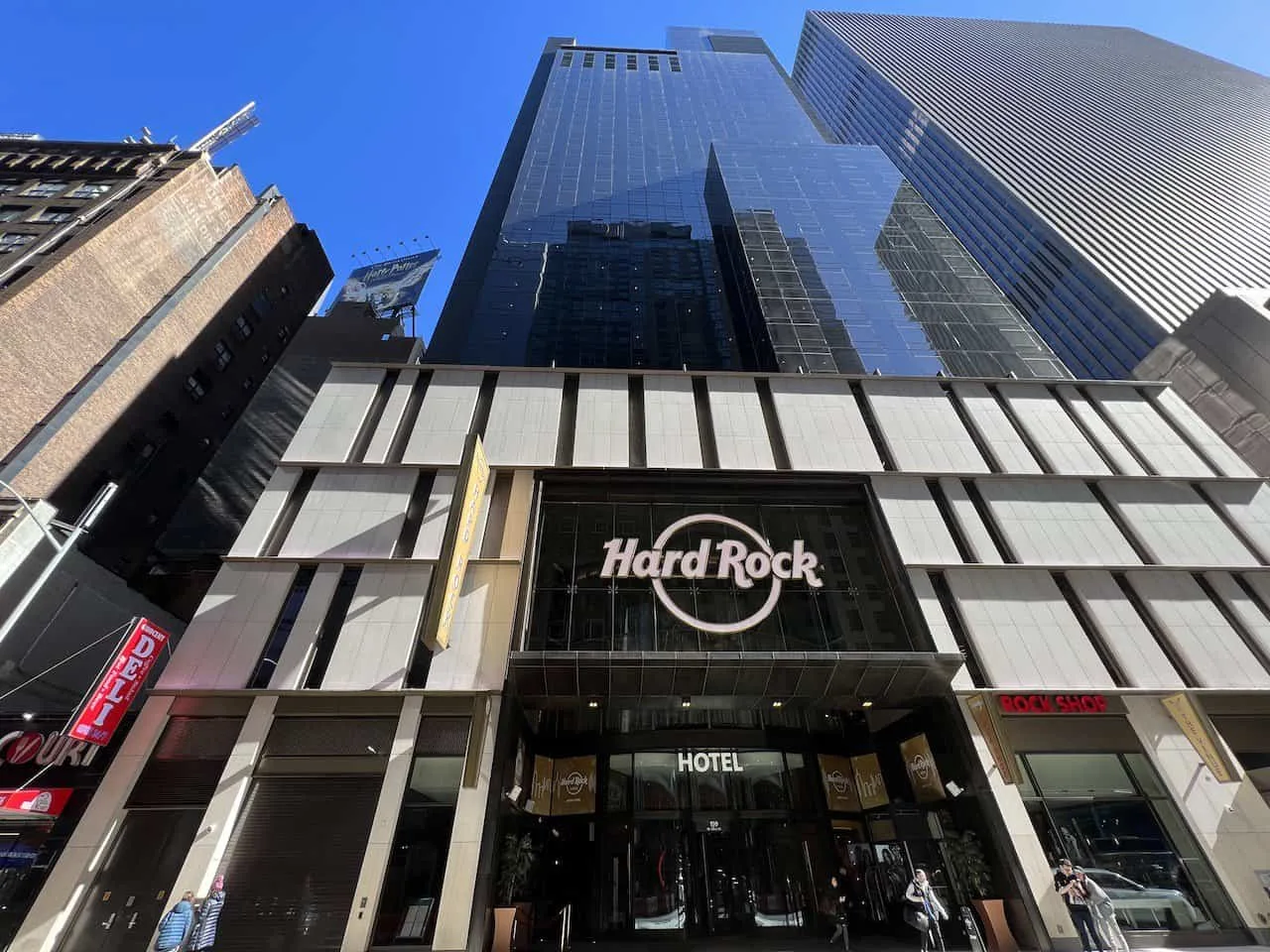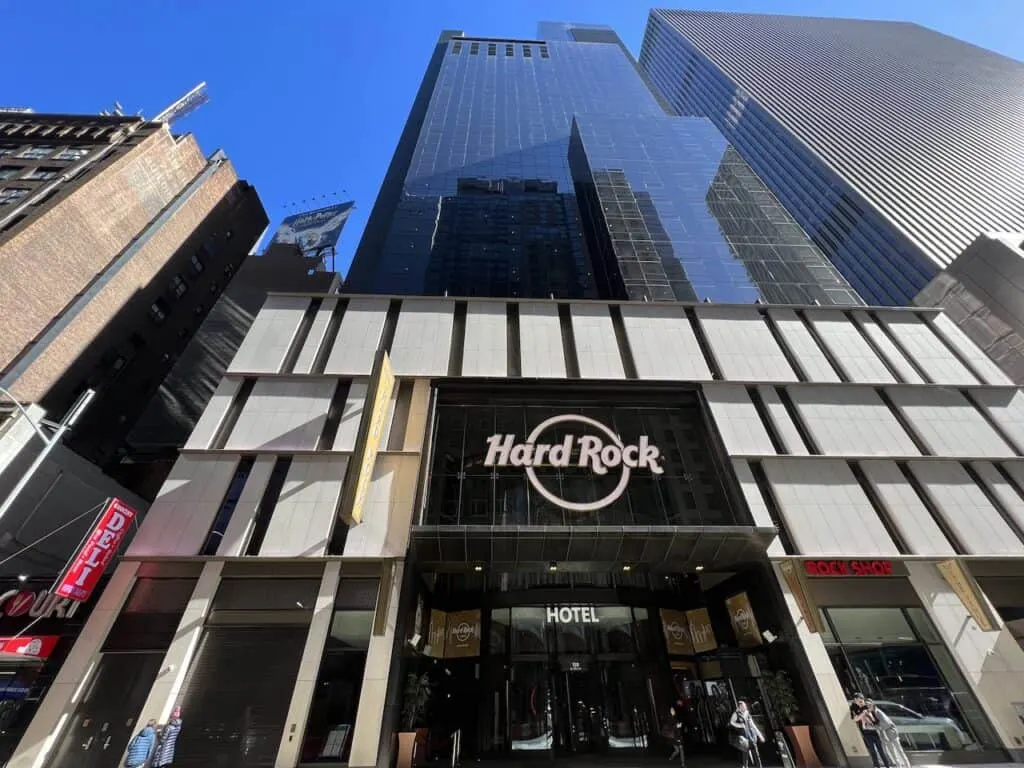 10) Riu Plaza Times Square
Riu Plaza Times Square is placed in a fantastic location. Not only is the world-famous square a stone's throw away, but the hotel is located right nearby the so-called "Restaurant Row". It's also close to many of Broadway's biggest theaters.
All of the rooms in Riu Plaza offer city views, but it's a good idea to request both a high floor, and a view of Times Square in order to make the most of your stay here.
There are some pretty spectacular views available either way, but if you don't stipulate that you'd like your room to look out over Times Square, there's a good chance that it won't.
Book Riu Plaza Times Square Today
11) Hyatt Centric Times Square
The Hyatt Centric Times Square is in a great location between the Square and Bryant Park. This means it offers the best of both worlds – ease of access to Times Square, yet with a more relaxed and serene location.
The Hyatt Centric offers rooms with a number of different views, including City and Landmark Views. In order to ensure that you can see Times Square from your room, make sure that you stipulate your request upon booking.
In either case, the floor-to-ceiling windows guarantee you'll have stunning views of some part of Manhattan.
If you'd care to enjoy the views from elsewhere in the hotel, you have a couple of options. The hotel's restaurant has a covered outdoor patio that's perfect – rain or shine – for fine dining while you watch Times Square go by.
Perhaps the icing on the cake is Bar 54, the hotel's bar that's located on – you guessed it – the 54th floor. It's one of the city's highest rooftop bars, and from here you can see from the Hudson to the East River.
Book Hyatt Centric Times Square Today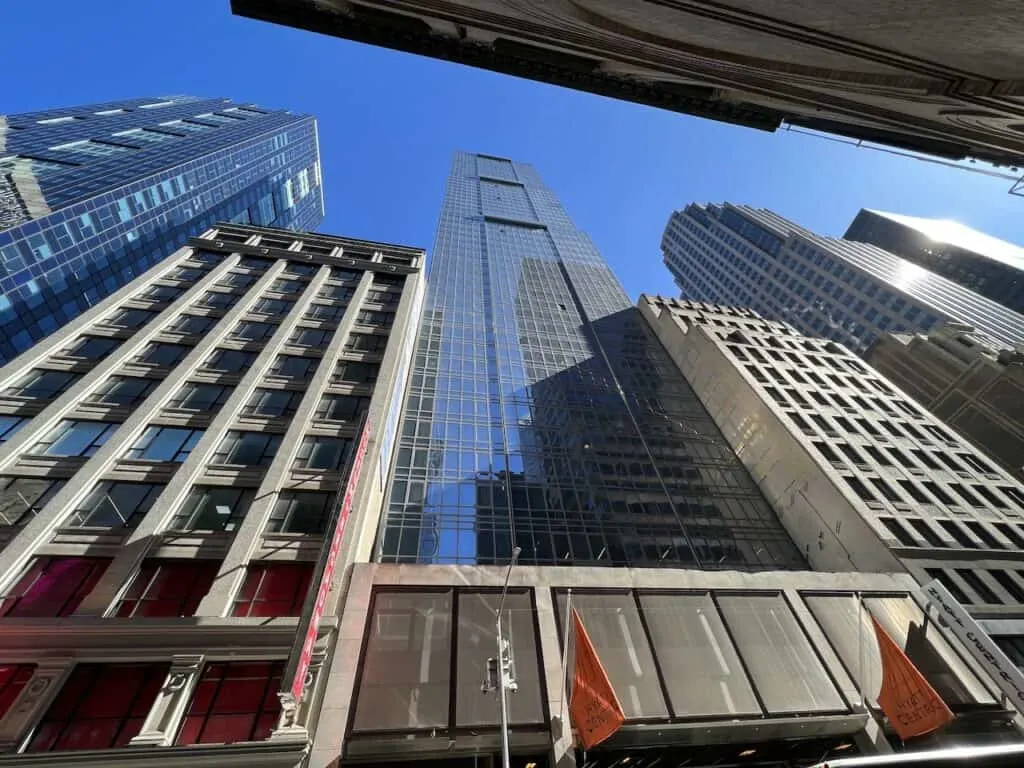 12) Millennium Hotel Broadway Times Square
One of the themes of Times Square's biggest hotels is that they offer an oasis of calm away from the incessant revelry outside. The Millennium Hotel Broadway is the epitome of this philosophy.
Check the stress at the door and relax at this four-star hotel. If you're looking not to stray too far from Times Square views, however, make sure to plump for a deluxe room.
It's also possible to book a room that overlooks the Times Square Ball Drop on New Year's Eve.
The rooms are spacious and offer great views not only of Times Square, but of Manhattan as a whole.
Meanwhile Bugis Street Brasserie and Bar, the hotel's onsite restaurant, may not offer exterior views, but makes up for this with some of the best Singaporean food in NYC.
Book Millennium Hotel Broadway Today
Is it Worth Staying in Times Square?
You may be wondering if it is worth staying in Times Square. Depending on what you are looking for in a trip may help answer that question for you.
On one hand it is in the center of the action & it is well connected to the rest of the city (whether by foot or by subway).
On the other hand, it is the most hectic area of the city with the most tourists, high-rises, noise and foot traffic.
While some may not want to stay in such a busy place, others may enjoy the fact that they are literally in the center of the action.
I actually do believe it is a great choice for those first time visitors, who just want to be well connected to the rest of the city, and get that NYC experience.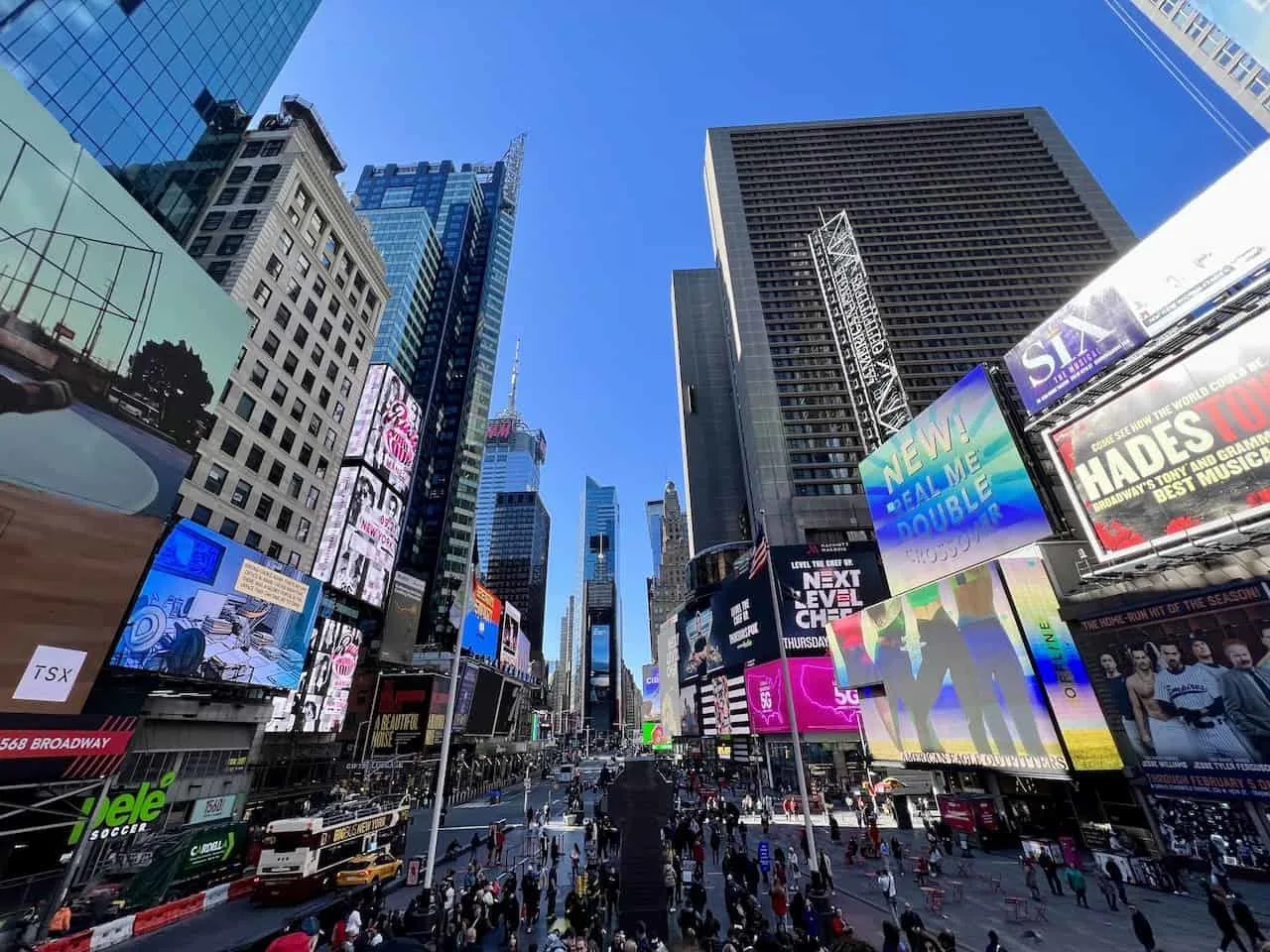 Now, if you are someone who is looking for something more low key and quiet, then Times Square won't be for you. Maybe a hotel in Greenwich Village may be a better choice (feel free to check those out too).
Or if views are important to you, then why not browse through some of the top NYC hotels with a view.
At the end of the day you are bound to have an amazing time exploring the streets of NYC whether you stay in Times Square or not.
Be sure to check out this 4 day NYC itinerary to better help you plan a trip!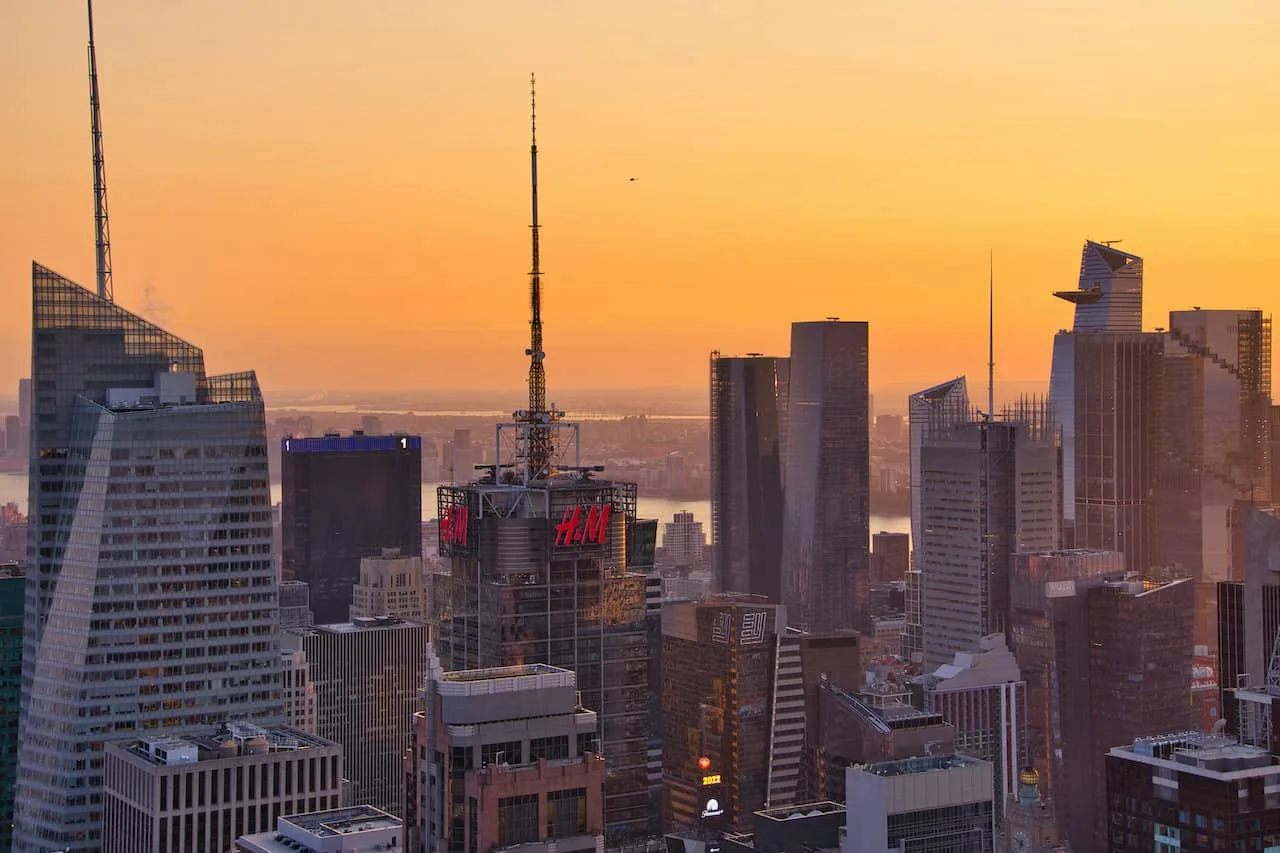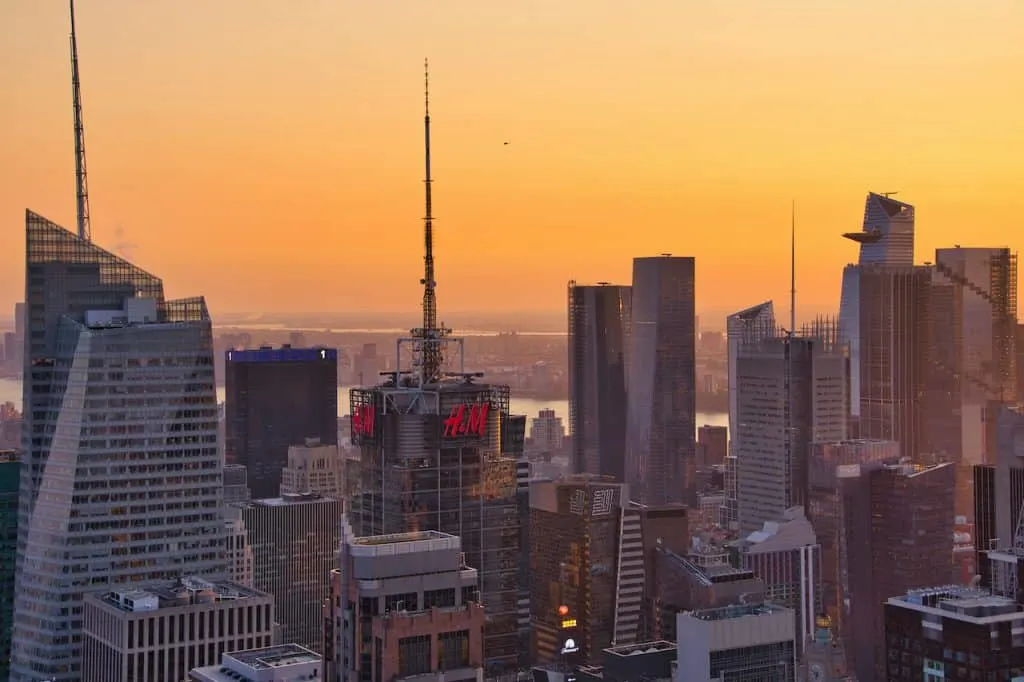 Hotels in Times Square With a View Map
To finish up, here is a map that shows the 12 hotels that were reviewed on this list. You can get a better idea of where each one is located in relation to one another and Times Square itself.
Looking at hotels in Times Square with a view can be a little intimidating, given the breadth of choice.
However, if you've got a solid idea of what you want from your NYC getaway, it quickly becomes much easier to pick from the vast array of hotels on offer.
Whatever you end up going for, there is sure to be a hotel in this article that caters to your particular budget, desires, and needs. It's simply a matter of finding it.
If you have any questions or comments, feel free to add them in below. Also don't forget to check out the other New York itineraries and guides up on the site.
Have fun out there and safe travels!