If you are looking for some helpful information about the iconic Dumbo Manhattan Bridge view spot, then you have come to the right place. This guide will go over how to visit this photo location and list out some helpful tips and tricks on how to visit, including how to avoid the crowds.
So, whether you are looking for the photo spot address, how to get there, or anything else about the Manhattan Bridge picture spot, read on to learn all you need to know for a visit.
* Affiliate Disclosure: This post may contain affiliate links, which means I may receive a commission if you make a purchase through the links provided, at no additional cost to you. Thanks for supporting the work I put into TripTins!
1) What is the Dumbo Manhattan Bridge View
Located along Washington Street in the Dumbo neighborhood of Brooklyn is the Manhattan Bridge view point. Here you will find one of the best view points of the Manhattan Bridge that NYC has to offer.
If you were wondering what Dumbo even means, it is an acronym that stands for "Down Under The Manhattan Bridge Overpass". This is the neighborhood area where you will be capturing your photos.
With the tree lined cobble stone streets, and the red brick buildings on either side of you, taking some photos here is a must.
Not only do you have the Manhattan Bridge aligned perfectly with the street, but you also have the Empire State Building peeking out directly beneath it.
Due to this photo spot's popularity as one of the top things to do in NYC, it can get a bit hectic here during the day. I will also touch on some helpful tips to avoid the crowds and how to best capture your pictures.
→ Visit the Dumbo Manhattan Bridge View as part of a longer New York City 4 day itinerary that takes you throughout the city
→ Note that this famous photo location is not of the Brooklyn Bridge. While there are several spots to get pictures of the Brooklyn Bridge, such as from Brooklyn Bridge Park, this Dumbo photo spot is of the Manhattan Bridge.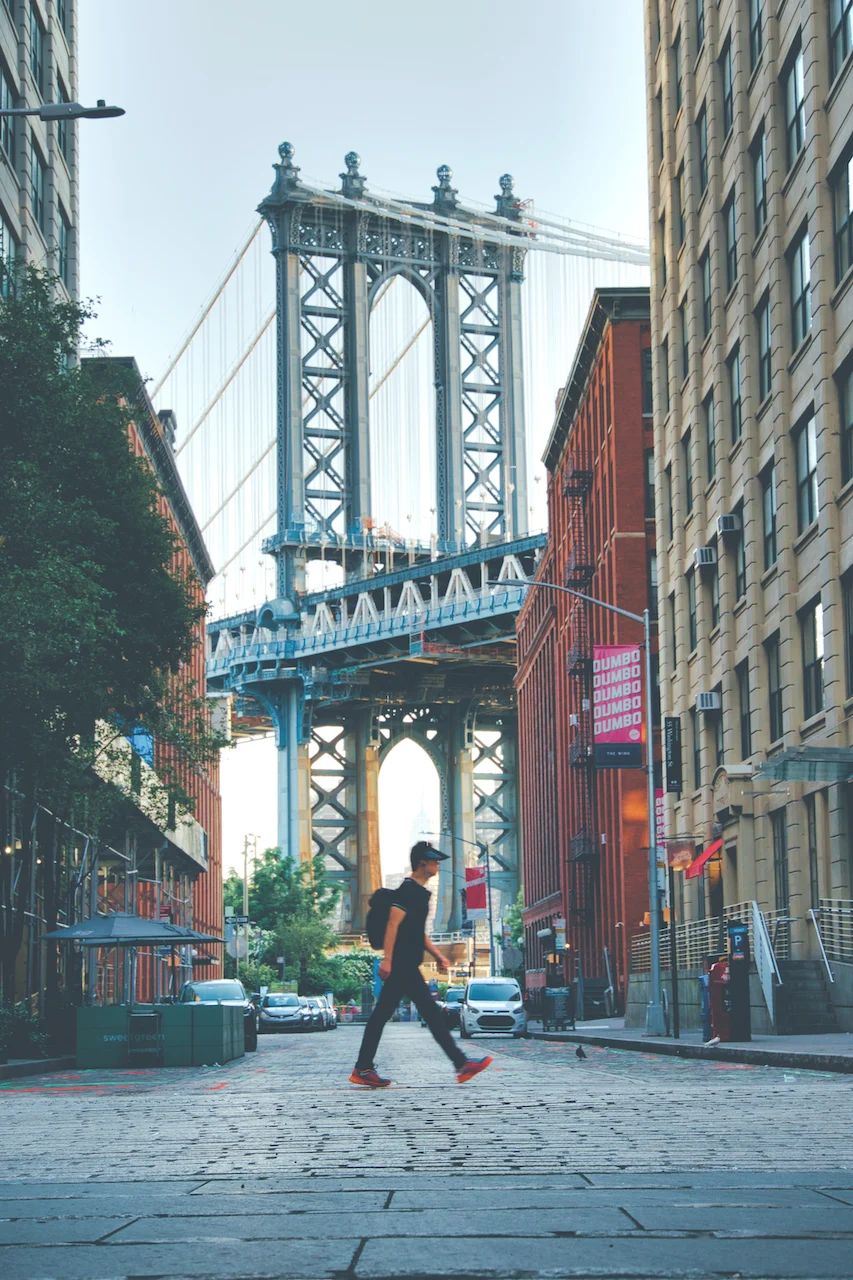 2) Where is the Dumbo Picture Spot
If you are simply looking for the Dumbo photo spot address, then all you need to do in make your way to Washington Street in Dumbo.
Washington Street extends all the way from Prospect Street (south) to Plymouth Street (north and by the water). However, most of the pictures you see are between Plymouth Street and York Street.
Once past York Street and towards Prospect Street, you are getting a bit too far away from taking photos. Later on in the guide I will show pictures from each one of these streets.
Tip: there is an entrance to the Brooklyn Bridge walk from the corner of Washington Street and Prospect Street. This is a great option if you would like to talk a stroll over the Brooklyn Bridge after.
Below is a screenshot of the area to give you a better idea of where to go depending on how close or far away you want to take your pictures from.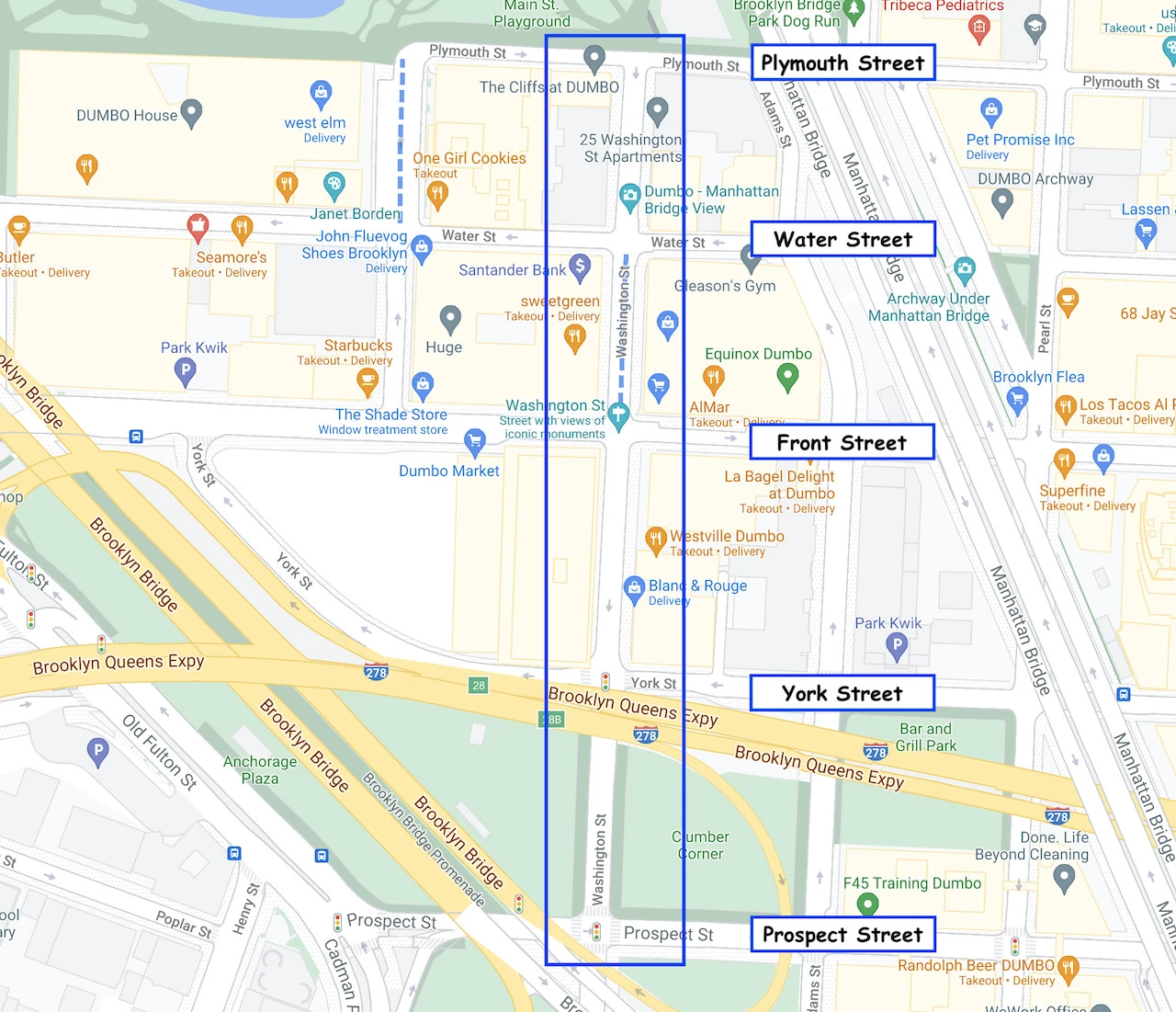 3) How to Get to the Dumbo NYC Picture Location
Now that you have a better idea of where the photo spot is, you now need to get yourself there. New York City offers a ton of transportation options that can get you to the Dumbo NYC picture location.
In the vicinity of Dumbo there are at least 5 different subway stations, with the first two closest to Washington Street.
York Street | F Train
High Street | A & C Train
Clark Street | 2 & 3 Train
Court Street | N, R & W Train
Borough Hall | 4 & 5 ; 2 & 3 Train
Ferry
There are two ferry terminals at Brooklyn Bridge Park -> the DUMBO/Fulton Ferry Terminal and the Pier 6 Ferry Terminal.
These are great options for you if coming from Manhattan or even other parts of Brooklyn and Queens. There are two routes that include these stops:
East River Ferry: Wall Street Pier 11, DUMBO/Fulton Ferry, North Williamsburg, East 34th Street, Hunters Point South. There are also stops at South Williamsburg and Greenpoint but they may be temporarily closed.
South Brooklyn Ferry: Bay Ridge, Sunset Park, Red Hook, Atlantic Avenue Brooklyn Bridge Park Pier 6, Wall Street Pier 11, DUMBO/Fulton Ferry, Corlears Hook
Be sure to take a look at the latest NYC ferry schedules for up to date information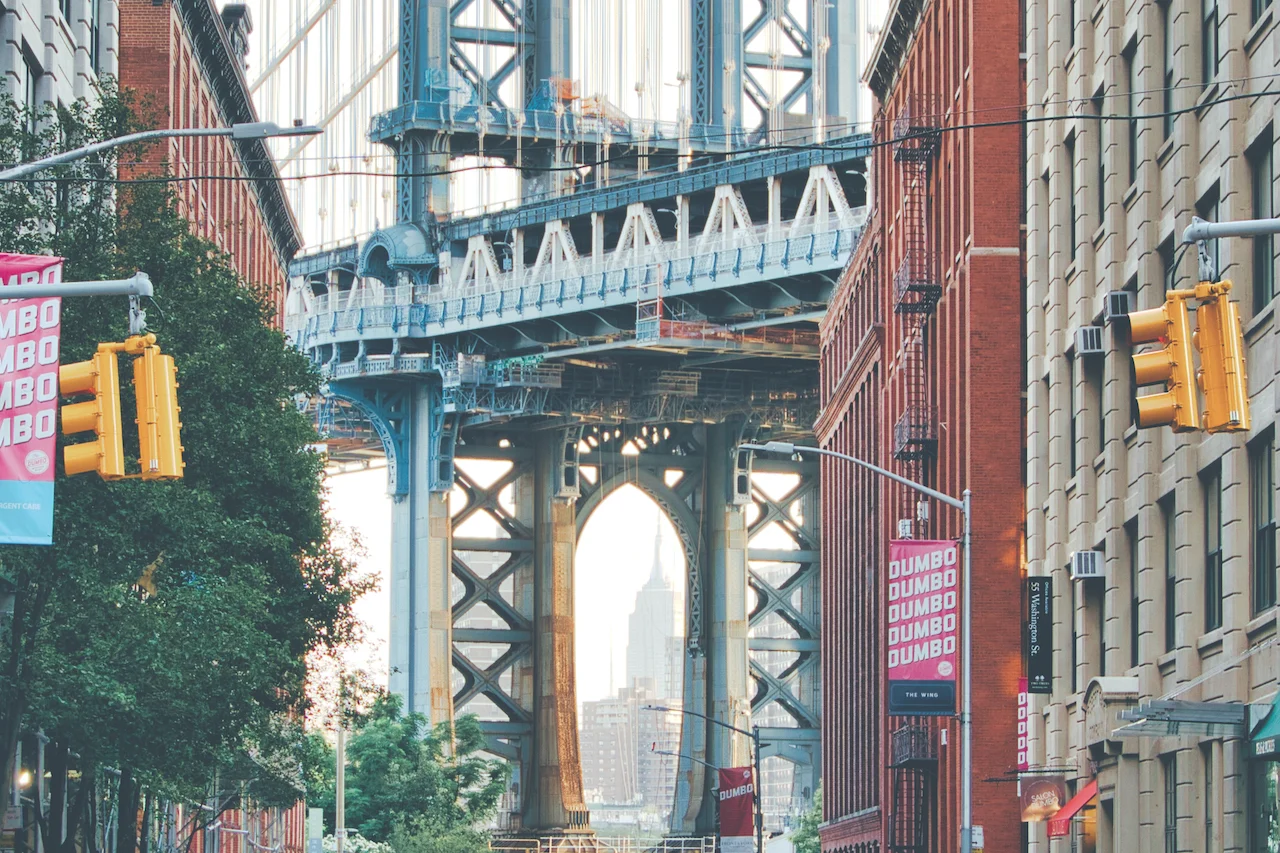 Walk
If coming from nearby parts of Brooklyn, walking over to Washington Street can be an option for you. This will all depend on how much walking you are trying to do.
If coming from Manhattan, you have two main options here: a walk over the Manhattan Bridge or the Brooklyn Bridge.
Manhattan Bridge: the Manhattan Bridge Walk entrance point in Manhattan is at the corner of Bowery and Canal Street. Once there you can get onto the pedestrian pathway and make your way along the bridge as you take in some beautiful views of the river, Brooklyn Bridge and skyline.
Brooklyn Bridge: the Brooklyn Bridge Walk entrance point in Manhattan is located on the east side of City Hall Park on Park Row. Once there, the pedestrian path is impossible to miss as you experience one of the most iconic bridges in the world.
CitiBike
Another option to get there without public transportation is to utilize the NYC CitiBike system. You will find CitiBike docking stations all around the city.
One ride is just $4.49 and a day pass is $15. You will find several docking stations located around the Dumbo neighborhood.
Uber/Taxi
Your last main option here is to simply grab a yellow taxi or Uber ride to get you to Washington Street.
The cost and time will all depend on where you are coming from, but this will be the most convenient option (although not always the fastest!).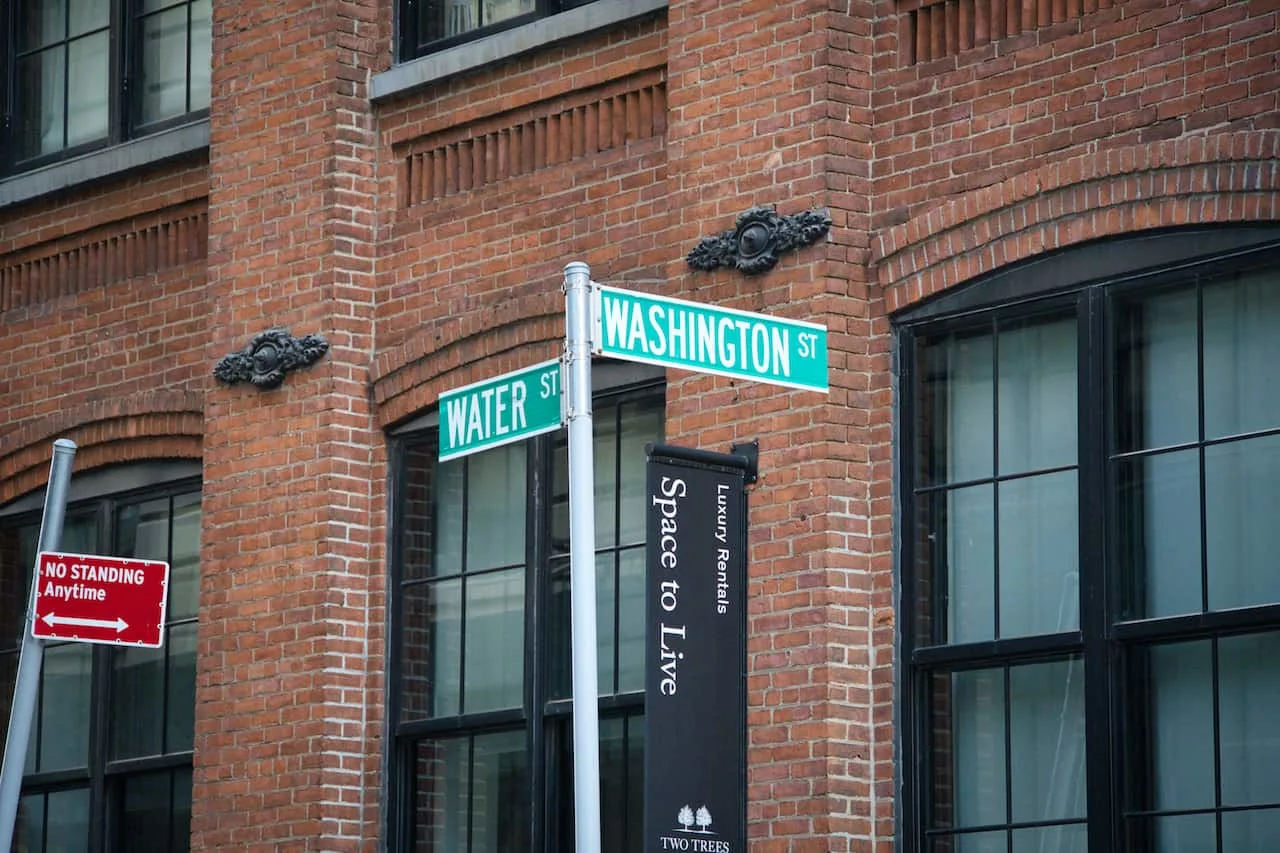 4) Where to Stay in New York
There are so many different neighborhoods to choose from when visiting NYC. Below are some of my top choices for a few of my recommended locations in the city:
Chelsea: If you are looking to be well situated between uptown, midtown, and downtown, then Chelsea can be a great option for you. You have highlights such as the Highline, Chelsea Market, the Vessel, and the Hudson River right nearby.
And if you are looking to head to Central Park uptown or the World Trade Center area further downtown, then you are just a quick subway ride away. Recommended Chelsea hotels:
Cambria Hotel | Hyatt House | Moxy NYC
Midtown: Right in the middle of the action is the midtown area, where you have the one and only Times Square, and all Broadway shows right at your doorstep.
You are also within walking distance to the southern end of Central Park. Almost all subway lines connect at Times Square so getting around should not be an issue. Recommended Midtown hotels:
LUMA Hotel | citizenM Hotel | Aliz Hotel
Tribeca: If you are trying to stay in downtown Manhattan, then I would recommend looking into the Tribeca area. Staying here and you will be just a stone's throw away from the World Trade Center area, 9/11 Memorial Pools & Museum, and the hop on point for the Statue of Liberty.
You will also be pretty close by the Manhattan side entrance to the Brooklyn Bridge. Recommended Tribeca Hotels:
The Roxy Hotel | Sheraton Tribeca | Four Seasons Hotel
If you would rather stay in Brooklyn (and right near Washington Street), then the 1 Hotel Brooklyn Bridge would be a pretty amazing place to stay.
Getting to wake up with the Manhattan skyline out in front of you is quite the experience. Couple that with the fact that you will get prime NYC sunsets from the bar and pool area, it is hard to go wrong here.
» Check out this helpful guide that talks all about the best areas to stay in New York during a visit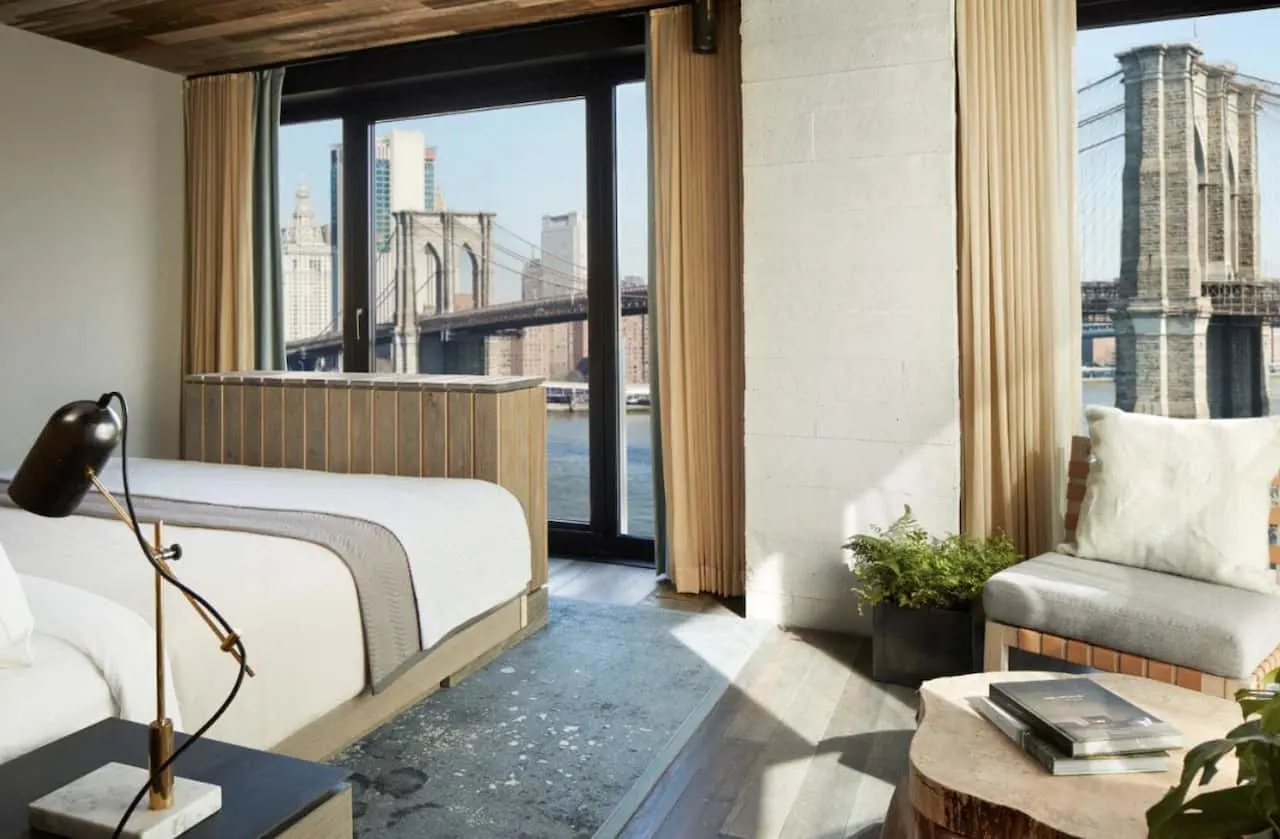 5) Dumbo Photo Spot Locations
There are three main street blocks to captures your photos on Washington Street -> these are between the streets of:
→ Plymouth and Water
→ Water and Front
→ Front and York
Below are some photos of each block to give you a better idea of what the angles and views are like so you can best decide:
Plymouth and Water Street
» For photos up close to the bridge, go to Washington Street between Water Street and Plymouth Street. This block will give you the closest photos of the bridge.
However, you may miss out on the street itself if you get too close to the water. Below are a couple of photos from the middle of the block: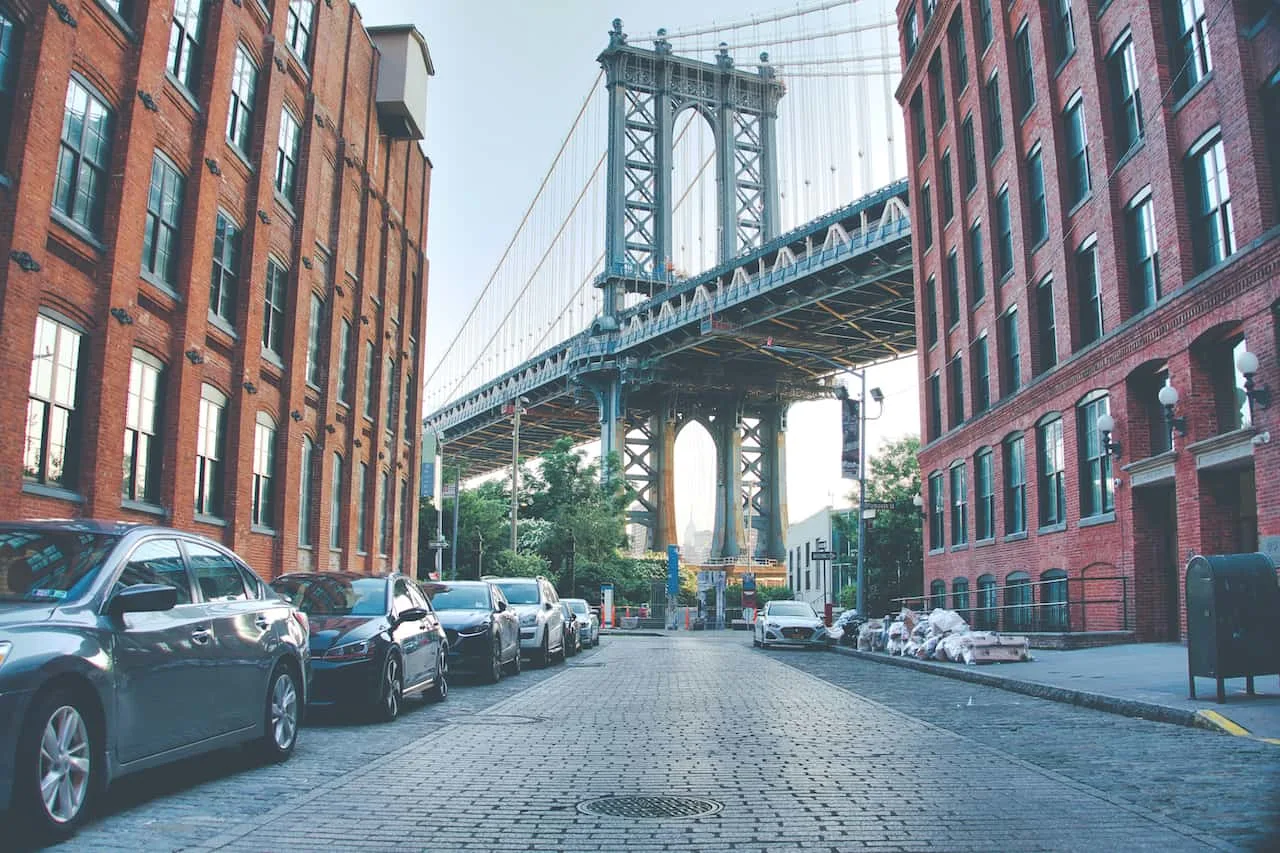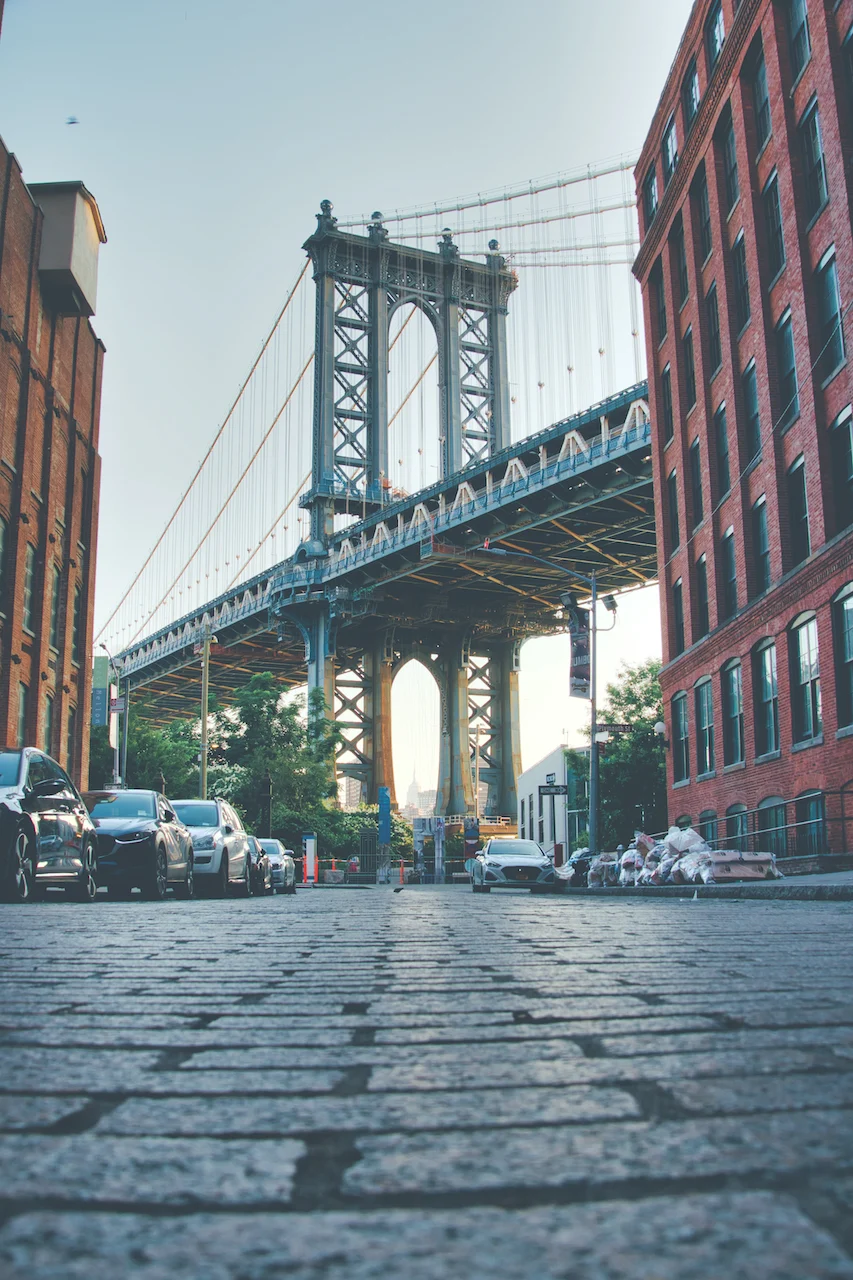 Water and Front Street
» For photos a bit further away from the bridge, go to Washington Street between Water Street and Front Street. This will give you a wider view of the building lined streets.
Below are three photos of the views. The first one is at the corner of Water Street, and then the next two are moving farther away.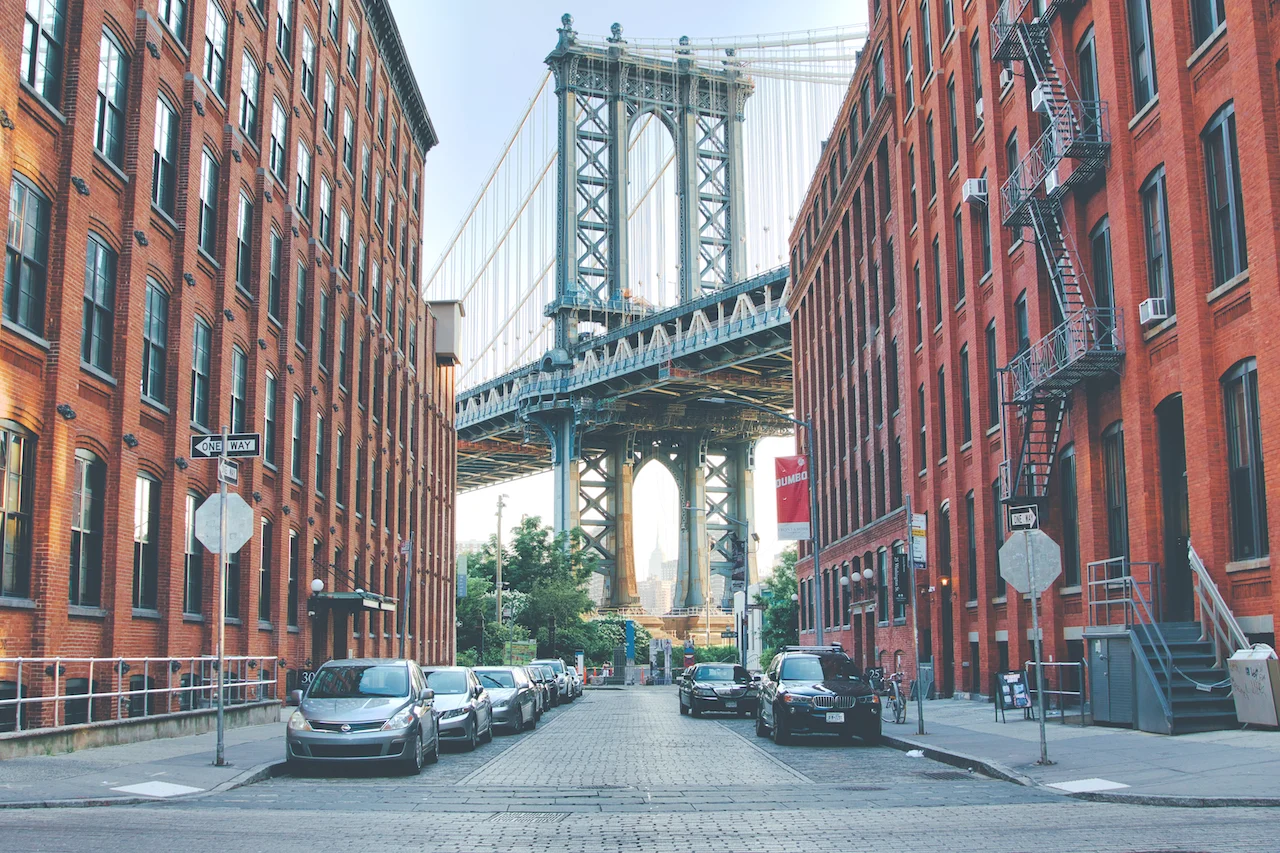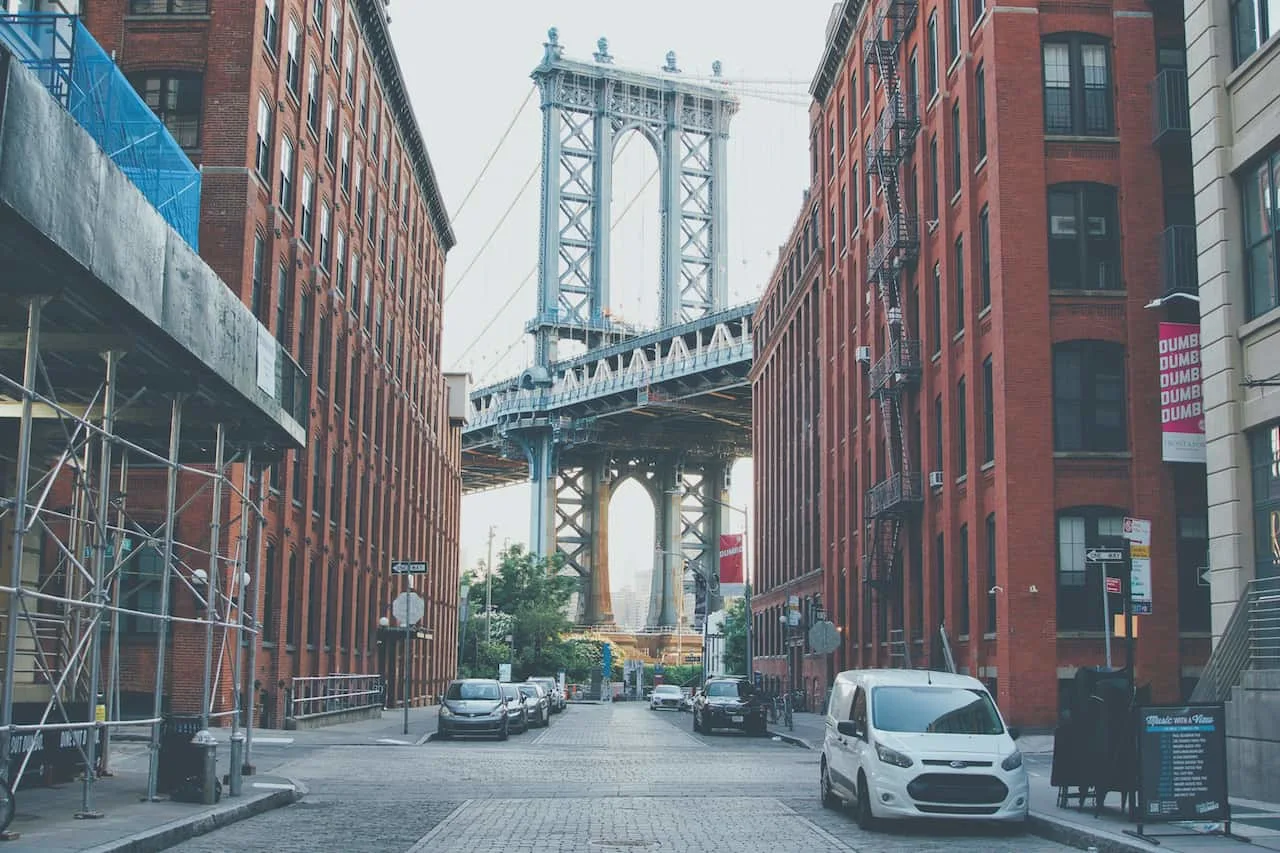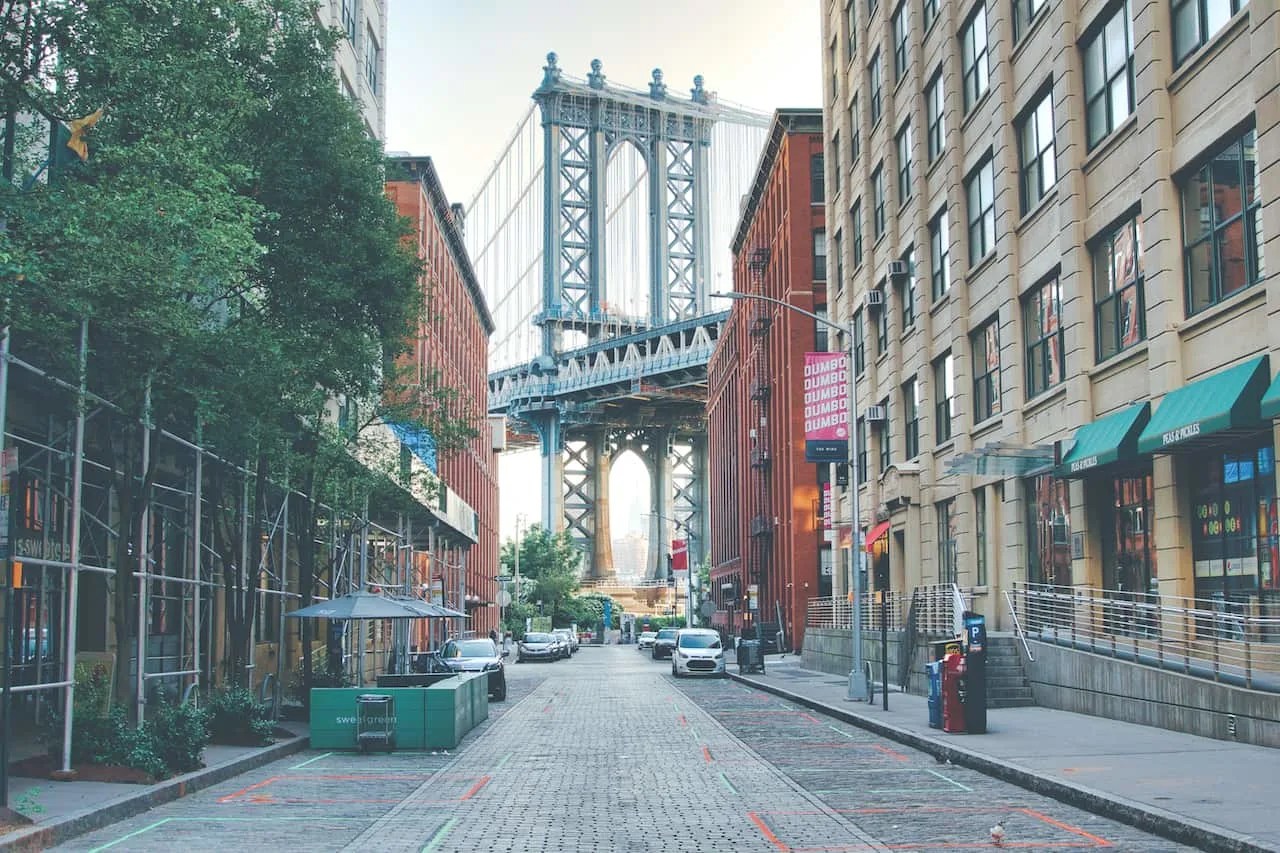 Front and York Street
» Once past Front Street, Washington Street begins to head up a hill towards York Street. If you are there early enough there are fewer cars driving around ruining the view.
You should be able to get some nice shots of the bridge, cobble stoned streets, and tree lined sidewalks all in one view.
Be careful though, as you get further up Washington Street towards York, the Empire State Building may be obstructed.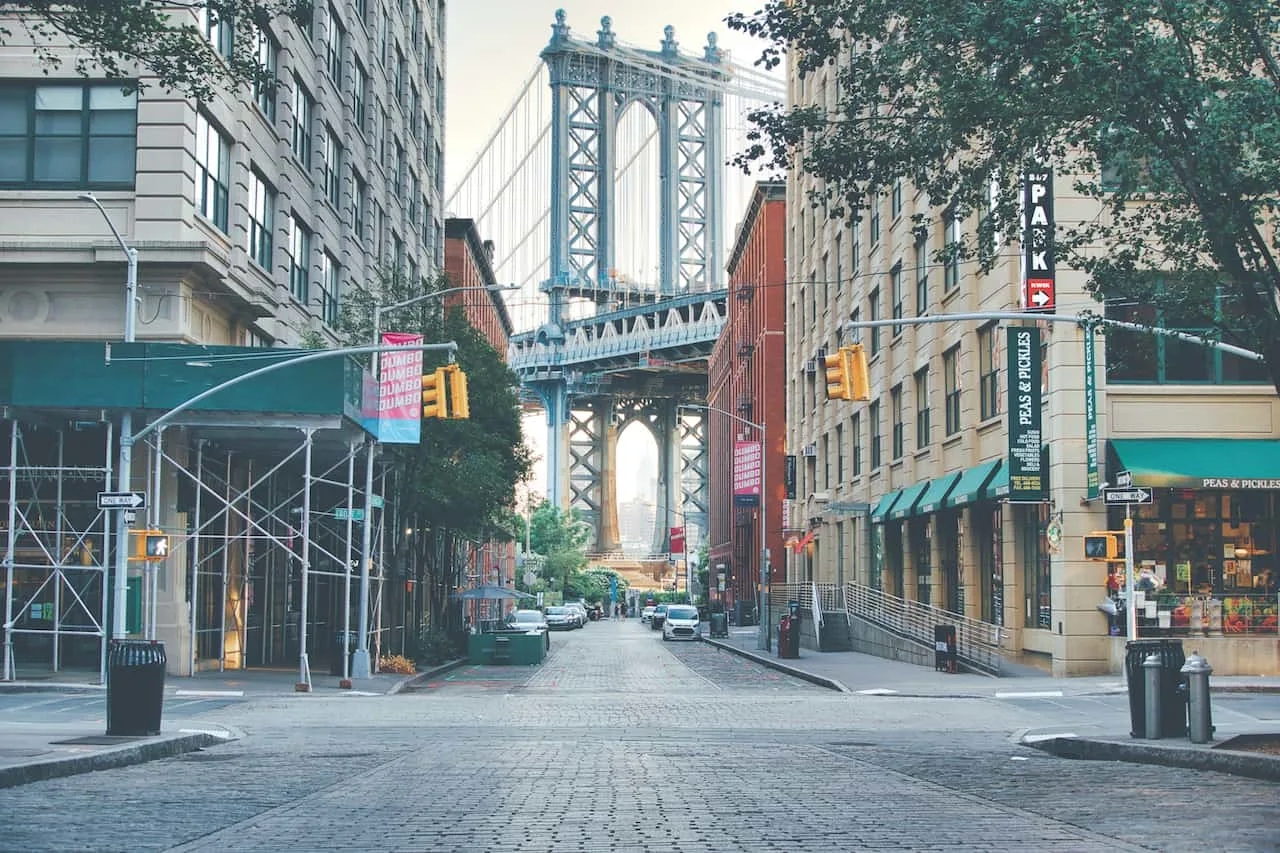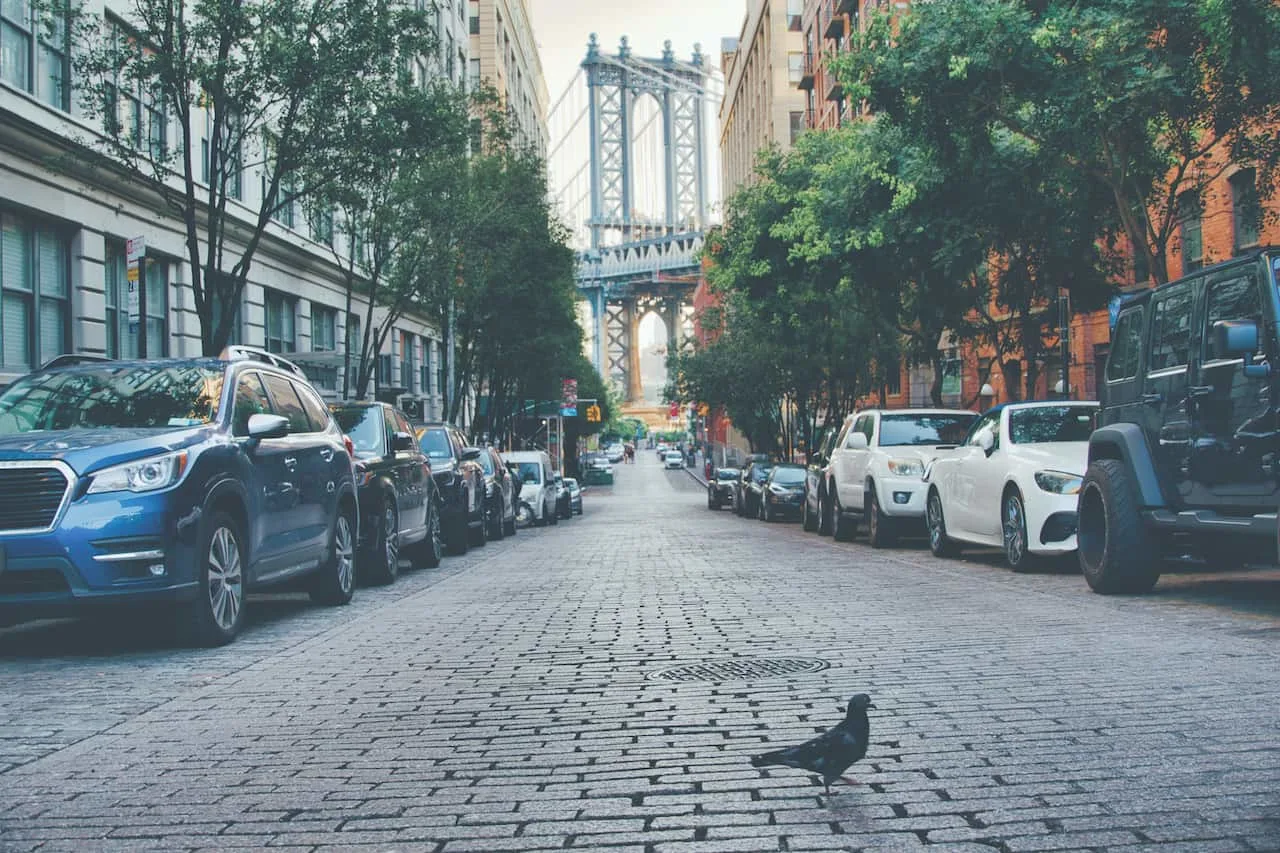 » In all instances, be aware of vehicle traffic on Washington Street and cars turning onto the street from side streets. The further away you are from the bridge, the more cars you are bound to come across.
6) How to Avoid the Crowds
If you are looking to get that perfect photo, odds are you are going to have a tough time doing so at most times of the day.
This is one of the most visited photo spots in all of NYC, with hundreds of thousands of people trying to get the same type of photo.
In my experience, there is only one real option to avoid the crowds here – to visit at sunrise or soon after. Not only will you find few if any people during that time, but you will also avoid most of the car traffic in the area.
Since Washington Street is open to vehicles, you will find that cars make their way on the street throughout the day.
By visiting earlier, you can avoid both the foot and car traffic. Visiting during the week instead of the weekend is another way to avoid at least some of the crowd.
All the photos in the article are taken within the hour after sunrise on a summer weekend.
Below however, is a picture I took of the street later on that same day. Note how many people and cars are lined up all along the street: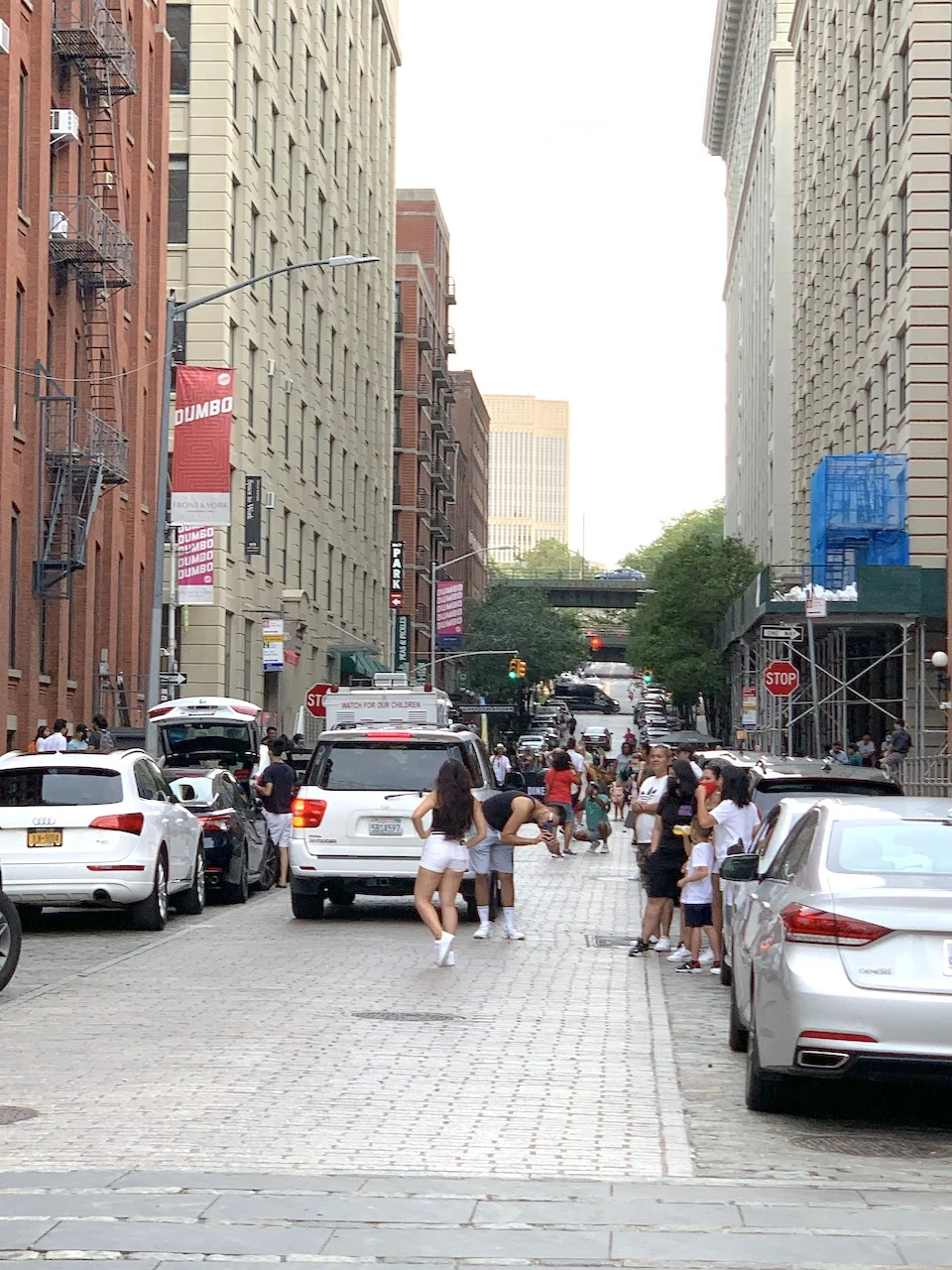 I hope that this has helped with your trip to the Manhattan Bridge view spot in Dumbo! If you have any questions or comments, feel free to write them in below.
Also be sure to check out the other New York itineraries and guides up on the site.
Have fun out there and safe travels!