Located in New York Harbor lays the 172 acre Governors Island. What used to be a military outpost and command headquarters, Governors Island now offers a whole array of activities and attractions for visitors.
This guide will go over some of the best things to do on Governors Island and talk through logistics, openings hours, overnight options, & more.
So, if you are thinking of taking a day trip from the NYC mainland during your time in the city, read on to learn more about this one of a kind Island.
* Affiliate Disclosure: This post may contain affiliate links, which means I may receive a commission if you make a purchase through the links provided, at no additional cost to you. Thanks for supporting the work I put into TripTins!
1) History & Facts
Let's start out with some interesting historical facts about Governors Island and how it came to be.
Native Americans: The first settlers of the island were the Lenape Native Americans of the Manhattan region. The original name was called Paggank (Nut Island). This was due to the vast array of hickory, oak, and chestnut trees present there.
Dutch: After the Dutch settled in New York City in 1624, they renamed it Noten Eylandt. Many set up camp here before making their way over to what is now known as Manhattan.
British: It was then in 1664 when the British took over the New York area including the island – what they called Nutten Island. In 1699 the island was made into a reserve for the British royal governor, and renamed Governors Island.
United States: After the American Revolution, the British gave up control of their territory. The island served as a military post for the US Army and US Coast Guard from 1794 to 1996 (over 200 years!).
Today: 22 acres is part of the Governors Island National Monument (managed by the National Parks Service), and 150 acres is looked after by the city of New York. Throughout the island you can find restaurants, a spa, overnight retreat, fields, lookout points, and much more.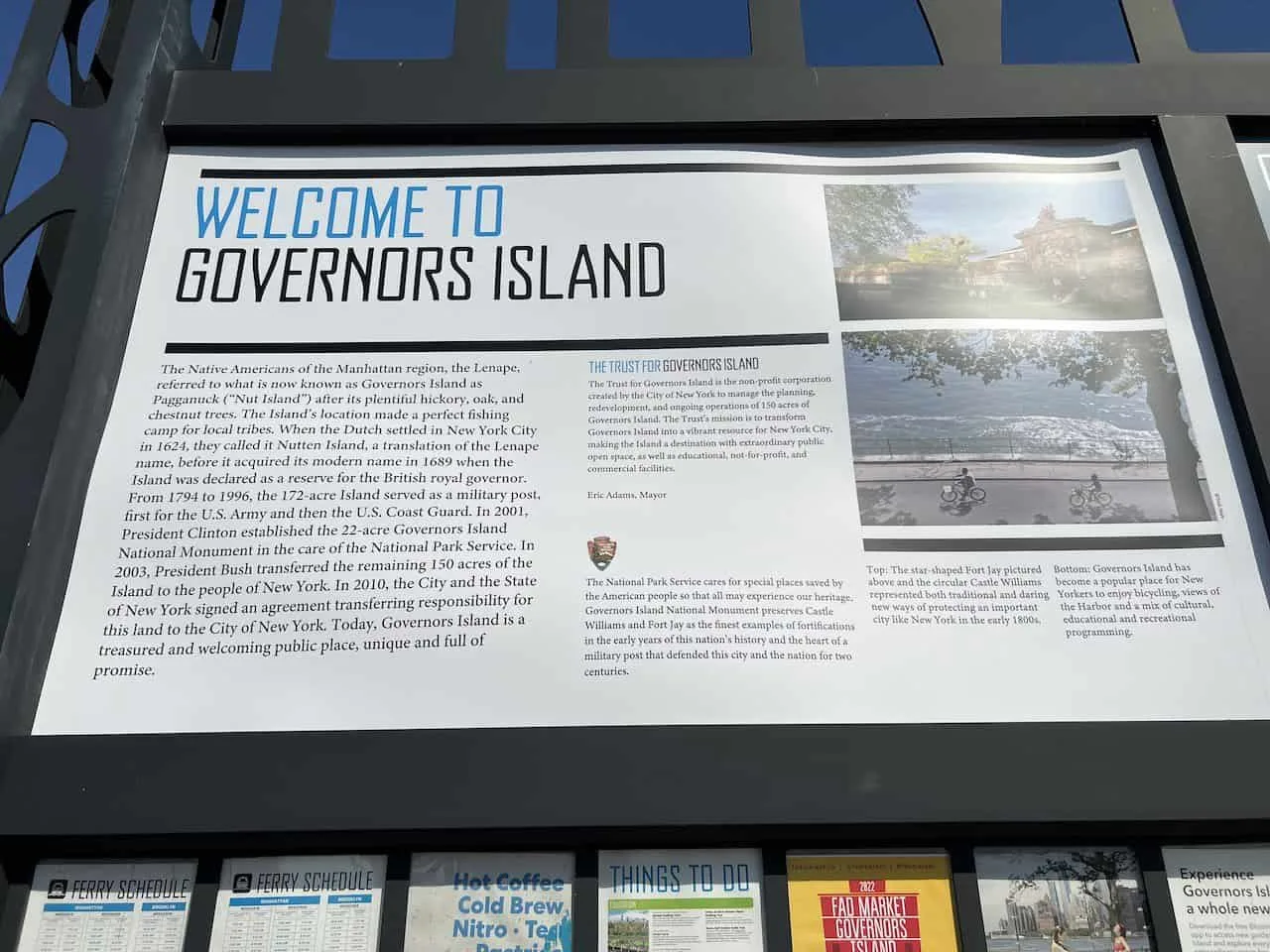 2) How to Get to Governors Island
There is only one way for visitors to get to Governors Island, and that is by ferry. Year round you will find a ferry service that takes visitors from Manhattan and Brooklyn to/from the island.
Governors Island Ferry
There are two ferries that run routes to Governors Island. One of them is run by the Trust for Governors Island and the other is run by the NYC Ferry Service.
On the island you will also find two ferry terminals – one at Soissons Landing and one at Yankee Pier. Depending when/where you are coming from will dictate which terminal you will get off/on at.
A) Trust for Governors Island Ferry
The Trust for Governors Island runs ferries from the Battery Maritime Building at 10 South Street (10 minute walk from the South Street Seaport in Manhattan) to Soissons Landing.
In addition, they also run ferries from Pier 6 (Brooklyn Bridge Park) and Red Hook/Atlantic Basin to Yankee Pier as a weekend seasonal service. This is usually from the Spring – Fall time period.
B) NYC Ferry Service
In addition to the ferries run by the Trust, the NYC Ferry system also has ferries to/from the island.
Governors Island Route
Seasonally, you will find a ferry service running from Pier 11 (Manhattan) to Governors Island. When this route is not operating, you should be able to just take the ferry from 10 South Street mentioned above or the South Brooklyn route.
South Brooklyn Route
In addition to the seasonal route, the NYC ferry service also runs their normal "South Brooklyn" route. From north to south, this route stops at Corlears Hook, Pier 1 Brooklyn Bridge Park, Wall Street Pier 11, Pier 6 Brooklyn Bridge Park, Red Hook, Governors Island, Sunset Park, & Bay Ridge.
Please always check the ferry schedule for the latest in case routes/schedules change.
How Much is the Ferry?
The round trip ferry ticket to Governors Island costs just $4 (through either ferry provider).
You can purchase tickets ahead of time to guarantee your departure time by clicking the link above for Trust for Governors Island tickets. Note that you do not need to book return tickets.
Or you can visit the NYC Ferry website to purchase tickets if taking their route. Reservations are not required on the NYC Ferry network.
How Long Does the Ferry Take?
The Governors Island ferry takes just around 8 minutes from Pier 11 and 10 South Street. It is similar times from the Brooklyn stops as well.
Note that you should plan to get to the ferry terminal around 15 minutes prior to departure.
Is Governors Island free on Weekends?
Yes, if taking a ferry operated by the Trust, you can ride the ferry for free on Saturdays and Sundays before Noon (NYC ferries are not free, however).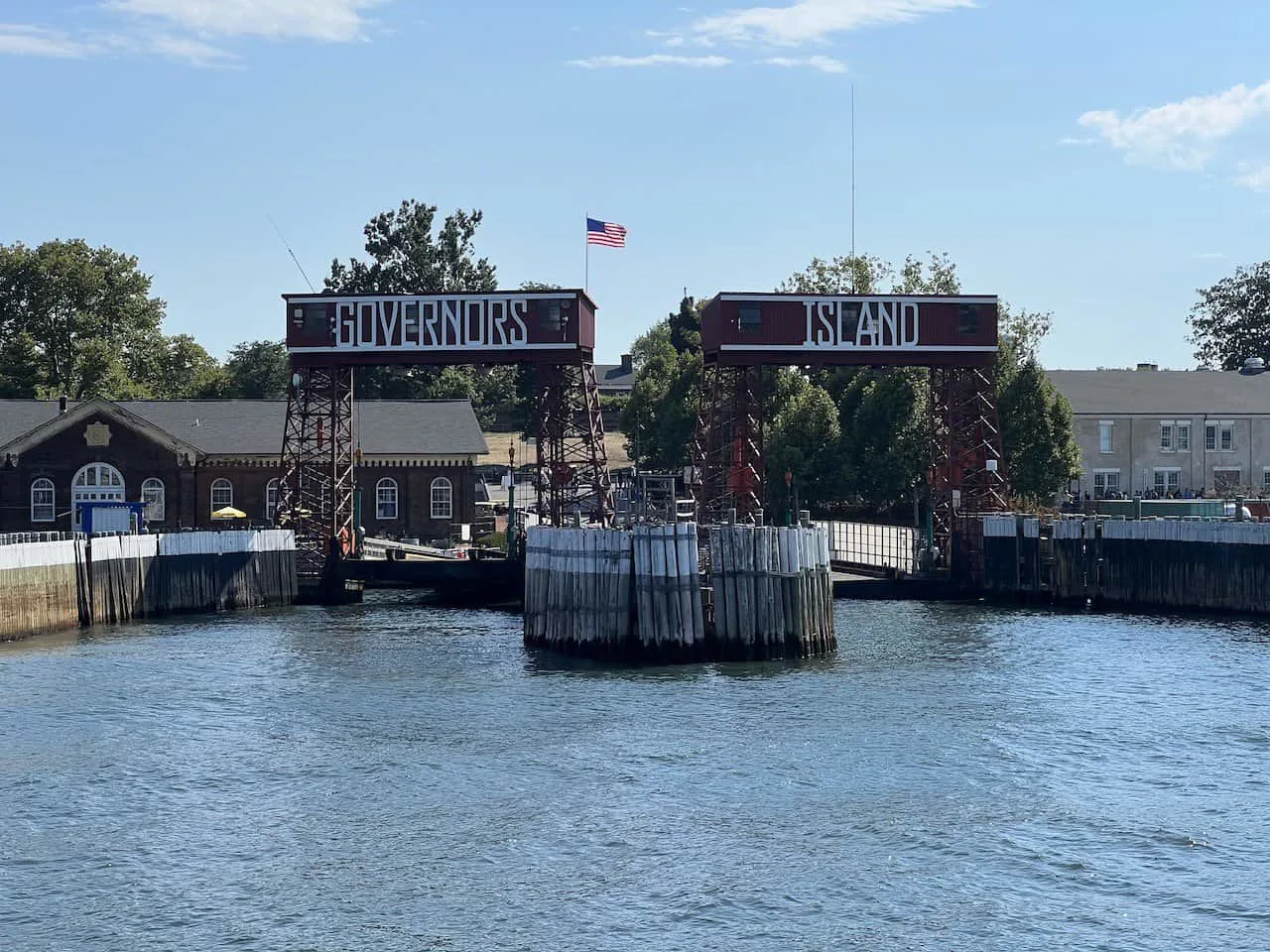 3) When Is the Island Open
Governors Island is open daily year round. This is a change from previous years, when there were only seasonal visitors to the island.
But today, you can head on over to the island to explore all that it has to offer no matter when you are visiting NYC.
Opening hours for the island will depend on time of year and will essentially be dependent on the ferry schedule.
During the winter for example, hours typically run from 7:00AM to 6:00PM. However, during the summer season, you can expect closing time to be closer to 11:00PM, as you get to enjoy sunsets and drinks along Soissons Landing.
Note: for those tenants/guests visiting places like QC NY, Island Oyster, Taco Vista, and Collective Retreats, there are evening ferries available too.
As always, just be sure to visit the official website for the latest opening hours.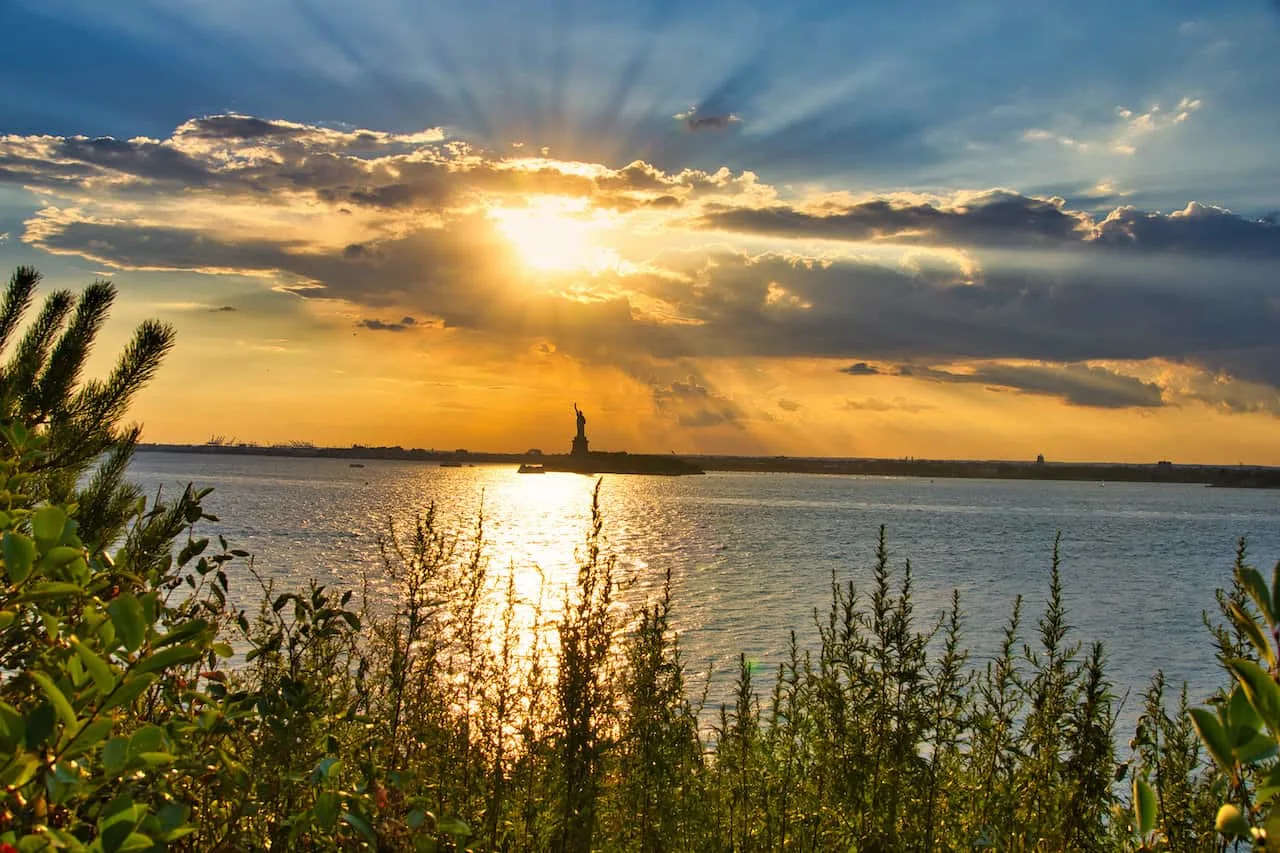 How Much Time Do You Need at Governors Island
I would recommend setting aside around 3-4 hours to visit Governors Island. This should give you enough time to walk around the island, visit the historical sites, take in some views, have a meal & some drinks, and even rent a quadricycle or bicycle.
Of course, if visiting the QC NY Spa, then you will most likely be staying longer. I would even say this could end up being a full day activity if that is the case.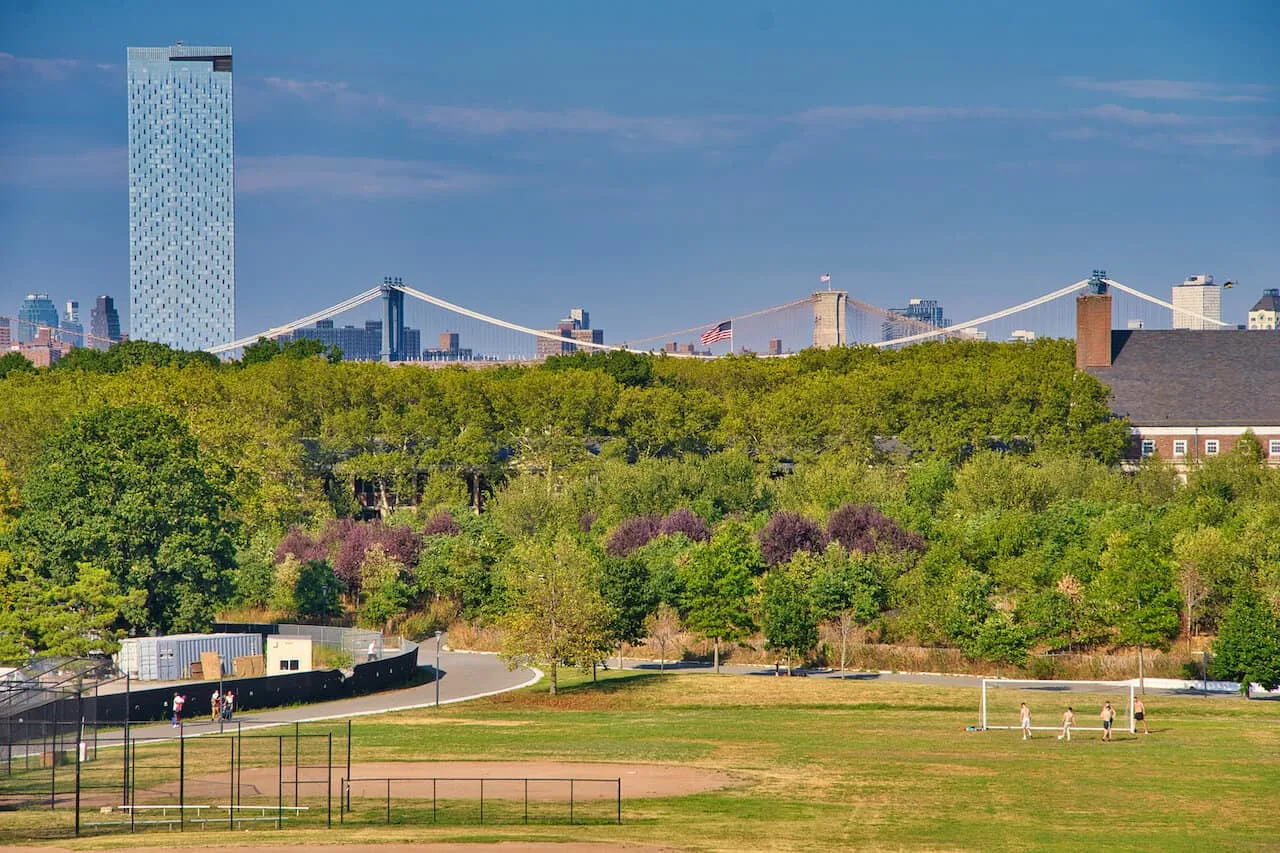 4) How to Get Around
There are many ways to go about your time on the island once you are there. Below are some of the most popular options to choose from:
Walking
The perimeter of Governors Island is just about 2 miles, making this a perfect loop to walk. All along this perimeter you will find a paved walking path, which makes this even more accessible.
Of course, you can also visit some of the inner paths and highlights, along the way (more on those soon).
How Long is the Walk Around the Island?
If just making the full loop on Governors Island, the walk around should take approximately 40 minutes. If you are also planning to visit some other highlights around the way, this time can go up to 2-3 hours (or more).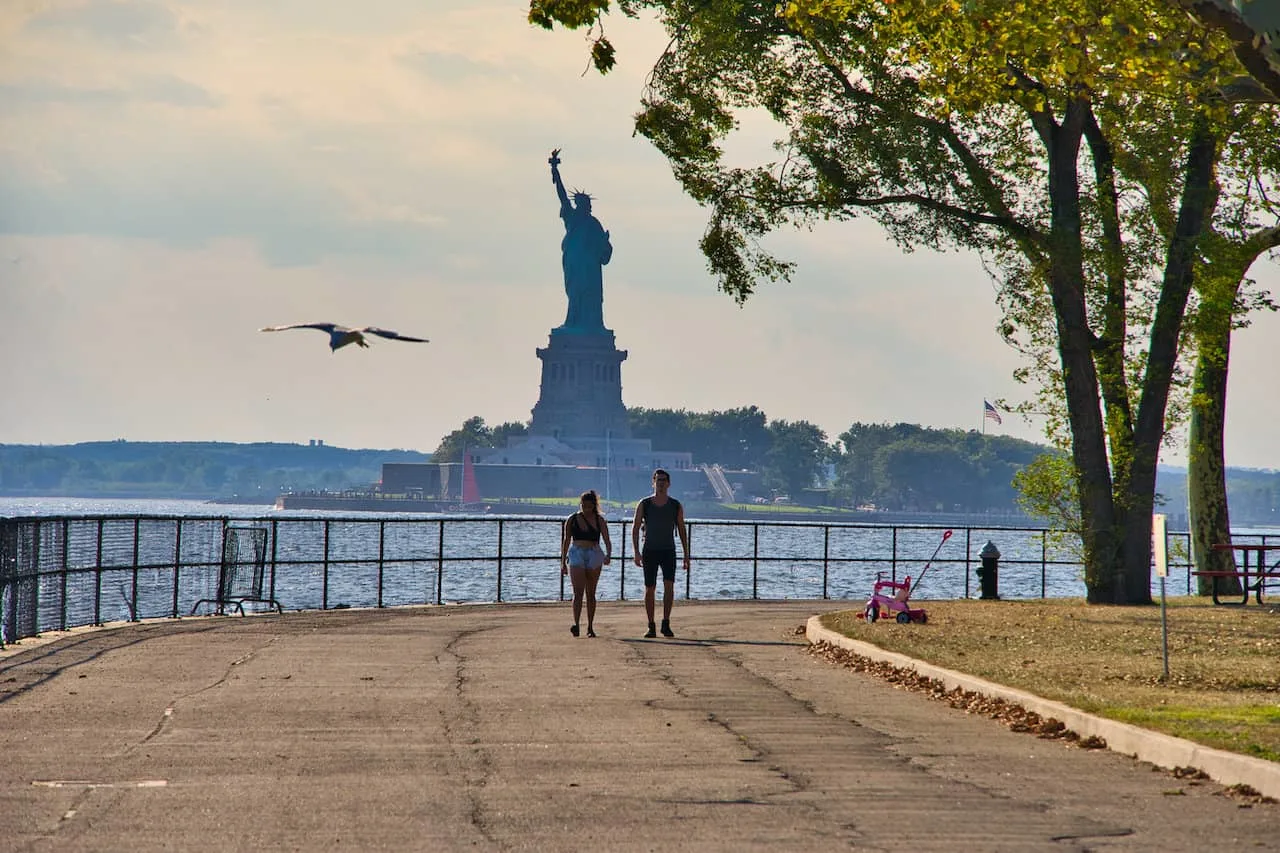 Bicycle & Quadricycle Rental
One of the most convenient ways to explore the island is by bicycle or quadricycle. These can be rented at Blazing Saddles, located nearby Soissons Landing.
Prices vary based on vehicle type and duration of rental. But expect bicycles to be in the range of $20 – $30 for 2 hours, and quadricycles to be around $40 – $50 for 1 hour. You can also rent these small non motorized go karts, if you want to ride around in style.
Note: there are Citi Bike stations on the island if you rather rent a bike that way.
How Long is the Bike Around the Island?
The ~2 mile perimeter loop will take just 10 minutes to ride around with no stops. However, I would imagine you aren't just going to zoom through the whole island.
If you do want to still enjoy all the top highlights and avoid the walking, then a bicycle will be the more convenient option for you.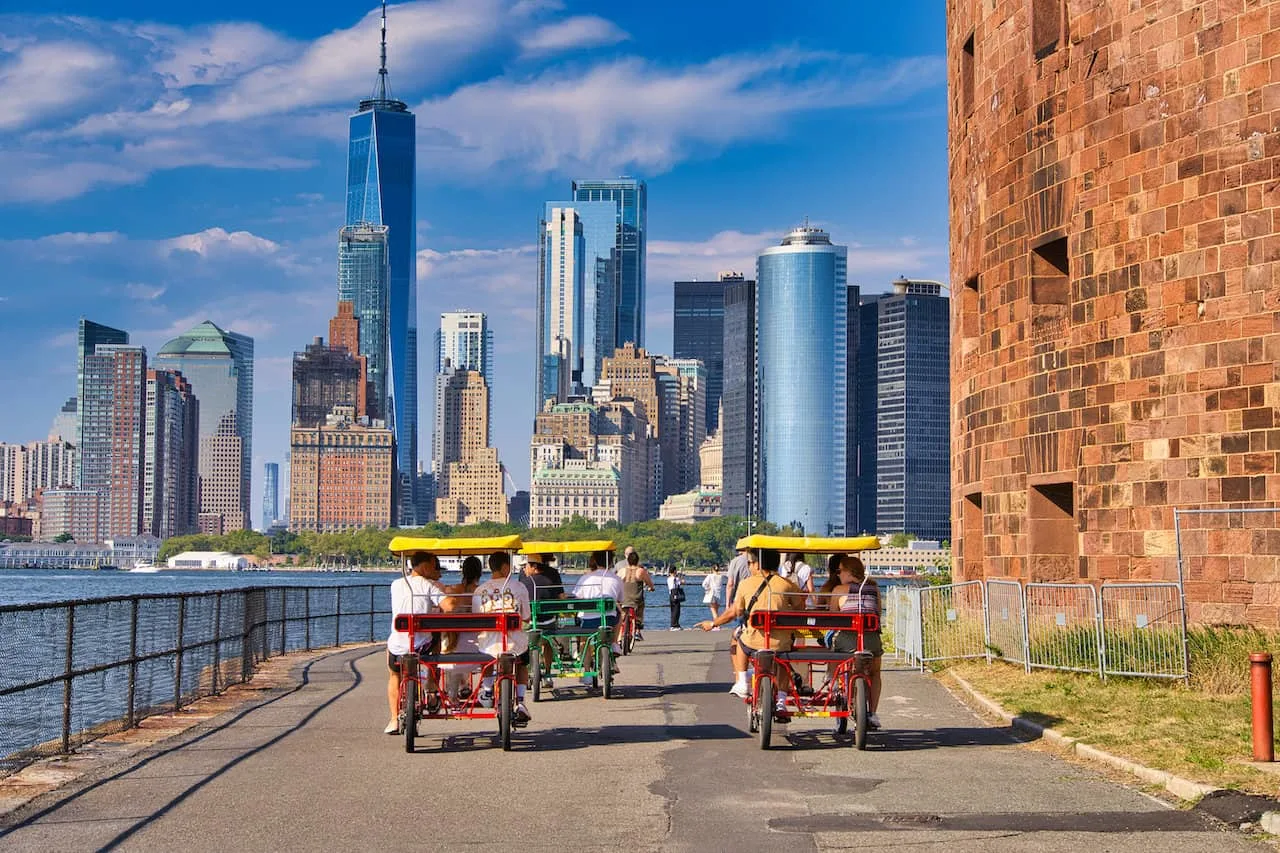 Kayaking
Near Soissons Landing you will also find a kayak rental station. These kayaks are offered at the Downtown Boathouse at Pier 101. The kayaks are free to rent every Saturday during the June to September time period.
5) Governors Island Map
Before talking through the top Governors Island things to do, you can take a look at the map below to understand the layout.
Altogether, the island is pretty easy to navigate so you shouldn't have too many issues when you are there.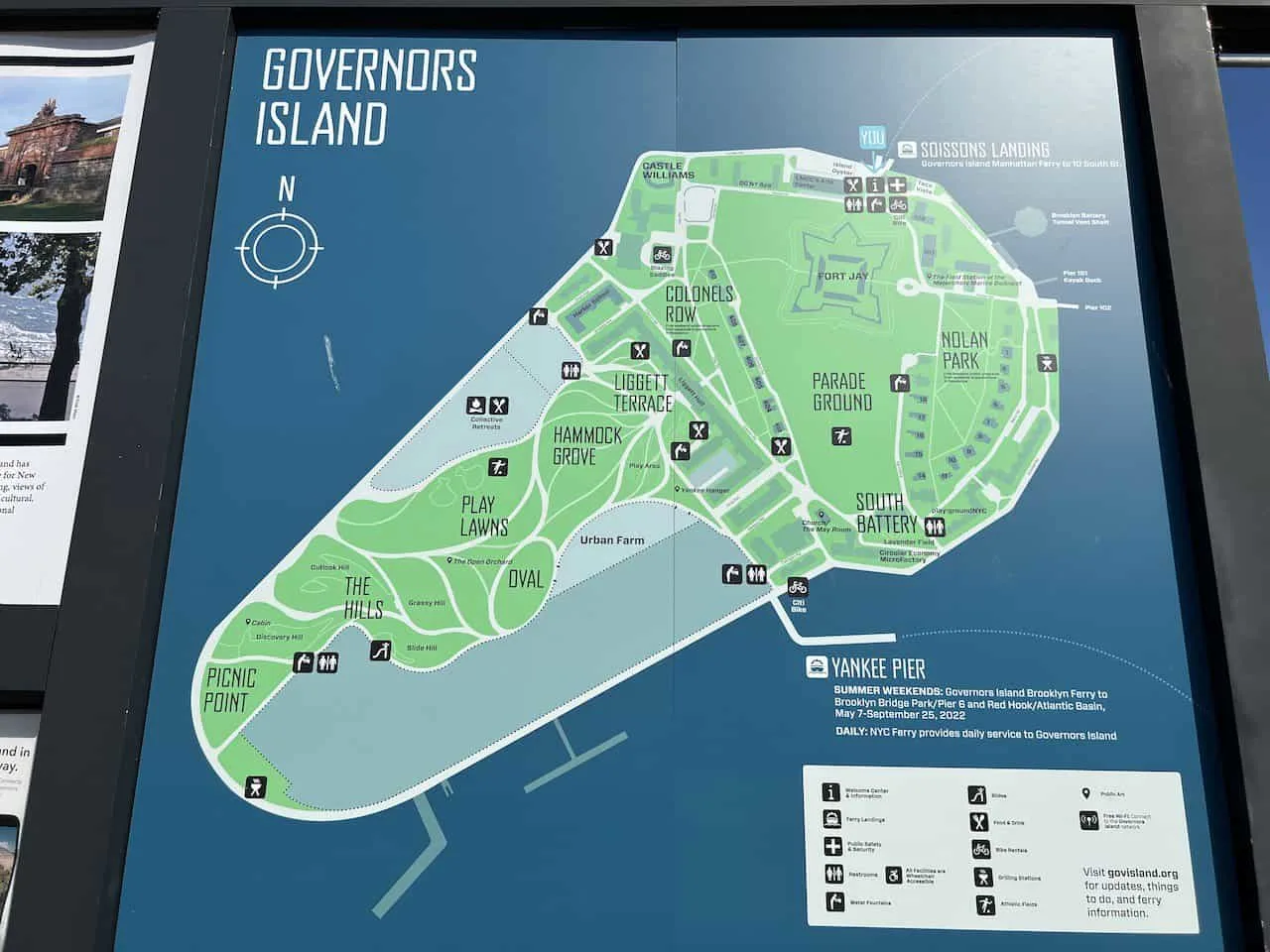 6) Governors Island Things To Do
When it comes to things to do on Governors Island, there will be plenty to choose from depending on your interests. Below are some of the best activities and attractions that you will find throughout the island.
Learn More: Be sure to also check out some of the other top things to do in New York City during a visit!
Castle Williams
If you want to take in some history, make your way over to Castle Williams. This circular defensive structure was built in the early 1800's as a fort for the US Army.
Note that Castle Williams and Fort Jay (more on that next) can be toured during seasonal weekends. Be sure to check out the latest hours of operation before you go.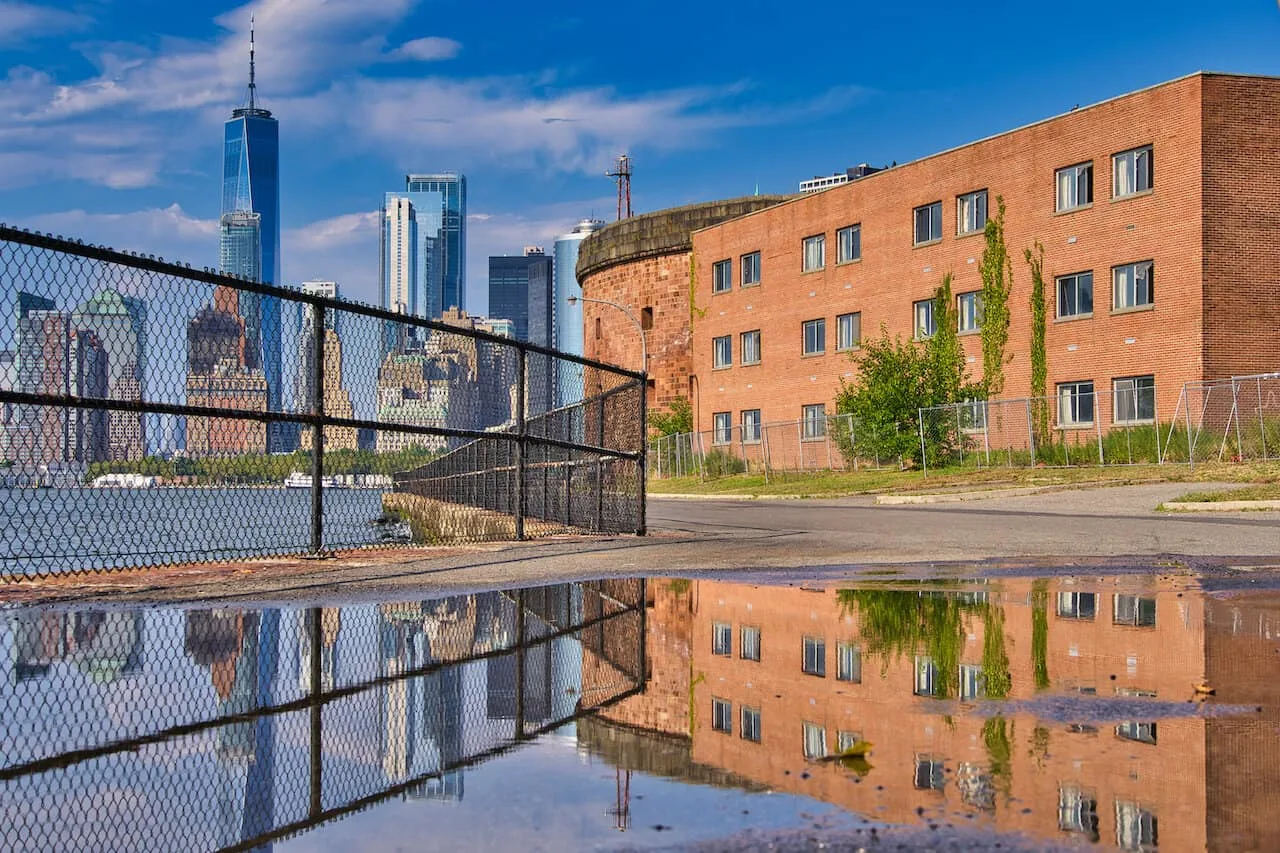 Fort Jay / Parade Ground
Nearby Castle Williams you will find another historical structure called Fort Jay. This was part of the larger overall defense system for the US Army, and was built in the late 1700's. The fort was named after John Jay, one of the founding fathers of the United States and once New York governor.
Just outside of Fort Jay you will find a large open grassy area called Parade Grounds. This can be used for sports, concerts, picnics and other recreational activities.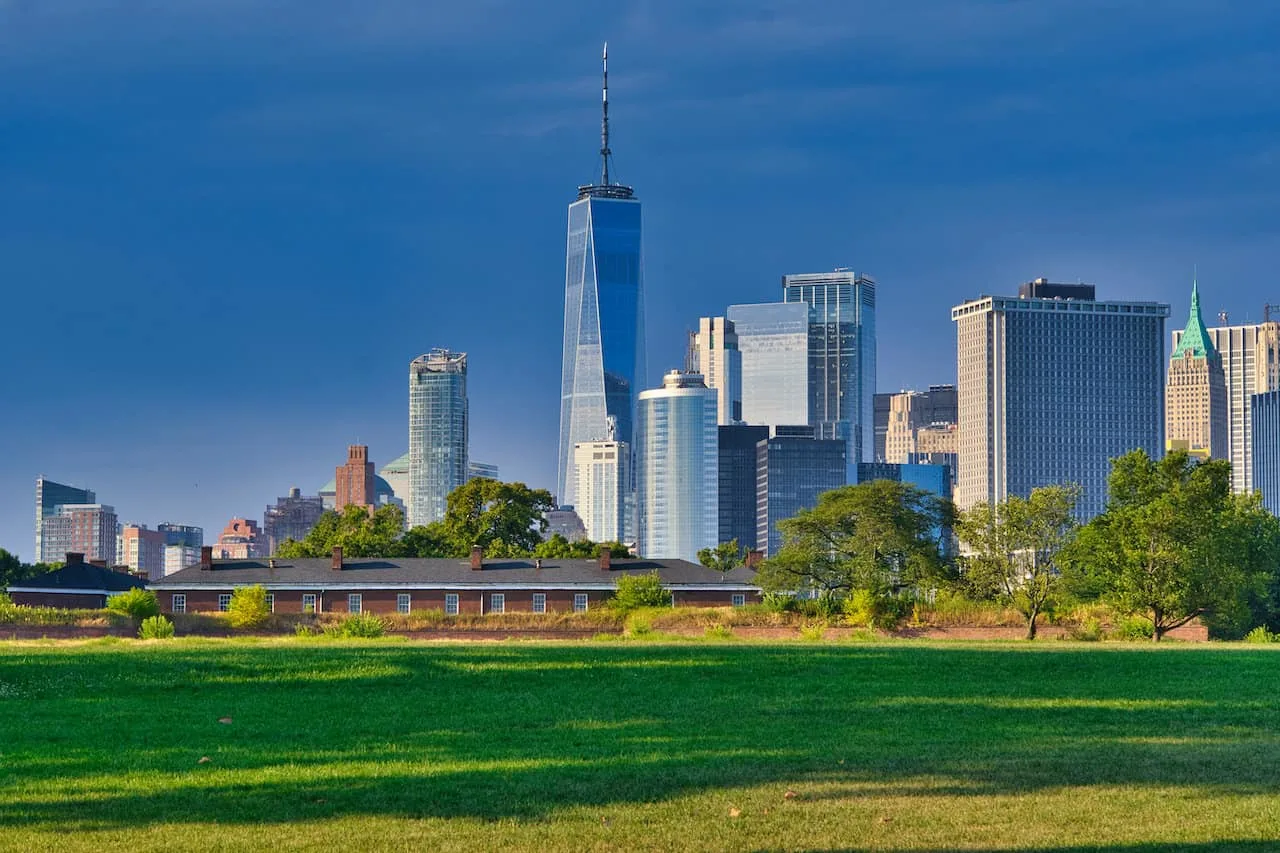 Liggett Terrace & Colonels Row
Throughout Governors Island you will find a whole bunch of houses and large halls. These of course were once used by the military but now stand vacant (for the most part).
Just besides the Parade Ground you will find Colonels Row and Liggett Terrace (home to Liggett Hall). Colonels Row is made up of 8 brick houses and Liggett Hall was a former barracks. At the time of opening, the Hall was one of the world's largest army barracks.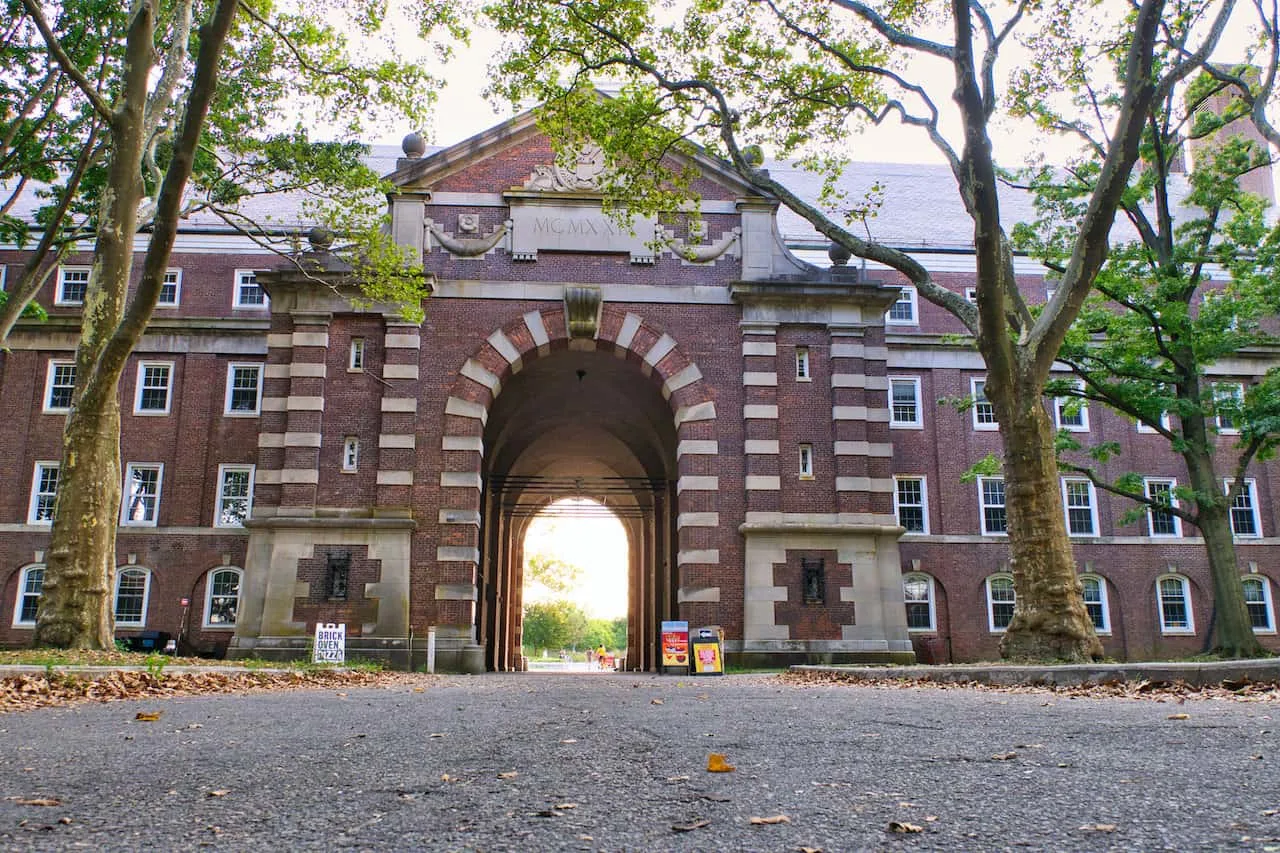 QC NY Spa
While there are certainly some old historical sites on the island, there are also some newly renovated places as well. One of these is the QC NY Spa, which was opened in 2022. What used to be army barrack buildings, has now turned into one of NYC's best spa experiences.
Throughout the complex you can find spa pools, saunas, relaxation rooms, steam baths, Vichy showers, foot baths, infrared beds, and more. If you are looking to combine that all with a massage, that is a possibility as well.
There are few main ticket packages to choose from:
Entrance Wellness Experience: Access to all amenities
Break Entrance: $98 – 3 hour experience
Evening Entrance: $98 – entrance from 5PM onwards
Escape Entrance: $124 – 5 hour experience
Daily Entrance: $158 – no time limit
Massage Options
Short Massage: $100 – 30 minutes
Traditional Massage: $195 – 50 minutes
Long Massage: $250 – 75 minutes
Note that weekend prices are around $20 extra per ticket
For latest offerings and prices be sure to check out the QC NY Spa website.
Does Governors Island Have a Pool?
Yes, Governors Island does have a pool located at the QC NY Spa. If you purchase an entrance ticket for the spa, you can go ahead and enjoy a swim on the island.
In addition to the pool at the QC Spa, you will find food and drink options for an extra cost.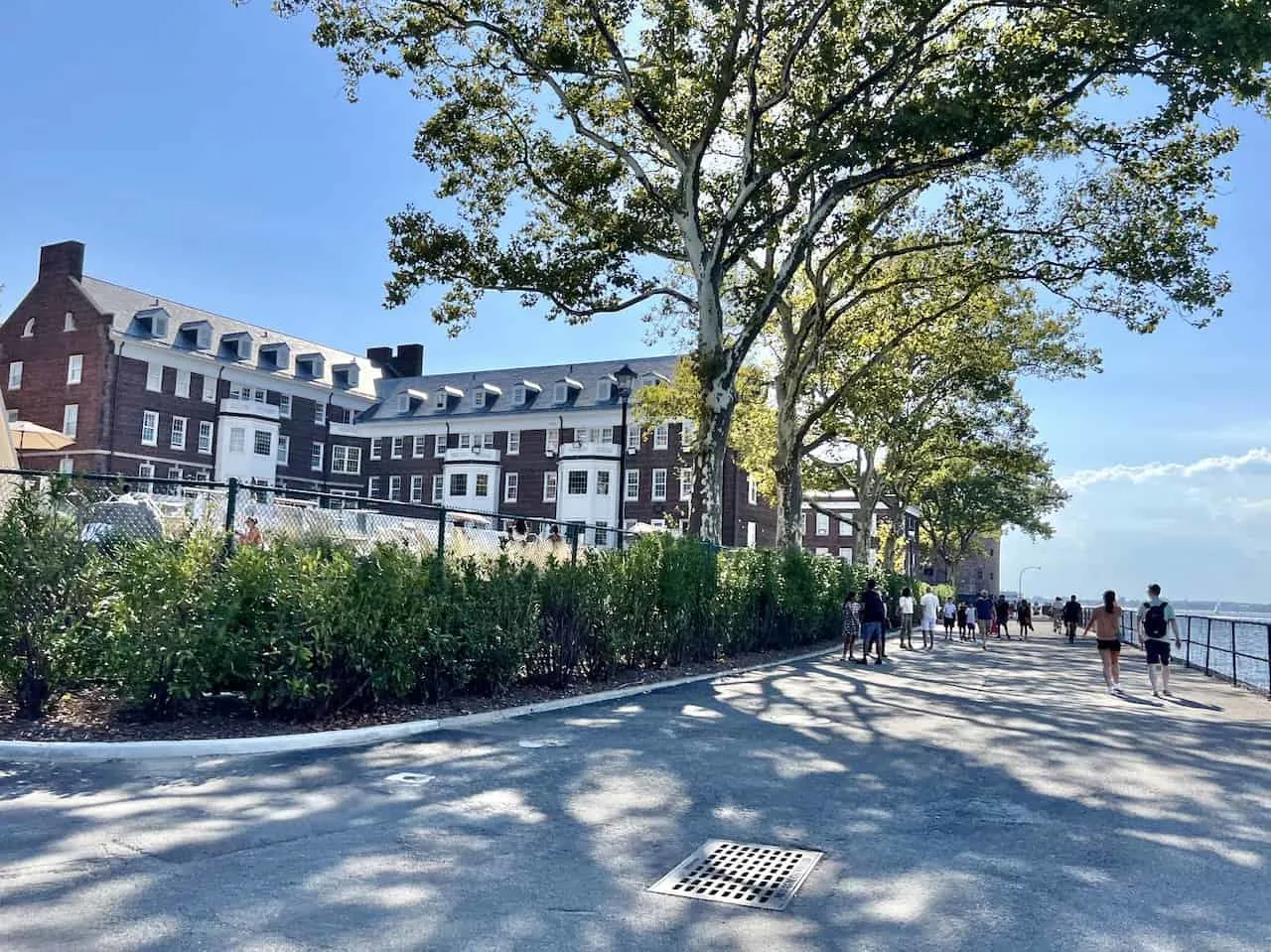 Collective Retreats
Now, if you want to have the opportunity to stay overnight on the island, there is an option for you too. Here you will find a glamping experience called Collective Retreats.
During the Spring to Fall time, you will be able to stay in one of several glamping sites on the property. This is great for those that want to get out of the hustle and bustle of NYC and just enjoy a relaxing evening on the island.
Getting to enjoy early mornings and late nights on Governors Island is something that not many get to experience.
In addition to the glamping, you will find a full service restaurant and bar to take care of any meals that you may need during your stay.
Below are a few helpful answers to the most frequently asked questions about Collective Retreats.
How Much Does is Cost to go Glamping?
Staying at Collective Retreats is going to be a bit more on the expensive side for most. While prices change over time, below you can find some of the latest prices:
Weekday
Journey Tent: ~$500 per night
Summit Tent: ~$750 per night
Outlook Shelter: $~850 per night
Weekend
Journey Tent: ~$750 per night
Summit Tent: ~$1,000 per night
Outlook Shelter: $~1,100 per night
Be sure to check out Collective Retreats for exact pricing for your specific nights, and also read through some of the best places to stay in NYC
Do You Need to Make Reservations?
While you do not need to make reservations to visit Governors Island, you do need to make reservations to stay at Collective Retreats.
This is one of the more unique overnight experiences that can be enjoyed in NYC. Due to this, glamping can frequently sell out throughout the year.
To guarantee you spot, be sure to book ahead of time once you put together your trip.
Can You Spend the Night on Governors Island?
Yes, you can spend the night on Governors Island as a tourist. But staying at Collective Retreats will be your only option here.
If this is something of interest, be sure to reserve your spot for an overnight glamping experience.
Also note that the retreat is only open from May until October.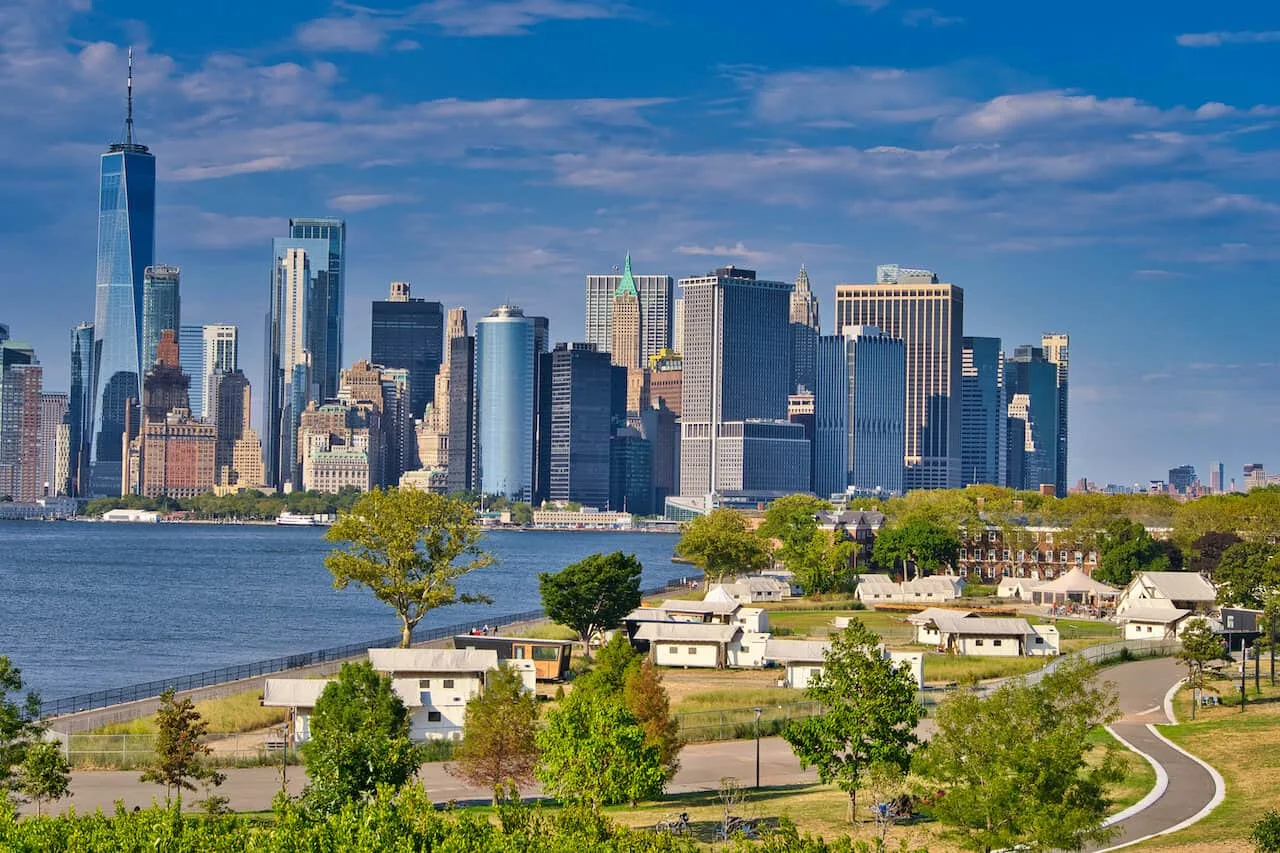 The Hills – Outlook Hill, Discovery Hill, Grassy Hill, Slide Hill
Some of my favorite parts of Governors Island are the elevated lookout points located at the southern end. You will find four hill areas here named Outlook, Discovery, Grassy, and Slide Hill.
From up top on some of them you will get great views of the island, the NYC skyline, the Statue of Liberty, Brooklyn Bridge and more. At Slide Hill, you will find the longest slide in NYC at 57 feet long!
These are some of my favorite NYC photo spots to visit during a trip to the city!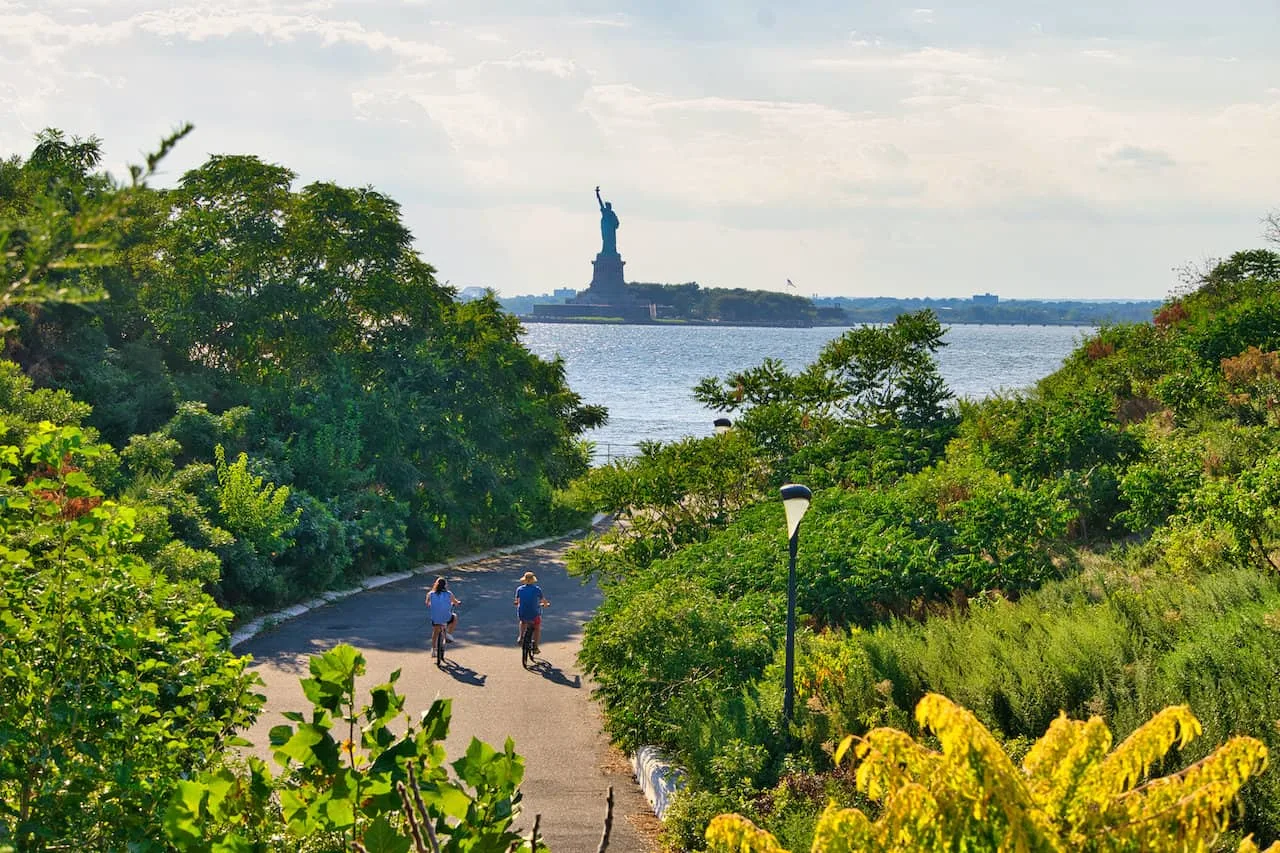 Picnic Point
Located just on the other side of these hills you will find Picnic Point. You guessed it! Here is the perfect spot to set up a nice picnic overlooking the water, skyline, and Statue of Liberty.
During the summertime, you should also be able to enjoy some beautiful NYC sunset views, when the sun sets directly behind the Statue of Liberty.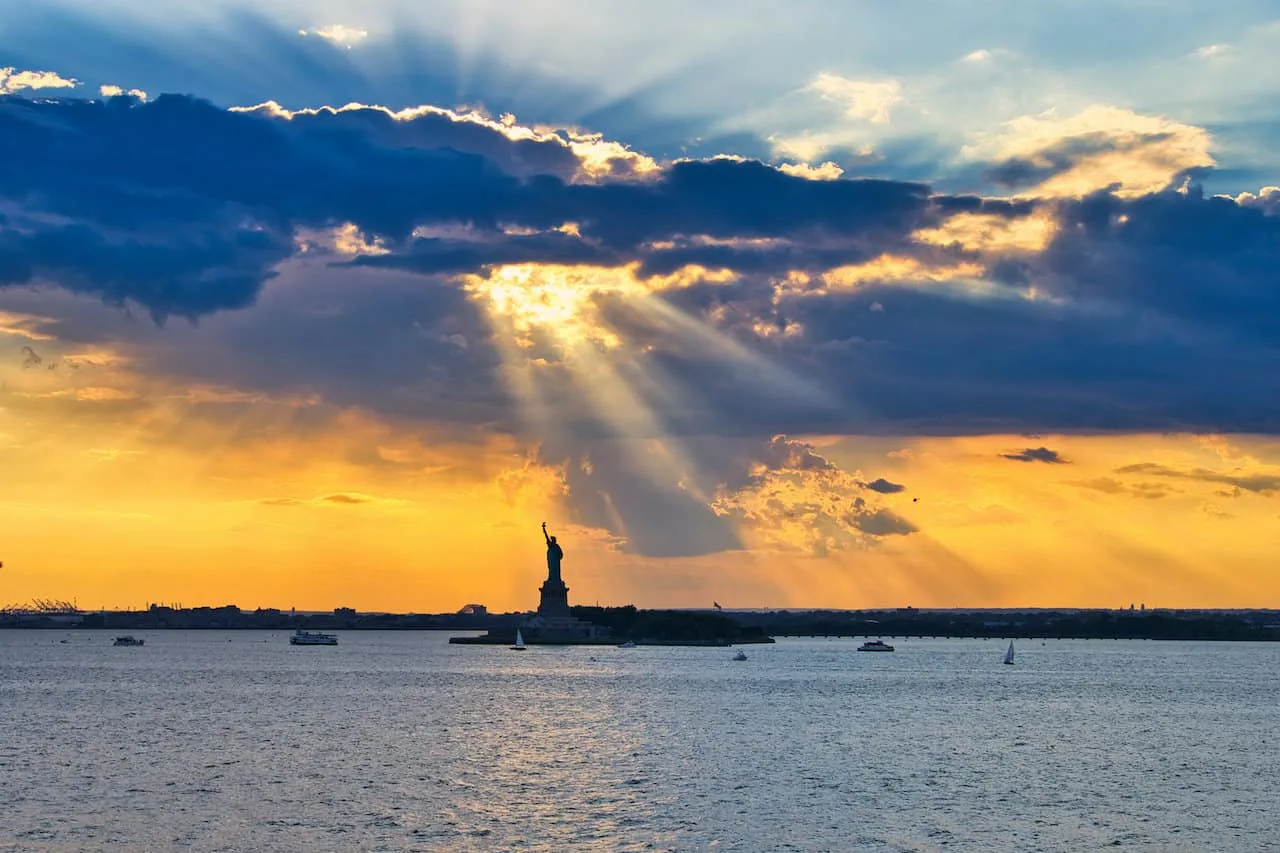 Urban Farm
For those interested in gardening, you will find an Urban Farm on the island. This is called the GrowNYC Teaching Garden and helps educate visitors on urban farming.
The garden is open to the public from May to October and it offers tours, workshops, and more. Here you will find 20 vegetable beds, an outdoor kitchen, greenhouse, hoophouse, fruit trees, and more.
Another great aspect of the garden is that much of the fruits, vegetables and herbs are donated to a local food pantry.
Hammock Grove
While there are plenty of grassy areas around the island to relax in, you will also find Hammock Groove.
At Hammock Grove, there are a number of hammocks set up, where you can take a seat and spend some time in.
Whether just taking a nap, reading a book, or just hanging out, these hammocks are the perfect spot.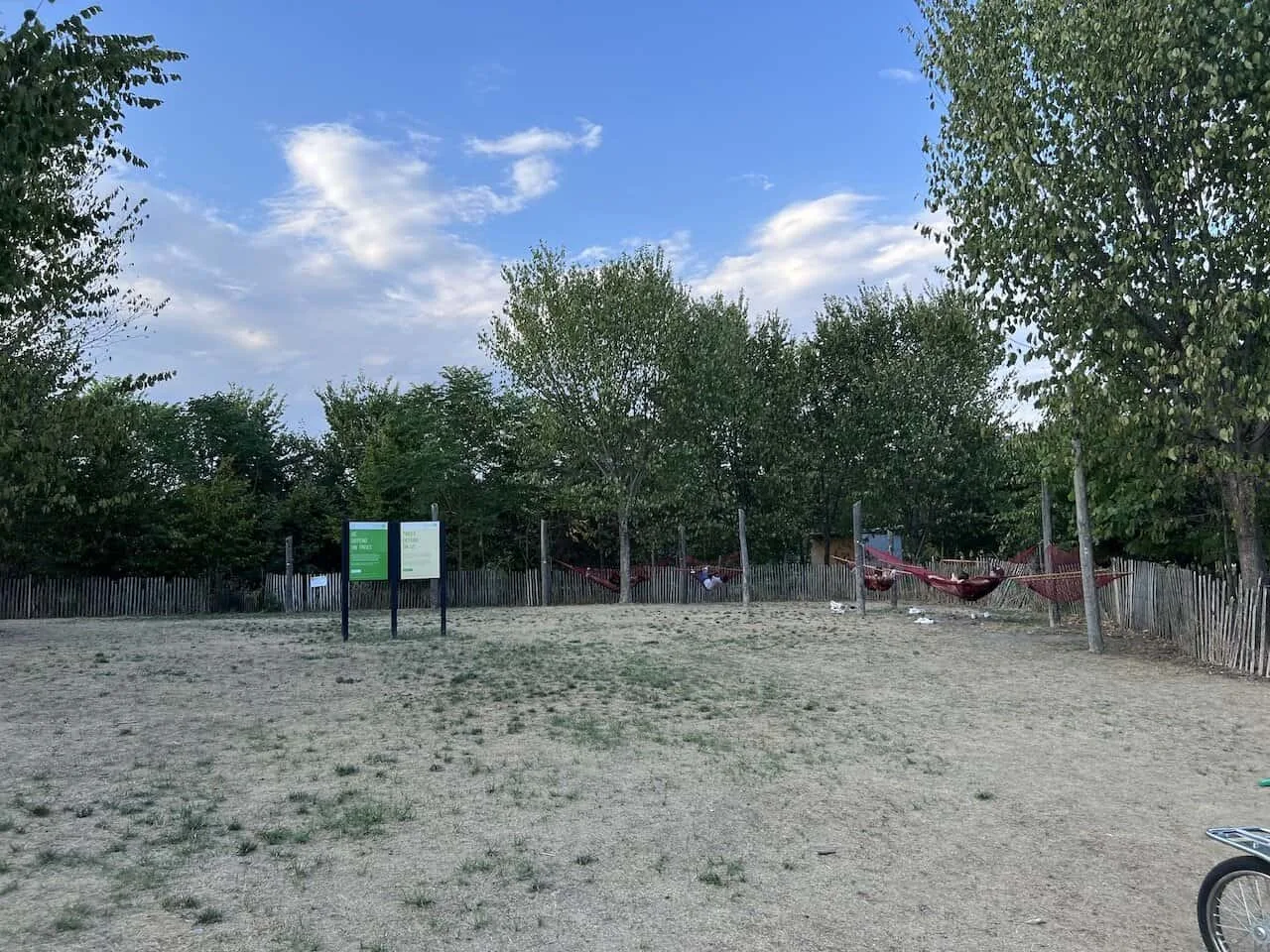 Play Lawns
Just nearby Hammock Groove, you will find the Play Lawns. If you are looking to play some sports, there is no better spot on the island to choose from.
You will find some soccer goals and baseball fields set up here, but you can really take part of any organized activity you choose.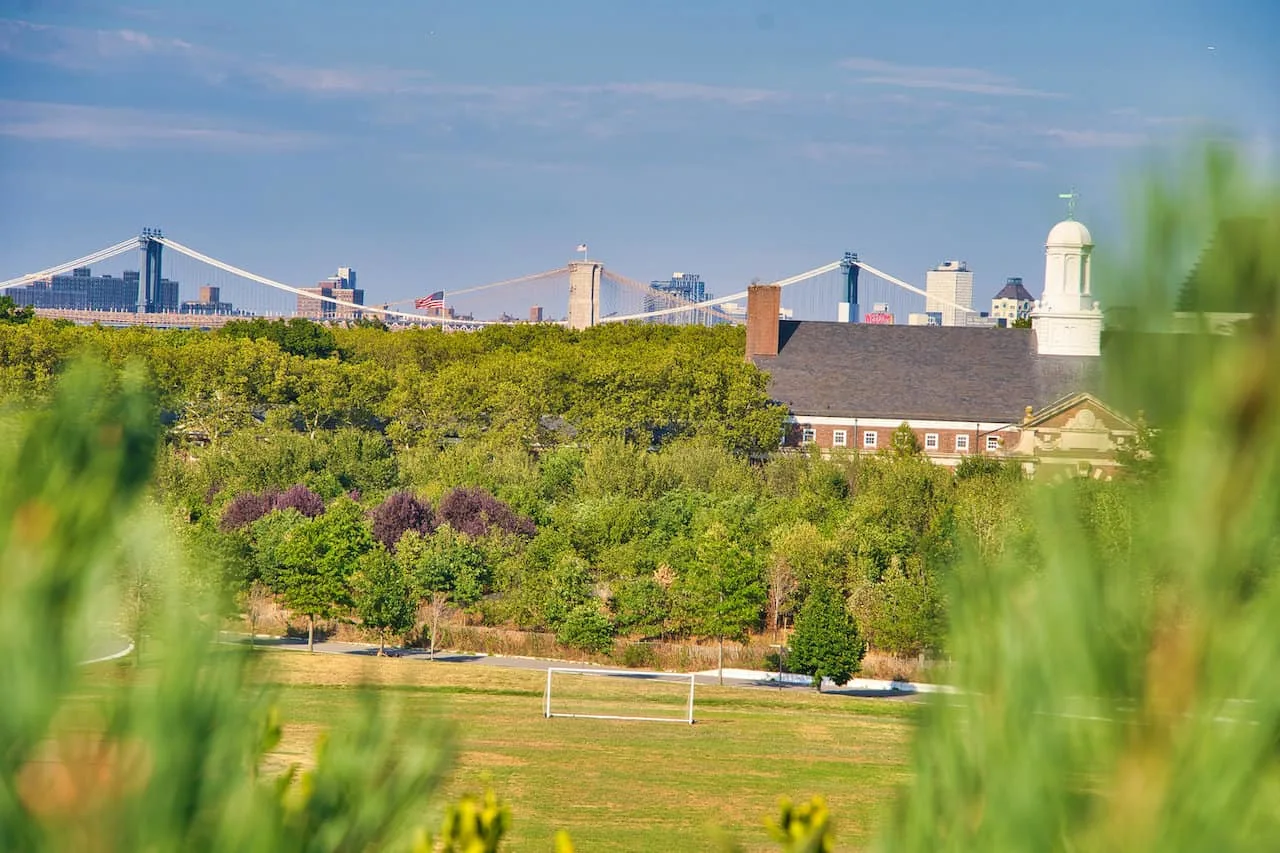 Bouldering
One of the most recent additions to the island is the Community Climbing Boulder. Here you will find a small boulder with a number of routes to get to the top.
It is a great spot for kids to hang out at, as they enjoy a fun activity on the island.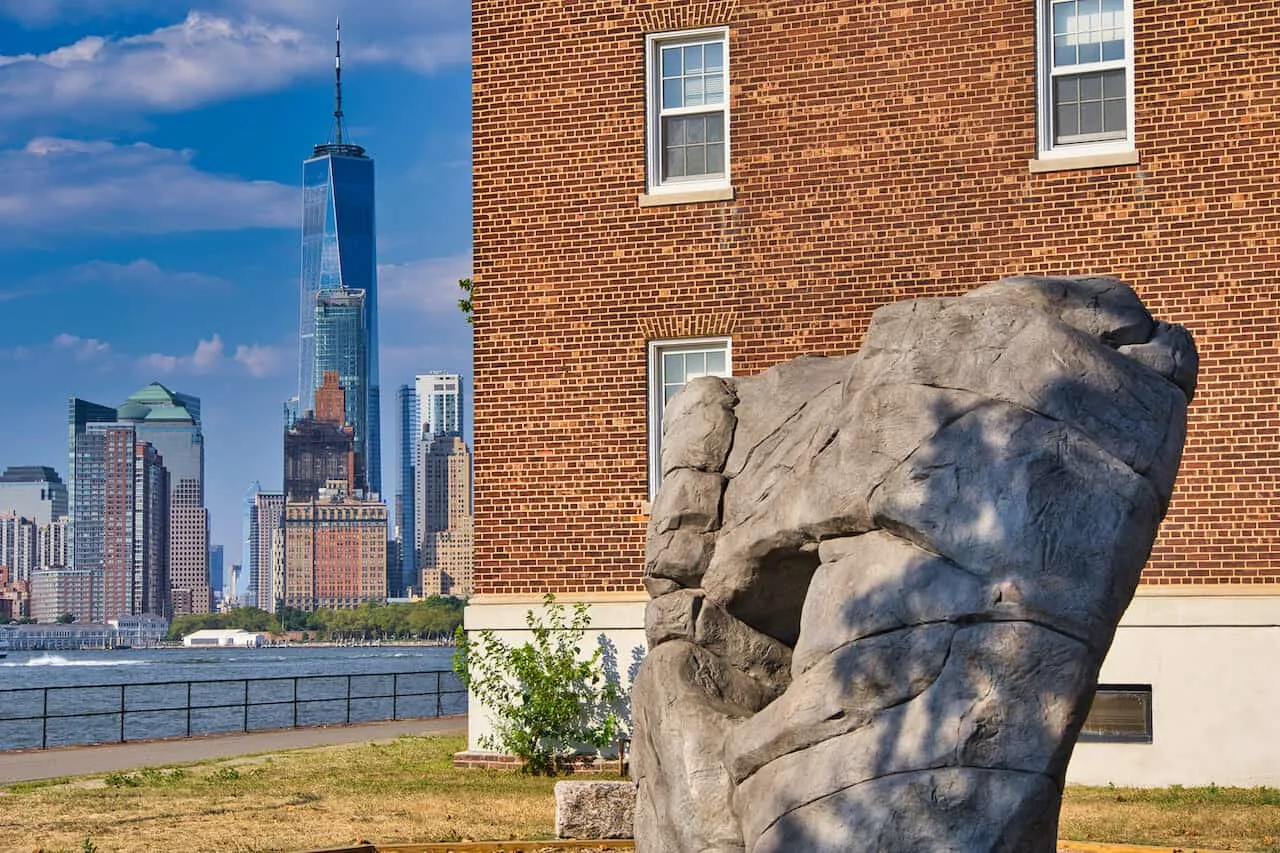 Art Installations
If you are someone interested in art, Governors Island has something for you too. Throughout the island you will find public art such as the Cabin, Yankee Hanger, Open Orchard and more. These can change over time, so you can also expect new installations during your visit.
You can also find The Arts Center at Governors Island, which is a permanent space that displays special gallery exhibitions from May to October.
The Views!
Last but not least (if you haven't realized already), there are some of the best views of the NYC skyline from Governors Island. All around the island you will take in views of NYC, the New York Harbor, World Trade Center, various bridges, the Statue of Liberty, and plenty more highlights.
While I have included several photos already of what to expect on the island, below are just a few more to enjoy.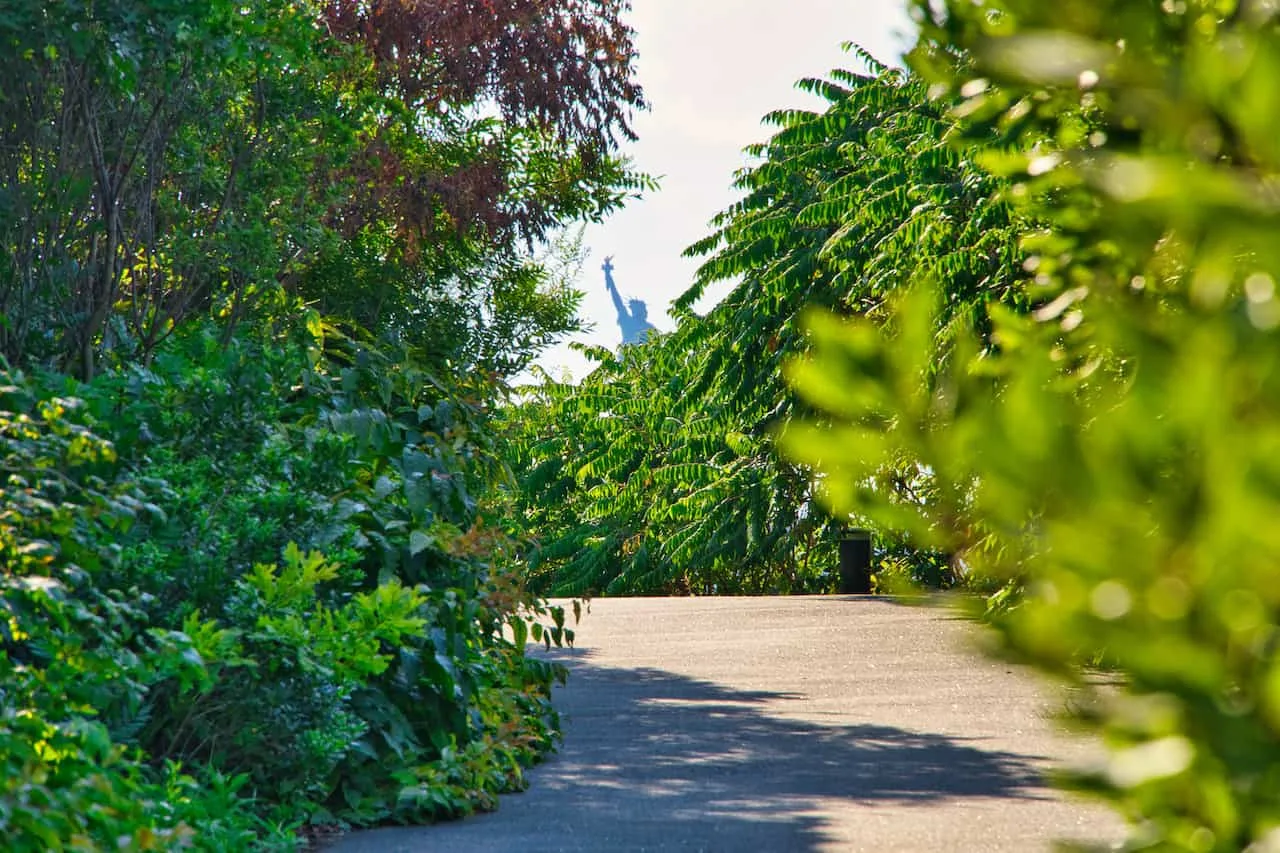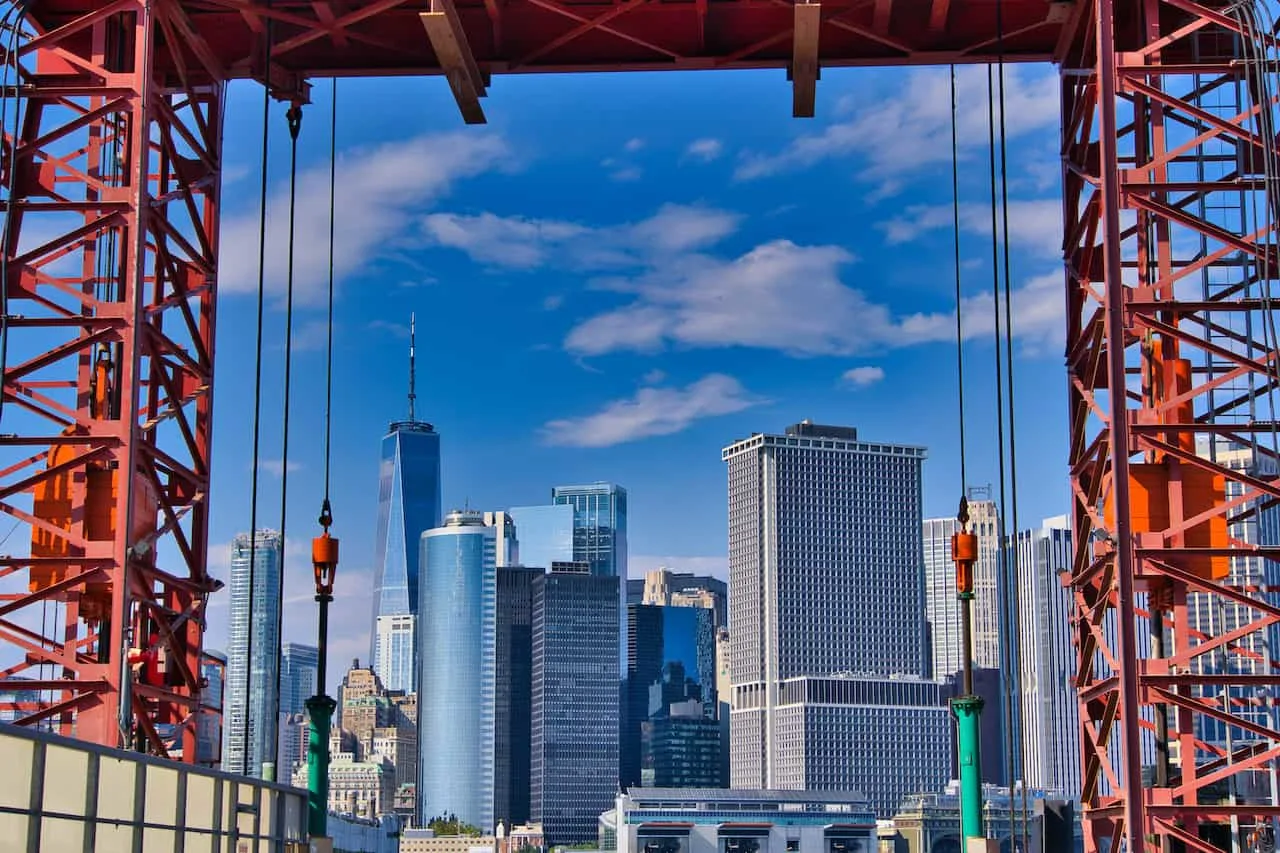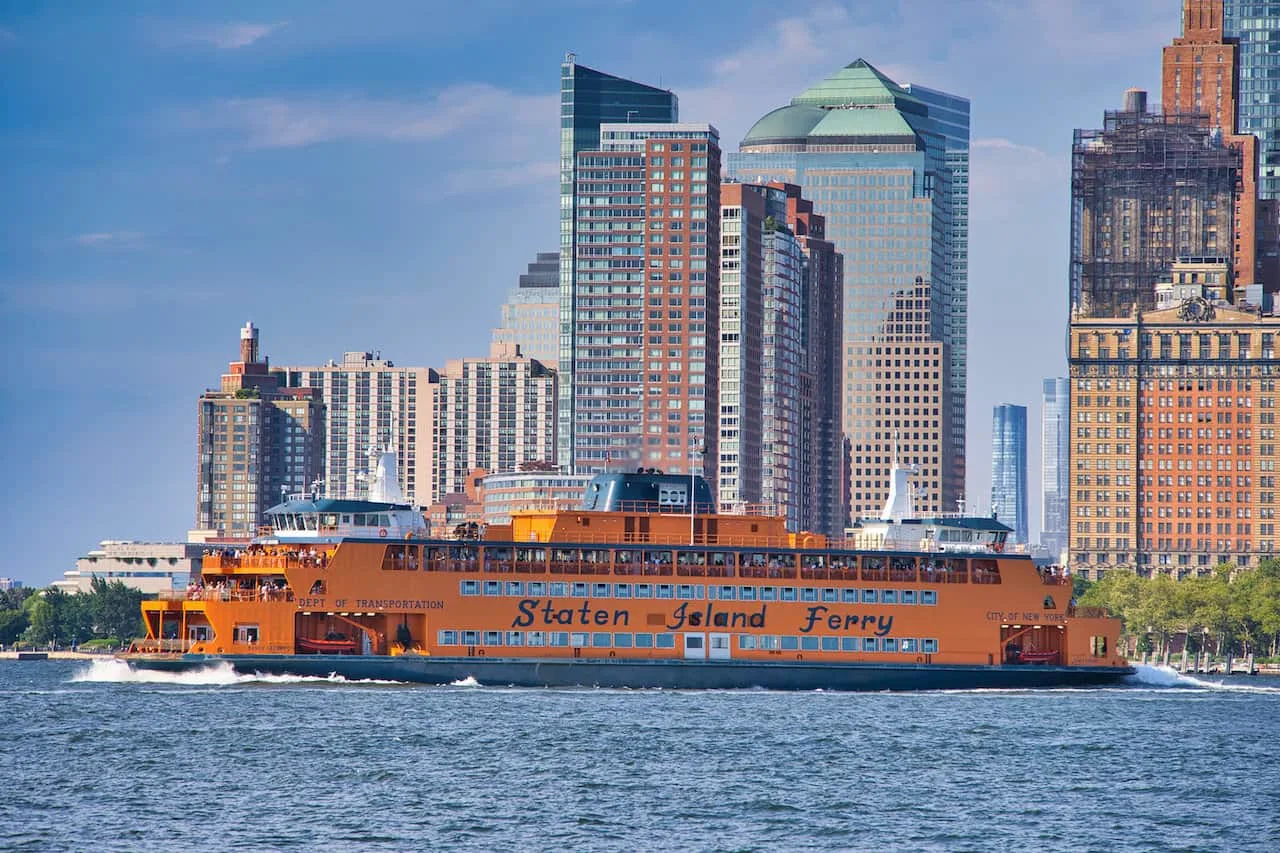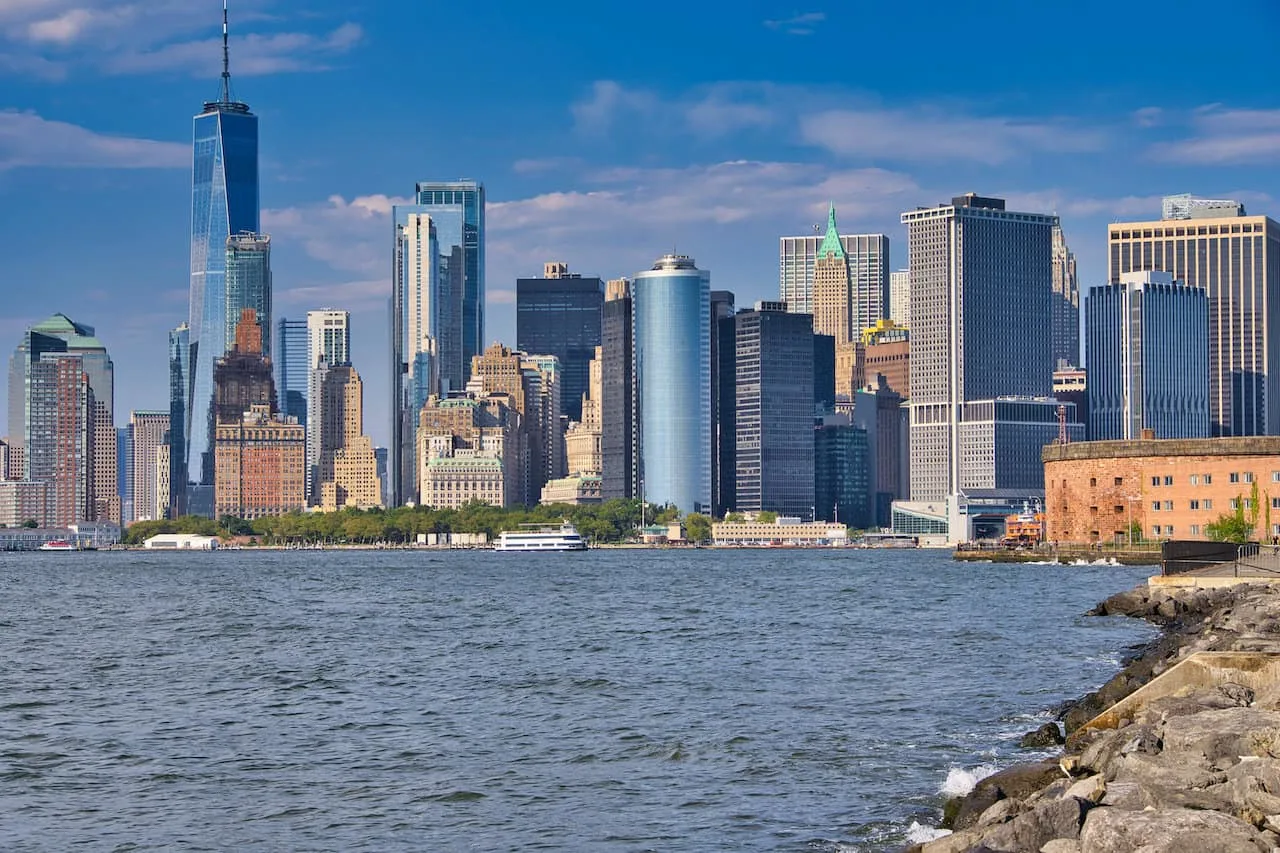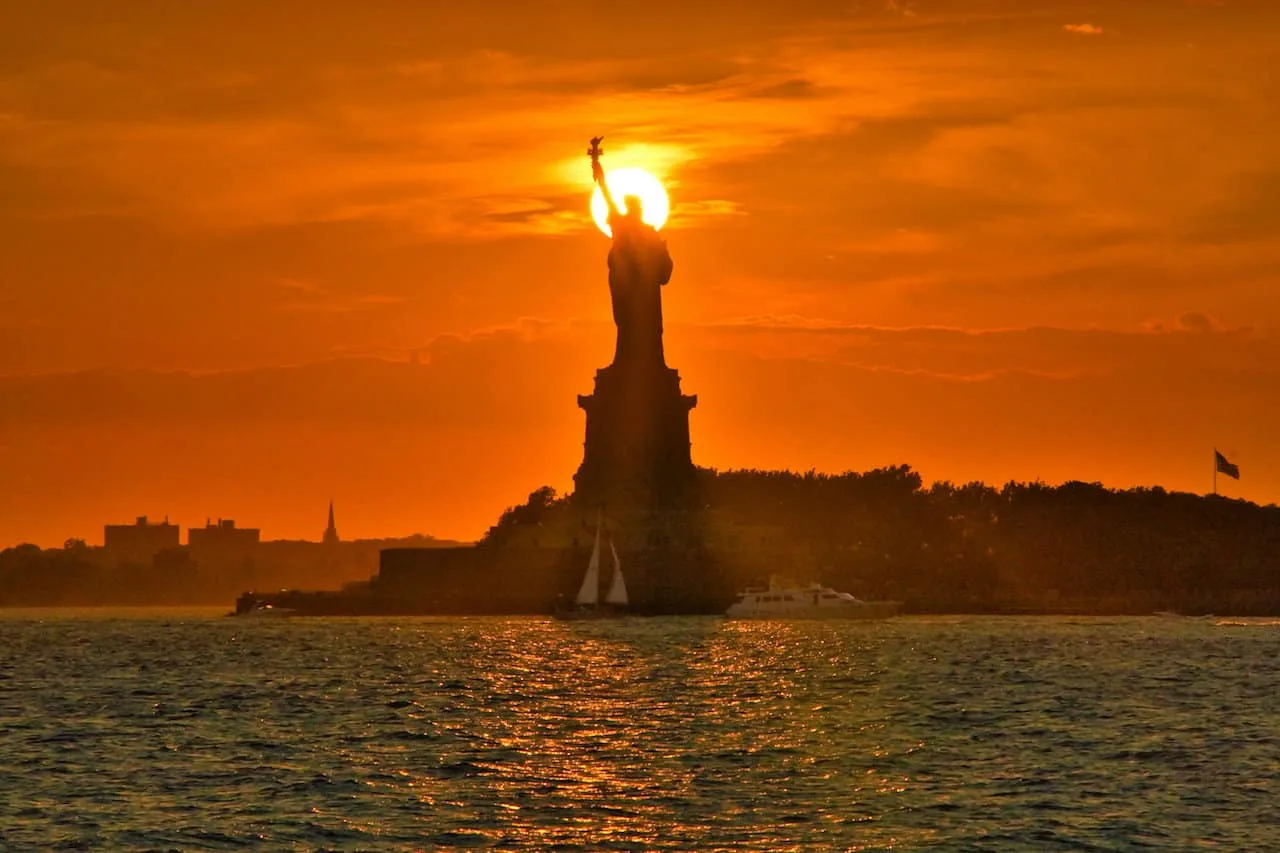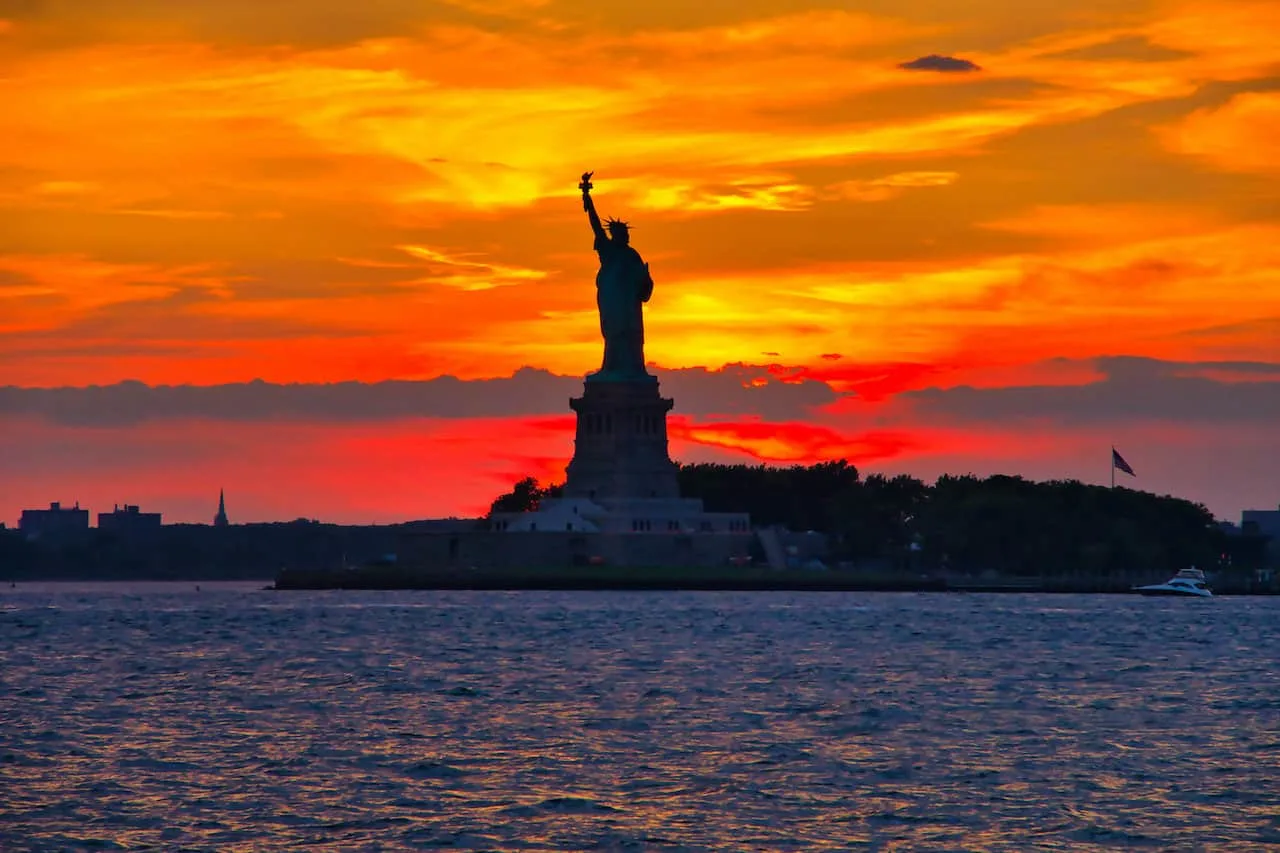 7) Restaurants & Food
All around Soissons Landing, as well as within the interior of the island you will find restaurant and food options. Many of these food options will be more seasonal and they do change from year to year.
These will be in the form of actual restaurants, small stands, and food trucks. Just some of the current and past vendors include:
Little Eva's
El Toro Rojo
Taco Vista
Island Oyster
Empire BBQ
The Main Lobster
NYC Pizza Truck
Tokyo Drumstick
Terry & Yaki
Be sure to check out the latest food offerings to see what's in store for your visit.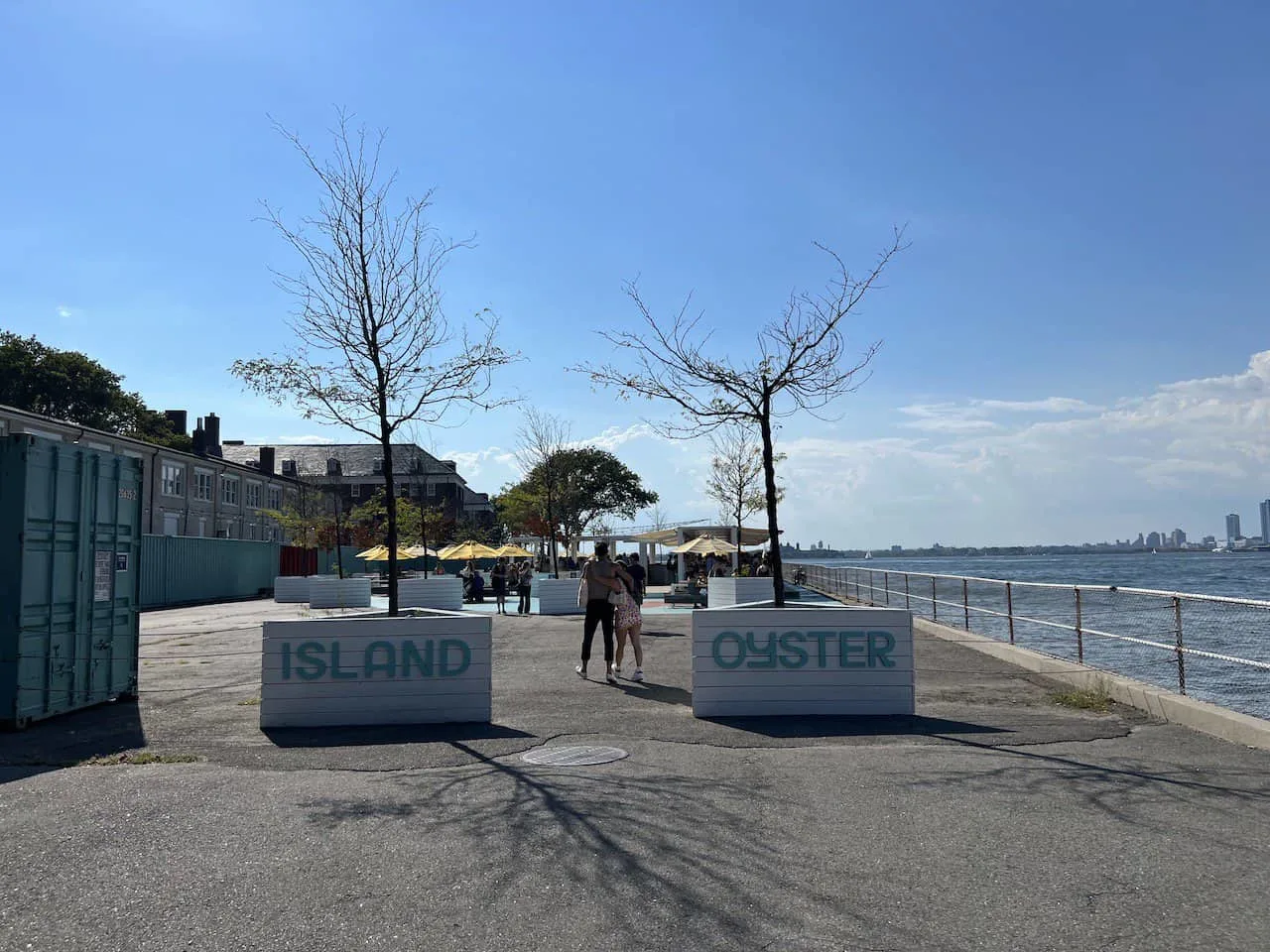 8) Frequently Asked Questions
To finish up, below are some of the most frequently asked questions when it comes to Governors Island.
Can You See the Statue of Liberty from Governors Island?
Yes! Of course, you can see the Statue of Liberty from Governors Island. The best spots to view the statue will be more towards the southwest side of the island.
Getting in some views from Observatory Hill or Picnic Point would be my recommendation.
Are There Cars on Governors Island?
Cars are not allowed on Governors Island. The only way to access the island will be by ferry. While you can drive yourself to the ferry terminal in Manhattan and Brooklyn, you will need to hop on a ferry to get to the island itself.
Can I Bring Alcohol to Governors Island?
According to the Governors Island website, you cannot bring your own alcohol to the island. While you can bring your own food, alcohol can only be purchased at one of the local vendors.
Is There Cell Service on Governors Island?
Yes, there is cell service on Governors Island, but don't be surprised if you lose reception at one point or another. There is also WiFi on the island, but it can be unreliable at times.
Is Governors Island Walkable?
Governors Island is very walkable. While many opt to bike around the island, walking is the perfect way to get yourself around at your own pace.
Whether you just want to loop around, or visit some of the additional sites and attractions in the interior, your own two feet should be just fine.
Is Governors Island Worth Visiting?
To sum up, yes Governors Island is worth visiting and I highly recommend to do so during a trip to NYC. While it may feel a bit less lively during the winter time, between the Spring and Fall, the island really comes alive.
You will find most of the attractions open, plenty of food options, and better weather to hang out all around.
So, when thinking about putting together your trip to NYC, be sure to add Governors Island to the list!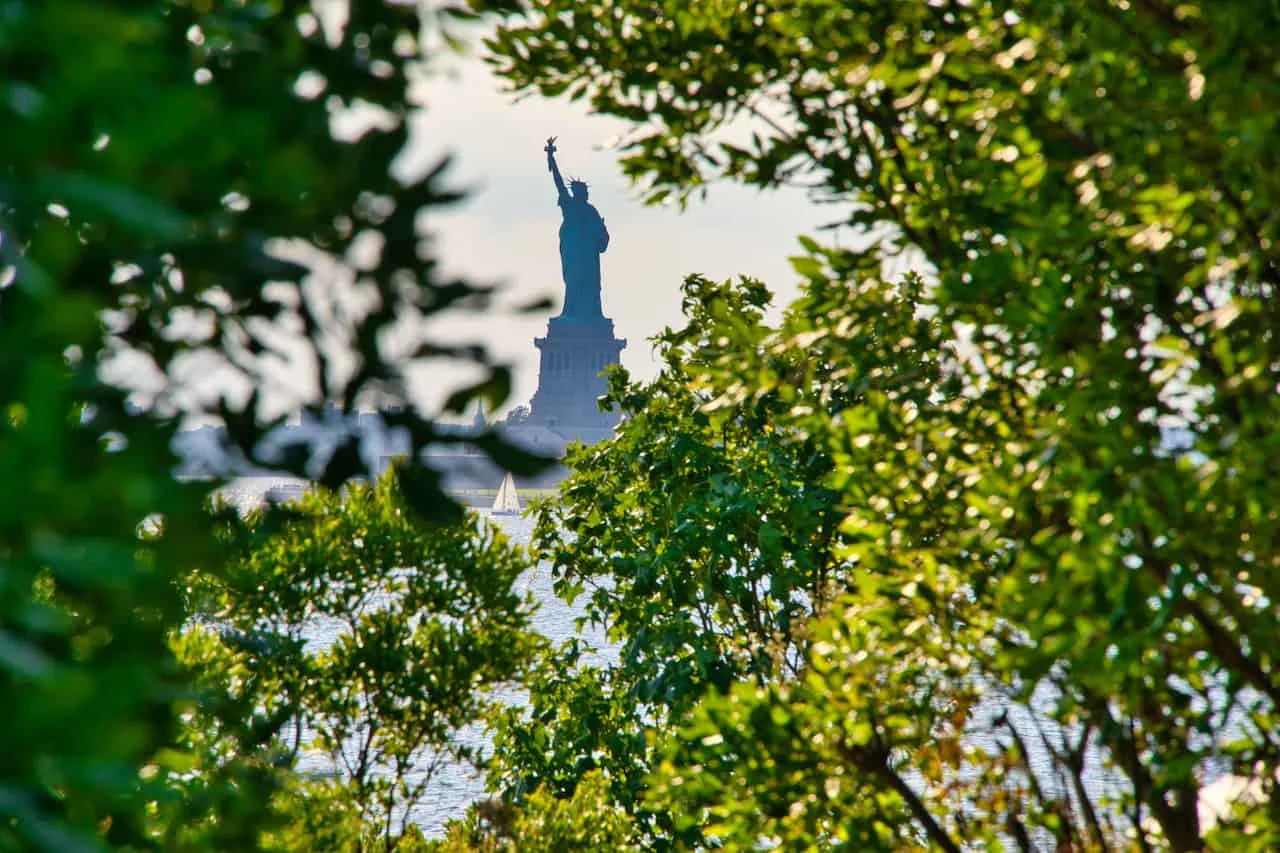 If you have any questions or comments, feel free to add them in below. Also, don't forget to check out the other New York itineraries and guides up on the site.
Have fun out there and safe travels!