If you are searching for the best spas for couples in NYC, then this list is for you!
All throughout New York City there are a variety of spas that offer the perfect relaxing escape from the hustle & bustle of the city. Whether you are looking for massages, body treatments, steam rooms, hot tubs, or any other spa offering, there will be something for you in NYC to choose from.
I compiled this list of the 15 best NYC spas that can be found throughout the city. Some of these are located in hotels, while others are standalone spas. No matter what though, you are sure to enjoy a calming experience at any one of these spots.
* Affiliate Disclosure: This post may contain affiliate links, which means I may receive a commission if you make a purchase through the links provided, at no additional cost to you. Thanks for supporting the work I put into TripTins!
List of Best Spas for Couples in NYC
To start, below you can find a list of the spas that will be covered throughout the rest of this overview. I have also included what neighborhood they are in to give you a better idea about location.
Aire Ancient Baths (Tribeca)
Shibui Spa (Tribeca)
QC Spa (Governors Island)
Spa by Equinox (Hudson Yards)
The Spa at Mandarin Oriental (Columbus Circle)
Bathhouse (Williamsburg)
Spa de La Mer (Midtown)
The Peninsula Spa (Midtown)
Great Jones Spa (NoHo)
The Couples Spa (Upper East Side)
World Spa (Midwood)
Remedy Place (Flatiron)
Bamford Wellness Spa (Dumbo)
Guerlain Spa (Central Park)
Aman New York Spa (Midtown)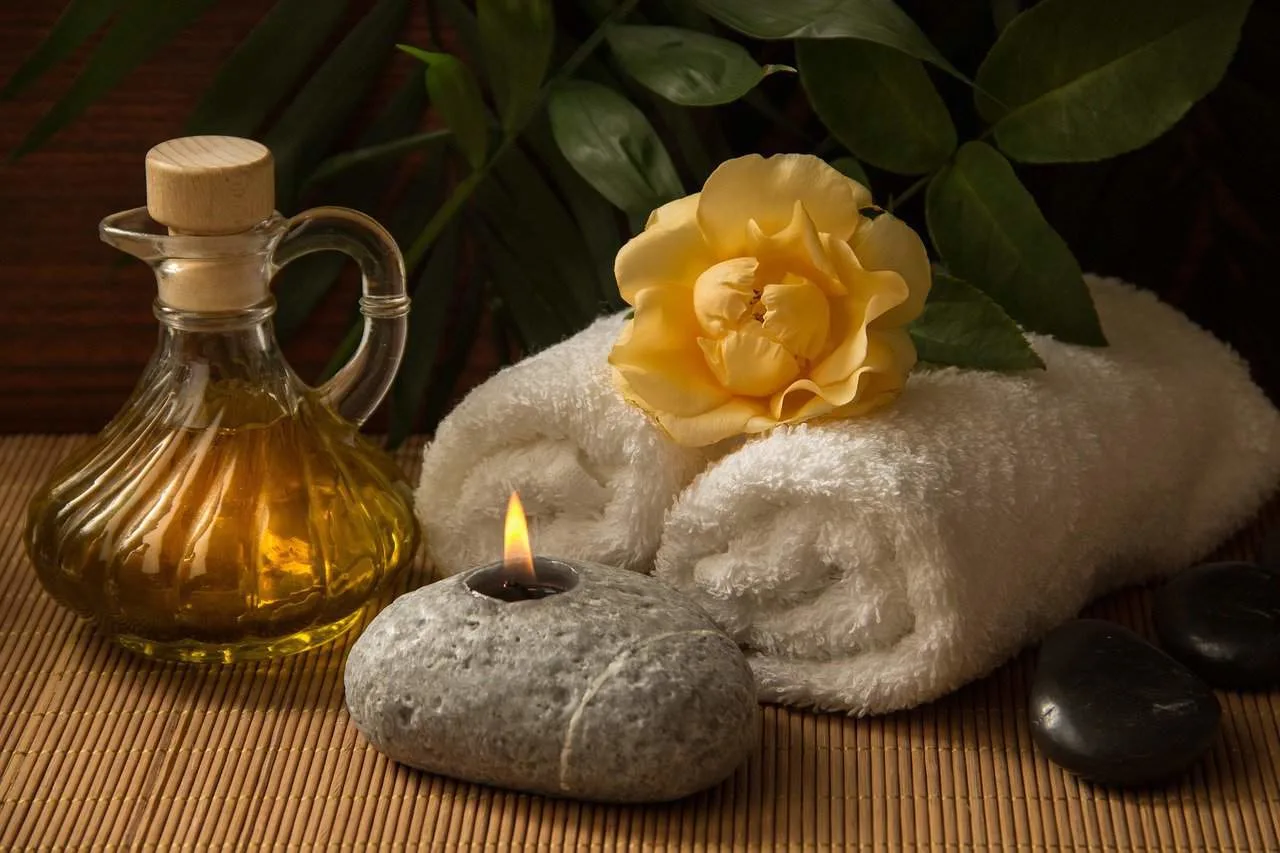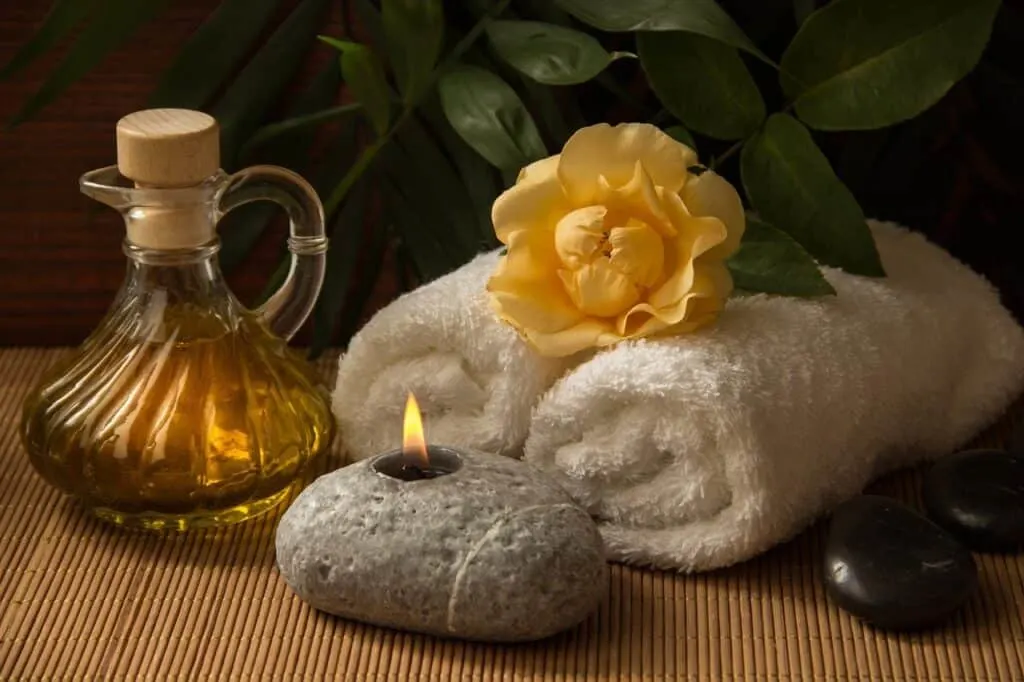 1) Aire Ancient Baths
First up are the Aire Ancient Baths located in the Tribeca neighborhood of NYC. What used to be an old textile factory has been transformed into a spa with a variety of baths at different water temperatures.
The baths come in different shapes and sizes, surrounded by original exposed brick in all directions. There is a whole array of experiences you can sign up for, many of which are perfect for couples.
For those that simply want to enjoy the water, you can sign up for experience that gives you access to ancient baths ranging from 50F to 102F. In addition, you will be able to visit the steam room, salt exfoliation area, and relaxation area.
From there, the offerings just get better and better. You can choose from different massages such as holistic ritual, ancient argan, sports, and essential oils (among others). Hydration masks, red wine soaks, and other unique offerings are also available depending on your preference.
Website: Aire Ancient Baths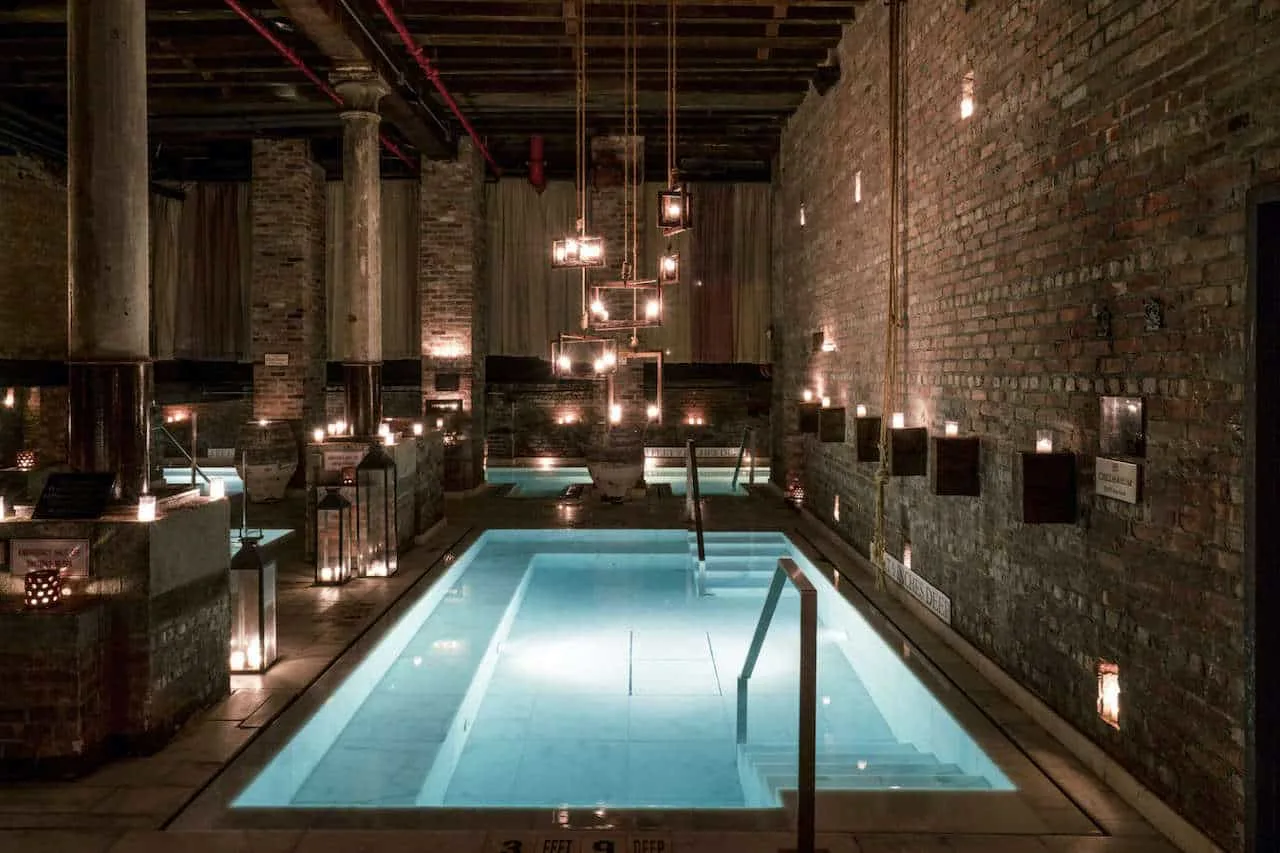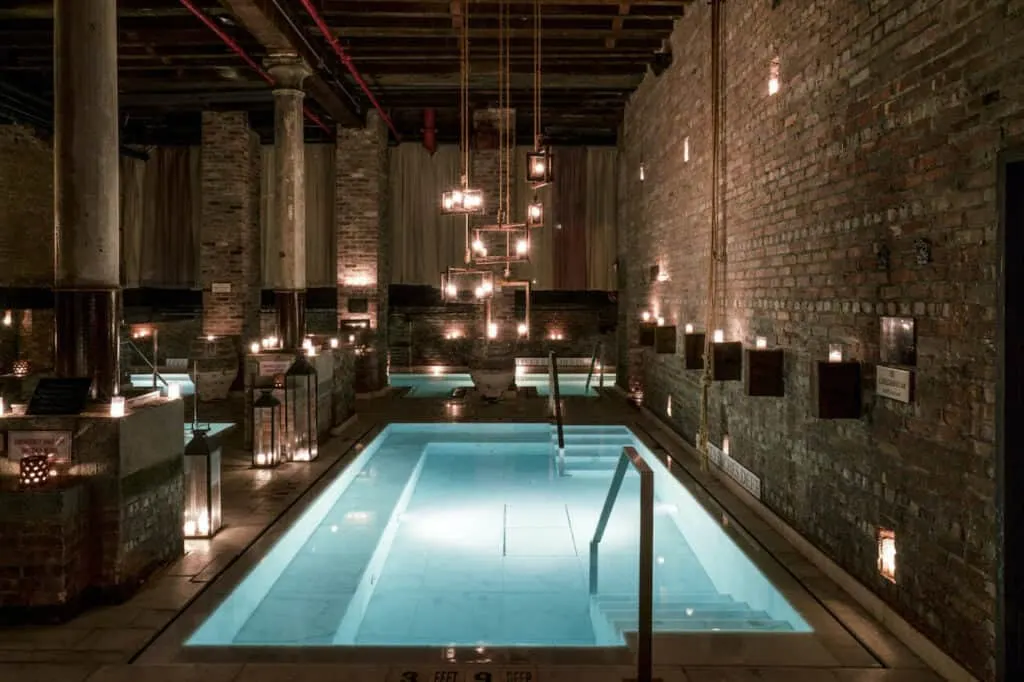 2) Shibui Spa
Located in the Greenwich Hotel of Tribeca you will come across the Shibui Spa.
With a Japanese background, Shibui is one of the highest acclaimed spas throughout New York City, with treatments that are plant based and mostly organic.
The philosophy at Shibui is all about balance. Whether that is balancing the traditional and modern, or the nature and city.
Some of the main highlights that can be found in Shibui include a heated swimming pool, relaxation lounge, treatment rooms, and complimentary beverages, fruit & robes.
When it comes to treatment options, the Omakase Facial and Omakase Massage, are just two of the offerings from a long list of facial and massage offerings. In addition, there are other treatments such as dry body brushing, onsen rituals, and foot revivers on the spa menu.
Website: Shibiu Spa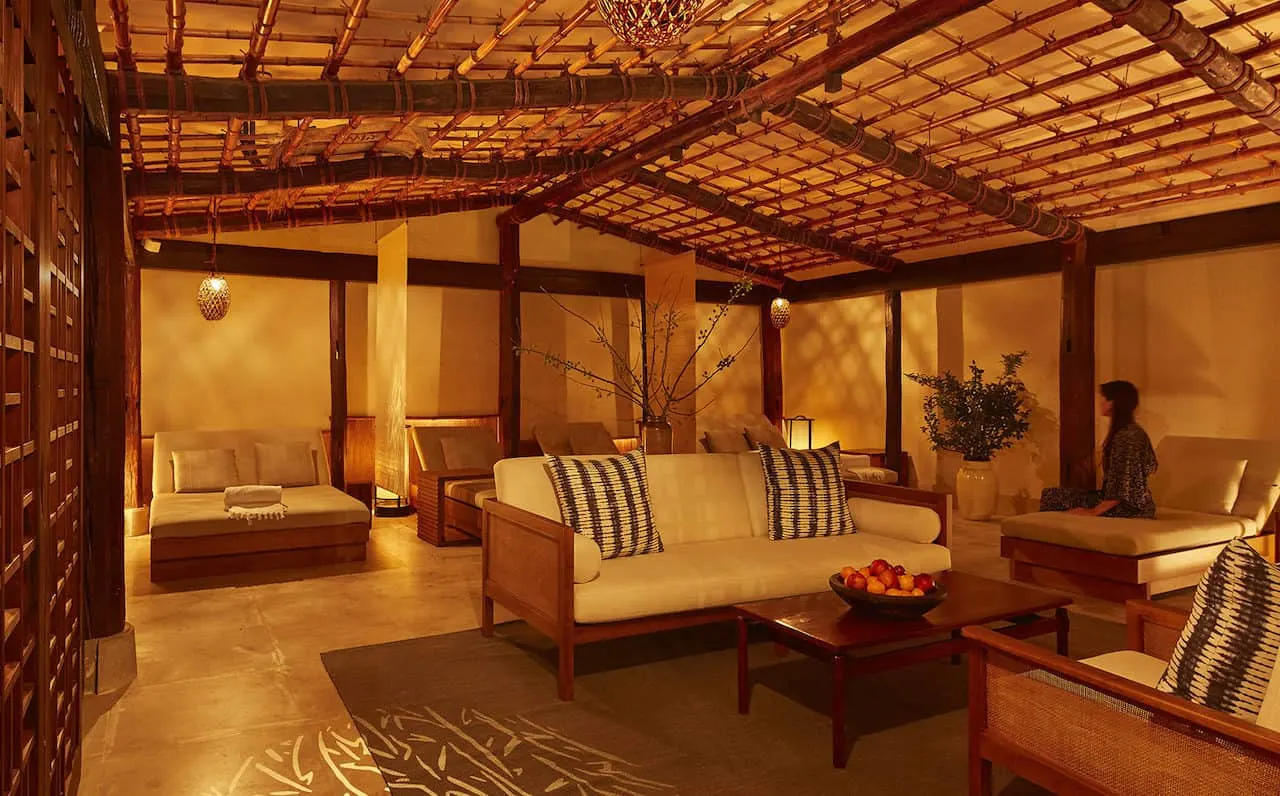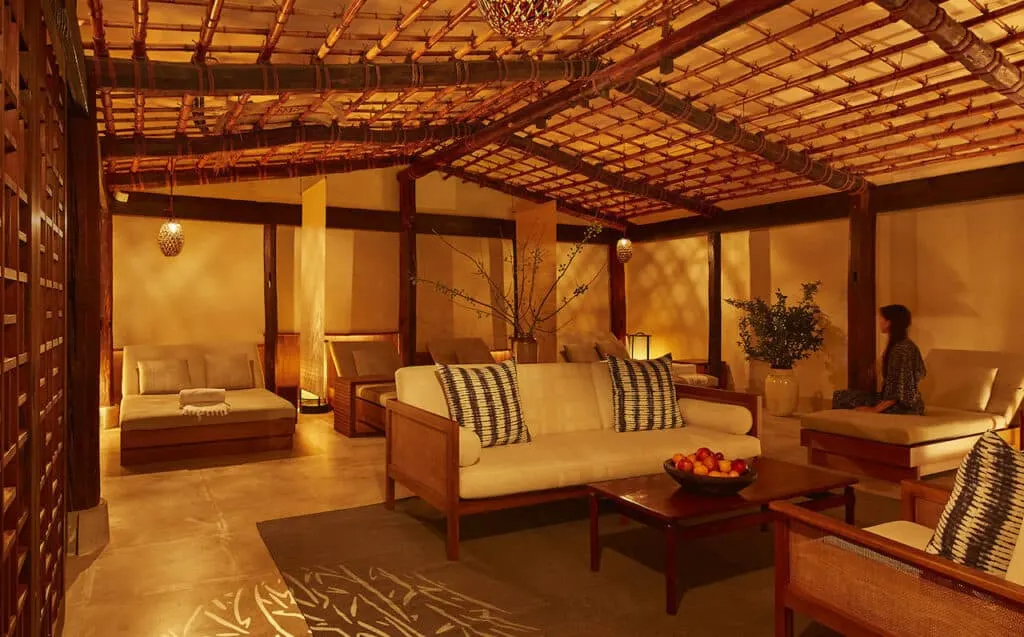 3) Governors Island QC Spa
When it comes to location, the QC Spa on Governors Island is going to be towards the top of the list. While you do need to take a ferry to get there, QC offers some of the best views of NYC you can ask for. It is a perfect place to take in a spa day while visiting the city.
The spa is opened year round along with its pools overlooking the skyline. When it comes to outdoor heated pools, you won't find many in NYC!
While the pools are a great place to relax and soak in the view from, there is plenty more that QC has to offer.
In total, there are over 20 different wellness experiences to take part of during a visit. These experiences offer a little bit of everything – relaxation rooms, saunas, foot baths, Vichy showers, and much more.
Now, while couples (or groups of friends) are bound to enjoy the pool and wellness offerings, there are also massages available. These range from 25 minute to 75 minute massages, and can be purchased for an individual or couples.
Website: QC NY Spa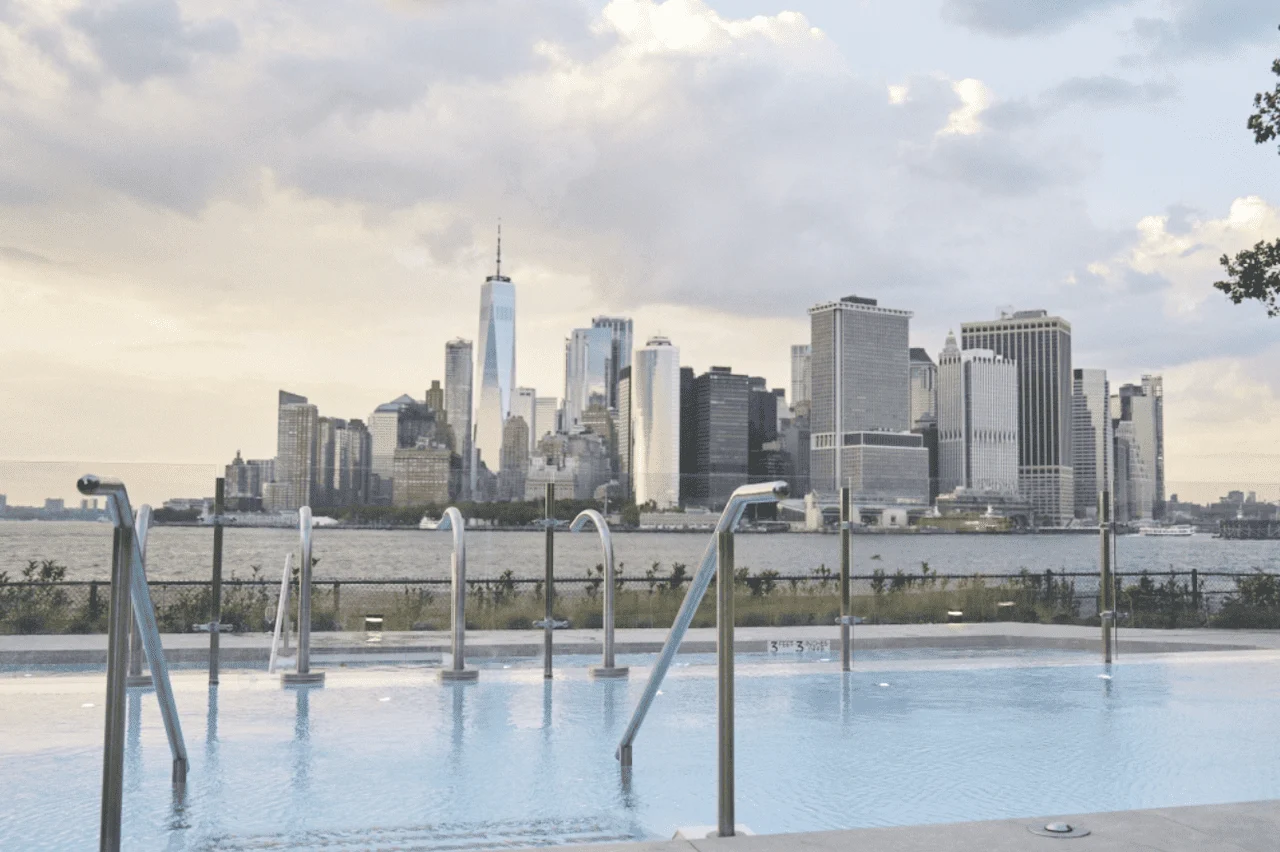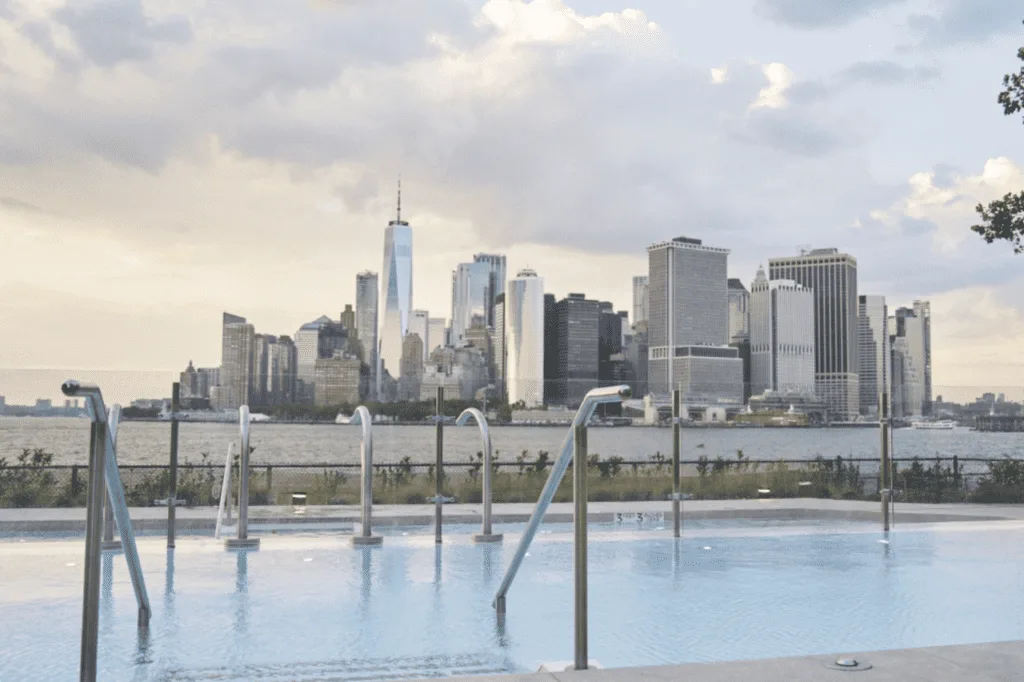 4) Spa by Equinox Hudson Yards
Located within Hudson Yards you will find an Equinox Hotel and Fitness Club. If you happen to be a guest of the hotel (or member of the club), you will have access to the year round outdoor pool overlooking Hudson Yards and the Vessel.
However, if you are just looking for some holistic body treatment offerings, then the spa is the place to be.
On the fifth floor of the hotel, the spa is full of some more unique treatments. Some of these include cryotherapy, IV drips, quantum harmonic sessions, and an infrared sauna.
The spa is a big believer in the "X Circuit". This circuit is made up of five methods including beauty, performance healing, temperature therapy, inner body, and sleep. Pick from one or more to get a whole body spa experience.
In addition, plenty of standard services are offered here as well such as couples massage options, acupuncture, facials, and more.
Website: Spa by Equinox
5) The Spa at Mandarin Oriental
High above Columbus Circle on the southwest corner of Central Park is the Mandarin Oriental hotel. While the property is one of the best hotels with views of Central Park, its spa is also one of the top picks to choose from in the city.
Some of the highlights at the spa include their selection of Signature Therapies that are meant to focus on various parts of your overall well-being.
Time Rituals, Oriental Qi, Inner Strength, Digital Wellness Escape, and Intelligent Movement all offer a unique body relaxation & rejuvenation service.
Therapeutic massages, restorative detox wraps, water lily radiance facials, and Thai foot therapy are just some of the other options to choose from on the long list of offerings.
Website: Spa at Mandarin Oriental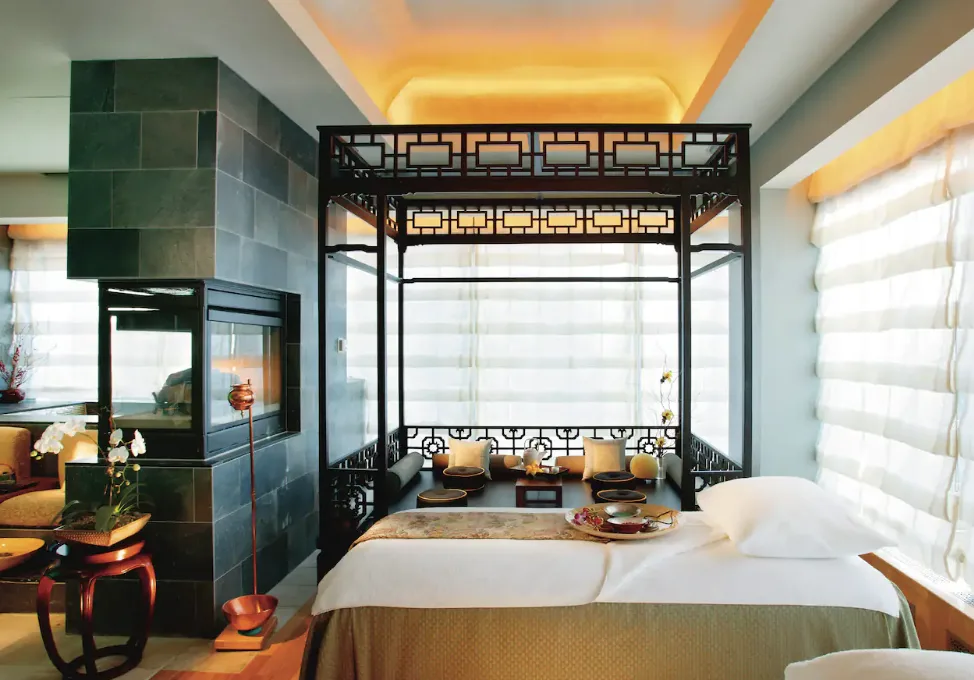 6) Bathhouse Williamsburg
If you are looking for a relaxing spot in Brooklyn to go to, the Bathhouse of Williamsburg is one of the top options in the borough.
As you think about what type of experience you want to take part of, you need to understand there is a difference between a traditional spa and a bathhouse.
Instead of just private spa treatments rooms, here you will find a more open concept. Throughout Bathhouse you will find communal pools, saunas and steam rooms, where you can both meet other people but relax at the same time.
Although there are many shared spaces throughout, private treatments are offered as well. Couple massages, body scrubs, and various full body packages are just some of the options to choose from.
Website: Bathhouse
7) Spa de La Mer
For a relaxing spa in the heart of Midtown Manhattan, the Spa de La Mer at the Baccarat Hotel is a great choice.
For those not familiar, La Mer is a luxury skincare brand that manufactures all types of products. They took it a step further though and introduced an environment that combines their skincare products with a spa setting.
There are three main categories of services that are offered at the spa – body services, facials, and massages – with plenty of spa treatments on the list. Whether you want a Swedish massage, deep tissue massage, or hot stone therapy, Spa de La Mer has something on offer.
After enjoying the spa, you can also check out the nearby indoor pool to end your day at the Baccarat.
Website: Spa de La Mer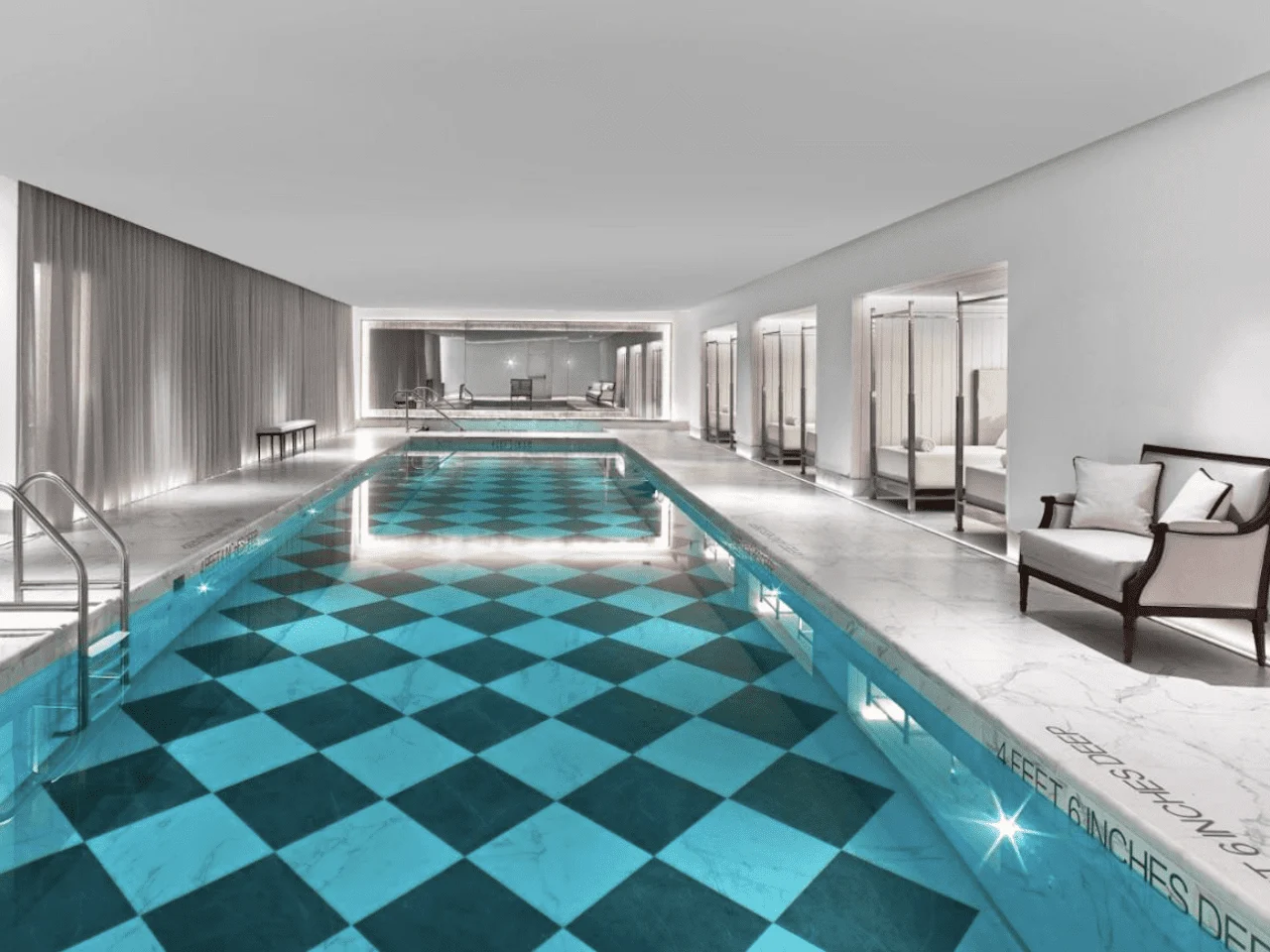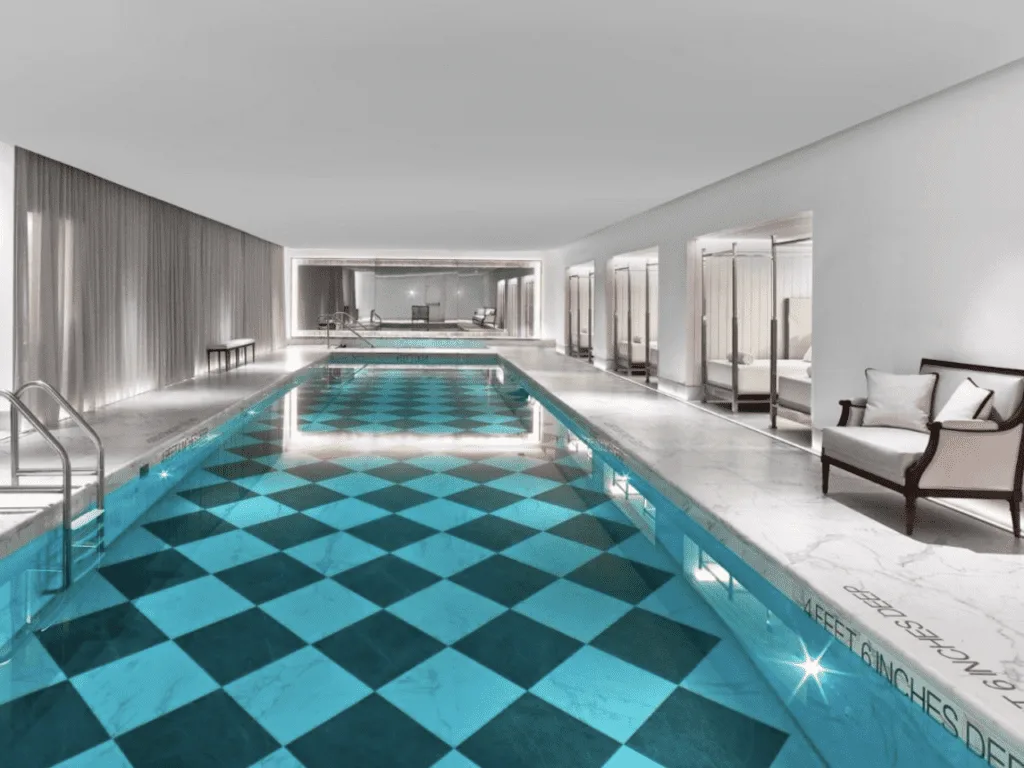 8) The Peninsula Spa
Just steps away from the Upper East Side and Central Park is the Peninsula Hotel. There you can find one of the top spas for couples in NYC.
Throughout the spa, there are a total of 10 different treatment rooms, an aromatherapy steam room, ice fountain, a relaxation lounge, and even a tea lounge.
As one of the city's more high end spas, there are several experiences on the menu. While there are traditional massages, body scrubs, and facials available, there are also day retreats and private suite options.
The day retreats comprise of 3-4 hour packages, which can include an exfoliation, scrub, massage ,and facial. There is also the private suite which is just perfect for couples.
By opting for the private spa suite, you can expect a foot ritual, aromatherapy oils bath, various treatments from the menu, lunch, and more.
Website: Peninsula Spa
9) Great Jones Spa
For a relaxing downtown experience, the Great Jones Spa is great overall choice. The spa is located in the NoHo neighborhood, and offers traditional spa services in addition to a Water Lounge.
At the Water Lounge you will find a three-story indoor waterfall, Jacuzzi, cold plunge, steam room, and sauna. Visitors have the option to just visit the lounge area or purchase a spa service, which does include access as well.
From a treatment standpoint, there is no shortage of options to consider. Facials, massages, full body treatment, manicures, pedicures, waxing, and more line their menu.
Pick and choose what is best for you and enjoy some relaxation in New York City.
Website: Great Jones Spa
Learn More: Visiting a spa is one of the top rainy day activities in NYC
10) The Couples Spa
If you are looking for a couples specific spa, then you guessed it, The Couples Spa is the spot to be.
The spa focuses on treatments for couples and to promote "relaxation, health, and connection".
As you browse through their menu of offerings, you will see a variety of couple's treatments. Some of the more popular package picks are the Couple's Aromatherapy, Royal Bath, Detox and Honeymoon options.
There is also a private room available called the Rose Room. Here you will find its famous flower bath, complimentary champagne, sauna, and massage chairs.
This is also the perfect place to purchase a gift certificate for an engagement, wedding, or other special occasion!
Website: The Couples Spa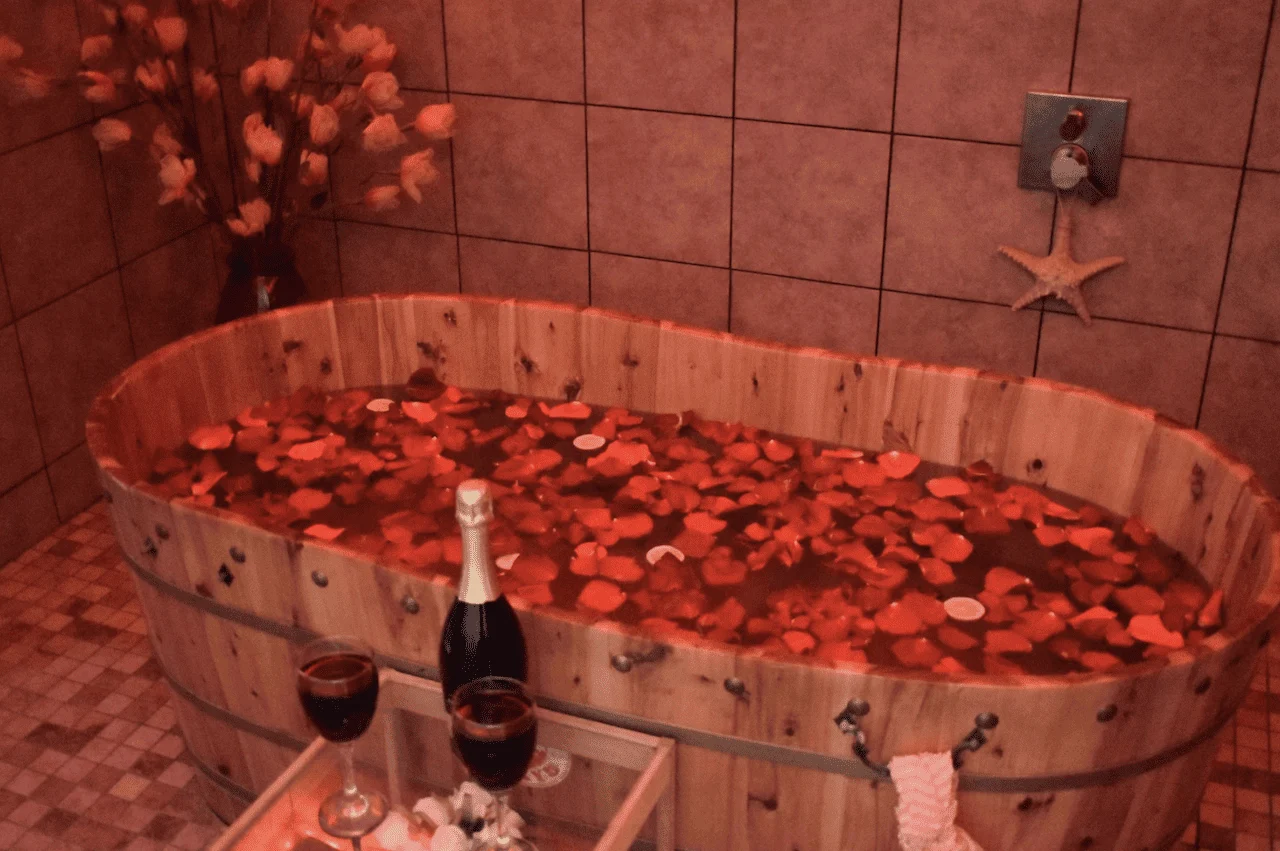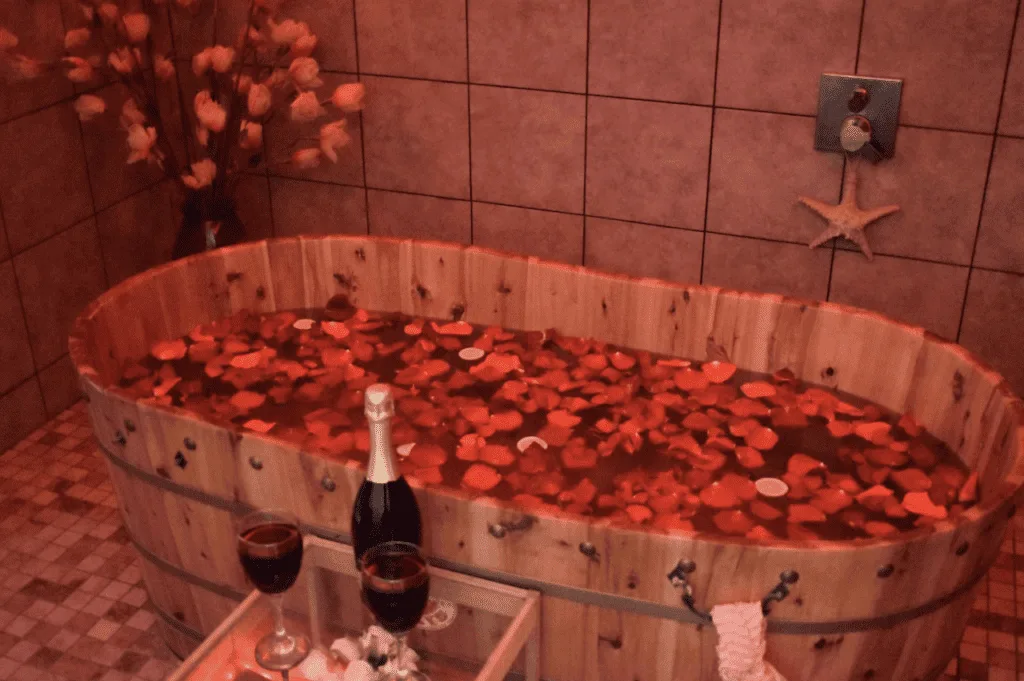 11) World Spa
While some of the spas on this list have one theme or tradition, the World Spa takes a little bit of everything from all corners of the world.
Located in Midwood, Brooklyn, the World Spa combines Turkish hammams and Finnish Saunas, with Japanese onsens and Himalayan salt therapies. Throughout 50,000 square feet over three floors, there is plenty to choose from.
In addition to the traditional offerings that can be found at the spa, there are also many more unique experiences to enjoy during your time there.
The Grand Banya, for example, is the largest of its kind in the US. The sauna like structure is a communal setting, where you will find various twigs to slap against your skin.
You will also come across a Clay & Hay sauna, infrared sauna, aroma sauna and event sauna. There is both a Turkish hammam and Moroccan hammam as well as private treatment options.
After working up a sweat, head into the Snow Room, which reaches temperatures as low as 14F. You can then finish up in the Himalayan Salt Room to help open up your senses.
Website: The World Spa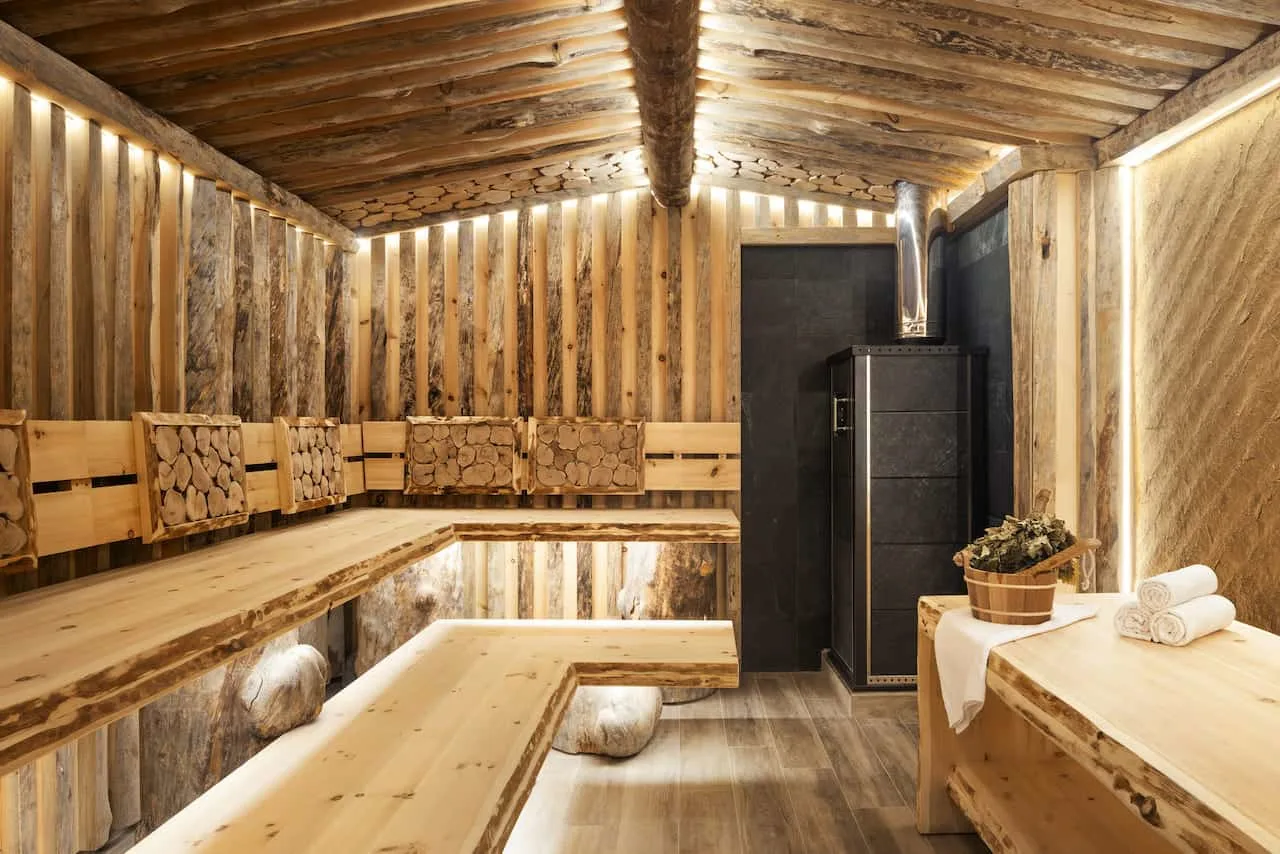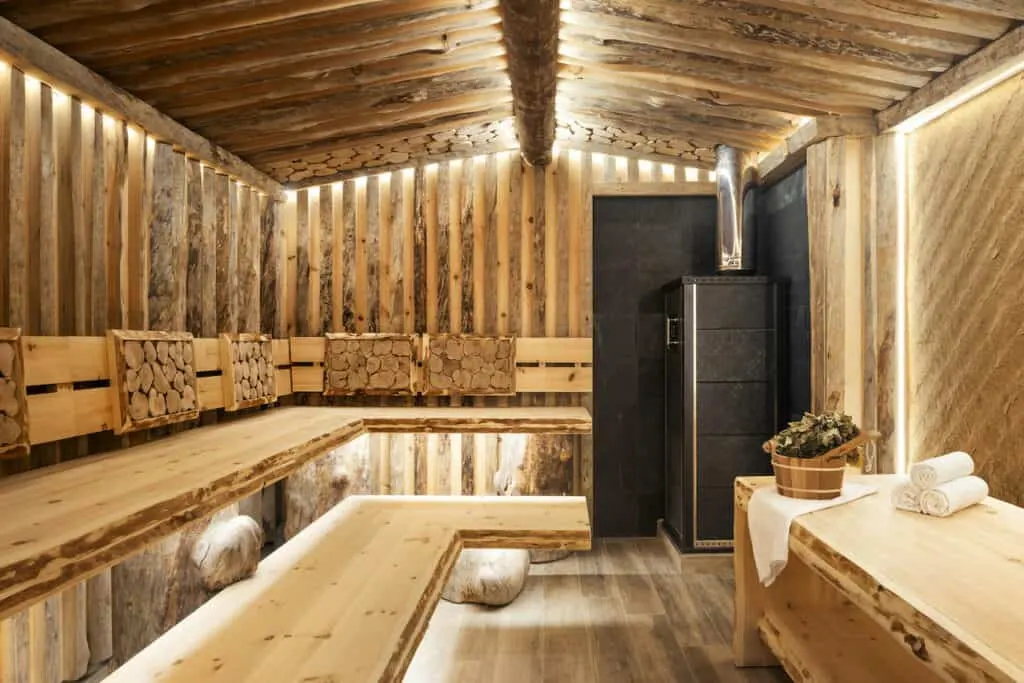 12) Remedy Place
Located in the Flatiron District, just steps from Union Square and Madison Square Park is Remedy Place.
Now, this is by no means your traditional type of spa. Instead this is known to be a social wellness club. The concept was introduced by Dr Jonathan Leary as a way to promote physical and mental well being.
The club combines "ancient medicine with modern technology to create a holistic approach to better health".
From a services standpoint, you can expect to find options such as chiropractic movement, acupuncture, cupping, functional medicine consultations, vitamin drips, hyperbaric oxygen chambers, lymphatic compression, sauna, ice baths, and so much more.
There are also group classes available that focus on various ways to improve your mind and body.
Website: Remedy Place
13) Bamford Wellness Spa
The 1 Hotel Brooklyn Bridge is without a doubt one of the top hotels in the city. With stunning views over the Brooklyn Bridge and Manhattan skyline, there are few hotels that can compare.
Within the hotel is the Bamford Wellness Spa that focuses on holistic individual specific treatments. The spa is one of several from founder Carole Bramford. While originally from England, these spas have made their way to several 1 Hotels across the country.
On its spa treatments list you can pick from an array of massages, couple services, facials, and larger packages.
After enjoying time at the spa, head up to the rooftop pool and bar to continue the relaxation overlooking the East River and Brooklyn Bridge.
Website: Bamford Wellness Spa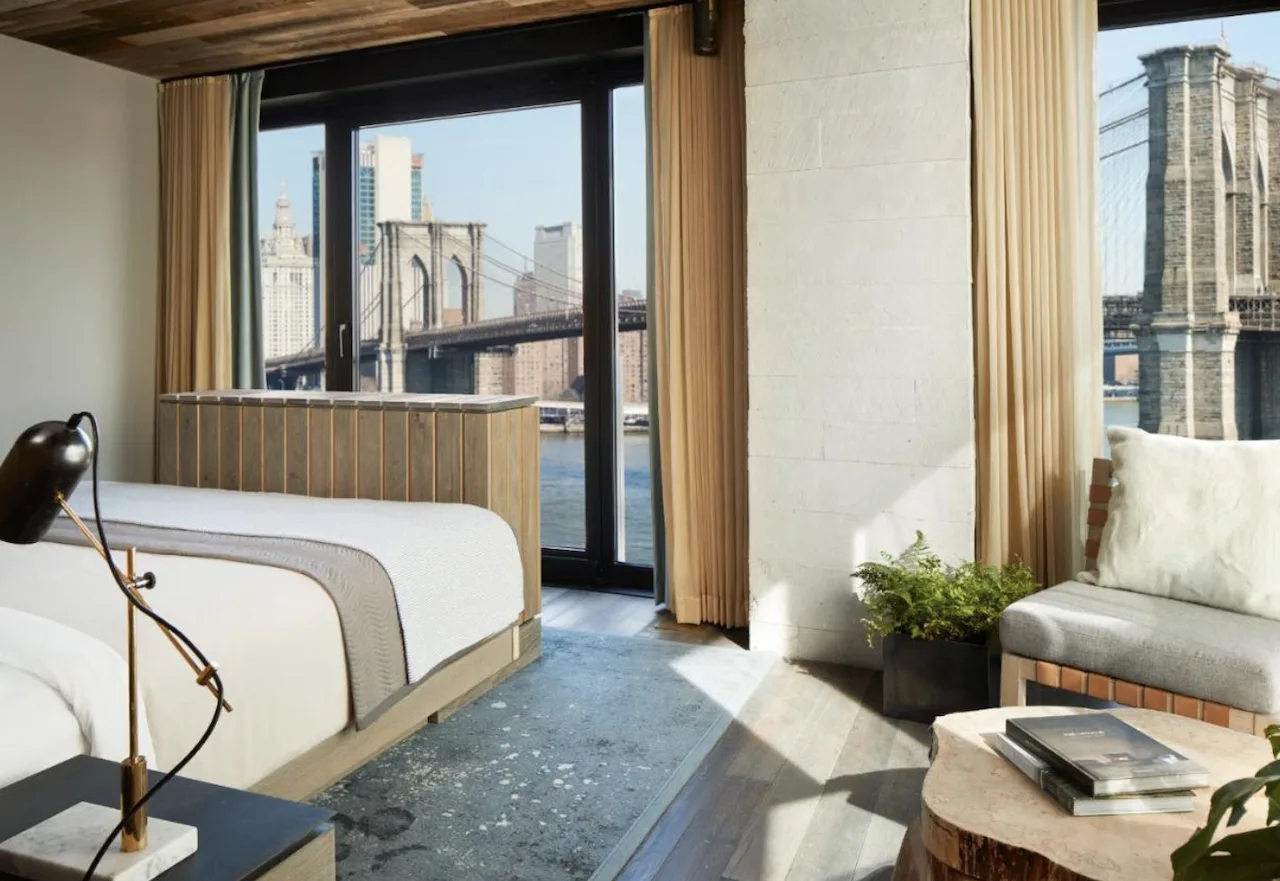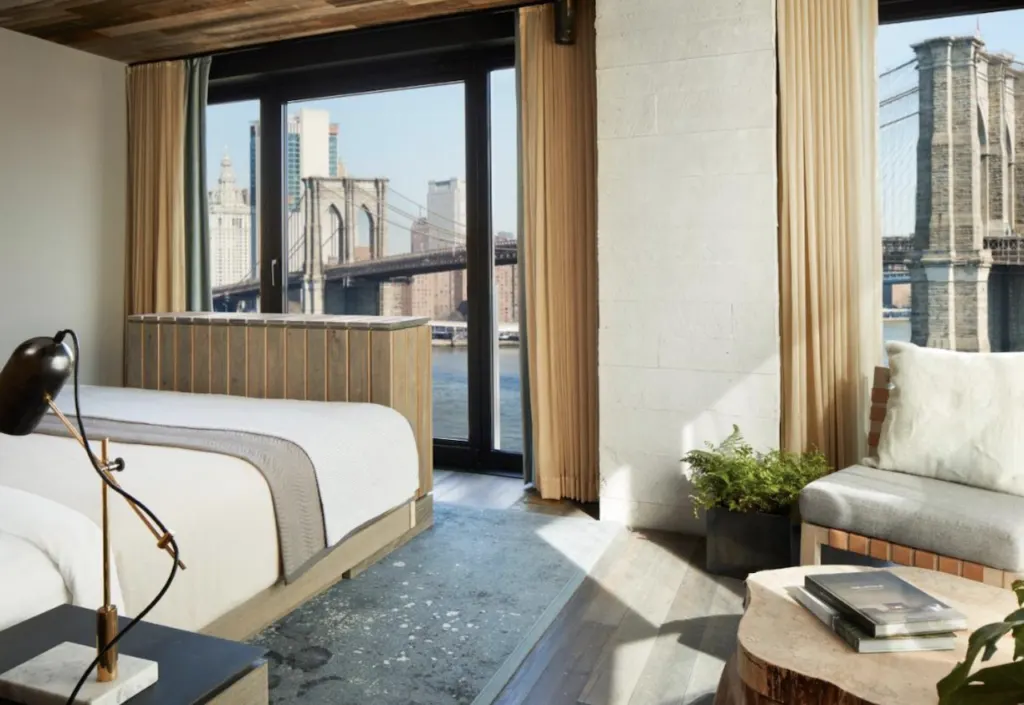 14) Guerlain Spa
Named as New York's best spa hotel, the Guerlain is without a doubt one of the best spas for couples in NYC.
While this location is within the iconic Plaza Hotel, the Guerlain's history dates back to France. In 1939, it opened one of the first spas in the world and even invented its own facial massage technique.
Today, visitors have the chance to experience the luxurious spa and beauty that the Guerlain in New York has to offer.
There is a variety of personalized facials to choose from that are tailored to your skin. Massages range from 60-120 minutes and can be personalized to your taste. Day experiences can cover a wide range of spa services that last 3-4 hours.
The list goes on and on, and you are bound to find something at the spa that works for you.
Website: Guerlain Spa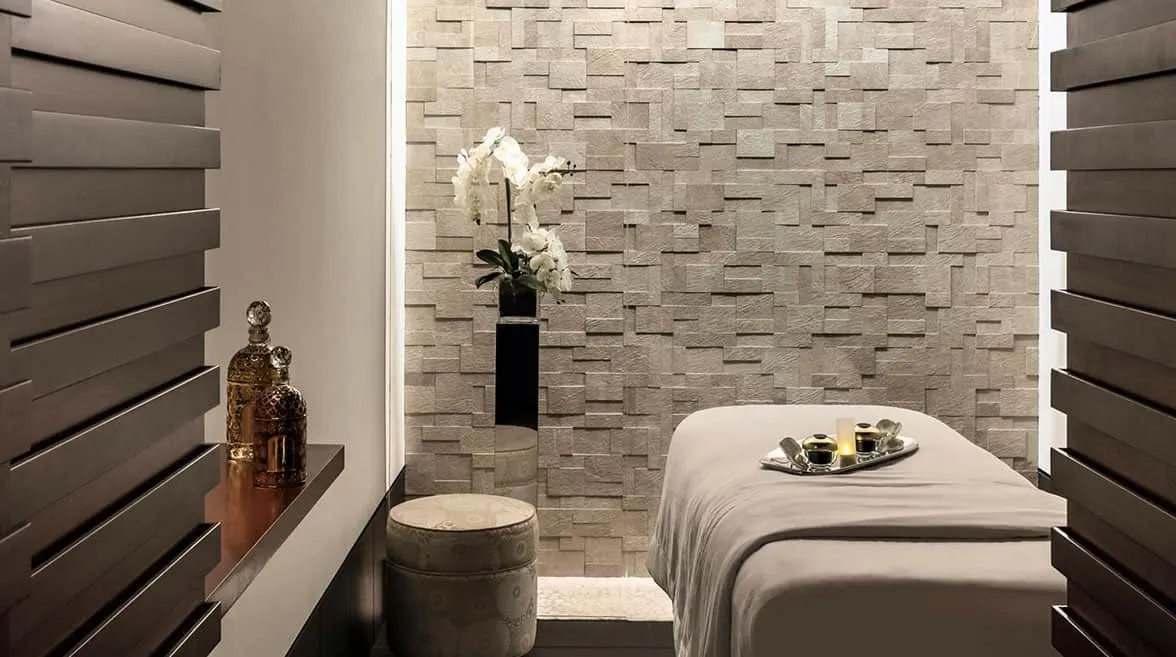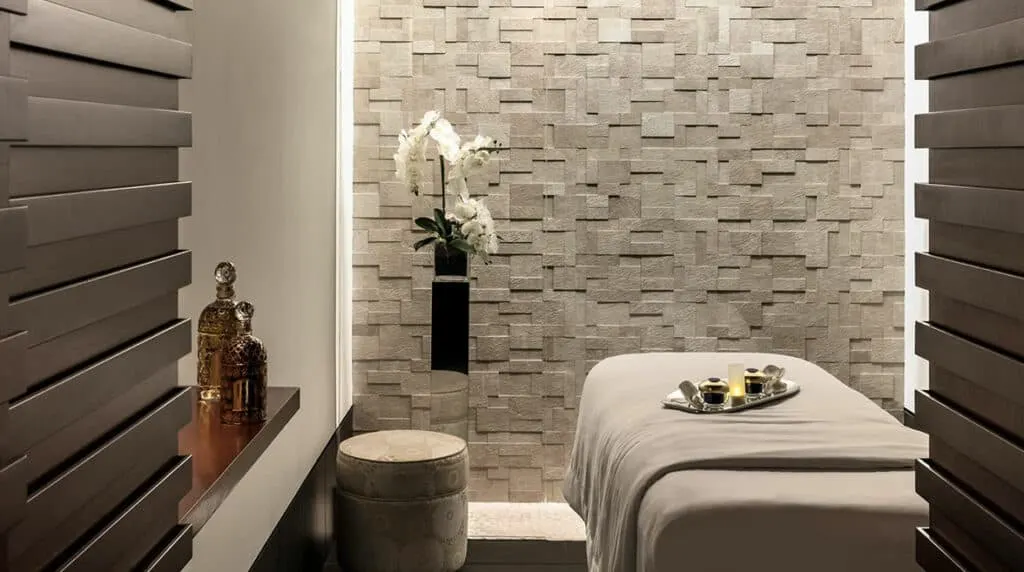 15) Aman New York Spa
Located in the Crown Building of Midtown Manhattan is the luxury Aman hotel. Within the hotel you can find the Aman New York Spa. Over the course of 25,000 square feet you will come across a little bit of everything.
Some of the main highlights include a cryotherapy chamber, heated swimming pool, steam room, sauna, holistic clinical rooms, and several treatment rooms.
At the Aman, there are also private spa houses. These can include a Hamman, Banya, fireplace, outdoor terrace, hot tub, and cold plunge pools. It is perfect for couples that want some privacy in the spa setting.
They also offer Wellness Immersion Programs for those that are gearing up for a goal or looking for help in recovery.
Throughout the year you can also find retreats at the hotel such as "Journey to Peace" with a Buddhist master or "Strength and Recovery" which was created by Maria Sharapova.
Website: Aman New York Spa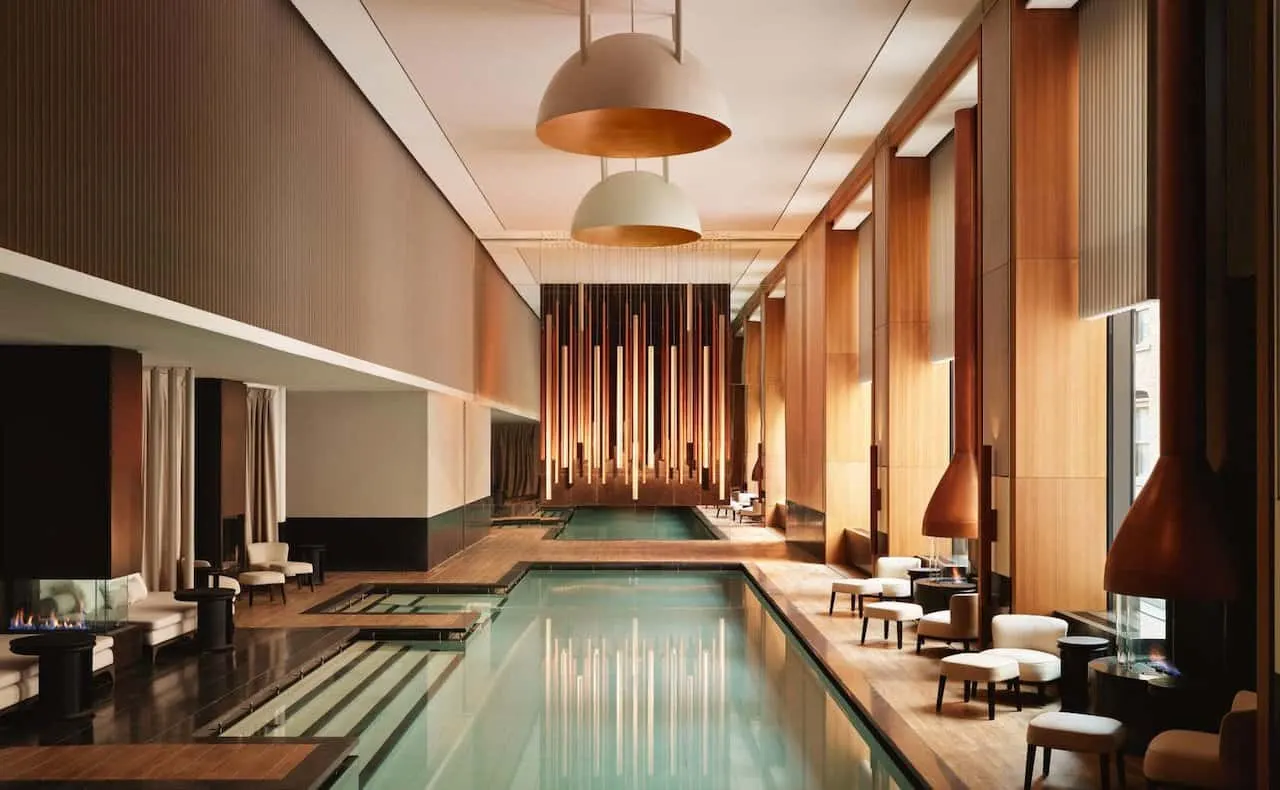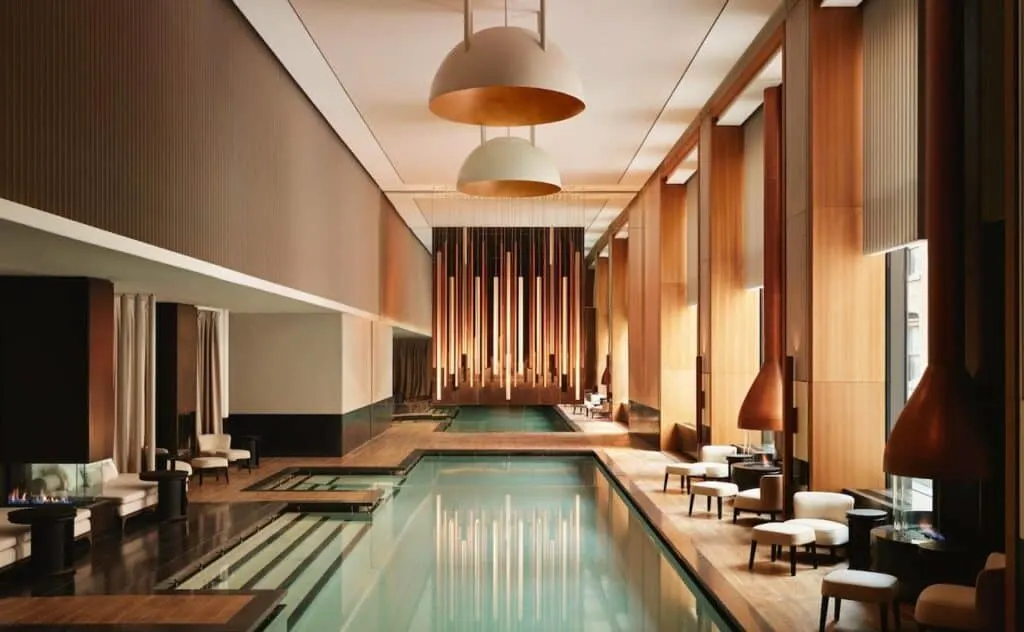 Each one of these spas in NYC offers a different type of experience. From your super luxury and private offerings to the more bathhouse type settings, there is something for every couple looking for a spa experience in New York City.
So, whether you are local New Yorkers or visiting from out of town, I hope this list has helped! Be sure to also check out some of the other helpful New York itineraries and guides up on the site.