If you did not know already, New York City is the most visited city in the United States. So, as you may imagine, there are a lot of tourists roaming the streets on a daily basis.
Due to the sheer amount of people visiting the famous most attractions, many of these top spots can be crowded, loud, and sometimes just not enjoyable.
So, to solve these issues, why not take part of some of the best non touristy things to do in New York City during a trip.
This list will deep dive into 30+ of the top things in NYC where you can both avoid the crowds and still take in some of the best attractions.
* Affiliate Disclosure: This post may contain affiliate links, which means I may receive a commission if you make a purchase through the links provided, at no additional cost to you. Thanks for supporting the work I put into TripTins!
1) Non Touristy NYC Things To Do Intro
As someone who has lived in NYC for the last 10+ years, I have gotten a pretty good sense of where the tourists flock to.
In addition, I have even a better idea of where the tourists don't flock to. And although some of these spots may be lesser known, that doesn't mean they are any less enjoyable.
While I am sure you will want to visit places like the Brooklyn Bridge, Times Square, and the Statue of Liberty, you can also make time to see some spots that the average tourist may not know about.
I am hoping that this guide can better help you plan a trip where you can get the best of both worlds. It will focus in on attractions & things to do that may not come up standard guidebooks or "top things to do" lists.
Instead of visiting where the tourists go, I will focus on many of the places that I go to (along with other local New Yorkers).
There is no doubt that tourists will still be present at some of these spots. But you will get a more "hidden gems" type of NYC experience.
With that said, let's get into some of the top non touristy NYC things to do.
Learn More | The Top Things To Do in NYC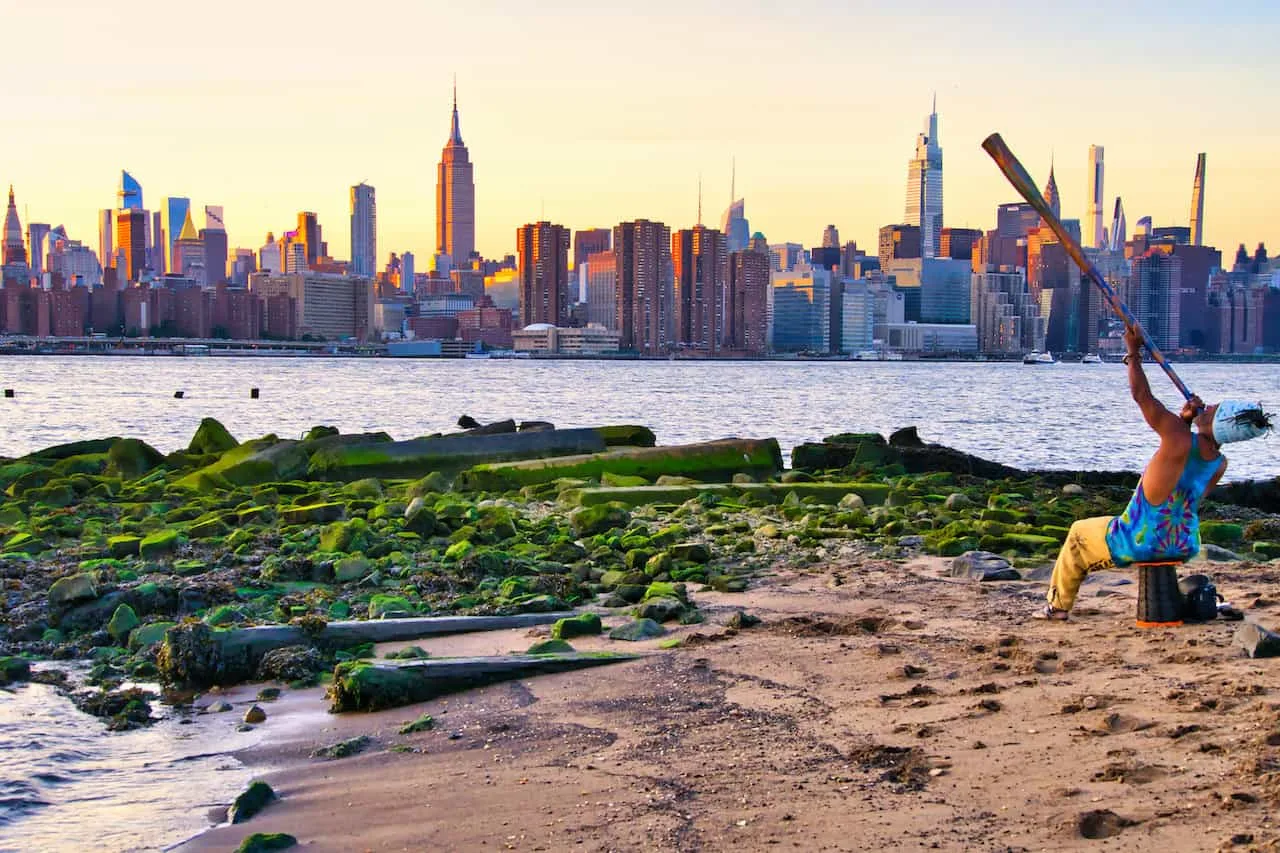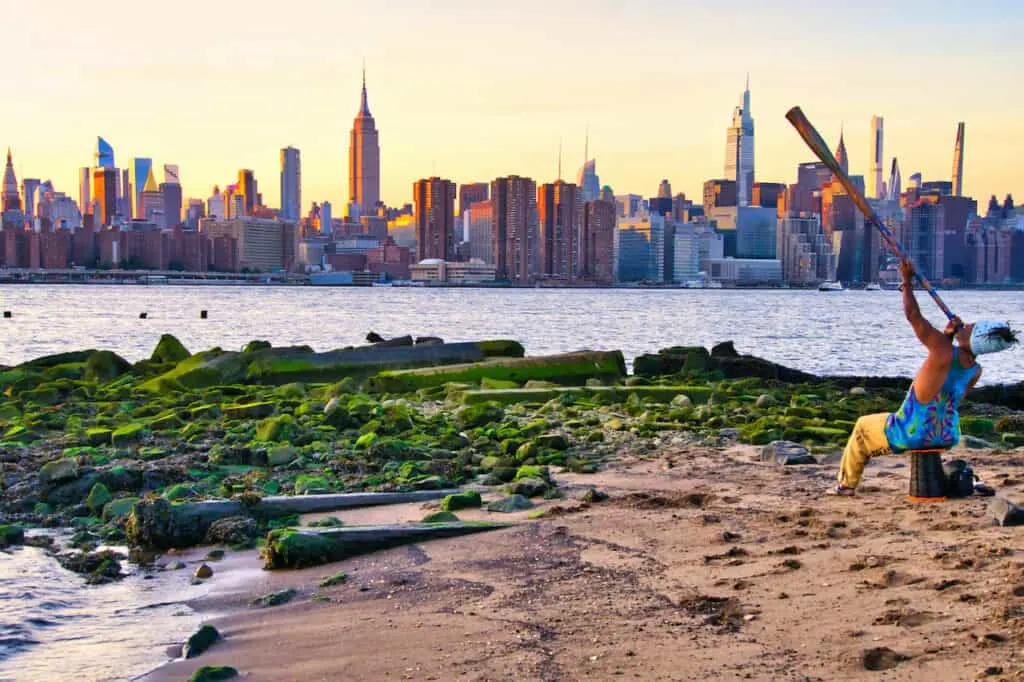 2) 30+ Best Non Touristy Things To Do in New York City
Below is a list of the top non touristy things to do in NYC. It is in no particular order, so feel free to read through and note down what is of most interest to you.
At the end of the list is a map that pinpoints the various spots to give you a better idea where everything is located.
Northern Central Park
While Central Park is always going to be on the top of any New York itinerary, there are places within the park that are more or less visited.
Instead of focusing on the southern end of the park, where you will find very touristy highlights such as The Mall & Literary Walk, Bethesda Terrace, and the Bow Bridge, you can instead focus on the northern end of the park.
For a more peaceful stroll around Central Park, I would recommend entering near the Reservoir on the east side of ~86th Street. From there you can walk northbound along the body of water, before exiting onto East Drive.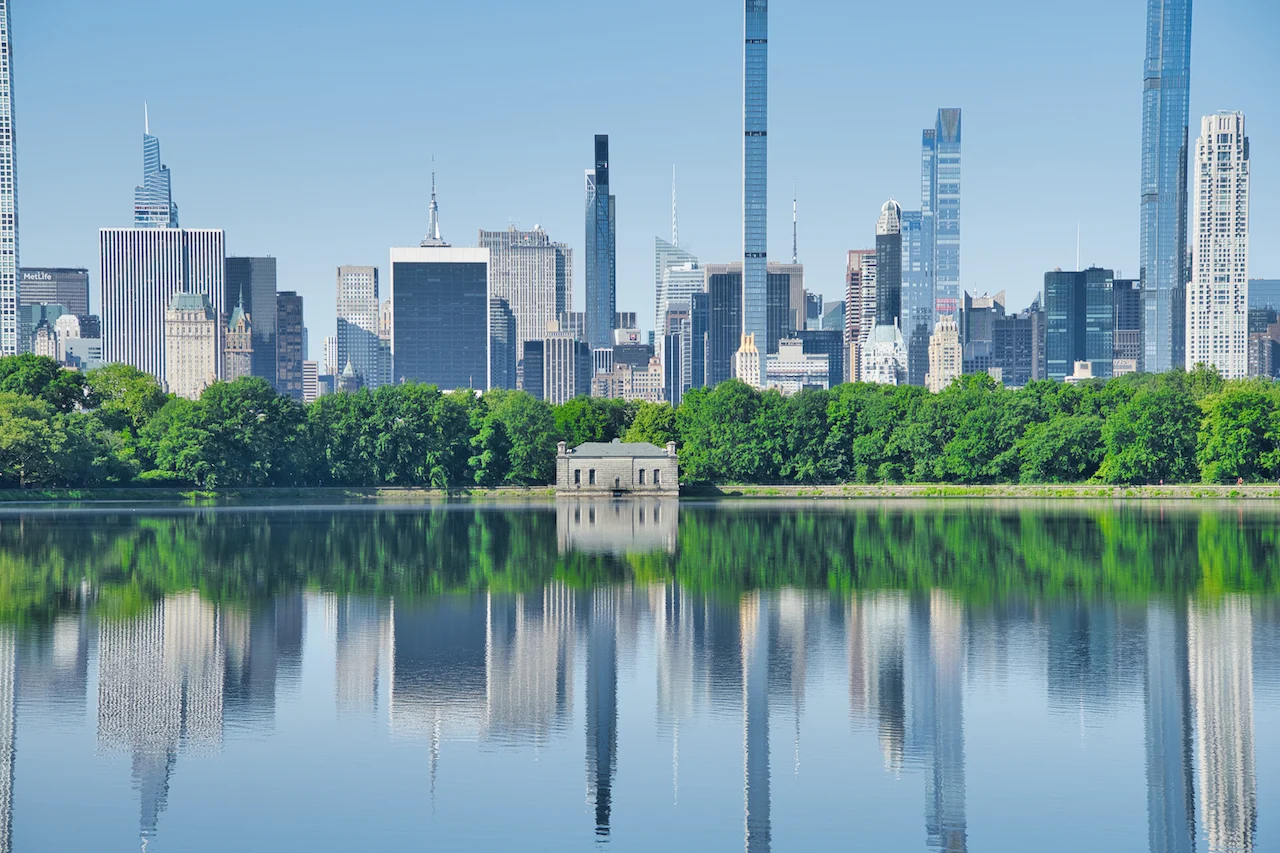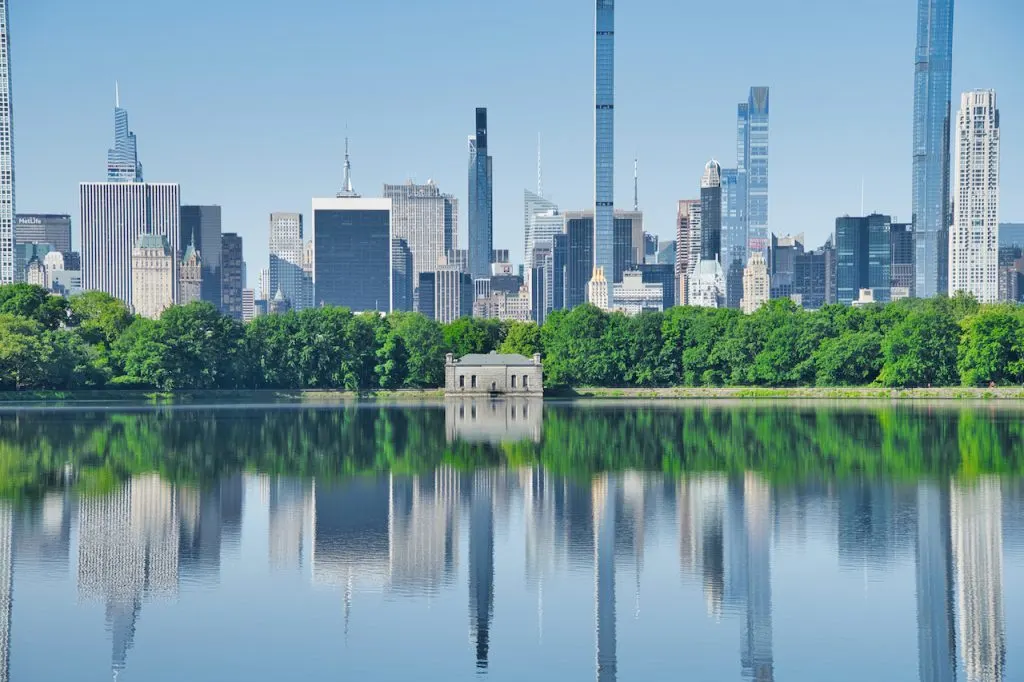 Once on East Drive you can head to the Conservatory Garden & Harlem Meer, before entering the North Woods & Ravine area.
You can walk a pathway from the Huddlestone Arch that follows the Loch Stream, passes by the Central Park waterfall, and ends at The Pool.
Continue southbound on West Drive, back along the Reservoir (where you may find some Central Park cherry blossoms in the Spring), and then spend some time relaxing on the Great Lawn.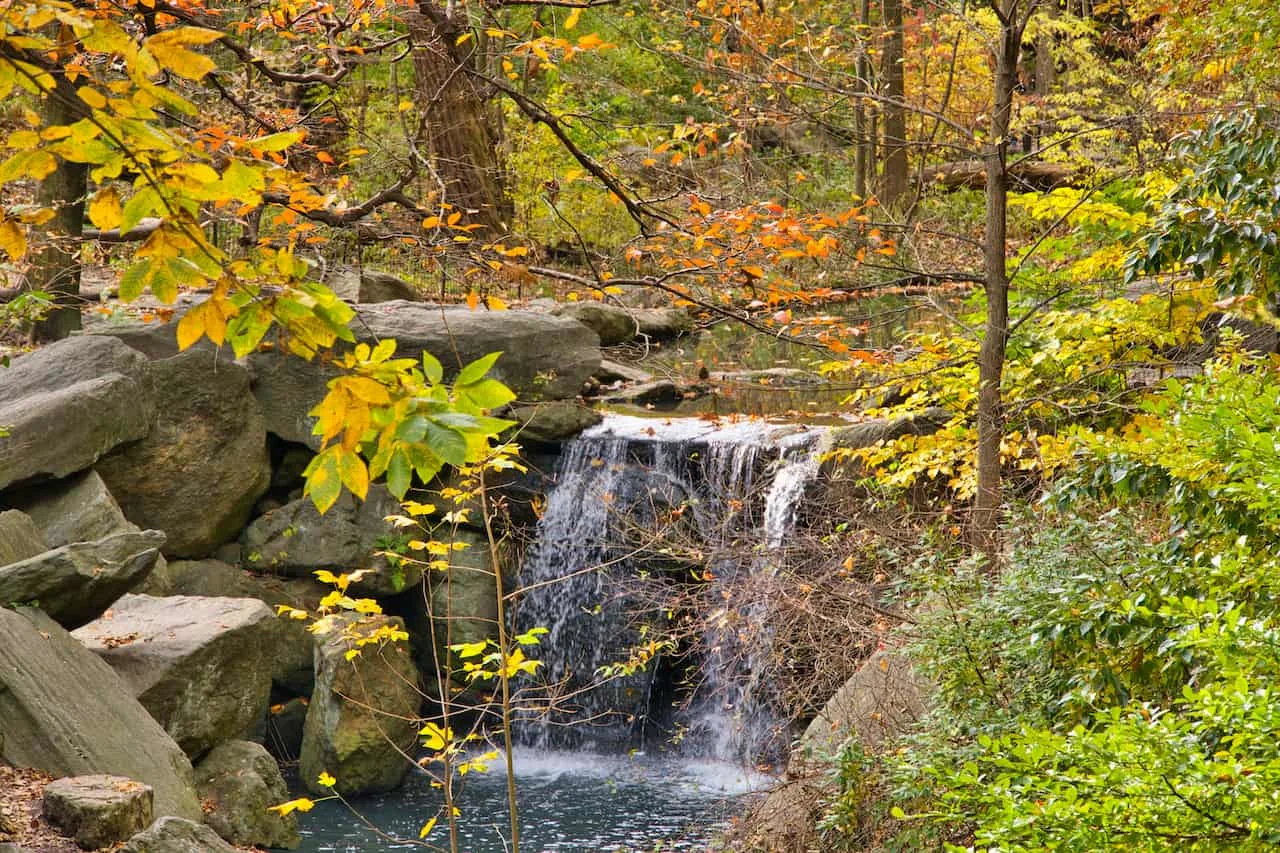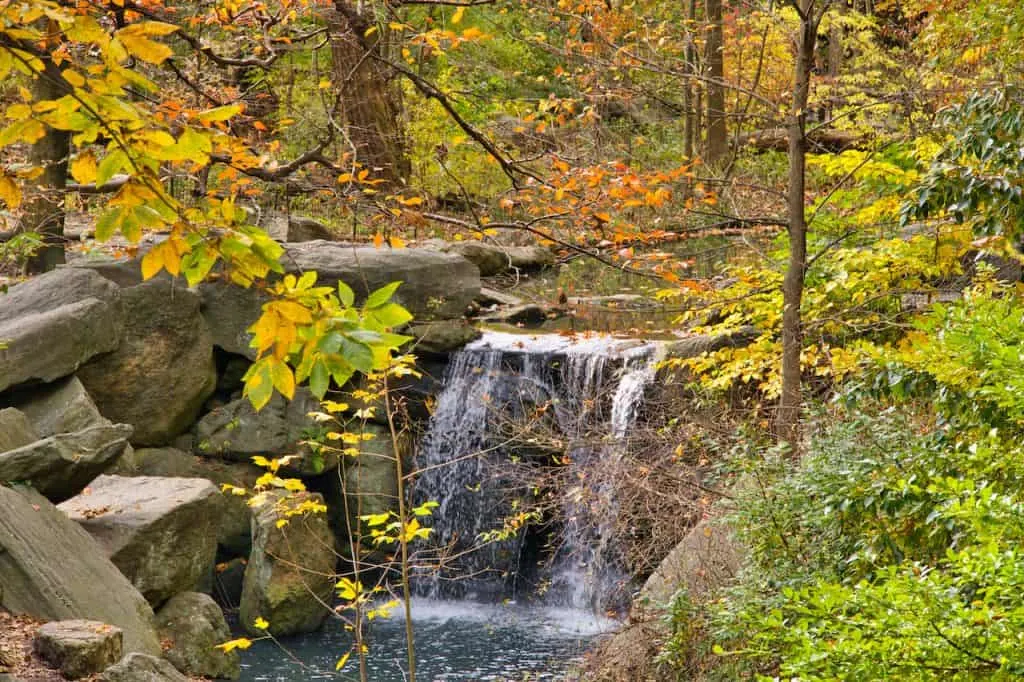 Pier 57 Rooftop Park
All along the Hudson River you will find piers & parks that create a beautiful landscape for tourists & locals to enjoy.
One of the most touristy places along the riverfront is Little Island. Here you will find hordes of tourists walking the congested pathways.
Instead of going to Little Island, head next door to Pier 57. At the pier, you will find a rooftop park that offers views of Little Island, the Hudson River, and downtown Manhattan.
I have been there several times since it opened in 2022, and have always found it a much quieter and more enjoyable place to visit (plus the views are great!).
Look out for the new food hall on the bottom level, where you can grab a quick bite to eat as you walk along the waterfront.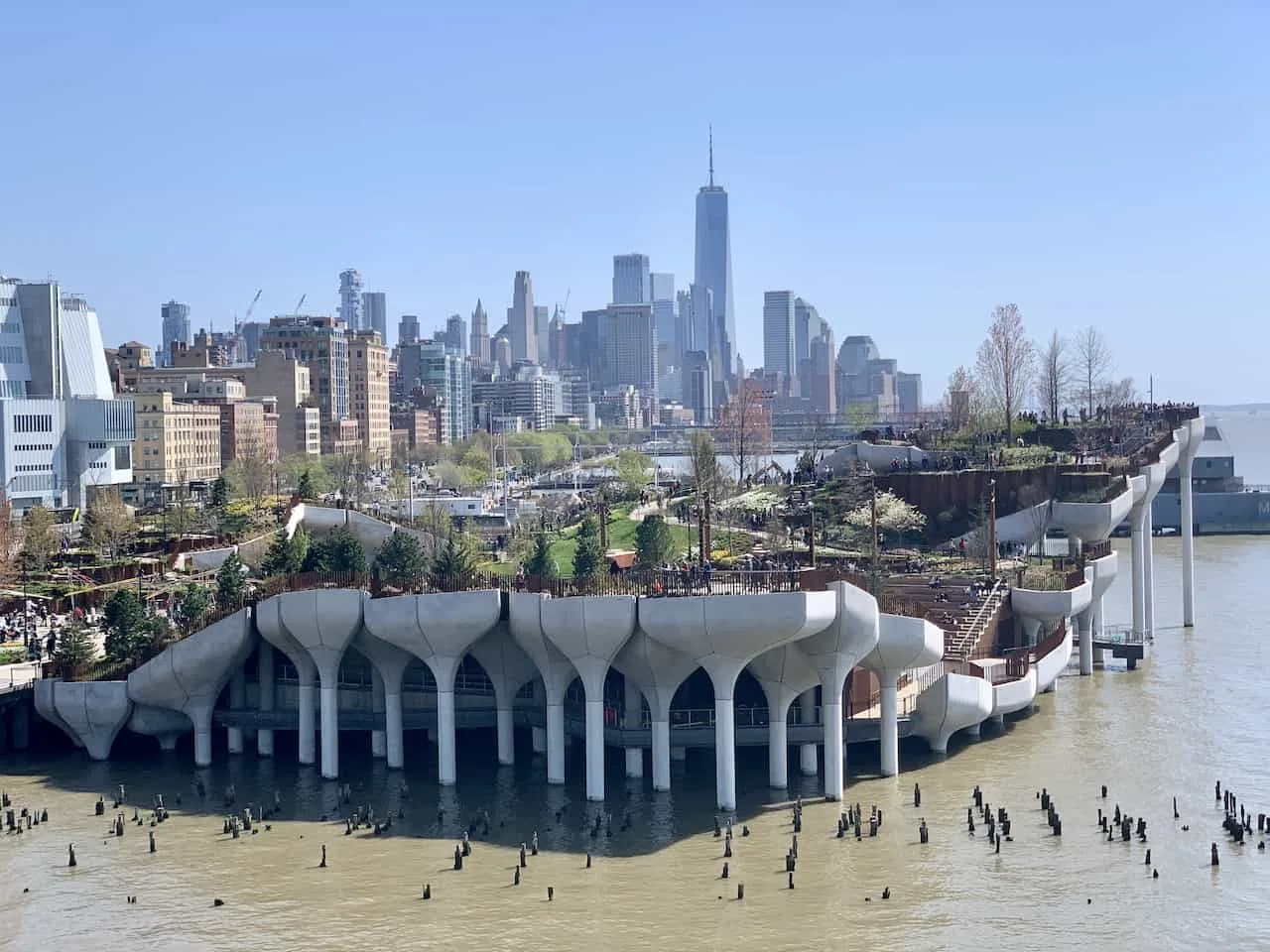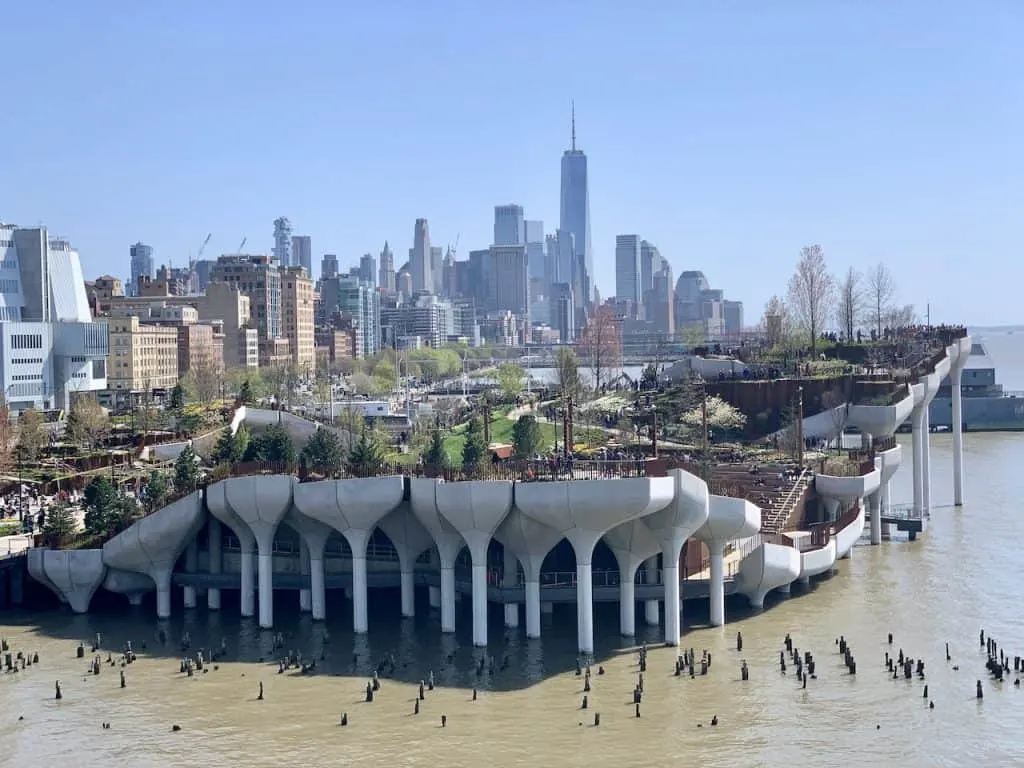 Sunrise at the Empire State Building
Nobody should be leaving New York without visiting one of the observation decks overlooking the city.
Of course, though, these observation decks (like Top of the Rock and One World Observatory) are always going to be some of the most crowded and touristy things to do in NYC.
So, how do we get around that issue, and still add it to this list of the best non touristy things to do in NYC?
Well, the Empire State Building does offer select Saturday morning sunrise hours for a limited number of visitors.
Instead of being surrounded and crammed in by hundreds of people on the Empire State Building observation deck, you will be around just a handful of people.
While the visit will be more time limited, I do feel like you really get a lot out of the experience. Getting to see the sunrise from on top of NYC is something that few people get to see in their lifetime.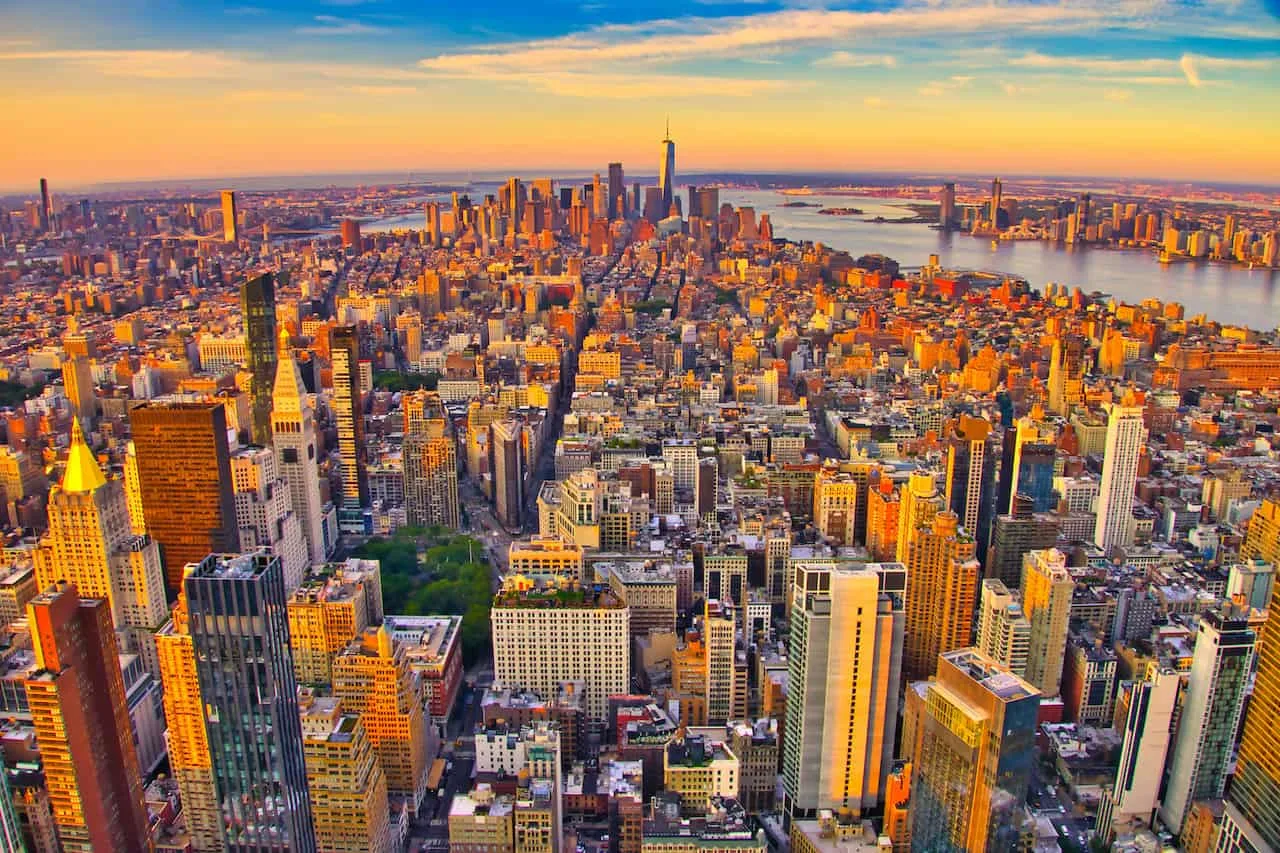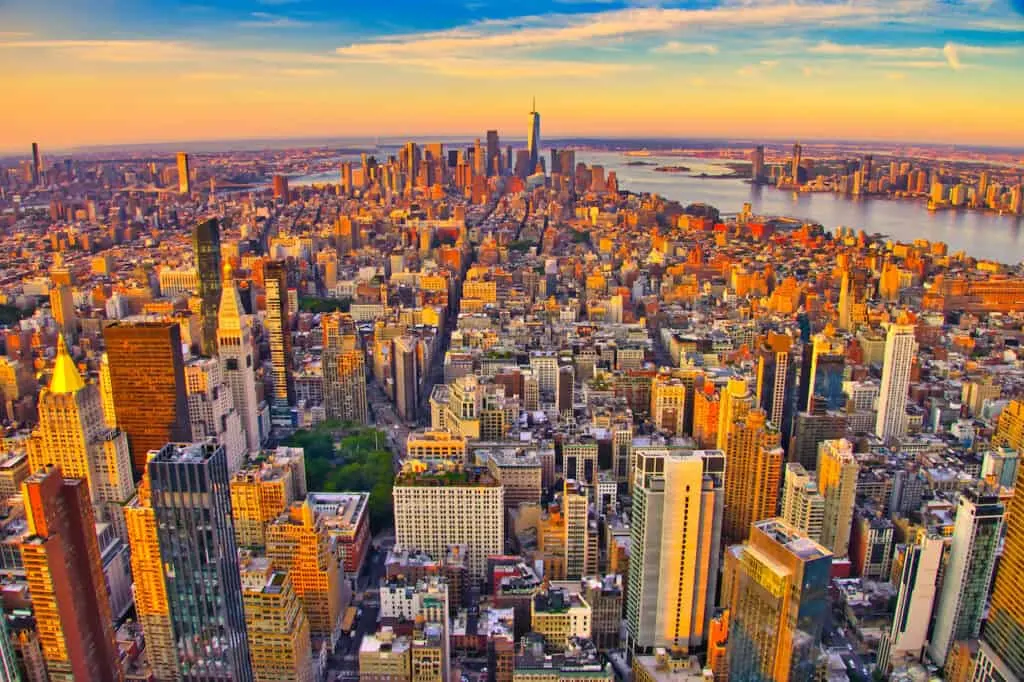 New Jersey Waterfront
Most tourists who visit NYC head to Hudson River Park or the East River Greenway.
And while I love those spots, they can get crowded at times. Instead, why not head to the opposite side of the Hudson River to New Jersey.
It is a very easy ride over as you can take the PATH subway or even a quick ferry ride.
Once there, you will find a nearly continuous riverside walkway that heads around Liberty State Park, Jersey City, Hoboken, and Weehawken.
The views from this side of the river are arguably the best NYC views you can get.
As some say – the best views of New York are not in New York.
Check out the Jersey City Waterfront overview that will go into detail on what to expect!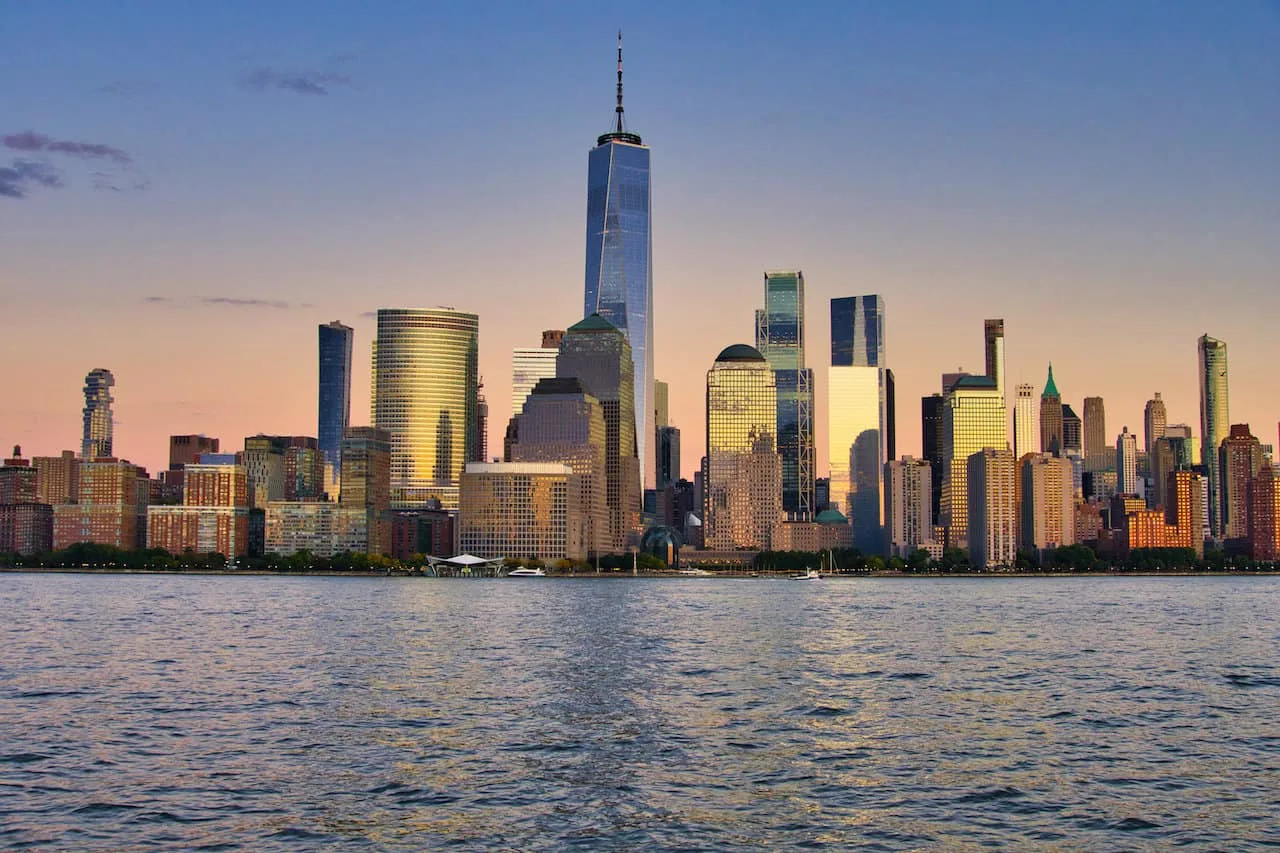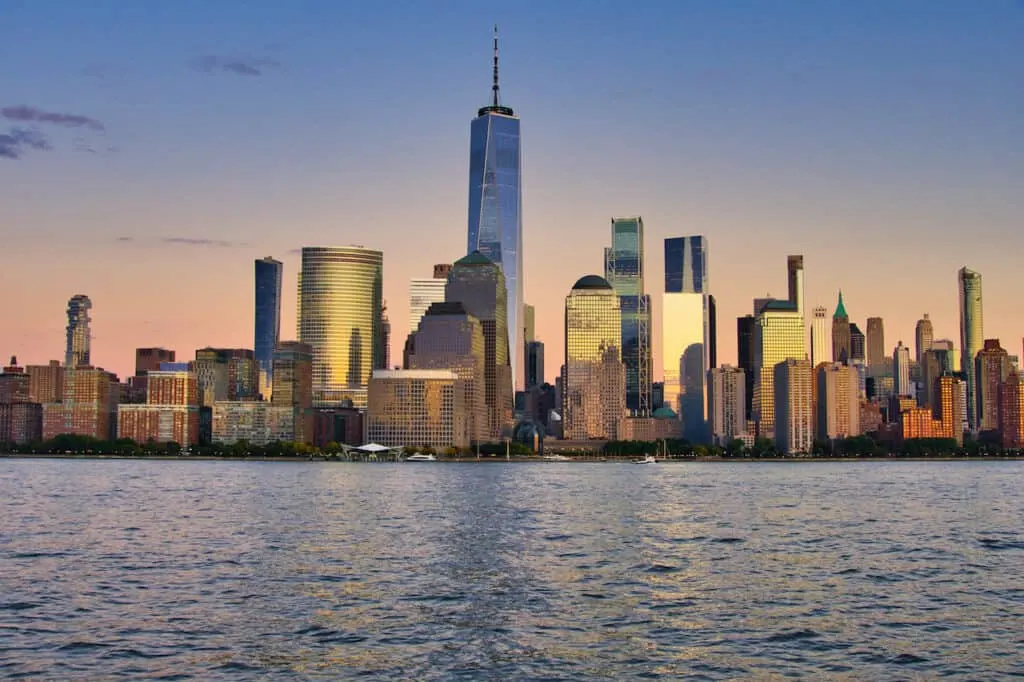 Manhattan Bridge Walkway
Another must do activity when visiting NYC is taking part of the Brooklyn Bridge walk – arguably one of the most crammed areas in the city during peak times.
Instead of walking over the Brooklyn Bridge, you can instead make your way to the nearby Manhattan Bridge.
While the walk/bridge itself is nowhere near as enjoyable compared to the Brooklyn Bridge, you will arguably get much better views from here.
The walkway is on the southern end of the bridge. This means that you will be able to enjoy views of the Brooklyn Bridge, Hudson River, Statue of Liberty, and lower Manhattan skyline during a walk over.
Now, if you want to walk the Brooklyn Bridge but don't want the crowds, you will be better off going for a Brooklyn Bridge sunrise or nighttime bridge walk.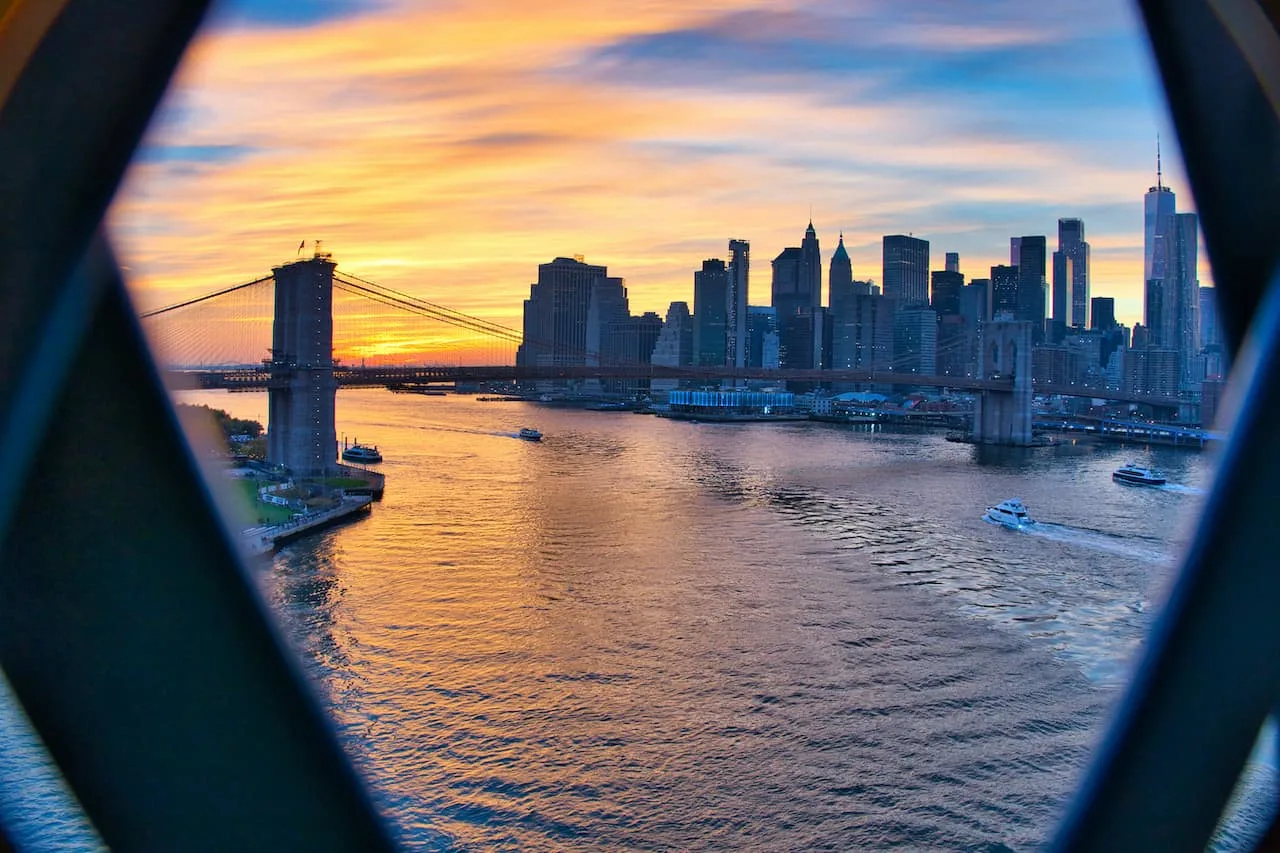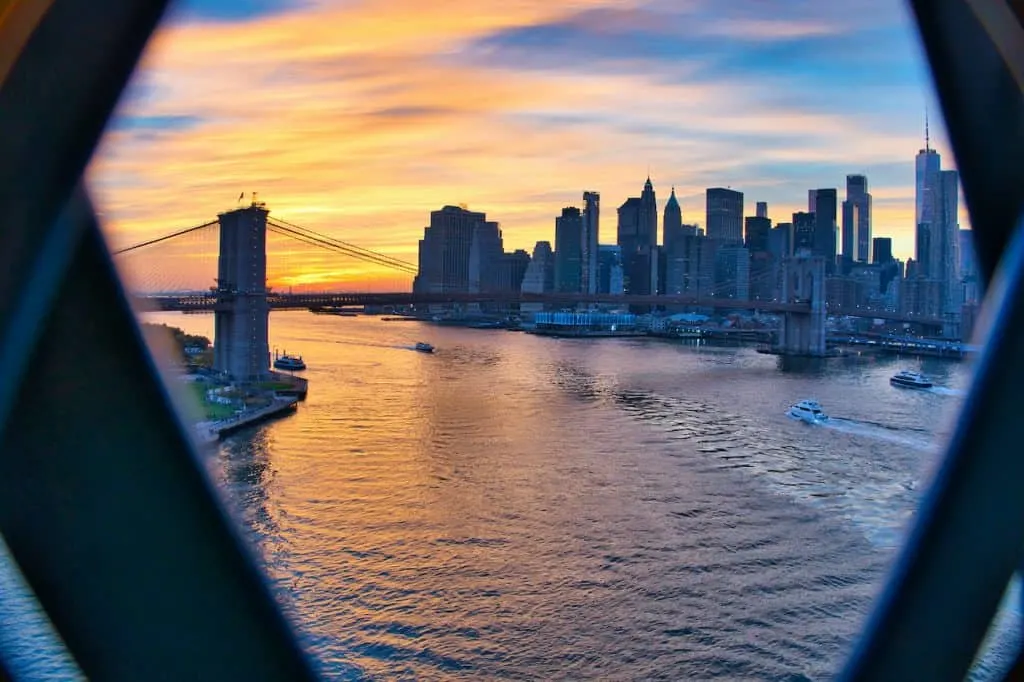 Brooklyn Heights Promenade
All along the Dumbo & Brooklyn Heights waterfront you will find the 1.3 mile long Brooklyn Bridge Park. While the park is beautiful to visit, it can also end up being one of the more crowded places in Brooklyn (since it is also right nearby the Dumbo viewpoint spot).
So, instead of hanging by the water, why not head up above to the Brooklyn Heights Promenade.
The promenade stretches along the Brooklyn Heights neighborhood, where you can get some elevated views of Brooklyn Bridge Park, the Hudson River, the Manhattan skyline and the Brooklyn Bridge.
It is the perfect place to find a bench to sit down & relax on, as you take in the views from above.
After visiting, you can make your way northbound to the Fruit Street Seating Area and then onto the Squibb Bridge.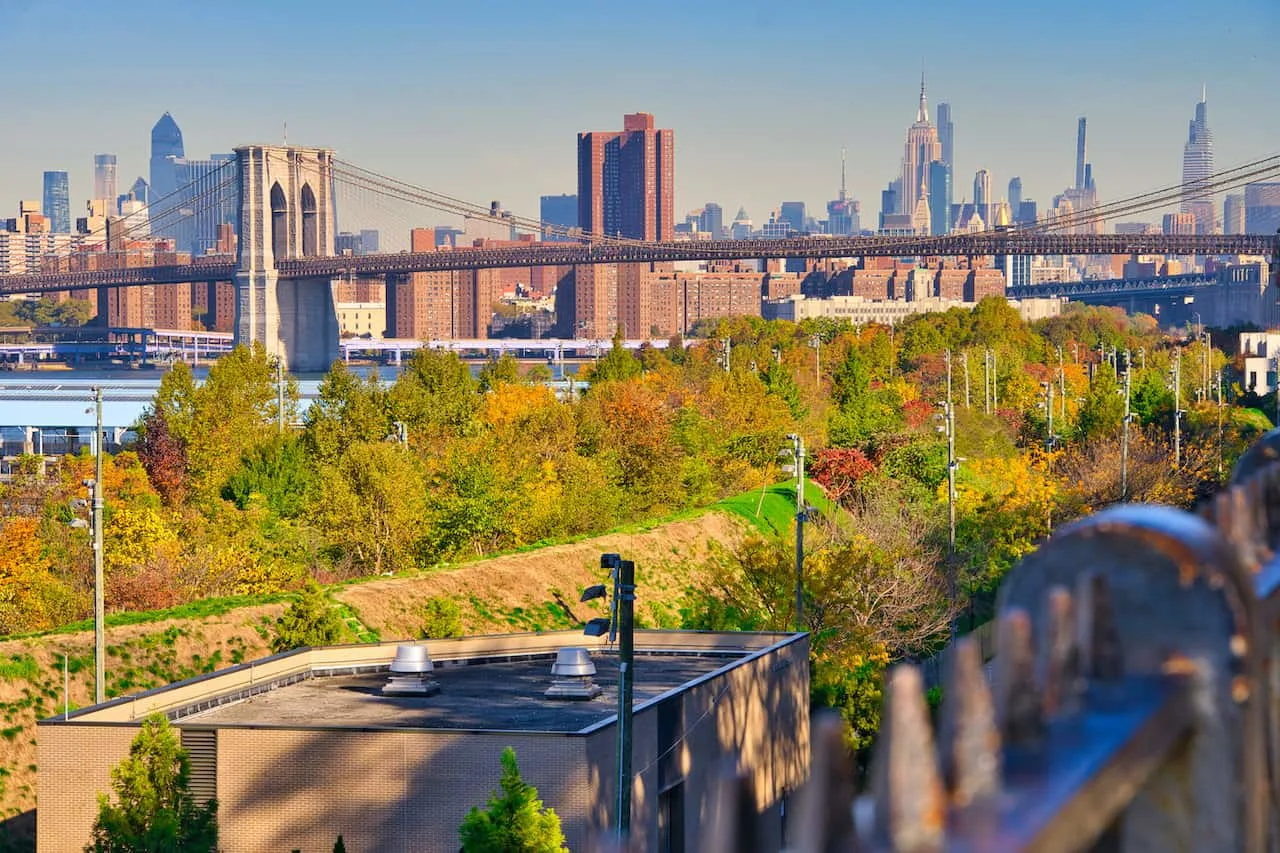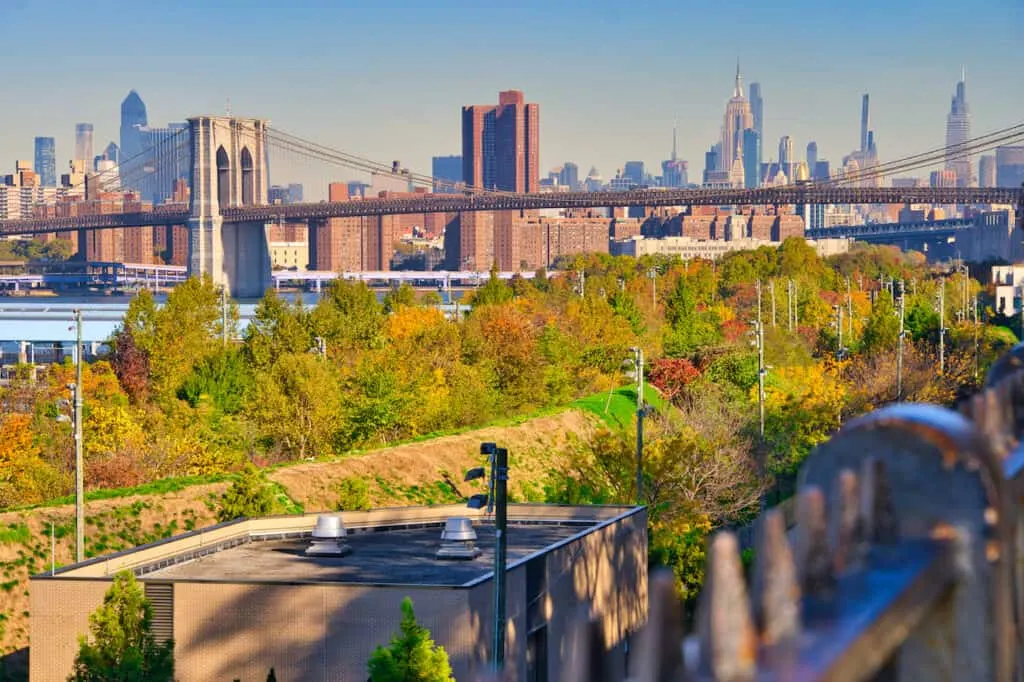 The Battery
There are lots of NYC neighborhoods to choose from in the city. And each one offers something a bit different than the next. That is really what makes NYC so unique in the first place.
One of the less visited areas though is The Battery, located at the very southern tip of Manhattan.
Most people who visit here are those that are hopping on a boat to the Statue of Liberty. But why not spend some time in this park filled area too.
With views of New York Harbor, it makes for the ideal sunset spot overlooking the Statue of Liberty.
If you are a photographer, be on the lookout in the winter when the sun can line up directly behind the statue.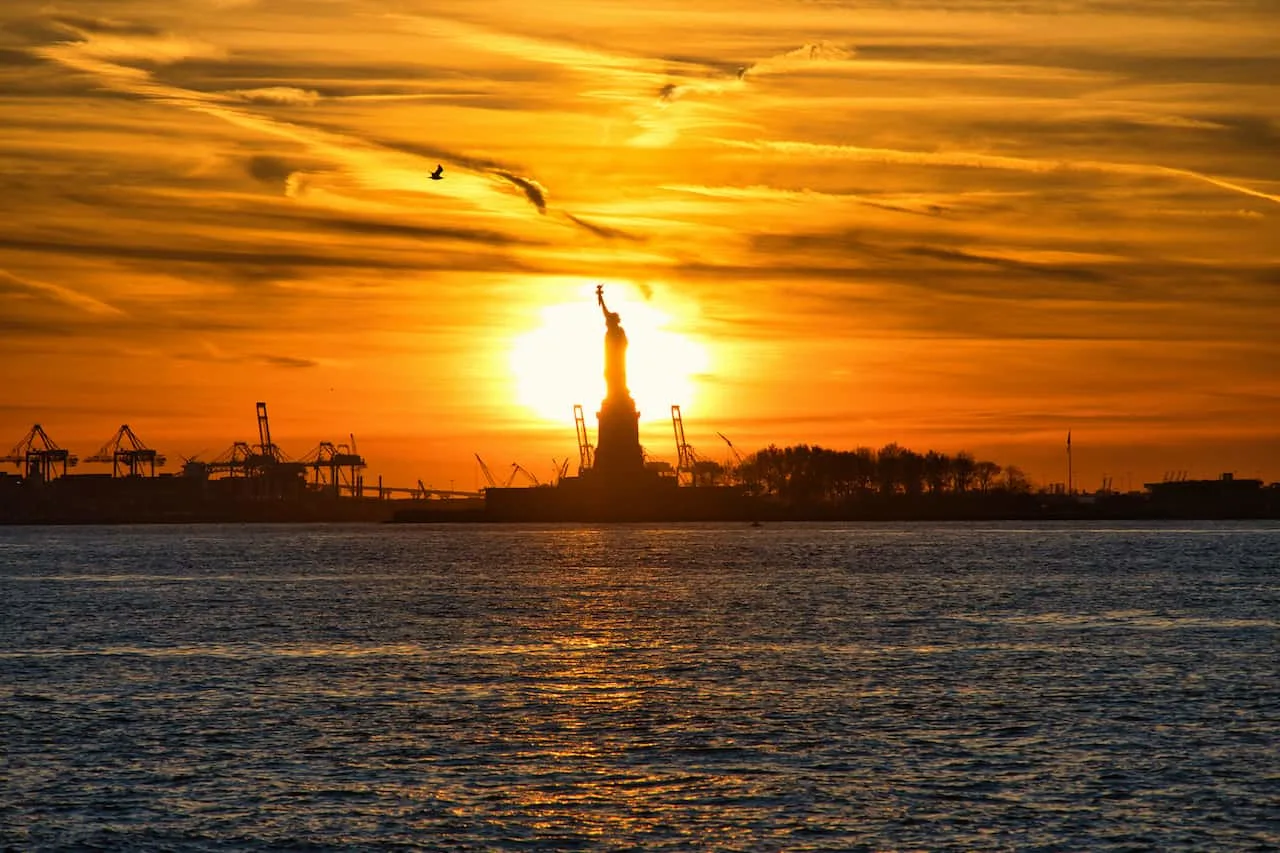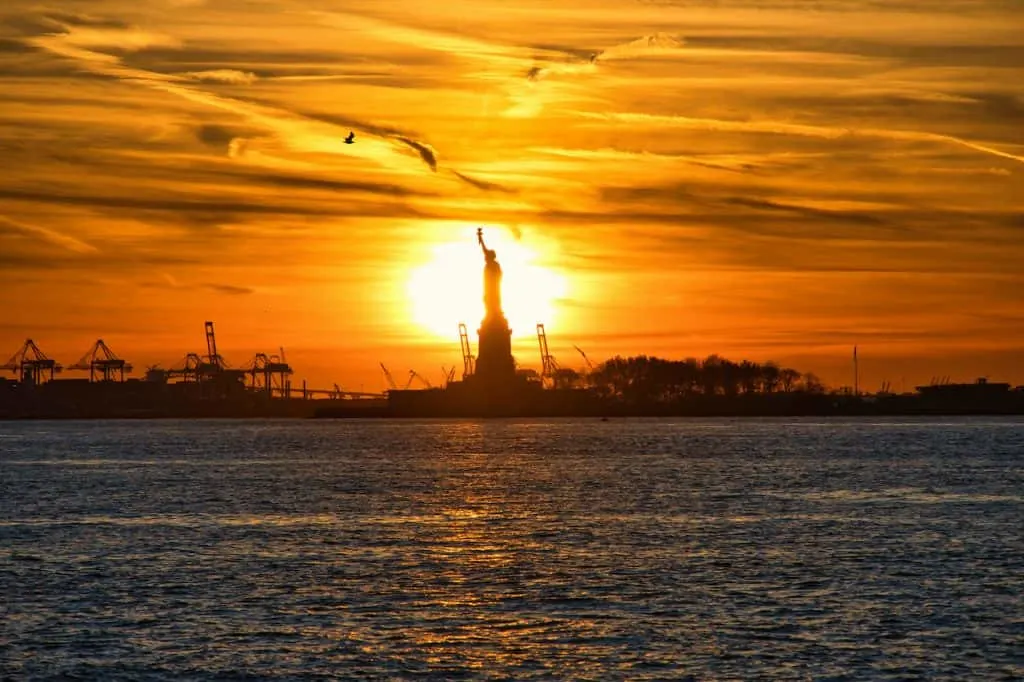 Comedy Cellar
While there are various forms of entertainment in NYC, one of the locals' favorites is the Comedy Cellar.
Comedy Cellar is an NYC famous comedy club that runs shows throughout the week at their few club locations.
You will find the Comedy Cellar locations in the Greenwich Village neighborhood, which also happens to be a great nightlife & restaurant area of the city.
Shows start in the early evening and go well past midnight on the weekends. It is not uncommon for someone famous to pop in from time to time either.
I would advise though to purchase tickets in advance. While there are seats reserved for walk ins, these shows will sell out. So, it's best to guarantee your spot ahead of time.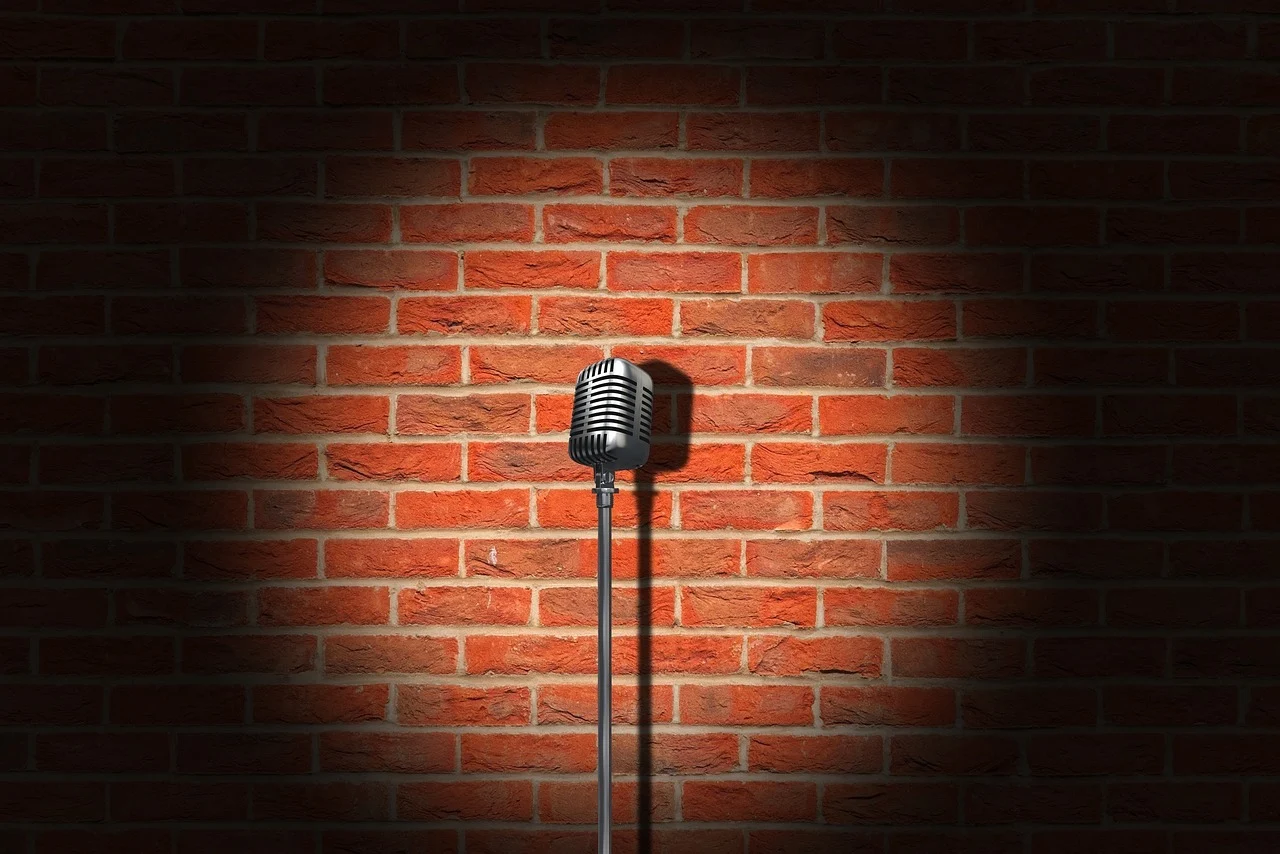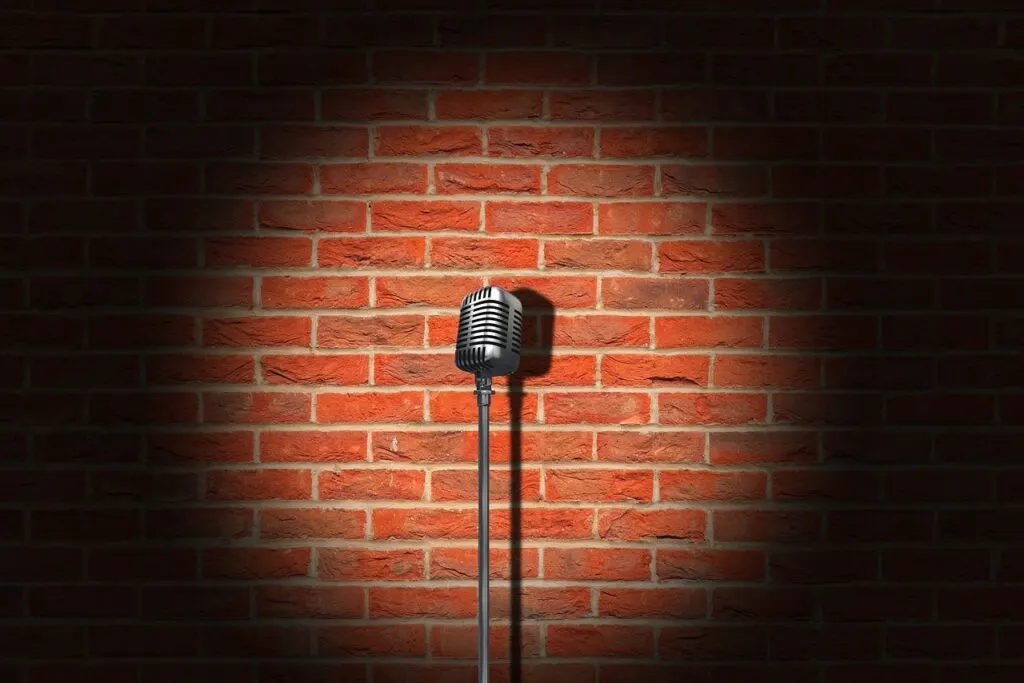 Lincoln Center
The Lincoln Center of the Performing Arts is a world-renowned institution on the Upper West Side of Manhattan.
The UWS in general is one of the most non touristy places in NYC, so don't expect to be overwhelmed by tourists here.
At Lincoln Center you will find several organizations including the Metropolitan Opera, the New York Philharmonic, and the New York City Ballet (among many others).
No matter what day of week, or what type of performance you are looking for, there is surely something for you at Lincoln Center.
Be sure to look at the schedules prior to your visit to get a better understanding of what will be offered on which day. You can then plan accordingly with purchasing tickets, as many shows can be in high demand.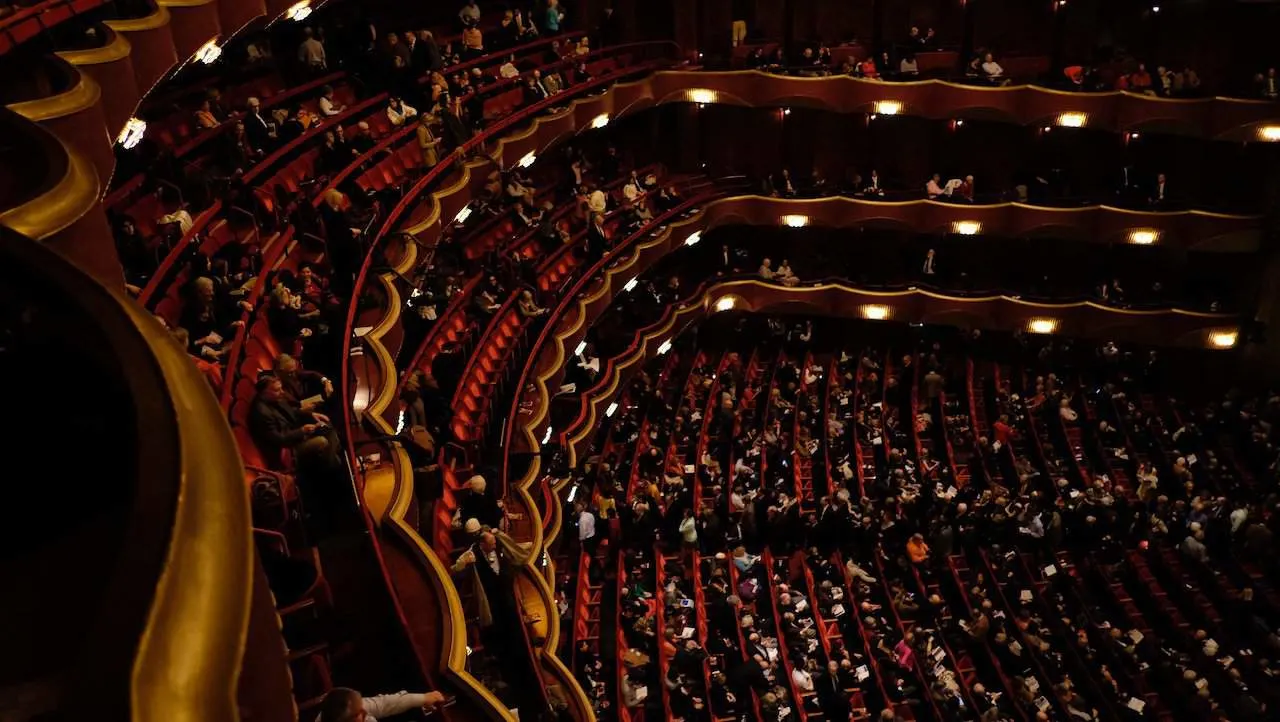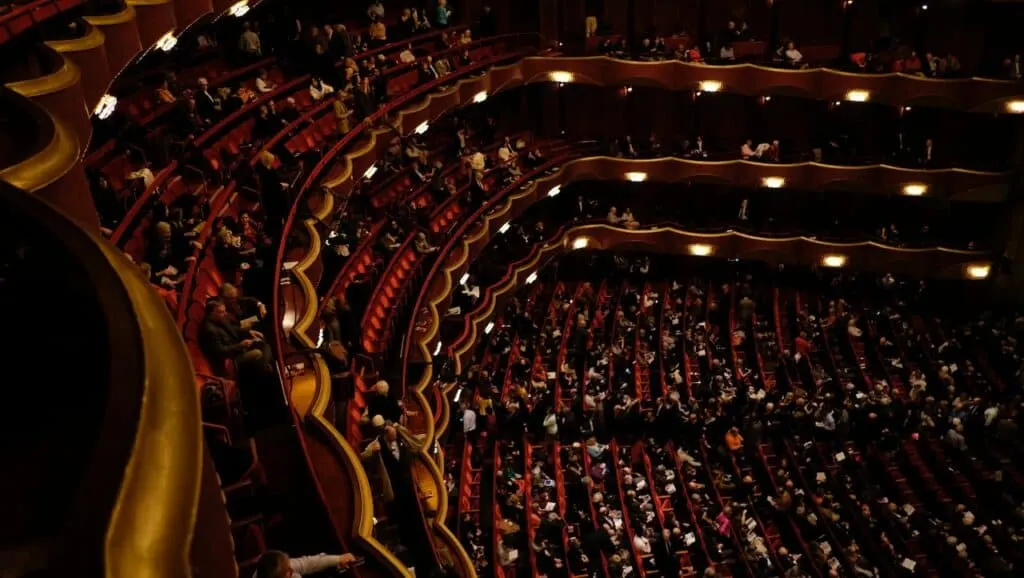 Domino Park
While most people who visit NYC focus in on Manhattan, there is also plenty going on in other nearby boroughs too.
Williamsburg is one of the most hip and popular Brooklyn neighborhoods. It is full of restaurants, bars, shops, and it also has a great waterfront.
The highlight of the waterfront can be found at Domino Park, which is located just north of the Williamsburg Bridge.
During those weekend afternoons or summer evenings, expect the park to be full of locals enjoying time out by the water.
The park has a grassy area to hang out at down below and a metal structure you can walk up to get views from above.
You can then spend an evening exploring Williamsburg itself to get a different NYC experience.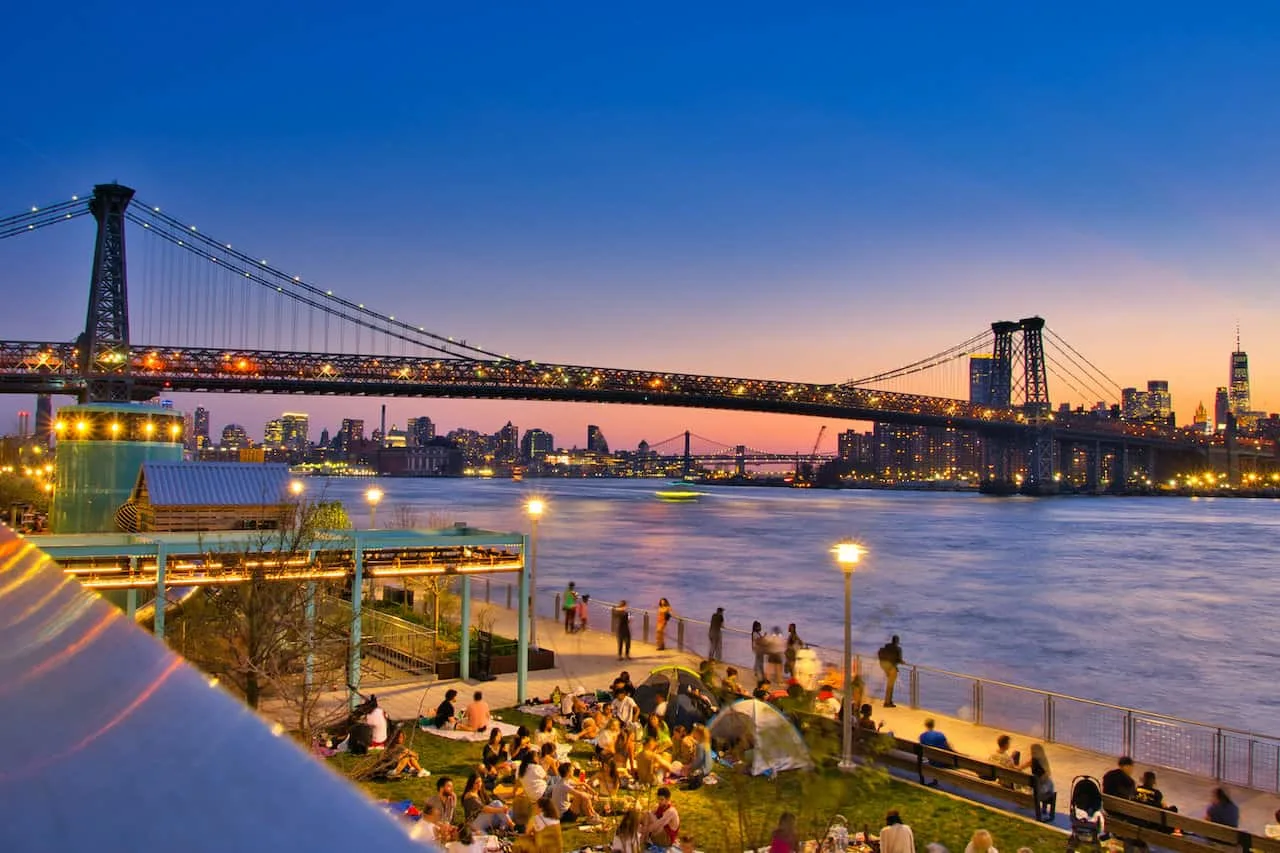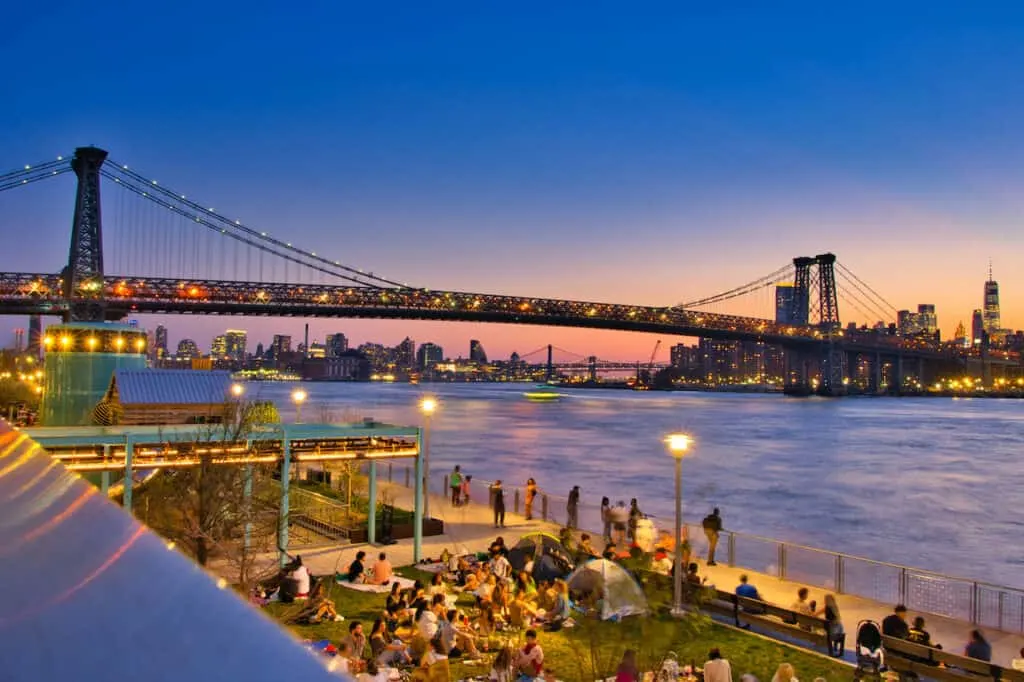 Met Cloisters
Perhaps the most famous museum in NYC is the Metropolitan Museum of Art. As the largest museum in North America, and it being situated in Central Park, it can certainly be a crowded place to visit.
However, few realize that there is a second location called the Met Cloisters located in the very upper part of Manhattan.
This museum is dedicated towards the art & architecture of medieval Europe, and it offers the perfect backdrop. Located within Fort Tyron Park, the museum sits right on the Hudson River.
Much of the collection focuses on the 12th to 15th centuries, with over 5,000 different pieces to explore.
Beyond the collection itself, the building & surroundings are also top highlights. You will find the museum within a French monastery surrounded by lush gardens & greenery.
It is the perfect place to spend a morning or afternoon away from the hustle & bustle of the rest of Manhattan.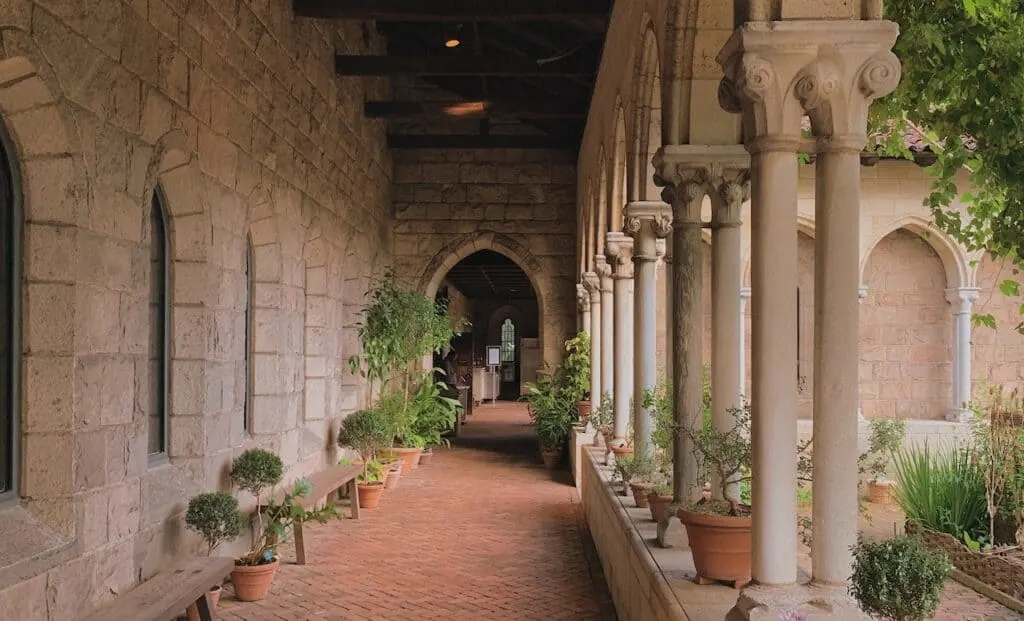 Governors Island
Situated in New York Harbor, between Manhattan and Brooklyn is Governors Island. What used to be an old military outpost has been transformed to an area full of parks, viewpoints, spas, and more.
While tourists certainly go to Governors Island, I do feel like it left off of most itineraries. Due to the fact that you need to take a ferry back & forth, it can take up at least half of your day.
But if you have the time and want to experience New York in a non touristy way, then Governors Island may be for you.
It is the perfect spot, where you can either walk, bicycle or even quadricycle around while visiting some of the main highlights.
During a visit be sure to head to some of the following spots:
Castle Williams
Fort Jay
Parade Ground
Liggett Terrace & Colonels Row
The Hills
Picnic Point
Hammock Grove
And more!
For those that want a spa & pool type of day, look no further than the QC Spa. And for those that want to actually stay on the island itself, then the Collective Retreats glamping experience is the perfect choice.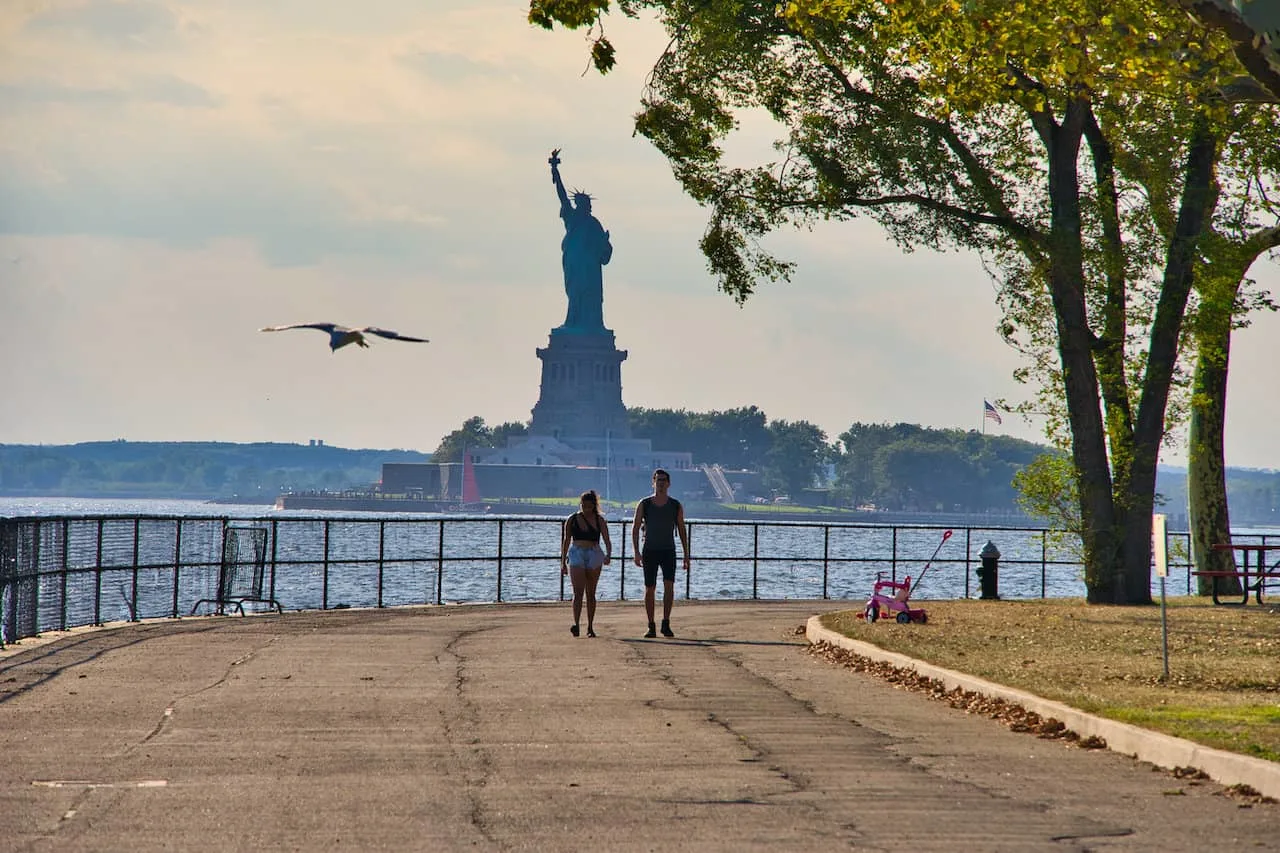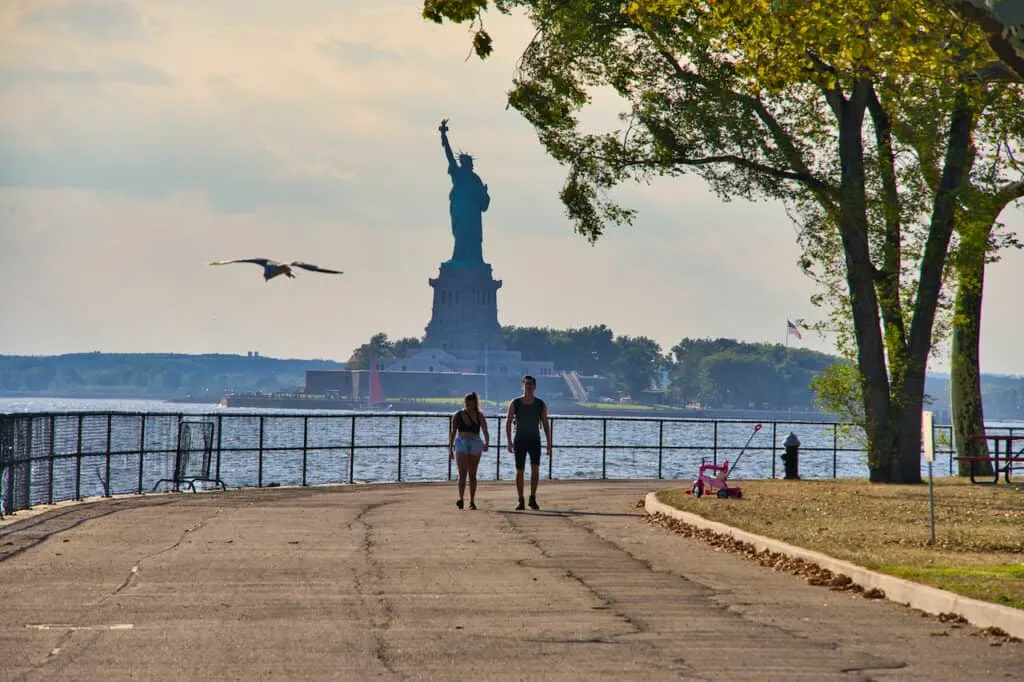 Roosevelt Island
Speaking of islands, there is one more that is certainly worth the visit – Roosevelt Island. This island is situated more north along the East River between Manhattan & Queens.
It used to be a place full of penitentiaries, hospitals, and insane asylums. But these days the island has been transformed.
Roosevelt Island is now somewhere that you can find parks, riverside pathways, the Cornell Tech campus, some of the best cherry blossoms in the city, and more.
One of the highlights of visiting Roosevelt Island is that you have the chance to take the tram there. Instead of going underground on the subway, you will be able to ride the 5 minute tram that goes over the East River.
The views from the tram are some of the best you can ask for as you see the city from a whole new angle.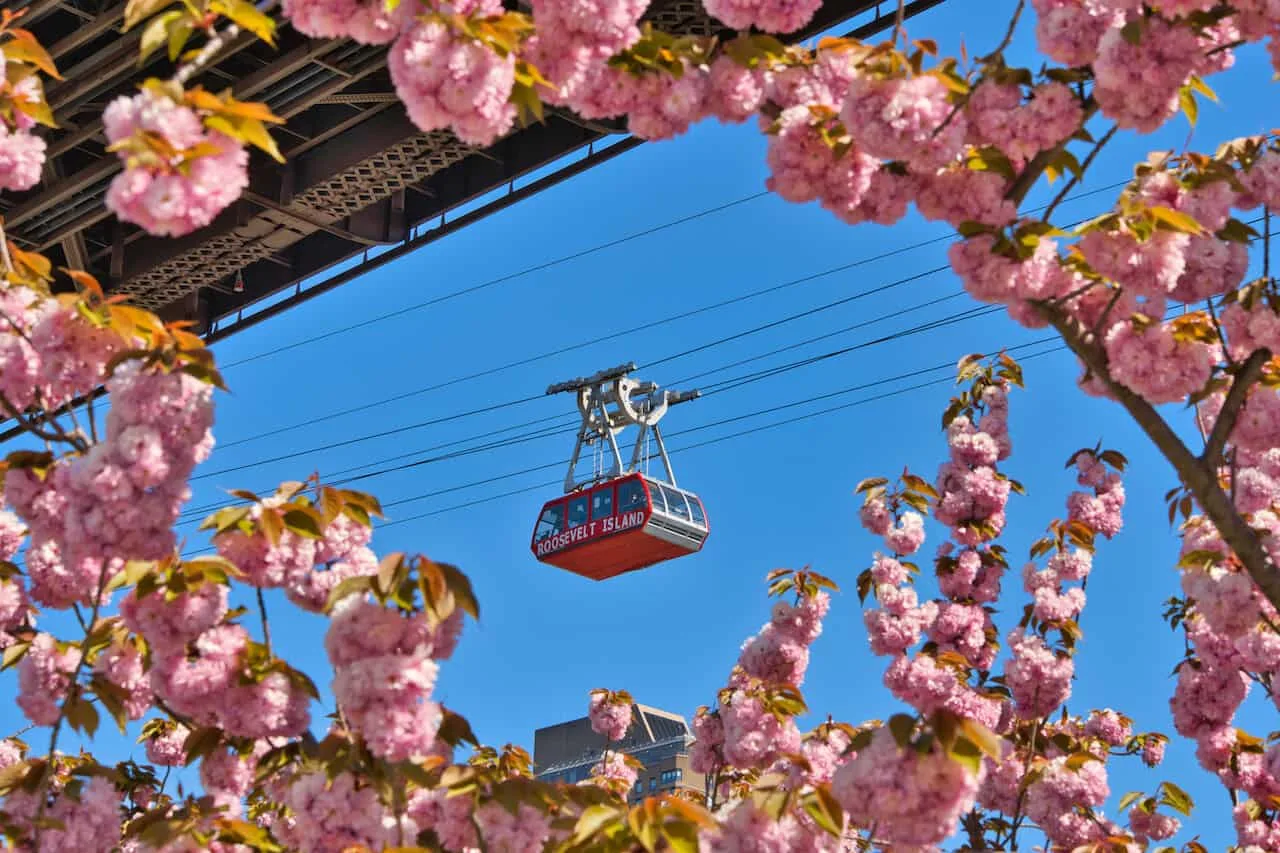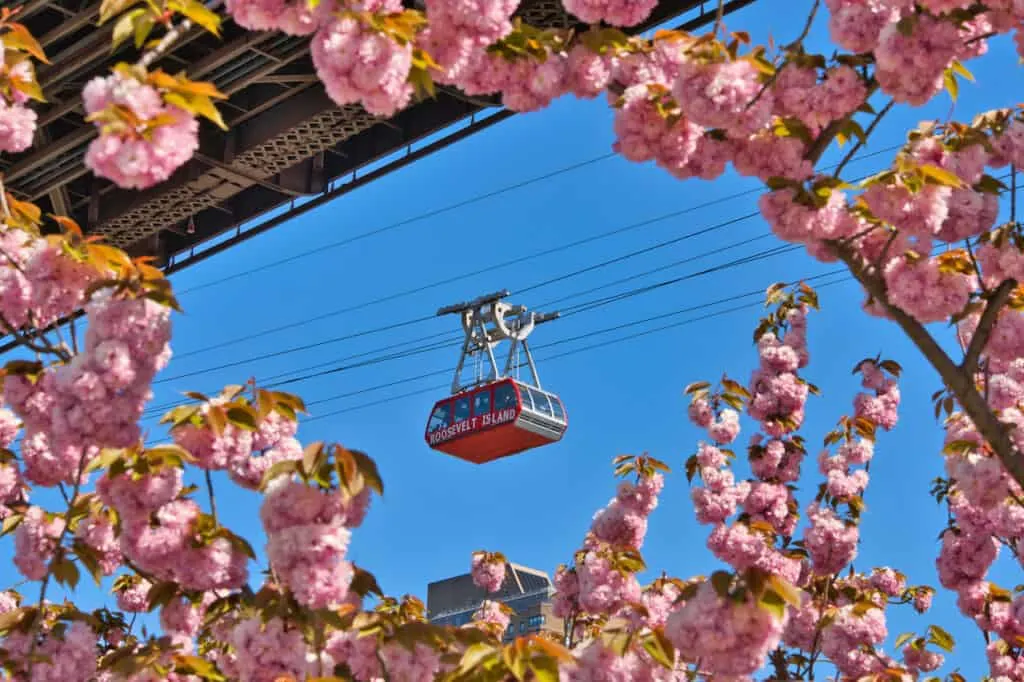 Flushing Meadows Corona Park
If you want to spend some time in Queens, one of the best parks to visit is the massive Flushing Meadows Corona Park.
The park is located right by Citi Field (if you happen to want to go to a Mets baseball game too), and is easily accessible by the 7 train.
Within Flushing Meadows are a whole variety of walking trails, fields, and water features. In addition, the famous Unisphere globe and New York State Pavilion Observation Towers (made famous in Men in Black) are located here.
It is not just about the park though! You will also find the Queens Zoo, Queens Museum of Art, Botanical Garden, and New York Hall of Science all within the confines of Flushing Meadows Corona Park.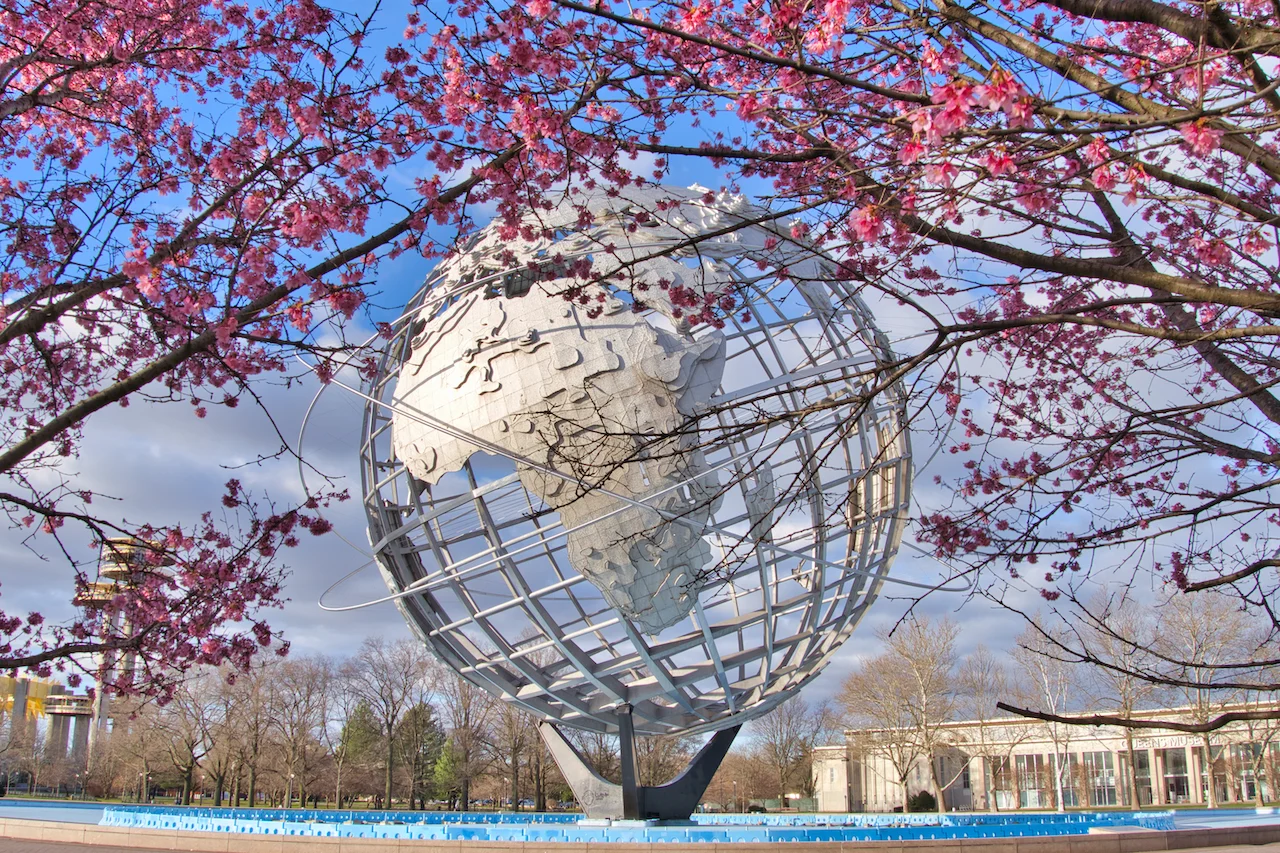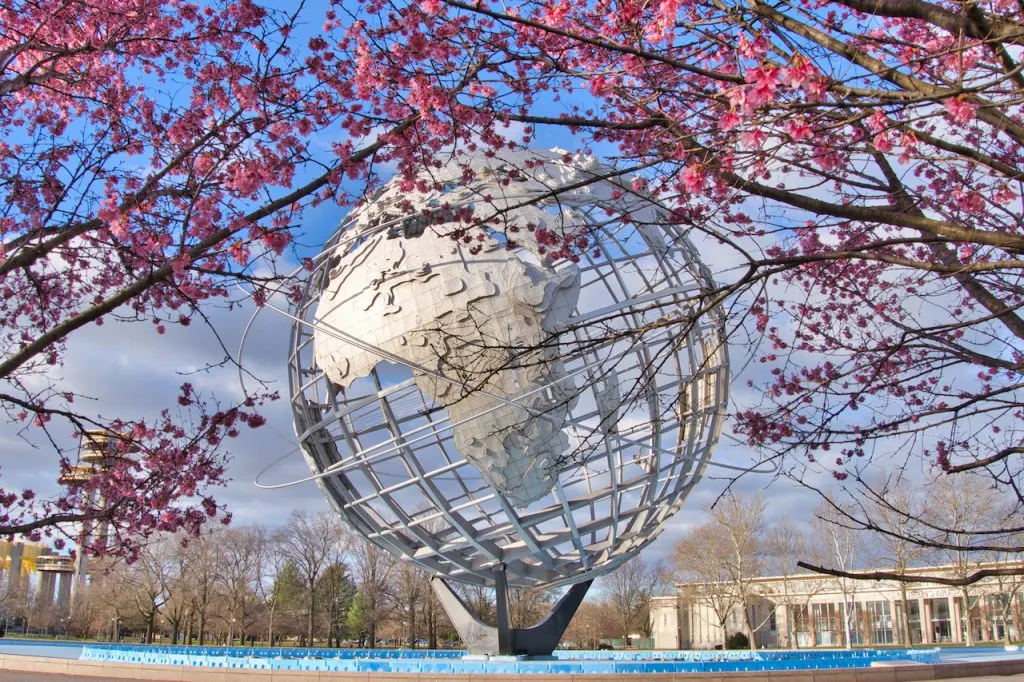 Morgan Library & Museum
While the more famous library in NYC is the Stephen A. Schwarzman Building at the New York Public Library, the Morgan Library & Museum is definitely the less touristy option.
The library belonged to JP Morgan himself as a private collection. Over the years he collected rare and valuable books, manuscripts, and artwork.
After JP's death, his son opened the private collection up as a museum. Since then, the library's collection and size has increased tremendously.
Today you can find several hundred thousand pieces in the museum's collection.
Beyond the collection itself, the interior architecture of the building is a site to see on its own. With multiple levels filled to the brim, and intricate walls & ceilings all throughout, it makes for one of the most beautiful buildings in the city.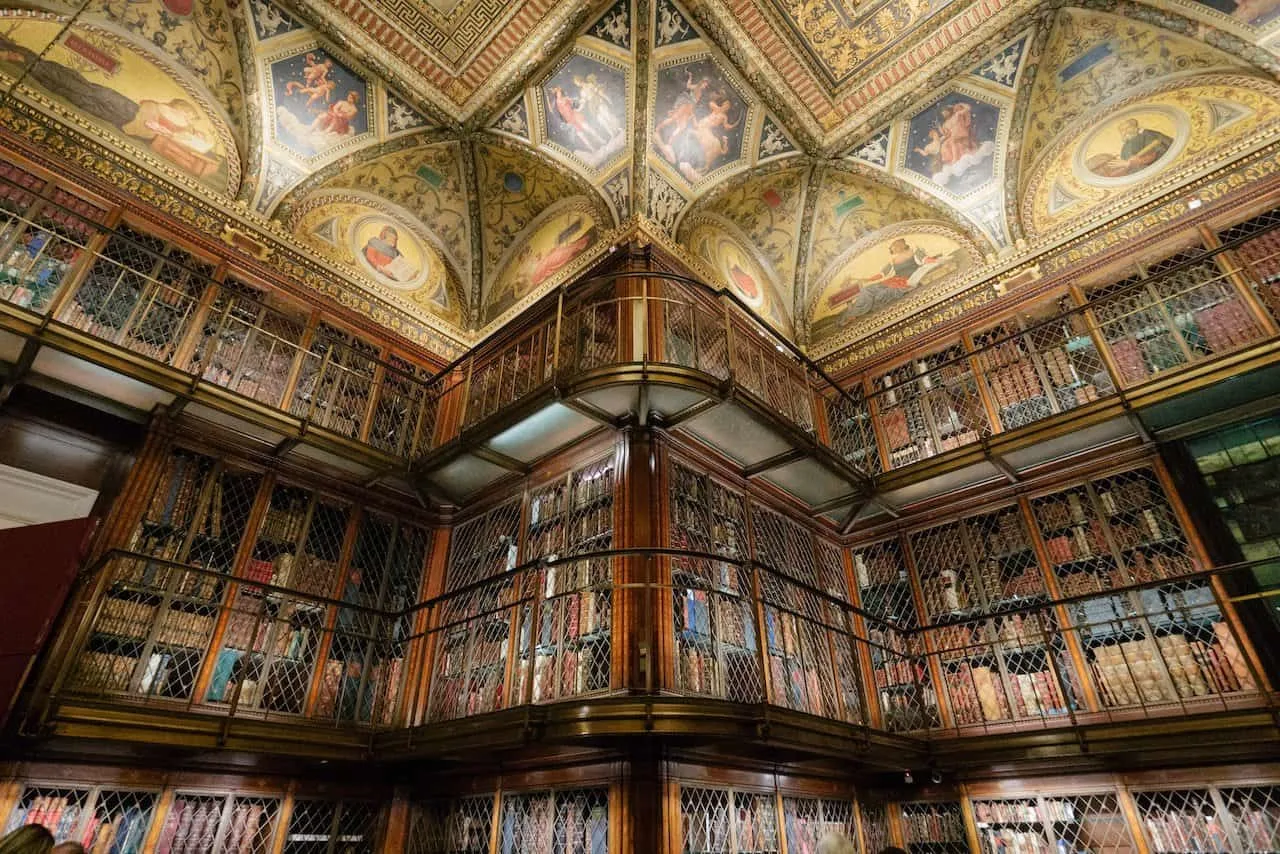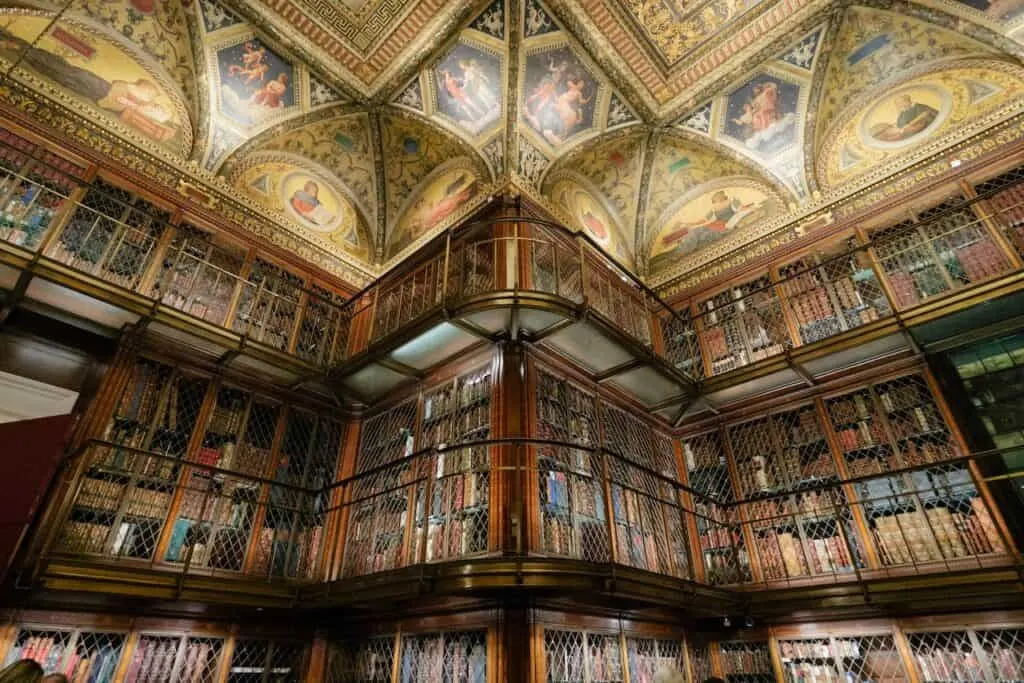 Off Broadway Show
When many people visit NYC, the first live entertainment that comes to mind are the famous Broadway shows.
At any given time, there are upwards of 40+ shows going on throughout multiple theaters. The thing about Broadway though is that it can be expensive.
And while there are certainly ways to save on tickets (such as heading to the TKTS ticket booth), that can take away valuable time from a trip.
So, instead of opting for a Broadway show, why not check out a lesser known Off Broadway show.
These shows can be less competitive to purchase tickets and are on average much cheaper. Who knows, maybe one day that Off Broadway show will make it onto Broadway.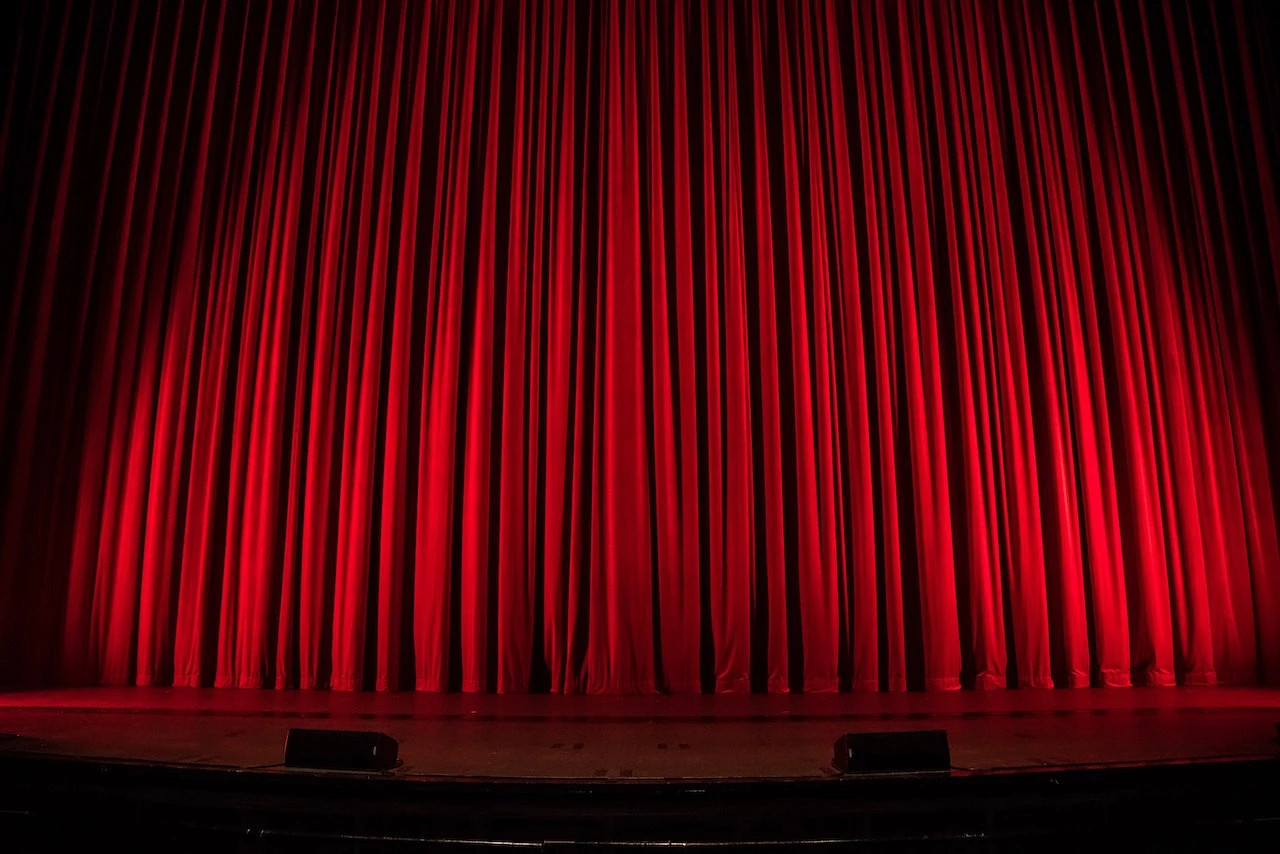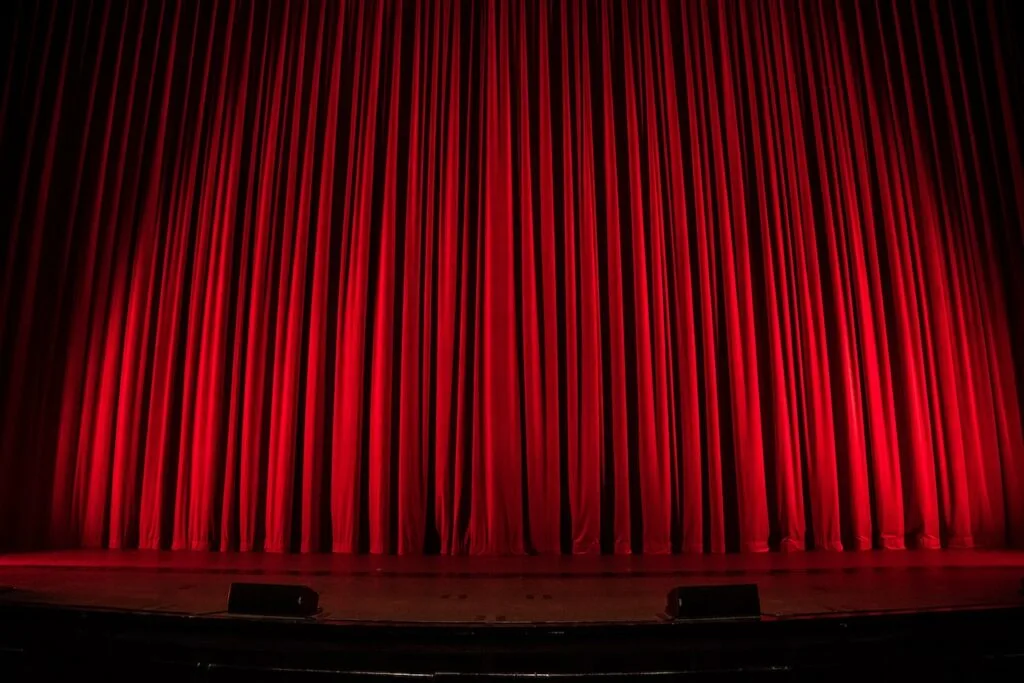 Prospect Park
While Central Park clearly takes the prize for the best park in NYC, Prospect Park is not too far behind.
Located in Brooklyn, Prospect Park is the place to be if you are looking for a serene place to hang out in during your time in the borough.
It is at the intersection of many various neighborhoods including Prospect Heights, Park Slope, Crown Heights, and Prospect Leffert Gardens. So if you happen to be visiting any of those less touristy areas, be sure to stop by!
Similarly, to Central Park, it was also designed by Frederick Law Olmstead and Calvert Vaux. Over the course of 500+ acres you will find walking paths, fields, lakes, and even the Botanic Garden.
Some of the top highlights include Grand Army Plaza, Long Meadow, The Lake, Lookout Hill, the Prospect Park Zoo, among many others.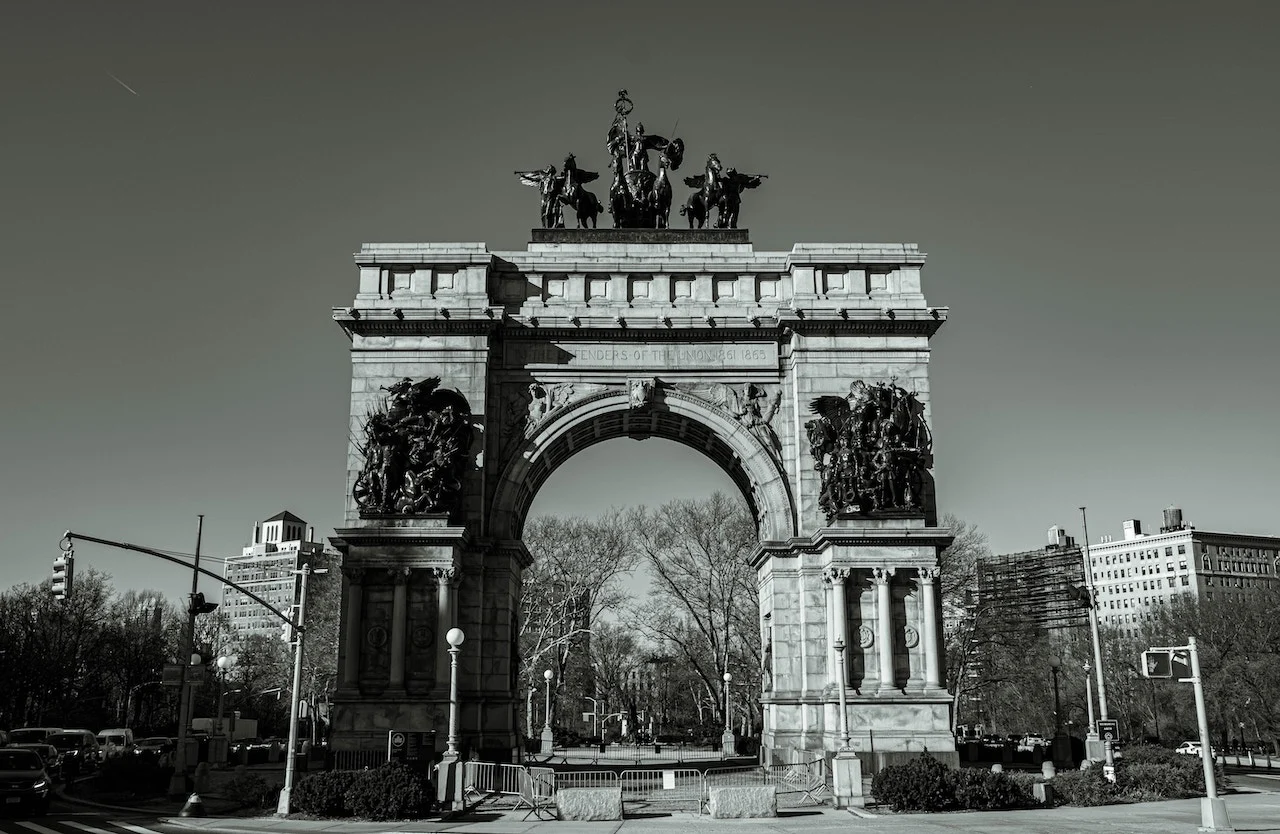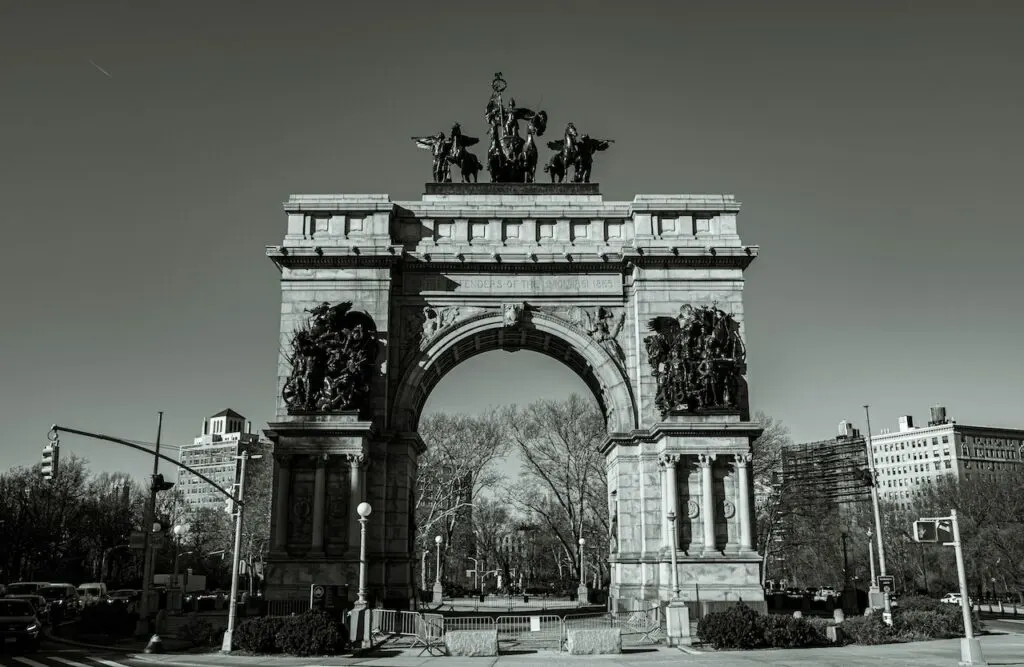 Visit a Local NYC Bookshop
Throughout the streets of New York City you are bound to come across small, boutique, independent bookshops.
These NYC bookshops come in all shapes & sizes, and are the perfect place for any book lover.
While visiting a bookstore may not be on the top of many people's NYC bucket lists, these one of a kind shops are still worth the visit for some.
Whether you are looking for specific genres like anime, cookbooks, mystery, or just a shop that has them all, there is an NYC bookshop for you.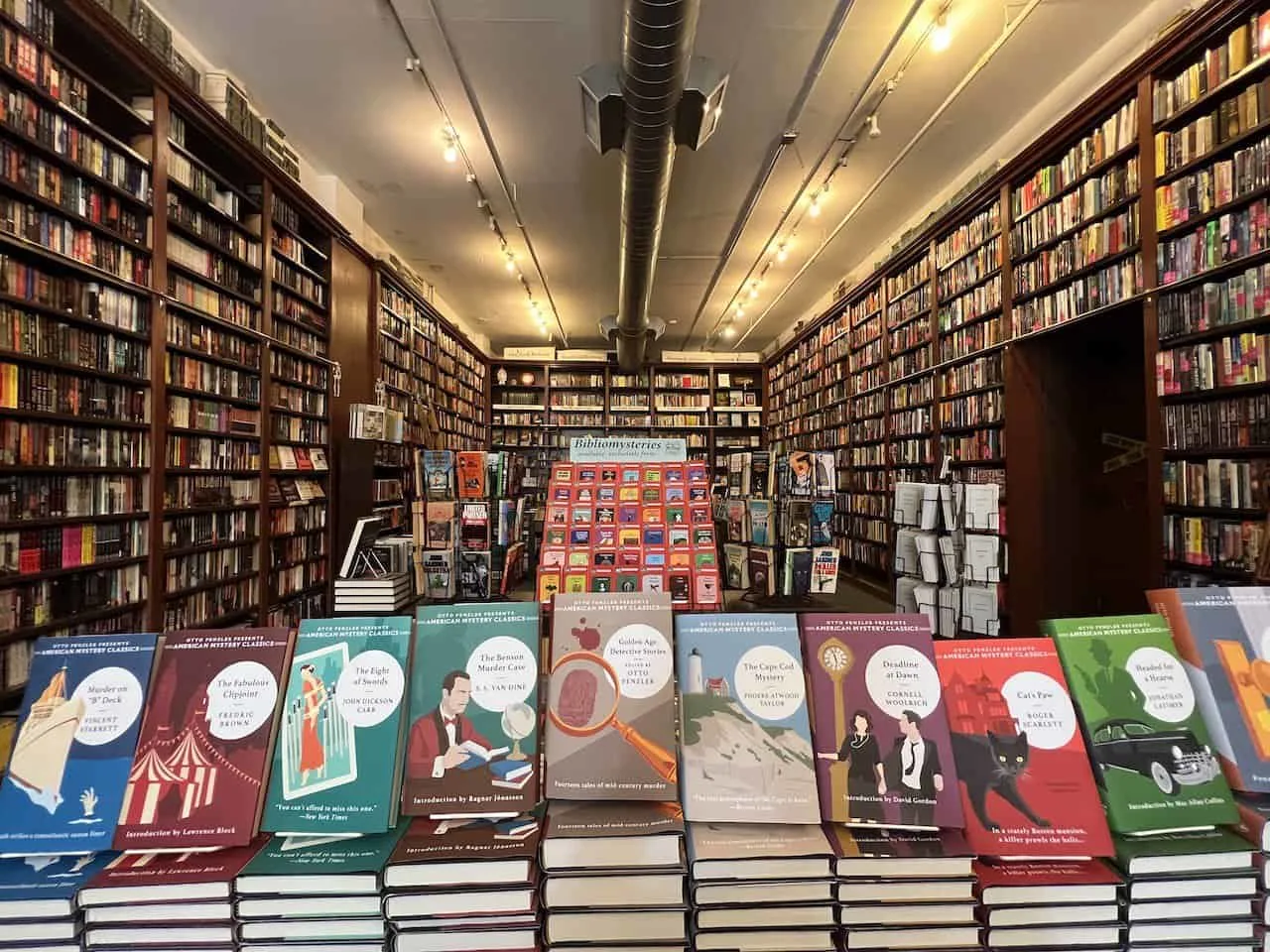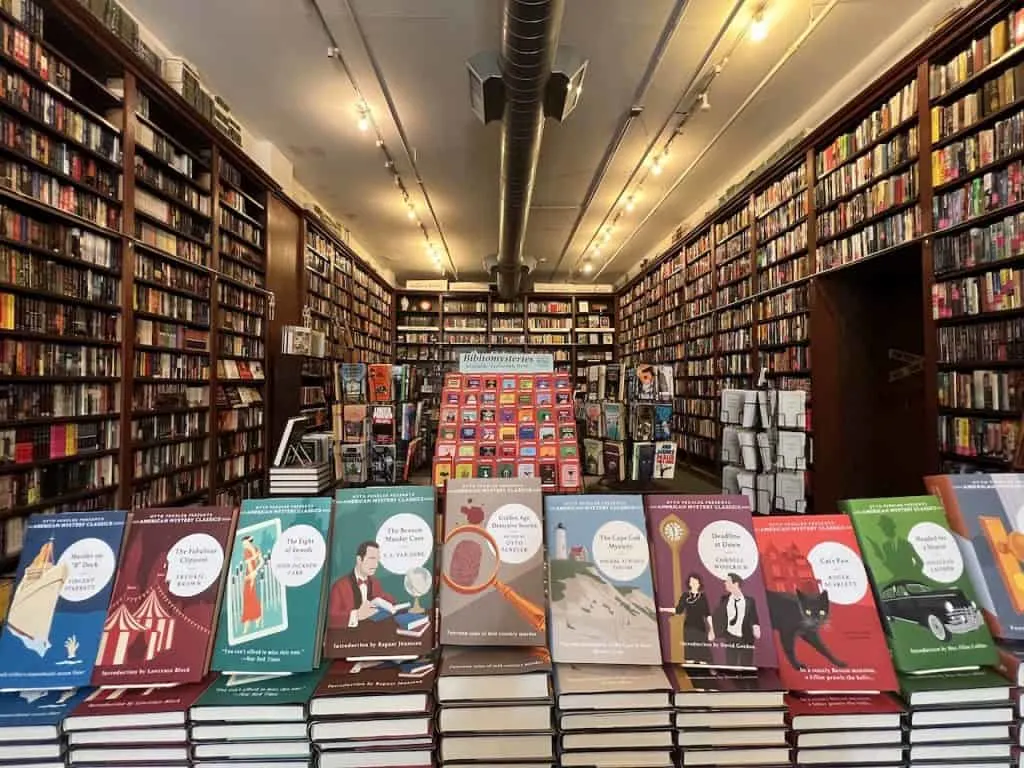 Staten Island Ferry
Few visitors to NYC ever leave Manhattan during a trip. And fewer ever make it over to Staten Island.
Since it is the only borough not connected by the subway system, a visit to Staten Island is definitely up there with the top non-touristy things to do in New York City.
While it may not be connected by subway, it is connected by ferry – the famous orange colored Staten Island Ferry that is.
Over the course of 25 minutes, boats head out from downtown Manhattan, through New York Harbor, past the Statue of Liberty, and onto Staten Island itself.
This ferry ride offers tourists the chance to experience the waterways of NYC, along with some top views of the skyline as well.
Another great part about the ferry – it is completely free!
So, if you are looking to head to Staten Island or simply just take part of the back & forth ferry ride, give the Staten Island Ferry a try.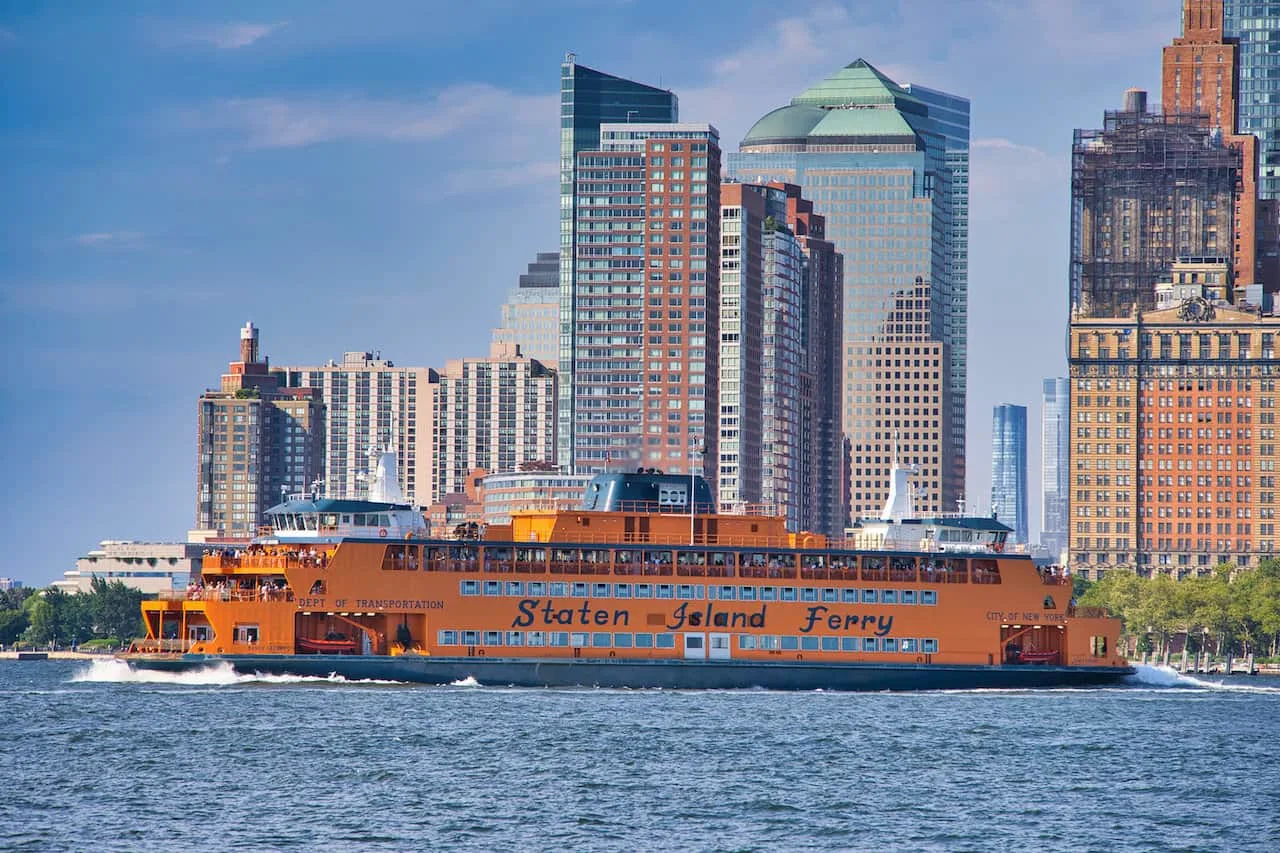 Hunter's Point South Park
I am a big fan of NYC waterfronts. Mostly because they do give you the chance to take in the best photo spots of NYC.
While some areas can get quite crowded and touristy, others are lower key and just filled with locals.
Located on the Long Island City waterfront is Hunter's Point South Park. This oval shaped park is surrounded by beautiful Yoshino cherry blossoms that usually come to life in mid-April.
But whether or not you experience the blooms, you will still get to take in those views of the skyline across the way.
And during a visit, you can continue your walk northbound as you follow the pathway to other highlights such as Gantry Plaza State Park and the famous Pepsi Cola Sign.
Getting to the park can be very easy too. If you don't want to take the subway, the NYC ferry system has a stop right in the park for easy access in from Manhattan.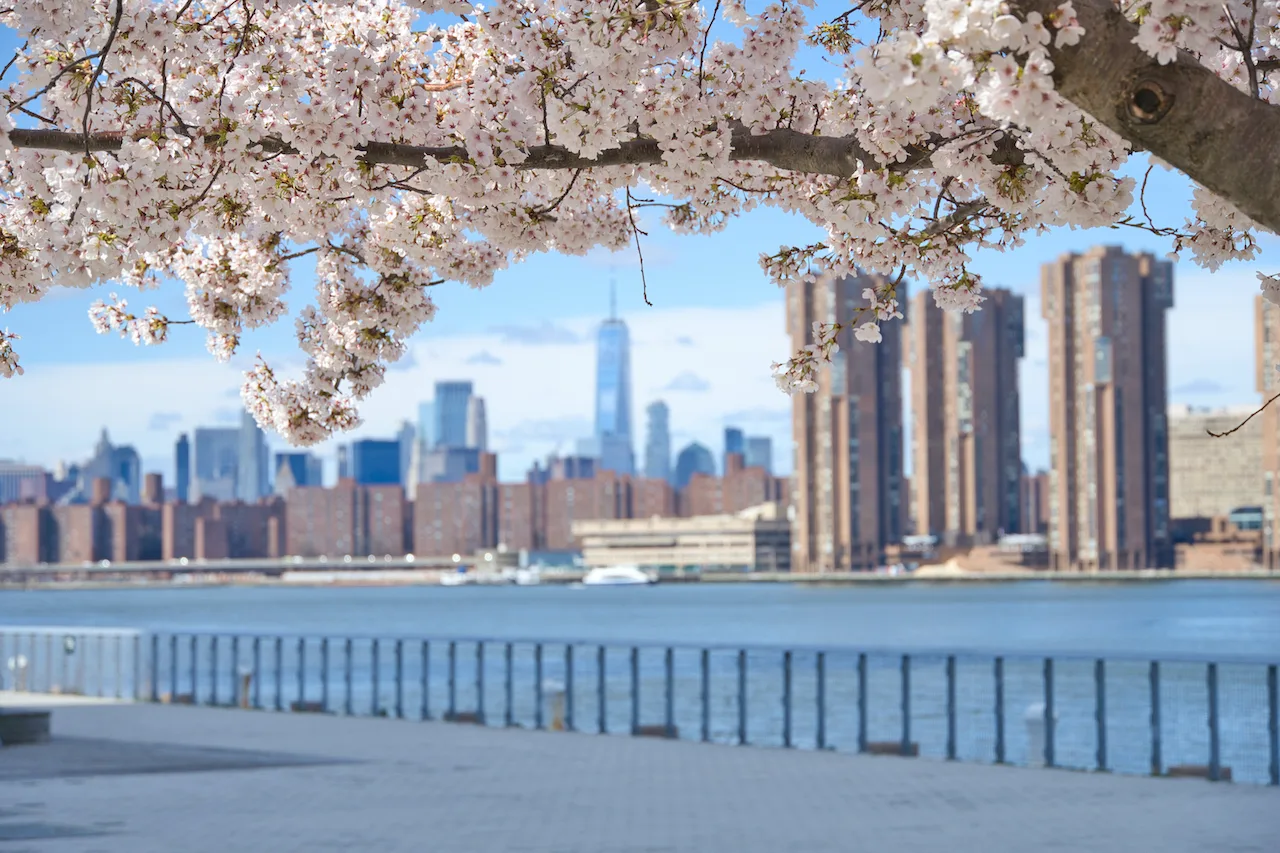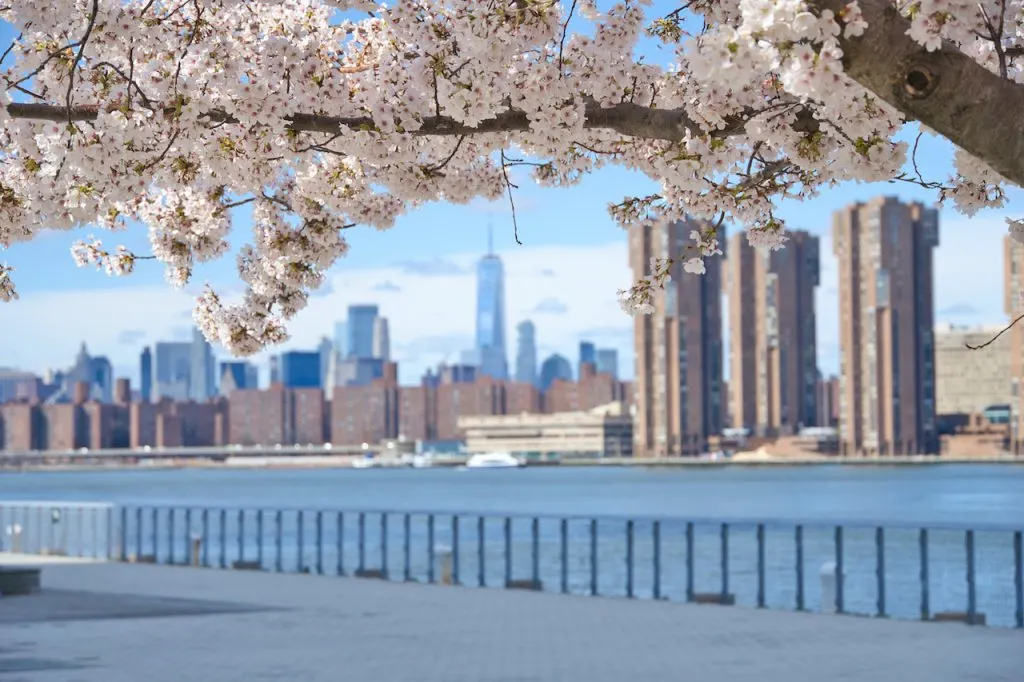 Unique NYC Tours
While there are certainly some touristy tours out there (such as Hop on Hop Off busses and standard walking tours), there are also some lesser known unique NYC tours.
Although these tours are going to have other tourists (most likely), they will give you an experience that much fewer visitors take part of.
Below I have compiled a list of some of the most non touristy NYC tours that I have seen. These are all going to have you seeing New York in a whole new perspective.
Smorgasburg
Food is a big part of why people come to visit New York City. You will find restaurants and neighborhoods that will satisfy any type of cuisine.
But one of the fan favorites for locals has to be Smorgasburg. Here you will find a few dozen vendors selling all sorts of food, beverages, and more.
There are currently three locations in NYC that all open up around April, and are open on particular days of the week. You can find them downtown at the World Trade Center, in Williamsburg at Marsha P Johnson State Park, or in Prospect Park on Breeze Hill.
Be sure to arrive early to avoid the lines & the crowds!
Royal Palms Shuffleboard
If you want to keep yourself busy and take in an activity like some locals do, be sure to check out the Royal Palms Shuffleboard in Gowanus, Brooklyn.
Royal Palms offers its guests the chance to have some fun on the courts while also drinking and eating along the way. It is the perfect afternoon or evening activity to take part of during your stay.
The environment and vibe are lively & fun, with colorful décor and music to keep the energy going.
If shuffleboard isn't for you, then you can also opt for some other spots in the city.
Whether that is hitting golf balls at Chelsea Piers, bowling at Brooklyn Bowl, playing some Ping Pong at Spin, or throwing some axes at Live Axe. There is bound to be an activity that suits you.
Sailing Trip in New York Harbor
Many tourists enjoy to take a crowded big boat tour around the rivers of NYC. While I highly recommend some time out of the water, the less touristy and crowded option is to take a more personal sailboat ride.
Luckily, there are some tours that take small groups out on sailboats during sunset. These boats head through New York Harbor, getting up & close to the Statue of Liberty, Ellis Island, and even the Brooklyn Bridge.
It is a perfect & relaxing way to end a hectic day around NYC, while taking in the views from the water.
If you are interested in taking a sailing trip, be sure to book ahead of time. This NYC sailing tour is one of the highest rated ones out there.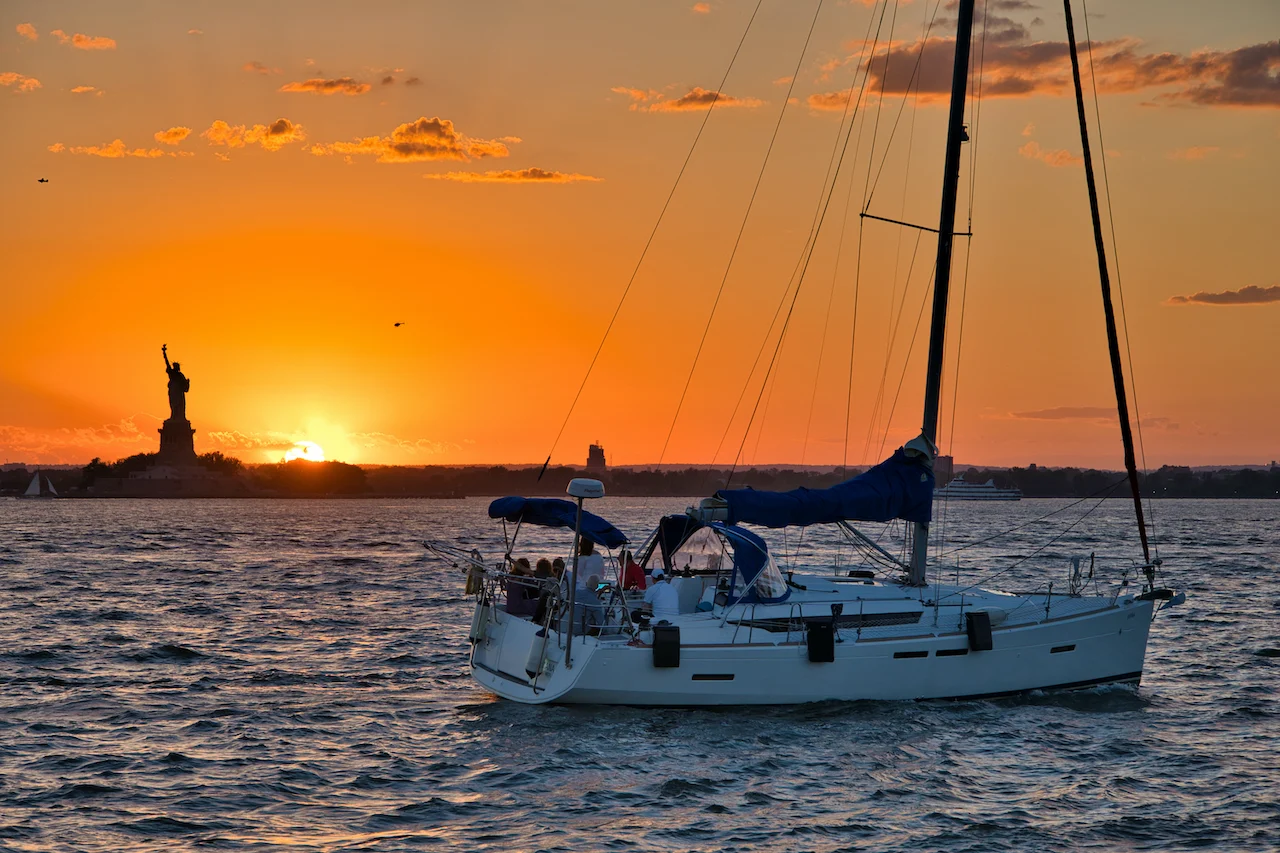 Bryant Park Movie Night
There is no doubt that Bryant Park can get touristy, especially during its winter markets. But if you want to enjoy an experience as many locals do, be sure to head to movie night at Bryant Park.
You can bring along a blanket, some snacks, & drinks, as you enjoy a night out on the lawn.
It is also not just about the movie itself. While screenings usually start at 8PM, the lawn opens a few hours earlier. So, you really can make a whole evening out of it by grabbing a spot early and just hanging & having some dinner before the show starts.
Movie nights just occur during the summer time, so be sure to check out the schedule for the latest.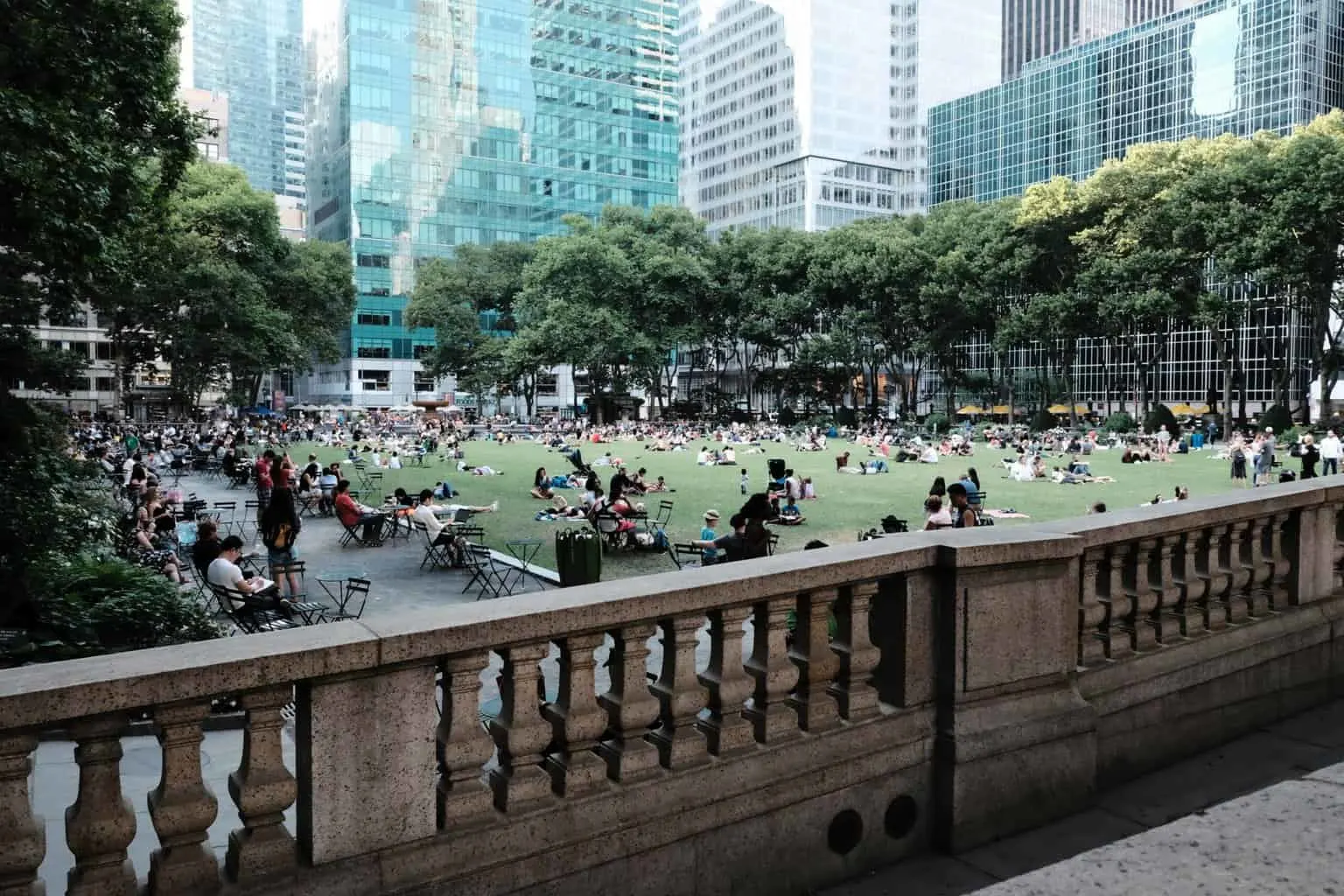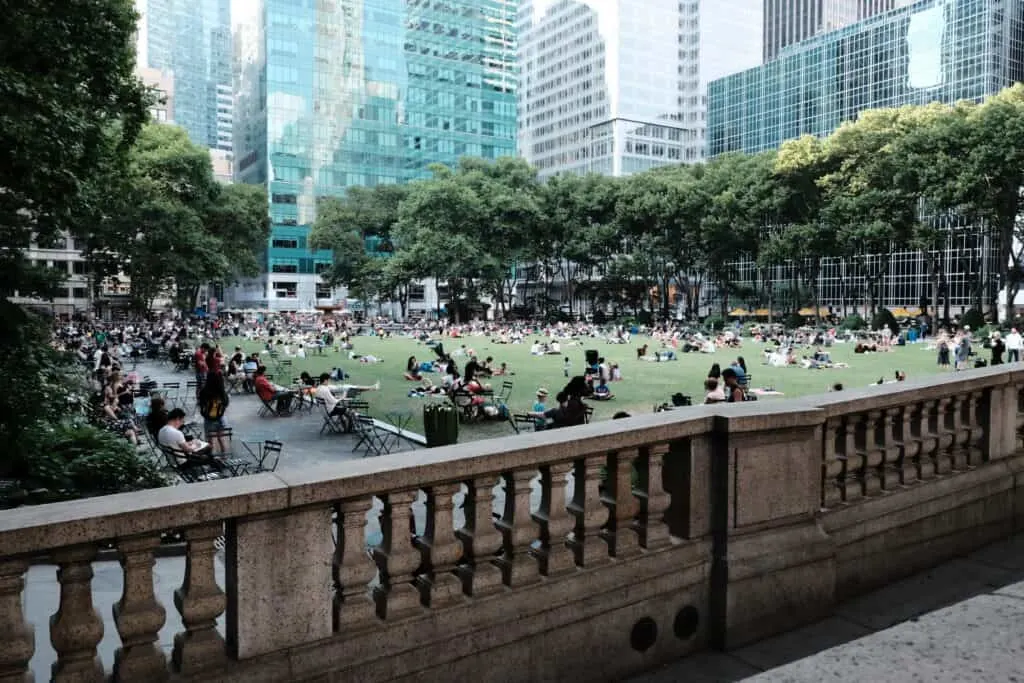 McSorley's Old Ale House
It does not get more iconic than McSorley's Old Ale House located in the East Village. As one of the oldest operating NYC bars, you will find few that can compete with its atmosphere.
The bar was opened in 1854 and during a visit you will be transferred back in time to its Irish roots.
Now, McSorley's is not your average pub. Instead of having a whole array of beer, they simply just serve a light or dark beer. So, don't worry about deciding over the menu. Just come prepared with your light or dark order.
So, if you happen to be wandering around the East Village and are looking for a pint of beer, look no further than McSorley's Old Ale House.
Visit an NYC Bakery
One type of cuisine that comes in all shapes & sizes in NYC is the bakery. All throughout New York's neighborhoods, you are sure to find a bakery that suits your needs.
Whether you are looking for a specific type of bakery – French, Brazilian, Jewish, etc., or you are looking for a specific food item – chocolate chip cookies, macarons, cupcakes (& more), there will be an option for you.
Some are old establishments over 100 years old, while others bring a fun & entertaining atmosphere.
Visiting a bakery is a great way to live like a local and take part of yet another non touristy thing to do in NYC.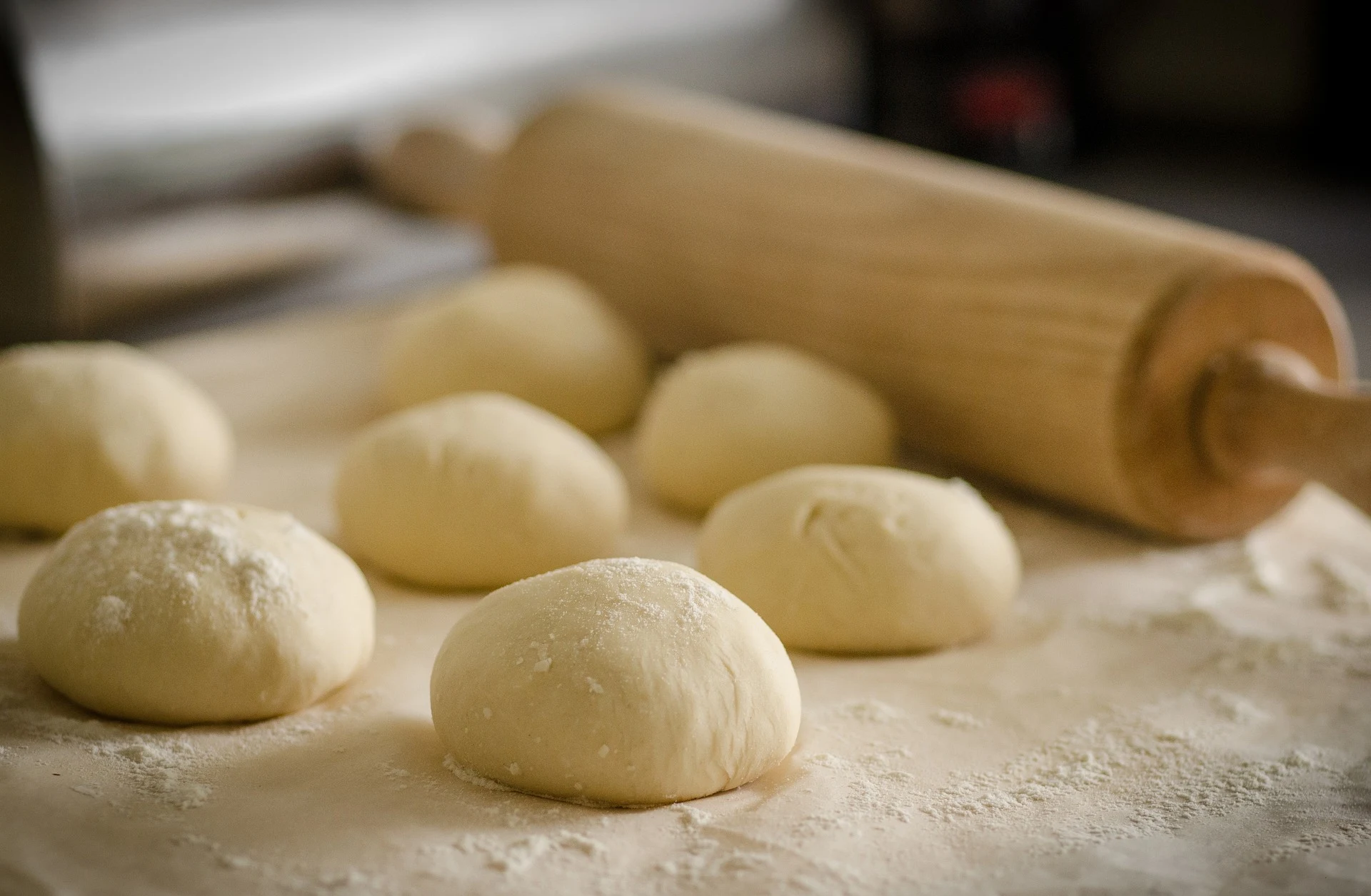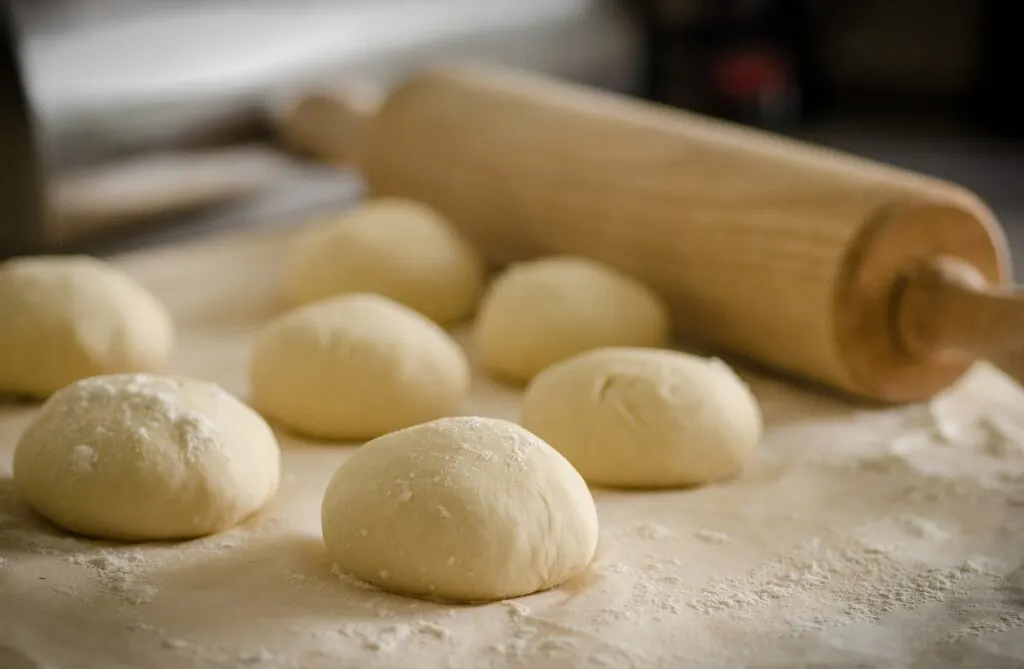 Take in a Sunset
By now, you may have seen how many parks & viewpoints there are around the city that are just perfect for sunset.
While there are some touristy areas to enjoy the view from, like Pebble Beach or one of the observation decks, there are plenty of other spots that don't bring the crowds.
Getting to see the sun set behind the NYC skyline as the lights of Manhattan turn on and the sky turns colorful is a perfect way to end a day.
Some of my top recommendations of an NYC sunset include the Manhattan Bridge, Domino Park, Pier 57, and The Battery.
You really can't go wrong when it comes to sunsets in NYC, and each one of those spots is going to be geared towards the non-touristy side.
After sunset, you can go ahead and take part of some of the best things to do in NYC at night.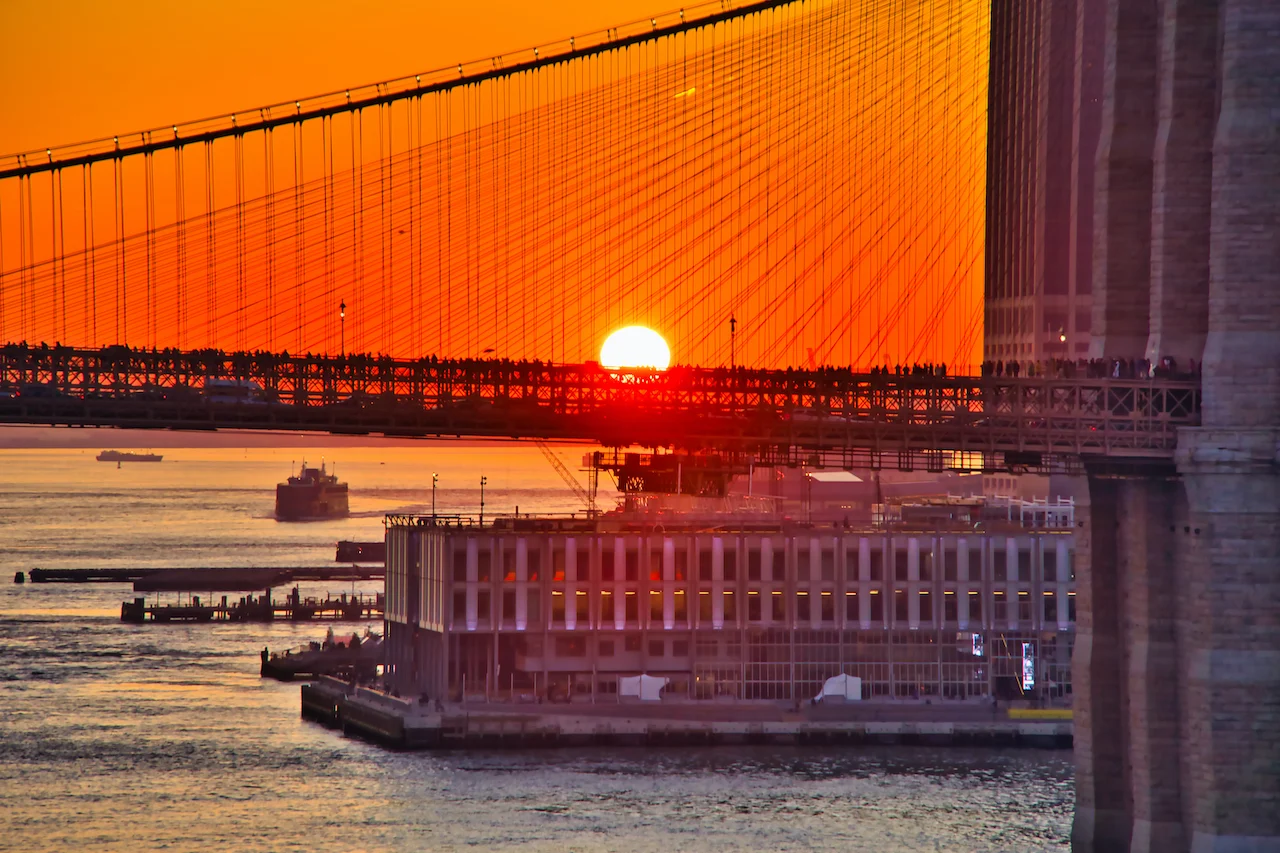 Riverside Park
While one of New York's nicknames is the concrete jungle, that doesn't mean it lacks some greenery as well.
There are many parks all around the city – from small squares (like Union Square) to 800+ acres at Central Park – there is plenty to go all around.
Located on the western side of Manhattan, stretching from 59th Street to 158th Street is Riverside Park. When it comes to parks, Riverside is one of the best non touristy things to do in New York City.
One of the unique aspects of the park is that it is multi leveled. You can decide to simply walk right along the waterfront, or you can walk among the various trees & flora on the upper levels.
Whether it is fall foliage or spring blooms, the park comes to life at all times of year.
It is not just about the park itself though. Within and around the park, you will find all sorts of things to see and do.
There are 25 statues & monuments, public art pieces, the Boat Basin restaurant, several playgrounds, the cherry walk, a bird sanctuary, and plenty of relaxing spots to take a seat and enjoy the view.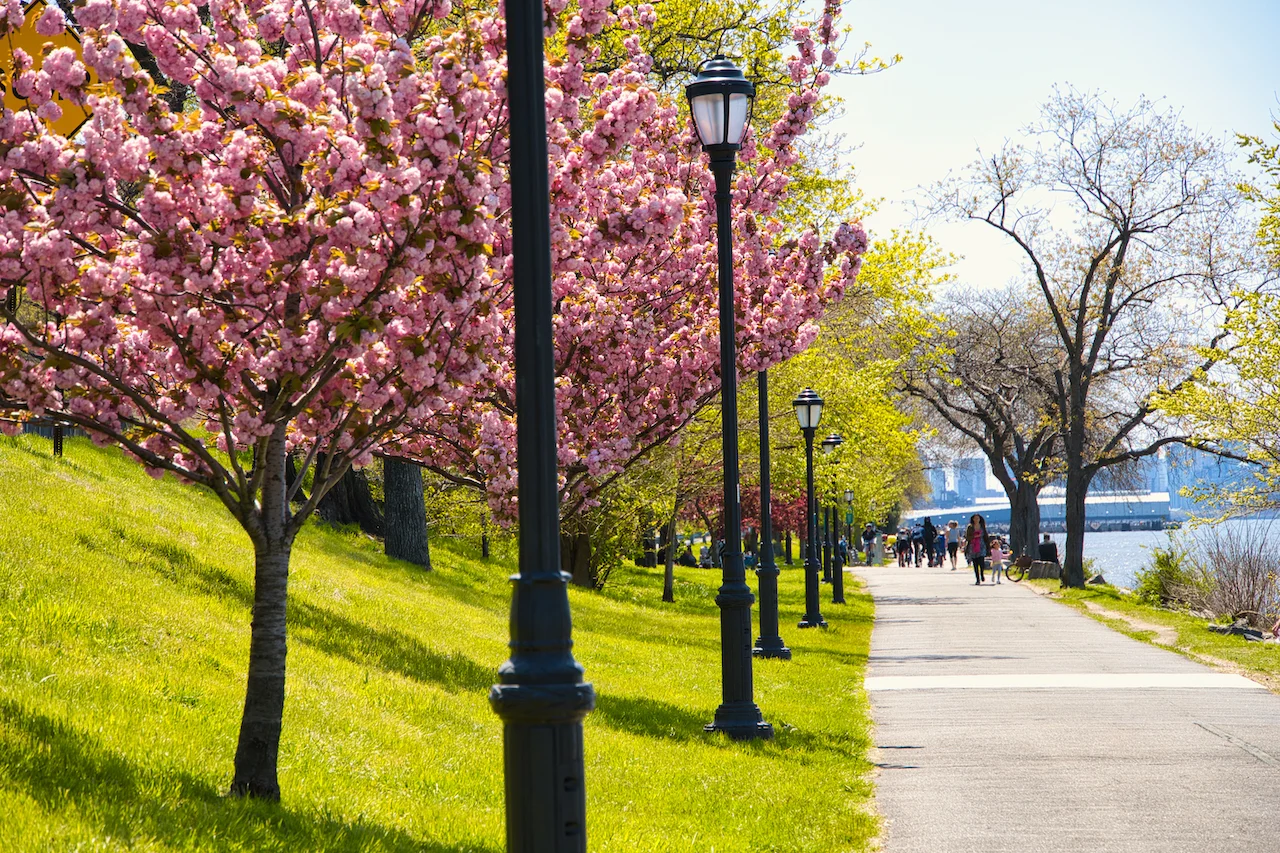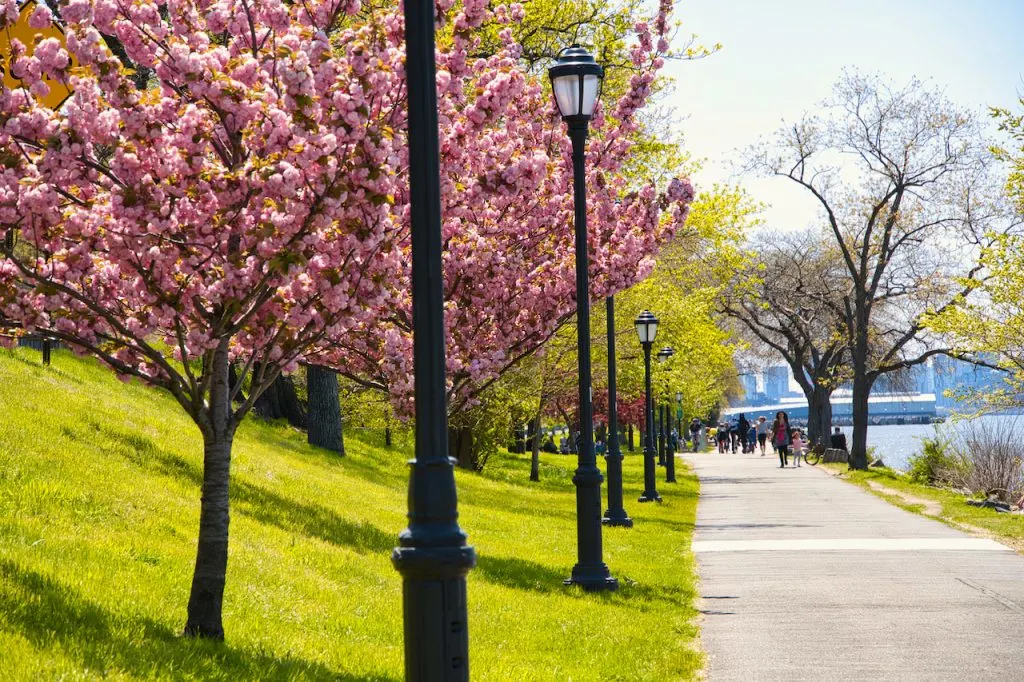 Pier 35
To finish up this list of the top non touristy things to do in NYC, is Pier 35. Along the east side of Manhattan is the East River Greenway.
At certain points of the Greenway are pier areas – one of which is Pier 35.
The pier is a bit more off the beaten path and odds are you will only make it there if you know about it.
What I love about Pier 35 is that it gives you some of the best views of the East River, Manhattan Bridge, and Brooklyn Bridge all in one shot.
In addition, you will find some swinging chair benches that offer just the ideal spot to sit back and take in the view from.
If the benches are all full, no worries. There is plenty of seating to go around as you relax around the area.
Getting there is pretty simple if you are visiting the South Street Seaport or Brooklyn Bridge. Simply head to the waterfront, and walk northbound. You will see the pier out in the distance with its swinging chairs in view.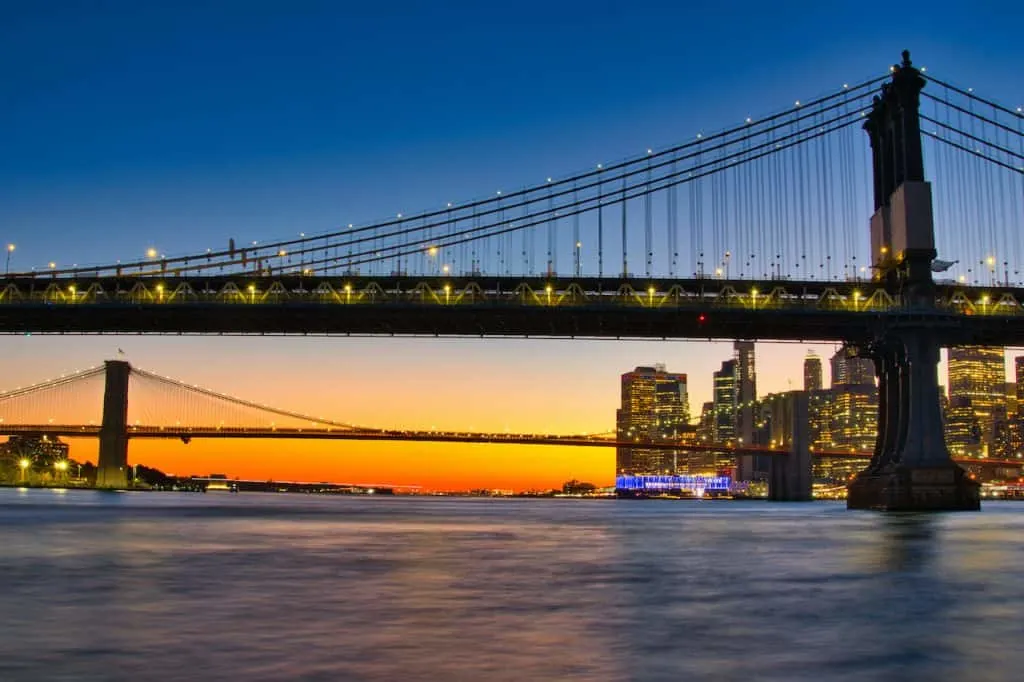 3) How Do I Stop Looking Like a Tourist in NYC
By now, you will have a good idea of some of the top non touristy things to do. However, you are still a tourist, and many people ask how to fit in when visiting NYC.
Well, if this is something that applies to you, below are some helpful tips when it comes to blending in with the locals.
Walk fast & don't stop in the middle of the sidewalk
Avoid wearing I Love NY gear or matching New York Yankee hats
Don't use a horse & carriage or pedicab to get around Central Park
Avoid Times Square
Don't go to chain restaurants (many of which are in Times Square!)
Do not enter an empty subway car – it is probably empty for a reason
That is just a handful to get your started in the right direction!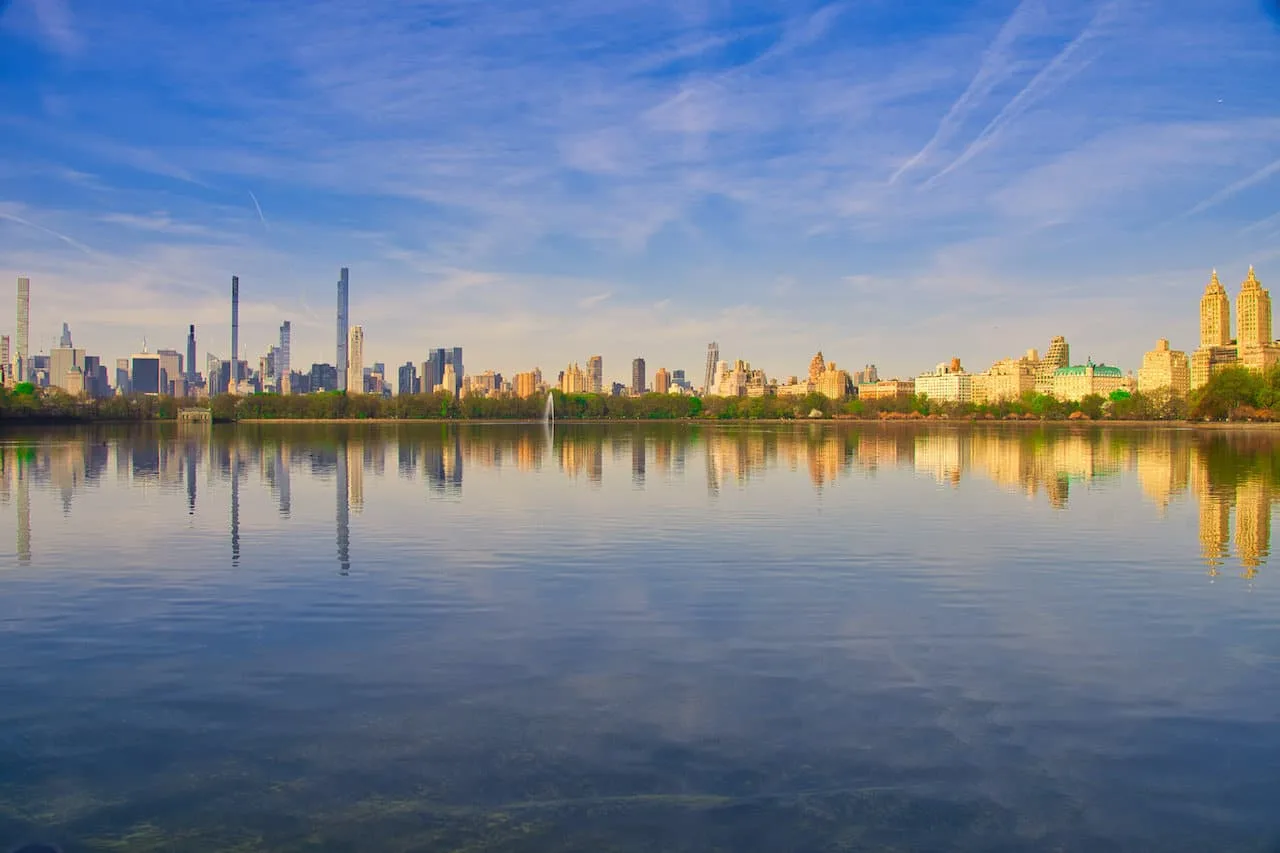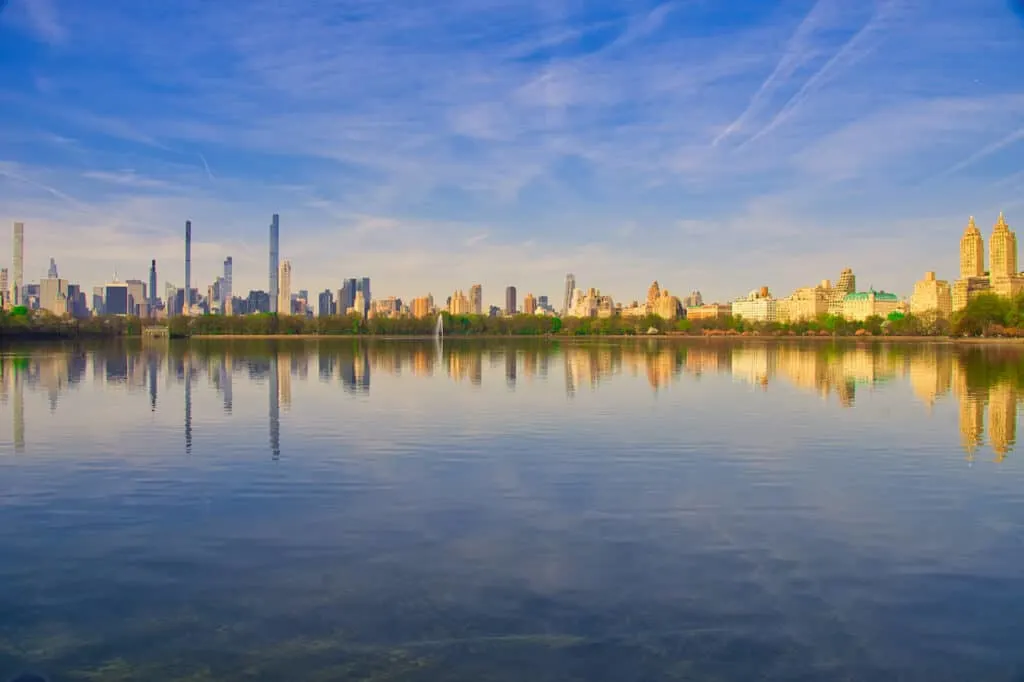 4) Non Touristy Things To Do in NYC Recap & Map
So, to recap, below is a list of the 30 non touristy things to do in NYC that I went over in this guide:
Northern Central Park
Pier 57 Rooftop Park
Sunrise at the Empire State Building
New Jersey Waterfront
Manhattan Bridge Walkway
Brooklyn Heights Promenade
The Battery
Comedy Cellar
Lincoln Center
Domino Park
Met Cloisters
Governors Island
Roosevelt Island
Flushing Meadows Corona Park
Morgan Library & Museum
Off Broadway Show
Prospect Park
Visit a Local NYC Bookshop
Staten Island Ferry
Hunter's Point South Park
Unique NYC Tours
Smorgasburg
Royal Palms Shuffleboard
Sailing Trip in New York Harbor
Bryant Park Movie Night
McSorley's Old Ale House
Visit an NYC Bakery
Take in a Sunset
Riverside Park
Pier 35
In addition, you can find a map below that pinpoints each place mentioned on this list.
Depending on your overall NYC itinerary, you can try and pick & choose which attractions you can fit in throughout your time there.
That about does it for a guide to the best non touristy things to do in New York. If you have any questions or comments, be sure to add them in below.
Feel free to also check out the other New York itineraries and guides up on the site.
Have fun out there and safe travels!