New York City has a long tradition of offering some of the best bakeries in the world. The Upper East Side is no exception to this and, in fact, has some of the finest bakeries in the city.
From French patisseries to Brazilian padocas, as well as the district's home-grown Jewish bakeries, there's something for every palate.
Let's take a look at the best bakeries on the Upper East Side.
* Affiliate Disclosure: This post may contain affiliate links, which means I may receive a commission if you make a purchase through the links provided, at no additional cost to you. Thanks for supporting the work I put into TripTins!
Let's get right into the list of the best Upper East Side bakeries! Feel free to read through the overviews, and check out the end of the list for a helpful recap.
1) Orwashers
Orwashers is an American success story, and typical of the mixture of different cultures typical of New York City. It was founded in 1916 by Hungarian immigrants, and is one of the oldest bakeries in the Upper East Side.
Orwashers was opened with the desire to serve the local immigrant community. They started off by offering traditional Hungarian breads, such as black, rye and grain loaves. The Orwasher family perfected their traditional baking techniques over the next hundred years, finally selling to a third party in 2008.
The new owners fully respect the century of traditional baking that goes into every Orwasher product. Orwashers continues to hew closely to its traditions, offering a fine selection of Hungarian favorites alongside New York classics.
Its black and white cookies are some of the best in New York, and it also sells magnificently delicious croissants. These are complemented by fruit turnovers, jelly donuts, and the quintessentially Jewish sticky-bun babkas.
Orwashers continues to move forward while honoring their past. They have partnered with local produce suppliers to ensure that they support the local community completely. Furthermore, under the direction of the new owners they have introduced a fresh range of artisanal breads.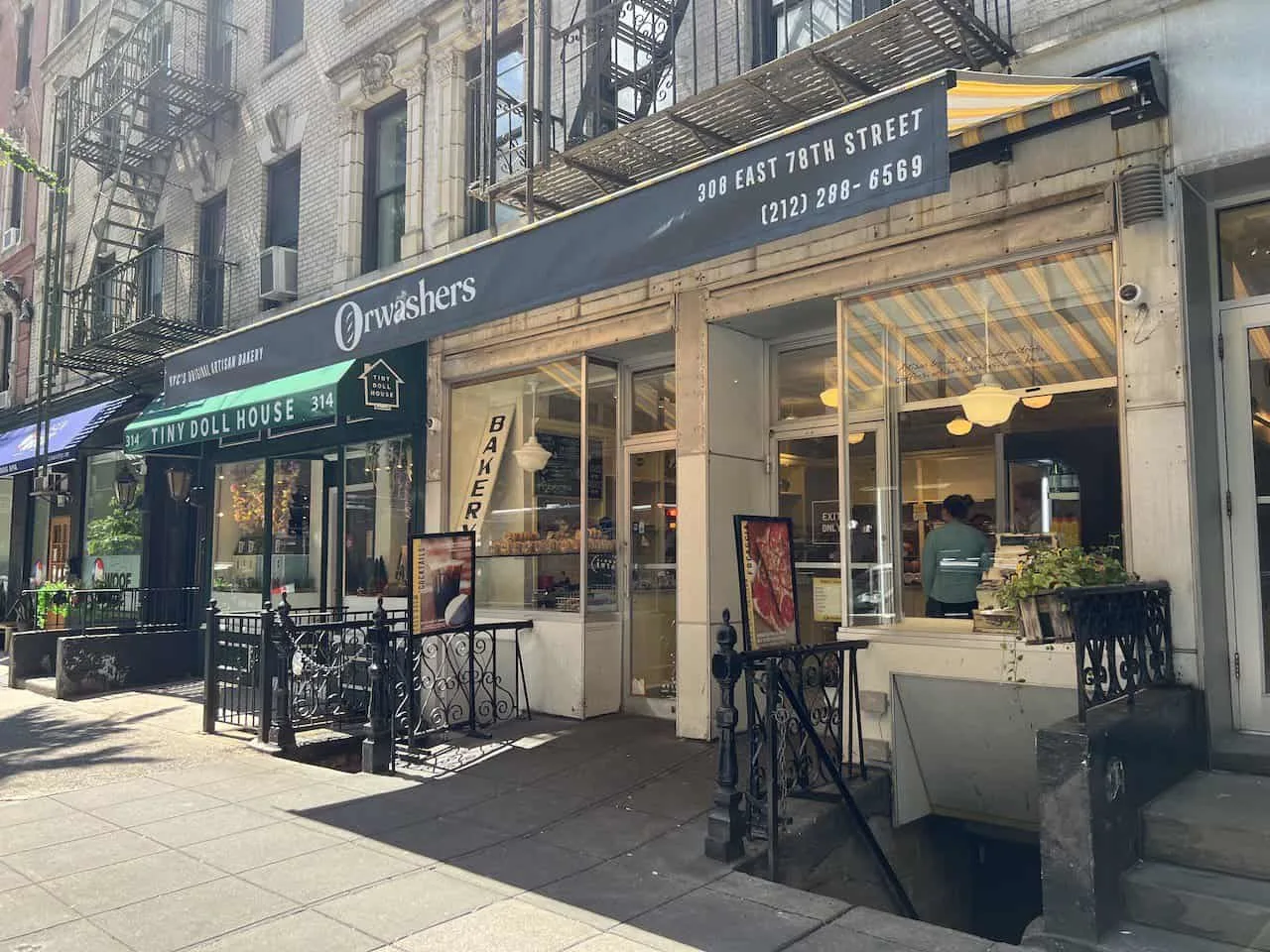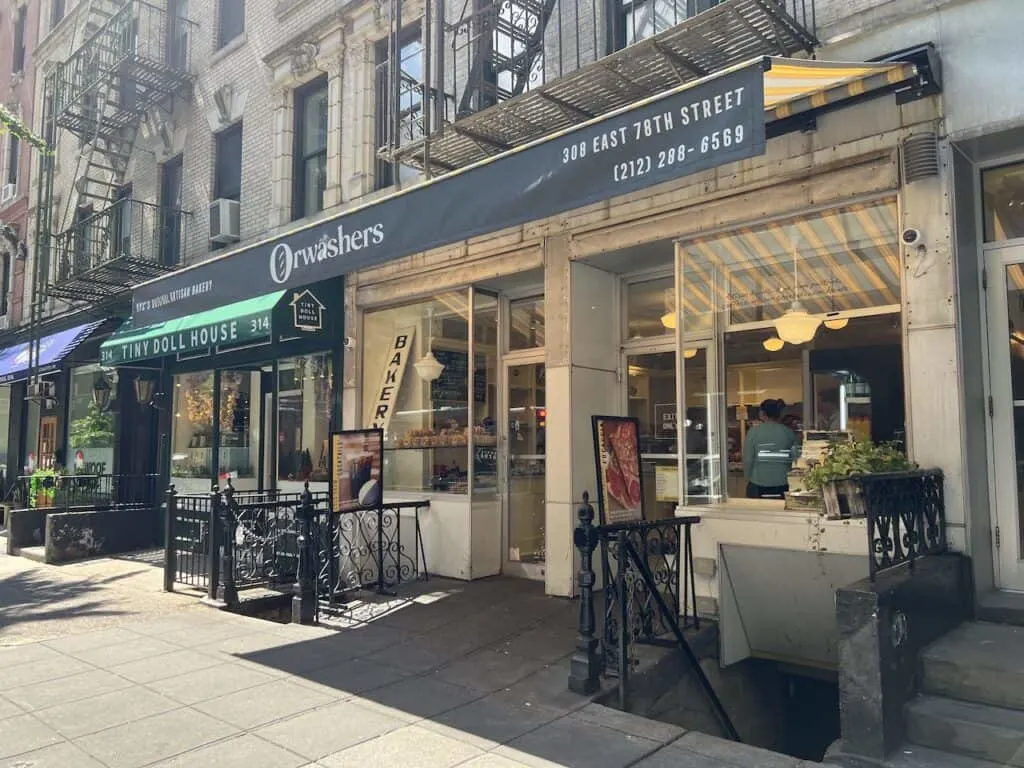 2) Ladurée
If you're looking for one of the best French bakeries in the Upper East Side, look no further than Ladurée.
You'd be forgiven for thinking that you'd been transported to Paris when you visit this UES bakery. The exterior is lined with pitch-perfect Parisian seating. The awnings and furniture, additionally, wouldn't look out of place in any French café.
'Gourmet' is the name of the game when it comes to this French Upper East Side bakery. All of the pastries and cakes are mouthwatering, but the star of the show is the macaron.
This Parisian treat consists of a creamy filling sandwiched by airy meringues. Nobody does this French classic better than Ladurée, and once you've eaten one, you'll be craving more.
Ladurée is such an Upper East Side institution – and its sumptuous macorons in such high demand – that lines are often out the door. It's rare that seating is available, too, so be sure to arrive early.
Also on the menu are croissants, delicious gateaux, pains au chocolat, and a number of tea and coffee variants. Everything on the menu is delightfully continental, bringing a touch of class to the Upper East Side.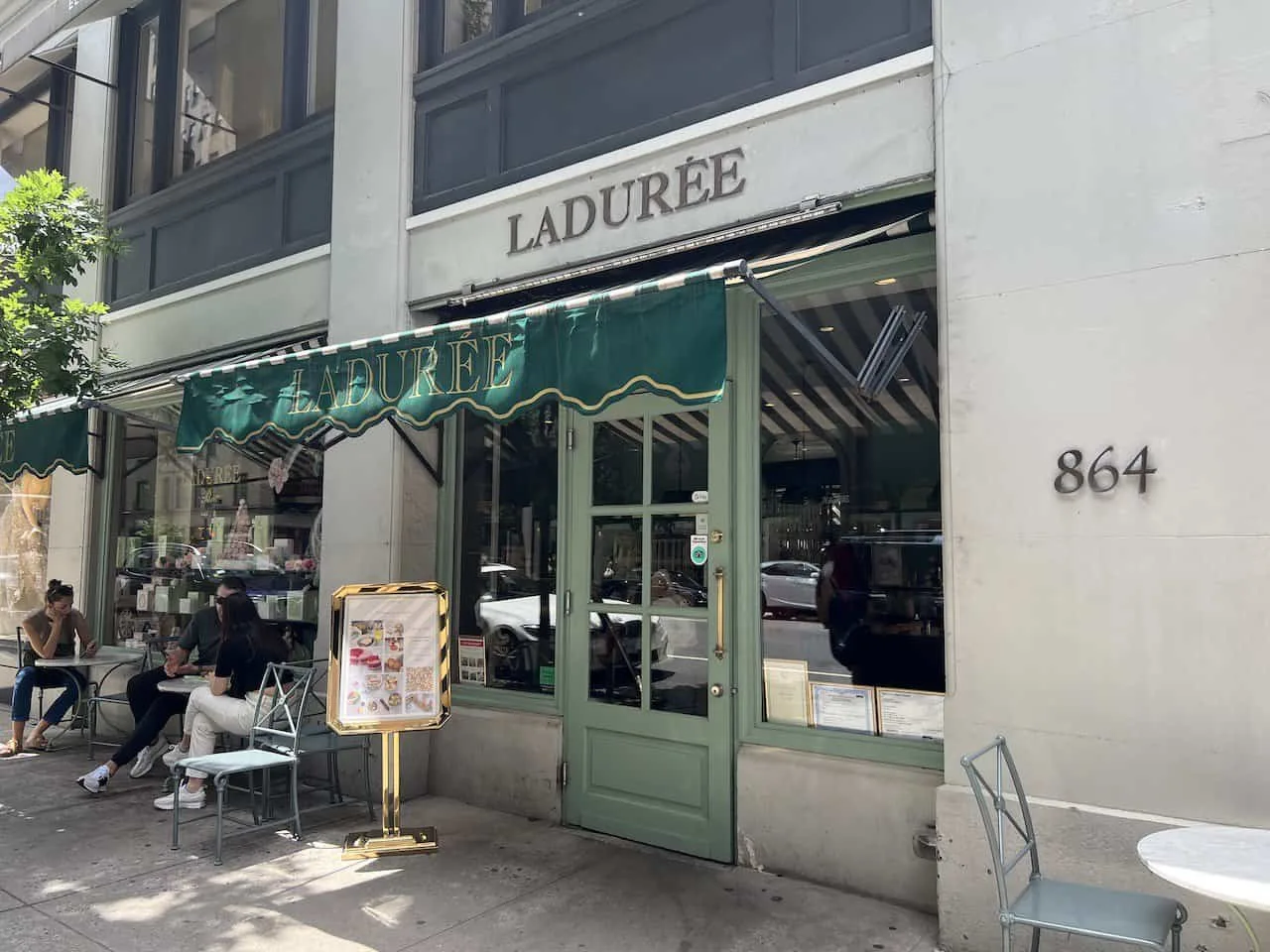 3) Padoca Bakery
Padoca Bakery takes the first part of its name – padoca – from the Brazilian word for 'neighborhood bakery'. Not many people are familiar with Brazilian bakeries, but Padoca Bakery aims to change that.
In this Upper East Side bakery, you can obtain delicious baked goods such as brigadeiros and Brazilian cheese bread.
Brigadeiros are a traditional kind of Brazilian sweet, with a soft and sugary center covered with sprinkles. Padoca's Brazilian cheese bread, meanwhile, is the bakery's biggest hit, and its recipe a closely-guarded secret.
Padoca doesn't just limit itself to its two biggest imports, however. It offers a majestic array of multi-tiered cakes (many covered in sprinkles, in the Brazilian tradition).
In addition, they offer cookies that come both freshly prepared and in bake-at-home format. Many of these have a Brazilian twist to them (e.g. the famous brigadeiro rendered in cookie form).
When it comes to fusing traditional bakery offerings with Brazilian favorites, you can't go wrong with this wonderful bakery on the Upper East Side.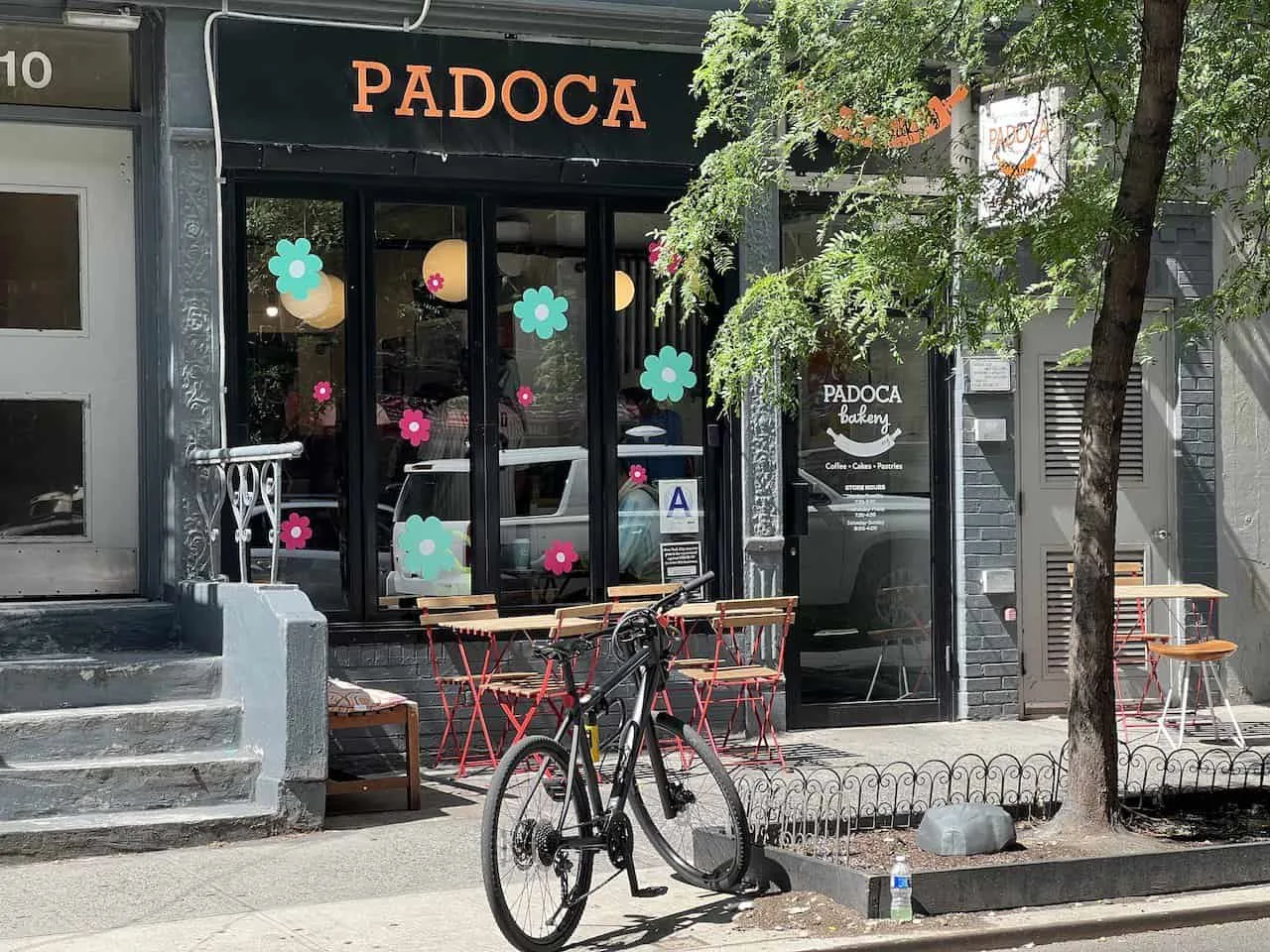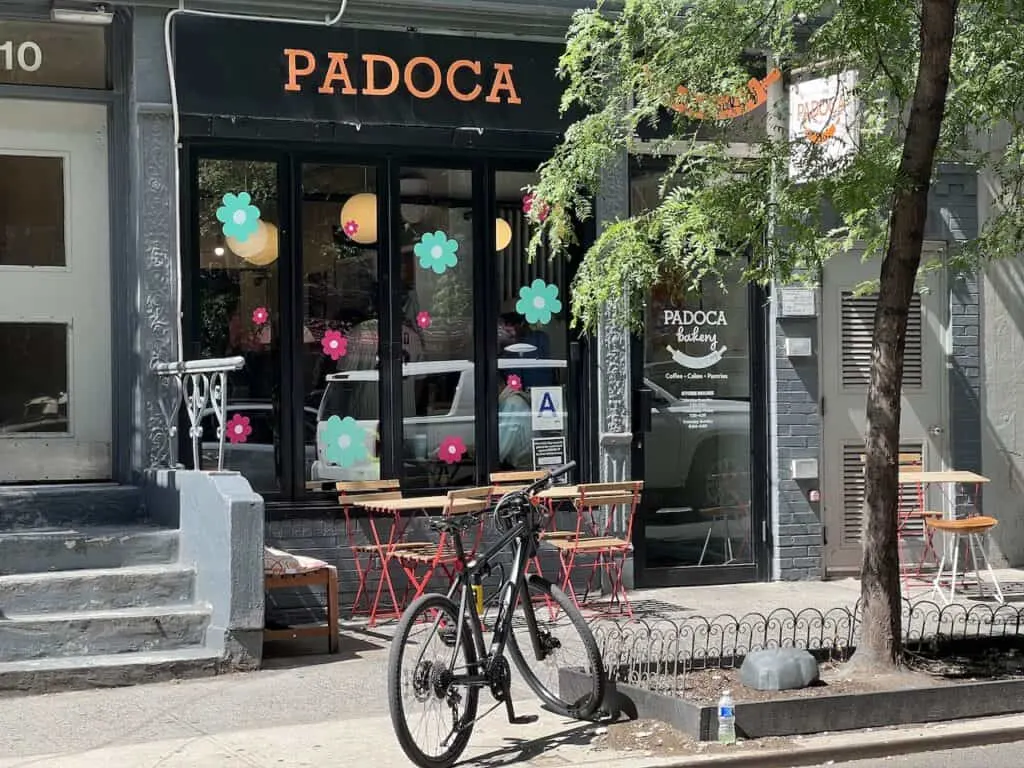 4) Two Little Red Hens
This charming bakery doesn't have the name recognition of some of the bigger bakeries, but it's a great one nonetheless. The unassuming exterior disguises the superior baked goods put out in this small store, and it's very popular with locals.
Among the most popular products served up at Two Little Red Hens include their understated yet delicious carrot cake. Noted for its moistness and subtly flavored frosting, it's a big hit with visitors.
Also much-loved are the phenomenal cupcakes, scones and banana bread on offer. The store's pecan coffee pie, additionally, has to be tasted to be believed.
But perhaps no product is as beloved as Two Little Red Hens' cheesecake. The cake is renowned for its perfect browning and airy-yet-dense filling.
If you want to avoid the crowds of the bigger bakeries – without sacrificing flavor – then this bakery is the answer.
5) Maman
This French bakery is a favorite among New York natives. It's also hugely popular with out-of-towners, particularly after Oprah put them on the map by name-dropping them.
Maman is almost as famous for its décor as its pastries. Greenery abounds within, making you feel as if you're eating in a botanical garden. Outside there is a small, semi-secret garden that makes the perfect place for a quiet coffee.
This is without mentioning their amazing cookies. The gooey chocolate-chip cookies are, in fact, what got Maman mentioned on Oprah. They're just the right side of moist, and once you've had one, you'll never go back.
Their macadamia nut cookies are not as famous, but equally good. Rounding the menu are croissants (naturally), a variety of quiches, and excellent French coffee.
For the perfect combination of beautiful décor and some of the best baked goods in town, head to Maman.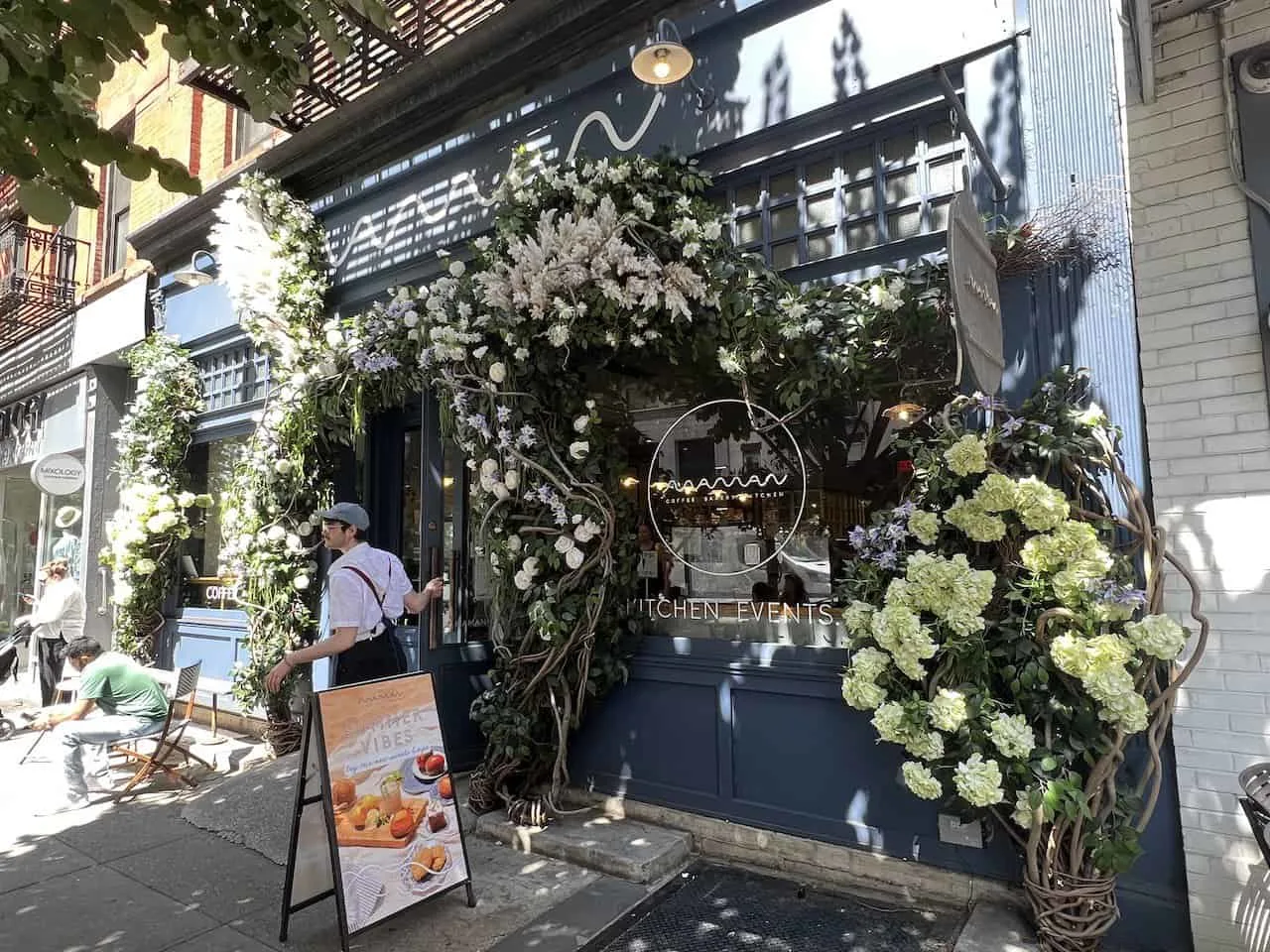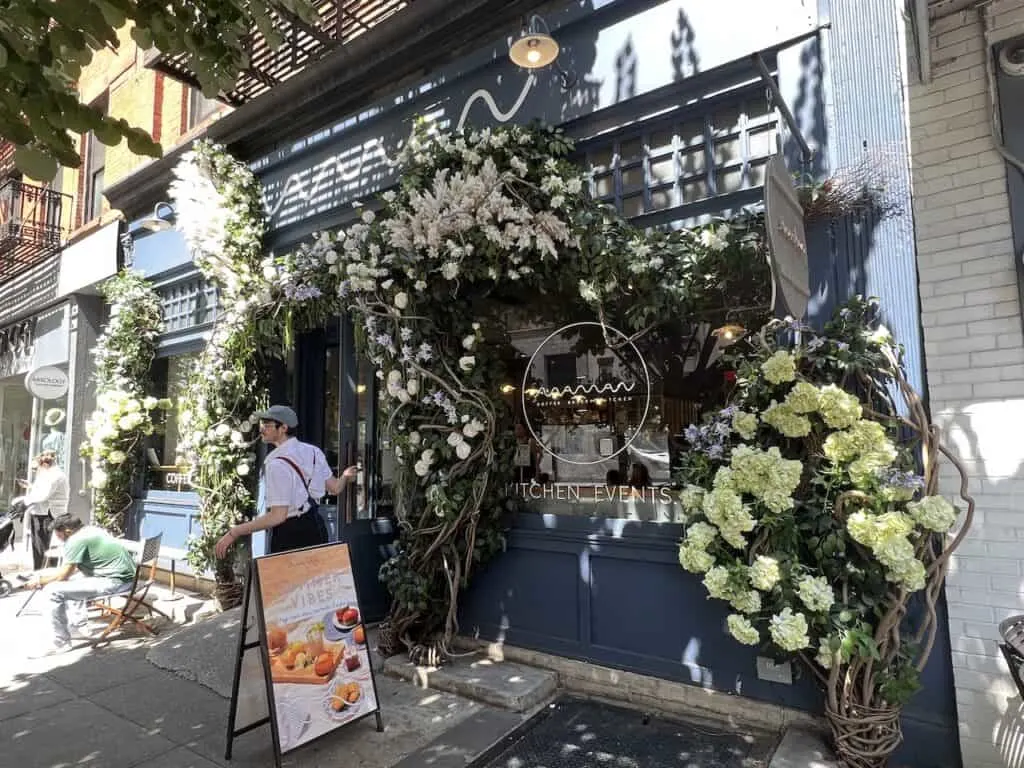 6) Miss Madeleine
There's a lot of competition for the title of "best French bakery in the Upper East Side". The jury's out on whether Miss Madeleine claims that crown.
"Push the door, and on the other side is Paris", claims Miss Madeleine on their website. It's an assertion that's hard to argue.
Scores of baked goods are placed in baskets to be plucked up with tongs and placed in your basket. Quiches, fruit tarts, breads, and home-made jams are all part of Miss Madeleine's menu.
But the most famous baked good in the store is part of their name. The madeleine is a traditional small cake only found in a limited area of France.
Miss Madeleine, however, have brought it into the mainstream to share with New Yorkers. These tiny, shell-shaped sponges are as delicious as they are delicate, and a hit with every visitor to the bakery.
Not content to dominate with these products, Miss Madeleine also bakes Parisian macarons onsite. Walking through their door does truly feel like entering Paris.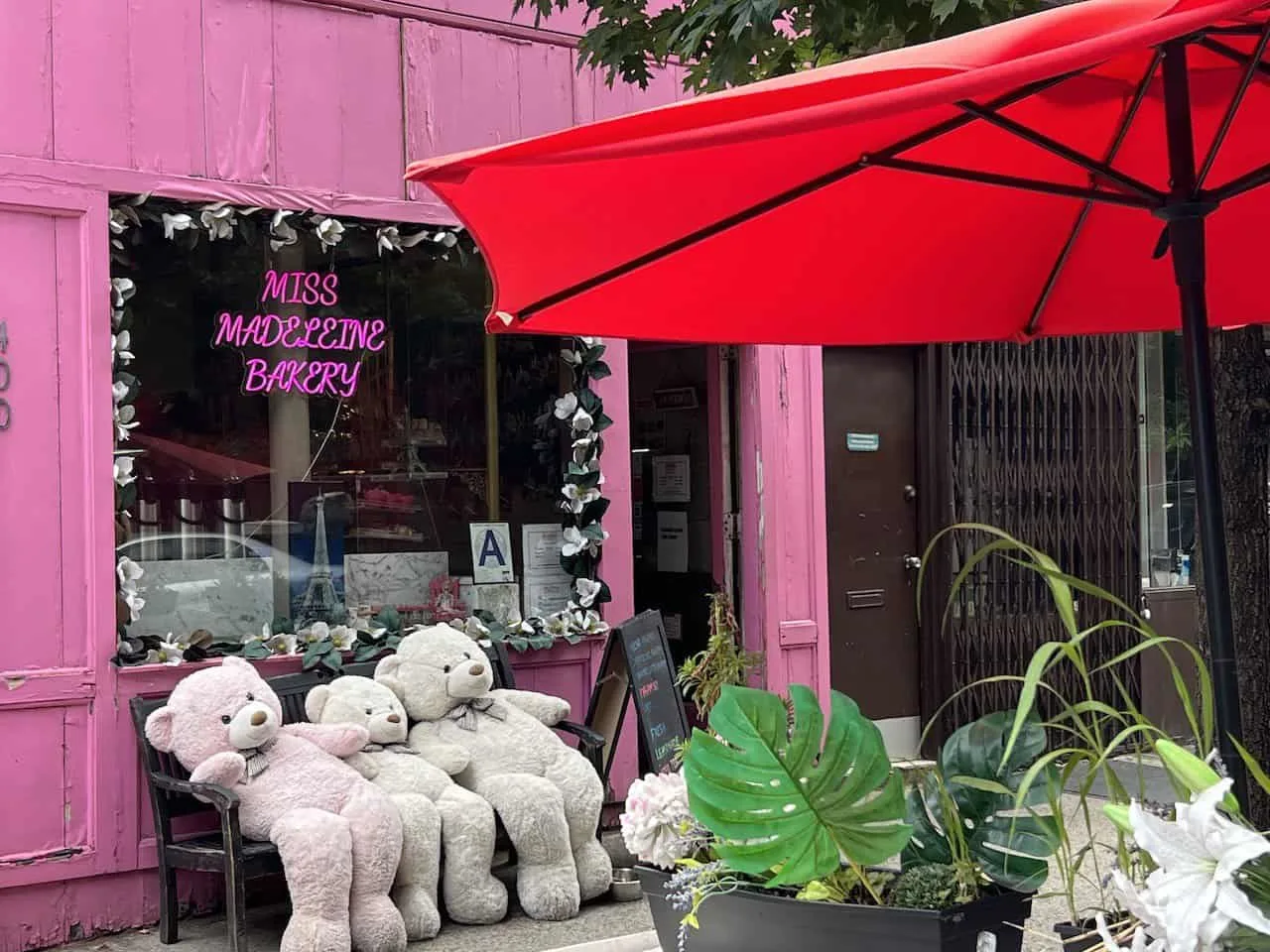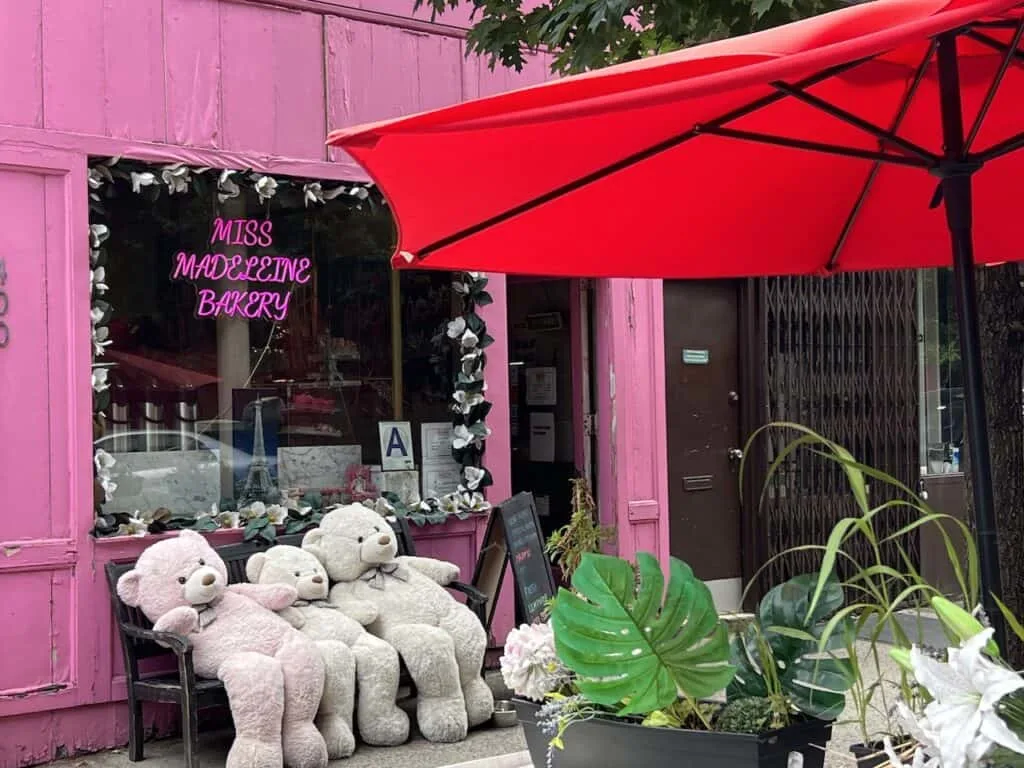 7) Levain
Levain is the most famous purveyor of cookies in the whole of New York City. They might, in fact, be the most famous in the world.
Their chocolate-chip walnut cookies are much-celebrated, and it's not hard to see why.
Levain cookies were created by their owners, who were training for a triathlon, to fill a hole. It's hard to argue that they don't do this. Each cookie is a whopping 6 ounces, which makes them arguably the biggest in the city.
But it's not just the size that makes these cookies what they are. Each one is the perfect blend of crunchy and moist. The exterior is crisp and well-baked, while in the middle each one is slightly gooey and packed with soft chocolate chips.
The flour, chocolate and butter used for Levain cookies are of the highest quality, and has amassed the bakery a cult following.
It goes without saying, then, that the bakery is hugely popular. Expect a wait in line, no matter the time of the day. One thing's for sure, though – with cookies this good, it won't be time wasted.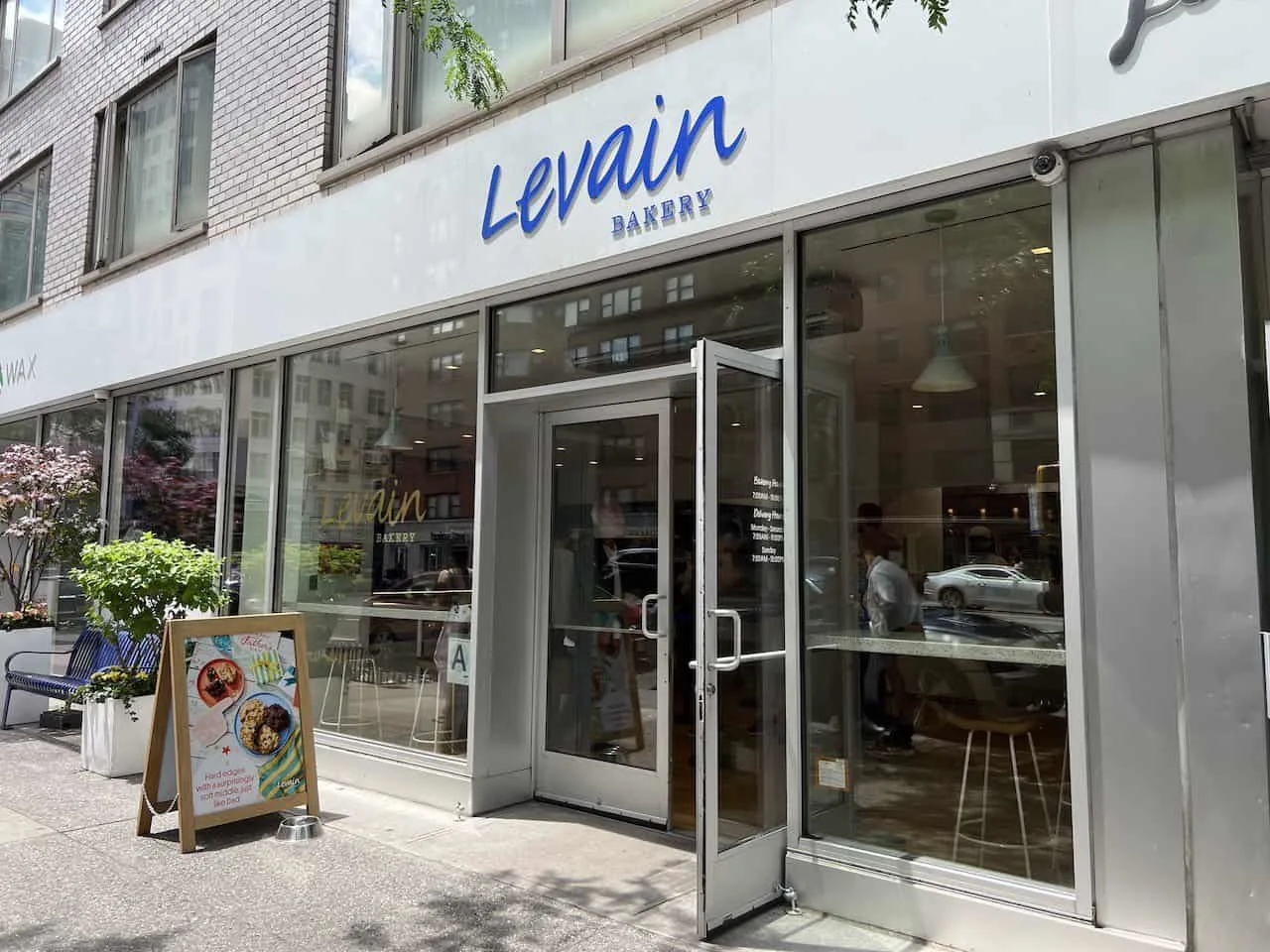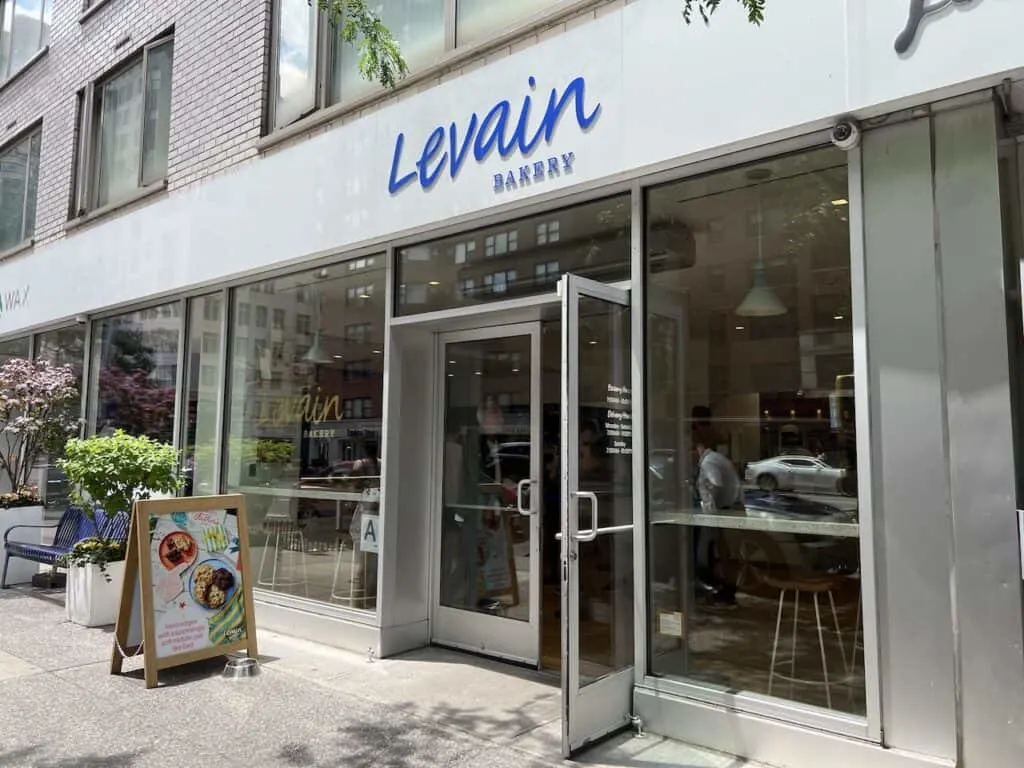 8) Breads Bakery
Breads Bakery is undoubtedly one of the best bakeries in the Upper East Side. All of their baked goods are exceptional, but the undisputed best is their chocolate babka.
This traditional Jewish pastry is popular throughout NYC bakeries, but at Breads it's particularly notable. Their chocolate babka, which packs a lot of chocolate and Nutella in among the fluffy pastry, is award-winning.
But it's not just the babka that delights in this UES bakery. Their menu is staggeringly diverse, that highlights both sweet and savory.
The bread selection is particularly extensive, with sourdough, raisin, and rye breads all to be found. Cookies, meanwhile, alternate between classics (butter pecan) and offbeat (parmesan).
The savory menu is perhaps the most unique thing about Breads. Cheese pastries and savory burekas predominate, offering something a little different from most bakeries. If that's not to your taste, the rich cookies will certainly do it for you.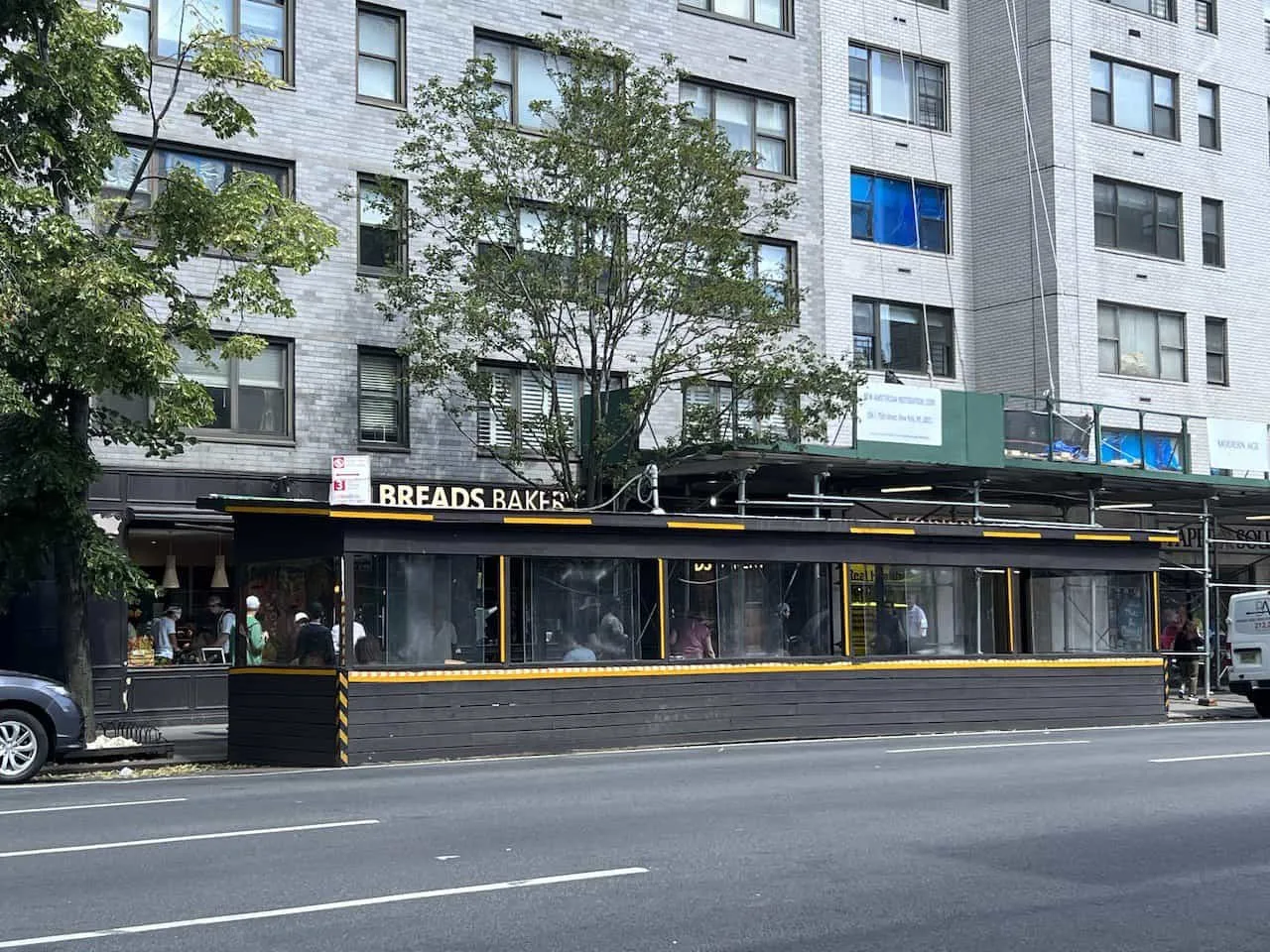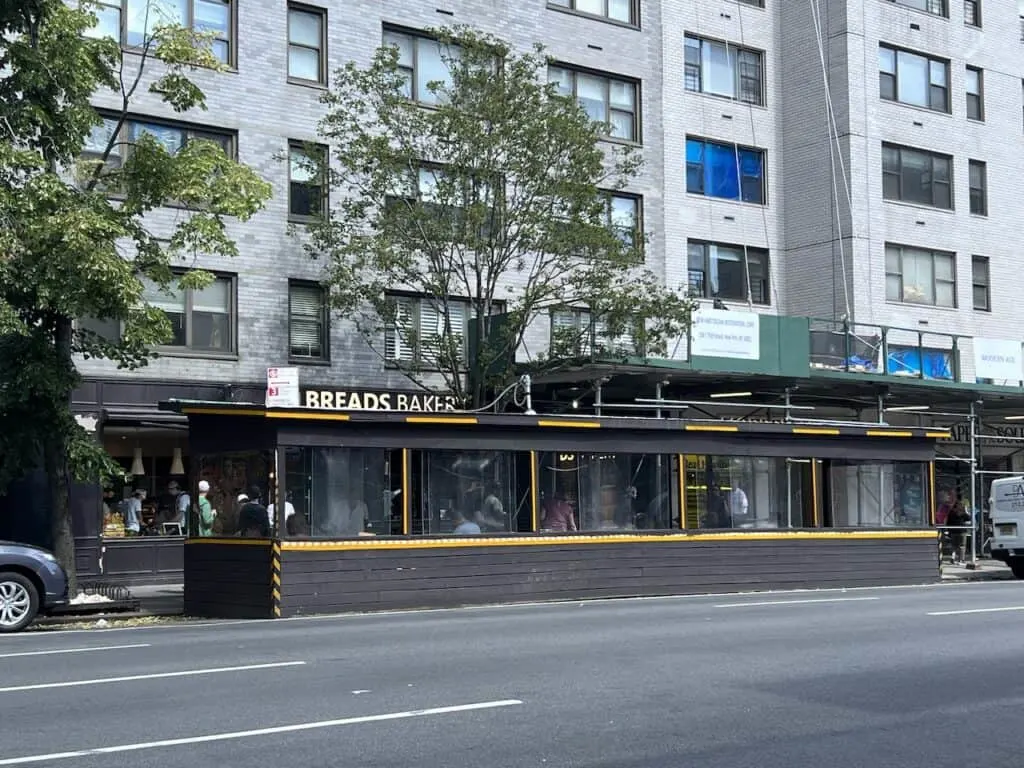 9) Les Gateaux De Marie
Les Gateaux De Marie is one of the best French bakeries in the Upper East Side.
It's renowned mostly for its selection of dessert pastries and cakes. It's not limited to French specialties, either, as owner Marie Simic also studied in Italy.
As a result, panna cotta can be found on the menu alongside lemon meringue tarts and other French treats. Other highlights include Italian cheesecake, triple-chocolate mousse cake, croissants, and even crepe cakes.
Simic also spent time in the Balkans, where she picked up ideas from places like Montenegro. She never uses set recipes, however. Instead, she relies upon her memory and her baking skills to produce something truly unique.
Les Gateaux de Marie is also one of the best gluten-free bakeries in the Upper East Side. Many of the cakes – such as the chocolate and coconut ones – are completely gluten-free. In addition, all ingredients used are completely organic.
Les Gateaux de Marie, then, is not just one of the best French bakeries in the Upper East Side. It's one of the best Italian (and European) bakeries in the Upper East Side, too.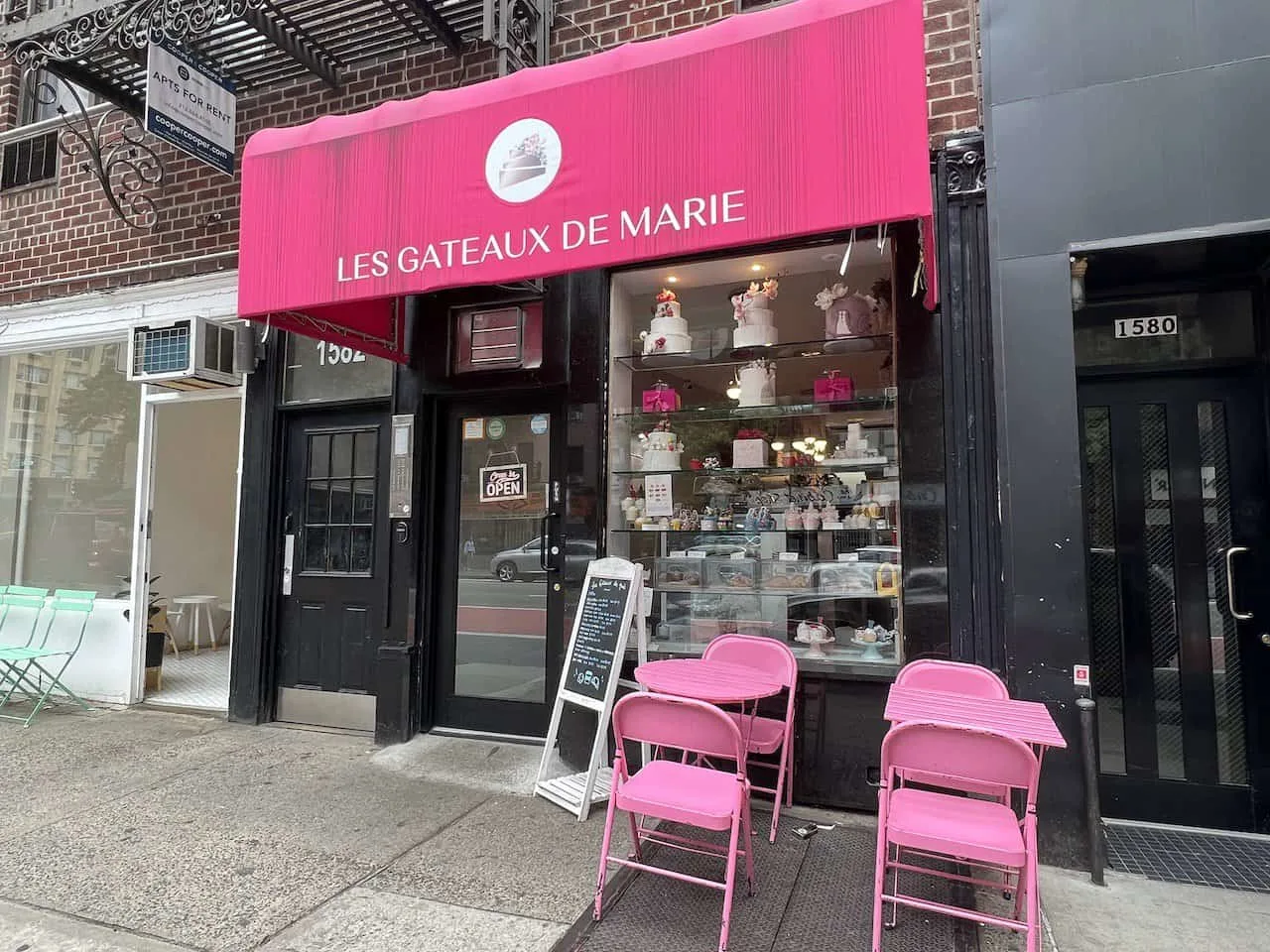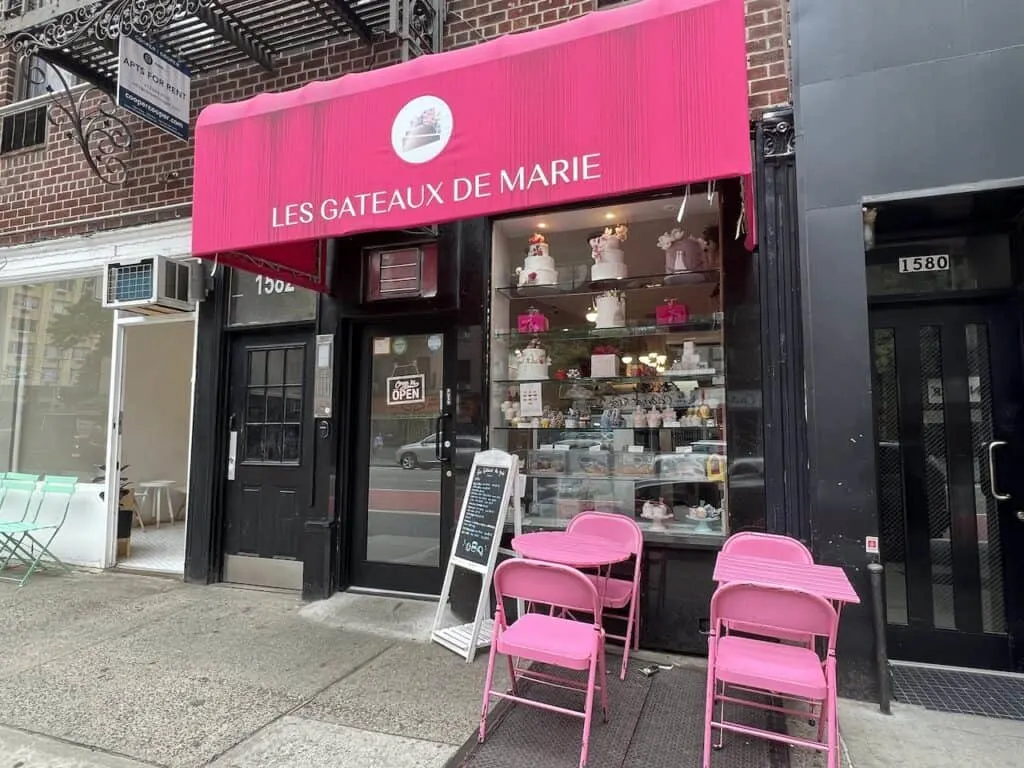 10) William Greenberg Bakery
This bakery has been around since shortly after the Second World War. It's one of the oldest in the area, and one of the best bakeries in the Upper East Side.
William Greenberg opened the bakery in 1946, after finishing his WW2 tour of duty. After getting lucky in a couple of hands of cards, he had enough money to open the bakery of his dreams. He returned to New York and promptly opened this Upper East Side bakery.
William Greenberg bakery is the place to go for instantly recognizable NYC desserts. From rugelach (another Jewish favorite) to brownies and cookies, this bakery has them all.
It's also home to the most famous and delicious NYC cookie around – the black and white cookie. Made famous by the TV show 'Seinfeld', these cake-like cookies feature a rich chocolate and vanilla frosting.
William Greenberg Bakery's variant is so well-regarded, it's been voted the city's #1 more than once. They're even available in gluten-free form.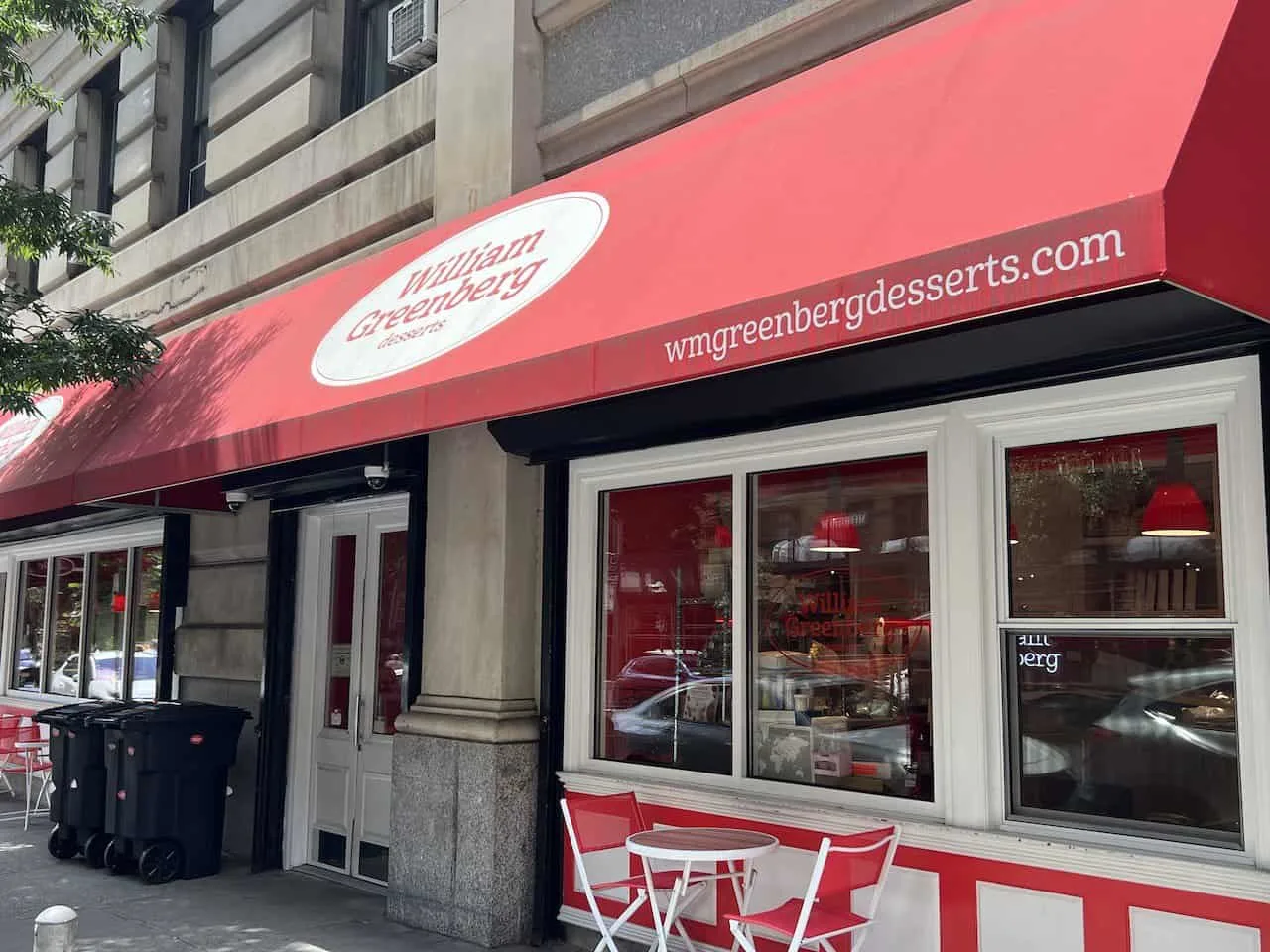 Upper East Side Bakeries Recap
With some of the finest bakeries in the entire city, it's hard to go wrong in the Upper East Side.
The variety of bakeries in the area more than makes it worth a trip. Whether you're in the market for Jewish pastries, French macorons or Italian cheesecakes, the Upper East Side is the place to be.
After going for a nice stroll in nearby Central Park, you are sure to find one of these bakeries the perfect spot to take a break.
To recap, below are the top Upper East Side bakeries that were covered on this list (along with some awards):
Orwashers (best traditional bakery)
Laduree (best macarons)
Padoca Bakery (best Brazilian bakery)
Two Little Red Hens (best cheesecake)
Maman (best decor & setting)
Miss Madeleine (best madeleine)
Levain (best chocolate chip cookie)
Breads Bakery (best babka)
Les Gateaux De Marie (best all around European bakery)
William Greenberg Bakery (best black & white cookie)
Hope you enjoyed this list of the top Upper East Side bakeries. Be sure to check out some other New York itineraries and guides up on the site (like the top Central Park restaurants with a view).