From March to May, New York City begins to come alive with Spring colors. While there are many different blooms to enjoy, none are more iconic than the famous NYC Cherry Blossoms.
Throughout all areas of the city, you will find several types of cherry blossoms to appreciate. These include the early blooming Okame, followed by the Yoshino, and ending with the Kwanzan cherry tree.
So, if you are lucky enough to visit NYC during peak bloom, you should be able to take in some beautiful cherry blossoms along the way. This guide will go into detail on how to do just that, and it will lay out 10 of the best spots for cherry blossoms in New York City.
* Affiliate Disclosure: This post may contain affiliate links, which means I may receive a commission if you make a purchase through the links provided, at no additional cost to you. Thanks for supporting the work I put into TripTins!
1) NYC Cherry Blossoms Background
As the winter comes to an end in NYC and the spring begins to arrive, the trees and plants of the city start to become alive. Trees will begin to bud, and soon enough flowers will begin to bloom. The once bare trees will then become colorful sites to see.
Among all of the spring blooms, the cherry blossom tree is a fan favorite. The vibrant pink color of the trees coupled with the fact that you can find many clusters of trees together, makes them a site to see.
The usual timeline of cherry blossoms is that they first begin to bud, followed by an initial bloom, peak bloom, and then post bloom. The goal is to witness these trees during that peak bloom period.
Peak bloom can last anywhere from just a few days to over a week -> this can be a result of several weather factors.
My advice is to head out to see those flowers right as peak bloom is starting. You never know when a storm, wind, or rain can cut peak bloom short.
From a timing perspective there are two important things to note regarding cherry blossoms in NYC:
→ Since there are different types of cherry blossoms, each variety will bloom at different times. Don't expect to come for one week in April and see all three cherry trees blooming. Instead, you will need to understand what type of tree is blooming at that time. From there you will then visit the spots with those particular trees.
→ There are also no set dates each year for cherry blossom peak bloom. There is usually a normal timeframe when to expect the trees to bloom, however, these dates can change from year to year. I would recommend following the social media accounts of NYC Parks to stay up to date with peak bloom timing.
To learn more about timing, below is a bit more detail on the main three types of cherry trees in NYC.
2) Types of Cherry Blossoms in NYC
As mentioned, there are three main types of cherry trees in New York City – Okame, Yoshino, and Kwanzan.
There will be some spots in the city that just have one type of tree, while other spots in the city may have all three. As I go through the spots, I will certainly mention which trees to expect at which locations.
Okame
Timing: The Okame cherry blossom is the first to bloom in NYC sometime around mid-March. The photos of the Okame trees in this guide were taken on March 21 and March 27, the first days of spring.
Color: The Okame trees are a nice deep pink color that really stands out as the majority of the plants and trees alongside them are still bare.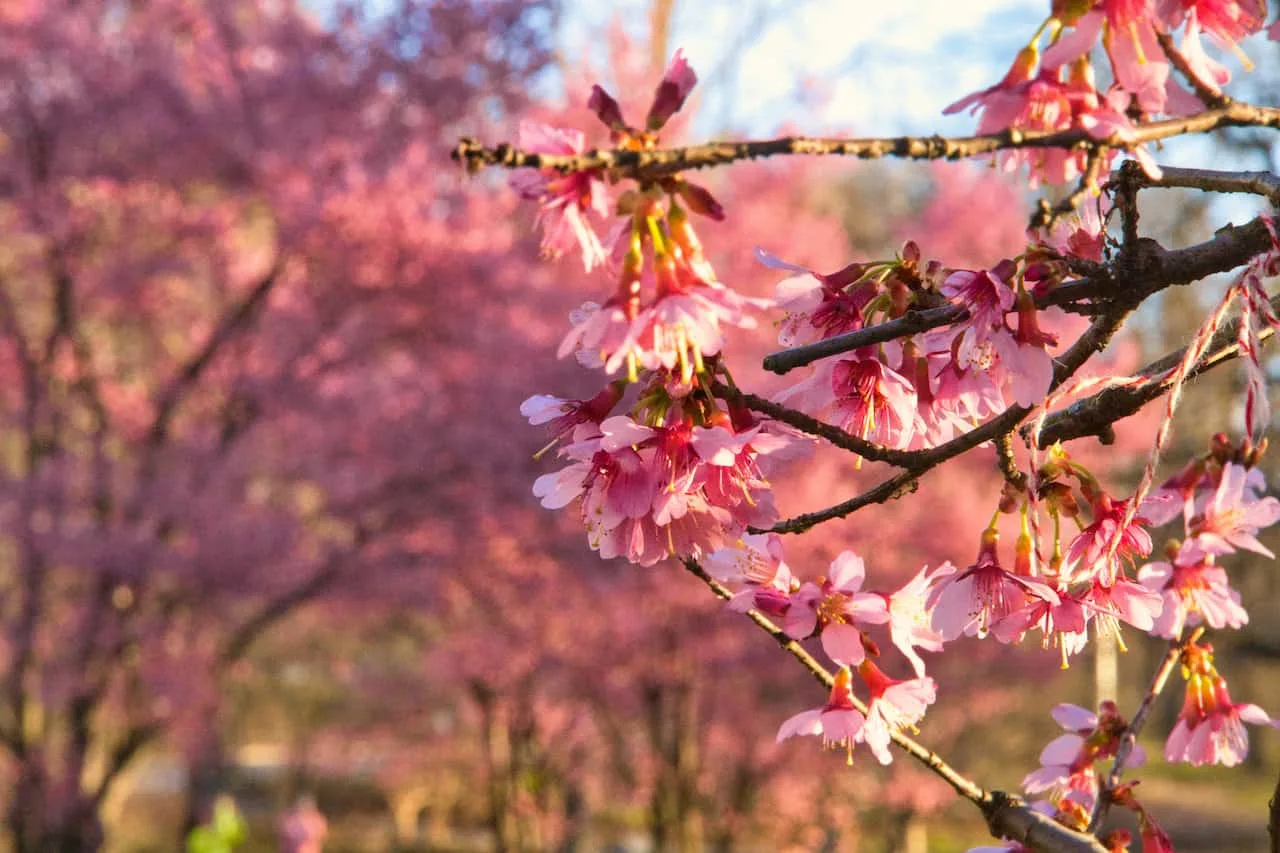 Yoshino
Timing: The Yoshino cherry blossoms come to life at the beginning/mid of April. The photos you will find of the Yoshino trees were taken on April 4, April 10, and April 11.
Color: The Yoshino petals are a much lighter pink than other cherry blossoms. They almost look more white in color than anything else.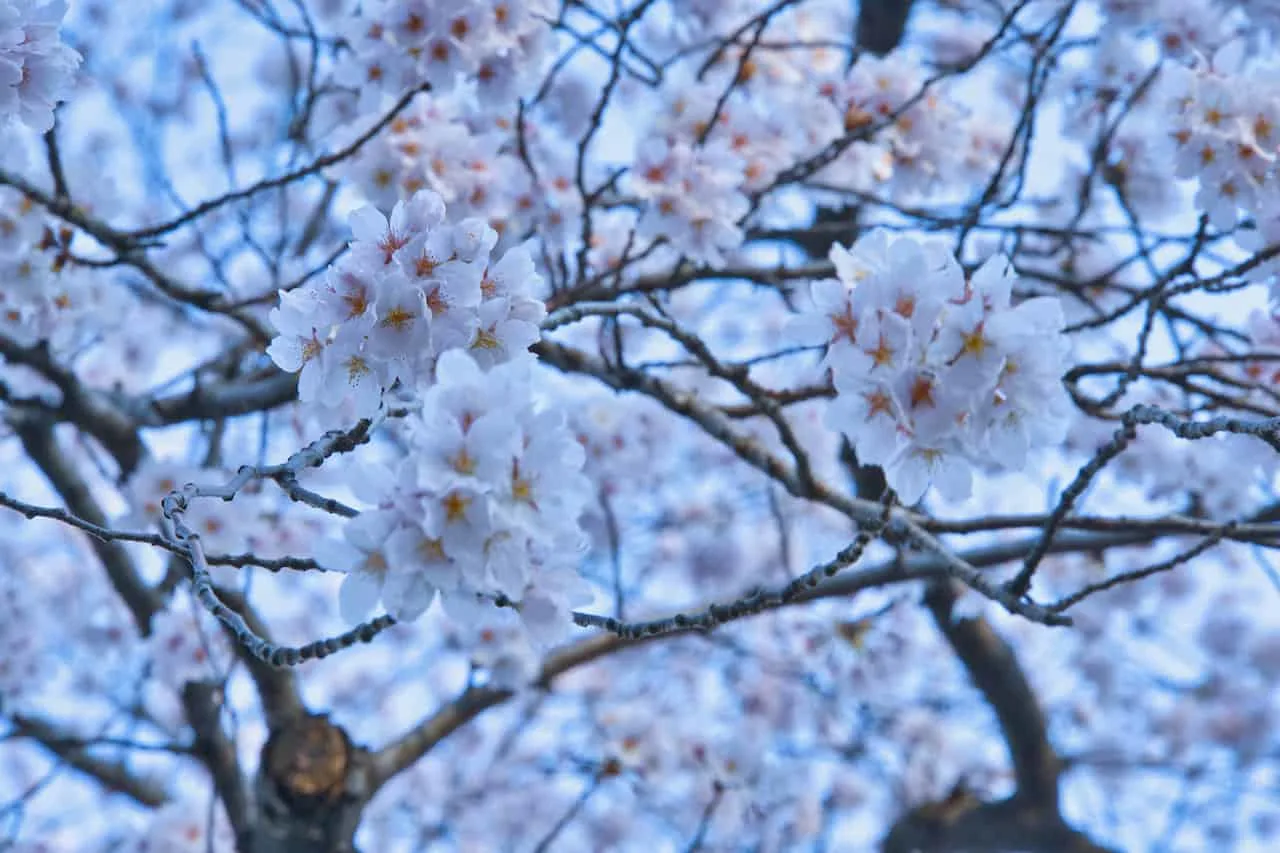 Kwanzan
Timing: The Kwanzan cherry blossoms are the last to bloom, usually at the end of April to early May. The photos you will see here were taken on April 24, April 27, and April 30.
Color: Kwanzan trees are full of rich pink double petals. You will find these to be full of thicker clusters vs. the other types of cherry trees in the park.
3) New York Cherry Blossoms 2023
As mentioned, while cherry blossoms generally bloom around the same time each year, the exact dates will be different. Peak bloom may also last shorter or longer depending on various natural conditions.
In 2023, we saw earlier than anticipated peak blooms for the Kwanzans in particular due to unseasonably warmer winter weather.
Okame Cherry Blossom Dates: the Okame trees bloomed between the first and second week of March
Yoshino Cherry Blossom Dates: the Yoshinos peaked at the beginning of the month, around April 10th
Kwanzan Cherry Blossom Dates: immediately after the Yoshino trees exited peak bloom, the Kwanzans came to life around April 15th
These are going to be three distinct blooming periods, meaning you will not get overlap between the trees (most likely as we nearly saw in 2023). If visiting the park during one of these time periods, you will want to head to the parts of the park, where those specific trees are located.
Be sure to also check out some of the other top things to do in New York City during a visit!
4) Cherry Blossoms NYC Map
While there is a pretty long list of places to see cherry blossoms in NYC, this guide will focus on 10 of the top spots. I hope to expand this over time as I get to visit more places each year.
Below is a map that shows the locations that I will be diving into throughout the remainder of this guide.
» Check out this helpful guide that talks all about the best places to stay in New York during a visit, and what a 4 day NYC itinerary can look like
5) Best Spot for Cherry Blossoms in NYC
Let's now dig into 10 of the best spots to see cherry blossoms in NYC.
Remember, each spot will have a different set of cherry trees. So, for some spots you may be able to visit for all three blooms and others you may only get one type of bloom.
Central Park
To start off the list is the top spot of them all – Central Park. This is the park of all parks in NYC and makes up 843 acres of beautiful landscape right in the middle of the bustling city.
Within Central Park, you can actually get to see all three types of cherry blossoms throughout the spring bloom season.
Since the park is so big, you will find different spots in the park that have cherry blossom trees. Some of these spots just have a small cluster of trees while others may have 30+ trees to take in.
Here are some of the top spots in the park to see them:
The Reservoir
The east side of the Reservoir has the greatest amount of Yoshino cherry trees in the park. On the west side of the Reservoir you will find the greatest amount of Kwanzan cherry trees in the park.
Both of these clusters of trees can create a cherry blossom tunnel, with the flowers arching over the pathways (and make for some of the top photo spots in NYC). Check out a couple of my favorite photos of the Reservoir cherry blossoms: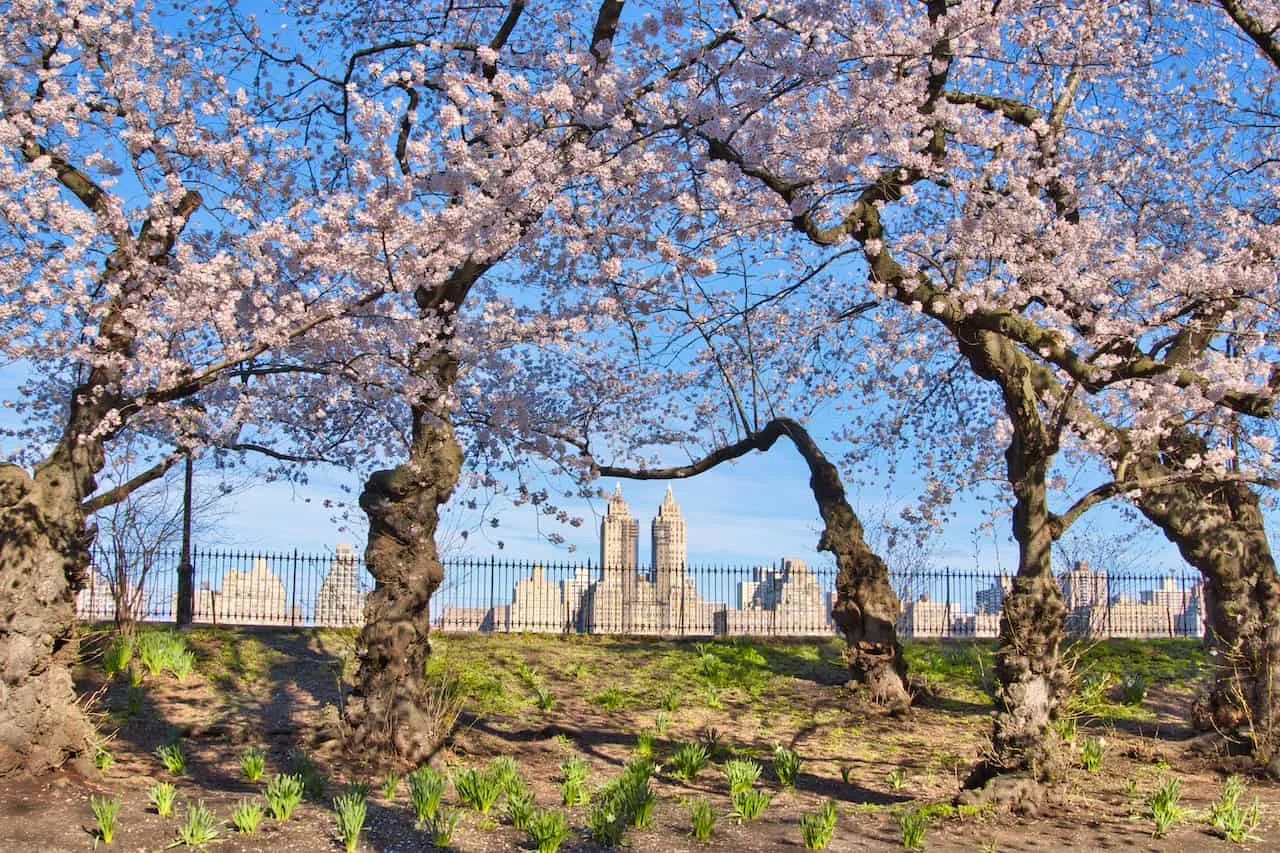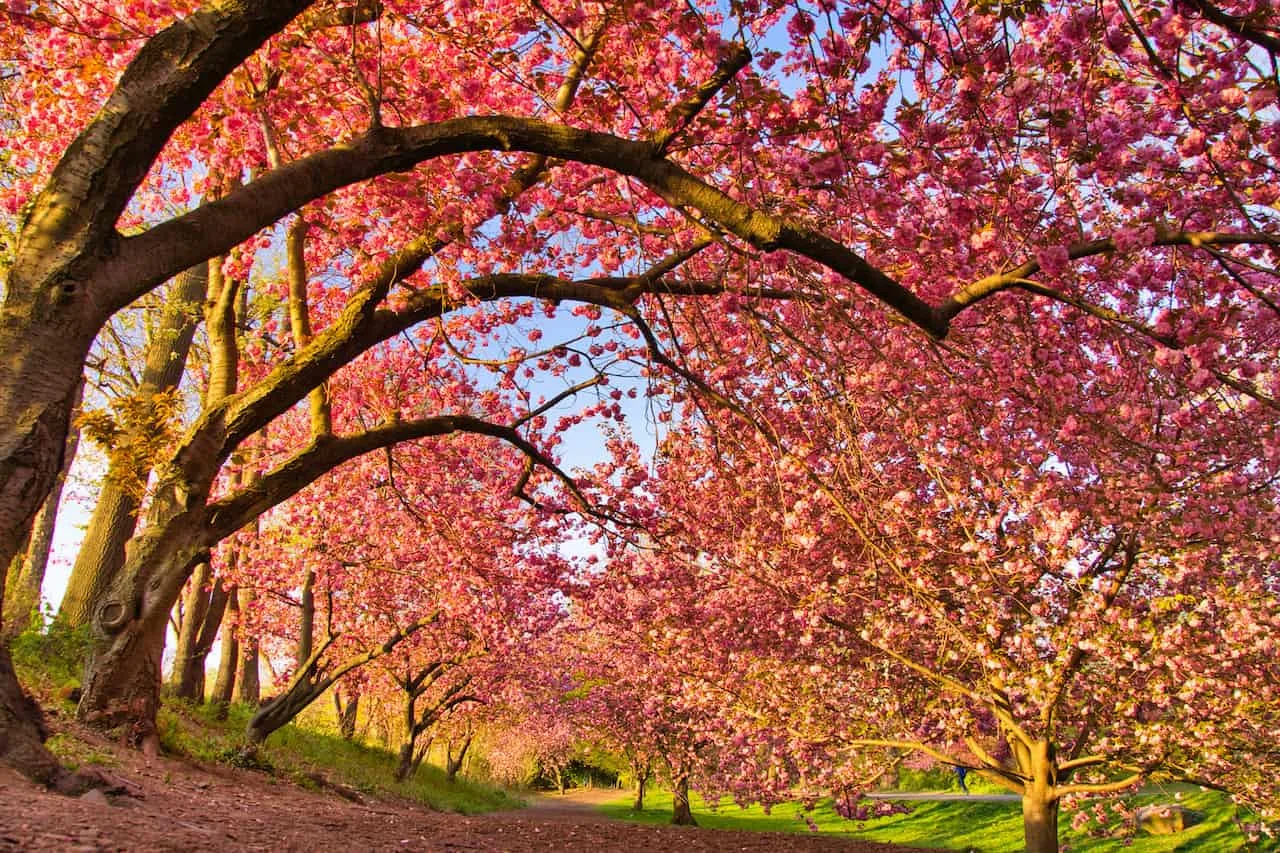 In addition to the Kwanzan and Yoshino trees, this is also the main spot for the Okame cherry trees. On the west side of the Reservoir you will find a handful of these early bloomers too.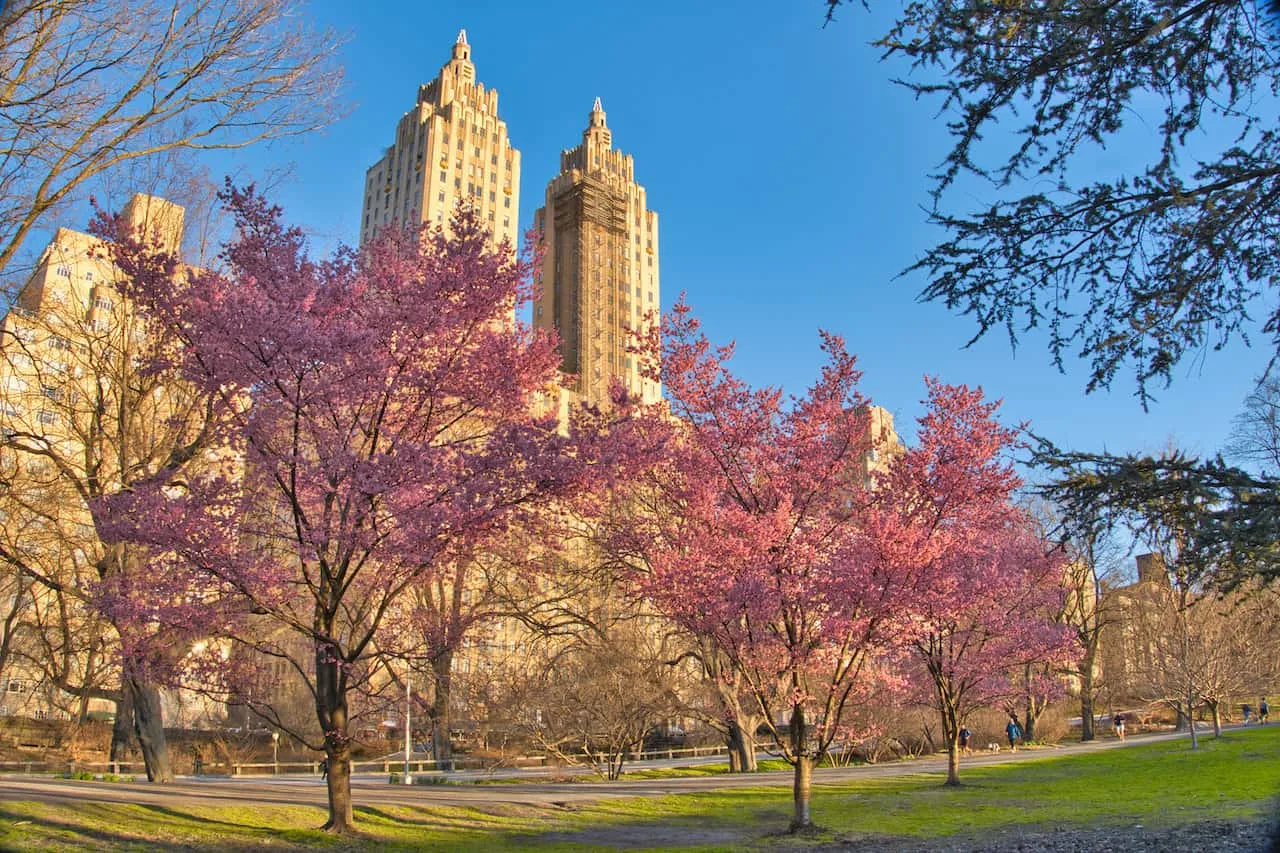 Cherry Hill
As you can imagine, Cherry Hill is rightfully named after the Yoshino cherry trees that are sprawled around the area. It is a great place to enjoy either from the hill itself or from around the Central Park Lake.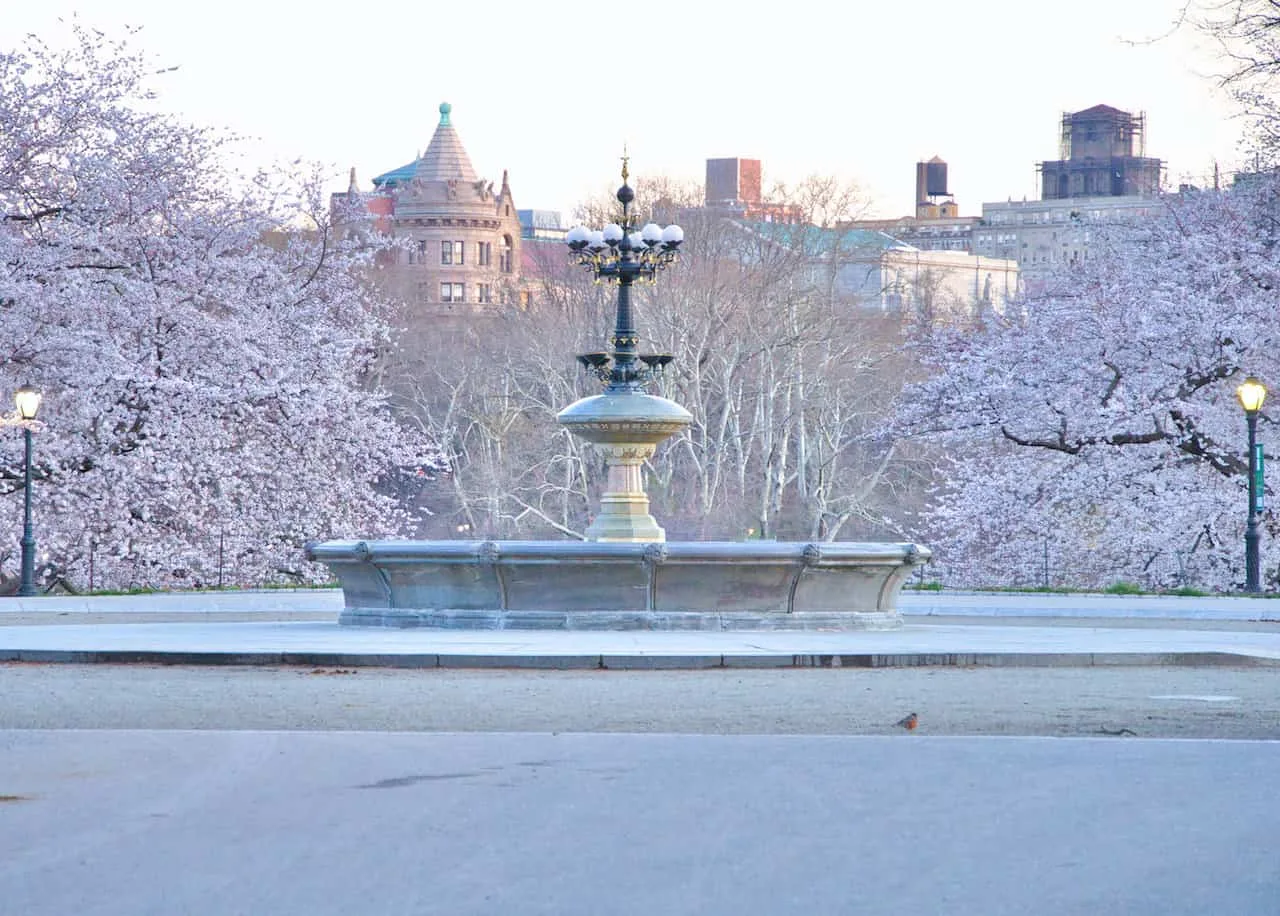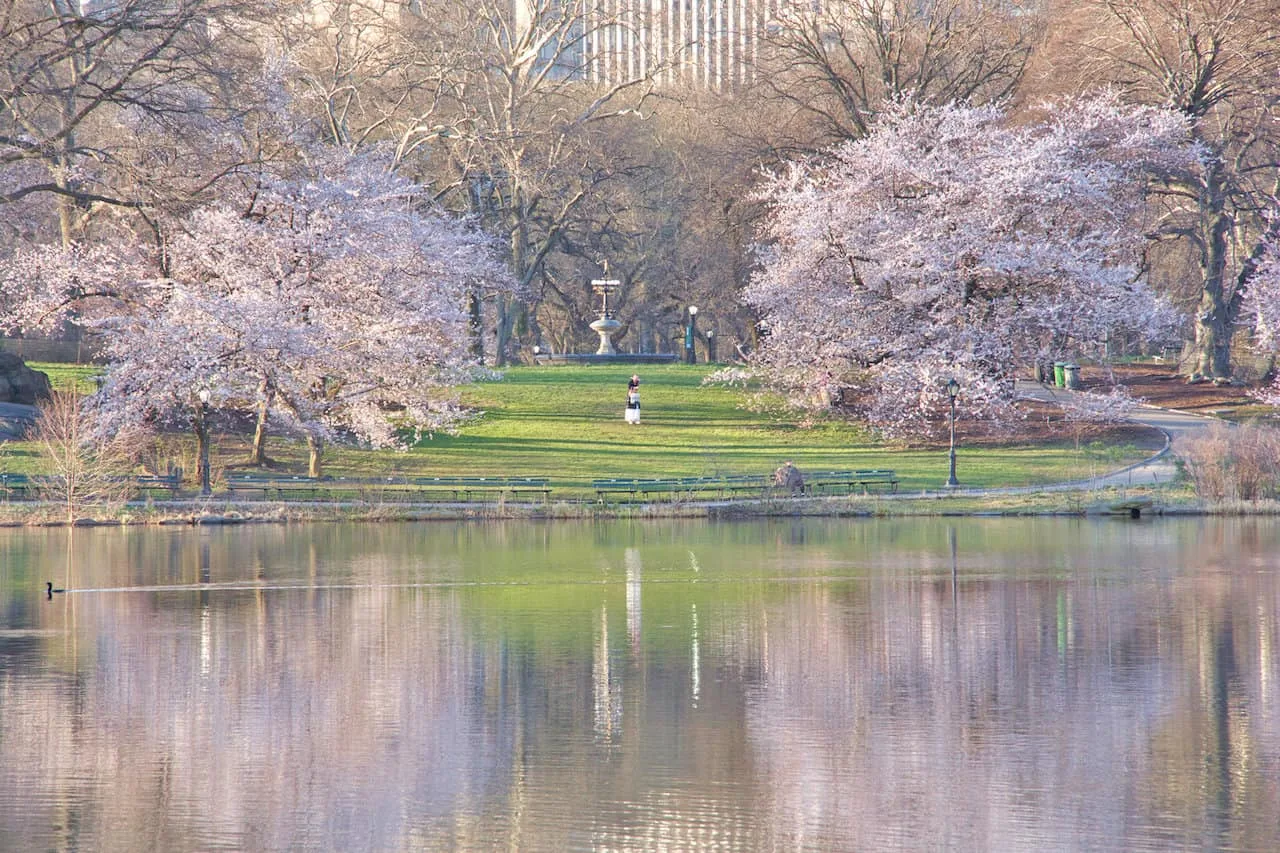 Pilgrim Hill
On the east side of the park you will find Pilgrim Hill. Here is a statue of a pilgrim surrounded by Yoshino cherry trees . Also right across the street from the statue you can find even more trees.
Cedar Hill
Cedar Hill is also on the east side of the park, just north of Pilgrim Hill. Here you will find several Kwanzan cherry trees all around. Just on either side of Cedar Hill is The Glade and the Metropolitan Museum of Art. Additional Kwanzan trees can be found in these areas too.
→ These are just a handful of the top spots in the park for cherry blossoms. I would highly recommend reading the Central Park Cherry Blossom guide to learn more details.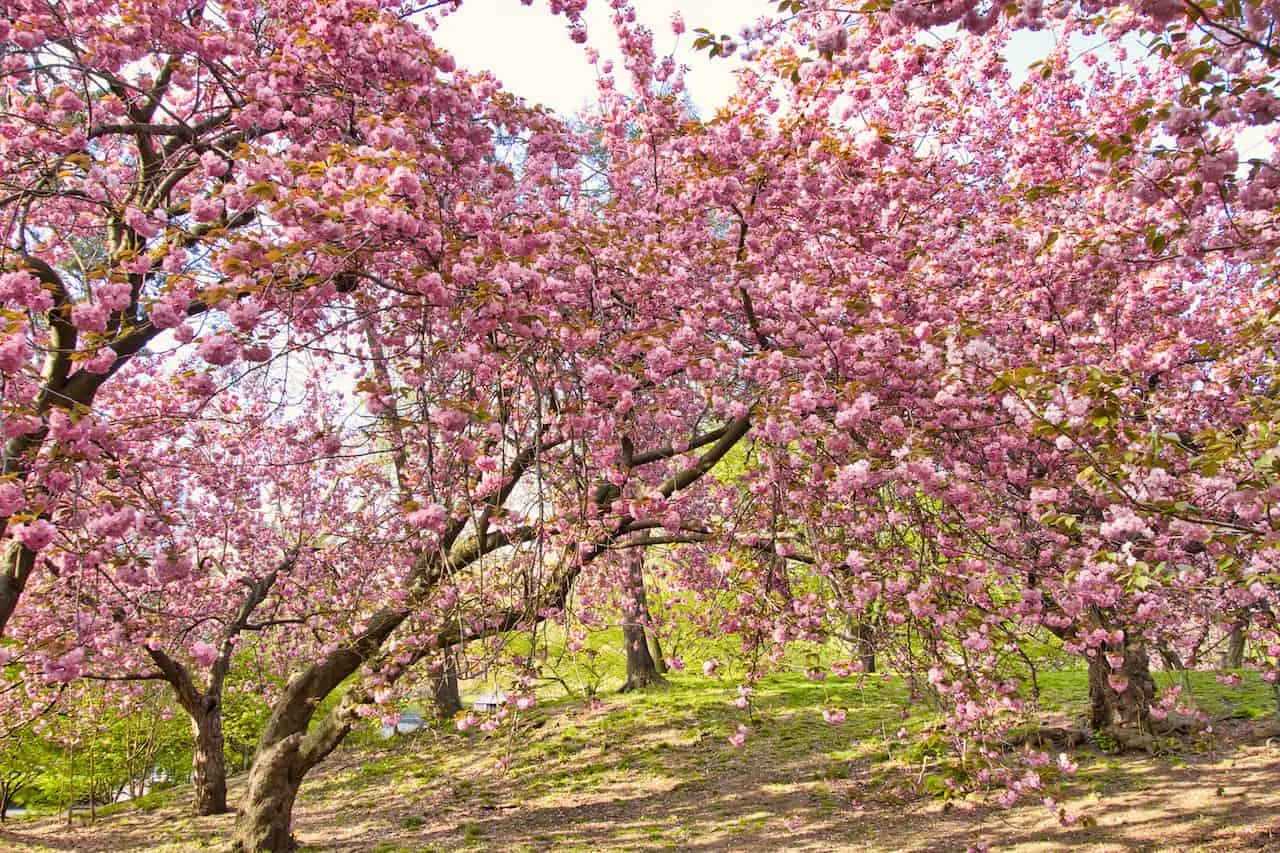 Riverside Park
Also uptown in Manhattan, you can find Riverside Park that runs along the Hudson River. Over the course of four miles from 72nd Street to 158th Street, you will find a combination of pathways.
The park is made up of multiple levels with an upper section, and also a lower section that runs right alongside the waterfront.
Riverside Park is also home to what is called the Cherry Walk, where you can find some Kwanzan cherry trees right along the riverfront path.
In addition, you should be able to see some more Kwanzan trees throughout the upper pathway. Not only will there be some cherry trees, but there will also be several other spring blooms nearby.
Just off of the main Riverside Park pathway near 122nd Street you will find Sakura Park. Here you will find a whole collection of Yoshino cherry trees lining the small park.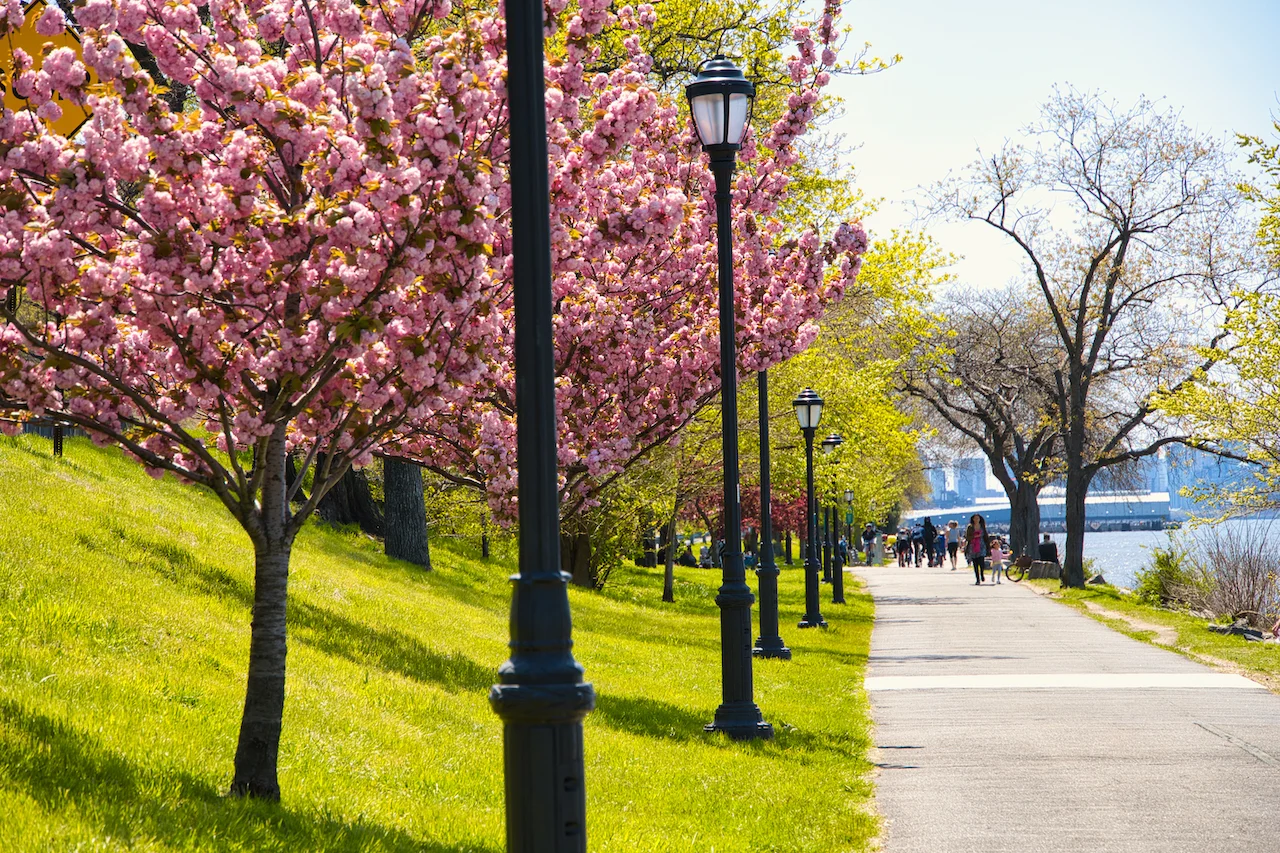 Madison Square Park
Located in the heart of the Flatiron District you will find Madison Square Park. In general, the park is a popular place to hang out at as there are plenty of tables, benches and grassy areas to take advantage of.
From the park you also can get some great views of the nearby Flatiron Building and some other NYC skyline highlights. All around the park are great food and bar options such as the nearby Eataly Market.
But within the park itself, you will find some of the best variety of spring blooms all in one spot. The variety is truly impressive here as it seems like every tree is different, making spring bloom quite special.
You will find a couple Kwanzan cherry trees within the park, but do enjoy the rest of it as well!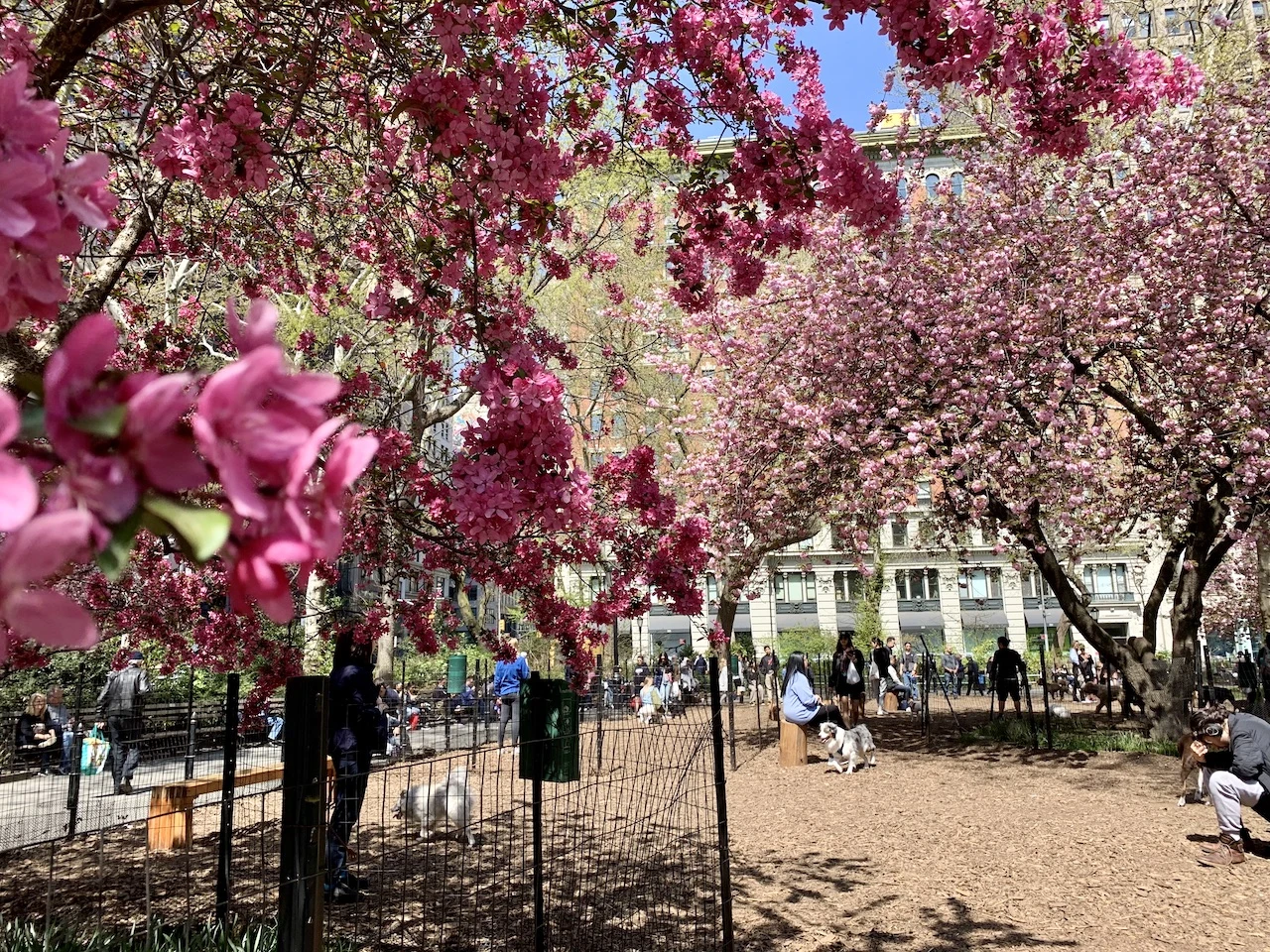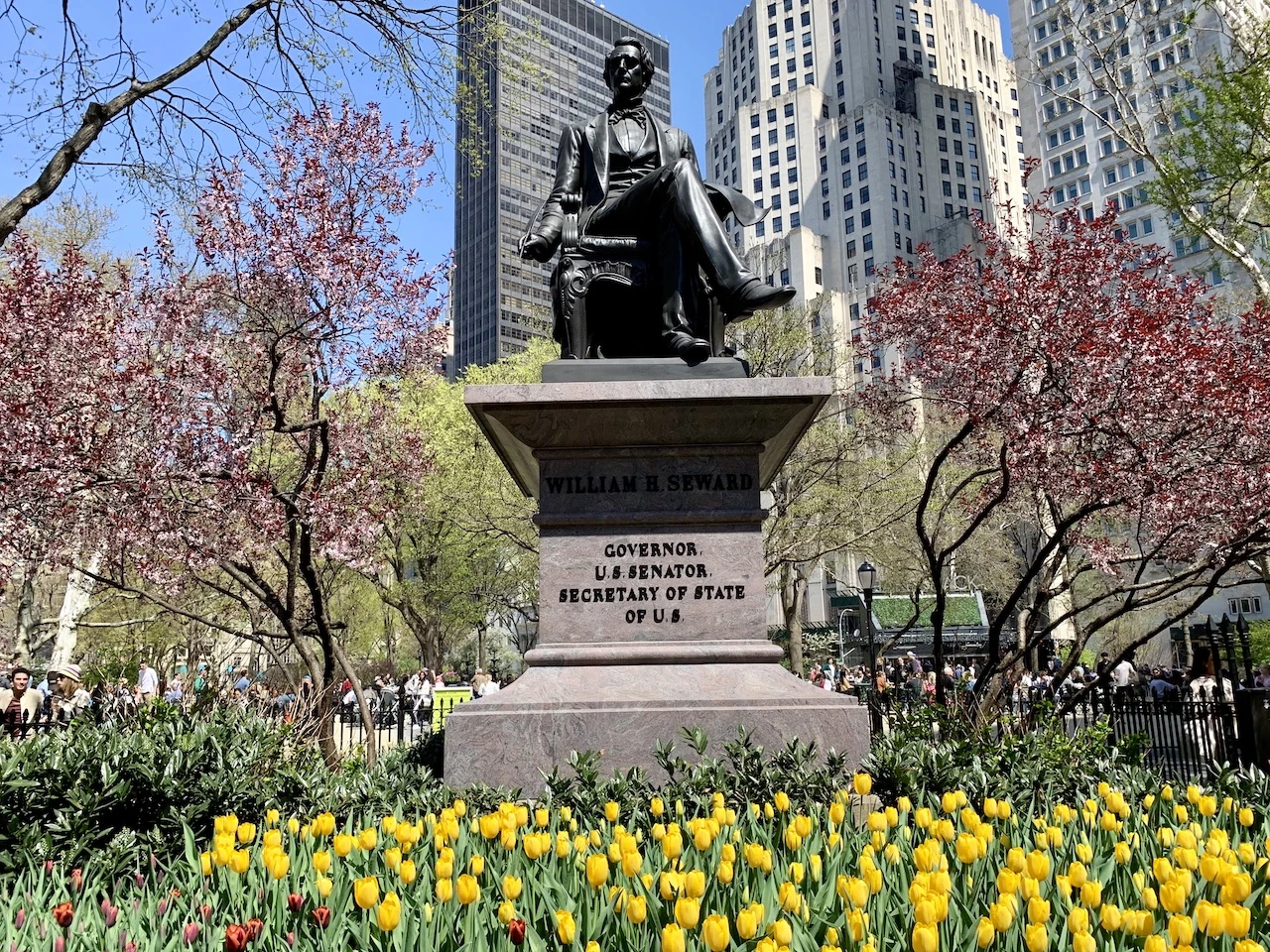 Union Square
Just six blocks down from Madison Square Park you will find Union Square. This is main hub of NYC as you have several subway lines converging into this one spot. Farmer's and artist's markets line the open areas of the square, and small grass fields make up the interior.
You will always have something going on around Union Square, whether that be a rally, a protest, or just some opportunities to play a game of chess or backgammon.
With that said though, there are several Kwanzan trees that are around the pathways of the park to enjoy. While taking in the trees from down below is one option, you can also head to the top of the nearby Burlington Coat Factory store to take in the views from above.
This is one of the best views you can get of Union Square. Although you do need to go into a store, it is well worth the effort.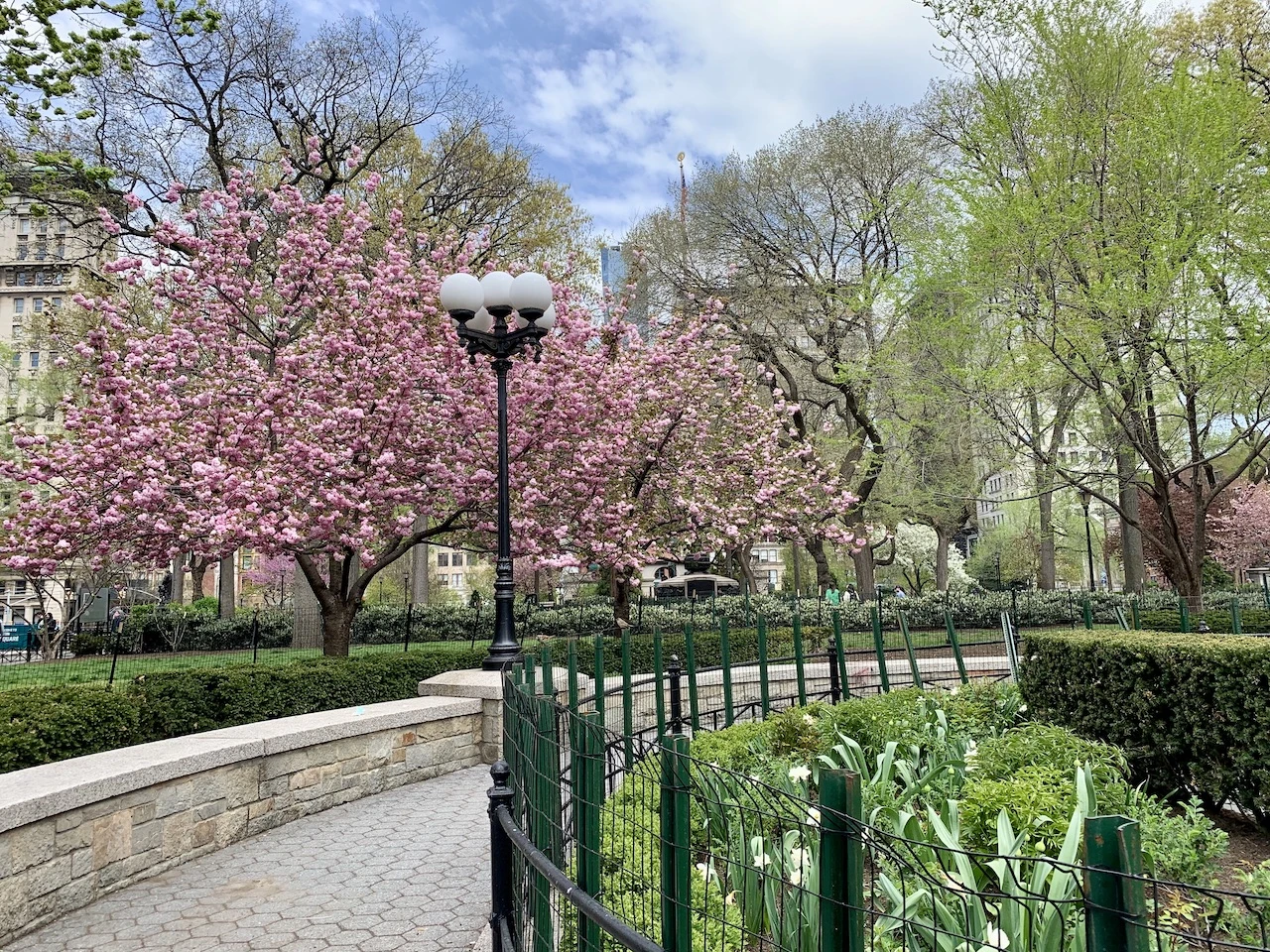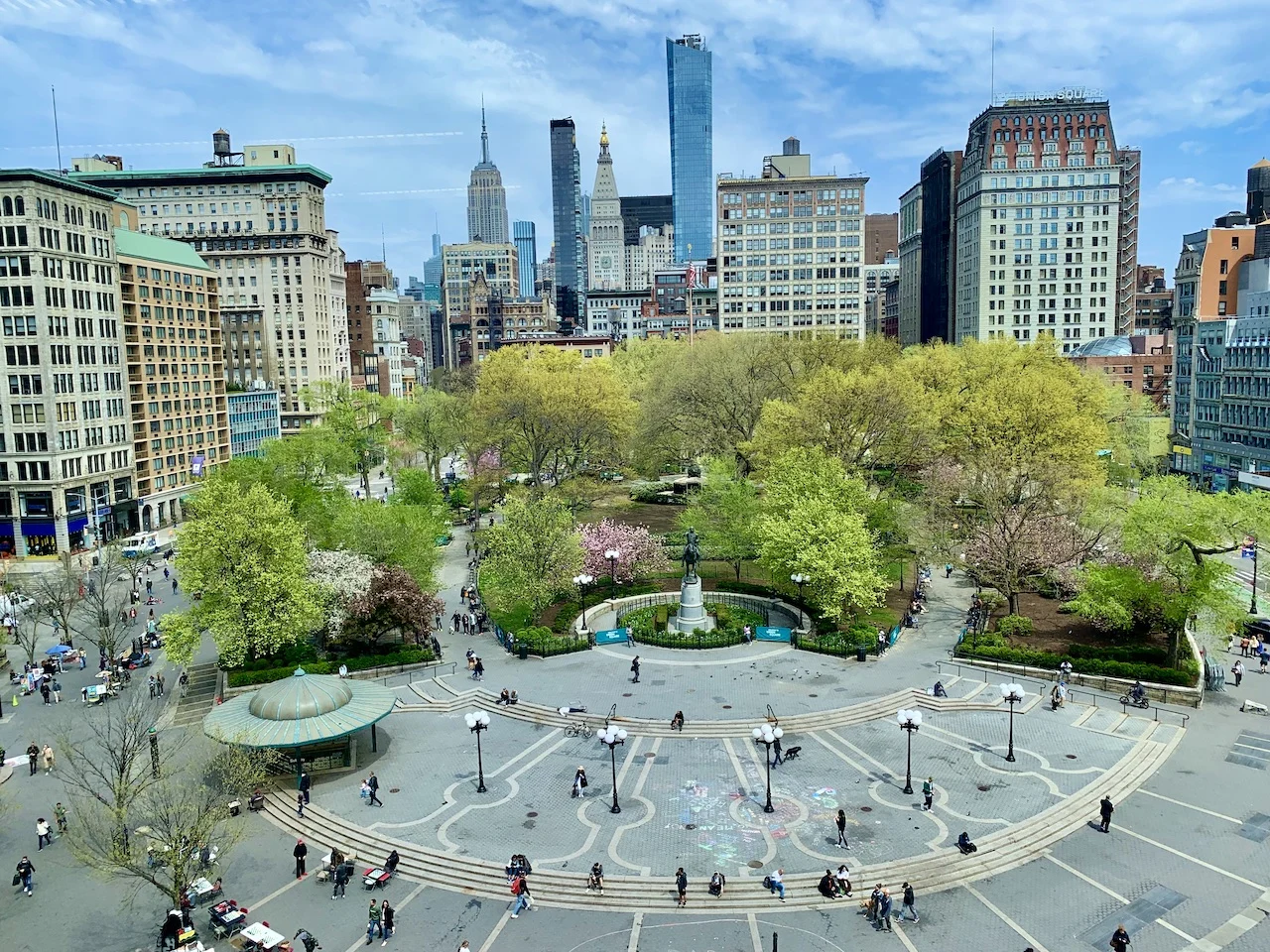 Washington Square Park
Heading further south you will find Washington Square Park at the heart of the NYU campus. At the park you will find the famous Washington Square Arch and Fountain as the main highlights.
It is another spot where there will be constant activity no matter what hour of the day it is. Looking northbound you should be able to spot the Empire State Building through the arch and looking southbound, you will get a peek of One World Trade.
The park is also home to several Yoshino cherry trees in various corners of the park. There are some nice photography opportunities where you can get the trees and arch into view with the rest of the park around them.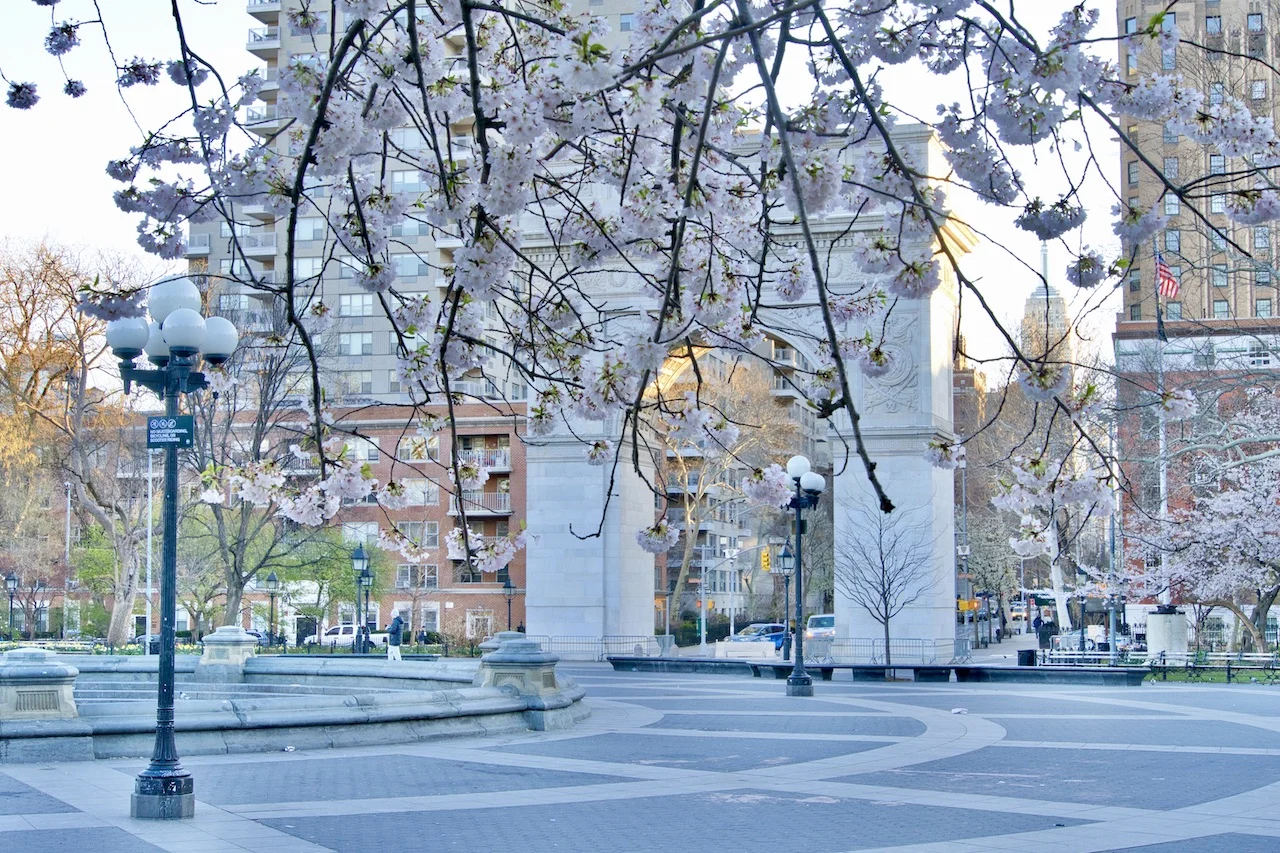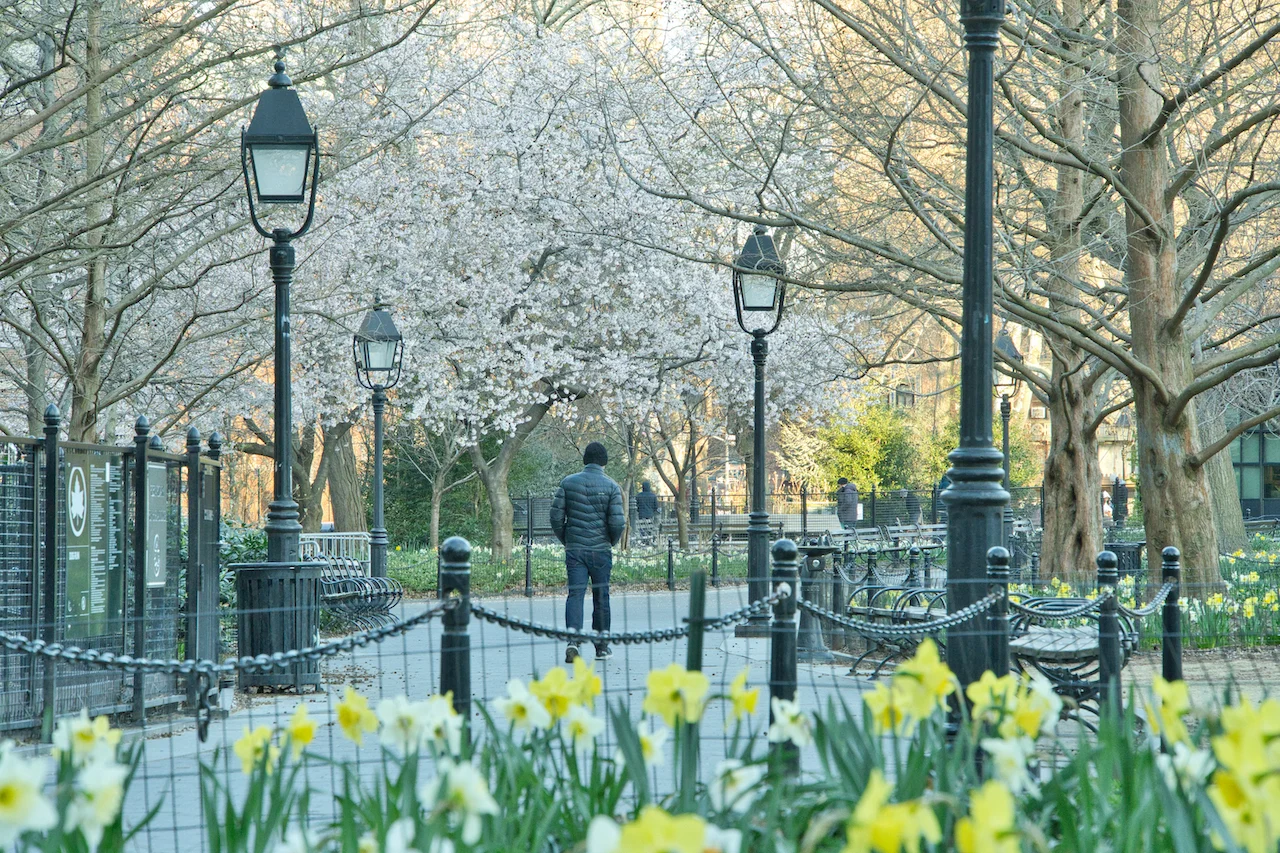 Pumphouse Park
A lesser known park in Manhattan that is full of Yoshino cherry trees is Pumphouse Park. I didn't even know about it until I stumbled across it during a walk along the Hudson River.
Just besides Brookfield Place you will find a small circular park surrounded by cherry trees. It was one of my favorite spots to enjoy some spring blooms as you just had so many trees in one small spot.
If you are walking along Hudson River Park, visiting the Statue of Liberty or heading to the World Trade Center area, then you definitely should add Pumphouse Park onto the list.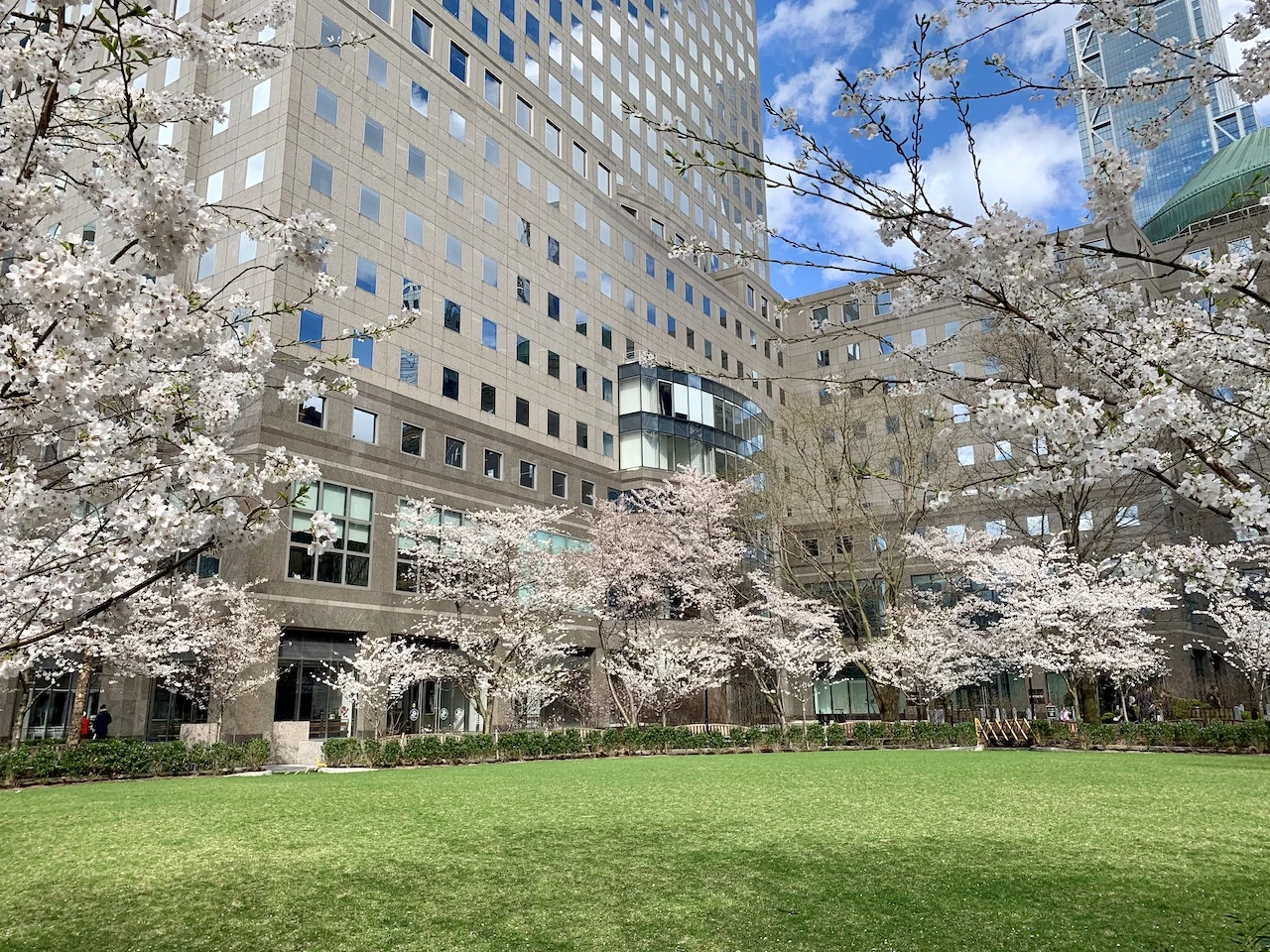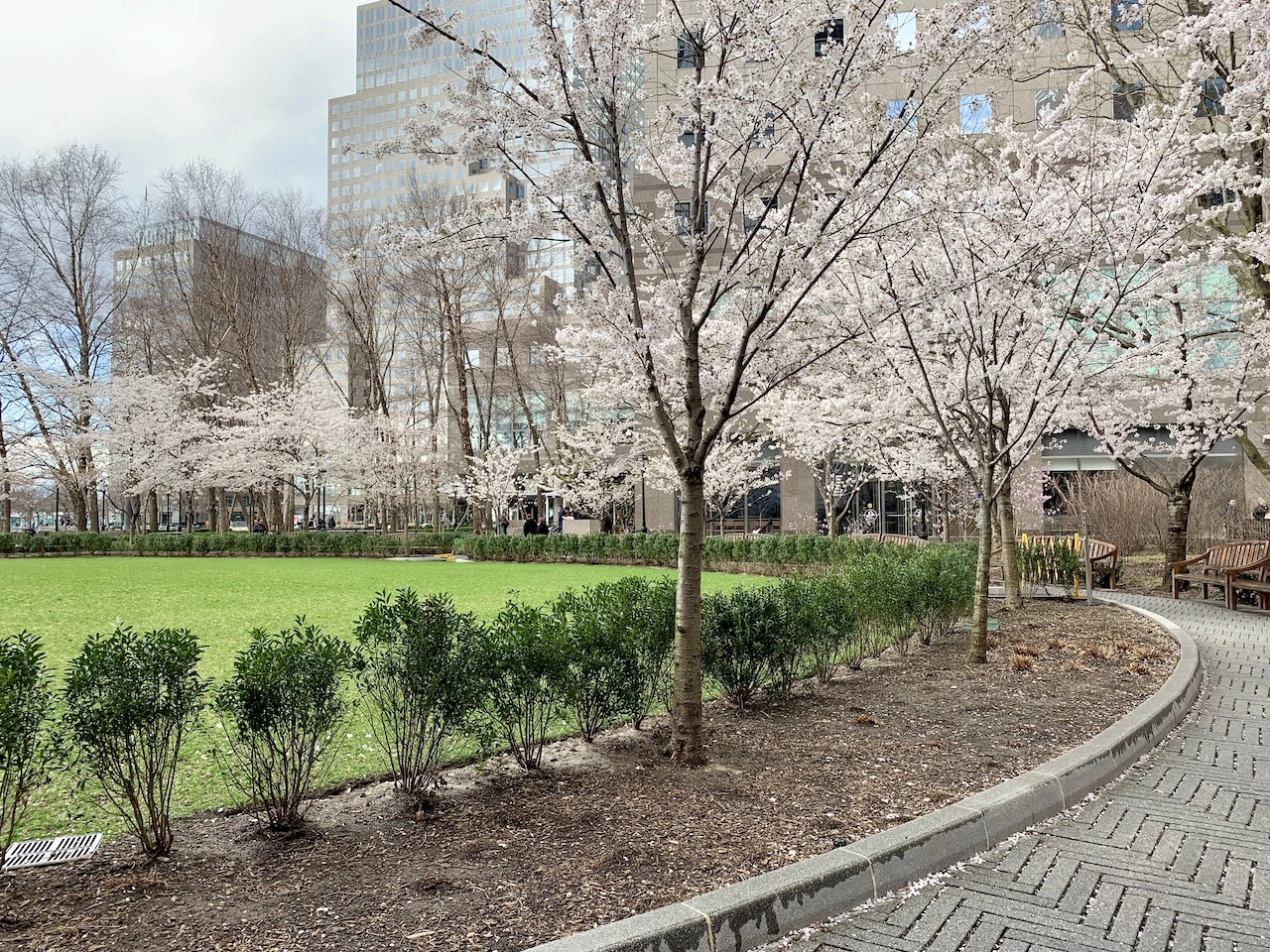 Brooklyn Botanic Garden
At the Brooklyn Botanic Garden you will find an intricate and beautiful garden to enjoy throughout the spring time. There are many different cherry trees that bloom here in the peak season (26 to be exact).
However, the highlight must be the Kwanzan cherry tree collection that brightens up the park during blooming time. In order to visit the Brooklyn Botanic Garden, you must purchase a ticket. These can be reserved in advance too through their website.
To make things easier in regards to figuring out peak bloom, the garden's website has put together a cherry blossom tracker. It is a great way to get a better understanding of when the trees are going to be at their best.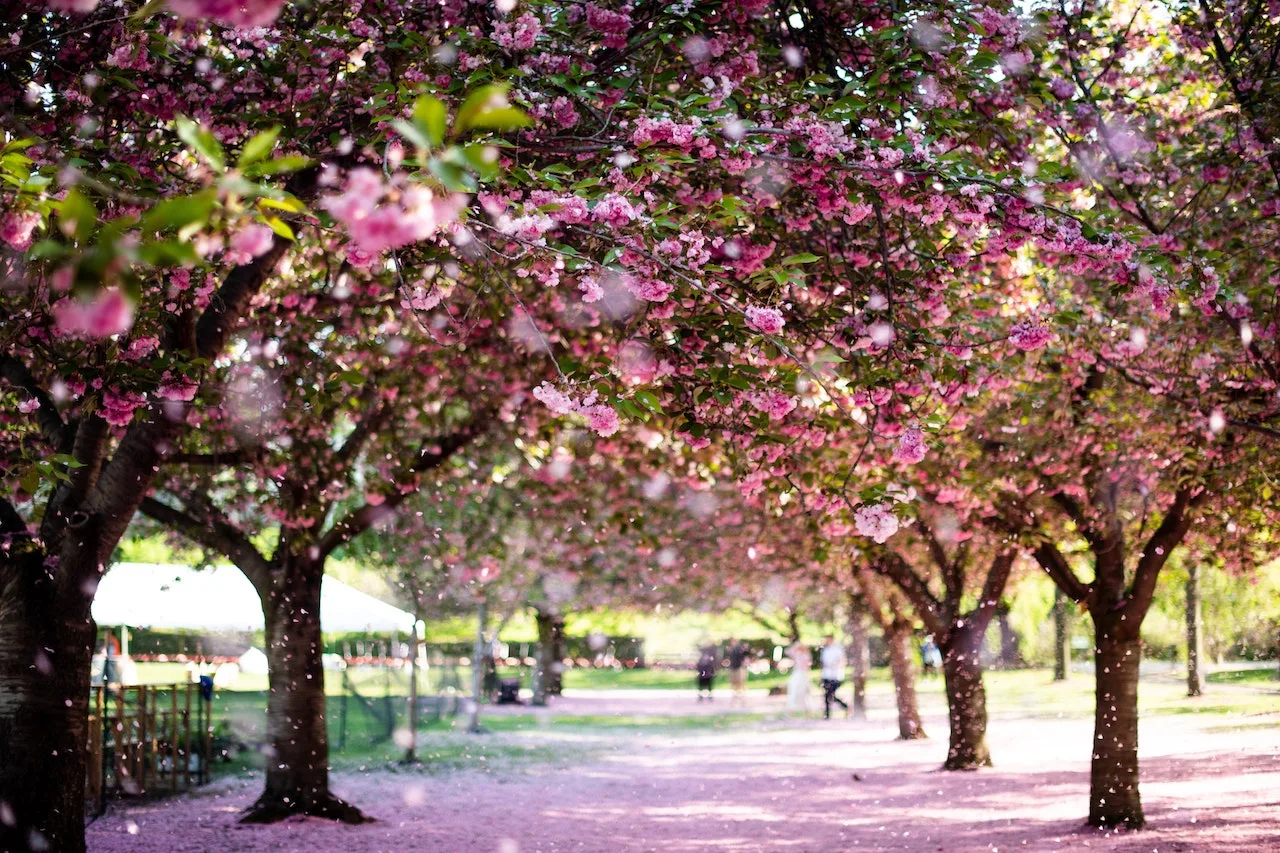 Roosevelt Island
Situated between Manhattan and Queens in the East River is Roosevelt Island. The island is a popular destination to head to regardless of season.
It has a beautiful waterfront walkway, where you can get great views of the NYC skyline. In addition, you can find the Franklin D Roosevelt Four Freedoms State Park on the southern tip of the island for some even more views.
Another unique aspect of Roosevelt Island is that you are able to take a tram from Manhattan onto the island.
The tram ride costs the same fare as a subway, and during the ride you will get some great views all around. The Queensboro Bridge, NYC skyline, East River, and more will all be in view during the quick trip.
From a cherry blossom perspective, Roosevelt Island offers all three cherry blossoms to enjoy during a season. The two most populous ones on the island though are the Yoshino and Kwanzan trees.
Most of the cherry trees can be found south of the bridge lining the riverside pathway. Here you will find the cherry trees hovering over the pathway and benches, making it a scenic spot to walk through.
I enjoyed taking some nice photos of the cherry trees along with the Roosevelt Island tram itself. While I did have to be a bit patient here, it was well worth the wait.
Learn More | Roosevelt Island Cherry Blossoms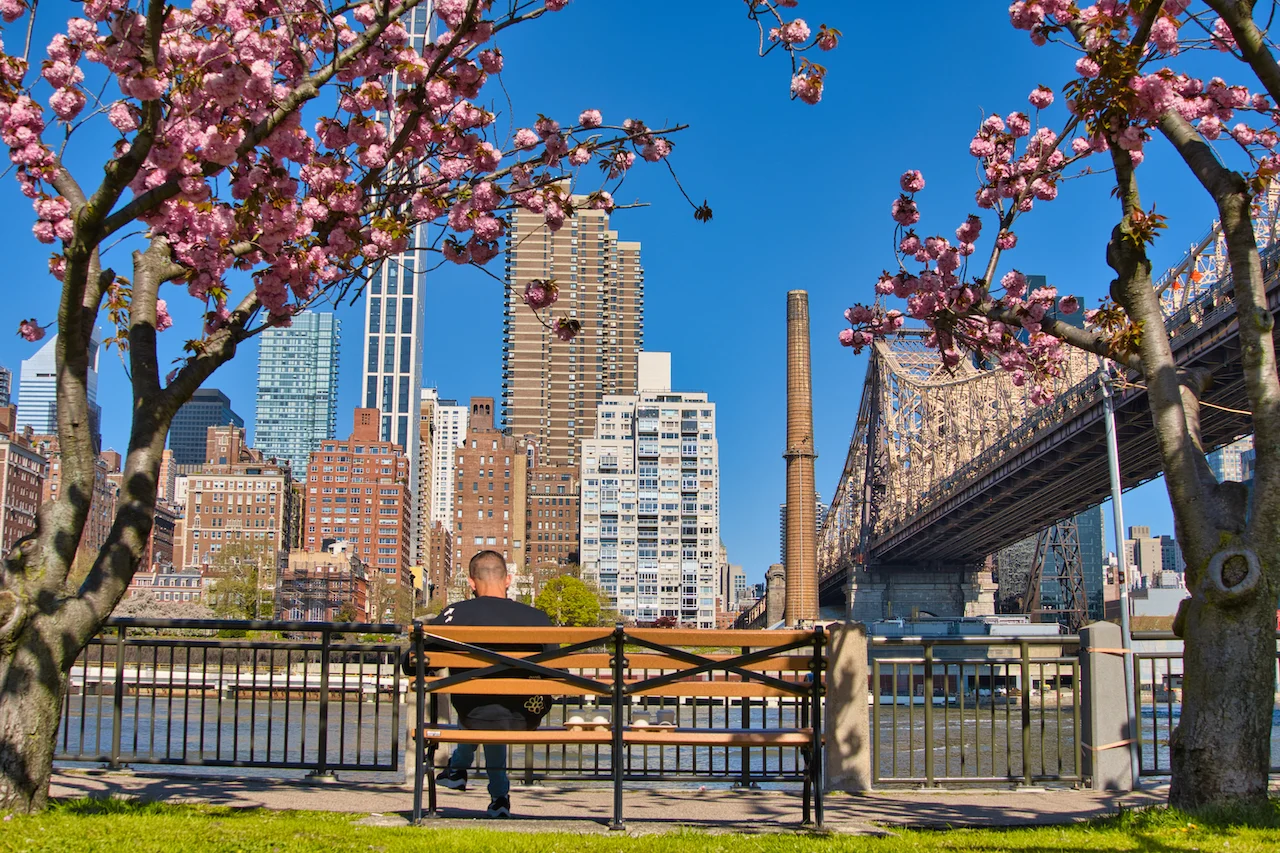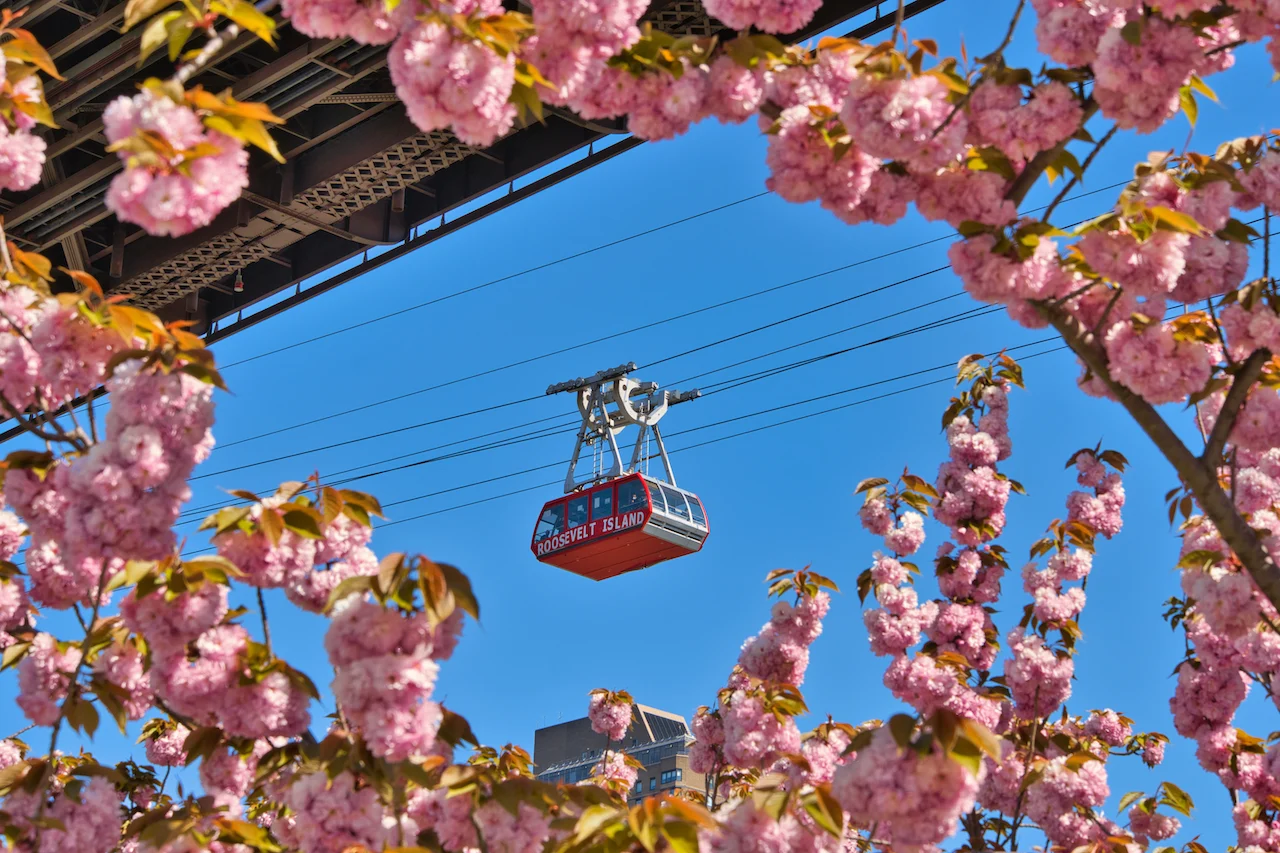 Hunter's Point South Park
All along the Long Island City waterfront you will find some walking paths and parks to enjoy. One of these parks is called Hunter's Point South Park.
This oval shaped park is right on the East River waterfront and is encircled by Yoshino cherry blossom trees.
During peak bloom this park truly comes to life as you get to take in the view of the trees with the NYC skyline as a backdrop.
From the park you can get great views of some of the city's most iconic buildings such as the Empire State Building and One World Trade Center.
And instead of taking the train to Long Island City, you can hop on a quick ferry ride across from the 34th ferry terminal that drops you off at the park itself.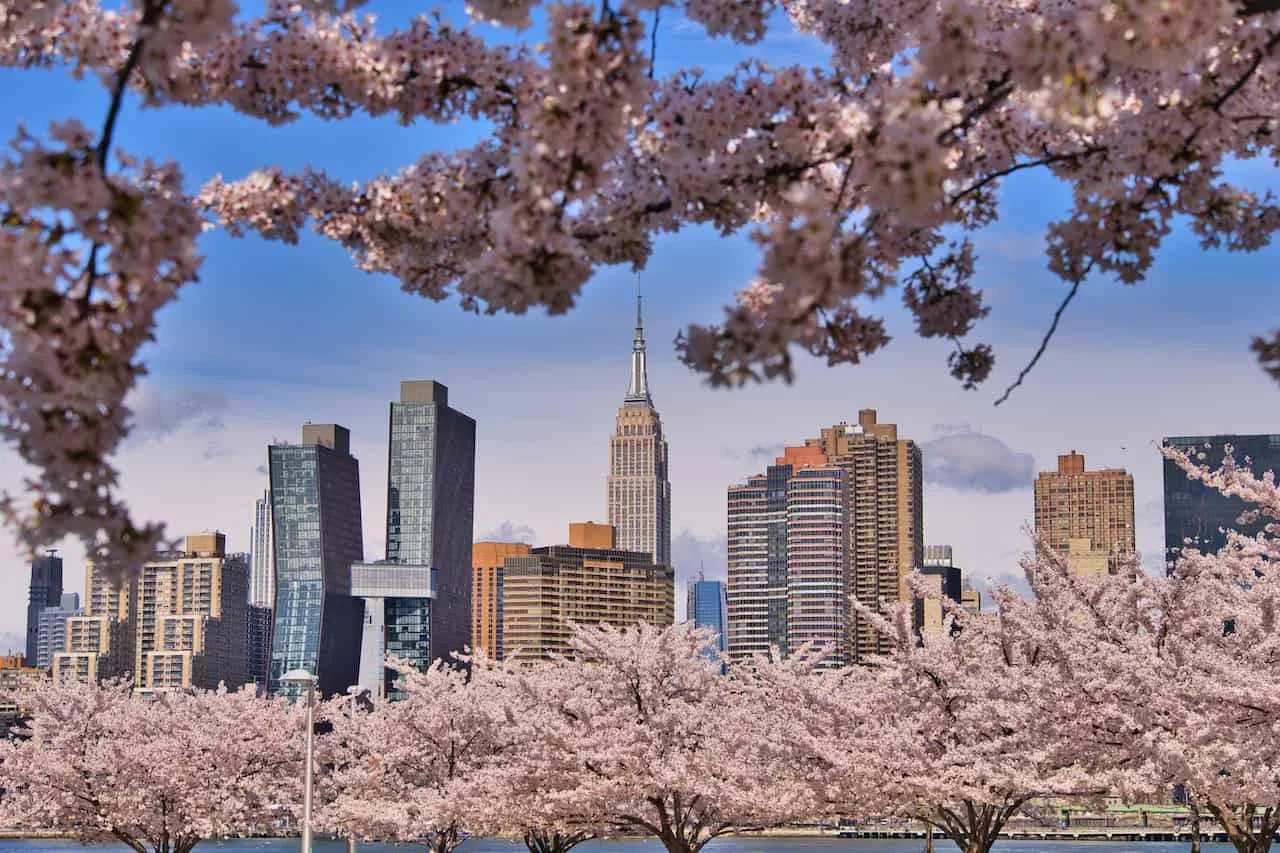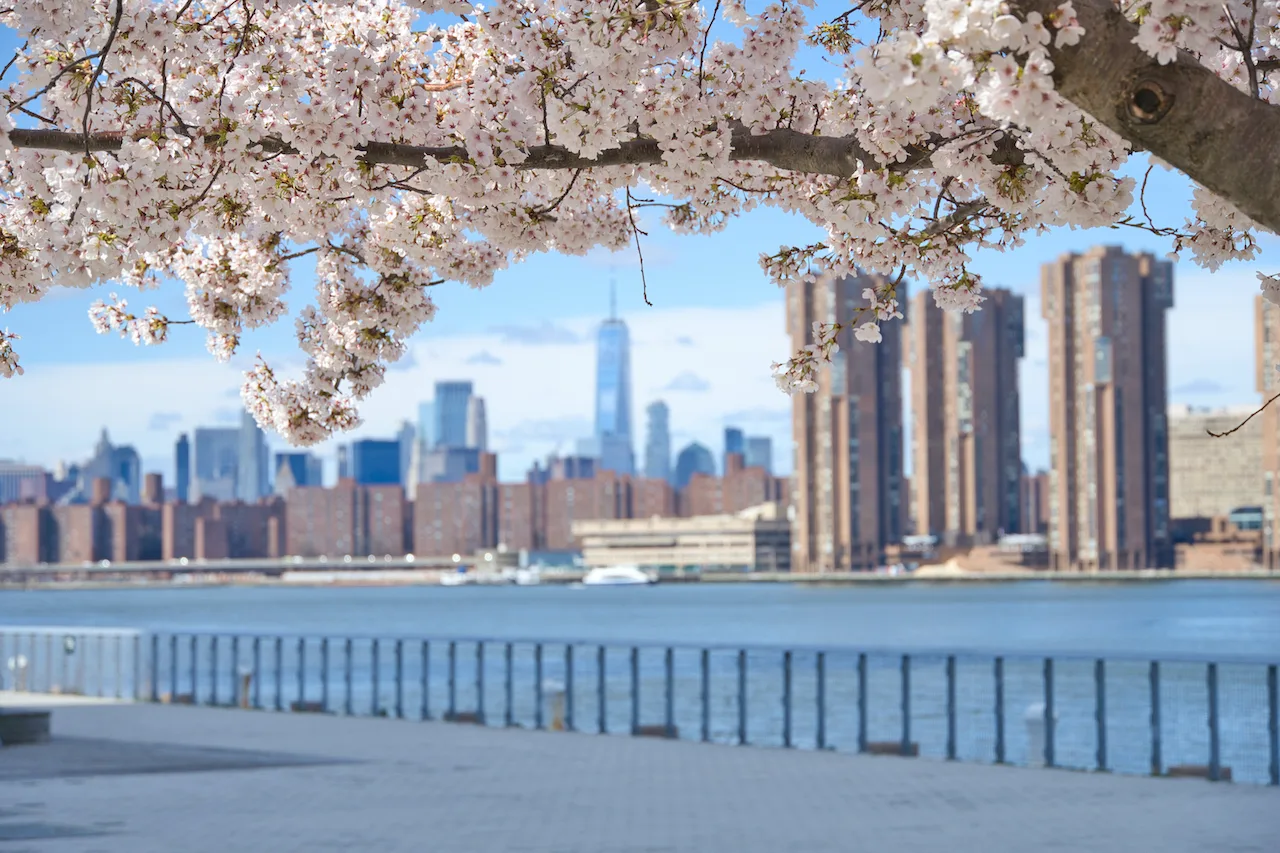 Flushing Meadows Corona Park
Last but not least is Flushing Meadows Corona Park located further east in Queens. Here is where you will find Citi Field, Arthur Ashe Stadium, and the park that once held the World's Fair.
The iconic landmarks here include the Unisphere, a gigantic globe built for the World's Fair, and the "alien landing site" featured in Men in Black.
Surrounding it all though are the lesser talked about Okame cherry blossoms that come to life in March.
So, if you are visiting NYC earlier on in the spring and want to experience some cherry trees, be sure to take the ride out to Flushing Meadows.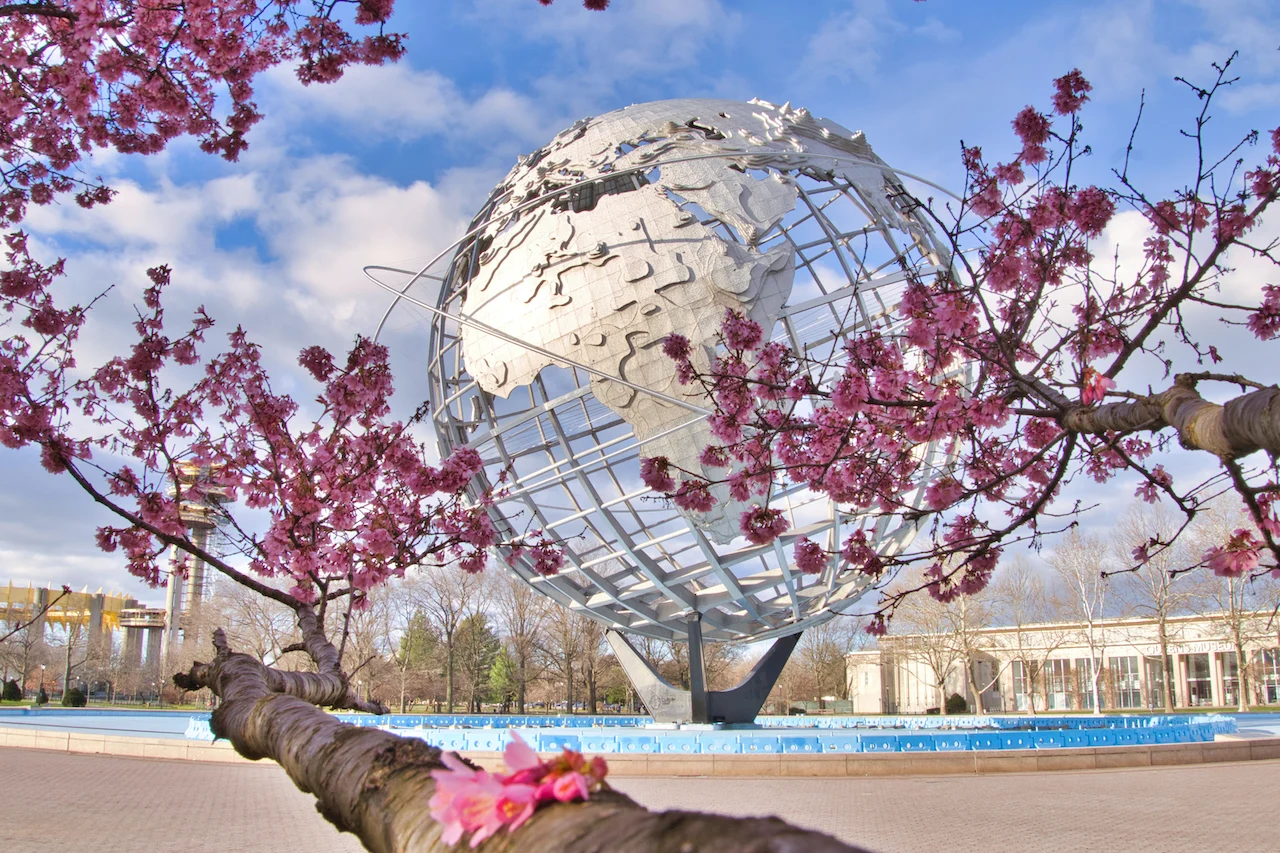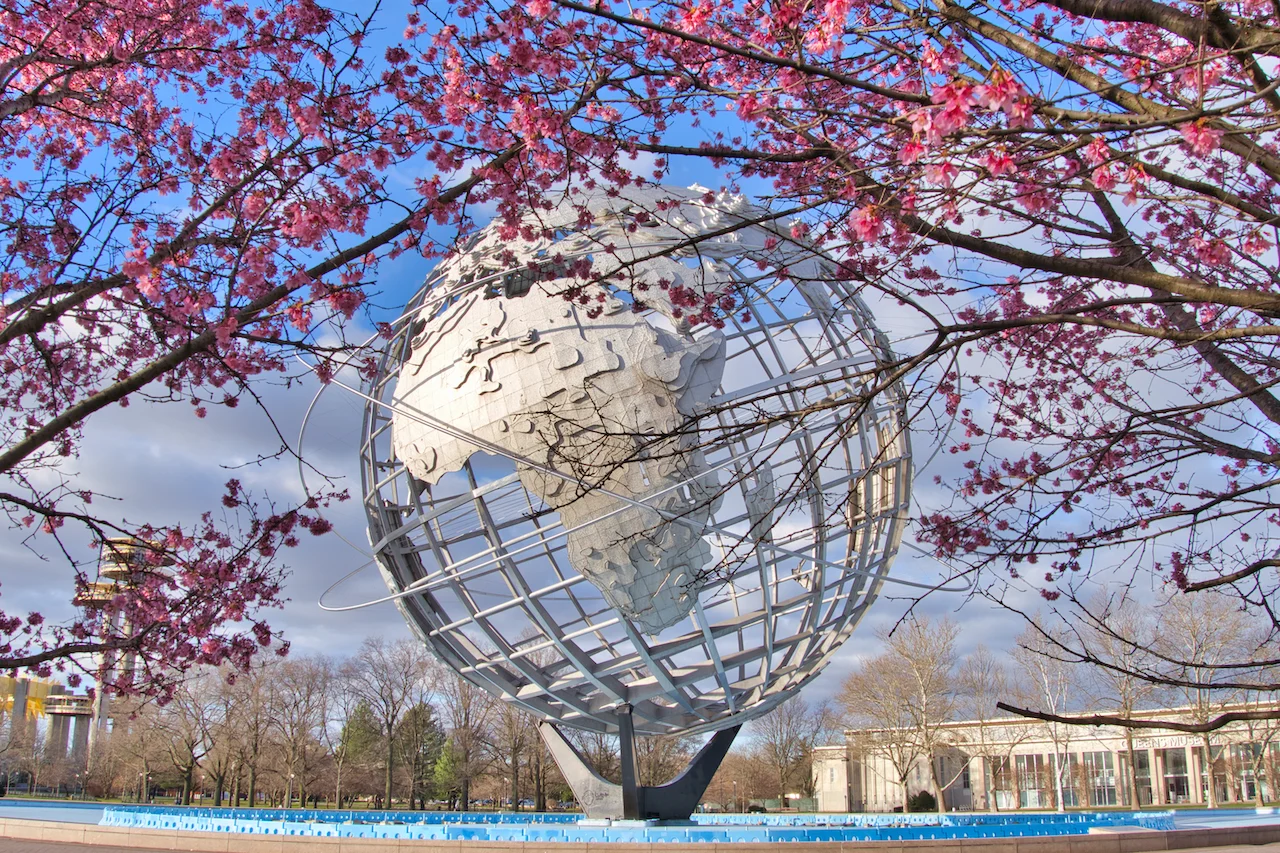 6) NYC Cherry Blossom Wrap Up
So, to recap, below are 10 of the top places to take in cherry blossom season during your next spring trip to NYC. It is hard to go wrong with whatever you choose, but do be aware of your timing and which trees are in bloom when you visit.
1) Central Park
2) Riverside Park
3) Madison Square Park
4) Union Square
5) Washington Square Park
6) Pumphouse Park
7) Brooklyn Botanic Garden
8) Roosevelt Island
9) Hunter's Point Park South
10) Flushing Meadows Corona Park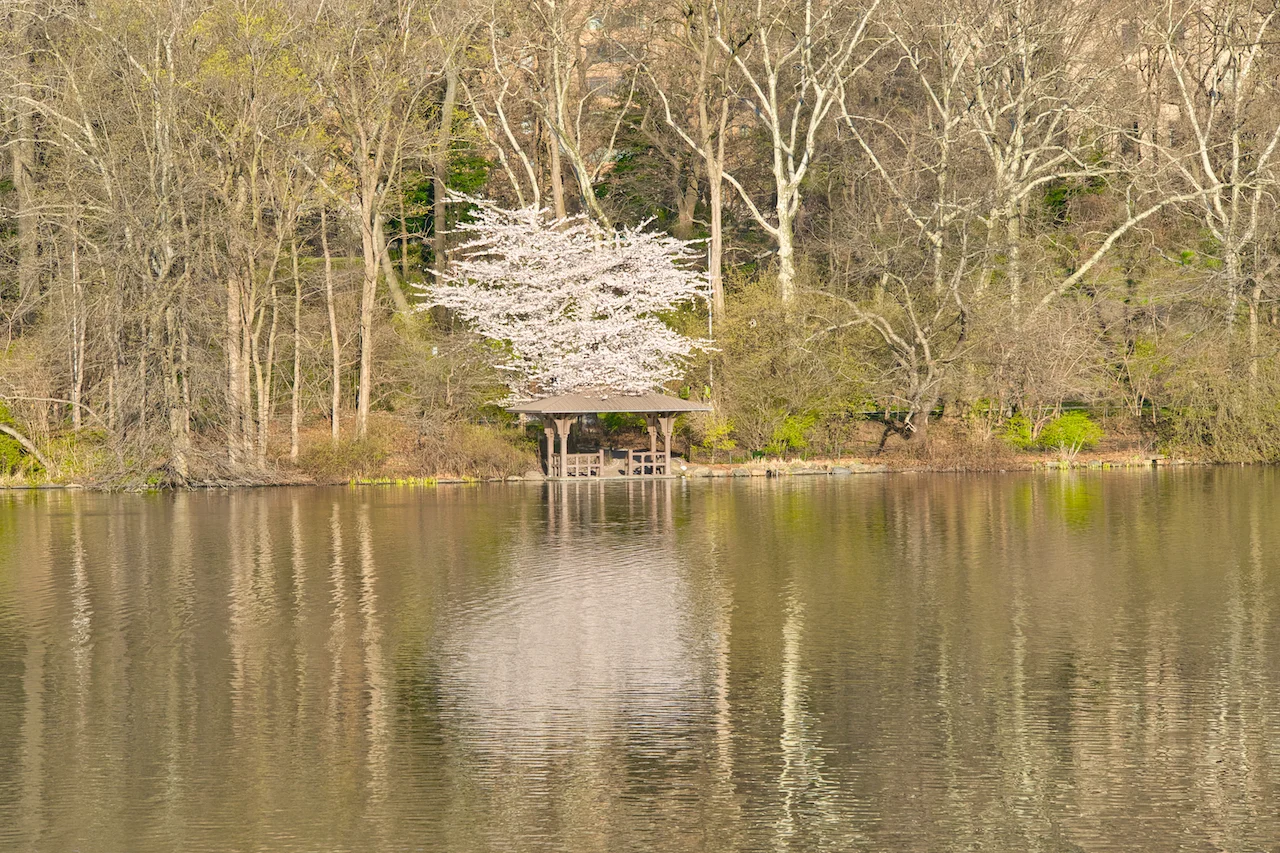 I hope this guide has helped you better understand what cherry blossoms in NYC are all about. If you have any questions or comments, feel free to add them in below.
Also, don't forget to check out the remaining New York itineraries and guides up on the site like the top things to do in Central Park.
Have fun out there and safe travels!