They say that New York is the city that never sleeps. That is because you will always find something to do around NYC at all hours of the day.
Once the sun goes down, the bright lights of the skyline come to life. And it is the nighttime that brings out some of the best that the city has to offer.
This guide will go over 25 of the top things to do in New York at night. From viewpoints & rooftop bars to boat cruises & sports games, this list will go through some of the best fun, free, & crazy things to do in NYC after dark.
* Affiliate Disclosure: This post may contain affiliate links, which means I may receive a commission if you make a purchase through the links provided, at no additional cost to you. Thanks for supporting the work I put into TripTins!
1) Things To Do in New York at Night
Let's just get right into the list and talk through what you can put on your NYC itinerary during a visit to the city.
Enjoy Skyline Views at an NYC Observation Deck
Even though I have lived in NYC for the last 10 year, the views of the city from above never get old.
Within Manhattan you will find 5 different observation decks with mind blowing views of NYC.
Getting to enjoy those views at night will also be a whole different experience than seeing them during the day.
With all the buildings lighting up and the cars filling up the streets, the views will be that much more special to take in.
Observation Deck Tip: head on over to an observation deck just prior to sunset. This will give you the chance to (hopefully) see the skies light up with color as the sun sets, as well as those nighttime views right after.
Below are the five observation decks to choose from when going about a visit. They are all open well into the evening, so you should have no issue getting those nighttime NYC skyline views.
Top of the Rock
Situated in the heart of midtown Manhattan is the Top of the Rock observation deck, high above Rockefeller Center.
Although it is not the highest of observation decks, it does offer quite the outdoor experience.
From the multi-level outdoor decks you will have full 360 degree views of the surroundings.
Central Park will be to the north and One World Trade is to the south, with plenty more in between.
The main reason I enjoy it so much is because the top floor of the observation deck offers an unobstructed outdoor view. There will be no glass in front of you to block any of the beautiful surroundings.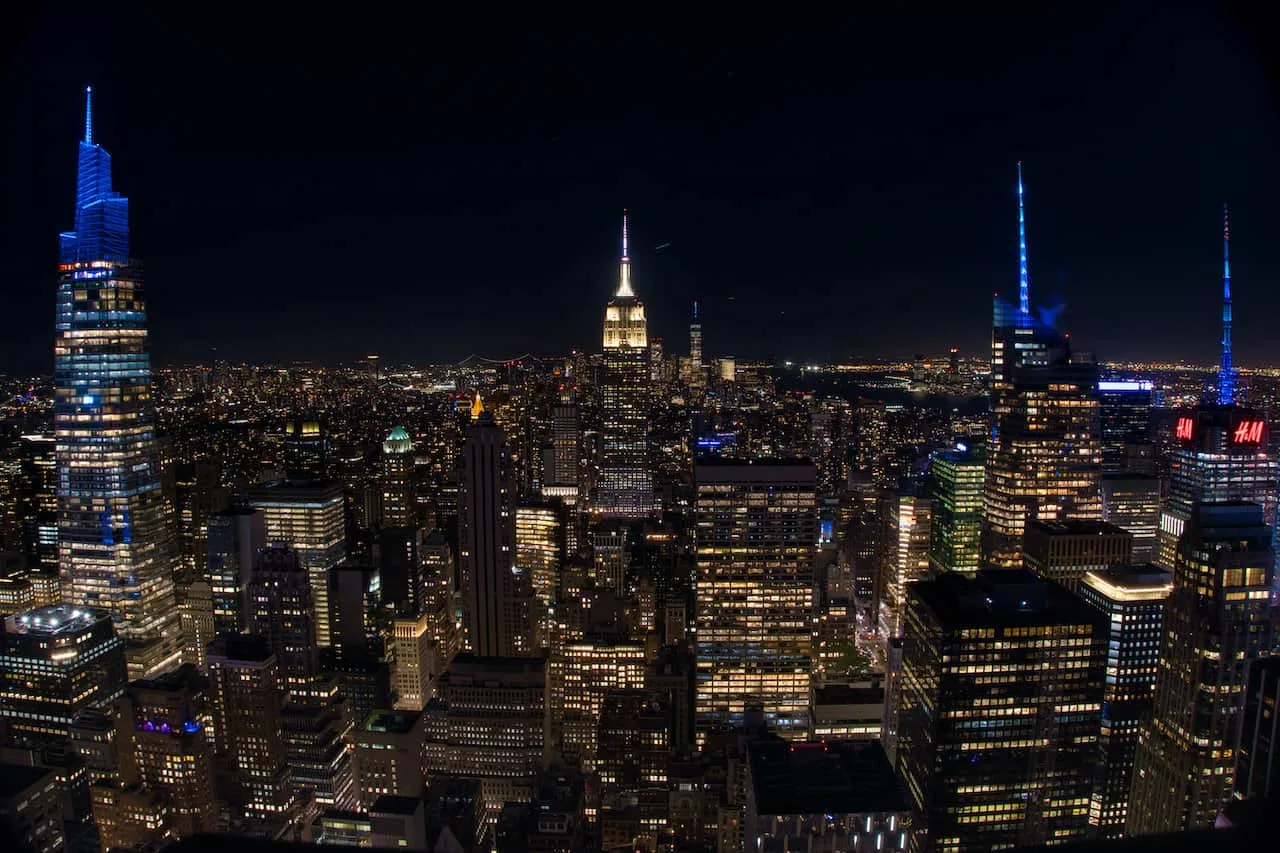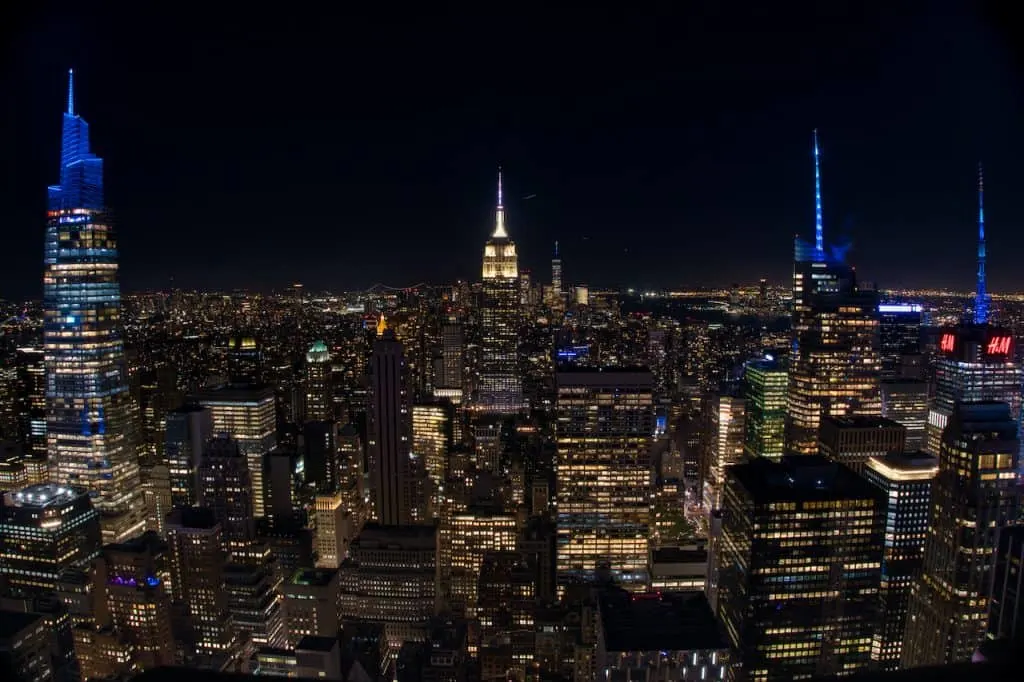 The Edge
Located in the Hudson Yards area of NYC, you will find the highest outdoor sky deck on top of The Edge.
The Edge offers an outdoor triangular shaped deck with views of all of the top landmarks just nearby.
On the deck you will find a giant staircase to sit down on and enjoy the view. Or you can stare down the glass bottom portion of the deck all the way to street level.
For those adventurers out there, The Edge offers a City Climb experience. Here you will actually be able to walk along the edge of the building as you are strapped into a harness.
Note that the last climb for City Climb is between 5:00PM – 7:00PM depending on time of year. You may just get the tail end of sunset before the city turns dark (but then can visit the deck afterwards!).
One World Observatory
Located near the southern tip of Manhattan is One World Trade (also known as the Freedom Tower). This is also the tallest building in NYC!
On the top few floors of the building you will find the One World Observatory.
This is the only observatory located in downtown Manhattan and gives visitors some of the best views of the NYC skyline.
From the observatory you will have the entirety of Manhattan out in front of you, in addition to great views of the Statue of Liberty.
Not only that, but you will also have a vantage point of Staten Island, New Jersey, Brooklyn, and plenty iconic NYC buildings all around.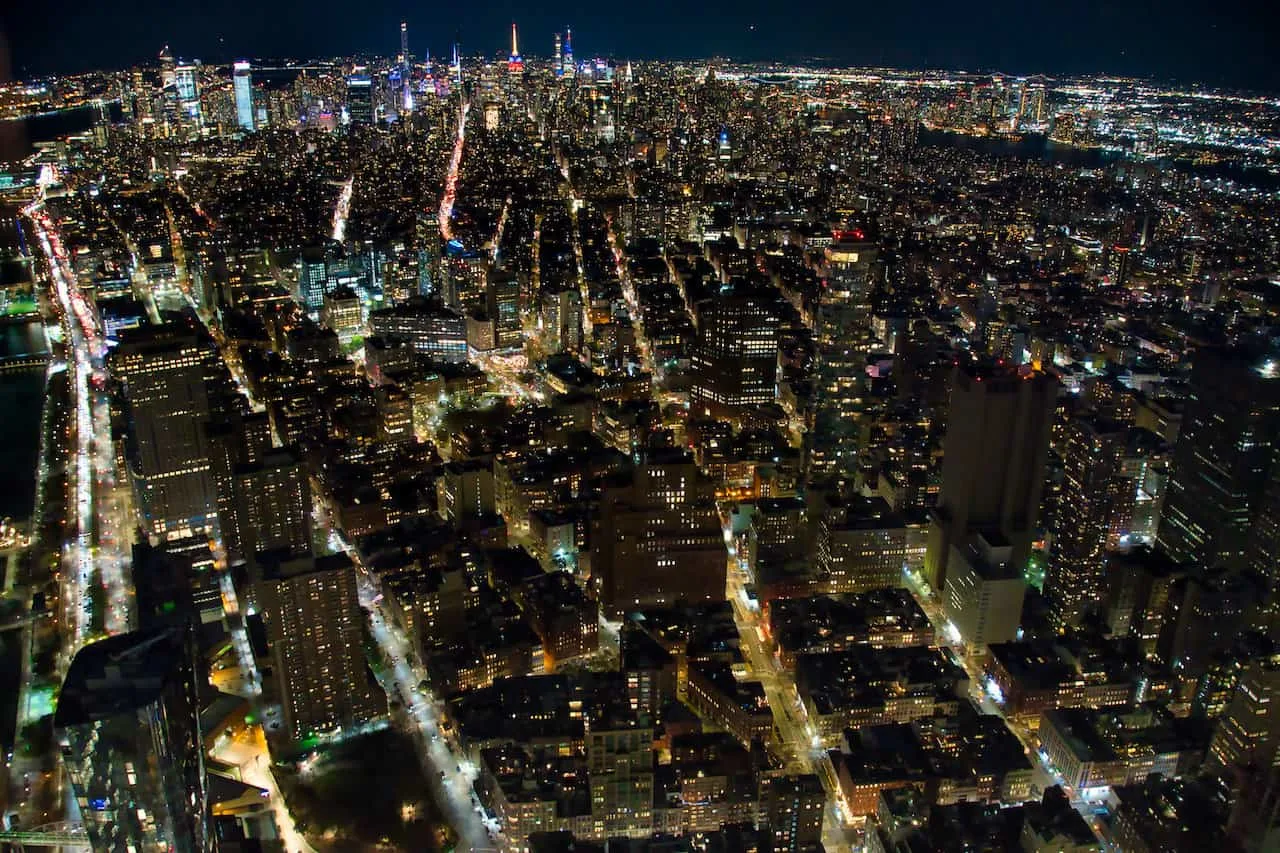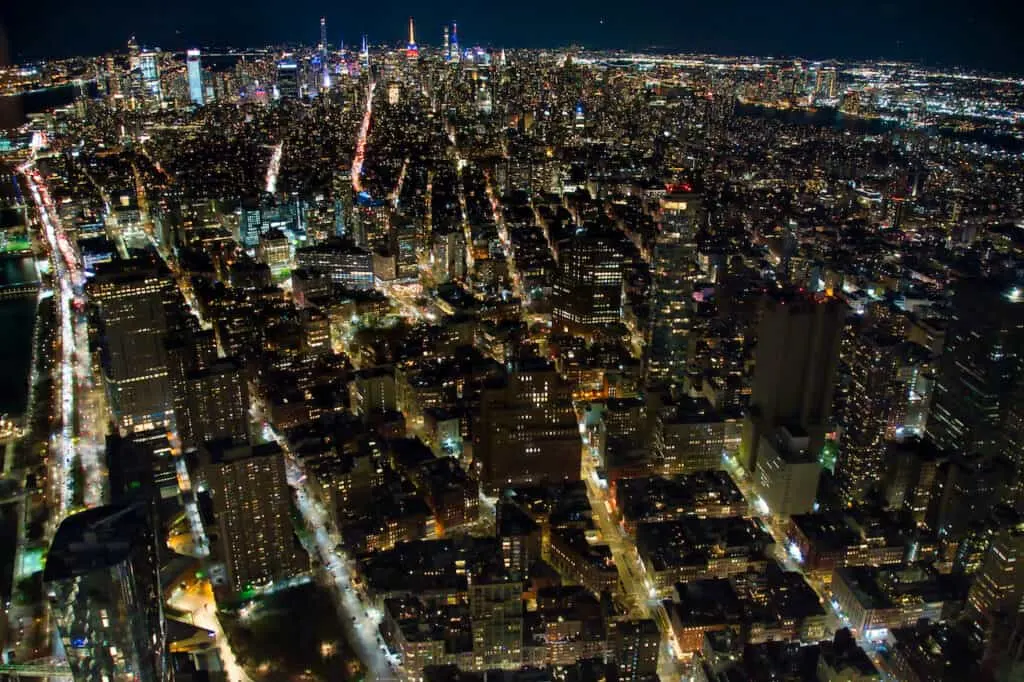 Summit One Vanderbilt
If you are looking for an observation deck with more of an overall experience, then Summit One Vanderbilt is for you.
While the views will be some of the best you can ask for, there are some more artistic and thrilling parts at Summit One.
You can head up "Ascent" which is the world's largest external glass bottomed elevator and you can visit "Air" – an installation full of mirrors and reflective spheres.
This is one observation deck that will really look different at night because of those art installations. The lights really do pop out more at night against the dark sky and the glowing city.
Empire State Building
The last observation deck, and perhaps most iconic, is the Empire State Building.
The ESB is home to two observation decks – the 86th floor outdoor deck and the 102nd floor indoor deck.
When purchasing tickets, you can opt for one or both of these for your visit.
While you can't see the Empire State Building from the Empire State Building, the views are still one of a kind.
Having the city laid out in front of you, all the way down to One World Trade, is going to be a panorama you won't soon forget.
One unique part of the Empire State Building is that they do offer sunrise visits on select Saturdays. This will actually give you the opportunity to see the city at "night" just prior to sunrise.
Once the sun comes out, you will slowly begin to see the city come to life.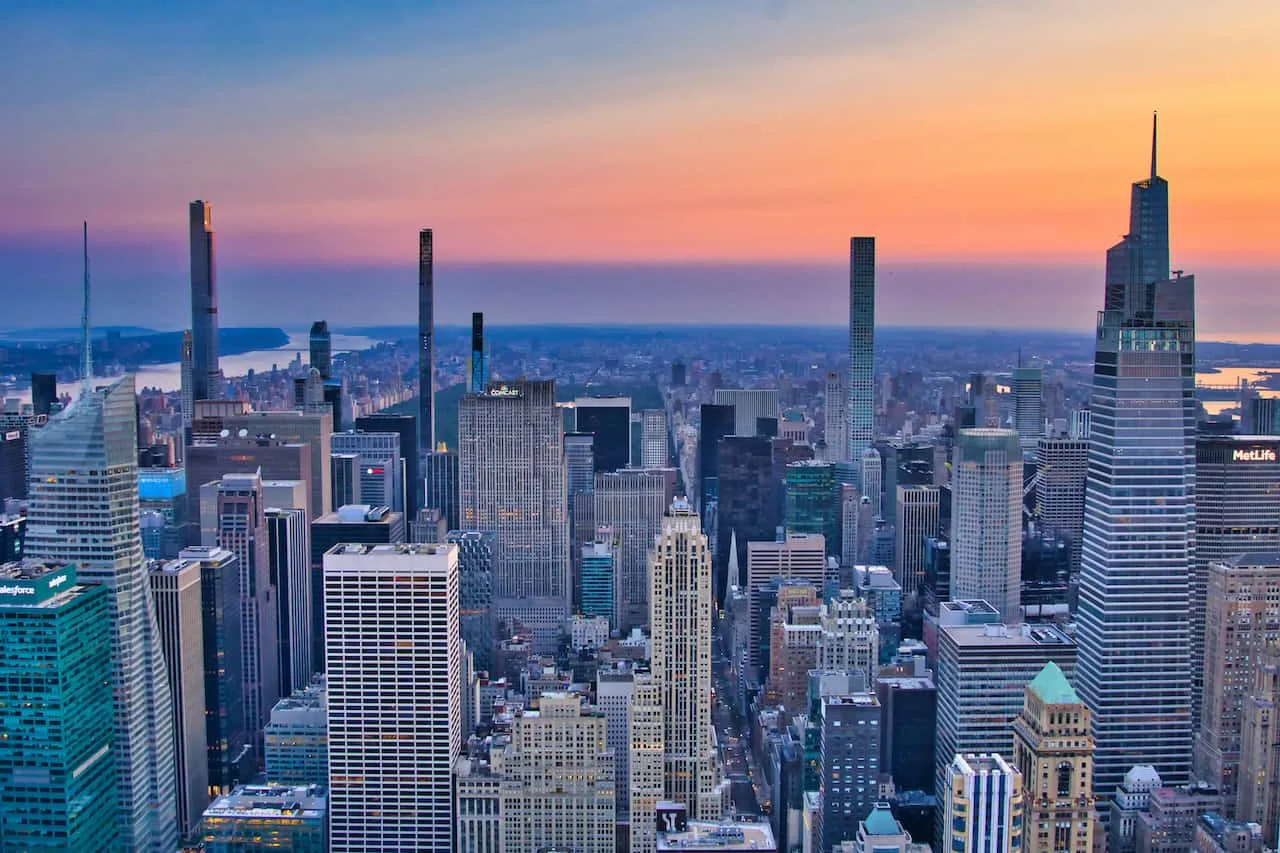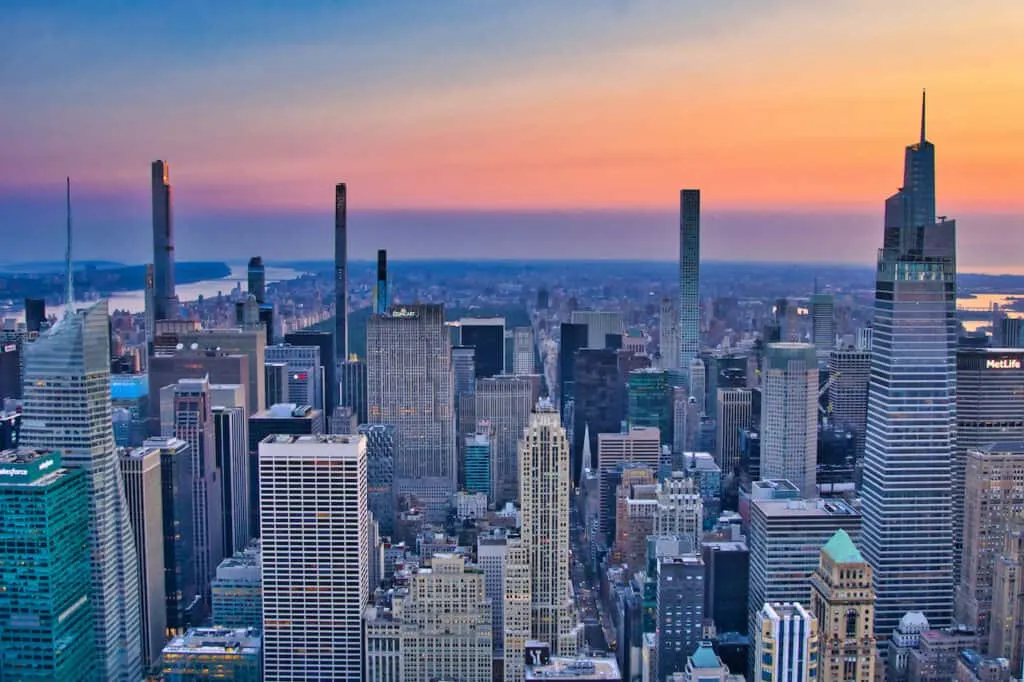 Hang Out at Pier 57 Rooftop Park
Continuing on the theme of viewpoints, why not also give the Pier 57 Rooftop Park a try.
The great thing about Pier 57 is that it is completely free NYC view to visit!
The rooftop is located right along Hudson River Park, next door to Little Island.
Simply head along the pier, up the elevator and be welcomed to the largest outdoor rooftop park in the city.
You will find two levels full of downtown Manhattan views. In addition to the view, there are two open grassy areas, where you can sit down and enjoy your time outside.
This of course will be more comfortable in the summer months, as the temperatures will be warmer and enjoyable.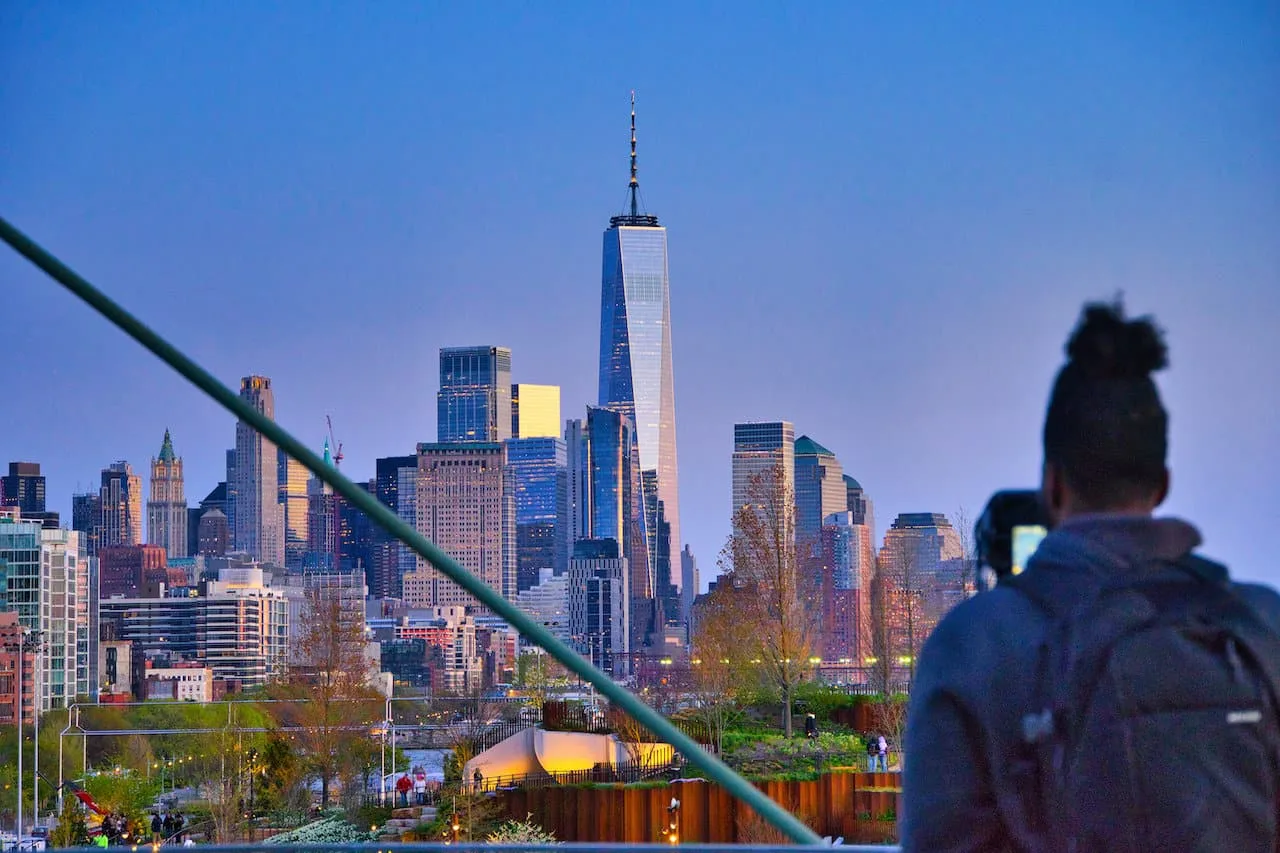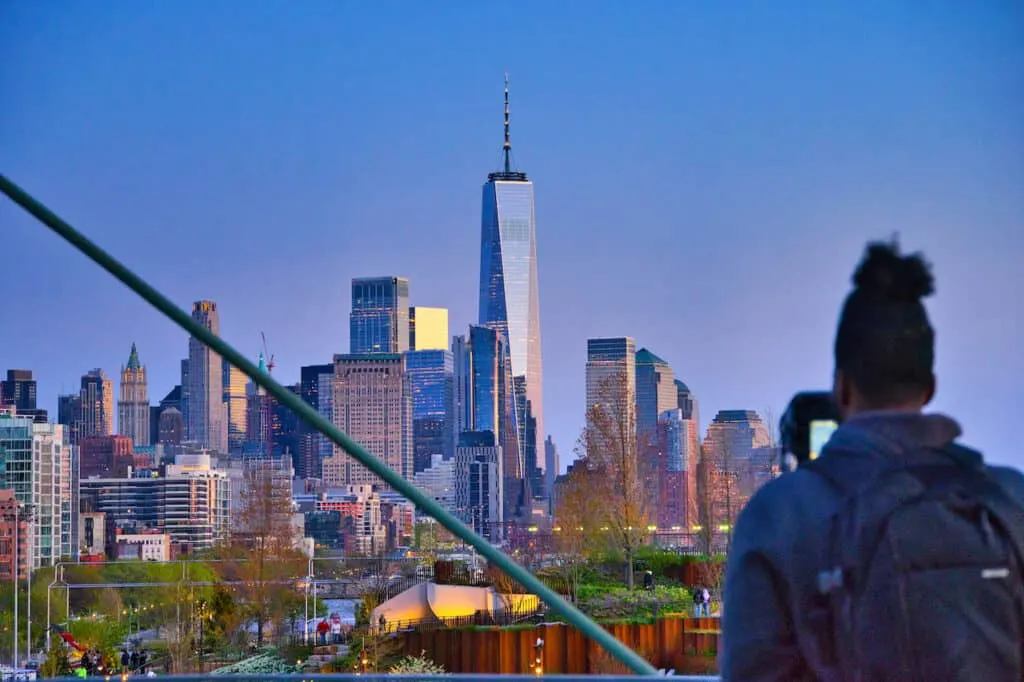 Stroll Along Brooklyn Bridge Park
Another free activity to take part of in NYC at night is visiting Brooklyn Bridge Park.
The park makes up over a mile of waterfront along the Brooklyn Heights and Dumbo neighborhoods.
Throughout the park you will find walking paths, piers, smaller parks, beaches, and plenty of viewpoints all around.
While it may not be obvious at first, the best views of Manhattan are not necessarily in Manhattan.
Instead, you must head across the river to Queens, Brooklyn or even New Jersey to fully take in those skyline views (at least the free ones).
Some of my favorite spots within Brooklyn Bridge Park include John Street Park, Pebble Beach, Squibb Bridge, Pier 1, Empire Fulton Ferry, and the Emily Roebling Plaza (underneath the Brooklyn Bridge).
Seeing the bright lights of the downtown Manhattan skyline reflect off of the East River, while also enjoying views of the Brooklyn Bridge, is a perfect nighttime NYC activity.
You can even head up to the rooftop of Time Out market, where you will find the Rooftop Bar. It is a great spot to enjoy a drink with a view overlooking the East River.
There is also a free viewpoint area, just next to the bar if you want to take in the cityscape without the drinks.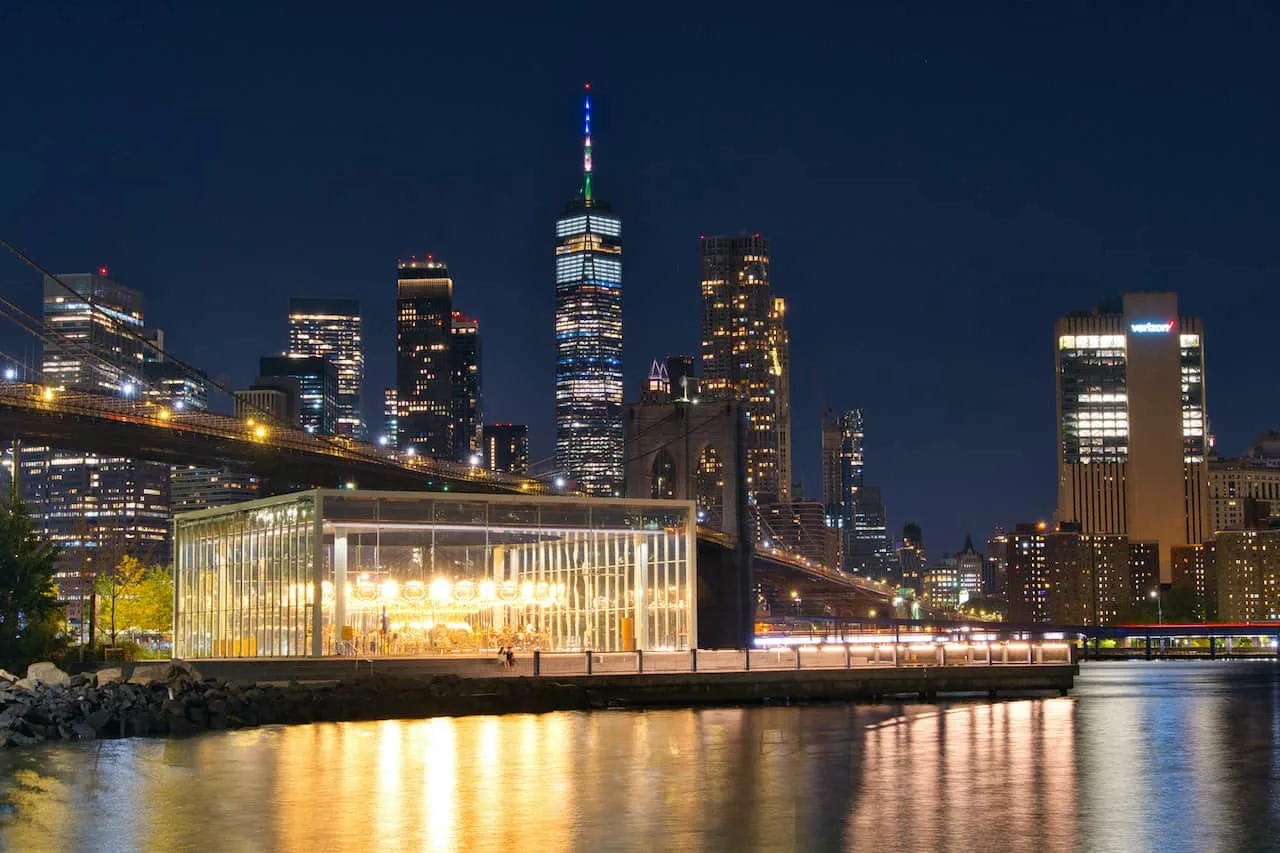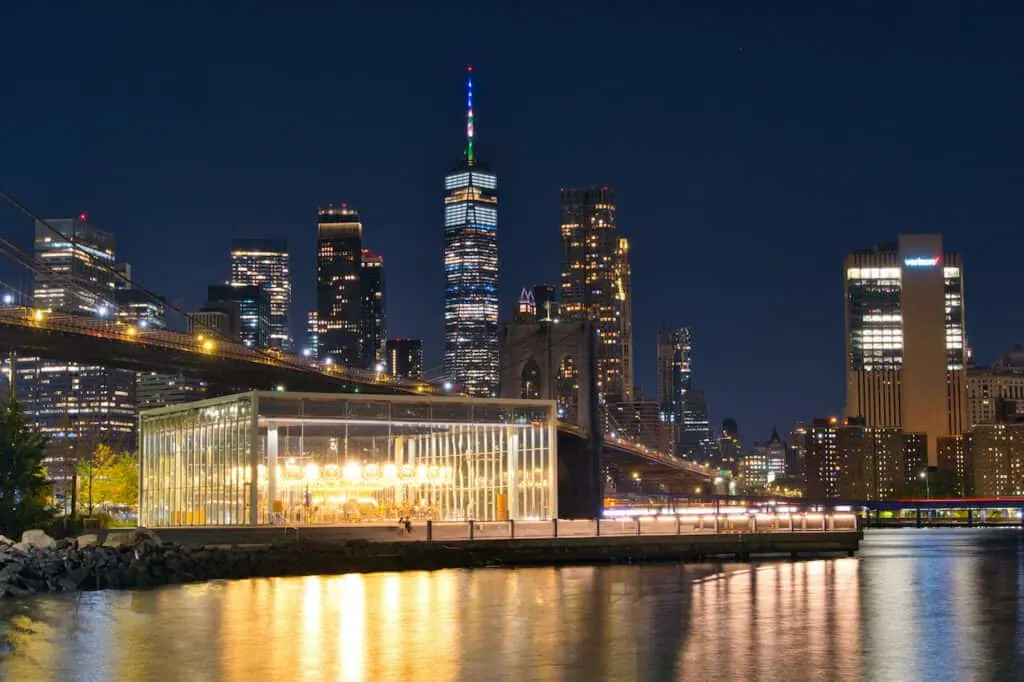 Brooklyn Bridge Walk at Night
A walk across the Brooklyn Bridge is a must do during a trip to NYC. But the bridge can get hectic at times making the walk less enjoyable.
So, to avoid those crowds, why not head across the Brooklyn Bridge at night.
A nighttime walk will still give you the overall experience but with less crowds all around.
Instead of fighting for the perfect photo op without hundreds of people in the background, you should be able to have more of the bridge to yourself.
Just be warned that it may take a few hours after sunset for the crowds to wane on the bridge.
You can enjoy some time in Brooklyn Bridge Park and even grab some food nearby before heading across the bridge into Manhattan.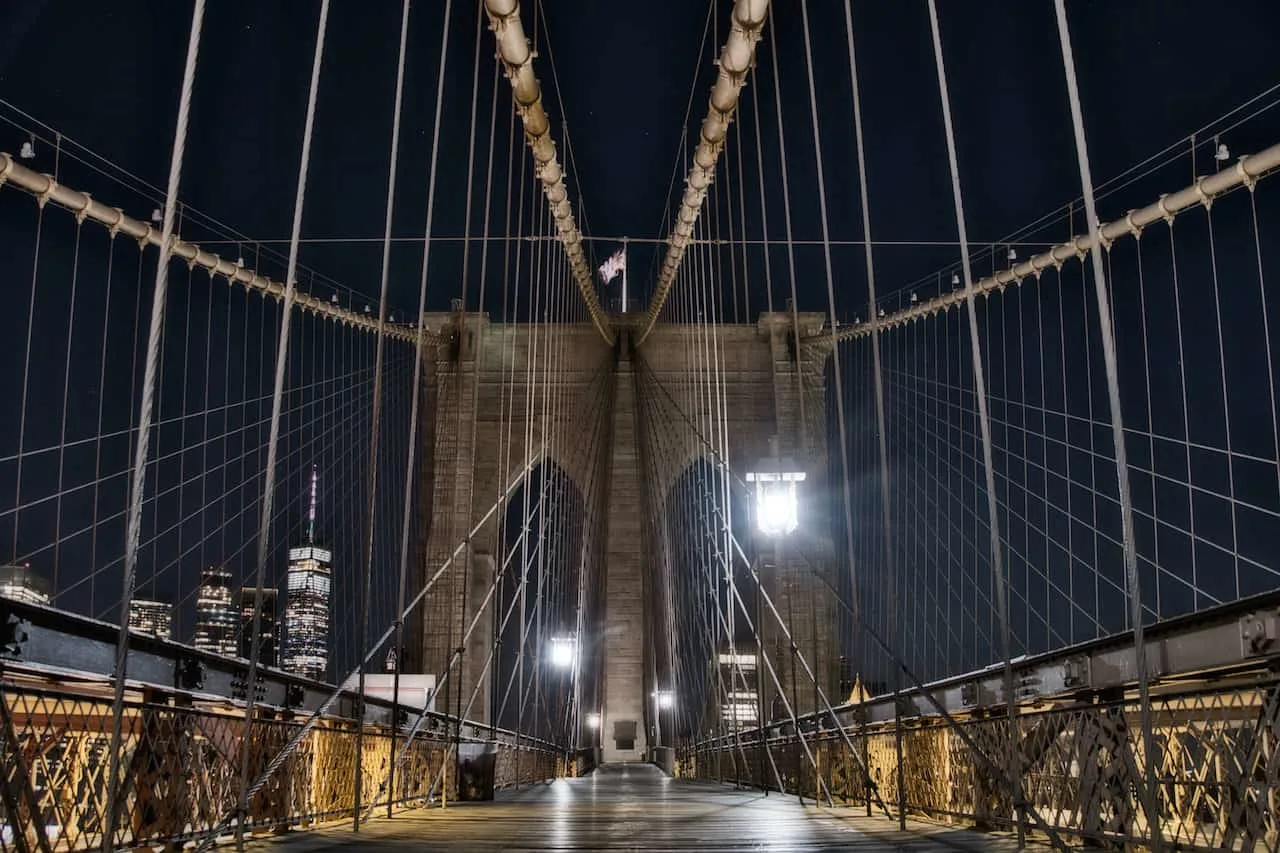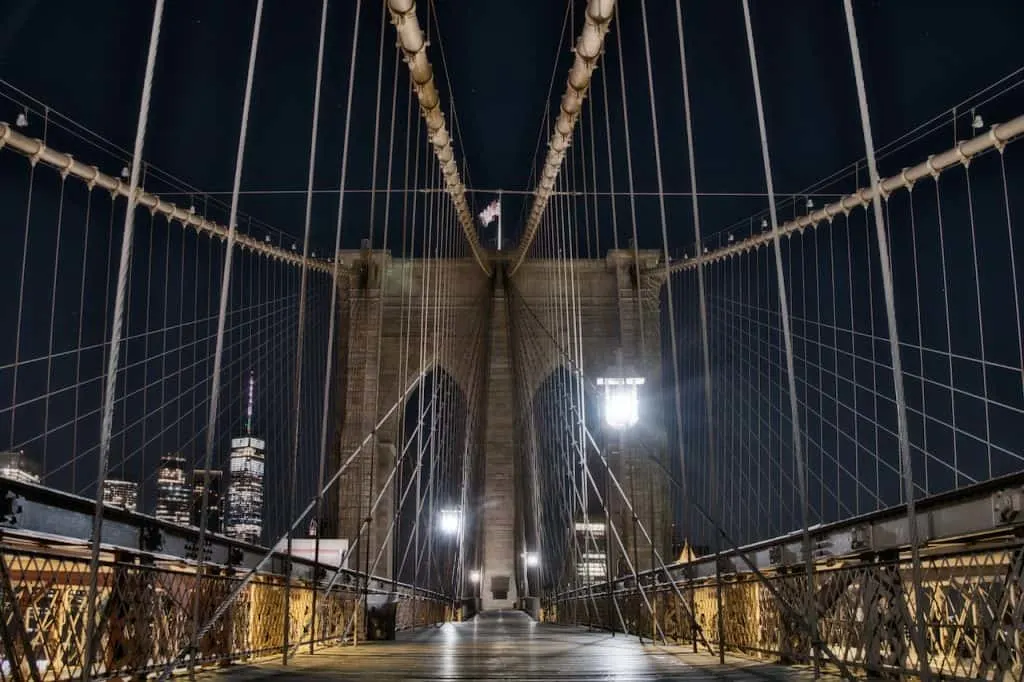 People Watch at Washington Square Park
There are many smaller parks located throughout NYC.
However, when it comes to a nightlife experience, there are none that match up with the energy of Washington Square Park.
Located in the heart of Greenwich Village and the NYU campus, you will find this unique park with its iconic fountain and arch.
Surrounding the fountain and arch will be entertainers, dancers, singers, skateboarders, rollerbladers, and all sorts of other characters.
The park does close at midnight, so just be sure to head on over before that to sit back and people watch.
Learn More | Best Hotels in Greenwich Village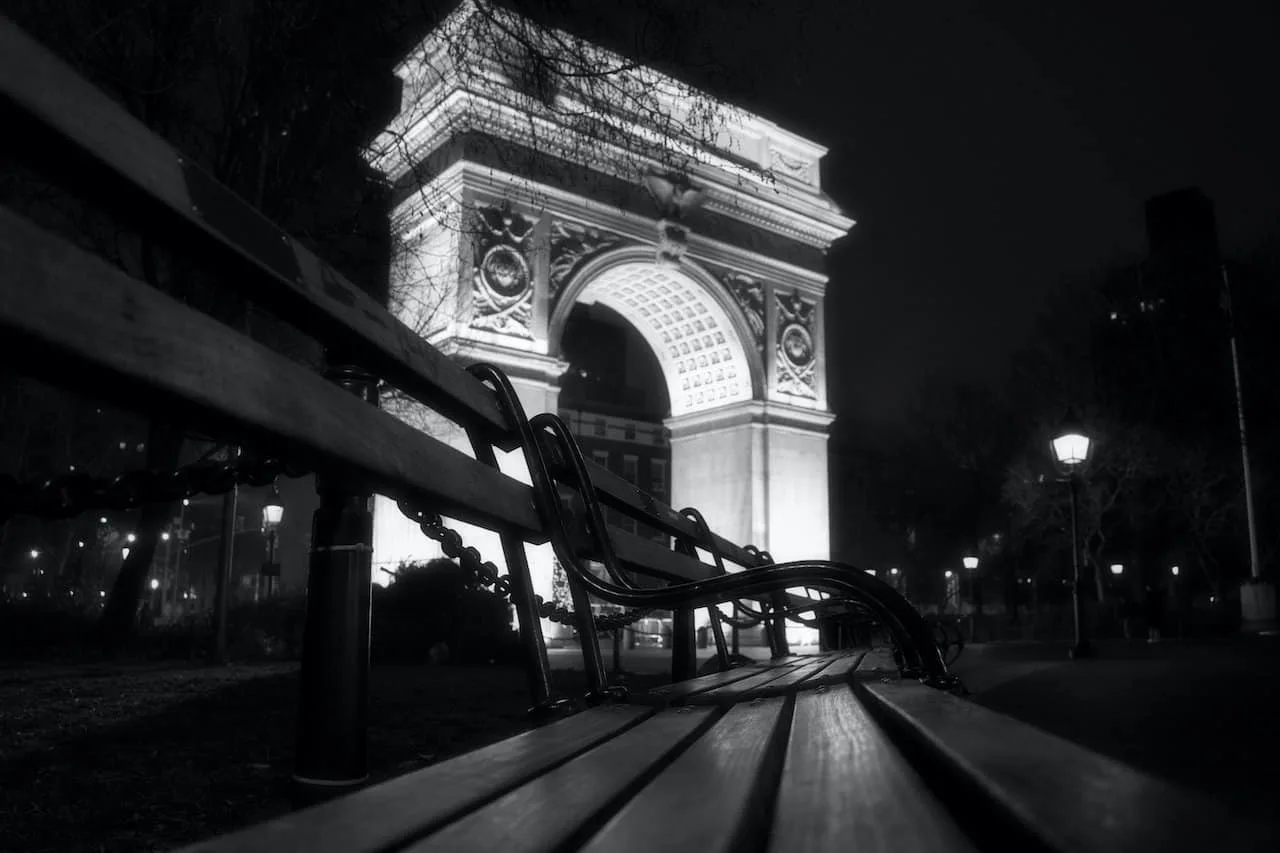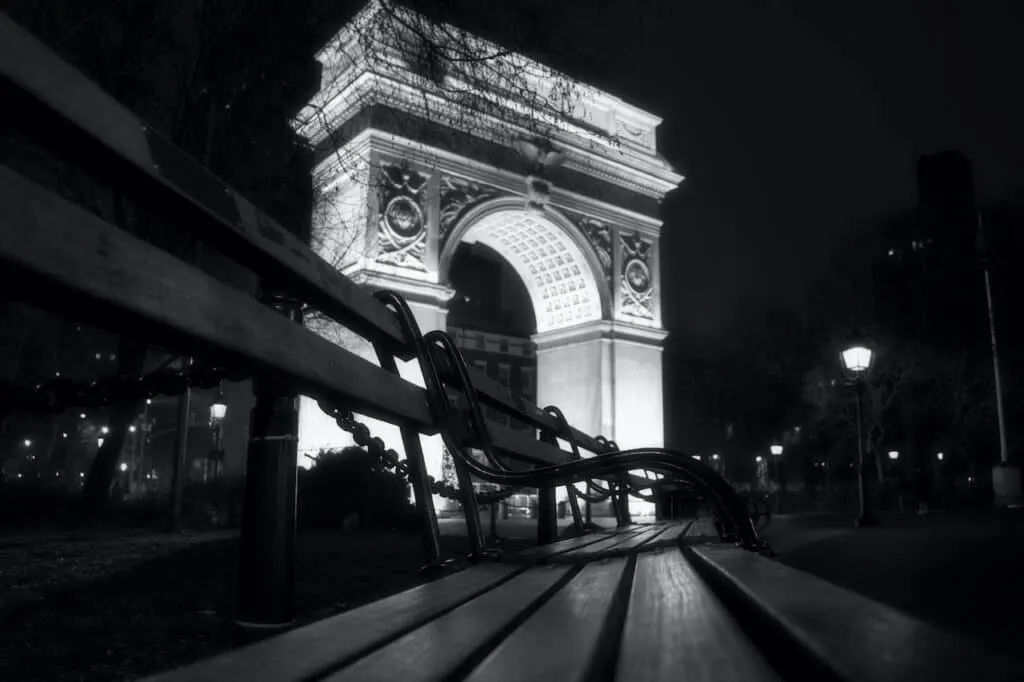 Roam Around Times Square
I can't put together a list of things to do in New York at night without including Times Square on it.
While I am not the most frequent visitor of Times Square, I do see the appeal for a first-time visitor to NYC.
There are few other places in the world with so much going on in such a small area.
Billboards, bright lights, entertainers, music, and more will be all around as you walk around this multi-block square.
For those that just want to sit back and take it all in, be sure to head onto the large staircase seating area above the TKTS booth.
Here you can really get a great perspective of Times Square all around and see the hustle and bustle of NYC out in front.
I also would say that visiting Times Square at night is the way to go in general. Since there are so many billboards and lights all around, it really does come together at night vs. visiting during the day.
If you happen to be around the area very late at night, you have the chance to see the Midnight Moment Light Show.
Starting at 11:57PM, there is a 3 minute light show that takes over the Times Square billboards, ending at midnight.
It is known to be the "world's largest and longest-running digital public art exhibition". So, if you have it in you, definitely head on over to Times Square to witness the show for yourself.
Feel free to browse through some of the top Times Square hotels with a view if you would like to stay in the area.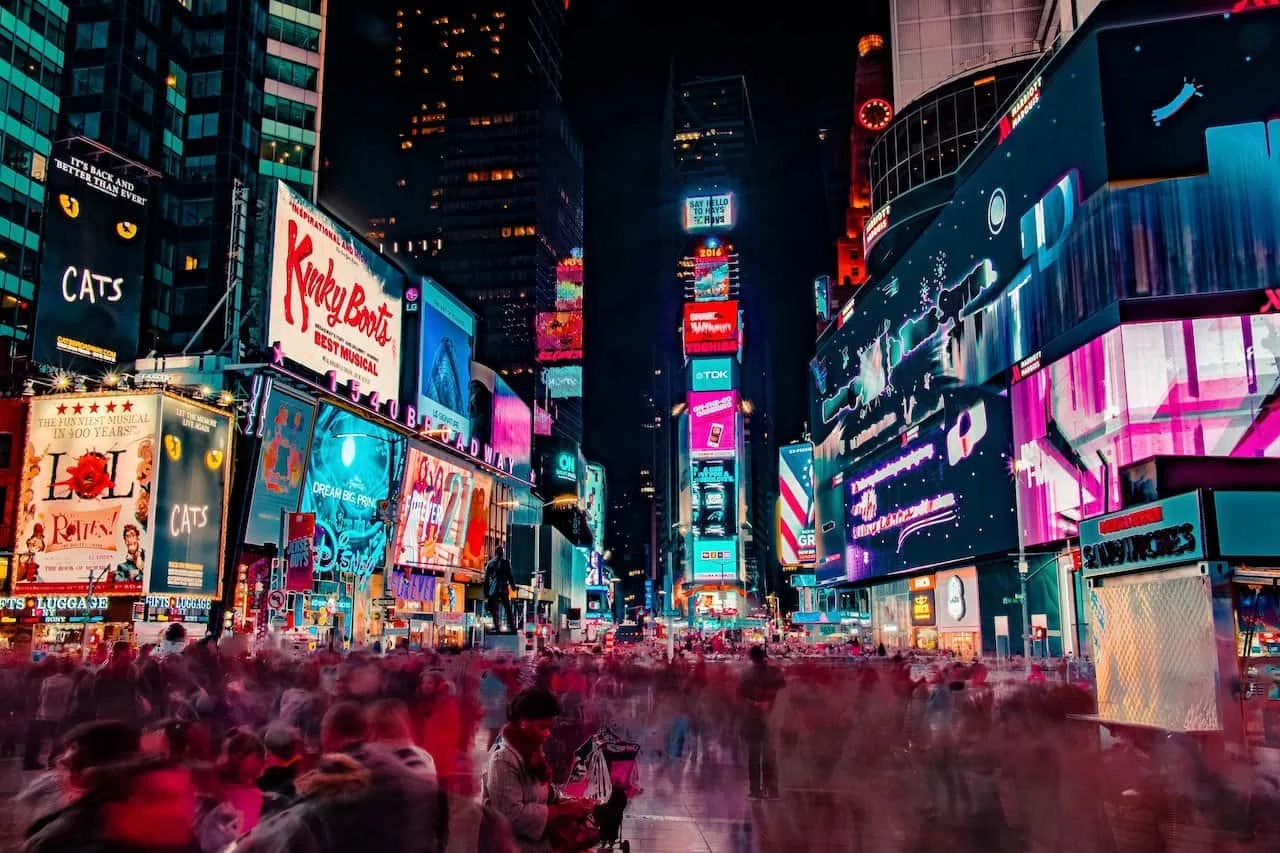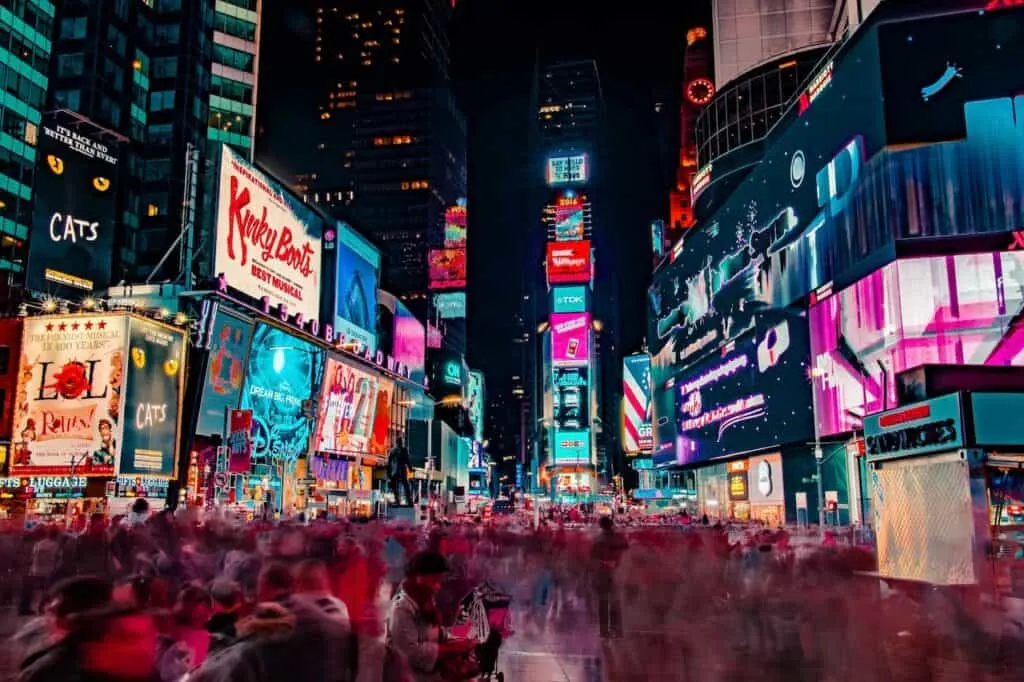 Have a Laugh at the Comedy Cellar
For some late night laughs, there is no better place to visit than the Comedy Cellar.
A New York icon for comedy, the Comedy Cellar has shows throughout every day of the week. The earliest shows usually start around 6:00PM with the latest shows closer to 1:00AM!
So, you really can get a laugh at any time during a night out in NYC.
You can find a few different Greenwich Village locations nearby offering a whole list of comedians to see.
If you are heading out for a show on the weekend, I would recommend booking more in advance as these shows will sell out faster.
In general, these shows will have a cover charge (between $15 – $25) in addition to a two food/beverage item minimum.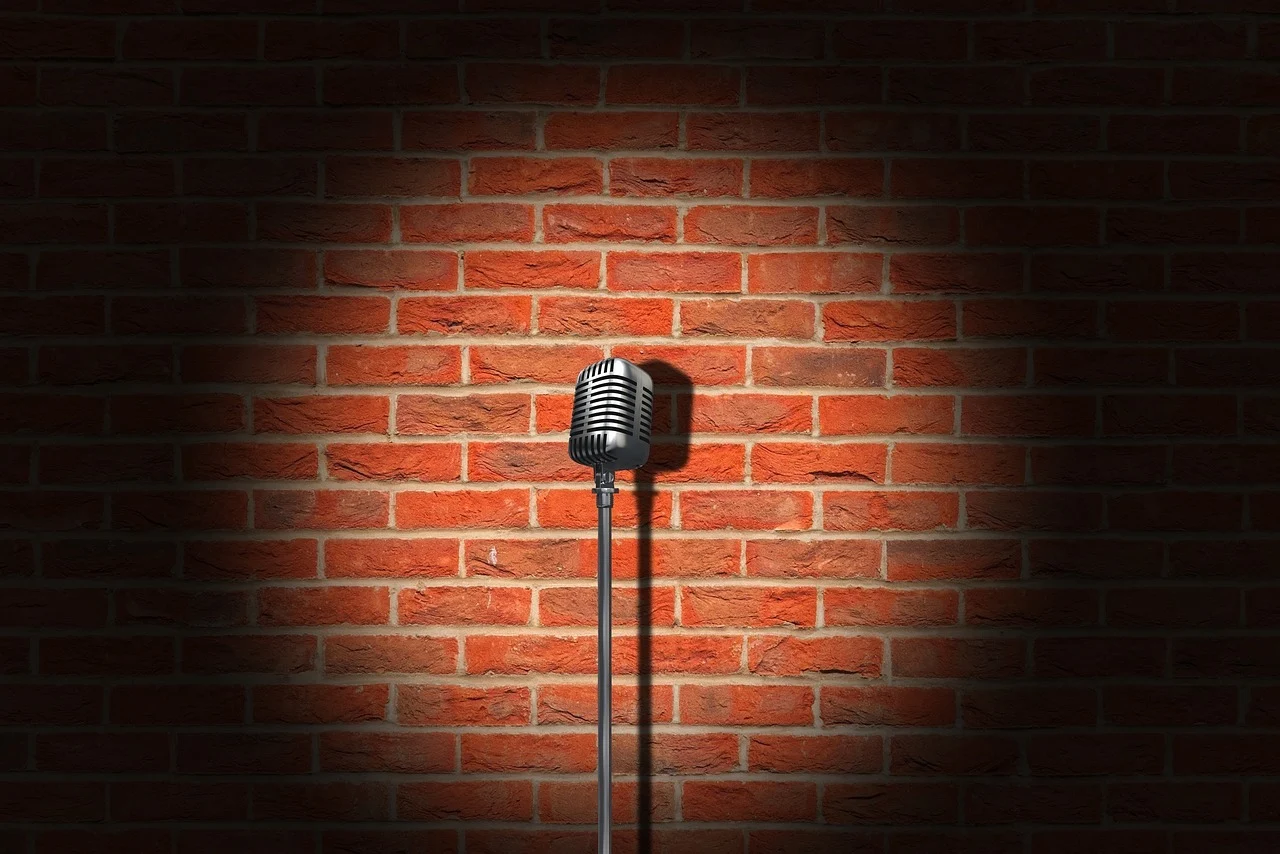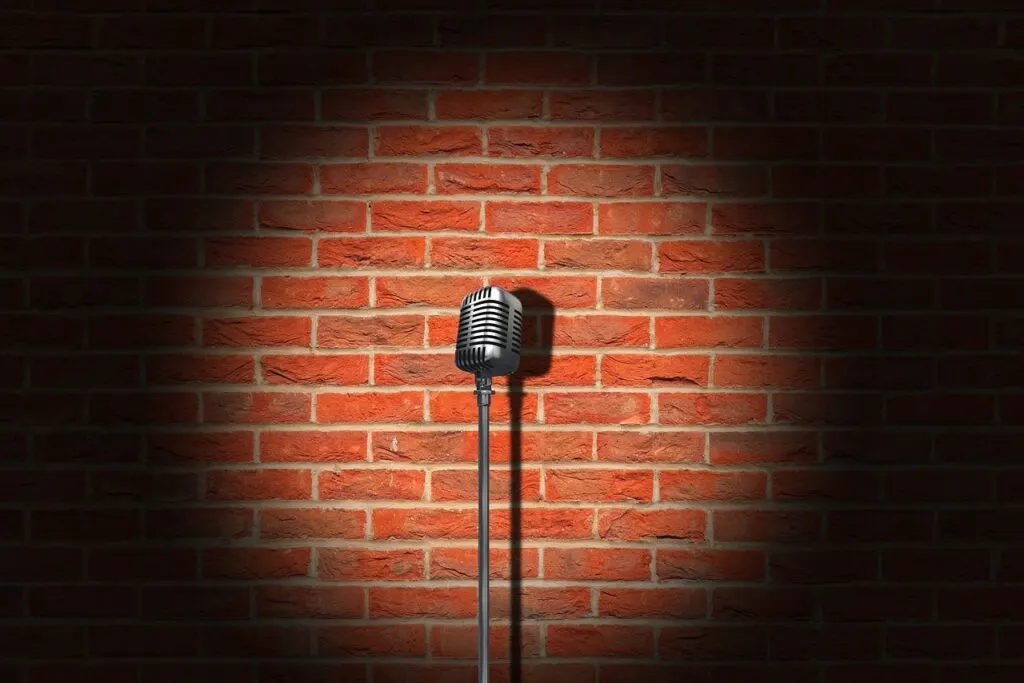 Walk Along Central Park
When it comes to things to do in New York, a visit to Central Park should be on the top of the list.
The park is home to 743 acres of greenery, lakes, walking paths, statues, plants, flowers, wildlife, and so much more.
While visiting the park during the day is definitely an experience to take part of, why not take an evening stroll too.
Getting to walk the lit-up paths without the crowds will feel like a whole different type of experience.
I will mention though, that I would not recommend walking around the park too late at night. There can be some safety concerns depending where you are and how late you head into the park.
However, if you stick to the earlier side of the night and go to some of the more well-known attractions, you will be in a better spot.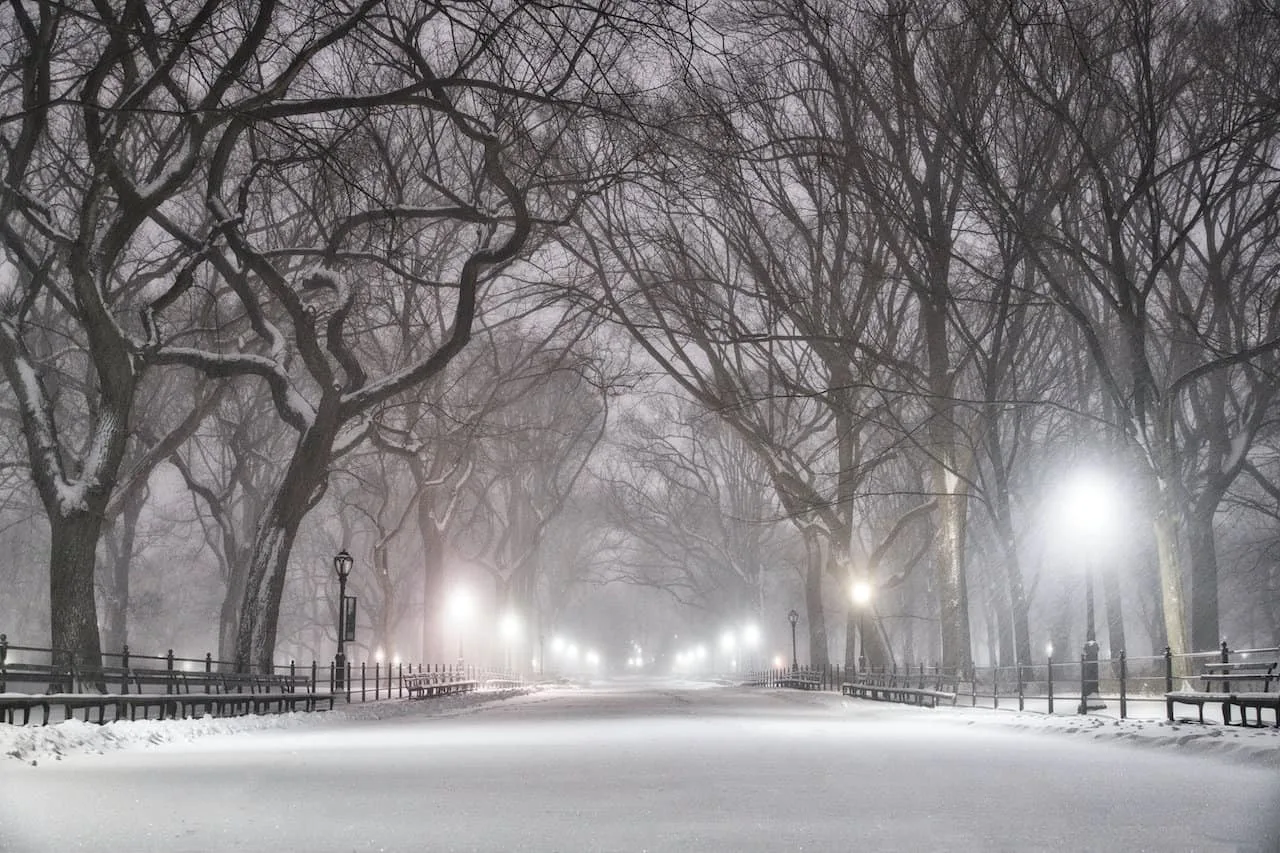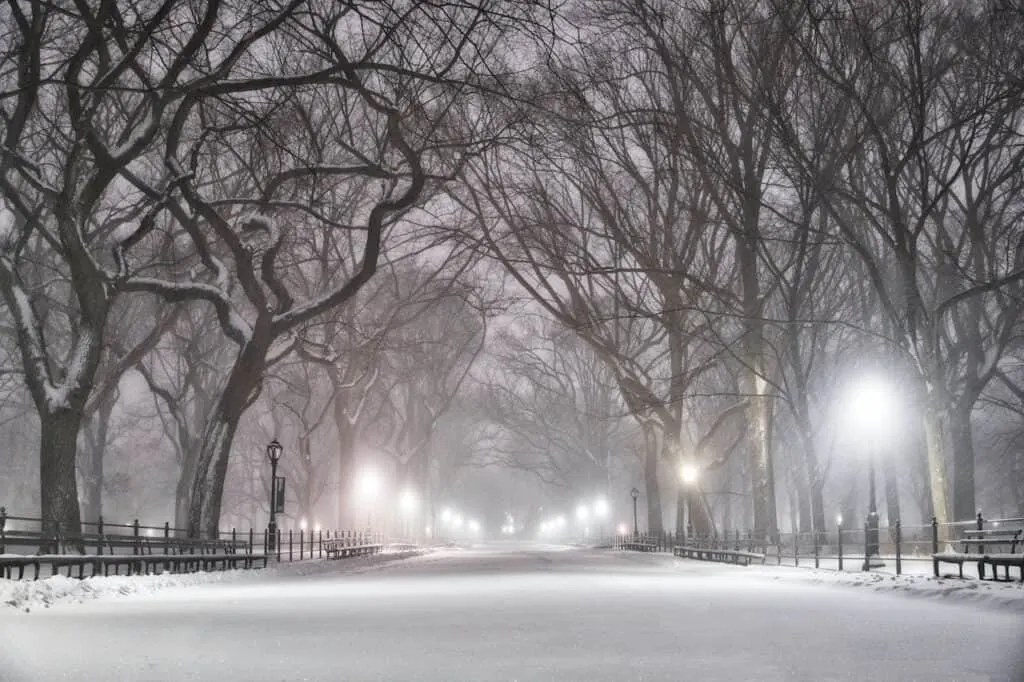 Head Out to a Sports Game
Whether you are looking for a baseball, basketball, hockey, or football game to attend, NYC has you covered.
A sports game can be that perfect thing to do at night in NYC to finish up a day around the Big Apple.
When it comes to night events, you should find basketball & hockey games from October to April.
These will be at Madison Square Garden (Knicks & Rangers), Barclays Center (Nets), UBS Arena (Islanders), and Prudential Center (Devils).
Baseball season runs from April to October, and night games can be found throughout the week. The Mets play at Citi Field in Queens and the Yankees play at Yankee Stadium in the Bronx.
These baseball games will also be outdoor, making it a fun activity to take part of if you want to spend a nice Spring/Summer/Fall evening outside.
While the Jets & Giants play in nearby New Jersey at MetLife Stadium, you will only find (maybe) 1-2 night games a year.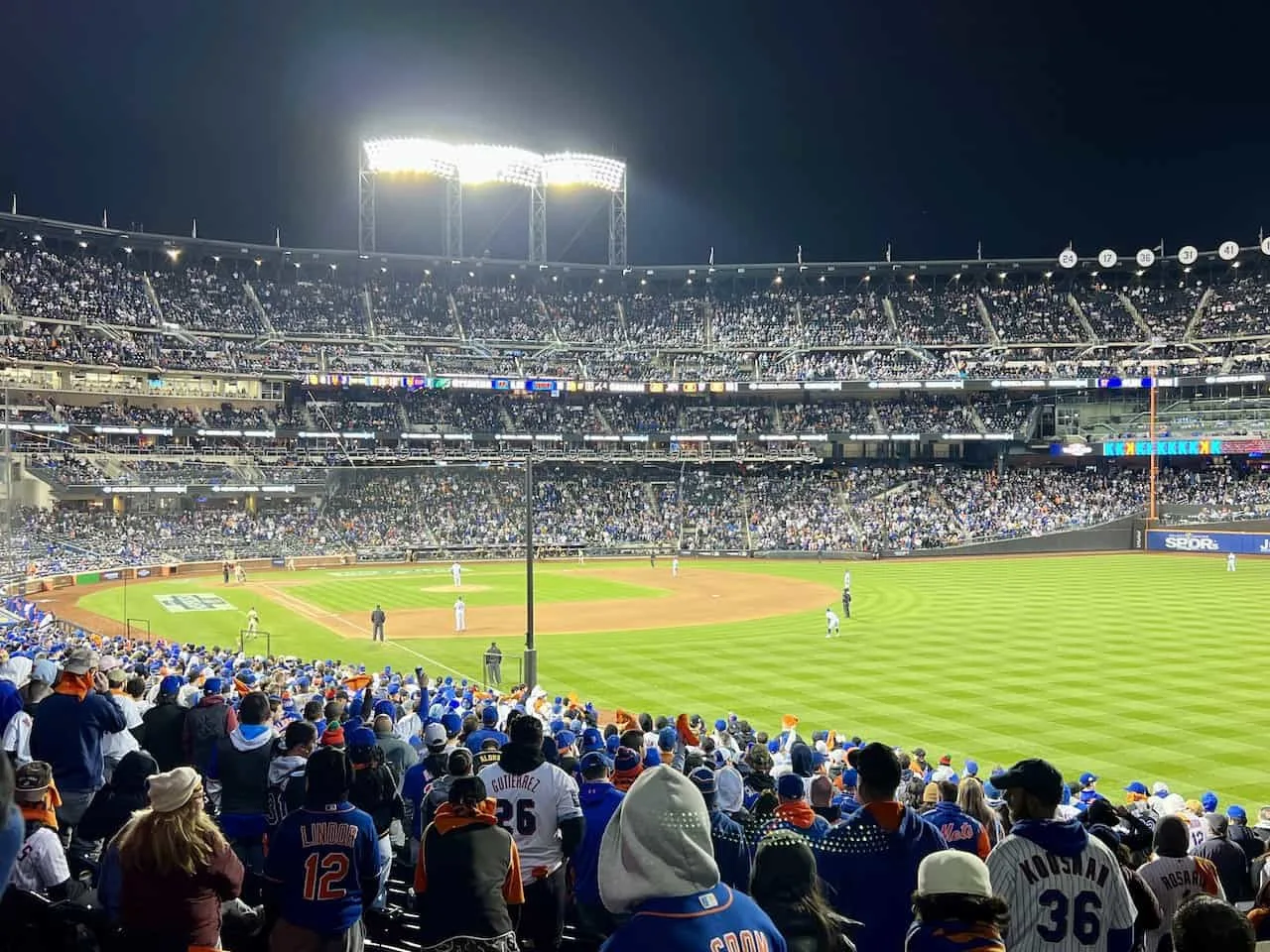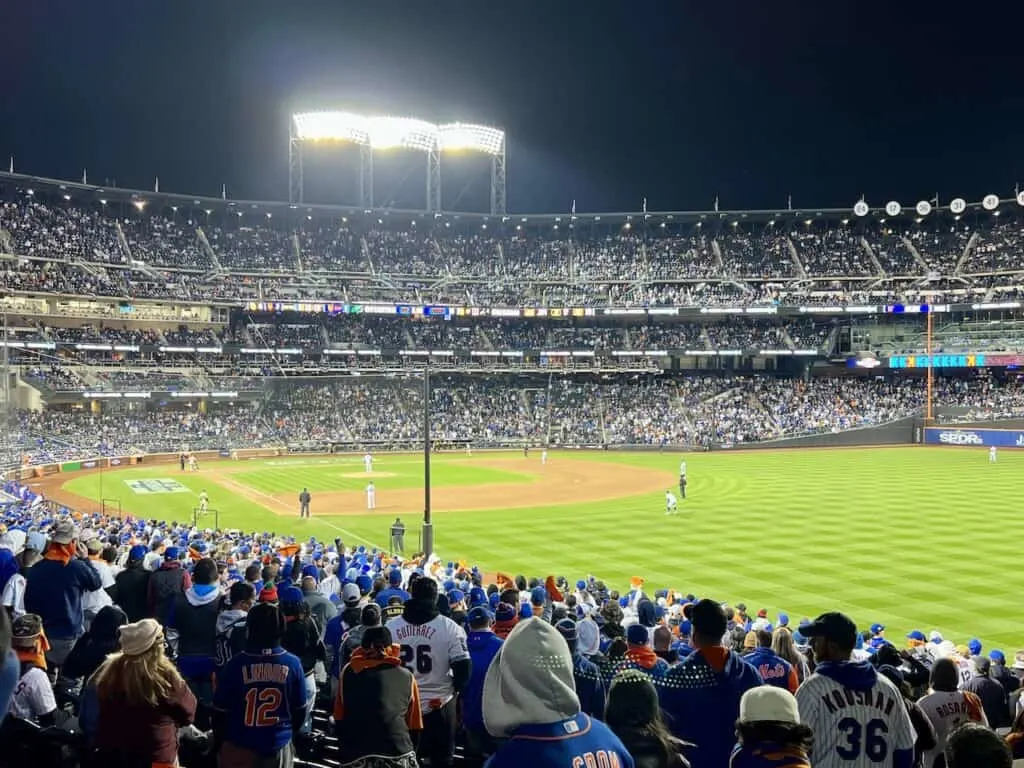 Bowl & Golf at Chelsea Piers
On the west side of Manhattan, there is a huge sports complex called Chelsea Piers.
Visiting Chelsea Piers in the evening is a fun way to spend an evening in NYC (while getting some fitness in at the same time).
Some of the highlights of Chelsea Piers include their bowling alley and outdoor driving range.
The bowling alley also includes a large arcade and laser tag complex for those that want to get a few different activities in.
The driving range has 4 levels and 52 mats to practice your swing right along the Hudson River.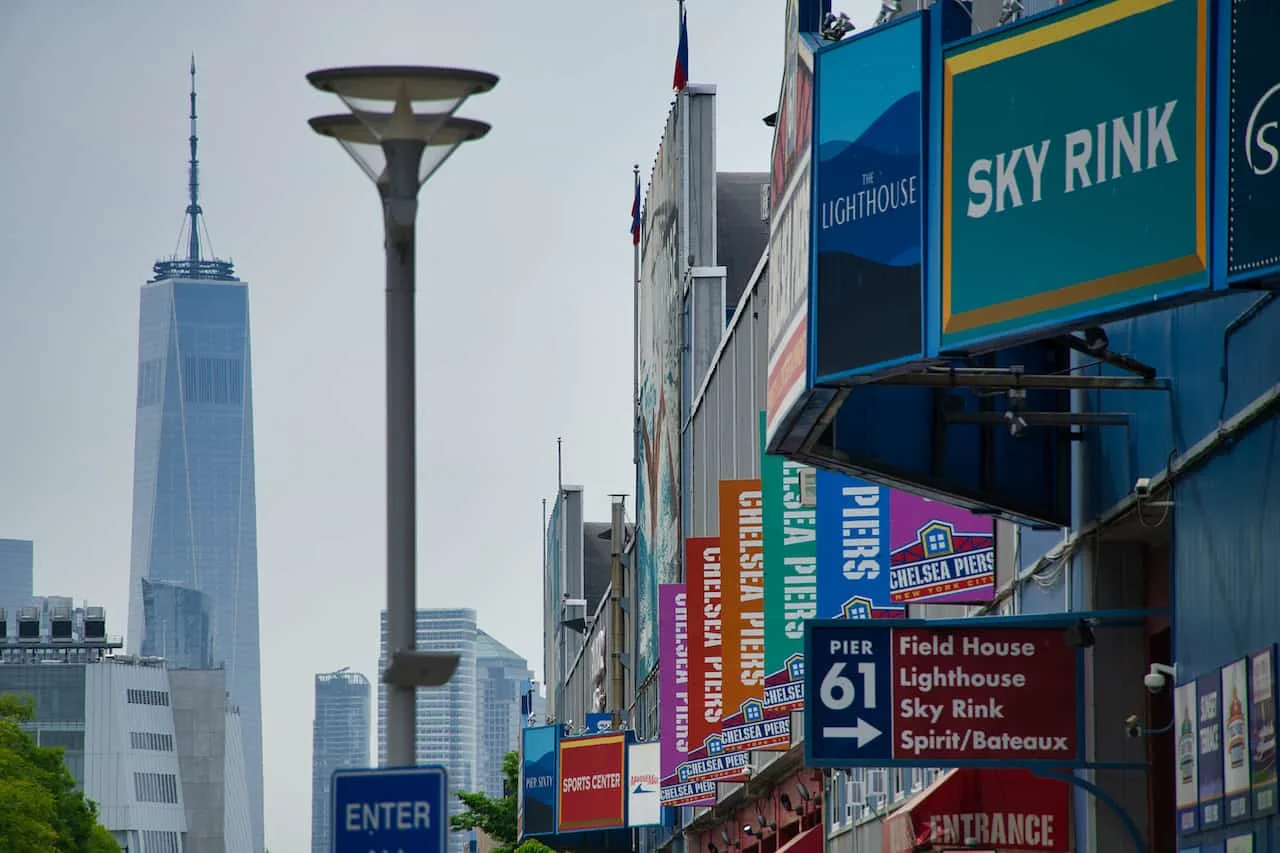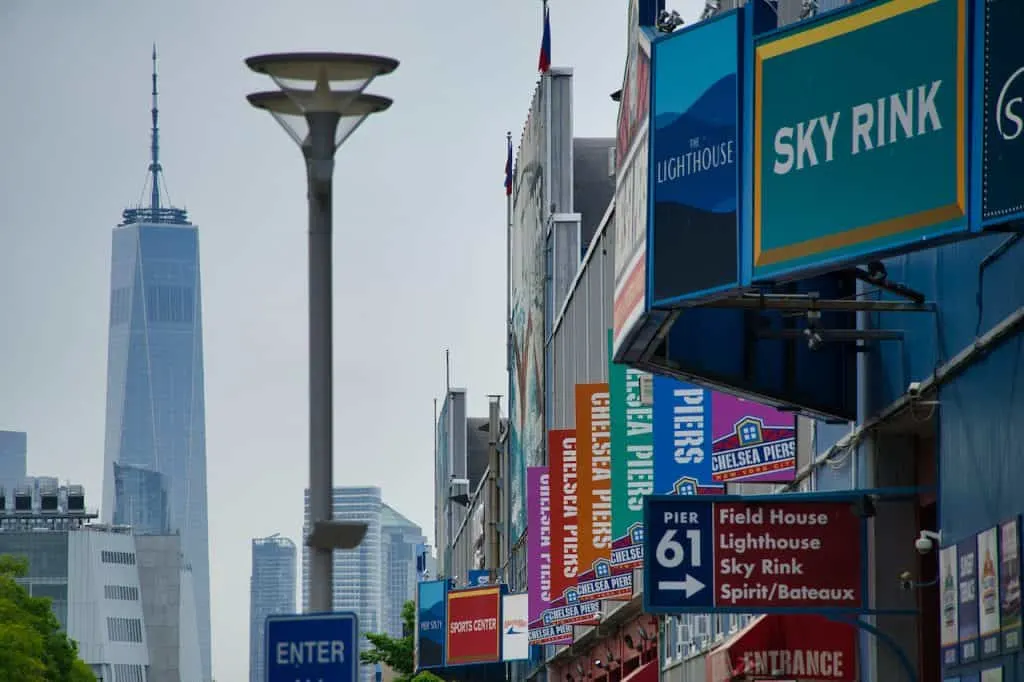 Mini Golf at Pier 25
While Chelsea Piers only offers the driving range, a bit further south along the Hudson River you will find a mini golf course.
Located at Pier 25, is an 18-hole course over 13,000 square feet! It is the perfect activity for people of all ages, and they do offer some evening hours as well (depending on time of year).
After going for a game of mini golf, you can also visit the nearby Pier 26 & head to Brookfield Place for a bite to eat.
Drink at a Rooftop Bar
For those that want to spend a night out in the city, it doesn't get much better than heading up to a rooftop bar.
There is something unique out there for everyone who is interested in those NYC skyline views while sipping on some drinks.
Whether that is more of a club vibe, a sit-down rooftop, or just a casual spot, NYC has plenty of rooftop bars to offer.
Be sure to check out some places like 230 Fifth, Mr. Purple, The Standard, Darling Bar (one of the top bars with a view of Central Park), and The Greens (in the South Street Seaport) for just a few of those options.
Just be wary – drinks don't come cheap at rooftop bars (or in NYC in general)!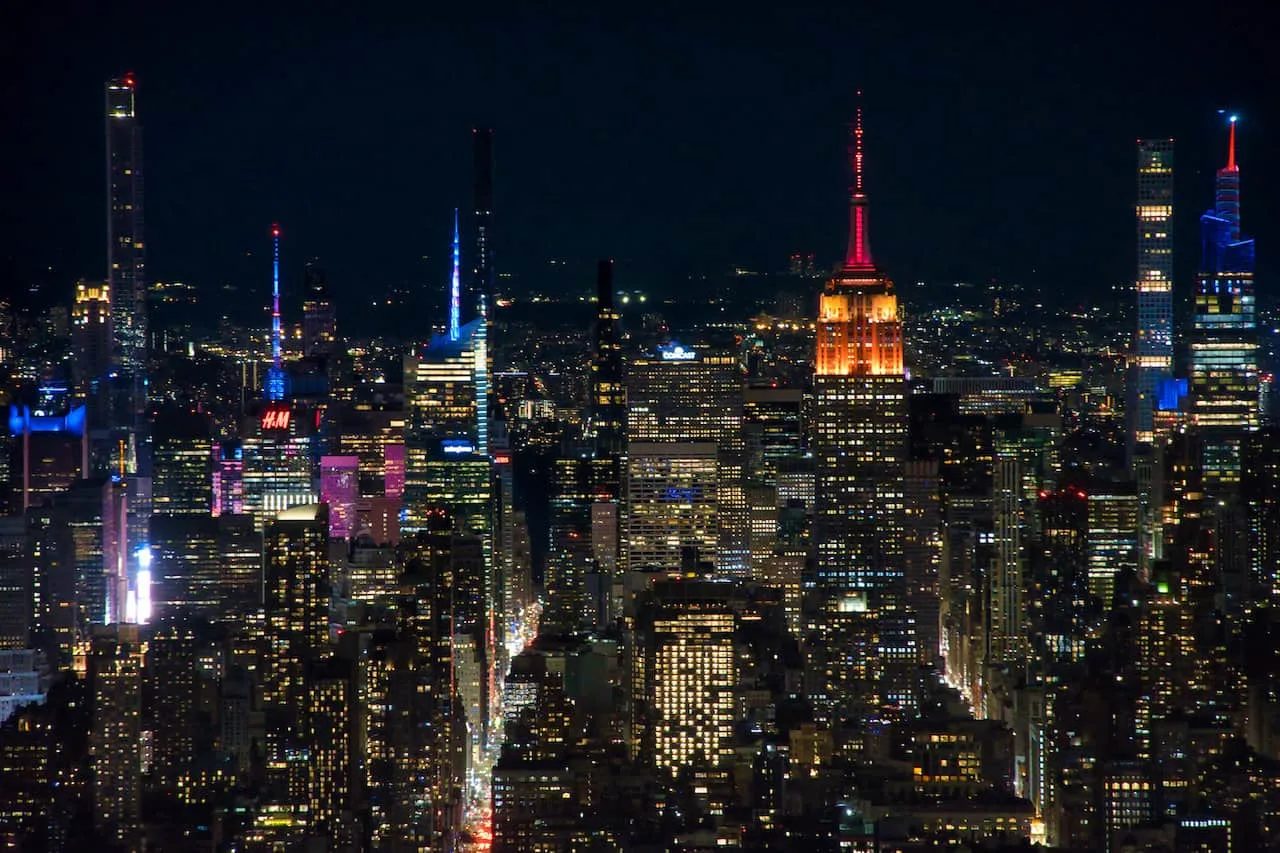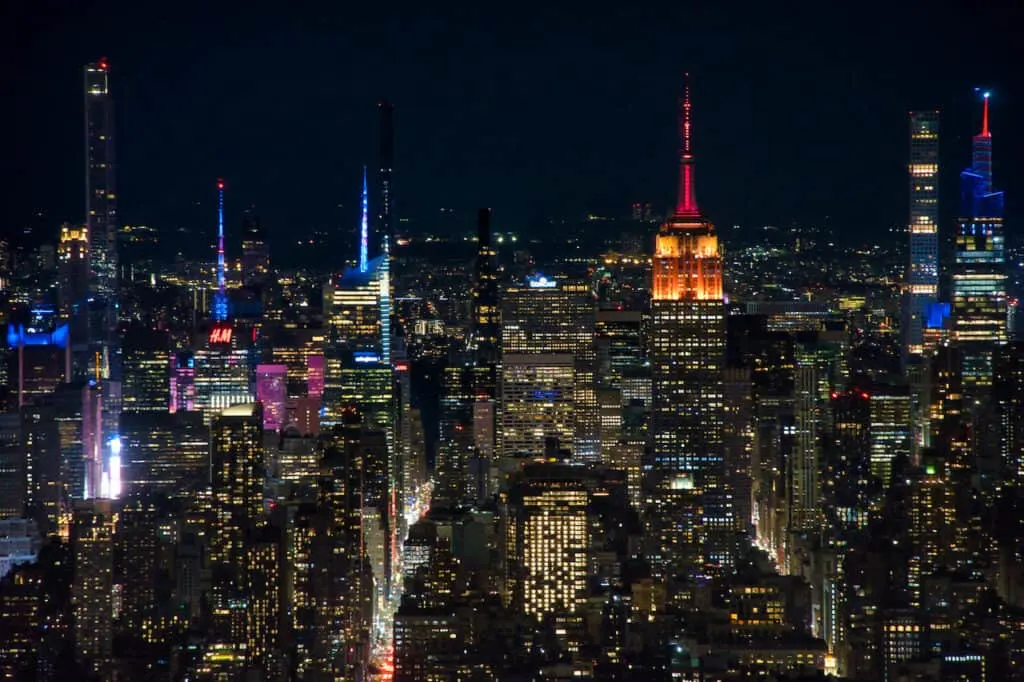 Visit a Speakeasy
If a drink with a view doesn't do it for you, why not head underground to one of NYC's many hidden speakeasies.
These will offer a different type of vibe compared to your rooftop bar or normal NYC drinking establishment.
Instead you will be welcomed to a smaller, more intimate, darker setting. Some speakeasies even have secret entrances, making it more of an experience.
Just some to consider include PDT, Dear Irving, Employees Only, and Little Branch.
The more highly rated spots will book up in advance so be sure to make a reservation ahead of time. Others may not take reservations at all, and you will just need to try your luck!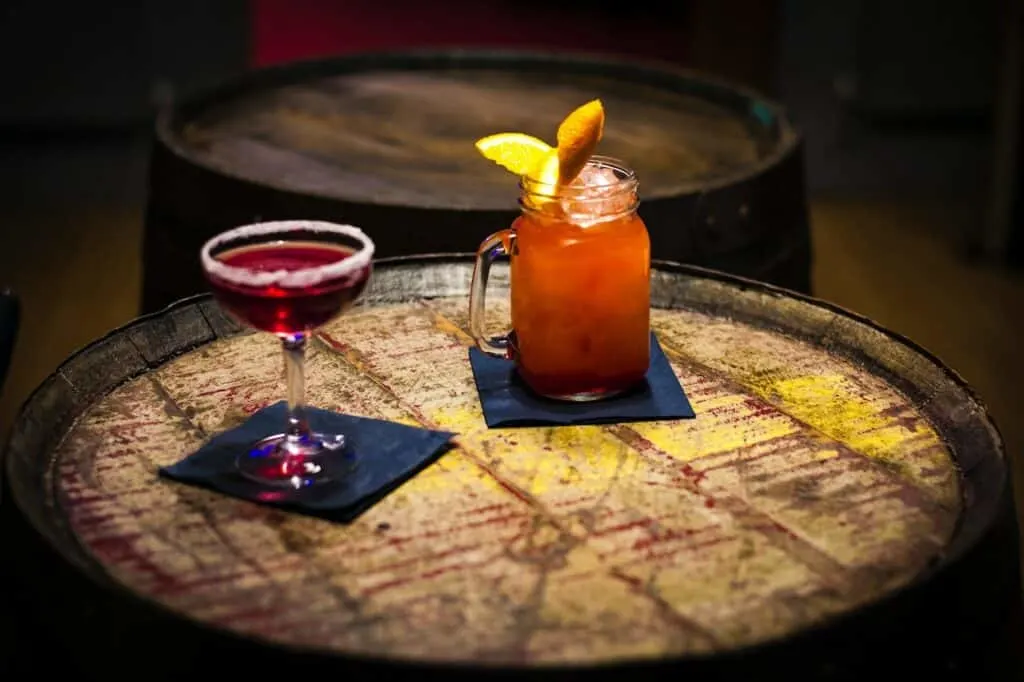 Ride the Roosevelt Island Tram
Connecting the Upper East Side of Manhattan with Roosevelt Island is the famous red tram that heads over the East River.
While the tram is just a few minutes long, it does give you a whole new perspective of NYC that just isn't offered anywhere else.
You will be able to enjoy views of the Queensboro Bridge, East River, upper Manhattan, and Roosevelt Island from above.
Once you are on the island, you can walk along the pathway on the western side of the island for some views (and maybe some NYC cherry blossoms).
Another option is to head up the Graduate Hotel. At the hotel, you will find the Panorama Room on the 18th floor.
This indoor/outdoor bar offers guests an unmatched view that is unique to Roosevelt Island.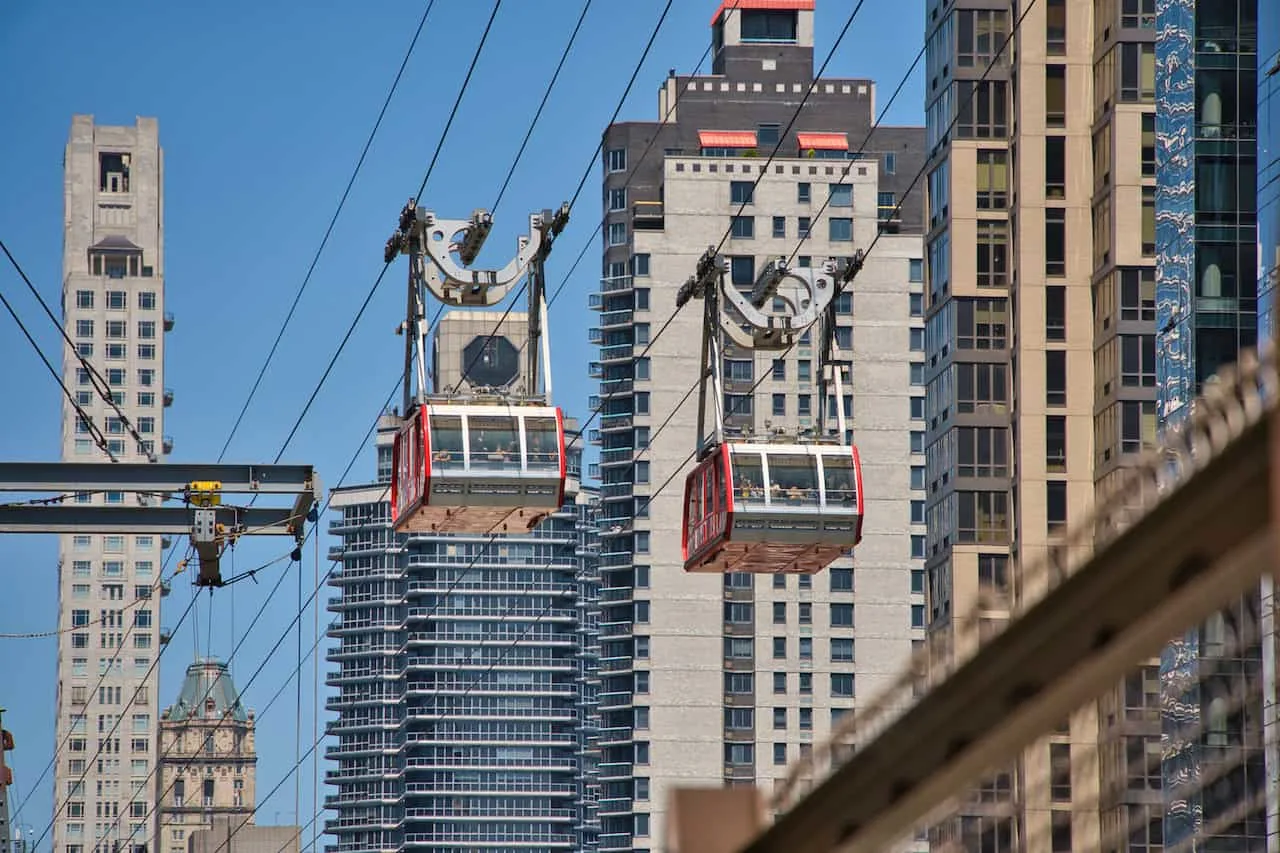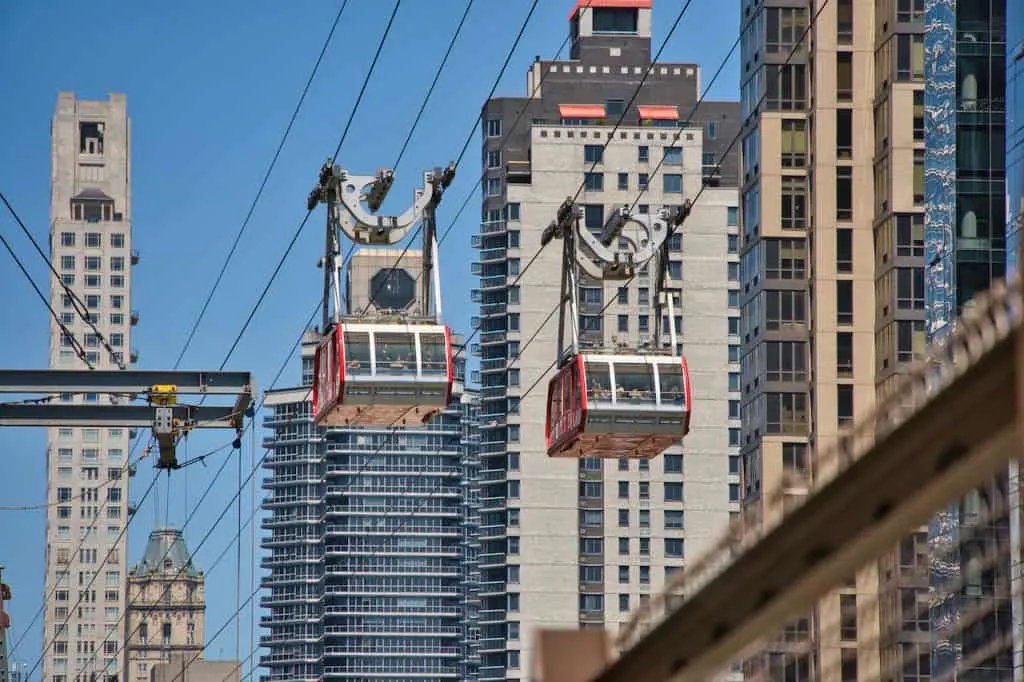 Ice Skating (Rockefeller Center & Central Park)
Starting from the late Fall, and throughout the winter, Rockefeller Center and Central Park have ice skating rinks that are open to the public.
The Rock Center rink sits right at the heart of the action and is towered over by the Rockefeller Center tree (when it is up).
In Central Park, you will find the Wollman Rink situated in the southern end of the park. It offers a surreal setting in the middle of this massive park, with trees all around and the skyline up above.
Be aware that both of these spots can get crowded with wait times (especially during the holiday period).
Feel free to also check out some nearby NYC Christmas restaurants if visiting during the holiday time.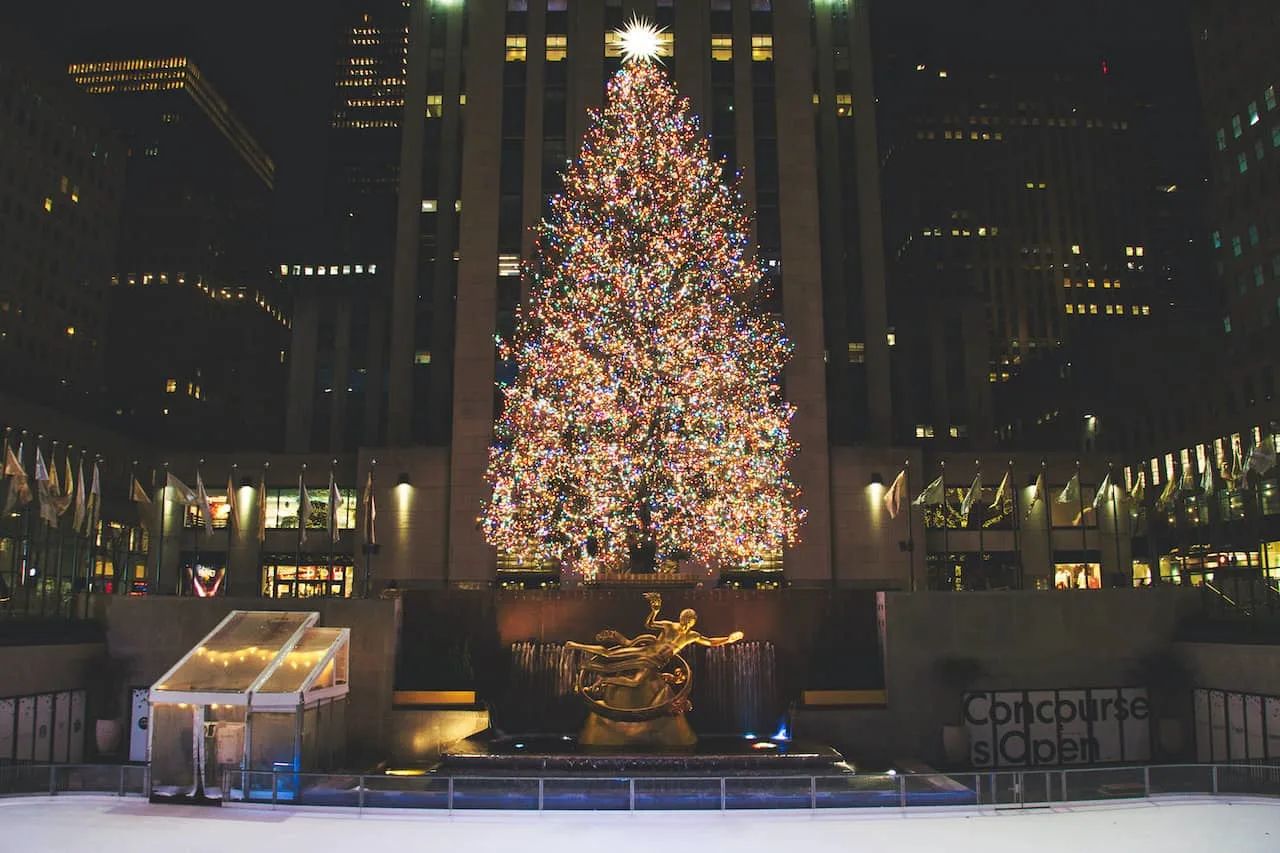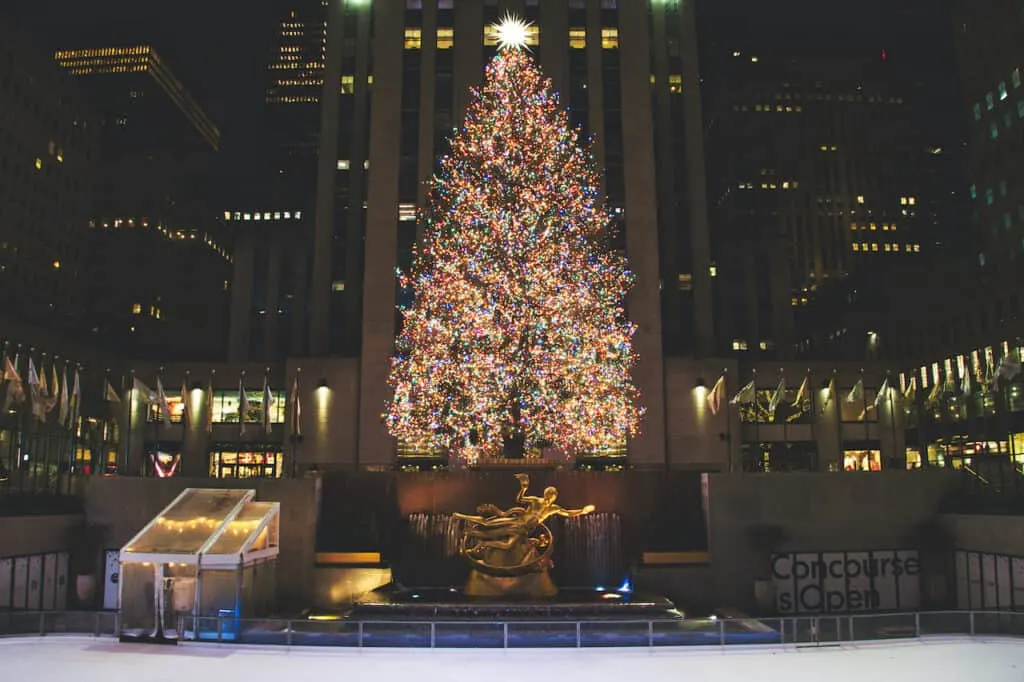 High Line Park Views
Perhaps the most unique park in NYC is the elevated High Line Park that runs along the western side of downtown Manhattan.
In the past, this elevated walkway used to be a railroad line. Today, you can still find parts of the historical railroad intact.
Not only will you find the rail line there, but you also will find plants, flowers, trees, artwork, and more sprawled throughout.
If you end up walking the whole thing, it comes in at 1.45 miles. Feel free to start at the southern end at the Gansevoort Street entrance and make your way northbound to Hudson Yards.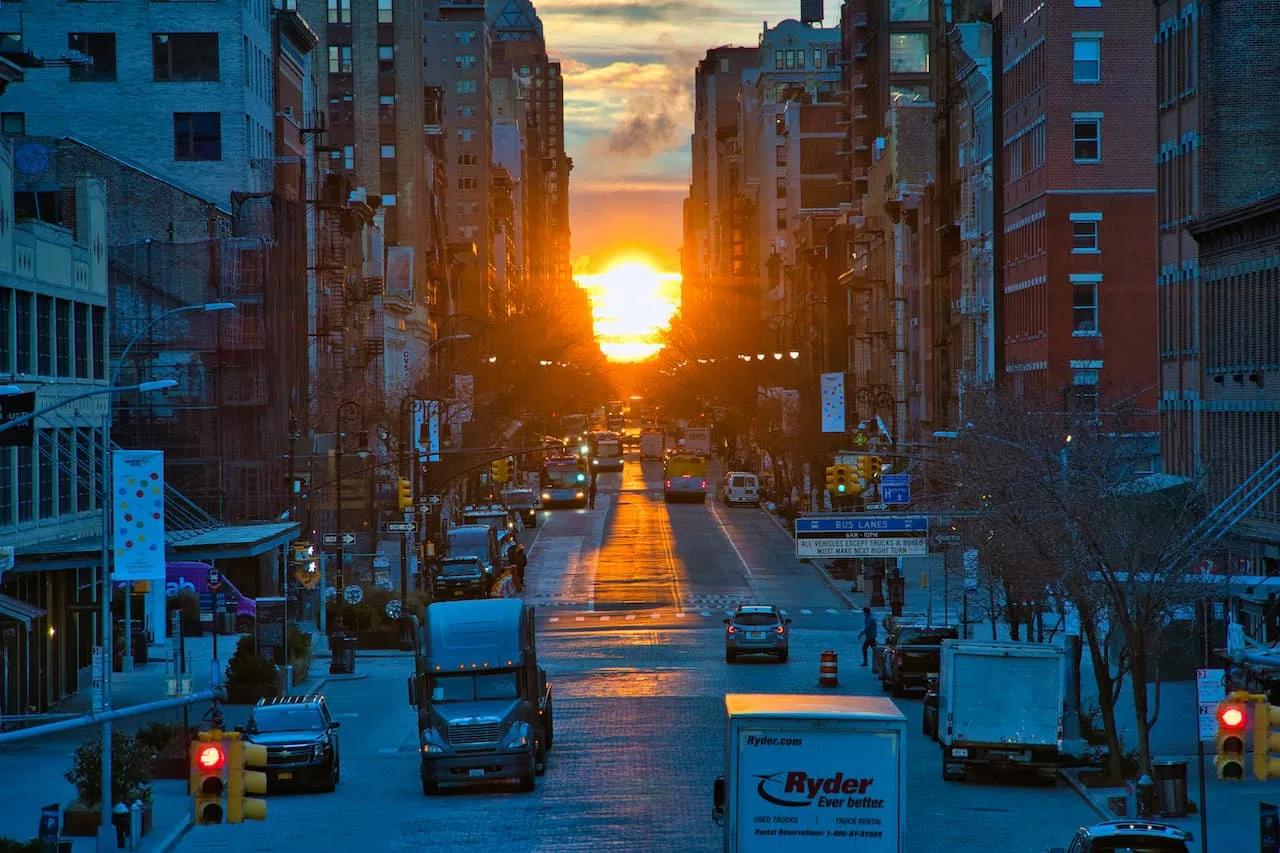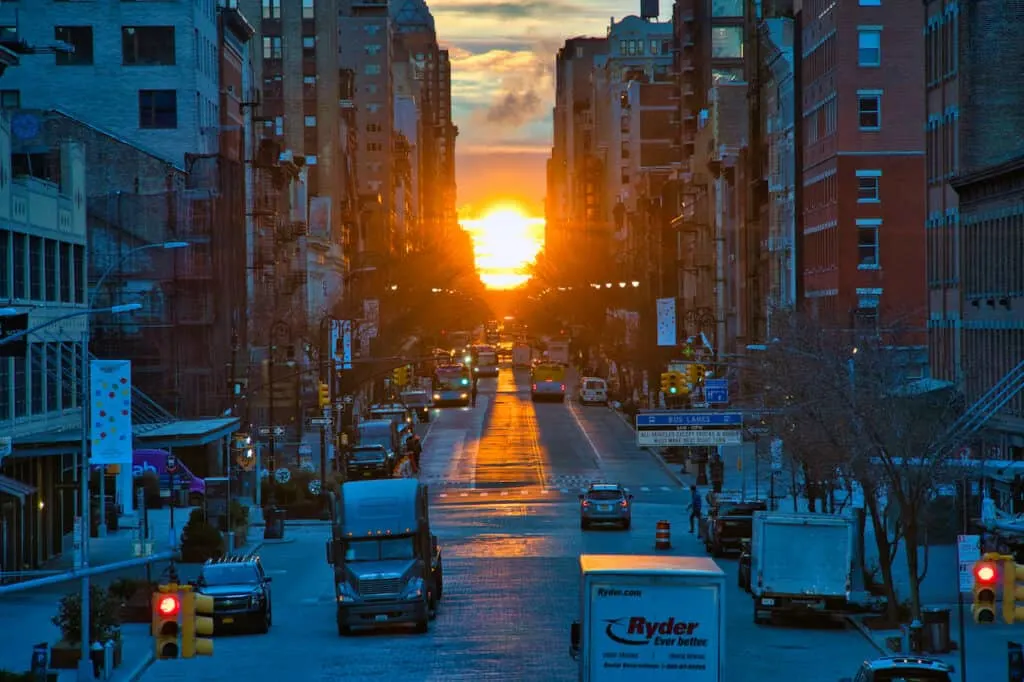 Sing at a Karaoke Bar
Another fun thing to do in NYC at night is to head to a karaoke bar. It is perfect for those in larger groups, who can rent out a room, have some drinks, and sing the night away.
Many of these karaoke spots can also double as a regular bar or lounge. So, if some folks want to step out of the singing and just hang at the bar, that may be a possibility too.
Feel free to check out places like The Spot Karaoke in Midtown or Sing Sing in the East Village.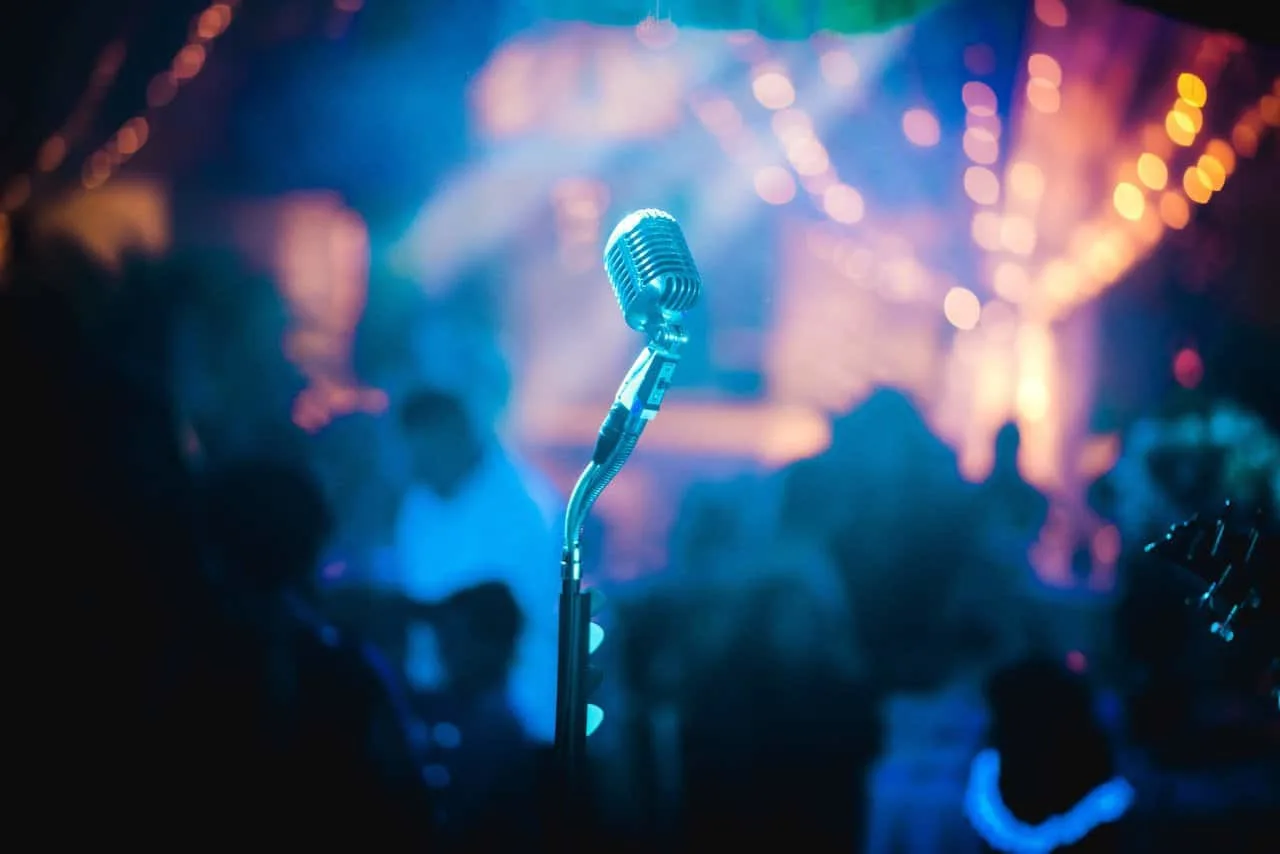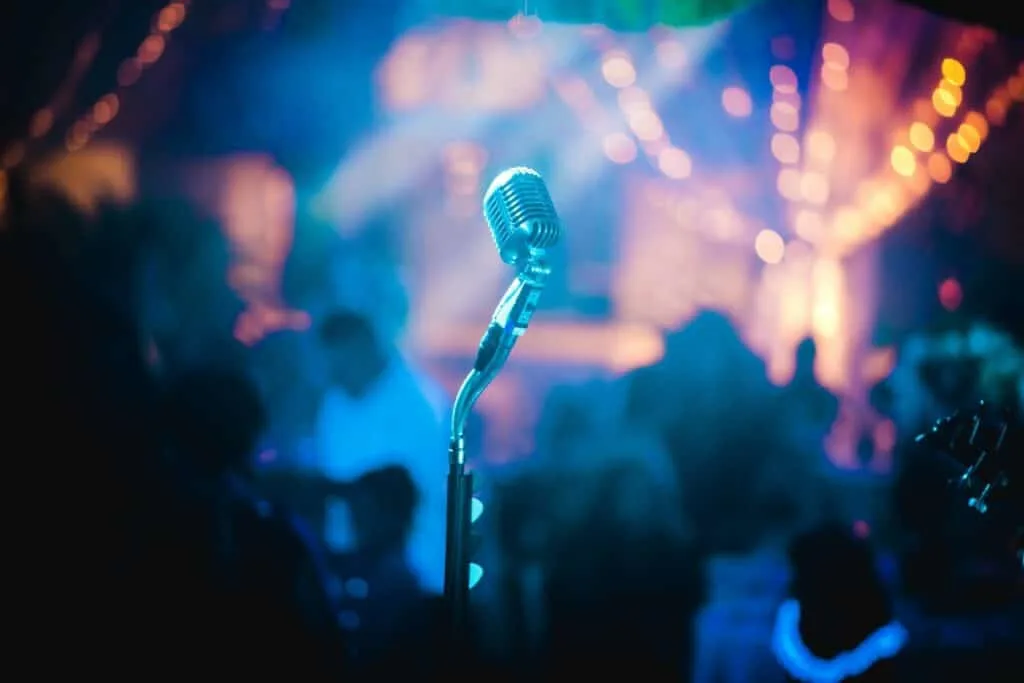 Date Night at The Met
On Friday and Saturday nights, the world-famous Metropolitan Museum of Art opens for extended hours.
This is called Date Night at The Met, where visitors will be able to walk through the museum after dark.
You will find live music, drinks, and plenty of art to go around.
The Met is the largest art museum in all of the Americas with over two million works of art. Since it is located right on the edge of Central Park, you can go for a stroll there as well before or after a visit.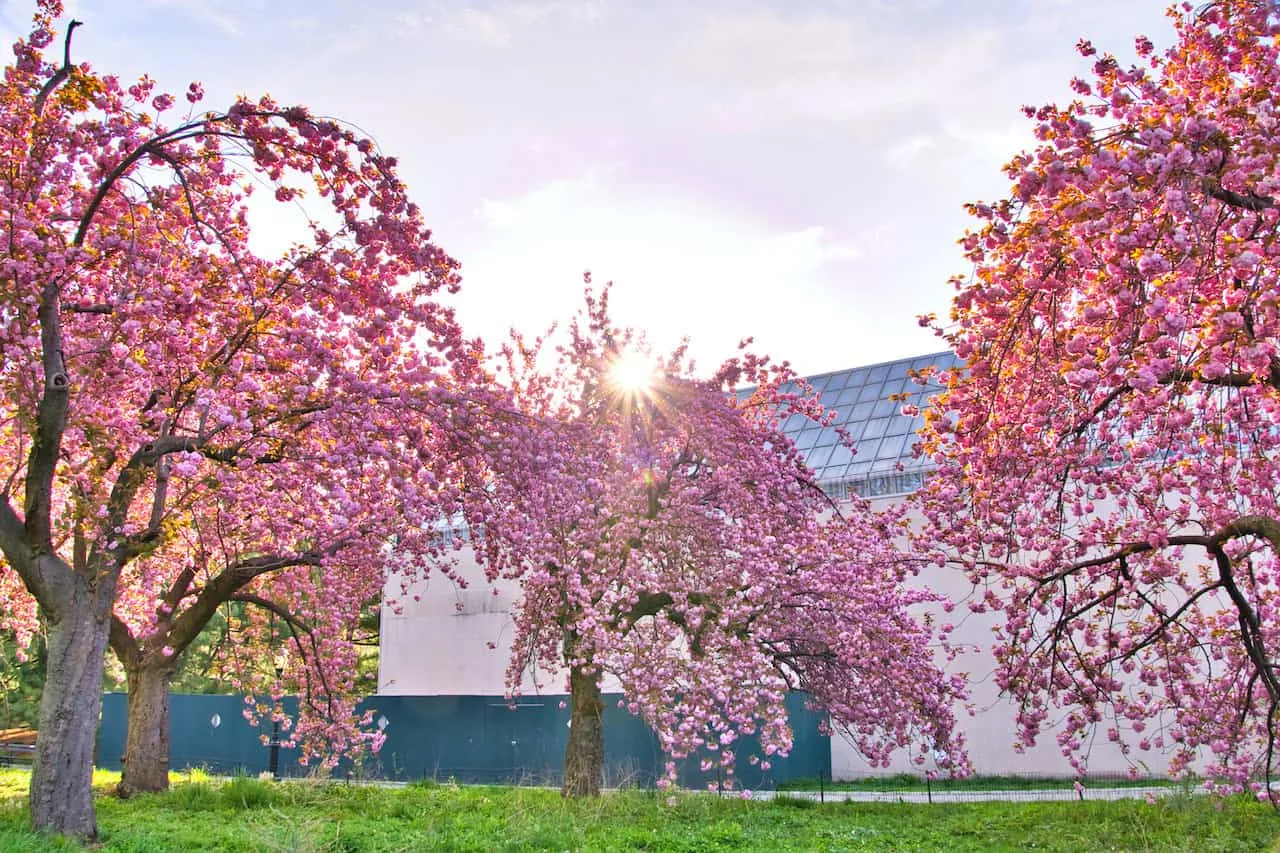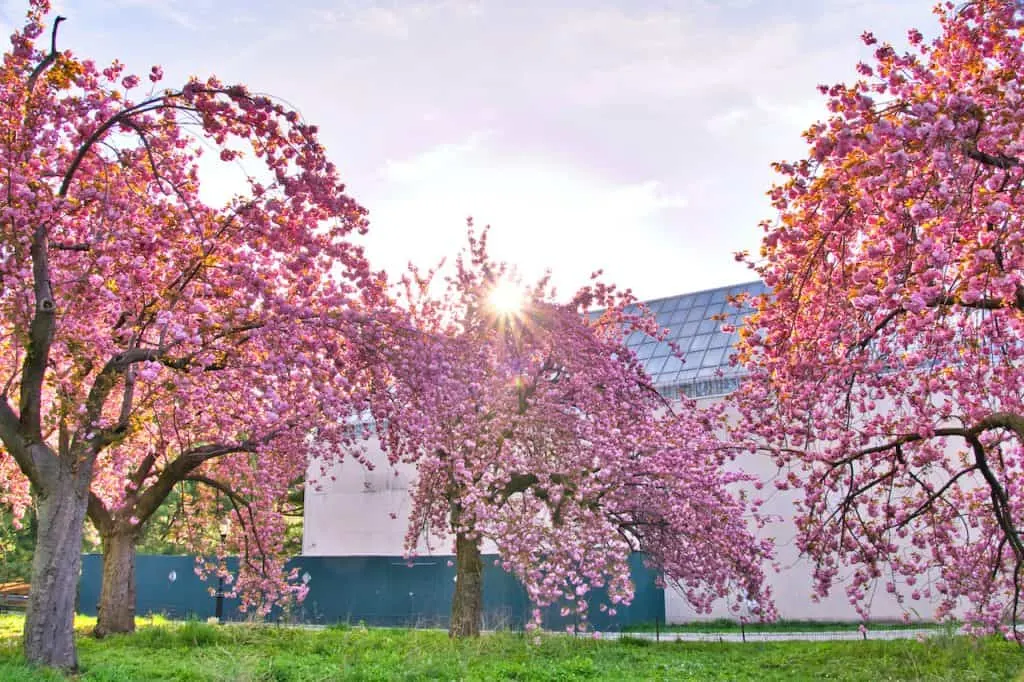 Ride a NYC Boat Cruise
If you want to experience NYC by night from a whole different perspective, why not head on an NYC boat cruise along the Hudson & East Rivers.
There are various offerings to consider including sunset cruises, dinner cruises, and jazz cruises.
These cruises last 2-3 hours as you head throughout the waterways of NYC and get to see some highlights along the way.
You are sure to pass by iconic landmarks such as the Statue of Liberty, Ellis Island, and the Brooklyn Bridge.
Getting to enjoy the skyline after dark from the water is going to be a great way to end the night in NYC.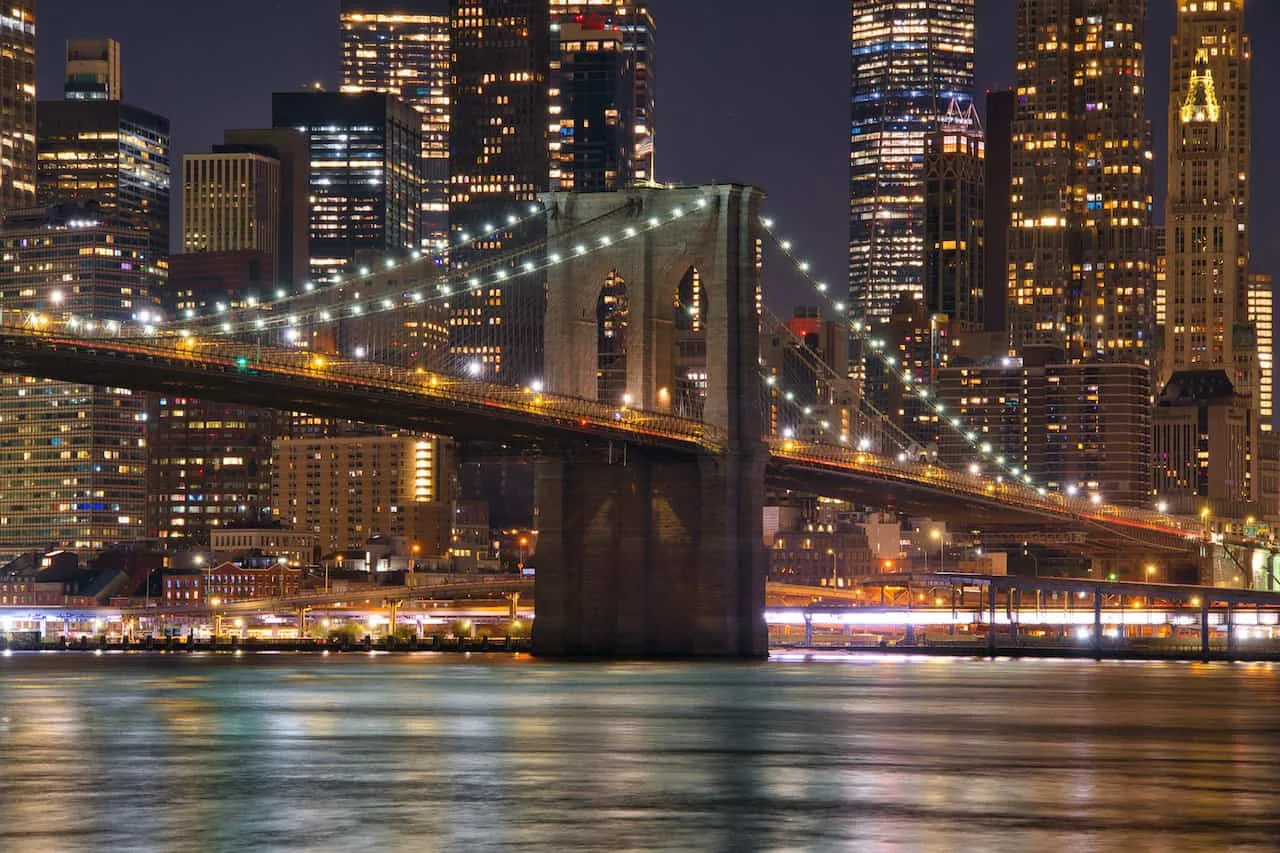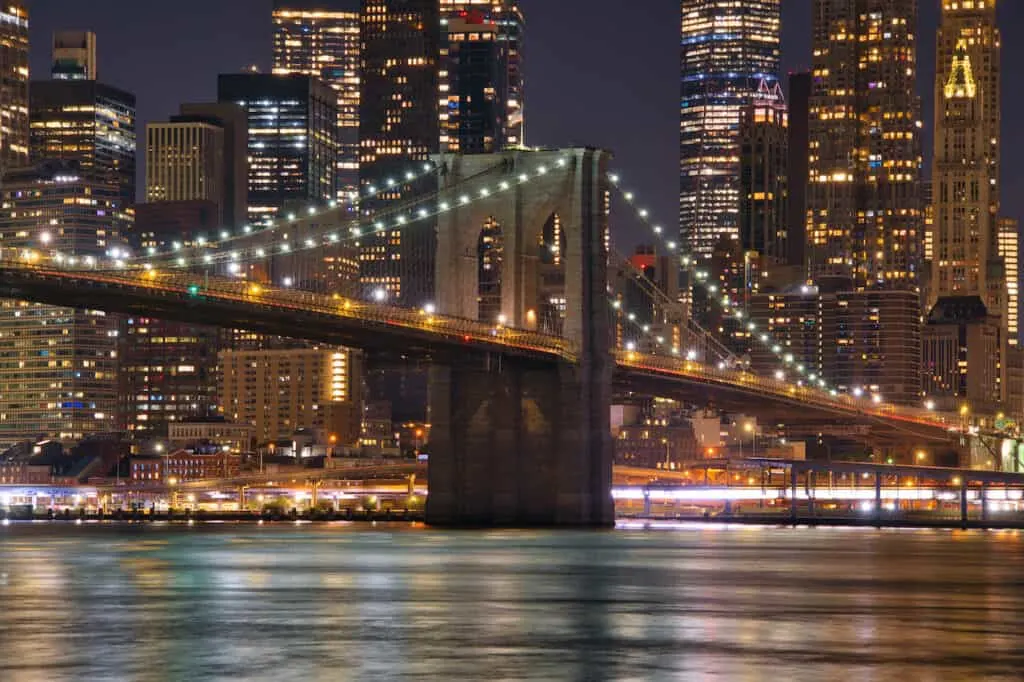 Staten Island Ferry
Now, if you want to opt for a free NYC waterway experience, then the Staten Island Ferry is for you.
Instead of signing up for a cruise, you can instead opt for a free ride across New York Harbor.
The ferry ride lasts about 25 minutes, as you head from the southern tip of Manhattan, past the Statue of Liberty, and to Staten Island.
From there, you can head right by to Manhattan and get to see that nighttime NYC skyline view once more.
For those that don't want to go to Staten Island, you can also head on a NYC ferry that go up and down the East River.
These will cost a small fee for a ticket (~$4), but it does give you some more flexibility with hop on / hop off points.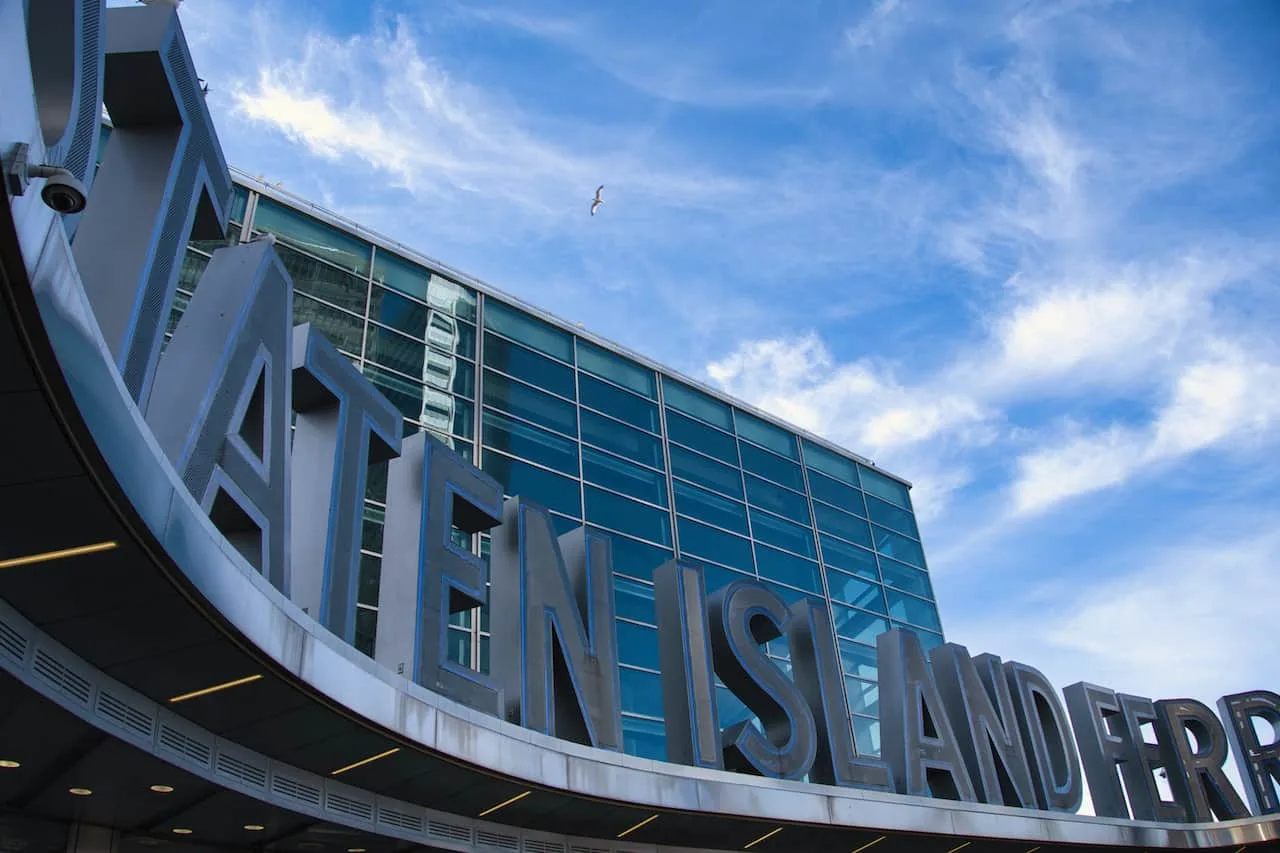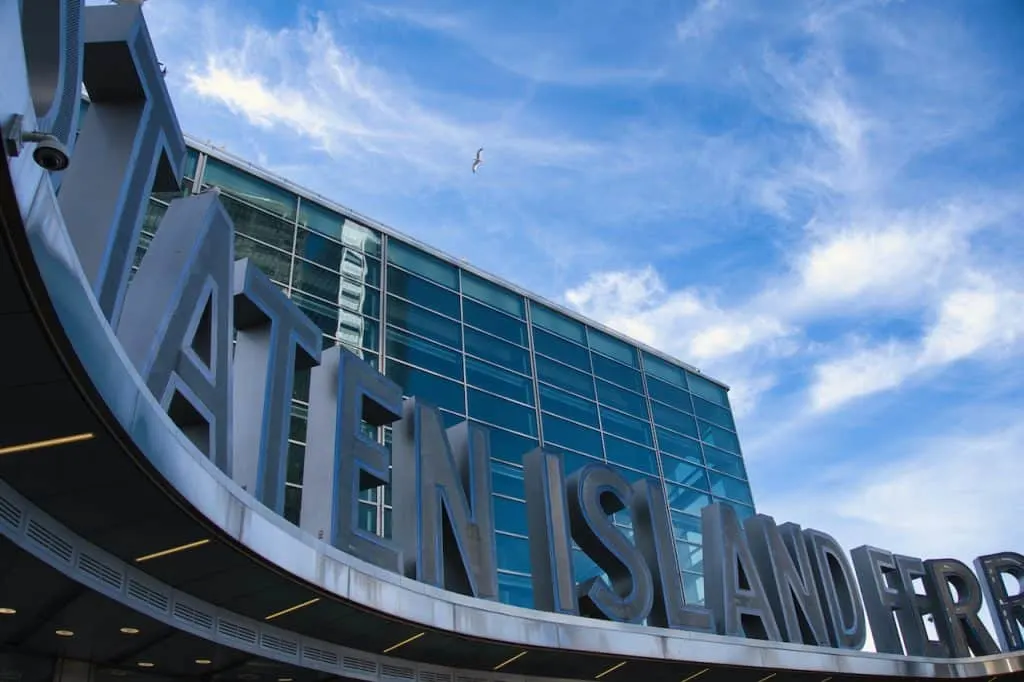 Coney Island's Luna Park
During the warmer months of the year, you will find that Luna Park is open on Coney Island.
Luna Park is NYC's largest amusement park located just besides Coney Island's beaches.
Throughout the park are roller coasters, arcade game, food options, and plenty of other rides & activities.
Although it is a bit farther out from Manhattan, there is no other place like it in NYC.
Just be sure to check the park's latest hours of operation to get a better idea of when they will be open for nighttime visitors.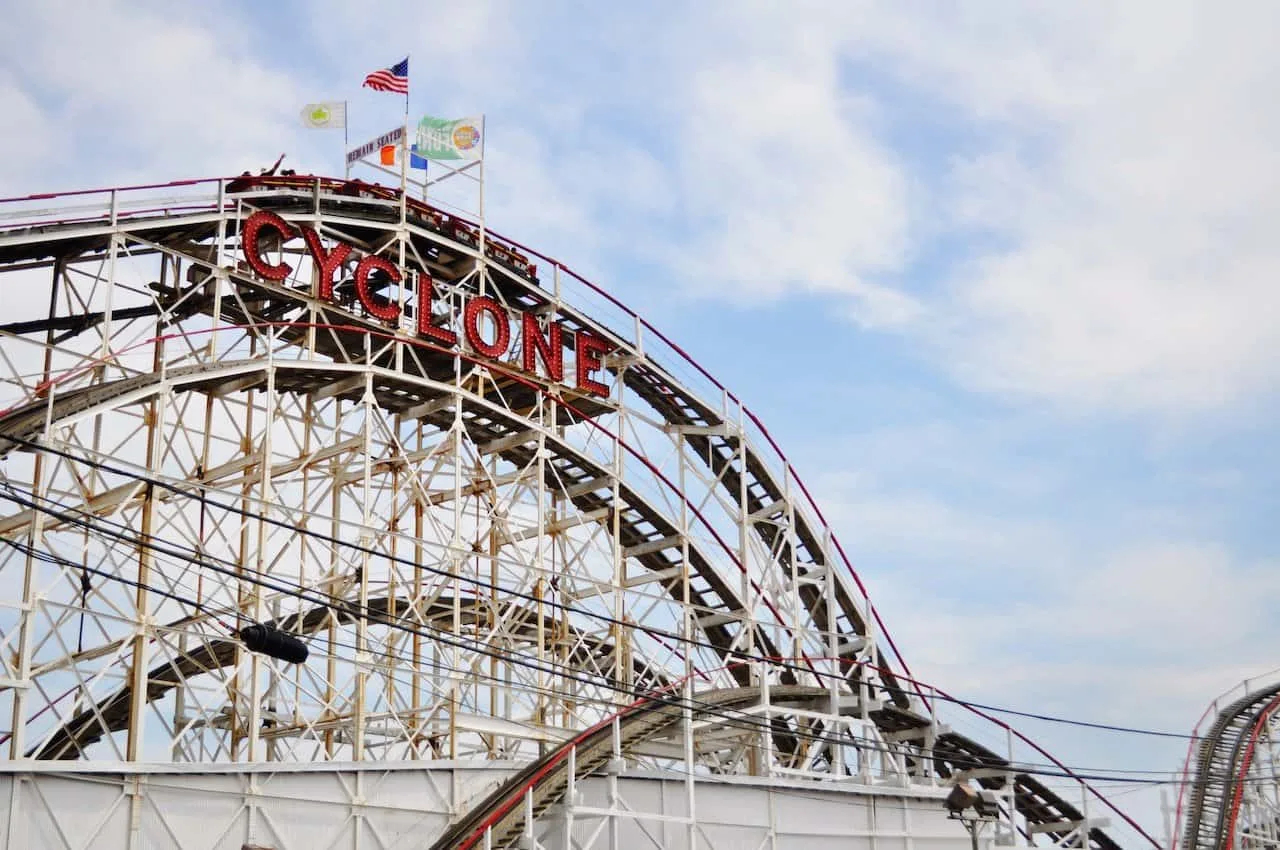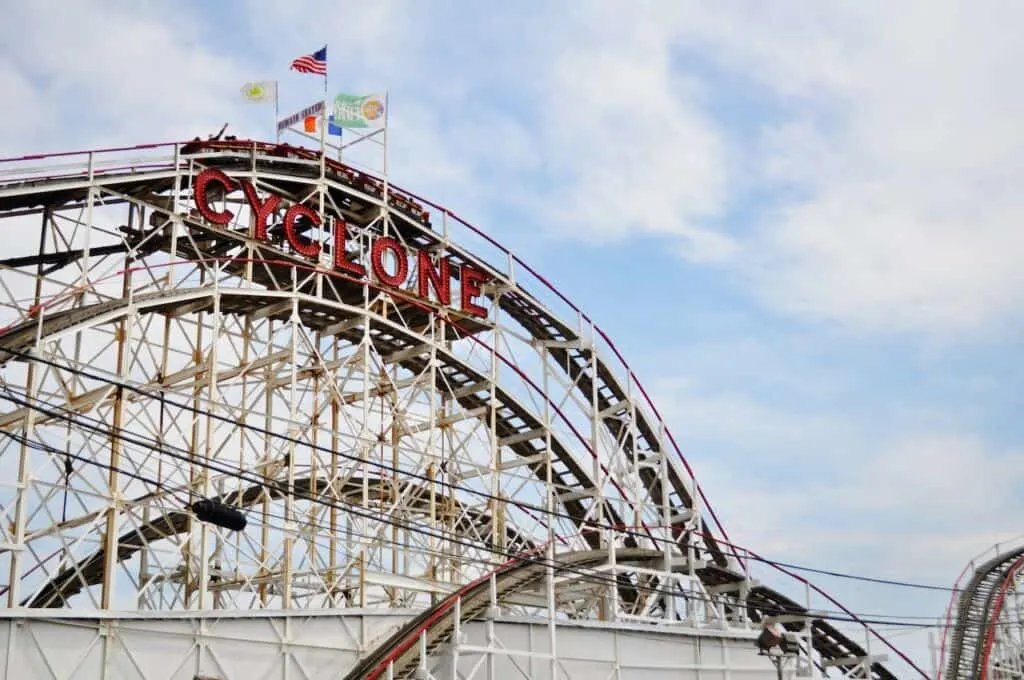 Join a Helicopter Tour
Seeing the city from an observation deck is one thing. But seeing the city from a helicopter ride is a whole other type of experience.
Imagine having a ride high above the NYC skyscrapers, where you can get a true bird's eye view of the city at night.
Getting to see all the top highlights from the Statue of Liberty to Central Park is going to be a thrilling experience to take part of.
Helicopter rides are offered throughout the day, and also during the night. It is the craziest way to see the city that never sleeps!
Feel free to book your NYC helicopter ahead of time to guarantee your spot!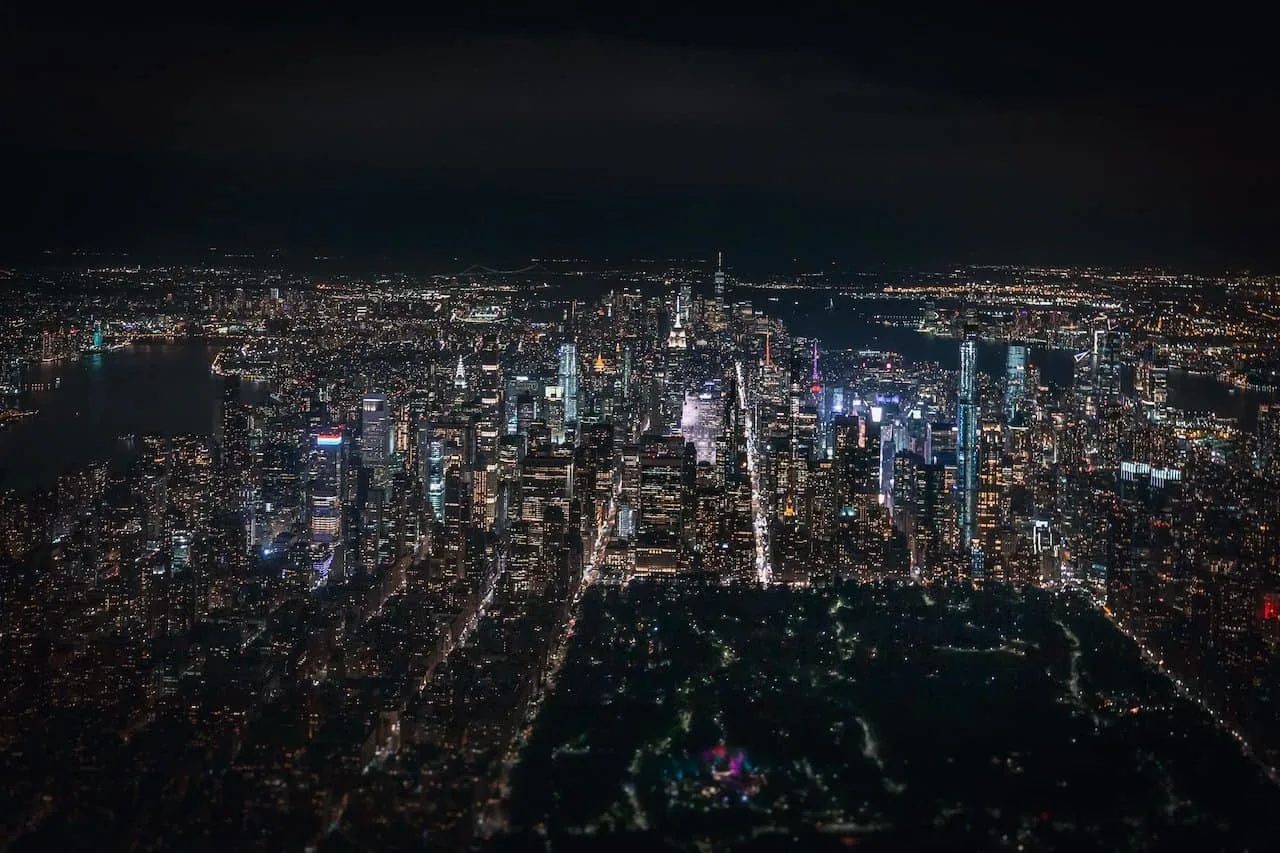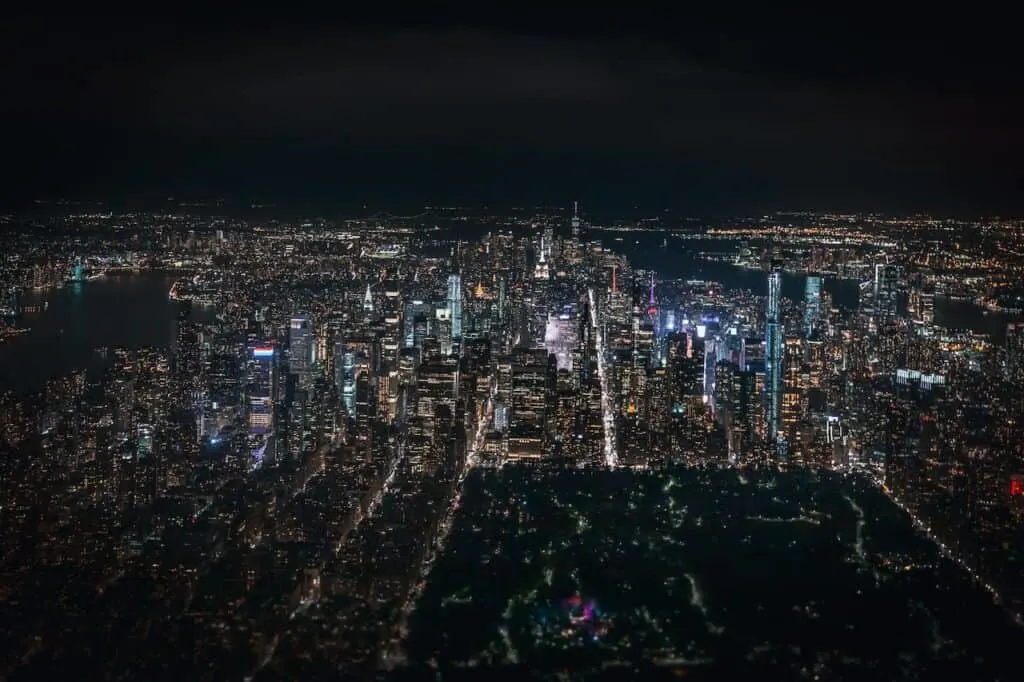 Watch a Broadway Show
If there is one entertainment activity to do at night in New York, it has to be going to a Broadway show.
With around 40 shows at any given time, there is sure to be something for all types of visitors.
Shows happen throughout the week with a mix between night and matinee performances.
You will find most of the theaters in the "theater district", which is right around the Times Square area.
So, you can really make a whole night of it. First heading to a Broadway show and then walking around Times Square at night to finish it off.
For discounted tickets, be sure to check out TKTS or apply for a Broadway lottery.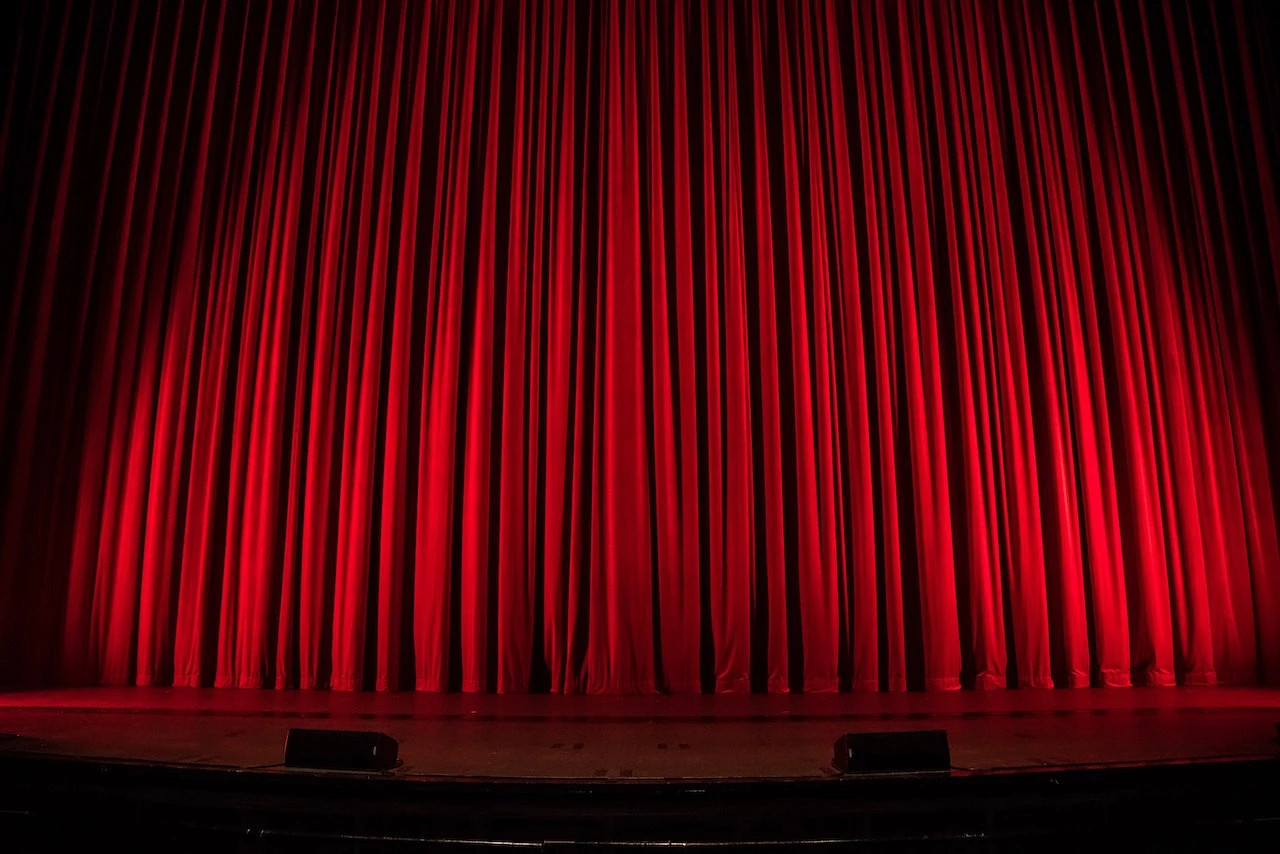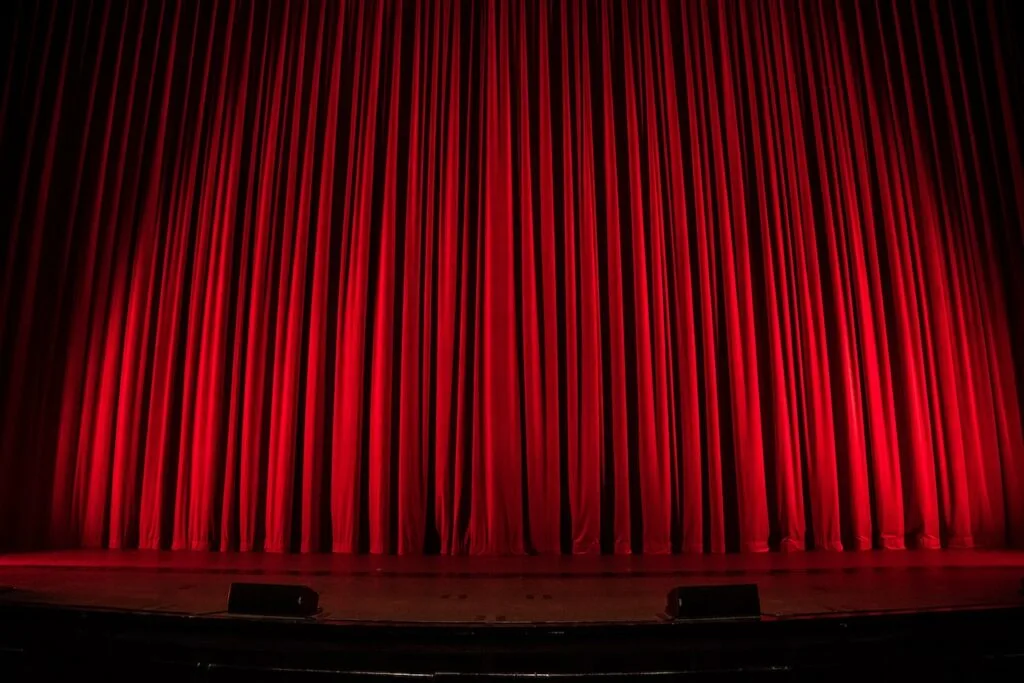 Head on a Ghost Tour
You may have heard of ghost tours before, but the Ghost Tour in Greenwich Village is up there with the best of them.
Washington Square Park and its surrounding area has quite the eerie history, which you will learn all about during a tour.
There are options for the normal tour or extended tour, which continues for 30 more minutes after the standard tour ends.
You will have the chance to visit 8-12 different spots throughout the 60-90 minute tour around the village.
Eat Through Chelsea Market
My favorite food market in NYC is Chelsea Market, located between 9th and 10th Avenues & 15th to 16th Street.
It is the perfect nighttime market to visit in NYC as it is open until late at night with 50+ food & drink options all throughout.
The market is also located nearby many other attractions that can be visited at night in NYC. These include the Whitney Museum, High Line Park, Standard Hotel, and Pier 57 rooftop.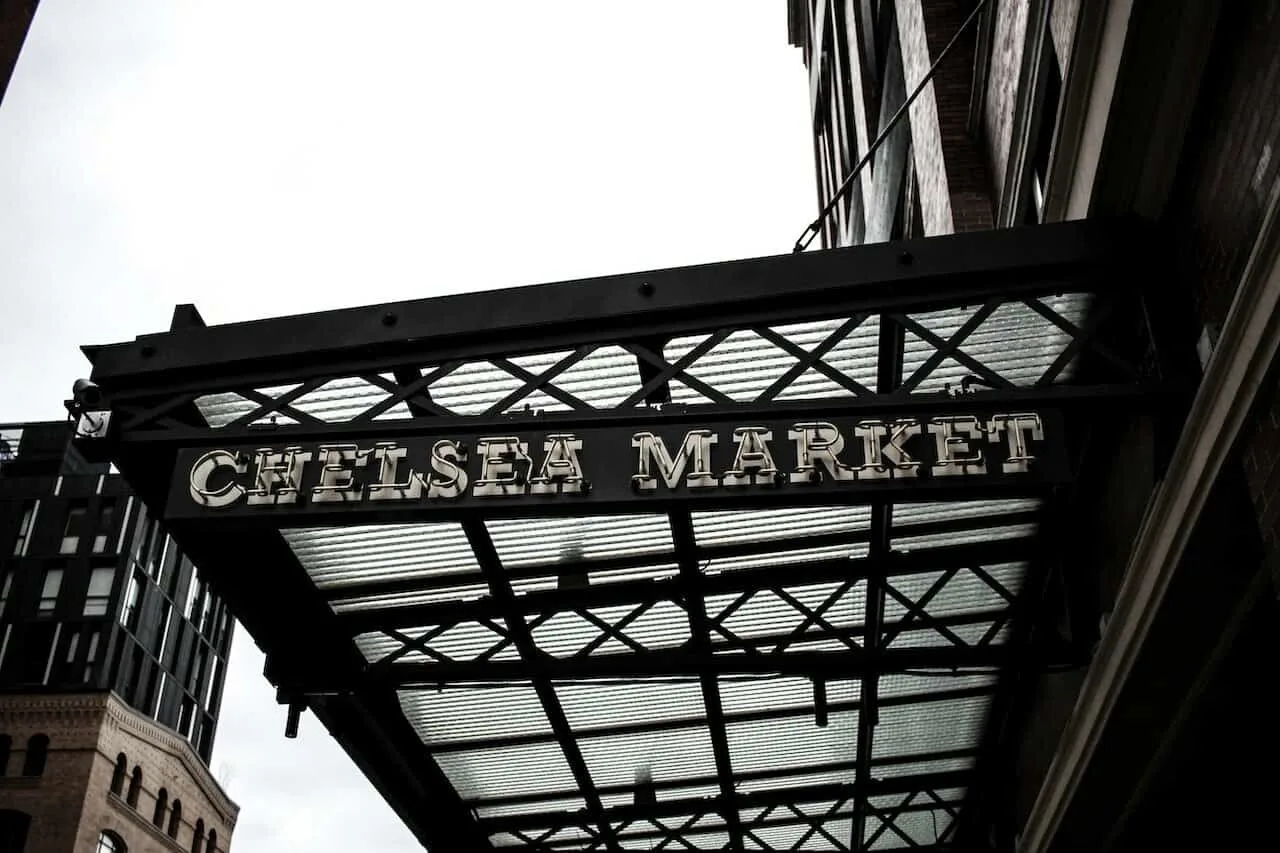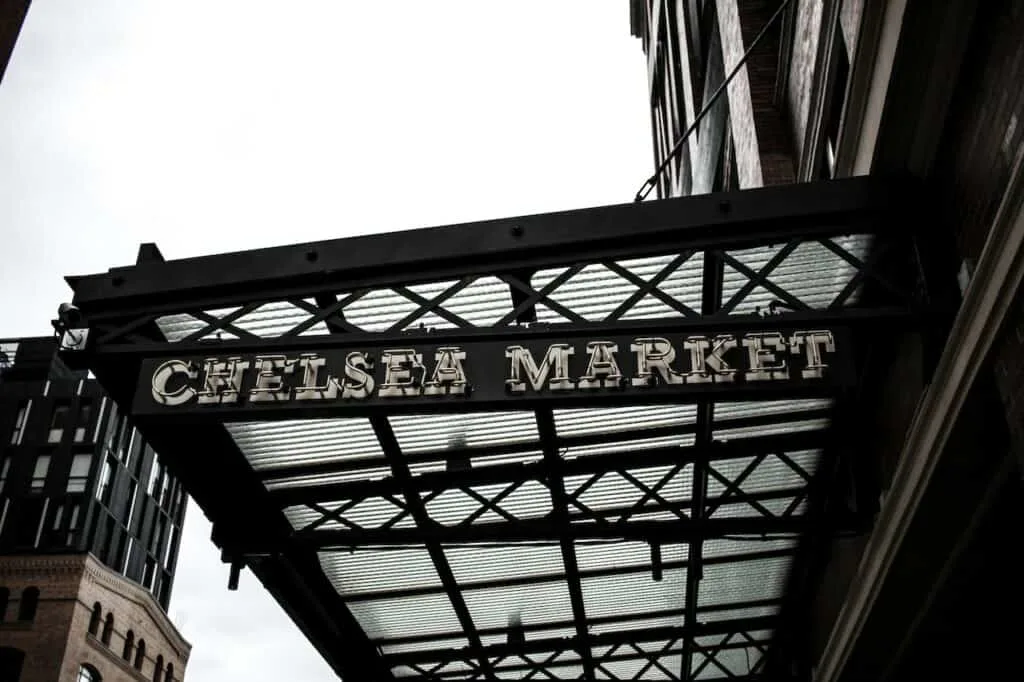 2) NYC Night Safety
Anytime you are walking around a city after dark, you may be concerned with your safety. The same goes for New York.
While there is certainly crime that happens at all hours of the day & night, there are ways to stay safe.
In general, if you are aware of your surroundings, and sticking to the main hotspots of the city, you will be putting yourself in a safer spot.
But if you are headed out to lesser visited places that are off the beaten path, then things may start to get sketchier.
I wouldn't necessarily advise going for a walk in Central Park in the woods at midnight. But an early evening stroll around The Mall should be just fine.
Luckily, there are many bright lights, lively neighborhoods, and busy streets all around. If you don't venture too far off from those, NYC is a safe place to be.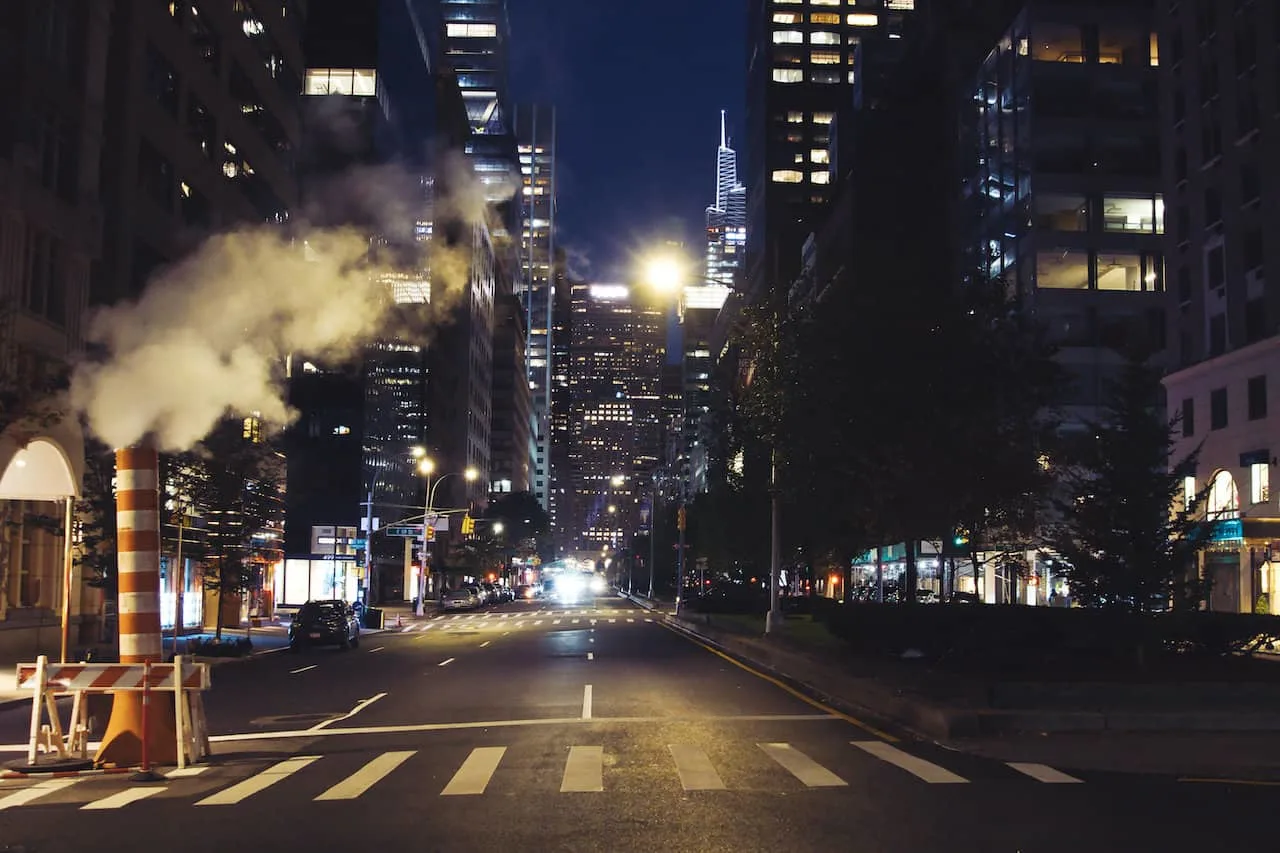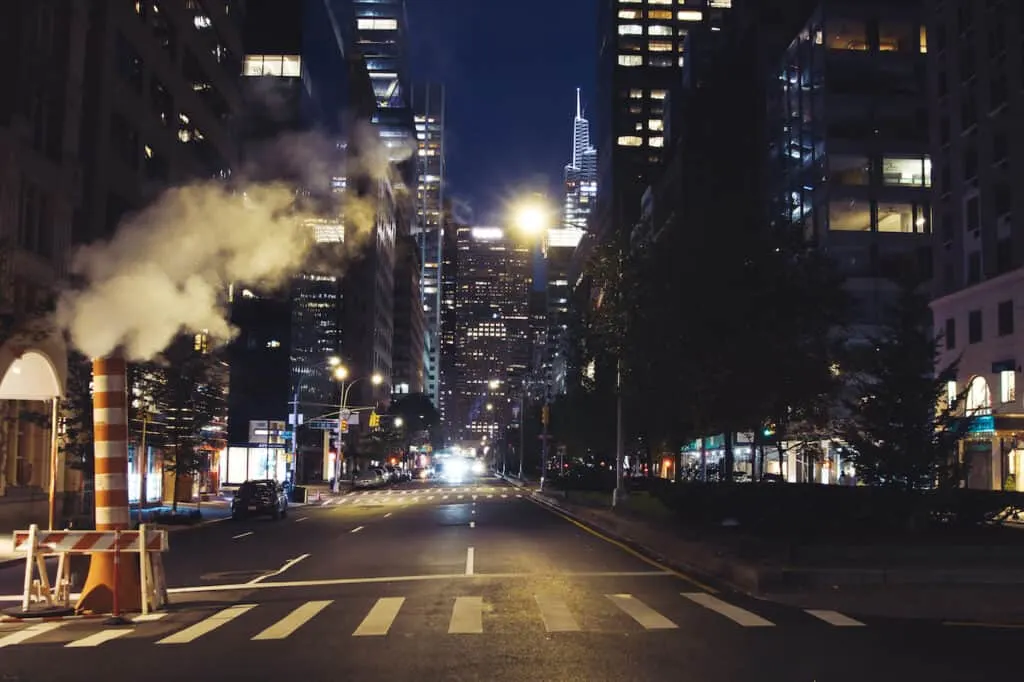 3) Things To Do in New York City at Night Recap
To recap, below are the 25 things to do in New York that we went over in this guide.
Of course, there are so many more things to do and places to see in New York at night. But this list does give a great overview of some of the top attractions.
Enjoy Skyline Views at an NYC Observation Deck
Hang Out at Pier 57 Rooftop Park
Stroll Along Brooklyn Bridge Park
Brooklyn Bridge Walk at Night
People Watch at Washington Square Park
Roam Around Times Square
Have a Laugh at the Comedy Cellar
Walk Along Central Park
Head Out to a Sports Game
Bowl & Golf at Chelsea Piers
Mini Golf at Pier 25
Drink at a Rooftop Bar
Visit a Speakeasy
Ride the Roosevelt Island Tram
Ice Skating (Rockefeller Center & Central Park)
High Line Park Views
Sing at a Karaoke Bar
Date Night at The Met
Ride a NYC Boat Cruise
Staten Island Ferry
Coney Island's Luna Park
Join a Helicopter Tour
Watch a Broadway Show
Head on a Ghost Tour
Eat Through Chelsea Market
BONUS: if you happen to visit on July 4th, be sure to catch the NYC 4th of July Fireworks display!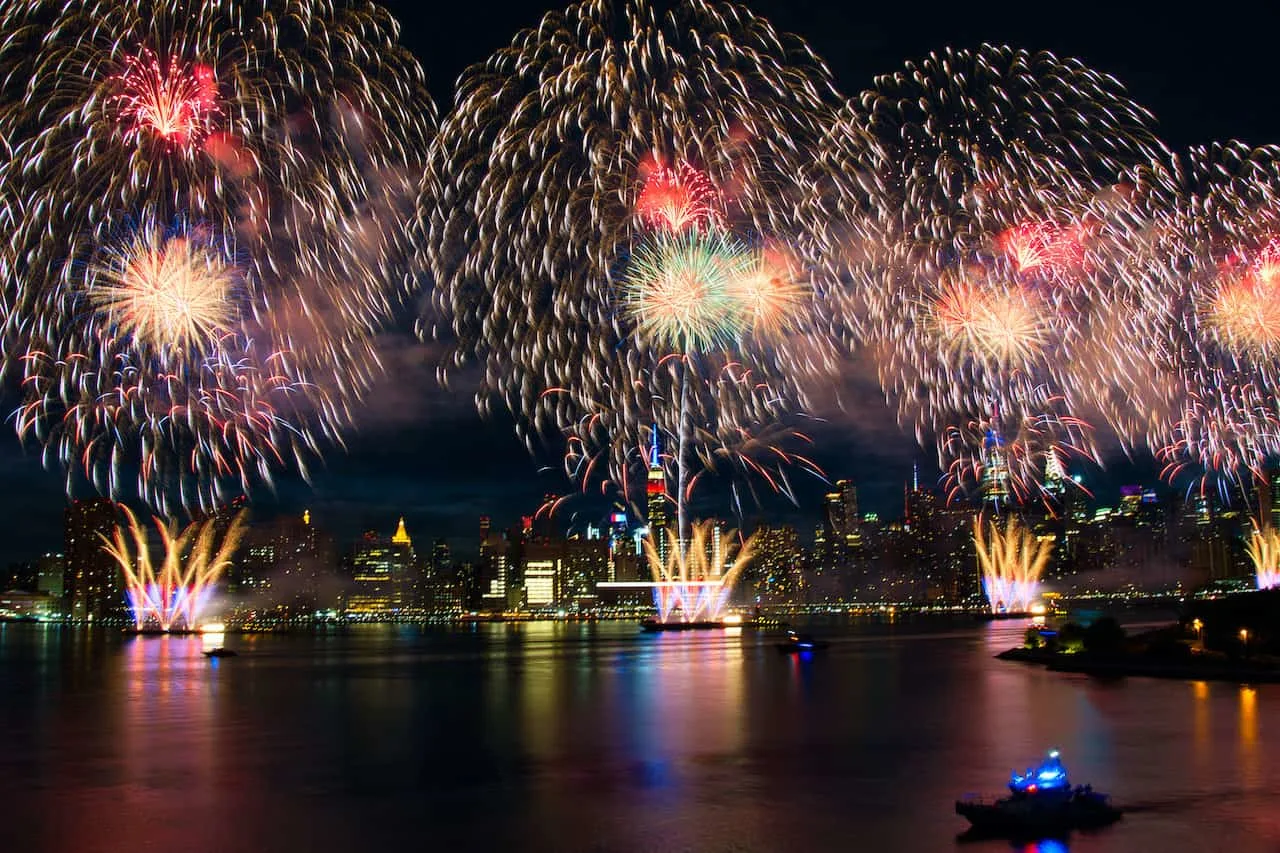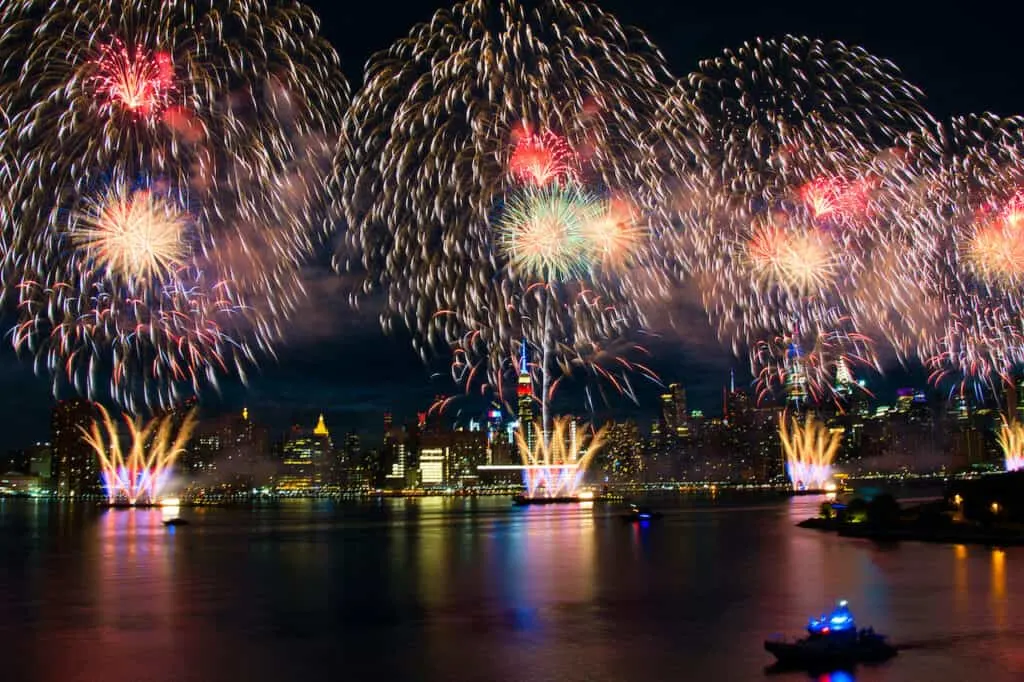 4) NYC at Night Map
To better visualize where these attractions are located throughout the city, check out the New York City map below that lays it all out.
That about does it for the top things to do in NYC at night. Check out some of the top things to do in New York City during a visit.
If you have any questions or comments, feel free to add them in below. Also, be sure to check out the other New York itineraries and guides up on the site (like the top NYC photo spots and 7 Day New York City itinerary).
Have fun out there and safe travels!