Each year on July 4th Macy's puts on one of the world's most extraordinary fireworks shows in NYC. During the show there are 60,000 shells that are launched into the sky, creating a non-stop spectacle for nearly 30 minutes.
This guide will go into some more detail about the 4th of July Fireworks in NYC, and how to best prepare for this one of a kind show.
From helpful tips and tricks to the best viewing locations, let's get you ready for the 4th of July!
* Affiliate Disclosure: This post may contain affiliate links, which means I may receive a commission if you make a purchase through the links provided, at no additional cost to you. Thanks for supporting the work I put into TripTins!
1) Macy's 4th of July NYC Fireworks Show
While there are a few different fireworks displays going on during July 4th throughout NYC, none of them can compete with the official Macy's July 4th show. This has been a New York annual tradition starting all the way back in 1976.
These days, the Fourth of July fireworks show happens in the East River. While the show has been put on in the Hudson River in years past, the East River has become the main spot to see the fireworks.
On the river, there are five barges that the fireworks are launched off of. During the show, 60,000 firework shells are sent hundreds of feet into the air over the course of 25 minutes. That means every minute there are 2,400 shells launched up!
These fireworks come in all different shapes, sizes, effects, and colors. Each year new variations are introduced to the spectacle, making no two shows the same.
In 2023, you can expect to see the July 4th fireworks extravaganza to begin at 9:25PM, and end just before 10:00PM
Note: if watching on TV, the broadcast begins at 8:00PM Est with musical performances leading up to the fireworks themselves.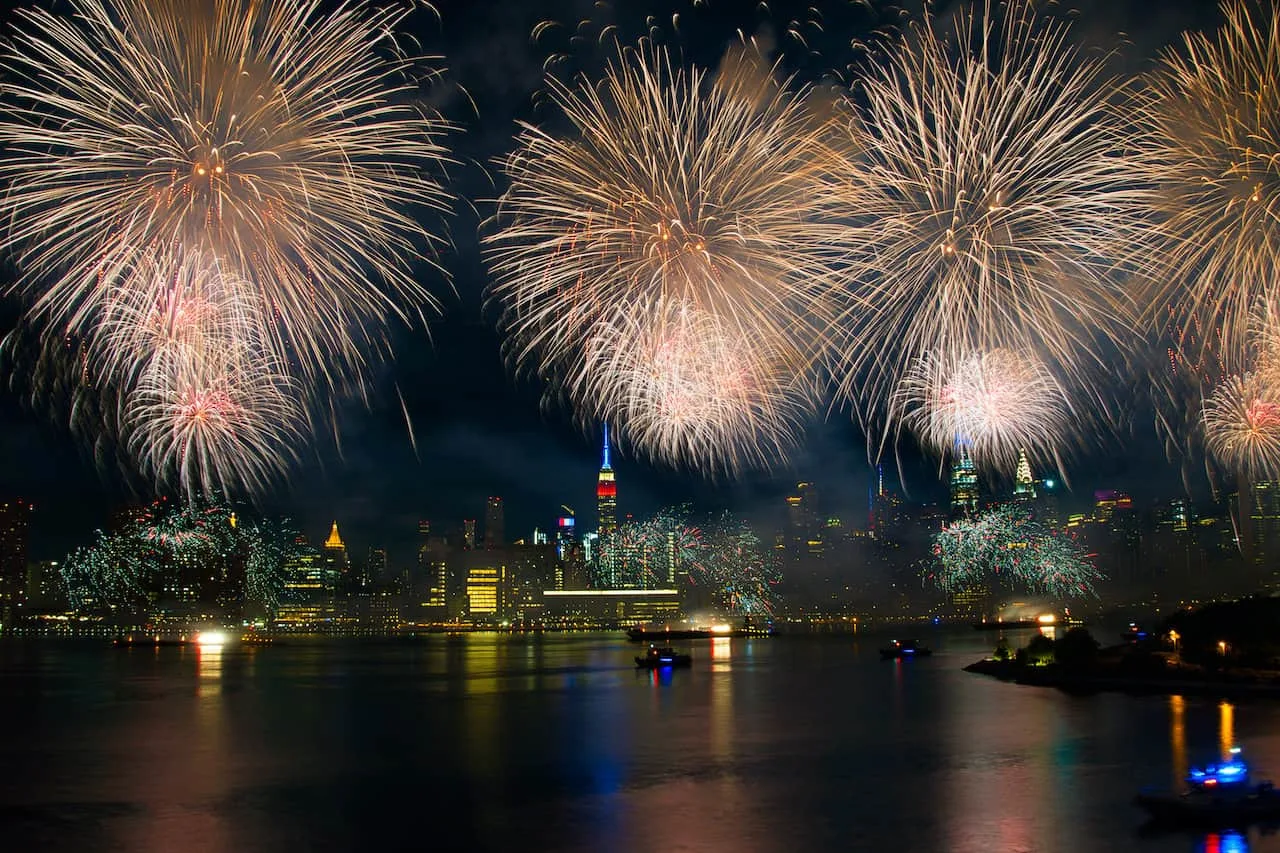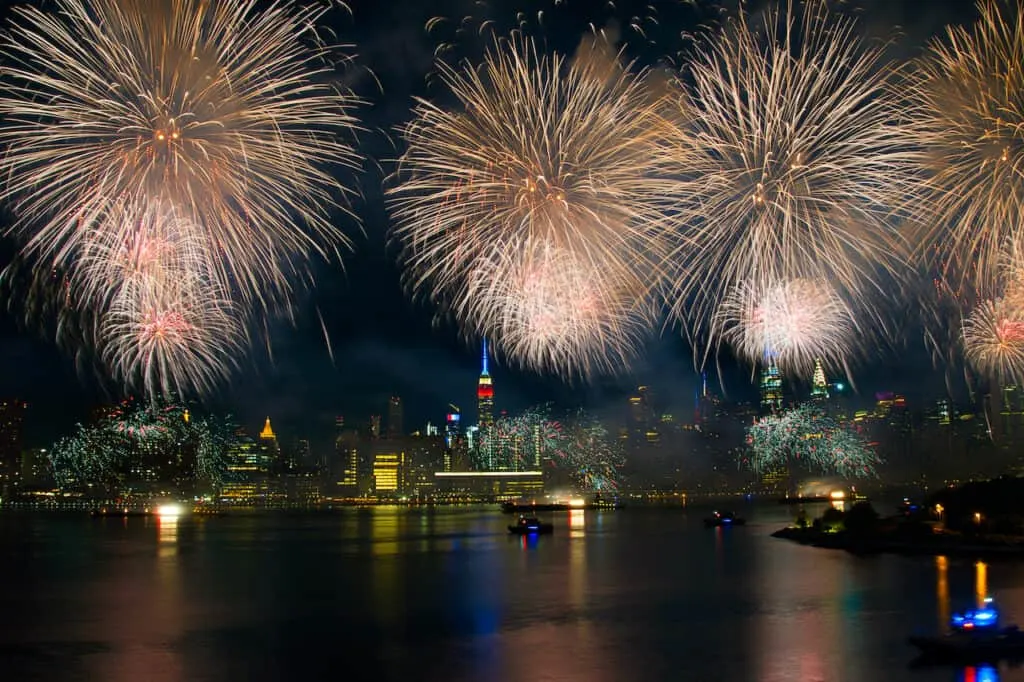 2) Best Locations for NYC 4th of July Fireworks
Macy's has announced that the 5 barges will be located between 26th Street and 40th Street in the East River.
Expect the barges to be equally separated throughout the water giving spectators a chance to see them throughout the Manhattan, Brooklyn, and Queens waterfronts.
Below is the updated map for 2023 that shows the location of the barges along with the official entry points to the riverside spectator areas.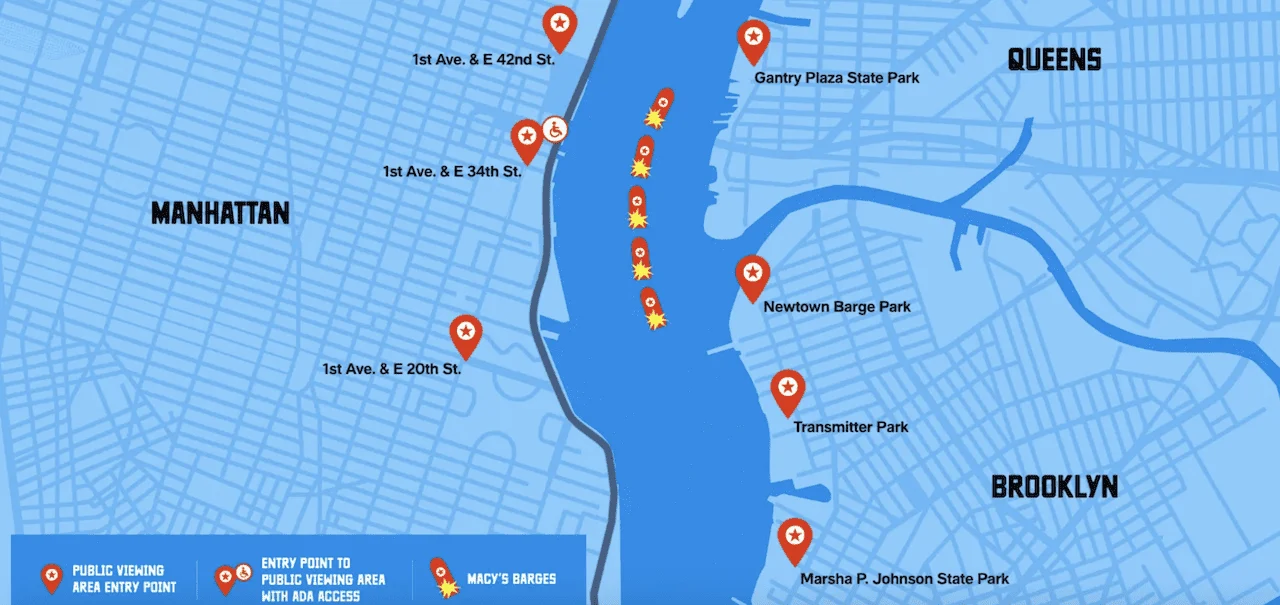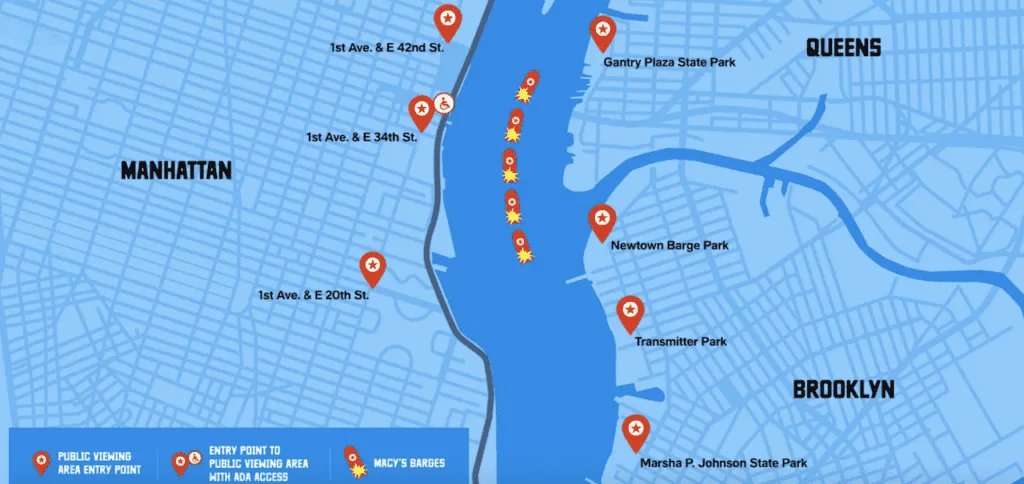 The official locations to watch the 4th of July New York City fireworks along the East river include:
Manhattan (FDR Highway)
There are three security entrance checkpoints points along 1st Avenue that will take you to the FDR Highway viewing areas above the East River Greenway (the viewing areas are on the FDR highway itself as traffic is completely shut down):
42nd Street
34th Street
20th Street
Queens
Brooklyn
Newtown Barge Park
Transmitter Park
Marsha P Johnson State Park
Note that all of these entrances will have security checkpoints and a police presence. They will close off the entrances as the area fills up, so you must make your way past security well prior to the actual event.
In addition to these main areas to view the fireworks, there will be police blocking off other entry points onto the waterfront. Just a heads up if you thought you may be able to work your way around.
Obstructed Viewing Locations
According to the Macy's location announcement, the following areas ARE NOT recommended for viewing the fireworks (either to to obstructions or because they will be closed):
Bushwick Inlet Park
Brooklyn Bridge Park
Brooklyn Heights Promenade
Grand Ferry Park
Domino Park
Hunter's Point South Park
Roosevelt Island
East 34th Street Ferry Landing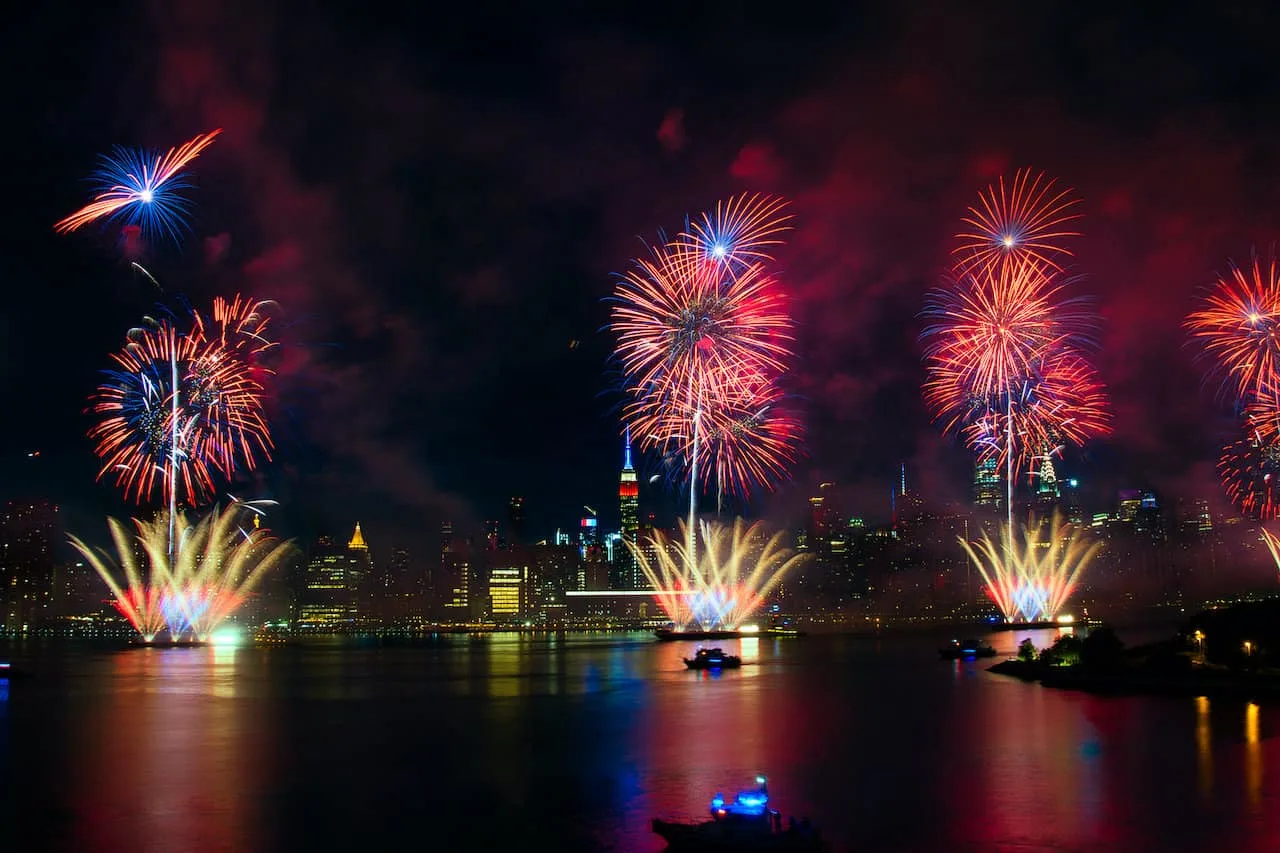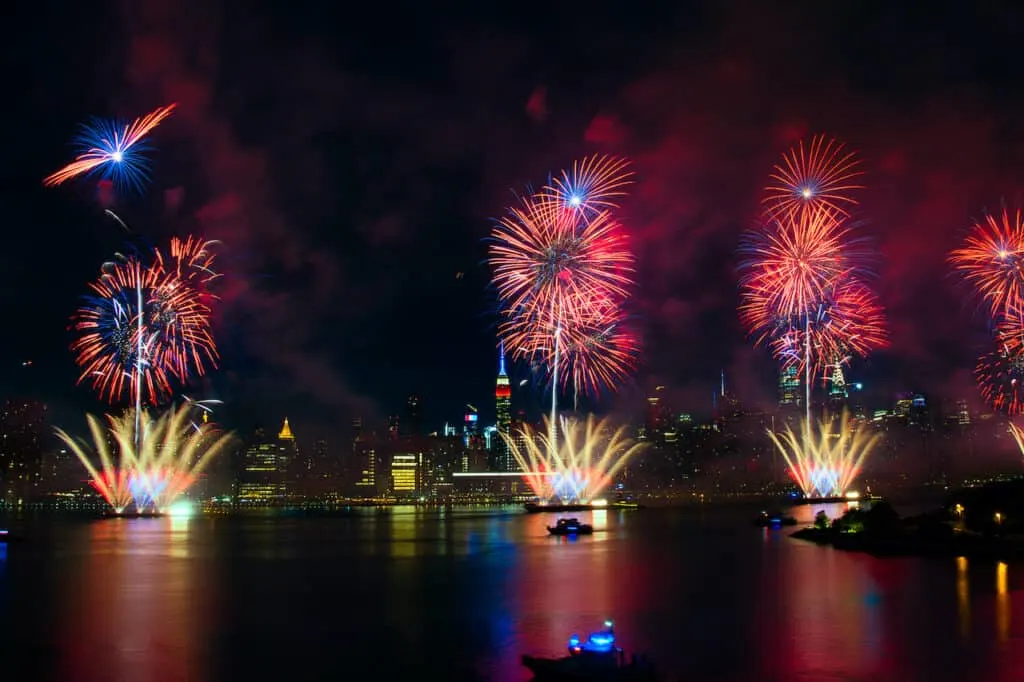 3) NYC Fireworks Location Tips & Things to Know
Below are a few helpful tips & things to know when it comes to viewing the fireworks along the East river waterfront:
1) For those heading to the waterfronts, the security checkpoints will not allow you to bring lawn chairs, blankets, coolers and backpacks. Be sure to leave those behind for the night.
2) It can get hectic leading up to the firework start time. I would recommend arriving well before 9:25PM to give you time to find a spot and not get locked out by security. Plan to arrive at least 2 hours before to avoid the chaos.
3) To enter any of these main viewing locations on the waterfront, it is free to enter and tickets are not needed. It is on a first come first serve basis.
4) Pay attention to where the barges are and the recommended viewing areas! If you decide to head further south or north away from the official viewing areas, there is a good chance you will not be able to see the fireworks display a whole.
5) My recommendation would be to head to the Brooklyn/Queens side of the East River instead of the Manhattan side. On the east side of the river, you will get to see the NYC skyline in the background of the fireworks.
6) The fireworks show can still go on in the rain (but may be delayed if there is lightning). If the forecast is not ideal, be sure to bring along some raincoats or ponchos to stay dry.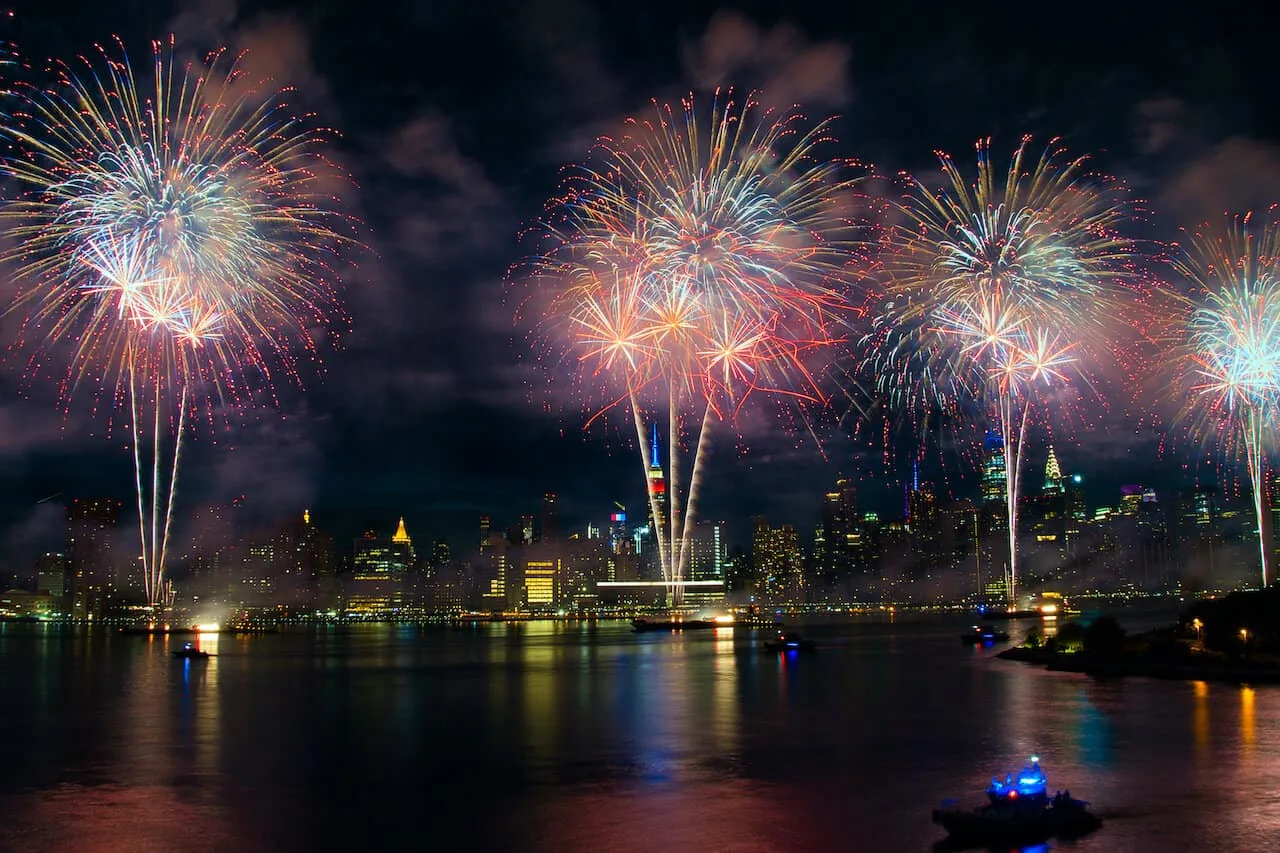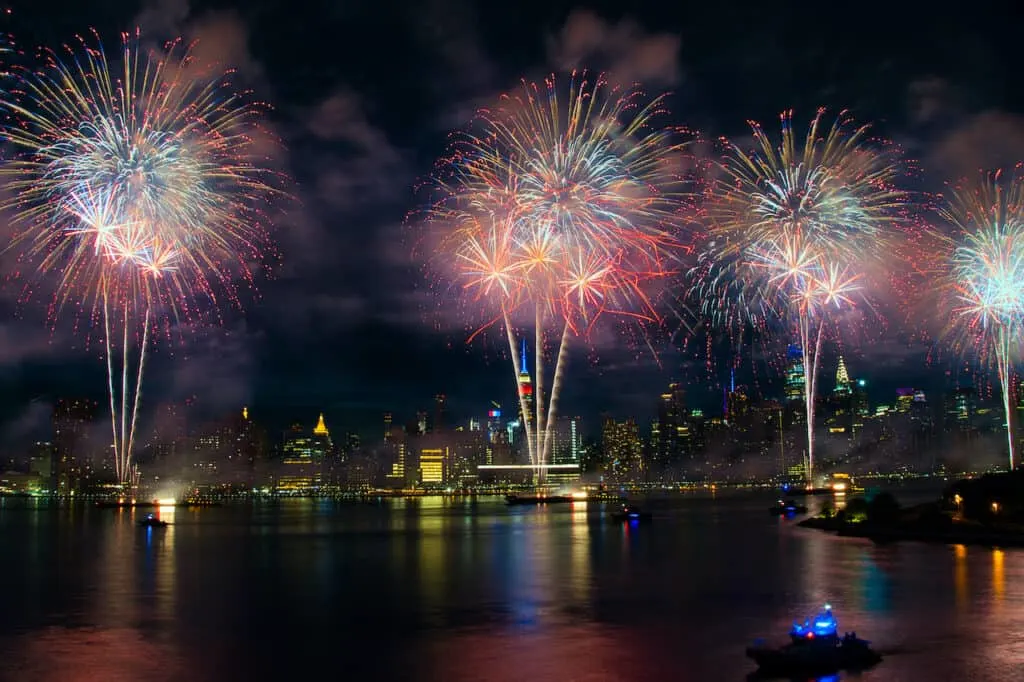 4) Private Party Viewing Locations
While the above section related to the "official public" viewing locations, there are certainly other spots in NYC to catch the firework display.
Instead of heading right to the waterfront, you will be able to catch the fireworks from apartments, bars, observation decks and more.
Many of the photos that you will find in this overview are taken from an apartment building in Greenpoint. If you happen to have a friend that has those East River views, I would highly recommend opting for that option.
Some other potential private party locations include:
Solar One NYC
34th Street Heliport
Note that these options will require a reserved ticket and can cost a bit of money. Feel free to check those options out if they sound of interest to you.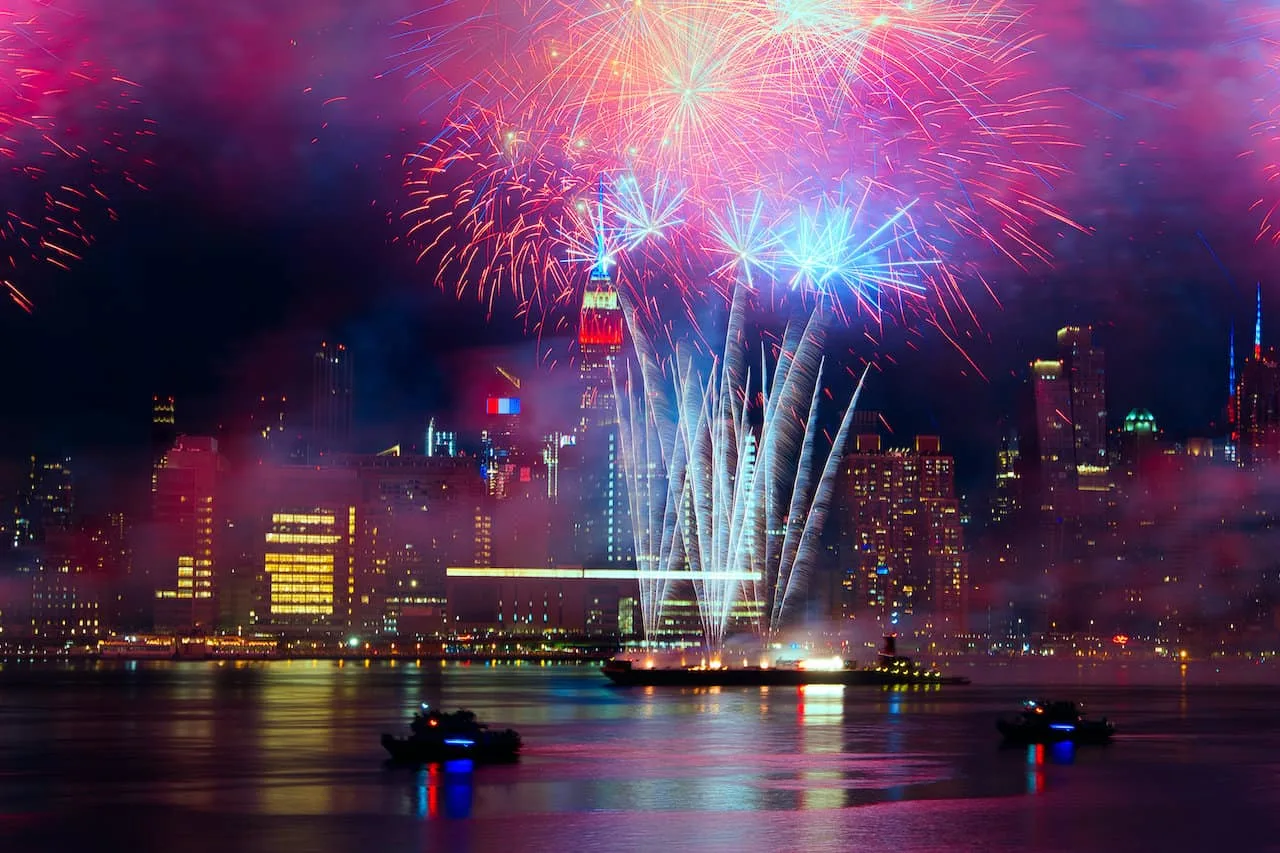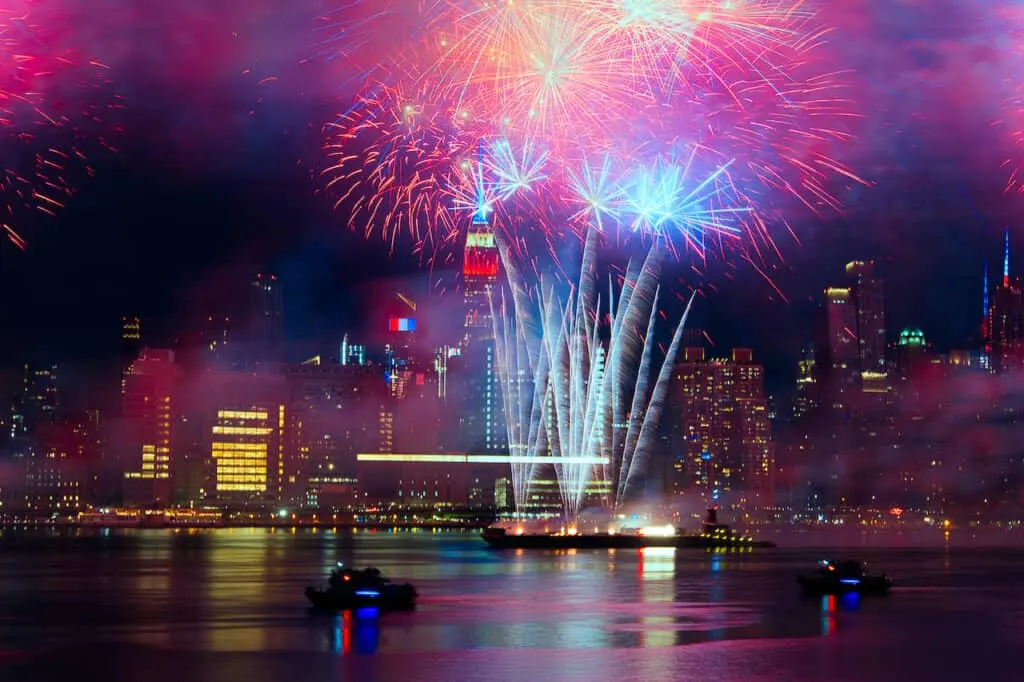 5) July 4th NYC Fireworks Observation Decks
Now for those that are looking for a real exclusive and special July 4th fireworks experience in NYC, you can opt to head to one of the observation decks.
While normal tickets are pretty reasonable to visit these observation decks, tickets for July 4th will cost you somewhere in the $250+ range.
This price may also include open bar, food, music, and more. So, it is not just for the fireworks, but also for the overall experience.
It is one thing seeing the city from above, but a whole other thing seeing the city from above with 60,000 fireworks launched into the sky.
In the recent past, July 4th tickets were available for:
While Top of the Rock has had events there in years past, they did not hold an event the last few years.
Be sure to check their websites for the latest tickets & offerings.
Viewing Note: although these observatories are high up, there can still be some obstructed views from other buildings towards the East River. Again, this is going to be more for the overall experience, and not just for the fireworks themselves.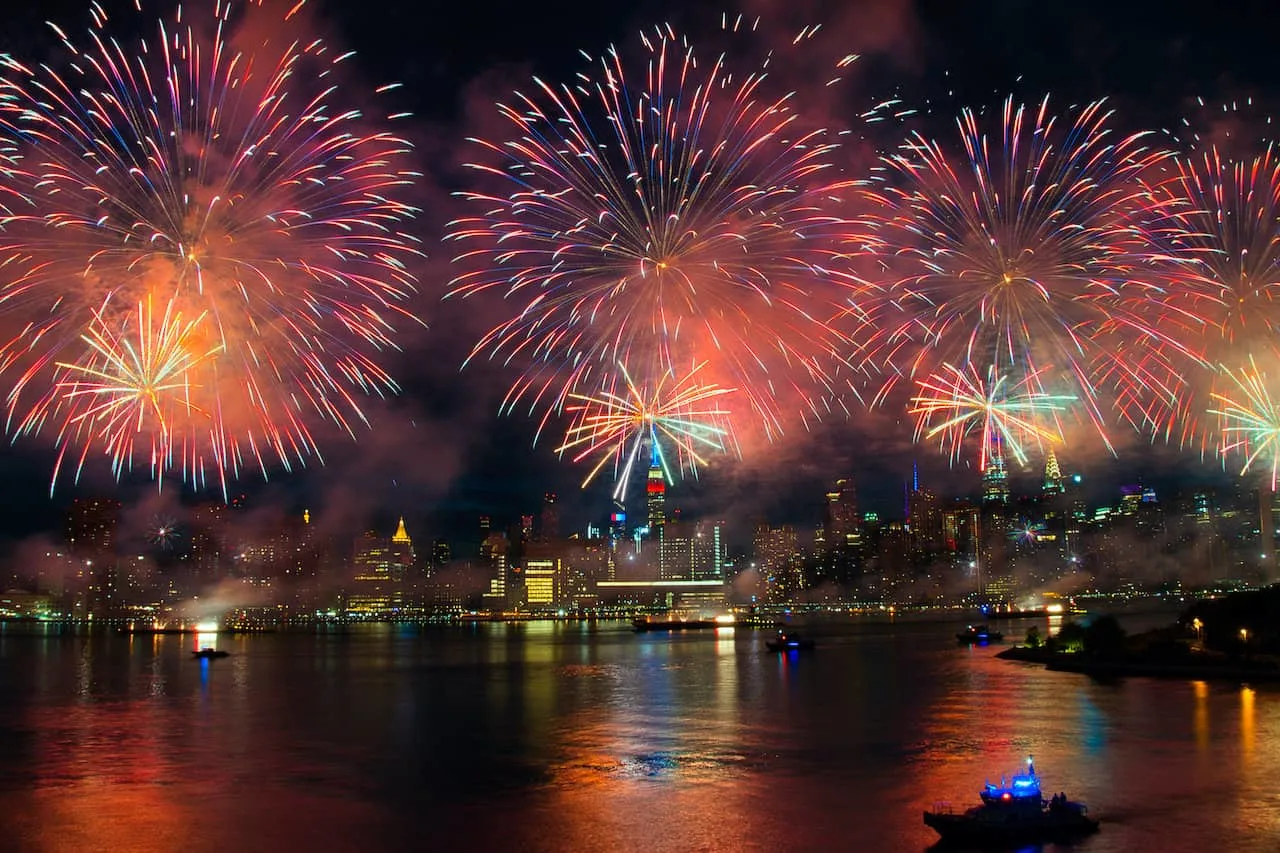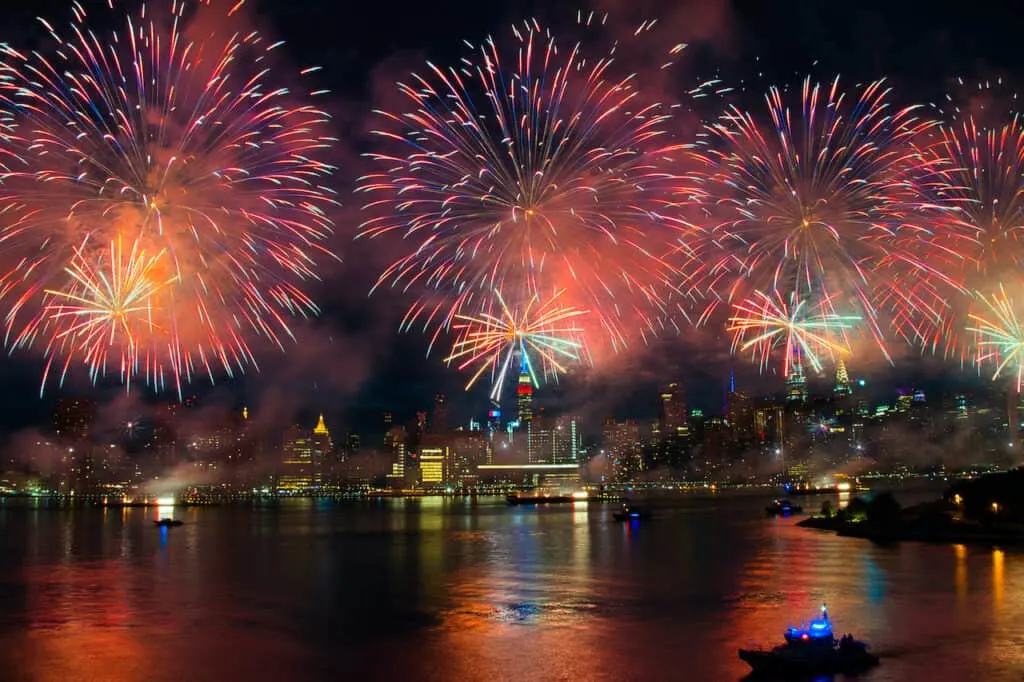 6) July 4th East River Cruise
While seeing the fireworks from land is one thing, seeing the fireworks from the river itself is another. There are some companies that run special 4th of July all-inclusive party cruises.
There is one main cruise run by Circle Line Sightseeing that has a DJ, buffet, drinks, and of course views of the fireworks along the way.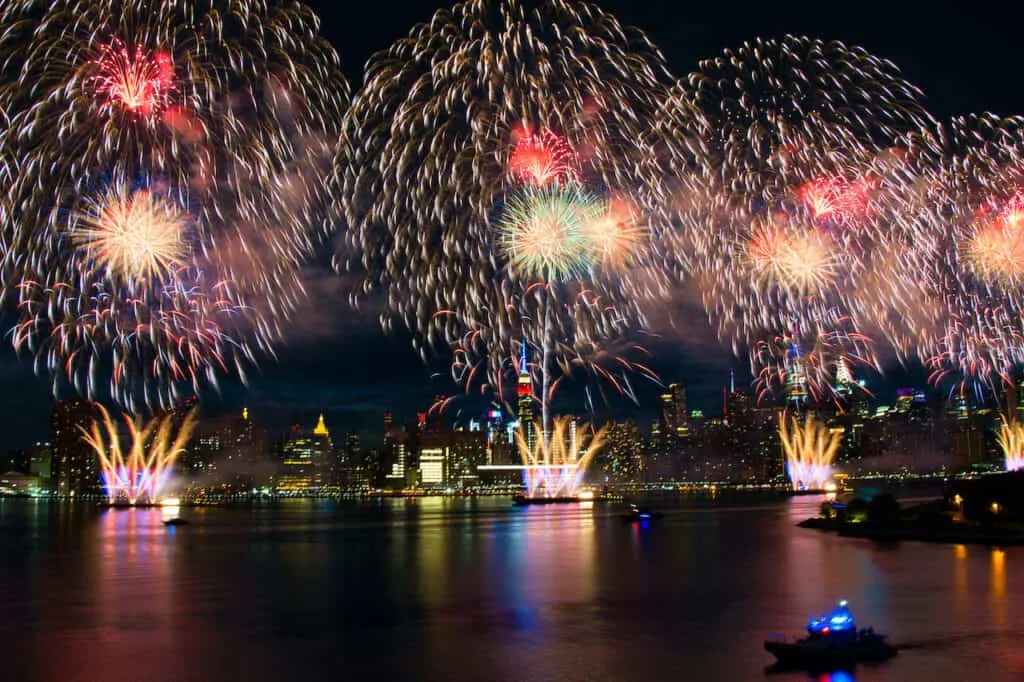 7) Fireworks Photography Tips
If you want to bring along a professional camera, you should be able to get some great long exposure shots similar to the ones in this article.
Here are a few helpful tips when it comes to photographing the fireworks.
A tripod is going to be necessary to get the long exposure type of photos. Just note that backpacks are not allowed in certain areas along the waterfront.
Keep your shutter speed around 5-10 seconds. This is one setting I would recommend playing around with. Feel free to do some test shots at the beginning and then stick with a shutter that works best for you.
I would advise keeping your ISO low (around 100) and your aperture around F8. Feel free to also test your aperture at the start to see what setting you are happiest with.
Set up the camera to just continuously shoot so you don't need to press the shutter for each photo. I find this easier to do as the show does last 25 minutes. There are bound to be some great shots spread throughout.
You may need to shoot wider than expected to get the full frame in view. These fireworks go high and wide! On the other hand, feel free to use some zoom too, where you can compress the fireworks with the skyline.
The air will get smoky so try and get most of your top pictures at the beginning of the show. As 60,000 fireworks go off, you will see more and more smoke in the air.
8) 2023 Macys Fireworks Update
In 2023, there are several new and exciting features of the show to look forward to. Check out a few highlights below from the press release:
"New effects that will enthrall revelers include a mile-wide waving flag created by a combination of red, white, and blue palm and strobing shells, sunflower ring with crackling pistil shells, red stop sign shaped effects, and new Ghost pyro that turn from one color to another in an on/off design featuring four different hues."
"This year's pyrotechnic design will feature the most dynamic collection of animated shells ever launched during Macy's annual spectacle. Dancing, swirling, pulsing, and sweeping across the skyline, the show will launch an average of 2,400 shells and effects per minute."
"Curated by Ray Chew, famed musical director and maestro for some of the nation's most popular entertainment programs, score selections will include "The Star Bangled Banner," "America the Beautiful," "Lift Every Voice and Sing," "Ain't No Mountain High Enough," and a special performance of an original work titled "Sea to Shining Sea" – written and performed by The United States Army Field Band's rap duo Nico & Lamar with Ray Chew."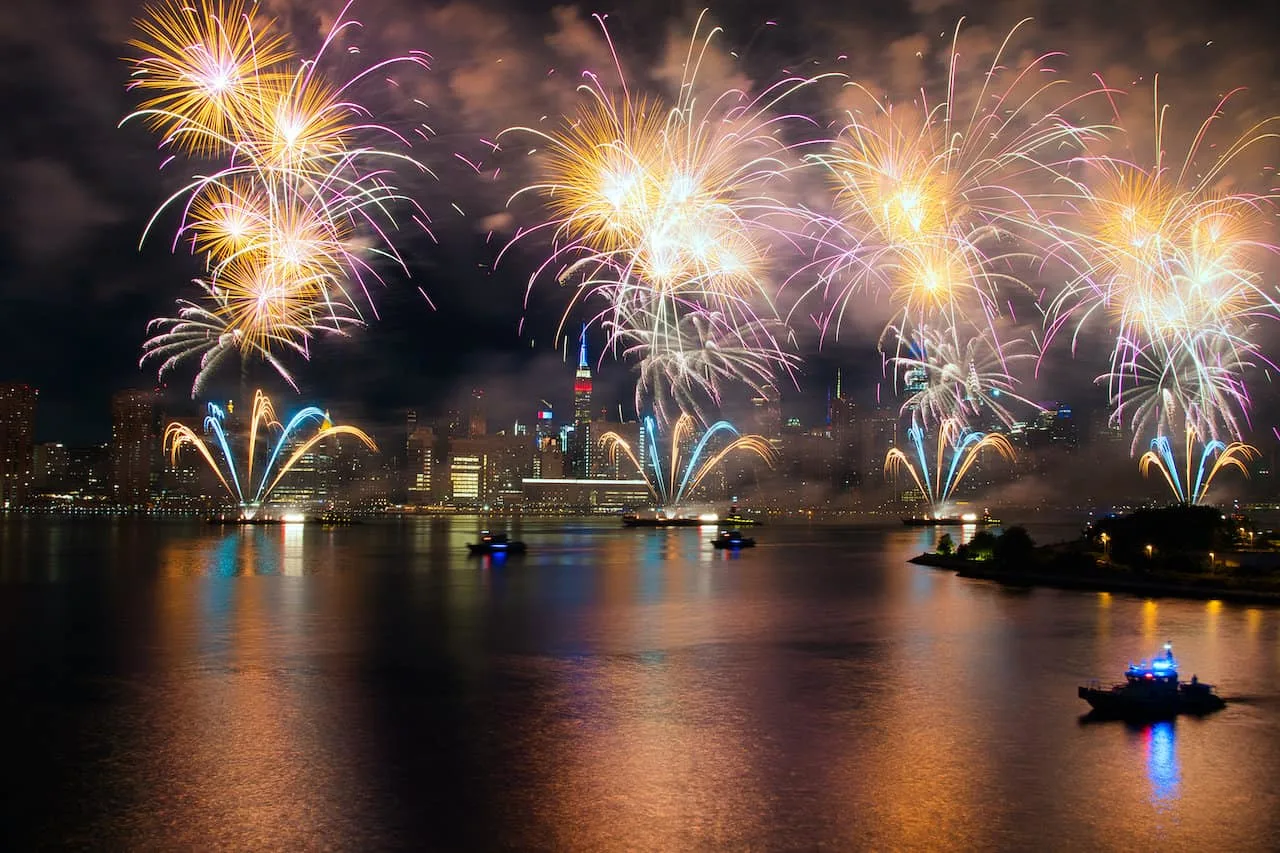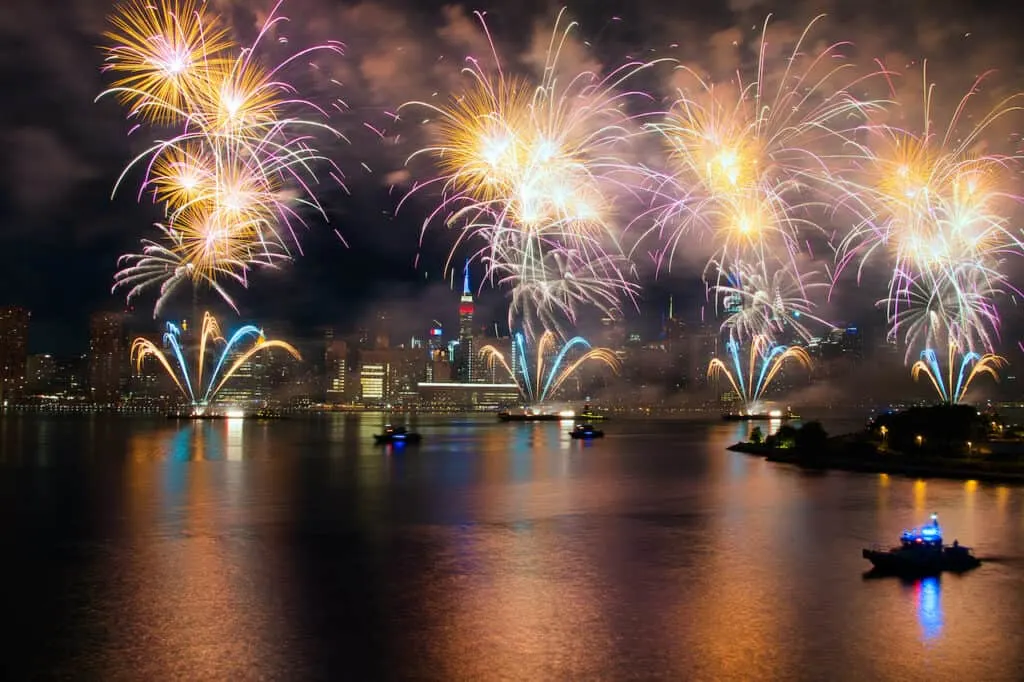 Hope you enjoy a 4th of July in New York City! If you have any questions or comments, be sure to add them in below.
Also, be sure to check out the other New York itineraries and guides for other things to do in NYC during a visit.
Have fun out there and safe travels!