All along Hudson River Park you will find parks, restaurants, activities, sports, and more. Many of these are located along renovated piers that stretch out into the Hudson River.
One of the most happening of piers along the river is Pier 26 at Hudson River Park. The pier offers visitors a City Vineyard restaurant, lounge areas, a Tide Deck, sports field, free kayaking, and some of the best views of the NYC skyline.
This guide will go into everything there is to know about Pier 26 and how to go about a visit to this one of a kind spot in the city.
* Affiliate Disclosure: This post may contain affiliate links, which means I may receive a commission if you make a purchase through the links provided, at no additional cost to you. Thanks for supporting the work I put into TripTins!
1) What is Pier 26
Pier 26 is a 2.5 acre "ecologically themed pier" near the Tribeca neighborhood of NYC. The pier itself was renovated in 2020 by OLIN Studio and now stands as one of the most unique piers in the city.
It encompasses five different native ecological zones including woodland forest, coastal grassland, maritime scrub, rocky tidal zone, and the Hudson River itself.
Throughout the pier, you will find a few different pathways that will take you along these zones as you enjoy the plants and flora that are "evocative of Manhattan's ecosystem prior to human development".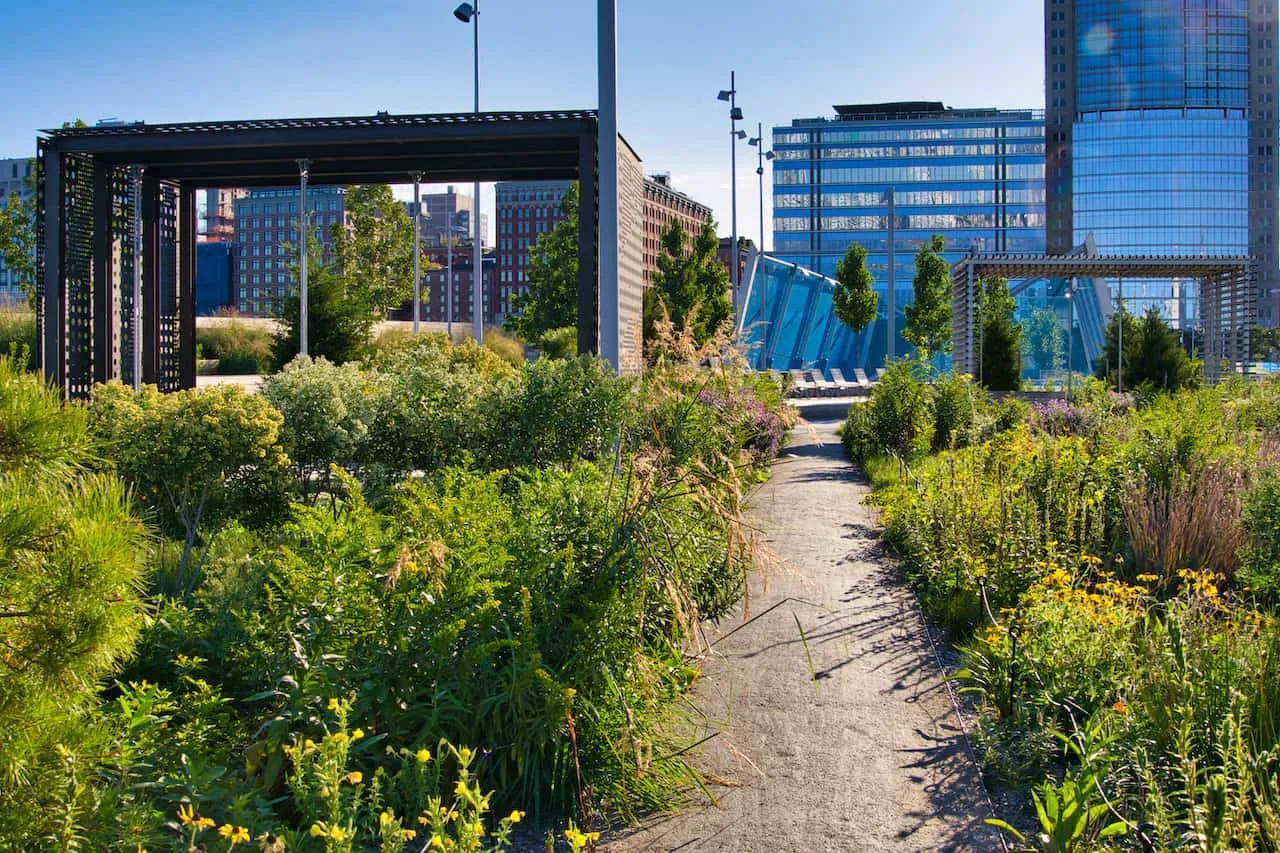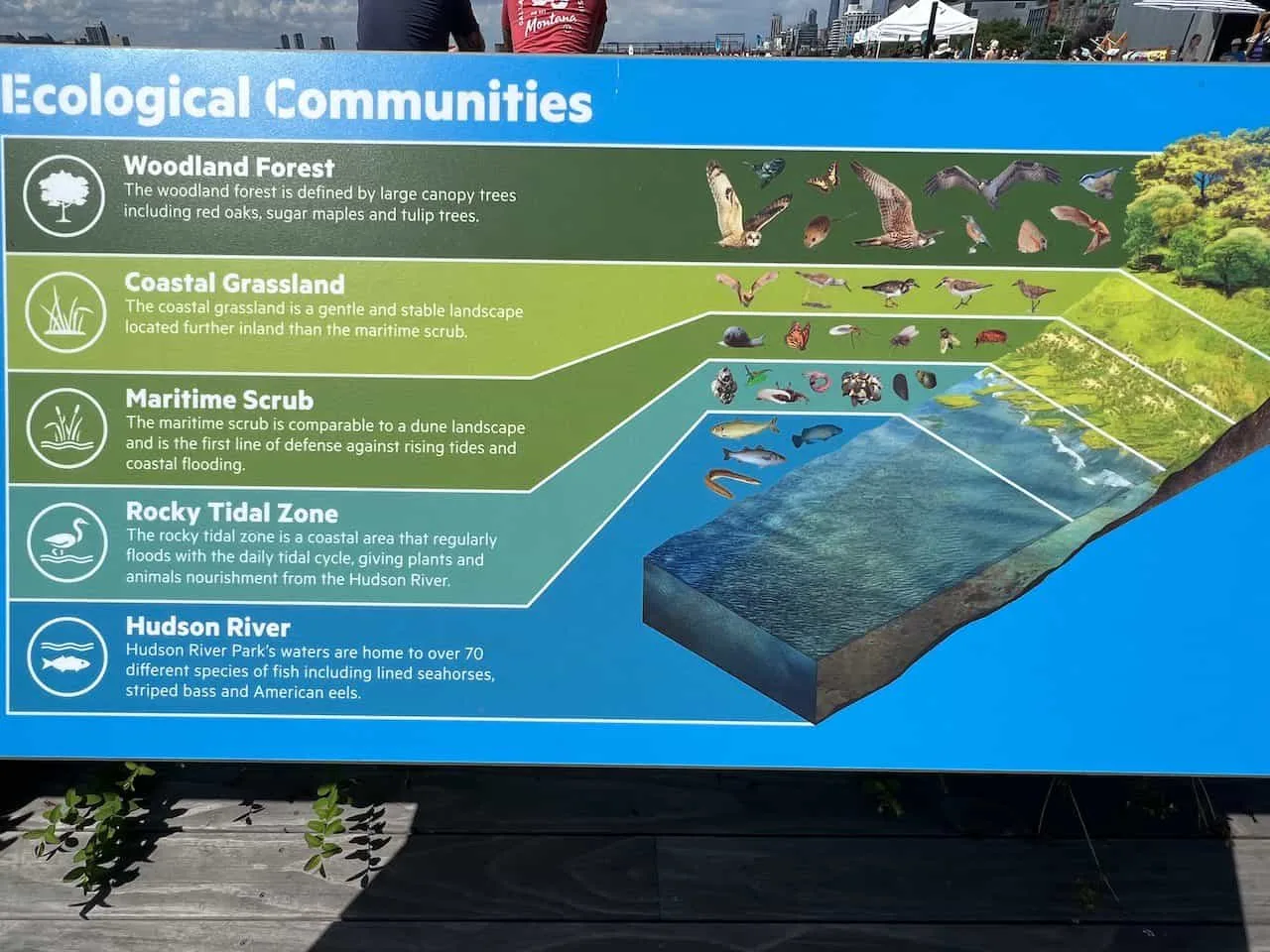 Below are some of the other highlights to expect during a visit to Pier 26:
City Vineyard Restaurant
Downtown Boathouse – Free Kayaking
Sports Field
Lounge Area with Chairs
Lounge Rocking Swings
Lawn Space
Tide Deck
Views of Uptown & Downtown Skyline
Views of New Jersey & the Statue of Liberty
I will talk about each one of these highlights in their own sections later on in this guide.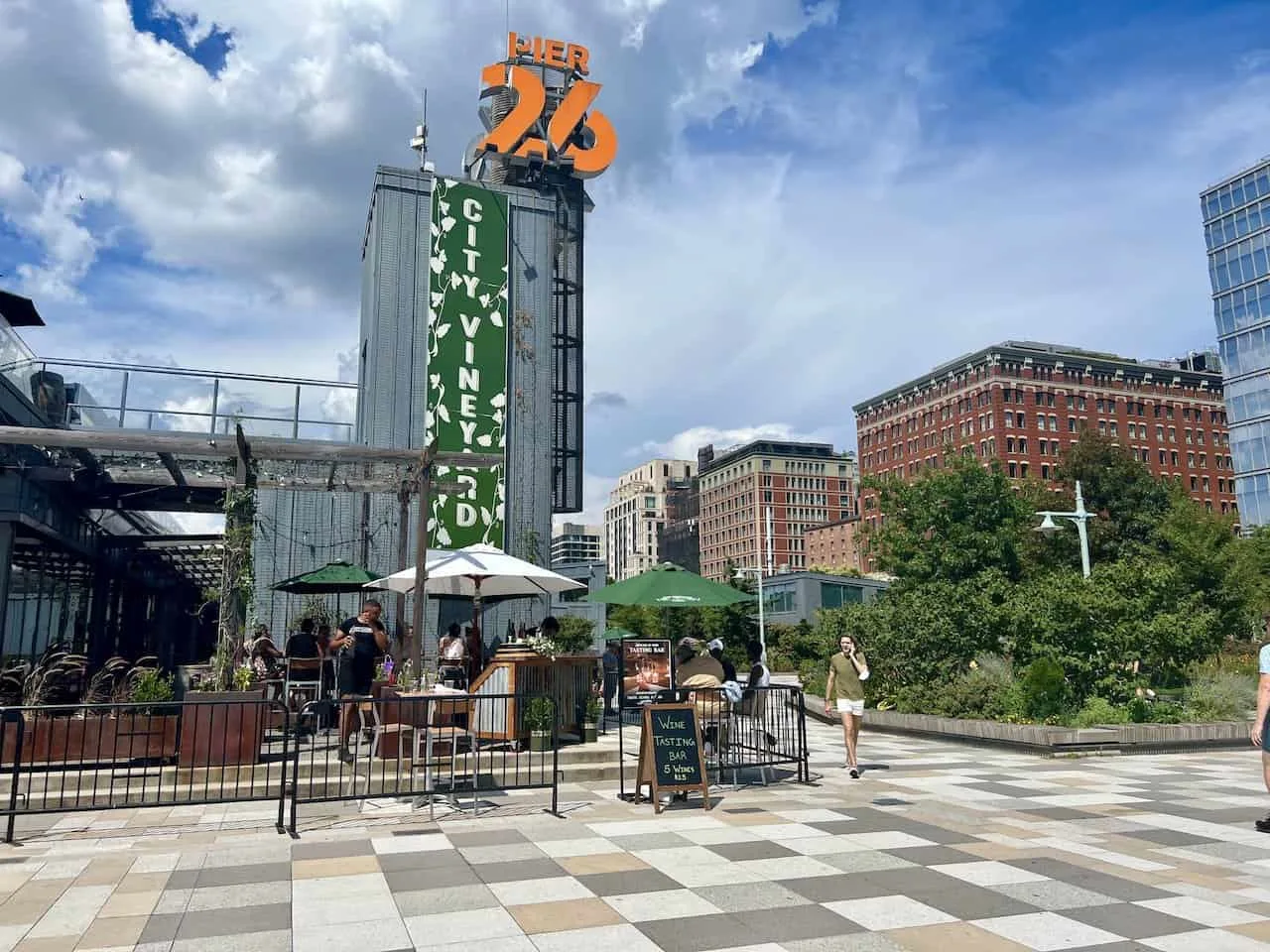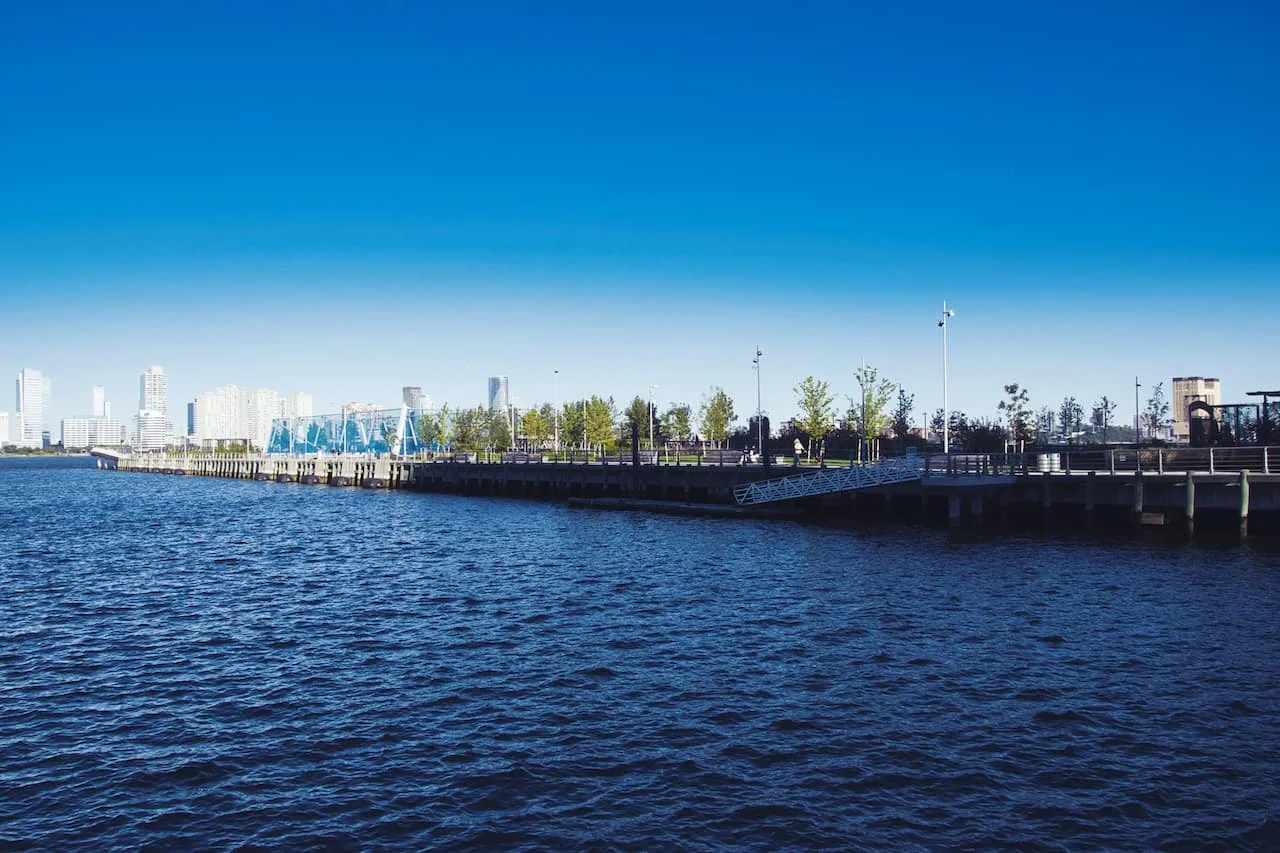 2) Pier 26 Location
What Street is Pier 26 On?
Pier 26 is located along the Hudson River at the intersection of the West Side Highway (West Street) between Hubert Street and N Moore Street. To reach the pier itself you must make your way to the west side of the highway.
This can either be done if coming from north or south along Hudson River Park (if exploring other sections of the overall park), or by crossing the street at the N Moore Street intersection that will safely take you across the highway (the next closest walkway to the north is at Laight Street).
→ Visit Pier 26 & Hudson River Park as part of a longer New York City 4 Day Itinerary
Below you can find a map of Pier 26 and where it is located in relation to Manhattan. I have also pinpointed some of the highlights within the pier that I will be talking through later on.
3) How to Get to Pier 26
There are a few main ways to get yourself to Pier 26. This will mostly depend on where you are coming from and overall transportation choice.
By Foot
The Hudson River is full of piers, attractions and activities. So, instead of just visiting Pier 26, you can really make a full day out of it.
If you are walking down from the north, you may be able to visit places like Chelsea Piers, Little Island and Pier 57 along the way down.
On the other hand you may be coming in from the south near Battery Park. Around that area you will find the Statue of Liberty viewpoint, One World Trade and the 9/11 Memorial & Museum.
By Subway
The NYC subway system connects all parts of the city underground. The closest subway stops would be the 1/2 at Franklin Street (9 minutes), the A/C/E and 1/2 at Canal Street (12 minutes), and the 1/2/3 at Chambers Street (12 minutes).
Once you get off either subway, make your way to N Moore Street or Laight Street, where you can safely cross the street and head to Pier 26.
Note: you can walk underground from Fulton Center subways stops (A/C/J/Z/2/3/4/5). There is a pathway that runs underneath the West Side Highway and into nearby Brookfield Place.
From Brookfield Place, you can then walk the 10 minutes up to the pier too.
By Car
If you have your own car, you will need to find street or garage parking around the area. Depending on day/time of day, street parking may be easier or harder to come by. You will want to focus on the side streets just east of the highway.
Some of the closest parking garages include:
SP+ Parking: 56 N Moore St, New York, NY 10013
Icon Parking: 450 Washington St, New York, NY 10013
By Citi Bike
A great way to get around the city is by Citi Bike. You will find these bicycles stations at various street corners, where you can rent a bike for $4.49 for a 30 minute ride.
The closest docking stations near Pier 26 are:
Washington St & Laight St
North Moore St & Greenwich St
Greenwich St & Hubert St
By Taxi/Uber
Lastly, you can take a taxi or Uber to Pier 26. If doing so, I would recommend telling them to drop you off at N Moore Street. From there you can safely cross the street to the pier.
Be sure to also check out some of the other top things to do in New York City during a visit!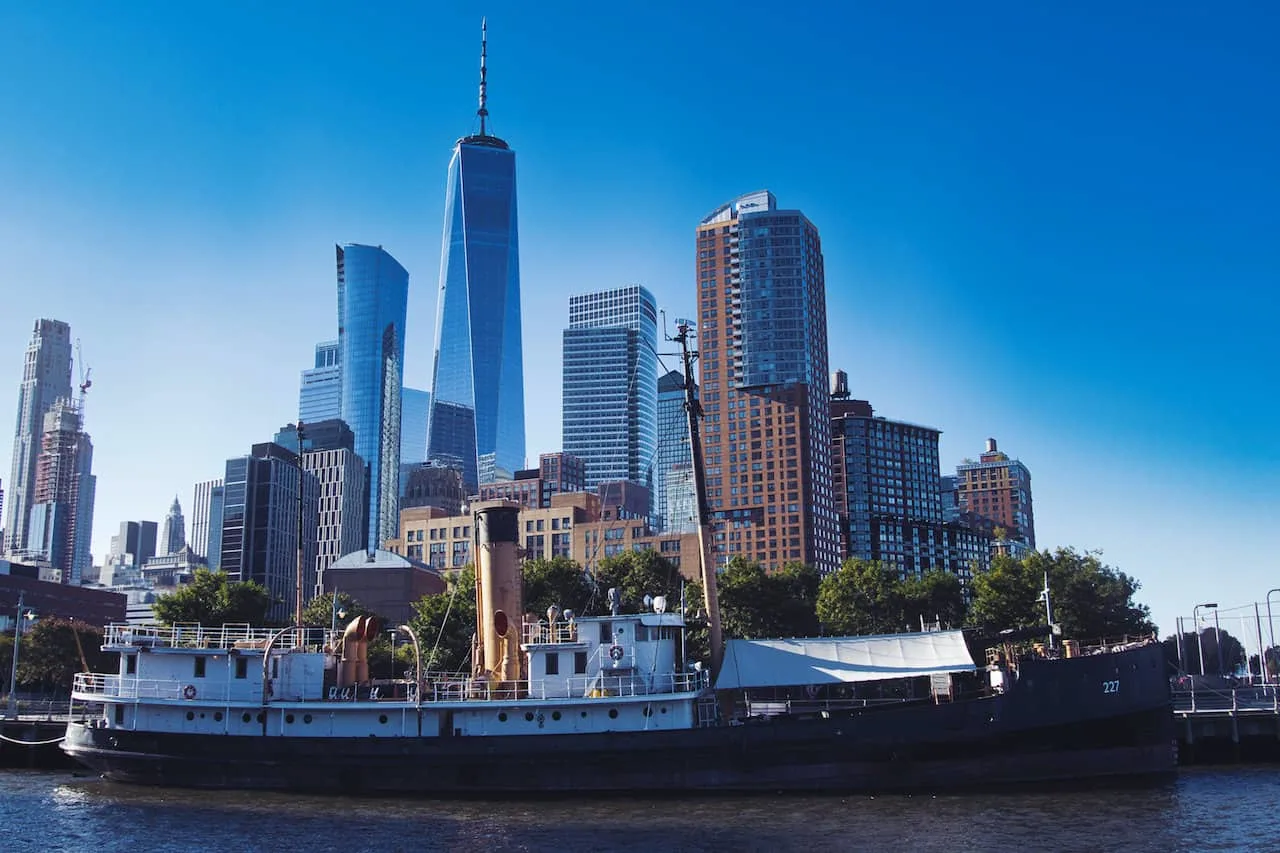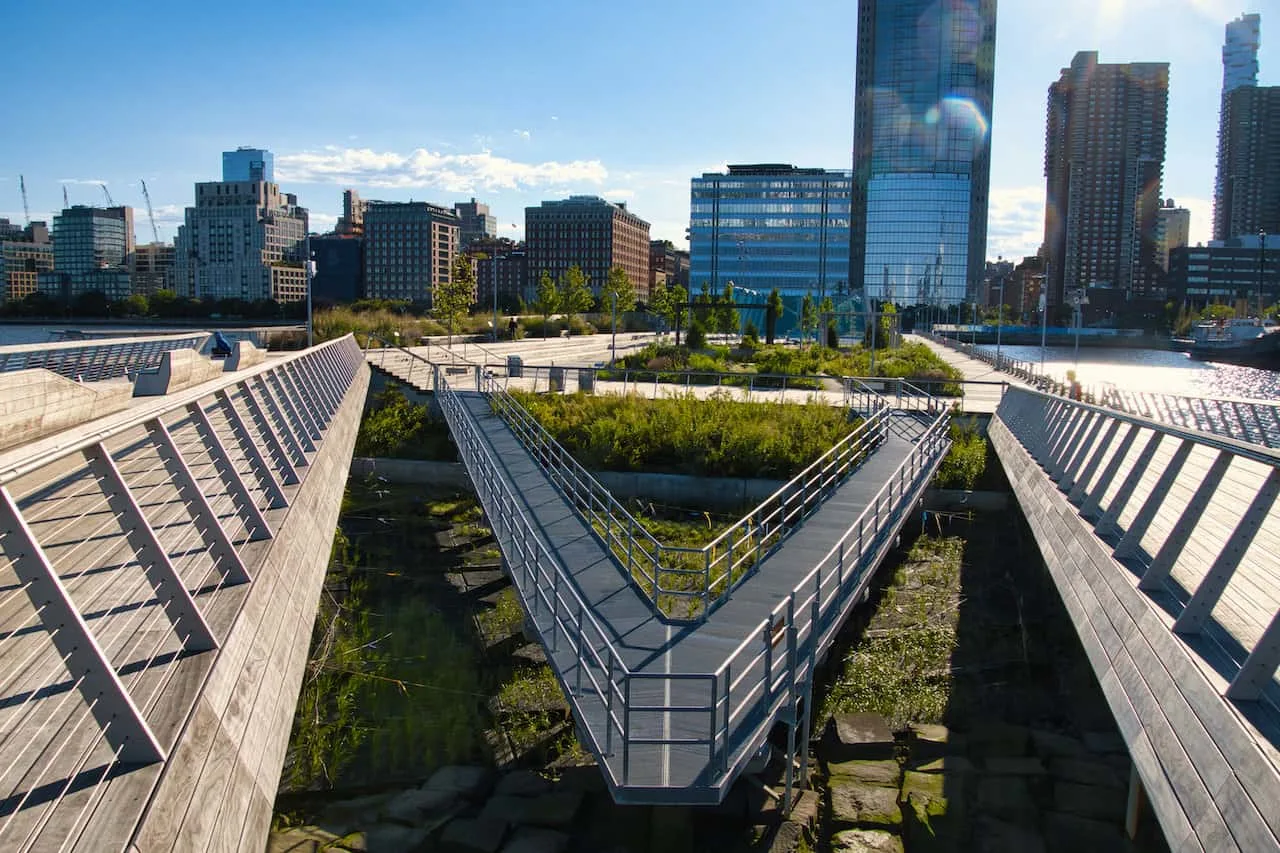 4) Pier 26 at Hudson River Park Attractions
Let's now talk about each of the various attractions, activities and highlights that make up Pier 26 at Hudson River Park.
City Vineyard Pier 26
At the entrance of Pier 26 you will find City Vineyard. This indoor & outdoor multi floored restaurant gives you the chance to enjoy some food & drinks with a view.
Not only can you enjoy a good meal with the Hudson River in the backdrop, they also have live music performances from time to time (tickets required).
The restaurant is open every day from 12:00PM to 10:00PM, and opens at 11:00AM on weekends.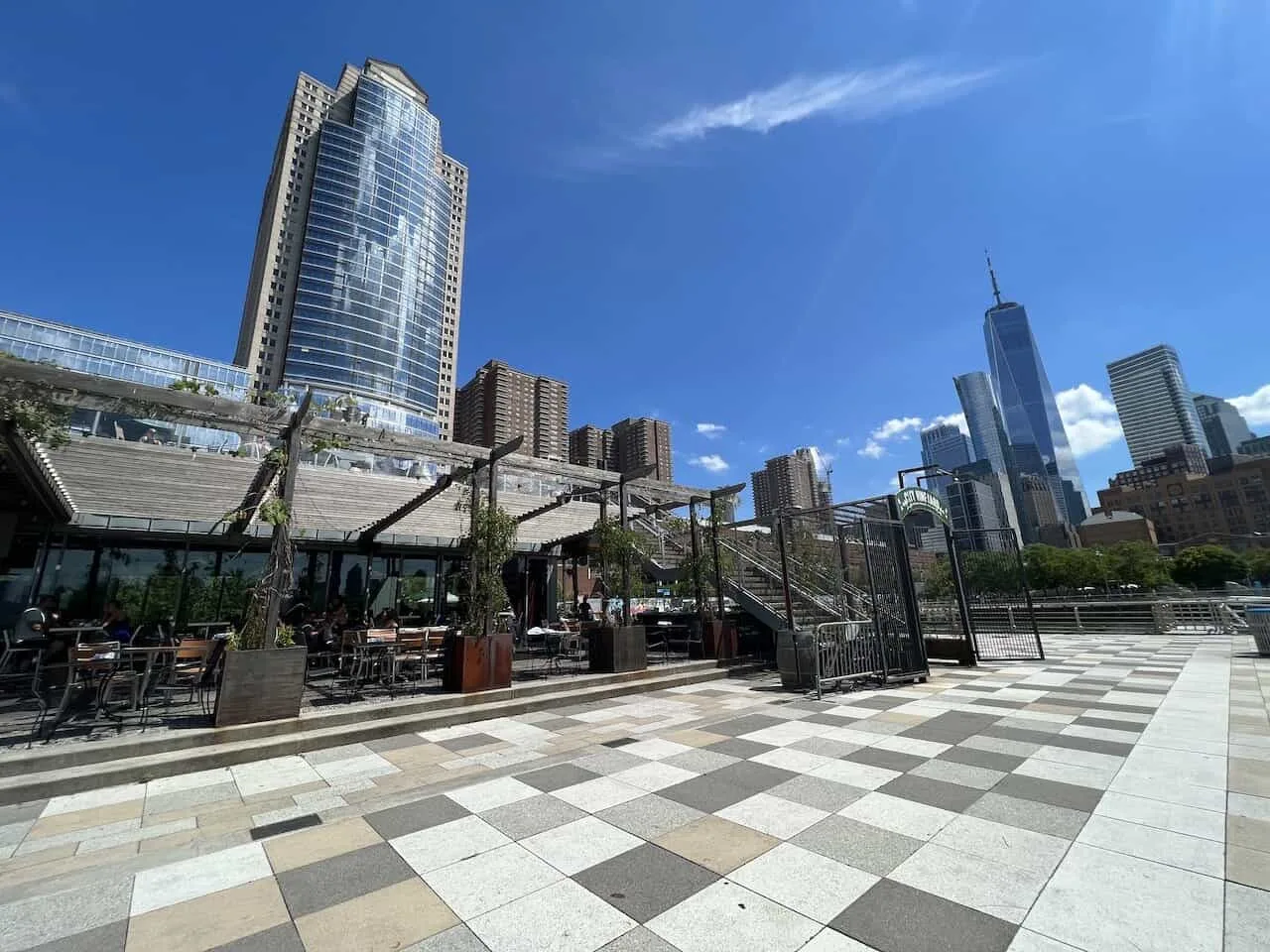 Pier 26 Kayaking & Downtown Boathouse
One of the highlights of the Hudson River is the Pier 26 kayaking opportunity at the Downtown Boathouse.
The Boathouse offers free kayaking for those that want to take part of this fun experience. Simply show up, sign a waiver, get a short instruction, and be on your way into the Hudson.
They will provide life jackets, lockers, and changing rooms for those that want to take part of the kayaking.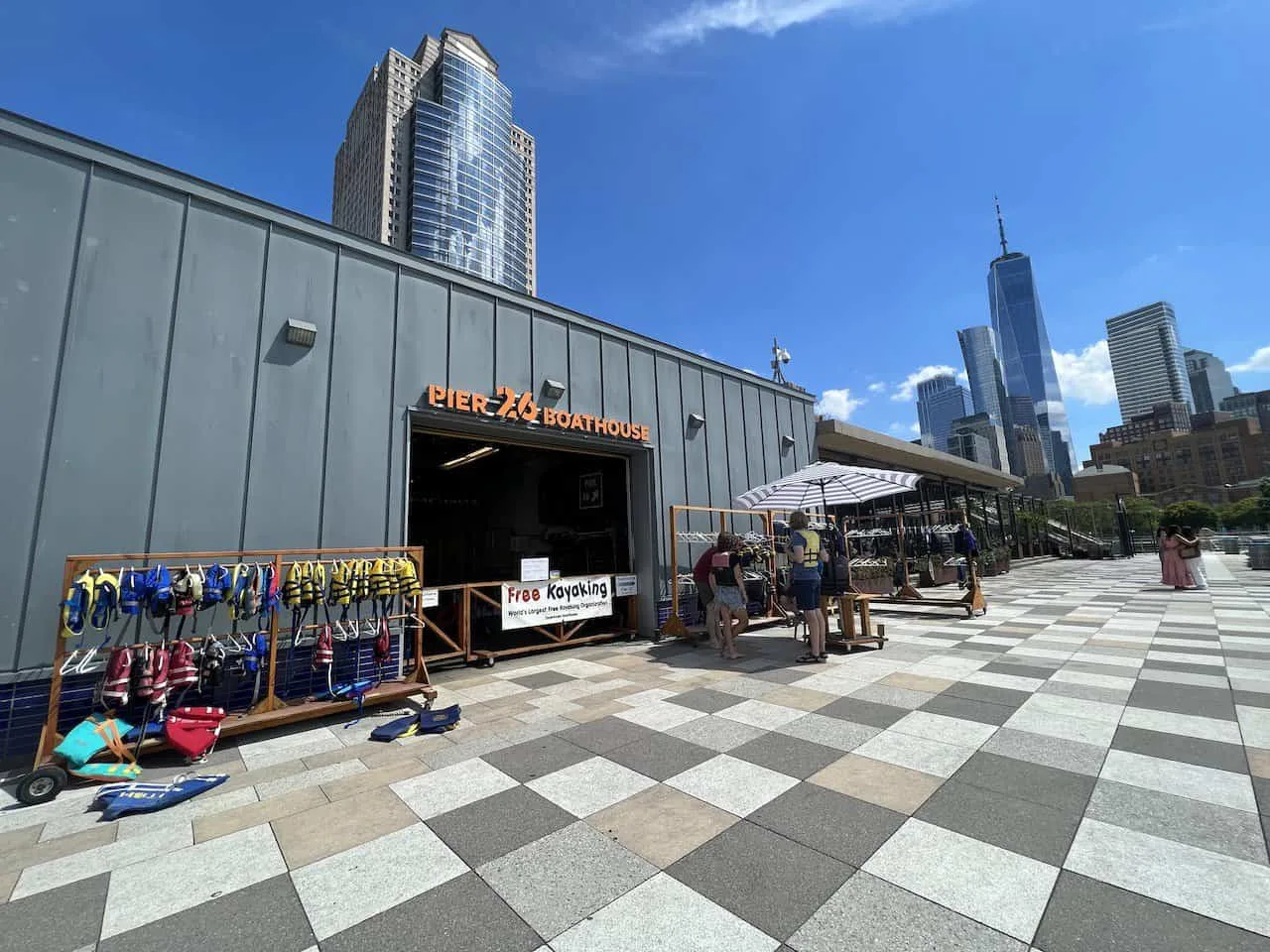 There are a few rules to consider for the Pier 26 kayaking:
• You must stay inside the red buoys area
• The time limit for kayaking is 20 minutes
• You cannot jump out of the kayak and swim in the river
• You must know how to swim (in case you happen to fall out)
• If you are under 18, you must be with a parent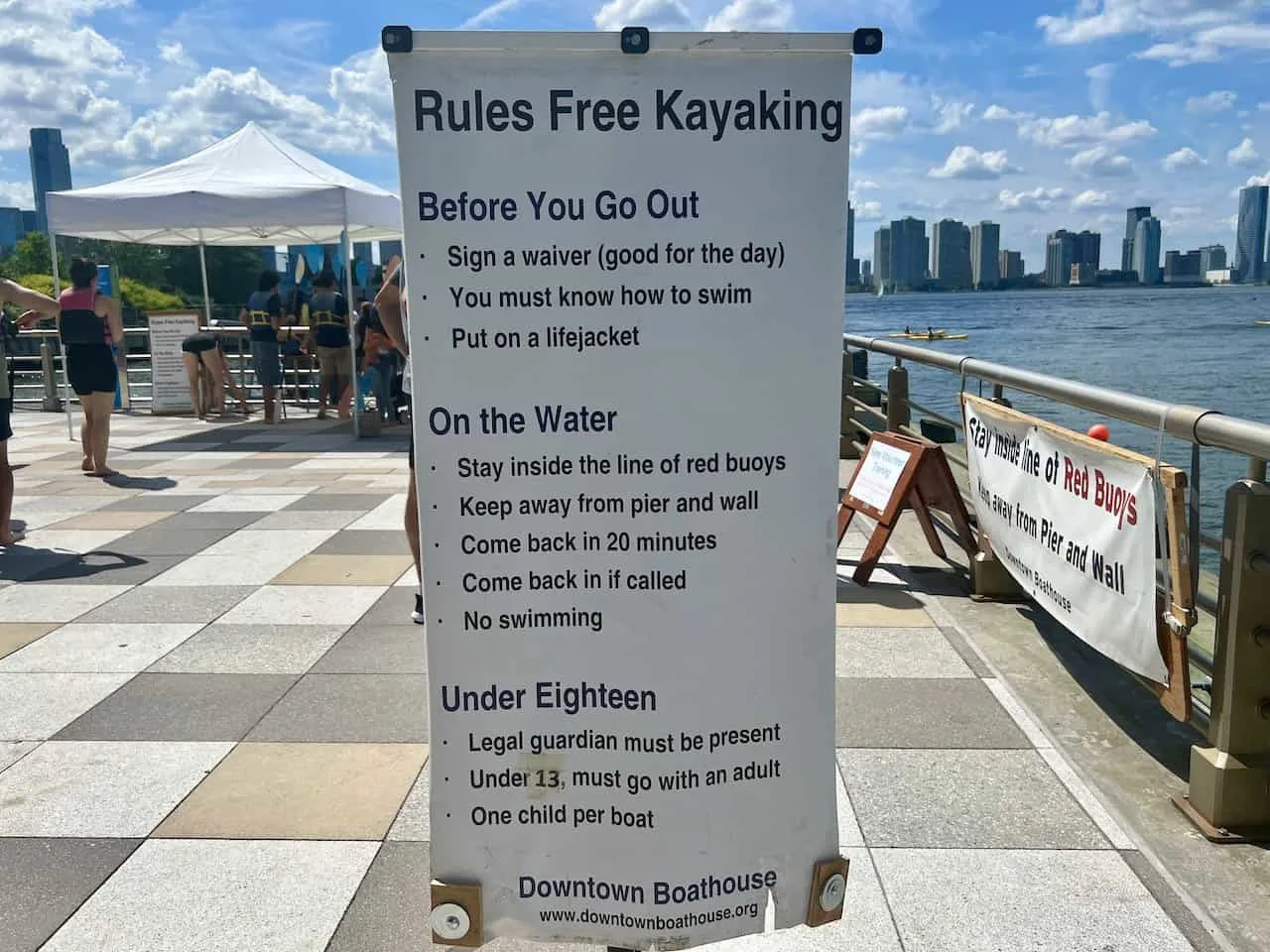 Pier 26 Kayaking Hours
Opening Dates: May 27 to October 9, 2023
Weekends & Holidays: 10:00AM-4:30PM (Last boat goes out at 4:30pm)
Tuesday & Thursday Evening: 5:30PM to 7:00PM (Last boat goes out at 7:00pm)
No reservation is required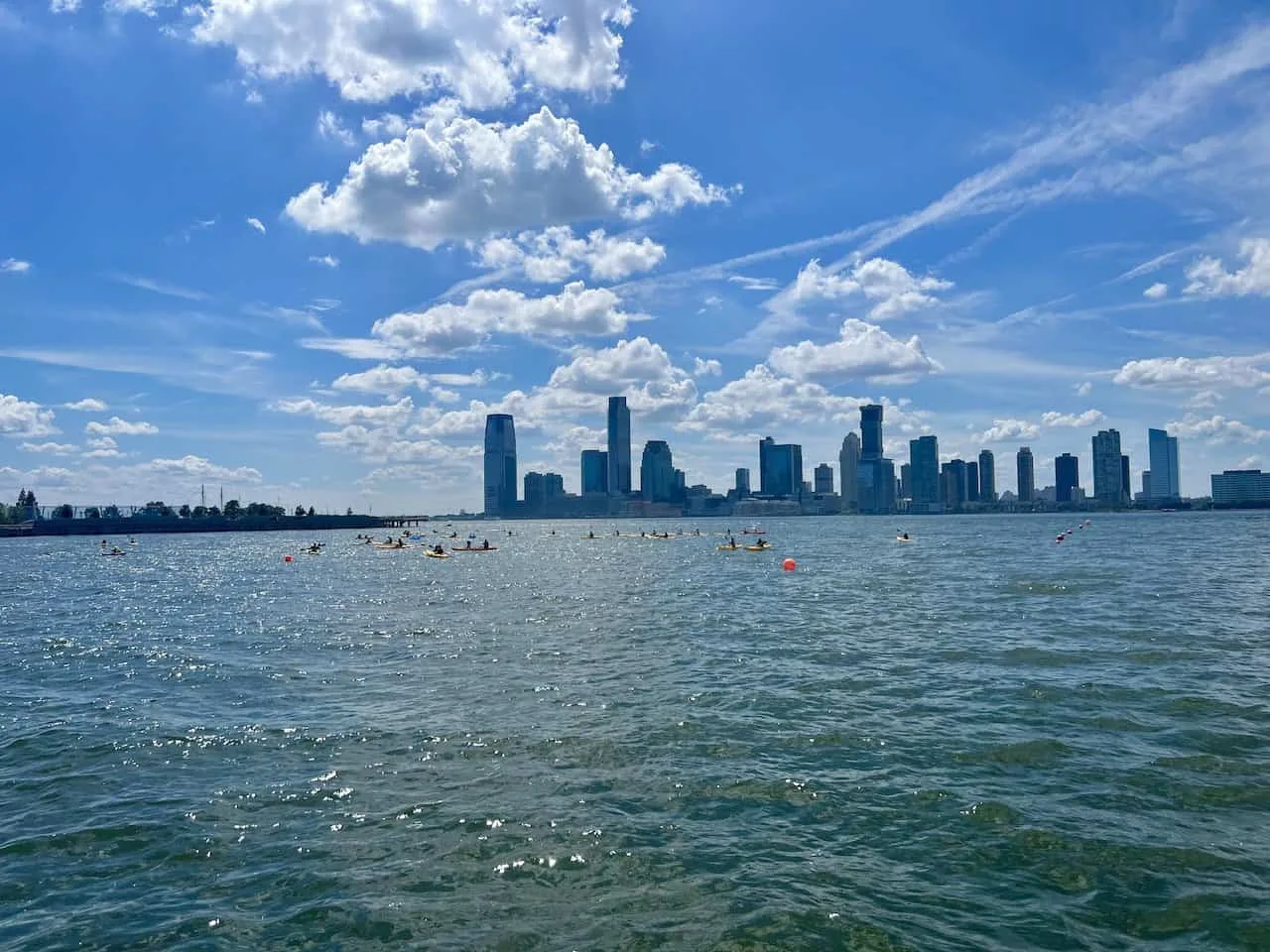 Sports Field
In the middle of Pier 26 you will find a multi purpose sports field. You can really use the area for whatever you would like.
It is a popular workout spot in the summer time, similarly to some of the other piers that line the waterfront.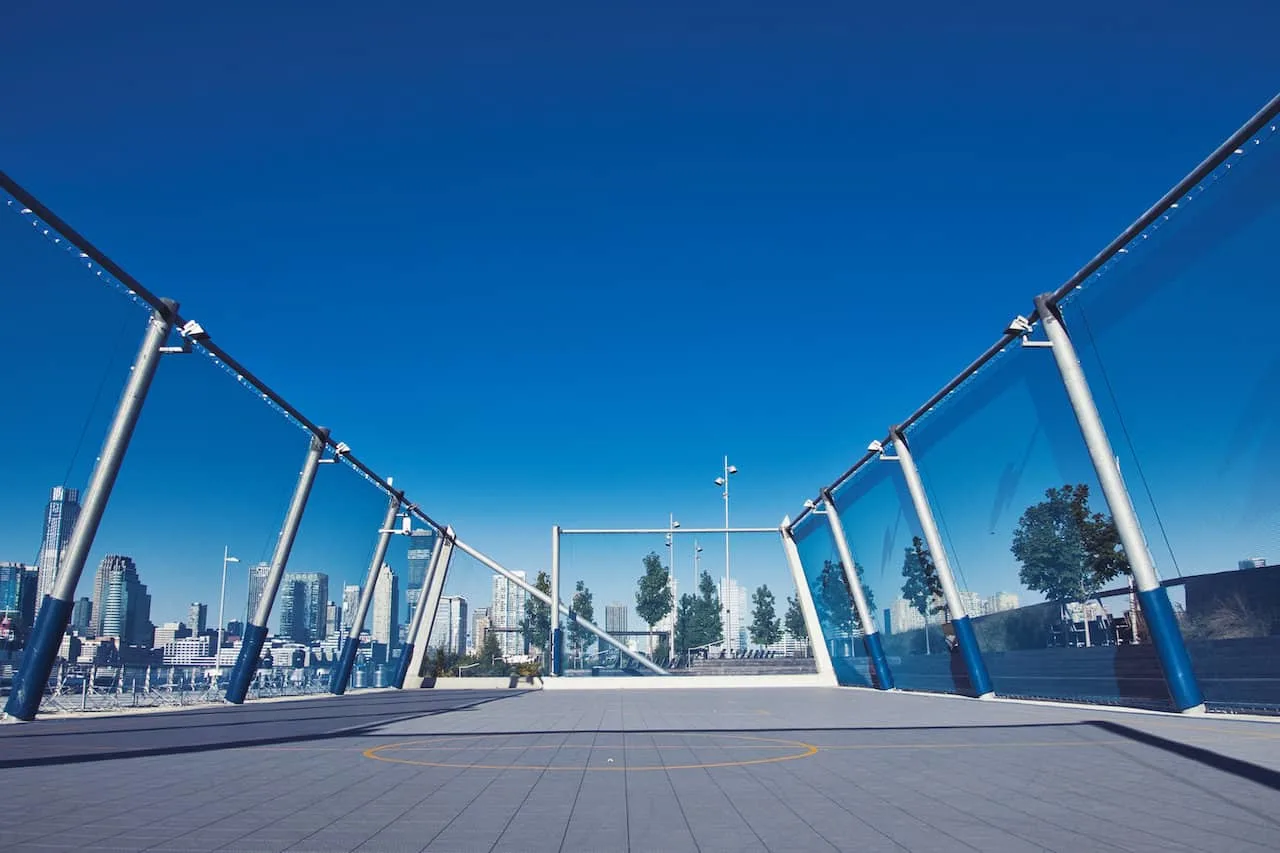 Lounge Area with Chairs
Towards the back half of the pier, you will find plenty of lounge chairs and some normal chairs to relax in.
During those summer months, these chairs fill up with sun bathers who want to get out of the city center and enjoy some peace and quiet. The views don't hurt too!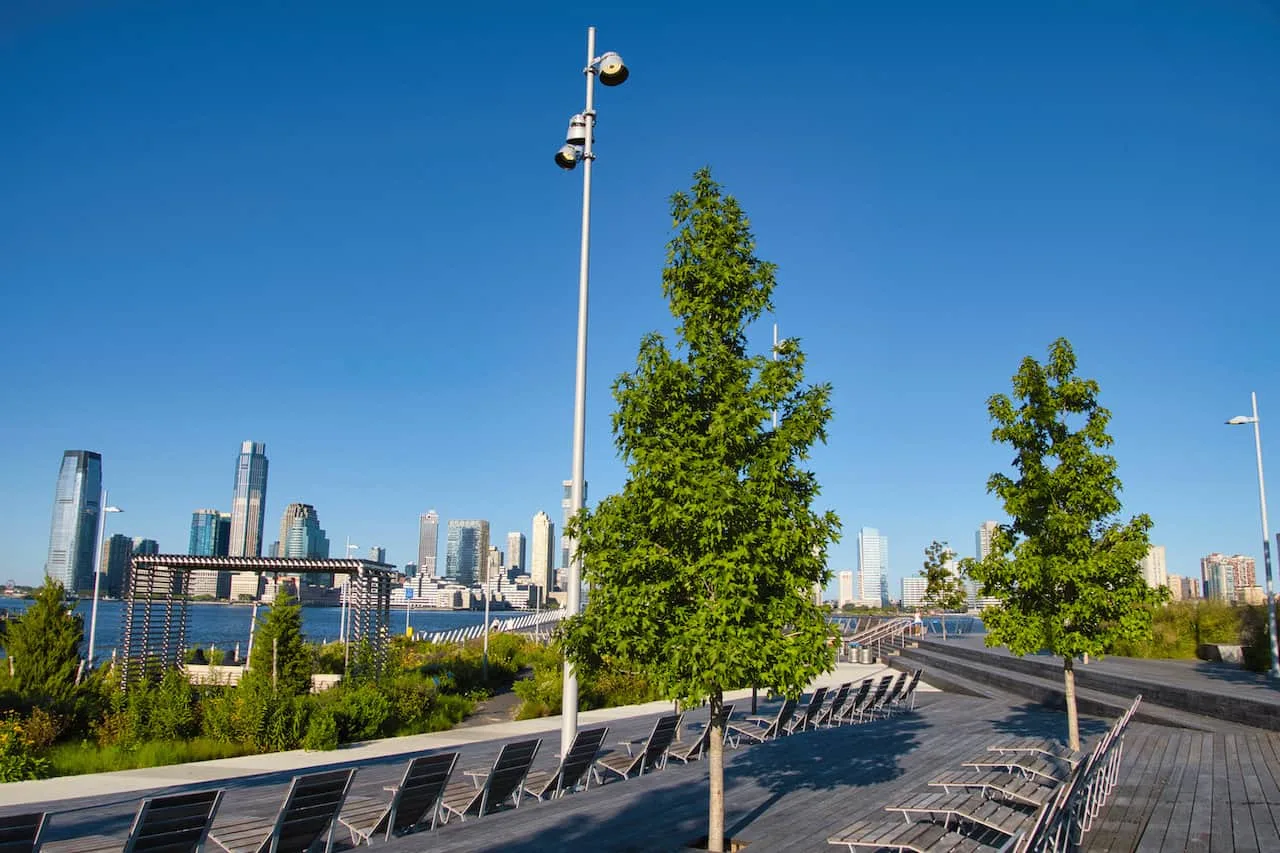 Lounge Rocking Swings
In addition the group of lawn chairs on the pier, you will also find a couple of shaded lounge rocking chairs. These types of swings are hard to come by in the city, so if you happen to grab a spot, consider yourself lucky.
You can find similar chairs on the opposite end of Manhattan at Pier 35 along the East River Greenway.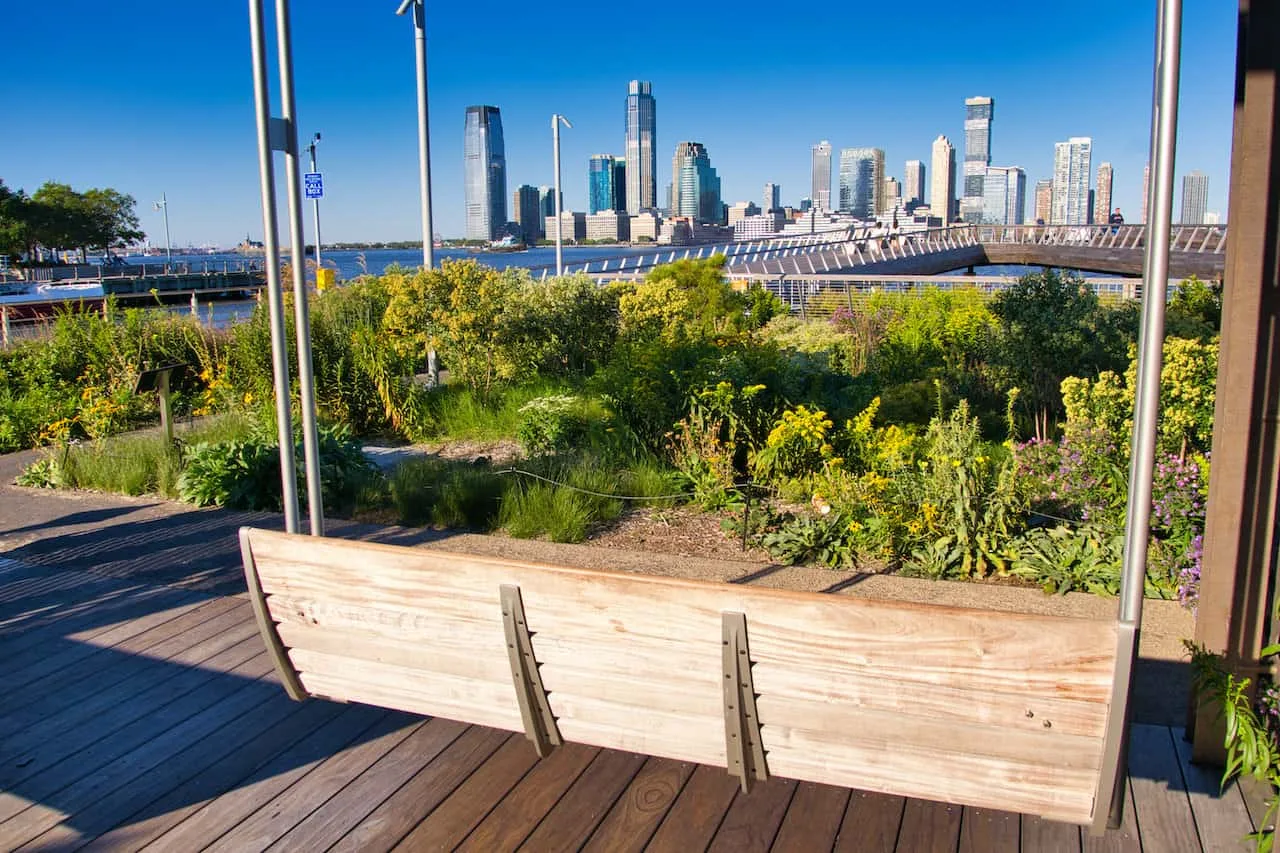 Lawn Space
The hangout area isn't complete without some lawn space. In addition to the chair areas, you will also find some lawn to spread a towel out on.
Bringing some food & drinks to the pier and lounging around the lawns is a great and relaxing way to spend an afternoon (in most seasons!).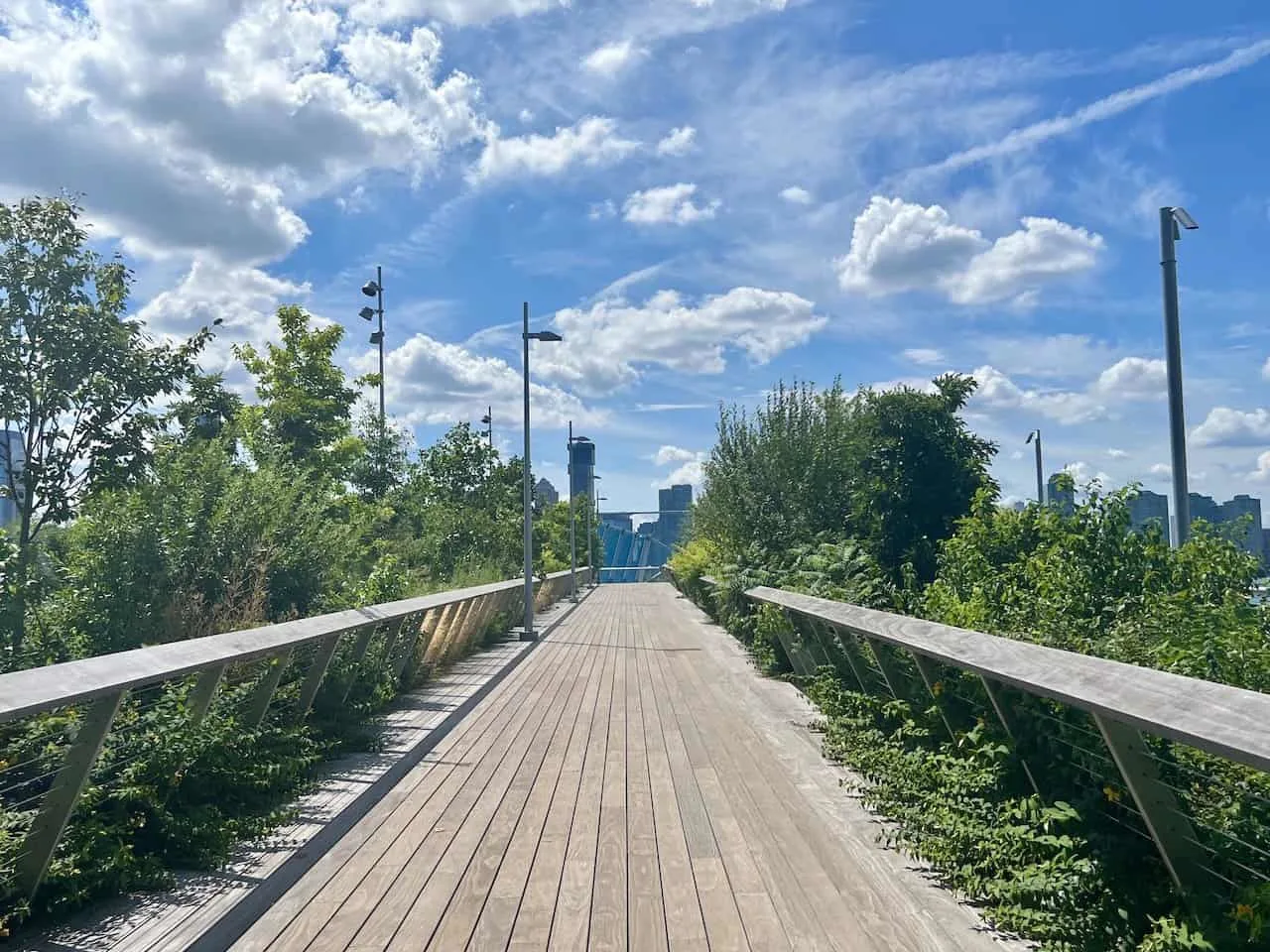 Pier 26 Tide Deck
At the very end of the pier you will find the Pier 26 Tide Deck. Below the pier's triangular walkway is a rocky salt marsh filled with native plants and wildlife.
As the tides change throughout the day, the tide deck gets flooded with the river's water, which provides the appropriate nourishment for the plants grown on it.
Depending on the time of year, guided tours are offered to experience the lower portion of the Tide Deck. You can check out the latest tour times if you are interested in learning more with a guide.
→ Be sure to check out some of the other best photo spots in NYC during a visit to the city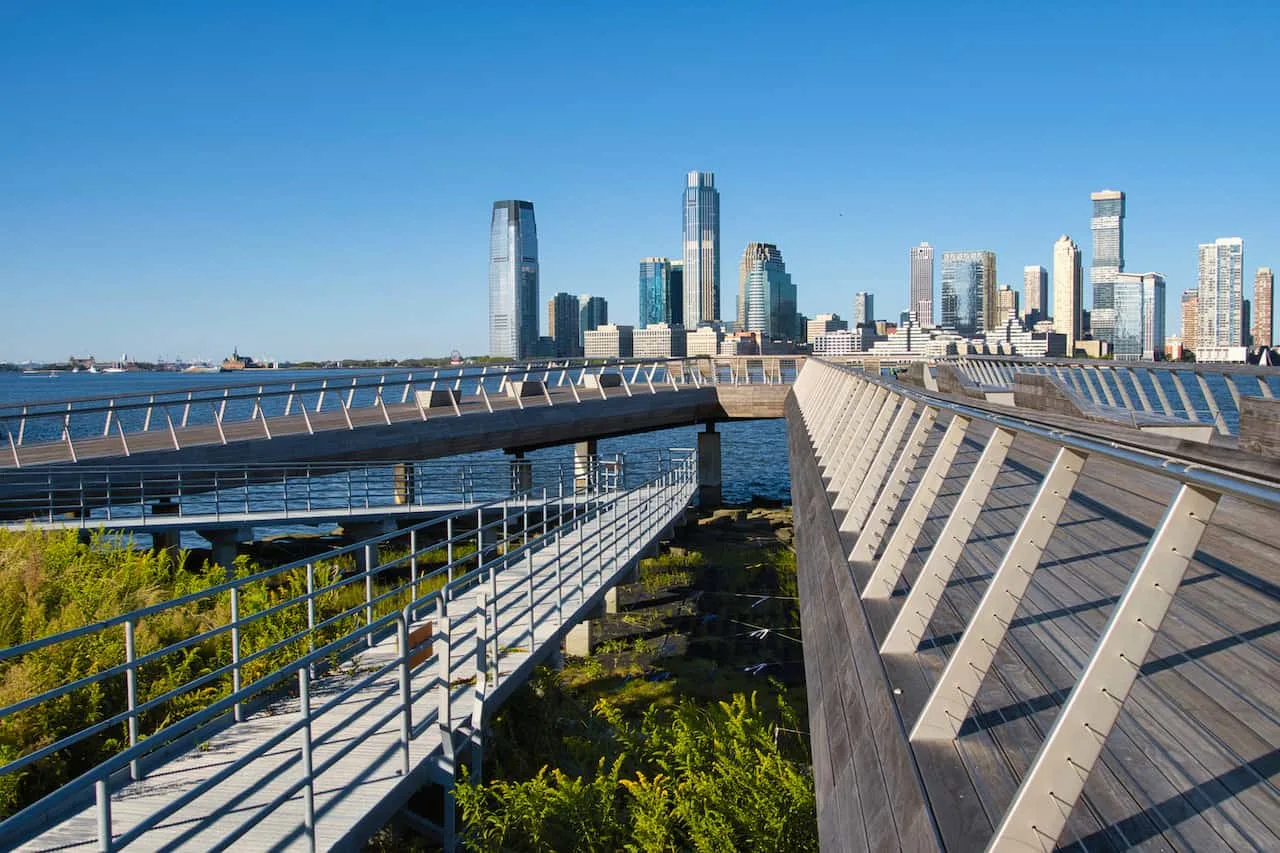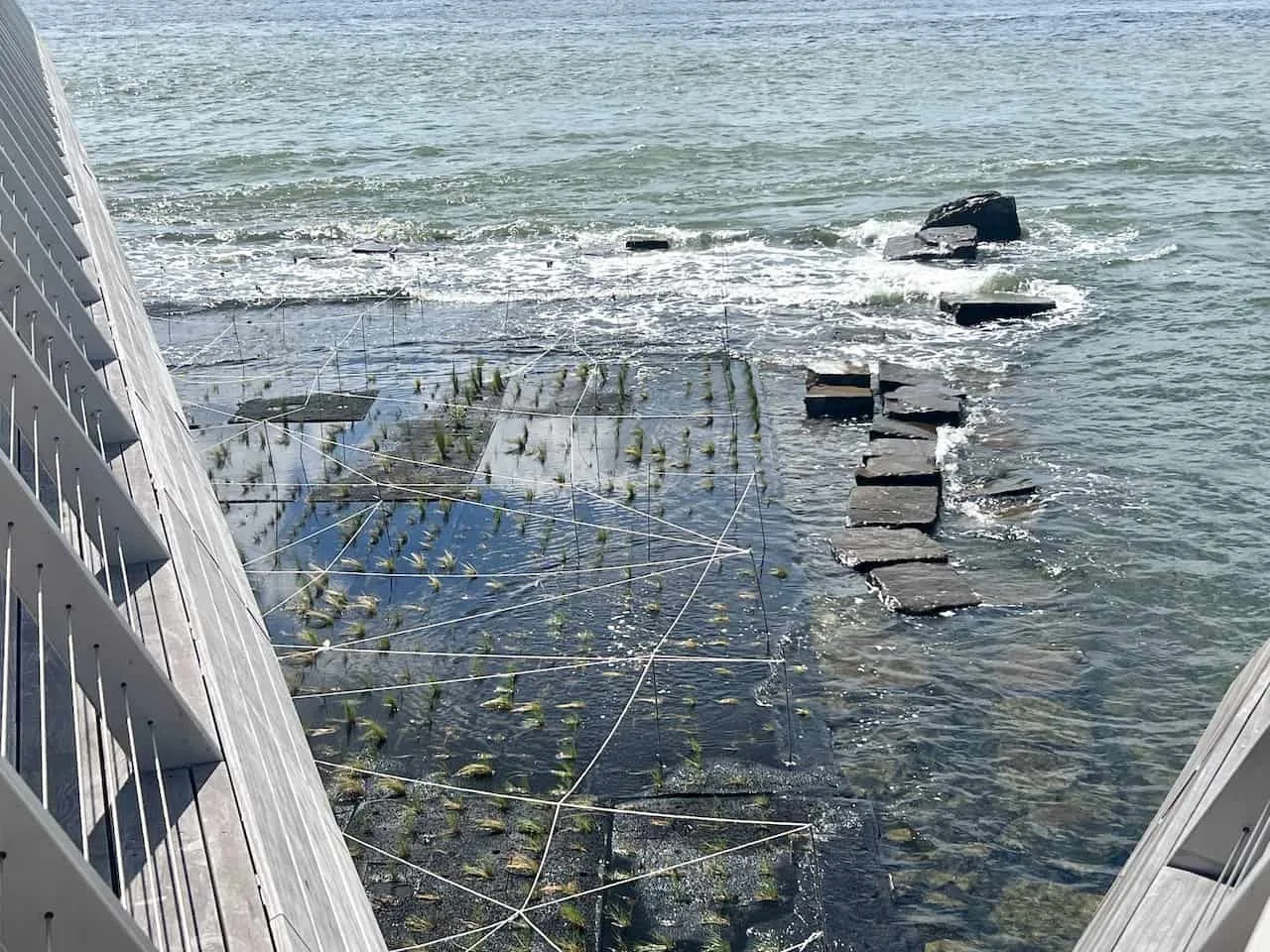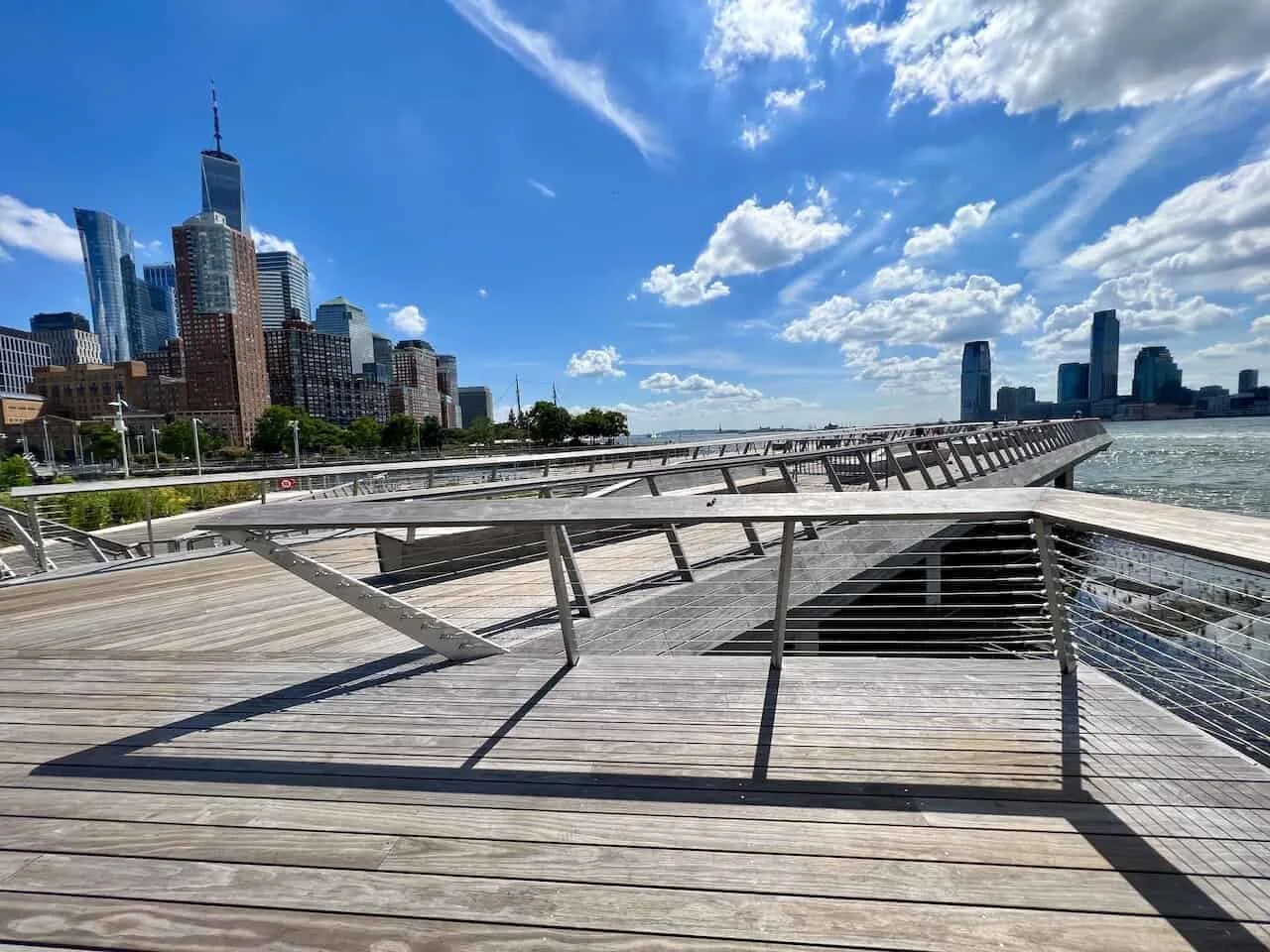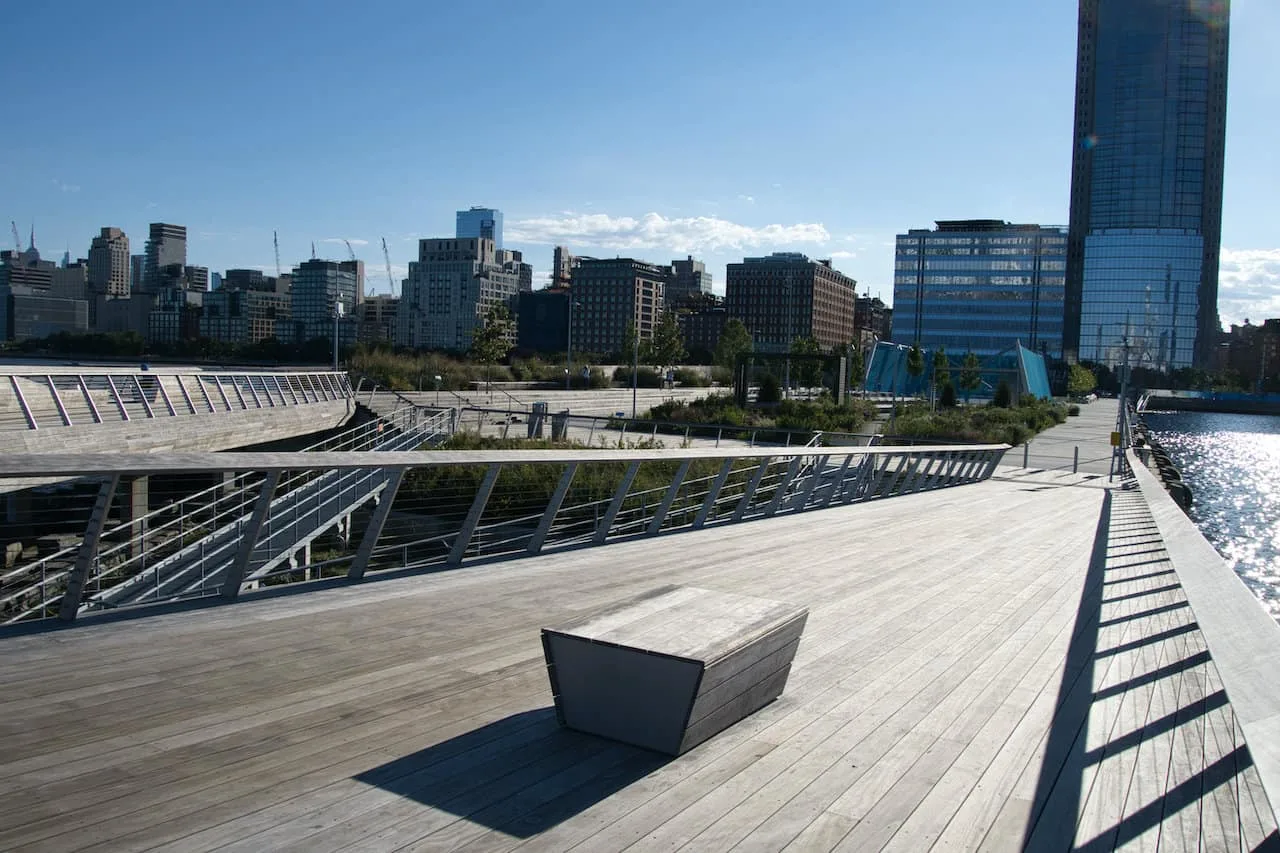 Views of Uptown & Downtown Skyline
It can sometimes be difficult to get Manhattan skyline views when you are in Manhattan. Most of the best views are actually found across the rivers in New Jersey, Brooklyn and Queens.
However, the piers do offer visitors to take in some unique views of the skyline too. Since the piers are situated over the Hudson River, it allows you to take in some great angles of the various NYC skyscrapers.
On the northside of the pier you will be able to have views of Hudson Yards, the Edge, and the Empire State Building.
Looking southbound you will have views of Battery Park and the World Trade Center standing tall among the rest.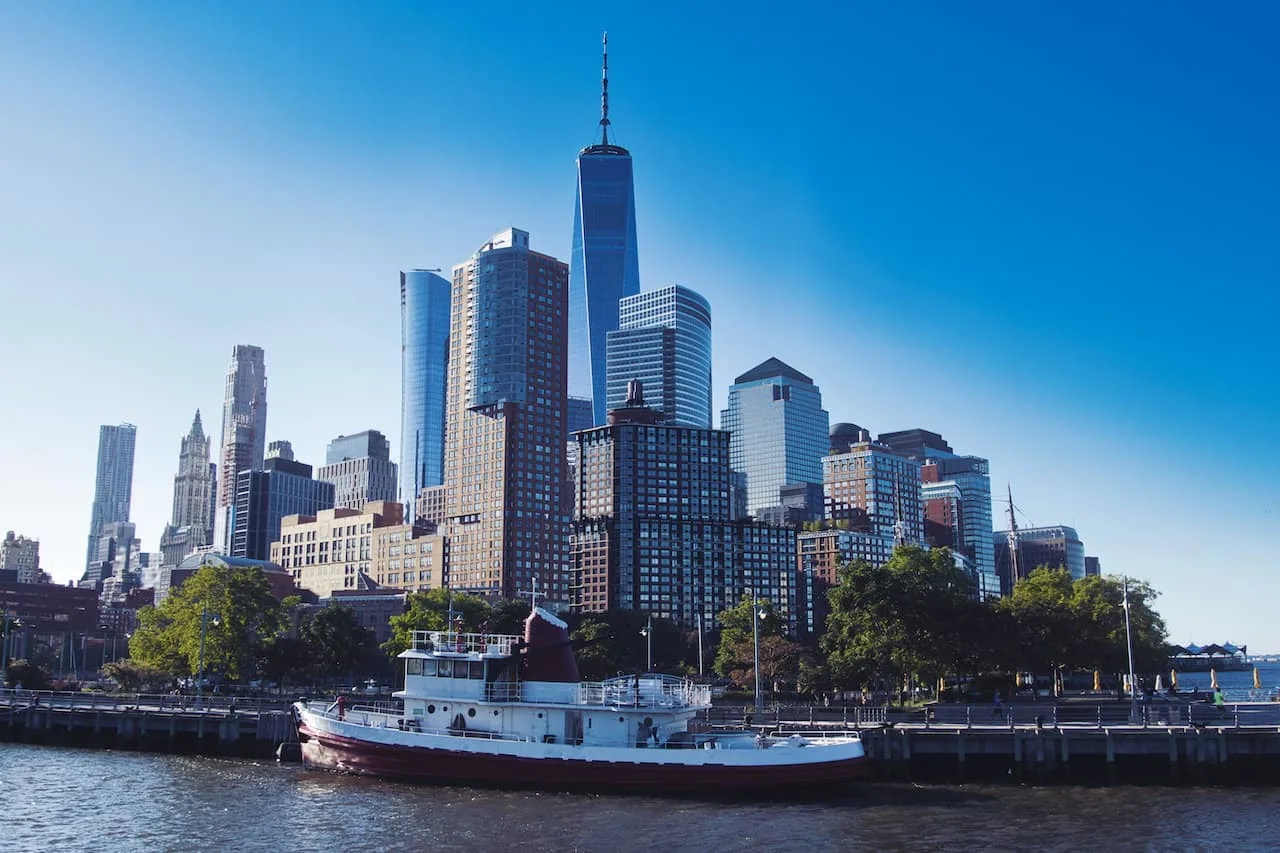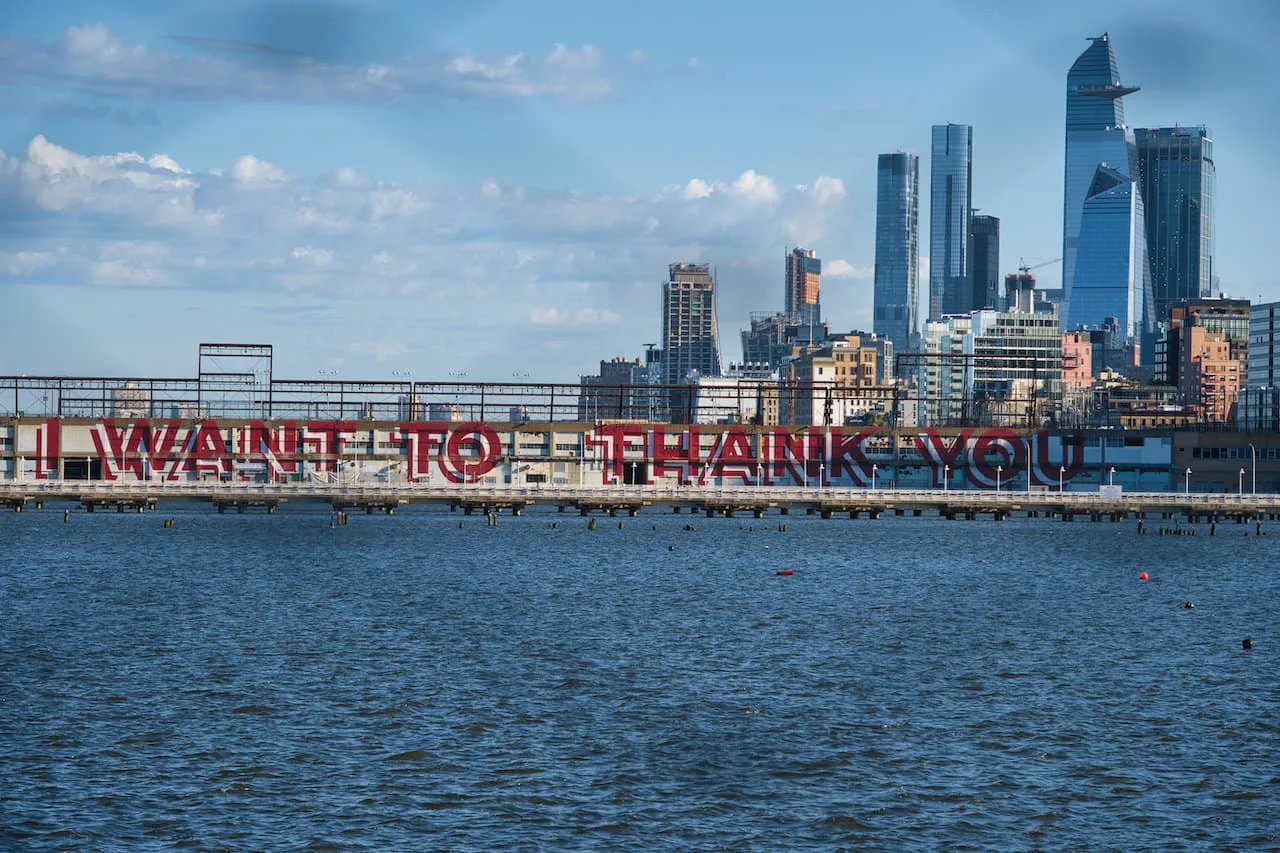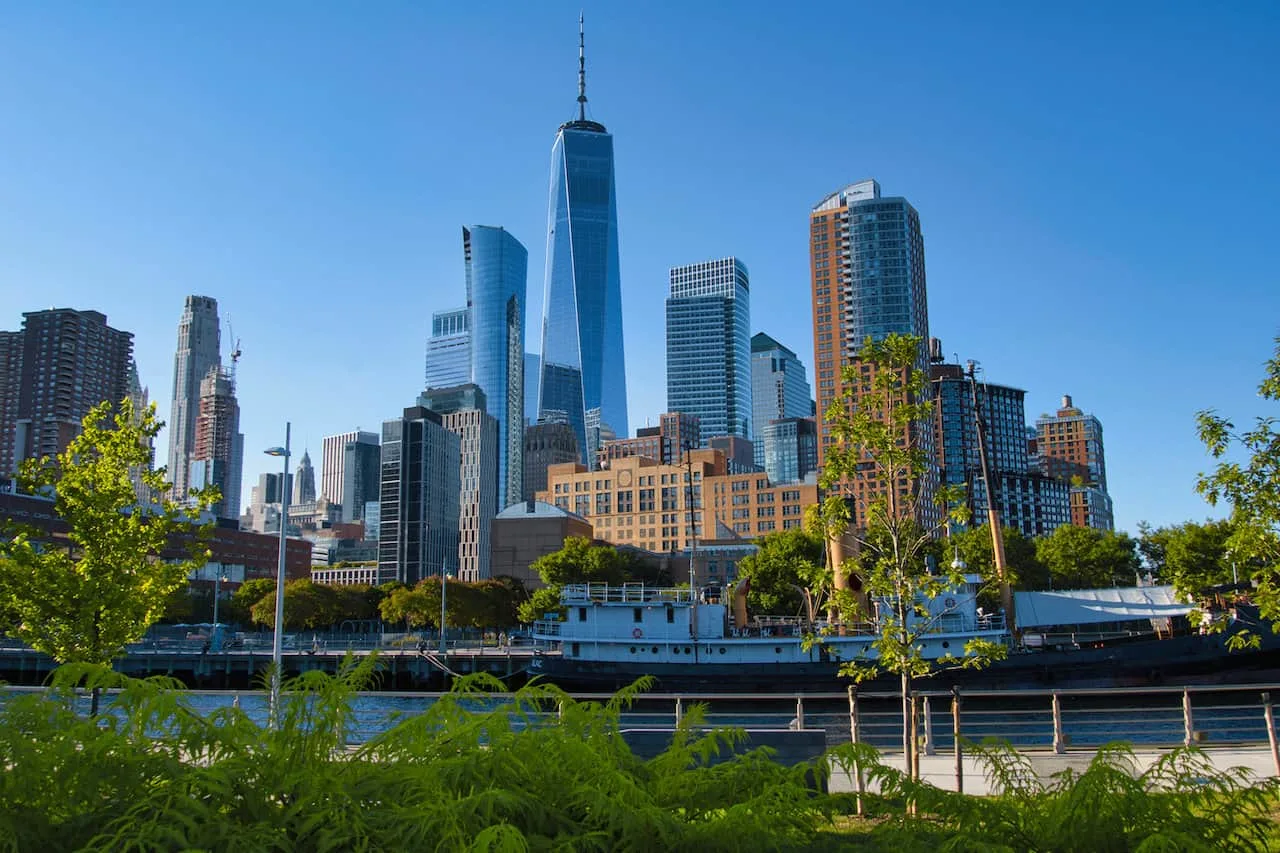 Views of New Jersey & the Statue of Liberty
If you make your way to the end of the pier, you will start to get those views of the New Jersey skyline out in front of you.
In addition, looking southwest, out in the distance will be the Statue of Liberty.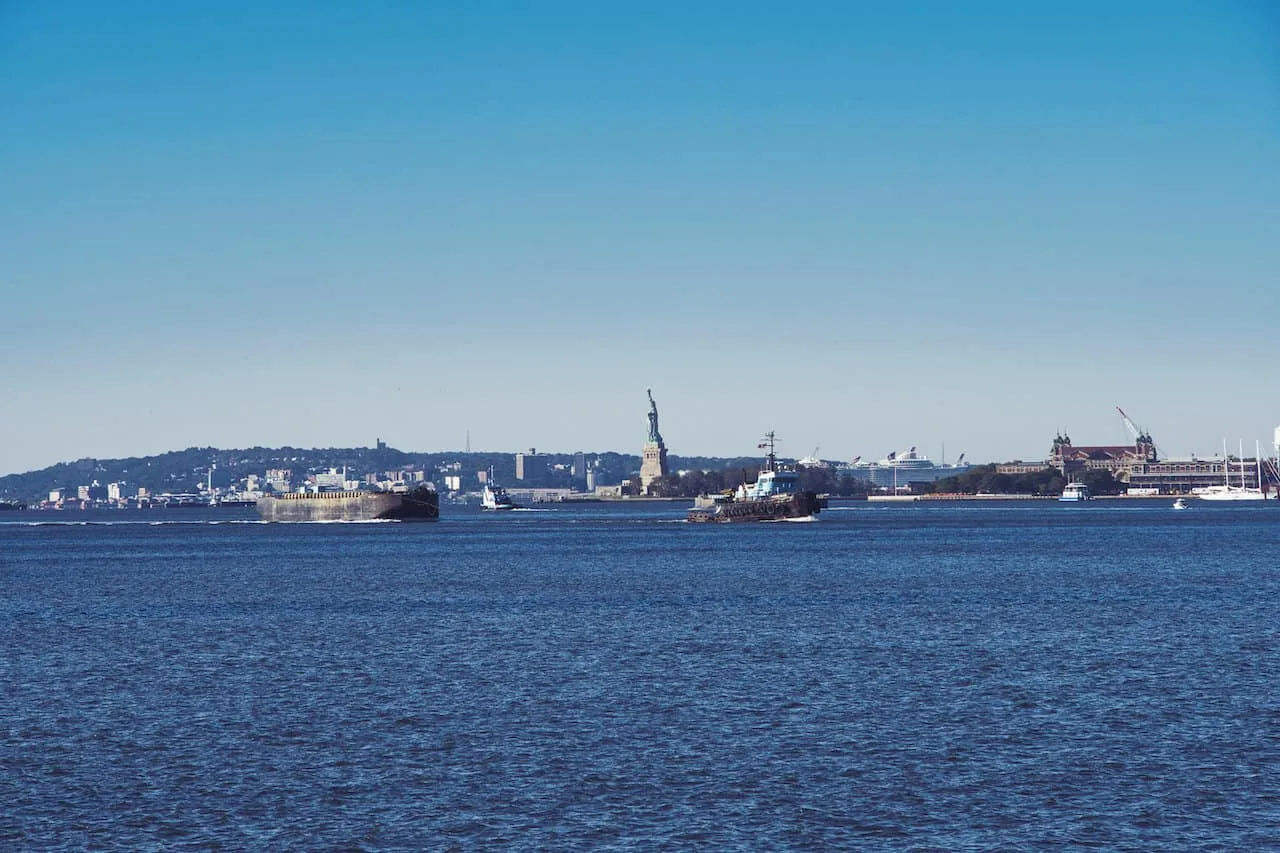 5) Where to Stay in NYC
There are so many different neighborhoods to choose from when visiting NYC. Below are some of my top choices for a few of my recommended locations in the city:
Looking for the top hotels & neighborhoods in NYC? Check out some helpful accommodation resources when it comes to picking the best spot for you!

Neighborhood Overview: Best Places to Stay in NYC
Best Skyline Views: NYC Hotels with a View
Times Square: Top Times Square Hotels with a View
Theater District: Hotels in Broadway Theater District
Central Park: Best Hotels with Central Park Views
Tribeca: Best Tribeca Hotels
SoHo: Where to Stay in SoHo
Greenwich Village: Top Greenwich Village Hotels
Brooklyn Bridge: Hotels with Brooklyn Bridge Views
Best Panoramas: Hotels in NYC with Floor to Ceiling Windows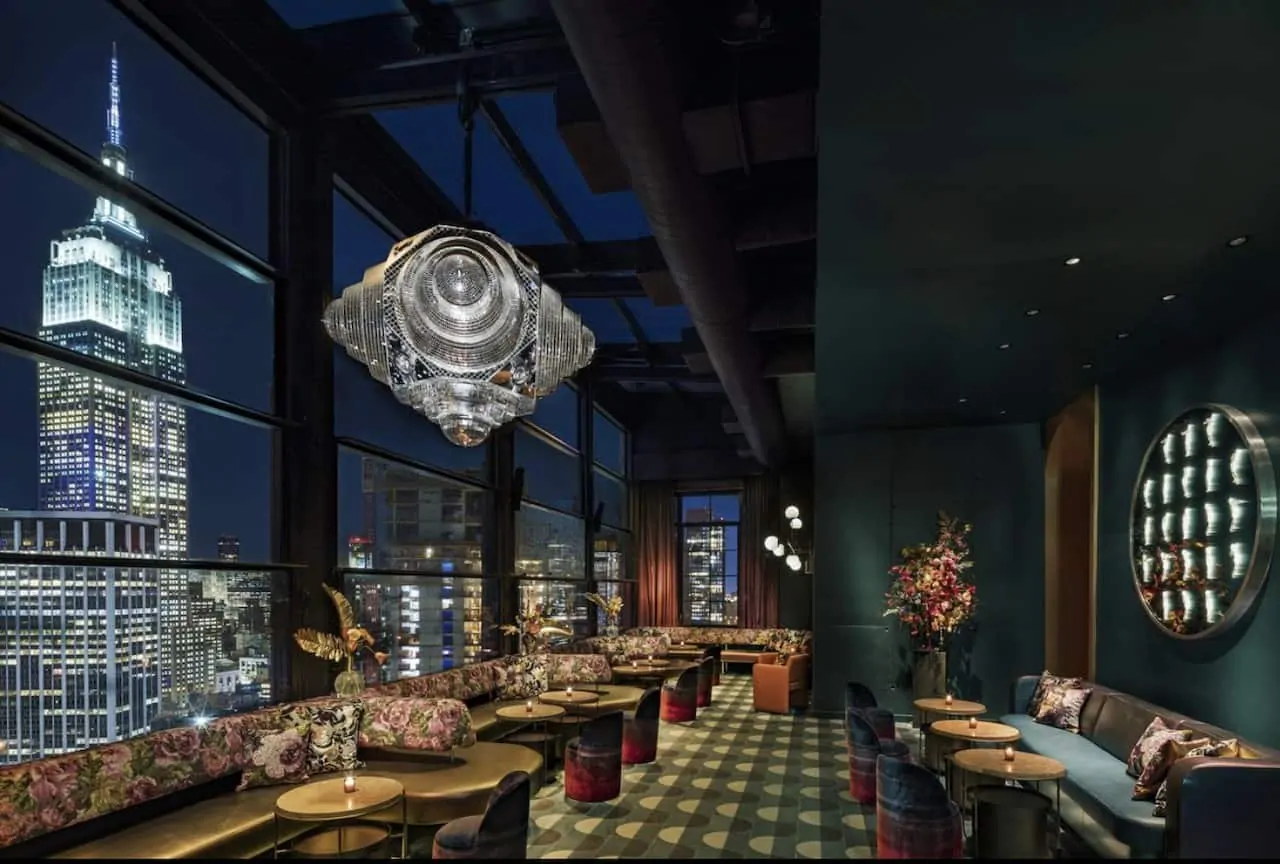 That about wraps up a guide to Pier 26 at Hudson River Park. If you have any questions or comments, feel free to add them in below.
Also, don't forget to check out the other New York itineraries and guides up on the site.
Have fun out there and safe travels!