Are you currently in NYC and getting worried that the rain may ruin your trip?
Well, don't worry too much as there are plenty of things to do in New York City on a rainy day.
As a local New Yorker, I know the frustration that the rain can bring at any time of the year. But the great thing about this city, is that you can still have a fun filled trip rain or shine.
This list will go over the best rainy day activities in NYC, and help you better prepare last minute in case the weather turns for the worse.
* Affiliate Disclosure: This post may contain affiliate links, which means I may receive a commission if you make a purchase through the links provided, at no additional cost to you. Thanks for supporting the work I put into TripTins!
Things To Do in New York City on a Rainy Day
When it comes to things to do in NYC on a rainy day, there are several different types of activities to take part of & attractions to visit.
Many of these are actually top tier things to do, and would be on an NYC itinerary even if it wasn't raining.
So, just because the weather may not be ideal, don't get too down. NYC is packed with great places to visit, rain or shine. Read on to learn more about some of the top rainy day activities out there.
1) Get Lost in a Museum
Throughout NYC, there are nearly 150 (yes 150!), museums. Most of these museums are indoors, meaning you can stay dry and see some of the top exhibits in the city.
History, art, science, military, natural history, and plenty more unique museum offerings can be found around New York City.
Some of the ones to consider during a rainy day include:
The Met: at the Metropolitan Museum of Art you will come across the largest & most visited museum in the United States. Within the Met there are over 2 million artifacts that cover over 5,000 years of art. It is right on Central Park too, if you are up for a rainy stroll afterwards.
Guggenheim: also located nearby Central Park is the Guggenheim. This is known for its modern & contemporary artwork along with its circular design structure by Frank Lloyd Wright.
Whitney: located downtown near the High Line Park, is the Whitney Museum. It is another contemporary art museum with a collection that covers over 25,000 pieces of sculptures, paintings, photographs, and more. While it may be raining, you can still take a quick peak at their outdoor installations and some views over NYC.
Frick Collection: another iconic museum to consider is the Frick Collection on the Upper East Side. The museum is located within the residence of the original owner (Henry Clay Frick), and holds art pieces that started within the original collection & has grown over time.
9/11 Museum: if you are near downtown Manhattan, a visit to the 9/11 Museum can be added to the list. The museum is located directly next to the two memorial pools, and holds stories, personal anecdotes, and more from the events surrounding 9/11.
Museum of Modern Art: also known as just the MOMA, the museum is full of contemporary and modern art exhibitions. All throughout are over 200,000 pieces of art including film, photography, paintings, & more.
Museum of Natural History: this is one of my favorite museums in the city, and is located on Central Park West. The museum is packed with all types of exhibitions about natural history, whether that is dinosaurs, planetariums, massive whales, among plenty of others.
Tenement Museum: located in the Lower East Side is a museum that goes through the history of immigration in NYC. The building itself used to be an original tenement building with over 15,000 people coming in & out of it through the years.
These are of course just a starting point when it comes to the museums of NYC. Feel free to check out this NYC map that has many more museums laid out.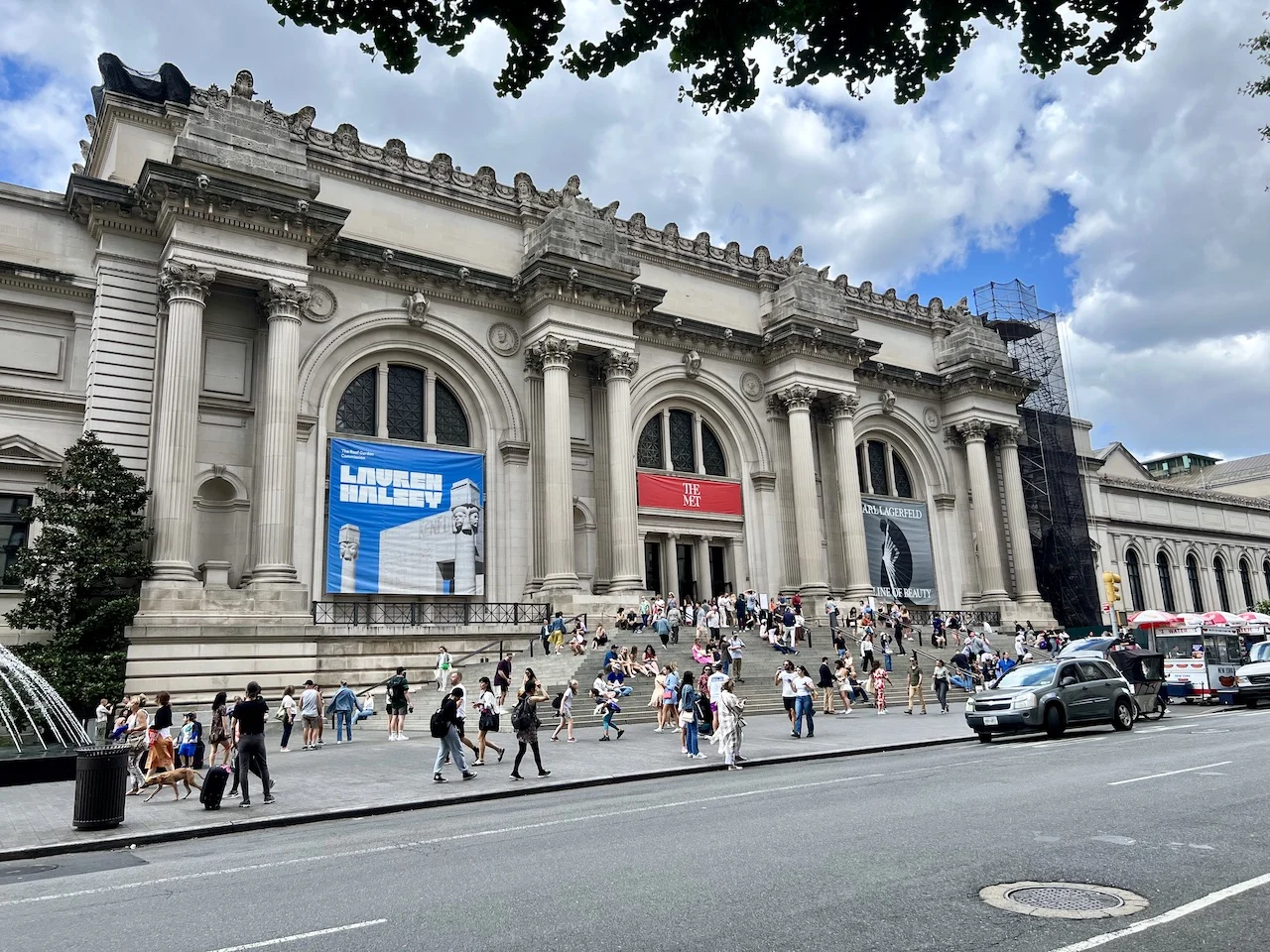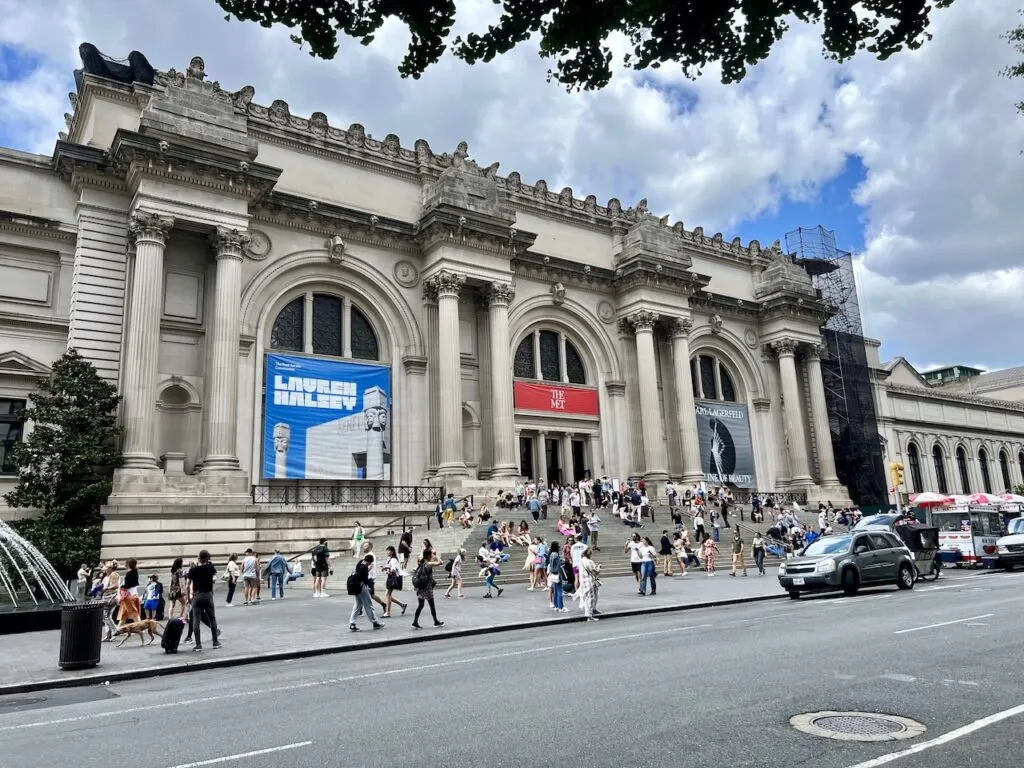 2) See the City From an Indoor Observatory
Although it may be raining, that doesn't mean you can't enjoy the views! Depending on how low the cloud coverage is & what the visibility is like, heading up to an observation deck is not a bad idea.
During these times, the crowds will be at a minimum and you are more likely to have more of the area to yourself.
Now, in NYC there are some observation decks that are geared more towards the outdoors and others that are indoors (or mostly indoors). Since you will be looking for rainy day activity, I would recommend One World Observatory, Summit One Vanderbilt, or the 102nd Floor of the Empire State Building.
Note: The Edge & Top of the Rock are geared towards outdoor observation decks, so it may not be advisable to head out (or they may be closed).
One World Observatory
As the only observation deck in lower Manhattan, One World Observatory gives visitors some of the most wholistic views of the city. You will be able to see the entirety of Manhattan island out in front of you, as well as the rest of the boroughs.
The Hudson River, East River, New Jersey skyline, Statue of Liberty, and tons more will be in view as you make the 360 degree walk around.
Within the observatory you will find a bar, restaurant, and plenty of places to sit back & enjoy the view from.
Need tickets now? You can purchase tickets here ahead of time so you can head right on up when you arrive.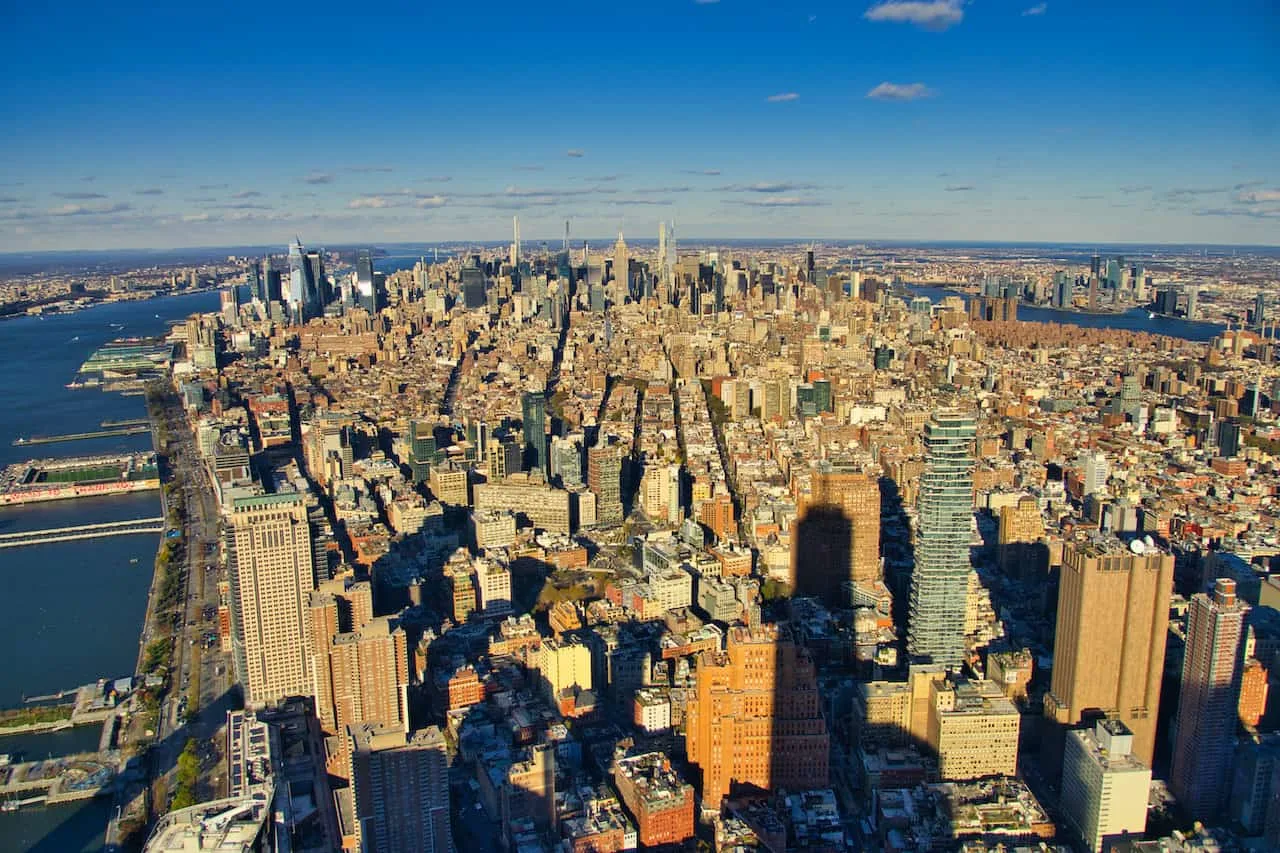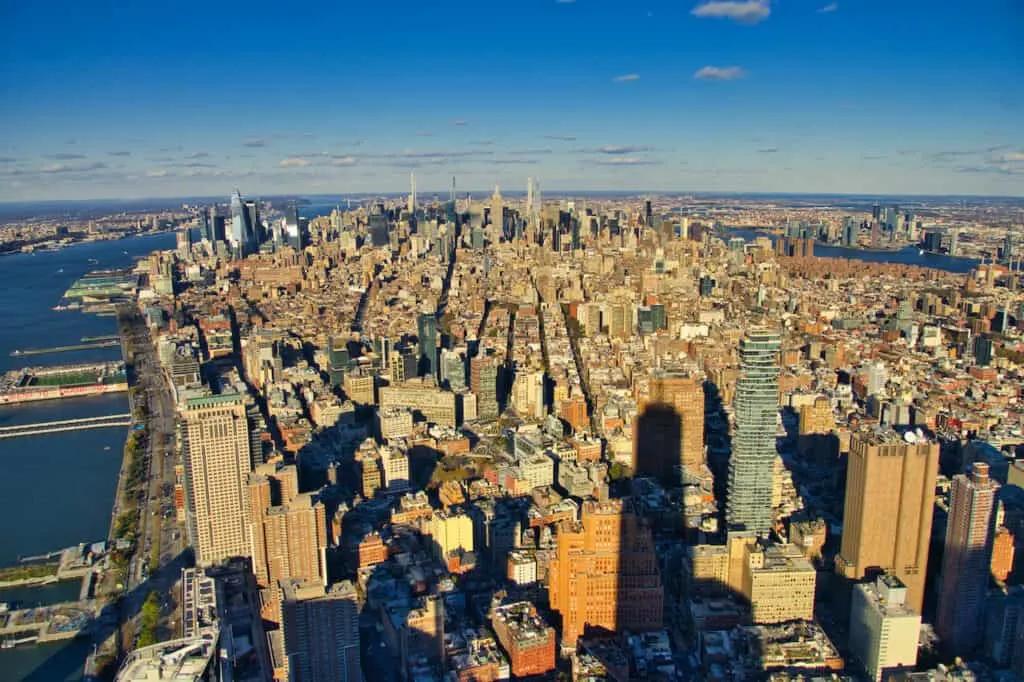 Summit One Vanderbilt
Summit One is the most experience-based type of observation deck. Once up top, you will not only get to enjoy a view, but also the various "art installations" located throughout.
Several exhibits including Transcendence, Air, Reflect, Levitation, Unity, and Ascent can be found among its three floors.
This is one observation deck that will feel much different than the others, as you get to see NYC in a different type of way.
Feel free to reserve your time slot for Summit One, and be sure to enjoy your time there!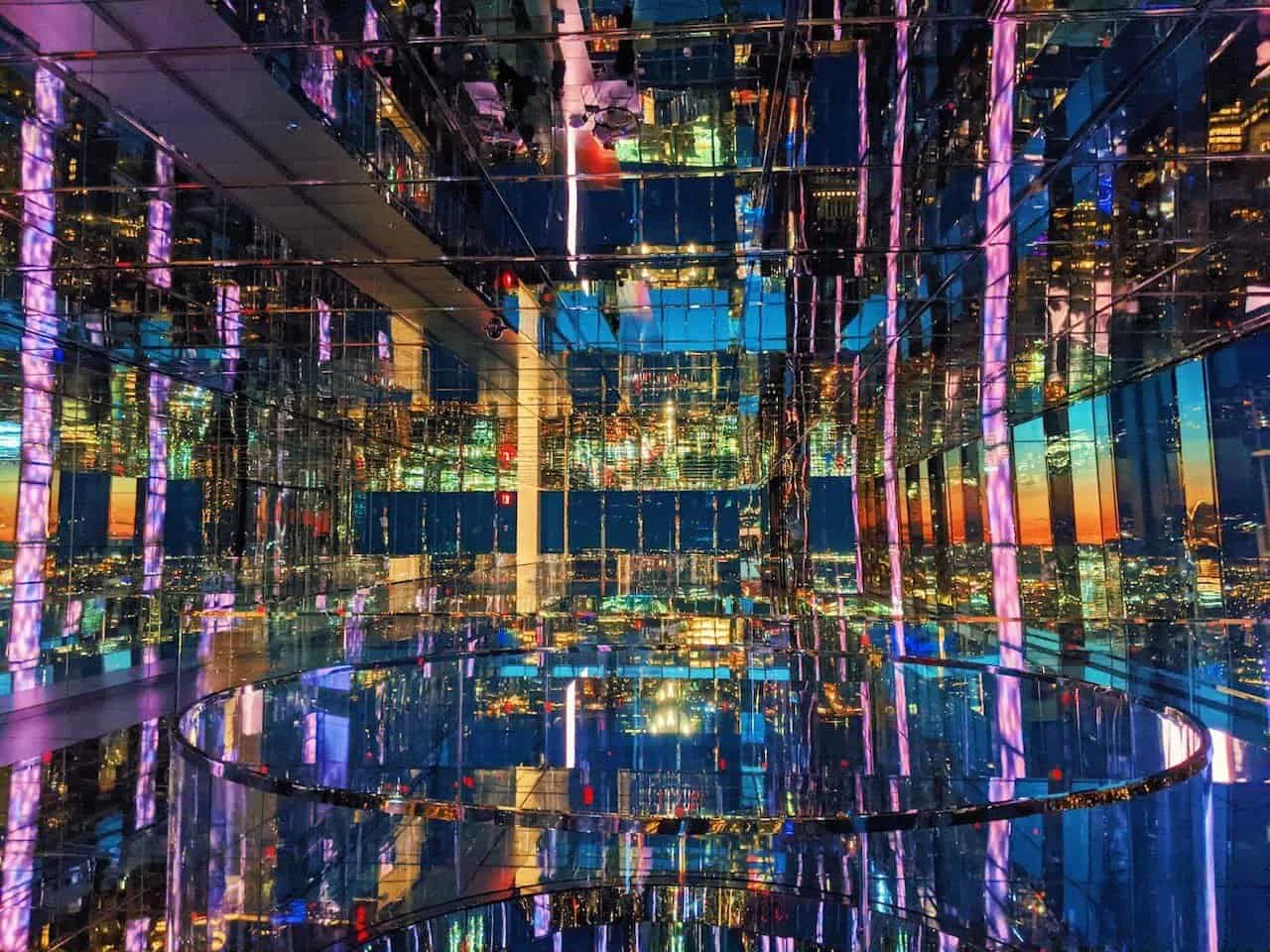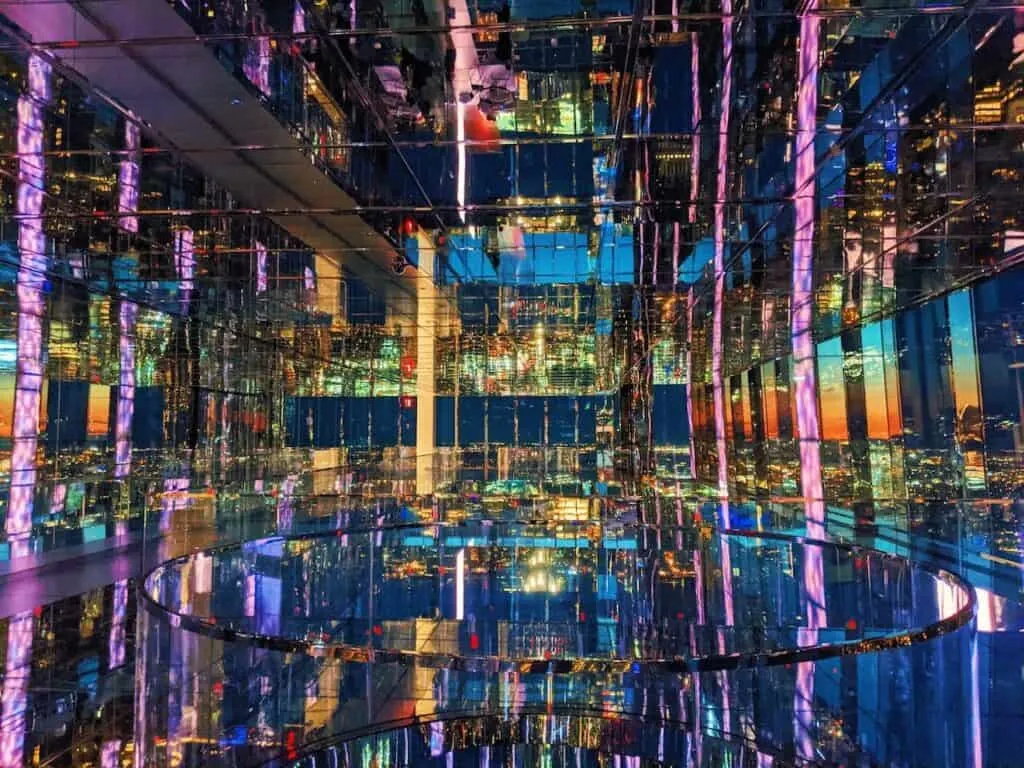 Empire State Building
At the Empire State Building, you will find both an outdoor viewing area (86th floor) and indoor area (102nd floor). If it is raining, the 102nd floor would be the way to go, but you can still quickly check out the 86th floor as well.
This is going to be the most iconic of buildings in NYC, as you get to learn about its history and take in the views along the way.
Similarly, purchasing your tickets ahead of time can reserve your time slot and save you some time.
Helpful Tip: I would recommend checking out some NYC skyline webcams before you decide to head on up to any observation deck. These can give you a better sense if there are views to be seen.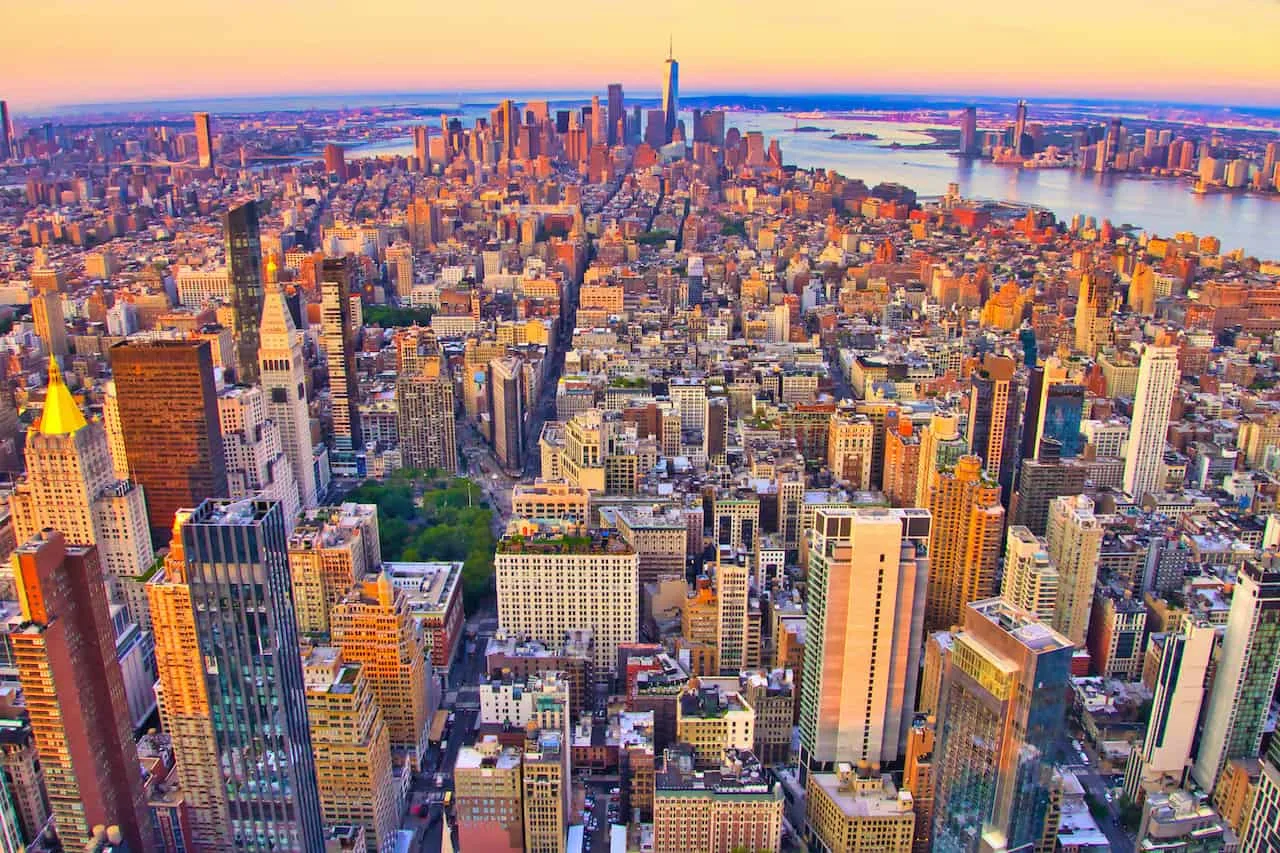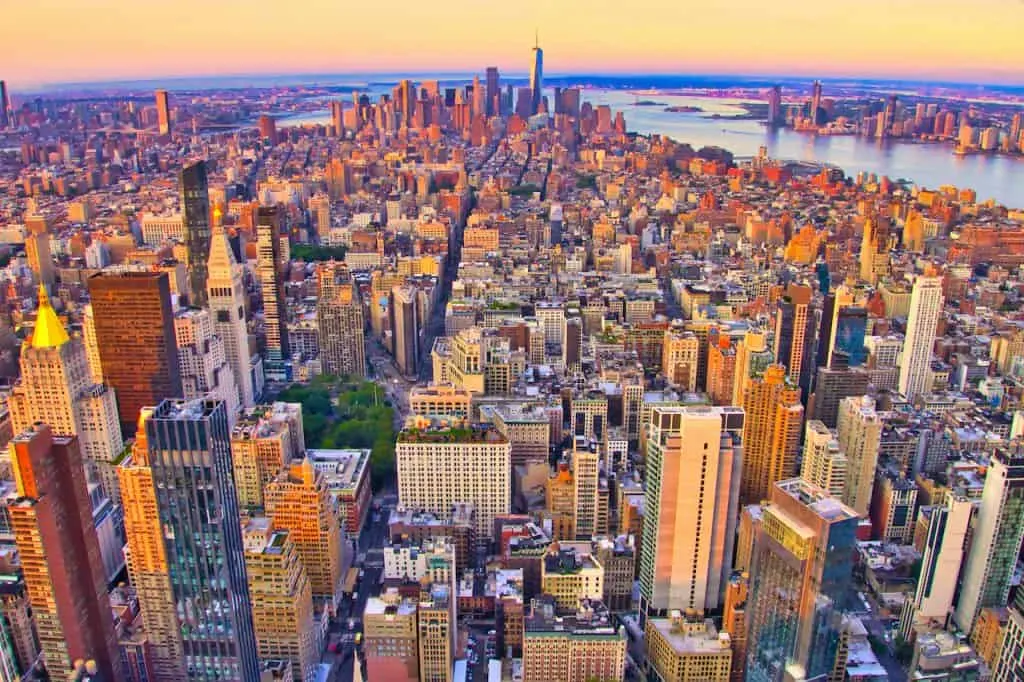 3) Take In a Broadway Show
People come from all around the world to take in a famous Broadway show. At any given time, there can be over 30 different types of plays & musicals going on throughout the Broadway district.
The great thing about these shows is that there are both day & nighttime performances. So, if you see that the weather is turning for the worse, you will be able to purchase tickets for any time of day.
Now, last minute tickets won't be cheap, but there are a couple workarounds to try & get more affordable tickets. This includes heading to the TKTS ticket office, or joining the Broadway lottery.
If seeing a Broadway show (or multiple shows) is important to you, then you can also consider staying at a hotel in the Theater District.
Helpful Note: NYC is not only known for its Broadway shows, but also its Off Broadway shows. These are going to be smaller shows that are trying to get the chance to move onto the big stage. In addition, there is also Off-Off Broadway shows, which are even smaller.
If you are struggling to find a ticket to a Broadway show, or just want to save some money, consider one of these performances instead.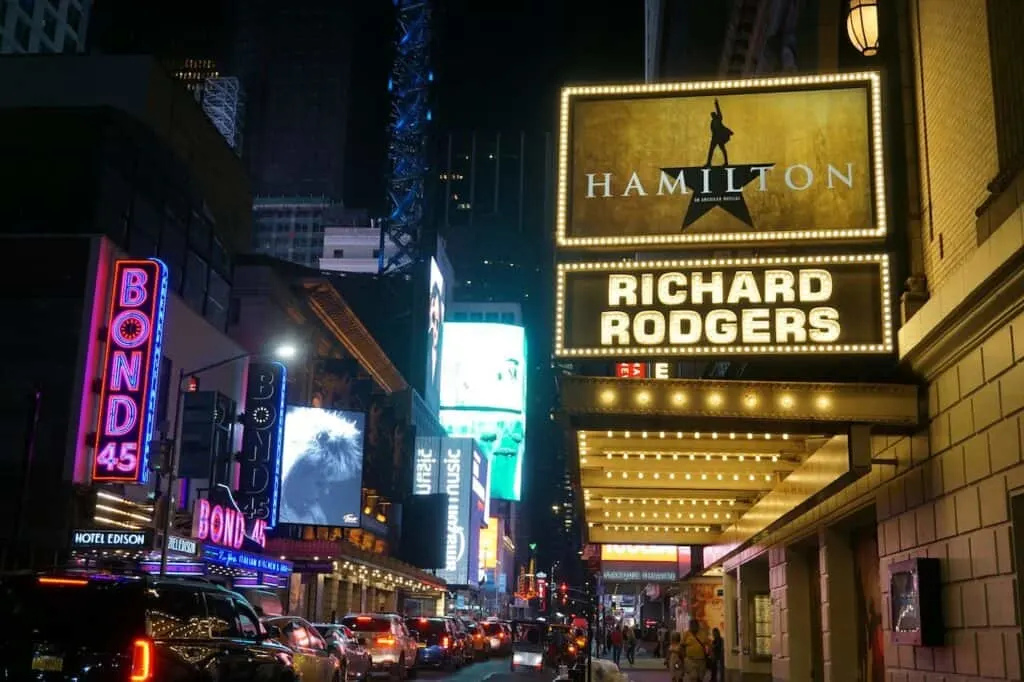 4) Marvel at Grand Central Station
While it may seem odd to include a train station on a list of things to do in NYC, Grand Central Station is a special place to be. I imagine there are just as many tourists who visit Grand Central on a daily basis than the people who actually use it for transport.
The reason behind this is because how beautiful the architecture is, most prominently its main concourse. The concourse comes in at 35,000 square feet with 125-foot ceilings (the windows themselves are over 60 feet tall!).
The ceiling is meticulously designed with a celestial sky mural with various constellations & stars. In the middle of the concourse is the famous Grand Central Clock that hovers over the centrally located information booth.
Walk around to various vantage points to enjoy the views of the concourse & it's beautiful architecture all throughout.
It is also not just about the main hall, as there are also plenty of food options to consider there. You will find fancier restaurants, a large food hall, and the Grand Central Market. So, no matter what you are looking for, Grand Central should have something for you.
Feel free to look into this Grand Central tour if you would like to learn more about its history and how it came to be.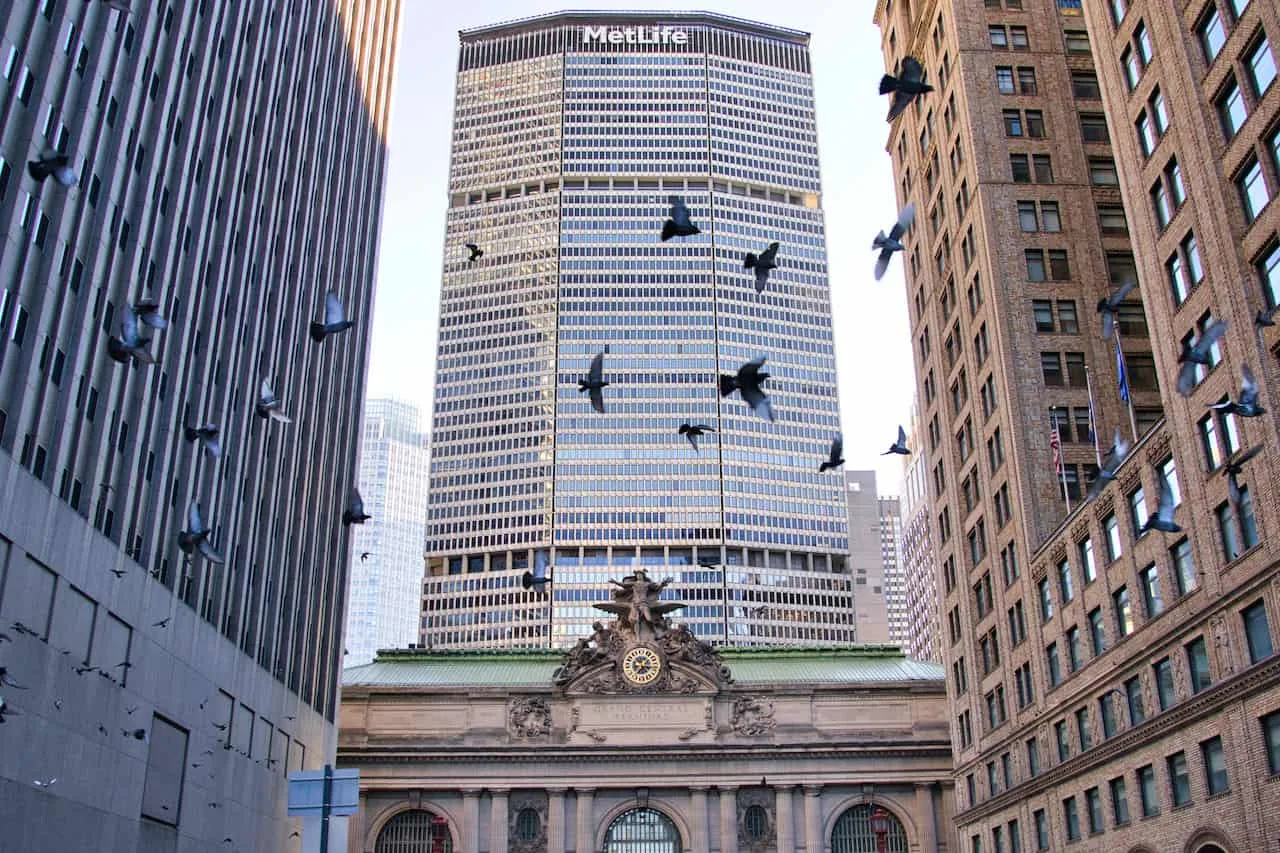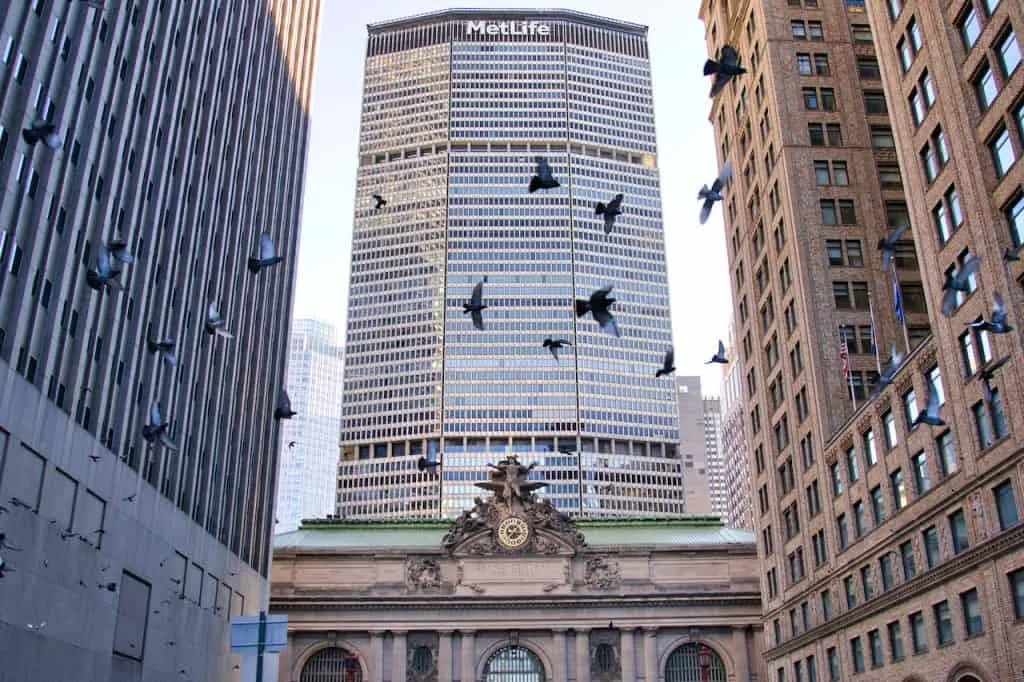 5) Explore the Oculus
In the heart of downtown Manhattan is the Oculus transportation hub & mall. The uniquely designed structure is home to two floors full of stores, food options, and kiosks.
Whether you are looking to shop, or just want to take in the beautiful architecture, the Oculus is a perfect addition to a rainy day itinerary in NYC.
It is also well located as it connects to many subway lines from all of the city.
Another reason to add it onto the day is due to its proximity to several others places on this list. It connects directly into the One World Observatory, is next door to the 9/11 Museum, and you can follow the pathway to Brookfield Place (more on that next).
By just adding those onto your day, you should be well on your way to having plenty of exploring as the rain comes down.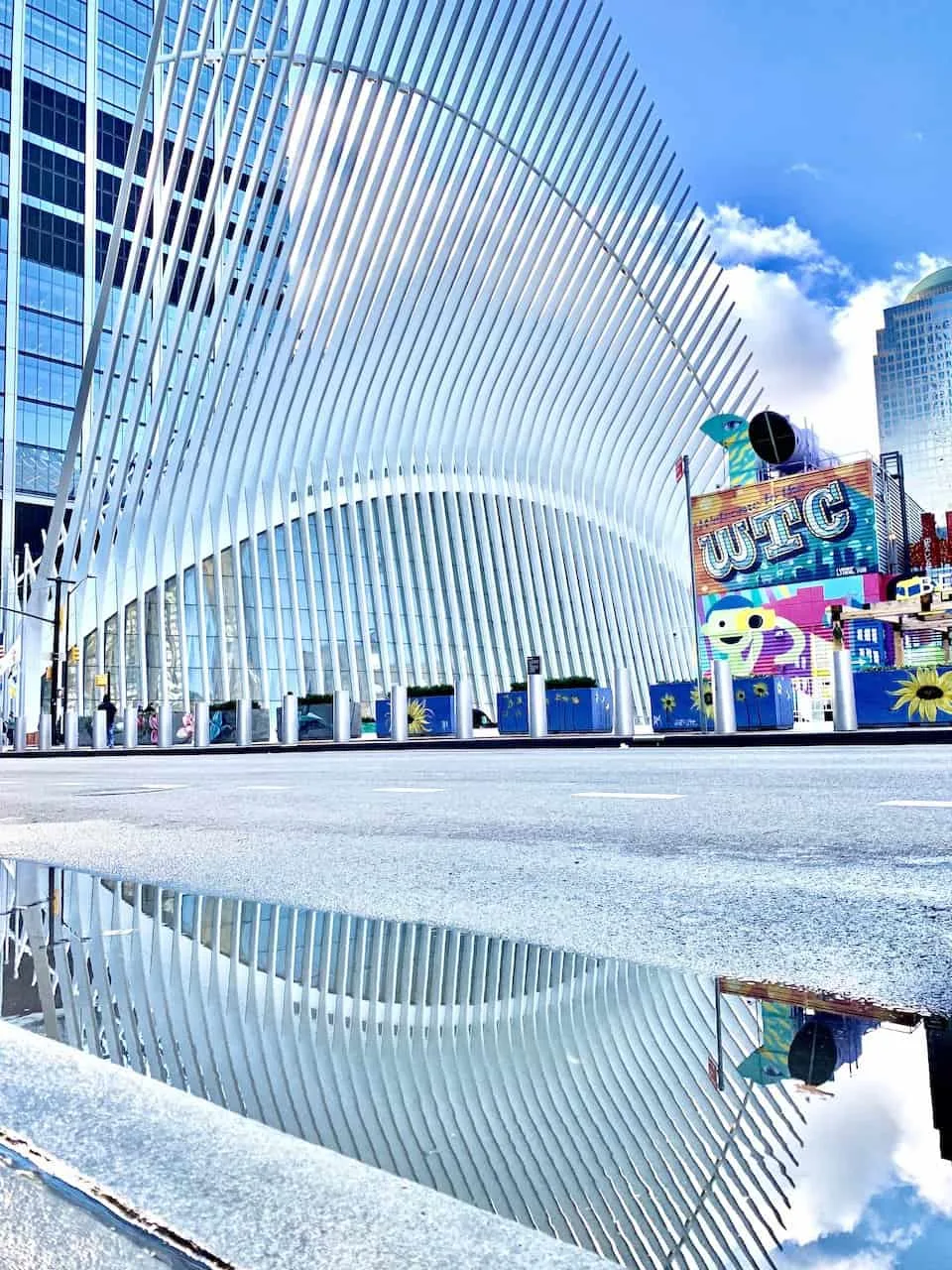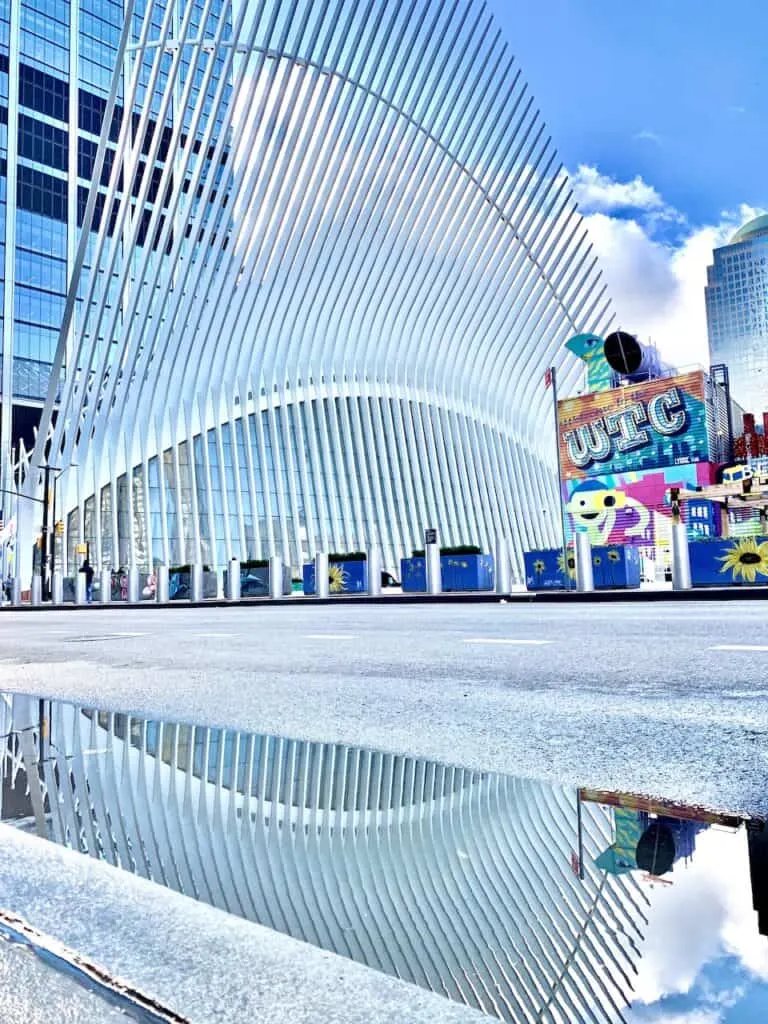 6) Visit Brookfield Place
For years I worked near Brookfield Place and have seen it transform into what it is today. The main complex area has a large open Winter Garden area that connects by escalator down into the Oculus.
The Garden is surrounded by high end shops and several food options. Most of these food spots are at a food hall called Hudson Eats, where a variety of cuisine can be found.
If you continue to walk around the area, it connects to another side of more everyday shops to browse through.
While it may be raining, views over the Hudson River, North Cove Marina, and the Statue of Liberty can be seen from Brookfield. Also be on the lookout for some NYC cherry blossoms at the nearby Pumphouse Park.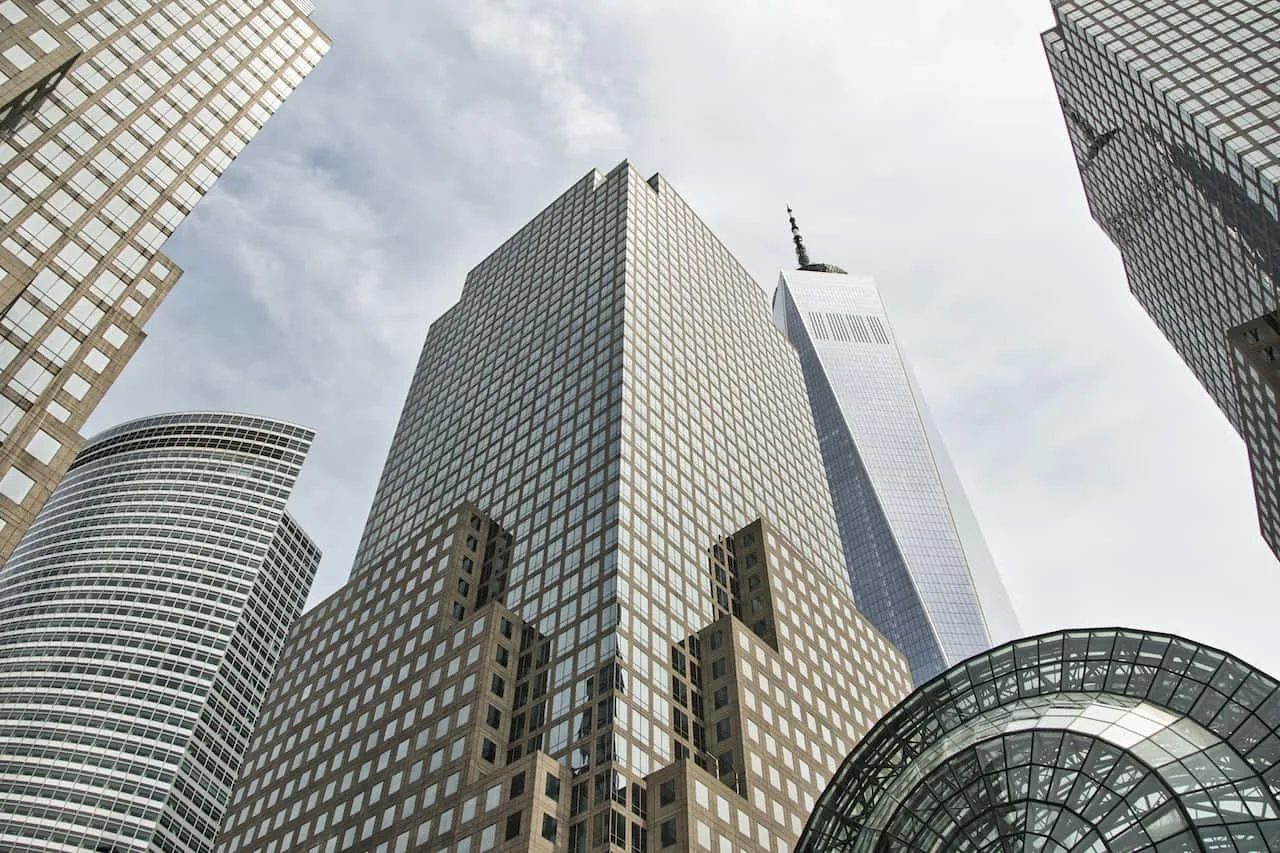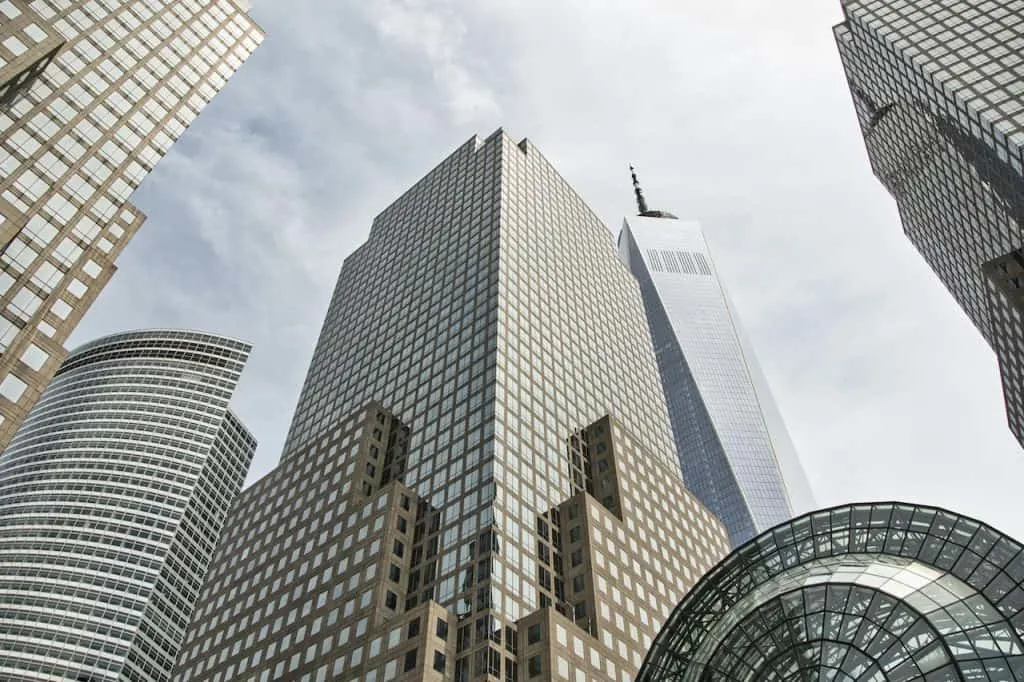 7) Shop Around at Macy's
Shopping can be on a lot of people's minds during a trip to NYC. So, why not check out the largest store in the city at Macy's Herald Square.
This Macys's store is almost incomprehensible in size. While the building also houses the corporate offices, the retail space itself makes up 1.25 million square feet!
It not only is the largest department store in NYC, but also the entire United States (and one of the largest in the world).
The Macy's building is made up of 11 different floors across essentially an entire avenue. There is an endless number of brands that can be found all throughout in addition to many food options as well.
You can spend an entire rainy afternoon browsing through the selection and still not get through it all.
Holiday Note: one way or another, be on the lookout for what Macy's brings to the table during the holiday time. They put on a massive Thanksgiving Parade, has top notch Christmas windows, and even puts on the July 4th fireworks show in NYC.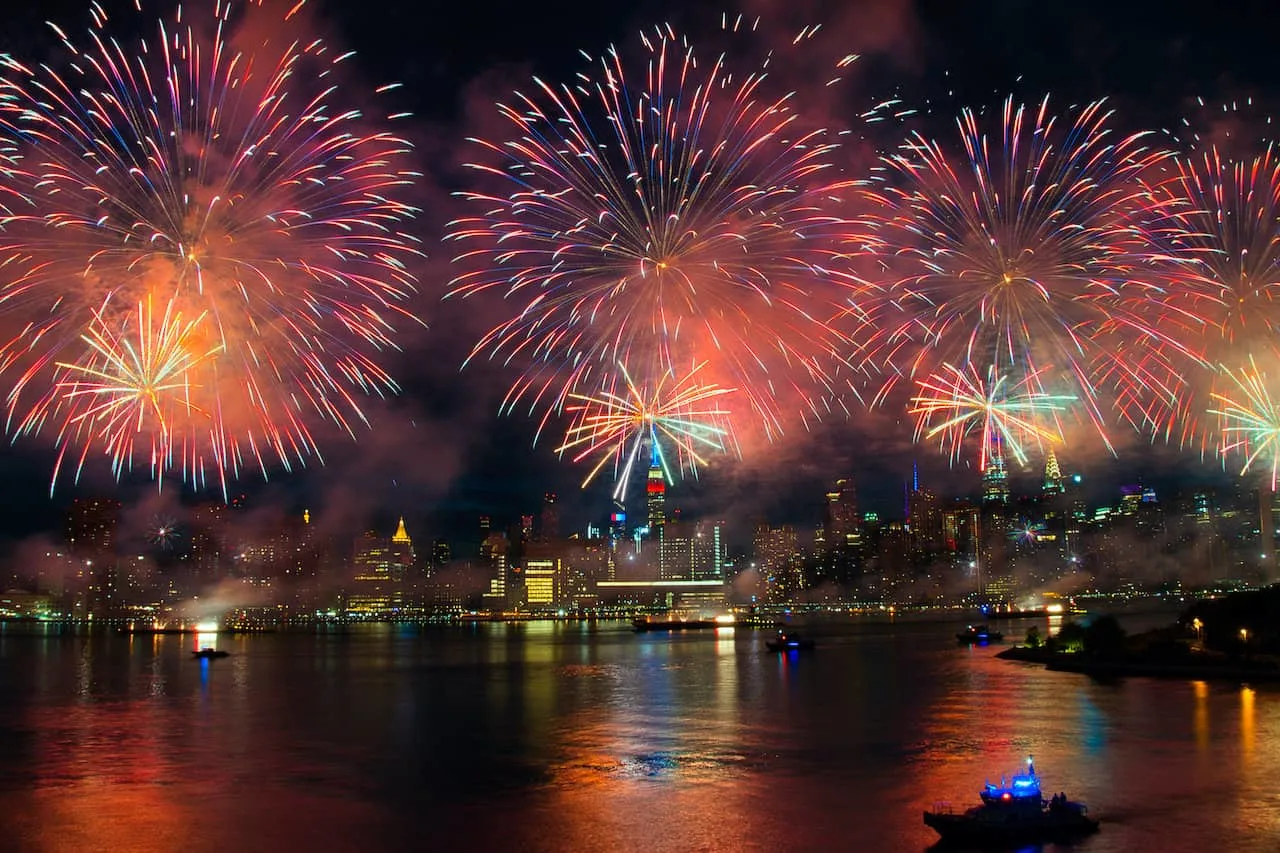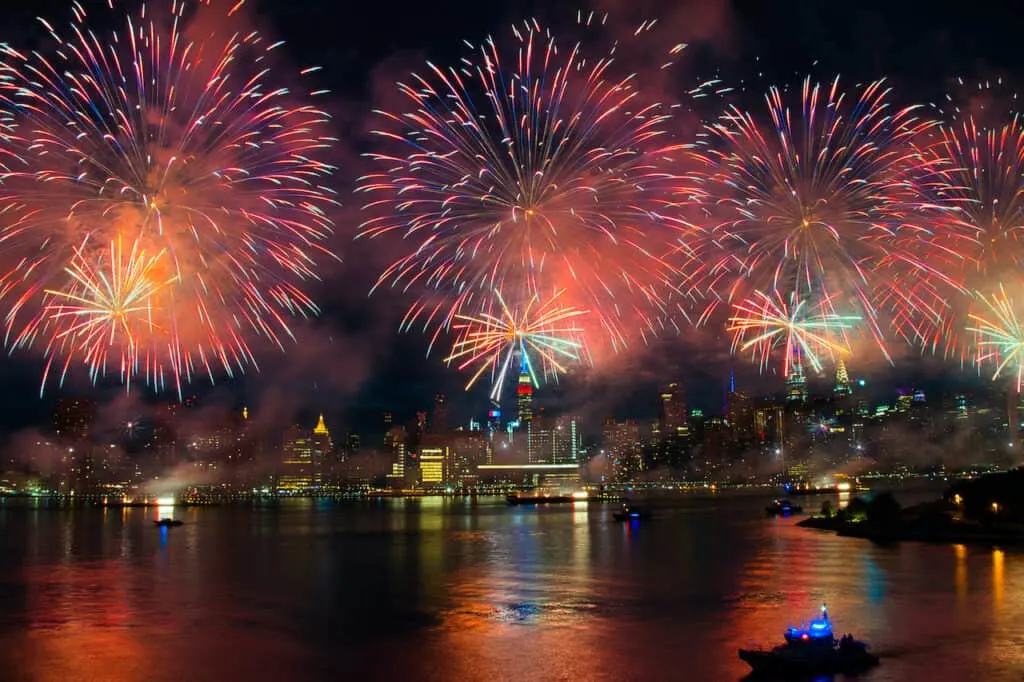 8) Take in a Game at Madison Square Garden
One of the best types of live entertainment to witness in New York is a sporting event at the "World's Greatest Arena" – Madison Square Garden.
MSG is home to the New York Knicks (basketball) and the New York Rangers (hockey). The seasons for both of them run from around October to April before the playoffs begin.
These are some of the hottest tickets in town, so be prepared to pay a bit to get in. But if you do opt for a game, you will get to experience a one of kind atmosphere as MSG comes to life.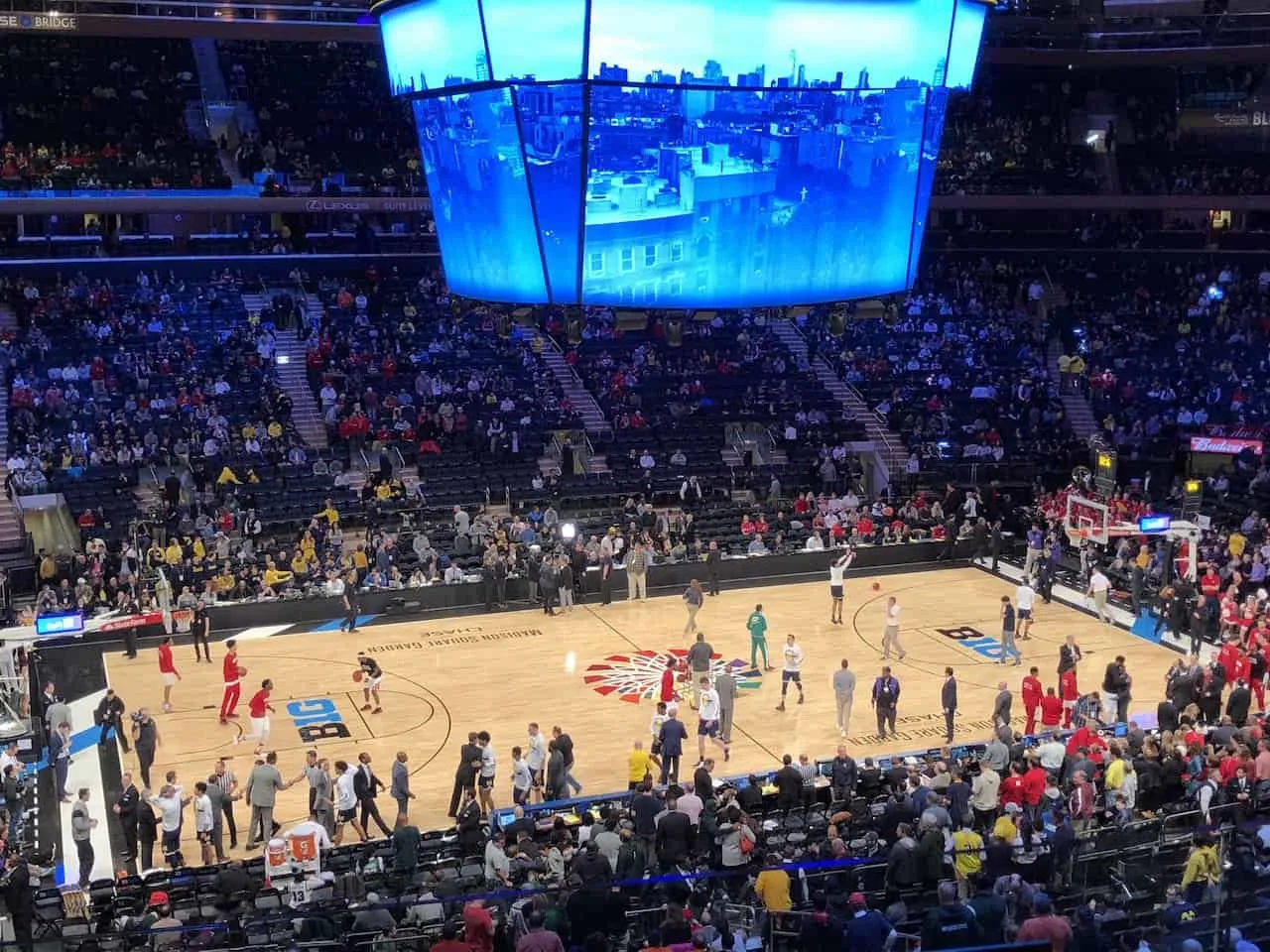 9) Have a Laugh at the Comedy Cellar
If you are looking for a laugh, there is no better place in the city to visit then the Comedy Cellar, located in the Village.
Comedy Cellar is an iconic NYC institution, with some of the most famous of comedians taking its stage over the years. Even today, you never know if a top tier comedian may make an appearance.
Each night, the comedy lounge puts on events at one of three different venues starting around 7:00PM and going late into the night (especially on weekends). So, if it happens to be raining and your outdoor evening activity is in jeopardy, consider adding a comedy show to the list.
10) Shop Till You Drop in SoHo
Shopping never gets old in NYC, and if there is one neighborhood that comes to mind when it comes to the variety of stores, it is SoHo.
SoHo stands for South of Houston, and is an area that is jammed packed with all types of of shops. From small boutiques to larger brands, there is something for everyone here.
Not only that but the area is full of galleries, food options, and a great overall vibe.
Understandingly, this is not the ideal rainy day activity in NYC as it does require some outdoor time as you hop from one store to the next. However, since there are just so many stores so close to each other, it can end up working out.
For those that want to be in the center of the action, you can also choose to stay at a nearby hotel in SoHo.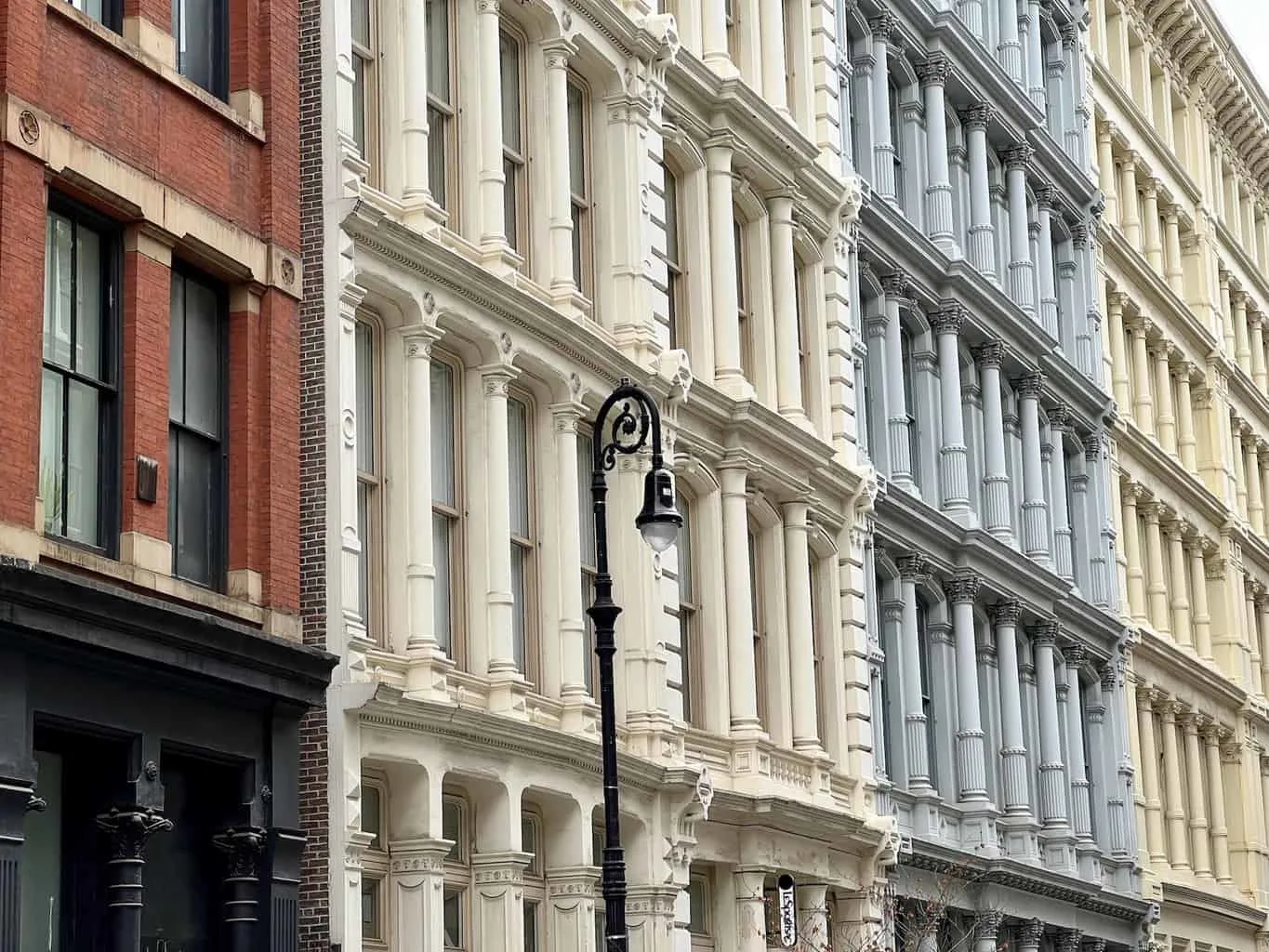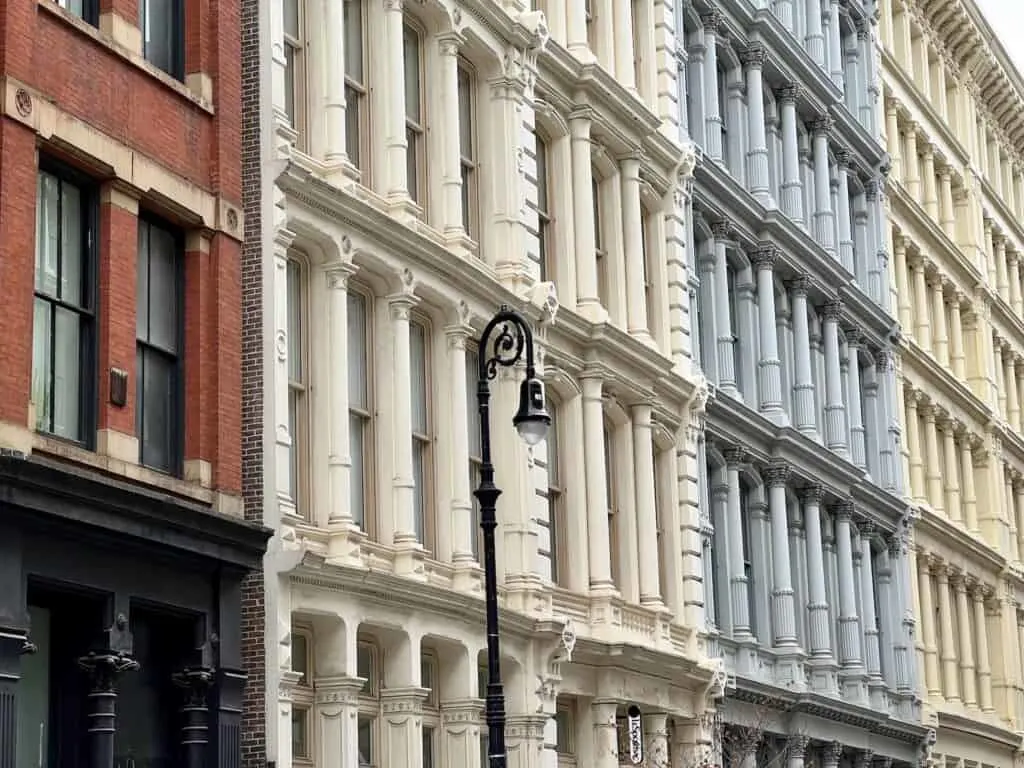 11) Rainy Day Photography
For any photographers out there, I am sure you know that a moody rainy scene can make for some of the best photos. If you are willing to take the camera out, taking photographs around the city can be a great activity to take part of.
You can head to Times Square, where the bright lights will shine through the fog or you can make your way to the river, where views of the bridges may be one of a kind.
Another part of rainy day photography that I love is that you can always catch a water reflection (especially right after the rain stops). Get low, find a puddle, and take a cool shot of the surrounding cityscape.
Be sure to also check out some of the best photo spots in NYC!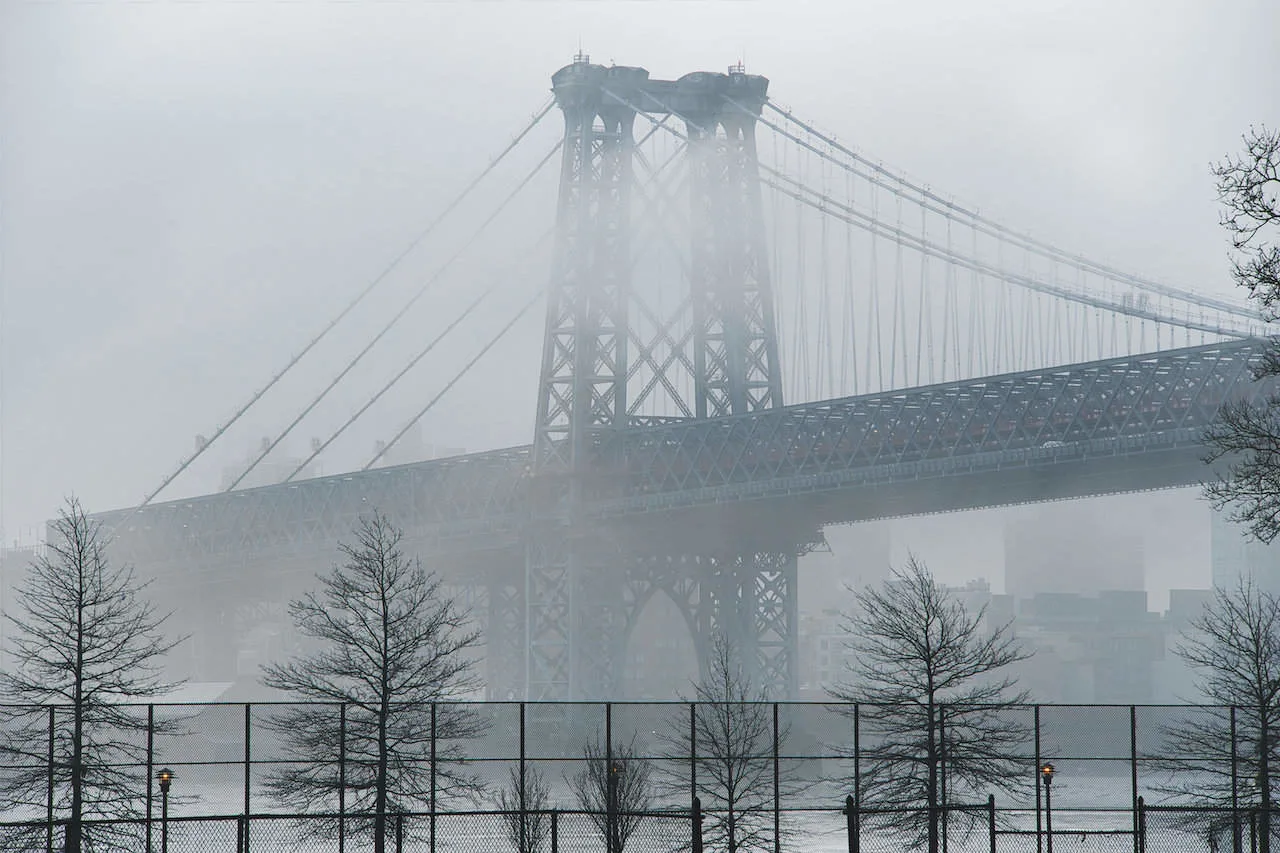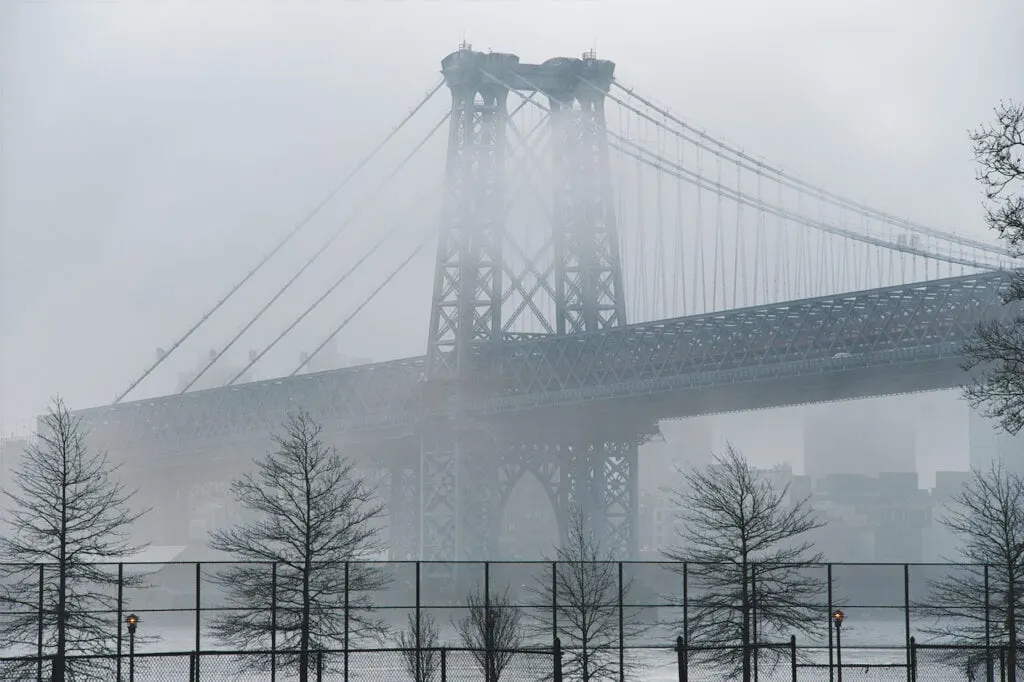 12) Visit the New York Public Library
In the heart of midtown Manhattan, you will find Bryant Park and the New York Public Library.
The library is one of the most iconic buildings in the city, both inside & out. I would recommend heading inside, where you can wander around the floors and check out various exhibitions, rooms, and hallways.
Within the library is also the famous Rose Main Reading Room, which is really only meant for those studying, and less so for tourists to stroll around. But if you are looking for a break, feel free to grab a book & a seat in the room to enjoy the atmosphere.
13) Check Out Hudson Yards
One of the newer neighborhoods in NYC is Hudson Yards. It is located on the western side between 30th Street and 41st Street. All around the neighborhood are massive glass like high-rises that have slowly transformed the skyline.
If you are looking for things to do during the rain, I would recommend checking out The Shops & Restaurants at Hudson Yards. This mall is packed with around 100 different stores and 25 restaurants all throughout.
Since you will be nearby, you should also get some nice views of the Vessel. This art installation is a unique structure that can be viewed from all different angles. While you currently cannot head up the Vessel, it is still a great spot to wander around.
Nearby is also another mall area called Manhattan West. You can get between the two by walking along the High Line connector.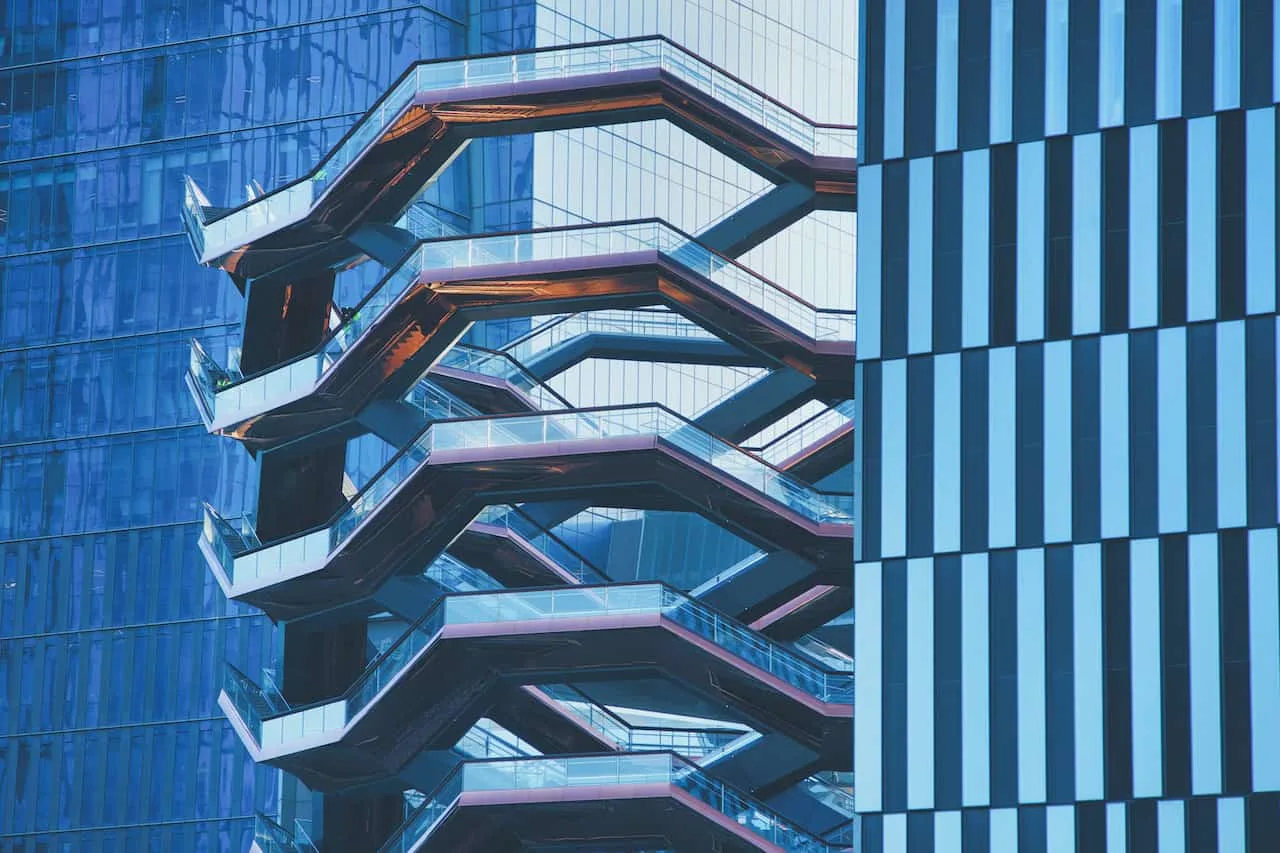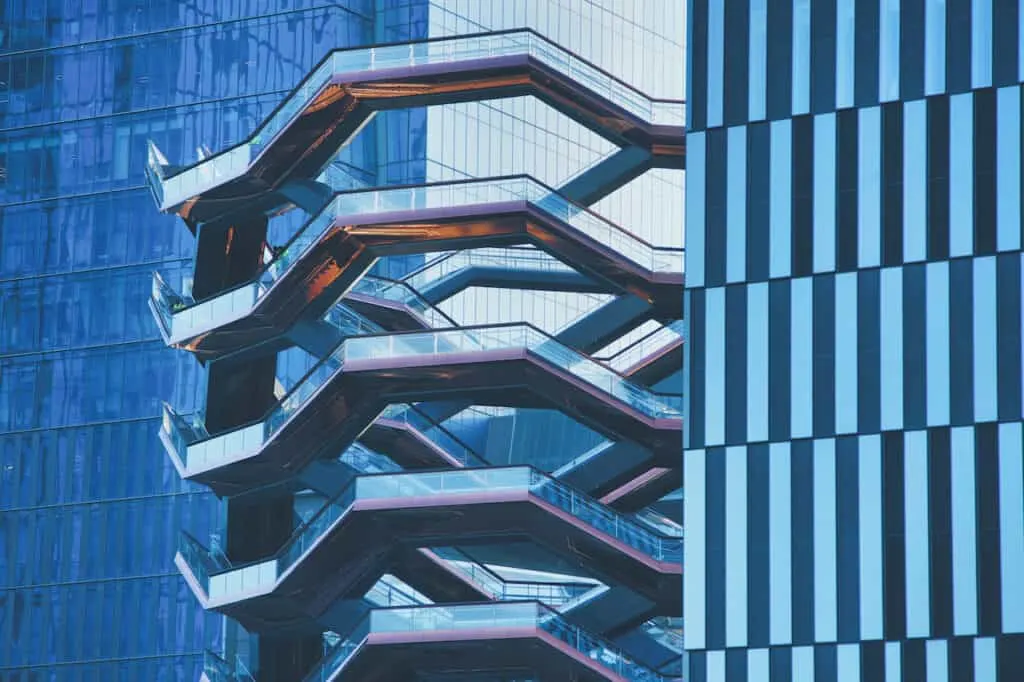 14) Relax at Governors Island Spa
For those looking for a bit of relaxation time, there are several different types of spa options to consider. One of the more unique offerings is located on Governors Island – the QC NY Spa.
While it will be a bit more of a process to get there back & forth, once at the spa it will all be about relaxation.
First you will need to take a ferry from downtown Manhattan (or Brooklyn), to Governors Island. It is then a short walk until you reach this renovated spa on the western coast of the island.
While there is a year-round pool to enjoy, most of your time on a rainy day will be spent inside.
At QC Spa there are a whole variety of experiences to take part of. There is the City Sauna, Scottish Room, Fireplace Room, Foot Baths, Infrared Beds, Park Sauna, Mountain Stube, and plenty more.
When purchasing tickets, you can also opt for a massage, which will make your stay even that much more relaxing.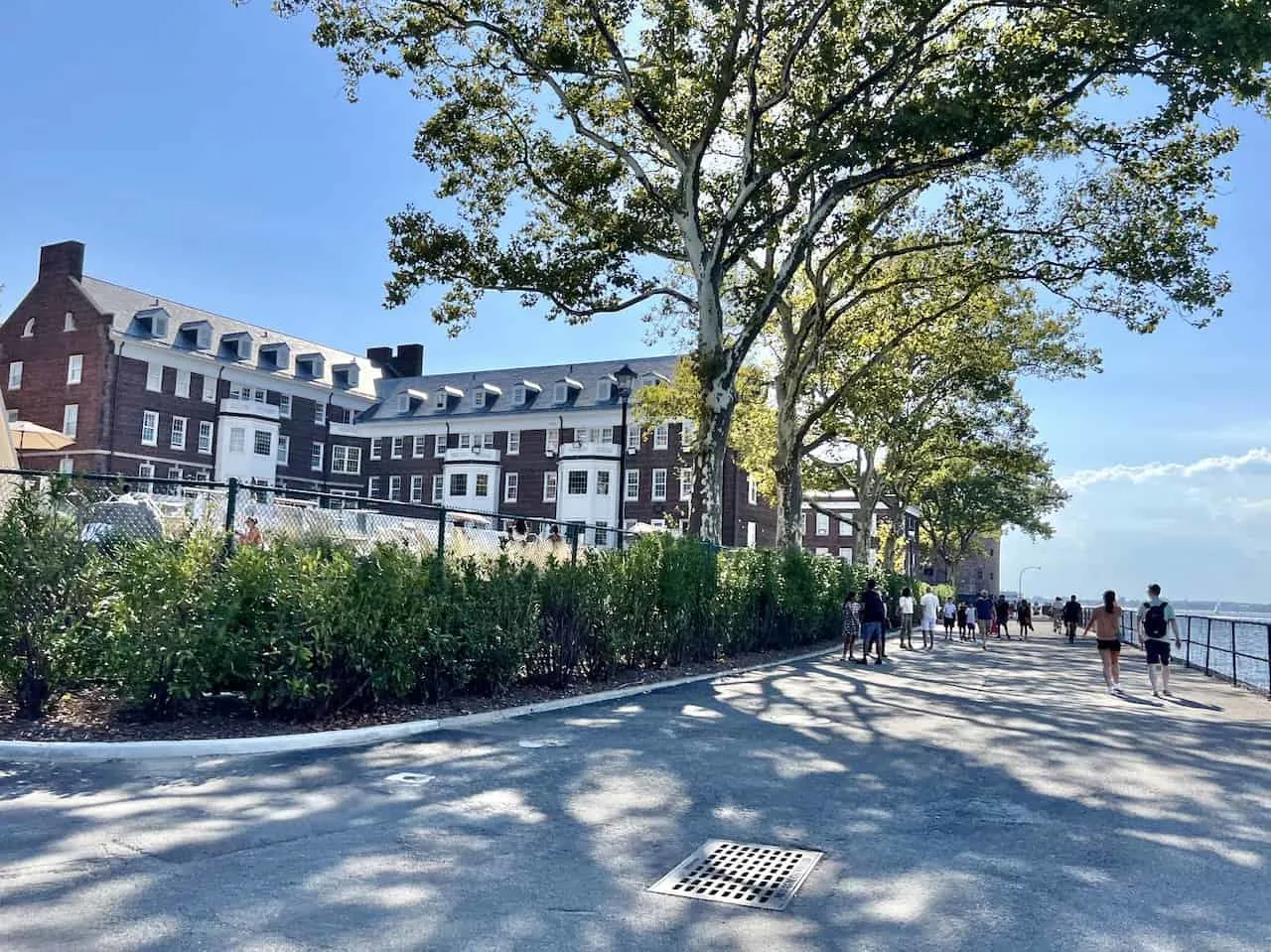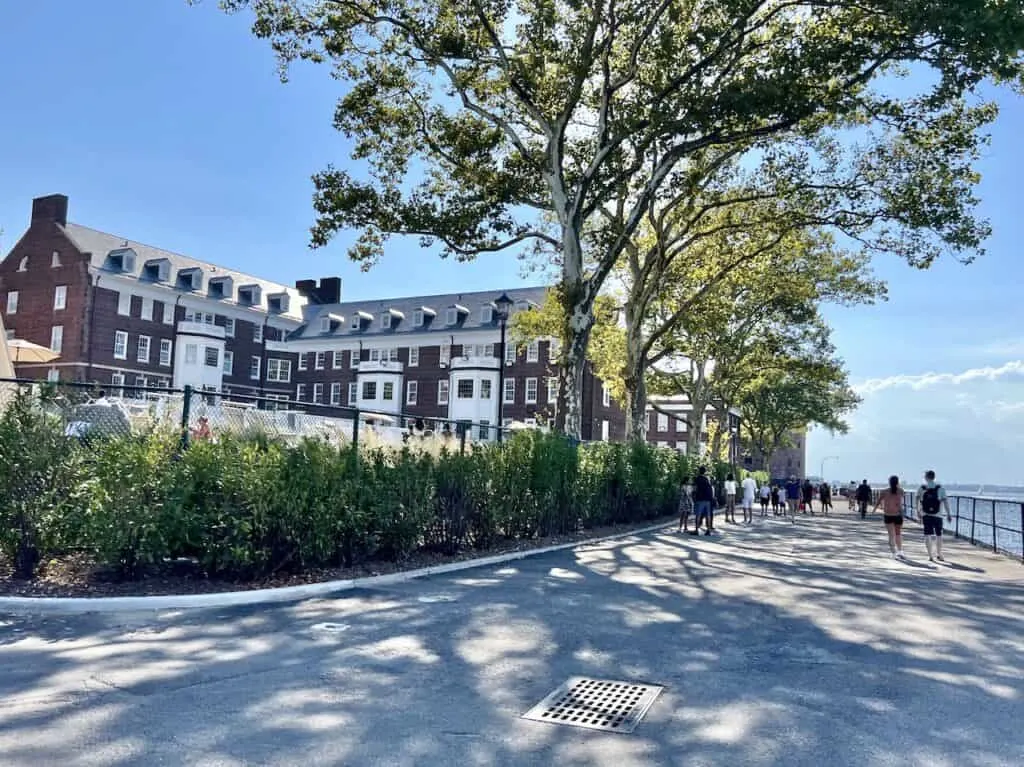 15) Enjoy Some Games & Sports
Indoor activities are never-ending when it comes to NYC. There will always be some sort of game or sport to play year-round, at any time of day.
These can all be great for family, kids, friends, and couples. So, feel free to pick an option that is of most interest to you.
Some of the top choices out there include:
Bowling: Bowlero in Times Square & Chelsea Piers
Shuffleboard: Royal Palms Shuffleboard in Brooklyn
Axe Throwing: Bury the Hatchet and Kick Axe Throwing in Brooklyn
Ping Pong: SPIN Flatiron
Pool: Amsterdam Billiards Club in Union Square
Golf: Swingers Nomad & Five Iron Golf
Games: Barcade (several locations)
Learn More: Check out the other top things to do in NYC during a visit
16) Have a Meal Overlooking the Park
Even though it may be raining in NYC, you can still enjoy Central Park. As you wait out the rain, you can head up to a restaurant or bar overlooking the park from above.
This is the perfect way to relax & enjoy a meal, while still getting to experience the park (to an extent), along the way.
There are several restaurant options out there to choose from. Many of these are located near Columbus Circle, with a few more sprawled around.
Be sure to check out the best restaurants with a view of Central Park to learn more.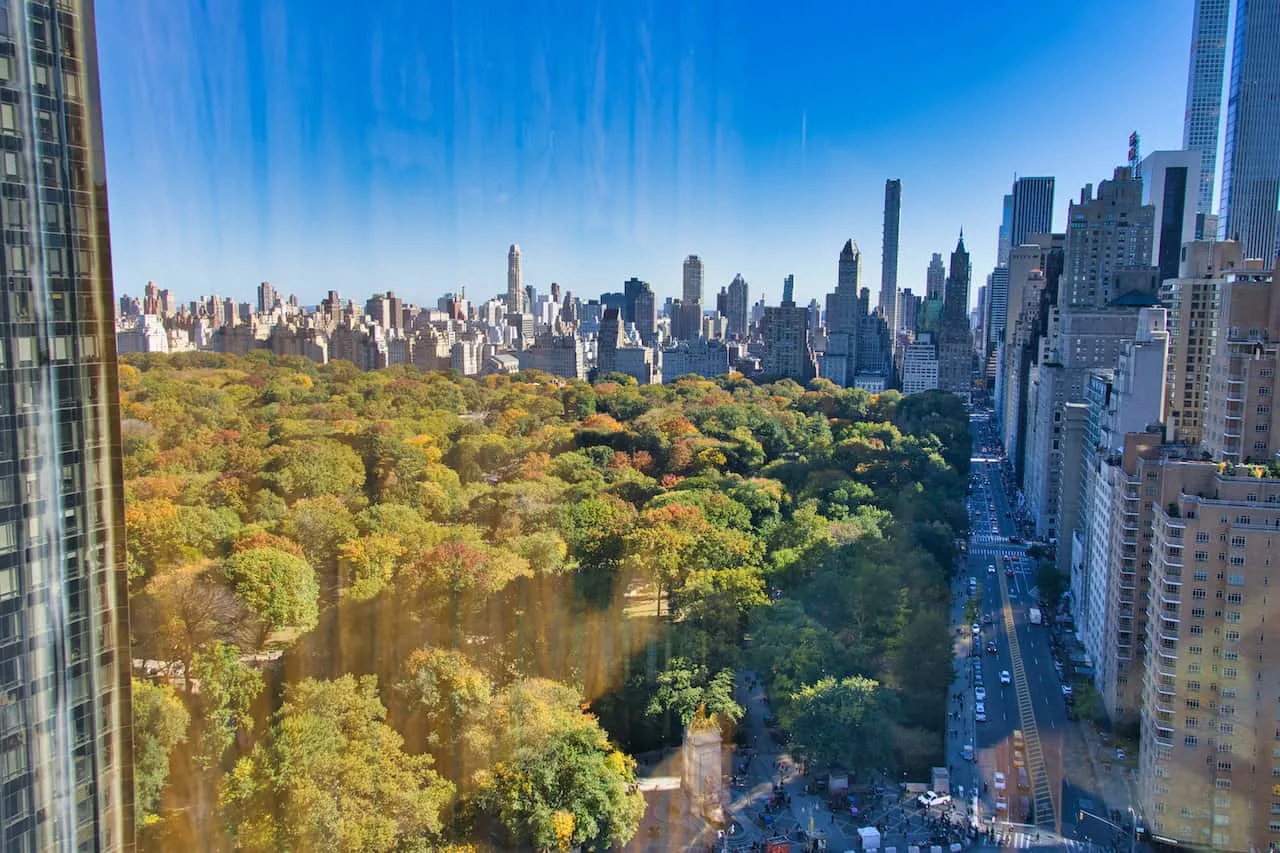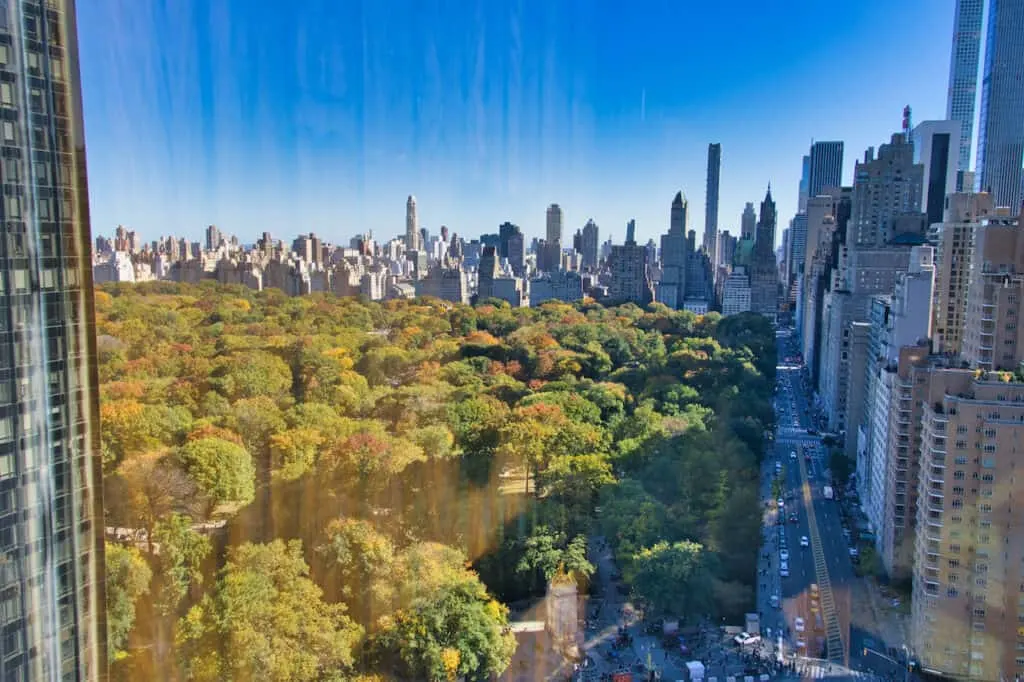 17) Ride Around on a Bus Tour
Throughout NYC there are a few companies that run hop on hop off type of bus tours. You can use these as ways to both get around the city and see various neighborhoods along the way.
During a rainy day, you may just consider hopping on one and taking part of the full loop. This way you can get a good idea of the various neighborhoods, buildings, and highlights that can be found all around the city.
While many of these offer open air second levels, there is also an indoor section, where you can stay dry and enjoy the ride.
Another more fun bus experience is The Ride, which follows a route in midtown Manhattan. This is an interactive tour with seats facing the windows, and plenty of entertainment happening along the way.
If you are looking for more guided options, feel free to check out the rest of the New York bus tours that are offered.
18) Eat Your Way Through Chelsea Market
Back in the day, there was a Nabisco factory located in the city. These days it has been converted into a giant food hall with over 50 different restaurants and food spots (as well as several shops).
Chelsea Market makes for a great option to visit for the family as everyone can enjoy a specific cuisine for a meal. It is also located nearby to the Whitney, if you are looking for an added museum option to the day.
If it happens to stop raining, why not also head up to the nearby High Line Park for a nice elevated stroll.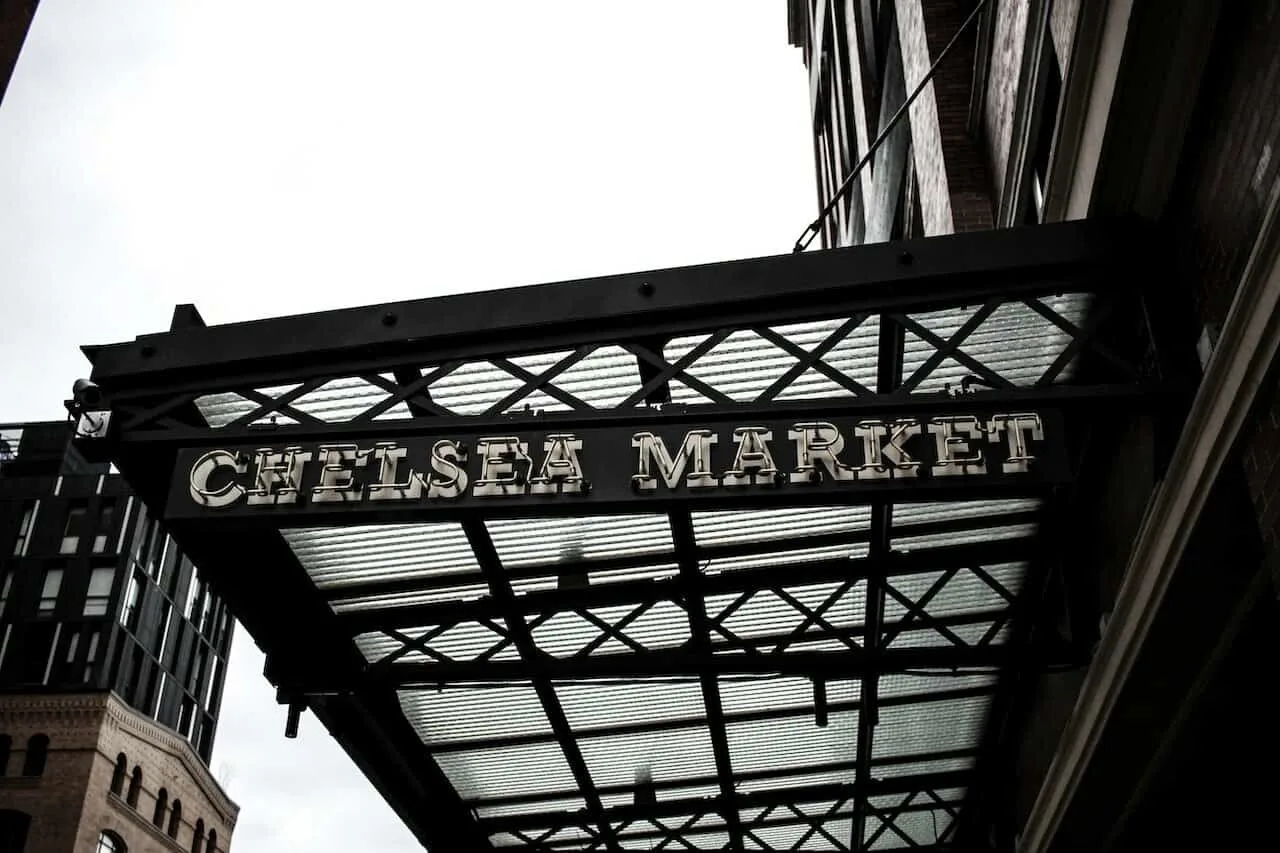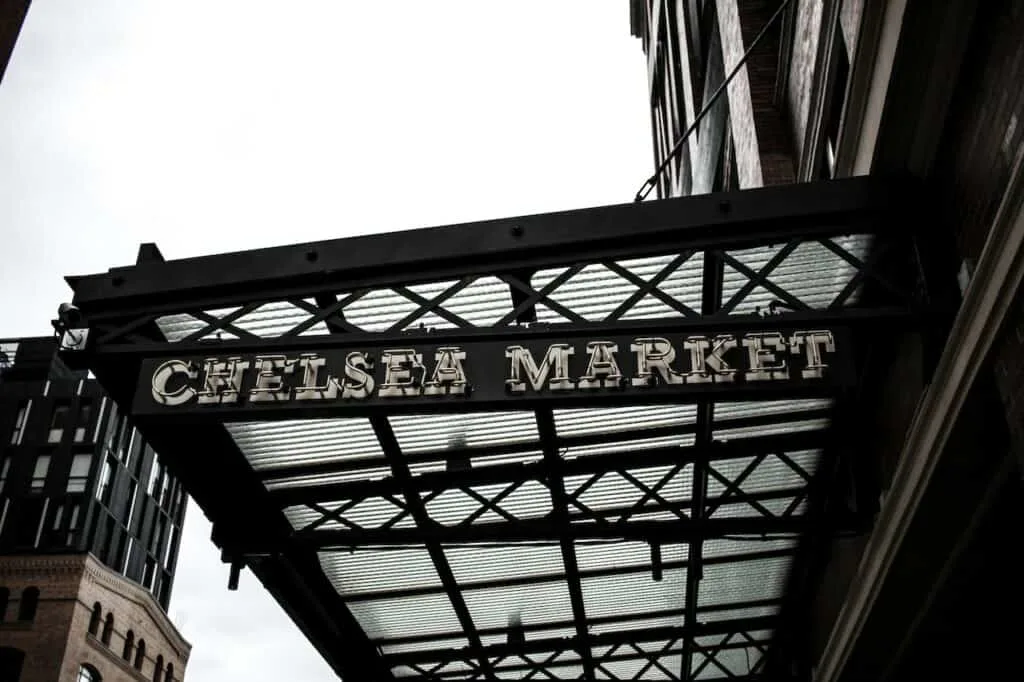 19) Be Mesmerized by Times Square
One of the only outdoor spots listed on this list is Times Square. No matter if it is rain or shine, there is always going to be something going on in Times Square.
At the heart of the city, the square is jam packed with various stores, restaurants, and of course its giant billboards all around.
It can still be a fun & enjoyable experience to take part of even in the rain. You can always take a break in any of the surrounding buildings, where you can dry off before continuing on with your day.
For those that are looking to enjoy some panoramas, I would recommend checking out some hotels in Times Square with a view.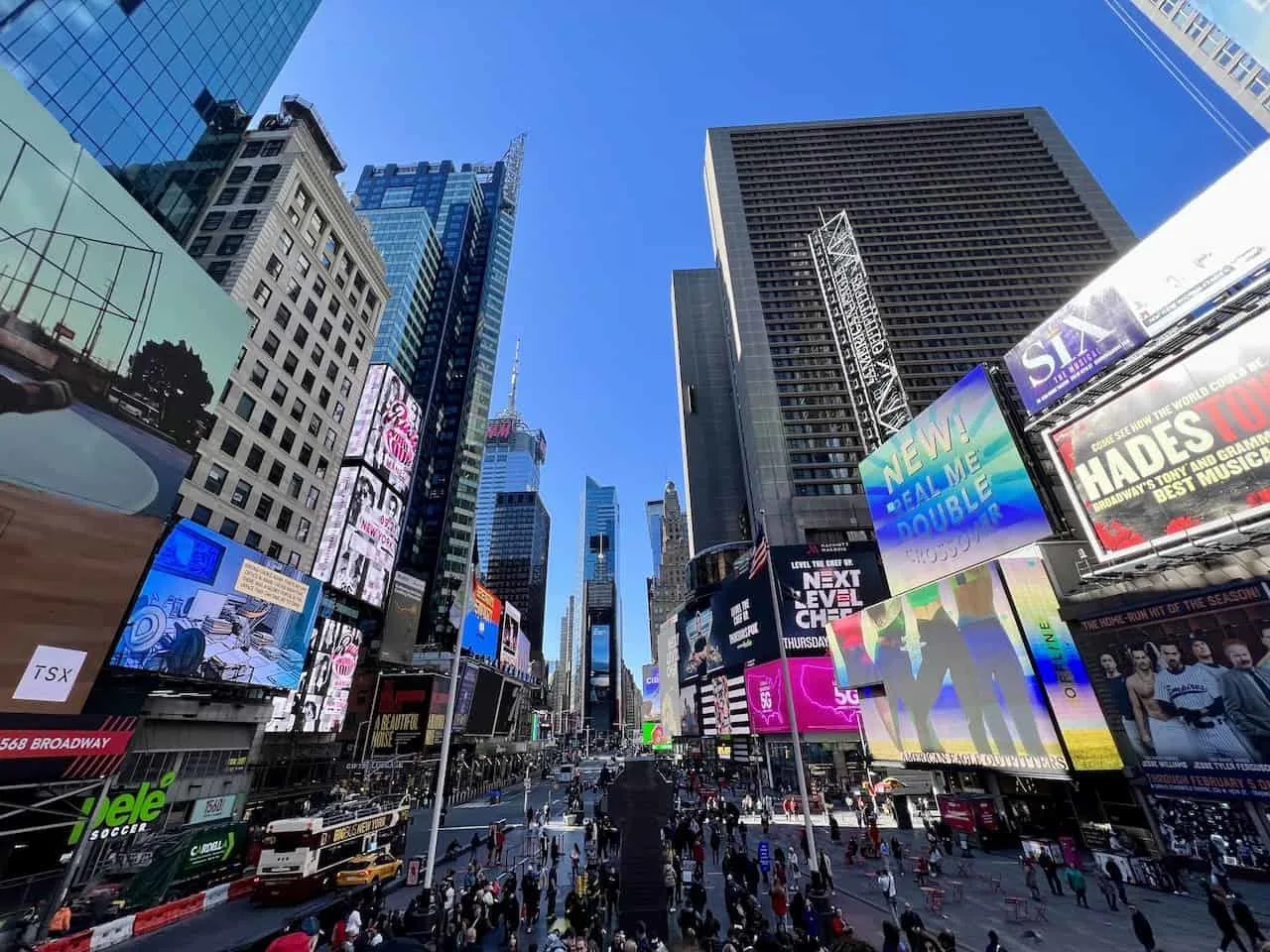 20) See a Performance at Lincoln Center
For those looking for an artistic or musical performance on rainy NYC day or evening, look no further than Lincoln Center.
The center is located on the Upper West Side of Manhattan and is made up of several different organizations that put on events throughout the year.
Some of the most famous of shows include New York Philharmonic, The Metropolitan Opera, and the New York City Ballet. I would recommend checking out the Lincoln Center calendar to stay up to date on the latest.
21) Take in the Morgan Library
One of the most underrated places in NYC is the Morgan Library and Museum. While it may not come up on museum lists, and is certainly less popular than the New York Public Library, the Morgan Library & Museum is well worth it.
Founded by JP Morgan (yes that JP), the library is packed with all sorts of rare books, manuscritps, maps, drawings, and other historical items.
What started out as his own private collection has since been open to the public and grown over time. Now visitors have the chance to explore the collection and at the same time get to take in one of the most beautiful libraries in town.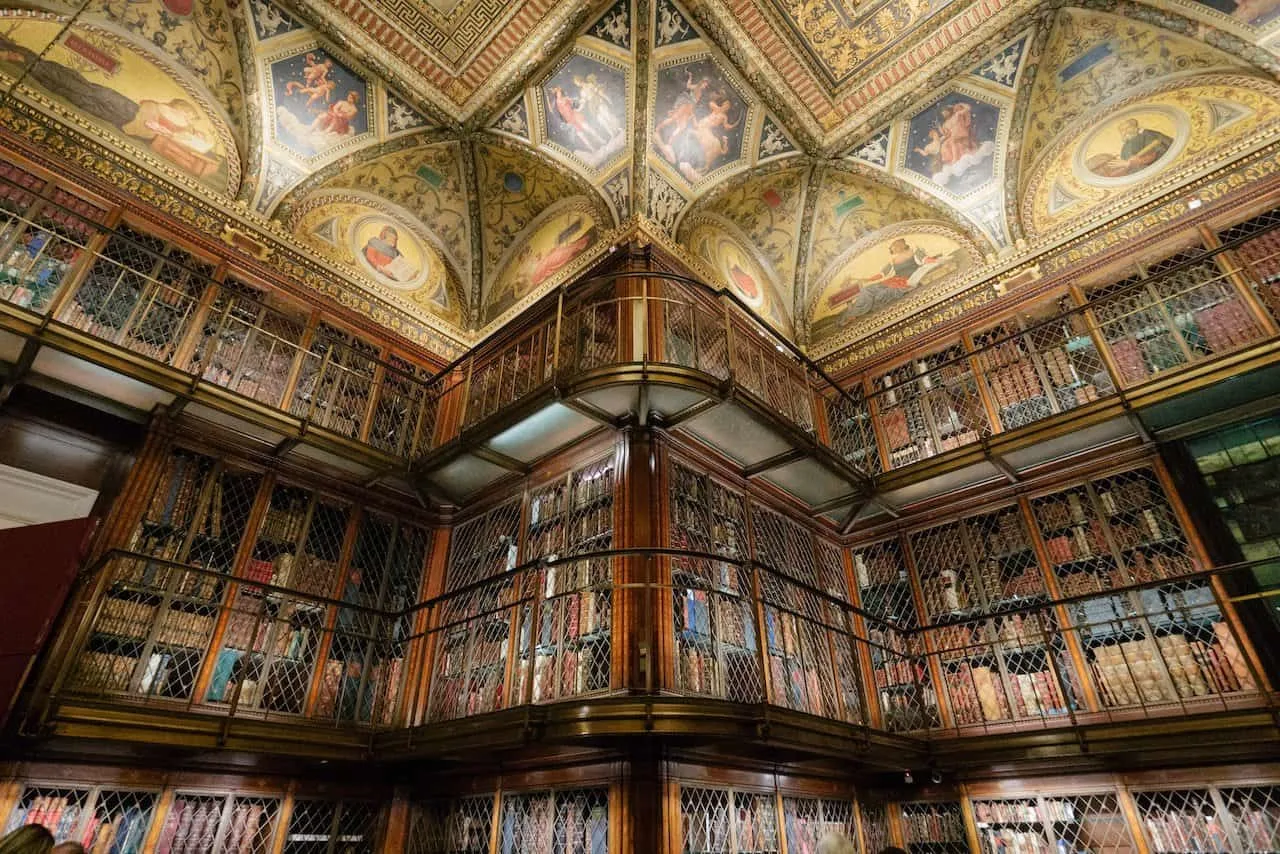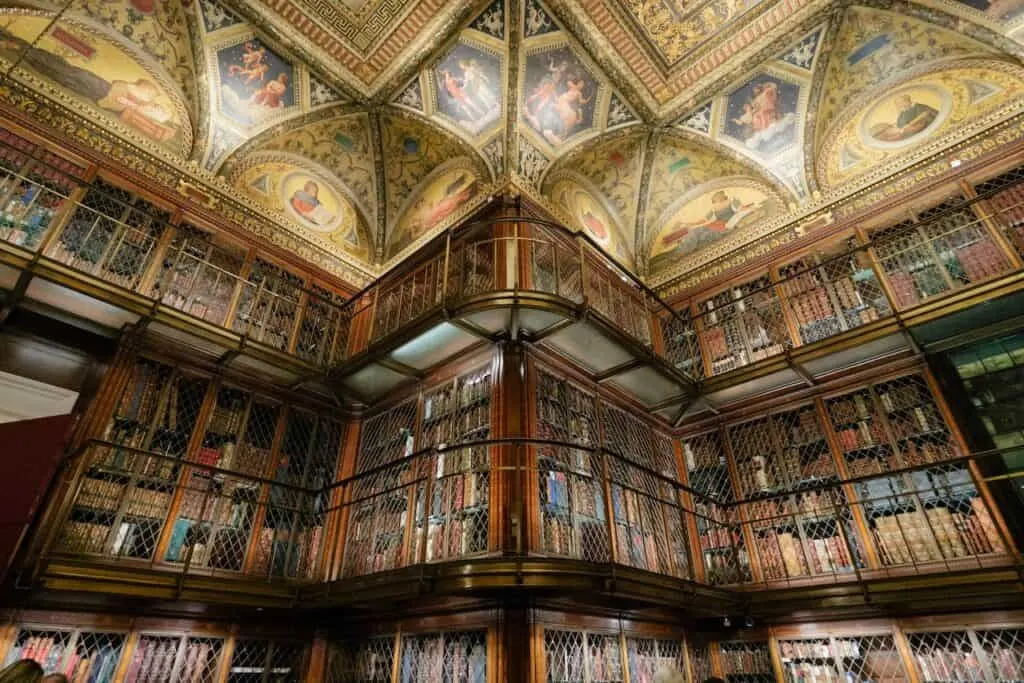 22) Watch a Film at an Indie Movie Theater
While seeing a movie is always a classic rainy day activity option, why not opt for one of NYC's independent theaters. Some of these indie theaters have been around for decades and are staples of their neighborhoods.
Instead of opting for the big box office film, these theaters usually play old classics or smaller budget films.
The theaters themselves are an experience on their own, with the old school architecture and interiors.
Throughout the city there are many to choose from. A few of the more classic options include IFC Center, Angelika Film Center, Paris Theater, and Roxy Cinema (located within one of the best Tribeca hotels).
23) Have a Drink at a Classic Bar
It is estimated that there are over 2,000 bars & drinking establishments around NYC. Now while any of them may work for you, may not try out an old school classic.
Some of these bars have origins back to the 1800's, and it will feel like you will be brought back in time once you enter them.
McSorley's Old Ale House in the East Village simply serves light or dark beer, and has been around since the 1860's. Nearby Pete's Tavern is the perfect bar/restaurant choice for those that want to have more of the meal (it is known as the oldest continuous restaurant in the city).
Fraunces Tavern in Battery Park has origins to the 1700's when George Washington himself was once a patron. The list goes on and on, and you are sure to find a classic place to enjoy a drink.
24) Indulge Yourself at Eataly
If you haven't been to an Eataly before, you are in for a treat. This Italian establishment is more than just a supermarket, it is an experience!
In Manhattan, there are two main locations – Flatiron and the Financial District. Depending on where you are for the day can help you decide which one to visit.
I have always headed to the one in Flatiron, where you will find several restaurants such as the SERRA by Birreria indoor rooftop, La Pizza & La Pasta, Il Pesce, and several others.
The market itself is a foodie's dream with an endless variety of Italian favorites and plenty of aisles and food counters to eat your way through.
Cooking classes and other events take place at Eataly so you can certainly make it more of an overall experience.
25) Play Some Sports at Chelsea Piers
The top sports complex to visit in NYC is located at Chelsea Piers, right on Hudson River Park. At the complex, you will find a variety of sports options to consider for the whole family.
There is a fun bowling alley, multi-story driving range, batting cages, ice skating, rock climbing, gymnastics, and so much more.
Pick & choose what you are most interested in and go enjoy some time out & about.
Since you will be right on the Hudson River, you can still take in some views over the water. Nearby Pier 57 and Little Island are also options if you don't mind getting a bit wet.
So, if you are looking for some active activities to take part during a rainy day in NYC, consider adding Chelsea Piers to the list.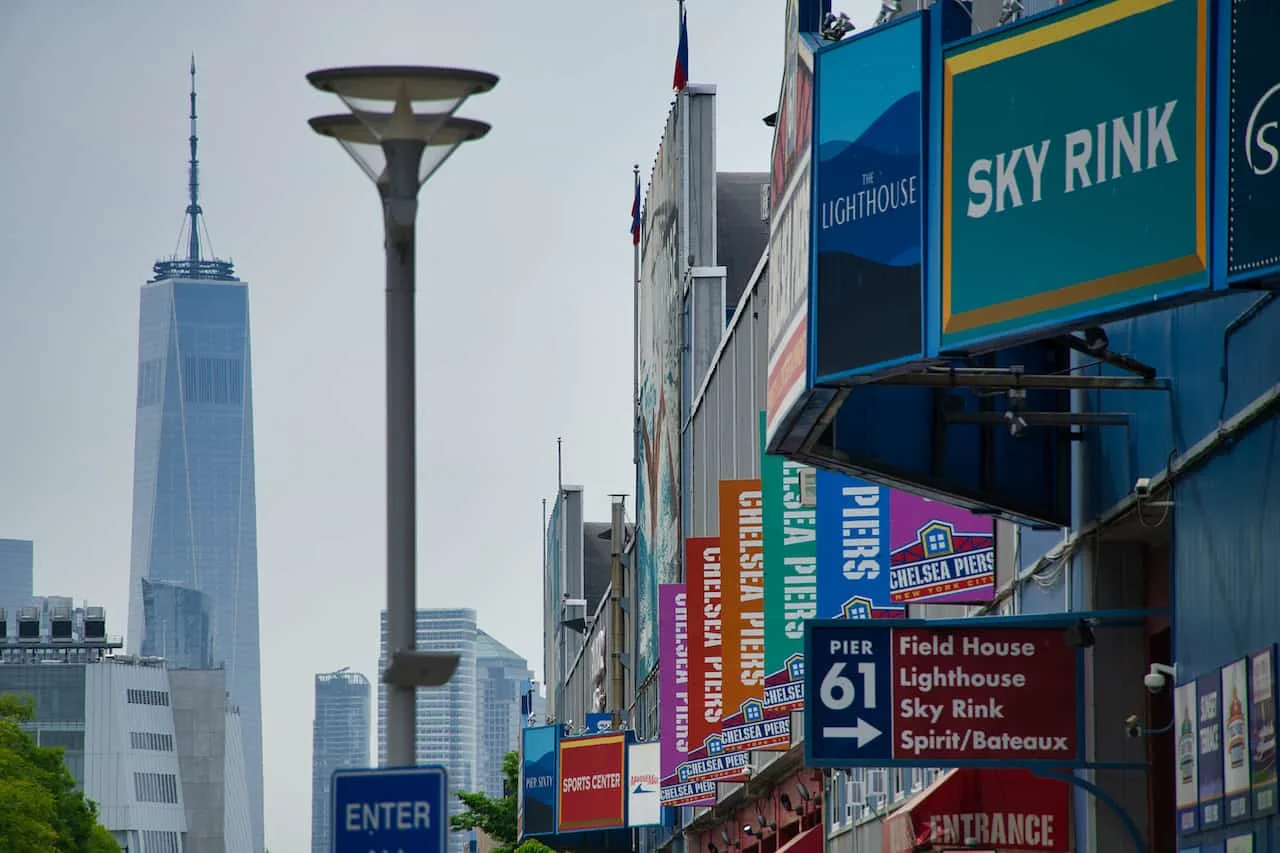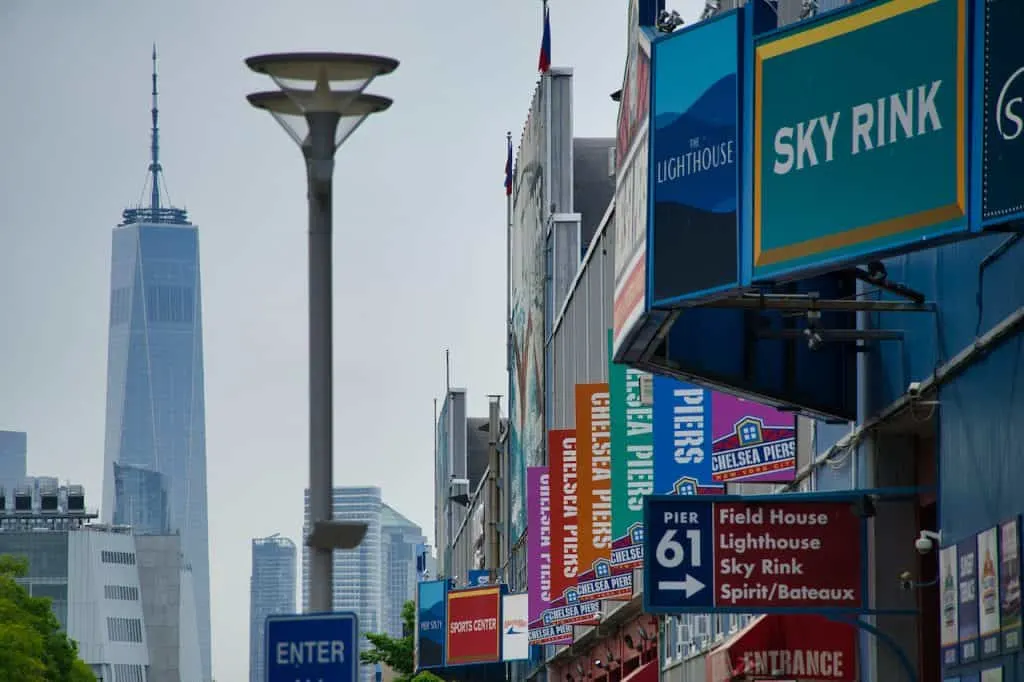 26) Take a Cooking Class
Eating is certainly a big theme when it comes to indoor activities. Why not take your skills up to the next level by joining a last minute cooking class. You will find classes that come in various shapes and sizes.
Here are a few you may want to consider:
Italian Cooking Course: make some pasta from scratch, as well as some starters & tiramisu over the course of 3 hours
Asian Dumplings & Dim Sum: if you are looking to make some fresh dumplings, this hands on cooking class experience is the way to go
Cocktail Class: learn about the art of cocktail making as you are taught all about the Speakeasy history of NYC along the way
27) Escape from an Escape Room
If you have never taken part of an Escape Room, you are in for a treat with the ones that are around NYC. These rooms come in all different difficulty levels & styles, and each one is different from the next.
They will have you using your brain power and some teamwork to get out of the room in time before the clock expires. You will really need to pay attention closely and use a variety of skills to slowly work your way through the clues and to that final door.
Once all wrapped up, hopefully you are the ones taking the celebratory pictures!
There are plenty of escape rooms around the city including Spyscape, Escape the Room, and Escape Game NYC.
28) And Don't Forget About Sunset!
This may seem a bit counterintuitive as you wouldn't really get to see a great sunset if it is raining. However, in the case when the rain stops before sunset, there are some crazy things that can happen in the sky.
I have found that some of the best colors and most dramatic sunrays happen after a day of rain in the city. So, even if it is raining, you can end the day on a higher note if the NYC sunset pops!
There are places all around the city to catch a sunset. My favorites include from Brooklyn Bridge Park (Pebble Beach in particular), the Hudson River, and Battery Park.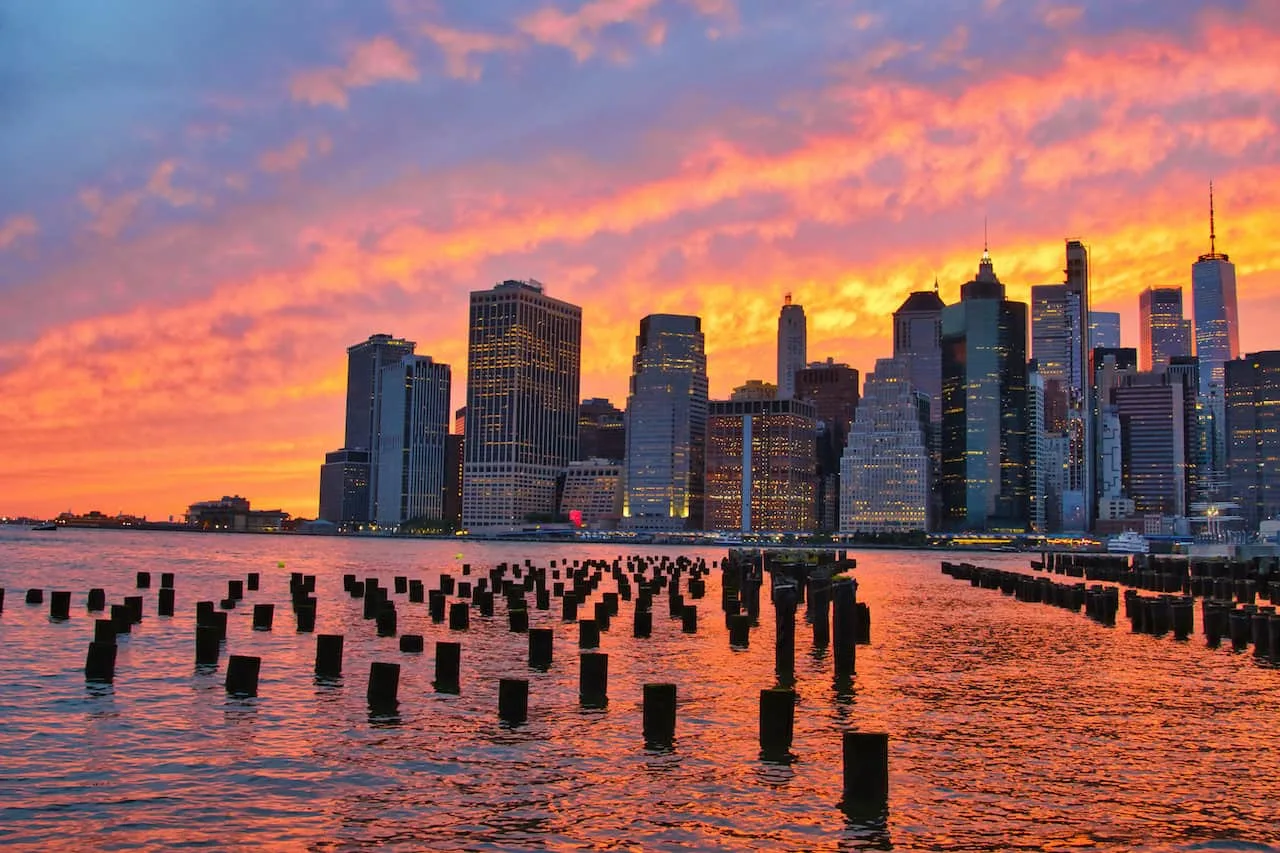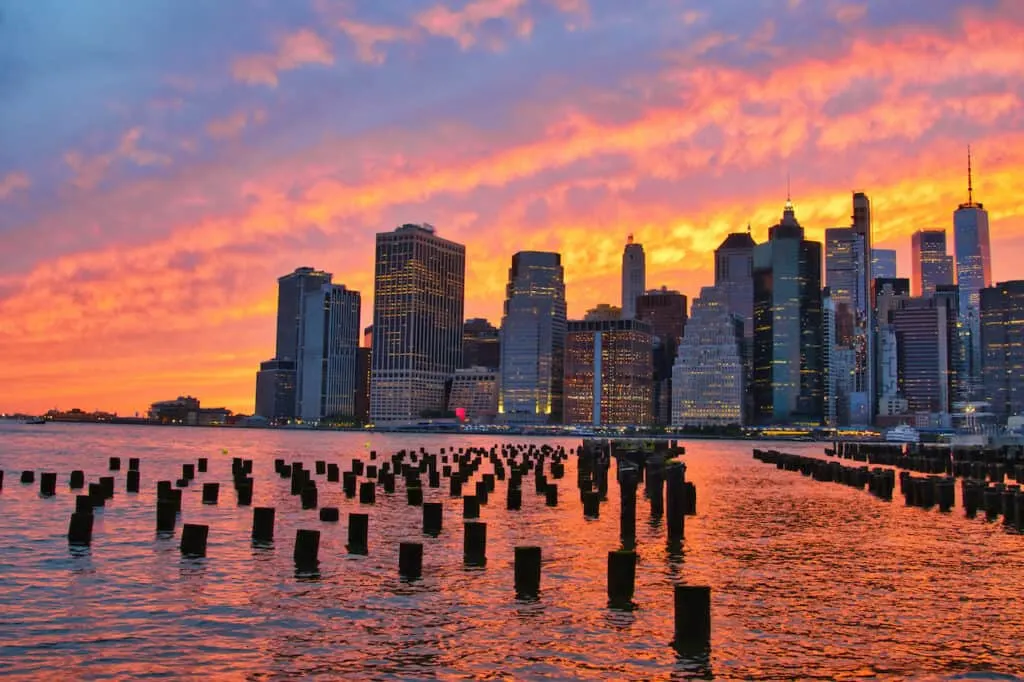 Is New York City Rainy?
In general, New York City is a place where rain can happen at any time of year. There is no wet or dry season in NYC. Rather you can expect rainy days to happen no matter when you visit.
After living here for 10+ years, I can say there is no rhyme or reason for NYC's rain, so don't try to plan your trip around the weather. Since the city is located right near the Atlantic Ocean, the weather can get unpredictable at times.
All said and done, I have a hard time believing that a little bit of rain here or there will ruin an overall trip.
How Many Days on Average Does it Rain in NYC?
About 120 days per year have some sort of rain, meaning you have about a 70% chance that the weather will be all clear on a daily basis. Compared to the rest of the country, NYC is a bit above average (closer to 50 inches of rain per year vs the 38 inch average).
Rarely though are the rains consistently throughout the day, ruining all types of activities. I usually find the rain to last a few hours before tapering off.
What is the Rainiest Month in NYC?
Below you can find a chart by month over the last several years. The chart is courtesy of the National Weather Service, which has been measuring rainfall in Central Park for the last 100+ years.

Averaging things out over time and you will find that April and the surrounding Spring months are the rainiest. But it is not by much as the remainder of the months have very similar averages. Every year can be different too so you never know what the weather will throw at you.
If you are thinking of a Spring trip and are scared off, don't be! I would have to say that the Springtime colors are some of the best you can ask for. Getting to walk around the parks and see the city coming to life is one of my favorite times of year.
Be on the lookout for plenty of cherry blossoms in Central Park that come out in April and early May!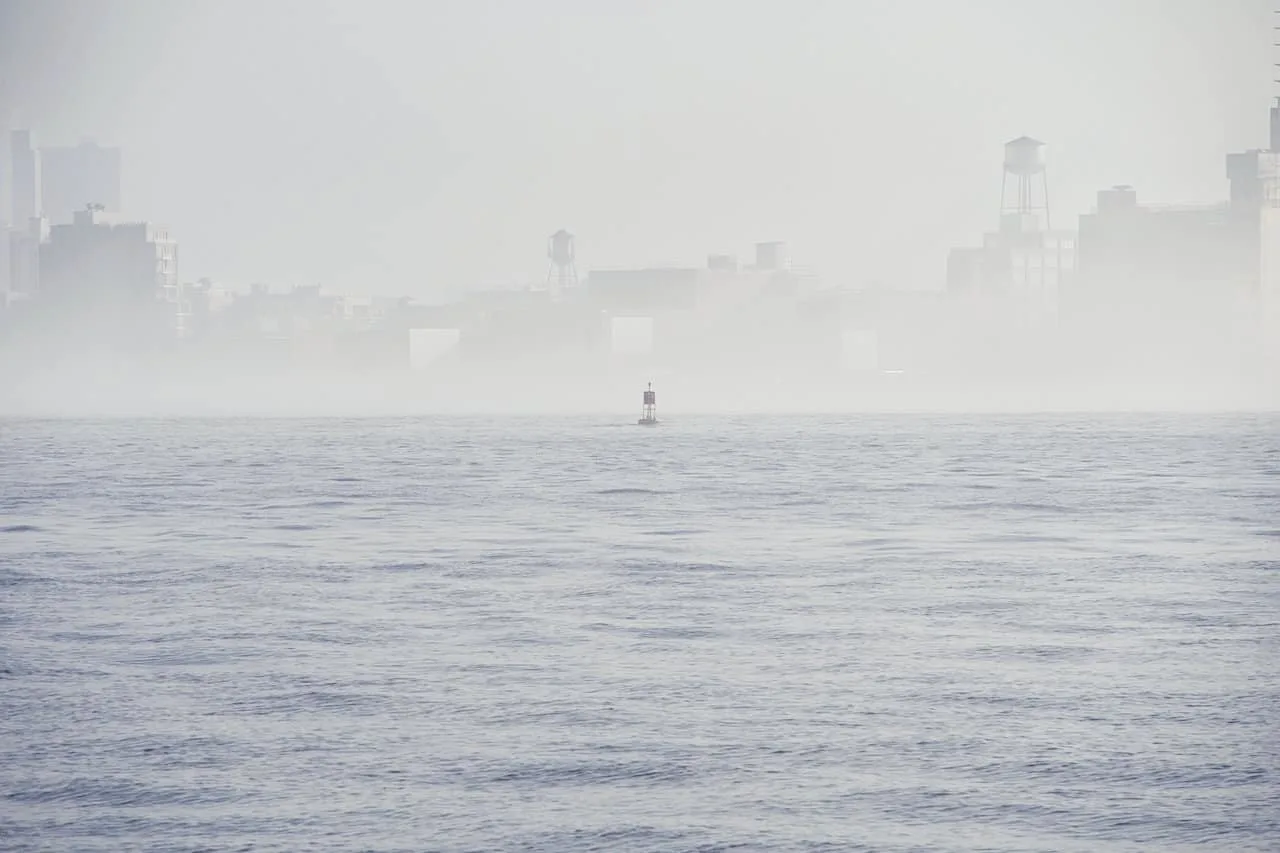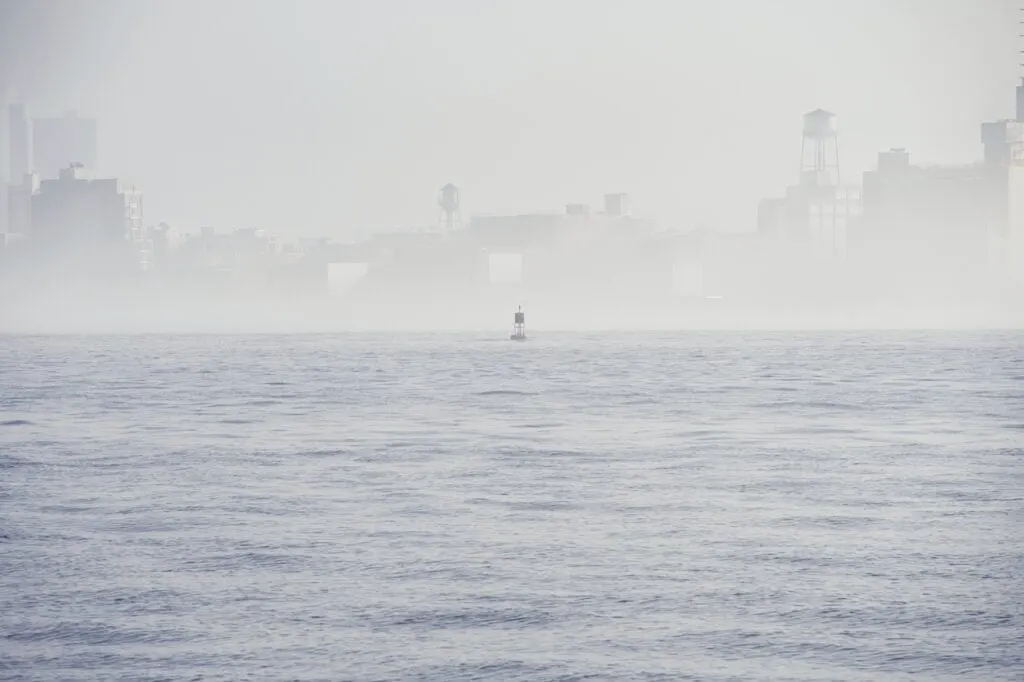 That about does it for the best things to do in New York City on a rainy day! Hope you have a great time in the city no matter what.
Feel free to leave any questions or comments down below, and don't forget to check out the other New York itineraries and guides up on the site.
Have fun out there and safe travels!