What better way to get yourself familiarized with NYC than understanding what the New York City map is all about.
From neighborhoods & attractions to subways & food, these maps of NYC can come in handy no matter what you are looking for in the city.
This overview is here to layout some of the most important NYC maps that can be used for a visit. By the end of reading through, you will have plenty of information on what the city is all about.
* Affiliate Disclosure: This post may contain affiliate links, which means I may receive a commission if you make a purchase through the links provided, at no additional cost to you. Thanks for supporting the work I put into TripTins!
1) New York City Map Overview
Throughout this guide, I will be including a whole array of NYC maps that will cover a wide variety of topics. These can better prepare you for your trip & help answer your questions along the way.
The New York City maps that I will be covering include:
NYC Borough Map
NYC Neighborhood Map
Things To Do in NYC Map
Central Park Map
New York City Subway Map
NYC Bicycling Map
New York City Food Map
New York City Museum Map
One Week in NYC Itinerary Map
Some of these maps will be images that can be saved and downloaded, while others are more interactive types of maps. If you would like to download the interactive maps, simply download as a KML file and add it onto your phone or desktop Google Maps.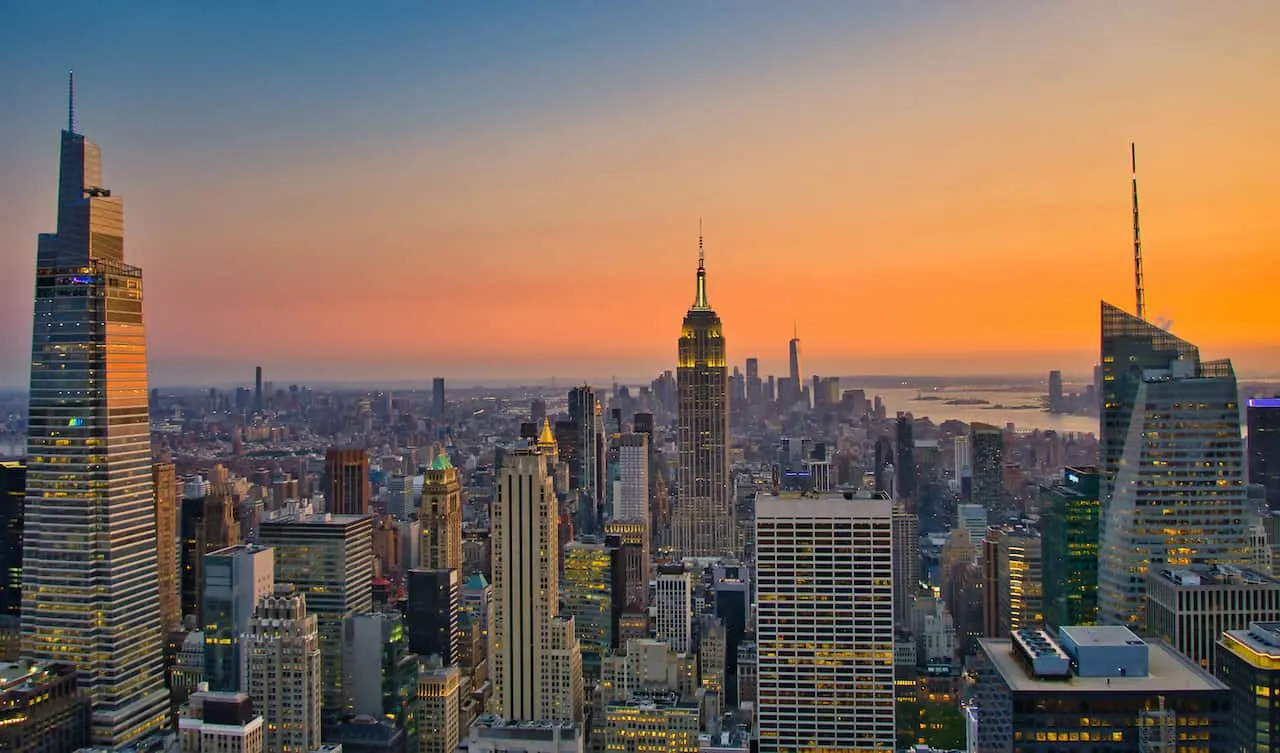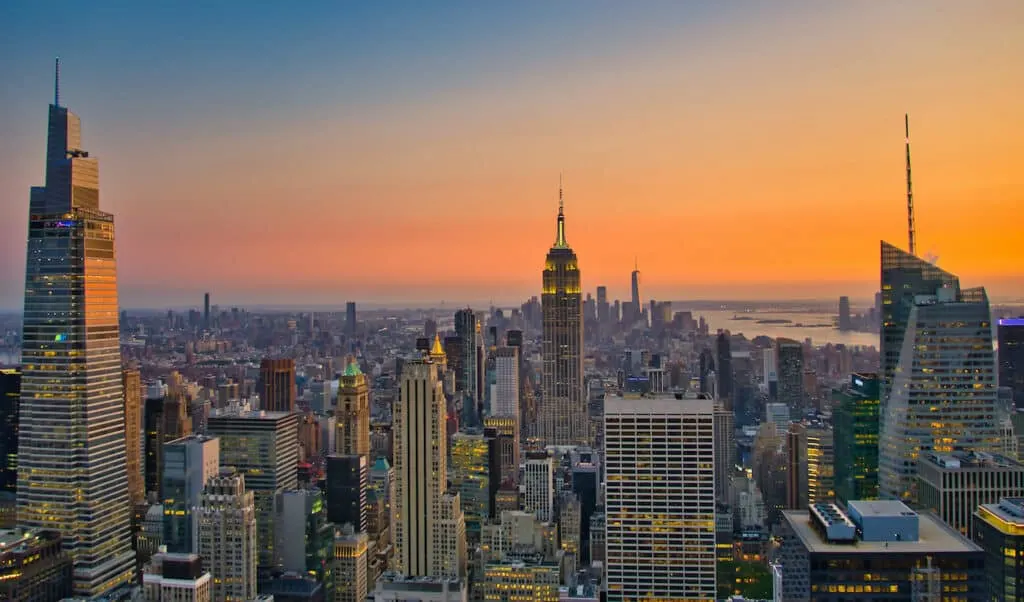 2) NYC Borough Map
If you were not aware already, New York City is actually made up of five distinct boroughs. They all interconnect with one another via subway, bus, ferry, tunnels, and bridges.
The five boroughs of NYC include:
Manhattan
Queens
Brooklyn
The Bronx
Staten Island
While Manhattan is the most famous and visited out of the five boroughs, there are certainly fun & exciting things to do throughout all of them.
Below is an outline of the five boroughs from NYC.gov to give you a better sense of their location in relation to one another.
3) NYC Neighborhood Map
Now, while there may only be 5 boroughs, there are a whole lot more neighborhoods within those boroughs.
It is estimated that there are actually over 250 different neighborhoods (and sub neighborhoods) throughout New York City.
One of the best parts of NYC is that each one of these neighborhoods is unique. Throughout a day of exploring, you can really see the differentiation as you go from one neighborhood to the next.
That is another reason why I am such a big proponent of walking whenever possible. This gives you the chance to experience various parts of the city and have the walk itself be an activity on its own.
Below is a map that was initially put together by some very ambitious Reddit users. Zoom right into NYC to visualize the detail.
4) New York City Subway Map
If you are visiting NYC, odds are you will be using the vast subway network (and other NYC transportation) during your time there. Connecting the boroughs are 36 subway lines and 472 stations all around the city.
No matter what your route is, the fare is just a flat $2.90. This can be paid by refilling a Metrocard, or more simply tapping your phone, credit card, or OMNY card (soon to replace the Metrocard) at the turnstile.
Subways (and other public transport) is also a great way to get between the airport and NYC. Instead of paying for expensive Uber or taxi rides, simply leverage the public transport network and save some money.
Below is the subway map of New York City: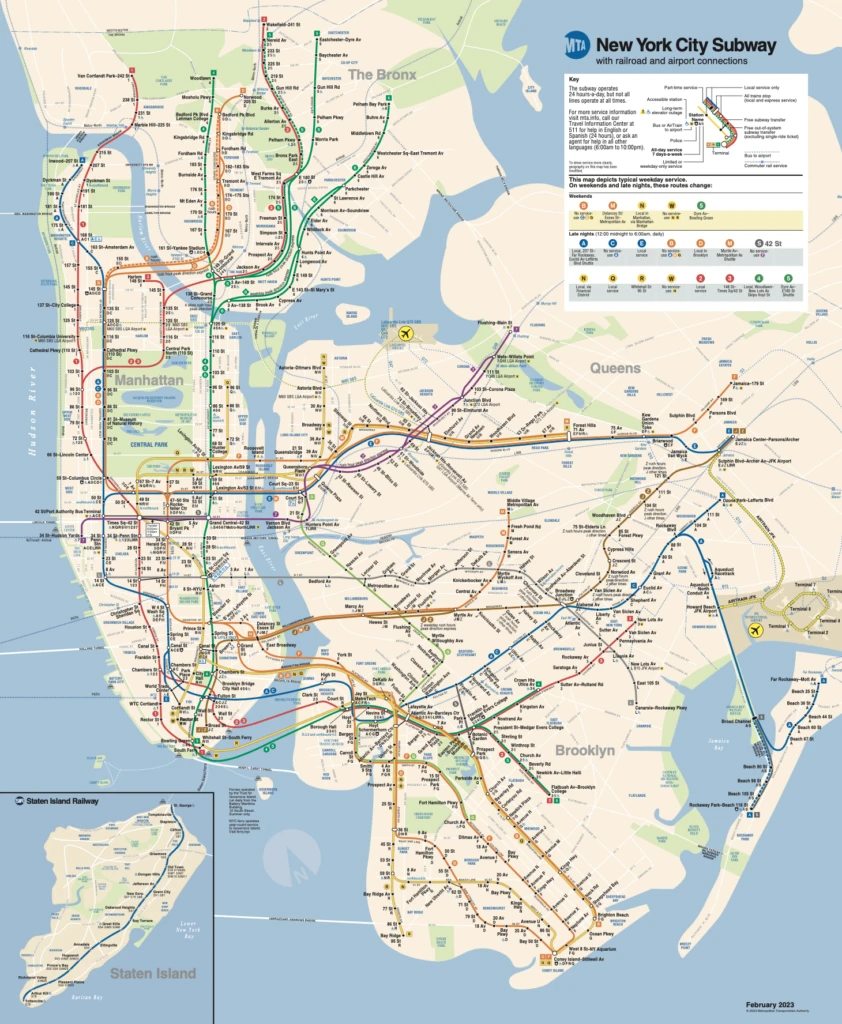 5) NYC Things To Do Map
New York City is filled with so many different things to do. It is nearly impossible to even list out everything out there.
However, I did put together a guide to the 100 best things to do in New York City. It goes through the top parks, experiences, sites, attractions, & much more.
The map below pinpoints all of these top highlights, so you can get a better idea of where the attractions are located.
6) Central Park Map
A visit to New York City is not complete without a stroll through the 843 acre Central Park. The park is full of walking paths, lakes, wildlife, plants, flowers, trees, viewpoints, and so much more.
You can spend days walking the park and not visit all of the different highlights. Since it does cover 50 blocks and 3 avenues, there is just so much to see across Central Park.
Below is an official Central Park map, followed by an interactive map that highlights a self guided walking tour passing by many of the top highlights.
7) NYC Bicycling Map
While walking around the city is one way to get your exercise in NYC, bicycling is another option. To better help you understand where bicycle paths are located, the map below shows you all you need to know.
Since there are so many routes, you will find it easier to download the original to better understand everything going on.
The map differentiates designated bike paths, special bike paths, bike lanes, shared routes, among others.
While there are some official bicycle paths and lanes in NYC, you really do need to be cautious when riding a bike. Whether it is pedestrians or cars, things can be quite hectic in the city.
Try to stick to official bicycle paths and always be aware of your surroundings.
8) NYC Food Map
Believe it or not, there are over 25,000 different restaurants all throughout New York City (some of my favorite are those restaurants with views of Central Park). No matter what the neighborhood or what cuisine you are looking for, odds are you wont be too far away from what you want.
Now, of course I can't add a map of every restaurant, but this map shows 500+ of the top restaurants around the city (courtesy of another Reddit user).
9) NYC Museum Map
While there are many highlights throughout New York City, the variety of museums is on the top of the list for many. If you compile the entire list, you are looking at over 100+ different options to choose from.
History, art, science, children's – whatever type of museum you may be interested in, New York City has something for you. On the map below, you can find many of the top museums out there.
10) One Week in NYC Itinerary Map
To finish up the New York City map list is a full one week itinerary of how you can spend your time in the city. The map breaks out each day with top highlights to visit during a trip.
If you would like to learn more about the details behind the map, feel free to check out the 7 Day NYC Itinerary up on the site. Alternatively, if you have less time you can also view the 4 Day New York Itinerary.
There you have it! A complete New York City map overview with everything you need to know about the layout of the city.
If you are interested in seeing other NYC maps, feel free to add a comment below. Also, be sure to check out the other New York itineraries and guides up on the site.
Have fun out there and safe travels!