As someone who has been around the NYC transportation network my whole life, I have a pretty good understanding of how to get around New York City.
Whether that is by subway, bus, ferry, Citi Bike, taxi, or by foot, there are many ways to go about getting yourself around NYC.
This overview will talk through all of these various modes of transportation and give you some helpful tips & tricks along the way.
* Affiliate Disclosure: This post may contain affiliate links, which means I may receive a commission if you make a purchase through the links provided, at no additional cost to you. Thanks for supporting the work I put into TripTins!
1) NYC Transportation Overview
Throughout this guide, I will be going through the following New York City transportation options. Most of these option will apply to all five boroughs of New York City (Manhattan, Brooklyn, Queens, The Bronx, and Staten Island).
Subway: with 36 subway lines connecting 472 stations, you will have no issue getting yourself from one place to the next
Bus: there are also more than 300 bus routes that pass by thousands of stops throughout the five boroughs of NYC
Ferry: whether you are looking to get from one neighborhood along the river to another, or just want to take a scenic ride, the NYC ferry network has you covered
Tram: connecting the Upper East Side of Manhattan with Roosevelt Island is the famous red tram, that also offers plenty of views along the way
Citi Bike: if public transport isn't for you, hop on a Citi Bike and cycle your way to your destination
Taxi/Uber: feel free to also hail a taxi or call an Uber/Lyft to get you going in a quick & stress free way
Walk: the simplest (and my favorite) way to get around NYC is by foot as you get to experience the city as you go
NYC Itinerary: Check out this 4 Day NYC Itinerary & One Week New York Itinerary for some potential options for your trip!
Other Transportation Options Around NYC
Note that there are other nearby NYC transportation options that I will not be going over in this overview including:
LIRR: Long Island Rail Road trains that connect Manhattan with Long Island
NJ Transit: trains that connect Manhattan with New Jersey
Metro North: trains that connect Manhattan with Westchester, Connecticut & beyond
PATH: similar to the subway with lines that connect Manhattan with New Jersey
NJ Ferries: there are additional ferries that connect Manhattan with New Jersey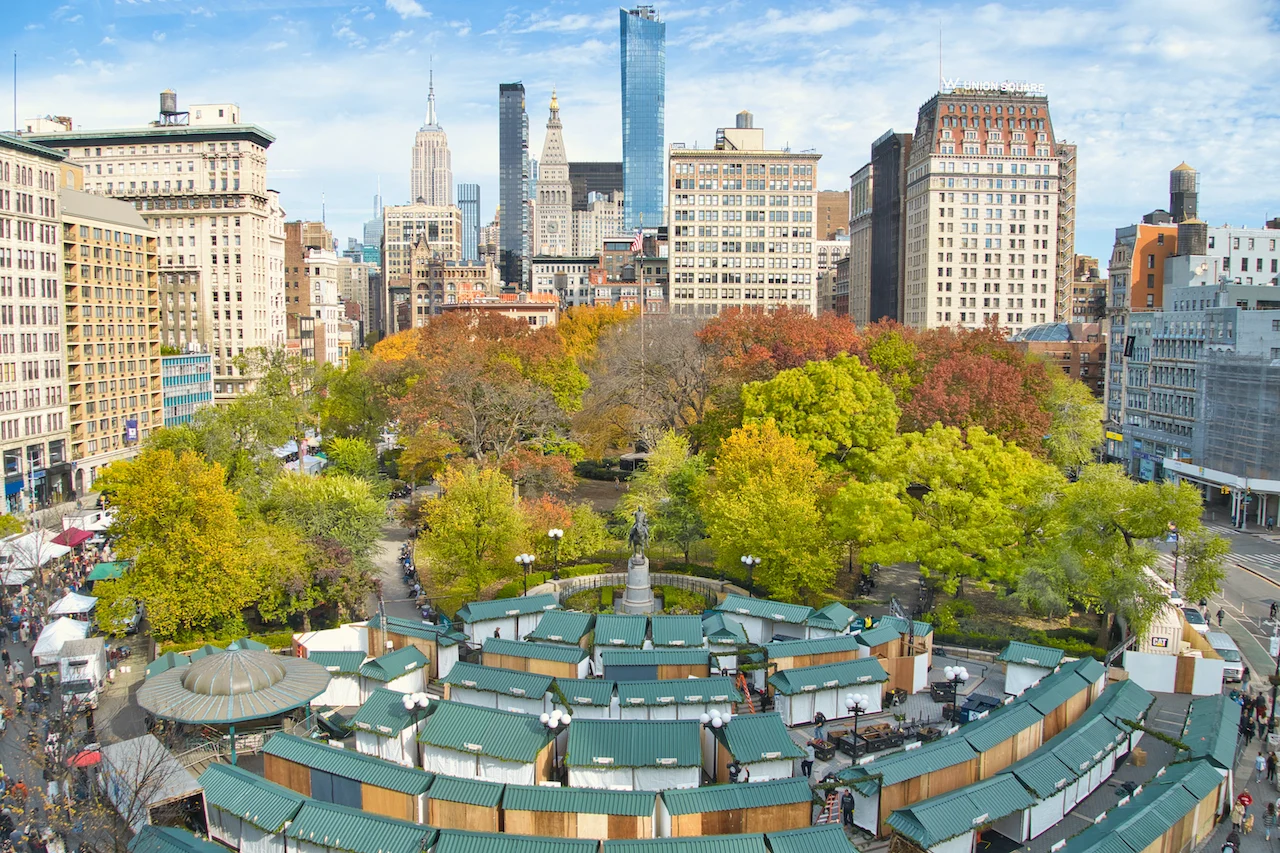 In each of the following sections I will be going through the various NYC transportation options in more detail. Read on to learn more!
2) NYC Subway
Without a doubt, the most popular way for tourists and locals to get around NYC is by subway. These subways run underground (and at some points over ground), and connect Manhattan, Queens, the Bronx, and Brooklyn to one another.
Note: there is a separate line that just runs throughout Staten Island.
NYC subways run in all different directions, whether that is north to south, east to west, or a little bit of both. You will find subway stations all throughout the city, which should more than likely get you going to your next destination.
Below is a map of the NYC subway network to give you a better idea of how it is all laid out: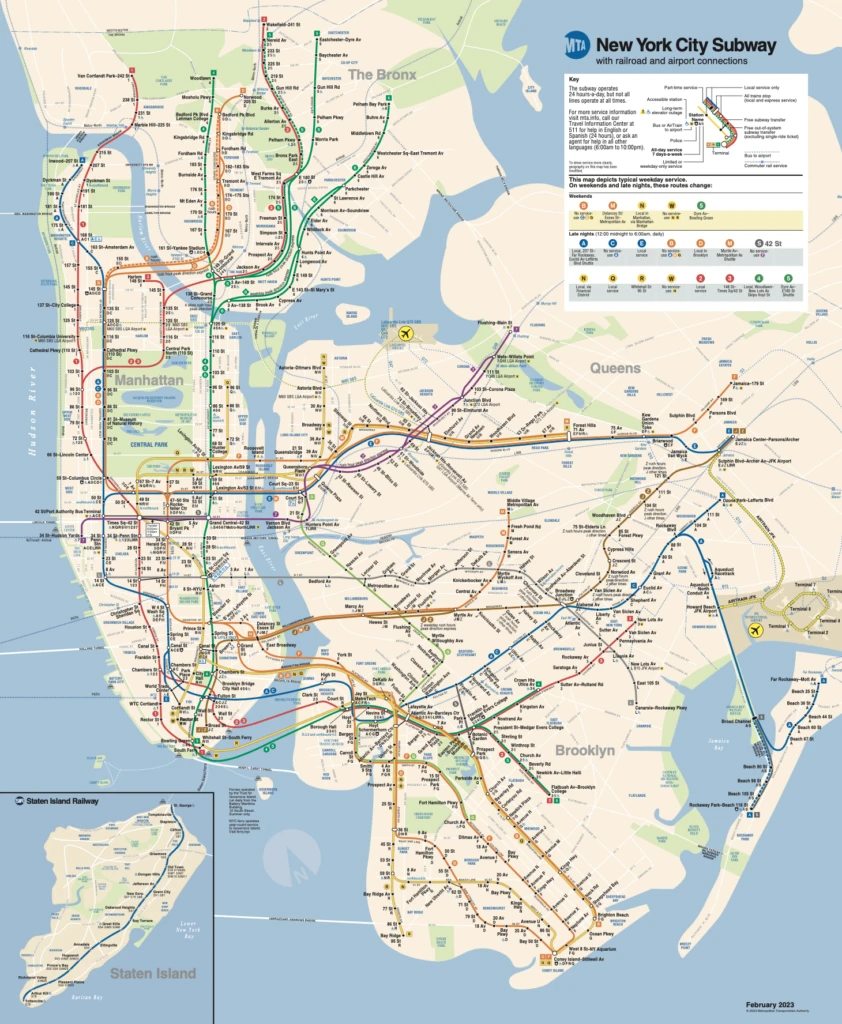 Subway Lines
You can see that that there are different colored subway lines, each with several different services. For example, the Green line has the 4, 5 & 6 train services, while the Yellow line has the N, Q, R & W train services.
While the train line will have several subway services that may share the same overall route for a good portion of the subway, you will see divergence of the services at one point or another.
Due to this, you must be certain you are getting on the correct number/letter train and you are not just looking at the train line color.
For example, see below for a zoomed in view of the Yellow line in downtown Manhattan. After Canal Street, the N & Q trains head directly into Brooklyn but the R & W trains go further southbound in Manhattan.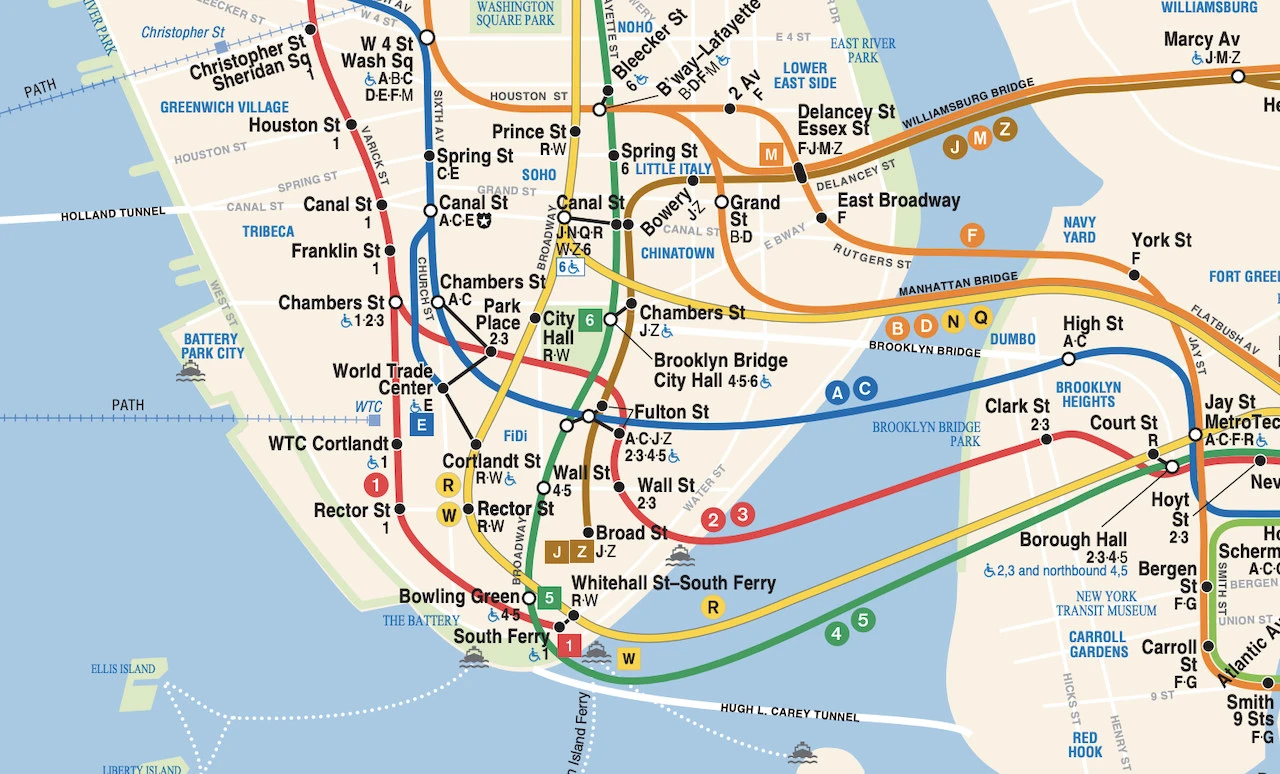 Local vs Express
Another important concept to understand is that some subway services run Local while some run Express. Local means that the train will make every stop along the way, while Express only stops a limited number of times along the line.
For example, on the Green line, there are three train services – 4, 5, & 6. The 4 & 5 trains will run Express while the 6 train will run Local. Depending on your final destination will dictate which train you should choose from.
On the map above, you can also see some subway stops have a black dot while others have a white dot. The Express trains will skip the black dots and only stop at the white ones.
When looking on the physical trains, you will see a Circle shape around the letter/number for Local trains and a Diamond shape for Express trains.
Note that sometimes the express and local trains are directly across the platform from one another. While in other stations, you may need to go up or down a level to reach the Express/Local.
Tickets & Pricing
One of the best reasons to use the subway vs other forms of transport is because of its very affordable pricing.
For one price of $2.90, you can hop on a subway and take it as far as you would like. Not only that, the price also includes free subway transfers and even free bus transfers (within a 2 hour window).
There are a few different ways to go about purchasing subway tickets:
Reloadable Pay per Use Metrocard: add money onto a Metrocard and continue to reload as needed throughout your trip
Single Use Metrocard: purchase a single use Metrocard (not reloadable) if just taking a subway once ($3.25 instead of $2.90)
Unlimited Weekly Metrocard: unlimited use of the subways and busses over a week's time period for $34
Unlimited Monthly Metrocard: unlimited use of the subways and busses over a 30 day time period for $132
OMNY: see below!
OMNY: the new and improved way to ride the subway & bus is now through OMNY (soon to replace Metrocards).
Instead of buying a physical Metrocard to swipe, you can simply tap your credit card, phone, watch, or other compatible payment device at the turnstile. Physical OMNY cards can also be purchased at retailers across the city.
With OMNY, you can simply tap and go for the same $2.90 rate.
OMNY also offers an unlimited weekly option (free rides after your 12th ride), that is calculated automatically if you use the same device to pay.
Subway Tips & Tricks
While taking the subway should be nice and simple, it not always is! Check out some of the helpful NYC subway tips and tricks for your next ride.
Entrances: be aware that not all subway entrances have access to the uptown and downtown tracks. Pay close attention when entering the stations that you are heading into the entrance that has the uptown/downtown route that you are looking for.
Empty Cars: stay away from empty subway cars when possible. They are usually empty for a reason, so feel free to just follow the crowd instead of avoiding the crowd.
Stay Away from the Track: when waiting for trains, stay a safe distance away from the track. There have been instances of people falling onto or getting pushed onto the tracks.
Google Maps: feel free to use a navigation app like Google Maps to get you around. I find it mostly reliable, but the subway system sometimes just has a mind of its own.
Listen to Announcements: once on the subway, try to pay attention to the announcements over the loud speaker. Sometimes certain stops may be skipped and you may need to get off and wait for the next train. This is not overly common but it has happened plenty of times to me in the past.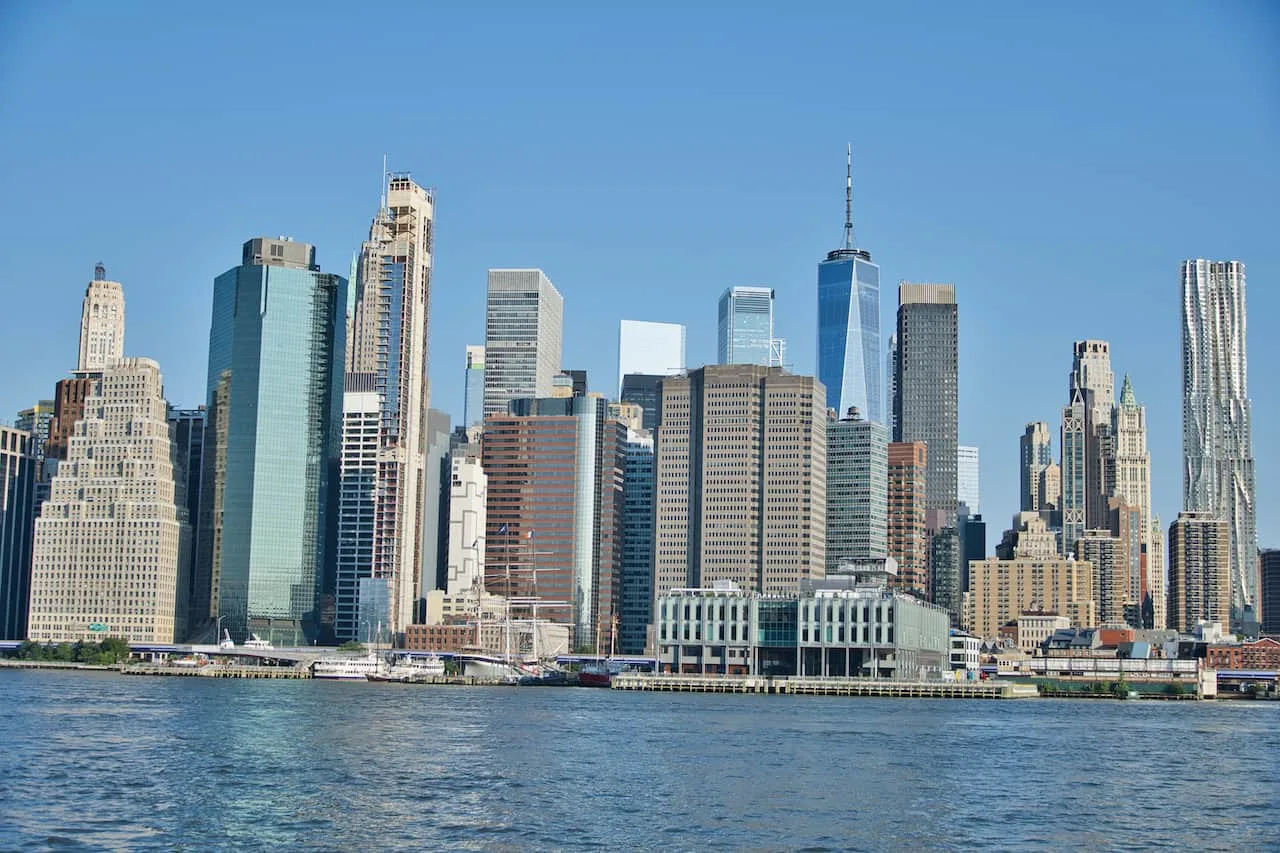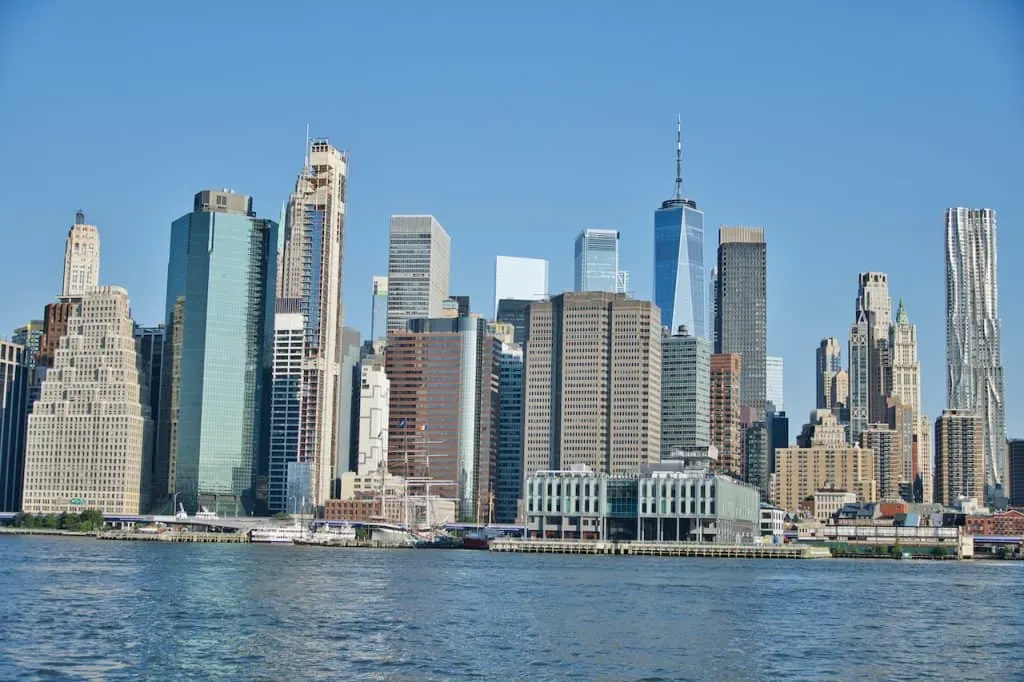 3) NYC Bus
As mentioned, there are over 300 bus lines covering thousands of bus stops throughout the five boroughs of NYC. If the subway system doesn't work for a particular route, then odds are the New York City busses will work.
For the most part, I would only recommend a bus if the subway doesn't work as option #1. Busses can be slow, make many stops, and are subject to NYC traffic.
However, sometimes they may be the only potential public transportation option as they cover many of the subway's blind spots.
When riding the bus, the pricing works the same way as the subway. All rides are $2.90 and Metrocard/OMNY can be used (besides for Express Busses at $7.00), and you can transfer for free between the bus and subway if need be.
There are four main types of busses when it comes to getting around NYC:
Local Bus: stops every few blocks
Select Bus Service (SBS): fewer stops, faster routes
Limited Bus (LTD): also makes fewer stops & has faster routes
Express Bus: transport between boroughs ($7.00)
Just a heads up – if you do take the local bus, these do stop frequently. As in, these may stop every 2-3 blocks. I would try to avoid these if possible when looking at routes. Try to stick to SBS or LTD if you can.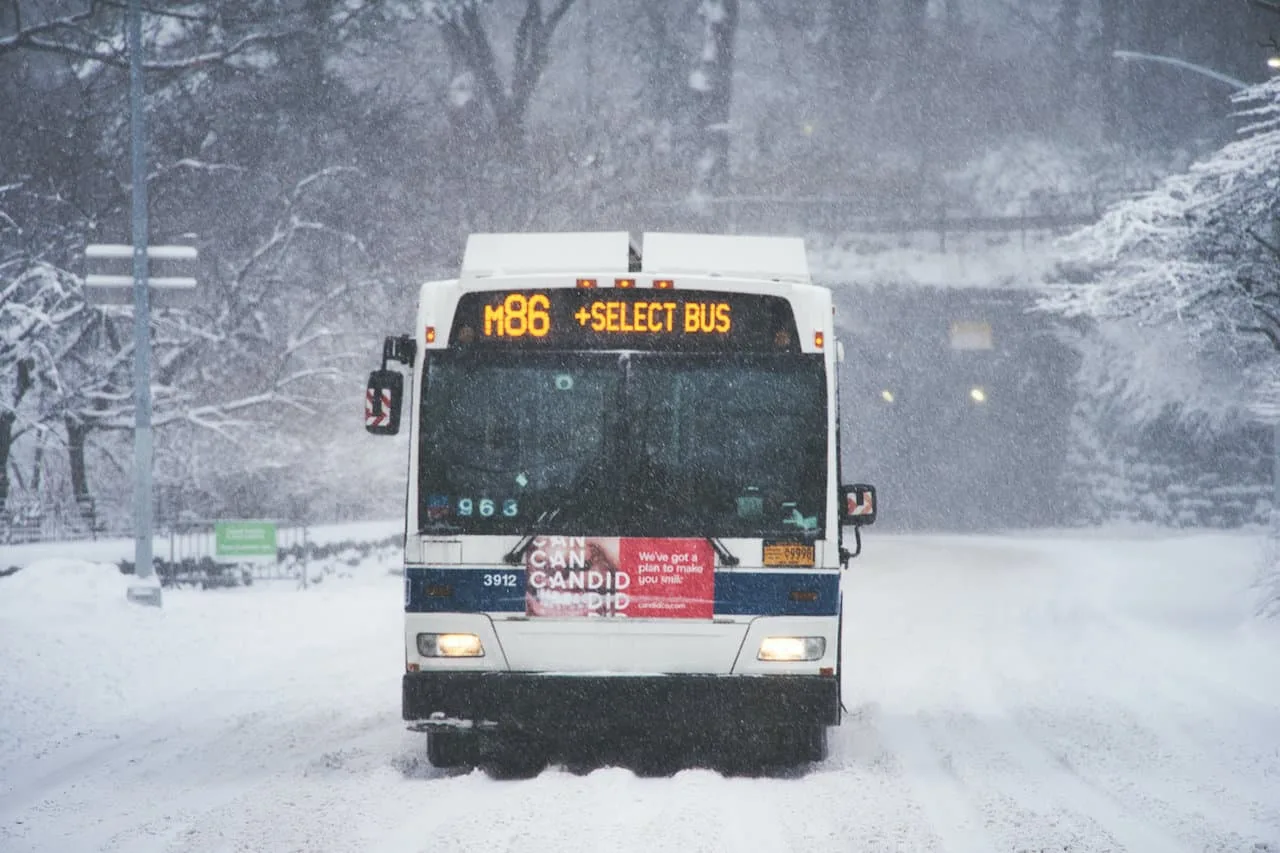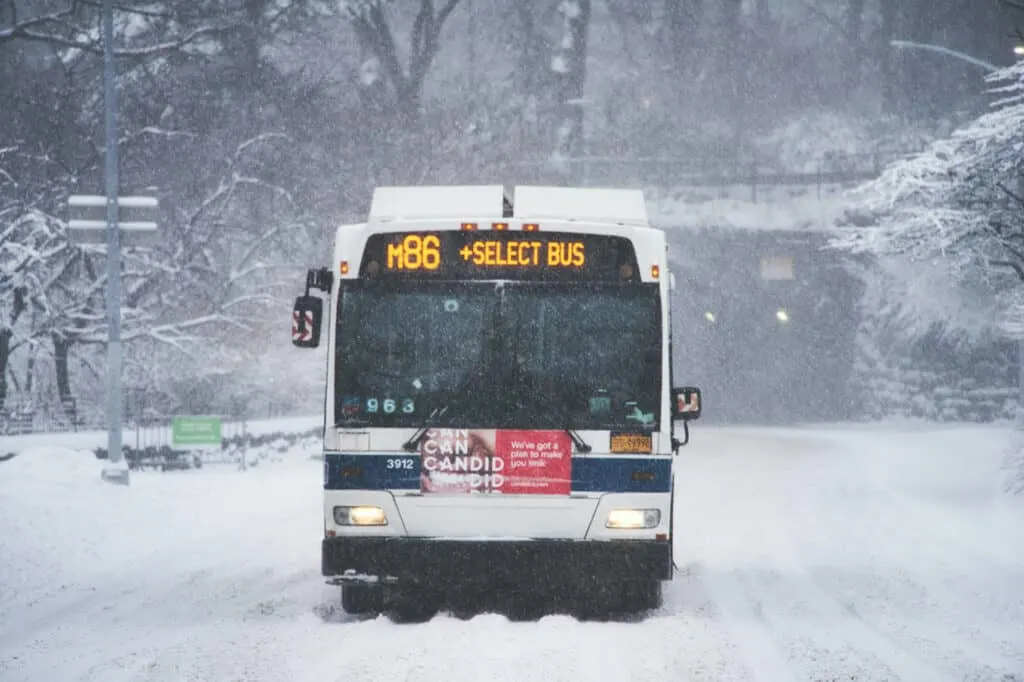 4) NYC Ferry
Along the waterways of NYC, is where you will find a network of ferries that shuttle travelers from one side of the river to the other.
Altogether there are 7 different ferry lines that make their way between Manhattan, Brooklyn, Queens, Staten Island, the Bronx, Roosevelt Island, and Governors Island.
Most of these ferry lines operate along the East River as they snake their way back and forth between the boroughs. It is the perfect way to get around NYC while also taking in the views along the way.
One piece of advice that I mention sometimes is that you do not even need to take the ferry as a form of transport. Rather you can take it just to enjoy the views of the NYC skyline & various bridges from the water.
Tickets for the ferry cost $4 a trip, and can be bought on the NYC ferry app or at the terminal. Metrocards and OMNY are not accepted for the ferry network.
Heads Up: pay close attention to what ferry you are getting on and in which direction it is headed. Several ferry lines share the same stops so it can get confusing sometimes. Always just ask the ticket checker if you are heading onto the correct ferry.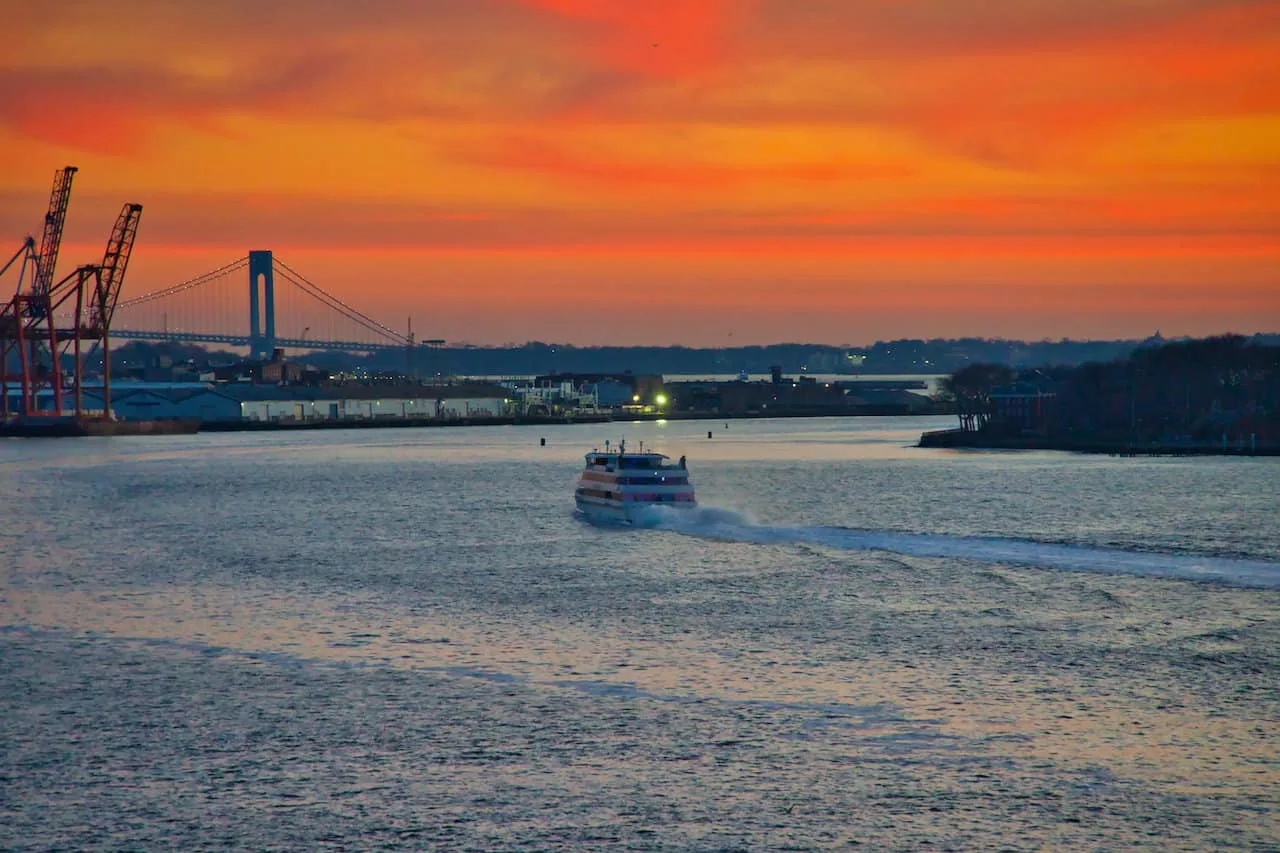 5) Roosevelt Island Tram
While there is only one tram in New York City, it is still worth the mention on this list of NYC transportation.
Connecting the Upper East Side of Manhattan with Roosevelt Island, are two red trams that make their way back and forth over the water. While the tram lasts just around three minutes, it is still a very cool experience to take part of.
As you get higher over the city, views of the Manhattan streets, Queensboro Bridge, and East River will all be in view. It will give you a whole different perspective when taking in NYC.
And if you are wondering what types of things there are to do on Roosevelt Island, well, there is plenty to keep you busy for a morning or afternoon. Parks, views, walkways, and even cherry blossoms in the Spring, are popular things to experience.
The tram currently only accepts Metrocards, but OMNY should be on its way to it soon!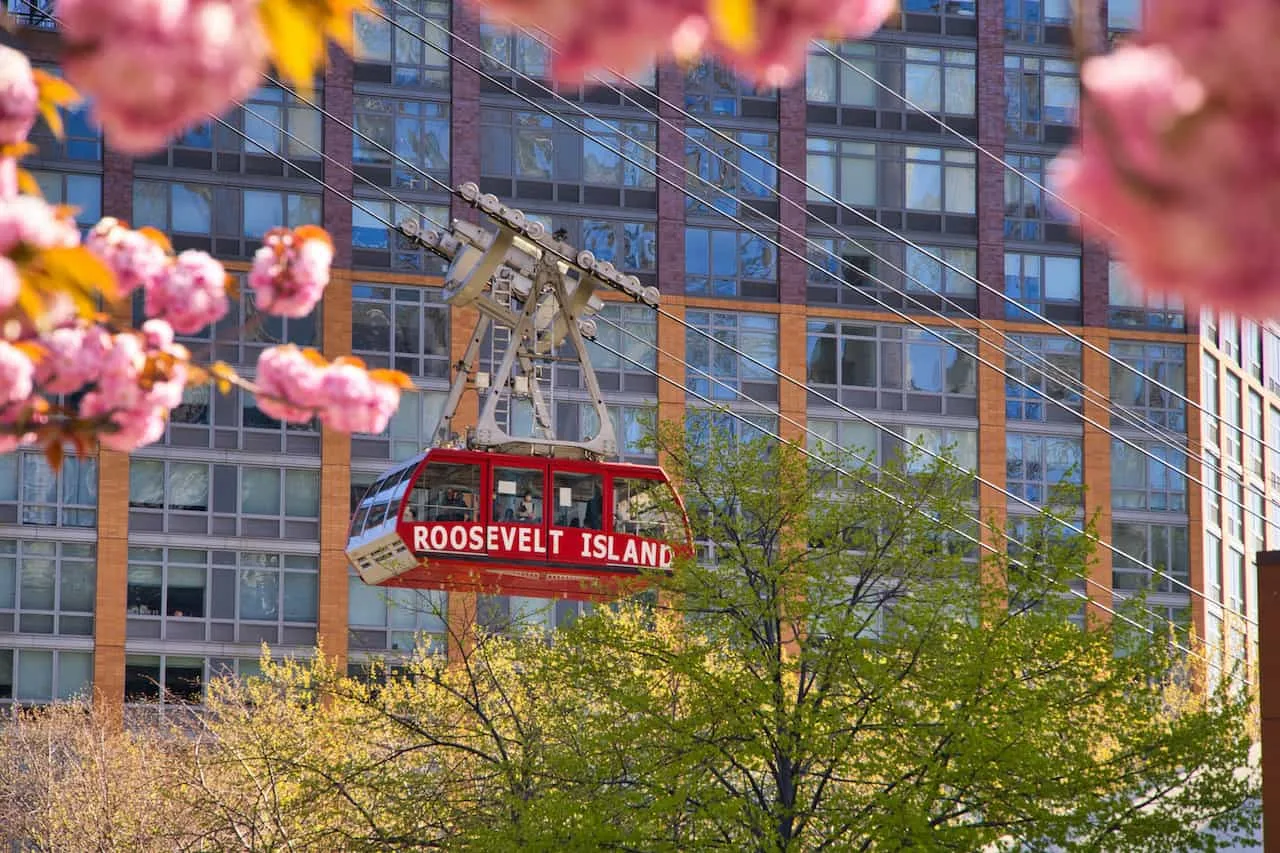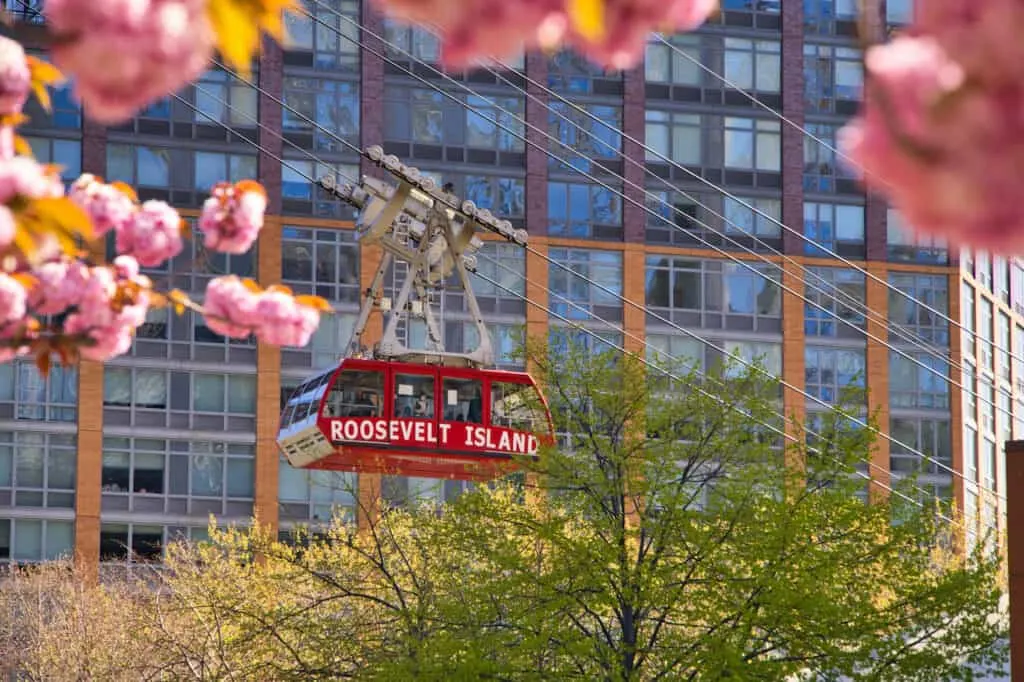 6) Citi Bike
While all of the NYC transportation options mentioned above are public transport options, there are some other options as well.
If you are looking to get from one place to the next, be budget friendly, and get a workout in at the same time, then Citi Bike is for you.
All throughout NYC there are over 1,500 Citi Bike stations to choose from. Simply download the app, find a station near you, tap your phone, and go! Once you arrive at your destination station, park your bike in an open slot and be on your way from there.
A single 30-minute ride costs $4.49, with a ~$0.25 per minute overage charge if you head out for longer. Day passes are also available for $19, which give you unlimited 30-minute rides for the day.
If you happen to not find a bike at a certain station or can't find an open spot to dock, there should always be another relatively nearby station to choose from.
Word of advice – be careful when it comes to bicycling in the city. Stick to the bicycle lanes, and abide by the traffic laws. Cars, taxis, pedestrians and other bicyclists can make things dangerous.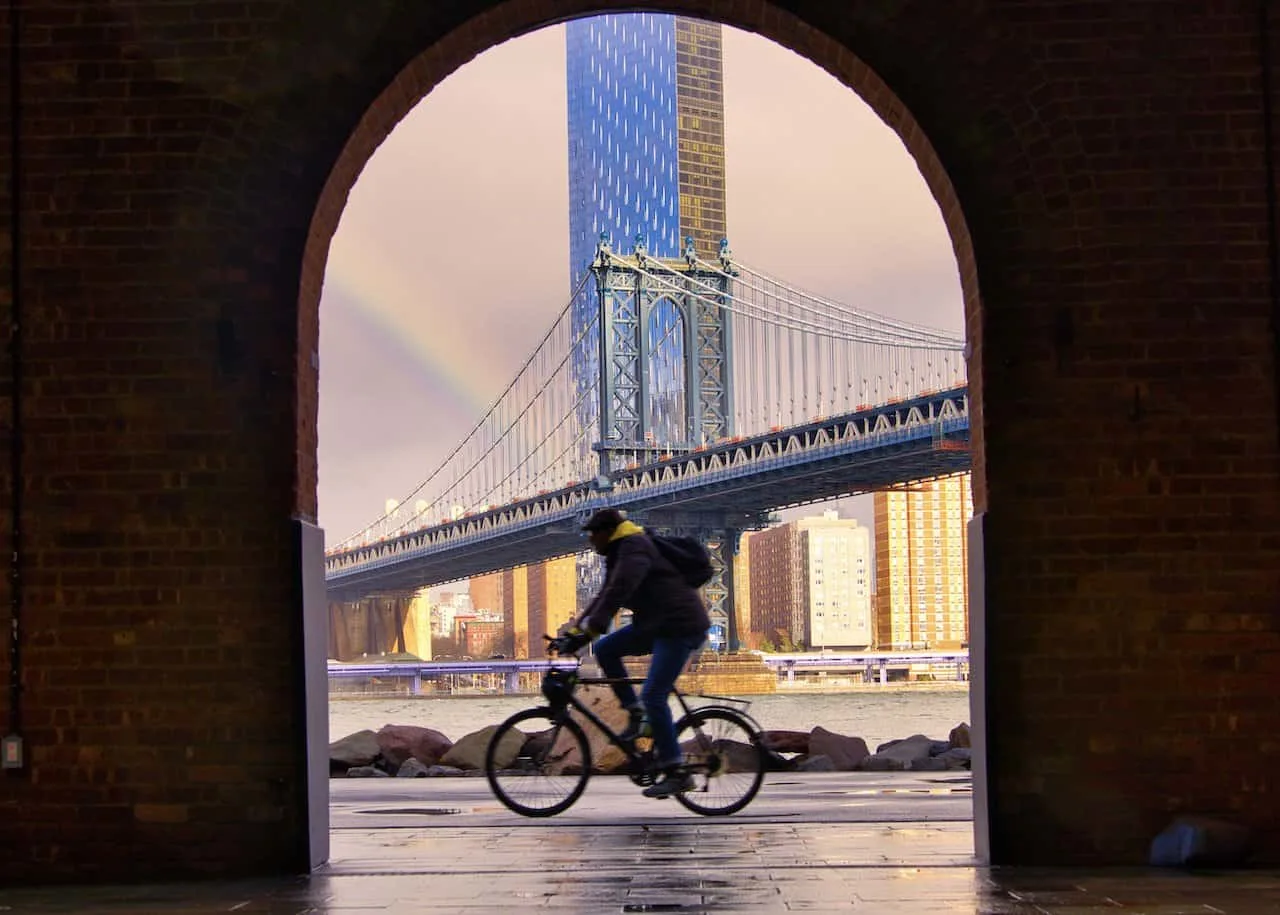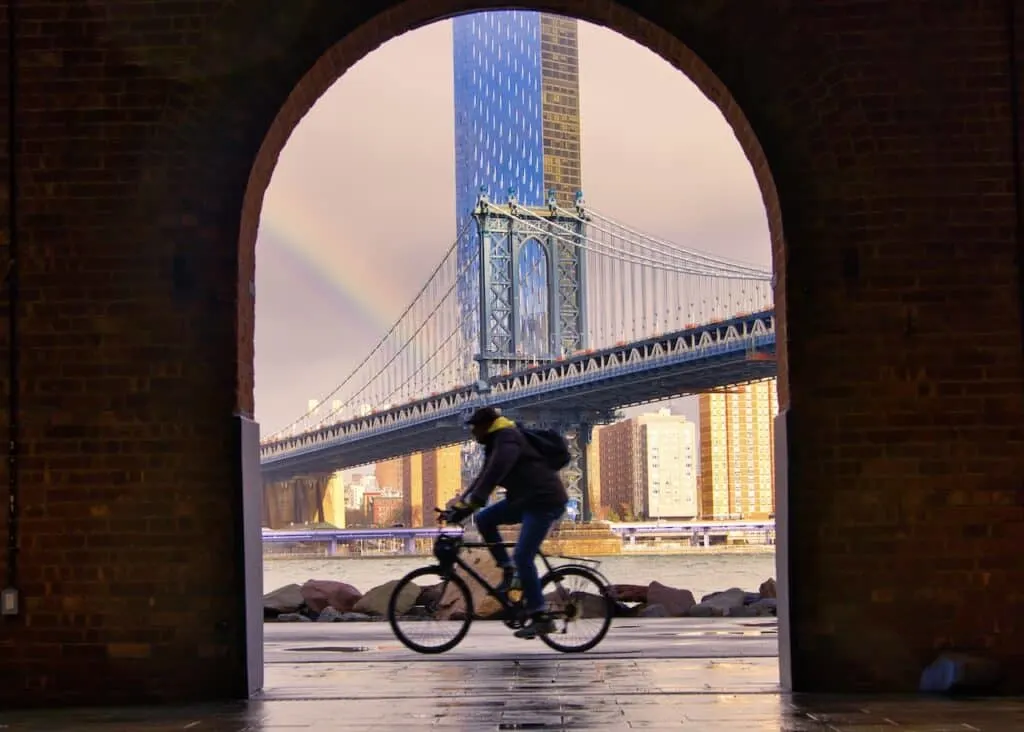 7) Taxi & Ride Hail
The most convenient (usually) and most expensive of options is hailing down a taxi or hopping into an Uber or Lyft. The upside of doing so is that you do not need to worry about getting to/from the public transport stations.
Simply grab a taxi or ride hail from your location and get dropped off exactly where you are trying to go. With the convenience factor, you can expect that pricing will go hand in hand.
As I write this, an Uber from downtown Manhattan to Central Park comes in at $40! While it may be a bit quicker than just hopping on the subway, it is way more expensive.
The best situations to use a taxi or ride hail in my opinion would be:
Late at night
Poor weather conditions
Inconvenient/nonexistent subway routes
Traveling with luggage
Larger group of people
Taxi Hail Tip: if a taxis lights are on (the numbers that sit on top of the roof), then the taxi is available. If they are turned off, then the taxi is already occupied or is not in service.
Also, be aware that taxis and ride hails are not always faster than public transport. Traffic can be rough during rush hour. I would advise to check the driving vs. subway times before ordering that car.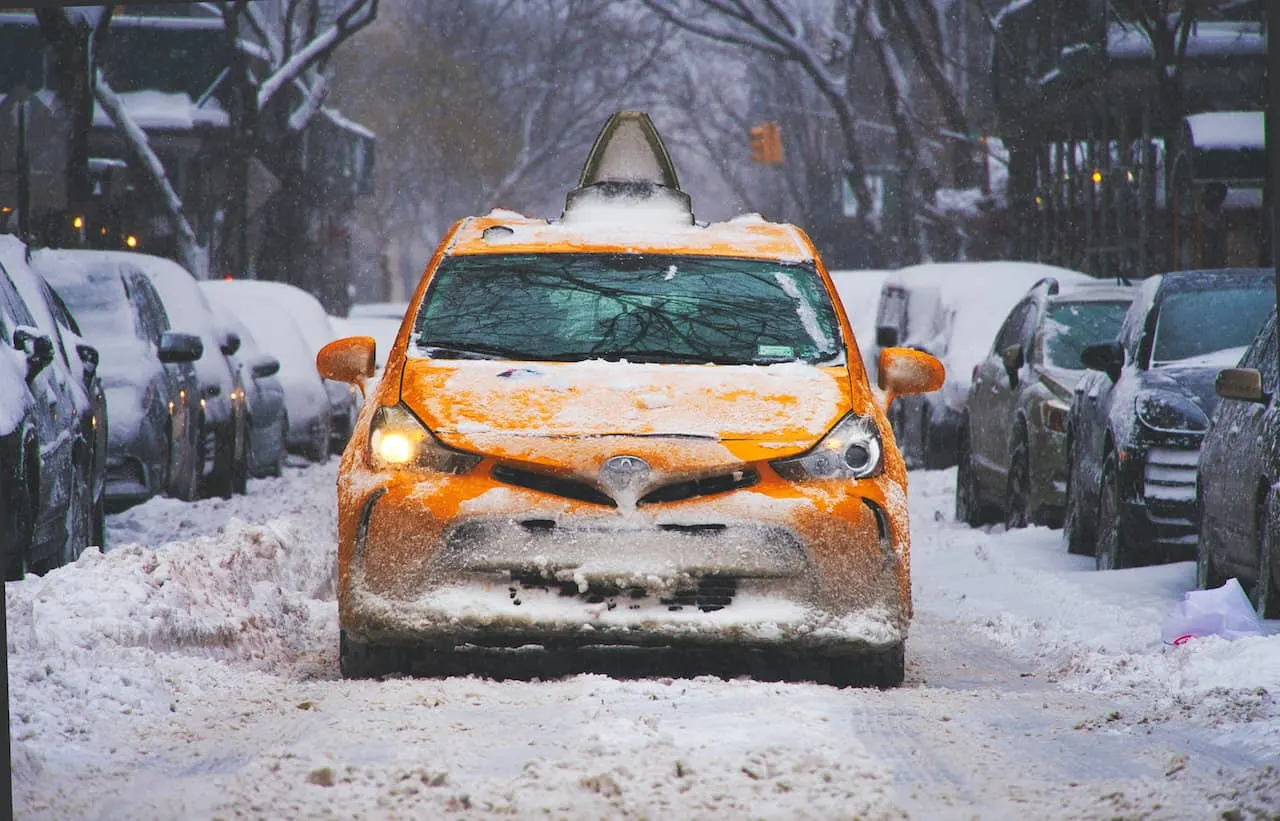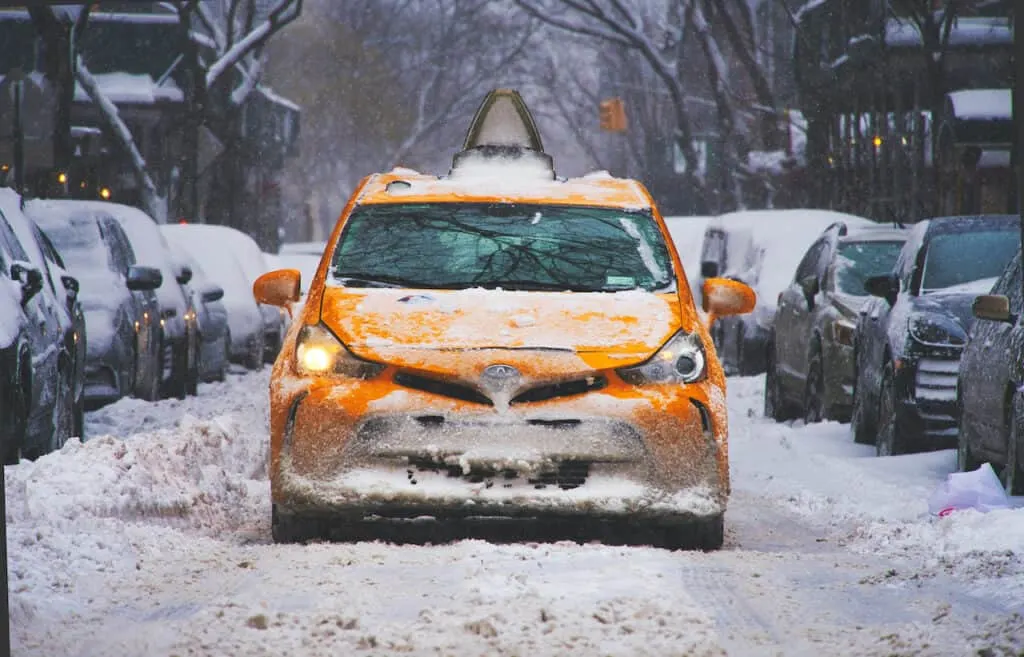 8) Walk Around NYC
Last but not least when it comes to how to get around NYC, is by using your own two feet.
While this is more likely than not the longest of options, it also gives you the chance to actually see the city as you go. Walking between different neighborhoods is a highlight on its own.
You will get a better idea of what the city is all about and get to visit places all the way. And of course, it is absolutely free to do!
Anytime I am heading out for the day, I always prioritize making the walk if it makes the most sense. Be sure to do the same at some points during your trip to NYC!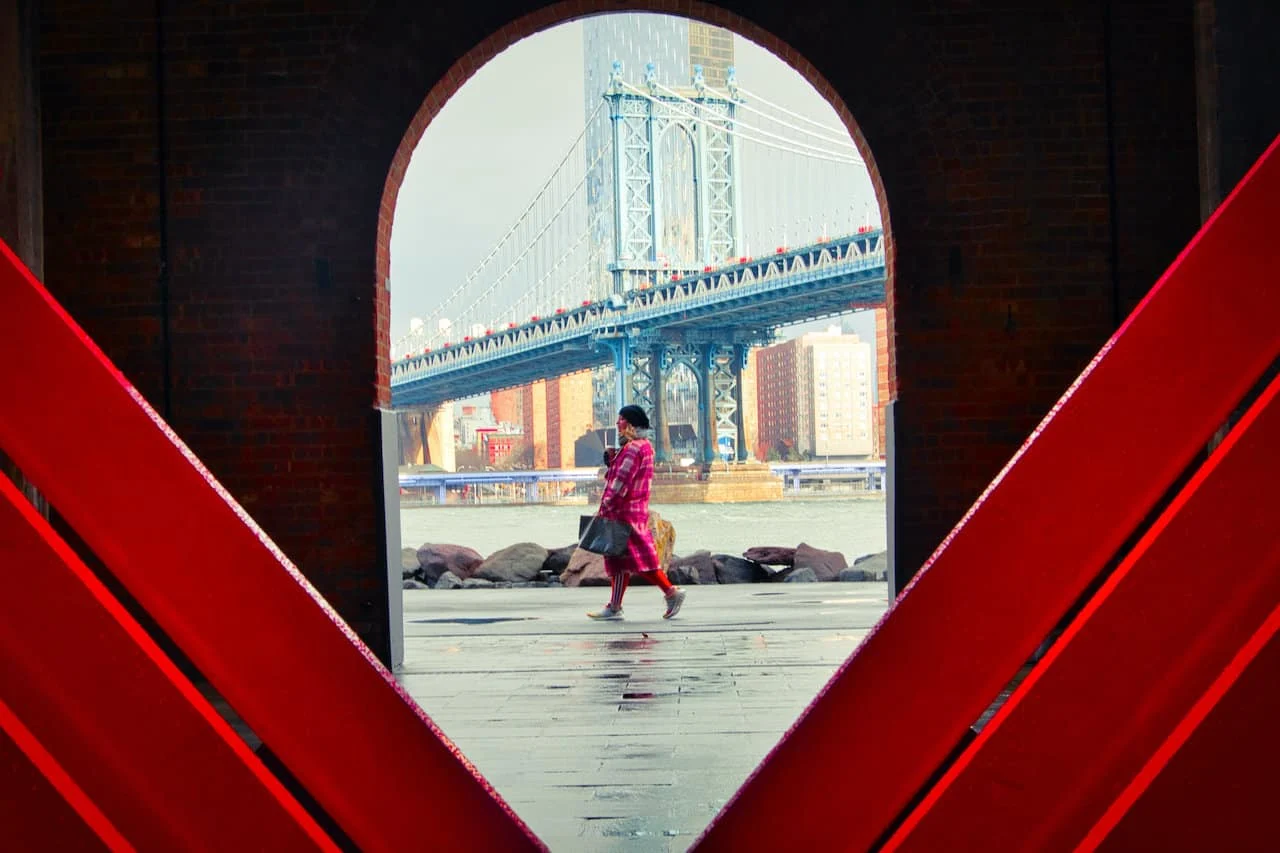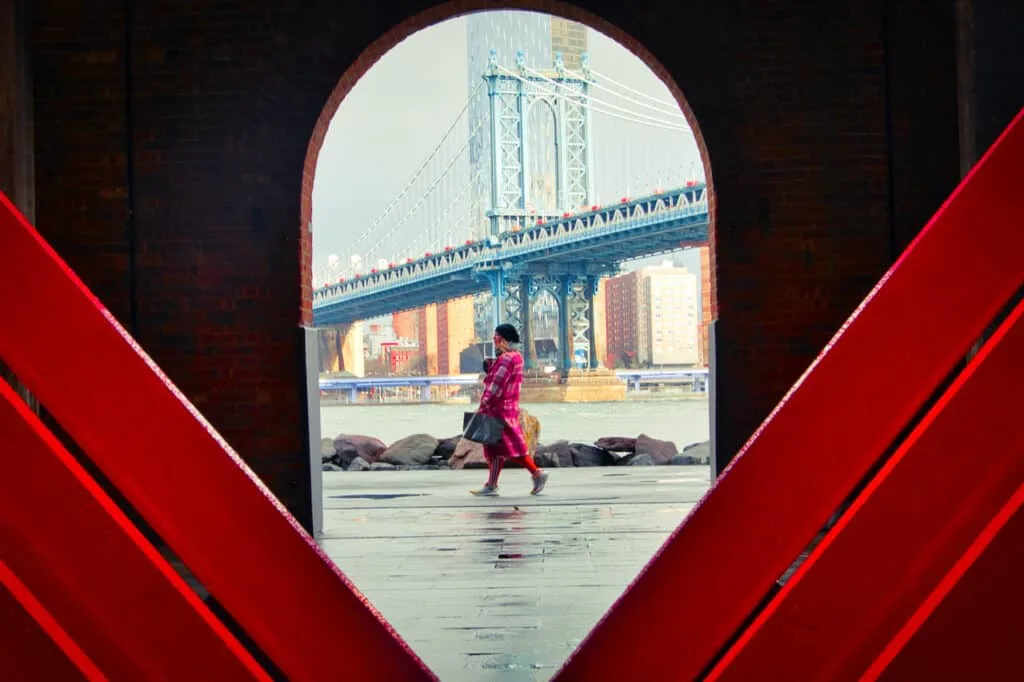 9) Transportation in New York City from the Airport
One of the most common questions asked when it comes to NYC transportation is what are the options to get from the airport to the city.
Since there are three airports to choose from around New York City, the options & pricing can vary. See below though for an overview of how to get to NYC from the airport.
LaGuardia Airport
1) LaGuardia Bus-Subway Routes ($2.90):
Q70-SBS Bus -> 7/E/F/M/R Train at Jackson Heights – Roosevelt Avenue
M60-SBS Bus -> 4/5 Train at 125th Street
M60-SBS Bus -> N/W Train at Astoria Blvd
2) LaGuardia Taxi: Expect to pay between $30 – $50 depending on where you are headed & how much traffic there is. Currently there is no flat fare for LGA.
3) LaGuardia Ride Hail: The average cost for an UberX from LGA in Manhattan is listed as $52 while a UberXL is $63.
JFK Airport
1) JFK AirTrain-Subway Routes ($11.15):
AirTrain Red Line -> E/J/Z Train
AirTrain Green Line -> A Train
2) JFK Taxi: For JFK airport, there is a flat rate of $70 to/from Manhattan. You will also have a $5 surcharge during peak hours (4:00PM – 8:00PM) in addition to tolls & tips. All in the taxi cost can be $80+ when getting between JFK and Manhattan.
3) JFK Ride Hail: The average cost for an UberX from JFK in Manhattan is listed as $75 while a UberXL is $97.
Newark Airport
1) AirTrain Newark -> NEC/NJCL Train Line (directly into Penn Station) – $15.25
2) Newark Taxi: Depending on where you are going in the city, expect to pay between $60 – $80 for the ride from Newark into Manhattan.
3) Newark Ride Hail: The average cost for an UberX from Newark into Manhattan is listed as $67 while a UberXL is $76.
Learn More: Check out the NYC Airport overview to learn about all of these options & more helpful things to know
10) New York Public Transportation App
There are several apps to choose from when it comes to New York transportation. I will highlight just a few of them below, but you will find several others in the app stores.
MyMTA: the official MTA app that offers a trip planner for potential route options. You can also click on subway/bus lines & stops to see when the trains & busses are expected to arrive at a particular station.
TrainTime: used for schedules, routes, and ticket purchases for the LIRR and Metro North
NYC Ferry by Hornblower: routes, schedules and ticket purchases for the NYC ferry
New York Subway MTA Map: route planner, service statuses & map
Google Maps: usually reliable when it comes to quick route planning on the go
Learn More: Take part of the best things to do in New York City during your trip
11) How to Get Around NYC FAQs
To wrap up this overview, I wanted to touch upon some of the most frequently asked questions when it comes to how to get around NYC.
What is the Best Way to Get Around New York City?
In my opinion, the best way to get around New York City is by foot if the distances are not too long. However, if it is too far of a journey, my go to recommendation would be to simply take the subway.
By taking the subway, you will not need to worry about traffic and higher costs, which can be experienced with other options.
Simply pay your $2.90, hop on board, and head out to your destination.
What is the Cheapest Way to Get Around New York City?
From a transport perspective, the cheapest way to get around New York City will be by using the subway or bus network.
No matter how far you are traveling within the system or if you take any transfers, the cost will simply be $2.90.
For those that still want to keep costs low but want to stay away from public transport, then I would recommend hopping on a Citi Bike. For less than $5, you will have 30 minutes of cycling time available within NYC.
What is the Most Popular Transportation in New York City?
Without a doubt, the most popular transportation method in New York City is the NYC subway system.
It is estimated around 4 million rides are taken daily on the subway, which is vastly more than the other options out there.
While it can get crowded at times (especially during peak morning and late afternoon rush hours), there is nothing more popular than hopping on the subway.
What is the Safest Way to Get Around NYC?
While the subway may the cheapest and most popular option, it is not the safest. If you are someone who has safety as a priority, then simply stick with taxis and ride hailing apps to get yourself around.
Subways are known to have some issues – whether that is random attacks, sanitation, or more, I can't say it is always the safest place to be.
Busses on the other hand are the safer option as you are above ground and the driver is right there in front of you. While issues happen on the busses, it is not as common compared to the subway.
And for those that want to cycle around, Citi Bikes can also be quite dangerous as there are so many variables at play when cycling through the city.
So, to stay safe – taxis and ride hails are the way to go.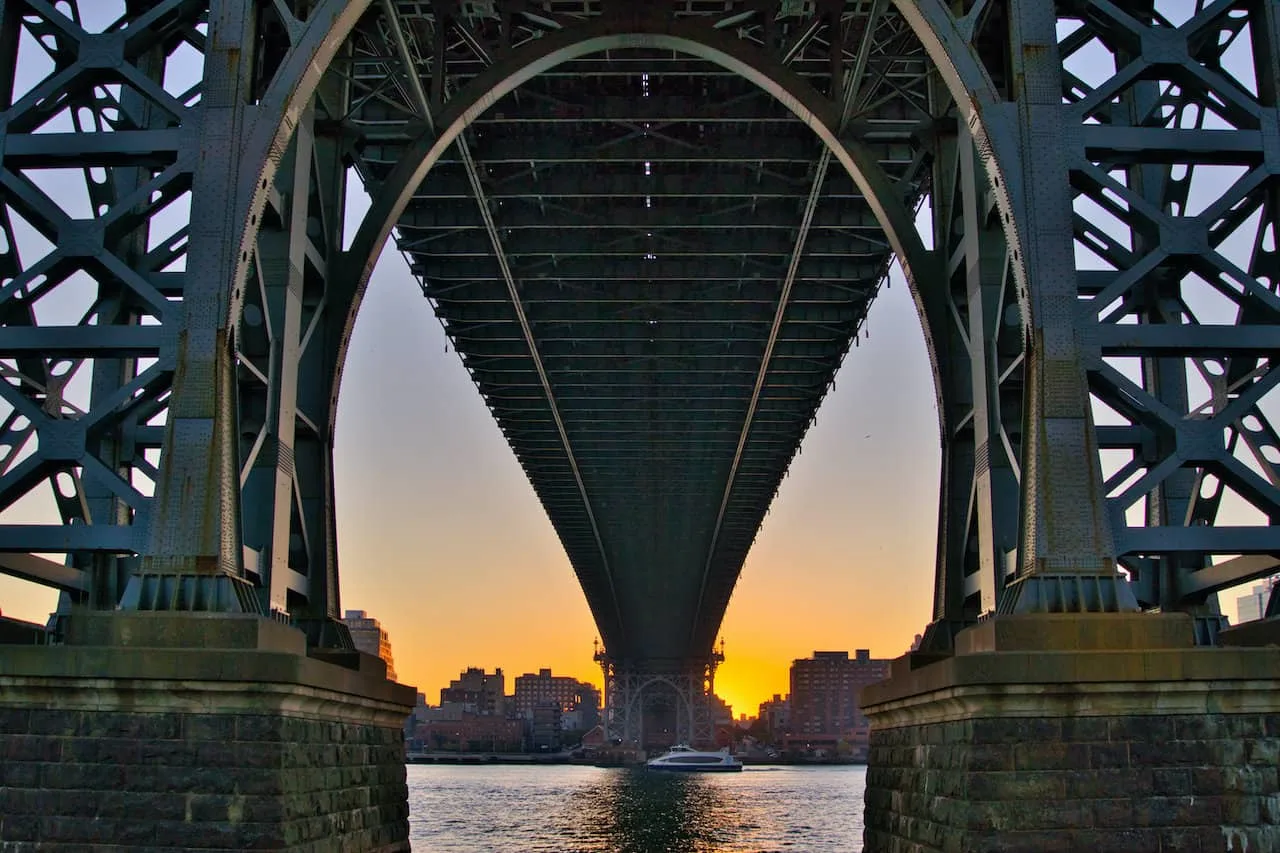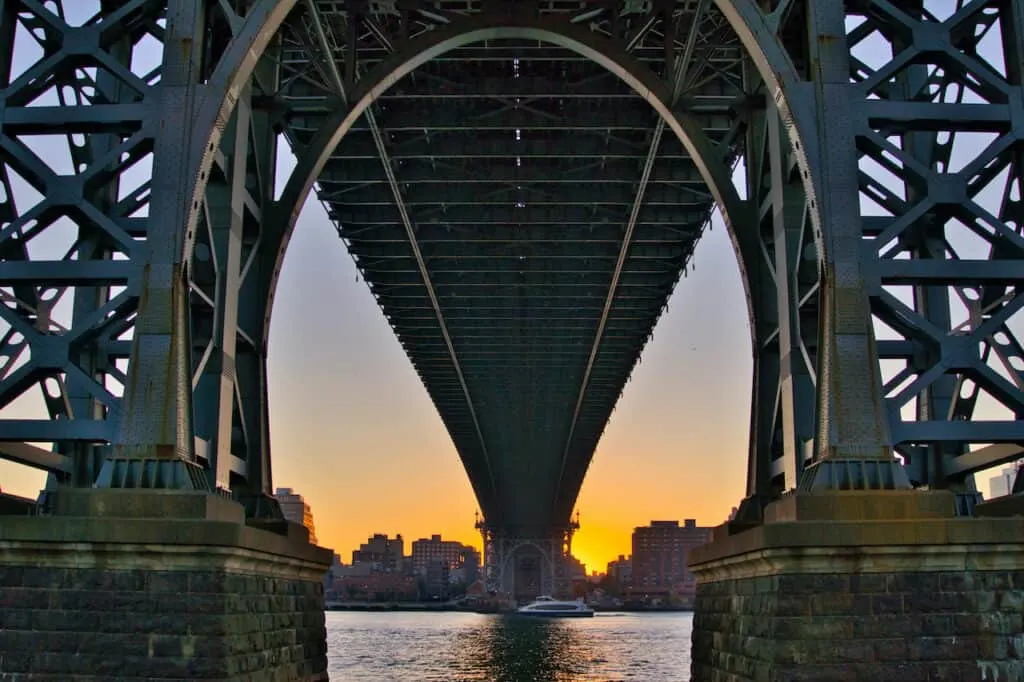 That wraps up a guide to NYC transportation and how to get around the city. If you have any questions or comments, be sure to add them in below.
Also, don't forget to check out the other New York itineraries and guides up on the site.
Have fun out there and safe travels!