Are you looking for the best running routes in NYC? Well, you have come to the right place because this guide will go over 10 of the most scenic routes in the city.
Whether it is bridges, parks, river runs, city streets, or a combination of them all, I will go into detail about various types of running routes that would work best for you.
So, if you are someone who is living in the city and wants to learn about where to run in NYC, or if you are visiting from abroad, I hope this NYC running routes guide will help you plan your next run!
* Affiliate Disclosure: This post may contain affiliate links, which means I may receive a commission if you make a purchase through the links provided, at no additional cost to you. Thanks for supporting the work I put into TripTins!
1) Introduction to Running in New York City
New York City is a city like no other. With over 8 million people, never ending high rises and some of the most hectic streets, it seems at first like running in the city can be pretty overwhelming. But don't worry, there are ways to get around it all.
While you may need to stop for traffic on some of the routes I will go over in this article, there are plenty of runs where you can just truly enjoy that NYC feeling without the hustle and bustle of the city.
In this guide I will talk about a few different types of runs depending on what you are looking for – river, bridge, park and city runs.
Note that there can certainly be overlap between these different types (i.e. you can combine a river run with a city run)
River Runs
NYC is surrounded by rivers – most notably the Hudson River to the west and the East River to the east. Along these rivers you can find some great running paths to jog along.
Running along the river paths gives you a chance to get away from the cars and crazy streets and just enjoy those views over the river and skyline.
While there certainly will be a fair share of people enjoying the paths when the weather is good, running along the river will still be one of the best choices to choose from.
Bridge Runs
There are so many bridges connected the 5 boroughs of New York City. The nice thing about the bridges, is that many of them have pedestrian pathways that are separate from the car and bicycle lanes.
This makes it nice and easy to connect multiple boroughs into one run without needing to worry about taking a subway or anything like that. The best part? It has to be the views, which I will talk about later on.
Parks Runs
Although New York City is mostly full of buildings and streets, there are places where you can enjoy a long park run. Many of the parks in the city wouldn't necessarily be large enough for a park run (like Union Square or Washington Square).
However, there certainly are parks where you can run for miles and miles, most notably Central Park.
City Runs
The last type of run will be within the city streets. This will for sure be the most hectic of runs as you will be dealing with pedestrians, cars, bicycles, taxis and traffic lights.
However, if you want to do a bit of sightseeing on the run or connect a couple of the river paths into one, then this certainly will be for you.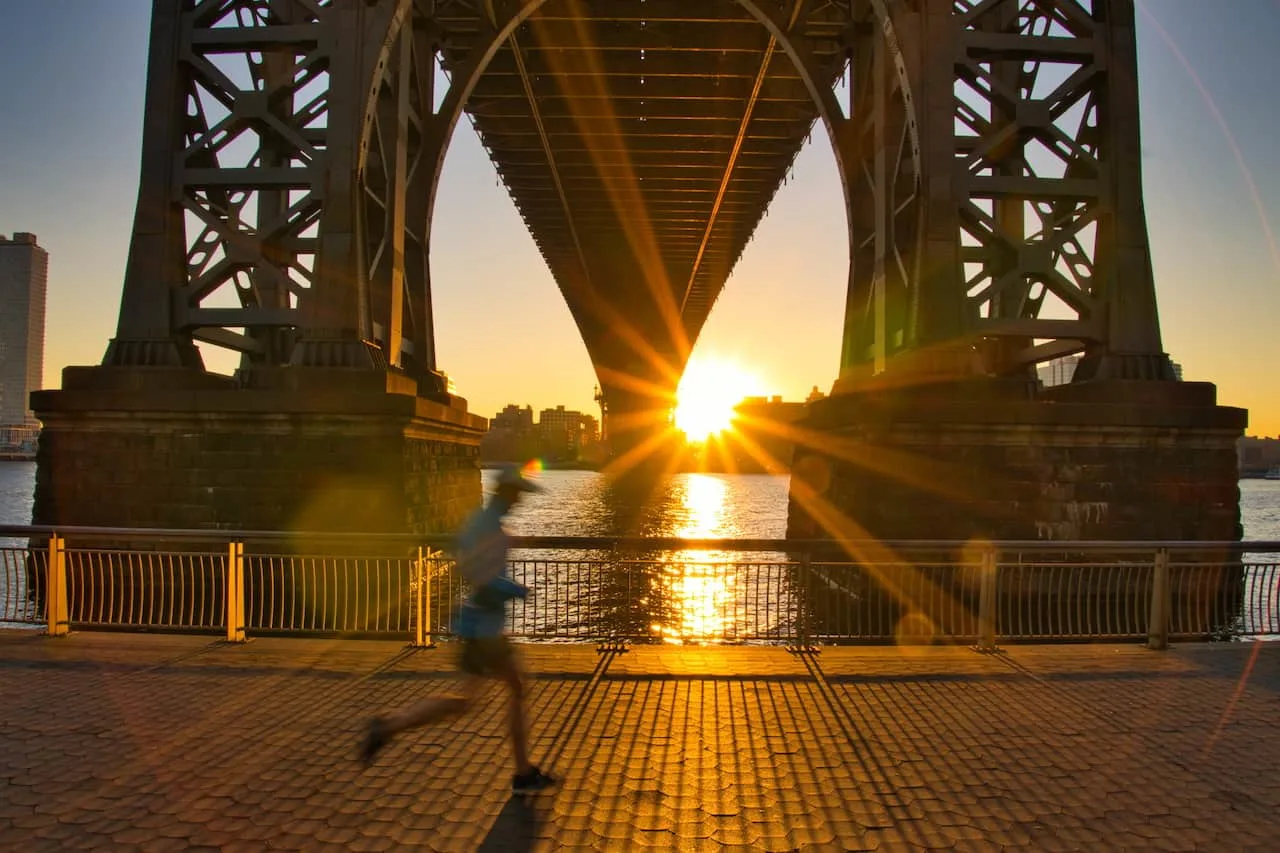 2) NYC Running Elevation Gain
When it comes to elevation gain, New York City is certainly not known for it. Many routes in the city will have no more than a few hundred feet of gain.
With that said though, there certainly are some spots where you can find some elevation gain.
» I will be speaking about running over some bridges connecting Manhattan and Brooklyn. Since bridges rise from street level, here you will find some more elevation gains and losses as you run onto and off of them.
» Similarly, Central Park is the one place in Manhattan that has notable elevation gain. There are several hills throughout the park that the main loop goes up and down. Altogether the full loop is around 300 feet of elevation gain (see below for the elevation gain profile of the route).
Besides for that, there are city streets that can be on a bit of incline, but altogether NYC is relatively flat altogether.
Read more: If you are looking for some elevation check out some spots outside the city like Breakneck Ridge, Bear Mountain, or Storm King Mountain.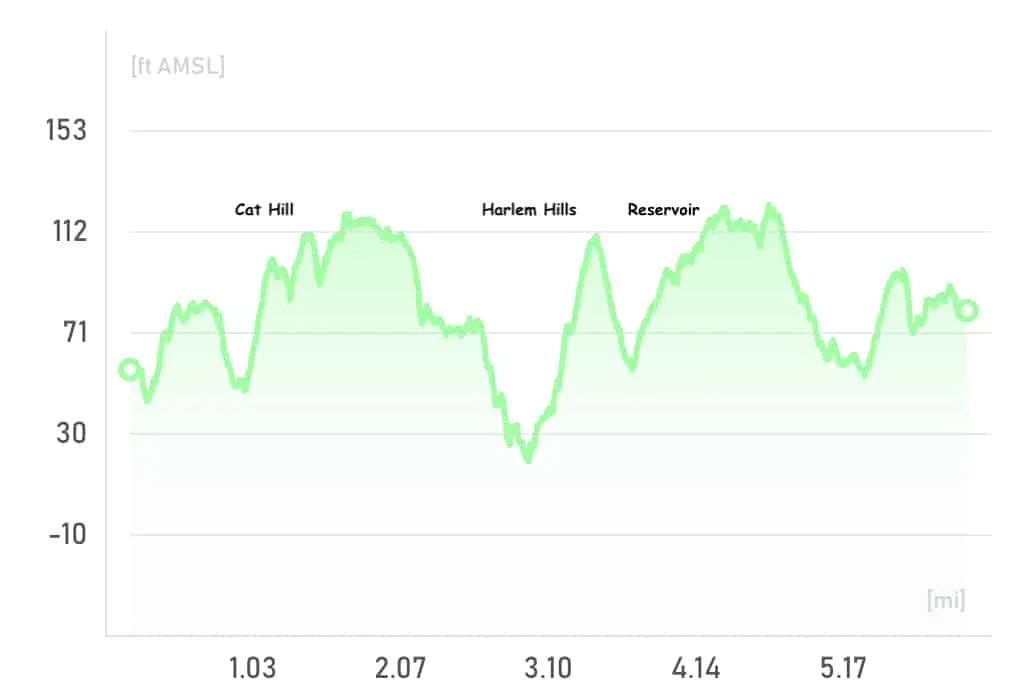 3) Map of the Top NYC Running Routes
Below is a list and map of the 10 running routes that I will go into more detail throughout this guide. On the map you can find the starting and ending points of each color coded route.
In the next sections I will go into more detail about each one of these routes:
1) East River Greenway
2) Hudson River Park
3) East River + Hudson River
4) Brooklyn Bridge Park
5) Brooklyn Bridge + Manhattan Bridge
6) Central Park Full Loop
7) Central Park Reservoir
8) Prospect Park
9) NYC Sightseeing Run
10) Summer Streets Run
» Check out this helpful guide that talks all about the best places to stay in New York during a visit
4) NYC River Running Routes
Let's start out with three river running routes that go along the East River and Hudson River. Whether you are on the west side or east side of Manhattan, or staying out in Brooklyn, there is something here for you.
East River Greenway
Route Name: East River Greenway
Distance: 5 Miles / 9 Miles
Starting Point: 34th Street and East River (or 120th Street)
Ending Point: Battery Park
Map Color: Blue
The East River Greenway heads from 120th Street in the north down along the East River ending in Battery Park. Along the way though, between 60th Street and 34th Street, there is no pathway on the river. Here you will need to run in the city streets before meeting back up with the pathway at 34th Street.
Depending on if you want to do a 5 mile run or 9 mile run along the river will dictate which entrance you can start at. Below is a quick overview of the lower portion of the route that runs from 34th Street to Battery Park:
This 5 mile stretch of pathway hugs the East River as you get to enjoy several top NYC attraction views along the way. These include the Empire State Building, World Trade Center, Statue of Liberty, Williamsburg/Manhattan/Brooklyn Bridges, and plenty more of the NYC skyline.
As you make the run down you will head through parks such as Stuyvesant Cove and John V Lindsay, run under three different bridges, and even maybe stop by some piers along the way (like Pier 17 at the South Street Seaport).
The run ends in Battery Park, where you can enjoy some of the best views of the Statue of Liberty from Manhattan.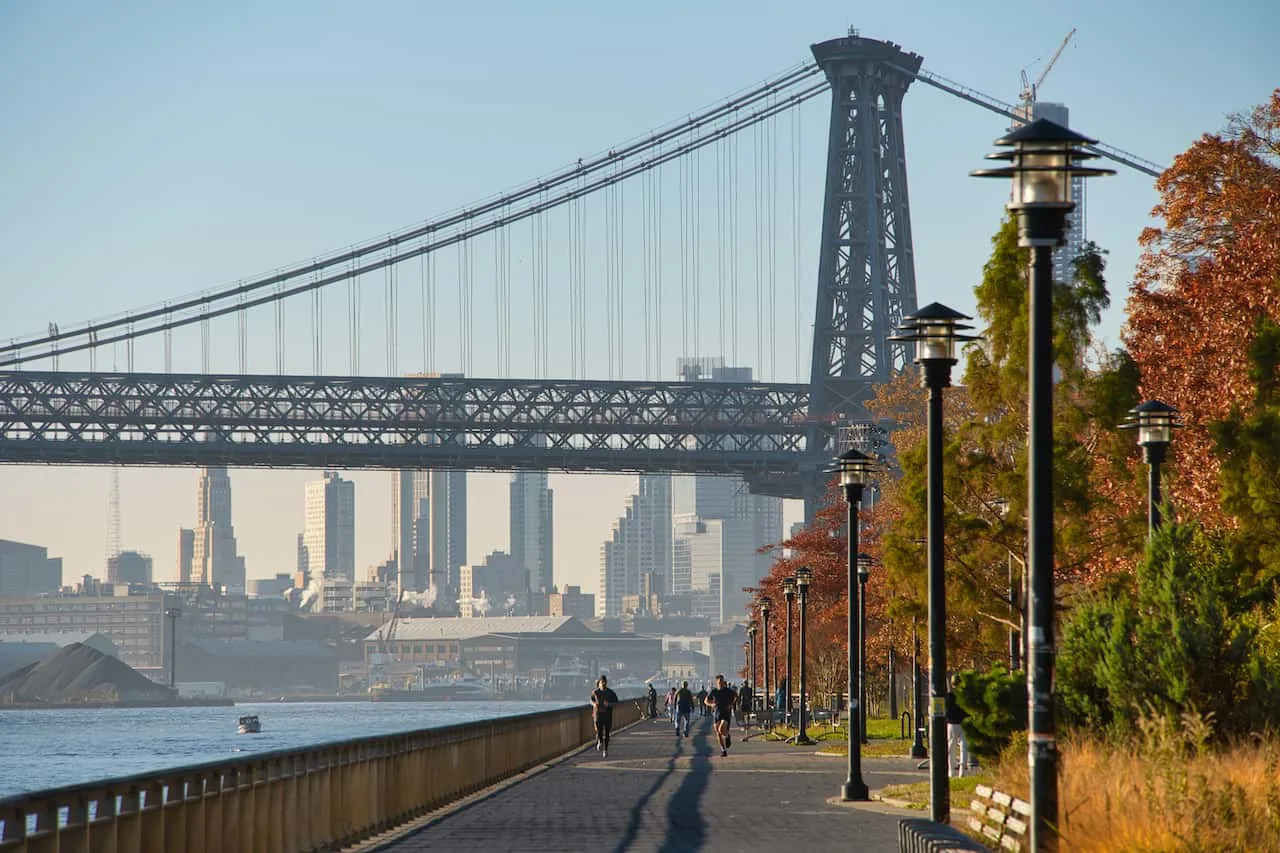 Hudson River Park
Route Name: Hudson River Park
Distance: 4 Miles
Starting Point: 59th Street and Hudson River (Pier 97)
Ending Point: Pier 25
Map Color: Green
On the opposite side of the island is the Hudson River and the Hudson River Park that runs alongside of it. Starting at Pier 97 in the north, the park makes its way down 4 beautiful miles and ends just past Pier 25 in the south.
While this whole stretch of path is part of the larger Hudson River Park, there are endless smaller parks along the way too. These include parks on piers as well as parks alongside the running path.
You can decide to make the run longer by actually running around the circumference of the piers and get some more miles in.
During the 4 miles of pathway, you will pass by the Intrepid Museum, Hudson Yards, Chelsea Piers, Little Island, the Pier 57 Rooftop Park, Pier 26, and more. The view of downtown Manhattan looking large up ahead and the Statue of Liberty further out in the distance makes it even more so a great pathway to enjoy.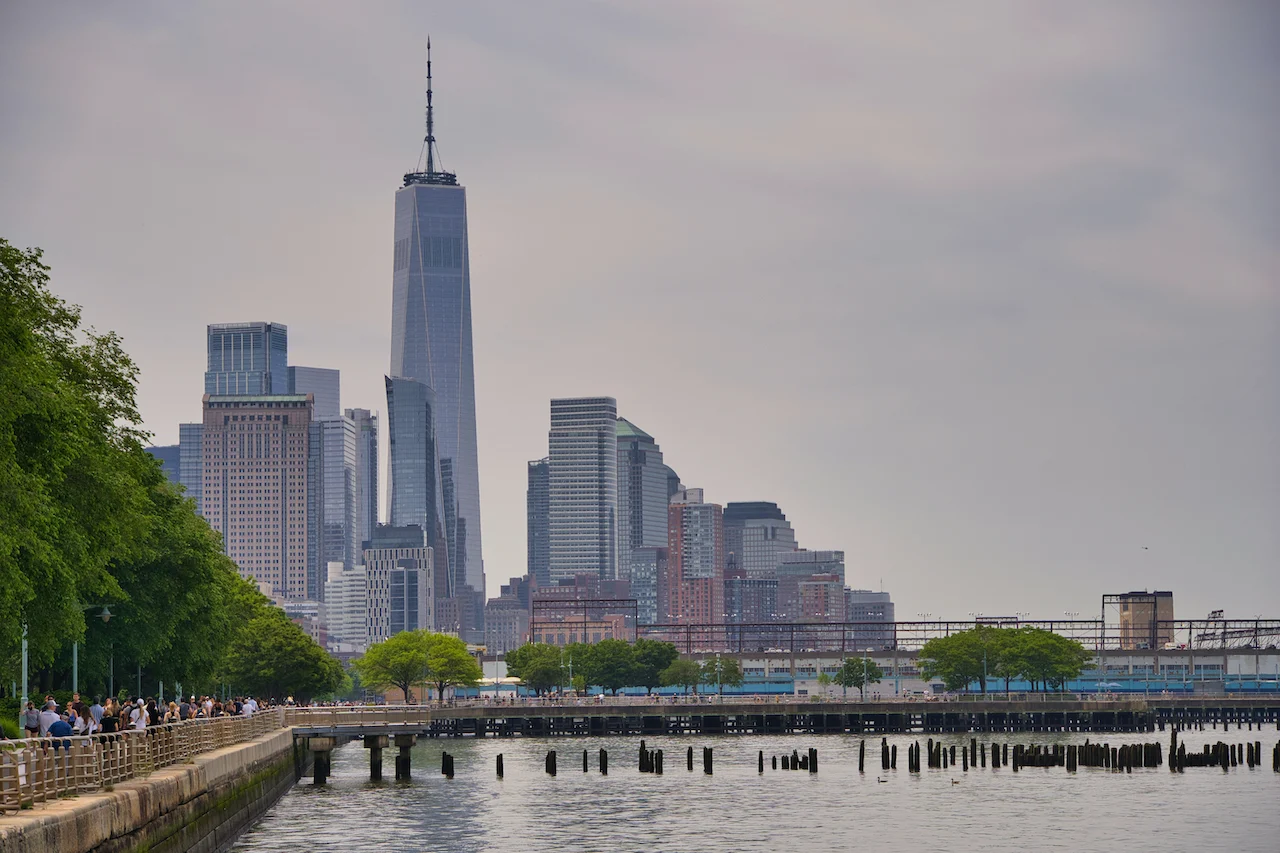 East River + Hudson River
Route Name: East River + Hudson River
Distance: 11 Miles
Starting Point: 34 Street & East River
Ending Point: 34 Street & East River
Map Color: Brown
If you cant decide between the East River or Hudson River, why not combine the two! There are several ways this could be done, but in this case I connect the rivers along 34th Street.
You can start at 34th Street and the East River, head south along the East River Greenway, and then wrap around Battery Park. Once you get to the west side, it is then up Hudson River Park until you reach the Hudson Yards area. From there, head back across the city to finish up the loop.
Note that this can easily be done in the opposite direction if it works better for you. Also, another shorter option (around 9 miles), would be to connect across 14th Street instead.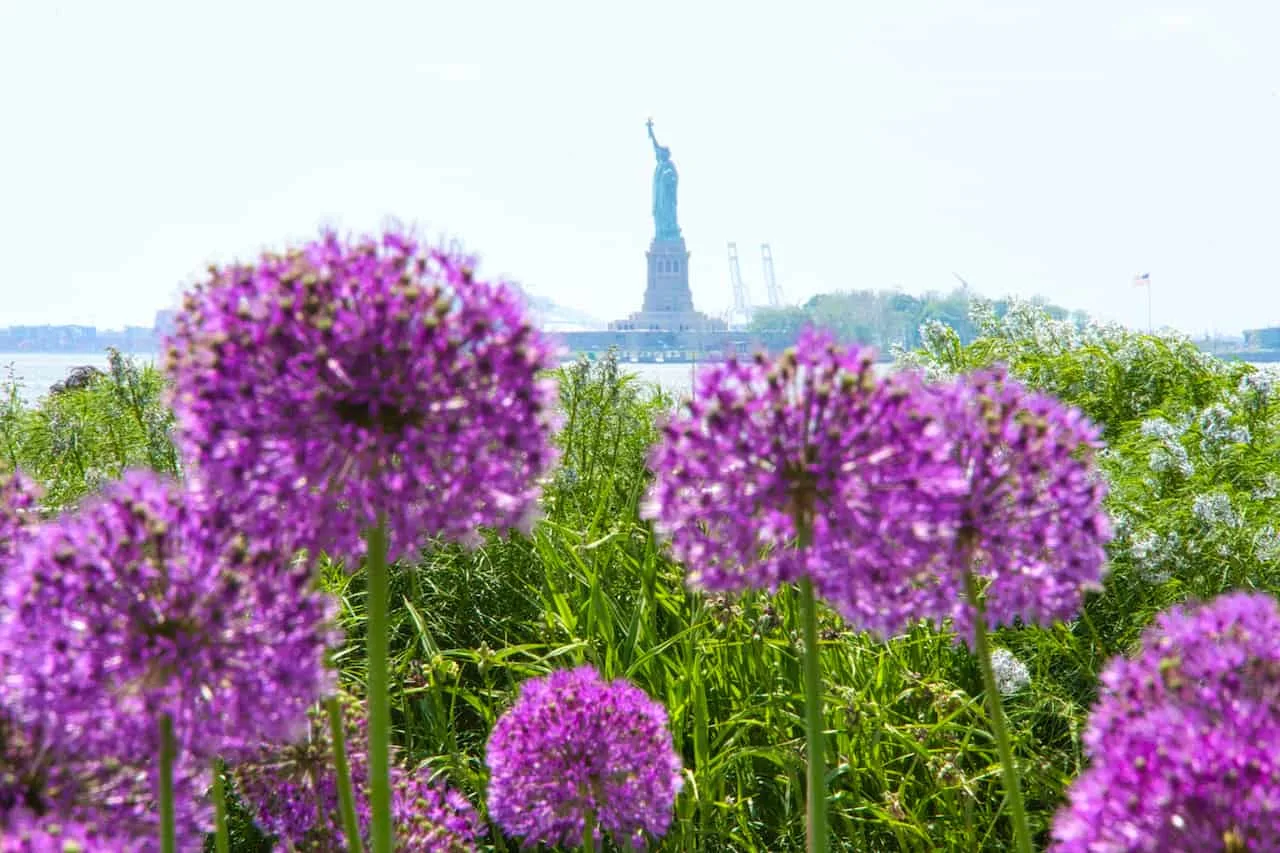 Brooklyn Bridge Park
Route Name: Brooklyn Bridge Park
Distance: 3 Miles
Starting Point: John Street Park
Ending Point: Pier 6
Map Color: Grey
Moving into Brooklyn now, we have Brooklyn Bridge Park, which runs along the Dumbo and Brooklyn Heights neighborhoods. From here you will get some of the best views of the NYC skyline that you can ask for.
Similar to Hudson River Park, you will find smaller parks and several piers along the way (as well as the famous Pebble Beach).
In this case, to make the run 3 miles in length, the route actually will need to encircle each one of the piers along the park (as shown in the map).
You can start on either end, but in this example I started the route in John Street Park in the north and then just following the water's edge underneath the Manhattan and Brooklyn Bridges. From there it is around the various piers until you reach the bottom of Pier 6.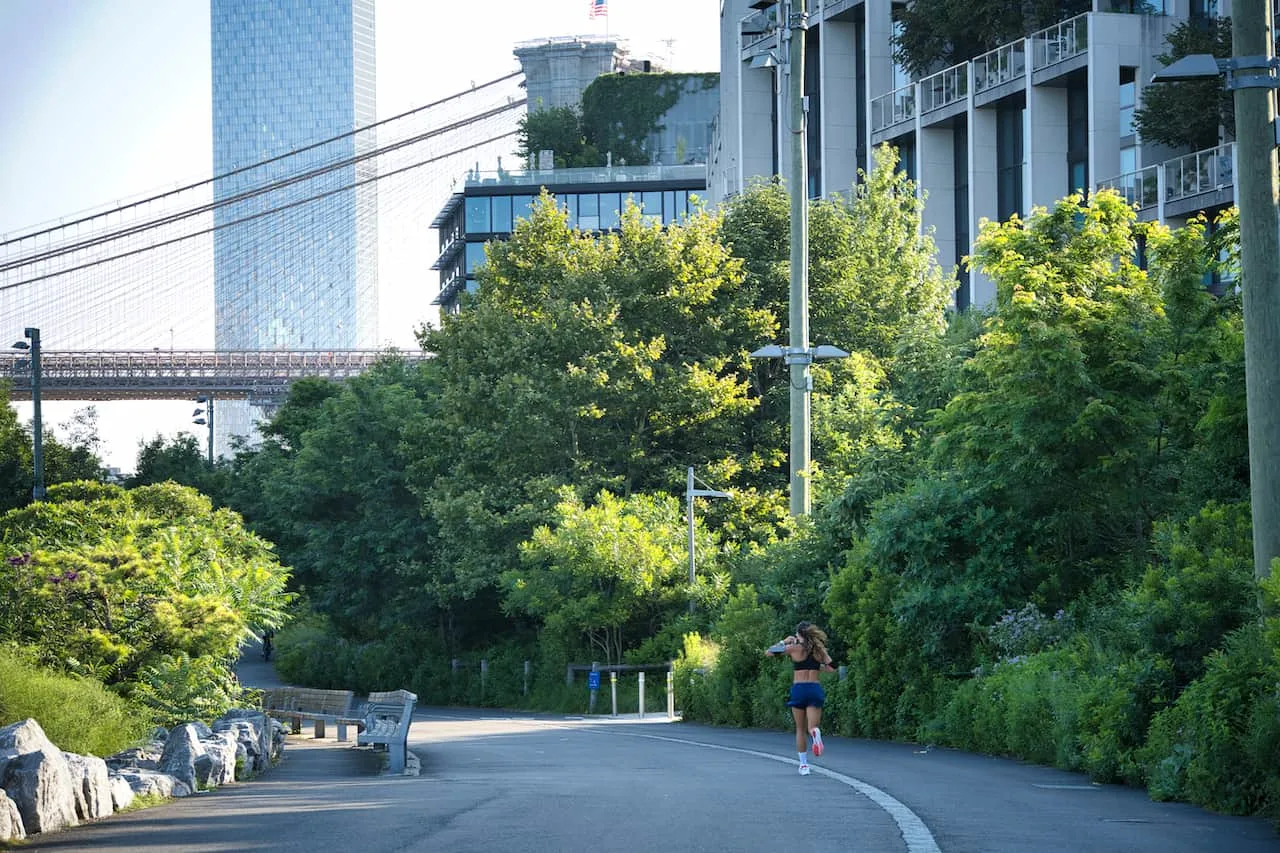 5) NYC Bridge Running Routes
Instead of running alongside the water, why not run over the water. That is what the NYC bridges have to offer. I will talk about a two bridge route, but you can certainly change it up for what works best for you.
Manhattan Bridge & Brooklyn Bridge
Route Name: Manhattan Bridge & Brooklyn Bridge
Distance: 4.5 Miles
Starting Point: World Trade Center / Downtown Manhattan
Ending Point: World Trade Center / Downtown Manhattan
Map Color: Purple
This route can be done in a while variety of ways connecting multiple routes. For simplicity sake though, I will talk about a standard 4-5 mile route that heads over both the Manhattan Bridge and Brooklyn Bridge.
In this example I started the route by the World Trade Center, however that starting/ending point can just be moved around as you see fit.
From downtown Manhattan, head up towards Canal Street and make your way east towards the river. Here you will find the Manhattan Bridge pedestrian pathway off of Bowery.
Head onto the pedestrian pathway, cross over the river, and take in the views of the NYC and Brooklyn skylines. Once over the bridge, circle around towards Prospect Street and Cadman Plaza East.
At this underpass is one of the entrances to the Brooklyn Bridge pathway. Head up the stairs and onto the second bridge of the day. Run across the most famous of bridges in the city as you stare down the skyline in front of you and the East River on either side.
Once across the bridge, you will end up near City Hall Park, where you can continue onto where you started from or just call it a day from there.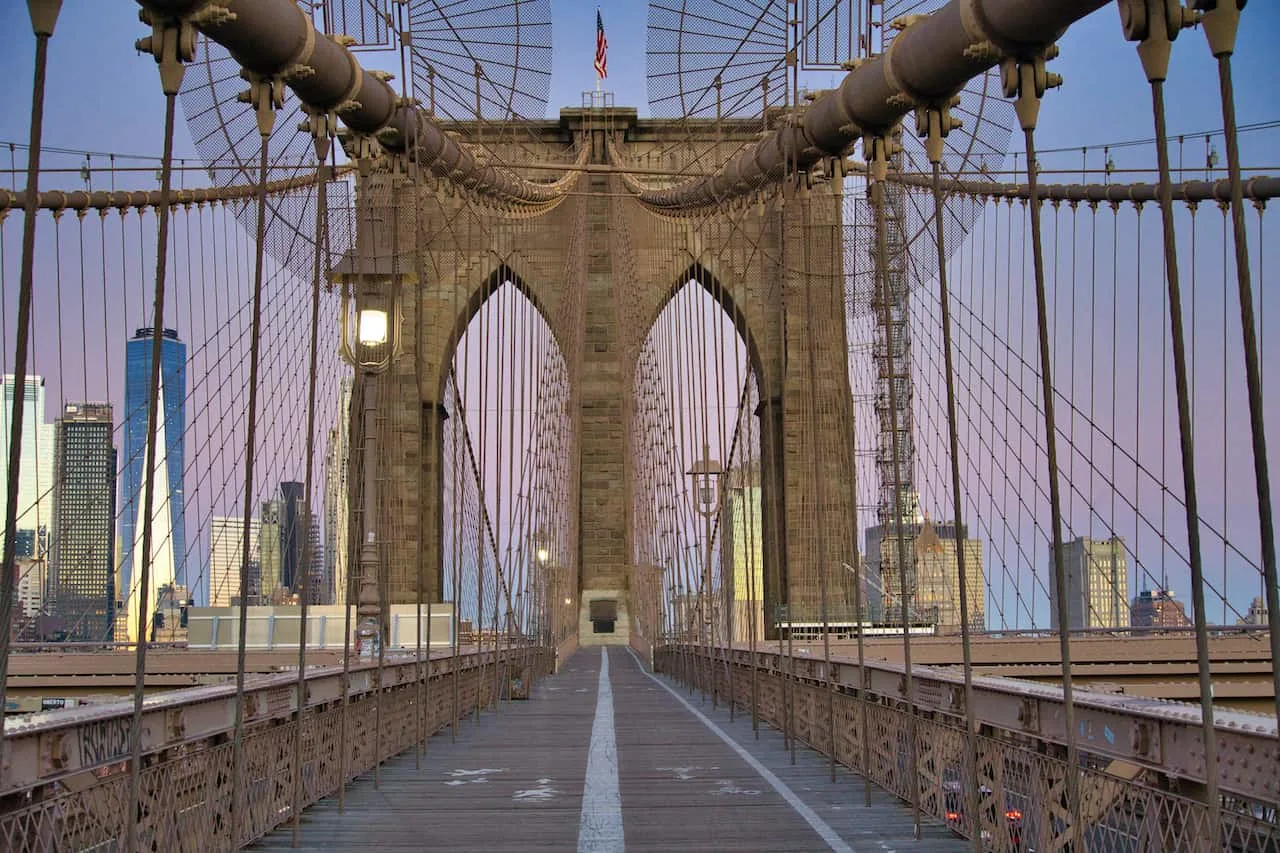 6) NYC Park Running Routes
If you are looking to run some of the best of New York City park's here are a few routes that cover two of the largest parks – Central Park and Prospect Park.
Central Park Full Loop
Route Name: Central Park Full Loop
Distance: 6 Miles
Starting Point: Central Park South & 7th Avenue
Ending Point: Central Park South & 7th Avenue
Map Color: Black
The Central Park full loop is one of the most frequented running routes in NYC. This 6 mile loop heads around all sides of the park and gives runners a great sense of what Central Park is all about.
Some attractions within Central Park can be viewed directly from the pathway, while others may require a short detour off of it. At the end of the day though, being able to run 6 miles (or more) through a park in a hectic city like New York is quite surreal.
Note that you can really start your loop at essentially any part of the park. For simplicity, I mentioned the entrance of Central Park South and 7th Avenue as a great spot to start.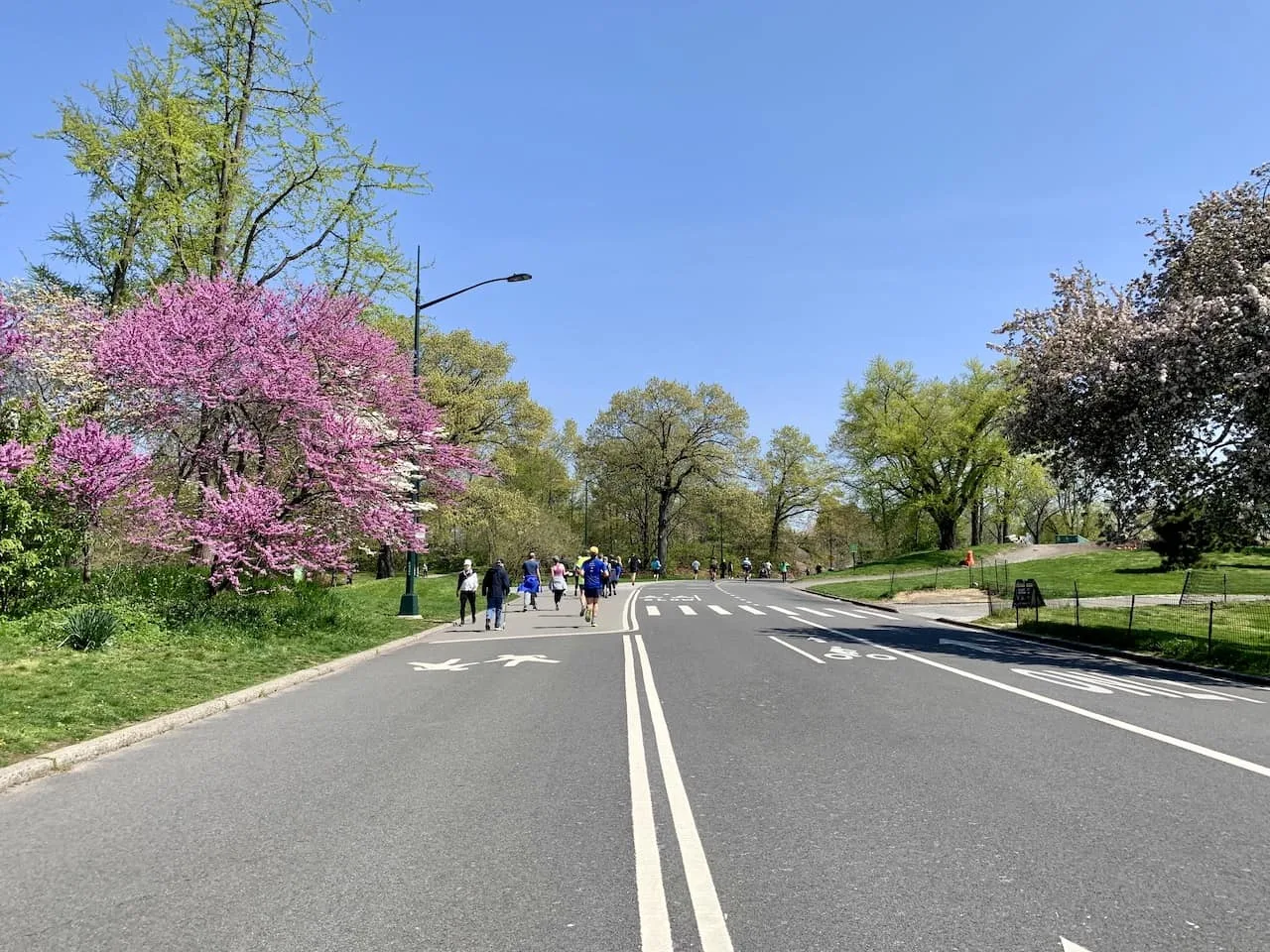 Central Park Reservoir
Route Name: Central Park Reservoir
Distance: 1.6 Miles
Starting Point: Engineer's Gate (90th Street & 5th Avenue)
Ending Point: Engineer's Gate
Map Color: Red
While the full Central Park loop is 6 miles, there are also shorter routes in the park like the 1.6-mile Central Park Reservoir loop.
While the main loop is a bit removed from the reservoir, there is also a pathway that directly hugs the entirety of this water feature.
Head over to Engineer's Gate at 90th Street and 5th Avenue to start the counter clockwise walk all around this body of water with the Central Park NYC skyline views further out in the distance.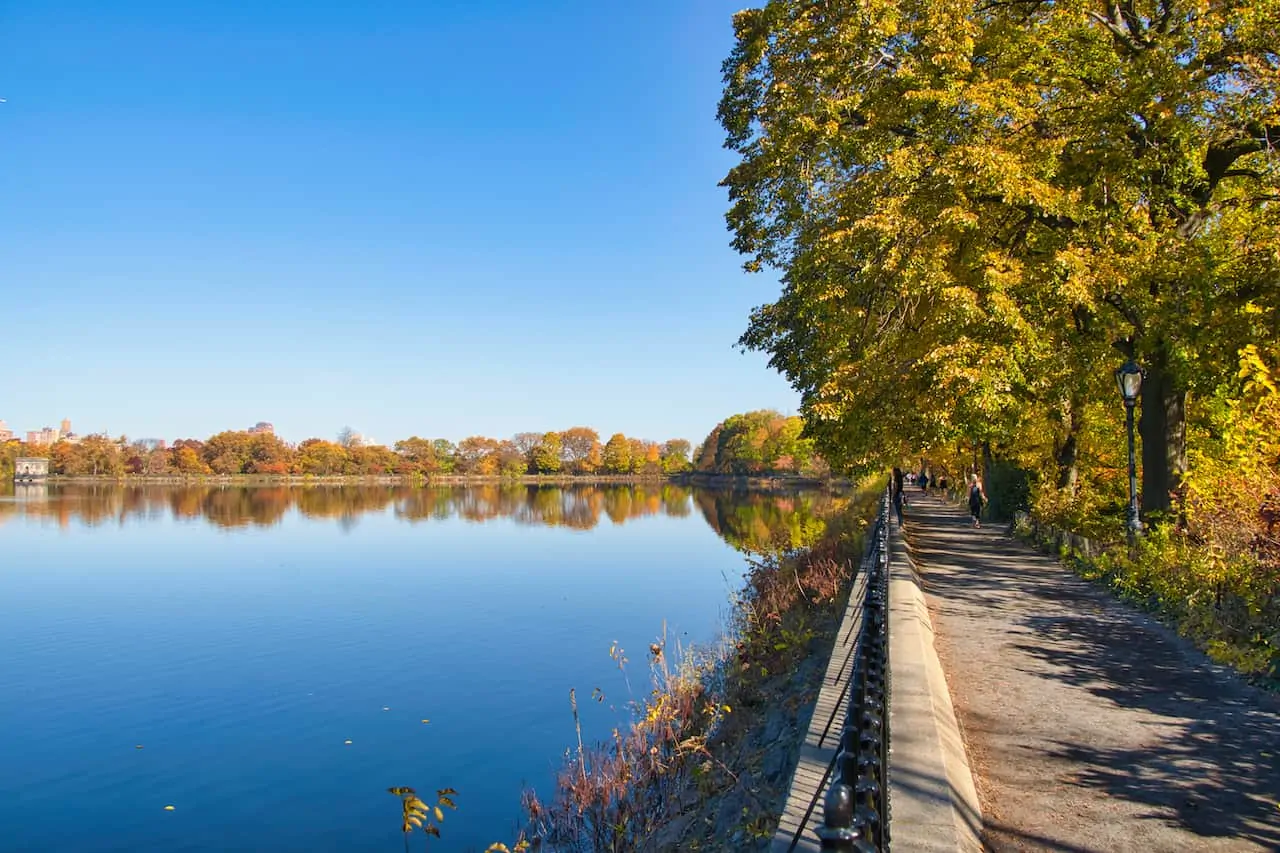 Prospect Park
Route Name: Prospect Park
Distance: 3.4 Miles
Starting Point: Grand Army Plaza, Brooklyn
Ending Point: Grand Army Plaza, Brooklyn
Map Color: Light Green
Moving away from Central Park into Brooklyn is Prospect Park. Here you will find another greenery filled park with several running routes to enjoy.
The standard route around the park runs for just about 3.5 miles as you get to see a little bit of everything that the park offers. The main entrance to the park is at Grand Army Plaza, where you can start and end your run.
7) NYC Streets Running Routes
To be honest, running in the streets of New York can be quite hectic. The cars, pedestrians, traffic lights, and bicycles make it quite difficult to get a good run in. However, if you do go earlier on in the day, you can avoid a lot of that and get to experience a bunch of NYC along the way.
Below are two running routes that head through the streets of Manhattan that you can look into when taking part of your city run.
NYC Sightseeing Run
Route Name: NYC Sightseeing Run
Distance: 6 Miles
Starting Point: Battery Park
Ending Point: Plaza Hotel
Map Color: Maroon
What better way to enjoy a run than to enjoy some of NYC's top attractions along the way. This run I put together starts in Battery Park and then makes its way all the way up to the Plaza Hotel nearby Central Park.
Along the way you will pass by the World Trade Center, Washington Square Park, Union Square, Flatiron Building, Madison Square Park, Empire State Building, Bryant Park, New York Public Library, Times Square, Top of the Rock and Rockefeller Center.
Once you arrive at the Plaza hotel, you can even head into Central Park to continue the run if you are up for some more.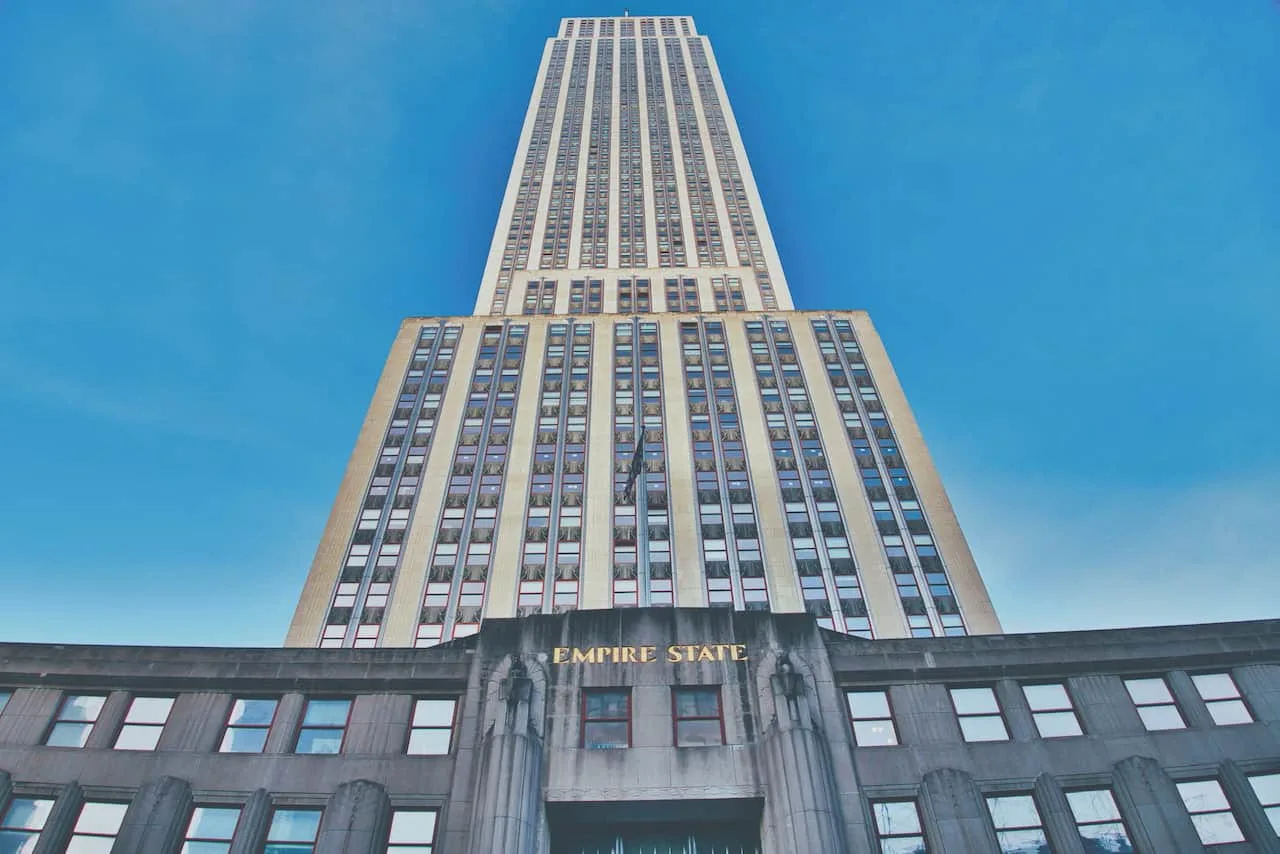 Summer Streets Run
Route Name: Summer Streets Run
Distance: 4.8 Miles
Starting Point: City Hall Park
Ending Point: 72nd Street and 5th Avenue
Map Color: Yellow
Last on the list is the Summer Streets run. Each August for three weekends, Summer Streets takes over nearly 5 miles of streets in Manhattan. That means all those issues I mentioned before just won't exist.
Instead of running on sidewalks, you can run in the streets and not need to worry about much else. The run starts by City Hall Park (Brooklyn Bridge entrance), and heads up Lafayette Street and then Park Avenue all the way to the Central Park entrance on 72nd Street.
If you are in the city for those Summer Streets weekends, then you must take part of this run in the city.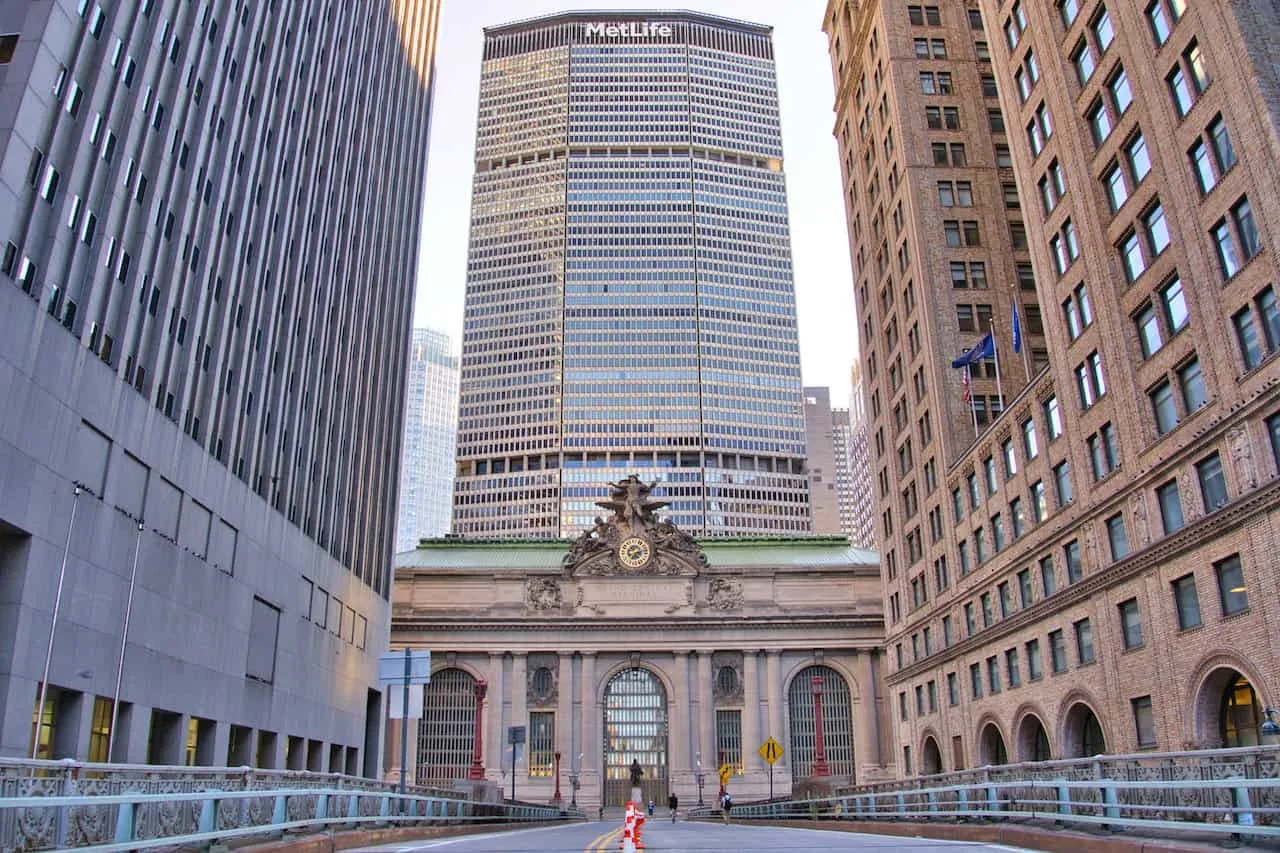 8) Running Routes in NYC FAQs
Below are just a few of the most frequently asked questions when it comes to running routes in NYC.
Where Can I Run Sprints in NYC?
There are many places around the city where you can find some space to run sprints. My top recommendation would be the East River track located on 6th Street. Here you will find a track and soccer field, which should give you plenty of space to run some sprints.
How Can I Run Safely in NYC?
The main way to run safely in NYC is to stick to the river routes and the park routes.
This way you will not need to deal with vehicles and traffic lights as you would within the city. With that said, you still will need to be cautious with other runners, pedestrians and bikes who may be sharing these same paths.
Where Can I Run a 10K in NYC?
There is no better place in NYC to run a 10K than Central Park. A 10K or 6.2 miles can easily be run in Central Park by running around the main full loop, which comes in at nearly the identical length.
Is Central Park Safe to Run?
Overall, yes Central Park is safe to run. To remove as much risk as possible though, I would advise to keep to the running to daylight hours.
The park opens and closes when it is dark out and during these hours it sometimes may not be the safest place. Running after sunrise and before sunset would be my recommendation.
Can You Run All the Way Around Manhattan?
Yes, you certainly can run all the way around Manhattan.
The entire route around Manhattan comes in at around 32 miles and is a mixture of river path running and city running. There is actually an event each year called the Great Saunter that does just that!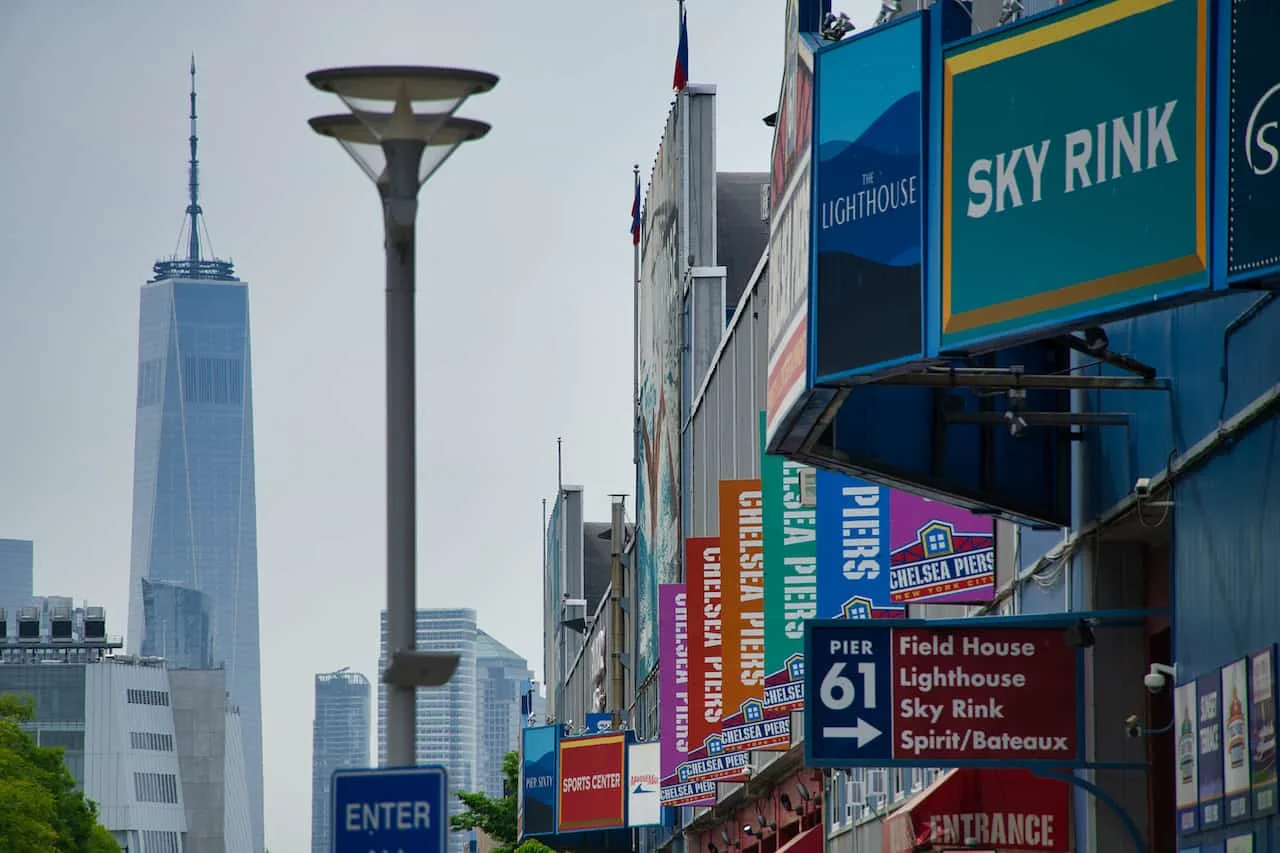 I hope by now you have a better idea on how to enjoy some of the best NYC running routes that the city has to offer. If you have any questions or comments about it all, feel free to add them below.
Also, don't forget to check out the other New York itineraries and guides up on the site.
Have fun out there and safe travels!