Just outside the city life of NYC, you can find various hiking opportunities along the Hudson Valley. One of the top options here is the Storm King Mountain hike coupled with Butter Hill, located 50 miles north of the city.
The circular loop trail will give you some beautiful views of the Hudson River in both directions alongside the hilly and greenery filled landscape.
This guide will go over all you need to know about Storm King Mountain & Butter Hill and what to expect along the way.
* Affiliate Disclosure: This post may contain affiliate links, which means I may receive a commission if you make a purchase through the links provided, at no additional cost to you. Thanks for supporting the work I put into TripTins!
1) How Do You Get to Storm King Mountain From NYC
The first thing you will need to figure out is the logistics of how to actually get to the starting point of the Storm King Mountain hike. There are three main ways to get yourself there from NYC – Car, Metro North, or New Jersey Transit.
By Car | The easiest way to get to Storm King would be driving your own car. The drive from midtown Manhattan takes around 75 minutes and will bring you 55 miles right to the parking lot next to the trailhead.
When searching for the parking lot you can either type in "Storm King State Park parking lot – RTE 9W North, Cornwall-On-Hudson, NY 12520" or the GPS coordinates "41°25'22.8″N 74°00'02.9″W".
The small parking lot is located on the right hand side of the road (if coming from Manhattan) so be on the lookout for the turnoff point as you are approaching. The parking lot can fill up quite quickly on weekends, so if you are looking to drive there, I would recommend an earlier hiking start to the day.
Parking Note: additional overflow roadside parking may or may not be allowed depending on current policies. When I visited, roadside parking was not allowed.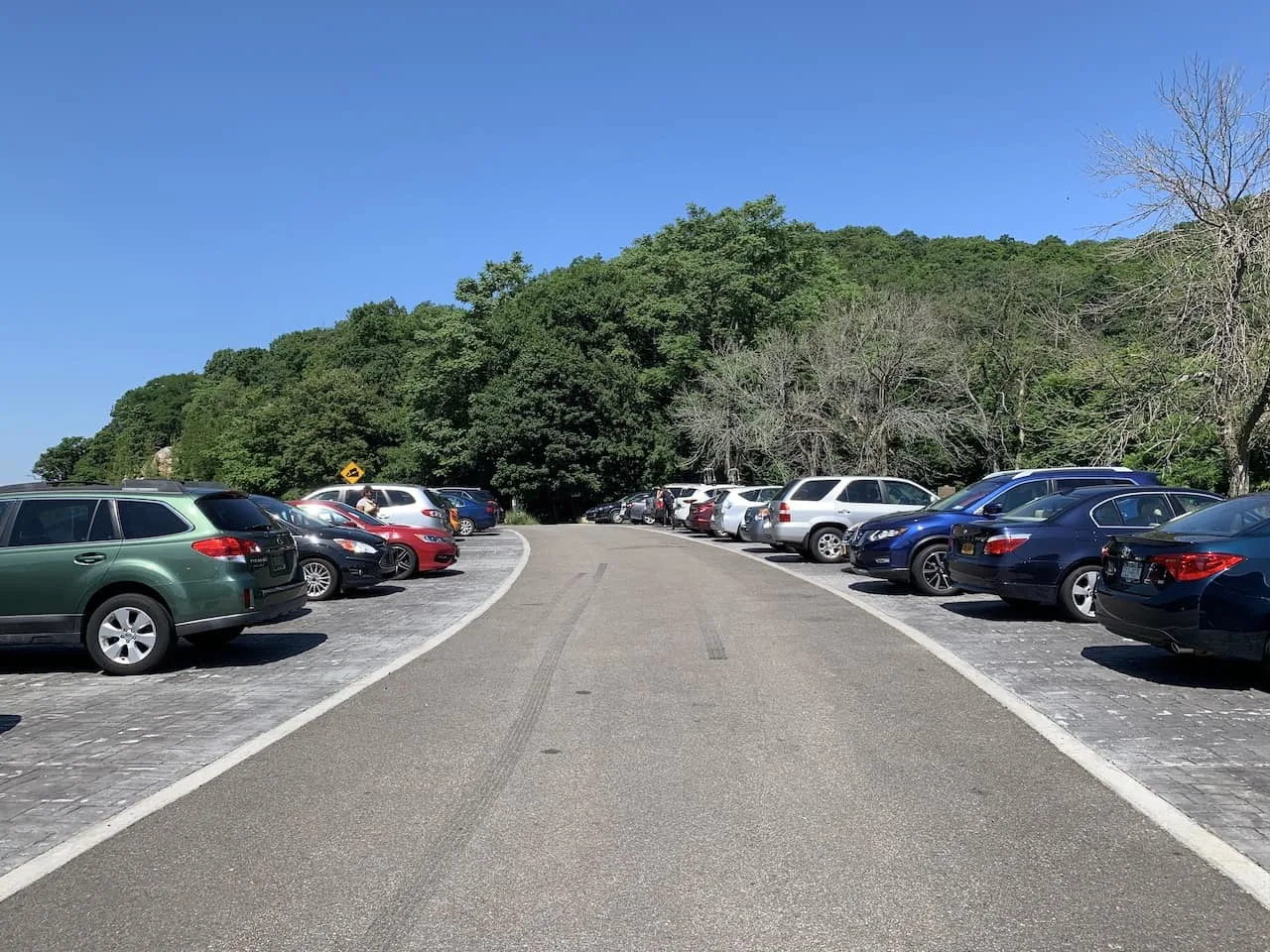 Metro North | If you don't have your own car available, you can also leverage the public transportation system of NYC.
Unfortunately, there isn't a train station within walking distance of the trailhead but you can opt for a Metro North train ride to Cold Spring Station on the Hudson Line (1 hour 20 minutes).
From the station you will still need to take a taxi or Uber to the trailhead (25 minutes). Altogether you are looking at a bit under 2 hours each way.
» Be sure to check out the Metro North train schedules ahead of time
NJ Transit | Your second public transport option is to take the NJ Transit train from Penn Station to Salisbury Mills-Cornwall Station. You will need to make a train switch in Seacaucus to get on the Port Jervis Line.
The train ride will take around 1 hour 45 minutes, and from there is it just a 10 minute taxi / Uber ride to the trailhead. Similar to the Metro North option, you are looking at just around 2 hours each way.
» Be sure to check out the NJ Transit train schedules ahead of time
2) Storm King Mountain Map
Below is a Google Maps view of the parking lot, Cold Spring Station, and Salisbury Mills-Cornwall Station to give you a bit better idea of where everything is located.
Additional Nearby Hikes: just across the river from Storm King is Breakneck Ridge, another beautiful but more demanding hiking opportunity, as well as Bull Hill and Mount Beacon.
A bit south of Storm King you will find Bear Mountain, where on a clear day you can see all the way to NYC, as well as Anthony's Nose & Popolopen Torne! Check out those hiking guides to learn more.
3) What to Bring on the Trail
Hiking Packing List

In general when it comes to hiking, there are a few main aspects to consider. These includes clothing layers, hiking shoes, hydration & fuel, electronics, and other essentials.

Below in a breakdown of some of the top items, but be sure to check out the Hiking Packing List for a more comprehensive view.

Clothing Layers

Layering is going to be a top consideration when hiking. You will want to be prepared for all sorts of weather so you can be comfortable in different situations. Some items may include:

→ Hiking Shorts
→ Hiking Pants
→ Short Sleeve Shirt
→ Long Sleeve Shirt / Sun Hoodie
→ Mid Layer Fleece
→ Puff Jacket (not always needed)
→ Packable Rain Jacket (Columbia Watertight II)

Note that your layers should be made of moisture wicking material as they are breathable and quick drying.

Footwear

Having appropriate footwear will also be very important. You will want to have shoes with the necessary grip and support to keep you safe on the trail.

→ Hiking Shoes (Keen Targhee)
→ Hiking Socks (Darn Tough)

Other Essentials

Whether it is hiking gear, electronics, or just some miscellaneous items, here are some other essentials to bring along on hikes.

→ Hiking Backpack (Osprey Talon 22) & Rain Cover (Joy Walker Cover)
→ Hiking Poles (Black Diamond Trekking Poles)
→ Water Bottle (CamelBak Chute or Katadyn Filter Bottle)
→ Portable Charger (Anker PowerCore 5000mAh)
→ Action Camera (GoPro Hero)
→ Energy Bars & Snacks
→ Hat & Sunglasses
→ Sunscreen & Bug Spray
4) Storm King Trail Map
There are two main options to choose from when hiking Storm King Mountain and Butter Hill – the short loop and the long loop.
Below is a bit more detail on both those options as well as a third option that combines a short section of the long loop with the short loop.
Short Loop: You have the shorter loop option, which heads up Butter Hill and Storm King, before looping around on the By Pass Trail.
Distance: 2.5 miles | 4 kilometers
Elevation Gain: 650 feet | 200 meters
Duration: 2 Hours
Trail Markers: Orange to Blue/Yellow to White
Long Loop: The second option is to head on the longer loop, which follows the same route as the short route until the By Pass trail. Instead of heading directly back to the parking lot (to your right), you can head to the left.
Here you will pass by some additional viewpoints of the Hudson, head into the forest, and eventually get back to Butter Hill before heading to the parking lot.
Distance: 3.7 miles | 6 kilometers
Elevation Gain: 1,160 feet | 350 meters
Duration: 3.5 Hours
Trail Markers: Orange to Blue/Yellow to Blue/Red to Blue/Yellow to Orange
Short/Long Loop Mix: If you are leaning towards the short loop, you can still make your way for just a few minutes on the long loop.
Here you can get some beautiful additional views of the Hudson River, before turning back around and continuing on the By Pass Trail.
It probably will add just another 5-10 minutes of hiking but you will get to take in some views that you otherwise would not have been able to see on the short loop only.
Below is an image I put together with the 3 different options – top left is a blank map with the hiking trails outlined.
Top right is the long loop option. Bottom left is the short loop option. and bottom right is the short loop option with the additional viewpoints.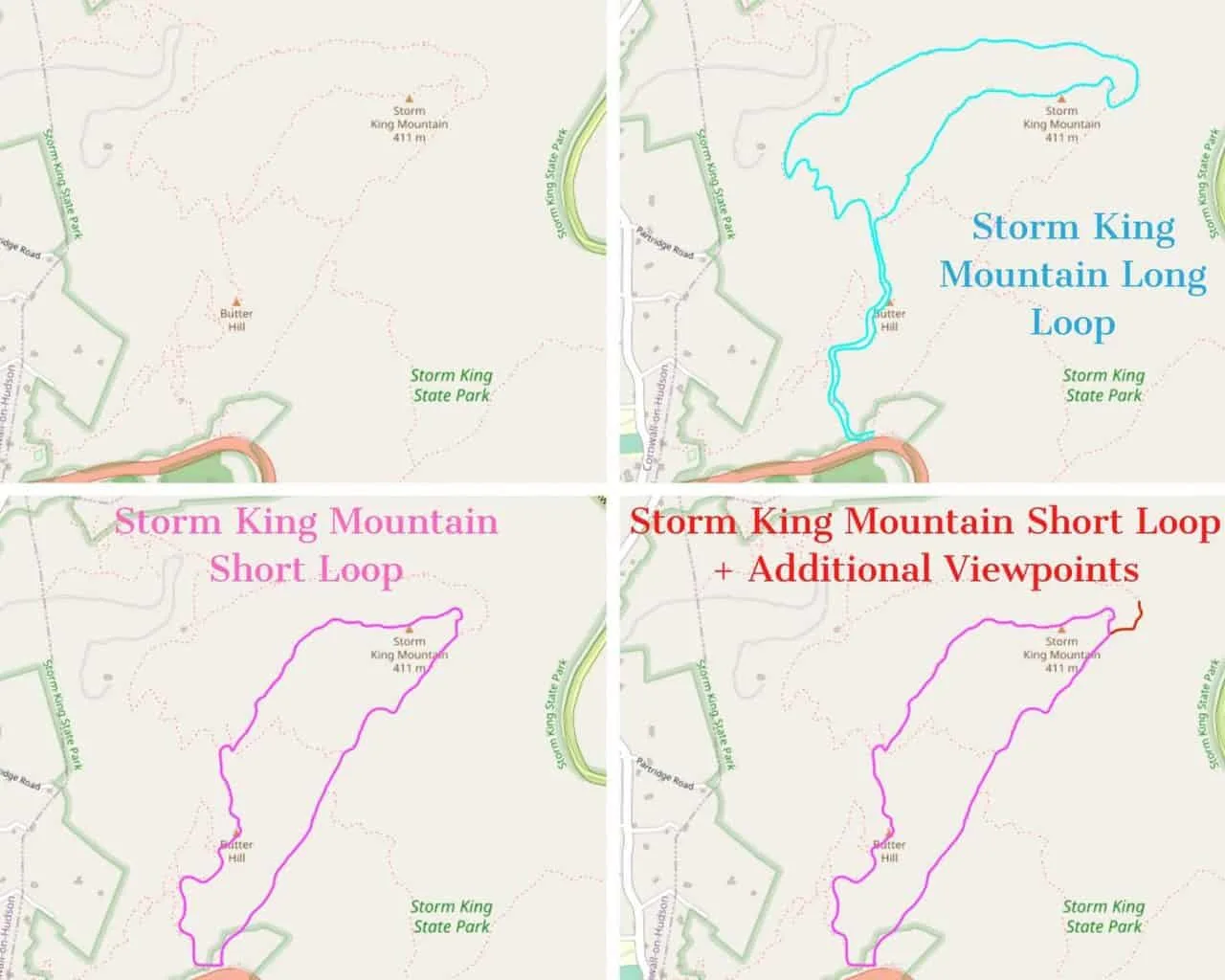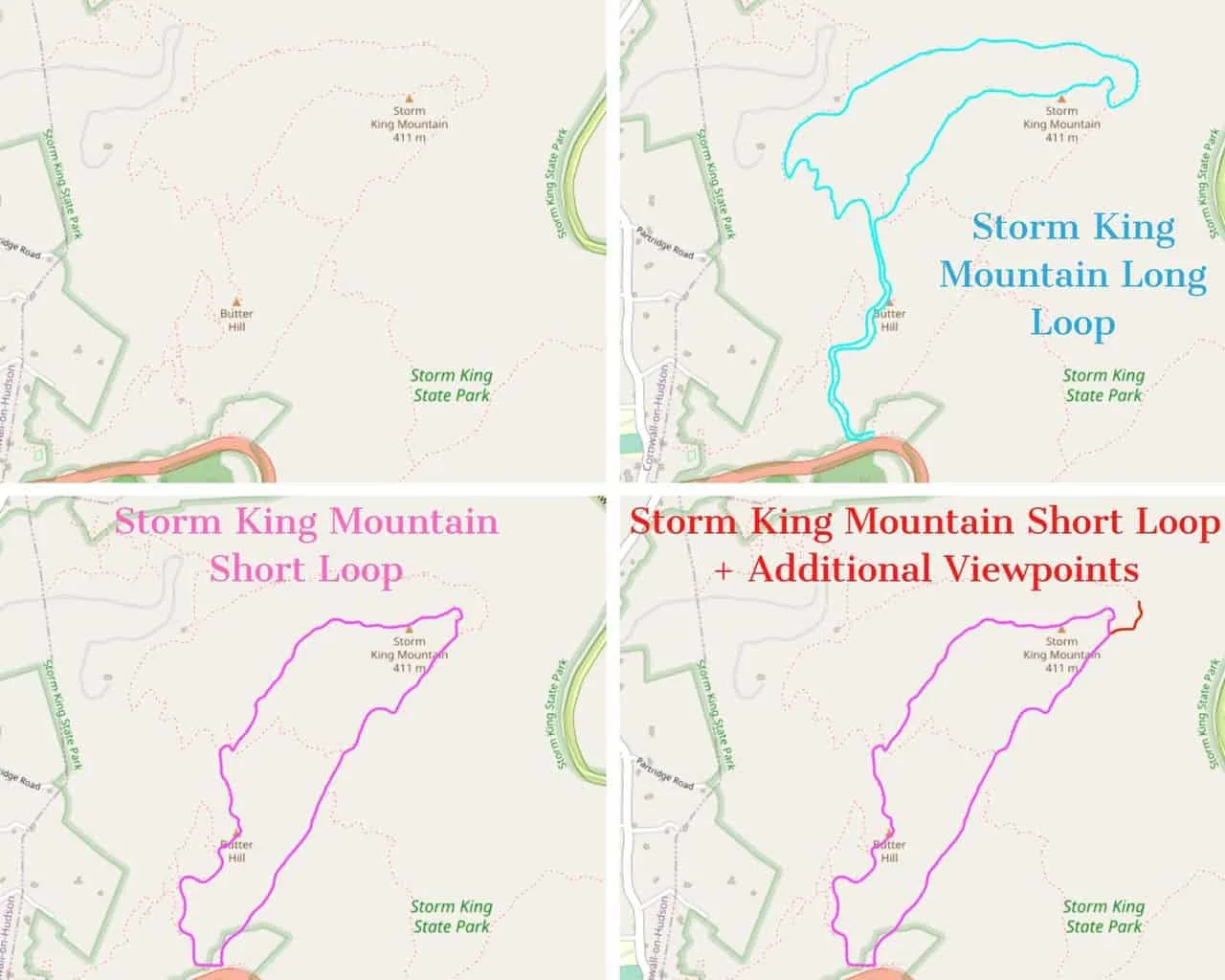 5) The Storm King Mountain Hike
IMPORTANT NOTE: THERE ARE SEVERAL POINTS DURING THE HIKE, WHERE YOU WILL SEE TRAILS HEADING OUT IN MULTIPLE DIRECTIONS. IF YOU FOLLOW THE GUIDE BELOW AND PAY ATTENTION ON THE TRAIL, YOU SHOULD HAVE NO TROUBLE GETTING YOURSELF IN THE RIGHT DIRECTION.
I WOULD ALSO RECOMMEND DOWNLOADING THE MAPS.ME APP WHICH CAN HELP DIRECT YOU IN CASE YOU FIND YOURSELF UNSURE OF WHICH DIRECTION TO GO.
After parking your car and getting a nice stretch in, it is time to make your way up on the Storm King Mountain and Butter Hill trail.
Immediately after passing by the trailhead information board and map, you will come across the first intersection – stay to the LEFT here and follow the ORANGE trail markers.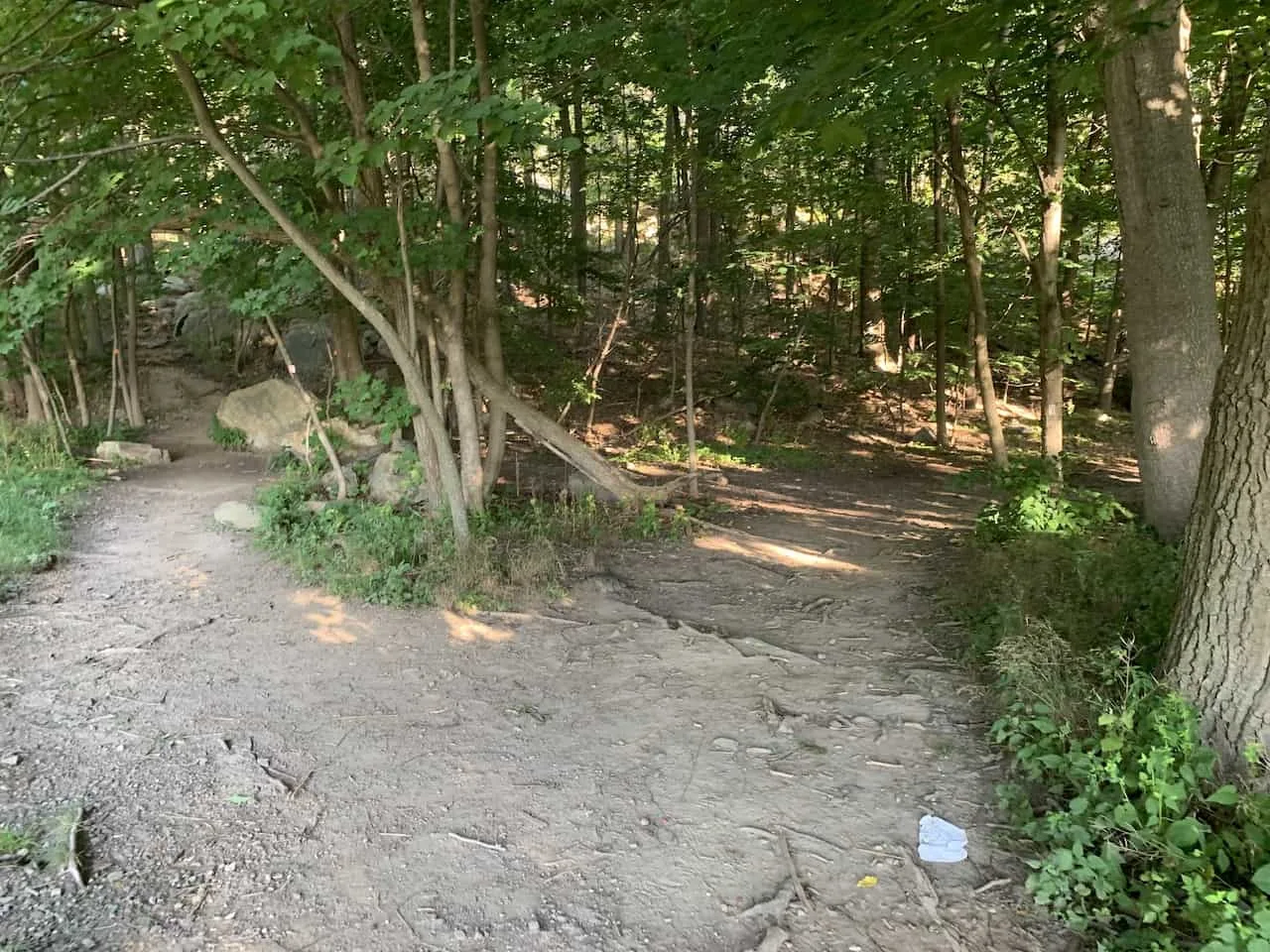 The trail will immediately begin to gain elevation as you head up a terrain mixture of dirt and rocks. Watch your step along the way since the rocks can be uneven and slippery in places.
You will continue to follow the orange markers, which will be found both on the trees and on the actual rocks themselves.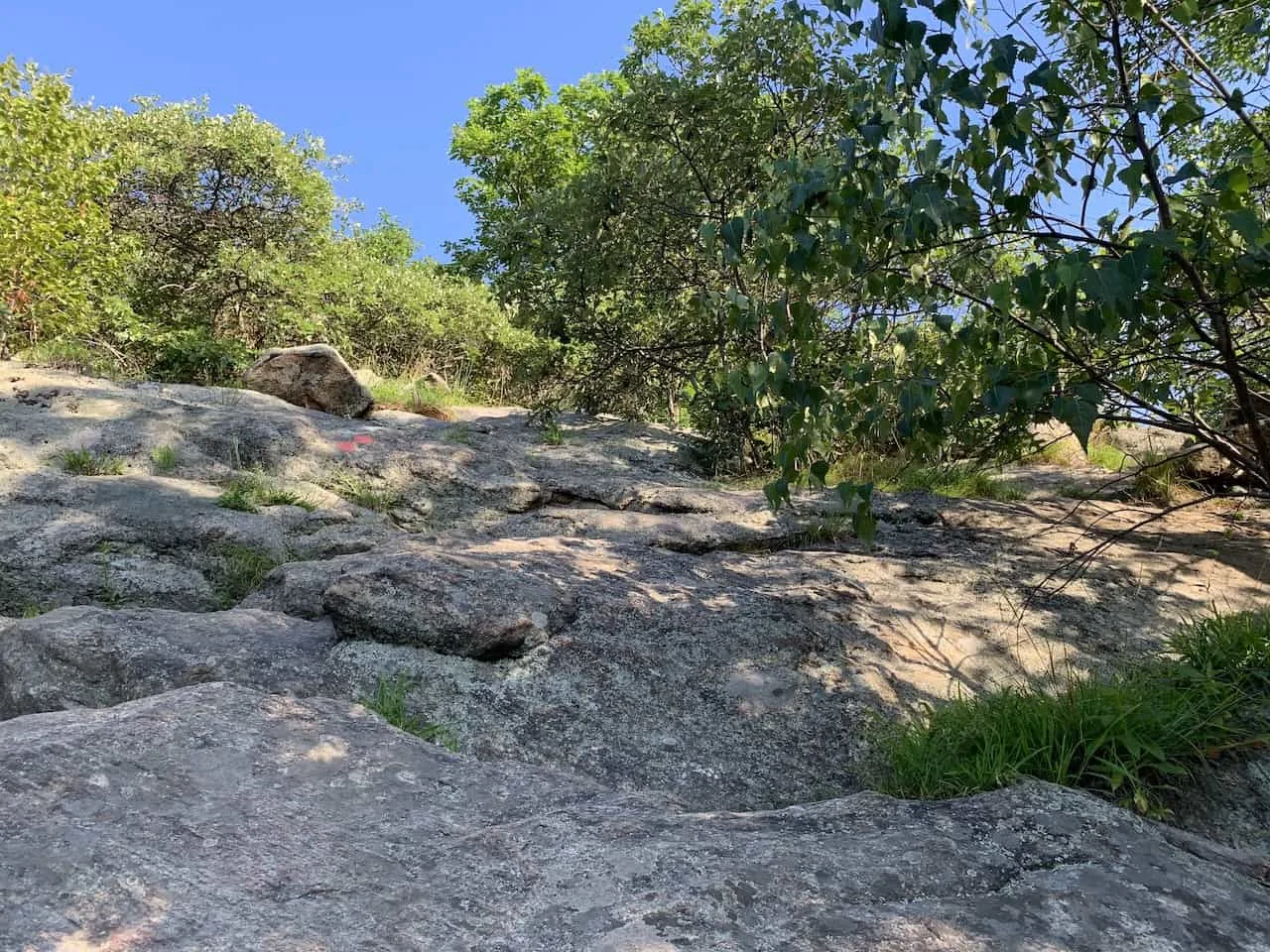 Soon enough, you will come across your first viewpoints of the surrounding landscape. You will get a glimpse of Hudson River as well as the vast greenery out in front of you.
You will then pass in between these two stone structures and will want to stay to your RIGHT as head into the forest. Here you will just need to keep note of those orange trail markers that will be on several trees along the way.
The trail does get a bit tricky from time to time as you not only gain elevation, but you also are dealing with even more uneven and rocky terrain to climb through.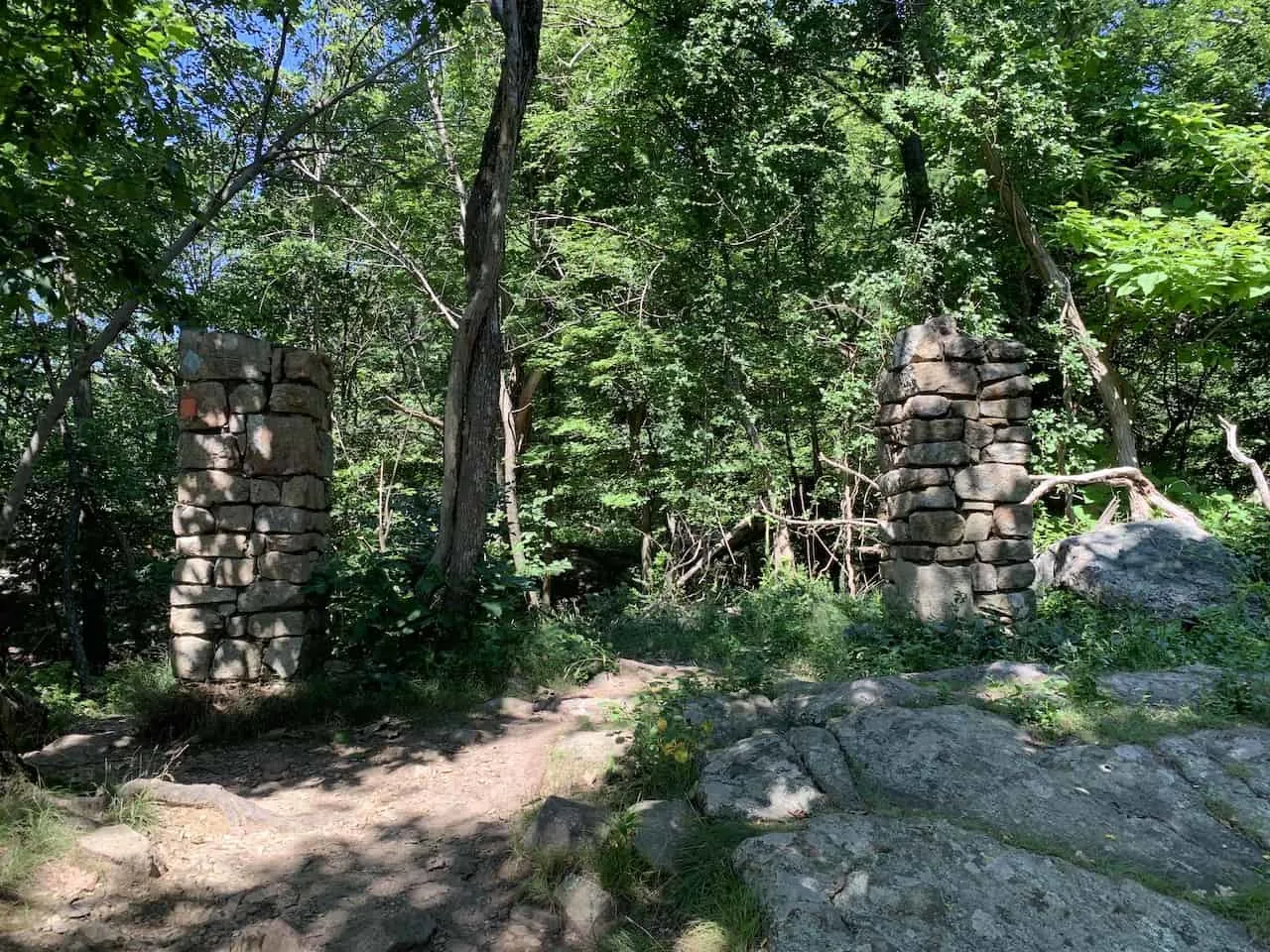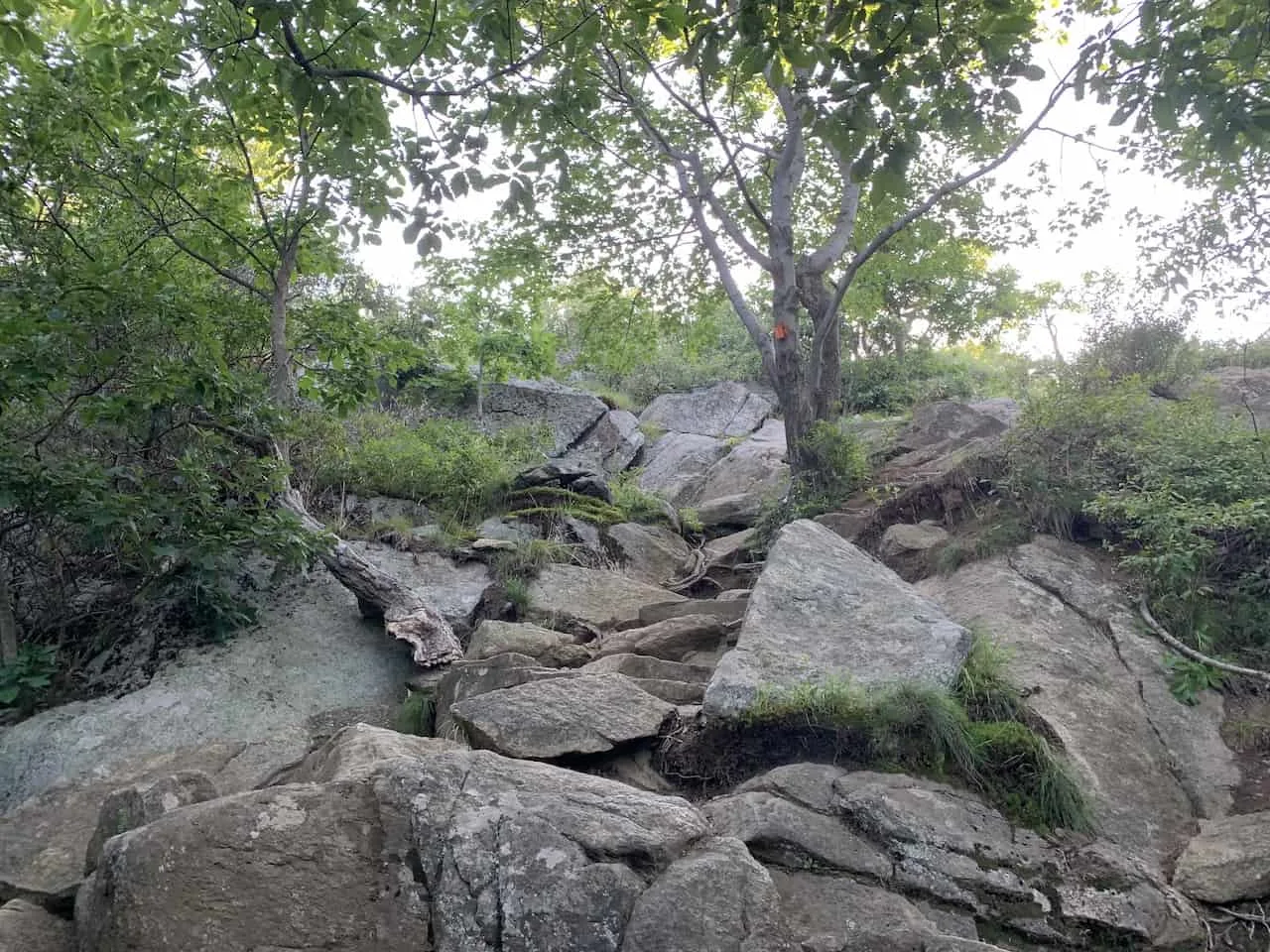 After some of that technical hiking, you will be rewarded with some top notch views of the surrounding landscape. Here you can take a quick break before continuing on with the trail.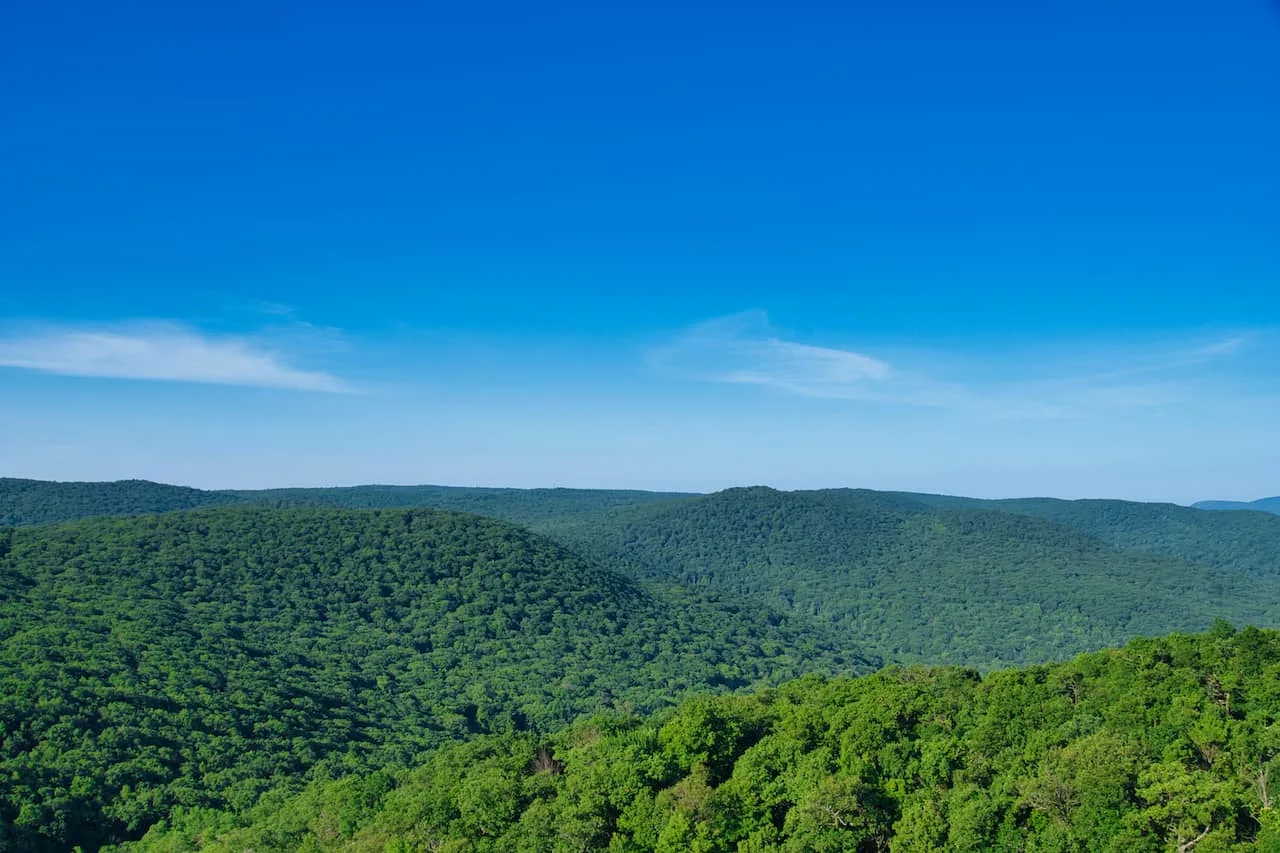 You soon will come across a very important intersection, where you certainly do not want to make the incorrect turn.
In front of you will be a tree with 3 orange markers and just behind that will be a tree with blue and yellow markers.
From this point you will want to go RIGHT and follow the BLUE and YELLOW markers. Do not go left at this intersection, or else you will just loop right back down the trail.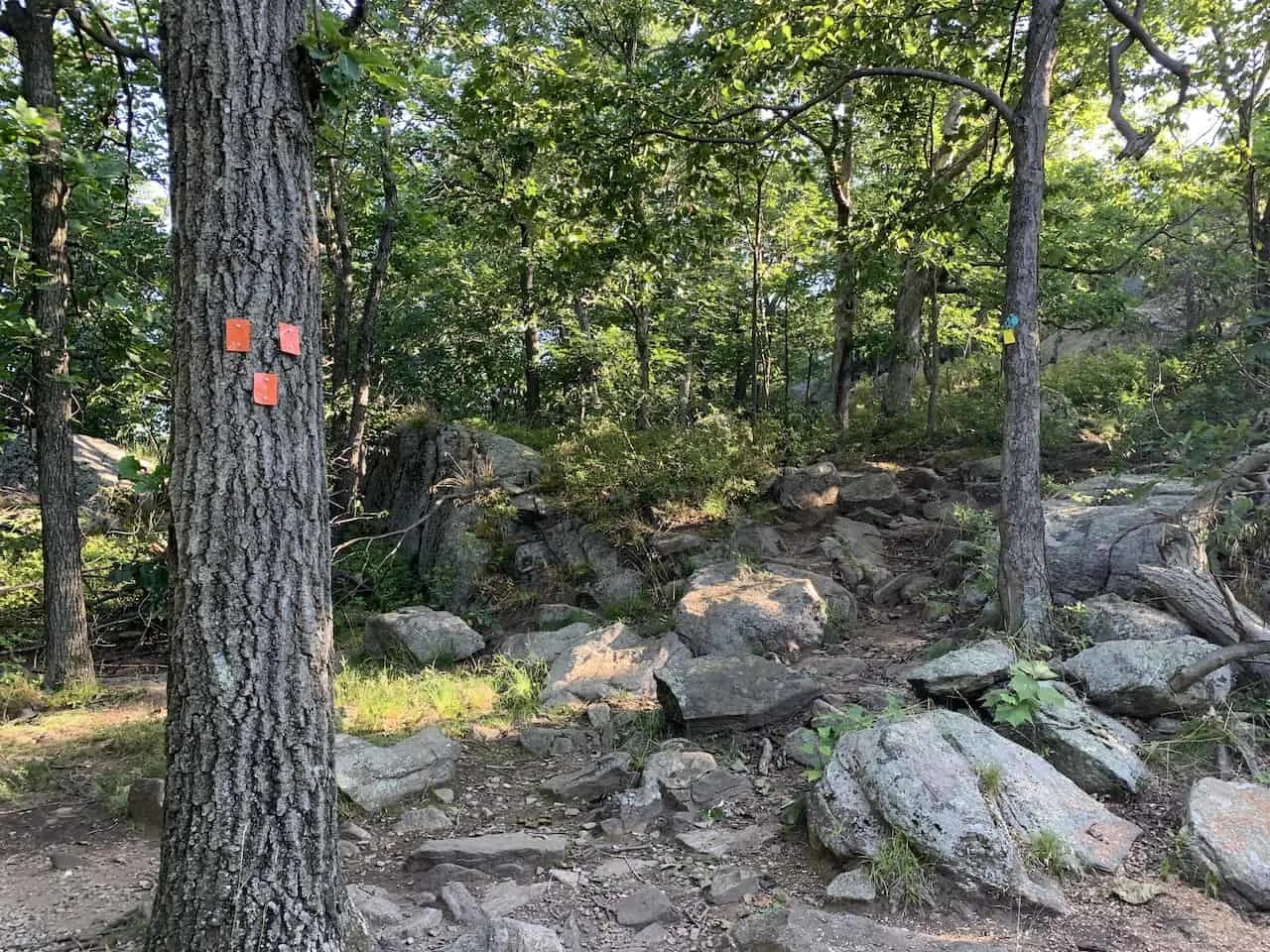 As you follow the blue and yellow markers to the right, you will slowly be approaching the Butter Hill summit. Just before the summit you will be welcomed to some beautiful views of the Hudson and the forest all around you.
Tip: Most of the expansive views from Butter Hill will be just prior to reaching the summit, not necessarily from the summit itself, however there is a short "hidden" pathway from the summit that takes you to a quiet lookout spot.
As you are making your way along the summit, this will be on your right hand side. If you have the Maps.me app open, you will be able to pinpoint the quick turnoff.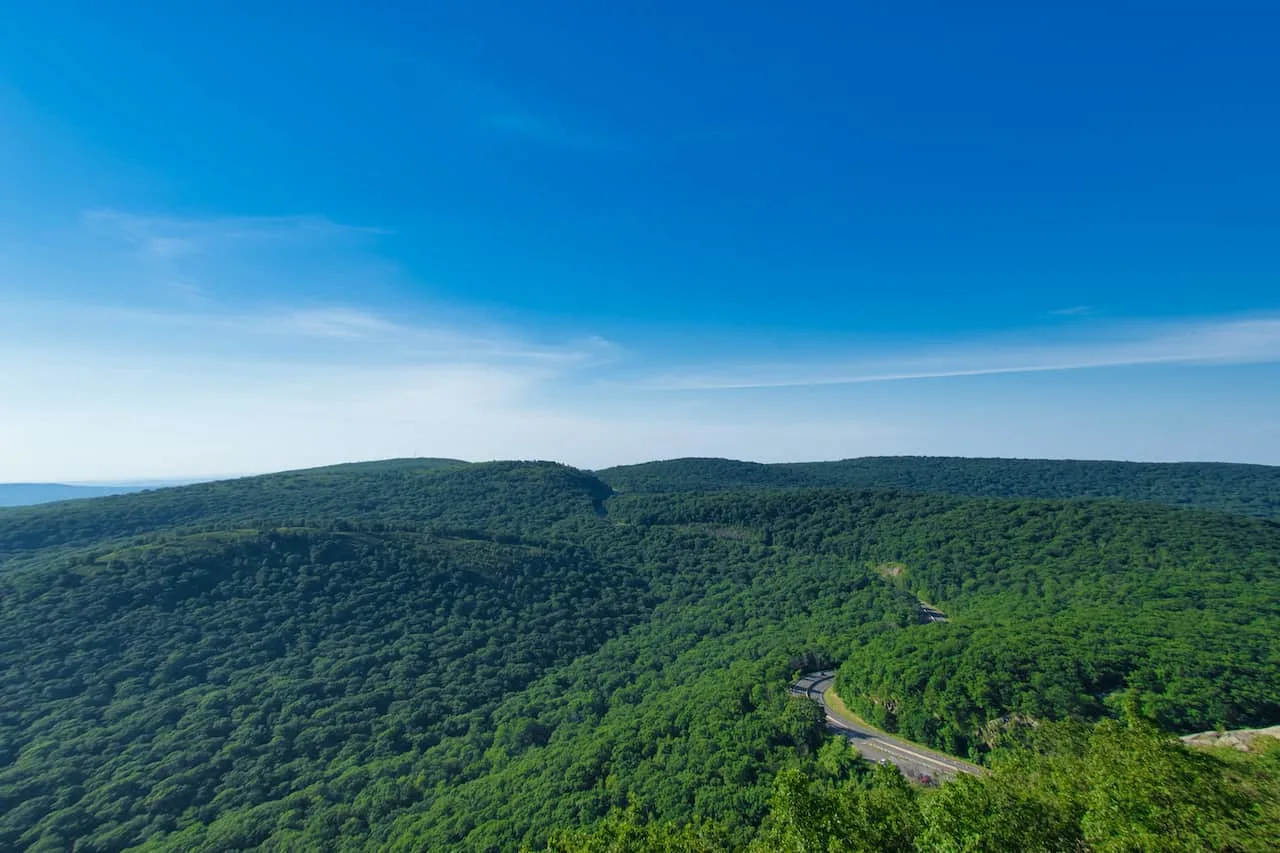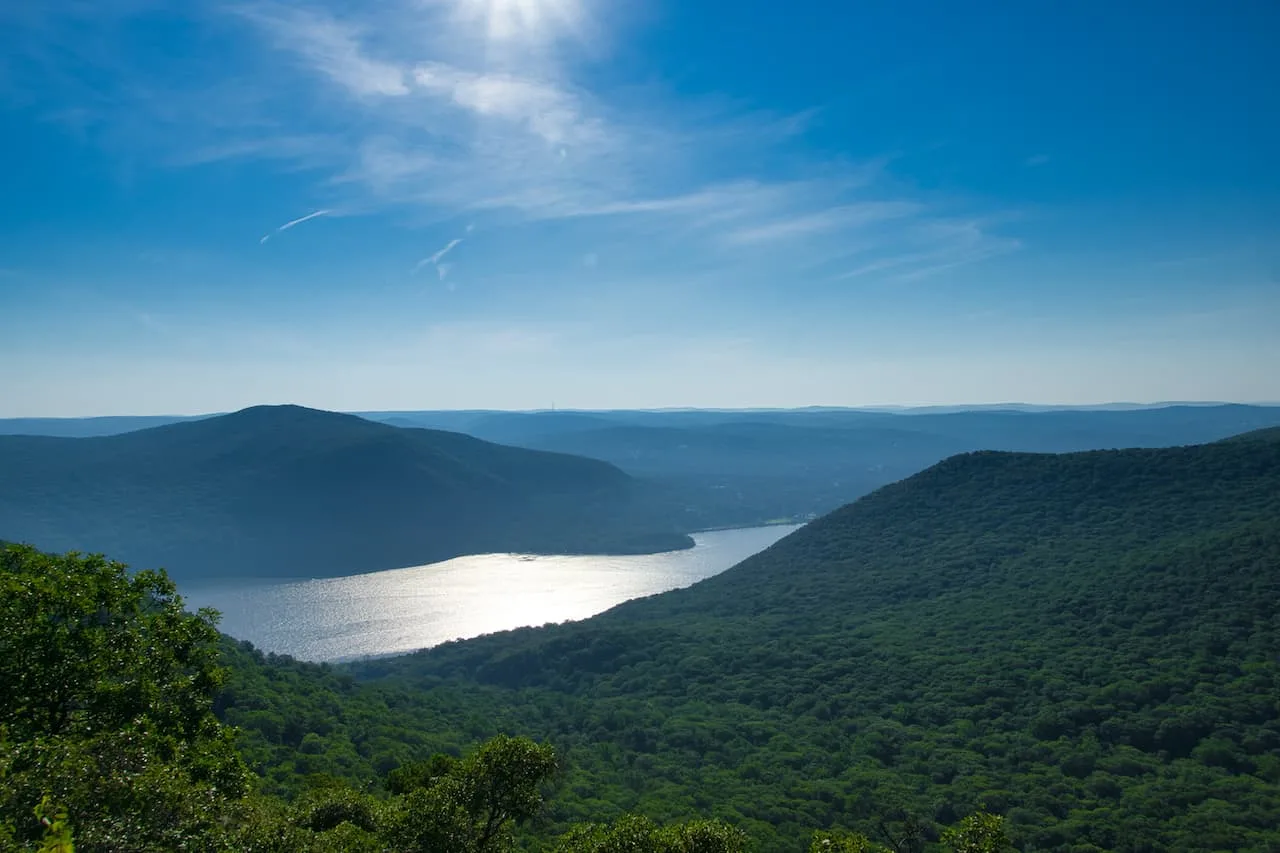 After leaving the Butter Hill summit, you will continue along the yellow/blue marked path through the forest and will soon reach yet another intersection.
Here you will need to continue following the blue and yellow trail markers.
You will see off to your left blue and red trail markers but do not follow that path. The path to the left is where you will come from on the way back if opting for the long loop option.
As you can see in the image below, the yellow and blue markers are on the tree. Just beyond the tree you can see a couple people heading up the correct path. This is the way you must go here!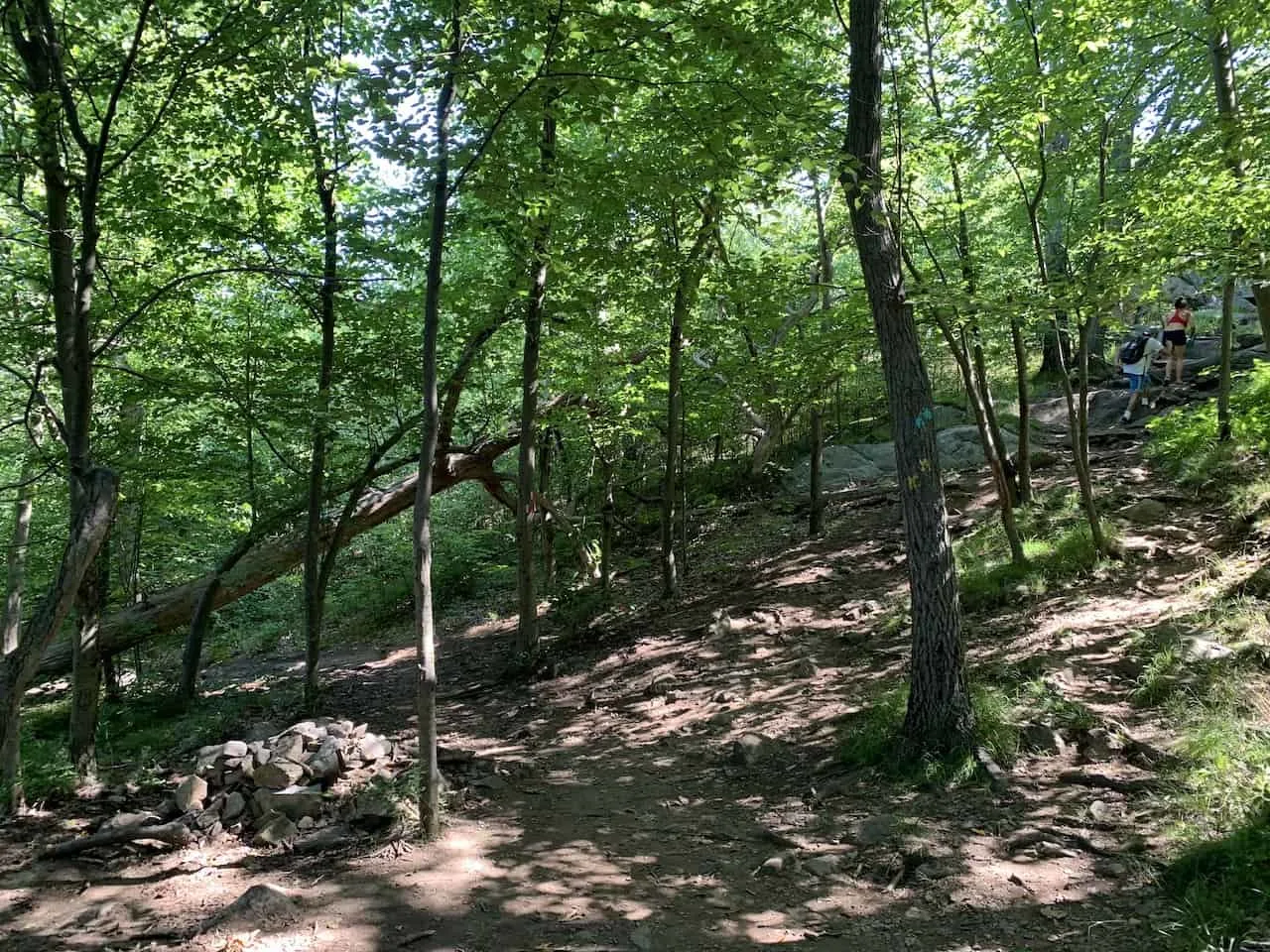 Just a minute or two after following the blue and yellow markers, you will come to yet another intersection seen in the photo below.
On the right you will have a tree marked with 3 blue markers and 2 yellow markers, and on the left will be a tree with 2 blue markers. Stay to the LEFT here following the tree with the two blue markers.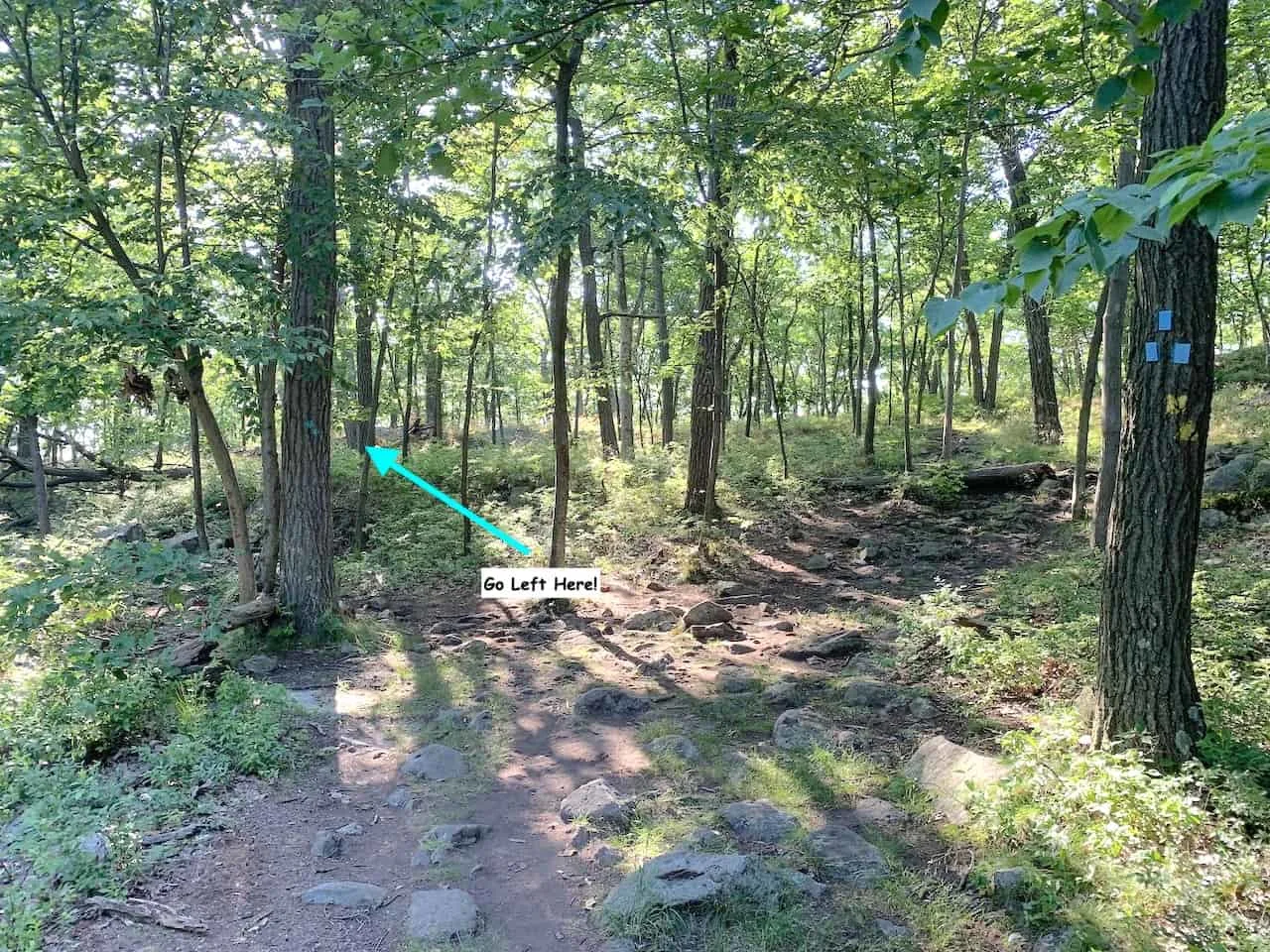 From here it is a simple 20 or so minute path to follow as you make your way through the trees and towards the top of Storm King Mountain and the best lookout point of the hike.
Once you reach this lookout spot you will be welcomed to stunning views of the Hudson River, Hudson Highlands State Park, the small Pollepel Island down below, and the Newburgh Beacon Bridge further out in the distance.
Take as much time as you would like to just sit back and enjoy the view.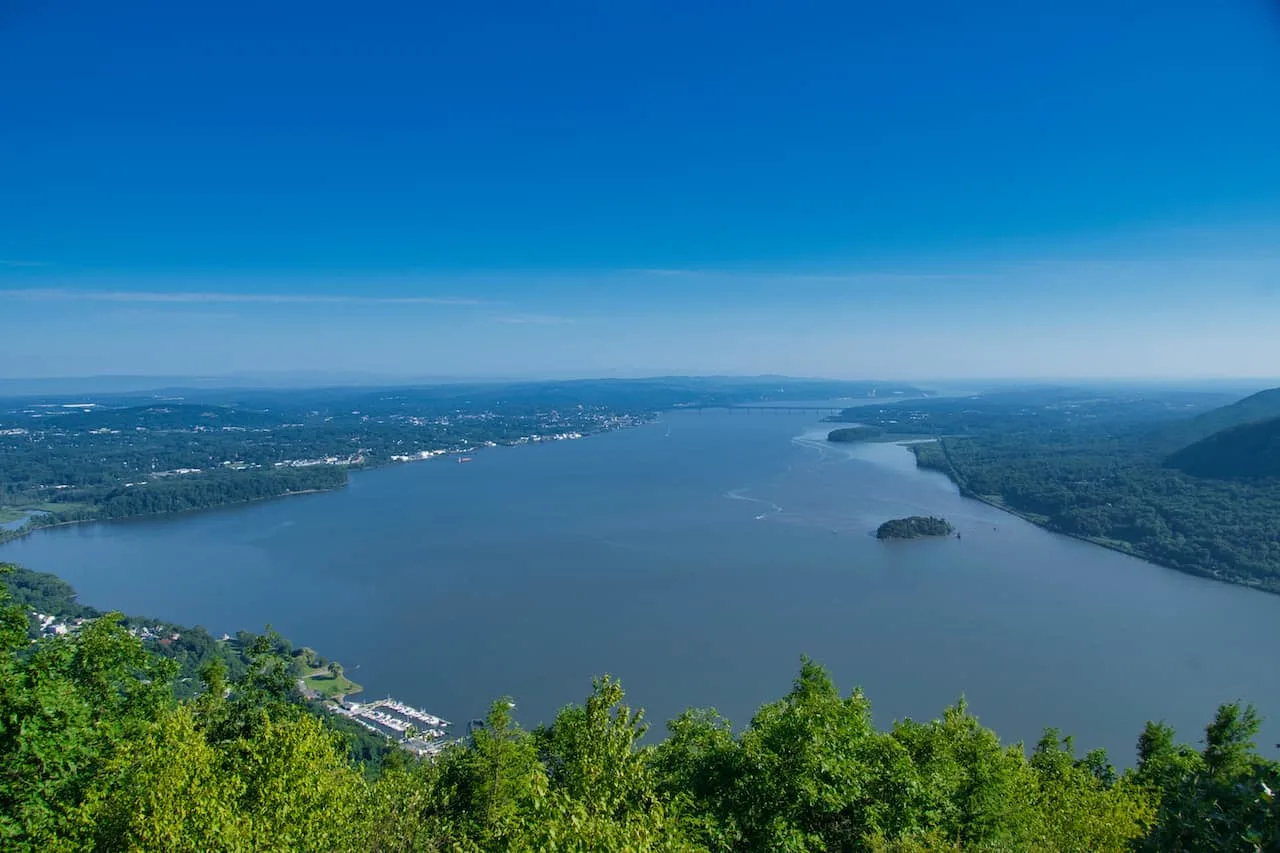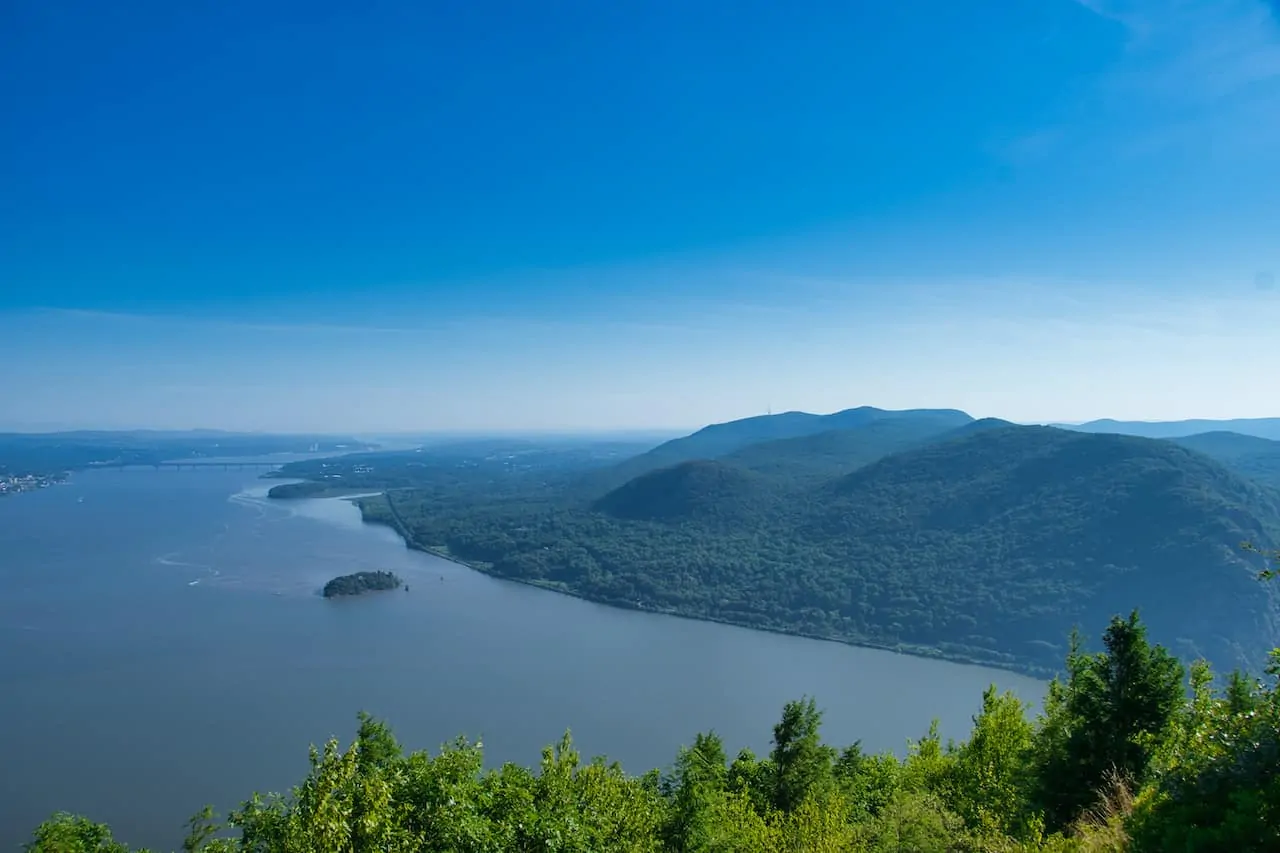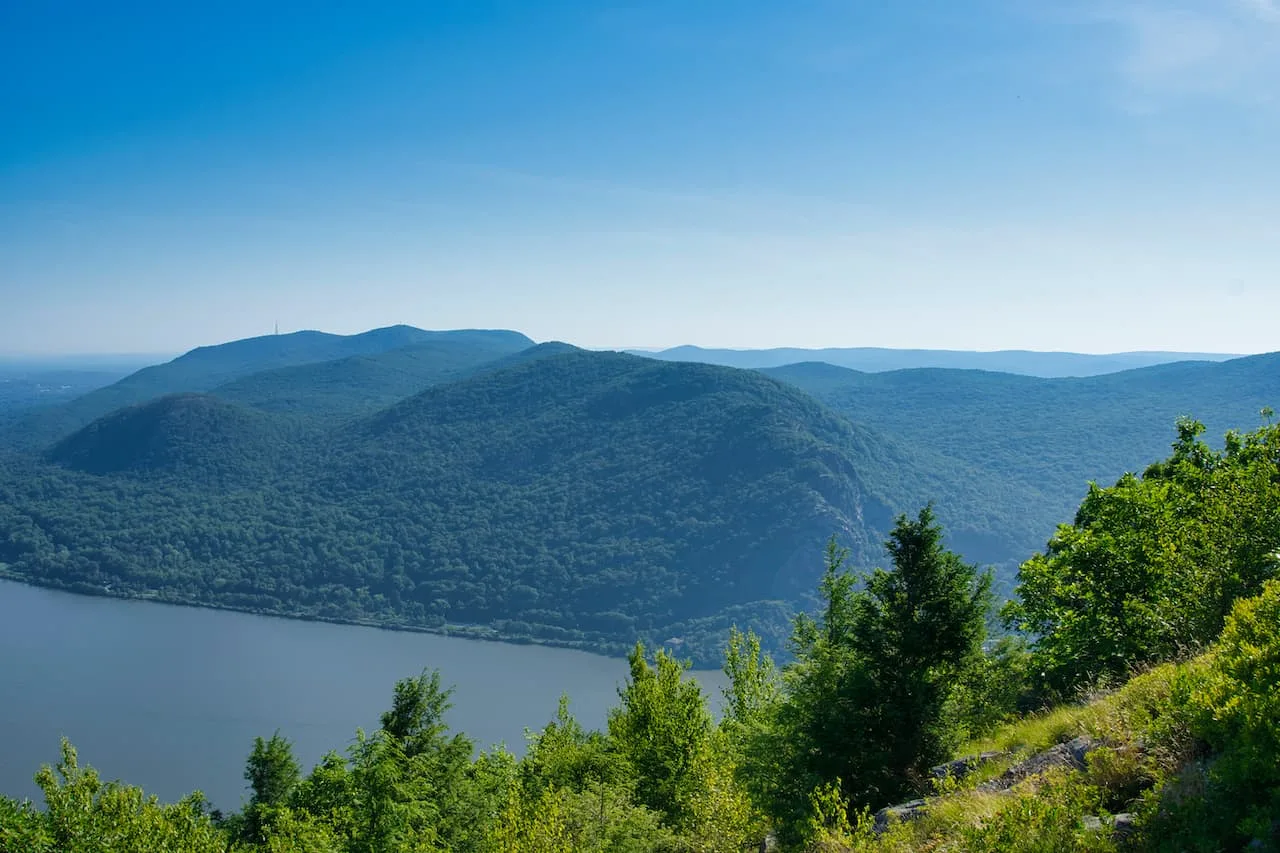 It is now time to continue on with the trail so follow along those blue and yellow markers until you reach an intersection, where you will need to go right on the short loop trail back to the parking lot (white trail markers) or left on the long loop trail (blue/yellow trail markers).
As I mentioned earlier on, even if you opt for the short hike, I would highly advise to go left for a few minutes until you come across some more views of the Hudson River. Instead of the views up north, these views will be looking south.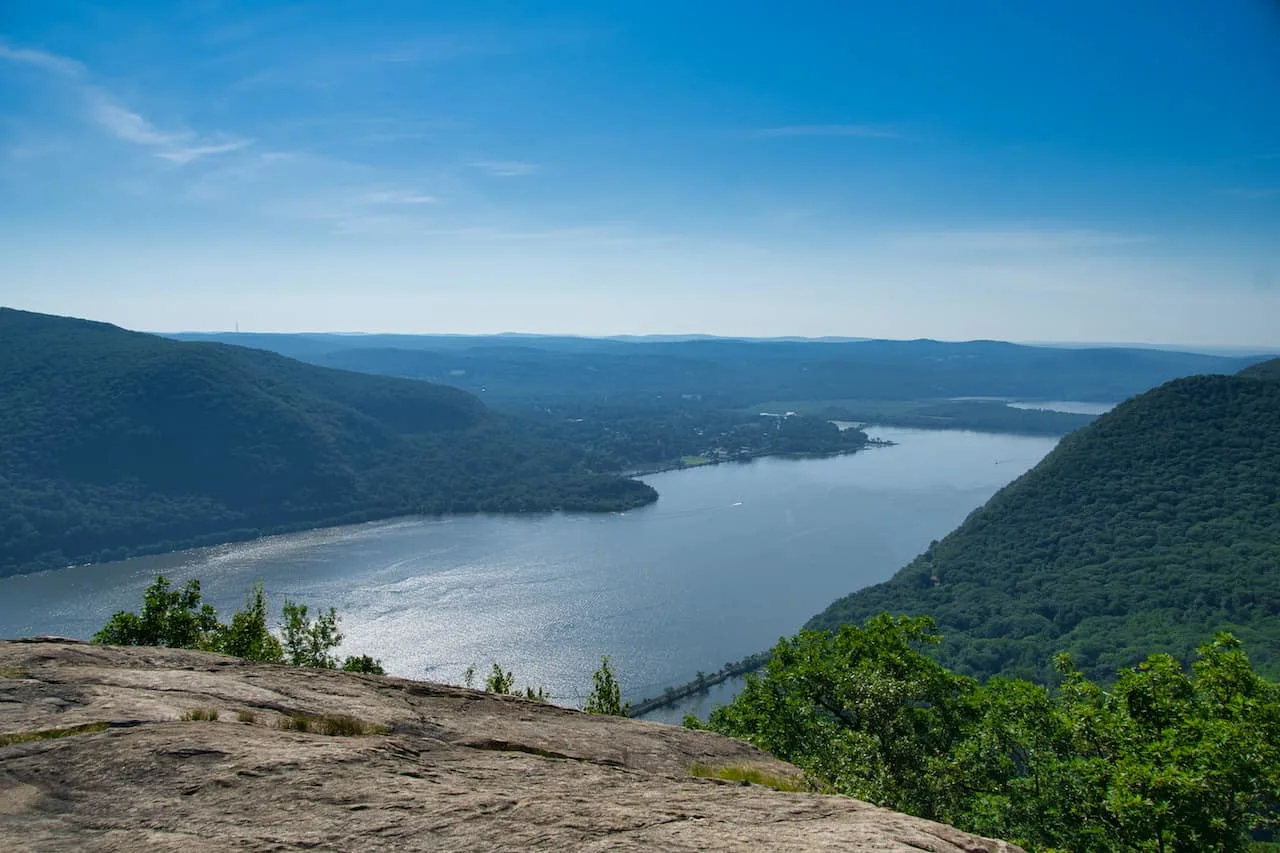 After enjoying those new you can now head back to the parking lot. If choosing the short loop trail, you will want to backtrack a few minutes to the intersection and then continue along the white trail markers (By Pass Trail) that will take you straight down to the parking lot.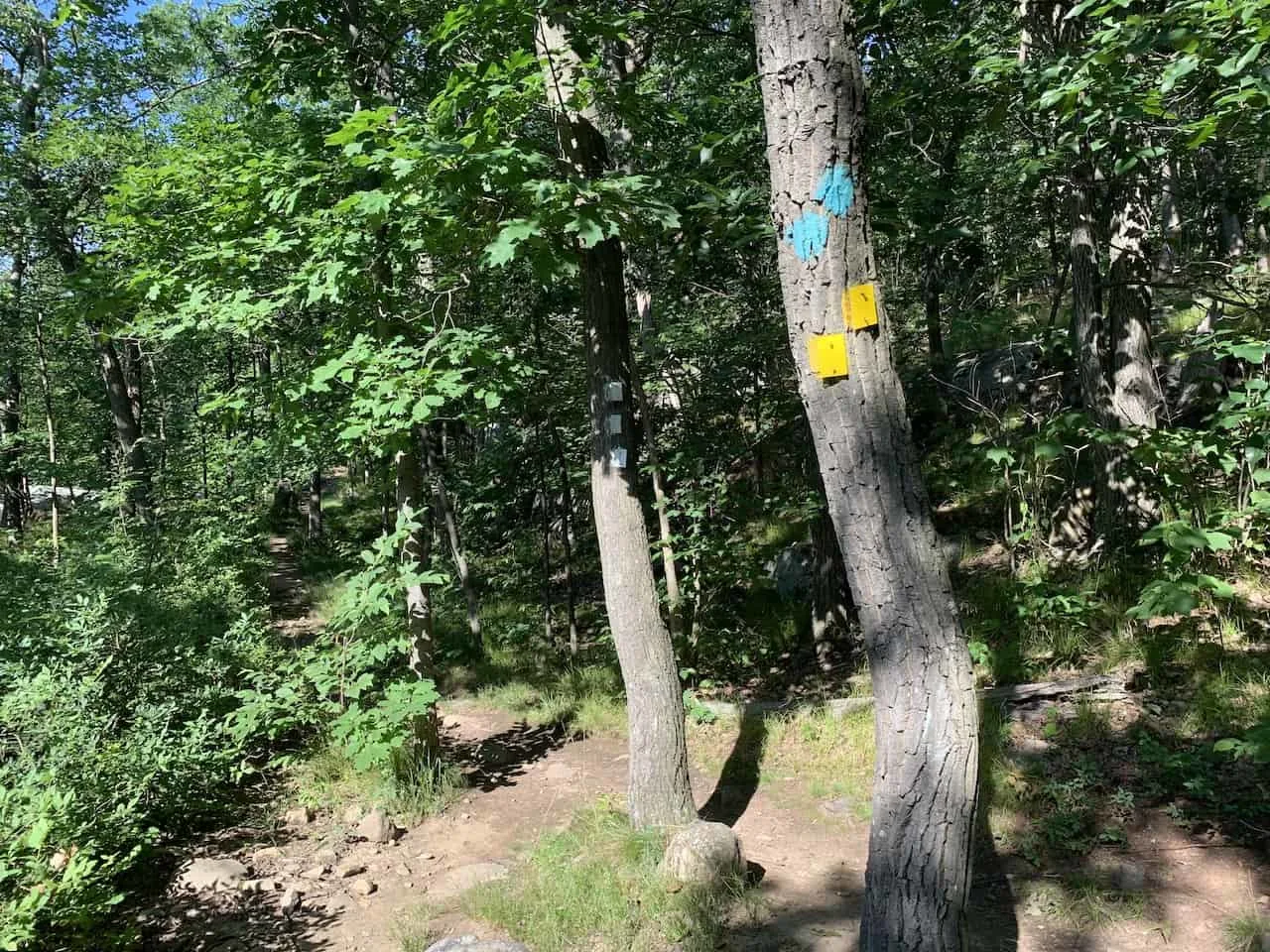 6) Long Loop Extension
On the other hand, if you would like to continue the on the longer loop, you will just want to follow those blue and yellow trail markers counter clockwise around the mountain.
The route here will mostly be through the forest as you lose some elevation and get a few views of the Hudson River peeking through the trees. The route will continue on for a little while before you reach an intersection where you will see the blue and red trail markers to your left.
Follow these new markers as you now will be heading uphill and regaining much of the elevation from before. You will eventually meet back up with one of the intersections mentioned earlier on in the guide. From this point you will just need to follow the same route you took up the trail.
You will once again make your way across Butter Hill, passing by several more viewpoint spots and ultimately back down to the parking lot area.
This longer loop option is great for those that want to spend more time hiking, get some additional viewpoints in, and head across Butter Hill for a second time. While it does add time and elevation gain to your overall day, it is a great option for those who are interested.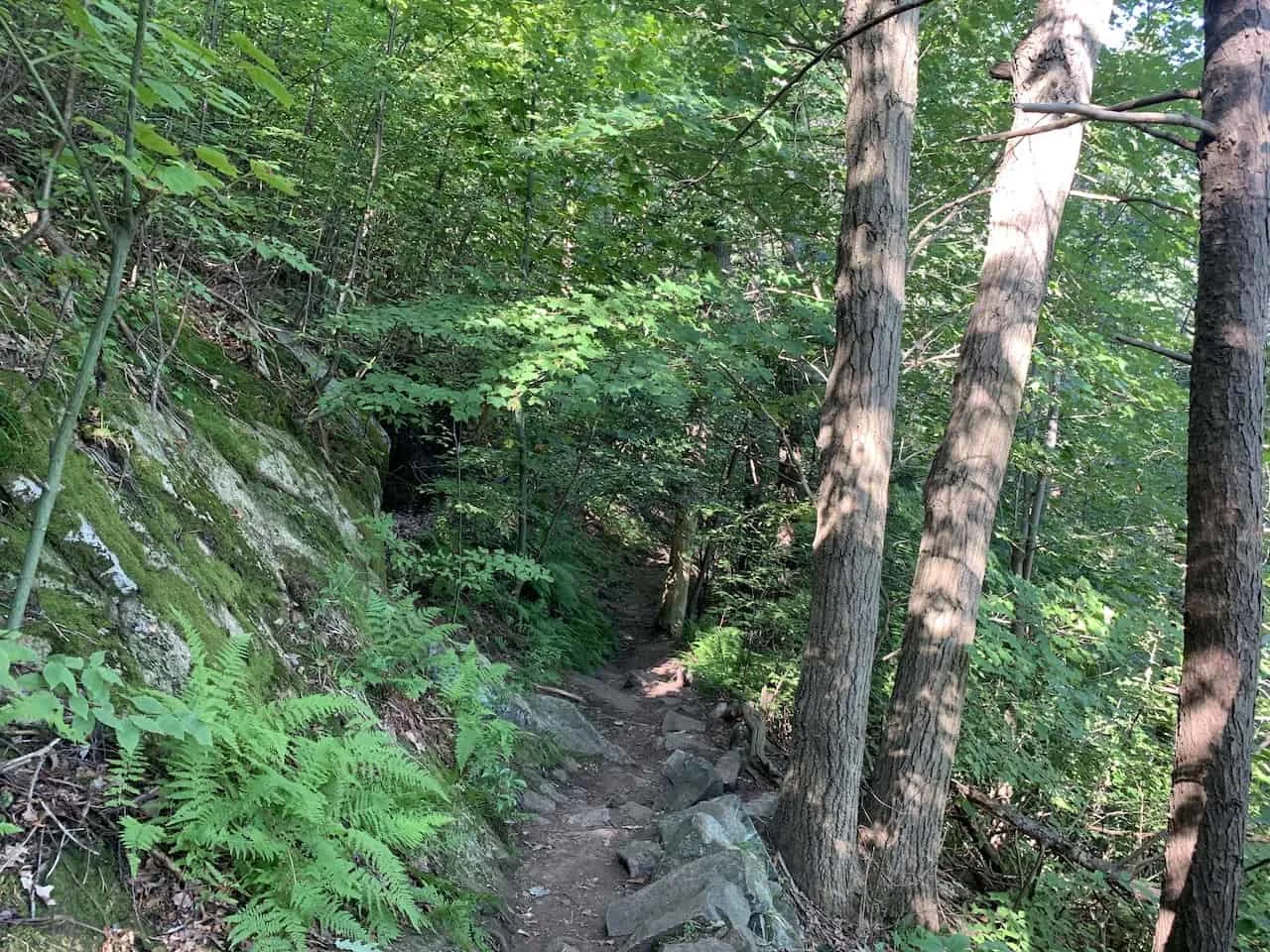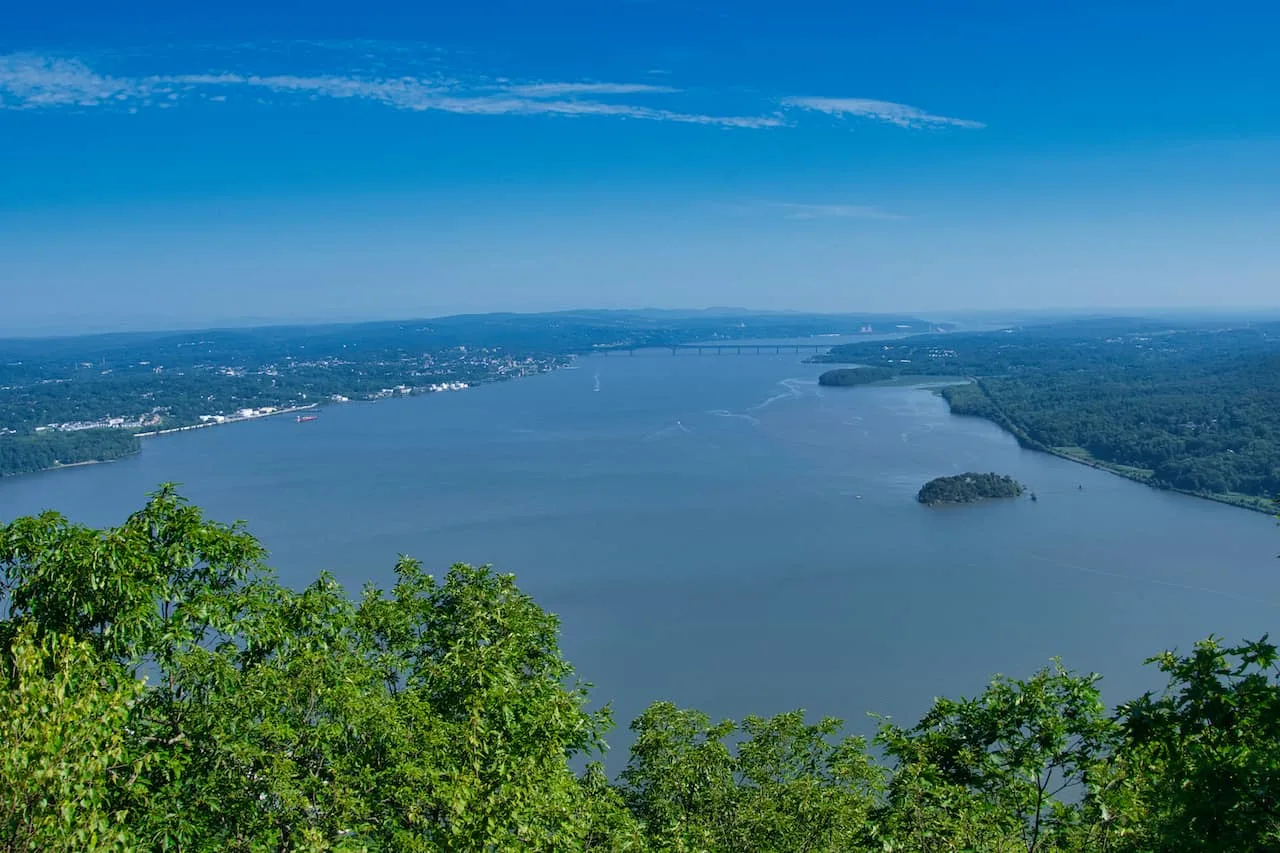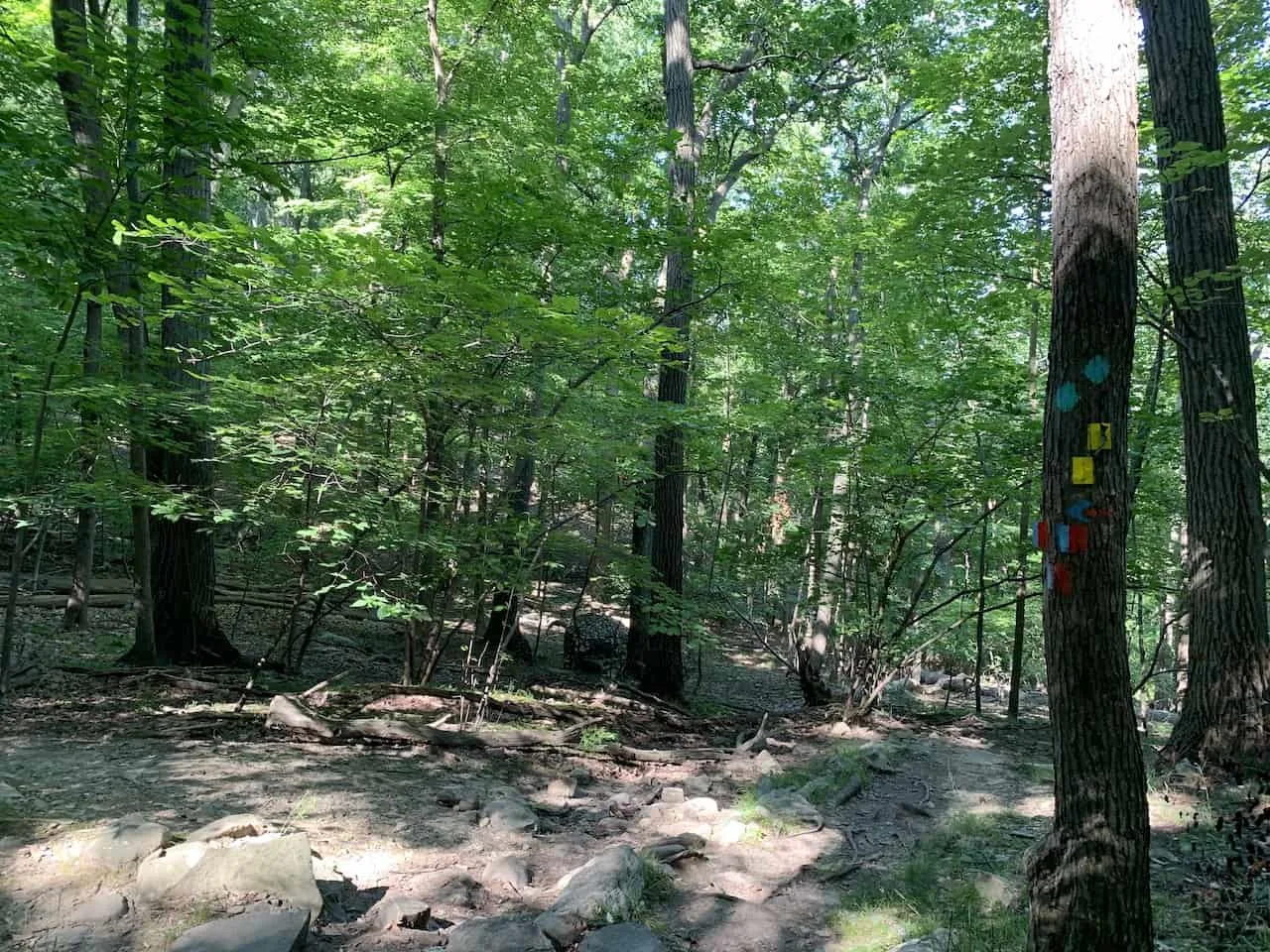 I hope this guide has given you a better sense of what the Storm King Mountain and Butter Hill hike is all about, and how to prepare yourself for the climb.
If you have any questions or comments, feel free to add them in below. Have fun out there and safe travels!