Are you planning a trip to the Big Apple and are looking for some cool New York City hotels to choose from? Well, you have come to the right place!
This list with go over some of the best of the best when it comes to the most cool, fun & unique hotel offerings in NYC.
From glamping experiences and rooftop pools to artsy vibes and nightlife energy, there are a whole array of hotels to choose from when visiting the city.
Read on to learn more about these hotel options & to pick one that works best for you.
* Affiliate Disclosure: This post may contain affiliate links, which means I may receive a commission if you make a purchase through the links provided, at no additional cost to you. Thanks for supporting the work I put into TripTins!
Top Picks
Looking for the top choices? The below three hotels are some top picks when it comes to cool & fun hotels in New York City. Check out the remainder of the list for more!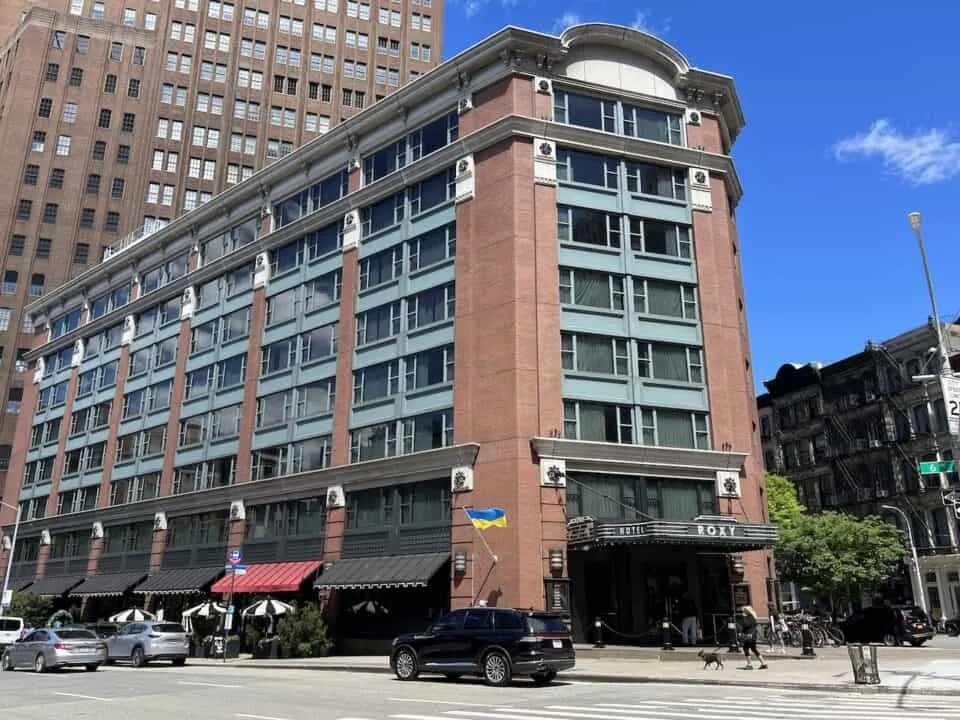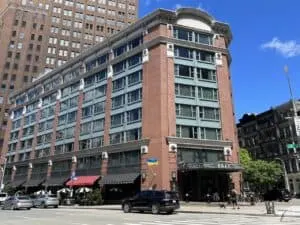 Roxy Tribeca
Whether it is the onsite movie theater, music friendly jazz bar, or lively lobby atrium, the Roxy Tribeca is one hotel that offers it all.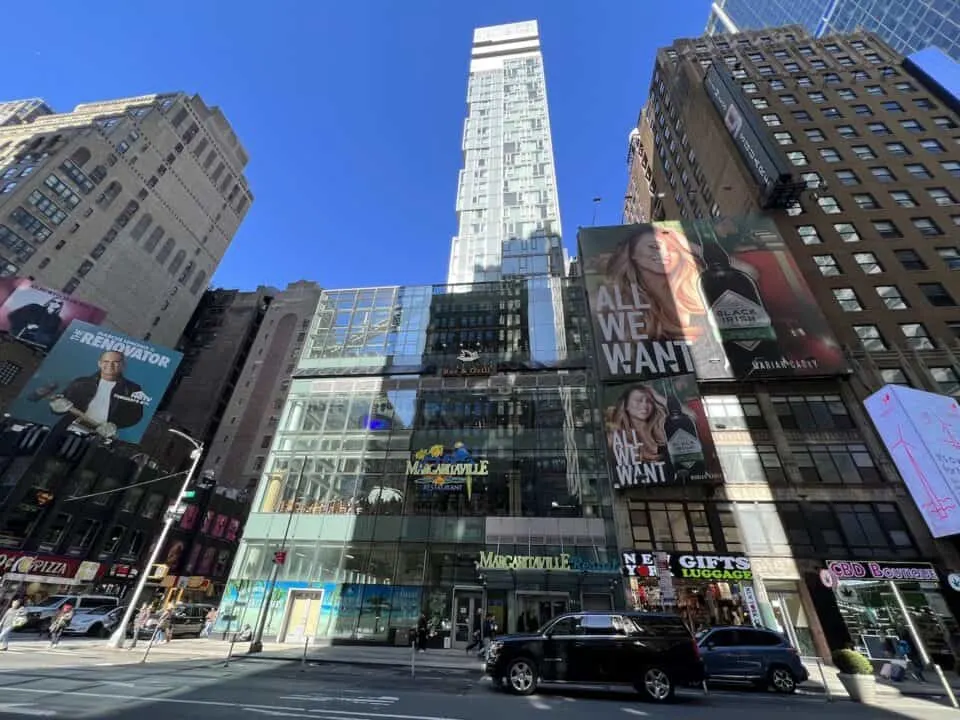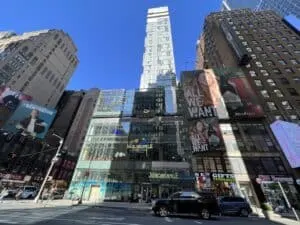 Margaritaville Times Square
If you are looking for a fun time, Margaritaville in Times Square has it all. The pool, the bars, the vibes, and plenty more.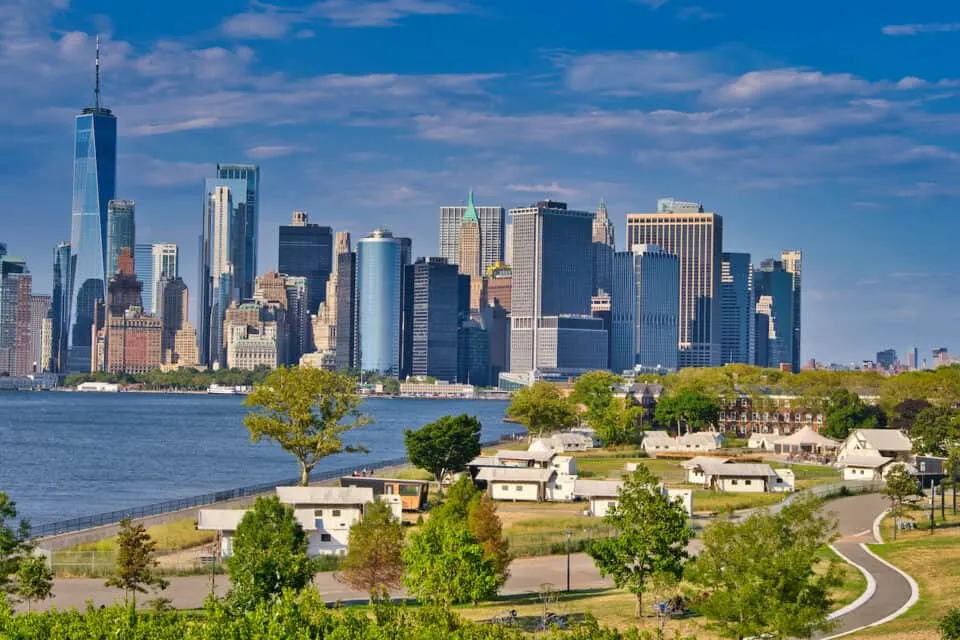 Collective Retreats
What better way to experience NYC than by taking part of a glamping experience at Collective Retreats on Governors Island.
Cool New York City Hotels List
Throughout the remainder of this overview, I will be diving deeper into the below hotels. Each one of these is unique in its own right, so feel free to book one that you can relate to most!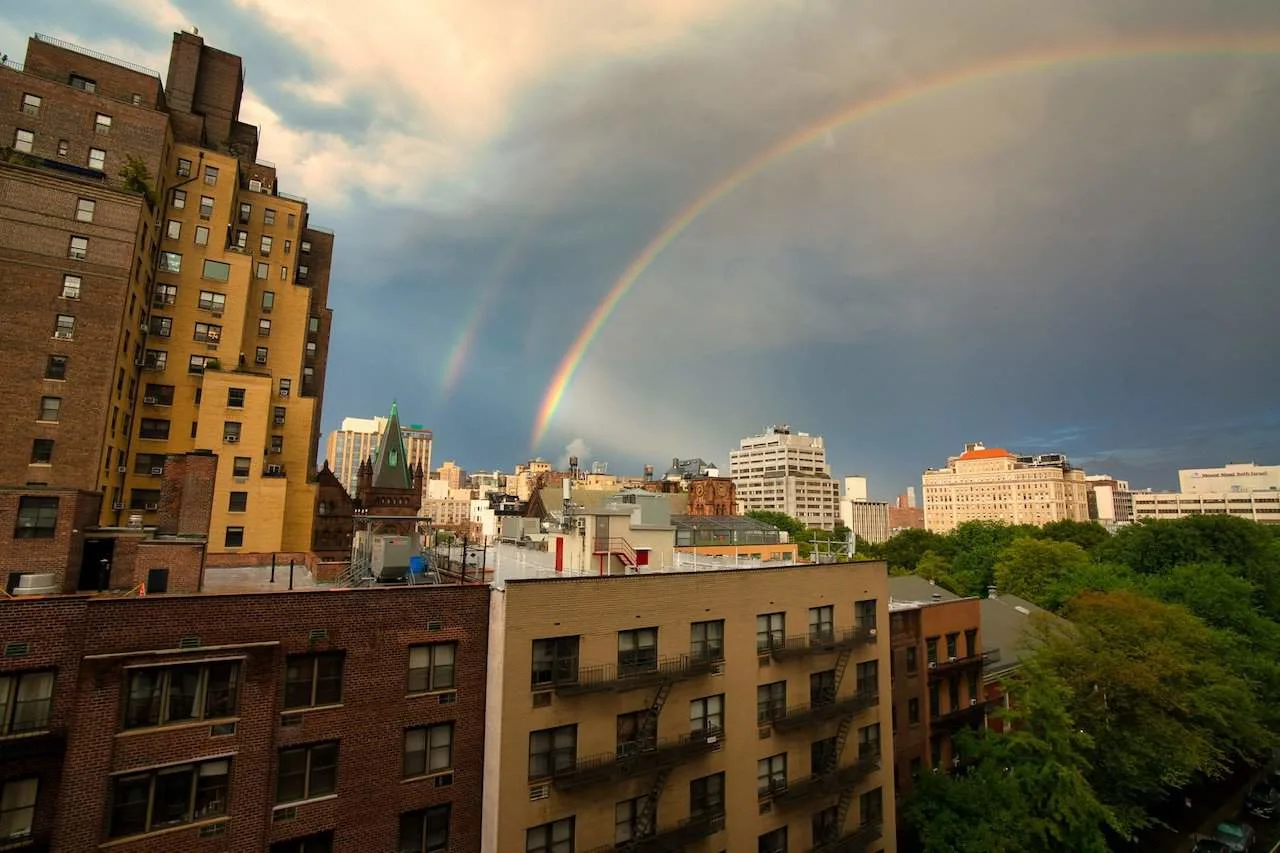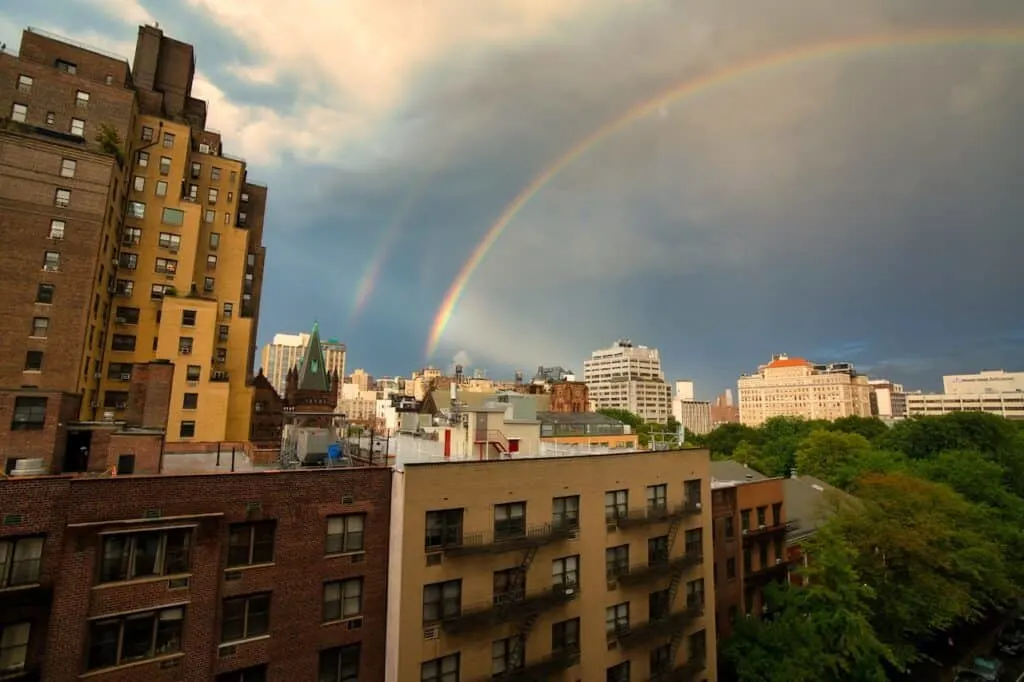 1) Roxy Tribeca
The Roxy Tribeca is a trendy boutique hotel found in the district of the same name. It's also one of the coolest hotels in NYC, with a unique look that no other hotel can replicate.
From the exterior, you'd be forgiven for thinking that you were looking at an old-fashioned cinema. Meanwhile, the interior (and, in particular, the lobby) is like nowhere else in the city. It's an open-plan marvel that feels like the inner courtyard of a tenement building.
Guests can relax on the comfy leather furniture and enjoy the singular esthetic all around them. Live music plays in the nearby bar & restaurant, making any night a good one.
But what really sets the Roxy apart is its onsite movie theater. When the Tribeca film festival is going, the Roxy is often the venue of choice for screenings of nominated movies. Over the festival period, many big film and TV celebrities can be spotted here.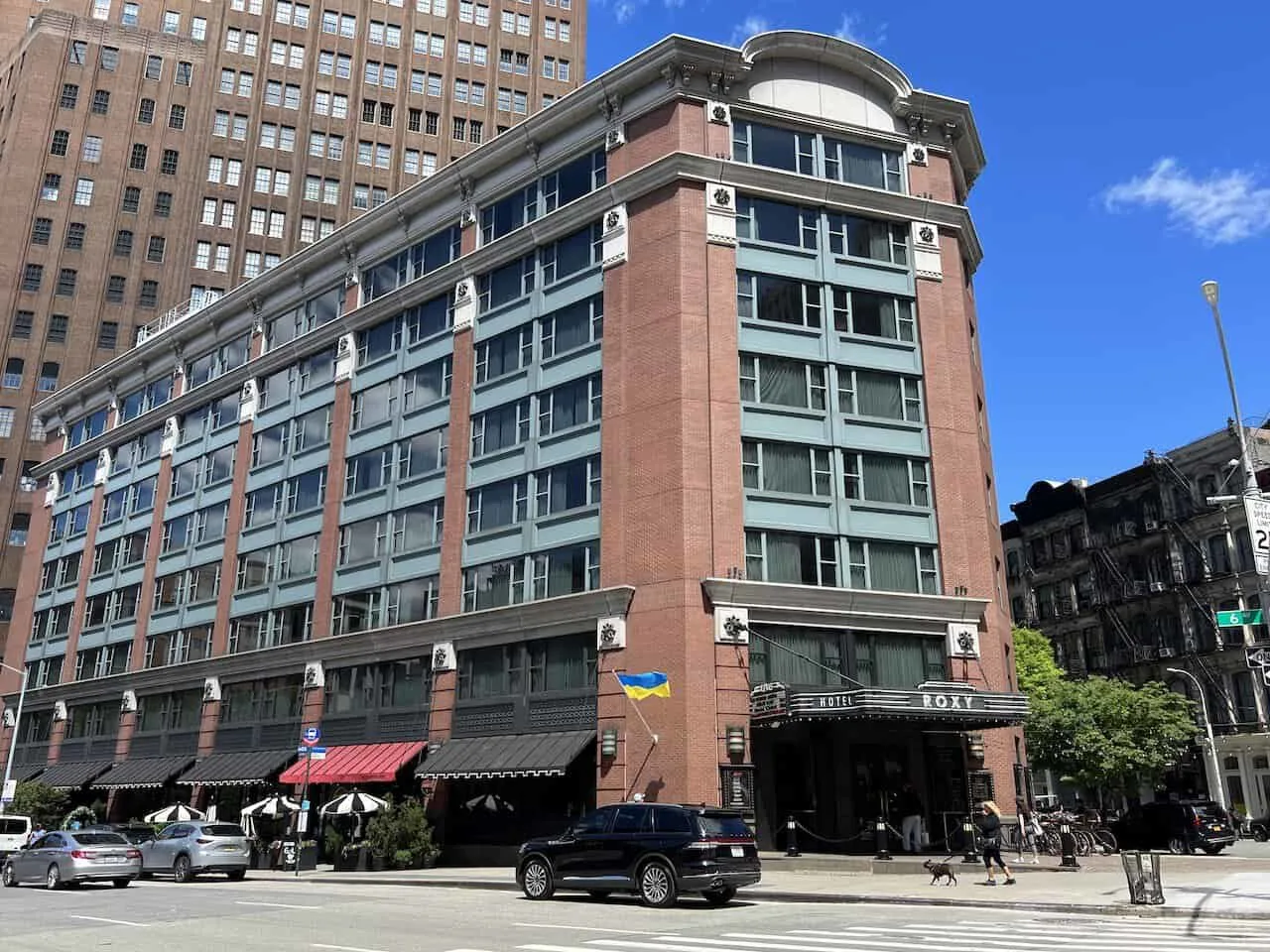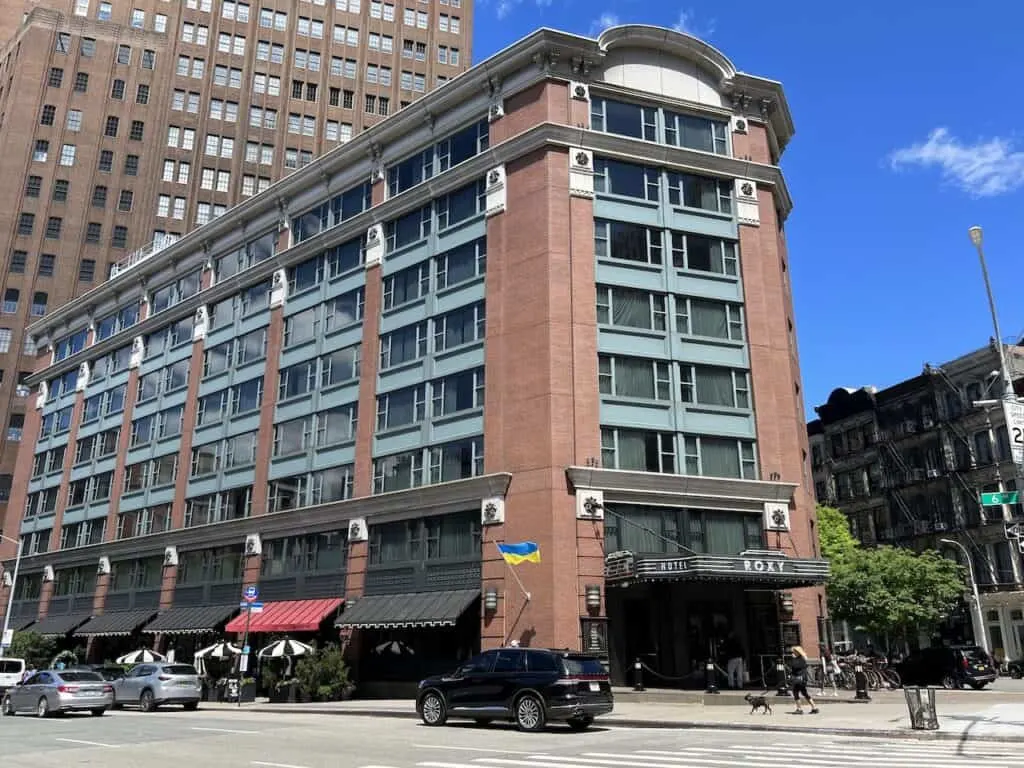 2) Margaritaville NYC
If you're looking to book a trip to New York, chances are you're not really expecting a tropical island experience. Margaritaville NYC looks to change that, with a relaxing and airy vibe that's more suited to the Caribbean than the Eastern Seaboard.
The guestrooms are bright and colorful, with floor-to-ceiling windows as standard. The onsite drinking and dining options continue the sense of fun.
Enjoy a cocktail at the tongue-in-cheek "5 O'Clock Somewhere" bar, or grab a surf n' turf at the Landshark Bar & Grill. You can also hang out in one of NYC's few year-round heated outdoor pools.
Of course, no trip to Margaritaville would be complete without a titular margarita, and the hotel's bars don't disappoint on this front. There is a reason why this ranks as one of the top hotels in Times Square with a view too!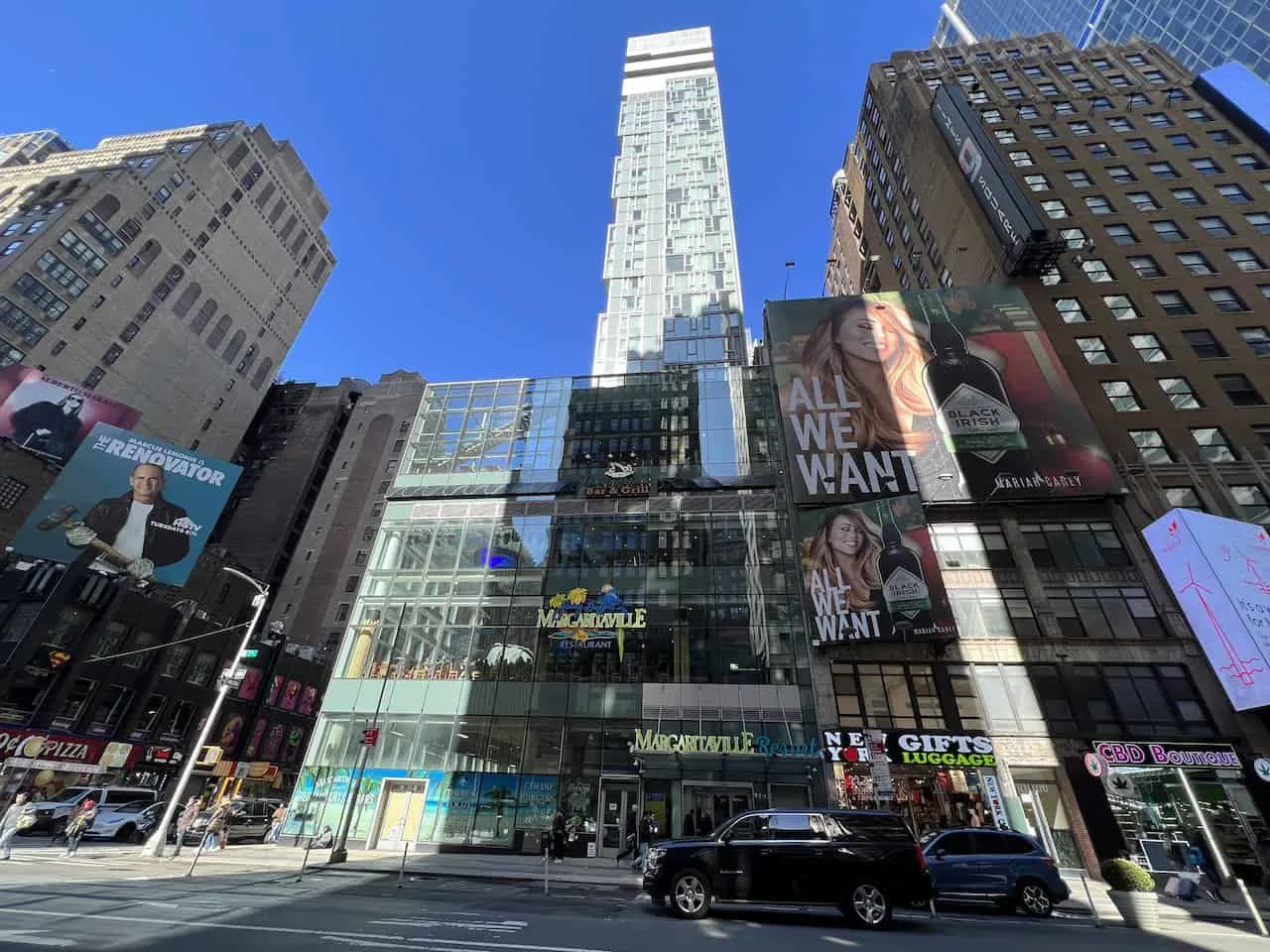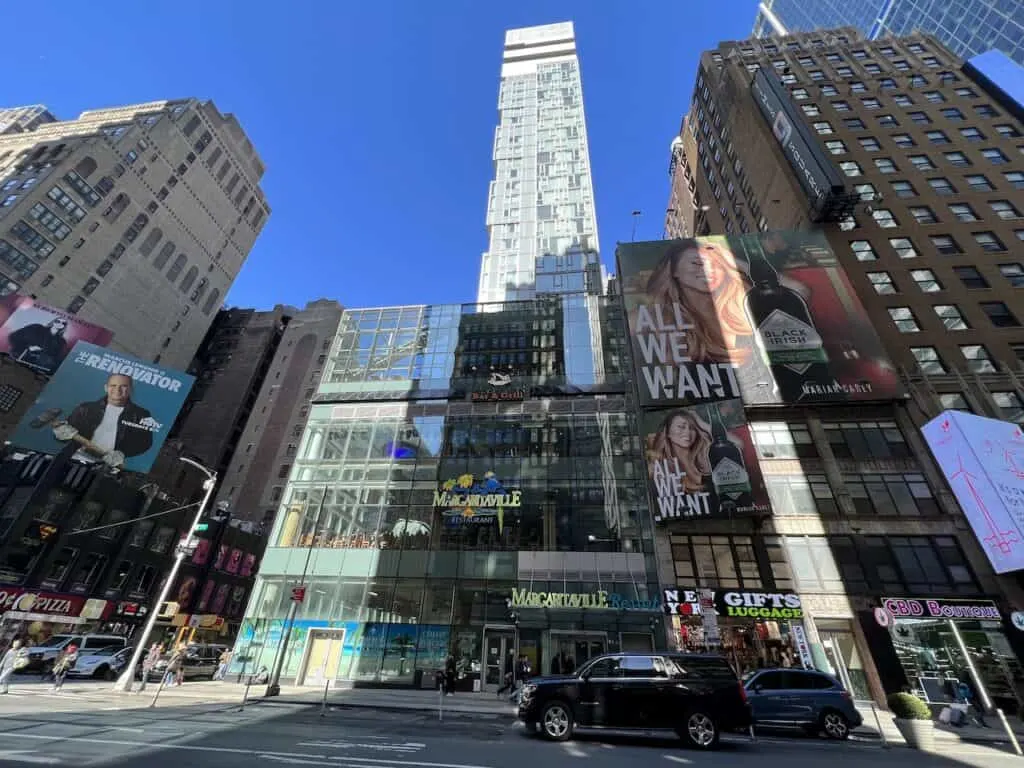 3) Collective Retreats Governor's Island
Collective Retreat offers something that's almost unheard of in NYC – a 'glamping' (glamorous camping) experience without ever leaving the city.
Guests can enjoy a tranquil and soothing experience on the (relatively) secluded Governors Island. And yet, despite the peace and quiet, the rest of the city is still within eyeshot.
The tents at Collective Retreats are so extravagant that they're more like holiday apartments. Many sport en-suite bathrooms, huge beds and tasteful decorations. And though options for cooking onsite are limited, there is a gourmet restaurant located on the property.
Guests can also take their complimentary marshmallows out to a firepit. Where else in NYC can you cook s'mores over an open fire with the Statue of Liberty in the background?
For one of the most unique hotel experiences, Collective Retreats is on the top of the list.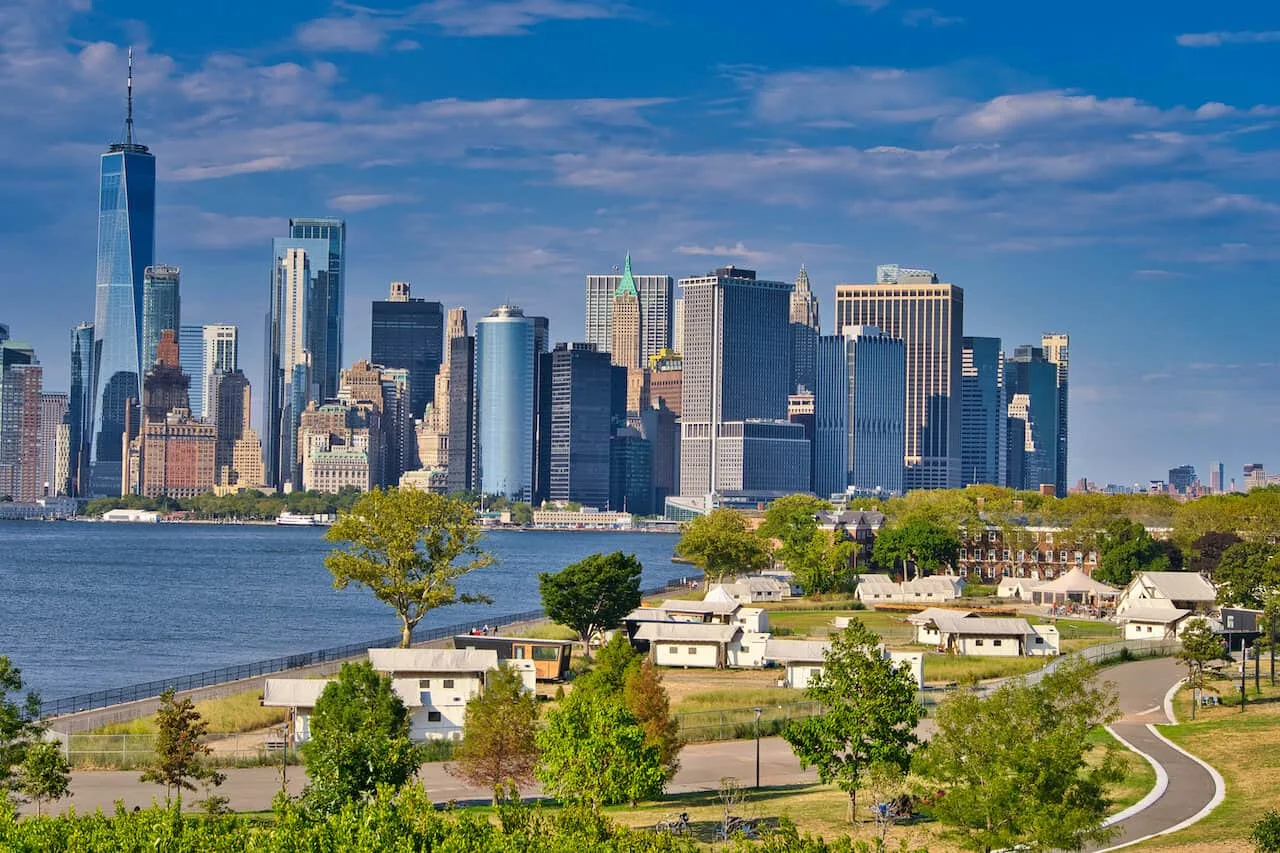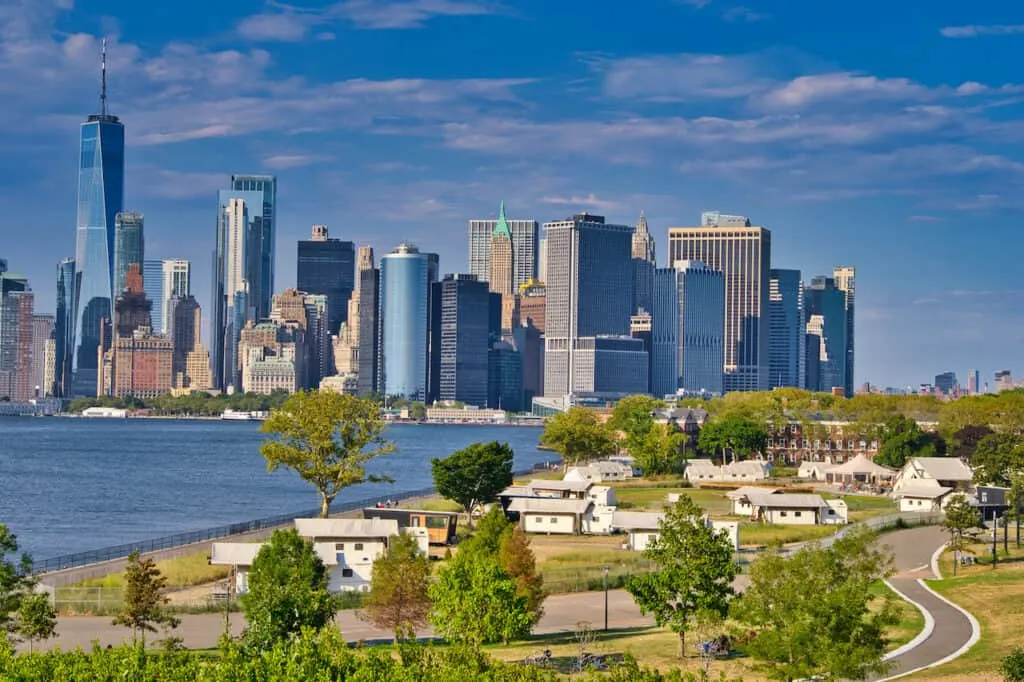 4) 1 Hotel Brooklyn Bridge
For the best hotel out there with views of the Brooklyn Bridge, look no further than 1 Hotel Brooklyn Bridge.
Something that really makes 1 Hotel one of the most fun hotels in NYC is its inspired design. Natural materials are used throughout, and there's a trendy industrial feel to things. Exposed piping and heavy metal lamps really hammer home the industrial theme.
Few hotels can back up claims of eco-friendliness, and 1 Hotel is one of those few. It uses reclaimed rainwater to irrigate the park next door, and is powered entirely by wind power. Additionally, all light bulbs are low-energy. Guests will also find 5-minute sand timers next to their showers, which are a helpful reminder to save water.
Walk right outside and you will be welcomed to the beautiful Brooklyn Bridge Park, overlooking the NYC skyline. Views, piers, fields, walking paths & more will be just outside your doorstep.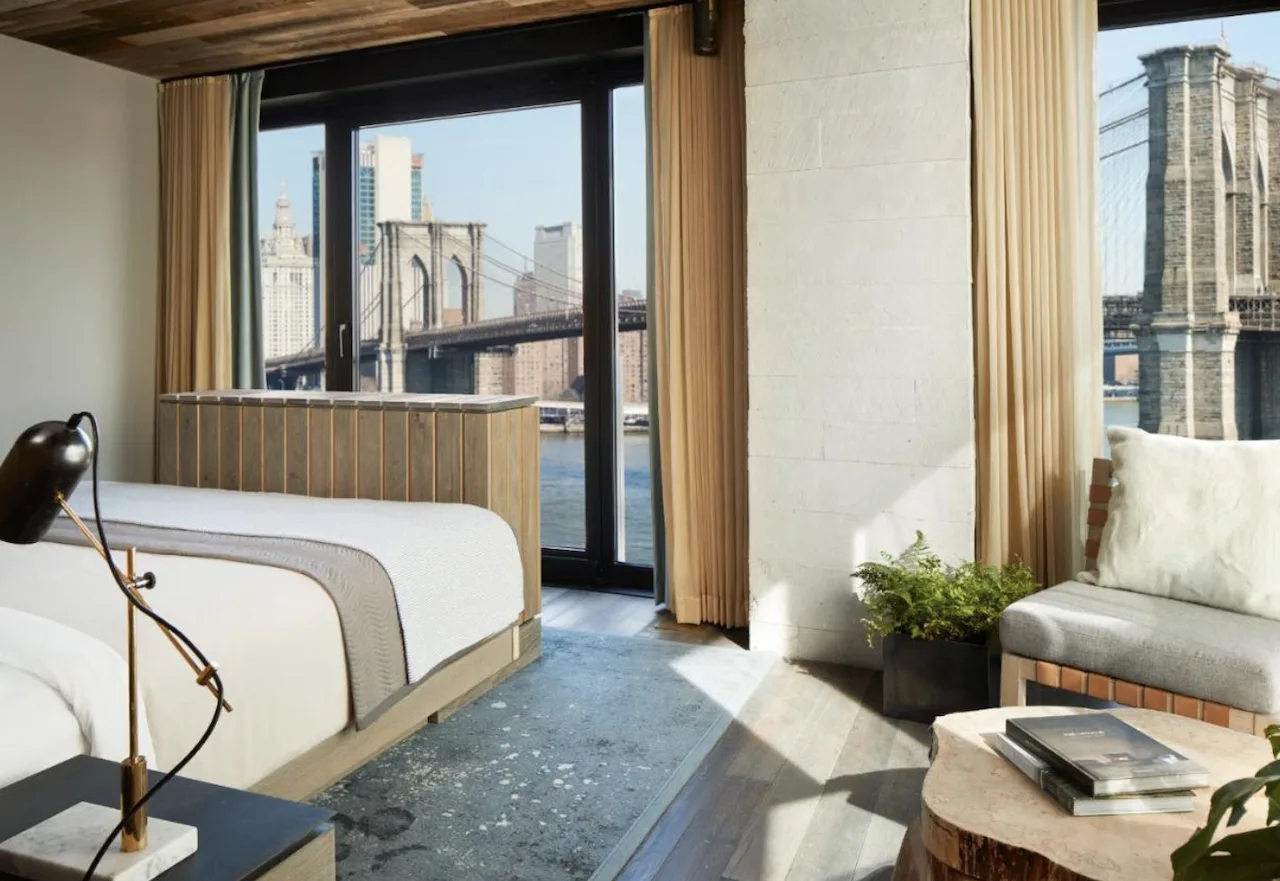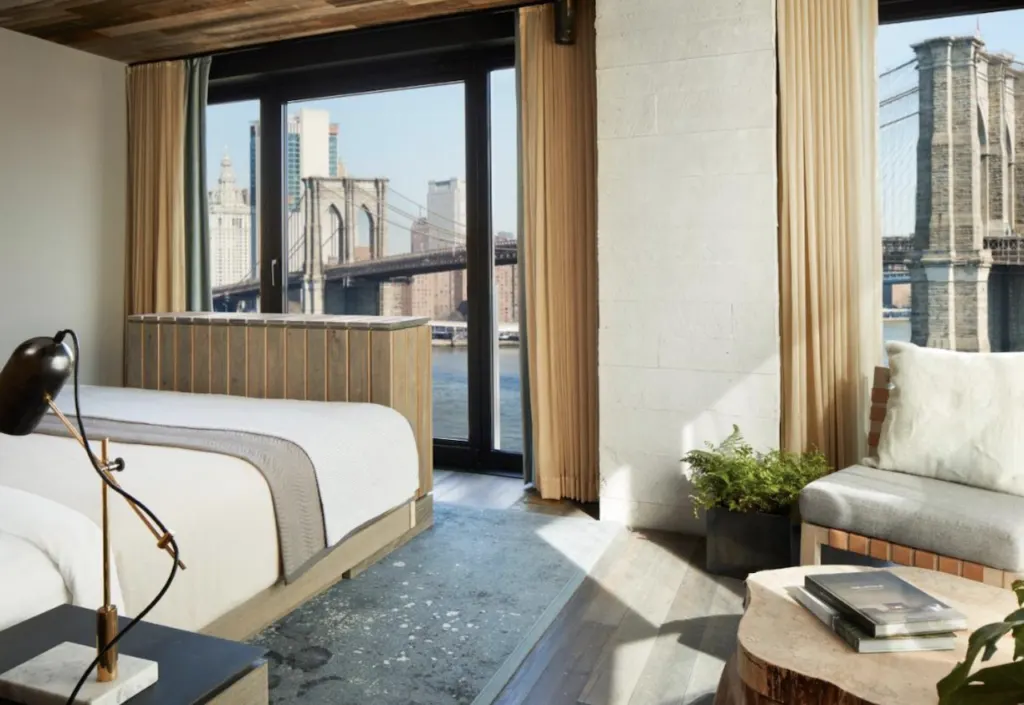 5) Moxy NYC Chelsea
Moxy NYC Chelsea doesn't hide the fact that its guestrooms are on the modest side. Instead, it goes all out with making a stay there an affordable and stylish one. This refreshing take makes for one of the more cool New York hotels that you're likely to find.
The hotel's public spaces are eye-catching and colorful. A huge 'living' green wall takes up an area three stories high. The botanical theme is further continued with a florist located in the entrance. The lobby, meanwhile, is found on the second floor, and is a minimalist's dream of concrete floors and copper bars.
The Moxy has adopted a 'millennial' approach to services. Gone are such old-fashioned notions as concierges and room service. Instead, they've focused on slick co-working places where guests and non-guests alike can chill out and work.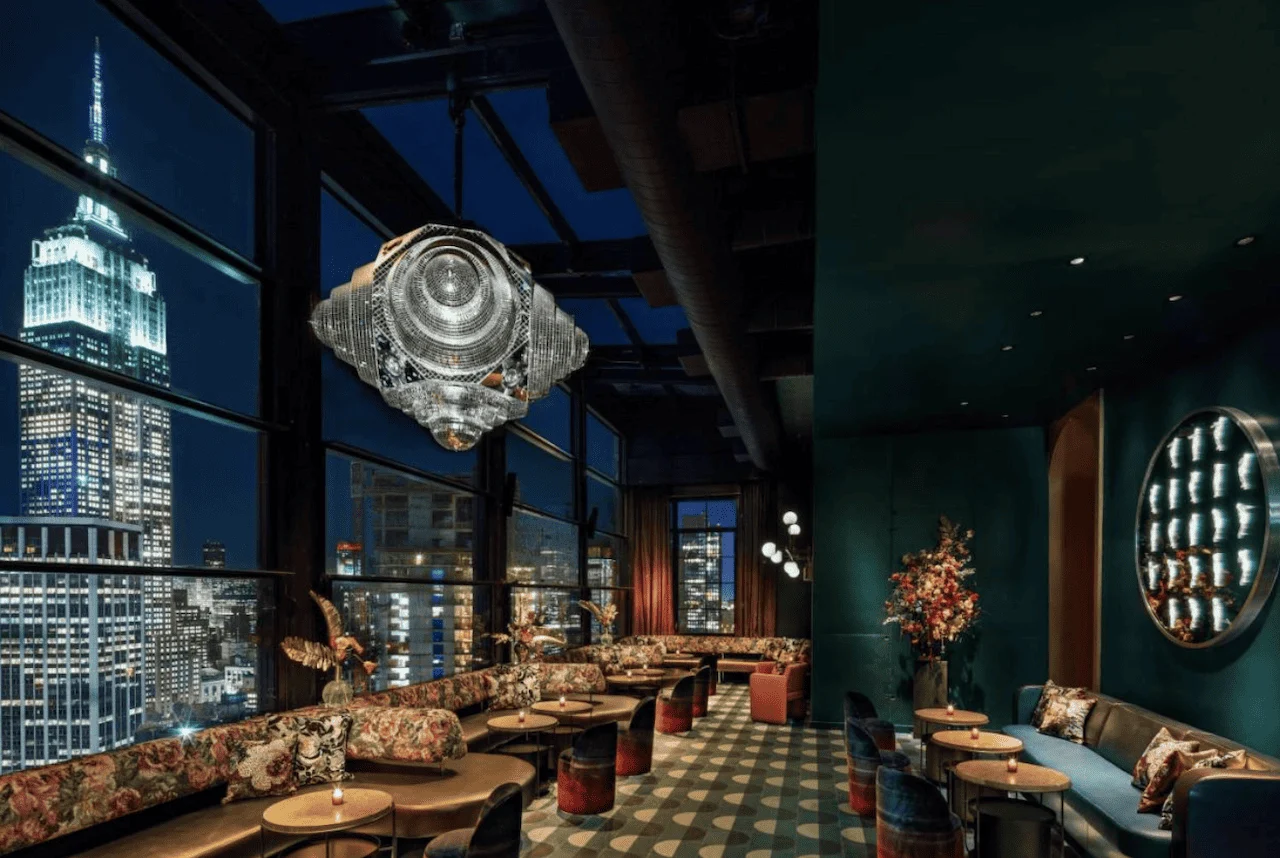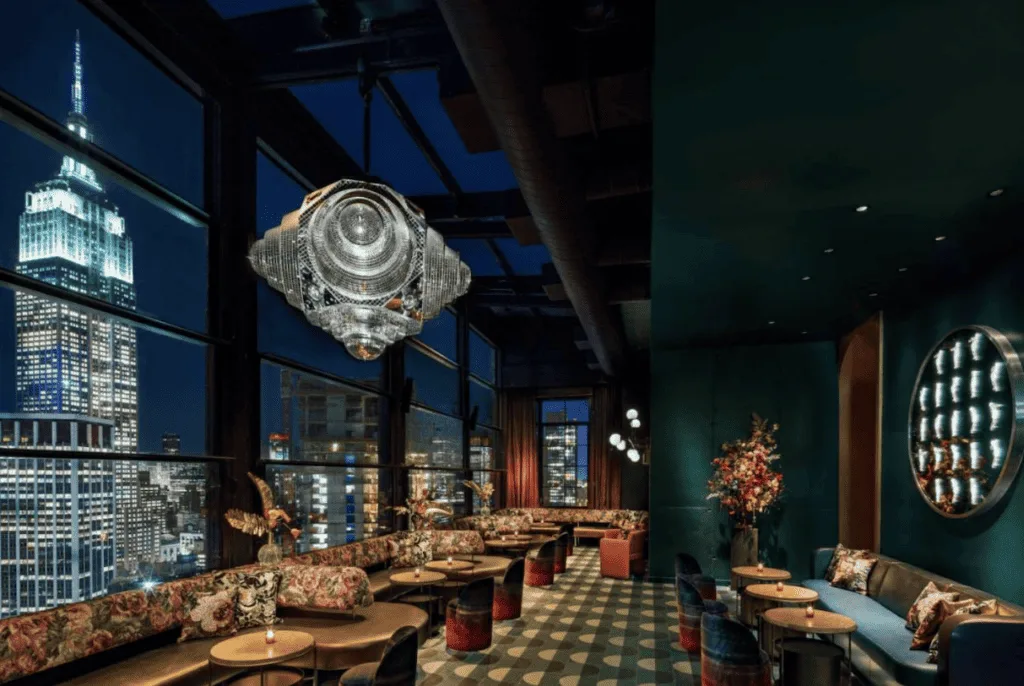 6) The Standard High Line
The Standard High Line hotel is so iconic that it has become an NYC landmark unto itself.
A playful sense of humor is found throughout, such as in the front-terrace 'No Pool' area. Here you'll find an area kitted out like a swimming-pool area, but with no actual pool to be found.
These cheeky flourishes can be found all through the hotel. A 3D video plays in the elevators, and the front desk is made of a brain-bending mirrored marble. If you head up to the onsite Le Bain nightclub, you'll be greeted by a giant statue of a horse.
Rooms are stylishly comfortable, with some truly spectacular views of the High Line and the Hudson River. The floor to ceiling windows here make the Standard one of the top options in NYC for those panoramas.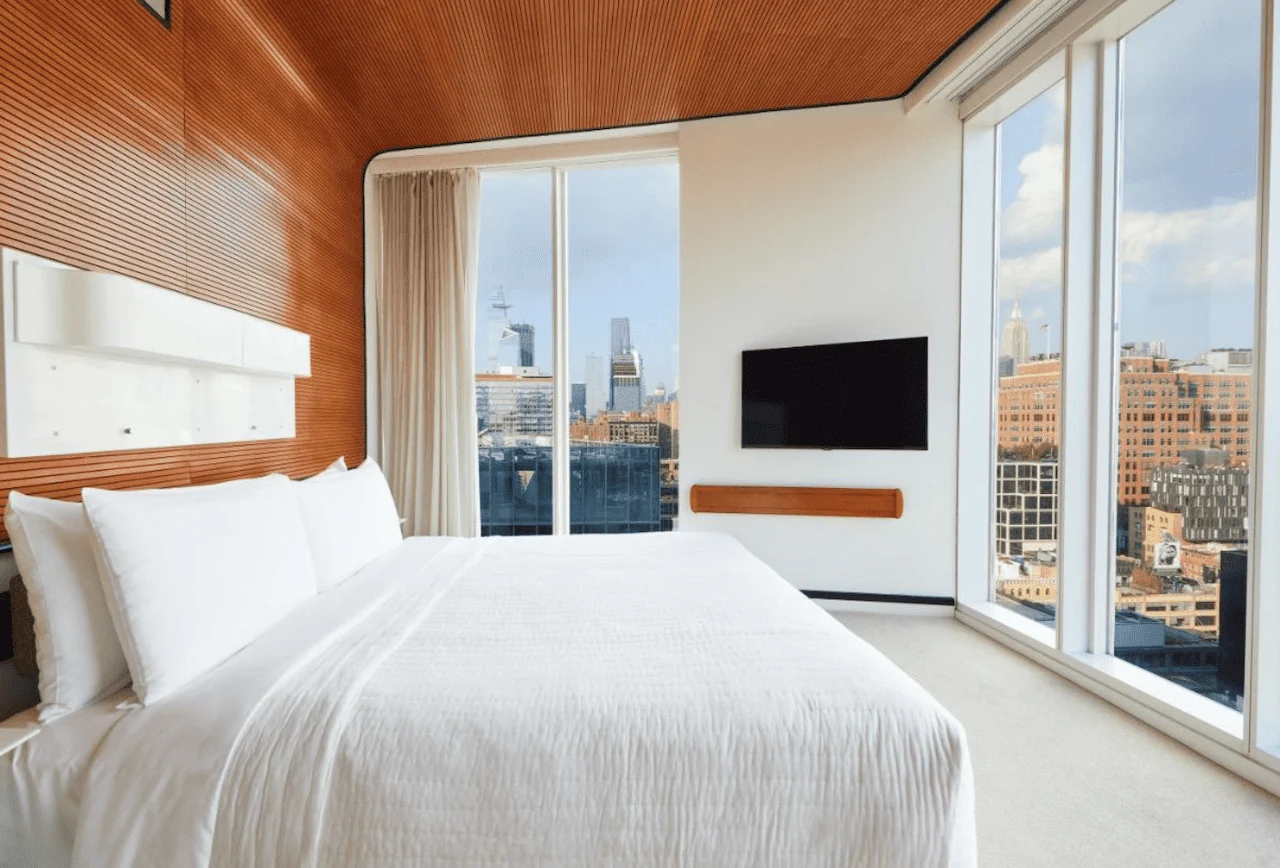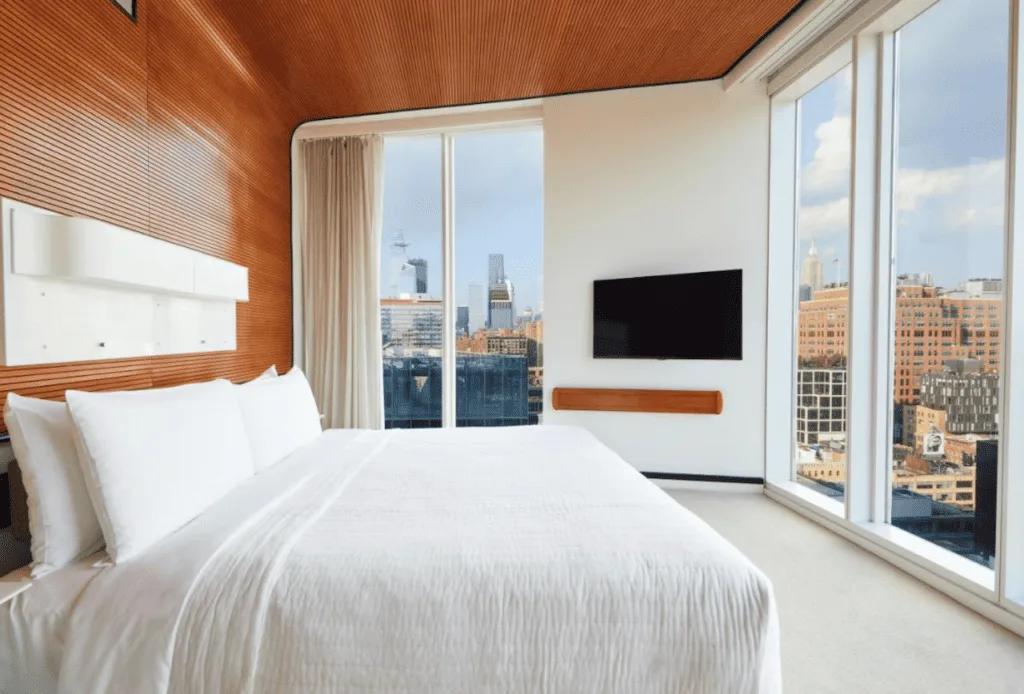 7) The Crosby Street Hotel
The Crosby Hotel is one of the hippest hotels in New York City. It's a mash-up of art gallery and hotel, with some of the most unique décor you're likely to find.
Art predominates wherever you go in the Crosby. Tasteful floral arrangements tie many of the public spaces together. These are complemented beautifully with dog sculptures, antique telephones and many other quirky curios. The hotel has a distinctly English feel – a by-product of its designer's original homeland.
The apartment-like rooms are expansive without being uncomfortable. If you plump for a room on a higher floor, you'll enjoy some wonderful unobstructed views of Manhattan. Yet despite the premium location, you can close the drapes and you'll barely know you're in NYC.
The Crosby is often complimented for its excellent service, which is 5-star in quality but pleasantly unobtrusive. The staff are always on hand to assist with any requests, but they are in no way overbearing.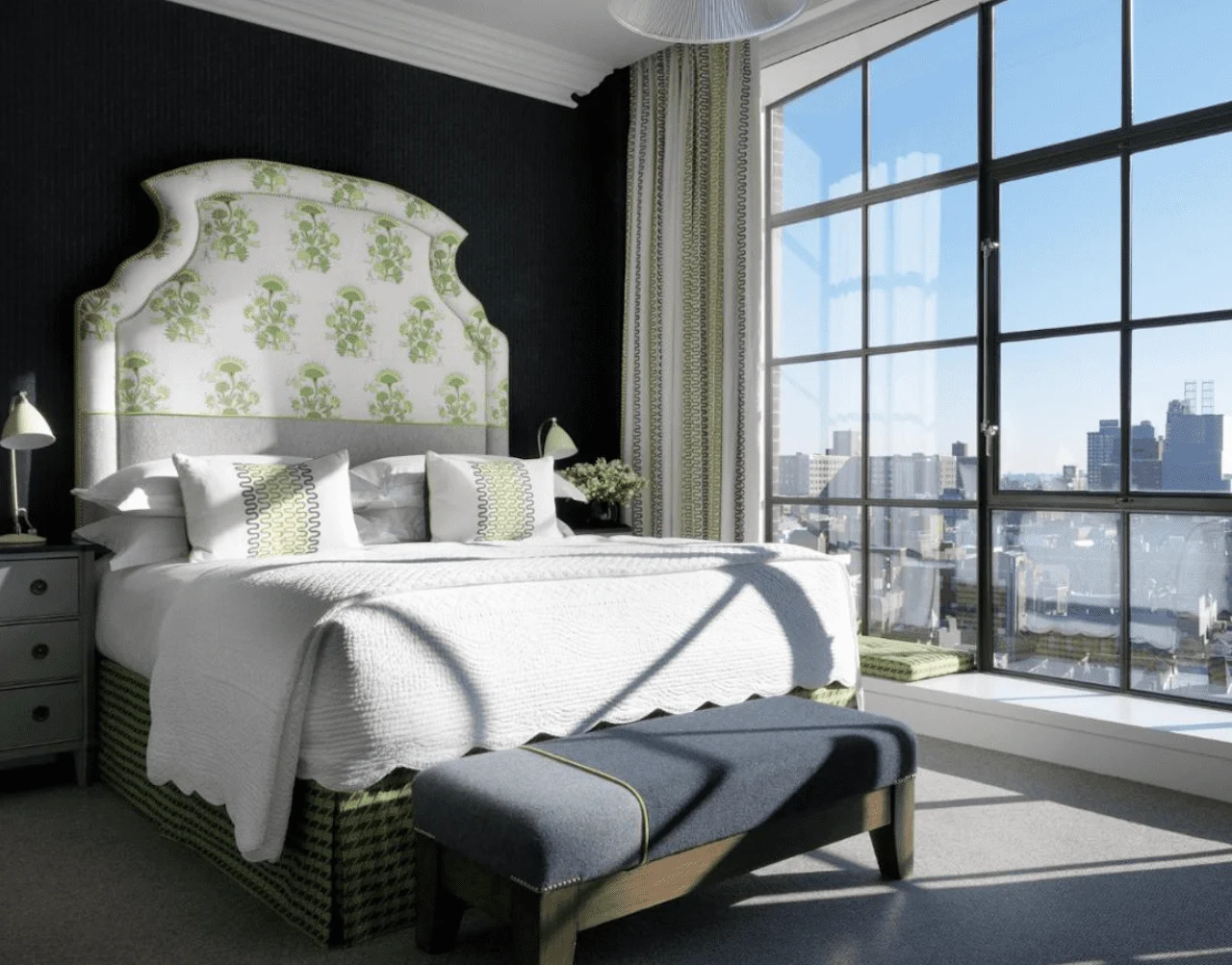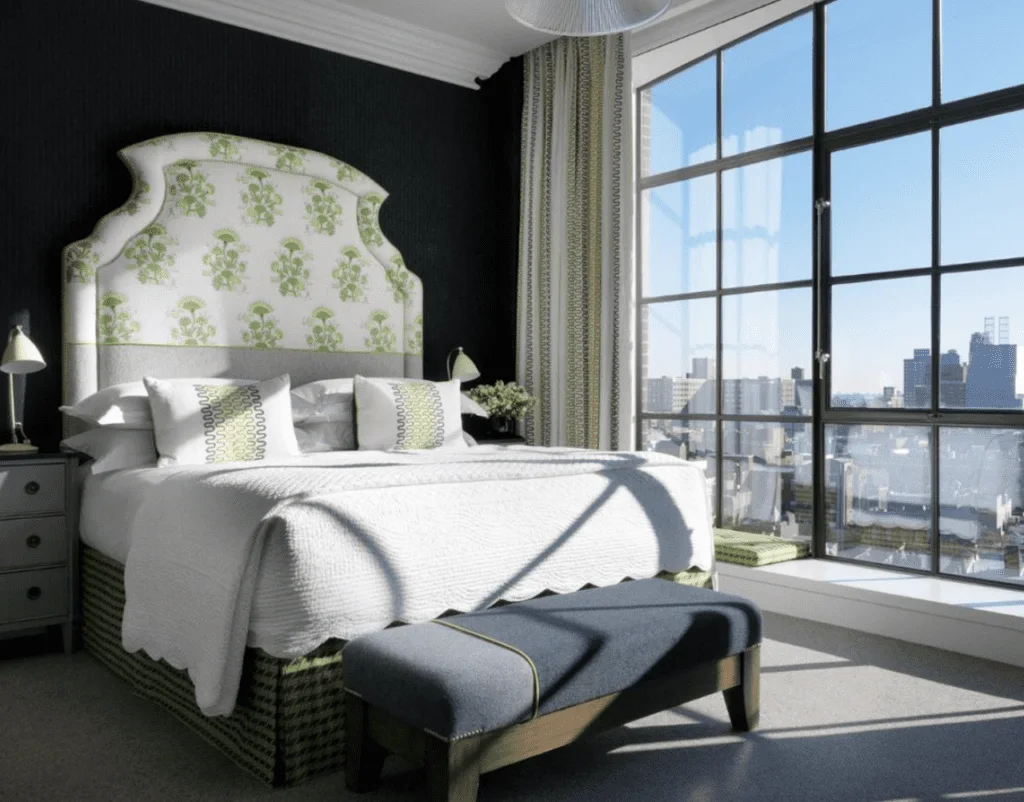 8) The Box House Hotel
The Box House Hotel is a cozy experience that feels more like crashing at a friend's than a hotel stay. Its homey rooms are full of little touches that make them feel individually designed.
Box House also makes for the perfect place from which to explore Brooklyn's ultra-hip Greenpoint District. If you're eager to check out New York's rich culinary scene, there's no better place.
Greenpoint, along with neighboring Williamsburg, are some of the finest places in the city for foodies. You could spend days stumbling across hidden gastronomic gems in these charming neighborhoods.
The rooms, as previously mentioned, ooze homespun charm. Bright tie-dyes and large windows conspire to banish the 'hotel' feel of the rooms. Meanwhile, fully-furnished kitchens ensure that you can put some of those local artisanal ingredients to work.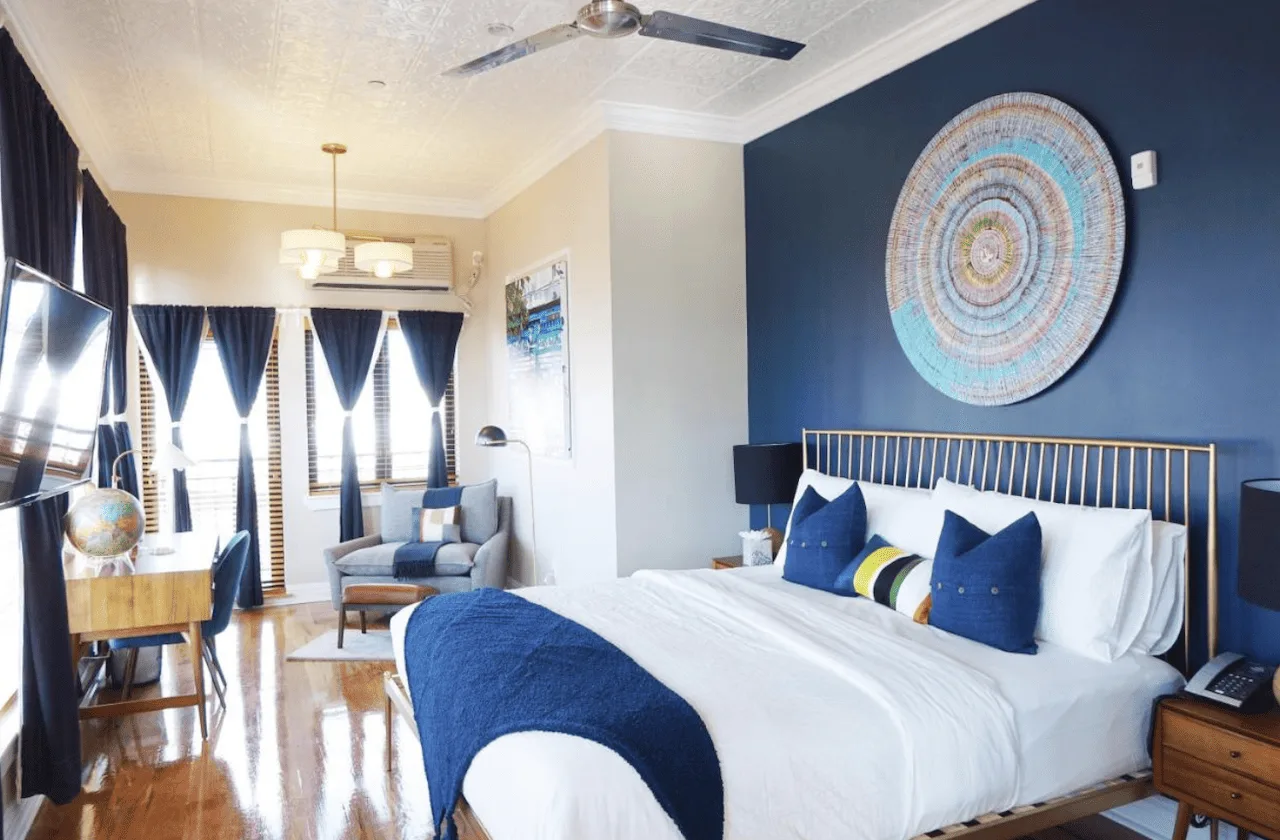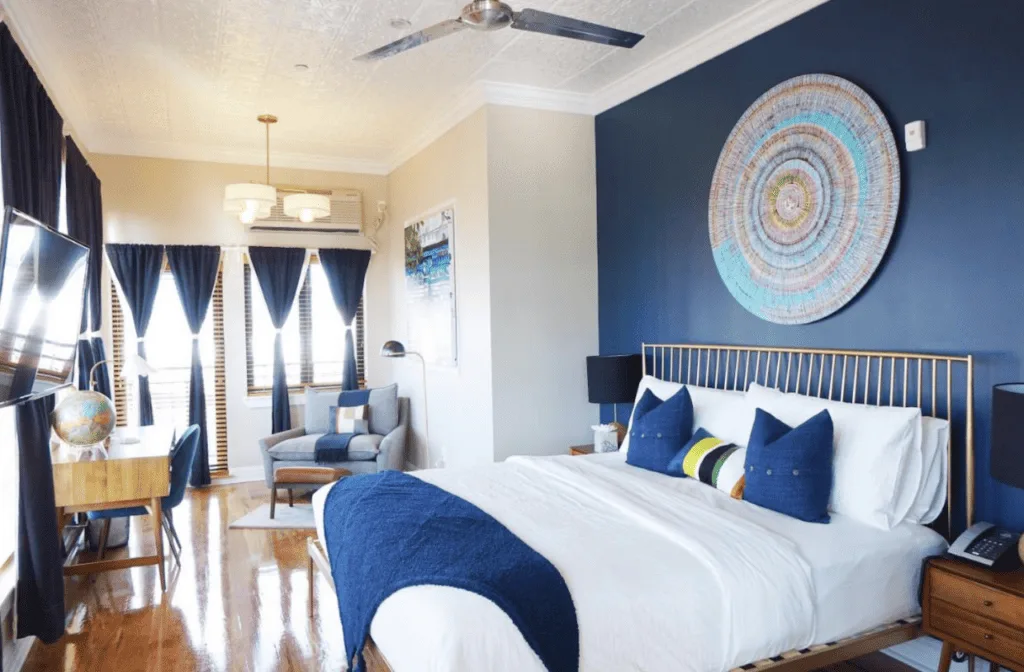 9) The Dream Downtown
The Dream Downtown is without a doubt a cool hotel in NYC to choose. With its pool bar and indulgent sushi restaurant, it feels like you've been teleported to an island paradise. Couple this with comfortable and well-appointed rooms, and you've got one of the best hotels in the city.
Those wishing to spend their days sunning themselves by the pool will want a poolside room. In a strange but welcome concept for an NYC hotel, these rooms have patios that open directly onto the pool area.
Guests won't be going hungry anytime soon, either, with a staggering three restaurants onsite. At the Beijing-style eatery Philippe Downtown, guests can enjoy some hearty Chinese fare. For something healthy, opt for a salad or a 'clean plate' at La Natura Café. Finally, if you'd just like a light snack to tide you over between swims, Beach's bar food will suffice.
There is always something going on at the hotel, and as they say there, "the party (almost) never stops at the Dream Downtown".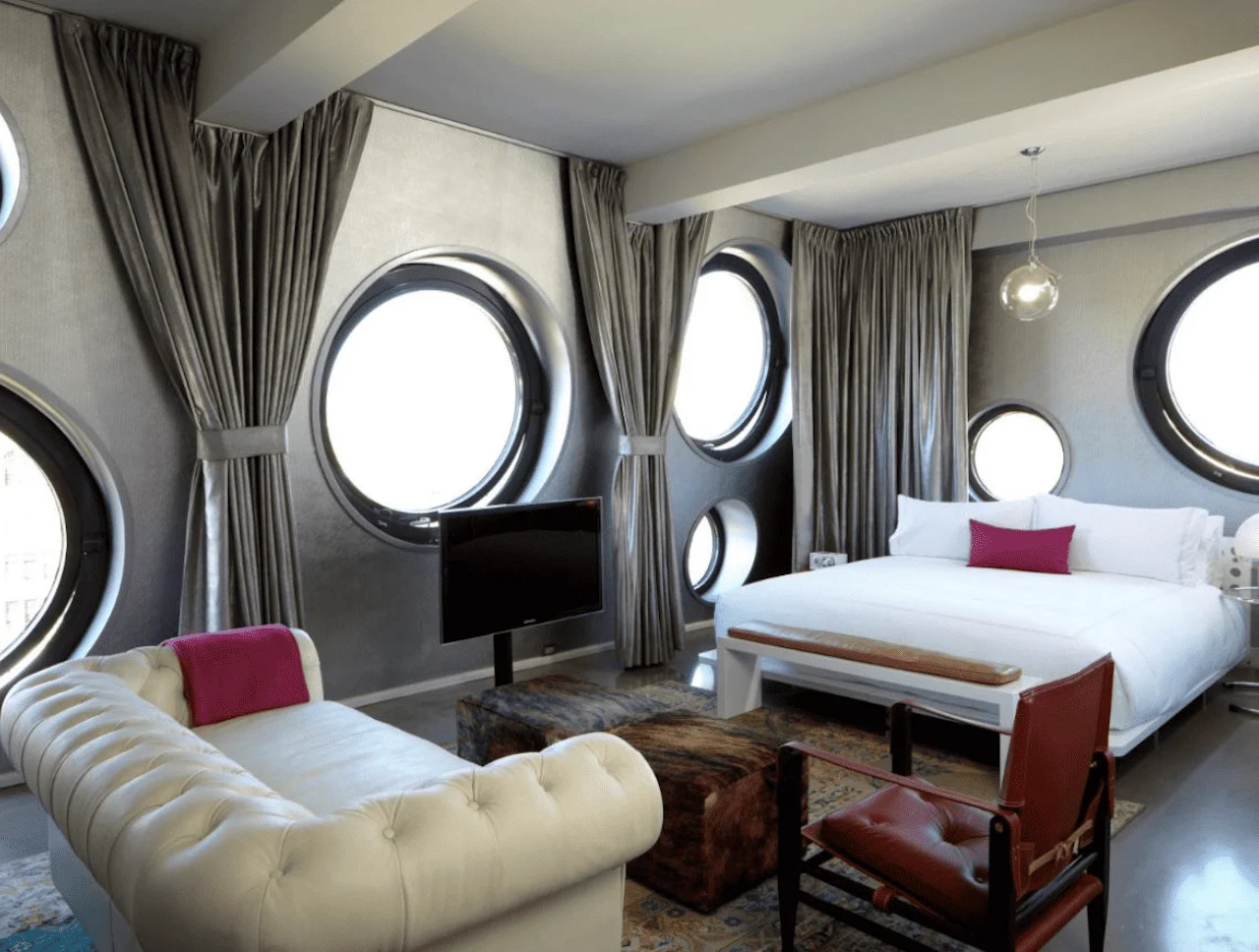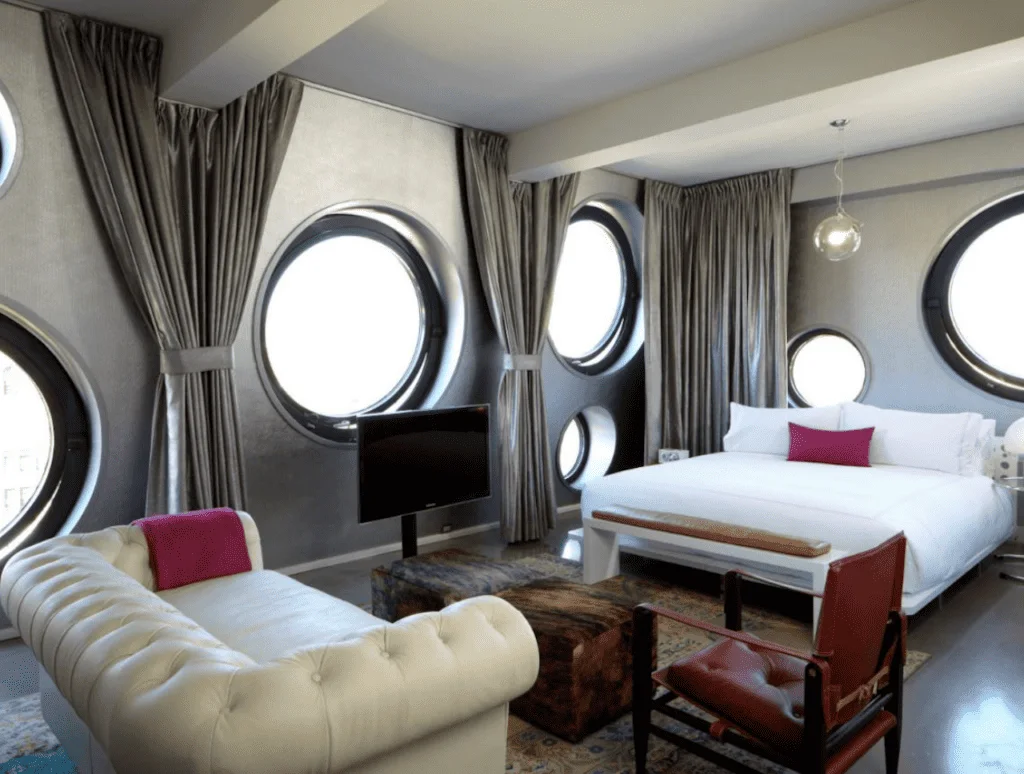 10) Hotel Hugo
The Hotel Hugo is a hidden gem tucked away in SoHo. Its location is so tranquil – and yet so convenient – it makes for a great hideaway for guests.
The Hugo's esthetic is strikingly different from typical boutique hotels. The designer brings a Californian flair to SoHo's industrial chic with some stray luxury Italian touches complete the vibe.
One of the best things about the Hugo is its views of the Manhattan skyline from the rooftop bar. The bar is enclosed in glass, meaning that it can be enjoyed year-round. Grab a cocktail and relax as you drink in those panoramic views.
The trendy rooms are all comfortable and spacious, with the bathrooms decked out in Italian tiles. But it's the views from the higher rooms that make the stay even better, with great vistas of the Hudson.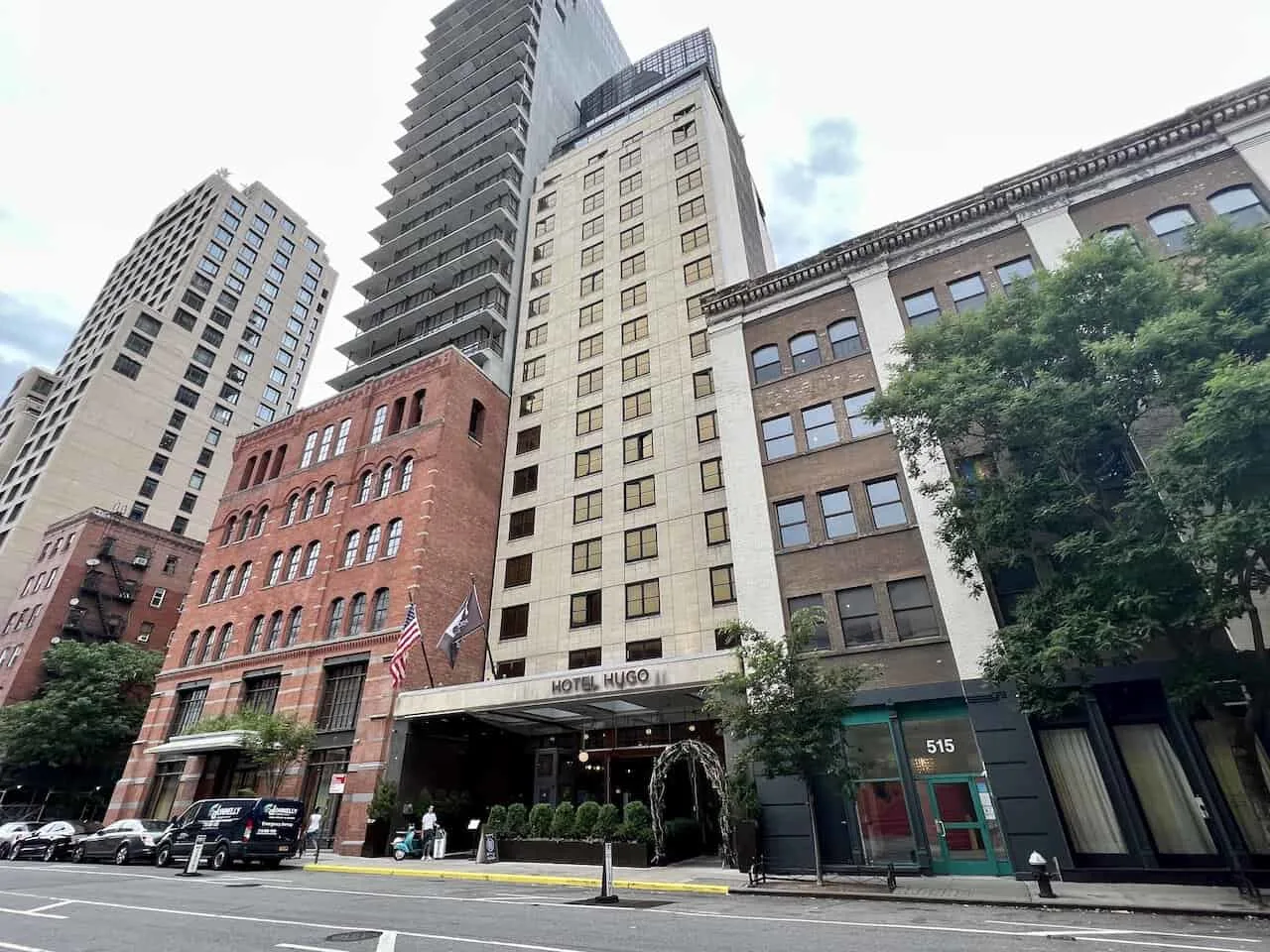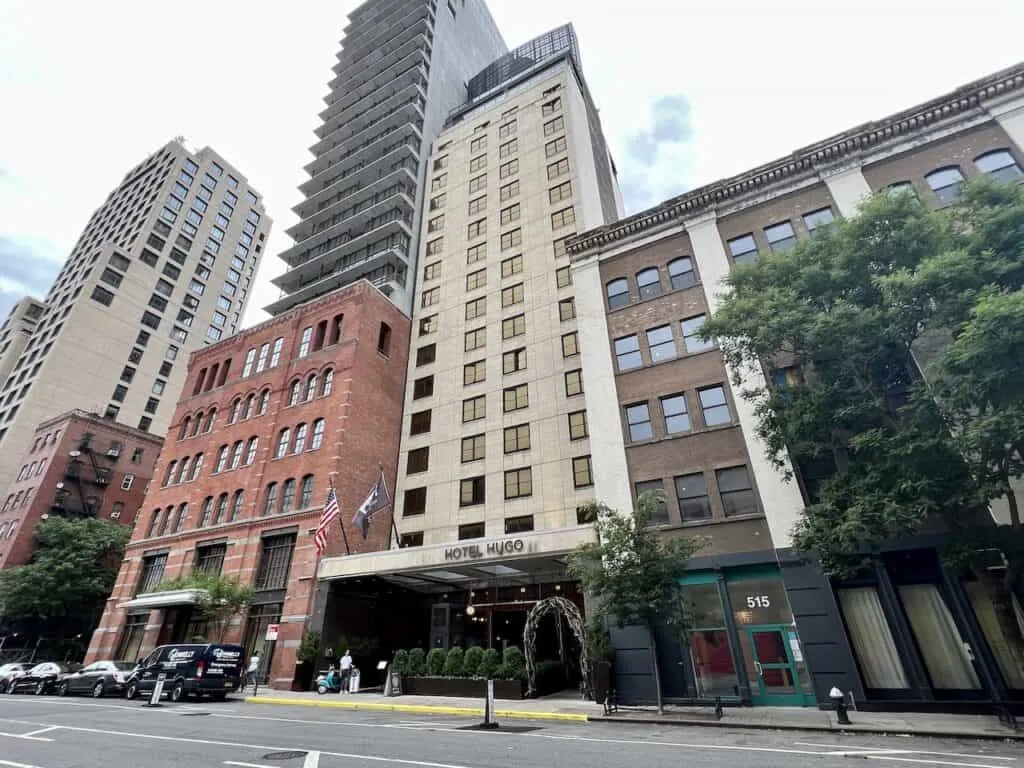 11) The Bowery
The Bowery melds Old-World elegance with ironic NYC industrial chic.
The building resembles an old 19th-century factory, but the owners have decorated liberally with classical European artwork and deer antlers. Huge factory-esque windows allow sunlight to flood in, and expansive public areas provide a place to lounge and relax.
The onsite Italian restaurant, Gemma, is a fantastic little gem that provides hearty Tuscan fare. It's open throughout the day, and provides affordable but filling Italian staples along with imported wine.
Finally, the Bowery's location is nothing short of perfect. It's found in the East Village, and rambunctious nightlife and amazing food is just a stone's throw away. The nearby subway stop, meanwhile, ensures that the rest of the city is quickly accessible.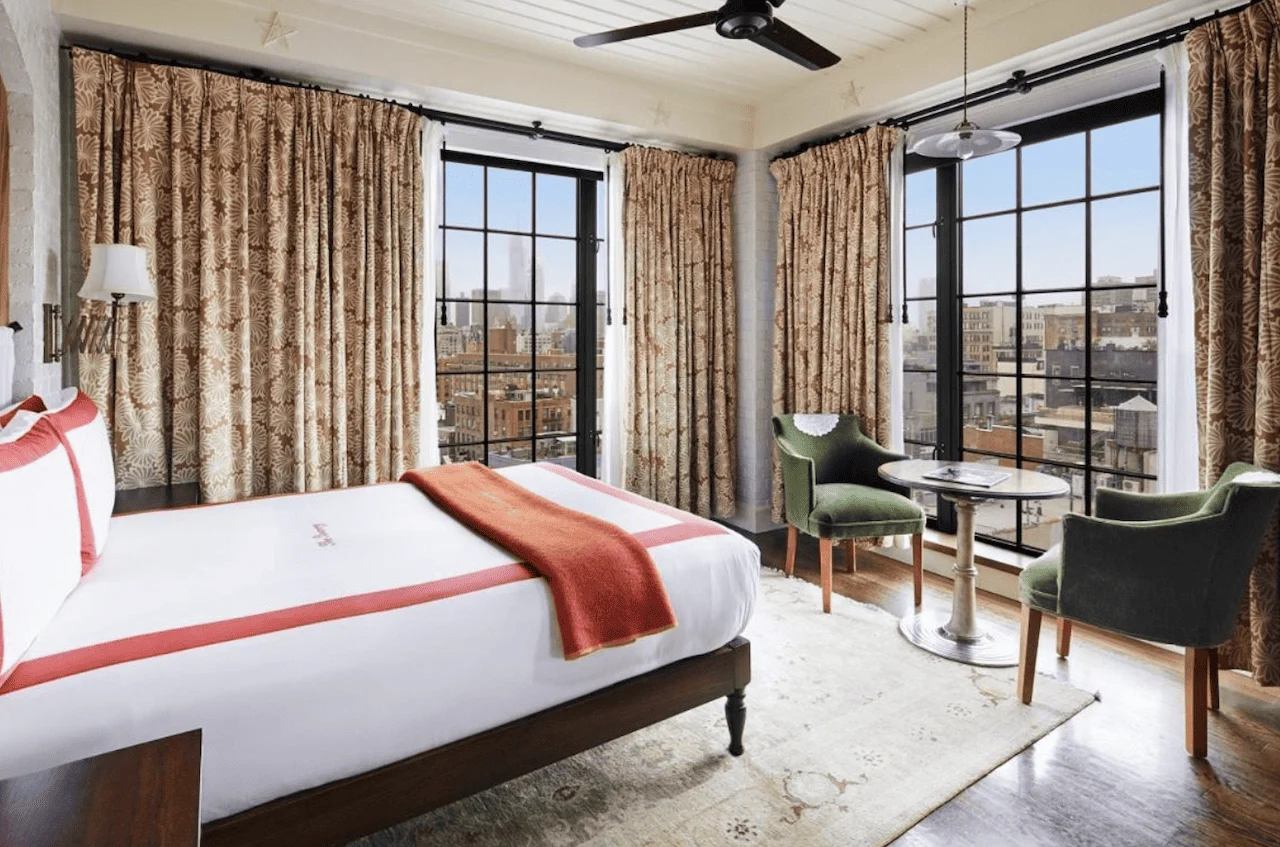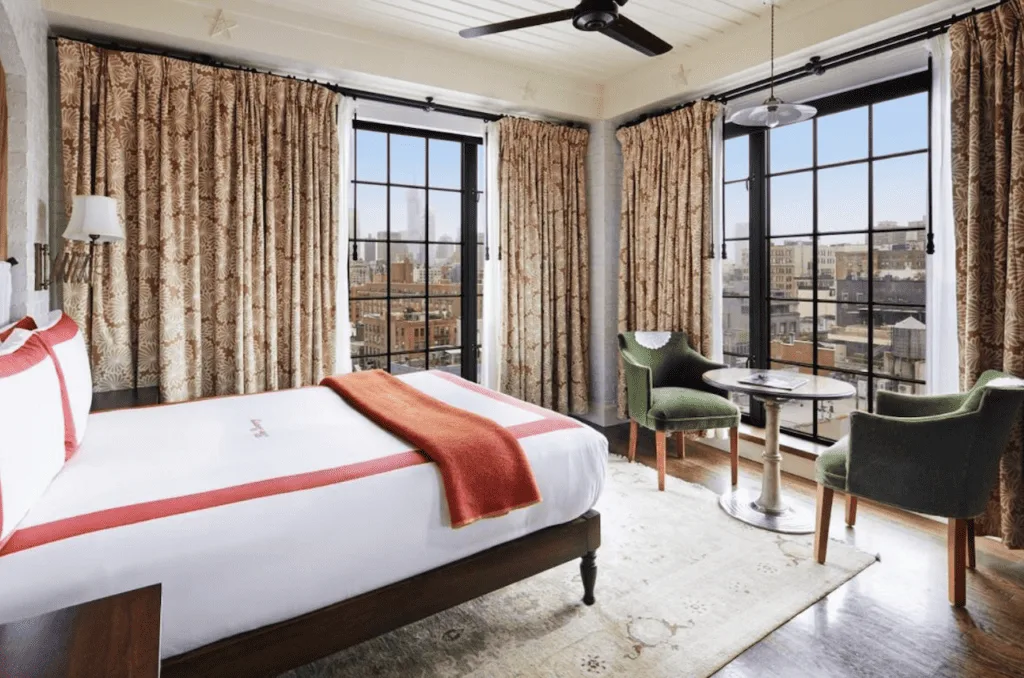 12) The William Vale
One of New York's coolest hotels, the William Vale sits right in the center of hip Williamsburg.
It's nestled between Bushwick Inlet Park and McCarren Park, meaning that it's relatively laid-back and relaxed for New York. The neighborhood is, despite this, packed with trendy food joints and quirky sights and sounds.
The William Vale has a singular futuristic feel, which distinguishes it from many other NYC hotels. Light grays and pure whites abound, with much of the furniture made of unadorned blonde wood.
The public areas are vast and uncluttered, with the rooftop pool being a particular draw. It's one of the largest outdoor pools in NYC, though it is sadly open for only four months a year.
One of the best things about the sci-fi-esque rooms is the large private balconies. Each is fully furnished with tables and chairs, and sports futuristic edge lighting all around. It's a great place to spend an evening watching the sun go down over the East River.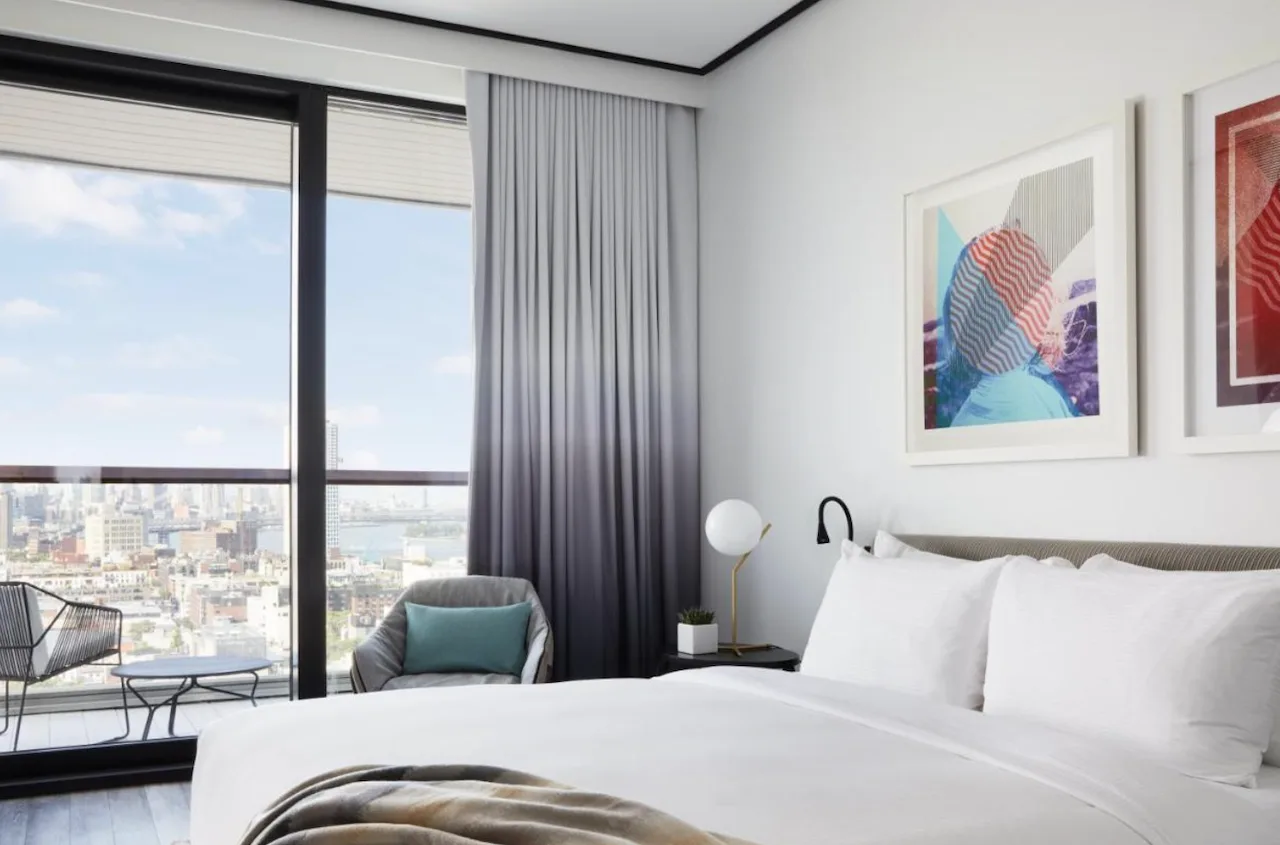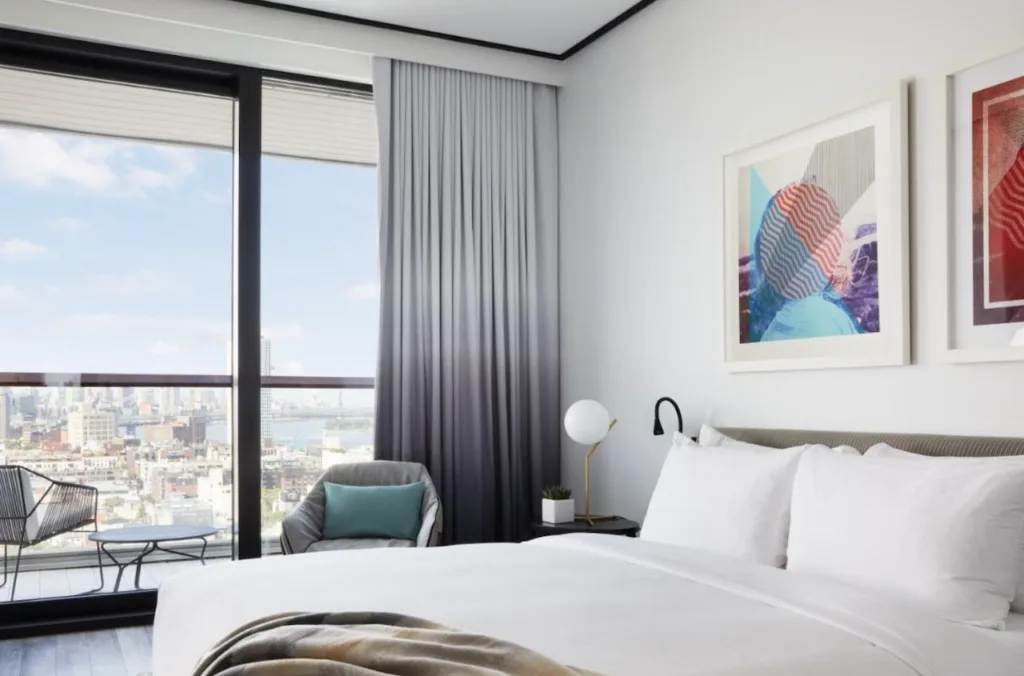 13) Freehand New York
Freehand New York is one of the most artsy hotels out there. It's located in a renovated 1928 building, so it combines the best of vintage New York with all the glamor of the new.
The Freehand (which also has branches in other American cities) is 'hipster chic' taken to its logical conclusion. It takes 1970s home décor and mixes it up with cool modern touches.
Each room is completely individual, with Mexican fabrics mixed in among low-seated couches. And despite feeling Californian, the owners are careful to throw in a few NYC touches. One hallway is completely covered in old New Yorker magazine covers, for instance.
Though it's a hotel through and through, the Freehand is more than that. The guests can take part of excursions that are frequently organized by the hotel staff. There are also a lot of off-kilter events offered within the hotel to meet other liked minded travelers.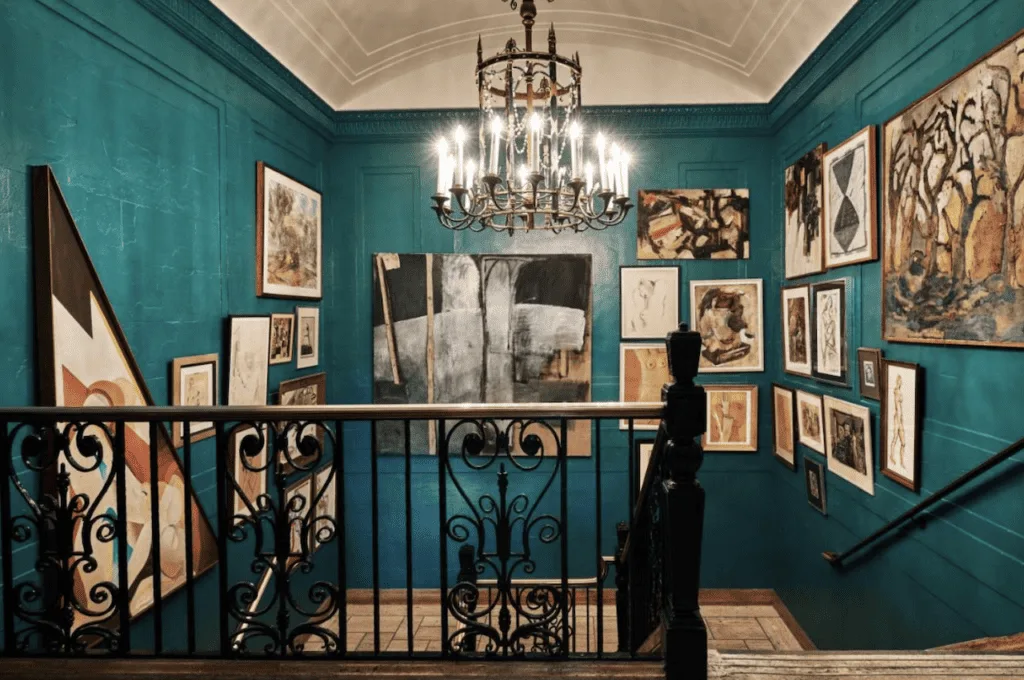 As you can see, there are many fun, unique, and cool hotels in NYC to choose from. You are sure to pick the right one depending on your vibe and what fits your travel style the most.
Be sure to also check out many of the other New York itineraries & travel guides up on the site.
Have fun out there and safe travels!